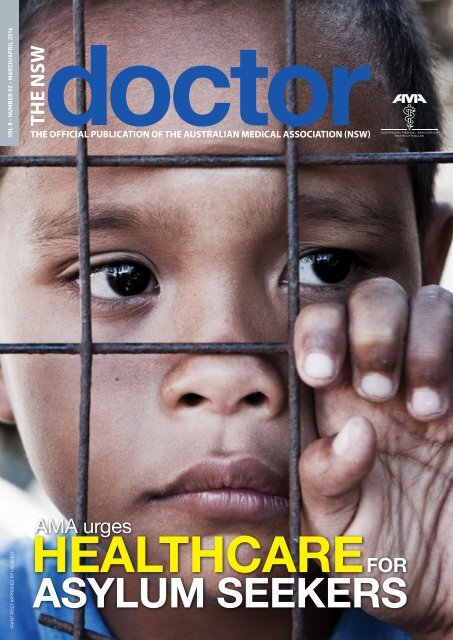 You also want an ePaper? Increase the reach of your titles
YUMPU automatically turns print PDFs into web optimized ePapers that Google loves.
VOL 8 - NUMBER 02 - MARCH/APRIL 2016

doctor

THE OFFICIAL PUBLICATION OF THE AUSTRALIAN MEDICAL ASSOCIATION (NSW)

THE NSW

AMA urges

PRINT POST APPROVED PP100000829

HEALTHCAREFOR

ASYLUM SEEKERS
---
Is the cost of your Income

Protection and Life insurance

breaking the bank?

We have access to 12 of the

major insurers in the industry,

comparing policy features

and prices to obtain the best

Income Protection and Life

insurance cover for you.

We also review any existing

exclusions and health

loadings on your policy.

Experien is the preferred life insurance provider to the

AMA NSW and one of the few national brokers

that specialise in the medical sector.

For a complimentary review or consultation, contact:

Tracey Kloner on 0417 258 288 or tracey.kloner@experien.com.au, or

Alex Kambos on 0406 995 432 or alex.kambos@experien.com.au

Life Insurance services are provided by Experien Insurance Services Pty Ltd

ABN 99 128 678 937. Experien Insurance Services Pty Ltd is a Corporate

Authorised Representative (No. 320626) of ClearView Financial Advice Pty

Limited ABN 89 133 593 012 AFS Licence No. 331367. General Insurance

services are provided by Experien General Insurance Services Pty Ltd trading

as Experien Insurance Services ABN 77 151 269 279 AFS Licence No.

430190.

This information is of a general nature only and has been prepared without

taking into account your particular financial needs, circumstances and

objectives. While every effort has been made to ensure the accuracy of the

information, it is not guaranteed. You should obtain a copy of the product

disclosure statement and obtain independent professional advice before acting

on the information contained in this publication.
---
doctor

THE OFFICIAL PUBLICATION OF THE AUSTRALIAN MEDICAL ASSOCIATION (NSW)

THE NSW

The Australian Medical

Association (NSW) Limited

ACN 000 001 614

Street address

69 Christie Street

ST LEONARDS NSW 2065

Mailing address

PO Box 121, ST LEONARDS NSW 1590

Telephone (02) 9439 8822

Outside Sydney Telephone 1800 813 423

Facsimile (02) 9438 3760

Outside Sydney Facsimile 1300 889 017

Email enquiries@amansw.com.au

Website www.amansw.com.au

The NSW Doctor is the bi-monthly publication of

the Australian Medical Association (NSW) Limited.

contents

Features

08

Australia Day honours

10

2016 – A turning point?

Printing by A.R. Rennie Printers, Caringbah.

Views expressed by contributors to The NSW

Doctor and advertisements appearing in

The NSW Doctor are not necessarily endorsed by

the Australian Medical Association (NSW) Limited.

No responsibility is accepted by the Australian

Medical Association (NSW) Limited, the editors

or the printers for the accuracy of the information

contained in the text and advertisements in

The NSW Doctor.

The acceptance of advertising in AMA (NSW)

publications, digital, or social channels or

sponsorship of AMA (NSW) events does not in any

way indicate or imply endorsement by the AMA.

12

New interns: record breaking year

14

Some good advice

Executive Officers 2014-2015

President Clin A/Prof Saxon Smith

Vice President Professor Bradley Frankum

Chairman of Council Dr Michael Bonning

Chair, Audit Dr Andrew Zuschmann

Chair, Hospital Practice Committee

Dr Ian Woodforth

Chair, Professional Issues Committee

Dr Michael Steiner

Director Dr Sandy Jusuf

Director Dr Kean-Seng Lim

DIT Representative Dr Danielle McMullen

16

The Good Old Days

18

The healthcare of asylum seekers

Secretariat

Chief Executive Officer Fiona Davies

Medical Director Dr Robyn Napier

Chief Financial Officer Walter Edgar

Director, Medico Legal and Employment

Relations Andrew Took

Director, Policy & Industrial Relations Sim Mead

Director, Services Kerry Evripidou

Editor

Andrea Cornish

andrea.cornish@amansw.com.au

Designer

Clarissa Cowan

clarissa.cowan@amansw.com.au

Advertising enquiries

Michelle Morgan-Mar

advertising@amansw.com.au

26

The rise of the gluten free diet

Regulars

2 President's word

4 From the CEO

6 DIT diary

28 Medico-Legal

31

Moving to greater transparency

32 Golf events

34 Members & Classifieds

36 Member services

amansw.com.au I 1
---
PRESIDENT'S WORD

Looking forward

and giving back

Starting on a new phase in your career? Whilst you

must narrow your focus to succeed, try not to lose

perspective on other aspects of your life.

Is it just me, or did other people find

that the first two months of the year just

disappeared in the blink of an eye? But

at the same time Christmas seems like a

distant memory…

The start of the calendar year means

different things to different people.

Welcome to all our new interns to the

hospital system. I had the privilege

of meeting some of you during your

orientation week. As I said at the time,

it honestly doesn't feel that long ago I

was sitting there in the group listening

to those that presented in front of me,

waiting to finally get started as a doctor.

I felt proud of myself for making it through

all those years of university – studying,

exams, cheap student living and the

occasional fun. And while I had come so

far, I understood as a new intern that this

was only the beginning of the next phase.

I remember being so tired, both mentally

and physically, during the first few

months of being an intern as I learnt

new systems at new hospitals, made

new work friendships, and could finally

afford more than an entrée with a glass

of water when going out for dinner with

friends. But it was that tiredness that

struck me at the time, so much so I

remember asking a medical registrar,

"does it actually get better, or do you just

get used to it?" After she stopped and

thought about it for a while she replied,

"I think you just get used to it." And

I think in many ways she was right.

Reflecting on it now, I realise the thing

that helps you get through all of this

is friends, family and colleagues. The

melting pot of hospitals and the hours

of demanding work force a closeness

with your colleagues who become

friends, supports, confidantes, and coconspirators

in high jinx. My advice would

be to look after your colleagues as you

are on this journey together, and together

you will not just survive but flourish.

For those who passed their fellowship

exams during the preceding year, you

are now seeing the light at the end of

a very long tunnel. The previous years

have been a constant juggle between

work, exams, study and a semblance

of normal life. Congratulations as you

too have passed through the eye of the

needle and find yourself on the other

side. I think of the fellowship exams as

an hourglass shaped ordeal; at the top

of the hour glass you have time, energy

and enthusiasm. But as you get closer

to examinations, everything funnels

together, which means you must focus

more on your career – often at the

sacrifice of other aspects of your life –

right up to the tightest point where you

wiggle and crawl your way through the

exams themselves. But once through,

this bottleneck opens up. It is now up to

you as a fellow of your college to fill in the

space. This could be with family, friends,

holidays, or perhaps you could open up

a Bollywood dance studio in your spare

time, such as a friend of mine has done.

But as you look forward to the future also

look to those around you: the colleagues

you work with; the patients you treat;

the community that we serve. We have

a wonderful opportunity to find ways to

give to others. For me, my involvement

in the AMA is my way of giving back to a

system that has given me an opportunity

of a lifetime.

I know the interns starting today have a

tough road ahead, made even tougher

by poor government planning with

regard to medical graduate numbers and

training positions. Your AMA will continue

to lobby on behalf of the profession and

the community to ensure that whether

you live in the city, a regional centre, or

the back of Bourke, we have a healthcare

system that strives to deliver quality care

to all – and critical to this is to ensure

training opportunities for current and

future junior doctors. dr.

President@amansw.com.au @drsaxonsmith www.facebook.com/amansw

Clin A/Prof Saxon Smith President, AMA (NSW)

2 I THE NSW DOCTOR I MARCH/APRIL 2016
---
Take the pain out of health fund

claiming with HealthPoint.

Commonwealth Bank now offers Australian Medical Association

NSW members on the spot claims, rebates and payments.

Commonwealth Bank provides Australian Medical Association NSW members with a new range of market

leading health fund claim solutions. Process private health fund rebates, Medicare benefits and gap

payments with one easy terminal and get your EFTPOS funds in your Commonwealth Bank account on the

same day, every day*.

Faster claims processing:

• Simplify processing: Process Medicare Easyclaim and private health fund rebates on the spot. No more

invoicing or missed payments – just fast, easy card transactions.

• Reduce admin: Cut paperwork for your patients and your practice, reducing the load on your staff, freeing

them up to focus on higher quality service.

• Faster payments: Receive your EFTPOS settlement funds into your Commonwealth Bank business account on

the same day, every day*.

• Peace of mind: With specialised training and 24/7 phone support for you and your staff, you can be

confident that you are in good hands.

To take advantage of our special rates and fees, please call

Australian Medical Association NSW on 02 9439 8822 or email

services@amansw.com.au and start saving today.

Important Information: *Available to eligible customers with a Commonwealth Bank business transaction account and a linked Commonwealth Bank eligible merchant

facility. 'Same day' includes all card sales made up to until 10pm (AEST). Third party products not included, which includes payments from Medicare and private health

funds for claims processed. Everyday Settlement applies to EFTPOS and gap payments, which are treated as normal credit/debit transactions (for Commonwealth Bank

account holders). Funds received by a practice for Medicare and private health funds claims are processed by the relevant organisation (Medicare or private health

fund) and are processed according to their timeframes. Applicants for this offer consent to their name and merchant identification being provided to Australian Medical

Association NSW to confirm their membership and eligibility for the offer. Australian Medical Association NSW may receive a fee from the Commonwealth Bank of Australia

for each successful referral. Referral Fees are not payable on referrals from existing relationship managed customers. This has been prepared without considering your

objectives, financial situation or needs, so you should consider its appropriateness to your circumstances before you act on it. Full fees, charges, amansw.com.au terms and conditions I are 3

available on application. Commonwealth Bank of Australia ABN 48 123 123 124.
---
FROM THE CEO

High

Tea

Networking for

women in medicine

SYDNEY

Saturday 12 March 2016

2:30pm to 4:30pm

Museum of Sydney

NEWCASTLE

Saturday 19 March 2016

2pm to 4pm

Newton Room (2nd floor)

Novotel Newcastle Beach

5 King Street, Newcastle

For further information and to

register contact the AMA (NSW)

Events Coordinator,

Jenni Noble, 02 9902 8140

Register www.amansw.com.au

AMA (NSW) MEMBERS ONLY

Sydney sponsors

Newcastle sponsors

Dealing with

the big issues

The AMA is working on

several fronts to support

professionals and improve

care for the community.

Occasionally this work

involves dumplings.

One of the great things about working

for the AMA is the variety of issues

we become involved in. From one

month to the next, we can go from

championing the cause of children in

detention and talking about hospital

violence, to taking doctors-in-training

out for dumplings and getting female

doctors together for afternoon tea.

The common thread through all of

these activities is the AMA's role in

helping the medical profession to be

the best it can be. As I said to our

intern members when welcoming

them to the profession in O Week, as

doctors, you have an extraordinary

capacity to make a difference in

people's lives, both the patients in

front of you and also the community at

large. Doctors have the chance to do

that because they are used to doing

what is hard. In our job as advocates

we are so often told by politicians and

policymakers that something cannot

be done because it is "too hard".

It makes me glad these people are

policymakers and not doctors.

On the topic of difficult issues, I was

pleased to represent the AMA at

the Ministry Forum on Violence in

Emergency Departments. The Forum

was convened in the wake of the

shooting of a police officer at Nepean

Hospital. The incident unleashed a

significant amount of feedback from

members about how common violence

is in our hospitals and how much it was

taken for granted and not reported. We

were pleased to support the Ministry

in starting with an audit of a number

of hospitals to see what is really

happening on the ground. However,

we also want to use this as the basis

of a broader conversation about the

violence and abuse all doctors seem to

experience, not just in EDs and wards

but also in their practices.

On a lighter note, we have our

Intern Dumpling Night. I have been

asked why we are taking DITs out

for dumplings. The answer is because

it's fun, and fun should be part of the

AMA and medicine as well. Aside from

it being fun, it's an important chance

to talk to your colleagues. Internship

can be a difficult year and it's important

to keep in contact with colleagues

and remain connected. Remembering

to eat is also important and what

better thing to eat than lots and lots

of dumplings. dr.

fiona.davies@amansw.com.au

Fiona Davies CEO, AMA (NSW)

4 I THE NSW DOCTOR I MARCH/APRIL 2016
---
Always looking after you.

" At MIGA our passion is about always

being there for our members and clients.

We offer so much more than insurance

and are committed to providing the highest

quality personal service, support and advice.

I'm proud of our team across Australia

who are here for you 24/7. "

Always the

first choice for

your medical

indemnity

insurance and

protection.

Mandy Anderson

Chief Executive Officer and Managing Director

To find out why,

visit our website

or call us on

1800 777 156

miga@miga.com.au

www.miga.com.au

Insurance policies available through MIGA are

underwritten by Medical Insurance Australia Pty Ltd

(AFSL 255906). Membership services are provided

by Medical Defence Association of South Australia

Ltd. Before you make any decisions about any of our

policies, please read our Product Disclosure Statement

and Policy Wording and consider if it is appropriate for

you. Call MIGA for a copy or visit our website.

©MIGA April 2015amansw.com.au

I 5
---
DIT DIARY

Professional perils

of social media

Recognise a patient or colleague online?

Swipe left…

Last year a resident pulled out his phone

over lunch and showed me a Facebook

friend request from his direct senior

that linked to a profile full of photos of

her in skimpy nurse and policewoman

costumes. He asked me if I thought

this was an invitation to make a move

(I thought not). Most junior doctors are

pretty well versed in the hazards of social

media posting but much of the etiquette

in this area is new territory. Cases of

doctors losing their jobs due to social

media infractions are infrequent, however

there have been notable examples such

as a medical student who was expelled

for a tweet calling Barack Obama a

'monkey' and a doctor in Broken Hill

barred from practice for both sleeping

with a patient and for discussing the

relationship and his medical details

over Facebook chat with the patient's

ex-partner.

The AMA provides excellent guidance on

how to avoid pitfalls such as breaches

of confidentiality, inadvertently defaming

colleagues and bringing the profession

into disrepute. They warn against using

mediums like Facebook (that include

personal information) to communicate

with patients. However, the complexities

of practicing medicine in the Internet

age are only intensifying. I've yet to find

advice on how to handle stumbling onto

the profile of a senior colleague on a

hook-up app as happened to an intern I

know, or what to do when you realise the

patient you're seeing is someone you've

previously chatted to on a dating service

under a screen name. That did happen

to a registrar at a hospital I worked at, he

chose to disclose their previous contact

as the patient had not yet realised they

had communicated online and offered

to refer the patient

to another team. The

patient preferred to

continue on with the current

team so as to avoid explaining the

reason for swapping to a new group

of doctors, certainly a fraught situation

to navigate.

It's awkward for a patient to see you

on a dating site or app and discover

information you would usually never

disclose, such as your sexual orientation

or idea of a perfect date. It's also

awkward for more junior colleagues to

see senior medical staff in this kind of

context and vice versa, nevertheless it's

happening. Doctors have just as much

right to use dating and social apps in

their personal time as any other private

citizen. However, we are entering an

era where it will be difficult for doctors

to maintain adequate control over

their public reputations without being

inadvertently restricted in their online

social interactions. It may not sound

like a big deal but with dating apps like

Tinder becoming increasingly popular as

efficient and safe methods of meeting

potential partners (in comparison to

old-fashioned methods like meeting

someone in a bar) doctors-in-training

who are already time poor may have

less opportunity than others to find

potential mates.

Although there's not much guidance

available as yet on how to take your

consultant seriously after you've seen

their poorly lit bathroom-selfie, the

appropriate course of action if one does

happen across sensitive information

seems to be to maintain a respectful

distance. Blurring of professional into

social relationships has always been

an issue in the hospital even if now the

danger is accidentally happening across

an online profile rather than running

into a colleague in a pub with a drink in

hand. Interaction on dating apps with

colleagues is probably best avoided

and social-media interaction with

patients should always be avoided, but

ultimately doctors do retain a right to a

personal life. It will be the work of the

next generation of professional

clinicians to strike a balance between

enjoying the expansion of social

opportunity the Internet can offer

and maintaining the standing of the

profession in the public eye. To have

the best of both worlds, reflecting on

how we are perceived online and how

we maintain work life balance, will

be key. dr.

@elizamilliken

Dr Eliza Milliken Junior Doctor

6 I THE NSW DOCTOR I MARCH/APRIL 2016
---
Let's talk about last

year's resolutions.

Don't let another resolution get you down.

doctorportal Learning is the best resource to help you get on

top of your continuing professional development in 2016.

Log on to www.doctorportal.com.au, register now, it's free for AMA members.

Find out more at learning.doctorportal.com.au

amansw.com.au I 7
---
FEATURE

Australia Day Honours 2016

AMA (NSW) would like to congratulate its members

who received honours on Australia Day…

OFFICER (AO) IN THE

GENERAL DIVISION

Professor Minas Theodore Coroneo

Vaucluse, NSW

For distinguished service to

ophthalmology, to the research and

development of innovative surgical

technologies and devices, and to

eye health in regional and Indigenous

communities.

Honourable Dr Brendan John Nelson

Bowral, NSW

For distinguished service to the

Parliament of Australia, to the community,

to the advancement of Australia's

international relations, and to major

cultural institutions.

MEMBER (AM) IN THE

GENERAL DIVISION

Dr Jay Chandra, NSW

For significant service to medicine in the

field of ophthalmology as a clinician, and

to the international community through

eye care programs.

Dr Paul Raymond Mara,

Gundagai NSW

For significant service to medicine,

particularly through the recruitment and

retention of medical practitioners in rural

and remote areas.

Dr Lyon Phillip Robinson,

Bellevue Hill, NSW

For significant service to medicine,

particularly as a pioneer in the field of

ophthalmic surgery.

MEDAL (OAM) IN THE

GENERAL DIVISION

Dr William John Houston Paradice,

Scone, NSW

For service to the community, particularly

as a general practitioner. dr.

The Hon Jillian Skinner, NSW

Minister for Health, has appointed

Dr Robyn Napier as a member

of the NSW Board of the Medical

Board of Australia.

The appointment is made under

the Health Practitioner Regulation

National Law.

AMA (NSW) congratulates Robyn

on her appointment and wishes her

well in her deliberations during her

term of office.

Dr Jay Chandra celebrated

the 10th anniversary of his

organisation The Fiji Eye

Project in July 2015.

"We have now operated on close to

1000 cases from 2006 to 2015. Almost

85% of the cataracts were operated

on by the modern technique of

phacoemulsification with rapid recovery

of visual function," Dr Chandra said.

In his years of volunteer work, Dr

Chandra said there have been many

special moments. He recalled operating

on one patient who only had light

perception vision in both eyes due to

bilateral hypermature cataracts. After

surgery, she saw her two grandchildren

for the first time.

"Her tears of joy moved us all," he said.

8 I THE NSW DOCTOR I MARCH/APRIL 2016
---
GET YOUR HEART RACING WITH LUXURY AT SYDNEY CITY LEXUS

EXCLUSIVE TO AMA MEMBERS

Discover a new level of luxury and smooth performance at Sydney City Lexus. It is with pleasure that Sydney City Lexus offer

this incomparable driving experience to you with Lexus Corporate Programme, by providing a service uniquely tailored to

our corporate clients.

PURCHASING FROM SYDNEY CITY LEXUS

WILL NOW BE EVEN MORE REWARDING

EARN

POINTS *

Earn one Qantas Point ** for every dollar

spent on the purchase of a new Lexus.

BENEFITS OF THE LEXUS CORPORATE

PROGRAMME INCLUDE:

• Three year / 60,000km complimentary scheduled

servicing *

• Four year / 100,000km warranty #

• Reduced dealer pre-delivery fee

LEXUS CORPORATE PROGRAMME

INCORPORATES ENCORE PRIVILEGES:

• Complimentary service loan vehicles and pick-up and

drop off during servicing

• Lexus DriveCare providing 24 hour roadside assistance

• Lexus Exclusive Events

• Beyond by Lexus Magazine

EXCLUSIVE TO AMA MEMBERS:

• Earn one Qantas Point ** for every dollar spent on the

purchase of a new Lexus

• Priority invitations to Sydney City Lexus

corporate events

• Dedicated Lexus / AMA Member contact person

for all enquiries

824 Bourke St, Waterloo NSW 2017

(02) 8303 1900

sydneycitylexus.com.au

*Complimentary scheduled servicing expires at 3 years or 60,000km from the date of first registration, whichever occurs first. Conditions apply. See Sydney City Lexus for further details. # Whichever occurs first. **Offer

applicable to Private and ABN buyers, who are current members of AMANSW, on all new vehicles purchased between 10th of August 2015 - 30th of June 2016. Sydney City Lexus reserves the right to extend any offer.

Excludes demonstrator and pre-owned vehicles. You must be a member of the Qantas Frequent Flyer program to earn and redeem points. Complimentary membership will be offered to customers who are not already members.

Membership and Qantas Points are subject to the terms and conditions of the Qantas Frequent Flyer Program available at Qantas.com/terms. To earn Qantas Points, Qantas Frequent Flyers must provide their membership

number. Please allow six weeks for the points to be credited to your account. Points can only be awarded on the purchase of an eligible new vehicle between the 10 August 2015 to 30 June 2016. Points paid on total net contract

price after discount but before trade-in. Visit http://www.sydneycitylexus.com.au/smallprint/amansw for full terms and conditions.

amansw.com.au I 9
---
FEATURE

2016 –

A turning point?

On the eve of the 2017 funding cliff,

the Federal Government has just

three months to deliver a Budget

that will thwart an imminent crisis

for public hospitals.

The 2016 AMA Public Hospital Report

Card might be the most important

snapshot of Australia's healthcare system

the organisation has released to date –

given that the Federal Government has

just a few months left to fix the funding

problems that threaten to cripple the

healthcare system prior to the 2017

funding cliff.

"The States and Territories are facing a

public hospital funding 'black hole' from

2017 when growth in Federal funding

slows to a trickle," said AMA President,

Professor Brian Owler.

"From July 2017, the Commonwealth

will strictly limit its contribution to public

hospital costs."

Growth in Commonwealth funding

will be restricted to indexation using

the Consumer Price Index (CPI) and

population growth only. Treasury advised

the Senate Economics Committee that

this change will reduce Commonwealth

public hospital funding by $57 billion over

the period 2017-18 to 2024-25.

With 2016 shaping up to be an Election

year, the AMA is hoping the data released

in its report will put scrutiny on the

Federal Government.

The big turning point, if there is to be one,

is the May Budget, which the AMA is

hoping will be a positive Health Budget.

"This is the Budget where it has

to be done," Prof Owler said. "This

is what makes this report so timely

and so important."

In the 2015-16 Budget, Commonwealth

funding for public hospitals was reduced

by $423 million for three years to 2017-

18. A further $31 million was cut in the

December 2015 MYEFO Budget update.

"Public hospital funding is about to

become the biggest challenge facing

States and Territory finances – and the

dire consequences are already starting

to show."

The AMA Public Hospital Report Card,

released in late January, revealed the

performance of public hospitals is virtually

stagnant, and even declining in key areas.

According to Prof Owler, the

disappointing results are a direct

consequence of reduced growth in

the Commonwealth's funding of

public hospitals.

The report shows bed number ratios have

deteriorated; waiting times are largely

static, with only very minor improvement;

Emergency Department waiting times

have worsened; the percentage of ED

patients treated in four hours has not

changed, and is well below target;

and elective surgery waiting times and

treatment targets are largely unchanged.

"This is the

Budget where it

has to be done,"

Prof Owler

said. "This

is what makes

this report so

timely and so

important."

KEY FINDINGS

Hospital bed to population

numbers have remained constant

over recent years, while there has

been increasing demand for

hospital services.

Nationally, only 68% of emergency

department patients classified

as urgent were seen within the

recommended 30 minutes.

In 2014-15, no State or Territory

met the interim (2014) or final

(2015) National Emergency

Access Target of patients

being treated within four hours.

Performance in Victoria and

Western Australia was below their

2013 targets, and performance

in South Australia, Tasmania, the

Northern Territory and the ACT

was below their 2012 targets, with

the Northern Territory performance

in 2014-15 failing to meet their

baseline for this target.

10 I THE NSW DOCTOR I MARCH/APRIL 2016
---
57

Elective Surgery – Waiting times

Median waiting time for elective surgery (days) - NSW

"Public hospital performance has

not improved overall against the

performance benchmarks set by

all Governments."

In NSW, the report indicated the

State was falling short in three

of the five key performance

benchmarks. Elective surgery

waiting times have increased to

more than 52 days. While the

figures found that more than 75%

of urgent patients were seen

within the recommended four-hour

waiting time – unchanged from

last year – it is still short of the

90% target.

Longer wait times in emergency

departments and for elective

surgery has far reaching affects on

patients' health, Prof Owler said.

"When people wait longer in

emergency departments, it's

not an inconvenience. We know

that overcrowding and long wait

times in emergency departments

are associated with increased

morbidity and even mortality. That

is, people actually have more

complications if they're all stuffed

into an emergency department

and not receiving the appropriate

care in the appropriate part of the

hospital. So, this is more than just

an inconvenience, and obviously

people waiting on elective surgery

lists – it might be for something

like a hip or knee replacement, it

might be for cancer surgery. But

when people wait long periods,

obviously their condition can

deteriorate, and if people aren't

able to exercise or walk, they

often put on weight, they get

cardiovascular disease, diabetes,

and so they end up in the much

worse shape by the time they

actually do get their procedure." dr.

52

47

42

37

32

27

100%

90%

80%

70%

60%

50%

2001/

2002

2002/

2003

2003/

2004

2004/

2005

2005/

2006

2006/

2007

2007/

2008

2008/

2009

2009/

2010

2010/

2011

2011/

2012

Sources: AIHW elective surgery data cubes (2001-02 to 2006-07); AIHW Australian

Hospitals Statistics: elective surgery waiting times (2007-08 to 2014-15)

National Emergency Access Target (NEAT)

Percentage of emergency department visits completed in four hours or less - NSW

Baseline

40%

2011/12 2012-13 2013-14 2014-15

Source: Australian Hospitals Statistics 2011-12 to 2014-15: emergency department care (AIHW)

State and Territory Performance - Summary

State/

Territory

Improvement

in Emergency

Department

waiting

time - urgent

(category 3)

2014-15

Met

National

Emergency

Access

Target

(NEAT)

2014+

Improvement

in Elective

Surgery

waiting time

2014-15

Met

National

Elective

Surgery

Target

(NEST)+*

2014

Improvement

in Elective

Surgery

Category 2

admission in

90 days

2012/

2013

Target

2013/

2014

2014/

2015

MYEFO 2015-

16 increased

Commonwealth

funding for

2015-16

over Budget

2015-16

NSW ✘ ✘ ✘ ✔ ✔ ✘

VIC ✘ ✘ ✔ ✘ ✔ ✔

QLD ✘ ✘ ✔ ✘ ✔ ✔

WA ✘ ✘ ✘ ✘ ✘ ✔

SA ✘ ✘ ✘ ✘ ✘ ✘

TAS ✘ ✘ ✘ ✘ ✘ ✘

ACT ✘ ✘ ✔ ✘ ✘ ✘

NT ✔ ✘ ✔ ✘ ✘ ✘

+ Targets are set on a calendar year basis; performance as reported by AIHW. AIHW reported elective surgery

Category 2 performance for financial year 2013-14 but data for the period 2010-11 to 2011-12, and January

to June 2013 has not been published. Elective surgery Category 2 year on year performance is graphed for

each State and Territory below, excluding these periods.

*Treating patients within clinically recommended time – Category 2 (within 90 days)

amansw.com.au I 11
---
FEATURE

RECORD

YEAR FOR

INTERNS

This year's group of interns is another record-breaker in NSW, as nearly

1000 graduates embark on their medical careers. The AMA (NSW) /

ASMOF (NSW) Alliance welcomed the new doctors to the state's health

system in late January.

12 I THE NSW DOCTOR I MARCH/APRIL 2016
---
The number of interns in 2016 is a slight

increase over last year, with 983 finding

places in NSW compared to 980 in 2015.

"It's a good thing that this is another

record cohort, as it will help NSW

solve its doctor shortage and help the

system cope with massive demands in

healthcare," said Dr Danielle McMullen,

Chair of the Doctors-in-Training

Committee (DITC).

The Alliance visited every teaching

hospital in the state to meet with interns

during Orientation Week and discuss the

advantages of becoming a member. This

is the fourth year of the AMA (NSW) /

ASMOF (NSW) Alliance and its reputation

for providing assistance to junior doctors

is growing.

Doctor representatives highlighted some

of the big wins the Alliance has had for

DITs in recent years.

Since July 2013, ASMOF (NSW) has

helped DITs recover approximately

$4 million in wages for ADOs, long

service leave, maternity leave, meal

breaks, overtime and call-backs,

and assisted DITs when an alleged

overpayment has occurred.

The Alliance is also in the process of

renegotiating the Award to improve

conditions for doctors-in-training at

NSW hospitals.

"It's important to ensure sound industrial

protection for junior doctors, and that's

why ASMOF has prioritised renegotiating

and improving the doctors-in-training

Award," Dr McMullen said.

Meanwhile, AMA (NSW) has been at

the forefront of the battle to ensure all

medical graduates get an intern place.

Together with AMSA, we have been

successful in persuading the NSW

Government to guarantee an intern place

for all domestic graduates. AMA (NSW)

has also lobbied the Federal Government

to fund additional intern places for

overseas students.

The focus has now shifted to ensure

there are enough college positions.

During the 2015 NSW election

campaign, the State Government

agreed with AMA (NSW)'s requests

to fund 60 new registrar positions

over the next four years.

Despite the boost, more work is

needed in this area.

"A doctor's medical training does

not begin and end at university,"

Dr McMullen said. "We continue our

training throughout our careers and the

interns have two major bottlenecks and

many years ahead of them before they

are the specialists and GPs we need.

"Governments, both State and Federal,

need to work together to ensure that

adequate training places are available to

make sure all interns can complete this

on-the-job training."

In December last year, following pressure

from the AMA, the Federal Government

committed $94 million to support regional

training in its Mid-Year Economic and

Fiscal Outlook (MYEFO).

As part of the new rural health workforce

initiatives, the Government committed

to the creation of a new Integrated Rural

Training Pipeline that will help to retain

medical graduates in rural areas by

better coordinating the different stages of

training within regions.

There are three components to the

new initiative, including 30 new regional

training hubs, over $10 million per

year into a new Rural Junior Doctor

Training Innovation Fund and a targeted

expansion of the Specialist Training

Programme to provide up to 100 new

training places in rural areas.

The other major area of concern

that the Alliance is continuing to

address is bullying and sexual

harassment in medicine.

"I want the interns of 2016 to know

that there is help available if you find

yourself being bullied or harassed and

that with all the focus on the issue,

access to that help is going to get

easier," Dr McMullen said.

The Alliance is lobbying the Government

to adopt specific processes for junior

doctors, and for those members

experiencing problems we can provide

confidential and expert assistance. dr.

INTERNSHIPS BY HOSPITAL

SYDNEY HOSPITALS

Auburn 10

Balmain 3

Bankstown-Lidcombe and Camden 46

& Campbelltown

Blacktown-Mount Druitt 42

Blue Mountains 3

Calvary Healthcare Sydney 2

Canterbury Hospital and Concord 42

Repatriation General Hospital

Liverpool and Fairfield hospitals 51

Hornsby 35

Nepean 50

Hawkesbury District Health Service 6

Prince of Wales 36

Royal North Shore 44

Royal Prince Alfred 46

Ryde 11

St George 43

St Vincent's 29

Sutherland 24

Westmead 70

RURAL AND REGIONAL HOSPITALS

Albury 5

Armidale 3

Bathurst 5

Belmont 12

Bulli 4

Calvary Mater 22

Broken Hill 3

Coffs Harbour 19

Dubbo 12

Griffith 2

Gosford 35

John Hunter 51

Lismore 14

Maitland 6

Manning 6

Orange 17

Port Kembla 1

Port Macquarie 16

Royal Newcastle Centre 2

The Mater – HNE Mental Health 5

Shellharbour 4

Shoalhaven 7

Tamworth 18

Tweed Heads 18

Wagga Wagga 22

Wollongong 49

Wyong 26

amansw.com.au I 13
---
FEATURE

Some good advice

In recognition of Orientation Week - The NSW Doctor asked several

doctors to share the best advice they ever received as an intern.

PHONES AND FAST FOOD

Always make time for mealbreaks,

but learn to eat quickly. And

never answer a ringing phone at a

nurses' station. It's not for you. If

they want you they'll page you. If

you do answer the phone you'll be

stuck trying to find whoever they

did want!

Dr Andrew Zuschmann

DO WHAT YOU LOVE

The best advice I received as an intern was to find the area of medicine that I

absolutely loved doing and go for it. You will spend many, many hours doing

this job over the coming years. A good proportion of these hours will be very

inconvenient for you and your family. It helps if you love your job! You will train

with enthusiasm, work with commitment and have great job satisfaction. It's

been 18 years since I started my internship and I still think that same message

applies today. If you love your job, you will be good at it and people will want to

work with you.

Dr Fred Betros

SOS

No one expects you to diagnose a

patient correctly. What you do need

to know is when someone is sick

and CALL FOR HELP!

Dr Sandy Jusuf

OPEN HEART

The best advice I received from my

mentors was to practise medicine

with humility and make a conscious

choice to sit at the bedside of

patients when doing ward rounds,

and to open my heart to their

spoken and unspoken fears.

Dr Sergio Diez Alvarez

EAT, SLEEP, WORK,

REPEAT…

I clearly remember one piece of

useful advice from when I started

as an intern when shifts were long:

Eat as much as you can as soon

as you can, and sleep as much as

you can as soon as you can.

Dr Ian Woodforth

THE BUCK STOPS…THERE

It was a long time ago, but I do remember being told by either a registrar or consultant, "Just remember the buck

doesn't stop with you" (even though it sometimes felt it did), and another was "there's no such thing as a stupid

question" – if you're unsure about something ask.

Dr Jonathan Gibson

Medical school prepares you with cognitive and practical skills, but it is impossible to

fully prepare for the impact of working long hours plus overtime, the demands and

stress that come with your new responsibilities and the toll on your personal life.

It can be difficult to talk about these issues, but you're not alone. For more information,

please visit www.jmohealth.org.au, a website created to promote the health and

well-being of junior doctors. The site includes self assessment tools, information on

common problems, and ideas on how to reduce stress. There are also resources

available if you need help. dr.

14 I THE NSW DOCTOR I MARCH/APRIL 2016
---
2016

AMA/ASMOF Alliance

MENTORING

PROGRAM

Bringing doctors together

APPLICATIONS NOW OPEN FOR INTERNS, STUDENTS & MENTORS

For more information please contact Michelle Morgan-Mar

9902 8143 or email michelle.morgan-mar@amansw.com.au

amansw.com.au

A joint initiative of ASMOF (NSW) and AMA (NSW)

amansw.com.au I 15
---
OPINION

The Good Old

Days of sunburn

and cancer

Could it be that decades of research have shown

that UV rays are in fact quite harmful? Heavens,

no, don't be silly. The FUN POLICE are just

trying to ruin everything with their sunscreen and

legionnaire's hats, writes Deirdre Fidge.

The vaguest time period in international

history is referred to as the Good

Old Days.

Cloaked in mystery, it is uncertain

when exactly the world was blessed

with these years.

Historians have been scratching their

heads, scouring books and eating tuna

sandwiches (unrelated) for years, trying

to pinpoint the exact moment the Good

Old Days began.

Despite the fact that they cannot seem

to find the precise era, there's one

thing everyone can agree on: it was

the greatest time ever.

The Good Old Days were happier.

Everything was easier. There were

no rules, less science, and everyone

had a grand old time being void of

political correctness.

Back in my day, we'd be out all day

getting second-degree burns and tumble

home at midnight, after contracting

several easily preventable diseases due

to being unvaccinated. What a hoot.

Before "stranger danger", kids were sent

off on their own to the local milk bar

where they could get an iced treat for

a thruppence, or even less if we let the

kindly owner touch our front-bums.

Seatbeats are an absolute joke. In the

good old days, having a car accident

and flying through the windshield was

a badge of honour! Seven kids didn't

make it to graduation and now reside

in nursing homes due to quadriplegia,

and they are heralded as heroes at each

school reunion.

Back in my day, nobody cared about

health or nutrition. It was great! Mum

didn't cook; instead she created a

gruel-like combination of crushed Four

N Twenty meat pies and tobacco.

She would fling the mixture at our faces

and we would eat whatever clumps

made their way into our mouths.

16 I THE NSW DOCTOR I MARCH/APRIL 2016
---
Such fond memories.

These simple joys my children will never

know. They cannot hear the outside

world, for they are wrapped in seven

metres of bubble wrap.

There is no outside, I whisper to my

son, and place another blanket over his

bubbly body.

So what has changed? When did

the Good Old Days become the

Boring Present?

Could it be that science and decades of

research have shown that UV rays are in

fact quite harmful and cause various skin

cancers? Heavens, no, don't be silly. It's

that gosh darn FUN POLICE.

Australia and New Zealand have the

highest rates of skin cancer in the world,

and in 2011, skin cancer was the cause

of over 2000 deaths.

Nobody is arguing that cancer is fun, but

taking simple steps to prevent ill health

isn't ruining your freedoms.

"Uh oh, here comes the FUN POLICE!"

shouts a libertarian, busy lighting the

fireworks atop his toddler's birthday cake.

"Why do the SAFETY STASI have to

RUIN EVERYTHING?" asks a busy mum,

riding helmetless down a freeway with

her newborn strapped to her chest.

"They're just a pack of GOODTIME

ASSASSINS," they declare, cutting down

the pool fence because fun knows no

boundaries. Hop in, baby Kira, the water

is warm!

Who are these supposed fun police that

are lambasted constantly? It's actual

medical professionals and specialist

researchers such as the Cancer Council.

It seems to be easier to complain about

political correctness gone mad than

accept that basic precautions can

improve our health and safety.

Maybe it's boring to look after yourself

and think about consequences. Maybe

it's not fun to slop some sunscreen on

your back or pop on a legionnaire's hat

(the most fashionable of hats).

But it's smart.

These days, if anyone's gone mad it's

the person bragging about her peeling

sunburn. That's just bonkers.

Deirdre Fidge is a Melbourne-based

comedian, writer and social worker.

This article originally appeared on

ABC's The Drum. dr.

Professional

Professional

Transcription

Solutions Pty Ltd

Australia's Most Trusted

Teaching Hospital and Private

Practice Transcription Provider

Web-based - Dictate and receive reports

from anywhere

Double-edited with over 99.5% accuracy

Fast Turnaround within 24 - 48 hours, as required

All medical and surgical specialities covered

in Australia's largest teaching hospitals

Rapid documentation of recorded

HR interviews, Research and Expert Reports

Guaranteed cost savings

Data held securely at a State Government

accredited data centre

Free PTS IPHONE/Android App to dictate and

securely upload to our server

Call our friendly staff anytime for your overflow,

backlog or all of your typing or data entry requirements

Call us now for a free no obligation trial

Free Olympus voice recorder for AMA (NSW)

Members (Conditions Apply)

Contact us now:

1300 768 476

Deirdre Fidge's column references an

article that ran in the Herald Sun on

26 January 2016 'Political correctness

has stolen our kids' identity' in which

the author, Elise Elliott, fondly recalls

the ubiquitous annual sunburn.

"What's an Aussie summer without

a second-degree skin peel? Back in

the good old days there was no such

thing as Sun Protection Factor. It was

called sun-tanning lotion; Reef Deep

Suntan Oil if you were posh."

AMA (NSW) President, Clin A/Prof

Saxon Smith's tweets following

Ms Elliott's article highlighted the

importance of being sunsafe and were

widely liked and retweeted.

Email : marketing@etranscriptions.com.au

Web : www.etranscriptions.com.au

amansw.com.au I 17
---
FEATURE

HEALTHCARE

AMA urges

for asylum seekers

AMA President, Professor Brian Owler delivered this speech at a forum

held in Sydney in February reiterating the AMA's concerns for infants and

children being held in immigration detention centres, and calling for all

asylum seekers to have access to quality healthcare.

There are times, in any nation, where

the medical profession must act in the

interests not only of our patients as

individuals, or for patients in a health

system, but it must act in the national

interest. Doctors, along with nurses,

lawyers and others, must lead a debate

on an issue of national importance.

I believe that is the case when it comes

to the issue of children in detention and

Australia's provision of health care to

asylum seekers.

We should all be proud of the stand

that our colleagues have taken. Doctors

at the Royal Children's Hospital in

Melbourne and, of course, more recently

at the Lady Cilento Hospital in Brisbane

have refused to release children from

hospital because they would be returned

to detention.

Some commentators have seen this

as a form of political protest. But as a

doctor working in a paediatric hospital,

who deals with the consequences of

physical abuse, I know that there is

no reasonable other option for these

doctors and nurses to take. There is an

absolute ethical, not to mention moral,

obligation to that patient who is in their

care. The obligation is to not release a

child back into a situation where they

have reason to believe that there is a

risk of harm, whether that be physical or

psychological.

Let me say that it is not an issue of

denying someone else a bed for elective

18 I THE NSW DOCTOR I MARCH/APRIL 2016
---
procedure. The obligation of that

hospital, of those doctors, and nurses, is

to the patient that is under their care. To

those doctors and nurses, and indeed,

the State Governments and hospital

administrators who have supported

them, let me say you have our support.

Last night I became aware that lawyers

for Baby Asha had been refused access

to her mother. This communication

blackout usually precedes a transfer.

It was reported that guards were to

forcibly remove Baby Asha from Lady

Cilento Hospital against medical advice.

I was shocked. I made a number of

calls. Bill Shorten did call Prime Minister

Turnbull to seek reassurance that this

would not happen.

As I said last night, security guards

entering a hospital to forcibly remove a

patient would be unprecedented in this

country. It a line that cannot be crossed.

If crossed, there is no return.

Although there was reassurance

nothing would happen last night,

it seems that the reprieve may be

temporary. You have to ask why the

Department of Immigration and Border

Protection is pulling apart the moral

fabric of this country!

So, is there is a reason to believe that

a child would be at risk? Well, that

question has already been answered.

The 2014 Report of the Human Rights

Commission: The Forgotten Children

clearly documents the harms that

children experience as a result of

mandatory detention.

On that note, I acknowledge Professor

Gillian Triggs and acknowledge the

work that the Commission has done to

highlight these issues.

The Report documents that the rates

of mental health disorders were

significantly higher compared with

children in the Australian community.

These findings included cases of selfharm

by young children. Children being

detained on Nauru are suffering from

extreme levels of physical, emotional,

psychological, and developmental

distress. The results of this national

inquiry could not be more clear.

As noted in the Report, both former and

current Ministers at that time agreed that

holding children for prolonged periods

in detention does not deter people

smugglers. I acknowledge that the then

Minister for Immigration, Scott Morrison,

did reduce the number of children in

detention significantly. But today there

are still 67 children on Nauru.

What is just as concerning is the plight

of 80 other children, including 37 babies

who, as a result of the recent High Court

decision, are inexplicably about to be

sent back to Nauru. And inexplicable it is.

In fact, the Human Rights Commission

Report noted that there was no rational

explanation for the prolonged detention

of children. The fact of the matter is

that prolonged detention of children is a

State-sanctioned form of child abuse –

and we call for it to stop.

Immigration has enriched our society.

That includes those who have come

by boat, those who have fled wars

and persecution.

I know of one young boy who fled

his country by boat – stuffed on an

overloaded boat, he became unwell

and almost died.

The boat was seized and he was

returned to his homeland, where he and

his family were jailed. They fled again by

boat, reaching Australia, where he and

his family this time were sponsored by a

local family.

This is a story that is similar to any of

those children who are in detention

now. The difference here is that he

was Vietnamese and it was the 1970s.

He and his family were embraced by

Australia. He grew up to become an

anaesthetist. I am proud to have had him

as my anaesthetist for 10 years.

There are many other examples of the

contribution that asylum seekers have

made to Australian society.

In the theatre next to mine at Norwest

Hospital is a man who started his journey

as a young Iraqi doctor working in Iraq

during the Saddam Hussein regime. He

fled Iraq when his senior doctor was

shot dead in the car park by soldiers

for refusing to cut the ears off deserting

soldiers. He fled to Malaysia and then

Indonesia, and came here by boat. He

spent months in Curtin detention Centre,

where he was treated appallingly. When

he was finally released, he completed

his orthopaedic training and joined our

defence force. He is an expert in osseous

integration, and has given many British

soldiers, who are double amputees as a

result of military injuries, the ability to walk

again. In fact, when Prince Harry was

here recently, he made a special visit to

him and to see his work. I am proud to

call him a colleague and friend.

I am aware of many others who are

among the brightest and the best of

our profession who did not start life

amansw.com.au I 19
---
with privilege, but fled in fear of their

lives seeking asylum in Australia, where

they found safety and made a home.

They have enriched our country, and

we should be proud to have them as

Australian citizens.

Detention is not just harmful to children.

The same psychological consequences

occur for adults, particularly when

detention is prolonged and seemingly

indefinite. When people are detained

for whatever reason, they have a right to

the provision of an appropriate level of

health care.

The AMA's policy is clear. It is the AMA

position that all asylum seekers and

refugees under Australian care should

have access to the same level of health

care as Australian citizens. In addition,

it should be ensured that their special

needs, including their cultural, linguistic,

and health-related needs, are addressed.

In October last year, at its 66th Annual

Assembly in Moscow, the World Medical

Association issued a Resolution on the

Global Refugee Crisis. It emphasised

the damage to one's health imposed

by becoming a refugee, and called

on nations to play their part in the

immediate care and support of these

vulnerable people.

You have heard from our esteemed

colleagues how, from their direct

experience and observations, Australia's

treatment of asylum seekers could not be

considered acceptable.

The defence of this situation, even from

the Secretary of the Department of

Immigration and Border Protection, has

been that there are places in Australia

where Indigenous people do not have

access to the same level of services.

Actually, having returned from remote

communities in Central Australia

yesterday, that may be true for

Indigenous people living in remote

communities.

Even so, it is not a defence; if anything

it is an indictment on the health care

provided to our own Indigenous people.

As President of the AMA, I have been

approached by concerned doctors and

advocates about particular cases. The

case of an otherwise healthy 24-yearold

Iranian asylum seeker who died of a

treatable condition stands out.

This man presented with early sepsis

while in detention on Manus Island. He

had a temperature of over 40C, he was

tachycardic, and hypotensive. He was

started on antibiotics. He developed

cellulitis and, over the next 24 hours,

another antibiotic was instituted - but his

symptoms did not settle. It was decided

that the patient should be transferred

for inpatient care at Port Moresby the

following day on a commercial flight.

He was to be escorted by a doctor

who was travelling on the same flight.

The following morning, at 10.30am, the

request was made for approval for the

transfer, and he was booked on the flight.

At 3.30pm, there was still no approval

and the transfer was therefore cancelled.

That night, the patient deteriorated

and developed septic shock with adult

respiratory distress syndrome. He

was saturating at only 77 per cent. An

emergency evacuation was arranged

through International SOS. He was

transferred from Manus Island to PNG

Pacific Private via air ambulance. He

was not intubated for reasons that are

unclear. The patient was saturating at

60 per cent, and was unconscious on

arrival at the ED at Pacific Private in

Port Moresby.

There was apparently no warning to the

hospital that the patient was arriving, and

a further hour and half passed before the

patient was intubated and resuscitated.

By this time, the patient was brain dead.

He was transferred to the Mater Hospital

in Brisbane where this was confirmed,

and treatment was later withdrawn.

The death was referred to the

Queensland Coroner. A report was

also prepared by the Department of

Immigration and Border Protection. This

latter report has not been released to the

public. The fact is that this young man

should never have died. He should have

been treated. If he had had access to

appropriate treatment in a timely manner,

he would still be alive today.

However, the overall attitude may be

summed up by the following report

from the Sydney Morning Herald, which

quotes a leaked report by a service

provider on the Island:

20 I THE NSW DOCTOR I MARCH/APRIL 2016
---
The AMA's policy is clear. It is the AMA position that all asylum seekers and

refugees under Australian care should have access to the same level of

health care as Australian citizens. In addition, it should be ensured that their

special needs, including their cultural, linguistic, and health-related needs,

are addressed.

"It is likely some Iranian transferee

will spread malicious rumours about

GDD059's death to further their own

personal agendas, as well as to exploit

unrest to further their own agendas and

standings amongst their countrymen."

When you have people in isolated tropical

locations under these conditions, people

will have significant health problems. It is

not possible to provide the level of care

that Australian citizens would expect

when you are on an island as isolated

and remote as Manus Island or Nauru.

Keeping people in such locations when

they are sick places these people at risk

of death.

More recently, I was asked to look into

three different cases about which doctors

and advocates had raised concerns.

A 70 year old who had been an inpatient

in PNG Pacific Private in Port Moresby

for seven months was returned to

Manus Island detention facility where

he then waited 20 days for a doctor's

appointment.

His diagnosis was described as being a

heart condition with high blood pressure.

His legs, of which I was provided pictures

by an advocate, were grossly swollen

and oedematous. He was only able to

stand or walk for a few minutes. It turns

out that he has TB pericarditis, and he

was obviously in gross cardiac failure.

A young man who complained of

headaches was investigated and found

to have a small pituitary tumour on an

MRI performed in Port Moresby. He has

not had a full panel of blood tests as

anyone in Australia would normally have.

His eyesight reportedly deteriorated,

and he complained of more severe

headaches. He was transferred back

to Manus Island where he was seen by

an endocrinologist by teleconference,

who prescribed a two-year course

of medication. An eye review by an

optometrist was to be conducted within

six months.

We were last told that he had not

received any medication, because the

doctors were unsure if he wanted to take

it. Therefore, it had not been ordered for

the island.

Finally, another man appears to have

deteriorating mental health with PTSD

and depression. He was witness to a

brutal murder, for which two former

detention facility workers have been

charged. He remains in the same

environment where the event occurred

that started his PTSD. Is not removing

him from such an environment the most

logical and basic step that could be

taken to assist this man?

It is not appropriate to keep these

patients on Manus Island or Nauru. They

need proper investigation and treatment.

They need health care.

I have written to Minister Dutton in

relation to these cases, and I have met

with Dr John Brayley, who is the Chief

Medical Officer and Surgeon General of

the Australian Border Force. Dr Brayley

was unaware of most of the cases we

raised with him.

And, consistent with the culture of

secrecy that I have described, at

every step of the process there were

barriers and obstacles imposed that

made transparent health care almost

impossible.

First, these asylum seekers needed to

provide me with a signed and scanned

consent form, but the Department

couldn't tell me if they have access to

scanners on Manus Island. Their own

health records were eventually provided

to the detainees after some delays,

but they were on computer discs. The

Department couldn't tell me if they had

access to the appropriate IT to read

them. When I was eventually provided

with these heath records, they were

also on a disc. Only it was password

protected - and the Department didn't

supply the password.

As a result of this process and our

intervention, I am pleased to say that Dr

Brayley recommend urgent transfer of the

man with TB pericarditis to the mainland.

I want to say that I believe Dr Brayley is

a good man. He has done great work

in his previous roles, but he is clearly in

an impossible situation. It took a week

of emails and calls, but this sick man

was eventually transferred. I don't know

where to, or what the outcomes are, but

I am told that he has been removed from

Manus Island.

The concerns about the other patients

remain, but this process also highlighted

two other major concerns. First, it took

the President of the AMA to write to

the Minister for Immigration, arrange

an appointment with the Chief Medical

Officer, and provide health records and

photographic evidence, before action

was taken. That is not open, transparent,

and appropriate health care.

It is also absolutely wrong that the

decision on transferring this asylum

seeker for urgent treatment was not

made by medical practitioners, but by

IHMS. It was not the ABF's Chief Medical

Officer who made the decision. He could

only make the recommendation.

So, when the Government and the

Minister say asylum seekers enjoy the

same level of health care as ordinary

Australians, that is simply not true.

amansw.com.au I 21
---
In Australia, when a doctor makes a

clinical recommendation, including

medical transfers involving significant

distances, a request does not need to

be made to the Department of Health

for clearance.

Recently, the Department of Immigration

told the Senate Estimates hearing that

they decide who is transferred, not the

Chief Medical Officer, or the treating

physician. Doctors should not only

exercise their professional judgment in

the care and treatment of their patients,

but they must be able to speak out

about unjust, unethical maltreatment of

asylum seekers without persecution

or prosecution.

Rather than a culture of clinical

independence and transparency, we

have the Border Force Act – a piece

of legislation that was passed with the

support of both the Coalition and Labor,

but opposed by the Greens.

The AMA is rightly concerned about the

restrictions contained in the Border

Force Act.

Despite the Government's claims that

the intent of the Border Force Act is

not to prevent doctors from reporting

publicly on conditions in detention and

regional processing facilities, the AMA

has received legal advice that does not

reassure us.

There are provisions in the Border Force

Act that are unnecessary and shouldn't

apply to healthcare workers. The

legislation must be amended to make

it absolutely clear that it does not apply

to doctors or nurses working in

detention facilities.

It is imperative that medical practitioners

working with asylum seekers and

refugees put their patients' health

needs first. And, to do this, we must

have professional autonomy and

clinical independence without undue

outside pressure.

Apart from the Border Force Act, in

December 2013, the Abbott Government

disbanded the Immigration Health

Advisory Group. This group, known as

IHAG, consisted of independent doctors

who were able to access and assess

the medical care of asylum seekers

in detention. It was transparent, and

provided advice to Government.

There has been no replacement. Instead,

when this was raised with the previous

Minister, we were flatly told that internal

advice was available, and there would be

no such group established.

The AMA has continued to call for the

establishment of an independent panel

of doctors and other health professionals

who can provide independent advice

to Parliament, and who can report in a

transparent manner on health-related

issues.

At the end of the day, if Minister Dutton

and the Department of Immigration and

Border Protection believe that the care

and treatment of asylum seekers is at a

level that is appropriate, then why should

they oppose this level of transparency?

Let me say that the game is up when

the Nauruan Government cancels tourist

visas for Australians and New Zealanders

because they might see something that

could be reported.

Refugee and asylum seeker policy is

complex. It is also highly political. Both

the Coalition and the ALP know that

elections have been won and lost on

this issue.

A narrative that creates fear among the

public by confusing the plight of asylum

seekers with the issues of security and

terrorism has helped to reinforce support

for the Government's policy.

The dehumanisation of the asylum

seekers by Minister Dutton and others

referring to these people as 'illegals',

combined with cloaking them in secrecy

in offshore processing, has made it more

difficult for the Australian public to identify

with these people.

The predominance of mental health

conditions among the problems of

22 I THE NSW DOCTOR I MARCH/APRIL 2016
---
detainees, including among children,

does not seem to convey the same

sense of seriousness as it might if the

problems were physical.

A question has to be asked about the

apparent pervasive indifference to mental

health conditions despite the promotion,

discussion and apparent progress that

has been made in this area.

Somehow, these asylum seekers seem

less worthy. The Syrian asylum seekers

that we can see arriving in Europe or

waiting in Turkish refugee camps seem

more human and in need of help.

I was pleased at the announcement

that Australia was accepting 12,000

more Syrian refugees, but disappointed

that the same indifference to the

asylum seekers in offshore processing

centres remains.

It should be noted that only 26 of

the 12,000 refugees have actually

been accepted.

There is no doubt that hundreds of

people died at sea while trying to reach

Australia. No one wants that situation to

arise again.

But, as I mentioned previously, there

is widespread acknowledgement that

the detention of children has no impact

on the actions of people smugglers.

It is also no excuse for the lack of

transparency and inadequate provision

of health care to the asylum seekers for

whom Australia has a responsibility.

The issue of a boycott in terms of

providing services to detention facilities

by Australian doctors has been raised

a number of times. I don't agree that is

the way forward, not just because IHMS

will recruit from overseas, as it is already

doing, but for simple reasons.

for these people because that is what

doctors do.

If we want to change the Government's

approach, it must be through the weight

of public opinion. Australians need to

understand that this is not an argument

based on political ideology.

Rather, it is an argument based on our

Australian identity, not just in terms of

how the rest of the world sees us, but

how we see ourselves. It is based on the

prevention of harm, the welfare of our

patients as people but, most importantly,

it is based on compassion. It is the right

thing to do.

There will be some who might wonder

why the AMA has spoken out so strongly

on this issue.

As doctors, we care for all people,

without regard to race or creed, without

regard to where they come from. That is

a basic moral tenet of our profession.

My message to the Government and

to the Labor Party is this: You need

to listen to doctors, nurses, and other

health practitioners - particularly the

experts in the fields of psychiatry and

children's health.

People are being moved in the middle of

the night without notice; under a cloak of

secrecy and intimidation.

Denying people access to the legal

representatives. Threatening to forcibly

remove a baby from Hospital against

medical advice. Our colleagues are

being intimidated. It is being done by the

Australian Government, and it is being

done in our name. This is happening

now. It is occurring during our time.

It's time for all of us to listen to our

conscience. To give a voice to our better

angels. It's time to say that this is not

what Australia is, it is not what Australia

stands for, and we want it to stop.

Colleagues and friends, it is a simple

truth that asylum seekers are people like

me, like you.

They are no different. Just as our friends

and colleagues came here seeking

asylum for themselves and their families,

to escape persecution and death, so are

these people.

But, just like all of the other wrongs,

Australia's detention of children and

our treatment of asylum seekers is

indefensible because it fails the one

true test.

The AMA is calling for the following:

• A moratorium on asylum seeker children being sent back to detention

centres.

• The immediate release of all children from both offshore and onshore

detention centres into the community where they can be properly cared for.

• The establishment of a transparent, national statutory body of clinical

experts, independent of government, with the power to investigate and

report to the Parliament on the health and welfare of asylum seekers and

refugees.

• If the Government or Opposition cannot provide satisfactory health care to

people seeking asylum, then their policies should be revisited.

Provision of medical treatment to asylum

seekers is not condoning the system or

being complicit. Far from it. Rather, it

is what doctors and nurses always do.

They put the patient first.

As I said at the National Press Club last

year, it would not matter what we said

on this issue. Doctors would go and care

Australia, to me, represents democracy,

freedom, openness, and accountability.

A fair go and honesty are sources of

national pride.

The reality is that children, and adults,

are being subjected to physical and

emotional harm.

That test is how we love and care for our

fellow man and woman, and particularly

how we love, care, and nurture the

children of this world. dr.

amansw.com.au I 23
---
NOTICE

Notice Of Annual General Meeting

Notice is hereby given that the Annual Meeting of the Australian Medical

Association (NSW) Limited will be held at 7pm on Tuesday 10 May 2016

in the Conference Centre, Ground Floor, AMA house, 69 Christie Street,

St Leonards.

AGENDA

• To receive and adopt minutes of the Annual Meeting, 5 May 2015.

• To receive and consider the Report of the Board of Directors.

• To receive and consider the Financial Report for the year ended 31 December

2015, the Statement of Financial Position at that date and the Auditor's

Report thereon.

• To call for nominations for the Positions of Officers of the Association.

• To appoint a Returning Officer for the election of the Officers of the Association.

• To transact any other business in conformity with the Constitution of

the Association.

• Address by the President.

• To consider, and if thought fit, to pass Special Resolutions:

1. AMENDING CLAUSE 35.1, 35.1(x), 35.3 - COMPOSITION OF COUNCIL

• Clause 35.1 to be amended to increase the number of Councillors from 29 to 34;

• Clause 35.1(x) to be amended to increase the number of Councillors in the

Unrestricted General Member Class from six to 11;

• Clause 35.3 provides for three terms on Council (as opposed to six) and the

exemption for time spent serving as an Officer of the Association remains;

NOTE: A member entitled to attend

and vote at the meeting is entitled

to appoint a proxy to attend and

vote instead of the member. A

proxy must be an ordinary member

or in the case of a company,

the Nominated Representative

of an ordinary member of the

Association. To be valid, a proxy

form duly completed and signed

must be received at the office of the

Association at Level 6, AMA House,

69 Christie Street, St Leonards, not

less than 48 hours before the time

for holding the meeting. Proxy forms

must be obtained from the office

of the Association at Level 6, AMA

House, 69 Christie St, St Leonards.

2. AMENDING CLAUSE 36.1, 36.2 – ELECTION OF COUNCIL

• Clause 36.1 to be amended to reflect the increased number of Councillors;

• Clause 36.1 requires a candidate for Council to be nominated by one member

of the Association (as opposed to two or more);

• Clause 36.1(g) to be amended to reflect the change of requirements for the

candidate information sheets in the event of a contested election for a position

or positioner on Council;

• Clause 36.2 to be amended to delete the reference to the Industrial Relations Act

1996, as provisions of the Act referred to do not apply to AMA (NSW).

3. INSERTING NEW CLAUSE 36A – TRANSITIONAL PROVISION

• Clause 36A provides Council with the power to appoint five members to the

Unrestricted General Class in 2016. Those persons must vacate office at the 2017

AGM and those persons may nominate for election in 2017.

4. AMENDING CLAUSE 50 – NOTICES

• Clause 50 has been amended to provide for the provision of notices personally,

by post, by facsimile or electronically and by publication in The NSW Doctor.

Dated 1 April, 2016

By Order of the Board

Fiona Davies

Chief Executive Officer

24 I THE NSW DOCTOR I MARCH/APRIL 2016
---
EXPLANATORY MEMORANDUM REGARDING THE PROPOSED SPECIAL RESOLUTIONS

Over the past year the AMA (NSW) has been considering a range of amendments to the Constitution and By-Laws. Constitutional

change is always something we consider carefully. The Council of the AMA (NSW) has approved putting the following amendments

to the AGM on 10 May 2016. The AGM is open to all members and provides members with the opportunity to participate in the life

of the AMA (NSW).

The proposed changes relate to improving diversity and representation of Council and making the process of applying to Council

more accessible.

Diversity and representation

on Council

AMA (NSW) acknowledges the

importance of reflecting the diversity of

the medical profession within its Council.

The Council of AMA (NSW) is made up of

geographic and speciality representatives

and six nominated representatives from

the unrestricted class, of whom three

must be general practitioners. There

are 29 positions on Council, plus one

student position.

The Council of AMA (NSW) is proposing

the expansion of the Council to create

five additional unrestricted general

member positions. While this positions

will be open to any AMA member, it is

hoped that the additional positions will

encourage more members to be involved

in AMA (NSW) Council.

The positions will be created as casual

vacancies in the first instance. This will

require them to be advertised to the

membership and then filled by Council.

From 2017, the positions will be included

in the standard Council election process.

Term limits on Council

In order to improve the engagement of

members in Council, it is proposed to

introduce term limits of three consecutive

Council terms, that is six years, excluding

time served on the Board. Under the

current Constitution, the current Council

term limit is 25 years.

The Council notes that the extended term

limit of 25 years is not in keeping within

its current governance arrangements and

can impact on the ability of members to

participate in Council.

Under the proposed changes, breaks

in service will not count towards the

term limits.

Procedural changes to nominations

to Council

To encourage participation in Council,

it is proposed to amend the current

processes for application to Council.

At present, a member must have their

nomination seconded by at least two

members. This will be reduced to only

requiring the seconding of the application

by one member.

A member will no longer need to provide

a statutory declaration to support a

nomination. Instead, it is proposed that a

member will only be required to provide

a statement (which will not need to be

a statutory declaration) in the event that

there is an election for a position. The

form of statement will still be subject to

defined criteria and will be subject to the

oversight of the Returning Officer.

Other incidental changes

There are also some incidental

administrative changes proposed,

including to allow for distribution of

notices by electronic means.

amansw.com.au I 25
---
FEATURE

The rise of the

gluten free diet

What does this mean for Australian doctors?

While it is tempting to view the

extraordinary rise in popularity of the

gluten free diet as just a fascinating

social phenomenon, there are important

medical implications that should not

be missed by doctors at the front line

of patient care. An astonishing 10% of

Australians now remove wheat or gluten

from their diet to some extent. While this

is often a consequence of perceived

adverse symptoms to eating gluten, the

conviction it can help with weight loss, a

range of diseases or is a 'healthy' lifestyle

choice is frequently propagated by a

number of non-medical sources, such as

celebrities and enthusiastic proponents

on social media. While a strict gluten free

diet (GFD) is essential for the treatment

of coeliac disease, an autoimmune illness

caused by disordered immunity to gluten,

there is little to support its role for other

reasons outside anecdote.

A clinically perverse aspect of this

phenomenon is that the majority of

Australians with coeliac disease – who

have a compelling reason to follow a

GFD – remain undiagnosed, while many

of those following a GFD don't have a

medically supported reason to do so. As

the accuracy of both serology and small

intestinal histology required to diagnose

coeliac disease require active gluten

consumption, definitive diagnosis is a

major challenge for the many Australians

who have already removed dietary gluten.

Clinicians need to be confident dealing

with this increasingly common

and frustrating challenge.

Coeliac disease is one of

Australia's most common

autoimmune illnesses,

affecting 1 in 70 of the population,

and its prevalence is increasing. Lack

of awareness and its broad clinical

presentation means that detection

is poor, with only 20% of affected

Australians diagnosed. Delayed diagnosis

is concerning, as the immune-mediated

inflammatory response to gluten is

associated with nutrient deficiencies

and a range of systemic complications

including osteoporosis, other

autoimmune disease (3-fold higher),

and elevated mortality (2-4-fold higher),

often due to sepsis or malignancies

such as lymphoma. The negative impact

on quality of life, education and work

performance often goes unappreciated.

A mean of 11 to 13 years from first

presentation to diagnosis signifies

missed opportunities to break the cycle

of chronic symptoms that can generate

healthcare costs comparable to those

incurred by patients with diabetes.

Diagnosing coeliac disease is the first

critical step towards combating its

burden on health, quality of life and

resources. While population screening

has its proponents, current guidelines

recommend an active-case finding

strategy – seeking those at higher-risk

for screening serology. With casefinding

applied in primary care 1:50-1:30

tests typically return a positive case of

coeliac disease. Here the most frequent

presentations are bloating, thyroid

disease, 'irritable bowel syndrome',

diarrhoea, chronic fatigue and

constipation. Screening people with highrisk

features such as first-degree relatives

of patients with coeliac disease, type 1

diabetes and irritable bowel syndrome is

important and cost-effective.

An algorithm to guide the appropriate

use of serology, HLA-DQ2/DQ8

genotyping, and gastroscopy is

accessible here: www.coeliac.org.au/

health-professionals. A care plan and

chronic disease management template

can also be downloaded to guide the

next critical step for GPs: systematic

follow-up. Making a clear diagnosis of

coeliac disease is often life-changing.

Fortunately, a positive effect of the

expanding market for gluten free foods

is their improved palatability, affordability

and availability, making the GFD as a

medical treatment now more effective

than ever for our patients. dr.

Dr Jason Tye-Din is a guest speaker at the MJA Professional Development 'Emerging Trends in

Gastroenterology for GPs' seminar in Melbourne on Saturday 12 March. Coeliac Awareness Week

will be held 13-20 March. A video for GPs on the diagnosis and new facts sheets are available on

www.coeliac.org.au/health-professionals/

26 I THE NSW DOCTOR I MARCH/APRIL 2016
---
BMW

Corporate Sales

1800 635 750

bmw.com.au/

advantage

YOUR EXCLUSIVE AMA NSW MEMBER BENEFITS

FOR A MORE REWARDING JOURNEY.

Because you're a member of AMA NSW, you're eligible to enjoy the many rewards of BMW Advantage,

a benefit programme that gives you the opportunity to get behind the wheel of the Ultimate Driving Machine.

The exclusive ownership benefits include complimentary BMW Service Inclusive for 5 years/80,000kms

and corporate pricing,* to name but a few. To find out how you could start a rewarding journey with

BMW Advantage, visit bmw.com.au/advantage or contact your preferred BMW dealer.

*Benefits apply to the purchase of a new BMW vehicle and only to the vehicle purchased. Subject to eligibility.

Terms, conditions, exclusions and other limitations apply, and can be viewed at bmw.com.au/advantage.

BMW17184 _131x182_BMW Advantage Press_FA.indd 1

12/02/2016 9:12 am

Kuring-gai District Medical Association

9th Looong Weekend Conference

MUDGEE

19-22 May, 2016

• Stay at the boutique Perry Street Hotel

• Stimulating conference sessions to be held at the

Mudgee Golf Club

• Explore historic Gulgong

• Visit the wineries

• Play golf

• Dine at restaurants famous for fresh local produce -

Alby & Esthers, The Zin House & Pipeclay Pumphouse

For further information & registration form please

contact Lynne O'Halloran at the KDMA office on

02 9807 4429 or email kdma@netspace.net.au

BUILD YOUR PRACTICE

AND REPUTATION

AT SYDNEY'S MOST PRESTIGIOUS

MEDICAL ADDRESS

British Medical Association House

Suite 101, Level 1 135 Macquarie Street, Sydney

P: 02 9241 2158 | E: info@sydneymedicalspecialists.com.au

W: sydneymedicalspecialists.com.au | sydneymedicalspecialists

amansw.com.au I 27

SMS002 Quarter Page ad 89x120mm.indd 1

17/12/2015 2:17 pm
---
MEDICO-LEGAL

The AMA NSW

Medico-Legal team

Milestone in media law

Andrew Took

Director

Medico-Legal

and Employment

Relations

an embarrassment to her profession;

misused her work email address for

private purposes and engaged in

criminal conduct.

Kym Gardner

Solicitor

Andrew Campbell

Solicitor

Ivy Tseng

Policy and Legal

Advisor

Sarah Connor

Policy and Legal

Advisor

Katie Pearce

Policy and Legal

Advisor

Sarah Fam

Policy and Legal

Advisor

Eden Weller

Paralegal Officer

The South Australian Supreme Court¹

has found the American arm of Google

defamed an Australian academic by

providing links to and summaries of

defamatory material.

Google did not remove defamatory

search results relating to Dr Janice

Duffy's name, after she had notified the

company of their existence and this was

key in the court's findings.

The case is being heralded as a

milestone for media law and raises

questions regarding whose responsibility

it is to censor possible defamatory

information.

The defamation case sprang from posts

made by Dr Duffy on the US-based

Ripoff Report website about a number

of psychics she paid for consultations

between 2005 and 2007.

After becoming dismayed and distressed

due to the results of their predictions

and advice, Dr Duffy complained about

a number of the psychics using various

aliases as well as her real name.

In response, Dr Duffy was accused

on the same website of harassing and

stalking the psychics.

These allegations of harassment and

stalking were at the centre of the

defamation action.

The pleaded imputations also included

that she fraudulently and/or maliciously

accessed other people's electronic emails

and materials; spreads lies; threatened

and manipulated other people; was

Two years after Dr Duffy

consulted with the psychics,

she contacted Google to

request the removal of

defamatory search results

connected with her name.

She requested summaries of pages listed

in Google's search results and links to the

defamatory content be removed.

It wasn't until Dr Duffy launched civil

action against Google in February 2011

that it removed links to the Ripoff Report

connected to her name.

In July of 2011, Dr Duffy requested that

Google remove the auto-complete result

"Janice Duffy Psychic Stalker" offered

by the search engine in response to

her name.

Google failed to do so.

In court, Google argued that it could not

be held accountable for the results of its

search engine because it was produced

by computerised programs and did not

involve the intervention of its staff.

The court rejected this argument, finding

that Google did have a role in producing

the content generated in its search

results and in communicating them to the

end user.

Specifically, it was Google's inaction after

it was notified of the defamatory content

that made them the publisher and liable

for the defamatory content.

Additionally, the court held that by

publishing hyperlinks to defamatory

material that users could click through to,

Google became a secondary publisher of

that material. dr.

¹ Duffy v Google Inc. [2015] SASC 170

28 I THE NSW DOCTOR I MARCH/APRIL 2016
---
Penalty rates under the

VMO Determinations

We have recently received a number of

enquiries from VMOs regarding loadings

under the VMO Determinations for

performing weekend work. The enquiries

are coming within a context of a push

by industry bodies in the retail and

hospitality sectors to abolish weekend

penalty rates, as well as the much

publicised striking of junior doctors in

England's National Health Service as a

response to the proposed "seven day

working week".

The VMO Sessional Determination allows

for a 25% call-back loading for services

outside the ordinary hours of 8am to 6pm

Monday to Friday. Similarly, the VMO

Fee for Service Determination provides

for 110% of the relevant MBS fee for the

provision of emergency services outside

of ordinary hours.

However, the VMO Determinations

are silent on the issue of allowances

for rostered weekend work i.e. prescheduled

lists or shifts which do not fall

under the definition of a call-back.

Of course, it has historically been the

case that after hours and weekend

services have been provided by

VMOs under the on call and call-back

arrangements. The VMO Determinations

are based on that historical practice

and simply do not envisage a situation

where VMOs are required to provide

pre-scheduled services. As some public

hospitals move to schedule weekend

lists/shifts, more VMOs are likely to have

concerns regarding weekend work, and

whether or not they wish to participate in

such arrangements.

AMA (NSW) will be considering this issue

over the next few months and consulting

with members.

Should you have any questions or

concerns regarding remuneration for

weekend work in the public system,

please be in contact with the

Medico-Legal and Industrial team

at 9439 8822. dr.

amansw.com.au I 29
---
XXXXXXXX

Making a return to work plan

for injured employees

Ok, so you run your own practice and things are going smoothly. But what

would happen if the roof fell in after a freak storm and the practice manager

breaks her hip? What if she was making a good recovery, but she was

advised not to sit still or stand still for long periods of time?

Under the 1988 Workplace

Injury Management and Workers

Compensation Act (NSW) employers

have an obligation to be involved in a

return to work plan for an employee

that has been injured in the workplace

and to make reasonable adjustments

to the position taking into account the

employee's ongoing disability.

In a recent Victorian case, Butterworth v

Independence Australia Services (Human

Rights) [2015], an employer was faced

with a similar issue under the Victorian

Equal Opportunity legislation. There,

the employee sustained serious neck

and shoulder injuries and thereafter

the employer had a positive obligation

to make sincere and reasonable

adjustments to her workplace activities to

return her to employment.

The employee was unable to return to

the role previously held, being a fulltime

call centre operator. The employer

thought as a result they could terminate

her employment on the grounds that

she was unable to perform the inherent

requirements of her position. The Court

disagreed finding that the employer had

failed to meet their obligations to the

injured worker. They failed to adequately

explore the physical possibilities through

the questions put to the independent

medical practitioner who was involved

in examining her ability to return to

her previous position. They failed to

explore what other roles they had in the

workplace and whether or not she may

have been able to perform them. The

Court found that there was no evidence

they had even considered the possibility

of reasonable alterations being made to

enable the employee to return to work.

In our example above with the practice

manager, the employer is legislatively

obliged to actively participate in a return

to work plan. It may involve allowing a

gradual return to work initially on lighter

duties or reduced hours, then once

further recovery is apparent, an increase

of those duties.

To meet their obligations, the employer

needs to make a genuine and reasonable

adjustment to the role to cater for the

employee with a disability. The employer

should even look into additional training,

for example a bookkeeping course which

would allow the practice manager more

time to sit where they might otherwise be

on their feet for long periods of time.

The examples are infinite and there is no

way to predict every possible scenario,

but as an employer, you must be sure to

explore all possibilities and consider the

reasonable adjustments that you may be

able to make in the practice to keep the

employee with a disability fully engaged

back at work.

To meet legislative requirements the

practice should document their policies

and procedures setting out the process

to manage employees who are injured

at work. The key document is called

the return to work program and it must

sit in place with the insurer's injury

management program. dr.

30 I THE NSW DOCTOR I MARCH/APRIL 2016
---
INDUSTRY UPDATE

Moving to greater transparency

Medicines Australia breaks down how its new Code of Conduct affects doctors.

The new Medicines Australia Code of

Conduct will increase transparency

about the vital role of healthcare

professionals in the development and

use of new, innovative medicines.

Healthcare professionals help to educate

patients about medicines and their

safe, ongoing use – a bond of trust that

Medicines Australia wants to help make

even stronger.

From 1 October 2015, all Medicines

Australia member companies are

required to collect information about

healthcare professionals who receive

payments for consulting or speaker

services and support to attend

educational events through the payment

or provision of airfares, accommodation

or registration fees.

Where companies have the agreement

of the healthcare professional, this

information will be published in a report

on the individual company's website.

For the first year, this reporting will

only happen with the agreement of

the healthcare professional. This is to

allow time for everyone to understand

and appreciate the value of greater

transparency. From 1 October 2016,

reporting these payments will be

mandatory – details will be reported

whenever a Reportable Payment is made

to a healthcare professional.

REPORTABLE PAYMENTS

UNDER THE NEW CODE:

Payments for the provision of services by

a healthcare professional:

• Giving a lecture or presentation

• Chairing an educational meeting

• Providing advice as a member of an

Advisory Board

• Providing advice to a company as a

medical expert

Sponsorship to attend medical education

meetings held within or outside of

Australia, including:

• Airfares

• Accommodation

• Conference registration fees

The following information about each

healthcare professional will be reported:

• Healthcare professional's name

• Type of healthcare professional (i.e.

medical practitioner, pharmacist, nurse)

• Principal practice address

• Relevant details about the purpose of

the payment

• The amount or value of the payment

or support

Where healthcare professionals request

a Reportable Payment to be made to a

third party, such as their hospital or clinic,

these reportable payments must still be

disclosed for the individual healthcare

professional noting that the payment

was made to a third party.

REPORTING OF PAYMENTS TO

HEALTHCARE PROFESSIONALS

If a payment needs to be reported,

companies will provide healthcare

professionals with the opportunity to

review and submit corrections before

publication. Payments will be reported

every six months, with two reports

each year covering May to October and

November to April. The first report will be

published by 31 August 2016.

Reports will be available for three years

following publication on individual

company websites and linked from the

Medicines Australia website. Companies

must comply with the Australian Privacy

legislation (Privacy Act 1988 [Cth]) in

regard to reporting individual healthcare

professional data. From 1 October 2015,

each company must establish a means

to track whether consent has been given

and maintain records which comply with

Australia's privacy legislation.

IMPROVING HEALTH

OUTCOMES AND BUILDING

CONFIDENCE WITH PATIENTS

The 18th Code of Conduct is a strong

Code that builds on trust and ensures we

continue to put the interests of patients

first. Exchanging knowledge and skills

leads to better treatments and increases

a healthcare professional's expertise,

which means patients can be even more

confident they're getting the best of care.

Companies support the education of

healthcare professionals to develop

knowledge and skills, which is important

for patient care in a rapidly changing

world. Companies also need advice

from healthcare professionals, which

leads to new and better medicines

and treatments.

Greater transparency will increase

confidence by patients that the

working relationship between the

industry and healthcare professionals

is ethical and appropriate. dr.

Deborah Monk

Director, Compliance

Medicines Australia

amansw.com.au I 31
---
GOLF EVENTS

New golfers

welcome

The AMA (NSW) Golf Society is

back in full swing. Please join us

for another exciting year of golf.

Are you a golfer, why not come along to our next

event and try us out? We always welcome new

players, you don't need to be an AMA (NSW) Golf

Society member to play, but you do need an official

slope rating.

If you would like to register for our events or if

you have any queries about the AMA (NSW)

Golf Society, please contact Claudia Gillis on

amagolf@amansw.com.au or

ph: 02 9439 8822 dr.

PRESIDENTS CUP // Tuesday 21st June

Pennant Hills Golf Club

SPRING CUP // Thursday 1st September

Terrey Hills Golf Club

INTERNATIONAL SHIELD // 22nd to 30th October

New Zealand

BMA CUP // Friday 2nd December

NSW Golf Club

AMA (NSW) Golf Society

Claudia Gillis 9439 8822 amagolf@amansw.com.au

Save up to

10%

on the RRP

of most new

cars.

TDABS0001

Call 1300 76 49 49 or visit www.avbs.com.au

Avb s

AustrAlAsiAn

AustrAlAsiAn

VEHIclE BUYING SERVIcES

Preferred provider

This is an exclusive member service and is available on all makes and models of new cars

32 I THE NSW DOCTOR I MARCH/APRIL 2016
---
ADVERTORIAL

Is the cost of your income protection

insurance breaking the bank?

In this article, Experien offers an insider's view of the price increases that

are generally flowing through to some people who have income protection

at some of the insurers that are active in this market.

Income Protection insurance provides

valuable protection against temporary

and permanent illness and injury. The

industry pays out hundreds of millions of

dollars each year to people who claim

on these policies. Unfortunately claims at

some insurers for some conditions have

risen sharply over the past year which

has meant some insurers have been

losing money on their products. Whilst

some insurers are holding steady, many

have needed to raise their premium rates

up to around 10%.

What are the insurers doing?

Each insurer is adopting a different

approach. Some are not increasing

premiums. Others are increasing some

products by a small amount and others

by a larger amount. Each person is

affected differently (if at all).

Stepped premium and CPI

premium increases

If you have what is termed a "stepped"

premium policy, then your premiums

generally increase each year regardless,

as your risk of claiming generally rises

each year. Your premium may also

increase by an inflationary amount as

your cover increases by a similar

amount each year. The increases

referred to in this article would be

additional to any such increases.

When do premium increases

take effect?

We are made aware early of a

price increase (if any) planned

by an insurer. These only take

place on a policy anniversary.

Our approach is to review this increase

and then analyse what it means to each

client. We then consider if affected clients

could be better off with an alternative

insurer or if there are other options

to consider to mitigate the premium

increase - such as increasing the waiting

period associated with any claim.

In some cases, no changes may be

suggested or possible. We present any

recommendations to you shortly before

your next policy anniversary – which is

the date that any price increase would

take effect.

So what should you do about

your insurance?

If you already have insurance in place,

we can provide a complimentary review

to ensure you have the best cover.

We generally have access to the

cheapest personal insurance rates from

the major insurers and it is unlikely that

any other adviser would be able to

obtain better rates for you. Unlike some

other advisers, we have access to all

the insurers in the industry.

Whilst it is impossible to predict with

certainty if future insurance premiums

will rise or fall, we take great care to

work with insurers that we believe are

financially secure and have long term

stability with a great claims payment

history and service.

Contact Tracey Kloner or Alex Kambos today for an obligation free consultation and review.

Tracey Kloner

Direct: 02 9293 6671

Mobile: 0417 258 288

tracey.kloner@experien.com.au

Alex Kambos

Direct: 02 9293 2118

Mobile: 0406 995 432

alex.kambos@experien.com.au

Disclaimer: This information is of a general nature only and has been prepared without taking into account your particular financial needs, circumstances and objectives. While every

effort has been made to ensure the accuracy of the information, it is not guaranteed. You should obtain a copy of the product disclosure statement and also obtain independent

professional advice before acting on the information contained in this publication. Life Insurance services are provided by Experien Insurance Services Pty Ltd (ABN 99 128678 937).

Experien Insurance Services Pty Ltd ABN 99 128 678 937 is a Corporate Authorised Representative (No. 320626) of ClearView Financial Advice Pty Limited ABN 89 133 593 012 AFS

Licence No. 331367.

amansw.com.au I 33
---
MEMBERS

A warm welcome to all of our

new members this month

Get more from your membership today and utilise our medico-legal and

industrial relations team for advice, our preferred partner advantages,

member services and events throughout the year. To find out more phone

our membership team on 02 9439 8822.

INTERNS

Dr Jodie Adams-Brinkley

Dr Zhen Ang

Dr Sravan Anne

Dr Kathryn Armstrong

Dr Christopher Baker

Dr Natelle Ball

Dr Ben Balzer

Dr Caroline Banh

Dr Marissa Barker

Dr Natasha Bartos

Dr Mitchell Bath

Dr D'Arcy Baxter

Dr Lyndall Beckett

Dr Harrison Bell

Dr Andrew Beshara

Dr Sophia Bilal

Dr Samantha Bobba

Dr Minna Bondal

Dr Thomas Boyle

Dr Jason Bromage

Dr Edwina Brown

Dr Matilda Brown

Dr Jake Brunning

Dr Lisa Buckley

Dr David Bui

Dr Andrew Casey

Dr Alison Chandler

Dr Phylannie Cheung

Dr Daniel Chilton

Dr Catherine Cho

Dr Ashleigh Clark

Dr Clinton Colaco

Dr Thomas Coleman

Dr Megan Congdon

Dr Michael Connolly

Dr Harry Constantin

Dr Sean Conte

Dr Mikayla Couch

Dr Amanda Cox

Dr Roger Cross

Dr Benjamin Cumming

Dr Moire Cuncannon

Dr Greg Dale

Dr Jay Dargan

Dr Suzanne Davies

Dr Ramesh De Silva

Dr Thomas Dethlefs

Dr Belinda Docwra

Dr Simon Donaldson

Dr Lewis Donovan

Dr Daphna Dor-Shiffer

Dr David Dunlop

Dr Kieran Easter

Dr Grace Edwards

Dr Simon Ellis

Dr Sam Emmanuel

Dr Yvette Etherden

Dr John Farey

Dr Jennifer Farrington

Dr Kaitlin Faulkner

Dr Lauren Feitelson

Dr Linda Feng

Dr Brian Fernandes

Dr Paul Finighan

Dr Thomas Finnerty

Dr Angus Fisher

Dr Jessica Fitch

Dr Siobhan Fitzpatrick

Dr Giles Flick

Dr Sheridan Frisby

Dr Parul Garg

Dr Alana Gedrose

Dr Katrina Giskes

Dr Sylvia Gjerde

Dr Louise Goodall

Dr Alexandra Gribbin

Dr Allan Grogan

Dr Nicholas Halliwell

Dr Angus Hardy

Dr Marcus Hayward

Dr Christopher Hayward

Dr Jason Heise

Dr Bronwyn Henderson

Dr Amy Hicks

Dr Jacqueline Ho

Dr Jessica Huebner

Dr Michelle Hui

Dr Brodie Hyde

Dr Hannah Ireland

Dr Nicole Jackson

Dr Katherine Jeffress

Dr Harry Jones

Dr Alison Jones

Dr Gugandeep Kaur

Dr Justin Keevers

Dr Hannah Kempton

Dr Joshua Kirk

Dr Michael Kirton

Dr Carol Kodsi

Dr Jakob Koestenbauer

Dr May Kowalski

Dr Sharna Kulhavy

Dr Samuel Kwok

Dr Gunatilake Lakmitha

Dr Geoffrey Lester

Dr Sharanya Lingathas

Dr Wendy Liu

Dr Hannah Lorking

Dr Salim Maher

Dr Yiannis Makryllos

Dr Mishael Materne

Dr Jennifer McCourt

Dr Jordan McGrath

Dr Aarielle McLaren

Dr Philomena McNamara

Dr Thomas Melhuish

Dr Nisha Menon

Dr Tobias Messina

Dr Laura Meyers

Dr Stephen Middleton

Dr Hayley Morgan

Dr Tia Morosin

Dr Sasha Morris

Dr Jessica Murray

Dr Anthony-Joe Nassour

Dr Django Nathan

Dr Sally Newton

Dr Chien Ng

Dr Jessica Norman

Dr Stephanie O'Dea

Dr Emily O'Donnell

Dr Samuel O'Neill

Dr Kelly O'Shea

Dr Tasha Patel

Dr Soumesh Paul

Dr Justin Payne

Dr Colin-John Perrins

Dr Brendan Phillips

Dr Cara Platts

Dr Maryssa Portelli

Dr David Prabhakar

Dr Lisa Pryor

Dr Michael Quinn

Dr Nithya Reddy

Dr Elizabeth Richardson

Dr Alice Rigg

Dr Edward Riordan

Dr Katie Roberts

Dr Jeremy Robertson

Dr Stephanie Roland

Dr Christopher Roth

Dr Kit Rowe

Dr Fleur Roxburgh

Dr Michael Rutledge

Dr Luke Ryan

Dr Sally Ryan

Dr Victoria Sadick

Dr Jonathan Sandeford

Dr Rakshinder Sangha

Dr Leila Sawaqed

Dr Trent Sawyer

Dr Timothy Scully

Dr Adrienne Searle

Dr Ella Sharp

Dr Emma Simmons

Dr Hiu Ching Sin

Dr Sally Sinclair

Dr Lauren Smith

Dr Duncan Smith

Dr Namrata Sobarun

Dr Jarrah Spencer

Dr Alexandra Stathis

Dr Samuel Stevens

Dr Rebecca Stockbridge

Dr Joshua Sung

Dr Jeremy Sutherland

Dr Mitchell Sutton

Dr Reuben Tang

Dr Daniel Tardo

Dr Jessica Tay

Dr Emma Thompson

Dr Jessica Thompson

Dr Olivia Thorpe

Dr John Thurgood

Dr Christopher Touma

Dr David Townsend

Dr Stasio Ulaszyn

Dr Victoria Venning

Dr Alison Verhoeven

Dr Maria Vidler

Dr Boris Waldman

Dr Emily Walker

Dr Kirsty Wallace-Hor

Dr Joyce Wan

Dr Qian Wang

Dr Lucy Wang

Dr Lakna Waniganayake

Dr James Ward

Dr Matthew Watson

Dr Joshua Watt

Dr Kieran Webb-Sawyer

Dr Chamitha Weerasinghe

Dr George Wells

Dr Joel Wenitong

Dr Elvina Wiadji

Dr Aman Williams

Dr Jacinta Willson

Dr Eleanor Woodward

Dr Yuan Yan

Dr Michael Yang

Dr Andrew Young

Dr Tracey Zakazakaarcher

Dr Zang-Yuan Zhao

Dr Wei Claire Zheng

Dr Cathy Zheng

Dr Cheng Rui Zhou

Dr Yun Yun Zhu

34 I THE NSW DOCTOR I MARCH/APRIL 2016
---
OTHER MEMBERS

Dr Gaini Allen

Dr Shervin Amirmalek

Dr Shreya Andric

Dr Azadeh Azadi

Dr Sajid Azam

Dr Pedro Bernardino-Campos

Dr Katie Bluett

Dr Christopher Chang

Dr Mark Chernoff

Dr Henry Cheung

Dr Yuxuan Chew

Dr Joseph Churton

Dr Marilyn Clarke

Dr Lachlan Cornford

Dr Ramachandra Dandu

Dr Indira Datt

Dr Michael Davies

Dr Rene Dostal

Dr Chris Fessa

Dr Vineeth George

Dr Elizabeth Golez

Dr Murray Haar

Dr Abbas Haghshenas

Dr Brendan Hayman

Dr Edward Hsiao

Dr Andy Huang

Dr Louise Jackett

Dr Julia Jones

Dr Halvita Kariyawasam

Dr Syeda Kazmi

Dr Benjamin Kenny

Dr Ke-Hwan Kim

Dr Stephen Koder

Dr Shangeetha Kumaresan

Dr Elaine Kwan

Dr Sebastianus Kwon

Dr Ivan Lakicevic

Dr Harold Lau

Dr Katelyn Lee

Dr Andrew Li

Dr Jiun-Lih Lin

Dr Mohamed Loghdey

Dr Brett Lurie

Dr Maria Martino

Dr Anil Mathad

Dr Magdy Maximos

Dr Nicholas Maytom

Dr Rowena Mobbs

Dr Ammar Mortada

Dr Charles Nelson

Dr Brooke O'Brien

Dr Stephen O'Flaherty

Dr Stephen Ong

Dr Yoon Ooi

Dr Chandrasekhara

Padmakumar

Dr Dominic Pak

Dr Khoi Pham

Dr Martina Preda

Dr Sandeep Rajagopal

Dr Sukumar Rajendran

Dr Prasenjit Raychaudhuri

Dr Caroline Round

Dr Radhika Ruwanpathirana

Dr Jan Samson

Dr Trent Sandercoe

Dr Nabil Sarian

Dr Nahida Sarkar

Dr Sunny Sharma

Dr Sachin Shetty

Dr Louis Shidiak

Dr Kathryn Teh

Dr Sureka Thiagalingam

A/Prof Gordon Thomas

Dr Rameswaran Vannitamby

Dr Sanjeev Vijayan

Dr Amy Virdi

Dr Joyce Voon

Dr Pauline Vunipola

Dr Meng Wan

Dr George Williams

Dr David Woods

Dr Anes Yang

Dr Po-Chen Yang

Dr King Lee Yong

Dr Christine Zhang

The AMA (NSW) offers

condolences to family

and friends of those

AMA members who have

recently passed away.

Dr Betty Boden

Dr John Carmody

Dr Clair Chalmers

Dr Ross Chambers

Dr Kenneth Crichton

Dr Trevor Day

Dr Alice Lowe

Dr John Newlinds

Dr James Quinn

CLASSIFIEDS

General Medical Practitioner // McMahons Point

• Required for boutique multi-disciplinary

practice in McMahons Point

• VR/Non VR. Must be ethical and

patient focused

• Just short walk from Nth Sydney

station and buses. Close to ferry and

private schools

• Especially friendly team with

experienced delightful reception staff

Three designated consulting rooms

available in free standing converted house

Has been used for specialist orthopaedic

practice for over 35 years

Close proximity to Auburn Hospital –

less than 5 minutes walk

• Off street parking

• Ground level access – ramp access

• Large waiting room

• Part-time, flexible hours

• Guaranteed hourly rate for the first

three months

For further information please

send your enquiry to dredwina@

mcmahonspointhealth.com.au

Consulting/Professional Rooms // Full/Part Time // Auburn

General Practitioner // Skin Cancer

Join SunDoctors and become part

of a group of doctors changing the

face of skin cancer. Step into established

and very busy clinics, booked out weeks

in advance.

• Multiple locations

• Flexible hours

• Large fully equipped office area and

records rooms

• Both public and staff toilets

• Kitchen facilities

• Practice management & reception

services available

Contact Vicki

(02) 9649 6488

catab@bigpond.net.au

• Flexible contract

• No fixed terms or restraints

• High earning capacity

• Ongoing professional development

1300 115 759

recruitment@sundoctors.com.au

SEEKING: Doctors for Noosa Hospital,

Sunshine Coast QLD to care for

hospital in-patients.

FT, PT & casual positions available.

Must have general/specialist

registration with AHPRA.

Further information at

www.ramsaydocs.com.au

or contact Jude Emmer, CEO at

ea.noh@ramsayhealth.com.au

Burwood Specialist Centre //

Consulting Suites For Lease

Modern suites in the heart of Burwood's

medical precinct.

• Suites on a sessional basis

• Secure parking

• Full practice management services

• Meet/greet/billing patients

• Appointment booking

• Transcription/posting letters

• Filing/storage of patient records

• Home sleep study facility

• BAS statement preparation

• Private hospital billing

Contact Raji

0401 144 119 or

bcentre@tpg.com.au

amansw.com.au I 35
---
MEMBER SERVICES

Make your membership more rewarding everyday!

Experien Insurance Services

Experien Insurance Services specialises in offering a comprehensive range of personal and

practise insurance products, via access to all the major insurers, to protect yourself and your

family's future well being. We are specialist insurance advisers to medical professionals and have

a long history of structuring and arranging insurance solutions as we have a deep understanding

p has its rewards

of your unique needs and requirements.

edico-Legal and Employment Relations advice in Australia.

e include awards advice and updates, court representation,

comprehensive Our services range of legal include: packages and draft contracts

. In addition, below are a list of our member service partners

• Income Protection Insurance

• Life Insurance

) Member Service • Total and Partners Permanent Disablement (TPD) Insurance

• Trauma Insurance

• Business Expenses TressCox Insurance

Lawyers

Expert legal advice for the medical

• Key Person Insurance

of all

profession. Members are entitled to a

cles. • Business Succession unique duty solicitor (Buy/Sell) scheme offering Insurance

one free consultation (referral required).

has its rewards

Accountants/Tax Advisers Panel

edico-Legal etent, and Employment Experienced Relations accounting advice firms in who Australia.

our include awards or Experien advice and Insurance can updates, assist you with court Services your representation,

personal and 1300 796 577.

professional accounting and taxation

comprehensive range of legal packages and draft contracts

needs. Select the firm most suitable for

In addition, below are a list your of requirements. our member service partners

Preferred partners

y at a

AMA (NSW) Member Reward Card

cards.

Significant savings every year with

Member Service Partners BOQ Specialist Bank Limited

participating restaurants, hotels and

BOQ Specialist delivers distinctive banking solutions

tourist attractions.

rsonal

to niche market segments. Our focus, experience and

TressCox

Finance

American dedication

Lawyers

Express to our clients have enabled us to become

Expert legal advice for the medical

ts, motor

Offering experts corporate in a number affinity programs of professional and niches. We aim to add

f all

roperty

special

profession.

discounts

Members

to members

are entitled

for credit

to a

value to and build partnerships with our clients and we have

les.

cards unique and duty merchant solicitor facilities. scheme offering

one

been

free consultation

providing specialist

(referral required).

banking in Australia for over 20

years.

Auscellardoor AMA (NSW) Wine

Society Accountants/Tax Advisers Panel

etent, l services

Boutique Experienced Accountants/Tax

wines accounting Advisers

at specially firms negotiated who

ur embers.

prices can Provide assist for members you a comprehensive with every your month. personal range and of personal and

, Risk

professional professional accounting accounting and taxation services.

Insurance

Caltex needs. StarCard Select the firm most suitable for

Consolidate your requirements. your vehicle fuel expenses

at a

onto one easy-to-read monthly statement

with AMA access (NSW) to the Member following Reward fuel Card

ards.

discounts: Significant 2.5cpl savings off unleaded, every year Vortex with 95

rs,

and Diesel and 1.5cpl off Vortex 98.

n of

Member services participating restaurants, hotels and

tourist attractions.

e onal of

Hertz

inance

As American the official car rental partner for AMA,

American Express Express | Corporate affinity programs and

Hertz offers discounted rates and a range

, motor

Offering

of member

discounts corporate

benefits

on

all

a affinity range programs

year round.

of six unique and credit cards. Whichever

roperty

special card discounts you choose to members you'll enjoy for credit the special benefits and extra

t)

cards and merchant facilities.

Qantas value Club we've negotiated for you.

gence

Discounted rates for AMA members.

ent

Auscellardoor AMA (NSW) Wine

Save Qantas up to $365 Club on membership. | Discounted rates saves you hundreds

s,

Fees Society

of as dollars follows: on Joining membership. $200;

services

Joining fee $240, save $140;

One Boutique year one $265; wines

year membership Two at specially years $465. negotiated

embers.

$390.60, save $119.30; two year

prices for members every month.

Risk

membership $697.50, save $227.50. Partner rates

25

ions:

% (GST REBATE

inclusive) Partner Joining Fee: $200, Partner 1 Year

surance

Caltex StarCard

Consolidate Membership your vehicle Fee: $340, fuel expenses Partner 2 Year Membership

onto Fee: one $600. easy-to-read monthly statement

with access to the following fuel

Introduce a new member discounts: to AMA 2.5cpl (NSW) off unleaded, and receive Vortex 95

,

TressCox Lawyers | Expert legal advice and duty solicitor

a cheque equal to 25% and Diesel of the and new 1.5cpl member's off Vortex 98.

n of

scheme with one free consultation (referral required).

subscription via our Member Get Member

of program. There are Hertz no limits.

As the

Sydney

official

City

car rental

Lexus

partner

| Members

for AMA,

can enjoy the benefits

Hertz offers discounted rates and a range

of the Lexus Corporate Programme, including Encore

of member benefits all year round.

ll AMA (NSW) Member Services Privileges. on An (02) exclusive 9439 offer 8822 in conjunction with Qantas

)

n areas) 4www.nswama.com.au

Qantas is available Club to AMA members - earn one Qantas Point

ence

Discounted for every rates dollar for spent AMA members. on a new vehicle purchase, only at

ent

Save Sydney up to $365 City on Lexus. membership.

s,

Fees as follows: Joining $200;

One year $265; Two years $465.

Avis Budget | Avis Budget is the official car rental partner

for AMA (NSW) offering discounted rates. Contact AMA

member services for the details.

ns:

25 % REBATE

Introduce a new member to AMA (NSW) and receive

36 a cheque I THE equal NSW to 25% DOCTOR of the I new MARCH/APRIL member's 2016

subscription via our Member Get Member

program. There are no limits.

Membership has i

AMA (NSW) has the most comprehensive Medico-Legal and Em

Just some of the services that are available include awards adv

mediation and human resource consulting. A comprehensive rang

are available for members for a nominal fee. In addition, below a

to assist you whatever the need.

For more information please don't hesitate to contact our Members Services team on 02 9439 AMA 8822 (NSW) Member Service P

MEMBER

Other benefits:

AMA Auto Buying Service

A free service specialising in the

acquisition, funding and disposal of all

Experien makes Insurance and models Services of motor vehicles.

Specialist insurance advisers to the medical and dental

professions. Our service includes researching all the major

insurers Assign to find Medical you the right policy with the appropriate

level Assists of cover members at the best to possible source price. competent, Products include

Life Insurance, Income Protection, Medical Indemnity and

friendly and committed staff for your

Business Insurance.

business or practice.

Commonwealth Bank

Bank

A special merchant facility at low rates. AMA members pay

no Offering joining fee. a New special CBA merchant clients facility are at eligible a to 6

months low fee free of terminal 0.68% rental for and most a free credit business cards. account

when they sign up their merchant facility with CBA and

settle the funds to a CBA account.

Investec Experien

Specialist finance to meet the personal

and practice needs of members. Finance

solutions for practice requirements, motor

Virgin Australia – The Lounge | Significantly reduced

rates vehicles, with no commercial/residential joining fee and savings of $100 property per year.

and overdraft facilities.

Gow-Gates Group

BMW Corporate Programme | Members can enjoy the

benefits Complete of this insurance Programme and which financial includes services complimentary

scheduled with special servicing packages for 5 years/80,000 for AMA km, members. preferential pricing

on selected vehicles and reduced dealer delivery charges.

Services include: Wealth Creation, Risk

Management, Doctors' Practice Insurance

Mercedes-Benz and Superannuation. Corporate Programme | Members

can enjoy the benefits of this Programme which includes

complimentary Medprac scheduled Super Fund servicing for up to 3 years/75,000

km, preferential pricing on selected vehicles and reduced

The perfect super fund for doctors,

dealer delivery charges. Also included is access to

complimentary with no entry pick-up fees. and Have drop-off, the option access of to a loan vehicle

during managing car servicing your and fund up using to 4 years a range of Mercedes-Benz of

Road Care nationwide. mercedes-benz.com.au/corporate

investment managers.

Prosper Group

Call AMA (NSW) member services on 02 9439 8822

or A email property services@amansw.com.au. advisory (buyer's Visit agent) our websites

www.amansw.com.au who can source, perform www.ama.com.au due diligence

Disclaimer: and negotiate AMA (NSW) your may home, financially investment

benefit from its relationship

with Preferred Partners. Please note: AMA Products is not affiliated

with properties AMA (NSW) or Federal commercial AMA. AMA premises, Products is a separate

business

saving

entity.

you time and money.

Receive automatic subscriptions to the following publications:

n n

MEDPRAC

SUPERANNUATION
---
How we Help

you build and

preserve wealtH

A full range of specialised services

n Surgery acquisition strategies

n Medical practice structuring

n Tailored Superannuation strategies

n Tax deductible debt strategies

n Effective practice service entities

n Cloud-based record keeping

n Investment planning

n Estate planning

n Tax planning

A team of medical accounting experts

These are the experienced medical accounting specialists who will advise and guide you

Jarrod Bramble

Partner

Specialist Medical

Services

Shane Morgan

Partner

Superannuation

Juliane Walsh

Client Service

Manager

Nicole Brown

Client Service

Manager

Phil Smith

Partner

Investment

Jodie Walshe

Client Service

Manager

Stuart Chan

Director

Specialist Medical

Services

Pauline Smith

Client Service

Manager

Michael Graham

Director

Cloud Software

Cameron Nix

Client Service

Manager

Catherine Parker

Client Service

Manager

Megan Goodwin

Client Service

Manager

Specialists in accounting services to medical practitioners since 1953

PREFERRED

ACCOUNTING

PARTNER

NATIONAL

SPONSOR

cutcher.com.au T 02 9923 1817 E medical@cutcher.com.au

innovative thinking. traditional values.
---
Stress, insomnia, anxiety.

We're experts in handling

these conditions.

Medical professionals know just how important it is to

put a patient's mind at ease.

It takes expertise to understand the patient's problem

and the ability to clearly explain the options.

At BOQ Specialist, we operate in much the same way.

Over the last 25 years, we've developed a profound

understanding of how the medical profession works.

You are our area of expertise and we've developed an

extensive range of products to meet your banking and

finance needs.

So, if there's anything on your mind talk to us, and then

enjoy a good night's sleep.

Visit us at boqspecialist.com.au or speak to a financial

specialist on 1300 131 141.

Equipment and fit-out finance / Credit cards / Home loans / Commercial property finance / Car finance / Practice purchase loans

SMSF lending and deposits / Transactional banking and overdrafts / Savings and deposits / Foreign exchange

Products and services are provided by BOQ Specialist - a division of Bank of Queensland Limited ABN 32 009 656 740 AFSL and Australian credit licence No. 244616.

All finance is subject to our credit assessment criteria. Terms and conditions, fees and charges and eligibility criteria apply.

BOQS000004 09/14