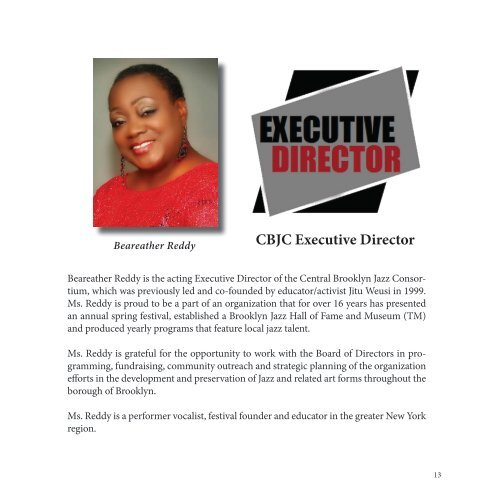 CBJC Festival Magazine 2016 Central Brooklyn Jazz Consortium produces a Jazz Festival every year. 2016 brings our 17th Annual Festival. The Brooklyn grassRoots festival this year runs from April 15th until May 15. This years event was fantastic. View our magazine for a look inside.
Beareather Reddy

CBJC Executive Director

Beareather Reddy is the acting Executive Director of the Central Brooklyn Jazz Consortium,

which was previously led and co-founded by educator/activist Jitu Weusi in 1999.

Ms. Reddy is proud to be a part of an organization that for over 16 years has presented

an annual spring festival, established a Brooklyn Jazz Hall of Fame and Museum (TM)

and produced yearly programs that feature local jazz talent.

Ms. Reddy is grateful for the opportunity to work with the Board of Directors in programming,

fundraising, community outreach and strategic planning of the organization

efforts in the development and preservation of Jazz and related art forms throughout the

borough of Brooklyn.

Ms. Reddy is a performer vocalist, festival founder and educator in the greater New York

region.

13