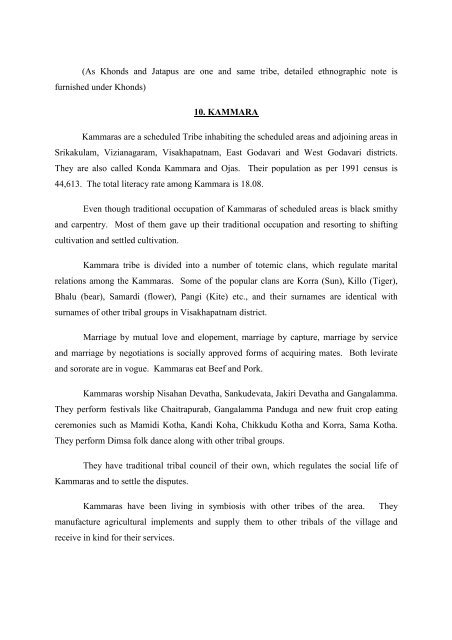 basic statistics on tribes and tribal areas of andhra pradesh
basic statistics on tribes and tribal areas of andhra pradesh
basic statistics on tribes and tribal areas of andhra pradesh
SHOW MORE
SHOW LESS
Create successful ePaper yourself
Turn your PDF publications into a flip-book with our unique Google optimized e-Paper software.
(As Khonds and Jatapus are one and same tribe, detailed ethnographic note is

furnished under Khonds)

10. KAMMARA

Kammaras are a scheduled Tribe inhabiting the scheduled areas and adjoining areas in

Srikakulam, Vizianagaram, Visakhapatnam, East Godavari and West Godavari districts.

They are also called Konda Kammara and Ojas. Their population as per 1991 census is

44,613. The total literacy rate among Kammara is 18.08.

Even though traditional occupation of Kammaras of scheduled areas is black smithy

and carpentry. Most of them gave up their traditional occupation and resorting to shifting

cultivation and settled cultivation.

Kammara tribe is divided into a number of totemic clans, which regulate marital

relations among the Kammaras. Some of the popular clans are Korra (Sun), Killo (Tiger),

Bhalu (bear), Samardi (flower), Pangi (Kite) etc., and their surnames are identical with

surnames of other tribal groups in Visakhapatnam district.

Marriage by mutual love and elopement, marriage by capture, marriage by service

and marriage by negotiations is socially approved forms of acquiring mates. Both levirate

and sororate are in vogue. Kammaras eat Beef and Pork.

Kammaras worship Nisahan Devatha, Sankudevata, Jakiri Devatha and Gangalamma.

They perform festivals like Chaitrapurab, Gangalamma Panduga and new fruit crop eating

ceremonies such as Mamidi Kotha, Kandi Koha, Chikkudu Kotha and Korra, Sama Kotha.

They perform Dimsa folk dance along with other tribal groups.

They have traditional tribal council of their own, which regulates the social life of

Kammaras and to settle the disputes.

Kammaras have been living in symbiosis with other tribes of the area. They

manufacture agricultural implements and supply them to other tribals of the village and

receive in kind for their services.