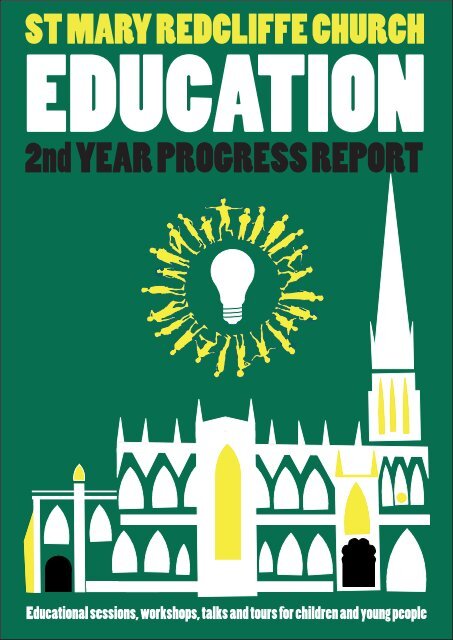 St Mary Redcliffe Church - Education Year 2 Progress Report
Create successful ePaper yourself
Turn your PDF publications into a flip-book with our unique Google optimized e-Paper software.
ST MARY REDCLIFFE CHURCH

EDUCATION

2nd YEAR PROGRESS REPORT

Educational sessions, workshops, talks and tours for children and young people
---
Feedback from children

It was the best trip ever!

The trip was really exciting and I would love to come again.

Yesterday afternoon was outstanding!

I was really impressed with what we had done. When the trip was over I was sad to

leave. It was such a great trip and I would love to come again.

What we did yesterday inspired me to be more creative.

RE art has inspired me to do what I can in creativity. I never knew that creativity

didn't have to be pretty, like the Chaotic Pendulum. Thank you for your inspiration

in art.

Feedback from teachers

You really kept their attention all the way through. It was a really difficult topic

which they hadn't covered in school but they were totally engaged with it.

It was brilliant!

That was amazing.

It was a fantastic morning. Thank you.

I think the workshops are fantastic. Whatever the topic the children are doing, a

well-resourced and planned session is arranged for the children. It is always well

paced with a story and an art activity. I personally love the way we get shown around

the church, I have learnt so much about the amazing building that you don't get

access to normally. The children love these visits to the church.

Pupils from Year One designing and

making roof bosses.

1
---
Background

The Education Work at St Mary Redcliffe Church (SMR) began at the end of April 2014 after

Dan Tyndall introduced the idea which was based on a project in Berkshire called

REInspired. He had seen REInspired in operation when he worked in the Reading area and

wanted to bring this model to SMR.

The aim of the education project at SMR is to enhance the spiritual development and

support the religious education of pupils in the wider Bristol area through a creative

partnership between SMR and individual schools.

The Education Officer aims to engage with schools in the Bristol area to find out what their

Religious Education (RE) syllabus is. She develops a link with a school and when a particular

class is focussing on Christianity she will offer to host a workshop at the church for them.

She will write a workshop after a discussion with the class teacher or RE coordinator.

Certain aspects of the RE curriculum really come to life in the church. Pupils are able to use

all their senses to arrive at a deeper understanding of what Christians believe.

Pupils from Year 5 examining the

topic:

Is Christianity an Important Religion

2000 Years after Jesus was on the

Earth?

2
---
Overview

Our Education Officer writes each workshop in order to enhance the learning which is taking

place in the classroom. Sometimes she will be introducing a subject for the first time to the

pupils; at other times she will be building on what they have already covered in school.

Each workshop is therefore different, even when a teacher returns to do the same theme as

the previous year. In each case she will tailor the workshop for the particular group and

around the volunteers who are available to help.

A volunteer teaching Year 1 pupils

about Baptism. They brought a doll

with them to baptise.

Their workshop was called:

Why is this place special?

It was part of a whole topic they

were doing in school about special

places.

Certain aspects of Christianity can be covered so much more easily in a church setting such

as: explaining what communion or baptism are, for example. SMR is rich in beautiful

artefacts which lend themselves to telling and explaining the stories in the Bible.

The church is also well blessed with objects which help the Education Officer to explain the

church's context in the city of Bristol.

Pupils from Year 1 learning about

the symbolism in a Communion

Service.

The Education Project uses members of the congregation and other Christians as volunteers

to help with the workshops.

3
---
Progress

April 2016 brings to a close the second year of the Education Work at St Mary Redcliffe

Church. During this year the Education Officer has built on the contacts from the first year of

the project and has been pleased that nearly all the schools who came in the first year

booked to return in the second year. She was also delighted to work with some new

schools. Some of the themes from last year were the same but some completely new

workshops were tackled.

In the second year of the project there were 21 organised events where school groups have

come into the church to take part in a workshop or to have a talk and a tour. Adding to this

the groups which booked with the Education Officer to visit Treefest, means that SMR had

over a thousand children and young people attending organised events at the church as a

result of the Education Project.

Pupils learning about the

wonderful mix of ancient and

modern in St John's Chapel.

Their workshop was Creation and

Creativity and focussed on the

art and crafts in St Mary Redcliffe

Church

Creation and Creativity

workshop:

Pupils learning about the

beautiful brasses in St Mary

Redcliffe Church and doing a

brass rubbing.

4
---
Volunteers

During the second year of the project, the Education Officer has welcomed the help of

twelve volunteers. It would be impossible to run the workshops without the commitment

and dedication of all those who have volunteered.

Some of the volunteers attend St Mary Redcliffe Church as part of the congregation or

clergy. Others attend churches elsewhere in Bristol.

The volunteers all have to go through the church's safeguarding process.

A volunteer teaching pupils from a

Year Six about The Last Supper and

Communion.

An Easter Workshop:

Did God intend Jesus to be crucified

or was the crucifixion the

consequence of events during Holy

Week?

A volunteer explaining about the

copes worn in services by the clergy

at St Mary Redcliffe.

A Year One workshop:

Special Places -

Why is St Mary Redcliffe a special

place for Christians?

5
---
Working with schools

During the second year, workshops and talks were delivered on the following themes:

Noah's Ark and symbolism - Keystage 2

The main features of the Church – Year 7

Why are some books special? The Bible – Year 4

Why are some places special? St Mary Redcliffe Church – Year 1

The similarities and differences between Anglicanism/Catholicism – Year 9

The most significant part of the Christmas Story – Year 4

The true meaning of Christmas for Christians – Year 3

Why are some stories special? The Christmas Story – Little Owl and The Star - Reception

Art in Religion – Creation and Creativity – Year 5 and Year 6

Points of interest in Bristol and St Mary Redcliffe Church – 17-year-old students from

France

Is Christianity a strong religion 2000 years after Jesus was on the earth? – Year 5

Did God intend Jesus to be crucified or was the crucifixion the consequence of events

during Holy Week? – Year 6

The Good Samaritan and Edward Colston – Year 5

Why are some stories special? The Easter Story – Year 2

6
---
Schools

The following schools attended workshops or attended a talk and tour session:

Cleve House – two workshops

Compass Point Primary – one workshop

Colston's School – one workshop

St Bede's Catholic College – two talks and tours

St Mary Redcliffe Primary – six workshops

St Mary Redcliffe and Temple – three talks and tours

Southville Primary – five workshops

Vivalangues – one talk and tour

Other school groups have visited the church for other events and activities.

The challenging topic of whether

or not Jesus knew what was

going to happen to him because

it was part of God's plan, or

whether the crucifixion was the

consequence of events during

Holy Week.

A poster design as a response to

an interesting topic for Year Four:

What is the most significant part

of the Nativity story for

Christians today?

7
---
Trails for Children

The Education Officer has written two trails which can be purchased at the stewards' desk

for £1 per booklet. Anyone can follow these trails as a focus for their visit. However, they

were written for children aged approximately 6-8 (The Church Mouse Trail) and aged 8-12

(The Church Cat's Trail).

Our trails are proving to be

popular with adults visiting

the church as well as

children!

The Education Officer originally wrote the trails because of the new link between St Mary

Redcliffe Church and the West of England Children's University. Children's University (CU) is

an international critically acclaimed programme, funded and delivered locally by the

University of the West of England. It encourages all children aged 5 to 14 years to try new

experiences, develop new interests and acquire new skills through participation in

innovative and creative learning activities outside of the school day. These learning activities

are designed to raise aspiration, encourage motivation, introduce new life experiences,

develop personal skills and enable progress in learning.

Anyone can purchase a trail booklet regardless of whether or not they are participating in

the CU programme. However those participating in the CU programme will be given an

hour's credit and a stamp in their CU Passport to Learning.

8
---
Funding and Finance

We began the project in the first year with a grant from Bristol Archdeaconry Charity of

£5,000 and £4,000 from St Mary Redcliffe Church PCC. The Education Officer has made

several bids for funding and one was successful. She was delighted that St Christopher's

Trust awarded SMR Education Project £3,000.

SMR continues to charge schools a small amount for their visits (apart from St Mary

Redcliffe Primary School and St Mary Redcliffe and Temple). We charge a small group £40.

We charge £60 for a class of up to 30 pupils and £120 for any larger groups. Schools who

book in their classes but do not require any input from the Education team are not charged.

Income from the school groups in the second year has amounted to nearly £900.

SMR secured funding for the education officer to continue on 12 hours a week for a third

year. The Education Officer continues to apply for funding to continue the project into a

fourth year. Additional funding would enable the Education Officer to increase the number

of workshops taking place in the church, as the she would be able to increase her hours.

Pupils from Year 2 making a picture

as part of a workshop about Easter.

Acknowledgement

Dan Tyndall's idea for the Education work at St Mary Redcliffe church came from a project in

Berkshire called REInspired. REInspired's aim both locally and nationally is to see the

spiritual development and religious education of school pupils enhanced by creative

engagement with people of faith from their local community in an educational framework.

Should you wish to find out more about RE Inspired please see their website:

www.reinspired.org.uk.

9