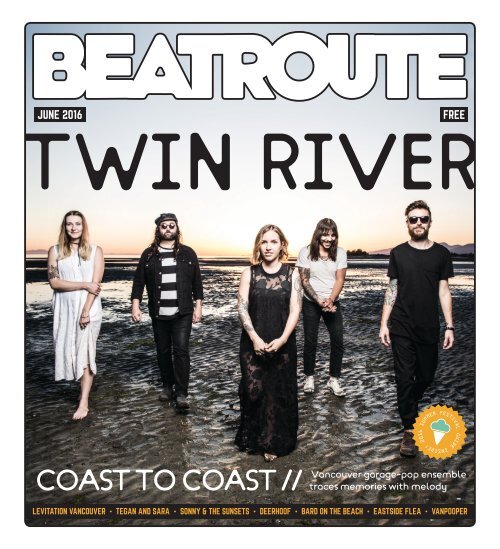 BeatRoute Magazine B.C. print e-edition - June 2016
BeatRoute Magazine is a monthly arts and entertainment paper based in Western Canada with a predominant focus on music – local, independent or otherwise.
BeatRoute Magazine is a monthly arts and entertainment paper based in Western Canada with a predominant focus on music – local, independent or otherwise.
SHOW MORE
SHOW LESS
Create successful ePaper yourself
Turn your PDF publications into a flip-book with our unique Google optimized e-Paper software.
JUNE 2016

FREE

TWIN RIVER

COAST TO COAST //

Vancouver garage-pop ensemble

traces memories with melody

LEVITATION VANCOUVER • TEGAN AND SARA • SONNY & THE SUNSETS • DEERHOOF • BARD ON THE BEACH • EASTSIDE FLEA • VANPOOPER

June May 2016 1
---
TRIM SIZE: 10.25"W x 11.5" H, RIGHT HAND PAGE

JOHNFLUEVOGVANCOUVERGRANVILLEST··WATERST··FLUEVOGCOM

VANCOUVERTORONTONEWYORKLOSANGELESSANFRANCISCOCHICAGO

2

June May 2016
---
JUNE 20 16

BEATROUTE STAFF

PUBLISHER

BeatRoute Magazine

EDITOR-IN-CHIEF

Glenn Alderson

glenn@beatroute.ca

MANAGING EDITOR

Joshua Erickson

joshua.erickson@beatroute.ca

SENIOR EDITOR

Maya-Roisin Slater

mayaroisin@beatroute.ca

GRAPHIC DESIGNER

& PRODUCTION MANAGER

Rachel Teresa Park

rachelteresapark.com

WEB PRODUCER

Shane Flug

COPY EDITOR

Thomas Coles

CONTRIBUTING EDITORS

CITY

Yasmine Shemesh

yasmine@beatroute.ca

COMEDY

Graeme Wiggins

graeme@beatroute.ca

FILM

Paris Spence-Lang

paris@beatroute.ca

THE SKINNY

Alex Molten

molten@beatroute.ca

LOCAL

Erin Jardine

erin@beatroute.ca

FRONT COVER PHOTO

Shimon

shimonphoto.com

DISTRIBUTION

Gold Distribution

CONTRIBUTING WRITERS

Gregory Adams • Victoria Banner

Eric Campbell • Reid Charmichael

David Cutting • Mike Dunn

Bryce Dunn • Heath Fenton

Colin Gallant • Jamie Goyman

Britt Hanly • Prachie Kamble

Cait Lepla • Fraser Marshall-Glew

Trina McDonald • Jamie McNamara

Devon Motz • Jennie Orton

Justin Penney • Liam Prost

Daniel Robichaud • Galen Robinson-Exo

Paul Rodgers • Katharine Sawchuk

Thalia Stopa • Susanne Tabata

Willem Thomas • Trent Warner • Wendy 13

CONTRIBUTING

PHOTOGRAPHERS &

ILLUSTRATORS

Sarah Baar • Bev Davies

Lindsay's Diet • David & Emily Cooper

Asia Fairbanks • Chase Hansen

D.L. Fraser • Amy Ray

Galen Robinson-Exo • Dylan Smith

Sarah Whitlam

ADVERTISING INQUIRIES

Glenn Alderson

glenn@beatroute.ca

778-888-1120

DISTRIBUTION

We distribute our publication to more than

500 locations throughout British Columbia.

If you would like BeatRoute delivered to

your business, send an e-mail to

editor@beatroute.ca

TABLE OF CONTENTS

Working for the Weekend with Jessica Vaira............................................................................................4

Deerhoof...............................................................................................................................................................................5

Sonny & The Sunsets............................................................................................................................................6

Low Levels...........................................................................................................................................................................6

COVER: Twin River..............................................................................................................................................9

Levitation Vancouver...........................................................................................................................10 - 11

Late Spring......................................................................................................................................................................12

THE SKINNY..............................................................................................................................................13 - 16

• Have A Good Laugh Fest

• Rocket From Russia

• Astrakhan

• The Mountain Man

• Studio Vostok

• Subculture

Terminal City Confidential........................................................................................................................17

Summer Festival Guide.....................................................................................................................18 - 19

ELECTRONICS DEPT.................................................................................................................21 - 23

• Blackalicious

• Kaylee Johnston

• Chambers

• UNIIQU3

CITY..........................................................................................................................................................................24 - 26

• Queen Of The Month

• East Side Flea

• Our Wild Abandon

• Juke

• Bard On The Beach

• The Good Spirit

COMEDY........................................................................................................................................................................27

• Deanne Smith

• Sirius XM Top Comic

FILM..................................................................................................................................................................................... 30

Album Reviews.................................................................................................................................................31-36

Live Reviews...................................................................................................................................................................37

Vanpooper......................................................................................................................................................................38

beatroutebc

beatroutebc

@beatroutebc

BeatRouteMagazineBC

BEATROUTE MAGAZINE

202-2405 Hastings St. E

Vancouver BC Canada

V5K 1Y8

editor@beatroute.ca • beatroute.ca

©BEATROUTE Magazine 2016. All rights reserved.

Reproduction of the contents is strictly prohibited.

Blackalicious, page 21

June 2016 3
---
WORKING FOR

THE WEEKEND

Founded in 2003, Twigg and Hottie is a boutique in

Vancouver's Mount Pleasant that puts a premium

on ethical independent designers. Jessica Vaira, one

of the store's three owners, grew up around the textile

arts, a formative experience that drew her to designing

and making her own clothes later in life. "Growing up

in a family of knitters, sewers, and crocheters, I often

saw the beauty of how textiles could be shaped to fit

whatever purpose needed. The idea that you could not

only sew anything you wanted, but that you could also

construct the material itself has always been a wonder

to me," Vaira explains. Along with her two business

partners, Twigg and Hottie is home to an in-house

brand, We3 Designs, which focuses on sustainable

clothing made in Vancouver. Turning cloth to clothing

is not Vaira's only passion, she is also a singer and

songwriter. Employing her very own blend of jazz, funk,

and soul, Vaira utilizes looping pedals and harmonies

to create a lush soundscape of groove-inspired folk.

Needles, thread, lungs, and verses are just some of

the tools Vaira has under her belt A seamstress and

singer with a knack for starting from scratch, Jessica

Vaira is a proprietor of honest art in all its forms.

BeatRoute: What does a day at the store look like

for you?

Jessica Vaira: A day in the store for me is a

balance between helping my customers find the

perfect thing to suit their needs, educating the

curious on why it is so important to support locally

and sustainably made goods and, chipping away at

the mountain of admin that always needs dong.

with Jessica Vaira

BR: What kind of music do you like to listen to

in the shop?

JV: Generally I love jazz, folk, soul, and r&b for

store hours. It needs to be upbeat enough to keep the

day flowing, but without feeling frenzied. It is all

about creating a comfortable and welcoming vibe.

BR: What are your favourite things to wear

onstage?

JV: I've been in a pretty serious long skirt phase

the past year. I have a particular one that I literally

have made four of in different colours because they

are just so comfortable. After performing, when

I've exuded so much emotion and am a sweaty

mess, I still feel like I have a modicum of poise.

BR: Can you explain your use of the loop pedal

in your work?

JV: Loop pedals are so interesting because they

can be really freeing and also quite constrictive

depending on how you use them. For me, harmony

has always been a focus in my music and I wanted

the ability to layer my vocals but still have variation

in my song structure so I strive to use the looper

in a more unconventional way. Instead of building

an entire song on a foundation of a few chords,

I use it for accents and features. Sometimes I

will loop entire choruses so that I can do the

harmonies over top the second time. Sometimes,

I create textural layers to flesh out a verse.

Sometimes I build and build and build to create an

outro. It just depends on what the song needs.

by Maya-Roisin Slater

photo by Sarah Whitlam

BR: As a maker of both, does your creation of

music and clothing have any sort of connective

relationship?

JV: You bet! Trying to make a living solely on

creative endeavours is darn difficult and like

most artists, I struggle on being creative on a

time line. Having two really different modalities

allows me the ability to explore whatever

inspiration I am feeling in that moment. If I don't

feel like working on lyrics, I can draft a pattern.

Or if I don't feel like sewing those alterations,

I can practice guitar. Textiles are gratifying

because there is a tangible end result and I can

physically see what I have accomplished. Music

is very spiritual and emotional for me and helps

me understand myself. Having a foot strongly

planted in both these worlds helps me feel

balanced and ultimately fuels more creativity.

BR: What do you hope to achieve in the next year?

JV: Finishing my album In A Line has been a huge

accomplishment and one that I had been working

towards for several years. This next phase for me

is about promoting all that hard work and getting

started on the next album and collaborations. I

always have new ideas and projects percolating and

am hoping to get some motion on some of those.

Jessica Vaira hosts an open mic night every

second Tuesday at Cartems Donuterie on Main

Street. She is also performing at the Revival

Festival in Squamish June 10 to 12.

4

June 2016
---
DEERHOOF

revealing the magic behind the experimental rockers

Over two decades later, Deerhoof continues

to cast their spell on The Magic.

Deerhoof has been together and

consistently making music awhile now, but

that hasn't made it any easier to describe their

sound. Descriptions like "experimental" or "indie"

seem trite; "noise" is too niche and does a

disservice to singer Satomi Matsuzaki's mostly

childish, sing-songy voice, whereas "rock" is

such a broad and conservative-sounding label

for a band that seems to exist outside of the

musical realm of their contemporaries.

Guitarist John Dieterich claims Deerhoof are content being unclassifiable.

Fortunately the band, with drummer and

original member Greg Saunier at its helm, has

put their finger on their sound for us with the

title of their new album, The Magic. The most

succinct way to summate Deerhoof, it seems,

may also be the most abstract. Guitarist John

Dieterich extrapolates, "What we [Deerhoof]

liked about the idea of just magic is that it hasn't

been decoded yet or described yet. It's something

that you don't know what it is or where

it came from or what it means and you're just

kind of letting it wash over you kind of."

This concept is one common denominator

for a tracklist that Dieterich admits is "kind of

all over the place...a mixtape." If you're already a

Deerhoof fan, the 15-track hodge podge record

strikes lots of familiar notes - "Debut" and "Kafe

Mania" are good examples. But the biggest

surprise may be its three unbridled punk songs,

apparently perfect examples of the concept of

happenstance. A single weekend before the

deadline, some of Deerhoof's band members

were asked to contribute a punk song for a

television show. Unbeknownst to the others a

few of them took on the challenge. "We live in

three different locations, sometimes four, and

so three of us wrote songs, recorded demos

including vocals and lyrics and sent them in

Monday," Dieterich explains. Guitarist Ed Rodriguez's

contribution, "That Ain't No Life to Me" is

probably the purest example; it's also the first

time Rodriguez has sung lead vocals.

Although The Magic isn't a punk album, it

does maintain the high energy of one due to the

set of circumstances leading up to its recording.

On the heels of extensive touring, including a

lot of "rock-ish" shows, the band evaluated the

type of shows they had the most fun playing

and used that as inspiration.

Dietrich has no prescription for enjoying The

Magic but regales his story of a recently memorable

listening experience: "Yesterday for my

birthday we went on a little road trip. We took

our dog to a place called El Malpais Wilderness

which just means 'badlands' in Spanish but it's

like this incredibly remote, just shockingly beautiful

sort of impossible to describe wilderness

that's like an hour away from here...My friends

got me this compilation of Can music that had

been unreleased, called The Lost Tapes. They

gave it to me...like five years ago. And I had sort

of listened to it but it was like, I dunno, I don't

give myself that much time to actually sit and listen

to music. I'm usually working on something,

whether it's you know my own music or mixing

somebody else's record...And so this was the

first time where I actually had two-and-a-half

hours to sit in the van and listen to music and it

was amazing. I instantly fell in love with it."

Due out on June 24th via Polyvinyl Records,

Deerhoof's latest release comes on the heels

of a collaboration album with the classical

composer Marcos Balter and Ensemble Dal

Niente, called Balter/Saunier. Deerhoof has 13

full-length original albums under their belt since

1997's debut The Man, the King, the Girl - each

very unique but all unequivocally magical.

Deerhoof plays Fortune Sound

Club (Vancouver) on July 8.

MUSIC

by Thalia Stopa

June 2016 MUSIC

5
---
SONNY & THE SUNSETS

the future might not be so bright after all

It may be the most pertinent question of our

times: how to deal with living in a culture

where we are relentlessly inundated with

information? For San Francisco's Sonny

Smith, the natural response was to make

a rock album about it with his band, the

Sunsets. Their sixth LP, Moods Baby Moods

(released May 27th) sounds groovy overall,

but some of the material sure is heavy. The

album's funkier sound is a departure from the

Sunsets' previous albums but an unsurprising

one considering they encapsulate a wide

range of genres from country to experimental.

The tracklist itself aptly swings from the

goofy "Well But Strangely Hung Man" to the

commentary on consumerism, "Needs." When

asked what one lesson listeners should take

away, Smith's response is simple: "Life is

screwy."

"The world is going down like the Titanic:

Sonny & The Sunets are experiencing major mood swings on new album, Moods Baby Moods.

fires, deserts, diseases, wars, refugees, extinction,

world slavery, nations disappearing,

etc.," Smith continues. "Who cares about rock

and roll, really, or any other genre, I hope

it dies and new forms begin. I'll be making

some kind of shit till I die I'm sure, no idea

what it will be...."

Smith has more than a few creative outlets

which occasionally mutate into something

suited to Sonny & the Sunsets, the project

which is his first and foremost passion. However,

there's very little calculation involved in

that process. "Death Cream" for instance is a

catchy narrative about an ominous substance

that began on 2009's debut Tomorrow is

Alright. More recently, Smith was inspired

to continue the story in comic panels which

morphed into lyrics for the opening track on

Moods Baby Moods, "Death Cream Part 2

'Watch Out for the Cream.'" The comic book

idea hasn't been shelved entirely, but Smith

says that it will have to wait until the trilogy is

complete.

Along with a series of drawings of Caucasian

policemen on trial – an allusion to

the track "White Cops on Trial" - a vaguely

autobiographical cartoon character named

"Mr. Sensitive" recently popped up on Sonny

& the Sunsets' Instagram feed. The idea came

about because the band's rehearsal space

is situated in San Francisco's Tenderloin

district. "We're always just...complaining

about how disastrous it is. I mean it's really

disgusting and sad and messed up...just people

with syringes hanging out of their arms,

human feces everywhere...It's just one of the

most unhealthiest neighbourhoods I've ever

experienced and of course it's, ya know, due

to some weird urban-planning and exploitation

of resources and stuff but ya know we're

always kind of like, 'Oh, Mr. Sensitive can't

handle human shit on the ground,'" he laughs.

"Whatever. So it just kind of went from

there..."

From comics to lyrics, Smith is a prolific

writer who always has a notebook and pen

handy. "I just write in the gaps of my busy

life...I'm just one of those types...I always

have my notebook. If I'm early to pick up my

son at school I'll just write in my notebook. If

I am at something boring I'll just write in my

notebook, ya know? I just have my notebook

all the time and I always have."

It's doubtful that Smith will ever give up his

pen, but for Moods Baby Moods he did cede

his role as producer for the first time, instead

enlisting the Tune-Yards' Merrill Garbus for

the role who he plans on working with in

the future...although with Smith's predictions,

who knows what post-rock'n'roll or

post-apocalyptic form that will take.

Sonny & the Sunsets play FAR OUT at

the Biltmore (Vancouver) on June 15.

by Thalia Stopa

LOW LEVELS

veteran punks are smart, efficient, and givin'er

If you've ever seen Al Boyle perform

live, you know he does not do anything

half-assed. The veteran of the Vancouver

music scene has displayed his frenetic

guitar and vocal chops in Hard Feelings,

Shitty Neighbors, NEEDS, and played drums

in Chains of Love and The WPP. Boyle does

not sit still for long, and with more than 15

years of performing behind him, his sights

are firmly focused forward with his new

band Low Levels.

Emily Jayne (Devil Eyes, Learners)

and Byron Slack (Invasives) complete the

veteran lineup, and produce a sound that

is a cohesive distillation of the members'

collective influences and history. Boyle and

Jayne frequently trade off vocal duties, the

vocal juxtaposition providing rich texture to

the densely crafted songs.

Their collective years of experience has

the members of Low Levels approaching

this new project with a level of focus that is

often lacking when a new band gets together.

Despite their varying levels of personal

familiarity (Jayne had never met Slack until

their first practice), the band quickly reached

a consensus with regard to their objectives.

"Giv'er as much as possible without

quitting our jobs!" laughs Boyle. "Like we're

going to tour, but we're going to be smart

about it and not waste our time." Efficiency

6 MUSIC

comes up frequently in the conversation, and

it's obvious that the band is into getting the

most out of every show.

"We played a show in Edmonton and it was

one of the best ones we've ever played. The

promoter loved it and we were able to tell

them exactly when we'd be back," explains

Boyle. Each member acknowledges that they

have better access to promoters through the

network they've built up over the years, so

while Low Levels might be a new name, they

are able to draw an appreciative audience

right out of the gate.

All three members are visibly excited

about making music together, perhaps none

as much as Slack. "I played in my last band

for sixteen years. With each new album,

people more or less knew what to expect.

This is the first time I've been in a new band

and it's a lot of fun!" His enthusiasm is infectious,

and it's impossible to miss the smiles

on Boyle and Jayne's faces when he makes

the comment.

So what can people expect to hear? The

band is as efficient with their songwriting as

they are in matters of business. Most songs

on their self-titled EP clock in at under three

minutes, and each one packs in enough

riffs and ideas for a song twice as long. The

chord progressions and time signatures feel

intuitive, but new levels of complexity reveal

themselves with each listen.

While they shy away from labels like

"math rock," the band members agree that

the technicality is no accident. "We want to

chase things that are difficult," Slack explains.

"To chip away…and leave our mark by

making something challenging and different."

The result is a collection of songs that are

melodic and deceptively dense. Boyle and

With several bands under their belts, Low Levels have high aspriations.

Jayne trade vocals and the whole package

is, in Jayne's words, "Heavy and aggressive,

but not angry. People can still dance to it."

The crowd will have to work up a serious

sweat if they want to keep up with Boyle's

frenzied onstage persona.

Low Levels performs at Pat's Pub on

June 10 and The Emerald on June 24.

by Justin Penney

June 2016
---
June May 2016 7
---
8

June May 2016
---
TWIN RIVER

finding depth downstream

Written by Gregory Adams

Photo by Shimon

There are plenty of artists involved in

the making of Vancouver-bred Twin

River's sophomore full-length, Passing

Shade. Most of them congregated over

to Colin Stewart's current Hive recording

facility on Vancouver Island over the

course of two recording sessions last year,

one in the summer and one the following

winter. One conspirator's contribution to

the record's first single, "Settle Down," is

unexpected though, considering he's long

dead. In fact, he's been underground for

centuries. As band founder Courtney Ewan

explains, the divide between her academic

and creative worlds isn't exactly cut and

dry, which is how a project translating the

work of Euripides, a tragedian of classical

Athens, managed to seep into Twin River.

"He wrote a play called Hecuba. Many

playwrights did, actually. That's sort of

the way it went. It focuses on her [Hecuba]

experiences after the fall of Troy.

She's just lost her whole family — all of

her children, her husband," Ewan tells

BeatRoute, noting that she'd staged a production

of the mythological tale earlier this

year while studying in Montreal. "When

I wrote 'Settle Down,' it was at the same

time as I was translating the play. I never

really realized until I was typing out the

lyrics for the liner notes that I absolutely

ripped off Euripides. I was typing out a

line and I was like, 'Oh my god, that's

not my thought. That's not my idea.' I

felt absolutely sheepish for a second, but

that's what [playwrights] do all the time."

To say the least, Ewan's got a handle

on the classics. Spending a blessedly

sunny Friday afternoon walking around

Vancouver's idyllic Seawall, she's

beaming with enthusiasm as she talks

about not only her group's new record,

but starting up a PhD program at New

York University this coming fall. The

latter comes just as she's wrapped up

her time-intensive studies at McGill.

In between school sessions, she writes,

records, and performs with Twin River.

"I'm trying to figure out if I'm a

social or anti-social person," Ewan

explains. "I think I have strong tendencies

to be both, which I think allows

me to be an academic half of my

life and performer the other half."

While a move to Quebec a couple

years ago might have discouraged other

bands, Ewan has managed to make it work

with the rest of Twin River. Founded as

the folk-dusted duo of vocalist/guitarist

Ewan and guitarist Andy Bishop before

expanding into a five-piece lineup for

2015's pop and rock-exploring Should

the Light Go Out, the outfit's schedule

can often be stunted by the distance

between Ewan and her West Coast-based

compatriots. And while her and Bishop

handle all the arrangements, the shape of

the rest of the group is in constant flux.

Looking over the liner notes to Passing

Shade, the songs were recorded with varying

lineups that could include bassist Franceso

Lyon (White Ash Falls), keyboardists

Rebecca Gray (Yukon Blonde), or Melissa

Gregerson and drummers Dustin Bromley

or Jordan MacKenzie (White Ash Falls).

Extra contributions come from album

producer Darcy Hancock and percussionist

Ryan Peters, both of Ladyhawk.

"If we could find a solid lineup, we're

certainly not against that," Ewan says

of the situation. "But we've acknowledged

the reality that everyone we've

played with all have a number of projects

on the go. It's impossible to make

five people's lives line up. If it doesn't

work out, it's no hard feelings."

Despite the ever-shifting conditions,

Passing Shade is Twin River's most

cohesive release to date. While last year's

Should the Light Go Out jumped song

to song from banged-up pop-punk, to

thistle-chewing folk, to the cloud-soft

textures of dream pop, the new album

manages to mix these influences together

more naturally, often in the same cut.

"Hesperus," another mythology-mining

piece, is a jam full of foggy synth and

bass sounds, though it hews to the band's

folk roots via the light twang in Ewan's

voice. "Settle Down" and "Natural State"

are likewise slathered in echo, but Bishop

balances this with some rail-riding lead

guitar work. The noisy, though emotionally

delicate "I Don't Want to Be Alone"

re-imagines the Jesus and Mary Chain,

while "Knife" is a whammy bar-abusing

surf cut for the alt-country crowd.

"We didn't sit around and say we

want it to be 70 per cent garage, 20 per

cent dream rock, 10 per cent folk. It just

became what we sounded like," says Ewan

of the Passing Shade's musical mash-up.

Unified throughout the album are lyrics

that hint at loneliness, the dissipation of

bonds between friends, and the end of romantic

relationships. Ewan admits that she

wanted to craft a "purposely autobiographical"

full-length, but it's worth noting that

her academic career has likewise had her

analyzing how people cope with change.

"There's a sociologist named Maurice

Halbwachs who did a big study

on memory, and he says that whenever

there's a period of political change,

people strive to make sure that their own

personal legacies are safe. One of the

ways it shows itself in Rome, in particular,

is that all of a sudden the practice

of inscription has this huge boom."

Though Ewan's lyrics are more

personal than political, they nevertheless

reflect a shock to the system. Songs

like "Hesperus," "I Don't Want to Be

Alone," and "Brooklyn Bowl" are all

tapping into a sense of abandonment.

"Baby" begins positively with a verse in

which Ewan praises the way a lover says

her name, but ultimately caps with "I

hate the way you leave me." On the flip,

"Known to Run" is a song that suggests

she is tempted to split when the going

gets rough. In the past, she wouldn't

have been as frank about her feelings.

"I'm a funny person, I think, because I

like to talk and talk and talk, but I have a

hard time talking about serious things," she

says. "That's the same for songwriting. I

can pump out a cheesy pop song, no problem.

I don't have trouble putting one line

It's harder for me to talk about things that are

real. I wanted to have a record that I could

pinpoint to specific memories and times in my life,

because this past year I've needed those anchors.

after the next, because I listen to a lot of

pop music and I know what the 'B' is that

follows the 'A.' It's harder for me to talk

about things that are real. I wanted to have

a record that I could pinpoint to specific

memories and times in my life, because

this past year I've needed those anchors."

There is a disjointedness to Ewan's

life as she navigates school on one side

of the continent, a band on the other,

and all sorts of personal relationships

in between. Commemorating it all in

song has been a grounding experience,

though. It would seem that she might

not run from her problems after all.

"Sometimes I think that would be

a lot easier if I had those tendencies

in me, because I have a hard time letting

things go," the musician adds. "It

would be easier to be like, 'Ok, I'm

out!' I hope that's a good quality."

Considering how she and Bishop have

managed to keep Twin River flowing,

it's certainly not a bad one to have.

Twin River perform on

June 30 at The Cobalt.

May June 2016 MUSIC

9
---
highlights from the

second edition of the

psych worshiping festival

by Joshua Erickson, Daniel Robichaud, Galen Robinson-

Exo, Graeme Wiggins, Victoria Banner, Thalia Stopa

PSYCH!

With the success of last year's inaugural event,

Levitation Vancouver is back for its second

year. Though it is billed as a "psych" festival,

the music you will find here is a far cry from

the sitars and acid washed jeans you may

be thinking of. With punk, metal, electronic,

indie, and more represented on the lineup,

what unites all the bands performing is the

love of experimentation and being open to new

experiences. After all, the term "psychedelic"

was never meant to describe a sound, but rather

an experience. So open up your mind and check

out some of BeatRoute's picks of the fest!

THE ALLAH-LAS

LOS ANGELES, CA

Staples of modern garage rock, The Allah-las excel at

crafting low-fi tunes that embody a spirit of hazy nostalgia.

Their reverb-heavy brand of psychedelia is evocative of

long road trips down lonely California highways. This Los

Angeles-based four-piece are vanguards of 1960's-era rock

sensibilities, faithfully carrying the torch. (GRE)

The Allah-las perform at the Malkin Bowl on June 18

FIDLAR

LOS ANGELES, CA

FIDLAR have matured since smashing us in the nose with

their self-titled 2013 debut. That was supposed to be a joke.

FIDLAR? Mature?! Never! Well, turns out these fun, drugloving

L.A. punks have matured… kind of. Their most recent

effort, TOO, finds Zac Carper musing on his hard lifestyle and

where it's gotten him – all while flipping us off and washing

down pills with more cheap beer. Spiralling towards the

bottom has rarely been more fun. (DR)

FIDLAR performs at the Malkin Bowl on June 17

FLYING LOTUS

LOS ANGELES, CA

Entirely free of being bound by genre, Flying Lotus's prolific

output is quickly becoming a thing of legend. In the last few

years alone he released his jazz-psych-electro-freakout

opus You're Dead, produced Kendrick Lamar's extraordinary

To Pimp A Butterfly, toured as Earl Sweatshirt's DJ's, and

has collaborated with the likes of Kamasi Washington,

Thundercat, Shabazz Palaces, George Clinton, and more.

Now Flying Lotus makes his return to Vancouver to headline

the final night of Levitation at the Malkin Bowl. Expect

nothing less than a transcendent performance. (JE)

Flying Lotus performs at the Malkin Bowl on June 18

RUSSIAN CIRCLES

CHICAGO, IL

Russian Circles headline this year's Rickshaw launch party.

This tradition of kicking off the festival with arguably the

loudest, most devastating act is one of which BeatRoute

giddily approves. This Chicago post-metal trio walks the

border between the beautiful and the terrifying, often

marrying the two. The result of which is a heady, expansive,

foundation-shaking mix – a violent transcendence. It's time

to let your squishy eyeballs roll back into your skull and stare

out your Third Eye. (DR)

Russian Circles perform at the Rickshaw on June 16

THEE OH SEES

SAN FRANCISCO, CA

Proof that garage rock will never die. Formed over ten

years ago, Thee Oh Sees helped create the DIY blueprint

for a whole new generation of garage rockers and made the

future careers of Ty Segall and Mikal Cronin possible. It's

hard to say whether they are known more for Jon Dwyer's

songwriting or for their blistering live show that is known

photo: Nina Corcoran

SHABAZZ PALACES

SEATTLE, WA

Blurring genre lines is something Shabazz Palaces's

front man Ishmael Butler has made something of a

career of. From the jazz soaked influence on his classic

albums as part of Digable Planets, to the future-sounds

oriented, high concept records with Shabazz Palaces,

Butler has made a career of pushing things forward.

While his latest record, Lese Majesty, could be

taken as an attack on the state of rap music, it's not

about stagnation. As Butler argues, "I don't think it's

stagnant. I think it's moving, that people are being

creative, but that it's been narrowed. The movement

is in a direction that is away from essential things

and has more to do with superficial things, surface

stuff: a narrower view of what's possible."

That broader view allows Shabazz Palaces the

freedom to push their sound wherever it takes them.

Even live, they don't feel confined to the songs. Butler

explains, "We do a lot of improvisational stuff on the

show. Most of the set is new stuff, that stuff that's

only gonna be heard at that show. It's pretty dynamic.

We are active in the making of the music, not just

playing the tracks and rapping. Tendai is playing

a lot of instruments and we're doing a lot of vocal

stuff, making up things on the spot. We vibe off the

crowd and environment and speak to that." (GW)

Shabazz Palaces perform at the Imperial on June 18

10 MUSIC

June 2016
---
to be one of the best around, blowing the roof off of venues

leaving crowds bruised, battered, and satisfied. (GW)

Thee Oh Sees perform at the Malkin Bowl on June 18

THUNDERCAT

LOS ANGELES, CA

There are not many famous bass players, let alone ones that

managed to be a part of three of the most critically lauded

albums of last year (His solo record The Beyond/Where the

Giants Roam, Kamasi Washington's The Epic and Kendrick

Lamar's universally adored To Pimp a Butterfly). With jazz

roots and experimental sensibilities, Thundercat's crossgenre

blend is funky enough to fill the dancefloor and smart

enough to expand the mind. (GW)

Thundercat performs at the Imperial on June 18

TYCHO

SAN FRANCISCO, CA

An ambient music project led by San Francisco's Scott

Harris, also known as IS050 in the visual art world. Tycho's

music is characterized by warm, melodic tones and layered

samples, creating aural landscapes that exhibit both

melancholy and hope. His live show is known to effortlessly

mesh dancing, trippy visuals, and great vibes all together. You

won't want to miss it. (GRE)

Tycho performs at the Malkin Bowl on June 17

WHITE LUNG

VANCOUVER, BC

Loud, vicious, and socially conscious, White Lung are one of

the most exciting punk bands operating right now. And they

are from right here, in Vancouver, BC! With each album, White

Lung has moved their sound in a progressive direction and

their newest record, Paradise, may be their most aggressive

and brash, while simultaneously being their most pop-y and

accessible yet. With a killer live show to boot, White Lung will

be the talk of the fest after their performance. (JE)

White Lung performs at the Malkin Bowl on June 17

SUUNS

MONTREAL, QC

Montreal electronic psych band SUUNS know how to

stay fresh. Which is ironic since their third album, Hold/

Still (released on Secretly Canadian, April 15), contains

previously unrecorded tracks they have been reworking

and playing live for up to eight years - almost as long

as the band, formed by vocalist/guitarist Ben Shemie

and guitarist/bassist Joseph Yarmush in 2007, has

been together. However, according to Shemie, SUUNS'

one pre-show ritual is writing out their set list. "It's not

like we're playing through this sequence that we get

used to," Shemie says. Rather than a "choreographed"

performance, audiences are treated to a song progression

dependent on the moods and vibes leading up to the

show, likely determined backstage at the venue.

photo: Nick Helderman

Shemie admits that although he appreciates their social

aspect, the buffet-style of big festivals is less preferential

than club shows. The latter are more conducive to

SUUNS' dark and intimate sound, which fluctuates

between the violent tension of fellow Canadians Crystal

Castles and the dronier trance-inducing tunes of the Black

Angels (they toured with both back in 2011). However,

SUUNS – including keyboardist/bassist Max Henry

and drummer Liam O'Neill – won't compromise when

they play the Rickshaw on June 17 as part of Levitation

Vancouver's night show series. Fans may even be privy

to still unreleased songs, if the band feels inspired to dip

into what Shemie calls their "reservoir of tunes." (TS)

Sunns perform at the Rickshaw on June 17

THE GROWLERS

DANA POINT, CA

The Growlers are a vintage psychedelic/surf rock

sounding band from Pasadena California. If you ask lead

singer Brooks Nielsen about their sound, he'll respond

with a flippant "I'm surprised we even made it out of

the garage." They retain the sound of a garage band

that was called to greater things through the sheer

catchiness of every one of their songs. Their tunes have

an immediately recognizable signature sound with

low-fi instrumentals and poignantly modern lyrics.

Their personas are as fun as their sounds, as they

completely embody the laid back Cali surfer dudes

you would see in movies. Their laid back lifestyle is

directly responsible for their enjoyable sound. "I think

we'll always stick with a lo-fi sound as none of us

possess a lot of musicianship," Nielsen claims with

cheeky modesty. As for what they are bringing to

Levitation Vancouver, Nielsen says, "Well we're actually

rehearsing lots which is a first for The Growlers, also

what can we get away with getting across the border?

We made some set pieces and have other… things."

You should check them out at Levitation if you are

in the mood for a new favourite band. The Growlers

can hook immediately. Don't believe us? Spotify the

Chinese Fountain album and join in on the edge-ofseat

waiting for their new album on the horizon. (VB)

The Growlers perform at the Malkin Bowl on June 18

June 2016 MUSIC

11
---
LATE SPRING

art, rock, and transformation

Do you ever wish a season could last

forever? Late Spring have just released

their second album, Invisible,

and it conjures all the melancholia of those

fleeting and beautiful days we want to hold

onto. And although it's been the album that

best captures the band so far, their eternal

KC Wei has put everything she has into Late Spring's sophomore album, Invisible.

creative spirit will surely see them change

with the season before long. It's a swirly

and cinematic dream-pop affair, paired

with shoegaze guitars like "electric static

before the storm." The Vancouver-based

band is fronted by KC Wei, an inspired

artist of many mediums with a penchant

photo: Lauren Ray

for rock 'n' roll, film (Late Spring takes its

name from her favorite Japanese film),

curating shows and, what she refers to

as, the "popular esoteric." Although faced

with overhauling the rhythm section before

their album release this month, the band

chose not to slow down, but grow instead.

"This record is my baby. Everything I

am goes into it. It's the thing I'm supposed

to do right now," Wei states with a smile

and all the zeal in her eyes of an inventor

on the cusp of a destined breakthrough.

On the "thunderstorm" guitar is Nik Gauer,

who is a brilliant foil and arranger to Wei's

initial song ideas. Gauer and Wei formed

the band back in art school when they

realized the "need for music in [their] lives"

after years of studying contemporary

art. Their chance meeting in this creative

climate is reflected in the music; the term

"art rock" is apt, given the detached cool

this band surely masters. You can picture

Andy Warhol having a blast projecting his

films atop of them.

The wall of guitars on Invisible are

often both towering and sweeping, yet at

the same time, clamorous and thoughtful.

Standout tracks such as the garage rock

tinged "Loser" and "Tough" begin with

a psychedelic serenity, though with the

burgeoning rumble of the band, it's pure

by Eric Campbell

vertigo by the end. Plaintive lyrics repeat

until they become catastrophic ruminations

of daily life. "I got better things to do," Wei

shrieks in one such vocal explosion. And

you'd be scared to death to argue with her.

Perhaps most confounding of all though

is the track "Sweet Thing." Just when you

expect the guitars to surge into total 1980s

shoegaze outer space, it gently turns out

the light in the room. The sudden sense of

detachment juxtaposes the initial reassurance

of the gorgeous lullaby lyrics, "It happened

before and it can happen again." A

potential theme that nothing is as simple as

it first appears comes to stunning fruition

throughout the ten songs.

This summer will be a fun one for Late

Spring, filled with festival shows (Music

Waste, Khatsahlano, Sled Island) and new

music to be recorded with producer Jesse

Gander. Wei's closing remarks on the band

were focused on what they hope to convey

as artists: "Ya know, the fleeting beauty of

experience and life, but subtly through the

rock 'n' roll vernacular."

Late Spring is fully panoramic on Invisible

and it deserves and demands all of

your attention.

Late Spring perform at Red Gate on June 3.

Invisible is out now on Agony Klub Records.

12 MUSIC

June 2016
---
HAVE A GOOD LAUGH FEST

a weekend of unwholesome fun

This June, punk will be descending upon

Vancouver. Expect a ton of studded

black leather, charged hair, doc martins,

bad attitudes, and most importantly, face

melting music. It will be Have a Good Laugh

Fest's debut year and the ambitious four day

affair is stacked against you! So tighten your

bullet belts and patch your jackets punks, this

party may kill you.

The masterminds behind the fest are Cordie,

Jesse, and Eubey. The three are the founders

of Thought Decay, which along with putting on

Have a Good Laugh also releases records and

tapes, promote gigs, documents punk shows,

screen prints, and makes bad-ass studded gear.

Walking into their East Van home/headquarters

feels like walking into a punk rock factory; their

coffee table is covered in leather and studs

and Cordie is working on the construction of a

bootstrap.

"We had the Thought Decay idea by September,

we started planning the fest last June.

Thought Decay came about because we wanted

to make a bunch of punk shit, like we are

doing, as you can see," says Cordie, gesturing

to the stud laden table.

"I think we were just talking shit about punk

in Vancouver," laughs Jesse about the birth of

Thought Decay.

"I think we were just talking shit about

everything, basically. And so we decided to

start Thought Decay, we were all doing the fest

together anyway," adds Cordie.

The fest is ambitious. Disorder as well as

Screaming Dead will be coming from the UK

and Paranoid is hailing from Sweden. A slew

of bands will be coming up from the states

including Narcoleptics from New York, Isotope

from California, Vacant Life from Seattle, and

Total Abuse from Texas to name a few. Tons of

local and BC bands, including Mass Grave, Six

Brew Bantha, Spectres, Oaf, AHNA, and Weed

will be playing with other bands coming from

across the country: Sex Face from Quebec,

Absolut from Ontario, Genex and Skeleton from

by Alex Molten

Manitoba, and Desgraciados from Alberta.

Despite the fest's name, these guys aren't

kidding around. For its first year they are

hitting the ground running. It is being held in six

locations and five venues with multiple shows

a day. Punks from as far as Mexico have been

buying tickets for the fest.

"This is our first year, the first year any of us

have put on a fest. We'll see if it's too much or

not. It don't really think there is too much, but

I can see how your body might disagree with

your mind. We will definitely want more and

bigger headliners next year," says Cordie about

Though Decay's future ambitions.

"My personal hope is that by doing this fest

we will attract interest not only to the label but

[to the city so] other bands [will want] to come

here, whether through us or not. I guess what I

am trying to say is that I want punk to happen,

and I want local people too to be inspired to be

like 'Oh maybe I'll put on a fest, or put on gigs,

or start a band'. Whatever the fuck you want

to do! Just make punk happen. Perpetuate it.

That's the main goal behind everything I do,"

says Cordie.

Have A Good Laugh Fest will be running from

June 9 to 12 at multiple venues. Thought

Decay came be found at thoughtdecay.com

ROCKET FROM RUSSIA

the most unconventional anniversary is the most appropriate

Disregarding convention has always been

a part of the punk rock attitude and

CITR's Rocket from Russia radio host,

Tim Bogdachev, has decided to ignore tradition

when it come to celebrating the show's

anniversary. Bogdachev, who is also known

as Russian Tim, decided that instead of celebrating

at a logical time, for example when he

started the show, he would be perverse about

the dates. Something a little like Christmas in

July.

"Technically the anniversary, I started doing

radio in January, Rocket from Russia came

on air in October, but last June from a band

from Fat Wreck Chords [who] are from San

Francisco and they messaged me and they

said 'Hey we're coming over to play a show,

can you help us set up a show?'. 'Sure!' So I

messaged a couple friends about shows and

booked the Cobalt and found some bands to

play but then the local promoter said 'Hey

they've never played in Vancouver. How bout

we do an event out of it, not just a regular

show.' 'Yeah! Let's do Rocket from Russia

anniversary!' So this is the furthest possible

month from January and I like it," laughs

Bogdachev.

Bogdachev started radio with CITR in

2006 when CITR radio-show host and friend

Marielle Kho invited him to be a guest co-host

her punk show We All Fall Down. It is safe to

say that it went well because a few weeks

later she invited him back to the show and

ultimately brought him on as a full-fledged cohost.

When she left to go to school, Bogdachev

took over the show. When faced with a change

for We All Fall Down's time slot, he decided to

start fresh with a new show of his own.

"I like doing shows. I like organizing shows,

and I don't do it for money because you make

a little bit but it's obviously not the [main

reason], it's usually spent that night on beers

for the band and stuff," says Bogdachev about

his motivations for putting on his anniversary

show, "[Is it for] the fame aspect, promoting

Rockets from Russia? Not really. I do this

every week. That gives me enough promotion

for myself. The reason why I do it, I want

people to come out and check out five local

bands I really think are great and have a great

time. Have a listen to local music, hang out

with friends, have a good night and then wake

up the next morning, maybe even in somebody

else's bed, maybe hung over, who knows, but

go 'That was a good night!' It doesn't have to

be the best night of their life but it has to be a

good quality Saturday."

Russian Tim is actually Russian. He moved

to Vancouver in 2006. Rocket From Russia

dedicates a bunch of the show to playing local

bands, new and old, small or large.

"I love it! It's amazing. I am amazed," says

Bogdachev about his new city's punk scene,

"Sometimes I think is it because I moved from

Siberia where we didn't really have a scene

and we had to create it ourselves, or maybe

because Vancouver really does have a strong

scene. I don't have the answers because I

never lived in another Canadian city or North

American city, but at the same time I think it's

unbelievable that there's so many local scenes

and there's so many great bands I can think

of!"

His enthusiasm for the local music scene

and for punk is loud and clear on the airwaves,

as well as in real life. He loves the

bands he plays, the people who listen to his

show, the musicians he interviews, and Rocket

to Russia itself. During his May 17 show he

interviewed Alicia from SBDC live on the radio

and premiered a new semi-regular feature

called "Punks Are Real People Too" where

he rapid fire questions on a wide variety of

subjects with hilarious results. The episode

is seriously worth checking out! And when

you go to the (sort of) ten year anniversary

show, make sure to say 'Hello, hello, hello!" to

Russian Tim.

The Rocket From Russia Anniversary show

happens at the Media Club on June 25

and features The Greatest Sons, You Big

Idiot, Ellesmere, The Corps, Dried Out.

by Alex Molten

photo: Sara Baar

June 2016 THE SKINNY

13
---
ASTRAKHAN

finding purpose in the power of process

by Devon Motz

photo: Amy Ray

Somebody, somewhere, at some point

in time, probably said something

about stopping to smell the roses. The

boys in Vancouver metal outfit Astrakhan

couldn't agree more. Sitting in a sunny

neighbourhood park, Dustan Toth (bass and

vocals) and Rob Zawistowski (guitar and

vocals) offered some insight into the themes

surrounding their upcoming offering, such

as Toth's deep-rooted fear of computers

and what he so poignantly describes as

"loneliness, despair, regret… you know,

metal stuff."

The aptly titled Reward In Purpose may

be Astrakhan's debut full length, but these

melody makers are by no means newcomers

to the metal scene. After releasing

numerous EPs with Rain City Recorders'

Jesse Gander (who has worked with a

number of notable acts including White

Lung, Japandroids, and The Pack A.D.),

and having spent several years battling it

out in the trenches of Vancouver's underground

music scene, the band has carved

out their own unique breed of heavy. With

towering riffs and trademark harmonies,

their preceding EP releases — The Pillarist

and A Tapestry of Scabs and Skin — are

both powerful examples of Astrakhan's

ability to create chaotic and complex songs,

though Zawistowski feels they "Didn't have

the same unity and cohesion" of the new

record. This is the first time the group have

had the chance to create a fully realized

body of work. Enter Reward In Purpose,

which feels and sounds like an accumulation

of years of work and sacrifices made.

The album shimmers and ripples under the

surface, effortlessly moving from swelling

ambience to distorted fury.

Drawing from the satisfaction they find

in process and the clarity that comes with

conviction, Reward In Purpose explores the

gauntlet of emotion that comes with realizing

what truly drives you. "We were going to

call it Purpose," whispers Toth, after a brief

aside with Zawistowski, perhaps unsure

whether to divulge the dirt, "before Biebs

put out a record with the same name." Who

wore it best?

Astrakhan will be bringing their own special

brand of metal across the Great White

North on a summer tour, kicking off with

their second appearance at Calgary's Sled

Island Festival. Hopefully this time they can

beat their Vancouver brethren to the artist's

lounge before the taps run dry.

Astrakhan perform at Art Signified's

new venue Studio Vostok on June 10.

THE MOUNTAIN MAN

metal champs come out of the woodwork

"I

was in The Mountain Man before The

Mountain Man," says guitarist Tyson

Tambellini when probed about musical

endeavors preceding the band that, seemingly

out of nowhere, tore onto the Vancouver metal

scene. "It was just me, Jordan [Orr] and Ryan

[McCreedy]. That was pre-Mountain Man." Then

with the addition of Tevyn Pacey (bass), and

later Parker Lane (vocals), The Mountain Man

arrived at their current lineup. The very same

one that kicked ass and took names at the BC

edition of the Wacken Metal Battle, a battle of

the bands in which they secured a chance to

compete at a national level on June 11 in Toronto;

the grand prize being a slot at Germany's world

renowned Wacken Open Air, one of the biggest

metal festivals in the world.

The Mountain Man has done an exceptional

job creating and maintaining their aesthetic,

embracing their Vancouver surroundings and

portraying themselves as the good outdoorsy

BC boys that they are.

Their sound can be described as groove

metal, drawing inspiration from The Black Dahlia

Murder, Lamb of God, Crowbar, and Gojira, to

name a few. They credit their unique sound to

varying individual music tastes. "We write cool

music that doesn't put us in some sort of niche

category," says Tambellini. "We pull from doom,

death metal, a smattering of black metal, everything.

There's something for everybody."

Keeping in line with the Pacific Northwest

motif, The Bloodlust EP has distinct grunge

undertones.

The Mountain Man cut their teeth in the

metal scene, playing shows in their hometown

of Maple Ridge and in the Fraser Valley. While

they enjoy playing gigs out in the suburbs,

they admit there's a lack of opportunity and

viable venues which can make it difficult to

expand a following. Lane explained that they

decided to do the Wacken Metal Battle simply

for the opportunity to play for an audience at

the Red Room.

This summer is going to be a busy one for

The Mountain Man. As BeatRoute spoke with

the band, Lane was booking flights to Toronto

for the final. Win or lose, whatever is in store for

The Mountain Man, it's certain to be one hell of

a ride.

The Mountain Man release The Bloodlust EP

at the Astoria on June 18 and perform at

Armstrong Metal Festival July 15 to 16.

by Britt Hanly

photo: Shimon Photo

STUDIO VOSTOK

Art Signified launches into an official space

by Cait Lepla

photo: Asia Fairbanks

There's a new show space in Vancouver

and it's out of this world. At least

its namesake was at one point. Studio

Vostok, named after the Russian Vostok

spacecraft, the word refers to "a first

venture, first man in space, and also to be

out East," co-founder Mitch Ray explains.

"Taya Fraser and I run a kind-of promotion

company, for lack of a better description,

called Art Signified, and we've been doing

that for just over 3 years." Throughout

that time Ray and Fraser have helped to

facilitate approximately 300 shows. It's one

small step for Vostok, and one giant leap

for Vankind.

"Our goal from the start was to have a

local venue," Ray says. "If you want to do

cool things with the setup, you can't get in

the night before, because there are other

events, and you're also paying room fees."

Taya expands, "This gives us so much more

flexibility. We get the staff in we want, the

sound staff, the bar staff… The best people

we think we know!"

They are still navigating the possibilities of

what could exist, both feasibly and legally, but are

hoping to eventually keep it open throughout the

week as a constant creative hub, including gallery

exhibitions, pop-up shops, band merch sales and

perhaps even creating their own small company

to better facilitate fuller business hours. "We've

already booked a bunch of art shows for the next

few months." The first will be June 11, featuring

April Lee Rivera Johnson, a close friend and

talented artist who can also be seen and heard

on drumming in the tightly wound post-punk duo,

Passive.

There will be approximately two alcohol-serving

shows per month, and the first is an album

launch for Astrakhan on June 10.

"They're a pretty established local metal band,

starting to get more of a reputation. I went to

high school with one of the guitarists; I've known

him over 15 years," says Ray. Also on the bill is

Mendozza, from Victoria. "It's actually the first

time we've done a show with them, which is

crazy." They had broken up briefly but are now

starting to play shows again. Members in this

band collaborate with Art Signified on organizing

Burger Fest, this year at Waldorf and Vancouver

Psych Fest.

We sit in a spacious gutted room, with bags of

broken tile lining the walls, and large windows

looking out at street level. When asked what the

space was before, Taya jokes to Mitch, "human

trafficking?" Only a couple weeks prior, it had

been a fully functional dollar and hardware

store. In the grimy Chinatown basement, there

is evidence of an old restaurant. The main level

will be public, with a wall mural and signage by

April, and window panels showcasing the work of

approximately 12 different artists.

To quote Elon Musk, "It's a fixer-upper of a

planet, but we can make it work." And with the

launch of Studio Vostok, it shows great prospects

for otherworldly creative orbits of the friendly

Vancouverite population.

Studio Vostok is located at 246 Keefer.

14 THE SKINNY

June 2016
---
SUBCULTURE

notes from the underground

As a person who has no desire to

consort with hordes of people, I

will improvise with information

to write a column on BeatRoute's desired

subject matter for this issue — music

festivals. I can barely remember the last

time I was at one because I am always

ball and chained to running local shows

on weekends with my job. I suppose the

last music festival I was at was Naughty

Camp II in the early 2000s. That was the

time LeBlanc, Dave May and I

rented an RV camper as travel

and sleeping quarters after

the cowpie tent fiasco the

year before and, well that's a

whole other story. I'll just say

this, if you rent an RV, don't

let anyone use the fucking

bathroom in it to take a shit.

That had to be the worst

commute from Pemberton

back to the city ever. Between

the gruelling hangover after

two days and the putrid odour

emanating from the bathroom, vomit wasn't

far from projecting.

From the ancient ashes of NorthWest

Metal Fest, there are some killer people

undertaking metal festivals these days

in B.C. and Alberta, which is stellar.

I remember making a meme last

year which demonstrated how clean

metalhead's camping skills are compared

to mainstreamers. I think it is a really cool

element that metalheads are perceived by

society as heathens, when they actually

are more environmentally friendly than the

general public that attends the trendy pop

events.

In my eyes a music festival is one that

requires camping in the wilderness, not a

multi-venue city event. Here are some of the

standout metal music festivals this summer.

Armstrong Metal Fest VIII – Jesse from

Odinfist is one of the co-founders. 30+

bands. July 15 to 17, Armstrong B.C. Info –

armstrongmetalfest.ca.

Metallion Festival 3 – The boys from

Deveined are involved with this. 25+

bands. August 12 to 14, west of Prince

George, B.C. at Brookside. Free camping!

Search on Facebook.

Loud as Hell Metal Festival – 30+

bands. Aug 29 – Sept 1, Drumheller, AB. Info

by Wendy13

– loudashell.com

I get that festivals are the most bang

for your buck for seeing plenty of bands

but that only happens if everything isn't

cross-booked to shit, especially in the city

style 'Festival' atmosphere. So without

further ado here are some city events for

Vancouver.

Covenant festival II – Cvlt as fuck. June

16 to 18. Hindenburg. Only the grimmest

shit and a killer headliner. Wear black or

be mocked with crossed

arms and death stares. No

apparent website so search

on Facebook.

If punk is your thing check

out 'Have a Good Laugh'

that is being thrown by the

crustier folks in Vancity.

Various venues with lots

of roadpopping, studded

vests and obscure punk

patches. June 9 to 12. Info –

thoughtdecay.com

Music Waste 2016 – June

2 – 5. A far cry from the vision Brian

Salmi had back in the day. If you're indie

and trendy enough, don your sweater vest

or mom jeans and have a peep through

your over-sized glasses. Various Vancity

venues. Info – musicwaste.ca.

Tacofest II. - 20 bands. Tacos. Lots of

rock. Swangard stadium. Sat July 16. Info

–apocalypsesunrise.com.

Burgerfest VI – 18 bands. Burgers.

Heavy. Sat Aug 13. Waldorf. Johnny has

stepped aside on this one so contact the

folks at Art Signified for more info or

search on Facebook.

Overused word of the decade – Festival.

Finally, a word on Facebook etiquette: I

wouldn't think about posting my shows at

Funky's to the Rickshaw's Facebook page.

I don't understand why newbie promoters

or band guys would do that to my pages.

So I'll just continue to delete them. The

point of a venue having a page or group

is to advertise their shows. Sure, some

of those same bands have played here

before but advertise your show on the

appropriate venue's page. I didn't create

these designated spaces so you can laze

your way as a promoter.

As always, lots of shit to do here in

Vancity. Carry on.

June 2016 THE SKINNY

15
---
COCAINE MOUSTACHE

party band hits the road with a little white line fever

Remember that time when a group of

local, misfit, extreme, metal musicians

decided to form a funk rock band after

a five day party? No? Then let me introduce

you to Cocaine Moustache, whose memory is

also a little hazy of the incident. What started

out as a side project for said musicians, the

Stache has morphed into a sexy, booze-fuelled

rock 'n' roll beast of a band that has

taken on a life of its own. This summer they

will embark on a take-all-prisoners tour

across Canada. So hide your drugs, the key

to your liquor cabinet, and your sister. Or

better yet, bring them all to the show. Cocaine

Moustache is a band that is notorious

for holding nothing back. If there is a race

for the official good-time party band in this

country, the Stache are leaders among all.

"At one time we were pretty close to

changing the name for the reason that it

constantly slams doors shut into our faces,"

vocalist and lead instigator Willie Sniffsum

explains. "But it is also kind of who we are.

It's not like drinking and using drugs all the

time is who we are. We lead normal lives as

well. The band is good time energy. It's not

about going on a binge and spending your

rent cheque on blow. It's all about having a

good time. That is what we are going for."

Joining Sniffsum on this hell-bent forever

mission is bassist Vinnie Railtrail, dual

guitar slingers Bill Rollins and Schnick Von

Schlutzzz, as well as drummer Johnny Rocket.

All come from what is mostly an extreme

metal based background. The Stache is a

complete one-eighty from that.

"It was a little difficult at first, until we

really leaned into it. We wanted to play the

blues but make it heavy. We listened to a

couple of Buddy Guy songs, went back into

the room and wrote our first song. It was

very thick and blues oriented," Sniffsum

describes of the first jam session.

Heavy blues, laid down funk-stoner

grooves, and southern hospitality come together

in a genuine metal tinged way. It gets

the booty shaking with sing along choruses

about the good times gone by and the good

times about to come during and after every

single show they perform.

"We can fit into a lot of different genres.

We've played shows with death metal bands

with the guys at the back with folded arms.

Then by halfway through our set they are up

there dancing," says Sniffsum, "Or at least

their girlfriends are!"

"We are a really high energy band. There

is a lot of dancing," Railtrail interjects. "The

crowd gets right into it, singing and clapping

to all the parts."

"It's a fun show. You are not going to be

sitting around all grumpy. You're supposed to

be up front having a good time and that is the

energy we try to bring," sums up Sniffsum.

This will be the band's first time going

right across the country. They have not been

further than Winnipeg before, so they are excited

to bring their gratifying atmosphere out

east. They will be playing some new songs

and all the classics from their 2010 raunchfest

record On The Mirror. In celebration of

this tour they will also be releasing a new

song, "Liquor Soaked Soul," from their new

and yet-to-be titled upcoming album. So this

is your chance Canada. Summertime is for

the party and Cocaine Moustache will be

bringing it every single night.

"See you on the road. Bring your party

to the show. And I will say this," Sniffsum

gleams. "Don't ask us for any fucking coke.

You supply the blow. We don't."

There you have it. Get ready for a good

time Canada.

Cocaine Moustache perform July 1 at

Funky Winkerbeans with Process.

by Heath Fenton

16 THE SKINNY

June 2016
---
VANCOUVER FOLK MUSIC FESTIVAL

A look back in time with co-founder Gary Cristall.

by Susanne Tabata

Presented by

The Vancouver Folk Music Festival is in its

39th year. Success follows a format, but

for co-founder Gary Cristall, the earliest

festivals relied on gut instinct. In an homage

to the past, Cristall traces its roots, blending

politics, protest, and music.

"To some degree we didn't know what we

were doing and to some degree we did," says

Cristall, who co-founded the festival along with

Mitch Podolak.

The two drew on templates from their

predecessors, starting with the 1961 Mariposa

Festival in Orillia, ON, followed by Newport

Rhode Island Festival in 1969.

The two met in Toronto where Podolak was

running the now legendary 1960s, avant-garde

Bohemian Embassy Coffee Pot cafe. Both were

involved in far left politics; Vietnam had ended

May Day 1975. They were both fervently against

imperialist intervention in Central America.

Cristall had even studied Latin American

Courtesy of Vancouver Folk Music Festival

history at SFU and lived in Chili in 1972-73. His

secular Jewish background was tied to his love

of culture. His parents were communists and

the last generation to believe in the October

Revolution. This suited the times, the music,

and the Folk Festival.

Cristall credits Mitch Podolak for first doing

the Winnipeg Folk Festival, along with Colin

Gorrie. "He wanted to do one in Vancouver

and approached me. 'I'll book it and you run it.'

I thought he was bullshitting me. The easiest

way to deal with it was to say 'sure.' I was just

finishing a bachelor of arts and getting ready to

go to graduate school in Latin American history.

Mitch tracked me down at Stanford University

and said, 'ok we're on.'"

Ernie Fladdell was the social planner at the

City of Vancouver and had run the Habitat Festival

in 1977, which was a huge success.

"He meets with Mitch and Colin and buys the

idea of doing a children's fest and Folk Fest.

The office was at the front of City Hall. There

we were. Today it would be impossible to do

what we did. Young kids running a couple of

festivals in City Hall. We went ahead with it. We

took a lot of things Mitch had taken from Mariposa

and invented a few of our own."

The first year was held in Stanley Park. "Every

time we wanted to drive a tent peg we had

three engineers telling us that we were either

going to destroy the drainage tile for the cricket

club or blow up the gas line in the harbor.

The weather was terrible. After six hours of

rain they stood up and gave a standing ovation

to the artists on stage. We were on to something.

People were willing to pay good money

to sit in mud and listen to this music. And we

thought this was good and we got good reviews.

So we did it again and the first thing we

did was move the SOB to Jericho."

Cristall continues, "We did 10K in the first

year and 16K in the second. The sun shone

the second year. The Sandinistas [Nicaraguan

Revolution] took power the weekend of

the second festival, July 19, 1979. While I was

running a festival I was also glued to the radio.

We presented many groups from Nicaragua, El

Salvador, Honduras, and other Latin American

artists.

"At that point we lost all of Ernie's money and

he said 'you guys have got to go independent.'

And Mitch went on to do other things. Ernie

said if you want it, it's yours and if you don't

that will be it. Then he went on to do the kids

fest and I ended up with the baby.

"I went out and traded some programming

for a little office at the Carnegie Centre. The

Chieftains – the Irish group – we had done a

show and their manager asked if we could do

the Western North American tour: 'If you can

guarantee us 5K [sic] per night, you can take

the rest,'" Cristall recalls being told. "We made

a lot of money and were able to hire staff and

do the third fest. The first day it rained and I

thought that's the end of this. The second day

was sunny and we sold so many tickets that

we had to turn people away at the gates. That's

kind of how it began."

Folk Music is a bit of an umbrella. On the

one hand real folk music can be described as

rural pre-literate music from a non-capitalist

society, passed on through the generations. On

the other hand, it can be contemporary songs

written outside of the music industry. This can

mean a lot of things.

"When I took over, Utah Philips — a great

American labor organizer, poet, and musician

— said two things to me: 'Remember you stand

between the workers and their bread, [and]

never give the audience what it wants; give

them what you think they need.' And that was

my programming. I was having fun. I was the

obnoxious asshole at the party who was playing

their records. There was a small group of

people internationally who knew each other and

were passionate about the music and we knew

each other. That's also how it was booked."

Cristall explains.

"My attitude used to be (and I think this is

true of any artistic director), 'If you don't like it,

go somewhere else.' And if you like it, I get to

do it again. And I went on to do it for 15 years

and then I did other things."

The Vancouver Folk Music

Festival runs July 15 to 17.

Courtesy of Vancouver Folk Music Festival

2nd Festival at Jericho Beach with Pied Pumpkin

Shari Ulrich, Rick Scott, Joe Mock

Hortensia Allende Widow of Salvador

Allende, right Gary Cristall

photo: Sharon Tamaro

June 2016 THE SKINNY

17
---
It's been a rough year for our poor little Canadian

dollar. The ways of the world have been at work

crushing our funny colorful money into absolute

oblivion. Gone are the days of quick trips to Seattle

for cheap groceries, nowadays it seems as though a

dollar will only get you as far as fifty cents. Are small

businesses suffering? Sure. Did you have to cancel

that Spring Break trip to Austin? Probably. Is America

buying our country for half price? Well I guess

you could say that. But the greatest concern on the

minds of our nation's policymakers and economists

is this: what will happen to the music festivals?! The

Live Nation behemoth Squamish Valley Music Festival

shut its doors, Pemberton has Pearl Jam headlining,

our worst fears are realized as BC's commercial

music industry clamours to pull together an unmanicured

patch of dirt on which you can feign enjoyment

to a chorus of Pitchfork approved acts. But don't let

yourself be paralyzed by the fear you'll have to go an

entire summer without wearing branded sunglasses,

our summer festival guide is here to remind you that

BC is home to more than two festivals — we actually

have quite a few. Below are the granola gatherings,

hometown hoedowns, and multi-day raves you can

turn to now that our monopoly money has prevented

us from reeling in Kanye, LCD Soundsystem, or

Radiohead. Please wear sunscreen, please test your

drugs for fentanyl, please don't sleep with your best

friend's ex, try to behave, we love you, be safe, don't

forget to brush your teeth. (Maya-Roisin Slater)

MUSIC WASTE

June 2 – 5 in Vancouver, BC

Seeking shelter from the annual barrage of

extravagant, bro-centric festivals sponsored by

purveyors of cars and cell phones? Perplexed

by the continued insistence that Muse are an

enjoyable headliner? Existing as the proud

antithesis of that, Vancouver's Music Waste,

now in it's 22nd year, is a DIY-focused Music,

Art, and Comedy festival boasting over 70

BC artists across 14 venues, primarily in East

Van. The lineup includes a plethora of beloved

locals such as Dada Plan, Jay Arner, and The

Courtneys/Peace side project Gum Country.

Slide over to your preferred record store to grab

a $15 festival pass and dive in. (Willem Thomas)

PRETTY GOOD NOT

BAD FESTIVAL

June 17 – 19 in Victoria, BC

Pretty Good Not Bad has crept into the Victoria,

BC, summer festival scene with a humble and

simple artistic allure that has the full package

experience of truly experimental musical

endeavours. Peachy fresh and at it with vigor the

organizers have personally curated and provided

platforms for artists from different mediums

to exhibit their works, as well as an immersive

atmosphere for attendees to lose themselves in

during the weekend of June 17 to 19. Music

and sound art, contemporary dance, video and

visual, and interactive multimedia are all on

the menu for this one. Some must see acts have

to be Friday night's Laurel Halo, a Michigan

artist finding balance and atmosphere through

her experimentation with electronic music,

and Sunday's Jean-Michel Blais, a Montreal

pianist whose fingers run feverishly through

the keys with tranquil, flawless delicacy.

With a mandate to "Reimagine our urban environment

as activated creative terrain, reframe our

collective concept of 'a performance' and lastly

stimulate and nurture our community's appetite

for 'the other,'" there isn't much else festivalgoers

could ask for from Pretty Good Not Bad.

Didn't snag a ticket? Don't fret just yet, free

programming (along with all ages) will be

available each day of the festival. (Jamie Goyman)

VICTORIA SKA AND

REGGAE FESTIVAL

June 22 – 26 in Ship Point (Inner Harbour)

Now in its 17th year, the Victoria Ska and

Reggae Festival is a culturally rich part of the

musical fabric on Vancouver Island. The festival

fires up to full throttle on Wednesday, June 22

with pioneering Jamaican ska and reggae group

Toots and the Maytals headlining the main stage

at Ship Point in the Inner Harbour. The heat

will continue to build over five days, giving an

extra day to savour the spice of an increasingly

diverse range of free and ticketed offerings.

Formerly known as Ska Fest, the festival

now includes reggae in the title to increase

its reach. Founder and artistic director Dane

Roberts is educating and nurturing a strong

scene of Jamaican-rooted music enthusiasts.

This year's offerings include international acts

such as the Black Seeds, Orquestra Brasileira de

Musica Jamaicana (OBMJ), Entangados, DubFx,

Mikey Dangerous, and Skarate Kid. The bill will

be rounded out by local favourites including,

The Party on High Street, The Leg-up Program,

Tequila Mocking Bird, and Marafani World Beat.

The festival also includes multimedia art

installations by the Rocksteady Collective,

burlesque dancing, and interactive workshops.

Since its humble beginnings as a one day event

featuring mostly local acts, Ska Fest has grown

up yet remains true to its roots in terms of both

music and community. "It's not just about what's

hot lately," Roberts says. The success of the festival

is measured by the growing community of international

musicians and music lovers that come

together every year. "We create a strong independent

scene," Roberts says. "People like the energy

behind it because it has soul." (Trina McDonald)

VANCOUVER INTERNATIONAL

JAZZ FESTIVAL

June 24 – July 3 in Vancouver, BC

Once more our city comes alive to swing, bop,

and rock to the eclectic sounds of world-renowned

artists and rising local ensembles

for ten days in parks, cathedrals, and concert

halls across the Lower Mainland. This year's

line-up is offering a mind-boggling mix of

gospel, blues, hip-hop, funk, and pop under

the all-encompassing umbrella of jazz music,

and will be sure to give even the most-seasoned

of festival attendees reason to not miss

a single minute of the action. Highlights

include former Fugees member Ms. Lauryn

Hill, British pop royalty Joe Jackson, masked

surf-instro guitar slingers Los Straitjackets,

Swedish noise group The Thing, and local

legends The Dan Brubeck Quartet. What's

more, while some of the more high-profile

acts will set you back a pretty penny, there are

more than enough free events to choose from

for the more thrifty thrill-seekers among us

and who knows, you may just discover your

new favourite band in the process. (Bryce Dunn)

SHAKE! FEST 3

June 30 – July 2 in Victoria, BC

Third time's the charm for this fledging garage/

punk/psych music meet-up in the Garden City.

Victoria has been steadily planting the seeds of

its music scene under our noses for some time

and the time is now for them to reap what they

have sown. When local synth punk vets Timing

X, mind-melters Psychosomatic Itch, and rock

'n' punk pros Durban Poison join forces with

Calgary power pop professionals The Mandates,

Van City's baseball-loving bruisers The Isotopes,

and Sackville Nova Scotia's party garbage

punks Astral Gunk, you've got no excuse not to

hop on the next ferry and get down to the bad

sounds these kids have to offer. (Bryce Dunn)

TALL TREE MUSIC FESTIVAL

June 30 – July 3 in Browns Mountain

(Port Renfrew, BC)

If you've ever wanted to get lost in nature

and experience a truly amazing event, Tall

Tree Music Festival is your jam. Three days

and nights of West Coast vibes set on top of

Browns Mountain in Port Renfrew BC, this

marks the festival's seventh year. Tall Tree has

become a nationally acclaimed event, boasting

an incredible lineup on four stages with

weird and wonderful activities and world-class

camping. This year's lineup includes a wide

array of indie acts like Mother Mother, Current

Swell, and The Dudes, plus electronic acts

like Mat The Alien, Smalltown DJS, Neighbor,

Woodhead, and more. Tickets have sold

out every year but can still be purchased if

you hurry from their website. (Emmalee Brunt)

FVDED IN THE PARK

July 3 – 4 in Holland Park (Surrey, BC)

As the ever-wise American electronic artist

Zhu's 2014 hit once refrained, "Baby, I'm faded!"

In this context, hopefully you'll be faded

too in Surrey's Holland park, due to a serious

case of musical goodness. For the second

year in a row Blueprint Events is bringing its

electronic and hip-hop music festival, FVDED

In the Park, back to the lower mainland. Taking

place in early July, expect three stages packed

with 38 stellar electronic, hip-hop, and R&B

acts. Headlining this summer are Jack U, Zedd,

Bryson Tiller, Travis Scott, and Kaytranada.

The festival will also include food trucks, art

installations, and all-round first rate amenities.

The big international names will be sharing

18

June May 2016
---
the stage with exciting local acts such as Ekali

and Tommy Genesis. For Vancouver locals, a

hefty perk is the ability to return home after a

long day of dancing and prancing. With easy

skytrain accessibility, FVDED omits the horror

of falling asleep in a filthy dirt pile to a chorus

of thousands of strangers manically grinding

their teeth. If soaring real estate prices haven't

forced you out of the city already, squish you

and your friends in a Car2Go and push that

tush to Surrey. Equal parts Supreme snapbacks

and fuzzy rave boots, FVDED in the

Park is a party for everyone. (Prachi Kamble)

BASSCOAST

July 8 – 11 in Merritt, BC

Although it's still a relatively modest festival

(around 3,000 people), Basscoast has solidified

its status as a staple of the electronic

music scene over the past eight years. Held

in the Nicola Valley near Merritt, BC, the

festival hosts more than 100 artists, providing

both an opportunity for BC's electronic

music aficionados to see their favorite artists

as well as a platform for up-and-coming acts to

reach an avid audience. This year's extensive

lineup features Avalon Emerson, Todd Edwards,

Ivy Lab, Scratch DVA, KAhn Humans,

Greazus, Max Ulis, and much, much more.

Affording a more intimate experience than

its larger cohorts like Shambhala, Basscoast

features three stages replete with audio-visual

design by PK Sound, as well as workshops

and dozens of art installations. As an added

luxury, the event is situated on the banks of

the Nicola River, where festival-goers can

swim, bathe and even float down to a smaller

fourth stage. Anyone who's been to a multiday

summer music festival for a few days will

attest that the benefits of this natural amenity

cannot be overstated. (Galen Robinson-Exo)

KHATSAHLANO

July 9 in Vancouver, BC

Combining the key elements of a block party, a

music festival, and a riot, Kitsilano's Khatsahlano

(the non-anglicized name of Chief August

Jack Khatsahlano, whom the Vancouver neighbourhood

is named after) is a frenetic annual

street party that stretches ten blocks through the

main commercial section of West 4th Avenue.

Attendees of the free event can expect dozens of

bands, numerous art installations, hundreds of

MOTION NOTION

merchants and vendors, an overwhelming food

truck selection, and plenty of family-oriented

activities. Over 100,000 people find their way

to Khatsahlano each year, so leave the vehicle

at home (parking is sparse in the area), wear

supportive footwear, and psyche yourself up

for the inevitable farmer's tan. (Willem Thomas)

VANCOUVER FOLK

MUSIC FESTIVAL

July 15 – 17 in Jericho Beach

Consistently one of the best utilizations of

what the city has to offer, the Vancouver Folk

Music Festival rolls out at Jericho Beach Park

to show the bounty of international artists what

a stellar stage we have in our own backyard.

This year the fest hosts local folk and indie

heroes like Bruce Cockburn and The New

Pornographers as well as international not-tobe-missed

acts like Melbourne's mind bogglingly

charismatic Henry Wagons. Always a

well curated representation of folk and roots

music for a diverse audience, this year the fest

expands on its community based approach

by offering access to refugees who now call

Canada home with the Open Arms Initiative.

These special guests will get transport and

access to the fest as well as food and souvenirs

as a unique and inclusive welcome to their new

home. The VFMF continues to be a place for

everyone to be themselves and gather together

to celebrate genres of music that have always

revered exploration and truth. (Jennie Orton)

MOTION NOTION

July 21 to 25 in Beaverton Lodge (Golden, BC)

Festival season is looking better than ever

for electronic music this summer and Motion

Notion's 2016 lineup is stacked with

a diverse roster of beat masters and groove

aficionados, all making the pilgrimage to

Beaverton Lodge near Golden, BC for another

successful romp in the Rockies.

MoNo is offering a multi-day boutique festival

experience and this year's lineup is rounded

out by acts like Sander Klienenberg, Danny

Byrd, Krafty Kuts, Bear Grillz, Longwalkshortdock,

Coming Soon!!! and many more.

"We have some of the biggest changes and

additions we've ever done since moving to

BC," says Festival Director Kevin Harper. "It

never ceases to amaze me how much creativity

Motion Notion brings together – it's a

place with a lot of heart and soul, and I love

seeing the human spirit come alive every July

out there. I can't wait to go home again!"

From onsite camping to workshops, vendors

and even yoga classes, prepare to get

lost and then find yourself all in one weekend.

Motion Notion provides a unique and

safe experience for all. (Glenn Alderson)

HIATUS MUSIC FESTIVAL

July 29 in The Waldorf (Vancouver, BC)

You're technically going to be working hard all

summer, right? So why not take a break from all

that freaky stress and escape to the tropical mayhem

that is Hiatus Music Festival. Hosted at the

legendary Waldorf Hotel, this one-day multiarts

festival is more like a big kid party than a

festival but there's plenty of festivity to be had.

"Hiatus is about getting away after a lot of

hard work, a mid summer hiatus from life to

relax and enjoy a full day of fun," says festival

co-founder Jon Campbell. "There's going to be

amazing installations by artists we've commissioned.

There's lots of great things to eat and

food trucks there too, and some really interesting

interactive experiences. All these aspects

just go hand-in-hand together at the festival."

With headlining acts such as Brooklyn-based

Bit Funk, Vancouver's Bear Mountain,

Youngblood, Frankie, and Dirty Radio, this

is one hiatus you're going to want to add to

your summer calendar of fun. (Andy Adams)

ARTSWELLS

July 29 – August 1 in Wells, BC

For both performers and attendees, ArtsWells

is heralded as one of the richest experiences

of music, art, and community among BC's

festivals. The historic town which consist of

only a few hundred people is transformed into a

bohemian rhapsody of thousands as the streets

overflow with people taking in the various

opportunities at every corner. Art workshops,

film screenings, live theatre and, historic site

tours compliment the music, which boasts

over 100 performances and over 12 stages. It

has earned a sacred reputation as a cherished

place for all who attend. Once there, come

prepared to get lost in its grasp, as if you have

stepped back in time or to a parallel artistic

universe, all of his is partially attributed to

having no cell reception. For even the most

phone addicted city folk, it is worth every

unplugged moment, guaranteed. (Heather Adamson)

SHAMBHALA

August 5 – 8 in Salmo River Ranch

(Nelson, BC)

For anyone who has felt the Shambhalove, this

is an essential festival experience. Over the years

since its inception, Shambhala has become the

foremost community underground electronic

music experience. Many who attend do so while

volunteering at one of the vendors or stages. There

are even volunteers whose job it is to talk you

down from bad trips. This is a place of mutual

understanding and swells of music. Don't miss

teenage Edmontonian phenoms Tennyson, the

nine tentacled party monster that is Vancouver's

Five Alarm Funk, or the unhinged spectacle that

is Los Angeles's The Gaslamp Killer. (Jennie Orton)

PONDEROSA ARTS &

MUSIC FESTIVAL

August 19 – 21 in Rock Creek, BC

While last-year's wildfires ravaged this southeastern

BC settlement forcing the fest's cancellation,

organizers Kris Hargrave and Kia Zahrabi vow

this year's event will be a win-win situation for

all involved. Boasting such top-notch talent as

Black Mountain, The Pack A.D. and Youngblood,

swimming & tubing in the town's namesake

waterway, pancake breakfasts and helicopter

rides are just some of the attractions waiting for

concertgoers this summer. In addition, proceeds

from ticket sales go toward Habitat For Humanity

SouthEast BC's rebuilding efforts in making

Rock Creek a formidable cultural force and

travel destination for the concertgoer who seeks

a more unique music experience. (Bryce Dunn)

RIFFLANDIA

September 15 – 18 in Victoria, BC

A multi-venue festival with more than 100 performances

that take place over the course of four days

and nights, Rifflandia transforms the entire city of

Victoria into a rollocking gathering of music and

art. Having released only two waves of artist announcements

for the 2016 run thus far, Rifflandia

is already looking exciting with hot ticket items

like Jurassic 5, Wolf Parade, and Charles Bradley.

Last year the festival cemented a collaboration

with Rock the Shores, and now wristbands can be

purchased to both as a $225 bundle. Attending the

festival is a great way to experience what Victoria

has to offer in the venue and nightlife

capacity, when smalltown chill-out

vibes and big name artists meet, that's

where the magic happens. (Jennie Orton)

TALL TREE MUSIC FESTIVAL

May June 2016 19
---
July 30–31

2016

40 th Annual

Celebrating Japanese Canadian

arts & culture

Sat & Sun: 11:30 am – 7 pm

Oppenheimer Park and venues

www.powellstreetfestival.com

#powellstfest

Lynda Nakashima

20

June May 2016
---
BLACKALICIOUS

contributing to the continuum with tongue twisting antics

After more than two decades of rock

solid beats and legendary rhymes,

there's still a lot of momentum behind

Blackalicous and the hip-hop group's two

members, Gift of Gab and Chief Xcel. This

year marks the 17th anniversary of their

EP, A2G, which hosts tracks like the insane

lyrical head-spinner "Alphabet Aerobics"

("Detonate a dime of dank daily doing dough/

Demonstrations, Don Dada on the down low"

– and that's just for the letter D.) They're

Over 20 years into their career and Blackalicious are still changing the game.

also continuing to tour and receive praise for

their latest studio album, last year's release,

Imani Vol. 1.

Xcel says there's a tie-in between touring

and creating new music. In fact, the Blackalicious

DJ explains that collecting records

from around the world has contributed to the

foundation of their sound. "Those things that

we discovered, those are things we constantly

learn from," he says. "You get to the point

where you revisit things you may not have

listened to for 10 to 15 years and learn something

new from it. There's also the piece of it in

terms of just the craft, and that is being able to

learn from those things by examining them and

then going in and musically taking it to another

level of going in a new direction."

If you speak to anyone who's familiar with

Blackalicious, they would likely describe the

duo as 'classic.' Classic because of their dope,

playful beats, but also because of the journey

Gift of Gab's tongue-twisting lyricism takes you

on. Xcel believes lyricism is something that's

never really gone away from rap. "We're at

the point now where certain artists can push

popular culture, and push the pendulum. So the

pendulum shifts back in the direction of great

lyricists," he says. "Each generation has to

have its own vanguard. It takes a generation of

having its own vanguard to push the intention

of the art form or certain aspects of the art

form back into whether you want to call it the

mainstream, or the limelight or back into the

forefront of people's consciousness. I think the

current generation of people like Kendrick Lamar,

Ab-Soul and Jay Rock - who are all very

lyrical - they help do that. Because you have to

realize it's all a continuum, and each generations'

goal is to contribute to the continuum."

As for their own continuum, Xcel says

ELECTRONICS DEPT.

there's a lot to look out for, including their next

album, Imani Vol. 2, and a world tour with

stops in the UK and eventually Africa. Being

able to tour and perform for audiences around

the world is something Xcel takes pride in. He

says there's an everlasting importance of being

able to knock out a live show.

"I think that's a vital part. That's the second

dimension of what we do, being able to make

the music literally come alive. It comes alive

from interaction, and it's an interactive experience.

Once you're able to perform and execute

live what we executed in the studio, then its' all

full circle at that point."

The duo has most certainly come full circle,

and throughout the course of this journey

amassed twenty-plus years of hip hop fans,

including rad dads.

"We had a show in San Francisco and in the

front row, there was a nine and ten-year-old.

They were there with their father, who was

probably mid-thirties. So we literally see every

age demographic. I mean, you'll see from the

youngest of the young to seniors; we'll see

people in their sixties. It's really a cool thing,"

Xcel says.

Blackalicious perform at Fortune

Sound Club on June 11.

by Katharine Sawchuk

case/lang/veirs is a one-of-a-kind event from three phenomenal, self-driven artists:

avant-rock icon Neko Case, legendary musical nomad k.d. lang,

and indie folk star Laura Veirs.

OWN IT 06.17

Bruce Cockburn • Oysterband • Oh Pep! • Lord Huron

The new pornographers • The Wainwright Sisters

M. Ward • Mexican Institute of Sound • San Fermin

Little Scream • Jolie Holland and Samantha Parton

Shane Koyczan and the Short story long • Yemen Blues

Birds of Chicago • Jojo Abot • Land of Talk • Lucy Ward

Martin and Eliza Carthy • Élage Diouf • Lisa O'Neill

Nahko and Medicine for the People • The Americans

The weather Station • Hubby Jenkins • Cian Nugent

CW Stoneking • Sarah Jane Scouten • Chris Pureka

Terra Lightfoot • Mandolin Orange • Mike edel

Faris Amine

Ten Strings and a Goat Skin + MORE

thefestival.bc.ca

60+ ARTISTS FROM 18 COUNTRIES ON 7 BEACHFRONT STAGES!

June 2016 ELECTRONICS DEPT.

21
---
CHAMBERS

electronic collaboration echoes new dialogue in rhythm and sound

by Jamie Goyman

The pairing of Vancouver electronic music

producers Michael Red and Gabriel

Saloman was unplanned, but sometimes

a friendship and collaboration hits hard and

sudden.

Their latest project, Chambers, can be

described as both unexpected and expressive.

Sigma Flare II (Debacle Records), the second

instalment of their two-part series, inspires

wild, lustrous musical landscapes while exploring

and reflecting their growth as individual

artists.

"Michael and I have been making music for

a long time and I think our voices are fully

present in the music. I don't know how anyone

else could make this music or who would. It

is the two of us in conversation, not speaking

over each other, but speaking back and forth.

Speaking and listening," says Saloman. "An

appreciation for rhythm and sound was a big

part of our interest in collaborating. I think that

touchstone is much more obvious on the tracks

that show up on Sigma Flare I. The songs on

the new album reflect a transition towards

really discovering our own sound and way of

playing together. We both have a lot of overlap

in terms of music that we listen to and love but

by the time 151 and AEBB were recorded we

were trying to build the world - those audible

landscapes - that was particular to Chambers."

Artistically these two unyielding in their

creative endeavours, wherever they may lead,

and their albums have this significance about

them that is hard to really place your finger on.

The music of Chambers falls into an area of audible

space depicting landscapes rendered in a

catching body of work that not only transports,

but travels alongside you.

What makes Chambers one of the better

team-ups out there is their complete dedication

to the craft and the camaraderie Red and

Saloman share. "The best part is playing music,

especially live through a solid system. The

music feels like a world that I get to visit only

through this collaboration. I've never gotten

bored playing this music and never played a

show without wishing it could continue on for

hours. Besides the playing, it's the learning experience

of working with an artist like Michael.

He's a craftsman who's put in way more than

his '10,000 hours' and it shows. Playing with

him has changed my own music making as a

solo artist, not stylistically so much as in terms

of my knowledge of sound, frequency and the

rigours of the post-production process," says

Saloman.

For Red, "Those magical moments when

we're improvising and find that zone and just

ride and enjoy it. I've said it before, but I very

much enjoy our differences — both musically

and personally — and how we're both experienced

and grounded enough to very willingly

jump in and explore where those meeting

points exists. I learn a ton from Gabriel, and I

love to learn."

Within the Vancouver electronic music scene

Red and Saloman are known for their abilities,

both live and in the studio. This Chambers collaboration

has come to be one of those huzzah

moments for the duo on their creative paths as

artists. "Being creative is a physical and spiritual

need for me, not a want," Red says. "I need

to express and interpret and discover in order

to stay, or go back to being sane and grounded.

I'm very naturally motivated to go places other

people haven't gone before and try to break

new ground, and also to express the parts of

me that haven't been expressed yet. Chambers

is definitely in that category," Red says.

For more from Chambers, check

out chambers-dub.net

Michael Red and Gabriel Saloman joined forces for a unique electronic music collaboration.

photo: D. L. Frazer

22 ELECTRONICS DEPT.

June 2016
---
KAYLEE JOHNSTON

finding empowerment in pop music

Sitting in a quaint juice shop in

Vancouver's Gastown, Kaylee

Johnston exudes radiance. Her

aura is buzzing and she has the energy

of an artist who is about to burst into the

pop music scene in a big way. She has

worked hard to put herself where she is

and is both poised and excited for what's

to come.

On the cusp of the release of her

debut EP, Johnston is ready to share

her heart with the world. Her music has

evolved over the years to a place where

Johnston feels that audiences and fans

alike will relate, using narratives that are

both familiar and meaningful.

"This album was totally inspired from

a chapter of my life where I was going

through a lot of changes, the biggest being

heartbreak. What I hope people hear

in the music is that it's not just about

that, it's about everything I learned from

my experience," Johnston says. "I have

been writing music for many years, and

what I have noticed is that the really

good musical ideas stick, they never

leave. These are the ideas that I know

come from some place other than my

mind or my thoughts."

UNIIQU3

Jersey club kween reigns supreme

Johnston's music ruminates from the

soul, and this is what fuels the infectious

energy of her music. Her new

single, "Getting over you," is a punchy

empowerment jam that is rooted in experiencing

the magic that happens when

a break up turns into an opportunity.

The song is a carefully written message

wherein she shares her true self.

"My music comes from a deep place

within my soul. Writing and singing

about my experiences helps me heal,

and I hope that this translates for my

audience," says Johnston.

Johnston will be celebrating her

album release party this month at the

Biltmore Cabaret. She observes the role

of her fans and audience as it gets near.

"I want to be vulnerable with my audience

and fans. I want to give them as

much as they give me," she says.

Her authenticity towards her music

and her place as an artist is refreshing.

It's clear that music is where she

belongs. We will be keeping a close eye

on her as she flourishes.

Kaylee Johnston performs at the

Biltmore Cabaret on June 4.

Kaylee Johnston embraces the ch-ch-ch-changes in her life.

by David Cutting

by Jamie Goyman

really shy, but when it comes to performing, I literally just

say 'fuck it' and go in."

"I'm

One boss ass performer who has been hitting it hard with

her style and stamina has to be one of New Jersey's own, UNIIQU3.

Known to family and friends as Cherise Gary, she has been on this

path since the beginning. "I've always been creative," Gary says.

"Ever since I was a child, this is just a way for me to express myself

and get some of these nonstop thoughts and ideas out my head."

Since her formative years she has continuously been honing her

craft and it shows. The energy in each track she spins or remixes

puts her hyped up, yet low swing touch on is lit, with a flawless ability

to transcend any song into a bass driven, body writhing experience.

The live sets that come out of UNIIQU3 don't disappoint either. The

ear she possesses for a beat is undeniable and easily displayed in

her remix "Deep Down Low" with TR!CK$ and her take on Skepta's

"That's Not Me." Then there's the heavy hitter "Yo (I'm Lit)" that came

from her work with Saint, a track that possesses a beat that just can't

be ignored. That isn't all for this one though, don't try and pigeonhole

her, she is determined now more than ever to lay vocals out consistently

and keep progressing as an artist. Working with producers

Flawless on "Drop It Low" and Brenmar with "Hoola Hoop" has not

only shown what she's working with, but also fanned the already

growing flame for UNIIQU3 to delve further and explore what sort of

platform vocals can continue to add to her future recordings, keeping

things fresh as always.

Catching Jersey Kween Uniiqu3's set is a sure fire to make your

body work in ways you either forgot existed or never knew about in

the first place. Coming off her European tour, the energy for Vancouver

will be just at the right level for her sets that are prone to putting

the room in a furor.

"Prepare to get wild, sweat, dance, yell, the vibes will be on point.

Expect the unexpected because sometimes I don't even know what to

expect," Gary says.

A selection that's always on one as a DJ, production that doesn't

miss, vocals that hit the good spots, plus she raps. Damn, with that

kind of packed arsenal of talent UNIIQU3 is set for continued success.

Cherise Gary AKA UNIIQU3 has been ripping it up in the club scene in a big way.

UNIIQU3 performs June 10 Fortune Sound Club.

June 2016 ELECTRONICS DEPT.

23
---
CITY

KATY HAIRY

bearded beauty

Written by David Cutting, Photo by Chase Hansen

Sitting in the audience, you are face-to-face with a giant pink donut.

The decor is colourful and EVERYTHING is covered in glitter. When

the lights come up and the music comes on, everything makes

sense — Katy Hairy wiggles her ass on stage, revealing that the glitter

came from her makeup. Holding the microphone in one hand and twirling

her hair in the other, she greets her audience. From her first giggle and

tongue-pop of the evening, you're high on this queen's sugary sweet

persona.

Katy Hairy's name comes from a debaucherous afternoon on Wreck

Beach, where a game of "what's your drag name" became way too

serious and resulted in a personality that has left a sweet mark on the

scene. Her type of drag bends the idea of what drag is, from her beard to

the songs she performs. "I have a beard as a boy, it is my signature look,"

she says. "I was very firm when I started drag that I wouldn't sacrifice

Aaron for Katy, so, I chose to be a bearded queen. I am an eclectic queen.

I reject genres, I reject stereotypes, and I fuck with gender norms. If what

I do makes you ask why, then that is why."

Katy, who quite possibly is the love child of Cyndi Lauper and George

Michael, hosts a show called Sweet and Sticky the last Sunday of every

month at Displace Hashery. Her performances are larger than life, she

draws her inspiration from big divas, always dawns some giant hair, and

wiggles and shakes her way through numbers, creating a full sensory experience.

Katy is always very engaging with her audience and makes everyone

feel welcome. At one notable performance, she handed out candy

canes and dumped a bag of glitter around the 1181 Lounge while dressed

like Santa Claus (if he were dressed as Mrs. Claus) all while lip-syncing

her way through Mariah Carey's "All I Want for Christmas is You."

Drag is a place where Katy can play out her relationship with some

long standing fears. "I suffered from bad anxiety and stage fright," she

reveals. "One of the reasons I started doing drag was because I wanted

to face that fear. Doing drag has brought a calm into my life. Katy's confidence

has helped me even as a boy. Those fears no longer hold me back."

Katy continues, "I do drag to make people ask questions, to challenge

their ideas of gender and sexuality, and to help people think outside of

their drag boxes." There can be a stigma at times to adhere to a certain

standard of femininity in drag, but Katy, along with other bearded queens,

are proving this is not necessary. Drag is bigger than that and Katy

proves it with perfect wigs, wisely chosen costumes, and a well-groomed

beard. This queen is so sweet, she will give you a cavity.

Katy Hairy hosts the Sweet and Sticky Show the last

Sunday of every month at Displace Hashery.

24 CITY

June 2016
---
EASTSIDE FLEA

oddity marketplace gets a roof over its head

Behind the discreet door a few

feet down from the entrance to

the Ivanhoe pub is a three level

celebration of all things artisan and

weird. Eastside Flea is the three-year

labour of love. Previously operating

out of various locations from the

Biltmore Cabaret to the UBC campus,

they have now finally found a permanent

home in the Ellis Building at

1024 Main Street.

The Eastside Flea team, alongside

Ezra Kish and Morgan Ellis (owners

of the new building, as well as The

Cobalt) have renovated and developed

the cavernous 10,000 square

foot space into a multi-level showcase

for local artists and collectors

to peddle their wares. The result

is a vibrant and inclusive spot to

support local artists who are trying

to develop a business model in a very

competitive and expensive city.

"We have people who are running

businesses and we also have people

whose closets are too full and they

want to come and unload some of

their amazing pieces," says organizer

Alberta Randall. "A lot of our vendors

found out about us by coming to the

market and getting stoked on it."

As you enter, a labyrinth of around

55 booths and artists are at your

disposal. It is the perfect mix of

lovingly curated pieces, which run

the gamut from gently pretentious to

astoundingly well made. But this isn't

a movement you could just chalk up

to being a hipster gathering for hipster

delights — this is a new wave of

commerce promoting recycling and

trade of goods, as well as the support

of the community.

Randall sees the recent embracing

of such a model, particularly by

young patrons and artists, as boding

well for a future of a local and sustainable

marketplace. A place where,

for example, you can pick up a second

generation Darth Vader figurine

(Owen's Oddities), a book of F. Scott

Fitzgerald's pre-Gatsby work (Massy

Books), a muskrat skull (Salamander

Salt Curio), a long-sleeved Fubar

t-shirt (Dead Union Vintage), and a

jar of Mexican-style pickled onions

within steps of each other, all for the

bargain admission price of $3 (or $5

for a weekend pass).

Yes, that was my exact experience

and, yes, I plan to start an Instagram

account involving the Vader and the

skull.

Eastside Flea will take place the third

weekend of every month for the rest

of the summer. The next market

is held on June 17 to 19 at the Ellis

Building, located at 1024 Main Street

by Jennie Orton

photo: Lindsay's Diet

With 55+ vendors and a new space on Main St., Eastside Flea is not just for hipsters.

OUR WILD ABANDON

two friends wander the earth together in search of adventure

Join Jill Mann and Kyla Trethewey's adventures.

In the spring of 2013, Jill Mann and Kyla

Trethewey ended their respective longterm

relationships and impulsively drove to

Salt Lake City to watch the sunrise. Before

that, they were merely polite acquaintances

because their boyfriends were best friends.

Over the 24-hour drive, they realised they'd

both been harbouring the same dream: "Leaving

forever."

"We came home, started selling our shit,

bought a trailer, quit our jobs, and left a few

months later," says Mann. And that's how their

travel blog was born. At Our Wild Abandon,

you'll find magnificent photography alongside

poetic narratives. Browse through the

treasure trove of their posts and you'll find a

prison rodeo in Louisiana, colourful walls in

Nicaragua, and shots of foggy Montana. From

Arizona, to Britain, to Italy — the list is long

with no end in sight.

An art history major at Langara, Trethewey

worked in real estate. "I spent all my time

helping people rent out really expensive

homes while knowing I'd never be making

enough money to buy something for myself,"

she jokes. Vancouver's unaffordability

nurtured her dreams of wanderlust. Mann

dropped out of Emily Carr wanting to be a

photographer, but wasn't sure how to make

a living off of her whimsical tastes. She was

working at Budgies Burritos before embarking

on the adventure.

Mann, inspired by photographer Ryan Mc-

Ginley ("the king of capturing the kids-on-therun

thing") snaps most of the photos while

Trethewey, who digs "anything that captures

eternal youth or constant motion," pens the

words. But, they equally influence each other.

"Sometimes when I look through our photos,

I can't remember which one of us took them,"

Mann says. "A lot of the writing stems from

conversations between the two of us about

our shared experiences, too."

When picking their destination, the girls

by Prachi Kamble

admit to always chasing something, "Often

the weather (sometimes boys) and always our

friends," says Trethewey. "We plan our route

by connecting the dots between familiar faces

and drive routes we've never been down. A

lot of the decisions we make are influenced by

the photos we want to take or [have] seen."

What's next? Last winter they got into

an accident that destroyed their trailer, but

they're fixing up a new one that'll take them

on a two-year stint around the U.S. When

asked for travel tips, the experts provided

four: talk to locals, drive instead of fly, Airbnb

or camp rather than hotel, and plan around a

concert.

"For as long as I can remember I've been

trying to find a way to keep moving," Mann

says. "Staying still makes us unsettled. Kyla

and I were born running."

Keep track of the adventure at

ourwildabandon.com

June 2016 CITY

25
---
JUKE

fried chicken and ribs done right

26 CITY

by Fraser Marshall-Glew

In a city that's well known for its unsustainable living standards,

it's often hard to justify going out to some of Vancouver's leading

restaurants. Fine dining in fancy restaurants usually requires

more time and more money to experience. Now, a lot of us will

make time and spend money for the experience because, well let's

face it, it is a pleasure. It's worth the time spent out of the hustle

and bustle of our usual lives to enjoy all the elements of a good

meal. It's worth the money spent to eat something made passionately,

that isn't just designed for the convenience of a busy and

demanding life style. However, the fact of the matter still remains

that most Vancouverites, the financially stable and unstable alike,

are always on the look out for unique providers of sustainable and

delicious eating.

All-star frontmen Justin Tisdall (Chambar), Bryan Satterford

(Hawksworth), and Cord Jarvie (Meat and Bread) lead in the

growing number of restaurants dedicated to passionate and personal

dining experiences at an accessible level. Named Juke, as an

ode to the old juke joints of yesteryears (informal places of music,

dance, and general good times), this restaurant will focus on

supplying uncompromisingly delicious food in a more casual and

affordable manner. While fried chicken and racks of ribs will be

staples of the menu, chef Satterford made it clear that the kitchen

will be "Neither southern nor BBQ," emphasizing the importance

of unrestricted creativity, fun, and locality over the limitations of

specific categorization. Full salads and lighter dishes will also help

define a well balanced and seasonal menu if, for whatever strange

reason, the words "fried chicken" don't immediately excite you.

Furthering the theme of accessibility, Juke will have an outdoor

patio for those hot summer days and even a take-out area that

runs 11 a.m. to midnight so that you can enjoy your food to go.

Located in the culinary hot pocket that currently hosts Bao Bei,

Keefer Bar, and up-and-comer Juniper, Juke is looking to become

a distinctive pillar in an already buzzing food network. "We're

really excited about the project we're doing, the location we're in,

and the team we've assembled," Tisdall says, adding that Juke will

be a place that customers will want to come and hang out in. "Did I

mention that the fried chicken will be gluten-free?"

Juke is located at 182 Keefer Street.

BARD ON THE BEACH

putting a refreshing twist on the classics

THE GOOD SPIRIT

getting metaphysical at Gastown's spiritual hot spot

I'm great at reading my own mind.

Still, it's better to leave that sort of

thing to the professionals, which is how

I find myself in The Good Spirit examining

a shelf full of sage, bath salts, and at least

a dozen different tarot decks. Savannah

Olsen, the proprietor of the metaphysical

emporium, is explaining each of the items

to me.

Some rocks are purposefully placed

on the front counter. "It's a crystal grid,"

she says. "Each crystal has an energy.

So when you align them, they create an

energetic vibration." Olsen's daughter,

June, is sharing her slice of apple with

most of the items in the store. She takes

one of the crystals and runs away. I hope

it doesn't upset the energy field.

But whether or not the crystals are activated,

I am here with a purpose: to get a

reading done. I've never done this before

and I'm excited to finally have answers

from the universe. Olsen introduces me

to Lorri Clark, the main reader, and Clark

and I sit down at a table by the sunny,

Gastown window. Far from the tacky

fortune-teller in Pee-Wee's Big Adventure,

this is spirituality for the modern

yuppie. I'm just glad there's no crystal

balls around.

After some humming and hawing,

Clark guesses I have girl troubles,

shuffles her oversized tarot deck, and

deals three cards: ten of wands, king of

Shakespeare on a summer's day

by the water. For theatre lovers,

could it get any better? Bard

on the Beach has been entertaining

literature and performance art fans for

27 years and is notorious for changing

things up when it comes to genres

and eras. This season, the company is

staging Romeo and Juliet, The Merry

Wives of Windsor, Pericles, and Othello.

BeatRoute spoke to Christopher Gaze,

artistic director and founder of Bard,

and coaxed him to spill a few secrets

about the coming season.

Instead of England, The Merry Wives

of Windsor is set in 1960s Windsor,

Ontario. "We produced The Merry Wives

four years ago on the smaller Howard

Family stage and it was a meteoric

success," Gaze reveals. "The director,

Johanna Wright, pitched me the idea

and I liked it immediately. It is a very

charming play, but very difficult to pull

off. Johanna's context makes it accessible

and so much fun, as the 1960s

were." The production features songs

from the stylish era like "Stand by Your

Man" and "These Boots Were Made for

Walking," and the actors even play the

music themselves. The '60s come alive

further with elaborate costumes and set

designs.

Othello gets an equally intriguing

makeover, set in the midst of the

American Civil War. "It is a less known

but interesting fact that there were a

few black generals who fought in the

American Civil War," Gaze notes. "That

element gives the play a much more

immediate context than its original." For

fans of more classic Shakespearean

renderings, Kim Colliers' Romeo and

Juliet will perhaps hit the spot the best.

But, Gaze warns us not to get too comfortable

with it either, because it might

"seem to fit the classic mould and then

suddenly it doesn't!"

For Bard, these reinterpretations

were as fun to create as they are to

witness. "New interpretation is what we

do," Gaze says. "If we just did traditional

productions, I think we'd become dinosaurs

and people would get bored."

by Prachi Kamble

Director Lois Anderson similarly

reconfigures the more rarely put-on

Pericles. "Lois is exploring her talent as

a director," Gaze says. "Her play is set in

the Mediterranean and the Middle East.

It will be magical, classical, and very

theatrical. It is like a travelogue. Pericles

travels from place to place, in various

crises, until he finds his family again

through miracles."

With its sweeping Vanier Park location

as the backdrop for these fresh

re-imaginings, as well as special performances

from the Vancouver Symphony

and the Vancouver Opera, Bard on the

Beach, Gaze assures firmly, is the place

to be this summer.

Bard on the Beach is held at Vanier

Park from June 3 to September 24.

Romeo and Juliet and other classics get a makeover at this year's Bard On The Beach.

wands, and two of cups. She gives me

an incredibly insightful breakdown of the

general state of my life: I'm too busy, but

if I focus, I can have good relationship.

That has cups in it. So far so good.

After dealing another dozen cards,

including death ("Don't look at that! I saw

you look at that!") Clark proceeds to give

me a thirty-minute lecture on what's

happening in my life (down to the very

minute) and exactly what I need to do

about it. This includes preparing myself

for my empress — the last card flipped

up. "You have to squirrel your nuts away

by Paris Spence-Lang

in your cubby." She stops. "You're not

going to print that, are you?"

After a forty-minute intensive, I thank

Clark profusely and walk away feeling

like a million bucks. I know what I need to

do to get my empress and it turns out that

death only means I have to stop playing

so much video games.

I get a flat on the way home. Maybe

that's the ten of swords talking. But I still

feel like I am walking on air.

The Good Spirit is located

at 309 Cambie Street

Lorri Clark holds all the answers to the universe in her trusty deck of tarot cards.

photo: David & Emily Cooper

photo: Sean Orr

June 2016
---
DEANNE SMITH

comedy's current everyman is a hip chick

DeAnne Smith looks like a small, bowtie-clad,

manic pixie dream girl. But the

second she takes the stage she is a deadly,

polished, Canadian comedy award winning

stand-up comic. "There is something about me

that loves the feeling of being underestimated,"

Smith explains.

Her comedy takes on a life of its own as soon

as she speaks: a joyous celebration of lesbian,

feminist values laced with outrageous, dark

shock-comedy. Smith is fearless when it comes

to challenging the status quo and when it comes

to challenges in general. "In Toronto [where

Smith resides] there appear to be a lot of these

social justice themed shows cropping up which

I'm all for, but they seem more like rallies. I like

doing well on a show like a club show that could

be anything, where there is potential to fail"

Smith generously lends her talent and star

power to Toronto's thriving, emerging indie women-in-comedy

scene. "I like it because jokes that

I had written ten years ago that didn't work are

now getting applause breaks, it's nice that we've

all arrived at this spot." Her political affiliation

doesn't prevent her from enjoying good comedy

from fellow comedians though. "I like listening

SIRIUS XM TOP COMIC

step right up and win a career

The Sirius XM Top Comic Competition

is back and better than ever. Now in

its seventh year, BeatRoute called up

comedian/radio host/programming director of

Canada Laughs, Ben Miner, to discuss what sets

this prestigious competition apart from the rest.

"The number one thing about the competition is

the way it's designed to help established comics

and their careers. Every one of the offered

prizes gives them a massive leg up as a comic.

I'm a comedian myself and these are all things I

would want to win," Miner explains proudly.

The contest not only offers comedians a

hefty $25,000 prize, but also a nationally

televised set for their portfolios, a spot at

every Just for Laughs festival that year, and

their contest set added into syndicated satellite

radio. The exposure alone is to die for, but the

money can pay for expensive international

performance visas that comics are often left

to fund themselves. "I always have to remind

people the competition is called Top Comic

and not Next Top Comic," Miner says, firmly

suggesting that this is not as much an amateur

competition as it is a battleground for seasoned

comedic gladiators.

Some comedians count even participating

in the competition as a real shot in the arm,

as each year hundreds of comics from across

Canada submit videos for a chance to be invited

to compete. "Canada has so much talent, each

year I'm blown away even by the submissions

that didn't make the cut." Not shy to use the

corporate radio budget to make the XM Competition

as fair as possible, the contest forgoes

audience votes and is adjudicated by revered

industry professionals. Last year the competition

was judged by Sirius Radio's higher ups,

the festival director of Just For Laughs, and

to Bill Burr's podcast. He says some really outrageous

things. But he's not afraid to examine a

situation and re-evaluate his stances. You can tell

just by listening to him that he has a good heart."

A solid balance between alternative and

traditional stand-up ideals has accelerated her

into the Canadian comedy sweet spot where she

can headline clubs and festivals across North

America. Despite the continental free-reign,

Smith has been to Australia performing eight

times. "Australia has a thriving comedy scene,

it's absolutely incredible, the only place in the

world where audiences will actually follow their

favourite indie comics like bands and come to

their shows year after year."

Smith is a podcaster herself, you can and

should check out DeAnne Smith's Questionable

At Best. In her podcast or on stage it's very easy

to see that Smith's dedication to being herself

over the last decade in comedy has created the

exact comedic experience that audiences in 2016

wish to see.

DeAnne Smith performs at the

Comedy Mix on June 16-18

beloved comic superstar Pete Holmes. Proving

that it isn't a popularity contest/cash grab pays

off for Miner/Sirius XM, as every year Canada's

deadliest headliners throw their hats in the ring

to perform in the prelims, which play out like a

festival-caliber comedy line-up.

Comedy is a subjective art form; the more

confident and talented a comedian is, the less

Ben Miner believes Canada has a wealth of talent that has yet to be… dug up.

COMEDY

by Victoria Banner

Deanne Smith loves the feeling of being underestimated.

by Victoria Banner

likely they are to bite for ranked competitive

approval. In music terms, the Sirius XM competition

is like a battle of the bands between

Mother Mother, Arcade Fire, and The Arkells if

it was judged by the Rolling Stones.

The Sirius XM Competition takes place June 12 at

Yuk Yuks and June 14 to 15 at the Comedy Mix.

RIO

THEATRE

1660 EAST BROADWAY

JUNE

2

JUNE

3

JUNE

4

JUNE

5

JUNE

7

JUNE

8

JUNE

10

JUNE

11

JUNE

14

JUNE

15

JUNE

19

JUNE

21

JUNE

29

JUNE

30

JULY

1

JUNE

HIGHLIGHTS

WWW.RIOTHEATRETICKETS.CA

PAUL ANTHONY'S

TALENT TIME

Summer Trip 2!

HELD OVER!!!

Geekenders Theatrical Co. Presents

THE FORCE IS SHAKIN':

A SCI-FI BURLESQUE ADVENTURE

Also on Saturday, June 4

GOOD BURGER

Friday Late Night Movie

MAMORU HOSODA'S

THE BOY AND THE BEAST

EAST VAN

SHORT FILM SHOWCASE

THE LOBSTER

A LEGACY OF WHINING

TOM HIDDLESTON, JEREMY IRONS,

SIENNA MILLER & LUKE EVANS

in

HIGH-RISE

HIGH-RISE

THE GENTLEMEN HECKLERS PRESENT

NICOLAS CAGE IN

THE WICKER MAN

So. Many. Bees.

DARIO ARGENTO'S

SUSPIRIA

Friday Late Night Movie

CINEMA PARADISO

THE ROCKY HORROR

PICTURE SHOW

Michelangelo Antonioni Double Bill!

L'AVVENTURA

BLOW-UP

The Fictionals Comedy Co. Presents

IMPROV AGAINST HUMANITY

#IAHATRIO

BURLESQUE DOCUMENTARY

TEMPEST STORM

TEMPEST STORM & FILMMAKERS

IN ATTENDANCE JUNE 19 - 20!

SEE WWW.RIOTHEATRE.COM FOR ADDITIONAL DATES

Russell Crowe & Ryan Gosling in

THE NICE GUYS

SEE WWW.RIOTHEATRE.COM FOR ADDITIONAL DATES

THE CRITICAL HIT SHOW

A #DNDLive Comedy Adventure

PRINCE DOUBLE BILL

Purple Rain

UNDER THE CHERRY MOON

MARTIN SCORSESE'S

THE LAST WALTZ

THE TALKING HEADS

STOP MAKING SENSE

CHECK WWW.RIOTHEATRE.CA

FOR OUR COMPLETE CALENDAR OF EVENTS

June 2016 REVIEWS

27
---
A BIKING PLAYLIST

five local tracks to get your gears going

"Witching Hour" by Supermoon

Haunting harmonies, bubbly guitar,

crashing percussion. This little number

is a sunny jaunt in itself.

"Hospital" by Sightlines

The growling riff that drives this pop-punk gem

is perfect for climbing up those big hills and the

contagious melody that's layered in will help you

feel good about the grind once you get to the top.

"Settle Down" by Twin River

Glitter-encrusted guitar and a searing solo

towards the end of the track makes this cut

from Twin River's new album a dreamy

accompaniment to any sort of ride.

"Crystal Ball" by Jay Arner

If you've ever wanted to pretend you were

the star of an '80s glam rock music video,

put your Wayfarers on, pop "Crystal

Ball" into your cassette player, and feel the

wind in your hair as you pedal to glory.

"The Finest Kiss" by Did You Die

This cover of the Boo Radleys song is as

delightfully shoegazey as the original, with

an extra sprinkling of otherworldliness added

for idiosyncrasy. Let it whisk you away while

cruising home on the empty streets late at night.

5 FUN WAYS TO

CELEBRATE BIKE MONTH

LOGAN'S RUN SCAVENGER HUNT RIDE

Now in its third annual edition, Logan's Run

Scavenger Hunt Ride is one of the most fun

cycling soirees of the summer. On June 11

at 12 p.m., ride over to the Patterson Skytrain

Station to pick up a task sheet. Then,

take off to various meeting points to participate

in bike-themed activities while accumulating

answers for the hunt as you go.

BICYCLE BEACH CRAWL

On June 15, take a leisurely ride along Vancouver's

finest sandy beaches, like Spanish Banks

and Jericho, to play volleyball, throw horseshoes,

and toss the frisbee. The excitement begins at

Third Beach at 6:30 p.m. and be sure to stay late

— rumour has it, the crawl may turn into a rave.

CAR FREE DAY

Street festivals take over the city on both

June 18 and 19 for Car Free Day. Live music

performances, skateboarding jams, artisan

vendors, wellness gardens, and more will fill

the West End, Main Street, Commercial Drive,

and Kitsilano. Each locale celebrates in their

own unique way, so hop on your bike and

see what your community has to offer. Bike

valets are available to park your wheels.

SUMMER SOLSTICE RIDE

As the longest day of the year quickly approaches,

why not spend it riding around the

city with some cool people? Head over to

Pat's Pub on June 18 at 5:00 p.m. and roll

though neighbourhoods like Gastown and

Olympic Village as you chase the sunset to

Spanish Banks with your new friends.

PINK FLOYD THE SEA WALL

Meet at the park next to Science World on

June 25 at 8:30 p.m. to say goodbye to the

blue sky. Then, roll around the seawall while

listening to Pink Floyd's The Wall in full.

The happiest day of your life ends at Third

Beach, with drinks and more music.

BIKE MONTH 2016

RIDING FOR FUN, HEALTH, AND THE ENVIRONMENT

Now that the heat of summer has

begun to rise, is there a better

time to hop on your bike and

go for a ride? Not really, especially as

June is Bike Month — a celebration of

all things cycling in Vancouver that both

promotes this great method of getting

around, and showcases the city's commitment

to keeping things environmentally

friendly.

Advocating biking comes from

Vancouver's want to provide quality

mobility choices to its residents, says

Dale Bracewell, manager of transportation

planning for the City of Vancouver,

"And to really help be a greener city, a

sustainable city, [while] encouraging

DETROIT BIKES

ZAK PASHAK PUTS A NEW SPIN ON TRANSPORTATION FROM MOTOR CITY

Bike sharing initiatives have become

fairly commonplace in cities

like Vancouver. For some, the

prospect of owning a car is an appealing

notion, especially when weighed against

sharing a cramped space on a crowded

bus or a metro that can't always be

counted on to arrive on time. However,

when considering the obvious green

benefits of biking, the advantages are

wonderful and, above all, affordable.

The demand for the quick, the reliable,

and the cost effective has had an

immensely positive effect on Detroit

Bikes, a manufacturer based in the

Motor City. Canadians would recognize

the company's owner and president

Zak Pashak for his contributions

to the music scene. Pashak is the brains

behind Calgary venue Broken City,

Vancouver's Biltmore Cabaret, and

music festival Sled Island. Pashak was

candid about his new partnership with

Motivate, the largest bike sharing system

in North America, and the larger

implications that it's had on the growth

of his factory.

people in both active transportation

modes and transit." Plus, besides being

better for the planet than your gas-guzzler,

biking is an excellent excuse to

spend more time in our beautiful backyard

and get some exercise.

Whether you're a seasoned rider or

more partial to renting twice a year,

Bike Month provides plenty of ways to

challenge yourself and explore how to

integrate biking into your life. Initiatives

like Bike to Work Week inspire

commuting alternatives, while activities

like beach crawls and scavenger hunts

suggest fun ways to hit the pavement. A

brand new public bike sharing program,

which will place 100 stations throughout

"For me, this business is a little different

than most other business because I

built a factory which was a big expense

upfront," says Pashak. "We had this factory

that had a certain capacity of production

and business didn't really make

sense until we sold a certain amount of

bikes per year...And in order to grow as

quickly as we needed to, just being that

there was such a cash intensive start up,

I needed big orders."

Initially, Pashak received a large

order for 2,400 bikes, but kept looking

for bigger and better things. He contacted

Motivate and convinced them to

move their manufacturing to the United

States. "Motivate had been going

through a bit of a situation," Pashak

continues. "They had been buying

bikes from a Canadian bike supplier

and they wanted to buy from a different

supplier and do a re-design…So

they wanted to insert us in that supply

chain to basically do quality control,

to oversee what they were doing and

how they were doing it, and to perform

by Yasmine Shemesh

the downtown core, also launches on

June 15. "That's going to really open

up more opportunities for people to

discover the joy and the convenience of

being able to bike around our city," says

Bracewell.

After all, Bike Month is about supporting

city-dwellers in experiencing

the benefits that cycling can offer. By

taking advantage of our greenways,

protected lanes, and bike-friendly spaces

like the seawall, Bracewell says, "I

think that more people would be happy

and healthy because of the choices that

they're making."

Ride on!

by Reid Carmichael

paint and final assembly on the bikes.

We've also taken over procurement for

them on the wheel side."

Now, Detroit Bikes will assemble

3,000 bicycles for the sharing operator

and, along with expansion within the

factory, the contract has allowed them

to team up with other enterprises like

CycleHop. This summer, CycleHop will

plant 150 docking stations throughout

Vancouver to provide over 1,000 shortterm

use bikes to residents — an exciting

initiative called Mobi that makes

biking more accessible and convenient.

Simply pay a small fee at the kiosk to

unlock the bike. A helmet comes free.

So, there you have it. Bike sharing is

great for you, the environment, and Canadian

entrepreneurs. Take that, hybrid

owners.

Learn more about Detroit Bikes at

www.detroitbikes.com and the bike

sharing programs at www.cyclehop.com

28 CITY

June May 2016
---
June May 2016 29
---
FILM

RAIDERS! THE STORY OF THE GREATEST FAN FILM EVER MADE

Indiana Jones and the 35-year remake

by Paris Spence-Lang

I

love Indiana Jones. He is the greatest hero

ever made, above even Harrison Ford's very

own Han Solo, and I will gladly watch any of

the original movies at the drop of a well-worn

fedora. But my love for the trilogy has rarely extended

past the movies. As for Chris Strompolos

and Eric Zala, their first meeting with Indy was

the catalyst for, in the eyes of many, the greatest

fan film ever made.

It started in 1981, when Steven Spielberg and

George Lucas teamed up to create Raiders of the

Lost Ark. The next year, 11-year-old Strompolos

Raiders! Is a story of fandom gone wild in the form of an Indiana Jones remake documentary.

asked 12-year-old Zala if he wanted to help him

remake the movie—the entire 115 minute, 20 million

USD movie—on, as Strompolos's son would

later say, "his allowance." Zala said yes.

Seven years later, the pair—along with a cast

of friends including special-effects whiz Jayson

Lamb—had created a shot-for-shot remake of

the entire movie, down to the live snakes, melting

faces, and giant rolling boulder. Well, all but the

plane scene—the one where Indy gets the tar

beaten out of him by the Steve Austin of Nazis,

who is then turned into an Aryan smoothie by the

propeller before the plane explodes in a phantasmagorical

fireball. That plane cost $700,000 to

build, making its absence understandable.

But, 30 years later, Strompolos and Zala

decided they had some unfinished business—

namely, blowing up that damn plane. Raiders!

The Story of the Greatest Fan Film Ever Made

Takes you through their film shoot, from Kickstarter,

to camel, to "Cut!" But as the documentary

progresses, it becomes less about the boys'

remake and more about the boys themselves. To

them, the project was a way to escape, a fantasy

world where they could hide from the challenges

of—in Strompolos's case—separated parents and

an abusive alcoholic stepfather. The boys were

outsiders, and the remake became less about

adventure and more about acceptance.

The film is full of beautiful moments that

underpin its emotional journey. John Rhys-Davies,

who played Sallah in the original film, gives

wisdom and priceless anecdotes throughout.

Directors and film critics such as Eli Roth

(Hostel, Inglorious Basterds) explain how the

remake inspired them as film nerds. There's

even as much (if not more) drama than the

original: romantic competition between the

boys, crippling addictions, and even uncut and

shocking violence that—when it appears—gives

the sobering realization of how close Strompolos

and crew came to serious injury or death time

and time again.

While Raiders! Has parts that go down like

bad dates—for example, the audio of SFX expert

Lamb, while talking about how he was all but

absent from any media recognition, is faded

out—the documentary flows well, and is surprisingly

deep and satisfying. The movie won't melt

your faces, but it will give any fan of Indy plenty

of enjoyment—especially if you, like Strompolos

and Zala, are the kind of nerd who owns a whip.

But I swear, it's not mine.

Raiders! opens at Cineplex International

Village on June 17th

THIS MONTH IN FILM

TAIWANESE FILM FESTIVAL

In Taiwan, the urban sprawl of cities like

Tainan and Taipei fights with the surrounding

jungle and mountains. Taiwanese

film is just as diverse, and VIFF puts the

best of it on display in the Taiwanese Film

Festival. Featuring eight films, the people

of Taiwan tell their stories through documentary

and drama alike, with violinists,

hit men, resort owners, and the Taiwanese

black kite eagles taking starring roles.

The festival includes The Moment, a

celebration of Taiwanese culture that

features footage from fifty-one films.

June 10-12

at Vancity Theatre

UPCOMING RELEASES

Skipping past Michael Bay's Ninja Turtles, we

find ourselves in Blizzard's realm of Azeroth.

Yes, the film adaptation of Warcraft is out on

June 10th, which means we can finally play

video games without actually having to move at

all. But truth is stranger than fiction, as proven

by the film Tickled. A seemingly innocent

documentary about "competitive endurance

tickling," the movie turns dark as we fall down

a rabbit hole of conspiracy, secret identities,

criminal activity, and feathers. But that's not

the only way to get a laugh: our favourite fish

is back in Finding Dory. Fighting her amnesia,

Dory works with Marlin and Nemo—who was,

if you'll remember, found—to learn about her

past. And where she learned to speak whale.

Finding Dory

by Paris Spence-Lang

JUNE 3 GOOD BURGER JUNE 10 SUSPIRIA JUNE 17 CRASH (1996) JUNE 24 THE CRAFT JULY 1 STOP MAKING SENSE

30 FILM

June 2016
---
ALBUM REVIEWS

Tegan and Sara

Love You To Death

Warner Music Canada

It's been ten years since the Calgary-born Tegan

and Sara's career-defining The Con (2007)

dropped. That album saw the talented fingers

of Kaki King, Chris Walla and Jason McGerr of

Death Cab for Cutie, among others help grease

the chains of Tegan and Sara's raw indie rock.

Few songwriters can pen and perform such

shiver-inducing lyrics as "maybe I would have

been something you'd be good at," from closing

track "Call it Off," with as much vulnerability

and emotional resonance as Tegan and Sara.

Synths sirened through the dry acoustic guitars

of the title track while the two singers sang

percussively on top of each other, carefully

squeezing chamber-pop influences into their

bedroom pop recording aesthetic. Those same

synth leads hit hard on almost every track of

new record Love You To Death, but nine years

and ten buckets of glitter later, the duo's music

is almost unrecognizable, for better or worse.

When Heartthrob's (2013) single "Closer"

dropped, it signaled a confident move into polished

mainstream-ready pop music. The track

pops to life with massive synth chords while

the titular lyric bleeds out of pitch defiantly,

a quiet reminder of the duo's indie origins.

The chorus features the triumphantly belted

"let's make things physical" over a sharp drum

line. The expensive-sounding, detail-intensive

production lubricated the song for top 40 radio

consumption, while the charm and indelible

songwriting that typify Tegan and Sara grounded

the song in relatability. The record that

followed was polished at every corner, possibly

to a fault, but as a move into synth-pop, it came

across as authentically as it could have, and it

skewed towards sharper drums, dirtier synths,

and retained a few guitar tracks, all of which

are shelved entirely for Love You To Death.

Heartthrob propelled the duo into Taylor

Swift-opening glory, and as pop stars go, you

could do a lot worse than Tegan and Sara.

Their unique style and narrative, humble

origins, and characteristic doubling, demands

twice the stage. Nothing about Tegan and

Sara has ever felt written or manufactured.

Love You to Death is lovingly imagined, but

wholly sterile in ways that Tegan and Sara's

music has never been, even with the added

sheen of Heartthrob. Lead single "Boyfriend"

opens with strangely familiar, effervescent

electronics. Not familiar in a nostalgic sense

however, but rather, reminiscent of other

currently successful pop acts, and of course,

the young producers whose music those acts

borrow from. It refrains from being an explicitly

tropical-house track or anything that

deliberative, but the production on "Boyfriend"

carries the '80s inflected pop song directly

into the currently musical moment in the least

climactic way possible. The boring arrangement

on this track is doubly disappointing because

it is so easy to envision a more interesting

instrumental, considering Tegan and Sara

have offered us so many in the past. "Boyfriend"

is, at its heart, a smartly written track

about the complications of dating someone

whose sexual aim and/or orientation is in flux,

or at least not perfectly centered. The song

is progressive, socially nuanced, and most

importantly for the genre, endlessly catchy.

That said, the hammy beat drops and floaty

vocals turn the song into an unwanted remix

of itself, and not in the cool "Ignition" sense.

Further, the explicitly themes of "Boyfriend"

offer a strong reminder of how Tegan and

Sara's identities as gay women has been such

a quotable part of their musical mythos from

day one. The duo has never used either as a

gimmick or a crutch, but rather, the love songs

abound throughout their discography have

held a level of gendered ambiguity, and thus

moments where their sexuality comes out

explicitly, feel stronger in their infrequency.

Thankfully, this is also true on Love You to

Death. "Stop Desire" most notably uses its title

and chorus to confidently emote the undeniability

of both female, although more specifically,

lesbian, sexual and romantic desire.

Strong pop song-writing like this permeates

the entire record on tracks like the almost-heartbreaking

sparkle-piano ballad "100x,"

and the obvious album standout "U-Turn." The

latter track emotes the confidence the project

is contingent on more strongly than elsewhere

on the record, and the more muted arrangement

suits the song's lyrical reliance. The witty quip

"Make a change or this is gonna stall / Shape up

or you'll drop me like a call" perfectly prefaces

the punchy chorus. "I wanna write a love

song / even though you never asked me for

one" carries both the confidence of the duo's

newfound pop stardom, as well as a profound

sense of self-awareness. The charming contradiction

therein is that the song is about writing

a love song and not a love song. Moments

like these carry the legacy of wit and wonder

that Tegan and Sara that lose some of their

impact from the overly shiny arrangements.

"B/W/U" is the most reminiscent cut on

the record, offering a sparse electronic bed

with lo-fi drum machines and clean synth

arpeggios. The intro and post-chorus have a

slow and cute electric-piano lead that calls to

mind former producer Chris Walla's influence,

although even this track feels all-too-perfectly

pitched and polished, a clear reminder

that T&S' Chris Walla days are over.

It feels strange to suggest something so

cliché, but Love You to Death listens more like

what studio executives probably Tegan and

Sara should sound like than what has made

them such a tour-de-force. Such a sentiment

feels doubly strange considering they have been

major-label produced for almost ten years, thus

the new, overly glossy production is certainly a

stylistic choice by Tegan and Sara themselves.

As an exercise in pop song-writing, Tegan

and Sara offer a master class, but the arrangement

feels stuck in high school. Love You to

Death is a stall for Tegan and Sara, not necessarily

a misstep, not necessarily an all-time-low,

but not entirely free of disappointment either.

Written by Liam Prost

Illustration by Dylan Smith

June 2016 REVIEWS

31
---
Astrakhan - Reward in Purpose Classixx - Faraway Reach Drake - Views Islands - Should I Remain Here at Sea?/Taste

Astrakhan

Reward in Purpose

War on Music / Sunmask

Astrakhan arose towards the end of 2012 in

the midst of the rich ever-growing metal scene

that resides in Vancouver and its surrounding

area. Reward in Purpose follows an initial

steady stream of EPs and marks the first

full-length of a band that, in their first four

years together, has continually demonstrated

a resolute dedication to pursuing a well-defined

and captivating musical undertaking.

The ten-minute opening track "Omajod," is

an appropriate introduction for the group's

first full-length release. It begins gradually,

building momentum with a deep, resonating

psyche groove before giving way to a long,

grim scream that pierces the hazy atmosphere

and showcases a darker side of the band.

The bands numerous stylistic influences

shine forth throughout the album.

Generally straying to the heavier edge of

progressive metal, such as in the driving

"Microcosmic Design." Their more sludgebased

and gloomy elements also remain.

Riff-driven tracks like "The Traveler"

maintain their attentiveness slow-burning

grooves, and also allow the vocalists

free range to illuminate their dynamic

range. Clean, symphonic lines are juxtaposed

by gripping, guttural screams.

Their ability to straddle greatly varied

inspirations allows listenability throughout

the record's entirety, and therefore has the

potential to reach a vast array of listeners.

Fans of the grittier prog-rock of a band like

early Tool, avant-garde and melodic Norwegian

black metal like Arcturus, and definitely fans

of story-driven stoner rock like The Sword.

• Paul Rodgers

Classixx

Faraway Reach

Innovative Leisure

Classixx are one of the more intriguing production

teams in recent memory because of

their ability to make the album a worthwhile

experience in a singles driven music landscape.

Their 2013 debut Hanging Gardens

found a cohesiveness that is rarely found on

the dance music LP, opting for a more leisurely

style indebted to disco, new wave, and

funk. That said, that album also suffered from

a sameness and a decent amount of bloat.

The duo, consisting of Los Angeles natives

Tyler Blake and Michael David, return

with their sophomore long-player Faraway

Reach, which boasts an intriguing collection

of guests, but often suffers from

the same issues as it's predecessor.

Despite a few missteps, Faraway Reach

is often a joy to listen to, balancing Balearic

grooves and LA synth-pop perfectly. Songs

like "Just Let Go" find Classixx in a highly

collaborative mood, using guest vocalist

How to Dress Well to perfect effect.

Elsewhere, stand out single "Whatever I

Want" features T-Pain in a combo that works

much better on record than it does on paper.

T-Pain's auto-tuned crooning is more subdued

than his more boisterous pop rap hooks,

perfectly complementing the mid-tempo bliss

that Classixx have crafted underneath him.

• Jamie McNamara

Drake

Views

Cash Money Records

Early into the daunting, 120-minute runtime

of Drake's recent opus Views, the Toronto

rapper insists "Views already a classic." Of

course, to declare an album a classic before

it comes out is an absurd gamble, but if any

artist making music in 2016 were to stake the

claim, it could only reasonably be Drake.

Views is an interesting record because of

its place in Drake's career. The album's original

announcement over two years ago felt like a

much-deserved victory lap for one of the biggest

rappers of all time. Of course, that announcement

took place before just about every ubiquitous

cultural moment that Drake seemed to find

himself at the centre of in the following years.

It seems that Drake's own success is his own

undoing, of course he'll tell you that himself in

most of his songs, but it has never felt more

true than on Views. The massive releases of

If You're Reading This… and What a Time to

Be Alive found Drake owning the rap industry

simply by playing by his own rules. Traditional

release methods make Views feel like a step

back for the rapper that always seems to have a

finger on the pulse. Still, it's not just the release

methods that make Views feel like a step back.

Sonically, the album shares more in common

with Take Care than it does with Drake's more

boisterous oeuvre. Views is contemplative

Drake, for better or worse. The rapper is often

examining what it means to be a global superstar,

but the album is also a love letter to the city

that Drake loves so fiercely. All together, Views

functions better when Drake focuses on the

latter. The album is pastiche of styles that have

found success in a massively diverse Toronto.

Afrobeat and Caribbean influence crop up

often, with genres like grime and New Orleans

bounce also lending themselves to the mix.

Drake's contemplations can't help but feel

stale, especially because he's retreading wellworn

ground. We know about Drake's issues

with relationships, but what was acceptable for

a 24-year-old on Take Care is often groan-inducing

for a man almost in his thirties. Drake's

ruminations on past relationships are often

emotionally stunted, the petty product of a

mildly narcissistic manchild that avoids nuance

in favour of unwarranted braggadocio.

As always, Drake's music is his saving grace.

Songs like the newly Popcaan-free "Controlla" and

the Rihanna-featuring "Too Good" are both song

of the summer contenders because they show

the side of Drake that isn't brooding for once.

• Jamie McNamara

Islands

Should I Remain Here at Sea?/Taste

Manque Music

When a band releases two records in quick

succession, one of two things can happen. Either

both records can sound largely the same, leading

32 REVIEWS

June 2016
---
June May 2016 33
---
eat brunch

Available weekends

from 11am-4pm

JUNE 10 - JULY 10

ALL GAMES LIVE

NO COVER

$

5 CARLSBERG

The Lamplighter · Library Square · The Bimini

Cinema · The Butcher & Bullock · The Blackbird

The New Oxford · Tavern · The Three Brits

donnellygroup.ca

34

June May 2016
---
King Gizzard & The Lizard Wizard - Nonagon Infinity Layten Kramer - For the Sun Kristin Kontrol - X-Communicate Dan Lissvik - Midnight

one of the two to be dismissed outright (see

Beach House's latest releases), or, they can be

stylistically counterposed (such as Bright Eyes'

rootsy I'm Wide Awake It's Morning and dominantly

electronic Digital Ash in a Digital Urn).

By putting out two records so close together,

Islands does themselves, and us, a disservice

by forcing the records to read in relation to

each other, which is especially unfair given

how balanced and well-constructed both

records are, despite not markedly different.

Given the name if nothing else, Should I Remain

Here at Sea? is easily readable as a comment

on Islands career since their debut Return to

the Sea. The latter was a gloriously unpolished

record, seeping syrupy pop hooks from every

corner, very much a tie-in to Nick Diamond's

previous band The Unicorns. The operative

assumption of SIRHAS? however, is that the

band still is, in fact, at sea. Six releases later,

Islands' pop-rock aesthetic has been polished

to death, such that the suggestion that Islands is

the same band that produced Return ring false.

Taste is mostly synth and electronics driven,

which is the strongest contrast to SIRHAS?'s

stripped down, guitar pop style. The former

record is also more political than personal,

with nods to male privilege and police brutality.

Both records are strong in their own right, and

it feels wrong to condemn a release strategy,

but there is simply too much music in the world

to give them both the time they deserve.

• Liam Prost

King Gizzard & The Lizard Wizard

Nonagon Infinity

ATO Records

Australia must have the best acid. The country

is home to a massive resurgence of psychedelic

rock that runs much more ragged than

its American counterpart. But while Kevin

Parker and co. in Tame Impala have ventured

further and further from their psychedelic

roots, fellow Australians King Gizzard and the

Lizard Wizard have picked up the slack with a

prolific output of mind-bending garage-rock.

Nonagon Infinity is the Melbourne septet's seventh

album in six years and it's the latest experiment

from a band that refuses to sit still. The album

was made to function as an unbroken loop, the end

of the final song serves as an intro to the first. It's a

strong dose of gimmick, but KGTLW never rest on

it. Instead, the album rips from front to back with

impeccable garage-rock swagger and confidence.

Nonagon Infinity is interesting solely because

it seems so far removed from its contemporaries.

The tracks on the album blend seamlessly,

often to the point that it's hard to tell where

one track ends and the next begins. Couple

this with the band returning to various lyrical

and melodic motifs throughout the album and

the result is a disorienting album that is utterly

captivating, but impossible to pick apart.

The album does suffer from being stuck

in fifth gear. The band roars through songs

with a blinding tempo, voraciously consuming

riffs with delirious efficiency. Rarely does the

music slow down, and the similarities between

songs mean that a listener could feasibly listen

to the album one and a half times before realising

they are back where they started.

• Jamie McNamara

Layten Kramer

For The Sun

Independent

While the term "folk music" has recently

grown incalculably to include the

cross pollination of several intermingling

styles, at its heart is still the ability of

a singer-songwriter to write and perform

compelling songs without the aid

of a symphony. Though For The Sun, the

debut LP from Canmore songwriter Layten

Kramer, certainly brings the house in

regards to production and instrumentation,

his songs remain the focal point, as

easily imagined played around a crackling

campfire as they are with the lush and

energetic treatment they're given here.

Kicking off with an eerie synth entanglement

leading into the delicately fingerpicked

title track, Kramer brings a sense

of immediacy with his first line, "Have you

had enough of this life? Are you growing

tired of the lies?" The rhythm section

picks up a steady heartbeat, moving

quickly to the chorus, which drops amid

Beatles-like grandeur and the welcome

harmony of horns and synth lines. The

second song, "Thin White Lines", helps

the album settle in to what becomes its

sonic signature: uptempo folk-pop with

stuttery-yet-danceable beats, augmented

by synths, and the always hummable lines

of a songwriter who knows that having

people listen to your words is contingent

on connecting to your melody.

For The Sun only touches on its folk

elements, certainly on the cantina melancholia

of "Shadows", and on the closer

"Time Is Here To Stay." "Gold and The

Sea" is a standout, with dramatic builds, a

soaring, harmonized chorus, and a guitar

break that understands that a single note

played in desperation and conviction adds

a lot more than a hundred empty tones.

• Mike Dunn

Kristin Kontrol

X-Communicate

Sub Pop

There comes a time in many bands lives when

the lead singer strikes out on their own. It's a

huge risk, but it can pay off a lå Beyoncé or flop

like Debbie Harry's Koo Koo (1981). Now, it's the

Dum Dum Girls' Kristin "Dee Dee" Welchez's

turn. X-Communicate provides its listener

a retro dance party, mixed in with enough

torch songs to really let everything sink in.

If the Dum Dum Girls referenced '60s

girl groups, then for her first solo soiree,

Welchez has time travelled into the future

with a pit stop in the '80s.The polished synth

line of standout track "X-Communicate" is

reminiscent of new wave acts like Blondie,

but with a modernity that distinguishes

Welchez from being a kitschy '80s revivalist.

The song "White Street" is a stream of

consciousness narrative describing heading

out to a party with the heart ache of

Robyn alone on the dance floor: "If you catch

my eye I just might take you up tonight."

Overall, Kristin Kontrol has created

a solid first album that asserts her

risk in going solo was worth it.

• Trent Warner

Dan Lissvik

Midnight

Smalltown Supersound

As one half of influential Swedish duo Studio,

Dan Lissvik was responsible for bringing

Balearic brilliance to the often bleak Gothenburg.

Since Studio's dissolution, Lissvik has

worked as producer for artists like Montreal's

Young Galaxy, while also working on

solo works for the first time in his career.

June 2016 REVIEWS

35
---
of his past writing. The move is refreshing to hear

from Taylor, but his style is largely unchanged from

past work, and it's debatable whether or not his

nasally croon can carry an album on its own.

Indeed, the main detractor from Piano is the fact

that it's an LP and not an EP.

Lead off track "I'm Ready" is a song about

the creative process, a song that seems fitting

on an album that feels more like a creative

exercise than a cohesive vision.

• Jamie McNamara

Royal Tusk - Dealbreaker Alexis Taylor - Piano Weaves - Weaves

The solo works culminated in last years three

track Shuvit! EP, an EP that showed that Lissvik's

ability to make dubbed out music is still in tact, but

it never felt as effortless as his work with Studio.

Now, the new father returns with his debut fulllength

Midnight, a record that shows that Lissvik

still has a take on dance music that is utterly

populist while still remaining absolutely unique.

The gentle, meandering feel of Studio's essential

West Coast returns on Midnight. The propulsive,

post-ABBA drum work and listless guitars are

straight off of "Life's a Beach," but that's not to say

that Lissvik's style hasn't evolved since his days in

Studio. Songs like the hypnotic "D" pick up where

West Coast left off, dropping the listener into a

haze of dubbed out drums and plucky synths that

would feel right at home on a Todd Terje record.

• Jamie McNamara

Royal Tusk

Dealbreaker

Cadence Music

On their first full-length album, DealBreaker, Edmonton's

Royal Tusk have crafted a catchy piece of

modern rock, relying on melodic hooks and catchy,

crunchy guitar riffs. Unlike many of their contemporaries,

Royal Tusk's commitment to songwriting

is evident in the use of lyrics in their hooks,

rather than rely on the trusty "whoa whoa whoa"

laziness so often present in today's radio rock.

DealBreaker is radio-ready, but in a way that

seems content to be further outside most programming

lists. It's clever modern- ock, with some interesting

left turns, like the head-shop-jazz-while-whistling-down-the-road

feel at the end of the title track.

There's some cool Slash-y guitar work on the Wurlitzer-driven

closing ballad "So Long The Buildup."

The dance rock harmonized verse melody

on "Above Ground" takes away from the smart

chorus, but when it's sung solo in the breakdown,

the lines have more weight in anticipation of the

big finale chorus. Royal Tusk has a sound that

should set them apart from the radio pack.

• Mike Dunn

Alexis Taylor

Piano

Moshi Moshi

Alexis Taylor is no stranger to the ballad. As

frontman of synthpop group Hot Chip, Taylor has

been known to slow the tempo to croon wistfully,

but it always felt like a brief aside before the party

started again. For his third solo LP Piano, the British

musician focuses solely on ballads sung with only

piano accompaniment. Some of the songs are

covers, like Elvis' "Crying in the Chapel," but most

are either new works from Taylor or reworkings

Weaves

Weaves

Kanine Records

You can't really blame this Toronto foursome

for wanting to cover all their bases with their

genre-defying debut. In a super-saturated musical

blogosphere of what's cool according to culturally

"hip" types, the appeal of sounding like you're the

missing link between the Karen O-isms of art-punk,

tUnE-yArDs' electro-beat collages and the fringes

of Eleanor Friedberger's goofball pop past will

probably land you some affirmative head-nodding

and a 7.5 from Pitchfork. Sure enough, tracks like

"Candy," "Tick" and "One More" bob and weave

(pun intended) with a bombastic punch to the gut,

while "Eagle" flies high with intricate sonic interplay

between guitarist Morgan Waters and the rhythm

section of Zach Bines and Spencer Cole. "Coo Coo"

self-medicates a calmer Jasmyn Burke espousing

the object of her affection, but she returns to

freak-flag form on the seething "Shithole." With the

music scene in the Six branching out and taking

risks with groups like Dilly Dally, The Highest

Order and Darlene Shrugg, Weaves stand to make

waves amongst their peers and then some.

• Bryce Dunn

36 REVIEWS

June 2016
---
LIVE REVIEWS

Charles Bradley

The Commodore Ballroom

May 20, 2016

While the story of Charles Bradley (his years of toiling

as James Brown impersonator Black Velvet until

his discovery by Daptone Records founder Gabriel

Roth and subsequent collaboration with musician

Tom Brenneck) might make up some of the reason

his live show was an unparalleled experience of

magic, that only cracks the surface of what went on

at his recent gig at The Commodore.

Part of the magic stems from the raw emotion

on display. Bradley's songs are unfiltered and his

scream is piercing. Whether it's expressing anguish

about the state of the world as in the highlight "The

World (Is Going Up in Flames)," the smouldering

warnings of "Ain't it a Sin," or the crushing feelings

of loss conjured by his cover of Black Sabbath's

"Changes," by the end there was nary a dry eye in

the house.

Another part of the magic is created by his theatricality.

For 67 years old, Bradley still has got himself

some moves, with frequent mic stand kicks, the robot,

his "screaming eagle" pose, heart symbols, and hip

gyrations that would make a boy band blush. His face,

wizened through the years with deep lines, expresses

emotion with a clarity and pathos that is inimitable.

He made "love" the centrepiece of the show and

ended his set by hugging multiple concert-goers in

what seemed like an authentic display of cathartic

release, telling one crowd member that he was

special and he loved him "like my own son." A short

encore ended with an extended parable about the

colour of roses, with two groups of black and red

roses brought to the stage and passed to the crowd

by what appeared to be a moved Bradley.

• Graeme Wiggins

photo: Galen Robinson Exo

photo: Bev Davies

Brian Jonestown Massacre

The Commodore Ballroom

May 23, 2016

There are two types of people who go to a

Brian Jonestown Massacre show — those who

have read storied accounts of lead singer and

mastermind Anton Newcombe having headline

bait meltdowns on stage, and those who have

always known about the band's otherworldly

skills at gripping psych jams. The second group

was given exactly what they were after when

BJM melted our brains all over the Commodore

Ballroom at the tail end of the May long weekend.

Playing a great assortment of tunes from

their back catalogue, Newcombe and his crew

of weary but loyal comrades also gave us big

meaty tastes of 2015's Mini Album Thingy Wingy.

The throbbing, psychedelic "mini" masterpiece

was served well on a live stage, leaving room

for long solos and the kind of overlapping guitar

you can follow into the bright orange stage lights

and fog, like you are watching them drive down

the well-worn paths in the desert of your mind.

"Here Comes the Waiting for the Sun" in particular

plays very well live; its ridiculously high

stakes, lonely roving lead, relentless rhythm,

and the always indelible tambourine courtesy

of fan favorite Joel Gion make it into a road trip

you feel like you've been personally invited along

on. BJM (also known as the band you love to

hate and the band you hate to love) has come a

long way, through many minefields of creativity

and personal strife, but one thing has always

remained and was well on display this evening:

this band is dangerously intriguing and really

good at what they do.

• Jennie Orton

June 2016 REVIEWS

37
---
ating the best (and worst) of Vancouver's public toilets

by Michelle Hanley

Vancouver General Hospital The Fox Cabaret Aberdeen Mall

I recently had to make an emergency visit to the hospital to deal

with an incredibly infected big toe. It was bad. Everyday of my life is a

terrible and hilarious nightmare. The waiting room at the ER is a very

high anxiety place, and when I'm anxious it makes me poop. Luckily

the bathroom was just around the corner and it was a lovely and

pleasant experience. This was easily the cleanest bathroom I've ever

been in. I could have stayed there all day if it wasn't for the lady yelling

at me to hurry up so she could give a urine sample.

The Fox used to be a porno theatre. A place to watch porns with

other people!? Gross! That obviously closed down because the internet

happened and now it is a really great bar. On my most recent visit

to The Fox, I paid a visit to the very crowded bathroom. There are

only three stalls in this tiny bathroom so there is always a long line

of nice people to make friends with. It is consistently clean and well

stocked, despite how busy it is. But that also makes for a less than ideal

bathroom for reapplying makeup or taking mirror selfies.

This Richmond mall is a truly magical place. Everything you need is

here! It is home to some amazing shops and an incredible Asian food

court. Also this one time I saw Steven Seagal at Daiso, Aberdeen's

incredible Japanese import dollar store. It was really weird. The

bathrooms at The Aberdeen Mall are terrific. They are beautiful and

modern. It was also very clean and well maintained. The huge windows

provide beautiful natural light so it's perfect for applying the new

lipstick you just bought from the Korean beauty store.

38

June 2016
---
BLUEPRINTLIVE

blueprint_live

JUN 09 | FORTUNE

JUN 10 | FORTUNE

JUN 10 | VENUE

JUN 11 | FORTUNE

JUNE 25 | FORTUNE

JULY 02 | VENUE

JULY 08 | FORTUNE

JULY 15 | VENUE

BUY ONLINE: www.BPLIVE.ca

JULY 23 | COMMODORE

Tickets In Stores: NEPTOON

ZULU | Red cat

June May 2016 39
---
40

June May 2016