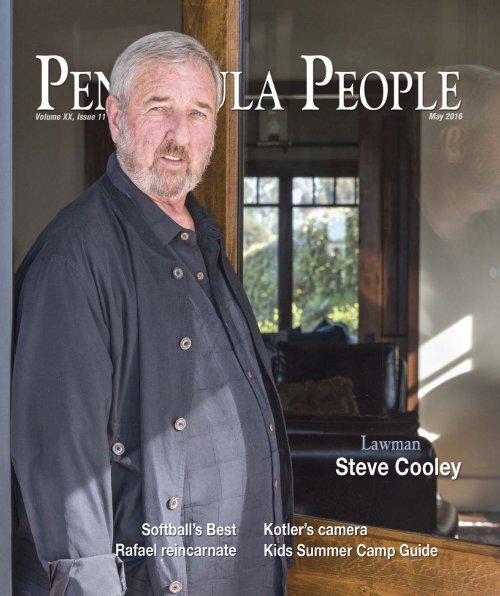 Peninsula People May 2016
You also want an ePaper? Increase the reach of your titles
YUMPU automatically turns print PDFs into web optimized ePapers that Google loves.
May 2016 • Peninsula People 3
---
Volume XX, Issue 11

May 2016

PENINSULA PEOPLE

P A L O S V E R D E S P E N I N S U L A M O N T H L Y

ON THE COVER

Steve Cooley

Photo by Brad Jacobson

PROFILES

DA Cooley

by David Mendez

Steve Cooley looks back on four decades as a prosecutor

and looks forward to a new career in law.

Post film photographer

by Bondo Wyszpolski

Jerry Kotler merges film and digital technologies in his art.

HIGHLIGHTS

DEPARTMENTS

CONTRIBUTORS

Randy Angel is sports editor of Easy Reader.

Stephanie Cartozian is Associate Publisher of Peninsula People.

Richard Foss is Easy Reader's food editor. His latest book is Food

in the Air and Space: The Surprising History of Food and Drink in

the Skies.

Brad Jacobson of CivicCouch.com is a freelance photographer

and videographer.

David Mendez is a reporter for Easy Reader

Bondo Wyszpolski, a Peninsula native son, is arts editor of Easy

Reader.

6 Peninsula People • May 2016

36

42

46

50

66

Casa Felicia

by Stephanie Cartozian

America's preeminent landscape architect Frederick Law

Olmsted retained influential Prairie School architect Myron

Hunt to design his cliffside Peninsula home. Nearly a century

later the home is largely unchanged.

Best ball

by Randy Angel

PV Hi senior Steffi Best sets two school records while leading

her team to the CIF Southern Section Division III playoffs.

Grill on the Hill

by Richard Foss

Chef Rafael Solorzano's PV Grill in Lunada Bay reinforces his

reputation with stellar steak and seafood dishes.

Rotary Clubs' Beer and Wine Fest

PVAC 85th Anniversary Gala

LA Philharmonic Grand Salon

PEF's Main Event

LA BioMed Spirit of Excellence Awards

Charity League celebration

Rolling Hills Country Day music fundraiser

St. Francis Designs for Dining

Kids Camp Directory

Community Calendar

Around & About

Home Services

STAFF

EDITOR

Kevin Cody

PUBLISHER

Mary Jane Schoenheider

ASSOCIATE PUBLISHERS

Richard Budman

Stephanie Cartozian

DISPLAY SALES

Adrienne Slaughter,

Tamar Gillotti, Amy Berg,

Shelley Crawford

CLASSIFIEDS

Teri Marin

ADVERTISING

DIRECTOR

Richard Budman

ADVERTISING

COORDINATOR

Teri Marin

GRAPHIC DESIGNER

Tim Teebken

FRONT DESK

Judy Rae

DIRECTOR OF

DIGITAL MEDIA

Jared Thompson

CONTACT

MAILING ADDRESS

P.O. Box 745

Hermosa Beach, CA

90254

PHONE

(310) 372-4611

FAX

(424) 212-6780

WEBSITE

www.easyreadernews.com

EDITORIAL

PenPeople@

easyreadernews.com

ADVERTISING

(310) 372-4611

displayads@

easyreadernews.com

Please see the Classified Ad

Section for info.

FICTITIOUS NAME

STATEMENTS (DBA'S)

can be filed at the

office during regular

business hours.

(310) 372-4611

Peninsula People is a supplemental

publication of Easy

Reader, 2200 Pacific Cst. Hwy.

#101., PO Box 745, Hermosa Beach,

CA. 90254-0427.

SUBSCRIPTIONS

Yearly domestic mail subscriptions

to Peninsula People are $40, foreign

$90 payable in advance. The

entire contents of Peninsula People

are copyrighted 2016 by

Peninsula People, Inc.

May 2016 • Peninsula People 7
---
#1 Real Estate Team

JUST

LISTED

EXCEPTIONAL

PROPERTY

BIG

VIEWS

PANORAMIC

OCEAN VIEW

LARGE

FLAT LOT

VIA OLIVERA

paseo la cresta

PALOS VERDES DRIVE WEST

via lorado

LAUREL DRIVE

PALOS VERDES ESTATES

4 Bedrooms, 3 Bathrooms, 2,828 sq ft Home, 6,580 sq ft Lot

$380,000 Worth of New Remodeling. Upper Lunada Bay Area

Ocean View, Trendy Home Features, Brand New Kitchen & Bathrooms

PALOS VERDES estates

7 Bedrooms, 11 Bathrooms, 10,400 sq ft Home, 42,412 sq ft Lot

Magnificent Gated Estate offering a Unique Combination of Luxury and Comfort

Sweeping Ocean, Bay and Treetop views. Exquisite Finishes and Fine Appointments Throughout

PALOS VERDES ESTATES

3+ Bedrooms, 2 Bathrooms, 2,611 sq ft Home, 6,888 sq ft Lot

Beautiful Coastline and Queen's Necklace Views from both levels

Open Floor Plan with Windows Galore. Big Backyard.

RANCHO PALOS VERDES

5 Bedrooms, 4.5 Bathrooms, 2,573 sq ft Home, 20,652 sq ft Lot

Spectacular Catalina, Ocean & Sunset Views. Remodeled in 2015

One Level Home, 3 Large View Decks & Balcony, Gourmet Kitchen

RANCHO PALOS VERDES

1.21 Acre Gated Vacant Lot has Large, Flat Building Pad

Panoramic Catalina, Ocean & Endless Sunset Views!

Private & Secluded Location in Lunada Pointe. Rare Find Opportunity

OFFERED AT $1,895,000

www.2653ViaOlivera.com

OFFERED AT $9,750,000

www.1414PaseoLaCresta.com

OFFERED AT $1,850,000

www.353PVDW.com

OFFERED AT $1,799,000

www.7447ViaLorado.com

OFFERED AT $3,500,000

BEAUTIFULLY

REMODELED

WALK TO

PV HIGH

SHOWCASE

PROPERTY

NEW

LISTING

NEW

LISTING

Via Asturias

PALOS VERDES estates

5 Bedrooms, 4.5 Bathrooms, 5,249 sq ft Home, 15,190 sq ft Lot

Ocean View Estate in Upper Lunada Bay. Remodeled in 2004

Huge Master Suite, Top of the Line Kitchen, Many Luxurious Features

Thorley Road

PALOS VERDES estates

5 Bedrooms, 4 Bathrooms, 5,241 sq ft Home, 15,307 sq ft Lot

Gated 1990 Custom Built Manor in sought after Lower Lunada Bay

Luxury Interiors, Great Curb Appeal, Walk to Schools

CREST ROAD

RANCHO PALOS VERDES

5 Bedrooms, 6.5 Bathrooms, 8,533 sq ft Home, Guest House

PANORAMIC VIEW of Queen's Necklace & Downtown LA

Architectural Masterpiece, Luxury Features, Beautiful Landscape

SILVER SPUR ROAD

ROLLING HILLS ESTATES

2 Bedroom, 3 Bathrooms, approx. 2,268 sq ft Town Home

Luxurious Town Home in the Heart of Peninsula Center

Live/Work Residence, Versatile Floor Plan.

GENERAL STREET

RANCHO PALOS VERDES

3 Bedrooms, 2 Bathrooms, 1,536 sq ft Home, 6,653 sq ft Lot

Beautifully Remodeled Single Story Home. Open Floor Plan

New Landscaping, Central A/C & Tankless Water Heater

OFFERED AT $3,690,000

www.ViaAsturias.com

OFFERED AT $3,680,000 $3,480,000

www.2116Thorley.com

OFFERED AT $4,288,000

www.LuxuryPVhome.com

OFFERED AT $899,000

OFFERED AT $819,000

#1 Real Estate Team 2010 - 2015, RE/MAX Estate Properties

Local Experts with International Connections to get YOUR Properties SOLD

Stephen Haw/Team Leader

何 精 益

310.503.9886

Skh8828@gmail.com

Kim Hall

Serving the South Bay

310.721.7526

KimHallHomes@gmail.com

Cristina Go

Short Sale Specialist

310.971.0404

gocristinago@gmail.com

Lauren Yoon

로렌 윤

310.619.4989

laurenyoon17@gmail.com

Natsuko Fujii

藤 井 奈 都 子

310.941.2468

nfujii10@gmail.com

Alicia Sialana

Real Estate Specialist

310.720.4852

aliciahomes1@gmail.com

Dede Hsu

郝 蒂 蒂

310.722.9222

dedehsu@gmail.com

Rod Yoon

롸드 윤

213.663.8888

RodYoon@gmail.com
---
S P O T L I G H T O N T H E H I L L

Rotary South Bay

Beer and Wine Festival

Over 35 breweries and 15 wineries participated

in the 3rd Annual South Bay

Beer and Wine Festival at Ernie Howlett

Park on Sunday, May 15. Breweries not

often seen on the hill were present, including

Anchor Brewing and Firestone, along

with many local breweries, such as Absolution

Brewing and Phantom Carriage. The

band Detour took center stage with a state

of the art concert sound system amidst a sea

of generous vendor booths. Over 25 restaurants

were also present including Mama Terano,

Bettolino's Kitchen and Petros

Restaurant. Guests in the popular VIP tent

were treated to specialty and reserve wines

and spirits along with mahi mahi ceviche

and other Fish Shop specialties.

The afternoon was a benefit for charities

supported by the Rotary Clubs of El Segundo,

Palos Verdes Peninsula and South

Bay Sunrise.

1

3 4

2

PHOTOS BY STEPHANIE CARTOZIAN

1. Pizza Port Brewing

staff Fraser Cosh and

Janae Broussard.

2. HopSaint Brewing

co-owner Steve

Roberts, Helm Ochner

and HopSaint Brewing

brewer Brian Brewer.

3. Rebel Coast Winery

owners and brothers

Chip Forsythe, Austin

Forsythe and Doug

Forsythe.

4. King Shabu

Shabu's Emily Pham,

Sunny Loo.

6. Detour.

7. Nicole Zalazar, Amy

Theilig and husband

Chris Winkler.

8. Fish Shop Restaurant

purveyors Brandon

Van Dam, Vera

Jimenez and Brian

Herlihy.

9. Guest Steve Lord,

Three Weavers director

of sales Omar Douglas

and Lynn Lord.

10. Volunteers Kelly

and Tom Intagliata.

5

7

6

8

5. Guest Dan Scala,

Alpine Village event coordinator

Jon Weir and

guest Helm Ochner.

9 10

10 Peninsula People • May 2016
---
12 Peninsula People • May 2016
---
S P O T L I G H T O N T H E H I L L

Palos Verdes Art

Center

Celebrates 85th Anniversary

Trustees, staff and volunteers of Palos

Verdes Art Center / Beverly G. Alpay

Center for Arts Education celebrating the

center's 85th anniversary last month. Bruce

Bibby, aka Ted Casablanca, entertainment

journalist and E! Online gossip-columnistturned-art-gallerist

emceed the evening.

Cocktails and a silent auction, which included

a Don Crocker painting, were followed

by dinner prepared by TGIS (Thank

Goodness It's Sofia). Guests enjoyed performances

by ROMP Ensemble soprano

Marja Liisa Kay and mezzo-soprano

Stephanie Aston, accompanied by April

Guthrie on violoncello. Guests were also entertained

by Jesika von Rabbit. Guests included

66th District Assemblyman David

Hadley, Los Angeles County Supervisorial

Candidate and former Manhattan Beach

mayor Steve Napolitano and Rebekah Kim

of Supervisor Don Knabe's office and Rancho

Palos Verdes Mayor Ken Dyda.

1

3 4

2

1. Allen and Charlotte

Ginsburg.

2. Anthony Richardson

and Marta

Jevenois-Richardson

3. Don and Mary

Louise Crocker.

4. Eva and Brian

Sweeney.

5. Marylyn and Chuck

Klaus.

6. Stan and Judith

Solomon.

5

6

South Bay's Largest Retailer

of Stationery Products

Wedding Invitations ● Personal Notes ● Business Letterhead

Envelopes ● Boxed Notes ● Holiday Cards

● Graphic Services

"GREAT GIFTS FOR GREAT PEOPLE"

● Root and Trapp Candles

● Huge Selection of Olukai Footwear

● Graduation Gifts

Nantucket Crossing

867 Silver Spur Road (next to Bristol Farms), Rolling Hills Estates

310.377.7201

www.nantucketcrossing.com

14 Peninsula People • May 2016
---
Architectural Design &

Remodeling Seminar

This seminar will include:

• Functioning Design

• Choosing a contractor

• Exploration of materials

Join us on

Saturday

June 11 th

at 10:00 am

Join us on

Thursday

June 16 th

at 6:00 pm

Living Through

Your Remodel

This seminar will include:

• 'Livable Remodeling' tips

•The latest trends in the South Bay

• The advantage of true design / build
---
S P O T L I G H T O N T H E H I L L

Grand Salon benefits

Los Angeles Philharmonic

The Grand Salon fundraiser was a lush affair,

hosted by Carolyn and Julian Elliott at

their Palos Verdes estate overlooking Lunada

Bay. An AMUSE guitar quartet greeted guests

outside and a Palos Verdes High string trio

greeted guests inside. Gourmet food was

served by local restaurants including Chez

Melange, Mar'sel, Ortega 120 and Rock'N

Brews. The featured program included piano

concertos performed by Joanne Pierce Martin

accompanied by Catherine Ransom Karoly on

flute. The Peninsula Committee was founded

in 1952 and supports the L.A. Philharmonic

through fundraising and audience development

and promotes youth music education

and fosters appreciation of music in the community.

1. Co-chair Claudia

Grzywacz, hostess Carolyn

Elliott and co-chair

Marian Hall.

2. Violinist Marcus

Chang, violist Laura

Gong, cellist Jamie

Chung.

3. Trudy Park and Alicia

Maniatakis.

4. Grand Salon Committee

Members Claudia

Grzywacz, Marian Hall,

Sue Frew, Debby Mc-

Donald, Jean Strickland,

Jo Ann Deflon, Val

Noguchi, Ann Marinovich,

Lu Takeuchi, Pat

Zelt, Deborah Deutsch,

Virginia Butler, Jann

Feldman, Paula Del Vicario

and Judy Sannes.

5. Mar'sel restaurant's

Jacqueline Delcarson,

Chris Scotti, Sheri King

and Andrew Vaughan.

6. Co-chair Claudia

Grzywacz, Peninsula

Committee for LA Philharmonic

president

Paula Del Vicario and

Co-Chair Marian Hall.

7. Benefactors Lois and

Jim Moore and Grand

Salon committee member

Val Noguchi.

8. Auction Committee

Linda Whitson, Lu

Takeuchi, Ann Marinovich,

Joann Deflon,

Sara Jane

Bettge, Margaret Shimada,

Nancy Ceja and

Marilyn Hoffman.

9. Benefactors Ron and

Elaine Florance.

10. Grand Salon Committee

Member Debby

McDonald, Bristol Farms

Catering Traci B., and

guest Beth Howell.

11. Grand Salon Committee

Members Virginia

Butler, Jann Feldman

and Debby McDonald.

1

2

3 4

5

7

8

6

9 10

11

18 Peninsula People • May 2016

May 2016 • Peninsula People 19
---
6040 Via Sonoma, Rancho Palos Verdes

3 bedrooms | 3 bathrooms | 2706 Sq.ft.

OFFERED

$1,759,000

JERRYANDLAURA.COM

Over 600 Homes Sold and Counting

Your Home Deserves the Best EXPOSURE

(310) 480-3601

6501 PV Drive East, Rancho Palos Verdes

3 bedrooms | 2 bathrooms | 1910 Sq.ft.

OFFERED

$1,299,000

May 2016 • Peninsula People 21
---
S P O T L I G H T O N T H E H I L L

Peninsula Education Foundation

Main Event takes guests for a ride

Anew, red Ferrari (for a weekend) donated by the newly opened Ferrari

South Bay in Torrance and a new Lexus RX 350 (to keep) from

Toyota were among the auction and raffle highlights at the Peninsula Education

Foundation Main Event held May 7 at Terranea Resort's Grand

Ballroom. Over 500 guests attended, many in costumes keeping with the

Saturday Night Live theme and was orchestrated by a committee headed

by foundation president Roma Mistry. The gala helps the organization

reach its $3.4 million goal for this school year. This funding maintains

teachers, counselors, college advisors, music, library aides and STEM

programs. The event was a great success due to the generous sponsorships

of Toyota Motor Sales, Terranea Resort, Del Amo Fashion Center,

American Airlines and Micato Safaris.

1. Peninsula Education Foundation

president Roma Mistry, chairperson

Cheryl West and executive director

Christine Byrne.

2. Trustees Jill Surace and Mike

Surace.

3. Trustees Jeri Delatorre, Sandra

Field and Jody Pastell.

4. Ferrari of South Bay general

manager Eddie Brodsky president,

Peninsula Education.Foundation

president Roma Mistry and executive

director Christine Byrne.

PHOTOS BY TONY LABRUNO

5. Braden Turnbull and Chris Wendel.

6. Trisha Barrios and Wendy Turnbull.

7. Diana Heffernan-Schrader and

Steve Schrader.

8. Peninsula Education Foundation

president Roma Mistry, Toyota Motor

Sales' Tracy Underwood and executive

director Christine Byrne.

9. Les Fishman and Virginia Butler.

RESORT LIVING IN YOUR OWN BACK YARD

1

4 5

2 3

6

• 4 Bedrooms

• 2.5 Baths

• 2,372 square feet (tax)

• 19,594 square foot lot (tax)

• Family eat-in kitchen

• Formal Dining Area

• Hardwood / Tile /

Carpet Flooring

• Remodeled Baths

Features:

• Crown Molding

• Recessed Lighting

• Dual Pane Windows

and Doors

• Kenmore Double

Drawer Dishwasher

• GE Stove and

Microwave

• Fireplace

30470 GANADO DRIVE

RANCHO PALOS VERDES

You've reached the end of your search when you arrive at this beauty in Mira Catalina. The major living areas of the home

provide easy access to the resort style backyard where you will spend time enjoying the amenities of a salt water pool,

built in BBQ, and expansive yard with patio to enjoy those warm summer nights. The executive style split level floorplan

boast a light, bright and spacious interior ideally suited for family life and formal entertaining. The amply proportioned

kitchen boasts top of the line appliances, Granite counters and cabinets that will satisfy all your spatial requirements. With

peek of Catalina / Ocean views this will be a place you will proudly call home. www.30470ganado.com

OFFERED AT $1,249,500

7

8

9

22 Peninsula People • May 2016

May 2016 • Peninsula People 23
---
S P O T L I G H T O N T H E H I L L

Nissen, Mihlsten

receive

Spirit of Excellence Awards

LA BioMed held its most successful gala

ever at the Millennium Biltmore on May

5, raising more than $1.1 million for the

nonprofit research institute. Over 500 people

attended the Spirit of Excellence Awards,

honoring the outstanding work of its scientists

in the growing field of personalized

medicine.

The 2016 Spirit of Excellence Awards recipients

were Steve Nissen, senior vice president

of legal and government affairs at

NBCUniversal and emeritus chairman of the

LA BioMed Board of Directors; and George

J. Mihlsten, a partner with Latham &

Watkins LLP law firm who has played a

leading role in securing the future of LA Bio-

Med. The California Community Foundation

and its president and CEO, Antonia

Hernández were also recognized

"The Spirit of Excellence Award winners

have provided critical support to LA BioMed

and helped inspire all of us who work in the

field of research to strive every day to improve

the lives of patients across the world,"

said David I. Meyer, PhD, LA BioMed president

and CEO.

1

3 4

2

1. Philanthropists

Bethany Hudek, Allen

and Charlotte

Ginsburg.

2. LA BioMed Legend

Grace and husband

Kouichi Tanaka, M.D.

3. LA BioMed President

and CEO David

Meyer Ph.D and Honoree

Steven Nissen.

4. Philanthropist Judy

Leach and husband

TMMC President and

CEO Craig Leach.

5. Guest Marty Zohn

and event sponsors

Diana and Van

Honeycutt.

7. Friends of LA Bio-

Med Nancy and Larry

Bolton.

8. Chairman and CEO

of Metropolitan

Theatres Corp. Bruce

Corwin and LA BioMed

President and CEO

David Meyer Ph.D.

9. Chairman of Psychiatry

at Harbor UCLA

Dr. Ira and wife Dr.

Bobbie Lesser, daughter

Sara Lesser, Former

President and CEO of

LA BioMed Carole

Wagner Vallianos and

husband Peter

Vallianos.

5

7

8

6

6. Friend of LA BioMed Marion

Paulson, philanthropists Webb

Castor, Ph.D, Donna Lee and

Harlyne Norris.

9

26 Peninsula People • May 2016

May 2016 • Peninsula People 27
---
LILY LIANG PRESENTS:

PALOS VERDES' FINEST HOMES & ESTATES FOR OVER 30 YEARS!

PRICE

REDUCTION

IN

ESCROW

3300 Palos Verdes Dr. West, Rancho Palos Verdes, CA

$9,800,000 | www.3300PalosVerdesDrWest.com

525 Palos Verdes Dr. W., Palos Verdes Estates

$3,199,000 | www.525PalosVerdesDriveWest.com

1413 Via Coronel, Palos Verdes Estates

$2,699,000 | www.1413ViaCoronel.com

IN

ESCROW

NEW

LISITNG

2990 Twin Harbors View Dr., Rancho Palos Verdes, CA

$4,988,000 | www.2990TwinHarborsView.com

717 Via Bandini, Palos Verdes Estates

$2,199,000 | www.717ViaBandini.com

30178 Cartier Dr., Rancho Palos Verdes

$1,968,000 | 4 BD | 5 BA | 3,562 sq ft | Lot Size 15,534 sq ft
---
S P O T L I G H T O N T H E H I L L

National Charity League

Peninsula Chapter

Seniors Celebrate Medallion 2016

On Saturday, March 12th 2016, the Peninsula Chapter of

National Charity League, Inc. presented its graduating

seniors in a Medallion ceremony at the Beverly Wilshire Hotel.

This year's theme was "Carpe Diem". In addition to the presentation

of each senior Ticktocker , the class hosted a fashion

show featuring designers such Lily Pulitzer, Veda, The Stylist

LA and Show Me Your MuMu. The graduating class "seized

the day" with an elegant white dress presentation that highlighted

each Ticktocker's accomplishments during their six

years as a member of NCL.National Charity League, Inc. is a

mother-daughter philanthropic organization committed to community

service, leadership development, and cultural experiences.

The organization gives mothers and daughters unique

opportunities to strengthen their bond while growing together,

sharing of themselves, and improving their community. These

graduating seniors have contributed more than 17, 000 volunteer

hours over six years to 30 various South Bay philanthropies.

PHOTO BY DAVID NICHOLSON PHOTOGRAPHY

Front row, Rachel Oda, Jacquelyn Smith, Anna Bergland, Kathryn

Jenness; Second row, Natalie Peters, Bella Townsend, Hallie Duvall;

Third Row , Emily Fogle, Samantha Whitlock, Danielle Keshtkar, Jihana

Mendu, Emily Chao, Hannah Rener; Fourth Row, Megan Moore, Abby

Pluimer, Julia Stain,Whitney Pieper, Fifth Row, Lauren Otera, Cassidy

Najarian, Eavan Burke, Erin McCann, Ellie Gruen, Sixth row, Hanna

Allman, Lizzie Rich, Allie Durnell, Emily Ericson and top row, Alexandra

Forsey, Hope Schmalzried and Kimberly Sklow.

Chris Adlam

310.493.7216

www.chrisadlam.com

Simply Tiles Design Center

Fine Ceramics, Natural Stone, Hardwoods, Cabinetry, Faucetry.

Kitchen & Bathrooms Specialist.

3968 Pacific Coast Hwy., Torrance • (310) 373-7781 • www.simplytiles.com

License #904876

Tennis Estate in Palos Verdes Estates. Gated and private, this gorgeous 5 bedroom home was

built in 2005. Pool, spa, wine cellar, tennis court, and more. $4,999,000

30 Peninsula People • May 2016
---
Chris Adlam

310.493.7216

www.chrisadlam.com

Casa Felicia. Once in a lifetime opportunity. 65,000 square foot, bluff top property

in Palos Verdes Estates. If privacy is the ultimate luxury.... $12,500,000
---
Prime Lower Malaga Cove location with stunning coastline, ocean

and Queen's Necklace views. $1,999,000

One level, 5100 square foot home with tennis court, pool and spa on a

huge street-to-street lot in Lower Lunada Bay. $3,999,000

Chris Adlam

310.493.7216

www.chrisadlam.com

Chris Adlam

310.493.7216

www.chrisadlam.com

Wonderful family home in PVE. Ocean views, 4 bedrooms, pool,

pool house and great location! $2,250,000

34 Peninsula People • May 2016

Charming 3 bedroom home in Lower Malaga Cove. Sweeping Queen's

Necklace and ocean views! $2,399,000

May 2016 • Peninsula People 35
---
P E N I N S U L A P E O P L E | P O L I T I C S

by David Mendez

Years ago, a meeting of the Redondo Beach

Harbor Commission was veering off the

rails when then-Assistant City Attorney

Brian Hickey issued a warning to the commissioners:

If they kept on their current path, they'd soon

be in violation of the Brown Act.

City Attorney Michael Webb, who was waiting

in the wings behind the commission chambers,

heard the director of the City's Harbor Department

respond, "Who's going to arrest us, the

Brown Act police?"

Webb quickly stepped in front of the commission.

"I made it very clear that, if they took that action,

my very next act would be to go to my office and

call the District Attorney's office," Webb recalled.

"I think I held up a picture of Steve Cooley, and

said 'Here's the Brown Act police, and yes, he will

have you arrested."

Cooley was the Los Angeles County District Attorney.

Webb had become acquainted with Cooley

Cooley's law

Photo by Brad Jacobson (CivicCouch.com)

Once elected, Steve Cooley kept politicians honest

with the Los Angeles County District Attorney's office.

through the Los Angeles County City Prosecutors'

Association, an organization Cooley established to

coordinate efforts among municipal prosecuting attorneys.

"He followed through on things that don't get

public attention or public gratitude, taking on other

elected officials," Webb said.

"There were things that hadn't been done before

in terms of how aggressively he prosecuted political

corruption, including state officials who didn't

even live in the districts they had supposedly been

representing," Michael Webb said.

In 2000, after nearly two decades as a Los Angeles

County Deputy District Attorney, Cooley challenged

his politically popular and well connected

boss Gil Garcetti in the countywide election for

head District Attorney.

He vigorously attacked Garcetti for corruption

within the LAPD, in particular, the Rampart Station

case, where a rogue cop had established his

own criminal gang. Cooley also accused his boss,

who was seeking a rare third term, of rewarding

political supporters with special treatment.

"Suffice it to say, I was unhappy with the incum-

bent; I thought he was missing the mark. I

thought there was room for improvement in a

lot of arenas and I felt that I, and the people I

would assemble, could do a better job," Cooley

said. "All of which proved to be true."

Among Cooley's calling cards was the fight

against corruption, a struggle he said he went

after "hammer and tong."

Cooley toppled Garcetti 63 to 36 percent.

Cooley joined the Los Angeles County District

Attorney's office shortly after passing the

state bar exam in 1973 and quickly moved up

through the ranks. He became a head deputy

within 10 years and would win three terms as

the county's District Attorney. Only two other

head DA's in the office's 166 year history

served three terms and they were elected

prior to 1940.

Accidental warrior

Cooley's choice of law for a career came

through a process of elimination.

"My parents always said that we were to

have some kind of career – become a C.P.A.,

or a doctor, something with a craft and a skill.

But working as an accountant, or a doctor, or

selling insurance? No, not for me," Cooley

said.

Cooley was the second of five children in a

solidly middle-class family in the Silver Lake

neighborhood of Los Angeles. His mother was

a homemaker and part-time Realtor. His father

was an FBI agent. In 1954, Cooley's father left

the FBI to become an accountant so he could

earn enough to put his children through college.

Cooley completed his undergraduate studies

at California State University, Los Angeles, and

earned his law degree at the University of

Southern California.

His views on law enforcement were shaped

between 1972 and 1979, when he served as a

Los Angeles Police Department Reserve.

"If I didn't pass the bar or go into the DA's

office, I would have joined LAPD or the FBI,"

he said.

He had the highest grades in his criminal

law class ("and not the highest in anything

else," he joked). Within a week of passing the

bar in 1973, he joined the District Attorney's

office, where he would work for 27 years as a

deputy district attorney until his election to

DA.

He was assigned to branches across the

county, from Antelope Valley to San

Bernardino, and headed divisions ranging

from the juvenile office to welfare fraud.

"I had 13 different assignments in the DA's

office, all of them good, all different and all interesting,"

Cooley said.

Non partisan politician

"The DA's office isn't partisan politics, it's

about seeking justice," said Peninsula resident

and Superior Court Judge George Bird. "Justice

is blind to politics, or at least it should be, and

it was under Steve Cooley."

Bird praised Cooley's "measured and proportionate"

approach to the prosecution of

36 Peninsula People • May 2016

three-strikes cases, noting Cooley respected the intent of the law, which

wasn't to put someone away for 25-years-to-life for a misdemeanor.

"His views on third-strike violations, to make sure that the strikes were

significant or violent felonies, later became law," Webb said. "But at the

time, it didn't sit well for some people higher up, or DA's in Northern California.

They tried to punish him by taking away his leadership position in

the California District Attorney's Association. All the prosecutors in our

office quit the C.D.A.A. [in protest] and only went back after Steve retired."

Bird's recollections of Cooley's accomplishments as DA included the establishment

of a forensic investigation unit, improved training of deputy

DA's and the promotion of women and minorities to leadership roles. His

second in command Chief Deputy District Attorney Jackie Lacey, with

Cooley's backing, was elected to succeed him, making her the first woman

and first African American to serve as the county's top prosecutor.

Cooley's most important achievement as DA, Bird believes, was the communication

network he established. "He actually sought out and worked

collaboratively with justice partners to make the system work properly,"

Bird said. "Prosecutors from across the county would meet monthly to coordinate

and communicate in prosecution of offenses…Gone under Steve's

leadership was any issue of territoriality and resentment between agencies."

Looking back, Cooley said he is particularly proud of the drop in the

county's crime rate, which was at its lowest in 60 years while he held office.

He doesn't take exclusive credit. He said the drop in crime was a result

of the system putting the right people in prison.

"He did exactly what you teach young prosecutors to do: pursue justice

no matter what the obstacles are," Redondo City Attorney Webb said.

Cooley believes the current county crime rate is unacceptable. In 2015,

violent crime in Los Angeles County increased 5.5 percent and property

crime increased 8.2 percent, the Los Angeles Times reported.

"The crime rate, since I left office, has been increasing steadily because

of changes to reduce the prison population," Cooley said. He was referring

to Proposition 47 passed by voters in 2014 and Assembly Bill 109, passed

in 2011. Prop. 47 reduced the maximum sentencing for many crimes from

felonies to misdemeanors. AB 109 reassigned "non-serious" criminals from

state prisons to county jails.

"The system should work, should identify criminals, appropriately incarcerate

them and punish them for their wrongdoing," Cooley said. "The

system is working against the law-abiding public, led by Governor Jerry

Brown, then aided and abetted by a weak Attorney General."

Cooley left the DA's office in 2012 to campaign for the State Attorney

General's office. He was defeated by then San Francisco DA Kamala Harris,

who is currently running for the U.S Senate seat being vacated by Barbara

Boxer.

"Cooley's loss was a situation where the weakness of Republicans across

the ticket hurt his campaign effort," Webb said. "Not because of who he is

or his qualifications… Kamala Harris's heart wasn't in being a career prosecutor.

She's using it as a political stepping stone, while he wanted to bring

his no-nonsense attitude to the state."

Cooley is philosophical about the 2012 election.

"I don't regret it at all," he said. "I'm probably in a better place now."

Where he is now, at age 69, is operating his own private consultancy

firm – what he calls a "problem solving" business, in which he brings attorneys

and investigators to work on clients' cases.

"At a normal firm, you go in there and they'll send you to a department,

give you an expert, put this clerk and that paralegal with you...but they do

it with people in house," Cooley said. "My thinking is clients come to me

with their issues and I bring the right people to them."

It's a matching game built on the deep network of professional ties Cooley

made throughout his career. An added personal benefit is it gives him

time to spend with his family.

Cooley and wife Jana married in 1975. In 2012, the couple rented a home

in Rancho Palos Verdes to be closer to their kids and grandkids. They now

live in Rolling Hills.

"If I were Attorney General or District Attorney, I guarantee you I'd not

have an entire Sunday off – those would be 11, 12, 13-hour days with a lot

of travel," he said. "This is a much more flexible lifestyle. I pick the times

I work and pick who I'm hanging around with. It gives me more time with

the grandkids and my family and that's the highlight of my time." PEN

May 2016 • Peninsula People 37
---
FEE ONLY FINANCIAL PLANNER

• Are you in or approaching retirement?

• Do you want to stop worrying about your

investment portfolio?

• Do you lose sleep wondering if you may

outlive your nest egg?

• Do you want to know if you are on the

right path financially?

• Do you want to take control of your

finances?

• Do you feel you need a second opinion on

your portfolio?

If you answered "yes" to any or all of the

above questions, you may need to contact

me, to provide you with a personal financial

plan designed to help you take control

of your finances, reduce anxiety and ultimately

achieve your financial goals. There

is no cost or obligation for the initial meeting,

as it is an opportunity for you to learn

more about me, and for me to determine

if I can help you achieve your financial

goals and objectives.

As a fee-only financial planner I will be

compensated solely by my clients, I do not

accept commissions, referral fees, or

compensation from other sources, and I am committed to acting in

your best interest.

Abbas A. Heydari, CFP®

Certified Financial Planner

and Registered Investment Advisor

Providing Financial Services

in Torrance since 1986

21515 Hawthorne Blvd., Suite 1020

Torrance, CA 90503

E-mail: aahfp@Yahoo.com

Web: www.aaheydari.com

Phone: (310)792-2090

May 2016 • Peninsula People 41
---
P E N I N S U L A P E O P L E | A R T

Seen

in a

different

light

Photographer

Jerry Kotler

sets the tone

by Bondo Wyszpolski

Photography can seem like the most impersonal

of artistic mediums, and I suppose in

most hands this is true. All one needs to do

is point the lens at someone or something and

then press the shutter. And anybody can do that,

right?

Isabella Rossellini makes a comment in her

book, "Looking at Me," which says otherwise:

"Photography is just like handwriting; it is personal

and unique to each photographer."

Jerry Kotler is one of those photographers

whose "handwriting" stands out. He has a style,

Hermosa Beach

strand 3.25.16

E. Anaheim St. Bridge. All images by Jerry Kotler

a technique, a vision, call it what you will, that

enhances each image. What draws this writer to

his work is the rich tonality, an often subtle glow

as if the pictures have been infused with a visual,

atmospheric spice.

Kotler, who lives in Palos Verdes near Hesse

Park, downplays the intended compliment.

"A friend of mine would always laugh at that;

he called it rainbowization. But I try to keep it

under control. You can't do too much oversaturation

and stuff like that because then you bring

a lot of noise into the picture."

Kotler spends hours tweaking his images, activating

them one could say, by laying the subjective

over the objective. That is, putting his

impression over that of the camera's. I'm reminded

of these words by Abelardo Morell: "It's

important to me to have what I photograph undergo

a certain transformation — to become a

thing different from what we are used to, to be

another version of itself."

A family influence?

"I was into photography since I was a kid," says

Kotler, who was born in Brooklyn, New York.

"My dad designed cameras, and worked for an

old company called Bolsey."

Furthermore, "My dad's uncle had a photography

studio. My mom used to drag me there once

a week when I was a kid, make me hold my sister

on my lap, and (my uncle) would take a bunch of

8x10s. So I guess it's somehow in my blood."

In high school, Kotler began to paint ("I used to

sketch a lot and doodle all over my books"), but

he preferred photography. "I used to do b&w and

42 Peninsula People • May 2016

Hesse Park

darkroom stuff; I just loved it, seeing it all come

out."

That was still the case a few years later, working

for IBM and living in Poughkeepsie, New

York. "The problem was that I didn't have a darkroom.

I had a kitchen in my apartment, and in

the summer it wasn't dark enough to do anything

until after 10 p.m. I'd be lucky if I got two prints

done before it was time to clean up and dry

everything, and I'd get to bed at 3 a.m. It took a

lot of work."

On the other hand, in the darkroom, is one interested

in quantity or in quality?

"If you can go into the darkroom to print (and)

if you can come out and have one good picture

printed, that's an evening," as W. Eugene Smith

once said. "You've done something. You know,

that's a lot: to actually come out and make one

good print."

At the time, Kotler's idea of a masterful photographer

was Ansel Adams, who of course is

best known for his nature and landscape imagery,

especially those related to Yosemite National

Park.

But when it came to making a living, painting

and photography took a backseat.

When digital doors opened

"I had no idea what I was going to do when I

got out of college," Kotler says. "I majored in psychology,

(which) didn't help me figure out what

I wanted to do, or what I was good for."

Somehow, he thought computers might be interesting,

although he knew very little about

them, and so he applied to various companies.

"The only one that didn't care that I had no engineering

or math background was IBM. They just

gave us all an aptitude test and hired us."

That was what got Kotler to Poughkeepsie.

"I thought I had found the perfect thing, the

thing I was meant to do — write programs." Not

only writing programs but optimizing them for

speed. "I loved making programs run as fast as

they could."

And it turned out to be a long-lasting career as

well, first IBM for 25 years, and then Farmers Insurance,

in the computer department, for 15

Redondo Pier 2

more.

Somewhere in here, 1986 to be exact, Kotler

moved to Southern California. He's been in Palos

Verdes since 1997, having lived before that in various

cities from Santa Monica to Torrance.

But what really changed during all those years

was the very nature of how we take and process

our photographs. Those who still print in a darkroom

are akin to those who still use typewriters,

Jerry Kotler cont. on page 44

May 2016 • Peninsula People 43
---
Venice Beach Manhattan Beach alley 3.10.16

Jerry Kotler cont. from page 43

not that technological progress means artistic

progress.

For Kotler, the digital world opened up new

doors, and has led him to where he is today.

"Being able to work on the stuff in photoshop

and the computer totally freed me up from timeof-day

constraints, light and darkness," he says.

"And the other thing, something I couldn't do

with oil painting, was if you made a mistake you

saved a copy so you could always just start over."

Traditionally, a painter had to labor, while a

photographer merely had to be on his or her toes,

anticipating the "perfect" moment. These days,

an artist can merge the two mediums with results

that 50 years ago would have amazed everyone,

painters and photographers alike.

Even so, there is still the question of subject

matter. And in Kotler's case?

"I tend to switch back and forth between landscape

and buildings and architectural stuff," he

says. "I realize it's kind of a duality, the pure creative

stuff and kind of my engineering background,

straight lines, right angles."

What about contemporary photographers

whom he admires or finds interesting?

"Well, my favorite amongst the people I know,"

Kotler replies, "is my friend Jim McKinniss. He's

got such a variety of styles. We both do textures

and things like that.

"We bought all this expensive equipment," he

adds, "lenses and cameras, to make sure we take

perfect clean shots. And then we grunge them up

with textures. That's kind of ironic."

Ironic, yes, perhaps, but Jerry Kotler, like Mc-

Kinniss, has a way of presenting his subject in a

different light, as if from a slightly new angle. It

may be an object, a particular landscape or building

we thought we knew well, and yet from this

point forward we might not ever look at it the

same way again. That's quite an achievement, if

someone can pull that off, and I believe Jerry

Kotler has done just that. PEN

Experience a new level of excellence in luxury real estate.

Terminal Island

Jerry Kotler. Photo by Bondo Wyszpolski

• 700 Local Agents • Luxury Residential • Commercial Investment Division

Palos Verdes Estates | Rolling Hills Estates | Rancho Palos Verdes | Torrance

Redondo Beach | Manhattan Beach | Hermosa Beach | El Segundo | San Pedro

Marina Del Rey | Venice | Santa Monica | Beverly Hills | West LA/Westwood

310.378.9494 • RealEstateLosAngeles.com
---
P E N

A R C H I T E C T U R E

on high

Tiled theater style seating is situated above a fire pit

overlooking the coastline. Photo by Stephanie Cartozian

Casa Felecia's dining room features an altar and sculptures.

Photo by Stephanie Cartozian

Ornate doors imported

from Mexico feature hand

carved religious figures.

Photo by

Stephanie Cartozian

An aerial view of Casa Felecia.

Photo by Peter McMenamin

Casa Felecia, the former home of Frederick Law Olmsted Jr.

designed by Myron Hunt, is one of the Peninsula's enduring

architectural treasures

by Stephanie Cartozian

Casa Felecia is steeped in Palos Verdes tradition and romanticism. In

1925, Frederick Law Olmsted, Jr., the preeminent landscape architect

in American history, selected this exquisite bluff lot to be the

site of his future home on the Peninsula.

Still in its infancy, the City of Palos Verdes Estates gifted the parcel to

Olmsted in exchange for his visionary work in the planning of the community.

Famed architect Myron Hunt, an early member of the influential

Prairie School of architects that included Frank Lloyd Wright, was then selected

to design the spectacular, Spanish style hacienda that, when built,

took center stage above the Redondo and Torrance beach coastline. Horse

drawn carriages still roamed the dirt roads and the Peninsula was an expansive

tapestry of possibility.

The estate is currently owned by Debra and Kent Attridge and formerly

belonged to her parents, Mary Ann Struble and Arthur Dewey Struble, Jr.

The Strubles met at a US Navy officers dance party in Annapolis, Maryland,

and were married 62 years. He was a former Naval commander who

served in both WWII and the Korean War and later founded Sea Space

Systems. He turned his attention to restoring and remodeling his beloved

Casa Felecia in retirement.

The home underwent many architectural transformations over the years.

Built in 1925, the sprawling home presently has four bedrooms, five bathrooms,

four wood burning fireplaces and sits on an acre and a half with

spectacular views north of the Santa Monica Bay and its Pacific coastline.

The 90-year-old hacienda-style compound exudes Old World rusticity. A

brick pathway meanders through Koi ponds and fountains, with benches,

patios, and pueblas tucked throughout the bluffside property's grounds.

The Strubles incorporated and installed distinctive elements of Mexican

influence into their home. Debra Attridge has fond memories of the numerous

trips her father made to Mexico in search of materials. He transported

much of what he acquired himself.

"The driveway bricks were all hauled up from Mexico in the back of a

trailer," Kent Attridge said.

In the 1980s the Strubles completed a major remodel, converting garages

The family room is adorned with arched windows and

hand carved columns. Photo by Peter McMenamin

A skylight gives a natural glow to the dining room.

Photo by Peter McMenamin

Casa Felecia cont. on page 48
---
A hammock on the upper patio provides expansive

ocean views. Photo by Stephanie Cartozian

Owner Debra Attridge with four generations of her

beloved dogs. Photo by Stephanie Cartozian

A coliseum surrounds expansive gardens, grapevines

and monuments. Photo by Stephanie Cartozian

The upper patio overlooks Redondo and Torrance

beaches. Photo by Stephanie Cartozian

A serpentine driveway was built with old bricks the

Struble family brought back from one of their many

Mexican journeys. Photo by Peter McMenamin

Casa Felecia cont. from page 47

and maids' quarters to main living areas. Arthur

Struble Jr. designed the fireplace with louvers between

the mantel and the hearth so that the heat

from the fireplace would radiate efficiently

throughout the room.

"All interior doors and many other design

pieces were hand-carved with Mexican motifs

having religious qualities, such as the Fatima over

the mantelpiece," said Debra Attridge.

"These are church doors," she added, pointing

to a set of ornately carved, thick wooden doors

off the living room.

Though the family was never particularly religious,

all of the added detail was in keeping with

the history of the Peninsula and with the Spanish

style architecture of the home, with its thick plaster

arches, wood-carved columns, and adobe

walls.

The floors throughout the hacienda are of traditional

Mexican terracotta. Attridge is herself an

artist, and her father had an artistic, hands-on

bent — in addition to possessing a broad array of

home-building skills, he was a welder and an did

wrought-iron art. Attridge recalled that she and

her parents grouted, polished, and applied muriatic

acid to the floors themselves.

"It was the three of us who did this," she said.

The grouting between the terracotta tiles is

wide and handpainted black. This effect exudes

a warm and enchanting feel to the home, exemplifying

how in even its smallest details the family's

artistry is perceptible and tactile.

Wrought iron window boxes adorn the exterior,

an architectural element that is deeply rooted in

style but also fable and legend.

"The steel window boxes, that's very Spanish

— that's to keep the young virgins from being violated

by young men trying to get into their window,"

said Kent Attridge.

On the north end of the house is a striking coliseum

structure, a charming stone wall replete

with arches. It borders a sweeping grassy area

where grape vines, Coral and fig trees grow. The

family has made wine from the grapes grown on

the property. Debra and Kent Attridge were married

here.

The name Casa Felecia means happy home. Attridge

said the half century her family enjoyed on

their bluffside perch attests to the name's aptness.

"This is the most fantastic place to be on the

Fourth of July," she said. PEN
---
DERMATOLOGY & SKIN SURGERY

BEACH CITIES DERMATOLOGY

M E D I C A L C E N T E R

Say Goodbye to Stubborn Fat....

Buy One, Get One

FREE

William J. Wickwire, M.D.

Certified, American

Board of Dermatology

Neal M. Ammar, M.D.

Certified, American

Board of Dermatology

Two Coolscuplting Devices to Treat Two Areas at Once!

Specialists in Skin Cancer Detection

• Skin Cancer • Mole Removal & Mohs Surgery

• Reconstructive Facial Surgery and Scar Revision

• Acne & Accutane Treatment

• Warts, Rashes and Cysts • Leg Vein Sclerotherapy

• Hair Loss & Propecia • Restylane, Radiesse, Perlane,

Juvederm & Sculptra • Botox and Dysport Injections

• Age Spots & Sun Damage • Laser Surgery

• Microdermabrasion • Glycolic and Chemical Peels

• Ultraviolet B & PUVA • Pediatric Dermatology

310-798-1515

www.beachcitiesderm.com

South Bay's

best equipped

Dermatology

Center!

Redondo Beach —

520 N. Prospect Ave., Suite 302

Palos Verdes —

827 Deep Valley Drive, Suite 101

All PPOs Accepted

Evening & Sat.

Appts. Available

May 2016 • Peninsula People 49
---
P E N I N S U L A P E O P L E | S P O R T S

a

striking

success

Palos Verdes High School senior

Steffi Best had an All-CIF quality

season while setting two school

pitching records.

Photo by Ray Vidal

After a disappointing junior

season, Steffi Best has

enjoyed a record-setting season

for Palos Verdes High School's

softball program

by Randy Angel

Standing in the middle of the circle on the infield

of Mira Costa's softball field, Palos Verdes pitcher

Steffi Best knew all eyes were on her.

It had only been three games since the senior had set

the school career record for strikeouts but claiming the

single-season record was the one she had set her sights

on.

"Halfway through the preseason my dad thought I

should try to set the strikeout record," Best said. "I'm

always up for a challenge. It helps keep me keep focused."

The record came in the sixth inning of a 2-1 victory

over Bay League rival Mira Costa on April 29, in a game

where Best finished with 14 strikeouts, eclipsing the

mark of 207 set by Arianna Erceg in 2010.

In a 3-1 home victory against Redondo, Best topped

Erceg's four-season career mark of 455, also set in 2010.

Best is proud to have accomplished the feat in only

three seasons and considers the wins against Redondo

and Mira Costa as the most memorable games of her

prep career.

"Beating Redondo and setting the career record in the

same game was extra special," Best said. "It was a total

team effort and a game I'll always remember."

Best is the first to admit that her record-setting performance

was in doubt entering her senior season.

Facing as many ups and downs as her pitching repertoire,

Best had to overcome adversity before becoming

one of the most accomplished softball players in Palos

Verdes High School history.

Best missed her entire freshman year because of a

torn ACL and wondered if she would be able to play

again.

"I worked hard in rehab four to five times a week and

kept telling myself that something good would come of

the situation," Best recalled. "But it was hard sitting on

the bench and watching my teammates have fun on the

field."

Best then suffered through a disappointing junior season

after being named to the All-CIF Southern Section

Division 3 team as a sophomore when she posted a 15-

4 record with a 2.24 ERA while striking out 153 batters

in 140.2 innings. She also batted .390 that season with

28 RBI.

"I worked hard on different pitches, particularly my

rise ball," Best said. "That's why I think the single season

record means more to me coming off my junior

year. My confidence had dropped so I wanted to start

this season on a high note."

Although she batted .362 with 19 RBI in 2015, Best's

record plummeted to 7-14 and her ERA jumped to 3.31.

She finished with 132 strikeouts in 118.1 innings.

"During my sophomore year juniors Johniann

Wahl and Kasey Halleen provided much-needed

mental support and we became great friends,"

Best said. "They really helped me through a difficult

junior year and did their best to keep my

confidence level up."

This season Best has led Palos Verdes to a share

of the Bay League title, shared with Redondo,

finishing the regular season with a 14-7 record,

an impressive 0.31 ERA, and 245 strikeouts with

only 33 walks in 136.1 innings while holding opponents

to a .179 batting average.

She also leads her team in batting average

(.487), RBI (22) and doubles (9), along with two

triples and two home runs.

"I only have one month left in high school so I

want to go all out," Best said as the Sea Kings entered

the postseason. "I spoke with the team

about each game possibly being the last and for

some players, maybe the last of their softball careers

If we piece everything together and play one

inning at a time, I think we'll do well in the playoffs.

I'm very proud of this team because we surprised

a lot of people and really came out of

nowhere."

Best credits her turnaround season to the support

of her father, pitching coaches and reading

Throw Like a Girl: How to Dream Big & Believe in

Yourself, a book written by former Olympian and

University of Arizona standout pitcher Jennie

Finch.

"I feel I took two steps forward from last season,"

Best said. "After my sophomore season, I

didn't think I had to work as hard and it showed.

It was all mental. I still had the same physical

abilities but I began to question myself. Jennie

Finch's book helped me get back on track.

"My dad never stopped believing in me. He has

always been there for me and he told me that I

have to 'control the controllables.' He taught me

how to approach each pitch and know what to

throw."

Best said she relishes the pressure and attention

that comes with the pitching position, which

has made her work harder.

"During my high school years I have molded

myself into becoming a leader," Best said. "If I

can be a leader on the team, my teammates feel

more confident in having my back and I theirs."

Best is not an overpowering pitcher throwing

in the high 50 to low 60 mph range and feels the

curveball is her most dominant pitch but the

changeup is her favorite to throw.

"Hitters struggle to hit it (changeup) and it

comes natural to me," Best explained. "I have

good command of the pitch and feel comfortable

using it in almost every situation no matter what

the count on the batter."

Best hopes the Sea Kings will have a playoff run

comparable to 2014 when the team reached the

CIF-SS Division 3 semifinals. She said her team's

24-7 performance that season is among the highlights

of her athletic career.

"I have been coaching for 23 years in several

sports and Steffi has been one of the best I have

had the opportunity to coach," Palos Verdes head

coach Patrick Fresch commented. "She brings a

great attitude and work ethic every day, is a natural

leader, and she brings everyone up around

her. She's been a huge part of the program and

will be sorely missed next year."

Fresch believes Best's ability to mix up her

pitches and keep hitters off balance is the key to

her success.

"She can get an out with several different

pitches, and she hits her spots," Fresch added.

"She also has a great competitive instinct and

drive. She competes on every pitch, something

that is very hard to teach and it comes to her naturally."

Best has a strong athletic background, which

she feels she gets from her parents. Her father

Tom played college football at Cornell and her

mother, Callie Kourtis is an avid cyclist and paddleboarder.

"I've been totally amazed at how Steffi has responded

this season," said her father who has

kept stats for GameChanger during her club ball

career. "There will be a void when she goes off

Known for her domination in the circle, Steffi Best has had a stellar season

at the plate, leading Palos Verdes in batting average and RBI.

Photo by Ray Vidal

to college. I tease her about my retiring, buying a

ratty old RV and parking it near her new home

field."

Softball has played a major role in Best's life.

Along with softball, which she began playing

when she was five years old, Best has played soccer,

basketball, volleyball and ran cross country.

She narrowed down the field to softball and soccer

while in middle school,.

"I really like soccer and played on the Exile

club soccer team but did not have time for soccer

and softball," Best said. "Every weekend and

most weeknights was softball and I was missing

a lot of soccer games, only attending the practices."

Best joined her first travel ball team when she

was 10 years old and enjoyed a season she will

never forget playing for Garden Grove-based Victory

USA. The team won the Amateur Softball

Association (ASA) Class A 10U championship in

Johnson City, Tenn., with Best earning a complete

game victory in the championship game.

All but one of the 11 players on that team are

still playing with eight of them being committed

to Division I college programs.

It was the first of three national championships

for Best, who won two Premier Girls Fastpitch

(PGF) titles with the Orange County Batbusters

(18U in 2015 and 14U in 2013). Best also was on

the ASA 12U runner-up team in 2011.

Best now plays for the San Fernando Valleybased

So Cal Choppers 18U Gold team.

"Victory USA was the best team I ever played

on," Best said. "Many of the players remain my

best friends to this day. I loved the environment

of club ball and relationships we

built. My teammates from that team

will probably be at my wedding one

day. Playing with players from different

communities was exciting and a

new experience for me."

Best said she can remember everything

about her experience traveling

to and playing in Tennessee.

"I remember the rain delays, eating

at restaurants and traveling with the

team," Best recalled. "Our head

coach also coached an older team

and was in a different state at the

time. The assistant coach had a

daughter on our team who was a

pitcher. I didn't expect to pitch so I

wasn't nervous and even took a nap

before the game. I was so surprised

when he called on me to start. We

won 7-1 and I'll never forget getting

back to the hotel and we all jumped

in the pool with our uniforms on."

Best considers her father and Victory

USA coach Mark Campbell as

having the biggest influences on her

softball career, along with pitching

coaches Sherell Vance and former

All-American University of Arizona

pitcher Susie Parra.

"Steffi has come a long way," said

Vance who coached her since Best

was five years old. "She once was a

shy quiet little girl with glasses who

would barely speak to me. Now she

has developed into a beautiful young woman

who can call me whenever she needs anything.

"Prior to this high school season I suggested

she set some goals to attain. Steffi met those goals

and went above and beyond. Steffi can do anything

she puts her mind to. I would consider Steff

as a finesse pitcher. She is great at hitting locations

and has tremendous spin and control."

"Their (pitching coaches) mindsets formed me

as a pitcher," Best said. "I'm not the fastest

pitcher but they taught me how to work on spins.

A batter can always catch up to a fastball.

Steffi Best cont. on page 52

50 Peninsula People • May 2016

May 2016 • Peninsula People 51
---
Steffi Best cont. from page 51

"My dad has always been so supportive and I played for Coach Campbell

for a few years," Best said. "Coach Campbell was a retired cop, had the

big mustache and was very intimidating. He made us practice until we got

it right. I remember his talks after the games and I learned so many lessons

about day-to-day life. He drove me to be better and taught me that there is

always room for improvement."

Best discovered that she preferred having a tougher coach that would

help her become a better player.

"I remember being so nervous before my first tryout for club ball," Best

said. "Coach Campbell was so nice to me but I didn't think I made the

team. I was standing by myself while the other girls were waiting in line

to get fitted for their uniforms. He told me to get in line and I was so excited.

But from that point on, beginning with our first practice, he became

a hard-nosed coach."

Best began being noticed by college scouts prior to entering high school,

but after her knee injury in her freshman year, she lost contact with schools

like Washington and Florida.

During her sophomore year, Best attended softball camps and eventually

committed to Cal Poly San Luis Obispo after a trip to the school on the

Central Coast.

"To put my mind in position to realize I'd be away for four years was

difficult," Best said."I went on a trip to Boston University but they had a

completely different field and no stadium and softball-wise, I couldn't see

myself there and not being able to play year round."

Best called Cal Poly from the Boston airport and told them she wanted

to sign with them.

"On the flight home, I was so happy I couldn't sleep," Best said. "All of

the hard worked had paid off, plus the campus is beautiful with the mountains

nearby and the beach only 15 miles away."

Best is excited with the prospect of playing alongside Sierra Hyland, Cal

Poly's pitching ace who will be a senior next season.

"I've watched her career and how she has shaped the team," Best explained.

"She's the definition of a leader and I want to follow in her footsteps.

I'll also get to work with former UCLA pitcher Ally Carda (2015

Pac-12 Player of the Year now an assistant coach at Cal Poly). It's the best

opportunity anyone can ask for."

Best's decision to attend Cal Poly comes as no surprise, allowing her to

enjoy nature throughout the year and providing the opportunity for her

parents to watch her play games in person.

"I love the outdoors including hiking, camping and traveling," Best said.

"I'm at the beach a lot. I enjoy doing anything beach related like biking,

volleyball and swimming."

Best is also a bit of a shutterbug, having served an internship last summer

with Redondo Beach resident and photographer Randy Ruby who specializes

in beach photography.

"My grandpa gave me his old Minolta film camera," Best said. "My

friends and I went to Big Sur during Spring Break and I took a lot of photos

there. It's a great hobby."

Best hopes to maintain her weighted 4.0 GPA heading into college but

considers older sister Vasi, a 20-year-old student at USC, the smarter of the

two siblings.

"I tell her she got the brains, but I got the athleticism in the family," Best

joked.

Best credits her parents for her success on and off the field and shares

special relationships with both despite their being divorced.

"They have always been there for me and it has been great to be able to

come home to them," Best said. "I consider them both my best friends.

When my sister went to off to college, my bond with my parents really

grew. I can tell them anything."

Tom Best was ecstatic with his daughter's decision to attend Cal Poly.

"It's close enough for road trips," Tom said. "Plus, being in the Big West

they will play Southern California schools like Long Beach State, Fullerton,

Riverside and Northridge."

Best is planning to study Communications at Cal Poly which will give

her as many options as her pitch selection.

"I could go into graphics, journalism or public relations,' Best said. "But

my mom feels I'd do well as a broadcaster." PEN

52 Peninsula People • May 2016

MATTUCCI

D E P E N D A B L E • P R O F E S S I O N A L • A F F O R D A B L E

w w w . m a t t u c c i p l u m b i n g . c o m

Plumbing • Heating • Cooling

Since 1990 • License # 770059, C-36 C-34 C-42 C-20 A

SPRING SPECIALS

$ 9 8 0

Residential Water Heater

40 gal. installed! ($1080 - 50 gal. also available)

Includes hot & cold water supply lines

Expires June 30, 2016

$ 7 5

Rooter Service - Main Line

Must have clean-out access. Some restrictions may apply.

Expires June 30, 2016

FULL SERVICE PLUMBING, HEATING AND COOLING

SEWER VIDEO INSPECTION

ROOTER SERVICE

COPPER REPIPES

F R E E

E S T I M A T E S

M e n t i o n t h i s a d w h e n

s e t t i n g u p a p p o i n t m e n t .

3 1 0 . 5 4 3 . 2 0 0 1

Thank You

For Your

Vote!

ON CALL

24 HOURS

7 DAYS

May 2016 • Peninsula People 53

2013
---
summercamps

uCAMPS & SCHOOLS FOR SUMMER FUN

BeachSports

June 13 through Sept. 2

BeachSports Surf & Beach Camps is celebrating it's 21st year. BeachSports was

created by LA County Lifeguards to provide beach and ocean safety education to

local and visiting boys and girls. BeachSports programs start at age 4 and include

instruction in surfing, boogie boarding, beach volleyball and Junior Lifeguard skills.

Participants will leave camp with the ability to safely and confidently enjoy the

beach and ocean. With safety in mind, camps are located at these Lifeguard

Tower locations: Manhattan Beach, 14th St.; Hermosa Beach, 15th St.; Redondo

Beach, Ave. I; and Redondo Beach, Vista del Mar.

Online registration is available at BeachSports.org.

CampSurf

June through August

Campsurf is "Los Angeles' Premier Surf School," according the LA Business Journal,

offering surf instruction in Manhattan Beach for all ages and abilities. Private and

group lessons and summer surf camps, after school programs, birthday parties,

corporate events and much more are offered. Instruction is available year round

with a 1:4 instructor to surfer ratio. Surfboards and wetsuits are provided. Youth

and adult volleyball classes and camps through CampVolley programs are also

offered.

Visit Campsurf.com to schedule your lesson, class or camp.

Rolling Hills Estates Summer Recreation Programs

Begins June 20

The City of Rolling Hills Estates has several summer programs available for all ages

from sports such as cheer, soccer, flag football, golf and swimming camps to

equestrian activities. Locations include Ernie Howlett Park, RHE; Peter Weber

Equestrian Center, RHE; Peninsula High School, RHE; and Los Verdes Golf Course,

RPV.

For more information visit RollingHillsEstatesCA.gov click "Living"

then "Recreation Programs and Classes."

excite kids about science and build great

life skills. The STEM-focused camps combine

science, engineering, unique projects,

teamwork, problem solving, outdoor

games and many great take homes that

keep kids engaged. This summer's

themes: Roller Coaster Science, Robot

Challenge Science, Space Quest Science,

and Super Hero Physics Science.

Early Bird savings, multi-week and sibling

discounts.

(888) 909-2822.

destinationscience.org

Robotics & STEM Summer

Camps at Rolling Robots

June 13 through Aug. 19

Join robotics and STEM camps at the home

of VEX Robotics World Champions. A fun

and interactive curriculum has been developed

by Palos Verdes resident Dr. Kirkman,

a parent, teacher and scientist and his staff.

It will introduce your children to science,

technology, engineering and math through

robot building and coding. And prepare

them to join award winning competition

Rolling Hills Country Day summer

classes include Experium Science

Academy and academic enrichment

programs. For more information,

contact Melissa Wilton. (310) 377-

4848, ext. 7051 or mwilton@rhcds.

com. Or visit rhcds.com

teams. Week long camps can be half day or full day. Perfect for kids ages 5 to

14 who love robots and technology. Serving 3 locations: Palos Verdes, Glendale,

West LA. Camp Signup: RollingRobots.com/summercamp

(888) 762-6808. 700 Silver Spur Rd. #101. Rolling Hills Estates

Destination Science

June 13 through Aug. 26

This is a fun science day camp for curious kids ages 5 to 11. It's designed to

Ages 5-14

At the Home of the

2015 VEX Robotics World Champions

54 Peninsula People • May 2016

May 2016 • Peninsula People 55
---
summercamps

uCAMPS & SCHOOLS FOR SUMMER FUN

Peninsula Montessori

June 20 through Aug. 12

Many families seek out a Montessori education for its well-known benefits in the

skills development of young children. With that in mind, Peninsula Montessori has

prepared a unique and rewarding summer program experience open to children

18 months to five years old (up to 12 years at the RPV campus). The summer program

broadens the Montessori curriculum to include water play, cooking and food

prep, themed art projects, science and sports. Programs are designed to further

stimulate the development of the students while having fun -- both indoors and out.

Please contact the Redondo Beach or Rancho Palos Verdes schools for more information

or check the website.

Peninsulamontessori.com.

(310) 540-9742. 907 Knob Hill, Redondo Beach.

(310) 544-3099. 31100 Hawthorne Blvd., Rancho Palos Verdes

Rolling Hills Country Day School

June 27 through Aug.19

Join Rolling Hills Country Day School for summer fun with our academic and camp

programs for grades K-8. We offer a traditional 6-week summer school, science

classes through Experium Science Academy and fun academic enrichment programs.

Camp programs are filled with fun activities that include swimming, sports,

arts and crafts, cooking, dance, imagination and creation and themes and shows.

Art Camp, Swim Camp, private swim lessons and extended day care are available

until 6 p.m. Request a brochure online or call for information. Contact Melissa

Wilton.

(310) 377-4848, ext. 7051. mwilton@rhcds.com. rhcds.com

School District offers summer programs

Kids' Corner and Teen Scene Programs welcome families to a memorable summer

of friends and fun Children entering grades TK through 5 have a choice of the

Kids' Corner Summer Day Camp at Rancho del Mar High School, or Before/After

Summer School Care at select Elementary Schools. Intermediate students entering

grades 6-8 are welcome at the Teen Scene After Summer School Program at Ridgecrest

Intermediate School. There are no residency requirements for participation,

and various enrollment options are available. For more information on a fun and

enriching summer experience, visit our website or contact the business office.

(310) 541-7626. pvpusd.net/pvkids. h

CampSurf surf camps offer 1:4 instructor to surfer ratio and provide surfboards

and wetsuits. For more information visit Campsurf.com. Photo by Pat

Komick (KomickKaptures.com)

56 Peninsula People • May 2016
---
eventcalendar

eventcalendar

310.539.6685 310.884.1870

310.326.9528

866.BEYOND.5

310.534.9560

310.539.2993

310.997.1900

www.cflu.org

CUT * COLOR * STYLE

310.539.2191

©

310.530.5443

310.326.3354

310.530.4888 310.534.0220

CALENDAR OF COMMUNITY EVENTS

Compiled by Mary Jane Schoenheider

You can email your event to our address: penpeople@easyreadernews.com

All submissions must be sent by the 10th of each month prior to event taking place.

Thursday, June 2

48th Annual Palos Verdes Antiques Show & Sale

n St. Francis Episcopal Church hosts the 48th Annual Palos Verdes Antiques

Show and Sale, its annual fundraiser, 11 a.m. to 6 p.m. Thursday and Friday;

11 a.m. to 4 p.m. on Saturday. The Opening Preview Party and Sale will be

held on Wednesday, June 1 from 6 to 9 p.m. Pre-sale tickets $25 in advance

or $40 at the door. This 3-day event features exhibitors from Northern and

Southern California and Arizona with furniture, artwork, silver, china and

crystal, designer, couture and vintage clothing, jewelry and collectibles. In

addition to the antiques, the show presents the Harvest Cupboard with tasty

homemade offerings; Garden Gazebo with plants and garden ornaments;

Silent Auction table, Patio Luncheons, English Afternoon Tea and Evening

Wine and Cheese. Admission to the Harvest Cupboard is $10 with return

privileges and parking is free. All proceeds support the Mission and Outreach

of St. Francis Church. For more information, call (310) 375-4617, or visit

StFrancispv.org to print out a $2 discount coupon.

South Bay Film Fest at the Garden

n A special screening of "Stand by Me," on the 30th anniversary of the

popular classic, based on Stephen King's short story "The Body," will be

shown under the stars at the South Coast Botanical Garden, in partnership

with The South Bay Film & Music Festival. Bring blankets and chairs and arrive

early to hear live music and dine with wine at the gathering of food trucks.

The movie is Rated R. Doors open 6 p.m, live music 6-8:15 p.m., movie begins

at 8:30 p.m. $14 General Admission. 26300 Crenshaw Boulevard,

Palos Verdes Peninsula. Visit SouthBayFest.com for details.

Friday, June 10

Seaside Beaders

n The Seaside Beaders, a special interest group of the Embroiderers' Guild

of America meets at 9:30 a.m. at St. Francis Episcopal Church. Members will

be working on a patriotic beaded Eagle. Visitors are welcome. Bring your

own project to work on. 2200 Via Rosa, Palos Verdes Estates. For more information

call (310) 540-6104 or visit azureverdeega.com/bead_projects.com.

H.E.L.P. Gala

n Join in the "Roaring 20's Great Gatsby 20th Anniversary Ball," celebrating

the 20th Anniversary of H.E.L.P., 6 - 10 p.m. at the Palos Verdes Golf Club,

3301 Via Campesina. H.E.L.P. (Healthcare and Elder Law Programs Corporation)

is dedicated to assisting older adults and their families in making proper

decisions with powers of attorney for health care and financial matters; probate

court avoiders; government entitlement programs; and protections from

elder fraud and abuse. For tickets or more information, call (310) 533-1996

or visit help4srs.org.

Saturday, June 11

Guided Nature Walk

n Palos Verdes Peninsula Land Conservancy at Abalone Cove Shoreline Park.

9 a.m. Visit the beautifully landscaped trails with interpretive signage. Explore

the tide pools and pillow lava formations. This is a moderate walk. Park in the

lot at Abalone Cove Shoreline Park, 5970 Palos Verdes Dr. South. The parking

fee will be waived. Free and open to the public. For more information, call

(310) 541-7613 ext. 201 or sign up at pvplc.org/_events/Nature-

WalkRSVP.asp.

4203 Spencer St., Torrance, CA 90503

(310)214-5049 • www.pevelers.com

Appointment Recommended

Showroom Hours: Monday Thru Friday 10-5

Closed Saturday and Sunday

License #381992

• Serving the South

Bay for over 35 years

• Full Service Contractor

• Complete Installation

• New Construction

• Remodeling

• Second Floors

• Additions

• Cabinets

Visit Our

Kitchen &

Bath

Showroom

310.530.3079

310.530.0566

310.530.3268

310.891.2237

310.530.8411

310.326.4477

310.517.9366

310.539.3526

310.539.1808

310.517.0324

310.326.8530

TORRANCE

TOWNE BEAUTY

CENTER

310.325.2960

WineShoppe

310.539.1055

Northwest Corner of

Crenshaw Blvd. & Pacific Coast Hwy. in Torrance

~ For Information, Call 310.534.0411

Friday, June 3

Synagogue Celebrates with a Grand Homecoming

n As Temple Beth El, the oldest synagogue in the South Bay, enters its 60th

year at its current location on 7th Street in San Pedro, a significant renovation

is nearly complete. All are invited to celebrate the reopening of Temple Beth

El with a ribbon-cutting at 6:30 p.m., preceding Sabbath worship service.

The following evening, on June 4, a homecoming gala will be held in the

beautifully enhanced social hall. In the coming months, the Temple will host

several Open Houses where all are welcome to visit and schmooze. 1435

W. 7th St., in San Pedro. For more information (310) 833-2467.

Saturday, June 4

White Point Nature Center Docents Training

n Onsite training 9 a.m. to noon at the White Point Nature Center. Volunteers

must be 18 years or older. The Center is open Wednesday, Saturday,

Sunday 10 a.m. -4 p.m. For more information, please contact Volunteer Program

Manager Brittany Goldsmith at bgoldsmith@pvplc.org or RSVP:

pvplc.volunteerhub.com/Events.

Wednesday June 8

Palos Verdes Woman's Club

n The Palos Verdes Woman's Club meets at noon at Trump National Golf

Club. Students receiving the annual scholarship awards will be introduced

and the philanthropic recipients will be announced. $32. For reservations call

Beverly Teresinski at (310) 378-1349.

A LA CAZE DEVELOPMENT COMPANY PROJECT

58 Peninsula People • May 2016

May 2016 • Peninsula People 59
---
Timeless

eventcalendar

PVPLC Docent Training

n At the George F Canyon from 9 a.m. to noon. Volunteers must be 18 years

or older. The Nature Center is open Friday 1 to 4 p.m. and Saturday, Sunday

10 a.m. to 4 p.m. For more information, please contact Volunteer Program

Manager Brittany Goldsmith at bgoldsmith@pvplc.org or RSVP: pvplc.volunteerhub.com/Events.

eventcalendar

Guide to the Magnificent Fossils found in Palos Verdes and San Pedro." Meet

and greet at 6:30 p.m. Program at 7 p.m., Community Room of Palos Verdes

Main Library. Park on roof because program goes past the closing hours of

the library. Everyone is welcome. Free. For more information call (310) 373-

2696. 701 Deep Valley Dr., Rolling Hills Estates.

Michel Medawar at his store in 1956.

Centuries ago when the world's finest clockmakers were

hard at work, their aim was to create a mechanical marvel

that operates continuously and last forever. Imagine

a hand made complex mechanism with hundreds of interworking

parts designed to keep perfect time. Your clock is a work of

art and your job is to keep this timeless treasure healthy for the

next generation.

Your clock reminds you of its presence every time you wind

it and if its accuracy is not what it used to be, or its chimes are

not as strong rythmic, or maybe it just stops. That means it's

talking to you and telling you that its endless life is in jeopardy.

It is imperative to maintain and service your clock regularly.

Oil gets old and dry forcing the train of gears to work twice as

hard to accomplish their goal. This results in damage that drastically

shortens the life of a fine timepiece.

Michel Medawar has been extending the lives of timepieces

for over fifty years as his father did fifty years before. He is the

inventor of the first talking clock in the world. He is a graduate

from Patek Philippe in Geneva, Switzerland, The Theod Wagner

clock Co. in Wiesbaden, Germany, and the Howard Miller

Clock Co. in Zeeland, Michigan. Call him so that he may come

to your home and offer you a free estimate for servicing your

clock. Or bring your wall or mantel clock to our store to see our

showroom and receive the same

complementary diagnosis.

Open 10:00 am - 6:00 pm Tuesday - Saturday

810C Silver Spur Road • Rolling Hills Estates • CA 90274

Call 310.544.0052

Sunday, June 12

Piano Concert

n Presents Pianist Robert Thies at Rolling Hills Methodist Church, 26438

Crenshaw Blvd, Rolling Hills Estates (NE corner of Crenshaw and PV Dr. North)

2 p.m. Free admission. Donations appreciated..100% for the artist.

Los Cancioneros Master Chorale "Gospel & More"

n Featuring Robert Ray's Gospel Mass under the direction of Allan Petker at

Torrance Armstrong Theater, 7 p.m. There are some outstanding new

arrangers of spirituals and new gospel songs on the scene these days: Stacey

Gibbs, Keith Hampton and Byron Smith, to name a few. Moses Hogan,

Brazeal Dennard and Jack Halloran remain popular as well. $25 for the concerts.

Student tickets $15 per ticket. Purchase tickets in advance from a Los

Cancioneros members or by contacting De Giebler, at (310) 779-3072. Or

email djgiebler@specialletters.net.

Monday, June 13

Paleontologist speaks to Gem and Mineral Society

n Joe Cocke, a local paleontologist who is retired from the Los Angeles Natural

History Museum, will lecture on his new book "Fossils of Palos Verdes, a

We reimburse UBER & LYFT up to $10

HAPPY HOUR TUES-FRI 4-7PM

HAPPY

FATHER'S DAY!

Join Us June 19th 11am-3pm

Make this Day SPECIAL

For Your Father!

APPETIZERS &

FRENCH WINE

TASTING

SUN MAY 29TH 2 - 4PM

$20/ PERSON

Com plimentary D in ner

Buy 1 Dinner and 2 Drinks, Receive Free Dinner

($17 Max Value. Dine in only. One per table. Not Valid with other offers or holidays. Expires 6/30/16)

$17 $17

(310) 378-0267

320 Tejon Place Palos Verdes Estates (310) 378-0267

www.LaRiveGauchePV.com

SPECIAL MENU 4-COURSE DINNER $25.95

Dine & Enjoy Our Lunch & Dinner Specials!

Saturday, June 18

Promenade Ice Chalet hosts Olympic Day Celebration

n Ice skating contests with 4- to 10-year-old Olympic hopefuls from the Promenade's

Learn to Skate programs. Guests include two-time US figure skating

Olympian Russ Witherby and World figures Skater and actress Alisa Allpach.

Program 1 p.m. Open skating 2 to 4 p.m. Free for all ages. 550 Deep Valley

Dr., Palos Verdes Estates.

Full Moon Hike

n At George F Canyon with the Palos Verdes Peninsula Land Conservancy.

Explore nocturnal sights with an expert naturalist under a full moon. Ages 9

and up. $12. Reservations required at pvplc.org.

Sunday, June 19

Beauty of Nature Film Series

n "Tracks" is presented by the Palos Verdes Peninsula Land Conservancy. 5

p.m., Peninsula High School Theater. Adventurer Robyn Davidson crossed

the Australian desert on foot alone in 1977. Drawn from her memoir. Following

the film, Conservancy's board member Susan McKenna will lead a Q&A

about the film and book, drawing from her life in Australia. $10 per person.

Free for 18 years and under. Tickets and RSVP at pvplc.org/_events/filmseries.asp.

27118 Silver Spur Road, Rolling Hills Estates.

South Coast Cactus & Succulent Society

n "Landscaping and Micro-Climates for Small Yards" will be discussed by

Gary Duke. Come at 1 p.m. to buy plants, meet other cactophiles and have

refreshments. Lecture is at 1:30 p.m., South Coast Botanic Garden, 26300

Crenshaw Blvd., Palos Verdes Peninsula. For more information visit southcoastcss.org.

Monday June 20

Adult Education begins

n The Palos Verdes Peninsula Unified School District-Adult Education, Summer

2016 Session begins today. Most classes are held at Rancho Del Mar

High/Adult Education Campus: 38 Crest Road West. Rolling Hills. Registration

is underway for the Palos Verdes Peninsula Unified School District-Adult Edu-

Irene Freitas

310.780.8012

irene@fengshuiwithirene.com

Fengshuiwithirene.com

Contact me today for your complimentary

20 minute energy alignment session

Free Consultation

60 Peninsula People • May 2016

May 2016 • Peninsula People 61
---
Saturday, June 25

Palos Verdes Peninsula Land Conservancy

n Singin' the Blues and other PV Butterflies at the Palos Verdes Peninsula

Land Conservancy at the White Point Nature Education Center. 11 a.m. Meet

local butterfly expert Jess Morton, PV/South Bay Audubon Society. Free. Followed

by a Native Plant Sale to make your own butterfly-friendly plants into

your home garden, 12 to 2 p.m. 1600 W Paseo Del Mar in San Pedro,

90731. For more information and to RSVP, visitpvplc.org.

PV Symphony Concert

n The Summer Concert of the Palos Verdes Regional Symphony Orchestra

will feature solo violinist Robert Ho, 15, who has performed at Carnegie

Hall and recipient of the grand prize in the Young Violinist competition.

He will perform the Bruch Violin Concerto. 7:30 p.m. Other selections will ineventcalendar

cation, Summer Session. Classes include Oil Painting, One Stroke Painting,

Mah Jong, Learn To Speak English, Italian-All Levels, Spanish-All Levels, a wide

range of exercise classes, computer classes plus much more.

For information or to request a summer flyer call: (310) 541-7626 x289 or

visit www.pvpusd.net/adulted.

Thursday, June 23

Azure Verde Chapter

n The Azure Verde Chapter of the Embroiderers' Guild of America meets at

9:30 a.m. at St. Francis Episcopal Church, 2200 Via Rosa, Palos Verdes Estates.

This month they will be having a Stitch In. Bring any projects you need

to work on. Visitors are welcome. For more information call (310) 675-2745

or visit azureverdeega.com.

eventcalendar

clude Beethoven's Symphony No. 5, and Saint-Saens' Bachannale. The concert

is open to the public and is free. Palos Verdes Stake Center of the Church

of Jesus Christ of Latter-day Saints, 5845 Crestridge Road, Rancho Palos

Verdes.

'90s Rock Band Dishwalla

n The Palos Verdes Performing Arts' "South Bay Live" will kick off its first concert

at the Norris Theatre with Dishwalla, the platinum-selling rock band with

hit songs "Counting Blue Cars" and "Somewhere in the Middle." With a career

spanning nearly two decades and five albums, the award winning band's

timeless music helped define the sound of a generation. Lights in the Dark featuring

Brian Blickle, formerly of Baroness, will appear as a special guest. 7:30

p.m. Tickets start at $32. For more information or to purchase tickets call the

box office at (310) 544-0403, ext. 221, or go to

palosverdesperformingarts.com. 27570 Norris Center Drive in Rolling Hills

Estates.

Sunday, June 26

Celebrate Wellness in The Garden

n Join Cancer Support Community Redondo Beach for the 20th annual Celebrate

Wellness food and wine tasting at the South Coast Botanic Garden,

from 3 to 7 p.m. Reserve your seat at this extraordinary garden party celebration

that will amaze and delight food and wine enthusiasts. Proceeds will

benefit the more than 160 free programs per month offered by Cancer Support

CONCRETE - For the Drought-Conscious

310-325-6500

] u

t

• Stamping

• Driveways

• Pool Decks

• Arificial Turf

• Patios

• Stonework

• Pavers

• Foundations

LIABILITY INSURED • WORKERS COMPENSATION

Casey Lindahl - Founder & President of Lindahl Concrete Construction, Inc.

310-326-6626

Call for Showroom address

Call for estimate

LindahlConcrete.com

Lic.#531387

62 Peninsula People • May 2016

Vinyl Windows

Replacement and New Construction

BUY ONLINE

AND SAVE BIG $$$

WWW.1STWINDOWS.COM

VINYL, ALUMINUM, WOODCLAD

Lowest Prices Up Front • No Games

Show Room 562-494-9069

CONTRACTOR REFERRAL • Fax 562-494-2069

May 2016 • Peninsula People 63
---
eventcalendar

Community Redondo Beach. Tickets are $150 per person. Guests must be 21

and older. Tickets can be purchased online at visitingwww.cancersupportredondobeach.org

or by calling (310) 376-3550. 26300 Crenshaw Boulevard,

Palos Verdes Peninsula.

Monday, June 27

Artifice Journeys at Artists' Studio Gallery

n Featuring assemblage/steampunk art, photography and monoprints by

artists Beverly Holman, James Kao and Mary Tarango. At the Artists' Studio

Gallery at the Promenade on the Peninsula through August 7. Opening reception

for the artists on Saturday, July 9 from 3 to 7 p.m. Gallery hours are 11

a.m. to 8 p.m. Mondays through Saturdays and noon to 6 p.m. on Sundays.

The Artists' Studio Gallery is affiliated with the Palos Verdes Art Center/Beverly

G. Alpay Center for Art Education, a community art organization that has

been serving the South Bay for over 80 years. For further information call the

gallery at (310) 265-2592 or visit artists-studio-pvac.com. At the Promenade

on the Peninsula, #159, 550 Deep Valley Drive, Rolling Hills Estates.

Wednesday June 29

Mac Users Meeting

n Meets at Lomita VFW Hall, 1865 Lomita Blvd. 6:30 p.m. Beginners Q &

A; 8 p.m. Presentation on a topic of interest to Mac users. (310) 644-3315

email: info@sbamug.com. Free. All Mac/iPad/iPhone users and potential

users are welcome. PEN

64 Peninsula People • May 2016
---
Graduating NOVAS

around&about

Kriss Light, M.F.T

Psychotherapy

Jungian Depth Work

Individuals, Family, Children

Working With The Creative

Torrance Memorial Medical Center NOVA volunteers (front row) Darissa

Pham, Sarah Baxter, Shannon Chen, Vivian Lim and Kelly Kanemitsu. (Second

row) Shirin Asgari, Taylor Woo, Monice Wong, Alyssa Ishimoto,

Kayla Chung, Francesca Lauro, Katelyn Morimoto, Amanda Coors, Leah

Whang and Megan Saunders. (Back row) Zachary Ishimoto, Davis Quan,

Michael Oh, Adam Reece and Christian Au.NOVA is a volunteer program

for high school students offered through Torrance Memorial Medical Center.

The high school seniors contributed more than 3,000 hours of service

to the medical center. Beginning in the ninth grade, the students volunteered

to the Healthcare Foundation, Auxiliary, and Home Health and Hospice

departments.

kdlmft@aol.com

Offices in El Segundo

(310) 880-8514

MFT#78311

J. QUINN CONSTRUCTION, INC.

Custom Concrete & Masonry

Girl Scouts earn Silver Award

McKinley Pieper,

Maddie Cole,

Claire Jenness, and

Eden Houske of

Troop 365 recently

received their Girl

Scout Silver Award.

The scouts sewed

over 100 chair

pockets, which will

hold books in elementary

classrooms.

• Pools, Spas, Fountains

and Waterfeatures

• Firepits and Fireplaces

• Outdoor Cook Centers

• Stone and Tile Patios

Suzy Zimmerman, Agent

Insurance Lic#: OF71296

4010 Palos Verdes Dr N, Suite

103

Rolling Hills Estates, CA 90274

Bus: 310-377-9531

www.zimziminsurance.com

That's when you can count on

State Farm®.

I know life doesn't come with a schedule.

That's why at State Farm you can always

count on me for whatever you need –

24/7, 365.

GET TO A BETTER STATE.

CALL ME TODAY.

1101198.1 State Farm, Home Office, Bloomington, IL

• Interlocking Pavers

• Retaining Walls

• Driveways

(310) 325-6790

www.quinnpools.com

License B, C-8, C-53 #775677

May 2016 • Peninsula People 65
---
P E N I N S U L A P E O P L E | F O O D

of those items that do nothing but get better after long, slow cooking. These

were fork-tender and enhanced by a wine and mushroom sauce that had

hints of spice that kept us guessing – might have been some cinnamon or

nutmeg, possibly a bit of coriander in the blend, but whatever it was, it

accented the meat nicely.

The menu described the pork tenderloin's preparation as medallions

served with sautéed apples, which led us to expect the meat to be cooked

in the sauce. Instead the pork had been roasted, sliced and served on a bed

of what seemed to be saffron cream sauce with the apples on the side. Pork

with apples is a traditional winter dish in Northern France and New England,

and though there was just a wisp of chill in the Southern California

air it still felt like the right thing to order.

The pork and beef came with an arrangement of asparagus, green beans,

cauliflower, and mashed potatoes, enough to complement the dish but not

so much that we didn't have room for dessert. On this particular evening

two housemade items were available – a raspberry white chocolate cheesecake

and a dark chocolate mousse cake. I'm not a big fan of white chocolate

or cheesecake and found this a bit too sweet, but the person at our table

who has a sweet tooth found it delectable. The layered chocolate mousse

cake was more my speed, rich and complex with enough bitterness to stand

up to a savory red wine. We had some of that handy because we had ordered

a bottle of Cigarzin Zinfandel to go with the meat dishes and hadn't

finished it all. If this cake is still offered when you're there I'd recommend

you do the same.

Dinner at the PV Grill is not an extravagance, with most entrees below

$20 – remarkable for this area and quality of food. The restaurant's secluded

location probably works against it, as casual passersby don't even

know anything is here, but it's a bargain for very assured cooking and personal

service in peaceful surroundings.

The PV Grill is at 2325 Palos Verdes Drive West in Rancho Palos Verdes.

Open 4 p.m. – 9 p.m. Tuesday through Sunday. Closed Monday. Parking in

small, front lot or beneath building, wheelchair access good, some

vegetarian/vegan options. Wine and beer served. Website under construction.

(310) 750-6877. PEN

Chef Rafael reincarnate

PV Grill chef and co-owner Rafael Solorzano. Photo by Brad Jacobson (CivicCouch.com)

PV Grill is a hidden gem for assured cooking and personal service in peaceful surroundings

by Richard Foss

You probably remember someone from school who was a show off

or class clown. They were smart and wanted to make sure everyone

knew it, and they were not the person you wanted to be teamed up

with on a project because while they might have brilliance, that sort of person

tends to be short on discipline. The person you wanted for a lab partner

was the one a few desks away who talked half as often and got twice as

much done.

Flashy and gimmicky ideas have their place in the culinary world, but

most people don't want all novelty all the time. It is then that they return

to restaurants like PV Grill, a classic steak and seafood place in the historic

Lunada Plaza building. This restaurant was previously the Lunada Bay-

House, and those who visited that restaurant may notice some similarities

in the menu offerings. This is no accident, as chef Rafael Solorzano was a

partner at both places and is still at the helm. Solorzano has cooked for rock

stars like Bono and Bruce Springsteen but has never sought much publicity

himself. He's not shy, and regularly comes out of the kitchen to talk with

diners, but he's not inclined to brag.

When my family stopped in for dinner recently Rafael happened to be in

the dining room and he stopped by our table to chat. When we asked his

recommendation between a few starters he offered to set up a sampler, and

we gleefully accepted. He sent out a wooden board with crab cakes, shrimp

pesto bruschetta, calamari, caramelized brussels sprouts, and green salad

with blue cheese crumbles. The bruschetta was a daily special that really

should be on the regular menu, because they were a great way to start a

meal. We liked the flavors enough that we mopped up stray drops of the

tangy, garlicky pesto with the crab cakes. A garlic aioli had been provided

for those, and we used it on the remaining crab cakes and as a dip for the

calamari.

Just about every restaurant has brussels sprouts on the menu these days

(and think for a moment how odd that sentence would have seemed a few

years ago, when they were a seasonal novelty). But the dish here is somewhat

unusual. At PV Grill they are sautéed and served with a honey-balsamic

reduction, basil, bacon bits, and parmesan cheese. The honey and

balsamic vinegar give a slight sweet-and-sour flavor, the basil and cheese a

more Mediterranean aspect. The vinegar sweetness mutes a bit of the cabbage-like

flavor, which may or may not be a good thing depending on your

tastes. I happen to like that aspect of sprouts and prefer it accented with

more peppery seasonings, but this was a thought-provoking alternative.

The wine list at PV Grill is relatively short but doesn't tell the whole story.

Our server Nadia (who we later learned is the co-owner) offered a 2014

Hartford Court Chardonnay that was on special at $45 a bottle. We had

never heard of this little Russian River family owned winery but it's on our

radar now. It was an excellent and aromatic wine that developed as it aired.

For main courses we selected short ribs braised in wine with wild mushrooms,

pork tenderloin with apples, and seafood fettuccine. The pasta had

been tossed with scallops, shrimp, clams, and fish in a robust tomato-basil

sauce and was a reminder of the joys of simple flavors. It's far from simple

to make, since it involves several different types of fish and shellfish to be

cooked just to doneness and then combined moments before serving. It's

all about timing, and Rafael nailed it so that nothing was overdone.

There was no such worry about overdoing the short ribs, since this is one

66 Peninsula People • May 2016

DEL AMO

www.fridadelamo.com

SUNDAY MARIACHI BRUNCH

10 am - 3 pm • Adults $ 29.95 • Kids (5-12) $18.95

Mimosas, House Margaritas, Sangria and Draft Beer only $5

Del Amo Fashion Center • 21438 Hawthorne Blvd. • Torrance • (310) 371-0666

May 2016 • Peninsula People 67
---
PV Assembly ball presents class of 2016

n Seniors from the class of 2016 Palos Verdes Assembly,

a non-profit co-ed social, dance and philanthropic

organization, celebrated their

Presentation Ball at the Millennium Biltmore Hotel

on Saturday May 7. Each senior was awarded a

medallion representing their 80-plus hours of volunteer

service during their four year participation in

the Palos Verdes Assembly. After the medallion presentation

members danced the traditional

mother/son and father/daughter waltz, followed

by dinner and dancing with family and friends.

This year's ball was chaired by Rebecca Doub and

Christine Becker. Assembly Coordinators Julie

Arico, Helen Hong and Mary Deley directed a

team of 38 Patronesses who worked behind the

scenes to organize the year's activities . Membership

in Assembly is a four year commitment during

high school. It is preceded by three years of participation

in Cotillion during middle school. Assembly

activities include a formal tea, six theme dances

where members are instructed in ballroom dance

and etiquette. Dance instruction in both Assembly

and cotillion is led by dance master Bobby Burgess

and manners and etiquette by Carol Thomas.

Membership has closed for the 2016-2017 season,

but applications will be accepted in April,

2017 for the 2017-2018 season. To learn more

about the Palos Verdes Assembly, visit

www.pvassembly.com.

Salsa Verdes

Authentic Fine Mexican Cuisine

Ask About

Our Fresh

Daily Specials!

Let Us Bring

Mexican Flavors

To Your Home &

Office!

Open

Tues-Sun at 4pm

2325 Palos Verdes Drive West

Palos Verdes Estates

(424) 206-9456

Salsa Verdes and PV Grill CREW invite

YOU to dine in Lunada Bay Plaza!

Enjoy delicious food in your OWN BACKYARD!

WE THANK YOU FOR YOUR SUPPORT!

Holiday Parties Catering

Lunada Bay Plaza

around&about

Palos Verdes Assembly Ball Class of 2016 (front row) Kunika Poulsen, Ashley Ludwick, Emma Fischer,

Caitlyn Barresi, Nicole Fujimoto, Alice Walker-Dupler, Lindsey Follis, Valeria Park, Patricia Hori, Kylie

Murdock and Elizabeth Van Gieson. (Second row) James Hall, Madelynn Maloney, Davis Quan,

Jennifer Capeloto, Tyler Kim, Dorie Weller, Kevin Lee, Sophia Gragg, Julius Lagmay, Olivia Johnson,

David Young, Nicole Beaupré, and Brian Le. (Third row) Cameron Fox, Hanna Jensen, Matthew

Miyamoto, Megan Fitzpatrick, Austin Doke, Rachel Lore, Philip Smart, Emily Ellis, Christopher Crump,

Madison McAuley, Charles Gill and, Matthew Mizuguchi. (Fourth row) Brock Pennington, Joseph

Rich, Austin Rule, Nolan Collins, Wesley Kasman, Arman Ramezani, Jared Lebental, Tyler Panfil, Russell

Fong, Michael Arico, Donald Morton.

Huge Selection of

Fresh Fish, Handmade

Pastas & Prime Cut Steaks

Private Room for

Holiday, Corporate Parties!

Open Tues-Sun at 4pm

2325 Palos Verdes Drive West

Palos Verdes Estates, CA

(310) 750-6877

www.PVGrill.com

Senior Ticktocker Class of 2016 recognized

n The National Charity League's 2016 senior class celebrated their six years of

philanthropic work at the Terranea Resort ballroom, which was transformed into a

whimsical, Through the Looking Glass, woodlands. The Senior Ticktocker Class

of 2016 contributed 7,680 hours to charitable services, including Peace4Kids,

Toberman Neighborhood Center, Heal the Bay, L.A. Food Bank, Boys & Girls

Club of LA and Palos Verdes Peninsula Land Conservancy.

Ticktocker Class of 2016 (left to right) Christina Eldredge, Cameron Coffey,

McKenzie Will, Annie Graziano, Eva Enriquez, Cameron Leach, Elena

Ueda, Sydney Pascal, Gabrielle Allen, Annaliese Wargin, Jennifer

Capeloto, Madison Denver, Kara Yasunaga, Kristen DiBernardo, Celine

Horner, Abigail Watson, Madelynn Maloney, Emily Ellis, Leslie Vilicich,

Jordan Karpin, Alissa Beall, Caillie Horner, Lauren Bourgeois, Elizabeth

Berry and McKenna Goldstein. Photo by Sara Jordan Photography

Earth Day a work day at Palos Verdes Peninsula

Land Conservancy

Skin Atelier

First Wax on Me !!!

Jennifer Jackson

Walk with Confidence !!

Take advantage of my complimentary wax for

first time clients*. Book your appointment today!

I look forward to pampering you.

Women:

Free Basic Bikini line, Eyebrow, Lip,

or underarm.* Upgrade to Brazilian for half off

(First time clients only)

Men:

Free eyebrow, Ear or Nose

*First-Time clients only. Must be a

Southern CA Resident.

(310) 200-1606

JennMJackson@yahoo.com

Blow Outs

L u x u r y o f B e a u t y

in your home…

I ' l l c o m e to yo u !

$45

Jenn Jackson

Book your apt. Today

JennMJackson@yahoo.com

(310) 200-1606

n Rancho Palos Verdes Mayor Pro Tem Brian Campbell joined the Palos Verdes

Peninsula Land Conservancy in thanking over 200 volunteers who came to the

White Point Nature Preserve Earth Day, April 23. The volunteers helped beautify

the native plant garden and trails. Volunteers also hiked with an LA City Ranger

and listened to presentation on Backyard Birding by Bob Shanman of Wild Birds

Unlimited Torrance. Whole Foods Torrance and Starbucks (25th and Western)

donated food and coffee and Toyota contributed gloves and swag bag gifts. Volunteers

help planted toyon, saltbush, sunflower and sagebrush; removed wheel

barrows full of cheese weed, bristly ox tongue, and other invasives; laid mulch

around native plants to reduce weeds and keep the soil moist; removed four truckloads

of irrigation line; closed two spur trails to protect wildlife habitat; and

weeded, raked, and picked up trash along the trails.

Six Peninsula students earn Eagle Scout rank

Troop 277 Eagle Scouts (front row) Christopher Behenna, Luke Waldo and Corey

Tong and (back row) Sean Olsen, Ethan Gold and Spencer Dalton.

n Wheelchair accessibility, landscape improvements and kindergarten repairs

were among the projects that earned five Troop 277 Boy Scouts the rank of Eagle

Scout. The Scouts were recognized during a ceremony at Hess Community Center

on October 24.

Around & About cont. on page 71

V ilicich

Watch & Clock

around&about

Established 1947

(310) 833-6891

714 South Weymouth Avenue, San Pedro, CA 90732

We Buy Watches!

Not affiliated with Rolex USA

Conservancy Conservation

director

Adrienne Mohan,

RPV Mayor Pro Tem

Brian Campbell,

Conservancy executive

director Andrea

Vona and Volunteer

Program manager

Brittany Goldsmith.

68 Peninsula People • May 2016

May 2016 • Peninsula People 69
---
S P O T L I G H T O N T H E H I L L

Rolling Hills Country Day

School Fundraiser

Guests dressed for the '70s and '80s and local band One Digit

Down played classic '70s and '80s rock for Rolling Hills

Country Day School's annual fundraiser. The evening was

hosted by Lisa and Nick Hawkins at their Rolling Hills Estate

home on May 15. The "Back to the Future" theme was highlighted

by an auction (for the day) of a retrofitted DeLorean and

a Toyota hybrid Mirai ("future" in Japanese). For more about the

school visit rhcds.com.

1

4 5

7

8

1. Christy Phillips and

hostess Lisa Hawkins.

2. Barry Gore and Carol

Royea.

3. Hostess Lisa

Hawkins and Todd

Gordon.

4. Allison Cohen and

hostess Lisa Hawkins.

2 3

PHOTOS BY STEPHANIE CARTOZIAN

5. James Pappas and

Tia Kanavos.

6. Adam Kontras, of

RentTheDelorean.com,

with the DeLorean he

auctioned for the day.

7. One Digit Down's

Arthur Garrison, Josh

Cohen, John Hendrick,

6

9

Ben Lichtman, Devon

Elder and Jeff White.

8. Stacie Kim and Host

Nick Hawkins.

9. Mona Ono and Shara

Parkton.

Christopher Behenna, 18, of

Palos Verdes Estates is a member of

Chadwick School's varsity soccer team

and plays bass in the school orchestra

and jazz band. For his Eagle project,

Behena designed, built and installed

a wheelchair accessible bench for visitors

to the George F. Canyon Nature

Preserve Demonstrations gardens.

Spencer Dalton, 18, of Rancho

Palos Verdes, is a captain of the varsity

tennis team, captain of the Technology

Student Association National Competition

team and a member of the Principal

Advisory Committee at Palos

Verdes High. For his Eagle project, he

removed 16 rotted trees, installed new

borders and planted trees in the parking

divider strip at Ernie Howlett Park.

Ethan Gold, 18, of Rancho Palos

Verdes, attended Peninsula High

School and is a freshman at Cal Poly

San Luis Obispo. For his Eagle project,

he expanded the seating area at the

George F. Canyon Nature Center by

50 percent and added 24 feet of retaining

wall out of recycled railroad

ties.

Sean Olsen, 17, of Rancho Palos

Verdes is a member of the water polo

and swim teams and participates in

Model United Nations at Palos Verdes

High. For his Eagle project, he designed,

built, stained and installed 10

wooden benches in shady areas on

the grounds of Montemalaga Elementary

School.

Corey Tong, 17, of Palos Verdes Estates

is a member of the Peninsula

High track and field team and a member

of the National Honor Society. For

his Eagle project, he restored and

painted the kindergarten yard playhouse,

repaired the storage shed and

installed a new shed roof at Cornerstone

Elementary School.

Luke Waldo, 18, of Rancho Palos

Verdes is is a member of Palos Verdes

High football team, played the guitar

and trumpet in the jazz band and was

on the speech and debate team. He

is also a Petty Officer in the U.S. Sea

Cadets Lane Victory Division.He will

be attending the United States Naval

Academy. For his Eagle project, he

renovated and refurbished portions of

the museum and memorial section on

the S.S. Lane Victory WWII Merchant

Marine Ship, docked in San Pedro.

He also created and set up a slide

show honoring those who served on

the ship.

In January 2016, the Scouts of

Troop 277 re-associated with Boy

Scout Troop 276, The Mountain Men.

Troop 276 is based in Palos Verdes Estates

and serves the youth of the Palos

Verdes Peninsula and neighboring communities.

It is a backpacking troop, hiking

in the local mountain ranges, Joshua

DAVID FAIRCHILD PHOTOGRAPHY

"Its Like You're There All Over Again"

around&about

Tree National Park and the Sierra Nevada.

Troop 276 meets Saturday mornings

at Palos Verdes Intermediate

School. For additional information contact:

David Behenna, at

chair@troop276.com or Scoutmaster

David Emde at

scoutmaster@troop276.com. PEN

310-316-5547 WWW.DAVIDFAIRCHILDSTUDIO.COM

70 Peninsula People • May 2016

May 2016 • Peninsula People 71
---
S P O T L I G H T O N T H E H I L L

2016 Designs For

Dining Fundraiser

at St. Francis Church

S

t. Francis Episcopal Church hosted its annual

"Designs For Dining" fundraiser

benefiting the St. Francis Outreach Scholarship

Program in March. This popular 2-day

event featured entertaining trends and 20

themed table designs. Other highlights included

guest speakers, boutiques, tastings,

opportunity drawings and silent auction, including

two African safaris. Opportunity

drawings included a catered dinner with

wine for 12 prepared in your home or at

Chez Melange by Chef Robert Bell and staff.

1

2

3 4

1. 2016 Designs For Dining Themed Table

Designs in St. Francis Parish Hall, Palos Verdes

Estates.

2. Designs For Dining planning committee

members from left, Cheryl Gutierrez, Wendy Pratt,

Janet Laudeman, Suzanne Gatlin, Mary Deley,

Karin Petersen, Marcia Schoettle and Anne

Pearson.

3. From left, speaker Vanessa Kogevinas, owner

of Vanessa K. Productions, event co-chair Cheryl

Gutierrez and Mala Coatar.

4. Vanessa Kogevinas gave a talk on "Sharing

the Dish: Lessons Learned on the Road of an

Event Planner and Producer's Evolution."

5. Chef Robert Bell, of Chez Melange, Riviera

Village.

6. Speaker Beth Lester, interior decorator and

home stager and owner of Home Staging Designs

of California, presented a talk in the Tea Room on

Saturday: "Redecorating or Selling? Selection

Colors – Making Life Beautiful, One Home at a

Time."

7. "Dinner at Downton Abbey," from the private

collection of Judith Holman.

8. Lorrane Kasse and friend at Springtime

Romance table.

9. Opening Day Prayer at 2016 Designs For

Dining fundraiser with SFEC's rector, the Very

Reverend Paula Vukmanic presiding.

5

8

6

7

9

72 Peninsula People • May 2016
---
Classifieds Your Local Expert Community 424-269-2830

CONCRETE CONSTRUCTION ELECTRICAL GARDENING PAINTING ROOFING

QUIXTAR

Concrete & Masonry

Residential & Commercial

310-534-9970

Lic. #935981 C8 C29

CONSTRUCTION

Call us to Discuss the

ENDLESS POSSIBILITES

Extreme

Hillside Specialist

Foundation Repair Experts

Grading & Drainage

Retaining Walls,

Fences & Decks

310-212-1234

www.LambConBuilds.com

Lic. #906371

G

ANNOUNCEMENTS

Reserve

D

Remodeling

Design

Kitchens

Bathrooms

Room Additions

New Construction

CONSTRUCTION

your space in

the next

Call direct 424-269-2830

Pub Date: June 25

Deadline: May 27

s

Your Ad Here

62,000 Readers

424-269-2830

magazine

Charles Clarke

Local Owner/General Contractor

Ph: (310) 791-4150

Cell: (310) 293-9796

Fax (310) 791-0452

"Since 1990" Lic. No. 810499

LYNCH

ELECTRIC &

General

Building

Contractors

• Residential

Troubleshooting

• Remodel Specialist

Scott K. Lynch

P.V. Native

Licensed & Insured

Cell

310-930-9421

Office & Fax

310-325-1292

www.LynchElectric.us

Lic 701001

GARAGE DOORS

classifieds

424-269-2830

PLUMBING

MATTUCCI

FULL SERVICE PLUMBING • COPPER REPIPES

SEWER VIDEO INSPECTION • HEATING

DRAIN & SEWER SERVICE • COOLING

TRENCHLESS SEWER REPLACEMENT

HANDYMAN

Handyman

Services…

Fix It Right the

First Time

We like small jobs

/ Free estimates

What we do…

Plumbing,

Electrical, Drywall,

Painting & more.

Valente Marin

310-748-8249

Unlic.

MUSIC LESSONS

Vocal Technician

Piano Teacher

Vocalist

Jeannine McDaniel

Rancho Palos Verdes

20 year experience

All Ages

310-544-0879

310-292-6341

Jeannine_mcdaniel2001@yahoo.com

PLUMBING • HEATING • COOLING

DEPENDABLE • PROFESSIONAL • AFFORDABLE

ON CALL

24 HOURS

7 DAYS

FREE ESTIMATES

310.543.2001

CALIFORNIA

Lic. #770059

C-36 C-20 A

2013

BEAR BROTHERS

PAINTING

Quality Workmanship

Interior • Exterior

• Pressure Washing

• Decks

Free Estimates

375-1966

Lic #614749

PLASTERING

Patch Master

Plastering

Patch Plastering

Interior • Exterior

• Venetian Plastering

• Ceiling Removal

• Drywall Work

• Acoustic

Ceiling Removal

• Water & Fire Restoration

310-370-5589

Lic. # 687076 • C35-B1

PLUMBING

Thank You South Bay for

50 Years of Patronage!

Residential • Commercial • Industrial

Plumbing 24/7 • Heating

Air Conditioning

pfplumbing.net

800-354-2705 • 310-831-0737

TILE

Tile Reroof and

repair specialist

310-847-7663

Family owned

business since 1978

Lic 831351

POOLS & SPAS

POOLS • SPAS

HARDSCAPES

New Construction

& Remodeling

Excellent References

Horusicky Construction

310-544-9384

www.Horusicky.com

Credit cards accepted

Lic #309844, Bonded, Insured

SOLAR ENERGY

Your Ad Here

62,000 Readers

424-269-2830

Simply Tiles Design Center

Fine Ceramics, Natural Stone, Hardwoods, Cabinetry, Faucetry.

Kitchen & Bathrooms Specialist.

3968 Pacific Coast Hwy., Torrance • (310) 373-7781 • www.simplytiles.com

License #904876

May 2016 • Peninsula People 73