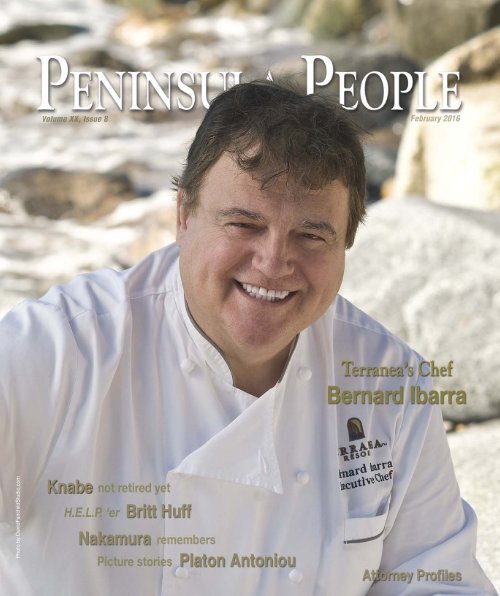 Peninsula People Feb 2016
You also want an ePaper? Increase the reach of your titles
YUMPU automatically turns print PDFs into web optimized ePapers that Google loves.
Photo by DavidFairchildStudio.com
---
Congratulations Stephen Haw Team

NEW

LISTING

WALLACE

RANCH

NEW

LISTING

SHOWCASE

HOUSE

EXCEPTIONAL

DESIGN

paseo la cresta

palo vista drive

paseo de la luz

Via Valdez

PALOS VERDES estates

7 Bedrooms, 11 Bathrooms, 10,400 sq ft Home, 42,412 sq ft Lot

Magnificent Gated Estate offering a Unique Combination of Luxury and Comfort

Sweeping Ocean, Bay and Treetop views. Exquisite Finishes and Fine Appointments Throughout

RANCHO PALOS VERDES

5 Bedrooms, 5.5 Bathrooms, 6,181 sq ft Home, 30,682 sq ft Lot

One-of-a-Kind Oriental Palace with Spectacular Catalina, Ocean,

Golf Course & Sunset Views, Spacious Master, Entertainer's Backyard

RANCHO PALOS VERDES

5 Grand Bedrooms Suites, 8 Bathrooms, 7,925 sq ft Home, 27,119 sq ft Lot

This Magnificent Ocean Front Estate offers Luxury Living with Stunning Ocean & Sunset Views

Custom Designed with Elevator, Home Theater, Gym, Entertainer's Backyard & Many Superb Building Features

PALOS VERDES ESTATES

4 Bedrooms, 4 Bathrooms, 3,684 sq ft Home, 8,229 sq ft Lot

Exceptionally Designed Home, View from Catalina to Santa Monica

Gourmet Kitchen, Dry Sauna, Steam Room, Elegant Living Space

OFFERED AT $10,450,000

www.1414PaseoLaCresta.com

OFFERED AT $4,388,000

www.3427PaloVista.com

OFFERED AT $6,300,000

www.55PaseoDeLaLuz.com

OFFERED AT $3,980,000

NEW

LISTING

SOLD IN 7 DAYS

NEW

LISTING

PRICE

REDUCTION

GREAT

VALUE

NEW

LISTING

Thorley Road

Tramonto Drive

Bridlewood Circle

Covered wagon Lane

avenida corona

western avenue

PALOS VERDES estates

5 Bedrooms, 4 Bathrooms, 5,241 sq ft Home, 15,307 sq ft Lot

Gated 1990 Custom Built Manor in sought after Lower Lunada Bay

Luxury Interiors, Great Curb Appeal, Walk to Schools

PALOS VERDES ESTATES

5 Bedrooms, 4.5 Bathrooms, 4,244 sq ft Home, 14,028 sq ft Lot

Beautiful Former Model Home. Panoramic Catalina & Ocean Views

Spacious Main Floor Master Suite, Gourmet Kitchen

rolling hills estates

4 Bedrooms + Office, 3.5 Baths, 5,152 sq ft Home, 16,665 sq ft Lot

Gorgeous Custom Executive Home. Master Suite in Entire Upper Level

Many Luxurious Features. Walking distance to RH Country Club

ROLLING HILLS ESTATES

Gated Estate with 4 Bedrooms, 3.5 Bathrooms

4,048 sq ft Home, 15,719 sq ft Lot

Large Entertainment Room, Cul-de-Sac

RANCHO PALOS VERDES

4 Bedrooms, 3.5 Bathrooms, 3,860 sq ft Home, 25,396 sq ft Lot

Beautiful Ocean, Mountain, Harbor & City Views from Most Rooms

Newly Remodeled. Large Guest Quarter. View Deck.

RANCHO PALOS VERDES

2 Bedrooms, 2 Bathrooms, 1,207 sq ft Condo

Light and Bright Open Floor Plan, Large Bedrooms

Community Pool, Close to Shopping and Freeways

OFFERED AT $3,680,000

www.2116Thorley.com

OFFERED AT $2,380,000

www.37Tramonto.com

OFFERED AT $2,250,000

www.13Bridlewood.com

OFFERED AT $1,799,000

www.30CoveredWagon.com

OFFERED AT $1,799,000

OFFERED AT $299,000

#1 Real Estate Team, RE/MAX Estate Properties

Local Experts with International Connections to get YOUR Properties SOLD

Stephen Haw

何 精 益

310.503.9886

Skh8828@gmail.com

Kim Hall

Serving the South Bay

310.721.7526

KimHallHomes@gmail.com

Cristina Go

Short Sale Specialist

310.971.0404

gocristinago@gmail.com

Lauren Yoon

로렌 윤

310.619.4989

laurenyoon17@gmail.com

Natsuko Fujii

藤 井 奈 都 子

310.941.2468

nfujii10@gmail.com

Alicia Sialana

Real Estate Specialist

310.720.4852

aliciasialana@gmail.com

Dede Hsu

郝 蒂 蒂

310.722.9222

dedehsu@gmail.com

Rod Yoon

롸드 윤

213.663.8888

RodYoon@gmail.com
---
Volume XX, Issue 8

February 2016

PENINSULA PEOPLE

P A L O S V E R D E S P E N I N S U L A M O N T H L Y

ON THE COVER

34 Destination Dining

by Mark McDermott

Executive Chef Bernard Ibarra has made

Terranea Resort a destination not just for

vacations and conferences, but also for

fine dining. Photo by David Fairchild

PROFILES

36 Supervisor not ready to retire

by Kevin Cody

Termed-out Don Knabe makes a final sweep through the

South Bay. But he's not retiring just yet.

Senior management

by Roger F. Repohl

Britt Huff is committed to helping 25 percent of Peninsula residents

to stay in their home with help from the other 75 percent.

Power portraits

by Kevin Cody

English born photographer Platon Antoniou tells the stories behind

his portraits of the world's most powerful men and women.

Plated on the Peninsula

by Richard Foss

A contemporary Mark Twain would want to visit Plates

American Bistro.

Mary Y Nakamura

by Esther Kang

RPV resident honors her mother's legacy in a book detailing firsthand

accounts of the Japanese-American experience during WWII.

HIGHLIGHTS

10 Vistas for Children

14 Palos Verdes Village

20 Little Sisters of the Poor

24 Palos Verdes Performing Arts

28 Admiral Risty 50th Anniversary Celebration

30 Assistance League

32 Peninsula Committee LA Philharmonic

DEPARTMENTS

46 Community Calendar

56 Attorney Profiles

64 Around & About

65 Service Directory

CONTRIBUTORS

Kevin Cody is the Puiblisher of Easy Reader publications.

David Fairchild 's photography is frequently seen in Peninsula People

and Beach magazines.

Richard Foss is the Dining Editor for Easy Reader publications.

Esther Kang is a freelance writer and musician.

Mark McDermott is News Editor of Easy Reader publications.

Roger F Repohl is a columnist and regular contributor to Easy Reader

publications.

6 Peninsula People • February 2016

40

44

54

60

STAFF

EDITOR

Kevin Cody

PUBLISHER

Mary Jane Schoenheider

ASSOCIATE PUBLISHER

Richard Budman

DISPLAY SALES

Adrienne Slaughter,

Tamar Gillotti, Amy Berg,

Shelley Crawford

CLASSIFIEDS

Teri Marin

ADVERTISING

DIRECTOR

Richard Budman

ADVERTISING

COORDINATOR

Teri Marin

GRAPHIC DESIGNER

Tim Teebken

FRONT DESK

Judy Rae

DIRECTOR OF

DIGITAL MEDIA

Jared Thompson

CONTACT

MAILING ADDRESS

P.O. Box 745

Hermosa Beach, CA

90254

PHONE

(310) 372-4611

FAX

(424) 212-6780

WEBSITE

www.easyreadernews.com

EDITORIAL

PenPeople@

easyreadernews.com

ADVERTISING

(310) 372-4611

displayads@

easyreadernews.com

Please see the Classified Ad

Section for info.

FICTITIOUS NAME

STATEMENTS (DBA'S)

can be filed at the

office during regular

business hours.

(310) 372-4611

Peninsula People is a supplemental

publication of Easy

Reader, 2200 Pacific Cst. Hwy.

#101., PO Box 745, Hermosa Beach,

CA. 90254-0427.

SUBSCRIPTIONS

Yearly domestic mail subscriptions

to Peninsula People are $30, foreign

$60 payable in advance. The

entire contents of Peninsula People

are copyrighted 2016 by

Peninsula People, Inc.

February 2016 • Peninsula People 7
---
8 Peninsula People • February 2016
---
"I've known about

Miracle-Ear for decades,

and I know "I've they'll known be about there

Miracle-Ear next month, for next decades, year, as

they've been there for millions

and I know they'll be there

of people for over 60 years."

next month,

Patrick

next year,

Duffy

as

they've been there for millions

of people for over 60 years."

Patrick Duffy

-Actor

100% Invisible

Don't be fooled by the small size.

The miracle-ear Mirage TM features amazingly

advanced and powerful micro technology,

all wrapped up in our finest hearing aid ever!

Schedule your appointment for a free

in-store demonstration of our Newest

Miracle-Ear Hearing Aids.

H e a r t h e d i ff e r e n c e

f o r y o u r s e l f !

Miracle-Ear® Quality

For $795. Why Wait?

Try before

you buy!

Auditone Pro

Hearing is believing! Right now, during our Grand Opening Celebration of our new state-of-the-art

Hearing Aid Center, you can get a fully digital, genuine Miracle-Ear hearing aid for less than $800.

This is one of our smallest, most discreet hearing solutions. Latest technology, state-of-the-art facility

and over 67 years in business makes Miracle-Ear second to none! Come in for a risk free trial

and hear for yourself.

-Actor Don't wait, this special offer ends 3/31/16 3/31/16 - MSRP $1990.

NEW GENIUS TM TECHNOLOGY

Risk-Free 45 Day Trial

FREE Rechargeable Batteries For Life

FREE Hearing Test

FREE Ear Canal Inspection

Most Insurance Accepted

Miracle-Ear Hearing Aid Center

734 Silver Spur Road #301

(Next to Red Onion restaurant)

Rolling Hills Estates

310-363-7767

NEW

Location

100% Invisible!

100% Programmable!

100% Digital!

FREE*

Miracle-Ear ®

ME-3175

Buy 1, Get 1

With this coupon. These coupons may be combined.

One coupon per customer. Offer expires 3/31/16.

Buy one ME-3175 RIC at MSRP get second free.

FREE*

Hearing Aid Charger

with purchase of ME-1,

ME-2 solution package

Valid on Model

provides you up to 25% BETTER SPEECH RECOGNITION in

challenging listening environment than people with normal hearing.

With this coupon. These coupons may be combined.

One coupon per customer. Offer expires 3/31/16.

February 2016 • Peninsula People 9
---
S P O T L I G H T O N T H E H I L L

Considering A Major Remodeling Project?

Vistas for Children 16th

Annual Fashion Show

Run For The Roses

Vistas for Children held their 16th Annual

Fashion Show Luncheon and Boutique at the

Terranea Resort on Sunday, November 22, 2015.

Over 450 guests attended the Kentucky Derby–

The Run for The Roses theme event. The fashion

show included collections from several hot LA Designers

such as Marisa Kenson, Alexis Monsanto,

Angelino, and Louise Green. Fantastic dancers,

fabulous models showing the latest LA fashion, a

wonderful children's and teen production, along

with a tribute to Vistas past presidents entertained

the philanthropic group. The boutique shopping

and live auction raised tens of thousands of dollars

to help children with special needs during the

event. Vistas For Children, Inc is a distinguished

philanthropic organization serving Southern California

which began in 1978 working in the South

Bay, Los Angeles. Since then, close to $6,500,000

has been disbursed to different charities which include,

but are not limited to children who are terminally

ill, multi-disabled, abused, homeless,

suffer from pediatric illnesses or born with

retinoblastoma (cancer of the eye). Our mission is

to raise funds to help special needs children and

to be a system of support for these children and

their families. The Fall Fashion Show and Spring

Golf Tournament are the primary events which

raise funds for Vistas For Children.

1. Event Sponsor and

Vistas Member Evelyn

Booth.

2. Past Vistas Presidents

Nadine Bobbit, Caro

Miguelez and Margo

Goldsbero.

3. Former Vistas President

Suzanne Thornton

with Patty Sullivan,

founder of Vistas for Children.

4. Vistas Members Beth

Higgins, MaryKay Stimpfl,

Honey Faith.

5. Current Vistas President

Pam Branan with her

daughter Alexandria and

her husband Larry

Branam.

6. Vistas members; Irene

Trotter, Randy Dauchot,

Alison Mayer.

7. Junior Vistas model

Kentucky Derby Fashions.

8. Past Vistas President

Helaine Lopes.

9. Bugler, Lorenzo

Mecozzi, started the event.

10. Runway.

11. Fashion Show Producer

Producer Suzanne

Von Schaak.

12. Fashion Show Chairwoman

Barb Gabrielli,

Gretchen Privett, Cindy

Percz, Pam Branam.

13. Event Sponsors

Karen Melideo and

Heather Bur with guests.

1

2 3

4 5

6

7

8

9 10

11 12 13

Architectural Design & Remodeling Seminar

This informative seminar will help you learn:

• Functioning designs to make the best of your living space.

• Choosing a contractor: What to look for and how to hire.

• Exploration of materials, from granite to quartz to more!

Join us on

Saturday

March 19 th

at 10:00 am

10 Peninsula People • February 2016
---
LILY LIANG PRESENTS:

PALOS VERDES' FINEST HOMES & ESTATES FOR OVER 30 YEARS!

3300 Palos Verdes Dr. West, Rancho Palos Verdes | $10,800,000 | www.3300PalosVerdesDrWest.com

IN

ESCROW

8 Ringbit Road East, Rolling Hills | $2,799,000 l www.8RingbitRoad.com

525 Palos Verdes Dr. W., Palos Verdes Estates

$3,299,000 l www.525PalosVerdesDriveWest.com

Prepare to have your breath taken away by this lovely 5 bedroom, 4 bath and 3,282 sq. ft. Malaga Cove home! With floor-to-ceiling-glass, the main living areas allow

one of the best Ocean, Coastline, Mountain and City views PVE has to offer! This is your chance to own a spectacular view home situated near shopping and quick

access to and from the hill! Offer subject to inspection.

717 Via Bandini, Palos Verdes Estates | $2,299,000 l www.717ViaBandini.com
---
S P O T L I G H T O N T H E H I L L

Palos Verdes

Peninsula Village

The Palos Verdes Peninsula Village welcomed

new Executive Director Colleen

Cotter with a reception at the Malaga Cove

Library Gallery. Over 60 members and

friends enjoyed an afternoon of socializing

and learning about the Village. There is

more information on the website at

www.peninsulavillage.net.

1

2

PHOTOS BY NORM ZARESKI

1. Dick Moe, Susan Wallace, Clay White, Ken

Servis.

2. Jill Smith, Constance and Jim McBirney.

3. Helen Dennis, Colleen Cotter, Susan Wallace

and Jill Smith.

4. Susan Wallace, Fran Wielin event chairs.

5. Ruth Gralow, Bill and Barbara Ailor.

6. Judy Bayer, Grace Farwell, Mary Watson.

7. Executive director Colleen Cotter, Chair of

board of Directors Sherry May.

8. Mike Cotter, Donna Johnson, Ruth Bloland.

9. Bill May, Harriet and Ken Servis.

10. Grace Farwell and Susan Schlictling.

11. Britt Huff, Colleen Cotter, Lea Ann King.

12. Fred and Virginia Lower with Bruce and Jean

Juell.

3 4

5

6

Chris Adlam

310.493.7216

www.chrisadlam.com

7

8

9

10

11 12

Panoramic views from Malibu to downtown and beyond! This Rolling Hills, gated estate features over 10,200 square feet of open living

spaces, 6 Bedrooms, 8 Bathrooms, Theatre, Gym, Wine Room, Library, Game Room, and so much more. $5,999,000

14 Peninsula People • February 2016
---
Gated tennis estate in PVE with 6250 square feet and 5 bedrooms. $5,250,000 Over 4,400 square feet, ocean views, 4 bedrooms in PVE. $2,599,000

CHRIS ADLAM

310.493.7216

WWW.CHRISADLAM.COM

Chris Adlam

310.493.7216

www.chrisadlam.com

VISTA SOTHEBY'S INTERNATIONAL REALTY

Lunada Bay, 4 bedroom, ocean view, pool and pool house. $2,499,000

4,100 square feet, 5 bedrooms, large backyard, ocean view in PVE $2,599,000 Classic Old Spanish with over 2,400 square feet. Built in 1924. $2,198,000

Brand new and stunning, this 5 bedroom, Palos Verdes Estates home features

spectacular, panoramic Queen's Necklace, ocean and city lights views!!! $4,998,000
---
2445 Rue Le Charlene, Rancho Palos Verdes

5 Bedrooms । 3 Bathrooms । 2792 Sq.ft.

OFFERED

$1,399,000

JERRYANDLAURA.COM

Over 600 Homes Sold and Counting

Your Home Deserves the Best EXPOSURE

(310) 480-3601

2141 Fairhill Dr., Rancho Palos Verdes

4 Bedrooms । 3 Bathrooms । 2793 Sq.ft.

OFFERED

$1,099,000
---
S P O T L I G H T O N T H E H I L L

Little Sisters

of the Poor

On Wednesday, January 20, the

Auxiliary of the Little Sisters of

the Poor held its annual officers' installation

luncheon and meeting in

the auditorium of the Jeanne Jugan

Residence at 2100 South Western Ave

in San Pedro.

1. New Officers for 2016 (Seated Left to

Right) Libby Cigliano, President; Jan

Werneid President-elect; Sylvia Kostyo,

1st Co-Vice Pres.; Mickey Zimmer, 2nd

Co-Vice Pres.; Standing (Left to Right)

Colleen Cotter, 1st Co-Vice Pres.; Laura

Wetzel, 2nd Vice Pres.; Mary DiLeva, Corresponding

Sec.; Rita Swartz, Treasurer.

Not pictured: Dottie Mezin, Recording Sec.

2. Mother Margaret gave a special "Thank

You" to the Auxiliary officers and members

for their continued enthusiasm, hard

work and financial support of the Home.

She graciously accepted a check on behalf

of the Auxiliary for the proceeds from the

2015 fundraising activities presented to

her by Ida Mavar, the outgoing president.

3. The presidential gavel was passed

from Ida Mavar to Libby Cigliano who announced

plans for the annual fundraiser

to be held on Saturday, September

24, 2016 at the Palos Verdes Golf Club.

1

2 3

Kriss Light, M.F.T

Psychotherapy

Jungian Depth Work

Individuals, Family, Children

Working With The Creative

kdlmft@aol.com

Offices in El Segundo

(310) 880-8514

MFT#78311

20 Peninsula People • February 2016
---
22 Peninsula People • February 2016
---
S P O T L I G H T O N T H E H I L L

Palos Verdes

Performing Arts

MUSIC & Memories Gala

The Harlyne J. Norris Pavilion was

transformed into a spectacular setting

for the 27th annual fundraising

event for Palos Verdes Performing Arts

on February 6. "Music and Memories"

Gala guests enjoyed gourmet food stations

prepared by Chef Michael Shafer,

live and silent auctions and a special

performance in the Norris Theatre,

filled with songs from the last 33 seasons.

The highlight of the evening was

the presentation of the honoree, celebrated

jazz pianist and composer and

five-time Grammy nominee David

Benoit, who also performed to the delight

of the audience of PVPA supporters.

For more information about

upcoming performances or joining one

of the nonprofit's many support groups,

call (310) 544-0403 or visit

www.PalosVerdesPerformingArts.com.

1

2 3

4 5

6

1. Julie Moe Reynolds and son Travis

Reynolds.

2. Arline Grotz and Steve and Sue Soldoff.

3. Lisette Herrera and Reggie Lucero.

4. John Reynolds and gala chair Abby

Douglass and John Douglass.

5. Beatrice and Al Sheng.

6. Sandra Sanders and John Jaacks.

7. Jim Grussing, Travis Reynolds with

auction puppy and Jason Sluyter.

8. Sophia Fitzmaurice.

9. Betty and Jack Reider.

10. Jackie Glass and Jim Kinney.

11. Dee and George Schuler.

12. Kei and David Benoit, Celebrity

Honoree and one of the founding fathers of

contemporary jazz.

13. Marilyn Schaffer, Hal and Anita Javitt,

and Sal and Melody Intagliata.

14. Myla Azer and Max Gropeupenhagen.

7

9 10

8

11 12

13

14

24 Peninsula People • February 2016
---
Simply Tiles Design Center

Fine Ceramics, Natural Stone, Hardwoods, Cabinetry, Faucetry.

Kitchen & Bathrooms Specialist.

3968 Pacific Coast Hwy., Torrance • (310) 373-7781 • www.simplytiles.com

License #904876

SIMICH

CONSTRUCTION

Performing Quality Work on the Peninsula Since 1976

PAVERS

STAMPED CONCRETE

STONE WORK

Driveways

Interlocking

Pavers

Walkways

Custom

Stone

Fireplaces

Water

Features

Firepits

Decorative

Concrete

Landscaping

Erosion

Control

Block Walls

Foundations

Cassons

BARBEQUES

FOUNDATIONS

POOL AND SPA

310.519.8203

INSURED LIC #410855 A,B, C-8, C-21

Visit our Website at

www.SimichDevelopment.com

Save up to $100

on Radiesse Injections*

*Save $50 on 1. 5mL syringe of Radiesse.

February 2016 • Peninsula People 25
---
S P O T L I G H T O N T H E H I L L

7212 Berry Hill, Rancho Palos Verdes

5 Bedrooms । 3 Bathrooms । 3095 Sq.ft.

OFFERED

$1,899,000

Peninsula People Business

Admiral Risty celebrates 50th

This restaurant has survived longer than most of the

marriages of couples who've met here," State Assemblyman

David Hadley observed at the 50th anniversary celebration

of Admiral Risty last month. He added that the

average lifespan for a restaurant is seven years.

"I turned 50 this year and Admiral Risty has certainly

aged better than I have," said Steve Napolitano, field representative

for Supervisor Don Knabe.

After thanking his guests, owner Wayne Judah explained

the key to the restaurant's success. "We make every night

a party, and you leave us just enough money for another

party tomorrow night," he said.

1. Rancho Palos Verdes Mayor Ken Dyda

expresses his city's appreciation to Wayne

and Jan Jay Judah.

2. Assembly David Hadley (center) with

Wayne and Jan Jay Judah and Sarah and Eric

Wood, children of the restaurant's founder

Ralph Wood, and Kathy Berg.

3. The Judahs are presented a State proclamation

by State Senator Ben Allen's office.

4. Offering up a toast is Fourth District Supervisorial

candidate Steve Napolitano, representing

Supervisor Don Knabe.

5. Jot Condie, president of the California

Restaurant Association recalled that Admiral

Risty's founder Ralph Woodl served two

terms as president of the CRA.

6. Representatives of the California Restaurants

Writers Association James Woodin and

Bob Gourley congratulate the Judahs on

owning one of California's oldest restaurants.

7. Palos Verdes Chamber of Commerce

Eileen Hupp presents a proclamation to one

of the chamber's oldest members.

8. Wayne Judah thanks his guests as wife

Jan Jay looks on.

1

2

JERRYANDLAURA.COM

Over 600 Homes Sold and Counting

Your Home Deserves the Best EXPOSURE

(310) 480-3601

3 4

5

6

7

28 Peninsula People • February 2016

8

3837 Crest Road, Rancho Palos Verdes

4 Bedrooms । 5 Bathrooms । 3610 Sq.ft.

OFFERED

$2,095,000
---
S P O T L I G H T O N T H E H I L L

The Assistance

League of San Pedro-

South Bay

M

embers and guests celebrated their

80th anniversary at their Chapter

House on February 6th. The event was attended

by a sellout crowd of 150 people.The

attendees dressed in 1930's attire and Mae

West was the Master of Ceremony. It was

like a Hollywood opening night. Mr. Joseph

Bowker was at the piano while guests enjoyed

appetizers and cocktails. Ted Johnson

provided music from the 30's for the dining

and dancing pleasure of the guests. A raffle

was held to help support our philanthropic

programs which include Operation School

Bell (providing school uniforms for those in

need), the Frances J. Johnson Dental Center

(dental service for children of low income

families), the Weavers (visually impaired)

monthly luncheon, Operation Hug (teddy

bears taken to emergency room for children

in traumatic situations). Additional information

regarding volunteering and/or donating

can be obtained by calling the Assistance

League 310-832-8355.

1

3 4

2

A & J Plumbing

St. Lic. #889571 Bonded & Insured

Clogged Drain?

Sewer Backup?

Need a Hydro-Jetter?

Water Heater?

Gas Leak?

Faucet Leak?

1. Dr. & Mrs. Merrick.

2. Dr. & Mrs. Art Edelstein.

3. Mr. & Mrs. Anil Triveda.

4. Mr. & Mrs. Robert Wolfenden.

5. Mr. & Mrs. Ronald Tyler.

6. Mr. & Mrs. Sheldon Russell.

7. Mr. & Mrs. Frank Brown.

8. Mr. & Mrs. Leonard Guiton.

9. Mr. & Mrs. Paul Lupo.

10. Mr. & Mrs. Richard Mendoza.

11. Chapter President Sharon Cole and Steve

Napolitano representing Supervisor Don Knabe.

12. League President with Assistance League

members Marcia Hubert and Shirley Tyler.

5

7

6

8

• Fully Stocked Truck

• Clean Professional Technicians

• Family Owned & Operated

• Copper Repipes

• Faucet

• Garbage Disposal

• Trenchless Sewer

Replacement

• Tree Root Removal

• Sewer & Drain Cleaning

$

35 off

any service

A & J Plumbing

310.629.1830

Must present coupon. Not valid with other offers or prior services. No Exp.

$

79

any drain, any time

9 10

11 12

30 Peninsula People • February 2016

A & J Plumbing

310.629.1830

Must present coupon. Not valid with other offers or prior services. No Exp.

free

sewer camera inspection

with any drain service

A & J Plumbing

310.629.1830

Must present coupon. Not valid with other offers or prior services. No Exp.
---
S P O T L I G H T O N T H E H I L L

Peninsula Committee,

Los Angeles

Philharmonic

Welcomes New Members

T

he Palos Verdes Golf Club was the site

of the annual Installation Luncheon for

the Peninsula Committee, Los Angeles Philharmonic.

Paula del Vicario was installed for

a second term as President, along with her

Board of Officers. Eleven new members

were also welcomed into Committee membership,

four of them being part of the

newly formed category of Professsional Provisionals.

Outgoing officers were thanked

for their service over the past year.

The Peninsula Committee raises funds in

support of the Los Angeles Philharmonic

and also supports music programs in the

local Palos Verdes schools.

1

3 4

2

1. Members of the

newly installed Board

are: (Back row from

left to right): Val

Noguchi, Joan Connaghan,

Tricia Paulsen,

Karen Cameron, Marian

Hall, Claudia

Grzywacz, Ann Marinovich,

JoAnn DeFlon,

(Front row): Karen

Gottlieb, Cheryl Graue,

Paula Del Vicario,

Board President; Kathy

Keller, Ellen Perkins,

Linda Whitson.

2. Nancy Siskowic,

left, with Diana Honeycutt.

3. Vice President/ Fall

Fundraiser, Joan Connaghan,

left, with new

Vice President/ Programs,

Cheryl Graue.

4. Board President,

Paula Del Vicario, left,

with former President,

Marian Duntley.

5. Philharmonic members,

Donna Scoular,

Joellen Alfen, and

Patricia Zelt.

6. Philharmonic Affiliate

Chair, Sherri Gill,

left, with Beth Howell.

7. Board President,

Paula Del Vicario, left;

Lorna Interian, Joan

Connaghan, Mardi Tobias,

and Cassie Westhead.

8. Phyllis Glantz, left;

Gayle Tons, Phyllis

Sherwood, Karen

Cameron, and Jean

Strickland.

9. Provisionals Chair,

Phyllis Sherwood, left;

with new Provisionals

Cassie Westhead,

Gayle Tons, Pam Irwin,

Lorna Interian, Jeanne

Henry, Lisa Harquail-

Sierveld, Nancy Bell,

Barbara Addleman,

and Phyllis Glantz,

Provisionals Vice Chair.

10. New Professional

Provisionals, Lynne

des Lierres, Ellie Espiritu,

Paula Moore, and

Ruth Trotter, with Bette

Moen, Professional

Provisionals Chair.

5

7

8

6

9 10

32 Peninsula People • February 2016
---
P E N I N S U L A P E O P L E | D I N I N G

Passion

The

of Bernard Ibarra

How Terranea's executive chef transformed the resort's farm-to-table

approach to food and in so doing found his own roots by Mark McDermott

C

hef Bernard Ibarra arrived at Terranea Resort three years ago

knowing a few things about the sprawling cliffside resort

where he'd just been appointed executive chef.

He knew Terranea was going to be a more hands-on experience

than what he'd become accustomed to. His nearly 30-year career

spanned the globe. He'd spent more than a decade with the Four Seasons

Hotel group, opening and operating locations in Calgary, Toronto, Vancouver,

Seattle, Houston, Tokyo, and Singapore. He'd served as executive chef

at the world-renowned Mandarin Oriental hotel, where he'd overseen the

handover dinner between Hong Kong and China. Most recently, Ibarra had

been the chef behind one of the most ambitious launches in the history of

Las Vegas — the Aria Resort & Casino, which included 4,004 rooms,16

restaurants, and 300,000 sq. ft. of banquet space. He'd managed 800 employees

and oversaw a $260 million budget at Aria.

Terranea, at 560 rooms, was intimate by comparison. Perched above the

Pacific Ocean on 102 acres that had formerly been the Marineland oceanarium

and park, Terranea was a small world unto itself — a departure

from the dense urban landscapes of Los Angeles County, stunning both in

its unexpectedness and sheer physical beauty.

What Ibarra did not know when he first stepped foot on Terranea was

that after three decades wandering the world

he was coming home.

He was looking out at the ocean one day not

long after he began working at the resort

when his mind drifted back to his childhood

and to his mother Helene.

"I looked at the sea and at first I was just enjoying

it," Ibarra said. "Then I remembered.

Years ago, we would go to the beach and my

mom used to take some water from the ocean.

… And then we would have salt. I had forgotten

about the salt."

Ibarra grew up in Bayonne, an ancient port

town in the Basque Country, the proud nation-without-a-nation

on the borders of France

and Spain that has somehow survived centuries

of invasions. The Basque are some of

the greatest seafarers the world has ever

Ibarra among his bees. Photo courtesy of Terranea Resort

known. For 1,000 years, they sailed from the Bay of Biscay to hunt whales

and fish for cod in the North Atlantic. Some historians believe the Basque

are among the original tribes of Europe and the first to reach the New

World, hundreds of years before Columbus.

Remembering his mother, Ibarra found his way down to the shore beneath

Terranea. He filled a container with water and brought it back to his

kitchen. He let the water evaporate and for the first time, Terranea produced

its own salt.

"I felt like a kid again," Ibarra recalled.

Three years later, Terranea has launched its Sea Salt Conservancy, utilizing

an evaporation greenhouse to harvest and produce its own signature sea

salt, which is used at the resort's eight restaurants and in its spa. The resort

has become "sea salt-sustainable" and produces beyond its own needs —

enabling it to also sell infused sea salts at the resort gift shop. Chef Ibarra

plans to begin making soap from the salt later this year.

Other "sustainability" practices have grown from Ibarra's initiatives. Most

significantly, the resort has expanded its partnership with Jim York and his

nearby Catalina View Gardens to minimize distance in its "farm-to-table"

offerings. York, who is one of Terranea's original investors, had previously

supplied the resort with organic Hass avocados and Meyer lemons. Since

Ibarra's arrival, York has dedicated a larger section of his farm to Terranea

and with the help of Ibarra and some of his fellow

chefs from the resort has added crops, including

heirloom tomatoes, cucumbers,

zucchini, watermelon, corn, eggplants, strawberries,

chili peppers, bell peppers and various

citrus. Additionally, Ibarra introduced beekeeping

to the farm in 2014 and helps tend to the

bees himself.

Lemons and various herbs are also grown at

Terranea. Ibarra can sometimes be found foraging

around the property's undeveloped edges

for berries, salt grass, and bay leaves.

"When you come to this area, or at least

when I did, it struck me there was so much

bounty here — both from the land and the

sea," Ibarra said. "The place had such a rich

history. Growing, harvesting and learning

about this area made me realize, 'Hey, maybe I

34 Peninsula People • February 2016

could bring something.' And I thought it was exactly

what I aspired to be. All these years working

in cities, in hotel restaurants...there was never

such a thing as these resources."

After all his travels since leaving home as a

teenager to become a chef, Terranea felt he'd

come full circle. He'd returned to a close-to-theearth

rhythm similar to his Basque childhood,

where the notion of "farm-to-table" wasn't some

highbrow culinary trend but a way of life that has

continued, unnamed and uninterrupted, for centuries.

Some of Ibarra's fondest memories are the

three hour walks his mother made almost daily

to the small markets — the cheesemongers, several

different green grocers, the fishmongers on

the docks — as she planned out the day's meals

for his family and exchanged news with the community

of Bayonne.

None of this was something Ibarra expected

when he moved. In his mind, he was essentially

moving to Los Angeles.

One of Terranea's signature infused sea salts, left. Above, Terranea executive chef Bernard Ibarra among the resort's lemon

groves. Photos by David Fairchild

"I didn't come here to grow things. I came here

to be a chef," Ibarra said. "I didn't know there

would be this closure. Not only memories of my

childhood, but the energy and the willingness...I

just wanted to make a difference, not only with

the hotel, but with my life. And I just wanted to

be connected. I just looked around me and felt

whole with what I saw. I looked at everything we

had around us and I felt totally fulfilled. Then I

had this picture of the cliffs back home and my

mother taking water and giving it to me."

He paused, filled with emotion at the memory.

Ibarra is a soft-spoken, gentle man, but even in

his understatedness, his passionate nature is evident.

Terranea president Terri Haack said it's a

quality that has made him an almost heroic figure

among the ranks at the resort.

"He is so compassionate and so humble, he

does not allow it to be about him," Haack said.

"It's about nature and about sustainability and

about teaching people how fragile our land is. He

taught us that honeybees are almost extinct. It's

really amazing — now we have our young chefs

taking shifts and going up to the farm and learning

how to work the land. Many of them grew up

in an urban setting and had no sense of what

working the land might be."

"Bernard really believes part of his role is to

transmit his knowledge to others. And that takes

time. It's a lot easier to do things yourself, rather

than teach someone to do it. He's very patient."

It's also made him a quiet but very influential

leader, beyond even the culinary realm he is responsible

for. He serves on the resort's eight-person

strategic board.

"He's engaged in every conversation about our

business," Haack said. "He adds great color to our

conversation. He's not a stand up and shout the

answer kind of guy. He's very thoughtful, but he

listens and he'll say, 'What about…' And I'll just

Ibarra cont. on page 56

February 2016 • Peninsula People 35
---
P E N I N S U L A P E O P L E | P O L I T I C S

Retiring Los Angeles County Supervisor Don Knabe is thanked for his service by Depot chef Michael Shafer.

Photo by Kevin Cody

Knabe not ready to retire yet

'Complaining about a problem without posing a solution

is called whining.'

by Kevin Cody

Los Angeles County Supervisor Don Knabe went

suddenly silent after talking comfortably, on and off

script, for 30 minutes before 200 guests at the Torrance

Chamber of Commerce's annual Lunch with

our Leader on February 10 at the DoubleTree Hilton.

Just prior to going silent, he said under his breath,

"This is the dreaded paragraph."

The clashing of silverware and dishes also ceased

as the audience turned its full attention to the supervisor.

Eventually, Knabe regained his composure sufficiently

to finish his talk.

"This is probably the last time I'll address this

group as your supervisor. It's been an honor. I thank

you for allowing me to represent you," he said.

The audience rose from their seats for a standing

ovation.

The former Cerritos City Councilman was elected

in 1995 to represent the two million people of the

Fourth Supervisorial District. The district's 47 cities

stretch 25 miles along the coast from Marina Del Rey

to San Pedro and east 43 miles to Diamond Bar.

Knabe is retiring in June because of term limits.

Knabe began his talk by observing, "It'd be easy

at this point in my career to act like I'm already retired.

But I feel invested in some programs and I

want to be sure they are continued."

One of those programs is for the homeless. He said

he had spent 10 years working on it and just the previous

day the Board of Supervisors board meeting

had finally approved a credible homeless program..

On the morning of his talk, the Los Angeles Times

reported on its front page that the county's 88 cities

had reached an agreement to spend nearly an additional

$10 billion over the next 10 years to help feed

and house the county's estimated 200,000 homeless.

The county's contribution to the program next

year is to be $100 million. The county already

spends nearly $1 billion annually of its $27 billion

budget on services and jail for the homeless. "At first,

many cities wouldn't acknowledge that they had a

homeless problem," he said. "But when business

owners began calling me about homeless sleeping in

front of their stores, cities began to see homelessness

is not just a social issue, but also an economic issue."

Still, he cautioned, "Homelessness isn't a problem

we can spend our way out of. It's going to take a

community effort."

Knabe also spoke of two other legacy programs he

wants to be sure are continued. One helps

children caught up in sex trafficking, the

other mothers who can't care for their

newborns.

Last October, Knabe and newly elected

supervisor Sheila Kuehl authored a measure

to treat minors arrested for prostitution

as victims, not prostitutes.

"Stop calling these children prostitutes.

They are our kids," Knabe told his listeners.

"In the past, judges would give young

girls a slap on the wrist and they would go

out to the parking lot, where their scumbag

pimps would be waiting for them.

"Under the county program their cases

are heard in special courts and they receive

wraparound services. In our test program

in Long Beach and Compton, only one of

38 kids returned to their pimps."

"What's still missing is pressure on the

demand side. Men who buy young girls are

not anonymous Johns. They are child

rapists. I'm working with the district attorney

on a 'Shame John' ordinance. Years

ago we had a 10 most wanted child support

evaders program. Shaming works," he

said.

In 2001, Knabe initiated the Safe Surrender

program for mothers who feel they

can't provide for their newborn babies.

"It's a no name, no shame, no blame. All

the mother or father has to do is bring the

child across the threshold of a hospital or

a police or fire station. They can't leave the

child in the parking lot. Parents have 14

days to reclaim their child. I'm so proud of

the 142 mothers who have had the guts to

do the right thing," Knabe said.

He recently hosted a picnic at the Garden

of Life in Grand Park in downtown

Los Angeles for surrendered children and

their adoptive families. He said he is establishing

a college scholarship fund for children.

The morning's Los Angeles Times front

page with the homeless story also carried

the headline, "Trump and Sanders score

big wins in first primary."

The election season prompted Knabe to

urge his audience to support Steve Napolitano

in his bid to succeed Knabe in next

June's election. Napolitano is a former

Manhattan Beach councilman and long

time Knable field representative.

"He's a prudent, talented leader whose

only fault is he is a lawyer," Knabe joked.

He followed the endorsement with his

thoughts about the condition of the current

political discourse.

"Politics should be the art of problem

solving, not yelling 'sell-out' every time

someone gives a little to solve a problem.

We shouldn't celebrate that kind of behavior.

Teddy Roosevelt said, 'Complaining

about a problem without posing a solution

is called whining.' Leadership doesn't need

to be dramatic, with trumpets blaring. It's

doing what you ask others to do, it's setting

a good example," Knabe said. PEN

36 Peninsula People • February 2016
---
designnews

Southern California's Newest Marina

You are cordially invited to attended a

Free Red Hot Mamas Educational Seminar

BEFORE

Mediterranean Style in Palos Verdes

The Jacobsons had enjoyed living in their home for over a decade.

While they loved their location, their home had become dated

and no longer functioned the way they needed it to. On the outside,

they wanted to create a curb appeal that made them smile every

time they arrived at their home. On the inside they were looking for

an eclectic space with room to entertain guests.

They retained El Segundo based Custom Design & Construction to

help them achieve their dreams. After considering retaining an independent

architect, they chose Custom Design & Construction because

the firm offers a complete solution from design to product selections

through construction. The Jacobsons didn't realize there was a Design/Build

firm in the area!

An eclectic style is a combination of both old and new materials and

product styles. The homeowners were interested in incorporating vintage

and antique reclaimed pieces into the design. The Custom Design

AFTER

& Construction design team married the new materials with the hand

carved wood elements, all while keeping with the Mediterranean style

of the house. Adding additional square footage to the home meant special

considerations to the home's exterior. Decorative Mediterranean

columns along with new stucco, a trellis and dark wood windows completed

the Mediterranean exterior. The addition of an upstairs balcony

with a Spanish style rod-iron railing completes the homes exterior and

offers a new exterior space.

If you're considering a whole house remodel or major renovation,

consider a Design/Build firm like Custom Design & Construction. They

have a 2,500 sq. ft. Design Center located on 2001 E. Mariposa Ave, in

El Segundo with dozens of kitchen and bath vignettes and hundreds

of finish materials. Custom Design & Construction can be reached at

(310) 815-4815 or by visiting their website

www.VisitCustomDesign.com.

SPONSORED CONTENT

Shortest

Run to

Catalina!

Marina Amenities

• SLIPS from 28' to 130'

• Dry Storage w/Crane Launching

• New Restrooms w/Showers

• Ice Machines & Laundry

• Pumpout - Public & In-Slip

• Ample FREE Parking

Marina (310) 514-4985 • Dry Storage (310) 521-0200

Cabrillowaymarina@westrec.com • cabrillodb@aol.com

www.westrec.com/marina/cabrillo-way-marina

2293 Miner St., San Pedro, CA 90731

NOW

OPEN!

TOPIC

"Memory & Menopause"

DATE

Thursday, March 17, 2016

TIME

6:30 PM - 8:30 PM

VENUE

Marina Del Rey Hospital

Board Room

4650 Lincoln Blvd.,

Marina del Rey, CA 90292

Food and beverages will be provided

FREE Parking

Raffle for Prizes

RSVP

Call 888-600-5600 or

register online via MarinaHospital.com

About the Red Hot Mamas®

With more than 20 years of experience, Red Hot Mamas®

is the largest menopause education program in US and

Canada. Their educational and advocacy channels include

monthly education programs hosted through local hospitals

and considered a leading menopause education/support

program of its kind. Red Hot Mamas programs have proudly

been utilized in over 200 hospitals and physician group practices.

Their award winning website, www.redhotmamas.org,

is HON accredited and serves as a credible midlife health

education resource to women and their healthcare providers.

Their mission is to broaden women's knowledge about

menopause and empower them to become educated healthcare

consumers and active participants in the management

of their menopause.

38 Peninsula People • February 2016

February 2016 • Peninsula People 39
---
P E N I N S U L A P E O P L E | C H A R I T Y

Senior Planner

H.E.L.P. Executive Director and Rolling Hills Estates Councilwoman Britt Huff. Photo by Roger F Repohl

by Roger F. Repohl

Reporters are expected to ask the age of the

people they interview, but this didn't go

over well with Rolling Hills Estates Councilwoman

Britt Huff. As the executive director of

the non-profit Healthcare and Elder Law Programs

Corporation (H.E.L.P.) in Torrance, she has

been sensitized to the subject.

"One day a woman who came into our office

told me, 'Honey, one of the things you need to

learn in life is never to tell people your age. People

will limit you by your age. They'll put you on

the back burner and discount you,'" explained

Huff, who is also a member of the Rolling Hill

Estate City Council.

"The woman eventually revealed to me that she

was 92 and clearly still going strong. We're trying

to change traditional attitudes about the capabilities

and value of older adults."

H.E.L.P., which is celebrating its 20th anniversary

this year, provides information and referrals

on healthcare, legal issues, financial planning,

and consumer protection to

seniors and their families

throughout the South Bay.

"People walk in our door

and tell us they have some

crisis with an aging parent and they don't know

where to start," she says. "Perhaps their parent

has had a stroke and is unconscious and hasn't

left any directives; perhaps parents are neglecting

their finances; perhaps they are feeble and feel

isolated in their homes. We help them make a

plan."

In addition to walk-in and telephone assistance,

the program offers a wide range of publications

and free workshops to show seniors how to avoid

these crises by planning wisely for the future. It

also acts as an advocate for seniors' issues with

local governments and other community groups.

In 2014, H.E.L.P. served over 6,000 people

through one-to-one counseling; more than 1,600

attended its workshops, and 380,000 visited its

Almost 25 percent of Peninsula residents are seniors. H.E.L.P. director and RHE

Councilwoman Britt Huff wants the other 75 percent to help the seniors stay here.

40 Peninsula People • February 2016

website, Help4srs.org.

H.E.L.P. is staffed almost entirely by volunteers, many of them retired

professionals.

"We're focused on helping people in their eighties and nineties by encouraging

younger retirees to reach out and share their life experiences

and expertise. We're predicting that one of these days there won't be the

stigma for the aging that we so often see today."

Huff was attracted to H.E.L.P. five years ago, after the deaths of her

mother and aunt. She had looked after them in their aging years, helping

them to remain in their own homes and live independently as long as they

possibly could.

"It's sad to see so many elderly people spending their life savings in expensive

senior care facilities" she says. "A good number of them could get

the care they need in their homes, but not everybody has family to look

after them. What I wanted to do was to help people continue living happy

lives in their communities among their friends and neighbors."

The spirit of service is in her blood. Britt Vanden Eykel grew up in

Pasadena, graduated from UCLA, and went on to receive a doctorate in

political science from George Washington University in Washington, D.C.

After working on Capitol Hill and a three-year stint in the Foreign Service,

she moved to Boston with her new husband Kenneth Huff, now a UCLA

Professor of pediatrics and neurology and Chief of Pediatric Neurology at

Harbor UCLA Medical Center, who was starting his residency at Harvard

Medical School. While in Boston, Britt worked as Deputy Director of the

U.S. Department of Commerce regional office. Returning to the Los Angeles

area with her husband, she turned her talents to non-profit management

and consulting. While raising their young daughter Hana Lise, she

also became active in the PTA and many artistic and charitable organizations,

as well as serving as an adjunct professor of political science at several

area colleges.

But her work with H.E.L.P. kindled her true passion: community involvement

in the care of the elderly. "Until I got involved with H.E.L.P.,"

she says, "I didn't realize the number of people who are living isolated in

their homes. I think it's important that these people get help. And who

else is better able to do this than their neighbors?"

To this end, she became an enthusiastic supporter of the Village movement,

which enlists individuals and local organizations to provide the services

needed to help seniors continue to "age in place" in their communities.

The program that began in Boston in 2001 and there are now over 190 Villages

in 40 states, with another 185 in development. California, alone, has

50.

"It's so exciting to utilize the process of neighbors helping neighbors,"

Huff says. "It's always been part of American culture, but it's being lost as

people become more mobile and both husband and wife are busy working

while raising their families."

Villages are nonprofit corporations that mobilize and coordinate existing

service organizations, commercial businesses and a large contingent of vetted

volunteers to provide comprehensive assistance to seniors. This includes

home visits, grocery shopping and food preparation, home cleaning

and maintenance and transportation to doctors' appointments and events.

"A lot of people end up moving out of their homes because they have

one or two things they can't handle," she notes. "Villages supply the support

network that you really need to stay at home."

H.E.L.P. has assisted in the development of two local villages, the Palos

Verdes Peninsula Village and South Bay Village, which serves the cities of

Torrance, Lomita, and the beach communities. Huff is on the board of directors

of both.

Huff's involvement in city government sprang from her desire to

broaden the scope of action on seniors' concerns and to encourage local

citizen participation.

"Almost 25 percent of our population on the Hill are seniors, and I

wanted to get the other 75 percent involved. It's important to communicate,

coordinate, and cooperate on all levels, from the grassroots on up.

And having taught political science for much of my life, I decided to practice

what I preached about the democratic process."

After volunteering on the planning commission of the City of Rolling

Hills Estates for five years and becoming its chairperson in 2012, she entered

the race for the City Council and was elected in 2013.

Britt Huff cont. on page 42

February 2016 • Peninsula People 41
---
MasterCard®

®

AMERICAN EXPRESS ®

SM

The Master

Clock

The clock motor

and Patek

Philippe master

time-base in this

photo was designed

and built to operate

the biggest tower

clock in the world.

Available for sale,

this timepiece with

neon lit hour, minute

and second hands

measuring over seventy-five

feet can

serve as an entrance

to a city or an airport.

When Michel

Medawar designed

this clock motor almost

twenty years

ago he insisted on precision of the highest caliber built to last generations.

A properly maintained clock not only extends its life indefinitely,

it also insures its accuracy. Your clock has a complex mechanism

of inter-working parts. Yet unfortunately this precious item does

not warn you prior to any major malfunction, therefore it becomes

imperative to maintain and service your clock regularly. Oil gets

old and dry forcing the train of gears to work twice as hard to accomplish

their goal. This results in damage that drastically shortens

the life of a fine timepiece.

Your clock reminds you of its' presence every time you wind it,

and if its' accuracy is not what it used to be, or its' chimes are not

as healthy, or maybe it just stops. That means it's talking to you,

telling you that its endless life is in jeopardy.

Michel Medawar has been extending the lives of timepieces for

sixty years as his father did sixty years before. He is the inventor

of the first talking clock in the world. He is a graduate from Patek

Philippe in Geneva, Switzerland, The Theod Wagner clock Co. in

Wiesbaden, Germany, and the Howard Miller Clock Co. in Zeeland,

Michigan. Call him so that he may come to your home the same

day and offer you a free estimate for servicing your clock. Or bring

your wall or mantel clock to our store to see our showroom and receive

the same complimentary diagnosis.

We are located at 810C Silver Spur Rd., in Rolling Hills Estates, Ca.

90274. Or call us at (310) 544-0052.

"Running for City Council was one of the highlights of my life," she says.

"It was a scary thought to run in an election, but I decided that I wanted

to get out and meet people, so I walked door to door in the neighborhood.

These days people are wary of a knock on the door, but I just said, 'Hi,

I'm your neighbor,' and found them very welcoming, very friendly, very

interested in meeting a neighbor who wants to improve the city. It expanded

my horizons to find out their concerns, and I got to know my city

in ways I hadn't thought of before."

"For me," she says, "the City Council opens wider opportunities to help

more people" by extending the principles of grassroots organizations like

H.E.L.P. and the Villages in ever-widening circles.

"Let's learn from each other," she says, "and share what's working."

Huff also serves on the South Bay Cities Council of Governments

(SBCOG), an umbrella group that brings together officials from the 16 cities

in the region to discuss issues of common interest, coordinate their programs,

and influence legislation. As the Chair of the Senior Services Working

Group of the SBCOG Steering Committee, she has been reviewing

various area-wide possibilities such as contracting with the Uber ride service

to provide trained van drivers to supply rides for the elderly to a wider

service area at a reduced rate.

Huff's passion for community-building and improving people's lives extends

beyond our national boundaries. For years she, her husband and

daughter have gone to countries in Latin America and Africa with a team

of missionaries from her church to provide short-term medical and social

services to people in rural areas.

"Most recently in Kenya," she notes, "we teamed up with 20 medical students

from Nairobi University to work in six remote villages. In addition

to the medical and dental care they desperately need, we help with sanitation

and clean-water projects. We also show people how to start small

companies -- develop a business plan, look for funding and then pay back

their loans to help others."

At base, Huff's guiding principle is what she calls "a God-thing."

"If you are willing to say, 'Here I am, Lord; send me,' God will open

doors to a wonderful and abundant life of service to help bring justice and

mercy to the world."

For Councilwoman Britt Huff, the work of helping and healing can be

every individual's lifelong calling.

And that's why it's important never to ask people their age.

For more information, contact:

H.E.L.P.: 1404 Cravens Avenue, Torrance 90501; 310-533-1996;

www.help4srs.org

Palos Verdes Peninsula Village: 310-991-3324; www.peninsulavillage.net

South Bay Village: 424-271-2304 www.SouthBayVillage.org

H.E.L.P.'s twentieth anniversary celebration will be held Friday, June 10, 6

to10 p.m., at the Palos Verdes Golf Club. For information and tickets, call 310-

533-1996 or e-mail at CelebrateSummer@help4srs.org. PEN

G e t R e a d y F o r T h e S p r i n g !

Say Goodbye to Stubborn Fat....

• Skin Cancer & Mole Removal

• Mohs Micrographic Surgery

and Reconstruction

• Cysts, Acne, Warts & Rashes

• Leg Vein Sclerotherapy

• Acne & Accutane Treatments

• Pre-Cancer Treatments

• Propecia Available

Fariba Seraj,

NP/PA-C

Providing Full

Dermatological

Medical Treatment,

in addition, Provides

all Laser and

Cosmetic Services.

Two Coolscuplting Devices to Treat Two Areas at Once!

Intense Pulsed Light

Treats Sun Damage, Brown Spots,

Age Spots, Broken Capillaries, Sun

Induced Freckles, Rosacea

NO DOWNTIME!

Special Introductory Price

$200* (Complimentary Consulation)

*New Clients only. Must bring ad for discount.

• Age Spots

• Glycolic & Chemical Peels

• Sculptra, Radiesse, Perlane ® ,

Juvéderm & Restylane ®

• BOTOX ® & Dysport

• Pediatric Dermatology

• Ultraviolet B & PUVA

• Latisse for longer, darker lashes

Shelby Reed

Also providing services: Steven E. Gammer, M.D. and Geover Fernandez, M.D.

www.beachcitiesderm.com

BEACH CITIES DERMATOLOGY MEDICAL CENTER

CERTIFIED, AMERICAN BOARD OF DERMATOLOGY

Also Providing

Licensed Aesthetician

Services

• Glycolic and Salicylic

Chemical Resurfacing Peels

• Microdermabrasion

Erika La Ponza • Progressive Acne Treatments

Hamaguchi

Jennifer

FREE INITIAL CONSULTATION! PLUS...

State-of-the-Art Skin Care With a Personal Touch

Rolling Hills Estates – 827 Deep Valley Drive, Suite 101

Redondo Beach – 520 N Prospect Avenue, Suite 302

Culver City – 3831 Hughes Avenue, Suite 504 B

ALL PPOS ACCEPTED l EVENING & SAT. APPTS. AVAILABLE

310-798-1515

William J. Wickwire, M.D.

Get Ready For The New Year

Discounts Offered Now!!

Call Our Office For Details!

• Laser Surgery

• GentleLASe-Hair Removal

• IPL-Rosacea/Sun Damage

• Smoothbeam-Acne/

Wrinkle Reduction

• Vbeam-Redness/Broken Capillaries

• Fraxel – Melasma/Wrinkle Reduction

• XTRAC laser for treatment of

Psoriasis and Vitiligo

Get Two FULL

HOUR Microdermabrasion

Treatments

for $160.

A Savings of

$100.00

Neal Ammar, M.D.

Open 10:00 am - 6:00 pm Tuesday - Saturday

810C Silver Spur Road • Rolling Hills Estates • CA 90274

Call 310.544.0052

Suzy Zimmerman, Agent

Insurance Lic#: OF71296

4010 Palos Verdes Dr N, Suite

103

Rolling Hills Estates, CA 90274

Bus: 310-377-9531

www.zimziminsurance.com

That's when you can count on

State Farm®.

I know life doesn't come with a schedule.

That's why at State Farm you can always

count on me for whatever you need –

24/7, 365.

GET TO A BETTER STATE.

CALL ME TODAY.

1101198.1 State Farm, Home Office, Bloomington, IL

42 Peninsula People • February 2016

February 2016 • Peninsula People 43
---
P E N I N S U L A P E O P L E | A R T S

by Kevin Cody

Two weeks prior to the 2008 presidential

election, General Colin Powell announced

on "Meet the Press" that he could not support

Republican candidate John McCain. Mc-

Clain was a personal friend and it was not

McCain the former Secretary of State was repudiating.

It was the Republican Party, Powell told

"Meet the Press's" Tom Brokaw. Powell explained

he could not support a candidate whose party disparaged

opponent Barack Obama by saying he

was a Muslim.

"He is not a Muslim, he's a Christian. He's always

been a Christian. But the really right answer

is, what if he is? Is there something wrong

with being a Muslim in this country? The answer's

no, that's not America," Powell said.

Powell said his decision was triggered by a photograph

in New Yorker magazine.

"I feel strongly about this particular point because

of a picture I saw in a magazine of a mother

in Arlington Cemetery," he said.

"She had her head on the headstone of her

Photographer Platon recounts the stories behind his portraits of the world's most powerful people. Photos by Deidre Davidson (Davidsonfoto.com)

Picture stories

son's grave… And it gave his

awards — Purple Heart, Bronze

Star — showed that he died in Iraq,

gave his date of birth, date of

death. He was 20 years old. And

then, at the very top of the headstone,

it didn't have a Christian cross, it didn't

have the Star of David, it had a crescent and a

star of the Islamic faith. And his name was Kareem

Rashad Sultan Khan, and he was an American.

He was born in New Jersey. He was 14

years old at the time of 9/11, and he waited until

he can go serve his country, and he gave his life,"

Powell said.

The photograph was taken by Platon Antoniou,

who works under the name Platon. He spoke

Monday, February 8 at the Redondo Beach Performing

Arts Center to Distinguished Speaker Series

subscribers.

Though known for his distinctive style of

harshly lit, tightly cropped and often black and

white portraits, Platon spent no

time discussing how he takes pictures.

The program quoted him as saying,

"Photography is just technique,

it's the grammar, but it's never the

content."

'Mr. President, I'm English. Do you

like the Beatles?' 'Oh, my God, I

love the Beatles,' Putin answered.

Instead, he recounted how he engages his often

powerful subjects in light hearted banter, leading

them to lower their guard. Then he is able to photograph

them not as world leaders or celebrities,

but as themselves.

When he met Henry Kissinger to photograph

him for the London Times Magazine, he said to the

architect of the Vietnam War, "Dude, you've got

such a great, old school style. I love the suspenders."

Kissinger responded, "Platon, you are the greatest

con man I have ever met."

Platon told the stories behind the portraits as

the portraits were projected behind him on a

large screen.

Shortly after Obama was elected, Platon was

invited to the White House to do a portrait photo

of Michelle Obama.

"It was an intimidating moment for me. She

was having her makeup, done, a stylist was working

on her clothes, a hairdresser on her hair. I became

overwhelmed by the moment

and said, 'Right love, I want your

soul. Give it to me.' There was silence

and she gave me a devastating

look with raised eyebrows, as if to

say, 'How dare you.' But I think she

quite liked it.

"After I took the photo, I apologized.

I said, 'I am usually a polite

Englishman and can't believe I just

called you my love. You're the

bloody First Lady.

"She kissed me on the cheek and

whispered in my ear, 'Platon, when

all is said and done, I'm just

Michelle.'"

In 2007, Time Magazine sent Platon

to Moscow to photograph

Vladimir Putin for the magazine's

Man of the Year cover. Platon has

taken over 20 Time Magazine covers.

"This is the only photo Putin has

ever sat for, outside the Kremlin.

The KGB came to my hotel room in

Moscow and I was taken in a black

limo to a dark forest to Putin's personal

dasha covered by snipers. I

was led into the historic room

where the Soviet Union was dissolved.

"Putin walked in with his bodyguards,

two translators and six advisors.

I said, 'Mr. President, it is an

honor to meet you. I'm English. Are

you a Beatles fan? The translators

whispered in his ears.

"He ordered everyone out of the

room except security.

"He said, 'Oh my God, I love the

Beatles.' I said, 'I didn't know you

spoke English. Who's your favorite

Beatle. He said Paul. I said, 'I bet I

know your favorite song -- 'Back in

the USSR.' I thought I was going to

be shot right then. He said, 'No. It's

'Yesterday.'"

"That connection with pop art is

how I got the truth."

Platon described the closed

lipped, impassive head shot he took

of Putin that day as "the cold look of

power."

For another Time Magazine cover,

Platon photographed Microsoft cofounder

Bill Gates. The pictures

shows the often grumpy, disheveled

looking genious happily smiling.

"I had trouble connecting with

him. I couldn't reach him. But

when I got the film back, I saw he

was connecting not with me, but the

camera."

Platon said he had better success

with Facebook founder Mark Zuckerman.

"As I walked into his office, I saw

a hand painted poster with red letters

nailed to the wall. It said, 'What

would you do if you weren't afraid?'

The irony is, as soon as he walked

in, I saw he was terrified. He didn't

want his picture taken. He resisted

every attempt I made to reach him.

His eyes were bulging out of his

head.

"Finally, I said, 'You must have

failed sometime on your journey.

How do you deal with failure?' He

answered, 'There is no failure. I love

what I do.' I said, 'Show me.' He

changed and stopped looking at me.

He looked over his shoulder, looking

almost angelic. He was looking to

the future."

Platon's most famous photograph

is of the most wanted man in America.

The picture appeared on the

cover of the August 2014 Wired

magazine

"I put the word out in the human

rights network that I wanted to photograph

Edward Snowden. I communicated

in code. He was Mr.

Mango," Platon said.

In 2013, while working for a National

Security Agency contractor,

Snowden copied thousands of pages

of classified document that revealed

the NSA's secret surveillance of

friendly nations and U.S. citizens.

"I was told to go to the Metropole

Hotel in Moscow on a certain date

and that I would be contacted at

noon. But it was impossible for me

to get a visa in time for the appointment.

So I called Putin.

"Without giving the game away,

he gave me a visa like that.

"At noon, with military precision,

I heard a knock at the door. A little

guy slips in wearing a blazer that's

too sizes too big, scruffy shoes, broken

glasses and a backpack with a

computer.

"He said, 'I'm Ed. Let's begin.'"

"Twenty years earlier, I photographed

Pamela Anderson with an

American flag for John F. Kennedy

Jr.'s magazine George. Pamela was

pregnant at the time and didn't

want the press to know. So I clothed

her in a big flag she had. She gave

me the flag and told me to take it on

all my big shoots, that it would bring

me good luck.

"Snowden was looking out the

window at the Kremlin when he

saw my good luck American flag

draped over a couch. He picked it

up and walked over to where the

camera lights were. I said, 'I've got

a question. Everyone wants to know

if you are a patriot or a traitor.' He

said, 'Don't get bogged down in labels

and picking sides. It's not us

versus them. It's about coming together.'

He said, 'I didn't ask for

money. I took the information to

give it back to you, to give you a

choice about the kind of country

you want to live in.'"

"He clenched the flag and put it to

his face.

"Click, I took this photo," Platon

said. Snowden appeared on the

cover of Wired clutching the flag

and looking into the distance.

"I'm not trying to sell you Snowden.

I never sell anyone. But we live

in such a wonderful, free democracy

that I can stand here and discuss

delicate issues and we can

debate them. Because without good

old fashion discussions about what

is right and what is wrong, we'll

never know," Platon said.

Theoretical physicist and futurist

Michio Kaku will address Distinguished

Speaker Series subscribers on

Monday, March 14 at 8 p.m. at the Redondo

Beach Performing Arts Center.

For more information visit SpeakerSeriesLA.com.

PEN

44 Peninsula People • February 2016
---
We reimburse UBER & LYFT up to $10

CONCRETE - For the Drought-Conscious

] u

t

HAPPY HOUR TUES-FRI 4-7PM

Join Us On

Easter Sunday!

For a Special

Champagne

Brunch!

Complimentary D inner

Buy 1 Dinner and 2 Drinks, Receive Free Dinner

• Stamping

• Driveways

• Pool Decks

• Arificial Turf

• Patios

• Stonework

• Pavers

• Foundations

LIABILITY INSURED • WORKERS COMPENSATION

Casey Lindahl - Founder & President of Lindahl Concrete Construction, Inc.

310-326-6626

Call for Showroom address

Live Piano

Entertainment!

MAKE YOUR

RESERVATIONS

TODAY!

(310) 378-0267

($17 Max Value. Dine in only. One per table. Not Valid with other offers or holidays. Expires 3/31/16)

$17 $17

320 Tejon Place Palos Verdes Estates (310) 378-0267

www.LaRiveGauchePV.com

SPECIAL MENU 4-COURSE DINNER $25.95

Call for estimate

LindahlConcrete.com

Lic.#531387

Dine & Enjoy Our Lunch & Dinner Specials!

eventcalendar

CALENDAR OF COMMUNITY EVENTS

Compiled by Mary Jane Schoenheider

You can email your event to our address: penpeople@easyreadernews.com

All submissions must be sent by the 10th of each month prior to event taking place.

Tuesday, March 1

Dawn Unity panel discussion

"The Legacy of David" will be the topic when the Dawn Unity Group presents

its third Interfaith Discovery Series year at Congregation Ner Tamid, 5721

Crestridge Rd, at 7:30 p.m. David the shepherd boy who slew the giant Goliath

grew up to be King David the royal monarch who created the Jewish

kingdom. The discussion of the strengths and flaws of a national leader is particularly

appropriate in this election year. The panelists are Rev. Jonathan

Chute, Rolling Hills United Methodist Church; Rev. Clayton Cobb, Presbyterian

Church USA: Rabbi Brian Schuldenfrei, Congregation Ner Tamid; and Fr.

Alexei Smith, Archdiocese of Los Angeles. Bob Rothman will be the moderator.

For more information (310) 833-7008.

Thursday, March 3

First Thursday Art Walk

Marymount California University presents student and faculty performances

and exhibitions at the Klaus Center for the Arts during First Thursday in San

Pedro. Free. 6 p.m. Marymount's Blue Moon Jazz Ensemble, directed by Dr.

Lee Raby will perform. Exhibitions feature the work of Marymount's Media

Studies students. 430 W. Sixth Street in San Pedro. For information call

(310)303-7223 or visit www.MarymountCalifornia.edu.

Of Mice and Men

One of the greatest American dramas of the last century, "Of Mice and Men"

will come to life in the intimate setting of the Harlyne J. Norris Pavilion, March

3 - 6 for an immersive live theatre experience unlike any other. With only 100

seats, audiences will be instantly drawn into the lives of John Steinbeck's extraordinary

characters. As vital today as when it was first written, "Of Mice

and Men" is one of world's most compelling and touching tales of the bonds

of friendship. 8 p.m. Thursday - Saturday; 2 p.m. Saturday and Sunday; and

7 p.m. Sunday. $38 and $25 for children ages 12 and under. For more information

or to purchase tickets call the box office at (310) 544-0403, ext.

221, or go to PalosVerdesPerformingArts.com. 27570 Norris Center Drive

in Rolling Hills Estates.

46 Peninsula People • February 2016

Sunday, March 6

Music in the Garden

Peninsula Committee Los Angeles Philharmonic will hold its community outreach

program, Music in the Garden at South Coast Botanic Garden from

noon to 4 p.m. Featuring student musicians from the Palos Verdes Peninsula

and the South Bay, the program is designed to create public audiences for

young musicians and to showcase the music programs of area schools. The

schools performing are Miraleste Intermediate, Narbonne High, Palos Verdes

High, Palos Verdes Intermediate, Peninsula High, Ridgecrest Intermediate,

Rolling Hills Prep and Renaissance Schools and South High. The popular Music

Mobile van will be on display and will feature hands-on demonstrations of orchestra

instruments. Face painters, strolling musicians and a food truck will

add to the festivities. The Cherry Blossom Festival will conclude on this day. In

addition to the schools, the Ryukyukoku Matsuri Daiko group will perform taiko

drumming based on the old Okinawan tradition of obon taiko dancing. Proceeds

from Music in the Garden will benefit youth music education. Information

on the program and how to purchase tickets are posted at www.pclap

Palos Verdes Symphonic Band

The Palos Verdes Symphonic Band will present Music for Organ and Band at

3 p.m. at St. Peter's by the Sea Presbyterian Church, 6410 Palos Verdes Dr.

South, Rancho Palos Verdes.Featuring organist, pianist, harpsichordist, and

collaborative artist Haesung Park.Music to include the Finale from Camille

Saint-Saens Organ Symphony (No. 3), Steven Reineke's Celebration Fanfare

(Overture for Symphonic Band and Organ) and Alfred Reed's Alleluia! Laudemus

Te (a Celebration Hymn for Winds, Percussion, and Organ). The band

will perform selections by Malcolm Arnold, Leo Delibes, and Ralph Vaughan

Williams, giving the program an international flavor with composers from Engeventcalendar

Friday, March 4

Get Your Kicks with ACT II

Act II, a support group of Palos Verdes Performing Arts, will stage its 30th annual

community variety show, "Route 66: Get Your Kicks with ACT II" March

4 - 6 at the Norris Theatre. Director Larry Watts's script follows the fabled

Route 66 to tie all of the musical numbers together. Hostess Adrian Sanchez

takes on the role of an employee of the U.S. Auto and Travel Company to

help cast members plan the road trip for their dream destination, while she is

being courted by UPS man Brady Porter. With a cast of over 100 singers and

dancers, outstanding returning, and newly discovered local South Bay area

talent of all ages will be showcased. Produced by Sue Soldoff and Susane

Button, with musical direction by Brian Murphy. Proceeds benefit the Palos

Verdes Performing Arts. 7:30 p.m. on March 6 and 2 p.m. and 7.30 p.m. on

March 7. $25 for adults and $15 for youth aged 18 and under. For more information

or to purchase tickets call the box office at 310- 544-0403 or online

at PalosVerdesPerformingarts.com. 27570 Norris Center Drive in Rolling Hills

Estates.

2016 Designs for Dining

St. Francis Episcopal Church presents "2016 Designs for Dining," Annual

Fundraiser, benefiting the St. Francis Outreach Scholarship Program, 10 a.m.

to 4 p.m. today and tomorrow, March 5. This 2-day event features entertaining

ideas and 20 themed table designs. Other highlights include guest speakers,

boutiques, tastings, an opportunity drawings and silent auction, including an

African Safari. Opportunity drawings include a catered dinner with wine for

12 prepared in your home or at Chez Melange by Chef Robert Bell and staff.

Tickets for that dinner may be purchased in advance or at the show, and the

special drawing will be held after Sunday services on March 6 at noon. The

winner need not be present. Tickets for the event are $30 in advance (by

March 1); $35 at the door. Refreshments will be served throughout the day

and are included in the admission price. St. Francis Church is located at 2200

Via Rosa, at the northwest entrance to Palos Verdes Estates, off Palos Verdes

Boulevard. For more information, call (310) 375-4617, or visit www.stfrancispalosverdes.org

and click on Designs for Dining link at bottom right side of

Home page.

"Breakfast with Champagne"

3200 La Rotunda Drive, Unit 110,

Rancho Palos Verdes

Enjoy the romantic life of beginning each day with the

panoramic unobstructed view of the blue Pacific Ocean, nestled

on the Trump National Golf Course. From your condo views of

Catalina Island, golfers on the 14th hole and shimmering pool

are entertainment. Orange Sunsets, golden sun, gray foggy

days are unsurpassed. Breakfast with Champagne on the spacious

terrace deck off living room or in the formal dining room

looking out on passing cruise ships. Two bedrooms, two bathrooms,

walk in closet, fireplace, new recessed lighting in kitchen,

food pantry, washer/dryer in unit, two car spaces and large storage

closet in community garage. Steps from elevator to garage.

Sweet life.

$720,000

"Life is a Journey measured and

remembered by the Homes in which we live"

(310) 544-8455

LINDA CAVETTE, Realtor BRE#01294739

Coldwell Banker Palos Verdes and Beach Cities

LKCavette@aol.com • www.LindaCavette.com

February 2016 • Peninsula People 47
---
eventcalendar

land, France, Italy, and the United

States. $20 and $10 (youth 15 and

younger). Contact Max Miller for

tickets at KC6ZUT@ieee.org. Purchase

tickets online at

pvsband.brownpapertickets.com.

The Palos Verdes Symphonic Band,

under the direction of David Stanton,

consists of 60 local musicians dedicated

since 1962 to bringing the

very best in concert band music to

the South Bay community. For information

call the band at 310-792-

8286 or visit www.pvsband.org.

LA CELLO Quartet

Cellist RusLan Biryukov and his magnificent

LA CELLO Quartet will perform

at Temple Emet, 2051 W.

236th St. Torrance at 7:30 p.m. Refreshments

at intermission. Four

charismatic, dynamic cellists playing

a delightful program including the

LA Premiere of a major cello quartet.

$36 for members; $46 for non-members.

Tickets at www.templeemet.org

or send check with contact information

to Temple Emet, PO BOX 1324,

Torrance CA 90505. Or pay at the

door (doors open at 6:30). Call

(310) 373-3161 for further information.

DAVID FAIRCHILD PHOTOGRAPHY

"Its Like You're There All Over Again"

310-316-5547 WWW.DAVIDFAIRCHILDSTUDIO.COM

Monday, March 7

Artist Talk

Celebrity Choreographer Shane

Spark speaks from 7 – 9 p.m. at the

Olguin Campus of San Pedro High

School, as part of Marymount California

University's artist-in-residency

master class. 3210 South Alma

Street. Free. Sparks won the "Best

Choreography in a feature film" for

"You Got Served" at the 2004

American Choreography Awards;

and the "2005 BET Award" for cochoreographing

for "You Got

Served. 3210 South Alma Street.,

San Pedro.

Wed., March 9

PV Woman's Club

Meets at noon at Trump National

Golf Club. A representative of Point

Vicente Interpretive Center will be

the guest speaker. $32. For reservations

call Beverly Teresinski at (310)

378-1349.

Los Serenos event

Karin Rice, of the Page Museum, will

discuss the relationship of fossils to

the broader tectonic picture with her

presentation "Tectonics makes it stick

48 Peninsula People • February 2016
---
eventcalendar

– Rancho la Brea." Free, open to the

public. 7 p.m. Point Vicente Interpretive

Center, 31501 Palos Verdes

Drive West, Rancho Palos Verdes.

For more info call (310) 377-5370,

or go to LosSerenos.org or

www.facebook.com/LosSerenos.

Thursday, March 10

Palos Verdes Chamber

"Salute to Business"

The Palos Verdes Peninsula Chamber

of Commerce invites the public to

join them at the "Salute to Business"

dinner 5:30 p.m. at Trump National

Golf Club in Rancho Palos Verdes.

As part of the Chamber's 60th anniversary,

the evening will celebrate

the history of business on the Peninsula

with camaraderie, conversation,

cocktails, dinner, historic photos

and lots of surprises. Dance to music

from the '60s, '60s attire is encouraged.

Peninsula businesses, present

and past, are encouraged to forward

photos of their businesses (with

ballpark dates of the photos) to office@palosverdeschamber.com.

$125 for Chamber members, $150

non-members. For tickets, information

on event sponsorships or to purchase

Opportunity Drawing Tickets,

contact the Chamber at 310-377-

8111, office@palosverdeschamber.

com, or PalosVerdesChamber.com.

"Cabaret" at Pen High

The award winning Peninsula High

School Drama Department presents

this entertaining energetic musical

about Berlin's societal strains as the Nazis rise to power.

March 10-12, 18-20 and 25-26. Friday and Saturday at

7 p.m. and Sunday 2 p.m. Tickets on sale one hour before

show or reserve tickets ahead at PeninsulaDrama.com or

call (310) 377 4888 x 830.

Friday, March 11

Embroiderers's seashell necklace

The Seaside Beaders, of the Embroiderers' Guild of America,

meets at 9:30 a.m. at St. Francis Episcopal Church,

2200 Via Rosa, Palos Verdes Estates. Idele Gilbert will

teach the square stitch, which will be used to make Idele's

beaded seashell name tag necklace. Or bring your own

project to work on. Visitors are welcome.(310) 540-6104

or visit Azureverdeega.com/bead_projects.com.

IN ESCROW

CLEVIS ROAD

RANCHO PALOS VERDES

3 Bedrooms, 2.5 Bathrooms, 2343 sq.ft. Home.

43,005 sq ft Lot. Mid Century Modern Home with

Panoramic City, Mountain, Harbor & Ocean Views

Offered at $1,400,000

Blues Brothers Revue

Experience the legendary Blues Brothers with the only duo

chosen by Dan Aykroyd and Judy Belushi to don the trademark

hat and sunglasses and walk in the footsteps of Jake

and Elwood Blues. Featuring Wayne Catania as Jake and

Kieron Lafferty as Elwood, along with the eight-piece Intercontinental

Rhythm and Blues Revue Band. the show authentically

captures the spirit and high jinx of the Blues

Brothers while also paying homage to Chicago's rich history

of music. 8 p.m. $48 to $58, with a $10 discount for

children ages 12 and under. For more information or to

purchase tickets call the box office at 310- 544-0403, ext.

221, or go to PalosverdesPerformingArts.com. 27570

Norris Center Drive (formerly Crossfield Drive), Rolling

Hills Estates.

IN ESCROW

5 GINGER ROOT LANE

RANCHO PALOS VERDES

3 Bedroom, 2 Bathroom 1534 sq ft Home,

26,955 sq ft Lot. In the Very Desirable Sought After

Gated Community of Portuguese Bend

Offered at $ 1,299,000

LIZ SNYDER

(310) 339-5301 | Keller Williams Realty | Email: lizsnyder@kw.com | CalBRE#01800973

Helping clients create wealth by capitalizing on

South Bay investment property opportunities

Brian

Estes

Vice President of Investments

Multifamily Specialist

www.sbapts.com

DRE#013394559

Why work with Brian:

• Successful 12yr+ track record of specializing

exclusively in the sale and acquisition of

South Bay apartment investments.

• Maximum exposure to listings for sellers and

access to exclusive inventory for buyers.

• Unsurpassed knowledge of multi-family

investments including historical trends, real time

rent and sales data, and long term relationships

with active principals and brokers.

www.24hourhomecarebuddies.com

OUR TEAM

Highly competent, compassionate caregivers,

trained and supervised by

Licensed Nurse/Case Manager

CAREGIVERS PROVIDE:

• Companionship / Activities of daily living

• Home Maintenance: Meals, Light Housekeeping, Errands & Appointments

• Care for Dementia / Stroke / Hospice Clients

• Complex Care of: Wounds, Feeding Tubes, Foley/Ostomy/Trach/Home Vent Clients

• Psychosocial Support: One on one conversation, Games, Walking, Shopping

• Clients are visited by Licensed Nurse Twice a Month

Accepted form of Payments:

Long Term Care Insurance/VA Insurance/ Private Pay

Direct: 310 802 2525 I bestes@remaxcir.com

23001 Hawthorne Bl., Suite 205 Torrance, CA 90505

E-mail us at bvillanueva.rn@gmail.com

Licensed, Bonded, Workers Comp

Caring Is What We Do Best

CALL TODAY FOR FREE ASSESSMENT

310-756-5666

(24 HOUR MESSAGE CENTER)

February 2016 • Peninsula People 49
---
D E P E N D A B L E • P R O F E S S I O N A L • A F F O R D A B L E

w w w . m a t t u c c i p l u m b i n g . c o m

MATTUCCI

Plumbing • Heating • Cooling

Since 1990 • License # 770059, C-36 C-34 C-42 C-20 A

SPRING SPECIALS

$ 9 8 0

Residential Water Heater

40 gal. installed! ($1080 - 50 gal. also available)

Includes hot & cold water supply lines

Expires March 31, 2016

FULL SERVICE PLUMBING, HEATING AND COOLING

SEWER VIDEO INSPECTION

ROOTER SERVICE

COPPER REPIPES

$ 7 5

Rooter Service - Main Line

Must have clean-out access. Some restrictions may apply.

Expires March 31, 2016

F R E E

E S T I M A T E S

M e n t i o n t h i s a d w h e n

s e t t i n g u p a p p o i n t m e n t .

3 1 0 . 5 4 3 . 2 0 0 1

eventcalendar

Saturday, March 12

Family Ranger Day

At the White Point Nature Preserve, 10-11 a.m. Your family will enjoy spending

time with the LA City Rangers and their mobile nature exhibit. Family

Ranger Day is every 2nd Saturday of the month at the White Point Nature

Preserve located at 1600 W. Paseo del Mar in San Pedro. Meet at the information

kiosk between parking lot and Nature Center. For more information

visit: pvplc.org or call (310) 541-7613.

Whale of A Day Celebration

Celebrate the 32nd annual "Whale of a Day" celebration from 10 a.m. to 4

p.m., at the Point Vicente Interpretive Center. Co-Sponsored by Los Serenos

de Point Vicente and the City of Rancho Palos Verdes. Free. Celebrate the annual

migration of the Gray Whale. Games for all ages, whale watching from

the bluff, food booths, entertainment, museum tours, educational and environmental

booths, inflatable jumpers and face painting. Free parking and shuttle

service from Rancho Palos Verdes City Hall, 30940 Hawthorne Blvd. (Sorry,

no onsite parking.) If it rains, the event will be rescheduled to April 9. (310)

544-5260 or go to whaleofaday.com or faebook.com/LosSerenos.

Black and Gold Affair

Peninsula High School's Athletic Booster Club holds its 25th annual A Black &

Gold Affaire at the Palos Verdes Golf Club. This is the largest fundraising effort

for Peninsula High's physical education and athletic department. The 25th annual

A Black & Gold Affaire is panther casual, and tickets start at $110 per

person, which includes a 3-course dinner, wine tasting and live and silent auctions.

The highlight of the event is the Senior Parade. 3301 Vía Campesina,

Palos Verdes Estates.Tickets at pvphsabc.com. Online auction will open February

26 at PenBlackandGold.com.

ON CALL

24 HOURS

7 DAYS

50 Peninsula People • February 2016

2013

eventcalendar

Sunday, March 13

South Coast Cactus & Succulent Society

"The ABCs of Growing African Bulbs" are discussed by Ernesto Sandoval, Director

of the UC Davis Botanical Conservatory. 1:30 p.m., South Coast Botanic

Garden, 26300 Crenshaw Blvd., Palos Verdes Peninsula. For more information

visit southcoastcss.org.

Tuesday, March 15

Climate Change Presentation

Learn more about U.N. Framework Convention on Climate Change from a

panel including Marymount professor and PVP Land Conservancy board member

Dr. Allen Franz and Jonathan Parfrey, executive director of Climate Resolve.

6 p.m., Free. Wayfarer's Chapel, 5755 Palos Verdes Drive South, RPV.

Space is limited, RSVP at pvplc.org/_activities/ClimateChange.asp.

Wednesday, March 16

Copenhagen Girls Choir

The Rolling Hills United Methodist Church presents the Copenhagen Girls

Choir at 7 p.m. in the sanctuary. Renowned Danish pianist Katrina Gislinge

will also perform music from Debussy, Nielsen, Norgard, and Sorensen. Conductor

Anne Marie Granau is the assistant conductor at the Royal Danish

Opera and the Copenhagen Philharmonic. Free, donations appreciated. All

proceeds go to the artists. 26843 Crenshaw Blvd., Rolling Hills Estates. (310)

377-6771.

Palos Verdes 4-H Club

Community Meeting 6:45 p.m. Rolling Hills Estates City Hall, 4045 Palos

Verdes Drive North, RHE. For more information visit pvp4hclub or call Dee

Keese at (310)-377-9773 or Peter Michel at (310)-493-5559 or email to

pvp4hclub@gmail.com.

Thursday, March 17

South Coast Rose Society

Will hold its March meeting at the South Coast Botanic Garden, 26300

THE LUXURY OF BEAUTY IN

YOUR OWN HOME

WE COME TO YOU!

MAKE UP ~ $50.00

BLOW OUTS ~ $60.00

A DOLL UP ~ $90.00

*INQUIRE ABOUT SPECIAL EVENTS

BOOK YOUR APPOINTMENT TODAY

WEB: WWW.DOLLEDUP.CO

EMAIL: JENN@DOLLEDUP.CO

PH: 310.200.1606

4208 Via Valmonte

Palos Verdes Estates

Charming Valmonte cottage with

1625 square feet on an 8124 square

foot lot with RV parking. 3 beds and

1 1/2 baths. Family room and formal

living room both with

fireplaces, Close to Valmonte School,

Palos Verdes clubs, tennis, golf and

the stables. In a beautiful area on

large lot with potential for addition.

Open Saturday and Sunday 1-4

Priced at $1,140,000

Janet Earl, MBA

310.344.9230

RE/MAX Estate Properties

BRE#01056351

February 2016 • Peninsula People 51
---
www.LSRarecoins.com

Vinyl Windows

Replacement and New Construction

BUY ONLINE

AND SAVE BIG $$$

WWW.1STWINDOWS.COM

WE BUY AND SELL

rare gold and silver coins

FREE APPRAISALS

up to 10 coins

By appt only - Palos Verdes

310-710-2869 | 310-541-7222

larry@LSRareCoins.com

andy@LSRareCoins.com

VINYL, ALUMINUM, WOODCLAD

Lowest Prices Up Front • No Games

Show Room 562-494-9069

CONTRACTOR REFERRAL • Fax 562-494-2069

eventcalendar

Crenshaw Boulevard, Palos Verdes Peninsula, at 7 pm. Our speaker will be

Tom Carruth, one of the most respected hybridizers of roses and is now the

Curator of the Rose Garden at the Huntington Library, Art Collection and

Botanical Gardens in San Marino, California. He will share his enthusiasm

and the history of the China rose, which arrived in the West from China in

late 1792 although it had been cultivated in China for over 2,000 years.

Please join us! For more information, please see us on Facebook.

Beach Cities Republicans Meeting

Dinner (no host dinner is required by all attendees) at Sizzler at 6 p.m. 2880

Sepulveda Blvd. Torrance. 7 p.m. Speaker. For more information call 310-

793-8647 or email info@lagopclubs.com.

Saturday, March 19

Pancake Breakfast

Young Life Christian Youth Ministries holds a pancake breakfast to raise money

to send high school, junior high school, and special needs kids to camp this

summer. At the Rolling Hills Community Center (735 Silver Spur Rd, RHE) on

from 8:30-11 a.m. Call Steve Heffernan at (310) 466-3661.

Sunday, March 20

Effective prayer

The 1st Church of Christ, Scientist, Palos Verdes Peninsula presents a free lecture

on "Effective Prayer" by Brian Kissock, CSB at 2 p.m. 4010 Palos Verdes

Drive North, Palos Verdes Estate. For further information, (310) 375-7914.

eventcalendar

tThe Power of Haydn

Los Cancioneros Master Chorale presents "The Power of Haydn," featuring

he Lord Nelson Mass. 7 p.m. at Torrance Armstrong Theater. The sacred concert

opens with three modern-day sacred anthems by Helvey, Powell and

Petker, followed by three 19th century gems by Brahms, Gounod, and Franck.

The chorale will be accompanied by a chamber orchestra. Four of the finest

singers from the distinguished vocal music program at California State University,

Long Beach, will sing the solos in the Mass. $25. Student tickets$15.

For tickets De Giebler (310) 779-3072 or at djgiebler@specialletters.net.

Tuesday, March 22

Republican Women on political integrity

The Palos Verdes Peninsula Women's Club Federated will meet at Palos Verdes

Golf Club. Meet and greet at 10:30 a.m.; meeting at 11 a.m. followed by

lunch and the featured speaker, Linda Paine of The Election Integrity Project.

She will discuss voter fraud in California. In 2013 The Election Integrity Project

submitted a list of 60,000 voter irregularities to the L.A. County Registrar. $30.

Husbands, friends and significant others welcome. For reservations contact

Hildegarde Kurtz at hildegardek@cox.net or (310) 377-1640 or Kay Poss at

(310) 377-8319 or FKPoss@aol.com or PVPRWF@aol.com.

Wednesday, March 23

Palos Verdes Buddhism Club Meeting

Palos Verdes Library 701 Silver Spur Road, Rolling Hills Estates, 2:30 - 4 p.m.

in the Conference Room next to the Gift Shop. Call Bita Asakura for more information

(818) 571-3573.

Saturday, March 26

Stone Temple Pilots, Bach to Rock school benefit

"From Bach to Rock," brings The Stone Temple Pilots and fellow rock stars together

with world-renowned classical musicians for a journey from 17th century

to modern hits at the Norris Theater and Pavilion. The evening includes

an auction and a red carpet after-concert party. 6:30 p.m. For tickets call

(310) 544-0403. 27570 Norris Center Dr., Rolling Hills Estates.

Saturday, April 2

Scholarship Luncheon

Panhellenic Alumnae South Bay Association (PASBA) will hold its 49th annual

Scholarship Luncheon at the newly renovated Los Verdes Golf Club. $50. Silent

auction and raffle. Dr. Joanna Medawar Nachef. Dr. Nachef is director of

choral activities at El Camino College. Proceeds from the event fund scholarships.

Tickets are available at SouthBayPanhellenic.com or call Kathy Gonzalez

at (310) 937-9842.

52 Peninsula People • February 2016

Banning Museum Annual Wisteria Regale

Friends of Banning Museum's annual fundraising event, the Wisteria Regale,

is 6 to 10 p.m. in the Grand Ballroom at the Hilton Doubletree Hotel, 2800

Via Cabrillo Marina, San Pedro The theme is "Hollywood's Golden Age."

Silent auction, elegant sit down dinner, hosted bar, live music provided by the

Fabulous Esquires Big Band, dancing and the Wisteria Scholarship presentation.

Dressed as your favorite Hollywood star or in formal attire. $150. Call

Friends of Banning Museum at (310) 548-2005 for further information or to

make a reservation. PEN

February 2016 • Peninsula People 53
---
P E N I N S U L A P E O P L E | F O O D

Above: Grilled octopus with romesco sauce and

brussels sprout gratin. Lower: Pan-roasted pork chops

with bourbon glaze. Photos by Richard Foss

Twain's Feast, updated

by Richard Foss

There is a picture of Mark Twain on the wall

at Plates American Bistro and nearby is one

of his memorable quotes on the subject of

dining. It reads, "The secret of success in life is

to eat what you like and let the food fight it out

inside." This makes the case for Twain as both

omnivorous and adventurous. As detailed in the

book "Twain's Feast," he was also a passionate

advocate for the idea that American food was as

good as any in the world. When in the midst of a

long European tour he compiled a list of the

American foods he most missed, and it was 80

items long.

Twain would have felt at home at Plates, the

new "American bistro" that recently opened in

the Promenade at the Peninsula. There are items

here that he would have found novel, such as

rare ahi tuna served with falafel or a fried

Jessica Gibb with petrale sole, the catch of the day. Photo by Brad Jacobson (CivicCouch.com)

A contemporary Mark Twain would feel right at home at Plates American Bistro

chicken Cobb salad. But they could have fought

it out in his stomach with more traditional favorites

like shrimp and grits and chicken in a pot.

The menu by Executive Chef Robert Bell and

chef de cuisine Karl Viking has comfort food flavors

with enough modern ideas so it isn't a museum

piece and it's an alluring read.

When my wife and I visited on a rainy weekday

evening the place was sparsely populated,

and our server Jessica had plenty of time to go

over the menu and give suggestions. We were impressed

by her knowledge of both the food and

the wine list and as it turned out her recommendations

were excellent.

Two of the more interesting modern starters involved

the same main ingredient: a Brussels

sprout salad with endive, walnuts, pancetta, and

olive oil and a Brussels sprout gratin that was on

the side plates menu. Jessica endorsed both but

had a slight preference for the gratin, so we ordered

that. Though a gratin sounds like a fancy

dish this was the same idea as that classic, scalloped

potatoes: put vegetables with buttery,

creamy cheese sauce and breadcrumbs and bake

until there's a rich crust on top. I loved this dish

as a kid when my Mom made it and still enjoy it.

The Brussels sprouts make it both more flavorful

and healthier. The cheese sauce at Plates is a lot

lighter than my mom's (hers was really just

molten cheese) but that is all to the good because

we didn't get full too fast.

The other starter wasn't part of American culture

unless you grew up around Southern European

immigrants: grilled octopus with romesco

sauce over red onion with pork belly chunks and

crisped farro, along with blistered shisito peppers.

Almost everything about this was right, the

octopus tender and well-matched to the pork,

54 Peninsula People • February 2016

onions and grain, but the peppers sent this dish out of balance. Shisito peppers are a tricky

ingredient because they're unpredictable. The usual estimate is that one in 10 will be very

spicy and it will look just like the other nine. On this particular day it was more like one

in every two or three, and after a few particularly aggressive peppers I left them on the

side. I like spicy food, but I wanted to taste the other elements in the dish.

For the starters I chose a Cold Heaven Viognier, while my wife asked Jessica to choose

for her and received a Talley Pinot Noir. The Viognier was excellent with the octopus but

not the gratin, while the Pinot did its magic and worked with both.

We went with traditional items for mains: chicken in the pot and pan-roasted pork chops

with apples, pears, and a bourbon glaze. Chicken in the pot is a Colonial American classic,

half a bird in broth with carrots, beets, fingerling potatoes, and sprigs of herbs including

thyme and whole sage leaves. The flavors are deeply blended, the vegetables cooked

through but not mushy, the meat tender enough to fall off the bone. Items like this have

a heritage going back to New Englanders who took the Sabbath so seriously that they prepared

the meal on Saturday night and set it by the fire so as avoid the work of cooking on

the day of rest. No religious devotion is needed to appreciate this and though we added a

bit of pepper to the broth to perk it up it was fine just as it arrived.

The pork chops were tender and had a slight smokiness from the grill that married well

with the bourbon sauce with apples and pears. There was no detectable alcohol flavor,

just the sweetness of the booze cooked down with fruit along with mild herbs. It was

served over a mix of barley and kale, and the whole effect was to present the warm flavors

we crave in winter. This time we had asked Jessica to pick both wines and received a Dry

Creek Merlot and Melville Syrah, and I slightly preferred the Syrah with both dishes.

The dessert menu here goes very traditional, and includes a bread pudding, caramel

chocolate tart, winter fruit shortcake, and caramel apple crisp. After the parade of heavy

cakes that are usually offered around the South Bay this was a delight, and we took some

time to decide on the apple crisp and chocolate croissant bread pudding. Both were firstrate,

though I'll ask for the bread pudding to be delivered with the caramel sauce on the

side next time so I can get just a dab of it on each bite. It went very well with a glass of

Heitz California port, which we shared as a finish to the meal.

Our meal with wine for two ran $140, of which $80 was food – reasonable for this cuisine

with caring service in a stylish environment. Plates is a rarity locally, offering food

that would have tickled Mark Twain's palate with flourishes that match our own.

Plates American Bistro is at 550 Deep Valley Circle, #145, across from El Pollo Inka.

Open daily except Monday 11 a.m. – 9 p.m., parking in adjacent structure. Wine and beer

served, corkage $10, wheelchair access good, vegetarian items. No website. (310) 541-9500. PEN

February 2016 • Peninsula People 55
---
B

BETI TSAI BERGMAN

BUILDS PROBATE POWERHOUSE WITH PENINSULA LAW

eti Tsai Bergman started Peninsula Law with the idea of creating a law

firm that does one thing and one thing well, and that is probate law.

Bergman believes that you can't be good at any one thing if you try

to do a little of everything. With that vision and her laser focus on probate

law, Bergman built Peninsula Law into a probate powerhouse. Peninsula

Law represents fiduciaries, beneficiaries, and families who need help planning,

administering and settling estates. Peninsula Law embraces resolution

of conflict and embraces trial when necessary. Peninsula then wins because

it firmly believes in bringing out the truth. There are no smoke and mirrors.

Peninsula Law does not ignore or hide the facts. Peninsula Law builds

winning cases based on excellent legal analysis, strategic thinking, and

masterful persuasion. Families come first and Peninsula Law vigorously pursues

the wishes left by testators or trustors.

Peninsula Law also minimizes long and protracted litigation or administration

of an estate because it follows the same motto as Nike: "Just Do It." The

drive and goal on each case is to reach a quick resolution. Of course there

is no controlling the court's calendar, but anything that is within the control

of Peninsula Law is addressed and handled with speed. Putting a task on

the back burner is considered blasphemy within the firm.

Another key element that has factored into the success of Peninsula Law

is listening to clients and hearing what they have to say. Families are often

perplexed after the death of a loved one and do not know what should be

done or what needs to be done. If you add a contentious family member

who comes forward to contest a will or trust, or who distrusts the person in

charge, then you have an emotional struggle added to the confusion.

Often the dissension can be quelled by educating the family members

about how an estate

needs to be administered

after a death.

Clients have consistently

been satisfied by Peninsula

Law's approach to

its clients. The testimonials

posted on Peninsula

Law's website attest to

this.

With such ethics, Peninsula

Law has earned a

reputation of being one

of the top-notch probate law firms in the South Bay.

Beti Tsai Bergman is certified in estate planning, trust, and probate law by

the California Board of Legal Specialization and has earned an advocate

designation from the National Institute of Trial Advocacy. Before earning her

J.D. at UC Davis School of Law, Bergman earned a B.S. in applied mathematics

from UCLA and an M.S. in applied mathematics with concentrations

in partial differential equations and probability and statistics from CSULB.

Bergman sustains active involvement in the community. She is a Probate

Co-Chair of the Trust & Estates Section of the South Bay Bar Association, a

past president of the Southern California Chinese Lawyers' Association, and

is long-standing board member and officer of the Asian Pacific American

Women Lawyers' Alliance. You can contact Peninsula Law for a consultation

by calling 424-247-1196.

SPONSORED CONTENT

Peninsula Law | 3655 Torrance Blvd., 3rd Flr., Torrance, CA 90503 | 424-247-1196 | www.peninsulalaw.org

Ibarra cont. from page 35

look at him and go, 'Wow.' Remarkable, really

creative, really observant."

He's also at the center of the most vital aspect

of Terranea's business. While Haack couldn't reveal

the exact numbers, she did say that food and

beverage outpace hotel rooms in revenue produced

for the resort. She said that banquets alone

generate more revenue than all of Terranea's

restaurants and Ibarra is equally attentive to each

facet of dining operations at the resort.

Ibarra was educated La Citadelle College of

Culinary Arts in San Jean Pied de Port, France,

where he also studied under Chef Firmin Arrambide

at the Michelin-starred Hotel Les Pyrenees.

But Ibarra, Haack said, gives equal attention to

the gastropub fare at Nelson's as he does to Terranea's

most ambitious restaurant, mar'sel.

"He's an incredibly talented businessman as

well as a culinarian," Haack said. "It takes a very

disciplined chef to drive initiatives that are completely

different in each area. There are many

chefs who can only function at one level of food

or service and can't be creative and really fresh

and relevant in many different venues, including

in-room dining and banquets. Bernard plays a

large role in all our properties. He is really the

keeper of an extraordinary amount of our revenue."

He is also, York said, extraordinary on a plateby-plate,

meal-by-meal basis.

"He takes what we grow so he can then create

incredible dishes, but he also has a vision for

what people want. And even though he is quiet,

he has a tremendously engaging personality. It's

something. When you come to one of his restaurants,

you feel like you are coming to his home

and you are very welcome in his home," York

said.

His wife Jessica Lo Ibarra said that it's difficult

to adequately convey how much Bernard cares

about every level of his work.

"He cares about how you feel about every single

bite — every single person, every single bite,"

she said. "The rest of us would have just written

it off a long time ago. And he cares about making

the business right, not just the pure artistry."

He often works from 7:30 a.m. to 7:30 p.m. or

beyond.

"He still shakes the bees out of the bee house,"

Jessica said. "I'll be like, 'Why are you going up

there for four hours on a Sunday?' And he'll say,

'Oh, I have to check on the bees.' Whether it's a

VIP guest, or one of thousands of bees, he cares

about that bee."

The word that keeps coming up among those

who know Ibarra best is passion.

"I've thought about this before: how would I

describe Bernard?" said Jun Sur, the resort's director

of food and beverages. "I've been able to

learn from him. And in 20 years in this industry,

I have to say, hands down, Bernard is the most

passionate culinarian I've had the privilege to

work with. He's a visionary. And his physical

commitment to success is remarkable."

In the age of the celebrity chef, Ibarra stays fastidiously

out of the limelight. You won't see him

on TV, though he has the pedigree and track

record to garner such attention. He's more likely

to be found at the water's edge, collecting seawater

for salt, or out among the bees, or deep in the

trenches at Catalina View Gardens. Or you might

see a somewhat burly, almost always smiling

man, walking into the entrance at Terranea early

in the morning, his muddied boots a bit out of

place among the well-heeled arrivals at the resort.

But Ibarra is a man who has truly found his

place.

"A lot of people are happy to go to work," Ibarra

said. "But for me, it's like the fountain of youth.

I get so much out of it and also give a lot. When

I go to the farm, it means feeling good, and

breathing fresh air and looking at the Pacific and

seeing Terranea nearby and smelling the soil and

losing my shovel in the mud. And then coming

back to the hotel. … I've got to wash outside on

the dock and people don't know. 'Where did he

go? He has a chef's uniform.' It is, I guess, a very

humble and natural picture."

"After all those years on the road, so to speak,

I think it is just the best place. Everything we do

is done with care and we mean it. We think it is

good for us and for the community. I have never

known that feeling before. I never worked for a

place where it is just so black and white — I am

still looking for the fine print. But it is what it is:

it's amazing." PEN

56 Peninsula People • February 2016
---
Rombro & Associates

Human touch on the scales of justice.

Attorney Roger Rombro holds the

highest possible rating from the

peer-reviewed Martindale-

Hubbell Law Directory for a 40-year

practice, which now focuses principally

upon family law.

Along the way, he retained a human

touch that makes him the best lawyer

he can be.

"Spouses tend to be hurt in the initial

stages of their separation. They tend to

feel that they have failed, irrespective

of whether they're the spouse that initiates

the separation. Each spouse has

a huge sense of disappointment with

their partner which slowly evolves into

resentment and anger.

Not surprisingly, each of them goes

through a morning period recognizing

that they have suffered a death in

their family,"he said.

"And there can be lots of reactive

things going on. One side does something,

to which the

other side wants to react," Rombro

said.

"Part of my job is to help people to understand

their own feelings. I become

both their advocate and their counselor.

The counselor part of me wants

to help them to see that they are

going in a direction that is not in their

best interest,"he said.

"To a large extent, the lawyer must

often do what a therapist would be

doing,"Rombro said.

"I try to keep the conflicts down as

much as possible. Otherwise, people

tend to spend huge amounts of

money, draining themselves both financially

and emotionally; and this is

particularly true in custody disputes

where people become so angry, that

they fail to realize that they are hurting

their children, rather than just their

spouse,"he said.

Rombro is certified by the State Bar as

a specialist in family law, and he has

recently been

appointed to the State Bar Family Law

Executive Committee.

Before he went into civil practice, he

served in the Los Angeles County District

Attorney's office, prosecuting

everything from DUI to homicide in

thousands of cases before state and

federal courts.

"I think our criminal justice system is the

fairest in the history of mankind," he

said. "We go out of our way to protect

the rights of the accused, and we also

try prevent the suffering of victims, and

to protect society."

Rombro and wife Joanna have three

children and two grandchildren.

SPONSORED CONTENT

ROMBRO & ASSOCIATES |3405 N. Sepulveda Blvd., Manhattan Beach | (310) 545-1900 | rombrolaw.com

February 2016 • Peninsula People 57
---
A

long time member of the South Bay, the full-service law firm Baker,

Burton & Lundy P.C. is proudly celebrating their 40th anniversary

this coming May. The entire firm believes it is a tremendous honor

to have continuously served the legal needs of the South Bay for so long.

In November of 1980, founding partners Brad N. Baker and Kent Burton

purchased the building on 515 Pier Avenue in Hermosa Beach. With two

expansions, the firm has continually grown to meet the needs of the

community.

Commitment to the South Bay

The members of the Baker, Burton & Lundy law firm are involved in the

South Bay beyond their legal work through coaching, volunteering and

serving on boards of charitable organizations. Veteran estate planning

attorney Brad Baker serves as the Vice Chair of H.E.L.P. (Healthcare and

Elder Law Programs Corporation) that provides legal guidance to the

ever-growing senior community in our area.

Meeting the Needs of South Bay's Growing Elderly Community

Baker, Burton & Lundy

South Bay Locals Celebrating 40 Years

BB&L has also added a new attorney, Christine Daniels, to work with

Brad in meeting the needs of people creating estate plans for their future

and protecting the rights of the elderly. Raised in the South Bay,

Christine is a fluent Spanish speaker and understands the value of creating

individualized estate plans for her clients. BB&L places great importance

on the interviewing and drafting process to make sure plans

will meet each client's unique needs. With the firm's experience in litigating

will and trust contests as well as trust and estate mismanagement

cases, they focus on designing documents that effectively minimize the

risk of future litigation.

Business and Litigation Powerhouse

Partner Kent Burton leads the business and real estate arm of the firm.

With associate Clint Wilson and Teresa Klinkner, of counsel, they are well

known for their transactional expertise and have clients ranging from individuals

and small businesses to Fortune 500 corporations. Kent has also

assisted several South Bay non-profits with their 501(c)(3) incorporation

documents and served on the board of the Didi Hirsch Mental Health

Center for over a decade.

The firm has built a reputation far beyond the South Bay as fierce litigators.

In addition to recovering over $4 Billion for California energy

consumers, it won a recent decision before the California Supreme

Court that has reduced litigation. BB&L's trial and personal injury practice

is headed by Albro Lundy III, Trial Lawyer of the Year for Consumer

Attorneys of California, and Evan Koch, named a Rising Star by Super-

Lawyers two years in a row. Lundy and Koch collaborate with Baker and

Daniels in the firm's Probate Litigation practice combining probate and

estate expertise with accomplished trial skills.

BAKER, BURTON & LUNDY, P.C. | 515 Pier Avenue, Hermosa Beach | (310) 376-9893 | www.bakerburtonlundy.com

SPONSORED CONTENT

58 Peninsula People • February 2016

FEE ONLY FINANCIAL PLANNER

• Are you in or approaching retirement?

• Do you want to stop worrying about your

investment portfolio?

• Do you lose sleep wondering if you may

outlive your nest egg?

• Do you want to know if you are on the

right path financially?

• Do you want to take control of your

finances?

• Do you feel you need a second opinion on

your portfolio?

Abbas A. Heydari, CFP®

Certified Financial Planner

and Registered Investment Advisor

Providing Financial Services

in Torrance since 1986

If you answered "yes" to any or all of the

above questions, you may need to contact

me, to provide you with a personal financial

plan designed to help you take control

of your finances, reduce anxiety and ultimately

achieve your financial goals. There

is no cost or obligation for the initial meeting,

as it is an opportunity for you to learn

more about me, and for me to determine

if I can help you achieve your financial

goals and objectives.

As a fee-only financial planner I will be

compensated solely by my clients, I do not

accept commissions, referral fees, or

compensation from other sources, and I am committed to acting in

your best interest.

21515 Hawthorne Blvd., Suite 1020

Torrance, CA 90503

E-mail: aahfp@Yahoo.com

Web: www.aaheydari.com

Phone: (310)792-2090

February 2016 • Peninsula People 59
---
P E N I N S U L A P E O P L E | B O O K S

Read of Thorns

A longtime Rancho Palos Verdes resident

honors her mother's legacy

in a new book detailing firsthand

accounts of the Japanese-American

experience during WWII

by Esther Kang

Mary Yoko Nakamura was just 12 years old when the Pearl Harbor

bombings ignited a war between her motherland and adopted

home. The Hawaiian born Japanese-American citizen does not

remember too many details of those havoc-ridden days, but her mother

Aoki Hisa, a renowned writer before her death at age 63, diligently kept a

journal that would become a best-seller in Japan.

Originally published in 1953 in Tokyo, White Road of Thorns is a raw

account of her mother's experience in the Japanese internment camps during

WWII, a composite of observational and intimate journal entries documenting

her day-to-day life in the Santa Anita Internment Camp and Gila

Relocation Center in Arizona.

As the sole survivor in her family, Nakamura, 87, recently decided to

issue an English version of her mother's journal after her friend Archie

Miyamoto read the original book and offered to translate it. He noted that

an authentic account of the WWII internment camps did not yet exist.

Most writings on the matter are based on interviews conducted decades

after the fact — "Just hearsay," Nakamura said.

"They're interviewing people like me and my husband," said Nakamura,

a 47-year Rancho Palos Verdes resident. "They ask, 'What do you remember?'

You don't remember the daily things. They'd be my age now and

they interviewed them starting 10 years ago."

White Road of Thorns (Xlibris Publishing) is 217 pages and includes old

photographs of her family as well as her family's history, from Japan to

Hawaii to Los Angeles. The cover is a painting by Nakamura of the Arizona

desert landscape where the barracks of Gila Relocation Campsite stood.

"I, of all people in my family, am not the writer," she conceded. "If it

was to be done, it should've been my second brother or my younger sister.

They were the writers. They were like my mom. I was always good at

mathematics. I didn't have any interest, but I'm the only surviving one. I

had to take the responsibility."

Nakamura remembers her mother writing every night after she and her

sister went to bed as kids. She laughs when recounting her favorite memory

of her mother: sitting in her bed and chewing on a candy bar while

feverishly jotting in her journal.

"I knew she was writing," Nakamura said. "For me and my sister, it was

nothing new. It was her natural thing."

Her mother, widely known in the Japanese community by her pen name

Yamamoto Asako, shared her pointed observations about living in Los Angeles

in a popular column for Kashu Mainichi, the largest daily Japanese

newspaper in the Los Angeles area at the time. She covered politics and

culture, including the Academy Awards. She was invited to a premiere

screening of "Gone With The Wind."

"My mother was always a maverick," Nakamura said.

She was also fiercely intelligent. As the daughter of a university professor,

she was one of the first three women accepted to the University of

Japan in Tokyo in the early 20th century. She nursed an urgent curiosity

about different cultures. She spoke four languages and could read and write

in six.

When war with the United States broke out with the Pearl Harbor bombings

on Dec. 7, 1941, she and her family's lives were turned upside down.

Nakamura's parents ran a

Japanese language school

out of their rented home, an

old Victorian mansion in

East LA. That was reason

enough for the FBI to harbor

suspicion. Her father was

questioned and taken to a

prisoner-of-war camp. He

would be separated from his

family for two years. Her

mother, 12-year-old Nakamura

and her younger sister

were confined in a temporary

internment camp at

Santa Anita.

"When we went, we were

very unlucky and sent into

the horse stables," Nakamura

remembered. "We had

a very small family and we

were put in one of the worst

horse stables. My mom

couldn't sleep, of course."

Five months later, they

were transferred to Gila Relocation

Center in the Arizona

desert, where they stayed for approximately a year before their selection

as passengers on the Gripsholm for the second wartime exchange

of nationals between the U.S. and Japan. Life in Japan was not much easier.

The family's home was bombed during an air raid and subsequently the

children's school was shelled as well.

When the war ended in August 1945, 17-year-old Nakamura got a job as

an interpreter and accountant for the Military Post Exchange in Tokyo,

where she would meet Edward, her now-husband of 65 years. Edward, a

Japanese-American from Seattle, also spent some time in an internment

camp before being drafted into the U.S. Army. He took a discharge six

months later and got a civil service job in Tokyo. He is 90 today, lively and

playfully interjecting in Nakamura's recounts of the past.

At 19, Nakamura and her siblings returned to Los Angeles after saving

enough of their earnings for ship fare and renting out space in their old

piano teacher's duplex. She attended night classes at Roosevelt High

School, where she would earn her diploma, and worked a number of temp

jobs to make ends meet, from nannying in Hollywood to working at a necktie

factory. Edward earned a B.A. in accounting from UCLA, and in 1950,

the two had a big wedding at a church in Los Angeles. She was 21, and he

was 25.

They lived in Gardena for 14 years before moving to Rancho Palos Verdes

for the schools. They have lived in the same home for 47 years, raising

their two children, Nora and Rodney, who both went through the Palos

Verdes school system. Their two grandchildren currently attend Palos

Verdes High School.

Since the book's release last August, a copy has been donated to the

Japanese American History Museum in Los Angeles. Nakamura said she

has not been able to hold signings due to health issues, but she hopes

younger generations will relish the honest and accurate accounts of the

Japanese-American experience during WWII.

"The intent was to leave a legacy of the Japanese Americans, Nisei (second

generation) and Sansei (third generation)," Nakamura said.

White Road of Thorns is available on Amazon.com, at Barnes & Noble

and Target. PEN

4203 Spencer St., Torrance, CA 90503

(310)214-5049 • www.pevelers.com

Appointment Recommended

Showroom Hours: Monday Thru Friday 10-5

Closed Saturday and Sunday

License #381992

• Serving the South

Bay for over 35 years

• Full Service Contractor

• Complete Installation

• New Construction

• Remodeling

• Second Floors

• Additions

• Cabinets

Visit Our

Kitchen &

Bath

Showroom

60 Peninsula People • February 2016

February 2016 • Peninsula People 61
---
New Wonderful

Beginning Violin Ensemble Classes

all ages/all grades

" Within the child lies the fate of the future"

–MARIA MONTESSORI

310-325-6500

J. QUINN CONSTRUCTION, INC.

Custom Concrete & Masonry

Montemalaga

Mondays,

starting March 28

1:30-2:30pm

Vista Grande

Wednesdays

starting March 23

3:00-4:00pm

PVPUSD Enrichment Program

310-541-7626

www.pvpusd.k1 2.ca.us/enrichment

(please visit website for registration)

Continuing String Ensemble Classes

TWO LOCATIONS:

Your child's future begins here

Offering the South Bay a

proven alternative to

traditional education for

over 30 years

31100 Hawthorne Blvd. Rancho Palos Verdes (310) 544-3099

907 Knob Hill Redondo Beach (310) 540-9742

" Walk-in tours welcome

" Certified Montessori Faculty

" 18 months to 5 years (Redondo Beach campus)

18 months to 12 years (Palos Verdes campus)

" Class size limits; 2 Faculty per class

" Individualized curriculum plans

" Extended day care available

" Summer Program

Visit us online at

PeninsulaMontessori.com

• Pools, Spas, Fountains

and Waterfeatures

• Firepits and Fireplaces

• Outdoor Cook Centers

• Stone and Tile Patios

• Interlocking Pavers

• Retaining Walls

• Driveways

(310) 325-6790

www.quinnpools.com

License B, C-8, C-53 #775677

*Violin, Viola, Cello, String Bass*

4th & 5th Grades Only (ongoing enrollment)

Vista Grande

Tuesdays, starting January 6

7:40-8:25am

Lunada Bay

Tuesdays, starting January 6

3:05-3:45pm

Mira Catalina

Wednesdays, starting Jan. 7

7:40-8:25am

Rancho Vista

Thursdays, starting January 8

Cornerstone

Thursdays, starting January 8

7:40-8:25am

3:05-3:45pm

All classes taught by string ensemble teacher

Michele Nardone 31 0-245-7575

MicheleNardone@PalosVerdesStrings.com

62 Peninsula People • February 2016

February 2016 • Peninsula People 63
---
Eagle Scout

Arman Ramezani

with his parents during

his Eagle Scout

ceremony.

n Arman Ramezani, a resident of Rancho Palos Verdes has reached the highest

level of scouting, and is now an Eagle Scout. Arman's Eagle project was the

beautification and landscaping of two large planters in front of the Lomita Sheriff's

station. Arman, a senior at Peninsula High School is a member of various honor

societies, Co-President of Teen Court, Secretary General of Model United Nations

and school Treasurer.

New VP of Development and Communications

to join LA BioMed

n Bringing a wealth of fundraising and management expertise, Love Collins III

will be joining the leadership team at Los Angeles Biomedical Research Institute

(LA BioMed) as its new vice president of development and communications on

May 2. Collins has more than 35 years of experience in management, development

and strategic planning, and he currently serves as the vice present—development,

communications and marketing at another independent research institute,

Eagle Scout

n Kevin Rahman, 13, received his

Eagle award this month at a Court of

Honor with family, friends and members

of his Scout Troop, 134, Boy Scouts of

America, in attendance. The troop is

sponsored by the Palos Verdes Stake of

the Church of Jesus Christ of Latter-day

Saints.

Kevin is in the 7th grade at Palos Verdes

Intermediate school. He is the son of Jim

and Angela Rahman of Rancho Palos

Verdes. He is the third member of his immediate

family to earn the award, joining

his father, Jim, and brother, Trey. For

his Eagle project he painted fences at

Abalone Park in Rancho Palos Verdes.

About 25 Scouts and other volunteers

helped with the project and Kevin spent

an estimated 200 hours completing the

work.

Jim Rahman was scoutmaster of Troop

134 until recently when Chad Turner of

San Pedro was called to lead the troop.

Only about four per cent of scouts nationwide

attain the Eagle rank, according

to scouting leaders.

around&about

Van Andel Research Institute, in Grand Rapids, MI, a position he's held for the last

five years. "At LA BioMed, we feel very fortunate to have attracted a nationally

recognized fundraiser who is responsible for raising hundreds of millions of dollars

in private support," said David I. Meyer, PhD, LA BioMed president and CEO.

Terranea Resort names Andrew Vaughan

Chef de Cuisine of mar'sel

n Terranea Resort, A Destination Hotel, has named Andrew Vaughan as the new

chef de cuisine of mar'sel, the resort's signature restaurant. One of Los Angeles's

top dining destinations, mar'sel offers a decidedly inventive twist on California cuisine

in a spectacular seaside setting located along the prestigious Palos Verdes

Peninsula. A Louisiana native, Vaughan hails from two of the most iconic restaurants

in the nation, working alongside Emeril Lagasse at NOLA in New Orleans, and

Daniel Boulud at Restaurant Daniel in New York City. Most recently, Vaughan has

been an integral part of Terranea Resort's culinary team, recently serving as the

Chef de Cuisine for Nelson's at Terranea, as well as masterfully executing VIP Dinners

for the resort, and aiding the development and execution of the successful

Chef's Table Dinner Series, which showcases the resort's renowned "farm-to-Terranea"

cuisine, alongside featured wines, to benefit a select charity.

Kevin Rahman after receiving

his Eagle award at a

Court of Honor held this

month. He is holding a

replica of an eagle above

his head, a gift symbol of

his new scouting status.

Ice Chalet to become Promenade Ice Chalet

n Scott Williams, the spokesperson for Ice-America and the new operations management

company for the rink, announced Palos Verdes Ice Chalet that the facility

officially changed its name to Promenade Ice Chalet as of February 1.

Scott explained that the new name reflects the evolving focus and standards of

the sports & entertainment venue, goals for new additions, targeted marketing, increased

public sessions and a focus on new business and community outreach.

Palos Verdes Ice Chalet has been a local favorite since the early 1980s and a

launch pad for many notable Olympic figure skaters and NHL hockey professionals.

As PV Ice Chalet provided the introduction for many world-renowned professionals,

Promenade on Ice's mission is to offer the same quality initiation and

instruction to the future skaters and players of America. There is no indication yet

as to whether this will be the only change to Palos Verdes Ice Chalet's image or

just the first of many. Representatives are firm in stating that their efforts to nurture

community, family and youth activities will continue to grow. Customers and employees

alike are enthusiastic and supportive about the transformation.www.PromenadeIceChalet.com,

550 Deep Valley Drive, Rolling Hills Estates. PEN

64 Peninsula People • February 2016
---
Classifieds Your Local Expert Community 424-269-2830

G

COINS

Reserve

your space in the

next

Pub Date: Mar 26

Deadline:

Mar 11

s

Call direct

(424)

269-2830

Your Ad Here

62,000 Readers

424-269-2830

D

Remodeling

Design

Kitchens

Bathrooms

Room Additions

New Construction

CONSTRUCTION

CONCRETE

QUIXTAR

Concrete & Masonry

Residential & Commercial

310-534-9970

Lic. #935981 C8 C29

CONSTRUCTION

Call us to Discuss the

ENDLESS POSSIBILITES

Extreme

Hillside Specialist

Foundation Repair Experts

Grading & Drainage

Retaining Walls,

Fences & Decks

310-212-1234

www.LambConBuilds.com

Lic. #906371

Charles Clarke

Local Owner/General Contractor

Ph: (310) 791-4150

Cell: (310) 293-9796

Fax (310) 791-0452

"Since 1990" Lic. No. 810499

GARAGE DOORS

ELECTRICAL

LYNCH

ELECTRIC &

General

Building

Contractors

• Residential

Troubleshooting

• Remodel Specialist

Scott K. Lynch

P.V. Native

Licensed & Insured

Cell

310-930-9421

Office & Fax

310-325-1292

www.LynchElectric.us

Lic 701001

classifieds

424-269-2830

PLUMBING

MATTUCCI

FULL SERVICE PLUMBING • COPPER REPIPES

SEWER VIDEO INSPECTION • HEATING

DRAIN & SEWER SERVICE • COOLING

TRENCHLESS SEWER REPLACEMENT

HANDYMAN

Handyman

Services…

Fix It Right the

First Time

We like small jobs

/ Free estimates

What we do…

Plumbing, Electrical,

Drywall, Painting

& more.

Valente Marin

310-748-8249

MUSIC

LESSONS

Vocal Technician

Piano Teacher

Vocalist

Jeannine McDaniel

Rancho Palos Verdes

20 year experience

All Ages

310-544-0879

310-435-2407

Jeannine_mcdaniel2001@yahoo.com

PAINTING

BEAR BROTHERS

PAINTING

Quality Workmanship

Interior • Exterior

• Pressure Washing

• Decks

Free Estimates

375-1966

Lic #614749

PLUMBING • HEATING • COOLING

DEPENDABLE • PROFESSIONAL • AFFORDABLE

ON CALL

24 HOURS

7 DAYS

FREE ESTIMATES

310.543.2001

CALIFORNIA

Lic. #770059

C-36 C-20 A

PLASTERING

FREE ESTIMATES

370-2144

Licensed & Insured

POOLS • SPAS

HARDSCAPES

New Construction

& Remodeling

Excellent References

Horusicky Construction

310-544-9384

www.Horusicky.com

Credit cards accepted

Lic #309844, Bonded, Insured

February 2016 • Peninsula People 65

Unlic.

2013

Patch Master

Plastering

Patch Plastering

Interior • Exterior

• Venetian Plastering

• Ceiling Removal

• Drywall Work

• Acoustic

Ceiling Removal

• Water & Fire Restoration

310-370-5589

Lic. # 687076 • C35-B1

PLUMBING

Thank You South Bay for

50 Years of Patronage!

Residential • Commercial • Industrial

Plumbing 24/7 • Heating

Air Conditioning

pfplumbing.net

800-354-2705 • 310-831-0737

ROOFING

Tile Reroof and

repair specialist

310-847-7663

Family owned

business since 1978

Lic 831351

TILE

POOLS & SPAS

SOLAR ENERGY

Your Ad Here

62,000 Readers

424-269-2830

Simply Tiles Design Center

Fine Ceramics, Natural Stone, Hardwoods, Cabinetry, Faucetry.

Kitchen & Bathrooms Specialist.

3968 Pacific Coast Hwy., Torrance • (310) 373-7781 • www.simplytiles.com

License #904876
---
310.539.6685 310.884.1870

310.326.9528 866.BEYOND.5

310.977.1900

www.cflu.org

©

CUT * COLOR * STYLE

310.530.5443 310.534.9560

310.539.2191

310.326.3354

310.539.2993

310.530.4888 310.534.0220 310.530.3079 310.326.4477

310.517.0324 310.530.0566 310.517.9366

310.326.8530 310.530.3268

310.539.3526

TORRANCE

TOWNE BEAUTY

CENTER

310.325.2960

310.891.2237

310.539.1808

310.530.8411

WineShoppe

310.539.1055

Northwest Corner of Crenshaw Blvd. & Pacific Coast Hwy.

in Torrance ~ For Information, Call 310.534.0411

A LA CAZE DEVELOPMENT COMPANY PROJECT

68 Peninsula People • February 2016