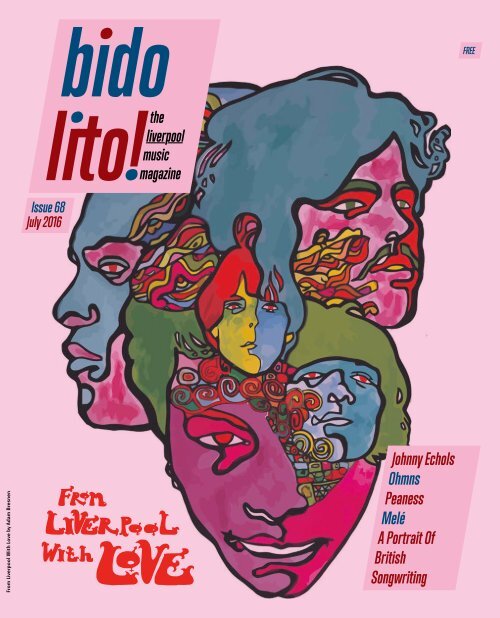 Issue 68 / July 2016
July 2016 issue of Bido Lito! Featuring FROM LIVERPOOL WITH LOVE and JOHNNY ECHOLS, OHMNS, MELÉ, PEANESS, A PORTRAIT OF BRITISH SONGWRITING and much more.
July 2016 issue of Bido Lito! Featuring FROM LIVERPOOL WITH LOVE and JOHNNY ECHOLS, OHMNS, MELÉ, PEANESS, A PORTRAIT OF BRITISH SONGWRITING and much more.
SHOW MORE
SHOW LESS
Create successful ePaper yourself
Turn your PDF publications into a flip-book with our unique Google optimized e-Paper software.
FREE

Issue 68

July 2016

From Liverpool With Love by Adam Bresnen

Johnny Echols

Ohmns

Peaness

Melé

A Portrait Of

British

Songwriting
---
MON 20 JUNE 7pm

BOYSETSFIRE

TUE 21 JUNE 7pm

NAPOLEON

WED 22 JUNE 7pm

UNKNOWN MORTAL

ORCHESTRA

SAT 9 JULY 7pm

TWIN ATLANTIC

SAT 25 JUNE 10pm · 18+

DJ PREMIER

MON 11 JULY 7pm

JESSE MALIN

FRI 15 JULY 7pm

SPACE & STEPHEN

LANGSTAFF

+ SATIN BEIGE

SUN 17 JULY 7pm

RAGING SPEEDHORN

TUE 19 JULY 7pm

AREA 11

WITH SUPPORT FROM

MILESTONE, NORTHVIEW

& LOST IN TRANSLATION

SAT 23 JULY 6.30pm · 18+

LIMF PRESENTS:

76-16 FROM ERIC'S

TO EVOL LIVE

(PUNK/NEW WAVE)

BUZZCOCKS

40TH ANNIVERSARY

WORLD TOUR

MON 25 JULY 7pm

THE LAFONTAINES

WITH SUPPORT FROM

THE BASEMENT EFFECT,

NEW ATLAS & THE PYNES

TUE 9 AUG 7pm

BIG D & THE KIDS

TABLES

TICKETS FOR ALL SHOWS ARE AVAILABLE FROM TICKETWEB.CO.UK

90

SEEL STREET, LIVERPOOL, L1 4BH

WED 10 AUG 7pm

SARA BETH

& GLEN MITCHELL

THU 25 AUG 7pm · 16+

KANO

TUE 6 SEPT 7pm

BROKEN BRASS

ENSEMBLE

WITH THE

BLOWBACK HORNS

THU 8 SEPT 7pm

ELEANOR

FRIEDBURGER

THU 15 SEPT 7pm

THE SHERLOCKS

SAT 17 SEPT 7pm

MOON HOOCH

(RESCHEDULED FROM 31 MAY)

SUN 25 SEPT 7pm

KING NO-ONE

STEVE MASON

MON 11 JULY at 7pm

JESSE MALIN

THURSDAY 6th OCTOBER 2016

LIVERPOOL

TICKETWEB.CO.UK

LIVERPOOL

TICKETWEB.CO.UK

An Academy Events presentation

stevemasontheartist.com
---
A Portrait of British

Songwriting - Liverpool

8TH JULY - 7TH AUGUST 2016

Exploring songwriting today through candid photography

by Rachel King and intimate interviews by Rachael Castell

with writers from the Domino Publishing roster taken in their

homes and placees of inspiration.

Featuring Clive Langer, Bill Ryder-Jones, Jon Hopkins, Kate

Tempest and more.

Bold Street Coffee, 89 Bold St, Liverpool L1 4HF

www.wolfanddiva.com

www.aportraitofbritishsongwriting.com
---
facebook.com/o2academyliverpool

twitter.com/o2academylpool

instagram.com/o2academyliverpool

youtube.com/o2academytv

Thurs 14th Jul • £23 adv

The Maccabees

Sun 24th Jul • £24 adv

LIMF presents Eric's to Evol 76-16 Part 2

Lightning Seeds

+ Pete Wylie & The Mighty Wah!

+ The Clang Group (Clive Langer from Deaf School)

+ The Sugarmen

Fri 29th Jul • £27.50 adv

George Clinton

& Parliament Funkadelic

Sat 30th Jul • £10 / £15 adv

Keywest

Sat 3rd Sep • £15 adv • 7.30pm

Animal Collective

Wed 7th Sep • £28 adv

Barenaked Ladies

Fri 9th Sep • £20 adv

The Enemy

Sat 17th Sep • £12.50 adv

Definitely Mightbe

20th Anniversary of Maine Rd & Knebworth shows tour

with extra greatest hits show

Fri 7th Oct • £14 adv

Hot Dub Time Machine

Sat 8th Oct • £12.50 adv

UK Foo Fighters Tribute

Sun 9th Oct • £30 adv

UB40

Tues 11th Oct • £27.50 adv

All Saints

Thurs 20th Oct • £29.50 adv

Heaven 17

Wed 26th Oct • £9 adv

Yak

Fri 28th Oct • £15 adv

Glass Animals

Sun 30th Oct • £16.50 adv

Y&T

Mon 31st Oct • £15 adv

Augustines

Fri 4th Nov • £25 adv

The Two Mikes

Mike Graham and Mike Parry from talkSPORT

Tues 8th Nov • £21 adv

The Wailers

performing the album Legend in its entirety

Fri 11th Nov • £14 adv

Absolute Bowie

Celebrate the life of David Bowie

In support of Teenage Cancer Trust

Sat 12th Nov • £15 adv

The Carpet Crawlers

The Ultimate Genesis Tribute

Invisible Touch Tour

Sat 12th Nov • £11 adv

Antarctic Monkeys

Fri 18th Nov • £14 adv

Crystal Fighters

Sat 19th Nov • £12 adv

Pearl Jam U.K

25th Anniversary of Ten

Fri 25th Nov • £12 adv

The Doors Alive

Sun 27th Nov • £14 adv

Electric 6

Wed 30th Nov • £17.50 adv

The Fratellis

Costello Music 10th Anniversary Tour

Fri 2nd Dec • £13 adv

The Lancashire Hotpots

Tues 6th Dec • £25 adv

The Levellers

Levelling The Land 25th Anniversary Tour

Tues 6th Dec • £16.50 adv

The Wedding Present

Sat 10th Dec • £15 adv

The Icicle Works

Wed 14th Dec • £22.50 adv

Kula Shaker

20th Anniversary of K

Sat 17th Dec • £20 adv

Cast

Sat 16th Jul • £18.50 adv • 7.30pm

Father John Misty

Fri 28th Oct • £15 adv

Sleaford Mods

Sat 12th Nov • £18.50 adv

Jack Garratt

Sat 26th Nov • £23 adv

Soul II Soul

Ticketweb.co.uk • 0844 477 2000

liverpoolguild.org

Sat 16th Jul • £18.50 adv

Father John Misty

Sun 24th Jul • £24 adv

Lightning Seeds

Fri 29th Jul • £27.50 adv

George Clinton

o2academyliverpool.co.uk

11-13 Hotham Street, Liverpool L3 5UF • Doors 7pm unless stated

Venue box office opening hours: Mon - Sat 11.30am - 5.30pm • No booking fee on cash transactions

ticketweb.co.uk • seetickets.com • gigantic.com • ticketmaster.co.uk
---
Bido Lito! July 2016

5

Bido Lito!

Issue Sixty Eight / July 2016

bidolito.co.uk

12 Jordan Street

Liverpool L1 0BP

Editor

Christopher Torpey - chris@bidolito.co.uk

Editor-In-Chief / Publisher

Craig G Pennington - info@bidolito.co.uk

IT'S THE TERROR OF KNOWING WHAT THIS WORLD IS ABOUT

Editorial

"Stop killing people you fucking twats."

Images of this statement, painted on a banner that was unfurled at a protest in the UK at some point between 2011 and 2013, have been widely

shared on the internet over the past month. Again. It sums up a lot of people's frustration, anger and sadness at the utterly senseless actions of

the few to ruin the lives of the many – but it's becoming depressing that we have to keep seeing it. In recent weeks the world has reeled from a

series of shocking incidents: the harrowing attack on the LGBT community in Orlando, where 49 innocent people were killed; the murder, in their

own home, of two French police officers, in full view of their three-year-old son; and the horrific attack and murder of Batley and Spen MP Jo Cox

during a weekly constituency surgery. And this is without mentioning the scores of other atrocities around the world that have gone unnoticed. It's

remarkable how strong the spirit of the human condition is, that each mindless act of violence and terror actually brings forth the kind of solidarity

that we've seen in the wake of these atrocities. But it is the only answer, because divisions are what weaken us, not unity.

I had reason to think back to my physics degree studies this past month as we worked on a project for the Bluedot festival, which takes place

at Jodrell Bank Observatory in July. Dominating Jodrell Bank's tranquil site is the giant and iconic Lovell radio telescope, with its great dish turned

to the stars. Looking at the huge structure as it was gathering information from distant pulsars made me realise just how far the human race has

come in such a short amount of time; and how we have done this by being outward-looking, progressive.

For all its tricky maths and weird symbols, physics is actually a very deep field of study: it was, until as recently as the middle of the 19th century,

actually known as natural philosophy. Sociology, psychology, and politics and are all macro-sciences, created by humans to put meaning to the

actions of humans. By their very nature they are imprecise, because of the presence of humanity, which is far too varied a beast for any grand

theory to unite, far less predict. The study of physics dwarfs these human-made creations, being observations of that which happens regardless

of doctrine or intent.

It was while re-reading the work of the great American astronomer Carl Sagan – in particular the passage in his best-selling 1994 book A Vision

Of The Human Future In Space, from where Bluedot festival takes its name – that I came across the most pertinent description of our race so far;

a passage which puts into perspective the whole mindlessness of our petty squabbles, as he considers a photograph taken of our Earth from a

distance of 3.7 billion miles away. Sagan's beautiful prose can't be bettered, so I've re-produced it in full here:

"From this distant vantage point, the Earth might not seem of any particular interest. But for us, it's different. Consider again that dot. That's here.

That's home. That's us. On it everyone you love, everyone you know, everyone you ever heard of, every human being who ever was, lived out their

lives. The aggregate of our joy and suffering, thousands of confident religions, ideologies, and economic doctrines, every hunter and forager, every

hero and coward, every creator and destroyer of civilization, every king and peasant, every young couple in love, every mother and father, hopeful

child, inventor and explorer, every teacher of morals, every corrupt politician, every 'superstar', every 'supreme leader', every saint and sinner in the

history of our species lived there – on a mote of dust suspended in a sunbeam.

The Earth is a very small stage in a vast cosmic arena. Think of the rivers of blood spilled by all those generals and emperors so that, in glory and

triumph, they could become the momentary masters of a fraction of a dot. Think of the endless cruelties visited by the inhabitants of one corner of

this pixel on the scarcely distinguishable inhabitants of some other corner, how frequent their misunderstandings, how eager they are to kill one

another, how fervent their hatreds.

Our posturings, our imagined self-importance, the delusion that we have some privileged position in the Universe, are challenged by this point of

pale light. Our planet is a lonely speck in the great enveloping cosmic dark. In our obscurity, in all this vastness, there is no hint that help will come

from elsewhere to save us from ourselves.

The Earth is the only world known so far to harbour life. There is nowhere else, at least in the near future, to which our species could migrate. Visit,

yes. Settle, not yet. Like it or not, for the moment the Earth is where we make our stand.

It has been said that astronomy is a humbling and character-building experience. There is perhaps no better demonstration of the folly of human

conceits than this distant image of our tiny world. To me, it underscores our responsibility to deal more kindly with one another, and to preserve and

cherish the pale blue dot, the only home we've ever known."

Christopher Torpey / @BidoLito

Editor

Media Partnerships and Projects Manager

Sam Turner - sam@bidolito.co.uk

Reviews Editor

Philip Morris - live@bidolito.co.uk

Design

Mark McKellier - @mckellier

Proofreading

Debra Williams - debra@wordsanddeeds.co.uk

Digital Content Manager

Natalie Williams - online@bidolito.co.uk

Interns

Matthew Wright and Scott Smith

Words

Christopher Torpey, Richard Lewis,

Roanne Wood, AW Wilde, Matt Hogarth,

Matthew Wright, Andrew Hill, Phil Gwyn,

Rachael Castell, Philip Morris, Scott

Smith, Sam Turner, Glyn Akroyd, Jonny

Winship, Paul Fitzgerald, Melissa Svensen,

Stuart Miles O'Hara, Christopher Carr,

Robert Aston, Alastair Dunn, Maurice

Stewart, Will McConnell, Harry Brown.

Photography, Illustration and Layout

Mark McKellier, Adam Bresnen, Tami Valer,

Rachel King, Debs Turner, Nata Moraru,

Gareth Arrowsmith, Rich Maciver, Keith

Ainsworth, Robin Clewley, Sam Rowlands,

Mike Sheerin, Glyn Akroyd, Georgia Flynn, Gaz

Jones, Mook Loxley, Darren Aston, Lexi Sun.

Advertising

To advertise please contact

ads@bidolito.co.uk

Distributed By Middle Distance

Print, distribution and events support across

Merseyside and the North West.

middledistance.org

The views expressed in Bido Lito! are those of the

respective contributors and do not necessarily

reflect the opinions of the magazine, its staff or the

publishers. All rights reserved.

bidolito.co.uk
---
Words: Richard Lewis

Photography: Tami Valer

Front cover Illustration: Adam Bresnen / @AdamsPortraits

bidolito.co.uk
---
Bido Lito! July 2016

7

ow you're part of the chain. Pass it along."

So exhort the liner notes in the 2001 reissue of

iconic LOVE album Forever Changes, something that

successive generations of Liverpool music fans had already

been doing for decades. The 1967 album by the late Arthur Lee's

cult LA rock band is a melange of acoustic arpeggios, Mariachi

trumpets, beautifully scored strings and gently foreboding lyrics

that shares a thread of poetic beauty with Merseyside greats,

from The Teardrop Explodes to Echo & The Bunnymen, from The

Stairs to The Coral. Arguably the most ardent Love disciples in

a city of Lovers, however, are chamber-pop doyens Shack. Led

by longstanding members John and Michael Head, the band

brought Lee, Love's brooding, mercurial force to the city for a gig

in 1992, a show that he later described as "the most memorable

of my life". As the time-worn aphorism goes, 'In Liverpool you're

never more than 200 yards away from a copy of Love's Forever

Changes' (provenance unknown).

The story of Love, and how their seminal proto-punk, protopsychedelic,

protest music came to chime with this city, is being

celebrated in an event of our own making, to be performed

especially for this summer's Liverpool International Music

Festival. FROM LIVERPOOL WITH LOVE is a re-presentation of

the ideas, themes and music of Love, told with the help of the

band's original guitarist, JOHNNY ECHOLS, who will be joined by

a band and special guests comprising some of Liverpool music's

most revered names. It is also the story of our own name. For a

band who never toured their home country or had any notable

commercial success, the weight of Love's cult status is even more

remarkable given that it spread largely by word of mouth. To

understand how this came to pass, we need to venture back

to LA in 1965, to a ragtag bunch of musicians with a vision, in a

street off Sunset Boulevard.

"We didn't consider ourselves to be part of an underground

scene​in 1965, when we were still known as The Grassroots,"

Echols replies when asked what kind of music scene existed in

LA in the mid-sixties. "Later, when we became Love, we were able

to fill whatever venue we played and, for reasons I don't quite

understand, we were able to out-draw virtually every other group

playing in Los Angeles at the time. So we had a much different

experience than most other groups."

"We moved over from the Brave New World Club [located

nearby] ​in the summer of 1965, to a brand new venue called

Bido Lito's, which was an acronym for venue owners Bill, Dorothy,

Linda and Tommy," Echols continues. "Being that we were the

first group to play there, we were given the opportunity to have

input as to the layout as well as the type of soundsystem the

club would have. We played six nights per week, from 8pm

until 2am. Soon after we began playing there, we were drawing

overflow crowds. So much so, that the club owners blocked off

Cosmo's Alley [where the club was located] and installed huge

Voice Of The Theater speakers. So the literally hundreds of kids

who were unable to get into the club could dance in the street.

"Bido Lito's became the in spot​, ​in a very short period of

time," recalls Echols of the time. "Groups like The Doors, the

Iron Butterfly and many others followed Love, making it a very

important venue for up-and-coming groups.​The decision to

open up Cosmo's Alley was a huge factor: many others could

be a part of the scene without having to pay to get into the

club. Because of that, we were playing to huge audiences every

single night."

Uniquely in LA (and even in the US itself), Love were a mixed race

group at a time of social and political upheaval. With the Vietnam

War and the Civil Rights movement in full flow, we wonder, how

much did these events effect them as young artists? "Arthur and I,

like most young people at the time, were very socially conscious,"

Echols replies. "From our perspectives, one almost had to be. We

were at ground zero, because of our ages, and were constantly

bombarded by images of that war. It was absolutely surreal, to be

enjoying the privileged life we were living – and at the same time,

being informed of the deaths of many of our former classmates

and high-school friends. Both of us were certain that it was only

a matter of time before our numbers would be called. And we

would wind up dying in some God-forsaken jungle. Many people

think this country is polarised now; this is a love-fest compared

to back then. They were bombing churches, unleashing dogs on

citizens who dared to try and vote. They were routinely killing

political leaders. Students, peaceful protesters, anybody that

made too much noise, was fair game. One could, and often would

be arrested, and beaten for 'fraternising' outside their race. With

that as a backdrop, it doesn't seem so improbable that a bunch

of race-mixing California musicians would be most unwelcome​

in certain areas of the country."

'More confusion, blood

transfusions/the news

today will be the

movies of tomorrow/

And the water's

turned to blood/And

if you don't think so,

go turn on your tub.'

With the riots in LA at the time, and Love being one of the

biggest groups in the city, they were undoubtedly a product of

their time and place. As two racially mixed young men, fronting

a racially mixed group in the sixties, Echols and Lee faced

widespread discrimination across a country that was racked

with its own inner turmoil. Much of the country expressed a 'You

folks need not apply' attitude towards them, or insisting on them

playing to a segregated audience for fear of the outpouring of

emotion they would bring forth from a gagged section of society.

"We absolutely refused to be a part of that insanity," Echols states.

"When the group did manage to play a gig outside ​the West Coast,

the police would often monitor our hotel, to find out who was

visiting our rooms. The whole scene seems so bizarre now.

Arthur and I were so embarrassed, and put off, to be caught up

in something so un-cool. After a point we began turning down

gigs outside the East, or West Coasts altogether, even​​college

towns, where we would have been welcomed. ​To save face we​

began claiming that not touring​​in many parts of the country ​

was a matter of choice,​rather than circumstance​... the myth was

born of reality."

An exceptional lyricist, Arthur Lee's words transported the

listener right to the location that inspired them, and Echols was

fully aware at the time of how powerful Love's output was. "In

the reality ​in which ​we found ourselves​, ​we were ​in effect town

criers," the guitarist says. "So much of Love's music is actually a

newsreel, memorialising the times in which we lived."

The band were signed to Elektra Records by label boss Jac

Holzman after he saw them play at Bido Lito's; the label (and

by extension its president) acquired a stellar reputation over

the next half-decade, signing The Doors, The Stooges and The

MC5. As Echols explains, however, Love's tenure on the label

was difficult. "While the counter-intuitive, illogical, and patently

ridiculous mythology that has swirled around this group with

an almost religious intensity may have helped to cultivate a

'darkly romantic' cult status, the fact remains that, no matter

how talented, dedicated and well-schooled the 'alchemist' is, he

cannot transmute bullshit into reality! Jac Holzman is portrayed

as a genius record company president who discovered the

group and was the brains behind our success. Nothing could

be further from the truth. Jac, and by extension Elektra, were

an impediment​from day one. After the first ​recording ​session,

it ​became​clear that they could not recreate Love's 'live' sound

in the studio. Holzman​and [Forever Changes co-producer/band

engineer] ​Bruce Botnick kept saying everything was fine, and we

should trust their judgement. They got along well with Arthur

and Bryan [McLean, guitarist and fellow songwriter], who were

inclined to give them the benefit of the doubt. I, on the other

hand, was seen as an impediment to getting the album done.

In effect they wanted me to 'Shut the fuck up and play!'​That old

aphorism 'Truth is stranger, than fiction' could have easily been

written about this group. However, it should be noted that truth,

in this case, is a hell of a lot more interesting as well!"

With the exception of a Top 40 hit with Little Red Book and

an appearance on American Bandstand (the US equivalent of

Top Of the Pops) to plug the track, Love were a colossal success

amongst native Angelinos but never became known nationally

during their initial run. "There were many reasons​why Love did

not become as big as we should have. Some of those reasons

are due to decisions that we made; others were outside our

purview," Echols explains. "One huge blunder on our part was

insisting that Elektra sign The Doors. We had been offered a

fantastic deal to leave Elektra and sign with MCA, a much larger

and better-financed company. Being very young and naive as

far as business is concerned, we reasoned that if Elektra had

another successful group, and considering how unhappy we

were, they would let us go. ​That obviously did not happen​and,

to show us who was in charge, they refused to promote Love;

instead, monies that were to be allocated to promote us were

used to promote The Doors, thereby leaving us to make do with

word of mouth."

Following Forever Changes' lacklustre sales, the original band

line-up splintered in 1968, with Lee continuing work under the

Love banner while Echols, whose childhood friendship with Lee

formed the bedrock of the group, departed LA. "After leaving

the group, I moved to New York and became a studio musician

[Echols' credits include working with jazz legend Miles Davis].

Arthur and I remained in touch," Echols explains. "He would

often visit me in New York, or I would come to LA to hang with

him. Through all the travails​​that the group was forced to endure

by Elektra and through the many personal changes we both had

to deal with, ​Arthur and I remained friends​until the day he died."

Given this huge upheaval, did Echols find Love an enjoyable

experience? "Besides this year being the 10th anniversary of

Arthur's passing, it is also the 50th anniversary of the group

Love. I have enjoyed every moment of that experience... the

tough times as well as the good times."

From Liverpool With Love takes place as part of LIMF Presents, in

the form of a live performance on the ItsLiverpool Stage in Sefton

Park on Sunday 24th July. Johnny Echols will be joined by a live

band featuring Liverpool legends and special guests.

bidolito.co.uk
---
LIVERPOOL:REDEFINED

LIMF 2016

Words: Matthew Wright

LIMF's series of commissions, taking

place in various venues across Liverpool

between 20th and 24th July, celebrate

artists, music and projects that have and still

are redefining music in the city, while having a

wider cultural impact. Whether it is through acts

that redefine the global musical zeitgeist or the

city's continual rebirth in maintaining a vibrant

and vivacious music culture, the lens of 'redefinition'

seems an appropriate one through

which to take a look at Liverpool's musical

tradition. This year's LIMF Presents series bring

us seven projects that do just that.

Gilles Peterson (From The Soul)

"We are celebrating the fact that our city loves

music – whether it's diverse, cultural, new or

well-known," says Yaw Owusu, curator of LIMF's

music programme, which also encompasses a

series of events that go beyond performance to

bring some of the city's hidden stories to life.

"With a calendar full of outdoor concerts, club

nights, intimate showcases and exclusive aftershows,

we are authentically spanning the true

breadth of musical genres and cultures. This is

what makes LIMF inherently different from any

other festival: we're reflecting this city's true and

ever-changing musical DNA."

National treasure GILLES PETERSON curates

and presents the opening event of the series,

entitled From The Soul. Taking place at the

Liverpool Philharmonic Music Room on Thursday

21 st July, the event explores the genre-defining

sounds of British soul music over the past 30

years, and where Liverpool fits in to that story.

The evening features a special, one-time house

band collaborating with key artists from across

the British soul spectrum, such as INCOGNITO,

OMAR, CARLEEN ANDERSON and Merseysideeducated

ADY SULEIMAN. The after-party

features Peterson himself playing selections

from his world-renowned record collection,

exploring three decades of soul alongside sets

from SWINDLE and THRIS TIAN (Boiler Room/

NTS).

The following evening, the ROYAL LIVERPOOL

PHILHARMONIC ORCHESTRA return to Sefton

Park to open up LIMF's flagship Summer Jam live

shows with a classical tribute to the Liverpoolborn

songs that have resonated the world over

and irreversibly redefined pop culture in doing

so. The Music City: Reimagined performance

takes place on the Central Stage and will

feature Liverpool's pre-eminent classical outfit's

orchestral re-imaginations of songs from Cilla

Black, The Beatles, The Real Thing and Frankie

Goes To Hollywood. Sandra Parr, Liverpool

Philharmonic's Artistic Planning Director, says:

"We've been proud to perform at LIMF every year

since it began and it's been fantastic to see how

quickly it's grown in scale, ambition and profile."

Friday night also sees the culmination of

the unique House Nation project at Sefton

Park Palm House. LIMF have travelled to three

international music cities under the direction

of Liverpool producer and DJ YOUSEF, who has

immersed himself in those scenes to return

home and make four records influenced by the

sound of those cities as well as his hometown

of Liverpool. As well as being a seasoned DJ and

producer, Yousef owns a label and is host of the

world-renowned Liverpool club night, Circus.

The line-up features international house music

Yousef (House Nation)

trailblazers DENNIS FERRER (Objektivity, NYC),

REBOOT (Noon Artists), HECTOR (Vatos Locos)

and LEWIS BOARDMAN. Speaking about what

we can expect of the event, Yousef reveals that

he and the four musicians have "collaborated

in the studio and behind the decks to produce

music, looking ahead for an unmissable event.

It's been an honour to be asked to represent

Liverpool and to connect our city's new UNESCO

Music City status with other musically significant

cities around the world. We are coming together

to explore each of our city's musical histories."

Spanning four decades which saw the city

spawn scenes that consistently incubated

absurdly important musical movements after

The Beatles, 76-16 From Eric's To Evol: The

Story Of Punk And The Counterculture explores

these epochs through the figures who played

a central role. An expert panel convening at

District on 20th July will be taking a look at

the culturally and socially redefining impact

of punk music and counterculture since punk's

rebellious and confrontational arrival forty years

ago. Whether it is music, fashion, inspirational

individuals, key venues, or a combination

of all of the above, the panel – consisting of

musician and journalist JOHN ROBB, journalist

PAUL DU NOYER, Liverpool punk and new

wave artist JAYNE CASEY, PETE WYLIE of Wah!,

PAULINE MURRAY of Penetration, and our own

CRAIG G PENNINGTON – will ask what drives

counterculture movements. Part two of this

commission brings us a live representation of

this underlying ethos, featuring performances

from bands who have spanned these various

scenes. The line-up of BUZZCOCKS, CLINIC,

POLTERGEIST, FERAL LOVE, VEYU and ORGAN

FREEMAN tells the inter-generational story of

the city's underground music scene and how it

has continuously evolved and redefined itself

over the past 40 years, keeping alive the 'punkindie'

attitude that has been influential to the

swathe of cultural movements it has birthed.

"Liverpool has always had a small but very

important underground music scene," says the

Eric's To Evol music director, Marc Jones. "In 1976,

Eric's opened its doors and punk exploded into

life. In many ways, Eric's has been as influential

to Liverpool as both The Cavern and Cream

have been, and out of this scene came a set

of Liverpool bands that went on to dominate

the 80s. It's a great tradition that has been

continued to this day."

Fifty years ago, before the advent of punk,

Millie Small's My Boy Lollipop reached number

1 in the UK charts and introduced reggae to the

British mainstream. UK settlers went on to bring

their own unique brand of reggae and reshape

Feral Love (From Eric's To Evol)

the global image of the genre. Between Lover's

Rock, roots reggae and vocal reggae, the sound

left a considerable imprint on the music scene.

The LIMF Presents commission Roots, Rock,

Reggae sees award-winning BBC Radio DJ and

Grammy-nominated reggae producer SEANI B

curates a collaboration between British reggae

artists who have helped to shape the history of

the genre. "Reggae has brought many amazing

moments to the music scene in the UK, and

continues to do so," states Seani B. "I'm pleased

Levi Tafari (Yes Indeed!)

that some of my talented illustrious friends will

be joining me in Liverpool – from the son of an

icon, CHRISTOPHER ELLIS; the queen of Lovers

Rock, CAROLL THOMPSON; to a man who has

helped push the sound of reggae to bands such

as Damon Albarn's Gorillaz, SWEETIE IRIE; and

the sound of the new generation, KIKO BUN."

Following on from last year's brilliant

discussion and live event Next Stop New York,

event promoters Mellowtone bring us a uniquely

created live performance featuring contemporary

singers and musicians reimagining works of

forgotten Merseybeat pioneers. Working with

a range of Liverpool artists, both established

and emerging, Yes Indeed! will reinterpret

and reimagine the works of black Merseybeat

poets, unearthing and celebrating their legacy.

This cross-generational collaboration is led

by the soul band THE EQUATION and features

performances from XAMVOLO, MERSEY WYLIE,

LEVI TAFARI, EDGAR SUMMERTYME, AMIQUE, MIC

LOWRY and ESCO WILLIAMS. Immerse yourself

in Liverpool's untold musical past, challenged

through the soul-influenced artists of the

present at the ItsLiverpool Stage at Sefton Park

on Saturday 23rd July.

The LIMF Presents 2016 series offers a varied,

in-depth programme of events that reanimate

various aspects of Liverpool's rich musical

heritage, proving that there's even more to the

festival than its Summer Jam bill. Make sure

you take the opportunity to experience some

of what is on offer.

LIMF Summer Jam, Europe's largest free music

festival, takes place across various stages in

Sefton Park between 21 st and 24 th July. The LIMF

Presents events take place at multiple venues

across the city, with some events being ticketed.

You can find full line-up and ticketing details

on all aspects of this year's LIMF line-up at

limfestival.com.

Head to bidolito.co.uk to listen to our specialedition

LIMF podcast, featuring music from

artists on the bill and interviews with the festival

organisers. This will also be part of the LIMF Radio

coverage, on 87.7FM and limfradio.co.uk.
---
NEW GIGS

Liverpool Philharmonic

July – October

ELVIS COSTELLO

& THE IMPOSTERS

Monday 11 July 7.30pm

–

IAN PROWSE

Friday 15 July 8pm

–

LIMF: FROM THE

SOUL LIVE WITH

GILES PETERSON

Thursday 21 July 7pm

–

MARY CHAPIN

CARPENTER

Wednesday 27 July 7.30pm

–

LEVERET

SELLING FAST

Thursday 8 September 8pm

–

MAWKIN

Thursday 11 September 8pm

–

SUE PERKINS LIVE!

IN SPECTACLES

Tuesday 13 September 8pm

–

RODDY WOOMBLE

PERFORMING

'MY SECRET IS MY SILENCE'

Friday 16 September 8pm

ROMESH

RANGANATHEN

IRRATIONAL

Wednesday 21 September 8pm

–

KESTON KOBBLERS

Thursday 29 September 8pm

–

EXPLOSIONS IN

THE SKY

Sunday 9 October 8pm

–

THE HOLLIES

Saturday 15 October 7.30pm

–

LYNCHED

Sunday 16 October 8pm

–

ROBYN HITCHCOCK

Saturday 22 October 8pm

–

LOUDON

WAINWRIGHT III

Sunday 23 October 7.30pm

Box Office

liverpoolphil.com

0151 709 3789

Image Elvis Costello
---
10

Bido Lito! July 2016

OHMNS

Words: Matt Hogarth

bidolito.co.uk

Photography: Nata Moraru / @natamoraru
---
Bido Lito! July 2016

11

If you're a regular frequenter of any of Liverpool's darker,

dingier gig venues, you are sure to have set eyes on OHMNS

– and it's probably not an experience you've forgotten.

They're a band who have managed to smash through the everrepeating

increasing circles of landfill indie and Coral tribute

acts which have bloated Liverpool gig line-ups in recent years.

Lurking in the gloomiest realms, places where even the best

photographers haven't even been able to catch their full glory,

Ohmns have become the city's best-kept secret, cultivating a

devoted following. Within a relatively short period of time, the

quartet have become cult heroes with a ferocious tenacity on

stage twinned with a fierce blend of fuzzed-up, distortion-driven

anarchic rock.

In pursuit of the group we meet them in the car park of Edge

Lane Retail Park, a place where you can find all the tools to

dispose of a dead body before catching the latest Adam Sandler

film with the kids. The band are sat basking in the last of the day's

fading sunshine atop the bonnet of their car, fags in hand, whilst

drummer Kingy sups on a warm tinny wrapped in a polythene

bag.

Stood outside the rather archaic Hollywood Bowl with its

garish pink 'H' standing out like a pre-emptive tombstone of

glory days now passed, lead guitarist Kendall tells us, "We like

it here. There's something in the way it's just a decaying place;

a sort of Americana-in-the-middle-of-Old-Swan thing. Bowling

just seems a bit out of place in the middle of Wavertree." This is

something that seems to have inspired the musical output of the

fearsome foursome, whose formative years were spent playing

covers of garage and punk bands from the US. "We started out

by just playing Gories and No Age covers and jamming. It was

something else to do then," bassist Ali tells us. There seems to

be something in the slightly tarnished glamour of the bowling

alley, in the multi-coloured carpets, the bright flashing lights and

faded spirit which holds something of the Gories' hometown,

Baltimore. Ali continues: "We all used to just sit in Kingy's and

listen to records: The B52's, The Fall, Nirvana, etc., etc. We'd all

been in bands when we were dead young and jibbed it in when

we got to 16. We just thought, 'Fuck it, why don't we start up

again?'"

Amidst this talk, Kendall swoops and delivers a stunningly

athletic kick that sends Kingy's can flying into the air in a fountain

of mid-strength booze, the still half-full can landing inches away

from the bonnet of a rather shiny Audi. Almost like a firing gun,

the Chun-Li-esque Spinning Bird Kick signals the start of a hefty

bowling tournament (where I play abysmally). It appears that the

band are built on the friendship that ties them together. Their

close-knit nature becomes apparent with a cryptic set of bowling

nicknames: DADHUG (lead guitarist Kendall), MUMKISS (drummer

Kingy), KRAZZ (bassist Ali) and BRISKET (guitarist and singer

Quinlan). With the names originating from a series of teenage

antics and MSN nicknames, the group have obviously known

each other for a long time. There's a great deal of camaraderie

between the lads and it's pretty obvious that they're all in it for

the fun. "We've made a pact that as soon as it isn't fun we'll pack

it in," Ali tells us. "There are no real egos in the band. No-one who

dominates. We like to see each other as equals and that's the best

way to be. I know it sounds clichéd but we're all in it for the love

of music, y'know," adds Quinlan.

Twisting mundane aspects of normal life into well-written,

raucous garage rock smashers, the band seem to have found their

lyrical capability in a series of in-jokes in which they revel whilst

the audience looks on, slightly lost but distracted by the fastpaced,

riotous live show. Take track Boil D Rice for example: an

ever-speeding, bass heavy and largely instrumental track which

kicks into overdrive in the last minute with primal screams of

"BOIL D RICE / IT'S TWICE AS NICE". Slightly reluctantly the band

reveal the track's origins: "It's just about how Mike [Quinlan] was

always late because he was always cooking some rice!"

Liverpool is yet another key influence on the group. "It's just full

of some of the weirdest and best characters, and that's exactly

what we love," Quinlan tells us, with Ali adding, "We wouldn't

live anywhere else." Such frenetic characters include the likes

of local legends Craig Charles and Purple Aki. "Try explaining to

a London audience who Purple Aki is, ha!" They have also gone

about writing a full seven-minute epic around Craig Charles,

entitled Keshi Heads, which combines themes of cult Japanese

game show Takeshi's Castle (for which Charles used to provide

the English voiceover) and recollections

of how the Red Dwarf star sat in the

back of a taxi smoking crack and reading porn on what he called

'naughty Fridays'. The track is a ballad to the man, drug-fuelled

and in constant state of flux, flicking between punky riffs right

through to doom-laden thrash. "We definitely want to sort out a

show with him. It'd be boss," laughs Kendall.

The band do have a few quips about the city they love so

much, though. "People are far too afraid to put their foot on the

distortion pedal round here. The heavier scene has definitely got

a lot better over the last few years, though," quips Kingy. The

predilection of a lot of bands in Merseyside for melodic folk and

psych is being evened out with the emergence of Ohmns and

their fellow, more rough-edged bands, Strange Collective and Bad

Meds, who have an equal appreciation for pedals and fuzz. Taking

influences from the likes of Thee Oh Sees, Iggy Pop and The Fall,

such bands have found a home in Liverpool's punkier, more DIY

venues, such as Maguire's and Drop the Dumbulls.

"Since the Kaz closed a void's been left to fill and it seems

that everyone's fighting for it. To us, though, Maguire's is just

home," says Kendall. "We love the fact that we can just put on

a show spontaneously in there and just get going." This is the

appeal of Maguire's: no security, no barriers and the ability to

avoid the extortionate prices of some of the other venues in the

city. Kendall continues: "Gentrification is pushing people, and

good music, out of the centre – and I think that's where it belongs,

on the outskirts." This comment rings true for some of Ohmns'

heroes too, such as Mark E. Smith's Salford industrial-estate

home or the weirdo chic of The B52's, which brings us slightly

closer to the bowling alley we find ourselves in today.

Due to the group being in the minority in the Liverpool scene,

there seems to be a certain sense of camaraderie within the

smaller group of heavy, garagey bands they find themselves in.

"We recorded our Rice Tape EP with Paul Rafferty from Bad Meds.

We didn't have an awful lot of money to record it and the guy's

a genius," explains Quinlan. "Then we just made all the tapes

ourselves on an old 80s recorder in my bedroom. We just sat

there for hours. I bought little baggys and made a stamp with our

name on, and put rice in them, which we put in the box as well,"

explains Ali. Such a task must've taken hours and shows a real

love. Rather than merely releasing the tracks into hyperspace, the

band show a creative flare in their beyond-the-call-of-duty 'rice

tape'. Its crackling lo-fi edge epitomises what the group are about.

This sense of humour translates well onstage, where the

band really do come into their element. "We used to drink quite

a lot when we first started out, out of nerves," Kendall explains,

to which Kingy adds, "And then it just became a habit, ha ha!"

Having seen the band live on a number of occasions, it seems that

it's their mischievous, ballsy nature that dictates their

unexpected and volatile live

shows rather than alcohol

consumption. Arriving at

an Ohmns gig you're never

quite sure what to expect.

Take the time in Maguire's

when drummer Kingy

accompanied Strange

Collective on stage for a

recital of Super Touchy:

things got a bit weird

when Kingy proceeded

to take his kit off,

eventually dancing

on an amp in just

his Y-fronts. What

then followed was

a wigged-out, debauched and snarling

psych explosion which encapsulated the volatile nature of

the two bands, who feed off each other for the best possible

outcome. Or when they played at FestEVOL in May of this year,

running onstage doing forward-roll guitar solos while their

mate ran about smashing his head with a piece of wood until

it bled. "We never plan what's going to happen," Quinlan tells

us. "It's not planned, it's not contrived, it just… happens!" This is

perhaps what makes them so interesting, this authenticity and

lack of pretension. This isn't some act to sell records, merely four

mates having fun onstage. Ohmns are probably Liverpool's most

entertaining live band: a band who keep an audience on their

toes, whether that be dodging flying microphones or trying to

fight off tinnitus with ear drum-trembling decibel levels.

Ohmns are exactly what Liverpool needs. They may not be

reinventing the wheel but they are reaffirming what rock 'n' roll

has always been about: a sense of rebellion and a kick against

the norm. Ohmns are as heavy, dangerous and with as much of an

appetite for destruction as the bowling balls they chuck tonight.

The Rice Tape is out now, available to buy from ohmns.bandcamp.

com. Ohmns play The Invisible Wind Factory on 2 nd July for Strange

Collective's all-day garage party.
---
A PORTRAIT OF BRITISH SO

" "

Bill Ryder-Jones

"I write in the bedroom, I write for the bedroom.

The places I want the music to live is for people

who listen to music in their bedroom... That is the

aspiration, to be part of that lineage of people who

write about the outside from inside. You only have

your own thoughts...that's what I consider it to mean

to be someone who makes art."

Kate Tempest

"Everything is rich, everything wants to

communicate with you. Everything. If you're

an artist, your eyes are open to these tiny little

moments that ring out so strong it's like being

struck by a mallet and you're ringing."

" "

It is widely acknowledged that the music industry has changed immeasurably over the past

decade, favouring the global brand artists who can use their celebrity standing to sell as

many pairs of tracksuit bottoms as they can copies of their albums. So what of the humble

songwriter, quietly plugging away at their art, often only for meagre returns? A PORTRAIT OF

BRITISH SONGWRITING, an exhibition put together by creative agency Wolf & Diva, is a candid look

at this oft-overlooked craft, through a series of photographs and accompanying audio interviews

with some of Britain's most influential independent songwriters from the Domino Publishing

roster.

Photographer Rachel King (Wolf) and writer/songwriter Rachael Castell (Diva) devised this

exhibition as a way of celebrating the never-diminishing power of British music, to contemplate

the rich pool of musicians whose talent for capturing experiences of a place and a time in song is

as strong as it's ever been. They launched Portrait at Sonos Studio London in October 2015, and

we are fairly stoked to be working with them to bring the whole exhibition to Liverpool, running

between 8 th July and 8 th August at Bold Street Coffee.

Bill Ryder-Jones, Kate Tempest, Steve Mason, Clive Langer, Bella Hardy, Jon Hopkins, Luke Abbott,

Sara Abdel Hamid (Ikonika), Eugene McGuinness, Oli Bayston, The Bohicas and Hot Chip's Felix

Martin and Al Doyle all invited Rachel and Rachael in to their personal creative spaces, with

the resulting candid photography and intimate interviews reminding us of the physicality of

songwriting, the work of the art.

Ahead of the exhibition's launch, Rachael Castell spoke to us about how A Portrait Of British

Songwriting showcases what Steve Mason described as the "beauty and compassion, joy and

love, emotion and heartbreak and all the things that go to make us the complicated, wonderful

things that we are".

"I am a songwriter myself. I write songs with a writing partner, but it took me a really long time

to give myself permission to be a songwriter because it felt like it was a dark art, or a mystical

process that I wasn't party to. I'm intrigued by songwriting because I like to listen to songs and

think about how they're constructed. What was interesting to Rachel and I when we started this

project was not only the craft of songwriting, but also the skill and the practice and the work of

being a songwriter in the time that we live in now."

"In the series, it comes across that there is no one way to write a song: people come at it from

different angles and from different places. It is an endlessly fascinating area. I could just keep

having these conversations with songwriters for ever and ever because everyone's different: the

experience of making music is unique to everyone. The liberating or enlightening thing about it

is that people just find their own way. It's a vulnerable thing, particularly if you're a performer.

I'm really in awe of people for whom [making music] is just what they have to do, that is their

beating heart."

"We're living in such a strange time to be a musician and you have to be so dedicated. I mean, I

write songs as a hobby, but these people do it professionally. How you keep that going and what

your working life is like and how do you find your inspiration – these are the questions we were

interested to ask. There's a whole layer – a really, really rich layer – of British songwriting talent

that isn't really in the public eye and doesn't get celebrated as much as it should do. Portrait is us

looking at songwriting through the window of now, asking 'how can you survive and keep that

passion burning?'."

"There were some themes that came about that were really fascinating to me. For instance,

there was a whole theme around people who see music, like Jon Hopkins, and Ikonika. They talk

about literally having a visual accompaniment to the music that they can see. There was also a
---
" "

Steve Mason

"The most important thing is bearing your soul

and having no barrier between your heart and

lyrics and the piece of paper, and being fearless

in terms of melody and direction."

Clive Langer

"Sometimes I'll be walking along and a lyric will

come to me, but normally I'm just working on the

music and some idea will come. I'm not very good

at writing normal formula pop. I write songs that are

a bit 'to the left'...I try and mess things up, to throw

them up in the air a bit and see where they land."

" "

NGWRITING

Words: Rachael Castell

Photography: Rachel King wolfanddiva.com

really strong rhythmic bedrock to the people we interviewed: Ikonika again, Luke Abbott, Steve

Mason, they all started out playing drums. So there's something about the comprehension of

rhythm that's at the heart of songwriting. And then the other thing that I think is interesting is

the marriage between words and music. I write lyrics and I love writing poems, but for many

people words come later, they're not quite so integral – apart from someone like Bella Hardy,

who comes from the folk tradition. She's always writing lyrics and then the songs find their

way from the lyrics."

"The other thing that was particular to the project was that all the songwriters let us go to the

creative space where they make their music – so you're suddenly looking at the equipment and

the headspace that an artist has to get in to make music. And that's different for everyone. Ikonika,

for example, has a cabin behind her mum's house where she works, which was full of little bits

of paraphernalia that are specific to her. It was a whole world that I don't know about too much,

but you could suddenly feel where her head was by being in her space."

"Bill [Ryder-Jones], in particular, is really anti the demystification of songwriting. Him and Steve

[Mason] both kind of said, 'I don't really wanna talk about it because it's not something that I

wanna reveal to myself', in a way. And then when you get them going they just talked for hours!

There is no demystification: you can talk about it [the process] and it doesn't become any less

moving in the moment. I could kind of sometimes see pennies dropping when I was talking to

people, where they'd be like, 'Oh yeh, I guess I did do one album like that…'"

"I didn't want to race in [to the interviews] with a Dictaphone and be like, 'OK, let's talk about

songwriting – GO.' I wanted to settle myself in their creative space, and feel respectful about it

and learn about it and have a conversation before pressing record. So I think that made quite a

difference in that we took our time. Rachel [King] was shooting on medium-format film so there

was a real analogue taste to the whole thing, and that felt quite unusual. I also recorded most of

the interviews onto tape. There's something more raw about that exchange."

"Who was my favourite to interview? Ooh, that's really tough. I loved talking to Steve Mason, he's

got so much character and has so much to say. He's got a real history, too: he's written songs as

part of a band, he's done it on his own, he has that mystical relationship with his art. He's funny

and warm and has had dark days and bright times – he was just a great, fun interview! And he

definitely gave us a lot of himself; he was very raw and authentic. But then, they were all interesting

to me in so many different ways. It kind of made me feel really proud of the history and tradition

of British songwriting too, and also really excited about British music. It was hard when it was

over really, because I wanted to keep talking to people!"

"I love doing interviews, I love people and I love listening to people. I like to go deep quite

quickly, and I'm not often sure how it ends up happening. But then, I suppose that's the magic

art of conversation. Speaking to Jon Hopkins really inspired me to take up a course in improvised

singing. One of the things with songwriting that you feel you should know is the technical aspects

of music, but I'm not very good at that stuff. I realised that I needed to trust myself more because

so many people talk about the music, the songs just presenting themselves to them: they just

open their mouth and sing. So I took a course to try and exercise that muscle. So, it's lived on in

lots of different ways."

aportraitofbritishsongwriting.com

A Portrait Of British Songwriting runs at Bold Street Coffee from 8th July - 7th August. We will also be

inviting special guests to Bold Street Coffee to take part in a Bido Lito! Social on Thursday 21st July,

in the form of a panel event followed by a live show. See the news item on page 23 for full details.
---
EANESS. Yes, you read it right, but don't get carried away

with dirty images. The name has a much more innocent

meaning than you may think. Peaness are a selfproclaimed

'pea-pop' trio hailing from Chester, made up of Balla

(guitar and vocals), Jess (bass and vocals) and Rach (drums), who

specialise in a deliciously catchy vein of indie pop which bubbles

along with a faintly punky, punchy growl. Huw Stephens is a fan,

as is pretty much anyone who lays their eyes and ears on them.

Peaness have a way of leaving a lasting impression.

I first heard the name Peaness at the Sound City+ music and

digital conference, when, during the Musicians' Union and

Association of Independent Festivals panel, John Rostron of

Sŵn Festival explained the reasoning behind the pea badge he

was sporting. Not surprisingly, there were a few titters when he

mentioned the band's name, which all three members have grown

accustomed to now. "I saw an image with the word 'peaness' and a

bowl of peas on Tumblr and just thought it was funny," Jess clears

up. "It was a joke name when we started off, and it just stuck

because we couldn't think of anything better or worse. For us it's

just funny, but for others it's not, which makes it even funnier."

"Some people have been offended by it, but it's not like we're called

Cock 'n' Balls," adds Balla.

The band originally met at University and eventually formed a

band after they'd all finished in 2013. The original aim, Jess says, was

to form a band that sounded like Sex Bob-Omb from Scott Pilgrim vs.

The World, but "it kind of turned out less fuzz and more pop". After a

flurry of travelling, moving up and down the country separately, and

struggling to find somewhere to practise, the band bagged their first

gig two years later in July 2015, in Oxford for The Young Women's

Music Project 15 th Anniversary. It's not often your first ever show is

an out of town do, never mind a celebratory one for a special cause,

so there must undoubtedly have been some nerves? "It went really

well," says Rach of their debut outing. "We were all really nervous

but everyone seemed to enjoy it so it spurred us on."

Of course, everyone enjoyed it. In fact, it's hard not to enjoy a

set from Peaness, combining as they do the winsome indie of The

Pains Of Being Pure At Heart with the upbeat Britpop bounce of a

Two Door Cinema Club. After watching their set at Sŵn in Cardiff

2015, Stephens, the festival's co-organiser, took a shine to them,

mentioning them in NME and on his Radio 1 show soon after. Adam

Walton of BBC Radio Wales has adopted the band too, giving them

a spin on his show almost every week, with a bunch of online blogs

also replicating this word-of-mouth popularity in featuring them.

Sticking to the grassroots, Jess claims that the band are "very DIY,

we don't have any managers or booking agents, we just do it all

ourselves."

The most pleasing aspect about the band's popular ascent has

been how organic it's been. Not all bands are chasing the dream

of 'making it'; and not all those that do chase it end up making it.

"I can't stand all the bullshit that supposedly comes with trying

to get signed," Jess says. "I'm tired of getting emails about paying

for followers or views or plays or paying for sponsored posts on

Facebook!" Balla adds, "I think the independent label scene is a

lot more exciting than the majors," which Rach agrees with: "We

like the idea of being signed by an indie label more than a major

label because we want to have control over what we do."

However, they do dream of being able to have the band as

their day job – although that doesn't mean being tied down to

contracts, being told what to wear, who to talk to and what your

next album should sound like. Luckily there are the likes of Pledge

Music, which London band The Tuts have recently used to release

their debut album – and, of course, the power of the internet.

'Women in the music industry', in front of and behind the

scenes, is an ongoing topic of discussion in the press and among

those who work in the industry, which in recent months has

been gaining a lot more, deserved, attention. Peaness are an allgirl

band who couldn't have started off with a more 'GIRL POWER'

first show. How do they feel about being called a girl band? "We

don't really think it should be made a point of that we're girls; you

don't see all guy bands calling themselves 'boy bands' unless

it's something like *NSYNC," says Rach. "So, we don't see why

we should. With that in mind, though, I think women in music

should be celebrated, so if other bands put themselves across in

that way, then that's cool too." Jess thinks that it's "a tricky and

confusing subject, and I find myself thinking about it a lot. It's

hard to decide what's good or bad or right or wrong for feminism.

Whether we should shout it out that we're female, or to ignore

that fact and just be a band." Balla summarises the point neatly

when she says, "You wouldn't really be referred to like that in any

other profession, like a 'female plumber'. You're just the plumber.

If you can do the job, I don't care what's going on downstairs."

Peaness think they're lucky to have fallen in with the DIY

scene, locally and nationally, having nothing but positive

experiences in playing with different types of bands. "We did

a show in London called DIY Pop Fest in April and it struck me

then how many bands have women in them in the DIY scene,"

Jess says. "It shows that the musicians are out there. They're just

not represented on a wider scale in bigger bands. It's cool that

there are so many other women doing the same as us, though."

Despite being Chester-based, the band already have a

reasonably full association with Liverpool, which you can

even stretch back to Jess being featuring in Bido Lito! back in

August 2011 with her previous band The Thespians. The Shipping

Forecast, Forever True Tattoo, Bar Burrito and Maguire's Pizza

Bar all hold a special place in Peaness' heart too, and they've

done the hard yards already in embedding themselves in their

adopted home. "I once practised at a rehearsal room which was

literally the grossest thing I'd ever seen," says Rach. "The drum

kit was rusty and there was a slow cooker in the corner full of

piss."

If you want to catch a 'pea-pop' band who like to sing about

life in your mid-20s and the thoughts and struggles that come

with that, a band who unashamedly like Pokémon and who

are all about having an all-out fun time – then be sure to catch

Peaness. You'd be foolish not to.

Oh George is out now, available from

peanessband.bandcamp.com.

Words: Roanne Wood / @grrrlparts

Photography: Asupremeshot / asupremeshot.com/music
---
16

Bido Lito! July 2016

Words: A. W. Wilde / awwilde.co.uk

Extraordinary things occasionally happen to each of us.

They can be positive, but mostly they're not. When these

occurrences arrive uninvited into our lives they erode

comfortable reality. When we're in their raucous midst we're often

heard exclaiming 'I thought this only happened to other people'.

FRANCIS BACON's life was made up entirely of experiences like

this. He didn't seem to mind. They shaped him and they shaped

his art. The marks he made on canvas continue to get under our

skin and his considerable understanding of the allure of violence

still pushes our buttons. He may well be our most individual

painter – but I bet he was a better drinking partner. His worldview

and portraits were uniquely unsettling, unbelievably wise. His

time for drinking was plentiful and his drinking time was 1950s

Soho. England was still letting out sighs of relief, the horrors

of WWII absorbing into the mauled fabric of memory. Horrors

Bacon avoided fighting in by hiring a German Shepherd from

Harrods and sleeping next to it in order to aggravate his asthma

on the eve of his army induction. They granted him immediate

medical exemption – but not from pulling dismembered bodies

from bombed-out buildings or the who-gives-a-flying-fuck

attitude of Soho's dimly-lit dens of iniquity. In these boozers,

between fleshpots on a grubby warren-like assembly of backalleys

and streets, bonds were formed and livers were scarred.

Drinkers often fell foul of cirrhosis or Sohoitus: a geographic

illness causing drinkers to become frayed at the edges and

riddled with Bohemian tendencies, dahling. Bacon's Wrecking

Crew was no exception, staffed by a rag-tag collection of aristos,

lowlifes, writers, chancers, fighter pilots and career criminals.

All of whom lived their lives as theatre, lead characters or walkons,

beneficiaries or victims of Bacon's legendary generosity, his

precision guile and his character-building put-downs. To be given

the nickname 'Cunty' in his treasured local, the Colony Room,

meant you'd been accepted.
---
Bido Lito! July 2016

17

Iconoclastic paintings often reveal as much about their

painter as the times in which they were painted. And in much

the same way as the work of his friend Lucian Freud, it's Bacon's

portraits that slosh the truth onto the canvas. The ridiculously

good summer exhibition at Tate Liverpool features a wealth

of Bacon's paintings that provoke and jab at the senses, the

outcomes of which I'll not do justice with cod-psychology or

highfalutin' words. It was a familiar feeling: when I left his 2008

retrospective at Tate Britain, I felt as if I'd been watching pure

violence from a moving train. Bacon himself said that, "If I could

express what I mean with words, I wouldn't bother painting

it." It remained his life's desire to capture the human scream

on canvas, obsessed as he was by atrocity's open mouth. It

was his belief that he'd failed in this endeavour, and countless

scrapped paintings (he estimated he destroyed nine-tenths of

his paintings, "very probably the best ones, too") act as proof of

this unwavering ambition. He was careless with these discarded

paintings and they often fell into the wrong hands; approaching

the height of his fame, one appeared in a London gallery. Bacon

bought it for thousands, stamped it to shit on the pavement

outside the gallery and then went for oysters at his favourite

restaurant. Fuck you.

The new exhibition's title, Invisible Rooms, refers to the boxes

he painted around his subjects: these became an essential part

of his painterly repertoire although they were chiefly used to

draw his eye. But they have another, far more devious, effect:

they trap the subject against their will, perpetually howling

for their lives. It is cage-fighting on canvas. Although he never

worked on portraits with the sitter present, he always referred

to the work he did to their faces as 'doing them an injury'. Given

that he often painted people he cared for, we arrive at an insight:

hurting those we love. An accomplished sadist, Bacon believed

that true love and artistic aspirations were incompatible:

tempestuous is the one word that applies to his affairs of the

heart. Two paintings in this exhibition, Study For A Portrait Of P.L,

No.2 and Three Figures And Portrait, act as silent biographers

of his fondness for turmoil. Both are of significant partners,

both of whom died tragic deaths on the eves of pivotal solo

shows: Peter Lacy the night before the 1962 Tate Gallery show

and George Dyer the night before his show Grand Palais in Paris,

1971. Fuck me.

Peter Lacy was a fighter pilot who fought in the Battle of

Britain and was held captive by Sohoitus, precisely where he

met Bacon. Lacy was a talented pianist who squandered much

of his sizeable inheritance on promoting a pop group. Forever

in a pristine white suit and bow tie, he is described by Bacon as

quintessentially English with "the face of a poet who has dropped

in to remark that life after death is tolerable". Needless to say, he

liked a drink. And he ended up playing in a piano bar in Tangiers,

soundtracking the bar's tyrannical owner stuffing cannabis in the

asses of exotic birds he then sold for export. Tangiers at this time

was heaving with spies, gigolos, smugglers, countless brothels

and proper hedonists. Tangiers made Ibiza look like the Norfolk

Broads. William Burroughs wrote Naked Lunch there and Marlene

Dietrich, Errol Flynn, Humphrey Bogart and Lauren Bacall all fell

for its badman charms. It was also the preferred playground of

the latterly-born English aristocrats; the ones set not to inherit

the bulk of the family money. Tangiers was small beer; here

they could live like white royalty and behave as such, creating a

behind-closed-doors lawless atmosphere in open water in which

Lacy revelled and Bacon swam on frequent holidays. Their rows

were catastrophic; one such saw the end of 30 paintings, Lacy

slashing them in a fit of rage before they could be shipped to

New York for his first stateside show. Bacon, ever the nihilist, later

confessed he "rather enjoyed" watching him do it. It was that kind

of relationship: although Bacon felt privileged to have known him

and painted him frequently, they never fully-clicked in late-fifties

Soho, and Moroccan distance settled their differences in a way

proximity never could. In May 1962 Bacon was in the Colony Room

the day after his first solo Tate show, opening wads of praise-filled

telegrams from around the globe: he had arrived on the world

art stage and the champagne was flowing. The last telegram he

opened informed him Peter Lacy had died the night before.

George Dyer haunts plenty of Bacon's paintings. And there

are many myths about their relationship – which is surprising

because the truth is eye-watering enough. Despite a genuine

affection and an undeniable connection, it wasn't to be. Dyer

was an East End petty crook with old-fashioned manners who

(you guessed it) knew the Krays. And it was his air of violence

that attracted him to Bacon – he liked 'em rough. And Dyer

was drawn, moth to flame, to Bacon's assured manner and

considerable cultural clout. Before long, Dyer was a kept man; a

situation that exacerbated the despair that underlined his savage

ways. As so often happens in imbalanced relationships, one half

loses their identity as it becomes subsumed by the power of

the other. When this unfolded, shit got messy real quick. They

were arguing on holiday, screaming ab-dabs and bitch-slaps,

when Bacon stormed from the bedroom headed for the hotel

bar. Whilst drinking champagne a call came through to say that

George had taken an overdose, but that Mr Bacon would be glad

to hear he'd been saved by the house doctor. Bacon asked the

manager if the doctor was still with him, the manager replied

yes: without missing a beat Bacon said, "Then tell him to write

another prescription so he can do the job properly." When they

got back to Blighty, George Orwell's wife, Sonia, hired a hit man

to kill Dyer: you really couldn't make it up. News of the contract

skulked around the back streets of Soho and ended up in the

ear of Lucian Freud, who wrote to Sonia Orwell instructing her to

call Blond Billy the hit man off. He ended the letter, "With friends

like you I really don't need enemies." Along with a large group of

friends including Sonia Orwell, Bacon and Dyer took their caustic

dance to Paris for the grand opening of his show at the Grand

Palais. At the Hotel St Peres, Dyer was found dead on the toilet:

suicide. The news was kept hush-hush but inevitably some of

the French dignitaries found out. When Bacon was showing the

Minister of the Arts around the exhibition, the first painting that

caught the Minister's eye was a portrait of Dyer on the toilet:

a reverberating image of his actual death hours before, blood

spilling from every orifice.

Francis Bacon lived what he painted and painted what he lived.

Capturing these experiences on canvas was his greatest gift to

us: it gives us the luxury of the voyeur without the discomfort of

turmoil. His work is the sea milliseconds before the shark attacks,

the air turning thick when someone pulls a knife. The paintings in

this exhibition are brooding masterpieces, touched by something

impossible to explain. His power is undiminished by time. I'm

writing this on the day a discarded pair of his paint-splattered

gloves sold for £7,000 at auction. They were both left-handed.

I'm reliably informed Bacon held his drink in his right. Here's

looking at you, Cunty.

Francis Bacon: Invisible Rooms is showing now at Tate Liverpool,

running until 18th September.

bidolito.co.uk
---
18

Bido Lito! July 2016

Words: Andrew Hill

Photography: Rich Maciver

MELÉ'S MANOR

bidolito.co.uk
---
Bido Lito! July 2016

19

Six years. In the context of music, especially dance music,

that is an eternity. In six years, one local artist has

progressed to the forefront of his scene through hard

work, graft, DJ skills and some amazing productions. He doesn't

get nominated for local awards, nor does he appear much in the

local press, though he is easily the most successful breakthrough

electronic music act from Merseyside in the last decade. Regular

Radio 1 play, worldwide tours, festival appearances at spots

such as Glastonbury, Reading and Leeds, Benicassim, Parklife

and a recent year-long residency in Liverpool where every show

has sold out… yet you probably haven't heard of him.

Six years ago I interviewed MELÉ, real name Christopher Peers,

for this very magazine. At that point he was 17 years old, not old

enough to enter the clubs in which he performed – including my

own club night, Abandon Silence, at which he played the launch

party, incidentally also in the summer of 2010 – and his first

tracks were starting to get picked up further afield.

The intervening years have been very kind to the Wirralborn

artist, who's just recently moved to London to pursue his

career. Following on from the knockout success of his Melé's

Manor residency in Liverpool, he heads back to the North West

for this summer's Creamfields. Having been to the festival as a

youngster, he now completes the circle to perform alongside

Groove Armada, Tiga and Erol Alkan on Fatboy Slim's Smile High

Club stage.

Andrew Hill: It's six years since I first interviewed you for the

second issue of Bido Lito!, so to pick up where we left off – what

would you say has been the biggest change for you over those

years?

Melé: No messing about! I think the biggest change has probably

been natural, as over the years I've grown as a DJ and producer

as I've got older. When I look back on some of the stuff I was

playing and making six years ago I'm quite surprised; but saying

that, there's some stuff that has definitely stuck with me. Doing

this as a job from the age of 17 was a bit weird because I just

had to wing it a bit.

AH: I can remember that first gig we did at The Magnet when I

had to soften up the bouncers to even let you in! Now that you're

a little older, is there anything you would've done differently

back then?

M: Nah, I don't think I would. If I made any mistakes over the

years it's probably helped me get to where I am now. It's good

to look back on how far I've come since then; I don't think I ever

really imagined I'd still be doing it now!

AH: If you listen to your releases across the six years, there is a

definite progression in sound and production, though you can

still hear elements of that early work in your recent tracks. Is

there a particular influence that has inspired your work in the

intervening years?

M: Rather than any particular influence, I think there has been

a natural progression. Around 2014/2015 I realised that there

were tracks in my sets that I didn't actually like. I was playing

lots of house in the first 20 minutes and they were they only bits

I was really enjoying, to be honest. In terms of production style

I just thought it needed switching up; it just got a bit stale for

me. I think the turning point was probably when I made Melé

Vanelé Vol. 3, which I originally thought was just going to be a

one-off concept, but it's ended up being the sound I'm really

comfortable with now.

AH: That's understandable, I think that echoes the general

movement of the underground over those years as a lot of

different 'scenes' moved from 140bpm to 120-130bpm. You

managed to flow pretty seamlessly across that bridge as, in

my opinion, your DJing came to the forefront to a point where

I would suspect you became more known for your DJ sets than

your productions. Releases like Ambience have changed that

recently; how has it been having a true 'track of the moment'

that people would be demanding in sets?

M: It was good! It's something I always wanted to have, so when

it happens it's great. But there's always pressure for a follow-up,

especially when the track was big on the radio as well, but I've

never been great at churning out music. It was a tune I never

thought was gonna be big, it was just a DJ tool really.

AH: You mention there that the track wasn't intended for radio,

though when you approach a new production do you ever set

out with a plan to make, say, a radio hit or a DJ tool, or does

that just happen? I'm intrigued by how you approach each new

project.

M: I usually like to come into the studio with an idea of a tune in

my head – I might have a sample I wanna use or I've heard a tune

that I want to try make in the same style. If I go into the studio

with no ideas I'll find it hard to come up with something there

and then. I used to be worried about tracks not being accessible

for radio, but since Ambience I've learned to just go with my gut

feeling. If it goes down well in the club it's good enough for me.

AH: Ambience certainly has been going down well in the clubs.

I've noticed it grow and grow across each Melé's Manor, to a

point where it became the highlight of the last couple of shows.

How has the party been for you in the first year?

M: It's been so good. I had about a year where I didn't play

in Liverpool properly, so I decided it would be fun to have a

regular thing. I suppose I just want it to be a night that doesn't

take itself too seriously, which I think we've managed to do. In

particular, the night when Artwork joined us was truly special;

it was one of the best parties I have ever been involved in and

was exactly what I had in mind when we first discussed the idea

12-18 months ago.

AH: Yeah, the Artwork night is a particular standout, the Ship

was rocking that night! The night was a collaboration between

yourself and a number of people based in Liverpool and London:

how have you found it running parties in your hometown but

being based day to day in London?

M: It's been sick. I don't really play that much in London at the

moment and don't really have a favourite place down here [in

London], to be honest, so it's been good to switch it up and head

back to Liverpool with a proper brand and plan in place. And,

there's nothing like playing in your hometown!

AH: You're now heading into the festival circuit, with some

shows alongside Monki [Radio 1 host, label owner] for your NRG

Flash project and some on your own. How do you find the shows

differ across each project? And can you describe the changes in

production, set-up wise?

M: Well we got asked to do a b2b tour with Annie Mac at the end

of last year, and we just thought that if we were going to play

huge venues like Brixton Academy and Warehouse Project we

should make it more of a show. There's a lot more techno in an

NRG Flash show than we would play on our own – I hardly play

any techno at all when I DJ solo. Though there are some big

old-skool party classics in there too, and we use a Roland TR-8

to do live edits with, which is really fun, and hopefully that fun

comes across to the crowd!

AH: Using the Roland TR-8 takes it to a different level! How have

you found playing around with it whilst also DJing? As Monki

is predominantly a DJ does that mean it's you controlling that?

M: Nah, we both do it, she's picked it up really quickly, which

works really well. We basically just use it for extra drum loops,

to build more energy in build-ups, etc. In essence it just works as

an extra deck – we don't midi it to the mixer, we just mix it in by

ear, which brings greater risk and a bit of a variable quality, but

it seems to work and the crowd appreciate that we are working

live and not synced.

AH: You are heading to Creamfields later this summer, what are

you looking forward to about that?

M: Yeah, I can't wait! Creamfields is always sick. I went in, like,

2008 or 2009 pretty much on my own, just because there was

so much music I wanted to check out. I saw Annie Mac, Diplo

pre-Major Lazer, Erol Alkan... it was great! So when I was first

invited to play there in 2012 it was amazing. It still feels surreal

to be DJing at Creamfields as growing up it was 'the' event of

the summer and was an annual milestone.

AH: Looking to the future, what have you got on the horizon that

you're looking forward to?

M: Everything is really exciting at the moment, I feel like I'm in

a bit of a transition period right now, just finding my feet with

the music I want to be playing and making. I have a backlog of

music ready to be released, which is always much better than

none! In particular there are four or five tracks I'm really excited

about that I've started sending out to a few DJs – I've seen videos

of those guys playing them to big crowds with big reactions,

so that is always gratifying. We did our first NRG Flash show

yesterday, which was amazing, and we've got four more this

summer, so I'm really excited about them too, as well as some

great solo shows including, of course, Creamfields!

thisismele.com

Melé plays Creamfields on 28th August as part of the Fatboy Slim

Presents Smile High Club stage.

bidolito.co.uk
---
20

Bido Lito! July 2016

It's the dream job interview: the A&R role at XL Recordings, the agency opening at SJM Concerts,

or just the privilege of a six-month unpaid internship at a publishing giant. You're spewing

platitudes; politeness and slippery fingertips are all over the place as you try to position

yourself in your chair in a way that says 'confident, but not assertive enough to complain about

exceeding the 48-hour working week'. It's at about this time that some next-level interview content

would be handy, and you start wondering what will really break the ice: your hazy recollections

of Foucault's thoughts on power dynamics, which you learnt by rote in second year? Or perhaps

that time that you worked on the sound desk at a festival, smashed the bass solo at the Liverpool

Philharmonic, or started a primal techno night somewhere within the resurgent bowels of the

Baltic Triangle?

Education has changed. That's not to dismiss academia – the interest in the pursuit of knowledge

and the cultural contributions that it makes to society – but recently academic institutions seem to

have had one of those rare moments of clarity of thought, wondering to themselves, 'Why the fuck

are we only teaching an entire generation admittedly very important but completely parochial topics

that only a tiny minority of them will actually pursue?' As with football, food and fast cars we've

been casting a glance at what they've been doing on the continent and plagiarised their focus on

apprenticeships and a more vocational focus to degrees that are as much about practice as they

are theory. Ultimately, when you end up in that interview, shaking hands with the intensity of a

thousand Vinnie Joneses, being able to prove that you've actually already done the job is going to

trump being able to reel off the opinion of someone who once thought about something tangentially

related to it (Saha, 2012).

Today's music students still have libraries, or 'Resource Centres', as Liverpool Institute of

Performing Arts (LIPA) lecturer (and guitarist of The Farm) Keith Mullin tells us they're now called,

but the city's swelling population of music students is also out there, learning from and contributing

to the city's music culture. From LIPA to Liverpool Hope University, John Moores University to the

University of Liverpool, right through to Hugh Baird College, the SAE Institute, Edge Hill University

and City of Liverpool College, the city is awash with young people who've decided to call Liverpool

their home for three years and try and make a career in the creative industries.

With that being said, you'll find a contingent of people telling you that education is overrated.

Music is all about rebellion, they'll say, and the internet now means that you can compose, record,

market and distribute music within moments of having had the initial thought. Mullin, though,

tells us what he's observed at LIPA with students on their music and theatre performance courses.

"We're getting them to put things into professional practice and try new things, but not be afraid to

fail a few times," he explains. "When you start, you don't even know what you're good at yet! Also,

it's about supporting each other, because in this industry you can spend a lot of time not getting

paid, so you have to create your own job. So you've got to go out and get involved in stuff so you've

got those skills." And, in fairness to him, it's that mixture of talent and collaborative spirit at LIPA

that has produced artists like All We Are, Stealing Sheep, Dan Croll and scores of sound production

professionals (Arctic Monkeys producer Mike Crossey is an alumnus) and managers (Lana Del Rey

manager Ed Millett studied on their Entertainment Management course). The ability to upload noise

to SoundCloud is one thing; actually making it into something resembling a career is another. As

Mullin puts it: "What we're doing here is actually trying to teach people how to survive in the creative

industries." Dr Laura Hamer, Hope University's Head of Music, echoes Mullins' thoughts on the

breadth of experiences that an education in music can lend you, saying they "cover a very broad range

of different types of music, including classical and popular musical genres and traditions, Indian art

music, electroacoustic music, women in music, aesthetics, analysis, composition, and performance."

The point is clear: yes, it's very impressive what you can do on your Mac, but collaboration and

horizon-changing experiences generally happen outside of the box.

From Liverpool's point of view, these hordes of young people getting involved in music in the city

isn't just great for them or from an economic point of view, they're actually building the music scene

here as well as building CVs. To some extent, Mullin may be to thank for that. "One of the things I say

to them in their first year is, 'You're going to be here in Liverpool for three years: go out and find who's

who. Who are the writers of Bido Lito! that you need to get to know? Who are all the local promoters?

Who are all the local record labels?' You have to grow it locally before you can grow it nationally."

Hamer is just as enthusiastic about the role that the creative infrastructure of Liverpool can play

in the education of students, pointing to a number of organisations that Hope University is involved

with, including "the Royal Liverpool Philharmonic Orchestra – who workshop all of our students'

compositions and support student performers – the European Opera Centre, The Beatles Story,

Milapfest, and Liverpool's two cathedrals. These partner organisations also put on special workshops

for our students and students also have the opportunity to undertake a project with one of them in

their final year of study." Advertising hyperbole this is not: we checked with recent alumnus Emma

Haughton, now successfully carving a career as a professional clarinettist, who says that, "Hope

is so wonderfully connected with every aspect of the music industry in Liverpool, including the

Liverpool Philharmonic, recording artists, and established academics… This is why it was perfect for

me, as the course is so varied that it allows you to develop into the musician that you want to be."

It's with some justification that greyer heads might complain of the injustice that their student

experience consisted solely of a library pass and accommodation the illegal side of dishevelled,

as this is a student experience that is replicated right across the city. Over at Hugh Baird College,

students on their Festival Management course are placed under the tutelage of Clinic bassist

Brian Campbell, whose own experience playing Sound City at the Bombed Out Church made him

determined to get his students involved in helping to run the festival – an initiative that enjoyed

its third successive fruitful year at this year's event.

Underlining how far music education has come from the stuffy ivory towers of the music

departments of old is the relationship between the SAE Institute and James Rand. An ever-present

dancefloor lubricator of Liverpool's electronic music scene between 2009 and 2013, Rand regularly

DJed at Chibuku nights and produced Ex-Easter Island Head's Mallet Guitars Three EP. He did all

this while studying at the SAE Institute, getting to grips with the range of technology that would

help him to become one of the city's most prominent names in electronic escapism. "I had recently

finished the Audio Diploma at SAE when my old lecturers asked me to come back in for an interview.

On top of my studies, I had been getting some great tips on Ableton Live from my good friend

Dauwd – who now works for Ableton – and I suppose it was informed by the quality of the work I'd

already done and my passion for the Liverpool electronic community that sealed it," James says.

He went on to become a mentor for the students on SAE's flagship Electronic Music Production

course, before moving to London to set up his own music recording service Tailored Rhythms. As

Rand shows, education and experience aren't antagonistic approaches anymore, but have become

essential elements of any progressive education: "Understanding the theory behind something like

compression is one thing but applying it appropriately to your chosen style of music can be another."

In fact, considering the sheer volume of educational organisations involving their students in

game-changing work experience the city over, it's a fair shout to claim that Liverpool is leading the

way on educating music and creative students in a really modern and unique way. And as a result,

they've contributed to making Liverpool one of the UK's thriving music scenes. Just consider Edge

Hill University's The Label Recordings venture: for the uninitiated, The Label is a student-run label

set up by the university's Senior Lecturer in Media Film and Television, Carl Hunter – also a member

of The Farm. It's quickly becoming one of Liverpool's more successful cottage industries, incubating

new acts like the now Heavenly-signed patrons of dishevelled slacker rock, Hooton Tennis Club, as

well as a fistful of other talent including The Inkhearts and Oranj Son.

Another facet of the same phenomenon is the changed view of LIPA students in the city. Perhaps

a decade ago, LIPA students were derided by the more extreme cynics amongst Liverpool's music

fans; but today, it's fair to say that the contribution of their groups and music professionals is

recognised as a key part of the city's scene. As Mullin continues, "If you look at the Bombed Out

Church, it's been our management students that have worked with people from the Bombed Out

Church to keep it open. In the first five years of Sound City, it was LIPA students who were working

there. We still do it now – to get that experience at Sound City. We want the students to not just be

part of the local scene, but to help create it."

Education has changed and is still changing. Condescendingly dismissed by some of the

academic status-quo as 'Mickey Mouse' degrees back around the turn of the millennium, these

sorts of academic/practical hybrids have proved through a foot-long list of alumni and impressive

tie-ups with arts organisations in the city that they actually provide the indispensable real-world

experience that the modern creative industries are demanding. As Mullin sums up, voice justifiably

laden with bitterness, "There was nothing like this when I started out, let me tell yer!"

Find out about the range of courses on offer at these institutions online: Hope University @

hope.ac.uk/music; LIPA @ lipa.ac.uk; SAE @ sae.edu/gbr/campuses/liverpool. You can also find more

info on selected courses at these institutions at bidolito.co.uk.

SOUND + REVISION

bidolito.co.uk

Words: Phil Gwyn / @notmanyexperts
---
Bido Lito! July 2016

21

bidolito.co.uk
---
22

Bido Lito! July 2016

JULY IN BRIEF

Edited by Matthew Wright and Scott Smith

FATHER JOHN MISTY

Our father, who art on tour, Josh Tillman be thy name… Once described as Jim Morrison's head on Jarvis Cocker's body, the long-haired, slut-dropping

enigma that is FATHER JOHN MISTY brings his tales of marital love and sexual humiliation to town. I Love You, Honeybear, Tillman's second album, was

the surprise hit of 2015, giving a play-by-play of his prurient misadventures alongside a warming tale of falling in love. Part theatre and part pure honesty,

expect a showering of love songs but without the bullshit.

Mountford Hall / 16th July

PRIDE – IN THE NAME OF LOVE

Liverpool will be painted all the colours of the rainbow this month as PRIDE returns with a fabulous free programme of events. The bulk of the action

will take place in St George's Plateau and the city's Cultural Quarter, with attendees encouraged to dress up around this year's theme – Liverpool Icons.

The LGBT festival is now in its seventh year and will take place over two days with a riot of live music, family activities, speakers, a market place and

some fabulous food and drink. Further details on what can be expected from this riotous Liverpool insitutution can be found at liverpoolpride.co.uk.

St George's Plateau / 30th-31st July

HAVING A LAAF

LIVERPOOL ARABIC ARTS FESTIVAL brings an array of events showcasing the richness of Arabic culture to the city. The festival celebrates the traditional

and the contemporary with a programme of visual art, music, dance, film, theatre, literature and other special events. Spread across various venues

between 9th-24th July, the events explore the theme of the 'undocumented'. Musical highlights include Dublin-based Palestinian musician RUBA

SHAMSHOUM (pictured); Liverpool-born Yemeni singer REHAM AL-HAKIMI, who at 14 years old is gaining a reputation as a festival show-stopper, as

well as TARABBAND, YEZ FENTAZI TRIO, WHIRLING DURVISH/SUFI MAHMOUD PHAROAH and 47SOUL. arabartsfestival.com

FOLK ON THE DOCK

A new festival takes over the Albert Dock on August Bank Holiday weekend and we are getting involved. FOLK ON THE DOCK FESTIVAL takes place

in multiple venues throughout the Dock with all brands of folk and roots music being represented, from HENRY PRIESTMAN to WINTER WILSON. The

event looks to tell the story of the importance of folk in Liverpool's musical heritage, assisted by a specially commissioned song performed by local

community choirs for the Voices On Water project. Bido Lito! will be flying the flag for contemporary folk with a special Bido Social gig at Tate Liverpool

on Sunday 28th August. folkonthedock.com

LIMF BROADCAST

After our special Sound City podcast in May, we're putting together another special edition podcast focusing on one of our city's premier festivals.

We'll be looking at the multiple facets of LIMF with festival curator Yaw Owusu, who'll be sitting in as a guest. Local legend Edgar Jones will also be

dropping in to talk about his involvement in Yes Indeed!, a LIMF commission exploring forgotten Merseybeat Pioneers. Love guitarist Johnny Echols

also talks to us about the exciting From Liverpool With Love project. As well as this, the Bido Lito! team and guests will be picking out the tracks that

best represent this year's fantastic festival bill.

FLYING HIGH

There are more fantastic free events coming to the city over the next three months as the FLYOVER SUMMER TAKEOVER begins. The Churchill Way

Flyover (by the World Museum) will come alive with dance, music, performance and conversation over several dates from Friday 24th June. Highlights

include an acoustic picnic from Threshold Festival, cycling tours, flash mob and acrobatic street theatre from Acrobou as well as a Light, Space and

Technology takeover with installations, film and music. Friends Of The Flyover are looking to transform the structure into a park in response to

multi-million pound plans to tear it down. For more information go to wemakeplaces.org.

COMPETITION: WIN TICKETS TO FESTIVAL NO. 6

You could be taking life as easy as they do in the Med after you've won tickets to FESTIVAL No. 6 – a music festival like no other, set in the Italianate

Welsh village of Portmeirion. Headlining the bespoke event are heavyweights NOEL GALLAGHER, HOT CHIP and BASTILLE, with further music from

SUPER FURRY ANIMALS, CASSIUS, ECHO & THE BUNNYMEN, BILL RYDER-JONES and LUCY ROSE. To get your hands on a pair of tickets for this stunning

event, simply answer the following question: Which famous Italian fishing village is Portmerion said to be modelled upon? Email your answer to

competition@bidolito.co.uk by 21st July to be in with a chance of winning.

bidolito.co.uk
---
Bido Lito! July 2016

23

STRANGE COLLECTIVE

STRANGE COLLECTIVE are at the head of a new kind of energy powering through the Liverpool music scene. Their breed of garage-trash psych rock

culminated in their new EP, Super Touchy, which arrives on 1st July. To celebrate, they're bringing a helping of garage madness to Invisible Wind Factory

– an all-day event featuring an outdoor stage, a BBQ and food stalls. BEACH SKULLS also celebrate the launch of their album Slow Grind at the event,

where FUSS, LYING BASTARDS and CAVALIER SONG among the other performers.

Invisible Wind Factory / 2nd July

BIENNIAL

Liverpool will welcome artists from all over the world as they arrive to take part in this year's BIENNIAL. Taking place in fictional realms located in

galleries, public spaces, unused buildings and online, pieces will be themed around the city's past, present and future. Birkenhead's own MARK LECKEY

will be present his film Dream English Kid (pictured) as part of the programme and Glasgow artist MARVIN GAYE CHETWYND is creating a piece inspired

by Brecht and Betty Boo. biennial.com

Various Venues / 9th July-16th October

ADP RIOT TOUR

Acclaimed international artist and KLF member JIMMY CAUTY returns to Liverpool after 25 years with his thought-provoking ADP installation following

a critically acclaimed run at Banksy's Dismaland. Housed in a 40ft shipping container, the Aftermath Dislocation Principle is a monumental post-riot

landscape in miniature. Viewed through peepholes, the dystopian model village shows a wrecked and dislocated land awash only with police and

media teams. The free entry launch night on 8th July features performances from DJ JANICE LONG and spoken-word artist BLACK ICE.

The Florrie / 8th-14th July

PORTRAIT IN SONG

We are delighted to be teaming up with Domino Publishing and Wolf & Diva to bring the acclaimed exhibition A PORTRAIT OF BRITISH SONGWRITING

to Bold Street Coffee between 8th July and 7th August - you can read more about this in our full feature on page 12. To get things going, we're hosting

a launch night on Saturday 9th July, an exclusive viewing of the exhibition accompanied by Bido Lito! and Domino Records DJs. Then, on Thursday 21st

July, our Bido Lito! Social will take place in the midst of the exhibition, featuring a discursive event on the nature of British songwriting with Domino

artists All We Are and Clinic, followed by a live show.

SHINY NEW SWANSONG

The Lantern Theatre's annual SHINY NEW FESTIVAL returns this July for its fifth and final year at their Blundell Street venue. Running over 10 days, the

festival offers audiences an eclectic mix of new writing and comedy. The first five days are dedicated to comedy, with headline acts including ANDREW

HUNTER MURRAY of QI and FERN BRADY (pictured) of 8 Out Of 10 Cats. Headline comics will be joined by local acts, including the Lantern's in-house

compère ALASTAIR CLARK. For more information and the full line-up visit lanterntheatreliverpool.co.uk.

15th-24th July / Lantern Theatre

THE STAMP

The real reason guitar music will never die? Because mates will always want to form bands. Connah, Andy, Ben and Hollis have been friends since

school and grew up in Liverpool listening to their parents' record collections, the work of artists like Paul Simon, The Who and The Kinks seeping into

their consciousness. Fresh off joining The View on a European tour, THE STAMP take to the Shipping Forecast courtesy of La Violette Societa, also

featuring support from HORSEBEACH and poetry from JB BARRINGTON.

Shipping Forecast / 27th July

YOUNG DADAFEST

Celebrating the talent of young disabled people, YOUNG DADAFEST boasts a trio of events as it follows on from last year's sold-out event. This year

the event expands to include a music-focused event in the Music Room at the Philharmonic Hall featuring HEART N' SOUL ART, who will perform

their own digital music on 6th July. The theme for this year's festival is Scratch, originating from the overall theme of DaDaFest's international

festival, Skin Deep, allowing for an interesting and unforeseeable artistic prospect and direction, that you'll have to discover for yourself.

dadafest.co.uk/youngdada

MAGNIFIQUE MARAY

DJ duo extraordinaire Radio Exotica are helping boutique Bold Street eatery MARAY celebrate the launch of their Spritz Sundays by putting together

an exquisite Parisian-style mix to help diners while away the sunny summer afternoons. Maray, inspired by La Marais district in Paris, launch their

two spritz for £10 offer to help bring the good-time summer vibes to one of our favourite city-centre dining spots. The suave mix features Parisian Bal

Musette, gypsy and American jazz, swing musette and a nod to the Middle Eastern communities of Paris. You can hear the mix in Maray, or by tuning

in online at bidolito.co.uk now.

bidolito.co.uk
---
24

Bido Lito! July 2016 Reviews

Sound City 2016 (Mike Sheerin / michaelsheerin.photoshelter.com)

SOUND CITY

Bramley-Moore Dock

stage in the Freeze-curated Baltic Warehouse,

his music resting upon impressive live

instrumentals. The delicate bursts of violin and

ascending woodwind and brass sounds create

a meditative euphoria against the backdrop of

the striking cosmic light display, anaesthetising

Last year's SOUND CITY was met with

trepidation by many, unsure about the

relocation to Bramley-Moore Dock and

lamenting the move away from the old city

centre-based arrangement. However, the

feast of music served up in 2015, featuring

a legendary performance from Saturday

headliners Flaming Lips, convinced many of the

new site's potential. With a few tweaks to the

site's layout, the second year of Sound City 2.0

looks set to be on the right course for a special.

Sound City+, the conference element of the

festival condensed to one jam-packed day of

industry talks, DJ demos and a label market,

whets the appetite for the main event. The

Titanic Hotel, down the road from the festival

site, is buzzing with wide-eyed students

looking to get ahead in an industry still

adjusting to the digital age. Older heads like

ALAN MCGEE talk about bygone days of record

labels and Britpop while panel discussions

navigate through the tricky worlds of streaming

and sync.

The festival proper arrives on Saturday and

Sam Shepherd's FLOATING POINTS get things

going. He and his band occupy most of the

Levelz (Glyn Akroyd / @GlynAkroyd)

bidolito.co.uk
---
26

Bido Lito! July 2016 Reviews

the crowd into a rhythmic trance. The set is

capped off by the emphatic Silhouettes (I, II,

III) from his last album, Elaenia, resulting in a

powerful crescendo and cacophony of sound.

The atmosphere in the Baltic Warehouse

doesn't really let up thereafter – an early

evening MOUNT KIMBIE set of trancey, deep

bass sees some eyes glazing ecstatically over

and some euphoric dance moves break out.

It's been almost four months since the

car containing the four members of VIOLA

BEACH – Kris Leonard, River Reeves, Jack

Dakin, Tomas Lowe – and manager Craig

Tarry tragically crashed near Stockholm. The

band's last recorded performance is played

over the speakers on the Atlantic Stage in

the slot the band would have occupied. The

last song, Swings And Waterslides, allows a

perfect opportunity for the Sound City crowd

to celebrate and pay homage to the young lads

from Warrington.

Over on the North Stage, BLICK BASSY's

unique voice erupts, with no support from

anything but his microphone, and it feels

like the first 'moment' of this year's festival.

It's a literal call to arms: before the minute's

singing is up, a throng of punters with eager

ears is gathered. Bassy begins to play his

golden banjo, his voice vaulting higher and

higher. They are small, mellifluous songs,

sometimes accompanied by banjo or parlour

guitar, sometimes a cappella. More than once,

there's a blue note, the kind that are James

Blake's secret weapon. But Blick Bassy's money

notes are not the sound of the blues – this is

no lament, it's a joy on a Saturday afternoon,

looking out to sea in a city that looks out to the

rest of the world.

Blick Bassy (Mike Sheerin / michaelsheerin.photoselter.com) synth lines building and weaving their way

As the sun sets beyond the North Stage,

colouring the sky the same pink hue as your

favourite monthly magazine, Manchester's

LEVELZ bring the noise, a great noise.

Frenetically paced, skilfully observed and

absolutely infectious, it is a show of such

force, and again, such humour, delivered with

so much charm and character, it is hard not to

love what they do. Plenty more bounce to the

ounce, this crew, and a love of crowd surfing

to boot. Prime lyricist Black Josh is happy to be

held, triumphant at the end of the show, as the

crowd go nuts beneath him.

The Cavern Stage hosts some of Liverpool's

most exciting emerging talent this week and

here is the weekend's first appearance of

the dreamy FERAL LOVE, collaborating with

Montreal/New York-based electronic duo WAKE

ISLAND, on a piece that was written only the

previous day. An interesting piece; analogue

through layers of earthy samples and oldschool

beats before giving way to twin lilting

vocals, and some funked-up guitar stabs.

Less dreamy are Andrew Fearn and

Jason Williamson of SLEAFORD MODS. The

juxtaposition between the gentle silent

swaying of Fearn and the sporadic rants of

Williamson proves powerful. Like a starting

gun, the infernal drumbeat sends Williamson

into a red-faced narcotic rage, as though he's

just had adrenaline shot straight to the heart.

As he flicks his head between a florid string of

expletives, beads of sweat glimmer in the light

as though the anger that has permeated the

performance has turned into steam. Despite

a large proportion of the crowd being more

interested in chatting and getting intoxicated

in whichever way they see fit, the set proves

captivating.

YOUNG FATHERS have found fame in their

genre-bending sound. Arriving on the North

Stage a little early for their headline set,

the Edinburgh trio make no introduction,

falling straight into a sea of brutal electronic

drumbeats. They make the most of the

festival's second stage, bringing huge energy

to it with an onslaught of a set that is one hit

after another. There's no audience interaction

or witty remarks. They just stick to what's

important: the music. This approach seems to

only drive the audience crazier, as the band flick

rapidly between gentler RnB moments and the

almost tribal Shame.

Sunday brings Portland stalwarts THE

DANDY WARHOLS to the Atlantic Stage. Though

you can't help but assume the majority of the

Sleaford Mods (Sam Rowlands / samrowlandsphotography.tumblr.com)

bidolito.co.uk
---
The Stamp

JB Barrington

Horsebeach

VIO-022.4

Wed. 27 July 2016

THE SHIPPING FORECAST

15 Slater Street, Liverpool L1 4BW / Doors 7.30pm

Ticket £7.50 - www.michaelhead.net/boxoffice

Liverpool

Biennial

2016

Festival of Contemporary Art

9 July – 16 October

Free

www.biennial.com

Whe are y u fro ?

#Biennial2016

@biennial

@liverpoolbiennial

Liverpool Biennial is funded by

Founding Supporter

James Moores
---
28

Bido Lito! July 2016 Reviews

crowd are simply holding out for Bohemian

Like You, the set is being met with unclouded

enthusiasm. Though there may be a suggestion

that the band has run its course (21 years on

The Dandy Warhols may perhaps be, in their

own words, "too old for this shit"), their

experience seems only to aid them in putting

on an effortlessly enjoyable show. Conversely,

DILLY DALLY are just starting out and on a

trajectory to be as big as The Dandys. As soon

as guitars are strapped on the band take no

time in showing who they are and what they

do, hitting the crowd right between the eyes

with a surge of distortion-filled guitars and

the visceral cries of vocalist Katie Monks. The

raw power that captured lovers of the album

rings even truer live on the North Stage, thus

fulfilling their statement that they must be

seen 'in real life'.

Local favourite BILL RYDER-JONES' early

afternoon half-hour slot raises eyebrows but

the Wirralite's performance is sincere and

honest; the simplicity and vulnerability of his

songs mirrored by his wounded vocals. The

cathartic, lamenting melodies and draining

guitar sounds from the second half of Two

To Birkenhead are a further encapsulation of

Bill's immediacy and emotion. 'Our Bill' closes

the set with the impressive Satellites, which

gushes out of the speakers on an epic tide.

From poetic paeans to fun-loving charisma

and playful rapture, we stop by the North Stage

again for THE BIG MOON, who delight with

bouncy, riff-laden music and at times crooning

vocals. By the time the quartet punch out their

The Dandy Warhols (Robin Clewley / robinclewley.co.uk)

chirpy tune, Cupid, the crowd are intoxicated – a performance that would perhaps be better

and whisked up within their charm.

without the glare of evening light streaming

After quickly checking out HOT CHIP's DJ set through the doors – it's back to the main stage

Pink Kink (Sam Rowlands / samrowlandsphotography.tumblr.com)

for CIRCA WAVES. Unfortunately, festivals –

or gigs in general – are renowned for things

going wrong and the Liverpool lads fall victim

to a power cut. A few people meander around

during this interruption, and are rewarded

when the band make a triumphant return to the

stage, and close their set with a rousing cover

of Revolution and finish with aplomb with their

own hit T-Shirt Weather.

Back at the Cavern Stage, local darlings PINK

KINK seem a little taken aback by the size of

the crowd they have drawn. But they embrace

it and go on to produce a fabulous set of

shimmery pop that's perfectly in keeping with

the summery vibe. To say it's a fun set would

be damning it with faint praise – it is absolutely

fun but it's also clever, playful and bang on

both instrumentally and vocally.

Over on the North Stage, a more household

name is also drawing a crowd. With what is a

more reserved display than most will be used

to, PETER DOHERTY fumbles through his set

with a relative smoothness; however, dotted

here and there is the odd messy, loose guitar,

and of course wailing vocals. He remains

contained right up to his last song. On his

encore, Doherty explodes into his former self,

as the band reappear for Fuck Forever. The

crowd respond as they are whipped up in a

crazed frenzy; Doherty appears possessed as

he continues to let loose, crashing to the floor

and climbing the drum kit, before breaking free

from the restraints of the stage and into the

bidolito.co.uk
---
30

Bido Lito! July 2016 Reviews

The Coral (Keith Ainsworth / arkimages.co.uk)

crowd. He then rushes behind the stage and

doesn't reappear, leaving a group of satisfied

and exhilarated fans, capping a chaotic and

driven performance.

As twilight darkens and the last rays of sun

fade in the Mersey sky, the time approaches

for what many will consider the weekend's

main event, as THE CORAL return to Liverpool

in a blaze of heavy guitars and deep melodies.

Launching straight into Miss Fortune, what

is released on the crowd gathered for the

festival's defining headline set is a massive

stonking throb of a sound, West Coast-style.

No: North West coast-styled. The Coral's

songwriting transcends so much of the music

that comes out of Liverpool, and they've been

sorely missed. With this new harder, heartier

sound, they've parked up much of the earlier

trademark jangle, and taken their cosmic pop

on fresh tangents, and to fresh fields. New

beginnings to be capitalised on, we hope.

Then, four songs in, darkness and silence.

Another power cut. Later, The Coral arrive back

onstage, in great humour and appreciative of

those who've stayed, and blister triumphantly

through an incredible set of new and old

wigged-out wonder, absolutely saving the

day with attitude and style – it's that gang

mentality. It's all over too soon though, with

an encore of Goodbye, Dreaming Of You and

Fear Machine, they, and Sound City 2016 are

gone. It's been a hell of a weekend, full of

surprise and promise, great new music, fresh,

vital and relevant. Sound City are settling into

their new home – they just need to sort the

electrics out.

Paul Fitzgerald, Jonny Winship,

Matt Hogarth, Glyn Akroyd, Melissa

Svensen, Stuart O'Hara

OMPHALOS

The Invisible Wind Factory

If you've been living under a rock for the

last month, then you wouldn't have heard

of the Invisible Wind Factory. Now, I've been

searching my mind for the last week trying

to not say "it's nothing like The Kazimier"

but I've decided to go one step further. The

Invisible Wind Factory – the brand-new North

Liverpool venue owned by the people behind

The Kazimier – is nothing like anything else in

Liverpool or even the North West.

As a guest you arrive with an excitement

akin to entering a Disney theme park ride as

an eight-year-old child. Describing the factory

as Disneyland is justified in the imagination

surrounding the building, the people and the

whole persona the place gives off. Upon arrival,

a black curtain with a slight opening teases

people with the sounds and visuals of a movieset

straight out of War Of The Worlds. Even the

location of the factory creates a strange buzz

within, as you venture to a part of Liverpool you

would never go.

Drama experts set the scene and invite

people to indulge in the mystery they're serving

up. The mystery being OMPHALOS – Eternal

Energy, which you're still none the wiser about

after 15 minutes in the building's reception

area. The pure energy and commitment the

IWF team has put in to realising the story

behind Omphalos, however, challenges your

imagination, makes you want to know. The

'show' is in fact more like a tour taken in small

groups, consisting of showing people various

art pieces displaying the best of the Invisible

Wind Factory. From lights, smoke, flying chairs

and working machinery, you're taken on a

journey in pursuit of this mysterious 'invisible

Omphalos (Darren Aston)

bidolito.co.uk
---
S.J.M. CONCERTS PRESENTS

SJM CONCERTS BY ARRANGEMENT WITH X-RAY PRESENT

THURSDAY

01 SEPTEMBER

MANCHESTER

O2 RITZ

GIGSANDTOURS.COM

TICKETWEB.CO.UK

BUNNYMEN.COM

WED 14 DEC

LIVERPOOL

O 2 ACADEMY

GIGSANDTOURS.COM

TICKETWEB.CO.UK

An SJM Concerts presentation by arrangement with ITB

CELEBRATING 20 YEARS OF K

PERFORMING K IN ITS ENTIRETY FOR THE FIRST TIME

SJM CONCERTS BY ARRANGEMENT WITH ITB PRESENTS

WEDNESDAY

07 DECEMBER

LIVERPOOL

ECHO

ARENA

A CELEBRATION OF

HIS FINEST SONGS

WITH AN ORCHESTRA

CONDUCTED BY WILL MALONE

GIGSANDTOURS.COM | ECHOARENA.COM

RICHARDASHCROFT.COM

NEW ALBUM 'THESE PEOPLE' OUT NOW

INCLUDES THE SINGLES 'HOLD ON' & 'THIS IS HOW IT FEELS'

Fri 07 Oct

MANCHESTER

O2 RITZ

GIGSANDTOURS.COM

TICKETWEB.CO.UK

whitedenimmusic.com C/whitedenimmusic

An SJM concerts presentation by arrangement with WME

UK TOUR 2016

THU 17 NOVEMBER

MANCHESTER

ALBERT HALL

GIGSANDTOURS.COM / TICKETMASTER.CO.UK

AN SJM CONCERTS PRESENTATION BY ARRANGEMENT WITH UNITED TALENT AGENCY

CRYSTALFIGHTERS.COM
---
32

Bido Lito! July 2016 Reviews

wind'. The use of an eight-piece choir alongside

homemade instruments creates an almost

cult-like setting in which the audience are at

the mercy of our Empyrean and Cthonic hosts/

performers, listening to them beautifully "um"

and "ah" in sequence for almost 25 minutes.

You can't help but get carried away with the

potential of the place. Yes, the imagination

and creativity are rather mind-blowing, set

around an amazingly surreal art performance;

however, the raw space and imagination

behind the staging are what excite me most.

With the introduction of gig performances to

the venue it will surely lift the environment

to new levels. The imagination of creating an

experience around a gig makes it feel much

more than just going to your average Friday

night viewing. Potentially, it will become the

hottest place to be in Liverpool, in the middle

of nowhere.

Music lovers in Liverpool felt as if a part of

their heart had been torn out when the holy

ground of The Kazimier was ripped from the

Liverpool music scene. Yet its passing has

opened up a completely new atmosphere

for people to enjoy music and embrace the

'invisible wind' around them.

Robert Aston

Omphalos (Darren Aston)

BC CAMPLIGHT

Harvest Sun @ Leaf

It has, to say the least, been a tumultuous

year in the life of Brian Christinzio. Having

released his breakthrough LP, How To Die In

The North, under the moniker of BC CAMPLIGHT,

he was deported from his adopted Mancunian

homeland and forced to cancel his well-earned

UK victory lap. With those circumstances in

mind, tonight has the feeling of both vindication

and much-prolonged anticipation and there is

the sense in the room that something truly

special may well be in the offing.

Christinzio's terminal bad luck, however, is

clearly far from waning as we are informed that

his late arrival is due to being involved in a car

accident on the M6. Luckily, fate has failed to

seal the deal this time and the band ease into a

long-overdue rendition of single You Should've

Gone To School. Backed by an impressive fivepiece

group, Christinzio is seated at a keyboard

emblazoned with his initials. This may seem

of little relevance musically but actually

embodies the dynamic of the set-up pretty

well, with Christinzio emerging as a relaxed

yet charismatic leader.

Though at first the sound levels are a

little ropey this does little to mask the sheer

brilliance of the songs themselves, and

the exquisite power-pop of Grim Cinema

LIVERPOOL HOPE

UNIVERSITY

MUSIC AND PERFORMING ARTS

• BA Creative &

Performing Arts

• BA Dance

• BA Drama &

Theatre Studies

• BA Music

• MA Creative

Practice

• MA Music

• MA The Beatles,

Popular Music &

Society

• Liverpool Hope is ranked in the top five UK universities for

teaching quality (Sunday Times Good University Guide 2016)

• Key partnerships with music and cultural organisations

across the region

• One of only six All-Steinway Schools in UK Higher

Education

• Scholarships available

Open Days 2016:

Friday 24th & Saturday 25th June • Saturday 10th

September • Saturday 8th & Saturday 29th October

Discover more: 0151 291 3111

www.hope.ac.uk/opendays
---
Ceremony Concerts Present

Roddy Woomble

Performing 'My Secret is my Silence'

The Philharmonic Hall, Liverpool – Friday 16 th September 2016

The Travelling Band

Magnet, Liverpool – Friday 14 th October 2016

Heaven 17

& British Electric Foundation

O2 Academy, Liverpool – Thursday 20 th October 2016

George Monbiot

& Ewan McLennan

The Philharmonic Hall, Liverpool - Thursday 20 th October 2016

Blue Rose Code

The Philharmonic Hall, Liverpool – Friday 21 st October 2016

Robyn Hitchcock

The Philharmonic Hall, Liverpool - Saturday 22 nd October 2016

Michael Chapman

& Nick Ellis

The Philharmonic Hall, Liverpool - Sunday 20 th November 2016

Sheelanagig

The Philharmonic Hall, Liverpool - Sunday 27 th November 2016

TicketQuarter / See Tickets / WeGotTickets / Gigantic
---
34

Bido Lito! July 2016 Reviews

emphasises both the band's cohesiveness and

the excellent craftsmanship on display. Each

new track breathlessly jumps between genrebending

influences and refusing to stagnate. To

my mind there are few artists currently writing

who can do this with such ease and fluidity.

Perhaps the most enthralling element of the

show is Christinzio's remarkable vocal ability,

and as the other members of the band leave

the stage midway through the set there is a

chance to witness this in its purest form. A

solo rendition of Atom Bomb has the sizeable

audience in awe and a performer who seemed

incredibly talented before now appears tinged

with virtuosity.

Having made up for lost time in the

showcasing of tracks from the last LP, we are

now treated to a couple from the upcoming

record. Though not introduced by name,

they linger in the memory due in part to the

contrast between them and the other material.

A beguiling mix of dark funk and feathery

piano melodies that reflect the soul-searching

Christinzio has undergone in the past year, they

are something truly unique, imaginative and

puzzling.

For those of us who loved the last album

and were sorely disappointed not to see it

performed live upon its initial release, tonight

has been somewhat of a reminiscence but

mainly a long-awaited experience. All there is

Quantic (Mook Loxley / mookloxley.tumblr.com)

to do now is await the next record and pray that

the immigration office has learned its lesson.

Alastair Dunn

QUANTIC

Bam!Bam!Bam! x Madnice Marauders

x Hot Plate @ Constellations

As important as music is to the cultural fabric

of Liverpool, every now and then it has to defer

to its big brother: football. Liverpool's run in

the Europa League has decimated Thursdaynight

gig crowds, so for the final those crafty

bleeders at Constellations have decided to join

in rather than compete. The venue's versatility

allows us footie heads to be indulged inside,

whilst those in the garden enjoy the sweet

Latin-flecked sounds of DJs Danny Fitzgerald

and legendary festival favourite Ole Smokey.

It wouldn't be fair to frame a QUANTIC show

as merely a coronation or commiseration; main

man Will Holland has garnered a glowing

reputation for party music with a touch of

elegance, whether it's soundtracked by soul,

Afrobeat, jazz or his more recent works with

Columbia's Combo Barbaro. He's certainly

having to work to maintain that reputation

tonight. The atmosphere stalls due to

unfortunate technical difficulties, scuppering

the admirable aim of playing the first note

bang on the final whistle. However, once the
---
BOOK NOW: 0161 832 1111

MANchesteracademy.net

TOOTS & THE MAYTALS

SATURDAY 10TH SEPTEMBER

THE BLUETONES

PLUS VERY SPECIAL GUESTS CAST

+ MY LIFE STORY

SATURDAY 17TH SEPTEMBER

ALL SAINTS

SATURDAY 8TH OCTOBER

WILD BEASTS

SUNDAY 9TH OCTOBER

UB40

FRIDAY 14TH OCTOBER

BILLY TALENT

SATURDAY 15TH OCTOBER

SUNSET SONS

SATURDAY 22ND OCTOBER

SLEAFORD MODS

THURSDAY 27TH OCTOBER

KYTV FESTIVAL 2016

PLUS VERY SPECIAL GUESTS EMF

+ DUST JUNKYS + FEROCIOUS DOG

+ RINGO DEATHSTARR + DJ MILF (EMF)

SATURDAY 29TH OCTOBER

AMON AMARTH

MONDAY 31ST OCTOBER

3 DOORS DOWN

SATURDAY 5TH NOVEMBER

ARCHITECTS

SATURDAY 12TH NOVEMBER

CARAVAN PALACE

WEDNESDAY 16TH NOVEMBER

THE DAMNED

40TH ANNIVERSARY TOUR

FRIDAY 18TH NOVEMBER

LUSH

FRIDAY 25TH NOVEMBER

MARILLION

MONDAY 28TH NOVEMBER

NOTHING BUT THIEVES

THURSDAY 1ST DECEMBER

PIERCE THE VEIL

FRIDAY 2ND DECEMBER

BULLET FOR MY VALENTINE

+ KILLSWITCH ENGAGE + CANE HILL

SUNDAY 4TH DECEMBER

A TRIBUTE TO MANCHESTER VOL. 2:

THE SECOND COMING

FRIDAY 9TH DECEMBER

KREATOR

TUESDAY 28TH FEBRUARY

FORMERLY THE MDH FORMERLY THE HOP & GRAPE FORMERLY THE CELLAR

KAMASI WASHINGTON

TUESDAY 28TH JUNE

ULTIMATE EAGLES

SATURDAY 10TH SEPTEMBER

RED FANG

TUESDAY 30TH SEPTEMBER

FROM THE JAM

SATURDAY 1ST OCTOBER

AGAINST THE CURRENT

SUNDAY 2ND OCTOBER

THE HUNNA

MONDAY 3RD OCTOBER

AKALA

TUESDAY 4TH OCTOBER

MOOSE BLOOD

SATURDAY 8TH OCTOBER

PARQUET COURTS

MONDAY 10TH OCTOBER

WALTER TROUT

TUESDAY 18TH OCTOBER

GLASS ANIMALS

WEDNESDAY 26TH OCTOBER

JP COOPER

THURSDAY 27TH OCTOBER

THE UNDERTONES

SATURDAY 29TH OCTOBER

LAKE STREET DIVE

WEDNESDAY 9TH NOVEMBER

FOR THOSE ABOUT TO ROCK

LIVEWIRE AC/DC VS FEDERAL CHARM

SATURDAY 12TH NOVEMBER

FOY VANCE

SUNDAY 13TH NOVEMBER

LACUNA COIL

WEDNESDAY 16TH NOVEMBER

TEENAGE FANCLUB

FRIDAY 18TH NOVEMBER

LUCKY CHOPS

SUNDAY 20TH NOVEMBER

ABSOLUTE BOWIE

SATURDAY 3RD DECEMBER

CHAMELEONS VOX

SATURDAY 17TH DECEMBER

TONY MORTIMER & HIS BAND

THURSDAY 22ND SEPTEMBER

CATS IN SPACE / SPACE ELEVATOR

FRIDAY 23RD SEPTEMBER

UNION J

WEDNESDAY 28TH SEPTEMBER

TOWNSMEN

THURSDAY 29TH SEPTEMBER

JAKE QUICKENDEN

SATURDAY 1ST OCTOBER

UGLY KID JOE

MONDAY 3RD OCTOBER

FRANKIE BALLARD

FRIDAY 7TH OCTOBER

ROYAL REPUBLIC

TUESDAY 11TH OCTOBER

GUN

WEDNESDAY 12TH OCTOBER

GLASVILLE

THURSDAY 13TH OCTOBER

ANTI-NOWHERE LEAGUE

FRIDAY 21ST OCTOBER

UK FOO FIGHTERS TRIBUTE

SATURDAY 29TH OCTOBER

BARS AND MELODY

SUNDAY 30TH OCTOBER

ANNIHILATOR

WEDNESDAY 2ND NOVEMBER

DAN BAIRD & HOMEMADE SIN

FRIDAY 4TH NOVEMBER

THE SOUTHMARTINS

SATURDAY 19TH NOVEMBER

EDEN'S CURSE

TUESDAY 22ND NOVEMBER

ELECTRIC SIX

WEDNESDAY 23RD NOVEMBER

MOTORHEADACHE

(A TRIBUTE TO LEMMY)

FRIDAY 25TH NOVEMBER

THE DOORS ALIVE

SATURDAY 26TH NOVEMBER

BIG COUNTRY - THE SEER TOUR

SATURDAY 3RD DECEMBER

AYNSLEY LISTER

SATURDAY 17TH DECEMBER

RADIO BIRDMAN

THURSDAY 23RD JUNE

BLACKALICIOUS

SUNDAY 26TH JUNE

COLLIE BUDDZ

WEDNESDAY 29TH JUNE

SUPERSUCKERS

THURSDAY 21ST JULY

ROYAL SOUTHERN BROTHERHOOD

WEDNESDAY 31ST AUGUST

DESTRUCTION

THURSDAY 6TH OCTOBER

THE TUBES

SATURDAY 8TH OCTOBER

THE FEELING

WEDNESDAY 19TH OCTOBER

BLUES PILLS

SATURDAY 5TH NOVEMBER

THE GRAHAM BONNET BAND

SATURDAY 12TH NOVEMBER

THE LANCASHIRE HOTPOTS

SATURDAY 3RD DECEMBER

PEARL JAM UK

SATURDAY 10TH DECEMBER

REAL FRIENDS

WEDNESDAY 14TH DECEMBER

MANCHESTER ACADEMY PRESENTS

EVIL BLIZZARD

SATURDAY 9TH JULY

PETER HOOK & THE LIGHT

FRIDAY 16TH SEPTEMBER

facebook.com/manchesteracademy @mancacademy FOR UP TO DATE LISTINGS VISIT MANChesteracademy.net
---
36

Bido Lito! July 2016 Reviews

music starts, this bumper crowd take no time

in getting over any disappointment and into

the groove.

It's hard to characterise the group Holland

has put together for this tour – the Tropical

Elevation ensemble – as a normal band: they're a

trio of talented multi-instrumentalists dancing

between a smorgasbord of instruments. One

minute Holland is pogoing while playing

the accordion, the next he's laying a fuzzy

blues guitar solo over some gorgeously

spacious soul. There are still signs of the band

battling the elements; the disparate nature

of the instruments make them a sound tech's

nightmare, and the mix isn't always right – but

there's a genuine enthusiasm for the music,

which earns them a bit of patience from the

audience, meaning those of us who notice the

glitches couldn't care less. The dancefloor is

packed with glistening grins, inspiring those

in red to dance away their heartache.

Singer Jimmeta Rose coos deliciously over

a loping reggae beat, before really opening

her lungs as the song reaches its emotional

crescendo. Holland is undoubtedly the band

leader, but he makes a rather understated

frontman. Whenever Rose appears there's a

marked injection of energy. The instrumentals

show off the musical chops of the band,

frequently ending in a different musical time

zone from which they started, but Rose creates

a necessary focal (vocal?) point. The demanded

encore features a carnival version of Pushin'

On, prompting the kind of rousing singalong

that would put any football ground to shame.

Maurice Stewart /

theviewfromthebooth.tumblr.com

NASHER

Scandinavian Church

The pews of the Scandinavian Church are

packed out on a sweltering night: NASHER is

back in his hometown for a solo intimate gig

of old songs and new. Musically, Brian Nash

has been the most prolific former member of

Frankie Goes To Hollywood since the band's

demise. With three solo albums under his belt,

and another in the can for release later this

year, this evening he takes a seat in front of

the altar to deliver a mix of material, songs of

love, anger, restraint and protest. Intolerant of

intolerance in all its forms, and with a finely

honed and unforgiving sense of social justice

and an innate 'one love' philosophy, he's ready

to tackle prejudice wherever he finds it. Much of

the new album, 4,3,2, One: Opening The Vein,

floats around these themes, and if, to use the

obvious reference given the location, this is

some sort of sermon, then this tightly packed

crowd are already converted.

It is noted with a heavy heart by several

here that there are far too few protest songs

being written right now, at a time when there's

much to be protested – more than ever before,

some would argue – so songs like Nasher's

Prostitutes And Cocaine, dedicated here to

its subject matter, George Osborne and that

photo, are warmly welcomed, and delivered

with Nash's characteristic snarl. As a resident of

north London for the last few decades, he finds

the relentless rebuilding of the capital, which

he characterises as being led by "the cranes

of greed", filling the city with towers of luxury,

and, more importantly, empty homes. With

another new song, Where Will The Kids Live?,

the anger is all too clear. There's a pain in the

vocal lines of this new work, a howl for truth,

and the guitar ringing out around this beautiful

space brings added drama to reinforce the

many valid points.

Yesterday's News, based around the prejudice

he sees and hears in the tabloids and the lack of

humanity in overheard conversations about the

Syrian refugee crisis, of it all, is simply stunning.

This is real, accomplished, sensitive and intuitive

songwriting, again highlighted by this special

setting, amplified by the reactive acoustics. It's

a harsh and honest portrayal of the unforgiving

narrowness in the minds of some.

There is, perhaps inevitably, a nod to his

former musical life, with a beautiful and

sublime version of the Frankie Goes To

Hollywood classic The Power Of Love, with his

sparse and well-spaced guitar playing met his

powerful and soulful vocal, soaring around the

roof space above the crowd. It's not often you

see a standing ovation in a church; this song

brings the first of several and for good reason.

This is Nasher's first show in the city since

the conclusion of the Hillsborough inquests,

which brings about a powerful and emotional

tribute with a cover of the Pink Floyd song

Fearless. Utterly suitable in its choice, its layer

upon layer of looped guitar and towering vocal

provides a perfect, climactic end to this very

special performance from a much-loved son

of the city, with this dedicated congregation,

again, on their feet.

Paul Fitzgerald / @nothingvillem

BALTIC GARDEN PARTY

The Mouse Outfit – Harleighblu – Mr Thing

Bam!Bam!Bam! @ 24 Kitchen Street

It's that time of year again. It's a balmy

summer's eve and the Baltic Garden Party is in

full beast mode in the small outdoor area at the

back of 24 Kitchen Street. Hip hop archivist MR

Friends Of

THE FL OVER

FLYOVER

join us on and under the flyover

TAKEOVER

PROGRAMme

june - sept 2016

Churchill Way Flyover,

(from dale street)

bidolito.co.uk

6 days of dance, theatre, music, art & conversation,

exploring a future urban park for our citY

check out www.friendsoftheflyover.org.uk for our full programme
---
camp and furnacE

b lade factory - DISTRICT

baltic triangle, liverpool

23+24 SEPTEMBER 2016

SUPER FURRY ANIMALS.

DEMDIKE STARE. DUNGEN. SILVER APPLES.

THE STAIRS. THE VELDT. GWENNO.

LA LUZ. GNOOMES. FLAMINGODS.

JOSEFIN ÖHRN & THE LIBERATION.

LORELLE MEETS THE OBSOLETE.

GURUGURU BRAIN PRESENTS:

NARROW ROAD TO THE

FRIDAY

DEEP MIND FEATURING: KIKAGAKU MOYO +

MINAMI DEUTSCH + NAWKSH + PRAIRIE WWwW.

FÊTE SOUTERRAINE featuring: FRANCE + AQUAGASCALLO + ARLT + MOSTLA SOUNDSYSTEM.

FATHER MURPHY. HOWES. FLAVOR CRYSTALS. COOL GHOULS.

CAIROBI. THE HANGING STARS. MAN OF MOON. TREMENTINA.

BRAHMA-LOKA. HELICON. MUSCLE & MARROW. OLIVER COATES.

COWTOWN. MDME SPKR. GO!ZILLA. DEJA VEGA. CELLAR DOORS.

THE LOVE COFFIN. BANTAM LYONS.

SATURDAY

THE HORRORS.

ACID MOTHERS TEMPLE. THE WYTCHES.

CAVERN OF ANTI-MATTER. EAGULLS.

THE MOONLANDINGZ. LA HELL GANG.

HARALD GROSSKOPF. ULTIMATE PAINTING.

THE LUCID DREAM. SPECTRES.

PURE PHASE ENSEMBLE 4

FEATURING MARK GARDENER (RIDE)

THE OSCILLATION. THE EARLY YEARS. POP.1280. ACID WASHED.

GUADALUPE PLATA. YETI LANE. METHYL ETHEL. ULRIKA SPACEK.

TAU. EARTHEATER. FLOWERS MUST DIE. CHUCK JOHNSON.

TOMAGA. YE NUNS. ASHTRAY NAVIGATIONS. PLANK. IN ZAIRE.

THAT FuCKING TANK. VANISHING TWIN. ELECTRIC EYE.

SADDAR BAZAAR. RATS ON RAFTS. NEW CANDYS. TAMAN SHUD.

WOODEN INDIAN BURIAL GROUND.

10 000 RUSSOS. TANGERINES. PURE JOY.

VAYA FUTURO. HAS A SHADOW. BABA NAGA.

BRAIN WASHINGTON. SILVER WAVES. .

WEEKEND, DAY TICKETS + ACCOMMODATION BUNDLES AVAILABLE AT: SEETICKETS.COM.

TICKETS ALSO AVAILABLE ONLINE AT SKIDDLE.COM + TICKETQUARTER.COM + SONGKICK.COM

- AND IN STORE AT PROBE RECORDS, PICCADILLY RECORDS + JUMBO RECORDS.
---
38

Bido Lito! July 2016 Reviews

THING is in deep, fuelling the dancing footsteps

of a horde of avid beatsters with some classic

beats and rhymes. Spirits are, simply, high. It's

a lush scene in the haze of the summer warmth,

the sun burning low in the sky, the musical

mix absolutely on point, and, before Sunday

turns to Monday and we have to shrink back

into normality, we have a night of live music

to spur us on.

Before long people start to venture indoors.

It's about time for the band to start. Up comes

HARLEIGHBLU and her band. As they dive into

their set it seems, at first, as if they're battling

with the DJ outside. Once the news starts

to spread that the party's moved indoors,

however, it's a full room in no time.

Harleighblu herself is a fierce frontwoman.

She has enough range and power to turn

anybody's head and she does so almost

instantly. Musically, there's a grey area here

that seems to bridge a gap between neosoul

and blues rock. It's partly Erykah Badu,

partly The Internet and partly, somehow,

Funkadelic. The players are adept and precise,

dynamically attuned to Harleighblu's vocal

delivery to such a degree that they underpin

her charisma perfectly. It's a strong set that

gets a deservingly warm response from the

small but enthused crowd.

The grand finale of the Baltic Garden Party

comes in the form of headliners THE MOUSE

Spring King (Gaz Jones / @GJMPhoto)

OUTFIT, who unfortunately have to battle with

the noise of Mr Thing's DJ set outdoors for the

first few minutes. Soon enough, though, the

throng swarm indoors and gravitate towards

the front of the stage where rappers Dr Syntax

and Sparkz hit their stride with their rhymes.

The set is unbelievable from the get-go. The

music could be a perfect homage to the great J

Dilla and, as the musicians on stage play more

tightly together than any band I've ever seen,

Sparkz and Dr Syntax dance over the beats

with decorative vocabulary. They run through

a set brimming with their best material, from

Shak Out and Who Gwan Test to Power and It's

Gonna Be On.

The technical proficiency and musicianship

from the band is astounding, but even more

impressive is the subtlety displayed here.

This is a band that understands that hip hop's

greatness lies in its simplicity.

SPRING KING

Get Inuit – Strange Collective

Harvest Sun @ Arts Club

Christopher Carr

SPRING KING have gone a long way since

leaving university here in Liverpool. The band

P R E S E N T S

Hosted by:

DAVID MONKS BBC MERSEYSIDE

FRIDAY 15TH JULY 2016

LIVERPOOL

DOORS 7PM | TICKETS £10 ADV / £12 DOOR | TICKETWEB.CO.UK
---
#FolkDock16

PLUS...
---
40

Bido Lito! July 2016 Reviews

have gone onto become one of the most

exciting mainstream indie groups emerging in

the past year, playing with the likes of Slaves,

while lead singer and drummer Tarek Musa has

found fame separately as a producer for the

likes of Bad Breeding, Big Moon and Gengahr.

So it's with great excitement that we greet

the band for their return to Liverpool. The

substantial crowd are eager to catch the group

prior to their ever-looming album release.

First up tonight, though, is something a

little different in the form of Liverpool's finest

psych surf foursome, STRANGE COLLECTIVE.

The barrier between themselves and the crowd

proves an unusual sight at one of their gigs

as they usually throw themselves headlong

into the crowd, but it's no real barrier to a

band with this amount of verve. Smashing

drunkenly through a debauched, swirling set

of psych-inspired garage, the group win round

a crowd filled with faces unfamiliar with the

lysergic tunes. The set's highlight comes with

the announcement of playing Four In One

Hole. "Yeah it is what you think it's about,"

lead singer Alex says cheekily as the face of

one accompanying mum's face drops.

From the leftfield fuzzed-up psychedelia of

Strange Collective we move to the snot punk

of Kent's finest, GET INUIT, who have released a

string of well-received singles and EPs. Arriving

onstage the band stamp their prominence with

a bang. However, it is lead singer Jamie who

struts around the stage like a prepubescent

Jagger, with a series of neck bops and obscure

dance moves. His voice proves extremely

powerful as he pulls the microphone away

and still projects just as loud. The group's set

proves an electric one with vitality and virility.

With drinks flowing and a now booming

audience it's time for main act Spring King to

take centre stage. Before even donning their

instruments the group have the audience on

their side. With an ocean of Spring King badges,

tees and hats scattered amongst the crowd,

it's obvious that their fanbase is a devoted

one. With a small shout-out to Liverpool ("This

is our second home") the band explode into

life, with the audience following shortly in a

frenzied mosh pit with both arms and beers

flying. The band power through a set of nowfamiliar

singles – most notably Summer and

Rectifier – as well as a handful of yet-to-bereleased

album tracks. It's impossible to doubt

Spring King's boisterous and infectious stage

presence, a trait which has been key in them

cementing the devotion of their fans. However,

there's an issue tonight in Musa's juggling of

both drumming and singing duties. A rare off

night? Here's hoping.

Matt Hogarth

ADAM GREEN

EVOL @ O2 Academy

Some artists make music to sell as many

records as possible. Some want to write songs

with the aim of pleasing tens of thousands

of people in stadiums. ADAM GREEN makes

films with papier-mâché backdrops starring

former child stars and writes songs about crack

cocaine and paraplegic lovemaking. Luckily

for the New Yorker there are sizeable crowds

in towns around the world who have similar

tastes.

Tonight, in the smaller room of the O2

Academy, there is a strong air of affection

towards the former Moldy Peach. He bounds

on stage to the jaunty melodies of backing

band Coming Soon looking like he's just told

a very successful joke backstage. Singer and

backing band are dressed in costumes from

the film Green is over to promote – Adam

Green's Aladdin. He later proudly states it's

the best piece of art he's ever made, quite a

touching declaration from someone who has

been restlessly creative for a long and fruitful

career which has caused few ripples in the

mainstream.

The songs from the film soundtrack perhaps

don't hit the heights of more of the established

favourites such as Emily, Buddy Bradley and

Drugs, but Green hasn't lost his knack for

writing delightfully skewed pop music: newer

singles Never Lift A Finger and the joyous

Interested In Music more than cut the mustard.

As well as pleasing himself with his array of

projects and whimsical stylings, there is clearly

a lot of love for Green amongst Liverpool's

muso fraternity. Midway through the set, Green

stands alone on stage and invites requests

from the audience. The more puerile elements

of the singer's oeuvre get an airing as a result.

A bizarre singalong to the decidedly un-PC

Ladyboy, as well as the rather childish No Legs,

is received with delight.

A constant entertainer, Green keeps dancing

throughout the set, eyeballing the crowd as he

shimmies around the stage. Impressively, he

manages not one but two rounds of crowd

surfing on an audience that seems way too

sparse to support a grown man (albeit a

diminutive man wearing a fez). Songs from all

of Green's extensive solo back catalogue get an

airing, each clocking in at under three-and-ahalf-minutes

and featuring the lyrical panache

of Lou Reed if he were a bit more clown than

curmudgeon.

Green's career trajectory has taken him

from kerbside anti-folk through cartoonish

crooner to new territory as freewheeling indie

film star/director. The end of his set sees an

amalgamation of the three periods with

The Merseyrail sound

Station Prize is Now oPen!

Film your entry video at one of our upload locations...

Liverpool central, Liverpool South Parkway, Southport,

Kirkby Wallasey Grove Road, Hoylake, Hooton...

and share the video on our Facebook page

facebook.com/MerseyrailSoundStation

Get There By Train
---
Reviews

Bido Lito! July 2016

41

the Moldy Peaches favourite Who's Got The

Crack getting a run out alongside a track from

Aladdin, and perhaps still his highest point,

Dance With Me – this last track from his debut

album which was, amazingly, released some

14 years ago. Doing what he likes and staying

true to his artistic vision is obviously keeping

Adam Green young and he's got the jokes, and

the moves, to prove it.

Sam Turner / @samturner1984

VIDEO JAM

Kelpa — Ling — Karl Astbury — Ant

Dickson — Shield Pattern

unfold @ FACT

Adam Green (Georgia Flynn / georgiaflynn.com)

Intended as a response to Japanese artist

Ryoichi Kurokawa's stunning new audio/visual

installation, UNFOLD, five short films have

been set to newly commissioned live scores

by local and international musicians. unfold

is an astral assault on the senses. Drawing

from data taken from giant molecular clouds

in space, Kurokawa has created his vision of the

secrets behind the birth and evolution of stars.

Taking place in FACT's main gallery, three large

projection screens are stacked to the ceiling.

This provides a unique viewing experience,

prompting the audience to stretch out on
---
42

Bido Lito! July 2016 Reviews

an intercepted alien transmission beamed

through static, now that the curvature of the

Earth can be seen.

Manchester duo SHIELD PATTERNS take their

turn on untitled by ALICE DUNSEATH. Quick cuts

of time-lapsed clay geometric configurations

and crystals are complemented by descending,

machine-assisted vocal harmonies. Spoken

word now looms over clarinet improvisations

and I can't help but spot the similarity of the

visuals to the red vortex of Stevie Wonder's

Songs In The Key Of Life artwork.

Lastly, Spanish-born and current Chester

resident ISABEL BENITO GUTIERREZ scores

Abstraction 41+50 by MORGAN BERINGER.

Deep double-bass bowings and flourishes from

saxophonist Ged Barry, switching between alto

and tenor, feel like the most inspired and truly

improvisational moment of the night.

Will McConnell

the carpet. Tonight's 'performers' are mostly

hidden to the rear of the stage, seen only by

the glow of running equipment.

Liverpool-based producers KEPLA and LING,

both having released their respective debut

EPs this year, EP and Attachment, kick the night

off, scoring KARA BLAKE's Timbre – a short that

explores the intimacy of synaesthesia. Opening

with swells of dark energy that punctuate

the sound of skittering insects, a measured,

dissonant piano part takes the dominant voice.

Heavily degraded sample sources are reduced

to a percolating bed of ambient noise which

at times comes to resemble the flow of water.

Timbre features tight shots of human activity

in common urban settings with a consistent

colour scheme. The warmth of the short is very

much at odds with the cold and distant score.

KARL ASTBURY (of Manchester band

Nine Black Alps) ramps up the intensity by

giving SAM WIEHL's Fragment a pummelling

soundtrack. The intermittent stop-start sounds

of bubbling water create a feeling of unease,

which only intensifies as layers of wind and

hail clash. Cutting away to lo-fi strings that

are reminiscent of Mica Levi's haunting score

for Under The Skin, we see monochrome 3D

renderings of what appears to be a long

abandoned wasp nest. Following Fragment,

Kurokawa's unfold is exhibited. In contrast

to the indebted scorings, unfold becomes a

more choreographed and precise experience

– Hollywood 'hit points' and all. Presented in

surround sound and making full use of the

projection surface, unfold packs a punch!

After the intermission, North Wales-based

ANT DICKINSON scores SIMON FAITHFUL's

30km, which was filmed solely via weather

balloon. A lone distress call starts the piece,

fading away as our vantage point of the Earth

gets further away from the ground. A single

Video Jam (Lexi Sun / @Gieesio)

violin note punctuates the suspenseful air

of dancing delay effects. The piece reveals

its breadth at a glacial pace. The distress

call returns but this time feels more like

DIZRAELI

Wild Rossa And The '88 – Eno G

Bam!Bam!Bam! @ Buyers Club

There's already a strong crowd gathered here

in Buyers Club when the first act, ENO G, steps

up to the stage. Eno is a masterful keyboard

player who has his stylistic roots planted in the

rich soils of disco and soul. His guitar player

Dizraeli (Mike Sheerin / michaelsheerin.photoshelter.com)

bidolito.co.uk
---
Distribution is what we do...

Leaflets

Magazines

Posters

Bido Lito!

0151 708 0166

bookings@middledistance.org

www.middledistance.org
---
44

Bido Lito! July 2016 Reviews

The Chills (Georgia Flynn / georgiaflynn.com)

adds some tight, funk-fuelled syncopation,

bringing a clear sense of momentum to the set.

The dynamics throughout seem to be a little

lost; maybe Eno would be better suited to a full

band affair. Despite the nit-picking though, it's

a strong, solid set that definitely warms up the

venue's growing crowd.

Next up come WILD ROSSA AND THE '88. It

would be quite a feat to categorise this bunch:

they have elements of folk, jazz, rock, blues

and soul in their sound. First off, though, the

searing vocals of Luke Papini soar across the

room and reduce the crowd to silence. This is

a heart-wrenchingly sincere show of emotion

and, as the other band members eventually filter

their way into the performance, we are stunned.

The players onstage display absolute technical

proficiency and their musicianship makes the

set flow beautifully. Rossa And The '88 leave an

indelible stamp on the night as a whole.

It's been a little while since tonight's

headliner, DIZRAELI, has played in Liverpool.

Last time he was here he was with his musical

troupe The Small Gods, touring as a full band in

support of their last single. Tonight's show is a

much more stripped-back, personal experience,

however, and from the minute he steps on

stage there exists a deep, engaging connection

between him and the audience. The elaborate

stage design is all of Dizraeli's own making and it

evokes something tribal and spiritual. Indeed, as

he starts the show, he talks of his interpretation

of the phrase 'Attention is the natural prayer of

the soul' by Nicolas Malebranch and admits that,

while he is far from religious, he can't help but

believe that we as humans are, in his words,

fuckin' holy.

Then comes the music and the poetry. His

guitar playing is flawlessly raw and he sings

with such power and passion that the sound

leaps from the bottom of his throat and his heart.

There is simply no question about sincerity or

integrity in this performance: Diz bears his soul

with such naked, stark intensity that he seems

to explode with energy throughout the set.

There's a relentless mix of music interspersed

with poetry and stories. He plays through the

tracks from his profound and vital new EP,

Eat My Camera, and dedicates the powerful

Cool And Calm to the sufferers in Calais and

Palestine. He also plays other EP tracks such as

the stirring Morning Light and the inspirational

title piece Eat My Camera. The most moving

spoken piece is his poem The Depths, which

tackles homophobia and is taken from The

Small Gods' song of the same name. He also

runs through a glut of various pieces, such as

Maria, Reach Out and We Had A Song.

By the end of the set we're no longer a room

full of strangers. Dizraeli's new material puts

emphasis on intimacy and paying attention to

our surroundings in every respect. As he walks

off stage, having experienced this together,

we're now a room full of friends.

Christopher Carr

THE CHILLS

By The Sea

Harvest Sun @ Philharmonic Music Room

The Philharmonic Music Room seems the

perfect settings for tonight's gig. Tucked

away and slightly hidden but beautiful

and intricate, the venue reflects tonight's

headliners, THE CHILLS, perfectly. The New

Zealand outfit are infamous for being key

pioneers in the Dunedin scene, an indie pop

scene characterised by its jangling guitars,

minimal guitars and loose drumming. Despite

any real commercial success the group have

become somewhat of a cult classic, finding

fans all over the world. This is the first time

they have brought their group to the Mersey

shores, with a line-up that's quite different

from their original one, drawing a more evenly

mixed crowd of older and fresher faces than

expected.

bidolito.co.uk
---
STARMAN

THE

DAVID

BOWIE

STORY

THE VESBIM FLOYD

SHOW UK PRESENTS

PINK FLOYD'S

THE WALL

LIVE

THE

SIMON AND

GARFUNKEL

STORY

FRI

5th AUG

7:30pm

£21.50 | £19.50 conc

FRI 12th &

SAT 13th AUG

7:00pm

All Tickets £20.00

FRI 26th AUG

7:30pm

£19.50 | £17.50 conc

Prices include a

£1.50 fee per ticket.

Spread over two floors, Dawsons Liverpool stocks a vast range of equipment and instruments

for all musicians. As well as the leading brands at great prices, we also have friendly,

knowledgeable staff who will do all they can to help you find the right equipment.

10% OFF

CABLES AND ACCESSORIES

Cut out this coupon and bring it along to our Williamson Street store to claim 10% off products in our extensive

range of cables and accessories. Please note this offer does not extend to hardware.

Dawsons Liverpool I 14-16 Williamson Street Liverpool L1 1EB

0151 709 1455 I liverpool@dawsons.co.uk

@Dawsonsmusic

Dawsonsmusic
---
There seems no better a band to open up

for the main act than the dreamy indie pop

of Merseyside stalwarts BY THE SEA. Arriving

on stage with their ever-present modesty,

singer Liam Power quips, "Cheers for standing

up". But the lads are more than worthy of the

standing audience. In the process of writing

their third album the band have mastered

their craft to a T, performing a tight and wellconsidered

set. The hushed tones of singer

Liam Power weave seamlessly with the dreamy

sounds around him, as the audience watch on

with silent respect. The real appeal of the band

comes in the lack of ego and sheer talent with

which they play. Serenading the audience with

a selection of old songs as well as a handful

of new, the local favourites seems to win a

handful of new fans who may not have heard

them before. The band slump off back into the

shadows whilst still beating on in the crowd's

memory.

With a magical set coming from the support

and a small interlude, it's time for the main

act to take stage. There seems to be a gaping

hole where fiddle and synth player Erica

Scally should be, who we find out is back at

the hotel extremely ill. This doesn't seem to

faze the remaining Chills too much though,

as they start to slay through a set of classic

songs alongside a handful of new ones. With

a similar modesty to Powers, singer Martin

Phillips introduces the set by saying, "Sorry

it's taken us 36 years to get here Liverpool

but hopefully we'll make up for that tonight."

What follows is an eclectic mix of material both

new and old from a band who seem to all have

very unique stage personae. By far the most

interesting of these is drummer Todd Knudson,

who looks far more like he's playing in a metal

group as he smashes away at his kit, throws

sticks about with abandon and stands up to

drum. By far and away the highlights of the set

come in the form of new material Kaleidoscope

World and Pink Frost. Though their music may

not be quite what it used to be, the band play

well and fulfil the audience's dream of catching

the fleeting chance to see this elusive group.

Matthew Hogarth

PERFUME ADVERT

Best Available Technology – Ondness

Deep Hedonia @ 24 Kitchen Street

Brought together by cassette tape-friendly

labels, such as 1080p, Seagrave and Where To

Know?, Deep Hedonia's line-up of underground

house producers offers a glimpse of more

diverse and experimental forms of the house

genre. Unlike most house sets you are likely to

see, improvisation is a large part of the ethos

of this particular event.

Opening to gestating pulses of muted

dub-delay, Lisbon-born ONDNESS (Bruno

Silva) navigates through a tension-filled,

entirely melody-free set. Playing to an empty

dancefloor, Silva is the one moving to the

music the most, becoming the metronomic

beacon for the room to follow. Favouring

long, textural build-ups, the audience is most

rewarded when Silva provides a rhythmic

framework. Once the murky textures coalesce

into a slinky hi-hat-driven, one-bar drum

pattern, spectators on the fringes of the room

start to show some movement. A few minutes

into this pattern I couldn't help but draw a line

to James Brown's most potent late 60s/early

70s work. Specifically, how the relationship

between simplicity and repetition forms the

key to an effective groove – something that you

never want to stop and can't stop feeling when

it's gone. The line between monotonous and

hypnotic is navigated expertly here, something

the headlining act would later struggle with.

BEST AVAILABLE TECHNOLOGY's set is well

matched to the preceding one, joyfully chaotic,

and at times disorienting, although still devoid

of melody and anything resembling a human

voice. BAT is Portland-based Kevin Palmer, a

true experimentalist. The way he utilises his

array of effects and samplers suggests a strong

sense of control, despite how warped and

lawless the result is. BAT could've delivered an

equally masterful set with just a delay pedal

and a Ham radio receiver. Often, the music

seems to emanate from entirely different

acoustic spaces, sometimes large industrial

factories, a tiled bathroom or a stairwell.

BAT's ability to manipulate the perceived space

seems to go beyond simply changing reverb

settings. Instead, the music provides a portal

to the pictures in your mind.

Middleborough duo PERFUME ADVERT

– finally coaxing a few attendees onto the

dancefloor – settle into much more familiar

rhythmic territory. Given how respectively

dynamic and fragmented the preceding sets

were, Perfume Advert sound frustratingly

common. Staying put at 120bpm, they

meander through uninspired house tropes.

A shame considering the more nuanced,

and exciting take on atmospheric house

they demonstrate on their debut 2013 effort,

Tulpa. The sequencing in the duo's set does

not provide any revelatory moments, nor

does it attempt to explore any alternate

sonic territory. The presence of harmonic

development, memorable syncopation,

melody, or any expressive lead voice is largely

eschewed, leaving a void that not even the

duo's improvisatory inclinations can fill.

Will McConnell

SOUND MATTERS

In this monthly column, our friends at DAWSONS give expert tips and advice on how to achieve a

great sound in the studio or in the live environment. Armed with the knowledge to solve any musical

problem, the techy aficionados provide Bido Lito! readers with the benefit of their experience so

you can get the sound you want. Here, Dawsons' keyboard connoisseur Harry Brown discusses the

multitude of possibilities offered by the latest developments in keyboard technology.

In a previous article I talked about keyboardbased

instruments being among the most flexible UK and around the world, are frequently the most

Dawsons Music, and many similar retailers in the

instruments to perform and compose music on, due convenient way of experiencing a new instrument

to their ability to play more than one part or line in the flesh when it's released onto the market. But

simultaneously. For this article I'd like to introduce in the case of Artiphon's Instrument 1, you'll need to

some alternative keyboard-based instruments to our be more patient. Unfortunately, this mould-breaking

readers, because as technology has moved forwards instrument, only unveiled last year, is only available

over the years, so too have the options available to to order from Artiphon's website. Hailed by Time

keyboard players in terms of the instruments that their Magazine in its 'Best Inventions of 2015' list, it can be

particular skillset could be used on.

played horizontally like a keyboard, held sideways and

Is a keyboard a keyboard if it doesn't have black strummed like a stringed instrument (guitar, mandolin,

and white notes? Or, if it doesn't even actually have ukulele et al) or even bowed like a violin. It is still the

separate 'keys', so to speak? The following products are highest-grossing musical instrument on Kickstarter

good examples of instruments that many professional to date.

musicians across the globe are employing to create Thanks to the implementation of technology with

music in a different way than they have done previously. human creativity, putting this product across several

The first example of such an instrument is closer different instrumental categories, in the hands of so

to the conventional keyboard design than the others, many musicians from different backgrounds, it has the

because it still has the traditional black and white potential to change the musical instrument market

keys, but provides the musician with more flexibility landscape.

in terms of movement and sonic creativity. Roland's Be it a new idea being introduced to the marketplace

AX-Synth is a 49-key, self-contained synthesiser, with or an older idea repurposed specifically towards the

a powerful synthesis engine specifically designed with keyboard format, technology seems to reappear in

melody, lead lines or solos in mind. It can be used in different forms as time goes on. A good example of this

conjunction with a wireless system much in the same happening in a product is the Haken Audio Continuum

way a guitar can, meaning you're free to move around Fingerboard, an XY-type controller previously seen in

the stage as much as you like. The last time I saw one MIDI/DJ controllers laid out in a format most familiar

of these used live was by Stevie Wonder when he to keyboard players. It has a touch-sensitive neoprene

opened his landmark Glastonbury performance. What surface with over seven octaves' worth of microtonal

better endorsement or proof of these alternative kinds pitch control, much like the Seaboard. But, on top of

of keyboards infiltrating the instrument market could this, it has another two dimensions of control in the

you need?

'Y' axis (front to back) and amount of pressure applied

Article number two is the hugely successful and to the surface, which can be used to control any

cutting-edge ROLI Seaboard. I must have seen 20 parameter of synth or even an effects unit if you wish.

stunning videos of various talented musicians putting Seeing an increasing number of products that are

this instrument through its paces since its commercial pushing the boundaries of what is considered to be

release last year. The stand-out feature of the Seaboard a 'keyboard instrument' hitting the marketplace, it

is the ability to play microtonally, 'between' the could be considered that the keyboard and therefore

fixed pitches available on a conventional keyboard keyboard players are moving into a new era. A keyboard

instrument. For most keys players, this feature will 2.0 phase, if you will. You have at your fingertips the

previously have only been available to them via a capability, with these kinds of instruments, to produce

'pitch wheel' controller on the side of the keyboard performances on a number of levels. Not just on a

itself. But with the Seaboard the player can alter pitch musical level, but also sonically, adding levels of

by simply moving their finger across the key toward expression perhaps previously untapped.

the neighbouring key, either upwards or downwards.

It also facilitates much more expressive vibrato, much You can find Dawsons at their new home at 14-16

like that available on a stringed instrument.

Williamson Square. dawsons.co.uk

Gareth Arrowsmith
---
Liverpool

Biennial

2016

Saturday 9 July - Sunday 16 October

Galleries 1, 2 & FACT Connects Space / Daily 11am – 6pm / FREE

The UK's biggest art festival comes to FACT, featuring work by

Krzysztof Wodiczko, Lucy Beech and Yin-Ju Chen.

fact.co.uk/biennial16 / #Biennial2016

Image: Lucy Beech, Pharmikon, 2016. Image courtesy of the artist