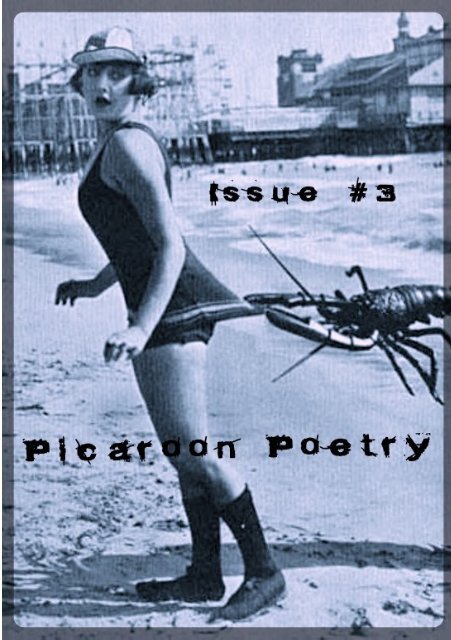 Picaroon Poetry - Issue #3 - July 2016
Our third issue of Picaroon is a bucketful of doom with a dash of gloom, drinking to excess, love, loss, gardening, and fast food. Modern life is every bit as absurd as you might not think it is. Featuring work by Siegfried Baber, Carrie Redway, Bethany W Pope, Adam Phillips, Seth Crook, Mackenzie Dwyer, Vincent Frontero, Jane Burn, Richie Brown, Noel King, Pat Edwards, G.B. Ryan, Heath Brougher, Daniel Blokh, Susan Castillo Street, Glen Armstrong, Brett Evans, Steve Lambert, Hugo Esteban Rodriguez, Lindsey Lucas, Chris Hemingway, James Croal Jackson, Grace Kearney, Bernadette Gallagher, and Ben Banyard.
Our third issue of Picaroon is a bucketful of doom with a dash of gloom, drinking to excess, love, loss, gardening, and fast food. Modern life is every bit as absurd as you might not think it is.

Featuring work by Siegfried Baber, Carrie Redway, Bethany W Pope, Adam Phillips, Seth Crook, Mackenzie Dwyer, Vincent Frontero, Jane Burn, Richie Brown, Noel King, Pat Edwards, G.B. Ryan, Heath Brougher, Daniel Blokh, Susan Castillo Street, Glen Armstrong, Brett Evans, Steve Lambert, Hugo Esteban Rodriguez, Lindsey Lucas, Chris Hemingway, James Croal Jackson, Grace Kearney, Bernadette Gallagher, and Ben Banyard.
SHOW MORE
SHOW LESS
Do you know the secret to free website traffic?
Use this trick to increase the number of new potential customers.
Issue #3

July 2016

Edited by Kate Garrett

All poems copyright © 2016 individual authors

Selection/issue copyright © 2016 Kate Garrett
---
This Month's Rogue Poems ● July 2016

Eggs (And a Side of Toast)

Siegfried Baber

Fourth of July

Carrie Redway

Girls

Bethany W Pope

I Love You Ezra and Harlan

Adam Phillips

You Are

Seth Crook

She Hates When I Tell Her Stuff Like This

Mackenzie Dwyer

Perceptions

Vincent Frontero

What Became of Bogies?

Jane Burn

Soul Music

Richie Brown

Chaser

Noel King

application

Pat Edwards

Shop Talk

G.B. Ryan
---
Summer's Mechanical Thunderstorm

Heath Brougher

Light-Years

Daniel Blokh

The Gun-Runner's Daughter

Susan Castillo Street

Wild Streaks

Glen Armstrong

Positively Shit Street – Rhyl to Venus

Brett Evans

Shrooming with Germ

Steve Lambert

Afterthought

Hugo Esteban Rodriguez

Kansas City Nights

Lindsey Lucas

Indelible

Chris Hemingway

Clutching My Stomach in the Bathroom

James Croal Jackson

Intrauterine

Grace Kearney

Young Urchins

Bernadette Gallagher

The Age of the Train

Ben Banyard
---
Eggs (And a Side of Toast)

Siegfried Baber

In a dirty corner of The Cup and Saucer on Canal Street,

the bride and the absentee share their booth

with a man named Frank, the spitting image of Krushchev,

who spills the grease from a grilled cheese sandwich

down his tie between mouthfuls of bitter black coffee.

She plucks the rice from her hair – Uncle Vernon was blind

and played organ for the local Pentecostal church.

He orders eggs and a side of toast, hash browns

over easy, and two strawberry shakes – My best friend Kipper

had two crooked legs, grew up in braces, and lived

with his grandmother in a trailer near the Mexican border.

She captures small rainbows in a bottle of Coke.

Both faces are pale as firelighters – Tell me, do you think

our waitress knows the world's coming to an end?
---
Fourth of July

Carrie Redway

I watched the news again

waiting for that one video clip of the wreckage:

Metal shards in the field,

the shot of the tree,

the blood on the windshield your blood on the windshield.

The soundbite of the farmer

who saw your helicopter come lurching down,

just a squeal in the sky.

Your reconstructed face looked like Bob Hope in the casket.

My last memory. It makes me wonder how the medics

found you.

I heard you whisper now: "You should have screeched through the

sky too.

We could have been like meteors showering the cosmos."

I nod. Yes, I should have.

But tonight, only fireworks explode in the night sky

as a gunshot would the chest.
---
Girls

Bethany W Pope

Sometimes, to get out of work, we'd fist-fight.

We were as close as it was possible

to be in such a place. She had a crush

on a boy with bad skin and a huge nose,

bad enough that she went red every time

he stood within ten feet of her, and she

trusted me enough to tell me what she'd

like to do with him if they were ever

alone. In return, I let her know where

I hid my stash of stolen books. Sometimes

we'd sneak into the high school to rob the

vending machines. I had a long, skinny

arm and she was good at peering around

corners. I'd aim to grab a few packets

of chocolate candies, shaped like peanuts, with

creamy peanut butter inside. We'd suck

their guts out, one at a time, sitting under

the dusty bleachers where normal kids sat

to watch graduations and plays. When we

fought, we held nothing back. We were really

fighting. I cracked her teeth; she blacked my eyes,

we tore each other bloody. This was love,

of a kind. This was deep intimacy.

We trusted each other to not go too

far. When the monotony of farm work,

those familiar dangers, grew too boring

to block out the things we were afraid of,

we'd glance at each other over a bale

of hay or a row of cabbages and nod,

once. Then we'd begin.When we fought, she wore

the face of my rapist. I don't know who

I was, for her. Someone who'd hurt her bad.

Eventually, the Foreman would bust through

the circle of kids who gathered around,

placing their bets (a coke, on the skinny
---
one) and pry us apart. He'd shout for a

while, then send us away to cool off in

the shit-scented milking hall. This was what

we wanted. Cool air. A little quiet.

A place to settle down and have a talk.
---
I Love You Ezra and Harlan

Adam Phillips

without you I

was going to die – now I never get

to leave, I'm lidless

eyes in the sky –

I'm a nail

through a two

by four –

I say this all the time – I'm

an unrequited kiss, the business

end of a thirty ought six – this

is all I ever get

to say – I can't

die – once

the cells swarmed like bees, fleas, I took the needle, my gums

receded, my teeth fell out, I pushed

them back, I bit the tube, I spit

the blood, fuck you, I said, this dark

reptilian love – the drip that brought

me back –

I think of

all the things

I'd kill

with my bare hands – between you and me

nothing passes

I might have liked
---
to. Die I mean. I won't. Not in a room

with wine, or a girl, not

in a wreck, not

in the apocalypse – You

wander here and there, you've eaten

off the ground – I slap your hand I watch

the sea – they're up to something

out there – I'm ready

in the park, I'm

ready for the dark beyond

the stars, I watch

the clock – I've got an eye that never sleeps-

I crack my neck and grit my teeth

and breathe

the gas and dig

the shattered concrete – I'll hold

your hand in the medevac you

stubborn little fucker, I may have had

other plans – it's exactly what I said – your brother

never leaves – never hides

in trees, never needs

transfusions, stitches – I watch you sleep –

I watch

you eat – I taught

you how to walk, you hit your head –

I taught you how to fight – I'd like

to crush you down

into a block,

and put it in my pocket.
---
the point is

not to die – there is a line

a time my withered

wings no longer bear

your body home – I'm tethered

to your baby teeth, a wreath

upon my grave I'll eat

the leaves- you thought I left – I'm back – I thought

I was asleep – we start again – I can never die –

I say it all the time.
---
You Are

Seth Crook

your shadow's shadow.

A double act,

although the partnership

is not as close as it appears to be.

Your shadow doesn't like you

because you block the light.

You don't like your shadow

because it doesn't pull much weight.

But, on matters of divorce,

the old rules apply:

you must always be together,

except in the dark.
---
She Hates When I Tell Her Stuff Like

This

Mackenzie Dwyer

Mom! Did you know that NASA

found space marijuana? No, because

I'd get stoned (by you) if you thought

I knew more about drugs than you do.

Even though I just said that, there's no

cause even to think less of me.

Some people out there are calling

their pets

their significant others & they mean it.

Imagine that, but with eyelash mites.

I could tell people that, or I could ask

did you know: one's skin takes up

seventeen percent of one's body weight?

Yours weighs as much as my brother did

when he was four years old. He was

underweight for a while though.

& this he saw, but I'd stayed home

well — I read that a sizable minority

of the elderly

have sex in nursing homes.

when you ran over that cat, remember?

The way you told it, it just streaked out

from the yard, fluffy & gray till you

crushed its guts. You picked it up,

placed it on the doorstep

from whence it came.

Didn't even leave a note. Oh, sorry

about that Mom — I sense

you want to talk about something

more redeeming, more comforting —
---
Perceptions

Vincent Frontero

Ricky sits up and watches tv

mindlessly taking in

Ricky drives to work each morning

carelessly running over

Ricky listens to his co workers all day

pouring from the water jug cups of

Ricky gets anxious in front of

the girl he can't stop thinking is just like

Ricky stops at the gas station

and buys a pack of

Ricky stops at the grocery store

and fills his cart with

Ricky stops at a red light and

thinks about

Ricky walks to the bridge and thinks

about that red light and then thinks about

Ricky thinks about jumping but stops himself

because he knows he's too selfish to think only about

Ricky goes home and sits

in front of the tv until

Ricky Falls asleep and dreams

about

Ricky
---
What Became of Bogies?

Jane Burn

The ones kids made. The ones we made.

Pram wheels, old pallets, string to steer,

Don't need brakes – drag it to the top of a hill

and go. Pray for no cars. Kick the can,

Red Rover, Red Rover, we call Robert over.

Dinner money down your sock.

Knock-off Walkman – tape the Top 40

from Radio 1, wind the loose bits on with a pen.

Go in a group to the phone booth

and not phone the person you fancy,

after all that. Doing homework in the library,

jelly shoes. What happened to people?

You have to have this thing in front of your face now –

this slender screen. You look at life through it,

it filters what might make you afraid,

makes it unreal. YouTube has trained us

to see each other as movies, made a million

miles away, who gives a fuck about that?

Like Like Like Like Like. One hundred likes.

One million likes. No likes. Nobody likes U.

The world, fed back to you second-hand,

like you can't bear the true colours of sky

without the blindfold of a Galaxy that is not planets –

an apple that is not fruit. Can't take a beach pic

without your hot-dog legs, can't be somewhere

beautiful without chill-out, hipster, hot coffee shots.

Instasnap, chatgram, facetwit, booktime,

LOL, ROFL, CU2MORO, BRB, CYA.

Retweet, trending. Going phishing, SMiShing

I am trying to serve this lady on the till and she
---
talks on her phone the whole time yeahrightayeamin

theshopgettingservednowuhhuhahhanolikenoImight

seyoulaters. You don't need manners. Smile,

the little laminated note instructs us workers. Smile

and greet the customer. Ask them if they need bags.

Help with their packing. They can't hear you.

They can't even see you, the YOLO generation.

Shan. Sick. This arsewipe coming up the laundry aisle,

phone clamped to ear, shouting at the top of his lungs.

He's got swagger, so he thinks, other hand down

low hanging shreddies, rummaging his bollocks

as if they are a lively nest of mice. I want

to grab onto summat – tin of beans, can of pop,

stott it off his head. He is going to finish in there,

at some point and piss off to handle bread, or pears,

the toe-rag. He makes me want to puke, or punch,

or scream. I don't want to see folk stroke their penis

with such fond admiration. I am surprised

he's not taking a selfie down there, live-streaming,

#proudcock@pubesdotcom. It's got us all, mind you.

But I do, I do want to see your hair-cuts and I do

want to see you find a photograph in which you are happy

with yourself, want to see you with your pets, 'cause

animals are ace, don't mind seeing a cake you made.

Oh no, it weren't all perfect back then, with the bogies.

There was fear and loss, loneliness and love just the same.

But there wasn't this wall – this locking of ourselves behind

such forcefields of ignorance. They can't hear you.

They can't see you. Die and your headstone is a hashtag.

Sadface. If you're famous, die and be a status for a day.
---
Soul Music

Richie Brown

Remember how they mourned their Queen of Hearts?

The Palace gates laid siege by Safeway blooms

From those she didn't know. By afternoon,

All tributes paid, she left for Althorp Park.

In later weeks, one woman's tear-soaked farce:

Her arms and arms and arms full of that tune

She'd hummed since Elton's hatchet job. Newsrooms

Prepare reports for when it tops the charts.

I choked on breakfast news that Bowie died.

The coffee, cataclysm, lukewarm toast –

Not buttered. Landing still on buttered side.

I sat, thin-lipped through Diamond Dogs and most

Of Lodger, 'Heroes', Low. But could have cried

When Major Tom encountered Ziggy's ghost.
---
Chaser

Noel King

Here, let me chase this editor's lineage,

what university she studied at,

the festivals she's read from her

poetry books at, the journals her

own work has been seen in.

Then, let's look at who is

in this issue she has edited,

find the patterns that indicate

so and so also studied at such and such

a Uni; the annals that said Wendy Hope

met Robert Sisk at some festival or other.

That all the 'famous' poets had

many of their first poems published

in a small range of magazines.

Then, we will see that yes, she is

only interested in publishing pals.
---
application

Pat Edwards

I don't remember applying

it certainly wasn't online back then

obviously I don't fit the person spec

not at all sure what the selection process was

did you invite me to an interview

how the hell was I short-listed

there don't seem to be any clear criteria

I fit
---
Shop Talk

G.B. Ryan

When I heard that many there would be

professional gardeners

I expected talk to be about

flora with Latin names.

If there was any dominant theme

it was their painful knees

and what it was best to kneel upon:

knee pads or folded sacks.
---
Summer's Mechanical Thunderstorm

Heath Brougher

Fading in, fading out, lawnmower raging in July past my window

around the neighborhood, chopping blades with blades,

grassblades with metalblades, early morning thunder on the ground

wisps through my window.

I notice the scent of a broken fragrance, of bleeding grass,

the headless grassblades, shorn green tendrils

mixed with the dew wake me from my early morning slumber

to hear the mechanical storm below in the yards,

the butchers and their machines pacing, fading in

and fading out, down the yards and around the houses,

binging on oil and gas to guillotine the dewy tendrils of summer.
---
Light-Years

Daniel Blokh

I think I've lost those days of moss.

The king's chains loosen and I swing,

flesh spinning into oceans, rain.

I am motion, my center gone.

I am the spectre in the brook.

Dimming lights skim my surface, and

I cease to be the sum, become

the difference, and run past myself.

Crows landing darkly at my door

leave an outfit for my hanging.
---
The Gun-Runner's Daughter

Susan Castillo Street

It was a strange old year.

We moved to Oklahoma one day

without warning, and I started a new school.

The teacher taught me to do sums,

I'll give her that. Still, she rabbited on

about my lack of tidiness

until one morning I arrived

and every object in my desk

was strewn across the floor.

It's to teach you a lesson, she said,

Nice girls should be tidy!

I picked it all up, lips pressed tight.

I hope she found my silence scary.

Shortly thereafter, we left town when Dad made headlines:

LOCAL MAN RUNS GUNS TO CUBAN REBELS.

Perhaps I taught my teacher

sometimes it's a waste of effort

to try to place things in neat boxes.
---
Wild Streaks

Glen Armstrong

That boy has a wild streak

like white on lightning.

He hammers nails into plaster.

He beds space junk.

That girl has a wild streak

like luck on a seven.

She ignites M-80s.

She says, Hey, man,

where'd you get that tentacle?

And the sky never flinches.

It's a given that the sun

and the electric chair,

the peroxide

and the blunderbuss

all try too hard,

but what about the rest of us?

Consider the knife's humble utility,

so much like our own.

Wait for the quietest

of the sisters to finish.

She was thinking aloud

when her thought scampered off

as lithe and as wild as any

startled bunny.
---
Positively Shit Street – Rhyl to Venus

Brett Evans

for Mark 'Sparx' Hughes

Trousers off and wrapped round our heads,

worthless diamonds pitting pavement

and bare legs on a five mile homeward stagger,

pissed and potless, Mark slurs Should shee Venush

ish mornin'.

Daybreak caravanned to the moon,

our off beat feet were light years from home.

Beneath trousered heads, coats flapped like bats

and laughs howled the Tom Waits wannabes back

into doorways, their proud fag ends dying.

When the sky took to grey, we halted in Pensarn's salt air;

legs in revolt, stumbling shoulder to shoulder.

I stood with this man I love, trousers on head,

glaring through cigarette smoke at the vast cosmos above -

goggling Venusians, wondering what fucking planet we were on.
---
Shrooming with Germ

Steve Lambert

In the early morning, the good ones off at school,

my cousin and I head for the cow pasture behind his trailer park.

They're all over, and we know how to find them:

pick the thick grey ones and pop the stems,

wait for purple to appear along the stringy break.

We know the way we know Columbus sailed the ocean blue.

But we've forsaken that kind of learning for field work.

In the undulant green, at seven in the morning, we dodge

doe-eyed calves, steer clear of their vigilant mothers,

Kick dry patties at each other, like feckless fieldhands.

While our friends pledge allegiance to the flag, we load

our sacks with psilocybin and head back to his place,

parents gone, and eat a couple caps each, make tea,

our own ignorant alchemy, the only high we can afford.
---
Afterthought

Hugo Esteban Rodriguez

It was six in the morning, and Hope left her earring on the bedside

table – an afterthought.

A recollection of last night, where

poison led to late night philosophy and Google-less pondering

searching

for the answers to the questions of

two drunks, contemplating lyrics

we should have sung at karaoke

A duet.

Why not duet?

We indulged in each other, lust and gluttony as our eyes met and we

forgot the grease

in our stomach acid, breaking down our inhibition.

I kissed her ketchup lips, the why not consuming the why as bloated

lust clogged arteries

ignoring self-control and the hazards

to my heart

broke with the dawn and a side order of mascara tears, our bodies

surrounded by wrappers

used up

discarded – an afterthought at four in the morning
---
Kansas City Nights

Lindsey Lucas

Home is when we order lo mein in greasy styrofoam,

and you ask for extra fortune cookies.

We face each other cross-legged on the carpet

to read that Good food is love and we agree.

Home is when we watch old cartoons

and I know the exact moment you will laugh

as the screen flickers over our faces

and we slowly sink into your cracked-spine sofa.

Home is when you run out for chocolate and chardonnay,

and the way I smooth your hair when I'm tipsy.

It's the steaming mint tea you make when I'm tired

and the lines in your forehead when I drive home late.

Sometimes I live in the gap

between contentment and wanderlust.

I lay awake and stare at maps in my head.

Never on these nights.
---
Indelible

Chris Hemingway

Come with me to the tattoo parlour.

Wednesday, 5pm, when it's quieter.

We can take a decision,

indelible as a teenage tweet.

Your selections will be fantastic.

You'll conjure up imaginary animals,

mottos in invented languages.

And me?

I'll change my last tattoo;

"Je ne regrette Lianne."

I'll get the 'ne' removed.

For you.
---
Clutching My Stomach in the Bathroom

James Croal Jackson

in front of the mirror wondering

how you made it through those nine months

to get nothing but condensation from a cloud

yes the smiles returned in the desert

when the scythe allowed we spoke truths

and asked everyone to provide thirst

because we were the cacti with reservoirs

of lust and destruction

laid out in desiccate flowerbeds

our wallets filled with zinnias

while we were filled

from the green of living

sometimes we are horses

galloping along dirt paths

and westbound highways

hoping they lead to ocean

but it leads always to night

to hunger

we barely know how to be raw anymore

how to sink dead teeth into apples

and want the core

our thin gums only cling to our mouths

because there's nowhere else to call home

no more words that can make you

believe in a future
---
Intrauterine

Grace Kearney

that spring, I force my body into labor

twin mattresses pushed together

squeezed into a single fitted sheet

raised onto a platform of milk crates and called a queen size

bed

on which I lie alone,

eyes on the ceiling,

no queen.

next door the room is silent as it never is

except early, early in the morning,

when my roommate finally wanders into dreams with techno

beats

through the wall I imagine her temples pulsing

but now my own eyes close and

my fingers find space between my ribs and

I feel the walls of my uterus contract to expel—

nothing. nothing is inside of me and nothing comes out.

the labor is only a simulation

a means of opening the womb

not to deliver but to implant,

not a child but a deliberate

lack-of-child,

fancy modern medicine in the service of motherhood

deferred.

mother, mater, matter—

beneath layers of signification,

the feminine is rooted in the organic body

she who contributes the flesh of the child

she who makes monthly peace

while he professes a fear of fluids

fluids, uncontrollable, beyond reason, beyond boundary
---
excess always the crime

why Mother is nature and Father is time

why, if she is quiet and keeps very very still,

she is taken for an animal
---
Young Urchins

Bernadette Gallagher

In memoriam: Aylan (Alan) Kurdi

We walked on the beach, heads down,

to find the white heart shapes of the

Sea Potato, light as a feather, delicate,

empty of life, small holes in a precise

pattern visible now that the soft

spines to fend off predators

are no longer needed.

These young urchins washed

up from their sand homes

and thrown onto the beach

already dead.
---
The Age of the Train

Ben Banyard

On behalf of First Great Western

I'd like to apologise unreservedly

for the nose-whistling man next to you

and the flakes of his pastry

which dapple your knee.

But while we're on the subject

We'd also like to say sorry

about Swindon, graffiti, smelly loos,

posh idiots, Metro, mobile smarm,

tippy-tappy laptops, fat thighs

and elbows that invade.

Oh, and we're late.

Deal with it.
---
For writer biographies / web links, please see

the 'Contributors' page on our website.

Thank you for reading!