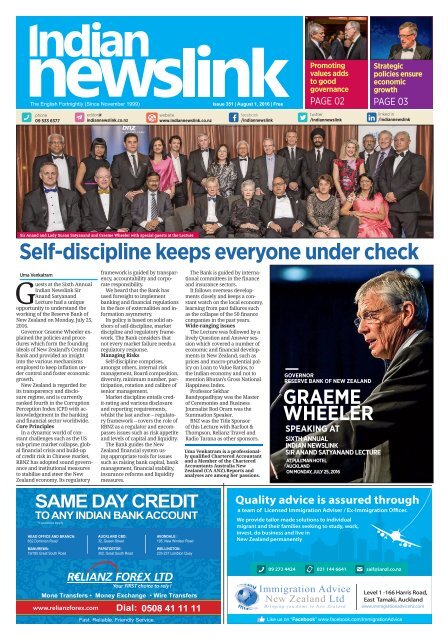 Indian Newslink August 1, 2016 Digital Edition
Indian Newslink August 1, 2016 Digital Edition
Indian Newslink August 1, 2016 Digital Edition
SHOW MORE
SHOW LESS
Create successful ePaper yourself
Turn your PDF publications into a flip-book with our unique Google optimized e-Paper software.
BUSINESSLINK

The English Fortnightly (Since November 1999)

Issue 351 | August 1, 2016 | Free

Promoting

values adds

to good

governance

Strategic

policies ensure

economic

growth

PAGE 02 PAGE 03

phone

09 533 6377

editor@

indiannewslink.co.nz

website

www.indiannewslink.co.nz

facebook

/indiannewslink

twitter

/indiannewslink

linked in

/indiannewslink

Sir Anand and Lady Susan Satyanand and Graeme Wheeler with special guests at the Lecture

Self-discipline keeps everyone under check

Uma Venkatram

Guests at the Sixth Annual

Indian Newslink Sir

Anand Satyanand

Lecture had a unique

opportunity to understand the

working of the Reserve Bank of

New Zealand on Monday, July 25,

2016.

Governor Graeme Wheeler explained

the policies and procedures

which form the founding

ideals of New Zealand's Central

Bank and provided an insight

into the various mechanisms

employed to keep inflation under

control and foster economic

growth.

New Zealand is regarded for

its transparency and disclosure

regime, and is currently

ranked fourth in the Corruption

Perception Index (CPI) with acknowledgement

in the banking

and financial sector worldwide.

Core Principles

In a dynamic world of constant

challenges such as the US

sub-prime market collapse, global

financial crisis and build-up

of credit risk in Chinese market,

RBNZ has adopted sound governance

and institutional measures

to stabilise and steer the New

Zealand economy. Its regulatory

SAME DAYCREDIT

TO ANYINDIAN BANKACCOUNT

*Conditions Apply

HEAD OFFICEAND BRANCH:

632 Dominion Road

MANUREWA:

19/185 Great South Road

framework is guided by transparency,

accountability and corporate

responsibility.

We heard that the Bank has

used foresight to implement

banking and financial regulations

in the face of externalities and information

asymmetry.

Its policy is based on solid anchors

of self-discipline, market

discipline and regulatory framework.

The Bank considers that

not every market failure needs a

regulatory response.

Managing Risks

Self-discipline comprises,

amongst others, internal risk

management, Board composition,

diversity, minimum number, participation,

rotation and calibre of

senior management.

Market discipline entails credit-rating

and various disclosure

and reporting requirements,

whilst the last anchor – regulatory

framework – covers the role of

RBNZ as a regulator and encompasses

issues such as risk appetite

and levels of capital and liquidity.

The Bank guides the New

Zealand financial system using

appropriate tools for issues

such as raising bank capital, bank

management, financial stability,

insurance reforms and liquidity

measures.

AUCKLAND CBD:

32, Queen Street

PAPATOETOE:

302, Great South Road

AVONDALE :

195, NewWindsor Road

WELLINGTON:

233-237 Lambton Quay

The Bank is guided by international

committees in the finance

and insurance sectors.

It follows overseas developments

closely and keeps a constant

watch on the local economy,

learning from past failures such

as the collapse of the 50 finance

companies in the past years.

Wide-ranging issues

The Lecture was followed by a

lively Question and Answer session

which covered a number of

economic and financial developments

in New Zealand, such as

prices and macro-prudential policy

on Loan to Value Ratios, to

the Indian economy and not to

mention Bhutan's Gross National

Happiness Index.

Professor Sekhar

Bandyopadhyay was the Master

of Ceremonies and Business

Journalist Rod Oram was the

Summation Speaker.

BNZ was the Title Sponsor

of this Lecture with Barfoot &

Thompson, Relianz Travel and

Radio Tarana as other sponsors.

Uma Venkatram is a professionally

qualified Chartered Accountant

and a Member of the Chartered

Accountants Australia New

Zealand (CA ANZ).Reports and

analyses are among her passions.

Governor

Reserve Bank of New ZealAnd

Graeme

Wheeler

SPEAKING AT

sixth Annual

INDIAN NEWSLINK

Sir Anand Satyanand Lecture

at Pullman Hotel

Auckland

ON Monday, July 25, 2016

Qualityadviceisassured through

ateam of Licensed Immigration Adviser /Ex-Immigration Officer.

We provide tailor-made solutions to individual

migrant and their families seeking to study,work,

invest,dobusiness and livein

NewZealand permanently

09 272 4424 021 144 6641 saif@ianzl.co.nz

Mone Transfers • Money Exchange •Wire Transfers

www.relianzforex.com

Dial: 0508 41 11 11

Fast. Reliable. Friendly Service.

Level1-166 Harris Road,

East Tamaki, Auckland

www.immigrationadvicenz.com

Like us on "Facebook"

www.facebook.com/ImmigrationAdvice
---
AUGUST 1, 2016

02 HOMELINK

Promoting values adds to good governance

Sir Anand Satyanand

July 2016 seems to me to

be a very suitable time for

you, Graeme Wheeler, as

Governor of the Reserve

Bank to be the lecture deliverer.

The Bank sits, as those who

have followed contemporary

events will know, at the junction

between business and government

with three statutory roles,

first to manage monetary policy

to maintain price stability,

secondly to promote the maintenance

of a sound and efficient

financial system, and thirdly to

meet the currency needs of the

public.

Touching on the last item

for a moment, it is amazing

to think, as we recognise easily

and use regularly the wellknown

Kiwi banknotes, with Sir

Ed Hillary and Kate Shepherd

and Sir Apirana Ngata (and occasionally

at least for those of

us in Wellington, the 100 dollar

note with Lord Rutherford on

them), that they have been with

us since 1934 when the Reserve

Bank began operations.

Before then, any Bank

could and did issue their own

banknotes.

High Value System

Touching on the second item,

New Zealand can claim a sound

financial system that commands

high value and which is regulated

by the Reserve Bank. To start

up and operate a Bank or an

Sir Anand Satyanand

Insurance company, for example,

requires compliance with

strict oversight that is provided

by the Reserve Bank.

The third element of the

Reserve Bank's remit has been

much in public attention in recent

times – namely the management

of monetary policy

– interest rates, loan to value ratios

and so forth.

Clean Reputation

In the article I wrote for the

Indian Newslink earlier this

month, I made mention of our

country having developed,

over time, an internationally

respected reputation for accountability

and transparency

of institutions which has ensured,

for example, a prominent

and positive placement on

the Corruption Perception Index

of Transparency International,

which has been published since

1993.

I wrote, that for a relatively

small country, comprising

268,000 square kilometres

and housing 4.6 million people

with a small economy, and

a GDP generating $240 billion,

has required continued activity

by a number of players. An

Important contributor in that

regard is our Reserve Bank.

What our Lecturer, commentator

and others will all say, will

be both interesting and challenging,

I have little doubt.

The proper focus for this year's

Lecture is on another aspect related

to good governance in our

country. The values we consider

important in life are not any

birth right. They are grounded

in the values of those who have

preceded us, formed and shaped

through education and through

interactions with peers, colleagues

and role models.

A Section of the audience at the Lecture

I hope that my curtain raising

has made anticipation of

Graeme Wheeler's address

something that will remain

memorable.

In conclusion, adopting the

risk of repeating something

I said at last year's Lecture, I

am one who has long admired

Sir Anand Satyanand is former Governor

General of New Zealand (August 2006 to

August 2011) in whose name we conduct

the Indian Newslink Sir Anand Satyanand

Lecture every year. He is currently Chairman

of the Commonwealth Foundation, London.

The above is an edited version of his address

at the Sixth Annual Indian Newslink Sir Anand

Satyanand Lecture held on Monday, July 25,

2016 at Pullman Hotel Auckland. For full text,

the phrase of Robert Louis

Stevenson which is becoming a

byword for this occasion: "Every

heart that has beat strongly and

cheerfully has left a hopeful impulse

behind it in the world,

and bettered the tradition of

mankind."

please visit www.indiannewslink.co.nz

Reserve Bank of New Zealand Governor

Graeme Wheeler was the Guest Speaker with

Victoria University (Wellington) Professor

Sekhar Bandyopadhyay as Master of

Ceremonies and Business Journalist Rod Oram

as the Summation Speaker. Reports and pictures

on this formal, Black Tie event appears

elsewhere in this issue and in our next

(August 15, 2016) issue.

THE LOCAL

ELECTIONS

ARE ALMOST HERE!

Areyou enrolled

and ready to vote?

ENTRY LEVEL MODERN RETAIL INVESTMENT

D

D

D

D

D

1

2 MegaPixels

1600x1200

Excellent high profile location close proxmity to Clendon Town Centre

Recently built retail complex with generous car parking and easy access

Neighbouring tenancies include - Bakery, Laundromat and Town & Country

fried chicken

Established Dairy (with Lotto) as tenant

Returning $41,600pa + GST on a 6 year lease term

Clendon

Auction (unless sold prior)

2pm, Wed 24 Aug 2016

4 Viaduct Harbour Ave, Akld

www.bayleys.co.nz/1900900

Tony Chaudhary

M 021 995 121

BAYLEYS REAL ESTATE LTD, MANUKAU,

LICENSED UNDER THE REA ACT 2008

ENROL OR UPDATE

YOUR DETAILS BY

12 AUG

TO MAKE VOTING EASY

1

2 MegaPixels

1600x1200

TO GET AN ENROLMENT FORM:

Visit elections.org.nz Freephone 0800 36 76 56

Go intoany PostShop Freetextyour nameand address to 3676

AFFORDABLE & MODERN RETAIL INVESTMENT - BRAND

NEW 4 YEAR LEASE

D

D

D

D

D

Excellent high profile location in close proximity to Clendon Town Centre

Recently built retail complex with generous car parking and easy access

In the thriving commercial precinct of Clendon & Wiri

Established Liquor Shop as tenant

Returning $41,740pa + GST on a 4 year lease term

Clendon

Auction (unless sold prior)

2pm, Wed 24 Aug 2016

4 Viaduct Harbour Ave, Akld

www.bayleys.co.nz/1900901

Tony Chaudhary

M 021 995 121

BAYLEYS REAL ESTATE LTD, MANUKAU, LICENSED UNDER THE

REA ACT 2008
---
AUGUST 1, 2016

HOMELINK

03

Strategic policies ensure economic growth

Uma Venkatram

The Sixth Annual Indian Newslink

Sir Anand Satyanand Lecture held

at The Pullman Hotel Auckland on

Monday, July 25, 2016 was attended by

dignitaries, businesspersons, politicians,

economists, bankers, lawyers, accountants,

media personnel and people from

other walks of life in New Zealand.

The programme started with cocktails

and networking followed by a threecourse

Black Tie Dinner.

The highlight of the event was the

Lecture which touched upon the governance

and regulatory practices in the finance

and banking industry and the role

played and measures taken by the country's

Central Bank to steer and control the

economy in the right direction.

Regulatory framework

The main speaker of the evening was

Graeme Wheeler, Governor of Reserve

Bank of New Zealand (RBNZ) who outlined

the regulatory framework and policy

oversight of the Bank's operations.

He then elaborated on the principles of

sound governance which underpin the

regulatory reforms the Bank implements

from time to time.

Earlier, Jacob Mannothra, Managing

Director of Indian Newslink welcomed the

guests and spoke about the growing significance

of the Annual Lecture Series in the

country's business calendar and the relevance

of this year's Topic, which he hoped

will cover the challenges faced by the New

Zealand economy in the global context.

In his speech, former Governor General

Sir Anand Satyanand, on whose name the

prestigious lecture series has been institutionalised,

traced the growth of the annual

event over the years and how important

it is for the Reserve Bank to play a pivotal

role in keeping the financial system safe in

a changing world.

Some Reflections

Rounding up the event was Rod Oram,

Business Journalist. He reflected upon the

alternate tenets of policing and strategic

policy formulation – the dual adaptation

and inventive roles exercised by RBNZ.

He likened the Reserve Bank to the

sheep dog in the farming sector and how

the bank continues to perform its job,

non-deterred by unsought criticisms and

media remarks. He also spoke about the

unique characteristics of the Auckland

quandary posed by immigration and

housing supply constraints.

With Maori, Pacific and Pakeha roots,

the situation is now compounded with its

complexity of ethnic diversity, absence of

competition, scarce intellectual ideas and

a lack of viable resources to challenge ourselves

and arrive at effective and sound

solutions to tackle the various problems

facing the regional economy, he said.

Professor Sekhar Bandyopadhyay of

Victoria University, Wellington was the

Master of Ceremonies.

BNZ was the Title Sponsor of this

Lecture with Barfoot & Thompson,

Relianz Travel and Radio Tarana as other

sponsors.

Uma Venkatram is a professionally

qualified Chartered Accountant and

a Member of the Chartered Accountants

Australia New Zealand (CA ANZ).

Reports and analyses are among her

passions.

Bhav & Ruby Dhillon and Sameer Handa Professor Sekhar Bandyopadhyay

● First home

● Investment property

● Residential or Commercial

● Building /Extending /Renovating

● Re-finance /Restructure

Responsible business with

lasting relationship in community

Rakesh Bansal

● Buying an Apartment

● Low deposit

● Self employed

● Business Loan

● Property Development

For all your home loan and insurance needs

talk to us...

ex Bank Manager with over 30 years experience

Contact usfor FREE consultation

Toll Free: 0508 33 22 11 M: 021 030 8135 /099033 602

116b, Cavendish Drive, Manukau City

E: info@kiwimortgages.net.nz |w:www.kiwimortgages.net.nz

We specialise in residential

investment property accounting.

No,thats the only thing we do!

Talk to us if youown arental property

in NewZealand.

We can prepareand file your property tax return at

afraction of the cost of traditional accountants.

sometimes even60% cheaperthan

your current accountant

talk to us!

0800 100 731

www.taxonline.co.nz

tax online

RENTAL PROPERTY TAXRETURNS

ACCOUNTANTS &

BUSINESS ADVISERS

•Income Tax Returns

•GST,PAYE &FBT

•Rental Property Returns

•Company Formation

•Tax Refunds

•Insolvency

talk to us!

MENON &

ASSOCIATES (2011)LTD

ACCOUNTANTS AND BUSINESSADVISERS

844 Dominion Road,MtEden |096272600

Free

Business

Advice

Call us foraSpecial Pricing forthe UBER and other taxi drivers

www.menon.co.nz

info@menon.co.nz
---
AUGUST 1, 2016

04 HOMELINK-auckland mayoralty

Doing nothing will cost more and that's not Auckland

Auckland is growing because

this is a great

city to live.

In fact, over 50% of

New Zealand's total growth is

happening here.

What that means is an extra

800 people a week or more than

40, 000 people a year are coming

to Auckland.

With growth at this level but

without the extra infrastructure

needed to meet the demands of

growth, we risk undermining

some of the basic things about

Auckland that make us want to

live here.

Rapid growth has, for example,

far exceeded the ability of

our transport system to cope.

Our roads and motorways become

daily more congested and

the economic costs and frustration

over grid-locked roads are

soaring.

You do not have to be a rocket

scientist to know that if new car

numbers coming into the city

are rising by 800 a week, things

are just going to get worse.

Housing problems

Likewise, with housing. Each

year, on current population

growth we need 13,000 extra

homes. Last year, we consented

9000 new homes but managed

to build only 6500. That shortfall

is the main explanation for

house prices going up by $3000

a week, rents soaring and more

and more people unable to find

a home at all.

One solution is to ease back

on the rate of growth until

we have the infrastructure in

place that we need to cope with

it. The government, however,

has refused to intervene to

slow record levels of net migration

growth despite the Reserve

Bank of New Zealand and others

pointing out that in the

short term, it is important to

do so.

Transferring growth

We could also try to divert

more of the growth in New

Zealand's population to other

areas. However, I cannot think

Actions, not statistics ensure community safety

Mark Thomas

Phil Goff

Almost 50% of Asian

and Indian families in

Auckland do not feel

safe walking alone in

their neighbourhoods at night.

This was the worrying finding

of the latest Families Report

produced by the Social Policy

Evaluation and Research Unit.

Yet, Mayor Len Brown's

'Auckland Plan' has the goal

of improving community safety

and the feeling of being safe.

The Plan has a target to reduce

the rate of total criminal offences

per 10,000 population from 939

in 2010 to 800 in 2040.

Interestingly, this 30-year target

was actually achieved by 2014

and it improved again by 2015 –

despite half of Auckland Asian/

Indian families feeling unsafe.

Wrong measures

This shows that the current

Auckland Plan is not measuring

the right things and that is

something I will change if you

elect me as Mayor of Auckland

this October.

Interestingly, despite this

progress in reduced criminal offending

– my mayoral opponent

Labour MP Phil Goff regularly

criticises the government and

the Police for what he thinks is

a lack of their commitment to

fighting crime.

I was disappointed to read his

recent criticism of the Police. I

think the New Zealand Police do

a very difficult job well. Like all

large organisations, there are

always times when things do

not go as they should but just

criticising is not effective.

We need to work more effectively

together and that has been my

approach as an elected member

of Auckland Council.

Town Centres speak

Also, I am not campaigning to be

of any example of regional development

that is successful in

doing this. Job growth, particularly

for skilled work, is happening

here in Auckland.

There is not much use sending

people to areas where there are

no jobs for them.

What we really need therefore

is to find the resources to

provide the infrastructure the

Infrastructure

bonds provide

a long term,

low interest

and a secure

investment

city needs and to get on with the

job of building it.

Auckland has limited access

to those resources. Rate increases

can't do it. A one per cent increase

in rates provides only

$14 million and just one new infrastructure

project, the City

Rail Link, is estimated to cost

Minister of Police, I want to be

Mayor of Auckland.

So I recently held a meeting on

crime and security with town

centre managers from south

Auckland to discuss what they

need the next Mayor to fix.

Town centres are an important

part of the Auckland's

neighbourhoods.

We have 50 of them across

Auckland that fund themselves

via an Auckland Council targeted

rate policy – but there are many

other informal associations.

In my current Auckland

Council role as a local board

Deputy Chair, I have served on

the board of my local central

Auckland business association

and worked closely with several

others over the last six years.

Town centres, often working

closely with residents; associations

or neighbourhood groups,

can play a vital role in improving

community safety.

There are a range of tools

over $2.5 billion!

Further, Auckland has practically

borrowed to the limits

imposed by rating agencies

and government. Even though

borrowing is justified to pay

for long term capital assets,

Auckland doesn't have the

means to keep borrowing. What

it comes down to then, is the

willingness of central government

to provide the capital and

Auckland to raise funds to service

the debt.

Infrastructure bonds

Infrastructure bonds provide

a long term, low interest and a

secure investment.

They are used by many countries.

They seem to be the best

way to invest in critical infrastructure.

Central government

can raise capital more cheaply

than anyone else. Its proposed

Infrastructure Fund of $1 billion

to be on-lent to high growth

cities at no interest is a good

idea. However, even if all of that

went to Auckland it would meet

only one twentieth of what we

need in just the next 10 years

alone.

As Mayor, I will be pushing

for this fund to be increased to a

realistic level.

Auckland is having to pay

for needs generated by having

more than half of the country's

growth. The government gains

from that growth more GST and

more income tax. As Auckland

is meeting the costs generated

by growth, it needs to get its

fair share of the income growth

generated back from central

government. Aucklanders will

need to pay our share as well.

Some form of user pays road tax

is probably the best way to do

that.

What I know is that doing

nothing is the worst of all

options.

Road congestion alone is costing

us up to $3 billion a year

in lost productivity and other

costs, and we get nothing back

from that. It is wasted money.

If we do nothing, we undermine

the very things that make

this city a good place to live. We

need bold solutions, and cooperation

between central and local

government and the private sector

to deliver them.

Phil Goff is a candidate for

Auckland Mayoralty.

available which council can support

– but what was clear from

my meeting is that the Council

is not making it easy enough for

town centres to always access

the support they need.

These tools include such things

as CCTV monitoring systems and

volunteer community patrols as

well as targeted street lighting

and alarm systems. Crime prevention

through environmental

design or CPTED is another key

approach council uses when assessing

how to improve safety

in a location, or when planning

new public works.

Neighbourhood Watch

A number of local boards

also work closely with

Neighbourhood Watch and

my board regularly holds

these briefing and information

sessions.

I have also attended meetings

of the City Centre Taskforce

on Alcohol and Safety which

Councillor George Wood convenes.

This combines police,

local board and councillors, residents,

business association reps

and other key local stakeholders

to keep an eye on trouble spots

and coordinate new activity. This

Taskforce approach can be valuable

and I will establish this in

other areas in Auckland.

The town centre managers do

not always feel well supported

by council and that is something

I can change.

Rather than criticise the government

for what it is doing, I

know from my experience and

what those at the coal face tell

me that there is more the next

Mayor of Auckland can do to

help people feel safer.

Providing greater access to

some of these tangible tools will

be at the heart of my approach.

Mark Thomas is a candidate

for the Auckland Mayoralty.
---
AUGUST 1, 2016

HOMELINK-auckland mayoralty

05

The problem in Auckland is its Council

Vic Crone

Many people tell

me that they are

sick of Auckland

Council's 'can't

do' attitude.

Whether putting in a sliding

door, holding a sausage

sizzle, setting up tables outside

a cafe, or building a new

home - everything gets far

more difficult and expensive

once Council is involved.

The balance between

Council's job on the one

hand to regulate, and on

the other to enable, is out of

whack.

Overboard!

There is a fine balance

between the two and unfortunately

we are going

overboard with regulation.

We have definitely got a

problem when Council dictates

the colour that people

need to paint their walls or

what locks they should use.

The Super City was supposed

to provide a more efficient

and more connected

way of managing Auckland.

Sadly, these excessive processes

and lack of communication

are stifling progress, stopping

us moving forward as a city.

Take the recently publicised

stories of Coco's

Cantina and Dominos for example.

They faced a lack of

coordination between departments,

bad communication,

slow response rates

and expensive charges. Both

businesses have lost huge

amounts of time, energy and

money being given the runaround

by Council. Where

these businesses persevered,

many give up.

Shake Up!

An incredible shakeup

is required to reorient

the Council, so that it puts

Aucklanders at the heart of

decision-making.

That's why I resigned my

job as Managing Director

of Xero to campaign to be

Auckland's Mayor. In my experience,

it is clear that a lot

can be done to cut Council's

bureaucracy and streamline

the way it deals with people.

Throughout my career,

I have built a strong reputation

as a change agent,

not just in business but also

through my work with central

and local governments.

This includes big culture

change programmes to make

organisations more efficient

and responsive to the needs

of their users.

I would like to lead a

Council that is truly connected

to the communities

it is meant to serve. For me,

that means it not only understands

the needs and

pressures Aucklanders face

every day, but it responds in

an agile and timely manner.

Clean Up!

As Mayor, I would like

to set a clear direction for

CCOs to work together in

a seamless way. This will

be supported by strong accountability.

There is a lot

we can do to clean up the

consenting process and I will

take a magnifying glass to it

to find the big holdups and

get progress.

I would like to get more

services and interactions online

faster so it is easier to

deal with Council.

Finally, I think it is time

we had a proper go at giving

staff on the frontline more

power to use their common

sense and make timely dayto-day

decisions.

These are only a few examples

of what we can do to

help get Auckland Council

back on track and working

for Aucklanders.

It would not be easy but

change certainly starts at

the top with strong, experienced

and determined leadership.

Let's get this show on

the road.

Vic Crone is a candidate

for Auckland Mayorality

270 day

Term Deposit

GIVE YOUR INVESTMENT

AHIGHER GROWTHRATE

Take advantage of our great270 dayTermDeposit rate and watch your investmentgrow. Plus,we'll donate $10to

the Cancer Societyfor everyeligible ANZ Term Deposit opened before31August.Minimum investment$10,000.

0800 269 296

visit anybranch

anz.co.nz/termdeposit

ANZ3034_IN

Interest rates aresubject to change.Interest canbepaidmonthly,quarterly,six monthly, annually or at maturity.

Minimum investment$10,000. Termsand conditions apply. Acopyofour ReserveBank DisclosureStatement andGeneral

Termsand Conditions areavailable at anz.co.nz or anyANZ branch. ANZwilldonate up to $40,000tothe Cancer Society.

ANZ Bank NewZealandLimited.
---
AUGUST 1, 2016

06 HOMELINK

Labour renews its electoral fight in South Auckland

Staff Reporter

info@indiannewslink.co.nz

A

former lawmaker

is recalling

his co-commandants

and troops

to renew the electoral battle

for membership to the

Otara-Papatoetoe Local

Board.

Dr Ashraf Choudhary,

New Zealand first

South Asian Member of

Parliament and his three

mates – former Veteran

Parliamentarian (and

Assistant Speaker of the

House) Ross Robertson,

We arehappytohelp youimport

products,machines or anyother

items from China to meet your

requirements -Partorbulk orders

Nowwecan provide youwith

solar energy at most affordable

cost (NZ$ 2per watt)

We makecompletekitchen

cabinet,wardrobe, vanityofwide

range and provide installation

and colourful panel sheets.

Quartz stone bench top

2440x620x30 mm

$200 +GST-one slab

Provide cutting service.

Call us forother sizes.

Youare most welcome to visit or call us foryourrequirements.

Kitchen &Lighting NZ Ltd

09 5276088 |

Dawn Trenberth and

Ivoni Fuimaono – will represent

Labour Party contesting

for the Papatoetoe

Local Board Ward in the

upcoming local body

elections.

Three Labour candidates

are in the filed for

the Otara Ward. They are

Lotu Fuli, Mary Gush and

Reece Autogavaia.

Diverse Team

Dr Choudhary said that

Labour has two wellknown

candidates, Efeso

Collins and Alf Filipaina

standing for the two

Dr Ashraf Choudhary

Councillor positions in

the Manukau Ward.

"Our diverse team

email:kitchenlighting@yahoo.co.nz

www.kitchenlighting.co.nz

We areactivelylooking foragents, representatives &distributors in other cities

NZ's #1 Business Brokerage2010-2014

REINZ AWARDS FOREXCELLENCE

BUYING ABUSINESS?

SELLING ABUSINESS?

Ihave had considerable experience, both in NZ and overseas,

includingover22years in business,sales andmarketing.Ihave

owned and successfully run anumber of businesses including

service stations, Lottoand superettes, dairies,liquor stores and

am also veryfamiliar with thehospitality sector. With thebacking

of NZ's premier business brokerage Ican offer the degree of

professionalservice that effectivelybringsbusiness buyersand

sellerstogether to conclude successfuloutcomes.

AwArdS &AchIEvEmENtS

• ABC Lister of the Year 2015

• ABC Runners Up Salespersonofthe Year 2014

• RisingStarofthe Year (National Award) 2013

Call me todayfor afreeappraisal andaconfidential discussion.

AFFILIATED BUSINESS CONSULTANTS LTD LIC REAA 2008

has some great ideas

and we are focused on

working together for the

benefit of all in the Otara-

Papatoetoe community,"

he said.

"The Papatoetoe community

is very diverse,

and our team reflects that,

with each of us bringing

different experiences,

abilities and perspectives.

We are fortunate to have

an experienced team and

I believe that as a team

we are best placed to represent

a wide range of

community interests," he

said.

Dr Choudhary said that

working towards better

services for families,

the elderly, disabled, and

young people, strengthening

community safety, and

the retention and sound

financial management of

our community assets, are

among the policies promoted

by the Labour candidates

in the ensuing

election.

"I encourage all those

eligible to vote to urgently

enrol, if not already done

so, for voting in the forthcoming

local body elections

starting middle of

September to October 8,

2016. Those on electoral

role will receive their ballot

papers at their registered

addresses for postal

voting," he said.

At press time on July 31,

Dr Chaudhry and his colleagues

were launching

their election campaign.

Shaun Khanna

m. 0297 709 767

e. shaunk@abcbusiness.co.nz

www.abcbusiness.co.nz 09 2157491

ignitingminds

Hei WhakahihikoHinengaro
---
AUGUST 1, 2016

Half-hearted measures

destruct the Kiwi dream

HOMELINK

07

David Shearer

Last weekend, hundreds of young

Kiwis, couples and families,

queued at Open Homes around

New Zealand, hoping to buy a

house.

Some of them would have been saving

for a decade or more – but rising house

prices have them going backwards.

It is a scenario that is being played out

every week – young couples up against a

dog-eat-dog property market where, unless

you are already on the ladder, or

have generous parents with very deep

pockets, the home ownership dream will

continue to be just that – a dream.

Government fails

And still the National Government

would not admit that there is a housing

crisis.

The government has failed to rein in

soaring prices, failed to stop speculators

buying and selling homes for massive

profits, failed to provide temporary accommodation

for increasing numbers of

Kiwis locked out of even the rental market,

and failed to provide anywhere near

affordable homes for a new generation of

first-home buyers.

Remember (Prime Minister) John Key's

solution for young families struggling to

get onto the property market? He said to

look on 'Trade Me.'

Remember (Social Development

Minister) Paula Bennett's solution to moving

people out of cars and into temporary

homes – she called them 'Flying Squads.'

Affordable Housing

Labour, on the other hand, has a comprehensive

plan to tackle the problem

by setting up an Affordable Housing

Authority.

Its mandate will be to work with the

sector to build more affordable homes

and undertake major green-fields and revitalisation

programmes, as well as cracking

down on speculators.

We will also end National's state house

sell-off and stop using Housing NZ as a

cash cow, instead refocusing it on what

it does best – housing people who need

homes.

The $118 million dividend the

Government has demanded of Housing

New Zealand will be reinvested into

building more homes and updating existing

ones.

People camping out in cars or in

friends' and relatives' garages will be

helped into temporary accommodation

through extra funding to emergency

housing providers.

Ineffective plans

The government does not have a comprehensive

plan – it is just a collection

of grudging half-measures that it hopes

might make a difference, but which have

failed to make an impact.

Their flagship supply initiative,

Auckland's special housing areas, have

delivered only 1000 homes in three years,

when 13,000 are needed.

Labour's 'KiwiBuild Policy' will see

100,000 high quality affordable homes

built over 10 years. Standalone houses in

Auckland will cost $500,000 to $600,000,

with apartments and townhouses under

$500,000.

They will range from $300,000 to

$500,000 outside of Auckland.

Latest figures from Statistics NZ show

the Government's been missing in action

on housing. In the past year, the number

of new families who own their own home

grew by just 5700 while the number

of renters increased by twice as much:

13,500 households.

Head in the sand

That, along with the daily stories of people

not being able to afford to rent, of

young couples – and their parents and

grandparents – resigned to kissing the

Kiwi dream of owning a home goodbye,

of speculators making tens of thousands

a month by buying and flipping property,

paint a damning picture.

National is still trying to insist there is

no housing crisis.

We are saying that there is and we have

got some bold ideas to address it.

David Shearer is an elected Member of

Parliament from Mt Albert in Auckland

and Labour Party's spokesman

for Foreign Affairs.

Law firm gets Rainbow tick

Supplied Content

Following a six-month audit process,

New Zealand's premier commercial

law firm, Russell McVeagh,

has been awarded Rainbow Tick

Certification.

The Rainbow Tick Programme is a continual

quality improvement programme

designed to help an organisation ensure

it is a safe and welcoming workplace for

employees of diverse gender identity and

sexual orientation and demonstrates a

business is an inclusive organisation for

people who are lesbian, gay, bisexual,

transgender, Takatapui and intersex.

Great Message

Russell McVeagh CEO Gary McDiarmid

said, "It sends a great message to our staff

and our clients that we embrace diversity.

We place great importance on diversity

and inclusiveness in our workplace

although by going through this process, it

has become clear that we still have a way

to go on our journey.

"We are committed to building upon

this achievement and continuing to work

on making our environment a welcoming

place for all of our employees to feel comfortable

enough bringing their authentic

selves to work," he said.

Becoming certified involved an audit

of relevant documents and the use

of two focus groups which were carried

out in the first part of 2016 and then

assessed against current international

best practice in this field. The focus

groups included one with a self-selected

group of Rainbow employees and the

other with a group of staff from the general

population and from a range of departments,

with staff from both Auckland

and Wellington offices taking part in this

process.

The firm's HR director Lesley Elvidge

said that creating a workplace where people

feel free to bring their whole selves is

a key factor in being able to attract and

retain the best talent at the firm.

"While the areas of gender balance

and ethnicity have been the focus of our

Diversity Project to date, it was important

to us to extend ours to include LGBTTI diversity.

We have learnt so much through

the process of becoming certified and are

grateful for the support and guidance of

The Rainbow Tick organisation. We are

looking forward to continuing to develop

our relationship with the LGBTTI community,"

she said.

AUCKLAND IS

ON THE MOVE!

Land That Job Now!

WHY WAIT?

BEST GRADUATES

GET JOBS

Free job placement service for all students

Flexible online learning in all Industry Programmes:

BUSINESS & TECHNOLOGY

FREIGHT & LOGISTICS

TOURISM & TRAVEL

RETAIL & BUSINESS

"I loved the e-Learning

experience and industry

relevant courses at BEST"

Leshmi Devi

BEST GRADUATE

CERTIFICATE IN TRAVEL AND TOURISM LEVEL 3

GET A COMPETITIVE EMPLOYMENT

ADVANTAGE AT BEST

ENROLLING NOW

Call 0800 425 624 or Visit

www.bestpacific.ac.nz

Follow us and LIKE us on facebook

@ BEST Pacific Institute of Education
---
08

AUGUST 1, 2016

Donna Nicolof

Over the past few years, investors

have enjoyed a period

of historically low

volatility in financial markets,

coupled with strong investment

returns.

That said, over the past year,

there have been a number of

events that have caused increased

BUSINESSLINK

KiwiSaver must focus on long-term benefits

JennySALESA

MP forManukau East

market uncertainty, heightened

volatility and falling share prices.

During these periods, many New

Zealanders have nervously monitored

the value of their investment

portfolio or KiwiSaver fund.

While it may be unsettling to

know that the value of your investments

is falling, it is important to

remember that short-term market

volatility has always been a normal

part of investment.

Slowdown fears

Since the start of 2016, on separate

occasions, financial markets

Electorate Office

7FultonCres, Otara

09 274 9231 or 278 9972

jenny. .salesa@parliament.govt.nz

Papatoetoe

YouthLine Building,

145 St

George Street,Papatoetoe

Friday

mornings 9.30am to 12pm

Otahuhu

Otahuhu Town Hall,

10-12 high street,Otahuhu

Monday morning 9am to 12pm

Authorised by JennySalesa

Parliament Buildings,Wellington

space

have been spooked by fears of a

slowdown in the Chinese economy,

uncertainty about the future

path of US interest rates, plunging

oil prices, terrorist attacks, and, of

course, the unexpected decision

of UK voters to exit the European

Union (known as Brexit).

Financial market participants

tend to react negatively to such

events, moving money from

higher risk investments, such as

shares, to safer investments, such

as government bonds.

While these events have been

designers ltd

architectural designer.

64 edgewater drive, pakuranga, auckland 2010.

Contact: 09 5772171 /021 687162

Email: info@sdlimited.co.nz

Website: www.spacedesignersltd.co.nz

our strengths

member of ADNZ -recognised professional body

well equipped &established with good reputation

overall personal service

technical competency &professional experience.

uncomfortable in the short-term,

investors who maintain their investment

strategy tend to be rewarded

as the markets recover,

while those who change their investment

approach tend to lock in

the losses.

We believe that the recent periods

of volatility in markets do

not have the hallmarks of another

Global Financial Crisis (GFC). For

instance, the global banking system

is in a much stronger position

now than it was before the GFC,

with many having built up large

reserves to help them ride out periods

of volatility like this.

Increasing volatility

What these periods of increased

volatility means for investors and

KiwiSaver members is that, from

time to time, they may expect to

see sharp changes in the value of

their investments.

KiwiSaver funds that invest

mainly in 'higher-risk' growth investments,

such as shares, will

be more susceptible to uncertain

events than those that invest

mainly in 'lower-risk' income assets,

such as bonds and cash.

KiwiSaver funds are well-diversified

and are professionally managed

by investment managers

who have been selected following

a thorough due diligence process.

We offer a range of funds that

allows investors to select their level

of risk.

Each of these funds invests

across a range of different asset

classes.

Focused approach

The message I like to stress during

periods of market volatility

and significant falls is to stay focused

on the long-term benefits of

KiwiSaver and your long term savings

plan. Take a deep breath, do

not panic and keep your eyes on

the horizon.

Yes, there has been increased

volatility and uncertainty in many

markets globally, but it's important

to remember that markets typically

go through these short-term

cycles and it is critical that we

don't overreact during the down

periods.

This article is solely for information

purposes and is not personalised

financial advice. We

recommend that you seek advice

specific to your circumstances from

a financial adviser before making

any financial decision. None of BNZ

Investment Services Limited, Bank

of New Zealand or any other person

accept any liability for any loss or

damage arising out of the use of, or

reliance on, any information in the

above article.

BNZ is the Title Sponsor and

Sponsor of the 'Supreme

Business of the Year' and 'Best

Large Business' Categories of the

Ninth Annual Indian Newslink

Indian Business Awards 2016.

Fiji's Russian arms deal a wake-up call

Supplied Content

New Zealand and

Australian defence

forces need to rebuild

ties with Fiji in the

wake of a Russian arms deal

with Fiji that highlights a shift in

traditional security dynamics in

the region, according to a new

Report.

Titled 'Principled Engagement:

Rebuilding Defence Ties with

Fiji,' it is co-authored by Massey

University's Dr Anna Powles and

Senior Strategic and Security

Analyst Jose Sousa-Santos, from

STRATCON.

Security Orthodoxy

The recently published report

for Australia's Lowy Institute for

International Policy argues that

"Russia's sale of arms to Fiji underlines

how the security orthodoxy

in the Pacific Islands

region is changing. Unless

Australia and New Zealand

adapt to these changing strategic

circumstances they will lose

influence in the region to external

players."

Dr Powles, an expert on international

relations based at the

Massey University Centre for

Defence and Security Studies

based in Wellington, said that

the Report is in part a response

to Russia's announcement in

January this year that it would

be sending military equipment

and supplies to Fiji to support

Fiji's peacekeeping operations

on the Golan Heights, bordering

Syria and Israel.

The arms deal, the authors

said, is a result of Fiji seeking

new strategic partners in the aftermath

of New Zealand and

Australian-led sanctions imposed

after the 2006 military

coup in Fiji.

Beyond soft approach

While relations between the

three Pacific nations have been

normalised since 2014, New

Zealand and Australian governments

need to raise engagement

with Fiji beyond a primarily

"soft approach" through disaster

relief assistance – although this

is important too – the Report

said.

Dr Powles and Mr Sousa-

Santos recommend the creation

of a regional peacekeeping centre

of excellence jointly developed

by New Zealand, Australia

and Fiji, and a Pacific disaster

response and coordination unit

to formalise collaborative ties.

Humanitarian assistance

Humanitarian aid to Fiji

and other Pacific Island nations

in the aftermath of the severe

tropical cyclone Winston

in February this year – the

strongest ever recorded in the

southern hemisphere – was an

opportunity to re-engage with

Fiji.

"It was also a timely reminder

that geography and proximity

do matter. Russia's modest

assistance in this instance was

overshadowed by the massive

support provided by Australia

and New Zealand," the authors

said.

In its background to the developments

with the arms deal

Disaster relief to Fiji after severe tropical cycle Winston this year reinforced ties between Fiji, New Zealand and Australia.

with Russia, the Report said

Fiji's foreign policy underwent a

major change when it was suspended

from the Pacific Islands

Forum and the Commonwealth

in 2009.

Strategy review

These have since been lifted

as a result of its 2014 elections,

viewed as a 'first step on the

road back to democracy.'

However, Fiji has sought a

new set of strategic partners

and alliances – including BRICS

(Brazil, Russia, Indonesia, China

and South Africa) – in redefining

its place and role in the Pacific.

It is the context of this shift

in Fijian foreign policy that

Russia's donation of AK-47 assault

rifles, rocket-propelled

grenades, and trucks worth

an estimated US$ 12.5 million

needs to be viewed, Dr Powles

and Mr Sousa-Santos said.

"Fiji's enhanced ties with

Russia reflect a military culture

and leadership born out of Fiji's

period of isolation under sanctions.

The same can also be said

of Fiji's military cooperation

with China and, to a lesser degree,

India and Malaysia. What

is less clear is what has driven

the deal from the Russian side."

Strategic Competition

However, strategic competition

among superpowers (China,

Russia, the United States) is not

new to the Pacific, the authors

said.

But in order to adapt to geopolitical

changes in the Pacific,

New Zealand and Australia need

to "understand that there is a

new confidence in the Pacific region

and a stronger determination

by the people of the region

to determine their own futures,"

they said
---
AUGUST 1, 2016

BUSINESSLINK

09

THE GLOBAL EXPERTS

THINK WE'RE THE

LOCAL EXPERTS.

BNZ PrivateBank is proud to have been named Best PrivateBank in New Zealand at the PWM/

The Banker Global PrivateBanking Awards 2015.Judged by apanel of global industry experts,

these awardsrecognise and reward excellenceinwealth management, the world over.

Creating wealth is onething; sustainingitisanother.

This win marksour thirdinternational accolade in as many yearsand demonstrates our

continued commitment to helping our clientstogrow, manage and protect their wealth.

To find out about our award-winning service, call us or visit us online.

Find outmore 0800477 077 bnzprivatebank.co.nz

BNZS 6726

6726 Private Bank Ad Indian Newslink 1.0.indd 1 25/02/16 3:05 PM
---
10

AUGUST 1, 2016

Real Estate & Mortgage finance

Quarterly Auckland

rental update

Rents continue to increase by

approximately 5% year-on-year

with the average weekly rent for a

3-bedroom Auckland home now $514

Suburb pricing trends continue

but Mt Albert, Parnell and

Sandringham break the mold with

11+% year-on-year increases

Reminder for winter

maintenance and comfort

measures ahead of prespring

upswing

Higher Auckland house

prices are not flowing

through directly into

the rental market, with

the city's average weekly rents

continuing to follow a more

tempered trend of year-on-year

increases of around 5%.

The average weekly rent

for a three bedroom home in

Auckland during the April to

June quarter was $514, up less

than 1% on last quarter and 4.8%

on the same quarter in 2015.

"Three bedroom rentals make

up around 40% of our managed

properties, making them a good

measure of the market," says

Barfoot & Thompson Director

Kiri Barfoot. "Other property

categories generally follow the

same trend, albeit at lower or

higher price points depending

on the number of bedrooms."

One bedroom properties averaged

$335 per week (up 5% from

$319 in the April to June quarter

2015), and two bedrooms $428

(up 6.2% from $403), while 4

bedroom homes brought in $648

(up 4.2% from $622) and 5+ bedroom

homes averaged $801 (up

4.8% from $764).

Suburb trends

Pricing trends continued

across the suburbs as well, with

the Central Auckland apartment

market remaining the most expensive

for smaller properties of

one, two or three bedrooms, and

the Eastern suburbs maintaining

position as the most expensive

for four or more bedrooms.

"Outside the city apartment

market, it continued to be a story

of two halves for Auckland's

North and South this quarter

too," says Ms Barfoot.

South Auckland rental properties

saw the greatest percentage

increase year-on-year for

the quarter of 6.8%, while North

Shore rental prices experienced

the least percentage increase

(not including Central

Auckland), only rising 3.7 %."

Rental hot spots

Looking more closely at rental

data from the first two quarters

of this year compared to the last

two quarters of 2015 (January to

June 2016 and July to December

2015), three suburbs broke the

mold with three bedroom rental

averages increasing 11% or

more. These were Mt Albert

up 14.7%, Parnell up 11.7% and

Sandringham up 11.6%.

"These areas are centrally located

but still offer the benefits

of suburban living, making

them popular choices.

"These areas are fast becoming

popular as the 'new central

suburbs', the next Ponsonby

and Grey Lynns if you will, and

our data suggests continued future

growth particularly for Mt

Albert and Sandringham."

Winter maintenance and comforts

Ms Barfoot says the company

anticipates a pre-spring upswing

in rental activity during

the coming quarter, when they

typically see a slight increase in

new letting.

"While not as pronounced as

summer spikes, we often find a

number of tenants are eager to

move on from properties during

the cold winter months and as

we head into spring.

"It's therefore a good time to

remind landlords to keep on top

of winter maintenance and look

at ways to make their homes

more comfortable with affordable

heating, insulation and so

on.

"In addition to meeting some

new legislation requirements

early, these are the sorts of

things that help keep tenants

in a property longer, or make a

home more attractive for those

looking to rent in the coming

months."

Get $300 of TLC for your rental

property

Sign up for 12 months of expert

property management with

us by 31 August and your rental

property will enjoy $300 worth

of maintenance. Find out more

at www.barfoot.co.nz/TLC

Our Stunning New Home Range

is Available to Purchase Now

Whether you are looking at:

First home

Investment

Commercial Loan

Renovating

Office

3Natasha Lane, Western Heights

Henderson, Auckland 0612

Upsizing

Growing your Business

Refinancing

Personal Loan

GrowFast Partners can help you find the right loan for you!

Sunil Kaushal, RFA

Director,GrowFast Partners Limited

Postal address

P.O. Box 21 309

Henderson, Auckland 0650

Ph: (09) 390 4189 |Cell: 021 280 4189

Email: sunil@growfast.co.nz |web: www.growfast.co.nz

Acopy of my Disclosure Document is available upon request and free of charge.

Are you thinking about buying a new home, but, are struggling

to find something that meets your needs, at a price you can afford?

Did you know, it can be cheaper to build a new home than it is to buy an

existing home? Or, have you bought some land already, but, are struggling to

find a builder who gives you the confidence that they will do the job right? The

biggest advantage of building a new home is that you get exactly what you

want, at an affordable price! We have built lots of homes in Auckland for the

Indian community since 2011 and have helped many Indian families to build

their dream home.

We can offer a wide range of home designs from 60m2 to 386m2,

that, we guarantee will meet your needs.

Call now for

an obligation

free first

consultation

Our prices start from just $115,000 inc GST for a 60m2 home.

We understand what a huge investment buying or building a new house is for

anyone. All our homes come with the following guarantees to give you peace of

mind for many years to come.

• A 10 year Builders Guarantee

• A 15 Year Weather Tight Guarantee

• A 50 year Structural Guarantee

Call Vijay on 022 690 6186

Silver Fern Homes

"We give you peace of mind, when you build with us"
---
AUGUST 1, 2016

Real Estate & Mortgage finance

11

MELBOURNE

WORLD'S MOST

LIVEABLE CITY
---
AUGUST 1, 2016

12 VIEWLINK

Demand remains incessant to spiralling prices

The English Fortnightly (Since November 1999)

Issue 351 | August 1, 2016

Vulnerability of migrant

workers hits new low

Labour Party Policy Council Member Priyanca

Radhakrishnan has a point.

An increasing number of migrant workers subsist under

despicable working and living conditions, which is

no less or more than slavery.

Short of being physically beaten, their life, if reports are to

be believed, is on the brink of collapse, belying the fairness for

which New Zealand is renowned the world over.

Priyanca's article, 'Exploitation of migrant workers tantamount

to slavery' under Businesslink is a must read.

Exploitation of migrant workers and international students

is nothing new in countries, which depend on migration for its

economic progress. Britain, America, Canada, Australia and New

Zealand have laws that prescribe minimum wages, working and

living conditions and rights of migrants on work permits.

Silent sufferers

Yet, they suffer in silence a variety of atrocities- working long

hours, accepting less pay, often by cash, allowing their employers

to evade tax and even immigration laws.

They suffer in silence to avoid loss of jobs, and worse,

deportation.

A large number of them come from India and most of them

are exploited by employers of Indian origin.

We not only need good laws but also their effective

enforcement.

We need laws that are responsible but humane.

It is a pity that many migrant workers falling a prey to exploitation

do not have their papers in order. In essence, they arrive

here on visit visas, hoping that their employers or agents

would regularise and legalise their stay.

Robust process

There is no argument against a smart, quick and efficient immigration

regime, and strengthened border controls. There

cannot be any cry against tightened curbs on hiring of illegal

workers, requiring most businesses to verify employees against

an electronic database of those allowed to work.

But there is a need for a regime that is tough on erring employers

- those exploiting the helpless situation of migrant

workers and international students.

Such a regime would also educate foreigners on their rights

and the ways and means of redressing their grievances.

Abuse elsewhere

Though questionable, New Zealand could seek little comfort

in hearing that the condition of migrant workers under reference

here is far better in this country than it is in nations which

depend on foreign workers to fill most job vacancies.

An Economist leader said that Sweden and Norway, where

migrants can use public services, claim welfare benefits and

bring in dependents, admit relatively few purely economic

migrants.

"This trade-off is visible even within the European Union,

where the recent accession of 12 relatively poor eastern

European countries has sparked a debate about migrants' rights

to welfare," it said.

About two years ago, David Cameron, Britain's former Prime

Minister, clashed with his Oxford contemporary Radek Sikorski,

Poland's Foreign Minister.

Mr Cameron wanted to exclude recently arrived European immigrants

from welfare and public housing.

"If Britain gets our taxpayers, shouldn't it also pay their benefits?"

Mr Sikorski asked.

Britain's exit from the European Union is likely to change the

equation.

Bilateral Agreements

Elsewhere the movement of people is increasingly regulated

by bilateral agreements and diplomacy.

David McKenzie, a Lead Economist of the Development

Research Group at the World Bank said that since a diaspora

can help poor countries develop, sending states must try to protect

the rights of migrant workers without making them such a

burden as to be unwelcome.

Receiving countries weigh their national interests, real or

perceived, against international obligation calculations vary

from country to country.

Back to the home turf, New Zealand should have a better system

of immigration, screening of migrant workers, and more

importantly, a stringent legal system that does not fail to punish

those exploiting migrant workers.

No one should be allowed to live or work here illegally. On the

same count, no one should be allowed to misuse and exploit migrant

workers and international students.

Indian Newslink is published by Indian Newslink Limited from its offices located at Level

1, Number 166, Harris Road, East Tamaki, Auckland 2013 and printed at Horton Media

Limited, Auckland. All material appearing here and on our web editions are the copyright

of Indian Newslink and reproduction in full or part in any medium is prohibited. Indian

Newslink and its management and staff do not accept any responsibility for the claims

made in advertisements.

Managing Director & Publisher: Jacob Mannothra

Editor & General Manager: Venkat Raman;

Production Manager: Mahes Perera; Graphic Designer: Shine Kumar

Phone: (09) 5336377 Email: info@indiannewslink.co.nz

Websites: www.indiannewslink.co.nz; www.inliba.com; www.inlisa.com

Nathan Saminathan

Since October 2013, the

Loan-to-Value (LVR)

Restriction has been in

place but there is no respite

on rise in property prices.

There are reasons why we are

in this situation.

When the global financial crisis

hit in 2007, most the builders

went broke or became decimated.

Since then, we are building

few thousand houses annually,

whereas demand, which was

about 10,000 ten years ago has

registered a sharp rise.

One may recall that a number

finance companies went bust.

They were funding builders

on short-term basis. When some

builders went into liquidation,

some finance companies folded

up due to poor cash flow. New

Zealand suffered low level of construction

activities for about four

years.

Earthquake recovery

Christchurch earthquakes created

building activities.

The government relaxed its immigration

policy to boost economic

activities. There was a

huge increase in the number migrants,

peaking to 68,000 during

the year ending December 2015.

Migrant numbers have been

steadily rising since 2011. This

created more demand for houses

against a heavy shortage of houses,

especially in Auckland. At the

same time, we suffered paucity

of skilled workers in the building

industry.

Consent for new houses to

meet the ever-growing demand

for houses has not been forthcoming.

The restrictions posed by

the Resource Management Act in

obtaining building consents and

the reluctance of the Auckland

Council in releasing more land

compounded the problem.

Joint efforts help

It is heartening to note that the

Council, Reserve Bank of New

Zealand (RBNZ) and the Central

government are now working to

solve the problem.

Although the Council continues

to restrict fresh land for house

construction until appropriate

infrastructure is in place, its

'Unitary Plan' will see more houses

built within restricted areas.

RBNZ took its own action

through LVR to restrict investors

from buying houses.

Contempt of Court appeal fails

Supplied Content

In a recent judgement, the

High Court declined an application

by the liquidators

of AK Group 2006 Limited

(in liquidation) for holding

Director Satwant Singh in contempt

of Court.

The application had been filed

by the liquidators following a

non-compliance of the orders of

the High Court passed last year

directing the respondents to produce

records of the companies

In the course of hearing the

proceedings against four respondents,

the Counsel for

Satwant singh raised an issue

However, this did not help in

preventing rise in house prices.

The earlier restriction of

30% equity was easily overcome

with the increase in value of the

houses.

There is now 40% deposit requirement

in place targeting investors

and foreign buyers. The

new regulation, which came into

force in October 2015, will make

sale of property within two years

taxable.

The requirement of foreign

buyers to obtain IRD numbers

has not helped to restrict demand

on property.

Figures released last fortnight

show that the number of building

consents issued was 13,000 units.

This will go a long way to alleviate

housing shortage. To meet the

current demand, we need 40,000

new dwellings.

The government is willing

to fund up to $1 billion for

infrastructure.

Cause for concern

I am really concerned that ordinary

New Zealanders cannot

afford to buy a decent house for

less than $500,000.

I do not think this is right. I believe

that the ultimate responsibility

rests with the Central

Government.

Currently, only 66% of New

that the consent orders passed

in July 2015 were without instructions

and knowledge of his

client.

The Court agreed that this issue

required determination and

therefore the application against

Satwant Singh was adjourned

to another date, while two other

directors were held in contempt

of Court orders and directed to

pay penalties.

Before the hearing of the matter

against Satwant Singh, the

liquidator filed another memorandum

seeking to introduce

two affidavits of other respondents

into evidence.

Zealanders own homes, down

from 75% a few years ago. I will

not be surprised if the gulf between

those in their homes and

those in rented properties widens,

triggered by inaction of the

government.

There are three areas in which

the government, the Auckland

Council and RBNZ can help to alleviate

the situation.

Further action

The government should reduce

the number of migrants until

we have the resources including

appropriate infrastructure are

available.

The Council should fast tract

the process of issuing building

consents and the Unitary Plan.

RBNZ should help in converting

the shortage into surplus by

restraining further cuts in interest

rates. We need a cooling

period.

Providing more houses to meet

the growing demand is easily

said than done.

But I remain confident.

I know that patience always

has its rewards.

Nathan Saminathan is an Authorised

Financial Adviser and

Director, Mortgage Masters

based in Auckland. He is also

featured in our Real Estate &

Mortgage Special in this issue.

Editor's Note: In the 20 years to 2011, total housing and consumer loan debt increased

around six-fold in dollar terms. As a ratio of household disposable income, the percentage

at June 2011 of 147% is about two and a half times that of 58% at March 1991.

Through the mid-2000s, household debt grew strongly, at an average annual rate of

over 14% in the five years to June 2007. The rate of growth slowed sharply from 2007,

averaging well under 4% per annum in the four years to June 2011. This deceleration

in the rate of growth of household debt arrested the growth in the debt to income

ratio from 2007. Falling interest rates have been the main driver of falling interest

servicing as a percentage of disposable income from 2008 (Source: Reserve Bank of

New Zealand).

Gurbrinder Aulakh, the

Counsel for respondent Satwant

Singh, opposed the introduction

of this new evidence stating it to

be pre-mature and irrelevant to

the proceedings.

At the hearing held on July

21, 2016, the Court heard from

the counsel for the liquidators,

and Mr Aulakh for respondent

Satwant Singh and from the

counsel who was alleged to have

no instructions.

Following this, Justice Heath

held that Satwant Singh was not

in contempt of the Court orders

and the application of the liquidators

thus fails.
---
AUGUST 1, 2016

Real Estate & Mortgage finance

Leading Mortgage firm builds corporate structure

Venkat Raman

venkat@indiannewslink.co.nz

13

Owner-operated and family-owned

companies often

stop shy of expansion

for fear of losing control

but the step-by-step approach of

a market leader in mortgage and

insurance brokerage is becoming

a source of inspiration and perhaps

investor attention. It is also

becoming a model in the finance

sector.

Auckland based Global

Financial Services Limited (GFSL)

is on the threshold of lateral expansion,

capitalising on its phenomenal

growth.

The value of mortgage finance

arranged by the Company during

the past financial year alone

was an impressive $831 million.

As mentioned in our April 1, 2016

issue, accounting for 115 bank

holidays during the year, the total

amount arranged as mortgage

loans works out to $3.4 million

per day, a feat that would certainly

be a record in New Zealand.

Corporate Elevator

If success is hard to achieve, it

is harder to sustain it and promote

succession planning.

GFSL Managing Director Ajay

Kumar realises that the only way

up is through the corporate elevator,

with human, capital and material

resources to ensure safety

and growth. He has established a

professional team of advisors including

Darrin Franks, an insurance

veteran (who was earlier

Growth has no limits for Ajay Kumar

Distribution & Marketing Head

at AIA New Zealand) and Mike

Skilling, a banking veteran (Bank

of New Zealand).

"With the total value of mortgage

loans organised with banks

through our company valued

at more than $4 billion and insurance

premium of $2.5 billion

since our establishment in March

1999, we are now ready for the

next stage of development," he

told this reporter during an interview

as his firm marked its

17th anniversary two months ago

(Indian Newslink, May 15, 2016).

Awards galore

GFSL and Mr Kumar continue

to win a number of Awards every

year, the first of which perhaps

occurred at the Indian Newslink

Indian Business Awards 2009

at which he received the Best

Marketing Excellence Award

ASB General Manager (Business Banking & Retail Specialist

Services) Ian Boyce presenting the Number One Broker

Award for New Money Advanced Award' to Ajay Kumar on

October 19, 2015

sponsored by TV 3 in the presence

of the then Governor

General Sir Anand Satyanand

and Prime Minister John Key.

The winning streak has continued

since then and the Company

and its Master have won 30

Awards from this publication,

ANZ, ASB and Westpac.

The latest in the line-up was

the 'Mortgage Advisor of the

Year Award 2016' presented at

the annual conference of the

Professional Advisors Association

and Institute of Financial

Advisors Conference held in

Auckland on July 28 and 29, 2016.

"Each of the companies behind

the Awards won by GFS is known

for high levels of integrity and

honesty. We are therefore proud

of having won the Awards given

by them. We are of course always

conscious of the fact that these

were made possible only by our

customers. They are of course the

real judges of our quality of performance

and standard of service,"

Mr Kumar said.

Abetting factors

Like many businesses that

sprout their wings later and become

national phenomena or

global players, GFS began 17

years ago in the garage of its

owner Ajay Kumar.

Mr Kumar had three unshakable

factors that helped him to

establish growth: Experience

(more than 25 years as a banker

in India), honesty and self-confidence.

Each of these qualities

quickly multiplied to include integrity,

transparency, accountability,

community and social

responsibility and the ability to

form and lead a team of professionals

and motivate them with

Ajay Kumar receives the 'Best Financial Advisor (Mortgage &

Insurance) Award from BNZ Director Mai Chen, watched by AIA

New Zealand Chief Executive Natalie Cameron at the Indian

Newslink Indian Business Awards on November 23, 2015

the opportunity to grow with

him.

Fast-track formula

From its own unique 'Loan

Liquidation Formula' which enables

customers with the propensity

to pay off their mortgage

loans faster and specialist and

sharp approach to insurance of

all kinds, GFS has been an institution

with a difference. It would

follow principles, no matter who

remain the principal.

As Mr Kumar said, "In 2015,

GFS established a management

team to guide and take decisions

for the company. We have already

seen how it has changed

the trajectory of the company to

providing even better service to

customers and improving the

quality of operations to the best

international standards."
---
14

AUGUST 1, 2016

Ravi Mehta

Ravi Mehta,

Director of

Professional

Financial

Solutions Limited (PFSL)

described the market

for mortgage finance as

'challenging,' and that

many of his company's

clients have benefited by

expert guidance and professional advice.

Mr Mehta said that his company provides

services covering the financial needs of most

people in the property market.

"We get loans approved, negotiating the best

possible price, structure or re-structure loans in the

most tax-efficient and interest-efficient manner.

We suggest appropriate insurance cover to protect

the assets of our clients, including their incomeearning

capacity," he said.

Mr Mehta said that increasing number of

Rakesh Bansal

Why you

need a

good

mortgage

adviser?

With so many changes

happening in banking

sector around lending for

property purchase, there

has never been a better

time to consult a good and experienced mortgage

advisor than now.

Some transactions, for example, loans for 'New

Build Properties' can be complex and require

guidance from a qualified Mortgage Adviser right

through to the completion of construction and final

drawdown.

Thanks to decades of experience in banking

of its Director Rakesh Bansal, Kiwi Mortgages

prides itself in helping first home buyers, many

of who had lost hope of owning a house. Kiwi

Real Estate & Mortgage finance

Deep Bajaj, Nayan Bhatt, Gurudutt Satigrama

It is incumbent on every mortgage and

insurance broker to ensure compliance of

the regulations in force, since integrity and

discipline are vital to protect the safety of

our financial system," say Deep Bajaj and Nayan

Bhatt, Mortgage & Insurance Specialists of

Transparent Finance Limited (TFL) said.

"We believe in being totally upfront and honest

with our clientele. We put the interests of our

clients first and deliver them the best service that

the Industry offers," Mr Bajaj said.

"Honesty & Transparency in our dealings with

both Client & the Provider is our 'differential' in

this competitive Industry," Mr Bhatt said.

Services range

Among the services provided by the company

are Home Loans, Refinancing Home Loans,

Restructuring Home Loans, Investment Property

Loans, Life Insurance, Income Protection

Insurance, Medical Insurance, Trauma Insurance

and Total Disability Insurance.

Nathan Saminathan

Commercial

bankers are

the biggest

competitors to

mortgage brokers, since

they negotiate rates if

their customers have

large deposits, Nathan

Saminathan, Managing

Director, Mortgage

Masters Limited in Auckland said.

"Banks offer favourable rates to customers with

deposits of 20% or more. Of course, lenders are

the biggest borrowers and need to pay attractive

interest rates to keep their deposits. We therefore

do not expect interest rates to remain low very

long," he said.

Demand for homes

He said that the market is also characterised

by the unfortunate phenomenon of shortage of

housing stock, leading to rise in prices.

sales through auctions is another restraint, since

potential buyers cannot make conditional offers.

As well as being an authorised Financial

Adviser with decades of experience in the field, he

is proud of his team at PFSL.

Bright prospects

He believes that the financial services sector is

poised for better times, with economic recovery

here and abroad. Stating that New Zealand

was among underinsured markets, he said that

the potential was high to increase the value of

premium written and the number of customers

serviced.

"The market has always been competitive, with

high quality mortgage and insurance advisers and

more have joined the sector in recent months.

Mortgage brokers account for a third of the

mortgages, the balance written by banks directly.

There is therefore significant opportunity for us to

increase the market share," he said.

Mortgages also helps property investors not only

with their lending but also structure their loans

in a way that best suits their cash flow to ensure

faster debt reduction.

"I encourage you to keep saving towards the

deposit. You may still be able to receive help and

get finance on your low deposit at reasonable

rates," Mr Bansal said.

"Lenders may still consider lending on low

deposit but will assess on case-by-case basis,

depending on other strengths/merits of the

application. Your good credit history, good

account conduct, savings history and low debts

position may get you across the line, despite a

relatively low deposit," he said.

First homebuyers would be the worst hit as the

new regulatory environment under which banks

would be more stringent and with property prices

skyrocketing, it would be difficult for many first

homebuyers to accumulate the required deposit.

"We can arrange loans from various banks and

specialist lenders as also insurance from various

insurance providers in the market. TFL provides

perhaps the best customer support service in the

industry. The most common problem that we face

in our daily routine is managing the expectations

of clients and providers and walking the fine

line balancing the two," Mortgage & Insurance

Advisor Gurudutt Satigrama said.

As well as looking at avenues to expand market

presence and market share, TFL constantly

reviews the performance of clients and provides

prompt advice in loan servicing, restructuring

finance with change in individual circumstances,

regulatory changes and other developments of

significance.

Mr Satigrama said that many people, especially

people of Indian origin are not only under-insured

but also are not well apprised of the products and

services available.

Mortgage Masters justifies its name with

services that are among the best in the industry.

The Company boasts of three full-time brokers

and a full-time office manager and loan writer.

"We thoroughly enjoy our work and our

motto is 'Helping our clients to achieve financial

freedom upon retirement.' We have been in

business in New Zealand for 28 years, providing

financial services since 1988 and mortgage

broking since 1997. Our comprehensive services

include home and business loans, Kiwi Saver

and lump-sum investment services and insurance

services," Mr Nathan said.

"We believe that properties are still the best

form of investment, although people must realise

that the yield would accrue in the long-term and

hence must be patient. It is better to deal with a

qualified and experienced broker than directly

with banks. Brokers are a fantastic source of

sound financial advice," Mr Nathan said.

Mortgage Brokers Insurance Brokers Accountants Property Managers

SERVICES

Professional Financial Solutions provides the best advice on all financial matters

- Home Loans, Business Loans

- Property Management

- Business & Commercial Insurance

-Life/Trauma/Medical Insurance

-Redundancy/Mortgage Protection Insurance

-Rental Property Returns/LTC setup

-Small Business Tax Returns

-Information on Wills and Trusts

HEAD OFFICE

35 Morningside Drive, St. Lukes

Mt. Albert, Auckland

Ravi Mehta

Authorised

Financial Adviser

BRANCH OFFICE

Level 1/203 Great South Road

Manurewa, Auckland

Ph: 09 846 9934, Fax: 09-846 9936

www.professionalfinancial.co.nz |Email: info@pfsl.co.nz

Rohit Takyar

Registered

Financial Adviser

Adisclosure statement as required under Securities Act 1988 is freely available on request

PH: 0800 6307171

PROFESSIONAL

FINANCIAL

SOLUTIONS GROUP

Professional Financial Solutions Ltd.

Aim Associates Ltd.

Responsible business with lasting relationship in community

Forall your home loan and insuranceneeds,talk to us...

First home

Investmentproperty

Residential or Commercial

Building /Extending /Renovating

Re-finance/Restructure

Self employed

Business Loan

Property Development

Buying an Apartment

Lowdeposit

Forall your home loan and insuranceneeds,talk to us...

Rakesh Bansal

ex Bank Manager with over 30 years experience

Toll Free:0508332211M:021 030 8135 /099033 602

116b,Cavendish Drive, Manukau City

info@kiwimortgages.net.nz

www.kiwimortgages.net.nz
---
AUGUST 1, 2016

Sara Hartigan

Sara Hartigan is

based in Auckland

with LoanMarket.

Her passion

is to help every New

Zealander get into their

first home and start

climbing the property

ladder.

Sara got the property

bug very early. At just 22, she purchased her first

home and at 25, she invested in her first rental

property.

Since then, she has been building her own

property portfolio and loves helping clients do

exactly the same.

Sara's passion for property is backed by four

years of study in finance and accounting at

Waikato University.

She is a Registered Financial Adviser. She

Real Estate & Mortgage finance

enjoys working with investors and property

traders and loves getting people into their first

home. Sara has taken some of her clients from

owning one home to building a portfolio of over

seven homes in just two years.

Whether you are looking for a competitive

interest rate on an existing mortgage or looking to

get your first rental property, Sara can help you.

She deals with all the major banking institutions

and has built great relationships with them over

the years.

Sara's clients consist of first home buyers,

families, investors, property traders and property

developers. Her services are free to her clients as

her commission is paid by the lending institutions.

Sara is an Elite Mortgage Broker with

LoanMarket and is ranked number Nine in New

Zealand.

Sara Hartigan can be contacted on 027-4725244.

Email: sara.hartigan@loanmarket.co.nz

Fast, Friendly Efficient Service

Ranked 9 th on the country for Loan Market

15

Specialising in

•• First home buyers

•• Self Employed

•• Investment properties

•• Refinancing and Restructuring

We work with all the major banks in securing you the best lending solution.

Our team has over 20 years of experience in the finance industry.

Sara Hartigan

12 Osterley Way

Manukau

0274725244 | sara.hartigan@loanmarket.co.nz

Home affordability improves

Supplied Content

Massey University's

most recent Home

Affordability Report,

which surveyed

the quarter to February 2016,

showed an improvement in affordability

nationally - with the

index close to the level of the

same quarter two years prior.

Auckland's median house

value of $750,000 was a fall of

$15,000, or 2%, when compared

to the previous quarter but

there had been an overall climb

of $75,000 in the median house

price, or 11% growth, in the

year to February 2016.

Interesting Index

Dr Susan Flint-Hartle, Property

Researcher and Senior Lecturer

at Massey University School of

Economics and Finance, said

that the Index's figures are

interesting over more extended

periods.

"Our index produces a figure

for a location; the higher the

figure, the indication is the less

affordable its properties are,"

she said.

"In February 2009 [just after

the global financial crisis], our

index figure for Auckland was

almost 36 but in February this

year the figure was slightly

less – just under 34. It was hard

to buy a property in 2009

just after the GFC, but what

is so surprising is that today,

even when rising prices

seem way out of hand, the

index figure suggests that it is

ever-so-slightly more affordable

than it was then," she added.

Serious challenges

Those buying a first home

during the 1980s, for example,

also faced affordability challenges,

she said; prices were high,

lending conditions were tight,

and interest rates were through

the roof.

But while many home buyers

have faced challenging conditions

around housing affordability

over the year, the drivers of

those conditions have changed.

Dr Flint-Hartle said that Auckland

is now an international city,

whereas in the 1980s it was not;

New Zealand was an entirely

different place.

"Now the competition for

properties is massive – you go to

an auction and 20 other people

want to buy the house you

want. It is Murphy's Law; there's

always someone with more cash

than you," she said.

Westpac New Zealand's chief

product officer Shane Howell

said that gathering enough funds

for a deposit is the biggest obstacle

first home buyers are facing -

but there are options.

"One is to look at building a

home, rather than buying an existing

property. Loan-to-Value

Ratio restrictions can be lower

for home builders and the level

of assistance available through

the KiwiSaver HomeStart grant

programme can be higher
---
AUGUST 1, 2016

16 Wenceslaus anthony special

Leadership in banking calls for impeccable credits

Venkat Raman

venkat@indiannewslink.co.nz

In pursuing its role as the

Central Bank determining the

country's monetary policy, official

cash rate, and ensuring

that the financial system remains

stable, the Reserve Bank of New

Zealand follows a 'Three-Pillar

Approach,' which has earned the

admiration of its counterparts

elsewhere.

Trilogy of Discipline

The trinity of factors that drive

the approach of the Reserve Bank

of New Zealand accounts for Self-

Discipline, Market Discipline and

Regulatory Discipline.

These disciplines also cover the

appointment of independent directors

and Chairpersons of registered

commercial banks in the

country. RBNZ expects all banks

operating in the country to ensure

that their boards of directors

are people of unimpeachable

character and integrity and comply

with rules in force.

While the process of registering

banks is rigid and rigorous,

the approval of applications for

appointment of directors and

chairpersons of banks is equally

tough. Thus, the appointment

of Wenceslaus Anthony as the

Chairman of Bank of Baroda (NZ)

Limited was also subject to stringent

scrutiny and hence reflects

the calibre of the incumbent. The

Bank's first independent local

Chairman Dr Rajen Prasad is also

Wenceslaus Anthony (right) with P S Jayakumar, Managing Director & Chief Executive

of Bank of Baroda in Mumbai

known for his high level of integrity,

honesty and experience in

high public offices.

RBNZ expects those in charge

of commercial banks to safeguard

not only depositors and

other customers, but also ensure

that their institution plays its

part in keeping the financial system

safe.

Weathering crisis

RBNZ believes that although

New Zealand banks, including

the 'Big Four' and their

Australian parents, weathered

the global financial crisis reasonably

well in comparison to many

of their foreign counterparts,

they had become heavily dependent

on international wholesale

lending markets for their

funding.

And with a high proportion

of that funding borrowed on a

short term basis, the drying up of

wholesale funding soon began to

affect them.

The Reserve Bank and government

intervened swiftly with

various measures to support system

liquidity and confidence.

Mr Anthony would have the

unenviable task of steering the

destiny of Bank of Baroda (NZ)

Limited with the best risk management

practices in place.

New Growth Land

S S Mundra, a former Bank of

Baroda Chairman described New

Zealand as a 'Ring-fenced banking

centre,' saying that RBNZ follows

the best banking practices,

aimed at keeping the monetary

system and the economy healthy.

"We consider this country as

'New Growth Land' for Bank of

Baroda. We have come here to

stay and hence we look for gradual

and steady growth. I am happy

that the bank has made good

progress within a short span of

three years," he said speaking to

guests at a dinner reception in

Auckland on November 25, 2013

(Indian Newslink, December 1,

2013).

With three branches, one

each in Central Auckland, South

Auckland and Wellington,

Bank of Baroda New Zealand

is well-positioned to serve its

customers.

Its major challenge is to develop

products and services that suit

the needs of New Zealanders.

The Challenges

Dr Anil Kumar Khandelwal,

the then Chairman & Managing

Director of Bank of Baroda told

us during his visit in May 2007

that the initial response to the establishment

of a wholly-owned

subsidiary in New Zealand was

positive.

"New Zealand has immense

potential for Bank of Baroda and

we look forward to not only serving

the growing Indian community

but also other ethnic groups

and businesses," he said (our issue

dated March 15, 2007).

The latest results of the Bank in

New Zealand, published here in

a table format justifies that confidence

and anticipation.

Indian Newslink welcomes the

appointment of Mr Anthony to

the important and strategic post

in a growing financial institution

and wishes him well. This publication

also thanks the Bank's

Managing Director Prahlad

Gupta and independent directors

Ranjna Patel and Claude Oberto

for responding to our invitation

to comment on this appointment.

Indian Newslink also thanks

the officials of the Bank, advertisers

and contributors to this

Special Report.
---
AUGUST 1, 2016

Wenceslaus anthony special

17

The news of the appointment

of Wenceslaus

Anthony to the post of

Chairman of Bank of Baroda

What Directors say about their Chairman

(New Zealand) Limited has

been received with warmth and

satisfaction by a cross-section

of businesses and the Indian

community. While a number of

organisations and their people

have expressed their appreciation

through advertisements

appearing in this Special Report,

we sought the views of his

colleagues on the Board of the

Board. Here are their comments

Prahlad Gupta

Managing Director

Wenceslaus

Anthony

has been appointed

as

the new Chairman on the

Board of Bank of Baroda

(New Zealand) Limited. Mr

Anthony has over 30 years

of rich experience in Project

Management, international

negotiations, international

trading and recruitment.

With his vast experience

and knowledge, the Bank is

poised to attain new heights

under the chairmanship of

Mr Anthony.

Claude Oberto

Independent Director

The appointment of

Wenceslaus Anthony

to Chairman of

the Board of Bank

of Baroda reinforces the

Banks commitment to New

Zealand.

By again appointing a New

Zealander as Chairman, the

Corporate Office in Mumbai

has demonstrated its confidence

in the country.

Mr Anthony has served

as an independent board

member to Bank of Baroda

for several years and has

held various capacities such

as Chairman of the Audit

Committee.

Given his long and strong

relationship with the Bank,

he is well versed in the Banks

operational capacity and the

regulatory and compliance

requirements, which the

Bank must operate within in

New Zealand.

There is no doubt that he

will share his own vision for

the strategic path of the bank

and will lead and guide the

Bank in that direction.

Claude Oberto is an independent

Director of Bank

of Baroda New Zealand

Limited. He is also Managing

Director of NF Global Limited

based in Auckland.

Ranjna Patel

Independent Director

It is with great pleasure that I welcome

Wenceslaus as Chairman of the

Board.

I have worked with him for the

past three years and he will bring an

invaluable commercial and political

lens to the bank. With his international

work and ties in the wider New Zealand

Community, the bank will benefit for the

next phase of its growth.

His experience on the New Zealand

India Research Institute and India New

Zealand Business Council heading

Government relations and his commercial

acumen as Chairman and Managing

Director of the WAML Group will be invaluable

for the success of the Bank.

The leadership and governance of the

bank is being passed into capable hands,

from the chairmanship Dr Rajen Prasad.

About Dr Rajen Prasad

Dr Rajen Prasad recently

resigned as

the Chairman of

Bank of Baroda

(New Zealand) Limited after

the successful completion

of seven years in

that post. He was associated

with the Bank since

its inception. His rich experience,

in-depth knowledge

and valuable guidance

helped the Bank to stabilise

its operations and register

satisfactory growth in business.

During the recently

held Board meeting of the

Bank, the Board placed on

record the valuable contributions

made by Dr Prasad

in the progress of the Bank.

-Prahlad Gupta
---
AUGUST 1, 2016

18 Wenceslaus anthony special

Strategic partnerships open avenues for progress

Venkat Raman

venkat@indiannewslink.co.nz

Soon after his election

as the Chair of India

New Zealand Business

Council (INZBC) in

August 2009, we quoted him as

saying (in our September 15,

2009 issue) that the appointment

came at a time when

New Zealand and India are on

the threshold of negotiations

for a mutually rewarding Free

Trade Agreement (FTA).

Nine years later, that hope

has receded and the two countries

are farther than they

were on that evasive pact.

But the goals that Mr

Anthony set for INZBC which

was a dormant organisation at

that time has been more than

adequately achieved.

Veritable platform

"I would like our Council to

focus on its core competencies,

which are access to individual

intellectual wealth which

every member brings with

them, lobbying and providing

networks for business in both

countries. I would encourage

businesses to use the Council

as a veritable platform and become

members," he said.

Since then, the Organisation

has earned the attention and

esteem of the country's leadership,

government officials,

chambers of commerce and

businesses in New Zealand and

Sri Lanka's President Maithripala Sirisena greets Wenceslaus

Anthony at the dinner hosted by him in honour of John Key

in Colombo on February 25.

India. Interacting with its counterpart

based in New Delhi and

Mumbai, the Council has been

an efficient lobbyist to champion

dialogue between businesses

in either country and foster people-to-people

contact.

Reaching new horizons

His four-and-half year regime

enabled the Council to

scale greater heights, engage

with sectors that were hitherto

unexplored, witnessed the increase

of members and chapters

(Auckland and Christchurch, in

addition to an existing set up in

Wellington).

These activities have not gone

unnoticed in the right quarters.

The success of the premier

business body was attributed

at that time to Mr Anthony and

the fact that he gained a place of

distinction in the entourage of

Prime Minister John Key during

Wenceslaus and Susan Anthony with the late Pope

John Paul II at the Vatican in 1996

his first (and only official visit to

date) to India in June 2011 was

a testimony if there was a need

for one.

"I would do anything for the

Council," he says often and musters

the support required from

the hierarchy and members of

the Organisation.

Strengthening ties

As a Columnist, he shares

his thoughts and programmes

with Indian Newslink readers.

Writing in our July 1, 2016 issue,

he said, "INZBC is the only

credible, premier 27-year-old

organisation that runs through

a democratic process for promoting

trade and business between

India and New Zealand,

with its core values of Integrity,

Commitment and Transparency.

"We will continue to advocate

and work towards the direct

flight between the two countries.

We recently relaunched

the Wellington and Christchurch

Chapters and intend to establish

a Waikato Chapter shortly,"

he said.

INZBC recently signed a

Memorandum of Understanding

(MoU) with the Haryana State

Industrial & Infrastructure

Development Corporation

Limited.

As the Council Chair, Mr

Anthony forged alliances

with business organisations

in India including the

Federation of Indian Chambers

of Commerce & Industry

(FICCI), Confederation of

Indian Industry (CII), Punjab,

Haryana and Delhi Chamber

of Commerce & Industry

and Associated Chambers of

Commerce & Industry of India.

These pacts enable New Zealand

entities to penetrate into India

Wenceslaus Anthony with Bhuwanchandra Joshi

and provide a bridge for Indian

Companies to reach their counterparts

in New Zealand.

Servant of Servants

Mr Anthony is a respected

member of the New Zealand

society.

He is a member of the Roman

Catholic Church and considers

himself as a 'Servant of

Servants,' in the true Christian

spirit. He is the Chairperson

of the Divine Retreat Centre

Movement in New Zealand

and Advisor to the Vailankanni

Committee to celebrate the feast

of the Birthday of Mother Mary

(on September 8) and Director

of Conquest Club, which aims to

shape the character and personality

of young boys in the 8-14

age group.

Congratulations to Mr. Wenceslaus Anthony on his

appointment as the Chairman of Bank of Baroda

(NZ) Limited. We wish him success in this new role.

~NCBTteam

Newton College of Business and Technology (NCBT) is

We have been one of the highest ranking education

providers asjudged by NZQA based on the quality of

our student welfare services are also second tonone.

Students looking tostudy abroad…

www.ncbt.ac.nz

study, work, settle in New Zealand

Newton College of Business

and Technology

uA kc aldn c pmasu

Ph +64 (0)9 303 1934 info@ncbt.ac.nz
---
AUGUST 1, 2016

Wenceslaus anthony special

19

A single source of energy and one-stop shop

About the Bank

Bank of Baroda (New

Zealand) Ltd is a wholly

owned subsidiary of Bank

of Baroda, India's International

Bank.

Bank of Baroda (New Zealand)

Limited was incorporated on

May 27, 2007. It became a

Registered Bank on September

1, 2009 under the Reserve Bank

of New Zealand Act 1989.

All liabilities of the Bank are

guaranteed by its Parent Bank,

namely Bank of Baroda.

Bank of Baroda (New Zealand)

has its Corporate Office and first

branch located at 114, Dominion

Road, Mt Eden, Auckland.

Global Network

Bank of Baroda (New Zealand)

Ltd is the first Indian bank to

foray into New Zealand. The

Bank's network in 25 countries

will be advantageous to

customers who have personal

and corporate relations with

these countries. Its leading

personal remittance product,

'Rapidfunds2India' has been

very popular for its speed and

ease.

The Parent Bank

Bank of Baroda has its corporate

Head Quarters in Mumbai.

The present day Bank of

Baroda is the successor of the

erstwhile 'The Bank of Baroda

Limited,' founded in 1908 in a

(then) small town of Baroda by

the Late Maharaja of Baroda Sir

Sayajirao Gaekwad III, a great

visionary.

From its humble beginnings,

the Bank has grown over the

years, to emerge as an Indian

Financial Powerhouse.

It has a network of over 3900

branches in India across the

length and breadth of the country.

It has 93 overseas branches

and foreign offices in 25 countries

across five Continents,

serving a Global customer base

of over 39 million.

The Mission Statement:

To be a top ranking National

Bank of International Standards

committed to augmenting stake

holders' value through concern,

care and competence.

The Baroda Sun

The Bank's Logo is a unique

representation of a universal

symbol. It comprises dual 'B'

letterforms that hold the rays

of the rising sun. It is called the

'Baroda Sun.'

The Sun is an excellent representation

of what the Bank

stands for and is the single most

Bank of Baroda Managing Director & CEO P S Jayakumar (second from right) with (from left) Chief Financial Officer V S Narang and Executive

Directors Mayank Mehta and Bhuwanchandra Joshi at the Media Meet to announce financial results on May 13, 2016 in Mumbai

powerful source of light and

energy.

Its far-reaching rays dispel

darkness to illuminate

everything they touch.

Bank of Baroda seeks to be the

source that will help all stakeholders

realise their goals. To

customers, the Bank seeks to be

a one-stop, reliable partner who

will help them address different

financial needs.

The Bank offers rewarding careers

to employees and endeavours

to deliver maximum return

on investment to investors and

business partners.

The single colour, compelling

Vermillion palette has been

carefully chosen, for its distinctiveness

as it stands for hope

and energy.

Celebrating Diversity

The Bank also recognises that

it is characterised by diversity.

The network of branches

across the globe spans geographical

and cultural boundaries and

rural-urban divides.

The Bank's customers come

from a wide spectrum of industries

and backgrounds.

The Baroda Sun is a fitting

face for the brand because it is a

universal symbol of dynamism

and optimism.

The Bank's Corporate brand

identity is much more than a

cosmetic change.

It is a signal that we recognize

and are prepared for new business

paradigms in a globalised

world.

At the same time, we will always

stay in touch with our heritage

and enduring relationships

on which the bank is founded.

By adopting a symbol as simple

and powerful as the Baroda

Sun, we hope to communicate

both.

Felicitations to Mr Wenceslaus Anthony on his appointment as the Chairman of

Bank of Baroda (NZ) Limited. We are proud to be associated with the Bank.

We understand that business is about relationships

At Corban Revell, we understand that business is about relationships and we are committed to providing high quality services

and value to our clients. As a result, we enjoy long-term client relationships, working alongside our clients assisting them

to achieve their business and personal goals.

Our Services

Our Partners

With a staff of around 25, the Three Partners and

their professional service teams offer a full range

of legal services in the following areas

• Commercial law

• Property

• Estate planning

• Civil and commercial litigation

• Immigration

• Traffic Law

• Maori land and services

• Family and relationship property

John Kahukiwa

Partner

Lawrence Ponniah

Managing Partner

Lisa Roberts

Partner

Ph. +64 9 837 0550 | Fax. +64 9 838 7187

133a Central Park Drive, Henderson, Auckland 0650

PO Box 21-180, Henderson, Auckland 0610 DX DP 92558

email.info@corbanrevell.co.nz www.corbanrevell.co.nz

Established in 1977, Corban Revell is now one of the largest law firms in Auckland outside the Auckland CBD
---
AUGUST 1, 2016

20 Wenceslaus anthony special

Bank of Baroda New Zealand over the decade

Extracts from our Archives - Indian Newslink, May 15, 2007 - Breaking News Bank of Baroda plans New Zealand subsidiary

Bank of Baroda (BOB),

India's third largest

commercial bank

is considering opening

a subsidiary office in New

Zealand, its chairman and managing

director Dr Anil Kumar

Khandelwal told Indian

Newslink.

"The proposed entity, perhaps

called, 'The Bank of Baroda (NZ)

Ltd' will be a fully-owned subsidiary

of the Bank and would

eventually offer comprehensive

banking services," he said during

his visit to New Zealand last

week.

"I hope we can establish our

presence here in 2007, which is

our centenary year."

It would be a while before the

bank establishes its physical

presence in the country, since

an application is yet to be filed

with the Reserve Bank of New

Zealand (RBNZ) after obtaining

appropriate permission from

the Reserve Bank of India.

Indian Newslink, October 1,

2009

Bank of Baroda opens job

opportunities

The first branch of Bank of

Baroda (BoB), expected to open

shortly in Auckland, will create

job opportunities for New

Zealand citizens and permanent

residents with requisite aptitude

and experience, Chairman and

Managing Director Mangalore

Devadas Mallya said.

"We envisage appointing up

to 12 persons, of which perhaps

four will be sent on deputation

from India or other offices

and branches operating overseas.

The remaining will be recruited

locally," he told Indian

Newslink during an interview

from Mumbai last night.

Indian Newslink, July 1, 2010

Bank of Baroda commences

business

The first branch of Bank of

Baroda has commenced 'limited'

operations at its premises at

114 Dominion Road in Mt Eden,

close to the Central Business

District of Auckland City.

Satish Vermani, Managing

Director of Bank of Baroda (NZ)

Limited, a wholly owned subsidiary

of Bank of Baroda, India,

said the 'soft opening' on June

25 has generated widespread

interest among businesses and

individuals.

Indian Newslink, February 15,

2011

Bank of Baroda brings Indian

flavour to New Zealand

Bank of Baroda (BOB) brought

the flavour of Indian banking

to New Zealand with the official

opening of its wholly owned

subsidiary, Bank of Baroda (NZ)

Limited and its first branch in

Auckland on February 4, 2011.

It was in fact 'BOB Day,'

beginning in the morning

with a formal ceremony

held in the presence of

India's Minister of State for

Finance Namo Narain Meena,

BOB Chairman & Managing

Director Mangalore Devadas

Mallya, General Manager

International Operations Vivek

Hari Thatte, BOB NZ Managing

Director Satish Vermani, local

Directors Dr Rajen Prasad,

Vijaya Vaidyanath and 200 other

guests.

The inaugural ceremony, held

at the Bank's impressive new

offices at 114 Dominion Road

in Mt Eden set the pace for

the course of the Bank in this

country.

"Pubic response since our

'soft-opening' in June 2010 has

been enthusiastic and encouraging,

giving us the confidence to

look forward to a bright future.

As we understand the local market

conditions and the needs

of our customers, we should

be able to provide tailor-made

products and services to the

banking pubic in New Zealand,"

Mr Mallya said at the inaugural

ceremony, a media conference

that followed and at a business

lunch held at Stamford Plaza

Hotel.

Mr Meena inaugurating the first branch of Bank of Baroda NZ Limited on February 4,

2011, watched by Mr Mallya (to his right), Mr Vermani and others.

Messers Mallya and Vermani with Dr Rajen Prasad and Vijaya Vaidyanath, the first

two independent Directors of Bank of Baroda (NZ) Limited on February 4, 2011.

Trinity Certificate Course at International College of Auckland

What is a Trinity Certificate course?

The Trinity Certificate in Teaching English to Speakers of Other Languages (CertTESOL) is

a TESOL or TEFL (Teaching English as a Foreign Language) certificate designed for those

with little or no experience of teaching English. It equips candidates with the basic skills

and hands-on experience needed to take up a first post as an ESOL teacher. It gives an

introduction to the theory and practice of communicative English teaching and an insight

into the challenges facing the learner and the role of the teacher.

Who can do the course?

Anyone over the age of 18, with a high proficiency in English at least to the equivalent of

IELTS 7, and with evidence of qualifications achieved for entry to higher education.

What is the difference between Trinity CertTESOL and CELTA?

There is little difference between the two and both are equally recognised by reputable

English language schools worldwide, with their mixture of theory and practice, making

them more credible than most other TESOL/TEFL courses on offer.

Why do a Trinity TESOL Cert Course?

In the past, anyone who spoke English was able to find work teaching English in many

countries. However, it needs to be remembered that being able to speak a language

doesn't make anyone an effective teacher of that language. As a result,

many countries are now tightening their policies and are requiring

teachers to be properly qualified. The CertTESOL is such a qualification.

At the moment it is estimated that there are over 1 billion people

learning English and these numbers are expected to grow, which will

increase the demand for professional and highly-qualified teachers.

The Trinity CertTESOL Course at ICA.

The courses are of four-week duration and are run each month. They

cover aspects of language teaching and learning theory as well as

teaching practice with invaluable and constructive feedback from course

tutors. Trainees are taught methodology, language awareness (phonology,

grammar and lexis), and all aspects of effective teaching. They are

also provided with opportunities to observe their peers and ICA's

qualified teachers. There is no final exam and assessment is based on

50% assignment and 50% teaching practice. ICA's course tutors are

very experienced and very qualified in all aspects of teaching English.

0064-9-3099558

Level 5, 131 Queen Street, Auckland, New Zealand.

Fax 0064-9-3099568 | Email enrol@ica.ac.nz

Congratulations to Mr Wenceslaus Anthony on his appointment as Chairman of Bank of Baroda (New Zealand) Limited. We wish him success.
---
AUGUST 1, 2016

BUSINESSLINK

21

Exploitation of migrant workers tantamount to slavery

A nation's greatness is measured by how it treats its weakest members - Mahatma Gandhi.

Priyanca

Radhakrishnan

Restaurant workers paid

less than $4 an hour;

workers' passports held

by their employer and

only returned when the media

gets involved; migrant workers

who work 70 hours a week but

are paid only for 30 hours.

Those were just some of the

stories discussed at a seminar

on Indian migrant worker

exploitation at which I was a

speaker.

Organised by First Union

and supported by the Union

Network of Migrants (UNEMIG),

the seminar was attended by

about 30 union delegates of

Indian origin.

The delegates largely represented

supermarket and bank

workers.

New Workers Association

The newly formed Indian

Migrant Worker's Association

(IMWA) was also formally

launched that day. IMWA will

work alongside UNEMIG to

support and represent Indian

migrant workers who find

themselves victims of workplace

exploitation.

For some time now, I have

strongly believed that migrant

worker exploitation is much

more common in New Zealand

than many realise.

I have spoken to and supported

victims, met with researchers

and read about migrant

worker exploitation.

The Masala Saga

Like many, I have followed

media reports about high profile

exploitation cases like the

Masala (Restaurant chain) saga.

Masala workers were paid

as little as $2 an hour and the

17 companies that owned the

Masala Restaurants chain, under-reported

earnings to evade

paying more than $7.4 million

in tax.

According to Immigration

New Zealand (INZ), one victim

worked 66 hours a week

for three months at Masala

Takapuna and was paid $3 an

hour.

In addition, the worker was

also expected to clean the house

of one of the offenders.

It is difficult to determine the

extent of migrant worker exploitation

in New Zealand.

However, there is significant

anecdotal evidence and some

research showing that it exists

and can be quite severe.

Exploited workers

Of course, it is not an issue

that affects Indian migrants

alone.

A 2015 report by the Ministry

of Business, Innovation and

Employment found that some

migrants – largely from the

Philippines – are being exploited

in the Canterbury construction

industry. Many did

not even have employment

contracts.

Migrants most vulnerable to

exploitation are those who are

in debt, do not speak English

well and come from countries

where employment standards

are not high.

Depressing debts

A 2016 University of Auckland

study on temporary migration

in the City of Sails found that

debt is a significant issue for

temporary migrants.

The study had a sample size

of nearly 900 people who were

international students, working

holidaymakers and work visa

holders.

Debt was specified as an issue

for 40% of Indian and Filipino

temporary migrants.

According to the study, one

in five temporary migrants reported

that they were being

paid below the minimum wage

or were working and were paid

less than the number of hours

worked.

The study also showed that

debt is an issue for many international

students and that they

rely on employment for sustenance.

Debt patterns are important

because temporary

migrants with significant debt

levels are particularly vulnerable

to exploitation.

Humane approach

The study called for a 'more

humane and less revenue-centred

approach' to migration to

address these emerging issues.

That is exactly what we need. As

a nation, if we open our doors

to migrants we must make sure

that we treat them well.

I came to New Zealand as an

international student many

years ago, and it was one of

the best decisions I've ever

made. Many international students

get a high quality tertiary

education in New Zealand

and some stay on and contribute

greatly economically and

socially. However, for many

international students their experience

includes high levels of

debt back home and workplace

exploitation.

Export Education

Export education contributes

$2.8 billion to New Zealand's

economy. While that is significant,

economic gain should

never stand in the way of government

action to protect human

rights.

Migrant worker exploitation

is a gross breach of human

rights and has been likened to

slavery by many victims. It undermines

businesses that are

operating legitimately, traps its

victims in a cycle of fear and

poverty and must be stopped.

The government has a significant

role to play in ending

workplace exploitation.

As Indian New Zealanders, we

can also do our bit to help by

educating new migrants of their

rights and speaking up against

laws that erode worker's rights.

As the great granddaughter of

a union organiser and as a union

member who has benefitted

greatly, I strongly encourage union

membership.

Let us do our bit to support

those who tirelessly fight for

worker's rights and work hard

to end exploitation.

For membership and further

information, please contact

UNEMIG on 0800-863477; Email:

unemig@firstunion.org.nz

DEFINITION OF SUCCESS!

CATEGORIES

1. Business Excellence in Retail Trade

2. Business Excellence in Innovation

3. Business Excellence in Marketing

4. Business Excellence in Customer Service

5. Best EmployerofChoice (New)

6. Best Small Business

7. Best Medium SizedBusiness

8. Best LargeBusiness

9. Business Excellence in International Business with India*

10. Best Accountant of the Year

11. Best Young Entrepreneur of the Year

12. Best Businesswoman of the Year

13. Best Financial Advisor (Mortgage) of the Year

14. Best Financial Advisor (Insurance) of the Year

Supreme Business of the Year Award

(All entries will be enteredfor this category)

*This categoryisopen to all businesses registered in NewZealand,importing or exporting aproductor

servicefromand to India or engaged in enrolling international students from India.

Calling forEntries and Nominations to the Ninth Annual

Indian Newslink Indian Business Awards 2016

Forthe first time sincethe launch of the Awards in 2008, companies and individuals cannominate

anycompanyorindividualcarrying on as registered businesses in NewZealand.

Nomination forms areincorporated in the entryprocess this year.

Enteruptoany three of the above firstnine categories.Entries to all the categories canalso be by nomination

(See websitefor details). Download Entryformsfromwww.inliba.com or writetoeditor@indiannewslink.co.nz.

Completed entries must be sentonorbeforeWednesday, August 31, 2016 to iba2016@ignitionpartner.com.

Winners will be presentedwith their Awards at aGala BlackTieDinneronMonday, November 28, 2016 at

Sky City Convention Centre,Auckland City,details of which will be announced later.

CALLING FOR ENTRIES &NOMINATIONS

Conditions of Entry:

Entries and Nominations must be in electronic formatsentbyemail.Those sentbypost,fax or other means will not be accepted.

Thedecision of the judges would be final and no correspondencewill be entertained in this connection.

Themanagementand staff of Indian Newslink and the supporting and sponsoring organisations arenot eligible to enterthe Awards.

FREE WORKSHOPS

Please attend our FreeWorkshops on'How to file agood entry'as follows:

a) Tuesday, May3,2016 at 4pm: BNZ Partners,Level 1, 86 Highbrook Drive, EastTamaki

b) Tuesday, June 7, 2016 at 4pm: BNZ Partners,Level 1, 86 HighbrookDrive, EastTamaki

c) Thursday, July7,2016 at 4pm: Level8,DeloitteCentre, 80 Queen Street,Auckland City

(Workshop inTheBoardRoom, Level7;please reportatReception at Level8)

To Register please email editor@indiannewslink.co.nz

Indian Newslink

POBox 82338 Highland Park,Manukau 2143

Phone (09) 5336377 •info@indiannewslink.co.nz

www.indiannewslink.co.nz •www.inliba.com
---
AUGUST 1, 2016

22 COMMUNITYLINK

Nights before Nine Nights bring fountain of youth

'Ratri Before Navaratri' raises expectations higher

Dr Kamlesh Patel

The last weekend of the

month will see Mahatma

Gandhi Centre light up

the colour and celebration

of Navaratri.

Organised by Atmiya Youth

Group (AYG), the young wing of

Yogi Divine Society (NZ) Inc, the

two-night event, scheduled to be

held on August 26 and August

27, 2016, promises to be better,

brighter and more vivacious than

its predecessors.

AYG was established in 2010 in

New Zealand pursuing the core

principle of 'Atmiyata' (Spiritual

Harmony), a spiritual message of

His Divine Holiness Pragat Guru

Hariprasad Swami Ji Maharaj.

Atmiyata has proved itself as

a strong solution to overcome

social and inner evils such as

stubbornness, anger, jealousy, addiction

and greed.

Concerted Mission

Modern youth are burdened

by the pressures of a competitive

society and are constantly struggling

to attain solutions that seem

to be out of reach.

Swami Ji Maharaj has begun a

concerted mission to unlock the

inner strength, energy and talents

of the youth by giving them

Dance, music and fun at 'Ratri Before Navratri'

unconditional love and care

and channelising them towards

a life of righteous conduct and

spirituality.

AYG inspires confidence, faith

and discipline among the younger

members of the society, aiming

to give them the strength to rise

above their inherent weaknesses.

With a robust membership

of more than 350 young people,

AYG organises weekly youth forums,

monthly youth seminars,

youth camps, sports camps, blood

donation camps and other community

support camps at which

the youth learn discipline, devotion

and valuable life morals.

These camps have resulted in

the growth of a young community

that lives a life free of addictions,

respects their parents and

achieves the utmost success in

their personal and career goals.

Cultural Festival

AYG organises 'Ratri Before

Navaratri' (RBN) every year to

support the noble cause of youth

development. It is a traditional

Indian folk dance festival that is

now massively popular all over

the world.

The Festival is an opportunity

to embrace Indian culture

through contemporary spheres

of traditional music and dance,

while enjoying delightful Indian

cuisine.

The highlight of the event

would be the performance of

Achal Mehta and Kaushik Mistry

of the 'Rishabh Group,' the duo

known throughout the world for

its energetic music.

RBN events have mesmerised

everyone with unforgettable and

overwhelming performances for

the past three years.

All funds generated from this

event will go to support the youth

nurturing the activities of AYG.

For more information, purchase

of tickets online and sponsorship,

please contact Kiran

Vaghela on 022-0158346 or visit

www.ratribeforenavratri.co.nz

Dr Kamlesh Patel is Senior

Youth Coordinator of Yogi

Divine Society. He is a Process

Engineer at a commercial firm

in Auckland.

HDH Pragat Guru Hariprasad Swami Ji Maharaj

Blood Donation is a regular activity of the Atmiya Youth Group

Atmiya Youth Group works and prays for universal well-being

#RBN2016

PRESENTS

$10

anight/person

Children under

age12free!

www.ratribeforenavratri.co.nz

MAHATMAGANDHI CENTRE

145 NEWNORTH RD

AUCKLAND

7.00pm to Midnight

FRI -SAT

26 th &27 th

August 2016

FOR MORE INFORMATION PLEASE CONTACT:-

KIRAN VAGHELA : 022015 8346

KAUSHAL PARMAR : 021373 536

To buy tickets online,please visit:

INDIAN CULTURAL ASSOCIATION

48 KEMP ST.KILBIRNIE

WELLINGTON

7.00pm to Midnight

FRI -SAT

2 nd &3 rd

Septemeber 2016

FOR MORE INFORMATION PLEASE CONTACT:-

HEMANT RAMA : 027 243 5620

RITESH KAPADIA : 021 105 2857

www.ratribeforenavratri.co.nz

In Association with:

Just Fly

Travels

0800 626 327

021 126 10798 04 5679190
---
AUGUST 1, 2016

COMMUNITYLINK

23

Durdamya

Munibhargav

Music lovers in Fiji have

been experiencing the

divine music of Pandit

Sanjeev Abhyankar the

past week and New Zealanders

would have a rare opportunity

over the coming two weekends.

Fiji based Sahyadri Specialty

Pacific Hospital Limited (SSPHL)

has organised the programme

in four locations in Fiji to create

medical awareness and in New

Zealand for enhancing entertainment

value.

The event has been sponsored

by Indian Council of Cultural

Relations (ICCR), Government of

India, Indian High Commission

in Fiji, Fiji's Ministry of Health

& Medical Service, Ministry of

Women, Children & Poverty

Alleviation and Ministry of Local

Government.

The programme in New Zealand

is managed and organised by

Aprameya Limited and Migrant

Heritage Charitable Trust INC

(Regd), Auckland.

Pandit Sanjeev is being accompanied

by Omkar Dalvi (Dholak),

Apurva Dravid (Drums), Milind

Kulkarni (Harmonium), Rohit

Mozumdar (Tabla) and Hemant

Uttekar (Sound).

Free Medical Service

SSPHL Fiji conducted free

Pandit Sanjeev Abhyankar

Omkar Dalvi

Apurva Dravid

screening of people with the

help of specialised doctors from

Deoyani Multispecialty Hospitals,

Kothrud, Pune, India.

Dr Shrirang Limaye, a leading

orthopaedic surgeon and

Chief Executive of Deoyani

Multispecialty Hospital and I were

instrumental in conducting free

Milind Kulkarni

Rohit Mozumdar

Hemant Uttekar

screening in Cardiology, Advance

Orthopaedic and Oncology in government

hospitals at six different

locations in Fiji.

The Indian Classical Musical programme

is being performed at

Labasa, Suva, Ba and Lautoka.

I coordinated with ICCR India,

Indian High Commission Suva Fiji

Rare musical treat for New Zealanders

to make the programme successful.

I also coordinated with Indian

High Commission in Wellington for

bringing the event to New Zealand

to promote Indian Classical Music.

The artistes will be performing

in Auckland, Hamilton and

Wellington.

Free Music Concert

The Editor of this newspaper

was in Fiji with New Zealand

Prime Minister John Key on June

9 and 10, 2016, during which he

discussed with me about the programme

of Pandit Sanjeev for New

Zealand. Print and Electronic media

has assisted for making this

event successfully.

The event is open to the public

and entry is free.

Child prodigy

Pandit Sanjeev, a Commerce

graduate, is a maestro from

Mewati Gharana. An artiste of international

acclaim in Hindustani

Classical and Devotional Music, he

is a source of inspiration for the

younger generation.

In a career spanning more than

25 years, he has assumed the

mantle of a role model of dedication,

hard work, patience and

perseverance.

Born in 1969, he started learning

Hindustani Classical Music

from the tender age of eight.

He has been groomed by his

mother Dr Shobha Abhyankar,

Pandit Pimpalkhare and

Padmavibhushan Pandit Jasraj.

He made his public debut in

Mumbai when he was 11 years old.

Glorious globetrotter

Since then, he has travelled extensively

all over India, performing

at all prestigious conferences

and art circles, several times. He

has the distinction of performing

in more 200 cities all over the

world.

He has spread the fragrance of

Indian Classical music in Africa,

Australia, Canada, Europe, the

Middle East and the United States

of America.

Pandit Sanjeev's award winning

performance in 'Godmother'

and his impassioned rendition of

Marathi Abhangs, Bhavgeets and

Bhajans in Sanskrit and Hindi reflect

his versatility.

By adding his own classical compositions,

he has contributed to the

already existing vast repertoire

of Mewati Gharana compositions

(Bandishes).

Pandit Sanjeev has performed

in well-known conferences

such as Sawai Gandharva

Sangeet Samaroh, Swar Jhankar

Festival, Swar Bhaskar Mahotsav,

Vasantotsav, Surel Sabha, Pune

Festival, Baba Harvallabh Samaroh

(Jalandhar), Pracheen Kala Kendra,

Chandigarh, ITC Sammelan,

Doverlane Music Conference,

Uttarpara Sangeet Chakra, Indo

Oxidental Festival in Kolkata and

others.

Durdamya Munibhargav is a

senior executive at Sahyadri

Specialty Pacific Hospital

Limited, Fiji.
---
AUGUST 1, 2016

24 COMMUNITYLINK

Church Administrator calls it a day

Divine Retreat Centre

Supplied Content

Departing from one of

the busiest offices in

Auckland would have

been a tough call of the

man himself but the thought

of not seeing Kerry Coleman as

General Manager at the Catholic

Diocese of Auckland which included

the Office of the Bishop

was even more emotional of

others as the hard-working

man decided to pursue other

interests.

For Wenceslaus Anthony

and this writer, both founder-members

of the Mother

Teresa Interfaith Committee,

it spelt a more emotional farewell

at St John Vianney Church

in Hillsborough on June 26, 2016

for his engagement with us was

divine.

Exponent of Faith

In more than one sense, Mr

Coleman was an exponent of the

Catholic and Human faith, for

everything that he thought and

did was a representation of honesty,

integrity and devotion and

dignity.

In his role, Mr Coleman was

responsible for the wellbeing

of a number of Catholic

schools and the Church, which

in essence brought in the man

a unique blend of domestic, cultural,

social, community and re-

Kerry Coleman

ligious values.

Thus, for a small gathering

of his friends and colleagues

at St John Vianney Church, it

was time to pay tributes to the

well-meaning man in the presence

of his wife Margaret.

As Chairman of the Divine

Retreat Centre (DRC) of New

Zealand and Chairman of

the Mother Teresa Interfaith

Committee, Mr Anthony has had

occasions to work closely with

Mr Coleman over the past several

years.

Great Honour

"He has been a great supporter

and a great friend. He had

a huge responsibility in dealing

with finances of the Catholic

Diocese and worked very closely

with the Bishop of Auckland. Mr

Coleman was instrumental in

the DRC NZ Movement becoming

an Apostolate of the Diocese

of Auckland," Mr Anthony said.

The Reporter described working

with Mr Coleman as a 'great

honour.'

"What a Grace, and what a

Wenceslaus Anthony and Lyndsay Freer at the Felicitation

privilege it has been to work

with you because you not only

brought dignity, but also faith,

the goodness of everything

that comes with someone like

Mother Teresa. My only prayer

is that you should continue to

be healthy and happy. With humility,

commitment and faith

in God, you have been involved

in education- one of the noblest

professions that one can pursue

in life."

Bible Song

Catholic Church Media

Manager Dame Lyndsay Freer

paid tributes Mr Coleman and

rendered a song from the Bible.

Father Bernie Thomas, Parish

Priest at St Peter's Church,

Waiheke Island and Tertiary

Student Chaplin outlined the

services of Mr Coleman to the

Ministry and tertiary students.

Replying to the felicitations,

Mr Coleman said that he was

pleased with the opportunity

to serve the Catholic Diocese of

Auckland and praised the work

done by DRC New Zealand.
---
AUGUST 1, 2016

COMMUNITYLINK 25

GOPIO Executive Council appoints New Zealander

Venkat Raman

venkat@indiannewslink.co.nz

The election of a New

Zealander to a top position

in the Executive

Council of the US-based

Global Organisation of People

of Indian Origin (GOPIO) will

be a major boost to the Indian

Diaspora in New Zealand.

Suman Kapoor, Founder-

President Waikato GOPIO, was

elected unopposed to the post

of International Coordinator for

Oceania, giving her the jurisdiction

to coordinate with GOPIO

Chapters in 14 countries including

New Zealand, Australia and

Fiji.

She would be required to

work in unison with the leaders

of the national and regional

chapters of GOPIO and promote

the concept of unity, understanding

and common purpose

among the Indian Diaspora.

The Global Council

Niraj Baxi of Silicon Valley,

USA was elected to the post of

President at the elections held

in March this year. Among

his colleagues in the GOPIO

International Executive Council

are Noel Lal (Sydney, Australia),

Executive Vice President; Ram

Gadhavi (New Jersey, USA),

Vice President; Dr Rajeev

Mehta (USA), Dr Pradip Sewoke

(France), Suman Kapoor (New

Zealand) and Rajidre Tiwari

(The Netherlands) International

Coordinators. GOPIO Chairman

GOPIO International Executives from top left clockwise, Niraj Baxi, Noel Lal, Ram Gadhavi,

Dr Rajeev Mehta, Dr Pradip Sewoke, Suman Kapoor, Rajendre Tiwari, Inder Singh.

Inder Singh, who supervised the

election process, will continue

in that position.

Sunny Kulathakal (now a resident

in Bahrain, USA and India),

who this reporter has known

since 1980 during their days in

Dubai and Bahrain told us last

week that he has been appointed

to the newly-created post of

'Global Ambassador.' We hope

that his post is well-defined and

he would be a messenger of

goodwill across the world for

and of GOPIO.

Proud achievements

It can be proud of its achievements,

the most significant of

which was to have in place the

'Overseas Indian Citizen' status

for eligible Indians (which now

includes those on the 'Person of

Indian Origin' status) and the

organisation of the 'Bharatiya

Pravasi Divas' in India since

2003 (which has now become a

biannual feature).

There appears to be renewed

interest on GOPIO from people

outside America, if the recent

elections to the Executive

Council of the global body is an

indication.

The election, held for the first

time through an electronic voting

system, accounted for 208

delegates (out of 223) from 21

countries to cast votes.

Renewed hope

GOPIO is the only organisation

of its type in the world to

connect the Indian Diaspora

providing a common platform

for Indians from anywhere in

the world to work together on

issues that affect the entire humanity

in general and Indians

in particular.

GOPIO NZ Members in Auckland in 2009

GOPIO Members in Auckland in 2013

However, as this reporter understands,

its structure and

processes have not been clear,

leading to confusion and differences

in approach.

The progress GOPIO's National

Chapters should continue without

restraints.

Indian Newslink has been in

dialogue with a few concerned

persons at the International

Executive Council and the New

Zealand Chapter President

Alkesh Sharma and his team, all

of who, arguably, have a passion

for the Organisation and have

over the years, added value.

As this reporter has observed,

absence of dialogue between individuals

who perceive issues

differently, has been the main

cause for discontent and disharmony

both of which are not

incurable. There is a general

consensus that GOPIO has work

to do and that there could be

better outcomes if energies can

be properly channelled through

common goals and objectives.

There is now renewed hope

that the officials of the GOPIO

chapters in New Zealand would

work together for the common

good reinstating the core

principles and objectives of

the Organisation when it was

formed in 1999 in America.

Open Day Event

Gandhi Nivas cordially invites you to

Open Day event on 19th August

from 10 am to 3 pm.

We will be having a talk every hour

starting at

10:30 am on the hour.

Venue: 40 Station Road, Otahuhu

ALL WELCOME!!

Please RSVP to Sucharita Verma

Phone: 09 280 4064

Email: info@sahaayta.org.nz
---
AUGUST 1, 2016

26 ARTLINK-Ratna Venkat

Philanthropy brings out the inner beauty in humans

Model of the Fortnight

are an

integral part of

this world and

"Animals

hence should be

loved and protected, not killed

or eaten," says Sonya Pink, our

Model of the Fortnight.

If Indian Newslink readers

know this young woman who

is now making waves in the

Indian film industry as Shristy

Gupta, they need to be praised

for their memory. Featured in

this column in our March 1,

2014 issue, Sonya was born in

Mumbai but raised in different

parts of the world. An IT

graduate, her dream was to become

a professional in information

technology, although

her inclination was also towards

the field of medicine.

Show Business calls

The world of fashion and

modelling beckoned her with

the promise of fame.

Her first meeting with success

was when she won at a

pageant in Auckland.

She returned to Mumbai,

hoping to get married and

have children.

But destiny had different designs

for her.

Her charm, outgoing personality

and vivacity placed her

under the spotlight, drenching

her in popularity followed

by constant invitations to the

stage.

"I believe that the only

Mantra to success is 'Never

quit, no matter what.' I am a

vegetarian by choice, I don't

like killing animals for food or

fun. I like to eat the products of

trees and plants," she said.

Eradicating poverty

Sonya is keen to become a

philanthropist and help the

needy in India.

"I want everyone to be educated

and be freed from poverty,"

she said.

She loves New Zealand and

hopes to return in not too distant

a future.

"I believe in Karma. I also

believe in speaking my mind.

I believe in the saying, "Do

good and good things will happen

to you," she said and added,

"My heart-felt gratitude to

photographers Dave Bradley,

Bhikhu Bhula and Hitesh

Kanuria."

-Venkat Raman

Editor's Note: If you wish to be featured as our Model of the

Fortnight, please write to editor@indiannewslink.co.nz

TRAVEL

WE HAVE ARRIVED

Your TRAVEL DEALS BEGIN NOW

Let Our Journey begin together

Get the Best

•Best Airfares

•Best Service

•Air Ticketing •Leisure Travel

Call Now 0508 -411111 for Relianz Travel &

•

A

BEST

I R

•

R

F A

S

E

*T&C apply
---
AUGUST 1, 2016

ARTLINK-Ratna Venkat

Like good friends, Trees shed love and pleasantness

Ashok Kochhar

kochhara55@gmail.com

There are various kinds

of creative heads and

everyone thinks as per

their own wisdom. Few

are responsible towards existence

and the balance between

one's being and Nature (or

Purush & Prakriti).

When I am with Nature and

taking pictures, I try to understand

the deep relationship

of every living organism with

the ultimate called 'Prakriti'

(Nature).

I have been taking pictures all

around India and other places,

and now in New Zealand.

In my recent encounter with

Trees, I found a unique expression.

They have a major source

to communicate with vibrations

and energy to the outer world

through a vast medium of the

sky.

Overwhelming Magic

It is truly magical and overwhelming

to sit under a tree

and watch the branches reaching

out to the skies, as if a child

is looking up to a grown up and

telling a fascinating story. The

branches are always moving,

ever so restless like the energy

of a child and the sky too seems

to be listening with a wise stability

and calmness.

It may sound weird, but now

we know that trees have strong

signals of communication between

them. Science proved it

early 20th century.

Whenever I am taking picture

of trees, I feel their energy

intensely.

Not only that, my understanding

is that they provide permission

of when to take picture. I

would like to state an example.

For the past few months, I have

been planning to photograph

Red Woods at Rotorua and even

after four attempts, I could not

shoot the space.

All the time I was fully

equipped to take pictures but

something just did not allow me

to proceed with my profession.

My understanding to this episode

is that energies are not favorable

to take pictures.

Anyway, that is more of a philosophical

approach.

I invite you to look at my collection

of these wonder-filled

living legends who are there

as our lifeline to support us

unconditionally.

Ashok Kochhar, as we have

come to understand, has transcended

the prowess of a photographer

to that of a philosopher.

He is a lover of Nature

and Nature must be treating

him as its great friend.

27

Is this what is called, 'A Family Tree?'

Forest Wealth renews itself to offer more

The Tree of Life

An illuminating dialogue with the Sky

Trees are a part of our world
---
AUGUST 1, 2016

28 ARTLINK-Ratna Venkat

Plant some veggies into your planned diet

More and more people

are being drawn into

vegetarianism these days.

Some do it for religious

reasons, health reasons, to

preserve the Earth's natural

resources, while others

purely for ethical reasons

as they are opposed

to

killing and eating animals.

One thing for sure is that

there is an abundance of

research today on the

benefits of a plant diet.

Many of the widely

common health issues

are linked to intake

of meat, especially

processed meat. With

my family, I try and sneak

in vegetarian meals to try

and cut down on the intake

of meat.

Apart from a repertoire of

Indian vegetarian recipes, which is

well received if it is not a daily affair,

the family also enjoys a variety of

Malaysian vegetarian food.

For this issue, I have three

Malaysian vegetarian recipes which

are easy and yet spicy and delicious

which you ought to try out for a

change.

Mee Hoon is a noodle made from

rice which closely resembles rice

vermicelli. Use whatever vegetables

you fancy with this noodle and you

can easily whip up a nutritious, onedish

meal.

Sambal is a piquant sauce which

is a staple side dish just like pickles

and chutneys in Indian meals. Omit

the use of the ingredient called

'belachan,' which is fermented

shrimp paste and it can be turned

into a delicious vegetarian sauce. So,

try making Tofu Sambal tossed in

this tasty spicy sauce.

Lastly, Mushroom Rendang – a

popular dry aromatic curry usually

made with chicken or beef and

eaten with coconut rice called 'Nasi

Lemak'.

Vegetarian Fried Mee Hoon

Ingredients

1. 1 packet thin rice noodles

(Mee Hoon) – soak in hot

water for five minutes until

soft and then drain

2. 1 cup of shredded carrot

3. 1 cup of bean sprouts

4. 1 cup of sliced mushrooms

5. 1 cup of sliced Choy Sum or

Bak Choy (Chinese mustard

greens)

6. 1 cup of sliced pan fried

tofu

7. 1 cup of chopped spring onions

(or coriander leaves)

8. 1 large onion – sliced

9. 2 -3 cloves of garlic –

chopped fine

10. 1-2 tbsp of chilli paste

(dried chilli soaked and

ground to a paste)

11. 2 to 3 tbsp of light soya

sauce

12. 2 to 3 tbsp of cooking oil

13. Salt to taste

14. Dash of Chinese Sesame

Oil

METHOD

• Heat a wok with some vegetable oil

• Saute the sliced onions until brown

• Add in the garlic and saute for a minute before

adding the chilli paste

• Fry until the oil separates from the mixture

• Add in the sliced carrots and mushrooms and

stir for a minute or two as it doesn't take long to

cook trough

• Add in the softened noodles and mix well

• Add soy sauce and continue to mix well

• Add the sliced greens such as Choy Sum and

mix for another minute until the greens wilt

• Taste and add salt and pepper if needed

• Add a dash of sesame oil and toss the noodles

before adding the sliced tofu, sprouts and

spring onions and mix well

• Take it off the flame at once as the sprouts, tofu

and spring onions do not need to cook

• Serve warm

Mushroom Rendang

Ingredients

1. 500g of fresh mushrooms – gently wiped and halved

2. 1 large onion - peeled

3. 6 cloves of garlic - peeled

4. 1 two-inch piece ginger or galangal - peeled

5. 1 stalk of lemon grass – bruised and sliced

6. 3 or 4 kaffir lime leaves - sliced

7. 6 fresh red chillies – sliced

8. 1 one-inch piece of fresh yellow turmeric – peeled

9. 1 tbsp coriander powder

METHOD

10. 1 tbsp cumin powder

11. 1 tbsp fennel powder

12. ½ cup of dry roasted dessicated coconut

– pounded or ground fine

13. 1 cup of thick coconut milk

14. 1 tbsp of gula melaka (palm sugar)

15. Salt to taste

16. Oil

1. Blend the onion, garlic, ginger, lemon grass, kaffir lime leaves, turmeric and chillies into a

fine dry paste.

2. Heat a wok with some oil and fry the blended paste.

3. Wait until the oil separates from the mixture before adding the coriander powder, cumin

powder and fennel powder.

4. Mix well and fry until the oil separates from the mixture again.

5. Add in the mushrooms and stir well before adding the coconut milk.

6. Simmer until the gravy is thick. The mushrooms don't take long to cook.

7. Add salt to taste and the palm sugar. Taste and adjust the seasoning to your liking.

8. Add the roasted dessicated coconut and mix well.

9. It should by now be a thick dry curry.

10. Remove from flame, garnish with kaffir lime leaves and sliced red chillies and serve with

plain or coconut rice.

Tofu Sambal

Ingredients

1. 500g tofu (hard type) – cube and pan fry until golden

2. 1 large onion – chopped into a fine paste

3. 3 or 4 cloves garlic – chopped into a fine paste

4. 3 or 4 tbsp of chilli paste – dried chillies soaked and ground to

a paste

5. 1 stalk of lemon grass – bruised

6. 2 kaffir lime leaves – sliced

7. 1 tsp of turmeric powder

8. 2 or 3 tbsp of tamarind juice

9. 1 tbsp of gula melaka (palm sugar)

10. 1 tsp of salt

11. Oil

method

• Heat some oil in a wok and fry the onion and garlic paste

until brown and the oil separates from the mixture

• Add in the chilli paste, turmeric powder and lemon grass

and kaffir lime leaves.

• Fry until the oil separates from the mixture

• Add the salt, tamarind juice and sugar. Taste and adjust seasoning

to your liking

• Add in the pan fried tofu and mix well in thick sauce

• Serve as an accompaniment to rice or noodles

*Instead of tofu, you could use pan-fried/grilled eggplant or

hard boiled eggs in the sambal sauce

Disclaimers: Geetha Nair and Indian Newslink absolve themselves of any responsibility relating to the ingredients, cooking methods and other matters relating to 'Geet's Kitchen' column. Some ingredients may

not be available and may cause allergy in some people. Caution must therefore be exercised and Geetha Nair and Indian Newslink will not be responsible to any health issues in this connection. Please consult

your General Practitioner, Nutritionist or such others you may be consulting in connection with your dietary requirements.
---
AUGUST 1, 2016

ENTERTAINMENTLINK

29

New Zealanders bow to 'endangered instrument'

Ratna Venkat performing Kathak to the tunes of Sangeet, Basant and Akhil

Shama Lal keeps up the beat with Chinmaya Dunster

Melody on strings with Sargam Madhur, Tiara Kelly and Debraj Kaur

A Correspondent

Sangeet Mishra, a musician

maestro of the ancient

Indian stringed-instrument

'Sarangi,' gave New

Zealanders a unique opportunity

to witness and hear one of the

rarest instruments practiced in

modern times.

Originally from Banaras (or

Varanasi) and now based in

Mumbai, Sangeet presented two

programmes in Auckland last

month organised by Acharya

Ajay Tiwari in association with

Sanskrit Yoga & Jyotish Trust.

Lively start

The first programme, titled

'Banaarasi Ka Rang, Sangeet

Ke Sang,' held on Friday,

July 8 at India Gate Hall in

Papatoetoe, was a showcase of

'Sangeet' (meaning music in

Sanskrit) that featured not only

Hindustani instruments, vocals

Radio Tarana is organising

'Festival of India'

on August 20, 2016 at

Vodafone Events Centre

in Manukau.

The event, beginning at

midday, will celebrate 70th

Independence Day of India and

afford Hindi film enthusiasts

and fans an opportunity to meet

Tusshar Kapoor, a popular actor

and son of 'Ever-Green Hero'

Jeetendra

The Festival of India will culminate

in the evening with a

grand fireworks display.

Free for All

Free and open to people of all

ethnic groups, this event is being

designed to showcase the rich

cultural heritage of India and the

struggles freedom fighters went

through to gain independence

for the country.

Like yesteryears, the forthcoming

Festival will include entertainment,

cultural shows and

other events, while a number of

stalls dealing in food, arts and

crafts and other items will be an

added attraction.

Radio Tarana Managing

Director Robert Khan said that

and dance, but also the visitor's

prowess as a soloist, vocalist

and accompanist.

Sangeet began by explaining

the nuances of Sarangi progressing

on to his solo in 'Raag Puriya

Dhanashri' set to 'Tin Taal' (16

beat time cycle), accompanied

by Basant Madhur on Tabla.

Kathak Performance

Later, Ratna Venkat added

colour to the show by presenting

a Kathak dance recital. She

explained the relationship between

Kathak and Sarangi in

ancient India before performing

a number of technical and

expressional pieces, and ending

with her intricate display of

footwork and a Jugalbandi (musical

question and answer) between

her and Sangeet. She

was accompanied by Akhilesh

Madhur on Tabla and Basant

Madhur on recitation while

Sangeet supported her by playing

the 'Tin Taal' time cycle on

Sarangi.

Tribute to Lord Rama

The audience was then transported

to the spiritual city

of Banaras and the simplicity

of village life when Sangeet

sang two well-known pieces –

a Khayal called 'Sumiran Karo

Mann, Ram Naam Ko' in praise

of Lord Rama, and a 'Mirzapur

Khajari,' a folk song unique to

Banaras.

The programme ended with

Sangeet's rendition of 'Raag

Bhairavi.'

'Sur Taal'

The second programme titled

'Sur Taal,' was an evening of

Indian Classical music staged by

Sangeet Mishra, Basant Madhur

and his students from Sargam

School of Indian Music on

Saturday, July 9 at Blockhouse

Bay Community Centre.

The show began with a

Saraswathi Vandana, followed

by an Instrumental recital

in 'Raag Kafi' featuring Sitar,

Violin and Tabla.

The Tabla recital, set to 'Tin

Taal,' displayed the various elements

of Tabla-playing such

as 'Peshkar,' 'Kaydas,' 'Rela,'

'Tukdas,' 'Paran' and 'Laggi.'

Deepak Madhur accompanied

the students on Harmonium.

'Auckland Mehfil'

The first half also featured

Auckland-based Sarod player

Chinmaya Dunster, in which

he rendered 'Raag Bairagi,' set

to 'Tin Taal,' accompanied by

Shama Lal on Tabla.

Born and raised in the United

Kingdom, Chinmaya spent many

years in India learning and mastering

the Sarod.

He is known for his 'Auckland

Mehfil' concerts that he conducts

regularly, spreading and

promoting Indian fine arts to

Tusshar Kapoor adds colour to Festival of India

A Free, Radio Tarana event in Manukau

Apurva Shukla

Tusshar Kapoor due on August 20, 2016

Govinda with (from left) Salmeen Khan, Aman Mahajan, Prakashni and Robert Khan in

Auckland on August 16, 2015

Tens of thousands of people greeted Suniel Shetty on September 20, 2015

song and dance sequences

culled from Hindi films will be

performed by the students of a

local dance school.

"These performances, including

folk dances such as

the Bhangra, will be dedicated

to Tusshar. Who knows, he

may even join in the music and

dance numbers of 'Golmaal' and

'Dirty Picture.' The presence of

'Bombay Magic' live band will

enhance entertainment value,"

he said.

Patriot undertone

The past years have included

songs, dances and skits with

a patriotic undertone as a highlight

of this event. Audiences

have been treated to a high

standard of performances; especially

by children who exemplify

the wonderful local talent in

Auckland. This event presents a

good platform for these talented

individuals and groups to showcase

their ability to a large number

of people.

Radio Tarana has made

'Festival of India' more exciting

by bringing Hindi film stars

to be a part of these celebrations.

Govinda arrived on our

shores, and added glamour to

Independence Day celebrations

held at Logan Campbell Centre

on August 16, 2015.

Suniel Shetty was the star attraction

at a similar Festival

held on September 20, 2015

at Vodafone Events Centre,

Manukau.

About Tusshar

Thirty-Nine-Year Old

Tusshar, is the youngest child of

the Jeetendra family.

His sister Ekta is producer and

director of the Indian Television

industry. Her 'Balaji Films' has

given a number of successful

soap operas on Hindi television

channels.

Tusshar is an alumnus of the

Bombay Scottish School and

University of Michigan. He assisted

filmmaker David Dhawan

before making his debut in the

romantic hit, 'Mujhe Kucch

Kehna Hai' (2001). Co-starring

Kareena Kapoor, this Satish

the wider community.

Sangeet Mishra presented the

second half of the concert.

Beginning with an Alaap in

'Raag Vachhaspati,' he rendered

the first composition in slow

speed set to 'Ek Taal' (12 beat cycle),

which he developed into

medium and fast speed on 'Tin

Taal.'

Akhilesh Madhur and Basant

Madhur accompanied him on

Tabla.

The Programme ended with

'Raag Bhairavi' set to Dadra Taal

(six beat cycle), accompanied by

Prashant Kumar and Shama Lal

on Tabla.

Sangeet Mishra's visit to New

Zealand and the spread of his

music from the little-known

Sarangi has no doubt won him

praise and new fans in this part

of the world. We look forward

to his visit again in the near

future.

Kaushik directed musical gave

Tusshar a good launch pad in

Hindi cinema.

He won a Filmfare trophy for

convincing portrayal of the boynext-door

trying to find his way

through life.

Subsequent years showed

Tusshar as a versatile actor convincingly

juggling between different

genres of cinema.

His most popular on-screen

character has been the dumb

'Lucky' in the Golmaal series.

Next year Diwali should see the

fourth instalment of this crazy

comic ride release in cinemas.

His other successes include

the adult comedy series, 'Kya

Kool Hain Hum' and the gritty

thrillers 'Khakee' and 'Shootout

at Wadala.'

Community Commitment

Radio Tarana Managing

Director Robert Khan said that

the Festival is a part of the radio

station's commitment to serve

the community.

"Our events are always free

for all New Zealanders and this

Festival is our way of celebrating

the cultural and culinary diversity

of India. We are putting

together a packed programme

of fashion, cultural items, Hindi

film music and dance, stalls selling

food and many other items

of interest and use and much

more. We are confident that

'Festival of India 2016' will have

enhanced value with the presence

of Tusshar Kapoor," he

said.
---
AUGUST 1, 2016

30 ENTERTAINMENTLINK

Jog your memory for a three-hour run of classics!

Hemant Thaker Joscel Alexander Joseph Alexander Peter Paul Rezwan Ashraf Shivan Padayachi Arif Ziya

Arpita Chanda Dharmesh Patel Jayashree Sitaraman Jyoti Rajesh Hemant Shirsat Shyamal Raval Vibha Trivedi

Venkat Raman

editor@indiannewslink.co.nz

An Auckland based

Indian businessman,

known for his love of

Indian film music continuously

advises us to promote

local talent.

"The Indian community in

New Zealand has immense talent;

we have our own singers,

instrumentalists and other performing

artistes. I do not understand

the need to invite so called

celebrities and waste money. I

have always supported events

that showcase our talented citizens

including youngsters," he

said.

Indian Newslink believes in

promoting local talent.

Local experts

'Dil Ne Phir Yaad Kiya,' that

would go on stage at Dorothy

Winstone Centre of Auckland

Girls Grammar School, 16 Howe

Street, on August 13, 2016 would

be one such.

Organised by 'Swaranjali,' a

musical group that comprises,

among others, Dharmesh Patel,

Shyamal Raval and Hemant

Thaker (all of who are accomplished

musicians), the event

will feature singers Arif Ziya,

Arpita Chanda, Dharmesh Patel,

Jayashree, Sitaraman, Jyoti

Rajesh, Hemant Shirsat, Nishtha

Raval, Shyamal Raval and Vibha

Trivedi.

Musical journey

Mr Raval, a music aficionado,

has been thinking for a while to

stage a programme that would

rekindle the memories of people

and take them and the following

generations along a memory

lane, offering soothing and lilting

songs that are not usually rendered

in musical events today.

He has a team of talented musicians

and singers to bring

beautiful compositions to life,

compelling you to call for an

encore.

Mr Thaker, New Zealand's key

Keyboard man will be on the instrument,

apart from being the

Music Coordinator. His sound

knowledge of the key songs

would be an added advantage

while travelling down the memory

lane.

Among the other accompanying

instrumentalists are Joscel

Alexander (Drums), Joseph

Alexander (Electronic Drums

and Octopad), Peter Paul (Tabla

and Dholak), Rezwan Ashraf

(Lead & Rhythm Guitar) and

Shivan Padayachi (Bass Guitar).

The Singers

Leading the group of singers

are organisers Shyamal Raval

and Dharmesh Patel, both of

who are passionate singers with

several shows to their credit.

While sharing their passion for

quality music and promoting local

artistic talent, they differ in

their style of rendition, to bring

variety to their performances.

Arif Ziya, adept at songs rendered

by the late Mohammed

Rafi; Arpita Chanda, a trained

singer; Hemant Shirsat, known

for his proficiency in old numbers;

Jayashree Sitaraman, a

classical music composer and

singer with playback experience

in Malayalam films; Jyoti Rajesh,

a 'sponstaneous singer;' Nishtha

Raval, a chip of the old block;

and Vibha Trivedi, a quality performer

and teacher among the

singers.

You can hope to listen to scores

of songs, including such great

compositions as 'Kaise Rahu

Chup' (from the film 'Inteqam,'

1969), 'Main Tenu Samajhawan

Ki' ('Virsa,' 2010), 'Mutthu Kodi

Ka Varigala' ('Do Phool,' a film

released 1967, from the original

Tamil hit 'Anubhavi Raja

Anubhavi' released in 1967),

Nazar Na Lag Jaaye ('Night in

London' 1967); 'Yaad Kiya Dilne

Kahan' ('Patita') and 'Zindagi

Khwab Hai' ('Jagte Raho,' 1956).
---
AUGUST 1, 2016

ENTERTAINMENTLINK

31

MISS

INDIANZ

Saturday,

September 17, 2016

at 730 pm

Aotea Centre, Auckland

Tickets from August 1, 2016

www.aucklandlive.com

Now in its 14th year

Kiwi Indian identity inspires mainstream media

Dharmesh Parikh

Mansi Patel

A

Macleans College Year

13 student, Mansi Patel

belongs to a traditional

Gujarati family and believes

that Miss Indianz would accord

her the right opportunity

to showcase her pure Indian

culture.

Mansi is in the process of completing

her Cambridge qualifications

and hopes to graduate in

the medical field.

It is a matter of gratification

that the annual Miss Indianz

extravaganza has been attracting

the attention of the

mainstream media, which in

turn has been evincing the interest

of the wider audience

throughout New Zealand.

From the country's largest

newspaper and biggest television

channels and regional media

to community newspapers,

our performers and participants

are a source of admiration, love

and respect.

Radio Tarana and Indian

Newslink have been our media

partners from the time I conceived

the project and began

preparations. That was in 2001.

A year later, my dream became

a colourful reality.

Social Media exposure

While more than 15,000 people

have witnessed Miss Indianz

since its inception 14 years ago,

"I am also interested in voluntary

work and community service,"

she said.

"Miss Indianz will boost my

confidence and allow me to

try something I have never experienced

in my life. I believe

in the famous saying, 'What is

easy will not be worth it; what

is worth will not be easy.' I look

forward to this great event,"

Mansi said.

the cultural event now has a

combined following of more

than 10,000 on the social media

platform. Almost 350 young

women have so far taken part

in the show, many of them pursuing

successful careers in modelling,

acting, and various other

forms of show business and art.

Miss Indianz has become a

symbolic event of Kiwi-Indians.

I have seen contestants from

a wide range of ethnic backgrounds

participating in this

event year after year. Besides

gaining useful presentation and

Kashni Thakur

industry related skills, the contestants

noticeably gain more

self-confidence.

This is the longest running

Bollywood and multicultural

event in New Zealand.

Building relationships

I continue my quest to stage

better events which provide an

opportunity for us to connect to

our roots whilst building stronger

relationships within our

communities.

You can witness beauty,

brains, smartness, elegance and

humour at our annual event

which will be held on Saturday,

September 17, 2016 at 730 pm

at Aotea Centre in Auckland's

Central Business District.

Tickets will be available from

August 1, 2016 from www.aucklandlive.com

For further details, please visit

www.rhythmhouse.co.nz or

call Dharmesh Parikh on 021-

2727454; Email: events@rhythmhouse.co.nz

Here are the profiles of the

next set of three Miss Indianz

contestants – part of a journey

that we began in our April

15, 2016. This is therefore our

Eighth Instalment.

We will profile more Indianz 2016

participants in our next issue.

A

Bachelor's degree with Honours in

Marketing and a postgraduate diploma

in Human Resource have brought

Kashni Thakur closer to the community and

she has been under the spotlight for a while

now.

As well as presenting a number of events,

she won the 'Miss Talented' Title and the top

prize in Dance and Debate competitions at the

University.

"I want people to know me through Miss

Indianz as a unique personality who carries

Indian history on her shoulders and is happily

spreading her wings into Kiwi culture. Best

of both the worlds! I am a giver in terms of

love, support and friendship and hence this is

a great platform to reach out to more girls like

me," she said.

Kashni is keen to be a guiding light for young

women in raising their self-esteem and confidence,

which she believes would in turn make

her a confident and happy person.

"In addition, Miss Indianz will present opportunities

to establish contact with people in the

entertainment industry and further my passion

in modelling, acting and dancing," she said.

Yukta Panda

Acting, modelling and

dancing are also areas of

interest for Yukta Panda,

a 16-year-old girl from Kolkata.

And like most other participants,

she believes that Miss

Indianz will be the vehicle to

transport to the world that she

longs to call her own.

A student of Mt Albert

Grammar School (Year 12),

Yukta takes her student life seriously,

the proof of which is

the 'Scholar Badge' that she

has been consistently bringing

home over the years.

"I am keen to combine my

Kiwi-Indian culture and my passion

for fashion. I want to express

my true personality to the

world and develop the experience

and skills that I need to

pursue my hobby," Yukta said.
---
AUGUST 1, 2016

32 SporTSLINK

Aucklander begins his winning streak in Europe

The following report appeared on the

Super Cup NI website:

Ray Baxter SupercupNI.com

A striker cannot be restrained- Arzan Todywalla at Super Cup NI on July 26

Venkat Raman

venkat@indiannewslink.co.nz

A

younger member of the

Indian community from

Auckland is beginning to

gain applaud from soccer

enthusiasts and attention from selectors

with his splendid performance

on the field and dignified

behaviour with officials, coaches,

peers and fans.

Arzan Todywalla on top of the NZ line-up

at Super Cup NI 2016

Sixteen-year-old Arzan

Todywalla scored a hat-trick on

Tuesday, July 26, 2016 enabling

his Junior MS Select New Zealand

win 3-1 against Columbia's Alset

Ballymoney Riada Stadium in

County North Antrim, North

Ireland.

Arzan was declared 'Star Player'

and awarded 'Player of the Day' title

in recognition of the three amaz-

Arzan goes aggressive at Super Cup NI

on July 26

ing goals that he scored, gaining

victory for the New Zealand team.

The Super Cup NI (formerly The

Milk Cup) Tournament was held in

Northern Ireland from July 24 to

29, 2016.

Prior to his Europe tour, Arzan

won the Golden Boot for scoring

a staggering 17 goals in six games

at the National Youth FUTSAL

Championship 2016.

The global appeal of

this competition was

on show once again as

Colombians Alset clashed with

MS Select (MSS) from New

Zealand, at Ballymoney Riada

Stadium.

Both teams had suffered defeat

in their opening game, but

with Alset having shipped 0

goals in their opening match, it

was intriguing to see how they

would recover.

Somewhat surprisingly, their

start was as bright as their orange

strip as they should have

been 1-0 nil up within 20 seconds

of the kick off.

Alset in trouble

A great run down the right

wing by Juan Sebastian Pena

as he tore through the MSS defence,

only to shoot straight

at the keeper, however the

ball rebounded to the feet of

Zambrano who smashed the

rebound off the cross bar.

The pressure continued, and

Pena was instrumental in

everything Alset produced, as

they had a number of good

early chances. The sound

of the vuvuzelas, from the

Colombian fans, penetrating

the skies around Ballymoney.

MSS were obviously rattled

by the strong start from their

opponents, but they slowly

gained a foothold in the game.

As the first half reached at

midway point, they had started

to gain the upper hand in the

possession stakes. However,

some poor timing of the runs

from their strikers, resulted in

a number of offside decisions

going against them.

The attack mode

It was only a matter of

time before MSS would create

some good chances and

they had three in quick succession,

two of which fell to Arzan

Todywalla who was proving

to be a real threat to the

Alset defence. It was actually a

Todywalla shot which indirectly

led to the first goal for MSS,

although the Alset reserve

keeper will want to forget it.

Todywalla had shot wide, leading

to a goal kick, but the keeper

miskicked, only succeeding

in giving the ball straight back

to the MSS attack.

The second half start as the

first ended, with MSS on top,

alongside Todywalla you also

had Oscar Browne up front

who put in an absolutely fantastic

shift throughout the

match. He chased every ball

and gave the Colombian defenders

no time and space. He

had a couple of early chances

in the second half but could

not find the net.

Celebrate Indian culture and witness

the cultural extravaganza of

Indian Food, Fashion, Entertainment.

Live band by 'Bombay Magic' and

special item by this years

Tarana Idol finalists

Photo opportunity with Tussar

For more info contact (09) 303 2286 or www.tarana.co.nz