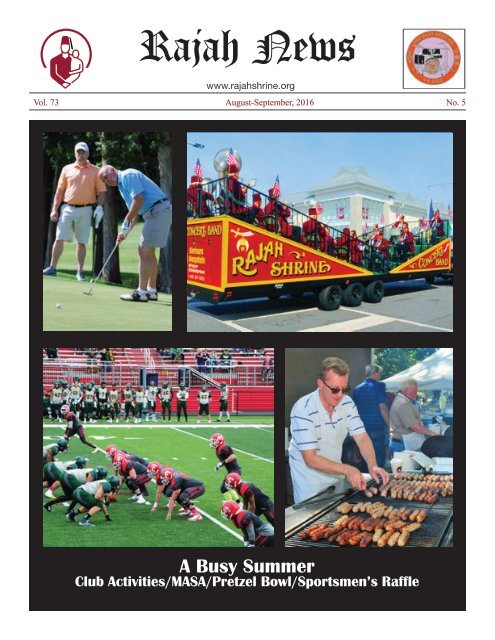 Create successful ePaper yourself
Turn your PDF publications into a flip-book with our unique Google optimized e-Paper software.
Rajah News

www.rajahshrine.org

Vol. 73 August-September, 2016 No. 5

A Busy Summer

Club Activities/MASA/Pretzel Bowl/Sportsmen's Raffle
---
2
---
The Potentate's Message

Es Salamu Aleikum

Nobles, Ladies and Friends:

Ahh, summertime. Yes summer is upon us. All of June's activities were well

attended and I believe enthusiastically received. Thank you to the committees if

any, and the chairman for making them fun.

July began with representatives in Tampa for the Imperial Session, then back

home to join everyone for picnics, the Car Show and more picnics. Then we had

to change pace for the Stated Meeting and the Fightin Phils Baseball Game. And

you guessed it, we finished off the month with more picnics.

By the time we receive this issue of the Rajah News, the Pote's Picnic will have passed. I hope a great time was had by

all, and for sure the food and camel's milk put a smile on everyone's face. A special Thank You to all the volunteers/workers

who made this picnic a success. The rest of August I'm sure will be used to prepare our Units and Club's floats, along with

practices and rehearsals for MASA. Of course this will be intermixed with more picnics, and will end with the Provost

Guard, Elvis Night.

With a sold out Sheraton and more staying in other hotels, I'm sure Rajah will make Illustrious Sir Ron Klee, PP, MASA

President proud of our attendance and performance in the parade on Saturday. As soon as all the hoopla, of Virginia Beach

is over, it will be time to concentrate on and request volunteers, helpers and workers, to make our Sportsman's Raffle exceptionlly

successful. Why do I say this? This year we have the Pretzel Bowl the day before the Raffle, with no other scheduling

options. So this means Friday and part of Saturday, instead of all day Saturday, we'll be setting up for the Raffle. Please

try to attend and help set up. Remember many hands make little work. This also applies to Sunday's break down and Monday's

stowing away of everything. I know we can pull this off; we just have to plan a little differently than usual. I am

thanking everyone in advance for your much needed extra help.

Lastly looking ahead, October brings the Ladies' Jewelry Raffle, and there is more about this elsewhere in this issue.

October 29th is the one-day Man to Mason Day and Rajah will be there to turn Masons into Shriners, just as we did at the

Pote's Picnic. So keep getting those petitions to the office, and remember two awards will be given at this year's end to the

Noble, and Unit or Club, with the most signers.

Yours in the Faith,

Larry Bortz, Potentate

P.S. To the Car Club: Great show, 172 entries, fabulous, well done!

ALIEKUM ES SELAMU

Attest:

Joe Hagan

Recorder

3
---
RAJAH SHRINE

4

Shriners International

♋

Published February, April, June,

August, October, December

♋

P.O. Box 40, Blandon, PA 19510

Telephone: 610-916-9000

Fax: 610-916-9100

www.rajahshrine.org

♋

EDITOR

Sam Ellis

2409 Treeline Drive

Easton, PA 18040-7925

Phone: 610-390-6188

Email: sellis4947@aol.com

NOTICE TO ALL

CORRESPONDENTS

Maximum article size is 450

words.

Copy deadline for the next

issue of the Rajah News is

October 10, 2016

NO EXCEPTIONS

E-mail, Fax or Mail your article

to Sam Ellis (Address Above)

BOARD OF DIRECTORS

ILLUSTRIOUS SIR

LAWRENCE S. BORTZ, III

POTENTATE

DAVID W. EVANS

CHIEF RABBAN

JARED R. KICHLINE

ASSISTANT RABBAN

MICHAEL J. ZERBE

HIGH PRIEST & PROPHET

MARVIN J. MILLER

ORIENTAL GUIDE

RONALD F. RAPP, P.P.

TREASURER

JOSEPH J. HAGAN, SR.

RECORDER

JOSEPH J. HAGAN, SR.

BOARD OF DIRECTORS

INSURANCE COMMITTEE

Every Thursday Evening at the Rajah Shrine Complex

Doors Open at 5:00 - Bingo Starts at 6:30

• Open To The Public • Smoke Free •

• Refreshments Available for Purchase •

Proceeds benefit Rajah Shrine and

are not deductible as charitable donations.

Recorder's Message

Hello Nobles, it feels like summer is here. The temperatures are creeping

up every day and the picnics have been great. The Pote's Picnic is just around

the corner and I am looking forward to a great day with plenty of food and the

cold sands for our new members.

Thanks to our hospital drivers. They made a total of 28 trips to the hospital

during May and June. Great job Nobles. The Hospital Service Unit is looking

for some Nobles that would like to drive children to the hospital. If you think

you may want to do this, please call the office at 610-916-9000.

September will be a busy month with MASA, "Pretzel Bowl" and the Sportsmen's

Raffle. Please mark your calendars and try to make each of these events.

We are still looking for a few Nobles that would like to become bartenders

and also to become part of our building/property committee. Please call the office

for more information.

Your current dues card looks like a gold credit card. If you don't have one

of these, your dues for 2016 have not been paid. Please check now while you

are thinking about it. You may pay your dues by mailing it in, or using a credit

card by calling the office.

Please enjoy the rest of the summer and I hope to see all of you very soon,

at one of our events.

NOTICE - NOTICE - NOTICE

The Rajah Shrine Administration Office Will Be Closed On:

Monday, September b 5, 2016

In Observance of Labor Day.

Thank you, Rajah Shrine Office

CEREMONIALS

Mini-Ceremonials shall be at the discretionof the

Potentate. To schedule, please contact the recorder at

610-916-9000.
---
Rajah Chanters

It certainly has been a long drought since your

Rajah Chanters have won the First Place Trophy at

the MASA Chanter competition, but we have a feeling

that will soon end. As we prepare for this year's

competition,we are doing it with more determination

than ever to WIN, WIN, WIN!!!

For those of you that follow the Chanter competition,

the venue has changed. We will be holding the

competition this year in the Virginia Beach Convention

Center on the main floor. Please note this change

and if you are planning on stopping by, please bring

your loudest voices and strongest cheers as we will

be singing our hearts out to prove that once again the

Rajah Chanters are the best of the best in the Mid-

Atlantic.

This change venue has been in the works for several

years and with Rajah's Past Potentate, Illustrious

Sir Ron Klee serving as President of MASA this year,

it was felt that the timing was right to make the

change. Everyone is sure that you will enjoy the new

setting and will see how much better we sound in the

new arena.

Director Bryan Hartman and Assistant Director

Bruce Rohrbach feel that with the songs we have chosen

and the new setting, we are primed and pumped

to bring home the top trophy. President Les Worley

would also like to remind all of the Rajah convention

goers, that we will be singing in the Rajah Hospitality

Room at the Sheraton Hotel during the weekend and

we look forward to seeing everyone at the parade on

Saturday. The Chanters will also be taking part in the

MASA Memorial Service on Thursday, September

8th in the Convention Center, 2nd Floor at 1 PM.

Elsewhere, we are happy to report that we have

represented Rajah Shrine at several concerts recently

and appeared in a few parades in the region this

Spring and Summer. We have more appearances

planned for this Fall and Winter and if you know of

a group that would like to have some musical entertainment,

just get in touch with us through the Rajah

Office and we'll be glad to work out a suitable time

and date.

If music is in your soul and you love to sing, this

is your invitation to join us at one of our rehearsals

on any Monday night in the All-Purpose Room at the

Rajah Shrine Complex at 7 PM.

Greg Lewis, PP

Anglers

We have finished our yearly fish fry and we'd like to thank

everyone who attended and donated either a covered dish or dessert.

Everything was delicious and we fed over 140 people again this year.

A special thank you to the String Band for entertaining us during the

event. If comments at Bingo and other Shrine events are any indication

a good time was had by all.

By the time you read this we may already have had our August

dinner meeting with the Ladies. We want them to see what we do at

our meetings and we have Donor Relations Chairman, John Swartz,

coming to give a talk on the hospital and it's goals. Hopefully this

will be the beginning of dinners with the Ladies a couple times a

year.

On July 9th we began this year's sauerkraut fund raiser. The cabbage

was ready so the hard work of preparation is now upon us.

We've had a good preliminary signup to help in the preparation and

it should go well.

Our early season fishing trips have been fruitful and many of us

have enjoyed trips to New York, Canada and local lakes and streams.

Shortly ten of us will be venturing to Sodus Bay in New York, which

is one of the best bass areas in the state. In September a fishing trip

to Oak Orchard Park is scheduled for salmon and there are at least

three openings if any of you would like to join them.

On a positive note we added two new members to the Angler's

Club at the membership picnic. We have also started our parade year

by participating in the Lehighton Sesquicentennial parade. Before

Preparing the fish at Angler's Fish Fry.

long we'll be headed to Virginia for MASA and showcasing our little

red boat. We have a great contingent of Anglers going and it should

be a great time.

Enjoy the summer and do a lot of catching while you're fishing.

Dick Snell - President

PLEASE DRIVE

CAREFULLY-

SCHOOL

IS OPEN.

5
---
Forks of the Delaware Tin Lizzies

It's been a busy summer so far for the Tin Lizzies. At the Membership Picnic, Parade Director

Garret Newhartz and Past President Bruce Johnson

had fun giving test drives in the little Model T replicas to

members of the Divan and Past Potentate Ron Klee. Illustrious

Sir Larry Bortz, Ron Rapp, along with Dave Evans,

Mike Zerbe, Marvin Miller and Joe Hagan took a few laps

around the Complex. This is in anticipation of the Divan

driving cars in the MASA parade in September. Chief Rabban Dave Evans is a Tin

Lizzie card holder and has experience with the cars. Treasurer Ron Rapp is also familiar

with the cars having driven in past MASA parades.

The Club fielded 14 cars at the July 2nd Lehighton 150th Anniversary parade. It was a great day with several Rajah

Clubs and Units participating. I'm sure the people along the parade route got a good impression of our philanthropy and the

diversity of Clubs and Units within our Temple.

On July 9th we held our Annual Clam Bake at Newhart Park in Stockertown. Although the weather was threatening

most of the day, it was a good time for family, food, and fellowship. Illustrious Sir Larry Bortz was on hand to enjoy the day

and play a few games of ring toss. Ron Barron called Bingo, with just about everyone winning a game. Our thanks to the organizers

of the event; Chairman Ron Barron, Club President Henry Faust and Lady Patricia, Garrett Newhartz, Bruce and

Sally Johnson (thanks Sally for those great gift baskets), Sam and Kay Ellis, and everyone who brought desserts. (This writer

could barely push away from the table.)

The Club is looking forward to MASA and supporting our Past Potentate and MASA President Ronald Klee. Rajah will

be leading the parade this year and our Club is proud that the Divan will be driving Tin Lizzie cars as the very first Unit.

With the Divan and the Tin Lizzies participating, we'll have our full complement of sixteen cars in the parade and we're

loving it!

Sam Ellis

The Chaplain's Study

Have you ever been asked the question, "Are you saved"? The Bible offers many meanings to the verb "to save" and

most people make a very narrow definition of that word or phrase. Many people see the definition of salvation as a destination

rather than a present state of being.

It would seem then that salvation has something to do with having a way to heaven. So salvation becomes your ticket

to that place in the sky with God and some people get that ticket and some people do not. That would seem like the logical

outcome of the question, salvation gets you the ticket and others who don't get the ticket are doomed to eternal pain.

The Bible speaks of salvation as being alive with God who created you. In Isaiah 12:2 we find these words, "Surely God

is my salvation..." The Old Testament Prophet puts salvation in the hands of God as he is active in our lives.

The substance of "heaven" and terms like "eternal life" are found in the Bible but very seldom are they associated with

death. These terms are often used with knowing God and being in one with his Son Jesus Christ who has given us eternal

life.

Salvation is not an achievement for us received because of what we have accomplished through doing what we consider

doing good. Salvation rather is a state of being with God. This being is a comfort and a state of peace and well-being. It is

knowing that God, through his Son Jesus Christ, has won our battle over death and now we can be part of God's kingdom

on earth and live with him in his heavenly kingdom.

Jesus tells us that to know him is to know his Father in heaven, therefore, we have direct contact with him on earth.

Jesus is concerned about how we live our life here and now among our brothers and sisters. We are not here to work our way

to a heavenly mansion but to do good among his people on earth. Our service to others is the fulfillment of what the promise

of salvation brings to us.

Rev. David Newhart

6
---
Concert Band Float Is Readied For Mid-Atlantic

Shrine Convention

This year, more than 4,000 Shriners and

guests will converge on the Oceanfront and occupy

more than 5,000 hotel room nights during

their stay. In addition to holding business meetings

and functions at the Virginia Beach Convention

Center, our Shriners will take to the streets

to entertain and spread the word of our mission:

to provide the highest quality care to children

with neuromusculoskeletal conditions, burn injuries

and other special healthcare needs, to provide

for the education of physicians and other

healthcare professionals and to conduct research

to discover new knowledge that improves the

quality of life of children and families.

The excitement is starting for the Concert

Band, anticipating another MASA Convention in

Virginia Beach, Virginia. Bandsmen are signed

up and are going to be traveling by Chartered Bus

or by their own car to the Sheraton Virginia

Beach Oceanfront Hotel, September 8th thru 11th. (For

details about available seats on the bus, contact Band

President Joe McCarthy, 610-488-1382).

Situated on the exclusive northern end of the Virginia

Beach Boardwalk with direct beach access, our Nobles

will have great ocean views and enjoy the best hospitality

room at MASA.

Rajah Shrine is very proud to support our Past Potentate

and the MASA President, Ronald R. Klee. Noble Ron

Klee has facilitated a number of changes for MASA and

we are grateful for his leadership and vision. Duly noted

is the Shrine-O-Rama that has been discontinued. This

event usually held on Thursday evening at the Convention

Center has lost its appeal and the officers of MASA have

elected to make a change to the programing. This year, in

its place, there will be a contest for the "Best Hospitality

Room". MASA officers plan to visit all the Shrine Hospitality

Rooms throughout the convention. In anticipation

of this event, the Rajah Nobleaires Dance Band is planning

to entertain in the hospitality room on Thursday

evening, setting the stage for a first class welcome party

for everyone. Day two, Friday, the Concert Band and the

Chanters have programs at the Virginia Beach Convention

Center with performances starting at 9 AM.

On day three, Saturday, Rajah Shrine has the honor

of leading the Shriner's Parade. Rajah participants will be

in position by 8:45 AM, as requested. Many residents and

visitors alike look forward to this Shriner's Parade. The

much anticipated festive Shrine Parade, complete with

motorized vehicle units, clowns, floats and much more,

kicks off at 9:30 AM on Saturday, September 10th at 17th

Street and Atlantic Avenue and continues north to 27th

Street. It's free and open to the public. All are welcome

and invited to line the parade route and join in the fun.

Fraternally,

Bryan D. Snyder -

Unit Director, Chief Aide

Have a safe

and Happy

LABOR DAY

7
---
Having trouble with everyday tasks?

Assured Assistance can help.

To arrange a FREE confidential,

no-obligation personal visit,

call 610-796-4737.

Senior Care | Housekeeping | Transportation | Laundry Services

Meal Preparation | Personal Hygiene | Shopping/Groceries | Errand Services

Companionship | 24/7 Coverage | And more...

Locally owned and operated | Fully insured and bonded | Equal Opportunity Employer & Provider

610-796-4737 | www.assuredassistance.com

Stair Lifts

• Locally Owned and Operated

• Expert Installation by Certified

Technicians

• Handles National Brands

Including Acorn

• Will Beat All Factory Direct

Sale Pricing

$

200

DISCOUNT

TO ALL NOBLES

AND FAMILIES

STAIR LIFTS

RAMPS

LIFT CHAIRS

FREE ESTIMATES

1-800-886-6364

8
---
POTE'S

FOODIE

TRIP

9
---
10

Membership

Picnic
---
String Band

Greetings from the Rajah String Band. Hope you are having a great summer. We now have all our musicians back

from their winter homes in Florida and are ready to start our summer season. Thanks to the Anglers for having us at their

fish fry. It was great food and lots of fun. The String Band enjoyed playing for them.

We started the parade season off with a bang on July 4th weekend. We had 3 parades in 4 days. Lititz Patriotic Parade,

Lehighton 150th Anniversary Parade, and the July 4th Glenside Independence Day Parade.

Upcoming Events:

Wednesday, August 3 Pote's Picnic - String Band plays at 2:00 pm

Saturday, August 20

Shenandoah Sesquicentennial Parade at 11 am

September 7-9

MASA, Virginia Beach, Virginia

Saturday, September 17 East Petersburg Parade 10:00 am

Wednesday, September 21 Ephrata Fair Parade 7:00 pm

Wednesday, September 28 New Holland Spectacle of Bands 7:00 pm

Saturday, October 1

Rogers Truck Show - String Band plays at 1:00 am

We are always in need of musicians to play in our great String Band. Rehearsals are on the second Wednesday of each

month at 6:00 pm at the Complex. If you know of someone in need of a parade band, contact Tom Dietrich @

tdietrich38@gmail.com.

See you at the parades, Larry Christman, jchris9277@aol.com.

11
---
12

Cigar Nite
---
RAJAH SHRINERS 66 th ANNUAL

PRETZEL BOWL

Albright College Lions

vs The Lycoming Warriors

September 17, 2016

Game Time 1:00 PM

Eugene l. Shirk stadium

All proceeds benefit Shriners Hospitals for Children

NOBLES & LADIES

HELP RAJAH CELEBRATE 66 YEARS OF PRETZEL BOWL HISTORY

PRETZEL BOWL CHAIRMAN: MARVIN MILLER

CO-CHAIRMAN: WALTER NEWRUCK

COMMITTEE: DANIEL HEFFELFINGER, SR

13
---
You Can

You

Now

Can Now

Invite

Invite

Good

Good

Men

Men

to Become

to Become

Masons

Masons

Anytime!

Anytime!

DO IT NOW DO IT So NOW They So Can They Take Can Advantage Take Advantage of the… of the…

One One Day Day Masonic Journey

Saturday, October October 29, 29, 2016 2016

Approved

Approved

candidates

candidates

for membership

for membership

may

may

receive

receive

all 3

all

Blue

3 Blue

Lodge

Lodge

degrees,

degrees,

and

and

if they

if they

desire,

desire,

progress

progress

through

Scottish

through

Rite

Scottish

and Shrine

Rite

Freemasonry,

and Shrine Freemasonry,

all in one day.

all

It's

in

a

one

great

day.

opportunity

It's also a great

for current

opportunity

Blue Lodge

for current

members

Blue to Lodge expand members their Masonic to expand Experience their Masonic to include Experience Scottish to Rite include and Shrine Scottish Freemasonry Rite and Shrine

Freemasonry.

Reach out to family members, neighbors, co-workers and friends worthy of joining the fraternity

Reach out to family and members, invite them neighbors, to experience co-workers this and unique friends event, worthy ideal of for joining quality the men fraternity

and invite them to experience busy with family, this unique work event, and volunteer ideal for commitments.

quality men

busy with family, work and volunteer commitments.

For more information, contact your local lodge leadership

For more information, the contact Grand your Lodge local at 215-988-1900

lodge leadership

or the Grand Lodge at 215-988-1900

Angler's Club Presented

With Check

Life Changes

On Saturday, May 28th, during their Hospital Crusade

at the Redner's in Northampton, the Angler's Club was presented

with a $1,000 check from the Krysta Hankee Memorial

Fund. Krysta died in a freak accident shortly after

graduating from college. Her parents, Bill and Chris Hankee

keep her memory alive by sponsoring many golf tournaments

throughout the Lehigh Valley as well as several other

fund raisers in support of more than 20 different charities.

All they asked was that we specificlly apply the money to

our transportation fund. A special thank you to the Hankees

for their generous donation.

14

Yo

our priorities change,

Your needs change,

Your idea of a perfect home changes.

You don't have to go it alone… I can help!

SAM KALBACH, ®

ACH, REALT TOR

Coldwell Banker Residential Brokerage

975 Berkshire Blvd., Suite 100

Wyomissing, PA

19610

484-256-4038 (cell) | 610-373-9900 (office)

www.homewithsam.com

© 2016 Coldwell Banker Residential Brokerage. All Rights Reserved. Coldwell Banker Residen l aitn

gr efully aekorB

supports the principles of the Fair Housing Act and the Equal Opportuni y t

Act. Operated by a subsidiary of NRT LLC. Coldwell Banker® and the Coldwell Banker logo a e r

registered service marks owned by Coldwell Banker Real Estate LLC. 85582 03/16
---
17th Annual

CAR SHOW

15
---
16
---
POTE'S

GOLF

OUTING

HESS

Embroidery & Uniforms

A WOMAN OWNED COMPANY

513 Reading Avenue

West Reading, PA 19611

www.hesslettering.com

Phone: 610.372.6287

Fax: 610.372.0941

E-mail: hessemb@aol.com

Sam Beam

POLICE • FIRE • INDUSTRIAL • SECURITY UNIFORMS

EMBLEMS • BADGES • JACKETS

EMROIDERY • SILK SCREEN

MASONIC - SHRINE - OES

HOURS: MON., WED., THUR., & FRI. 9-5 • TUES. 9-7 • SAT. 9-1

17
---
2016 PRETZEL BOWL QUEEN

KAYDNCE LEEANN

SHEPPARD

Kaydnce was born in 2009 in Zephyrhills, Florida and diagnosed with P.F.F.D. (Proximal Femoral

Focal Deficiency) of her left leg. A birth defect with an incident range from 1 case per 50,000 is an uncommon

problem, however, it is considered to be a complex one. The management of P.F.F.D.requires

a team which includes pediatric orthopedic surgeons, prosthetist and physical therapists. At the age

of two months, Kaydnce was taken to the Shriners Hospital in Tampa for evaluation and treatment

options. The family relocated to Easton, Pennsylvania in the Spring of 2010. A relative, Curtis Beam,

was instrumental in referring Kaydnce to the Shriners Hospital of Philadelphia where at the age of one

she began her many journeys for treatment. At age 3 she had her first surgical procedure called "Super

Hip" and at age 5 she had her first lengthening. Today at age 7, and despite these obstacles, Kaydnce

loves soccer, arts and crafts, and had just moved up as a Brownie in the Girl Scouts. With the support

of her parents and siblings Michaela, Chloe annd Kaleb, Kaydnce has the enviable ability to be just

like all other children of her age. The Shriners Hospital of Philadelphia and Nobles of Rajah Shrine are

extremely proud to be a part of Kaydnce's life journey.

18
---
19

2016 PRETZEL BOWL KING

2016 PRETZEL BOWL KING

NOAH DAVID FICK

NOAH DAVID FICK

Early in 2006 Katrina Church was anxiously awaiting the birth of her son. Her joy quickly turned to concern,

however, when she learned that her child would be born with a birth defect. Noah David Fick

was Early born in 2006 without Katrina a right Church hand. was Each anxiously year about awaiting 1500 the babies birth of are her born son. in Her the joy United quickly States turned with to upper concern,

limb however, reductions. when Noah's she great learned uncle that Richard her child Lawrence would be was born responsible with a birth for defect. referring Noah the David family Fick to

Shriners was born Hospital without for a right Children hand. in Each Philadelphia year about where 1500 at babies the age are of born six months in the United old Noah States was with fitted upper with

his limb first reductions. prosthetic. Noah's Children great with uncle limb reductions Richard Lawrence will have was some responsible difficulties and for referring limitations the throughout family to

Shriners life but with Hospital proper for treatment Children and in Philadelphia care they can where live long, at the healthy age of productive six months lives. old Noah Today was Noah fitted enjoys with

being his first in prosthetic. nature, helping Children others, with playing limb reductions X-box, basketball will have and some listening difficulties to music. and limitations Because throughout of Shriners

expertise life but with with proper prosthetics, treatment Noah and has care a they special can attachment live long, healthy which productive allows him lives. to hold Today a pick Noah and enjoys strum

a being ukulele in nature, that he helping has been others, wanting playing to X-box, play for basketball quite some and time. listening Noah's to music. parents, Because along with of Shriners sisters

Skyler expertise and with Cassidy prosthetics, are thankful Noah for has the a special support attachment and dedication which of allows the staff him of to Shriners hold a Hospital, pick and strum Rajah

Shrine, a ukulele and that Noble he has Russell been Hottenstein wanting to who play has for quite transported some time. them Noah's to and parents, from every along appointment with sisters at

Skyler the Philadelphia and Cassidy Hospital. are thankful for the support and dedication of the staff of Shriners Hospital, Rajah

Shrine, and Noble Russell Hottenstein who has transported them to and from every appointment at

the Philadelphia Hospital.

19
---
Legion of Honor Commander's Ball Honoring Commander Illustrious Sir Bill Remo

20
---
Former First Ladies

Former First Ladies are seen here at Lily's on Main in Ephrata.

The ladies started getting together last year and intend on doing

lunch once a year. All past first ladies are invited. This year's

luncheon was chaired by Ferne Engle, Sandy Coldren and Tess

Shank.

Next year, the Former First Ladies from Elizabethtown,

Meg Lichtenwalner, Susie Lesher and Joanne Hariu, will be the

committee.

Ferne Engle, commenting on the inclusion of this story in

Rajah News, said that she hopes it will be an incentive for other

past first ladies to attend the next luncheon. "We did have a great

time."

Rajah Nobles and Ladies Attending

The MASA President's Banquet

The President's Banquet with our own Ron Klee, Jr., PP and

current President of MASA, will be held in the Convention Center

Ballroom on Saturday, September 10th at 6 PM. The meal

will be short ribs of beef, salad, potato, vegetables and dessert.

Tickets are $45.00 per person, (cash bar). Dress for men is casual

attire/Shrine shirt and Fez if desired, no shorts. Dress for

Ladies is casual.

The Ladies Luncheon will be held at the Convention Center

on Friday, September 9th. Social hour 10:30 AM - Lunch at

11:30 AM. Tickets are $35 per person. Dress is street dress or

casual.

If you have not made your reservations, please call the office

at 610-916-9000.

Thank you, Ron Rapp, PP - 2016 Rajah Pilgrimage Chairman.

Rajah Provost

Guard

As we roll through the summer

months, it seems that each year gets a little

hotter and a little busier. Here we are almost

at the end of the summer and there is

still lots of hot weather and lots of actvities

still on the agenda.

All summer your Provost Guard has

been meeting and planning for many of the

events that take place in Rajah. We, of

course performed our duties at the Pote's

Picnic; are planning our own Provost Family

Picnic; making plans for the upcoming

MASA Convention in Virginia Beach,

there one of our own members, Dennis

Hoch (who is this year's Provost President)

will move up the ladder of leadership

in the Mid-Atlantic Shrine Provost Guard

Association. We'll be helping at the Pretzel

Bowl on Saturday, September 17th and

the following day, we will help the thousands

of guests that participate in the

Sportsman's Raffle at the South End Gun

Club.

But. the big events of the year for us

are still to come as we would like to see a

large crowd when "Elvis" is in the house

on Saturday, August 22nd at the Rajah

Shrine Complex. Doors will open at 5:30

and Jeff Krick, the region's premier Elvis

show artist will entertain and thrill music

lovers as he sings, swings and dances his

way through the night. Tickets are available

from Provost members and will also

be sold at the door.

And without failure, pasta will be on

the menu on Saturday, October 8th when

we once again bring you the biggest and

best spaghetti dinner in the land at the Annual

Provost Guard All-You-Can-Eat

Spaghetti Feast, also at the Rajah Shrine

Complex Banquet Hall.

Please tell your friends and neighbors,

gather the gang together and plan on joining

us for these Provost Guard sponsored

events. You'll be glad you did!!!!

Are you looking for a fun and active

Unit to join' eureka, you've found it...the

Rajah Shrine Provost Guard has been

looking for you too. We meet on the Third

Tuesday of each month in the All-Purpose

Room on the campus of Rajah Shrine at 7

PM. There is always room for one more.

Greg Lewis, PP

Communications

Officer

21
---
LADIES OF RAJAH SHRINE, 5 TH ANNUAL

JEWELRY AND FASHION EVENT

Saturday, October 15, 2016

10:00 AM to 2:30 PM

Rajah Shrine Complex

Benefits:

Philadelphia Shriners Hospital for Children

Cost is $20.00 per Ticket; with lunch included if you attend

20 jewelry prizes, basket raffle, fashion show and vendor fair

You do not need to be present to win.

Tickets are available from any

Divan or Aide Lady

Please contact Barbara Maxwell at 239-777-8751 with any questions

Lehigh Valley Shrine Club

Fellow Nobles -

Welcome to the "Dog Days" of summer! As I write this in the morning, the temperature has already passed the 90 degree

mark. Hope you all are able to remain cool in this extreme heat.

Our Annual Bingo Night at the Complex was held on Friday, May 20th. We had 54 Nobles, Ladies and guests present

to enjoy a buffet dinner of sirloin beef tips, turkey, potatoes, and vegetables. Many games of Bingo were played with almost

everyone winning a prize. We appreciate that many of our Nobles donated extra prizes to add to the fun.

The June meeting was held at the Brass Rail on Wednesday the first. This was our Hawaiian Night when we wear beach

shirts and leis. A very colorful evening was enjoyed by 29 Nobles and Ladies. Keeping with the casual theme, dinner was

soup, salad, cheesesteaks, French fries and strawberry cake for dessert. It was not necessarily the most nutritious (or healthy)

meal, but certainly one of the most enjoyable. The Potentate and his Lady were there to share the evening with us.

Our Interclub Night is Wednesday, August 17th, to be held at the Masonic Lodge on Route 100, Trexlertown. It is always

a fun time with all the fried eggs, ham, salad, corn on the cob and pie you can eat. If you leave there hungry, it's your own

fault! Ask any member or make reservations with our Secretary.

Here's an early reminder that the Annual Lehigh Shrine Club Golf Outing will be held on Wednesday, October 12th at

Iron Lakes. Mark that date on your calendar for a day of good golf, good food, and great prizes!

Remember to attend

and support your Clubs and

Units. Without an active

membership, we will cease

to exist!

As always, it's GREAT

to be a Shriner!

Yours in the Faith,

Noble Roger C. Reis

22
---
Obituaries

GEORGE T. BARBON, JR.,

Wyomissing

DIED: June 23, 2016

EDGAR W. BUCHANAN,

South Dakota

DIED: December 3, 2015

BARTON E. CROLL, Michigan

DIED: July 6, 2016

HOWARD J. ENDY, Annville

DIED: June 21, 2016

EDWIN J. FILCHNER, SR., Bath

DIED: July 7, 2016

ELLSWORTH FRANKENFIELD,

Bethlehem

DIED: February 1, 2015

ALEXANDER L. GAUL, Florida

DIED: November 30, 2015

SAMUEL M. GETTER, Florida

DIED: July 1, 2016

HAROLD R. HAAK, Annville

DIED: May 22, 2016

RICHARD T. HAUG, Kutztown

DIED: July 9, 2016

SHELDON HORNE, Wyomissing

DIED: July 13, 2016

KENNETH M. KREWSON,

Lansdale

DIED: April 17, 2016

ROY A. KURTZ, Mohnton

DIED: May 29, 2016

JOHN MARCIN, JR., Allentown

DIED: July 9, 2016

KENNETH E. MILLER,

Lehighton

DIED: April 25, 2016

WARREN J. LINDERMAN,

Reading

DIED: May 25, 2016

THOMAS L. MILLER, SR.,

Shoemakersville

DIED: May 26, 2016

CLARENCE L. RODERICK,

Lancaster

DIED: May 19, 2016

GEORGE T. SEILER, JR., Auburn

DIED: May 20, 2016

ELBUR A. TECHENTIN,

Pottsville

DIED: May 6, 2016

THOMAS F. ZIEGLER, Topton

DIED: May 24, 2016

The last known address in our

records is listed below. If anyone

knows the whereabouts of the following

Nobles, please contact

Joseph J. Hagan, Sr., Recorder or

Anne-Marie at the Administration

Office, 610-916-9000.

–––––––––––––––––––––––––––––

DONALD E. PETERS

109 Jana Circle

Auburndale, FL 33823-2716

WILLIAM P. MURRAY

320 Park Rd.

Wyomissing, PA 19610

Lost

In

The

Desert

23
---
Rajah Shrine

P.O. Box 40, Blandon, PA 19510

Vol. 73 Aug.-Sept., 2016 No. 5

DATED MATERIAL

NOTICE - NOTICE - NOTICE

AUGUST, 2016

RAJAH SPORTSMEN'S RAFFLE

September 18, 2016

This is our biggest Fundraiser!

One month remaining

to sell our tickets.

Let's make a big push to make this

the biggest Raffle to date.

BINGO EVERY

THURSDAY NIGHT

––––––––––––––––––––––––––––––

Office Closed - September 5th

Fall MASA - September 8th-11th

Pretzel Bowl - September 17th

Sportsmen's Raffle - September 18th

SEPTEMBER, 2016