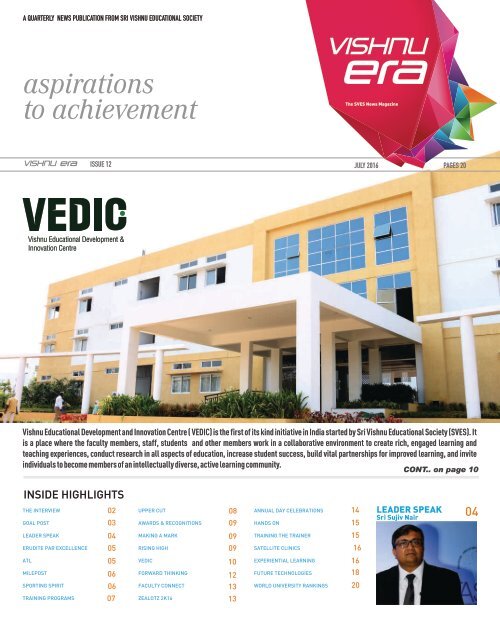 Create successful ePaper yourself
Turn your PDF publications into a flip-book with our unique Google optimized e-Paper software.
A QUARTERLY NEWS PUBLICATION FROM SRI VISHNU EDUCATIONAL SOCIETY

aspirations

to achievement

The SVES News Magazine

ISSUE 12 JULY 2016 PAGES 20

Vishnu Educational Development and Innovation Centre ( VEDIC) is the first of its kind initiative in India started by Sri Vishnu Educational Society (SVES). It

is a place where the faculty members, staff, students and other members work in a collaborative environment to create rich, engaged learning and

teaching experiences, conduct research in all aspects of education, increase student success, build vital partnerships for improved learning, and invite

individuals to become members of an intellectually diverse, active learning community.

CONT.. on page 10

INSIDE HIGHLIGHTS

THE INTERVIEW

GOAL POST

LEADER SPEAK

ERUDITE PAR EXCELLENCE

ATL

MILEPOST

SPORTING SPIRIT

TRAINING PROGRAMS

02

03

04

05

05

UPPER CUT

AWARDS & RECOGNITIONS

MAKING A MARK

RISING HIGH

VEDIC

06 FORWARD THINKING

FUTURE TECHNOLOGIES

18

06

FACULTY CONNECT

08

09

09

09

10

12

13

07 ZEALOTZ 2K16

13

ANNUAL DAY CELEBRATIONS

HANDS ON

TRAINING THE TRAINER

SATELLITE CLINICS

EXPERIENTIAL LEARNING

WORLD UNIVERSITY RANKINGS

14

15

15

16

16

20

LEADER SPEAK

Sri Sujiv Nair

04
---
2

THE

A QUARTERLY NEWS PUBLICATION FROM SRI VISHNU EDUCATIONAL SOCIETY

INTERVIEW

Sri Hari Thalapalli, CEO, CallHealth

Mr Hari Thalapalli is a multidisciplinary leader with close to three

decades of experience in the Technology service space. Prior to

joining CallHealth, Mr Hari was with Tech Mahindra, where he

provided leadership to critical business process areas including

business consulting, digital marketing, CRM, supply chain

management, etc., with an annual revenue run-rate of

approximately $300 million. In addition he provided leadership to

the Global Marketing Function and was instrumental in Tech

Mahindra's brand positioning over the last six years. His prior roles

involved building robust HR practices, through which he helped

raise the performance bar and to help the organization to scale new

heights. He won many accolades, including the CPO of the Year

Award from Bloomberg in 2010.

To bring complete healthcare to the doorstep of the customers,

CallHealth is building a new-age healthcare ecosystem and

harnessing the collective knowledge and experience of its team,

shares Hari Thalapalli, CEO, CallHealth with Team Vishnu Era

comprising of Mr A L Kishore, Assoc Prof, BVRIT N, Mr Anuraag

Kaushik & Mr Rakesh Kumar (ECE)

Could you please tell us your journey from a Post Graduate student @

Loyola College to Chief Marketing Officer (/Chief People Officer) at big

Software Companies to CEO, CallHealth?

To begin with, frankly, if I look back into my life, it was no different from

any other normal guy. I come from a normal middle class family. I have

had my own ups and downs, confused set of thoughts on what to

study, where to study, etc.People around me say that I am a go-getter,

but to be honest I don't plan anything precise. All I knew was whatever

the job you are in, you have to succeed everyday. You can't be

complacent just because you did well yesterday. 'Succeeding in job or

life' should be an integral part of your life. I mean, you'll have to

essentially succeed everyday at work. In order to do that we have to

keep improving in whatever we do. That was one hard lesson I learnt

from my life and I am continuing to do that.

Life sometimes won't give you what you want. I wanted to pursue

mass communication and I didn't get a chance to do it. But I got an

opportunity to do and I took it with both hands and succeeded in flying

colors. Felt slightly bad when I missed the gold medal at my PG with

0.02 difference. I am happy with what I got from life; I never bothered

about how much money I was making or what I was called viz CEO,

CMO, Global Head, etc. I seriously mean it.

The journey was without a definitive end purpose or target or goal, but

was always an effort to do the best of whatever that was given to me

at that point of time. I wanted to be my best at whatever I am doing at

any given point in time.

I am happy that I can do more things with the money I have today, but

material things interests little to me. End of the day, we all end up

having Dal-chawal after all.

What's your take on Organizational objective?

Even when it comes to organization's objectives, you should be never

satisfied with what you can achieve, but you should be always

satisfied with what you get. If you are unhappy and agitated, you

achieve very little. The big play is in seeing the Big Picture. When I was

in HR, we were #13 in the best employer's list. We worked hard to get

to #1. It took 7-8 years to get to #1. In marketing, we wanted be a brand

that everybody should recognize and appreciate; and we got there.

Similarly, CallHealth's objective is to be the world's 1st and best

integrated platform - and we are aiming to get there.

What is the basic idea and purpose of starting CallHealth Services?

In the last two decades, we have seen how technology changes the

way we work, communicate, bank, buy, as well as consume media and

entertainment. Technology has revolutionized the core of the

healthcare industry. We have the best of surgical and diagnostic

equipment. However, the delivery of healthcare services has not kept

pace with this technological advances. CallHealth is aiming to bridge

this gap in the healthcare landscape by using technology.

Callhealth is all about enabling the patient to be at the center of

ecosystem and pull all the services at the convenience of their space

and time. Callhealth is about bringing the last mile connectivity and

everything about health for the convenience of the customer. We are

entering an area where nobody has ever worked before and I hope to

bring dramatic changes. A lot of companies are doing it in bits and

pieces like e-consultation, second opinion, etc. We are planning to

bring all these under one roof.

Kindly let us know about the patient-centric business model @

CallHealth? Is it commercially viable?

Our model integrates all constituents of the healthcare eco-system

(doctors, diagnostics, Medicines, physios, hospitals, Insurance, etc.)

and makes them work in such a way that we provide speed, precision

and results at an affordable price. Consulting a doctor, having

diagnostic tests done, buying medicines, getting medical services like

nursing, physiotherapy and more, is now just a call or click away. Even

for visits to hospitals or imaging/diagnostic centers, CallHealth

provides facilitation services to make the experience easier and

smoother.

By connecting customers to the entire eco-system, especially where

there are gaps today, we derive better capacity utilization. Hospitals

have labs where the utilization is often less than 60%. Some doctors

are loaded 200% while others are not even at 40%. There is lot of

unused capacity. We want to have greater spread of capacity and

utilization. In doing so, we are able to provide services at a lower cost

and at a reasonable discount to the customer. So, the customer gets it

at a lower cost and we still make money on it. This is not a typical

discount driven; often loss-making, e-commerce model.

In addition, our Differential Diagnosis algorithm helps doctors as a

Clinical Decision Support system to bring greater sharpness to the

diagnosis of the illness / disease. This will help narrow the gaps in

diagnosis that we at times encounter today. Our 'Info aids' tool helps

the doctor to explain the cause of the illness to the patient much better

and that helps to bring about a balanced understanding of the 'causal

factors', for the patient.

How are you going to take these services to the people?

We use hub and spoke model. Hub is centralized area with specialist

doctors, core services, etc. based in tier-1 cities like Hyderabad (taking

homogeneity of language, culture into concern) and spokes are On-
---
ISSUE 12 JULY 2016

ground services in other cities like Vizag, Ongole, Nellore.

We will gradually replicate to other cities like Bangalore, Chennai, Delhi

and to similar developing markets overseas.

We heard that CallHealth provides single-point solution to all wellness

and healthcare needs? Could you explain?

The end-to-end integrated approach to healthcare enables CallHealth to

provide a one-stop solution for all healthcare needs across a customer's

life span and across the healthcare spectrum – Prevention, Wellness

and Cure. Thus, creating a partnership that is life-long and not

transactional in nature. We brought all components of healthcare under

one roof. We are like Amazon of healthcare for the spread of offerings

with the ease of usage that an Uber provides.

What according to you is disruptive innovation in healthcare? How did

disruptive innovation affect your company and health care system?

In the past, doctor was at the center of ecosystem and the entire health

care eco system was distributed around him / her. The patient was

outside this circle and often had to run between different points in this

eco system to complete a health check-up. In our model, we have

brought the patient to the center and have

placed the entire eco system around him.

That's what technology has enabled us to

do. We have flipped whole table. This is

disruptive.

Who is your real source of inspiration

behind your success?

Frankly, I can't name just one. I have been

inspired by freshers in my team as much

as from peers or people above me. What I

learnt from all those I liked was the

relentless drive and passion for results.

I worked as HR for 20 years and we

became best employers in our industry.

Then, I wanted to challenge myself and

see if I could succeed in other fields. HR

was all about inside-out. In 2007, I moved

to marketing which was completely

outside-in. In 2013, I moved to a highly

complex business role as the consulting

head, where the team helped me double

our revenues in 3 years.

After almost 3 decades in technology

services, I have now decided to provide

leadership in the health care sector.

The inspiration comes from the fact that I disrupt myself continuously

and have to prove to myself that I can succeed.

Currently you may have thousands of employees. What are practices

you follow to retain the best talent?

Currently, we are below 1000 in number.

Our differentiator is that we have a flat organization model where there

is no hierarchy of people; we only have hierarchy of opportunities. At

CallHealth, our Officers are empowered and expected to take

responsibility for a range of areas in their daily routines that are

traditionally considered 'managerial decisions'.

We have brought in a continuous assessment model – not a periodic one

and have digitized most of our internal transactions. Work is still WIP

and we will achieve 100% very soon

Excluding yours, what is your most admired company?

Personally, I love Google. They think brilliantly ahead of the times and

innovate products or services. The few people at Google I have met are

passionate about their company and the way they are building the

products is awesome. I would love CallHealth to bring that culture and

exceed our stakeholder expectations. Apple and Tesla are the other

ones.

How are Google different, in your opinion?

They seem to be thinking of doing things that appear almost impossible.

Imagine talking about providing Wi-Fi through the Loon Project! When

we first hear about it, we would probably think how stupid can that be!!

Then we turn around and realize that they have made it into a reality. It is

sheer absurdity of an idea converted into a reality.

CallHealth is on a journey like that.

How would you like your company to be remembered by the people?

Just like Facebook for bringing people together, Google for bringing

information together, we would love to be remembered for bringing the

healthcare ecosystem together.

You must have faced many challenges in your professional life. What

was the toughest one? How could you overcome?

Only time I probably felt stress was during 2009 Satyam episode. It was

period of time where because of the event one's professional credibility

was also questioned. I had to prove them wrong and resurrect myself

and be a part of the team that resurrected the company.

I had a steep fall, but I climbed back. It was all three dimensions -

professional, personal and financial.

"

Our model integrates all

constituents of the

healthcare eco-system

(doctors, diagnostics,

Medicines, physios,

hospitals, Insurance, etc.)

What are your expectations from an entry

level employee?

I don't give much priority to academic score,

even though it is a nice indicator of student's

performance in academics.

I look for people who challenge and can take

risks. I love people who, when they fail, say

"it is only half time in the game, the next half

time is going to be my game." (you know,

the outcome of many football games are

changes in the second half!).

I seek game changers. I want the Dhonis of

the world who consistently deliver under

pressure (imagine scoring 23 runs in the last

over to finish off the game - he has done it

often); people with firmness of spirit that

says "I can and will do".

I don't look for individual heroes -

collaboration is the key. In short, I am

interested in people who are Risk takers,

Can maintain their cool, Have a 'never say

die' attitude & are a pleasure to hang out

with at work.

What are the biggest opportunities for budding engineers in the next

five years?

The world is in midst of digital revolution. We live in a connected world

today. People should leverage this revolution in their areas of study. You

could be a mechanical engineer today, but we are talking about

connected cars. You could be a shoe manufacturer, but we are talking

about shoes that give you multiple health readings.

Bring your analytical and inquisitive blend of mind to use digital

revolution to create opportunities in your own areas of specialization.

If GOD appears and asks you what or whom do you want to be (other

than yourself), what will be your reaction?

I could wish to be as disruptive as Steve Jobs (it takes a lot of guts to say

"I will remove the physical keyboard from your phone"). Even though he

had serious setbacks in life, he bounced back. He has an extraordinary

creative mind, ability to sense the market needs, integrate product ideas

and come out with path-breaking innovation. When the tablet (Apple

Tab) came, many bought it and I know many who didn't know how to

really leverage it. That is the difference.

To be frank, it' not about wanting to be somebody. I would love to have

the risk taking ability of Steve Jobs coupled with the compassion of my

mother.

GOAL

POST

Maneesha likes

to describe

herself as a

Goddess of

Small Things

(professionwise),

Verbal

Architect

and Vocal

Acrobat

(wannabe

singer).

'Watch'ing

Swissness

(Blogger at- https://thewanderlustswine.wordpress.com/ )

Switzerland shares a special relation with tunnels and tunnelling. Without

sounding like I repeated myself, I must tell you that they are indeed different

things, 'tunnels' and 'tunnelling'. I shall elaborate about them in just a while.

After completing my masters' studies in Micro Nano Integrated Systems at

Politecnico di Torino, Italy. I found myself at crossroads of what to do next. The

Masters course left me with a micro-nanotech (if I may) hangover and the only

thing I was sure of was wanting to remain with it. So, I took up an internship

opportunity soon after at the Ecole Polytechnique Federale de Lausanne (EPFL)

in Switzerland and voilà, since then m here.

So coming back to the tunnels. If you followed the news lately, you might have

heard that Switzerland achieved a huge feat. It finished building the world's

longest tunnel at 57 km, the Gotthard base tunnel (WOAH!). But, it doesn't

start there for the Swiss. Back in the 90's they did something a lot cool. Two

researchers at IBM, Zurich, Switzerland invented the scanning 'TUNNELING'

microscope. This machine lets you peak at individual atoms on the surfaces of

materials (double WOAH!). Just imagine a pen, nano-patterned to an atom

sitting at it's tip. Scanning this tip across the surface of samples you read and

build atomic level information of the material. This is possible thanks to

quantum mechanical tunnelling. Quantum physics tells us that there is nonzero

probability that an electron can be on the other side of a potential

barrier that it sees, by 'tunnelling' through it. So with tunnelling of electrons

between the atomic tip and atoms of the material (surface to be studied)

scientists can get a wealth of information.

But this is the system that the IBM greats made. So, what do you do Maneesha?

I work on tunnelling too. And there ends the similarity I share with those Nobel

Prize winning scientists. I work on tunnelling transistors. In a transistor,

current from one region (source) to another (drain) is mediated by a

controlled barrier (channel) that allows or restricts the flow of charge serving

as an electronic separation between source and drain. Hence, transistors can

be thought of as switches which are used to build more complex circuits,

systems and eventually machines. Tunnelling transistors differ from

conventional field effect transistors as the former are based on quantum

mechanical tunnelling of electrons whereas the latter are based on thermal

emission of carriers over a potential barrier. It's enough to understand that

they have a different switching principle. My research work is to explore these

transistors for various applications. Given the sizes at which they are made

(order of nanometers to a couple of microns), they potentially can sense things

of that length scale. These 'things' can be anything from DNA molecules to

hydrogen or other ions potentially building nano-biological/chemical sensors.

So in my doctoral studies you typically see me reading literature from well

since the beginning of time to today in the field, generating ideas of device

designs/architectures, simulating those ideas and fabricating them in a

cleanroom environment. What excites me very much is the entire process.

Seeing how ideas come alive as real world-devices to do useful things is indeed

fascinating. Delve-in, if you like, there is plenty of space for us in this big SMALL

world.

Maneesha Rupakula (ECE – 2007-11, BVRIT N)

Ph.D Student, Nanoelectronic Devices Lab

@ Ecole Polytechnique Federale de Lausanne

(EPFL), Switzerland

3
---
4

LEADER

A QUARTERLY NEWS PUBLICATION FROM SRI VISHNU EDUCATIONAL SOCIETY

SPEAK

Sri Sujiv Nair

Chief Executive Officer - TASK at Department of Information Technology,

Electronics & Communication. Government of Telangana

Mr Sujiv Nair, at present, is the Chief Executive Officer, TASK

(Telangana Academy for Skill and Knowledge). He has 22 years of

global leadership experience in enabling change, transformation,

governance, leadership development, training & skilling across

Indian, Multinational and Government Organizations. His

knowledge, passion for excellence and the dignified way he deals

with colleagues and vendors makes him an asset to any organization.

Government of Telangana established TASK with the objective of

enhancing skill development among the youth. As TASK embarks on

a journey to enhance the employability quotient of youth in the state

through skill development, the editorial team, consisting of Mr

A.L.Kishore, Associate Professor at BVRIT, Narsapur and Mr Anuraag

Kaushik ( 3 ECE) met up with Sujiv Nair, CEO, TASK, to learn more

about their plans, programs and projects. This interview throws light

on how TASK chalked out a clear roadmap to reach the milestones

with their unique value creation for the academia, the industry and

the students.

How would you describe your journey so far?

My learning continues! My career started at Asian paints, where I used to

be on the shop floor handling production in 3 shifts. I acquired several

academic qualifications while working. During the formative years of my

career, I wanted to become a general manager at 30 and was fortunate to

become a Dy General Manager. Work experience teaches you a lot of

things and you begin to set high standards for yourself. As I moved from

production to operations and then human resources, I thought that I

would retire in HR but divine opportunities knock at your door some times

and I got the opportunity of serving the common man through TASK

(Telangana Academy for Skill and Knowledge).

The areas of your expertise deal with a lot of people. How challenging

is that, considering the diverse nature of the people you deal with?

Diversity has always excited me, if you look at it as something

challenging, it is challenging. If you look at it as something exciting, it

excites you. Suppose you have four different students working on a

problem. Each student comes up with his own solution that is completely

different from the others. A hybrid of all the solutions could be the optimal

solution to the problem. The world is globalizing like never before, sooner

or later we have to work with diverse set of people. By being patient,

empathetic and listening carefully our ideas and creative thinking gets

enhanced. In a nutshell, embracing diversity is key.

What according to you is essential in ready to be employees? Where

do you think they are lagging?

The foremost thing that the current generation students are lagging is the

awareness of the various career opportunities they have. Internet,

technology and media are providing various opportunities to the young

generation. If he or she puts efforts to utilize these opportunities, then

they can be aware of what they have in hand. Next comes technical and

soft skills and most importantly self-esteem.

How important it is to enjoy and have fun at work in the corporate

world full of hustle?

50% percent of it should be fun! Creating an environment filled with fun

makes it productive. When we create an environment filled with fun, our

mood becomes lively and our spirits will be high and by fun I do not mean

cracking jokes. It is all about creating an environment of respect,

recognition & happiness around the work place we are in. Fun is

contagious and keeps us in good spirits.

Sir, you have recently signed an MOU with IIIT Hyderabad, which

aims at establishment of Virtual labs. How and in what stipulated

time do you want to

a c h i e v e t h i s

considering the

complexity of the

project?

IIIT Hyderabad has

signed a MoU with Telangana Academy for Skill and Knowledge (TASK) to

carry forward the outreach activities of Virtual Labs. Both of us are

working closely to reach out to all engineering colleges in Telangana and

improve the quality of engineering education in these colleges through

the use of Virtual Labs and other technical training programs.

In my opinion, Virtual labs addresses the issue of lack of good laboratory

facilities, as well as trained teachers, by making remote and simulationbased

experimentation possible through the Internet and it was exciting

to partner with IIIT Hyderabad help spread the awareness and usage of

these labs in Engineering colleges both in Urban and Rural areas across

Telangana.

TASK has achieved 90% of its target. Initially all tasks look like a mountain,

the secret is to break it into pieces .When you join all these pieces your

work is done. I believe in keeping things short and simple. For every

initiative launched, we divide the work and put strict timelines to achieve

them and then monitor & evaluate the progress. Then what gets

measured gets done.

How did TASK make a difference in employability and skills

development, since its inception?

The key focus at TASK is to enhance the employability quotient of youth in

the state. TASK has been collaborating with industry to provide skill

based training to the students and make them industry ready.

Our primary focus is on meeting the industry demand with supply of

skilled workforce. We found that along with technical knowledge, a

student also needs to have soft skills at work. Our value proposition is built

around skills. The employability quotient is classified into personal skills,

technology skills and organization skills. TASK has tie-ups with several

corporates Cisco, Samsung, IBM, SAP, Embry Riddle Aeronautical

University, Pratt, DIETY, Hitachi and other organizations and the experts

from these companies train students, thereby preventing the student

from falling prey to callous approach of the coaching centers. We do all

this at highly subsidized costs. We created another skilling program called

'The Professors of Practice', where the soft skills are taught by a person

with experience in corporate in a creative manner. An academician

teaching communication skills is very different from that of a Practitioner.

Tim cook has recently visited Telangana for the establishment of

development office in Hyderabad and there are several other giants

like Amazon coming in .What is role of TASK in setting up standards

and meeting the expectations of companies like Apple?

TASK helped Apple to connect them to the talent pool in Telangana and

conduct a skill pilot to show them the potential talent in Telangana. In life

it is important to practice what is called 'empathetic listening' that helps

you to understand exactly what other person is saying and expecting from

us. When Apple approached us, we tried to understand exactly what they

wanted. Once this was understood 50% of the job was done. Secondly,

Understanding and respecting their culture is important. For example,

Core values are prime for Apple. So, in a nutshell when new people come,

comprehend on what they want and after that you can advise them on

how best their agenda can be taken forward in your culture and state.

What is the most important aspect every HR expert should possess?

The most important objective of a HR professional should be to focus on

the company's greatest resource of all – its employees. Without good

employees, the best business plan and ideas will fail. Also he/she has to

make sure that all employees are treated fairly and equitably and that the

business and employee needs are balanced.

HR has to do many functions like training, recruitment & compensation

and many others, each one has its own importance. The degree of each

function varies from one organization to other. If it is a start-up, then

recruitment is given more importance. If it is an already established

company then importance is given to training. Depending on time, a

smart HR allocates time to each of the mentioned functions on need. In

simple terms, a HR should always be grounded to understand what's

happening in reality. One of the main challenges that any HR faces is

leadership development and finding the right person in the right job. An

effective HR person is a good listener too.

One of the key characteristic of your marvelous career is leadership.

What traits must a leader possess in the 21st century organizations?

I have learnt that respect is recognition of value and creativity enhances

value. Leadership is the process of transforming employee behaviors and

attitudes so that they better align with the organization's mission and

with the employees' individual strengths. True Leadership always

empowers employees at all levels of the organization to exhibit respect for

one another, open communication and pride in their work, and to express

opinions rationally and objectively. The idea is that inspired leadership

leads to a higher level of teamwork, which in turns leads to increased

productivity. True leaders both know and communicate their values

openly with the people they lead, creating an atmosphere of certainty and

trust.

For a leader it is important to create a good working environment and find

avenues to recognize when people create value.

Where you draw your inspiration from?

James bond . I admire 007 for many reasons, firstly because of his

creativity and mission accomplishment, Secondly, 007 uses the latest

technologies, that people can't even imagine. Thirdly, his speed and

agility. One of the best ways to find inspiration, solve a problem or stretch

your limits is to actively put yourself outside your comfort zone, which you

find in Bond.

What is your Philosophy of life?

"Happiest people don't have the best of everything but, they just make

the best of everything". I measure success by the number of hours a

person stays happy in a day.
---
ISSUE 12 JULY 2016

5

ERUDITE PAR

EXCELLENCE

Dr. Srinivasan Sundarrajan,

Director,

Sri Vishnu Educational Society

Sri Vishnu Educational Society takes the privilege of

announcing Dr. Srinivasan Sundarrajan as its Director. It

is really an honor to have someone of his stature to be at

the helm of affairs at Sri Vishnu Educational Society

whose leadership acumen will definitely take SVES to the

next level. His most endearing quality is his humility and

his genuine good nature. His illustrious contributions to

the nation and humanity have made him a role model who

has inspired vast multitudes of our present day

generation.

Dr. Srinivasan Sundarrajan was an outstanding missile

scientist with Defence Research and Development

Laboratory, Hyderabad between 1974 and 2011. He was

the Director of National Institute of Technology –

Tiruchirappalli (NIT-T) from 2011 - 2016.

Dr. Srinivasan Sundarrajan was the Director of National

Institute of Technology, Tiruchirappalli, a prestigious

Institute rated consistently among top ten institutions in

India. He is actively engaged in transforming this Institute

to the future requirements through strategies and

initiatives, adopting disruptive technology route. He led

the team incorporating changes in academic curriculum,

delivery and evaluation techniques, and setting up

Centres of Excellence with industry oriented research in

interdisciplinary areas. He has networked Research and

Development Laboratories in CSIR, DRDO and ISRO and

multiple industries and International Universities towards

this objective.

Dr.Sundarrajan completed Mechanical Engineering from

Thiagarajar College of Engineering, Madurai, and did his

post graduation and doctorate degrees at the Indian

Institute of Technology, Madras, in Industrial Metallurgy.

He also has a PG certificate from Indian Statistical

Institute. He had his initial training at Ashok Leyland,

Chennai, Mukand Iron and Steel, Mumbai and Hindustan

Aeronautics Limited, Koraput. He edited two Engineering

Handbooks and published over eighty technical papers.

Seven researchers have completed doctorates under his

guidance As an INAE (Indian National Academy of

Engineering) – AICTE Distinguished Professor,

Dr.Sundarrajan made significant contribution for

curriculum development integrating emerging areas of

technology.

Prior to joining NIT in 2011, Dr.Sundarrajan was with

Missile Programme of Defence Research and

Development Organization for over thirty years and

received mentoring by Dr.A.P.J.Abdul Kalam.

Dr.Sundarrajan's contribution for development and

production of prestigious missile systems Prithvi, Agni,

Akash and Brahmos, spans over three decades. He was

leading BRAHMOS programme team and completed a

massive indigenisation project that has enabled cost

reduction and schedule compression. He has also

designed and developed over 1,000 products and

processes for aerospace systems, and has an impressive

background in academic inter-disciplinary research,

institute-industry interaction, and technology

development and transfer. He saw through the formation

of foundry clusters and modernised industries in SME

sector into quality export-oriented units in Andhra

Pradesh . Dr. Sundarrajan networked over 400 industries

and 40 academic institutions for R&D leading to quality

products and positioned them in National Supply Chain

Grid. As member of TIFAC (Technology Information,

Forecasting and Assessment Council) national team, he

was instrumental in making 2020 vision documents in the

area of materials. More than 30 of his research projects

are being executed by academic institutions and industry.

His project on Energy Audit and Conservation through

shop-floor oriented R&D has been appreciated by

international agencies working on Energy.

The recognitions he won includes UNESCO Fellowship

(1988), Best Metallurgist of the Year Award from the Govt.

of India (1992), Vishwa Bharathi Award for Professional

Excellence (1999), Performing Team Award (2004), and

Best JV Management Award (2008). Madras

Management Association awarded Professional

Excellence Award (2013) in the category of Best Managed

Education Institution.

Assistive

Technology

ATL Lab

ATL PROJECT SHOW CASE

AT HYSEA, HYDERABAD

The ATL team @ Bhimavaram participated in the 24th edition of

HYSEA Summit and Awards 2016: Celebrating Design, Innovation

and Start-ups', on 31st March 2016 at HICC (NOVOTEL). As one of

the most prestigious Industry events of the city, it showcased the

buzzing innovation culture, increase in Start-ups' & Start-up

support activities in Hyderabad. The team ATL showcased their

projects along with other student teams from IIT Hyderabad and

BITS PILANI, Hyderabad campus.

ATL PROJECT SHOWCASE

AT INDIA REHAB & CARE

EXPO, MUMBAI

Assistive Technology Lab Projects were showcased at

INDIA REHAB & CARE EXPO, Mumbai. INDIA REHAB &

CARE EXPO was successfully held at the Bombay

Exhibition Centre, Goregaon (East), Mumbai, INDIA. The

show had a special significance, as it was the first time

ever that an event was held in India, which was purely

devoted to the rehabilitation segment. The three day event

attracted all categories of stakeholders like manufacturers,

suppliers, policy-makers, scientists, physiotherapists,

orthotics & prosthetics experts, rehabilitation

professionals and end-users. The show had 57 exhibitors

from across the country and was visited by 3344

professionals, over a period of 3 days.

A team of three students and two faculty mentors

showcased around 15 ATL projects. Here the team had a

benefit of showcasing them to the end users. The

beneficiaries were extremely happy to make a trial of their

usage. The most attracted projects are: the E-Snake and

Ladder Game for the Visually Challenged, E-Stick for

visually challenged, Play and Learn Android App for

mentally challenged children and Mood Chameleon for

mentally challenged people.

PARTICIPATION IN THE

TACTILE DIAGRAMS DESIGN

WORKSHOP @ IIT DELHI

ATL Narsapur was invited to be a part of the "DESIGN AND

PRODUCTION OF PERCEIVABLE AND AFFORDABLE TACTILE

DIAGRAMS" workshop organized by Assistech Lab at IIT Delhi

from 30th March-1st April. The idea of the workshop was to gather

all the centers working on assistive technology to build the

repository of tactile diagrams relevant to the study of non-sighted

children across all states in India.

DST-TIDE FUNDING

ATL's research proposal of "Biosensor Based

Control Interface for Lifelike Mobility of a

Trans-radial Prosthetic Arm" has been

approved under the Technology Interventions

for the Disabled and Elderly Scheme of

Department of Science and Technology and

has been awarded Sixty Five Lakh Twenty

Thousand rupees for the period of three years.

NEW & EXCLUSIVE

ATL WEBSITE

ATL – BVRIT N now boasts of a new and

exclusive website where the users will know

about the recent technology being developed,

ask for a solution, suggest an idea and

contribute in many different ways.

VISIT TO

CALLHEALTH

ATL Narsapur team along with the placement

team visited CallHealth, a healthcare service

company in Hyderabad on 1st of June. Talks

are in progress to collaborate in the Medical

Device development domain.

NIMH STUDENTS' FIELD

VISIT TO ATL, BVRIT N

Rehabilitation Psychology senior and junior year

students visited ATL for a field visit. By the

demonstration of simple tools and assistive devices

they were showcased how assistive technology along

with counseling can make the rehabilitation process

more convenient and impactful.

HACKLABS FOUNDER

VISITS ATL

Hacklabs is a startup building hackerspaces

in India to provide easily accessible

technology centers with resources and

guidance, enabling people to work on their

ideas and solve challenging societal and

technological problems. Mr. Vikram an IIT

Kanpur alumnus visited ATL, BVRIT N on

March 16th and interacted with the students

about entrepreneurship and taking an idea to

a marketable product. ATL is exploring

collaboration with Hacklabs.

IPR MANAGEMENT

FOR STARTUPS IN

ELECTRONICS AND

ICT SECTORS

ATL Narsapur was represented at a one day

Seminar on 'IPR Management for Startups in

Electronics and ICT Sectors' on 6th May,

organized by Andhra Pradesh Technology

Development & Promotion Centre (APTDC)

of Confederation of Indian Industry (CII) in

association with Department of Electronics

and IT (DeitY).
---
6

MILEPOST

Scholastic Expedition @ BVRITH

A QUARTERLY NEWS PUBLICATION FROM SRI VISHNU EDUCATIONAL SOCIETY

In the context of globalization, English language has assumed greater

significance and English teachers have a predominant role to play in

enhancing employability potential of students. Unless the teachers

update their pedagogical procedures & polish their practices, it is

difficult to do justice to the task assigned. In this context, this Seminar

provided opportunities for the English fraternity to increase

awareness of new technologies & trends in all the three domains,

Language, Literature & Linguistics. Through this seminar, a platform is

provided for the teachers to exchange their creative and innovative

ideas and showcase their professional prowess besides learning from

one another.

The seminar opened with Inaugural Session. Prof. S. Mohanraj, EFLU

was invited as the Chief Guest and Prof Julu Sen, EFLU was the Guest

of Honour. Dr. KVN Sunitha, Principal, BVRIT Hyderabad College,

delivered the presidential address stating that this is the first kind of

seminar to be organized in the college and expressed that the

participants should explore more in their field of study. She also

congratulated the organisers especially for their choice of theme and

volunteering in updating with the trends in the field of Language and

its allied fields.

HYDERABAD

Dr. P. Anuradha Sudheer, Head, Basic Science & Humanities

department and the Convener of the National Seminar spoke about

the rationale behind organizing this event and has provided an

important forum for a wider group of literary scholars to discuss the

significance of latest trends and techniques. With 60 delegates

attending, the Seminar was proved to be very successful.

SPORTING SPIRIT NYPUNYA2k16

Sports Day Celebrations at BVRIT Hyderabad

BVRIT HYDERABAD organized a two day National Level Inter

Engineering college Sports Meet NYPUNYA2k16 on 15th & 16th

March 2016. The maiden Sports meet was opened with an inaugural

session. Ms. Poornima Mandava, a renowned International athlete,

sports person and widely popular as a motivational speaker was

invited as the Chief Guest for the event and Sri Ravichandran

Rajagopal, Vice-chairman, SVES, Joint secretary Mr.Aditya Vissam

have graced the occasion. The welcome speech was delivered by Dr.

KVN Sunitha, the Principal of BVRITH.

The Chief Guest Ms. Poornima Mandava has enthralled the

audience by sharing her own experiences in life and she motivated

girls to take up sports in life to be young at heart and body.

After inauguration, the teams from various colleges were introduced

and made March Past. Sports Torch relay by the Chief Guest was

followed by Flash Mob by BVRITians. There were around 20 teams

participating in 10 events coming across the country. On the second

day of the event, winners of the different teams were distributed

with trophies in the valedictory ceremony by the chief Guest of the

day Prof. Y. Gopi Krishna, Chairman, Sports Council, JNTU

Hyderabad. The Management and the Principal of BVRIT

Hyderabad congratulated all the Champions and teams for their

participation.
---
ISSUE 12 JULY 2016

7

SOUND MIND IN

A SOUND BODY

NSS-BVRITH in coordination with

Apollo Hospitals organized a general

medical camp in the campus on 23rd

April, 2016 which included regular

check-up such as BP, BMI(Body Mass

Index),dental, DRA(Diabetic Risk

Assessment), random Sugar etc.

Dr.Meenal, Dietician & Mr. Eswara Rao,

Diabetic counsellor gave a health talk on

their concerned health topics. Around

100 members availed the facility.

Extravaganza

Facts of Science

National Science Day" SPECTRUM-16 was organized on 29th February 2016 by the

Dept. of BS & H, BVRIT HYDERABAD College of Engineering for Women, Bachupally,

Hyderabad to commemorate the discovery of the Raman effect by Indian physicist Sir

Chandrasekhara Venkata Raman who was awarded the Nobel Prize in Physics in 1930.

The main objective of observation of National Science Day is to spread the message of

importance of science and its application among the students. Professor Harjinder

Singh, IIIT Hyderabad was invited as the Chief Guest of the function and the Principal,

Dr. KVN Sunitha graced the occasion. Professor Singh spoke about "Knowledge

Acquisition in Science". Later the Principal congratulated the department of BS&H

and the faculty of Science in particular for sustaining the culture of celebrating such

events @ BVRITH to remember the legendary personalities in the field of Science in

the Indian history. In order to popularise the benefits of scientific knowledge certain

competitions like Models presentation, Poster presentations and Oral presentations

were conducted. Nearly 20 Oral presentations and 15 Posters were presented and 15

models were exhibited. An Essay writing competition was also conducted on the theme

of 2016, "Make in India: Science & Technology driven Innovations". Nearly 30 students

participated in the competition. Prizes were distributed by the Chief Guest & the

Principal for the winners. The guest was felicitated by the Principal.

Interviews were conducted on April 12th 2016 and

two students Ramakrishnama Charya S V and K.

Shashi Priya were selected from VIPER by Incogen

Therapeutics Pvt . Ltd.

7 members have been placed in My Health pharmacy

campus recruitment conducted on 18/05/16.

26 members have been selected by SDS PATHOLOGY

INDIA PVT.LTD conducted on 23.05.2016

PLACEMENTS

IN VIPER

TRAINING

PROGRAMS

Dr.Reddy's Employees Training

We have successfully trained 20 batches of Dr.Reddy's

Laboratories Ltd. Training of 21st batch is in progress.

LSSSDC Training

Vishnu skill development centre was inaugurated. It is a training

program for quality control chemist. 16 members were selected

for training purpose. Five from BVRICE Degree College

Bhimavaram and 11 students from Ellenki Degree College,

Hyderabad. Training period was 60 days and classes commenced

from 25th April, 2016

Faculty Achievements

Dr.K.Vanitha Participated and acted as an evaluator in Two day

national symposium CORE-2016 11 -12th March, 2016 held at CPT,

JNTUH.
---
8

Dr G Srinivasa Rao

Principal, SVECW

Currently, Professor and Principal, Shri

Vishnu Engineering College for Women

Guided two M. Tech Students in

CAD/CAM and more than 90 students

at UG level. Currently executing nearly

Rs. 1.5 crore worth of projects.

Education

Ph. D, Fracture Mechanics from

Visvesvaraya Technological University,

Karnataka.

M. Tech, in Manufacturing Technology

from NIT-Calicut.

B. Tech in Mechanical Engg., from S. V.

University College of Engg – Tirupathi,

L. M. E from S. V. Govt. Polytechnic,

Tirupathi

A QUARTERLY NEWS PUBLICATION FROM SRI VISHNU EDUCATIONAL SOCIETY

UPPER

cut

Favourite book of all time

'Born To Win' by Dr. Muriel James

Teacher who changed my life

Prof. K.B.M. Namboodiripad

Perfect day out

Discussions with friends at Alipiri

The best advice I've ever been given

NEVER compare yourself with others

The best advice I've ever given

"Action Creates Opportunity"

My most unexpected achievement

Starting Software Training Institute

The prettiest natural landscape I've ever seen

Talakona forest

The hardest question a child has ever asked me

Why only men are getting baldness

The most treasured book in my library

Antharmukham

Song that makes me move no matter how bad I feel

"Kaun aaya mere manke dware"

from the movie Dekh kabira roya

The one item I would take to the desert island

Knife

Favourite famous person I've admired,

living or dead, whom I'd like to meet

Prof. Stephen Hawking

If I had one hour to live, what would I spend it doing?

Sleeping

Favourite movie of all time.

The Guns of Navarone

Your Favourite Quote

Just Do It
---
ISSUE 12 JULY 2016

Awards & Recognitions Go Kart Championship featured

on YUVA aired through ETV

9

Dr. Vini Kaila, a final year postgraduate student

from the department of Oral & Maxillofacial

Surgery @ VDC won Best Oral Presentation

Award for her paper presentation entitled

"Orofacial Pain" at "9th AP AOMSI Conference"

held on 15 & 16 April 2016 at Rajahmundry.

Dr. K.S. Nataraj, Associate Professor of Sri Vishnu College of

Pharmacy presented a paper "Need of Community

Pharmacist in Health Management Systems in India" at an

international convention "Modern Trends in Pharmacy

Education- Team Based Learning & Institutional Research"

conducted by Association of Pharmaceutical Teachers of

India in association with RAK Medical & Health Sciences

University, Ras Al Khaimah, UAE on 29 February 2016 at RAK

College of Pharmaceutical Sciences (RAKCOPS).

Center of Excellence award 2015-16@BVRITN

Center for VLSI Design (CVD) of ECE Department, BVRITN got

center of excellence award for the academic year 2015-2016.

Dr. I.A.Pasha, Head of the Department have received the

award on the occasion of Annual Day Celebrations. This center

is being coordinated by Mr I.B.K.Raju, Assoc Prof, ECE Dept.

Mr. M. Sai Chaitanya,

IV B.Tech, Mechanical

Engineering has won

t h e p r e s t i g i o u s

Padmabhushan Dr. B.

V. Raju Memorial

Award (The Highest

Academic Honor in

BVRIT for Students)

for the academic year

2015-16.

MAKING A MARK

Presentations ABROAD

Dr.A .Ramesh presented poster

entitled" Pharmaceutical engineering -

New domain to Pharmaceutical

Development and manufacturing" in

"A P T I - R A K M H S U I n te r n a t i o n a l

Convention" at RAK Medical & Health

Sci. University, Ras Al Khaimah, UAE on

February 29, 2016.

The II and III B. Tech students of Mechanical engineering @ BVRIT N participated in Go Kart championship-2016

held at SVECW, Bhimavaram. The work undertaken by our students at Mechanical Engineering department got

wide coverage and recognition through "YUVA" program on ETV2 on 31st May 2016.

UGC

Autonomous

Shri Vishnu College of

Pharmacy, Bhimavaram granted

UGC Autonomous status for the

period of 6 years.

Going up

the Ladder

Shri Vishnu College of Pharmacy

secured Nationwide 39th rank

and Andhra Pradesh State wide

2nd rank by NIRF (National

Institutional Ranking Framework).

Congratulations!!

PhD Awardees

Three faculty members of ECE in

B V Raju Institute of Technology

named as M.C.Chinnaiah, T.

Venumadhav and Sathyam

bonala were awarded PhD this

academic year.

S. M. Padmaja, Associate

Professor in the Department of

Electrical and Electronics

Engineering of Shri Vishnu

E n g i n e e r i n g C o l l e g e f o r

Women, was awarded with

Ph.D. by J N T University,

Hyderabad on 1st April 2016.

Mr. Rajesh Yadav Mudi, Asst. Professor of Physics,

Department of Basic Sciences, Vishnu Institute of

Technology was awarded Ph.D. degree from Acharya

Nagarjuna University, Guntur

Nomination

Dr.A.Ramesh is nominated as

scientific committee member in 2nd

Convention of the Indian Association

of Colleges of Pharmacy held on 2nd

and 3rd April, 2016 at Hotel Le

Meridian, Coimbatore, Tamil Nadu.

STUDENT'S ACHIEVEMENTS

The first batch student @ VIPER,

Ms.Rajitha Indukuri is pursuing

PhD in Oncology. Her Project title

is "Breast and Colon cancer -

Earlier diagnosis and treatment"

in Karolinska University, Sweden.

(University which issues Nobel

Prize)

The students of BVRIT Narsapur

MIC have exhibited their calibre at

National level once again in the

selection procedure of Microsoft

Student Partners (MSP).According

to the final selection list released

by Microsoft Corp., a total of 20

students from BVRIT MIC were

selected as prestigious MSPs for

the year 2015-16.The new MSPs

once again proved that BVRITians

can only create and achieve new

records at National level as BVRIT

is the only Institution and BVRIT

MIC is the only MIC in the entire

Country to get 20 MSPs in a single

Academic Year. It is the highest

number of MSPs in the entire

Nation.

The following students got

selected as MSPs: Navya Trilok, III

CSE, Sudha V, III CSE, Aditya

Mankal, III CSE, Ooha Pravallika, III

CSE, Sai Sheshank V, III CSE, Sai

Teja M, III CSE, Kulbir Singh, IV

CSE, Deepak Mavin, IV CSE,

Swapna Padugami, III IT, Sneha

Battu, III IT, Laxmi Mahitha, III IT,

Simhachalam D, III IT, Vamshi, IV

IT, Sandeep, IV IT, Chetana

Borancha, IV IT, Srikanth K, III ECE,

Ravi Teja P, III ECE, Sravan Reddy

Ch, III ECE, Shanmukha Reddy, III

ECE, & Surendhar Reddy, III ECE

New Microsoft Student

Partners from BVRIT MIC

for the year 2015-16

RISING HIGH

RECORD BREAKING PLACEMENTS @ SVES

The placement season for the year 2016 is on a brisk note since the beginning of this academic year with

almost 120 top notch companies recruiting more than 2120 students. Some of the prominent recruiters

included Tech Mahindra, IBM, Infosys, Virtusa, HCL, TCS, Air India, IVTL, etc. There were a clutch of super

dream companies offering jaw dropping packages like 9.1 Lakh from SAP, Kony Labs Rs. 6 lakh per annum,

Schneider Electric Rs. 6 lakh per annum, etc. Many more companies are to visit in coming days.

(As on 30.06.2016)

B V Raju Institute

of Technology

(www.bvrit.ac.in)

557

Vishnu Institute of

Technology

(www.vishnu.edu.in)

335

BVRIT Hyderabad

College of Engg.

for Women

(www.bvrithyderabad.edu.in)

189

Smt.B.Seetha

polytechnic

(www.seethapoly.edu.in)

55

Vishnu Institute of

Pharmaceutical

Education & Research

(www.viper.ac.in)

38

Sri Vishnu College

of Pharmacy

(www.svcp.edu.in)

173

grand total

Note: For Complete Placement details – visit the individual college websites

Shri Vishnu Engg.

College for Women

(www.svecw.edu.in)

527

Padmasri Dr. B. V.

Raju Institute of

Computer Education

(www.bvrice.edu.in)

227

2121
---
10

contd. from page 1

A QUARTERLY NEWS PUBLICATION FROM SRI VISHNU EDUCATIONAL SOCIETY

Aziz Nagar,Moinabad Mandal,R.R.Dist

VEDIC is a residential Faculty Learning Centre, where

effective training happens for Teaching, Non-teaching

faculty and students. VEDIC provides positive and

professional learning environment where the students and

staff are inspired to strive for excellence and become

technology innovators and leaders in a global society.

VEDIC was started with a vision 'Mentoring the Mentors'

with training facilities with international standards. It was

inaugurated by honorable Chairman of SVES, Sri K V Vishnu

Raju on 17th of April, 2016 and started its first training

programme on 28th of April. Dr Srinivasan Sundrarajan,

Retd. Director, NIIT, Trichy, is the Director and Dr. Rajeev

Sukumaran, working as Sr. Advisor, Teaching and Learning

Centre, IIT Madras, has donned the role of Sr. Advisor at

VEDIC. The team at VEDIC consists of highly qualified

professionals to train the students and Staff. It has an airconditioned

125-seating capacity auditorium with all

amenities, a 45 seating capacity interactive studio, lush

green lawns, a dining hall and a kitchen, 14 furnished airconditioned,

double room accommodation, 2 suite rooms

with 3 star facilities, a library, a discussion room, a

playground and an indoor games room with all sports

equipment with a Physical Director and a trainer. We have

recreational activities like TT, volleyball, skating, walking,

jogging, yoga, etc., to initiate physical and health activities

at this center. Along with training our minds, physical

fitness and healthy eating practices are also initiated here.
---
ISSUE 12 JULY 2016

11

7-9, March 2016

Pedagogic and Personal

Skills Effectiveness

Teaching Faculty

21, May, 2016

Art of Writing Research

Project Proposal

Teaching Faculty

08, June 2016

Art of Writing Research

Project Proposal

Teaching Faculty (Ph.D Aspirants)

14-16, April, 2016

Scientific Educational

Practices

Teaching Faculty

19-22, May 2016

Perceptual Learning in

Engineering Applications

Students

9-11, June 2016

Cultivating Research

Mindset

Teaching Faculty (Ph.D Aspirants)

25-30, April 2016

Perceptual Learning in

Engineering Applications

Students

23-25, May 2016

Scientific Educational

Practices

Teaching Faculty

15-18, June 2016

Intellectual Learning in

Engineering Applications

Students

9-11, May 2016

Leading and Learning

Senior Teaching Faculty &

Top Management

07, June 2016

Art of Writing Research

Project Proposal

Faculty who have completed Ph.D

23-25, June 2016

Workspace Ethics and

Diversity

Non-Teaching Faculty

Activities

at VEDIC

09.05.2016

Dr. Jose Carlos Quadrado,

Prof. of Electrical Machines in

Electrical Engineering and Automation

from the Institute of Superior Engenharia de Lisboa ISEL,

Portugal

09.06.2016

Dr.Kishen Kumar Reddy

Ex-Rector, JNTUH

Prominent

Visitors

23.05.2016

Mr. Ramana Gogula

Start up Evangelist and

Music Composer

24.05.2016

Dr. Mahesh Burande

APTI Central President
---
12

FORWARD

THINKING

National Conference on

Recent Innovations in Mechanical and

Manufacturing Engineering (RIMME)

The Department of Mechanical Engineering organized a National conference on

" Recent Innovations in Mechanical and Manufacturing engineering (RIMME)" on

21st and 22nd April 2016.RIMME-2016 is a platform for presentation of

technological advances and research results in field component design and

manufacture of components for various applications. The conference provided

an opportunity for Researchers and Academicians to share the cutting edge

technology in the field of mechanical engineering.

Dr. T Kishen Kumar Reddy, Rector, JNTUH was invited as Chief Guest for the

Conference. Dr. N. Venkat Reddy, Professor IIT Hyderabad was invited as Key

Note Speaker for the conference. He delivered a Lecture on "Metal Forming".

Centre of Excellence

R. Shankar Narayanan, Chief Operating Officer, Harita, TVS group visited

Mechanical Engineering Department on 27/04/2016 for possible research

collaboration. The TVS group is setting up the following centres of

excellence/Research Centres in the Department of Mechanical Engineering.

· A Center of Excellence for Advanced CAD, Digital Manufacturing and

Technical Illustration Creation Learning.

· A reverse Engineering Lab- Fully equipped with latest technology 3D

Scanner and a Rapid Prototyping Machine.

RESEARCH FRONT

PhD Guidance

Dr.Ch. Venkateswarlu, Principal BVRIT N guided Ms. J.

S. Eswari, currently an Asst. Prof., NIT Raipur, whose

PhD in Chemical Engineering with the thesis entitled

"Experimental, Modeling and Media optimization of

Rhamnolipid and Lipopeptide Production" was

awarded by IIT Hyderabad in April 2016.

Book Chapter

Venkateswarlu,Ch., "Advances in Optimal Control of

Polymerization Reactors", in a Polymer Science Book

entitled, "Polymer Science: Research Advances, Practical

applications, Educational Aspects", Accepted for

publication, Formatex Publishers, Spain, 2016.

Research Papers

Venkateswarlu,Ch.,

Perspectives of Process

Systems Engineering.

Editorial article, Austin

Chem Eng. 2016; 3(1): 1022.

A QUARTERLY NEWS PUBLICATION FROM SRI VISHNU EDUCATIONAL SOCIETY

Satya Eswari, J, Anand, M and Ch. Venkateswarlu, Optimum

Culture Medium Composition for Lipopeptide Production by

Bacillus Subtilis Using Response Surface Model-Based Ant

Colony Optimization, Sadhana, Springer Sadhana Academy

of Proceedings in Engineering Sciences. 41(1) 55-65, 2016.

DST project sanctioned to

ECE Department

Project sanctioned to ECE department. Dr.M.C.Chinnaiah is the Principal investigator and Co-

Principal Investigators are Dr.I.A.Pasha and Professor Sanjay Dubey for the Project entitled

" Design & Development of an Embedded Assistive YOGA System to Treat Autism Spectrum

Disorder", Ref No:SR/SATYAM/469/2015 under SATYAM (Science and Technology of Yoga and

Meditation) scheme of CSRI, DST, Delhi.

Workshop on Solar Study Lamp

Design, Analysis and Assembling

Achievements

Mr. M. Sai Chaitanya - V Pharm.

D, secured second position in

Essay Writing, conducted by

GIET School of Pharmacy on 4

and 5 March, 2016.

Placements

6 students of Pharm.D

were placed in campus

drive conducted on 5

April 2016 by GVK Bio

Sciences

Three day workshop on 'Solar study lamp

design, analysis and assembling' was

conducted in EEE Department, BVRITN

from 27-4-2016 to 29-04-16 under IEEE

student chapter, with the association of

Sirius Solar Company. The objective of

conducting this workshop is to enable the

students to have knowledge in the design of

solar product. 43 students participated in

the workshop. Along with expert lectures on

solar energy, each student was provided

with the bill of material (BOM) for

assembling a solar lamp. At the end of the

work shop each student carried with him a

solar lamp along with knowledge on Solar

Energy. Promoting the Solar energy is also

one of the objectives behind organizing this

work shop.

I E E E " ( A d v a n c i n g Te c h n o l o g y f o r

Humanity) presents a certificate to 3rd Year EEE Student TAKUR VIJAY MOHAN SINGH

bearing Roll no 13211A02B8 for outstanding support of the student branch at B.V.Raju

Institute of Technology as a Chair 2015.
---
ISSUE 12 JULY 2016

FACULTY

13

CONNECT

Training Program by Microsoft

Microsoft Corp. conducted "Faculty Connect Training Program" at our campus during 4th & 5th March

2016. The main objective of faculty Connect Training Program is to drive awareness among the Faculty

Members /Educators / Research Scholars to Azure Curriculum patterns through intensive in depth hands

on training and learning on Microsoft Azure.

National and Regional MOS

Champions from BVRIT Narsapur

MIC (Microsoft Innovation Center)

The students of BVRIT Narsapur

Microsoft Innovation Center (MIC)

have proved their calibre by

winning Platinum medals, Gold

medals, Merit Certificates, Paid

Internship, Certifications and

Goodies as National and Regional

l e v e l C h a m p i o n s i n M O S

(Microsoft Office Specialist)

Championship.

Out of 1200 student participants for MOS Championship from the entire Country, a total of 100 students in

which 10 students from BVRIT MIC have been selected as Regional Level Champions yesterday (i.e. on

29-03-16) based on their merit in online examination. These 10 students were awarded with Gold

medals, Merit Certificates, Certification and goodies from Microsoft.

Out of these 10 students, in turn, 2

students from BVRIT MIC were

selected as National level MOS

Champions. These 2 students were

awarded with Platinum Medals,

Merit Certificates, Certifications,

Paid Internship and goodies from

Microsoft.

Miss Navya & Miss Sai Harshitha

of III CSE and Adarsh & Neelima of II CSE received merit certificates in National level MOS Championship

at New Delhi. Out of 8 students selected for National level MOS Championship from Telugu states, 4

students are from BVRIT MIC only.

Internship & Scholarships

T h e H e a d o f t h e

Department and the faculty

m e m b e r s o f C S E

c o n g r a t u l a t i n g

Miss.Sravani Durga from

IV year CSE who got

internship in Amazon.

Miss Sravani Dodla from IV

CSE got Fair & Lovely

Scholarship 2015 on 19th

April 2016 by Fair & Lovely

Foundation.

Brain storming @ BVRIT CYIENT

Incubation Centre

BVRIT CYIENT Incubation centre conducted project brain storming session on 12th March 2016. Total 52

students from B-Tech and M-Tech participated in this session. In this event, 12 engineers from CYIENT

were felicitated.

Registration with Rogers

Corporation, USA

Department of ECE, BVRITN got successfully registered with Rogers Corporation, USA a leading material

manufacture which gave a provision to use the imported sample frequency laminates for carrying the

experimentation on developing the microwave/RF/Antenna modules for the purpose of system

integration in the host institute. Mr. Sanjeeva Reddy, Faculty of ECE is coordinating the activity.

Certified Course by C-DAC at BVRIT-N

The Department of ECE, BVRIT N conducted a short term course on Digital System Design (VLSI) in

association with CDAC during 16th June to 2nd July 2016 for 3rd year B-tech students.

Mr.M.C.Chinnaiah is the Chief coordinator of the C DAC course. The total duration of the courses was 15

days.

ZEALOTZ

2K16

BVRIT Cultural Fest- Zealotz, held annually, is an expression of the creative and the lighter side of BVRIT Family. This year Zealotz

was celebrated with all pomp and splendour within BVRIT Campus. It was indeed a pleasant and a rocking evening with a sense

of enjoyment in the air. ZealotZ is an excellent platform for the students to showcase their entrepreneurial skills and other

multifaceted talents. The food & drink stalls at the venue were a gourmet's delight and some stalls of entertainment added

enjoyment to the audience. The whole event was covered by print and electronic media.
---
14

A QUARTERLY NEWS PUBLICATION FROM SRI VISHNU EDUCATIONAL SOCIETY

ANNUAL DAY CELEBRATIONS 2016

BVRIT celebrated its 19th Annual

Day on 1st of April, 2016 to

commemorate the progress of the

institution and the achievements

and awards bagged by the students.

The Guest of Honor of the day Sri

Ramana Gogula, Startup Evangelist

and Musician, motivated the

students with his inspiring talk.

This was followed by the prize

distribution for academics. The

students set the stage on fire with

their amazing performances that

were well appreciated by the

audience. The day was filled with

fun, frolic, smiles and rejuvenated

spirits. The event was coordinated

by Dr. E. Laxminarsaiah, HOD &

Dean (Freshmen) & his team.

POLYCET 2016

COACHING

Smt. B. Seetha Polytechnic conducted POLYCET coaching (initiated

in the year 2004) that focuses on importance of technical education

during 9 April & 25 April 2016. The college faculty also provide FREE

COACHING for the students who belong to KOVVADA ANNAVARAM

village which was adopted by Sri Vishnu Educational Society.

HELPING

HANDS

Seetha United Hands (SUH) contributed an amount of

Rs.8000/- for the purpose of medical treatment to an 8

year girl named Deepika, who is suffering from blood

cancer.

INCENTIVE

FOR ACTION

Smt. B. Seetha Polytechnic College conducted a meeting

with the students of 2016 batch who placed in various

companies and their parents on 18 March 2016 in

Padmabhushan Dr. B.V. Raju Auditorium, Sri Vishnu

Educational Society, Bhimavaram. The main motto of this

meeting is to elicit the importance of giving priority to both

job and career among the students and their parents.
---
ISSUE 12 JULY 2016

15

HANDS ON !!

At Shri Vishnu Engineering College for Women, the Department of EEE

installed two experimental setups in Power and Energy Lab. The

setups are Configurable DC-DC Power Converter & Selective Harmonic

Elimination Technique for Asymmetrical Seven-Level Inverter.

Configurable DC-DC

Power Converter

TRAIN THE TRAINER

TEACHER TRAINING PROGRAMME

A prototype DC-DC converter which can be configurable as Buck,

Boost, Buck-Boost, Cuk, C and D type power converters was developed

by Ms. K.K.K Phanisri of II Year M.Tech. (Power Electronics) student

under the guidance of Dr. Sankar Peddapati, Associate Professor. Major

components that have been used are Opto-coupler, inductors (1mH,

5A), digital controller (PIC16F887), capacitor, transformers, power

supply boards, MOSFET and Rheostat.

Selective Harmonic Elimination

Technique for Asymmetrical

Seven-Level Inverter

Asymmetrical

s e v e n - l e v e l

i n v e r t e r

prototype was

developed by Ms.

M . R a t n a

Manjusha of II

Year M.Tech. in

P o w e r

Electronics under

the guidance of

D r . S . M .

P a d m a j a ,

A s s o c i a t e

Professor. This

t o p o l o g y h a s

reduced number of power semiconductor devices, driver circuits and

voltage stress on the switching device. Selective harmonic elimination

technique is applied for finding optimal switching using particle

swarm intelligence in MATLAB environment (offline) for asymmetrical

multilevel inverter. Future work is to incorporate optimal switching

angles obtained through offline calculations for desired output voltage

in digital controller using look-up table. Major components that have

been used are Opto-coupler, digital controller (PIC16F887),

transformers, power supply boards, MOSFET's and Rheostat.

A three day Training Programme for the faculty of Vishnu Dental College on "Educational Science &

Technology" was conducted from 21 to 23 April 2016 at our Vishnu Dental College. 24 Faculty members from

various dental specialties have attended the Programme.

Eight faculty members of Vishnu Dental College who underwent training of Train the Trainers were the

resource persons for this programme.

SOCIAL RESPONSIBILITY

ORAL HEALTH AWARENESS PROGRAMME

The department of Public Health Dentistry conducted an "Oral Health Awareness Programme" for Health

Workers of Kalla Mandal PHC on 5 April 2016. Around 55 health workers including Auxiliary Nurse Mid-wives

(ANM's) and Accredited Social Health Activists (ASHA's) attended this awareness programme.

An awareness lecture regarding identification of common oral diseases and various treatment facilities

available at Vishnu Dental College was presented to them. The participants then interacted with the staff

at Vishnu Dental Care.
---
16

SATELLITE CLINICS

A QUARTERLY NEWS PUBLICATION FROM SRI VISHNU EDUCATIONAL SOCIETY

LEARNING

ALAMPURAM EXPERIENTIAL

Smt. Nirmala Sitaraman, Hon'ble Union Minister

of Commerce & Industry, Government of India

along with Sri. Pydikondala Manikyala Rao,

Minister of Endowments, Government of Andhra

Pradesh inaugurated our Fourth Satellite Clinic at

Alampuram on 25 March 2016.

Workshop on Interactive Dialog Systems

Smt. Nirmala Sitaraman, Hon'ble Union Minister of Commerce &

Industry, Government of India along with Sri. Pydikondala

Manikyala Rao, Minister of Endowments, Government of Andhra

Pradesh inaugurated our Fourth Satellite Clinic at Alampuram on

25 March 2016.

Workshop by Thought Works

DWARAKATIRUMALA

Our honorable Chairman Sri K. V. Vishnu Raju garu along with Mr. Sudhakara Rao,

Chairman, Sri Venkateswara Swamy Devasthanam, Dwaraka Tirumala and Mr.

Trinadha Rao, Executive Officer inaugurated our Fifth Satellite Clinic at Dwaraka

Tirumala on 8 April 2016.

A Workshop on Advanced C Language for III year ECE & CSE

students of Vishnu Institute of Technology conducted by Thought

Works India Pvt. Limited, Hyderabad on 19 March 2016. Mr.

Bhargava Gopichand Moganti, Mr. Murali Krishna Vemula, Mr.

Bairam Santhosh, and Mr. Maharjun Meesala are from Thought

Works Pvt. Ltd., who acted as resource persons in that workshop.

Faculty development program on

Smart Grids and Renewable Energy

To enhance the research skills among the faculty members in new

trends, the department of Electrical and Electronics Engineering,

Vishnu Institute of Technology, Bhimavaram organized a two-day

Faculty Development Program on "Smart Grids and Renewable

Energy" on 18 and 19 March 2016.

Dr.K.Vaisakh, Professor, Department of Electrical and Electronics

Engineering, Andhra University and Dr. D.V.S.S. Siva Sarma,

Professor, Department of Electrical Engineering, NIT Warangal

acted as resource persons for the two day program.
---
ISSUE 12 JULY 2016

OUT OF THE

CLASSROOM

Intellectual Learning in

Engineering Applications

at VEDIC

PROGNOSIS

"BETTER BHIMAVARAM"

A PANEL DISCUSSION

17

The role of the people becomes crucial in the building of a nation or a state. This process

becomes much more dynamic with the involvement of youngsters in it. Keeping in tune

with this concept of involving all sections of the society in state building, Vishnu Institute

of Technology, under the aegis of Shri Vishnu Educational Society, organized a

programme called Better Bhimavaram to create awareness amongst the student

community. A panel discussion was organized on 19 March 2016 in B. Seetha Indoor

Auditorium. The discussion covered the entire gamut of issues that need to be

addressed for better Bhimavaram.

Sri Vishnu Educational Society organized a workshop on "Intellectual Learning in

Engineering Applications" to the students of Vishnu Institute of Technology and

Shri Vishnu Engineering College for Women from 25 to 29 April 2016 at Vishnu

Educational Development and Innovation Centre (VEDIC), Hyderabad. 20 III B.Tech.

students of Vishnu Institute of Technology which includes 17 students from CSE

department and 3 students from IT department attended this workshop and learnt

various methods and techniques of Innovative Learning and Self-Assessment

during the workshop.

The students of VIT were divided into nine teams. Each team discussed a topic each,--

Swachh Bhimavaram, Traffic and Crime, e-governance, Legal Awareness, Information

Technology and Digitalization, Affordable Buildings for Poor, Public Health, and Skill

Development and Energy Management. The panel members interacted with the nine

teams with regard to major public issues in and around Bhimavaram. Our Director &

Principal Dr. D. Suryanarayana presided over the program. The Municipal Commissioner

Sri N.V. Nageswara Rao outlined the Skill Development Programme being organized in the

town and called for the support of educational institutions and voluntary organizations.

The opinion that Better Bhimavaram would be possible with the concerted efforts of all

the sections of the society was unanimously expressed.

Annual Day Celebrations

V i s h n u E d u c a t i o n a l

Society celebrated its

annual day on 19 March

2016. Various sports,

c u l t u r a l p r o g r a m s ,

academic activities

were conducted under

this program. Prizes

were distributed for the

winners as well as the

runners in all activities.

During this eve, Mr. G.

Rama Swamy, Asst.

Professor of Chemistry

w a s f e l i c i t a t e d f o r

completion of 10 years

service in Sri Vishnu

Educational Society.

Nav Nirman Deeksha

Vishnu Institute of Technology, Bhimavaram conducted Nav Nirman Deeksha, an oath-taking ceremony on 13 June, 2016 on

the instructions given by the Chief Minister of Andhra Pradesh Sri Nara Chandra babu Naidu and by the Jawaharlal Nehru

Technological University Kakinada, Kakinada. Events like Group Discussion and Debate were conducted under the program

focusing on reconstructing a new state on a grand scale. The students participated enthusiastically in the events and the

faculty members and respective department co-ordinators guided the students. At the end of the program, all the

participants have taken the pledge of Nav Nirman Deeksha.
---
18

ON THE HORIZON

A QUARTERLY NEWS PUBLICATION FROM SRI VISHNU EDUCATIONAL SOCIETY

Futur

Compiled by

Technolo

Simpi Kumari

4 ECE, BVRIT

Technology never

stands still: it's always

changing, adapting and

progressing, and often

times things that

seemed improbable (or

even impossible) one

year can quickly start

becoming possible only

a few short years later.

Wearable computers

seemed like a fanciful

idea only recently, but

now they're pretty much

the next big thing to go

mainstream. The

emergence of the

Oculus Rift could

probably catapult virtual

and augmented reality

into literal reality.

With this in mind,

here's a list of 10

interesting futuristic

technologies that we'll

most probably be seeing

in the near future.

Although these are

mostly still in the very

early stages, they're at

something of a middle

ground. While you won't

see these readily

available everywhere

yet, but at least we now

know that in due time,

they will become actual

products we can see,

touch and utilize.

Without further ado,

here's the list.

1

TALOS

Jet Pack

International

H202

Jet Pack International is making great

strides in jetpack technology H202 and

H202-Z jetpacks. As the name suggests,

both the H202 and H202-Z are hydrogen

peroxide-fuelled jetpacks that will allow

users to fly at up to 77 miles per hour at a

maximum height of 250 feet. So far thought,

the higher-capacity H202-Z is only capable

of a maximum flight length of 33 seconds

and a maximum travel distance of 3,300

feet.

The Jet Pack International H202 and H202-Z

are actually currently available, albeit not

commercially: you can assemble the jetpack

yourself, if you have$100,000 lying around.

2 Aero-X

Aerofex

5

If you're a Star Wars fan, the Aerofex Aero-

X, a real-life equivalent of the Star Wars

speeder bike, is definitely something you'll

want to keep your eyes on. The Aero-X is the

result of more than 15 years of research and

development. Powered by a water-cooled

240 horsepower engine and two large

rotors, the Aero-Xcan hover at an altitude of

12 feet and at speeds of up to 45 miles per

hour power. It can also carry up to 310

pounds. Think of the potential. Also, as a

result of this extended research and

development period, Aerofex claims to have

overcome the dangerous coupling effect

that can arise due to using two rotors,

ensuring that the Aero-X will be safe and

easy to control.

3 a Prosthetics Sense of Touch

with

6

In March 2013, Denis Aabo Sorensen had the privilege

of testing a new type of prosthetic hand, created by a

group of European engineers and scientists. Unlike

conventional prosthetics, the new prosthetic hand

connects directly to the remaining nerves in Denis'

upper arm. This means that the "hand" has a sense of

touch and is actually controllable. Blindfolded tests

showed that Denis was indeed able to differentiate

between different items such as a bottle, a baseball

and a mandarin orange. It also could exert different

levels of pressure, allowing Denis to touch, hold or

grab something.

While this prosthetic hand is indeed a great leap

forward, it's still far from ready for widespread use:

the arm required electrodes to be implanted directly

into Sorensen, and tests still need to be carried out to

determine the durability of these electrodes.

4

TALOS

"Iron Ma

stands for Tactical Assault Light O

Army hopes will become a reality within t

ballistic, shock and fire protection for Spe

The aim is to provide these soldiers with

protection than what currently exists. The

a collaborative effort between univ

corporations.

While there is yet to be a working proto

rapid pace. The head of the US Special

McRaven is confident that unpowered pr

also the goal of testing a complete workin

Titan Ar

Super

Maglev
---
ISSUE 12 JULY 2016

rE E

gieS

7

Cave 2

Cave2 is a hybrid reality environment that

lets artists, scientists and engineers

become fully immersed in their research.

The Cave2 is a 360° wrap around structure

consisting of 72 LCD panels, a 20-speaker

surround sound system and a 10-camera

optical motion tracking system.

With 3D glasses, scientists and engineers

will actually be able to virtually experience

and move through anything of their

choosing, whether it's the human body or

planets in the solar system. The Cave2

holds an immense amount of potential,

especially for situations involving large

amounts of data requiring visualization.

19

n suit"

8

3D Printed

Food

3D printing has taken the world by storm, and slowly but surely

people are being won over by the idea that it's for more than

just gadgets. Food is also something that can be easily 3D

printed.

perator Suit, a combat suit that the US

he next four years. The TALOS provides

cial Operations soldiers.

better, more mobile and more versatile

development of the TALOS suit will be

ersities, government agencies and

German company, Biozoon, is harnessing the power of 3D

printing to create seneoPro, a range of 3D-printable powder

mixtures that solidifies when printed but also very quickly

melts when eaten. The main target for this new 3D-printable

food is elderly patients who suffer from dysphagia, or the

inability to swallow.

type, development is proceeding at a

Operations Command, Admiral William

ototypes will be ready in June. There is

g prototype in August 2018.

Such a technology would definitely reduce the risk of choking,

and the 3D-printed nature of seneoPro means that caregivers

and family members can very easily mix and match the powders

to create all types of dishes. And you can also add coloring

agents and texturizers to make the food even more appealing.

m

The Titan Arm is the work of a team from the

University of Pennsylvania, and is a

s t r e n g t h - e n h a n c i n g u p p e r- b o d y

exoskeleton that will help you lift an extra 40

pounds. Granted, it's a far cry from the Power

loader we see – and love – in the Alien films

but the Titan Arm was designed with a more

humble goal in mind.

The Titan Arm is built to help rehabilitate a

person who've suffered serious arm injuries

or strokes as well as provide some extra

strength and protection for anyone who lifts

heavy objects for a living. To keep costs low,

the Titan Arm uses 3D printing techniques

allowing the prototype development costing

to be reduced to 1200.

9

High Power

Wireless Charging

Wireless charging, up until now, usually means

charging via a pad, rather than via wires and

cables. But if you ask the team from the Korea

Advanced Institute of Science and Technology

wireless charging can also be done a distance

away.

The team recently demonstrated a prototype of a

new Dipole Coil Resonant System (DCRS) that can

wirelessly power devices up to 15 feet away. The

DCRS system achieves this using a magnetic field,

and is apparently powerful enough to charge up to

40 mobile phones, and can even power larger

devices, like a TV. There's no word yet on how soon

we'll be seeing this technology in the real world,

but in the mean time you can check out Cota, a

somewhat similar wireless charging technology

that's coming soon.

Train

Chinese researchers have recently been

looking into the next phase of train

transportation, beyond even Maglev

technology. China and Japan already have

very fast Maglev trains that are capable of

reaching over 260 miles per hour, but the

new next-generation Maglev technology,

dubbed super Maglev, will apparently be

even faster.

Super Maglev is built on the same Maglev

technology, but it encapsulates the train in

a vacuum tube, further reducing air

resistance, allowing for higher, mindboggling

speeds. Researchers claim that

such enclosed-tube Maglev systems could

see trains reaching speeds of up to 1800

miles per hour.

10

StoreDot Fast

Charging

Battery

StoreDot, a ground-breaking nanotechnology company,

recently unveiled a prototype for a next-generation

battery that harnesses all their knowledge of

nanotechnology and energy storage technologies.

StoreDot uses bio-organic "nanodots" that have

increased electrode capacitance and electrolyte

performance.

The science is a bit complex, but the outcome is simple: as

a result of these nanodots, the battery can be fully

charged in only 30 seconds. The best thing is that, since

StoreDot's nanodots are bio-organic, they're a lot more

environmentally friendly, not to mention power-efficient,

than a lot of other competing nanodot technologies

which often use dangerous metals and chemicals. They're

also apparently cheap to manufacture, so who knows, we

may be seeing super-fast batteries in our smart phones

before too long
---
20

World University

Rankings 2015-2016

A QUARTERLY NEWS PUBLICATION FROM SRI VISHNU EDUCATIONAL SOCIETY

CAREER PATH

Your Tomorrow Starts Here !!!!

Compiled by

Courtesy:

https://www.timeshighereducation.com/world-university-rankings/2016/world-ranking

Team Vishnu ERA

BVRIT – Narsapur

The Times Higher Education World University Rankings

2015-2016 list the best global universities and are the only

international university performance tables to judge world

class universities across all of their core missions - teaching,

research, knowledge transfer and international outlook.

The top universities rankings employ 13 carefully calibrated

performance indicators to provide the most comprehensive

and balanced comparisons available, which are trusted by

students, academics, university leaders, industry and

governments. This year's ranking includes 800 universities

from 70 different countries, compared with the 400

universities from 41 countries in last year's table.

This year's list of the best universities in the world features

147 of the top universities in the US – with 63 American

universities making the top 200 of the list, including the

California Institute of Technology (Caltech) as the world's

number one university, followed by Stanford University in

third place, the Massachusetts Institute of Technology (MIT)

in fifth and Harvard University in sixth. But the US has been

losing its dominance of the tables, as institutions in Europe

improve their performance, including those in the UK,

Germany, the Netherlands and Switzerland

01

03

05

06

07

10

11

13

12

15

16

17

18

USA

California Institute

of Technology

Stanford

University

Massachusetts Institute

of Technology

Harvard

University

Princeton

University

University of

Chicago

Johns Hopkins

University

University of

California, Berkeley

Yale

University

Columbia

University

University of

California, LA

University of

Pennsylvania

Cornell

University

20

21

22

25

30

36

39

39

41

46

50

Duke

University

University of

Michigan

Carnegie Mellon

University

Northwestern

University

New York

University

University of Illinois

at Urbana-Champaign

University of California,

San Diego

University of California,

Santa Barbara

Georgia Institute of

Technology

University of California,

44

Davis

University of Texas

at Austin

University of

Wisconsin-Madison

UK

02

14

23

24

University of

Oxford

University of

04

Cambridge

08

27

32

Imperial College

London

University College

London

London School of Economics

and Political Science

University of

Edinburgh

King's College

London

University of

Washington

SWITZERLAND

SWEDEN

28

Karolinska

Institute

09

31

ETH Zurich

Swiss Federal Institute of

Technology Zurich

École Polytechnique

Fédérale de Lausanne

AUSTRALIA

33

University of

Melbourne

JAPAN

43

University of

Tokyo

CANADA

29

19

34

38

LMU

Munich

University of

Toronto

University of

British Columbia

McGill University

GERMANY

NETHERLANDS

47

Wageningen University

and Research Center

University of

44

Hong Kong

HONGKONG

CHINA

42

47

Peking

University

Tsinghai

University

SINGAPORE

26

National University

of Singapore

37

49

Heidelberg

University

Humboldt University

of Berlin

BELGIUM

35

KU Leuven

Note: Next issue features the World's Best Engineering Colleges for the year 2016

SRI VISHNU EDUCATIONAL SOCIETY (SVES)

Plot No. 7 & 8, Nagarjuna Hills, Punjagutta Main Road,

Hyderabad – 500082. Telangana, India

Tel: (040) 40334899, 40334897, 40334866, 40334829

Fax: 40334818, 40334848

www.srivishnu.edu.in

Ms Santosha (VIPER)

Ms. U. Madhavi (BVRICE)

Ms. N.L. Pavani (SBCP)

Mr. M. Hari Babu (VPS)

Mr Arum Kumar Singh (3 ECE), BVRIT N

Ms Caroline Sangaveera (3 EEE), BVRIT N

Mr Anuraag Kaushik (3 ECE), BVRIT N

Mr N Rakesh Kumar (BVRITian @ Deloitte)

Guest Editor