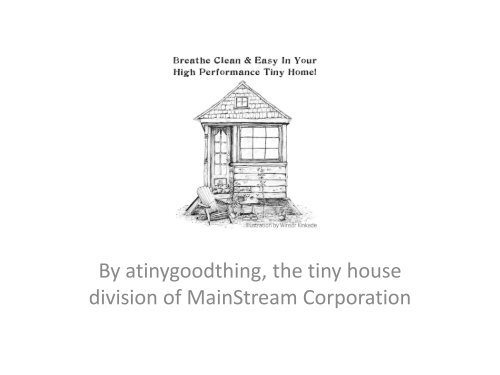 Healthy Tiny House
Create a Healthy Tiny House and cut your heating and cooling in-half.
Create a Healthy Tiny House and cut your heating and cooling in-half.
SHOW MORE
SHOW LESS
Create successful ePaper yourself
Turn your PDF publications into a flip-book with our unique Google optimized e-Paper software.
By atinygoodthing, the tiny house

division of MainStream Corporation
---
A note from the team..

Create a HEALTHY, Tiny Home,

And Cut your bills in Half!

Cut any building load down 40-60% with these practices.

Off-grid suddenly becomes easier.

Contact us to further learn the remaining 50% of losses

that enable utility free living.

Remember it's you who inspire us!
---
Air-Tightness

Once your tiny home shear wall framing is complete; It's Time For Air-Tightness.

Whether you or your builder used wood or steel, when the 4x8 sheets are up and the

interior space is closed in, it's time to tape all the seams and connect the

exterior wall panels to the tiny house frame. You'll first test the tape on the OSB and

determine if it needs a primer to adhere permanently. Our Tescon Vana tape should

permanently bond to OSB, CDX, and other substrates in 24 hours, forever… To test

the substrate just place a 6"-1' piece of tape over the substrate used. In 24 hours

peal it apart. For reference here is a sample. https://youtu.be/hugouyOgdBE

Air tightness tape for seams, doors, penetrations, and windows are all included.
---
Water Resistive Barriers (WRB)

Before siding over the shear wall you'll use

SOLITEX MENTO 1000, a 3-layer vapor open

housewrap and roof underlayment that is an

extremely strong WRB for

subroof/underlayment and rainscreen

application. It provides superior

weather protection and can cover

insulation, plywood, OSB and ext. gypsumboard.

It has an actively vapor open,

monolithic layer of TEEE film that is extremely

waterproof – and outperforms

perforated/stretched WRBs both in outward

drying potential as well as airtightness.
---
Tape window

flange to

Mento 1000

Prepare Rough Opening by creating an Extoseal

sill pan the thickness of the window frame,

overlapped with Vana tape on other edges. Then

tape Mento 1000 to the edges of the opening.
---
VOC * -free Insulation

*Volatile Organic Compounds (VOC)

After all your wiring, plumbing,

and mechanicals are installed;

you'll insulate the cavities

perfectly and gap-less.
---
Intello Intelligent Interior

By using Mento 1000 outside, taping all the seams and

penetrations of the walls and roof you've created a control layer

from the weather and wind. After insulation, you'll create an

interior Vaper Control Layer that will keep the walls closed up

and sealed and prevent any interior showering, boiling of

water, or breathing moisture from wicking into the

walls over time. Line the interior framing with Intello Plus.

Since Intello and Mento 1000 are intelligent, if the wall does

obtain moisture rise, it can dry out in both directions.

German Engineering at its best.
---
Interior vapor control
---
Interior vapor control
---
85% Efficient Ventilation,

Replaces the Bathroom Fan.

The Tiny House envelope is now air tight. We'll want to add

fresh filtered air just like the fish get in the fish tank. This is

NEW, but a key ingredient to HEALTH & Efficiency. Cooking,

bathing, breathing all create humidity. Breathing removes

oxygen. Using our Energy Recovery Ventilation units will filter

fresh air as it comes into the tiny house and also exhaust

the humidity and smells from the bathroom and kitchen.

Its automatic too working all the time for you. It also

removes the VOCs that you can smell from the freshly

varnished woods inside. Yea those smells are VOCs.
---
Energy Recovery

https://youtu.be/zYcFosLP5V0

Capture 80-90%

of the heat

escaping

through the

exhaust and

put it back in

your home!
---
https://youtu.be/P1XTGz6F_oQ
---
Points of Departure

• Ventilation exhausts VOCs and Smells, this is

new and not standard in buildings. It replaces

the bathroom fan and always provides fresh

filtered air at the same time.

• Creating Air Tight envelopes with Tescon Vana,

Intello Plus, and Mento 100 keep the outside

out and the inside free from dusts and drafts.
---
For Custom Kit Pricing

• Send Plansets to atinygoodthing@gmail.com

» OR

• LiveUtilityFree.com