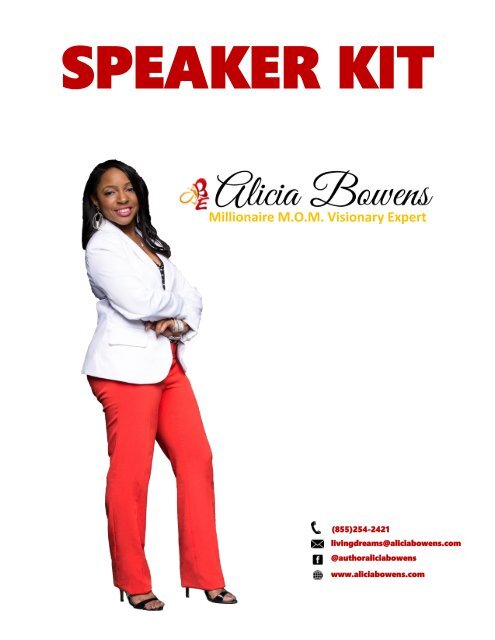 Alicia Bowens Speaker Kit
Create successful ePaper yourself
Turn your PDF publications into a flip-book with our unique Google optimized e-Paper software.
SPEAKER KIT

Millionaire M.O.M. Visionary Expert

(855)254-2421

livingdreams@aliciabowens.com

@authoraliciabowens

www.aliciabowens.com
---
WHO IS ALICIA BOWENS?

ALICIA'S BOOKS

SPEAKING TOPICS

WHY YOU SHOULD HIRE ALICIA

TESTIMONIALS

(855)254-2421 livingdreams@aliciabowens.com www.aliciabowens.com
---
WHO IS ALICIA BOWENS?

Known as a "corpora-preneur," Alicia Bowens is

a woman of many talents. She is an IT

professional by day, and a sought after

speaker, author, coach, and radio host outside

of her 9-to-5. The certified life coach is the

founder of two businesses — BE IT LLC, an IT

staffing and consulting company, and BE

L.O.V.E. LLC , a company whose mission is to

connect teen and single moms to resources,

education and information through books,

coaching and workshops.

A 2015 Crown Jewel Award recipient and 2016

BOSS Influencer, Alicia has been a frequent

guest on a number of shows and programs as

well as events where she speaks about career

planning, entrepreneurship, vision boards,

relationships, and her experiences of being a

teenage mother.

Alicia became a teen mom at the age of fifteen.

However, she didn't let that stop her.

Immediately after high school, Alicia went on to

attend the University of Illinois at Urbana-

Champaign, taking her then three-year old son

with her. In 2001, she graduated, and soon

after began a career in the IT industry. In 2006,

she obtained her Masters in Business

Administration and Masters in Information

Systems Management from Keller Graduate

School.

Alicia is an active member of the National Black

MBA Association, Chicago Chapter, having

served on the Executive Board and Marketing &

Communications Committee from 2006-

2010. She also participated in their Leaders Of

Tomorrow (LOT) program, a mentoring program

for high school students.

Alicia has also been involved in other teen mentoring

programs, such as The Legacy Initiative,

and Your Time Is Now (YTIN), and the Illinois

Subsequent Pregnancy Program.

In 2010, Alicia became a certified life coach. As

a life coach, it is her desire to share her

experiences - both successes and failures - in an

effort to empower others to achieve their goals

despite the obstacles that may present

themselves in life. She brought those beliefs to

the airwaves 2011, when she partnered with a

close friend to create and co-host "The L.O.V.E.

Perspective" radio show, which focuses on

encouraging and inspiring others to live Lives Of

Vision & Empowerment. Alicia believes that if

you have a vision for your life, God has already

instilled within you the skills and abilities that

you need in order to make that vision a reality.

She has been a frequent guest on various media

outlets and at events speaking on career

planning, vision boards, relationships, as well as

sharing her experiences of being a teenage

mother.

(855)254-2421 livingdreams@aliciabowens.com www.aliciabowens.com
---
ALICIA'S BOOKS

MILLIONAIRE M.O.M.

Living Dreams, Transforming Lives, and Defying the Odds of

Teen Motherhood

Abuse, poverty, and rejection didn't hold these Millionaire

M.O.M.s down. They are mothers on a mission, who did whatever it took

to ensure that their circumstances were not a death sentence to their

destiny. They are Millionaire M.O.M.s (Mothers on a Mission) who, in this

volume, were teen moms.

These Millionaire M.O.M.s share how they overcame everything from

mental shifts to cultural setbacks, and prove how you too can achieve your

goals to become a Millionaire M.O.M.

L.O.V.E. FOR TEEN MOMS

You CAN Still Have Lives Of Vision & Empowerment

Having a child at such a young age can leave you feeling isolated,

ashamed, and ready to give up. Before you throw in the towel, know that

success is still possible! Journey through my experiences on these pages

and discover how to go from hopelessness to hopeful, put your life on a

path to fulfilling your dreams and creating a poverty-free life for you and

your child.

"This book is a must read! A much needed resource for every mom, teens as well as adult moms. This author, speaker, radio

personality, and most importantly a loving mom shares some vital information after having a child. As a father of two young

ladies, I'm thankful that there are experts such as Bowens that will share their life experiences, and all of the research they

have invested in to cover powerful topics to help others. Great job Alicia T. Bowens!"

- C. Williams

(855)254-2421 livingdreams@aliciabowens.com www.aliciabowens.com
---
ALICIA'S BOOKS

THE APPLE OF HIS EYE - Contributing author

Reflections of Survival, Struggles and Successes of Single

Mothers

The phrase "apple of his eye" refers to a person who cherishes you above

others. Each excerpt in this book is true and written with love to encourage

every single mother who reads it. The authors want you to be confident in

knowing God is in control and He will use what the enemy meant for evil for

His glory! Change your perspective and start seeing yourself the way God

sees you. You are virtuous, beautiful, successful, loved, strong, gifted,

knowledgeable, favored, healed, and an overcomer.

L.O.V.E. FOR TEEN MOMS

College 101

This self-published book is a quick read for teens, giving encouraging

advice and information on what to do to get through high school and how to

prepare and make it through college when you are a teen/young mother.

(855)254-2421 livingdreams@aliciabowens.com www.aliciabowens.com
---
SPEAKING TOPICS

SIGNATURE TOPIC: UNLEASH YOUR FORTUNE

Everyone has a fortune sitting inside of them waiting to be discovered. Unfortunately, the majority either

never realize its existence or fail to develop it to its full value. In this presentation, Alicia discusses 3 key beliefs

that cost us our fortune, and how to identify and unleash your fortune to its full value.

OTHER SPEAKING TOPICS

Single Motherhood and Success: Navigating through the Chaos

Relationships

Overcoming Obstacles

Setting Goals for Success

Teen Pregnancy/Parenthood

WORKSHOP SERIES

Vision Board Workshop

From Manuscript to Self Published: How to Publish a Book

Train the Trainer: Raising the Bar for Teen Moms

L.O.V.E. for Teen Moms (Book Required)

Agile Fundamentals

(855)254-2421 livingdreams@aliciabowens.com www.aliciabowens.com
---
5 GREAT REASONS

WHY YOU SHOULD

HIRE ALICIA

AS YOUR SPEAKER AT YOUR

NEXT EVENT

TOPICS

EVERY ATTENDEE AT YOUR EVENT WILL LEAVE INSPIRED, EMPOWERED, AND

MOTIVATED TO TAKE ACTION AFTER HEARING ALICIA'S PRESENTATION.

ALTHOUGH ALICIA HAS A FEW SIGNATURE TOPICS, SHE IS ALWAYS FOCUSED ON

CUSTOMIZING HER PRESENTATION TO THE NEEDS OF YOUR AUDIENCE. SHE

WORKS TO UNDERSTAND THE CONCERNS OF YOUR ATTENDEES AND WILL ENSURE

THAT THE INFORMATION SHE PROVIDE WILL BE RELEVANT FOR THEM.

ALICIA LIKES KEEPING HER AUDIENCE ENGAGED, SO YOUR ATTENDEES ARE SURE

TO ENJOY HER PRESENTATION STYLE.

ALICIA'S DIVERSE BACKGROUND AND EXPERIENCE MAKES IT EASY FOR HER TO

PRESENT TO YOUR ATTENDEES AND TOUCH ON SITUATIONS THAT THEY CAN

RELATE TO.

ALICIA'S DOWN-TO-EARTH PERSONALITY AND WARM SPIRIT MAKES HER EASY TO

WORK WITH AND A PLEASURE FOR YOUR ATTENDEES TO SHARE THEIR IDEAS AND

CONCERNS WITH.

(855)254-2421 livingdreams@aliciabowens.com www.aliciabowens.com
---
TESTIMONIALS

"Alicia Bowens thank you for the gift of Vision."

Yanni Brown

CEO, Making Love Better TwoGether, Inc.

"After meeting Alicia Bowens earlier this year I realized that I AM A Millionaire Mom, she told me its

not about the money but about your mindset and Yes I have it!!!! "

Keocco Larry

CEO, Keocco Consulting Group

"Thank You Alicia Bowens for participating in EPIC Charter Academy Inner Health Outer Beauty

panel. Your knowledge and experience not only help the girls see they can over come any obstacle

they face, but also that they can achieve high dreams and goals if they put their best foot forward

and believe. You are truly an inspiration to youth! "

Nina Motivates

CEO, T.O.U.C.H. NFP

"Alicia's recent workshop on "Relationships", for our recent Teen Summit, was awesome! Her

personal account of how to work through relationships and the challenges of growing up was a

testimony for adolescent and teen girls facing those same struggles and learning how to move

towards success. Looking forward to other engaging workshops with Alicia! She is an outstanding

presenter!"

Elaine Smith-Singh

Teen Perspectives - AKArama Foundation, Inc.

(855)254-2421 livingdreams@aliciabowens.com www.aliciabowens.com