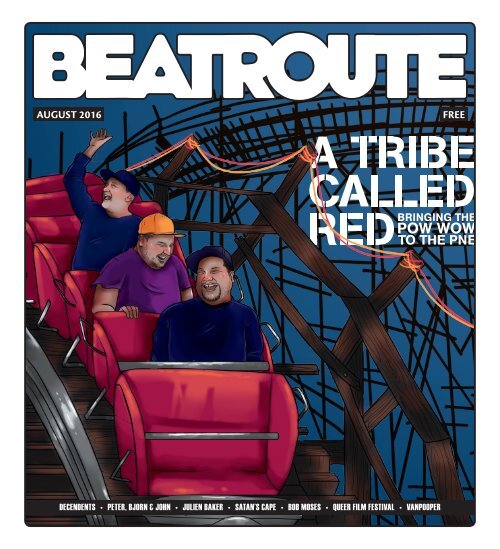 BeatRoute Magazine B.C. print e-edition - August 2016
BeatRoute Magazine is a monthly arts and entertainment paper with a predominant focus on music – local, independent or otherwise. The paper started in June 2004 and continues to provide a healthy dose of perversity while exercising rock 'n' roll ethics.
BeatRoute Magazine is a monthly arts and entertainment paper with a predominant focus on music – local, independent or otherwise. The paper started in June 2004 and continues to provide a healthy dose of perversity while exercising rock 'n' roll ethics.
SHOW MORE
SHOW LESS
Create successful ePaper yourself
Turn your PDF publications into a flip-book with our unique Google optimized e-Paper software.
AUGUST 2016

FREE

DECENDENTS • PETER, BJORN & JOHN • JULIEN BAKER • SATAN'S CAPE • BOB MOSES • QUEER FILM FESTIVAL • VANPOOPER

August 2016 1
---
TRIM SIZE: 10.25"W x 11.5" H, RIGHT HAND PAGE

2

August 2016
---
TABLE OF CONTENTS

August '16

BEATROUTE STAFF

CONTRIBUTING WRITERS

PUBLISHER

BeatRoute Magazine

EDITOR-IN-CHIEF

Glenn Alderson

glenn@beatroute.ca

MANAGING EDITORS

Joshua Erickson

joshua.erickson@beatroute.ca

Jennie Orton

jennie@beatroute.ca

SENIOR EDITOR

Maya-Roisin Slater

mayaroisin@beatroute.ca

GRAPHIC DESIGNER

& PRODUCTION MANAGER

Rachel Teresa Park

rachelteresapark.com

WEB PRODUCER

Shane Flug

COPY EDITOR

Thomas Coles

CONTRIBUTING EDITORS

CITY

Yasmine Shemesh

yasmine@beatroute.ca

COMEDY

Graeme Wiggins

graeme@beatroute.ca

ELECTRONICS DEPT.

Vanessa Tam

vanessa@beatroute.ca

FILM

Paris Spence-Lang

paris@beatroute.ca

THE SKINNY

Alex Molten

molten@beatroute.ca

LOCAL

Erin Jardine

erin@beatroute.ca

FRONT COVER PHOTO

Shimon

shimonphoto.com

DISTRIBUTION

Gold Distribution

Heather Adamson • Sydney Ball • Victoria Banner

Eric Campbell • Jade Cobain • David Cutting

Mike Dunn • Bryce Dunn • Heath Fenton • Ashley

Frerichs • Colin Gallant • Jamie Goyman • Britt

Hanly • Erin Jardine • Prachie Kamble • Noor

Khwaja • Ana Krunic • Cait Lepla • Trina McDonald

Jaime MacNamara • Devon Motz • Jennie Orton

Justin Penney • Liam Prost • Molly Randhawa

Daniel Robichaud • Galen Robinson-Exo • Paul

Rodgers • Maya-Roisin Slater • Kristie Sparksman

Paris Spence-Lang • Susanne Tabata • Vanessa Tam

Willem Thomas • Elliot Way • Wendy 13

CONTRIBUTING

PHOTOGRAPHERS &

ILLUSTRATORS

Sarah Baar • Jenny Bonar • Bev Davies

Lindsay's Diet • David & Emily Cooper

Asia Fairbanks • Chase Hansen

D.L. Fraser • Amy Ray

Galen Robinson-Exo • Dylan Smith

Sarah Whitlam

ADVERTISING INQUIRIES

Glenn Alderson

glenn@beatroute.ca

778-888-1120

DISTRIBUTION

We distribute our publication to more than 500

locations throughout British Columbia. If you

would like BeatRoute delivered to your business,

send an e-mail to editor@beatroute.ca

Working for the Weekend with Ezra Kish and Patryk Drozd................................4

Julien Baker .......................................................................................................................5

Peter Bjorn & John ........................................................................................................6

Awolnation .......................................................................................................................6

Folk Road Show ..............................................................................................................9

Diarrhea Planet .............................................................................................................10

Lié ........................................................................................................................................10

THE SKINNY 11 - 13

• Satan's Cape

• Burger Fest 6

• Massive Scar Era

• Subculture

Freak Heat Waes ..........................................................................................................14

Highland Eyeway ..........................................................................................................14

COVER: A TRIBE CALLED RED 15

ELECTRONICS DEPT16 - 17

• Gold Panda

• Bob Moses

CITY.......................................................................................................................... 18 - 19

• Drag Thing Of The Month

• Culturally Defined

• Vancouver Mural Festival

• Sweet Boy Cream Puffs

• YVR Food Fest

• Carp

FILM ...................................................................................................................................20

Album Reviews ................................................................................................... 21 - 26

Live Reviews .......................................................................................................... 27 - 29

Vanpooper ..................................................................................................................... 30

BEATROUTE MAGAZINE

202-2405 Hastings St. E

Vancouver BC Canada

V5K 1Y8

editor@beatroute.ca • beatroute.ca

©BEATROUTE Magazine 2016. All rights reserved.

Reproduction of the contents is strictly prohibited.

Gold Panda, Page 16

photo: Laura Lewis

August 2016 3
---
lot can happen in a year, you can open a new

A bar and have it be a huge success, you can get

your own in-house lager, you can sign a lease on a

new space, you can buy a pony, you can even find

time for rest. Most of this is the case for Ezra Kish

and Patryk Drozd, two hard working entrepreneurs

who are creating community spaces where

people can come together to have a good time.

Having had life breathed into it by industry

professionals and denizens over the last year,

the Boxcar celebrated its one year anniversary,

a no-gimmicks good old drinking hole that

neighbours the infamous Cobalt. The Boxcar

touts its own in-house lager, Good Company.

Owned in part by Drozd, Good Company Lager

is a brilliant and refreshing addition to their

already inspired community involvement. It's

as if the beer is a vehicle to bring together beer

lovers and the patrons of their establishments.

We got these two busy gentlemen together,

we talked about their establishments

and even spilled some juicy details

about what's to come, here we go:

BeatRoute: Happy one year anniversary to the

Boxcar! What has the response to the space been

in that year?

Kish: Thanks! I mean, apart from the usual

liveliness of a bar atmosphere, the drama

has been low in there. Everyone who

comes in seems to enjoy it and relax.

Drozd: It's just a bar, no gimmicks, no

televisions, no food (although our neighbours

Pizza Farina sure seem to do a lot of business

in there). People have wanted that in

Vancouver, especially on the East Side.

Kish: It's exactly like what we did with the Cobalt

minus the live performances; it's a community.

with Ezra Kish and Patryk Drozd

There's a difference between community and

network. A network is like your Facebook page

where you surround yourself with people who

pump your tires and agree with you and you

feel validated but you don't really learn much.

A community is like a baseball team or your

neighbourhood where everyone who comes in

comes from somewhere else and if you wanna

sit next to them you have to be tolerant, and

you might actually learn something if you stop

playing games on your phone for half a second.

Drozd: It's funny, we get almost the entire city's

music industry in there blowing off steam with

one another. Sometimes I think the Boxcar is

what stops all the promoters and talent and

agents and label stooges from never speaking

to one another again. It's cool seeing that type

of professional friendliness happen at our bar.

BR: Tell us about Good Company

Lager, how did that come to be?

Drozd: Good Company (or a form of it) has

been a idea of mine for a long time. Originally

(six years ago) I was talking to a Nicaraguan

brewery about brewing a Canadian cervasa and

brand it under the Vancouver banner, Mexican

lager holds one of the largest positions in the

beer category. Anyways, that fell through for so

many reasons. Six years later, way more business

experiences and the maturity of the average beer

drinker moving into craft beers, the opportunity

opened up for me that I could not ignore.

BR: How have your regulars

responded to Good Company?

Drozd: GCL has been a smash hit, it debuted at

BASSCOAST and The Cobalt. It's been 30 days and

I am already at government liquor stores and over

Written by David Cutting

photo by Lindsaysdiet.com

30 of my buddies' establishments in Vancouver.

BR: Good company is based in

the Okanagan correct?

Drozd: Currently CGL is being brewed in [ the

Okanagan] until we can find the right location for

us to set up in Vancouver, currently in talks with

buying a local brewery and installing a canning line.

BR: What do you hope to see for

the next year at Boxcar?

Drozd: A Good Company in every hand.

Kish: Yeah that, I guess. Also, I love our niche music

nights like Vibe Corridor and Fishing that seem to

strike a nerve with music fans who might feel out

of place at a 200+ capacity venue. I'd love to see

that group of people still happy with our space and

hopefully have some more regular nights like that.

BR: How has the Boxcar affected Cobalt?

Kish: It's certainly focused the Cobalt as a live

space. Before, so many regulars would come

down and try and sit with a beer but attempt

to speak to one another over a punk show or

a vivacious drag number. Now, there's just an

easy back and forth between both venues.

Drozd: The Cobalt is a total lightning rod for

raucous live stuff: DJs, drag, music. Everyone

already knows that. The Boxcar has been its

own animal, but on top of that, it's a place

for people to shuffle off to for a minute

to have a (somewhat) quieter drink.

BR: What inspired you to open Boxcar?

Drozd: Because it was an empty space

between us and the next spot over.

Kish: As most people who go to places like ours

in the city knows, it's nearly impossible to open a

new bar. The Cobalt is over a hundred years old.

The Boxcar is actually the space that was used as

a horse and carriage pass-through back then.

Drozd: Yeah and my horse died a

few years back and my carriage got

termites, so I figured we should probably

consider an update to the space.

BR: Any future plans for more spaces

like Boxcar and the Cobalt?

Kish: We just signed the lease on the former

Electric Owl, right across the street from

our two establishments and down the street

from the East Side Flea which is run by

myself and my better half, Morgan Ellis.

Drozd: We're returning it to its

former name: the American.

Kish: Make the American great again.

Drozd: That's the plan.

Boxcar is snugged next to The Cobalt at 923 Main St

4

August 2016
---
JULIEN BAKER

premature wisdom from a remarkable gauntlet of existence

Let's sit for a minute with the knowledge that

over the past year Julien Baker has become

some kind of indie phenom at age 20 on the

back of her first solo album, Sprained Ankle; which

came after touring extensively in her teens as part

of her hometown Memphis, Tennessee band Forrister

(formerly The Star Killers). She has received

extensive press coverage and acknowledgment

from outlets such as the New York Times and Amy

Poehler's Smart Girls, introducing us to her mosaic

persona that feels limited by mere descriptors such

as Christian, poet, academic, and musician. Rounding

this out are the years spent spiralling through

addiction resulting in an album, almost recorded

on a fluke, that is both heartbreakingly sad and

alarmingly relatable to listen to.

When spending time with her album Sprained

Ankle, there is an authentic resonance that occurs

instantly; particularly because the content is incredibly

personal and was written in seclusion with

no intent to share it.

"When I wrote the songs I didn't have any expectation

for them," explains Baker. "I gave myself

full artistic liberty to write about the things I was

feeling at that exact moment with minimal refinement

of lyrical content." The result is an album

that transcends the stratosphere of overwhelming

emotional pain we can experience as we move

through life and it has hit a nerve with the masses

and is continuing to steadily expand its reach.

The growing platform for her music, which includes

prominent tours in North America and Europe

over the past year, has created the space for Baker to

form a new relationship with the songs that is more

reflective of her present day emotional truth.

"The songs are an accurate representation of

how I felt once," she explains. "But thankfully I have

found out that I don't in fact ruin everything I do.

Those difficult times were learning opportunities

that allowed me to experience grace and humility.

As I perform the songs now, I reframe them to be

less about the events themselves and more about

what I have learned."

Although she credits her friendships with

musicians and touring with supporting the sharing

of oneself and connecting deeply with others,

she recently moved back to her hometown of

Memphis after realizing it is where her strongest

support system is. This type of clarity about what

is important and authentic rings true in everything

Baker touches. If the new material she has begun to

perform live and will eventually record is any indication,

her work will continue to provide a window

into her personal experiences and perspective.

"I want to take things out of daily life and find

meaning in them," she shares. It is this rawness

to her music and the fact that she can engage in

conversation on any given topic with a high degree

of insight and intellect that keeps audiences

hooked on every word. As she comes to terms

with a following anxious for what she releases

next, Baker is secure in her choices to continue

to be as honest as possible.

"One of the wisest things anyone has ever said

to me was, 'Art has to be selfish to be honest.' As

much as I am informed by my awareness of people

listening, I strive not to let that dictate what I say.

When you divulge something valuable about yourself,

that is what makes honest art and that is what

people relate to."

Julien Baker performs at The Cobalt on August 9

Julien Baker bravely bares her soul and remarkable depth with and equally road weary world.

MUSIC

by Heather Adamson

photo: Jake Cunningham

PETER, BJORN & JOHN

finding the currency in quirk

Do you ever wonder which member of Peter

Björn & John came up with the melody for

that whistle? Do you think John constantly

whistled purely out of habit, and then one day

Peter was like, "Actually, that's good. That's really

good," with Björn nodding feverishly in agreement?

Do you think that they intended to unite the world

with one breathing pattern through pursed lips?

No, but thank god they did because it's still one of

the most recognized symbols of when indie-pop

The Swedish Trio bring their unique voice to the jetstream and are enjoying the rush.

broke through to mainstream.

You've gotta hand it to Peter Björn & John; for

over ten years, they've managed to live up to their

unsung title of three eccentric Swedish men making

music that frankly sounds like it truly belongs

to them. With no other band would you have

been reading a sad diary like you were with 2006's

Writers Block (ironically, their album with the best

song-writing), and then suddenly dumped in the

middle of an open marriage between fuzzy beats

& sharped-tongue curses like you were on 2009's

Living Thing. Yes, PB&J have been doing their own

thing and owning it; but with time comes growth

and change, and perhaps the most startlingly

smooth transition into pop any indie band has

made.

It's almost as if 2016's Breaking Point had been

planned way back when. They probably sat back in

2005 and said, "Ok. Let's have some fun. Let's get

John's whistle stuck in everyone's heads. But then,

lets make one hell of a pop record." To do this, it

was essential to recruit a roster of heavyweights.

From a production standpoint, not a hair is out of

place. With Paul Epworth (Adele, Coldplay), Emile

Haynie (Lana Del Rey, Eminem), and Greg Kurstin

(Beck, Sia) grooming the trio into a pop-perfected

version of themselves, it's no wonder every song

feels like it could be a stand alone single.

"We reached a point where we're like we can't

mess around, we have to make a decision: is this

gonna be the worst album or the best album

by Kristie Sparksman

we've ever made?" recalls Björn Yttling, bassist and

co-owner of their record label INGRID. "And we

went for the best album. And that was sort of the

'Breaking Point.' I think it sums up what we're like.

It feels like it's an album of our time and that it

couldn't have come out in any other year."

Considering their songs are already getting

radio play, it seems like this might be the end of

the underground aspect of their musical masquerade,

but that's not necessarily a bad thing. Lovers

of their earlier, darker vibe may remember when

Peter Morén of PB&J stated boldly, "I say a prayer

for boring music," as the opening line to Self-Pity.

He was true to his word. Their shiny new sound is

remarkably that of a long-time friend coming out

as gay; you're a bit shocked at first but completely

accepting and maybe it's something you saw coming

long before he even knew.

Yttling cites their immersion in their home away

from home, a Swedish co-operative record label

INGRID, as being a major influence on the band's

creative energy as of late. Working as a producer

himself to dream-pop starlet Lykke Li and throwing

musical parties with Andrew Wyatt of Miike Snow,

it's no wonder PB&J feel rested and excited to be

on tour again. Who knows, maybe whoever the

original whistler was has enough energy left for a

Young Folks round two.

Peter Björn & John come whistling to the Commodore

on August 30th.

August 2016 MUSIC

5
---
AWOLNATION

making the most of the backseat

Aaron Bruno is unquestionably the major

creative force behind AWOLNATION.

In a very wordy and detailed interview

with BeatRoute, Bruno subtly demonstrates that

sometimes things are better when you give up

control to a stronger vision. The interview call is

passed through several executives and probably

some energy drink brew masters at Red Bull

Records, and through to Bruno as he is enjoying

drinks on the patio of an Ottawa bar. The first

thing discussed was records and the longevity of

both Megalithic Symphony and Run, the band's

first two albums.

"As a band we kinda' stick around like a

fungus and grow. This record, much like the

last one has a lot of time…" Having now made

two albums with multiple hit singles on them,

Bruno uses the word "time" to describe how

long it takes for a market to be fully done using

the tracks. "We aren't like anyone else so it

takes people a while to figure out what we're

all about…this gives the luxury of time for

growth." Bruno has broken the news we won't be

hearing new AWOL any time soon in the most

artistically satisfying manner. Though, like any

detail oriented person, Bruno is very enthusiastic

about his radio-edit of the title track single

"Run," released on July 8th, as if it was a new

song. "It's such a strange, long, dark song but so

many millions of people were affected by the

song online that we thought we'd give it a shot

and try to catch lighting again."

Someone so creative isn't taking a vacation, as

Bruno has happily found himself in a co-writing/

producing spot on a new alum coming out by a

killer young band called IRONTOM. Swayed by

either their mutual love of all capital letters or

these kid's amazing talent, Bruno is very excited

to lend his skills to a promising young act.

"It's really exciting for me to take a backseat

to all the attention and pressure of being the

face of an outfit…to help coach these kids along;

they're all in their early 20s and [I] have the

opportunity to give them a chance the same

way mentors of mine gave me chances along the

way." Bruno later goes on to cite Christopher

Thorn of Blind Melon as someone who gave him

a leg up early in the game. "Run was such an

emotionally draining album for me that while

I'm of course casually writing new AWOL songs,

it's nice to put my love and care in to that band."

Bruno sees the producing angle as an artistically

valuable way to help him prepare for a

third album. "Some people do, but I certainly

don't like - metaphorically speaking - staring

in to the fuckin' mirror all the time…it gets

old. [It's] nice to not have to listen to my own

voice," says Bruno, intriguing sentiments from a

musician who writes all the music for his band.

Bruno seems just as proud to take the reigns as

he is to hide in a co-writing credit, a duality in

character not unlike the duality of his screaming/melodic

vocals.

"The other bands I was in before this were

sort of a democracy, writing, we all had an equal

vote. I learned so much about writing with these

other members, but when the AWOL thing

by Victoria Banner

started that was when I took the reigns over and

started writing all by myself."

AWOLNATION performs at the Commodore

Ballroom on August 11 & 12.

photo: Daniel Shippey

Handing over the reigns gives Aaron Bruno a much needed stint as a guest and he's making himself at home.

$5 PINTS

SUMMER NIGHT

CONCERTS

NIGHTLY AT 8:30pm

RESERVED SEATS STARTING AT JUST $15!

NO FREE

ADMISSION.

TICKET

PURCHASE

REQUIRED.

INFO & TICKETS

AT PNE.CA

AUG 20

KiSS 104.9 WHAM BAM

FEATURING HEDLEY

AUG 21

ALAN DOYLE &

THE BEAUTIFUL GYPSIES

AUG 23

THE SHEEPDOGS

AUG 24

STEVE MILLER BAND

AUG 25

SIMPLE PLAN

AUG 26

OLIVIA NEWTON-JOHN

AUG 27

FOREIGNER

COCKTAILS

$4

AUG 28

CULTURE CLUB

AUG 30

MONSTER TRUCK

AUG 31

A TRIBE CALLED RED

SEP 1

DRU HILL WITH SISQO,

NOKIO, JAZZ & TAO

20TH ANNIVERSARY

SEP 2

PAT BENATAR

& NEIL GIRALDO

WE LIVE FOR LOVE TOUR

SEP 3

TIM HICKS

SEP 4

THE MONKEES

GOOD TIMES: THE 50TH ANNIVERSARY TOUR

SEP 5

CHRIS ISAAK

Ovaltine Cafe. 251 East Hastings Street, Vancouver, BC.

PNE_ PLAYLAND

PNECLIPS

6 MUSIC

August 2016

the fair – summer night concerts – beatroute
---
August 2016 7
---
8

August 2016
---
FOLK ROAD SHOW

international collective of songwriters forge lasting bond

After two Canadian tours and one jaunt

around Europe, Dominique Fricot, Benjamin

James Caldwell, Pieter Van Vliet, and

Olaf Caarls are finally referring to themselves as a

band, although somewhat reluctantly. "When we

started our first tour, we didn't think it was going

to be how it is," explains Caldwell from his home

in Australia. "Our original plan was to perform our

songs individually and only play a few together.

That got thrown right out the window pretty quick

and we started playing every song together."

Ready to embark on their third Canadian tour

this summer, Folk Road Show are legitimizing

their band status as they release their first self

titled studio album which will be available at

every live show and digitally online as of August

23. "The album happened organically during

our last Canadian tour," shared Caldwell. "My

friend John Paul Smith is a producer with a

studio in Lethbridge. We stayed with him and

his family for three days, recording 15-16 hours a

day, taking breaks to walk across the street and

The spirit of the true Folk show is alive and well with these four strumming souls with dirt on their boots.

play baseball in the park and then head back in

and record some more. It was intense, but also

magical."

The album is as close to their live show as you

can get, although it was not recorded live off

the floor. It is a testament to Smith's ability to

hone their individual strengths and showcase

their talents in the studio to produce songs that

resemble the true connection the four of them

have on stage. There are no drums, no bass, only

some electric guitar added by Smith after the

by Heather Adamson

fact, but on the whole the album is a reflection

of their acoustic harmonies and unplugged folk

songs. "We wanted to make something true to

what we sounded like at the time," shared Caldwell.

The track list is compiled of songs selected

from each of their own personal anthologies,

along with a co-write between Caldwell and

Fricot called "Helena." It is their mutual respect

for each other's music that fused them instantly

and led to their own songs being re-interpreted

with one another's input.

"Lyrics and melody structures get changed,"

explains Caldwell. "It is the collaboration that I

love the most. The outcome is always a surprise."

The evolution of their collaborative sound

and live performance will include touring with

drummer Nick Pertrowich (Bend Sinister) this

summer and recording a second album with JP

Maurice at Blue Light Studio in Vancouver. If

history continues to repeat itself, we are sure to

see more of these troubadours as they set their

sights to tour on every continent. "We have two

down," muses Caldwell, "quite a few more to go."

Not bad for four respective songwriters and

musicians, each from different countries with

individual music careers, who decided to tour

together a few years ago and have just kept going.

The Folk Road Show perform at the Fox Cabaret

on August 25, the self-titled album will be released

through Classic Waxxx Records on August 23.

SUNDAY MONDAY TUESDAY WEDNESDAY THURSDAY FRIDAY SATURDAY

AUGUST

INTERNATIONAL

LOVE

AMATEURS:

STAND UP + BAD

JOKES BY NON-

COMEDIANS

CHEENA (NYC)

PRESCRIPTIONS

LAUGHING BOY

ALL YOUR SISTERS

(SAN FRANCISCO)

GIRLFRIENDS AND

BOYFRIENDS

1 2 3 4 5 6

ART ROCK?

CURATED BY

CASEY WEI

28 29 30 31

ULTRAQUEER

FREE POOL

KARAOKE +

COOL TUNES

SORRY,

WE'RE CLOSED

FOR A PRIVATE

EVENT

NOFX + BAD RELIGION

COVERS

AND THE NEW

August 2016 MUSIC

9

CHURCH

BURNING HEARTS

SOUL CLUB

ONE YEAR ANNIVERSARY

PARTY

ASSIMILATION

APPRENTICE

TERRIFIER

WAR BOAR

SOUND + SALT PRESENTS:

MANIC

BLANKETFORT COME TO GRIEF

TOYS THAT KILL

MONDAY

COMEDY MASS GRAVE

NEEDLES//PINS

SHOW

HAGGATHA

KARAOKE

SHITBOYS

NIGHTFUCKER

7 8 9 10 11 12 13

THE DARK

MANIC

ORION + RAP HOBBY

TYROW JAMES

MONDAY

HAZMAT CREW

KARAOKE

APE YOLA

14 15 (M) 16 17 18 19 20

MADONNA BDAY

DANCE PARTY

DJ NIC HUGHES

(GROUP VISION)

METAL

MONDAY

HANK WOOD +

THE HAMMERHEADS

THE DRIPPIES

TUNIC AND LYSOL

TIM HOLEHOUSE

(UK)

PROPRIETRY

MODULATION

SCHEME

VORT AHN (VIC)

BURROW OWL

PUPUPIPI

MOLENA

GIGANTIC!

THE EAST VAN

90S PARTY

RENT

CHEQUE

AMATEUR STRIP

NIGHT

EIGHTIES

2 YEAR ANNIVERSARY

DJS NIKKI + VANESSA

DAD ROCK RIOT

TRAGICALLY HIP

TRIBUTE NIGHT

21 22 23 24 25 26 27

METAL CYBER SPA NINE INCH NAILS APHELION

MONDAY DJS WOBANGS AND MARILYN

GOTH

WITH DJ GABRIEL

BABY BLUE MANSON TRIBUTE DEATHROCK

BLACK JADE STATUES

DARK ELECTRONIC

THE ASTORIA

PEARS (NEW ORLEANS)

DIRECT HIT (FAT WRECK)

NATO COLES + THE BLUE

DIAMOND BAND

ISOTOPES

769 E. HASTINGS ST

INSTAGRAM: @theastoriaeastvan
---
DIARRHEA PLANET

don't judge a book by its disgusting cover

You can't judge a book by its band name

That's how the old saying goes, right?

Whatever conclusions you were coming to

in your head about Nashville rock outfit Diarhhea

Planet, you're probably way off. Armed with half a

dozen noise-makers, their sound is equal parts fun,

chaos, and beauty: a spectacle not to be missed.

Speaking on the phone from an "unbearably hot"

Nashville, Tennessee, drummer Ian Bush gives

some insight into their brand new full length Turn

To Gold and their upcoming North American tour.

After garnering critical acclaim with a series

of EPs, LPs, festival slots (SXSW, Bonnaroo, and

Governors Ball Music Festival), and even a spot

on HBO's Animals, it was time for Diarrhea Planet

to record their next album. And it was time to go

big. Recruiting Grammy award-winning producer

Vance Powell (The White Stripes, Arctic Monkeys,

JEFF the Brotherhood) it was time to make what

guitarist Evan Bird calls their Back In Black.

"This would be the first time anybody has

captured something close to a live set from us,"

admits Bush, though in their past records' defense,

a Diarrhea Planet set is not an easy thing to put to

tape. With four guitars and a powerhouse rhythm

section, the band's live sets are easily some of the

most explosive and chaotic around. To catch

glimpse of a fret-tapping human pyramid would

be right on par with a myriad of ridiculous stories

from their shows.

From behind the kit, Bush bears witness to his

band mates' endless shenanigans but he admits:

"It's kind of nice being in the back in my own world

with Mike [Boyle, the bassist] while the rest of the

band is looking like Russian gymnasts. No part

of me wants to be at the front of the stage doing

what they do, but I commend them for it".

What may be the most impressive part of the

Diarrhea Planet undertaking, though, is that

beneath all that bedlam lay reserves of expertly

crafted, catchy songs that are guaranteed to get

your sweaty beer soaked fists in the air with every

anthemic chorus.

Riffs for days with a human pyramid of heart stopping acts of debauchery.

by Devon Motz

To kick off their North American tour in

support of Turn To Gold, Diarrhea Planet will be

playing their first Nashville set since the record's

release at the legendary Exit/In, where Iconic

acts such as Neil Young and R.E.M used to cut

their teeth.

You can catch the band and all their heart-stopping

acts of debauchery on August 26th at The

Rickshaw Theatre with Meatwave and local trio

Dead Soft.

photo: Emily Quirk

LIÉ

making a stone cold dent in the punk scene

Momentum is quickly rising for Vancouver

cold punk trio Lié. Slated to release their

2nd full-length album on August 12

through Monofonus Press out of Austin TX, these

three are demanding attention with their emergency

room-era style and heavy songs that pack a

smart, poignant punch.

Their upcoming release Truth or Consequences

is intended to take on a different theme than

its predecessor Consent. Bassist and co-vocalist

Brittany West describes the records as similar in

style, but this time they're exploring more personal

themes, delving into the human ego and "how

it can be so powerful and so destructive." They

experimented with more of a "live off the floor"

sound and went heavier on the vocal effects

and guitar looping, staying true to their sound

while keeping things fresh - as proven in the first

released single "Failed Visions".

They just got back from their first tour of the US

With absolutely no apologies, this local Vancouver trio is pushing our face into punk music again.

photo: Alex Kecha

by Ashley Frerichs

East Coast. West says, without hesitation, that the

highlight of the tour was playing with New York

punk band Surfbort. They have shared the stage

with some other very cool bands in their short tenure

- Chameleons Vox, Black Flag, and Infidel, to

name a few. So what bands are on their wish list to

play with next? As if she was anticipating the question,

West immediately says Nots - an all female

punk band from Memphis. Often compared to

Siouxsie and the Banshees, West says they resonate

more with bands like Mutators, Nü Sensae, and

Twin Crystals.

Based out of Vancouver, it's surprising they've

never toured across Canada. As West puts it, "If

we can drive 14 hours to Calgary or 14 hours to

Sacramento…" obviously they'd pick California.

Which makes sense beyond the aesthetics alone.

It's not economically feasible for bands to get into

vans and drive across Canada when they can drive

shorter distances and make waves in US cities

where there is an actual framework in place for

a supportive live music culture. Their last album

Consent was released on That's Cool Records, also

out of Austin. So I had to ask – how did they get

hooked up with the Austin scene? West casually

said that they visited Austin a few times and made

some friends. "I don't know why – but Austin loves

Lié." I know why – it's because they absolutely rip,

and Austin knows what's up.

Their next album Truth or Consequences is out

August 12 via Monofonus Press.

10 MUSIC

August 2016
---
SATAN'S CAPE

east van is alive with the sound of shredding

The four-piece that is Satan's Cape, which includes

guitarist Ben Couves, Johnny Stewart

on bass and vocals, drummer Aran Bingham,

and Chris Langford on guitar, believes that

the riff is of the holy sanction. Stemming from

the history of their roots in punk rock, metal, and

Hesh/Thrash skating, they all seem to understand

each other and don't have any grand illusions of

taking over the world one riff at a time. Their DIY

attitudes and their commitment to doing things

the way they want is clear when you meet them

and hear their music. These are not rock stars, just

dudes with guitars and beers in their hands looking

for a good time. "We do it because we love it.

If you don't dig it, go to the next show. We'll rock

the moon if we have to," says Johnny Stew.

The writing process for every band is different;

sometimes you have a strong headed visionary

with a strict idea of how things will turn out,

sometimes you have an equal collaboration or

a meeting of minds that all come together, each

member adding their own touch to a song. In

the case of the Cape, Bingham describes the

process this way: Couves and Langford generally

bring riffs to the table and once the band hears

a keeper they are all stoked on, that's when Stew

starts sculpting, trimming, and slicing until the

arrangement is heavy, tight, and powerful. Finally

that's when Bingham comes in and gives the

beast its backbone. This process lends itself to

banging out jams which gave them 14 songs in

six months playing together as a four piece. When

asked about lyrical themes Couves chimes in and

says, "A lot of it started like most things, a snide

comment, a joke, or a burn, and then we just turn

it into a song."

Theses four dudes set out for a good time. No

real big expectations except drinking beers and

Satan's Cape lives the dream and shakes East Van's skinny jeans clean off.

playing rock and roll together. After a couple years

of jamming and gigging the boys are excited to see

the good times and hard work forever captured

on wax.

"I never thought I'd have this vinyl in my hand,

it is now so much more than just fun," Couves

grins proudly.

Upon completion of their press interview

obligation, the boys plugged in and played some

by Elliot Way

songs off the new record. The music is one hundred

percent rock and roll with weight in the music

which keeps it heavy. Satan's Cape represents

the new era of rock and roll in this city; like Satan's

cape itself, it is draped over East Van, keeping the

riffs alive.

Satan's Cape plays Skidtopia on August 19th at

SBC Restaurant.

photo: Jonathan Dy

BURGERFEST 6

heaviest outdoor bbq in the dtes

by Erin Jardine

After trying out several different venues

over the years, all retaining the strong

outdoor aspect of the festival, Burger

Fest coordinators Scott Bartlett, Taya Fraser,

and Mitch Ray have finally settled on the Waldorf

Hotel in East Vancouver to host Burgerfest

6 for the second year in a row. Burgers will

be on the grill at noon on Saturday August

13th, with bands starting shortly thereafter.

This is the first year that Burger Fest has definitively

gone in the heavy direction musically,

with four touring acts, Dead Ranch (Winnipeg

MB), Lord Dying (Portland OR), Wild Throne

(Bellingham WA), and Griever (San Diego CA).

Supplemented with the heaviest Vancouver

has to offer, Burger Fest will span 13 hours

with 18 bands.

Amidst funny stories about previous years

(running out of booze, dealing with unaccomodating

venues, and the hungover Sunday

cleanup), the coordinators are dedicated to

drastically improving each year. The Waldorf

offers a unique space, with a stage outside and

inside and ample bars throughout. As for rain?

There will not be any: "We've never had rain

for Burger Fest," remarks Ray. "This event is

not affected by rain, it's a great lineup and it

has a reputation for being a great party," adds

Bartlett. Burgers are provided by Vera's Burger

Shack and the Heatley, both local businesses

with attractively different styles of burger.

"We've confirmed with both providers that the

burgers will not be more than $6 each, we want

everyone to be able to eat a bunch of burgers

and buy a bunch of merch. We don't want to

run people broke, and we want to support the

bands," explains Bartlett.

Burger Fest embraces change, and continues

to set their sights well in advance of the event.

One of the aspects that will not be seen in the

future is Burger Fest's poster contest. "All it has

done is cause hurt feelings and saturate social

media with negativity when it should be about

the festival itself." On the topic of door price,

any of the touring bands would play a show

that costs $18 to $20, and with Burger Fest's

$20 cover, it's the biggest bang for buck all

summer. "It is first and foremost a music festival,

we needed to make the lineup as good as it

can be," says Ray. "If you're not striving to better

what you did, you're moving backwards."

Burger Fest takes over The Waldorf August 13.

Tickets are $20 at the door or $15 at Neptune

Records, Hits and Misses, Red Cat Records, &

Horses Records.

An East Van tradition finds a home and prepares to destroy it with 18 bands in 13 hours.

photo: Milton Stille

August 2016 THE SKINNY

11
---
MASSIVE SCAR ERA

defying a nation, almost literally, to do what they love

A

definitive frontwoman, Cherine Amr's

wild, blue-streaked curly brown hair precedes

her confident air. Having founded

Massive Scar Era with violinist Nancy Mounir

in 2005, Amr relocated to Vancouver last year.

"Things in Egypt aren't really too bright right

now...In terms of the music scene, it's not good,

and when you're talking metal it's even shittier."

Being in a metal band in Egypt, let alone the first

one with an all-female lineup, is not a simple

enterprise. "We were asked to play a festival at the

Library of Alexandria in 2005, which happens to

be guarded by the Egyptian National Police." The

police complaints went right to the top, and got

them banned from what little venues they had

available to them in Egypt (not just the city of

Alexandria, where the festival was happening).

It certainly didn't end there. "We had our photo

in the newspaper in 2011, I was working in an

office and one of my co-workers comes and asks,

'are you worshipping the devil?' And when I asked

him what the hell he was talking about, he shows

me a newspaper with my photo and the headline

of 'The Devil Worshiper.' It was a cute photo of us

backstage, smiling."

When the band's music was featured in the

docu-drama Microphone (2010), a movie about

the underground art scene in Alexandria, Amr

couldn't even tell her parents until the movie won

an award and Massive Scar Era was asked to play a

film festival in Dubai. "The song '[Aba'ad Makan]'

was huge after the movie came out, you could

hear it playing everywhere you went. But this was

a huge part of my life that I was hiding, because

I was not allowed to play music." In Microphone,

their faces are constantly masked by different objects.

"When I told the director I couldn't appear

in the movie, the director said not to worry. So

every shot of us, of me and Nancy and the whole

band – our faces are always covered."

When they did play the festival, it was a strange

experience for Amr. "In Egypt we would only play

the underground shows, so our parents wouldn't

find out. But this was a big arena, where we were

playing freely in front of so many people – one of

which was my sister's best friend, which meant as

soon as I got off stage my phone exploded," - with

praise from fans, but not from her parents. "They

were extremely mad, like I was a drug dealer or

something. So they went to see the movie, to see

what it was about – it's about how fucked up my

life is because I'm not allowed to play my music,

so then finally they admitted that maybe they

were overdoing it. But they haven't completely

come around."

Fighting every step of the way, Massive Scar

Era is determined to bring their music to the

world. Amr's heavy riffs and wailing growls are

offset by her singing voice and middle-eastern

steeped violin. It all comes together for some

truly unique hardcore music. The anger in "My

Ground," their last single, speaks to every touring

female musician who has ever faced sexism

(read: all of them), and the groove in "Pray"

would get even the staunchest arms-crossedat-the-back-of-the-crowd

concert goer moving.

We can all be thankful they've stood their

ground, and that their new EP, 30 Years, comes

out August 15th.

by Ana Krunic

Massive Scar Era currently has an Indiegogo campaign

to get violinist Nancy Mounir to Canada.

Find it on their website, www.massivescarera.com,

and then catch Massive Scar Era in Vancouver at

the Red Room on September 3rd.

Cherine Amr stands her ground against cultural restrictions and opposition to growl with freedom.

12 THE SKINNY

August 2016
---
SUBCULTURE

notes from the underground

As I adjust my proverbial granny panties

typing this, I long for the days of simplicity,

morals and the sense of community

we seem to be lacking. Sociopaths are popular.

Calling people out online is a favorite past time

that devolves us back into the era of the witch

hunts. The fascinating world of the Internet

tricks us into believing we actually know the

people we interact with. We are roped into

taking sides on things, knowing only one side of

the story. People are tried and convicted within

hours, after a couple of rounds

of informative post sharing on

social media, even if the truth is

buried deep in grains of salt.

How much more can our

subcultures take? Why would

anyone think that posting about

their personal relationships to

shame their ex is the cool thing

to do? Posting screen shots of

private conversations, is dreadful

enough. But someone then

turning around and making that

screen shot into a gig sized poster

and hanging them around town.

What the fuck is this person thinking? This just

screams of an attention-seeking shit disturber

with some self esteem issues. Luckily, a call to

Richard the Poster Guy to have his team cover

or remove these posters will hopefully erase this

cruel deed quickly. I barely know the people

involved. A vulgar bullyish display.

It feels like the armchair online world has

become a giant version of the National Enquirer.

Everything is peddled as the most outrageous,

trendy hype machine. This includes rock shows

these days.

Promoters are gushing about bands that don't

give a shit enough to even share their gig on social

media. I was actually pleased that contrary

to the apathetic norm, there are bands with

some pride celebrating their creative wares, and

urging your attendance at a recent show.

Promoters have become like carnival barkers.

You can just start labeling all gigs with a sample

by Wendy13

of any of the four food groups, a trend to make

everything seem more exciting perhaps. People

also like drugs. How about Meth Fest, Cocaine

Chaos or a Heroin Hootenany? Maybe I'm just

resistant to the trendy times. Does everything

need exaggeration and embellishment? Is a

simple local show now seen as extinct as the

dinosaur? When I post a complicated relationship

with my cat or the word 'bacon' as an

update on Facebook, that receives more hype

than local gigs. Yeah, I think I'm worried about

my livelihood imploding. I need

to find a way for local music to

survive this apathy without the

absurdity.

Rod Rooker out of DV8

Edmonton is resorting to

collecting recyclables to try

to keep his live music venue

going. I can't wait to hear all

the lamentations on Facebook

when more of your favorite

subculture spots die a lonely,

under-attended death.

Not sure how much longer

many venues across Canada,

experiencing these same low turnout conditions

can survive. Has the abundance of entertainment

available to people on their couch deemed

this sector of the music business obsolete?

Sadly, this is not restricted to live music venues.

Our record stores are closing. Scrape had so

much hubbub surrounding its impending doom

online, yet all the declarations to save it never

moved past peoples couches. Horses Records

is done soon and now, Hits and Misses at 2629

East Hastings made their announcement. Your

newest subculture record store will be packing

it in mid-September. Get in there while you can

to help Pete out with some sales so he at least

breaks even, if that's even possible anymore with

the exorbitant costs of living and doing business

in the city. No, I'm not breaking up with Vancouver,

I feel like breaking up with apathetic people.

Like my relationship with my cat the Houdster,

it's complicated.

August 2016 THE SKINNY

13
---
5

6

8

9

10

AUGUST

RIO AT THE RIO

CATCH THE OLYMPIC OPENING CEREMONIES

LIVE AND FREE ON THE BIG SCREEN

GREASE SING-A-LONG

Onscreen Lyrics! Prizes! Prop Bags!

Friday Late Night Movie

SATURDAY NIGHT FEVER

ALL INDIANA. ALL NIGHT.

INDIANA JONES TRILOGY

Raiders. Temple. Last Crusade.

Beckinsale & Sevigny

LOVE & FRIENDSHIP

Gerwig. DeVito. Burstyn. Delpy.

A TODD SOLONDZ FILM

WIENER-DOG

Alejandro Jodorowsky Double Bill!

EL TOPO

THE HOLY MOUNTAIN

RAIDERS!

THE STORY OF THE GREATEST

FAN FILM EVER MADE.

The Gentlemen Hecklers Present

INDIANA JONES AND THE

KINGDOM OF THE CRYSTAL SKULL

Concert Film

ELVIS: THAT'S THE WAY IT IS

11

Vince Vaughn & Jon Favreau

SWINGERS

12

13

15

17

23

24

25

HEY YOU GUU-UUUYS!

Friday Late Night Movie

THE GOONIES

KURT N' CARPENTER TRIPLE FEATURE

See one... or see ʻem all!

THE THING

ESCAPE FROM NEW YORK

BIG TROUBLE IN LITTLE CHINA

Gael Garcia Bernal, Alison Pill,

Don McKellar, Jason Priestley

ZOOM

CLASSIC FILM SERIES

De Niro Stars In Martin Scorsese's

RAGING BULL

CLASSIC FILM SERIES

Paul Newman is

COOL HAND LUKE

CLASSIC FILM SERIES

Marilyn Monroe

THE SEVEN YEAR ITCH

DEAD ON FILM

THE FIFTH ANNUAL

SHORT HORROR FILM

COMPETITION

VISIT WWW.RIOTHEATRE.CA FOR A COMPLETE CALENDAR OF EVENTS.

14 THE SKINNY

FREAK HEAT WAVES

a glimpse at their live improv and next record

The music of Victoria's Freak Heat

Waves almost has a texture you can

reach out and feel with your fingertips.

This West Coast four-piece works within

structured walls, but their experimentation

and raw attention to detail works to dismantle

such boundaries.

Lead singer and guitarist Steven Lind says

Victoria offers a positive environment for his

band to test their sound.

"Victoria has a very supportive music

scene, everyone knows each other and everyone

plays together. There's a lot of positivity.

I don't really know how it affects our sound,

mainly it's just a place to incubate ideas," says

Lind during a phone call from Halifax after

playing the Gridlock Music Festival.

Their visceral and colourful post-punk

— its elements of late '80s no wave walks

atop grainy synth lines, all of which build

and build into bouncing walls of sound — is

a feast for more that just the ears. Sharp,

twinkling guitars, choppy drums and hushed

horn textures create a balanced sound for

Lind's deep, monotonous vocals.

However, Lind says there is a dichotomy

between their recording and live performances,

which sees the band attempting to

alter their songs in a more natural fashion.

"We just kind of play pretty stripped

down. On the records, we have a lot of

HIGHLAND EYEWAY

set their sights far and wide

If you like distorted, melodic guitar in a heavily

psychedelic setting, then check out Vancouver's

Highland Eyeway. The band is a three

piece, heavily inspired by psychedelic rock, made

up of local Vancouver forest dwellers, Houston

Matson-Moore (Guitar, Vocals), Max Andolfatto

(Bass, Vocals), and Spencer Chapnan (Drums).

Matson-Moore and Chapnan have been playing

together since they were ten years old. After

jamming together for over ten years, eventually

they joined forces with Andolfatto and created the

band in August of 2014.

Up until now, all that existed for recordings of

Highland Eyeway is a live recording on cassette. It

was a priority for the band to release an album of

much higher quality. Hence, their EP Royal Green is

set to be released in August. They've been labouring

on the album for months, pulling all-nighters

in the studio to come up with their most clear

sounding recordings yet. Along with the album,

they'll also be releasing a locally made music video

for their song "Fryin," featuring live kayaking footage

filmed in Lynn Canyon and Seymour River.

Since forming, Highland Eyeway has made

playing live a priority, captivating audiences made

up of people of all ages and all walks of life. Their

"jammy" vibes and open-ended songs leave room

for them to create something real and unique with

each performance.

For the band, the music is meant to create a

space where there's a "flow of stream of consciousness,

where you can get into the trance of the

synths and drum machines and studio stuff

that we don't try to replicate too much

onstage," he says. "We try to improvise more

and have our live shows be a bit more free

with a lot of energy rather than just backing

tracks."

And with such a goal in mind, they accomplish

unique performances unbound by

expectation.

"We don't really think of it as trying to

perform our record, that wouldn't be as fun

for us. We always approach it as a new thing.

We rearrange songs all the time, and change

our sets up and try to create new versions of

what we have done," says Lind.

Freak Heat Waves have released two

albums to date, 2012's self-titled release and

2015's Bonnie's State of Mind, both of which

are executed with maturity and a clear vision.

Lind says they recently finished recording

and hope to release their third full-length

within the next year.

"The main difference between this one

and our first two records is it was written

and recorded before we played any of the

songs live. Before, we would write and play

and tour and then record them," explains

Lind, expressing excitement for their current

Canadian tour.

Freak Heat Waves perform at The Cobalt on

August 19th.

jamming, and get people into the collective vibe."

Seeing Highland Eyeway live is like being carried

on an ocean of sound. Building from the centre,

their sound expands outwards. And in a circle of

flying psychedelic chords and electrifying ripples, it

spreads into the audience and unites each listener

as a wave that moves with the tide of the music.

While riding the wave of their sound, it's easy to

Arranging, rearranging and always in flux.

by Michael Grondin

by Jade Cobain

become free and to lose yourself in that "collective

vibe," to feel yourself lifted and waving like

seaweed in a sea of sound. Live, the band unites

people in a way that music is meant to.

This August Highland Eyeway will be touring from

the 9th-24th, playing shows in Vancouver, Whistler,

Victoria, Saltspring and Edmonton.

Riding the snake down a jammy wave of unity into the mouth of destiny herself. And you know, guitars.

August 2016
---
A TRIBE CALLED RED

Assembling a Nation to move you

by Jennie Orton

photo: ???

A Tribe Called Red offers memberships to the Nation provided your open mind moves well to the beat.

As the thumping rumble of pow wow culture

has made its way to the unapologetic

dance party thrown by A Tribe Called Red,

so has the presence of Indigenous identity; a vibrant

beast just recently wrestled from the hands

of hundreds of years of oppression and silence.

Red member Bear Witness sees this "renaissance

of Indigenous art and culture" as a progressive

enlightening for future generations of the

Native population. "A major goal of Tribe Called

Red was to create something that everyone could

love but that represented indigenous culture, for

indigenous youth. All their other friends from

other cultures loving our music but knowing that

it reflects them. That's something we didn't really

have growing up."

"We have come to time when we feel confident

in sharing again. I think for a long time there was a

fear of sharing culture and traditions when everything

else had been taken away from you."

Within this long overdue hijacking back of

birthright, The Halluci Nation was born.

On September 16th, A Tribe Called Red will

release their latest album: We Are the Halluci

Nation. The concept, a Nation of open minds and

hearts that anyone with both of those things can

be a part of, was born of fruitful collaborations

during a time ripe for social justice; a banding

together of all those ready for love and change.

"It's these times in history when it goes beyond

it being a choice to be political," notes Witness.

"Especially now when information is so readily

available and easily spread, people are reacting and

finding ways to express themselves."

"We are coming to a time where people want

more from their music, people are looking for

more than just party songs."

And The Halluci party has quite the list of

illustrious guests: fearless hip hop activist Yasiin

Bey (the artist formerly known as Mos Def), Saul

Williams and his liquid hot social conscience, and

wildly talented traditional pow wow drum group

Black Bear are among the collaborators on the

new album and they all leave an undeniable sense

of weight and meaning to the still very danceable

tracks.

But it is the indelible word and influence of one

man this album owes its pulse to: the late John

Trudell.

Trudell, famous for among other things being

the mouthpiece for the 19 month All Tribes

occupation of Alcatraz in 1969 (look it up, it's

pretty amazing), contributed poetry for the album

after a fruitful exchange with A Tribe Called Red

"We are coming to a time where people want more from their music,

people are looking for more than just party songs."

backstage at a show they were all a part of, which

was followed by a get together at Trudell's home

in Albequerque. According to Witness, Trudell had

become disillusioned with working within political

structure which led to his desire to reach people

through music; making the collaboration with

Red, a group he admitted to admiring, a natural

progression.

Witness had originally envisioned the album as

a concept album about a group of superheroes

fighting the good fight, bringing like minded

heroes into the fold. But Trudell's words gave the

idea a greater vision; one that created the inclusive

sense of a Nation.

"We think of ourselves as warriors and activists,

but John said we need to be more than that,

we can't be so narrow in our thinking," recalls

Witness. "Through art and especially music we

are able to express a broader range of ideas to a

broader group of people."

When Witness called Trudell to tell him the Nation

had been born, and had even yielded jacket

patches, his reaction was fittingly grand in vision:

"Thank you, the Halluci nation is real."

Trudell died of cancer in December of 2015 but

his lasting effect on The Tribe Called Red remains.

"John and all these people are people who

have put themselves out on the frontlines of their

respective movements and what they find important

in the world," says Witness. "This is something

that brought us all together. There's something

to that, there is another wave of conscious music

happening."

But let it not be said the music has become too

conscientious to move to; an element made even

more palatable by Black Bear's contribution.

"Working with them was a dream come true,"

recalls Witness.

Working with a live drum group allowed for

multiple mics to be used during recording. The

resulting sampling options were endless and

allowed Red to dig deep into traditional sounds

while fleshing out their most multi-layered tracks

to date.

"When you work with a drum group, you are

working within an indigenous framework. None

of these guys went to music school, they grew up

performing with their community. It affected the

way we treated what they gave us, to watch it take

shape."

So while the spirit of the Tribe Called Red dance

party remains, it does so with a nourishing helping

of cultural pride and open belonging; flavors that

are being devoured by a very mixed audience.

"For the most part we have only been talking

to ourselves and within our own communities

for so long and we're coming to a time right now

where people outside the indigenous community

are actually willing to listen and be interested and

participate; not only to the things we have to contribute

culturally but the things that have been

happening politically for the past 500 years."

"We've never had control of our own image

and as an indigenous artist, that is the thing that I

could interact with the most; I could show how I

see myself and how my friends see themselves to

the world."

After years of representing their community

while hosting massive swells of sweaty bodies, A

Tribe Called Red has found the perfect concoction

of tradition, discussion, inclusion, and dat bass.

"Our first mission is to throw a great dance

party," promises Witness. "But then we always

hope that people come away from our shows with

a better understanding not only of themselves but

of each other."

"When we have indigenous and non-indigenous

people come to our shows and feel indigenous

music together, that's starting to create that

common ground."

Common ground is something so many groups

still fighting for equal rights today are striving to

achieve. Finding a way to celebrate what makes

your culture unique while finding the rhythm that

makes us the same is a tricky business, one that

creates as many riots as it does bass drops. But

A Tribe Called Red has always been about being

happy while being real.

"We, a Tribe Called Red, are not the Halluci Nation;

it's everybody else," acknowledges Witness.

"It's all the people who are out there and are willing

to look at each other and see each other and

treat each other as human beings. Then you are

a part of the Halluci Nation, and we are inviting

everyone to come and take part."

"If we can start to experience joyful things

like that, that's when we can really get to a space

where we can start working out this big mess of

North America."

Experience the joy for yourself

at the PNE August 31st.

August 2016 15
---
ELECTRONICS DEPT.

GOLD PANDA

CLUBLAND

hardware based production for digital consumption by Vanessa Tam August 2016

A

career in electronic music wasn't always part of the plan

for the UK based producer Gold Panda, who usually goes

by his given name Derwin Schlecker. What started as a

hobby—making house music in his bedroom—mixed with a little

luck, some good timing, and an inspiring trip to Japan eventually

morphed into what it is today.

Known to use self-recorded samples from his own collection

along with a selection of physical drum machines, keyboards,

and MPCs to create his music instead of solely using a computer

with some software, Schlecker is definitely more of a hardware

based electronic music producer. Using his considerably more

lofi method, his sound feels completely unique compared to

many producers who create music using the exact same folders of

sounds and instruments.

Since going to Japan for the first time at the age of 19 and falling

in love with the country, Schlecker aims to return at least a couple

times a year to maintain his fluency in Japanese. The last couple

trips he made, however, were with long time friend and photographer

Laura Lewis with the intention of making a photography

book paired with a CD of field recordings to go along with it. "The

idea originally was to do time delivered audio with like field recordings

on a CD," Schlecker explains. "[I wanted] to do them raw

and unprocessed but because there were so many of them, I was

going to put them in one piece composed together so it would

become [one long] changing [piece]. Kind of like being on a train

whizzing past different scenery [where] you don't really get to fix

you eye on one thing for too long."

Returning to the UK with more content than he anticipated,

Schlecker was inspired to produce and release this third studio

album titled, Good Luck And Do Your Best. With an overall theme

that is as optimistic as it is Japanese, the new album is actually the

first bit of new music he has been able to release over the past

three years. "That's just how long it takes to make records now

because you can't make money from doing records; you have to

do shows." He goes on to reference an interview he was recently

listening to with Joe from Metronomy talking about how, "Bands

have to tour, and they break up and members leave, [then] the

band has to find new people [in order to tour]. By the time they

get around to writing a record and then releasing it, [a few years

have passed]. The best you can ever hope for is one new album

every three years from your absolute favourite band." He goes on

to say, "I'm lucky because it's just me and, I don't really have to pay

anyone. I mean, I have a tour manager and a guy that does visuals,

but I don't really have to pay a band. I'm quite lucky, just I do

everything at home."

As a surprise release, Schlecker recently dropped a new EP titled

Kingdom. Made in just a few months opposed to years, "Kingdom

was just recorded by me, just a live jam in my bedroom and given

to a friend to clean up a bit, you know, just to make a finished

track." Featuring a looser song structure and a darker overall

theme compared to Good Luck And Do Your Best, Kingdom tells

the story of a guy who lives in Schlecker's building from Afghanistan

who ordered a phone to call his family back home only to

have it stolen from him before even receiving it. "Kingdom [is

about] this kind of place that people have heard about and want

to get there thinking that it will solve all their problems, but when

they get here there's more problems, although a different kind."

Gold Panda performs at Fortune Sound Club on August 18th.

by Vanessa Tam

With August being the last carefree summer month before

life starts getting serious again, this is usually when

people start to panic and try to get as much fun out of the

seemingly good weather as humanly possible. Last ditch efforts to go

camping, hiking, and beaching will be ambitiously made and hopefully

achieved. Good thing we made this list of club shows to hit up in

August to round out your perfect summer 2016.

Snakehips

August 5 @ The Commodore Ballroom

Initially gaining buzz through their popular remixes of tracks by Banks,

The Weeknd, and Bondax, British production duo Snakehips really

started gaining steam after releasing their first original single in 2014,

"Days With You." Since then, Oliver Lee and James Carter have gone

on to release two EPs and work with artists such as Tinashe, Chance

the Rapper, and Tory Lanez, maintaining their melodic 1990s hip hop

and R&B inspired sound.

Flume

August 7 @ PNE Amphitheatre

Flume, also known as Harley Edward Streten, is an Australian producer

and musician who recently released his second studio album, Skin,

to much critical acclaim. With an array of artists lending their vocal

talent to the record including Tove Lo, Vic Mensa, AlunaGeorge, Little

Dragon, Raekwon, and Beck, the album cultivates a sound that feels

both fresh and familiar at the same time.

Amir Obè

August 19 @ Fortune Sound Club

Affiliated with Drake's OVO team, the mysterious Amir Obè is an up

and coming hip-hop artist who claims both Detroit and Brooklyn

as home. Having released just a handful of records over the past few

years, the young artist has already been compared to the likes of

Kanye West and shows a lot of promise for East Coast rap.

The White Panda

September 3 @ Imperial

Based in Chicago, The White Panda are dance music making machines

having released an impressive six albums since 2009. Well known for

their live performances, the duo goes all out by performing with C02

effects, projection design, and digitally mastered panda masks to

emphasis their unique blend of high-energy dance music.

photo: Laura Lewis

Practical magic and curated experience makes Gold Panda's voice decidedly more tangible.

Flume

16 ELECTRONICS DEPT.

August 2016
---
BOB MOSES

for fans of more than underground dance music

Bob Moses might be the first-ever musical

act to be covered extensively in Resident

Advisor and play Ellen in the same year. The

sonically shapeshifting Brooklyn-via-Vancouver

duo of Jimmy Vallance and Tom Howie have been

on a steady ascent since the release of their debut

album Days Gone By (for which an expanded

re-released was announced after this interview

had been completed) for Domino records last

Bob Moses count both Resident Advisor and Ellen Degeneres as fans.

fall, but arguably their biggest achievement is

earning mainstream accolades while still keeping

respect from the underground.

"The thing is, most fans of ours listen to

more than just underground dance music," says

Vallance on the phone from home in Vancouver.

"There's a lot of crossover these days, I don't

think we have any fans that just listen to 4/4 kicks

and get mad when we don't make that."

The band did start with an underground bent,

with songs like "All I Want" finding success in the

hedonist havens of Ibiza, but they've increasingly

leaned towards more mainstream efforts. This

move is reflected in the group's evolving live

show that Vallance says is what the duo has been

working towards since the beginning.

"When we first started we only had one or two

songs, so we would do a DJ set and Tom would

by Jamie McNamara

sing over our songs and that was it. Then eventually

we had enough of our own material that we

could do an hour of our own stuff."

With the addition of a live drummer and some

clever midi magic, the two have found a blossoming

live show that is much more dynamic than

most electronic acts. "Really it's a band now, and

that's something that we always wanted to do,

but didn't know exactly how to get there."

Much like their music, Bob Moses' success

was more of a slow burn than an instant hit, but

increasing radio play and spots on festival lineups

worldwide have helped bring them to the masses,

including notable fans like Ellen DeGeneres.

Speaking of the experience, Vallance sounds

utterly dumbfounded still. "We thought it was a

prank at first, but she had heard us on the radio

and told her people to book us immediately.

"We were standing in the green room looking

at pictures of [Ellen] and Obama, her and Kanye.

Jack Black was sharing the room across from us

and he could tell I was freaking out a little bit.

He came over to talk to me and just said, 'You're

going to crush it; I know it's a bunch of soccer

moms out there, but you're going to crush it.' In

my head I was thinking, 'I'm talking to Jack Black

right now, this is fucked!'"

Catch Bob Moses at the Commodore Ballroom in

Vancouver on September 3 and at DISTRIKT in

Victoria on September 4.

August 2016 ELECTRONICS DEPT.

17
---
CITY

18 CITY

KARMELLA BARR

a storyteller keeping community in mind

When she hits the stage, grace and

camp collide. A gender bent form

called Karmella sasses her way

into our hearts. When she performs, the audience

can't sit still as her interpretations of

songs are captivating. Her facial expressions

are priceless and her joy of life on stage is

front and centre. Her every facial expression

is a piece of art and her costumes, simple yet

unique, make this queen the powerhouse

diva she is.

Self-described as the "Chocolate Queen,"

Karmella can be spotted around town

guesting at many long running shows in

the city. She can be seen monthly at Man

Up, a monthly drag revue at the Cobalt. "I

love my Cobalt family," Karmella says. "The

audience is there to see what we have come

up with as performers, they are open minded,

and they are very receptive of people's

creations." For Karmella, drag is a place

where community and art combine. Her

kind demeanour definitely helps her bring

the energy on stage and each of her performances

are well thought out. "My drag tells

a story," she explains. "It changes from show

to show. Sometimes it's a character, sometimes

just a look, I have a base character to

play off of and the rest is the canvas I use to

create new things."

Karmella began performing drag in 2013

at Vancouver's Next Drag Superstar. She

didn't compete that year, but returned in

2016, ultimately winning the title of Miss

Congeniality. Many new queens have a

mentor, or a "drag mother," and Karmella's

own mother is her drag mom. "My mother

Toby Schnoor is my biggest fan, and she is

also my drag mother," she says. "She was the

first person to put makeup on me before I

went out the first time. She gave me makeup

tips, guiding me and helping me become

who I am."

Since her conception, Karmella has been

heavily involved in helping different community

organizations like Vancouver Pride, Dogwood

Monarchist Society, and the Rhinestone

Phoenix Charity Foundation. "I admire

the community oriented queens in this city,

they are my inspiration," she says, humbly.

"After the shooting in Orlando I realized

that I needed to find why I do drag and the

importance of it to me and my community. I

think it is important to know what you value

most about yourself as a performer."

When she is performing, it's her connection

to the songs and the audience that

Written by David Cutting, Photo by Chase Hansen

bring her the most joy. "I know I like to

entertain people," Karmella continues. "It's

fun, I appreciate the fact that I have created

something and people absorb it and love

it. Connecting with my audience is what it

is all about for me." She's even appeared on

the big screen, acting in movies at young

age. "I was in a horror movie when I was a

kid and I survived, I feel like I am the only

black person to survive a horror movie…

Oh wait, 13 Ghosts, never mind," she laughs.

Her film star past contributes to her stage

confidence now that she does drag. "I don't

get nervous, to me performing is easy. There

is always something to learn at every show,

you just got to be willing to find it and use

it in the future."

Karmella is a queen to watch. Her

star is only beginning to rise and we are

very excited to see where she goes. In a

community that thrives when diversity is

embraced, Karmella is a beacon of light

with a bright future.

Karmella performs at Sanctuary on August

14 at 1181 Lounge for a Whitney Houston vs.

Celine Dion night, B-Roll: Kill Bill on August

29 at the Penthouse, and Shame Spiral on

August 30 at 1181 Lounge.

CULTURALLY DEFINED

taking dance schooling to the street

such a lifestyle thing, this dance thing,"

says Chris Wong, the co-director of Culturally

"It's

Defined, a street dance dance company now

entering its fourth year. There's something inspired, and

also simple, in the way Wong talks about dance and his

work directing alongside partner Kyle Vicente. It's the

kind of ease that allows two young but experienced

dancers take a big risk starting a new project, knowing

that they have a clear direction and philosophy.

Culturally Defined has been a way to bring hip-hop

culture and "its ability to resolve conflict, be that external

or internal" to the lives of the dancers who train

with them. The name and the company are symbols of

the belief that "dance is an instrument to learn about

the culture."

Wong is well versed when he reflects upon the local

dance scene. "Vancouver has a crazy blend," he says.

"We're close enough to LA, and there's enough jobs to

have a commercial influence." The split between industry

and culture is something he and Vicente are trying

to bridge with Culturally Defined. "In order for this

dance to grow you really need the mentalities of both,"

Wong explains. "The commercialized choreographers

know what it means to come together as a group and

accomplish a goal, where as with the underground hiphop

scene it's much more about individual identity."

The program itself involves technique training from

a diverse set of instructors, where "someone always

comes in with so much fire that it changes the program

completely," and students have a chance to learn a

wide assortment of styles, including hip-hop, b-boying,

VANCOUVER MURAL FESTIVAL

olouring outside the lines around vancouver

Vancouver's art scene is about to be revamped in

a big way as Vancouver Mural Festival commences

its inaugural year in the city. Beginning

on August 20, over 30 artists will be painting sizable

murals in the False Creek and Mount Pleasant areas.

With a buzzing art community and culture already

established, the festival's primary goal is to expand appreciation

and opportunity for public art in Vancouver.

Genevieve Anne Michaels from Burrard Arts Foundation

explains that "An increased amount of public art

will bring notoriety and…attention to the art scene

here, elevating it closer to the levels of a larger city like

New York or LA."

Curator and artist Drew Young reveals that the city

is lacking a concrete public art forum and hopes that

this event will help to establish one. "There are heaps of

empty walls around," he continues, and this event will,

in a very literal sense, "fill the gap" in the city's public

art scene. 90% of these artists are local, including Peter

Ricq, Akews, Kyle J. Scott, and Dedos, keeping within

the festival's goal to promote homegrown talent and

create increasing opportunities for the visionaries

behind it.

There are also some visiting artists, like Berlin-based,

Vancouver-raised Andrea Wan, Switzerland's Nevercrew,

and France's KASHINK, participating in VMF.

Michaels says that the international additions contribute

"Diversity and excitement" to the festival, as well as

further promote our own creatives as out-of-town fans

and friends draw their attention to the city.

Accompanying the large-scale mural art, BAF will be

by Sydney Ball

and popping and locking. The dancers who make up

Culturally Defined range from their mid-teens to their

late 30s, and come from a variety of backgrounds, from

those who want to dance as their career to people who,

Wong says, "work nine to five jobs but on their off time

they still want to live the dance lifestyle."

"The more walks of life we have in the company, the

more it enriches everyone's experience."

Learn more about Culturally Defined at www.culturallydefined.com

Popping and locking your way to cultural understanding.

by Noor Khwaja

hosting a gallery exhibition of submitted works from

the muralists in a smaller format, which will run until

August 27. Closer to the festival date in mid August, the

building itself will act as a canvas, having its exterior

covered in murals. This is "A great way to start counting

down and get the city excited about the VMF through a

fun show and event," Michaels says.

VMF is a perfect example of simultaneously supporting

community and art. After its first year, hopefully the

festival can continue to annually add culture, diversity,

and artistic expression to the city's sometimes bare

walls.

Vancouver Mural Festival runs until August 27 at Burrard

Arts Foundation and at various locations throughout

Mount Pleasant and False Creek.

Vancouver: the perfect coloring book.

August 2016
---
SWEET BOY CREAM PUFFS

cream puffs on wheels and the second french revolution

It all starts with choux pastry. A humble pastry made of eggs,

butter, sugar, and flour, that rises with moisture and is named

after a favourite food of the working man: cabbage. With the

puff established, then comes the cream, glitzed up with flavours

and infusions, a tiny circle of choux sits atop the creation like

a hat. Meringue or whipped cream is added on that and there

you have it: the cream puff. Or at least how local French man

Chams Sbouai makes it.

Upon graduating from a baking program in France, Sbouai's

landed in Vancouver with a job at an upscale restaurant, and

a passion for pastry burning a choux shaped hole in his heart.

"I used to work at a good restaurant downtown called Royal

Dinette," he says. "It was really good, but it was a lot of hours

and a lot of work. Around January I began to get really upset

about it, I began to hate it. There are two different kinds of

restaurants, there are restaurants that make regular food, nothing

special, and you can go there and work eight hours a day. Or

there are better restaurants, that offer better food, interesting

things. To make delicious food you need to work a lot. So I

thought, should I go back to working at a boring cooking job,

or should I go somewhere else where the food is really exciting?

But I knew then the same thing would happen, long days. I just

had this idea, I didn't know if it would be possible, but what if I

got a bike, biked around the city, and sold pastries?"

One used bike bought in Portland, a commissary kitchen,

and a small crowd funding campaign later, Sweet Boy Cream

Puffs was born. On a modified tricycle, Sbouai traverses the

city's downtown core, he's set up a hotline where customers

can text him and request he pay a visit to their home or place of

YVR FOOD FEST

an epicurean extravaganza

Arrival Agency's wildly successful Food Cart Fest is all

grown up and now known as YVR Food Fest, with an

offering of downright delicious multi-venue events held

all weekend long from August 5 to 7.

"Our idea was to expand on the Food Cart Fest, bring more

artisanal vendors, include more restaurants, and turn it into a

bigger event," explains festival director — and Michelin trained

chef, co-owner of Nuba, and owner of the Waldorf Hotel —

Ernesto Gomez. "We want the YVR Food Fest to be an umbrella

for culinary events and projects by creative people in the food

industry."

The city's culinary scene has come into its own in the last

decade, thanks to the efforts of forward thinking talent like

Gomez. "We have always had great products and great farming

by Maya-Roisin Slater

business. That's it: a sweet boy, his bicycle, and a small fridge full

of brown paper boxes housing beautiful beautiful cream puffs.

These are not the cream puffs you buy in buckets at Costco's

frozen section and stress eat from the container during family

dinners. These perfect jiggly puffs are like eating a cloud, if

clouds could wear pastry hats and be covered in meringue.

For a cream puff near you, text 778-888-7821.

Cream puffs by bike, a dream you didn't know you had.

photo: Nicole Wong

by Prachi Kamble

here," he says, "but in the last ten years breweries popped up

everywhere, people started making great cider, wine reached

a whole new level, and food trucks and carts singlehandedly

created a vivid gastronomic culture with their extremely high

standards."

The Street Food Showdown in Olympic Village promises to

be one of the most culturally rich events at YVR Food Fest, featuring

between 60 to 80 vendors. "With one ticket guests can

sample offerings from all the vendors for two hours," Gomez

says. The model is not far from ones adopted by food festivals in

cities like Los Angeles. "We pride ourselves in selecting vendors

who have sustainable missions, create a sense of community,

and offer the best products." The event is also zero-waste in

order to benefit the local economy, local farmers, and the

artisanal vendors.

Saturday will see a live music and beer-centric event at the

Red Truck Beer Company for their Truck Stop Concert Series,

where festivalgoers will get to enjoy rock, soul, country, and

blues from acts such as Washboard Union and JJ Shiplett. Sunday's

Food For Thought, a speaker series where open discussions

are encouraged, is another must. "We will have exciting

experts on wine and beer, chefs, nutritionists, people in the

independent press," Gomez expands, adding that Fable's Trevor

Bird will be speaking, alongside Andrew Morrison from Scout

Magazine and Vanessa Bourget from Exile Bistro.

As lives get busier and food sometimes becomes an afterthought,

festivals like YVR Food Fest bring our attention

back to the basics of cooking, eating, and community. Gomez

reflects further, "It is time for people to embrace local, non-industrialised

foods. Enjoying food, sitting down with people,

eating from responsible sources, is what we want to celebrate.

We want to create conscience and interest around food. And of

course a whole lot of fun!"

CARP SUSHI + BENTO

a taste of Hiroshima in Vancouver

by Molly Randhawa

It's a chill afternoon following a steady lunch rush at Carp Sushi + Bento.

Ska music is playing over the speakers as I walk over to the corner of the

small restaurant to grab myself an iced tea from the dispenser. Upon

entering, you get the vibe that you're walking into a friend's space where

you're immediately welcomed. With the abundance of sushi spots in the

lower mainland, I could tell this would soon become a favourite.

The restaurant itself is decorated in Hiroshima Toyo Carp memorabilia,

a baseball team in Japan's Central League. You can sense the pride in

Yuki Matsumura's voice as he grabs the team's magnet off the fridge and

expresses his admiration for the sport and his hometown. Matsumura

immigrated to Canada from Hiroshima in 2012 and was hired by Coast

Restaurant, owned by Glowbal Group. After four years at Coast, Matsumura

decided to become his own boss. He explains how Carp, which just

celebrated its one-year anniversary last month, has taken off recently. With

just Matsumura and his wife in the shop on most days, he stressed the importance

of creating a relaxed and welcoming atmosphere while providing

timely service and quality dishes.

Matsumura prepared me a new dish on the menu — the Ahi Tuna Poke

Bowl, a traditional Hawaiian seafood dish that consists of marinated bitesized

pieces of tuna and avocado on rice. He paired this with the gomae-ae,

which was seasoned with sesame seeds, peanut sauce and candied salmon,

a personal favourite of mine. Delving straight into the poke bowl, I was

pleasantly surprised by its citrusy yet light taste. It's the perfect summer

dish — refreshing, crunchy (because of the rice cracker flakes and sesame

seeds) and, most importantly, it's filling. By the end of the bowl, I was

satisfied but I wasn't about to stop eating. Next, I tried the Tuna Tataki

Roll, the Sea Eel + Candied Salmon Roll, and the classic Spicy Salmon Roll.

These were literally some of the best rolls I've had in a while. The Sea Eel +

Candied Salmon is the perfect combination of flavours, a must try.

Carp is conveniently located down the street from the Biltmore Cabaret

and behind Kingsgate Mall. It's the perfect spot to check out before a show

or on your lunch break.

Carp is located at 2516 Prince Edward St. and is open Monday – Saturday

from 11:00 a.m. to 9:30 p.m.

photo: Molly Randhawa

A full-out foodie feeding frenzy.

YVR Food Fest is held from August 5 – 7 at various locations.

Carp's Ahi Tuna Poke Bowl is the perfect summer dish.

August 2016 CITY

19
---
FILM

VANCOUVER QUEER FILM FEST

the troublemakers now have the floor

The troublemakers and the rebel

rousers sticking it to the man — the

commonality that ties it all together

for the 28th Annual Vancouver Queer Film

Festival. Being the second largest festival

in Vancouver and showcasing artists and

films from all over the world as well as

Vancouver, the festival hopes to spotlight

those who made change by not always

being polite. The event which started in

1988 as a small gathering amongst friends

has grown exponentially over the past 28

years, exploring the realms of queerness,

transgressive arts, and civil rights.

This year's festival shines a spotlight on

the key troublemakers in the LGBT community

across many platforms, creating

a unity and partnership across cultures.

After much controversy with the Black

Lives Matter interjection at Toronto Pride,

and their plea to the VPD regarding their

disassociation with the parade — the festival

is proud to partner with the organization.

Shana Myara, the artistic director of

the QFF, explains the importance of stating

your values and sticking to your guns.

"The Queer Film Festival is successful

in demonstrating our values by proudly

partnering with Black Lives Matter, we

bring that proudly to our membership."

Myara says candidly through the phone.

"[The Queer Film Festival] is hoping to

lead the way…We really want to be a part

of promoting their movement in Vancouver

and be strong allies. We're allies, why

question it. Black Lives Matter."

With Black Lives Matter co-curating a

spotlight this year, it showcases the transformative

Black LGBT community that

often gets pushed to the side. "The films

by Molly Randhawa

really speak for themselves, one of the people

profiled is Ms. Major in the film called

MAJOR!…She's been doing amazing work

for a really long time." Miss Major, a gender

transgressive woman in the United States

is an engaging and prolific fighter for the

civil rights movement. "It's a documentary

that is not to be missed." Miss Major will

also be at the festival to answer questions

after the screening, alongside the director

of the film, Annalise Ophelian and Vancouver's

BLM founder, Cicily Belle Blain.

With intersectional feminism and those

who do not fit within the binary also in

focus, the festival is breaking barriers and

giving a voice to those who have been

silenced in previous years. In preparation

for the 30th anniversary of the festival,

Myara discusses how the new Troublemakers

Project is meant to celebrate those

"Who have stuck their necks out in many

different ways in [the LGBT] community…

[The project has] connected senior change

makers with youth that are wishing to

learn how to make films," creating discourse

across generations within the LGBT

community.

With a selection of spotlights including

Black Lives Matter, Two-Spirit Reelness,

Women Transforming Media, and Many

Splendours Genders — the festival showcases

an eclectic mixture of films that the

audience can pick and choose from. "[It's

important to] have a balance of films so

that people that are looking for a date

night can come to the festival and kind of

see a frothy romantic comedy, and people

that are looking for more harder hitting

documentaries to steep their activism in

some historical events can find something

worthwhile as well — there's a great

balance."

THIS MONTH

IN FILM

by Paris Spence-Lang

A Fat Wreck: The Punk-umentary

August 17th at The Biltmore Cabaret

According to the Fat Wreck Chords music label, they've spent the

last 25 years "ruining punk rock". This is the story of founder Fat Mike

(of NOFX) and his ex-wife Erin Kelly-Burkett as they rode their label

on the choppy stagedives of punk rock. It has punk music, involuntary

drug use, and puppet BDSM. What more could you want?

Upcoming Releases

Ever wonder how your McDonald's got made? We already know the

McNuggets are pulp derivatives, but the actual company is more of a

mystery. The Founder follows Ray Kroc as he builds America's worst

restaurant. Fun fact: co-founder Mac McDonald is the inspiration for

the Big Mac. His brother, Dick, isn't on the menu. (August 5th) Speaking

of self-immolation, Suicide Squad is finally here. Making its usual

mistakes, the US government gives weapons to a bunch of villains,

including the Joker, because that always works—looking at you, Iraq.

(August 5th) And if a superhero movie full of buff dudes isn't enough,

Seth Rogen's Sausage Party is finally here. Spoiler: it's about actual

sausages. Sorry to disappoint you. (August 12th)

photo: VQFF

Mad as hell and not going to take it anymore, the LGBTQ aligns with Black Lives Matter to spotlight civil rights.

The festival kicks off on Thursday, August 11

with an outdoor sunset party at the Queen

Elizabeth Theatre Plaza at 10p.m. Grab

your six-pack tickets online at: queerfilmfestival.ca

Suicide Squad

11:55 PM 11:55 PM 11:55 PM 11:30 PM 11:30 PM

AUG 5 SATURDAY NIGHT FEVER AUG 12 THE GOONIES AUG 19 GHOST WORLD AUG 26 THE KILLING JOKE SEPT 2 FIGHT CLUB

20 FILM

August 2016
---
ALBUM REVIEWS

DESCENDENTS

Hypercaffium Spazzinate

Epitaph

Milo Goes to College, the first and best record by

Manhattan Beach, California's Descendents, is rightly

considered a classic. The longest song is a stately two

minutes and fourteen seconds, a result of the band's

well-documented caffeine addiction. The caricature of

singer Milo Aukerman on the cover is as iconic as Mick

Jagger's blood-red lips. The lyrical themes are hardcore

staples: parents, society, and fake punks, but there was

something there that was unmistakably pop.

The word is used today to describe music for the

most casual of listeners, engineered for maximum

performance by super-producers, built for the

widest possible appeal within the thirteen to thirty

demographic. Saying that Milo Goes to College is pop

isn't to say that it shares DNA with Ariana Grande's

Dangerous Woman – it doesn't. Pop isn't in the music

as much as it's in the band's intent: the decision that

everybody can listen, that nobody is excluded. Punk

had always been pop, but Milo defined Pop Punk.

Despite being a band for longer than pretty much

anyone who writes for or reads this magazine has

been alive, their career has been patchy, marked by

long stretches of inactivity when Milo did in fact go

to college (and got a job), when the remainder of the

band kept playing as the significantly less renowned

All. In these gaps the whole musical landscape

changed: between 1987's All and 1996's Everything

Sucks grunge flared up and burnt out, between

Everything Sucks and 2004's Cool to be You Green

Day and Blink 182 took the blueprint Milo and co.

laid down and ran with it. The latter were especially

influenced by the Descendents sound: Mark Hoppus

called their song "Silly Girl," "the first song that really

altered my life," his estranged hetero-life-partner

Tom DeLonge said that "Blink is absolutely a product

of the Descendents," probably before trying to get

people to care about his book about UFOs.

While Milo… had that indefinable pop something

that elevated it above other hardcore albums, Hypercaffium

is blandly inoffensive. Milo… was hardly Anal

Cunt, a few homophobic slurs aside, but it felt real,

lived in. Hypercaffium's lyric sheet details the safest,

most pedestrian opinions a person can hold: religious

people are kinda hypocrites, right guys? And doesn't

it suck that all the tasty food is bad for you? What's

that all about? And all these kids being prescribed

Ritalin, that's not cool.

On the level of instrumentation it fares no

better. It's cleanly and sharply produced, and that's

acceptable in punk rock, but there's never the sense,

palpable on Milo and even on Cool to be You, that

they really did just down half a cup of coffee grounds,

half a cup of water and five packets of sugar (their

pre-show ritual during their early shows). When punk

rock works it's because it feels a little more intense

than other genres, a little faster in every sense of the

word. I'm not even going to use the Sonics or the

Dead Boys or the Ramones or the Sex Pistols or the

Clash or Black Flag or Fugazi or Refused or Fucked Up

or Pissed Jeans or Perfect Pussy or G.L.O.S.S to explain

this: remember that na-na-Na-na, na-na, na-na-na-na

part in "All the Small Things" by Blink 182? Remember

how you felt when that kicked in? There's nothing on

Hypercaffium that'll make you feel like that. The Descendents

circa 2016 come off worse than the band

that toned down their sound for mass consumption.

After fourteen tracks of mediocrity they cap it

off with utter wretchedness. "Beyond the Music" is

a song so unbelievably saccharine, so unrepentantly

sappy, that it erases what little punk cred the band

had. Completely. After this they are no longer a punk

rock band. You can read all of the lyrics at Genius.

com, but here are some particularly choice cuts: "Still

finding ways to share what we feel/For kids with no

friends, it doesn't seem real/And there's nothing in

this world/Not a dollar, dream or girl/That can rival

what we have between us/Beyond the music." Christ.

You know when people say "I can't even?" Well, I

can't. Those lyrics render me unable to do something

so thoroughly that I don't even know what it is that I

can't do.

All the side-project and All the album were named

after a concept invented by Descendents guitarist Bill

Stevenson, back when hardcore bands were getting

really into self-help (see Bad Brains' Positive Mental

Attitude and the Minutemen's Econo.) All is not

settling, going further, achieving everything you can

achieve. I'd like to introduce a counter-concept: Nothing.

Nothing means being okay with how things are,

realising that more expended effort, another album

and tour for example, isn't going to take you anywhere

you aren't already. It's very Zen. Most of all, it's

realizing that the only constant is change, and when

your time is up you need to clear some space for

whoever's next in line. That's been true of Blink 182

since their self-titled album onwards, true of Green

Day from Nimrod on, NOFX part-way through Heavy

Petting Zoo, and based on the evidence of Hypercaffium

Spazzinate it's definitely true of the Descendents

Written by Gareth Watkins

Illustration by Jenny Bonar

August 2016 REVIEWS

21
---
An Ant And An Atom

Entropy

And An Earth

An Ant And An Atom - Entropy

Aphex Twin - Cheetah

Post-everything artist An Ant and An Atom

wrote Entropy to accompany visual artist

and activist Lauren Crazybull's exhibition of

the same name, and art from the show is included

in a nice little zine that comes along

with this, his fifth release.

AA&AA's previous work runs from Tortoise-at-their-most-obtuse

post-post-rock

to Ben Frost-ian sheets of noise. At twenty-four

minutes Entropy gets to touch, ever

so lightly, on both – beginning with the

latter and fading out to the former. It never

quite let's you relax enough to be classed as

ambient, never quite let's you sit still in its

more peaceful moments before layering in

the wind-tunnel distortion. Yeah, that's going

to piss off people who haven't gotten as

post- as the more palatable Mogwai. That's

probably fine for somebody who chooses to

make lengthy abstract works to soundtrack

art shows. As art on the other hand it

succeeds: it feels entropic. Most artists

would render the concept with dissonance

and abrupt tonal shifts, and there are some

here, but what makes Entropy work is that

the changes are slow enough for a sense of

cosmic scale to develop, and when you're

dealing with a concept as vast as the whole

universe's slide into chaos, that's the note

you should be hitting.

• Gareth Watkins

Arkells - Morning Report

Aphex Twin

Cheetah

Warp Records

Nobody is quite as big an asshole as Richard D.

James. In real life, yes, he is fairly brusque, but musically

he falls just short of maddening eclecticism,

into a not-very-sweet spot where every record has

listeners screaming "WHAT DO YOU WANT FROM

US!?!" at his anonymous Soundcloud account.

Cheetah is named for an obscure British synthesizer

maker, whose ms800 model features prominently

throughout the first four songs, followed by the

Cirklon hardware sequencer. Yes, this is him showing

off both his knowledge of and prowess with a variety

of vintage electronic instruments. He can use the

Cheetah's breathy wavetable synthesis to make songs

like "Cheetah 7b," which sounds like tropical house

Blind Pilot - And Then Like Lions

with a concussion, and the Cirklon to make "Cirklon

3" and "Cirklon 1," Kraftwerk gone free jazz. That the

song titles are filenames just furthers my suspicion

that he's fucking with us, but subtly.

Yes, Cheetah is better than most electronic

music releases, but as with any Aphex Twin release

there's always going to be the nagging question

of just what we're hearing. Is Cheetah a joke or

an experiment? Is it postmodern or sincere? Do

we dance to it or contemplate it? Only Richard D.

James knows.

• Gareth Watkins

Arkells

Morning Report

Universal

In this day and age of increasingly more electronic

instrumentation and studio tinkering,

Sponsored by

AIDSWALKTOTHRIVE.ca

AIDSWALKVan

NATIONAL SPONSORS LOCAL SPONSORS A PARTNERSHIP PROJECT OF

TITLE PREMIUM PLATINUM

BRONZE SPONSORS

GOLD

All Scotiabank AIDS Walk to THRIVE net proceeds

support direct services for people living with

HIV/AIDS in your community.

22 REVIEWS

August 2016
---
Brendan Canning - Home Wrecking Years Cass McCombs - Mangy Love Fox Opera - Nowhere Native Kllo - Well Worn (EP)

it's very rare to be known as a band recognized

for touring efforts. The Arkells are such

a group, and their sound lends itself very

much to that reputation. The choruses boom

with infectiousness, with classic guitar-driven

grooves serving as simple and effective

foundations for their immediately gratifying

hooks. They're a prototypical Canadian indie

rock band, championing the underdog and

their fourth full-length album Morning Report

doesn't shake up their tried and true formula.

Taking notes from Motown, The Beatles

and the '70s pop-rock that they inspired,

Max Kerman, the band's frontman continues

his focus on concise, buoyant and almost

anthemic songwriting. From his friends, to the

band's hometown of Hamilton, to his romantic

relationships, Kerman chooses to let the

fleshed out stories of the things he knows best

inform the listener in a conversational singsong

rather than relying on more metaphorical

language. Morning Report is also an unrelentingly

upbeat LP. Kerman seems to always find

a way to look at the bright side and it's hard

for that positivity not to leak into the listener's

subconscious, especially when paired with the

Arkells' ultra-sweet melodies.

• Cole Parker

Blind Pilot

And Then Like Lions

ATO Records

Five years after the release of the joyous

We Are The Tide (2011), Blind Pilot's return

comes across slightly ambivalently. The first

single from And Then Like Lions, the fuming

"Umpqua Rushing," opens with a flute-like

keyboard lines and the clack of castanets. It's

a full minute in before a ukulele melody opens

up, frontman Israel Nekeber starts voraciously

strumming, and the song begins to sound like

the anthemic chamber folk of the last record.

That said, electric guitars and keyboard thrust

new texture onto a comfortably melancholic

tune. This single, which also opens the record,

teases a new texture and renewed excitement

in the band, but by the second track, the

record reveals itself to be a downer.

There are definitely moments of triumph,

punctuated by horns, strong but simple

rhythms, and lofty vocal melodies, but all in

all the record is quite dour. Heavier lyrical

moments dwell on the experience of emotional

stuckness. That's not to say there isn't hope

here, there's an entire track entitled "Don't

Doubt," but the moments that work the best

are the ostentatious ones, tracks like the

opener, and the bucolic narrative in "Packed

Powder."

And Then Like Lions is more unexciting than

we could have hoped for, but even the low

tempo songs are fully appreciable. It's a record

that went for better rather than bigger, but

perhaps, although strangely, to its detriment.

• Liam Prost

Brendan Canning

Home Wrecking Years

Arts & Crafts

In the frantic immediacy of "Book It To Fresno",

the first cut on Home Wrecking Years,

Brendan Canning lays down an urgent, 90

mile-an-hour-with-the-windows-down beat,

clangorous guitars feeding off the Bonham-like

kick drum, before his youthful tenor provides

a drifting melodic counterpoint soaked in

spacey reverb with words of reassurance, "I'm

not here to laugh at your mistakes".

Home Wrecking Years finds Canning

painting with a wide sonic palette, mixing the

driving overdriven guitars balanced by smart,

hook-laden clean jabs of Mick Jones skank on

"Vibration Walls" to excellent effect. "Keystone

Dealers" is a little more subdued, a bossa

nova groove with classy horns to complement

breezy vocal harmonies. "Once I Was A

Runner" is a particularly choice cut, steamy

and swaying before rising into a more potent

chorus. If some artists are given to using wide

spaces to provide dynamics, Canning is equally

adept at making musical sense in the middle

of chaos, where sonic room is at a premium.

His place as a founding member of Broken

Social Scene is evident in the dance floor indie

rock of "Nashville Late Pass," as energetic and

addictive a song as any in the Canadian indie

heroes' catalogue. Some records are just made

for the long, hot nights of summer.

• Mike Dunn

Cass McCombs

Mangy Love

ANTI Records

The iron is clearly hot for Cass McCombs these

days, having released two other well-received

records earlier this year, the b-sides collection

A Folk Set Apart, and Skifflin', from a side

project called The Skiffle Players. His latest,

Mangy Love, finds McCombs trading in his

noisier alt-country elements for a smoother,

sunny feel, although esoteric, jazzy elements

have long been a part of his oeuvre.

McCombs' voice has always treaded a line

similar to a less bereft Elliot Smith, along with

the measured, quiet nonchalance of Lou Reed,

which can give his music an air of inaccessibility.

More often than not though, this feels

like the point, as McCombs seems content

with being an artist further to the outside of

the popular music heap, creating whatever he

wants to, and finding an audience that appreciates

an outlier.

Mangy Love finds McCombs' voice low

in the mix, so while his timbre is persistent

throughout, it takes some serious attention

to get down to his lyrics. "Run Sister Run" is

a pointed feminist statement to an insistent

samba, and the lead single "Opposite House" is

a standout melody replete with groove and the

soulful voice of an artist who never had much

use for the mainstream anyway.

• Mike Dunn

Fox Opera

Nowhere Native

New Music Recordings

With their first full length being released in

2010, it was high time for new music from

Calgary/Edinburgh/London's Fox Opera. With

original bassist Keith Rodger (OQO, Surf Kitties)

unavailable for recording, FO decided to

dive forward as a two-piece, with lead Caitlin

Copeland accompanied by Calgary's jack-ofall-trades

Noah Michael (If I Look Strong; You

Look Strong, Pine Tarts). Recording the album

at Michael's studio New Music Recordings lent

the duo more flexibility and control over the

entire process leading to their most elaborate

and complete sounding release yet. Nowhere

Native could be categorized as noise pop, with

massive walls of distortion backing pleasant

pop structures and vocals. The conflicting

nature of sounds on the album tie together

surprisingly well and blend to create a fully

rounded sonic network. Highlights from the

album include the previously demo-d "Lonely

Ghosts" which has a pleasantly infectious surfpunk

slant reminiscent of Cherry Glazerr. "No

Time // The Time" follows with cleverly placed

noise build ups and percussive adjuncts that

drive the song along to culminate under the

realization that "We've got the time for love,"

as the album begins to transition towards its

denouement. The sweetness of "Modern Romance"

and the ambitious but well developed

final track "Ending // Beginning" bring this

under-the-radar gem to a tidy conclusion.

• Willow Grier

Kllo

Well Worn (EP)

Ghostly International

Melbourne-based electropop cousin-duo Kllo's

appearance on "the scene" has been explosive;

featured in The Guardian and being designated

"artist to watch" by Spotify and Elle is no

mean feat, and Ghostly International seems

justifiably jazzed by their prospects. With the

release of their second EP at the conclusion

of their first international tour, Kllo have

continued the trajectory of their aesthetic in

a predictable direction. Simon Lam's background

in sound direction was put through its

paces, generating a smooth, self-aware product

overflowing with detail and richness, making

good use of a consonant bass and kick drum

combo which defines the EP. Likewise, Chloe

Kaul's vocals are arresting and performative.

But from the snappy snare-heavy beats, to the

duelling high versus low register instrumentation,

to the Billy Holiday-esque vocals, to the

faint sound of marimba, Well Worn has a style

which is, to risk sounding cheesy, Well Worn.

Since Sylvan Esso's 2014 drop, the electropop

world has been hungry for this kind of dreamy

jazz/soul inspired sound, and Kllo's second

EP serves it up with no sense of perspective,

and at no point in their short career have Kllo

given any indication that they are as exciting

or nuanced as their competitors in this new

space.

• Adam Sarjeant

of Montreal

Innocence Reaches

Polyvinyl

What's most exciting about of Montreal's

14th LP is that it is one of few attempts by the

band to match what's currently going on in

the world of music. When the band's founder

Kevin Barnes was interviewed by BeatRoute a

few months ago, he said he had been listening

to more contemporary pop and indie music

than ever before, and was trying to avoid the

psychedelic and funk-infused sound the band

often draws upon. At it's best, the album

sounds like Grimes or LCD Soundsystem's

finer electronic moments. Unfortunately, the

attempts often fall flat and feel hokey. In its

conception, he was listening to Arca, Jack Ü

and Charlift.

Barnes attempts to explore modern conceptions

of gender identity issues on "Let's Relate,"

stating that he's grateful to have had the opportunity

to genderbend through his performances. It's

August 2016 REVIEWS

23
---
a far-flung conception that expands on the next

track "It's Different For Girls." Here, Barnes creates

a catchy song that seems, well, inappropriate. He

attempts to critique the gender binary and sexism,

but as the song's synth groove deconstructs midsong,

it's apparent through his lyrics that Barnes

is not that Innocent and the "psycho bitches" he

sings about don't need that shit.

• Trent Warner

Shura

Nothing's Real

Polydor

When Shura first arrived on the scene

with "Touch," it seemed her niche was

slow-burning R&B that seemed to fit the

millennial urge to overshare. Her first singles

of Montreal - Innocence Reaches

were made in the safety of her Manchester

bedroom and the intimacy and shelter of

that came through in her music. Those early

singles, the aforementioned "Touch" and

"White Light," won Shura the attention of

the UK music press, resulting in her being

named as one of BBC Radio 1's Sound of

2015 finalists. Both songs appear in slightly

spruced up fashion on Nothing's Real, Shura's

proper studio debut for Polydor.

Saying "studio debut" is only appropriate,

as Shura has left behind the comfort of her

room for a sleek, studio sound that blends

the yearning R&B of her first singles with

decidedly '80s influence. Shura's ability as a

producer has also taken leaps since her early

work like "Indecision," which appears on

Nothing's Real with tightened up drums and

atmosphere that has an intoxicating spacedout,

studio sheen.

Songs like "What Happened to Us" feel

like misplaced tracks from a John Hughes

rom-com, featuring Technicolor synth melodies

and a chugging bass line that sounds

like Don Henley's "Boys of Summer" being

covered by Carly Rae Jepsen.

• Jamie McNamara

Slope

Obsidian EP

Low Indigo

Obsidian is the latest EP from prolific, multialiased

producer Slope, who is also known

for his many years performing as Dan Solo,

as forming one half of Sanctums, and for

Shura - Nothing's Real

co-founding Modern Math, the locally legendary

bass music residency turned record

label.

The producer has stated that the EP was

influenced by atmospheric black metal. The

release is deep, contemplative and stripped

back throughout and utilizes a minimalistic

approach that highlights the ethereal melodies

through a lack of dominant percussion.

Two tracks, "Refuge" and "In Determination"

feature his long time musical ally Corinthian,

who happens to be the second half

of Sanctums. "In Determination" commences

in a very serene place and gradually crescendos

into a peaceful chiming bell rhythm,

while "Refuge" is a much more meditative,

soul-baring melody focused track.

West coast producer Kline also makes an

Slope - Obsidian EP

appearance on the track "Northern Winds."

There is a transcendental vibe on this one

that would be ideal for personal reflection

or a soundtrack to an eerie film or television

series.

If you are in the market for a driving, head

pounding, dance floor centric album, you'll

have to look elsewhere. Instead, Slope showcases

a more profound side of the seasoned

producer, who over the years has been no

stranger to the art of getting people moving

on the floor. Obsidian achieves an intellectual

overall aesthetic, without compromising

accessibility. It rather is a calm and inviting

halcyon of a listening experience that harbours

tranquility and inspiration.

• Paul Rodgers

ADRIAN GLYNN

WOODEN HORSEMEN

THE WILD ROMANTICS

WISHKICKER

BIG ROCK BREWERY

FRINGE BAR

and the Barefoot Wine & Bubbly Stage

FREE LIVE MUSIC

EVERY NIGHT OF THE FESTIVAL

KARAOKE + FOOD TRUCKS + PHOTO BOOTH + DJs

SEPT. 8-18

AT OCEAN ART WORKS

ON GRANVILLE ISLAND

Sorry, no minors. You must be 19 or older.

VANCOUVERFRINGE.COM/FRINGE-BAR

6

8 - 18

24 REVIEWS

August 2016
---
August 2016 25
---
30

BREW

ERIES

30

IPAs

PICK UP YOUR CALENDAR NOW

The Lamplighter, Library Square, The Bimini, Cinema,

The Butcher & Bullock, The Blackbird, The New Oxford,

Tavern, The Three Brits, Clough Club, Granville Room

donnellygroup.ca

donnellygroup.ca

26

August 2016
---
LIVE REVIEWS

Vancouver Folk Music Festival

Jericho Beach Park

July 15 to 17, 2016

Photos by Paulina Flores, Roselle

Hernandez, Kaelen Morrison,

Brittaney Povey, Iyslen Tolman,

Nicole Vidal, Jaydon Wheeler

August 2016 REVIEWS

27
---
photo: Galen Robinson-Exo

Insane Clown Posse

Venue Nightclub

July 16, 2016

It's an easy thing to hate on Detroit's infamous rap duo,

the Insane Clown Posse (ICP). So easy that they've declared

themselves the "Most Hated Band in the World." Witnessing

ICP live though, requires a more balanced take on things. For

one, Juggalos – ICP's infamous fans – are very dedicated to this

duo. Taking to the venue hours before doors opened, Juggalos

and Juggalettes lined Granville Street in hoards, decked out in

facepaint and merch screaming "Woop woop!" the signature

chant of the Juggalo. Walking into the venue, you could

already smell the scent of Faygo in the air.

I went to the balcony to witness the show from afar, safe

from the spray of Faygo. What I noticed immediately is that

there's no irony at play for ICP. They're completely serious

about what they do. Sure, a big part of what they do is having

fun and acting ridiculous, but there is no "in-joke" and absolutely

no pretention about it. Furthermore, there was no DJ

on stage at any point. The duo of Violent J and Shaggy 2 Dope

were more than content having just themselves and their rotating

crew of Faygo replenishers and masked back-up dancers

onstage. Their fans didn't seem to mind either. About three or

four songs into the set though, my plans crashed around me as

I took a face full of Faygo up in the balcony. As I cleared Faygo

out of my eyes and nose, I noticed the entire lighting and

sound rig at VENUE was completely covered in plastic wrap

and tarps.

At one point in the show, Violent J jumped off stage and

started to attack an audience member. I didn't see what

started it, but J lived up to his name and targeted an audience

member with a vicious attack. Upon seeing his partner getting

swung at in the audience, Shaggy 2 Dope jumped off stage too

and punched the audience member in the face. It was at this

point security got involved and ICP returned to the stage. Seconds

later, there were dancing bears onstage throwing confetti

into the audience and both Violent J and Shaggy 2 Dope were

acting as if nothing happened. Not even 15 minutes after the

outbreak, ICP wound their show up with what they call "Faygo

Armageddon," inviting audience members onstage to spray all

the leftover soda around indiscriminately. What resulted was a

surreal spectacle, the likes of which I've never witnessed: a sort

of bacchanalian celebration of excess, except with people in

clown make up spraying soda.

This show was bizarre on many levels and actually felt more

like an "experience." Something you truly had to see to believe.

I didn't walk away from the show a fan but I gained perspective.

I also laughed a lot and met some interesting characters.

Still no word on how magnets work though.

• Joshua Erickson

Crystal Castles

The Commodore Ballroom

July 23, 2016

Crystal Castles' new world tour has

kicked off just before the release of their

fourth album AMNESTY (I), which is the

band's first without singer Alice Glass. As

most inquiring minds will want to know,

how does new band mate Edith Frances

measure up? Glass has been known

for her unsettling stage presence and

energetic vocals, and with the group's

finely tunes aesthetic, a lot is resting on

Frances' contribution to the live show.

Backed by their now fully owned

image of Madonna with a black eye, the

show at the Commodore Ballroom on

Saturday night seemed to definitively

mark that not much has changed for

their live show, and we can expect the

new album to be a continuation for the

group and their sound. Starting with

Frances strutting out and straddling

the mic stand, fully committed to the

Crystal Castles uniform, with giant docs,

sunglasses, pink hair, and a lit cigarette to

top it off.

Frances' vocals are put to much the

same purpose as Glass'. She has a comparable,

if not better, range, and the set

list did not shy away from older material.

After opening with new track "Concrete,"

the show continued with the punky "Baptism,"

and "Suffocation" from their second

self-titled album. The set lasted an hour

and littered in new songs "Fleece" and

"Frail" among fan favorites like "Crimewave"

and "Not in Love."

Just as it seemed Frances' might have

been losing energy through the second

half of set, Ethan Kath took over the

helm for a brief DJ set that slid into

full on EDM. With thudding beats, and

strobe lights set to blind, Crystal Castles'

live show remains unapologetically maximalist,

intense, and danceable.

• Sydney Ball

photo: Lester Rajapakse

28 REVIEWS

August 2016
---
Bass Coast Music Festival 2016

Merritt, BC

July 7-10, 2016

Last weekend a crowd of 3,000+ hippies, bass

heads, artists, and DJs once again embarked upon

what can by now only be described as an annual

pilgrimage to the Nicola Valley. If you live in the

Pacific Northwest and have even a passing interest

in alternative electronic music, you will likely have

guessed that I am talking about the eighth iteration

of Bass Coast Music Festival returning once

again to sleepy Merritt, B.C. Since its inception

in 2008, the brainchild of Andrea Graham and

Liz Thomson has been going from strength to

strength, and this year proved to be no different.

What sets Bass Coast apart from other festivals

is that it manages to combine a fiercely independent

spirit, eschewing any and all corporate

sponsorship, with a level of professionalism and

attention to detail that I have yet to see matched

by another festival, all the while limiting the size of

the festival to 3,000 attendees. This result is a buck

wild party atmosphere in which festival goers are

encouraged to let their freak flags fly until the wee

hours of the morning (the last stages usually close

around 8am), while never threatening to become

overwhelmingly chaotic, unsafe, or uncomfortable.

Putting aside all the little touches that make this

festival great, let's talk about Bass Coast's bread

and butter: the music curation. On this front, Bass

Coast continues to act as a platform for a variety

of local favourites, as well as showcasing a collection

of international underground luminaries. The

daytime tends to feature lots of reggae, dancehall,

soul, and funk. Dub, dubstep, trap, grime, house,

and techno dominate the nighttime sets. This

means that you will be able to hear plenty of your

favourite genres, while at the same time ensuring

that at some point you will end up exploring outside

of your musical comfort zone.

Blondtron and Waspy kicked off the first night,

and subtleness does not seem to be part of the

Bass Coast mainstay's vocabulary. They rocked the

main stage with their signature mix of maximalist

trap and dubstep, with Blondtron ending up

upside down twerking on her DJ table. Other

standouts on the first day included Machinedrum's

glitchy uptempo beats, and North London

native Sabre, who threw down a set of incredibly

soulful drum and bass. The standout performer of

the night, though, was Montreal producer Goopsteppa,

who treated us to a dose of futuristic

and experimental bass music with strong dub

influences.

Saturday definitely belonged to local Vancouverites

Lighta! Crew, who threw down a four-hourlong

reggae jam featuring everything from roots,

dub, and dancehall. They even managed to get

Bristol dubstep and grime luminary Kahn to join

in on the fun for his daytime set, one of the festival

highlights. From midnight onwards the bills were

absolutely packed. It started out with first lady of

the festival Andrea Graham, a.k.a. Librarian gracing

the main stage with a mix of bass music classics.

Librarian's set was immediately followed by Ivy

Lab, whose reputation preceded them. They

definitely lived up to the hype, delivering a great

blend of drum and bass and experimental halftime

sounds, as well as even sneaking in a couple of

classic hip hop tracks at the very end.

Sunday was a scorcher, and large crowds

gathered to float the river and enjoy lounging in

the sun while being serenaded by DJ K-Tel's Sunday

soul session, one of Bass Coast's most popular

recurring sets. Rinsing out classic soul records and

some electronic mixes for three hours, this set is

always a great re-energizer for the last day.

Sunday's highlight was Kahn, a producer at the

forefront of a new generation artists out of Bristol.

With numerous Deep Medi releases, dubplates for

days, and his own record label Bandulu, Kahn has

been making a mark on the British dubstep and

grime scene for years. His set was comprised of

classic dubstep records (I finally heard "Earth a Run

Red" on a big sound system!), and darker grime.

An hour and a half of sub-bass, this was definitely

the heaviest set at a festival full of heavy sets. The

night ended on the deeper side of the dubstep

spectrum, with Westerly laying down a great heavy

halftime set.

Monday evening, absolutely exhausted, we

packed up our camp, vowing to return again

next year. It can hardly be overstated how full of

positive vibrations this festival was all weekend

long. Bass Coast manages to stand out in a world

already saturated with quality festivals. Judging

by what I saw this year, next year will be the best

Bass Coast yet. Make sure you get to experience it

yourself.

• Gabriel Klein

photo: Galen Robinson-Exo

The Librarian

photo: Galen Robinson-Exo

photo: Galen Robinson-Exo

Radio Stage

photo: Galen Robinson-Exo

August 2016 REVIEWS

29
---
ating the best (and worst) of Vancouver's public toilets

by Michelle Hanley

Metrotown McDonalds Commercial Dr. Peaceful Restaurant

Metrotown is the coolest thing about Burnaby. It's BC's largest

mall and now that they've finally opened a Hot Topic it is the

place to be.

There are many nice bathrooms here at the mall and they

do not disappoint. They are always being cleaned and are large

and spacious. It is a very busy bathroom aand at peak hours is

usually full of loud teens Snapchatting about their new Forever

21 purchases, but that's okay. It also has these weird garbage cans

that spill trash on you when you open them so be careful!

This particular McDonalds location is my number one least

favourite McDonalds. It is busy and small and full of Commercial

Drive crusty punks and I hate it.

There are very few bathroom options on The Drive and this one is

open late so I end up here often. The bathroom suffers from overuse

and is usually messy. On my most recent visit, the bathroom was

completely out of toilet paper and I had to use Canadian Tire money

I found in the bottom of my purse to wipe. I'm not lovin' it.

Peaceful is a great place to eat Chinese food! It has the best

noodles in town that they hand-pull on site. Also my number one

celeb crush Guy Fieri featured this place on the hit Food Network

show, Diners, Drive-Ins and Dives.

The bathrooms here are super clean! They are a bit cramped but

pretty impressive. The hot water tap was dangerously hot and I

would have appreciated a warning. But Guy Fieri might have pooped

here so that makes Peaceful a great place to poop.

CALGARY INTERNATIONAL FILM FESTIVAL PRESENTS

THE GREAT FILM

INVASION

TICKETS AT

CALGARYFILM.COM

SEPT 21 – OCT 2

2016

PRESENTING PARTNER

MARKETING PARTNERS

30

August 2016
---
August 2016 31
---
UPCOMING EVENTS

AUGUST

17TH

TUESDAY AUGUST 2ND

ANCHORESS

WEDNESDAY AUGUST 3RD

ULTIMATE

PAINTING

FRIDAY AUGUST 5TH

LYRICS BORN

SATURDAY AUGUST 20TH

SHAD

(VAN MURAL FEST)

MORE UPCOMING SHOWS

~

AUG 20TH - ANDREW WK DJ SET AT NITE MOVES

SEPT 17TH - SUMMER SIXTEEN AFTERPARTY AT NITE MOVES

~

FRIDAY AUGUST 26TH

GINGER AND

MOONSHINE

THURSDAY SEPTEMBER 17TH

GROENLAND

FRIDAY SEPTEMBER 17TH

DANIEL

CAESAR

WEDNESDAY SEPTEMBER 21ST

CHROME

SPARKS

FOR TICKETS AND MORE INFO GO TO

BILTMORECABARET.COM

32

August 2016