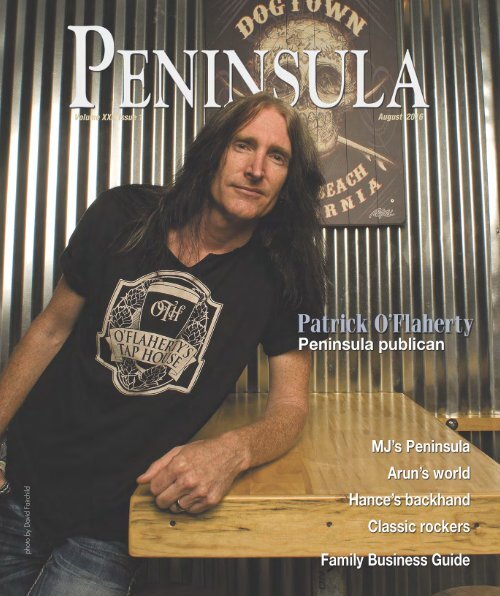 Peninsula People August 2016
You also want an ePaper? Increase the reach of your titles
YUMPU automatically turns print PDFs into web optimized ePapers that Google loves.
photo by David Fairchild

Volume XXI, Issue 1 August 2016
---
August 2016 • Peninsula 3
---
PENINSULA

Volume XXI, Issue 1

August 2016

P A L O S V E R D E S P E N I N S U L A M O N T H L Y

310.539.6685 310.884.1870

310.326.9528

866.BEYOND.5

310.534.9560

310.539.2993

310.530.3079

310.530.0566

310.530.3268

310.891.2237

310.530.8411

310.997.1900

www.cflu.org

CUT * COLOR * STYLE

310.539.2191

310.326.3354

310.530.4888 310.534.0220

310.326.4477

310.517.9366

310.539.3526

310.539.1808

310.517.0324

310.326.8530

WineShoppe

310.539.1055

310.530.5443

TORRANCE

TOWNE BEAuTY

CENTER

310.325.2960

Northwest Corner of

Crenshaw Blvd. & Pacific Coast Hwy. in Torrance

~ For Information, Call 310.534.0411

A LA CAZE DEVELOPMENT COMPANY PROJECT

©

ON THE COVER

photo by David Fairchild

Patrick O'Flaherty of O'Flaherty's Tap

House.

PROFILES

12

22

32

52

58

68

74

78

MJ's Peninsula People by Kevin Cody

After two decades as publisher of Peninsula People and over

four decades of community involvement Mary Jane

Schoenheider is passing the baton to a new generation.

Peninsula publican by Richard Foss

Patrick O'Flaherty sensed something was missing on the

Peninsula. So he opened a bar, featuring craft beer.

Arun for the money by Kevin Cody

Arun Bhumitra arrived in the U.S. with three dollars, a good

education and a lot of hustle. Now it's payback time.

Class rockers by Whitney Youngs

Lizzy Borden bassist Marten Andersson brings together

some of his closest friends to perform in support of Peninsula

schools.

Komatsu's kids by Ryan McDonald

TrinityKids Care Hospice's Dr, Glenn Komatsu offers comfort

and a listening ear to children who have run out of medical

options.

SpARTan design by Stephanie Cartozian

A Rolling Hills home honors the city's ranch style tradition

with a rare, contemporary design.

An uncompromising Italian by Richard Foss

Giorgio Borelli has no interest in fusion at his namesake

restaurant.

Backhand compliment by Randy Angel

Peninsula High tennis player Connor Hance hopes to lead

his team to a second, consecutive league championship.

HIGHLIGHTS

6 Olympics Day at the Promenade

14 Colin Hay at Terranea Music on the Meadow

18 Tea with the Asia America Symphony

24 Golfing with Providence Little Company

28 Sara Balough's Freighthouse opening

38 Celebrate Wellness at the Botanic Garden

40 Seahorse Golf Classic

44 South Bay Family Business

DEPARTMENTS

61 Peninsula calendar

77 Around and about

81 Home services

STAFF

EDITOR

Mark McDermott

PUBLISHER EMERITUS

Mary Jane Schoenheider

PUBLISHER

Stephanie Cartozian

ASSOCIATE PUBLISHER

Richard Budman

DISPLAY SALES

Adrienne Slaughter,

Tamar Gillotti, Amy Berg,

Shelley Crawford

CLASSIFIEDS

Teri Marin

ADVERTISING

DIRECTOR

Richard Budman

ADVERTISING

COORDINATOR

Teri Marin

GRAPHIC DESIGNER

Tim Teebken

FRONT DESK

Judy Rae

DIRECTOR OF

DIGITAL MEDIA

Jared Thompson

CONTACT

MAILING ADDRESS

P.O. Box 745

Hermosa Beach, CA

90254

PHONE

(310) 372-4611

FAX

(424) 212-6780

WEBSITE

www.easyreadernews.com

EDITORIAL

PenPeople@

easyreadernews.com

ADVERTISING

(310) 372-4611

displayads@

easyreadernews.com

Please see the Classified Ad

Section for info.

FICTITIOUS NAME

STATEMENTS (DBA'S)

can be filed at the

office during regular

business hours.

(310) 372-4611

Peninsula People is a supplemental

publication of Easy

Reader, 2200 Pacific Cst. Hwy.

#101., PO Box 745, Hermosa Beach,

CA. 90254-0427.

SUBSCRIPTIONS

Yearly domestic mail subscriptions

to Peninsula People are $40, foreign

$90 payable in advance. The

entire contents of Peninsula People

are copyrighted 2016 by

Peninsula People, Inc.

4 Peninsula • August 2016
---
S P O T L I G H T O N T H E H I L L

World Champion skaters judge

Promenade Ice Chalet Olympic Day

Tai Babilonia and Randy Gardner, two time Olympians, World Champions

and five time National Figure Skating Champions, were just

two of the acclaimed judges present at the Promenade Ice Chalet's

Olympic Day Event last month. Forty figure skaters and 20 hockey players

were selected Learn to Skate programs for the competition. The program

showcased talented area skaters while offering a family friendly

event at the Palos Verdes Promenade. Olympic Day producer Azumi

Williams is the director of Ice-America, which operates the Promenade

Ice Chalet.

PHOTOS BY TONY LABRUNO

1. 2016 World silver medalist Ashley from Prestige Princess.

Wagner, Olympic Day producer Azumi 4. Natalie Longfellow, Learn to Skate

Williams, Ice skater and actress ("The student Malia Merager and skater and

Hangover") Alisa Allapach, voice actress Alisa Allapach.

actor Josh Keaton, Brian Calle,

Olympian Randy Gardner, Olympian 5. Coach Annie Alexander, Brian

Tai Babilonia and 2016 U.S. National Calle, voice actor Josh Keaton and

Champion Adam Rippon.

Learn to Skate student Jordan

Weinert.

2. 2016 U.S. National Champion

Adam Rippon coaches Learn to Skate 6. Princess Elsa and Anna from the

student Uzziah Bermudez.

movie Frozen provided by Prestige

Princess.

3. Captain America and Spider Man

1

2 3

4 5

6

310-325-6500

6 Peninsula • August 2016
---
THANK YOU!

30th Annual Torrance Memorial Golf Tournament

Jerry Soldner, Jim Scriba, Ralph Scriba, Daniel Scriba (back row)

Jeff Higgins, Spencer Higgins, Rick Higgins, Erik Higgins

Forrest Riopelle, Brandon Hovard, James Zupanovich, Jim Haney

Joe & Terry Hohm, Carole Hoffman, Stuart Dolan

Tracy Bracken, Chris Wilson, Dave Klein, David Clinton,

Song Cho Klein, Steve & Helaine Lopes

T O U R N A M E N T S P O N S O R S

Stevan Calvillo, Louis Graziadio, Jon Lund, Bill Lang

Tournament Sponsor

City National Bank

Dinner Sponsors

Graziadio Family Foundation

Payden & Rygel

The Scriba Family

Golden Putter Sponsor

Torrance Memorial Medical Staff

Silver Putter Sponsor

Sodexo

Pacific National Group

Bronze Putter Sponsor

McCarthy Building Companies

Golf Cart Sponsor

Keenan Healthcare Services

Reception Sponsor

Torrance Memorial Medical Staff

Lunch Sponsor

HUB International

Eagle Sponsor

Cerner Corporation

Tournament Award Sponsors

ExecutivePerils

Program Book Sponsor

Newport Printing Solutions

Hole-in-One Sponsors

Martin Chevrolet

Pacific Audi

Pacific Porsche

Scott Robinson Honda

South Bay Lexus

Tournament Chair

Don Douthwright

Don Douthwright has served on the Golf

Committee since 1987. His dedicated efforts

on behalf of Torrance Memorial Medical Center

and its Foundation are

greatly appreciated!

Special Thanks to the Members of the 2016 Tournament Committee

Don Douthwright, Chair

Chris Adlam

Carlos Botana

Tracy Bracken

Stanley Chang, M.D.

Erik Chessmore

Harv Daniels

David Klein

Rick Higgins

John Moody

Dan Mueller

Mike Philbin

Rosemary Pudlik

Gary Randazzo

Forrest Riopelle

Scott Rouse

Marc Schenasi

Marianne Sfreddo

Neal Verga

3330 Lomita Blvd., Torrance, CA • 310-325-9110 • www.TorranceMemorial.org

For information about the 31st Annual Golf Tournament, please call 310-517-4703
---
6419 Via De Anzar, Rancho Palos Verdes

4 bedrooms | 3 bedrooms | 2934 Sq. ft.

OFFERED $1,199,000

6040 Via Sonoma, Rancho Palos Verdes

3 bedrooms | 3 bathrooms | 2706 Sq. ft.

OFFERED $1,499,000

JERRYANDLAURA.COM

Over 800 Homes Sold and Counting

Ranked #1 in Palos Verdes by Zillow!

(310) 480-3601

6501 Palos Verdes Dr. East, Rancho Palos Verdes

3 bedrooms | 2 bathrooms | 1910 Sq. ft.

OFFERED $1,299,000

4005 Dauntless Dr., Rancho Palos Verdes

3 bedrooms | 2 bathrooms | 1800 Sq. ft.

OFFERED $1,275,000
---
August 2016 • Peninsula 9
---
Peninsula People publisher emeritus Mary Jane Schoenheider. Photo by CMS Design Portraiture

MJ's Peninsula people

A pillar of the Peninsula is

giving her tired legs a rest

by Kevin Cody

Mary Jane Schoenheider co-founded this

magazine two decades ago. She was 59,

an age when most people are looking to

retire. The magazine she envisioned would occasionally

feature celebrities. Donald Trump was

on the cover the month he opened Trump National

Golf Course in Rancho Palos Verdes.

Michael Jackson was on the cover following his

acquittal, photographed with his Peninsula attorney

Tony Capozzola. But the signature Peninsula

People cover was to be a civic volunteer, many of

whom labored in anonymity until profiled in the

magazine.

An editorial in the magazine's first issue stated,

"The stories in Peninsula People are like letters to

family members, simply written and accompanied

by a few photographs, because a community

whose residents don't know one another ceases

to be a community."

Shortly after Peninsula People began publishing

in 1996, Mary Jane introduced a feature that

would become even more important to the magazine's

success than the profiles.

"I happened to go to the Portuguese Bend

Horse Show in September, 1996," Schoenheider

wrote in the magazine's 15th anniversary issue,

"and took some photos of the committee members.

That was fun. So I started showing up at

other events with my camera and what would

you know. Friends began calling their friends to

tell them that they had seen their picture in a

new publication that was thrown on their driveway.

When I kept hearing this, I knew we were

on our way."

No one was more qualified to be the publisher

of a Peninsula magazine. Dating back to 1973,

Mary Jane chaired the Los Angeles Philharmonic

Peninsula Committee. In 1987, she became the

first female member of the Palos Verdes Rotary

Club and its president in 2000. She was co-president

of the Rolling Hills High School Drama

Booster Club, a Boy Scouts and Girl Scouts den

mother for over a decade and co-director of the

Palos Verdes Concours d'Elegance for five years.

In 2004, the Palos Verdes Chamber of Commerce

named her Woman of the Year. "The

evening began when fellow Concours d'Elegance

committee member Dick Boberg, dressed in his

'bib and tucker', arrived at my home in his 1930

Rolls Royce Phantom II Hooper Boat-tail Tourer

to take me to my party. I felt like Cinderella," she

wrote for a Peninsula People photo page following

the event.

Equally important as the photo pages and profiles

to the magazine's success was Mary Jane's

background in sales. She had been the Palos

Verdes News advertising director for 10 years and

after that Cox Cable's Peninsula sales manager

for six years.

Periodically, over the past several years,

Schoenheider would look up from editing photo

pages on her computer and announce to no one

in particular, "I'm too old for this. I'm going to retire."

Months would go by without another mention

of the dreaded "r" word.

Then, a few weeks ago, after returning from

her annual two week tour of Europe, Schoenhei-

12 Peninsula • August 2016
---
Peninsula People co-founders Kevin Cody and Mary Jane Schoenheider in

2004, when Schoenheider was named Woman of the Year by the Palos

Verdes Chamber. The caption to the photo in that month's Peninsula People

read, "Mary Jane Schoenheider reacts to the news that Peninsula People

has been sold to aspiring media mogul Donald Trump. The even worse

news was that Trump didn't fire Schoenheider, but instead, insisted she continue

as publisher." Photo by Bev Morse

der announced, again to no one in particular, "I'm too old for this. That

was my last European trip."

She is 79. But she was old when she co-founded Peninsula People 20

years ago. So her being old never seemed odd to the staff. We told her she

was just suffering from jet lag. She answered that it was her legs that bothered

her. Walking through museums, ruins and airports was becoming too

difficult.

A few days later she said taking photos at the civic events she attended

almost nightly was also becoming difficult because of weakness in her legs.

With the same finality with which she would decide who would be on the

cover of the next Peninsula People, she announced she was retiring with

the publication of this issue.

Her acknowledgement of the fact that she could no longer do the work

that defined the magazine was akin to a professional athlete announcing

he or she could no longer carry his or her own weight. Its inevitability

made her decision no less difficult to accept, for her or her staff.

"I always said I knew everyone on the Hill. But I don't. I meet new people

all the time," she said, referring to the stories and photos she would

not be able to publish.

Mary Jane's retirement will leave a void not only at the magazine, but

in the community at large. For the sake of the community she loves, she

said she is hopeful new people will step forward to hold the community

together. And continue doing so, as she did, long after their children have

grown and moved away.

"I have a real worry that the younger people of Palos Verdes are not stepping

up into the community positions. If parents see the importance of

being involved with the schools, they must also understand that they need

to look to the future and get involved with the greater community," she

said. PEN

August 2016 • Peninsula 13
---
S P O T L I G H T O N T H E H I L L

PHOTOS BY STEPHANIE CARTOZIAN

Colin Hay headlines

Terranea Resort's

Music on the Meadows

The third annual summertime

Music on the Meadows at Terranea

Resort rocked the Peninsula

on Father's Day weekend. The

sold out crowd saw headliner

Colin Hay, of Men at Work,with

the Walcotts, Barley and Kate

Voegele. Whiskey, craft beer and

wine vendors were scattered

throughout the grassy, ocean view

site. Concert goers had the option

of bringing their own chairs, blankets

and food or viewing the concert

from VIP cabanas while

enjoying food from Terranea. Hay

recently released "Next year People."

His music can be heard on

the hit shows "Scrubs," "Army

Wives" and "Modern Family" and

in films, including "Garden State."

1

1. Jill and Tim Monohan.

2. Chikaodi Akalaonu, Julie

Tucker, Keith Lawton.

3. Colin Hay Men at Work

vocalist and songwriter.

4. Christa Ravenscroft, Mary

Flaxman, Vienna Flores.

5. Anita Lugliani, Jennifer

Irwin, Carol Mell.

3 4

6. Jason Rosenfeld, Ernestine

Burns, Thomas Redfield.

7. Jeremy Williams and Kristin

McKnight.

8. John Slaninka, Barbara

Letts, Luke Slaninka.

9. Maria Tirado, Colin Hay,

2

Kevin Prince.

10. Kids Club Tori Caporaso,

Andrew Mentesana, Tyler

Turse, Hanna Allman.

11. Karen Mitchell, Jen Paull,

Jeff Mulligan, Ryan Farrell.

12. Maria Tirado and Kevin

Prince.

5

6

7

8

9

10

11 12

14 Peninsula • August 2016
---
"Home is everything."

It's where you come back to after a long day and

can finally relax and be with your family.

Your home is that place you've dreamed of ever

since you were a child.

It's not easy to find that perfect home.

We are here to help make that dream a reality.

Rolling Hills Estates

• Resort-style Retreat • 4,885 sf • 6 Bedrooms & 5 Baths

• Dual Solar Paneling & Water Filtration System

$3,150,000

Mike Levine 310.796.9088

Real Estate & Construction Mike@Levine-homes.com

Manhattan Beach

• New Construction

• Beach Plantation Style

• 6 Bedrooms & 8 Bathrooms

• $3,700,000

Rolling Hills Estates

• Zen Paradise * 5,840 sf

• Main House with 4 Bedrooms & 4.5 Baths

• 2 Bedroom & 1 Bath Guest House • Feng Shui Floor Plan

$4,475,000

LEVINE-HOMES.COM

CSLB License # B985034 | BRE License # 01928630
---
August 2016 • Peninsula 17
---
S P O T L I G H T O N T H E H I L L

Tea in the garden

with the Asia America Symphony

The formal garden of the Palos Verdes Estate

home of Dali and Brian Higa was the

setting for the recent Asia America Symphony

Guild Spring tea. Cookie Atsumi and her

daughter Carolyn, provided a variety of tea

cups, tea pots and accessories for the guests,

all dressed for spring. Co-presidents, Susan

Toy Stern and Lissa Malone welcomed the

guests and thanked event committee members

Leslie Low, Karen Bronson and Margaret

Shimada. Marcus Chang performed on the violin

and symphony director David Benoit performed

on the piano. For more information

about the Asia America Symphony call (310)

377-8977 or visit the website

AASymphony.org.

1

2

PHOTOS BY VAL NOGUCHI

1. Asia America Symphony conductor David Benoit

violinist Marcusd Chang.

2. David Benoit with Elizabeth Morinaka and Lily

Miyata.

3. Carolyn Elliott, Gloria Mata, Yoshiko and Darryl

Tanikawa.

4. Guild co-president Susan Stern, hostess Dali

Higa, Guild co-president Lissa Malone, event cochairs

Leslie Low and Karen Bronson and event

committee member Jenny Ho.

3

4

South Bay's Largest Retailer

of Stationery Products

Wedding Invitations ● Personal Notes ● Business Letterhead

Envelopes ● Boxed Notes ● Holiday Cards

● Graphic Services

"GREAT GIFTS FOR GREAT PEOPLE"

● Root and Trapp Candles

● Huge Selection of Olukai Footwear

● "Family is Forever" Bracelet - Unique Jewelry

Nantucket Crossing

867 Silver Spur Road (next to Bristol Farms), Rolling Hills Estates

310.377.7201

www.nantucketcrossing.com

18 Peninsula • August 2016
---
am
---
www.3Appaloosa.com | ROLLING HILLS

ROLLING HILLS' NEWEST CREATION - A MODERN CONTEMPORARY ESTATE WITH THE FINEST FINISHES

Featuring fully furnished 9,100 SF of bright & airy living space all on one level. 3 Appaloosa is situated on a 9.14-acre lot—one of the largest in

Rolling Hills—every inch of this contemporary showcase by Architect Criss Gunderson is of the highest quality. A rectangular drive with beautifully

laid stonework leads to an air-conditioned 6-car garage. The entrance is all "wow." Look through the vast living room, past the sumptuous pool

deck & out to the city lights view. This home has 25 ft. ceilings and an open floorplan perfect for displaying your art collection—although you'll

likely hear more oohs & ahhs over the exquisite materials: Napoleon fireplaces with leather-finished granite & solid walnut & marble floors

throughout. Experience the kitchen with Kalakata gold marble counter tops, high-end appliances & motorized cabinets of rich dark wood.

Automated sliding walls of glass open to reveal the pool deck & outdoor kitchen with Lynx appliances. There are 6 BDs, 8 BAs & 2 half baths, but

the master suite was built for royalty w/ a poolside sitting area offering inspirational views. His & hers master baths with large walk-in closets might

as well be labeled King and Queen.

$10,900,000
---
www.1821PDS.com | PALOS VERDES ESTATES

UNPARALLELED, UNOBSTRUCTED OCEAN, CITY

AND QUEEN'S NECKLACE VIEWS

Fabulous Mediterranean Estate situated on a very private street in

Malaga Cove boasting unparalleled, unobstructed Ocean, City &

Queens Necklace views. Custom built in 2003 this Estate is a true

Showpiece that spans approximately 7,500 SF of living space with 6

BDs & 6 BAs+2 powder rooms & a vineyard on an estimated 40,267

SF lot. The interior boasts designer finishes throughout. Floorplan

includes a formal living room, dining room, family room, all w/ own

fireplaces & balconies w/unobstructed views. Gourmet Kitchen

w/superb quality finishes, built in refrigerator, huge granite centre

island counter top, breakfast nook, walk-in-pantry & Thermador

appliances. Family room off the kitchen with French Doors that

access a large enclosed balcony area that is perfect for entertaining

and enjoying beautiful sunsets. Master suite w/ a fireplace, large

walk-in-closet, luxurious bath w/ dual vanities, spa tub & shower.

The 2nd master retreat on the top level has an oversized balcony

w/panoramic views. Grand double staircase leading down to an

entertainment/ den area with 2-story ceiling, a fireplace, wet bar & a

wine cellar.Multiple French doors access the patio & manicured

lawns & infinity pool /spa overlooking magnificent views.

Architectural design by Tony Ashai.

$8,999,000 | FOR LEASE $19,999 a month

PALOS VERDES ESTATES

STUNNING VERY PRIVATE SINGLE LEVEL HOME

IN LUNADA BAY

Located on a cul-de-sac, this beautiful and private home also

backs up to City parklands, offering parkland and partial ocean

views. Boasting an easy flowing one story floorplan, 5 bedrooms

and 4 bathrooms, an approximate 4,043 SF living space, an

office, formal living room, a family room, a remodeled kitchen

with top of the line appliances plus a bar area that opens to the

family room - great for entertaining. Multiple sliding glass doors

throughout living areas that access the spacious patio and

outdoor entertaining area. Other features include a large private

deck off the living room overlooking parklands, high vaulted

ceilings, updated roof, new driveway, a basement, a 3 car

garage, laundry room and new exterior and interior paint. Easy

access to award winning schools, shops and restaurants. Lot size:

23,190 SF.

$2,699,900 | FOR LEASE $9,500 a month

RAJU & PHILO CHHABRIA | 310.493.9533 | WWW.RAJUSELLS.COM | BRE: 00874072, BRE: 00897605
---
Peninsula

publican

by Richard Foss

Patrick O'Flaherty recommends Belgians, pilsners, and pale ales to customers new to craft beer. Photo by David Fairchild

"Once they've had the fresh stuff, they can't go back." -- O'Flaherty's Tap House owner Patrick O'Flaherty talking

about his customers' reactions to his craft beer offerings

Patrick O'Flaherty didn't know what he was doing when he opened

his pub in a corner of the Golden Cove Shopping Center. Not only

did he have no bar experience, he didn't realize that his was the first

business of its kind in the whole area.

"I figured there had to be another pub and I just didn't know about it.

Then these people kept walking in and saying, 'Oh my God, we don't have

to drive all the way into town any more.' I had done some research into

residents' ages and income and such, but somehow didn't realize I now

had a monopoly for the whole area."

That was the day after Thanksgiving, 2013. Over the next two and a half

years O'Flaherty's Tap House became a local institution. The Sonoma

County native had been a professional musician, worked on solar cell projects

and ran businesses in Hawaii before moving to Southern California.

Though he is from a family of cooks, he had never worked in a commercial

kitchen or behind a bar. He decided to open a pub for a simple reason. He

was homesick for the ones in his home town of Healdsburg.

"Sonoma is wine country and I was an amateur cider maker, and couldn't

find a place that had a good selection of craft beers. So, I decided the place

to start was in my own neighborhood. Though we were living in Torrance

then my wife Maureen grew up in Rancho Palos Verdes, and we came up

22 Peninsula • August 2016
---
here to take her daughter to soccer games. Golden Cove shopping center is

very much like where I came from, low speed and laid back. It also reminds

me of Hawaii, where I spent 13 years, but with a view of Catalina across

the channel."

Though the O'Flaherty's name sometimes creates expectations of a Celtic

atmosphere, the pub's rustic, modern look evokes Napa rather than Dublin.

"No, no shamrocks, no corned beef and cabbage… That happens on St.

Patrick's Day, but it happens everywhere that day. I just wanted to use my

last name. Sometimes I'll have someone coming

in wanting a Smithwick's or some other Irish

beer, and the closest I can offer is Guinness on

draft."

O'Flaherty's has 18 different beers on tap. Almost

all are boutique craft beers and the wide

selection has boggled some visitors. O'Flaherty

is proud of the fact that for many of his customers

it's their first experience with non-industrially

produced beers.

"My clientele is across the board here. I've

had kids just turning 21 who come in because

they don't know anything and have heard that

this is where they can learn. One old man was

93. He who came in here every day for months

for a hot dog and a craft beer. I haven't seen him

lately and hope he's okay. We get all ages, men

and women, and what we do here is new to 80

percent of them. They haven't tried craft beers

or fresh cider. I base my suggestions from the

commercial beers they drink. Once they've had

the fresh stuff in the same categories, they can't go back. Their most common

response is 'Oh my, I'm spoiled here."

Patrick and his staff offer tasting flights for those who want to experiment

with different styles.

"I usually start people out with easy drinking beers like Belgians, pilsners,

and pale ales. West Coast IPA's are very popular and we have a few of those,

but IPA's can be a little much for beginners -- too bitter and too hoppy. If

they don't know what they want we offer tasting flights and tell everyone

that if any of these intrigue you, we're happy to guide you further. I also

have some books and the local beer newspaper here. So anyone who wants

to really dive in and get an intellectual understanding of the beer can do

that."

Patrick also is enthusiastic about introducing people to cider, or in some

cases reintroducing them to a beverage they

may have tried but not liked.

"A lot of people reject it because most of what

you can get is poor quality, sugary and sweet.

Most commercial cider is made to mask the

quality of stuff that isn't made right. I found a

really good one at Two Rivers in Sacramento

and visited their ciderworks. They only have a

limited production but they said sure, we'll give

you whatever you want. I brought a keg down

to see if other people liked it as much as I did

and in no time it was gone. I can't keep it in.

It's tart, crisp, and refreshing rather than sweet

and syrupy."

O'Flaherty's Tap House also serves food, but

unlike just about every new place that offers

both food and beer, the offerings are not what

you'd get at a gastropub.

Tasting flights give beer lovers the opportunity to conduct

their own taste comparisons.

Northern California style sandwiches on pretzel

"We offer simple food made well, mostly

bread. It's not traditional pub food, which is

deep-fried everything, but we're not trying to be a gastropub with fancy

tapas and all that. In the wine country, which is increasingly beer country

with all the breweries that have started up there, you have fine beverages

with something simple like a pizza or a sandwich. I have no interest in following

trends, I just want to serve good simple food and great beer." PEN

August 2016 • Peninsula 23
---
S P O T L I G H T O N T H E H I L L

Providence

Little Company of Mary

Foundation Golf Classic

More than 140 golfers teed up on May 16 for

Providence Little Company of Mary Foundation's

37th annual Golf Classic held at the Palos

Verdes Golf Club. The day was a great success raising

nearly $250,000. Proceeds benefit the Heart to

Heart Campaign to create a Cardiovascular Center

of Excellence at Providence Little Company of Mary

Medical Center in Torrance. Thank you to Co-Chairs

Ed Fountain and Rich Severa for their leadership.

Special thanks to Presenting Sponsor, American

Honda Motor Co., Inc., who also offered a 2016

Honda Accord for a hole-in-one contest prize. Appreciation

to lead sponsors The Jacqueline Glass

Family and The Jankovich Company, as well as Clifford

Swan Investment Counselors; College Admissions

Counseling Associates; Colich & Sons;

Emergency Physicians of Little Company of Mary,

Torrance; The George P. Johnson Company; Ocean

Terminal Services; Redondo Van and Storage, and

The Thermal Club.

After the on-course competition, 22 golfers participated

in the first-ever "Shoot-Out" Competition. In

front of a gallery of their cheering peers, players

were given one chance to hole out a 150-yard shot

to win $98,000 in cash. One competitor came within

two feet, but alas, no one claimed the prize.

Committee members wish to thank all of the generous

sponsors, golfers and volunteers for another

fantastic tournament!

1. Co-Chairs Ed Fountain and

Rich Severa.

2. Sean Armstrong, Foundation

President; sponsors Jacky

Glass and Steve Morikawa of

American Honda; Sister

Terrence Landini, LCM; Mary

Morikawa, Hazel Breen,,

Foundation Exec. Director.

3. Special thanks to presenting

sponsor American Honda Motor

Co., Inc.

1

4. Sponsor Tom Jankovich,

Cheryl Gage, Bill Moller, Chuck

O'Malley.

5. Shoot-out $98,000 Competition.

6. Sponsors Steve Young and

Ken Prindle.

7. Ryan Lindner, Dr. Mike Del

Vicario and Paula Del Vicario.

8. 1st place Mixed Foursome:

Des Armstrong, Carol Cozen,

3 4

2

Sean Armstrong and Steve

Solomon (not pictured).

9. Ryan Todaro, Alex

Kouzmanoff, Eric Lee, and Ryan

Choura.

10. Bill Delaney and son Mike

Delaney, Frank Malone and son

Frank Malone Jr.

11. 1st place: Bryce Lindsey,

Clark Nelson, and Bret Parker.

5

6 7

8

9 10

11

24 Peninsula • August 2016
---
S P O T L I G H T O N T H E H I L L

Freighthouse Art and Furnishings

Cocktails and Conversation at Launch Party

Sara Balough's new designer showcase store, Freighthouse, in old Torrance

joined the 2nd annual Torrance Artwalk on Saturday evening,

June 25 with an elbow to elbow in-store crowd. Offering up gin and tonics,

champagne and fresh seafood provided by Lisa's Bon Appetit, the crowd

was clamoring over designer-curated consignment furnishings and original

works of art by Rodolfo Rivademar, Jody Wiggins, Thomas Redfield, Steve

Mirich and several other well known painters.

Conveniently located next to longstanding Chef Michael Shafer's restaurant

Depot, Freighthouse is a passion project owned and operated by the

longtime Palos Verdes interior decorator.

Balough states, "I had no idea this Artwalk was such a happening — Do

we have to wait a whole year to do it again?"

PHOTOS BY STEPHANIE CARTOZIAN

1. Bob Mennig, Tracie England,

Tim Vaughan and Bernard Fallon.

2. Evelyn Kita and Jo Margolf.

3. Thomas Redfield, Bernard Fallon,

owner Sara Balough, Emily

and Tim Vaughan.

4. Live contemporary music

provided by Dale Balough.

5. Joan Kenney and owner Sara

Balough.

6. Jim Vandever and his wife Kim

Hall.

7. Darlene Deichler and Thomas

Redfield.

1

2 3

4 5

6 7

Simply Tiles Design Center

V ilicich

Watch & Clock

Established 1947

(310) 833-6891

714 South Weymouth Avenue, San Pedro, CA 90732

We Buy Watches!

Fine Ceramics, Natural Stone, Hardwoods, Cabinetry, Faucetry.

Kitchen & Bathrooms Specialist.

3968 Pacific Coast Hwy., Torrance • (310) 373-7781 • www.simplytiles.com

License #904876

Not affiliated with Rolex USA

28 Peninsula • August 2016
---
Chris Adlam

310.493.7216

www.chrisadlam.com

Brand New Construction in Palos Verdes Estates!!! This beautiful, 4 bedroom home features

a wide open floorpan and great indoor/outdoor living! $2,399,000
---
Great Palos Verdes Estates location with almost 2,400 square feet, 3 bedrooms plus an

office or den. Two large, open living spaces in a bright and sunny floor plan! $1,399,000

Chris Adlam

310.493.7216

www.chrisadlam.com

Fantastic Rocky Point in PVE! Over 3500 square feet with 4 bedrooms and an office.

Situated on a large lot with pool, spa and a grassy backyard! $2,750,000
---
Tennis Estate in PVE. Beautiful, 5 bedrooms plus office in over 6,200 square feet! Pool, spa,

tennis court, wine cellar, Crestron Home System and more! $4,999,000

Chris Adlam

310.493.7216

www.chrisadlam.com

Lower Lunada Bay, 4 bedrooms, completely remodeled inside and out! Beautiful open living

spaces lead to large, flat backyard. Beautiful Master Suite too! $2,199,000
---
Headlong

into thesea

Arun Bhumitra at his Rolling Hills home. Photo by Kevin Cody

Arun Bhumitra came to the United States with $3 and an engineering degree. Four

decades later, he is using his experience and wealth to repay his adopted country

by Kevin Cody

Arun Bhumitra's day begins at 4:30 a.m. at

the Equinox gym on Silver Spur Road with

15 to 20 fellow, type A businessmen and

businesswomen, among them Northrop Grumman

Aerospace Systems president Tom Vice.

"When I was a young engineer at Northrop, the

president was a god. And now I work out with

him," Bhumitra said, still marveling, at 66, at his

good fortune.

After working out, Bhumitra goes to Sea Bean

at Terranea Resort for tea, then back to his ranch

style Rolling Hills home, designed by Cliff May,

the architect who created the ranch style home.

After breakfast and a 20 minute nap, Bhumitra

leaves for his office at Arjay Plaza on Hawthorne

Boulevard, at the foot of Palos Verdes. Arjay is a

combination of his daughters Arielle's and Jaya's

names. After meeting with his assistant of 18

years Carla Morgan, whom he credits with holding

together his many projects, Bhumitra checks

in with his tenants.

At the end of the day, Bhumitra runs on the

beach, or returns to the gym, or boxes with a

trainer at his home gym. He stays up to watch

Jimmy Fallon on the "Late Late Show," then

sleeps for three to four hours.

Bhumitra opened his first cell phone store in

1987. Today he and his brother Maxy, who lives

in New York, own 200 cell phone stores with 800

employees in 18 states, plus a cell phone store in

Brussels and a software company in Ireland.

About five years ago, Bhumitra began stepping

back from the family cell phone business to focus

on real estate development in the South Bay, philanthropy

and politics.

On a recent morning he stopped in to see

George Mavro, owner of Blue Salt Fish Grill on

Artesia Boulevard in Redondo. Mavro recently

opened a second Blue Salt Fish Grill in Arjay

Plaza. It took six, frustrating months, largely because

of Los Angeles County Health Department

delays.

As an example, Mavro was ordered by a health

inspector to put a lock on an air conditioning

unit. But the manufacturer said drilling holes for

the lock would void the warranty.

"This is one of the reasons I'm stepping back

32 Peninsula • August 2016
---
from opening new cell phone stores. I'm tired of fighting the county," Bhumitra

said.

But real estate development brings its own set of bureaucratic challenges,

Bhumitra noted. It took him six years to get a grading permit from the

county for a single family spec home he built in Rolling Hills. The delays

turned his anticipated $1 million profit into a $1 million loss.

Bhumitra's mechanical engineering background helps explain the intensity

of his frustration with government's systemic failures. It also helps explains

why he was a California delegate pledged to Donald Trump at the

recent Republican National Convention.

Three months ago, Bhumitra received a phone call from Donald Trump's

California campaign manager Tim Clark asking him to be the 33rd Congressional

District delegate at the Convention. The once illegal, Indian immigrant

readily accepted the offer because of his appreciation for Trump's

business acumen.

"I saw what Trump did on the Riverside South waterfront project in New

York. He stood up to the bureaucrats. He pacified the unions and the mafia

and helped resurrect New York. He's good at schmoozing and knows how

to deal with people.

"A year ago, when he began his run for president, is when I was having

my problem with the county building department," Bhumitra added.

Bhumitra is not an ideologue, nor a partisan.

Over the past 20 years, beginning with $500 he contributed to the John

Kerry presidential campaign, Bhumitra

has made nearly 100 political campaign

contributions, most under $1,000, according

to OpenSecrets.com.

He was 4th District Supervisor Don

Knabe's election co-chair four years ago.

But this year, instead of supporting

Knabe's anointed successor, former Manhattan

Beach councilman Steve Napolitano,

he is supporting former Los Angeles

city councilwoman and current 44th

Congressional Representative Janice

Hahn.

"I support whoever I think can get the

job done. I don't care about parties. I

don't care about issues like gun control,

though I don't think people need assault

rifles. That's asking for trouble," he said.

the favor, with interest.

The four brothers -- Arun, Maxy, Shelly, who sells Mercedes in New York

and Vijay who exports pharmaceuticals from India -- established Bishop

Cotton School's largest ever endowment fund, which provides scholarships

to underprivileged students. The brothers also funded the school's computer

lab.

Bhumitra traces his work discipline and his fondness for tea to his four

years at Bishop Cotton School.

"We were up at 5:30 for tea in the mess hall. At 6 we ran, 6:30 was dress

inspection. In winter we wore gray suits, white shirts and ties. In summer,

we wore shorts, blue shirts, ties and calf-length, grey socks. After inspection

we'd sing hymns, then go to class. At lunch there was a teacher at the

head of each table who would counsel us. After school we had high tea,

then we boxed, played field hockey, soccer or cricket. I played on the state

field hockey team," Bhumitra said.

Following graduation, he went onto Visvesvaraya National Institute of

Technology Nagpur, where he earned a degree in mechanical engineering.

At age 25, Bhumitra was one of 7,000 applicants for five managerial positions

at the newly formed Bombay Marine, which had a contract to build

freighters for Qatar.

His wife Marina was a medical doctor. But their financial situation was

still not good.

"I made 700 rupees a month. That's $10 a month. My wife made $8 a

month," he said.

One of the many lasting lessons from

his classical education at Bishop Cotton

is a fondness for inspirational, literary

quotes. A favorite is from John Keats:

"I leaped headlong into the sea, and

thereby have become more acquainted

with the soundings, the quicksands,

and the rocks, than if I had stayed upon

the green shore, and piped a silly pipe,

and took tea and comfortable advice."

In that spirit, 10 months after landing

the coveted, supervisorial job at Bombay

Marine, Bhumitra boarded a plane

for New York City. It was November,

1975. He had $3 in his pocket. In the

mid 1970s, New York City was the murder

capital of the country. Central Park

South Bay State Assemblyman David

Arun Bhumitra with Blue Salt Fish Grill's George Mavro and Mike

was its ground zero, and despite it being

Hadley is currently a tenant in his Arjay

winter, that is where Bhumitra slept his

Plaza. The Republican Assemblyman's

Tafe. Photo by Kevin Cody

first week in America.

sign on the side of Arjay Plaza, in 5-foot

His youngest brother Shelly was already

in New York, but Bhumitra resisted calling him until he found work.

tall letters, is seen by the 150,000 cars that pass by daily on Hawthorne

Boulevard.

"Luckily," he said, "employers then didn't worry about immigration papers."

Bhumitra's previous political tenants have included Republicans Arnold

Schwarzenegger, John McCain, and Craig Huey and Democrat Betsy Butler.

A brag wall in his office has photos of Bhumitra with President Bill manufacturing plant. Then he found an 8 a.m. to 2 p.m. job in a machine

At the end of the first week, Bhumitra found a 3 to 7 a.m. job in a wire

Clinton, former New York governor Rudy Giuliani, and President Obama's shop and then a 4 to 10 p.m job at a sheet metal factory. His employers

chief of staff William Daley. In 2006, Bhumitra served on a Clinton trade were all Long Island aerospace subcontractors. The Cold War was in full

delegation to Ireland.

bloom.

Bhumitra has no illusion about his modest financial contributions buying By 1979, he had added to his resume an MBA from Dowling College.

him political favors. If they could, he notes, he wouldn't have needed six "I was young and scrappy and hungry," he said.

years to get a grading permit.

Marina followed him to New York. After completing her residency at

His political contributions, he said, are an expression of his appreciation Kent Oaks Medical School in Michigan she returned to New York for her

for his adopted country.

psychiatry degree at Stony Brook Medical School on Long Island.

"Politicians have the power. If we want change, we need to change the In 1980, Bhumitra was recruited by Northrop to come to California.

politicians," he said.

"I was always fascinated by California, with its year 'round 70 degree

Bhumitra was born in Jaipur, the famous "Pink City" of northern India. weather," he said.

His father had a good job at Indian Airlines until his unexpected death. A colleague recommended he buy a home in Torrance, He still owns the

Bhumitra was 14 and about to enter Bishop Cotton School, a boarding house.

school modeled after the prestigious Harrow School in London.

At Northrop, he designed tools for making parts for the F 18 fighter

His father's death left his mother financially destitute.

bomber while also becoming an associate professor at UCLA, where he

"She camped out in front of the headmaster's office for two days, until taught tool making.

he agreed to grant me admission. Then she camped out another two days But by the mid 1980s, the Cold War was cooling and defense spending

until he agreed to give me free tuition and lodging. Then she told him I

had three brothers, who also needed free tuition and lodging."

The headmaster acquiesced and Bhumitra and his three brothers repaid Bhumitra cont. on page 34

August 2016 • Peninsula 33
---
Arun Bhumitra (center) with fellow California Republican Presidential Convention

delegates K.V. Kumar and Noel Hentschel, who worked with

Mother Teresa in Calcutta.

Bhumitra cont. from page 33

declining. Bhumitra felt uncomfortable about the classes he was teaching.

"When I started teaching there was so much demand for tool makers

that anyone who took my class could get $32 an hour and double for overtime.

But then I saw aerospace going down and couldn't in good conscience

train people for jobs that didn't exist," he said.

He stopped teaching in 1987, and turned his attention to the newly

emerging cell phone technology.

10% Off

Any Laser Treatment*

*Not to be combined with any other discount or promotion.

34 Peninsula • August 2016
---
To learn the business, he took a 7 a.m. to 1 p.m. shift at Motorola in

Fullerton. His Northrop shift, where he supervised 45 engineers, was 3 to

11 p.m.

"I wanted to learn how to manufacture cell phones. But I soon realized

that was for the big boys. So I joined LA Celluar as a dealer," he said.

In 1988, Bhumitra once again left a comfortable job for an uncertain,

but more promising future. The early cell phones were the size of small

toasters and cost $4,000.

"I made $1,500 a sale. But I had to make cold calls from Palm Springs to

San Diego. People would say, 'I've lived all my life without a cell phone.

Why do I need one now?' My customers were mostly doctors and lawyers.

One day a vice president at LA Cellular said to me, 'Why not concentrate

on the South Bay, where there are plenty of doctors and lawyers.'"

Bhumitra took the advice, but for the first five years, business was shaky.

"Reception required line of sight with the cell towers and there weren't

many cell towers. The phones worked well in Torrance and the beach

cities, but not in Palos Verdes because of the hills."

Finally, in 1993, as the prices and sizes of phones dropped and coverage

improved, business began to boom. His brother Maxy had joined him and

over the next decade, they opened nearly 150 stores in 12 states. By the

end of next year, Maxy plans to have opened 150 new cell phone stores in

the Los Angeles area, adding to the 200 the family already owns across the

country.

He described the Republican presidential convention as an inspirational

experience where he was able to meet with figures such as the Indian Ambassador

to the U.S., and San Diego Congressional Representative Darrell

Issa, who once sold car alarms to Bhumitra. He said the convention left

him hopeful that a Trump presidency will make government at all levels

more supportive of business.

Bhumitra, despite his family urging him to slow down, continues to look

for new challenges. But at least for a few weeks, he plans to follow his

family's advice. In September he will return to Bishop Cotton School for

his 50th class reunion. PEN

William J. Wickwire, M.D.

Certified, American

Board of Dermatology

Neal M. Ammar, M.D.

Certified, American

Board of Dermatology

KITCHEN AND BATH REMODELING

Showroom

Open During

Expansion

• Design

• New Cabinets

• Cabinet Refacing

• Granite & Quartz

Countertops

• Showers

• Electrical

• Tub Installation

• Plumbing

• Lighting

• Construction

Serving the

South Bay for

24 years

Contractors license #783339

ONE COMPANY DOES IT ALL

"Get the Job Done Right...the First Time"

DERMATOLOGY & SKIN SURGERY

BEACH CITIES DERMATOLOGY

M E D I C A L C E N T E R

20-50%

OFF

CABINETS

MSRP

SOUTH BAY DESIGN CENTER

HOME REMODELING COMPANY

310-539-6800

2413 Pacific Coast Hwy. #207, Lomita 90717

SouthBayDesignCenter.com

Say Goodbye to Stubborn Fat....

Two Coolscuplting Devices to Treat Two Areas at Once!

Specialists in Skin Cancer Detection

• Skin Cancer • Mole Removal & Mohs Surgery

• Reconstructive Facial Surgery and Scar Revision

• Acne & Accutane Treatment

• Warts, Rashes and Cysts • Leg Vein Sclerotherapy

• Hair Loss & Propecia • Restylane, Radiesse, Perlane,

Juvederm & Sculptra • Botox and Dysport Injections

• Age Spots & Sun Damage • Laser Surgery

• Microdermabrasion • Glycolic and Chemical Peels

• Ultraviolet B & PUVA • Pediatric Dermatology

310-798-1515

www.beachcitiesderm.com

Redondo Beach —

520 N. Prospect Ave., Suite 302

Palos Verdes —

827 Deep Valley Drive, Suite 101

Buy One, Get One

FREE

South Bay's

best equipped

Dermatology

Center!

All PPOs Accepted

Evening & Sat.

Appts. Available

ATRIUM DESIGN CENTER

C O M I N G S O O N

RETAIL SPACE AVAILABLE

FOR REMODELING

TRADE COMPANIES

For additional information

call 310-539-6800

or visit AtriumDesignCenter.com

August 2016 • Peninsula 35
---
FEE ONLY FINANCIAL PLANNER

• Are you in or approaching retirement?

• Do you want to stop worrying about your

investment portfolio?

• Do you lose sleep wondering if you may

outlive your nest egg?

• Do you want to know if you are on the

right path financially?

• Do you want to take control of your

finances?

• Do you feel you need a second opinion on

your portfolio?

If you answered "yes" to any or all of the

above questions, you may need to contact

me, to provide you with a personal financial

plan designed to help you take control

of your finances, reduce anxiety and ultimately

achieve your financial goals. There

is no cost or obligation for the initial meeting,

as it is an opportunity for you to learn

more about me, and for me to determine

if I can help you achieve your financial

goals and objectives.

As a fee-only financial planner I will be

compensated solely by my clients, I do not

accept commissions, referral fees, or

compensation from other sources, and I am committed to acting in

your best interest.

Abbas A. Heydari, CFP®

Certified Financial Planner

and Registered Investment Advisor

Providing Financial Services

in Torrance since 1986

21515 Hawthorne Blvd., Suite 1020

Torrance, CA 90503

E-mail: aahfp@Yahoo.com

Web: www.aaheydari.com

Phone: (310)792-2090

36 Peninsula • August 2016
---
MaureenMegowan.com

Web blog: mmegowan.activerain.com

Abalone Cove Shoreline Park

RANCHO CALA VISTA

Terranea

RANCHO CALA VISTA

Once in a lifetime opportunity to purchase one of

the largest parcels of land on the Palos Verdes Peninsula.

These incredible 27.5 acres are at the highest

point of the gated Portuguese Bend community at

the end of Plumtree Road in Rancho Palos Verdes.

Potentially build up to 8,000 square feet of improvements

to the site. The property has spectacular

ocean, Catalina, and coastline views. Build your

dream estate with the potential for a large vineyard/orchard

as well as equestrian facilities. Property

connects directly to horse trails on the adjacent Nature

Preserve. An inspiring conceptual site plan available.

Private showings only.

LISTED FOR $5,000,000

RANCHOCALAVISTA.COM

August 2016 • Peninsula 37
---
S P O T L I G H T O N T H E H I L L

Wellness and Wine

20th Annual Cancer Support

Community's fundraiser

The Cancer Support Community

raised a record $175,000 at the 20th

annual Celebrate Wellness food and

wine tasting on Sunday, June 26, at the

South Coast Botanic Garden. Over 600

attendees enjoyed tastings from some

of the South Bay's favorite restaurants,

including Mistos Caffe, Barsha's Wine,

Cafe Pacific at Trump, and Bettolino's

Kitchen. Live auction items included a

tour of the SpaceX factory, Adele and

Streisand concert seats, dinner at Wolfgang

Puck's WP 24 and a private yacht

excursion from Marina del Rey to

Avalon.

Proceeds stay in the community to

help people affected by cancer. Dr.

Harold Benjamin opened the first Wellness

Community in Santa Monica in

1982. Now called the Cancer Support

Community, they have continued their

mission of providing psychosocial services

and educational support services at

no charge to thousands of cancer patients

and their loved ones. For more information

call 310-376-3550 or visit

CancerSupportRedondoBeach.org.

1. Brittany Veneris and

Kristin Jolley.

2. Wayne Larsen, Darren

Howe, Richard Manriquez.

3. Operations manager

Pat Lemaire and Anne

Lemaire.

4. Board member Steven

Griswold and Khryste

1

Langlais.

5. Diane Kazan, board

chair Kyle Kazan, director

of development Paula

Moore, table sponsor Brad

Moore.

6. Herbert Franck, Jeanina

Franck, Susan Sleep, Ben

Schmir, David Pozzi.

3 4

7. Vivi Tokatlian, Dave

Khan, Irene Khan, Frank

Mori, board member Wade

Nishimoto.

8. Suzi Gulcher and Bob

Gulcher.

9. Yvonne Rangel, Ana

Straser, program director

Nancy Lomibao, Irene

Hanna, Nancy Weir.

2

10. Founder Anne Clary,

executive director Judith

Opdahl and public relations

director Theresa Plakos.

11. Richard Glimp, M.D.,

Jamie Glimp, Sylvia Luna,

Jeremy Glimp.

12. Founders Anne Clary,

Jean McMillen, Tom

Simko, M.D.

PHOTOS BY

STEPHANIE CARTOZIAN

5

6

7

8

9

10

11 12

38 Peninsula • August 2016
---
August 2016 • Peninsula 39
---
S P O T L I G H T O N T H E H I L L

27th Annual Seahorse Classic

Palos Verdes Country Club

P

eninsula Committee Children's Hospital held its 27th annual golf

tournament at Palos Verdes Country Club on April 25. All proceeds

from the event benefit the Associates Sarcoma Program Chair at Children's

Hospital Los Angeles. Players enjoyed a fun-filled day which included

lunch, golf, longest putt and hole-in-one contests, dinner, silent

and live auctions, a helicopter ball drop and raffle. Save the date for the

59th Annual Portuguese Bend National Horse Show September 9, 10 and

11 at Ernie Howlett Park in Rolling Hills Estates.

1

1. Golfers were greeted by committee

members Margaret Gibbs, Alyson

McFerson, Vall Light, Shari Moore,

Michelle Del Conte, Ann Cullen, Allyson

Shen, Leslie Hively and Hilary Waxler.

2. PCCH 2016 President Val Kelly,

Horse Show Chairman Kate Cocke

and committee member Meredith Edwards.

3. Tournament dinner sponsors Terry

and Wally Durham, and their daughter,

committee member Shannon Cobb.

4. Bagpiper Eric Rigler kicked off the

festivities.

5. 2016 Seahorse Classic Chairs

Carey Romer, Patty Ochi and Karen

Miller.

6. Morgan Moore, Gary Stuckman,

Vic Ulrich and Davis Moore.

7. Ken Ochi, Chris Adlam, David

Cocke and Jim Sala.

8. First Place net score winners Jim

Cook, Al Walsh, Jeff Maclean and

Dave Farrell.

2

3 4 5

6 7

8

40 Peninsula • August 2016
---
Prompt Professional Discreet

PARADISE FOUND: Move-in perfect with 180° Views of the Queen's Necklace, white-water, coves,

all with 5 bedrooms, big Family Room and grassy yard.

Kathy Siegel & Michele Swift Chodos

www.PalosVerdesAgents.com

310 729.0913 • 310 897.6488

CalBRE 01877303 / 00890714
---
LILY LIANG PRESENTS:
---
PALOS VERDES' FINEST HOMES & ESTATES FOR OVER 30 YEARS!
---
For the three Chong brothers, Fernando, Roberto and

Marcelino, the journey to success in the restaurant business

began in their mother's very own kitchen.

"She had a passion for cooking, not only Chinese, but also Cuban

and Peruvian cuisine. I picked up a lot of things from her," recalled

Roberto, who would grow up to become the executive chef of the

family's restaurants.It may be noted from Roberto's quote above,

that the three brothers were born in Cuba and raised in Peru before

settling in California. Once here, Roberto furthered his culinary education

while working for California Cuisine pioneers Robert Bell and

Michael Frank at Courtney's, in downtown Manhattan Beach.

In the early 1990s the three brothers opened the family's second

Chong's at the corner of PCH and Artesia. Subsequently, other

Chong's would open in Long Beach and Costa Mesa. Roberto, however,

wanted to stretch his culinary legs. When the opportunity presented

itself to open a formal, 80-seat restaurant in Manhattan

Beach, they seized it.

Ws China Bistro

China Grill, like the family's other restaurants, enjoyed immediate

success. With its western influenced menu and upscale décor, the

restaurant is often compared to PF Chang's. But Fernando noted a

critical difference. Unlike corporately owned restaurants, "because

we are family owned, we are quality driven, instead of bottom line

driven". The western influences, Robert noted, allow him to use

flavors that are bolder than traditionally mild Cantonese food. Ginger,

garlic, peppers and other exotic spices are used to enhance the

natural flavors. Over time, influences from the countries of their

upbringing have worked their way into the menu, such is the case

of the Asian Paella and the Peruvian Saltado.

Continuing in this tradition of entrepreneurship, their sisters,

Meiyen and Meiling, are opening their own restaurant in Hermosa

Beach this summer, named Rabano.

No doubt, a new dynasty in Chinese/Asian cooking was started

right here in the South Bay.

China Grill

Ws China Bistro 1410 S. PCH, Redondo Beach (310) 792-1600 • www.wschinabistro.com

China Grill 3282 N. Sepulveda Blvd., Manhattan Beach (310) 546-7284 • www.chinagrillbistro.com

44 Peninsula • August 2016
---
V

ince Giuliano and Andreanna Giuliano Liguore were just kids when their parents

opened Gaetano's in 1993. If one is born into a family that owns a business, it's

very common to feel like a part of the business, especially at an early age. And

they did. Growing up, Vince and Andreanna spent more time at Gaetano's than they

did at home. Carpools would take them to the restaurant after school rather than

their home. "This was our special world we lived in. When it came time for us to

choose our professions, our paths had already been slightly paved by our parents,

grandparents and great grandparents who opened the locally loved Giuliano's Gardena.

We loved food, wine, people & Italy. We were in the right place."

When Vince was eleven, he was a dishwasher, busser, server and even cooked in

the kitchen. After attending college in San Diego and studying in Italy, he returned

to Gaetano's in 2006, where he began running its operations full time. In 2010, he

returned to Italy and attended Apicius Culinary Arts School in Florence. There, he also

worked in two restaurants, learning the traditional recipes and techniques, planning

to bring that knowledge back to share at Gaetano's.

Andreanna, Vince's sister, was eight years old when Gaetano's opened, and she was

the cash register guru! She even helped train new employees. When in college, she

continued her restaurant work at the Catamaran Resort in San Diego and met her,

now husband, Sean Liguore. As he also gained experience in the restaurant industry

in San Diego, they both returned together to Gaetano's here in Torrance.

In 2010, Vince and Andreanna's mother, Dori, decided to sit back and "let her kids

run the show". They successfully did that, as today, Andreanna focuses on marketing

while Sean focuses on "front of house" operations and Vince's passion is in the

kitchen. This traditional Italian restaurant serves lunch and dinner every day, has a

full bar with extensive beer and wine list and caters to small and large parties. But,

as it had always been a dream of Vince, Sean & Andreanna to open a modern Italian

restaurant in the South Bay, their dream came true. In 2015, they opened Bettolino

Kitchen in Redondo Beach, and have brought even more "family hospitality," but with

a modern touch, to the South Bay.

Gaetano's Restaurant

Gaetano's 2731 Pacific Coast Highway, Torrance (310) 326-3354 • www.gaetanosonline.com

Bettolino Kitchen 211 Palos Verdes Blvd, Redondo Beach (310) 375-0500 • www.bettolinokitchen.com

Bettolino Kitchen

Hennessey's Tavern

The Neighborhood Meeting Place" is not just a slogan, but states the truth about

Hennessey's Tavern - all 10 of them! Now it their 40TH YEAR serving Irish Hospitality,

owner and founder Paul Hennessey says he's looking forward to the next 40

years!

It all started on Pier Avenue, Hermosa Beach, September of 1976 when the first

Hennessey's Tavern opened for business. At half the size then, this flagship location

has grown westward and up to offer diners spectacular views of the Pacific Ocean

while enjoying great food and drinks. Each Hennessey's offers a full bar & menu,

serving breakfast, lunch and dinner daily.

Paul Hennessey couldn't stop with just the one concept. Apart from 10 Hennessey's

Tavern locations throughout Southern California and Las Vegas, Paul also

proudly owns H.T. Grill, The Lighthouse Café, The Wine Bistro & Whiskey Bar in Dana

Point, and three additional concepts in Las Vegas; LVCS, a live music venue, Brass The

Lounge, a hipster hangout, and Mickie Finnz Fish House & Bar. Most recently Paul

has partnered with 3 of his senior management team, to create Rebel Republic Social

House in the Riviera Village which he's hoping to take to other City's in the near future.

Paul Hennessey, married with 3 daughters and 5 grandchildren actively participates

in the daily operations of all 17 of his locations. No matter what, the respected business

& family man promises, when referring to his locations "You always run into

someone you know there". And that's what has kept the Irish Hospitality going for

40 years!

8 Pier Ave. Hermosa Beach (310) 372-5759 • 1712 S. Catalina Ave. Redondo Beach (310) 540-8443 • 313 Manhattan Beach Blvd. Manhattan Beach (310) 546-4813

H.T. Grill 1701 S. Catalina Ave. Redondo Beach (310) 791-4849 • The Lighthouse Café 30 Pier Ave. Hermosa Beach (310) 376-9833

Rebel Republic Social House 1710 S. Catalina Ave. Redondo Beach (424) 352-2600

www.Hennesseystavern.com

August 2016 • Peninsula 45
---
ony's On The Pier today is known for its fresh seafood, ocean

Tview sunsets and best customer service. Back in 1952, when

Tony Trutanich opened its doors, it had that same positive reputation.

Growing up in San Pedro, Tony was a successful tuna fisherman,

and as the boat Captain, would be out to sea for months

at a time. Just plain "tired of the long hours and extra hard work,"

Tony decided to bring that tuna to the tables of his own restaurant

- Tony's On The Pier.

With only 20 tables at first, Tony's On The PIer grew quickly and

was soon frequented by movie stars, as hundreds of photos on

the walls depict. In 1964, Tony added the famous "Top of Tony's"

where guests, still today, walk up stairs to enjoy the most beautiful

sunsets, full bar, food and live entertainment. His son,

Michael, started working there when he was just 15, as a busboy

and dishwasher, doing anything he could to help his father's

business. Moving up the ladder to become General Manager,

Michael continued working with his father until he passed away

in 2006. "Dad stayed active all the way to the end," Michael recalls.

"He taught me everything. I worked for him all my life."

Retiring two years ago, Michael still works for Tony's, ordering

all of the seafood, even living in Idaho. He communicates daily

with now GM Regina Fong, who's been at Tony's for 39 years. And

that's not uncommon. In fact, the average employee has worked

there for over 20 years. Downstairs bartender Billy Morgan has

been there for 46 years while upstairs bartender Manny Jimenez

just hit his 37 year anniversary. Tony's son Michael says his father

was such a "role model" and treated everyone at his restaurant

like family. Today, Tony would be proud as everyone at Tony's On

The Pier is still his family.

Tony's On The Pier

210 Fishermans Wharf Redondo Beach • (310) 374-1442 • www.oldtonys.com

riginally from Guadalajara, Mexico, Rafael

OSolorzano has been in the food industry for

over 30 years. As Executive Chef of PV Grill and

Salsa Verdes, Chef Solorzano specializes in catering

to groups from 30 to over 300. He serves a

variety of international cuisine, including Italian,

French, Asian, American and his native, Mexican.

Currently catering at weekly meetings for the Kiwanis

Club of Hermosa Beach, he also prepares

food for worthwhile fundraising events throughout

the year, such as Cancer Support Community's

Celebrate Wellness Food & Wine Tasting

Event and Adrienne's Search for Children's Cancer

Cure hosted by the Woman's Club of Hermosa

Beach.

At his PV Grill restaurant in the Lunada Bay area,

Chef Solorzano delights diners with specialties

like Prime Steaks, Fresh Fish & Homemade Pastas.

Salsa Verdes offers a festive selection of traditional

Mexican choices. With free parking and a

great selection of Beer and Wine, this location is

also the perfect place for private parties!

PV Grill

Salsa Verdes

2325 Palos Verdes Drive West Palos Verdes Estates • (310) 750-6877 • (310) 460-6995 • www.pvgrill.com

2325 Palos Verdes Drive West Palos Verdes Estates • (424) 206-9456 • www.salsaverdes.com

46 Peninsula • August 2016
---
If imitation is the sincerest form of flattery, Sergio should

feel very flattered indeed. Sergio's Continental Gourmet

Market has risen to prominence most notably on the

strength of its empanadas, which are Argentine dumplings

filled with meat, poultry, cheese, spinach and the like. For

the past decade or so, competitors have been trying to duplicate

those flaky pastries, but without the same success.

The 36-year-old store in Hawthorne specializes in hard-tofind

foods and wines from Argentina, Peru, Guatemala and

other Latin American countries, working hand-in-hand with

its sister business, Continental Gourmet Restaurant in Lomita.

But the development of the perfect empanada gave the

Continental brand a signature product that has drawn flocks

of customers – and the Food Network's cameras – to the

store. That development involved tireless rounds of studying,

testing, tasting, refining, and starting all over again. "I

started reading books about how different flours react with

different shortenings and butters. We finally arrived at a

recipe that works for us, and it took off. We got the dough

to that certain flakiness, and people responded to that," Sergio

said. "In the last five to ten years, a lot of empanada specialty

places have come around, and we see competitors try

to do some of the same things," he said. They have even

copied Sergio's practice of stamping letters into the dough

of each empanada so the customer can tell which flavor he's

about to bite into.

Sergio worked on the empanada recipe with Continental's

patriarch, his father Roberto. "He always said, if you're going

to make something, make the best," Sergio said. He learned

the business from his father, who used to bring him in on

Saturdays when he was just a toddler. "He would bring me

in, in the morning, and we'd make dough together. He'd

teach me how to make sausages, fillings for stuffing," Sergio

said. "I'd wake up at 4 or 4:30 in the morning. If I was not

able to go in I would throw a fit, I'd cry." As the years passed,

Sergio learned the business "from the register in front, to

receiving merchandise in the back," and all the meat, bakery

and deli matters in between. "I worked other places too.

When it was time to take over [Continental] it was second nature.

I felt I could do it with my eyes closed."

At age 84, his father now puts in fewer hours, while Sergio

runs the business, with wife Sandy taking care of payroll and

other matters. They visit the Lomita bakery very early every

Sunday morning with their two kids, 5-year-old Robbie and

3-year-old Abbie. These young children "actually help pull

and push the ice chests, holding freshly baked empanadas

for the farmers markets." That's a family business! Both Robbie

and Abbie will eventually learn the ropes of the business

as their father Sergio did from his father. And the new Continental

Gourmet Gardena is coming soon!

Continental Gourmet Market

25600 Narbonne Ave., Lomita (310) 530-3213

12921 S. Prairie Ave., Hawthorne (310) 310-676-5444 • www.continentalgourmetmarket.com

August 2016 • Peninsula 47
---
Quality Seafood

100 S. International Boardwalk Redondo Beach • (310) 372-6408 • www.qualityseafood.net

uality Seafood was founded in kets on the West Coast. The market

Q1953 by Nick Dragich and his son continues to be family run, with Pete

Peter Dragich Sr. After years of fishing

from Alaska to South America,

Dragich Jr. and Ann Belson at the

they decided to open a market and helms. And recently the 4th generation

of Dragich family members

bring the freshest possible seafood

from the boats directly into Redondo

Beach. Prior to the redevel-

came aboard to help keep things

running smoothly for years to come.

opment of the pier, the Dragich

family owned four separate seafood As Cassie (Dragich) and her husband

markets in Redondo. In 1968 the Jeff Jones recently relocated back to

family combined those markets into the South Bay, together, they foresee

continuing the family legacy of

Quality Seafood Inc., and opened its

current location on the International

Boardwalk, where it remains one of providing a truly unique experience

the largest and finest seafood mar-

and fresh seafood to all.

riginally from Quebec, Canada, Jacques Gre-

began his culinary career with La Rive

Onier

Gauche in 1980. For the next 15 years, he not

only was the Executive Chef at this classy restaurant

in Malaga Cove but also cooked on a cruise

ship. The Cunard Cruise Lines traveled worldwide,

stopping in places like Bombay and Vietnam.

Jacques recalls his favorite experiences

being in the South Pacific and the Mediter-

La Rive Gauche

ranean. "They would bring

aboard the freshest ingredients

for cooking, like

herbs and homemade Cognac

- the very best."

In 2002, Jacques purchased

La Rive Gauche

and decided to make

some significant upgrades.

He changed the

menu, renovated the entire

inside, with its grand

piano, and enhanced the

sunset-view outdoor terrace.

More recently, he

and his wife Kidist opened

a bar area at the entrance,

with a casual feel, perfect

for enjoying Happy Hour

specials Tuesday through

Friday 4:00 to 7:00pm.

Today, Executive

Chef/Owner Jacques Grenier

offers a full food and

drink menu with lunch

and dinner specials everyday

except Monday. And

guests are invited to a delicious

Breakfast starting

at 10am every Sunday.

320 Tejon Place • Palos Verdes Estates • (310) 378-0267 • www.LaRiveGaugePalosVerdes.com

Attending the World Olympic Games in Vancouver, British Columbia, Steve Hodges

didn't anticipate it would change his life. But it did. That's where he met his wife,

Lisa in 2010. Originally from and living in Vancouver, Lisa moved down to the South

Bay, where they were married in 2011. Now with two daughters, 3-year-old Shiloh

and 1-year-old Shelby, the Hodges have brought a bit of "Cajun Country" charm to

Redondo Beach.

Growing up in Torrance and working at the Lamppost Pizza for 25 years, Steve had

always wanted to open his own restaurant. After Ragin Cajun moved from its original

location in Hermosa Beach to Redondo Beach, its founder Steve Domingue and the

Hodges started working together. In 2014, with its founder's help, Steve and Lisa

were able to get the newer location "off the ground."

Today, the Hodges offer the same delicious traditional "Weeziana" choices as the

original Ragin Cajun did. But they've added lots more to the menu, like Fried Chicken

and Alligator - one of its most popular appetizers. If you're not a spicy food lover,

don't fret, as Steve and Lisa have many "mild" choices, too. With its signature Gumbolaya,

Ragin Cajun also offers a full bar, with over 50 Bourbon choices, Moonshine

flights and signature drinks like the Hurricane and Skull cocktails. Plus, they've colorfully

decorated this restaurant so well that you feel you're actually in Louisiana!

Ragin Cajun Cafe is the perfect place for private parties, any special occasion and

is open for lunch and dinner seven days a week. The best part is that you're bound

to meet either Lisa or Steve. After a smiling employee greets you at the door, one,

if not both of them, will most likely be there, with bright smiles, treating you with

that genuine southern hospitality and charm. Laissez le bon temps roulez!

RAGIN CAJUN CAFE

525 Pacific Coast Highway • Redondo Beach • (310) 540-8441 • www.ragincajuncafe.com

48 Peninsula • August 2016
---
Mary Lou Schatan began

her professional career

at Ballard Optical in the

Riviera Village. The family

owned and operated business

gave her the opportunity to

learn all aspects of the business

from janitor to manager.

It took 20 wonderful years of

"hands on" working experience

in dispensing to become

a Professional Dispensing Opti-

cian and an Award Winning

Eyewear Consultant.

Mary Lou began building

Schatan Optical Gallery in

March of 1988. It took 9

months to build and became

an instant destination for "Exceptional

Eyewear"!

Schatan's "family" consists of

two other women. Winky

Stavropoulos, who has worked

25 years at Schatan and loved

as a "daughter" and Brittany

Mine, a 10 year veteran, who

assists both Mary Lou and

Winky and regarded as the

"most important sister".

Family-owned and operated

is an exercise in perfection. We

have a stellar reputation because

we respect our customers

and offer only the very

best quality that money can

buy.

Come see us. We will open

your eyes to the most wonderful

eyewear you have ever

seen! M-F 10-6

SCHATAN OPTICAL GALLERY

24405 Hawthorne Blvd., Torrance, CA 90505 • (310) 378-3936

Seymour's 97th Birthday with Scott

and his sister Gail

F

ather and son team, Scott and Seymour

Bilowit, have been owners of

Seymour Jewelers, located in Hermosa

Beach since 1950. Here they are

in a photo above, with sister Gail, on

Seymour's 97th birthday - this year!

Scott took over from his father with

pride to maintain the long-established

SEYMOUR JEWELERS

1212 Hermosa Avenue Hermosa Beach

(310) 379-5401 • www.seymourjewelers.com

fine jewelry house thirty years ago.

Both Scott and Seymour have been

long-standing Honorary members of

the Hermosa Beach Chamber of Commerce,

the Hermosa Beach Kiwanis

Club and members of the California

Jewelers Association.

Known locally as "the gem of the

South Bay", Seymour Jewelers provides

a high level of fine jewelry excellence

with professional friendly

on-site staff, complimentary giftwrapping.

They specialize in custom

creations for unique and personal designs

of heirloom quality. Seymour

Jewelers are purveyors of gold, Tahitian

pearls, and fine diamonds. Also

featuring vintage and estate jewelry,

Seymour's specializes and caters to

the discerning and avid watch collector.

They buy, sell, trade and consign diamonds,

gold, silver, colored gems and

Rolexes. Offering fine jewelry cleaning,

watch repair and insurance replacement/appraisal

by appointment. Seymour

Jewelers offers full-service

for all your jewelry needs. Seymour

Jeweler's staff pride themselves on their

outstanding level of quality and distinctive

craftsmanship for their discerning

clientele and the longevity of Seymour's

fine jewelry business.

Michele Brown has been a South Bay resident

for over 20 years and professionally

in the real estate industry with Keller

Williams for over 40 years.

She has been honored numerous times locally,

nationally and internationally. Most

recently she was honored as Daily Breeze Favorite

Realtor 2016, as well as Realtor of the

Year in the South Bay of Los Angeles, having

been voted the honor by 4,000 of her peers

at the South Bay Realtors Association.

Michele was also nominated in this month's

Angeleno magazine as Top 5, as well as Top

Ten Dynamic Women in Los Angeles for 2016

(and will be presented with her award by the

Mayor of Los Angeles in December).

She has also received numerous awards

for her outstanding record of exemplary

character and achievement, including Keller

Williams international Cultural Icon award.

Having started her career as a nurse, she

brings a compassion and understanding of

people's sensitivities to her real estate work

and says "the quality and quantity of the

service rendered, is as important as the spirit

in which it was rendered".

She is the living embodiment of Gary Keller

(of Keller Williams) philosophy and beliefs

(based on his book "The One Thing")

utilizing her set of principles and the Keller

Williams belief system into both her life and

her professional perseverance.

An accomplished keynote speaker, she

lectures on motivation and team building.

Michele's son, Chris Brown, followed her

into the real estate business and is located in

Nashville where they offer family and corporate

relocation packages. Her sister Teresa

Lehman is also a realtor in Dallas.

She is the Executive Director also for the

Real Estate Professionals team and was honored

as the Top Producer with her team,

winning Gold and Platinum medals 5 years

running in Los Angeles.

Heading up luxury real estate teams from

Los Angeles to Dallas and Nashville, as well as

Newport Beach, Michele is also happily married,

the mother of three, grandmother to

six, as well as being a resident and serving on

Councils in the South Bay of Los Angeles

including the Historic Commission of

Redondo Beach.

Michele's personal mottos come from her

father's favorite Napoleon Hill's books (as

well as Gary Keller's).

Tune in to Michele Brown on South Bay by

Jackie on Friday August 12th at 8am to hear

more news about Real Estate and motivational

tips and tactics.

Client's confidentiality matters to us. For

all your real estate needs and to request your

complimentary copy of Michele's High End

magazine go to:

www.realestateprofessionalsinternational.com

Michele Brown Real Estate Professionals International (KW)

1845 S. Elena Avenue, Suite 100A, Riviera Village, Redondo Beach

23670 Hawthorne Boulevard, Suite 100, Torrance

michelebrown@kw.com • BRE# 01165450

310-944-5188

August 2016 • Peninsula 49
---
Fine Homes and Luxury Properties

NEW

PRICE

LARGE

FLAT LOT

EXCEPTIONAL

PROPERTY

Via Asturias

PALOS VERDES ESTATES

5 Bedrooms, 4.5 Bathrooms, 5,249 sq ft Home, 15,190 sq ft Lot

Ocean View Estate in Upper Lunada Bay. Remodeled in 2004

Huge Master Suite, Top of the Line Kitchen, Many Luxurious Features

OFFERED AT $3,590,000

www.ViaAsturias.com

LAUREL DRIVE

RANCHO PALOS VERDES

1.21 Acre Gated Vacant Lot has Large, Flat Building Pad

Panoramic Catalina, Ocean & Endless Sunset Views!

Private & Secluded Location in Lunada Pointe. Rare Find Opportunity

OFFERED AT $3,500,000

paseo la cresta

PALOS VERDES estates

7 Bedrooms, 11 Bathrooms, 10,400 sq ft Home, 42,412 sq ft Lot

Magnificent Gated Estate offering Luxury and Comfort

Sweeping Ocean Views. Exquisite Finishes and Fine Appointments

OFFERED AT $9,750,000

www.1414PaseoLaCresta.com

SHOWCASE

PROPERTY

TIP TOP

CONDITION

IN ESCROW

CREST ROAD

RANCHO PALOS VERDES

5 Bedrooms, 6.5 Bathrooms, 8,533 sq ft Home, Guest House

PANORAMIC VIEW of Queen's Necklace & Downtown LA

Architectural Masterpiece, Luxury Features, Beautiful Landscape

OFFERED AT $3,995,000

www.LuxuryPVhome.com

SEA BREEZE

RANCHO PALOS VERDES

4 Bedrooms, 3.5 Bathrooms, 3,643 sq ft Home, 16,487 sq ft Lot

1-Story Updated Mansion with New Wood Floor & Paint.

Large Master Suite, Gourmet Kitchen, Garden Backyard

OFFERED AT $$2,225,000

www.56SeaBreeze.com

Thorley Road

PALOS VERDES estates

5 Bedrooms, 4 Bathrooms, 5,241 sq ft Home, 15,307 sq ft Lot

Gated 1990 Custom Built Manor in sought after Lower Lunada Bay

Luxury Interiors, Great Curb Appeal, Walking Distance to School

OFFERED AT $3,480,000

www.2116Thorley.com

#1 Real Estate Team 2010 - 2015, RE/MAX Estate Properties

Stephen Haw/Team Leader

何 精 益

310.503.9886

Skh8828@gmail.com

Kim Hall

Serving the South Bay

310.721.7526

KimHallHomes@gmail.com

Cristina Go

Short Sale Specialist

310.971.0404

gocristinago@gmail.com
---
Fine Homes and Luxury Properties

NEWLY

REMODELED

NEW

LISTING

BIG

VIEWS

VIA OLIVERA

PALOS VERDES ESTATES

4 Bedrooms, 3 Bathrooms, 2,828 sq ft Home, 6,580 sq ft Lot

$380,000 Worth of New Remodeling. Upper Lunada Bay Area

Ocean View, Trendy Home Features, Brand New Kitchen & Bathrooms

OFFERED AT $1,795,000

www.2653ViaOlivera.com

Via De La Guerra

PALOS VERDES ESTATES

4 Bedrooms, 3 Full Bathrooms, 2,002 sq ft Home, 6,978 sq ft Lot

Remodeled in 2014 summer. Single Story Home with Open Floor Plan

Surrounded by Parkland, Very Close to Schools and to the Bluff

OFFERED AT $1,558,000

www.2920ViaDeLaGuerra.com

PALOS VERDES DRIVE WEST

PALOS VERDES ESTATES

3+ Bedrooms, 2 Bathrooms, 2,611 sq ft Home, 6,888 sq ft Lot

Beautiful Coastline and Queen's Necklace Views from both levels

Open Floor Plan with Windows Galore. Big Backyard.

OFFERED AT $1,799,000

www.353PVDW.com

BEST

VALUE

CENTRALLY

LOCATED

LIVE

OR INVEST

North IRENA

REDONDO BEACH

3 Bedrooms, 2.5 Bathrooms, 1,625 sq ft Town Home

Located on a Quiet Street in the Heart of Redondo Beach

Direct Garage Access, New Carpet, 3 Balconies & Patio

OFFERED AT $750,000

www.721NorthIrena.com

SILVER SPUR ROAD

ROLLING HILLS ESTATES

2 Bedroom, 3 Bathrooms, approx. 2,268 sq ft Town Home

Luxurious Town Home in the Heart of Peninsula Center

Live/Work Residence, Versatile Floor Plan.

OFFERED AT $899,000

hidden lane

ROLLING HILLS ESTATES

One Level Resort Style Studio, 440 sq ft Home

Freshly Painted, Ceasar Block Kitchen Countertops

Pool, Tennis, Gym, Lush landscaping, Luxury Living

OFFERED AT $257,000

Local Experts with International Connections to get YOUR Properties SOLD

Lauren Yoon

로렌 윤

310.619.4989

laurenyoon17@gmail.com

Natsuko Fujii

藤 井 奈 都 子

310.941.2468

nfujii10@gmail.com

Alicia Enrique

Real Estate Specialist

310.720.4852

aliciahomes1@gmail.com

Rod Yoon

롸드 윤

213.663.8888

RodYoon@gmail.com
---
together

From Classic to Rock performers and organizers (left to right) Linkin Park's Chester Bennington, Stone Temple Pilots' Dean DeLeo, musician and composer

Gary Wright, Schools Superintendent Donald Austin, Ed Foundation Development Director Cheryl Ward, Ed Foundation Board President Roma Mistry,

PTSA Council President Beth Myerhoff, School Board member Malcolm Sharp, Stone Temple Pilots' Robert DeLeo, Lizzy Borden's Marten Andersson,

PYT singer Lauren Mayhew and event co-producer Amy Friedman.

When Lizzy Borden bassist Marten Andersson teaches a clinic in a

school classroom, he's nervous.

"I can play in front of 60,000 people, no problem, but talking

about music to 25 kids is pretty daunting," Andersson said with a laugh.

During one of these clinics, the heavy metal bassist learned about the dismal

state of funding for arts education in public schools and vowed to

change things — if only in Palos Verdes. So he enlisted some fellow musicians,

and together, they conceived of a benefit concert, to be called From

Classic to Rock.

The fellow South Bay musicians included cellist Stan Sharp (Long Beach

Symphony, Hollywood Bowl Orchestra), violinist Yutong Sharp (Pacific

Symphony, LA Phil, Hollywood Bowl Orchestra), bassist Robert DeLeo

(Stone Temple Pilots) and singer Chester Bennington (Linkin Park).

"When I found out that some teachers' salaries are paid for by parents, I

figured I could do what I do best, which is music, and we could maybe pay

for one teacher for the school year," he said. "School systems need money,

even in Palos Verdes, believe it or not."

Andersson moved to Los Angeles from his native Stockholm, Sweden,

about 20 years ago to join Lizzy Borden. He has since been in other bands

(Lynch Mob, Starwood), scored music for films, commercials and television

Banding

Heavy metal bass player Marten Andersson enlists some unlikely collaborators to perform

a benefit concert for arts education

Photos by Cynthia Halverson (CynthiaHalverson.com)

by Whitney Youngs

and embarked on a solo career. Andersson joked about being in the T-shirt

business because so much of an artist's income today derives from selling

merchandise on the road, due in part to the advent of streaming services

such as Spotify, Apple Music and Pandora.

The inaugural From Classic to Rock took place on March 26 at the Norris

Theater. It added $50,000 to the $3.5 million the Peninsula Education Foundation

contributed this year to the 17 schools within the Palos Verdes Peninsula

Unified School District. The concert, presented by Opus 88 and the

Select Strings Foundation, showcased an eclectic set list of classical, rock

and pop music, and a musical amalgamation of both genres, featuring Stone

Temple Pilots, Gary Wright, Chas West (Bonham and Foreigner) and Monte

Pittman (Madonna), among others.

"We kind of melded the boundaries among the different styles of music,"

Andersson said. "It was an amazing night, people are still talking about it."

California's cutbacks in public school arts education are traced to the passage

of the People's Initiative to Limit Property Taxation, better known as

Proposition 13. The 1978 primary ballot measure was approved by nearly

two-thirds of California voters. It capped annual property tax increases

Classic to Rock cont. on page 55

52 Peninsula • August 2016
---
Linkin Park's Chester Bennington.

Lizzy Borden's Marten Andersson with Hollywood Bowl Orchestra's

Stan Sharp and Yutong.

Monte Pittman.
---
Experience a new level of excellence in luxury real estate.

• 700 Local Agents • Luxury Residential • Commercial Investment Division

Palos Verdes Estates | Rolling Hills Estates | Rancho Palos Verdes | Torrance

Redondo Beach | Manhattan Beach | Hermosa Beach | El Segundo | San Pedro

Marina Del Rey | Venice | Santa Monica | Beverly Hills | West LA/Westwood

310.378.9494 • RealEstateLosAngeles.com
---
Gary Wright performs his hit "Dreamweaver."

The Peninsula High School choir.

Classic to Rock cont. from page 52

at two percent. Over the subsequent years, California's ranking in per pupil

spending fell to 47th among the 50 states, according to the Peninsula Education

Foundation. The national average for per pupil spending is $11,014.

In Palos Verdes, the average is $7,276. Between 1999 and 2004, the number

of students enrolled in music education dropped by 47 percent, according

to the California Alliance for Arts Education, .

The Peninsula Education Foundation helps to fill the gap in state funding.

"Each year the Peninsula Education Foundation makes a pledge to the

district based on the gap of what is financially needed to provide a wellrounded

education versus what state and local funds are received by the

district," said the foundation's executive director Christine Byrne.

According to a 2007 study titled, "An Unfinished Canvas. Arts Education

in California," 89 percent of California schools (kindergarten to 12th grade),

"fail to offer a standards-based course of study in all four disciplines —

music, visual arts, theatre, and dance — and thus fall short of state goals

for arts education."

Numerous academic studies show a significant correlation between the

arts and improved academic performance in reading, writing, math, verbal

memory, spatial skills and SAT scores.

Andersson said rehearsals and performing for the benefit concert was

easy, compared to the work of the concert's volunteers, who solicited sponsors

and did the organizing and promotion. Sponsors included BMW, Palos

Verdes School Gardens, Samuel Adams, Trump National Golf Club, JBL,

Cobblestone Wine, Castle Rock Winery, Blue Ice Vodka, Diabolo, Depot

Restaurant, Locale 90 Pizza Market and Traveling Guitar Foundation.

"Everyone was just amazing, I'm very proud of it," Andersson said. "We

had some fun up on the hill. I hope what we did will help and I'm hoping

we can do it again."

A video of From Classic to Rock produced by high-school student Dilan

Mistry can be viewed at FromClassicToRock.com. PEN

August 2016 • Peninsula 55
---
• Serving the South

Bay for over 35 years

• Full Service Contractor

• Complete Installation

• New Construction

• Remodeling

• Second Floors

• Additions

• Cabinets

Visit Our

Kitchen &

Bath

Showroom

4203 Spencer St., Torrance, CA 90503

(310)214-5049 • www.pevelers.com

Appointment Recommended

Showroom Hours: Monday Thru Friday 10-5

Closed Saturday and Sunday

License #381992

56 Peninsula • August 2016
---
PLAN AHEAD

Loving Families Protect. Have YOU Pre-Planned?

Call Today for your Complimentary Tour of Our

Breathtaking, One-of-a-Kind, Exclusive Inspiration Slope

(310) 521-4337

Discounts available on select properties for a limited time. 0% financing available.

Ann Stemmer Karina Arredondo Dayna Rodgers

27501 S. Western Ave., Rancho Palos Verdes, CA 90275

MATTUCCI

Plumbing • Heating • Cooling

Since 1990 • License # 770059, C-36 C-34 C-42 C-20 A

Vote!

SUMMER SPECIALS

$ 9 8 0

Residential Water Heater

40 gal. installed! ($1080 - 50 gal. also available)

Includes hot & cold water supply lines

Expires August 31, 2016

$ 7 5

Rooter Service - Main Line

Must have clean-out access. Some restrictions may apply.

Expires August 31, 2016

Thank You

For Your

D E P E N D A B L E • P R O F E S S I O N A L • A F F O R D A B L E

2013

w w w . m a t t u c c i p l u m b i n g . c o m

FULL SERVICE PLUMBING, HEATING AND COOLING

SEWER VIDEO INSPECTION

ROOTER SERVICE

COPPER REPIPES

F R E E

E S T I M A T E S

M e n t i o n t h i s a d w h e n

s e t t i n g u p a p p o i n t m e n t .

3 1 0 . 5 4 3 . 2 0 0 1

ON CALL

24 HOURS

7 DAYS

August 2016 • Peninsula 57
---
Dr. Glen Komatsu of

Providence

TrinityCare Hospice

listens to a young

hospice care patient.

Photo courtesy of

Providence

TrinityKids Care

Treatment 'beyond the grief'

For children who have run out of medical options, Dr. Glen Komatsu

of TrinityCare Hospice offers a listening ear

by Ryan McDonald

For Dr. Glen Komatsu, the most valuable

tool a doctor can have is a good pair of ears.

Komatsu is the chief medical officer for

Providence TrinityCare Hospice, and the medical

director of Providence's TrinityKids Care, the

only dedicated pediatric hospice program for all

of Los Angeles and Orange counties, an area of

more than 13 million people. The Rancho Palos

Verdes resident is convinced that doctors need to

do a better job asking basic questions, and listening

to the responses.

"Sometimes, we in medicine just keep doing

stuff to people," Komatsu said. "We have all of

these machines, all of these bells and whistles,

and we use them without asking, 'Is this helpful?

Is this worth it to you?'"

Komatsu works with people in the most desperate

of circumstances: those who have essentially

run out of curative medical treatment

options. In many cases, the suffering is amplified

by the youth and innocence of the patient.

Much of this work is made possible through

philanthropy. TrinityKids Care, along with Torrance

Memorial Pediatrics and Vistas for Children,

will be among the beneficiaries of the 30th

Annual Honda Evening Under the Stars for Children's

Healthcare Event on August 27. Held at

American Honda's Torrance campus, the event

will feature saxophonist Kenny G, gourmet food

and wine, and raise money for the children's

healthcare causes.

Komatsu said people often assume the work

the event supports is something of a downer. By

his own admission, mentioning his work tends to

create long bouts of silence when it comes up in

conversation.

But the conditions of his work seem to have the

opposite effect. Komatsu believes in mindfulness,

and is devotedly "present" at his job. He is attuned

to the relationship networks of patients,

understands the social and political forces shaping

his work, and is reflective about the lessons

that emerge from traumatizing experiences.

"The best kept secret in hospice is that we get

more out of the work than we give," Komatsu

said. "To see the strength of the children, to see

the resilience of their parents…We hope that we

can be as brave as them when we have to face

the end of our lives. It gives us inspiration to do

our best work."

Switch in time

Komatsu's temperament stems in part from

seeing things with beginner's eyes — after nearly

20 years in a high-level position, he decided to

suddenly make a change.

He was medical director at the neonatal intensive

care unit at Torrance's Providence Little

Company of Mary Medical Center from 1985 to

2004, when he had what he describes as a

"midlife crisis." He felt the work had become detached

from the actual needs of patients. The job

he had been so dedicated to no longer was as

gratifying.

"It did not seem that my colleagues were always

very concerned about the pain and suffering

of babies," Komatsu said. "We would put

them through all of these procedures, only to

have them die from complications or chronic illness

months later."

His concern for how patients were actually

feeling, and a willingness to respect their wishes,

led Komatsu into palliative care. He went to

Boston to pursue a fellowship, studying at the

Dana Farber Cancer Institute, Brigham and

Woman's Hospital, and Harvard Medical School.

Despite the credentials he accumulated, staking

out new territory so far into his career was

not easy.

"It's certainly not common to [switch fields],

especially when you're 50 years old," Komatsu

said. "Even my dad asked me, 'Are you sure about

this?'"

58 Peninsula • August 2016
---
But he knew it was the right decision.

"Children have really always been at the center of my

practice," Komatsu said. "It's a population of people who

are very vulnerable, and are underserved in the total

scheme of our healthcare system."

Returning to Southern California, Komatsu faced a

whole new set of challenges. The swirl of emotions that

goes with hospice care can make people simultaneously

obstinate and desperate, a tendency that he said has

been intensified by the availability of information on the

Internet. Sites like webmd.com have made everyone a

doctor. And from snake venom to seaweed, Komatsu has

heard about a lot of miracle cures. In such situations, Komatsu

has learned to work with patients and families

"within their belief systems."

"In the beginning, when I heard that I wanted to say,

'What medical school did you go to?'" Komatsu said. "I

had to swallow my pride and realize, it's not about my

pride or my ego. It's about taking care of patients. If I

strongarm them, I'm going to lose their trust, and the relationship

is going to go down the tubes."

Grammy award winning saxophonist and the biggest selling instrumental musician of all time

Kenny G makes a repeat performance at the "30th Annual Honda Evening Under the Stars For

Children's Healthcare." The food and wine festival will be held Saturday, August 27 at the Honda

North America headquarters in Torrance. In previous years, Honda hosted both the "Evening

Under the Stars," benefiting Torrance Memorial's pediatric department, and also "For our Children,"

benefiting Providence TrinityKids Care and Vistas for Children. This year the two events

are being combined. For tickets call Call 310-517-4703 or visit

torrancememorial.org/Giving/Foundation_Events

In Demand

As the only dedicated pediatric hospice program in the

region, TrinityKids Care is inundated with requests for

help. And the pace is unlikely to slow.

A little-known clause in the Affordable Care Act, commonly

known as Obamacare, allows children on Medicaid

to receive curative care and hospice simultaneously.

Known as "concurrent care," the practice enables children,

for example, to be in their homes for hospice while

periodically heading to the hospital to receive

chemotherapy or radiation treatment.

The change in law has greatly increased the number

of children in the TrinityCares program, Komatsu said.

When he returned from Boston in 2005, the team was

caring for between six and 12 children. Today, there are

70 youths in hospice, and another 40 in a "waiver program"

for those receiving palliative care, but who have

not yet entered their last six months of life.

TrinityCares is now the largest pediatric hospice program

in the country. Komatsu said he often receives calls

from San Bernardino and Ventura counties, but must explain

that they are only licensed for Los Angeles and Orange

counties. Still, Komatsu regularly drives more than

50 miles each way to visit patients at the far reaches of

the service area.

"Through his compassion for his patients and colleagues,

and his passion for his work, we are growing

this very special program to care for more and more children,"

said Terri Warren executive director of Providence

TrinityCare. "This would not be possible without Glen's

incredible talents, his willingness to give of himself to

the children, their families, and his team."

TrinityKids Care has no official age limit. There are

newborns and infants, but occasionally, the program will

have patients in their late 20s or early 30s, so long as the

patient has a pediatric diagnosis and is still seeing a pediatric

team. This frequently happens with developmental

disorders like cerebral palsy, where the patient is

technically an adult but relies on parents or guardians

to make decisions.

The middle of this spectrum presents some of the

biggest challenges. Occasionally, parents will be desperate

to fight a disease in the hospital, while a child wants

to return home. It's here that Komatsu's gets to practice,

as well as preach, his philosophy about paying attention.

"I really try to get parents to listen to their children.

Even at 8, 9, 10 they are very wise. They have grown up

really quickly in these situations and say some amazingly

profound things," Komatsu said. "I try

to get parents to listen to that voice. Even

though legally, they can't be adults 'till 18,

these kids have a really strong sense of what

they want."

Looking to the future

Incurable diseases strike with unfortunate

randomness. Though hospice is generally far

more affordable than ending life inside a hospital,

it can still be a significant expense. And

while some of the families are capable of paying,

many cannot. (It is for patients like these,

Komatsu said, that make the Evening Under

the Stars event especially important.)

"We serve the poorest of the poor. We've

been to homes where six people are living in

a converted garage with a dirt floor," Komatsu

said. "We take undocumented children if they

need help. No matter what language they

speak, most kids want to be at home with

their families."

In addition to poverty, Komatsu's work exposes

him to all manner of social ills. These

are, of course, exacerbated by looming end of

life.

"There is a lot of emotion, a lot of drama in

families when the child is seriously ill or

dying," Komatsu said. "We've seen parents

get divorced, domestic violence, drug abuse,

all kinds of stress going on."

As a result, TrinityKids Care is a group effort.

In addition to doctors, the program includes

nurses, social workers, chaplains,

home health aides and volunteers. And a significant

aspect of the program consists of

what Komatsu calls "non-medical" services.

Staff chaplains pray with patients, or get

outside clergy involved if it is important to

the child or the family. Patients and families

also benefit from art therapy. The projects

provide the activities for the patients, while

also creating tangible memories for after the

child has passed away. Sometimes volunteers

will bring paints and paper to capture the

handprints of each member of the family.

The program will also take a piece of the

child's clothing, and use it to make a teddy

bear.

"What makes TrinityKids Care unique is

concept of the whole-person care model that

Komatsu promotes with his staff," said Margaret

Sullivan, a social worker and clinical supervisor

with the program. "This is a one of

a kind leadership that none of us have experienced

anywhere else."

This approach to tragedy sometimes promotes

the same kind of reflectiveness among

survivors that Komatsu brings to his work.

While getting beyond the grief is difficult and

sometimes impossible, it occasionally endows

parents with a renewed appreciation for life.

"It's obviously awful when a child dies so

young, but to remember the legacy that a

child leaves is powerful," Komatsu said. "I

just talked to a family that lost a child at three

weeks. Now, they don't take anything for

granted. They hug their sons all the time. It's

just a different way of life after you've lost a

child." PEN

August 2016 • Peninsula 59
---
60 Peninsula • August 2016
---
eventcalendar

CALENDAR OF COMMUNITY EVENTS

Compiled by Mary Jane Schoenheider

You can email your event to our address: penpeople@easyreadernews.com

All submissions must be sent by the 10th of each month prior to event taking place.

Ongoing

Assistance League of San Pedro-South Bay

Now through August 13 at the Assistance League of San Pedro-South Bay

Annual Summer Sale at their Chapter House, 1441 W. 8th Street (Weymouth

Corners) San Pedro Make your outdoor living a great summer experience

with unique garden and patio items. Shop for those personal and gift items

you will need for summer. It is one stop shopping. The Assistance League of

San Pedro-South Bay has been giving back to the community since 1936. All

proceeds benefit local philanthropic programs. Sale Hours: 10:00am -

5:00pm (weekdays), and 11 a.m. - 3 p.m. (Saturdays). For information 310-

832-8355 Ext. 221.

Thursday, August 4

Palos Verdes Land Conservancy

Third Grade Program Docent Training, 9 a.m.- noon. Share the wonders of

nature with our local students. Training provided, all you need is enthusiasm

to help connect 3rd graders to local open spaces! Sign up at: www.pvplc.volunteerhub.com.

Friday, August 5

Seaside Beaders Meet

The Seaside Beaders, a special interest group of the Embroiderers' Guild of

America is meeting at 9:30 a.m. at St. Francis Episcopal Church, 2200 Via

Rosa, Palos Verdes Estates. Members will be working on finishing a beaded

box. Visitors are welcome. Bring your own project to work on. For more information,

call 310-540-6104 or visit www.azureverdeega.com/bead_projects.com.

Saturday, August 6

South Bay Bromeliad Associates

Bromeliad Plant Show Saturday and Sunday, noon - 4:30 p.m. Plant sales

both days 10 a.m. - 4:30 p.m. at Rainforest Flora. Free admission and free

parking. The show will feature many species, hybrids, and cultivars not commonly

seen. SBBA members and Rainforest's employees will be available to

answer any questions you may have. Many plants will be offered for sale

from commercial vendors and SBBA members' private collections. Ted Johnson,

Show Chairman of South Bay Bromeliad Associates, Jerry Robinson and

Paul Isley of Rainforest Flora extend a hearty welcome to all. Direct Inquiries:

Vinyl Windows

Replacement and New Construction

BUY ONLINE

AND SAVE BIG $$$

WWW.1STWINDOWS.COM

VINYL, ALUMINUM, WOODCLAD

Lowest Prices Up Front • No Games

Show Room 562-494-9069

CONTRACTOR REFERRAL • Fax 562-494-2069

CONCRETE - For the Drought-Conscious

] u

t

• Stamping

• Driveways

• Pool Decks

• Arificial Turf

• Patios

• Stonework

• Pavers

• Foundations

LIABILITY INSURED • WORKERS COMPENSATION

Casey Lindahl - Founder & President of Lindahl Concrete Construction, Inc.

310-326-6626

Call for Showroom address

Call for estimate

LindahlConcrete.com

Lic.#531387

August 2016 • Peninsula 61
---
eventcalendar

DAVID FAIRCHILD PHOTOGRAPHY

"Its Like You're There All Over Again"

310-316-5547 WWW.DAVIDFAIRCHILDSTUDIO.COM

Bryan Chan, bcbrome@aol.com

818-366-1858. Rainforest Flora is

located at 19121 Hawthorne

Blvd.in Torrance.

Telling tales

Today is the deadline to register for

California Listens: You Are Invited to

Tell Your Story! At Peninsula Center

Library, Staff Lounge held on August

19 and 20. At the two-day workshop

you will create a 2 to 4-minute

video using your personal and family

photographs, videos and archival

material. There is a limit of 10 participants.

Apply online at

www.pvld.org/yourstory. Learn how

to tell a great story, write and record

a narration script and the basics of

video editing. The video you create

will become part of a statewide

archive of stories about life in California.

The Library District is looking

for stories that reflect the full spectrum

of life on the Palos Verdes

Peninsula. Long-time residents, newcomers,

surfers, environmentalists,

artists, community activists, business

owners, aerospace industry employees

and their families - they want to

hear from all of you. Selected applicants

will be notified by August 9.

This program is free and open to

people ages 14 and up.

Monday, August 8

Gem and Mineral Society

Meet and Greet at 6:30 p.m. Program

at 7 p.m. Community Room of

Palos Verdes Main Library, 701

Deep Valley Dr., RHE. Park on roof

as program goes past the closing

hours of the library. Showing of the

Walking with Dinosaurs (DVD)

Episode: Giants of the Skies. Everyone

is welcome. There is no charge

to the public. Call 310-373-2696

for more information.

Thursday, August 11

Hills are Alive Deadline

Today is the deadline to register for

the 35th annual Hills are Alive

10K/5K run/walk 8 a.m. on Aug.

13 at Ernie Howlett Park. Register:

online at www.active.com or

mail/drop off at City of RHE, 4045

PV Drive N, RHE, CA 90274.Packet

pick-up and late registration at Village

Runner, 1811-A Cataline Ave.,

Redondo Beach. 310-375-2626 or

310-377-1577 for more information.

62 Peninsula • August 2016
---
Casa Alegria in Hollywood Riviera

505 Calle de Arboles, Redondo Beach

5 Bedroom, 4 Bath Home

3,370 Square Feet, 6,358 Square Foot Lot

Built in 2009

Features 4 Fireplaces in an Open Floor Plan, and complete Barbeque area.

Offered at $2,275,000

310-418-7906 Office

BRE#01462636
---
eventcalendar

Friday, August 12

Disney's Alice in Wonderland, Jr.

The Palos Verdes Performing Arts Conservatory will present Disney's "Alice in

Wonderland Jr." August 12-14 at the Norris Theatre. Lewis Carroll's famous

inquisitive heroine comes to life in this fun-filled adaption of the classic Disney

film, featuring a cast of talented student performers, ages 7-12. The fast-paced

production will delight children as they follow Alice on her adventures with

the White Rabbit, Tweedle Dee and Tweedle Dum and the Queen of Hearts.

Performance times are 7 p.m. on Friday and Saturday and 2 p.m. on Saturday

and Sunday. Tickets are $12 for youth ages 17 and under and $14 - $20 for

adults. For more information or to purchase tickets, call 310-544-0403 or visit

www.palosverdesperformingarts.com. The Norris Theatre is located at 27570

Norris Center Drive in Rolling Hills Estates.

Saturday, August 13

Hills are Alive run/walk

8 a.m. at Ernie Howlett Park.See Aug. 11 listing for more information.

Guided Nature Walk

By Palos Verdes Peninsula Land Conservancy at Vicente Bluffs/Vanderlip Park,

9 a.m. Traverse the cliff side trail along Terranea's grounds to Vanderlip Park.

Explore the habitat that is home to the rare El Segundo blue butterfly with

beautiful views of Catalina Island. This is a strenuous walk. 2 ½ hours. Park

at Pelican Cove lot. 31300 Palos Verdes Dr S, Rancho Palos Verdes. Free and

open to the public. For more information, contact 310- 541-7613 ext. 201

or sign up at www.pvplc.org/_events/NatureWalkRSVP.asp.

64 Peninsula • August 2016
---
eventcalendar

Trail Crew Intro Class

Introductory course will prepare volunteers to join the Land Conservancy for

monthly trail work on the Preserves! Class is held indoors at the PVPLC Main

Office, 916 Silver Spur Road., Suite 104, Rolling Hills Estates, 9 a.m. to noon.

Must be 18 years old or older. Sign up at: www.pvplc.volunteerhub.com.

Nature & Me Stories, Songs and More

Join Storyteller Carla Sedlacek at White Point Nature Education Center at 10

a.m. for wonderful stories featuring nature themes and exciting props and

songs. Bring the whole family. Free. RSVP: www.pvplc.org.

Impressions Nature & Art Workshop

Enjoy a Naturalist-guided walk and painting activity in outdoor art studio with

Art to Grow On, Inc., at Pelican Cove Park/Terranea Resort 10 a.m. to noon.

All ages welcome. $25 per family. RSVP www.pvplc.org/_events/Impressions.asp

or 310-541-7613.

Sunday, August 14

South Coast Cactus & Succulent Society

"Acts of Cactography on an Otherwise Dull Afternoon" Act 1: "ABC's of Stunning

Cactus & Succulent Photography." Act 2: "Secrets," an allegorical suspense

film about the environment. Unusual movie in which cactus and

succulents play a supporting role. Program by explorer and filmmaker Bob

Caplan. Come at 1 p.m.to buy plants, meet other cactophiles, and have refreshments.

Program is at 1:30 p.m., South Coast Botanic Garden, 26300

Crenshaw Blvd., Palos Verdes Peninsula. For more information visit southcoastcss.org.

August 2016 • Peninsula 65
---
Friday, August 19

Telling tales

California Listens: You Are Invited to Tell Your Story! At Peninsula Center Library,

Staff Lounge 9 a.m. - 5 p.m. This two-day workshop is part of California

Listens, a summer-long program sponsored by the California State Library and

led by Berkeley-based StoryCenter. You will create a 2 to 4-minute video using

your personal and family photographs, videos and archival material. The

video you create will become part of a statewide archive of stories about life

in California. Program is free and open to people ages 14 and up. Deadline

to register is August 6; selected applicants will be notified by August 9. Apply

online at www.pvld.org/yourstory.

Saturday, August 20

Friends of Banning Museum Birthday Concert

Friends of Banning Museum will celebrate the birthday of the "Father of the

Whatever happened to…

Bonina Mavar

"I fell and my family realized I could no longer live alone. I moved into Harbor

Terrace and everyone was so welcoming and friendly. The staff really listens to

me and cares about how I am doing. Plus, they are overseeing my medication,

so I don't worry about whether I took it.

I love not making my bed, not cleaning my house, not cooking, not doing dishes

or yard work. This is my home and I would not want to be anywhere else."

Bonina Mavar

Resident of Harbor Terrace

A Full-Service Retirement Community • Independent Apartments

Assisting Living Services • Delicious Chef-Prepared Meals

Housekeeping & Linen Services • Daily Recreation & Social Programs

435 W. 8th St., San Pedro

wwwHarborTerraceRetirement.com

(310) 547-0090

eventcalendar

Los Angeles Port" Phineas Banning with a special evening of music and dancing.

In the spirit of the Rancho-period of the Banning property from 5 to 8

p.m., guests will be treated to a Western-themed evening with live music provided

by local favorite, JB and the Big Circle Riders, free line dance instruction,

country style dancing and a good old fashioned barbecue buffet provided by

Southland Favorite, The Outdoor Grill. Country Western attire is admired but

not required. PICNIC – $10 General Admission, FREE for Friends of Banning

Museum members and children 11 and under – Guests bring their own dinner

and beverage, blanket/low chair and enjoy the concert and dancing on the

front lawn of the Mansion. VIP -$45 Includes on-site BBQ buffet dinner with a

birthday cupcake, line dance instruction, reserved seating and gated parking.

Guests are welcome to bring their own wine or beverage. Reservations required

for all guests. The Banning Museum is located at 401 East "M" Street,

Wilmington. For more information or to reserve your ticket, 310-548-2005.

Sunday, August 21

Seaside Summer Sounds Series

The Neighborhood Church is pleased to announce the return of its seaside

summer concert series— Summer Sunday Sounds. Enjoy brother duo Evan J.

Marshall and John "Slap Bass Billy" Marshall delight the crowd with their

unique "Classgrass" sound. Classgrass is a celebration the blissful union of

Classical and Bluegrass music— concertos and hoedowns, instrumental virtuosity

and pickin' and grinnin' all combined to create a one-of-a-kind concert.

Evan and John have performed at symphony halls across the United States,

made appearances with the Buffalo Philharmonic and Grand Rapids Orchestra,

amongst others. Bring your own picnic starting at 6 p.m., concert begins

at 7 p.m. All are welcome— no tickets or reservations required! The church is

located at 415 Paseo del Mar, Palos Verdes Estates. For more information,

contact 310- 378-9353.

Thursday, August 25

Embroiderers meet

The Azure Verde Chapter of the Embroiderers' Guild of America is meeting

at 9:30 a.m. at St. Francis Episcopal Church, 2200 Via Rosa, Palos Verdes

Estates. Visitors are welcome. For more information, call 310-675-2745 or

visit our web page at www.azureverdeega.com.

Friday, August 26 & Saturday August 27

Banning Museum Seeking Volunteers

The Banning Museum is seeking volunteers and will host two Get to Know Us

receptions from 11 a.m. - 12:30 p.m. The receptions will be held in the conference

room at the Banning Museum, 401 East "M" Street, Wilmington. Volunteers

attend a training class to gain the background necessary to offer public

tours and special group tours of the interior of the Museum, Stagecoach Barn

and grounds. Once training is complete volunteers participate in a full range

of Museum programs such as conservation and maintenance of antiques, participating

in decorative arts exhibitions, special events, Museum Shop assistance,

lecture and discussion committees, volunteer activities, Living History

Program and School Program. The Museum's School Program is designed to

introduce fourth grade students to local cultural and historical heritage and

may require additional training to familiarize new volunteers to the program

details. For additional information or to RSVP for one of the receptions above,

please contact the Museum, 310-548-7777.

Wednesday, August 31

Mac Users Group Meeting

Meets at Lomita VFW Hall, 1865 Lomita Blvd, 6:30 PM, Beginners Q & A

8 p.m., presentation on a subject of interest to Mac users 310-644-3315

email: info@sbamug.com. Admission is free. All Mac/iPad/iPhone users and

potential users are welcome. PEN

66 Peninsula • August 2016
---
4222 Dauntless Dr., Rancho Palos Verdes

4 bedrooms | 3 bathrooms | 2465 Sq. ft.

OFFERED

$1,599,000

JERRYANDLAURA.COM

Over 800 Homes Sold and Counting

Ranked #1 in Palos Verdes by Zillow!

(310) 480-3601

6420 Via Canada, Rancho Palos Verdes

3 bedrooms | 2 bathrooms | 1700 Sq. ft.

OFFERED

$1,325,000
---
ContemporarySpARTan

A couple's

ranch style home

fulfills a husband's

promise to his

young wife when

they fled

their homeland

by

Stephanie Cartozian

Photos by

Anthony Hernandez

hen Shahram Fozoonmehr, DDS and his wife Jilla fled Iran during

the political unrest of the early 1980s, Shahram promised Jilla he

would provide for her in the manner in which she was raised.

Her once wealthy family had lost everything during the upheaval.

The couple's 9,000 square foot, Rolling Hills home on a nineacre

parcel overlooking the Los Angeles city lights attests to the

husband's fulfillment of his promise, though he gives his wife

equal credit for their success because of the sacrifices she also

made.

He also credits his wife with their home's striking interior design.

When the couple purchased the property in 2003, it was simply

an orchard and a dream.

Palos Verdes architect Criss Gunderson designed the home in

the ranch style required of all Rolling Hills homes. "The low slung

character of the ranch home is the essence of Rolling Hills. Its casual

feel, its relationship to nature, the open space and natural

beauty must be preserved," the architect said. But at the same

time he wanted his clients to have a contemporary home with elements

of uniqueness. The home is one of the few to have received

city approval for a smooth stucco exterior. It is also one of

the largest lots in Rolling Hills.

WMultiple skylights bring "whiteness" to the ceilings and warmth

68 Peninsula • August 2016
---
The kitchen counters are Kalakata gold stone and

the cabinet doors are motorized with German

engineered technology.

The pool is within view

of the major entertaining area and

there's an outdoor cooking area, all perched

majestically above the Los Angeles basin.
---
The dining room,

which is positioned

by the entrance,

features walnut wood

flooring and

natural light.

to the floors. The kitchen cabinets and the

glass doors to the patio are motorized. They

patio doors disappear into the walls when

opened.

Jilla's interior design features an onyx bar

and four contemporary, Napoleon brand,

glass ember fireplaces. The flooring is a

combination of American walnut and Italian

marble, with an intricate, stone design

in the the master bathroom floor and white

cobblestone walls in one of the guest bathrooms.

The six-car garage has a circular, travertine

driveway. There are five separate zone

air conditioners including one in the garage

to keep the cars cool. The home has an independent

fire hydrant and an interior fire

sprinkler system.

A temporary exhibit of work by pop artist

Deb Penk plays off of Jilla's spartan design.

The exhibit was curated by Time 4 Art

founder Homeira Goldstein.

"I enjoy my life here more than anywhere

else," said Fozoonmehr, who has lived

abroad, in many different places. PEN

The master bathroom

is sensually modern

with a hint of

old Hollywood glamour.

70 Peninsula • August 2016
---
August 2016 • Peninsula 71
---
72 Peninsula • August 2016
---
Preserve your timeless treasure

Suzy Zimmerman, Agent

Insurance Lic#: OF71296

4010 Palos Verdes Dr N, Suite

103

Rolling Hills Estates, CA 90274

Bus: 310-377-9531

www.zimziminsurance.com

That's when you can count on

State Farm®.

I know life doesn't come with a schedule.

That's why at State Farm you can always

count on me for whatever you need –

24/7, 365.

GET TO A BETTER STATE.

CALL ME TODAY.

1101198.1 State Farm, Home Office, Bloomington, IL

J. QUINN CONSTRUCTION, INC.

Custom Concrete & Masonry

• Pools, Spas, Fountains

and Waterfeatures

• Firepits and Fireplaces

• Outdoor Cook Centers

• Stone and Tile Patios

We live in an age where just about everything is disposable.

Yet centuries ago when the world's finest clockmakers

were hard at work, their aim was to create a

mechanical marvel that operates continuously and last forever.

Imagine a hand made complex mechanism of inter-working

parts designed to keep time accurately. Your clock is a work of

art and your job is to keep this timeless treasure healthy for the

next generation.

Your clock reminds you of its presence every time you wind

it and if its accuracy is not what it used to be, or its chimes are

not as strong rythmic, or maybe it just stops. That means it's

talking to you and telling you that its endless life is in jeopardy.

It is imperative to maintain and service your clock regularly.

Oil gets old and dry forcing the train of gears to work twice as

hard to accomplish their goal. This results in damage that drastically

shortens the life of a fine timepiece.

Michel Medawar has been extending the lives of timepieces

for over fifty years as his father did fifty years before. He is the

inventor of the first talking clock in the world. He is a graduate

from Patek Philippe in Geneva, Switzerland, The Theod Wagner

clock Co. in Wiesbaden, Germany, and the Howard Miller

Clock Co. in Zeeland, Michigan. Call him so that he may come

to your home and offer you a free estimate for servicing your

clock. Or bring your wall or mantel clock to our store to see our

showroom and receive the same complimentary diagnosis.

We are located at 810C Silver Spur Rd., in Rolling Hills Estates, Ca.

90274. Or call us at (310) 544-0052

• Interlocking Pavers

• Retaining Walls

• Driveways

(310) 325-6790

www.quinnpools.com

License B, C-8, C-53 #775677

Open 10:00 am - 6:00 pm Tuesday - Saturday

810C Silver Spur Road • Rolling Hills Estates • CA 90274

Call 310.544.0052

August 2016 • Peninsula 73
---
Unapologetically

Italian

Italian

Giorgio Borelli dismisses

contemporary trends in favor of

his family's traditional Italian cooking

by Richard Foss

photo by Richard Foss

74 Peninsula • August 2016
---
Chefs have a reputation as prickly, mercurial people, and though that

isn't always deserved, there are certainly some who fit the stereotype.

I remember asking one master of traditional cuisine whether

he had a personal style that distinguished his cuisine. He fixed me with a

glare and asked, "Is cooking about pleasing people or is it about showing

off?"

Giorgio Borelli, the genial, soft-spoken owner and chef of Giorgio's in

Rolling Hills Estates, would never be that abrasive, but he might agree with

the sentiment. He grew up eating Naples-style Italian food at home and in

restaurants owned by his father and uncles, and unapologetically ignores

current trends. He serves up the Italian food of his forefathers, not a California

or New York variant.

Giorgio's deor is an understated blend of contemporary and classic,

sunny by day and dark and candlelit in the evening. There's a patio for

those who enjoy fresh air and a view of the quiet street.

On my first visit, at lunch, I enjoyed a simple meatball Panini that came

with a richly herbed and slightly spicy red sauce. I liked it enough that I

came back for dinner, bringing family members who grew up on the East

Coast and have strong opinions about Italian food. We arrived without

reservations and took the only open table, which was in a rear, particularly

dark alcove. I like romantic atmospheres, but this was a bit much. We

needed the flashlight app on our cellphones to read the menu. But we

didn't really need the menus because if you thought of just about any classic

Italian dish, it was there. We were assisted in our decision by a waiter

who put our East Coasters completely at ease, an old, Italian man who

knew everything on the menu and wine list. Once we established that we

were interested in his guidance he dispensed cheerfully opinionated information

in an endearingly brusque style. When we asked about a particular

wine he responded, "With what you're ordering, forget that one. Try this

Rocca delle Macie Chianti, it will make it sing." And so it did.

We started with stracciatella and minestrone soup and a green salad,

which were included with our meals for $3 extra, and an order of housemade

tortellini with peas and prosciutto in Alfredo sauce as a shared second

course. Stracciatella is similar to Chinese egg flower soup, in which

egg is drizzled into a hot meat and vegetable broth. Whether this is some-

TORRANCE

www.fridarestaurant.com

SUNDAY MARIACHI BRUNCH

10 am - 3 pm • Adults $ 29.95 • Kids (5-12) $18.95

Mimosas, House Margaritas, Sangria and Draft Beer only $5

Del Amo Fashion Center • 21438 Hawthorne Blvd. • Torrance • (310) 371-0666

August 2016 • Peninsula 75
---
thing Marco Polo

brought back or an independent

invention,

it's a hearty, rich way

to start a meal. The

minestrone was good,

too. Though I can get it

anywhere, this minestrone

was a treat. The

salad was fine but ordinary,

the dressing just

a bit more vinegary

than I like.

We had ordered the

tortellini as a secondi,

the dish Italians have

between courses. It

turned out to be the

highlight of our meal.

The cream sauce had

delicate hints of nutmeg,

pepper and other

A classic Veal Marsala.

Photo by Brad Jacobson (CivicCouch.com)

spices. One of the transplants at our table liked it so much that she changed

her main course to fettuccini alfredo so she could have more of the cream

sauce. The big bowl of tortellini would have been a full meal for one person

and was ample for four to nibble on and have some left over.

Besides the fettuccine, which was more of a good thing, we had a seafood

sampler and an Italian style ribeye steak with mushroom sauce. (The

fourth member of our party intended to dine light and snack from our

plates, but the portions were large enough that she enjoyed a full meal.)

The fish sampler had three fish done different ways. The halibut was simply

broiled, the sand dabs sautéed with capers and lemon, and the snapper

served in a red sauce with herbs. This sampler is always available though

the seafood changes. If you like both fish and variety it's a delight.

The steak in a Chianti sauce with mushrooms was even more mammoth

in size. The old fashioned preparation was as much about the sauce as the

meat. Modern steakhouses often grill meat in a way that emphasizes the

smoky char and caramelized fat. But while both of those were present,

they were partners with the wine and mushroom sauce. The sauce was so

rich that if a few extra carrots and onions were tossed in, it might be served

as a stew and since there were some carrots and broccoli on this plate we

tested the theory. It's a full pound of ribeye, so there's plenty to share between

two people.

Despite the fact that we only ordered three entrees for four people we

were so full that we had no room

for dessert. When I return, I intend

to have either more people or

fewer entrees so I can find out

what the tiramisu is like.

Our lavish dinner with one bottle

and two glasses of wine ran just

over $40 per person, which we

found remarkable for the quality of

the experience. It wasn't trendy

and wasn't trying to be, but we felt

lucky to get that last available table

on a Friday night. Italian comfort

food doesn't go out of style, and

Giorgio and his staff prove it every

day.

Giorgio's is at 777 Deep Valley

Drive in Rolling Hills Estates. Open

Mon-Thur: 11:30 a.m. to -9p.m. Fri:

11:30 a.m. to 9:30 p.m. Sat: 5 p.m.

to 9:30 p.m. Sun: 5 p.m. 9 p.m. Street

parking, wheelchair access OK, beer

and wine served, some vegetarian

items. No website. (310) 541-2600.

PEN

76 Peninsula • August 2016
---
Diamond anniversary celebration

n Long time residents of

Rolling Hills, Allen and Dottie

Lay celebrated their 60th

wedding anniversary at an

afternoon party on June 12

at the Palos Verdes Art Center.

Allen has served on the

Rolling Hills City Council

and both Dottie and Allen

have been very active members

of the Palos Verdes Art

Center along with other

Peninsula organizations.

Photo by Mary Jane Schoenheider

around&about

Calling all duffers

n Young Life Christian Youth Ministries is holding its annual charity Golf Tournament.

Monday, October 17 at the Los Verdes Golf Course starting at 1 p.m. The

tournament is shotgun start, scramble format and costs $175 per person and will

include goodie bag, lunch, dinner, prizes, and awards. If you think this sounds

fun, wait until you see the mulligan package! To RSVP or to get more information,

please call Steve Heffernan at (310) 466-3661.

Palos Verdes Woman's Club Scholarships

n The Palos Verdes Woman's Club awarded $1,000. scholarships to recent

high school graduates.

Palos Verdes Woman's Club Celebrates 90 Years

n In January 1926 Mrs. Charles Cheney, whose husband was an architect and

city planner for the Palos Verdes Project, invited 20 women residing in Palos Verdes

to her home on Via del Monte to discuss establishing a woman's club. The following

month the Palos Verdes Woman's Club was formed.The Club went into action

two months later to "lend a hand" when the grade school moved from the Gardner

Building to the newly constructed Malaga Cove School building. They supplied

curtains, furniture and helped establish the cafeteria.The Palos Verdes Woman's

Club staged musical concerts, plays, poetry readings and dances, offered gardening

and sewing classes, library projects and other endeavors. During the Depression

the Club organized donations of food and clothing for affected South

Bay families and partnered throughout World War II with the local Red Cross

chapter. With soldiers in three camps on the Peninsula their assistance was appreciated.Celebrating

90 years of serving the community, the Palos Verdes

Woman's Club continued the legacy of the early founders by sponsoring fund

raisers with all proceeds going to local charities and scholarships for Peninsula

High School Seniors. Membership in the Palos Verdes Woman's Club is open to

all women living in the South Bay.

Left to right: Lizzy Mansukhani of Palos Verdes Peninsula High School /

University of Oregon, Gabby Grant of Rancho Del Mar High School /

Harbor Junior College, Ava Conway of Palos Verdes High School / Eastman

School of Music, and Wesley Booth of Palos Verdes High School /

University of California Berkeley.

Peninsula Shopping Center Donation

n Peninsula Shopping Center's Grand Opening event for Habit Burger Grill and

Chipotle Mexican Grill raised awareness and money to help support Soleado Elementary

School programs. From left to right: Gina Stutzel, Principal of Soleado

Elementary School, middle: Heath McCue, Director of Marketing for Peninsula

Shopping Center, far right is Erica Mangham, Booster President, Soleado Elementary

and then just say with Soleado Elementary school students.

Susan Negrete, AAUW Status of Women Awardee

n The Palos Verdes Peninsula Branch of the American Association of University

Women (AAUW-PVP) has announced that the 2016 prestigious AAUW Status of

Women Award will be presented to Susan Negrete, a Palos Verdes resident and

member of the organization. The annual award, which was established in 1969,

recognizes a woman who has utilized her leadership talents for the benefit of

AAUW's mission in the community, and who has been, and continues to be, an

outstanding role model for girls and other women. Susan Negrete has demonstrated

her leadership in many ways. She is now a trainer and spokesperson for

the AAUW California State Division and is completing a two-year term as a State

Director. At the same time, she has been supportive and active in the California

AAUW Tech Trek science summer camp program for 8th grade girls. In addition

to helping the local branches send qualified, but under-served girls to the camps,

she has also volunteered as a camp dorm mom for the last two years, and plans

to repeat the experience again this summer. Susan is a member of the Torrance

branch of AAUW, and is involved in their activities as well. She is the facilitator

and one of the founding members of Women in Transition, a viable discussion

group with members from three AAUW branches: PVP, Torrance, and Beach

Cities. She is also active in the work of the Downtown Women's Shelter. Susan

Negrete will be presented the Status of Women Award at the AAUW-PVP Fall Fiesta

meeting on August 20, 11:30 a.m.-2 p.m., at Hesse Park, 29301

Hawthorne Blvd., Rancho Palos Verdes. Reservations are necessary. Cost is $15.

For more information or reservations go to the AAUW-PVP Website at palosverdesca.aauw.net.

AAUW advances equity for women and girls through advocacy,

education, philanthropy and research.

August 2016 • Peninsula 77
---
Backhanded

compliment

A strict fitness

regimen and

strong backhand

have helped

Peninsula High's

Connor Hance

become one of

the top junior players

in the country

by Randy Angel

Facing match point against the top

seed, up-and-coming tennis player

Connor Hance was trying his best

to dig himself out of a hole.

The 14-year-old had dropped the first

set in the Asics Easter Bowl finals and,

trailing 6-5 in the second set, was looking

for a ray of hope.

He got it when John McNally, of

Cincinnati, double faulted giving Hance

the opportunity he needed. He scored

the next two points to force a tiebreaker

and proceeded to win the championship

with a 4-6, 7-6 (3), 6-4 victory.

"That definitely was a big moment in

my career," said Hance, now a 17-yearold

senior at Peninsula High School. "It

was nice to beat him because he later

defeated me at the National Championships

in Kalamazoo, Michigan."

The 2013 Easter Bowl championship

drew the attention of national coaches.

American tennis greats who have competed

in the Easter Bowl – Agassi,

Austin, Capriati, Davenport, McEnroe,

Roddick and Sampras – later became

household names.

UCLA-bound Connor Hance led

Peninsula High to its first

boys tennis CIF championship

since 2000. Photo by Ray Vidal

78 Peninsula • August 2016
---
Hance's career on the tennis court has since flourished. The 5-foot-10,

160-pound right hander is ranked No. 21 in the nation in the Boys 18 Singles

division and in April, became the first boys tennis player from Peninsula

High to win the CIF singles division title at the prestigious Ojai Tournament.

The junior's victory over Corona del Mar senior Bjorn Hoffmann helped

Peninsula finish in a first-place tie with San Marino for the team title.

In May, Peninsula and San Marino would square off in the finals of the

CIF-Southern Section Division 1 team championships. Hance led the Panthers

to a 10-8 victory and Peninsula's first CIF championship in boys tennis

since 2000.

"My freshman year we were not close to being one of the top teams,"

Hance said. "We worked hard and it paid off."

Peninsula head coach Mike Hoeger said Hance has a style similar to 2012

Olympic gold medalist Andy Murray.

"He has a good serve and good wheels, but he has a world-class backhand,"

Hoeger said. "Most players at this level pick on their opponent's

backhand but they can't do that with Connor."

Hoeger expects Hance to return for his senior season in hopes of winning

the CIF Individual Singles title.

"Connor has meant a great deal to our program," Hoeger said. "He had a

lot of hype coming into high school. It was surprising to see what a team

player he is. Having a No. 1 player be such a team player is a blessing. He's

been a great role model for other players."

Hance said his short-term goals are to play well in tournaments, keep improving

his game and next spring help Peninsula win back-to-back CIF

championships while claiming the elusive CIF Individual Singles title.

"It's different playing for a team. There's more pressure because all of

your teammates are counting on you," Hance explained. "I work well with

coach Hoeger. He accommodates me so I can play in other tournaments,

letting me know when he needs me for important high school matches."

Hance said the two toughest opponents he faced this year have been Hoffman,

who won the CIF Individual title, and Alex Kuperstein of Palm Desert,

who defeated Hance in the semifinals.

Hance comes from a tennis family.

His father, Ken, has been involved in tennis in the South Bay since 1976

and is Director of Junior Tennis at the Peninsula Racquet Club.

Connor's mother, Courtney has been teaching tennis for more than 20

years and was the No. 1 player at UC Irvine all four years. She and Ken

founded South Bay Tennis Club 19 years ago and it became a second home

for their four children.

"I think the kids have spent more time at the club than in our own home,"

Courtney quipped. "Fortunately, they all love tennis."

Connor feels his dad has had the biggest influence on his tennis career

'He taught me how to play tennis and coached me every day," Connor

said. "Also, Eric Basica, whom I've been working with since I was 12."

"Connor came to work with us as soon as he was allowed to the leave

the hospital after his birth," Ken said. "He's had a tennis racket in his hand

since two years old. I worked with him every day until he was about 16,

when he took on other coaches. Now we're working together again fine

tuning his game."

When Connor was 5 years old, he was cast as the son of tennis greats

Andre Agassi and Steffi Graf in a television commercial.

"It ran during Wimbledon and US Open so he had his five seconds of

fame," Ken recalled. "He did other commercials until about 8 or 9, but tennis

has always been his passion."

Connor began playing in tournaments when he was 6 years old and by

the age of 10 started to take the sport seriously.

"I always knew I'd be a tennis player," Hance said. "When I was 12 I won

the National Clay Court Championships and I was on my way."

Along with a devastating backhand, Hance feels one of his strengths is

his ability to wear down his opponent.

"Connor has grit and even at a young age, his work ethic and discipline

were exceptional," Courtney said of her son. "He's not the tallest or best

athlete on the court, but he's scrappy and in better shape than most other

players."

In June, at the USTA SoCal Jr. Sectional Championships, a sore wrist

forced Hance to withdraw from the tournament after winning his first four

matches. Later that night, Courtney heard a noise coming from the street.

"I looked out the window and saw Connor running around cones in the

middle of the street," Courtney said. "He told me, 'Just because my wrist is

hurt, I have to stay in shape.'"

The nutrition-conscious Hance spends three to five hours each day on

the court but his workout does not end there.

After returning home from practice, Hance will either run or drive to the

beach where he works in the sand on movement, quickness and sprints.

"Many people believe that strong arms and shoulders are important in

tennis but it's quickness and strength in your legs that will help you succeed

on the court," Hance said. "I also work on my core two to three times a

week. I don't lift weights because it constricts muscle movement, which is

vital to tennis players."

Hance is coming off a win at the Manhattan Beach Tennis Open where

he played "just for fun" with friend Joseph Rotheram, of Manhattan Beach.

The pair captured the Men's Open Doubles championship.

As the level of competition increases, Hance has learned to cope with

pressure, finding something in the match to focus on so nerves don't get

the best of him.

"I'm used to pressure. I've learned to stay loose in big point situations,"

Hance said. "If you get nervous, you tend to tense up. I feel the preparation

I put in gives me the confidence to handle any situation in a match."

Tennis has provided Hance the opportunity to travel while playing in

tournaments across the country.

"I least like to play in Florida," Hance said. "I really like Kalamazoo, not

only because it's the National Championships, but because it has the best

sponsors and hospitality. I also enjoyed playing in Louisiana. Three other

boys and myself got to stay with a host family in this beautiful mansion.

Ojai is also a great tournament. It is highly competitive and the entire town

comes out to support the tournament."

Hance will return to Kalamazoo for the Boys 18s National Championships

Aug. 5-14. He said the highlight of his career came two years ago when he

reached the finals in the 16s tournament at Kalamazoo.

He'll later represent Southern California at the Junior Team Tennis National

Championships in South Carolina Oct 20-23, where regions compete

for the title.

Hance hopes the stiff competition will help prepare him for his college

career at UCLA. The Bruin head coach is Billy Martin, a 1974 graduate of

Palos Verdes High School who won the NCAA Singles championship in

1975 before turning pro.

Helping UCLA win an NCAA championship is among Hance's long-term

goals.

"I plan to focus on college and work my way up in the lineup," Hance

said. "I eventually want to have a professional tennis career and, of course,

it's every player's dream to win a Grand Slam or be in the Olympics."

Numerous universities were interested in Hance, including Stanford and

USC, but he chose UCLA because of its proximity and balance of athletics

and academics.

"I was highly ranked at the age of 14 and knew if I maintained that level,

I could pick almost any school I wanted to attend," he said. "It's a beautiful

campus and close to home so my family and friends can come watch me

play."

Free time is rare for Hance but he takes advantage of it when it occurs,

hanging out with friends or playing guitar.

"I took up guitar a year ago and can actually play songs now," Hance said.

"I also like to surf, which I've been doing a lot of this summer. It really

loosens up the shoulders and improves my range of motion."

Hance said his mother, Courtney, has been the biggest overall influence

in his life. He enjoys the fact that older sister Kenadi, 19, younger sister

Kimmi, 13, and brother Keaton, 8, all love tennis.

"My mom is very outgoing so we have similar personalities. She's also

very funny," Hance said. "Kenadi and I are so close in age that we've had a

sibling rivalry for many years. Playing tennis, we were both similar at levels

in our respective age groups. When I got taller and stronger, I caught up to

her but she still thinks she's better than me."

Kenadi, like Connor, was a CIF champion at Peninsula High. As a freshman

at the University of Washington last fall, she finished second on the

team with 11 dual match wins in singles. She also was a five-time USTA

National Champion.

The Palos Verdes Peninsula has been a breeding ground for tennis players,

including greats of the game Tracy Austin, Pete Sampras and Lindsay Davenport.

Hance hopes one day to join that list. PEN

August 2016 • Peninsula 79
---
around&about

PV Ballet

appointment at any of the libraries please visit: www.pvld.org/services/passport.

The Palos Verdes Library District is a nationally recognized, award-winning library

system serving all four cities on the beautiful Palos Verdes Peninsula. It collaborates

with the community to create environments for learning and inspiration,

and to share the unique history of the Peninsula. PVLD is an independent special

district governed by a publicly elected Board of Trustees.

Special Children's League

The incoming board (L/R first row: Maria Ballinger, Jacqueline Dunton,

Joyce Komatsu, Michele Dahlerbruch second row: Paula Boothe,

Monique Caine and Lori Delgado).

Olivia Tang performing the role of 'La Esmeralda.' Dream come true!

n 19-year-old Olivia Tang of Palos Verdes Ballet signed her contract as a member

of the Joffrey Ballet Company. She started at the age of 6 at Palos Verdes Ballet

with all the fun and professional performances as a little mouse and party girl in

the Nutcracker. Her talent and consistent work and dedication progressed to beautiful

roles of the repertoire. She was a dreamy Cinderella, magical Firebird and

beautiful sweet Sugar Plum Fairy. Olivia was invited many times to the prestigious

Youth America Grand Prix (YAGP) competition New York Final, semi-finalist at Los

Angeles Music Center Spotlight Award Competition. She has spent many Summer

Intensive Workshops at Palos Verdes Ballet as well as San Francisco Ballet School's

year round program. Palos Verdes Ballet is very proud of Olivia and her achievements.

She follows the path of many former students who joined companies like

New York City Ballet, Pacific Northwest, San Francisco Ballet, American Ballet

Theatre as many students excelled in life.

Passport services expanded

n The Palos Verdes Library District (PVLD) is opening an additional passport

branch at the Malaga Cove Library beginning August 1. Passport services at this

location will be by online appointment only from 11 a.m. to 4 p.m. on Wednesday,

Thursday and Friday and will include the processing of new passport applications,

renewals, expedited services, passport photos and copying.

In addition, PVLD will be increasing passport hours of operation on Wednesdays

and Saturdays at the Peninsula Center Library beginning July 30, and the new

hours of operation there will be as follows: Walk-in Services: Monday, Tuesday

and Thursday from 1 to 4:30 p.m., Wednesday from 1 to 6 p.m. and Friday

from 1 to 4 p.m. Appointment Only Services: Monday through Friday from 9 to

11 a.m. and Saturday from 9 a.m. to 5 p.m. Prices vary according to services

needed.

The Miraleste Library continues to offer passport hours from noon to 4:30 p.m.

Monday through Friday, and 11 a.m. to 3:30 p.m. on Saturdays. To book an

n The Special Children's League recently held its installation of officers and

awarded over $86,000 in annual gifting. The majority of gifts were granted to

United Cerebral Palsy of Los Angeles (UCPLA), as well as to local organizations

including: PVPUSD Special Education

Services, Pediatric Therapy Network,

Ride to Fly, LA Dodgers Foundation - The

Miracle League, Golden Heart Ranch,

Camp Paivika, and US Adaptive Recreation

Center. Special Children's League

(SCL), South Bay Committee was

founded in 1957 when a group of

women in Palos Verdes rallied around a

friend whose child was born with cerebral

palsy. They formed an alliance with

UCPLA, a strong partnership that has

continued for over 50 years. Today,

these dedicated women share a common

goal: to lift the lives and spirits of

those affected by disabilities, through education

in the local community and as a

team member of UCPLA. Some members

have been with SCL for over twenty

years and some have children with disabilities.

Those who have children with

disabilities help create a better understanding

and appreciation of the needs

of affected individuals and their families.Their

annual benefit will be on November

18 at the Palos Verdes Golf

Club. It is the primary fundraiser and

gives SCL an opportunity to educate and

inspire guests and members while touching

their hearts with amazing personal

stories. PEN

Outgoing President Janice

Robinson and incoming President

Joyce Komatsu.

80 Peninsula • August 2016
---
Classifieds Your Local Expert Community 424-269-2830

CONCRETE CONSTRUCTION ELECTRICAL GARDENING PAINTING ROOFING

QUIXTAR

Concrete & Masonry

Residential & Commercial

310-534-9970

G

Lic. #935981 C8 C29

CONSTRUCTION

Call us to Discuss the

ENDLESS POSSIBILITES

Extreme

Hillside Specialist

Foundation Repair Experts

Grading & Drainage

Retaining Walls,

Fences & Decks

310-212-1234

www.LambConBuilds.com

Lic. #906371

ANNOUNCEMENTS

Reserve

D

Remodeling

Design

Kitchens

Bathrooms

Room Additions

New Construction

CONSTRUCTION

your space in

the next

Call direct 424-269-2830

Pub Date: Aug 27

Deadline: Aug 12

s

Your Ad Here

62,000 Readers

424-269-2830

magazine

Charles Clarke

Local Owner/General Contractor

Ph: (310) 791-4150

Cell: (310) 293-9796

Fax (310) 791-0452

"Since 1990" Lic. No. 810499

LYNCH

ELECTRIC &

General

Building

Contractors

• Residential

Troubleshooting

• Remodel Specialist

Scott K. Lynch

P.V. Native

Licensed & Insured

Cell

310-930-9421

Office & Fax

310-325-1292

www.LynchElectric.us

Lic 701001

GARAGE DOORS

classifieds

424-269-2830

PLUMBING

MATTUCCI

FULL SERVICE PLUMBING • COPPER REPIPES

SEWER VIDEO INSPECTION • HEATING

DRAIN & SEWER SERVICE • COOLING

TRENCHLESS SEWER REPLACEMENT

HANDYMAN

Handyman

Services…

Fix It Right the

First Time

We like small jobs

/ Free estimates

What we do…

Plumbing,

Electrical, Drywall,

Painting & more.

Valente Marin

310-748-8249

Unlic.

MUSIC LESSONS

Vocal Technician

Piano Teacher

Vocalist

Jeannine McDaniel

Rancho Palos Verdes

20 year experience

All Ages

310-544-0879

310-292-6341

Jeannine_mcdaniel2001@yahoo.com

PLUMBING • HEATING • COOLING

DEPENDABLE • PROFESSIONAL • AFFORDABLE

ON CALL

24 HOURS

7 DAYS

FREE ESTIMATES

310.543.2001

CALIFORNIA

Lic. #770059

C-36 C-20 A

2013

BEAR BROTHERS

PAINTING

Quality Workmanship

Interior • Exterior

• Pressure Washing

• Decks

Free Estimates

375-1966

Lic #614749

PLASTERING

Patch Master

Plastering

Patch Plastering

Interior • Exterior

• Venetian Plastering

• Ceiling Removal

• Drywall Work

• Acoustic

Ceiling Removal

• Water & Fire Restoration

310-370-5589

Lic. # 687076 • C35-B1

PLUMBING

Thank You South Bay for

50 Years of Patronage!

Residential • Commercial • Industrial

Plumbing 24/7 • Heating

Air Conditioning

pfplumbing.net

800-354-2705 • 310-831-0737

TILE

Tile Reroof and

repair specialist

310-847-7663

Family owned

business since 1978

Lic 831351

POOLS & SPAS

POOLS • SPAS

HARDSCAPES

New Construction

& Remodeling

Excellent References

Horusicky Construction

310-544-9384

www.Horusicky.com

Credit cards accepted

Lic #309844, Bonded, Insured

SOLAR ENERGY

Your Ad Here

62,000 Readers

424-269-2830

Simply Tiles Design Center

Fine Ceramics, Natural Stone, Hardwoods, Cabinetry, Faucetry.

Kitchen & Bathrooms Specialist.

3968 Pacific Coast Hwy., Torrance • (310) 373-7781 • www.simplytiles.com

License #904876

August 2016 • Peninsula 81
---
84 Peninsula • August 2016