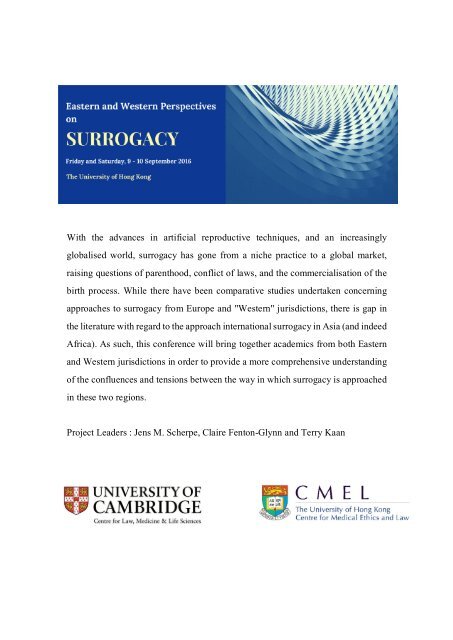 Conference booklet 17.08.2016
You also want an ePaper? Increase the reach of your titles
YUMPU automatically turns print PDFs into web optimized ePapers that Google loves.
With the advances in artificial reproductive techniques, and an increasingly

globalised world, surrogacy has gone from a niche practice to a global market,

raising questions of parenthood, conflict of laws, and the commercialisation of the

birth process. While there have been comparative studies undertaken concerning

approaches to surrogacy from Europe and "Western" jurisdictions, there is gap in

the literature with regard to the approach international surrogacy in Asia (and indeed

Africa). As such, this conference will bring together academics from both Eastern

and Western jurisdictions in order to provide a more comprehensive understanding

of the confluences and tensions between the way in which surrogacy is approached

in these two regions.

Project Leaders : Jens M. Scherpe, Claire Fenton-Glynn and Terry Kaan
---
GENERAL INFORMATION

Conference Venues

The Conference will be held in the Wang Gungwu Lecture Theatre, Level P4, Graduate

House, The University of Hong Kong.

WiFi

FREE WiFi service is provided in the conference venue. Connection to Wi-Fi.HK via

HKU is easy and no registration is required. Only 3 steps to connect:

1. Ensure that WiFi is turned ON

2. Find the access point "Wi-Fi.HK via HKU"

3. Open a browser and accept the Terms and Conditions

For delegates and participants with an account from an academic institution, access via the

eduroam service is also available. Please log onto the eduroam access point, entering your

full email address (e.g. onetwothree@abc.edu) and your email password for that account.

Detailed connection procedures for different operating systems can be found at:

http://www.its.hku.hk/documentation/guide/network/wifi/wifihk

Badges

For security reasons and catering purposes, please wear your name badge during the

conference. Re-placement for lost badges are available from the registration desk.

Lunch

There are a number of places on campus where you can obtain a variety of refreshments at

your own cost:

1. Rome Café, Level P3, Graduate House

2. Subway, Run Run Shaw Podium

3. Starbuck's Coffee, G/F, Old Wing of the Library Building

4. BIJAS Vegetarian ( 一 念 素 食 ), G/F, Run Run Shaw Tower, Central Podium,

Centennial Campus

Eastern and Western Perspectives on Surrogacy 1
---
PROGRAMME:

Eastern and Western Perspectives on

Surrogacy

9 and 10 September 2016

DAY ONE (9 September 2016)

9:00-9.30am:

Registration and Morning Coffee

9:30-9:45am:

Welcome address (Prof Michael Hor, Dean of the Faculty of Law)

9:45-11:00am:

The prohibitive approach: France, Germany; View from the bench

(Germany)

Chair:

Speakers:

Prof Esther Farnós Amorós (Universitat Pompeu Fabra,

Barcelona)

Prof Walter Pintens (Catholic University of Leuven)

Prof Anatol Dutta (University of Regensburg)

Dr Frank Klinkhammer (Judge, German Federal Court

of Justice)

11:00-11:30am:

Coffee

11:30-1:00pm:

The tolerant approach: England, Australia, New Zealand

Chair:

Speakers:

Mr Marcus Dearle (Berwin Leighton Paisner (HK))

Dr Claire Fenton-Glynn (University of Cambridge)

Prof Mary Keyes (Griffith University)

Dr Debra Wilson (University of Canterbury)

Eastern and Western Perspectives on Surrogacy 2
---
1:00-1.30pm

Key Note Address: Sir Mark Hedley (retired High Court Judge,

England and Wales)

1:30-2:15pm:

Lunch

2:15-3:15pm:

The regulatory approach: South Africa, Israel

Chair:

Speakers:

Mr Matthew Jolley (Law Commission, England & Wales)

Dr Debbie Horsten (Stellenbosch University)

Prof Rhona Schuz (Sha'arei Mishpat Academic Center)

3:15-3:45pm:

Coffee

3:45-5:15pm:

The free market approach: Russia, USA, India

Chair:

Speakers:

Prof Johannes Chan SC (Hon) (University of Hong Kong)

Prof Olga Khazova (Institute of State & Law, Russian

Academy of Sciences)

Prof June Carbone (University of Minnesota)

Dr Prabha Kotiswaran (King's College London)

Evening: Conference Dinner

Eastern and Western Perspectives on Surrogacy 3
---
DAY TWO (10 September 2016)

8:30-9:00am:

Registration and Morning Coffee

9:00-9:30: Key Note Address: His Honour Chief Judge John Pascoe AC CVO

(Federal Circuit Court of Australia)

9:30-11:00am:

The East Asian approach I: Hong Kong SAR, Singapore, Taiwan

Chair:

Speakers:

Mr Azan Marwah (Gilt Chambers, Hong Kong)

Prof Daisy Cheung (University of Hong Kong)

Prof Terry Kaan (University of Hong Kong)

Dr Chih-Hsing Ho (Academia Sinica)

11:00-11:30am:

Coffee

11:30-1:00pm:

The East Asian approach II: Japan, South Korea, Thailand

Chair:

Speakers:

Mr Spencer Clarke (Law Commission, England and

Wales)

Prof Soraj Hongladarom (Chulalongkorn University)

Prof Shinichiro Hayakawa (University of Tokyo)

Prof Kim Ock-Joo (Seoul National University)

1:00-1:30pm:

Lunch

1:30-1:50pm:

The Process of Law Reform: Prof Nick Hopkins (Law Commissioner,

England and Wales)

1:50-3:00pm:

General Discussion and Concluding Remarks

Chair: Prof Jens M. Scherpe (University of Cambridge /

University of Hong Kong)

Eastern and Western Perspectives on Surrogacy 4
---
List of Speakers and Contributors (by alphabetical order)

Professor June CARBONE is the Robina Chair of Law,

Science and Technology and Associate Dean for

Research and Planning at the University of Minnesota.

Previously she has served as the Edward A.

Smith/Missouri Chair of Law, the Constitution and

Society at the University of Missouri at Kansas City, and

Associate Dean for Professional Development and

Presidential Professor of Ethics and the Common Good

at Santa Clara University School of Law. She received

her J.D. from the Yale Law School, and her A.B. from

the Woodrow Wilson School of Public and International

Affairs at Princeton University. She teaches Property,

Family Law, and Assisted Reproduction and the Family.

She has written From Partners to Parents: The Second

Revolution in Family Law (Columbia University Press,

2000), the third, fourth and fifth editions of Family Law

with Leslie Harris and the late Lee Teitelbaum (Aspen, 2005, 2009, 2014), Red Families v.

Blue Families (Oxford University Press, 2010); Marriage Markets: How Inequality is

Remaking the American Family (Oxford University Press, 2014), both with Naomi Cahn.

She is a member of the Yale Cultural Cognition Project.

Professor Johannes M M CHAN is Professor of Law

and former Dean of the Faculty of Law (2002-2014),

being the longest serving Dean of the Faculty. He was

also a visiting professor to a number of universities in

Europe and Asia, including being the BOK Visiting

International Professor of Penn Law School, University

of Pennsylvania (2014), Herbert Smith Freehills Visiting

Professor of Cambridge University (2015), and a visiting

fellow of Gonville and Caius College, Cambridge

University. In recognition of his distinguished

contribution to legal development through both advocacy

in courts and legal research and publications, he was

honoured by the Chief Justice in 2003 by his appointment

as the first (and so far the only) Honorary Senior Counsel

in Hong Kong.

Eastern and Western Perspectives on Surrogacy 5
---
Ms Daisy CHEUNG is Assistant Professor, Faculty of

Law, The University of Hong Kong; Board member,

Centre for Medical Ethics and Law

Daisy's research interests are primarily in the field of

mental health law and ethics. Her interests also cover

issues in assisted reproduction and developments in

precision medicine.

Mr Spencer CLARKE is a lawyer in the Property,

Family and Trust Law team at the Law Commission for

England and Wales. Spencer studied at the University of

Nottingham; Goldsmiths, University of London; and

what is now the University of Law before training as a

solicitor at Withers LLP, qualifying in 2005. He

practised as a family lawyer in London for 8 years, at

Forsters LLP, specialising in high net worth financial

settlements and private law children work, and trained as

both a mediator and a collaborative lawyer. Spencer

joined the Law Commission in 2013, focusing on family

law and related areas; he has worked on reform projects

on matrimonial property, needs and agreements; the

enforcement of family financial orders; weddings; and

wills.

Eastern and Western Perspectives on Surrogacy 6
---
Mr Marcus DEARLE is a partner of Haley Tam & Co

in association with Berwin Leighton Paisner, Hong Kong.

He is a solicitor qualified in England & Wales, Hong

Kong and the BVI. He was previously a partner of

Withers, working for 19 years in its London office,

before moving to Asia in 2009 to spearhead the

formation of a family department in Hong Kong. He is

listed as a leading individual in Chambers Asia Pacific

and in 2015 was ranked as one of the "Top 10" family

lawyers in Hong Kong by Spears Magazine, Asia.

He specialises in complex family law cases with an

international element and has expertise in surrogacy law

both in England and Hong Kong. He was one of the first

to call for international surrogacy regulation back in

2001: he acted in the leading international surrogacy case of W and B v H (Child Abduction:

Surrogacy) (No 1) [2002] 1 FLR 1008 and W v H (Child Abduction: Surrogacy) (No 2)

[2002] 2 FLR 252 which went to the Court of Appeal in London.

He is a Fellow of the international Academy of Family Lawyers (IAFL) – and is a member

of IAFL's Assisted Reproduction Technology (ART) Committee. He is an officer of the

Family Law Committee of the International Bar Association, IBA. He has regularly

lectured on surrogacy law and has published articles including in the UK and Hong Kong

national press: see article in UK Family Law Journal (FLJ) November 2001: "Avoiding the

Pitfalls".

In May 2015 he spoke at the IAFL Surrogacy Symposium in London. In October 2015, he

chaired an IBA seminar in Vienna: "The Legal Pitfalls of International Surrogacy: the need

for international regulation of surrogacy arrangements." In May 2016, he spoke on

English and Hong Kong surrogacy law at the American Academy of assisted Reproduction

Attorneys (AAARTA) annual conference in Denver, Colorado.

Eastern and Western Perspectives on Surrogacy 7
---
Professor Anatol DUTTA was born in 1976 in Munich.

1997-2002 Studies in law at the Ludwig Maximilians

University of Munich. 2002 First State Examination.

2002-2003 Magister Juris (M. Jur.), University of

Oxford. 2003-2006 Practical Legal Training

(Referendariat), Hanseatic Court of Appeal, Hamburg.

2004 Summer course at the Hague Academy of

International Law. 2006 Second State Examination.

2006 Doctor iuris (Dr. iur.), University of Hamburg;

Otto Hahn Medal of the Max Planck Society for the

Advancement of Science. December 2012 Habilitation at

the University of Hamburg.

2003-2006 Research Associate, 2007-2014 Senior

Research Fellow at the Max Planck Institute for

Comparative and Private International Law. 2007-2013

Lecturer at the University of Hamburg

Lent term 2009 Visiting Fellow at the University of Cambridge. Guest lecturer at the Adam

Mickiewicz University Poznań (since 2005), at Vienna University of Economics and

Business (2007), at Kyushu University Fukuoka (2012), at the University of Auckland

(EUCN Visiting Fellow 2013) and at Lomonosov Moscow State University (2015).

Since April 2014 full professor at the University of Regensburg

Member of the Academic Board of the Federal Association of German Civil Servants and

of the German Council of Private International Law (Federal Ministry of Justice)

A recent list of publications can be obtained at www.uni-regensburg.de/law/civillaw/dutta/.

Eastern and Western Perspectives on Surrogacy 8
---
Professor Esther FARNÓS AMORÓS is a full time

Lecturer in Civil Law at Pompeu Fabra University

(Barcelona, Spain). She has been conducting research at

the Oxford Centre for Family Law and Policy (Oxford

University, 2005-2006), Cornell Law School (Cornell

University, 2007-2008) and Autonomous University of

Madrid (2013-2014), among other institutions.

Her main research interests lie in the fields of family law,

bioethics and contracts. She holds a Ph.D. in Law from

Pompeu Fabra University by a thesis on disputes over

frozen embryos after divorce (IV Extraordinary Ph.D. in

Law Prize, 2011) and is the author of a book on consent

to ART (Consentimiento a la reproducción asistida.

Crisis de pareja y disposición de embriones, Atelier,

2011), which was awarded the XIV Prize for Bioethical Research (Fundació Víctor Grífols

i Lucas, 2012). She is the author of several book chapters and law review articles on topics

such as family self-determination, parentage resulting from access to ART and the

effectiveness of surrogacy agreements ("Surrogacy arrangements in a global world: the

case of Spain", International Family Law 1/2013, pp. 68-72). She is a member of the

Harmonization Section of the Codification Committee of Catalonia, which is part of the

Justice Department of the Catalan Government, and has been a member of the Bioethics

Committee of Catalonia working group on the right to know one's biological and genetic

origins. Currently she is part of two research projects being carried out at Pompeu Fabra

University and Autonomous University of Madrid, respectively, on reproductive freedom

and building family relationships and the present and future of ART in twenty-first century

family law in Spain and Latin America.

Eastern and Western Perspectives on Surrogacy 9
---
Dr Claire FENTON-GLYNN is a University Lecturer

and Fellow in Law at Jesus College, University of

Cambridge. She specialises in human rights and the

protection of children, in particular focusing on issues

such as intercountry adoption, international surrogacy,

and cross-border child protection, as well as children's

rights under the European Court of Human Rights. At the

core of this research is the interaction between

international and regional human rights instruments and

domestic law, and the way in which these frameworks

can be used to implement children's rights. Her first book,

"Children's Rights in Intercountry Adoption" was

awarded the Inner Temple Book Prize for New Authors,

as well as the University of Cambridge Faculty of Law's

Yorke Prize. Claire is a member of the Centre for

International Sustainable Development Law, and has

worked as a consultant on issues concerning child protection, human rights, and rule of law

with organisations such as the UN Office of the High Commissioner for Human Rights,

the European Union, Save the Children and Avocats sans Frontières.

Professor Shinichiro HAYAKAWA is Professor of Law,

University of Tokyo, Graduate School of Arts and

Sciences, Department of Advanced Social and

International Studies (Tokyo, Japan) Specialized in

International Private Law, International Transaction Law,

and Japanese Civil Law.

Graduated from Law Faculty of University of Tokyo.

Worked as Research Associate in Law Faculty of

University of Tokyo, Attorney at Law (Nagashima &

Ohno in Tokyo), Associate Professor of Kansai University,

Associate Professor of Nagoya University, and Professor

of Tohoku University.

Served as Japanese delegate to the Hague Conference on

Private International Law for the Project of Family Maintenance (2002-2007). Member of

Legislative Council for Minister of Justice since 2013

Eastern and Western Perspectives on Surrogacy 10
---
Sir Mark HEDLEY was born in London in 1946 and is

married with four children. After school, he read law at

the University of Liverpool and was called to the Bar in

1969. He then served for a year as a volunteer teacher in

the northern Sudan before returning to Liverpool to

practice as a barrister, specialising in the law that most

affected those at the bottom of the social pile but with an

increasing emphasis on the law as it affects children.

Beginning his part-time judicial career in 1983, in 1992

he became a full-time Circuit Judge in Liverpool dealing

with a wide range of cases but continuing the emphasis

on cases affecting children. He was course director for

family law at the Judicial Studies Board (now the Judicial

College) from 1997 to 2002.

In 2002 he was appointed a High Court Judge in the Family Division (and in 2007 also in

the Court of Protection) and was knighted. He also sat as a member of the Court of Appeal

(Criminal Division) and as an additional judge in the Civil Division of that Court. He had

particular responsibility for family law in Wales 2002 – 7 and Greater London 2007 – 11.

In 2007 the first overseas commercial surrogacy cases came before the High Court and all

were assigned to him in the early years.

He retired in 2013 and has since been Visiting Professor of Law at Liverpool Hope

University and lectures widely as well as holding a number of other part-time (and mostly

honorary!) posts; he also does a little media work. He has since 1975 been a lay preacher

in the Church of England and now holds a number of offices in the church which utilise

his judicial experience.

Eastern and Western Perspectives on Surrogacy 11
---
Dr Chih-Hsing HO is Assistant Professor/Assistant

Research Fellow at Academia Sinica, Taiwan. Her research

focuses on the nexus of law and medicine in general, with

particular attention to the governance of genomics and

newly emerging biotechnologies, such as big data and

biobanks. She is currently a Co-Principal Investigator for a

health cloud project in Taiwan, and is responsible for

designing an adequate regulatory framework for the

secondary use of personal data and health-related data

linkage. She holds a Ph.D. in law from the London School

of Economics (LSE) where she was an Olive Stone Scholar.

She obtained her first law degree from Taiwan, and later

received her LLM from Columbia Law School and a JSM

from Stanford University. Before moving back to Taipei in

2014, she had been working at the Centre for Medical

Ethics and Law (CMEL) at the University of Hong Kong.

Professor Soraj HONGLADAROM is Professor of

Philosophy and Director of the Center for Ethics of Science

and Technology at Chulalongkorn University in Bangkok,

Thailand. He has published books and articles on such

diverse issues as bioethics, computer ethics, and the roles

that science and technology play in the culture of

developing countries. His concern is mainly on how

science and technology can be integrated into the lifeworld

of the people in the so-called Third World countries,

and what kind of ethical considerations can be obtained

from such relation. A large part of this question concerns

how information technology is integrated in the lifeworld

of the Thai people, and especially how such integration is

expressed in the use of information technology in

education. He has organized the second and third Asia-

Pacific Computing and Philosophy conferences at Chulalongkorn University in 2005 and

2007. His works have appeared in The Information Society, AI & Society, Philosophy in

the Contemporary World, and Social Epistemology, among others.

Eastern and Western Perspectives on Surrogacy 12
---
Professor Nick HOPKINS is Law Commissioner for

Property, Family and Trusts Law. Prior to appointment in

October 2015, Nick had been an academic for over 20

years, holding posts in Durham University, the University

of Southampton and the University of Reading, where he

has a Chair in Law and was Deputy Head of the Law

School. Nick's academic research included a long

standing interest in family property and the family home.

Nick has published widely in leading legal journals

including the Law Quarterly Review, Modern Law

Review and Legal Studies and has spoken extensively at

international conferences.

Dr Debbie HORSTEN is a senior lecturer at the Faculty

of Law at Stellenbosch University (South Africa). She

lectures the first-year module "Law of Persons and the

Family" and the fourth-year elective module "Advanced

Family Law. Her area of research interest includes a

range of topics in the field of child and family law which

she approaches from a constitutional perspective.

Eastern and Western Perspectives on Surrogacy 13
---
Mr Matthew JOLLEY is team manager of the Property,

Family and Trust Law team at the Law Commission for

England and Wales. Matthew studied at Oxford

University before training and practising at London City

law firm Linklaters where he specialised in domestic and

international trust law. He joined the Law Commission in

2003, managing the teams running a range of property,

family and trust law reform projects alongside the lead

Commissioner for those areas. In the family sphere

Matthew has worked on the Law Commission's reform

projects on cohabitation; intestacy and family provision;

matrimonial property, needs and agreements; the

enforcement of family financial orders; weddings; and

wills.

Mr Terry KAAN is Associate Professor of Law, The

University of Hong Kong; Co-Director, Centre for

Medical Ethics and Law

Terry Kaan's research interests span from tort law to

medical ethics and law. He has published articles and

book chapters with regard to the issues of traditional,

contemporary and alternative medicine, and genetic

privacy. His current research is on how genetic testing

impacts doctor-patient relationship.

Eastern and Western Perspectives on Surrogacy 14
---
Professor Mary KEYES is Professor and Deputy Head

of School for Research at Griffith Law School. She

researches principally in private international law,

particularly in jurisdiction and international family law.

She is co-author of Private International Law in

Australia (3 rd ed, 2015, with Reid Mortensen and Richard

Garnett). She is currently working on a book on party

autonomy in private international law, comparing the

treatment of agreements in international family law with

their treatment in international commercial disputes.

Professor Keyes will give a special course at the Hague

Academy of International Law in 2020.

Professor Olga KHAZOVA works at the Institute of

State & Law within Russian Academy of Sciences

(Moscow). She holds Ph.D. from the same Institute and

LL.M. from Cornell University Law School (USA). The

main field of her expertise is connected with comparative

family law and child law. Apart from teaching, Olga

serves as a consultant on family law matters, children's

rights, and human reproduction issues for governmental

bodies, courts and law firms. She participated in drafting

of the Russian Family Code 1995, and for many years she

had been a member of the Expert Group at the Russian

Parliament Committee on women, family, and youth

matters. She was a member of the Group of Specialists

on Child-Friendly Justice, Council of Europe (2009-

2010). In 2011-2013, Olga was a key senior expert in the

EU project on the Application of the Hague Conventions

on Protection of Children in Russia. She is currently a member of the HCCH Expert Group

on Parentage/Surrogacy Project. Olga is the author of Marriage and Divorce in Western

Family Law and The Art of Legal Writing, as well as of numerous scholarly articles on

family law matters published in Russia and abroad. Olga was a British Academy Visiting

scholar and was awarded a Fulbright Program scholarship (USA). She taught the courses

on Introduction to Russian Law and Child's Rights in the International Context at the

Juridical faculty of Vienna University (2008, 2012 and 2015). She is a regular speaker at

Eastern and Western Perspectives on Surrogacy 15
---
international conferences, symposia, and workshops. She is a Vice-President of the

International Society of Family Law. Olga is a member of the UN Committee on the Rights

of the Child, and in June 2016 she was re-elected to the Committee for the next term.

Professor KIM Ock-Joo is a graduate from Seoul National

University College of Medicine, trained in biomedical

ethics and medical history at University of Minnesota,

Harvard University and Western IRB. Since 2002 she has

worked in research governance systems including

establishment of the KAIRB (Korean Association of IRBs).

After the Hwang Scandal, she collaborated with various

governmental agencies and academia to rebuild research

ethics systems and promote research ethics education in

Korea. As an expert in biomedical research ethics, she was

involved in the total revision of the Bioethics and Safety

Act and the operation of the National Bioethics Policy

Institute. She is currently director of the Center for Human

Research Protection at the Seoul National University

Hospital and a member of IRBs in university and hospitals.

She serves as a member of various government committees in bioethics including Central

Advisory Committee of Korean Ministry of Food and Drug Administration, and Expert

Committee under National Bioethics Review Boards. As a member of the Board of

Trustees of the Korean Bioethics Association and the Korean Society for Medical Ethics,

she played major roles in publishing biomedical ethics textbooks in Korea, including

Clinical Ethics (2014) and Medical Ethics (2015). Her main research areas are clinical

ethics, research ethics, and public health ethics and she has published many articles

including recently "Ethical considerations of MERS-CoV outbreaks in Korea."

Eastern and Western Perspectives on Surrogacy 16
---
Dr Frank KLINKHAMMER was born in 1961 in

Euskirchen, Germany. He studied law at Bonn University

and qualified for the German bar in 1990. He then

obtained a PhD in law from the University of Bonn. In

1990 he was appointed as judge, and from 1999 to 2008

sat at the Higher Regional Court in Düsseldorf. In 2008

he was appointed as judge at the German Federal Court

of Justice (Bundesgerichtshof) in Karlsruhe. As a member

of the 12th civil chamber (XII. Zivilsenat) he is mainly

concerned with Family Law. Frank also is lecturer at the

University of Marburg and one of the editors of the

leading German family law journal, FamRZ (Journal of

family law) and ZfPW (Academic Private Law Journal).

He has published extensively in the area of private law

and particularly in family law.

Dr Prabha KOTISWARAN is Reader in Law & Social

Justice at King's College London; she previously taught

at the School of Oriental and African Studies, London.

She received her undergraduate law degree in India from

the National Law School of India University, Bangalore

and an LLM and SJD from Harvard Law School. Dr

Kotiswaran's main areas of research include criminal law,

transnational criminal law, sociology of law, postcolonial

theory and feminist legal theory. Her 2011

book Dangerous Sex, Invisible Labor: Sex Work and the

Law in India (Princeton) won the 2012 SLSA-Hart Prize

for Early Career Academics. Dr Kotiswaran has also

edited an anthology on Sex Work (for a Series on Issues

in Contemporary Indian Feminism) and special issues of

the Journal of Law and Society and the Northern Ireland

Legal Quarterly on an economic sociology of law (with

Diamond Ashiagbor and Amanda Perry-Kessaris). She is currently engaged in a

collaborative project with Janet Halley, Rachel Rebouché and Hila Shamir which critically

assesses feminist successes in several arenas of domestic and international law reform.

Books resulting from this work include Governance Feminism: An Introduction and a coedited

volume Governance Feminism: A Handbook (forthcoming from the University of

Minnesota Press). Her edited volume on Revisiting the Law and Governance of Trafficking,

Forced Labor and Modern Slavery is forthcoming from Cambridge University Press.

Eastern and Western Perspectives on Surrogacy 17
---
Dr Kotiswaran is Senior Editor for Oxford Handbooks in Law Online, and on the Editorial

Boards of the Canadian Journal of Law and Society and the Jindal Global Law Review,

and is a Founding and Contributing Editor of an Open Democracy Blog Beyond Slavery

and Trafficking. Dr Kotiswaran's work has received support from the Arts and Humanities

Research Council; the Institute for Global Law and Policy, Harvard Law School; the

Hauser Institute for Civil Society, John F. Kennedy School, Harvard; the Journal of Law

and Society; the King's Policy Institute and the Leverhulme Trust.

Her recent publications include:

• Kotiswaran, Prabha and Palmer, Nicola (2015). Rethinking the 'International Law

of Crime': Provocations from Transnational Legal Studies, Transnational Legal

Theory 6(1): 55-88

• Kotiswaran, Prabha (2014). Beyond Sexual Humanitarianism: A Post-Colonial

Approach to Anti-Trafficking Law, University of California Irvine Law Review 4

(1): 353-406.

• Kotiswaran, Prabha (2013) "'Do Feminists Need an Economic Sociology of Law?'"

Towards an Economic Sociology of Law, Special issue of Journal of Law and

Society, edited by Diamond Ashiagbor, Prabha Kotiswaran and Amanda Perry-

Kessaris, (40(1) 115-136. Prabha Kotiswaran

Mr Azan MARWAH is a Hong Kong based barrister

and former Judicial Assistant to the Hong Kong Court of

Final Appeal. His practice includes family and child law;

employment, labour & discrimination law; human rights

and public law. He is also a trained and experienced

mediator, having previously acted as a court mediator in

civil harassment, landlord and tenant, and commercial

contracts disputes.

Azan regularly conducts CPD seminars and lectures on

family and child law issues and for over 8 years has

served as a legal advisor to children's charities in Hong

Kong, including Mother's Choice and PathFinders.

Azan is a contributing editor and author of a number of

leading texts including Hong Kong Family Court Practice

(2ed) (the 'Red Book'). His other publications include:

- Family Law Practice and Procedure in Hong Kong (2ed) (2015), co-author

- Hong Kong Civil Procedure (White Book) (2015), editor of Order 89 'Proceedings

between Husband and Wife' and Order 90 'Proceedings Concerning Minors'

- Atkin's Court Forms Hong Kong (Family volume) (2015) (editor)

Eastern and Western Perspectives on Surrogacy 18
---
- Archbold Hong Kong (2016), editor, Chapter 47 'Companies'

- "Personal Data Privacy in the Digital Age", Hong Kong Law Journal Vol. 43, Part 3 of

2013, co-author with Bharwaney J)

- Hong Kong Chitty on Contracts (4ed), Chapter 7 'Conflict of Laws'

His Honour Chief Judge John PASCOE AC CVO is

the Chief Judge of the Federal Circuit Court of Australia,

a position he has held since July 2004. The Federal

Circuit Court of Australia is a federal trial Court of broad

and diverse jurisdiction across all areas of Federal law

including Family, Migration, Human Rights, Bankruptcy,

Copyright, Industrial, and Admiralty law.

His Honour has been a partner in the legal firm, Stephen

Jacques & Stephen and a Managing Direction in the

national law firm, Phillips Fox (known now as DLA

Piper). He has been Chairman of a number of listed

companies and statutory authorities in Australia. His

Honour was Deputy Chancellor and a member of the

Council of the University of New South Wales and was

Deputy Chair of the Institute of Early Childhood Foundation.

He is an Honorary advisor to the Duke of Edinburgh's Award International Association

(Asia Pacific) and is currently serving as a Patron of the LAWASIA Family Law and

Family Rights Section. He is also a member of Board of Trustees and the Advisory Board

for the Cambodian Children's Fund Australia. His Honour is the Australian representative

to the Hague Conference on Private International Law Experts' Group on Parentage and

Surrogacy.

His Honour was appointed a Member in the General Division of the Order of Australia in

1994, an Officer in the General Division of the Order of Australia in 2002, and was awarded

a Centenary Medal in 2003. He was appointed a Commander of the Royal Victorian Order

in January 2010, and appointed a Companion of the Order of Australia in 2016, Australia's

highest honour.

His Honour has a particular interest in the elimination of human trafficking in all forms

particularly, the trafficking of newly born children.

Eastern and Western Perspectives on Surrogacy 19
---
Professor Walter PINTENS is Emeritus Professor,

University of Leuven (Belgium). Honorary Professor at

Saarland University (Germany). Doctor honoris causa of

the University of Regensburg (Germany). Titular

member of the International Academy of Comparative

Law (Paris). Member of the Scientific Advisory Board

of the Max Planck Institute for Comparative and

International Private Law (Hamburg)

Prof Jens M. SCHERPE is a Senior University

Lecturer in Law at the University of Cambridge,

Director of The Cambridge Family Law Centre

(http://www.family.law.cam.ac.uk), Fellow fo Gonville

and Caius College, Cambridge, and Cheng Yu Tung

Visiting Professor in Law, University of Hong Kong.

He also is an Honorary Fellow of St. John's

College/Hong Kong and an Academic Door Tenant at

Queen Elizabeth Building, London. Before coming to

Cambridge, he was a Senior Research Fellow at the Max

Planck Institute for Comparative and International

Private Law in Hamburg/Germany. He specialises in

comparative law and particularly comparative family

law. Jens has held visiting positions in many institutions,

including the University of Sydney, the University of

Auckland, Queen Mary University of London, the

University of Vienna and the Catholic University of

Leuven. He has acted as consultant in many cases in England, Germany, Hong Kong and

Belgium, including Radmacher v Granatino [2009] EWCA Civ 649, Z v Z (No 2) [2011]

EWHC 2878 (Fam) and SA v SPH [2011] HKCFI 1649 (HCMC 1/2011) and CACV

99/2012.

Eastern and Western Perspectives on Surrogacy 20
---
His publications include major comparative studies on cohabitants, same-sex relationships,

and, more recently, on the 'The legal status of transgender and transsexual persons'

(Intersentia Publishing, 2015) and 'Marital agreements and private autonomy in

comparative perspective' (Hart Publishing, 2012. In 2016 he edited a four volume book set

on European Family Law, including a monograph on 'The Present and Future of European

Family Law' (all Edward Elgar Publishing 2016. His comparative Studies on 'The Future

of Registered Partnerships' (together with Andrew Hayward) and "The Legal Status of

Intersex Persons" (together with Anatol Dutta and Tobias Helms) will be published in 2017

(by Intersentia Publishing). Jens' full list of publications can be found at

http://www.law.cam.ac.uk/people/academic/jm-scherpe/1231.

Professor Rhona SCHUZ is Professor of Law and Co-

Director of the Center for the Rights of the Child and the

Family at the Sha'arei Mishpat Law School Israel and

Adjunct Professor of Law at the Faculty of Law, Bar Ilan

University. Before moving to Israel, she was a lecturer in

law at the London School of Economics. She has an MA

in law and an LLM from the University of Cambridge

and a PhD from the University of London. Rhona has

written extensively in the areas of child law and private

international law, with particular emphasis on children's

rights, international child abduction and surrogacy in

Israel. In addition to numerous articles, she has published

two books, A Modern Approach to the Incidental

Question in the Conflict of Laws (Nijhoff, 1997) and The

Hague Child Abduction Convention: A Critical Analysis

(Hart, 2013).

Eastern and Western Perspectives on Surrogacy 21
---
Dr Debra WILSON is a Senior Lecturer in Law at the

University of Canterbury in New Zealand. Specialising

in Medical Law, she has a strong interest in both the

regulation of assisted reproductive technologies and

issues in relation to the ability of a parent/guardian to

consent to medical treatment for a child. She has written

and presented widely in relation to assisted reproduction,

and is the author of two chapters in a leading NZ text on

Child Law in this area. A current Erskine Fellow at

Cambridge and Rutherford Visiting Scholar at Trinity

College, Debra has previously been a Fulbright Visiting

Scholar at Georgetown University and an Erskine

Visiting Fellow at Oxford. She is currently the Primary

Investigator on a three year externally funded (NZ Law

Foundation) project entitled "Te Kohuki Ture Kopu

Whangai: Rethinking Surrogacy Laws".

Dr Eleni ZERVOGIANNI was born in Athens (Greece)

in 1978. In 2000 she graduated from the Law School of

the University of Athens and in 2001 she obtained the

"European Master in Law and Economics" from the Law

Faculty of the University of Hamburg. In 2006 she

received her Ph.D. degree with honours from the Law

School of the University of Athens. During her doctoral

and post doctoral studies she was awarded scholarships

from various institutions (such as the Hellenic State

Scholarships Foundation, the 'Alexander S. Onassis

Public Benefit Foundation', the Max-Planck-Institute for

Foreign and Private International Law in Hamburg and

the Swiss Institute of Comparative Law in Lausanne),

while she was also granted a 'Marie Curie Fellowship'.

Eleni Zervogianni is since November 2015 Assistant

Professor of Civil Law at the Law Faculty of Aristotle

University of Thessaloniki, where she had previously served as a Lecturer (since February

2011). She has taught numerous courses in Greek, both at an undergraduate and a

postgraduate level, covering the whole field of Civil Law. She has also offered courses in

English on 'European Contract Law', 'Introduction to Greek Civil Law' and 'Introduction

to Comparative Law'. Her research focuses mainly on the Law of Obligations as well as

Eastern and Western Perspectives on Surrogacy 22
---
on Family and Succession law, both from a national and comparative law perspective. She

is the author of two books and more than 50 articles and contributions to collective works.

She is also co-editor, together with Ass. Prof. Marta Infantino (University of Trieste) of the

Common Core Project on 'Causation in European Tort Law'. She has participated in many

conferences in Greece and abroad.

She is member of the Athens Bar Association, Associate at the Hellenic Institute of

International and Foreign Law (without pay), Scientific Associate of the Greek law journal

"Efarmoges Astikou Dikaiou" and member of the editing board of the Canadian journal

"Review of European Studies". She has served as referee for various scientific journals and

she is a member of many scientific associations.

Eastern and Western Perspectives on Surrogacy 23
---
Directions & Contact Information

By MTR (recommended, see below for marked station exits):

• HKU Station Exit A1.

By taxi via East Gate or via Pokfulam Road and then by foot

Contact LML

Centre for Law, Medicine and Life Sciences

University of Cambridge

lml@law.cam.ac.uk

http://www.lml.law.cam.ac.uk

Contact CMEL

Centre for Medical Ethics and Law

The University of Hong Kong

cmel@hku.hk

www.cmel.hku.hk

Eastern and Western Perspectives on Surrogacy 24