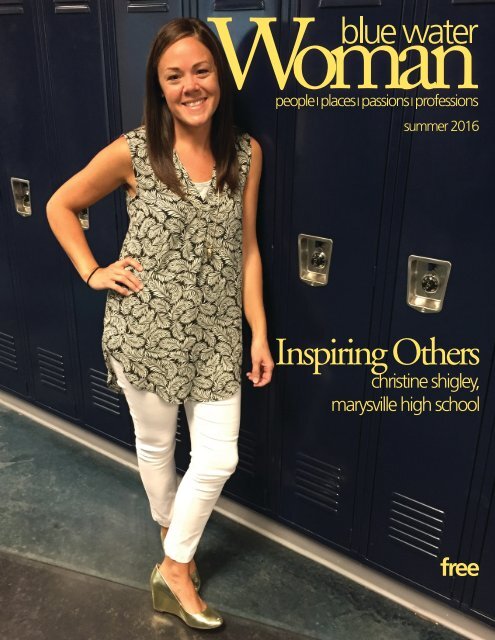 blue water woman--summer 2016--FINAL--online
Create successful ePaper yourself
Turn your PDF publications into a flip-book with our unique Google optimized e-Paper software.
summer 2016

Inspiring Others

christine shigley,

marysville high school

free
---
Mothers are givers by nature.

Learn more about

the gift that will

help healing begin

after you're gone.

Call Michelle O'Hara to

learn more about Advance

Funeral Planning for you

and those you love.

(810) 982-0179

Pollock-Randall Funeral Home

912 Lapeer Avenue

Port Huron, MI 48060

810.982.0179

www.pollockrandall.com

Manager: Ann Randall Kendrick

Marysville Funeral Home

1200 Michigan Avenue

Marysville, MI 48040

810.364.7100

www.pollockrandall.com

Manager: John W. Kendrick

Karrer-Simpson Funeral Home

1720 Elk Street

Port Huron, MI 48060

810.985.9605

www.karrersimpson.com

Manager: Thomas K. Simpson
---
We are here for you & your loved ones through the

Stages of Caring

Award-Winning Care

Providing Specialized

Nursing Services & More

We all need a wide range of assistance -- both medical and

non-medical -- as we age. Visiting Nurse Association and Blue

Water Hospice provides a full spectrum of care to help you

and the ones you love continue to live life to the fullest.

Visit our website or call today to find out how we can help.

Stages

of Caring:

• Private Duty Services

• Specialized Adult

Day Program

• Home Health Care

• In-Home

Hospice Care

• Blue Water

Hospice Home

1430 Military Street, Suite A Port Huron MI 48060 (810) 984-4131

www.vnabwh.com www.facebook.com/vnabwh
---
Key West Woman's Club

member, Dottie, shows

BWW Editor Patti Samar

a plaque the club received

from Operation Smile

from the editor

O"One good deed begets another." --Unknown

And oh my goodness, have I been witness to that recently and Blue Water Woman

magazine is so proud to be a part of a chain of events that is helping people help other

people!

This issue is dedicated to philanthropy...both philanthropy of the heart and

philanthropy of the pocketbook.

Cover gal Christine Shigley is the inspiration for this issue, but not just because she is so

philanthropic in so many ways herself.

Earlier this year, she created a true domino effect of good deeds

begetting other good deeds.

A high school teacher, Shigley first nominated a student for a

Blue Water Young Woman of the Year award during the winter

months. Her student, Jacque Rogers, was, indeed, honored at

an awards ceremony in February. Sitting in the audience was

Jonathan McCulloch, who attended to cheer on a colleague who

was also being honored that night. He went home and told his

daughter, a high school student, about Jacque and how she had

helped other people by starting her own charity.

His daughter, inspired by Jacque's story, told two friends and

they decided to start a charity of their own in order to help others.

Their charitable organization, the Raising Hope Foundation,

exists today because Christine Shigley took the time to nominate

her student, who was then honored and whose story then inspired

other young people to help others.

Domino. Effect. I hope you enjoy reading their stories in this issue.

This past spring, my husband and I went to Key West on vacation. We'd never been

before and I was so excited to find, right on Duval Street, a beautiful Victorian mansion

with a sign noting it is home of the Key West Woman's Club. It was open for tours.

I had to see it.

Dottie, our lovely tour guide and a member of the club, told us about the history of the

home and how the club came to own it. The purpose of the 200-member woman's club

is purely philanthropic. They conduct a number of fundraisers throughout the year and

they provide grants to local nonprofit organziations and one international charity.

Dottie was born in Great Britain and traveled all over the world before settling in

Florida. Another member of the club on site that day had a similar international story to

tell.

What it told me, especially when reflecting on what happens in the Blue Water Area,

is that women -- no matter where they were born, raised or end up settling -- are caring,

compassionate philanthropically-inclined good and decent human beings who inspire one

another to help others., both at home and afar.

And if all of that goodness begetting other goodness isn't the world's biggest and best

domino effect, then I don't know what is.

Peace,

content

christine shigley 4

olivia may & megan mcculloch 6

donna schwartz 8

advertise

in Blue Water Woman!

it works! just ask our advertisers!

The ad deadline for the next issue of Blue Water Woman

is August 15, 2016.

Prices start at just $125 for a business card sized ad!

Our most popular ad size is a quarter page at just $250;

sign a one-year contract and it becomes just $225 a quarter!

What a deal!

For more information, contact Patti Samar at 810-987-1256

or email her at pjsamar@aol.com

volume 5, number 2 summer 2016

Blue Water Woman is published quarterly by The Write Company,

511 La Salle Blvd., Port Huron, MI 48060. Circulation 5,000.

Editor & Publisher: Patti Samar, owner, The Write Company

Advertising: Patti Samar at 810-987-1256 or pjsamar@aol.com

News releases can be emailed to pjsamar@aol.com

Questions or comments?

Call Blue Water Woman at 810-987-1256

Mission: Blue Water Woman is the premiere publication

for women living, working and playing

in the Blue Water Area of Michigan.

Its stories and features are written and designed

to be inspriational, motivational and encouraging.

www.BlueWaterWoman.com

© Blue Water Woman is the property

of Patti Samar of The Write Company

The Write Company is a writing, graphic design and marketing

consultation firm. View our online portfolio at:

www.TheWriteCompany.net

Patti Samar

Editor & Publisher

Blue Water Woman

2 summer 2016 BlueWaterWoman.com
---
summer 2016 BlueWaterWoman.com 3
---
passions

christine shigley, marysville

domino effect

by Patti Samar

4 summer 2016 BlueWaterWoman.com

Christine Shigley loves to run. It is good exercise. It clears her head. It is

something she can do almost anytime, anywhere.

So when the Marysville High School teacher heard from one of her

running buddies that there were students at a Port Huron elementary

school who wanted to participate in the school running club but couldn't

afford the proper shoes, she knew she needed to help.

Why? Because rolling up her sleeves and helping others, recognizing

others and just generally being an overall good person who cares for and

contributes to her community through her donation of time and treasure

is what Shigley is all about.

So what started out as a one-time fund raiser to help students at

Cleveland Elementary School turned into a full-blown nonprofit

organization now known as the Starting Line Youth Running Fund

(SLYRF).

The SLYRF has a fund at the Community Foundation of St. Clair

County and it has also become a legal nonprofit with a 501(c ) 3 status.

"The Community Foundation was so helpful in getting us established,"

said Shigley. "They were so welcoming. The 501(c ) 3 status allows us to

apply for grants and conduct other fundraising."

Shigley is the president of the nonprofit and she is assisted by two close

friends and fellow runners, Amy Meeker-Taylor, who is the assistant

director of Camp Cavell, and Dawn Schweihofer, a teacher at Cleveland

Elementary School who first shared with Shigley the plight of her in-need

students.

"The running community is just so generous," said Shigley of the

response they have received when appealing for donations to help sponsor

youth runners in 5K races, or to help pay for shoes or other clothing.

Shortly after SLYRF was established within the Community

Foundation, the organization was one of the recipients of the monies

raised at the annual "100 Women Who Care" event.

"We received $5,000 that night," said Shigley. "We were able to do a

lot with that money. We were able to sponsor 500 kids. Every kid in a

running club received entry into the Pi Day Run."

Additionally, they were able to purchase more shoes and clothing.

The students who are helped by the SLYRF need to establish economic

need in some way. "Basically, they need a principal's signature," she said.

But the SLYRF is not the only organization that occupies Shigley's

energy, time and treasure. She is philanthropic in many ways as she

volunteers for a wide range of charitable causes in the Blue Water Area and

she makes time for her family, her friends and to champion other women,

having nominated two recipients of the Blue Water Woman of the Year

Awards in the past five years.

Her most recent nomination of a student has inspired other students to

establish a local charitable organization to help other people, as well, thus

causing a domino effect of goodwill in the community.

"The thing is, the women I've nominated are not recognition-seeking

people," she said. "The time you take to do the nomination is nothing

compared to the time they give back to the community. And I just

look at nominating someone and think, 'Why wouldn't you do that?'

Completing the nomination does not take much time out of your day

when you think about the time they take to help everybody else."

Shigley's volunteer efforts in the community have not gone unnoticed.

Earlier this year she was nominated for and named the recipient of

a Distinguished Teacher Award by the St. Clair County Regional

Educational Service Agency (RESA).

She also received a grant from the Marysville Fund of the Community

Foundation. The monies are to be used to make improvements in her

classroom.

Shigley also defers the limelight to others when attention is paid to her in

recognition of her achievements. "It's important to say that none of what I

do, I do alone," she said.
---
Protect your world

Auto Home Life Retirement

award-winning writing & design work.

advertising design & strategy.

publication/newsletter design. writing & editing. graphic design.

branding/logo.

website design.

patti samar. owner.

(Also Editor & Publisher of Blue Water Woman. Blue Water Living. Blue Water Travel.)

810. 987. 1256 www.thewritecompany.net

pjsamar@aol.com

Call me today to discuss your options.

Some people think Allstate only protects your car. Truth is, Allstate

can also protect your home or apartment, your boat, motorcycle -

even your retirement and your life. And the more of your world you

put in Good Hands®, the more you can save.

Deb Freeland

Schulte Insurance Agency

810-364-7570

502 Busha Hwy.

Marysville

debfreeland@allstate.com

"like" us on Facebook & view our online portfolio on our website!

Insurance subject to terms, qualifications and availability. Allstate Property and Casualty Insurance Co., Allstate

Indemnity Co., Allstate Vehicle and Property Insurance Co., Allstate Fire and Casualty Insurance Co. Life

insurance offered through Allstate Life Ins. Co. & Allstate Assurance Co. Northbrook, IL; Lincoln Benefit Life Co.,

Lincoln, NE; and American Heritage Life Insurance Co., Jacksonville, FL. Securities offered by Personal Financial

Representatives through Allstate Financial Services, LLC (LSA Securities in LA and PA). Registered

Broker-Dealer. Member FINRA, SIPC. Main Office: 2920 South 84th Street, Lincoln, NE 68506. (877) 525-5727.

© 2010 Allstate Insurance Co.

173533

summer 2016 BlueWaterWoman.com 5
---
passions

megan mcculloch & olivia may

marysville high school

helping others

by Patti Samar

The best thing that can come from doing a good deed is to see it inspire

another good deed, thus causing a domino effect of good deeds.

That is how the Raising Hope Foundation, established by Marysville

High School students Olivia May, 15, and Megan McCulloch, 14, came

to be.

According to McCulloch, the purpose of their charitable organization is

fairly simple: help others.

"We are creating hope for those in need through community outreach,"

said McCulloch.

The young women were inspired to establish their own organization after

McCulloch's father, Jonathan, attended the 2016 Blue Water Woman of

the Year Awards in February. He went home and told his daughter about

Jacque Rogers, who had been named the Blue Water Young Woman of the

Year during her senior year in high school.

Rogers was nominated by Christine Shigley, one of her teachers at

Marysville High School, after Rogers had established her own charitable

organization and had raised almost $10,000 to help families in need over

the holiday season.

Megan McCulloch decided that she, too, could do something to help

people. She then recruited May and their friend Robbie West to help her

figure out how they could begin an organized effort to help people in need.

The two young women are currently doing research and trying to

determine what kind of fundraisers they might be able to organize. They

have discussed the possibility of putting on a 5K run, a golf outing or

something else that would draw a large number of people.

"We want to put on one big event a year to raise money so that we can

make a big impact on our community," said McCulloch.

They have already begun helping others.

Both young women volunteered at the St. Clair County Community

Resource Fair held in the spring at St. Clair County Community College.

The day-long event brings together under one roof a wide range of

community support services that are available to individuals and families

that are struggling financially, who are homeless or at-risk of becoming

6 summer 2016 BlueWaterWoman.com

homeless.

Through that experience, McCulloch and May feel they have already

benefitted from their efforts.

"I learned that other people don't have the same options that I have

in life," said May. "I'd like to continue helping others have the options I

have."

"And I learned you shouldn't judge others," said McCulloch. "When we

volunteered, we were just helping them live life."

"Going to the Community Resource Fair was a really big eye opener,"

said May.

McCulloch agreed. "It was a really big eye opener when you see how

many people need help," she said.

Though both of them are involved in a wide variety of other activities

at school – band, track, student council, basketball and volleyball fill their

after school hours – they continue to meet at least once a week to discuss

how they wish to move forward with their charitable ideas.

The two of them agree that their solid friendship has helped them as

they've worked toward achieving their goal of establishing a nonprofit

organization.

Both young women are already interested in pursuing careers in the

medical field and are planning to attend college to achieve their goals.

However, that has not discouraged them from tackling the establishment of

a charitable organization at this juncture in their lives because they see their

charitable organization continuing well past their high school careers.

"At that point, we'd like to get younger students involved," said

McCulloch.

"We want other kids to experience what we are experiencing," said May.

"We've already discussed it and we'd like to keep it going through college

because we know we can do great things together. It is something that we

could even hand down to our kids."

Olivia May is the daughter of Amy and Rob May of Port Huron and Megan

McCulloch is the daughter of Rebecca Compase of Fort Gratiot and Jonathan

and Corey McCulloch of St. Clair.
---
You are invited to attend

a Fifth Anniversary Party/

Women's Networking Event

for Blue Water Woman

the Blue Water Area's premiere magazine for women

Thursday, October 6, 2016

5 to 7 p.m.

McMorran Lounge

Enter through McMorran Theater

Come see our rebranding!

Learn about our Next. Big. Thing. (It's Really Big!)

Vendor tables available to advertisers!

Call today to reserve your space...first come, first served!

Invite your girlfriends! The more the merrier!

Please RSVP to: pjsamar@aol.com or 810-987-1256

Door prizes to include spa gift certificates • Open bar & hors d'oeuvres

Blue Water Woman is a publication of The Write Company, owned by Patti Samar
---
passions

donna schwartz, port huron

8 summer 2016 BlueWaterWoman.com

altruistic

concern

by Patti Samar

Fifty years ago this summer, a native of Detroit moved to Port Huron to raise

her family.

And boy oh boy, is Port Huron ever so fortunate that she did.

Retired since 1999, Donna Schwartz spent her working life and her retirement

years giving back to the community in a wide variety of ways.

"One definition of philanthropy is 'the altruistic concern for human welfare

and advancement,'" said Schwartz. "I think that definition fits me. There are two

areas of interest for me: the arts and social programs and that's mostly where we

give our time and our treasure."

When she married, she and her husband, David, purchased a home on

the south side of Port Huron in the 1980s. They quickly became involved in

community organizations and programs that addressed the needs of many south

side residents.

"We were charter members of the Blue Water Citizens Against Crime," she

said, noting it eventually combined with another organization and is now known

as the Southside Coalition. "We did all of these walks to get rid of the drug

dealers who were coming to the neighborhood. And we did it." She remains

involved in the organization today and serves as its treasurer.

The organization puts on two events annually that she is proud to be a part of:

the Southside Music Fest and the National Night Out held annually in August.

"We got involved because we had an investment in this neighborhood," she

said of her involvement in the group. "I go to those events and I look out there

and there are people from all races, of all ages, and from all socio-economic

groups enjoying themselves and I think, 'This is the way the world should be.'"

She also spent 15 years volunteering at the Peoples Clinic for Better Health. "I

never went there and came out of there without feeling like I'd done something

worthwhile," she said of the time spent volunteering and helping out at the clinic.

For most of the past decade, Schwartz has volunteered as a member of the

Port Huron Housing Commission. "That is a joy," she said of the work the

commission does. "I'm so proud of what they are doing. It's about helping the

residents of our public housing better themselves. The goal is to teach people to

be self-sufficient."

Schwartz noted that her true passion is in developing relationships with people.

That can be evidenced by the six children she raised with her husband and a

number of "adopted" children they welcomed into their family along the way.

Schwartz, a grandmother to 16 who are scattered across Michigan and beyond,

noted that she is proud of the special bond she has been able to develop with each

and every one – but that did not come about naturally.

"There came a point years ago where I looked around and thought, 'I don't

even know these kids and they don't know me,'" she said. So, instead of giving

the grandchildren "things" for their birthdays, she and her husband began giving

them shared "experiences" each year. For example, the gift of tickets to see an ice

show or a concert with grandma and grandpa in tow.

"That was the best idea we ever had," she said. "We have unique and special

memories with every grandchild. I feel totally in touch with each of them. It's so

great because they are all healthy and loved and wanted."

Schwartz is also passionate about developing relationships with other women

and has gone out of her way to develop friendships and also to mentor young

women throughout the years.

For the last 13 years of her working life, Schwartz served as the executive

director of the then-St. Clair County-based Michigan Waterways Girl Scout

Council. While there she saw first-hand how important role models were for

young women.

"I loved the mission of the Girl Scouts," she said. "It was so easy for me because

of the great programs we were doing."

Schwartz and her husband pack a lot into any given year between celebrating

the birthdays of 16 grandchildren and traveling around the world on a regular

basis. "I've had a very supportive husband," Schwartz said, noting that they've

tackled many of their volunteer endeavors and hobbies – they both took up

playing an instrument after retirement and perform regularly in four bands

– together. "I just appreciate that he has been so supportive of me."

All in all, giving of her time and treasure has helped Schwartz appreciate

everything she has in life.

"I appreciate what we have and our health and I'm a very happy person."
---
Agents protecting

all your life's moments

Kim Judge

kjudge@fbinsmi.com

Tammy Hutchinson

thutchi@fbinsmi.com

(810) 385-8800 | 7147 Lakeshore Road, Lakeport

FarmBureauInsurance.com

The Write Company

provides creative solutions

to business marketing challenges via:

• Publication Copywriting & Design

Print & eNewsletters/Magazines/Brochures

• Advertising design & strategy

• Logos/Brand Identities

• Website Design & Graphic Design

• Editing of grant proposals

• Creation of fundraising collateral

Patti Samar, Owner/Editor/Publisher Blue Water Woman & Blue Water Living

pjsamar@aol.com 810.987.1256 www.TheWriteCompany.net

•

•

•

•

•

summer 2016 BlueWaterWoman.com 9
---
A strong offense is the best defense

3D Mammography - Only at McLaren Port Huron

What's the best defense against breast cancer?

It's having a great team on your side – one with

all the tools needed to win.

For the Blue Water community, that's the experienced cancer team at McLaren

Port Huron. And now, the team has added a powerful new cancer-fighting weapon.

It's called Tomosynthesis 3D imaging – a revolutionary diagnostic tool designed for early detection of

breast cancer. It's an optional supplement to standard 2D mammograms – particularly advantageous for

women with dense breast tissue, at high risk, with a family history of breast cancer or who are having

their first mammogram.

3D imaging provides a more comprehensive image, which can detect cancer at an earlier stage. It also

reduces false positives sparing you the worry and expense of follow-up tests.

Your team is ready for you.

To find out more or to schedule a mammogram,

call (810) 985-2663.

mclaren.org/porthuron

(810) 987-5000 | 1221 Pine Grove Avenue, Port Huron, MI 48060