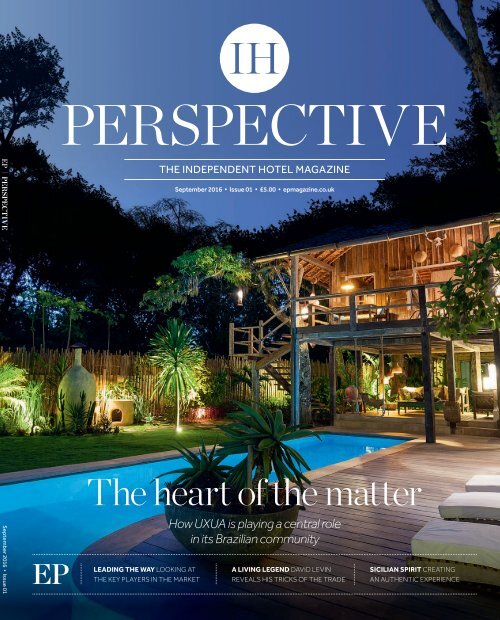 EP Perspective September 2016
Independent Hotels Across the World - arguably a market that has performed strongly over the last few years and shown the ability to innovate, create and adapt.
Independent Hotels Across the World - arguably a market that has performed strongly over the last few years and shown the ability to innovate, create and adapt.
SHOW MORE
SHOW LESS
You also want an ePaper? Increase the reach of your titles
YUMPU automatically turns print PDFs into web optimized ePapers that Google loves.
PERSPECTIVE

EP | PERSPECTIVE

THE INDEPENDENT HOTEL MAGAZINE

September 2016 • Issue 01 • £5.00 • epmagazine.co.uk

The heart of the matter

September 2016 • Issue 01

LEADING THE WAY LOOKING AT

THE KEY PLAYERS IN THE MARKET

How UXUA is playing a central role

in its Brazilian community

A LIVING LEGEND DAVID LEVIN

REVEALS HIS TRICKS OF THE TRADE

SICILIAN SPIRIT CREATING

AN AUTHENTIC EXPERIENCE
---
Fully booked.

Now there's a thought worth entertaining.

From award-winning dramas and comedies to blockbuster movies and

nail-biting sporting action – your guests can have it all with Sky.

Plus fast, reliable and easy to use WiFi with marketing tools designed to drive

business growth.

Call 08442 414 663

T&Cs: Equipment and installation costs may apply. Sky In Room and Sky In Bar: 12 month minimum term required to get Sky TV in your hotel. Premises must be in

United Kingdom (excluding Scottish Islands and Channel Islands). Eligibility subject to credit checks. Content included depends on your subscription package. Sky In

Room only: £100 minimum monthly price applies per hotel premises. WiFi from The Cloud: WiFi availability is subject to your premises location. Standard set-up fee

and 12 month minimum term apply. Please call for details. Calls to Sky for non-Sky Talk customers cost 7ppm plus your provider's access charge. The Force Awakens

© Lucasfilm Ltd. & TM. All Right Reserved. Minions © Universal Studios 2015. All Rights Reserved. The Good Dinosaur ©2015 Disney•Pixar. All rights reserved. Premier

League © Getty Images. Correct at time of supply: 20/07/16.
---
THE INDEPENDENT HOTEL MAGAZINE

Welcome

Chris Sheppardson

info@epmagazine.co.uk

Editor: Ben Butler

ben.butler@epmagazine.co.uk

EP: 14a Ganton Street, London W1F 7QT

020 7025 1862

www.epmagazine.co.uk

© 2016 EP magazine is owned by Chess Executive

Ltd. very eort is made to ensure the accuracy

of the information contained in the publication.

Reproduction or use of this material without

permission of Chess Executive Ltd is prohibited.

The opinions expressed herein are not necessarily

those of the editor/publisher.

Design and Production

Newhall Publishing Ltd

New Hall Lane, Hoylake, Wirral CH47 4BQ

0844 545 8102

hello@newhallpublishing.com

www.newhallpublishing.com

Production Editor

Anita Comerford

Art Editor

Gareth Evans

Senior Designer

Owen Moran

Picture Editor

Robyn Barr

Account Director

Richard Woolliams

Advertising

Simon Jones

and Dean Brown

01603 821021

Print

Swallowtail Print Ltd

Photography

Nick Dawe nick@

nickdawe.co.uk

We are delighted to welcome you to the first

edition of Perspective; a magazine that

is centred around the Global Independent

Hotel Sector – arguably a market that has

performed strongly over the last few years

and has shown the ability to innovate,

create and adapt. It is often the great

boutique hotels of the world and the large

corporates that attract the most comment

but the independent sector has relatively

quietly just got on with the task in hand and

recorded good growth and results.

Perspective brings together these three worlds – independents, boutique and the large

corporates. The following edition carries features drawn from operations and stories from

the UK, Italy, Brazil and Qatar. Interestingly there are challenges and trends in each country

and there is much that can be learnt from one country to another. Everywhere one goes,

the world has become increasingly internationalised, facing global issues but the consumer

is seeking more in-depth, genuine and authentic experiences of the region . It is the

contradiction of the modern age – businesses need to think on a broader scale, while

the consumer wants increasingly localised experiences and tastes in food, in crafts, in

design, ambience and entertainment.

At the same time, more and more is being expected of the great hospitality companies in

terms of quality, service, sustainability and work within communities. The industry has been

asked many searching and tough questions over the last decade and it has not just answered

them but returned them with innovation and improvement. More will undoubtedly be asked

and there are answers and role models that can be found from across the world – and almost

most especially from within the UK, which has displayed a real ability to change and innovate.

online

Why not get involved

online?

Check out a wealth

of articles from

EP magazine on

our website

www.epmagazine.co.uk/

archive/magazine

Find out more

about EP's

Entrepreneurs Club

www.epmagazine.

co.uk/networks/theentrepreneurs-club

View other

EP magazines

www.epmagazine.co.uk

Follow us…

@EPmagazineuk

Chris Sheppardson

MEET THE TEAM

Jaz Notay Sara Stewart Nick Sheppardson Lauran Bush Ben Butler

Natalia Latorre

epmagazine.co.uk | 3
---
Contents

September 2016 • Issue 01 • epmagazine.co.uk

46

32

28

08

COMMENT

06 Independently branded hotel

market overview

How the independent sector can take on the global market

27 s ou finance unction eeping up?

With the speed of technological development increasing,

Robert McCann asks if other areas are keeping pace

39 ics o te tade

Joelson explain the complications of licensing in hotels

50 ofitable suvival

IndiCater outlines the importance of utilising back-office

software to ensure profits are maintained in tricky times

INTERNATIONAL

08 e autentic counit

Combining five-star luxury with an authentic community feel,

Verdura Resort is a Sicilian destination hotel with a difference

12 e seaside village

Inspired by the locale, Wilbert Das has created a stunning

and truly unique community hotel in the heart of Brazil

17 e eeging plae

EP looks into the ongoing planning and development

helping Qatar stand out as a location for the future

CUSTOMER EXPERIENCE

18 ospitalit b design

Malcolm Ross and Chris Humphrey discuss how setting and

achieving a customer excellence strategy is vitally important

21 belie in soeting oe

David Levin is a true hotelier and visionary, perfectly

demonstrated in the 40 years of success of The Capital

24 A quiet evolution

Celebrating its 20th anniversary in 2016, Apex Hotels has

been an unheralded success in these troubled economic times

4 | Perspective | September 2016
---
THE INDEPENDENT HOTEL MAGAZINE

21

28 The running butler

Always putting the customer experience first, The Wellesley

in Knightsbridge unveil their newly launched initiatives

30 Hotel longevity

Coupling modernity with old-fashioned values, having an

excellent team in place is the key to The Stafford Hotel

FOOD & DRINK

32 F&B transition

Can outsourcing F&B create a more engaging experience?

34 Setting the right bar

EP looks at how a hotel can make its bar more desireable

SPECIAL FEATURE

36 Those that broke the glass ceiling

The hotel sector is ahead of the curve when it comes to women

in leadership roles. EP looks at who is currently forging the way

HEALTH WELL-BEING

41 Do guests put fitness and well-being

above indulgence?

With the emphasis on healthy living now matching indulgence,

hotels must adapt their offering to meet guest expectations

FINANCIAL

44 VAT relief

Bob Cotton and Miles Quest reveal the arguments for

the imposition of VAT relief in the hospitality industry

INNOVATION

46 The experiential voice

A hotel booking website focussing on independent hotels,

Doris & Dicky is the perfect place to find a unique experience

48 The connection

Promoting better communications, the Travease app is

bridging the gap between guests, hotels and local merchants

epmagazine.co.uk | 5
---
COMMENT: ALIXPARTNERS

INDEPENDENTLY

BRANDED HOTEL

MARKET OVERVIEW

In the global branded hotel world we have seen a

raft of corporate activity as the biggest groups seek

to get ever larger. Graeme Smith, Managing

Director of Corporate Finance at AlixPartners,

explains how the independent sector is responding

With loyalty programmes continuing to

grow in importance to retain customers,

the global brands appear to be

determined to own a brand portfolio that

caters for all its customers' needs from

low-cost to luxury. Ownership of the

customer is a key battle ground as the global

brands compete with online travel agents

(OTAs) such as Expedia and booking.com to

secure the initial booking transaction.

Meanwhile, as the large global players

race each other to become ever larger and

focus their attentions on the OTAs, the

independent sector has been developing

and diversifying. Brands have been growing

by targeting specific parts of the market,

in some cases seemingly inventing a market,

such as 'affordable luxury' or 'poshtels', and

being laser focussed on creating their

customer proposition for this market.

These developments have been supported

by the increasing trend for consumers to

take a keen interest in their choice of hotel

regardless of whether they are travelling

with work or booking their own holiday. This

desire to take more control has then been

aided by the democratisation of rating data

through the likes of TripAdvisor. Now, once

you decide where you want to stay, you can

see which hotels are rated highest rather

than having to rely on the safety of a global

brand. Finally, while the global brands

are competing head-on with the OTAs to

capture booking activity, the independents

have been able to utilise the OTA platforms

to reach a global audience.

It is an exciting time for the independent

sector as demonstrated by the success of the

leading groups and the launch of the latest

challengers. This vibrancy is sure to attract

investors to the sector and drive M&A and

transaction activity in the coming years.

Examples of leading brands

The European independent hotels market is

incredibly diverse with successful businesses

across the different hotel sub-sectors.

Here's a snapshot of some of the key players:

Limited service

Motel One is a German budget design

hotel chain with over 50 hotels right across

Europe, including five in the UK – London,

Manchester and Newcastle. Each hotel

has a unique design based on features of

the local area. By 2017 Motel One plans to

expand its network to 74 hotels with

18,000 bedrooms.

Affordable luxury

Dutch chain citizenM operates eight hotels

in the Netherlands, UK, France and New

York. The chain advertises itself as giving

'affordable luxury for the people'. All hotels

are designed with a unique compact style

with large beds and windows and 'mood

pads' to control amenities from one device.

Full service

The Swedish Scandic Hotels chain operates

over 200 hotels with over 40,000 bedrooms

in northern Europe. Scandic Hotels are

advertised as blending contemporary design

with modern technology – the chain was

the first in the world to introduce online

checkout for all its hotels.

Luxury

Firmdale Hotels is a collection of eight

luxury boutique hotels in London and one in

New York. All hotels are heavily design-led,

with award-winning interior designer and

co-owner Kit Kemp having styled each

room uniquely to reflect a fresh English

modern style.

6 | Perspective | September 2016
---
Poshtels

Generator Hostels is a rapidly growing

upscale hostel chain with locations

across ten countries in western Europe and

plans to open its first American property in

2017 in South Beach, Miami. With over

8,600 beds, the chain targets millennials

attracted to design-led but affordable

group accommodation.

This is an exciting time to be an

independent hotel operator in the UK and

beyond and the market is continually

evolving and growing. The global brands

continue to enjoy major advantages due

to their scale and brand recognition

but the best independent operators have

demonstrated that significant success can

be achieved despite this. Given the growth

prospects and returns on offer we would

expect this market to continue to attract

investment and be an active source of M&A

and transaction activity.

Sources: premierinn.com, motel-one.com, qbichotels.com, citizenm.com, zhotels.com, scandichotels.com,

redcarnationhotels.com, firmdalehotels.com, meininger-hotels.com, generatorhostels.com

Challenges facing

independent hoteliers

Although being independent undoubtedly has its benefits, there

are a number of challenges facing operators competing against

larger branded hotel chains. Some key challenges are as follows:

The benefits of scale: There is no doubt the global brands have a

huge advantage due to their scale. For the biggest global firms

they can offer rooms in locations to match the travel needs

of their teams with the comfort of consistency from their

brand standards. They also have the added draw of their reward

schemes that can heavily influence the buying choices of frequent

travellers. This inbuilt tendency to book the global brand often

means the independent needs to outperform (either on price,

service, style or location) in order to just hold their own.

Remaining fresh: Independent groups do not have the large stable

of different brands that global groups can deploy. This means they

have to work very hard to ensure that their focussed product is

continuously invested in to ensure it remains relevant and fresh.

This requires an investment in the form of capital investment in

properties and the brand/offer and also in creative development

to stay aligned with the changing tastes of customers.

Distribution: Using OTAs comes at a price. OTAs can charge over

25% of revenue as commission and often dilute the strength of

relationship with customers. The best independent operators

actively manage their distribution channels and use OTAs as one

option, rather than the only option – social media for example is

becoming increasingly important for referral traffic.

Access to the best sites: Securing the best sites in popular cities is

an incredibly competitive process. Some of the most successful

independent groups seem to have had the knack of spotting an

up-and-coming location or finding redevelopment opportunities

off-market in order to overcome this challenge.

Financing: Equity investors and lenders have typically been drawn

to the global brands on the basis of a perceived lower level of risk

compared to independent brands. This places even more

emphasis on the ability of the independent to clearly articulate

its USP and demonstrate how it can generate higher returns than

the globally branded alternative.

Disclaimer: The opinions expressed are those of the authors and do not necessarily reflect the views of AlixPartners UK LLP,

its affiliates or any of their other professionals or clients.

epmagazine.co.uk | 7
---
INTERNATIONAL: VERDURA RESORT

THE AUTHENTIC

COMMUNITY

Verdura Resort is a location with a true community feel. General

Manager Marco Truffelli explains what makes the hotel unique

Marco Truffelli sounds surprisingly wide awake despite the

incredibly busy first few months as General Manager of Verdura

Resort in Sicily, "I've been here for four months and my feet have

not touched the ground!" He speaks with a passion that only true

hotel managers embrace fully – it is that rare mixture of immense

pride and the desire to always go further. Marco is in charge of

running the luxury resort on the island just off the toe of Italy's

boot and strives to ensure guests feel part of its community.

Marco's career spans over 28 years and includes managing and

directing four and five-star hotels, resorts and hotel companies. He

started his career with Trusthouse Forte, later worked at Casa de

Campo in the Dominican Republic and was MD of The Town

House Collection in Scotland. From 2014 he was GM of Borgo

Egnazia in Puglia before moving to Verdura. It is an impressive

track record, but Marco is not one to boast and would rather talk

highly of those around him.

This includes the man who recently handed over the baton – Ivan

Artolli, who was in charge of the resort from its earliest beginnings as

Managing Director. During the unsurprisingly lengthy handover

between the two, Marco was given the reins to the 230 hectares,

nearly two kilometres of private Mediterranean coastline and the

three Kyle Phillips golf courses. The hotel is now in its seventh

8 | Perspective | September 2016
---
season and despite its young age is already known for its excellent

Italian hospitality. "The west coast is famous for Mount Etna, but

where we are in the south-west is of major historical significance.

When the idea of creating a resort here started, the land was once

owned by the Duke of Verdura (which translates as vegetables) who

was a noble man from this part of the world. The challenge at the

start was there was no infrastructure."

Verdura is an hour from the historic Selinunte and also Agrigento.

Selinunte is one of Sicily's great Greek archaeological sites where

its isolated ruins have stood abandoned for most of their history.

Agrigento – founded as a Greek colony in the 6th century BC – is

famous above all for its Valle dei Templi (Valley of the Temples).

Marco is clearly very proud of these nearby locations, "They are in

fantastic shape and Sicily has seven UNESCO World Heritage Sites.

It is not just these that guests stay for; it is a combination of these

and other cultural draws. Guests want a return to an authentic and

unique experience. This area of Sicily was a bit rough around the

edges at the start but now we do have a five-star west coast."

Gastronomy at the resort is an aspect that Marco believes draws

many guests. "We face the crystal azure of the Mediterranean Sea

and nothing stands between us and the coast of Africa, so the seafood

is amazing, especially the prawns. I believe the couscous is better

than Marrakech and the grapes are wonderful due to the structure

of the ground, created by the active volcano Mount Etna. We are a

self-sufficient resort in terms of agricultural production, including

our olive oil blend. We produce 8,500 litres each year from our

groves and all Rocco Forte properties stock our oil. We also have

orange trees and our Director of Food and Chef, Fulvio Pierangelini,

likes to creatively combine the olive oil, orange juice and seafood

together – perfect for our five distinct and unique restaurants."

Verdura Resort runs a series of gourmet events during the summer

season called De Rerum Natura, which has the culinary philosophy

"WE AIM TO BECOME A

DESTINATION WITH A SENSE

OF COMMUNITY AND BEING

HEALTHY AND SUSTAINABLE

IS LINKED TO THIS"

that all the chefs involved create sensational and innovative dishes

using the simplest ingredients. "Our aspiration is to bring renowned

chefs from all over the world to come and cook. In July we held the

Six Hands Culinary Experience in our Amare restaurant, which

is right by the sea. The gourmet dinner was created by Fulvio

Pierangelini, and renowned British Michelin-starred Chefs – Adam

Byatt of Trinity Restaurant, London, and Tom Kitchin, of The

Kitchin Restaurant, Edinburgh. We have a desire to go back to

the ways of old production and have fun at the same time.

"With the right synergy we are working, yes, but it's hugely

enjoyable at the same time. This provides entertainment for our

epmagazine.co.uk | 9
---
INTERNATIONAL: VERDURA RESORT

"THIS AREA OF SICILY WAS A BIT

ROUGH AROUND THE EDGES AT

THE START BUT NOW WE DO HAVE

A IVESTAR WEST COAST"

guests and is an extra reason for them to stay. With 35 per cent of

our guests coming from the UK, having two British chefs is a big

appeal. We strive to create a community around the hotel and this

includes creating a European hub for chefs to come and cook.

We aim to become a destination with a sense of community and

being healthy and sustainable is linked to this. It is not just slow

food and marketing."

The strong modernist, environmentally sensitive architecture

of the resort is rooted firmly in Sicilian culture. The property first

began as the dream of Sir Rocco Forte who wanted to create a golf

destination and a destination in its own right on the south-west coast

of Sicily. For Verdura, architect Flavio Albanese took inspiration

from the Mediterranean setting and used the local colours of

Latin terracotta and ochre to liken the buildings to the designs

of traditional Sicilian houses. Interior design was led by Rocco

Forte's Director of Design (and sister of Sir Rocco Forte), Olga

Polizzi, who created a contemporary edge and simplicity in

keeping with the local culture.

"We call the appearance of the resort 'flat horizontal' because

it's not so elegant from the air. There are no high structures and all

the buildings are lined up in such a way so there are no interrupted

sea views for the guests.

"We are a complete destination with golf, tennis and water sports.

We have the only golf course with six holes next to the sea and these

are maintained to the highest standards. Our spa is one of the biggest

in Europe with a unique Sicilian flair and is ideal for real retreats and

a psychological detox with all-natural products.

"We are well-known as a family friendly resort and have a new

kids' club. Families stay nine nights on average so we have to ensure

there is a lot to do. Every child receives a passport and they receive

a stamp when they stay in each hotel. We have a science lab, art

lab, teach history and have built a kitchen. The height of the marble

tops is designed for children and they can also plant seeds in the

garden. We feel the club is essential as it's important for guests with

families and travelling couples, as it means kids are less likely to

disrupt other guests.

"A great number of our guests are international and when

they arrive they can do as much or as little as they want. Most

automatically relax when they get here. We have a no car-policy and

200 bikes in order to preserve the beauty of the landscape."

Verdura strives to be sustainable and recognises this as a desire

from guests. The property includes solar energy and photovoltaic

panels for electricity and water-recycling, which is of particular

importance in Sicily where rainfall is concentrated around short

periods of the year. The Resort employs around 400 people and

Marco explains that around 90 per cent are locals who possess

a genuine natural hospitality and have a talent for languages.

The Sicilian nature is one which is welcoming and very proud

of their country.

"We completed some research on TripAdvisor for the most

common words used from reviews," Marco explains. "This semantic

analysis resulted in the words and phrases, 'authenticity',

'uniqueness', 'smiles', 'genuine' and 'kind hospitality'." With words

such as this, Verdura is forming a community that works as one

to promote the area and ensures guests receive a first-class stay.

The resort lies in the beautiful rustic and rugged landscape of

Sicily, and its hot colours and handcrafted local ceramics create a

resort where luxury and ease are achieved. When tailored to the

environment the authenticity is relevant all over and Marco and his

team will continue to ensure guests feel part of the community.

10 | Perspective | September 2016
---
Introducing the XTS Extractor® Brewing System

& Temperature On Demand Hot Water Dispenser

Experience total control of this fully featured Brewing System via an

inviting touchscreen interface that is intuitive, easy to read and simple to

navigate. Take your coffee to its peak by unlocking the full freshness,

aroma and flavour of your taste profile with the legendary EXTRACTOR®

brewing technology.

The revolutionary HWD-2110TOD hot water dispenser is designed for

single-serve dispensing at up to four different temperatures at the touch

of a button.

An independent laboratory study found that FETCO equipment uses

considerably less energy than competitive models, resulting in

documented annual energy cost savings of up to 62%.

Save

62%

in energy

costs

Contact us to discover the future of batch brew coffee.

FBT UK steve@fbtuk.co.uk 01246 454400 FETCO.COM
---
INTERNATIONAL: UXUA

THE SEASIDE

VILLAGE

UXUA Casa Hotel and Spa is an authentic gem

in Brazil's Bahia state and the vision of Wilbert Das

Owned by fashion designer Wilbert Das, the former creative

director at Diesel, UXUA is a series of guest hotel-houses next

to the beach. Wilbert's story is one of the great ones of where the

hospitality has attracted another great soul. His chance encounter

with Trancoso has led him on a journey where he has combined his

vision of paradise and passion for design. He recalls his first journey

to the town, "I had been recommended the area by friends and upon

arriving, its serene qualities actually made me worried I would get

bored. By the end of the trip I felt as if I had found paradise on earth.

I have travelled extensively and been to some of the world's most

beautiful places, but none of them achieved the perfect harmony that

I found in Trancoso in all aspects: the nature, the people, the culture,

music and food all came together to form this magical place."

That first visit was a turning point for Wilbert and came at a time

where he had started to notice a sense of change occurring with

fashion, "Everything had started to become about price and quantity

and not about fashion and quality. Leaving the industry was a relief,

as I'd become too involved in creating materials with no longevity.

Designing a line of clothing for a season meant that three months

later my creations would be out of date. I was ready for a change."

Initially, Wilbert travelled back to Trancoso to build himself a

home. The passion he felt for design traversed from the catwalk to

12 | Perspective | September 2016
---
"I HAVE TRAVELLED EXTENSIVELY

AND BEEN TO SOME OF THE WORLD'S

MOST BEAUTIFUL PLACES, BUT NONE

OF THEM ACHIEVED THE PERFECT

HARMONY THAT I FOUND IN TRANCOSO"

creating 3D drawings of what he desired his home to look like. Upon

finding the ideal location, his current project began to take shape.

The idea changed from a single home to a set of homes where he

could entertain fellow paradise-seekers. An avid traveller himself,

Wilbert combined the aspects he most enjoyed within luxury

travel with those of staying at home. He fully immersed himself in the

creation of UXUA; he was involved in every aspect from the 3D

designs and architecture, to the landscaping and furnishings within.

"I always like to rent a house when I travel in terms of space. You

get to feel more at home and more at ease. That being said, I also like

the luxuries you have in a hotel: having someone to cook and clean

for you, and getting to enjoy a level of pampering. I decided to fuse

these to create this casa-hotel or hotel within a home. UXUA means

'marvellous' in the language of the local tribe of Pataxo Indians."

Proposing the idea to the local community was not an easy task.

Families were sceptical of the Dutch designer who had arrived

initially to build a holiday home that had then been transformed into

a boutique hotel. Wilbert won them over by demonstrating

the adoration he felt of the area and the respect he had for the

community. He only worked with locals when it came to building the

hotel and gave back to the community by adding to the tourism offer

in a non-invasive manner. All houses were designed and decorated

epmagazine.co.uk | 13
---
INTERNATIONAL: UXUA

by Wilbert in collaboration with local artisans using traditional

building methods, reclaimed and organic materials and Brazilian

antiques and art.

"Brazil has great problems with social inequality and Trancoso is

no different. When I came here there was quite a lot of poverty and

many issues with healthcare and education. Through the hotel I've

been able to positively impact these areas. We give English lessons to

all employees and organise proper healthcare for employees and

their families too. The people here are naturally so hospitable,

and once they began accepting me as part of the community

I found other ways to show my respect and gratitude for this

tremendous opportunity. I support local sports groups like the

capoeira organisation and work with the local fishermen

organisation to try and make this place better."

The positive impact Wilbert has had in the community is evident

in the way that the locals treat him. Wilbert has been nominated to

organise local religious festivals – an honour usually only bequeathed

to local families.

"I can't explain when it first occurred to me but part of me always

wanted to have a compound where I lived together with friends

and we would share our creative forces. I have an artist in residence

programme where I invite an artist to stay with us for a couple of

weeks to make projects that then stay at the hotel. There is a natural

agreement that any projects are made using local materials.

The artist is able to create something they never could have made in

"THIS IS REALLY AN HONOUR FOR ME

AS IT IS THE NEXT STEP IN DESIGN.

FOLLOWING MY PASSION HAS LED ME

TO OPPORTUNITIES I DIDN'T IMAGINE"

any other place. One of the first artists that came was someone I met

through a furniture fair in Milan. I love the idea of continuing this

creative aspect of life through unique projects that contribute to

the community and widen its exposure. In return for their art, I am

happy to give them an unforgettable hospitality experience in Brazil."

Wilbert has not only encountered success in running the hotel. The

designs of his guest houses have been admired so much by visitors

that he has now transitioned into designing private houses. "This is

really an honour for me as it is the next step in design. Following my

passion has led me to opportunities I didn't imagine occurring."

It is clear Wilbert and the village's tranquil nature has become part

of his personality. Despite his growing success and accomplishments,

he is humble and focuses his energy on developing different ways to

give back to the community that has allowed him to realise his dream.

"I consider myself truly fortunate. I have no desires to make this a

chain or build other hotels. UXUA for me will always be a dream that

I fulfilled and is now slowly becoming a business."

14 | Perspective | September 2016
---
BRAND NEW & EXCLUSIVE

Ambiflex combines the aesthetic design of edison style

filament lamps with the latest LED technology, which

provides a cost effective, long lasting solution without

compromise.

T45 ST64 G95 G125

Contact us to find out more about these exclusive new lamps.

Tel: 01274 473400

Email: sales@europeanlampgroup.com

www.elg-solutions.com

3684 / wk30 / 2016
---
INTERNATIONAL: QATAR

THE EMERGING PLAYER

EP looks at the ongoing development taking place in Qatar helping

the country emerge as a key player in the global hospitality market

The hospitality sector in Qatar is thriving with many arguing

the country is emerging as a major player in the hospitality and

franchise investment market in the Gulf Cooperation Council

(GCC). This is due in part to the massive build-up required for the

2022 FIFA World Cup, with the markets for food and beverage,

suppliers and hotel construction all peaking.

For many in Qatar, winning the bid for the FIFA World Cup was

an honour not just for the country, but for the region. As it prepares

itself to welcome a global audience for one of the most widelyattended

events in the world, the infrastructure must go through a

complete change. To cater for this global audience, the building and

development of existing facilities is taking place. They want to have

world-class facilities with quality service.

The last few years have seen a swift expansion in the number

of hotels and other tourism facilities in Qatar, as the government

has invested in transforming the country into a luxury, sports and

business destination. Through the Qatar National Tourism Sector

Strategy 2030, Qatar has adopted a comprehensive approach to

addressing sustainability in all aspects of the tourism industry, with

a special focus on creating a thriving hospitality sector. More than

40 billion USD of investments are planned over the next 15 years.

Qatar National Vision 2030 is taking place at the same time.

The aim is to "transform Qatar into an advanced society capable

of achieving sustainable development" by 2030. The plan's

development goals are divided into four central pillars: economic,

social, human and environmental development. The government

seeks to meet the goals by implementing strategies to address the

challenges presented in human development reports.

The upcoming Hospitality Qatar exhibition in October 2016

is designed to build a strong platform for local, regional and

international hospitality companies and bring together the sector

from around the region. Alongside this they also want to allow

visitors to network and build business opportunities. The country

"THE GOVERNMENT HAS INVESTED

IN TRANSFORMING THE COUNTRY

INTO A LUXURY, SPORTS AND

BUSINESS DESTINATION"

is continuing to expand and suppliers from around the world are

choosing Qatar as a go-to point to participate in the local market

boom taking place. Many hotels are under construction and the hope

is that guests will stay for longer periods and not just for the

upcoming sporting events. The hospitality sector is witnessing

healthy growth at a time when finances in other sectors are seriously

stretched and even compromised. As it prepares itself for an influx of

tourists, the sector and the infrastructure in general is preparing well,

and with it comes optimism across all industries.

epmagazine.co.uk | 17
---
CUSTOMER EXPERIENCE: SMITH+CO

Hospitality by design

Having been responsible for customer experience at The Walt Disney

Company, Malcolm Ross and Chris Humphrey know that aligning

every inch of a hotel to a customer excellence strategy is paramount

For decades we've seen that the highestperforming

hospitality brands understand

that exceptional service will never

come from mass improvisation but that

a service ethos has to be intentionally and

painstakingly instilled into the business.

The question, however, is how to create an

ethos that enables and empowers employees

to do the right thing for customers, but

avoids the inclination to micromanage the

service. In many five-star hotels, this may

demand that a chambermaid cleans the

room, which is then checked scrupulously by

the Duty Manager, followed unquestionably

by the General Manager for all VIP guests.

Customer experience needs structure,

you cannot have a free-for-all, but in diverse

and fragmented organisations, it makes no

sense to micromanage. We achieve the

balance through a loose-tight framework

that clearly defines the desired behaviours,

but does not micromanage the outcomes.

Too many hospitality companies are

very prescriptive when it comes to telling

people what to do and how to do it, but very

loose when it comes to 'what we stand for'

and 'what experience customers want'. Our

experience at The Walt Disney Company

has taught us to reverse the two, so we are

very tight on what customers want, but

loose on how to achieve it.

Purpose is the invisible manager

When it comes to empowering, enabling and

aligning a workforce with the confidence to

deliver memorable customer experiences,

numerous experts and surveys have

concluded that Disney consistently leads the

way, across a highly complex global business,

including theme parks, shops, restaurants,

cruise ships and over 45,000 hotel rooms in

the value, moderate and luxury categories.

The anecdote of a young girl and her

mother coming to a fenced-off building site

on a visit to a Disney theme park illustrates

Disney's highly intentional approach to

customer excellence. The little girl threw

Belle – her favourite Disney doll – over the

fence, much to her mother's dismay, and by

the time staff were able to retrieve the doll, it

was spattered with mud, the dress was torn,

and her hair was a complete mess. Staff tried

to find a replacement but their efforts were

futile, as a newer model had replaced Belle.

So, the bedraggled doll was first taken to

a make-up artist, who styled her hair, then

to the wardrobe department, which made

her a new dress, and finally to a 'party' with

other Disney princesses, accompanied by

a photographer. Later that evening back at

their hotel, Belle was returned to her owner

as good as new, together with a photo album

showing what a great time she'd had during

her 'makeover'. In a thank you letter, the

girl's mother described the moment of

Belle's return as "pure magic".

This sort of employee engagement is not

unusual and is anything but random. On the

contrary, the coordination of multiple teams,

who didn't have a checklist or consult a

manager, happens every day because the

company intentionally sustains a culture,

18 | Perspective | September 2016
---
and creates an environment where going

the extra mile is entirely natural. Aligning

employees behind a single organisational

purpose is central to Disney's methodology,

and at Smith+Co, we helped Premier Inn

design a service framework on the essential

foundation of a new brand purpose. Premier

Inn now has a succinct explanation of what

customers want from the experience at an

emotional level, brought to life at hallmark

touch points, and through the intersection of

process, place and people. Making guests

"feel brilliant through a great night's sleep"

gives Premier Inn the confidence to excel in

areas that customers value, such as Hypnos

beds, good quality showers

and a hearty breakfast, rather

than gyms and fine dining.

The 2015 Havas Media

study Meaningful Brands

found that purposeful brands

outperform the stock market

by 133%, gain 46% more share

of wallet and achieve marketing results that

are double those of lower rated brands. This

business approach is being actively adopted

by hotel brands, including Premier Inn and

CitizenM. They overtly prioritise creating

value for both customers and employees,

and this value comes from giving the entire

workforce a clear, consistent and sustained

sense of purpose that is not an 'airy-fairy'

aspiration, but one firmly rooted in the

reality of both customers and the business.

A purpose is not enough

Many companies, however, fall into the trap

of thinking that it is enough simply to create

a brand purpose, whereas indispensable

to Disney's success is operationalising the

purpose through an established loose-tight

framework. This includes prioritised,

observable and measurable standards, which

in turn are defined by behaviours that each

and every employee irrespective of job title

or seniority is expected to know, understand

and actively demonstrate.

Integrating HR is indispensable

We know from practical experience that

every hospitality company can achieve

consistent, differentiated, and sustained

customer excellence, because every

"Customer experience needs structure,

you cannot have a free-for-all, but in

diverse and fragmented organisations,

it makes no sense to micromanage"

hospitality company has all the tools at its

disposal. They just need to be much more

intentional about building a loose-tight

framework and use the entire HR process

– not just training – to permeate the right

behaviours, not just across the frontline, but

throughout the entire organisation.

From consulting with leading customer

experience brands, we know that a frequent

starting point is 'how do we attract people

who can relate to the customer and the

product simultaneously?' This question is

a vital starting point because a workforce

with this balance can become powerful

advocates. Michael Levie, COO of CitizenM

Hotels, commented in Shaun Smith and

Andy Milligan's 2005 book On Purpose:

"Having a strong purpose or being

innovative is not enough; it's also about

the people around you. So we have a very

strict casting and immersion programme.

You can build a hotel but no matter how

pretty or nice it is, if it hasn't got a pumping

heart it isn't going to live. We have found

through our initial casting and immersion

program how to make the hotel come to life

and then, by having the right manager, make

sure we sustain it."

Hoteliers across all categories should

know it is possible to create a workforce

that consistently delivers

customer excellence,

by hiring the right people,

training those people

correctly, communicating

effectively with them,

caring for them and

recognising them in a way that

makes it easier for them to care for guests.

Intentionality is a no-brainer

Customer experience is the sum of every

fleeting interaction your guests have with

your brand, not just the service they receive

from the frontline staff, so delivering an

experience that is consistent, distinctive

and 'on-brand' is increasingly a source of

sustained competitive advantage. In a world

where technology is increasingly creating

multiple touch-points, being highly

intentional across the entire organisation

about the guest's end-to-end experience

matters more than ever.

epmagazine.co.uk | 19
---
CUSTOMER EXPERIENCE: THE CAPITAL

A belief in

something more

D L

T C

Having been one of the leading players

in the story of London's hotels over the

past 40 years in late 2015 David Levin

was awarded an MBE. Looking back, it is

almost amusing to consider that David

managed to fund the launch of the hotel with

an £800,000 loan from Barclays Bank that

was almost given on trust in David and the

fact that Capital and County had accepted

an offer from David on the lease. It is

something that just would not happen in

today's market. Over the next 20 years,

The Capital Hotel grew to become one of

London's leading hotels and had grown

through the three-day week and two, if

not three, recessions.

Today, as David discussed his long and

successful career and story, we noted just

how few hotels still possess an owner at the

core of the living operation and just what a

rarity it had become. As one listens to

David talk, one soon realises that he is an

operators' operator in the true sense of the

phrase and has a deep and abiding love

for the hospitality industry. And as one

looks at his career, it becomes clear that

David is not just a hotelier.

He had the vision to see beyond hotels

and was the driving force behind The

Green House restaurant with Gary Rhodes

in the 1990s and a concession contract

with The Royal Festival Hall (and the

People's Palace restaurant) for ten years

in the 90s. Today, he owns not just the

hotel but a bakery, a vineyard, a bistro

epmagazine.co.uk | 21
---
CUSTOMER EXPERIENCE: THE CAPITAL

and more. He has an eye on two or three

new deals as we talk.

David's story began in Glasgow where he

grew up. In those days, his parents wanted

him to take on a traditional profession and

were resistant to his entering the hotel

industry which they believed was a very

difficult career path to achieve success. From

their perspective, they believed that the

leading players in the industry were Italian,

French and German and very few from

Britain attained the highest levels.

But David was unperturbed. He began his

career with British Transport Hotels before

moving south to take over the Royal Oak pub

in Berkshire. This was a turning point for

David as it gave him the belief that he could

make money and nurtured his love for

business. The pub cost him £15,000 and

he made the same in profit in the first year.

His dream though was a five-star London

hotel and this is where his attention turned

to The Capital, in the heart of Knightsbridge,

which celebrates its 45th birthday this

year. He has developed a legacy that he has

handed over to his daughter, Kate (pictured

opposite with David), to run. "I created

a boutique hotel with 50 rooms and a nice

restaurant – the word 'boutique' was not

a known term in those days as it is today,

but in some ways that was the aim; to create

something high quality and personal.

Everyone said, 'Don't do it, it won't work.'

The 70s were a tough trading environment

but I believed that customers wanted

something different."

Levin was Restaurateur of the Year in

1991 and Hotelier of the Year in 1994, while

The Capital was the Good Hotel Guide's

London Hotel of the Year in 2008 and was

awarded Most Excellent Hotel Restaurant

the same year by Condé Nast Johansens.

Most hotels focus on the rooms but the

key here has been the food. At first, The

Capital was seen as a restaurant with rooms

rather than a hotel and David was relaxed

about this perception as he knew that a great

restaurant would bring in the guests.

It is an interesting thought as so many

hotels today view food and beverage as

their weakness and seek to outsource the

operations. However, David's success began

with food and one can see that food has been

central to David's philosophy throughout.

The restaurant was one of the first hotel

eateries to be awarded a Michelin star, and it

gained its second in 2001. In the intervening

years, Levin has nurtured the careers of

great chefs including Brian Turner, Gary

Rhodes, Richard Shepherd and Paul

Merrett. Today the hotel boasts 'Outlaws',

which is an alliance with Nathan Outlaw.

It is also fascinating to try and understand

what makes one great hotelier different

to another and one of the great fascinations

about the sector is that each is often so very

22 | Perspective | September 2016
---
different. Generally they possess a common

love for hospitality and for the guest, but

each will have different qualities that inspire

their 'fan base'. It may seem strange to write

about hoteliers having a fan base but this is

exactly what does happen – customers do

follow those that provide great hospitality.

Great food and beverage sits at the heart

with David and this may be well illustrated

by the state-of-the-art winery in the Loire

Valley. He did not want to own just another

Loire vineyard but one with a difference, so

"The 70s were a tough

trading environment

but I believed that

customers wanted

something different"

he imported the technology and equipment

from Australia to create a Loire wine with

New World influence – the taste of the wine

is a blend between French and New World.

It illustrates David's innovation. The

Green House caught the imagination in the

early 90s and The People's Palace too was

very innovative at the time. The Capital has

been a success for four decades and now is

an institution in London.

There is no doubt that David will have had

many offers over the years to sell the hotel

but one feels that he still has a hunger for

hospitality and for business and instead,

maybe has an eye for what can be achieved

next. Some will say that David has left

a great legacy and there is no doubt that he

has left his mark but really the question is

what lies ahead in his story?

Kate now runs the hotel and it is easy

to see that father and daughter work

effectively in tandem and share common

values. Interestingly these values are not

just about business but about being on the

floor with the guest. And this takes this

article almost full circle as the question still

remains in the air – how many hotel owners

will guests meet and see on the floor caring

about the operation and the customers, as

was commonplace in days gone by?

The answer must be too few as there is

much consumer research that suggests that

customers yearn for the proprietor led ways

that one can still see today at The Capital.

epmagazine.co.uk | 23
---
CUSTOMER EXPERIENCE: APEX HOTELS

A quiet evolution

In 2016, Apex Hotels celebrates its 20th anniversary. The hotel

group has been one of the genuine success stories during the

B

Apex Hotels today boasts hotels in Glasgow, Edinburgh (x4),

London (x3), Dundee and is due to open a new £35m hotel in

Bath in summer 2017. The last decade has been difficult for

independent operators, but Apex has found a niche and built

a business that really has a special feel and place in the industry.

How has it achieved progress when others have struggled?

Apex was founded by Norman Springford, who opened his first

hotel in 1996 in Edinburgh's Grassmarket. Norman had previously

been an employee of the Inland Revenue and owner/operator of

a number of pubs, bingo halls and the Edinburgh Playhouse.

Today, turnover is an estimated at £60m.

Norman was reported to have once said that he "could not run

a hotel to save my life", highlighting the fact his success has been

due to appointing the best operators, such as Chief Executive

Angela Vickers. "My role is focused on finance and profitability,"

he explains. "Perhaps I shouldn't say this, but one of the biggest

changes I've witnessed since I opened my first hotel in Edinburgh

in 1996 is the increase in number of hotels being run by accountants

rather than hoteliers, alongside the growth in budget hotels and a

move towards distribution via the online travel agents. Accountants

are generally not the right people to run hotels – they are more

interested in the bottom line, rather than providing true hospitality."

It is a typically modest statement, and one of the real qualities

of the leadership team within Apex is that they are modest but

thoughtful, considered and open minded. They seek to explore

new ideas and innovation in a way that very few others do. One

could turn Norman's quote on its head and argue that the fact that

they are accountancy led is the exact reason for their success.

However, this too is simplistic. The Apex differential is its

open-minded approach but also its understanding in the essence

24 | Perspective | September 2016
---
"Accountants are generally not the

right people to run hotels – they are

more interested in the bottom line,

rather than providing true hospitality"

of hospitality. The hotels will often be well designed and with real

points of difference, plus possess a great service ethic. Rest assured,

they understand hotels. If one visits the Temple Court Hotel,

situated on Fleet Street, one is met by an Elephant sculpture

next to the entrance – it does bring a smile to the face and makes

a subtle statement. If one visits Glasgow, the hotel is a modern,

imposing building that impressively dominates the street.

The bottom line, maybe, is that Apex is just a well-run business

that is almost old-fashioned in ethos but with an open, enquiring

mindset for the future. It possesses strong relationships with its

bank and the leadership team is a well-balanced mix of financial

and hotel specialists. "We have an excellent relationship with the

bank that has been built up over many years and as a result the bank

has confidence in us," notes Angela Vickers. "I think that one of the

most important aspects is that everyone at the top of the business

comes from a financial background and therefore the bank knows

it can trust that we have done all our background work."

It is quite a story – a hotel group that has quietly developed from

its £1m launch to £60m turnover in 2015. They have achieved this

almost under the radar, and it is this point that intrigues. Not many

experts talk about Apex Hotels and yet their story probably has

more substance than those that are often more publicly discussed.

Angela's own career started when she graduated from Glasgow

University and joined KPMG to train as an accountant. She

entered the industry with Stakis in the days of David Michels and

subsequently moved across to Hilton following their acquisition of

Stakis. Angela joined Apex in 2004, became Managing Director in

2005 and more recently, Chief Executive.

Angela is a key part to the story for she does share many of the

same traits that make Apex a success. She is keen to learn and to

epmagazine.co.uk | 25
---
CUSTOMER EXPERIENCE: APEX HOTELS

"We have provided a good service

at very reasonable prices... and

we have done it modestly, which

I think also suits our customers,

as it is a bit like their secret"

see new talent developed. In 2013, she was one of the initial

intake of the new MSc course at the International Leadership School

developed at Strathclyde University Business School with HIT

Scotland, Ecole Hôtèliere de Lausanne and Cornell. She is also

a Trustee of HIT Scotland. Angela is an avid listener who will

digest information but will constantly seek ways of moving the

service and product forward. At the same time, she is true to all

the founding principles that made Apex a success.

There is an argument that the four-star business hotel is one

of the sectors that are under pressure, and yet Apex will often

record far higher occupancy levels than their competitors. They

have built a strong customer base that vote with repeated stays

in the hotels. One can argue that the group needs to raise its

profile but the counter is why when the hotels will see 96 per cent

occupancy levels as a norm.

"I think that we have provided a good service at very reasonable

prices," outlines Angela. "I know many people will say this, but

we have, and we have done it modestly, which I think also suits

our customers, as it is a bit like their secret. And this generates

loyalty. I think the other key factor as to why we have performed

well during the recession is that we reacted quickly to the market

when it turned. We took a long, hard look at our cost base and our

business mix and developed new ideas and solutions. There is no

doubt that the market changes at speed and we need to be constantly

reviewing what we do and asking ourselves how we can improve

– but we will do this in a reasoned considered way, as that is just us."

The hotels are modern, well designed and practical. They are

almost modest but offer exactly what a customer wants and they are

like that old advert line, 'We deliver what we say'. The interesting

point is that Apex do not say too much and hence are low key.

Apex is and has been a role model for many companies to observe.

Maybe its branding does need developing, but its success comes from

two factors. Firstly, it has kept the bank's confidence at the most

difficult of times, and secondly, it has delivered to the customers

what they wanted at a reasonable cost.

Apex has understood its business, adapted it but also built

for the future by constantly seeking to ask questions of itself and find

new solutions. It has thrived in a market that has been under real

pressure and has done so through a quiet evolution that ensures its

customer base continues to enjoy the journey.

26 | Perspective | September 2016
---
COMMENT: ECOVIS

IS YOUR FINANCE

FUNCTION KEEPING UP?

Robert McCann, Senior Partner of Ecovis

Wingrave Yeats, looks into the impact

that 21st century technology has had on

hospitality and questions whether the

finance function is keeping pace

The pace of technological development

in recent years has revolutionised many

industries and the way we work – from the

humble taxi (Uber) to the most glamorous

celebrities (social media) – and yet few

sectors have felt this more keenly than

the travel and hospitality sector, and

hotel operators in particular. The customer

experience has changed beyond recognition;

from online bookings and check-in to

in-room experience and keyless mobile

entry. What was once a 'wow' in the eyes of

the customer is now increasingly the norm,

and this evolution will only gather pace as

further developments are unveiled.

But while all the attention is given to

front-of-house glamour – the tablet control

systems and the robotic concierge – spare

a thought for your humble back-office

finance function. How has Denise in

accounts kept up with technological

change? Is your finance architecture

keeping pace with customer-facing

developments or has this been overlooked,

reinforcing the inefficient ways of the past,

the way we've always done things?

In leading the hospitality team at Ecovis

Wingrave Yeats, I've had the privilege of

working with many hotels and seeing how

they operate behind the scenes. Many

of them do this amazingly well and are

as on top of things as much behind the

scenes as they are in the public eye. Others

are, worryingly, behind the game. Once

we enable the latter to see the full benefits

of embracing technology, I am certain that

we will see a vast reduction in the numbers

of those who are struggling to keep pace.

Often it seems the back office simply isn't

keeping up with front of house in terms of

innovation and use of technology to facilitate

information flow. Take something as simple

as supplier invoicing – a hotel chain we

recently worked with was drowning in

paper… hiring reams of people to punch in

numbers and finding itself forever behind

on supplier reconciliations. It had no

concept of Optical Character Recognition

(OCR), Application Programming Interface

(API) feeds or real-time information. The

"HOTELIERS HAVE NEVER

HAD SUCH A WEALTH AND

RICHNESS OF DATA AT

THEIR DISPOSAL"

same could be said of how its systems

integrated with F&B, PMS, p ayroll etc.

The knock-on implication of this very

20th century approach can be summarised

concisely; it costs the business significant

amounts of time and money that could be

better invested elsewhere.

So much of the management information

we see produced is not current, it's not on

trend, it's not prospective and, frankly, it's

not all that insightful. Not only does this

mean that key management personnel are

spending unnecessary time and energy

looking at the past, it invariably means

they have no time to think about the future,

let alone the present, and are constantly

playing catch-up. Unchecked, this can

have a very detrimental effect on the

business. A clear vision of the financial

implications of how the business operates

today is essential to ensuring continued

success in the future.

And don't get us started on big data!

With the boom in booking, mobile and

front-of-house technology, hoteliers have

never had such a wealth and richness of

data at their disposal… data that screams

out with opportunity and has been proven in

many a case to generate sales opportunities

and enhance customer loyalty. Increasingly

in the 21st century, data will become the

golden commodity – but so many people do

not yet have the systems in place to correctly

harness let alone analyse and interpret it.

And what is striking about this neglected

technology is the affordability of it all. As

we see the unit costs of fancy all-singing-alldancing

in-room coffee machines falling,

so too is the cost of SaaS, an industry boom

facilitated by the rise of online applications

and open source data connections.

It's easier and cheaper than you might

think to bring your back-office experience

up to speed, to enable it to become a current

contributor to the business! So the next

time you find yourself front of house and

marvelling at the customer experience

you offer, please spare a thought for

Denise in accounts and ask yourself

– is your finance function keeping up?

epmagazine.co.uk | 27
---
CUSTOMER EXPERIENCE: THE WELLESLEY

The Running Butler

Stefano Lodi, General Manager of The Wellesley, unveils the guest

initiatives bringing a touch of luxury to well-being and the inventive

new communication methods enhancing personal service

The Wellesley in Knightsbridge, London,

is known as a boutique-grand hotel.

Named after military leader and former

Prime Minster, Sir Arthur Wellesley, the

hotel has been restored in 1920s' Art

Deco style with a modern twist. Despite

its appearance and origin as Hyde Park

Corner Tube station, the hotel is at the

forefront of adapting to guests' desires.

This includes the growth of interest in

exercising and sport participation in the

country. Recent research has found that the

average executive exercises four times per

week, and with busy work-life balances,

some are completing more activities even

while staying in luxury hotels. The Wellesley,

opposite the 350 acres of Hyde Park, has

adapted its offering to suit this change.

"We pride ourselves on the personal

service we offer to our guests, and the

new Running Butler concept is an example

of this," says Stefano. "There's been an

increase in demand for general health,

fitness and wellness services at the hotel,

so this was a great opportunity to offer

something new in this area while making

the most our location opposite Hyde Park."

The hotel's Running Butler is on hand

to tend to the runner's every need – from

waiting with refreshments and home-made

protein snacks, to preparing a bubble bath

for post-gruelling runs. "We have already

had guests express an interest, especially

with several big runs coming up such as the

Royal Parks Foundation Half Marathon in

October. This personal service helps us to

stand out among the competition, and we

are always looking for new and inventive

ways to demonstrate this to our guests."

Stefano explains how they always try to

take onboard feedback from their guests.

"We strive to fulfil any fitness and well-being

service requests. Recently we have created

a partnership with Grace Belgravia, a

well-being club for females, which we

28 | Perspective | September 2016
---
implemented as the demand for spa breaks

and in-room spa treatments has grown."

The Wellesley has also recently brought

in WhatsApp to improve communication

with global guests. The hotel is using the

messaging service to communicate with

guests for reservations and enquiries.

"While the interior of The Wellesley is

reflective of the 1920s era, our approach to

technology is modern. We understand the

needs of the modern traveller and offer

state-of-the-art technology. We aim to be

at the forefront of 21st century

travel, and the WhatsApp

offering is a reflection of this.

"Our reservation teams have

access to the app when the

reservation lines are open,

meaning someone is on hand

throughout the week to answer

enquiries. They can also help with additional

requests, such as transfers, by passing these

to the relevant teams within the hotel.

"The service has been well received by

both existing and prospective guests. We

have taken bookings through the app, and

we've had positive feedback from guests on

how helpful it has been before and during

their stay. It is very much an addition to our

existing communication channels, and we

encourage guests to use whichever medium

they feel most comfortable with. Our teams

are at guests' disposal via phone or email

too – we are just ensuring that we offer as

many options as possible," says Stefano.

"In a world where technology is becoming

more ingrained in our everyday lives, luxury

hotels need to continue to offer a personal

customer service – travellers will continue

"Personal service helps us to stand

out among the competition, and

we are always looking for new and

inventive ways to demonstrate this"

to seek that human encounter, which is

something we will never deviate from."

Stefano believes indulgence still plays an

important role despite some of the changing

desires from guests. "There has generally

been an increase in demand for well-being

travel, but we believe in offering a balance,

and indulgence isn't something we would

shy away from. Our guests still enjoy fine

Italian cuisine in our Oval Restaurant, or

afternoon tea in the Jazz Lounge. We are

also home to Europe's largest hotel humidor,

with heated terraces for those who enjoy a

cigar. It's important to the hotel to be able to

offer our guests options, so they can tailor

their experience to their own taste."

New technology is changing how a hotel

and guest interact. Smartphone access and

universal mobile coverage allow guests to

communicate in any place

and at any time. As well as

expanding technology, the

increase of breaking away

from the stresses of life is

growing and more are looking

for exercise and well-being

plus occasional indulgence. By

matching and responding to these changes,

The Wellesley is ensuring it can provide its

guests with what they really want.

Simply by listening to customers, it has

introduced new initiatives that are from the

result of customer feedback and can surely

only ensure positive experiences.

epmagazine.co.uk | 29
---
CUSTOMER EXPERIENCE: THE STAFFORD

Hotel longevity

T S

The Stafford has stood in St James in

London since the 17th century, and was

originally built as private residences. Next

door, buildings were added over time and

in 1912 The Stafford Hotel was born. In

charge of the luxury five-star property is

GM Stuart Procter, who is surrounded by

a team who are passionate and loyal and

have stayed with the hotel for much longer

periods than current hospitality tides.

"If you could bottle what this hotel has in

spirit and sell it, you'd be a billionaire. The

feel this hotel has and the connection it has

with people is unique. Sarah [Executive

Assistant], Frank [Executive Head

Concierge], Gino [Master Sommelier]

and Benoit [Bar Manager] are only a few

examples of the longevity we have. There

are another dozen like them. It's like a stick

of rock – if you snapped it in half it would say

The Stafford in it. They care about it and

are real stakeholders through and through.

There's a real sense of joy in the morning

meeting when we achieve our budget and

equally if a client's not happy, we get upset

about it. It has been this way for decades,

the detail the team knows about clients is

phenomenal with repeat guests making up

60 per cent of our business. We had a client

stay recently who has been coming here for

50 years, so we now have their grandchildren

and their great grandchildren stay."

Stuart explains how he considers the

hotel to be more of a home for their clients.

"That's not a marketing line you tend to read

from the big international companies, it's

a fact. I would suggest 50 per cent of our

clients could buy the hotel and when we

give them our top suites they're probably

as big as their shoe cabinet at home."

Stuart has been in the hospitality sector

from an early age and took his first steps as

a 15-year-old part-time waiter, "This was at

Northcote Manor, a boutique hotel in

Blackburn, Lancashire, where I'm from.

I loved food and hotels from a young age

and was fortunate enough to be offered

their first ever apprenticeship. It covered

all areas from the kitchen, to the bar, to

housekeeping, to the office and at the same

time I completed my BTEC National

Diploma in Hospitality and Institutional

Management. I went on to work for Shire

Hotels who were owned by Thwaites

Brewery and they purchased The Stafford.

At that time I loved the hotel from afar – it

was for me, the iconic boutique hotel.

"I was Deputy GM at the ripe age of 23

and within six months was the GM before

coming to The Stafford aged 27 as number

two under the great hotelier Terry Holmes.

A couple of years later I was GM and spent

seven years here. I left to open Hotel

Football in Manchester but returned to

The Stafford last year. I'm not the first to

go away and come back. Others have gone

abroad to explore but many have a fondness

that brings them back. Employees arrive

here and either last five to ten years or one

week – the team won't suffer fools. Clients

are treated as friends but without being

familiar – it's the informal formality. The

cultural side of our hotel is to deliver the

best service and we are helped by not having

guests who feel they have nothing to prove.

If they did, they wouldn't stay here."

During the Second World War, The

Stafford served as a club for American and

Canadian officers stationed overseas who

sought refuge in the Wine Cellars. A glimpse

into this period of history can still be seen at

the far end of the Cellars, where an authentic

collection of items from the war is housed in

a little museum. The hotel today has many

international guests and the bar is named

The American Bar, which Stuart explains

is due to their special relationship with the

US. "The bar is an institution – it has only

had two head barmen over the past 60 years.

There is lots of memorabilia on show which

has been given to us by guests and this

connects them and their families to us, it

is a bit of a club. It was started by Terry

Holmes who really put this hotel on the

map. We have worked very hard for five

decades attracting American clientele – 53

per cent of our business is from the US. We

have a person employed on the west coast

and an agency on the east. I visit at least

once a quarter because this is a relationship

30 | Perspective | September 2016
---
"To make a successful

hotel you need

continuity because

clients want recognition"

GENERAL MANGER Stuart Procter EXECUTIVE

HEAD CONCIERGE Frank Laino MASTER

SOMMELIER Gino Nardella BAR MANAGER Benoit

Provost EXECUTIVE ASSISTANT Sarah Pendrigh

business. You have to know the right agents

and families and then deliver on those

promises. It helps being in the best location

in the world for me."

Some hotels have trouble retaining staff

but The Stafford does seem to hold the

secret that keeps the team together. "They

all look out for each over, it is like a family.

You can fall out with your family but you

make it up very quickly. We have different

individuals holiday together, there is a lot of

social activity, and they are well rewarded,

which doesn't just mean money. I liken it to

supporting a football team, you love your

club and this club is called The Stafford.

We also have amazing young people coming

through and I believe our industry offers

a great life. We need to grow our talent and,

yes, you spend a long time training but my

generation were fortunate to have great

bosses and mentors and now we must pass

on our experiences. We're not a college

because we can't afford to make mistakes at

the prices we charge. This is a job where

anyone can go and work anywhere abroad

because the skills are transferable.

"We hold a meeting every morning and

walk through every client that's arriving. We

have notes on each client. Hospitality hasn't

changed since long before we were born, it's

about knowing the client. It isn't about the

amount you charge because value to one

person is different to another. They will pay,

so it doesn't matter if your gin and tonic is

£9.60 or £16.50, it's irrelevant. We know all

our clients because we walk the floor, we

don't sit in an ivory tower and we've got all

the tools to aid us. Our business is strong

and we would rather spend thousands of

pounds looking after our clients who go

and tell their friends than spending the

same trying to get new ones.

"We're continuously, like other top hotels,

reinvesting. It's like the Forth Bridge starting

at one end, finishing, and then starting again.

We're currently in the process of appointing

an interior designer from New York, tasked

with refurbishing all our Carriage House

rooms. It's a big investment and will be an

amazing enhancement once completed.

"To make a successful hotel you need

continuity because clients want recognition.

Stability and loyalty isn't rocket science. If

you turn over your staff you don't deliver.

We're in the service business and short-term

mentalities don't work. Are we unique? No,

there are other hotels doing what we still do,

London has the best hotels in the world

without a shadow of doubt. If I don't look

after my clients they may just pop around

the corner and so we have to be always on it.

I was privileged to take over an incredible

philosophy and culture, which we have

maintained. The team lives and breathes

the hotel, it's not their job – it's their life."

epmagazine.co.uk | 31
---
FOOD AND DRINK: RESEARCH

F&B transition

There are fundamental changes taking place in relation to food

R

research has shown that F&B outsourcing models are becoming

of greater interest in hotel operations across Europe

There is a growing need for hotels to

become a centre for the community and

at the same time bring in more event

business and increase room sales. By

providing guests and non-residents

more options, such as good quality F&B

operations run by experts, they can engage

their audience and bring in more business.

In the past there has been a popular and

successful trend of hotels outsourcing their

F&B to celebrity chefs, restaurateurs and

contract caterers. However, the trend has

waned because hotels want to either take

back their ownership and management

or try newer models. It is a competitive

market and there is now a demand for

attracting an audience in a different way.

It is already changing and there are success

stories – Brasserie Blanc, Soho House and

D&D to a name a few.

Whether via partnerships, outsourcing

or internal, there needs to be evolving F&B

strategies as it has grown in day-to-day

importance and it is natural to look towards

restaurant specialists as they can bring

a different dimension.

Some argue against outsourcing as

a hotel will be trusting its brand in the

hands of another and so a partnership of any

kind must have a mutual bond to ensure

success. Others have viewed F&B services

in a hotel as an industry custom rather than

a strong contributor to the bottom line.

There is an argument that hoteliers

outsource their restaurant because they lack

food and beverage skills and the hope is they

32 | Perspective | September 2016
---
can collect the rent from the restaurant

operator. However, issues can pop up with

the lack of control over service levels and

standards. Whatever the past reasons, it

is always a decision that needs long

consideration, especially because it is the

outsourcing of an element of the brand.

At the same time technology is becoming

increasingly important and the needs and

desires of guests are changing

how they approach food and

drinks within a hotel. The

trend for eating in-room is

growing and guests now

want to be able to text or

digitally send an order via a

smartphone or similar device.

People are working and eating at the

same time and tight travelling schedules

require a quick turnaround time. It is

challenging and hotels have to be prepared

to act and have the right systems in place.

Food tastes and styles are also rapidly

evolving in line with lifestyle and work

changes. Healthier options are being chosen

alongside classic old favourites. This

refreshing momentum is intertwined with

food becoming central to a hotel's appeal

alongside service and environment.

In the past the relationship between

a hotel and their F&B operator has become

frustrated because of a lack of effective

communication. The quality of work may

"In the past there has been a popular

trend of hotels outsourcing their

F&B to celebrity chefs, restaurateurs

and contract caterers"

become affected and in the worst cases the

understanding and focus on the customer

is lost. Value may also be lost in the process

when selecting the right outsourcing partner

because of the competition during the

pitching. It may also be argued that hotels

may abuse this process by using it as a way

of gathering ideas without intending to

commission work. The qu estion sometimes

raised is, are hotels guilty of letting briefs

become progressively less focused

throughout an outsourced relationship?

So a hotel's F&B has historically been

viewed as a poorly managed afterthought

for some hotels because they believe the

operation won't generate any revenue,

are more focussed on selling

rooms or are under the

assumption that guests do

not eat in hotels. However

the belief now is that

F&B is becoming increasingly

important to both event and

room sales as customer

expectations today are continuously rising.

Outsourcing, researching the local market

and surroundings, adjusting the offering for

the guests and creating the right space and

ambience can all help improve the food and

beverage – all the way from the customer

experience to the bottom line.

epmagazine.co.uk | 33
---
FOOD AND DRINK: HOTEL BARS

Setting the right bar

With the rise of the community feel in hotels is the hotel bar

becoming the more popular option above standalone bars

and pubs? For solo and groups of women is the hotel bar

now the best for environment, ambience and safety?

The atmosphere of a bar often dictates its

appeal and this can change depending on

the time of day, menu, clientele, design

and environment. From lively to mellow,

the atmosphere should still feel safe and the

bar a destination for any person, whether

they are alone, in a couple or with a group.

There is no doubting that drinking in

a hotel bar is now popular – many city centre

hotels have a mix of business travellers

relaxing after a day of meetings and

alongside them leisure guests spending some

time in the city. In the country and on the

coast the same is taking place, only with

fewer suits and more casual guests and

visitors. Hotels bars have worked hard

in recent years to become an additional

revenue stream for the business rather than

be seen as a hotel necessity. The bar is no

longer just for the pre-evening drink but for

the whole night. There is something quite

appealing about being able to stay after

certain hours because of resident status.

During their growth in popularity, the

hotel bar has become the choice for many

and a growing market is single and groups of

women. By evolving the hotel bar is making

sure it stays relevant, sometimes simply by

making it a destination in its own right and

not just the 'hotel bar'. They are designed to

draw the eye in a certain direction, with the

seats positioned to work alongside the bar

and to work effectively for encouraging

conversation. As hotels continue to

make changes to increase their bar's appeal,

similar movements are being made by those

trying to encourage more to visit and stay.

Some tour operators are focusing

on female-friendly hotels and only

recommending those that have passed

their stringent inspections. Some of the

key criteria include a 24-hour manned

reception, a well-lit entrance and rooms

with at least two independent locks. In

addition they also highlight hotels that

34 | Perspective | September 2016
---
provide quality toiletries, female-targeted

magazines and proper hairdryers. While

these options will appeal to some of the

demographic, it is important to recognise

this is not an area that is universally

accepted, and some may even criticise the

segregation between men and women.

Rightly or wrongly there is an appeal.

Some types of bars and hotels will

appeal to certain demographics. As

hotels amend their offering to differentiate

themselves, they must also take into

consideration the type of drinker they want

to attract. The rise of adding a

celebrity chef to a hotel's food

offering is starting to slow

down and now restaurants are

creating their own unique

brand appeal or outsourcing to

food and beverage experts.

Others try to match the latest

trends in different ways: shareable plates,

using fresh and local ingredients, hiring

the finest mixologists or offering a wide

range of non-alcoholic options and including

local craft beers.

While hotels may adapt to their latest

trends and ensure they offer the most

welcoming of environments, there are still

people out there with nasty intentions.

Drugs are slipped into drinks and there are

horror tales from this. Are hotels exempt

from these events? Sadly not, but there

are differences between hotel bars and

standalone bars or pubs. Is it fair to argue

that the clientele found in the two do differ

in terms of tastes, desires, conversation

and interest? It is certainly not an argument

of high class versus low brow but the

ambience does attract different people.

The price of drinks does obviously differ

"Hotels bars have worked hard

to become an additional revenue

stream for the business rather than

be seen as a hotel necessity"

depending on ingredients and how much of

the cost goes towards the overall experience

as well as the drink. It is fair to say a cocktail

in a five-star hotel is going to be better

quality than a bar on a high street.

There has been a rise of females travelling

solo and hotels have tried to cater for this

but it is still recommended that

accommodation is chosen wisely. Most

hotels provide their own security in some

shape or form and on the whole do

everything they can to ensure their guests

are safe, but there are still queries that must

be considered for any solo traveller. Advice

has ranged from only including a first initial

and surname to ensure the room booked

isn't gender specific to ringing the front desk

to check if a person knocks on the bedroom

door, even if they claim they are from

'housekeeping' or similar. Many have

argued solo travellers must

'trust their instincts' if any

situation seems awry.

Whatever the appeal for a

hotel bar, it does seem to come

down to a subjective argument.

The hope for hotels is their bar

is chosen by guests because

it is overall the most popular choice with

numerous advantages over a local

independent bar competitor. If one of

these advantages is because a woman on her

own or with a group of other women feels

safe, then that hotel has ticked another

important box in its appeal.

epmagazine.co.uk | 35
---
SPECIAL FEATURE: THE LEADERS

THOSE THAT BROKE

THE GLASS CEILING

Female leaders today are accepted without

question but who were the forerunners in

breaking the old glass ceiling?

There are many exceptional female leaders in the hotel and

hospitality sector who have broken barriers, made important

changes and have led companies through difficult situations.

Despite impressive feats these women do not always receive the

recognition and praise they truly deserve. There are many women

in top leadership positions and many extremely talented executives

likely to end up running companies so it is right to talk about them.

The argument of conflict between family and work may still be

more acute for women rather than men but as real gender equality

is reached in many workplaces this view starts to dissolve. However,

societies are often influenced by stereotypes and it can be difficult to

amend opinions from different generations. A view is held where

men are seen as naturally equipped and predisposed to be leaders,

but data shows that women at the top actually perform better than

their male counterparts.

While some may argue we are on the cusp of a new era of women,

is it fair to say the hotel sector has been ahead of the curve? Here are

a few who have achieved great things in the hospitality industry:

Jennifer Fox - Recently stepped down as President of Fairmont

Hotels & Resorts having led the luxury brand's celebrated collection

of world-class hotels and resorts. Jennifer's extensive experience

includes her time as COO at InterContinental Hotels Group.

Marie-Béatrice Lallemand - Has held several senior roles in Europe

with IHG and Hilton and was the opening Managing Director of Sol

Kerzner's Mazagan Beach Resort in Morocco. Marie's career

includes starting as a Head Receptionist and advancing rapidly to

Assistant Director and was a GM by the age of 29.

Olga Polizzi - Director of Design at Rocco Forte Hotels and Deputy

Chairman of the company, she was previously a Main Board Director

and Director of Building and Design at Forte plc and also owns two

hotels in England.

Karyn Marasco - Since 2013, Karyn has been EVP of Operations

at Highgate Hotels and held positions across Europe including

Area VP for AIMCO and Regional MD/London and Europe for

Le Meridien Hotels.

Dagmar Woodward - Dagmar was one of the first female GMs in

London of a five-star hotel. In 1989 she was GM at the Mayfair

InterContinental before moving to the IHG Paris and is now GM

at Hotel Royal Monceau.

Debrah Dhugga - Managing Director of Dukes Hotel Group, which

includes Dukes Hotel in London and Dukes Oceana Hotel in Dubai.

Rita Mooney - Spent 21 years as General Manager at Tylney Hall

before retiring. She was one of the most popular and longest serving

hotel managers with the Hampshire hotel.

Pam Wilby - The first General Manger in Dubai in 2000 at

Grosvenor House and Le Royal Meridien Beach Resort & Spa, Pam

began her career as a receptionist and moved rapidly up the ranks.

Vivien Sirotkin - Director of Hotel Operations at QHotels and

was the first female GM to run Gleneagles, Vivien has been GM

at a number of top hotels including Cliveden.

Carrie Wicks - Director of Operations at Firmdale Hotels

having spent nearly 20 years with the company, Carrie was

one of the integral parts of the team that created the successful

independent hotel group.

A mixed gender team is a healthy one and with the roles and

presence of these top leaders who have successfully broken through

the glass ceiling in the hotel sector, many others can reach their

highest heights and strive to reach the top of the game.

36 | Perspective | September 2016
---
CLOCKWISE FROM TOP LEFT; OLGA POLIZZI,

MARIE-BEATRICE LALLEMAND, PAM WILBY, JENNIFER

FOX, DAGMAR WOODWARD DEBRAH DHUGGA

epmagazine.co.uk | 37
---
COMMENT: JOELSON

TRICKS OF THE TRADE

Niall McCann, from Joelson, explains the

intricacies of licensing hotels and why obtaining

an alcohol licence for a hotel can be far more

complicated than for bars and restaurants

and pays to understand the potential pitfalls

Just like any bar, pub or restaurant,

a hotel requires a premises licence

pursuant to the Licensing Act 2003 in

order to carry out licensable activities.

This is the case regardless of whether

the site in question has two or 200 rooms.

Selling alcohol is a licensable activity and

those multitude of guest houses that do not

have a premises licence are trading illegally

unless alcohol is being genuinely given away

free of charge. For hotels, the licensable

activities required and the scope for

operational flexibility can vary greatly

from other types of licensed premises.

In order to successfully navigate the

regulatory regime, here are a few 'tricks

of the trade' to keep in mind:

Cover all the bases

• Applying for a premises licence for

a hotel should not be a rushed job, as hotel

licence applications can be significantly

more complicated than an application for

a pub or a restaurant, even though the

underlying licence is the same. Common

oversights include forgetting to include the

bedrooms within the licensed area where

'mini-bars' are being used, neglecting to ask

for 24-hour drinking for residents and their

bona fide guests and forgetting to apply for

regulated entertainment past 11pm when

capacity is over 500. If you know that the

application will be controversial, it

generally pays to pre-consult with the

key statutory authorities such as

environmental health and the police.

Carefully consider function room use

• While function rooms can be a very

important revenue source, any large crowd

'partying' into the night can be a concern

for the police, environmental health and

local residents. If the intention is to only

use the function room from time to time,

it might be sensible to proffer conditions

whereby the use of the function room is

limited to a certain number of events per

year or, alternatively, you could suggest that

all music or amplified speech is channelled

through the premises' sound system, which

has a pre-set noise limiter installed to ensure

that a certain decibel level is not exceeded.

Check the local council's licensing policy

• Some councils have specific policies

relating to applications for premises

licences for hotels, which are usually less

rigorous than those for pubs or bars. Where

such a policy exists, such as in the City of

Westminster, reference should be made

to it in the licence application.

Do not forget that, to a certain extent,

hotels are self-regulating

• A common concern that local residents

have when faced with a new hotel on their

doorstep is noise escape. When negotiating

representations, an applicant should not

lose sight of the fact that, by having residents

staying 'above the shop', there is a strong

financial incentive to prevent noise

outbreak for fear of alienating the key

customers, the overnight guests.

Other licences might be required

• It is not simply a premises licence that

may be required. If the hotel is to host

wedding ceremonies (not merely receptions)

a wedding licence from the local council

will be needed. If there are any tables and

chairs located on the pavement outside

of the hotel's demise, a tables and chairs

(sometimes also known as a pavement

licence) will be needed and possibly

planning permission.

epmagazine.co.uk | 39
---
ADVERTORIAL

SHOW PREVIEW

The Independent Hotel Show, presented by James Hallam, returns to

Olympia this October (18-19) with a packed two days of networking,

new business ideas, advice and insight from some of the UK's leading

figures within the luxury, boutique and independent hotel sector.

This year brings with it more exhibitors, more insight and more feature

areas, including Designersblock and an enhanced Destination Spa area

EXCEPTIONAL EXHIBITORS

Discover the finest products

and service providers with a

carefully selected line-up of over

300 premium exhibitors from

across the hotel supply chain.

A one-stop-shop of all the

essentials needed to run a

successful, profitable hotel, the

Independent Hotel Show is the

must-attend event for anyone

working within the boutique and

luxury hotel sector looking to

grow and develop their business.

Confirmed exhibitors for 2016

include: Sky, eviivo, Agentia, And

So To Bed, T2, Elstead Lighting

and many, many more. Visit

www.independenthotelshow.

co.uk for a full list of exhibitors.

INSPIRING INDEPENDENTS

Hear more from industry thought

leaders as they share their

knowledge, insight and expertise

across a range of hard-hitting

seminars and business

discussions that tackle some of

the industry's hottest topics. The

free-to-attend seminars and

panel discussions provide insight

from some of the leading names

in the hotel business.

Sessions run throughout the

two-day show across three

theatres – the Innovation Stage,

in partnership with eviivo, the

Business Theatre and the

Wellness & Lifestyle Talks stage.

For the full programme visit

www.independenthotelshow.

co.uk.

THE HOSPITALITY INTERIORS

HUB designed by Paper + White,

a networking space designed to

perfection. It will offer attendees

a stylish retreat to meet,

network and conduct business

surrounded by inspirational

interior design while enjoying

a glass of fizz from the

champagne bar.

INDEPENDENT THOUGHTS

The Independent Hotel Show

consistently endeavours to spark

debate within the hotel and

hospitality industry, offering

insight, diverse opinion and

advice from key figures within

the sector. In the run up to the

show a series of features and

thought leadership pieces

will be published to inspire and

inform on www.independent

hotelshow.co.uk/independentthought-series.

They are a

collection of leading operators'

experiences and essential tips on

how to develop and improve

your business, whether you're

independent, luxury or boutique.

DESTINATION SPA

Following the fantastic success of

last year's wellness and lifestyle

feature area, Destination Spa is

returning bigger and better for

2016. It will include leading

exhibitors to the hotel spa sector

and a dedicated wellness and

lifestyle seminar stage delivering

an educational programme to

provide inspiration for hoteliers

looking to expand their wellness

offering. Destination Spa will also

feature a targeted programme of

business sessions dedicated to

helping independent hoteliers

tap into the profit-driving

potential of creating a spa.

DESIGNERSBLOCK

Adding another design dimension

to the show will be a feature

area curated by Designersblock,

international design exhibition

specialists. The exhibit showcases

the very latest in style and

design innovation for hotel

owners and operators

looking for something truly

out of the ordinary.

HOTELIERS HALL OF FAME

The Independent Hotel Show will

again reward and acknowledge

the country's most influential and

respected independent hoteliers

with the annual Independent

Hotelier and Outstanding

New Hotel awards in association

with Sky. The awards are the only

ones of their kind in the UK and

recognise the individuals who

have shaped the sector and

contribute to its innovation

and growth. Previous winners

include Olga Polizzi, voted

Independent Hotelier 2015,

and Hotel Gotham – winner

of the Outstanding New Hotel

award 2015.

Nominees for this year's awards

will be announced in the coming

months on www.independent

hotelshow.co.uk/awards.

Winners will be announced at the

Independent Hotel Show Awards

Ceremony on 18 October 2016.

VISITOR INFORMATION

EVENT DATES: Tuesday 18 October: 10:00-17:00

Wednesday 19 October: 10:00-17:00

LOCATION: Olympia West, Olympia Exhibition Centre,

Hammersmith Road, London W14 8UX

www.independenthotelshow.co.uk

Twitter: @indhotelshow
---
HEALTH WELL-BEING FITNESS

DO GUET PUT

FITNE AND WELL-BEING

ABOE INDULGENCE

Fitness is fast becoming one of the essential

elements to a guest's stay. At the same

time, they desire relaxation and look

for hotels that care for people's well-being

with top spas and healthy food options

Health and fitness is not only a craving for guests but also

for employees. In 1971, there were only 12 leisure centres in the

UK. Today there are companies offering to buy their employees

Fitbits to encourage health and well-being. Fitness today is sitting

centrally to everyday life and lifestyle.

It does seem strange to understand that there were only 12 leisure

centres in the UK almost 45 years ago and by 1981, this number

had dramatically increased and there were 449. The rise in the

importance of personal fitness had begun. In past eras, sport was

simply a recreation for all but the very top athletes. Today the

average executive exercises four times per week – the word

'executive' is stressed, as the average person in the UK today only

walks 60 miles per year which is a fall by almost 50 per cent in the

last 20 years. 60 miles is just over a mile per week – a fact that

concerns doctors as the UK seems to be becoming a split culture

of those who are educated, aware and embrace health and fitness

and those who do not.

The counter argument is that an increasing number of people are

becoming educated and aware, so it is just a matter of time.

In 2016 sport is far more than a pastime for those that embrace it

and there are huge numbers today participating in sport. In 2016,

7.7m people play sports more than three times per week. This is

beyond exercising to stay fit. This number has grown by 17 per cent

epmagazine.co.uk | 41
---
HEALTH WELL-BEING FITNESS

in the last decade. 9.5m are involved in sports clubs across the

UK and 6m play competitive sport on a regular basis.

Since the post-war era, the British sporting culture has quietly,

even reluctantly, been forced to evolve from an almost amateur ethos

to a level of high professionalism that operates within the leading

clubs today. In recent years, sport has become increasingly central to

everyday life and also big business in its own right as major brands

such as Nike and Adidas have become household names and brands.

Commercialism in sport sits centrally for all activities from local

sponsorship deals of village and town football clubs to Virgin

Money's sponsorship of the London Marathon, RBS's of the Six

Nations or Barclays of Football's Premier League. Each week one

can easily witness both the relationship between players and

supporters in stadia across the country and also the increased

commercialism and wealth in sport.

The momentum for change has been supported by a social

revolution, which has seen personal fitness grow in importance with

each passing decade. As of the 2016 London Marathon one person

in every 100 has run the Marathon. Over one million runners have

"IN 2016 SPORT IS FAR MORE THAN A

PASTIME FOR THOSE THAT EMBRACE

IT AND THERE ARE HUGE NUMBERS

TODAY PARTICIPATING IN SPORT"

passed the finish line since its founding in 1981. Amateur sport in this

country is impressively large but sport is, in today's world, a business

and no longer just a recreation, and of course, the pressures of both

will create challenges, tensions and change.

Fitness today plays an important role and this is set to only

increase and of course, it will impact on hotels as this audience

seeks to eat healthier. With change happening, hotels are still seen

as a place for indulgence but they must also be able to provide

healthy food and fitness facilities in some shape or form to satisfy

their guests' cravings.

42 | Perspective | September 2016
---
Your new

communication

and revenue

channel

www.hoteltv.co.uk
---
FINANCE: BOB COTTON & MILES QUEST

VAT relief

At the Hospitality and Tourism Summit last month, the industry

continued to press for a reduction in VAT but has Brexit made any

relaxation even more distant? ask Bob Cotton and Miles Quest

The argument is simple: all but two other

countries in the EU (Denmark and

Slovakia) have reduced VAT on some

combination of hotel accommodation,

theatre/cinema admissions, visitor

attractions, and restaurant meals. Why

not Britain? Britain's Brexit vote has just

made a positive answer to that question less

likely, yet at the recent Hospitality and

Tourism Summit the industry argued that

now is the time to press more strongly

for the VAT cut. Not so. With Brexit, the

industry's EU argument has lost much

of its resonance. In the wake of the current

financial and economic turmoil,

the Treasury will be totally

preoccupied with far bigger

challenges than proposing

a fundamental change in

tax policy that will benefit

just one particular industry

and will only encourage other

industries to plead their case. Even the

Brexiteers' plea to cut VAT on household

fuel bills from five per cent seems to have

little traction and the claim at the summit

by the then Secretary of State for Culture,

John Whittingdale, that Brexit could lead

the way to the abolition of VAT on hospitality

services was surely wishful thinking.

"If we wanted, for example, to abolish

VAT on accommodation or attractions we

could now do so," the culture secretary told

the conference. "We couldn't have done

when we were in the European Union."

Actually, that's just not true. Under EU

rules, Government already has the power

to reduce VAT to five per cent (nobody is

asking for a zero rate) but has refused to take

advantage of a concession that most other

EU countries have widely implemented.

Detailed modelling by BHA's Cut Tourism

VAT campaign argues that a five per cent

rate of VAT for serviced accommodation

and attractions would help attract more

visitors to the UK and encourage more

'staycations'. Those arguing for a cut in VAT

believe it's a win-win situation leading to:

•Higher turnover as sector demand would

be stimulated by lower prices

•Greater income and national insurance

payments generated by new jobs and higher

wages in the sector

"In any economic plan, costs

are always known but revenue

can only be forecast"

•Savings in social security payments as a

consequence of lower unemployment – with

some of the new jobs created in the sector

taken up by those previously unemployed

•Increased corporation tax payments as a

result of higher margins and higher turnover

•Increased income taxes paid on dividends

generated by the sector

•Multiplier impacts from additional taxes

generated further down the supply chain for

accommodation and attractions.

This is all persuasive stuff – but is it

sufficiently persuasive?

The Cut Tourism Campaign VAT is

focusing on reducing VAT for serviced

accommodation and attractions. The

campaign claims that reducing VAT to five

per cent would create 123,000 new jobs and

yield £3.9bn in additional tax within ten

years. But even the campaign admits that the

full impact of a reduction would take time to

feed through. Only by Year 3 would the net

receipts to the Exchequer be greater than

under a 20 per cent VAT scenario. Overall, it

claims, the improvement by Year 4 in the

UK's balance of trade would be £1.9bn; over

a ten-year period the total improvement in a

reduction to five per cent would be £22.2bn.

Earlier this year, a review of the

campaign's methodology by two senior

independent economists

at PWC approved its 'well

researched' and 'impressive'

modelling which 'showed that

extra tax revenue would be

generated by the positive gains

to activity and employment in

tourism and in the rest of the economy.'

Agreeing with the campaign's conclusions,

the economists opined that, over the

long-term, this would produce a sufficiently

large offsetting boost to more than recoup

the losses in VAT.

In any economic plan, however, costs

are always known but revenues can only

be forecast. The Treasury, seeing the

acknowledged loss in VAT revenue in

the first few years of a VAT reduction,

remains unconvinced of the later benefits,

but in its latest report the campaign

sees a glimmer of hope, though Brexit

probably means this is already on the back

burner. In other words, it's back to more

44 | Perspective | September 2016
---
meetings. Post-Brexit, whether this hope is

justified depends on a number of factors.

Firstly, the campaign's argument is

predicated on the belief that all operators

in the industry will reduce their prices by

the full amount. Is this feasible?

It's true that Merlin Entertainments

(which includes Butlins) and Premier Inn

have said they would make the full reduction

and, in a 2012 survey of BHA members, over

95 per cent of respondents said that if a five

per cent VAT rate was achieved 'some or all

of it' would be passed on. But only 200

responded out of a total 50,000 in the sector

and only a negligible number promised to

reduce by the full 15 per cent.

The campaign argues that competition

would force other operators to follow the

example of Merlin and Premier Inn. This is

difficult to prove and would certainly not be

the case for the higher priced hotel market

sectors. But even a full reduction would not

affect business clients (a sizeable chunk of

the market) for whom VAT is recoverable,

while most small businesses are not

registered for VAT in the first place. The

campaign argues that a reduction in VAT

would encourage these businesses to

register for VAT (and so increase the tax

take) but few small and micro businesses

will want to get involved with VAT when

there would be little benefit for them.

Secondly, by tackling the demand side

of the economy the campaign is addressing

the wrong issue. Demand is not of primary

concern to most hospitality operators – a

rising cost base is. Four years on from the

BHA's survey, it's even less likely that

operators will take the opportunity to reduce

prices by the full amount if VAT is reduced.

With the Living Wage now putting huge

pressure on payroll costs most of any

reduction in VAT will go towards paying the

ever-rising wage bill. Indeed, looking at the

overall hospitality industry, the case for a

reduction in VAT to encourage growth

appears to be thin. The industry is, without

question, highly successful. Growth has been

more or less consistent for the last 20 years.

According to consultants PWC, annual

hotel occupancy in London will average out

at 84 per cent in 2016 (the same as in 2015),

which is getting to near maximum capacity.

The campaign's lauded aim of growth in the

London hotel sector is already being achieved

under the current tax regime; it's difficult

to see why it needs fiscal encouragement.

Occupancy in the regions is forecast at

77 per cent in 2016 (76 per cent in 2015

and 75 per cent in 2014), but VisitBritain

figures show 79-80 per cent in the June to

September period in 2015. With occupancy

at that level, provincial hotels shouldn't need

state help either, even though their RevPAR

is less than half that of London hotels.

Thirdly, at the summit, it was argued that

more needed to be done to reinvent Britain's

seaside towns and that a VAT reduction

would encourage more people to holiday in

them. This is an unlikely scenario, even if

seaside towns passed on the full VAT

reduction. Overseas travel figures show

that foreign holidays are overwhelmingly

popular for reasons other than price.

Fourthly, the campaign is promising job

growth as a major benefit for a reduction in

VAT, yet this is at a time of record UK

employment. Even under the current tax

regime, the industry claims it has already

created 200,000 new jobs in the last few

years, though well over a quarter of this

number will have been migrant workers

(nearer 70 per cent in London). This is not

tackling unemployment in the UK so much

as increasing the number of (low skilled?)

migrants to the UK – something alien to any

future Brexit-orientated government.

For just these four reasons, it's difficult

not to get the impression that for all the well

prepared work that the Cut Tourism VAT

campaign (in particular) has put into

arguing its case, its time and money could

have been better spent in tackling more

fundamental issues such as promoting

a regional living wage; arguing for a

reduction in business rates; encouraging

greater productivity through training,

and introducing more tax incentives for

regional investment – in other words, issues

that affect the industry's cost base.

epmagazine.co.uk | 45
---
INNOVATION: DORIS & DICKY

THE EXPERIENTIAL

VOICE

Launched in 2015, Doris & Dicky is a hotel booking website

with a focus on the boutique and beautiful. EP speaks to

co-founder Roxane Gergaud about its unique offering

Doris & Dicky was founded by Roxane

Gergaud and Richard Dana following their

own painful travel experiences of trying

to find a place to stay that was personal,

charming, cool – and affordable. They

launched dorisanddicky.com in November

2015 to help others find their type of hotel.

"We became so frustrated spending hours

trying to a boutique hotel we wanted to stay

in but could afford," says Roxane. "Friends

kept asking for our recommendations and

we realised there was an opportunity. We

started collating properties around the £100

per night mark – budget boutique hotels."

Before they created the website, Richard

worked in finance and strategy at Thomas

Cook while Roxane's background was

marketing and communications at Saatchi

& Saatchi and Phaidon. "A lot of people said

embarking on a business journey with your

partner is one of the worst ideas, but we

believed, and now know, that our different

offerings mean we can work closely together.

"We expected the website to

appeal to young professionals,

but we actually have a broader

audience. It's not just people

like us looking for small hotels

that don't cost the earth. There

are strong secondary audiences of 55-plus,

as well as families looking for kid friendly

hotels. We listen to feedback and one of our

proudest achievements so far is the number

of repeat bookings we are seeing.

"We offer a selected collection of the

world's best budget boutique hotels, and

the site is simple to use, with live availability

and instant booking functionality. This has

been essential because for small properties

with fewer rooms, you want to know that the

room you select is the room you'll stay in.

Essentially we're trying to help people find

those little places that are hard to discover.

Small boutiques can lie on page 10 of search

pages – we bring them into the limelight.

"We take commission on rooms booked

through our website and do not charge any

property to be listed. Guests don't pay extra

to book through us. We think people must

"FOR US, IT'S ALL ABOUT THE

EXPERIENCE. WE WANT TO BRING

BACK THE IDEA OF BEING HOSTED"

feel comfortable booking through a website

they trust. We don't offer flights or transport

and are purely designed for the hotel. We're

jumping on how people book all elements

of their trip separately. Our collection offers

the independence these travellers want.

"I believe experiences and authenticity

is what the guest is now looking for. They

want to stay in a place with personality –

from a converted paper factory through to a

hotel that's been run by generations of the

same family, travellers want an experience to

tell their friends about on their return. The

experiential trend is a growing one.

"The choice of hotel is essentially down

to personal taste and pricing. The budget

boutique sector is an emerging market, but

it can mean differen t things to different

people. Some are trading up for a treat or

trading down, tightening their belt. We are

starting to receive corporate bookings –

people want to stay somewhere that offers

a more personal experience.

"New properties are popping up all over

the place, from small independents to chains

opening their own sub-chains, but what's

causing this? Maybe the notion of luxury is

evolving? Perhaps it has already changed?

"We believe we offer something different

to other booking websites. We want to help

the hotels we work with build their audience

and so they benefit from our press, blogger

and social media activity at no

extra cost. We don't mind if

customers book directly with

hotels having discovered them

on our website. As long as we

have enough bookings it works

well all round. We want to work together.

"For us it's all about the experience. We

want to bring back the idea of being hosted.

That's the beauty of staying in a small hotel

– you feel in touch with where you are in the

world. The warmth you receive from the

people running the property is so strong that

when you add in local recommendations,

you have memories you won't forget."

46 | Perspective | September 2016
---
Luxury starts with linen

Tradelinens now offer a specific

servicetailored to small hotels

and private homes.
---
INNOVATION: TRAVEASE

THE CONNECTION

Travease is a mobile concierge app for hotel

guests to manage their stay and request services.

Founded by Adeola Odueke, it's designed to bridge

communication between the guest and the hotel

Hotels look at ways to increase communication because it may

result in more revenue, repeat bookings and overall higher guest

satisfaction. With technology being used by guests who want a

unique and personal experience, more needs to be done to provide

better customer engagement. Some larger chains now possess their

own apps and other concierge applications exist, but Adeola Odueke

believes her app stands apart from the competition because of the

streamlined back-end process and the instant communication

guests can have with their hotel.

"The app has two parts," explains Adeola. "The first is to cater for

guests and their requirements and the second is for the hotels and

local merchants who can also receive requests from the guests. Both

are able to respond to enquiries in real time. Therefore, it improves

business for the hotel, the surrounding local area and satisfies the

customer by giving them what they want."

Explaining the development of the app, Adeola says, "The idea

came to me originally in late 2012 and over time it has evolved in

concept and use. It started as a restaurant app, changed to a bespoke

hotel app and, following research, was amended to its current state

– an app that can work across all hotels.

"I have implemented complex solutions for large organisations,

some of which include financial and manufacturing solutions. With

a hands-on knowledge of how technology has improved the business

process in this industry, I was working as an IT Consultant and

implemented Oracle financial solutions software when I came up

with Travease. I felt there was a gap in the hospitality industry for

this form of communication – one which matched the consumer's

desire of minimal yet completely convenient communication. The

role was challenging and every day was different with a constant need

to improve business requirements. I learnt lots and use this gained

knowledge and experience to streamline our processes. My

experience of implementing and deploying solutions in fast-paced

and challenging environments together with my love for travelling

has brought about Travease. Research showed that guests want

48 | Perspective | September 2016
---
self-service, DIY travel, mobile booking and authentic experiences,

while hotels don't just want a restaurant app, they want an app that

can improve their guest engagement. Hotel restaurants generate on

average five per cent of the total revenue, so they need an app that

can work across all aspects of an operation. But at the same time

a customer does not want to have to download a different app for

each hotel, especially if they do not often stay in the same hotel. It

made sense to create a piece of technology that works across all

hotels and only takes up so much room on a person's phone.

"Our target market includes hotels, app users and local merchants

who are listed on the app. We want people to experience the local

area by being able to view what's taking place. It also allows guests

the ease of making reservations and enquiries from the comfort of

a hotel room and may sway consumers from going off-site, which

increases their hotel spend.

"The app is free for guests to download. Featured hotels and listed

local merchants will pay to be on the platform. We hope hotels will

promote the app in their marketing campaigns as an added incentive

for guests to stay and then use it as a platform to engage with their

guests. At the same time we plan to feature in many publications and

run several marketing campaigns where we'll gauge the response."

There is no doubt mobile can drive commerce within hotels and

Adeola hopes her app can also increase business for the local area.

There is a growing desire for a community feel and real experiences

– bringing all together with one piece of technology does make sense.

"We have had to take a step back in recent months to review our

solution and incorporate feedback from the industry, resulting in the

redesign of the architecture to ensure we offer clients a better return

on their investment. In recent months, while we finalise the app, we

stopped some of our activities to find a hotel for testing. Gathering

customer feedback we plan to implement the final changes needed.

Testing in a live environment does take time but it is essential.

"Around 90 per cent of hotels are now moving into the mobile app

field. People are booking rooms through their mobile devices but find

that they cannot engage with the hotel they are staying in their

preferred way – whether before, during or after. Travease is designed

to allow consumers to be able to do this. At the same time we have

streamlined the process behind the scenes so notifications go to the

correct department so hotels can respond to requests in real time."

By giving hotels the power of knowing exactly what their guests

want, they can act upon it straight away. Therefore it provides

knowledge on if a department is being overworked based on their

response time. If there is a poor or slow response time then it's

possible an area is overworked or under staffed. On the flip side if the

concierge team are responding to each request very quickly, can they

handle other responsibilities? The app will help hotels make these

sorts of decisions and has the data to back it up.

"We have training sessions planned for employees who will be

using the app to ensure they harness the full benefit and understand

the functionalities of the app. But we believe that without training,

employees will still be able to use the app because of the simple user

interface. Most people now have a mobile phone and many are used

"WE WANT PEOPLE TO

EXPERIENCE THE LOCAL

AREA AND THEY CAN

ON OUR PLATFORM BY

BEING ABLE TO VIEW

WHAT'S TAKING PLACE"

to using apps. Our user interface is designed for all generations who

use a mobile and they basically need to accept or escalate a request.

They can either take action themselves or pass a request on to their

line manager to resolve. The request moves up the chain until the

best person is found. The hope is that anyone can download the

app and eventually we can possibly advertise on the platform

using geo-location technology.

"Due to the Brexit situation we plan to go for our main funding

in January 2017 when we believe it will be a much more suitable

environment. Our overall plan begins with a launch in the UK first,

followed by Europe and then Dubai, which I have a real flair for – it

really is an excellent tourist destination with many hotels.

"Guests want a local experience and hotels want to understand

their guests' demographics, what they want to do in the surrounding

area and how they want to spend their time. We believe our app will

provide this deeper understanding and can add more value to what

hotels offer. They can in turn create meaningful campaigns that

target and provide their customers with what they actually want."

Adeola hopes that Travease will provide hotels with an engaging

and appealing technology that can improve current business

processes used within their properties. With the app any hotel can

access this form of technology and cultivate customer loyalty for all

its recognised advantages. Making a genuine connection is still

essential and technology can bring a hotel, local area and customer

closer together to form a true community.

epmagazine.co.uk | 49
---
COMMENT: INDICATER

PROFITABLE SURVIVAL

Bob Cotton, Non-executive Director

of IndiCater, shares his views on the

importance of back-office software in

ensuring that the independent hotelier

remains profitable in a challenging climate

For the independent hotelier, life is

ever more competitive. Major brands

are taking a greater share of the market

while competition from them gets

tougher by the day. Cost pressures too,

are making inroads into profitability led

by the introduction of the National Living

Wage which, by 2020, will rise to £9 an

hour, adding millions of pounds to the

industry's payroll bill.

Meanwhile, the recruitment and retention

of the right staff remains an overwhelming

concern for almost every operator; with

a Brexit-orientated government in power,

this is unlikely to ease with the added

pressure of food and beverage costs

likely to rise.

When it comes to investment in the

business, the independent faces a tougher

challenge than any of the major groups

that have a much readier source of

available funds. The independent is,

literally, on his (or her) own and survival

depends on how cannily

revenue can be maximised

and costs minimised.

So how best can the

independent hotel

survive profitably?

Overall, survival depends on

doing what the independent always does

best: providing a happy welcome, great

personal service, good food, deep comfort –

and value for money. So no problem there!

These qualities, however intimidating,

depend on the operator for their success.

Either the business provides them or it

doesn't – and if the latter, then it is likely to

fail. But even the most successful business

in terms of customer satisfaction can be

less than profitable when it comes to

management controls:

• Is the monthly profit and loss account

checked against the budget and are any

variations investigated?

• Is the kitchen sufficiently tightly

controlled and regulated?

• Are there accurate recipe costings

and regular stocktakes?

• Are sales forecasts prepared and

compared to turnover?

In today's environment – the most

competitive ever – the independent has to

recognise that the traditional qualities of the

hospitality industry demand a sophisticated

back-office system that provides real-time

information on which the business can act.

No longer is it acceptable for performance

figures to be available only on a monthly

(or even annual) basis when they are needed

"THE INDEPENDENT IS, LITERALLY, ON HIS

(OR HER) OWN AND SURVIVAL DEPENDS ON

HOW CANNILY REVENUE CAN BE MAXIMISED

AND COSTS MINIMISED"

on a weekly, often daily, basis. With payroll

costs rising – by 2020 they will probably

be nearing 40 per cent of revenue in many

establishments – the use (and misuse) of

staff will become a critical issue. Peter

Nannestad, one of the industry's most

thoughtful consultants, calculates that

one hour over-rostered will currently cost

a business £6,205 a year in over-payment.

If operators know what the problem is in the

first place, they can effect a solution.

Without the kind of up-to-date

information that modern electronic systems

can provide – information which many

group hotels have at their fingertips, to their

huge advantage – it's well-nigh impossible

for the independent operator to keep tabs

on key aspects of the operation on a daily or

weekly basis, which is what is required in

today's business environment. Without such

day-to-day control, the business is sailing

without a compass. Sales income, staff rotas,

absence management, payroll, stocktaking,

standard recipes, sales invoices, the

customer database, outlet bookwork,

e-procurement, electronic supplier invoices

all now need to be systematically recorded,

monitored and compared against budget to

provide the information needed to run the

business at maximum profitability and at

minimum cost. Companies like IndiCater

provide affordable webbased,

back-office solutions,

which can make the

difference between

profit and loss!

Why do so few

independent operators take

advantage of the more

sophisticated systems now available?

Certainly, major companies have proved that

the savings made by them, together with the

opportunities presented for increased

revenues, cover the cost of the software

many times over. Wise independents already

recognise this; to survive profitably, every

independent will have to.

50 | Perspective | September 2016
---
THE BUSINESS EVENT FOR LUXURY

AND BOUTIQUE HOTELS

DISCOVER THE BEST

SUPPLIERS IN THE BUSINESS WITH

300+ EXHIBITORS

20+ TALKS

AND WORKSHOPS

WITH INDUSTRY THOUGHT LEADERS

AND NEW FOR 2016

A HUGE WELLNESS AND LIFESTYLE OFFERING PLUS DESIGNERS BLOCK BRING

CUTTING EDGE DESIGN WITH TRULY UNIQUE IDEAS FOR YOUR PROPERTY

REGISTER FOR YOUR COMPLIMENTARY PASSES NOW AT

INDEPENDENTHOTELSHOW.CO.UK

@INDHOTELSHOW

INDEPENDENTHOTELSHOW

@INDHOTELSHOW16

INDEPENDENTHOTELSHOW