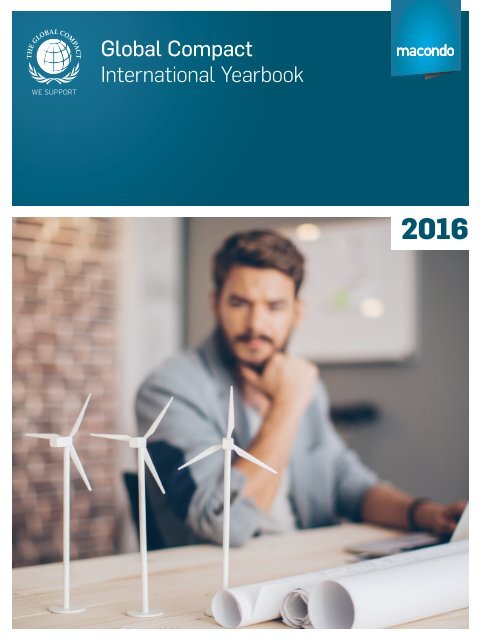 Global Compact International Yearbook 2016
The Sustainable Development Goals are an ambitious agenda with 17 topics addressing the global challenges of our time. A key topic is innovation: Business must fit into planetary boundaries. This probably will not work with traditional business models. That is why we need new, fresh ideas. We need change, even when it happens in a rough, disruptive way. And the earlier the better. This is why the upcoming edition of the Global Compact International Yearbook, published in September 2016, has chosen sustainable innovation as the key topic. Also includes exclusive interviews with Angelina Jolie, Robert Redford and Sigourney Weaver. The Global Compact International Yearbook is with more than 500,000 readers one of the worlds leading CSR publications. Münster/New York 2016: 164 pages, paperback Publishing houses: macondo publishing/UN Publications Subscription (via UN Publications only): 30.00 USD (regular) 15.00 USD (reduced) ISBN13: 978-3-946284-01-7 / ISSN-Print: 2365-3396 / ISSN-Internet: 2365-340x
The Sustainable Development Goals are an ambitious agenda with 17 topics addressing the global challenges of our time. A key topic is innovation: Business must fit into planetary boundaries. This probably will not work with traditional business models. That is why we need new, fresh ideas. We need change, even when it happens in a rough, disruptive way. And the earlier the better. This is why the upcoming edition of the Global Compact International Yearbook, published in September 2016, has chosen sustainable innovation as the key topic.

Also includes exclusive interviews with Angelina Jolie, Robert Redford and Sigourney Weaver.

The Global Compact International Yearbook is with more than 500,000 readers one of the worlds leading CSR publications.

Münster/New York 2016: 164 pages, paperback
Publishing houses: macondo publishing/UN Publications
Subscription (via UN Publications only): 30.00 USD (regular) 15.00 USD (reduced)
ISBN13: 978-3-946284-01-7 / ISSN-Print: 2365-3396 / ISSN-Internet: 2365-340x
SHOW MORE
SHOW LESS
Create successful ePaper yourself
Turn your PDF publications into a flip-book with our unique Google optimized e-Paper software.
we support

Global Compact

International Yearbook

2016
---
This publication is kindly supported by:

Acciona

Adecco

Arab African International Bank

Armacell

Audi

Banca Popolare di Sondrio

BASF

Bayer

Bosch

Commerzbank

Consolidated Contractors Company

Deutsche Telekom

EDF Group

Green Delta Insurance

HOCHTIEF

Manila Doctors Hospital

mcs

Merck

MTU Aero Engines

Nestlé

Philip Morris International

PostNL

ROMRADIATOARE

Sakhalin Energy

SkyPower

Vaisala

Global Logistics Partner:

Deutsche Post DHL Group

The Global Compact International Yearbook is a product of macondo publishing GmbH in support of the UN Global Compact, the Sustainable

Development Goals, and the advancement of corporate sustainability globally. Use of company names and examples does not constitute endorsement

by the UN Global Compact. While the yearbook is developed in cooperation with the Global Compact Office, sponsorship by companies does

not constitute a contribution to the Foundation for the Global Compact. Financial contributions are not collected on behalf of the Global Compact

Office. Rather, they are exclusively used to fund the development of the International Yearbook by macondo publishing GmbH.
---
we support

H.e. Ban Ki-moon, UN Secretary-General

"

Last year's adoption of the 2030 Sustainable

Development Agenda, together with the historic

Paris Climate Agreement on climate change, sent a

powerful message far and wide: we cannot continue

on our current course.

We need new ways of living that will end the suffering,

discrimination and lack of opportunity that define the

lives of billions of people around the world, and that

drive instability and conflict.

The solutions must involve everyone, from world leaders

and chief executives, to educators and philanthropists.

We must work together – across sectors and industries –

in broader and deeper partnerships.

Two steps are essential.

First, we need to mobilize the global business community

as never before. I have seen first-hand the power of the

UN Global Compact's Ten Principles on human rights,

labour, environment and anti-corruption. They are helping

thousands of companies contribute to sustainability.

Second, innovation will be crucial. I urge you to take

advantage of the new markets and solutions that are

emerging; to set corporate goals inspired by the SDGs;

"

and to let sustainability drive innovation

and investment.

Global Compact International Yearbook 2016 3
---
Note

3 H.E. Ban Ki-moon,

United Nations

Secretary-General

6 Sustainable

Innovation

8 Disruption

9 How to Be an Intrapreneur

Perry Yeatman

10 Corporate Social Innovation

is the New Corporate Social

Responsibility

Elizabeth Boggs Davidsen

12 Too Big to Fail? Disruptive

Innovation

Dr. Elmer Lenzen

15 Capitalism Is Chaos

16 Sustainability-Oriented

Innovation: A Bridge to

Breakthroughs

Prof. Jason Jay, Sergio Gonzalez,

and Marine Gerard

22 Does Firm Innovation

Affect CSR? What the

Academics Say

24 DECArBoNiZATioN

25 Growth: A Hard Habit to Break

Prof. Dr. Felix Ekardt

28 The De-Carb Diet

Dr. Elmer Lenzen

32 TALENTs

33 Is the Meaning of Work about

to Change?

Rick Goings

36 How Does Industry 4.0 Affect

Growth and Employment?

Prof. Dr. Harald Hagemann

32 FUTUrE MArKETs

39 How to Bust the Biggest Myths

about the Circular Economy

Liz Goodwin

42 Sharing Has Been Hijacked

Lily Cole and Adam Werbach

44 Start-Ups: About Do-Gooders,

Money-Burners, and

Social Entrepreneurs

46 Changemaker

48 The Peaceful Punk:

Angelina Jolie

52 The Problem Solver:

Alejandro Aravena

54 Doing More with Less:

Navi Radjou

56 The Savior of Sundance:

Robert Redford

60 Real-life Eco-warrior:

Sigourney Weaver

64 The Drowning Child Dilemma:

Peter Singer

66 The Water Advocate:

Mina Guli

72 The Taste Tester:

Kevin McCloud

140 Cities of the Future

6

Sustainable Innovation

4

Global Compact International Yearbook 2016
---
GooD praCtICe

SUSTAINABLE

DEVELOPMENT

G O A L S

46

Changemaker

72

74

76

78

82

84

86

88

90

94

96

adecco

Banca popolare di Sondrio

Bosch

Deutsche post DHl Group

Deutsche telekom

Green Delta Insurance

Manila Doctors Hospital

Merck

philip Morris International

Sakhalin energy

Sanofi

140

Cities of the Future

102

104

106

108

110

112

114

116

118

120

122

126

128

130

132

134

136

138

acciona

arab african International Bank

armacell

audi

BaSF

Bayer

Commerzbank

Consolidated Contractors Company

eDF Group

HoCHtIeF

MaN

mcs

MtU aero engines

Nestlé

postNl

roMraDIatoare

Skypower

vaisala

Global Compact International Yearbook 2016 5
---
6

Global Compact International Yearbook 2016
---
Sustainable

innoVAtion

the idea of sustainability is based on the certitude that we have

planetary boundaries. the WWF vividly illustrates this with "earth

overshoot Day." It describes the day of the year on which human

demands on natural resources exceed the capacity of the earth

to reproduce these resources. presently, earth overshoot Day is

at the beginning of august. From then onward, we are looting our

resources.

What does this mean for corporate sustainability? Business must

fit into planetary boundaries. this probably will not work with

traditional business models. that is why we need new, fresh ideas.

We need change, even when it happens in a rough, disruptive way.

and the earlier the better. When you talk about the Sustainable

Development Goals, you have to talk about sustainable innovation.

the SDGs are the agenda, innovation is the pathway.

Global Compact International Yearbook 2016 7
---
Disruption

"

Action without vision

is only passing time,

vision without action

is merely day dreaming,

but vision with action

"

can change the world.

Nelson Mandela, political leader (1918 – 2013)

8

Global Compact International Yearbook 2016
---
innoVAtion

how to Be An

Intrapreneur

By Perry Yeatman

every great innovation begins with an idea.

every great achievement requires a champion.

Scientists. explorers. adventurers.

entrepreneurs.

For centuries, intrepid individuals have been tackling

problems and seizing opportunities others either could

not or would not. By doing so they have changed the way

we live and work, time and again. Consider all of the change

that maverick individuals have largely brought about in the

past 15 years alone: mapping the human genome, the rise of

human-machine learning, the commonplace harnessing of

big data across all sectors, the creation of the smart phone,

the rise of social media, the internet of things, and apps that

let us do virtually everything from the palm of our hands

– from banking to shopping to learning. These developments

have transformed our world, and largely for the better.

New ways to tackle society's challenges

But it has not been enough. We are still facing serious issues

related to our increasingly resource-constrained planet and

the inability of many of the world's governments to meet

the basic needs of their citizens: nutritious food, safe shelter,

quality education, affordable healthcare, and more. So we

need more innovative thinking. And we need it at scale. And

we need it fast. Enter the era of corporate social innovation,

where companies seek to build their businesses while tackling

important societal problems at the same time. To learn more

about this growing trend and how to make it happen within

your company, check out the new report recently released by

the World Economic Forum.

As the report outlines, we largely know what needs to be done,

and more leading companies are stepping up to the plate. The

remaining question is who within these companies will lead

the charge? Who will become these much needed "corporate

entrepreneurs"? Who will pioneer this new breed of professional,

most often referred to as an "intrapreneur"?

What is an intrapreneur?

Think of them as old-fashioned "change agents," but change

agents with a specific focus: to make or save the company's

money while tackling a pressing societal issue.

Who can become a successful intrapreneur? Well, that is the

good news: They can come from practically anywhere in the

organization: marketing, supply chain, operations, finance,

and more. And they do not have to be at the very top (C-suite)

to be effective. In my experience, some of the most effective

intrapreneurs come from upper / middle management.

As for the personality traits of these internal champions, they

are much the same as for a successful entrepreneur: curious,

insightful, doggedly determined, strategically agile, etc. But

Global Compact International Yearbook 2016 9
---
there is one critical difference: Whereas a successful entrepreneur

can be bombastic, unrelenting, and uncompromising,

an intrapreneur needs to be viewed as a team player

– someone not out for themselves but out for the company.

Why? Because any big new idea hatched within a major

corporation will ultimately require new resources and the

cooperation of literally hundreds of people, most of whom

will not report directly to the intrapreneur – not at first

anyway. So, to be successful, an intrapreneur needs to be a

keen observer of human nature and organizational dynamics

as well as a master in the art of persuasion. But with these

skills, intrapreneurs can be real game-changers, so perhaps

it is not surprising that they are also being increasingly

sought after by the world's leading companies.

This trend could not come at a better time because not

only does the world need novel approaches and solutions

to pressing social issues, but companies themselves need to

figure out how to keep their talent engaged and motivated.

Today, in countries such as the United States, millennials

are the largest segment of the workforce and – according

to a recent Deloitte survey – fewer and fewer are loyal to

their current employers.

CSI is the new CSR

A new trend in international development

has paired some unlikely business partners:

Development finance institutions and impact

investors are working with large multinational

corporations to fund projects that advance both

development and business agendas.

By Elizabeth Boggs Davidsen

In fact, this study finds that nearly 50 percent of those

surveyed would, given the chance, leave their current employer

within the next two years. This remarkable lack of

allegiance represents a serious challenge to all businesses.

However, it is not too late for employers to turn this around.

The Deloitte survey also found that creating opportunities

for millennials to pursue purpose and profit simultaneously

within their existing organizations is one of the best ways

to bridge this loyalty gap.

So despite the fact that companies are facing significant

headwinds, there may be an elegant solution: Companies

need stable, prosperous environments in which to operate

and grow their businesses; growth requires attracting and

retaining the best talent – including millennial talent.

Pursuing corporate social innovation opportunities and

turning to corporate intrapreneurs to lead these efforts

could help to both build the business and fill the talent

pipeline. Could there be a more win / win / win solution?

Perry Yeatman is a Principal & CMO at Mission Measurement,

author of the award-winning book Get Ahead by Going

Abroad and CEO of Perry Yeatman Global Partners.

This article was originally published by the World Economic

Forum's Agenda.

10

Global Compact International Yearbook 2016
---
innoVAtion

T

his "corporate social innovation"

is the latest advance along the

continuum of corporate social

responsibility, which began in the 1990s,

when many companies began embracing

worthy community causes in areas

where they operated. Programs focused

mainly on the company's reputation

and license to operate, with little direct

connection to their bottom lines. For

example, Microsoft initiated an annual

Employee Giving Campaign, in which

employees attend fundraising events for

nonprofit organizations.

Good corporate citizenship

This evolution continued in the 2000s,

when companies began integrating good

corporate citizenship into their business

models, often through partnerships with

development finance institutions. For

instance, when the International Youth

Foundation and the Multilateral Investment

Fund (MIF) of the Inter-American

Development Bank Group launched the

New Employment Opportunities Program

(NEO) for youth in 2012, five large

companies pledged resources and joined

the alliance: Arcos Dorados, Caterpillar,

CEMEX, Microsoft, and Walmart. NEO

offers job training and placement services

to improve the employability of

poor youth, and thereby the quality of

the workforce throughout Latin America

and the Caribbean. The member companies

– some of the largest employers in

the region – are contributing money

and helping to shape the training curriculum

and other employment services.

The partnership is paying off; NEO is on

track to reach 1 million youth through

effective job-training programs by 2020.

Shared value

In 2011, professors from Harvard Business

School published an article on

"Creating Shared Value," and since then,

there has been a growing global movement

to make societal impacts integral

to a company's strategy. SABMiller, the

world's second-largest brewer, was an

early adopter. SABMiller and the MIF's

4e Camino al Progreso Program targets

more than 380,000 small retailers in SAB-

Miller's biggest Latin American markets:

Colombia, Peru, Ecuador, Panama, Honduras,

and El Salvador. The 4e program,

which began in 2013, aims to improve

small retailers' business performance

– and therefore quality of life and leadership

abilities – through a combination

of classroom training and in-store

mentoring on business, life skills, and

leadership, and by strengthening the

broader "business ecosystems" in which

the retailers operate, with a special focus

on improving their access to financing

and technology. The hope is that this

effort will strengthen SABMiller's retail

network and sales.

Corporate social innovation

The latest evolution on this continuum

has been the advent of corporate social

innovation (CSI). The World Economic Forum

launched the Global Agenda Council

on Social Innovation in 2014 – bringing

together an unlikely cross-section

of corporate leaders, impact investors,

and development executives – and offered

a definition for CSI that builds on

shared-value concepts: when companies

proactively design and implement business

models that increase incomes and

better the quality of life of underserved

or vulnerable communities at the bottom

of the market's pyramid. The mutual

attraction for the unlikely bedfellows is

that CSI initiatives are often fueled by

corporate venture capital – the investment

of cash reserves from a company

to fund new endeavors.

A new alignment is emerging among

corporate venture capitalists and impact

investors. The corporate venture capitalist

is seeking returns for the company and

new capabilities or access to markets that

are aligned with its long-term business

strategy. The impact investor is interested

in placing capital into companies

and generating measurable social and

environmental impacts, together with a

financial return. The impact investor also

wants to expand effective development

solutions and – together with development

finance institutions – is beginning

to understand that working with

large companies may be the best route.

Companies that set up corporate venture

funds also have in-house expertise and

distribution channels that allow them

to scale-up successful projects.

In its study, Investing in Breakthrough:

Corporate Venture Capital, the think tank

and advisory firm Volans identifies six

sectors in which corporate venturing

is active, because these sectors directly

affect businesses, individuals, and the environment:

cleantech, education, health,

urban infrastructure and transportation,

financial inclusion, and agriculture and

food. Not surprisingly, these are also

areas where impact investors place most

of their investments.

Some intriguing CSI examples are emerging.

To name one: Shell Foundation, the

philanthropic arm of the oil giant, formed

a strategic partnership with Husk Power

Systems, a biomass electricity generator.

In five years, Husk has installed 84

minipower plants, providing electricity

to more than 200,000 people in 300

rural villages in India. By electrifying

villages, Husk is promoting economic

development, as businesses are able to

stay open after dark and children can

study at night. Impact investors Acumen

and Oasis Fund have contributed funding

to the venture. Business leaders are at

the forefront of transforming societies'

ability to confront important challenges.

Development finance institutions and

impact investors are along for the ride,

and it is guaranteed to be exciting.

Elizabeth Boggs Davidsen is a principal

specialist at the Multilateral Investment

Fund (MIF) and responsible for its

regional economic development and

value-chains portfolios. She also advises

on new partnership opportunities for the

MIF's grant and investment activities.

Global Compact International Yearbook 2016 11
---
Big

Too Big to Fail ?

Disruptive Innovation

Every CEO generation has its own management buzz words. In the 1990s "re-engineering"

was in fashion, then came "offshoring", and today it is probably "disruptive innovation."

The concept was coined by Clayton M. Christensen, a Harvard Business School professor who

introduced the wording in his 1995 article "Disruptive Technologies: Catching the Wave."

Two years later in his book The Innovator's Dilemma, Christensen replaced the term disruptive

technology with disruptive innovation. That was groundbreaking because he recognized that

few technologies are intrinsically disruptive; rather, it is the business model behind it that

disrupts and reinvents markets.

By Dr. Elmer Lenzen

But what is disruptive innovation?

A disruptive innovation is one that creates a new market and/

or consumer behavior. Often, this includes disrupting existing

markets and displacing established market participants.

This stands in contrast with sustaining innovation and the

well-known continuous improvement model, which has a

focus on the improvement of existing products. That is an

interesting point because it means that even a company with

a well-managed improvement and customer service ethos can

be severely hurt by disruptive innovation. This happens when

the companies stay "close to the customer" or "listen to the

customer," which is good, but at the same time they overhear

the silent and marginal voices of future customers.

But not all innovations are disruptive, even if they are revolutionary.

The automobile, for example, was not a disruptive

innovation for quite a while because early automobiles

were expensive luxury products that did not challenge the

transportation market of horse-drawn carriages. It was Henry

Ford's Model T in 1908 that made automobility a disruptive

innovation because Ford's vision completely changed our

mobility behavior.

How low-end disruption occurs

Christensen distinguishes between "low-end disruption,"

which targets customers with low budgets, and "new-market

disruption," which targets new customer requests. Low-end

disruption occurs when the performance of a product exceeds

the needs of a certain customer segment. Then innovations

enter the market with lower performance levels but also with

lower prices, and this combination is fine for a certain clientele.

That is how new market players gain a foothold in the market.

It becomes disruptive when the new player changes the whole

market in the aftermath. But again, the starting point of low-

12

Global Compact International Yearbook 2016
---
innoVAtion

IT sector as a place of permanent

disruption

Very practical examples of both low-end

as well as new-market disruptions can be

seen in the IT sector. At the beginning, IT

incumbents completely misinterpreted

the market. "There is no reason anyone

would want a computer in their home,"

said Ken Olsen, founder of Digital Equipment

Corporation, in 1977. Digital Equipment

in those days was a major force in

the computer world – four years later,

the first IBM PC proved Olsen wrong.

Microsoft and Dell computers are two

disruptive innovators that changed the

markets with their low-end innovations.

Later, it was Microsoft that missed the innovation

of the internet browser and the

need for internet guidance, giving space

to new players such as Yahoo and, most of

all, Google. New market disruption also

came with the rise of social media sites

Facebook and Twitter. The "internet of

things" surely will be the next step, a combination

of low-end as well as new-market

disruptions. Google promises to reinvent

cars as autonomous vehicles (new market);

Amazon promises to reinvent shopping

(again) using drones (low-market); 3-D

printing could disrupt manufacturing

(sometimes low, sometimes new market).

But the most surprising and promising

of the disruptive innovations will come

from the bottom of the market pyramid

with new ways of delivering food security,

education, and healthcare, etc., for millions

of consumers in emerging markets.

end disruption is a customer who is not

willing to pay for premium products but

is happy with a good enough product.

For many companies, such clients are

not very attractive because they are the

least profitable customers.

But once the disruptors have entered

this market, they seek to improve profit

margins by offering additional value

in small doses, so customers might be

willing to pay a little more for better

quality. The incumbent operators, on

the other hand, do not spend too much

time or thought on the least profitable

customers and instead concentrate on

the most profitable ones. Over time, the

incumbents are squeezed into smaller

markets. By the end, it is the disruptive

innovator that serves the largest market

segment and earns the greatest revenue,

whereas the former market leaders have

a niche existence or are driven out of the

market. "New market disruption," on

the other hand, occurs when a product

serves a new or emerging consumer desire

that is not being served by existing

market players.

Disruptive innovations tend to be

produced by outsiders

So why is it so hard for disruptive innovators

to make their way? And why

are they so often outsiders with no – or

only loose – ties to incumbents in the

markets? There are at least three reasons

why: 1) Innovations are not profitable

enough at the beginning; 2) these processes

can take longer to develop and

results may be so new that they cannot

be compared to other products; 3) it cannot

be evaluated and does not fit into

conventional risk schemes.

Global Compact International Yearbook 2016 13
---
Renevue and time

Professor Joseph Bower came to the point when writing a

Harvard Business Review article in 2002: "When the technology

that has the potential for revolutionizing an industry emerges,

established companies typically see it as unattractive: it's not

something their mainstream customers want, and its projected

profit margins aren't sufficient to cover big-company cost

structure. As a result, the new technology tends to get ignored

in favor of what's currently popular with the best customers.

But then another company steps in to bring the innovation

to a new market. Once the disruptive technology becomes

established there, smaller-scale innovation rapidly raise the

technology's performance on attributes that mainstream

customers' value."

Comparing apples and oranges

Comparing unknown new markets with known traditional

markets is a bit like comparing apples and oranges, as Milan

Zeleny knows. In an article for the International Journal of

Management and Decision Making, he wrote: "The effects of high

technology always breaks the direct comparability by changing

the system itself, therefore requiring new measures and new

assessments of its productivity. High technology cannot be

compared and evaluated with the existing technology purely

on the basis of cost, net present value or return on investment.

Only within an unchanging and relatively stable TSN [technology

support net] would such direct financial comparability be

meaningful. For example, you can directly compare a manual

typewriter with an electric typewriter, but not a typewriter

with a word processor. Therein lies the management challenge

of high technology."

Dr. Elmer Lenzen is founder and CEO of macondo

publishing GmbH, publisher of the Global Compact

International Yearbook and the CSR Academy. He has

a PhD in journalism and studied at the universities

of Münster and Bochum (both in Germany) and

the UCR in San José (Costa Rica). In 1998 Lenzen

founded macondo, with its major business focus being

publications and corporate communication. CSR plays

a prominent role, and macondo today is one of the

leading publishing houses.

Fallen Brands

There can be different reasons for the

decline of a brand. It may be that the

product is no longer trendy, or that it

is regarded as being old-fashioned. It is

fatal when a company stops developing

the brand, making it harder to catch up

with competitors. "Successful products

decline when companies continue to

produce beyond the trends of the time,"

says Wolfgang Zankl from the European

Brand Institute, which ranks the most

valuable brands in Europe annually.

In no industry sector are the pressures

of innovation and market changes more

pronounced than in the IT sector, as these

three following examples show.

The Commodore 64. Due to its shape,

its fans affectionately called it the "bread

box." The Commodore 64 dominated the

home computer market in the 1980s:

More than 30 million copies were sold

worldwide. But when the PC began

to take hold in the market, the era of

Commodore ended. In 1994, the manufacturer

went out of business.

AOL. Do you remember the CDs in

your mailbox or the ones glued into

magazines? They came either from

CompuServe or AOL and offered dial-up

internet service. At the beginning of the

millennium, AOL had almost 30 million

customers and was the largest internet

provider worldwide. Money was abundant,

so they took over the prestigious

media group Time Warner. Then came

the market bubble and the advent of

internet flatrates. Today, AOL belongs

to Verizon and is looking for new business

models.

BlackBerry. With the invention of the

first smartphone, BlackBerry wrote

history. Its founder, Mike Lazaridis, did

so many things right. If you wanted

to be someone 10 years ago, you had

to have a BlackBerry in your pocket.

BlackBerry was THE status symbol and

the favorite gadget of managers and

starlets. But then came Apple, which

brought us the endless world of apps.

Bye-bye BlackBerry.

14

Global Compact International Yearbook 2016
---
innoVAtion

Capitalism

is

CHAOS

The future belongs to those companies that continuously

challenge and reinvent themselves. Does this sound to you

like it came from a recent executive seminar? It is certainly

possible that it could have. But did you know that this idea

was formulated more than a hundred years ago by a 28-yearold

economics wunderkind, who was without a doubt one of

the most important economists of the 20th century? Did you

know that many of his ideas are perhaps even more pertinent

today than they were in his own time? The Austrian economist

Joseph Schumpeter (1883-1950) brought us concepts such

as "innovation," "venture capital," and "corporate strategy."

Decades before innovation became a buzzword for managers,

Schumpeter expanded the field of modern economics with

these concepts – at a time when people were still talking

about national economics. His concept of "creative destruction"

enriched the three classic factors of production – land,

labor, and capital – with an essential fourth dimension:

entrepreneurship.

Schumpeter's core idea is that markets tend not toward

order but disorder, which then invariably generates new,

innovative entrepreneurs. Disorder is therefore productive

rather than threatening: Progress and growth emerge from

"creative destruction." This view put Schumpeter far ahead

of his time: Today, by contrast, creative destruction and innovation

are more relevant than ever. In an era when the

framework conditions are in constant flux, the strength of a

company is no longer determined by its size, but by its speed

and adaptability.

His logic of "creative destruction" is radical, its consequences

brutal: In Schumpeter's view, all rules, systems, processes,

products, and services will eventually have served their

purpose and require renewal – or will not have served their

purpose and therefore need replacing all the more. Schumpeter

was the first to interpret the modern economic order

scientifically, as an evolutionary development without end,

a constant flow that evinces progress through revolutionary

inventions and fitful bursts of innovation.

At the same time, his economic theory brings a touch of

individual psychology to the economic debate by amending

the doctrine that the main driver in commerce is homo

oeconomicus – the rational actor. Instead, it is the mavericks

and inventors who bring about disorder and change, those

actors who go beyond the conventional path. Schumpeter

rejects the conventional, liberal equilibrium thinking about

supply and demand. The problem in practice is that innovation

is never accepted wholeheartedly; creative destroyers

are usually not welcome in companies, even if the corporate

mission statement promises otherwise. Companies are geared

more toward recognizing risks and then bringing them under

control. But activists of innovation will not stand for avoiding

risk through risk management.

This makes Schumpeter the first important economist to

think consistently in processes, forgoing models. But this

economics wunderkind made enemies, too: Schumpeter

was intentionally provocative. He considered science an

ongoing attempt to "produce, improve, and pull down analytical

structures in an unending sequence." This is how he

takes swipes at the giants of economics, reproaching Adam

Smith for describing a largely pre-capitalist world that is no

longer applicable today, Karl Marx for having understood

the dynamics of capitalism but nothing of the psychology of

prosperity, and Schumpeter's own contemporary John Maynard

Keynes for concerning himself with only shortsighted

prescriptions, in the form of political instruction manuals.

But Schumpeter is not immune to criticism either: He believed

– perhaps overly naively – in the social permeability

of the capitalist system. Thus, he considered success and

wealth to be ephemeral values specific to the individual:

"The upper strata of society are like hotels which are indeed

always full of people, but people who are forever changing."

But the practice is different in the present day, when

we are instead experiencing the emergence of a heritable,

moneyed aristocracy around the world, the feudalization

of the political class and the financial markets, and the reproletarianization

of the workforce.

Global Compact International Yearbook 2016 15
---
A Bridge to

Sustainability-Oriented Innovation:

Breakthroughs

"Innovate or die" has become almost a mantra for companies in this era of rapid technological change and

globalization. When we consider such conditions as extreme air pollution in Beijing, factory collapses in

Bangladesh, drought in California, and deadly heat waves in India, the darker side of this foundational

belief stands out in high relief. Yet we continue to settle for and cling to consumption-based business models

that add to these global threats. Many large companies have survived and thrived for decades by selling

high-calorie, sugary drinks or distributing apparel made by people working in extreme poverty for unfair

wages in unsafe conditions.

By Prof. Jason Jay, Sergio Gonzalez, and Marine Gerard

Overcoming these challenges and enabling societies to

thrive on a planet with increasingly finite resources will

take significant innovation. We call this sustainabilityoriented

innovation (SOI).

SOI is about dispelling the notion of tradeoffs between what

seem to be competing goals — performance versus impact,

profit versus purpose, human wellbeing versus environmental

protection. Our research suggests that when we no longer see

these goals as competing, we create products, services, and

business models that are holistic rather than fragmented.

The potential for SOI exists within all firms. We just need to

understand the barriers to unleashing it. Our research suggests

that one critical barrier to achieving SOI is the "sustainability

tradeoff" view of the world, a mental model

that says having a positive social and

environmental impact must exist

as a tradeoff with more

traditional business drivers.

the late 1990s, it started to develop an organizational commitment

to environmentally responsible shoe design. One of its

early forays into this work was the "Trash Talk" shoe, a shoe

made from scraps of discarded material. The intended social

value was to find a productive use for

cutting-floor waste in the factories.

Less waste meant using less energy,

less water, and fewer

chemicals.

Let us look at Nike as an

example of a company that

discarded its tradeoff model. In

16

Global Compact International Yearbook 2016
---
innoVAtion

But the shoe was a commercial failure. Customers did not

find it aesthetically appealing, and Trash Talk did not have

all the performance characteristics that Nike athletes had

come to expect from their footwear. For Nike, succeeding

with SOI meant holding firm to its commitments to both

performance and impact. While Trash Talk had been a

"compromise," moving along the tradeoff line, they needed

to push the envelope.

The impact / performance frontier

After an extensive search and invention process, Nike took a

very different approach from the one they had been using.

On the impact dimension, they sought to achieve zero waste

on the cutting room floor, a standard that far exceeded any

they had set in the past. On the performance dimension,

they sought to make shoes lighter and more breathable. By

committing to achieving both performance and impact, Nike

had let go of its either / or approach. The result was Flyknit, a

new technology that involved weaving the upper portion of

the shoe from a single thread. They had learned what artists

have long understood — that constraint generates innovation.

For Nike, holding impact and performance constraints

simultaneously led them to an entirely new way of producing

athletic footwear.

Nike Flyknit technology involves weaving the upper portion

of a shoe from a single thread. It reduces the shoe's overall

environmental footprint and at the same time increases its

athletic performance with lighter weight and flexibility.

By creating a new way to manufacture its popular running

shoes, Flyknit produced what Nike CEO Mark Parker summed

up as an innovation with "the potential to change everything."

Flyknit is a mainstream product, marketed as a high-performance

shoe. Its sales are projected to surpass $ 1 billion in

2016, which for a single shoe is an astounding accomplishment

given Nike has a footwear business worth $ 18.3 billion in total.

In our example, Flyknit hit the SOI sweet spot and tackled

all three constraints simultaneously by creating

customer value by increasing comfort and

running performance; creating

business value by cutting

production time and costs, and

addressing mainstream customer needs with significant

market potential; creating system-wide environmental

and social value by reducing landfill waste and reducing the

need for labor-intensive, low-wage work.

The customer-business-system constraints

We know that successful SOI does not occur in isolation

but through collaboration. Dutch start-up DyeCoo Textile

Systems B.V. completely revamped Nike's textile dyeing by using

an entirely waterless process called ColorDry, which reduced

water demand by 100-150 liters of water (26-40 gallons), reduced

dyeing time by 40 percent and energy use by 60 percent,

and reduced the factory footprint needed for production by

25 percent. DyeCoo's technology was a game-changer.

Although Nike Flyknit and DyeCoo ColorDry have both proven

to be powerful technological innovations, SOI is not limited

to cutting-edge technologies. It also has impact at the organizational,

institutional and social levels.

"

Innovation allows

companies to reap

the benefits of products

and services that

create social and

environmental good.

Types of sustainability-oriented innovation

"

Consider new intra-company "process" innovations such as

Buffer's transparent salary bulletin and calculator, Tesla Motors'

"system infrastructure" changes such as its international

EV supercharging network, and Uber's new "delivery and

business model" innovation for car-sharing taxi alternative.

These are all prime examples of the versatility of SOI across

the organizational, institutional, and societal levels of innovation.

They all work within different boundaries of change

— from individuals to the inside of firms, firms to the inside

of states, and states to the inside of society. In pursuing these

bigger, more systemic solutions, SOI embraces a wide swath of

commercial and civic stakeholders. Entrepreneurs, corporate

intrapreneurs, policymakers, NGOs, investors, academics, and

active citizens all play a role in SOI success.

Embracing such diversity dispels the notion of single-player

innovation and focuses instead on increasing opportunities

for growth and scale through a multistakeholder approach.

Global Compact International Yearbook 2016 17
---
Important

performance

focused

Sustainability-Oriented

innovation

Performance

"Compromise"

Impact

focused

Not Important

impact

Important

With this wider perspective and more diverse population of

stakeholders, it becomes possible to tackle the big challenges

more effectively and to be part of the solution that creates a positive

future for business and society at large. In our subsequent

blog posts, we explore the types of firms and strategies that can

mesh with SOI, and the process of multi-stakeholder innovation.

Why sustainability-oriented innovation is valuable in

every context

Sustainability, sometimes under the banner of corporate social

responsibility (CSR), used to be a specialty practice used by

only a few companies, like Nike and Coca-Cola, to manage

risks to their high-value brands.

But times have changed, and as we described in our first

post, Nike is now using sustainability to drive the top line by

enhancing product development and revenue growth with

technologies such as Flyknit. Start-ups such as Liquiglide and

its super-surfactant products, unicorns such as Uber and its ondemand

transportation service, and large systems integrators

such as Lockheed Martin with burgeoning renewable energy

and energy storage systems are combining sustainability with

revenue generation in various ways. Sustainability-oriented

innovation is the basic enabler of this trend.

Because SOI allows companies to push beyond their usual innovation

boundaries and their typical business protocols, it is

expanding the range of businesses that are practicing sustainability

and finding new fuel for their innovation processes.

It is also allowing them to reap the benefits of products and

services that create social and environmental good.

The context and intent around SOI influences its final shape

and form. Our research has identified three degrees of sustainability

orientation: sustainability-relevant, sustainabilityinformed,

and sustainability-driven.

The three degrees of SOI

The most common form of SOI in the mainstream corporate

world is sustainability-informed innovation (SII). The

aim of SII is to meet a well-defined customer need using a

design informed by sustainability considerations. Nike and

its Flyknit technology discussed in our first post offer a good

example of SII.

Many "green" brands and internal labels, such as Clorox

Greenworks and Johnson & Johnson's Earthward program, also

fit this category. Some companies, such as Patagonia, build

their whole R&D portfolio around SII. Since its founding in

the 1970s, Patagonia's mission statement has evolved from

"build the best product" to "use our business to inspire and

implement solutions to the environmental crisis."

With this mission statement in mind, sustainability has become

integral to Patagonia's innovation process, which has resulted

in products such as "synchilla" fleece made from recycled

plastic bottles and the recent Yulex wetsuit — the first biomaterial-derived

wetsuit in the surfing industry.

18

Global Compact International Yearbook 2016
---
innoVAtion

Sanergy builds healthy, prosperous

communities by making hygienic

sanitation affordable and accessible

throughout africa's informal settlements.

So far 732 Fresh life toilets are installed

in informal settlements.

Global Compact International Yearbook 2016 19
---
Sustainability:

A positive side effect.

Sustainability:

One of the inputs.

Sustainability:

The core purpose.

Sustainability-

Relevant

Innovation

(SRI)

E.g. Zipcar

Sustainability-

Informed

Innovation

(SII)

E.g. Patagonia

Sustainability-

Driven

Innovation

(SDI)

E.g. Sanergy

The partnership between Patagonia and Yulex paired each

firm's core competencies in materials technology to enable

the creation of the world's first sustainable wetsuit. Their SOI

was then shared with the rest of the surf industry, and now

the same environmental technology can be found in almost

all brands' premium wetsuits.

Nike Flyknit and Patagonia Yulex illustrate two benefits that

companies reap through SII. The first is that sustainability

constraints help drive a wider search for new materials, new

processes, and new designs that can yield higher-performance

products. The second is that SII creates possibilities for differentiation

among sustainability-minded customers. In this way,

it manages risks and opportunities as customer preferences

and regulations change.

Sustainability-driven innovation (SDI) is another kind of SOI that

innovates with the specific goal of solving a public problem. An

example of technology-based innovation would be renewable

energy companies such as SunPower, which are developing

high-efficiency solar photovoltaic panels to mitigate the air

and climate pollution associated with fossil fuels.

Other enterprises, such as Sanergy, achieve SDI through businessmodel

innovation. Sanergy is an MIT spinoff established to

solve sanitation problems in the developing world. Knowing

that nearly 8 million people in Kenyan slums lacked access to

a proper sanitation, the Sanergy team used $ 25,000 from the

MIT Public Service Center to test their solution. They installed

two toilet stations and franchised them out to local entrepreneurs,

who maintained them and charged for use. Sanergy

safely collected the waste and converted it into fertilizer that

could be sold to farmers. The pilot was so successful that in

2011 the team formed a for-profit and non-profit business to

continue its work. The for-profit arm developed and sold the

toilet stations and waste fertilizer. The non-profit arm supported

the franchisees and infrastructure with training and services.

Sanergy's results are impressive and include:

• installation of 734 toilets

• 33,000 daily uses

• removal and treatment of 6,028 metric tons of waste

• creation of 763 jobs

In addition, local entrepreneurs, 35-40 percent of whom are

women, are making a profit of at least $ 1,000 per year; organic

fertilizer made from the waste sells for 30 percent less than

inorganic alternatives; and local school attendance increased

20 percent after schools purchased toilets, which gave parents

more confidence to send their children to class.

The third form of SOI, sustainability-relevant innovation (SRI),

is the most broadly applicable but the least discussed. SRI is

about discovering and leveraging hidden sustainability benefits

after innovation. Zipcar and the car-sharing revolution are

prime examples. The practice dates back to the late 1980s in

Europe with the rise of programs such as Mobility Switzerland

and StattAuto Berlin. Convenience and cost-savings were the

20

Global Compact International Yearbook 2016
---
innoVAtion

"

We know that

successful SOI doesn't

occur in isolation

but through

collaboration.

"

original value drivers of the innovation. The success of these

programs in providing superior benefits over owning a car

led to wide adoption in the United States and Europe. In addition,

membership exploded once internet technology made

it possible to streamline business operations.

Zipcar rode this wave after debuting in Boston in June 2000,

and its leadership quickly realized that this new business

model had tangible sustainability benefits as well. Entering

into public-private partnerships with cities such as Baltimore

made Zipcar aware that their business was encouraging people

to sell their cars, avoid buying new ones, take fewer trips, drive

fewer miles per trip, walk and bike more, and take public

transit more often.

SRI can also grease the wheels for SII and SDI projects. Consider

GE's "Ecomagination" strategy. When it began, GE focused

on identifying the environmental benefits of their existing

products, such as more energy efficient appliances and engines.

By marketing these benefits to customers, employees,

investors, and other stakeholders, GE established broader

legitimacy of an SOI approach. From that foundation, GE

was able to undertake SII and SDI projects. EcoSwitch — a

tea kettle, slow cooker, hot plate, and blender combined into

one energy-efficient package — is an SII product, and Open

Innovation was an SDI project that called for innovators to

solve water scarcity and energy challenges in international

communities struggling with those issues.

Although one form of SOI may have significantly greater scale

or impact than another, all three are beneficial. The sum reduction

in GHG emissions from car-sharing (SRI, Zipcar) and the

GHG emission reductions achieved by replacing petroleumbased

neoprene with e-fiber in wetsuits (SII, Patagonia) are

both beneficial, even though the former clearly will have a

larger-scale impact than the latter.

Each of these three SOI variations will have its own area of

impact. SIIs will tend to include mainstream consumption

channels and foster shifts in industry impact. SDIs will tend

to push the envelope and be very specific in focus. And the

impact of SRI will be in discovering and leveraging hidden

sustainability benefits after innovation.

Whether technological, organizational, institutional, or social

innovation, SOI practitioners will benefit by recognizing the

need for an ecosystem of SOI that will accommodate the entire

spectrum of impact.

Another positive by-product of SRI for Zipcar was the unanticipated

recruitment of allies for its business. Cities and

universities came to see it as an eco-friendly alternative to car

ownership, with the added benefit of fewer regulatory barriers

and lower parking prices.

How sustainability factors into SOI

These behavioral changes all entailed real social and environmental

benefits. Although more research is needed around their

quantification, better air quality, less traffic congestion, and

more physical activity are highly likely. Zipcar stumbled upon

these sustainability benefits as a free and positive side effect of

its business-model innovation and made it possible for people

to drive within a new sustainability-oriented context. The result

of Zipcar's SRI activities was nothing short of industry-shaking.

Prof. Jason Jay is a Senior Lecturer and Director of the

Sustainability Initiative at MIT Sloan. Sergio Gonzalez

is a graduate student in the MIT Technology and Policy

Program. Marine Gerard is a 2014 graduate of the MIT

Sloan School of Management currently working as an

associate at the Boston Consulting Group. The article was

originally published in the Sloan Management Review.

Global Compact International Yearbook 2016 21
---
Does firM innoVAtion

AffeCt ?

CSR

WHat tHe aCaDeMICS SaY

Is a sustainable company more innovative or, vice versa, is an innovative company more

in favor of sustainability? and is there any link between innovation and CSr? two notable

academic studies help us to answer these questions. the first one is from rui Shen, Yi tang,

and Ying Zhang and was published as a Harvard Business School Working paper in 2016

using a sampling of 3,315 publicly listed US firms from 2001 through 2011. the second study

was conducted by xinghua Gao and Yonghong Jia, both from Governors State University,

Illinois, and published in September 2015. to better understand how different aspects of

CSr influence corporate innovation outcomes, the authors examined five social dimensions:

community, diversity, employee relations, the environment, and products.

What do the studies tell us?

The most important finding is that, yes, there is a positive link

between CSR and innovation. Shen, Tang, and Zhang write:

"We find that more innovative firms also engage more in CSR

activities. This effect is stronger for firms of higher risk and/

or operating in a less munificent environment. Additionally,

firms with higher innovation reap greater financial benefits

from their CSR activities."

Innovation is risky

Innovation is considered by most experts as being a key factor

in determining a company's ability to maintain advantages

against its competitors. The more a company is willing to,

and capable of, inventing and reinventing itself, the better

it can respond to fast – and often abrupt – market changes.

This is a well-known fact. But few efforts have been made "to

examine whether or not innovation may influence a firm's

other strategic choice," write Shen, Tang, and Zhang. This

is all the more extraordinary because innovation activities

are highly complex and have uncertain outcomes – traits

that normally produce sleepless nights at the C-level and

among investors. Innovation means limited control of the

process and always implies risk. That is why companies with

less-open cultures or control-obsessed management are less

innovative by nature.

How does CSR come into the game?

CSR helps to reduce the level of uncertainty and the information

asymmetry between the company and its main

22

Global Compact International Yearbook 2016
---
innoVAtion

stakeholders by serving as a credible signal. It is a fact that

companies with a good CSR reputation maintain a good

social image in the eyes of the public – they accumulate

moral capital, in a manner of speaking. This moral compass

can help to "identify emerging problems, prevent fraud,

preserve corporate reputation, and minimize any penalty

when transgression occurs," say Shen, Tang, and Zhang. That

creates a reaction: To meet potential concerns, an innovative

company must be motivated to engage more in CSR. Gao and

Jia write: "CSR enhances innovation because CSR initiatives

help foster a culture for employees to be creative, enhance

firms' access to external financing, and form an enthusiastic

and effective workforce."

Key findings

1. Companies featuring greater innovation record higher

levels of CSR.

2. This correlation becomes stronger when the company's risk

level is higher or when it is operating in a less munificent

market.

3. The positive effects of innovation on CSR are stronger for

companies with greater financial leverage.

4. CSR brings more financial benefits to companies well known

for their innovation performance.

5. Companies scoring high on CSR performance obtain better

price terms from capital suppliers.

6. These positive financial effects are weaker when market

munificence is higher.

Intel and the first DraM

Sustainable stakeholder management is nowadays an essential

element of modern corporate management. a practical

example as to why stakeholder inclusion is so crucial

goes back to the early 1970s. In 1970, Intel planned to

invest in the mass production of the first semiconductor capacitor,

the 1 kilobit "1103" DraM (dynamic random access

memory). this type of memory storage was the cornerstone

of the digital age, revolutionizing our daily lives, our work

environments, and our leisure time. DraM was a "disruptive

innovation," to use the words of Clayton Christensen.

However, in 1970, Intel's engineers were concerned about

the potential negative consequences of the new DraM

technology. Harvard Business School authors quote some

colleagues: "there was a lot of resistance to semiconductor

technology on the part of the core memory engineers. the

engineers didn't embrace the 1103 until they realized that it

wouldn't make their skills irrelevant." additional resistance

came from suppliers and distributors because they had to

invest in specialized equipment and new facilities that would

be of no use for other forms of production. they had no

idea about whether semiconductor innovation would make

its way onto the markets. Intel agreed to hold discussions.

though initial production in 1970 was below standard, five

modifications of the production line were necessary before

the product could finally take its victory lap in late 1971.

Global Compact International Yearbook 2016 23
---
Decarbonization

"

The Paris Agreement is a victory

for people, for the common good, and

for multilateralism. It is a health

insurance policy for the planet.

It is the most significant action in

years to uphold our Charter mandate

to 'save succeeding generations.'

"

Ban Ki-moon, UN Secretary-General (2007 – 2016)

24

Global Compact International Yearbook 2016
---
innoVAtion

Growth

a HarD HaBIt to BreaK

If we are to take the Paris Agreement on climate change seriously,

growth-driven society is on the way out. But greed is part of the human

condition, and no one knows what life without growth would be like.

By Prof. Dr. Felix Ekardt

In December 2015, countries around the world agreed to a

new global climate treaty. The legal details are vague, but

the overarching objective is clear and binding. The Paris

Agreement stipulates that global warming be limited to well

below 2 degrees Celsius. For an industrialized country such

as Germany, which has high per capita emissions, the IPCC

estimates that this would mean 95 percent fewer greenhouse

gas emissions by 2040.

The Paris Agreement targets a further limit of 1.5 degrees

Celsius. The changes required to achieve this would have to

happen even faster; developing countries would have to press

ahead with these in the near term as well. The Paris targets

are absolutely welcome, considering that the consequences

of climate change threaten all of humanity. But what no one

admits is that their implementation will likely lead to a world

without growth.

Protecting the climate and perpetuating growth can go hand

in hand if we replace the fossil fuels we use for electricity,

heating, fuel, and fertilizer by relying solely on technical options

such as renewable energies and energy efficiency. New

technology can be sold and growth achieved in this way. But

technology alone will hardly get us to the aforementioned

targets – even though, of course, no one can predict this

today with any certainty. The challenge is simply too great.

Tidy emissions projections

Moreover, as our technology improves, our level of wealth

rises, creating more emissions to deal with. We also lack

effective technological solutions for some of the sources of

emissions, such as agriculture. In addition, previous statistics

and forecasts are based on tidily estimated projections. Industrialized

countries such as Germany are supposedly reducing

emissions, but in reality, the emissions from our way of life

are increasing. We are simply shifting them onto developing

countries, since this is increasingly where our consumer goods

are coming from.

Furthermore, all of this talk about climate is one-sided: Other

environmental problems such as the degradation of soil and

ecosystems pose just as much of a long-term, existential risk

to humanity and need to be addressed at the same time. The

solution is obvious: Give more space to nature. Technology

alone is not enough for these problems, even less so than it

is for the climate. Consequently, under the Paris Agreement,

part of protecting the environment is about leading a more

frugal lifestyle, in addition to using green technology. It is

not enough just to drive more-efficient cars – we have to

walk places more often, or go by bike, bus, or train. Cosmetic

fixes such as massive reforestation to bind greenhouse gases

will do almost nothing to remedy this inconvenient truth;

Global Compact International Yearbook 2016 25
---
their scale would have to be enormous

if we are to substantially reduce emissions

that way.

Emissions-free nuclear energy is no solution

either. The risk of such facilities

being attacked by terrorists is uncontrollable,

at the very least, and their costs

are exorbitant. The German debate over

nuclear waste demonstrates precisely

this fact. And if, rather than embracing

undesirable frugality, experts suggest

removing greenhouse gases from the

atmosphere through methods such as

seeding the oceans or carbon capture

and carbon storage, we face the threat

of equally incalculable risks and exorbitant

costs.

More frugality

The shift to a more sustainable society,

therefore, will not work unless we also

shift our way of life. We need to consume

less. But then less will be sold:

significantly fewer leisure flights, and

fewer cars. This implies that the end

of the growth-driven society is upon us,

first and foremost in those industrialized

countries that are called upon to make

progress on climate change under the

Paris Agreement. Neither will we get away

with visions of a purely service-oriented

world without any environmental footprint:

Services such as flights and IT technologies

also use a good deal of resources.

If we limited environmental protection

purely to what was technically feasible,

on the other hand, we would have to accept

considerable environmental damage.

This would mean tackling climate change

only partially and would be tantamount

to ignoring problems such as degraded

ecosystems. In the long term, we would

be destroying the physical foundations

of our existence, and in the worst case

this would happen through increased

international and civil wars over dwindling

food and water resources.

But here is the big problem: Until now,

central social institutions such as the

labor market, the pension system, the

banks, and the system of national debt

have depended on growth. So far, alternative

concepts to liberate them from the

growth compulsion have hardly gone

beyond individual ideas such as a reduction

in the number of hours worked.

Furthermore, we lack conceptions of

how to make the difficult transition

into the post-growth era without massive

upheaval and social unrest – as we

witnessed in the euro crisis countries,

where growth turned into contraction

in the briefest of times.

Many adherents of post-growth evidently

do not see this as a problem. Ultimately,

they say, the contraction will gradually

bring about an economy oriented toward

solidarity and the common good,

including the appropriate political majorities.

They argue that people would

be happier without capitalism because

the competitive society would then become

passé – that people are, in fact,

primarily cooperative or even altruistic

in nature, and only capitalism deforms

them to be selfish. A world without

growth, then, appears as the actualization

of true human nature. But this

misses the point.

26

Global Compact International Yearbook 2016
---
innoVAtion

Not everyone dreams of a happy life

in the country

As the research shows, happiness is

relative. So it is less the Malaysia trip

in itself that generates happiness than

the ability to keep up with the Joneses.

A more frugal life can therefore make

a person happy if that person still feels

acknowledged. But happiness levels

also often increase when people have

more than those around them, and not

everyone dreams of growing their own

food in agricultural cooperatives instead

of going to the capitalist supermarket.

The increase in mental health disorders

in a globalized capitalism environment is

not in itself proof that capitalism causes

unhappiness. It used to be that someone

who was sad would simply go see friends;

nowadays, we diagnose depression and

prescribe pills, which not least benefits

the pharmaceutical industry and its

continually new products.

Capitalism is an important cultural

influence. Nevertheless, sociobiology

has demonstrated that human beings

have a certain propensity for selfishness.

Outside of the kind of directly

life-threatening conditions as occurred

in the Stone Age, our propensity for cooperation

is often limited. Cooperation

is particularly difficult when it has to

take place internationally, as with the

climate, rather than in relatively manageable

small groups, as in the distant past.

Therefore, we must count on clear and

very short-sighted calculations of selfinterest,

and among more groups than

just managers and politicians.

We are part of the growth world

We are all interlinked in the growth

world: through our jobs and our consumer

desires, or our pension funds

that own companies through their stock

portfolios. And none of us – politicians

included – always acts rationally. The

all too human biases toward comfort,

habit, repression, prestige, and the usual

concepts of normality complicate any

fundamental change. When I sit down

on the emissions-heavy plane to Tenerife

in February drizzle, I have absolutely

no inkling of the climate disaster and

limits to growth.

Concepts for the post-growth world

should not bank on a new kind of human

being, lest they remain ineffective

utopias. But change is possible. Calculations

of self-interest, concepts of normality,

and even values can evolve further as

different actors interact. They will even

have to – environmentally speaking –

if we are to survive.

Prof. Dr. Felix Ekardt is Director of the

Research Unit Sustainability and Climate

Policy in Leipzig, which he founded in

2009. Since 2009, he has also been a professor

for public law and legal philosophy

at Rostock University (Faculty of Law).

His scientific focus lies in issues around

human science sustainability studies.

Global Compact International Yearbook 2016 27
---
The

De-

Carb

Diet

To comply with global climate targets, we have to reduce our carbon footprint – no ifs, ands, or buts.

Nevertheless, there are a lot of challenges we need to face first.

By Dr. Elmer Lenzen

Last year's UN Climate Conference in Paris was truly a

historic moment for mankind and its sustainable development:

The key result of the COP 21 was an agreement

to set a goal to limit global warming to less than 2 degrees

Celsius compared to pre-industrial levels. In addition, the

conference also identified the enemy we have to fight: carbon

dioxide (CO 2

) and all the other greenhouse gases that are –

as a matter of routine – converted into CO 2

equivalents. To

comply with the 2-degree goal, we have to reduce carbon

emissions to almost zero by the middle of the 21st century. So

the magic buzzwords in blogs, speeches, and the rumor mills

are "decarbonization" and the "low-carbon" – or even better,

"zero-carbon" – economy. But to be honest, carbon is not a

problem per se. It is the foundation of life on this planet. The

aggregate state of carbon is the problem: When it takes the

form of a fossil in the ground, it is completely unproblematic.

As a greenhouse gas in the air, it causes global warming. This

is where all carbon strategies come in.

Fossil fuel divestment. The Guardian offers a great explanation

of this concept by writing: "The global movement for fossil

fuel divestment is asking institutions to move their money out

of oil, coal, and gas companies for both moral and financial

reasons." The concept arrived in mainstream thinking when

the Rockefeller family said in March that they wanted to divest

from fossil fuels as quickly as possible, including its holdings

on ExxonMobil – the company that brought the Rockefellers

their fabulous wealth.

Carbon taxation. An oversized carbon footprint is not just

a problem of the explorative and energy industry. It can be

found in all sectors of the economy. This is why experts say

that we have to put a price on carbon. Lise Kingo, Director

of the UN Global Compact, is one of them: "We believe that

setting a $100 internal price on carbon is one of the most

effective ways to drive climate deep into corporate strategy

and investment. While leading companies have taken steps

to price carbon, we need to see an ascent in ambition and

price across the board."

Public regulation. It is obvious that self-regulation of the markets

does not work in driving decarbonization into the right

direction, at the right pace. This is why an increasing number

of public authorities are imposing regulations: California, for

example, has very strict legislation, as Volkswagen is learning

the hard way. The European Union and China follow next. Other

28

Global Compact International Yearbook 2016
---
innoVAtion

industrial sectors and more countries

will be regulated to comply with the

Paris Agreement. No one should hold

any illusions.

So we are putting the world economy

on a de-carb diet. Is everything going to

be fine? The goal may be clear, but the

road is rocky and there are many challenges

ahead.

1. Challenge: Politics, or the temptation

of the low-hanging fruit

The critical issue, in short, is not 2030 or

2050, but what happens afterward. Jeffrey

Sachs, Guido Schmidt-Traum, and Jim

Williams point out in a brilliant analysis

that good intentions alone will not bring

about true decarbonization. They argue:

"There are reasons to worry. There are two

paths to 2030. We might call the first path

'deep decarbonization,' meaning steps

to 2030 that prepare the way for much

deeper steps after that. The second path

could be called the way of 'low-hanging

fruit' – easy ways to reduce emissions

modestly, quickly, and at relatively low

cost. The first path might offer little lowhanging

fruit; indeed, the low-hanging

fruit can become a distraction or worse."

What have we observed? Politicians

around the world are fostering moreefficient

power plants or mobility concepts

and, true, they can improve their

carbon footprints significantly. But these

technologies might never be able to be

geared toward a zero-carbon solution.

But this is the long-term idea. Jeffrey

Sachs reminds us that the easiest way

is not the best. It is up to the politicians

to explain this to their voters.

2. Challenge: Capital markets, or

how to incentivize mature markets

The Climate Roadmap 2050 says that we

have to reduce our carbon emissions by

80 to 95 percent. You cannot do this with

the present stock of industry. You have

to invest in new plants and industrial

processes. In practice, this means the

industry must be "zero-emissions ready"

by 2040 to guarantee an efficient and

economically predictable infrastructure

by 2050. These deadlines are only one

– maximum two – major investment

opportunities away. But in many sectors,

we do not see investment being made. It

is not because interest rates are high –

on the contrary: They are almost at zero.

It is because the expectations for profits

are low. The case of Japan offers insight:

Aging societies are consuming less and

they are prone to deflation, zero GDP

growth, and decades of stagnation. China

and Europe might join the Japanese

track. So how can we offer incentives to

invest in sustainable solutions in such

mature markets?

3. Challenge: Entrepreneurship, or

how to deal with immutable sectors

Max Åhman and colleagues from Lund

University point to the fact that the

prospects for decarbonization are still

relatively unexplored in many industrial

sectors. The reason is that industries are

still sheltered by their governments to

protect jobs in spite of lost competitiveness.

And when we talk about decarbonization

or about imposing carbon taxes

and regulations, we have to be honest

and say that there will be losers. Refineries,

for example, will have less importance

– or even none at all. The chemical

sector, relying on refinery byproducts,

must also change fundamentally toward

bio-based chemicals to find its place in

the post-carbon economy. Look at the

steel industry: There is no steel without

coking, and there is no coking without

carbon emissions. Abstaining from steel

is not an option. In fact, a decarbonizing

economy will have a growing demand

for steel for new, sustainable industrial

sites. This is a true challenge for zerocarbon

entrepreneurs.

4. Challenge: Growth of population,

or the dilemma with the backlog

demand

There are many smart studies on the market

calculating the effect of this or that

measure. I am confident that they are correct.

The challenge is not only to manage

the already existing market but also to

meet new demands in a sustainable way.

Europe, for example, is enthusiastically

developing a renewable-energy sector. So

are we finally reducing our dependency

on fossil energies? No, we are not. The

US Energy Information Administration's

recently released International Energy

Outlook 2016 projects that world energy

consumption will grow by 48 percent

between 2012 and 2040. Most of this

growth will come from countries that

are not in the Organisation for Economic

Co-operation and Development (OECD),

including countries where demand is

driven by strong economic growth, particularly

in Asia. Non-OECD Asian countries,

including China and India, account

for more than half of the world's total

increase in energy consumption over

the projection period. Concerns about

the energy security issues generated by

renewables support the expanding use

of fossil energy sources and nuclear

power. There is nothing new about the

dilemma with the backlog demand. We

are still waiting for someone to offer a

smart answer.

5. Challenge: Shortages drive prices

The biggest challenge lies in the mechanisms

of the markets themselves. When

a resource becomes scarce, this does not

mean that producers look for alternatives.

On the contrary. Scarcity means, first of

all, a significantly higher demand than

supply. This generates higher prices and

profits. Market actors therefore will do

everything possible to take advantage

of this shortage. Even if their actions

aggravate the situation, for example by

overusing resources, they will not stop

because the profits will continue to rise.

This greed will not stop until all resources

are consumed. Let us take a look at oil

production: The high price of more than

$100 per barrel in recent years did not

lead to a turning away from oil production.

On the contrary: Oil drilling was

extended to remote areas, to oil sands,

and especially toward fracking technologies.

The often discussed "Peak Oil"

Global Compact International Yearbook 2016 29
---
is not an argument in favor of decarbonization, it is rather

a signal that the real big business with the black gold is just

at the beginning.

Measures to take

• Honestly, a lot of expectations depend on disruptive innovations

in the future. New players, new products, and new

ideas will stir up the markets.

• We have to use limited resources more intelligently: The

circular and shared economies have shown us new business

models that address this aspect.

• Efficiency is not only a topic for engineers and graduates in

business administration. It is foremost a topic for product

designers and product developers. We have to form a new

aesthetic that shows how cool it is to buy without packaging,

to shop without plastic bags, and to live without disposables.

• We will need a holistic calculation of costs. It is too simple

to calculate a price without taking into account the up- and

downstream supply chains. Sport shoe manufacturer Puma

is a good example for showing us the way companies can

do it. I do not know if this holistic calculation of costs must

have an effect on the price itself, but it will have an effect

on transparency and awareness-building. Such a holistic

concept of costs, by the way, corresponds with the holistic

concept of capital that the International Integrated Reporting

Council is discussing.

• Politicians will have to write the regulations. Global solutions

are desirable but not obligatory. It is erroneous to believe

that there is no alternative to globalization. National, or

even regional regulations show us that there is always an

alternative and competition is the way to improve systems.

See how California emissions legislation is breathing fire

into the belly of the EU administration.

None of these descriptions offers a concrete, one-step solution

for practitioners. This is up to you. You have to realize that

corporate sustainability is a compass, not a map.

Dr. Elmer Lenzen is founder and CEO of macondo

publishing GmbH, publisher of the Global Compact

International Yearbook and the CSR Academy. He has

a PhD in Journalism and studied at the universities of

Münster and Bochum (both Germany) and the UCR in

San José (Costa Rica).

Jim Yong Kim

World Bank Group President:

"There is a growing sense of inevitability

about putting a price on carbon

pollution. In order to deliver on the

promises of the historic Paris climate

agreement, a price on carbon pollution

will be essential to help cut

emissions and drive investments into

innovation and cleaner technologies.

Prices for producing renewable

energy are falling fast, and putting

a price on carbon has the potential to

make them even cheaper than fuels

that pollute our planet."

Prime Minister

Hailemariam

Dessalegn

Ethiopia:

"We should now follow up the Paris

Agreement with adequate actions,

national policies, investment schemes

and regional and international

initiatives and partnerships. I iterate

Ethiopia's commitment to the global

efforts to overcome dangerous climate

change and ensure sustainable development.

We will use every policy

instrument, including carbon pricing,

which is found to be effective,

efficient and fair."

30

Global Compact International Yearbook 2016
---
innoVAtion

polItICal leaDerS Call For

faster Action

oN CarBoN prICING

Chancellor

Angela Merkel

Germany:

Mayor

Eduardo Paes

Rio de Janeiro:

"Cities have a major role to play in climate

change and actions made by mayors

could save 45 Gt CO 2

by 2030 – equivalent

to eight times the current emissions

of the United States. More than half of

the people in the world lives in cities.

Cities are responsible for over 70 percent

of energy-related carbon emissions.

In Rio we will decrease gases emissions by

20 percent by 2020, and achieve carbon

neutrality by 2065. Mayors are closer to

the people, they can take actions faster.

Carbon pricing will help us to implement

the commitments we took in the Paris

Agreement and foster the transition to

a low carbon economy."

"With a price for carbon and a global carbon

market, we can achieve our common

goal – staying well below the 2 degree

ceiling – in such a way that is technology

neutral, promoting innovation, market

based and thus cost efficient."

President

François Hollande

France:

"The first chapter of the post-carbon era

is being written under the French COP

Presidency. As a frontrunner, the Panel

has the mission to go further in this

direction. We now need to make carbon

pricing levels consistent with the Paris

Agreement objective, to broaden the scope

of covered emissions, and to initiate the

convergence of carbon pricing schemes."

Global Compact International Yearbook 2016 31
---
Talents

"

When everyone is competing

for the same kind of talent, you need

a much clearer way of explaining

how you will attract those people to

your organization.

"

Jeff Joerres, CEO ManpowerGroup

32

Global Compact International Yearbook 2016
---
innoVAtion

IS tHe

Meaning

of Work

aBoUt to CHaNGe?

By Rick Goings

Our world is facing a crisis cubed: Jobs are disappearing

faster than they are being created; companies

are struggling to attract people with the right skills;

and people rightly worry how new technology will threaten

their livelihoods. These global challenges affect developing

countries as much as highly industrialized economies. I have

heard plenty of suggestions from all corners that this crisis

can be solved by "creating more jobs."

It is increasingly clear to me that creating more jobs is not

enough, nor is it the real solution. This solution is based on

a big misunderstanding. To tackle this crisis cubed, we need

to focus on not just jobs but on people earning incomes. This

requires us to develop a new model of work.

What is clear is that the transformations that are now taking

place worldwide, resulting in the loss of jobs, are caused by

forces we cannot alter. The disruption of our world of work is

the result of a tectonic shift just as dramatic as industrialization

and urbanization – and it is occurring along three fault lines:

1. Technology: The speed and breadth of today's innovation

affect every single job and skillset. Automation, artificial

intelligence, big data analytics, the internet of things, and

mobile technologies are leveling the playing field – not only

geographically but also across the spectrum of businesses,

from large to small. Not all of this disruption is positive.

New technologies could result in a net loss of more than

5 million jobs by 2020, warns a recent World Economic

Forum report.

2. Talent: We are facing a massive skills gap. Today's education

systems simply cannot keep up with the rapid pace

of change. Too many of today's graduates are merely not

business-ready for the jobs that now exist. For the rest who

may not have the academic credentials and special skills,

they face barriers as well, as the non-cognitive skills they

might possess are often discounted.

3. Millennials: In 10 years, the millennial generation will make

up 75 percent of the global workforce. They are different,

very different. Not only are they digital natives, they also

have a different set of values; they want purpose in their

lives, flexibility with their time, and a healthy work–life

balance. More than half do not even want a job but want

instead to do something on their own.

This tectonic shift is tearing down many familiar features of

the economic landscape to which we have become accustomed.

Take corporations: Yes, they have been around for two centuries,

and during their time were the primary creator of "jobs."

Yet, corporations as we have known them may soon have had

their day. They will run out of skilled workers and will also

fail to produce enough jobs to provide to those who want to

Global Compact International Yearbook 2016 33
---
The whole world can't be Bill Gates

Rolling out the alternative to a job with the government or with

a corporation requires focusing on start-ups, self-employment,

self-made work, entrepreneurship. Yet, for most people, many

of these notions conjure up images of larger-than-life figures,

of a Bill Gates or Mark Zuckerberg or, perhaps, some teenagers

who – fueled by takeaway pizza – burn the midnight oil

coding new apps. When we hear terms like these, we think

of a path that is risky, requiring top-level education, out-sized

intelligence, and ambition to succeed.

I will not offer a ready-made solution that will make our current

crisis cubed simply go away. But I will offer that – in

my 30 years of living and working in the Americas, Europe,

and Asia – I have seen how income can be created by many

outside the formal structures of government and corporations,

and how people who have taken this route can thrive and

shape their own futures.

Company minus hierarchy equals collaboration

work within the traditional definition of jobs. Additionally,

millennials, who are fast becoming the core of the global

workforce, have little appetite for jobs and careers, since they

offer too much structure and too little personal fulfillment.

What did people do before there were jobs?

Neither governments nor companies can become sustainable

engines of job creation. But then this crisis is not actually about

"jobs." In the early 19th century, what did people do before

there were jobs? Well, certainly they worked – usually for

themselves – in agriculture, as craftspeople, as tradespeople,

or as part of their local economy in other ways.

This "cottage industry" work lacked scale; it was local by necessity.

When corporations came along in the 19th century,

they simply took these workers, organized them, and – with

the aid of steam-powered factories and early industrializing

technology – created focus, efficiency, and scale. They brought

us the big corporations we now have today, and that model

worked for a long time. Yet, it is fast becoming obsolete.

Today's most valuable companies, such as Apple, employ a

proportionally small number of people. At the same time, the

job market is shrinking almost everywhere because of the

forces mentioned above. We simply must change our model of

work and look beyond traditional jobs, beyond governments,

beyond corporations. We must develop concepts that provide

the flexibility and resilience needed for people to thrive amidst

this massive disruption.

Take away the hierarchies of today's corporations and what

are we left with? At their core, companies are a collection of

people engaged in collaborative efforts. It is this collaboration

that is at the heart of our new model of work.

Let us look at it from the perspective of individuals. What they

need for success are business templates that leverage their skills,

match their interests, and – most importantly – nurture

the right mindset that will allow them to be collaborators in

this emerging new economy. They should not just be trained

with cognitive skills or STEM smarts but also non-cognitive

skills such as creativity, self-discipline, resourcefulness, and

endurance – none of which are measured by tests, and few

of which are taught in school.

People with those non-cognitive skills may not feel comfortable

calling themselves entrepreneurs … but from a mindset perspective

they are! And with the right tested templates, models,

and tools, they will be able to generate an income that allows

them to be independent and stand on their own two feet.

Just last week I used my Uber app and was picked up by an

older middle-aged woman who told me she previously had

been cleaning houses a few days a week. Now, she proudly

reported, she was making much more money and with the

flexibility the work offered, was able to drop off and pick up her

granddaughter from school each day. I asked what new skills

she had to learn. "None," she said. She already knew how to

drive, she knew the area, and always loved meeting new people.

WeWork, another disruptive business model, is a chain of

shared office spaces that rents workspaces on a pay-as-you-

34

Global Compact International Yearbook 2016
---
innoVAtion

Top 10 Skills

in 2020

1. Complex problem Solving

2. Critical thinking

3. Creativity

4. people Management

5. Coordinating with others

6. emotional Intellegence

7. Judgment and Decision Making

8. Service orientation

9. Negotiation

10. Cognitive Flexibility

in 2015

1. vomplex problem Solving

2. Coordinating with others

3. people Management

4. Critical thinking

5. Negotiation

6. Quality Control

7. Service orientation

8. Judgment and Decision Making

9. active listening

10. Creativity

go basis for budding entrepreneurs. The spaces are actually

working social incubators where, for example, a computer

whiz meets up with a graphic designer. … Think Steve Jobs

and Steve Wozniak.

First, though, we need to flip any mismatched expectations;

we have to help people realize that striking out on your own

is not a necessity but an opportunity, and that the risk can

be managed. Individuals should feel confident operating at

whichever scale they feel comfortable – small and local, or

dynamic, scalable, and global; fully independent or collaborating

with a larger corporation.

Lessons from the world's most valuable companies

Corporations, meanwhile, will have to abandon their traditional

hierarchies and structures. Take the world's two most

valuable companies, Apple and Google: Their strength does

not come from making things but from the collaboration

within the huge ecosystems they have created. Think Nike, too.

They are designers and marketers supported by collaborative

companies and individuals.

So to survive, corporations have to reinvent themselves as

conveners of collaborators. That is their new template. They

have to morph into collaborative ecosystems – with their

own rules and community ethos – in which individuals can

plug in their skills. The collaboration economy can be our

new model of work. This may require companies to change

their business models; or it could be as simple as introducing

dynamic and flexible procurement systems.

I will make no bones about it: The transition to this collaboration

economy will not be easy. It cannot be. The three fault lines

– technology, talent, and demographics – have ruptured, and

the disruption brought on by this tectonic shift is simply too big.

But I am an optimist at heart, not least because, during my

entire career, I have met so many people who were able to

turn their lives around simply because they were given the

right template and mentoring.

It is now our job to spot the opportunities in the disruption

and equip people not just to cope but to thrive beyond jobs

and beyond corporations.

Rick Goings is Chairman and Chief Executive Officer of Tupperware

Brands Corporation. He served as a petty officer in the US Navy

during the Vietnam Era. Following this, he founded the fire detector

distributor Dynamics, Inc. After his sale of the company, he worked

in various positions with Avon, including President of Avon USA.

In 1992 he joined Tupperware Worldwide as the CEO. This article

was originally published by the World Economic Forum's Agenda.

Global Compact International Yearbook 2016 35
---
By Prof. Dr. Harald Hagemann

Industry 4.0

How does

Affect Growth

and Employment?

With the digitilization and global linking of production

– the "fourth Industrial Revolution" – the

specter of unemployment in the technology sector

has entered central stage again. In its special report on June 25,

2016, on Artificial Intelligence, The Economist proclaimed "The

return of the machinery question," which first had been posed

in serious economic literature by David Ricardo in 1821. Since

then, a controversy between labor-displacement pessimism

and compensation optimism has run through the economic

literature as well as public policy debates.

Although this controversy gained steam every time greater technological

dynamism led to higher unemployment, Schumpeter

pronounced this controversy "dead and buried." However, the

current debate, which led authors such as Brynjolfsson and

McAfee to proclaim the "second machine age," contradicts the

author who stated that "creative destruction" is the essential

fact of capitalism.

Schumpeter's term of creative destruction indicates well the

double-sided nature of technological change, which, on the

one hand, destroys old jobs and firms and leads to an erosion

of old qualifications and shrinking sectors, but, on the other

hand, stimulates the creation of new jobs, firms, and the rise

of new sectors. This raises three important questions for the

economy as a whole:

1. Do the compensation effects balance, or even dominate,

the displacement effects?

2. Do the new technologies require higher or lower skill levels

than the old ones?

3. How do the new technologies influence the distribution of

income? In particular, do new labor-saving technologies

contribute to higher levels of inequality regarding income

and wealth distribution?

36

Global Compact International Yearbook 2016
---
innoVAtion

Since the future is uncertain and there are many other

economic, political, and social factors beyond new technologies

that will influence the development of employment,

skills, and distribution, reliable empirical predictions are

almost impossible to make. However, it is relatively easier

to make predictions about the future prospects of existing

jobs that are at risk than about new jobs being generated

due to the diffusion of the new technologies. Thus, in the

widely cited study The Future of Employment. How Susceptible

Are Jobs to Computerization? by Frey and Osborne from Oxford

University, the authors came to the result that 47 percent

of existing jobs in the United States are in danger of being

replaced by computer capital soon. A similar study for Germany

found that 59 percent of the jobs are at risk due to

the digital revolution.

Deeper analysis reveals that the probability of being replaced

by computer capital varies widely between different groups

of employees. Whereas academics in scientific and creative

professions, such as doctors, chemists, and physicists, are

hardly affected, office jobs and auxiliary workers in transport

and logistics are extremely vulnerable to automation.

Most studies found that the decisive issue is whether the job

concerned pursues a routine activity, and not whether it is a

blue-collar or white-collar job. Brynjolfsson and McAfee have

pointed out that the second machine age is characterized by

a bifurcation – or job polarization – between two groups

of employees: unskilled, low-paid workers whose work is

dictated by computers, and highly paid, skilled ones who are

managing Industry 4.0.

Is this time different? Partly yes. Whereas past technological

revolutions frequently created disadvantages for low-skilled

workers whose jobs could be easily eliminated due to the

diffusion process of new, more productive technologies, the

digital revolution also affects medium-qualification levels. In

their book The New Division of Labor. How Computers Are Creating

the Next Job Market, Levy and Murnane have already predicted

this lower demand for middle skills. This is because progress

in the new information and communication technologies

enables the automation of more complex tasks that are

based on certain rules and routines, such as the handling

of tax declarations.

In a study from January 2016 for the World Economic Forum

in Davos entitled The Future of Jobs. Employment, Skills and Workforce

Strategy for the Fourth Industrial Revolution, which was based

on a poll survey of the leading managers of the 350 largest

companies, a net loss of 5.1 million jobs is predicted for the

leading economies in the period 2015–2020. This would be the

result of a reduction of 7.1 million routine jobs, which would

be countered by the creation of only 2.1 million jobs, mainly

in the IT technology sector. As a consequence, an increase

in human capital in fields such as mathematics, computer

1st

Mechanization,

water power,

steam power

2nd

Mass production,

assembly line,

electricity

3rd

Computer and

automation

4th

Cyber physical

Systems

and natural sciences, and engineering is being demanded,

including a higher share of women in these areas to avoid

a structurally higher unemployment rate for women in the

future. A study of the labor market research institute IAB in

Nuremberg from August 2015 is much less pessimistic in its

prediction of a net loss of 60,000 jobs by 2025 due to Industry

4.0 in Germany. An important point is the emphasis that not

only academics but also higher-skilled workers will be among

the winners of the digital revolution, if they acquire the additional

skills necessary for the future linking of industrial

production with computer technologies. This indicates the

importance of research and education as a prohibitive labor

market policy to avoid higher unemployment in the technology

sector in the future.

One need not deplore every job loss due to technological change.

A good example is the use of industrial robots to replace workers

who once were employed lacquering cars and who suffered

high rates of cancer due to breathing in poisonous steams. New

technologies imply risks and chances. The restructuring of

economies – from an older industrial economy to a modern

one – strengthens the options for "green growth" strategies. The

digital revolution not only makes greater material productivity

possible or creates efficiency in the use of natural resources,

but it also generates a general reduction in the absolute use

of non-renewable resources. This may help in contributing

toward the requirements of sustainable development – in

the economic as well as the ecological and social dimensions.

This also makes the greater synthesis of two hitherto widely

independent developments necessary: the digital revolution

and strategies for coordinated sustainable development policies,

which first became an issue at the United Nations Conference

on Environment and Development in Rio de Janeiro in 1992,

and were further specified in the worldwide agenda of the

Millennium Development Goals in 2000.

Dr. Harald Hagemann is professor of macro-economics

and economic theory at the Universität Hohenheim.

Global Compact International Yearbook 2016 37
---
future Markets

"

In this ever-changing society,

the most powerful and enduring

brands are built from the heart.

They are real and sustainable. Their

foundations are stronger because

they are built with the strength of the

human spirit, not an ad campaign.

The companies that are lasting are

those that are authentic.

"

Howard Schultz, CEO Starbucks

38

Global Compact International Yearbook 2016
---
innoVAtion

HoW to BUSt tHe

Biggest Myths

aBoUt tHe CIrCUlar

eCoNoMY

Tired of being told the circular economy is just a fancy term for recycling that will cause profits to slump?

Here's how to fight back.

By Liz Goodwin

When China began to emerge as one of the major

global economies, the dominance of English as

a global business language was challenged by

Mandarin. Would this lead to barriers? Apparently not. The

reality is, it does not matter what language you speak, as long

as it is the universal language of business.

Some say that the premise of the circular economy gets lost

in translation and is misunderstood. There is a perception

that it is an ongoing battle between environmentalists and

corporations – that one side wants to see the environment

preserved and protected, and that the other prioritizes profits.

But the circular economy connects both, in fact, delivering

economic as well as environmental gains.

Despite the growing case for the circular economy, barriers still

exist. As former CEO of Kingfisher, Sir Ian Cheshire, recently

wrote, there are "examples of deliberate blocking of progressive

business policies by dinosaur corporates that claim they

cannot adapt to the new economy." So, if you are confronted

with this attitude, here is a basic translation reference for the

circular economy – a handy rebuttal guide.

Perception: The circular economy is just another way to

describe recycling

Reality: The circular economy is much more than recycling.

A linear economy makes, uses, and disposes of materials. The

circular economy looks at all the options across the chain

to use as few resources as possible in the first place, keep

resources in circulation for as long as possible, extract the

maximum value from them while in use, then recover and

regenerate products at the end of service life. This means

designing products for longevity with reparability in mind

so that materials can be easily dismantled and recycled, not

to mention the alternative business models that encompass

trade-ins, sharing models, and service packages.

Perception: Encouraging people to reuse or keep

products for longer does not encourage sales, so profits

would slump

Reality: In the United Kingdom, there is a saying: "The customer

is always right." In France, they say: "Le client n'a jamais tort,"

meaning the customer is never wrong. In Germany the saying

is: "Der Kunde ist König," the customer is king. There is a clear

status quo to prioritize customer satisfaction. Currently, we are

being shortsighted and building products without longevity

in mind, which costs UK businesses some £ 400 million a year

in product returns. A circular economy encourages people to

keep products in circulation for longer, which creates business

opportunities for service packages that include repairs and

maintenance services and drives customer loyalty.

A colleague recently returned from South Korea, where he

was exploring LG Electronic's approach. Like a doctor's surgery

practice for electronics, customers can take their broken

products to LG's service-repair center, where they are issued

with a ticket and seen by a technician, who fixes it on the spot.

Perception: The circular economy might be an

opportunity for some, but it will have a negative impact

on manufacturers

Reality: Natural resource and materials prices are rising, and

they are also volatile. Refurbishment and remanufacturing

Global Compact International Yearbook 2016 39
---
Perception: The top priority is the economy and jobs,

especially in times of austerity

Reality: The president of the European Commission, Jean-Claude

Juncker, has said he wants to focus on jobs and growth, and

rightly so. There are a number of routes to get to a destination,

but the end result will be the same. Jobs and economic

growth are no exception, and one possible route to achieve

this ambition is growth of the circular economy.

Life Cycle

Thinking

Globally, Innovate UK claims resource-efficiency measures

could add $ 2.9 trillion to the economy by 2030, with returns

on investment of more than 10 percent. There are also major

job opportunities. WRAP and Green Alliance recently identified

that more than 200,000 jobs could be created in the United

Kingdom if circular economy activities continued to grow.

In a recent report, the World Economic Forum and the Ellen

MacArthur Foundation also identified that a shift in reusing,

remanufacturing, and recycling products could lead to more

than half a million jobs being created in the recycling industry

across Europe.

Perception: If the environment is on the agenda,

shouldn't the top priority be climate change?

offers are sheltered from these fluctuations. Walter Stahel,

originator of the circular economy concept, recently said that

if a businessman suggests opening a manufacturing plant to

make money, you should counter that they can make five

times as much from opening a remanufacturing plant.

Greater circularity can also benefit existing manufacturers.

Rolls-Royce, for example, is known for the "power by the hour"

service model, and Caterpillar is known for its remanufacturing

arm, Cat Reman. More recently, Jaguar Land Rover embedded

circularity into its design and assembly process and is using

50 percent recycled aluminum in some of its latest car models.

Considering that cars are so reliant on aluminum, a high-value

material, it makes economic sense to use recycled content.

Perception: The circular economy may be the latest

buzzword, but my business has been steady for years,

why change now?

Reality: It was only 10 years ago that we would happily rent a

video and turn pages of a newspaper. Now online streaming

and internet news prevail. Many businesses that were once

leaders have disappeared as new trends have emerged, such as

internet shopping and digital technologies. Business as usual

is not always the safest path. The companies that prioritized

short-term profits rather than future-proofing themselves

ultimately paid the price. The sooner that businesses understand

ways in which to adapt to change, the less is the risk

of a hard blow.

Reality: The circular economy could go a long way toward

helping reduce carbon emissions. According to a recent report

by the Carbon Trust, Innovate UK's Knowledge Transfer

Network, and Coventry University, remanufacturing typically

uses 85 percent less energy than manufacturing; on a global

scale, it has the potential to offset more than 800,000 tons of

CO 2

emissions per annum.

And remanufacturing is just one component of the circular

economy. In its first phase between 2005 and 2009, WRAP's

Courtauld commitment – a voluntary agreement aimed at

improving resource efficiency within the UK grocery sector –

avoided 3.3 million tons of CO 2

-equivalent emissions, equal

to an airplane flying around the world half a million times.

Liz Goodwin became CEO at WRAP in 2007, having joined

in 2001 as the first Director of Materials Programme.

Under Liz's leadership, WRAP has been at the forefront in

helping to create a more sustainable world, to the benefit

of the environment, economy, and society. One of WRAP's

leading areas of work is preventing and tackling food waste.

Through ground-breaking voluntary agreements, such as the

Courtauld Commitment, and behavior change campaign,

Love Food Hate Waste, this work has helped reduce UK

household food waste by 21 percent. Originally published in

the Sustainable Business section of The Guardian.

40

Global Compact International Yearbook 2016
---
innoVAtion

Global Compact International Yearbook 2016 41
---
Sharing

Has Been Hijacked

The "sharing economy" is today's buzzword for Silicon Valley's most recent

batch of billion-dollar companies. So ring the headlines: $ 51 billion valuation

for Uber; Chinese ride-hailing business Didi Kuaidi raising $ 4.42 billion; Airbnb

valuation $ 10+ billion. In the last three years, the world has embraced this idea

of the sharing economy. Who would have thought that a 23-year-old part-time

student tooling around in her Prius would disrupt the transportation industry?

Or that renting out your spare bedroom with the Star Wars sheets could make

you part of the largest hotel network in the world?

By Lily Cole and Adam Werbach

Is it just us or is there something a bit awkward about

marrying "sharing" with "billion dollars"? Unless you are

sharing a billion dollars, which would be rather cool. In

reality, it is millions of people "sharing" to produce a handful

of billionaires. Riddled with contradiction, it brings to mind a

pseudo-communist dictatorship with a well-groomed leader.

The word "share" comes from the Old English word scearu,

related to sceran ("to cut") and is recorded in the late 16th

century as having meant "to divide one's own and give part

to others." Note the word "give" in there. The Latin origin for

"give" is muni and is found in words such as communication

and community: We share our words; we share in communities.

Sharing has been an important part of humanity's mutual

ability to distribute resources and sustain relationships since

the time of fire and caves. We share with our families, we share

with our friends, and in some places we still share with our

neighbors. Sharing creates community, social cohesion, and

the identity of the group. Real sharing thus is in the realm of

giving and was never a transactional endeavor.

Therefore, sharing does not seem to be the most fitting description

for technical platforms that enable users to pay to

use one another's underutilized resources, be it homes or

cars. "Rent" might be a better word. "Rent" in the mid-15th

century meant "to rent out property, grant possession and

enjoyment of in exchange for a consideration paid." Although

modern rental platforms offer enormous value – enabling

trust between strangers and a partial deconstruction of hierarchical

economies on the peer-to-peer level (albeit with the

same macro-ownership structures) – they do not reflect the

sentiment of sharing that has defined communities as communities

for thousands of years.

Well, yes. We believe so. And not because we are not fans of

rental platforms – we are – but in the miasma of lumping

everything together as the "sharing economy," there is the

threat of distorting and confusing both the meaning of sharing

and the very real and silent sharing economy that sits like a

backdrop to our reality.

So what is the real sharing economy? It includes libraries and

buses, roads and parks, power systems and water supplies,

courts and rummage sales, charity shops and bulletin boards,

community gardens and universities. This is not just about mobile

apps. We estimate the entire sharing economy represents

well over $ 15 trillion in assets. To put things in perspective,

the headline-grabbing, venture-backed "sharing economy" is

worth about $ 130 billion. That is less than 1 percent of the

broader sharing economy. To allow the "sharing economy" to

be understood as Uber and Airbnb would be to understand

the "music economy" to be Taylor Swift and Adele.

42

Global Compact International Yearbook 2016
---
innoVAtion

Perhaps the term "sharing economy" is self-consciously contradictory.

The definition of economy is "the state of a country or

region in terms of the production and consumption of goods

and services and the supply of money." So we are explicitly

making sharing transactional, turning it into a market. Consider

then the even broader culture of sharing: thanksgiving lunches,

helping a friend move, Christmas gifts, giving a stranger directions.

The UK government reckons that the informal gift

economy is in fact larger than GDP.

Technology allows us to safely and efficiently share outside

our circle of trusted friends and family. There has been a

wellspring of apps and platforms to better enable sharing

between strangers. Both of us were attracted to the idea of

building start-ups that encouraged genuine sharing. Using

technology to enable better distribution of resources spoke

to our aspiration of addressing planetary challenges at scale

and speed. Reddit, CouchSurfing, Kiva, IndieGoGo, Etsy, Waze,

Mozilla, and Wikipedia all represent the type of scaled community

power that could be applied to the sharing of our time

and our things. Respectively, we built Impossible and Yerdle

to further these goals.

There is a lot at stake. By the end of the century, the Earth

will be home to 10 billion people. It cannot accommodate us

all if we all consume resources like the Americans and British

of today. We would need three planet Earths to support us.

We will jointly use what we have, or we will die fighting each

other for the last bits of water, atmosphere, phosphorous, and

arable land. Jointly using what we have – sharing – is one

of our best chances for survival.

There is a massive opportunity for people who wish to serve

the planet to take hold of new technological tools and outinvent

those who would consume our common assets. We

invite you to join us in rewiring the economy so that everyone

can benefit from the bounty of the Earth. We have trillions of

dollars of underutilized resources that need to be unlocked.

The challenge of our generation is to get more out of every

tomato, drill, mile of road, and hour of boredom. That is the

only way we will stretch our resources across 10 billion people.

And developing systems that foster cooperation and mutual

benefit is fundamental. The benefits belong to all of us.

Lily Cole is founder of the social giving network Impossible,

and Adam Werbach is founder of Yerdle, a people-powered

store in which all of the inventory comes from members.

The post was originally published on Medium.

Global Compact International Yearbook 2016 43
---
Start-Ups

aBoUt Do-GooDerS,

MoNeY-BUrNerS, aND SoCIal eNtrepreNeUrS

United States

the world's most valuable start-ups

The sharing economy is the buzzword for tech start-ups these

days. Whether talking about Uber or Airbnb, these young and

innovative companies are among the most valuable startups.

However, this period of soaring growth might come to

an end. Voices such as those of venture capitalist Bill Gurley

and Satya Nadella, CEO of Microsoft, advocate more caution

with investments in this area. Both say corrections are overdue

in the market. This could well lead to changes in the list

of billion-dollar start-ups. One more point to add: Corporate

responsibility is another element these top start-ups should

add to their business models.

Valuation of the 10 most valuable venture backed private companies

total equity funding

Uber $ 51.0 b $ 7.4 b

Xiaomi $ 46.0 b $ 1.4 b

Airbnb $ 25.5 b $ 2.3 b

Palantir $ 20.0 b $ 1.5 b

Snapchat $ 16.0 b $ 1.2 b

Didi Kuaidi $ 16.0 b $ 4.0 b

Flipkart $ 15.0 b $ 3.0 b

SpaceX $ 12.0 b $ 1.1 b

Pinterest $ 11.0 b $ 1.3 b

Dropbox $ 10.0 b $ 0.6 b

https://www.statista.com/chart/3904/worlds-most-valuable-startups/

As of october 2015

Source: statista / The Wall Street Journal

Brazil

Fresh ideas for banking

With the new competition "InovaBra," Bradesco is helping to

foster start-ups and has promised to implement 10 ideas into

its own product and service portfolio. Young companies that

intend to participate can present their innovations in the following

areas: improvements in services, methods of payment,

digital channels, new security technologies, new solutions for

smart phones, and future banking. The invention has to be

developed enough so that it can be adopted in the coming

years within any area of the bank.

"We are already thinking about what to offer in the nextgeneration

bank," says Maurice Gerais, Bradesco's Executive

Vice-President. "This is a project where everyone wins: the

customer of Bradesco, who has access to innovative products

and services; the bank, which maintains its tradition

and pioneering role, creating a new channel to generate

innovation; and the start-ups, which have the opportunity

to leverage business in partnership with a major supporter,"

adds Gerais.

44

Global Compact International Yearbook 2016
---
innoVAtion

Start-ups are innovative motors for fresh ideas from outside.

That is why they are increasingly drawing the attention of large companies.

This trend can be observed globally. Here are some markers.

United Kingdom

For start-ups, it's not easy being green

The world needs smart new players to meet global challenges

such as climate change. But when young entrepreneurs try to

promote their environmentally friendly business ideas, they get

a lot of pushback from investors as well as customers. This is

the result of a recent study from the Warwick Business School

(WBS). One of the reasons for the disillusion is that entrepreneurs

focus too much on their own values and beliefs instead

of listening to their stakeholders. Balancing "what matters to

me" with "what matters to them" is the principal challenge.

"Their ambitions to 'break free' and enact their hopes and

dreams to make a difference often need to be tempered by the

realities of attracting investors and other stakeholders whose

primary goal is making money and not environmental issues,"

says Deniz Ucbasaran, one of the study's authors and a professor

at WBS who spoke to the Journal of Business Venturing. "This

led some entrepreneurs to question if it was all worth it, as

they had to compromise the scope of their 'green' ambitions."

Tanzania

electricity for tanzania

Standardized containers equipped with a photovoltaic battery

hybrid system provide remote areas in Africa with clean energy

around the clock. In Tanzania, the pilot plans of Rafiki-Power

bring electricity to domestic and business customers. The

system can be used anywhere in the world independently.

Thus, the business model can be transferred to other African

or Asian countries. "We bring not only light in the sector but

also help the people to learn about television or the internet.

You can compare prices and offers, and their products are more

marketable," says project manager Daniel Becker.

India

Few companies put CSr money into incubators

India became the first country in the world to force companies

by law to invest in sustainability programs. The official

Schedule VII list tells companies what they can do to comply

with CSR regulations. Of the 10 possibilities are "contributions

or funds provided to technology incubators located within

academic institutions which are approved by the Central Government."

But only a few companies have put CSR money into

these incubators, reports the Hindustan Times. All over India,

there are more than 100 incubators associated with the legal

regulations, each of them coaching about a dozen start-ups.

But raising money for CSR business is hard. The main reason

seems to be that companies investing in CSR start-ups do not

get returns on their investments because the returns are given

to society. "CSR funding in incubators is an interesting option

but may not be sustainable for building a start-up ecosystem

for the longer term. That is better done by capital that will

look for returns also, as that will ensure more competitive

start-ups take root," says Alok Bardiya, Director of Corporate

Development at Cisco.

The project is part of the Corporate Accelerator program named

Agile, which E.ON launched in 2013. Agile helps innovators

to realize their business ideas in the field of flexible energy

solutions and to develop marketable business models.

Global Compact International Yearbook 2016 45
---
Changemaker

ˈtʃeındʒˌmeıkə

Be the change that you wish to see in the world,

Mahatma Ghandi said. In a time of profound

political, environmental, and social upheavals,

examples are more important than ever. In our

category "Changemaker," we introduce women

and men who are making credible contributions to

sustainable development. Most of us desire change,

but there is only a small group of people who are

acting to make that change happen. That makes

them exceptional. And we are proud to introduce

them through interviews and individual profiles.

46

Global Compact International Yearbook 2016
---
ChAngeMAker

Global Compact International Yearbook 2016 47
---
Angelina Jolie has transformed herself from troubled teen star

into the queen of hearts with her tireless humanitarian campaigning.

From the crisis in Cambodia to the current global refugee situation,

the 41-year-old star is always on the frontlines of change.

48

Global Compact International Yearbook 2016
---
THE

PEACEFUL

PUNK

I

n modern society, fame and philanthropy appear to go

hand in hand – and upholding the appearance of "giving

something back" is a vital part of modern celebrity.

But for actress Angelina Jolie, her dedication and relentless

campaigning on behalf of others sometimes tip the scales in

the other direction: humanitarian first, Hollywood star second.

Once a troubled starlet, Jolie has seemingly dealt with her own

demons by focusing her energy on trying to limit the suffering

of others. Having grown up in Los Angeles, she struggled

with depression, drug abuse, and self-harming throughout her

youth. Her father, actor Jon Voight, left her mother, actress

Marcheline Bertrand, when Jolie was barely one. This experience

– coupled with the feeling that her own family was not

as wealthy as those of her peers at Beverly Hills High School –

left her feeling disenfranchised.

In spite of her early success as an actor, Jolie remained deeply

troubled, and she says her humanitarian work has helped

heal some of her deeper wounds. "It's a big difference, but

all the pain I went through when I was younger was my way

of trying to get to where I am now," she confesses. "I wasn't

happy with how things were for me because I thought I wasn't

accomplishing enough, and all the characters I played in my

films were leading much more interesting lives than I was."

In 2001, while filming Lara Croft: Tomb Raider in Cambodia,

Jolie found herself moved by the plight of those living in the

war-torn country. On her return home, she contacted the

United Nations High Commissioner for Refugees (UNHCR)

and began her enduring relationship with the United Nations

Educational, Scientific and Cultural Organization (UNESCO),

becoming an official ambassador the same year.

"The basic thing was that I was searching for some greater

purpose and goal in life, and when I started working with

UNESCO and doing humanitarian work, I began feeling that

I could point to something concrete that I was doing to help

people who had very little hope," Jolie explains.

Celebrity endorsement, or even taking on a role as an ambassador,

does not necessarily mean a star will "get their hands

Global Compact International Yearbook 2016 49
---
"

For over a decade

I have been visiting

refugee camps and

orphanages and other

places working with

the United Nations

and the UNHCR.

"

dirty" per se. But for Jolie, an important part of her work has

always been to get out into the world and see the heartache

and poverty for herself – to comfort the mother who lost a

child in conflict and hear firsthand the plight of a teenage

soldier forced into combat from a young age.

Since 2001 she has gone on more than 40 field missions in over

30 countries, from Pakistan to Sierra Leone. She has always

covered her own costs and stayed in the basic accommodations

provided for fellow aid workers – a far cry from the

glamorous world of Hollywood. This altruism shines a light

on those celebrities for whom column inches are everything.

"There are many times when there are no media present, and

many times in the past when I was working on the ground

there was no immediate attention," Jolie says. "For over a

decade I have been visiting refugee camps and orphanages

and other places working with the United Nations and the

UNHCR. So I know what I've been able to contribute personally

and in terms of creating greater public awareness of the

issues at stake and the actual conditions of the people and

children in various regions."

Naturally, the presence of such a high-profile personality can

cause a furor that negates the good work they are trying to

do. But the 41-year-old star is acutely aware of this dilemma.

"There is a fine line to walk, but I'm very conscious of that line.

Everywhere I go I try to balance the needs of field officers who

are doing the real work and also serving the general interest

of creating awareness, which can influence political decisions

and public support, which are vital," Jolie says. "I believe that

after all this time, though, the public knows how serious and

committed I am to the work I'm doing in these regions."

Though her mission has very much been global, Cambodia

in particular has maintained a strong place in Jolie's heart.

In 2002, while married to actor Billy Bob Thornton, Jolie

adopted her first child, seven-month-old Maddox Chivan, from

an orphanage in Battambang, Cambodia. She later bought a

property in the province in an attempt to maintain her son's

connection to his heritage. Unfortunately, the land was adjacent

to Samlout National Park in the Cardamom Mountains and

plagued by poachers who threatened the endangered species

there. Jolie's response was to buy the entire park and turn

it into a wildlife reserve – named the Maddox Jolie Project.

Along with three biological children, Jolie adopted her daughter

Zahara from Ethiopia and son Pax Thien from Ho Chi Minh

City in Vietnam. The path was by no means an easy one,

though, as in each case, controversy surrounded the adoption

process. In the case of Maddox, it was purely bureaucratic

due to the United States temporarily banning adoptions from

Cambodia amidst child trafficking allegations, but the "trend"

of celebrities adopting children from developing countries

often raises the debate on how ethical the process is, with

mothers coming forward afterwards – as was the case with

Zahara, saying it was not her decision to put the child up for

adoption in the first place.

Regardless, one look at Jolie and husband Brad Pitt with their

enormous and diverse brood proves it is possible to break down

the conventions of traditional family and raise children who

are happy, stable, and, above all, deeply loved.

"When it comes to my children, I can see how important it is to

be there for them and teach them things and to be with Brad and

create this sense of a family unit," Jolie says. "It's also fascinating

how the children react to Brad and I differently, and how

each of us has a different connection to each of our children."

50

Global Compact International Yearbook 2016
---
when I was about nine," recalls Jolie, who lost her mother to

cancer. "She was very involved in Native American issues – she

was part Iroquois Indian and French Canadian. And in the end,

we started a foundation together for Native American people.

It was instilled in me from a very young age how important

it is to do nice things for other people. I saw how it made her

life very happy and fulfilled."

She then adds, "The biggest lesson she taught me was that it's

the little things that often count the most in life. This was

somebody who the world didn't know about at all, but her

simple acts of kindness left a huge impression. I still get letters

from people who work in a dentist's office, for example,

who will tell me something she did for their daughter – or

something she remembered that just stunned them, because

it was so out of the blue and thoughtful."

Jolie and her husband have sought to instill in each of their

children a sense of worldliness and gratitude for their incredible

lives. The couple also try to involve their children in their

humanitarian work and foster an awareness and empathy for

the plight of others. Following Hurricane Katrina's devastation

of New Orleans in 2005, Pitt has worked tirelessly to rebuild

homes and support families in the city's Ninth Quarter, one

of the worst hit neighborhoods.

"We both feel inspired by the work we're doing and particularly

a project like Brad's Make It Right [house-building] project,"

Jolie says. "We lead very fulfilling lives. We both want the

same things. We want to be as happy and connected as we

possibly can be because the whole point of being a family is

to share your love and caring with your children. We want

our kids to always feel that we're one big loving family taking

this big adventure together."

In the same way Jolie strives to instill compassion in her own

children, it appears her selfless attitude was nurtured by her

mother, Marcheline. "From a very young age, I saw her doing

aid work. She took me to an Amnesty International dinner

Yet, astonishingly, there are still snipers taking shots at Jolie's

altruism and achievements. Following the recent announcement

by the London School of Economics that Jolie is to be

a visiting professor in practice as part of the MSc it offers in

Women, Peacekeeping and Security, some have been quick

to criticize the appointment, saying she lacks the academic

credentials. That rather misses the point, and one can be sure

that Jolie has come a long way since her troubled childhood,

developing the thick skin she needs to deflect such detractors.

"I'm a much stronger and better woman today," she nods. "I've

become a deeper and more understanding individual, and

working for the UN and other missions has been a source of

incredible satisfaction to me. It's been so important to me to

try to contribute as much as I can to these causes."

For an actress who is becoming more ubiquitous in the refugee

camps of Syria than the hills of Hollywood, it is obvious.

Written by Karen Anne Overton.

Global Compact International Yearbook 2016 51
---
52

Global Compact International Yearbook 2016
---
the

proBLeM

soLVer

Alejandro Aravena

they call it the "Nobel prize for architecture" – the pritzker architecture prize – one of

the top awards given to architects. It is not only about craft but also mindset. this year, the

Sustainable Development Goals Fund and the pritzker architecture prize have explored

links between contemporary society and the role of architecture to improve livelihoods.

The winner of this year's prize is 48-year-old Chilean

architect Alejandro Aravena, whose environmental

and social engagement distinguishes him from many

of his colleagues. His work "gives economic opportunity

to the less privileged, mitigates the effects of natural

disasters, reduces energy consumption, and provides

welcoming public space. Innovative and inspiring, he

shows how architecture at its best can improve people's

lives," says Tom Pritzker, Chairman and President of The

Hyatt Foundation.

Aravena is leading a new generation of architects who

have a holistic understanding of the built environment.

He has clearly demonstrated the ability to connect social

responsibility and economic demands with the design of

a human habitat and the city. He epitomizes the revival

of a more socially engaged architect, especially in his

long-term commitment to tackling the global housing

crisis and fighting for a better urban environment for all.

"It is increasingly evident that more stakeholders will be

required to meet the sustainability challenges of the future.

At the same time, it is inspiring to explore how new

sectors such as architecture can play a role by incorporating

key dimensions of sustainable development, such as

social justice and economic inclusion, in their plans," says

Paloma Duran, Director of the Sustainable Development

Goals Fund. "For example, how we can ensure access for

all to support adequate, safe and affordable housing and

design spaces that enrich and promote social equality."

Global Compact International Yearbook 2016 53
---
Necessity is the mother of invention.

For billions of people, this is a daily

truth. Business school graduates

reword it and say "doing more with

less" is a disruptive innovation strategy.

You have to take part in global needs as

well as C-suite speeches to harmonize

these two worlds. This is what

distinguishes Navi Radjou, a French

national born in India. A graduate

of École Centrale Paris and the Yale

School of Management, Radjou

is a highly respected advisor who

confesses that his creativity and ideas

are deeply rooted in the South.

54

Global Compact International Yearbook 2016
---
Doing More

with Less

The idea of frugal innovation – or Jugaad innovation

(a Hindi word for mobilization) – is described in his

successful books. "Frugal innovation is a way that companies

can develop high-quality products and create more value

with limited resources," explains his publishing house. The

Financial Times calls Radjou's ideas "increasingly fashionable."

This thinking is truly sustainable. Radjou says: "Companies

in the West spend billions of dollars to invent new products

and to differentiate their brands from the competition. They

charge customers more money for new features. The condition

of this model in the West is more for more, but this model is

running out of gas for three reasons. First, many customers

in the West can no longer afford these expensive products.

Second, we are running out of natural water and oil. And

third, the growing income disparity between the rich and the

lower classes disconnects existing products and services and

basic needs of the customers."

Products for the so-called overlooked consumers have to be

calculated with "razor-thin profit margins," says Carlos Ghosn,

CEO of Renault and Nissan. So what are examples of frugal

innovation? One is M-Pesa, a mobile banking solutions from

Safaricom in Africa. It offers even poor people the ability to

conduct basic banking services from their mobile phones.

Money transfers, deposits, and withdrawals are done through

mobiles without the need for a bank account.

Thanks to his captivating ways, Radjou seemingly connects

many current contemporary business concepts, such as sharing

and the circular economy, degrowth, and the maker movement,

in a simple fashion. His editorial house adds: "With

an estimated trillion-dollar global market for sustainable

products, and with potentially huge cost savings to be gained,

frugal innovation is revolutionizing business and reshaping

management thinking."

Kevin Roberts, CEO at Saatchi & Saatchi, agrees. He offers

a review of Radjou's work by saying: "Jugaad innovation

challenged the top-down Western approach to innovation

by offering an agile, bottom-up model. Frugal innovation

moves this forward, further and faster. The practical roadmap

and numerous cases in this book find the beat of the new

customer-led world order – where velocity, synergy, empathy,

and involvement are standard. The future will be about doing

more with less, and here we see how."

Global Compact International Yearbook 2016 55
---
56

Global Compact International Yearbook 2016
---
The SAVIOR

OF SUNDANCE

Robert Redford is one of Hollywood's most celebrated actors and directors, but offscreen he

has been waging a lifelong campaign to preserve the Earth's natural resources and keep some of

America's most vulnerable places out of the hands of commercial developers and big business.

Robert Redford is still a golden boy of Hollywood, an

all-American star of the silver screen who, despite

nearing the age of 80, retains the handsome features of

his youth, and the passion and desire that have been central

to his pursuits outside of the realm of acting.

In 1978, Redford founded the Sundance Film Festival, which

still exists today as one of the major highlights of the cinematic

year. In 2001, he was rewarded for his efforts with an Academy

Honorary Award and hailed by the entire industry as an "inspiration

to independent and innovative filmmakers everywhere."

Offscreen, however, Redford has turned his attention and

considerable gravitas to the pursuit of environmentalism. Not

only is the celebrated thespian a devoted trustee of the Natural

Resources Defense Council, but in 2012, he was also honored

by Pitzer College through the Robert Redford Conservancy for

Southern California Sustainability, which educates future generations

of Californians with the aim of tackling some of the

most complex and immediate threats to the world's ecology.

"I'm an individualist and a loner by nature, and I won't preach,"

explains the actor and director. "All I can do is help fight the

negativism and the malaise that has crept over us; we don't

have to be sheep. I've tried to do my part to fight against a

mass consumption society that is killing our environment,

and I think that slowly some progress is being made. But in

order to save the lakes and trees, society as a whole needs to

believe that life is worth living and that the future is worth

protecting."

Despite the fact that Redford can now look back on decades of

work at the forefront of environmentalism, it was not always

so. Nowadays, he is known for participating in a host of films

Global Compact International Yearbook 2016 57
---
that document ecological struggles across America, including

his appraisal of the dire situation regarding the Colorado River

in his 2008 documentary Grand Canyon Adventure: River at Risk.

But it was his time as a young man traveling in Europe that

opened Redford's eyes to the problems that society faced.

"The time I spent in Paris was a decisive point in my life. It

transformed me," he says. "I was part of an incredibly stimulating

crowd of artists and intellectuals who were all heavily

interested in politics, whereas I was ignorant in that respect.

They pushed me to think and develop my ideas, and that

process was a major step in my evolution."

He continues by explaining, "I felt almost humiliated when I

was living among these very committed French students and

artists who would have these incredibly sophisticated debates

about broad political issues in Europe. Being in Europe gave

me a whole new perspective on life, and when I came back

to the United States, I felt I was ready to make my mark – I

wanted to learn more about the important issues in my country."

It was in his home state of California where Redford began

to realize that things were not as sunny as they were made

out to be. By the time the "political and cultural ferment of

the 1960s came around," Redford had decided to make social

statements, both onscreen and off.

"I was ready to think about the issues that were being raised,

and I wanted to understand as much as I could and in my own

way – with films like Downhill Racer and The Candidate – make

some sort of statement," Redford says. He adds that, "As an

actor, you have to be careful – when I started getting involved

in environmental issues, long before they were popular, I was

getting attacked as some sort of tree-hugger."

It was not just Redford who was being dismissed at that time

by the mainstream media – the power of big companies

made it almost impossible to speak out against the rampant

destruction of the environment.

"The powers that be had too much power at that time, so they

could drown you out," he recalls. "Oil, gas, and coal companies

had all the power because they had all the money and all of

Congress behind them. You felt like you were just a voice in

the wilderness. I thought: If you have passion and just keep

at it, eventually things will start happening."

Although Redford admits that environmental issues are becoming

more commonplace in discussions surrounding American

society, he also stresses that the same issues are not a recent

revelation.

"I remember hosting a climate conference in Denver in 1985,

where two scientists came and made presentations about global

warming," he recalls, before exclaiming, "They were already

predicting that the icecaps were melting then!"

The consequences of such ignorance about the need to protect

nature – such as the decisions made during George W. Bush's

presidential tenure that led to events such as the Appalachian

toxic coal slurry spill at the turn of the century – still have

far-reaching negative effect on the fight for environmental

protection today.

"It was frightening that the Bush administration tried to destroy

many of the government agencies that had been created to

protect the environment," says Redford, referencing the gutting

of sections of the Clean Water and Clean Air acts, and the

crippling of the Superfund Program, which was an attempt to

clean up toxic waste in more than 48 states. "We still haven't

recovered from the damage that was done to federal institutions

that were created to safeguard our water, air, and what

oil, gas, and mining companies are doing to our land."

Redford's own unique experiences of the damage caused by commercial

natural-resource mining have fueled his own personal

development of projects, such as the Grand Staircase-Escalante

National Monument in Utah – a 1.7-million-acre expanse of

land that Redford campaigned to keep out of the hands of

the mining companies, from 1975 right up until President

Clinton officially closed the area off to development in 1996.

"I first started to worry when I went to work at the oil refinery

where my father was working," he explains. "I remember seeing

the oil seeping into the sand dunes and making a chemical

58

Global Compact International Yearbook 2016
---
"

The time I spent in Paris was a

decisive point in my life. It transformed

me. It pushed me to think and develop

my ideas, and that process was a major

step in my evolution.

"

mess of the land. It kind of horrified me that we could be so

dismissive of the damage we were doing to the soil and air."

The chance for Redford to showcase the fruits of his environmental

labor came as the popularity of his independent film

festival began to rise. The event was moved from Salt Lake City

to the Sundance Resort, an area of land on the slopes of Mount

Timpanogos in western Utah that Redford acquired in 1968.

"I grew up in a grim urban setting, and being able to develop

land out there was a form of liberation to me," he says. "Utah

was an ideal setting because it was very raw and beautiful – at

Sundance, I've taken this acreage, which is now almost 6,000

acres, so that only wildlife can exist inside."

Not even Redford's beloved Utah, however, is untouched by

commercial development.

"If you drive out of Sundance," he says, "the moment you

leave the canyon, you see nothing but concrete, cement, and

bulldozers – that's the attitude that surrounds us."

The veteran thespian hopes that recent signs of positive change

in the general public and mainstream media's attitude toward

environmentalism will only continue. One modern ally that

Redford did not have back when he began his fight to protect

America's natural landscapes in the late 1960s was the internet,

which he says is allowing "more information to reach people

faster than ever before."

This, he envisions, will bring about a change in politics. And

although he believes it has already begun to happen, he is as

determined as ever to challenge the same dominant voices

that threatened to drown him out decades ago.

"I think they are genuinely worried, but the ones that are most

threatened are going to raise their voices the loudest because

they see their time is running out," he declares. "They don't

want to go quietly into the night because of all that money that

has been made in their industries – and since money really

runs the show, I think they see a threat to their investments."

Having fought tooth and nail against the powers that be for

decade after decade, Redford's mission is just as important

now as it was in the 1960s. However, the true cost of such

development, he says, will not be known for many years to

come, when future generations will be tasked with the attempt

to rebuild the world, if they can.

"Our planet is shrinking, and I worry about what's going to

be left if we don't stop," he sighs. "What we develop for our

survival, and also what we preserve for our survival – if we

don't have equal preservation, there will be no planet left.

After all, why would anybody want to bring children into the

world if that's the direction we are going in?"

Written by Jake Taylor.

Global Compact International Yearbook 2016 59
---
Real-life

Eco-warrior

She is known for playing passionate women who fight for their chosen cause, but in real

life, Hollywood actress Sigourney Weaver is equally relentless in her work as a zoologist

and conservationist. From saving the gorillas to protecting our oceans, the actress is

devoted to bringing about real change.

It is not unusual for actors to temporarily "become" the

person whom they are portraying, but when Hollywood

star Sigourney Weaver took on the role of murdered primatologist

Dian Fossey, it launched the actress on a lifelong

conservation mission that has continued long since the cameras

stopped rolling. Twenty-eight years later, her environmental

endeavors have gone beyond advocating for the protection

of the mountain gorillas, though she still serves as Honorary

Chairperson of the Diane Fossey Gorilla Fund International.

She is now also committed to raising awareness about the

threats faced by marine wildlife and empowering women in

extreme poverty through the nonprofit organization Trickle Up.

"After spending so much time with the mountain gorillas in

Rwanda and playing Dian, I felt that I had been given a gift.

It's appropriate that I try to do whatever I can to help protect

them," explains Weaver, describing how her environmental

crusade began. The 1988 drama tells the true story of Dian

Fossey, a naturalist who worked in Rwanda with mountain

gorillas. Prior to her work in the Virunga Mountains, Fossey

had spent time in the Congo studying the primates. Having

become frustrated at her inability to get close to them, she

eventually used her experience of working as an occupational

therapist with autistic children, discovering that when she

mimicked the primates and became submissive, they would

respond better to her. By the time she began her work in

Rwanda in 1967 and founded the Karisoke Research Centre,

Fossey was entirely devoted to protecting the animals and was

horrified by the practice of poaching in the area, despite it

being illegal. Over the next 18 years, Fossey would help arrest

several poachers, who went on to serve lengthy jail sentences.

She even founded her own poaching patrols, and in 1978

tried to prevent two infant gorillas, Coco and Pucker, from

being exported to a zoo in Cologne, Germany. Naturally, her

incredible efforts caused tension among the local gangs and

poachers, and in 1985 (aged 53) Fossey was found bludgeoned

to death in her cabin on the outskirts of the camp.

The story of Dian Fossey is so extraordinary that little embellishment

was required. Even her relationship with National

Geographic photographer Bob Campbell was based on fact.

Weaver was dedicated to bringing to life the tale of the woman

60

Global Compact International Yearbook 2016
---
who essentially saved these mountain gorillas from extinction

at the cost of her own life, even if, at times, the actress

admits she felt utterly out of her comfort zone. "The truth is,"

she explains, "I didn't really know how I would react to the

gorillas. I had no experience with wild animals. But I knew

that in order to play the part [of Dian Fossey], which I wanted

very much to do, and in order to get Dian's message out, there

was no time for me to worry about what was going to happen.

I remember I was pretty excited when we finally reached a

place with gorillas."

The film seamlessly blended moments of actual gorillas in

their live habitats with scenes of humans in costume. Even

so, there were plenty of scenes where Weaver would interact

with actual gorillas. Not only did this add authenticity to the

film, it also helped Weaver understand Fossey's own motives

and commitment to helping them.

"The first time you see the mountain gorillas, you feel so blessed;

you feel like you're in Eden. One of them, a little female named

Josie, came right over and sat next to me. She kind of leaned

on me and looked up at me. I was just captivated. I never

looked back after that," says Weaver wistfully. "I always felt

that if I followed Dian's basic rules of being submissive and

quiet, not drawing attention to myself and being respectful,

nothing would ever happen to me."

It is a bitter irony that the real Dian Fossey spent so much

among these wild – and presumed dangerous – creatures,

and yet met her death at the hands of humans. Weaver admits

that the time spent among the gorillas not only galvanized her

desire to protect them but also triggered her own maternal

instincts, saying: "Playing Dian, I would usually have several

little baby gorillas jumping up and down on me, pulling my

hair, urinating on me, grabbing my bag…. And I had so much

fun with them, and I loved them so much; I remember thinking,

'I would really like to be a mother!' I got hooked on being

a surrogate mother, roughing it in the hills of Rwanda, and I

had my daughter pretty soon after that."

Over the past three decades, she has cemented her place among

Hollywood's elite and has garnered a reputation for playing

Global Compact International Yearbook 2016 61
---
"

The planet Earth has its own

life force – the oceans. Our oceans

generate most of our oxygen, regulate

our climate, and provide most of our

population with sustenance.

strong and formidable females, especially in her most famous

role as Ellen Ripley in the Alien franchise. However, it would

be another film featuring extraterrestrials that would inspire

Weaver to once again speak out on conservational matters,

this time on behalf of our marine life. In CGI behemoth Avatar,

she plays Dr. Grace Augustine, a scientist who has dedicated

her life to analyzing the links between the alien Na'vi people

and the peculiar environment on Pandora. Similarly, Weaver

is determined to compel lawmakers to enact legislation to

save our oceans.

"

"The planet Earth has its own life force – the oceans. Our

oceans generate most of our oxygen, regulate our climate, and

provide most of our population with sustenance," explains

Weaver, who narrated the 2010 documentary ACID TEST: The

Global Challenge of Ocean Acidification as part of her work on

behalf of the Natural Resources Defense Council.

"Marine ecosystems are essential to all life on earth," Weaver

says. "Yet our oceans face a threat as dangerous as any Pandora

faced: ocean acidification." The film explores the startling

phenomenon of the increasing acidity of our waters and the

subsequent threat to marine life. Like global warming, ocean

acidification stems from the increase of carbon dioxide levels

in the Earth's atmosphere since the start of the Industrial

Revolution.

Leading scientific experts on the problem – many of whom

appear in the film – believe that it is possible to cut back

on global warming pollution, improve the overall health

and durability of our oceans, and prevent serious harm to

our world, but only if action is taken quickly and decisively.

Weaver insists that we simply cannot act fast enough. "One

of the reasons that science fiction movies are becoming more

and more popular is because we are actually in a world more

and more like the worlds in science fiction. Our glaciers are

melting and people are talking about colonizing Mars – so I

think that not only will it become a very popular and beloved

genre but also increasingly significant."

The problem with ocean acidification is that while, individually,

we can all do our part to lower our own carbon footprints, for

the most part it is the lawmakers and politicians who need

to bring in legislation and devote money to monitoring and

researching a problem that could prove devastating, not just

for sea life but for our ecosystem in its entirety. By urging

politicians to support America's transition to a clean-energy

economy, Weaver insists that America can increase its energy

62

Global Compact International Yearbook 2016
---
efficiency and invest in renewable power while cutting carbon

pollution. By passing strong clean-energy and climate legislation,

Congress has the power to move society toward clean energy,

tackle climate change, and protect our seas from acidification.

"Small creatures in the ocean who are being affected by acidification

are like the canaries in the mine. They're singing,

and we have to hear that and act," insists the actor. "I, like a

lot of concerned citizens, feel a kind of urgency about these

climate questions. I don't think I've ever felt more passionately

about anything than this because I feel we're already

at a tipping point."

and aims to honor American women whose work has greatly

advanced conservation, locally and globally. In Weaver's acceptance

speech, she credited her experience working with

mountain gorillas in Rwanda for inspiring her environmental

and conservation work, emphasizing that it taught her the

importance of preserving animal habitats. She also credited

her role in Avatar as a botanist who champions the natural

world for intensifying her commitment toward protecting the

Earth. But surely it is us who should be thanking Weaver for

her admirable efforts in striving to protect something that is

arguably invaluable to each and every one of us.

In 2011 Weaver received the prestigious Rachel Carson Award

from the National Audubon Society. The award was established

in honor of Rachel Carson – a monumental figure in the 20th

century and founder of the modern environmental movement –

Plastic Ocean Waste

$13 billion in damage every year to industries such as

fishing, shipping, and tourism, UNEP reports. This is why

initiatives like "The Ocean CleanUp", founded by Dutch

student Boyan Slat, or "Waste Free Oceans" are developing

feasible methods to rid the oceans of plastic. The goal is to

extract, prevent, and intercept plastic pollution by initiating

the largest cleanup in history. Many companies have shown

an interest in using the harvested plastic. In an interview

with The Guardian, Slat says: "Tens of companies – large

corporations – have shown an interest in buying up the

plastic and that is our holy grail; funding the cleanup using

revenues created by the plastic we extract."

At least 5.25 trillion pieces of plastic are currently in the

oceans, a third of which is concentrated in the infamous

Great Pacific Garbage Patch, a maritime area larger than

Texas. This plastic pollution inflicts grave environmental

damage, such as killing at least one million seabirds

each year. Additionally, plastic pollution creates at least

Revenue with plastic waste? Yes, the brand Interface for

example has the biggest and most diverse choice of carpet

tiles made with 100 percent recycled yarn. Their goal for

2020 is to only use recycled or bio-based materials, to cut

the dependence on virgin petro-chemical raw materials.

Its German competitor Desso now received a Cradle-to-

Cradle-Gold certificate for using 100 percent recycled yarn.

There are many other sectors who depend on plastic –

decarbonization strategies have to take this in consideration

and they have to bring more stakeholders on board. Hannah

Gould writes in The Guardian: "Consumer goods companies

keen to design for recycling don't know which system to

design for because municipal recycling is so diverse, while

municipalities and waste companies are overwhelmed by a

growing and changing portfolio of plastics."

Global Compact International Yearbook 2016 63
---
The

Drowning Child

Dilemma

"Imagine you come across a

small child who has fallen

into a pond and is in danger

of drowning. You know that

you can easily and safely

rescue him, but you are

wearing an expensive pair of

shoes that will be ruined if

you do. We all think it would

be seriously wrong to walk

on past the pond, leaving

the child to drown, because

you don't want to have to

buy a new pair of shoes – in

fact, most people think that

would be monstrous. You

can't compare a child's life

with a pair of shoes!"*

Peter Singer

64

Global Compact International Yearbook 2016
---
So what will you do? Most of us do help in a concrete

situation. Would it make any difference if the child is

far away, in another country perhaps, but similarly in

danger of death? Saving this child would come at no great

cost and pose absolutely no danger to yourself. Most people

do not help. The United Nations Children's Fund (UNICEF)

estimates that nearly six million children under the age of five

die each year from causes related to poverty. That is 16,000

a day. We human beings are emotionally and evolutionary

conditioned to help people in front of us, where we have faceto-face

communication. But we behave indifferent when the

problem is far away.

This world-famous thought experiment was invented by

Peter Singer. The Australian philosopher is one of the most

prominent representatives of the concept of utilitarianism.

Balancing interests and equality, Singer says, does not mean

equal treatment but equal consideration of interests. That is

an aspect worth thinking about when you plan stakeholder

dialogues.

The drowning child dilemma is very prominent in the present

discussion on migration and refugees: Do we help or do we

behave indifferent to prevent more refugees from coming?

In 1997 Singer wrote the following with an almost prophetic

vision: "Our capacity to affect what is happening, anywhere

in the world, is one way in which we are living in an era of

global responsibility. But there is also another way that offers

an even more dramatic contrast with the past. The atmosphere

and the oceans seemed, until recently, to be elements of nature

totally unaffected by the puny activities of human beings. Now

we know that our use of chlorofluorocarbons has damaged

the ozone shield; our emission of carbon dioxide is changing

the climate of the entire planet in unpredictable ways and

raising the level of the sea; and fishing fleets are scouring the

oceans, depleting fish populations that once seemed limitless

to a point from which they may never recover. In these

ways the actions of consumers in Los Angeles can cause skin

cancer among Australians, inundate the lands of peasants in

Bangladesh, and force Thai villagers who could once earn a

living by fishing to work in the factories of Bangkok. In these

circumstances the need for a global ethic is inescapable." *

* Source: Peter Singer, "The Drowning Child and the Expanding Circle,"

New Internationalist (April 1997).

Are you an EA?

EA means effective altruist. When you talk to an EA, you

learn fast what distinguishes them from a classical altruist.

Both care about others, society, and mankind, but the

EA invests in a career to make a lot of money to finance

as many social projects as possible. The problem with

altruism, they say, is that people are not rational. They help

with their hearts, not their heads. A recent study investigated

how much money people would give to save birds.

The result: It does not matter if you save 200,000 birds or

20,000 birds because the amount of money stays the same.

For EAs, this kind of behavior is inefficient because it does

not have enough "impact" – a crucial buzzword for them.

That is why platforms such as GiveWell spend a lot of time

and statistics on cost-benefit calculations. EAs want to

have the maximum impact for each cent they spend. Where

the money comes from is less important. It is not surprising

that many EAs work in the financial sector, where they

make lots of money to spend altruistically. But is it ethically

correct to work for companies that are not sustainable?

EAs say yes, because it is better that an ethically conscious

person – an EA, for instance – does this kind of job than

someone who does not care about philanthropy. This has

no impact. From the CSR point of view, this argument is

critical. For example, Thomas Beschorner, a professor in

Switzerland, says that it does not matter how you spend

your money – it matters how you earn it.

Global Compact International Yearbook 2016 65
---
the

wAter ADVoCAte

Water is her absolute number one priority.

Mina guli, an australian businesswoman

and environmental activist, is committed

to the idea that water is the foundation of

our society and that, without water, we do

not have a future. She felt that she had to

do something big to capture the world's

attention. So beginning in 2016, Guli tied

her shoes for the "7 Deserts run." then she

started running: 40 mara-thons, 7 deserts,

7 continents – in just 7 weeks. It was an ultramarathon

that had never been done before.

all for one reason – water.

66

Global Compact International Yearbook 2016
---
Your athletic career is meant to raise awareness about issues important

to you, right?

I want to demonstrate to the next generation the enormity

of the problem concerning the water supply. The problem

is that water is so far removed from our reality. We turn the

tap on, water comes out, and we don't have any idea that

that's actually not going to be permanent. Second, we don't

understand how all these consumption patterns are linked

to the water crisis.

What you're doing is grabbing people's attention and inspiring them

to change?

That's what I hope. I want people to ask, "Why is this woman

doing this really crazy thing? Oh she's doing it for water. Well,

why water?" And then for people to ask, "Oh, did you know

that that cup of tea used more than 30 liters of water to make?"

"Did you know that those leather shoes took 16,000 liters of

water?" "Did you know that eating a hamburger is the same

as taking a shower for two hours?"

How do we begin to turn the water crisis around?

The World Economics Association has raised the water issue as

being the number one risk facing society – so large a risk that

by 2030 there will be a 40 percent difference in the demand

for water and the supply available. That's why I'm running so

many marathons – to illustrate this point. If we can create a

consumer movement comprised of people who understand and

value water, and if we can create an incentive for companies

to change the way they utilize water in their supply chain, we

can avert the future that is currently set out for us.

which means that they can't afford to pay the banks. People

need to leave their places of residence, the towns become

ghost towns, and the fabric of that society starts falling apart.

Can you talk about your work attempting to lower greenhouse emissions,

especially in China?

Before I got involved in the water issue, I spent about 15

years involved in climate change: first in Australia at the

Sydney Futures Exchange, where I developed some of the

first contracts to reduce greenhouse gas emissions; and then

at the World Bank in Washington, DC. I realized very quickly

that if we really wanted to make an impact on the planet, it

wasn't going to be good enough to just switch one light off

in Australia. We had to change the way the lights were being

manufactured in places such as China. So we built Peony

Capital and invested in a bunch of projects across China that

reduced greenhouse gas emissions and attempted to change

China from being a high-carbon economy to a low-carbon

economy. It was through my work in climate change that I

became known as a leader in that field and was nominated

by the World Economic Forum to join their Young Global

Leaders community. It was through that community that

I became exposed to the water issue and realized that, although

climate change was an important issue, water was an urgent

issue that required attention now. I also realized that although

there were many people involved in climate change and in

solving that, the water movement needed more exposure. To

get it onto the front pages of the newspapers, we all need to

understand this concept of invisible water. We need to make

invisible water visible.

How will it affect our daily lives in the future?

Every single thing you see right now took water to make –

your house, walls, the lights, the computer you're probably

using. All of those things took water. If you fast forward to

an environment in which we have very little water or where

water is too expensive to use, all those things will either not

be available or be available and much more expensive because

the input of water is much more expensive than it is now.

We're so dependent on it that it could have profound effects on our

civilization.

Absolutely right. Water is the foundation of our entire economy

and our lives, and without water there's a huge ripple effect.

Look at villages or towns in different parts of the world where

they've had such major water crises that they've been unable to

continue to survive on the crops that they traditionally planted

and harvested. Their income over a period of time dwindles so

much that they can no longer afford to repay their mortgages,

Global Compact International Yearbook 2016 67
---
The Taste

Tester

Kevin McCloud, MBE, is a

British designer and television

presenter best known for his

work on Grand Designs, which

is one of the longest-running

Channel 4 shows. McCloud

is actively campaigning to

promote One Planet Living, the

WWF's sustainability initiative.

We talked with him about

sustainability in building and

furnishing houses. McCloud's

message is clear: We have to

make sustainable products

irresistible.

Sustainable housing is a big focus at Grand Designs and you're

a vocal advocate for sustainability. What impact do you think

design has on sustainability, and in what ways?

The relationship between making things and sustainability

is so essential. As a society, we've lost touch in the West with

the value of made things, with the value of raw materials, of

the energy required. I don't just mean fossil fuel energy but

also the human energy that goes into making things. I'm very

struck by the fact that we've got people making lighting out

of bits of recycled industrial stuff, or that people are selling

furniture that they've handcrafted in small workshops all

over the country.

What goes in is normally a raw material, something dug out

of the ground, rough and unprocessed, and what comes out

is such beauty. A tree in one end, a table comes out the other;

a lump of unrefined iron goes in one end, and a beautifully

wrought table or door handle comes out the other end. That

is what sustainable design and construction is: the reconnection

of all of us to the value of things. I think we've lost that,

we're not a making society anymore.

When we come to build houses, for example, it's about getting

people to understand the value of the made object, the

value of the made building, to run it in such a way so that

68

Global Compact International Yearbook 2016
---
it's efficient, minimizing energy loss. That to me is actually

what a lot of sustainability is about. People talk a lot about

carbon, they talk about energy consumption and sustainable

codes and building rigs, energy in use – all that stuff. It's all

technical, but actually, if you want people to save energy, if

you want people to drive electric cars, to walk more, to cycle

more, to share more, to buy less and consume less rubbish,

to recycle more, then you've got to make them value what

we have. It's that simple.

The UN has said that 7 out of 10 people will live in cities across the

globe in the future. Are concepts such as your HAB project in the UK

transferable to the wider world, to places with fewer amenities, fewer

facilities, less electric?

The HAB project is very contextual – it's designed for the UK,

designed for where they are. I'm more interested, actually, in

learning about how other people live in other cultures with

much lower impact and bringing that here. I spent some time

in India, in very high-density places, and studied there how

people share resources and public spaces, even the notion of

personal space. How people get by with the minimum of stuff

is really, really humbling. Of course, they're happy – that's

the other thing. Those communities that we may think of as

being more primitive – slums – actually hold the key to a

lot of positives in terms of human interaction.

The younger generation is being told a lot more about being eco-friendly.

When younger couples are building houses, do you think they go for

more sustainable materials, or do you think they still gravitate toward

a more timeless, traditional style?

All of us are attracted by the bling. We love the idea of the new

and the fresh, the exciting and the sparkly. I know plenty of

18-year-old kids who just want to own a Porsche and live in

a glamorous flat on the Thames. We're all vulnerable to the

same yearnings and deceptions, and the trick, of course, is to

make the sustainable desirable – actually more desirable. I

drive an electric car, and there are electric cars out there that

are more exciting, more beautiful, and more sustainable than

their petrol equivalents.

When we build our houses, what we want to do is provide more

light, higher ceilings, skylights, extra storage. We try and basically

produce better architecture that also happens to be sustainable.

The trick is to make it irresistible. That's the way to do it, not

by saying, "Oh look, don't buy Versace, buy this hair shirt, it's

far more ecological." No, the answer is to make the big surprise

that the product is really well-made, that it lasts, that we don't

succumb to the changing whims of fashion but we go for style,

more timeless values, beauty. We need the bigger manufacturers,

be they carmakers or fashion houses. We need them to use

sustainable, organic materials, and use them ethically.

Global Compact International Yearbook 2016 69
---
GOOD PRACTICE SECTION 1: INEQUALITIES | EDUCATION | PARTNERSHIP

The size of the SDG icons reflects the quantity of appearance in this section.

HUMAN RIGHTS

LABOUR STANDARDS

ENVIRONMENT

ANTI-CORRUPTION

SUSTAINABLE

DEVELOPMENT

G O A L S

70

Global Compact International Yearbook 2016
---
GOOD PRACTICE

IneqUAlITIeS | eDUCATIon | PARTneRSHIP

72

74

76

78

82

84

86

88

90

94

96

Adecco

Banca Popolare di Sondrio

Bosch

Deutsche Post DHl Group

Deutsche Telekom

Green Delta Insurance

Manila Doctors Hospital

Merck

Philip Morris International

Sakhalin energy

Sanofi

woRK | InnoVATIon | ClIMATe

102

104

106

108

110

112

114

116

118

120

122

126

128

130

132

134

136

138

Acciona

Arab African International Bank

Armacell

Audi

BASf

Bayer

Commerzbank

Consolidated Contractors Company

eDf Group

HoCHTIef

MAn

mcs

MTU Aero engines

nestlé

Postnl

RoMRADIAToARe

SkyPower

Vaisala

Global Compact International Yearbook 2016 71
---
Aspire to Be

'CEO for One Month'

Accessing the world of work and finding a pathway to fulfill their personal potential is a major

challenge for anyone out of – and seeking – work. This is especially so for the 73 million youths

under the age of 25, fueling fears of a 'jobless generation.' Skills mismatch and a lack of experience,

even among the most highly educated, can almost be perceived as a discriminatory

barrier to employment, which is central to Global Compact Principle 6. It dashes dreams,

wastes human capital, and damages productivity. The Adecco Group – the world's leading

provider of HR solutions – has not stood by idly.

By Lilian Furrer, Adecco Group

The 10 finalists of 'CEO for One Month'

2015 from Europe, Asia, and Oceania,

who all showed exceptional flair for

business, creativity, and entrepreneurship.

'CEO for One Month.' From that group of

34 – equipped with their local experiences

as CEO – 10 were shortlisted to run

for Adecco Group's Global CEO position.

Those 10 participated in a final selection

'boot camp,' with the successful candidate

working alongside the Adecco Group CEO,

Alain Dehaze, for one month.

In the last three years, more than 2.2

million people have accessed a range of

Adecco Way to Work initiatives. They are

designed to provide practical support and

work experience opportunities for young

people – of various ages and abilities –

to help them make breakthroughs and

fulfill their potential. These include "Street

Days," in which Adecco employees offer

practical job hunting and career advice in

cities worldwide; internship opportunities;

an online career center; and an innovative

scheme called 'CEO for One Month' – an

initiative first launched by Adecco Norway

in 2011 and piloted by the Group in

2014. An astonishing 18,000 applied for

the 'CEO for One Month' opportunity in

2015, starting with an online application.

In 34 countries, candidates went through

thorough selection processes, with the

very best applicant in each country being

offered the chance to become an Adecco

'CEO for One Month' and Adecco Way

to Work are practical expressions of

Adecco's corporate social responsibility,

over and above the company's day-to-day

business of helping people find work and

companies access the talent they need.

Alain Dehaze, CEO of the Adecco Group,

states: "Our future depends on the skills,

confidence, and experience of today's

young people. It's a shared responsibility

to help them build their careers through

training, guidance, and opportunities.

72

Global Compact International Yearbook 2016
---
she rose to in her month. "I was struck

by how even a global organization like

the Adecco Group is open to new ideas

from people outside the organization

with relatively little experience."

'CEO for One Month' Ayumi Kunori

and Alain Dehaze on stage at the

VBO FORUM – Young Talent in Action

This is what 'CEO for One Month' is all

about. It raises aspirations and allows

youngsters to challenge themselves, gain

hands-on experience alongside Adecco

Group's top management, and get a taste

of how to run a global company."

Shadowing the top management provides

the young 'CEOs' with unique insight into

the real-life challenges and responsibilities

such a position brings. It is about

much more than learning about the nuts

and bolts of sales meetings and finance:

they deep-dive into HR and leadership

issues, as well as industry trends and CSR.

As part of Adecco Group's overall efforts

to help people of all abilities and educational

backgrounds fulfill their potentials,

the 'CEO for One Month' initiative

focuses upon helping build responsible

and successful leaders for the future.

Transformational opportunities

It has been a unique experience for participants,

especially for the 2015 Global

'CEO,' Ayumi Kunori, an undergraduate

from Ritsumeikan University in Kyoto,

Japan: "Looking at the journey I made,

I think I came very far, learning many

new things. It was a turning point in my

life, helping me set my goals higher, to

become a CEO one day. I think a good

CEO needs to be passionate about work,

but you also have to be humble and recognize

the colleagues who support you."

She traveled with Adecco Group's global

CEO around Europe, Asia, and the United

States. Her toughest and yet most rewarding

challenge was addressing 1,000 young

people at a career conference in Belgium

about her experiences. Her message to

them and to all young aspiring people:

"If you dream big, you can do it." While

completing her studies, Ayumi took up a

part-time position at Adecco Japan.

Ernesto Lamaina, Adecco Italy's 'CEO for

One Month' and one of the boot camp

finalists, did not regret leaving an internship

in Slovakia to experience the 'CEO'

role. "It's been life-changing. It's like an

MBA but in real life. One thing I learned

is that as a CEO, it's important you listen

to everyone's input, even if they are the

most junior member of a team."

The Romanian 'CEO for One Month,'

Alexandra Tirziu, studied languages, PR,

and HR. She found the 'CEO' experience

enriching, even attending the World Economic

Forum at Davos, where the Adecco

Group presented its Global Talent Competitiveness

Index to business leaders. At

that event, she was tasked with writing

an article for the Wall Street business daily

in Romania, one of the many challenges

The 'CEO for One Month' initiative has

proven to be an enabler for youngsters'

employability and job opportunities. Paola

Ospina from Colombia, Adecco Group

'CEO for One Month' 2014, progressed to a

career in marketing at Adecco headquarters

in the United States. Ayumi Kunori

works part-time for Adecco in Japan while

completing her studies, and Ernesto Lamaina

was hired at Adecco headquarters

in Switzerland. In 2016, the 'CEO for One

Month' initiative has sparked even more

interest: by April 15, more than 53,400

ambitious candidates from 50 countries

had applied to take on the challenge.

Work-based training:

A win-win situation for youngsters

and companies

The 'CEO for One Month' initiative is

now firmly embedded in the Adecco

Way to Work initiative. The company

is always looking for new and innovative

ways to help young people succeed in the

working world in ways that reflect their

needs and experiences. For example, in

June 2015, the Adecco Group joined the

European Alliance for Apprenticeships,

pledging to offer 5,000 apprenticeships

in Europe by the end of 2017. "Joining

the European Alliance for Apprenticeships

represents a further confirmation

of Adecco Group's commitment to tackle

youth unemployment," says Mark De

Smedt, former Chief HR Officer. "In 2015,

within the Adecco Way to Work programme,

Adecco has already placed over

3,000 youngsters in internships and

work-based training opportunities. With

this pledge, we go a step further and

commit on apprenticeships. We strongly

believe that concrete solutions to boost

economic development and employment

are only possible through public-private

partnerships and initiatives such as the

European Alliance for Apprenticeships.

Together we can make a difference."

Global Compact International Yearbook 2016 73
---
Financial Education and

Beyond: Investing in the

New Generations

for a Better Future

The cultural development activities of Banca Popolare di Sondrio

have always focused on the needs of its home territory, where

the bank has its "head, heart, and roots." The objective has been

to promote and highlight the many cultural and social aspects

of the area, as well as its natural beauty and the resources that

inspire human creativity.

By Mara Simonini, Banca Popolare di Sondrio

Among cultural activities proposed by

the bank, special and ongoing attention

is dedicated to young people who – with

their minds on the future and their enthusiastic

projects – will be tomorrow's

workers and consumers and will have a

considerable influence on the economy

and society as a whole.

Many of the numerous initiatives organized

by the bank over the past year have

been dedicated to them, especially those

that emphasize the need for a sustainable

economy and the sensible use of money

and its careful management.

In the spring of 2015, Banca Popolare

di Sondrio worked together with other

partners to promote "EconomiaAscuola

– A lezione di cittadinanza economica"

(economic citizenship in the school),

an event organized by the Fondazione

per l'Educazione Finanziaria e il Risparmio

(Foundation for Financial Education and

Savings) that was dedicated to more than

400 students in the province of Sondrio

and their teachers. The day, divided between

information and fun, covered

many aspects:

• the sensible use of money (ordinary and

extraordinary expenses, the difference

between necessary and superfluous

spending, the importance of savings);

• how to become sustainable citizens

(adopting a responsible approach to

oneself, to others, and to the surrounding

environment);

• the value of money (work, income, and

human capital within the economic

cycle of a family);

• what lifestyle and consumption patterns

to adopt (the role of individual

and collective responsibility, legality in

the economy, what the newspapers say

versus what happens in everyday life).

This special day sought to make an indelible

impression on the young participants

and, hopefully, orient their future

attitudes and decisions.

"Invito a Palazzo" (Invitation to the Palace),

an event held under the patronage of the

Italian Banking Association, took place

in October 2015. This was an occasion

for Banca Popolare di Sondrio to open a

number of prestigious buildings to the

public, including the branch at Passo

Stelvio and the adjoining Carlo Donegani

Museum. The museum collection includes

various precious items, placed side by

side, that were left behind by the Italian

and Austrian soldiers who died in the

local mountains during World War II,

demonstrating the futility of war and representing

an invitation for peace and the

exchange of culture, ideas, and knowledge.

Moreover, in the Stelvio National Park,

at 2,600 meters, the bank organizes an

74

Global Compact International Yearbook 2016
---
Each year, the bank marks "World Savings

Day" with initiatives for the general

public, but especially for young people

and students. Banca Popolare di Sondrio

considers it both useful and a necessary

duty to remind people about "saving"

and encourage them to think about

what it means. Last year, this day was

honored by the authoritative presence in

Sondrio of Professor Francesco Sabatini,

a high-profile personality, famed linguist,

philologist, lexicologist, and honorary

chairman of Accademia della Crusca.

annual Mass to celebrate "the Madonna

of the Snow, Queen of Peace, Custodian of

Creation," during which the congregation

is invited to reflect in an intimate and

spiritual way – assisted by the stark beauty

of the alpine surroundings – about the

tragedy of the Great War and about peace

in a world still torn by strife.

Driven by its cooperative and socialcultural

spirit, Banca Popolare di Sondrio

opened the "Luigi Credaro" Library in

October 2007 in the presence of the Minister

of Education at the time, Giuseppe

Fioroni. This library is dedicated to an illustrious

local educationalist, parliamentarian,

and senator (1860–1939), who

also served as the Minister of Education.

The "Luigi Credaro" Library is justified

by the need and desire of the bank to

make its massive and precious collection

of documents and books more widely

available. This wealth partly derives

from a number of generous donations

made by customers and shareholders and,

more particularly, from major bequests

of funds, archives, and personal libraries

of important economists, sociologists,

and academics.

Given the unique nature of the assets held

and the items collected, this is a specialist

library of general social importance

whose duties include the conservation of

our heritage. More specifically, the library

makes vast knowledge available to users,

with most of the books being dedicated

to economic, financial, and legal matters,

while also offering a public reading

service, inter-library loans arranged

together with prestigious universities,

and a document delivery service.

The rooms housing the "Luigi Credaro"

Library also provide a cultural space

that integrates – rather than competes

– with other libraries in the city and the

province, seeking to broaden opportunities

and boundaries through the targeted

use of new IT and digital technologies:

numerous university and other students

visit the library every day for individual

or collective study purposes.

In some sense, savings and culture go

hand in hand. Summarizing with regard

to savings, they certainly involve sacrifice

but also generate benefits for the

individual saver and the community as a

whole. The same is true for culture, which

is acquired by study, commitment, and

hard work that involve costs and going

without: the benefits can be found, however,

in the future personal and working

life of the individual. Invited by Banca

Popolare di Sondrio, Professor Sabatini

first talked to students and teachers on

the subject of "Italian is the key to our

brain" and then held a conference entitled

"The Italian language is not a telephone

wire. The mother tongue and the others",

which was well attended by the public.

The intensive cultural activities of Banca

Popolare di Sondrio also include two

special directions that have been followed

successfully over the years: the

preparation of cultural, historical, and

naturalistic publications that are gifted to

shareholders at the annual general meeting;

and the holding of public conferences

and conventions that have featured

more than 100 speakers over the past 40

years, including some of the most authoritative

exponents from the worlds of

politics, economics, culture, journalism,

sports, and the performing arts.

Banca Popolare di Sondrio likes to consider

itself a bank that plays an important

role as an intermediary, not so much

in favor of its own territory's culture,

but more in terms of the circulation of

culture within the territory.

Global Compact International Yearbook 2016 75
---
Promoting integration

At Bosch, a sustainable approach to doing business is an established part of corporate strategy.

Since the company was founded, its activities have reflected the wishes of its founder, Robert

Bosch, who was committed to contributing to social well-being and strongly believed in the

principle of ethical business. That sense of social responsibility is still reflected in the actions of

Bosch associates today, for instance when it comes to the integration of refugees.

By Bernhard Schwager, Bosch

The number of refugees seeking safety

and a better future in Europe remains

high, and this poses a major challenge for

EU member states. Since 2015, Germany

has also faced a particular challenge:

Well over a million people have sought

asylum in the country since the start

of last year. This situation has been the

subject of heated debate and has brought

forth a number of questions. Nevertheless,

most politicians, business people,

and members of the general public agree

that all stakeholders must cooperate

with one another to keep the situation

under control. Here, the business world

can make an important contribution.

Especially when it comes to the integration

of refugees, companies can provide

support in a number of ways.

Donations for local aid organizations

Against this backdrop, in 2015 targeted

aid initiatives were organized in a number

of Bosch countries. For instance,

Primavera e.V., the nonprofit organization

operated by Bosch associates, made

a call for donations across Europe. With

the help of the Bosch board of management,

the group works council and the

group committee of executive representatives

asked all associates to support

the refugee cause. In the end, more

than € 400,000 was collected in several

Bosch countries. As it had previously announced,

Bosch then doubled the total

to € 820,000. The money went toward

a number of sustainable local projects

that aimed to help refugees. Moreover,

associates were invited to make suggestions

for projects that the funds could

support. The idea behind this was that

local people would have the best knowledge

about which social activities were

important in their locations. Eligible

projects included charitable initiatives

that had already received the support of

current or former Bosch associates. Ideally,

these initiatives would be situated

close to a Bosch location. A committee

that included members of Primavera,

the group works council, and Bosch

associates decided on how the money

would be distributed. Until now, Bosch

has provided targeted support to more

than 100 projects.

Associates as mentors

In addition to this, Bosch is committed

to helping refugees get off to a good

start in Germany. Prior to the call for

donations, the company had already

made € 500,000 available for integration-related

activities at its locations.

Moreover, the company has offered cities

76

Global Compact International Yearbook 2016
---
and municipalities properties on which

emergency shelters can be built, as well

as vacant apartments.

"

The integration of refugees is an extremely

important social responsibility. For this reason,

we at Bosch also want to make an active

contribution to supporting integration.

We have a long tradition of combining

economic activity with social responsibility.

Together with our committed associates, we

want to help people gain a foothold in our

society and offer them a better future. "

Dr. Volkmar Denner, Chairman of the Board of Management, Robert Bosch GmbH

Bosch also plans to create 400 additional

internship spots that will either prepare

refugees for an apprenticeship or for

entry into the German labor market. At

the same time, mentorships with Bosch

associates and language lessons aim to

help make interns capable of navigating

their new surroundings as quickly

as possible. The company is working

closely with public institutions to expand

existing qualification programs in

a way that makes sense. This is also the

aim of Bosch Jugendhilfe (Bosch Youth

Aid), which sees Bosch associates act as

mentors for refugee children with the

"KinderHelden" (Child Heros) initiative.

These mentors help children and youth

get off to a good start in school and are

available to support their mentees on

school-related issues.

A network of companies

Bosch is also a member of the nationwide

network of companies called "Wir

zusammen" (Together). This platform

pools the projects of more than 60 large

and mid-sized companies and inspires

others to get involved with refugees

as well. Just as it has done with many

initiatives at more than 20 locations in

Germany, Bosch is sponsoring a project

in Immenstadt. The initiative supports

24 unaccompanied minors. Among other

things, these young people complete a

six-week internship at Bosch in cooperation

with the local vocational school. The

first round of internships has already

been successfully completed, in no small

part thanks to the participants' high levels

of motivation. This project reflects the

importance of local activities, as it shows

what can be achieved when apprentices,

site management, and many other associates

cooperate with one another.

Cultural exchange

Ultimately, refugee aid initiatives in

Europe depend on the commitments of

thousands of volunteers. At Bosch, too,

many associates are helping promote the

success of integration. For instance, an

initiative of apprentices in Germany aims

to encourage intercultural exchanges

between people of different nationalities.

To this end, the participants meet

with refugees on a regular basis, for

instance to cook together or go to local

events. At other Bosch locations, associates

regularly call for donations to

provide newly arrived refugees with

the things they need for everyday life.

Other initiatives make language and

math lessons possible.

Conclusion

Although none of these activities offer

a complete solution for the successful

integration of refugees in Europe, the

commitments of companies such as

Bosch and their associates illustrate

possible approaches to tackling this

historic challenge. The aim is to come

up with individual solutions, discover

what we have in common with people

from other cultures, and find out

about differences that can be assets to

our society. And everyone can make a

contribution. Every bit of help counts,

no matter how small.

The Bosch Group

The Bosch Group is a leading global supplier of technology and services. It

employs roughly 375,000 associates worldwide (as of December 31, 2015). Its

operations are divided into four business sectors: Mobility Solutions, Industrial

Technology, Consumer Goods, and Energy and Building Technology. The Bosch

Group comprises Robert Bosch GmbH and its roughly 440 subsidiaries and

regional companies in some 60 countries.

Global Compact International Yearbook 2016 77
---
Compassionate Action:

Deutsche Post DHL Group

Refugee Aid Project

As a company conducting business throughout Germany and around the world, we take our

responsibility to society and our communities seriously at Deutsche Post DHL Group, including

through our adherence to the Global Compact Principles. This is why, in the midst of the recent

refugee crisis confronting Europe and Germany, we took the initiative to work together with

established partner organizations to help facilitate the integration of refugees in Germany.

By Deutsche Post DHL Group

78

Global Compact International Yearbook 2016
---
Our refugee aid initiative is consistent

with both our corporate and CR strategies

and is a logical extension of our ongoing

engagement in the area of corporate citizenship.

By seeking to make a positive

contribution to society, this also serves to

strengthen our employees' sense of mission

and engagement, as we encourage

and motivate them to support refugees

in their areas. And, since we employ

people in Germany from some 150 different

countries, providing refugee aid

is a natural reflex.

Our aim is to provide steady and lasting

support in the process of refugee

integration. This requires careful coordination

with partner and other relief

organizations and public authorities.

As this project gains momentum, we

will further intensify this collaboration.

Three pillars

Our refugee aid initiative rests on three

key pillars: strengthening social engagement

among our employees; providing

vocational orientation for refugees; and

supporting federal, state, and local authorities.

TIME TO ACT – DEUTSCHE POST DHL GROUP

REFUGEE AID

1 "Time to act" – Deutsche Post DHL Group refugee aid

TIME TO ACT – DEUTSCHE POST DHL GROUP

REFUGEE AID

We

want

to …

… strengthen social

engagement among

our employees

… provide vocational

orientation for

refugees

by We … want … motivating … strengthen employees social … offering … provide them vocational

to…

engagement among orientation for

in our branch our employees offices internships refugees with

to support refugees the prospect

in their areas.

of training and

We cooperate with employment.

by… experienced … motivating partners employees

in our branch internships with the

… offering them

and provide financial

offices to support

prospect of training

resources refugees and in their

and employment.

coordinators. areas. We cooperate

with experienced

partners and provide

financial resources

and coordinators.

PLANNED RELIEF EFFORTS IN FIGURES:

PLANNED RELIEF EFFORTS IN FIGURES:

up to 1,000,000,

… support federal,

state, and local

authorities

… … making support properties

federal, state

and local authorities

available for

refugee housing

and providing staff

for administrative

tasks. … making properties

available for

refugee housing and

providing staff for

administrative tasks.

… euros in financial support for local

refugee aid efforts

With the first pillar, we seek to stimulate

employee engagement by motivating employees

in our branch offices to support

refugees in their areas. As we ramped

up internal communication efforts to

inform employees throughout Germany

about the initiative, we received a strong

response to the call to get involved. There

are now some 13,000 Deutsche Post DHL

Group employees volunteering in 650

projects, along with 100 volunteer coordinators

providing a communications

interface between employees and aid

organizations. We are also providing

€ 1 million in funding for local projects

in which our employees are involved.

up to 100.000 ,

up to 10.000 ,

up to 1.000 ,

up to 100

… m² of Deutsche Post properties for

refugee housing

… employees in Deutsche Post branch

offices as volunteers

… internships for young adults throughout

Germany

… coordinators to act as contacts for employees

and aid organizations

The second pillar of our refugee aid initiative

is to provide vocational orientation,

including by offering 1,000 internships

for young adults throughout Germany.

The internship program has been set

up at all Deutsche Post mail and parcel

Deutsche Post DHL Group has won the

German CSR Award in the special category

"successful refugee support measures.

Global Compact International Yearbook 2016 79
---
Partners in action

Our employees volunteer with the

following partner organizations:

• Stiftung Lesen, reading aloud to

facilitate language acquisition

• SOS Kinderdorf, caring for

refugees who are unaccompanied

minors and families with children

• Teach First Deutschland, schooling

in "welcome" classes

• Aktion Deutschland Hilft, aid

projects for refugees in Germany

and operation of refugee

accommodations

centers. These are low-threshold positions

as sorters and loaders, for example, allowing

the deployment of interns with

limited language skills. The idea is to

give refugees an insight into the working

world in Germany. Employees at the various

branches take charge of the interns,

both during the internships and beyond,

such as by helping them learn German,

providing car pooling, and so on. This

standardized process was agreed centrally

with the Federal Employment Agency

and has been implemented country-wide.

With regard to the third pillar of support

for federal, state, and local authorities, we

are making available 100,000 sq meters

of properties to shelter refugees.

Industry initiatives

In addition to the above, Deutsche Post

DHL Group also takes part in various

industry-led refugee aid initiatives

within Germany, including Wir Zusammen

and InCharge. Wir Zusammen is a

platform that consolidates industry-led

integration initiatives within Germany.

It is meant to encourage companies to

invest in long-term integration initiatives,

with more than 50 companies

taking part.

InCharge helps refugees of all ages find

their footing in the labor market. It

matches refugees with mentors based

on the individual's vocational or professional

qualifications – an engineer

with an engineer or a courier with a

courier, for example. So far, more than

30 companies are taking part in the

initiative.

Positive response

As the Deutsche Post DHL Group employees

in Germany come from so many different

countries around the world, many

of them are familiar with the home regions

and cultures of the refugees, which

makes it easier for us to provide effective,

targeted support. These employees are

working with our partner organizations,

"

We consider this to be a

model initiative that will

have a long-term return on

investment, and this action

will have strong resonance

within further initiatives. "

Dr. Wilfried Vyslozil, Executive Chairman

SOS-Children's Villages Worldwide

"

After initial assistance for refugees, their integration

is both an obligation and an opportunity for our society,

and one of the most important tasks for aid organizations.

The initiative makes an extremely important contribution.

We're very thankful that we can take part in this initiative

and we're very pleased that Deutsche Post DHL Group

is taking responsibility. "

Bernd Pastors, Chairman of Aktion Deutschland Hilft

80

Global Compact International Yearbook 2016
---
acting as reading buddies and integration

guides for refugees, for example.

To help them prepare for their volunteer

role, we organize information events for

Deutsche Post DHL Group employees

to provide tips on effective interaction

and brief them on the substance of the

teaching materials. For example, in our

partnership with Stiftung Lesen, we provide

guidance along with a specially

designed start-up box of books to prepare

employees in their role as volunteer reading

buddies. In addition, all volunteers

receive polo shirts for enhanced visibility,

which are also a token of our appreciation

for their efforts. The response from

employees has been very positive, with

thousands signing up to take part in

hundreds of different activities in the

first weeks.

The strong support received from our top

management and employees internally

– as well as from our partners, local

authorities, and communities externally,

not to mention the refugees themselves

– attests to the power of this compassionate

action. The Deutsche Post DHL

Group Refugee Aid Project brings together

our company, our employees, and

our communities in a collaborative effort

that is consistent with our commitment

to the Global Compact Principles.

"

As a company with a strong presence both in Germany

and throughout the world, we want to contribute to

the integration of refugees jointly with our partners.

In doing this, we also continue to support a

long-established tradition of volunteering among our

employees in cooperation with non-profit organizations. "

Frank Appel, CEO Deutsche Post DHL

Left: Employees with migration backgrounds

get involved as translators / interpreters,

integration guides and "bridge builders."

Center: Various activities, incl. with FC

Deutsche Post: e.g. organization of a summer

festival, collection of sporting goods, and

charity tournaments.

Right: Several branch offices initiated

collection programs for toys, clothing, and

other everyday articles for local refugee

housing.

"

In the end, it will be our

schools that provide the

litmus test for how well

Germany rises to meet the

challenge of integrating

refugees and providing them

with prospects for the

future. It's a challenge faced

by our society as a whole,

a challenge to be shouldered

by many. "

Ulf Matysiak, Managing Director of

Teach First Deutschland

Global Compact International Yearbook 2016 81
---
Deutsche Telekom Helps

Refugees All over Europe

By Gabriele Kotulla, Deutsche Telekom

No issue has preoccupied the entirety of Europe in the last year

more than the vast numbers of people seeking refuge. In 2015,

more than a million asylum seekers came to Germany alone.

The numbers across Europe are many times higher. In view of

the huge volume of refugees, Deutsche Telekom AG has specifically

stepped up its commitment to the refugee aid efforts. And

many various national companies are also making significant

contributions. The range of support being offered varies among

German companies as well as among the different European

national companies according to the national situation.

(Figures as of May 2016)

Deutsche Telekom

In August 2015 Deutsche Telekom created

a taskforce to coordinate different aid

activities in Germany, for example, the

supply of free WiFi to some 70 refugee

reception centers. We set up a portal,

"refugees.telekom.de," which provides

refugees with information on the asylum

process and on living and working in Germany.

The information portal has now

been visited more than a million times.

In addition, we offer refugees internships

and scholarships at the company's

own University of Applied Sciences in

Leipzig (HfTL).

Together with our partners Jobware and

Jobstairs, Deutsche Telekom has developed

the "careers4refugees.de" portal.

Companies can post their job vacancies

free of charge on the site, which is geared

specifically to refugees. To date, some 70

introductory and youth internships as

well as 10 university scholarships have

been provided via the job portal. Eight

of the scholarship holders have already

begun their studies. But it is not just

the numbers that talk for themselves.

The careers4refugees.de portal won two

awards after just a few weeks: firstly, the

special award "Employer Branding Innovation"

from the Trendence Institute;

secondly, the Special Award from Queb.

The Quality Employer Branding Network

praised the platform for providing

refugees with "fast and unbureaucratic

assistance" in seeking employment in

today's labor market.

Also, more than 550 Deutsche Telekom

civil servants have switched to the German

Federal Office for Migration and

Refugees (BAMF), where they help process

applications for asylum. Deutsche

Telekom employees have organized more

than 100 social days and aid projects via

the "engagement@telekom" platform.

T-Mobile Austria

T-Mobile Austria donated around € 60,000

in 2015 to support the refugee aid efforts

of Caritas and provides desperately

needed accommodation. The company

also facilitated hundreds of WiFi spots at

Caritas housing and provided thousands

of SIM data cards with data volumes for

smartphones. T-Mobile now sets aside

10 percent of its training positions in

Vienna annually for young, unaccompanied

refugees, a project which began

in 2010 and on which the company is

collaborating closely with the private

"lobby.16" initiative. T-Mobile Austria

also supports the "hallo" app, which

helps refugee children learn German.

82

Global Compact International Yearbook 2016
---
T-Mobile Netherlands

T-Mobile Netherlands decided to initiate a partnership with

VluchtelingenWerk Nederland and donated technology and

prepaid SIM cards to the first 10,000 refugees. These SIM cardholders

are also being invited to job application workshops

and soft-skill training courses, as well as being provided with

apps to help them to find their way around the Netherlands.

Slovak Telekom

Slovak Telekom set up lines for donating money via text messages.

A total of € 2,000 was donated to two domestic NGOs.

Furthermore, Slovak Telekom donated € 2,000 to the #DomovNa-

Mame project, which offers canvas baby carriers to refugees.

Magyar Telekom

Magyar Telekom is helping with its own resources. Free WiFi

services have been built in two refugee camps, and power

strips have been provided for the sake of helping refugees to

connect and get information.

T-HT Hrvatski Telekom

Hrvatski Telekom donated money to the Red Cross and has

given employees who volunteer a day off. In addition, HT

provided the refugee camp with 10 USB sticks for free LTE

internet access and around 360 SIM cards, with free GB storage

and call time included.

Crnogorski Telekom

In September 2015 Crnogorski Telekom joined in an action

initiated by the Red Cross and collected aid for migrants in

southeast Europe through a humanitarian hotline. By sending

a text message, their customers were able to donate one euro.

Makedonski Telekom

On the occasion of the Guiding Principles Day on September 24,

Makedonski Telekom called for humanitarian action among

its employees. A donation of 20 boxes with canned food and

bottled water were given to the Red Cross.

OTE & Cosmote

One of the initiatives supported by the OTE Group was the

work and mission of the Hellenic Coastguard. By covering the

cost of repairing and maintaining more than 50 vessels, the

OTE Group contributed to the Hellenic Coastguard's successful

response of saving more than 74,000 refugee lives within

just five months in 2015. The support also includes the free

provision of telecommunication products to facilities, the support

of NGOs, and the realization of volunteering projects.

Global Compact International Yearbook 2016 83
---
A Pioneer for Women's

Economic Security

By Syed Najmus Saquib and Tanvir Hussain, Green Delta Insurance

Bangladesh is a developing country in which women comprise

more than 52 percent of the total population as well as the

fastest-growing segment of the workforce. There exists a nexus

between gender equality and economic growth. An example is

Nibedita, which is the first comprehensive insurance scheme

for women in South Asia.

Director and CEO of GDIC. She holds

the unique distinction of being the first

female CEO in the Bangladesh insurance

industry. It is through her visionary and

dynamic leadership that Nibedita came

into being.

The nurturing and support of its visionary

employees, such as Chowdhury, and

the implementation of innovative projects

and products have led to an improvement

of the conditions of women

employees within the company. It has

also made GDIC a pioneer in empowering

women in the insurance sector of

Bangladesh.

Current statistics on women in

Bangladesh

Nibedita was launched by Green Delta

Insurance Company Ltd. (GDIC), the first

leading insurance company in Bangladesh

to receive an AAA rating. Through

its efforts, the company has not only

attended to improving conditions for

its own women employees but also provided

resources for all working women

of Bangladesh.

Setting the tone at the top

Nibedita was initiated in 2013. It was the

brainchild of Farzana Chowdhury, ACII

(UK) and Chartered Insurer, Managing

• Comprise more than 52 percent of the

population

• 10.62 million working in job sector

• Constitute 80 percent of RMG workers

• 7.8 million young working women

• Women unemployment rate reduced

to 5.8 percent

• Around 10 percent of total entrepreneurs

are women

• 200,000 women working abroad

Role of women in Bangladesh rising

Women are now playing more significant

roles in the domestic, social, and business

spheres of Bangladesh.

Women's empowerment is the prerequisite

for the socioeconomic development

of a country. As a developing country

84

Global Compact International Yearbook 2016
---
with a steadily growing economy, Bangladesh

has seen a sharp rise in the number

of women becoming more involved in

economic activities, both at the micro

and macro levels. As a result, issues

such as gender equality and women's

empowerment, among others, are widely

discussed. This eventually led to the

concept of Nibedita, which caters to the

needs of women and helps them become

more self-dependent.

What makes Nibedita unique

This is the first scheme of its kind in the

region to center on women. Besides the

traditional accidental coverage areas,

Nibedita also covers a few extended areas,

for example trauma allowance in cases

of rape, road bullying, robberies, and

acid attacks. The extended coverage also

includes loss or damage to household

goods / personal effects due to fire / lightening,

riots, storms, typhoons, floods,

cyclones, and earthquake. It does not,

however, cover preexisting disabilities,

nor death, injury, or disablement arising

from actions while intoxicated or under

the influence of drugs and so on.

Nibedita provides a maximum coverage

of BDT 10,00,000 (10 lac) with the

minimum net premium of BDT 580 per

person (including VAT) per lac.

GDIC has deployed a special sales force

mostly consisting of women who go

from door to door to generate awareness

regarding Nibedita, as many are still

unaware of the significance of having

an insurance policy. Besides, when promoting

it among women, Green Delta

gives the utmost importance to creating

awareness among men so that they

become equally interested in availing

themselves of policies for the women

in their families.

Global recognition

Recently, Chowdhury was recognized

as one of the ten Local SDG Pioneers

by H.E. Ban Ki-moon at the UN Global

Compact Leaders Summit 2016 in the

UN Headquarters, New York. She has

been hailed as a pioneer for women's

economic security and for her leadership

in guiding her teammates through the

Nibedita scheme in increasing women's

freedom and playing a pivotal role in

achieving SDG 5 for Gender Equality

and Women's Empowerment.

Chowdhury elaborates on Nibedita, saying:

"Green Delta Insurance Company

Ltd. has created a platform for growth,

corporate governance, youth leadership,

and especially women empowerment.

More than 52 percent of our population

is female today, and when it comes to human

rights, women are always the ones

that get neglected and their rights are

frequently violated. Nibedita has been

launched while keeping the healthcare,

safety, and social needs of the females

of our nation in mind. We are going

beyond insurance."

Lives inspired

Since 2013, around 5,000 women have

availed themselves of the Nibedita

scheme to safeguard their futures. The

policyholders range from university students

and housewives to entrepreneurs,

corporate leaders, athletes, and artists.

A good number of policyholders have

already benefited from this scheme.

Going beyond insurance – the way

forward

Nibedita has reached beyond the world

of insurance. Nibedita has created a

Nibedita has created a One Stop Service

Solution Platform for Women Healthcare,

Safety, and Social Needs to support

the women who are in actual need of it,

in any form. A digital platform is being

created for the Nibedita women, which

will give them access to a better lifestyle,

healthcare, and most importantly, safety.

Nibedita is working to bring together

women from all walks of life so they

can be of help to each other by sharing

experiences and best practices.

Nibedita is working as the voice of the

voiceless. It can inspire oppressed women

and act as their partner in need. This

product aims at bringing a positive

and visible change to society. With the

Nibedita policy, women will find strength

in their time of peril. Thus, Nibedita

is playing a vital role in shaping the

mindsets of the women of Bangladesh

to become self-dependent.

Global Compact International Yearbook 2016 85
---
Being one with the global

community

By Corporate Social Responsibility Office, Manila Doctors Hospital

2015 proved to be a pivotal year as the global community welcomed the 17 Sustainable Development

Goals (SDGs) and participated vigorously during the COP21 in Paris. So many opportunities

are now being presented to the business sector to prove that it can be a force for good. As a responsible

corporate citizen, the Manila Doctors Hospital (MDH) readily took action in identifying

where it can best contribute toward the achievement of the Sustainable Development Goals in the

Philippines. By choosing to focus on three SDGs, the Corporate Social Responsibility office (CSR) of

MDH will allow it to maximize its resources and make a long-term commitment with its partners.

SDG 3: Ensure healthy lives and

promote well-being for all at all ages

Although MDH is a privately owned,

tertiary hospital, it has for years created

a mechanism that makes it possible

for social service patients to access the

rights-based delivery of world-class medical

care through its various CSR health

programs. One principle that rules our

service provision for the economically

disadvantaged patients is inclusivity. To

achieve inclusivity, MDH fully embraced

the concept of universal health care. An

MDH CSR strategy was to take the necessary

steps in harmonizing resources from

partners: Philippine Health Insurance

Corporation (PhilHealth) (national health

insurance program); Metrobank Foundation,

Inc. (majority owner of Manila Doctors

Hospital); and the Philippine Charity

Office (PCSO) (principal government

agency that raises and provides funds

for health programs and medical assistance).

By doing so, we are able to focus

on providing not just quality healthcare

but protection against the financial risk

of high out-of-pocket health spending.

Another MDH CSR strategy is the community-based

issuance of the MDH blue

card to economically disadvantaged patients

and dependents who qualify. The

MDH blue card allows patients who need

medical consultation to access service

for only one hundred pesos (PHP 100),

which is equivalent to two US dollars.

Blue-card holders are also entitled to

access 143 laboratory procedures at a

50 - 70 percent discounted rate. Should

they need confinement, the MDH CSR Office

under its in-patient program extends

partial subsidies from funds provided to

86

Global Compact International Yearbook 2016
---
MDH CSR by the Metrobank Foundation.

The rest of the medical bills are covered

by PhilHealth, PCSO, and contributions

from the patient. The generated earnings

from the CSR Health Programs are used

to sustain the operations of the MDH

CSR Clinic, where seven of the MDH

medical departments provide medical

consultations from Monday to Saturday

for social service patients.

In 2015 alone, 17,501 blue-card holders

benefited from the services of the

following medical departments: Family

and Community Medicine, Pediatrics,

Otorhinolaryngology, Internal Medicine,

Obstetrics and Gynecology, Ophthalmology,

and General Surgery. There

were 4,684 who made use of the various

laboratory procedures at a discounted

rate, whereas 1,071 needed confinement

and benefited from the support of our

partners in covering the healthcare costs.

SDG 5: Achieve gender equality and

empower all women and girls

2015 saw the launch of Men Caring

for Women (MCW), spearheaded by

the male officers of the Manila Doctors

Hospital and led by the Hospital

Director himself. MCW is an advocacy

and resource-generation campaign in

support of the fight against cervical

cancer, violence against women and

children (VAWC), and human trafficking.

The proceeds from the first fundraising

activity enabled MDH CSR and its

partners to support the initial series of

capacity-building trainings of volunteer

lawyers, court social workers, and

frontliners. Experts volunteered their

time to train the participants on how

to prosecute child abuse cases, new

developments on children's laws (both

local and international), prosecuting

child online sexual exploitation, and

the importance of forensic pathology

in criminal prosecution of VAWC cases.

Consistent with the MCW campaign, a

number of steps were also undertaken to

ensure that gender equality is observed

internally, starting with the comprehensive

orientation / seminar on anti-sexual

harassment in the workplace for officers.

The zero-tolerance policy inside the

hospital strongly reiterates that officers

are expected not only to behave properly

toward subordinates but also protect

them from those who might attempt

to subject them to abusive behavior or

unfair treatment. The open-door policy

of management is just but one of the

accessible tools for reporting a possible

case. This is just one part of a series of

capacity-building steps that will also

cover the MDH non-supervisory staff.

Both MDH CSR and the MDH Human

Resource Division, with support from

the Senior Management Team, recognizes

that all genders have the right to

a safe and supportive workplace in order

to pursue professional development,

which in turn can benefit the business

as a whole.

SDG 13: Take urgent action to

combat climate change and its

impacts

Green Rebellion (Generating Resources &

Engagement for Environment and Nature)

started as a small CSR program that sought

to preserve and revitalize the last forest

park in the City of Manila – the historical

Arroceros Forest Park – and at the same

time create clean and green spaces in the

hospital's adopted community and school.

Now other corporations have joined the

safest "Rebellion" by adopting their chosen

zone inside the forest park as part of their

own "Green CSR." Adopting a zone entails

not just financial resources but volunteer

hours and creativity. In the MDH-adopted

public school (Rafael Palma Elementary

School, Manila), vertical urban gardens are

being developed to help create a healthier

environment for learning. In the adopted

community (Barangay 662), recyclable

materials are being utilized in producing

products for the mainstream market. This

not only helps the recycling program of

the community but is also proving to be a

source of income for community members.

Forging ahead

The recognition from the Asian Hospital

Management Awards in 2015 for our CSR

programs serves as a reminder to remain

steadfast in heightening the consciousness

and participation of the public in

targeted health and environment issues

in the global community.

Global Compact International Yearbook 2016 87
---
Fighting schistosomiasis

in a strong alliance

Nearly 260 million people suffer from the worm disease schistosomiasis – children in Africa in

particular are affected. Merck, a leading science and technology company, has been cooperating

with the World Health Organization (WHO) in the fight against neglected tropical diseases for

years. Now, with the establishment of the Global Schistosomiasis Alliance (GSA), Merck has expanded

this partnership. By bundling the expertise of its members, the GSA aims to effectively

fight and eliminate schistosomiasis worldwide.

By Johannes Waltz, Merck

According to the WHO, around 70 percent

of those affected by schistosomiasis

live in 10 countries in sub-Saharan Africa.

Schistosomiasis is caused by parasites

that lurk in stagnant or slowly flowing

fresh water. It is a vicious circle. The

female's eggs infest inner organs such

as the colon, spleen, or liver, where the

larvae develop into worms – the eggs

of which are then excreted via the urine

or feces of those infected. Freshwater

snails then act as a host in which the

eggs develop into larvae, which in turn

penetrate the human body.

88

Global Compact International Yearbook 2016
---
Children at particular risk

Schistosomiasis is a typical poverty-related

disease: In the affected countries, the

population often has no access to clean

water or sanitary installations and uses

the polluted water, for example, to bathe,

swim, wash clothes, or fish. Children of

school age are at particular risk, since

they often play in stagnant water. The

consequences of this insidious disease

are severe, with acute symptoms ranging

from skin rashes to life-threatening

fevers. The long-term consequences include

chronic inflammation of various

organs, which can also lead to death. Up

to 200,000 of those affected die each year

from the effects of the disease. Among

children, the symptoms that result are

particularly serious: Schistosomiasis

stunts growth, causes learning disabilities,

and leads to anemia.

The Praziquantel Donation Program

With the launch of its Praziquantel

Donation Program in 2007, Merck made

a commitment to help the WHO combat

schistosomiasis in Africa. The active ingredient

praziquantel was co-developed

by Merck in the 1970s and has proven

to be the most effective therapy to date,

as it can be used to treat all forms of

schistosomiasis. Merck's efforts are in

line with the WHO roadmap to overcome

neglected tropical diseases, the United

Nations' Sustainable Development Goals,

and the London Declaration. Merck is

fighting schistosomiasis as part of its corporate

responsibility, within the health

sphere of activity.

In 2015, Merck donated more than 100

million praziquantel tablets to the WHO.

To date, Merck has supplied a total of

around 340 million tablets, which has

enabled the treatment of more than

74 million patients, primarily children.

"We want to give children a new future,"

says Stefan Oschmann, Chairman of

the Executive Board and CEO of Merck.

"The establishment of this alliance underscores

our commitment to fighting

schistosomiasis and means all relevant

partners are on the same page. The only

way to overcome the challenges on the

road to eliminating this disease is by

working together."

As of 2016, Merck will donate up to 250

million tablets per year to the WHO –

until schistosomiasis has been eliminated

in Africa. However, providing the praziquantel

tablets is only one part of the

solution. In combating schistosomiasis,

Merck is following an integrated, comprehensive

approach: In parallel to the

donation program, Merck is working on

optimizing the tablets and on developing

a pediatric formulation of praziquantel

for preschool-age children, for whom

the drug is not yet suitable. In addition,

Merck is supporting a WHO awareness

program to educate children in African

schools. Using comic-style booklets designed

for children, the youngsters are

taught about the causes of schistosomiasis

and how to prevent the disease.

Alliance against schistosomiasis

As a founding member of the Global

Schistosomiasis Alliance, Merck is aiming

to promote greater coordination and

efficiency in the fight against schistosomiasis.

The long-term goal is to eliminate

the disease worldwide, thus contributing

toward ending poverty in the affected

countries and creating new economic

perspectives. At the end of 2014, stakeholders

from government, the private

sector, and civil society came together to

establish the GSA. The founding members

include Merck, World Vision, the

United States Agency for International

Development, and the Bill and Melinda

Gates Foundation. Their aim is to work

together to achieve greater impact on

the ground.

On the one hand, the GSA assumes a

mediator role in coordinating existing

efforts to combat schistosomiasis. On

the other hand, however, it also acts as

an initiator of innovative projects that

focus on eliminating the disease. To date,

three working groups have been formed

to carry out the GSA's work. The first

working group manages, monitors, and

documents the distribution of praziquantel

tablets. The second working group

is concerned with raising awareness of

schistosomiasis with the aim of mobilizing

additional funds and resources

to combat the disease. The third group

is dedicated to research and development.

In their activities, all the working

groups pursue the ultimate goal of the

GSA: the elimination of schistosomiasis

worldwide.

Global Compact International Yearbook 2016 89
---
A Far-reaching Approach

to Raising Labor Practices

in Agriculture

By Miguel Coleta, Philip Morris International

When Human Rights Watch unveiled their research in 2009 on

child labor and other labor issues related to tobacco-growing

in Kazakhstan, it prompted Philip Morris International (PMI)

to rethink the way it was addressing these issues. Although

the company already had efforts in place, clearly they were

insufficient to gain visibility into these issues and address

child labor. This prompted PMI to seek the advice of Verité

(a leading NGO in supply chain responsibility) and to adopt a

new approach aimed at systematically addressing child labor,

resulting in the launch of PMI's global Agricultural Labor

Practices (ALP) program in 2011.

Today, more than ever, companies are

expected to have strong policies and due

diligence processes in place to respect

labor and human rights in their supply

chains. Consequently, many companies

have had to reevaluate their approaches

to address these concerns.

When PMI introduced its global ALP

program in 2011 to progressively eliminate

child labor and other labor abuses on

all farms in its supply chain, PMI knew

that to be successful, it would have to go

beyond certifying farmers' compliance

with standards: Better visibility into the

issues and an understanding of the root

causes of child labor – together with the

combined efforts of government, civil

society, and other industries – would

all be necessary to tackle this complex

problem. Although more work is clearly

needed, this approach – now in its fifth

year of implementation – is delivering

tangible results.

Global reach, one-on-one support

With a farm base of approximately

450,000 farmers worldwide – the vast

majority of whom are smallholders

growing tobacco on two hectares or

less – child labor is one of the salient

labor and human rights risks in PMI's

global tobacco-growing supply chain

spanning nearly 30 countries. Although

the problem is not new or specific to

tobacco-growing in agriculture, this must

not be an excuse for inaction.

PMI's ALP Code defines the labor practices,

principles, and a set of measurable

standards that embody the company's

strong commitment to progressively

eliminate child labor and other labor

abuses, and to achieve safe and fair

working conditions on all farms in PMI's

tobacco-growing supply chain. Suppliers

and farmers are expected to apply and

meet these standards in the framework

of PMI's commitment to promote good

agricultural practices.

To facilitate this, PMI's approach includes

establishing direct contracts between

smallholder farmers either with PMI's

suppliers or with PMI, cutting out layers

of middle-men and often volatile pricing

at auction. Farmers receive agronomy

support to improve the quality and

yield of their crops, training on how to

care for the environment, and help to

achieve safe and fair labor practices on

their farms. Having a secure buyer for

the crop provides farmers with greater

economic stability, while giving PMI

better visibility into farm conditions

and stronger leverage to address labor

issues in its supply chain.

Dedicated field staff bring ALP to life

A team of 3,500 field staff known as 'Field

Technicians' (FTs) provide farmers with

technical assistance regularly throughout

the growing season. These "boots on the

ground" live in tobacco communities and

couple agronomy expertise with farmer

training and support on how to meet

the ALP Code Standards. These men and

women develop trusted relationships

with farmers, discussing concerns and

90

Global Compact International Yearbook 2016
---
providing training and operational

support on continuous improvement

practices on the farm: from technical

know-how, certified tobacco and food

seeds, to health and safety equipment

and training, among other issues.

FTs conduct in-depth, internal monitoring

on a farm-by-farm basis, supporting

farmers to meet the ALP Code Standards.

At the beginning of the crop season, FTs

gather detailed information (in the form

of a 'Farm Profile') about each farm –

the profile is then used to identify risk

and define areas for improvement. Each

farmer receives several visits throughout

the season aimed at systematically

identifying and addressing labor issues.

As part of this process, FTs are firm and

ALP progress to date

"[Philip Morris International's] Third ALP Progress Report presents a candid

account of our progress, challenges, and achievements in improving labor

conditions on over 450,000 farms worldwide during 2014 and 2015. While a

lot remains to be done, it is encouraging to see tangible progress, including

significant reductions in child labor in several countries due to the hard work

of more than 3,500 trained Field Technicians and strong partnerships with

over 30 not-for-profit organizations.

We hope that by sharing our learnings, our approach serves as an example of

a transformative, holistic system to address complex social and labor issues,

not only in tobacco but in agriculture more widely."

André Calantzopoulos, Chief Executive Officer, Philip Morris International

Global Compact International Yearbook 2016 91
---
A Perfect Example

of "Beyond

Certification"

When the ALP program started in

2011, PMI partnered with Verité to

develop a curriculum for ALP

auditors and train field staff from

Control Union Certifications who

were engaged as third-party

assessors for the program. Since

then, it has been a continuous

learning process as project staff

openly discuss the challenges they

face in different countries. Johan

Maris of Control Union Certifications

shares his experience:

"PMI's approach to improving labor

conditions in their tobacco-growing

supply chain is a perfect example

of "beyond certification." In contrast

to many programs, PMI's focus isn't

simply about the overall outcome,

but much more about having a good

understanding of local circumstances

on the ground.

CU country assessments are

published on www.pmi.com and

give PMI and stakeholders a good

basis for prioritizing the future use

of resources to improve farmer

and worker living and working

conditions. Each report is based on

CU visits to a meaningful sample of

farms, which give a better insight

into conditions on the ground.

Based on the reality that farmers

grow corn, soya beans, and

vegetables alongside their tobacco,

the United Nations Global Compact

can play a key role in bringing

initiatives such as ALP together

so that we learn from each other

and speed up the scaling-up of

sustainable agriculture."

Johan Maris, Managing Director of Control

Union Certifications

clear about PMI's expectations while

seeking to build trust with farmers,

discussing how they can adopt sensible

approaches to overcome problems and

problematic practices.

External monitoring is a critical component

of the program and consists of countryspecific

third-party assessments by Control

Union Certifications (CU), which evaluate

ALP implementation. These assessments

include action plans produced by PMI's

affiliates or its suppliers, committing to

change conditions on farms in light of

the findings and prioritizing areas for

improvement. FTs are fundamental in

ensuring that these plans become a reality.

Transparency of reporting:

A "must-have"

PMI is committed to transparency of

reporting on progress. Together with

ALP country assessments from CU

highlighting ongoing challenges on

farms (assessments to date are publicly

available on www.pmi.com), PMI

publishes regular progress reports on

global implementation of the program

(see: www.pmi.com/ALPprogress).

Tailored community support to

address root causes

Collective efforts of business, government,

and civil society are needed to address

child labor. Under the ALP program, PMI

fosters strong alliances with stakeholders

to guide the implementation of tailored

community initiatives aimed at addressing

the root causes of child labor and fostering

behavioral change in tobacco-growing

areas. This includes reaching out to

civil society organizations, governments,

farmers, and worker representatives in

each country to gain valuable input on

the approach.

Examples of community initiatives

In the Philippines, Pakistan, and Indonesia,

PMI's local affiliates developed a twopronged

program to reduce the risk of

children being involved in hazardous

farm work. The local ALP Country Teams

equip farmers with a labor-saving device

called 'clip sticks,' which allow for a more

efficient preparation of tobacco leaves for

curing, simultaneously reducing the risk

of children being involved in the process.

In parallel, a summer school program for

farmers' children, run by local NGOs, takes

place during the harvest season.

To assess the efficacy of this program,

PMI's local affiliates implemented a

detailed protocol of increased random,

unannounced visits during the peak

harvesting season with groups of farmers

who 1) received only clip sticks; 2) whose

children were involved in the summer

school program; 3) were participating in

both initiatives; and lastly, 4) a control

group not involved in the program.

Although further validation is needed, the

assessments in 2015 suggest promising

results showing that summer schools are

not enough and agronomy / operational

support is insufficient in isolation. A

twin-track approach is needed to avoid

unintended consequences or displacing

root causes of child labor on farms. The

assessment will be repeated in the next

crop seasons in these countries and

trialed in Thailand.

Meanwhile, in Latin America, PMI's affiliate

in Colombia – Coltabaco – is committed

to improving access to, and the quality of,

rural education in tobacco-growing areas.

Over the last eight years, Coltabaco has

supported the "Dividendo por Colombia

Foundation," which works in partnership

with the Ministries of Education and

Municipality Administrations to oversee

the "Sembrando Futuro" (Sewing future)

projects – namely, 'new school' and 'early

years' for children aged from 6 months

to 5 years of age, and 6 years to 12 years of

age respectively. The effort has benefited

more than 7,000 children to date, resulting

in the application of a tailored curriculum

for children in disadvantaged rural

communities in multi-grade schools, the

recruitment of 230 additional teachers,

and the building of 180 schools in Bolivar,

Sucre and Santander.

92

Global Compact International Yearbook 2016
---
External feedback

A leading industry example

PMI's approach to addressing child labor

has come a long way since Human Rights

Watch reported on tobacco-growing in

Kazakhstan in 2009. The US Department

of Labor has since removed Kazakhstan

tobacco from the list of goods produced

from child labor, following a review

and acknowledgement of PMI's efforts

to eliminate it in the country. Human

Rights Watch has since acknowledged

PMI's policy efforts and transparency,

both in the United States and in their

latest report on Indonesia: "Transparency

is a key element of effective and credible

human rights due diligence. Philip

Morris International appears to have

taken the greatest number of steps to

be transparent about its human rights

policies and monitoring procedures,

including by publishing on its website

its own progress reports as well as several

detailed reports by third party monitors."

Looking ahead

PMI has established a long-term strategic partnership with Verité, a leading NGO

in supply chain responsibility, to support the ALP program globally. In the first

phase of the program, Verité helped PMI develop the ALP Code, roll it out among

PMI affiliate and supplier staff in tobacco-growing regions, and provide training on

labor issues to worldwide agronomy and ALP staff. Verité is also working with PMI

to establish partnerships with local NGOs and other stakeholders to address the

root causes of underlying labor problems and establish grievance reporting and

remedy mechanisms. Now that the ALP program has largely moved beyond the

initial setup phase in most markets, Verité continues to support PMI with ongoing

capacity-building, technical assistance on issues such as monitoring and impact

evaluation, and strategic advice about the ALP program.

"Verité continues to experience PMI as a partner that is open to external input,

responsive to stakeholder suggestions, valuing of others' expertise, strategic

in its thinking, committed in its resourcing, and reflective on the need to adapt.

The company's approach to the serious problems in its tobacco production over

the past five years puts it at the leadership level among multinationals." [...]

"PMI continues to achieve a commendable level of disclosure. During this period

[2014–2015], the company published on its website third-party assessment

reports on ALP implementation in Brazil, Mexico, Italy, the Philippines, and the

United States with additional reports from audits conducted during 2014–2015

forthcoming. This monitoring is done against 32 measurable Standards on over

450,000 farms in approximately 30 countries – a massive undertaking that

bolsters the credibility and validity of PMI's problem-solving interventions."

Verité's Chief Executive Officer, Dan Viederman, commenting in PMI's Third ALP Progress Report

PMI is strongly committed to improving

living and working conditions and

addressing child labor and other labor

abuses in its tobacco-growing supply chain.

Alongside the many process challenges

of making sure risks are identified on

farms and effective steps are taken

to address them, these are difficult,

emotional, and culturally-sensitive issues

to resolve. PMI will continue to build on

the strong foundations of ALP program

implementation, ranging from improved

data collection and support to farmers

in meeting the ALP Code, to ongoing

farm-by-farm monitoring, and support

to help farmers continuously improve

and address problematic practices.

External assessments remain essential

in understanding the impact of activities

and to identify areas for improvement.

Close cooperation with government, civil

society, and other industry partners to

develop lasting solutions to these issues is

also a fundamental part of PMI's approach,

together with openly sharing the learnings

of the program through transparent public

reporting on progress.

Global Compact International Yearbook 2016 93
---
SAKHAlIn: PRoMoTInG

lAnGUAGe RIGHTS on

InDIGenoUS ISlAnD

Sakhalin energy Investment Company ltd., an operator of the Sakhalin-2 oil and gas project,

performs its activities on the island of Sakhalin, home to the nivkhi, Uilta (orok), evenki, and nanai

indigenous peoples. Some of the project's assets are located near the areas of the traditional

residence and economic activities of the indigenous peoples. naturally, the company pays special

attention to effective engagement with indigenous Sakhaliners. Since 2006 a special program

– the Sakhalin Indigenous Minorities Development Plan (SIMDP) – has been implemented through

a partnership between the Sakhalin government and the Regional Council of Authorized Representatives

of Sakhalin Indigenous Peoples.

By Natalia Gonchar, Sakhalin Energy

In addition to the SIMDP, Sakhalin Energy

focuses on the preservation and

promotion of the cultural and linguistic

heritage of Sakhalin's indigenous minorities.

This was one of the key priorities

identified by Sakhalin's indigenous peoples

during open public consultations

held during the development of the

SIMDP. A significant number of indigenous

Sakhaliners defined languagerelated

projects as being critically important.

In addition, from the experts' point

of view, the death of a language may

result in the loss of the native speakers'

ethnic identity. As all of the languages

of Sakhalin's indigenous peoples are

seriously endangered, Sakhalin Energy

is making efforts to preserve them and,

consequently, the indigenous cultures.

It needs to be mentioned that, for many

years, the natural assimilation of indigenous

languages took place in Russia,

due to a host of factors. Being the majority

language, Russian serves both as a

unifying factor and as an intermediary

when studying foreign languages and

global culture.

Certainly the government implements

programs for the support and development

of native languages. It is not

preferable for business to overlap with

state-run projects. However, business can

also contribute and provide funding in

the areas that for whatever reason cannot

be financed by the government. In order

to effectively preserve languages and

culture, multi-partner efforts are vital.

Sakhalin Energy projects generally comply

with the provisions of the UNESCO

Convention for the Safeguarding of the Intangible

Cultural Heritage, which covers:

94

Global Compact International Yearbook 2016
---
• oral traditions and expressions, including

language as a vehicle of the

intangible cultural heritage;

• performing arts;

• social practices, rituals, and festive

events;

• knowledge and practices concerning

nature and the universe;

• traditional craftsmanship.

The company's language-support projects

first of all include the publication

of books, textbooks, and dictionaries in

indigenous languages. An example of

this is the series of publications in the

Uilta language. Until this century, the

Uilta language was a completely oral

language. With 295 Uilta people and

just several native speakers remaining,

it seemed that the Uilta language did not

have a chance and that the unique heritage

of these people will be irretrievably

lost. But the Uilta elder people, scientists,

linguists, and the company combined

their knowledge and resources and after

several years published The Orok-Russian /

Russian-Orok Dictionary, The Uilta ABC, and

The Uilta Language as Historic-Ethnographic

Source Dictionary. This is not an absolute

recovery, but it offers hope.

Sakhalin Energy provides funding for the

publication of folklore literature, such

as an unprecedented publication of The

Epic Book of Sakhalin Nivkhi, prepared by

a world-famous Nivkh writer, Vladimir

Sangi. The Epic Book is published in Nivkh

and Russian and is ranked among the

famous books The Kalevala and The Song

of Hiawatha.

In order to ensure the development of a

social-cultural environment for language

preservation, it is important to have

mass media in indigenous languages.

Sakhalin Energy provided support for

the newspaper The Nivkh Dif, which is

published in Nivkh and Russian.

There were several events supported by

the company that played a significant

role in the promotion of Sakhalin's indigenous

languages. The key one was

the "First International Symposium in

the Languages of the Indigenous Peoples

of the Russian Far East," which was arranged

in the town of Yuzhno-Sakhalinsk,

Sakhalin Oblast, Russia. Next was the

"International Workshop Preservation

and Promotion of Cultural and Linguistic

Heritage of Sakhalin Nivkhi," which

was held in the UNESCO Headquarters

in Paris.

When speaking about the preservation

of languages, it is equally important to

mention their development as any living

language, in comparison with the dead

ones, is a flexible mechanism and changes

influenced by society. The special project

targeted at the preservation and development

of Sakhalin's indigenous languages

was implemented jointly by Sakhalin

Energy and the Office of the UN High

Commissioner for Human Rights in Russia.

The project includes the translation of the

Universal Declaration of Human Rights

and the UN Declaration on the Rights of

Indigenous Peoples into the languages

of Sakhalin's indigenous peoples. Each

declaration was published in a separate

booklet and in a joint brochure, including

as well brief information about the

peoples and a CD with recordings of the

texts read aloud by native speakers. According

to linguists' expertise, such an

initiative gives a fresh impetus to language

development, as political vocabulary can

be new to indigenous languages and neologisms

are created. As Vladimir Sangi,

who translated both declarations into the

Nivkh language, says: "I needed to invent

the word 'freedom' in the Nivkh. Because

we never needed one before. The Nivkhi

had never known what 'unfreedom' was,

so 'freedom' was our natural state that did

not require a special name for it."

Projects such as the translation of UN

declarations into indigenous languages

also increase the social prestige of the

minority languages. Another relevant

initiative was recently implemented when

the painstaking efforts of elderly people,

linguists, and the company's employees resulted

in the illustrated corporate calendar

showing traditional culture and economic

activities of Sakhalin's indigenous peoples,

with months' names in their languages

and explanations provided in Russian. It

should be noted that months' names in

languages of the indigenous peoples are

semantically related to peoples' traditional

cultures or the natural and climate characteristics

of the territories. Along with

the Russian national holidays, the dates

important for indigenous peoples were

also highlighted: August 9 as the International

Day of the World's Indigenous

Peoples, February 21 as International

Mother Language Day, March 30 - 31 as the

date for the establishment of the Russian

Association of Indigenous Peoples of the

North, Siberia, and Far East, etc. What is

important to mention is that this calendar

was extremely popular among both indigenous

and non-indigenous stakeholders

and won first prize in the All-Russian

Contest of Corporate Calendars 2016.

The work on language preservation is

continuing. It cannot stop until all the

languages are no longer endangered

– unfortunately, this is a hope for the

remote future.

Global Compact International Yearbook 2016 95
---
Playing Our Part in

Addressing the Impact of

Climate Change on Health

By Gregory Lamory, Sanofi

The year 2015 marked a turning point in the fight against climate change. The signing of the

Paris Agreement during COP 21 in December marked an important step in the move toward

limiting an increase in global temperatures. This agreement is not just a climate agreement;

it is also a major health agreement. Indeed, as the World Health Organization (WHO) points out:

"Between 2030 and 2050, climate change is expected to cause approximately 250,000 additional

deaths per year, from malnutrition, malaria, and diarrhea to heat stress."

In its report published in June 2015, the

Lancet Commission on health and climate

change warned about the threat that climate

change represents for health: "The

effects of climate change are being felt

today, and future projections represent an

unacceptably high and potentially catastrophic

risk to human health. The implications

of climate change for a global

population of 9 billion people threatens

to undermine the last half century of

gains in development and global health."

production in certain areas, the health

effects of a changing climate are likely

to be overwhelmingly negative. Climate

change is expected to lead to increases in

ill health in many regions, and especially

in low-income countries. Direct effects

include temperature-related illnesses and

death during extreme weather events.

Sanofi Pasteur, Neuville-sur-Saône site

Indirect impacts include the influence

of climate on microbial populations, the

distribution of vector-borne diseases, host

resistance to infectious agents, food and

water shortages, food-borne diseases, and

the consequences on non-communicable

diseases such as cardiovascular and respiratory

diseases.

There is therefore a need for the international

health community – public and

private – to get mobilized to address this

health challenge – and Sanofi is ready

to play its part.

Climate change directly and indirectly

affects social and environmental determinants

of health, such as clean air, safe

drinking water, nutrition, etc. Although

global warming may bring some localized

benefits, such as fewer winter deaths in

temperate climates and increases in food

96

Global Compact International Yearbook 2016
---
Areas with weak health infrastructure

– mostly in developing countries – will

be the least able to cope with the negative

health effects of a fossil fuel-based

energy system or the indirect effects of

climate change on their communities

without assistance in preparing for, and

responding to, the impacts of climate

change.

In this context, in addition to the mitigation

efforts already being carried out by

Sanofi and its commitment to reducing

greenhouse gas emissions, Sanofi brings

its value by raising awareness about

the consequences of climate change on

health and by providing health solutions

for climate-sensitive diseases.

Raising awareness about the

impacts of climate change on health

Sanofi began addressing the climate

change and health nexus a few years

back. We set up an internal working

group whose mission was to define the

role that we should play on this issue

– as a global health leader, Sanofi has

a responsibility to address the threats

posed by climate change. We developed

a dedicated advisory board with external

experts from the climate and health

fields. This enabled us to better understand

the stakes related to the impacts

of climate change on health and identify

areas in which we would have the greatest

added value.

Our Chief Executive Officer, Olivier

Brandicourt, embodies our commitment

to tackle the impacts of climate change

on health. In June 2015, he was one of

the few CEOs from the pharmaceutical

sector who signed a statement to

support the publication of the Lancet

Commission's report on climate change

and health. On November 27, 2015, on

the eve of COP 21, Mr. Brandicourt published

an op-ed in the French newspaper

Le Monde. This op-ed called for integrating

health into the official negotiations

of COP 21. It was translated into several

languages and published in major newspapers

in Brazil, Germany, India, Spain,

and the United States.

This strong commitment also materialized

through our involvement in COP 21.

We were the only pharmaceutical company

to be an official partner of COP 21.

We also organized a series of events in

December in Paris to raise awareness

about the impacts of climate change

on health, including a roundtable with

representatives from international organizations

(WHO, UN Foundation) and

a public conference with non-profit

Global Compact International Yearbook 2016 97
---
organizations (Drugs for Neglected Diseases

initiative – DNDi), and climate and

health experts.

Offering health solutions for

climate-sensitive diseases

Over the years, we have developed expertise

in many disease areas most likely

to be affected by climate change. We

work to provide solutions to prevent

and respond to the direct and indirect

impacts of climate change on health. This

includes the development of medicines

and vaccines to address the health risks

of diseases such as dengue and malaria.

Beyond the treatment or cure, Sanofi

takes action in the field alongside its

partners, working with local stakeholders

to help individuals protect themselves

against these diseases, including by increasing

awareness.

Launching a new vaccine to combat

dengue

Dengue is a viral disease transmitted to

humans by mosquitoes, mainly in the

intertropical zone (Southeast Asia, Indian

Ocean, South Pacific, Latin America,

West Indies). WHO estimates 50 million

cases annually, including 500,000 cases

of dengue hemorrhagic fever, which is

fatal in 20 percent of cases. There are 2.5

billion people who live in at-risk areas.

Climate change may extend the transmission

season and alter the geographical

distribution of dengue, particularly due

to weather variations (increased temperatures

or tropical rains). This could lead to:

• increased number of mosquitoes as environmental

conditions become more

favorable; for example, it was recently

demonstrated that high temperatures

during El Niño periods were associated

with dengue epidemics in Asia;

• the expansion of the vectors and virus

to previously unaffected areas (e.g.,

in temperate regions such as North

America and Europe);

• shorter incubation of the virus in the

vector, leading to more explosive outbreaks;

• changes in vector biology and biting

habits, facilitating increased transmission;

and

• changes in human behavior, in response

to climate change, that place

them at elevated risk of dengue.

After 20 years of research and development,

Sanofi Pasteur launched the first

dengue vaccine. On December 9, 2015,

Mexico was the first country to grant

marketing authorization to Dengvaxia®,

our tetravalent vaccine for the prevention

of diseases caused by all four dengue

virus serotypes in preadolescents,

adolescents, and adults (aged 9 to 45)

living in endemic areas. The marketing

authorization of Dengvaxia® in Mexico

was followed by approvals in the Philippines

and Brazil in 2015 and El Salvador

in 2016.

We are introducing Dengvaxia® first in

these countries where the vaccine has

the greatest potential to reduce dengue

burden globally and help achieve the

WHO's goal of reducing dengue mortality

by 50 percent and morbidity by

25 percent by 2020 in endemic countries.

Regulatory review processes for

Dengvaxia® continue in other endemic

countries, and Sanofi Pasteur remains

committed to introducing the vaccine

first in countries where the disease is a

major public health priority.

Our integrated approach to fight

malaria

Malaria is one of the most deadly infectious

diseases in the world. According to

WHO estimates, there were 214 million

cases and 438,000 deaths from malaria

in 2015, mostly among African children.

In Africa, a child dies of malaria almost

every minute.

Heavy rains and high humidity are

identified as important factors for the

reproduction and survival of infected

mosquitoes responsible for transmitting

the disease. Climate strongly influences

the conditions for transmission of the

disease. In warmer weather, mosquitoes

carrying the parasites responsible for

the disease multiply and quickly develop

their infectious capacity. Africa

and South America are especially at risk.

Sanofi promotes access to treatment at affordable

prices in the areas most affected

by malaria. In 2007, Sanofi developed

Artesunate Amodiaquine Winthrop

(ASAQ Winthrop®), one of the leading

malarial drugs, under a public-private

partnership with DNDi. Distributed at

tiered prices in 34 countries, particularly

in Africa, more than 400 million doses

have been produced since 2007. Sanofi did

not seek patent protection for that drug.

We have also partnered with Medicines

for Malaria Venture to develop new therapies

to prevent the risk of resistance to

existing treatment in Southeast Asia and

98

Global Compact International Yearbook 2016
---
the risk of expansion in Africa. Beyond

medicines, Sanofi is strongly committed

to awareness, education, and prevention

programs with local communities. The

"Schoolchildren against Malaria" program

provides educational tools to help teachers

educate children in Africa. Nearly

8 million children in 15 African countries

have been sensitized to the fight against

malaria. We collaborate with National

Malaria Control Programs and local NGOs

in a program to train educators, mainly

about how to manage malaria. Finally,

Sanofi is part of a collective process to

develop knowledge about malaria and its

treatment. We share data from clinical

studies conducted with the Liverpool

School of Tropical Medicine, and we

develop means of surveillance in the

countries most affected by the disease,

in partnership with National Malaria

Control Programs and DNDi.

Tackling climate-sensitive neglected

tropical diseases

As pointed out by WHO, the risk factors

around leishmaniasis include poverty,

malnutrition, and population mobility

but also climate change, as changes in

rainfall, temperature, and humidity are

factors that may impact the epidemiology

of the disease. Sanofi provides glucantime,

a treatment on the WHO List

of Essential medicines, at a preferential

price. In October 2015, Sanofi and the

Institut Pasteur de Tunis signed a partnership

agreement to launch a program

aimed at combating cutaneous leishmaniasis

in the school environment. This

awareness-raising program is centered

on the distribution of 70,000 comics

(available in both French and Arabic)

to schoolchildren in seven governorates

where leishmaniasis is endemic. The

program was launched in March 2016.

Asthma and allergies

Allergies are common and some are climate-sensitive.

Warmer conditions generally

favor the production and release

of airborne allergies and, consequently,

there may be an effect on asthma and

other respiratory diseases. In May 2015,

Sanofi and Regeneron announced positive

pivotal phase 2b dupilumab data in

adult patients with moderate-to-severe

asthma who are uncontrolled despite

treatment with inhaled corticosteroids

and long-acting beta agonists. The companies

also announced the initiation of

a phase III clinical trial of dupilumab in

patients with uncontrolled persistent

asthma.

Continuing our efforts in mitigating

climate change

We also fully recognize our responsibility

to mitigate climate change and are

actively seeking to develop innovative

solutions to mitigate our impact on

the environment. By taking concrete

and scalable actions to mitigate climate

change, we are contributing to immediate

public health and economic cobenefits

for the communities where we

operate while reducing our impact on

the climate. Through partnerships with

energy providers, infrastructure developers,

and research bodies, we aim to

develop groundbreaking solutions that

will have positive impacts on the health

of the planet and people. For instance, we

have installed a natural gas connection

at our Swiftwater site in Pennsylvania.

The project consisted of piping natural

gas to the site and converting existing

boilers to burn natural gas. The expected

impact of using natural gas instead of

light fuel oil represents an annual decrease

in CO 2

emissions amounting to

10,000 tons / year at this site alone. Moreover,

we decreased our CO 2

emissions by

24 percent between 2010 and 2015

by using maritime transport. Today,

86 percent of our international shipments

are sent by sea. In 2015, we reduced

our CO 2

emissions by 15.8 percent

compared to 2010 (scopes 1 and 2).

The future

Sanofi will continue to commit to tackling

climate-sensitive diseases, for which

we have a strong expertise. We will endeavor

to offer adapted solutions for

these diseases that may be impacted by

climate change.

According to WHO, climate change may

have had a role in the spread of the Zika

virus. In February 2016, we announced

that – building on our successful history

in developing vaccines against similar viruses,

including dengue – we are launching

a vaccine research and development

project targeting the prevention of infections

and diseases related to the Zika virus.

We will also assess any opportunities to

work with partners to promote awareness

about the impacts of climate change

on health, as collaborative efforts are

needed to tackle what The Lancet calls

"the biggest global health threat of the

21st century."

Global Compact International Yearbook 2016 99
---
GOOD PRACTICE SECTION 2: WORK | INNOVATION | CLIMATE

The size of the SDG icons reflects the quantity of appearance in this section.

HUMAN RIGHTS

LABOUR STANDARDS

ENVIRONMENT

ANTI-CORRUPTION

SUSTAINABLE

DEVELOPMENT

G O A L S

100

Global Compact International Yearbook 2016
---
GOOD PRACTICE

IneqUAlITIeS | eDUCATIon | PARTneRSHIP

72

74

76

78

82

84

86

88

90

94

96

Adecco

Banca Popolare di Sondrio

Bosch

Deutsche Post DHl Group

Deutsche Telekom

Green Delta Insurance

Manila Doctors Hospital

Merck

Philip Morris International

Sakhalin energy

Sanofi

woRK | InnoVATIon | ClIMATe

102

104

106

108

110

112

114

116

118

120

122

126

128

130

132

134

136

138

Acciona

Arab African International Bank

Armacell

Audi

BASf

Bayer

Commerzbank

Consolidated Contractors Company

eDf Group

HoCHTIef

MAn

mcs

MTU Aero engines

nestlé

Postnl

RoMRADIAToARe

SkyPower

Vaisala

Global Compact International Yearbook 2016 101
---
2010 – 2015

ACCIONA'S ACHIEVEMENTS

ON ITS FIRST SUSTAINABILITY

MASTER PLAN

Six years ago, with a view to the medium and long term, ACCIONA planned and structured the

initiatives related to sustainability in the form of a roadmap that has helped us stand out, become

more competitive, contribute to sustainable development, and consolidate our position as

leaders in sustainable practices. That was ACCIONA's first Sustainability Master Plan 2010 – 2015.

By Juan Ramón Silva Ferrada, ACCIONA

Since then, the company's sustainability

actions have been led and supervised

by the Board of Directors through its

Sustainability Committee. As a result,

the company's sustainability initiatives

and objectives are discussed at its highest

level of governance.

Sustainability was integrated into the

business areas through the creation, in

2012, of Sustainability Committees in

the divisions; working in cooperation

with the Sustainability Department, they

promote and monitor the divisions' specific

sustainability initiatives. There are

committees in the Energy, Construction,

Water, Service, and Industrial divisions,

and meetings are held periodically to

address sustainability with Real Estate

and Bestinver.

Additionally, matters regarding sustainability

have been brought to the attention

of the shareholders' meeting. Since 2012,

ACCIONA has presented its Sustainability

Report for review and approval by the

shareholders' meeting, and it was one

of the first companies to do so (the 2015

Sustainability Report was approved with

a favorable vote of 99.99 percent of those

in attendance at the 2016 shareholders'

meeting).

We maintain our commitment to workplace

health and safety, as reflected in

the zero fatal accidents among company

employees between 2012 and 2015, combined

with a notable improvement in

the workplace accident frequency index

of 31.57 percent, as compared to 2011.

A percentage of variable remuneration is

linked to achievement of sustainability

objectives for 97 percent of executives,

90 percent of structural managers, and

some of the technical and support staff.

Contributions to the development of the

communities where ACCIONA operates

were enhanced by implementing a methodology

for assessing and managing the

social impact of our projects: In 2015, it

was applied in 47 projects in 18 countries.

In the last three years, more than 2,400

corporate volunteers have contributed

more than 23,000 hours of work to the

community. Also, through the ACCIONA

Microenergy Foundation, ACCIONA

continues to provide basic electricity

supply to isolated rural communities in

developing countries: more than 30,000

beneficiaries in Peru and Mexico.

ACCIONA's long-term values – focused

particularly on our bonds with people

and society – have been reinforced by the

steady implementation of improvements

in corporate governance, including:

102

Global Compact International Yearbook 2016
---
Sustainability Master Plan 2010 – 2015

Corporate Governance

our commitment to good governance,

ethics, integrity, and transparency

seeks to be a benchmark of integral

and responsible conduct

STAKEHOLDERS

establish a commitment

to continuous engagement

with stakeholders

Innovation

Technological, operational, and

design innovation of projects

constitute the underpinnings of

competitiveness

Value Circle

Sustainability as a

fundamental factor of

our suppliers, contractors,

and partners

DISSEMINATION AND

LEADERSHIP

Publish and disseminate

a business model based on

sustainable development

opportunities

ACCOUNTABILITY

Transparency

includes accountability

of each of our actions

Environment

Integration of the enviromental variable

in decision-making and in business

operations in order to reduce our

environmental footprint

People

Commitment to employees in a healthy and

discrimination-free environment in order to attract

and retain talent with a long-term vision

Society

Commitment to social

progress of communities in

which we operate

a new program to prevent crime and

corruption, an exhaustive analysis of our

risks in the area of human rights, and the

creation of a Compliance Department.

Those practices are also reflected in our

Policies Book, approved by the Board's

Sustainability Committee, which reflects

the financial, social, and environmental

commitments and principles of action

that apply to the company's businesses.

The company sought to improve supply

chain performance in terms of sustainability

through the approval in 2011

of the Ethical Principles for Suppliers,

Subcontractors, and Collaborators; the

inclusion, since then, of ethics clauses

in tenders, orders, and contracts; the

creation of a supply chain risk map each

year since 2012; an Audit Program for

these activities; and training of more

than 2,500 suppliers in sustainability

issues through six training courses.

ACCIONA avoided the emission of 85.7

million tons of CO 2

between 2010 and

2015. Since 2010, we have reduced our

direct and indirect CO 2

emissions (Scopes

1 & 2) by 43.1 percent.

ACCIONA has measured the greenhouse

gas emissions associated with the activity

of its 28,000 suppliers and begun to work

with them to implement joint measures

to reduce their environmental footprints.

Additionally, the water consumption associated

with the activities of the 28,000

suppliers in 75 countries was measured,

and the 500 suppliers – accounting for

70 percent of the supply chain's total

consumption – were identified.

Our firm commitment to innovation is

evidenced in the € 876 million spent in

2010–2015, that is, far more than the

€ 500 million earmarked in the 2015

Sustainability Master Plan.

Since 2012, we have saved € 86.8 million

through improvements to innovation

processes.

ACCIONA has expanded its active presence

in international organizations such

as the Steering Committees of the United

Nations Global Compact LEAD and Caring

for Climate initiatives; the World

Business Council for Sustainable Development;

and the Corporate Leaders

Group on Climate Change. We are cochairs

of the Renewable Energy Committee

of the Advisory Board for the

Sustainable Energy for All initiative

organized by the UN and the World Bank.

We are present in the leading sustainability

indices, such as the Dow Jones

Sustainability World Index (for the 9th

consecutive year in 2015); FTSE4Good;

the CDP Global Climate Change Report

2015 and CDP Climate Change Report

2015 Iberia Edition; and the Carbon

Disclosure Leadership Index.

To conclude, the Sustainability Master

Plan 2015 and the forthcoming Sustainability

Master through 2020 evidence

our commitment to sustainability and

responsible stewardship and enhance

our position as leaders in sustainable

practices.

Global Compact International Yearbook 2016 103
---
AAIB – Maximizing Value

Beyond Disclosure

By P. Abdelghaly, M. Hasebou, and D. El Demerdash, AAIB

Having reached a decade plus in sustainability and business innovation, the Arab African

International Bank (AAIB) has served as a leader in Egypt and the MENA region and a trendsetter

in the financial sector regarding banking and finance sustainability.

AAIB's journey toward sustainability

dates back to 2003, when the bank became

the first financial institution in

Egypt to join the UN Global Compact,

launched the AAIB undergraduate competition

for banking and finance, and

introduced social and environmental risk

to its credit policy. In addition to publishing

its report on the G4 Sustainability

Guidelines of the Global Reporting Initiative

(GRI), AAIB goes beyond disclosure

requirements to reveal the long process

of learning from experiences, exploring

gap analyses, and serving as a role

model for sustainable finance. The G4

report is more a journey of discovery that

helps organizations focus their sights on

setting goals, measuring sustainability

performance, and managing change

in order to implement better practices.

Although sustainability reporting is not

yet obligatory in Egypt, AAIB has been

taking proactive steps toward disclosing

its sustainability practices since 2005.

The reporting journey then evolved to

include various reporting initiatives

based on other international frameworks,

guidelines, and standards, such as the

United Nations Global Compact; the

Equator Principles, which are customized

for financial services; and the London

Benchmarking Group for impact assessment.

These elements help tackle AAIB's

environmental and social risk-assessment

on project lending, as well as measure

the business and social impacts of our

annual community investments.

In 2010, AAIB took its first step toward

publishing its first sustainability report,

which engaged all the bank's lines of

business and key functions. Followed by

the Carbon Footprint Report in 2014, AAIB

decided it was time for a more advanced

reporting level that is more holistically

inclusive of all the bank's sustainability

reports and based on the most holistic

approach to reporting, namely the GRI.

This decade-long experience in reporting

has led to the bank's adoption of its own

reporting framework, which went beyond

data collection and information disclosure

to include materiality assessment of the

most pressing subjects for our stakeholders,

as well as a holistic stakeholder engagement

– both internally as well as

externally – to decide on these issues.

Internal stakeholders' engagement:

Sustainability reporting workshops

Educating our staff and creating awareness

is a major goal in establishing a

strong foundation for embracing sustainability

in banking operations as well as

developing sustainability into a collective

effort.

104

Global Compact International Yearbook 2016
---
For measuring the key performance

indicators in the GRI report, the bank

conducted a series of sessions and workshops

for the employees to create awareness

on different levels among juniors

and liaison officers, first-line managers,

senior managers, and top management.

Although the most common approach in

endorsing the culture of sustainability

in the organization is the top-down approach,

AAIB introduced sustainability

awareness horizontally and vertically to

achieve the highest impact and transmit

the sustainability gene from one generation

to the next.

The internal awareness process took

place for five consecutive days for 97

employees in order to educate different

lines of business across all managerial

levels about sustainability and reporting.

External stakeholders engagement:

The Partners Club

Sustainability awareness extends beyond

the internal culture of AAIB and

reaches the bank's external stakeholders,

such as clients, subsidiaries, government,

brokers, fund managers, as well as insurance

and financial advisors. The external

stakeholders were selected based on their

high influence on AAIB, as well as the

reliance of AAIB on these stakeholders

in day-to-day operations and long-term

business relations. The Partners Club

saw the attendance of 97 influential

stakeholders in AAIB that represented

the bank's corporate clients, subsidiaries,

advertising agencies and suppliers, printing

houses, business partners, investors,

and consultants.

AAIB's Partners Club is aimed at:

• external stakeholder engagement

• establishing stakeholder relations and

networking

• creating awareness on sustainability

matters and issues

Building a sustainability strategy is a

way to develop a more structured and

coherent sustainability approach that

demonstrates commitment – not only

to AAIB's shareholders, but also to the

community and the environment. As CSR

and sustainability are about value creation,

AAIB has developed a framework

and approach that follows the bank's

spheres of influence, including core business

operations, voluntary contributions,

and policy advocacy.

Moving forward, the GRI assessment

and organization's screening directed

the top management toward establishing

strong levels of support from top

leadership to promote the concept of sustainable

finance over the coming years.

Accordingly, 2016 witnessed the launch

of the second phase of the MOSTADAM

platform for promoting sustainable finance

in Egypt and the MENA region.

MOSTADAM collaborated strategically

with the Frankfurt School of Finance

and Management in Germany to certify

experts in small and medium enterprises

as well as climate and renewable energy.

The platform registered candidates from

Egypt, Somaliland, and the Netherlands.

AAIB aims at creating an industry movement

in Egypt and the MENA region by

introducing new sustainable products

and services, preparing expertise, and

supporting a sustainable business model.

Post-assessment goals and objectives:

• lead and create a forum for sustainable

finance globally

• embrace sustainability in core banking

operations and branding

• educate financial institutions in Egypt

about sustainable finance

• develop comprehensive models for

sustainable finance

• exchange best practices and successful

role models globally

AAIB has established a solid foundation

with regard to sustainability. The

bank is still on its way to reaching an

"advanced" level of sustainability behavior.

AAIB has had success in engaging

the work environment and generating

strong commitments about responsible

business operations. The overall

performance reflects AAIB's vision for

sustainability.

AAIB's sustainability

decade and milestones

AAIB was the first bank in Egypt's

financial sector to accomplish the

following:

2003 – 2010: Launches AAIB Award

– annual banking competition for

university undergraduates

2005: Joins the UN Global Compact

2007: Joins the LBG to measure

community investments

2007: Establishes the first independent

foundation for social development

in health and education:

We Owe It to Egypt foundation

2009: Joins the Equator Principles

for environmental and social

risk-assessment in project lending

2010: First to release a sustainability

report within the banking sector in

Egypt

2013: Launches the First Platform

for Promoting Sustainable Finance in

Egypt and MENA region within the

banking sector

2014: Launches the first certified

module on sustainable finance to

12 banks in Egypt; certified by EBI

2016: Launches the first certified

training modules for banking

executives on renewable energy

and climate change finance, and

SME finance

2016: AAIB publishes its second

sustainability report based on GRI G4

Regional and international

recognition:

2010: CSR Arabia Network Regional

Awards, Dubai

2011 – 2015: Good Practice in

UNGC Yearbook

2015: CSR Golden Shield, Dubai

2015: Best Green Bank Award by CFI

2016: AAIB awarded by Euromoney as

"Best CSR in the Middle East," Dubai

Global Compact International Yearbook 2016 105
---
Armacell sets new

standards for the

insulation industry

Armacell is setting new standards for the FEF technical insulation industry and defining the role

of Environmental Product Declarations for the insulation market and for safe and energy-efficient

green buildings.

By Diana Negrea, Armacell

Armacell is the first manufacturer of

elastomeric insulation materials (flexible

elastomeric foam, FEF) to present

Environmental Product Declarations

(EPDs) based on an independent lifecycle

assessment (LCA). EPDs are internationally

accepted ISO Type-III ecolabels that

disclose the environmental performance

of products based on the LCA method.

Unlike other environmental labels that

signify "green" performance, an EPD

discloses the full story of a product's

direct environmental impact.

Armacell has yet again raised the standards

of the FEF technical insulation

industry while sending a clear message

to the market:

» With the Environmental Product Declarations, we create a unique

degree of transparency for our Armaflex® products. We provide architects,

specifiers, and those inviting tenders with reliable information

for designing sustainable building projects. At the same time, we commit

ourselves to continuing to improve the environmental friendliness

of our products, thus sharpening our competitive edge. «

Patrick Mathieu, President and CEO of Armacell

106

Global Compact International Yearbook 2016
---
Environmental Product

Declarations are based on

independent lifecycle assessments

EPDs rely on LCAs, which provide systematic

and standardized data for an

ecological assessment of a building in

the "modular construction system." In

an LCA, the entire life of the building,

the building phase with possible conversions,

as well as demolition and disposal

are taken into consideration.

Armacell received support in the analysis

of several thousand datasets from PE International

(now thinkstep), which is the

market leader in strategic eco-consulting,

software solutions, and comprehensive

services in the field of sustainability.

Comparing the primary energy input

identified in Armacell's product LCAs

with the energy savings achieved, it

shows that using Armaflex insulation

materials saves about 140 times more

energy than is needed for their manufacture,

transport, and disposal. The

energy input needed to manufacture

Armaflex pays off in just 50 days.

As an LCA can only provide very specific

information about an individual manufacturer's

products, the results cannot

simply be transferred to the products of

other FEF manufacturers. Deviations in

the raw materials used or the production

process, as well as the very different

manufacturing footprints of the providers,

have a significant impact on the data.

Environmental Product Declarations

serve as a "sustainability passport"

for insulation materials

The construction industry has huge potential

for improving energy efficiency

and reducing greenhouse gas impacts

through innovative products and solutions.

One of the most significant opportunities

in this area is in high-tech

insulation products. Optimal technical

insulation is the simplest, fastest, and

most cost-effective measure for improving

energy efficiency in industrial, commercial,

and residential infrastructures.

Armacell's EPDs, certified by the Institute

for Construction and Environment

(IBU) in Europe and the Underwriters

Laboratories in Asia, not only make

statements about the primary energy

requirements but also contain information

about the extent to which the

products contribute to the greenhouse

effect, acidification, over-fertilization,

depletion of the ozone layer, and smog.

With this unprecedented transparency

for the FEF technical insulation market,

the EPDs serve as a "sustainability

passport" for insulation materials and

ensure that green buildings are designed

in accordance with the following certification

schemes: Leadership in Energy

and Environmental Design (LEED®);

the Building Research Establishment

Environmental Assessment Methodology

(BREEAM); the French

certification HQE, which is

awarded to building construction

and management; and the

German Sustainable Building

Council (DGNB). With this initiative,

Armacell is supporting

the development of green

city-building and encouraging

responsible construction in the

21st century.

The role of Environmental Product

Declarations for the insulation

market

Demand for EPDs is growing in response to

changes in green building guidelines and

design practices. The US Green Building

Council's LEED® green building program

is now placing emphasis on lifecycle-based

environmental reporting and transparency,

rewarding points for use of products

with EPDs and LCAs as part of the Material

and Resources Credits. The top 10

countries outside of the United States for

LEED-certified green buildings that made

the list for 2015 are geographically and

culturally diverse, representing seven of

the world's twenty largest economies by

gross domestic product: China, Germany,

Brazil, India, Canada, South Korea, and

Turkey. Although Canada tops the list,

Brazil and the Republic of Korea have

moved up in the rankings, and Turkey and

Sweden are new to the top 10 this year.

EPDs are suitable as proof of environmental

claims in the public procurement

arena and offer the relevant data

on environmental properties of a product

for sales and marketing purposes.

They include statements on the use of

energy and resources and the extent

to which a product contributes to the

greenhouse effect, acidification, eutrophication,

destruction of the ozone

layer, and smog formation. In addition,

End of life

Use

Transport

Raw

materials

Manufacturing

details are given about the technical

properties, which are required for assessing

the performance of the building

products in the building, such as

durability, heat and sound insulation,

or the influence on the quality of the

indoor air.

The ISO Type-III EFDs for insulation

products are directed at many target

groups with regard to these qualitative

statements about the environmental

performance of building products: planners,

architects, building companies,

real estate companies, facility managers,

and, of course, the companies that are

involved in manufacturing and serving

the supply chain – from raw materials

to the building itself.

Global Compact International Yearbook 2016 107
---
Faster, More Efficient,

More Sustainable –

The Production Plant of

the Future

By Prof. Dr.-Ing. Peter F. Tropschuh and Jasmin Lotze, Audi AG

Digital integration will play a central role in the modern production plant over the next few years:

The "factory of the future" – also known as Industry 4.0 or the Smart Factory – not only increases

the ability of machines to control processes faster and more efficiently; it also results in greater

integration of machinery and humans.

Following on from mechanization, electrification,

and automation, the Smart

Factory denotes what now represents

the fourth industrial revolution that

industry will be facing over the coming

years. The goal of the Smart Factory is

to increase productivity and flexibility

while at the same time realizing ecological

benefits by reducing the level of

resources consumed.

The driving force behind this development

is the steady inroads made by

worldwide integration. Today's internet

continues to evolve into an "internet of

things," over which not only people, but

also machinery (= things) can exchange

information. The real and virtual worlds

are thus increasingly converging. The

Smart Factory symbolizes this process.

Because all workers, machinery, and resources

are interconnected non-centrally

there, they are able to communicate

with each other in real time. That is how

the factory is able to assist the workers.

Various elements and technologies of

the Smart Factory are already in use at

Audi. The much-lauded revolution is

therefore more a case of an evolution

for Audi production.

Future scenario: Islands of expertise

instead of assembly line

Intelligent systems, innovative technologies,

efficient structures: time to rethink

the topic from the ground up. Small

groups of forward thinkers in Ingolstadt

gather ideas for the Smart Factory beyond

2030. The creative teams work on solutions,

free from the current processes in

production. Instead of today's practice

of high-volume production at a small

number of plants, in the future production

facilities could be built wherever

the demand is high – in other words,

close to the customer. Every production

unit would therefore need to be able to

build every model according to the same

principles and using the same flexible

tools – a complete rethink of the working

approach in automotive manufacturing.

Here, too, the future is connected,

integrated, and communicative.

The role of the workers

For all the focus on the technology, people

will not disappear from the production

plant of the future. Quite the opposite:

The large number of production

variants, the high degree of customization,

and the high-quality standards

can only be realized with suitably wellqualified

workers. But wherever possible,

they are supported by assisting robots.

Ergonomics and reduced workloads are

the overriding priorities; the workers

will increasingly take on planning and

controlling roles, because in 2035 skilled

108

Global Compact International Yearbook 2016
---
workers will be in demand and coveted.

Identifying problems and indicating

them to the workers – the rectification

process, for example – will also proceed

much faster thanks to integrated diagnostics

systems.

Clearly, however, the standards involved

in working in the production plant of the

future will rise. The workers are therefore

supported by elaborate information

systems because the extreme variations

in products has resulted in a very large

scope of tasks. At the interfaces between

electronic and mechanical systems, for

example, software experts ensure that

sensors are set and functioning optimally.

Network architects ensure that machines

and workers can communicate. So the

high levels of technology and integration

already require one thing above all: the

adequate qualification and advancement

of the workers.

New robots facilitate work

In the production plant of the future,

robots can support the workers in many

different ways. For example, machines

can supply them with important information

as needed, or step in to perform

non-value-adding activities. The division

of labor runs along the same principles

as in the operating room: prepare – pass

on – operate.

the workers of the need to do physically

strenuous tasks. Audi's goal is to make

every workstation as ergonomic as possible.

Assembly Technology Development,

for example, is working on increasingly

transferring burdensome tasks from

workers to robots. This aspect is especially

relevant in production, because

that is where most physical effort is

required, and demographic change is

forcing through fresh solutions.

Beyond the confines of the plant –

globally integrated

Digitalization is making inroads not just

within a production location, but across

the entire global production chain. The

Audi Group currently builds vehicles at

17 locations in 13 countries. The new

plant in Mexico was added in 2016. More

than 85,000 employees throughout the

Group work simultaneously on creating

high-quality products all over the world.

To do this, a huge amount of data needs

to be shared between the plants because

they are all interconnected non-centrally.

Networking this working data intelligently

and processing it in real time

are therefore major priorities. The key

thing is to send and evaluate enormous

data flows quickly and at high speed.

Data security is obviously hugely important

for this "big data": As early as

the research phase, the company uses

recognized and tested embedded security

mechanisms and standards. To enable

smooth communication, international

standards must also be clarified.

Ideas from our own ranks

Preparing the way to the Smart Factory

of the future is not merely the task of

designated experts in creative teams. Ever

since 1969, each individual employee

at Audi has had the opportunity to put

forward their own ideas; in 1994 this

suggestions scheme gave birth to the

Audi Ideas Program. The large number

of innovative suggestions has resulted

in both minor and far-reaching process

improvements, all of which save

costs. Since the program was introduced,

AUDI AG has realized savings in the order

of € 780 million. Audi examines the

benefits and feasibility of every idea submitted

with a view to raising efficiency

or improving the working environment.

It is quite common for them even to

result in successful patents, such as the

helical-thread mold.

For the past two years, smaller robots

operating according to this principle

have been in action on the Audi assembly

line without any safety fence. The

work that these new "colleagues" do is

often relatively simple, but they relieve

Left: Efficient and kind on the back:

The robot offers the container at the very

moment the worker needs it.

Right: A highly efficient factory:

The Audi A3 body shop with innovative

technologies and cutting-edge equipment.

Efficiency and sustainability were the priorities

when planning the production hall.

Global Compact International Yearbook 2016 109
---
Stakeholder Relations –

Invest in Them Before You

Need to Rely on Them

By Nadine-Lan Hönighaus and

Thorsten Pinkepank, BASF SE

Why engage your stakeholders?

As the world's leading chemical company,

BASF has products in all kinds of

industries. It employs approximately

112,000 people globally, services numerous

suppliers and customers, and has

relationships with shareholders and a

large number of societal stakeholders.

Having a clear picture of a company's

relevant stakeholders in business, government,

and civil society is essential

for effective stakeholder engagement.

However, a company's set of relevant

stakeholders will change with time. In

order to ensure an ongoing stakeholder

engagement, it is appropriate to have

skilled people and organizational structures

in place.

BASF has always interacted with its stakeholders,

but in addition to rather "classical"

forms of stakeholder interaction,

which are still essential, new approaches

have been developed. Engagement with

stakeholders can improve a company's

decision-making and performance, since

it helps in acquiring a broader view of

the market than what economic figures

alone can provide. Stakeholders can offer

a company insight into their perspectives

on current and emerging issues, into how

they perceive the company, and what

they consider to be the company's impact.

This does not mean delegating decisionmaking

to external people; it is still a

company's management that decides

on its business strategy. However, this

strategy has a higher likelihood of meeting

the market's needs if it is based on a

participatory approach that also includes

stakeholders' views.

BASF has given a clear answer as to the

"why": We have identified "responsible

relations" as being one of the material

aspects of our organization.

Different forms of stakeholder

engagement at BASF

BASF has various forms of stakeholder

engagement in place. Our stakeholder

engagement comprises of onsite and local

community-related forums, such as

our community advisory panels at sites

worldwide. On the business side, BASF is

A fixed component of our sustainability

management is the continuous exchange

with our stakeholders.

a founding member of Together for Sustainability,

an initiative in which leading

chemical companies have joined forces

to support sustainability in the supply

chain and standardize supplier assessment

methods. On an international level,

BASF takes an active part in the United

Nations Global Compact: BASF's Chairman

of the Board of Executive Directors

is a member of the UN Global Compact

Board, and BASF is an active member in

many local networks. Different formats

of stakeholder engagement serve different

purposes: With local initiatives, you are

110

Global Compact International Yearbook 2016
---
close to the communities adjacent to your

sites; international initiatives such as the

UN Global Compact can give you a broader

view on the world's material topics and

the company's possible impact on them.

In 2013, in order to involve our stakeholders

more intensively, BASF established

the independent Stakeholder Advisory

Council (SAC). The SAC consists of various

renowned thinkers and leaders whose

knowledge on material sustainability

topics bring an important external perspective

to the table in discussions with

BASF's Board of Executive Directors. The

SAC meets annually with BASF's Board

of Executive Directors to offer critical

evaluations and refine the sustainability

management of BASF on the basis

of a shared dialogue. The meetings are

chaired by BASF's Chairman of the Board.

Based on recommendations of the SAC,

we continuously review and update our

sustainability approach and positioning.

BASF has been cooperating with the European

Water Partnership (EWP) since 2008,

an independent organization founded

through the initiative of the European

Commission in 2006. Working as partners,

water experts from BASF as well as

other representatives from industry, governments,

and NGOs developed the European

Water Stewardship (EWS) standard.

It enables companies from various sectors

as well as agricultural operations

to examine how sustainably they use

water resources. The partnership with

EWP highlights that a multistakeholder

group can really achieve results beyond

what is possible for a single institution.

The EWS standard fulfills high-quality

expectations, is widely accepted, and

is thus a real tool for improving water

management within the industry. BASF

has set itself the goal of introducing

sustainable water management at its

production sites in water stress areas by

2020 on the basis of the EWS standard.

Success factors for effective and

stakeholder engagement

In our experience, several factors contribute

to successful stakeholder engagement.

• The issue taken up with stakeholders

should be relevant and pressing, and it

should be addressed at the right time.

• Furthermore, getting the right stakeholders

to the table and identifying

them is not an easy task.

• Depending on the subject and stakeholders,

the right form of engagement

should be chosen.

• Enough time and resources should be

put into thorough preparation of any

kind of activity.

Internal preparation also needs to address

the mindset of participating management.

Interacting with some of the stakeholders

will possibly require managers to step out

of their comfort zones and collaborate

with individuals and types of organizations

they might not be familiar with. In

terms of time and research efforts, the

resources needed are often underestimated,

but investments must be made.

Two thoughts on the evolution of

stakeholder engagement

Everyone agrees that solid stakeholder

relations help a company to ensure its

license to operate: They help to mitigate

risks and retain and win customers and

employees, including supporting solid

public relations. This is a major motivation

for stakeholder relations.

Openness and a constant exchange with

colleagues, customers, suppliers, shareholders,

as well as experts from science,

economy, politics, and the media are

particularly important for us.

Considering the growing complexity of

the world we operate in – the "communication

revolution" illustrated with key

words such as social media and big data –

and with regard to a growing societal

skepticism toward new technologies, we

will talk about the license to innovate.

This is especially crucial, as innovations

are key to providing solutions for the

various challenges to ensure (more) sustainable

development.

A second factor we see concerning the

evolution of stakeholder engagement

is the trend of operationalizing and

measuring by metrics. We elaborated

on a number of success factors, and

you need to be prepared for general

discussions on the quantification of the

benefits of stakeholder engagement. But

how do you measure success or impact

on value? More precisely: How do you

measure how hard a crisis – maybe

reputation-wise – has affected you if

you have not communicated with your

stakeholders for years?

There are some approaches for assessing

the value of stakeholder relations, but

still there is no simple "metric answer"

in sight – and a simple answer might

not even be helpful. Not everything that

counts can be counted.

More information is available at www.basf.com/

en/company/sustainability/environment/water/

water-stewardship.html and www.ewp.eu

Global Compact International Yearbook 2016 111
---
Smartening Up Tomorrow's

Agriculture

Food security ranks among the pressing challenges of a steadily increasing global population.

Yet, there is not enough land left on Earth for further agricultural development. Creating an

environment that promotes sustainable agriculture is critical to Bayer in providing enough food

for ourselves and also our livestock well into the future. Bayer is contributing to counter these

challenges, among other things, with the innovative approach of Digital Farming. This business

model is part of Bayer's contribution to support UN Sustainable Development Goal 2: "End

hunger, achieve food security and improved nutrition, and promote sustainable agriculture"

and emphasizes our commitment to the UN Global Compact.

By Tobias Menne, Bayer

The situation is alarming: UN studies

predict that the world's population will

grow to more than nine billion by 2050.

One consequence is that the demand

on global food systems will intensify.

Although the world's population is growing

constantly, the available farmland

cannot be continually expanded to accommodate

it. Therefore, each farmer

will have to produce more on the same

amount of land. In order to accomplish

this, the use of agricultural inputs such

as seeds, fertilizers, and crop protection

products must be chosen as precisely

as possible to ensure sustainable food

production into the future. For Bayer,

digital innovation is one key to further

increase production through efficiency

while using the planet's resources in an

ever more efficient and sustainable way.

This will help to enable increased yields

while considering the environmental

footprint of agriculture at the same time.

Rather than add to the complexity, it

will make the world of farming a more

predictable place, empowering farmers

to do what they do best – now and in

the future.

Harvesting the benefits of Digital Farming

Sources: IBM Research, CEMA, FAO

"We need new ideas and have to better

cultivate the existing land to produce

significantly more food on a limited

agricultural area – in a sustainable

and environmentally friendly manner.

Because our planet is at its ecological

limits," says Liam Condon, Member of

the Board of Management of Bayer AG

and Head of the Crop Science Division.

Digitalization of agriculture

Arable land can vary considerably, even

within one and the same parcel of land,

depending on the topography, type of soil,

and the soil-related supply of water and

nutrients to the plants – all of which

have repercussions for their biomass.

Digital Farming – the next evolution of

the digitalization of agriculture – will in

the future be able to deliver hyper-local

and field-specific information in order

to spark quick and intelligent action on

the field. Bayer currently offers large and

small-scale farmers throughout the world

a variety of digital decision support-tools,

such as: the so-called Expert tool, which

provides farmers with analysis of the

infection process of fungal diseases, the

development and migration of pests, and

storage-risk based on weather information;

weed recognition applications to

112

Global Compact International Yearbook 2016
---
identify weeds and provide farmers a

treatment recommendation; as well as

developing digital farm management

applications for smallholders. In the not

too distant future, real-time analysis will

help farmers identify pests, diseases, and

weeds that threaten the farmer's crops

and yield, down to the square meter. Sensors

and imaging techniques will zero-in

on a problem and allow the farmer to

treat it at the source. Field-specific modeling

and integration of public and proprietary

data will garner superior recommendations

that a farmer can rely on.

Plenty of data is already available. The

latest satellite technology can deliver

detailed maps, weather information, or

even measure the biomass of a field to

determine yield potential or possible weed

problems. On a farm itself, a trail of data

is created every season when the grower

monitors the farm. The variety of seeds

used, the GPS and product data from the

machinery, water use and yield – most of

this information is collected and stored to

make it comparable over various seasons.

The question is: How can this enormous

amount of data be prepared in a way that

it is of use? "What it comes down to is

the correct interpretation of big data:

Advancements in technology allow for

software to sift through the myriad of

data points, to analyze and combine them,

and to set them all into proportion to

retrieve a final and personalized recommendation,"

says Thomas Schilling, Head

of IT, Digital Farming at Bayer.

How can all the data be made usable?

Digital Farming will in the future deliver local

and field-specific information.

Bayer translates this basic data into

practice-relevant and usable decisionmaking

tools, which farmers can employ

for soil and water management and to

more precisely predict the impact of their

actions – such as choice of seed variety,

application rate of crop protection products,

and harvest timing – making the

risk management of the farm a much

easier task, along with the chance to

improve profitability in a sustainable

way. The individualized recommendations

can be transmitted directly to the

farmer's agricultural machinery. As such,

geoinformation systems play an important

role in sustainable agriculture. Bayer

plans to offer its customers further digital

services in the future in order to drive

forward the digitalization of farming

and sustainable agriculture.

"We want to help farmers to implement

their agronomic decisions with unprecedented

accuracy, efficiency, and ease.

By identifying the perfect timing and

quantity of each product application

for each field, we are 'personalizing'

our products for every individual. This

support can one day be possible, down

to the last square meter of every field.

With these tailored treatments – never

too much, nor too little – the farmer will

in the future be able to take utmost care

of the land, making each application in

a more sustainable manner," emphasizes

Mathias Kremer, Head of Crop Strategies

& Portfolio Management at Bayer's Crop

Science Division.

Global Compact International Yearbook 2016 113
---
Sustainable Trade and

the Role of the Banking

Industry

Trade can support sustainable development in the global

economy. Ruediger Senft, Head of Corporate Responsibility

at Commerzbank, argues that banks can therefore be a

major part of the movement toward a sustainable future.

– supporting environmental protection,

respecting human rights, ensuring fair

labor conditions, and tackling corruption

– thus upholding the core principles

of the UN Global Compact. But

for sustainable trade to truly take hold,

increased levels of collaboration between

the financial, political, regulatory, and

consumer sectors will also be vital.

The drivers of sustainable trade

The global economy is being presented

with important challenges regarding

growth, such as the demand for increasingly

scarce resources, which put the

future of trade at risk.

By Ruediger Senft, Commerzbank

Sustainable trade is key to global development.

Not only does it spur economic

growth, it raises living standards, helps

to fight poverty, and safeguards the environment.

As the vital facilitators of

global commerce, financial institutions

are best placed to identify the dynamics

of sustainable trade and help pave

the way toward sustainable economic

development for the future.

Key to this is the banks' ability to mitigate

environmental, social, and governance

(ESG) risks for trading companies

Of course, this means that banks such

as Commerzbank, whose business is financing

world commerce, are heavily

invested in sustainable trade as a longterm

solution. By conserving resources

across supply chains, offering fair prices

to workers, and protecting the environment,

sustainable trade provides a longterm

way of maintaining stable economic

development worldwide. To explore sustainable

trade in depth and identify its

key dynamics, Commerzbank published

an extensive report in March 2015 titled

114

Global Compact International Yearbook 2016
---
Insights: Five Drivers of Sustainable Trade. The

report found that sustainable trade relies

on enacting progressive governmental

regulation, building informed demand

among consumers, ensuring sustainability

in commercial supply chains, applying

ethical standards and labels, and taking

innovative approaches to finance. Such

a variety of drivers stem from the fact

that corporate responsibility has now

become a very broad concept. Whereas

originally it referred only to environmental

concerns, it now encompasses

all ethical and social concerns.

Banks have a crucial role to play

Given their central role in facilitating

global trade flows, banks are particularly

well placed to meet corporate demands

for sustainability. Indeed, because they

possess the organizational infrastructure

to mitigate risks, they can ensure that

global trade complies with ESG good

practice.

For example, as part of its commitment

to sustainability, Commerzbank checks

every single potential transaction it receives

against its ESG guidelines. The

bank's ESG Risk Management department

uses a qualitative approach to environmental,

social, and ethical risks, and

to this end cooperates closely with other

relevant units at Commerzbank. Transactions,

loans, and business relationships

in which aspects of sustainability play a

material role are extensively researched,

analyzed, and subject to wide-ranging

evaluation. In some cases, this may lead

to the rejection of a transaction or the

termination of a business relationship.

On average, the department checks more

than 5,000 transactions a year.

The Roundtable on Sustainable Palm

Oil (RSPO) is a case in point about the

progress being made by banks, among

others, in driving sustainable trade. With

global demand for the vital resource

increasing constantly, rainforests in Indonesia,

Malaysia, Africa, and Central

America are subject to destruction, with

negative impacts both on the indigenous

peoples who call the areas home and on

the planet's ability to absorb dangerous

carbon emissions. Yet, the RSPO demands

that all signatories meet stringent sustainability

criteria. As a member of the

RSPO, Commerzbank will not finance

the trade of palm oil if suppliers fail to

meet such criteria.

Making the business case for

sustainability

In addition to ensuring that trade is

sustainable, banks can also lead the

way in making the "business case" for

sustainability in the corporate world,

reconciling a company's motivation for

profit with the need to respect the environment,

society, and good governance.

For example, no company will want to

see its public image tarnished by links to

poor working conditions in a developing

country. But banks can mitigate against

this type of risk by demanding respect for

human rights, fair labor conditions, and

anti-corruption measures across supply

chains – hence avoiding considerable

negative repercussions on a company's

global reputation.

Indeed, with their knowledge of local

trading environments, banks can ensure

that companies deal with reliable partners

abroad who offer good standards in

corporate governance, thus safeguarding

local workforces and the sustainable

development of communities.

How does the future look for

sustainable trade?

Making the business case for environmental,

social, and ethical best practice

in future world trade also depends on

raising awareness about sustainability.

In this respect, the financial sector must

take a lead when it comes to promoting

it among key stakeholders. This is

why Commerzbank followed up with

the release of a second report, Insights:

Scenarios for the Future of Sustainable Trade,

in October 2015, releasing it to other

banks at the Swift International Banking

Operations Seminar, the premier

banking conference of the year.

The latest report projects Commerzbank's

findings on sustainable trade

into the future. Assessing the global economic

outlook for the next 10–15 years,

it offers the "best-case" and "worst-case"

scenarios for sustainability in the global

economy – and gives recommendations

for a likely outcome.

Without doubt, the pressure for sustainable

trade will continue to grow in

future. For example, consumers around

the world are likely to become more

aware of the ethical and environmental

impacts of products and services. Thanks

to raised awareness of ESG risks, they

are likely to hold companies to stricter

sustainability standards.

Sustainability will also depend on all

key stakeholders collaborating effectively,

whether in the financial, political,

regulatory, or consumer sectors. Banks

form just one avenue toward realizing

the goals of the UN Global Compact. But

given their ability to finance sustainable

trade, mitigate key ESG risks, and communicate

their work to key audiences,

banks will be essential to driving sustainability

in the world economy.

Global Compact International Yearbook 2016 115
---
What Gets Measured

Can Be Controlled

and Managed

By Antoine Jurdak, Consolidated Contractors Company

Realizing the needs for sustainability efforts and plans to reduce CO 2

footprints are guiding the

construction industry toward new ways to optimize job execution, resulting in higher competitiveness.

Asset management and equipment used in the construction industry – along with

their associated running requirements, utilization, and health and fuel consumption – are major

governing factors in sustainability and greenhouse gas emissions.

CCC commitments are leading to the

development and implementation of progressive

technical skills, as projects are

being executed in a more environmentally

responsible manner. CCC embraces

this responsibility and has developed

many internal programs and processes

that go beyond what is described in this

article. Some of our achievements are

described below.

Centralization

Perhaps one of the biggest challenges for

CCC on "asset-intensive" projects is how

to effectively manage different types of

assets without creating a huge management

workload that erodes the bottom

line. So, maximizing the availability and

performance of assets is more critical to

success than ever before.

Decentralized operations contribute to

delays in collecting data and increase

errors. Automation and centralized databases

are essential for timely, big data

manipulation and applying analytics,

consequently enriching the management

by changing the paradigm from "react"

to "anticipate."

Today, CCC fleet managers and maintenance

officers are making immediate

and strategic decisions thanks

to effective data analysis capabilities

and reporting and are able to get asset

management information into the

hands of maintenance technicians and

storeroom personnel rapidly. CCC has

advanced considerably in reinventing

the way we manage our fleet and in

providing leading solutions to converge

operational technologies and IT through

the deployment of our in-house, nearreal-time

control systems (CCC Cloud:

iFalcon) and IBM Asset Management

system (Maximo) to handle, manage,

and control timely maintenance, repairs,

job cards, spare-parts stocks, availability,

and fuel consumption during the full

lifecycle of each asset.

Equipment idling time

Excessive idling can be very expensive

and harmful in terms of emissions;

equipment running hours should be

associated with certain production,

otherwise fuel is burnt unnecessarily.

116

Global Compact International Yearbook 2016
---
This can be reduced by motivating the

operators to change their behavior to

avoid running the equipment unnecessarily

when not in use, except in very

few applications. In an idling state, an

engine may not generate enough heat

to achieve proper combustion, leading

to rapid oil contamination and engine

wear, hence excessive exhaust emissions.

The key component of any effort

to reduce idling time is proper planning

and performance measurement; that is

where CCC started adopting telematics.

Maintenance

When a machine starts its production

shift, it should work without interruption.

CCC's goal is to have a minimum

number of on-shift failures.

Due to the present centralization of

information and controls, maintenance

programs are uncompromisingly thorough;

repairs and rebuilds are performed

to strict quality standards; and replacement

decisions are well-timed to ensure

that the fleet is as reliable as possible

and emissions do not exceed the manufacturer's

norms.

Unplanned and excessive equipment

breakdowns are mostly the product of

a lack of preventive maintenance. Such

events directly alter the job execution

plan, which in many cases cannot be

revised, resulting in an increase in imposed

idling time.

Collateral costs, delays, and associated

increases in emissions are extremely

difficult to measure. They do not appear

in cost reports and are often the subject

of bitter debate. Regardless, there is no

doubt that they exist and that they have

a huge impact on costs, productivity, and

sustainability.

Fuel and CO 2

CCC recognizes that one of our major

environmental impacts is the air pollution

related to construction machinery,

transportation equipment, and vehicles.

The global growth in CCC's business sectors

inevitably intensifies or reduces total

fuel consumption across our operations

– where the bottom line figures reach

hundreds of millions of liters – and

proportionally affects our CO 2

impact.

As such, the importance of the fuel

economy to the successful operation of

construction sites cannot be understated.

Fuel is one of the largest variable costs,

and while no operation can control the

cost and the supply quality of fuel, CCC

has been able to find at least some control

over the following:

• Adopting tight selection criteria during

equipment acquisitions, giving priority

to low HP ratings, low-emission options,

exhaust treatment options drag

improvement gadgets, efficient system

designs, smart engine shutdowns during

prolonged idling, and recyclable

units and components;

• Applying timely and proper preventive

maintenance;

• Disposing of old equipment and renewing

the fleet to improve on the average

fleet age and increase the population

of regulated engines;

• Monitoring tires for wear, pressure,

alignment, etc.;

• Buying, handling and using the right

fuel;

• Introducing advanced automation in the

fuel distribution process and control;

• Monitoring and control of individual

and cumulative idle time by using nearreal-time

data-capturing systems;

• Improving operator efficiency and job

knowledge and awareness through

regular training schemes.

Telematics

When used through CCC cloud data

(iFalcon) on idle time, telematics alone

can help managers save thousands of

dollars from fuel burnt during the life

of a machine, preserve vital warranty

hours, and determine best practices in

each application. iFalcon Telematics

can be used to capture, analyze, and

document a baseline for idling time,

utilization, maintenance requirements,

fuel consumption, load factors, and an

extensive list of other operational attributes

as well as look for ways to get

the right data, at the right time, to the

right people through intelligent KPI's.

Challenges

• Building up and maintaining proper

awareness of sustainability and energy

conservation within the operating

teams while copping with their in- and

outflows;

• Guaranteeing a viable high "technical

condition" of every operating plant

to ensure good performance of equipment

on site without compromising the

timely project execution milestones;

• Imposing limitations on equipment owners

according to the global status of diesel

fuel sulfur levels. This is a direct restriction

on deployment of low-emission

engines in many countries of operation;

• Diversity and distribution dilemma and

the effect on availability, types, and

models of equipment, which renders

standardization impossible in many

cases;

• Management decentralization;

• Fleet mobilization and demobilization

considering limitations from local

regulations;

• Technical resources and skills availability;

• When / where / what to invest;

• Political instability in some countries;

• Environmental constraints and social

responsibility.

Global Compact International Yearbook 2016 117
---
Stakeholder Engagement:

A Key Strength for the

Success of Our Projects

By EDF Group

Consultation does not happen spontaneously. But without it, we believe that it would no longer

be possible to imagine the smallest project – even more so if it is an industrial project and a host

region needs to be found. Rather, what is needed is the willingness to create – through consensus

– the conditions under which a project can be sustainable, in accordance with a region's own

development aims.

Against the backdrop of the energy transition,

EDF aims to become the champion of

low-carbon growth and the standard-setting

electricity company for performance

and responsibility. The main provisions

of Cap 2030 – EDF Group's strategic

project – are to be closer to customers

and to double by 2030 its installed global

capacity in renewables: wind, solar, marine

energy, and hydropower. That adds

up to hundreds of projects that must be

put in place throughout the world. The

stakes are high to ensure their sustainability

and public acceptance.

We have heard the warning bells that

society is sending out in countries around

the planet: People expect more dialogue

and are increasingly vigilant when it

comes to projects that are likely to modify

the surrounding environment. For that

reason, we have decided to make consultation

our key strength for success and a

lever for our company's transformation

and the way it goes about its business.

Building offshore wind power

with fishermen, environmental

organizations, and SMEs

In France, EDF Energies Nouvelles is

conducting several offshore wind farm

projects. One of these is an 80-turbine

farm in Brittany, off the coast of the fishing

town of Le Croisic and not far from

the shipbuilding town of Saint-Nazaire.

In the space of five years, apart from the

mandatory public inquiry procedures,

dialogue and consultation have enabled

many legitimate concerns of local people

to be assuaged. Fishermen participated

to study trips to the United Kingdom to

find out about existing offshore wind

farms and talk to their counterparts.

They then worked with engineers at

EDF Energies Nouvelles to establish a

location for the future wind farm that

would have the least impact on their

118

Global Compact International Yearbook 2016
---
activity. The Bretagne Vivante non-profit

organization was tasked with carrying

out a study on the impact of the wind

turbines on bird and bat populations in

order to gain a better understanding of

the behavior of maritime fauna, which

was little known up until then. The region's

small companies had very limited

international experience, so to prepare

them for how to participate in technical

calls for tenders, training in English was

put in place via a non-profit that wished

to protect their interests. Welding skills –

which are very specific for offshore wind

turbines – were also improved. In the

end, all the environmental, fishing and

industrial stakeholders concerned are

now working alongside EDF Energies

Nouvelles in support of the project.

In 2016, the EDF Group has committed

to systematically organizing

a process of transparent and open

dialogue and consultation for every

new project around the world.

Forming partnerships to conduct

our business

Consultation and dialogue lead us to

change our practices. As we experiment

and see the resulting benefits, we build

new ways of conducting our business

through forming operational partnerships

that enable us to bring in project

stakeholders as early as possible. In the

French Pyrenees, for example, we reorganized

maintenance schedules for our

major hydro dams. The environmental

engineers of the national nature park

help us identify the breeding areas of the

bearded vulture, a protected bird of prey.

We modify the helicopter fly-over plans

that transport the people and materials

required so as not to disturb the mother

vultures. Any work that is too close to

young broods is postponed.

Another example concerns fighting fuel

poverty. In Toulouse, we bring together

neighborhood resident associations with

small businesses working in home renovation

and suppliers of light equipment

and tools. They form workshops that

enable vulnerable people to benefit from

advice, training, and tools so they can

renovate their own homes, especially to

improve energy efficiency.

Training project managers

Consultation requires a clear decisionmaking

process, procedural rules, and set

principles for all stakeholders involved.

In addition, the fears and worries that

can hamper trust have to be allayed. To

achieve all this, in 2012, EDF set up a

Group-wide training course and implemented

a methodology, called Durabilis,

for training project teams in how to identifity

local priorities and thereby carry out

the ground work for better stakeholder

inclusion in projects. The areas looked at

are local value creation, the consequences

of projects on the areas where they are

located, and environmental health issues.

Alongside the usual criteria of national

and local health regulations as well as

the governance of health issues at the

regional level, Durabilis backs up regional

assessment tools and encourages the

inclusion of several additional sets of

criteria (geographic, demographic, social,

and cultural). These criteria examine the

region's environmental characteristics;

the state of existing pollution and health

risks; expected impacts due to climate

change, weather, lifestyles, and on quality

of life; people's levels of education;

healthcare systems in the region; and

so on. In total, more than 60 questions

relating to environmental health were

fed into the regional assessment that the

project teams drew up.

"CONSULTATION

WITH REGIONAL

STAKEHOLDERS"

Specific Training for all

Project Managers

Manuel Lenas is the director of the One

River, One Territory Sud-Isère-Drôme

branch, which is part of a program to

support the economic development of

the valleys where EDF operates dams.

The aim is to maintain the vitality of

areas whose economies are largely

rural. Like a good number of project

managers, Lenas has taken an in-house

training course on conducting a consultation

process. He explains what is

needed to play his role more effectively.

"Reaching out to stakeholders is an integral

part of the work I do to manage

an economic development program.

Engaging in dialogue, keeping an open

mind, building a relationship – I used

to do all that empirically, based on my

own experience. The training course

taught me that it's possible to be more

effective in relations with stakeholders,

and that a sound method helps

you adopt the right stance. You have

to shift from a relationship in which

you go with the flow of what's being

said to something that is led, which

includes phases where you listen, you

ask questions, you add to the proposals,

and you consolidate. So there are

protocols to put in place in order to

be effective. It's not just talking together

for talking's sake: You're there

to decide on a project together. Jointly

defining the program will give it every

chance of legitimacy for the long term.

To sum up, I would say that this course

has made me realize that there's a

stance to be taken and a method to

be followed! That's helped me more

easily and rapidly co-construct the

local development program with the

economic organizations present in

the areas our branch covers."

Global Compact International Yearbook 2016 119
---
Above the Standard:

HOCHTIEF at the "Crossrail"

Project in London

In ever-expanding cities across the world, city planners are rethinking their transportation policies

and setting their sights on sustainable mobility. In spaces that had been allocated to cars, people

are now the focus. People and the environment benefit from expanding bicycle path networks,

car-sharing services, and better local public transport connections. A look at London shows where

we are heading – and that HOCHTIEF is a safe companion on this path. In the UK capital, the international

construction company is making a key contribution to a highly sustainable tunneling

project.

By Indra Folke, HOCHTIEF

"Crossrail" is a new 118-km rail line from

west to east offering access to Heathrow

Airport. It is currently one of the largest

transportation infrastructure projects in

Europe: More than 10,000 engineers and

builders have been feverishly working

to build 10 new stations and drill 42 km

of tunnels.

In a joint venture with J. Murphy & Sons,

HOCHTIEF has been a key partner in

one of the most demanding lots. In June

2015, the team completed – on time and

within budget – the construction of the

almost 3-km-long tunnel section C 310,

which leads from Plumstead, underneath

the Thames River, to North Woolwich.

With the construction of the two tubes

– each having an outside diameter of

more than 7 meters – the team provided

an impressive performance not only

with regard to engineering, but also in

economic, ecological, and social terms.

"Sustainable aspects are gaining in importance,

particularly for major infrastructure

projects, and are having an increasing

influence on the awarding and execution

of projects," says Riku Tauriainen, who

led the Crossrail project on behalf of

HOCHTIEF. Especially in London with the

Crossrail project, the client demanded

very high standards. Because of their

many years of experience, the tunneling

experts were well prepared.

Energy demand on construction site

greatly reduced

Since the beginning of the C 310 project

in early 2011, the team had focused on

reducing emissions at each work site.

As an example, they saved 80 percent of

120

Global Compact International Yearbook 2016
---
the energy demand for construction site

lighting. The site was equipped with LED

lights, which require considerably less

energy than conventional light sources.

In addition, materials and excavation

materials were recycled, transport durations

were significantly reduced, and

new technologies were used. By optimizing

construction workflows, employees

reused some 1,200 tons of material. The

performance regarding occupational

safety and health standards was also

optimized.

When installing the inner shell of the

tunnel, a difference of only 10 cm may

mean monetary savings of thousands.

HOCHTIEF adapted the width specified

by the client of the lining segments from

1.5 to 1.6 meters. This idea resulted in

an entire chain of positive effects. First,

the volume of segments that had to be

produced, transported, and used was

reduced by 7 percent, reducing CO 2

emissions

and costs accordingly. Underground,

where the two tunnel boring machines

"Sophia" and "Mary" worked around the

clock, the installation of a total of 3,405

concrete rings went considerably faster.

Due to the lower number of segments,

there are now fewer connection joints

between segments, and thus fewer possible

"weak points" in the tunnel. The

project team gained several working

days in this way.

Groundwater recycled and reused

In terms of conserving resources, employees

also had effective ideas. For

example, since groundwater had to be

removed from the excavation site, tunnel

experts collected the water and recycled

it. Combined with collected rainwater,

it was used in propulsion, in bentonite

recycling, and as a spray liquid as well

as for mortar preparation. Thus, the

team saved 2 million liters of drinking

water per week – 68 million liters during

the entire project: an amount that

would fill 27.2 Olympic swimming pools!

For this achievement, the joint venture

was awarded a prize in the category of

"Innovation and Environmental Performance"

by the client who had specifically

promoted and called for sustained acting

through internal competition.

The tunnel team used the opportunity

to ask for sustainable ideas internally as

well. The "Green Idea Tree" was consequently

created in order to continually

improve ecological efficiency. The best

proposals were awarded and implemented.

One of these ideas was to dry the lime

sludge taken from the Thames River

underground during the early phases

of the project. This procedure made it

possible to use the sludge again as environmentally

friendly material in other

projects. Other excavation materials were

used to replenish and to redevelop the

building site. A total of 3 million tons of

excavation materials from the Crossrail

project were shipped to Essex in order to

create a bird sanctuary in a river delta.

Transporting the materials by ship – a

total of 1,528 charges – was the best

low-emissions alternative and served

to avoid numerous truck trips through

downtown London, which already experiences

heavy traffic volumes. The habitat

will provide a safe home to tens of thousands

of domestic and migratory birds

and will have a pronounced balancing

effect on the wildlife.

Employees engage in social projects

Aside from environmental issues, the

team at lot C 310, led by project manager

Riku Tauriainen, also took into

account social aspects. In addition to

constant exchanges with local residents,

employees did volunteer work. They organized

transport services for seniors to

go shopping, repainted Salvation Army

accommodations, and collected debris by

hand in an adjacent public park. After

both tunnels became accessible, residents

were allowed to explore them in an open

house of sorts.

The installation of the tracks and the

building of stations began in 2015.

The first trains will travel through the

tunnel in 2018 and transport thousands

of people daily. With this project,

HOCHTIEF has made its contribution

to sustainability and has corroborated

its vision: "HOCHTIEF is building the

world of tomorrow."

Global Compact International Yearbook 2016 121
---
Climate Protection

Through Innovation

The world is in a constant state of change. Effective climate protection requires both creativity

and expert knowledge. With the aim of cutting fossil fuel consumption, MAN is developing new

transportation and energy solutions that make our mobility even more efficient – and that take

account of the entire product lifecycle.

By Peter Attin, MAN

MAN's Climate Strategy

Negotiated at the 2015 United Nations

Climate Change Conference, the Paris

Agreement represents a global consensus

on climate protection. Signatories have

agreed to conserve fossil fuels and radically

cut greenhouse gas emissions. To

achieve the targets, government, society,

and business will have to work together.

Industry must act as an innovator and

provide efficient technology that contributes

to a reduction in oil, gas, and

diesel consumption.

Because the transportation and logistics

sector is responsible for around onequarter

of global CO 2

emissions, it can

play a key role in slowing the pace of

climate change. As one of Europe's leading

commercial vehicle and mechanical

engineering players, the MAN Group sees

energy efficiency as an essential element

of its products and production processes.

We place top priority on the development

and use of alternative drives and fuels.

In 2011, MAN launched its integrated

climate strategy, with five core initiatives

aimed at both its production sites

and its products.

1 25 percent reduction

in CO 2

emissions at

MAN sites by 2020

(baseline: 2008)

2 Consistently efficient

product portfolio

3 Customer involvement

and dialog

4 Potential for reducing

CO 2

emissions along the

product lifecycle

5 Climate strategy

management

We will reduce CO 2

emissions at MAN

sites by improving energy efficiency, using

renewable energy sources (solar, wind,

geothermal), generating energy using

combined heat and power (CHP) plants,

and through integrated energy-management

technology and organization.

We position ourselves in the commercial

vehicles and power-engineering sectors

with sustainable products and services.

We involve our customers and talk to

them about ways to reduce the global

carbon footprint. After all, many of our

customers have already set themselves

ambitious targets for cutting CO 2

emissions.

To identify potential for reductions, we

measure CO 2

emissions along the entire

product lifecycle.

We manage the implementation of our

Climate Strategy and have defined KPIs

that are regularly measured and published.

122

Global Compact International Yearbook 2016
---
In South Africa, MAN's first carbonneutral

plant cuts the Group's carbon

footprint by 860 tons of CO 2

emissions

each year.

Innovation is the key

Innovation is the key to achieving

modern forms of mobility that are also

climate-friendly. MAN offers powerful

machines and engines that save fuel and

conserve resources, designed to reduce

the emissions generated by the transportation

sector. MAN takes a holistic view

of the lifecycle of its products, extending

from the production stage to the use

phase and continuing through to the

remanufacturing of used components.

Production powered by the sun

Integrated climate protection begins

in the production process. MAN has

set itself the target of reducing the CO 2

emissions of its plants 25 percent by 2020,

compared to a 2008 baseline. Having

cut emissions by 19.5 percent in 2015,

the Group is on track to meet this goal.

Through combined heat and power (CHP),

LED lighting, and renewables, MAN is

approaching the challenge from many

different angles, always with the aim of

reducing energy consumption and CO 2

emissions. Photovoltaic systems represent

one of the most effective ways to

conserve resources at our facilities.

Since the end of 2014, our production

site in Pinetown, South Africa, has been

generating more solar power than it

needs for its own operations, allowing it

to feed surplus electricity into the local

grid. A photovoltaic system on the roofs

of the production halls, which offer a surface

area of 6,300 m 2 , combined with 300

days of sunshine each year, make Pinetown

MAN's first carbon-neutral plant.

And our production sites in Munich and

Plauen in Germany and Changzhou in

China also use photovoltaic systems to

generate green electricity.

Engines powered by natural gas

Some 90 percent of the greenhouse gas

emissions produced over the product

lifecycle are generated during the use

phase. For MAN, this makes it all the

Global Compact International Yearbook 2016 123
---
the transportation sector. MAN is leveraging

the digital revolution to make

efficient vehicles even more efficient

– cutting costs for its customers and

conserving resources. Truck connectivity

plays a key role in this process.

Fighting climate change on the high

seas with dual-fuel engines from

MAN, widely considered the most

environmentally compatible on the

market.

Today, MAN already offers integrated

services that cut fuel consumption, optimize

fleet-capacity utilization, and

reduce downtime for servicing and

maintenance. All this is made possible

by the MAN TeleMatics vehicle module,

which collects vehicle and driving data

and makes it available to the customer

in real time. Vehicle servicing can be

MAN offers a virtual distance-learning

program that can cut fuel consumption

by around 10 percent.

more important to develop alternative

drive systems for trucks and ships that

are reliable and low-emission. Gas-powered

engines play an important role here.

Running on natural gas, the MAN Lion's

City GL CNG municipal bus almost

achieves CO 2

-neutral operation. If one

considers not only the purchase price but

also the operating and maintenance costs,

the bus also offers savings of around 15

percent – a good example of economy

and ecology in harmony.

Marine transportation is also made more

climate-friendly with MAN gas-powered

engines. And MAN unites energy efficiency

and flexibility in its dual-fuel

engines, which can run on both liquid

and gaseous fuels. When running on

natural gas, the engine's CO 2

and nitrogen

oxide emissions are significantly

lower, while sulfur oxides, soot, and

particulate emissions are almost completely

eliminated. In addition to highly

efficient gas-powered engines, MAN offers

exhaust after-treatment systems

that can be retrofitted to older engines,

allowing them to meet current and future

emissions requirements.

Coaching in the digital revolution

Increasing costs and fierce competition

are among the many challenges facing

Potential for

reducing CO 2

emissions

in the

product lifecycle

To identify the potential for

reducing the CO₂ emissions in

the lifecycle of its products,

MAN calculates product carbon

footprints (PCF) for virtually

all product groups of the

MAN Truck & Bus subgroup and

for selected product groups of

MAN Diesel & Turbo.

The lifecycle stages are defined

in accordance with standard

automotive industry practice:

1. production

2. use phase

3. end of life (recycling and

waste processing)

Our calculation methodology

is based on the requirements of

the Greenhouse Gas Protocol.

The findings confirm that more

than 90 percent of our products'

greenhouse gas emissions are

generated during the use phase.

scheduled well in advance, optimizing

fleet-capacity planning. As a result, the

trucks operate more efficiently, saving

both time and fuel.

MAN also uses digitization to foster

more environmentally compatible styles

of driving. The driver still has a major

influence on fuel economy – even if

driver assistance systems already play

an important supporting role. With its

Connected CoDriver system, MAN offers

its customers a green driving coach as a

temporary virtual co-driver. MAN Tele-

Matics captures the driving data, which

allows the coach to analyze the vehicle,

the style of driving, and the route profile.

Based on this information, the coach can

use the hands-free system to speak to

the driver and provide advice on more

efficient driving. This can help even

experienced drivers achieve a further

reduction in fuel consumption.

Riding the slipstream

Thanks to digitization and connectivity,

trucks can safely follow one another,

nose-to-tail. Road trains made up of

multiple trucks, known as "platoons,"

help to save fuel. They could also boost

the safety and efficiency of transporting

goods by highway. To demonstrate the

potential of this concept, MAN took part

in the European Truck Platooning Chal-

124

Global Compact International Yearbook 2016
---
"Platooning" lets trucks take advantage

of the slipstream of the vehicle in front,

boosting efficiency and saving fuel.

After sorting, the used parts are washed to

remove grime and oil. Only then it is possible

to see which parts can be remanufactured

as MAN Genuine Parts ecoline.

Awards 2015

International Bus Planner Sustainability Prize for the MAN Lion's City GL CNG

municipal bus with natural gas drive

Green Ship Technology Award for fuel-saving and environmentally friendly

ship-propulsion solutions with the concept "Slow Steaming Optimization with

Derating and Propeller Upgrade"

European Transportation Prize for Sustainability for the MAN Genuine Parts

ecoline as well as the climate-efficient vehicle-leasing program by MAN and

EURO-Leasing

European Excellence Award for the MAN Corporate Responsibility Report

lenge – a test drive in which the trucks

are linked by digital data transmission.

Two or more trucks follow each other

at a close distance, allowing them to

take full advantage of the slipstream

of the vehicle in front. The driver of

the lead vehicle sets the pace and the

direction, with the following vehicles

in semi-automated driving mode. Driver

assistance systems such as adaptive cruise

control and autonomous emergency

braking systems ensure that one vehicle

can safely follow another with no risk

of a collision, despite the short following

distance.

These compact and energy-efficient formations

have a marked positive impact

on the flow of traffic, while diesel consumption

and CO 2

emissions are cut by

up to 10 percent. Platooning is a clear

example of the extent to which the transportation

sector will change, with fully

connected trucks making the roads safer

and the air cleaner.

Returned to the product lifecycle

The climate footprint of a vehicle depends

to a large extent on the length

of its service life. A long service life for

the individual technical components not

only makes economic sense, but also

leads to a reduction in CO 2

emissions and

resource consumption in the production

of new ones.

With our MAN Genuine Parts ecoline

initiative, we extend the service life of our

genuine parts – such as coolant pumps or

crankshafts – by returning used parts to

the use phase. A comprehensive remanufacturing

process in our plant in Nuremberg,

Germany, completely restores the

functionality of used original components.

The first step is a thorough cleaning. The

components are dismantled, cleaned in a

wash bay, sandblasted, recoated – and, in

some cases, rejected. The cleaning process

reveals which parts are still usable and

which are only good for recycling. The

next step is to remanufacture the functional

components and replace any worn

parts. Following remanufacturing, MAN

installs the components and tests their

functionality. The quality standards are

high, with MAN Genuine Parts ecoline

products covered by the same warranty

conditions as new parts – but at prices

up to 50 percent lower. Here, economy

and ecology go hand in hand.

Find out more:

www.cr-report2015.man

Global Compact International Yearbook 2016 125
---
Reducing Environmental

Impact via Digitization

mcs believes sustainable processes and production will soon be the industry standard, and we

strive to be one of the first movers. For us, sustainability is the only way forward. We are using

digitization to improve efficiency and save natural resources, while simultaneously increasing

transparency and cost-savings for our clients.

By Shay Clark, mcs

Begun in a small town in Germany in

1975, mcs (media contact service) has

grown from a family business to an international

promotional products agency.

The firm currently sources its products

from hundreds of suppliers globally. As

a leading partner of the International

Partnership for Premiums & Gifts (IP-

PAG AG) joint venture initiative, mcs

has access to 60 partner offices in more

than 43 countries.

away after a trade fair or when it becomes

outdated. According to a 2010

European Commission environmental

report, in Europe, materials with a commercial

value of around € 5.25 billion are

thrown away each year. Using natural

resources to needlessly produce items

that are never used makes no sense for

businesses or the planet. Luckily, mcs

realized that slow and limited access

to information is the root cause of this

destructive trend, so the firm is now

using intelligent planning and IT to

reduce unnecessary waste. mcs now

builds custom IT solutions via their

Ziggy platform, so clients can access

relevant information conveniently, 24

hours a day.

Sustainable supply chains save

money and decrease resource use

Businesses have traditionally ordered

marketing products from multiple suppliers,

but mcs offers all promotional

materials and print media to its clients

on one easy-to-use online platform. This

decreases the time needed for companies

to order and design various items from

multiple firms, while also eliminating excessive

production, shipping, packaging,

and storage that has been generated in

the past. The results are twofold: Clients

save money, whereas carbon emissions

and the use of natural resources decrease.

IT eliminates waste in the supply

chain

Many companies over-order promotional

materials, only to throw much of them

126

Global Compact International Yearbook 2016
---
When mcs recently began working with

a client in Switzerland, more than €2

million of unused products had to be

thrown away simply because they were

outdated. Sadly, this is not an isolated

case. Upon switching to mcs, another

new client was quickly informed that

25 percent of their stock was tied up

in outdated promotional materials sitting

in a warehouse. With the help of

mcs' analytics, these and other clients

now only order popular, fast-moving

promotional products.

Ziggy means lower risk, decreased

costs, and less waste

At mcs the idea is not to produce more,

but to produce the right amount of the

right things at the right time. mcs offers an

expansive full-service solution surpassing

the conventional offerings of merchandisers

or printers that can be integrated into

any IT landscape. This user-friendly system

seamlessly blends with the client's own

intranet to provide the client's purchasing,

marketing, sales, and HR departments

with transparent planning, handling, and

control of all marketing media. Ziggy

further supports clients' purchasing departments

by combining demands from

various branches located in multiple locations.

This streamlines branding, shortens

processing time, prevents overstocking,

and economizes on transport. The result

is an effective reduction of stock, along

with simultaneously improved availability

that creates less waste, saves time, and

frees up budgets.

Reporting analytics offer improved

transparency

mcs has found that the transparent reporting

and state-of-the-art analytics provided

by Ziggy reduce waste and uncover

potential savings time and time again.

This feature helps clients track their order

quantities, buying patterns, and rates of

product usage, which reduces waste by

helping clients to only order the amount

of product needed. Through reporting

and consulting, mcs alerts clients about

which products are performing poorly or

losing popularity to reduce ordering of

these "slow movers." A positive waterfall

effect occurs: Fewer natural resources are

used, needless waste caused by accidental

excess ordering decreases, and fewer

emissions from shipping are incurred.

In this way, historic overproduction of

products is reduced.

Since beginning its partnership with mcs

in 2011, the promotional firm's largest

account has not sent any merchandise

items to landfills. "We have made our

clients aware of the print items that have

not moved in a long time and have given

them the option to recycle these items."

On-demand production

Capacities of Ziggy mean that more

merchandise and print products can

be created quickly on demand. Printing

companies near the end-user produce

materials within days, which eliminates

the need to print media in advance, only

to store it and ship it long distances. The

end result is that costs are drastically cut

and carbon emissions are immensely

reduced.

Corporate social responsibility

mcs has restructured its activities to

be more socially and environmentally

responsible, in line with the ISO 26000

standard. The firm is also part of the

Supplier Ethical Data Exchange (Sedex),

the international association for ethical

sourcing. In close collaboration with

IPPAG AG, mcs manages its suppliers

according to Social Accountability International

(SAI) Social Fingerprint, an

organization that promotes standards

for decent work conditions.

UN Global Compact Principles and

Sustainable Development Goals

(SDGs)

By creating and emphatically implementing

innovative IT solutions, mcs is both

supporting the UNGC Principles and furthering

the efforts of the SDGs. The firm

is directly adhering to UNGC Principles 7,

8, and 9, as well as SDGs 9.4 and 12.5–

7 by proactively assuming responsibility

to prevent environmental impacts. mcs

is doing this through the development

of environmentally friendly technologies

and by developing initiatives and

practices to advance and enhance its

socio-environmental responsibility, while

reducing spending, using resources responsibly,

and reducing waste and the

need for shipping.

The traditional idea is for companies to

compete for potential clients by providing

the best value for the cheapest price,

but the environmental costs are often

not considered. Simply put: Producing

promotional products creates waste. mcs

recognizes this as a problem and is taking

direct action to create financial and

environmental savings.

For further details about our efforts:

Global Compact International Yearbook 2016 127
---
MTU Aero Engines: Cleaner

and quieter engines

At MTU Aero Engines, assuming responsibility – for products and services, employees, customers,

partners, and not least for the environment – is a key priority. The biggest contribution of

Germany's leading engine manufacturer toward the protection of the environment comes from the

eco-efficient products it makes using energy-efficient processes. "Product responsibility for us is

the motivation that drives all of our business efforts," emphasizes MTU Chief Executive Officer

Reiner Winkler. "Eco-efficient and safe products are key to our long-term economic viability."

possible by optimizations of this engine,

work on which is already underway. The

market was quickly convinced of the

benefits afforded by the GTF: Five aircraft

manufacturers around the world have

chosen this new propulsion system for

their aircraft, and about 60 airlines, too,

have selected the engine, the total order

book standing at almost 7,000 copies.

By Martina Vollmuth, MTU Aero Engines

The best case in point is the tremendously

successful geared turbofan (GTF) engine:

With this propulsion system, which

goes by the catchy name of PurePower®

PW1000G, Pratt & Whitney and MTU are

building the propulsion system of the

future. The new technology is a textbook

example of how to meet the challenge of

making engines even more fuel-efficient,

cleaner, and quieter: The GTF immediately

reduces fuel consumption and CO 2

emissions by 15 percent each and almost

cuts perceived noise levels in half. On

top of this, it is expected that even more

improvements can be achieved, bringing

down fuel burn and CO 2

emissions by

40 percent. These advances are made

What sets the new GTF propulsion system

apart is that it features a reduction gearbox

between the fan and low-pressure

turbine. The two are connected by a

shaft, and the turbine drives the fan.

The gearbox allows the fan with its large

diameter to rotate more slowly, and

the turbine to rotate much faster. This

lets the individual components achieve

their respective optimum speed, greatly

boosting the geared turbofan's efficiency.

The result is a significant reduction in

fuel consumption, emissions of CO 2

, and

noise; moreover, the propulsion system is

much lighter, as it has fewer compressor

and turbine stages than today's engines.

MTU contributes the high-speed, lowpressure

turbine – a key GTF component

– and, in collaboration with Pratt

& Whitney, is building an innovative

high-pressure compressor.

Today already, the GTF version to power

the Airbus A320neo is playing a special

role in the family of geared turbofans.

128

Global Compact International Yearbook 2016
---
The engine boasts two advanced technological

developments: In this program,

MTU is using a new additive production

process and a new material for the

first time. The high-speed, low-pressure

turbine for the PW1100G-JM is the first

production turbine ever to include an

attachment part made by the 3-D printing

method. New additive manufacturing

processes greatly benefit the environment,

since components can be produced

with only small amounts of material and

require few tools. From an economic

perspective, too, they score high, since

the technology opens the door to entirely

new, more complex designs; appreciably

cuts development, production, and lead

times; and brings down production costs

overall. MTU wants to take full advantage

of the benefits and is pressing on with

additive manufacturing in numerous

technology projects and programs, giving

its development top priority.

developing an enhanced TiAl alloy. The

aim is to make more turbine stages from

the new material. Again, the innovation

is good news for the environment – for

TiAl allows engines to be built that use

fewer resources, burn less fuel, and are

cleaner and quieter than today's models.

"I'm sure that this material will help further

bring down the weight of engines

appreciably," says MTU Chief Operating

Officer Dr. Rainer Martens.

Eco-efficiency is the driving force of

MTU's production strategy. In its Clean

Air Engine (Claire) technology roadmap,

MTU has set out how it wants to go about

implementing this strategy. Here, the

engine experts combine the latest key

technologies into a commercial propulsion

system that, by the year 2050, will

burn 40 percent less fuel, will reduce

CO 2

emissions by the same amount, and

will cut noise levels by 65 percent. Plans

are to achieve the CO 2

and noise level

targets defined by the European aviation

industry and research community in

the Strategic Research and Innovation

Agenda in three stages.

The staged goals of Claire are 15 percent,

25 percent, and 40 percent less CO 2

. In

stage of Claire indicate that the GTF configuration

lends itself as a platform for

further development and improvement.

For example, it is quite conceivable that

the bypass ratio can be further increased

by the year 2030 – from 12:1 (geared

turbofan) to up to 20:1. Moreover, the

thermal efficiency of the core engine

can be enhanced by higher pressure

ratios and temperatures. The aim is to

increase the overall pressure ratio from

currently almost 50:1 to 70:1. In the third

and last stage of Claire, major changes

are envisaged that may well go beyond

today's gas turbine technology. Jointly

with universities and other research establishments,

MTU is conducting studies

for this phase. Among the options under

review is the use of highly efficient heat

engines with extremely high pressures

based on recuperative technologies to

recover energy from the exhaust gas.

Other conceivable concepts are looking at

propeller noise shielding by the aircraft

or fans distributed around the fuselage.

One thing is for certain already: For MTU,

helping shape and push forward advances

in aviation is – and will remain

– a tradition to which the company is

firmly committed.

The second innovation incorporated in

the GTF for the A320neo is a new material

made by MTU: The rearmost rotor

stage of the high-speed, low-pressure

turbine is made up of tailor-made titanium

aluminide blades. TiAl is a new

intermetallic high-temperature material

for highly loaded engine components in

a class all by itself. It was developed by

MTU and partners within the record time

of a mere seven years. Its advantages: TiAl

turbine blades are only half the weight

of comparable nickel-alloy blades but

boast the same reliability and durability.

In this field, too, MTU is already working

to push research forward and is busy

the first stage, the geared turbofan engine

alone already provides a reduction

in fuel consumption – and hence CO 2

emissions – by up to 15 percent; noise

levels will almost be cut in half. Concept

studies conducted as part of the second

Left: Clearly cleaner and less noise: The

geared turbofan is the engine concept of the

future.

Above: Even better: MTU works on the improvement

of the geared turbofan mechanism,

permitting different materials for airfoils.

Global Compact International Yearbook 2016 129
---
Traceability in the

supply chain

By Andrea Biswas Tortajada, Nestlé

In the spirit of the Sustainable Development Goals, and invigorated by their worldwide importance,

we are determined to carry on with our work to realize a shared vision of a sustainable future. Our

ongoing commitment to support the world's development ambitions is part of our responsibility as

a global company and a nutrition, health and wellness leader. We strive for people to live healthy

lives, in a healthy environment, and in healthy communities. Partnering is central to our business

model, and since 2011, we have been working with various civil organizations, international cooperation,

and the Turkish government to improve transparency and address complex social challenges

in the hazelnut supply chain in Turkey. Together, we are furthering our understanding of the

difficulties faced by rural communities and achieving significant progress.

Turkey is the world's leading producer

of hazelnuts, with around 75 percent of

the total global production. Nestlé mainly

purchases hazelnuts as a raw material

from the eastern and western parts of the

Black Sea region of Turkey; of the 7,000

tons we sourced in 2015, more than 4,000

tons came from these areas. Even when

we do not source directly from the farms

but from a small number of suppliers,

who obtain the hazelnuts through a chain

of intermediaries, we believe that our

130

Global Compact International Yearbook 2016
---
supply chains represent one of the biggest

opportunities at hand to contribute to

healthy lives, in a healthy environment,

and in healthy communities.

This is why, in 2011, Nestlé asked the Fair

Labor Organization (FLA) to assess labor

practices in our hazelnut supply chain

in Turkey. Since then, the FLA has been

conducting annual audits, after which it

supplier code awareness and training.

Encouraged by these results, we continue

to take firm steps to make continuous

progress in other areas that require

further work.

These activities are part of our effort

to ensure that our suppliers make continuous

improvements in meeting our

Nestlé Responsible Sourcing Guideline

strengthening internal monitoring and

remediation systems. The project, which

will be implemented in approximately

1,000 hazelnut gardens in Ordu, Sakarya,

and Sanliurfa, this atter region being

home to a large number of seasonal

migrant workers and labor contractors/

intermediaries. In coordination with

the Turkish government and the International

Labour Organization (ILO),

Nestlé, Olam, Balsu:

working together for sustainable supply chains

identifies a number of labor and human

rights issues, including the presence of

children on hazelnut farms; preferential

treatment of local workers over migrants;

health and safety risks related to the transportation

of workers; excessive working

hours; and inadequate compensation.

Each year, the FLA makes recommendations

to address any issues it has identified

during the hazelnut harvest. Nestlé

uses these recommendations to strengthen

its responsible sourcing roadmap and

action plans. FLA's findings in its 2015

assessments were encouraging, as it identified

a series of important improvements,

notably the significant decrease in the

reporting of child labor, which suggests

that the prioritization of the issue and

joint remediation activities with other

companies have been effective. The association

has also acknowledged that

progress has been achieved in terms of

on Hazelnuts (RSG). Our RSG sets out

non-negotiable minimum requirements

on human rights and labor standards,

health and safety, sustainability, and

business integrity. Traceability is the

first step toward ensuring that suppliers

meet our RSG requirements. By the

end of 2015, 65 percent of our hazelnuts

sourced from Turkey were traced

back to the farm, and 20 percent of this

volume was responsibly sourced. In addition,

our two direct hazelnut suppliers,

Balsu and Olam-Progida, have held

training and awareness-raising sessions

on labor issues – including child labor –

with 2,349 processors, intermediaries,

growers, and workers.

In December 2015, Nestlé (along with

our direct suppliers) and the FLA were

awarded a $ 4.9 million grant from the

US Department of Labor to address child

labor in the hazelnut supply chain by

this initiative will especially focus on

preventing children from working in

hazelnut production.

Addressing challenges around labor

conditions is complex and requires the

collaboration of many stakeholders. We

believe that multistakeholder dialogue

and participating in industry efforts

can help raise standards, making efforts

more efficient and successful. We have

driven a public-private partnership with

the ILO and the Association of Chocolate,

Biscuits and Confectionery Industries of

Europe (CAOBISCO) trade association as

well as a working group with the Turkish

Ministry of Labor. These concerted

activities have focused on training workers

and raising awareness to improve

the working conditions for laborers, in

particular the conditions for the many

temporary migrant workers employed

during the harvest period.

Global Compact International Yearbook 2016 131
---
Solar Power to Help

Deliver on Sustainable

Growth

PostNL installs 20,000 solar panels to

significantly reduce carbon footprint.

By Nikaj van Hermon, PostNL

132

Global Compact International Yearbook 2016
---
As the leading mail and parcels deliverer

in the Benelux region, PostNL sits at the

forefront of the ongoing rapid growth

in e-commerce. To cope with the resulting

increase in the flow of parcels, in

recent years we have designed and built

a network of future-proof sorting and

delivery centers across the Netherlands

for our parcels operations. One of our

key objectives when developing these

centers was to ensure that they make a

structural contribution to our sustainability

objectives, thereby helping us to

improve the environmental efficiency of

our delivery networks and minimize our

impact on the environment. For example,

we have invested in state-of-the-art,

energy-efficient sorting machines, and

the depots have been constructed to make

optimum use of daylight, further cutting

energy requirements. In 2016 we took the

next step in developing our sustainability

goals and started installing approximately

20,000 solar panels on the centers' roofs.

These panels will contribute up to 40

percent of the centers' annual electricity

requirements, thereby significantly

reducing our carbon footprint.

Sustainability goals

Since 2011, our parcels segment has

designed and constructed sorting and

delivery centers that can more efficiently

process the rapid growth in parcels volume,

which has been driven by the rise

in e-commerce. These new centers have

achieved an A+ energy label based on

advanced building techniques, enabling

us to lower both our energy requirements

and decrease our carbon footprint.

This focus on developing energy-efficient

building solutions reflects both our stakeholders'

desire to develop sustainable solutions

across all business segments, and

our ongoing focus on our responsibility

to society and the contribution we make

to the community. We believe that one of

the ways to make a positive contribution

is to provide services and solutions that

are as sustainable as possible.

Introducing solar energy to our

sorting and delivery centers

One of the first innovations within our

new sorting and delivery centers was the

introduction of hi-tech sorting machines,

which use electromagnetic and induction

technologies to reduce friction during

operation. This has resulted in huge efficiency

benefits, with the machines using

75 percent less energy than those they

replaced, cutting our electricity needs,

carbon footprint, and costs. However,

our goal is to continually look for ways

to make our logistics operations more

environmentally friendly. As a result, in

2016 we began installing 20,000 solar

panels on the 19 new sorting and delivery

centers. Funded in part through a subsidy

from the Dutch government, which aims

at stimulating the sustainable production

of renewable energy, the solar panels

will produce 40 percent of the centers'

energy requirements. We will fully fit

12 centers with panels over the course

of 2016, with all 19 being completed in

2017. At PostNL, sustainable delivery

means maintaining the highest quality

standards while minimizing the impact

of our deliveries on the environment.

This means making our buildings greener

and introducing energy-efficient technologies,

whenever possible. We believe

that the introduction of solar technology

is another positive step toward realizing

our sustainability ambitions.

Global Compact International Yearbook 2016 133
---
Investments for

a Greener Future

With help from Norway Grants, ROMRADIATOARE has invested

in modern and innovative technologies for improved environmental

performance.

By Mihai Răducan, ROMRADIATOARE

The Green Industry Innovation Programme

Romania, which "aims to increase competitiveness

of green enterprises, including

greening of existing industries, green

innovation and green entrepreneurship"

(www.Norwaygrants-greeninnovation.

no), fit perfectly with our development

plans. With a € 550,000 grant, we began

the Green Business Development for Increased

Competitiveness project and invested

more than € 1.1 million in modern

machinery, equipment, and CAD-CAM

software. The aim of our project was to

improve the environmental performance

of our company, both in terms of "greening"

the production processes as well as

increasing the production capabilities and

capacity for greener products within the

overall production structure.

With 90 years of history, ROMRADIA-

TOARE is the oldest and most well-known

Romanian company producing radiators

and heat exchangers, and one of the oldest

in Europe. Although tradition is valuable

and attests to the notion that over

a long period of time we have been able

to continually add value for our customers,

it can also be a drawback, especially

with regard to the technology being used.

Old machinery and technologies for cutting,

forming, soldering, brazing, welding,

painting, and many other processes were

"traditional," meaning we lagged behind

in productivity and efficiency as well as

environmental performance. Furthermore,

we assessed the health and safety aspects

for the people working in our factory

and wanted better conditions, even if

current ones were compliant with laws

and regulations.

Industrial production is a polluting activity

by its nature – old machinery and

old technology contribute to its environmental

impact – and ROMRADIATOARE

is part of this process. In 2014 we assessed

our equipment and production facilities

and concluded it was time for a change.

Even if our environmental impact was

well below the limits imposed by law, it

was not low enough for us.

The new CNC laser-cutting

machine acquired with the

support from Norway Grants

From our analysis, there were some key areas

that needed to be addressed. Firstly, we

needed to increase our energy efficiency,

to reduce natural gas consumption, and

to reduce harmful emissions to air and

wastewater. Secondly, our design and production

accuracy needed improvement in

order to reduce scrap levels due to quality

issues, reduce raw material technological

waste (copper, brass, aluminum, and

steel), and to increase production capacity

for greener heat exchangers. Thirdly, it

was the implementation of OHSAS 18001

– an international Occupational Health

and Safety Management System – that

would set the standard for our activity.

Each and every investment carried out as

part of our project tackled one or more

of these issues.

Energy consumption is one of our most

import focus areas, as excess energy con-

134

Global Compact International Yearbook 2016
---
the degreasing part of the painting line

was fitted, meaning that, from now on,

mostly green energy is being used for

this process.

Through the Norway Grants and EEA Grants, Norway contributes toward reducing

social and economic disparities and strengthening bilateral relations with the beneficiary

countries in Europe. Norway cooperates closely with the EU through the

Agreement on the European Economic Area. For the period 2009 – 2014, Norway's

contribution is € 1.7 billion. Grants are available for NGOs, research and academic

institutions, and the public and private sectors in the 12 newest EU member states

as well as Greece, Portugal, and Spain. There is broad cooperation with Norwegian

entities, and activities may be implemented until 2016. Key areas of support are

environmental protection and climate change, research and scholarships, civil

society, health and children, gender equality, justice, and cultural heritage.

Excess material consumption, due to

quality issues and technological waste,

has also been significantly reduced as a

result of investments in modern and efficient

tube-bending equipment, cutting

equipment (for metal sheet, bars, profiles,

aluminum fins for radiators), machining

equipment (lathe, mill), and CAM machining

software, press-brake-bending equipment,

and welding equipment.

sumption is bad for business (higher costs,

lower competitiveness on the market) and

bad for the environment (more pollution).

So, our first challenge was to reduce our

energy consumption. Our brand new CNC

laser cutting machine is amazing with

regard to power efficiency and nesting

capabilities. Our new industrial compressor

is 35 percent more efficient regarding

energy and oil consumption than the old

ones. By carefully assessing our needs and

purchasing only the latest equipment, in

2015 we managed to reduce our factory's

energy consumption by 167 kWh per ton

of raw material processed, as compared

to 2014 numbers.

Harmful emissions are bad for the environment

and bad for the local community.

Our main focus was CO 2

emissions in the

air and PH levels and zinc emissions in

wastewater. To reduce our natural gas

consumption levels, we acquired a modern

electrical brass tube forming and soldering

machine. Due to the precise control

of the soldering bath, this new machine

also allowed for replacing the fluxing

substance with a less corrosive one, thus

eliminating zinc chloride from the process

and reducing the quantity of soldering

alloy by as much as 40 percent compared

to the previous technology. The former

hard brazing method was replaced by a

highly innovative OxyHydrogen brazing

technology, which eliminated acetylene

and CO 2

emissions from the pipe-brazing

process, all of this while achieving significant

increases in productivity, quality, and

efficiency. To better control the temperature

of the gas-fired aluminum CAB brazing

furnace, a telemetry tracking system

was