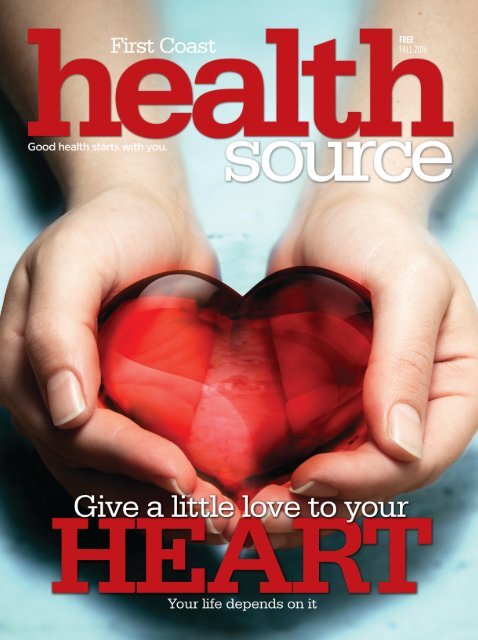 You also want an ePaper? Increase the reach of your titles
YUMPU automatically turns print PDFs into web optimized ePapers that Google loves.
FREE

FALL 2016

healthsourcemag.com 1
---
YOUR KNEES & HIPS

DESERVE

R. DAVID HEEKIN, MD

Only Heekin Clinic can offer you a

one-on-one relationship with Florida's top

orthopedic surgeon, Dr. R. David Heekin.

Fellowship-trained and board-certified,

Dr. Heekin specializes in total joint replacement of

the hip and knee.

Medical Director of St. Vincent's Orthopedic Center

of Excellence, Dr. Heekin consistently performs

more total joint replacement surgeries than

any other Florida surgeon.

Dr. Heekin's patients enjoy the very best orthopedic

care available. Shouldn't you?

Ranked #1 in combined volume for knee and hip replacements

at www.floridahealthfinder.gov

2 First Coast Health Source Fall 2016

call 904.328.5979 or visit HeekinClinic.com

2 Shircliff Way, Suite 605 DePaul Building | Jacksonville, FL 32204
---
First Coast Health Source

HEALTHY CALENDAR

SEPTEMBER 10

Delicious Destinations

Southern inspired farm to fork fare

is on the menu at this wonderful

dining event to benefit St. Vincent's

Community Health Outreach Programs

Where: Ponte Vedra Inn & Club

When: 7:00 p.m. – 11:00 p.m.

Info: jaxhealth.com

SEPTEMBER 17

First Coast Heart Walk

There isn't a person in town who has

not been touched by family or friends

suffering from heart disease. Get out

and support the fight against America's

No. 1 health crisis.

Where: Metropolitan Park

When: 8:00 a.m.

Info: firstcoastheartwalk.org

SEPTEMBER 24

Fashion For A Cause

Bubbles, cocktails and brunch will all be

served with a big dose of style at this

fashion show fundraiser for First Coast

YMCA.

Where: Stonewood Grill & Tavern

When: 11:30 a.m. – 2:30 p.m.

Info: firstcoastymca.org

OCTOBER 8

JU River House Run/Walk 5k

Celebrate Jacksonville University's

Homecoming and raise money for the

Kinesiology Running Research program.

This family-friendly event is sure to

be a blast!

Where: Jacksonville University

When: 7:00 a.m.

Info: ju.edu

OCTOBER 22

Esser Health Seminar

Curious about how diet and exercise

can reverse illness? This seminar with

Dr. Stephen Esser and Certified Personal

Trainer, Tiffany Esser will get you on

the road to wellness

Where: Fresh Jax,

11526 Lake Mead Ave., Unit 103

When: 11:30 a.m. – 6:00 p.m.

Info: freshjax.com

OCTOBER 25

Stroke Sense Education Series

This support group is designed to help

provide community for stroke survivors

and their families, every Tuesday.

Where: Mayo Clinic, Cannaday Building,

Room 116

When: 11:00 a.m. – 12:00 p.m.

Info: mayoclinic.org

NOVEMBER 4

Tobacco-Free Jacksonville

Coalition Meeting

Every first Friday, join in the fight to

reduce tobacco addiction and learn what

resources are available in our community

Where: 6852 Belfort Oaks Pl.

When: 9:00 a.m. – 11:00 a.m.

Info: tobaccofreejacksonville.org

NOVEMBER 12

Bailey's Health &Fitness Mandarin Run

Burn those calories before holiday

feasting begins at the 10k and 5k run

sponsored by Bailey's Health and Fitness.

Where: Bailey's Gym, 11740 San Jose Blvd.

When: 8:00 a.m.

Info: 1stplacesports.com

NOVEMBER 19

First Coast Walk for Children

with Apraxia

Apraxia is a rare disorder that causes

children to struggle with speech

development. This walk is to raise

awareness and funding to about this

disorder to support the children and

families who live with it daily.

Where: The Bolles School,

7400 San Jose Blvd.

When: 8:30 a.m.

Info: casana.apraxia-kids.org

NOVEMBER 22

22 Too Many

Twenty-two veterans commit suicide

every day in America. On the 22nd of

every month, organizations gather to

discuss how to better support our local

veterans and advocate for their mental

health needs.

Where: BREW Five Points,

1024 Park St., Jacksonville

When: 11:30 a.m.

Info: 22toomany.com

/ healthsourcemagazine

/ healthsourcemag

healthsourcemag.com 3
---
First Coast Health Source

LETTER FROM THE EDITOR

Editor

Nan Kavanaugh

Creative Director / Designer

Christine Tarantino

Sales Manager

Sean Scullion

Director of Business Development

Stephanie Calugar

Senior Marketing Consultant

Anna Marie Burke

Marketing Consultants

Fallon Mayer

Nikki Schonert

Events Manager / Social Media

Erin Colatrella

Copy Editor

Roxie Lute

Contributors

Caren Burmeister

Bob Fernee

Maggie FitzRoy

Woody Huband

Bruce Lipsky

Bob Mack

Allie Olsen

Craig O'Neal

John Vredenburg

Roosevelt Watson III

Production Coordinator

Melanie Turner

Stock photography provided by

Thinkstock

HealthSourceMag.com

The health community of the First Coast

is diverse, cutting-edge and growing by

the minute.

We have some of the best doctors in

the world working and living here. We

have an extraordinary network of organizations

working to raise awareness

and support funding for research for a rainbow of health initiatives.

We have a bounty of resources that lend themselves to building a

healthy lifestlye around fitness and outdoor activities. Holistic health

is trending in every region of our area with new yoga studios and

practitioners popping up. We have fantastic organizations providing

us access to fresh, local food. In other words, we have it all.

But how do you cram all that into one publication? The team here at

Health Source has been asking itself that question over the past two

years. The magazine has undergone a series of evolutions in the past

24 months on a quest to figure out what it is that our readers want

out of a health magazine. The process has led us to the decision to

take a break and re-evaluate. This issue of Health Source will be the

last of 2016, as we begin to dig deep into research and development

to understand how to better bring you stories that will hopefully

lead to a happier, healthier life.

In 2017, we will hit the ground running with a new magazine that

spans across a variety of media platforms to bring stories from our

flourishing health community to you. That being said, what do you

want out of a health magazine? We want to know. Email me with

your ideas.

Health Source Magazine is the longest running health magazine in

Jacksonville. Our city has seen a lot of change over the past decade,

and as a media organization it is our job to change with the times. We

will see you in 2017 with a bold new venture for the Bold New City.

Best,

First Coast Health Source Magazine is published 12 times per

year by Times-Union Media. Reprints are available – 1 Riverside

Avenue, Jacksonville, FL 32202. ©2016 First Coast Health Source

Magazine. All rights reserved. The contents of this publication,

including articles, may not be reproduced in any form without

written permission from the publisher. Content of the contributing

advertisers do not reflect the opinions of Times Union

Media. Advertisers have proofed respective articles and content

is assumed true and correct. First Coast Health Source is not

responsible for the care given by its advertisers. First Coast Health

Source is for informational purposes only and is not meant as

medical advice. First Coast Health Source believes that choosing a

medical professional is a serious decision and should not be based

solely on an advertisement.

Nan Kavanaugh

Editor, First Coast Health Source

Send story ideas to nan.kavanaugh@morris.com

4 First Coast Health Source Fall 2016
---
DISSOLVING HEART STENTS

Available Only at St. Vincent's

St. Vincent's is one of only three hospitals in Florida to offer dissolvable stents. Our interventional

cardiologists are the only physicians in the region to offer this cutting edge, life-saving treatment.

Learn more at www.jaxhealth.com/heartleaders

healthsourcemag.com 5
---
First Coast Health Source

CONTENTS

Fall 2016

14

12

30

20

Features:

12

14

20

30

The Family Minute

Soccer for family fun and fitness

Kayak Fly Fishing

Get a little zen on the water

Living with Congenital Heart Disease

Living longer and better lives

Farm to Family Food Truck

Delivering fresh food to those most in need

DAILY THRIVE

10 Workplace Wellness

11 Your Pet

BODY WORKS

18 Shape It Up

19 Thrive Outside

SOUND MIND

24 Survive & Thrive

26 Brain Games

FRESH EATS

28 Delish Dish

34 Calorie Count

OUTSIDE THE SECTIONS

3 Healthy Happenings

8 Ask the Expert

6 First Coast Health Source Fall 2016
---
The highest level

of recognition

Brooks Rehabilitation Hospital recently achieved

Magnet designation as a reflection of its nursing

professionalism, teamwork and superiority in patient

care. The Magnet Recognition Program is the gold

standard in nursing excellence. Brooks is one of only

four freestanding inpatient rehabilitation facilities in the

country to achieve this designation!

healthsourcemag.com 7
---
ASK THE EXPERT

First Coast Health Source

A Look at Prostate Health with Dr. Ali Kasraeian

As told to Nan Kavanaugh I Illustration by Roosevelt Watson III

The prostate is one of the organs that we are familiar with, but may not know much about how it serves the

body. September is Prostate Cancer Awareness month, and we asked Dr. Ali Kasraeian of Kasraeian Urology

to share with us some information about the prostate and how to keep it healthy.

shows that diets that are high in red meats and fats contribute

to a rise in certain cancers, and prostate cancer is a

part of that group.

3. Is there an age where men need to begin to think

more about their prostate health? Why?

You should start screening in your 40s. Your first PSA test

in your 40s is most predictive of your prostate cancer risk.

Men don't like to talk about this stuff. We are the worst.

It is tough to do, but the problem with prostate cancer is

that there are no symptoms. It is out of sight out of mind.

One of the most important things to do is to get appropriate

and timely screening for prostate cancer.

4. Are there any early warning signs that your prostate

may be unhealthy or cancerous?

There is nothing. Ninety percent or more of prostate cancers

have no symptoms. It is difficult because a patient

feels great and is living their life, and then they are diagnosed

with prostate cancer. It is different than if you had a

heart attack or an intestinal blockage, and you feel terrible

and treatment makes you feel better. You feel great, and

then all of a sudden you have all of these things to do for

treatment that are very daunting.

1. What is the prostate and how does it serve the body?

The prostate is an organ that lives at the bottom of the

pelvis under the bladder, and the urine channel runs

through it. Basically, it serves as an outflow track for

semen, and it secrets fluid that nourishes and protects

sperm on its quest to fertilize the egg.

2. What can men do to keep their prostate in

good health?

Maintaining a healthy balanced diet of fruits, vegetables

and grains, which seems like a generic recommendation,

but it really serves our bodies well. Study after study

5. If there was one thing you wish every man knew

about his prostate, what would it be?

Get screened. It can really save your life. Getting screened

earlier in your 40s can give us a better idea of where you

lie. If you have an abnormal screening, and a biopsy is

suggested, see an urologist that has expertise in some of

the more cutting-edge diagnostic techniques out there.

If you are diagnosed with prostate cancer, you have time

to take in the information about your cancer and make an

informed decision. Prostate cancer is not a rapidly progressing

disease. The world of prostate cancer therapy is

changing at a rapid pace. You may be a candidate for certain

treatments and you want to find an expert who deals

with prostate cancer, specifically.

To hear more about prostate health from expert Dr. Ali Kasraeian, visit us

online at healthsourcemag.com

8 First Coast Health Source Fall 2016
---
Ryleigh

is why.

Join or start a Heart Walk team to help those affected by heart disease, like

Ryleigh and her family, experience more of life's precious moments.

NATIONALLY SPONSORED BY

FIRST COAST LIFE IS WHY SPONSORS

2016 First Coast Heart Walk

Saturday, September 17 th

METROPOLITAN PARK

DOWNTOWN JACKSONVILLE

FIRST COAST CAUSE SPONSORS

Register today! www.FirstCoastHeartWalk.org or call 904-256-5732

Come in and get our FREE 5 Step Fit Process, which includes a foot pressure

test, GAIT Analysis, and running test! Or come to one of our FREE weekly

group runs from our stores! Visit: www.1stplacesports.com for details!

SIX

STORE

LOCATIONS

Baymeadows: 3931 Baymeadows Rd, Jacksonville | (904) 731-3676

San Marco: 2018 San Marco Blvd, Jacksonville | (904) 399-8880

Town Center: 4870 Big Island Dr., Jacksonville | (904) 620-9991

Jax Beach: 424 South 3rd St, Jacksonville Beach | (904) 270-2221

Orange Park: 2186 Park Avenue, Orange Park | (904) 264-3767

St. Augustine: 1000 S. Ponce de Leon Blvd., St Augustine | (904) 679-4237

healthsourcemag.com 9
---
Daily Thrive

WORKPLACE WELLNESS

Don't Work Yourself to Death

How to deal with workplace stress

By Caren Burmeister

Sometimes people have to hit rock bottom before they turn their lives

around. Jacksonville Cardiologist Dr. Jonathan Constantin sees this

frequently when it comes to high blood pressure.

DON'T LET THE

PRESSURE BUILD

Blood pressure is considered high

if it's greater than 140 over 90 on

two separate occasions. Here are

some ways to manage high blood

pressure and the stress that

can provoke it:

• When stress is building at work,

take a walk on your lunch break

and schedule time to get away,

even if it means a stay-at-home

vacation.

• Cognitive therapy, which

challenges negative thought

patterns about the self

and the world, can help you see

a stressful situation in a different

light.

• Find the type of exercise,

walking, yoga or workout,

that fits your personality so

you'll do it consistently.

• Avoid smoking, drinking and

over eating. Their comfort is

short lived and only exaggerates

stress.

One patient, a morbidly obese alcoholic

in his fifties who often skipped

his medications, had been in and out

of the hospital four or five times due

to heart failure.

"He was his own worst enemy,"

says Constantin of the First Coast

Cardiovascular Institute.

He believes that a patient's understanding

and participation in their health is key

to their success. But as a doctor, all he

can do is point out the risks and benefits

of their lifestyle choices.

"I'm not scolding them," he says. "I'm

a teacher who provides resources. I

wasn't giving him advice for my sake, it

was for him. You have to take responsibility

for yourself."

One day, as the patient was going

through a divorce, he just kind of woke

up, Constantin says. He stopped drinking,

changed his diet and lost 145 pounds.

Eventually, he was able to stop taking

four or five of his medications.

"He has started walking and his heart

function has normalized," Constantin says.

"He looks like a new person. He can't

believe how good he feels."

High blood pressure is a growing

problem due to obesity, diabetes and

unresolved stress. It affects roughly 76

million Americans over the age of 20.

Over time, and without treatment, high

blood pressure can not only damage

the heart, but also the kidneys and

brain, Constantin says.

Stress, which can aggravate high blood

pressure, occurs when there is a perceived

threat, whether it's real or not. The

time we spend at work can be the most

stressful part of our days and that stress

can act as a trigger.

"It's the fight or flight response that

activates the sympathetic nervous system

and releases chemicals that increases

the heart rate and blood pressure,"

Constantin says.

It's one of the conditions that patients

can make a conscious choice to control.

While the sympathetic nervous system

revs you up, its counterpart — the parasympathetic

nervous system — slows you

down and lowers the heart rate. It kicks

in when you are resting, meditating or

doing yoga for example.

While it's not always practical to quit a

stressful job, you can change the way you

view it and deal with it, Constantin says.

Here's where exercise really shines. It

trains your heart rate and blood pressure

to more effectively restore to normal and

deal with stress, he says.

For more information visit firstcoastcardio.com or the American Heart Association at heart.org

10 First Coast Health Source Fall 2016
---
Daily Thrive

YOUR PET

Eastern Medicine for Man's Best Friend

A look at acupuncture for pets

By Caren Burmeister I Photography by Craig O'Neal

Pets plagued with allergies, arthritis and hot spots often don't respond well to conventional veterinarian

medicine. But holistic medicine, well, that just might be the cat's meow.

Some pet medical

conditions that respond

well to holistic care are:

• Seizures

• Fecal incontinence

and feline cystitis

• Cancer and post

cancer treatment

following

chemotherapy or

surgery

• Allergies, autoimmune

diseases and hot spots

• Arthritis, hip dysplasia

and degenerative

diseases

• Weight control

and gastrointestinal

ailments

Acupuncture, laser therapy, chiropractic, massage and nutritional

care can be very successful for chronic, degenerative diseases

and overall wellness, say Jenna Castner Hauck, who practices

holistic therapies at her Jacksonville Beach clinic, Veterinary

Acupuncture and Wellness.

While some conditions respond best to traditional Western

medicine, others do better with acupuncture and nontraditional

therapies.

"The dogs and cats really respond to it," she says. "They

realize what we're doing for them and it really makes them

feel better."

Just ask Pooker. The 10-year-old dachshund could barely

walk when she was brought to the wellness clinic in April. Two

months earlier she had jumped off a sofa, causing a slipped

disk. Soon after, she began to drag both feet on her right side

and fall down. When Pooker's condition didn't improve, her

veterinarian suggested a neurological

evaluation and surgery. She was

brought to the wellness clinic for

less invasive treatment. For the next

seven weeks, Castner Hauck treated

Pooker with Chinese herbs and

electroacupuncture, a procedure in

which a small electric current is passed

between pairs of acupuncture needles.

With each visit Pooker's condition

improved, Castner Hauck says. After

seven visits, Pooker walked out the

clinic on her own. Castner Hauck

recently checked to see how she was

doing.

"She's truly 100 percent normal,"

Castner Hauck says. "She did awesome."

A veterinarian, Castner Hauck

became a certified animal acupuncturist

a decade ago after noticing that

pets with allergies and chronic degenerative

issues weren't improving with

steroids and antibiotics.

"I was feeling that I wanted other options," she says.

"Conventional medicine wasn't really helping them heal. I felt

like I was putting Band-Aids on things, and now I really feel like

I'm helping animals heal."

Acupuncture recognizes an imbalance before it becomes a

disease, Castner Hauck says. An ancient form of Chinese medicine,

it works on the premise that chi, the vital force that flows

through the body, travels along energy channels called meridians.

Acupuncture opens these meridians and stimulates the blood

supply. Performing acupuncture on animals is nothing new.

Hundreds of years ago it was practiced on horses in China to

keep them healthy and ready for battle, she says.

Dr. Jenna treating Dexter, a 10-year-old Airedale Terrier for general

wellness and he was also treated for being a little lethargic.

For more information, visit Veterinary Acupuncture and Wellness at

vetacuwellness.com

healthsourcemag.com 11
---
12 First Coast Health Source Fall 2016
---
Daily Thrive

FAMILY MINUTE

SOCCER

For family fun and fitness

By Bob Fernee I Photography by Bob Mack

The world's most popular sport has exploded in popularity in the

United States throughout the past few decades. There was a time

when soccer was rarely seen on television. Now, it's shown all the

time. Locally, Jacksonville Armada FC, a professional team in the

North American Soccer League (NASL), and many recreational clubs

serve kids and adults all over the First Coast.

According to 2014 U.S. Youth Soccer

statistics the number of registered players

has gone from more than 100,000

in 1974 to more than 3 million, with 52

percent boys and 48 percent girls playing

respectively. Florida has the sixth

highest number of players nationwide

with more than 113,000.

Why is soccer catching on? Surely

it's more than David Beckham and

neon-colored cleats.

Parents are looking for a sport that

not only encourages commitment, teamwork

and good sportsmanship, but also

promotes a high level of physical fitness.

The cross-cultural sport also requires little

equipment.

Amy Haney is a working mother of

three and coach of a kids' recreational

team at the Westside Soccer Club. Haney

started playing at an early age herself

and went on to play intermural soccer at

the University of Florida. When Westside

Soccer Club was looking for coaches,

she figured with her experience it was

a natural fit to coach her 6-year old

daughter's team.

For her, it is a privilege to coach. "The

parents are entrusting their children to me.

I want them to fall in love with the game,

learn the fundamentals and to grow as

players," she says.

Soccer is a sport that requires skill,

intelligence and fitness. As a cardiovascular

exercise, it is one of the most

vigorous. It's rated sixth behind hockey,

rowing, racquetball, cycling and running.

A 90-minute game of soccer is considered

equivalent to a four-mile run.

Haney believes that soccer is the

perfect kids' sport. "It is so active; they

are always running around with a ball

at their feet. It is a wonderful way for

them to exercise."

Working in groups is a fundamental

part of the sport. "It is also a great team

game. Individually each child plays a

part, but they learn that teamwork is

required to be successful collectively,"

she says.

The Haney family, that also includes

9-year-old Joel and 5-year-old Micah,

often play and run together. Husband,

Stephen, has grown to enjoy the game his

wife and children love. The entire family

can be found on the fields of Ringhaver

Park during practice and game days,

which can be tiring with two working

parents; but a family that plays together,

stays together.

Above top to bottom: Amy Haney

works one-on-one with son Joel, 9,

as they practice ball handling skills;

Krista Haney practices dribbling

the ball around cones.

Right: Amy Haney is a former

collegiate soccer player who

coaches for the Westside Soccer

Club. Amy, her husband Stephen,

and kids (from left) Joel, 9, Krista,

6, and Micah, 5, posed for a

portrait in Ringhaver Park and then

went through a few skill drills.

FITNESS FACT

According to Diet & Fitness

Today, competitive soccer burns

431 calories in 30 minutes. While

casual play burns 302 calories

and coaching soccer burns 172

calories. No matter how you

play the sport, soccer is going to

be a great workout.

healthsourcemag.com 13
---
14 First Coast Health Source Fall 2016
---
Body Works

By Maggie FitzRoy I Photography by Woody Huband

A bright peach sun rises above the horizon as we launch our kayaks

from Cedar Point Preserve. The brightening sky is robin's egg blue,

dotted with gray and white clouds, and not a sound can be heard except

the soft swish, swish of our paddles. Then a fish jumps out of the water

ahead of me, breaking the stillness. And another.

It's a good sign. We've come

to this gorgeous spot in the

Timucuan Ecological and

Historic Preserve to fish. But not

to do just any type of fishing.

We've come to kayak fly fish, a

sporting activity that is growing in popularity

with people of all ages.

It's a sport that requires skill and

patience, and when mastered is "a very,

very rewarding way of catching fish," our

guide, Captain Rich Santos, tells me, a complete

novice.

"You can pretty much pat yourself on

the back when you do catch a fish," he

says. "Because you've earned it. It takes

practice."

The First Coast is an ideal environment for

kayak fly fishing due to all our many waterways,

Blackfly Outfitter fly fishing expert

Andrew Mizell told me after I returned from

my excursion. "We have the largest population

of kayak fly fishing enthusiasts anywhere

in the world."

"It does take practice, it does take finesse

and there is some skill involved," Mizell says.

But is also an enjoyable minimalist sport,

because "it's just you and the fish and the

kayak. It's more than just catching a fish. It's

getting out there and exploring what the back

country and marsh have to offer."

I was game, open to learning what I could

out on the water with Santos, photographer

and expert angler Woody Huband, co-worker

Roxie Lute and Santos' fishing buddy

Kevin Eastman. Santos, who teaches many

newbies the sport, was a clear and patient

teacher and provided everything we needed

— Wilderness System open top kayaks, rods,

lines, anchors and flies.

The first thing I learned was that the poles

don't have reels. Instead, one of your hands

acts as the reel, making the line, and the fly

attached to it, move, which is called "stripping."

healthsourcemag.com 15
---
Writer Maggie FitzRoy practices "stripping" the line in order to move the fly across the water as guide and instructor Captain Rich Santos watches.

CAPTAIN RICH SANTOS

A U.S. Coast Guard captain, Santos is an

expert in all types of fly fishing, including

kayak.

For information about guided trips visit

flyfishjax.com

Captain Rich Santos stands up in his kayak to

sight fish in shallow water lined with oyster

beds, and birds, including a Roseatte Spoonbill

in the background.

The flies come in various shapes,

sizes and colors, and to an untrained

novice like me, look kind of like

fuzzy lures. But in the water, to the

fish, they look like something the fish

would like to eat, such as a bait fish,

shrimp or crab. It takes skill as well to

know what type of fly to use to catch

a particular type of fish in a particular

type of water.

"With the fly, you are trying to make

it come alive, by stripping it with your

line hand. It's making the fly swim and

move," Santos told me as he demonstrated,

and then let me try.

Since I am right handed, I cast the

rod with my right hand and stripped the

line with my left. It took coordination

and patience, and like anything new,

was awkward at first.

"It's a very technical way of fishing,"

and casting a fly is more difficult from

a kayak than from land, he explained

as I tried again and again. But there

are advantages of being in a kayak,

and you have a much higher chance

of catching a fish in one, he said. "It's

a much quieter and stealthier way to

sneak up on a fish in shallow water.

Fish are very skittish and spooky in

shallow water."

We were fishing for spotted sea trout

in the salt water tidal marsh around

Cedar Point, as well as for Red Fish and

Southern Flounder.

A breeze blew across the water as

Santos demonstrated how to "false cast,"

which is flicking the line out a few

times first without letting the fly land in

the water, like a warm up. False casting

loads, or bends, the rod, storing energy

in it, he said.

"Now, let the fly drop, rod tip

down," he said. "Then you start stripping

to move the fly."

We'd paddled near oyster beds,

and positioned ourselves near them,

because oyster beds "are like restaurants"

to fish, Santos said. Bait fish

live between the oysters, using them

for cover, as do crabs.

After we'd fished an area for a while,

we pulled up our anchors, which kept

us in place against the eddies and cur-

16 First Coast Health Source Fall 2016
---
ents, and paddled on to a new spot.

Around us red winged black birds flitted

and landed on marsh bushes, calling to

each other with their signature "pee jee,

pee jee" sound. In the distance I could

see the Dames Point Bridge against the

by-then totally blue sky.

"This is an adventure," Santos said. "It's

about the beauty, and being in the marsh.

It's an incredible place to see birds."

Since we were on an outgoing tide,

Santos explained that everything in the

"shrinking" water was becoming more

concentrated, including the fish.

Off in the distance, his buddy Eastman

shouted that he'd caught a flounder.

About five minutes later, Santos also

caught a foot long flounder.

Then we moved on, passing several

egrets standing in the mud, hunting fish

along a shore lined with grand cedar,

oak and palm trees.

Santos explained that a lot of kayak

fly fishing involves "sight fishing," looking

for a fish, like the egrets do, and

then dropping a fly right in front of it.

It's like hunting. "You get to know the

water and allow the fish to show themselves,"

he said. "Fly and kayak is a

deadly combination."

THERMIva ® treatments

use radiofrequency energy

to gently heat tissue to

rejuvenate collagen, without

discomfort or downtime.

A recent study documented

multiple benefits for patients

who complained about

vaginal laxity and other issues

associated with vulvo-vaginal

youthfulness and well-being.*

* Alinsod, Red "Temperature Controlled

Radiofrequency for Vulvovaginal Laxity."

PRIME, International Journal of Aestheic

and Anti-Ageing Medicine (July 2015)

16-21, Print

After several relaxing and invigorating

hours kayak fly fishing in the beautiful

environs of Cedar Point, I still had not

caught any fish. Twice, I snagged an oyster

and thought it was a fish.

"An oyster fish," Santos said, laughing.

But it didn't matter. By then I was

feeling more confident with my casting,

and realized that with practice, I could

do this.

"A lot of ladies are catching onto

kayak fly fishing, Mizell told me.

"Because of the finesse and elegance of

casting a fly rod."

"It's zen," he says. "For me, it's my

way of getting away from everything. If I

do happen to catch a fish, it just makes it

that more rewarding."

healthsourcemag.com 17
---
Body Works

SHAPE IT UP

Build a BETTER You

A look at Roc Fitness Training

By Bob Fernee I Photography by Bob Mack

Ever since its invention, Americans have loved the automobile. Unfortunately, that love has undone

us. We began driving more and walking less resulting in a number of health ailments brought on by a

decline in fitness.

Personal trainer, Maynard Taylor, has a favorite exercise that he

pushes to all his clients. The one we left behind: walking.

He also likes the outdoors. "I have a gym, but I don't use it that

much, I prefer to use all this," he says gesturing toward an open

grassy field, "I like to do cardio and body weight exercises. The

only equipment a person needs is their legs."

Walking helps maintain a healthy weight and prevents heart

disease, high blood pressure and Type 2 diabetes. It also

strengthens bones and muscles in addition to improving balance

and coordination, and can even lift your mood.

The 36-year-old Philadelphia native discovered the benefits of

exercise while in the Navy. Stuck aboard a ship, with little else

to think about except a painful divorce, he found relief by lifting

weights and exercising. He continued with his newfound love

once his naval stint was over and it wasn't long before others

were asking his advice. Next thing he knew, him and his pal,

Roscoe "Roc" Casey, began Roc Fitness Training.

"Get moving, get active," Taylor says, "that is our training

philosophy."

"We have a slogan, 'Let's Go BABY,' and B-A-B-Y means, Build

A Better You," he says with enthusiasm.

Taylor is a man on a mission; he wants people to be fit and

active. At the moment, he isn't making it a full-time career, but it is

an all-consuming passion.

"I just want to help people change their lives and achieve their

goals," Taylor says.

He has learned that clients are all different. "When someone

comes to me I ask them: 'What are you trying to change?' Then,

I find out what motivates them," he says. "I had one girl who

needed to pass a fireman's physical exam. One day she said she

didn't feel like training, and I said, 'there is somebody else who

wants that spot and they are working out right now and they are

going to take it away from you.' That got her going."

Taylor admits that many people have trouble staying motivated.

He helps them look for higher goals and urges them forward.

Some just need a training partner, and he is happy to be that

person. He is constantly giving advice and is as much a mentor as

he is a motivator.

18 First Coast Health Source Fall 2016
---
Body Works

THRIVE OUTSIDE

Little Talbot & Big Talbot Island

Adventure away from civilization

Written and Photographed by Maggie FitzRoy

The dunes framing the beach at Little Talbot Island State Park are as

natural and undisturbed as they were in the days of the Timucuan Indians.

Big Talbot Island has a rustic picnic area near the entrance and several walking trails that

meander through the nature preserve and Boneyard Beach.

Big Talbot is a unique sea island and

a magnet for photographers who are

attracted to its wild, other-worldly beach

landscape. Due to steep bluffs between

the forest and shoreline, visitors need to

hike Blackrock Trail to get down onto the

beach. A sign at the beginning of the trail

says that it is a quarter-mile long, but I

was up for it. Walking along the wooded

winding pathway, I see no other people,

and have the beach to myself.

Strolling Big Talbot beach isn't an option,

because of all the skeletal trees. They form

a natural obstacle course which you need

to climb over, under, or find a way around

— depending on the tide.

Other trails on the island lead to other

habitats. Big Pine Trail leads to marsh, and

Old Kings Highway and Jones Cut lead

through maritime forest.

I've been to the Talbot islands before, in

the summer, when there are more people,

but they are great places to get away any

time of the year — whenever you want to

escape the clutches of civilization.

As I walk along a boardwalk toward the

beach, I am alone amid a vast expanse of

shrubs, wild flowers and sea oats. Stepping

out onto the beach, I see only sand, ocean

and sky. The hazy far-off silhouettes of US

Navy ships to the south at Naval Station

Mayport are the only signs of civilization.

After a relaxing stroll, I hike back to my

car and drive a few miles north to Big Talbot

Island State Park. The adjacent islands

are a beautiful study of contrasts.

On Big Talbot, soaring majestic live

oak trees grow all the way to the shoreline.

And the beach is littered with the

salt-washed silver-white skeletal remains

of oak and palm trees. The beach is famously

known as Boneyard Beach.

Big Talbot and Little Talbot are part of

a collection of seven state parks known as

The Talbot Island State Parks, which also

includes Amelia Island, Fort George Island,

Pumpkin Hill Creek Preserve, Yellow Fort

Bluff and George Crady Bridge Fishing

Pier. They're First Coast treasures, and great

places to spend a day beachcombing, viewing

and photographing wildlife, fishing,

kayaking, surfing and picnicking.

Little Talbot has five miles of white

sandy beaches, and is one of the few

remaining undeveloped barrier islands in

Northeast Florida. Its western side is filled

with maritime forest and salt marshes,

home to river otters, marsh rabbits, bobcats

and many migratory birds. This particular

day, I meet a few photographers

looking for a snowy owl that temporarily

made the beach-side dunes its home.

A full facility campground is also located

on the island, where kayak rentals

and guided paddle tours are available.

Little Talbot Island has five miles of undeveloped

beach, a full facility campground and a two and

half mile paved bicycle path.

healthsourcemag.com 19
---
20 First Coast Health Source Fall 2016
---
Sound Mind

LIVING WITH

CONGENITAL

HEART

DISEASE

Living longer and better lives

By Maggie FitzRoy I Photography courtesy of the American Heart Association

Lee Ann Walker was 22 weeks pregnant with her daughter Ryleigh when she learned

during an ultrasound that her baby had a serious heart defect. The diagnosis was truncus

arteriosis, a rare type of heart disease in which the aorta does not develop.

Left: Ryleigh Walker

is this year's Heart

Walk Ambassador at

the First Coast Heart

Walk on Sept. 17.

She was advised

to terminate the

pregnancy, but she

and her husband,

Craig, refused.

Instead, she

researched the

condition and went

to see pediatric cardiologists at Wolfsons

Children's Hospital, who knew how to

fix it.

Ryleigh was born full term, at 6

pounds, 7 ounces, with a team of

specialists there to greet her. At a

week old, she underwent an 11 hour

operation during which surgeons gave

her an aorta created from donated

human tissue. Since her pulmonary

arteries were also very small, at three

months a balloon was inserted into

them to expand them, but with minimal

success. She also has defective heart

valves which will need to be repaired

when she gets older.

The Walkers were warned that

children living with conditions like

Ryleigh's usually have low energy, "but

that's never been the case with her," Lee

Ann says.

Now 4, she is a bundle of energy, and

always has been.

"She's always been a happy girl and

she's a really smart girl," her 9-year old

brother, Cael, says one recent day as his

healthsourcemag.com 21
---
GIVE A LITTLE LOVE

TO ALL HEARTS

JOIN THE 2016 FIRST COAST

HEART WALK

Robert Hill, President and Chief Executive Officer

at Acosta, and this year's volunteer First Coast

Heart Walk Chairman, says Ryleigh Walker's

story is one that resonates with all of us.

"Ryleigh's story shows that the work of the

American Heart Association is so critical in

our community, and why the education and

resources the association provides to our local

community is important. Heart health affects

everyone from children of very young ages such

as Ryleigh, to our aging parents. Ryleigh's story

helps to remind us with the proper awareness,

education and resources that good outcomes

can happen."

Visit firstcoastheartwalk.org to register for the

2016 Heart Walk on September 17.

Ryleigh and her parents Craig and Lee Ann with her brother Cael.

sister zooms around the family's living

room, jumping on and off the furniture.

"She's fun to play with and she's really

hyper — in many ways," he says. "She

has ten times as much energy as me."

"She likes to pretend she can fly," Lee

Ann says. She is also in an advanced

class in her preschool. And she is at a

normal weight and height because she

has always had a healthy appetite. At

this point she is being monitored until

she is old enough for another open heart

surgery to repair her ongoing issues.

Ryleigh is also this year's Ambassador

for the American Heart Association's

Heart Walk on September 17 at

Jacksonville's Metropolitan Park. Last

year, she and her family participated

in the event that raises awareness and

funds for heart disease research. This

year, she is literally its poster child, and

proudly so.

As a child living with heart disease

and thriving despite it, "she's the face of

the campaign this year," Lee Ann says.

She'll lead the walk, wearing a cape just

like all the other children in the "zipper

club," those who have had open heart

surgery and have the scars to prove it.

"I've always been an advocate for

social change, so when Ryleigh was

born, I got involved with support

groups," Lee Ann says. She's still an

advocate, for congenital heart disease,

which is a major way she copes with her

daughter's condition.

According to the AHA website, about

40,000 children are born with a heart

Ryleigh Walker is now 4 years old and a

bundle of energy.

Seventy years ago, only 15 percent of babies

with congenital heart defects made it to

adulthood. Now, more than 90 percent do.

22 First Coast Health Source Fall 2016
---
defect each year. There are many types,

and the impacts of the defects vary

widely.

In many cases, the condition goes

undiagnosed until the child is older

and in some cases not until adulthood,

says Dr. Naser Ammash, a professor

of medicine in the cardiovascular

department at Mayo Clinic.

Symptoms depend on the type and

severity of the condition and some

people just assume feeling fatigued is

normal, he says.

All of Dr. Ammash's patients are 16

and older, and as part of their treatment

he encourages them to live as normal

as possible. "They tend to have a higher

risk of depression and a higher risk of

anxiety," he says. "They have many

concerns about their futures." He refers

them for psychological counseling if

necessary and also encourages them to

exercise to the extent they can.

Seventy years ago, only 15 percent

of babies with congenital heart defects

made it to adulthood, he says. Now,

more than 90 percent do. "The feeling

of normalcy is very important," he says.

"With adequate care, many can have

children and careers."

Mayo patient Joe Meyer, 19,

didn't learn he had hypertrophic

cardiomyopathy, thickening of the heart

muscle, until he was 14, when it was

discovered during a sports physical. He

was lucky. A common cause of sudden

death in young athletes, it is usually

diagnosed during autopsies.

He was upset about it initially, but

after open heart surgery he was able

to begin exercising, which helped

physically and emotionally. He also

copes by sharing his story. He has been

Heart Walk Ambassador and a speaker

at the Heart Ball.

"By drawing attention to all the forms

of heart disease," he says, "I feel like I

am making a difference."

Ryleigh's brother, Cael, also aims to

make a difference. He has been his

sister's biggest supporter since the day

she was born.

"I was happy that I had a really cool

heart sister. She inspired me to become

a doctor that fixes hearts," he says. "I

just want her to be fixed. I just want her

to be fine."

805 Wells Road, Orange Park, FL 32073

In-Demand Career Programs:

• Medical Assistant

• Medical Administrative Assistant

• Medical Insurance Billing and Coding

• Pharmacy Technician

For more information about graduation rates, the

median debt of students who completed the program

and other important information, please visit our

website at www.everest.edu/disclosures.

See what sets us apart:

• Scholarships and grants available for

those who qualify

• Short-term programs with flexible

schedules

• Nonprofit status, meaning we can do

more for our students

Call or visit us today.

(904) 264-9122

healthsourcemag.com 23
---
Sound Mind

SURVIVE AND THRIVE

Beating Heart Disease

Made Her Stronger

Now Annie Ward wants to offer hope to others

By Maggie FitzRoy I Photography courtesy of the American Heart Association

For most of her life, Annie Ward's motto has been: "I decide the odds."

And time and time again, she has beaten them. When she was seven,

she was diagnosed with hypertrophic cardiomyopathy, an enlarged

heart muscle. After suddenly collapsing while walking the family dog,

her shocked parents were told she had almost no chance of survival.

But she lived.

She was air lifted to Wolfson Children's Hospital where she

laid in a comatose state for days. Doctors warned her parents

that she'd likely be mentally incapacitated if and when she woke

up. But she emerged from the coma mentally fine. Implanted

with a defibrillator, she was given a cocktail of medications, and

warned to never do anything physically exerting. For the young

girl, simple tasks like walking up the stairs were exhausting.

Constantly lethargic, she attended school with her new reality,

and did well.

At age 17, cardiac tests indicated that her heart was so weak

that a transplant was her only hope. Placed on a waiting list, she

graduated from high school. She was off to college, but with a

beeper to alert her when a suitable donor had been found. One

day during freshman year, she passed out as she walked to class.

Her situation became dire.

"I told my professors that I might be late to class because I

had to walk slow," Ward, now 23, recalls. "But I was very upset

because my heart condition had robbed me of so much. I felt

alone, worthless and constantly tired."

She didn't know if a heart would be found for her in time. A

donor between the ages of 13 and 30 was needed due to her

age. She felt depressed and defeated. Then she realized she had a

decision to make: "I could either let this heart condition take over

my life," she says. "Or I could be joyful in spite of it." She chose

joy and focused on what she could do in life, not on what she

couldn't accomplish.

Sharing her story during a special event at her college,

Southeastern University in Lakeland, Fla., she was afterwards

showered with

prayers and

support. Three

days later, she

received a heart

from a 14-year-old

female accident

victim at UF

Health Shands

Hospital in

Gainesville.

But her

challenges were

Annie Ward at the 2016 Go Red for Women

Luncheon.

far from over. After all she'd already been through; she says life

was suddenly "a different kind of difficult."

She had to learn how to walk again. She had to fight to get

stronger, one step at a time. She came to accept and embrace the

scars on her chest and abdomen as evidence of her strength.

Then she graduated from college, and next year plans to get

an advanced degree in social work. She dreams of working

with cardiac patients, so she can share her story and bring

them hope.

"At the end of the day, it all comes down to your

perspective," she says. "You can't let the disease defeat

you; you've got to defeat it. That's what I ended up doing. I

defeated it and I won."

24 First Coast Health Source Fall 2016
---
"At the end of the

day, it all comes

down to your

perspective. You

can't let the disease

defeat you; you've

got to defeat it.

That's what I ended

up doing. I defeated

it and I won."

— Annie Ward

healthsourcemag.com 25
---
Sound Mind

BRAIN GAMES

Brain Games I Sudoku

There is nothing better for the brain than a little exercise. Keep your brain in shape with

our monthly brain games.

Fill in the grid so that every row, column and 3x3 box contains the numbers 1 through 9.

© 2016 Satori Publishing

(answers on page 34)

26 First Coast Health Source Fall 2016
---
Trust your legs to the vascular experts!

Coastal Vein Aesthetic Institute was founded

by MBB Radiology to help promote vascular

health in the Jacksonville community.

Our doctors have spent their careers treating

patients with extensive vascular disease who missed

the early warning signs. By extending our outreach

into the community, we hope to help bridge the gap

between hospitals and your family doctor to help

promote comprehensive vascular wellness.

Douglas Gesner, M.D. | Andrew McBride, M.D., RPVI

Natalie Bernhart, MSPAS, PA-C

Visit coastalvein.com for

more info or to schedule a

Vascular Health Screening.

904.660.2330 | 7741 Point Meadows Dr. Unit 104, Jacksonville, FL 32256

Our body is our temple.

The NEW First Coast Health Source features stories that dive into how we can

best support our physical health. Providing expert advice on exercise, outdoor

active lifestyle and celebrating new advancements in medicine, this department

showcases stories that speak to how best to keep in shape.

healthsourcemag.com

For advertising information or where to get a copy of

the NEW Health Source Magazine call 904.359.4179

healthsourcemag.com 27
---
Miso Marinated Tofu

& Soba Noodle Salad

from HOBNOB

By Jon Vredenburg, MBA, RD, CDE, CSSD, LD/N I Photography by Bruce Lipsky

Since openings its doors earlier this year, HOBNOB has quickly become a prime urban core dining destination, located at Unity

Plaza within the Brooklyn neighborhood of Jacksonville. The wide-ranging menu reflects Chef Roger Regulacion's desire to bring

together a world of flavorful cuisines under one roof. "We just try to take these classic dishes people love from different cuisines,

like the pancit [noodles] from the Philippines or the shakshuka [eggs poached in tomato sauce] from North Africa, and elevate it to

fit our style of dining here," Chef Regulacion says.

28 First Coast Health Source Fall 2016
---
Fresh Eats

DELISH DISH

This month's featured recipe, a Miso Marinated Tofu & Soba Noodle Salad, was originally developed to appeal to the vegetarian diner but

has quickly become a customer favorite at HOBNOB. "There was always this forgotten crowd of people, who were vegetarians, and there

was never anything on the menu that was intentionally made for them," Regulacion says. The marinated tofu provides a good source of

protein, while the soba noodles provide a tasty alternative to white flour pasta, with about half of the calories.

INGREDIENTS:

Miso Marinade:

1 lb. white miso paste

1 lb. granulated sugar

2 cups mirin (rice wine)

2 cups sake (rice wine)

Spicy Soy Vinaigrette:

1 cup teriyaki sauce

1 roasted and seeded jalapeno

1 tsp. sambal oelek (chile sauce)

1 tsp. Rayu (chili oil)

Quick Pickling Liquid:

1 cup distilled vinegar

1/2 cup sugar cane vinegar

1 cup granulated sugar

6 black peppercorns

2 bay leaves

Buckwheat Soba Noodles:

1 lb. Korean or Japanese buckwheat

soba noodles

1 tbsp. sesame oil

1 tbsp. canola oil

Salad:

12-16 oz. firm tofu

1 lb. cooked soba noodles

2 cups Napa cabbage

1/2 cup grape tomatoes

1/2 cup julienned jalapeños

1/2 cup fresh cilantro (or less, to taste)

1/2 cup julienned carrots (marinated in

quick pickling liquid for 1 hour)

1/2 cup julienned red onions (marinated in

quick pickling liquid for 1 hour)

1/2 cup radish, thinly sliced (marinated in

quick pickling liquid for 1 hour)

DIRECTIONS:

1. Place all miso marinade ingredients in a heavy gauge sauce pot over medium heat and whisk thoroughly.

2. Slowly simmer until mixture reaches the color of caramel. Remove from heat, transfer liquid to a bowl, and let

cool completely in the refrigerator. Once the marinade has completely cooled, divide equally into two bowls.

Add tofu to one bowl and marinate for two hours. Reserve the other bowl for salad assembly.

3. While tofu is marinating, prepare the quick pickling liquid. Place all pickling liquid ingredients in a heavy gauge

saucepot and bring to a boil, or just until all the sugar dissolves. Remove from heat and let cool completely in

a bowl. Add carrots, red onions, and radishes, and marinate for one hour in a refrigerator.

4. Next, make the spicy soy vinaigrette. Blend all vinaigrette ingredients until the jalapeño is completely puréed.

Set aside.

5. Prepare the buckwheat soba noodles according to package instructions. Once noodles are cooked to al dente,

remove from heat and place in an ice bath. Drain and toss in the sesame and canola oil until well coated and

no noodles stick together. Chill in a refrigerator.

SALAD ASSEMBLY:

1. Preheat an oven to 350 degrees and warm a sauté pan over medium heat.

2. Grill or pan-sear the marinated tofu until it develops a light brown. Flip tofu, remove pan from heat, and finish

in the oven for 4-5 minutes or until just heated through.

3. Toss soba noodles in a small bowl with just enough spicy soy vinaigrette to coat the noodles.

4. Drain the pickling liquid off carrots, red onions, and radish.

5. Transfer noodles to two serving plates.

6. Arrange pickled and raw vegetables around the noodles.

7. Place tofu on top of noodles and vegetables. Garnish with a drizzle of spicy soy vinaigrette on the noodles,

and leftover miso marinade on the tofu.

8. Top the dish with fresh cilantro and serve immediately.

HOBNOB is located at 220 Riverside Ave. For more info visit: hobnobwithus.com

healthsourcemag.com 29
---
Delivering fresh food to those most in need

Written and Photographed by Allie Olsen

The Farm to Family food truck is a

tale of resourceful ingenuity, piein-the-sky

ideals and the American

Dream.

30 First Coast Health Source Fall 2016
---
Fresh Eats

For more information, visit

facebook.com/FarmtoFamilyFlorida

It's also a tale of overcoming economic mountains

to provide for families in need. Farm to

Family is changing the way the First Coast views

food, and is giving the term "food truck" a

whole new meaning.

The Food Truck

A massive truck is the heart of Farm to Family.

Outfitted with refrigerated cargo bays and filled

with local produce, this food truck aims to sell $7,000

worth of retail products in three days of sales each weekat

competitive prices.

Farmers price their ripe-from-the-field-produce based on

the market, and the food truck is a popular stop with residents

in communities all over St. Johns County who want

to support their local economy and farmers. It has been so

popular that its route expanded to more than 13 stops each

week during its first two months on the road.

Scheduled market stops include Christ Episcopal Church

in Ponte Vedra Beach, library parking lots, and Serenata

Beach Club, where a group of moms there are so excited

to have access to farm-fresh food that they've decided to

make it a weekly moms group stop before play dates.

Farm to Family aims to be a self-sustaining program, to

sell at a certain volume in many communities in order to

offset lower sales in "food desert areas."

The U.S. Department of Agriculture describes a food desert

as "urban neighborhoods and rural towns without ready

access to fresh, healthy, and affordable food." While Farm

to Family serves communities with ready access to farmers

markets, the USDA reports that St. Johns County has

seven food desert regions, including much of downtown

St. Augustine and rural Hastings. Farm to Family stops in

these areas, and accepts all forms of payment, including

Supplemental Nutrition Assistance Program (SNAP) benefits,

to bring healthy options to all residents of all economic levels

of St. Johns County.

Community Collaboration

"Every cucumber you're buying today helps pay a farmer's

mortgage," says Executive Director Malea Guiriba.

"Every $1.50 for a tomato goes back into the community.

The impact is so far reaching."

Guiriba has big dreams and an even bigger heart for the

community. Her desire for sustainable change in underserved

areas is unquenchable and contributes to the success

of this program.

"Ideally, in a pie-in-the-sky world, this food truck is

making nutritional and educational changes for all ages,"

Guiriba says, citing its regular stops in impoverished and

food desert areas.

Her vision is not limited to making healthy food more

accessible. "We affect childhood obesity now," she says.

"Sixty years from now, this reduces the number of adults

with hypertension. That child we're getting produce to

now…well, we've affected her whole life span. The truck

is not just about food. It's about access to nutrition, education,

supporting the farmers we buy from - everything we

do is about so much more."

During a stop one day, Guiriba gestured for a market

ambassador to help a customer grab a second watermelon.

"You can have an extra one free," she says. "We have plenty."

"At the end of the day, we don't waste any of it," she

says. "We sell it discounted to feed the homeless, help

farm workers and feed 20 homebound senior citizens in

Hastings."

Food Desert: urban neighborhoods and rural towns without ready

access to fresh, healthy, and affordable food.

healthsourcemag.com 31
---
Left clockwise: Afternoon showers

don't keep Farm to Family shoppers

from filling their baskets; Some

produce, such as apples, pineapples

and bananas are added to the truck

for variety but the vast majority

is grown here on the First Coast;

George constantly restocks the Farm

to Table truck as customers fill their

baskets.

Meet The Farmers

Always quick to share credit, Guiriba

points out that Farm to Family is the

brainchild of two hard-working farmers,

Chris Barnes and Ben Wells. "Chris even

pulls from other smaller farms," she says.

"All the farmers try to help each other

out," says Wells.

Barnes is a fifth generation farmer who

longed to bring this new food truck concept

to the First Coast. "Hey, you need

food, we're here to get it to you. This

is the best, cheapest way possible and

we're gonna get it to you," he says.

A third generation farmer, Ben Wells

works alongside family and hired hands

planting 1,400 acres in St. Johns County.

Farming is what he's good at and

what he loves, Wells says. Teaming up

with Guiriba to develop Farm to Family

allowed him to diversify his crops and

also raise community awareness about

local farms by going straight to the customer.

Keyword = LOCAL

Farm to Family sources from several

local, mid-sized family farms. The truck

sells local produce to people who want

to buy fresh food for taste and nutritional

benefits. This, in turn, provides

enough revenue for the truck to go to

lower income areas to offer nutritious

food where there was no way to access

it before.

Farm-fresh produce is accessible to

thousands of St. Johns County families

who needed better access to fresh food.

Unlike shopping at a traditional grocery

store, with this model every dollar is

earned and spent in the county, and the

local economy is strengthened. Farm to

Family is a food truck trend that's changing

the community one produce basket

at a time.

32 First Coast Health Source Fall 2016
---
healthsourcemag.com 33
---
Fresh Eats

CALORIES COUNT

END OF SUMMER COOKOUT

HAMBURGER

Can be delicious and nutritious

Calorie Counts is a new section focused on providing information about the foods

we eat, to act as a guide for healthier diet choices.

BUTTER TOASTED BUN

ONION RINGS

Forget the onion rings:

Putting fried onion rings

on your hamburger increases

the calorie count

by about 140 calories

(4 rings).

Healthier choice:

Go with sliced raw onion

instead. There is only 6

calories per slice.

Loose the bread:

A butter toasted bun is 220 calories and

packed with carbs.

Healthier choice:

Sandwich your burger between two

pieces of iceberg lettuce. It adds a great

crunch and is virtually calorie free.

EXTRA MEAT

Don't Pile on the Meat:

Sliced bacon or a double

patty just doubles down on

your fat and calorie count.

Healthier choice:

Add a thick slice of tomato,

sprinkled with salt and pepper.

It will add flavor and heft to your

burger, without the extra fat and

calories of meat.

BEEF HAMBURGER PATTY

(answers to puzzle on page 26)

Keep it Lean:

There are different types of ground beef, and

ground chuck is the most fatty. Stay away from it.

Healthier Choice:

Look for 95% lean ground sirloin for

your patties to drop the fat count,

while maintaining protein.

34 First Coast Health Source Fall 2016
---
Saturday, November 5 | Noon – 5:00 p.m.

The Glass Factory

601 Myrtle Avenue North, Jacksonville

Join us for our annual Go Local Marketplace celebrating the best of the First Coast in one place.

The Go Local Marketplace will be a dynamic mix of shopping, food and live entertainment.

We look forward to sharing some of our favorite local boutiques and entrepreneurs

as we celebrate the great things that our region has to offer! Free admission.

BUICK

GMC

Sponsored By:

ST. VINCENT'S

H E A L T H C A R E

S A

I

L O R

S

S

I R

E N

S A

L T

A

I R G O O D S

Visit us online for more information!

firstcoastmag.com/golocal

healthsourcemag.com 35