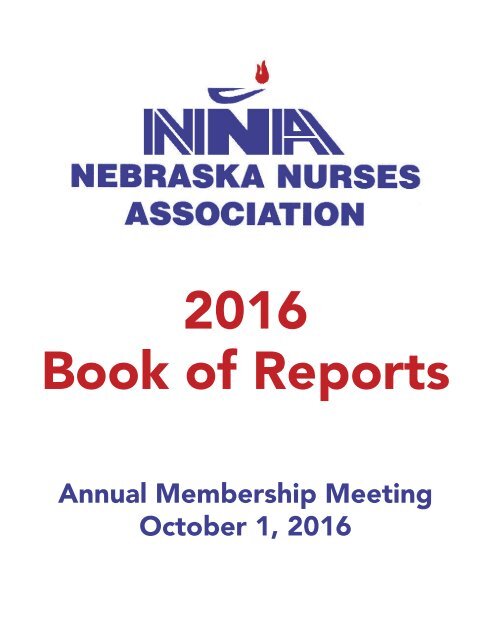 You also want an ePaper? Increase the reach of your titles
YUMPU automatically turns print PDFs into web optimized ePapers that Google loves.
2016

Book of Reports

Annual Membership Meeting

October 1, 2016
---
2016 Nebraska Nurses Association

TABLE OF CONTENTS

Board of Directors . .............................................................................. 3

NNA Mission, Vision, and Core Priorities. ............................................................. 3

Annual Membership Meeting Agenda ............................................................... 5

Proposed Standing Rules. ......................................................................... 7

Nominations Report and 2016 Slate of Candidates ...................................................... 9

Proposed Legislative Platform 2016. ................................................................. 11

Officer Reports

President ................................................................................... 15

Vice President ............................................................................... 19

Secretary .................................................................................. 21

Budget . ................................................................................... 22

Committee Reports

Legislative Advocacy and Representation Committee (LARC) . ........................................ 24

Nursing Professional Development Committee (NPDC) .............................................. 25

Governance, Finance and Membership Committee (GFMC) . .......................................... 27

MIG Oversight Committee (MIGOC). ............................................................. 28

Continuing Education Approval Committee. ........................................................ 28

Other Reports

Director of State Affairs . ...................................................................... 29

Midwest MSD Membership Task Force ........................................................... 30

Nebraska Nurses Foundation. .................................................................. 30

NNA-PAC . ................................................................................. 31

American Nurses Advocacy Institute (ANAI). ....................................................... 32

ANA Membership Assembly Report ............................................................. 32

Organizational Affiliates . ....................................................................... 34

New Business

Reference Proposals. ......................................................................... 35

Proposed Amendments – Bylaws. ............................................................... 39

Region Map. .................................................................................... 47

Map of Divot Convention Center. ................................................................... 48

Printed and Published for the Nebraska Nurses Association by Arthur L. Davis Publishing Agency, Inc.

517 Washington, P.O. Box 216, Cedar Falls, IA 50613, (319) 277-2414

www.NebraskaNurses.org

Published by:

Arthur L. Davis

Publishing Agency, Inc.

1
---
2016 Nebraska Nurses Association

For nurses passionate about providing premier pediatric care, there is

no better place than Children's. One of U.S. News & World Report's

Best Children's Hospitals, our Magnet-designated facility is growing;

we've added services, expanded specialties and implemented

innovative new procedures.

Nursing Opportunities:

• Pediatric Intensive Care Unit

• Neonatal Intensive Care Unit

• Medical/Surgical Unit

• Emergency/Critical Care/Transport Team

• Surgical Services

• Home Health/Private Duty Nursing

• 60+ Primary and Specialty Outpatient Clinics

• Nurse Practitioners

Take your career to the next level:

• Transition to Pediatrics

• RN Residency

• Homecare Academy

We offer outstanding educational opportunities, competitive salaries, generous

benefits and full-time designation at 30 hours. For a current list of open positions visit:

ChildrensOmaha.org/Join our team

2
---
2016 Nebraska Nurses Association

BOARD OF DIRECTORS

Teresa Anderson – President

Anna Mackevicius – President-Elect

Lina Bostwick – Vice President

Connie Morrill – Secretary

MJ Petersen – Treasurer

Linda Stones – Chair, Legislative Advocacy and Representation Committee (LARC)

Douglass Haas – Chair, Nursing Professional Development Committee (NPDC)

Lois Linden – Chair, Governance, Finance and Membership Committee (GFMC)

Lina Bostwick – Advisor, MIG Oversight Committee (MIGOC)

NNA MANAGEMENT AND STAFF

Melissa Florell, MSN, RN – Director of State Affairs

Robyn Kniffen, Administrative Assistant

NNA LOBBYIST

Don Wesely, O'Hara Lindsay Government Relations

NNA MISSION, VISION, CORE PRIORITIES

Mission of NNA:

• Nebraska Nurses advancing our profession to improve health for all.

Vision of NNA:

• Nebraska Nurses Association will be a proactive voice for nurses and an advocate for improved

health for all

Core Priorities – NNA:

• C – Collaboration

• A – Advocacy

• R – Recognition

• E – Education

3
---
2016 Nebraska Nurses Association

4
---
Saturday October 1, 2016

Opening Session

Introductions

Presentation of Agenda

Proposed Standing Rules

Announcements

President's Address

2016 Nebraska Nurses Association

Annual Membership Meeting Agenda

Reports

President Report

Vice President Report

Secretary Report

Budget

Committee Reports

Legislative Advocacy and Representation (LARC)

Nursing Professional Development (NPDC)

Governance, Finance and Membership (GFMC)

MIG Oversight Committee (MIGOC)

Other Reports

MSD Report

CE Approver and Provider Unit

MSD Membership Task Force

Director of State Affairs

Nebraska Nurses Foundation

NNA-PAC

American Nurses Advocacy Institute

ANA Membership Assembly

Organizational Affiliates

ENA

NNP

Discussion/Action Items

Slate of Candidates – Nominations from the Floor

Candidate Forum (President Elect, Treasurer, and ANA Representative Candidates

(Each candidate will have 3 minutes to speak to why they want to be elected

to their respective position)

Legislative Platform 2016 (LARC Chair Linda Stones)

Reference Proposal – Continuum of Care for Older Adults

Amendments – Bylaws

Composition, Roles, and Responsibilities of Committees

Installation of New President

Closing remarks – Anna Mackevicius

Announcements

Adjournment

5
---
2016 Nebraska Nurses Association

Rock County Hospital

Rock County Long Term Care

located in Bassett, NE, has opportunities for

RNs and LPNs

Contact

Katie Aase, RN, BSN, Director of Nursing - Hospital

402-684-3366 or kaase@rockcountyhospital.com

Brittany Heyden, RN, Director of Nursing - Long Term Care

402-684-2991 or bheyden@rockcountyhospital.com

102 E. S. Street • Bassett, NE 68714

Fax: 402-684-3677 • www.rockcountyhospital.com

SCRUBS PRN

We are focused on providing nursing scrubs and necessary

medical supplies from quality manufacturers for nurses,

doctors, and other medical professionals.

Monday - Friday, 10 - 6

Saturday, 10 - 4

3706 2nd Avenue, Kearney, NE

(308) 237-1411 • scrubsprnkearney@gmail.com

www.facebook.com/scrubsprn

Join Our Successful Team

25-Bed Acute Care Inpatient Unit • Surgical Services

Emergency Services • Labor & Delivery

Injection/Infusion Outpatient Department

Cardiac Rehabilitation • Diabetic Educator

Special Observation Unit • Home Health & Hospice

Infection Control • Employee Health

Patient/Staff Educators • Trauma Coordination

Utilization Review • Swing Bed • Wound Care

Specialty Clinics • Rural Health Clinics

1301 East H Street • McCook, NE

308-344-8381

See our website at www.chmccook.org for a

listing of current job openings.

6
---
2016 Nebraska Nurses Association

PROPOSED STANDING RULES

Rule 1

Rule 2

Rule 3

Rule 4

Rule 5

Rule 6

Rule 7

Rule 8

All NNA Members and guests will be admitted to the Annual Membership Meeting. Each

member will be identified with a name badge ribbons (NNA Member).

NNA member or guest will rise, address the Chair ("Madame President"), giving name and

upon recognition may speak.

NNA members will have two (2) minutes to speak on each topic and may not speak in debate

more than twice on the same question or topic on the same day or longer than three (3)

minutes. Guests will have one (1) minute to speak on each topic and may not speak more

than once on the same question or topic on the same day or longer than one minute.

Suggested amendments to presented ballot items will be in writing and shall be sent to the

Chair immediately following presentation of the amendment.

Business interrupted by a recess of the meeting shall be resumed at the next meeting at the

point where it was interrupted.

Consensus on amendments to ballot items will be reached through a voice vote of members

in attendance. Guests may not vote on consensus polls.

Additional self-nominations for NNA Board Officers, ANA Representatives and/or Committees

must be received before 5:00 pm on the day preceding the Convention (Thursday, September

29, 2016) and must include a completed Leadership Profile.

Voters unable to rise will be provided a voting card consistent with the ADA act.

NNA Bylaws regarding Standing Rules:

ARTICLE XIII

STANDING RULES

Standing Rules may be amended at the Annual Membership Meeting by a majority vote by those

present and voting without previous notice.

7
---
2016 Nebraska Nurses Association

8
---
2016 Nebraska Nurses Association

2016 NNA SLATE OF CANDIDATES

Officer Positions:

• Nominees for President-Elect -

• Nominees for Treasurer -

Lina Bostwick, RN, MSN, EdD, CNE

Nolan Gurnsey, RN

Douglass Haas, MSN, APRN, AGACNP-BC, CCRN

Joley Goodman, MSN, RN

Cathy Smith, RN

Kristina Smith, APRN-AGNP, NP-C, MSN, RN

Committee Positions:

• Legislative, Advocacy, and Representation Committee (LARC):

o Nominee – West Region –

Jordan Caldwell, MHA, RN

o Nominee – North Region –

Kathleen Davis, RN

o Nominee – South Region – Rita Weber, RN, MSN

o Nominees – East Region –

Monique Summers, ADN, RN

Echo Perlman, MSN, RN

o Nominee-At-large –

Jacki Steckelberg, RN, BSN

• Nursing Professional Development Committee (NPDC):

o Nominees – Nursing Practice – Amanda Mesloh, RN

o Nominee – Nursing Faculty (2) – Jacy Henk, RN, BSN, MSN

o Nominees – Prof. Education (2) – Karen Morgan, RN, BSN, MSN, BA, MEd

Katie Messner, BSN, RN

• Governance, Finance, and Membership Committee (GFMC):

o Nominee – Nursing Practice – Paula Molzen, RN

o Nominee – Nursing Faculty – Margo Minnich, DNP, RN

o Nominee – Rural Nursing – Danielle Reab, RN, BSN

o Nominee – Urban Nursing – Jan Tubbs, RN, MS, MSN

ANA Membership Assembly Representative:

o Nominee –

Linda Stones, RN, BSN, MS, CRRN

9
---
2016 Nebraska Nurses Association

Committed to serving our residents,

families and community with dignity,

respect and the highest quality of care

in a safe and comforting environment.

402-368-2250 | www.prairieviewtilden.com

Uniforms 'N More

Mon.–Fri. 10–6 Sat. 10–4

$

10 off any $ 75 00

409 N. Broadwell, Av. Grand

Island, NE 68803

Call (308) 384-1286

purchase

(Excludes Littmans) One per customer

Expires 12-31-16

1720 Burton Dr. Falls City, NE 68355

402-245-4466

Stanton Health Center

301 17th Street • Stanton, NE 68779

Phone: (402) 439-2111

Welcome to

Clark Jeary

Retirement Community!

One-level living, beautiful views

and friendly people will

welcome you home.

8401 So. 33rd St., Lincoln, NE 68516

www.clarkjeary.com

Call Carla at 489-0331

for lunch and a tour

Independent, Assisted Living & Memory Care

Life Care Center of Elkhorn

A premier provider of skilled nursing and

rehabilitation services for over 40 years.

We thank our nurses for their dedicated service

Come Join Us!

RNs & LPNs

Apply in person at

LCC Elkhorn

20275 Hopper St., Elkhorn, NE 68022

or e-mail: Kirk_Sweeny@lcca.com

SilverRidge is a family owned and operated business quietly

nestled in Gretna, Nebraska, where residents can benefit

from the close proximity to Omaha, yet enjoy the small

town atmosphere that Gretna has to offer. With 81 spacious

apartments, we provide a variety of floor plans to

suit everyone's needs.

SilverRidge's goal is to provide seniors an environment in

which they can enjoy their retirement, maintain or enhance

their lifestyle, live with dignity, and remain as

independent as possible.

If you are interested in employment opportunities with

SilverRidge, we encourage you to come in and fill out an

application or download a printable application on our website.

www.silverridge-gretna.com

402-332-4280

10
---
2016 Nebraska Nurses Association

NEBRASKA NURSES ASSOCIATION

2016 LEGISLATIVE PLATFORM

Underlying Beliefs

For long over a decade, the public has recognized Nursing as the most trusted and ethical profession

in the United States (Cipriano, 2015). This represents both the strong solidarity and responsibility

the profession carries. Therefore, it is imperative that nurses across healthcare, serve as formal and

informal leaders.

Nurses have a responsibility to educate the public and legislators on issues that impact the health of

Nebraskans and our communities. The Nurses Association views the call to educate and communicate

as a priority.

Nurses are the largest healthcare sector in the United States, and a profession that contributes to the

science, advocacy, health, and well-being of Nebraskans and our communities;

As Nebraska nurses, we believe that all individuals have a right to basic healthcare; and, therefore, we

support legislation that promotes equal access to healthcare for all individuals;

As Nebraska nurses, we believe that preventative measures can result in a better quality of life and

reduce the lifetime costs of healthcare. We support legislation that promotes prevention and wellnessrelated

activities and services;

As Nebraska nurses, we are professionals; and, as such, we are responsible for maintaining competency

and practice standards that are current through the utilization of evidenced-based principles.

Based on the above underlying beliefs, the NNA adopts the Following Legislative Platform:

1. NNA will strongly support the essential role that Registered Nurses play in care delivery in all settings.

NNA will actively pursue any legislation that advocates for the well-being of the nurse to ensure:

a. Safe work environments;

b. Adequate training and ongoing competence;

c. Fair and transparent licensing;

d. Clear and well-defined scope of practice, maintaining educational preparations and scientific

knowledge which are unique to nursing;

e. Removal of barriers that negatively impact nursing's scope of practice, for both RNs and

Advanced Practice Registered Nurses (APRNs);

f. Economic stability and improved compensation for nurses.

g. Coordination of care; and

h. Participation in decision making that involves other groups providing nursing care.

11
---
2016 Nebraska Nurses Association

Imperial Manor Parkview Heights

The Best Nursing Home & Assisted Living in Nebraska

would like to thank Nebraska's Nurses for their

hardwork and dedication in serving Nebraska's

seniors in a variety of senior housing and

service settings.

As a sign of our appreciation, mention this ad

and receive $50 off your registration to our

Fall Conference and Annual Meeting

October 19-20, 2016 in Lincoln, NE

Imperial Manor, Parkview Heights is a 58 bed licensed Skilled

Nursing and 49 bed licensed Assisted Living Facility nestled in

the beautiful lower south west corner of Nebraska.

With long term and rehabilitation services provided to

Medicare, Medicaid, private insurance, and Veteran

residents, we strive for excellence in quality of care

and quality of life as evidenced by winning the

American Health Care Association's Bronze Quality

Award in June of 2016.

We are currently looking for New Grads or Experienced

LPNs and RNs to join our award winning team.

Visit LeadingAgeNE.org

to register

LeadingAge Nebraska

900 North 90th Street #940

Omaha, NE 68114-2704

P 402.990.2346 | LeadingAgeNE.org

If you have a passion for excellence and resident

satisfaction while earning a competitive income

contact Nolan Gurnsey, RN, NHA at 308-882-5333

or email us at manoradmin@impmanor.org.

Be part of providing inspired

care in central Nebraska.

• Competitive wage

• Tuition assistance

• 12-month Residency Program for

new graduate nurses

• Shift and weekend differential

• Loan forgiveness

Nancy R. Wynner Attorney at Law

Straight talk and sound advice in

administrative license matters including:

• Defense Against Disciplinary Action

• License Reinstatement

nwynner@ozwlaw.com

715 N. St. Joseph Avenue | Hastings, NE 68901

402-460-5880 | www.marylanning.org

575 Fallbrook Blvd., Suite 100

Lincoln, Nebraska 68521

(402) 438-2500

ozwlaw.com

12
---
2016 Nebraska Nurses Association

2. NNA will support activities, which are implemented to advance the goals outlined in the 2010 Institute

of Medicine Report, "The Future of Nursing":

a. Nurses should practice to the full extent of their education and training;

b. Nurses should achieve higher levels of education and training through an improved education

system that promotes seamless academic progression;

c. Nurses should be full partners in redesigning health care in the United States and Nebraska;

d. Ensure effective workforce planning and policy making through better data collection and

improved information infrastructure; and

e. NNA supports continued funding for nurse education and scholarship that promotes the

professional growth of nurses.

3. NNA will influence access to safe, cost-effective, quality healthcare services through NNA participation

in local, county, state, and federal decision-making bodies. NNA will do this by:

a. Participating in coalitions with healthcare providers and organizations that support the goals of

assuring safe, quality care outcomes for all Nebraskans; and

b. Monitoring/promoting legislation to assure that the standards for safe, quality patient care are

not compromised.

References

Cipriano, P. (2015, December 29). Re: Leveraging the expertise of America's most trusted profession

[Online news aggregate]. Huff Post Politics. Retrieved from http://www.huffingtonpost.com/

pamela-f-cipriano-phd-rn-neabcfaan/leveraging-the-expertise-_b_8886198.html.%20n

Institute of Medicine. (2010). The future of nursing: Leading change, advancing health. Retrieved from

http://books.nap.edu/openbook.php?record_id=12956&page=R1

13
---
2016 Nebraska Nurses Association

A Tradition

of Excellence

in Health

Care.

Regular Clinic Hours

Mon-Fri 8:30-5:00

Sat 8:30-12:00

Kearney

Clinic, P.C.

Extended Hours

M-F 5-7 pm Sun 1-4 pm

211 West 33rd Street

Tel. (308) 865-2141

Visit our Web Site:

www.kearneyclinic.com

Centennial Park Retirement Village

Centennial Park Retirement Village is currently hiring

LPNs, RNs and CNAs

All shifts.

Competitive pay with excellent benefits package.

Centennial Park Retirement Village is a CCRC

with a newly remodeled Rehabilitation wing and

updated physical therapy department.

Send Resume to 510 Centennial Circle, North Platte, NE 69101

http://careers.fivestarseniorliving.com/jobsearch

Teen and Young Parenting Program (TYPP)

Services Include:

• Pregnancy testing and counseling

• Tutoring and study groups

• Job search assistance

• Incentive programs

• Programs for young fathers

• Doula services

• Prenatal, childbirth, and parenting education

• Transportation assistance

• Play groups

• Support groups

• Professional counseling

Families must have limited resources and live in Douglas and Sarpy

Counties. You are not obligated to receive support by contacting Early

Childhood Services, and all initial inquiries are completely confidential.

We are here to offer services at no cost and a community of peers.

We're here to help. Call us today, or visit us online to learn more

about the services and support ECS provides. Call (402) 559-1080

Visit our website and make a referral @ www.ecsomaha.org

Email us: info@ecsomaha.org

14
---
2016 Nebraska Nurses Association

PRESIDENT'S REPORT

Teresa L. Anderson, EdD, MSN, RNC-OB, NE-BC

As I conclude four years as President of the Nebraska Nurses' Association (NNA), I reflect on our

journey toward relevance, sustainability, member value and voice. I am proud to be able to enumerate

our successes in achieving both the overall strategic goals of the association and my final set of

annual President Goals.

Strategic Goals met between 2012 – 2016:

• Membership increase (from 707 joint members in 2012 to 865 joint members in May 2016)

• Streamlined membership – joint-membership only

• Streamlined governance – four active and productive committees, a 10-member engaged

Board of Directors

• Membership support – Regional Membership Liaisons, Multi-State Division (MSD) Membership

Task Force (grace period cards, new member survey and calls, welcome packet, database

management), Mutual Interest Groups (three active geographic groups)

• Financial solvency – balanced budgets since 2013 with a healthy cash reserve, support for

professional development, technology upgrades, social media, and two part-time staff members

• Strong NNA-PAC, successful legislative priorities with successes in several key areas – nurse

practitioner scope of practice, whistleblower legislation, sustaining the helmet law, licensure of

surgical first assistant technologists, and others

• The creation of the Nebraska Nurses Foundation as a 501c3 non-profit with a highly engaged

Board and activities

• Active participation in the Midwest MSD with economies of scale for back-office operations

and more

• A strong MSD CE Approver and Provider Unit

2016 President's Goals

1. Continue the final phase of the NNA Governance transition and support the successful definition and

implementation of new structures and processes approved at the 2015 NNA House of Delegates.

District Funds Distribution – Funds have been distributed by the NNA Board with consideration of

District preferences. Overall, most of the funds will be split between 2016, 2017, and 2018 budgets

as follows, General Fund/Membership & Marketing – $15,617; Mutual Interest Groups – $15,508;

Technology – $5,654; and Contingency Funds – $14,882. Scholarship funds, totaling $12,907, were

forwarded to the Nebraska Nurses Foundation (NNF) for distribution.

Mutual Interest Groups (MIGs) – Three groups formally applied and were approved as 2016 MIGs,

Region 1 – Scottsbluff; Tri-City – Grand Island, Kearney, and Hastings area; and Lincoln Area. These

groups have many activities planned and support is available from the NNA. The MIG Oversight

Committee is still trying to get leverage; scheduling a meeting has been challenging. There are

opportunities for more 2017 MIGs and events.

Liaison Role – The four regional liaisons – Melissa Snyder, Nolan Gurnsey, Jenna Witt, and Jessica

Zoerb – are completing training and working on activities. If you are interested in becoming a Liaison

in the future, please let us know. As our Liaisons take on other roles in the association, they may need

to transition out of the role.

15
---
2016 Nebraska Nurses Association

"Take your boots off

and stay awhile!"

888.371.2932

visitnorfolkne.com

Divots Concert Series Presents:

LeAnn Rimes

December 1st | 7:30 pm

contact Divots for more information

Shopping

Thrift Shopping

Retail ~ Boutiques

Antiques

Specialty Shops

RIVERPOINT

Downtown Christmas Festival

TUESDAY, NOVEMBER 22 ND

Poppy's Pumpkin Patch

OPEN: September 17th

Call: 402.379.0455 for more information

16
---
2016 Nebraska Nurses Association

2. Facilitate the successful transition of new members to the NNA Board and Committees to fully use their

time and talents to contribute to a meaningful experience and value for themselves and all NNA members.

Board Orientation – completed at October 31st Retreat and BOD members have had greater than

90% attendance at all scheduled meetings in 2015-2016!

Committee Orientation – informally completed by Chairs, but a stronger process is needed.

3. Support expanded operations and administrative functions of the NNA progressing toward a physical

space for NNA archives, employed staff, and a strong presence in Lincoln for all nurses in Nebraska.

NNA Office Space – as of this writing, plans look very favorable for a dedicated office space for the

NNA within the UNMC College of Nursing building scheduled for occupancy in 2018. This facility,

located on the University of Nebraska – Lincoln City Campus will offer close proximity to the capitol,

the state office building, our lobbyists, and other important policy groups.

4. Facilitate financial streamlining and long-term planning to effectively manage NNA general and

restricted funds to the best advantage for members and a sustainable association.

Three-Year Financial Planning – fueled by the generous disposition of funds by the Districts, the

NNA has begun to create a three-year budget plan. $51,790 was available to support membership

& marketing, MIGs, technology, scholarships, and contingency needs over 2016, 2017, and 2018.

Scholarship funds were all transferred to the NNF and donors are encouraged to contribute additional

funds for project/practice grants planned in 2017.

5. Actively participate in the activities of the ANA Midwest MSD to contribute to the ongoing existence

of this key structure and staff members who actively support our states and our strong collaboration.

MSD To Become A Corporation – Since May 2013, the (NNA) has participated in a collaborative

pilot known as the Midwest Multi-State Division (MW MSD) with five State Nurses Associations

(SNAs) – Nebraska, Kansas, North Dakota, Iowa and Missouri – to explore opportunities to share

administrative, programmatic, and leadership services. The purpose of the regional model was to

create economies of scale while maintaining strong, visible, highly impactful SNAs. The initiative

was a shared investment between the SNAs and the ANA. The MW MSD has provided the NNA

with unique opportunities including the adoption of CQ Roll Call advocacy outreach software; CE

approver/provider unit consolidation and support; member communication via shared newsletters,

social media posts, and call centers; best practices from the ANA Standards of Excellence; and

contracted finance operations. At a face-to-face meeting in August 2015, leaders from the MW MSD

states committed to explore a formalized corporate structure to enable the MW MSD to remain

active after the pilot phase ends. With faith in the group, ANA agreed to continue shared funding and

support for the model through 2016, and potentially beyond. On March 31, 2016 the NNA Board voted

to become a member of this corporate structure to leverage back-office operations support. Also

committing to the structure were Missouri Nurses Association (MONA) and Kansas State Nurses

Association (KSNA). Iowa and North Dakota chose not to continue with the MSD. Recruitment of

additional states is a priority. Initial Directors representing NNA on the MW MSD Board are Terry

Anderson and Anna Mackevicius.

17
---
2016 Nebraska Nurses Association

We are pleased to

support the

Nebraska Nurses

Association's

Annual Convention

Yearbook.

Michael N. Eppel, M.D., FACG

David D. Lee, M.D.

Denise L. Speich, APRN

❖ Providing comprehensive care to patients with diseases of

the digestive system and liver

❖ Conveniently located next door to Lincoln Surgery Center

Endoscopy Services

❖ In-office Remicade Infusion Services Available

❖ Visit us on our website, www.consultantsingastro.com

1730 South 70th Street, Suite 110, Lincoln, NE 68506

(402) 441-5600

Cherry County Hospital

Seeking

Full-Time RNs and CNAs

We offer a competitive wage and

benefit package.

Contact: Kathryn Renning, DON

Phone: 402-376-2525, Fax: 402-376-1627

Email: krenning@cchospital.net

Mail: Cherry County Hospital

510 North Green St. • PO Box 410

Valentine, NE 69201

Divots and Norfolk Lodge Welcome the Nebraska Nurses Association

Meetings, Weddings

& More

2 Restaurants &

onsite Brewery

Mini Golf &

Driving Range

Indoor Pool,

Free Breakfast

4200 W Norfolk Ave. Norfolk, NE 68701

(402) 379-3833

www.divotsconference.com

18
---
2016 Nebraska Nurses Association

6. Support NNA/ANA membership recruitment and retention activities to instill ownership of professional

practice, and excitement in all Nebraska professional nurses and nursing students.

Recruitment and Retention - Liaisons have assisted with member events and outreach this past

year. Since October 2015, the NNA President has spoken to 13 different student/novice nurse groups

from seven facilities and between April 25 and May 9th NNA BOD Members and Staff participated in

18 different Nurses' Week venues with over 1,000 nurses and nursing students attending! We have

engaged a NSSNA officer on the GFMC Committee and spoken at the NSSNA Convention for the

fourth year in a row.

7. Actively collaborate with other nursing associations and groups within Nebraska to strengthen our

affiliate program and to provide needed resources for nurses in our state.

Collaboration with Other Nursing Groups - Besides the collaboration required for successful

legislative advocacy, the NNA has collaborated with several other organizations. The NNA, Nebraska

Organization of Nurse Leaders (NONL), Nebraska Assembly of Nursing Deans and Directors (NANDD),

and Nebraska Action Coalition (NAC) hosted the "Culture of Health Summit" in October 2015. Speakers

were Senator Sue Crawford, a strong advocate for nursing, and Courtney Phillips, Executive Director

of the Nebraska Department of Health and Human Services. Plans are also underway for a joint

convention with the Nebraska Nurse Practitioners (NNP) in 2017 in Kearney. Strong collaboration

with other regional State Nursing Associations (SNAs) has resulted in a successful pilot of the ANA

Midwest Multi-State Division.

VICE PRESIDENT'S REPORT

Lina Bostwick, EdD, RN, CNE

I found my first year serving as the Vice President of NNA to be rewarding. The opportunity that has

existed for creating relationships with nurses across Nebraska has been a phenomenal one.

As chair of the NNA Conference Committee, the talents of those having a history with NNA and those

new to the processes, has brought about the best of both worlds. It is equally important to have team

members that bring fresh new ideas, as it to have those bringing the historical feasibility perspectives

to the table. As I reflect on my application for the VP position, all of the goals I projected to act on have

been fulfilled in some way. However, as another year comes to an end, I more than ever realize the

importance of continuing to meet and expand upon these objectives:

1) Support the President and the Board

2) Recruit talent with the right skills

3) Collaborate with teams, focus groups, MIGs, and decisions on financials as needed

4) Collaborate on analysis of data

5) Engage nurses, volunteers, members, possible donors, and nursing students

6) Cultivate advocates of Nursing and for Nursing

7) Assist in planning for the succession of leaders

8) Cultivate Nursing on committees as advocates for safety and patient care

I want to thank the many NNA members that have been encouraging, supportive, helpful, and most of

all, those that have put their trust in me as I continue to discover this organization's important impact

on our communities. I look forward to meeting even more of our members in the coming year.

19
---
2016 Nebraska Nurses Association

Bellevue Family

Ear, Nose & Throat/Audiology

and Allergy Clinic

SALVATORE A. ZIENO, M.D.

"Omaha's choice for children's eye care!"

Robert N. Troia, M.D. Sebastian J. Troia, M.D.

Sarah B. Wierda, M.D.

Pediatric Ophthalmology and Adult Strabismus

515 North 98th Street, Omaha, NE 68114

Phone 402.399.9400 • Fax 402.399.8170

Office Hours by Appointment

www.pediatricophthalmologyomaha.com

2227 JEFFERSON STREET

BELLEVUE

(402) 292-9800

EMERGENCIES (402) 559-2537

FAX: (402) 292-2550

Be comfortable at work!

The perfect scrub pant for those

who live in yoga pants.

DO YOU WANT TO BE

PART OF SOMETHING GREAT?

Sidney Regional Medical Center in Sidney, NE, is growing & we are

seeking talented nurses to help us deliver world-class nursing care.

To review current openings and "JOIN OUR TEAM" visit

www.sidneyrmc.com

NOW HIRING:

RNs and LPNs | Surgical Techs (Sign on bonus)

(308) 254-7268 ext 1262

dbrennan@sidneyrmc.com

1000 Pole Creek Crossing | Sidney NE 69192

SRMC is an equal opportunity employer and provider

Available now at

Yoga scrub pants by

MC 2 are so comfortable

you'll need a pair for

home and for work.

They have the same

EZ-FLEX fabric you've come to

love from the rest of Med Couture's

line, with the added comfort of a

knit waistband. Front side pockets,

double cargo pockets and an extra

accessory pocket mean these

pants aren't just stylish, they're

highly functional.

Try a pair today!

20
---
2016 Nebraska Nurses Association

SECRETARY'S REPORT

Connie Morrill, BSN, RN

The NNA Board began the year with an all day retreat on October 31, 2015 in Grand Island, Nebraska.

At that meeting, the Board mapped out strategic direction for 2016.

Throughout the year, the Board met on October 31, November 19, December 15, January 19, February

15, March 31, April 19, May 17, July 19, August 16, September 29*, and October 2* with approval of key

initiatives to move the organization forward:

• Dissolved District 7 in lieu of a seated Board in that area.

• Made appointments to fill open Committee positions

• Approved updates to the Nebraska Nurse format and added a page for the Nebraska Nurses

Foundation (NNF)

• Updated the policy and procedure manual

• Moved scholarship funds to NNF with selection by NPDC

• Supported the development of NNA-PAC Bylaws and seating a Board for the PAC

• Approved three MIGs – Region 1, Tri-City, and Lincoln-Area

• Facilitated electronic archive of NNA documents

• Changed status of Director of State Affairs to an employee and hired a PT Administrative

Assistant (payroll processes contracted with MONA)

• Set up Committee emails and business cards for Chairs

• Approved the development and implementation of a NNA mobile device app

• Approved distribution of District funds

• Approved a balanced budget

• Launched radio marketing and Kearney billboard (to rotate annually) for Nurses' Week

• Approved Carol Wilson funds to support convention registrations for NNA members ($90)

• Approved NNA becoming a member state of the Midwest MSD corporation and appointed

Teresa Anderson as principle director for NNA on the MSD Board for 2016 – 2017

• Offered a free NNA membership In each region from among those attending Nurses' Week

events

• Supported a strong Nurses' Week presence across the state including contact with over 1,000

nurses and nursing students

• Voted to participate, if selected, in the ANA Value Pricing Pilot

• Recommended appointments to the Center for Nursing and Center for Nursing Foundation

Boards

• Approved changes in LARC regions to those used by the Regional Member Liaisons

• Voted to rebrand NNA in alignment with ANA new branding

• Appointed Anna Mackevicius as 2nd director on the Midwest Board

• Approved Legislative Award for Senator Lindstrom

* meetings tentative at time of printing

21
---
2016 Nebraska Nurses Association

22
---
2016 Nebraska Nurses Association

23
---
2016 Nebraska Nurses Association

LEGISLATIVE ADVOCACY

AND REPRESENTATION COMMITTEE (LARC)

Linda Stones, RN, BSN. MS, CRRN- Chair

Committee Members Active in 2016: Kari Wade, Lorie Kelly-Norton, Anne Obermiller, Terri Mitchell,

Kathy Davis, Joan Nelson and Rita Member.

Staff Members: Don Wesely (Lobbyist), Melissa Florell (Director) and Robyn Kniffen (Assistant)

This year was a short session for the Nebraska Legislature but a very busy one for NNA's LARC. The

members reviewed and took action on several bills during the session. They were also involved in

several 407 reviews for scope of practice changes, updated the legislative platform and, with staff

support, held a successful Nurses Day at the Legislature.

Legislative Session:

Committee members reviewed 440 bills that were introduced in this year's session. Several key bills

of note were LB 721 which was the Surgical First Assistant (SFA) bill. This would allow SFAs to be

licensed. NNA worked hard to ensure that physician supervision of these licensed professionals

would protect nurses and to ensure that these changes did not negatively impact Surgical Nurse First

Assistants. The bill passed with NNA's inputs intact. LB 750 which was referred to as the Whistleblower

bill was supported by NNA and was passed. This law protects the confidentiality of individuals who

report other professionals in accordance with the Uniform Credentialing act. Three very brave nurses

came forward and spoke on behalf of this bill which was instrumental on the bill moving forward.

LB 900 was an attempt to repeal the motorcycle helmet law. NNA opposed this bill and it failed to

advance. LB 1030 was also supported. This provides some financial support for the purchase of

amino acids-based elemental formulas. Another attempt was made to expand Medicaid coverage

in LB 1032. NNA supported this bill but the bill failed to advance. LB 1060 was a bill to have surgical

technologists registered. NNA opposed the bill in the format it was introduced, which would have

Surgical Technologist under the Board of Medicine. Attempts were made throughout the session

to come to a compromise, but these attempts failed. A carryover bill, LB 18, to require offering a

meningitis vaccine was supported by NNA; however, the bill was not advanced.

407 Scope of Practice Reviews:

Members have been involved in several of these reviews that likely will lead to legislation introduced

at the 2017 session. As mentioned above, we were successful in representing nurses concerns with

the Surgical First Assistant licensure. As an off-shoot of this, the Surgical Technologists were initially

requesting licensure and their desire to be managed under the Board of Medicine. After dialogue, the

Surgical Technologists changed their position to be registered versus licensed but still demanded to

be under the Board of Medicine. This continues to be a point of contention for NNA as we feel strongly

that the Board of Nursing is in the best position to manage this group of registrations and Surgical

Techs will remain supervised in the OR by the Registered Nurse. A new 407 review was started

in 2016, to allow Dialysis Care Technicians to be delegated the task of administering heparin and

accessing central lines for dialysis treatments in outpatient dialysis centers. The committee continues

to work with key stakeholders to find a solution that is in the best interests of the patients. A group of

individuals has been involved in the RN scope of practice being limited in Assisted Living Facilities.

There are several very committed members who have spent years on this issue and are finally seeing

some positive movement to allow RNs to function within their scope of practice in Assisted Living

24
---
2016 Nebraska Nurses Association

facilities. Lastly, NNA LARC is working with the Board of Nursing as they have submitted a 407 review

to create all new LPNs to meet the requirements of LPN-Cs.

Legislative Platform:

A subgroup of individuals worked with Lina Bostwick to update the Legislative Platform used by the

LARC to guide decisions on bills introduced. You will find the proposed Legislative Platform in this

Book of Reports. Membership will need to vote on the adoption of these changes. Changes were

sought after members reviewed platforms from other state nursing associations as well as their own

experiences during the past legislative sessions. If you have questions about the changes, please

email larc@nebraskanurses.org and a committee member will get in touch with you.

Nurses' Day at the Legislature:

The event was held at the Cornhusker Hotel on February 11, 2016. A total of over 400 individuals

registered for the event. The keynote speaker was Rebecca McClanahan who spoke on "the Power

of One." Rebecca was the former president of the Missouri Nurses Association (MONA) and served in

the Missouri House of Representatives. Lunch was held with 12 Senators and staffers attending. The

event also had 14 nursing group or individual sponsors.

Planning has already started for the 2017 event, which will be held on February 9, 2017, at the Cornhusker

Hotel. Make plans now to attend.

Based on my report you can see a tremendous amount of work has been done to support and

advocate for Nurses in Nebraska. Volunteers are always needed and welcomed.

NURSING PROFESSIONAL DEVELOPMENT COMMITTEE (NPDC)

Douglass Haas, MSN, APRN-NP, AGACNP-BC, CCRN – Chair

Committee Members: June Eilers, Jacy Henk, Shannon Jones, Alice Kindschuh, Karen Morgan,

Elaine Pohren, Anoumou Somado

WOW! This year has been busy for NPDC, as you will read below. I am so proud of the work the NNA

Nursing Professional Development Committee has completed this 2015-2016 year. The committee

continues to achieve momentous tasks completion across the state with the continued, and sometimes

stressful, use of our online communication techniques. We as an organization have truly forged the

waters and have come full circle as an organization. NPDC is a true example of how a more nimble,

technologically savvy, and focused group of individuals can really get a lot of work done. This year is

summed up best by a quote I heard at the ANA Membership Assembly (through their YouTube page) –

"There is no limit to the amount of work you can get done if you don't mind sharing the credit." Thank

you again to the amazing members of the NPDC and to the continued support from ANA/NNA and

the Board of Directors.

Awards

Five (5) NNA members were praised for their excellence at the 2015 NNA Convention with the following

awards:

• Notable New Nurse – Matt Lentz, MSN, RN from Ainsworth.

• Distinguished Service Award – Cathy Clark-Sybrant RN, CNP of Bassett.

25
---
2016 Nebraska Nurses Association

• Extraordinary Achievement in Nursing – Linda Hughes, PhD, RN of Papillion.

• Nurse of the Year Award – Judi Dunn MS, CPP, RN of Omaha

• Outstanding Nurse Educator – Kristie Martin BSN, CEN of Omaha

Scholarships

Thanks to the generous donation of $1000 from Arthur L. Davis Publishing Agency, Inc., NNA was able

to give two $500 scholarships to undergraduate nursing students. Eli Rodrigues of Scottsbluff and

Erika Hochstein of Norfolk were the 2015 recipients. Both attend UNMC CON at their respective city

campuses.

Events

• The 2016 Celebrate Nursing event was held on April 26, 2016 at Bryan East Plaza, Lincoln, NE.

Hosted by Lincoln Area MIG in collaboration with Sigma Theta Tau, Nu Rho Chapter. The event

consisted of Lincoln area MIG/STT Poster Board Presentation, Networking Meal to increase

membership with area colleges, and presentation of Nursing of the Day Award.

• The Celebrate Nursing! Breakfast and Positive Image of Nursing Awards event was presented

on April 30th, 2016. This event has been a long-standing Nurses Day celebration in the Omaha

area and well supported by the local healthcare systems, CHI Health, Nebraska Methodist

and Women's Hospitals, Nebraska Medicine, and colleges. The event was held at the Scott

Conference Center (SCC). First Lady Susanne Shore spoke briefly and was well received. Terry

Anderson presented a shortened version of the CE related to Culture of Safety. Her 30-minute

presentation was excellent! There were 74 PIN honorees this year. The presentations went well.

• April 25th through May 9th entertained the NNA Presidents Tour, which included 18 different

events across the state of Nebraska from Scottsbluff the Omaha. Approximately 1000 cumulative

individuals attended the weeklong events in their areas.

• July 26th the Tri-City MIG presented an informal NNA meet and greet as well as update session

in Kearney. Non-NNA members were paired with NNA members to best encourage membership

in the informal setting of the new Mac's Creek Wine Bar.

• The 2016 Legislative Reception will be held on August 30th.

o The target audience includes Nurses and Officials/Candidates:

o Nurses

• Area RNs and their guests

• Chief Nursing Officers and Administrators

• Local nursing college Deans and faculty members

• Other professional nursing associations officers, directors, and members

o Incumbent Officials/Candidates

• Mayor

• Governor/Lt. Governor

• U.S. Senators

• US Congressman

• NU Board of Regents

• MCC Board of Governors

• State Senators

• Douglas County Commissioners

• On November 17th, 2016 – NNA BOD, NNF, and Committees will meet with ANA during the

Nursing Organization Alliance –Theme: NNA Town Hall with ANA in Omaha.

26
---
2016 Nebraska Nurses Association

GOVERNANCE, FINANCE AND MEMBERSHIP COMMITTEE

Lois Linden, EdD, RN, GFMC Chair (Urban)

Committee Members:

Cathy Smith, Staff Nurse

Paula Molzen, Staff Nurse

Jenna Witt, Rural

Nolan Gurnsey, Rural

Margo Minnich, Nursing Faculty

Judy Timmons, Urban

Carol Kampschneider, Management

MJ Petersen, Treasurer

Kay Keichel-White, Appointed Past NNA Officer

Lacie Ferguson, NSSNA Representative (Non-voting)

Teresa Anderson, President-Ex-Officio

Anna Mackevicius, President-elect (Non-voting)

Melissa Florell, Director, Non-voting

Don Wesley, Lobbyist, Non-voting

Membership

Recruitment and Retention Strategies:

• Participated in Nebraska State Student Nurses' Association (NSSNA) through exhibits and

sponsorship of the conference.

• Made recommendations to the Board of Directors and/or the Director with ideas for

implementation of the Regional Membership Liaison role.

• Drafted procedures and a three year membership recruitment and retention plan following

submission of an NNA application (prepared by the President) to ANA membership Value

Pricing Pilot.

• Development of procedures regarding membership recruitment and retention (initial drafts).

• Increased membership outreach through electronic media and presentations to schools of

nursing, nurse residency programs, and Nurses' Week activities.

Finance/Budget

• Successfully conducted annual fundraising at the 2015 Convention.

• Consolidated accounts in numerous banks into one bank and drafted financial procedures.

• Revised the 2016 budget following the 2015 House of Delegate vote to dissolve Districts. Pivotal

to this process were the recommendations from each District in their District Fund Disbursement

submissions and from the Budget Committee to the Board of Directors.

• Drafting the 2017 budget including designated District funds and recommendations from ANA

consultation and MSD (pending).

2016 NNA Slate of Candidates and Election Processes

• Candidates for NNA positions were recruited, validated as eligible, and placed on the ballot.

• Assisted in the development of guidelines and procedures for inclusion of members in the

nomination process during the 2016 Annual Membership Meeting (AMM).

Bylaw Revisions and Proposals

• Made major revisions to the 2015 Bylaws based upon the House of Delegate vote to dissolve

Districts as well as moving from a House of Delegates to an Annual Membership Meeting (AMM).

• See proposed Bylaw Amendments in this Book of Reports.

27
---
2016 Nebraska Nurses Association

MIG Oversight Committee

Lina Bostwick, EdD, RN, CNE

January 2016 brought about the implementation of Mutual Interest Groups following a great deal of

planning, communication, and action. Nebraska nurses, once again, gathered to meet and formulate

area specific goals while creating, naming, and applying for MIG status with the NNA.

The leadership of the following Nebraska Nurses has created the formation of our first NNA MIGs:

1) Tri-City: Douglass Haas, Rita Weber, and Pat Trausch;

2) Lincoln and Surrounding Area: Jan Tubbs; and Cathy Smith

3) Region 1: Connie Morrill, Alicia Kuntz, and Kim Smith.

Each MIG organized a spring nurses recognition and educational program during Nurses' Week. Due

to scheduling conflicts, the MIG Oversight Committee has not met, but each Chair has received 1:1

guidance and materials for 2017.

CONTINUING EDUCATION APPROVAL COMMITTEE

Judi Dunn, MS, CPP, RN-BC

The Midwest Multistate Division Continuing Nursing Education Unit continues to grow and strive for

excellence in education for nurses. The CNE Executive Team expanded resources for Approved Provider

Units to include a password protected "Forum" on the MW MSD website. The Forum houses training

materials, modules, webinars, sample forms, examples of a variety of evaluations and suggestions for

best practices for units. Specific webinars were held on the recent ANCC transition from objectives

to learning outcomes. Monthly conference calls were instituted to allow Primary Nurse Planners to

dialogue with each other about common concerns and discuss how best to approach challenges. An

on-line monthly newsletter was also started that provides helpful hints, suggestions for improvement

and resources. So far in 2016 two Nebraska Approved Provider Units; Children's Hospital and Medical

Center and Nebraska Methodist College were highlighted in newsletter articles for their outstanding

contributions to continuing nursing education. There are currently 19 MW MSD Approved Provider Units

in Nebraska.

An in person training workshop was held in August 2015, and another is being planned for August

2016. These live, interactive programs allow Approved Provider Unit staff to network with other similar

organizations as well as participate in educational training to enhance their current operations.

In 2016 the CNE Unit saw the formation of several new units' – called systems, which are comprised of

a number of individual Approved Provider Unit's coming together under one central structure to serve

a healthcare organization. This mirrors what we are seeing in healthcare today as larger healthcare

groups are merging to decrease cost and expand services.

ANCC released changes with the accreditation criteria that necessitated revisions and updates to all

MW MSD continuing education forms, and the Approved Provider Application. As can be expected,

training and resources were also developed to support these changes within the MW MSD.

28
---
2016 Nebraska Nurses Association

The MW MSD CNE Unit also saw in 2016 an increase in Individual Activity Applications submitted

by individuals and organizations seeking contact hours for educational events planned according

to ANCC criteria. The ability to provide such education outside of a healthcare facility/organization,

provides Nebraska nurses with even more high quality continuing education opportunities.

DIRECTOR OF STATE AFFAIRS

Melissa, Florell, MSN, RN

The 2015-2016 year has been exciting and challenging. Along with the Board of Directors and

governance committees I have worked to provide increased support to members, continued to

improve the technology capabilities of the NNA, and maintain the NNA's strong advocacy presence

at the Nebraska Unicameral.

On the technology front, NNA in partnership with the Midwest Multistate Division has developed a

mobile app. The app will allow for increased communication and give members an additional way

to interact with the association. The app will be especially useful during NNA events and activities.

Providing members with a mobile platform will make real-time communication possible and will also

provide an opportunity for growth in the future.

This year was a busy year for the Legislative Advocacy and Representation committee. The group

worked hard to support priority bills as they moved through the Legislature, and in my role as Director I

continue to support their work. A key achievement was the passage of LB 750 which makes anonymous

reporting possible for anyone reporting under the uniform credentialing act. Governor Ricketts signed

the bill into law this spring. It was an honor to have Courtney Phillips CEO of the Nebraska Department

of Health and Human Services and Lt. Governor Foley in attendance at Nurse's Day at the Legislature

along with the many State Senators who listened to their nurse constituents over lunch. NNA continues

to be involved with the 407-review of Dialysis Patient Care Technicians, and will be at the table for

upcoming 407 review hearings regarding LPN and LPN-C practice. NNA's presence at the table with

other stakeholders ensures that NNA is seen as a key partner in health care delivery, and strengthens

our ability to protect and advance RN practice in Nebraska.

In the coming months, the Midwest Multistate Division will be moving from pilot to incorporated entity

and our member states will learn if we have been selected to participate in the ANA Value Pricing

Pilot expansion. Both of these initiatives will provide powerful opportunities for growth, and I look

forward to supporting these efforts. As a member of NNA/ANA I value the resources and opportunities

that membership provides, and strive to make the organization as strong as possible for each of

you. I believe that membership in NNA/ANA provides value that cannot be found in any other place.

Values include personal opportunities for leadership, professional education, and monetary savings

on important services. NNA/ANA also work continuously to make sure that nurses are represented

during the policy process. Speaking with a cohesive, professional voice helps the public, as well as

policy makers, appreciate the importance of the nursing profession. Thank you for your support of

nursing through your NNA/ANA membership!

29
---
2016 Nebraska Nurses Association

MIDWEST MSD MEMBERSHIP TASK FORCE

Melissa, Florell, MSN, RN

In an effort to share best practices and improve capacity for membership growth and retention the

NNA Director of State Affairs, along with members of the Board of Directors, participates in monthly

membership taskforce calls. The calls are led by MSD CEO Jill Kliethermes. The calls began in calendar

year 2014 and continue to be held on a monthly basis. During the calls MSD states review membership

data, develop and track membership initiatives, and share best practice information. Initiatives

developed by the taskforce include grace period postcards (sent to members whose membership

is in danger of expiring) and attempting follow-up calls to those members, sending a new member

welcome email that includes a interest survey, and improving states' presence on social media.

An additional benefit of the Membership Taskforce calls has been having ANA membership staff

present on the calls to answer questions and share information about national membership initiatives.

This allows NNA to complement and participate in these initiatives without duplicative efforts. The three

states of the Midwest Multistate Division have applied to join the ANA Membership Value Pricing Pilot.

The coordinated efforts of the Membership Taskforce calls will help maximize the growth potential of

the pilot if the states are selected. The Membership Taskforce will continue to meet through 2016 with

the goal of growing a vibrant and engaged membership.

NEBRASKA NURSES FOUNDATION

Teresa L. Anderson, EdD, MSN, RNC-OB, NE-BC

Chair, NNF Board of Directors

Effective in July 2015, the Nebraska Nurses Foundation (NNF) became a 501c3 non-profit corporation

in the State of Nebraska. The initial Board of Directors was appointed and invitations were extended

to recruit permanent Board members. Candidates were approved and appointed with the 2015 – 2016

NNF Board consisting of Sara Seemann – President; Cathy Parker – Vice President; Josh Hanshaw –

Treasurer; and Lynnee' Pattrin – Secretary. Other members are Dan Rock, Joanie Nelson, and Alice

Kindschuh.

Following incorporation, funds were transferred into the NNF from the Nebraska Community

Foundation. $24,440.18 was received (General Fund - $8960.34; Shirley Dooling Fund $1196.15, and

Scholarship Endowment $14,283.69). Additional deposits in 2015 included $1000 donation to cover

administrative fees, a $100 general donation and $250 in memory of Winnie Dolph. End of year funds

totaled $28,366.47.

Meetings of the Board have been held on October 5 and November 12, 2015 and February 11, April 18

(face-to-face), June 14, and August 22, 2016.

Activities of the group include:

• Adopting financial policies and procedures

• Contracting with MONA for manager and accounting services

• Identifying fundraising priorities and strategies

• Launching the Celebrate Nursing – Praise a Nurse fund-raising campaign

• Planning for practice and research project grants (Fall of 2016)

30
---
2016 Nebraska Nurses Association

• Formulating an operations budget for 2017

• Support for fundraising activities at the NNA Convention and Annual Meeting (Silent Auction

and Change Drive)

• Bylaw amendment to add a 2nd Vice President who will be the immediate past president to

achieve continuity (Teresa Anderson will serve is this role through 2017).

Total funds, through June 30, 2016:

Checking/Savings

General Checking $12,208.68

Shirley Dooling Memorial $ 1,196.15

Scholarship Endowment $14,283.69

NNA Scholarship Fund $12,916.27

Total Checking/Savings $40,604.79

Total Current Assets $40,604.79

TOTAL ASSETS $40,604.79

NNA POLITICAL ACTION COMMITTEE (NNA-PAC)

Linda Stones, MS, BSN, RN, CCRN - Chair

Officers:

Chair: Linda Stones

Vice Chair: Nolan Gurnsey

Secretary: Lin Hughes

Treasurer: Kari Wade

Other members: Lorie Kelly-Norton, Carol Lainof, Rita Weber, Melissa Florell, and Don Wesely.

The NNA PAC had been dormant for several years. On November 18, 2015, the NNA-PAC was reestablished.

During the first meeting, officers were appointed and newly revised bylaws and policies

were adopted. The NNA-PAC has been involved in the 2016 State Legislature elections with committee

endorsements and financial support for four returning senators – Crawford, Howard, Davis and

Watermeier. All candidates in the upcoming election were sent questionnaires about their position

on topics of interest to nurses. These are published on the NNA website under the partner's tab or at

this web address - http://www.nebraskanurses.org/general/custom.asp?page=NNAPAC. There are 25

Districts where elections will occur. These are the odd numbered legislative districts. If you reside in

one of those districts, please go to our webpage and review the candidate questionnaires so that you

can be an informed voter.

Fundraising is a key factor to the NNA-PAC's success. Donations can be made on the website, or

by attending a fundraiser planned for September 29th in Norfolk, Nebraska in conjunction with the

NNA Convention. Questions or comments about the NNA-PAC can be directed to our email account,

NNAPAC@nebraskanurses.org.

We are always in need of additional help or support. If you are interested in being involved, please

contact us through the email address above.

31
---
2016 Nebraska Nurses Association

AMERICAN NURSES ADVOCACY INSTITUTE (ANAI)

Lina Bostwick, EdD, RN, CNE

The American Nurses Association Institute (ANAI) conference focusing on leadership and advocacy

provides a very rich educational opportunity, as well as a supportive networking environment.

In the first year following the ANAI conference (October, 2015), the competency I have focused on the

most has been building collaborative and productive working relationships. To meet this goal, some

of the work I have been involved in has included: Mutual Interest Group (MIG) support, Chair of the

2016 NNA Conference Planning Committee, organization of a fall, 2016 NNA/ANA Town Hall, and

coordinator for review of the Nebraska Nurses Association Legislative Platform.

Continued learning has taken place over the year by attending ANAI Conference calls lead by Janet

Haebler. Attendee expectation is to report on individual experiences according to the set agenda

topics. Agenda topics have included:

• Political environment of your own state

• Scanning of the political environment

• Bill analysis

• Preparing and delivering testimony before a legislative body

• Working in coalitions: the good, the bad, the ugly

• Political Action Committees

I look forward to the future and the continuation of my advocacy experiences through collaborative

opportunities, mentoring, educating, appreciating the contributions and diversity of others, leading

change, and by communicating the important contributions nurses make on a daily basis.

ANA Membership Assembly Report

Teresa Anderson, EdD, MSN, RNC-OB, NE-BC and

Lynnee' Pattrin, MPA, BSN, RN-BC

Teresa (Terry) Anderson and Lynnee' Pattrin, NNA representatives, were joined by Melissa Florell,

NNA Director of State Affairs, and Anna Mackevicius, NNA President-Elect to attend the annual ANA

Membership Assembly in Washington, DC from July 24 – 25. Melissa and Lynnee' were joined by

Karen Wiley, NNA member and national ENA President-Elect (ANA Affiliate Organization Observer) to

participate in the Lobby Day activities on Capitol Hill. The group attended meetings scheduled with

staff or elected members Fischer, Sasse, Ashford, and Smith. Priority bills for ANA were Registered

Nurse Safe Staffing, Title VIII Nursing Workforce Reauthorization Act, and the Home Health Care

Planning Improvement Act. Terry and Lynnee' participated in the association voting with their two

votes weighted as four votes based upon the membership apportionment.

Significant ANA Business:

• Expansion of the Membership Value Pricing Pilot to include up to 25 C/SNAs for three years.

• Suspension of the ANA Dues Escalation for 2014, 2015, and 2016.

• Support for nursing advocacy for sexual minority and gender diverse populations and dealing

with substance use disorder in nursing.

• Issued a statement to support meaningful gun control legislation

32
---
2016 Nebraska Nurses Association

• The following ANA board members were re-elected: President Pamela Cipriano, Virginia Nurses

Association; Secretary Patricia Travis, PhD, RN, CCRP, Maryland Nurses Association; Faith

Marie Jones, MSN, RN, NEA-BC, Wyoming Nurses Association (two year term); and Directorat-Large,

Staff Nurse Gayle M. Peterson, RN-BC, ANA Massachusetts. The newly elected

board members are: Director-at-Large (one year term) Elizabeth Fildes, EdD, RN, CNE, CARN-

AP, APHN-BC, Nevada Nurses Association; and Director-at-Large (two year term) Tonisha J.

Melvin, MS, CRRN, NP-C, Georgia Nurses Association.

Those continuing their terms on the ANA Board are: Vice President Ernest James Grant, PhD,

MSN, RN, FAAN, of the North Carolina Nurses Association; Treasurer Gingy Harshey-Meade,

MSN, RN, CAE, NEA-BC, of the Indiana State Nurses Association; and Director-At-Large,

Recent Graduate Jesse M.L. Kennedy, BSN, RN, of the Oregon Nurses Association.

Elected to serve on the Nominations and Elections Committee are: Amanda Jean Foster (Chair),

BSN, RN, Arizona Nurses Association; Sabianca Delva, RN, ANA Massachusetts; and Annie

Lee Bowen, MSN, RN, CPN, of the Ohio Nurses Association.

Other Highlights of the Meeting

• ANA 2017 – 2020 Strategic Plan – Strategic Goals

1. Increase the number and engagement of nurses with ANA

2. Stimulate and disseminate innovation that increases recognition of the value of nursing and

drives improvement in health and health care.

3. Leverage the ANA Enterprise to position nurses as integral partners in consumers' health

and health care journeys

• Hall of Fame Award

ANA established the Hall of Fame Award to recognize significant individual nurses' commitment

to the field of nursing and their impact on the health and social history of the United States.

ANA first inducted recipients into the Hall of Fame in 1976.

ANA is honored to induct two nurses into its Hall of Fame for 2016:

Muriel Poulin, EdD, RN, FAAN

ANA-Maine

Patricia Messmer, PhD, RN-BC, FAAN

Florida Nurses Association

• Honorary Awards

Honorary Award recipients were nominated by constituent and state nurses associations, ANA's

organizational affiliates and individual members, and selected by ANA's Board of Directors.

These nine highly accomplished RN leaders were honored for their outstanding service to the

profession in categories ranging from public health to patient advocacy to legislative success.

The Honorary Award recipients are:

o Patricia Ford-Roegner, MSW, BSN, RN, ACSW, FAAN - The Barbara Thoman Curtis Award

o Judith Huntington, MN, RN - The Distinguished Membership Award

o Barbara Warren, PhD, RN, PMHCNS-BC, FAAN, FNAP – The Hildegard Peplau Award

o Gloria Dobies, BSN, RN, CDE - The Honorary Nursing Practice Award

o Rebecca Patton, MSN, RN, CNOR, FAAN - The Honorary Recognition Award

33
---
2016 Nebraska Nurses Association

o Rose Constantino, PhD, JD, RN, FAAN, FACFE - The Jessie M. Scott Award

o John Lowe, PhD, RN, FAAN - The Luther Christman Award

o Karen Bankston, PhD, MSN, FACHE - The Mary Mahoney Award

o Jacqlyn Sanchez, MSN, RNC-OB - The Staff Nurse Patient Advocacy Award

Thank you for the opportunity to attend this meeting and to represent NNA in this important association

business. ANA staff provided an informative and enjoyable meeting!

NEBRASKA NURSE PRACTITIONERS (NNP)

Organizational Affiliate of NNA

LaDonna Hart, MSN, APRN-NP, FNP

NNP President

1) Membership

• 1383 Advanced Practice Registered Nurses in Nebraska, 72% are Nurse Practitioners (2014 RN

Renewal Survey)

• 450+ members of NNP

2) Legislative

• Provided testimony in support of The Direct Patient Care Act LB817. DPC was signed into law

on March 30th, 2016.

• Collaboratively, the BOH, BON and NNP are working on updating the Nurse Practitioner Practice

Act to reflect LB107 legislative changes.

• NNP provided testimony on LB1086. LB1068 was an RN led initiative and called for a change in

provisions relating to student self-management of asthma and anaphylaxis and was signed into

law by Governor on April 7th, 2016.

• Legislatively NNP will continue to pursue and promote health policy changes that modernize

existing nurse practitioner regulations and increase access to the patient-centered care provided

by NPs throughout the state.

• Attendees of the 2016 Nurses' Political Reception and the NNA Nurse Legislative Day

• NNP will continue to support both events annually

3) Public Relations

• NNP PR committee is exploring multi-media; radio, television, twitter, Facebook as a means to

promote the role of the nurse practitioner throughout the state.

• NNP Scholarship winners were announced at the semi-annual membership meeting July 2016.

Each year two $1000.00 awards are given.

4) Education

• 20th Annual Pharmacology conference and semi-annual business meeting were held, July 14th

-15th, 2016, UNMC, Omaha, Nebraska

• NNP and NNA have finalized plans to come together for the first combined Nursing/NP education

conference, with dates set for October 2017 in Kearney, Nebraska.

5) Nominations

• Executive Board positions up for election in February 2017 include President, Bylaws and two

Nominations Committee chair positions.

On-behalf of the NNP organization, it is with special thanks to NNA for their continued leadership and

advocacy activities. It is together – through such relationships – that we provide a voice for our patients

and our profession.

34
---
2016 Nebraska Nurses Association

NE EMERGENCY NURSES ASSOCIATION

Organizational Affiliate of NNA

Sue Deyke, President

The Emergency Nurses Association (ENA) is an internationally recognized organization of 42,000+

members worldwide. Originally formed to promote education and networking, the organization has

evolved into an authority, advocate, lobbyist, and voice for emergency nursing.

The Nebraska State Council has over 294 members throughout the state. Using the NE Telehealth

network, members are able to connect to meet, share, educate and collaborate on issues and topics

with direct impact on emergency care. NE ENA promotes continuing education through annual

conferences and by offering Trauma Nurse Core Course (TNCC) and Emergency Nurse Pediatric

Course (ENPC) throughout the state on an ongoing basis, increasing skills and knowledge needed in

crisis situations. This year we are excited to move our annual conference to the Nebraska Innovation

Campus on September 8th. The event will feature a variety of topics detailing the latest trends in

Emergency Care.

In keeping with national ENA's mission to advocate for patient safety and excellence in emergency

nursing practice, Nebraska ENA's focus on injury prevention will be a statewide challenge to help

reduce falls in the elderly. On the national level ENA continues its advocacy for Mental Health Reform,

and the Comprehensive Addition and Recovery Act (CARA). CARA provides critical programs to

combat the national opioid epidemic that is facing our nation.

SUBJECT:

Continuum of Care for Older Adults

REFERENCE PROPOSALS

PROPOSAL 2016-1

INTRODUCED BY:

Teresa Anderson, NNA President

Deb Welk, Marilyn Valerio, and Rosalee Yeaworth, NNA Members

CONTACT PERSON #1

Debra Welk, BSN, RN-BC

9005 Raven Oaks Dr

Omaha, Nebraska 68152

dwelk@ihsi.or

402-829-2905

PROPOSAL SUMMARY:

Older adults in the United States are aging with a desire to live in their own home, or in the place that they

call home which has the least restrictive environment. The increasing prevalence of chronic conditions as

the individual ages poses challenges in managing health care services and maintaining wellness for the

older adults.

35
---
2016 Nebraska Nurses Association

Partnership for Solutions reported that for individuals 65 and older, 62 percent had two or more

chronic conditions (2002a,b,c,d,e) which may include arthritis, congestive heart disease, hypertension,

cardiovascular disease, cancer, diabetes, Alzheimer's Disease or other dementias, and eye diseases. At

80 years of age or older, 70% experience two or more chronic conditions.

The Nebraska Department of Economic Development outlines similar growth for older adults in Nebraska.

Older adults are projected to account for 20% of Nebraskans in 2030; increasing to 21% in 2050. Specifically,

those age 85 and above are expected to represent 2.4% of the population in 2030 and 4.6% in 2050. This

growth of Nebraskans age 85 and older signifies a 70% increase from 2010 to 2030 and a 163% increase

from 2010 to 2050 (Nebraska Department of Economic Development, 2014).

Through 2030, there will be increased demand for informal caregivers nationwide and in Nebraska. During

this same time, Nebraska will see a 70% growth of those ages 85 and older, but only a 1% growth in

those ages 45-64. The changing population demographics will result in decreased availability in informal

caregivers. In 2010, the number of caregivers to older adult in Nebraska was 6.1. This number is expected

to decrease to 4.1 in 2030 and 2.8 in 2050 (Redfoot, et al.). As the caregiver to older adult ratio narrows, the

availability of informal caregivers to arrange, coordinate, and provide services will be negatively impacted.

This trend will increase financial, emotional and physical burden on families as Baby Boomers move into

late old age (Redfoot et al.).

Assisted living and nursing facilities comprise the greater portion of licensed congregate living for older

adults in Nebraska. The State of Nebraska Department of Health and Human Services currently licenses 514

nursing and assisted living facilities that provide vital health care services to more than 20,000 vulnerable

Nebraskans every day. Services at the various levels of care are provided by private pay, Medicaid,

Medicare, or other third party payors depending on the qualifications of the older adult.

Aligning the appropriate living arrangements with the needed health care services for the older adult with

chronic conditions has become a complex challenge for caregivers and health care providers. Navigating

the health care continuum for older adults and providing support in care transitions is essential in preventing

re-admissions to acute care within thirty days of discharge.

Assisted Living regulations are governed by each state across the country. The American Assisted Living

Nurses Association published the "Scope and Standards of Assisted Living Nursing Practice for Registered

Nurses" (2006) which provides guidance for the practice and conduct of the assisted living nurse.

The Nebraska assisted living regulations require that the older adult/resident's condition be stable,

predictable and safe in an environment where their independence is maintained while providing some

assistance with daily activities. The older adult "directs their own care" and services are outlined on a

resident services agreement. A Registered Nurse Consultant is required to review medication policies and

procedures and to provide or oversee the training of medication aides who typically serve as the direct

care providers. Twenty-four hour licensed nursing care is not required by regulations. The assisted living

organizations plan operations and health care staffing within the company's defined model of care, which

may vary from provider to provider. Some assisted living organizations do employ part time and full time

Registered Nurses who serve in the RN Consultant role for residents, families and staff.

Nursing facilities are regulated by federal and state regulations. Twenty-four hour licensed nursing care is

required in the nursing facility. The nursing facility services are consistent from one provider to another,

although the culture of the organizations may vary.

36
---
2016 Nebraska Nurses Association

In July 2013, representatives of the Nebraska Assisted Living Association and LeadingAge Nebraska

met to discuss forming a Future of Assisted Living Collaborative to discuss assisted living in Nebraska

and explore the need for possible changes, with a special focus on the role of the nurse in the assisted

living setting. Representatives from the Nebraska Nurses Association (NNA) and the Nebraska Action

Coalition (NAC), and the Nebraska Department of Health and Human Services Division of Public Health

also participated. Following a facilitated discussion of the issues from various perspectives, the group

formed a Steering Committee for the purpose of further research and identification of key focus areas.

This group continues to meet, explore and define changes for state statute, while reporting back to the

larger collaborative.

The Steering Committee identified the following priorities:

• Address misconceptions about assisted living by consumers, referral sources & others and the

need for education

• Explore the role of the nurse in assisted living, including clarification of current allowable practices

and exploration of whether the role should be expanded in the future

• Review of other assisted living models, especially in states similar to Nebraska

• Develop statutory modifications as indicated for Assisted Living facilities in Nebraska

In June of 2016, the Steering Committee drafted proposed statutory revisions that will be reported to the

Future of Assisted Living Collaborative. Each stakeholder organization will be asked to share the proposed

changes with their memberships. The goals for this process are transparency and to provide mechanisms

for feedback before finalizing.

RECOMMENDATION(S):

WHEREAS, the NNA has an obligation to maintain the integrity of nursing practice and public safety

in the State of Nebraska, and the expertise to collaborate with multi-sector groups, and

WHEREAS, NNA has access to direct contact information for all registered and licensed

practical nurses in the State of Nebraska and

WHEREAS, nurses in the State of Nebraska are working with older adults across the continuum

from ambulatory care, emergency department, acute care, Nursing Improving Care of Healthsystem

Elders (NICHE), geriatric assessment centers, assisted living, palliative care, hospice care, nursing

facilities, and Program of All-Inclusive Care (PACE), and

WHEREAS, the skill sets used by the Registered Nurse may vary by the health care delivery setting,

such as assisted living, therefore be it

RESOLVED, that the Nebraska Nurses Association:

1. Based on White Paper findings and the work of the Future of Assisted Living Collaborative,

educate nurses and other stakeholders on the levels of care for older adults including

evidence-based practices and recommendations for building relationships with local

referral sources to support navigation and successful care transitions for older adults

through the continuum of care, and

37
---
2016 Nebraska Nurses Association

2. Continue to participate in the Future of Assisted Living Collaborative as the group moves

forward with proposed statutory changes for assisted living in Nebraska and provide

support to DHHS for changes to the regulations with a special focus on the practice of the

Registered Nurse in the assisted living setting, and

3. Publish a report completed by the Future of Assisted Living Collaborative in the Nebraska

Nurse on its findings and recommendations on the practice of nursing as well as the level

of care provided to residents within the assisted living setting, and

4. Keep the membership informed of the progress of the statutory modifications and any

needed advocacy, and

5. Support in the identification of a Senator to sponsor a bill to revise the Assisted Living

Statute.

-----------------------------------------------------------------------------------------------------------------

BUDGET: None

REPORT: Actions from the Assisted Living Collaborative to be published in the Nebraska Nurse along with

education materials related to the levels of care for older adults; recommendations for the provision of and

transition through the continuum of care for older adults; and recommendations for the Registered Nurse's

role in the assisted living setting.

REFERENCES:

Nursing Facilities, Staff & Patients: Nebraska. 2014. American Health Care Association. http://www.

ahcancal.org/events/CongressionalBriefing/Documents/State%20Delegations/Nebraska%20

Delegation.pdf

Partnership for Solutions. 2002a. "Alzheimer's Disease: The Impact of Multiple Chronic Conditions."

Johns Hopkins University. Baltimore, MD.

Partnership for Solutions. 2002b. "Multiple Chronic Conditions: Complications in Care and Treatment."

Johns Hopkins University. Baltimore, MD.

Partnership for Solutions. 2002c. "Physician Concerns: Care for People with Chronic Conditions." Johns

Hopkins University. Baltimore, MD.

Partnership for Solutions. 2002d. "Public Concerns: Caring for People with Chronic Conditions..." Johns

Hopkins University. Baltimore, MD.

Partnership for Solutions. 2002e. "Chronic Conditions: Making the Case for Ongoing Care." Johns

Hopkins University. Baltimore, MD.

Redfoot, D., Feniberg, L., & Houser, A. (2013). The aging of the baby boom and the growing care gap:

A look a future declines in the availability of family caregivers. Retrieved from http://www.aarp.

org/home-family/caregiving/info-08-2013/the-aging-of-the-baby-boom-and-the-growing-caregap-AARP-ppi-ltc.html.

Scope and Standards of Assisted Living Nursing Practice for Registered Nurses. 2006. American

Assisted Living Nurses Association. Napa, CA. http://www.alnursing.org/alnursecert/SCOPE_

AND_STANDARDS_FINAL2_09-19-06.pdf

United States Census Bureau. (2015). Nebraska quick facts. Retrieved from http://quickfacts.census.

gov/qfd/states/31000.html.

What is the Difference Between a Nursing Facility and an Assisted Living? 2014. Nebraska Health Care

Association and Nebraska Assisted Living Association web site. http://www.nehca.org/aspx/

general/dynamicpage.aspx?pageid=91&n=198&l=3&l1=1&l2=179

38
---
2016 Nebraska Nurses Association

39
---
2016 Nebraska Nurses Association

40
---
2016 Nebraska Nurses Association

41
---
2016 Nebraska Nurses Association

42
---
2016 Nebraska Nurses Association

43
---
2016 Nebraska Nurses Association

44
---
2016 Nebraska Nurses Association

45
---
2016 Nebraska Nurses Association

46
---
2016 Nebraska Nurses Association

Map of NNA Regions

Region 1 – includes the Nebraska western border to NE HWY 83;

Region 2 – extends from NE HWY 83 to NE HWY 281;

Region 3 – extends from NE HWY 281 to NE HWY 77;

Region 4 – extends from NE HWY 77 to the Nebraska eastern border

47
---
2016 Nebraska Nurses Association

48
---
Steps

Steps

Steps Steps Minutes

Steps

Minutes Life Changed

Steps

Minutes Minutes Life Changed

Minutes Life Forever Changed

Life Forever Life Changed

Minutes

Changed

Forever

Forever Life Changed

Forever

Forever

The time you invest helping patients

The time you invest helping patients

The you time you invest helping helping patients patients

The

quit

time

tobacco

you

could

invest

add

helping

years

patients

to their lives.

quit tobacco could add years to their lives.

quit tobacco add could years add years to their to their lives. lives.

The

quit tobacco could add years to their lives.

ASK time

patients

you

about

invest

their tobacco

helping

use status.

patients

ASK patients about their tobacco use status.

quit tobacco ASK patients could about add their years tobacco use to status. their lives.

ASK patients about their tobacco use use status. status.

ADVISE patients to quit and be ready to assist them.

ADVISE patients to quit and be ready to assist them.

ADVISE patients to quit and be ready to assist them.

ASK ADVISE patients to to quit and and be be ready to to assist assist them. them.

REFER patients patients about to the their Nebraska tobacco Tobacco use Quitline— status.

REFER patients

REFER

to

patients

the Nebraska

to the

Tobacco

Nebraska

Quitline—

a free and confidential service available 24/7 to Tobacco Nebraska Quitline—

a REFER free and patients confidential a free to to confidential the service the Nebraska available

service Tobacco Tobacco 24/7

available Quitline— to Quitline— Nebraska

24/7 to Nebraska

ADVISE residents age 16 patients and older. to The quit fax and referral be ready form to is available assist them.

a residents free and age confidential residents 16 and age older. service service 16 The and available fax older. available

referral The 24/7 fax 24/7

form to referral Nebraska to

is

Nebraska

available

at QuitNow.ne.gov

form is available

residents at QuitNow.ne.gov

age

age at QuitNow.ne.gov

16

16

and

and

older.

older.

The

The

fax

fax

referral

referral

form

form

is available

is available

REFER at QuitNow.ne.gov patients to the Nebraska Tobacco Quitline—

A at little QuitNow.ne.gov

encouragement from you

a A little encouragement A little encouragement from you

could

free and

go a long

confidential

way to better

service

health.

available from you 24/7 to Nebraska

A could little go encouragement a long could way go a to long better from way you health.

residents

to better health.

little encouragement 16 and older. from The you fax referral form is available

could go a long way to better health.

at could QuitNow.ne.gov

a long way to better health.

QuitNow.ne.gov

QuitNow.ne.gov QuitNow.ne.gov

1-800-QUIT-NOW (784-8669)

1-800-QUIT-NOW QuitNow.ne.gov

1-800-QUIT-NOW (784-8669) (784-8669)

QuitNow.ne.gov

1-800-QUIT-NOW NEBRASKA DEPARTMENT OF HEALTH & HUMAN SERVICES

NEBRASKA DEPARTMENT OF HEALTH & HUMAN SERVICES

1-800-QUIT-NOW NEBRASKA DEPARTMENT DIVISION OF OF PUBLIC HEALTH HEALTH &(784-8669)

HUMAN SERVICES

A little encouragement from you

could go a long way to better health.

DIVISION DIVISION OF PUBLIC HEALTH

TOBACCO OF FREE PUBLIC NEBRASKA HEALTH

NEBRASKA DEPARTMENT

TOBACCO

OF

FREE

HEALTH

NEBRASKA

TOBACCO & HUMAN FREE SERVICES

NEBRASKA

NEBRASKA DEPARTMENT

DIVISION OF PUBLIC

OF HEALTH

HEALTH

& HUMAN SERVICES

TOBACCO FREE NEBRASKA

DIVISION OF PUBLIC HEALTH

QuitNow.ne.gov

TOBACCO FREE NEBRASKA

NEBRASKA

NEBRASKA

NEBRASKA

TOBACCO

TOBACCO

NEBRASKA

TOBACCO

QUITLINE

QUITLINE

TOBACCO

QUITLINE

QUITLINE

NEBRASKA

TOBACCO

QUITLINE

NEBRASKA