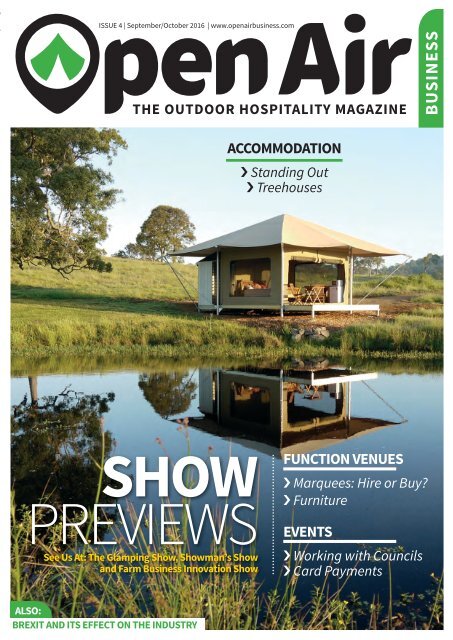 Open Air Business September/October 2016
The UK's outdoor hospitality business magazine for function venues, glampsites and event organisers
The UK's outdoor hospitality business magazine for function venues, glampsites and event organisers
SHOW MORE
SHOW LESS
Create successful ePaper yourself
Turn your PDF publications into a flip-book with our unique Google optimized e-Paper software.
ISSUE 4 | September/October 2016 | www.openairbusiness.com

BUSINESS

ACCOMMODATION

› Standing Out

› Treehouses

SHOW

PREVIEWS

See Us At: The Glamping Show, Showman's Show

and Farm Business Innovation Show

FUNCTION VENUES

› Marquees: Hire or Buy?

› Furniture

EVENTS

› Working with Councils

› Card Payments

ALSO:

BREXIT AND ITS EFFECT ON THE INDUSTRY
---
ISSUE 4 | September/October 2016 | www.openairbusiness.com

WELCOME

Welcome

Introducing Open Air Business

NOW THE MEDIA hype has died down over

Brexit, we have asked seven experts spanning

the breadth of the outdoor hospitality industry

for their take on the referendum result.

Whether you have a function venue business,

a glampsite or you are an outdoor event

organiser, the news is not all bleak.

The consensus is that Great Britain is likely

to attract more inbound tourism and event

attendance from overseas, while domestic

travel and local weddings start to look more

appealing for Brits. So, look out for the opportunities and get planning to make

the most of the gains.

Continuing our commitment to authoritative content, we have also found

experts to quiz on plenty of other topics. We ask marquee suppliers about the

economics of hiring or purchasing a marquee structure for a function venue,

treehouse designers how these structures can add the wow factor and increased

occupancy to a glamping business, and chip and pin providers about the

logistics and technology necessary for cashless payments at outdoor events.

Also in this issue is an excellent article by Kate Morel on how to make your

glampsite stand out from the rest, while Julie Whalley offers first hand advice on

dealing with councils when organising an event – we enjoyed her explanation

of why things can be difficult and how to handle politics! With case studies from

Wales, Scotland and Northern Ireland, we continue to showcase successful

businesses from across the industry, and from across the British Isles.

PUBLISHERS

Steve Rix - steve@openairbusiness.com

Tally Wade - tally@openairbusiness.com

EDITORIAL TEAM

Susannah Millen - susannah@openairbusiness.com

Tally Wade - tally@openairbusiness.com

ADVERTISING SALES

Antoinette Marley - 01892 677721

antoinette@openairbusiness.com

DESIGN

James English -

www.jamesenglishdesign.co.uk

PUBLISHED BY

Coffee Shop Media

t: 01580 848555

www.coffeeshopmedia.com

The House on the Hill, Friezley Lane,

Cranbrook, Kent, TN17 2LL

t: 01580 848555

FOLLOW US ON

TWITTER

@openairbusiness

FOLLOW US ON

FACEBOOK

www.facebook.com/

openairbusiness

Find more expert advice online:

www.openairbusiness.com

It's show time!

In the next three months, the outdoor hospitality industry will enjoy three

dedicated trade shows – the Glamping Show (22-24 September, Stoneleigh

Park, Warwickshire), the Showman's Show (19-20 October, Newark Showground,

Berkshire) and the Farm Business Innovation Show (9-10 November, NEC,

Birmingham). We have previews on each and will be attending all three, so make

sure you seek us out and say hello! Each show is sure to be a great opportunity

to buy, learn, network and get inspired. Make sure you check out the seminar

schedules and exhibitor's lists online – see our previews for details.

Tally Wade

Editor / Publisher

NOW

LIVE

ISSUE 4 | SEPTEMBER/OCTOBER 2016 | www.openairbusiness.com

SHOW

PREVIEWS

See Us At: The Glamping Show, Showman's Show

and Farm Business Innovation Show

ALSO:

BREXIT AND ITS EFFECT ON THE INDUSTRY

ACCOMMODATION

› Standing Out

› Treehouses

FUNCTION VENUES

› Marquees: Hire or Buy?

› Furniture

EVENTS

› Working with Councils

› Card Payments

BUSINESS

COVER PHOTO

Eco Tents from Eco Structures Australia at the Donnybrook

Eco Retreat in Luskintyre, New South Wales, Australia. Turn

to pages 44-45 for more or visit www.ecostructures.com.au

WWW.OPENAIRBUSINESS.COM 3
---
INSIDE

Contents ISSUE

#4 | September/October 2016

6 News

9 Industry Talk – How will Brexit affect

the outdoor hospitality industry?

12 Show Previews – The Glamping

Show, Showman's Show and Farm

Business Innovation Show

FUNCTION VENUES

18 Rossahilly House – From holiday

home to beautiful wedding venue

22 Marquees: Hire or Buy? – Duncan

Moore asks the experts

26 Function Furniture – How to create

beautiful spaces with clever furniture

choices

28 Promo Photos – Plan, prepare and

go professional says Isabel Smith

ACCOMMODATION

33 Dundas Castle – Exclusive hire

wedding venue opens a 5* glampsite

36 Standing Out – Kate Morel on

making your glampsite the best it

can be

40 Treehouses – The magic, charm and

profitability of camping in the canopy

44 Sponsored Feature – Introducing

the Eco Tent, a modular structure for

year round occupancy

EVENTS

49 Llandudno Victorian Extravaganza

– An initiative to boost tourism, this

event now attracts over 500,000

52 Working with Councils – How to

mine your council's resources while

avoiding the politics

54 Card Payments – The technology

and logistics of taking card payments

outdoors

58 Sustainable Power – Powerful

Thinking makes the case for cutting

carbon at outdoor events

63 Spotlight

64 Classifieds

66 Periwinkle

✁

CONTINUE RECEIVING OPEN AIR BUSINESS FOR FREE

Receive OPEN AIR BUSINESS for FREE (published 9 times a year). Fill in the form below and return it to: COFFEE SHOP MEDIA, THE HOUSE

ON THE HILL, FRIEZLEY LANE, CRANBROOK, KENT, TN17 2LL or subscribe online at: www.openairbusiness.com/subscribe-free

Do you wish to receive FREE printed copies of OPEN AIR BUSINESS?

YES NO (if not, please state why)

Do you wish to receive the OPEN AIR BUSINESS E-NEWS?

YES NO (if not, please state why)

Your details

Ms/Miss/Mrs/Mr

Surname

Company

Website

Address

First Name

1) What best describes your business?

2) Which sector(s) do you operate / are you interested in?

Outdoor Accommodation, Outdoor Events, Outdoor Functions,

OTHER (please specify)

3) What best describes your job role?

4) Are you involved in the purchase of products and/or services?

Email

Phone Number

Postcode

5) Open Air is independently audited by the ABC. Please answer the

following question for auditing purposes. What make of car do you

drive? (you can put 'Don't drive' etc.)
---
Are you fired up

for summer?

10%

DISCOUNT

off all products

Use code: Open Air • Offer ends 9th Oct

Make this coming season a hot one with great

quality kiln-dried firewood. Sustainably sourced

and ready to burn, our logs are bone-dry and

perfect for wood-fired hot tubs, pizza ovens and

log burners. Order as much or as little as you like.

You can get Alfa wood-fired pizza ovens and

Naked Flame wood-fired hot tubs from us too. All

at great deals for trade customers. Call us today.

• Fantastic offers for trade

• Nationwide delivery

• Low moisture content logs

• Authorised dealers of

Alfa wood-fired pizza ovens

• Authorised dealers of

Naked Flame wood-fired hot tubs

Woodsure is the UK's only woodfuel quality assurance scheme and

Dalby Firewood is a Woodsure certified supplier for reliable,

high-quality wood fuels.

www.dalbyfirewood.com

Tel: 01653 668177

CUSTOMER RATING

We can help you maximise your potential

• Look and Feel • Logos • Websites •

• Photography • Styling • Promo items •

Give us a call for a free no obligation chat about your venture

helen@maro sholmes. co.uk

www.marosholmes.co.uk

Phone: 01905 828377

WWW.OPENAIRBUSINESS.COM 5
---
The latest news from the world of outdoor hospitality

£3.5 million glamping

and caravan village

Work has begun on a £3.5m glamping, caravanning and

camping village on the edge of Shrewsbury. Caravan

dealership Salop Leisure is building the park, which has

room for 120 touring caravans, beside its headquarters

at Emstrey reported the Shropshire Star, and will create

eight jobs.

"We are keen to develop a park that is a new concept,

at one with nature, and will instil a feeling of wellbeing

and tranquillity in our visitors," says Mark Bebb, Salop

Leisure's managing director. "Our lives have become

dominated by technology, with our children glued to

iPads and the Internet. We want to get them experiencing

the grass between their toes and enjoying the glamping

experience."

The local paper goes on to detail the new facility,

which will include a natural swimming pool, spa, pilates

and yoga studio, gym, play area, fire pit, fishing pool,

walking and cycling paths, and a cafe.

Trade Show of the Year

The Farm Business Innovation

Show has won one of the most

coveted awards in the events

industry - the Exhibition News

Awards 'Trade Show of the

Year' award. The UK show,

organised and run by Prysm

Media Group, was up against

some of the world's largest,

most established shows from

across all industries, including

the fashion, manufacturing,

education and retail sectors.

Organisers said, "This is

not just a win for the Farm

Business Innovation show,

but the rural and farming

industry as a whole. Without

a doubt this recognition has

put to the forefront of the UK's

business and economic scene

the importance and impact

that this challenging and vital

sector has."

The Farm Business

Innovation show returns to

the NEC, Birmingham, on

the 9-10 November. It is the

place farmers, land owners

and rural entrepreneurs can

find everything they need to

diversify, innovate, increase

sustainability and grow or start

a rural business. The event is

free to attend, just register at

www.farmbusinessshow.co.uk.

Turn to pages 16-17 for more

on the show.

Next course

12th October

Learnings from

Starting a Glamping Business?

Save Money. Save Time.

Learn from real experiences.

"Save yourself a fortune and get a guru!"

Thomas Noel, The Gathering

inSpire, enaBLe, Succeed

learningsfromlonglands.co.uk • 01271 882004

6 WWW.OPENAIRBUSINESS.COM
---
AFO's 30th anniversary conference

THE ASSOCIATION OF Festival

Organisers (AFO) celebrates 30 years

at its popular annual conference on

11-13 November. Over 250 delegates

from the festival and events industry

will be joining together to celebrate

the association's 30th birthday at

Ettington Chase Conference Centre,

Stratford-upon-Avon.

Since its formation in 1986, when

a small group of like-minded festival

organisers got together to chat and

share ideas, the AFO's membership

has grown to over 200 festival and

event organisers, suppliers, agents

and freelance individuals.

The conference is open to all in the

industry; delegates are an exciting

mix of volunteer and professional

festival and event organisers,

bringing together teams that have

been operating for generations, first

time organisers and new suppliers

with familiar names. From Friday

evening to late

lunch on Sunday,

the session rooms

and stages will

be buzzing with

headline speakers,

presentations,

discussions, 'how

to do that' sessions

and panel debates.

The Trade Market

forms the all-important networking

hub and two Showcase concerts

will feature the best up and coming

artists on the festival scene.

Steve Heap, general secretary

of AFO, says, "Whatever your role

or interest in festivals or events, if

you are dedicated to learning and

teaching, sharing and networking

to continuously improve the scene,

you'll find plenty of common ground

at the AFO Conference."

AFO has announced its first

speakers and sessions:

› Sustainability – Chris Johnson

(Powerful Thinking)

› Health and safety and risk

assessments - Mike Richmond

(The Event Safety Shop Ltd)

› Beginners guide to running a

festival – Steve Heap (AFO)

› Eventree case study - Mo Jones

(TheTicketSellers) and Jon Walsh

(Shambala Festival)

› Legal advice - Jon Payne (LSL

Solicitors)

› Looking after your audience - panel

includes Dave Boardman (The

White Ribbon Campaign) on the

safety of women, plus speakers

on the safety of children and the

safety of vulnerable adults.

Other confirmed topics

include: PRS; 'How do

festivals attract the 60

million UK residents

who have never been?';

women in the festival

industry; and 'Are there

really too many festivals?'

More topics will be

announced over the

coming weeks.

Delegate passes are now on sale

at the early bird rate of £110 for AFO

members, £135 for non-members

(until 31 October 2016).

Trade stands cost £300 for AFO

members and £400 for nonmembers.

Book via the AFO website

at www.festivalorganisers.org

CampPlus in the UK

CampPlus, Dutch manufacturer of en-suite

campsite pods, will be represented in the

UK exclusively by Caravan Park Electrical

Services (CPES). Ted Waring, director of CPES,

says: "I first came across the CampPlus units

when we were contracted to install them at

Sand-le-Mere and Trevella holiday parks. I

was impressed by the quality of the pods and

I think that the concept of en-suite camping

has a great future in the UK. We have started

to broaden our services with the introduction

of the CamperClean unit. CampPlus en-suite

pods are a logical next step."

Erik Verwaaijen of CampPlus says, "We are

very happy with CPES as our UK distributor.

They are an innovative company with

an excellent reputation in the UK leisure

industry."

CPES will be exhibiting the latest CampPlus

model, the Duo, at The Glamping Show

on 22-24 September at Stoneleigh Park,

Warwickshire. Turn to page 12 for a show

preview.

Tel: 01945 463857 Mob: 07775 921182

info@fireworksdisplayteam.co.uk

www.fireworksdisplayteam.co.uk

WWW.OPENAIRBUSINESS.COM 7
---
LIVE 2016

COUNTRY HOUSE

BUSINESS INNOVATION 2016

INNOVATION 2016

The event for farmers, land owners and rural business

entrepreneurs to gain inspiration, resources and advice

INSPIRING RURAL ENTREPRENEURS

6

A WORLD OF IDEAS

TO MAKE YOUR LAND

MORE PROFITABLE

9 & 10 NOVEMBER 2016, NEC BIRMINGHAM

7,500 VISITORS

200 SEMINARS

400 EXHIBITORS

Register for FREE tickets at www.farmbusinessshow.co.uk

@Farm_Innovation

#FarmBiz

IN

PARTNERSHIP

WITH:

LINKING ENVIRONMENT AND FARMING
---
INDUSTRY TALK

GETTY IMAGES

Threat or Opportunity?

Belinda Booker asks key figures what Brexit means for the outdoor hospitality industry

IT MIGHT BE 'business as usual' for the time being, but as

Brexit negotiations begin in earnest what is the likely impact

on the outdoor hospitality industry?

Major concerns for hospitality businesses include the

potential loss of affordable Eastern European labour and

the possibility of another recession. A drop in domestic

consumer confidence could mean greater reluctance to spend

on attending events and weekends away, and significantly

reduced budgets for those getting married. On the other hand,

a weaker pound could lead to an increase in inbound tourism.

To gain a better understanding of the effects of Brexit on

venue operators, accommodation providers and outdoor

event organisers, we asked seven industry leaders for their

opinions.

WWW.OPENAIRBUSINESS.COM 9
---
INDUSTRY TALK

THE FUNCTION

VENUE SECTOR

LESTER GETHINGS,

Co Director, National

Association of

Wedding Professionals

"The decision by

Britain to leave the

European Union will

undoubtedly have

an effect on the wedding industry, as well

as the entire UK economy. However, until

Article 50 is triggered, and at least two years

of negotiations have taken place, no one can

gauge much from the short, medium or even

the long term as none of us know what will

happen.

"While many businesses are feeling the

kneejerk reactions from the result, and

cannot help but focus on the negatives, there

are some potential benefits too.

"The dramatic fall in the value of the pound

can, perhaps, be seen as an immediate

positive, because it makes our economy

more competitive than it has been in recent

years. As weddings are all about selling goods

and services, this fall will make our industry

more attractive to continental and overseas

clients. For couples wanting a destination

wedding, the UK could become the new 'go

to' destination. Potentially, wedding venues

in particular, could benefit from an increased

customer base.

"Without being tied to a single European

market, the UK will be free to explore new

trade agreements and this could certainly

benefit the hospitality side of the wedding

industry if cheaper foodstuffs become

available.

"Weddings are such positive and happy

occasions that small business owners should

embrace that positivity, and forge a new

entrepreneurial spirit."

PETER DUCKER, CEO,

Institute of Hospitality

"There are

opportunities to be had

for venues that are agile

enough to capitalise

on a potential uplift in

demand for UK based

weddings. Outbound flights may increase

in cost and the value of sterling will remain

challenged globally in the short and medium

term. More couples may therefore opt to

marry and honeymoon in the UK in order to

keep their costs down.

"Venues need to consider how they will

manage their staffing in order to cater for

the opportunities this may bring as well as

be creative in their use of space in order to

accommodate more weddings."

GETTY IMAGES

Ciara Crossan, CEO,

Wedding Dates

and Institute of

Hospitality Business

Partner

"Of course the threat

of the country going

back into recession is

a real worry and this will have an impact on

wedding spend. Though people generally

still tend to get married in periods of

recession, their budgets are much tighter.

This will be a worry for venues that are

just starting to see people loosen the

purse strings again after the last recession,

particularly in areas outside of London.

"There is a definite opportunity to

capitalise on the weak sterling as fewer

people are likely to travel abroad now to

get married and may choose to stay in the

UK for their big day instead.

"Venue operators should promote their

venue to UK couples who may be living

abroad to entice them to come home to

get married and save some money. Ireland

is the obvious choice, but British people

live all over Europe or even further afield in

Australia, New Zealand, Canada or America.

Facebook targeting makes it relatively

straightforward to target groups like that

to tempt them to consider returning to the

UK for their big day. Venues could facilitate

Skype show rounds for those couples who

are abroad."

THE ACCOMMODATION

SECTOR

SALLY BALCOMBE,

CEO, VisitBritain

"We're responding

to the EU

referendum result

in three ways. The

first is we need to get

out the message that we are very

much open for business. There is no

change to any travel arrangements

to Britain and we very much want

people to come.

"The second thing we're doing is

thinking about how we make people

feel welcome. Some of the sentiment

out there has some less positive

aspects and we need to counter that.

We need a clear, positive message

that everybody is welcome from all

parts of the world and particularly to

our European market that represent

two-thirds of visitors to the UK.

"The third thing is around value.

With the exchange rates as they are

we now represent very good value

for money, particularly from markets

like the US where the dollar is now

strong against sterling. These are our

three core messages.

"We're getting geared up to do a

lot of activity in the US to respond

to that dollar exchange rate and

go into market with some tactical

campaigns.

"We understand that the flip side

of currency is it's more expensive

for UK citizens to travel abroad.

Therefore, there's a real opportunity

to say to people that this is the year

to have a 'staycation' in the UK."

10 WWW.OPENAIRBUSINESS.COM
---
INDUSTRY TALK

THE OUTDOOR

EVENTS SECTOR

STEVE HEAP, General

Secretary, Association

of Festival Organisers

"In the events industry

there have been many

changes, especially

in recent years. There

have been variations,

new laws and guidance; some of which we

have welcomed and others questioned. But

in the main the safety of our workers and our

customers is paramount and as technology

moves us onwards we have a duty to keep

up and be safe.

"Economically I have been employed by

several events funded from European cash

in the form of regional development funds,

and direct and indirect grants from Europe.

So if what the Brexit team tell us is true (and

I doubt it), that the £350m per week saved

will go to the NHS, then where do events,

festivals and tourism get their financial

support?

"Our new PM and Cabinet will no doubt

pick up where the previous left off, with

cuts in local authorities, Arts Council, social

cohesion and health support. They will

probably put billions into defence and spend

a small fortune on 'getting us a good Brexit

deal'.

"Our events industry will be back to

'carnes', 'border searches', 'insurance

premium hikes' and a reluctance by our old

EU colleagues to accept what we want to

take on tours of Europe. We must invest and

organise to maintain our top table credibility

as an island that is worth visiting. We have

the best festivals, the greatest heritage

and years of professional experience in

the conference and exhibition world. Our

inbound tourism should remain at the top.

"However, to maintain this I expect once

again the festival and event organisers

will knuckle down and do their best to

keep the show up and running. They will

deliver economic value, social cohesion and

quality of life through a shared culture in

UK communities. European visitors will, as

always, be very welcome."

RICHARD LIMB,

President, National

Outdoor Events

Association

"We think Brexit has

the potential to affect

us all a lot, but it all

depends on what

happens with the economy, the value of the

pound and its effect on international trade

and interest rates and how that impacts on

us domestically. Will it or won't it lead us

back into recession?

"If anyone from Europe wants to go to

Glastonbury or wherever, they will still do

so. We cannot see travel prices going up as

the pressure that airlines would put on the

EU if they lost business would be immense.

"If equipment is coming from Europe

they will still want the business, but more

importantly it will open the door for UK

companies to gain more business here.

Those that take their equipment over to

Europe will continue to do so as they are

required to at the moment. We live in a

supply and demand world; if the demand

is there, you'd better believe there will be

a supply.

"Our event industry is important to

the UK economy. Firms such as Festival

Republic and Live Nation trade throughout

Europe with festivals in Spain, Ireland,

Norway and Germany that will generate

millions for the local economy, so we

cannot see the governments in those

countries stopping them or taxing them

more highly.

"The free movement of labour could

be an issue, but in the short term Britain

may become more popular as a tourist

destination as the exchange rate changes.

"We are fairly certain that Scotland will

be voting again on it remaining as part

of the UK. This time we think it will go.

Northern Ireland might do the same and if

it goes, Wales may go as well.

"It may be good or bad but the potential

effect could be massive. It is too early

to know the impact, but we cannot be

confident that it won't affect us much."

PAUL REED, General

Manager, Association

of Independent

Festivals

"Following the

referendum decision

to leave the European

Union, AIF will

continue to represent the best interests of

the UK independent festival sector. We'll be

working hard in the coming months with

our members and the wider industry to fully

understand the ramifications and ensure

that relationships throughout the festival

community are not diminished.

"We'll maintain positive relationships and

ensure that the sector has a strong collective

voice, also maintaining our connections with

organistaions including UK Music, YouRope,

the Association of Festival Organisers,

the International Festival Forum and the

Creative Industries Federation.

"The festival market has developed as a

truly European market aimed at Europewide

audiences. This is a great strength and

won't substantively change.

"The key questions are: Will it now

become more complicated to work across

borders? What will the impact be on touring

musicians, especially emerging artists, in

terms of visas and other issues? We could

also potentially see a reduction in 'music

tourism,' which generated £3.7bn for

the UK economy in 2015, with a year-onyear

increase of 16% in overseas tourists

attending music events. There are more

questions than answers as we survey the

initial fall out.

"It is business as usual for now and will be

for the next couple of years at least. There is

naturally some concern about the economic

uncertainty that lies ahead and the impact

this may have on business and we are

currently waiting for the dust to settle and

for the short term political and economic

consequences to play out. We have a strong

relationship with the Department of Culture,

Media and Sport (DMCS) and this will be

a topic very much on the agenda in our

conversations with them."

FACING THE FUTURE WITH OPTIMISM

While these industry experts agree there will undoubtedly be challenges

ahead as Britain's new relationship with the EU is hammered out, they also see

opportunity.

Economic uncertainty is countered by increased competitiveness that could

boost inbound tourism and event attendance from overseas. Meanwhile,

domestic travel and local weddings start to look like a better deal for Brits.

Outdoor hospitality professionals who are proactive and start responding to

this opportunity now can safeguard their businesses for the future.

WWW.OPENAIRBUSINESS.COM 11
---
INDUSTRY NEWS

The Glamping Show

22-24 September, Stoneleigh Park, Warwickshire, CV8 2LG

www.theglampingshow.com

THE GLAMPING SHOW is a standalone

sales and marketing platform launched

last year specifically to address the

growing glamping sector.

Visitors to this year's show can expect

to see an increased exhibition space

both inside and out to accommodate

more exhibitors and allow for larger

sites to showcase structures. There will

be an even wider variety of glamping

tents, pods and lodges on display as well

as ancillary products including toilets,

showers, off-grid energy and lighting.

Returning exhibitors include Exclusive

Tents from South Africa, who will be

bringing with them their Bububu Tent

fully furnished and on sale at a special

Glamping Show price. Also returning

is Cedartree who's Faraway Lodges

are designed especially for glamping

locations; full of character, quirky and

different with a lifespan of at least 30

years.

New exhibitors to the show this year

include: Mango Crafts, designers and

manufacturers of outdoor furniture; Tiks

Pac, environmental stations for the free

distribution of dog waste bags; Dub Box,

retro camping at its best – a two-berth

practical camper caravan that can be

finished to match your car or van's

interior and exterior décor; Waterless

Toilets, off-grid toilets for clients without

access to mains sewage; The Garden

Oven Company, manufacturers of

wood fired outdoor ovens; and Bond

Fabrications, a leading UK manufacturer

of bespoke marquees and glamping

structures.

"The team here at Bond are very

excited to be exhibiting one of our

safari tents at show this year," said Mike

Halliwell, managing director. "We are

incredibly proud of both the products

and the service we provide our clients

and it is always a great pleasure to watch

our customers' initial ideas grow into a

thriving glamping business. We will be

on hand to discuss the many options

we have available and to demonstrate

the quality and workmanship of our

structures."

In addition to the wide array of

structures and products on show, visitors

will also have the opportunity to learn

about establishing their own glamping

site or indeed enhancing their existing

glamping business. Seminar subjects this

year include alternative technologies,

marketing, planning permissions, solar

energy, choosing the right structure,

diversification, inspiring your staff,

'success story' case studies, customer

service, insurance and much more. Make

sure you register to attend to ensure your

place in the seminar room.

For more information and to register

for the show visit

www.theglampingshow.com

We'll be there! Stop by for a chat at Stand 132

12 WWW.OPENAIRBUSINESS.COM
---
garden-oven.co.uk

or call 01256 581014

The perfect addition to the luxury glamping experience

info@boutiquecamping.com

+44(0)203 394 2986

boutiquecamping.com

Providing luxury bell tents perfect for:

• Camping

• Outdoor summer play rooms

• Garden lounge areas

• Festivals

• Weddings and much more!

Available for both hire & purchase.

ADVERTORIAL

Boldscan's Multi-Purpose Clubhouse

YORKSHIRE WILDLIFE PARK

Boldscan's multi-purpose Clubhouse

has ticked the box on budget, versatility,

aesthetics, quality and timescale for a

wide variety of enterprises including

leading art gallery, Hauser & Wirth, Quickes

Cheesemakers, Yorkshire Wildlife Park,

Knowsley Safari Park, Twycross Zoo, New

Forest Water Park and Cambrian Birds.

Somerset based Boldscan developed

the Clubhouse as part of its Albion Canvas

Structure range, which has led the field

in glamping tents and equipment. The

Clubhouse concept grew out of demand from

customers who wanted a unique design for

festivals, weddings, cafes, bars and conference

rooms with a clear span structure, rather than

traditional marquees with centre poles.

Clients to date have chosen the traditional

Clubhouse for its rustic colours that meld

effortlessly into the landscape. However,

Boldscan has just launched an exciting

alternative; the Contemporary Clubhouse for

those who want to stand out from the crowd.

The clean white canvas walls and a slate blue

coloured roof have a modern vibe and make

this the perfect venue for a cool wedding.

THE CONTEMPORARY CLUBHOUSE

Devon based cheesemaker Quickes had a

limited capacity to serve refreshments in the

shop at the Crediton farm. It was suggested

that they open a café and within eight weeks

the new ivory canvas Farm Kitchen was up

and running. It took just two days to erect.

The New Forest Water Park has installed the

Clubhouse to hold safety demonstrations

for up to 100 people at a time. Mark Jury,

QUICKES FARM KITCHEN

Visit

Boldscan at

The Glamping

Show – Stands

OSA2 / OSA26

company director, commented, "Given our

setting in the magnificent New Forest, first

impressions are very important; the new

structure had to blend effortlessly into the

landscape. It also fulfilled our other criteria: it

was cheaper than building and was quick to

erect."

Boldscan's managing director, Steve

Hansford commented: "The design of the

Clubhouse has been a great success. With

standard and bespoke sizes it has proved

the solution for many enterprises looking to

expand quickly and inexpensively."

www.boldscan.co.uk / 01823 665849

WWW.OPENAIRBUSINESS.COM 13
---
INDUSTRY NEWS

The Showman's Show

19-20 October, Newbury Showground,

Berkshire, www.showmans-directory.co.uk

FIRST HELD IN 1984, The Showman's

Show is the UK's original and most

comprehensive exhibition of products,

services and entertainment for the

outdoor and special event world. Today,

the show attracts nearly 5,000 visitors

over two days and has in excess of 340

exhibitors demonstrating the most

sophisticated structures, equipment,

technology and entertainment

demanded by the event industry at

large.

The Showman's Show is unique in

that it allows companies to showcase

their products and services in their

usual environment, which is why the

exhibitors are the most important part

of the event. As always, the floorplan

will feature a good mixture of industry

staples and practical solutions

alongside quirky and creative ideas.

More than 40 new companies have

confirmed their attendance, so there

will be plenty of previously unseen

products and services on display.

There will be a focus on delivering

fun and entertainment. The Acts and

Attractions tent has proved popular

with exhibitors and visitors since its

introduction in 2014. In addition, the

rise in demand for sustainable products

and the surge in appetite for all things

technology related is also reflected in

the exhibitor list.

With the introduction of the Campfire

Sessions, organisers felt that the time

was right to create a dedicated event

app for the show, allowing visitors to

keep up to date with the full programme

and the other activities taking place

around the showground. It is available

to download now so visitors and

exhibitors can start planning their visit

and schedule meetings in advance.

Visitors will also find it useful for

locating exhibitors' stands, allowing

them to quickly and easily navigate

their way around the event, find who

they are looking for and maximise their

time at the show.

For more information about the

Showman's Show 2016 and to register to

attend for free, please visit

www.showmans-directory.co.uk

Top Picks

› Themes Incorporated is launching a

brand new concept entitled 'Christmas

Creations.' It will be offering creative,

flexible and cost effective solutions to

make festive events spectacular.

› Batmink, trade distributors of

professional audio, lighting, hardware

and effects equipment, will return this

year to launch two new products: a

crowd barrier system and Smart Festoon,

an intelligent festoon cable for lighting

canopies.

› The Tipi Company is looking forward to

launching an online interactive training

portal for its large event tipis inspired by

the homes of nomadic tribes.

› The Covers and Linings Group will

be displaying its interior linings and

promoting marquee hire. It will also

introduce three new companies to its

existing portfolio including Chameleon

Furnishings.

› Röder HTS Höcker will be joining forces

with Floorstak and will showcase an

array of event structures and tents. Visit

the stand to view FloorStak's system

for supporting and levelling temporary

structures on sloping and uneven

ground.

› Arcotherm's stand will feature a seated

area where customers can sit and discuss

any prospective heating requirements;

it will also make it easier to view

structure drawings, make any necessary

calculations and to provide quotations.

› Special effects company MTFX will be

displaying its snowy chalet, with ice wall,

snow machines and dozens of snow

products you can touch and feel. Also

returning will be its show stopping Water

Fire Fountain.

› The National Outdoor Events

Association (NOEA) will be unveiling

its new vision, alongside announcing

a dynamic line up for its annual

conference and launching a new support

programme.

› Portable Floormaker is launching a

new range of products including Barlok,

developed to enhance popular portable

bar unit systems with new rounded

corner units, and improvements to

Outlok, an easy and fast lay portable

floor system.

› Aztec Tents, manufacturer of frame and

tensile marquees, will be exhibiting for

the first time, showcasing a new coating

technology.

14 WWW.OPENAIRBUSINESS.COM
---
®

The portable bar system

®

An all inclusive beverage service platform for

event organisers, function venue owners and

private clients, comprising a full front bar in any

size or shape, full back bar and connector bar

The new Industry standard portable

bar to the leisure industry

• Ultimate style

• Flat packs in minutes into flight cases

• Set up in minutes with no tools

• Mains power distribution on all main

sections - RCD protected

• Creates an efficient, safe working environment and

increases beverage sales

• Hire in extra stock for one off events or hire out your

stock to other Zipbar owners

Call now or email for itemised quotations 01752 787422

www.zipbar.co.uk
---
INDUSTRY NEWS

The Farm Business

Innovation Show

9-10 November, NEC, Birmingham, www.farmbusinessshow.co.uk

LANDOWNERS, FARMERS AND rural

entrepreneurs will find the greatest

opportunities to make more money from

their land at the Farm Business Innovation

show.

The event is returning to the NEC,

Birmingham, on 9-10 November to continue

its exponential growth alongside sister

shows Country House Business Innovation

and Holiday Park & Resort Innovation, all

under the banner of Rural Entrepreneur

Live. Visitors will be presented with

diverse content, interactivity, cutting edge

exhibitors, and life changing opportunities.

The Farm Business Innovation show

continues to be the only farm business

event that offers the guidance, inspiration,

supplies and resources for diversifying out

of agriculture. Last year 4,500 farmers, land

owners and people with an interest in rural

business attended to take advantage of the

exclusive seminar and workshop schedule

as well as networking opportunities and

hundreds of exhibitors.

Quality speakers

When it comes to getting the business

advice you need, it pays to listen and learn

from those who have a track record of

unique success and experience. The finest

line-up of speakers working in the rural

business sector and agriculture will make up

the keynote schedule, and will provide you

with an unsurpassable depth of knowledge

and insight to help you transform your land

to bring in more money.

The schedule of seminars throughout the

show covers a variety of topics, including

glamping, events, functions, farm shops,

micro-breweries and more. The conference

will also explore the latest trends in

diversification that farmers and rural

entrepreneurs will look towards next year.

Join the likes of Isabel Smith, who will

deliver a guide to making money from

the wedding industry; Ben Leeke on the

pros and cons of running a festival on your

land; and numerous speakers on how to

incorporate glamping into your business

including Tom Dixon from Canopy and

Stars, Kate Morel and Tim Rees from Quality

Unearthed, Mark Scott from Clear Sky Safari

Tents, and Jason Thawley from Tree Tent

International. There is also a huge amount

of great planning, funding and business

advice on offer, relevant to all sectors.

Exhibitors

Farm Business Innovation 2016 will involve

the industry's most progressive and

influential suppliers, who will use the show

as a platform to showcase their innovative

and leading products, services, concepts

and equipment.

Among the 300 suppliers at the show will

be the CLA – the official partner of Farm

Business Innovation 2016 - who will be

providing specialist advice on every aspect

of landownership, from law, taxation, and

environment, to planning and land use.

Top Picks

For function venues

› Visit Tentipi to see some

breathtaking, modular marquee

structures – ask about the

economics of hiring or buying –

you can add more modules as you

need them.

› Want to add impact with lighting?

Blanchere Illuminations will

inspire you with some fabulous

products and ideas for your

outdoor spaces.

› Trot over to Tasty Trotter Event

Supplies for hog roasts and BBQ

supplies.

› For furniture, visit Commercial

Furniture UK – it has a great

selection of indoor and outdoor

products.

› If you are a land owner or country

estate, drop into Savills for advice

and consultancy on diversifying

into the function venue market.

For glamping businesses

› For glamping structures, check

out Clear Sky Safari Tents, Tree

Tent International (see our tree

house feature on pages 40-

42), Country Cabins, The Tipi

Company, Wigwam Holidays, Yurts

for Life, Lotus Belle Tents and

many more!

› Beautify your interiors with

Boutique Camping's glamping

accessories and Green

Decor's recycled products,

16 WWW.OPENAIRBUSINESS.COM
---
and your exterior spaces with

Firespheres (they have to be seen

to be believed). Don't forget the

more mundane elements too!

Mattressman has a range of quality,

cost effective products to ensure

your guests get a great night's sleep.

› For promotion, visit Quality

Unearthed, Canopy and Stars and

Farm Stay UK among others. Make

sure to also chat with Quality in

Tourism to see how accreditation

could boost your business.

› Toilets, washrooms and site

facilities? Visit CampPlus for ensuite

cabins and Eco Toilets for

composting solutions. Oh, and don't

forget the hot tub! Naked Flame

Eco Tubs offer a sustainable, low

maintenance option.

For events

› Chat with Tiger Tea about holding

events on your land and how to

make sure it runs smoothly.

› Invite the Play Bus Company along

– a soft play double decker – to draw

children and parents to any event,

while Rainbow Productions offers

appearances from over 100 licensed

children's characters!

› All events need insurance, so seek

out a specialist - try Marsh and Co.

Make sure you capitalise on the unique

opportunity to interact with the rich variety

of suppliers at the show and benefit from the

industry knowledge and insight they can offer,

as well as the options for changing your land

and creating new streams of revenue.

Give your business an even greater chance

of success by boosting your digital expertise

with Google and the Digital Garage. Special

training sessions will help you improve your

digital presence by optimising your website,

social media and online video, and ensure

you're more visible than ever through expert-

led sessions on search engine optimisation,

local listings and search engine marketing.

Awards

For the first time, November's show will

see the Farm Business Innovation Industry

Awards. Focusing on key areas in rural

businesses, the awards will highlight and

celebrate successes across the country.

Entrants will be judged live by a panel of

leading experts at the show, and will have the

chance to explain their innovative product or

service. There are three awards:

› The Enterprise Award, which recognises the

business that has excelled in industry, trade

or innovation over the past year.

› The Environment Award, which recognises

and rewards the business whose service

promotes environmental best practice

through positive environmental impact or

an approach that improves sustainability.

› The Innovation Award, an accolade that

celebrates the most innovative concept

that has broken new ground in the sector

and stands out from the competition due

to factors such as design, operation and

effectiveness.

Boost revenue

Having always been highly regarded for its

education, creativity, trade opportunities,

and dynamic atmosphere, Farm Business

Innovation was officially recognised as

the country's best trade show at the 2016

Exhibition News Awards, winning the

ceremony's most competitive category, the

Trade Show of the Year Award.

Event director Gary Hall, says: "I am

absolutely thrilled to have won this fantastic

accolade. The award serves as perfect

recognition for the incredible rise of the show

and the service it provides to the rural and

farming industry."

Country House Business Innovation show

Running side-by-side with Farm Business

Innovation is the Country House Business

Innovation show, the biggest and most

comprehensive event of its kind for country

estate owners and entrepreneurs striving

for success in one of the most exciting and

competitive sectors in British business

today. The show highlights the most exciting

new products, services and ideas around

to help start, grow or improve country park

businesses.

Holiday Park & Resort Innovation

Holiday Park & Resort Innovation is a unique

event for entrepreneurs looking for the

inspiration, advice and resources they need

to put their holiday business on the map

with the brightest ideas and most innovative

products and services from the industry's

most progressive companies.

Both sister events have their own seminar

and conference schedules, line-ups of leading

suppliers, industry awards, and shows packed

with interaction, education, information and

incredible trade opportunities.

Farm Business Innovation is free to attend.

To book your ticket and find out about every

speaker, seminar, supplier and feature visit

www.farmbusinessshow.co.uk

We'll be there! Stop by for a chat at Stand 1460

WWW.OPENAIRBUSINESS.COM 17
---
FUNCTION VENUES

CASE STUDY

Rossahilly

House

A lough side venue that 'ticks a lot

of boxes' for brides the world over

Located in the Irish Lake District, overlooking Lough Erne and the

golf resort designed by Nick Faldo, Rossahilly House has made a name for itself as being

friendly, focussed and accommodating. From open air ceremonies, cosy barn receptions

and grand marquees on the lawn, Rory Houston and his family have created their business

from careful research and following trends. Houston chats to Open Air Business.

When did you start your function

venue business and what made

you decide to do it?

We acquired Rossahilly House in

2006 (before we had children) with

some hair brained plan to make

it a future home. At the time we

lived in London and both travelled

extensively with work. In the

beginning, we let the house for

family weekends and holidays only.

When our second child was born in

2009, we decided the time was right

to move to Northern Ireland. We

had plenty of bookings so couldn't

yet move in. Instead, we decided to

live elsewhere and extend our offer

to weddings and hence devised a

business plan for a wedding and

"ROSSAHILLY

IS SITUATED

AT ONE

OF LOUGH

ERNE'S MOST

SCENIC

POINTS

OVERLOOKING

SOME OF ITS

ISLANDS"

function venue with a difference.

The old adage, 'you don't know

what you don't know' was never

so true!

Tell us about your location

and site

Rossahilly House is situated on

a hill about four miles from the

island town of Enniskillen in Co.

Fermanagh, known as the Irish

Lake District. The house has

impressive views of Lough Erne. It

is a huge waterway and referred

to as the longest navigable inland

waterway in Europe. Rossahilly is

situated at one of its most scenic

points overlooking some of its

islands and opposite the world

famous Nick Faldo designed golf

course - also where the 2013 G8

Summit was held. It is unique in

that it adjoins a small airfield and

in order to access Rossahilly, guests

must cross a live runway. While this

does present challenges at times,

it is at least easy to give people

directions!

What facilities for outdoor

functions do you offer?

We tick a lot of boxes. Not only do

we offer a comfortable (and warm)

barn that seats up to 100 guests

for dinner or a ceremony, we can

also accommodate up to 18 guests

in the beautiful bedrooms, many

of which have views overlooking

the lough. Our most active target

market is for Fermanagh bred

brides, who go overseas to work,

meet their beau and want to get

married back in Fermanagh. As a

result, we have hosted weddings

for families from across the globe.

The accommodation is therefore

perfect for the groom's family who

often wish to stay a few days and

explore our lovely part of the world.

The front lawn is suitable for a

multi-tipi structure or indeed a

traditional framed marquee with

all the trimmings, making the views

stunning for all who attend. We

18 WWW.OPENAIRBUSINESS.COM
---
are surrounded by farmland with

cows and sheep often observing

the goings on during a wedding

function.

What services do you offer?

The gardens, the barn and the

beautiful Beckett Room are all

licensed for ceremonies. Depending

on the size and requirements of

each couple, we can accommodate

a ceremony in the barn, followed

by drinks and canapés on the front

lawn and then a wedding reception

in a marquee or tipi into the

evening. Alternatively, for smaller

ceremonies, we may accommodate

up to 40 people in the Beckett

Room with panoramic views across

the water. The Beckett Room also

features a wooden fire surround,

crafted by the same person who

carved the fireplaces for the Titanic

and this creates a very special

atmosphere (with not an iceberg

in sight).

We outsource our catering to a

superb local supplier, Horseshoe

and Saddlers of Enniskillen.

Having tried many of Northern

Ireland's finest event caterers, we

have partnered Saddlers as they

offer much more than just superb

catering and have become adept at

providing comprehensive wedding

"WE CAN

MAKE OUR

VENUE ONE

OF THE MOST

ENCHANTED

AND

BEAUTIFUL

FOR

SMALLER,

INTIMATE

WEDDINGS

ON THE

ISLAND OF

IRELAND"

and function planning so we can

concentrate on property and estate

matters. The fact that they have

catered for the Queen and many of

the Royal Family as well as various

dignitaries does no harm to our

reputation either. A successful

partnership is worth taking time

to get right as it can pay enormous

dividends in the long run.

How did you research and source

your marquees?

Initially, wedding guests asked

if they could source their own

marquees to increase guest

capacity. We subsequently

researched a number of Northern

Irish companies that could provide

what we were seeking. It was a

steep learning curve. We first hired

a luxury marquee for a season,

but building control treated it like

a permanent structure, which

was challenging and costly. They

had no experience of what we

were doing and therefore kept

introducing new restrictions

and policies throughout the

process. Then we had to decide on

flooring. Wooden flooring didn't

give the effect we were seeking,

but carpets were too thin to be

useful for anything more than a

single wedding making the cost

unsustainable.

We subsequently investigated

buying our own. The salesman

named all the places he was

selling to and it immediately lost

its 'uniqueness', plus the cost

would have allowed us to extend

the barn and refurbish the house

and grounds so we had a re-think.

We concluded that it was best to

concentrate on what we do best

and improve upon it. We therefore

focused on loughside garden

ceremonies and barn receptions.

We partner Maverick Marquees

who provide beautiful stretch

canvas covers, which not only

offer peace of mind to couples

regarding inclement weather but

also provide an additional space

for music, dancing, outdoor bar

and many other functions. The fact

that they come draped in stunning

lighting complements our venue

and creates a little bit of magic!

We are of the opinion that after a

few years of experimenting with

different concepts, we have come

out stronger with our own niche

product.

How do you work with your

customers to make their event

unique?

We look at trends and consider

how we can appeal to those who

require something a little different

from the norm. Many couples have

been to other venues for friends'

weddings and we work with each

couple to provide something

unique to them that shows off

their individual personalities and

style. We do not have a set format

but a set of guidelines that help to

establish what they are seeking. We

then provide a template along with

our catering partners for them to

consider and potentially tweak to

compliment their own ideas.

How do you publicise yourself?

Initially, we bought costly print

advertising and articles in the

usual industry magazines. After

balking at the price and never

quite being able to monitor the

impact, we moved on to slightly

quirky wedding fares, rather than

the big ones dominated by hotels

and so on. Now we have become

more established, word of mouth

is the best advocate (it does take

time) and we compliment that

with selective use of social media

and occasional local adverts and

articles of newsworthy items. Our

WWW.OPENAIRBUSINESS.COM 19
---
FUNCTION VENUES

website and the use of SEO is our

best medium for obtaining initial

enquiries from all over the world.

How would you describe your

'style' or unique selling point?

Friendly, focussed and

accommodating. We are very

aware that our style does not

suit everyone. If that becomes

the case, we are very happy to

chat with couples about what

they are seeking and recommend

alternative venues that may

suit their requirements better.

We would rather be seen to be

accommodating than disinterested.

Often they have siblings or friends

that will contact us after having

heard how helpful we were, even if

we hadn't achieved a booking.

What challenges have you faced?

Many and frequent! The airfield

once hosted the Ulster Rally on

the day of a wedding, blocking our

access and that of the bride and

her guests. We have limited parking

facilities and have subsequently

partnered with a nearby hotel that

provides free transport when we

can provide them with a minimum

number of room bookings for an

event.

Bureaucracy at every corner

is frustrating, particularly when

setting up a new venture. Also, it is a

business, not a hobby. That comes

with many legal responsibilities

from fire regulations, health and

safety requirements and many

other unexpected challenges.

They are not to be underestimated

but can ultimately be dealt with

providing you are organised,

entrepreneurial and patient.

What are your plans for next

season?

We are developing an area for

ceremonies under the trees as well

as our existing garden ceremonies

overlooking the lough. We are

considering smaller numbers as

we believe we can make our venue

one of the most enchanted and

beautiful for smaller, intimate

weddings on the island of Ireland.

We charge a fixed cost for venue

hire rather than charging by number

and, with ongoing economic

uncertainty, we are developing

a venue that provides the most

amazing experience at a reasonable

cost.

Describe your average day midseason

It is rare that a day goes by without

at least an hour or so spent at

my desk in front of my computer.
---
FUNCTION VENUES

We try to respond individually to

enquiries, which takes time but is

ultimately worthwhile. We deal in

quality not quantity. Identifying

and arranging maintenance work

whether it be external lighting

failure, leaking pipes or a hole in

the ground that could be a tripping

hazard takes time and must always

be done urgently, prior to the

next function. Legal and tax work,

particularly quarterly VAT returns,

has to be done within a deadline.

Liaising with partners and suppliers

for function set up and quick

turnaround times.

Of course, there is also everyday

life accommodating our two little

boys who wonder why daddy is

always going to weddings when

he should be playing football with

them. Summer holidays can be

challenging, but then aren't we

all doing this for them in the long

term? Maybe one day they may

wish to open their own restaurant

at Rossahilly... or is that wishful

thinking?

"WHEN I

SEE EACH

COUPLES'

EYES LIGHT

UP AS THEY

WALK INTO

THE BARN

SET UP WITH

THE FAIRY

LIGHTS, IT IS

REALLY QUITE

MAGICAL. IT'S

A FEELING

THAT MONEY

JUST CAN'T

BUY"

Do you enjoy the business

and why?

The set up was certainly challenging

and financial rewards do not

come quickly for such a venture.

Any property-based business will

involve high capital expenditure on

an annual basis. It is a far cry from

my previous career (negotiating

sales and acquisitions of European

shopping centre investments) and

dealing with the minutiae of a wasp

nest in a nearby tree or clearing up

the mess the morning after an event

(yes, I do this myself) can seem

trying. But I just take a moment to

look at the view, breathe and enjoy

our spectacular lifestyle, knowing

that we have achieved a beautiful

and humble little venue. When I

see each couples' eyes light up as

they walk into the barn set up with

the fairy lights and decor, it is really

quite magical. It's a feeling that

money just can't buy.

What other outdoor hospitality

sectors do you operate in?

We are currently extending our

business to incorporate corporate

away days, business functions and

particularly mid-week lunches

and dinners. Ideally, I would like to

incorporate small festivals or jazz

concerts by the lough. We have

ensured our venue is very flexible

and operates as a blank canvas

in order to attract a wide market,

particularly for off-season. We

do not have the budget of other

venues, although neither do we

have to service a large debt. It is all

self-financed and we plough any

profits back into the business.

What advice could you give

to someone coming into the

industry?

As with any worthwhile venture

or career, progression can often

appear slow and perseverance is

the key. Learn your trade, work

harder than everyone else and your

talents will be noticed. Always look

to deliver more than is expected

of you and the opportunities and

rewards will come. Oh, and never,

ever give up!

ADDRESS BOOK

CATERERS

Horseshoe and Saddlers - 028 6632 6223

www.horseshoeandsaddlers.com

and many more…

MARQUEES

Maverick Marquees - +353 (1) 6111 549

www.maverickmarquees.com

Butlers Marquees - 028 9447 3996

www.butlersmarquees.com

McLaughlin Marquees - 028 9442 8638

www.mclaughlineventhire.com

Magnakata - 028 4483 9796

www.magnakata.com

Event Co Marquees - 028 2765 7711

www.eventcocm.co.uk

and many more…

FURNITURE & DECORATION

Blue Moon Event Design - 028 4461 2888

www.bluemooneventdesign.com

Event Planners NI - 078 4810 0000

www.eventplannersni.co.uk

FIREWORKS

JB Pyro Fireworks - 028 9083 7681

www.jbpyro.co.uk

DETAILS

Rossahilly House, Trory Bay,

Lough Erne, Co. Fermanagh,

BT94 2FP

028 6632 0976

www.rossahillyhouse.com

WWW.OPENAIRBUSINESS.COM 21
---
FUNCTION VENUES

Marquees:

Hire or Buy?

Duncan Moore investigates when it become a good investment

for a venue to purchase a marquee

FOR ANY VENUE that needs

to provide covered space for a

function, from a simple beer tent to

a wedding reception with a dance

floor, marquees are an ideal option.

Marquees, also known as poles

tents or soft tops, and referred to

within the marquee industry as

temporary demountable structures

(TDS), can be quickly erected and

then taken down when an event has

finished. With the modular nature

of many types of TDS, size can be

easily varied to suit the occasion

too.

Choosing to use a marquee

to host functions can also prove

to be cost effective compared to

a permanent structure, but at

what point does it make sense to

purchase a marquee outright rather

than to continue to use the services

of a dedicated hire business?

The decision to hire or buy is

primarily a financial one; which

option represents the best value?

If a marquee is only needed once

or twice a year then hiring is

ultimately the best option. The hire

fees for just a few events will be

significantly less than the cost of

buying outright.

Daniel Gill, the founder of Dine,

a catering and event management

company with a portfolio of

exclusive venues, including

marquee sites located across the

UK, says: "For smaller venues that

host around six events a year, I

would suggest teaming up with a

local marquee company. This can

be more cost effective and you

will also benefit from their expert

knowledge, particularly when it

comes to what can be done on your

land."

However, he feels that if a

marquee is regularly needed at the

same venue, then the cost benefits

soon shift towards purchase. "For a

longer term business plan, buying a

marquee may be more beneficial,"

says Gill. "The most important

factor to consider is whether you

have planning permission. Don't

buy a marquee without this.

However, if you do buy a marquee

it will allow you to charge a lower

hire fee to the client compared to

the price they would pay to hire one

independently.

"The total cost of hiring a

marquee with everything included

starts at around £8,000. Owning a

marquee will, therefore, allow you

to be more competitive on price,

thereby attracting people to your

venue. An increase in the number

of events held at your venue would

inevitably make owning a marquee

more economical.

"Whether buying or renting, my

advice is to do your research. There

is a lot to consider for marquee

events, from how the structure will

be positioned to take full advantage

of the location, to where the

services will go, including service

vehicle parking, waste and water

drainage and more besides," he

adds.

Multiple hires

Susie Cursons of Attwoolls

Marquees, which claims to be one

of Europe's largest and longest

established suppliers of temporary

structures, is of the opinion that,

"For clients requiring long term

hire over six months or for clients

needing multiple hires throughout

the year, for example, a venue

that generates business through

wedding marquee hire, it is more

economical to buy a marquee

rather than to continue renting.

"One of the advantages of buying

a tent is that the initial outlay can

be redeemed over a period of time

if it is hired out frequently and

also the marquee can be used for

a variety of functions as well as a

storage facility in quieter months.

"However, there are also

disadvantages, which include

the upkeep. This alone can incur

additional costs, such as repairs

and cleaning. Of course, if it is not

hired out enough times buying will

work out to be more expensive than

hiring. One point that people may

overlook is the issue of planning

permission. If that is not given

then the additional costs for taking

down/re-erecting and also storage

when not in use has to be taken into

account, too," she continues.

PHOTO BY DINE.CO.UK

22 WWW.OPENAIRBUSINESS.COM
---
FUNCTION VENUES

"The primary advantage of hiring

is that the responsibility for the

structure is with the contractor so

if there are any issues, for example,

leakages, lighting problems, floor

levels, etc, this is quickly resolved

and therefore less stressful. It is

definitely a cheaper option if hire

periods are minimal or storage is

short term. There is also the option

of insurance being taken out with

the contractor, which can cover a lot

of potential problems."

Jon Parr, managing director

of Tentipi (UK and Ireland) Ltd

and President of MUTA (the trade

body for marquee businesses in

the UK), suggests that there are

two questions people need to

ask themselves before deciding

whether to hire a marquee

continuously or to buy outright.

"Venue owners need to ask

themselves, 'Am I prepared to

be responsible for the safety and

maintenance of the structure?'

If someone owns a structure

they'll be responsible for erecting

and dismantling it safely, and

maintaining it while it is built. That

means trained crew, tools, keeping

an eye on the weather forecast

and taking preventive action if

necessary. Venues can establish

a relationship with a local rental

company who are expert in the type

of structure they select or have their

own crew trained.

"The second question to be

considered is, 'How many events do

they expect to hold?' There's a rule

of thumb in the tent rental industry

that if you earn 10% of the cost of

a tent when you hire it out for a

weekend then you should be able

to make a decent business. So, for

an outdoor venue operator, the cost

of hiring in 10 times could be similar

to the cost of buying outright.

Assuming a tent will give you five

ABOVE: A giant

Nordic tent from

Tentipi

PHOTO BY DINE.CO.UK

years' service, if you hold more than

a couple of events per year it starts

to become worth thinking about

buying."

Other costs

If you decide to go with a hire

company as your TDS provider,

you could gain benefits that would

not be available with an outright

purchase. For example, if you buy

a marquee you then have to think

about buying or hiring flooring,

arranging an electrical supply,

and possibly WCs too. However, a

good marquee hire business will be

able to bundle all of these facilities

into a single package, which could

benefit from a significant discount

compared to sourcing them all from

a range of contractors.

That is not to say that hiring a

tent is without potential pitfalls.

"It's easy to focus just on the tent

itself and its interior (flooring,

stage, dance floor, lighting, tables,

benches, chairs, bar etc) when you

first decide to hire a structure, but

there are other things to consider,"

explains Parr. "How much power

do you need and where is it going

to come from? What about loos?

Do you need a catering tent? What

about a water supply? Where will

guests park? Good hirers of tents

and good manufacturers of tents

will understand all these things and

be able to advise accordingly.

"Also, take safety seriously. Ask to

see structural calculations and wind

loading figures for the particular

tent/tent configuration you are

interested in. Ask to see 'pull out

forces' for each stake position in the

structure, and ask how the business

will ensure these forces are

achieved. Make sure the structure

is flame retardant, that there

are sufficient exits and that the

interior is laid out to comply with

fire regulations. Again, good hirers

and manufacturers will know this

stuff inside out, know the various

standards that apply, and be able to

advise accordingly."

If you have made the decision to

buy a marquee, the costs you have

to consider do not stop with the

initial purchase price. As mentioned

previously, there are a great many

other overheads that have to be

factored into the purchase price. Do

you have the necessary manpower

and skills to be able to safely erect

and dismantle the marquee each

time it is needed, or will you need to

buy in these services each time?

When the marquee is not being

used, where do you keep it? Do

you have adequate storage space

on-site or will you need to hire

storage? If the latter is the case then

transport to and from the storage

venue also has to be considered.

What happens to the marquee

after use? Who will take care of the

cleaning and any necessary repairs?

Insurance etc

The additional costs do not stop

there either. You will need to

contact your insurer to confirm

that your public liability insurance

covers the use of your own

marquee. Similarly, do you have

insurance coverage for your staff

if they are responsible for erecting

the marquee, carrying out any

necessary maintenance, and so on?

Talking about costs that people

may fail to consider when buying a

marquee for the first time, Gill has

this to say, "People can be unaware

of the costs involved in purchasing

a marquee. It is important to make

provisions for power; you will

need at least a 60kVA generator

with a backup of the same size.

Generators are very expensive to

maintain because they need regular

servicing, to be super silenced and

kept in a secure location. Then

there's heating options, toilet

facilities and flooring, which are

RIVIERA WEDDING PHOTOGRAPHY

WWW.OPENAIRBUSINESS.COM 23
---
FUNCTION VENUES

also all crucial factors to consider

when buying a marquee. You will

need to decide whether to hire

these elements for each event or

provide them yourself."

Gill continues: "I would strongly

advise venues to take out a

maintenance contract with a

marquee company, or at least have

a dedicated groundsman who is

responsible for regularly checking

the structure. A marquee can look

fine from the outside but weather

conditions can easily loosen the

structure, making it weak. The

tensioning cables and pegs need

regular checks to ensure this

doesn't happen."

Parr is also able to offer advice

on the subject of unforeseen costs,

as it is a subject MUTA often has

to consider. "The purchase price

can vary greatly for a tent of a fixed

size because of numerous outside

factors. It is not just the size and

type of structure that affect the

purchase price, the specifics of the

site itself (eg. Does it have power

already? Are there loos nearby?)

must also be taken into account.

Additionally, you have to consider

how many people you want to seat

and what other space you need

inside the tent as the starting point

when figuring out costings and

getting quotes from suppliers.

"If purchasing, in my experience

the tent itself is typically less

than 50% of the investment that

a venue will make to get a site

up and running, so the cost of all

those other things becomes even

more important than the cost of

the tent. This is something good

manufacturers can help with –

Tentipi, for example, runs one-onone

investment planning sessions

with customers to help them think

through all the costs associated

with investing in a Nordic Tipi.

"If maintenance is happening

using on-site staff, the costs will be

pretty low. If you are using a local

rental company the costs will be a

good bit higher."

Parr is also able to share

knowledge on the usability of

various marquee designs including

their suitability for different

occasions and how much flexibility

they offer. "There are various

types of tent on the market, most

of which are modular so can be

added to as needed. I have been

asked in the past if buyers should

consider whether the design they

are buying will look out of date

quickly? However, I don't think this

is an issue, whatever is chosen.

When I first brought Nordic Tipis

into the UK in early 2005, I was

concerned that they would be a fad

and in a couple of years everyone

would have seen them and not

PHOTOS BY DINE.CO.UK

"... IN MY

EXPERIENCE

THE TENT

ITSELF IS

TYPICALLY

LESS THAN

50% OF THE

INVESTMENT

THAT A VENUE

WILL MAKE TO

GET A SITE UP

AND RUNNING,

SO THE COST

OF ALL THOSE

OTHER

THINGS

BECOMES

EVEN MORE

IMPORTANT

THAN THE

COST OF THE

TENT"

be interested any more. I was

completely wrong to worry about

that.

"The other key point when it

comes to buying is that you can't

expect a tent to last forever… not if

you want to keep it looking fresh for

your customers. If you depreciate

it over five years in your business

plan, you could always choose a

different structure in five years'

time.

The final word on whether to buy

or regularly hire a TDS is from Gill:

"I would suggest renting a marquee

for smaller venues, which enables

you to keep costs down. Build a

relationship with a local supplier

and tap into their expertise. For

larger venues that are hosting

events on a weekly basis, buying

may be a better option."

Further advice on both hiring

and buying marquees and all

related subjects can be found by

contacting MUTA, the UK's only trade

association dedicated to marquees,

tents and structures.

USEFUL LINKS

Attwoolls Marquees – 01452 742222

www.attwoollsmarquees.co.uk

Dine – 0345 450 4545

www.dine.co.uk

MUTA – 01379 788673 / www.muta.org.uk

Tentipi – (UK & Ireland) 01256 883163 / www.tentipi.com
---
FUNCTION VENUES

A Furnishing

Flourish

Helen Lowe's top tips for using furniture to

the max to create a fantastic function whatever the venue

ANYONE ELSE OPERATING in the

event and hospitality industry

guilty of spending their days

thinking about how to turn a

seemingly innocuous venue into

the fabulous space of your client's

dreams? Do you find your creative

juices flowing every time you pass a

cow pat covered field, a dilapidated

old building or a somewhat spooky

warehouse?

Just imagine what you could do

with all that wonderful character

or that totally blank canvas. From

teepees to marquees, castles to

stately homes, country pubs to

night clubs, and planes to trains

and automobiles; nothing and

nowhere need be off limits in this

day and age. In this article, I'm

going to give you some insight into

why.

Firstly, let's get down to the nitty

gritty. While it's pretty common

for clients to pull the 'I want

something different' card, the

fundamentals of any event - be it

intimate and private, or elaborate

and extravagant - are pretty much

set in stone.

"WHO

DOESN'T

LIKE TO

BE MADE

TO FEEL A

LITTLE BIT

SPECIAL?

IT DOESN'T

REALLY

MATTER

WHAT THE

EVENT

IS – BE IT

CORPORATE

OR

CELEBRITY

FUELLED?"

Give them shelter from the

inevitably unpredictable British

weather, somewhere to sit,

somewhere to give a speech,

somewhere to rest a drink and a

plate of food, and somewhere to

have a boogie when the serious

part is done and dusted, and

you have the makings of a pretty

successful do.

But just imagine if everyone

simply delivered against the

above… How long would it take us

all to die of utter boredom? If all

we did was line up a row of chairs

beside a row of tables facing a

stage, we wouldn't really be doing

our bit to enhance the atmosphere,

now would we?

So, when it comes to an event

in any location, it is true that

the basics are easily definable,

but the minutiae is not to be

underestimated, especially if you

are working in a less traditional

venue.

The decorations are what set the

tone, the 'zones' can have a major

role in managing the order of the

day, and the furniture could just

as easily break the day as it could

make it.

On that note, here are some of

my top tips for making the most of

any space – pop up or otherwise!

The art of 'zoning'

We've all found ourselves stuck

between a rock and a hard place

at a marquee wedding, haven't

we? Desperately avoiding the

terribly exposed dance floor while

attempting to give great aunt Doris

a wide berth. Short of setting up

camp in the beautifully themed

portaloos for the foreseeable,

there's nowhere to hide.

The inevitable happens. You

succumb to getting on down to

the Macarena with the rest of the

guests, someone films it on their

phone and within hours it's on

YouTube. #Sigh.

Now imagine how easily that

heartache could have been

avoided if the organiser had been

aware of the wonderfully diverse

and creative furnishing options

available to help break up the

space and make it just a little bit

less, well, spacious.

The VIP feel (very important

products)

Once you have your areas right, the

flow of 'traffic' will be much easier

to predict and influence, leaving

you free to think about what else is

needed to ensure the guests have

the time of their lives.

Who doesn't like to be made to

feel a little bit special? It doesn't

really matter what the event is – be

it corporate or celebrity fuelled?

What does matter, however, is

ensuring that the furnishings

and furniture you commission

to help you achieve that look is

appropriate for the surroundings.

A red carpet is all well and good,

but if you are inviting 80 guests to

a launch party in a petting zoo is

it really going to have the desired

effect? Imagine trying to 'corner

off' a VIP area in a lighthouse. I've

no doubt that by working with the

right supplier who gets your vision

and knows their stuff you'll find

it can be done, but your typical

L shape sofa and event ropes

probably ain't gonna cut it!

Bar none

The bar, regardless of whether

it's dishing out oodles of booze or

simply cups of tea and bottles of

water, is normally one of the most

heavily populated areas at any

event. With that in mind is it worth

considering how to better utilise

the area?

You could add some high bar

26 WWW.OPENAIRBUSINESS.COM
---
FUNCTION VENUES

tables and stools to prevent people

loitering after they have been

served, while also allowing them

another space to congregate,

network and relax. The beauty of

this approach is that just a few

can have a massive visual impact,

and as they are quite small and

unobtrusive they are likely to work

in even the quirkiest and most

awkward of venues.

There are all sorts of options

for anyone wanting to create an

atmosphere, and my favourite has

to be illuminated tables. If you're

working with a really challenging

space in terms of natural light then

thinking about how to make that

a plus point, could be the way

forward.

Perfectly practical

It's easy to get carried away when

you have a stunning venue oozing

with character to work with, or the

vast empty space available in a field

or an old barn. It's equally tempting

to get hung up on themes and

colours and quirky concepts, but

if you haven't got the basics right,

you haven't got an event.

It's all well and good ordering

chairs, but have you got enough?

If the delegates need to register,

how and where will they do it?

Do your exhibitors need access to

ABOUT THE AUTHOR

Helen Lowe is the

events and marketing

manager at Europa

International. For

over 50 years, Europa

has been supplying

furniture and floor

coverings for hire to

the events industries.

It specialises in chair,

sofa, stool and table

hire at affordable

prices, and carries a

stock of items for those

who want 'something

a little different.' A

truly independent

furniture and event

hire company, it is

family run, with family

values. Other services

include floor covering,

registration desks,

panel hire, electrical,

graphics, conference

seating and shell

scheme hire. Tel: 020

8676 0062 / www.

europainternational.

com/oaa or Tweet @

Europa_Int

electricity, and can you provide it?

Don't forget to lean on your

trusty suppliers for this side of

things. If they're good at what they

do, they should allow you to focus

on the bigger picture, while they

make sure your guests have what

they need in the right quantities.

Choose your friends wisely

Talking about leaning on suppliers,

the importance of having a strong

relationship with people and

companies that you trust and can

rely on is never more apparent than

when you are under pressure to

deliver a stunning event in a less

than conventional venue.

There's no point sitting head in

hands fretting about the mounting

number of tasks on your to do list

when your extended team could

(and should) be on hand to offer

valuable advice and guidance.

Whether that be the most

appropriate and practical catering

option for a remote venue, the

right entertainment for a room full

of funeral directors, or the right

furniture options for an undeniably

awkward space; they're experts in

their field just like you and have

probably got some experience of

similar scenarios, no matter how

obscure. So remember to make the

most of them!

Take a bow

Finally, and this tip is particularly

important, remember to take a

little time to pat yourself on the

back. Pulling off an event in any

venue is tough, and even more

so when competing with nonpermanent

structures or buildings

that were designed to house little

more than the lady of the manor

and her servants.

With that in mind you might

want to pull up one of those stools

alongside the luminous bar that

you so conscientiously ordered,

get yourself a drink and remind

yourself that you did good. After

all, you don't have long until the

next challenge comes your way and

you'll find yourself back in the thick

of planning and delivering.
---
FUNCTION VENUES

Perfect

Promo Pictures

Work with professionals to help create the right 'wow'

shots to promote your function venue, says Isabel Smith

CECELINA PHOTOGRAPHY / ALWAYSANDRI.CO.UK
---
FUNCTION VENUES

LEFT & BELOW: HELENE BEKKER / BO-CHIC.COM

REGULAR READERS WILL have

caught my advice in the last issue

on how to design and style your

wedding venue in line with your

business aims and target market.

This month I want to expand

further on the subject of styling,

this time focusing on how to host

your own styled shoot and how

learning this process will help you

support your couples in designing

their own wedding days.

1

CLARIFY YOUR AIMS

As with any marketing

activity, before you begin

you need to be very clear about

your aims and what you are trying

to achieve. By styling a mock

wedding at your venue you get to:

› obtain high quality imagery

of your venue looking its

aspirational best for use on

your website and across your

marketing activities

› cement relationships with the

suppliers in your area by getting

them involved

› actively promote your business

by getting your imagery featured

in a magazine or online

› flex your creative muscles and

learn how to design a wedding.

These are all fantastic plus points

to having a styled shoot take place

at your venue, but which are your

biggest priorities? If you want

complete design control, you might

have to work outside of your usual

circle of suppliers to get all you

need. If you are on a tight budget

and have to compromise on design,

will the images be good enough

to get featured on a blog? Think

carefully about your main priority

and keep that in mind when

planning.

"HAVING

A REALLY

CLEAR,

STRONG

THEME

DISPLAYED

ON YOUR

FINAL

PINTEREST

BOARD

WILL GO A

LONG WAY

TO PIQUING

MEDIA

INTEREST"

2 3

GET AN OUTLINE

DESIGN CLEAR

Just as brides are, you

might find yourself bombarded

with inspiration online and

struggling to decide on a unified

theme, falling in love with

new ideas every five minutes!

This is where the online image

bookmarking site Pinterest comes

in. You can explore multiple ideas

by starting a board around each

theme that you like the look of

before narrowing down to one

main 'look'. You can then pin

more specific images in line with

all you'll need to source for the

shoot itself. You should be thinking

about all the same things that a

bride needs to have in mind when

designing; food and drink, tables

and chairs, linen, cutlery, crockery,

glassware, florals, lighting, displays,

stationery, cake, hair, make-up,

dress, suit and so on.

If your main aim is to use the

images to promote the venue in

a magazine or to illustrate a blog,

having a really clear, strong theme

displayed on your final Pinterest

board will go a long way to piquing

media interest.

GET SOURCING

I wish I could say that this

part is easy, but the truth

is that unless you have the budget

to pay commercial rates for all that

you want, it can be tricky to find all

the wares to create a certain look.

Where possible of course, work

with suppliers you already have a

relationship with. They might well be

happy to offer their services free or

at cost price in return for use of the

images or for being credited in the

media if the shoot gets picked up. You

can 'make do and mend' up to a point

with a shoot, but keep those priorities

in mind – a blogger will want the

best of the best in terms of design

(although that doesn't necessarily

mean the most expensive of

everything of course – it depends on

the style of blog you are aiming for). If

the shoot is just for your own website,

there is more room for compromise.

Areas that should absolutely not

be compromised on include the

photographer (and remember, the

photographers on your preferred

suppliers list might not shoot in

the style you want for aspirational

imagery!) and the models (go pro

every single time!).

CECELINA PHOTOGRAPHY / ALWAYSANDRI.CO.UK

WWW.OPENAIRBUSINESS.COM 29
---
FUNCTION VENUES

CECELINA PHOTOGRAPHY / ALWAYSANDRI.CO.UK

M BISHOP PHOTOGRAPHY / BO-CHIC.COM

4

THE SHOOT ITSELF

The day of your photo

shoot is an event in itself

and needs to be planned as such.

Think through how long each part

of the set-up will take (no point

having the florist arrive to dress a

table that isn't in place!) as well

as how long the models will take

in hair and make-up (no point

having the photographer arrive

if there is nothing and no-one to

shoot!). Remember that many of

your suppliers are doing this at

low or no cost so make sure you

are not wasting anyone's time. Be

prepared to get your hands dirty

to make sure everything is perfect.

Photographs show up any and all

imperfections so attention to detail

is key.

5

USING THE IMAGES FOR

PROMOTION

If your plan is just to use

your fabulous new images for your

own purposes, then by all means

splash them across your website,

printed materials and social media

as you please. When targeting the

media with your images there are

two golden rules to follow:

1. Pick your outlet well - If your

shoot was based around a

traditional English country garden

look, there isn't a lot of point in

approaching the more avant-garde

publications and bloggers. The

media outlet you want to feature

in should be the one most read by

your target market and your shoot

style should reflect their desires.

2. Exclusivity - Any media outlet

will want exclusive use of any

images they pick. You therefore

need to separate out the images

you will use for your own website

from those you will be presenting

to the press. You will also need

to approach your outlets one by

one, letting each pick up or decline

the imagery before moving on to

the next. Most editors will let you

release images to a second outlet

a few months after they have

featured them.

With the media blasting out

amazing imagery of carefully

created events from all over the

world several times a day, how

their wedding looks is becoming

more and more important to

modern couples. They too will go

through the design process to make

the following decisions: What do I

want to achieve with my wedding?

How do I want it to look? Where do

I get all the bits and pieces I need to

create the look from? How will the

photos turn out?

Having experienced this process

first hand (possibly with an even

tighter budget than your couples

have!) you will be far better placed

to help them create a Pinterest

board that works for them within

your venue's setting and source all

the suppliers, hirewares and props

that they will need to create the

look.

If you just aren't the designer

type or can't face the work involved

in styling a shoot (and believe me

there is more time involved than

you think), then as I have said

before, engage the services of a

professional to ensure that all your

aims are met. A fully established

designer or planner will charge in

ABOUT THE AUTHOR

Isabel Smith has 10

years in the wedding

industry behind her

as one of the UK's top

wedding planners and

business consultant

to venues and other

suppliers. Isabel's

expertise spans

marketing, sales and

operations as she

helps new vendors

launch as well as

assisting established

businesses should

they find their

sales falling. www.

isabelsmithconsulting.

co.uk / www.

isabelsmithweddings.

co.uk

excess of £2,000 for their services

(depending on where you are in the

country), but if your budget doesn't

stretch that far, start-up wedding

planning companies are often keen

to get a styled shoot or two under

their belts to help with their own

promotion so do shop around.

JULIA AND YOU / ALWAYSANDRI.CO.UK

CECELINA PHOTOGRAPHY / ALWAYSANDRI.CO.UK

30 WWW.OPENAIRBUSINESS.COM
---
FUNCTION VENUES | PRODUCT FOCUS

Professional Services

Ensure maximum profits from your functions with expert advice

EVENT CONSULTANCY AND

BESPOKE CATERING

Dine

0345 450 4545

www.dine.co.uk

As well as providing

bespoke catering for more

than 100 corporate events

and 200 weddings a year,

Dine also provides event

services for organisations

ranging from English

Heritage and the National

Trust to the owners of

some of the UK's most

notable private houses. It is

also expanding its portfolio

of outdoor venues. The

Dine Consultancy and

Venue Management team

helps deliver projects for

a wide range of clients

including venue owners

and country houses.

Experienced consultants

will help you understand

current trends, how to

maximise profit and are

ready to advise on the

operational delivery of

your events.

WEDDING VENUE

EXCELLENCE

Isabel Smith Wedding Consulting

01628 810231

www.isabelsmithconsulting.co.uk

Isabel Smith Wedding Consulting

is a boutique management

consultancy firm specialising

in the wedding sector. The

team prides itself on providing

a unique perspective for our

clients, advising on what modern

brides want while understanding

what your business needs. We

offer tailored solutions, delivering

success to suppliers in this

extraordinary industry. Please

get in touch to learn more about

how we can help with business

planning, marketing strategy

planning and implementation,

recruitment, training, property

refurbishment and property

management outsourcing.

Our detailed reports will cover

your local demographic,

target market, competitor

analysis, refurbishment

recommendations, revenue

forecasts and key points for

success.

ULTRA QUIET

DENYO EVENTA GENERATORS

• 20kVA to 100kVA

• Ultra quiet operation

• Tier III diesel engine approval

• Up to 26 hours of uninterrupted operation

INNOVATIVE • TRUSTED • PROVEN

0845 409 0276

sales@morrismachinery.co.uk

www.denyogenerators.co.uk

WWW.OPENAIRBUSINESS.COM 31
---
Keeping ahead of the field...x

Ashwood Shepherd Huts

Manor Farm, Hele, Taunton

Somerset TA4 1AH

Telephone 01823 461 638

info @ ashwoodshepherdhuts.co.uk

www.ashwoodshepherdhuts.co.uk
---
ACCOMMODATION

CASE STUDY

Dundas Castle

Run as a franchise operation, the Dundas Castle

'canvas cottages' offer glampers a five star retreat

A five star wedding venue, Dundas Castle has expanded its luxury offerings

through the Glampotel franchise. Its five 'canvas cottages' are nestled in their

own wooded glade overlooking the castle's loch, but only 15 minutes from

Edinburgh airport. Open Air Business talks to general manager Louise Andrew

about the site, the facilities and the luxurious finishing touches.

What made you decide to

start offering glamping

accommodation?

We are a five star castle and estate

close to the city of Edinburgh.

Dundas Castle is an exclusive use

wedding and events venue, so

has to be booked out by a group.

However, we have found our

gorgeous one room Boathouse to

be a popular option for couples

wanting a self-catering hideaway.

By introducing our glamping

canvas cottages we are opening

the doors to anyone who wants

a luxury country hideaway that

is only 25 minutes from the city

centre.

"THE

GLAMPOTEL

BUSINESS

WORKED SO

WELL FOR

US AS IT HAS

CREATED

THE MOST

BEAUTIFUL

CANVAS

COTTAGES

WITH ALL

MOD CONS"

How did you research the

business before entering it?

As a small business that focuses

on luxury weddings and group

bookings, we looked into finding a

franchise partner. The Glampotel

business worked so well for us as

it has created the most beautiful

canvas cottages with all mod cons.

There was an initial capital

outlay to Glampotel, but it

provided the five tents, all the

interior fit out, the wooden bases

the tents sit on, all the decking and

facilities including en-suite hot

showers, composting toilets, patio

heaters and so on. Importantly,

it gave comprehensive training

to the Dundas staff regarding

checking guests in, how change

over day works and the process of

cleaning and turning around the

units ready for the next guests.

Booking is handled through

Glampotel and the Cool Camping

online bookings system. We have

access to a dashboard that shows

us the upcoming bookings and

also how we are doing in terms of

occupancy.

Tell us about your location

and site

The loch on the Dundas Estate

is beautiful, secluded and a

haven for wildlife. You really

WWW.OPENAIRBUSINESS.COM 33
---
ACCOMMODATION

would not know that Edinburgh's

international airport is only 15

minutes away!

Glampotel helped us choose the

ideal locations for each unit to give

residents privacy and seclusion.

We love how the canvas cottages

are each nestled into their own

private wooded area, with an

enviable view of the loch.

How did you tackle getting

planning?

We approached the planning

department at the council and

followed its guidelines. This year

we have five pitches, but next year

we plan to extend the number of

units we have.

What glamping accommodation

do you offer and why did you

choose it?

Dundas Castle glamping

accommodation is ideal for two

adults and up to two children

sharing a canvas cottage. Each

unit includes a comfortable

bed, en-suite shower room with

toiletries and composting toilets,

hot running water, barbecue,

wood burning stove, towels, cool

box, lighting, patio heater, comfy

seating and a lockable safe box.

For couples with small children,

we can add two wee beds, to make

a really lovely family experience.

How would you describe your

'style' or USP?

Because the glamping units are

part of Dundas Castle, luxury

is the by-word. To make visits

extra special, we offer breakfast

hampers that include produce
---
ACCOMMODATION

sourced from a local farm and all

Scottish where possible, which can

be delivered at a time chosen by

the guests. Wood from our estate

is there for the wood burning stove

and we can add special extras

including Champagne, flowers or

canapés on request.

A feasibility study was

undertaken by Dundas Castle

before Glampotel was selected

as our franchise partner, and its

'look and feel' was taken into

account. The brand fits well with

ours and communication between

both parties is excellent, so any

challenges we face are quickly

resolved.

How did you choose your interior

decoration?

The Glampotel style is a wonderful

mix of natural colours and comfort

with opulence and style. The décor

keeps guests close to nature with

its use of earthy tones and warm

blankets. Modern furniture on the

heated deck brings both comfort

and style, and the simplicity of the

styling also matches the natural

beauty of the lochside location.

What are your plans for next

season?

We plan to double the capacity

and next year will have 10 units.

We will also be looking at building

packages for guests to enjoy while

staying with us. These include use

of the tennis court, clay pigeon

shooting, golf, and fun 4x4 nature

rides, which will enable children to

view the abundant wildlife on the

estate.

Describe your average day midseason

We only opened on 5 August, so we

"GUESTS

ARE GIVEN

DIRECTIONS

TO THEIR

GLAMPING

UNITS, BUT

THE CASTLE

IS NEVER

FAR AWAY TO

HELP WITH

REQUESTS

AND TO

MAINTAIN THE

HIGH QUALITY

ACCOMMODA-

TION"

ADDRESS BOOK

are still getting used to the rhythm

of the process. Currently we are

handling the management and

cleaning of the five units with our

existing team, but next year we

will have an additional member of

staff to help handle the extra units

we have planned.

Guests are given directions

to their glamping units, but the

castle is never far away to help

with requests and to maintain

the high quality accommodation.

Our team is really friendly and

nothing is too much trouble when

it comes to making each guest's

stay unique. As we run a five star

castle every day, we really know

how to make people feel welcome

and to create a sense of luxury,

exclusivity, occasion and comfort

all rolled into one.

Do you enjoy the business

and why?

We love welcoming visitors

to Dundas Castle! It is a truly

beautiful, historic building at the

same time as being a family home.

The entire team feel honoured

to be part of the organisation,

and delighted to be able to make

each and every one of our guests

feel that it is their home for that

moment in time.

ACCOMMODATION

Glampotel - 0800 998 9129

www.glampotel.com

BOOKING SYSTEM

Cool Camping - www.coolcamping.co.uk

Glampotel - 0800 998 9129

www.glampotel.com

What other outdoor hospitality

sectors do you operate in?

As a five star wedding and events

venue, we have outdoor space

for weddings including a pavilion

for up to 200 guests, a pitch for a

grand marquee for 600 people,

beautiful gardens and viewpoint

where couples can tie the knot.

The estate also has its own

golf course, off road 4x4 tracks,

paintball, tennis, clay pigeon

shooting, squash court and the

most beautiful walks. Furthermore,

we can make arrangements for

sailing on the Forth. Working

with event providers, we also

create highland games and other

teambuilding experiences for our

group bookings.

The other accommodation

close to the loch is our four

star Boathouse. Popular with

newlyweds and as a place to

propose, the Boathouse is a bijoux

one bedroom cottage with a

veranda overlooking the loch.

What advice could you give

to someone coming into the

industry?

Don't over-complicate things and

enjoy what you do; your guests

will feel that in what you create for

them.

DIRECTORY SITES

Cool Camping - www.coolcamping.co.uk

Glampotel - 0800 998 912

www.glampotel.com

DETAILS

Queensferry, Edinburgh

0131 319 2039

www.glampoteldundascastle.com

WWW.OPENAIRBUSINESS.COM 35
---
ACCOMMODATION

WILDGOOSE PHOTOGRAPHY

Standing

out from

the Crowd

Kate Morel has visited hundreds of glampsites in her role with

agency Quality Unearthed. Here she shares her thoughts on

how to make your site the best it can be

GLAMPING… I LOVE it. I love the

lifestyle, the quirky structures

and the amazing people I meet.

It's nothing short of fabulous. I've

been fortunate to have worked

in the industry (if that's the right

word) for a few years now, visiting

many potential sites and advising

landowners in the UK, Australia

and more recently South America.

Glamping has captured the

imagination of people worldwide

and ties in perfectly with holiday

trends and the back-to-nature

leisure movement. Like it or not, it

is definitely here to stay, at least in

some form or another.

Despite our less than

predictable climate,

glamping holidays are

enjoying huge popularity

in the UK, and demand

increases every year. As the industry

develops, several types of glamping

'model' are also evolving, such

as rows of pods on campsites,

corporate developments, private

developments and individual

boutique accommodation, among

others. The same criteria for

success applies to most of them;

geographical location, nature

of the site, quality and style of

accommodation, facilities, design

content and hospitality. In essence,

setting up a glamping site isn't too

different from setting up any other

holiday accommodation, although

choosing the right structure can be

tricky, and a lack of relevant data

can make a projected return on

investment difficult to pin down.

However, there are a few things that

will almost always influence the

success of a glamping business.

LOCATION

It's no surprise that the principal of

'location, location, location' doesn't

solely apply to domestic properties.

Being in a popular tourist area close

to an existing attraction, with good

access routes and within two to

three hours of a city, all contribute.

Without these advantages we have

to work harder to entice guests to

visit, possibly offer lower rental

fees, or offer something truly

amazing. Look into who visits the

area and what they are most likely

to want - or be bold and create a

demand yourself.

SITE AND STRUCTURE

Stunning views or natural features

are natural assets and do a lot of

the work for us. Without them, keep

it simple and charge accordingly, or

offer outstanding accommodation

or an unusual activity. Some places

lend themselves to certain types of

structure; for example, woodland

settings are great for eco-pods,

while lakes can host floating

cabins. View the site objectively

and appraise its potential. Decide

whether it is likely to appeal to

couples or families, choose which

are the best spots and then find an

appropriate structure.

Always check out the

competition. Find out what

is already on offer in the

36 WWW.OPENAIRBUSINESS.COM
---
ACCOMMODATION

WILDGOOSE PHOTOGRAPHY

QUALITY UNEARTHED

area, the target demographic, what

facilities it provides and how much

it costs to stay there. How well are

they actually doing? This could

reveal potential gaps in the market

as well as pitfalls, whether your

ideas might work, and how to give

your accommodation the edge by

making it more appealing.

USP

A strong USP (unique selling point)

is increasingly important and could

be an amazing location, design, top

quality facilities, services, natural

features or activities. A strong USP

will make a difference. It is already

getting competitive out there and

at some point having an unusual

structure alone will not be enough.

If your chosen structure is

something of a blank canvas (pun

intended) such as a yurt and you're

installing a couple of units rather

than rows of them, a good way to

differentiate your site is by giving

each an individual style. Admittedly

this can require a degree of bravery

as it means shunning safe options.

However, it's a great opportunity

to use your imagination and you

don't have to play by the rules!

Some of the best glamping sites

have a great personal story behind

them too, a vocation, hobby or

story from the land or site has

been woven into the character

of the accommodation. In a

commercially driven society where

homogenised products prevail,

originality or a unique story really

stand out and glamping can easily

deliver this.

LEVEL OF ACCOMMODATION

Glamping comes in many forms,

from rows of pods with shared

facilities to one-off designer

treehouses incorporating

luxury facilities and hotel grade

hospitality. If you're thinking

of going into glamping, you

can either: set the bar

high, because when the

market starts to plateau

there will be two

ways of maintaining

occupancy rates –

offering something

outstanding or

reducing your

"THOUGHTFUL

FURNISHINGS

AND FACILITIES

AND A

PRACTICAL

LAYOUT CAN

BE USED TO

GOOD EFFECT

SO DON'T BE

SHY FROM

THEM"

prices; or install something

that is adequate for now, and

upgrade when necessary. Some

accommodations such as safari

tents are already upgrading their

facilities to include private use

kitchenettes, flushing toilets and

private showers. Customer demand

is already shifting and for some

guests at least, shared facilities

and composting loos are no longer

acceptable.

CONVENIENCE AND COMFORT

A genuine consideration for guests'

convenience and comfort makes

such a difference, yet is sometimes

totally overlooked. Thoughtful

furnishings and facilities and a

practical layout can be used to good

effect so don't shy away from them.

A guest review that says 'They

thought of absolutely everything' is

the best compliment you can get.

Consider how the

accommodation will function

when fully occupied; even in small

structures there should still be room

/ storage for luggage and personal

effects. Even if you believe you have

thought of every comfort, pack a

bag (invite friends to maximum

capacity if necessary) and stay in

your accommodation for a couple

of nights. Cook a meal, use all the

facilities and make yourselves at

home. Is there anything that would

make your guests' stay easier and

more comfortable?

Different guest groups such as

families and couples have different

requirements, so whichever you

are catering for ensure that the

facilities and accommodation meet

them. You also need to take this into

account when considering where to

site the structures, as couples prefer

privacy, whereas families don't

mind having neighbours so much.

WWW.OPENAIRBUSINESS.COM 37
---
ACCOMMODATION

QUALITY UNEARTHED

HOSPITALITY

Making guests feel welcome is an

easy and inexpensive way to add

value to your accommodation;

a beaming smile and a bit of

effort costs nothing. Add vases of

hedgerow flowers, a treat or two

and a 'welcome to...' note and

you've already created a more

cordial atmosphere for very little

outlay. Whatever standard of

glamping you offer, find a way to

set your hospitality above the rest.

Additional services, even if you

make a small charge for them, will

add to your guests' experience and

make their stay more comfortable

and memorable. Perhaps you could

provide a laundry service, hampers

from a local farm shop, your own

produce or therapies, for example?

If you know that guests are

staying for a honeymoon,

proposal, anniversary or birthday,

a thoughtful gesture, however

simple, will blow them away. It's

also great PR when guests share a

photo or update on social media

about their holiday because

word of mouth and personal

recommendations are some of the

most effective types of advertising

we can get. If you enjoy making

people genuinely happy, you could

spend less time and money on

marketing too.

HOUSEKEEPING

I'm sure most of us have done

this at some point. A waiter asks

'Is everything alright?' and we

nod enthusiastically, but as soon

as they are out of earshot we

vow never to return (much to

the embarrassment of my dining

companions I am rarely guilty of

this!). The same applies to some

holiday guests who will happily

let an agency know what wasn't

right, but to the owner they say

'Everything is great, we'll be

back!' It is therefore important

that you meet, and preferably

exceed, expectations because

we can't always rely on guest

feedback. Some common sense

(but amazingly not common)

considerations are:

› Impeccable cleanliness. The

accommodation is your guests'

home for the duration of their

stay and quite rightly they

don't like to be reminded of

any previous occupants. This a

common complaint issue in the

accommodation industry and I

can't understand why because

it's the easiest thing to get right.

Even if guests don't complain it's

the number one reason that they

will not return or recommend the

accommodation and you might get

a bad online review to boot, which

is hard to gloss over. Cleanliness is a

crucial contributor to good reviews,

recommendations, reputation

and repeat bookings. In short,

you can't take any chances in this

department. If you're outsourcing

your cleaning, good change over

staff are worth their weight in gold

– find them and keep them!

› A good night's rest. Create

amazing sleeping spaces, because

ABOUT THE AUTHOR

Kate Morel represents

Quality Unearthed,

one of the few

dedicated glamping

holiday agencies in

the UK. Known as

the 'Glamping Guru'

she has spent years

working closely

with landowner and

tourism organisations,

visiting locations and

providing consultancy

advice and support.

This, along with her

previous experience

in sales and

marketing, property

restoration, design

and hospitality, gives

her a unique set of

skills and perspective

on setting up a

glamping business.

01348 830922 / www.

qualityunearthed.

co.uk

a bad night's sleep on a noisy or

uncomfortable bed is also up there

on the guest complaint list. Choose

beds carefully and use good

mattresses; cheap ones are a false

economy as they directly affect

your guests' experience. I can ID a

cheap mattress by running a hand

over the sheet. If money is running

out cut back on something else.

› Delivering promises. Advertised

features and facilities need to be

available. If they are not guests can

get cross about it, especially if it

influenced their buying decision.

They will understandably be

frustrated and most will expect

to be compensated somehow.

If for some unavoidable reason

something is not available as

advertised, notify your guests

in advance and always offer to

compensate in some way before

being asked.

So, there you have it, in brief

anyway! I hope I have given you

some idea of the things that give

a glamping site, or indeed any

holiday accommodation, the best

chance of success. Over the years,

I've found that each location has

to be taken on its own merit. Often

it's only when walking around a

place that ideas start to flow about

what type of structures will work,

where to place them and how to

furnish them, which is really the key

to getting it all right. The glamping

holiday accommodation landscape

is changing and developing every

year, but well put together holidays

with good customer service and

hospitality never go out of date!

38 WWW.OPENAIRBUSINESS.COM
---
THE LITTLE HUT CO.

Shepherd

hut now on

sale for only

£8,500

One of a kind, personal shepherds huts and pods

• All of our huts and pods are built

using quality, locally sourced

materials and this ensures they will

remain comfortable and in great

condition for many years to come

• Built in our workshop in Bedfordshire,

each hut and pod is tailor

made and no two will be alike. We

use local craftsmen for certain

aspects of each hut, and quality is

built in as standard

Bespoke 'Nest Pods 'also available!

• We can theme Nest Pods with

bespoke chainsaw sculptures to

create a one of a kind, extraordi

nary space. Check out

www.chainsaw-carvings.co.uk

Bespoke

Chainsaw Carvings

By award winning

international chainsaw

artist Will Lee

07763 055151

www.thelittlehutcompany.co.uk

WWW.OPENAIRBUSINESS.COM 39
---
ACCOMMODATION

TREE TOP GLAMPING

Open Air Business sets out to discover why the treehouse is many glampers' dream,

and how much you can stand to make by investing in one

CANOPY AND STARS

AS THE TREND for all things retro

continues, more and more people are taking

it further and looking for ways they can

relive their youth. As with all things retro,

that youthfulness is often seen through

rose-tinted glasses, which means camping

has now become glamping. After all, who

wants to recapture their childhood by

sleeping in a damp tent in the middle of a

muddy field?

In a similar vein, many people dreamed

of having their own treehouse as a child,

and a few may even have had one, even

if it was basically just a couple of planks

with a covering of blankets. However, like

not wanting to sleep in a draughty tent,

today's tree dwellers expect a certain level

of comfort.

When glamping first became a recognised

phenomenon, accommodation varied from

wagons to yurts. However, today's glamping

venues house all manner of lodgings,

which can be as extreme as tabernacles

with unique features such as stained glass

windows and baths big enough for two.

Now, in the face of such stiff competition

glamping venues are turning to luxury

treehouses to differentiate themselves and

attract new business.

In order to discover more about what is

driving the interest in treehouse glamping,

and to learn what venues need to consider

if they are going to exploit the potential,

Open Air Business spoke to Tom Dixon

of Sawday's Canopy & Stars, Tree Tents

International managing director, Max

Marsden, and Mark Pollecutt and Andrew

Delaney of Cheeky Monkey Treehouses.

WHY THE APPEAL?

Tom Dixon, who represents Sawday's

Canopy & Stars, which has more than

500 places to stay covering everything

from treehouses to converted horse

trucks, begins by outlining the appeal of

treehouses for glampers compared to more

conventional accommodation.

"It's all about the beauty of treehouses

and how they can fit into the landscape and

make the most of woodland areas. There's

something very special about sleeping in

the trees and waking up in the morning to

the sounds of birdsong. One of the unique

parts of staying in a treehouse is being part

of nature without disrupting it."

A similar theory to explain the rise in

popularity of treehouses is put forward by

Max Marsden of Tree Tents International.

"Untapped wildernesses are becoming rare

these days. The popularity of camping and

glamping has grown so much lately and

more people are looking for unique and

different places they can inhabit for a bit.

Open fields and bell tents just don't quite

meet the need for people to really immerse

themselves in the outdoors, but simply

40 WWW.OPENAIRBUSINESS.COM
---
ACCOMMODATION

CANOPY AND STARS

CHEEKY MONKEY TREEHOUSES

TREE TENT INTERNATIONAL

getting up into the canopy and experiencing

nature from a fresh perspective, from the

shade of the sun and breeze in the tree tops,

is a real pull. Humans evolved from these

places so it's in our DNA that we feel at

home in the trees."

Giving his thoughts on what is driving

the increased interest in treehouses

as glamping venues, Cheeky Monkey

Treehouses' Andrew Delaney says, "I

think it's mainly due to people looking

for something a little bit more quirky and

being more adventurous than just another

weekend break in a hotel. It's also quite

fashionable as people are always looking

for something different from the norm. I

think this is what is driving the growth in

the market and, like the way glamping has

taken off, if you can offer a bit of luxury in

the outdoors then people are willing to pay

a premium for it."

WHAT, NO TREES?

So, which treetops should be used to house

the various accommodation options and

what happens if a venue simply does not

have any suitable trees?

Mark Pollecutt of Cheeky Monkey

Treehouses suggests, "Any healthy

deciduous tree can be used and examples

include oak, beech, maple, ash and cedar.

Always check for tree preservation orders

and make sure you get an expert or a tree

surgeon's opinion on the health of the tree

before proceeding.

MAIN PICTURE

AND TOP LEFT:

Living Room

Treehouses,

Powys

TOP RIGHT: Tree

Tent at Broom

Park, Cornwall

MIDDLE:

Cheeky Monkey

Treehouse used

for glamping in

the North East

BOTTOM: Red

Kite Tree Tent in

Powys

"Trees aren't essential, but it's always

nice to build around or in between trees and

even better if you can support some, if not

all, of the structure from the tree. However,

with this comes a lot more maintenance

and expense."

"Our suspended tree house structures

typically need two good, old growth trees

to span between. Old oaks, ash, or beech

are great but we can adapt to most trees

– pines are great and add some great

dynamics to the feel of the structure," says

Tree Tents International's Marsden. "Our

lightweight structures also lend themselves

well to man made supports and so they

are great for sites with no trees or smaller

growth and uneven, sloping ground."

Dixon explains how Sawday's Canopy &

Stars incorporates its structures into the

surroundings, "We have some really special

places that are high up, making the most

of the trees that are around them, but not

suspended from the branches, structures

such as Lime Treehouse, Bagthorpe

Treehouse and The Treehouse at Deer Park."

RUSTIC LUXURIES

Given that the treehouses being discussed

here are for glamping, and therefore a

certain level of luxury is expected, it is

important to know what facilities can be

included. According to Marsden, "You

can pretty much design what can be

incorporated into a treehouse to your

heart's content, but remember while

"OUR SUSPENDED TREE

HOUSE STRUCTURES

TYPICALLY NEED TWO GOOD,

OLD GROWTH TREES TO

SPAN BETWEEN"

you're there to experience the trees, so the

structure should be simple, comfortable

and facilitate that. Yes, put a TV and a toilet

in if you want, but we think it's better to

design facilities like composting loos into

the surrounding environment leaving the

structure free for you to enjoy the space

you're in."

An even higher level of luxury is available

within the structures built by Cheeky

Monkey Treehouses, as Delaney explains,

"With a little bit of imagination and

engineering anything is possible. We put air

conditioning in a treehouse we built in the

UAE."

DESIGN AND BUILD

Knowing it is possible to put almost

anything into a treehouse, there may be a

temptation to get too involved in the design

and forget about other equally important

considerations. Marsden has these

words of warning for potential treehouse

glamping operators: "Insurance is the

main consideration that people need to

look at once they have decided treehouses

are the way forward for them, that and

picking a treehouse maker with a reputable

engineering background.

"Our designs are backed by some great

design and engineering experts, which in

turn means they are backed by insurance

companies. Then it is a case of making sure

the rest of the infrastructure, access, steps,

TREE TENT INTERNATIONAL

WWW.OPENAIRBUSINESS.COM 41
---
ACCOMMODATION

ladders, and so on, are well built and safe.

They've also got to put up with the rigours

of use that a large footfall of guests will put

upon the structure."

When it comes to the actual build of

the treehouses, Marsden has this to say:

"For commercial projects always get a

professional in. Building structures around

living, moving structures, the trees, needs

some good engineering knowledge.

However, building structures from scratch

in a forest environment is an expensive

process. Fixed tree houses can start from as

much as £70,000 plus if you want a liveable

space. Ours get over that expense by using

pre-built components that we assemble

on site and rig between the trees so we

don't have to adapt each to suit the trees

being used. That gets our structure and

installation costs down and offers a great

return on investment."

While that price may seem high, there

are lower cost alternatives. "The cost is

completely dependent on the scale and

complexity of what you are looking to

achieve," says Pollecutt. "For commercial

use with planning and building regulations

to completion, I would anticipate an

average of six months from start to finish.

Costings again are so varied but you would

be looking at £40k upwards. However, that

does take into account getting the right

planning permission and making sure the

designer and/or architect considered all

aspects of building regulations, such as

health and safety, disabled access, etc."

It may be tempting to try and reduce

costs by attempting a DIY build, but this

is not a route recommended by Pollecutt.

"You'd have to be very brave to try and do

this kind of work yourself. For a commercial

venture of more than one treehouse, I

would advise employing a project manager

to deal with the different contractors

as not many tree house companies will

be able to offer plumbing and drainage,

electrics and all the planning and regulation

requirements and these will require

contractors to come in and work with each

other."

TREE TENT INTERNATIONAL

"IN TERMS OF RETURN, WE

ESTIMATE THAT A £70,000

TREEHOUSE IN THE RIGHT

SETTING CAN ACHIEVE

UPWARDS OF £40,000 IN

BOOKINGS PER YEAR"

RETURN ON INVESTMENT

On the subject of build costs, Dixon says,

"For anyone specifically interested in

building a treehouse, we have Timber! a

consultancy service specifically geared

towards the design, build and realisation of

cabins and treehouses. We offer a free initial

consultation and from there consultancy

costs from £350 per day, depending on

what's required. Following this, we work as

agents on a commission basis. The cost of a

complete treehouse build through Canopy

& Stars Timber! partners starts from around

£35,000.

"In terms of return, we estimate that a

£70,000 treehouse in the right setting can

achieve upwards of £40,000 in bookings per

year, based on nightly rates of £140-£180,

and a £40,000 cabin can expect to achieve

upwards of £20,000 of bookings per year

based on nightly rates of £95-£125."

To back up these claims, Dixon cites

two projects with which Canopy & Stars

has been involved. "Tony and Beverly of

the Old Mill, near Bath, Somerset, had no

experience of running a B&B but had always

CLOCKWISE

FROM FAR

LEFT: Red Kite

Tree Tent,

Powys; The

Tree House at

Harptree Court,

Somerset;

Inside the

Harptree Court

treehouse

wanted a treehouse. We helped them to

plan the kind of experience they wanted

and gave practical advice on having guests

stay. As a result of that input, in its first year,

Old Mill achieved occupancy of 95% with

nightly rates from £140-£180.

"Also near Bath is the Treehouse at

Harptree Court. The owners, Charles and

Linda didn't need persuading when we

suggested a treehouse might be a way

to grow their B&B business and to help

maintain and support the family home. The

idea of a treehouse set in their beautiful

grounds immediately appealed. They

were brave and bold in their ambition and

in 2011, Canopy & Stars launched their

first treehouse. The results have been

overwhelming, achieving occupancy of over

90% since its launch with nightly rates of

£180-£360."

USEFUL LINKS

Cheeky Monkey Treehouses

01403 732 452

www.cheekymonkeytreehouses.com

Sawday's Canopy and Stars

0117 204 7830

www.canopyandstars.co.uk

Timber! 0117 204 7838

www.canopyandstars.co.uk/timber

Tree Tent International

www.treetents.co.uk

CANOPY AND STARS

CANOPY AND STARS

42 WWW.OPENAIRBUSINESS.COM
---
Further reductions for multiple orders

The moduLog is a

modular pod designed

to suit your needs and

your budget.

.Fully insulated

.Anti-vermin mesh

.Oak joinery & floors

.Low Maintenance

.Home-grown timber

.U.K. made

.Placed anywhere

.Off Grid

.Multiple designs for

multiple uses.

.Ideal for woodlands

Glamping in style.

www.modulog.co.uk

Tel: 01982 553022 / 07843322175 info@modulog.co.uk

WWW.OPENAIRBUSINESS.COM 43
---
SPONSORED FEATURE

Eco

Structures

Australia

Manx-man pioneers glamping in Oz and takes on the

globe with superior eco structures , writes Rachel Beadle

ECO STRUCTURES AUSTRALIA, provider

of globally renowned, superior glamping

solutions, sprouted its first shoots

in humble red soil in Australia's far

northwest – the Kimberley. Karl Plunkett,

originally from the Isle of Man, landed on

Australian shores in 1985 with a dream

to bring travellers up close and personal

with nature without sacrificing creature

comforts. His eco vision became a reality

with the birth of Eco Beach in 1996 – a

pod of elevated wooden beach huts on an

isolated, pristine stretch of the northwest

Australian coast. The remote eco resort

pioneered ecologically sustainable tourism

in Australia and won many national and

international awards, including Britain's

Sir David Brand award in 1998, but was

sadly decimated by Severe Category 5

'Cyclone Rosita' in 2000.

However, from the ashes, a 'phoenix'

opportunity arose – the chance to redesign

the resort's eco accommodation

to meet the demands of a new, emerging,

more sophisticated eco travel market:

the 'glamping' market. These glamorous

campers were slowly, but steadily

infiltrating world tourism. Karl redefined

his philosophy as "building for the future"

and donned his design cap. His new

accommodation product must not only

exude comfort and style to meet the

demands of this new market well into the

future, but also be architecturally designed

and engineered to withstand the elements

and potential weather extremes. It must

be a truly sustainable product.

Enter award-winning Eco Beach 2! An

eco 'village' resort of quality, lightweight,

aesthetically appealing, semi-permanent

structures, nestled discreetly into the

natural coastal vegetation. Eco Beach 2

soon became the talk of the tourism world

with other accommodation providers

seeking to incorporate the versatile eco

tents and villas into their own products.

The 'Glamping Collection'

Eco Structures Australia was soon founded

upon this demand, and launched its first

'Glamping Collection' of pre-fabricated

tents, modules and gazebos for the global

market in 2005. Karijini Eco Retreat in

Western Australia's spectacular Karijini

National Park was one of the first resorts

to jump on board. The fact that the park is

remotely located in a highly ecologically

sensitive pocket of the harsh Pilbara region

didn't faze Karl. An Eco Structures team,

experienced in logistical planning for

remote construction after the Eco Beach

build, was soon dispatched from Broome

(1,000km away) and erected 50 tents in just

45 days.

By 2013, Karl's Eco Tents were dotted

around Australia in some 20 spectacular

natural environments from the Kimberley

to Queensland and as far south as chilly

Victoria. Then the international orders

started trickling in from the jungles of Costa

Rica, the coastal desserts of Oman and the

pristine, white sand beaches of the US Virgin

Islands. Eco Structures' latest accolades

include signing a distributorship with

China's Vines Resort Group and partnering

with Matt Stephenson of Event in a Tent, UK

to take on the UK distributorship.

Growing with your budget

When asked what gives Eco Structures'

tents the edge, Karl says, "After 30 years

in green tourism, we've perfected a

superior, cost-effective product that's both

environmentally and economically sound.

Our clients love the fact that they can start

small and add on elements of our product

as their business grows – a bit like lego."

'From little things big things grow' aptly

describes Eco Structures' edge on the

glamping supply market. For less than a

quarter of the cost of a traditionally built

en-suited alternative, you can pitch a highend

Eco Tent to kick off your business and

achieve the same (in some cases higher)

room rate. When your budget grows, you

can gradually increase your floor space by

44 WWW.OPENAIRBUSINESS.COM
---
adding on an extra room, a breezeway or

some decking to enhance the view and up

the luxury. The Eco Structures' modular

concept offers great flexibility – your space,

your way, in your time. And the products

are designed to be easily transportable and

assembled. They come flat-packed, (with all

structural steel, fixings and canvas clearly

labelled) in kit form with step-by-step

instructions that semi-skilled labour can

piece together.

And if you don't have the time or

inclination to erect the tents yourself, Eco

Structures can send a small team anywhere

in the world to do it for you. Experienced

in setting up small to large glamping

resorts in a range of global climates and

environments, the team's passports already

boast stamps from the Middle East, Costa

Rica and the Americas. This superior service

of nurturing your glamping project from

dream to reality, equates to a timely, stressfree

journey for clients.

"A great feature of our Eco Tents is that

they are semi-permanent," says Managing

Director Tom Butterfield. "Our customers

can easily dismantle them with minimal

effort to change location or to avoid severe

weather damage. Their suitability in all

climates also ups their versatility. The

insulated canvas provides an extremely

effective barrier for artificial heating, say in

the UK or cooling in the tropics of Australia."

It's no wonder that Eco Structures' Eco Tents

are taking the world 'by storm'!

The product's versatility doesn't stop

there either. The Eco Tents, which come

in three different sizes (as Standard or

Deluxe), are not only ideal for the tourism

market - they have solved accommodation

and space solutions for events, school

camps, mining camps, pastoral needs, spare

rooms, holiday homes, outdoor events,

dining/kitchen space and even home office

space. Whatever drives your need for space,

Eco Structures can 'pitch' a suitable tent

product.

25 year guarantee

Engineering the tents to withstand severe

weather, such as cyclones, means they are

naturally superior in quality. Architecturally

designed to exceed the Building Code of

Australia standards, they are constructed

with quality, hot-dipped galvanised

structural steel and fixing components with

a 25-year guarantee; and 100% Australianmanufactured

durable canvas that is treated

with an anti-fungal-mildew-rot resistant

formula and is UV stabilised for maximum

sustainability. The optional decking is

made from a sustainable, renewable wood

composite product that is termite proof and

very low maintenance.

In keeping with the true nature of

glamping, the tents also boast green

design features such as a small, low-impact

building footprint so they can be elevated to

maintain the flow of air and Mother Nature

underneath. The innovative 'Eco-Anchor'

footing system has minimal impact on

sensitive ecological areas and withstands

the vigour of high wind locations. The

neutral colour canvas makes for very

discreet dwellings that blend in with a

diverse range of environments: bushland,

rainforest, desert, rolling alpine hills or

coastal dunes. When nestled into the natural

vegetation, the tents are barely visible

(even to local wildlife and birdlife!), offering

glampers a very exclusive, intimate (yet

canvas-protected) experience with nature.

Like a versatile outfit that can be dressed

up or down, so can the interior of an Eco

Tent. You have the freedom to unleash your

creativity and really customise the interior

space to lift it to whatever level of luxury you

desire. Think cowhide floor coverings and

chandeliers or simple backpacker-style bunk

beds. Eco Tents can become whatever you

desire.

Worldwide family

The Eco Structures family of clients now

exceeds 50 and includes 650 tents across

seven countries and four continents. Recent

Australian projects include Banu Banu

Resort, Venture North Outback Tours and

Mary River Resort in the Northern Territory;

Village Roadshow Theme Parks (Paradise

Country) in Queensland; Rhino Lodge in New

South Wales; Big 4 Holiday Park Inverloch in

Victoria and Olio Bello and Coalmine Beach

Holiday Park in Western Australia. From

small retreats such as Olio Bello olive grove

in Margaret River, Western Australia to large

international resorts such as Cinnamon

Bay Resort on St John Island in the US

Virgin Islands, Eco Structures Australia is

leading the way in providing cost-effective,

stylish, quality-driven, sustainable tented

accommodation solutions.

With the advent of Airbnb opening up the

accommodation business to anyone seeking

to earn a rental income, Eco Tents, with

their structurally sound, sustainable nature

are proving to be a popular investment

choice. Payback periods are significantly

lower, return on investment higher and

the environmental construction impact is

minimal.

"At the end of the day, it's all about our

clients, their clients and the environment,"

says Karl Plunkett. "We've created a product

that is financially accessible and meets the

comfort expectations of glampers without

compromising the environment."

Whether you're starting from scratch

or looking to diversify an existing product

range to tap into the glamorous campers

of the world, pitching an Eco Tent in your

'backyard' is for life - literally. Each tent's one

tonne of hot-dipped structural steel comes

with a 25-year guarantee and the canvas

panels are fully interchangeable. On top of

this you become part of a whole new global

family!

ECO STRUCTURES AUSTRALIA

Tom Butterfields, Managing Director

+ 61 439 688 818

md@ecostructures.com.au

www.ecostructures.com.au

WWW.OPENAIRBUSINESS.COM 45
---
ACCOMMODATION

Glamping Units

Making accommodation choices for next season? Check these two products out

NO MAINTENANCE,

INSULATED POD

moduLog

01982 553022

www.modulog.co.uk

The moduLog is a unique

glamping pod made

using home grown timber

and British sheep wool

insulation. The unique

design enables you to create

your own pods for glamping

accommodation, garden

offices, summer houses

or fishing huts. Each pod

comes ready for use with a

240v hook up or with a 12v

off grid solar system. They

are designed to be used 12

months of the year with no

maintenance and feature

oak flooring and handmade

double glazed oak windows

and doors. Design your pod

to any length or join two or

more pods together to make

larger units.

SAFARI TENT FOR TWO

Boldscan

01823 665849

www.albioncanvas.co.uk

For festivals and pop

up hotels, Boldscan,

has launched The Kora,

part of its Albion Canvas

range. This easy build,

mini version of the classic

safari tent sleeps two and

comes in a choice of muted

colours, ranging from light

sand to olive. The tent is

manufactured in Boldscan's

Somerset factory from

heavy duty 415gsm

polycotton canvas, which

is fire retardant and water

and mildew resistant. The

price includes a 650gsm

PVC walled ground sheet

and sectioned timber poles.

The inner tent is 4x3m with

a wall height of 90cm and

a central ridge height of

2.4m.

ADVERTORIAL

CampPlus En-Suite Washrooms

CampPlus's plug and play toilet / shower unit delivers great returns

THE CAMPPLUS UNIT is a

compact plug and play building

complete with a toilet and

shower that turns any camp or

glampsite into a 5 star facility.

It is the missing link between a

fully serviced pitch and a lodge,

and increases occupancy and

profitability where installed.

"To keep the product

affordable we keep it simple,"

says designer Erik Verwaaijen.

"There are only

two options for

most elements

- Good and

Excellent. On our

website there is

a calculator that

allows customers

to choose all the

different options.

Visit CampPlus at

the Glamping Show –

stand 180

Tick the boxes and it gives an

instant quote."

Return on Investment

Where CampPlus units are in

installed instead of a toilet and

shower block, the payback time

is usually two to three years.

"It's hardly ever more than four

years whatever the situation,"

says Verwaaijen. A base unit

costs around £4.950 and there

is a downloadable calculator on

the CampPlus website that can

quickly help customers work

out their likely return. Each

unit is constructed with quality

materials and designed with a

lifetime of 10 years plus.

CampPlus (represented in the

UK by Caravan Park Electrical

Services)

01790 753153 /

info@campplus.co.uk

www.campplus.co.uk

46 WWW.OPENAIRBUSINESS.COM
---
LEARN HOW TO START

A GLAMPING BUSINESS

withThe Ultimate

Glamping Business Guide

www.campchamp.at

10% off

with this code: BM10

The

Explorer´s

Kitchen

"This is an incredibly comprehensive guide I used

to learn in my own time, at my own pace and from

home, which was priceless." MRS L. MIDDLETON

www.inspiredcourses.com/glamping

Take a course – learn quickly – beat the competition!

Add to your guest's luxury with an all exclusive luxury kitchen.

Or put it in the back a car and give them freedom to tour the

area, finding the best vistas in which to dine. Camp Champ

offers a complete kitchen for six people. The high spec equipment

includes a gas cooker with high performance burners,

generous work surfaces and professional grade utensils as well

as a complete dining set including glasses. All that in a box!

UK distributor - The Shack at www.instinctive-retreats.co.uk

CC_Advert_OAM_132x90_RZ.indd 1 10.04.16 18:01

Power for Off Grid

Accommodation & Outdoor Events

EasyGrid is an all-in-one Off Grid power system, utilising solar power

– affordable and ready to install

FREE Solar Kit

Introductory offer worth £660 with

every EasyGrid order. (Quote OA1)

01634 290772

sales@energy-solutions.co.uk

www.energy-solutions.co.uk
---
A4 - Full Page Ad.indd 1 04/04/2016 17:17

the Ultimate solution for

restraining temporary structures

0800 122 3304 www.anchorbloc.co.uk

✓ ü Hire or buy your Anchor Blocs outright

✓ ü Take advantage of our 'Anchor 'Anchor Management'

Managment'

programme -- great if if you have multiple events at at

different locations.

✓ ü Full logistics and storage facilities are available

✓ ü Payment by credit card for convenience

✓ ü Emergency telephone service for 24/7 support

✓ ü 1000kg, 500kg, 330kg 330kg and and 250kg 250kg options options

✓ ü Perfect for for securing marquees, inflatables and and any any

other fabric temporary temporaty structures.

✓ ü CDM CDM 2015 2015 compliant Lloyd British Testing Certified Certifed

in in accordance with with BS5975:2008.

✓ ü Custom options available avalible.

✓ ü Huge Huge range Range of of accessories, accesories, from From branded covers to to

specially adapted all all terrain teraine pallet pallet trucks trucks.
---
EVENTS

CASE STUDY

Llandudno Victorian

Extravaganza

Founded to bring tourism back to Llandudno, this May Bank

Holiday event now attracts over 500,000 people to the town

Designed to celebrate the 'lavish Victorian splendour' of Llandudno, the Victorian Extravaganza

is a huge undertaking, managed entirely by local volunteers. Open Air Business talks to the event's

committee chairman, Kevin Chin.
---
EVENTS

Describe your event and how many

people it attracts?

The Llandudno Victorian

Extravaganza (LVE) is a free street

event attracting around 500,000

people over the May Bank Holiday.

It provides entertainment, music

and variety among about 20 vintage

steam attractions and steam organs.

A community music stage involves

local talent and local charities, and

organisations join us in the 1pm daily

parade alongside multiple marching

bands. This provides the core of our

event supplemented with a mixture

of traditional and modern funfair.

What is the event's history and

how was it conceived?

The 30th LVE this year was a great

event and testament to years of hard

work by all involved. Conceived by

town councillors and local business

people, Margaret Lyons, John Boyle

and Ian Turner in particular, the

event was devised as a solution to

secure the long term future of the

town's ailing tourist industry.

To maximise the benefit to local

commerce, the event was to be

staged on the town centre streets,

a format conceived at Fleetwood.

To take full advantage of the

opportunity, the May Day Bank

Holiday was chosen as the date

and a lavish display of traditional

entertainment, to complement

Llandudno's outstanding Victorian

splendour, was to be the method.

It included street theatre, maypole

dancing, carriage rides, teddy bears

picnic in Happy Valley, a sandcastle

competition, a visit from 'Queen

Victoria,' a parade of Victorians, a

window dressing competition and

the Grand Victorian Ball.

Receiving substantial council

grants for the time, and working

closely with the voluntary sector, the

Extravaganza was so successful that

councillors decided that the event

should not be run by the officers.

Responsibility for the staging of

the event passed to the Volunteer

Committee that formed Llandudno

Victorian Extravaganza Ltd, which

has continued to organise the show.

As council backing diminished,

the committee sought other ways of

raising the finances to stage the free

admission show. This took the form

of a sister event on Bodafon Fields

for which a gate fee could be charged

to support the free show in the

town. The scale of this overall event

proved too much to organise by

volunteers alone, and the field event

was developed by local transport

enthusiasts as the Llandudno

Transport Festival.

This sister event now has 1,000

exhibits featuring buses, cars,

commercial vehicles, motorcycles,

tractors, tradestands, autojumble

stalls and vehicle parades. A

shuttle bus runs throughout the

weekend, linking the two events in

a circular route between the festival

showground on Bodafon Fields to the

Extravaganza in the town centre.

How did you apply for permission

to run the event?

The event already had town council

approval but had to follow the

formalities of speaking to Highways,

taking its advice and applying

officially. This developed to require

a traffic management plan and extra

health and safety measures to ensure
---
EVENTS

access for emergency services,

which involved added costs.

How have you planned the layout

of the event and what structures

do you use?

As with any townscape, every year

something has changed and short

term obstacles exist as work and

repairs take place, so each year

the space and fit must be planned

and adjusted sometimes up to the

wire! We find that all the computer

models you can use still need a man

on the street with his tape measure!

How did you research and source

your marquees, stage, bars etc?

We use a traditional stage powered

by a vintage steam exhibit and no

marquees. Any new items need to

look the part and add value.

What entertainment do you offer?

We offer free entertainment

provided by marching bands (and

concerts), street entertainers,

jugglers and variety acts. Added to

this is a whole stage of community

acts and musicians from modern

compositions to local choirs and

dance groups. We tease out the

best from our locals alongside

ADDRESS BOOK

LIGHTING

Mad Sound and Lighting - 01407 831001

www.mad-sl.co.uk

POWER

Maxplant Hire & Sales (Llandudno)

01492 585178

SOUND AND STAGE

Mad Sound and Lighting 01407 831001

www.mad-sl.co.uk

Dragon Events Sound & Lighting

(Llandudno) - 07775 371399

some longer standing acts such

as the George Formby Society,

which entertains on its own stage

throughout the weekend.

What provisions do you make for

power, lights and sound?

Our three main stages are self

contained and amplification is

suited to the acts with a more

modern and powerful set up on

our community stage. Sound

monitoring is part of our daily

routine to keep both entertainers

and the funfair in safe hearing limits

for everyone.

How do you manage admissions

and visitor safety?

We manage the town centre with

marshals and barriers but with a

free to enter policy - we don't have

entry issues. A local security team

assists with access for emergency

vehicles and St. Johns provides a

great team of first aider, ambulance

and paramedic cover.

We attract over 500,000 people in

the course of the 3-4 day weekend.

Many come and stay at the large

number of hotels and guest houses

in the area and use their parking

facilities. Others are day trippers

and use the street parking, or

attend the Llandudno Transport

BARRIERS

Conwy County Council Street Works

www.conwy.gov.uk/streetworks

VISITOR MANAGEMENT

Kevin Chin Services - 07401 010122

ENTERTAINMENT

HTC Entertainment & Events

0845 838 1395

www.htcevents.co.uk

"WE ATTRACT

OVER 500,000

PEOPLE

IN THE

COURSE OF

THE 3-4 DAY

WEEKEND"

Festival, which runs concurrently

and offers its own dedicated

parking, before joining us for the

main Mostyn Street event too.

How do you publicise the event?

We have a high number of regular

attendees and hope to gain

publicity in line with coach firms

providing trips to our event from all

over the country. We are pleased to

have even featured on a weather

forecast live TV slot.

What challenges have you faced?

Financial stress is the main one.

Being run by volunteers and self

funding we have struggled without

a full time fund raiser to gain grants,

and our small Town and County

council support doesn't even cover

providing barriers or emptying

the bins. The next stress is finding

enough volunteers to keep the

event running. Role up any new

helpers please!

What are your plans for next

year?

We are set to roll the sleeves up and

get 2017 organised after the August

summer break and are looking

to add zing to the entertainment

schedule and involve our local

community as much as possible.

What advice could you give to

someone coming into the outdoor

event industry?

Strategies and planning don't

add up to real life experience or

demonstrate what can go wrong;

my best advice is to become a

volunteer first and get inside the

action and get a taste of different

sorts of events. Location and the

plot the event takes place on have

the biggest influence, and the real

unknown is the weather!

INSURANCE

Footman James

0333 207 6120

www.footmanjames.co.uk

and others

DETAILS

29 April – 1 May 2017

Llandudno, Conwy, LL30 1AB

07401 010122

events@victorian-extravaganza.com

www.victorian-extravaganza.com

WWW.OPENAIRBUSINESS.COM 51
---
EVENTS

Working

with Councils

Event organiser Julie Whalley knows a thing or two

about how the local council can help or hinder your event

WASTE

AND PARKING

From car parking to cleaning

the site after your event, these teams

are sometimes the unsung heroes. Your

local council needs to be your first point of

contact for quotes for waste bins, litter control,

hiring of car parks for exhibitors and visitors, WC

management, grass protection, electric and water

supply. It can usually point you in the direction

of people who know how to run a good event

car park and can offer advice on handling

security and cash. This team also gets

involved in looking after public

amenities such as toilets.

YOUR LOCAL COUNCIL, believe it or

not, is actually run by human beings

known as council staff. Most of them

have their own families who live in

the council's area of responsibility.

Councillors on the other hand are

an entirely different species, a

small minority of whom need to be

handled with kid gloves.

There are few council officers,

from my own personal experience,

who have up to date, private sector

heads on their shoulders, so bear

this in mind, especially when it

comes to keeping your budget in

check! Likewise (and this is just

a reflection of society in general)

those of us aged between 35 and

60 tend to be at the pinnacle of

our careers, with a family and

a mortgage to pay, and simply

cannot afford the time to sit on a

committee. We therefore leave the

planning of our boroughs to those

with little private sector knowledge

and/or of retirement age. So is it any

wonder that we occasionally find it

difficult to work together?

I spent time working for the

council, and hand on heart, I can

say that council staff in the main are

totally on our side. They deal with

event planners day in day out in one

way or another, year after year. After

all, they want more visitors because

more visitors means more spend in

the local community.

When we don't get what we want,

it's not the council staff at fault, but

merely the way we ask for things

and the expectations of the local

council. To help them decipher our

needs they give us event planning

forms and various guides to ensure

we speak the same language, and

above all that we plan events with

safety in mind.

GETTY IMAGES

Councils are not complicated

organisations really. Society's

need for structure and order was

established using military principles

for finance, logistics, geographic

(maps, planning), strategy,

manpower, environment, medical,

remedial and so on. Every council is

set up like this.

STRATEGY

AND PLANNING

Do you want to make friends

with your council quickly? Check

the local plans for the area to see if your

event ticks the boxes in terms of targets

in the area for increased visitor numbers,

adding value back into the local economy,

promoting local producer businesses,

engaging with community groups and local

charities, providing platforms for budding

musicians, the using of public

space and promoting public

transport.

TOURISM AND EVENTS

Your event will rely on good marketing and not

conflicting with other events being held on your

chosen date. The tourism team have the contacts not

just in your borough but others too. They also have

direct access to local accommodation providers,

public transport, and community services such as

museums, galleries and sports venues that may also

offer their assistance be it in the form of leaflet drops,

activities at your event, interest stands, chefs to do

demonstrations and so forth. This team may also

host a safety advisory group that is there to lend

you advice and experience, particularly on your

event plan. The team will also liaise with the

local emergency services, so it does pay to get

them on board sooner rather than later.

52 WWW.OPENAIRBUSINESS.COM
---
EVENTS

ENVIRONMENTAL SERVICES

Health and safety, food safety, animal welfare

and pest control all require strict government

guidelines to be followed for every event in

the country. They are pretty straightforward

and have common sense written all over them.

If you don't understand the rules, ask for an

explanation; it could be that someone was killed

doing something that has now been included in

the guidelines to protect others in the future.

Environmental health officers tend not to like

their weekends taken up with checking exhibitor

stands, so the tighter you are at enforcing the

basics the more respect you'll get from this

team. Check out your exhibitors before you say

yes to hosting them, and make sure that trader

risk assessments and public liability insurance

certificates are up to date and suitable for their

stands. Be stringent for every event you host;

the less the health officers and health and safety

teams have to worry about, the easier it will be

to gain their support. Animal welfare and pest

control become very interested when animals

are involved in your event. For example, horses,

trailers, dogs in cars and hens in cages all need

specialist care.

I use the warning hint, 'Our local

environmental health team very much look

forward to meeting you all at our event,' which

seems to reduce the amount of work my local

team needs to do. This team also keeps an eye

on noise levels and handles resident complaints,

so seek their advice in earnest. They will have a

copy of the Purple Guide (an industry guide to

delivering events safely), so ratios of stewards to

visitors, the number of WCs required, and so on,

can be obtained by asking the health and safety

team if you don't have this guide yourself.

HIGHWAYS AND TRAFFIC MANAGEMENT is mostly dealt

with at county council level, although the local council

will liaise with county and/or offer advice on these areas

as well as signage control. Posters, signs and banners

require planning permission.

HANDLING THE POLITICS

However well planned your event is, some

councillors can still make things very difficult

for you if you intend to host your event in their

ward and they are not consulted. Remember,

these people sit on the committees that decide

whether to issue licenses. Check their history with

regard to NIMBYs ('not in my back yard'; those who

oppose anything planned in their immediate area

on principle), their personal local allegiances with

businesses and community groups, and which

committees they sit on. Speaking to other event

organisers may reveal some useful information.

Most councils are now online. Events are

submitted to councils who publish this information

in their committee reports and minutes. It might

be worth having a look through to see if someone's

event plan is already listed so you can glean essential

knowledge from it for your own.

Although not part of the council, local trader groups

often know how to be heard by those who make

the final decisions. Check out aims, objections and

previous history of supporting the events in their area

and try to engage with them.

In short, use your local council's experience and

advice. They do want events to be held on their

patch, and their staff will have seen it all before.

COMMUNITIES TEAM

The communities team can

bring in extra activities such

as arts and crafts, local school

engagement, sports and

recreational promotion. This

team has all the schools and

local clubs and society contacts.

PRINT

ROOM

Nearly all councils have

an in-house print room team

who handle the smaller print

runs for things such as letters,

basic event posters and tickets.

It can be good value for money

and they may welcome the

extra funds, so just ask.

CONTROL

CENTRES

Not all councils have

a switchboard, but it

might be useful if you are a

small team to try and engage the

council's support as a partner.

This way it may allow you to

route your enquiry calls

through it's

call centre.

FINANCE

Not all councils

will offer the same level

of support, but they will

be used to handling cash for

certain clubs, charities and ad

hoc events, or at least be able

to offer guidance on how to

handle cash on the day

of your event.

LICENSING AND LEGAL

Your event will no doubt need some form of

license, whether this is a Temporary Event Notice

(TEN) or a full site license. Speak to one of the

team and they will ensure you tick the right boxes

on the right form for the right day so you get the

right license for your event. For those traders

selling alcohol, check the limits on the council's

issuing of TENs and make sure your alcohol

trading sponsors are included in this ratio. Some

councils may also offer to run over your terms

and conditions and offer advice or suggestions

on what needs to be covered by your event

insurance.

ABOUT THE AUTHOR

Julie Whalley trained as a caterer,

had a career in the army then

turned her logistics and planning

skills to event organisation. She

set up and orchestrated Clitheroe

Food Festival from 2011–2015 and

still consults on the event which

attracts over 20,000 people.

Last year Julie launched Event Owl, an online

platform connecting event organisers and exhibitors

to process trade stand applications. Julie is also a

food and drink writer, and food judge.

www.eventowl.co.uk

WWW.OPENAIRBUSINESS.COM 53
---
EVENTS

Card

Payments

GETTY IMAGES

Tally Wade takes a look at the options available for

processing card payments at outdoor events

IT IS A sign of the times that the use of

cheques is pretty much dead and we are

carrying less and less cash, preferring the

ease and convenience of card transactions.

This proves no problem in the environment

of most retail exchanges, but take the

purchase of a coffee / pint of beer / ice cream

/ hot tub to the middle of a field and you

could be in trouble.

Many outdoor event organisers take cash

only onsite, but this can impact significantly

on trade. I know from experience how

quickly cash disappears at a show, but not

only does a shortage of cash at an event

prevent any further spending, a study by

Dun & Bradstreet found that people are

prepared to spend 12-18% more on the

same item when using plastic over cash. This

ability to spend and over spend can only be

a good thing for an event, as exhibitors will

be happy and more likely to come back. It

also means that organisers can more readily

accept people turning up to buy tickets on

the day, sell associated event items such as

show guides and show merchandise, and

reap rewards on any concessions they may

take a cut on such as the bar.

So, what are the options for those wanting

to 'cash in' on plastic? In order for a credit or

debit card payment to work, the technology

reading the card needs to be able to connect

and talk to Visa, MasterCard or American

Express so it can handle taking the payment

from the customer's bank or credit account.

This can be done in a number of ways in

remote locations – some merchants use a

mobile phone app - but the most reliable

is the use of a portable PDQ (process data

quickly) machine. PDQ machines can be

hired from a number of suppliers, but the

most important consideration is how the

device is going to connect to the merchant

to process the transaction.

Getting connected

"There a number of ways to get connectivity

to a site," says Dominic Hampton of

Attend2IT Event IT Solutions. "With internet,

you can use physical lines, such as

ADSL (copper phone lines), FTTC

(optical fibre and copper broadband),

fibre (super fast optical fibre

broadband) or PTP links (a direct link

back to an area with

internet access).

"However, best of all

for reliability and speed

is satellite, to which

a site can connect for

the duration of an

event. The choice of

how a site connects

to the internet will

depend on how many

PDQ machines are

being used and the site

location."

PDQ machines

will use internet

connectivity to

communicate with the

merchant (Visa, MasterCard or American

Express) and authorise a transaction.

GPRS (mobile network)

GPRS is a mobile data service that allows

mobile phones to connect to the internet

and can also be used by PDQ machines to

process transactions. "GPRS is fine in an

area where there is signal," says Hampton,

"but it can run into problems where tens of

thousands of people turn up for an event in

the middle of a field, which is usually only

home to a few cows."

Matthew Griffiths is sales manager at

Wireless Terminal Solutions. He supplies

terminals that connect with GPRS and is

careful to complete a full site search before

taking on a contract. "It is important to

check what connectivity there is at an

event site. If there is limited connectivity

we recommend an organiser use another

option," he says.

"It also really makes a difference which

terminals you use, how they are configured

and the quality of the SIM cards supplied.

ATTEND2IT

Often when a trader has a

problem connecting with a PDQ

machine on a remote site it isn't

that the network can't stand

up to the traffic in the area,

but that they either haven't

configured their terminal

correctly or the SIM card it

contains is not up to scratch."

So why would some traders have

problems and not others, and how can

an event organiser be confident that their

exhibitors will be able to take transactions

successfully during an event using mobile

networks?

"Many exhibitors will have their own PDQ

machine, usually supplied by their bank.

Banks are by far the largest supplier of PDQ

machines, but they are cost driven and

will supply SIMs that cost around £1.50,"

explains Griffiths.

"Our SIMs cost us double that and this

shows in the success of the connectivity

of the device. We also understand how to

configure devices for the networks available.

If there are any problems, every member

of our team is technically trained and can

help a customer configure a device over

the phone while they are at an event if

something goes wrong."

The cost of a PDQ machine set up for

use in a remote location is also a key

consideration. "We supply PDQ machines at

£60 plus £21 postage. We usually work with

54 WWW.OPENAIRBUSINESS.COM
---
EVENTS

A central mast with satellite link can

be provided even for small events

"IT IS WIDELY ACCEPTED THAT BY FAR THE FASTEST AND

MOST RELIABLE WAY FOR PDQ MACHINES TO CONNECT

TO MERCHANTS TO PROCESS TRANSACTIONS IS VIA THE

INTERNET"

ATTEND2IT

an event organiser as a 'preferred supplier.'

We take an exhibitor's list and contact

exhibitors on behalf of the event offering our

machines," says Griffiths.

"Many exhibitors who attend only a few

events a year like our service as we are able

to create a temporary merchant account for

the duration of the event, rather than them

having to be tied into a long contract where

they are paying £10-15 per month for a

facility that they won't use."

Some events with connectivity nearby

get complaints from exhibitors that the

connection is slow or doesn't work at all. "It

doesn't actually have much to do with the

local masts and how much data they are

able to handle. This may not be the case

for events attracting tens of thousands of

people all using their phones for calls and

data, but for events of up to 10,000 people,

a mast even in a rural area should be able

to cope," says Griffiths. "In our experience

it is more to do with how the terminals

are configured and the quality of the SIMs

used. We supplied terminals to Gardening

Scotland, which in previous years had

trouble with PDQ machines connecting.

Nothing has changed but the terminals and

now the transactions are going through just

fine."

So, what can you do if you have an

event in a field where tens of thousands

of people do turn up? How do you ensure

connectivity when the local mast just

won't handle the number of phones and

data transmitting devices on site? "Some

companies offer VPNs (virtual private

networks), where they purchase a virtual

network from a mobile phone provider to

try and overcome this problem. They may

also have a repeater in the middle of a field

to help control overloading the system,"

continues Griffiths. "Despite the extra cost, I

would be wary of investing in a VPN as I have

heard some less than great reports about

how successful they actually are. I would

always recommend getting Wi-Fi to the site

through a satellite link up or a hard wire. We

have worked on some events where 'cells'

have been dotted around to help boost the

signal, which have worked. The Territorial

Army also uses this technology for its

communications."

Telephone

Some organisers / landowners may find that

the ADSL / telephone line route is a cheaper

option long term if they are planning on

holding regular events from their site. "To

connect to ADSL does have an initial cost

as BT need to pull a cable through from the

nearest exchange," says Hampton. "Anyone

who lives in a remote area will know that the

further from the exchange you are the less

reliable the line, and it is likely that you will

also have to pay for ducting for the cable.

If this is the case, you may as well go for

optical fibre broadband, which will speed

everything up. This may cost a few thousand

pounds but could be a longer term solution."

Be aware that each PDQ machine onsite

will need to be connected to this line

somehow, and a specialist event IT company

will be needed to help sort it out. In addition,

connecting through a standard phone line

can be slow, as Hampton explains: "If a

PDQ machine is connected to a standard

telephone line it will literally 'telephone' the

transaction back to the clearing centre and

can be slow; reliable but slow."

Internet

It is widely accepted that by far the fastest

and most reliable way for PDQ machines

to connect to merchants to process

transactions is via the internet. "Provided

there is enough redundancy in the

infrastructure onsite," adds Hampton.

Many providers of Wi-Fi to outdoor event

sites will have a satellite or two. "With a

satellite, all you need is power and sky," says

Hampton. We can get around 30-50 PDQ

machines running comfortably from one

satellite but we usually use two so there is

redundancy in the system."

If you think 'satellites' sound like an

unaffordable, James Bond mega villain-type

option, they needn't be. "We try and get the

message across that connectivity can be

provided even for the smallest of events,"

says Hampton. "We operate by charging

the event organiser a small fee to set up a

basic wireless infrastructure from which

they can connect to the internet to do any

social media marketing, etc they want to do

onsite, and maybe a PDQ machine to take

ticket transactions at the gate. This might

cost around £1,000 depending on the site

layout. To add any further PDQ machines for

trade stands is a small extra cost. This then

gives the organiser the option to monetise

the option for traders to take advantage of a

PDQ machine for the duration of the event.

"Our connectivity infrastructure will

WWW.OPENAIRBUSINESS.COM 55
---
EVENTS

always include redundancy so traders can

be added into the mix. It may be a central

mast on site with a satellite link – we usually

use two in case one goes down. We can also

utilise any physical internet connection

to the site if there is one, even if it is a bit

rubbish. We pull everything into the mix." So,

an organiser could make his outlay back and

then some by charging exhibitors for PDQ

machines and connectivity.

"When traders book their pitches, they

can tick a box saying they want the extra

service, then we provide the extra machines

and the connectivity to make them

work. In my experience most organisers

underestimate how much exhibitors are

willing to pay for connectivity. They more

than anyone know how accepting plastic

will increase their sales. The other great

advantage of connectivity via internet is

that you can sell access to the internet to

exhibitors as another revenue stream; they

can then use it to access social media or

resell to the public, creating 'hubs' perhaps

around catering and hospitality stands."

RFID token systems

Another type of cashless payment system

already becoming popular on the festival

scene is a modern version of token systems,

using RFID (radio-frequency identification)

technology to replace cash transactions.

Customers upload money onto their RFID

chip (usually in the shape of a wristband,

card or even dog tag) then they can pay for

food, drink or other products on site simply

by tapping the chip onto an RFID portal.

"There are many advantages of such a

system," says Paul Reed, general manger of

the National Caterer's Association (NCASS).

"When there's no cash on site there is less

opportunity for theft. What's more, RFID

providers believe that customers spend up

to 30% more when they can't see the cash

they're parting with.

"Queue times at trade stalls can also be

dramatically reduced - by up to three times

- and for organisers there is the opportunity

for better site management and safety

precautions as you can use the cashless

system to track where everyone is and

adjust bar stock levels in the appropriate

areas. These systems can even work out

which acts result in the highest beer sales!

You could also use your findings to charge

more for the better pitches and less for the

quieter ones.

"Of course, organisers will still have the

same connectivity issues to consider, but

another potential issue is where cashless

money is held throughout the duration of

the event and the? remains 'whose money

is it?' at any point during the event. At

what point does money go from being the

punters', to belonging to the traders they've

CASH ON THE MOVE

Cash still represents 50% of total payment transactions in the UK

bought from? And at what point is it the

organiser's?"

Reed suggests that if it isn't kept in

some form of escrow account and properly

accounted for, there is an opportunity for the

money to be spent by the organiser. Even

though that could be considered fraudulent,

it is not currently preventable. So what is

the future for a technology that could offer

so much?

"For the past two years we have been

gathering support for a cashless code of

conduct across the industry," says Reed.

"RFID providers are keen for this to be put

in place to protect their sector and event

organisers have been made aware that there

is notable reticence among traders to work

using cashless systems until potential issues

have been eliminated.

"With the support of Steve Heap from

the Association of Festival Organisers, we

have been working towards a solution that

will protect traders, enable RFID systems to

grow and protect the good reputation of the

industry. We are submitting our proposals

for the code of practice and a debate will be

held at the AFO conference in November in

Stratford with a commitment to have the

RFID code of practice in place for the 2017

events season."

Cash machines

A straightforward alternative to providing

traders with connectivity and PDQ machines

is to provide event attendees with the means

to withdraw cash. Josh Bentley, director of

Cash on the Move, says that providing cash

machines on site can increase spending

without costing organisers anything. "Cash

still represents 50% of total payment

transactions in the UK," says Bentley,

"and people are used to paying for cash

at convenient locations. We generate our

revenue from the end user by charging a

withdrawal fee, which means the organiser

of the event doesn't usually incur any cost."

The amount generated from a cash

machine will depend on its location onsite,

whether there are off site cash machines

offering free withdrawals nearby, the

number of people at the event, and what

there is onsite for people to spend their

money on. "Large events easily cover the

cost of the machine, but at smaller events

we do have a minimum amount that an

organiser needs to make up if there is a

shortfall of revenue generated from the

machine," says Bentley.

In terms of logistics, the cash machine(s)

are positioned on site, staffed, insured,

stocked and topped up with cash

throughout the event as part of the service.

"16 amp mains power is required for all

our vehicle and cube based solutions,

although our fleet does include a limited

number of fully independent vehicles that

do not require an externally supplied power

source," says Bentley.

So, does providing cash machines do

away with the need for card payments

altogether? "Not necessarily," says Bentley.

"We recommend giving attendees at

events as many payment options as

possible to make purchases. Some people

prefer to use cash, some prefer the ease

of card payments. The introduction of

card payments at events hasn't affected

us greatly and organisers have reported

that having both card payments and cash

machines combined has increased spending

all round."

ADDRESS BOOK

Attend2IT – 01763 877 477

www.attend2it.co.uk

Cash on the Move – 020 7794 3664

www.cashonthemove.com

Nationwide Caterers Association

0121 603 2524 / www.ncass.org.uk

Wireless Terminal Solutions

0845 459 9984

www.wirelessterminalsolutions.co.uk

56 WWW.OPENAIRBUSINESS.COM
---
THE EVENT IT SOLUTION

SPECIALIST KEEPING

YOU CONNECTED

• EVENT WI-FI

• PAYMENT SOLUTIONS

• LOCATION SERVICES AND PEOPLE

COUNTING

• CCTV, 360 DEGREE AND TIME LAPSE

• ELECTRONIC POINT OF SALE

• STREAMING AND BROADCASTING

• TICKETING

We pride ourselves on a reputation for

constantly delivering a reliable, friendly and

complete Event IT service. Working

alongside AV companies, agencies, venues

and end clients, we deliver a high-end

service to both small and large shows alike.

01763 877 477 • www.attend2it.co.uk

Event Hire Equipment

Pre & Post Event Support

Nationwide Coverage

CALL: 0845 601 5427

www.winnerevents.com

WWW.OPENAIRBUSINESS.COM 57
---
EVENTS

Time for

Change

A road map to greener power at events,

courtesy of Powerful Thinking

POWER IS GENERALLY one of

the energy market is forecast as

the five largest single production increasingly volatile

costs for an event, and the most › The outdoor event sector

significant source of environmental has a unique opportunity to

impact, particularly in the case

contribute to carbon reduction,

of diesel generators. Whatever

showcase new technologies

power source an organiser

and engage with audiences

chooses, the best thing they › Efficient energy management

can do, environmentally and

can lead to costs savings.

financially, is to try and reduce

power use and increase energy Reducing energy use and

efficiency. The next priority is to impacts will:

look at alternatives to fossil fuel › Save money – improved

dependence, and consider options knowledge when choosing

for low or zero carbon energy

power types, understanding

K FESTIVAL INDUSTRY

sources.

power demands and

Using facts and figures, we hope structuring energy contracts to

to demonstrate the importance of promote fuel efficiency allows

reducing power usage at outdoor organisers to reduce fuel waste

MPACTS BY NUMBERS

events, offering ways in which this and overhead costs

series.

can be achieved and providing › Improve your brand/reputation

case studies from different areas of – energy efficiency can improve

the outdoor event industry.

an event's green credentials,

2014 WAS

DECLARED THE

HOTTEST YEAR ON

RECORD

(globally)

THE UK'S

SUMMER OF

2012 TURNED

OUT TO BE THE

WETTEST ON

RECORD IN A

CENTURY

Why consider energy usage?

› The UK Festival Industry uses

in excess of 12 million litres of

diesel annually

› 99% of UK outdoor event power

is derived from diesel generators

(The Power Behind Festivals

3.17

report, 2012)

› Power can represent up to 70%

of an event's carbon emissions

(excluding audience travel).

› Research suggests that

MILLION

inefficient generator use is

common at events in the UK

(The UK Power MUSIC Behind Festivals

report, 2012)

› The FESTIVAL

main cause of fuel wastage

is lack GOERS

of information about

requirements and lack of

communication ANNUALLY between

contractors and events, events

and suppliers (The Power

Behind Festivals report, 2012)

› Fuel costs are rapidly rising, and

STIVAL CARBON FOOTPRINT

AVERAGE CARBON 58 WWW.OPENAIRBUSINESS.COM

AVERAGE CARBON FOOTPRINT

OOTPRINT (ONSITE) WITH AUDIENCE TRAVEL (CO2e)

(CO2e)

demonstrate innovation and

provide an opportunity to

engage with attendees about

energy awareness

› WASTE Reduce carbon emissions –if

23,500

the UK's summer festivals cut

their diesel consumption by

10%, more than one million

litres of diesel and more than

TONNES

3,000 tonnes of C02 would be

saved in one year alone.

OF WASTE ANNUALLY

FUEL

The total litres of fuel used by the UK

festival industry annually.

Average litres of diesel

used at UK music festivals

0.6 LITRES PER

PERSON PER DAY

DIESEL

BIODIESEL

15%

32%

Recycled

5 MILLION LITRES

68%

Landfill

0.6

LITRES

2014 WAS

DECLARED THE

HOTTEST YEAR ON

RECORD

(globally)

THE UK'S

SUMMER OF

2012 TURNED

OUT TO BE THE

WETTEST ON

RECORD IN A

CENTURY

BIODIESEL USE

Of the 13 medium to large events, with a combined audience

3.17

MILLION

UK MUSIC

FESTIVAL

GOERS

ANNUALLY

FIVE POINT PLAN

FESTIVAL CARBON FOOTPRINT

The Association of Festival Organisers (AFO) and

Powerful AVERAGE Thinking CARBON have developed AVERAGE the CARBON following FOOTPRINT tips

FOOTPRINT (ONSITE) WITH AUDIENCE TRAVEL (CO

to provide inspiration for event organisers who wish 2e)

to

(CO 2e)

reduce the environmental impact associated with their

Waste

power usage.

7%

Energy

13%

1KNOW YOUR POWER

Power is often an area Waste

that event organisers have

35%

not taken the time to investigate (we are busy

people), but it may be worth doing so in order to help

Energy Audience

achieve reductions in 65% costs and Travel emissions, 80% whatever

type

Energy

or scale of

Waste

event you are

Water

managing.

Audience Travel

Top Tip: You can find comprehensive and free

information about managing energy at outdoor

CARBON EMISSIONS

events at www.powerfulthinking.org.uk, Total UK festival which

includes a 30-page guide to energy industry management emissions for

(excluding travel)

events, case studies and the full Energy fact sheet

19,778 TONNES

C02 per year

2REDUCE POWER DEMAND

Look at how power is currently

being managed and consumed.

WASTE

23

TON

OF WA

FUEL

5 MI

The to

festiva

Avera

used

0.

PE

DIESEL

85%

TRAVE

Coach

*Please see

Some

www.powerful-thinking.org.uk/vision2025/references

events will have good information

for an explanat

references from the report.

about previous years from their power

provider(s), and others will have nothing.

Either way, begin the conversation with

your power provider about opportunities

to reduce demand – who is using power

and can they reduce usage? Often traders

and lighting companies can reduce

their requirements, and in many cases

end-users of power ask for more than

they actually need, which can result

in significantly oversized generators,

unnecessary costs and avoidable fuel

consumption.

Top Tip: Ask your power provider

to contact all end users to find out

their real requirement as part of your

contract with them. It may cost extra

for this service, but the savings will

likely outweigh this as a result of the

confidence in specifications leading to

smaller generators and less fuel usage.

U

Tra
---
Waste

35%

13%

Energy

65%

CARBON EMISSIONS

Total UK festival

industry emissions

(excluding travel)

19,778 TONNES

C02 per year

Audience

Travel 80%

TRAVEL*

TRAVEL TYPICALLY

Energy Audience

Energy Waste Water Audience Car TravelCONSTITUTES AROUND

65% Travel 80%

Energy Waste Water Audience Travel

HOW THE 80%

UK FESTIVAL

OF A FESTIVAL'S

CARBON EMISSIONS

AUDIENCE

TOTAL KNOWN

CO 2 e EMISSIONS

Total UK TRAVEL festival

industry emissions

(excluding travel)

Coach

Train Campervan

19,778 TONNES

C0 2 per year

3

CONSIDER RENEWABLE Top Tip: Check the GreenArts marketplace

SOURCES

for green power suppliers across the UK

its fuel dependency

*Please

Solar, WVO

see

(reprocessed

www.powerful-thinking.org.uk/vision2025/references

(www.greenartsmarketplace.com). For

for an explanation by transitioning of the travel types breakdown and a full list of

waste references

UK

vegetable oil), from

FESTIVAL

biofuel the report. detailed information about power

INDUSTRY

types see

to renewables

and wind power are all

the Powerful Thinking fact sheets. When

and improving on

renewable energy sources and comparing prices, remember that there is no

efficiency. In 2013, Shambala was powered

are carbon zero-rated.

fuel cost to add on for solar or wind solutions.

by 93% WVO bio-diesel, 1% solar and 6% red

Solar and or hybrid (or even

diesel – 100% of which was consumed by tower

pedal

IMPACTS

power) systems can

BY NUMBERS

lights. The ambition to be 100% renewable was

often

UK

be good solutions

FESTIVAL

for:

INDUSTRY

achieved in 2014 by using biofuel and solar

FESTIVAL

› Small to medium sized

INDUSTRY

hybrid systems across the site. Onsite biodiesel

4

music stages – a very

MAKE A PLAN

consumption was reduced by 20% from 2013 to

visible demonstration of

Develop an aim or target – this might be to

2014 by using hybrid systems, and there was a

IMPACTS BY NUMBERS

commitment to renewable

reduce fuel consumption by 10% a year for

380% kWh increase in renewable energy, which

PACTS BY NUMBERS

power

three years, or to use a designated percentage of

included stages run completely on solar and

› Campsite lighting eg LED renewable power. Work with your power provider to pedal power.

festoon – these run silently decide how best to achieve this, and accept that it

To assist in reducing the over-specification

so will make for happy may take more than one year to make fundamental

of generators, Shambala works with its power

WASTE

campers 2014 WAS

changes to your approach. In some cases you may

supplier to gather the power requirements of all

23,500

DECLARED THE

› Box offices HOTTEST YEAR – ON the first

have to take the initiative if a secondary supplier is

end-users. It is also built into the contract that

RECORD

point of

32%

(globally) contact for most needed or the current WASTE supplier is reluctant to change fuel savings are expected year-on-year, with a

Recycled

2014 WAS

attendees, DECLARED THE often have low

68%

3.17

WASTE the way they work.

fixed fee on biofuel costs to create an incentive

23,500

HOTTEST YEAR ON

power RECORDneeds, and may be

32%

23,500

Remember that the overwhelming evidence is that for the contractor to reduce usage wherever

Landfill

TONNES

(globally)

N

Recycled

in outlying areas where most events can reduce 32% fuel consumption, and many possible. In addition, Shambala stipulates

3.17

Recycled

OF WASTE ANNUALLY

68%

power isn't otherwise have already achieved significant reductions.

detailed energy monitoring throughout the

Landfill

TONNES 68%

3.17

provided

event, a generator-by-generator post event

Landfill

TONNES

Top Tip: Use the contract between you and your

› Production compound OF WASTE ANNUALLY

MILLION

–

report, and recommendations for future

power provider to make clear the targets you

the first area set up and OF WASTE ANNUALLY

efficiency gains.

expect to meet, and to introduce FUEL new elements

the last to leave, so a great

In 2015, the set-up included 22 bio-diesel

such as LED festoon FUELlighting.

opportunity MILLION

for fuel saving

generators, the full range of Cygnus Hybrid

FUEL

MILLION UK MUSIC 5 MILLION LITRES

over THE a longer UK'S time

UK

period

MUSIC 5 MILLION LITRES

Power (Firefly Clean Energy), 35 portable solar

The total litres of fuel used by the UK

THE SUMMER UK'S

› Pumps OF

The total litres of fuel used by the UK

SUMMER festival industry annually.

UK MUSIC 2012 OF

for on-site water

fold-arrays and 10 power packs. All of the site

TURNED FESTIVAL

festival industry annually.

2012 TURNED FESTIVAL 5 MILLION LITRES

management

OUT TO OUT BE THE TO BE THE and

The total litres of fuel used by the UK

WETTEST WETTEST ON ON

festival industry annually.

FESTIVAL

RECORD RECORD IN A IN A GOERS GOERS5

MONITORING, REPORTING AND

lighting was LED - 12km of festoon lighting and

distribution

COMMUNICATION

105 LED Floods; the tower lights were powered

CENTURY

GOERS › Overnight CENTURY on stages when

ANNUALLY

Good information Average litres is of vital diesel for making

by HPG (hybrid power generators).

ANNUALLY

Average litres of diesel

lower power supply is

0.6

Average litres of diesel

used at UK music festivals

ANNUALLY

rational decisions about improving efficiency

Shambala Festival has reduced its energyrelated

greenhouse gas emissions per audience

used at UK music festivals

required.

used at UK music and festivals reducing fuel 0.6 consumption LITRES PER year-on year.

PERSON PER DAY 0.6 LITRES PER 0.6

0.6 LITRES Stipulate PER that you 0.6 require a post-event

per day by 39.5% between 2013 and 2014, and

PERSON PER LITRES

PERSON report PER DAY as part of the contract with at least the DAY has reduced its overall onsite carbon footprint

LITRES

LITRES

FESTIVAL CARBON FOOTPRINT

following information:

by 81% over five years. In 2015, energy (including

BIODIESEL

• monitoring information for 15% each generator

bottled gas for traders) accounted for 19.6% of

CARBON FOOTPRINT FESTIVAL AVERAGE CARBON CARBON AVERAGE CARBON FOOTPRINT

BIODIESEL

15%

BIODIESEL

FOOTPRINT (ONSITE) WITH AUDIENCE TRAVEL (CO2e)

showing power load versus

DIESEL

BIODIESEL capacity

the onsite carbon footprint and only 8.53% of the

USE 15%

RBON

AVERAGE (CO2e) CARBON FOOTPRINT

Of the 13 medium to large events, with a combined audience

NSITE) WITH AUDIENCE AVERAGE TRAVEL CARBON (CO2e)

DIESEL AVERAGE CARBON • BIODIESEL final FOOTPRINT map USE of generator locations with sizes

overall footprint when including travel.

85%

of 1.3m, that used the Julie's Bicycle Creative IG Tool, over

Waste

FOOTPRINT (ONSITE) WITH AUDIENCE

Of for the

TRAVEL

13 reference medium

(CO

to large 2e) in events, planning

with a combined

50% DIESEL were

audience

using some waste BIODIESEL vegetable oil (WVO) USE An analysis of the costs of energy at the

7%

biodiesel

of 1.3m, that used the Julie's Bicycle Creative

(CO 2e)

85%

with

IG

an

Tool,

average

over

Waste

total consumption Of the of 13 15% medium WVO biodiesel to large events, with a combined audience

7%

Energy

• 50% recommendations were using some waste vegetable for oil efficiency

and

(WVO) 85%

biodiesel saving in

festival over seven years shows that budget

diesel.

of 1.3m, that used the Julie's Bicycle Creative IG Tool, over

13% Waste

with an average total consumption of 15% WVO biodiesel

Energy

next year.

per person per day has not increased in real

7%

and 85% diesel.

50% were using some waste vegetable oil (WVO) biodiesel

13%

Waste

A recent study by Bucks New University

terms, representing a saving if inflation and

with an average total consumption of 15% WVO biodiesel

35%

Energy

Waste

TRAVEL*

and 85% diesel.

35%

13% and A Greener Festival (2012) discovered

fuel cost rises are accounted for. While the

TRAVEL TYPICALLY

Energy Audience

TRAVEL*

that 90% of the audience surveyed Car think

cost of hiring certain items of equipment has

CONSTITUTES AROUND

65% Travel Waste 80%

TRAVEL TYPICALLY

Energy Audience

35% that environmental Car CONSTITUTES performance AROUND is the

been higher compared to traditional diesel

65% Energy Travel 80% Waste Water Audience Travel

TRAVEL*

responsibility of the

HOW

organisers.

THE

So, if you

generators in some years, the reduction in

80%

Waste Water Audience Travel

TRAVEL TYPICALLY

Energy Audience are making an effort UK FESTIVAL

OF A FESTIVAL'S

HOW THE 80% to be more sustainable,

total equipment requirements and generator

Car CONSTITUTES AROUND

CARBON EMISSIONS65%

Travel 80%

AUDIENCE

TOTAL KNOWN

80%

Total UK UK festival FESTIVAL remember to shout OF

TRAVEL

A about FESTIVAL'S it!

sizes - due to efficiency savings - and in fuel use

CO 2 e EMISSIONS

EMISSIONS Energy Waste industry Water emissions AUDIENCE

TOTAL KNOWN

(not counting artist/crew/

has outweighed these resulting in cost savings

Audience Travel

Total UK festival

service travel and transport)

(excluding TRAVEL

CO 2 e EMISSIONS

travel) Top Tip: Stipulate a detailed post-event

industry emissions

(not counting artist/crew/

HOW THE

overall.

service travel and transport) Lift

(excluding travel) 19,778 TONNES report on power management.

Share UK FESTIVAL

OF A FESTIVAL'S

C02 per year

TOTAL KNOWN

CARBON 19,778 TONNES EMISSIONS

CO 2 e EMISSIONS

Coach

LiftCoach

AUDIENCE

Share

Coach

Total UK festival Train Campervan TRAVEL

C02 per year

Train industry Campervan emissions

(excluding travel)

*Please see www.powerful-thinking.org.uk/vision2025/references for an explanation of the travel types breakdown and a full list Liftof

Lift

Share

(not counting artist/crew/

service travel and transport)

*Please see www.powerful-thinking.org.uk/vision2025/references for an explanation of the travel types breakdown and a full list of

references from the report.

HOW THE

UK FESTIVAL

AUDIENCE

CASE TRAVEL STUDY

SHAMBALA FESTIVAL

› 7,000 capacity

› Success in

renewable energy

Train Campervan

Over the past five

years, Shambala has

consistently reduced

(not counting artist/crew/

service travel and transport)

Car

Lift

Share

TRAVEL TYPICALLY

CONSTITUTES

EVENTS

AROUND

80%

OF A FESTIVAL'S

TOTAL KNOWN

CO 2 e EMISSIONS

(not counting artist/crew/

service travel and transport)

WWW.OPENAIRBUSINESS.COM 59
---
EVENTS

CASE STUDY

THE SHOWMAN'S SHOW

› 4,500 visitors, 350 exhibitors

› Audit leads to 50% reduction in

diesel use

The Showman's Show is the only outdoor

event services exhibition in the UK. It

has a wide variety of exhibitors and

offers them power supplies for their

stands (ranging from 13 amp to 125

amp 3 phase). The organisers have to be

prepared for all kinds of power demands

at any point during the event and at any

location on the showground, and until

2011 this meant hiring large sets of diesel

generators to ensure these demands

could be met.

In 2012, in support of the Powerful

Thinking campaign, the organisers of

the Showman's Show decided to review

energy supply and consumption at

the event and look at the possibility

of alternative power supplies to diesel

generators.

The first step was to monitor power

usage. At the 2012 event, the electrical

contractor monitored the use of all the

generator sets throughout the build up

to the show and during the event itself. It

found that the event was overestimating

the size of the generators needed and

could afford to reduce the size of the

sets while still meeting demand from the

service areas and the exhibitors.

A key observation was the energy

consumption of the crew catering facility;

the catering area is active for two and a

half weeks during the build, throughout

the show and during the break down. In

the past, the catering tent was supplied

with its own designated generator to

power the cooking facilities, lighting and

run heaters (bearing in mind that the

event is held in October). Using a more

dynamic approach to supplying energy,

the catering tent was moved onto the

small mains supply - available from the

main show ground - during the event

build and break down when demand

was low. Over the two days of the event

itself, when there was more demand on

the mains supply from the camping area

and welfare units, the catering tent was

moved onto a combined set that was

already powering the main exhibition

hall. When the event was over and the

caravans and welfare units had gone, the

catering tent was moved back onto the

mains supply.

This simple review of generator sizes

and a proactive approach to the power

supply for the crew catering tent resulted

in hiring one less generator and helped to

significantly reduce diesel consumption -

by over 50%.

In 2015, the Showman's Show began

working with the electrical contractor that

also supports the venue on the site where

the show is held. It was able to improve

the existing electrical infrastructure,

reducing energy demand onsite, meaning

that the crew catering facility, campsite

and site office could run from a mains

power supply all through the build, the

event itself and the break down, rather

than switching to generators during the

event as in 2014. They also installed

another permanent floodlight, which

meant one less lighting tower needed to

be shipped in and run.

The other action taken was to simply

switch off generators if they weren't being

used; previously generators have been

left on during the show build to allow

exhibitors to work late at night or early

in the morning. The contractors simply

noted when work had stopped and then

turned generators off so they were not

running through the night unnecessarily.

This probably made the biggest impact,

helping to save over 200 litres of fuel

compared to the year before.

These small measures producing such

positive results have encouraged the

organisers to regularly review the supply

of power and to look for ways to further

reduce energy consumption.

ABOUT POWERFUL THINKING

Powerful Thinking was established in 2010 as a not-for-profit industry group focused

on tackling energy-related issues at outdoor events. It has provided a forum to

support research, explore issues and develop solutions, and has developed free-touse

resources that support events in reducing their environmental impact.

In November 2015, it released the Show Must Go On report, which recognises

a broader aspiration in the group to tackle other sustainability-related issues

the industry shares. The group has representation from over 250 events through

membership organisations.

Visit www.powerful-thinking.org.uk for free tools and resources including a fuel

use calculator, fact sheets on different power

sources, a list of suppliers and to join Festival

Vision: 2025, a shared vision for a sustainable

festival industry, where committed festival

organisers are pledging to work together to

make the festival industry an exemplar of

environmental responsibility.

60 WWW.OPENAIRBUSINESS.COM
---
ADVERTISING FEATURE | PRODUCT FOCUS

Heat and Power

Two fuel saving power options for outdoor events

PORTABLE SOLAR & DIESEL

SAVES 80%

Gaia Group UK

01792 346396

www.gaiagroupuk.com

The Solatainer and Solawedge

have been developed to

provide an autonomous off-grid

power supply. They integrate

renewable-power and storage

with diesel-power back-up to

reduce fuel consumption and

carbon emissions.

Created sustainably from a

single-use 20ft ISO shipping

container, Solatainer supports

a PV array. When equipped

with the Solawedge inflatable

mounting system (for rapid

deployment across unprepared

land or water) the unit is

scalable up to 50kW. In its

standard setup, it comprises

a 4kW PV array, 6kW/h battery

pack and 6kW stand-by

generator. The results are

spectacular, reducing fuel costs

by 80% when compared to a

conventional diesel generator.

AFFORDABLE, CLEAN POWER

AND LIGHTING

Firefly Clean Energy

01273 409595

www.fireflycleanenergy.co.uk

Firefly is an experienced and

trusted supplier of reliable

and affordable Hybrid Power

Systems. Our hybrids have been

used to power live events since

2007.

For power providers seeking to

provide clients with sustainable

power solutions, Firefly offer

purchase or cross-hire options.

Our experienced team can

provide advice and technical

support, whilst our team of

Field Service Engineers are

available for full site support

24-7.

Firefly also advises organisers

on how an event can be

powered more sustainably with

significant fuel savings. Firefly

can put organisers in touch with

dealers from our Festival Power

Specialist network to provide a

full site service solution.

COOLING & HEATING SOLUTIONS

TEMPERATURE CONTROL SPECIALISTS

AIR CONDITIONING

HEATING

HIRE

SALES

SERVICE

sales@candhs.co.uk

01590 681 434

WWW.OPENAIRBUSINESS.COM 61
---
ADVERTISING FEATURE

Spot light

A roundup of products for the outdoor hospitality industry

QUALITY CANVAS MARQUEES,

YURTS AND TIPIS

Under the Stars Leisure

01964 527432

www.underthestarsleisure.co.uk

Our range of marquees, yurts,

tents and tipi's offers a huge

selection of luxury camping,

festival, event and glampsite

options. Our traditional canvas

marquees are ideal for all

occasions. Larger models are a

favourite for weddings, parties,

festivals and outdoor events, and

the smaller models are perfect for

displays and exhibitions. All our

products are created with quality,

durability and style in mind.

Whether it's family camping

trips, hazy fun filled festivals, big

celebrations or simply relaxing in

the countryside, we believe you

can enjoy the freedom and joy of

nature without compromising on

warmth, comfort and style.

BESPOKE LUXURY SHEPHERD

HUTS

Ashwood Shepherd Huts

01823 461638

www.ashwoodshepherdhuts.co.uk

We have been manufacturing

timber buildings from the

year 2000, and since 2005

have specialised in shepherd

huts. Your hut is yours to

design and create. Work

closely with our creative and

flexible team on size, colours,

fixtures, fittings and layout.

We are a family run business

that prides itself on quality,

value for money and great

customer service, and we

only use FSC timber.

If you are thinking of letting

your hut for short breaks or

holidays we can help you find

the right agencies to contact

wherever you are. Come and

visit our workshop and meet

the team.

LET'S GET COOKING!

The Garden Oven Company

01256 581014

www.garden-oven.co.uk

The Garden Oven Company

creates the ultimate in wood

fired ovens with its Model 1

and larger Model 2 ovens.

Both designs promise a

superb al fresco cooking

experience. Bang on trend,

these environmentallyfriendly

British-made ovens

create the 'smoked' and

'wood fire' taste that is all

the rage for outdoor cooking

in all seasons.

The Garden Oven is the

perfect cooking accessory

for the outdoor living

experience and has a whole

host of uses. The oven is

multi functional allowing

chefs to cook, bake, grill,

roast and smoke a wide

range of dishes from pizza to

fish, bread to Sunday roast!

WOOD-FIRED ECO TUBS

Dalby Firewood

01653 507194

www.dalbyfirewood.com

Dalby Firewood is an authorised

dealer of Naked Flame

Eco-Tubs. Handcrafted from

premium wood with stainless

steel, these tubs are available in

spruce, larch or Thermowood,

in a number of sizes to

accommodate up to seven

adults. Thermowood boasts

prime insulating qualities and

will last for 20+ years without

further wood treatment.

Also available is the Luv-Tub

– perfect for two people and

smaller spaces. All our Eco-Tubs

are supplied with matching

steps, seats, lid, drinks holder,

paddle, internal stainless steel

heater, flue protector, heater

cover and heater cleaning tool

kit. We also include a FREE bag

of kiln dried hardwood.

10%

DISCOUNT

off all products

Use code: Open Air • Offer ends 9th Oct

62 WWW.OPENAIRBUSINESS.COM
---
POWER FOR OFF-GRID

GLAMPSITES AND EVENTS

Energy Solutions

01634 290772

www.energy-solutions.co.uk

If your site isn't connected to the

main grid but you want to run

electrical power, what do you do?

EasyGrid utilises solar energy,

stores it in a battery bank and

can have a generator as a back

up if needed. EasyGrid is an offgrid

power range delivering an

affordable option to glampsites,

and outdoor events - anywhere

without a mains grid connection.

Rather than having to source

separate components and have

a bespoke system designed, our

EasyGrid series offers a preconfigured,

self-contained unit

built from durable, high quality

components; fully tested and

ready to install by a competent

electrician.

ZIPBAR COFFEE /

TEMPORARY KITCHEN

SERVICE PLATFORM

Zipbar

01752 787422

www.zipbar.co.uk

(find us on Facebook!)

Launching this year at the

Showman's Show 19-20

October, Newbury, is the all

new Zipbar coffee/ temporary

kitchen service platform.

The system, shown in the

digital picture right, is fully

compatible with the existing

Zipbar equipment. The design

has been bought about by the

feedback received from many

of the hotels using Zipbar.

They have all shown increases

in product sales and want to

be able to set their bars up to

sell soft and hot drinks along

with alcoholic drinks.

Come and see the bar for

yourself and meet us at the

Showman's Show.

MAKE PROFIT WITH

SAFARI TENTS

Clear Sky Safari Tents

0845 299 6484

www.safaritents.net

If you want to get into

glamping, come and talk to

us. Clear Sky is the UK's

leading supplier of high

quality, exclusively designed

Safari tents, at prices

that make setting up or

extending your glamping

business a profitable

decision.

With a choice of styles, sizes,

colours and frames starting

from only £2,990+VAT, and

expertise gleaned from

running our own glamping

site, we can help turn your

glamping dream into a

reality.

Call us today for more

information or to book a free

consultation.

SHEPHERD HUTS AND PODS

Pendock Pods

07807 135030

www.pendockpods.com

Beautifully British and

handmade to order, our

huts and pods are insulated

structures with windows and

electricity. They are simple

but comfortable, well made

and built to last. Our shepherd

huts are for sale whereas the

pods are available to rent or

buy, and both provide perfect

accommodation solutions

for your events, festivals or

to boost bookings on your

glampsite.

Based in Gloucestershire, we

also have a glampsite (www.

watersedgeholidays.uk) where

customers can come and stay

for a few day to try before they

buy / rent! Shepherd huts start

from £6,500. A stay is £110 for

two nights.

WWW.OPENAIRBUSINESS.COM 63
---
CLASSIFIED DIRECTORY

LINKING ENVIRONMENT AND FARMING

Classified Directory

BRAND NEW POP UP

Stuck for furniture hire?

www.europainternational.com/oa

hire happy

Call 08454 303015

Erection and dismantling included

in the price. Excellent for garden

parties, birthdays, markets,

weddings and other events

Tel: 01789 267000

Email: info@sketts.co.uk

www.popuphire.co.uk

traditional tepees with a

modern twist...

Retailer of single pole canvas tepees with fly

screens & windows in 3,4,5 and 6m diameter

tent hire in the north east

www.northernstartepees.co.uk

Providing luxury bell tents available

for both hire & purchase

info@boutiquecamping.com

Providing

Providing

luxury bell

luxury

tents perfect

bell tents

for:

perfect for:

COUNTRY HOUSE

BUSINESS • Camping INNOVATION • Camping2016

LIVE 2016

+44(0)203

• Outdoor

394 2986

INNOVATION 2016

• Outdoor summer play summer roomsplay rooms

boutiquecamping.com

• Garden • lounge Garden areas lounge areas

• Festivals • Festivals

info@boutiquecamping.com

The event for farmers, land owners and rural business

info@boutiquecamping.com • Weddings

• Weddings

and much

and

more!

much more!

+44(0)203 394 2986

+44(0)203 entrepreneurs 394 2986 to gain inspiration, resources and advice

boutiquecamping.com Available for both hire & purchase.

boutiquecamping.com Available for both hire & purchase.

INSPIRING RURAL ENTREPRENEURS

6

A WORLD OF IDEAS

TO MAKE YOUR LAND

MORE PROFITABLE

9 & 10 NOVEMBER 2016, NEC BIRMINGHAM

The event 7,500 for farmers, VISITORSland owners

and rural business entrepreneurs to gain

200 SEMINARS

inspiration, resources and advice

400 EXHIBITORS

Register for FREE tickets at

www.farmbusinessshow.co.uk

Your own private bathroom

right next to your tent or caravan

Tel. 0031 186 769 054 ❤ info@campplus.co.uk

www.campplus.co.uk

COOLING & HEATING SOLUTIONS

IN

PARTNERSHIP

WITH:

Register COOLING for FREE & tickets HEATING at www.farmbusinessshow.co.uk

SOLUTIONS

temperature control specialists

@Farm_Innovation #FarmBiz

hire

sales hire

portable sales units

temporary systems

portable units

temporary systems

sales@candhs.co.uk – coolingandheatingsolutions.com – 01590 681 434

Marlwood House, Silver Street, Lymington, Hampshire SO41 6DG, UK

sales@candhs.co.uk – coolingandheatingsolutions.com – 01590 681 434

Marlwood House, Silver Street, Lymington, Hampshire SO41 6DG, UK

sales@candhs.co.uk

coolingandheatingsolutions.com

01590 681 434

InPartyTentsCo.

HIRING ALL OVER KENT & SUSSEX, NO VAT

AND FREE DELIVERY WITHIN 30 MILE RADIUS

O7917 457 820 | inpartytentsco@aol.com

STYLISH & UNIQUE MARQUEES

FOR WEDDINGS & PARTIES

64 WWW.OPENAIRBUSINESS.COM
---
CLASSIFIED DIRECTORY

A4 - Full Page Ad.indd 1 04/04/2016 17:17

A4 - Full Page Ad.indd 1 04/04/2016 17:17

Festival

Trackway

Luxury Toilet Trailers, Event Loos,

Themed Toilets, Shower Units &

Accommodation Hire

Multi award-winning trackway

& safety flooring solutions

01455 553700

sales@ecotrackway.co.uk

Ec

Track

& Access Ltd

incorporating

UmTech

Epic Group

AN ALL EXCLUSIVE LUXURY KITCHEN FOR YOUR

GUESTS. PUT IN THE BACK OF A CAR AND GIVE

THEM FREEDOM TO TOUR THE AREA.

www.campchamp.at

UK distributor - The Shack at www.instinctive-retreats.co.uk

01256 384 134

www.site-equip.co.uk

event@site-equip.co.uk

FOR ALL YOUR

FURNITURE HIRE NEEDS

Ensure your guests have the best!!

• Luxurious eco-friendly modular vacuum toilet facilities

• Bespoke and stylish

• Ideal for all prestigious corporate and private outdoor events

• Covering the UK

Ensure your guests have the best!!

• Luxurious eco-friendly modular vacuum toilet facilities

Tel: • Bespoke 0345 and 459 stylish 0589

• Ideal for www.classicalloocompany.com

all prestigious corporate and private outdoor events

enquiries@classicalloocompany.com

• Covering the UK

Tel: 0345 459 0589

www.classicalloocompany.com

enquiries@classicalloocompany.com

0845 459 9875

Info@furnitureonthemove.co.uk

www.furnitureonthemove.co.uk

Weather services for

outdoor events

Speak to a forecaster

09065 77 76 75

Calls cost £1.50/min plus network access charges

weatherquest.co.uk

@weatherquest_uk | /Weatherquest

Ensure your guests have the best!!

• Luxurious eco-friendly modular vacuum toilet facilities

• Bespoke and stylish

• Ideal for all prestigious corporate and private outdoor events

• Covering the UK

Tel: 0345 459 0589

www.classicalloocompany.com

enquiries@classicalloocompany.com

Simply the Best Events own and operate over 350

different attractions in house for Corporate Fun Days

and It's A Knockout events throughout the UK.

Speak to one of our Event Managers

on 0800 019 3908

www.simplythebestevents.co.uk

the Ultimate solution for

restraining temporary structures

the Ultimate solution for

restraining temporary structures

0800 122 3304 www.anchorbloc.co.uk

0800 122 3304 www.anchorbloc.co.uk

ü Hire or buy your Anchor Blocs outright

ü 1000kg, 500kg, 330kg and 250kg options

ü Take advantage of our 'Anchor Managment'

ü Perfect for securing marquees, inflatables and any

programme - great if you have multiple events at

other fabric temporaty structures.

different locations.

CDM 2015 compliant Lloyd British Testing Certifed

ü Hire

Full

or

logistics

buy your

and

Anchor

storage

Blocs

facilities

outright

are available

ü 1000kg,

in accordance

500kg,

with

330kg

BS5975:2008.

and 250kg options

ü Take

Payment

advantage

by credit

of our

card

'Anchor

for convenience

Managment'

ü Perfect

Custom

for

options

securing

avalible.

marquees, inflatables and any

ü

programme

Emergency telephone

- great if you

service

have

for

multiple

24/7 support

events at

other

Huge

fabric

Range

temporaty

of accesories,

structures.

From branded covers to

different locations.

ü CDM

specially

2015

adapted

compliant

all

Lloyd

teraine

British

pallet

Testing

trucks.

Certifed

ü Full logistics and storage facilities are available

in accordance with BS5975:2008.

ü Payment by credit card for convenience

ü Custom options avalible.

ü Emergency telephone service for 24/7 support ü Huge Range of accesories, From branded covers to

specially adapted all teraine pallet trucks.

Tel: 01945 463857 Mob: 07775 921182

info@fireworksdisplayteam.co.uk

www.fireworksdisplayteam.co.uk

WWW.OPENAIRBUSINESS.COM 65
---
PERIWINKLE

CHUFFER TIES THE KNOT

Periwinkle steps in to advise Chuffer on his wedding set up, but one thing

leads to another and a new business idea is born

HAVING SEALED THE deal with Ms Meadow

Flowers to stage Woodstock Plus in my

paddock later in the year, I decided to help

Chuffer with his nuptials. Given the vast

historical expanse of his bachelorhood, I

suppose it was statistically inevitable that one

day some filly would come along and sweep

Chuffer off his feet, and so it turned out - the

angel in question taking the earthly form of

Daphne Camberwell-Fluff. Fatty was to be the

best man.

I had to help him really. Chuffer had the

financial skills of a Primary 6 under-performer.

He had no idea, for instance, how much the

marquee for his wedding reception might

cost, and when I told him, he looked as if he'd

swallowed a bar of Imperial Leather. In the

end, despite my advice to the contrary, he

opted for a canvas behemoth he got for 50

quid off the 'bankrupt circus stock', forward

slash 'Asia', section of alibaba.com.

Continuing the theme of ignoring my

input, he paid equally scant attention to my

suggestions for the hiring of a generator. He

knew what he wanted; the one he had seen

on Alibaba when he bought the tent. Next to

a photo of the tent, a photo of the generator

appeared with the caption, 'Customers who

bought this item also bought this.' It looked

suspiciously cheap.

Once erected, the tattered canvas

tabernacle revealed faded markings

proclaiming 'Shanghai State Circus, 1937!' but

the wedding went ahead at the allotted time.

Ms Fluff took the whole ceremony in her stride,

but Chuffer seemed pre-occupied. It was only

after the wedding that I found out why. "A

brilliant idea came to me during the vows,"

Chuffer said. "Why not keep the the tent as a

permanent wedding venue and combine it

with the facilities on my rustic glampsite? Best

of both worlds, you see."

Chuffer held forth on a vision as rustic as

a cider-brewer's smock, with the Shanghai

Acrobatic Team's former workplace at its

epicentre and an order book overflowing

with wedding bookings stretching up hill and

down dale all the way to Christmas 2030. The

composite site would be a living monument

to Chuffer's entrepreneurial flair. "The idea

has the simplicity of a conker and the charm

of a Morris Dancer," he said, as if this were a

desirable outcome.

Chuffer's existing rustic glamping site - so

rustic Bear Grylls holidays there - already

made money, but with the incorporation

of the circus tent, he reckoned he'd have to

employ a small team of clerks just to tally the

receipts. The speciality of the house would be

paella, cooked peasant style. He'd get all the

ingredients from ASDA, delivered a couple of

hours before the wedding meal.

At this point the dam holding back Chuffer's

creative juices burst. He hit me with a triplewhammy

of innovative ideas and his thoughts

flooded the conversation. He would save

money he enthused, by eschewing traditional

marquee heating methods in favour of an SAS

technique he'd read about in the Scout Manual

he got for his 12th birthday. This involved just

three tea-lights, a sheet of baking foil, a Zippo

lighter and the signing of the Official Secrets

Act.

Chuffer's next outpouring of creative

thinking addressed a means to re-invigorate

wedding guests' cravings for fun and rekindling

their desire to spend even more of

their disposable income after the evening

reception plonk began to wear off. Wild-boar

hunting! Granted, no one had seen a wild

boar in the county since the days of Henry

VIII. Besides, guests might have to top up

their accident insurance, but he could always

import boars from France couldn't he, and

insurance can be altered in seconds over the

Interweb nowadays?

He swore that his third idea, by far the

craziest, came to him as the vicar proclaimed

"You may now kiss the bride!" when he found

himself shouting, "Shoot your own breakfast!",

However, the wedding wasn't entirely without

incident. The cheap generator, like the tent,

dated back to pre-war China, a time when

safety was for losers. There was no discernible

means of baffling the infernal din it made so

that the dance band was forced to crank the

amplifier up to eardrum-thrumming levels to

compete, though later the band leader gave

up trying and altered sets to play in time to the

unwanted noise.

The day ended well for everyone but Fatty.

Through gargantuan effort, Fatty starved

himself all day - to make the best of the buffet

- but by evening he was possessed of a near

supernatural craving for food. He had already

eaten his buttonhole carnation, and those

of several passers-by in addition to an entire

table-top flower arrangement, including the

slab of oasis.

The second the buffet opened Fatty

propelled himself forward but his leathersoled

brogues quickly lost traction on the

50 metre stretch of damp grass over which

the marquee had been erected. Pirouetting

wildly out of control and looking like Rudolph

Nureyev with a 12 pint a day beer belly, he

slammed into a soup tureen with the force of a

charging rhino.

Guests looked on in horror at the wreckage

of the buffet where a semi-conscious Fatty -

tuxedo full of beef consommé - lay draped over

a loudspeaker like a luxuriously over-stuffed

rag doll. When the ambulance arrived, his

limp arms still swung in time to Pennsylvania

6-5000.

66 WWW.OPENAIRBUSINESS.COM
---
Weather services for

outdoor events

Speak to a forecaster

09065 77 76 75

Calls cost £1.50/min plus network access charges

weatherquest.co.uk

@weatherquest_uk | /Weatherquest