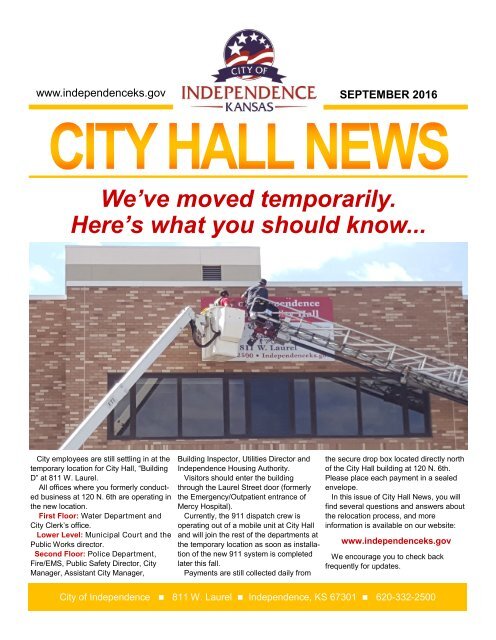 City of Independence September 2016 NewsletterFINALFINAL09.01.2016
Create successful ePaper yourself
Turn your PDF publications into a flip-book with our unique Google optimized e-Paper software.
www.independenceks.gov SEPTEMBER 2016

We've moved temporarily.

Here's what you should know...

City employees are still settling in at the

temporary location for City Hall, "Building

D" at 811 W. Laurel.

All offices where you formerly conducted

business at 120 N. 6th are operating in

the new location.

First Floor: Water Department and

City Clerk's office.

Lower Level: Municipal Court and the

Public Works director.

Second Floor: Police Department,

Fire/EMS, Public Safety Director, City

Manager, Assistant City Manager,

Building Inspector, Utilities Director and

Independence Housing Authority.

Visitors should enter the building

through the Laurel Street door (formerly

the Emergency/Outpatient entrance of

Mercy Hospital).

Currently, the 911 dispatch crew is

operating out of a mobile unit at City Hall

and will join the rest of the departments at

the temporary location as soon as installation

of the new 911 system is completed

later this fall.

Payments are still collected daily from

the secure drop box located directly north

of the City Hall building at 120 N. 6th.

Please place each payment in a sealed

envelope.

In this issue of City Hall News, you will

find several questions and answers about

the relocation process, and more

information is available on our website:

www.independenceks.gov

We encourage you to check back

frequently for updates.

City of Independence • 811 W. Laurel • Independence, KS 67301 • 620-332-2500
---
City management ain't for the faint

ity management is a tough gig!

C It was during my high school days

growing up in Oklahoma that I first

dreamed of being a city manager. I

developed an interest in public administration

while visiting with a city manager in a

nearby community. I thought from that

time on that it would make for interesting

work, and I have found in my 30 years in

the city management field that it is indeed

the most interesting work around.

These days, when you read about

petitions to terminate my position or you

hear accusations of personal agendas and

mismanagement, you understandably may

question why I would ever want to do this

job. I never question.

In all these years, working in communities

of all sizes, I've learned a few things.

Lesson One: You can't please everyone.

There are as many different perspectives

on each issue as there are taxpayers in

town. You must filter through the politics

for the sake of the common good.

Sometimes, the decisions are gutwrenching

and may even challenge longheld

local loyalties and beliefs. But in the

interest of best serving the majority,

change is often necessary. One example in

recent history is the restructuring of roles

and priorities in the Park Department,

which led to multiple improvements in our

park and zoo and helped restore this venue

to its rightful status as an icon of

community pride.

Lesson Two: There are consequences to

every decision. No matter the issue, someone

is going to be impacted. Think it

through, research every angle, lose as

much sleep as necessary, then choose

wisely.

In joining the City staff six years ago, little

did I know I was inheriting a dicey situation

in our Police Department and one of my

first orders of business would be to assist

in the criminal investigation of a corrupt

chief. Fortunately, our department

rebounded stronger under the leadership

of Chief Harry Smith, and I expect more

great things to come on the watch of Chief

Jerry Harrison.

Lesson Three: It takes a team. My

management style is to surround myself

with qualified professionals who are

empowered to lead their departments.

They are the experts in their areas. I must

trust their judgment.

Over the past few years, I've come to

understand I have an all-star team. Thankfully,

I trusted the judgment of our

emergency services leaders as we made

the leap to consolidate our fire and EMS

departments a few years ago. This transformation,

though not without its

challenges and some rather painful silobusting,

has created a much more efficient

department better trained and equipped

to respond to our citizens' emergency calls.

The wisdom of this decision was never

more evident than in the last year, since

the closure of Mercy Hospital and a significant

transition in the way our Fire/EMS

staff are called to serve the community.

And the most important lesson of all: It's

bigger than you and me. Acting in the best

interest of the whole community means

seeing the big picture and taking the long

view. It's human nature, I think, for us to

let our immediate woes consume us - our

property tax bill, our fears about the loss of

health care services in our community,

concerns about general economic decline.

All are absolutely valid reasons for worry. I

get it, and I'm right there with you.

But when I put on my City Manager's hat

on my way to work each day, it's my

PAGE 2

responsibility to think broader. My team

and I are challenged with finding solutions

and taking action. We work day in and day

out to improve our great community for

not just ourselves and our current

residents, but for generations to come.

Today, we unfortunately find our

community in a bitter divide over our

immediate woes. Years of walking the

tightrope of City spending, balancing

limited resources with unlimited needs and

taxpayers' appetite has led us to a

situation where more difficult decisions

must be made. This time, it involves our

own "house," the workplace of those who

strive daily to make our community better,

keep you safe and enhance the quality of

life we all enjoy in Independence.

No, the situation isn't breaking news. Just

in my six years here, the deteriorating

condition of City Hall, routine maintenance

and repair issues, recommendations for

major building improvements and/or alternative

facilities have been presented to the

City Commission no less than 30 times. We

have patched, repaired, replaced and held

our breath (literally) in hopes that our 100-

year-old building could sustain us just

awhile longer until appropriate – and

digestible - alternatives were vetted.

Unfortunately, circumstances beyond our

control have forced our hand and

propelled us into territory we were never

quite ready to tread before. It feels a little

like drawing the map after you've already

reached your destination. Except that we

are still not "there." There is much work,

thought, consideration, discussion, debate

and decision-making yet to come.

I couldn't be more proud of the courage

of our City staff and our Commissioners for

rising to the challenge to address our

immediate woes while keeping an eye on

the future and committing to finding solutions

to carry our community forward.

Improving, advancing, progressing…it

takes time, it takes money, it takes backbone

and it takes sacrifice.

And as for my commitment, it hasn't

wavered. Chips may fall, critics may attack,

but I remain optimistic for the future of our

exceptional community, and I will continue

to do what I believe in my heart is right.
---
Commission

approves 2017

City budget

Recent debate in our city and county is

testament to the fact that budgets and taxes

are always challenging and never pleasant

for the taxpayers OR the taxing entities.

In this issue of City Hall News, we've

included the 2017 Budget for the City of

Independence, which was approved by the

City Commission on August 11, 2016.

The 2017 Budget represents a 5.187 mill

increase (11% increase) over 2016. We

know the budgeting process can be

complicated and confusing, so we've also

provided the illustration below that explains

how a "mill" equates to actual dollars

generated for the city and how it impacts the

average property or business owner.

Please note: These figures apply only to the

City's 2017 budget and do not include

increases by other taxing entities.

Mill Increase = 5.187

Additional Revenue Generated

for the City = $264,101

If you own a $50K home,

your annual additional taxes = $29.83

If you own a $100K home,

your annual additional taxes = $59.65

If you own a $100K business,

your annual additional taxes = $129.68

Calendar...

September 10

Recycling Collection Day

(a week later this month

due to holiday)

8 a.m.-12 noon

City Sanitation Yard, 21st & Maple

September 10

FORPAZ "Forty Paws"

6:30 p.m. - Logan Fountain

40th anniversary celebration for

Friends of Riverside Park & Zoo

2017 BUDGET

Amount of

September 22

City Commission Meeting

5:30 p.m.

Veterans Room / Memorial Hall

Open to the community.

Est.

2017 Tax to Tax

Fund Expenses be Levied Rate*

General $7,486,641 $1,562,810 30.694

Industrial 49,000 9,982 0.196

G F Emp Benefits 852,615 655,920 12.882

Lib Emp Benefits 0 0 0.000

Library 278,900 242,589 4.764

Liability Insurance 84,100 70,095 1.377

Bond & Interest 1,546,726 119,799 2.353

Airport 606,232 N/A N/A

Water/Sewer 4,694,365 N/A N/A

Sanitation 1,163,502 N/A N/A

Spec Parks/Rec 44,000 N/A N/A

Spec Alcohol 30,000 N/A N/A

Eco Dev & Transportation 829,435 N/A N/A

Educational Sales Tax 1,931,000 N/A N/A

Quality of Life Sales Tax 70,000 N/A N/A

Memorial Hall Tax Credit 446,431 N/A N/A

Special Use Sales Tax 2,865,481 N/A N/A

TOTAL $22,978,428 $2,661,195 52.266

Less: Transfers 1,011,315

Net Expenses $21,967,113

Total Tax Levied $2,661,195

Assessed Valuation $50,916,502

Outstanding

Indebtedness, Jan. 1 2016

G O Bonds $11,120,000

KS Revolving Loans 1,978,018

Lease Purchase 564,708

Total $13,662,726

* Tax Rates are expressed in mills.

PAGE 3
---
Q A &

INDEPENDENCE CIT

With the recent relocation of City departments to

temporary accommodations in the former Mercy Hospital

building due to environmental health concerns at City

Hall, we understand that you, our customers and

taxpayers, likely have many questions. It is our

responsibility to keep you informed and it is important to

us to know you are receiving accurate information. We

are committed to providing transparent communication

as this situation continues to evolve.

Therefore, we have assembled this list of some of the

most frequently asked questions we have received over

the past few weeks. We also are maintaining an updated

Q&A list on our website - www.independenceks.gov -

and we encourage you to check there frequently for

updates.

We sincerely thank you for your patience and

understanding!

Q: How much is it costing to temporarily relocate City Hall to the former hospital building?

A: Relocation costs have come in right on target with our early estimates. Initial costs for electrical work, security reinforcement,

communications systems, furnishings, professional services, etc., total approximately $327,000, including contingency costs. These

costs have been drawn from a combination of City funds, including the General Fund, Memorial Hall Tax Credits Fund and the Special

Use Sales Tax Fund. (The Memorial Hall Tax Credit and Special Use Sales Tax funds are not supported by ad valorem/property tax

dollars.)

We will have an additional expense of approximately $324,000 for the engineering and construction of a temporary facility to

accommodate our fire trucks and ambulances on the West Laurel property. This facility will be movable as necessary at a later date,

and its planned future use is to house equipment for the Sanitation Department.

And finally, the relocation of our 911 system to Building D will cost approximately $109,000. The purchase and installation of the

system, however, was already budgeted for February 2017, so the cost of the system is not a new expenditure, just accelerated.

All totaled, costs for the entire project are estimated at approximately $760,000. Thankfully, we have been able to engage many local

business and professionals for the goods and services needed to accomplish the relocation.

Q: Hasn't the City known for years that there were environmental issues at City Hall?

A: Yes. We have fought moisture in the building for years and years. Insufficient drainage on the property causes basement flooding;

aging windows cause moisture penetration; roof issues allow rain to leak in; and the deterioration of 100-year-old plumbing in the

walls adds another major challenge. Just in the last six years, we have completed multiple building repairs as issues have arisen -

we've replaced faulty plumbing and repaired walls. We've added basement sump pumps and taken many measures to fix immediate

problems. In that same time period, building maintenance, deterioration, major renovation recommendations and even alternative

Calendar...

September 24

Season Finale Movie Night - "Jungle Book"

6:30 p.m. - Pre-show activities; 7:30 p.m. - Show time

Community National Bank parking lot, 121 N. Penn

FREE. Bring blankets and lawn chairs.

Sponsors: Equity Bank and H&H Roofing

October 1

Recycling Collection Day

8 a.m.-12 noon - City Sanitation Yard, 21st & Maple

PAGE 4
---
Y HALL TEMPORARY RELOCATION

City Hall locations have been hashed out by City staff and the City Commission no less than 30 times. However, each time the subject

has been broached, the price tag has been daunting, and City staff and Commissioners alike have been extremely challenged to

identify adequate and digestible financing options when also weighing the many other needs in our community and what taxpayers

are and are not willing to pay for. There was never intentional negligence on anyone's part. There just are so many priorities to

manage with limited resources.

Now, however, the first documented claims of employee illnesses potentially connected to their work environment have forced our

hand and required the temporary relocation. It's certainly not the ideal solution, but it is workable for the time being. And,

thankfully, since relocating in mid-August, many of our employees already report "feeling better." It may be, in part, improved

morale and, in another way, genuinely improved physical health, but employees are definitely benefiting by being removed from

their previous environment.

The unavoidable fact about City Hall is it is 100 years old. While, from the perspective of historical pride, that is something to be

treasured, from the standpoint of practicality as a functional working environment in 2016, it is a serious challenge. It's reasonable

to believe it would have been just as much of a challenge 10, 20 or 30 years ago.

Q: What would it take to get City Hall back in shape and functioning again?

A: Money, time and the willingness of local taxpayers to make it happen. According to our architect and environmental professionals,

first steps, of course, will require abatement of the mold—as well as any possible asbestos and lead paint which are often

present in buildings of its age. Until the professionals dig in, we won't know just how extensive the problem is, but early projections

rather grim. Once abatement is complete, the next step is to "seal the envelope" of the building to eliminate all sources of

moisture. This requires a new roof, new drainage system, new plumbing and new windows, as well as a new HVAC system to keep

the environment climate controlled. Very preliminary and conservative cost estimates for these steps is $2,057,000. This takes care

of the "bones," but does not cover finishing out the interior of the building. We do not yet have an estimate for finishing costs.

are In an effort to ensure the safety of our sanitation workers, the City

will be providing all residential sanitation customers a poly-cart

trash receptacle for routine use. The bins will be similar in design to

the one pictured at right, with a 95-gallon capacity and made of

Q: heavy What duty are the construction. next steps?

The goal of having uniform bins at all residences is to ensure a

more standard volume and weight of trash at each pick-up location,

is expected to be complete within two months.

as well as an appropriate receptacle to manage. This will help

prevent injuries to our workers from juggling irregular-sized,

overweight and loose trash items. As is our current policy, all trash

placed in the new bins should be bagged and secured.

Stay tuned for more information on the selection of trash bins and

phased delivery to customers later this summer.

A: City departments will continue to operate in Building D for the time being. As soon as the 911 system installation is complete at

the temporary location, the dispatch crew will join the rest of the staff. Also, construction of the temporary Fire/EMS apparatus bay

As for a permanent solution, a citizens' committee appointed by the City Commission will be established to evaluate all options and

make recommendations that are most appropriate for the needs of City departments and most desired by taxpayers. This process is

just getting underway, and the Commission has selected a professional facilitation company to help guide the work.

At this point, it's impossible to estimate a timeframe for the citizens' committee deliberations or for any subsequent process they

may recommend that involves building renovation or construction. So for now, you can find us at 811 W. Laurel conducting business

as usual. Feel free to stop by, look around, ask questions and share your thoughts.

Calendar...

October 7

First Friday

7:30 a.m. - Independence Civic Center

Monthly community update co-hosted by the City and

Independence Chamber of Commerce.

September Sponsor: Enbridge Energy

PAGE 5

October 8

Fall Community Cleanup

8 a.m.-3 p.m. - City Sanitation Yard, 21st & Maple.

FREE drop-off of residential waste; electronic waste; tires;

and personal document shredding offered.

City Brush Dump south of town also open to residents.
---
2015

Pool

by

Days...

the numbers

56,196

166

The average number of drop-offs at monthly recycling day.

Since the recycling effort began in February, more than

29 tons (58,700 pounds) of paper, cardboard, glass, tin

and plastic, along with lots of electronic waste, has been

collected, sorted and delivered by City crews to the

Fredonia recycling center.

Recycling is scheduled the first Saturday of each month

(second Saturday in September due to the Labor Day

weekend) from 8 a.m. to 12 noon at the City Sanitation Yard,

21st & Maple.

Visit the Independence Chamber of Commerce

website for information on what items are recyclable

indkschamber.org/m/events/home

then come out to see us at the next event!

The number of downtown Independence camera

page views on the valnet.com website since the

company implemented downtown webcams in

October 2014, with the help of Independence

Action Partnership. These include views from

several unique countries, including the United

Kingdom, Canada, Thailand, Germany, Brazil

and India.

FREE WiFi service also is provided downtown

on Penn Avenue, between Chestnut and Main.

To connect, simply search for the WiFi hotspot

"Valnet Free WiFi," open a web browser and

accept the terms of the service page.

Since implementation in October 2014, more

than 6,200 users have connected to the free

WiFi service.

40

The number of years

FORPAZ (Friends of

Riverside Park and Zoo)

has been supporting our

community gem.

You can join them for the "Forty Paws"

anniversary celebration Saturday, September 10,

at 6:30 p.m. at Logan Fountain. The evening will

include hors d'oeuvres, beer and wine, live and

silent auctions. Proceeds will help purchase a

toddler-sized firetruck playground set for the

park.

Guests must be 21 and over, and tickets are

available at squareup.com/market/forpaz-inc.

Calendar...

October 8

"Zoolloween"

5 p.m.-7 p.m.

Ralph Mitchell Zoo

Children's Halloween fun, games & trick-or-treating.

Admission $2/person.

October 13 & 26

City Commission Meetings

5:30 p.m. - Veterans Room/Memorial Hall

Open to the community.

PAGE 6
---
y the numbers

27

The average number of extra pounds of gear

an Independence police officer carries on his

or her utility belt. Over time, this extra load

concentrated around the waistline can lead to

chronic back pain, headaches and other

physical ailments. That's why the department

recently began a trial of an "outer vest carrier,"

like the one worn by Officer Jason Goza in the photo to the right (speaking to

the Independence Optimist Club). The vest is designed with insert space for

the officer's customized body armor panels on the inside, as well as multiple

outer pockets for gear that help better distribute the extra weight but still offer

quick and easy access to the tools of the job. The vest has been

well-received by the officers in the department, but to equip the force,

significant fund-raising will be required. Chief Jerry Harrison reports each vest

costs between $275 and $375.

The year the Kansas PRIDE program was established to assist Kansas

residents with efforts to beautify, enrich and promote their communities.

In Independence, a local volunteer PRIDE committee functions under

the umbrella of the Chamber of Commerce. The committee has either

spearheaded or had a hand in a number of community benefit activities,

including LOVE Independence Day; monthly recycling; organized

community clean-up efforts; placement of city entrance signs; and other

beautification projects.

While not yet affiliated with Kansas PRIDE, the local committee is

working to grow its membership and will soon complete application to join

the 60 other communities participating in the statewide program. As a

program participant, Independence will have access to educational

resources and expertise; enhanced visibility and promotion; and

opportunities for grant funding to support local projects.

Calendar...

October 15

Downtown Cleanup

8 a.m.-12 noon - Volunteers meet at Community

National Bank to help spruce up the downtown area.

Bring gloves and wear comfortable clothes.

PAGE 7

The total number of tickets

distributed for the "Shenandoah"

concert August 19 at historic

Memorial Hall, co-sponsored by the

City of Independence and the

Independence Chamber of

Commerce Convention & Visitors

Bureau. The legendary country

group and their opening act,

young Kansas native Bryton Stoll,

brought down the house and

brought in the business with out-oftown

concert-goers who patronized

our business establishments.

October 21-29

Neewollah Festival

Nine-day community celebration.

Multiple events and venues.

Visit www.neewollah.com for

schedules and more info.
---
City of Independence

811 W. Laurel

Independence, KS 67301

EMPLOYMENT

OPPORTUNITIES

MICT/FFI(Paramedic): $753.76

per 56-hour work week; benefits.

Firefighter I/EMT: $618.80 per

56-hour work week; benefits.

Patrolman I: Full-time. $15.10/

hour; benefits.

Water Plant Operator I:

Full-time. $15.40/hour; benefits.

Water Plant Operator Trainee:

Full-time. $13.73/hour; benefits.

Applications are accepted at:

Kansas Works, 317 N. Penn

620-332-5904

www.southeastkansasworks.com

www.kansasworks.com

These old dogs are retiring, while there

is still time to teach a few new tricks

fter much careful thought and more than a little agony,

A Independence Fire Chief Rusty Baker decided what gift he wanted

to give himself for his 60th birthday later this year - freedom!

A 25-year veteran of the department, Rusty has spent the last eight

years in the chief's role. He recently announced plans to retire effective

November 1, although he intends to stay in close touch with the people

and the community he's come to love.

"I get so attached to people, especially the people I work with," Rusty

said. "I love my staff. This was a really hard decision."

Originally a brick mason by trade, Rusty recalled his life 25 years ago

when he was having trouble finding work locally and had to travel for

jobs. A friend who knew he wasn't happy encouraged him - several

times - to apply for a firefighter's job.

"I finally decided to apply in the last hour of the last day they were

taking applications," he said. "It ended up being the best thing job-wise

that I ever did."

After retirement, Rusty plans to put more focus into his personal

business, providing professional training services for hunting dogs on his

rural Independence property dubbed Remington Ranch Lodge and

Training Facility. The facility is fondly named after another star in the

Indy fire department, Rusty's beloved 9-year-old Labrador, Remington,

who joined the crew in 2009 and has been delighting the community

ever since with his smart fire dog tricks.

"We always say we can train Remington to do anything with 30

minutes and a Slim Jim," Rusty joked.

Stop, drop and roll, ringing the fire truck bell and pulling out the hose

on the ladder truck are just a few of Remington's best-known tricks.

Assisting with fire

prevention education

and community fundraisers,

like auctioning

off a ride to school on

the fire truck, are the

kinds of activities

Rusty and Remington

want to stay involved

with.

"I didn't know

anything about

community service

when I came to work

here," Rusty said.

"The fact that we're

out doing good for the

community, that's the

biggest reward for us

all. I don't want it to

just end."

No doubt, we'll still see Rusty and Remington at our local parades and

community events for a long time to come. And certainly no one can

fault Rusty on his retirement decision. After all, he may be turning only

60, but in dog years, he's pushing 420!

Congratulations, Rusty (and Remington)!