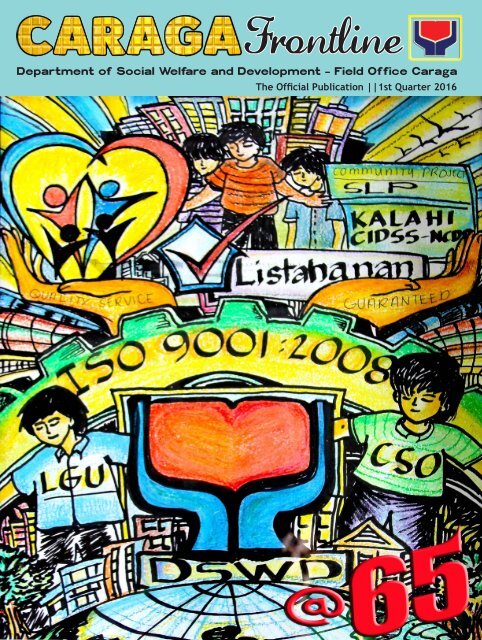 You also want an ePaper? Increase the reach of your titles
YUMPU automatically turns print PDFs into web optimized ePapers that Google loves.
Frontline

Department of Social Welfare and Development - Field Office Caraga

The Official Publication ||1st Quarter 2016
---
ABOUT THE COVER

65 years

… of putting smile to those who are weary

… of giving light to families living in the shadow of poverty

…of uplifting the socio-economic life of millions of Filipinos

All of these have been passionately done by the

Department of Social Welfare and Development.

(Excerpt from the winning composition of

Ms. Mary Carmelle C. Jumawan, Project Development Officer II,

during the On-the-Spot Essay Writing Competition of the Fun and Frolics Day)

For 65 years of public service, DSWD, as the frontline agency in social protection, remains true to

its commitment to be and with the poor, vulnerable, and disadvantaged sectors

in their walk en route sustainable development.

This issue contains the colorful and meaningful activities done by the Field Office Caraga in

celebration of the 65th anniversary of DSWD. This also features the highlights of the

1st quarter CY 2016 as the Department is gearing up and intensifying efforts

towards sustainable positive change.

#TuloyAngPagbabago

Cover Photo:

1st place winner for the Poster Making Contest during the Fun and Frolics Day. This is a craft of Mr. Archie Turtur, Project Development Officer III.

CONTENTS

DSWD turns

65

highlights

partners'

contribution

Regional Director Minda B. Brigoli awards the Plaque of Recognition

to Mayor Clarita Limbaro of Bayabas, Surigao del Sur, for being one

of the National Nominees for Child-Friendly LGUs. Brigoli

is assisted by no less than Undersecretary Camilo G. Gudmalin.

In the regional celebration of the 65th anniversary of the Department of Social Welfare and Development

(DSWD) which happened on February 19, 2016 at Almont Hotel's Inland Resort, Butuan City, Field Office

Caraga highlighted the significant contributions of its partners and stakeholders in the implementation of

various social protection programs and services.

DSWD turns 65

Regional Offices visit Caraga's RLC

4th SLP Congress

Tuloy ang Pagbabago

Kalahi CIDSS Caraga Awards

World Social Work Month, Day

01

03

04

06

07

08

12

13

14

16

17

18

MSU-Marawi students to be

exposed in CDD

Legal Adoption

Her way out of Poverty

Making Social Welfare a Top Priority

DSWD Caraga employees receive

National Accolades

Sustaining the Positive Change

Regional Director Minda B. Brigoli, together with Undersecretary Camilo G. Gudmalin, personally handed

the plaques and certificates of recognitions to the honorees of the Department in Caraga.

Awards that were given are categorized into four (4)- PANATA Ko sa Bayan, PRESTIGE, bayanI Ka, and

Child-Friendly Local Government Units (LGUs).

PaNata Ko (Pagkilala sa Natatanging Kontribusyon) sa Bayan Awards are given to individuals, groups,

and organizations whose "panata" or vow is to share their successes, time, and selves in providing for a

better opportunity for the disadvantaged sectors. This award is categorized into four (4) as well, namely:

Salamat Po, Gawad sa Paglilingkod sa Sambayanan (GAPAS), Gawad Ulat, and Gawad Listahanan.

The following are the list of winners for the said award:

Official Hotlines for Adoption

198 classrooms for IP communities

09

10

20

21

A Foster Parent's Love Language

Age is Just a Number

Salamat Po Award

GAPAS Award

CONSULTANTS : Minda B. Brigoli, CESO III - Regional Director o Mita G. Lim - Assistant Regional Director for

Operations o Nerisa T. Murih - Assistant Regional Director for Administration o Angelita B. Amista - Chief,

Institutional Development Division o Ramel F. Jamen - Chief, General Administration and Support Services

Division o EDITOR-IN-CHIEF : Eunice G. Montaos - Regional Information Officer o WRITERS : Ryan M.

Tapayan - Pantawid Pamilya Information Officer o Marko Davey D. Reyes - Kalahi-CIDSS Social Marketing

Officer o Mary Carmelle C. Jumawan - SLP Information Officer o CONTRIBUTORS : Dante S. Rosales o

Jefferson B. Gonzales o Clark Aries Ingles o LAY-OUT ARTIST : Lynde T. Calipes

Best Non- Government Organization:

Gesu Eucaristico Children's Incorporated

Best Volunteer : Mr. Jimmy Dejolde

Valuable Support to MCCT Pay-out :

New Tribe Missionary (Mr. Albert Castelijn)

Support to Home for Girls :

Philippine National Police;

Dental Health Service 13

Support to DSWD Regional Activities:

Robinsons Place, Butuan City

Support to Disaster Operations :

Department of Public Works

and Highways (DPWH)

Support to SLP Implementation :

Mindanao R & D Consultants, Incorporated

Best Pag-asa Youth Association :

PYAP Cabadbaran City

Best PWD Organization :

San Miguel Association of Persons with Disability

Best Federation of Senior Citizens Association in

the Philippines : FSCAP Surigao City

Model Sustainable Livelihood Association :

Gigaquit, Surigao del Norte SLPA Federation

Model LGU Implementing DSWD Programs :

LGU Bayabas, Surigao del Sur

Model LGU Implementing Kalahi-CIDSS :

LGU Veruela, Agusan del Sur

Model LGU Implementing Supplementary

Feeding Program :

LGU Taganaan, Surigao Sur

JAN-MAR 2016 Caraga Frontline 01
---
Gawad Ulat

Most Supportive TV Station :

TV Patrol ABS-CBN Caraga

Most Supportive National Media :

Manila Bulletin

Most Supportive Local Print Media :

Mindanao Centro Daily

Most Supportive Private Radio Station :

Bombo Radyo

Most Supportive Radio Station :

Radyo Trumpeta

Most Supportive Public Radio Station :

Radyo ng Bayan

Most Supportive Online Media :

Philippine Information Agency (PIA)

Gawad Listahanan

LGU Bislig City

Another award is the PRESTIGE

or Promoting Resurgence and

Excellence of Social Welfare

Officers as Transformation Agents

for Inclusive Growth and People

Empowerment. This award is given

to the most functional Local Social

Welfare and Development Offices.

This is considered a Best Practice of

Caraga designed to bolster existing

competencies and increase the

morale of LSWD Officers along

full functionality. This award has

three (3) categories: Bronze, Silver,

and Gold. The following are the

awardees:

PreSTIGE City (Silver)

LGU Bislig City

PreSTIGE

Province (Bronze)

LGU Province of Dinagat Islands

PreSTIGE City (Bronze)

LGU Cabadbaran City

PreSTIGE

Municipality (Bronze)

LGU Jabonga, Agusan del Norte

LGU Las Nieves, Agusan del Norte

LGU Buenavista, Agusan del Norte

LGU Tubay, Agusan del Norte

LGU Magallanes, Agusan del Norte

LGU San Francisco, Agusan del Sur

LGU Marihatag, Surigao del Sur

LGU Tagbina, Surigao del Sur

The next award is the

Child-Friendly Municipalities

and Cities Award. This is

established through Executive

Order No.184 issued on

December 13, 1999 and is

conferred to deserving LGUs

in recognition of their vital

roles in sustained promotion

of children's rights as well

as in ensuring Child-Friendly

Governance.

The following are the awardees

per province:

Agusan del Norte

Cabadbaran City, Magallanes,

Tubay, Las Nieves,

Remedios T. Romualdez,

Nasipit, Jabonga, Santiago,

Kitcharao, Butuan City,

Buenavista, Carmen

Agusan del SUR

Veruela, Talacogon, Bayugan City,

Prosperidad, Santa Josefa,

Esperanza, San Francisco, Rosario

PROVINCE OF

DINAGAT ISLANDS

Cagdianao, San Jose,

Basilisa (Rizal), Dinagat, Loreto

SURIGAO DEL NORTE

Burgos, San Isidro,

Socorro, Bacuag,

Tubod, Malimono,

Santa Monica, Claver

Surigao City

SURIGAO DEL SUR

Lingig, Barobo, Bislig City,

Cagwait, San Miguel,

Cantilan, Carrascal,

Tagbina, Carmen,

Marihatag, Cortes, Lianga

The LGU of Bayabas, Surigao

del Sur had a special award

on this since the LGU is one on

the shortlisted nominees at the

National level.

Another accolade is the

bayanI Ka. This award is

given to partner LGUs and

community volunteers to

recognize their support to

Kalahi-CIDSS Implementation.

The awardees are considered

champions and advocates

of the Community-Driven

Development (CDD) strategy.

The following are the

modern-day heroes in Caraga:

bayanI Ka

PLGU Local Chief Executive:

Surigao del Sur

(Hon. Johnny T. Pimentel)

MLGU Local Chief Executive:

Hinatuan, Surigao del Sur

(Hon. Candelario J. Viola Jr.)

BLGU Local Chief Executive:

San Isidro, Las Nieves, Agusan Norte

(Hon. Domingo S. Mulig)

Best BSPMC Chair:

Mr. Samuel Ampahan

(Brgy. Kinamaybay, Esperanza,

Agusan Sur)

Best Community Volunteer:

Ms. Juvy Monteclaro

(Brgy. Bunga, Jabonga,

Agusan Norte)

Best Youth Volunteer :

Ms. Christ Janine D. Navarro

(Brgy.Caigangan, Veruela,

Agusan Sur)

Best Senior Citizen Volunteer:

Mr. Lorenzo Lao

(Brgy.Amoslog, Placer, Surigao Norte)

Best PWD Volunteer:

Ms. Marife Lerio (Brgy.Amoslog,

Placer, Surigao Norte)

Best IP Volunteer:

Ms. Vivian Plaza (Brgy. Mabahin,

Cortes, Surigao del Sur)

Best MIAC:

MLGU Las Nieves, Agusan del Norte

Best CSO Partner:

Sibog Katawhan Alang

sa Paglambo (SIKAP)

Best Municipal Coordinating Team:

MCT Pilar, Surigao del Norte

Aside from awards given to external partners, the

Field Office also recognized, through the Program on

Awards and Incentives for Service Excellence (PRAISE),

its outstanding workers. This award is given to DSWD

employees or workers to encourage, recognize,

and reward for their suggestions, innovative ideas,

inventions, discoveries, superior accomplishments,

heroic deeds, exemplary behaviour, extraordinary acts

or services in the public interest and other personal

efforts which contribute to the efficiency, economy,

and improvement in government operations, which

leads to DSWD productivity. The award is divided into

two (2) categories: Individual and Group.

For the Individual category, the nominees are SLP Coordinator Roy R. Serdeña and Administrative Officer

V/Kalahi-CIDSS Regional Coordinator Ramil M. Taculod. The regional winner, and one of the national

winners, is Standards and Social Technology Unit head Golda V. Pocon.

Regional Director Minda B. Brigoli welcomes

the participants who are having their learning visit at

DSWD-Caraga Regional Learning Commons

As the Field Office Caraga of the Department

of Social Welfare and Development

(DSWD) hosted the national training dubbed

as Learning Development Intervention on

Learning System Design held on March 6-11,

2016 at Almont Hotel's Inland Resort, Butuan

City, participants from the different regional

offices of DSWD visited the Regional Learning

Commons (RLC).

The activity aims to enhance competencies

of the Capacity Building Bureau/Units (CBB/U)

personnel and Knowledge Management (KM)

focal persons along designing, implementing,

and evaluating learning development

interventions.

Regional Director Minda B. Brigoli welcomed

the participants and said that the training is an

opportune time for them to visit the RLC which

RD Minda Brigoli (leftmost) and Undersecretary Camilo G. Gudmalin

(rightmost) award the outstanding DSWD Workers as Public Servants,

namely, (from left to right) Roy R. Serdeña and Ramil M. Taculod.

To page 11

won as the National Best Regional Learning Resource

Center (RLRC) in 2015.

"Our RLC is in parallel with DSWD's efforts to establish

knowledge and resource learning center. We are

proud that this facility is first in Caraga, and 2nd in

Mindanao." said Brigoli.

Aside from the learning visit to RLC which happened

on March 8, 2016, the participants also witnessed the

unveiling of the Best RLC Award.

DSWD-Caraga's RLC is a complementary facility of

the DSWD Knowledge Exchange Center (KEC) with a

capability of housing information and communications

technology (ICT)-based operations and processes

to effectively and efficiently carry-out activities and

services that will embody the goals and strategies to

make DSWD a learning organization. ###

02 JAN-MAR 2016 Caraga Frontline

JAN-MAR 2016 Caraga Frontline 03
---
The "product walk" models along with SLP NPMO Dir. Gil Dennis Raposa, SLP NPMO Project Development Officers

Mitzi Tamayo and Vianca Habli, Regional Director Minda B. Brigoli and Regional Program Coordinator Roy R. Serdeña

The Sustainable Livelihood Program (SLP) of the

Department of Social Welfare and Development

(DSWD) Caraga extravagantly showcased the products

and crafts of its program participants during its 4th Annual

SLP Congress on February 12, 2016 in Butuan City.

The event was conducted with the theme "Karon ug

sa umaabot, kalambuan atong makab-ot (Now and

beyond, we will achieve development)".

Attended by 200 partner-beneficiaries from the five (5)

provinces of the region, the activity aims to celebrate the

extraordinary efforts toward self-sufficiency and positive

change of these people.

The event was also graced by Regional Director Minda B.

Brigoli who officially opened the event and delivered an

inspirational message to the participants.

Brigoli highly praised the 200 program participants who

attended the said event.

"Sila ang ating inspirasyon na

ngayon ay resource partners

na ng ating ahensya (They are

our inspiration and now have

become our agency's resource

partners)," she said.

Brigoli also applauded the

stakeholders, public and

private partners who have

contributed a lot in the program

implementation.

"Because you are special,

we made this event special.

We will assure everyone that

we will celebrate this kind of

achievement every year," she

added.

Participants from SLP National Program Management headed by Director Gil Dennis Raposa along with

Vianca Habli and Mitzi Tamayo, Project Development Officer III also came. Raposa was the event's

keynote speaker. In his speech, he shared SLP's thrust and priorities.

"The SLP is a strategy to spread prosperity among communities in the Philippines," he shared. "The program

builds the capacities of its participants to engage in resource-based and market-driven community

micro-enterprises, and/or equips them with the required skills and attitudes to be gainfully employed," he

added.

Raposa also encouraged the stakeholders to sustain their support to the program and its participants.

"Invest with us in our program participants who are the enforcers of the law within the society, experts in

their fields within their communities, models of the youth and major influencers," he said.

He ended his speech with a video clip that will commemorate SLP NPMO's provocative tagline Paano

Kung.To further enhance the entrepreneurial skills of the program participants, a technical session with

Department of Trade and Industry (DTI) on Social Entrepreneurial Technique and Strategies was conducted

before the program proper started.

Moreover, commendation to stakeholder, both public and private

partners was carried out. Awards were given to Department of

Labor and Employment (DOLE), Department of Science and

Technology (DOST), DTI, Bureau of Fisheries and Aquatic Resources

(BFAR), Technical Education and Skills Development Authority

(TESDA), Department of Public Works and Highways (DPWH),

Mindanao R&D Consultants, Inc. (MRDC), Butuan City Manpower

Training Center (BCMTC), Winrock International Institute for

Agricultural Development and Cantilan Bank, Inc..

Bangon Kabuhayan awarding ceremony was also cited to

applaud the outstanding and invaluable enterprise initiatives of

various SLP association or federation.

There was also a photo and product exhibit to celebrate the

incredible turnaround success stories of SLP program participants.

Also part of the program was the "product walk" where the

Field Project Development officers have modeled SLP Caraga

products.

"Dako among kalipay ug pasalamat na nagpahigayon ug

ing-ani na event (We are very happy and grateful that an event

like this was conducted)," said Evelyn Inocente, a parent leader

from Sibagat, Agusan del Sur.

"Lami sa paminaw na natagaan ug pagdayeg among mga efforts

sa pagsustinar sa among mga nagkadaiyang panginabuhian (It

feels so good that our efforts toward sustaining our livelihood was

given appreciation)," she added.

Regional Program Coordinator Roy R. Serdeña assured that SLP

Caraga will continue to hold an event like this and celebrate the

program participants' achievements.

"The program participants deserve this celebration and our

stakeholders as well, thus, we will ensure its continuity," Serdeña.

Established in 2011, the Department of Social Welfare and

Development through the Sustainable Livelihood Program

is holding Annual SLP Congress to celebrate the successes

of our SLP program participants in achieving the goal of our

Department which is uplifting the socio-economic status of our

program participants through engaging in micro-enterprises or

employment.

It also celebrates the efforts of Pantawid Pamilya member-families

towards self-sufficiency and positive change.

Further, it aims to applaud our stakeholders, public and

private partners who have contributed a lot in the program

implementation. It is but necessary to give commendation to

recognize their efforts as we continue to strengthen partnership

with our stakeholders.

In addition, the program participants will also have an opportunity

to display or promote their products and services to the public

and find possible buyers or market. ###

04 JAN-MAR 2016 Caraga Frontline

JAN-MAR 2016 Caraga Frontline 05
---
T

he Department of Social Welfare and

Development (DSWD) Caraga continues

to banner the culture of excellence in the

implementation of the Kapit-Bisig Laban sa

Kahirapan – Comprehensive and Integrated

Delivery of Social Services (Kalahi-CIDSS) as it

bagged four (4) accolades during the Gawad

Kalahi Awards 2015 held at Hotel H2O, Manila on

February 9, 2016.

Asside from the accolades, ARDO Lim was chosen

among all the Asst. Regional Directors to give a

presentation of the best practices and innovations

of the region in implementing the program. A

great testament to the outstanding performance

of FO Caraga.

The Tuloy ang Pagbabago campaign was

launched at the regional level on February

12, 2016 during the celebration of the Sustainable

Livelihood Program (SLP) Congress at Almont Hotel's

Inland Resort, Butuan City.

Leah Rebuta, a Pantawid Pamilya parent leader in

Butuan City, led the launching of the said campaign

along with the 200 selected participants of the said

congress.

During the launch, Rebuta presented through

a testimony the key message of the campaign

which says Pantawid Pamilya is a program of the

government that provides cash grants to registered

households to augment their needs in education

and health of children aged 0-18.

The campaign also emphasizes that it is only DSWD

and no other government offices or a person can

delist Pantawid Pamilya beneficiaries from the

program if they cannot comply the conditions of the

program.

Delisting of the program participants are based

on the official variables from the Beneficiary Data

Management (BDM) guidelines and ineligibility

criteria of Grievance Redress System (GRS) which

are the following: (1) duplicate entry, (2) no to 0-18

years old dependent, (3) moved-out, (4) beneficiary

personally signed a waiver, (5) validated as financially

stable with regular income, and (6) fraudulent

activity (misrepresentation and false information),

respectively, but all are subject for validation by the

Pantawid Pamilya parent leader from Butuan City Lea Rebuta initiates the

Regional Launching of the Tuloy ang Pagbabago Campaign in Caraga Region.

city/municipal link officers (C/MLOs) assigned in

the prospected area.

To put a sound to the said campaign, Tuloy ang

Pagbabago is being advocated through the

monthly conducted family development session

(FDS).

Aside from visiting the municipal social welfare

and development offices (MSWDOs) and looking

for MLOs, partner-beneficiaries can use the

official text line for their inquiries at 0918-912-2813

and follow the text format,

The awarding ceremony, which was conducted

during the 2015 Performance Review and

Evaluation Workshop (PREW), acknowledged best

performing regional offices, and highlighted best

practices and innovations that paved the way in

meeting the goals of the program.

DSWD Caraga Director Minda B. Brigoli, together

with Asst. Regional Director for Operations Mita

G. Lim, and members of the Regional Program

Management Office (RPMO)

were on hand to receive the

awards for Best Performing

Region in Medium Category,

in Bottom-Up-Budgeting (BUB)

Implementation, in Government

of Australia – Department

of Foreign Affairs and Trade

(GOA-DFAT) Implementation,

and an award for Innovation

and Breakthrough in CDD

Management for the "Creation

of Responsive Municipal

Inter-Agency Committee

(MIAC) and Advanced

Financing Monitoring System.

DSWD Caraga Team, together with Mindanao Island Cluster Monitor

Elise Sogo-an, pose with the 4 awards bagged during the Gawad Kalahi

Awards ceremonies held at Hotel H2O, Manila, on February 9, 2016.

The four (4) awards harvested by DSWD Caraga for

the 2015 Kalahi-CIDSS implementation are great

additions to a number of awards and recognitions

already under the belt of DSWD Caraga.

Kalahi-CIDSS National Program Manager Benilda Redaja (2nd from left) awards

DSWD Caraga the Best Performing Region – Medium Category the 4th award given to the

team in acknowledgement of the field offices' outstanding performance in the program

Implementation. Also in the photo are USec. Camilo Gudmalin (2nd from right).

The presentation, entitled

"What Works For Caraga?,"

focused on the managerial

role of the Assistant Regional

Director for Operation,

specifically how operations

in the regional, sub-regional

and field offices are handled.

Kalahi-CIDSS National

Program Manager Benilda

E. Redaja commended Lim

for her presentation, and

thanked FO Caraga for

sharing the best practices

that could be replicated by

the other regions to ensure

best possible results in the

program implementations.

Regional Director Brigoli challenged the RPMO to

continue the culture of excellence in the region,

encouraging the team to be more innovative in

2016, and continue to be the top performer in the

national level.

The Kalahi-CIDSS Year-End PREW is a regular

workshop conducted to revisit the program

implementation of the regional offices, and a

venue to give direction and updates for the

following cycle year implementation. ###

06 JAN-MAR 2016 Caraga Frontline

JAN-MAR 2016 Caraga Frontline 07
---
Social Workers of the Department of Social

Welfare and Development (DSWD)-Caraga

and other agencies/organizations convened

on March 15, 2016 at Luciana Convention, this

city, to celebrate the World Social Work Day and

Month.

The Department strongly supported this year's

celebration which bears the theme "Promoting

the Dignity and the Worth of Peoples".

The said theme underscores the significant

roles of social workers in acting against growing

inequalities and the worldwide dynamics that

perpetuate poverty and oppression.

Objectives of the observance of the international

celebration include advocating public

appreciation and recognition of the Social Work

profession, facilitating venue for strengthened

engagement with Social Workers in other settings,

and imbibing the sense of pride among Social

Workers in the profession they have chosen.

Members of the Association of DSWD Social

Workers Incorporated (ADSWI) and other

Social Workers in Caraga actively participated

the motorcade and one-day gathering in

observance of the celebration.

Golda V. Pocon, regional president of ADSWI

and head of the Social Technology/Standards

Bureau units, discussed the topic "Role of Social

Workers Towards an Undivided Humanity".

"Like millions of others worldwide, the Social

Workers of DSWD Field Office Caraga take pride

Social workers in Caraga joyfully dance during the Ice Breaker

session in their one-day gathering on March 15, 2016 to observe

the World Social Workers' Day.

of being part of a profession that acts decisively on

its deep understanding of human behavior," Pocon

said.

"Social workers are at the forefront of social

consequences and social realities," she added.

Angelita B. Amista, chief of the Protective Services Unit

and Institutional Development Division, highlighted

in her message the significant contributions of the

Social Workers in the world.

"Our contribution to the world is very significant as

we confront challenging career issues of diverse

individuals, families, and communities, and societies

and we develop methods and solutions that help

these people reach their full potential despite and in

spite complex realities," Amista shared.

Regional Director Minda B. Brigoli, also a proud

Social Worker, extended her warm greetings to all

the practitioners of the profession.

"This World Social Work Day is dedicated to all of

those whose work is more than the ordinary for the

extra special sectors of the society-our motivation,"

Brigoli quipped.

The WSWD is an annual celebration every March

which aims to influence international, regional, and

local policies, government actions and to highlight

the value and contributions that social workers make

every day throughout the world. ###

As part of this year's National Adoption Consciousness celebration,

the Department of Social Welfare and Development (DSWD)

Field Office Caraga launched on February 15, 2016 at Robinsons Mall,

Butuan City, the official hotlines 09173274474/09998652494 to facilitate questions about Adoption and

information about abandoned children.

These hotline numbers are printed in bumper stickers produced by the Field Office, through the Adoption

Resource and Referral Section (ARRS) and the Social Marketing Unit (SMU). These stickers will be distributed

to Public Utility Vehicles for information and popularization to the public.

Regional Director Minda B. Brigoli, together with the members of the Regional Child Welfare Specialist

Group (RCWSG), initiated the ceremonial launch of the mentioned hotlines.

For inquiries or information on Adoption and abandoned children, you may text the hotlines following the

text format: ARRS [space] Name [space] Address [space] Question/Information. ###

Members of the Regional Child Welfare Specialist Group

members led the launch of the official hotlines for Adoption.

08 JAN-MAR 2016 Caraga Frontline

JAN-MAR 2016 Caraga Frontline 09
---
Community leaders from the different Indigenous Peoples

(IP) tribes of Caraga converged at Almont Hotel's Inland

Resort on March 28-29, 2016 for the Whole of the Nations Initiative

(WNI) engagement, where a proposed 198 classroom buildings

will be constructed in IP communities all over the region.

The WNI engagement, which is being spearheaded by the

Department of Social Welfare and Development (DSWD)

through the Kapit-Bisig Laban sa Kahirapan – Comprehensive

and Integrated Delivery of Social Services (Kalahi-CIDSS)

Program, is a convergent effort of the different stakeholders

(national agencies/national commission offices) in addressing

the different issues of poverty, especially those related to

conflict problems.

DSWD is in partnership with the Department of Education

(DepEd), Department of Interior and Local Government (DILG),

and the National Commission for Indigenous Peoples (NCIP) in

extending aid to IP communities in providing school classroom

buildings, especially those communities in geographically

isolated and disadvantaged areas (GIDA) which still do not

have provisions for school classrooms.

Regional Director Minda B. Brigoli, addresses the IP Summit participants

during her welcome address, thanking the leaders for their time and

effort in attending the said activity. During her speech, she promised

the participants that DSWD and the partner agencies will give a hundred

percent to ensure the success of the WNI engagement in the different IP

communities in the region.

Tanny Quillano, Indigenous Peoples Mandatory

Representatvie (IPMR) of Carmen, Surigao Del Sur, expressed

that the classroom buildings should be designed in

accordance to the different tribes' customs and traditions.

Engineer Jovenal Bernat, Regional Community

Infrastructure Specialist for Kalahi-CIDSS Caraga

presents the specifics of the proposed classroom

building designs to the body, subject to their

comments and suggestions.

DSWD Field Office Caraga Regional Director Minda B. Brigoli, commended the IP leaders for responding

to the invitation to be part of IP Summit, which will serve as a venue for consultation between the WNI

implementers and the IP leaders.

"Malipayon kami nga ani-a kamo uban kanamo para madungog namo ang inyong opinyon, mga

pangutana, ug mga suhistyon para sa atong pagabuhaton nga partnership sa pagtukod sa mga

classrooms sa inyong mga komunidad (We are glad that everyone is here with us so that we will be able

to hear your opinions, concerns and suggestions in our engagement in building your classrooms in your

communities)," Brigoli said.

The IP Summit is part of the series of activities to be conducted in implementing the WNI engagement,

which would also include site validation of the 198 identified areas, from the 75 barangays, 17 municipalities

all over Caraga, and a community assembly, where the IP leaders will communicate the details of the

WNI engagement to their communities for consensus for the engagement.

The Summit concluded with the IP leaders coming up with their respective scheduled timelines in

implementing the sub-projects in their areas. The schedule will be a guide to the WNI implementers and

the community to ensure that the sub-projects will be completed by June, in time for the 2016 opening

of classes. ###

from page 1- DSWD turns 65...

For the Group category, the

Best Funtioning Convergence

Action Teams were recognized.

The following are the nominees:

MAT Gigaquit, Surigao del Norte

1. Elizabeth D. Cabug-os

2. Darmina M. Jakaira

3. Giemar Lucino

4. Archerd Oraliza

5. Regiel Balagar

6. Homer Deloso

7. Joni Desi G. Lucar

8. Jennifer N. Ayuban

9. Nieva Frenzyl M. Mondalo

10. Mercy Nakila

11. Rolendo Dosol

MAT Tagbina, Surigao del Sur

1. Jireh Niel A. Felizarta

2. Emelyn O. Oliveros

3. Karin Jane C. Balayo

4. Irene C. Coralat

5. Mary Jane Gavino

6. Marilou Tan

7. Jocyglin Decamutan

8. Alfredo Havana

9. Ma.Estella Regaspi

The Best Functioning Team, and second place

at the national level, is the team of Talacogon,

Agusan del Sur with members:

1. Arnold B. Manalo

2. Reynalie Jane P. Salvacion

3. Lovely Mae B. Corpuz

4. Juniel D. Cabiling

5. Shiela Rose W. Bauson

6. Annabelle Labrador

7. Cristy A. Rocero

8. Marlon Radaza

9. Daryl P. Prado

10. Al Aguillon

11. Rienalyn Durango

12. Frietz Gerald Montejo

13. Princess Leolyn Balacuit

14. Jerr Seigfred Kalinawan

15. Engr. Wilben Narbara

16. Charme Lou S. Tero

17. Leo Tristan S Bagcat

Another award for the internal staff is the

Loyalty Award – an incentive granted to DSWD

employees who have served continuously and

satisfactorily the Department for at least ten (10)

years. Social Welfare Officer Vilma U. Bare and

Administrative Assistant Margie Rose Gundaya

were recipients to this award for serving 20 and

25 years, respectively.

In her message, Regional Director Minda B.

Brigoli expressed appreciation to the awardees

and attendees for their commitment in making

sustainable development happen.

"These Awards symbolize our sincere gratefulness

to all of you. Your efforts are deeply appreciated.

The 65 years of DSWD will not be this meaningful

without your support and/or collaboration." said

Brigoli, addressing the awardees.

Furthermore, Undersecretary Camilo G.

Gudmalin, the keynote speaker of the event,

encouraged all the awardees through voicing his

appreciation and congratulations. His message

emphasized the essence of the Convergence

strategy and its high importance in excellently

delivering the programs and services of DSWD.

He encouraged the present partners and

stakeholders to continue their support.

Gudmalin also commended Brigoli for her

leadership and cited the various awards that

were reaped by DSWD-Caraga in the previous

year, highlighting the ISO certification.

"I share with your pride of being the FIRST Field

Office of DSWD to be ISO 9001: 2008 certified,"

he said.

Other highlights of the half-day event are the

response messages of Mayor Clarita Limbaro of

Bayabas, Surigao del Sur and CSWDO Letecia

Yu of Bislig City and the launching of Larawan

2.0 compendium and Caraga Frontline 2nd

Semester CY 2015.

DSWD 65th anniversary celebration bears the

theme, "DSWD@65: Mga Kwentong Tagumpay

Tungo sa Masaganang Pagbabago". ###

10 JAN-MAR 2016 Caraga Frontline

JAN-MAR 2016 Caraga Frontline 11
---
A

total of 30 Community Development

(CD) students from the Mindanao State

University – Main (Marawi) will be exposed

to Community-Driven Development (CDD)

implementation in communities under

the Kapit-Bisig Laban sa Kahirapan –

Comprehensive and Integrated Delivery

of Social Services (Kalahi-CIDSS) program

here in Caraga.

The Department of Social Welfare and

Development (DSWD) Caraga welcomed

the students, together with their school

officials and clinical instructors who will be

having their five month – long practicum

here in the region.

A

s the lead

agency for the

National Adoption

Consciousness

celebration every

February,

the

Department of

Social Welfare

and Development

(DSWD)-Caraga

conducted different

activities this month in

relation to intensifying

the advocacy efforts

on legal adoption.

Regional Director Minda B. Brigoli (in black) poses with the Foster

and Adoptive Families in Caraga region.

Assistant Regional Director

for Operations Mita G. Lim

expressed delight especially

that DSWD Caraga has been

chosen to be the venue for

the practicum.

"DSWD Caraga feels

proud that MSU –Marawi,

specifically the CD

Department, decided to

have their practicum here

in the region, even though

there are nearer regions in

Lanao del Sur where they

can have their practicum,"

Lim said.

Marian Myrtle G. Onod, CD

Department chairperson

expressed her gratitude

to the management for

accepting their request to

have their practicum in the

region.

"We have received a lot

of positive feedbacks,

especially from our CD

graduates, about the

performance of DSWD

Caraga in the implementation

of Kalahi-CIDSS (NCDDP).

We have checked the track

record of the office in their

implementation of CDD, and

sure enough, the information

we have received has been

very positive," Onod said.

The MSU-Marawi Community Development students, together with their school officials and

instructors pose with Ms. Elsa Montemor (seated, 7th from left), Regional Community-Driven

Specialist (Kalahi-CIDSS Caraga) and members of the Kalahi-CIDSS field workers during the

conduct of the program orientation in DSWD Field Office Caraga, Butuan City.

The students will be deployed

to the different municipalities

in the region, where they will

be immersed to barangays/

communities with Kalahi-CIDSS

implementation. Students will

be mentored by Kalahi-CIDSS

field workers assigned in

implementing municipalities, and

will be overseen by the Regional

Program Management Office

(RPMO) of Kalahi-CIDSS Caraga.

Ondo also explained that DSWD

Caraga was highly endorsed,

even by their College Dean

because of the performance

of Kalahi-CIDSS Caraga, as per

record from the National Program

Management Office. She also added

that MSU-Marawi is trying to improve

their CD curriculum, and pattern

it closer to Kalahi-CIDSS, deviating

from the curriculum designed after

the Department of Interior and Local

Governance.

"We need to adjust our curriculum

and pattern it with Kalahi-CIDSS since

it is now the lead CDD program of

the government with the emergence

of the NCDDP," Ondo said.

Kalahi-CIDSS is one of the lead

anti-poverty programs of the

Philippine Government being

implemented by DSWD in the various

municipalities in Caraga. ###

A kick-off program was

facilitated on February 15, 2016 at Robinsons Mall, Butuan

City and was attended by the members of the Regional

Child Welfare Specialist Group (RCWSG), Prospective

Adoptive Parents, selected Local Social Welfare and

Development Offices (LSWDOs), media partners, residents

and staff of Home for Girls, and other guests.

Other activities conducted are Launch and Distribution

of Adoption Hotline (Feb.15), Family Portrait Contest

(Feb.13-15) Installation of Information and Help Desk at

Robinsons Mall (Feb.13-14), Poster Making Contest for high

school students (Feb.17), Regional Congress for Adoptive

and Foster Parents (Feb.18-19), TV/Radio Guestings,

Deca5second Film Competition for DSWD employees

(Feb 1-15), Regional Adoption Forum (Feb.16-17), and

Special Adoption Forum for DepEd Employees (Feb.17).

Messages that the DSWD wanted to convey through the

conduct of the mentioned activities are the following:

(1) There is NO distinction between an adopted and a

biological child because they have the same rights; (2)

There should be a pro-active approach to the prevention

of direct entrustment of children for adoption; and (3)

Prospective and adoptive parents are discouraged to

go through independent entrustment/placement only to

come out later on the legalization of adoption.

The advocacy on legal adoption reminds the public that

Simulation, or the tampering of the birth certificate to

make it appear that the adoptive parents are the real

parents, is a criminal offense and has a corresponding

penalty.

Regional Director Minda B. Brigoli, who graced the

lined-up events, said that DSWD bolsters its advocacy to

assure the public that the Department can deliver one of

its mandates which is to look for the welfare of

the children.

"Through our RCWSG members, we can

ensure that these surrendered, abandoned,

and neglected children are placed in suitable

families and homes through Adoption which

justifiably determines the best welfare and

interest of these children," she said.

"With these, we are urging everyone to be

strong advocates of Legal Adoption," Brigoli

added.

This year's observance of the celebration has

the theme "Legal na Ampon Ako, Anak na

Totoo (A Child Finds Worth in Legal Adoption)"

###

12 JAN-MAR 2016 Caraga Frontline

JAN-MAR 2016 Caraga Frontline 13
---
Her perspective about life now widened.

She can now afford sending her children to

college. Her daughter Penkie graduated

Bachelor of Science in Commerce major

in Management at Don Jose College. Her

son Lydon is currently studying in the same

school. Benjamer, her youngest is now a

grade 10 student at Don Ruben Edera

Ecleo Sr. Memorial National High School.

The latter attends youth development

session (YDS) and was one of the

participants of the Gender and

Development (GAD) caravan in their

province.

"Ako ang usa lamang sa liboan nga mga benepesyaryo

nga nabag-o ang kinabuhi tungud sa programa.

Kinahanglan nga mapadayun gyud ang programa aron

mas daghan pa nga parehas nako nga makatawid

sa kaunlaran. Karon, makaingun na jud ko nga Kaya

Ko ang Pagbabago (I am just one of the thousand

partner-beneficiaries of the program whose lives have

changed because of the intervention of the Pantawid

Pamilya. This program should be institutionalized so it could

help more Filipino alleviate poverty condition. Now, I can

say, Kaya Ko Ang Pagbabago)," she closes.

When love, hard work, dedication, and trust to oneself are

there, Amelita's story can also happen to everyone. ###

There have been lots of rugs to

riches stories told. However,

the story of Amelita is just one of

a kind; hers is a colourful story of

love, and how she fought for it.

In 1979, Perquera Family moved

to San Jose, Province of Dinagat

Islands for good. Amelita is married

to Romeo, a native from the

Visayas. The couple is blessed with

four (4) children- Jomar, Penkie,

Lyndon, and Benjamer.

Living in an island, Romeo does

fishing for a living. He cuts across

the wide blue Dinagat inlet to

provide food for his family.

Amelita helps him. Blessed with

skills on handicrafts, she makes

bags, wallets, bracelets, and

other souvenir items. During peak

seasons, when members of the

Philippine Benevolent Missionaries

Association (PBMA) gather,

she accepts orders from the

organization's official.

Hardships and Realizations

Despite all efforts, the couple still

see a problem in augmenting the

needs of their children. Jomar,

their eldest was forced to help

them. This was the reason he did

not finish high school.

"Lisud kayo pamalandungun

ang mga kaagi nga nanglabay.

Panagsa, matulog mi nga walay

kan-anay (It's so hard to think

how we have gone through with

the past. Sometimes, we go to

sleep even without food in the

stomach)," Amelita shares.

With the difficulty, she regrets

not attending classes when she

was still studying.

"Lisud diay gyud kaayo ning

wala tay gi-eskwelahan.

Kanang dili ta kabasa, dili ta

kasulat, murag imong mabati

nga ang oportunidad, sa uban

lang mahatag, ug ikaw wala

gyud tawon (It's so hard when

we haven't gone to school. If

you can't read and write, it feels

like opportunities are only given

to others)," she adds.

Pesquera Family remains hopeful

that they could withstand

poverty. Their love for one

another inspires them to make

the most of the little they have.

"Tungud sa gugma sa akong

pamilya mupadayon kami. Uban

sa akong bana, mangita mi ug

pamaagi aron makahilwas kami

sa kalisud (Because of the love

of my family, we will continue.

With my husband, we will find

ways to alleviate our poverty

condition)," Amelita quips.

Obvious Changes

In 2010, Pesquera Family

became a recipient of Pantawid

Pamilyang Pilipino Program.

It is a conditional cash transfer

(CCT) program of the Philippine

Government under the

Department of Social Welfare

and Development (DSWD).

It aims to eradicate extreme

poverty in the Philippines by

investing in health and education

of children particularly ages

0-18. It is patterned on programs

in other developing countries in

Brazil (Bolsa Familia) and Mexico

(Opurtunidades).

"Nalipay kaayo ko kay nakita

nako nga wala gyud diay mi

nakalimtan sa atong gobyerno.

Karon nga naa na ang Pantawid

Pamilya, wala nay rason nga dili

nako mapa-eskwela ang akong

mga anak. Ako na gayud nga

matagaan ug mapanalipdan

ang akong mga anak sa sakit

tungud kay gina-monitor man

sa maong programa ang health

sa akong mga anak (I am so

happy that Pantawid Pamilya

came and helped us. I have

proven that our Government did

not forget us. I don't have any

reason not to send my children

to school. I can now protect my

children from sickness because

the program monitors their

health)," says Amelita.

Grateful and Inspired

Amelia is thankful to other government

agencies for the interventions her

family received. She was part of the

enhanced handicraft training of the

Department of Trade and Industry (DTI),

and training on Philippine Traceability for

Revitalized Agricultural Competitiveness

Enhancement System. In 2010, she was

also elected as member of the barangay

council.

Seeing her potential, the Sustainable

Livelihood Program (SLP) of DSWD

included her in the Product Development

Training to fully enhance her skills in

handicraft making and help her find a

bigger market.

Amelita's products are now displayed

in Tindahang Pinoy at Robinsons Place

Butuan. The said gallery is owned by a

private proprietor whose products are

produced by DSWD and DTI Caraga

program partner-beneficiaries.

14 JAN-MAR 2016 Caraga Frontline

JAN-MAR 2016 Caraga Frontline 15
---
In line with the 65th anniversary celebration of the

Department of Social Welfare and Development

(DSWD), outstanding employees were given

recognition through the PRAISE and Loyalty Awards

held at AIM Conference Center, Makati City on

January 27, 2016.

Secretary Corazon Juliano-Soliman (in pink Filipiniana) personally hands the

certificates of recognition to the members of MAT Talacogon as 2nd place

Best Functioning Action Team (Photo Credits: Jane Pulido)

Infrastructure, commercial, and

agro-industrial sectors have

always been the top priorities

among the developing countries

such as the Philippines.

In terms of formulation of key

policies, programs, and budget

allocation, the municipality of

San Francisco, Agusan del Sur,

however, is making a different

trend. The Local Social Welfare and

Development (LSWDO) topped

the budget appropriations for

the year 2015; a scenario which

some consider a deviance to the

customary.

As to the appropriations at

the local level, some social

welfare offices lag behind

livelihood, infrastructure, and

agricultural offices. We have

been entrenched of the tangible

dogma at development which

includes building, concrete roads

and infrastructure as hallmarks

of progress. This in turn causes a

decline in interest on intangible

yet vital aspects of development

which include social services.

The relentless effort to put

emphasis in finding social services

through comprehensive reports

and statistics made a shift on the

trend. This has created a wakeup

call to put a halt on downplaying

the significance of social welfare

agenda as it is already considered

to be an important determinant of

sustainable growth and progress.

Networking and Resource

Allocation on Display

What better way to ask for

budget increase than to

show concrete evidence of

accomplishments despite

having a lower budget in

the preceding years? The

MSWDO exemplary display

a professional disposition in

times of local performance

checkpoint by showing a good

track record amidst financial

constraints.

So how it is really done and

accomplished? Having a low

budget allocation has never

been a top consideration

on one's performance and

after all, MSWD is primarily all

about service. This created

an innovative working

environment as a response to

the challenge. Resources are

utilized and mobilized outside

the office to keep in the loop

of delivering programs and

services for the clients such

as those from the barangays

and the Non-Government

Organizations (NGOs) and

People's Organizations (POs)

such as the Rotary Clubs.

There is this unique bond that

links the MSWD office and

the barangay that is rooted

deeper than just merely giving

and receiving relief goods in

times of disasters. This way used

merely as an advantage in the

successful implementation of

the programs and services in the

barangays. Usually, programs

with limited or no budget

allocation are scraped out in the

line-up of services, but not in this

case. In fact, this has even made

them more eager to deliver

despite the situation. Support

from the barangay officials and

private service providers within

the network played a huge

part in the implementation

of programs and projects

despite the surrounding limiting

circumstances.

Children in conflict with the law

(CICL) on top of the priorities

The office was instrumental in

maintaining a profiling activity

on the status of children every

year. They made it a point that

the barangays embrace this

survey like profiling on children

to capture children in need

of special protection (CNSP)

that is including CICL and

Children At Risk (CAR) cases. The

consolidated result showed that

right now, there are at least 20

CICL or CAR cases yearly and

it is increasing. The trend also

suggests that along with the

growing economy of the LGU,

a social problem such as CICL is

sprouting. San Francisco is more

looking like a full grown city than

the other officially anointed

Cities in Caraga just recently.

For Field Office Caraga, Social Technology and

Standards Unit Head Golda V. Pocon was awarded

as one of the Outstanding DSWD Workers as Public

Servants.

Her numerous significant and notable contributions

in the Department were recognized through the

accolade.

DSWD Secretary Corazon Juliano Soliman and

Caraga Regional Director Minda B. Brigoli during

the PRAISE and Loyalty Awards

for the DSWD 65th Anniversary

Also an awardee is the group of the Municipal

Action Team (MAT) in Talacogon, Agusan del

Sur with members Arnold B. Manalo, Reynalie

Jane P. Salvacion, Lovely Mae B. Corpuz, Juniel

D. Cabiling, Shiela Rose W. Bauson, Annabelle

Labrador, Cristy A. Rocero, Marlon Radaza,

Daryl P. Prado, Al Aguillon, Rienalyn Durango,

Frietz Gerald Montejo, Princess Leolyn Balacuit,

Jerr Seigfred Kalinawan, Engr. Wilben Narbara,

Charme Lou S. Tero, and Leo Tristan S Bagcat.

The said team got the second place spot of the

Best Functioning Action Team award.

MAT Talacogon was assessed as a functional Convergence team

with the obvious presence of the following elements: unified

office space with sufficient, appropriate equipment and logistics,

presence of an organizational chart, identity/brand formulated

which is Mahigugmaong Talacogon, own Vision, Mission, and

Goals anchored on the VMG of the Department, regular conduct

of monthly MAT and Municipal Convergence Action Committee

meetings, and Scorecard and Action Plans.

DSWD Secretary Corazon Juliano-Soliman and Undersecretary

Camilo G. Gudmalin personally handed the plaques of recognition

and cash prizes to the awardees who were accompanied by

DSWD-Caraga Regional Director Minda B. Brigoli.

Brigoli also received a Loyalty Award for her 40 years in public

service.

The said staff and official will again be recognized in the regional

celebration of Field Office Caraga on February 19, 2016 at Almont

Hotel's Inland Resort, Butuan City.

The giving of awards under the PRAISE (Program for Rewards,

Awards and Incentives for Service Excellence) awards is an annual

activity of the DSWD to encourage and recognize exemplary

performance of its employees nationwide.

This year's 65th Anniversary Celebration of DSWD bears the theme, "DSWD@65: Mga Kwento ng Tagumpay

Tungo sa Masaganang Pagbabago".

To page 21

16 JAN-MAR 2016 Caraga Frontline

JAN-MAR 2016 Caraga Frontline 17
---
Change starts with a simple

choice.

In December 3, 2013, the 158

members of Self-Employment

Assistance Kaunlaran (SEA-K)

Federation in Jabonga, Agusan del

Norte agreed to contribute Php500

each to put up a catering services

livelihood project. With a starting

capital from their own pockets

amounting to Php86, 500, the

Jabonga SEA-K Federation, Inc. was

able to put up a Catering Services

business.

Through the Technical Vocational

Skills Training on Catering Facilitation

along with starter kits provided by

the Sustainable Livelihood Program

(SLP), the business was able to

operate more efficiently.

"Nakita namu na maayo na

negosyo ang catering services,

mao ng nangita mi ug paagi na

mapatungod kini (We see catering

services as good business that is

why we find way to put it up)," says

Florence Mongaya, the federation's

president.

"Ug tungod sa tabang sa SLP, mas

natarong amo pag operate sa

negosyo (And with SLP's help, we

were able to operate our business

efficiently)," she adds.

A space in the heart of the municipality

was donated by the Municipal Local

Government Unit (MLGU) that served as

storage room for catering service and

display center. This is taken advantage

by engaging into general merchandise,

display center and office; and

stockroom for their catering services.

The display center provides a venue for

the products of the various associations.

"Pasalamat kami sa space na gihatag

sa munisipyo kay makatabang kini sa

hustong pagpromote namu sa amo

produkto (We are grateful of the space

provided by the municipality; this

helped us in promoting our products),"

says June Ann Dejolde, the federation's

treasurer.

The federation accepts catering

services in all occasions and even

provides services to SLP, Kapit-Bisig

Laban sa Kahirapan- Comprehensive

and Integrated Delivery of Social

Services (Kalahi-CIDSS), Department

of Science and Technology (DOST),

Department of Trade and Industry (DTI),

and even in Supplementary Feeding

Program. In line with this, an honorarium

is provided to those who have been

part during the catering such as Cook,

assistant Cook, and servers.

With a positive net profit, the

federation has expanded their business

through micro-lending and general

merchandise.

The micro-lending business offer less

interest rates. The general merchandise

has brought an easy access to basic

commodities and other wide array of

goods.

"Kay nakaya namu ang kabag-uhan,

amo kini ipadayon ug daghang salamat

SLP (Because we conquered the

change, we will continue it and thank

you SLP)," June Ann concludes. ###

Members of the Jabonga SEA-K Federation show their bliss inside

their general merchandise space located beside the municipal hall

of the town. The space was a local counterpart contribution of the

local government of Jabonga to them.

18 JAN-MAR 2016 Caraga Frontline

JAN-MAR 2016 Caraga Frontline 19
---
One adoptee once shared, "My birth mother

brought me into this world, but it is my adoptive

parents who gave life to me".

Louie (not his real name), has been under the

custody of his foster family since he was two (2)

days old. Couple Ronnel and Daisy (not their real

names) are very delighted with Louie's presence in

their family. They introduced him to their three (3)

biological children as their youngest brother.

Sickly and physically weak, the couple did not

consider Louie as a burden to the family rather a

great blessing for them to show love at its finest and

its most genuine form. Since the child arrived in their

doorsteps through an unknown old lady (said to be

the biological grandmother), Louie is observed to

be pale, thin, and yellowish.

"When the old lady knocked in our door and asked

our help to take care of Louie, he was wrapped

with a green baby cloth," shares Daisy.

"He (Louie) wore white gloves, white socks, and

white cap. Weighing 2.6 kilos only, his ribs were very

noticeable and he has few rashes on his body." she

adds.

Since then, the couple have always brought

Louie to the pediatrician for constant medication.

According to the doctor, the baby has a weak

immune system and he needs to take vitamins

and other medication to boost his system.

Complete immunization was then provided to

the child.

Two months after, Louie was admitted to

their town hospital, and was diagnosed with

congenital heart disease. He has Atrial Septal

Defect (ASD) measuring 6.9mm-9.00mm with

left to right shunting. He was recommended to

undergo a Two-Dimensional Echocardiogram

(2d Echo) every six months to monitor his septum

defect. According to the doctor, the septum

may possibly close but there is also a possibility

that it will not. If Louie would turn 1 year old and

the septum will not close, he is advised to undergo

heart surgery for the closure of Ventricular Septal

defect tetralogy of Fallot when he is between 1

to 5 years old.

Like their own, the couple ensured the good

health of Louie and followed the prescriptions

of the doctor. Both Ronnel and Daisy did not

hesitate to spend money to guarantee that

Louie will be treated from his sickness and he will

be of sound health.

Gladly, when Louie turned 1 year and 11 months,

the doctor found out that he no longer has the

Atrial Septal Defect (ASD).

Louie is now 2 years old. He stands 34 inches and

weighs 9 kilos. The child can now utter words like

Tay-tay, Tetet, and Nanay. He says "nam-nam"

to express when he is hungry or wants to drink

milk. Louie smiles and giggles when played by

the biological children of her foster parents. He

dances when he hears music, learns gesture by

bowing his head to touch the hand of the elders

as a sign of respect. He now can walk on his own

and roam around the house unassisted.

Until now, the couple has no idea on the names

and address of Louie's biological family. They

tried various means such as broadcast and print

media to ask the public regarding the identity of

the child's parents. However, there were no responses to the said

announcements and none of his biological family appeared to

the proper authorities. When Louie's grandmother brought him to

the couple last September 2013 in their house in Surigao City, she

begged them to take care of her grandson because they could

not afford to raise the child and provide his basic needs. The only

information provided to them was that the mother of the child was

still underage.

It has been two years since the child's parents and relatives did

not come back to claim his custody. Nonetheless couple Ronnel

and Daisy are responsibly and compassionately taking good care

of Louie. They are now facilitating their legal adoption of Louie, to

formalize and legalize their already performed role to him as his

parents. ###

AGE IS JUST A NUMBER

Cresencia C. Tiseo of Brgy. San Pablo, Tubod, Surigao del

Norte still has it at 64. She is one of the many women

of Kalahi-CIDSS who are paid laborers working on

their community sub-project. Cresencia is very active in

building their river slope protection sub-project; seen here

providing information to the project foreman regarding the

utilized materials for the day. Kalahi-CIDSS ensures equal

opportunities for men and women in paid labor, and age

is never a problem, as long as they are capable of getting

the job done.

© Photo Credit – Michael Joseph Mongaya

(Community Empowerment Facilitator – Tubod, SDN)

from page 16- Making Social Welfare

a Top Priority...

During the Annual Prioritization of

the Local Poverty Reduction Action

Team (LPRAT), the office is pushing

hard that the increasing number

of CICL cases in the municipality

should be included among the top

ten priorities of the LGU. As a result,

the problem has indeed landed

a spot in the list – at the third (3rd)

spot. As the LPRAT is the anointed

body to determine appropriations

for poverty alleviation programs,

the office proposed to construct

a center or youth care facility for

CICLs. This we dubbed as "The

Community-Based Detention and

Rehabilitation Center (CBDRC)

for Children in Need of Special

Protection". Today, the center is

now 80% complete and the budget

for Operation and Maintenance of

the facility is already approved.

The decade old Comprehensive

Programs for Children and Youth

has been in existence almost a

year when the Juvenile Justice

and Welfare Act or Republic Act

(RA) 9344 was approved in 2006.

The programs and services for

same have seen its ups and lows,

but it did not vanish. Resources

were tapped to keep it afloat

until these little victories emerge.

The construction of a youth care

facility in the municipality and the

budget increase for social welfare

and just some of the bigger reasons

to celebrate in recent years and in

2016.

This is a high indication that the call

for more empowered, coordinated

social services are slowly being

heard. These things are important

since without the support, the

overall goal of providing quality life

to constituents would seem a long

shot for years to come. ###

20 JAN-MAR 2016 Caraga Frontline

JAN-MAR 2016 Caraga Frontline 21
---
visit our website:

www.caraga.dswd.gov.ph

like us on facebook :

DSWD Caraga

follow us on twitter :

@dswdcaraga

follow us on instagram :

@dswd_caraga

DEPARTMENT OF SOCIAL WELFARE AND DEVELOPMENT

Field Office Caraga || R. Palma St., Butuan City

Telephone Nos. (085) 342-5619 to 20; (085) 815-9173

E-mail: focrg@dswd.gov.ph