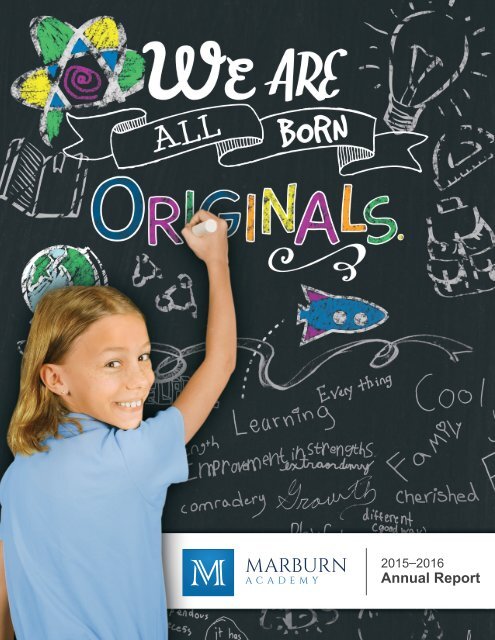 You also want an ePaper? Increase the reach of your titles
YUMPU automatically turns print PDFs into web optimized ePapers that Google loves.
MARBURN

ACADEMY

MARBURN

ACADEMY

2015–2016

Annual Report
---
WE SEE EACH

STUDENT AS

AN ORIGINAL.

Reflecting upon my first year at Marburn Academy, my

primary feeling is one of gratitude for the overwhelming

support of our community of donors. Your deep

commitment to this school and its mission is inspiring,

and it feeds the passion with which we, as educators,

approach our work.

In May, I was fortunate enough to accompany 22 of our

students to Costa Rica for nine days, the first international

trip for the Voyageurs program. We stayed in a village

with local Costa Rican families to experience their life,

explored the rainforest and wildlife, and went rafting

and ziplining. It was gratifying seeing our students'

excitement, gratitude, and wonder firsthand. As adults,

we often work to contain or minimize our enthusiasm, but

our students embrace it fully, which was beautiful to see,

and allowed me to experience it right along with them.

Marburn makes a difference to its students every day.

And it makes a difference to the community as a

whole. We see each student as an original. Our task as

educators is to discover our students' individual stories,

to meet them where they are and move forward together.

Our students may learn differently, but we believe that

makes them extraordinary. And your Annual Fund gift

makes all the difference, too. Thank you for all of your

continued support.

Jamie Williamson

Head of School

Without doubt, the most moving part of my first year at

Marburn Academy was the graduation ceremony. The

nine graduating seniors spoke eloquently about their

experiences as learners and members of the Marburn

community and thanked the many people who helped

them reach this milestone. They captured the struggles

they face and the courage it has taken to get to this point.

They are models of resilience, strength, and hope.

It's an exciting time to be part of the Marburn Academy

community. The Groundbreaking Ceremony last

September was a major accomplishment and defining

moment for all of us. Discussions of a new facility had

been ongoing for more than 19 years, and the fulfillment

of this vision is nothing short of transformative. Marburn

is truly putting down roots in the community, positioning

itself to be a fundamental resource for Central Ohio

families for many years to come.
---
CLASS OF

2024

PAUL

HARLAN

Paul's teachers describe him as an utter joy to teach.

"He loves school and sports and can always be spotted

interacting with his numerous friends, playing, and

grinning from ear to ear!" says Michqua Levi, teacher.

When he enrolled at Marburn Academy as a 3rd grader,

Paul had deficits in both math and language. He'd been

diagnosed with severe hearing loss at the age of three,

and had been in speech therapy since he was 18 months

old. Paul's parents explained that he desperately wanted

to learn. As a bright child who struggled in a mainstream

setting, he would get incredibly frustrated when he

couldn't get the right answers. His parents were so

impressed during a Marburn visit in 2014, they moved

from West Virginia to Columbus just so Paul could attend.

After two years at Marburn, Paul has progressed from

reading at a 1st-grade level, a full year-and-a-half behind,

to reading at a 4th-grade level. He's made significant

progress remediating his deficits in math, as well. He

also took advantage of Marburn's innovative summer

program for math to make further progress.

"HE WENT FROM BEING

QUIETLY CURIOUS TO AN

INQUISITIVE LEARNER NOT

AFRAID TO MAKE MISTAKES."

—Leslie Dilley, teacher

Paul is a treasured member of the Marburn community,

and is always willing to contribute to class responsibilities,

such as taking care of his classroom's pet tortoises. He

loves animals, and approaches science labs with gusto.

Receiving an education tailored to his specific needs has

transformed Paul into a confident, creative student.
---
HANNAH

CLASS OF

2017

HESS

Hannah Hess remembers the day her mom told her she

had dyslexia with perfect clarity. She was in 4th grade,

sitting on her bed sobbing, asking, "What is wrong with

me?" She was that student teachers told, "You just aren't

trying hard enough." In reality, she was trying her hardest

on every single assignment. By the time she'd reached

5th grade, she dreaded school. Hannah explains, "I felt

so abandoned and alone in my education."

Her parents suggested switching schools. A visit to

Marburn Academy in the spring of her 5th grade year

immediately revealed a loving, welcoming community.

"BUT I DIDN'T KNOW THEN

HOW TRULY SPECIAL IT WAS,"

Hannah says. Her parents enrolled her in Marburn for

the start of the 2010 academic year.

Hannah remembers being surprised that first fall.

"I never thought a school existed that cared so much

about every one of its students." Her 6th grade teacher,

Mrs. Hawkins, described her as an "energetic, willing to

learn, bundle of nerves." Hannah recalls practicing for an

important project. "I was going to have to miss practice

one day, and Mrs. Hawkins could see I was very uneasy.

She told me not to worry and that everything would be

okay. I knew I could trust her."

Hannah found herself enjoying school again and

reignited her love for learning. As a 6th grader, she'd

enrolled at Marburn with significant academic delays

and low self-confidence. By the time she reached her

Junior year, she'd been inducted into the National Honor

Society. Her self-confidence skyrocketed, too. She is a

member of Marburn's Ambassadors Club, which gives

tours of the building to prospective families, visiting

students, and college students. Through the Voyageurs

program, she took a rock-climbing trip to the Red River

Gorge, and she visited Costa Rica this past May with 22

of her classmates. As an 11th grader, she also had the

chance to complete an educational internship. Every day

she visited a Lower Division classroom to learn teaching

skills and interact with the students.

Hannah says, "Marburn has taught me many important

skills that I can use for the rest of my life, like how to

advocate for myself when I have questions, and how

to be an independent learner." She also has a better

understanding of which specific learning style fits her

best. However, the biggest lesson she has taken away is

to view her learning differences as a strength rather than

a weakness.

After graduating in the spring of 2017, Hannah plans to

attend college to study education. "My teachers have

been wonderful examples of the teacher I hope to be,"

she says.

Hannah knew she had the ability to succeed as a

student. She only needed the opportunity to access

her full potential. "My Marburn family helped me find

the courage to be bold," she says. "They taught me to

believe in myself, as a student and as a person. Marburn

is a special place, a very special place."
---
ALUMNA

Owner, Kate Morrison Photography

KATE

MORRISON

When I moved to Ohio, I was eight years old. My parents

and I visited several different schools. We heard back

from one that caught our attention, and not in a good

way. They told my parents,

"YOUR DAUGHTER

DOESN'T FIT OUR

PROFILE."

I later learned that this basically meant I was going to be

that kid who slows the class down. It struck me that they

viewed a child through one set of lenses. It led me to

wonder about a simple question.

What if we looked at a child, and instead of seeing

what they weren't, we saw their potential and what they

could be?

When children hear they aren't good enough, there is a

huge impact on how they feel about themselves. This is

why so many students arriving at Marburn lack the selfesteem

that is so critical for success. When I walked into

Marburn, I was timid and scared. Those who met me

back then quickly came to know a Kate who was loud,

hyper, and lacking focus and confidence. What Marburn

took the care to discover was a girl full of life, who thrived

in ways that test scores missed.

During my four years there, I learned lessons that would

stick with me. Marburn taught me how to stand up for

myself and ask for help when I needed it. Marburn taught

me that it's okay to have different areas of strength

and weakness, and we don't all have to be the same.

Marburn taught me how to learn in ways that traditional

schools didn't know how to teach. But, most importantly,

Marburn taught me to embrace being myself: Don't let

others judge you, because, in the end, you will succeed

equally in your own way.

Marburn fundamentally changed my life. At 18,

I graduated high school with honors. At 19, I started my

own photography company. I've had the opportunity

to photograph equestrian events around the country,

including Olympians from around the world. At the same

time, I've competed at the highest level in equestrian

jumping events. Jumping 5-foot fences on a 1,300-pound

animal feels natural to me. It's like dancing with a partner,

every movement in sync.
---
The little girl who did not fit their profile was also selected

to compete in the North American under-25 equestrian

championships, with 40 of the best riders on the

continent. The four days of competitions were grueling.

But, as I stood on the podium to be presented the

bronze medal, both for the team competition and as an

individual competitor, I sensed my 5th-grade self beside

me whispering,

"WE MADE IT!"

At 22, I am pursuing a Bachelor of Fine Arts in

Photography. This summer, I interned for Urban NY,

a prestigious photography production company in

New York City.

None of that would have been possible without the tools

Marburn gave me. No child should have to feel the pain

of failure when they house the potential for success.

I happened to find my calling through the lens of a camera.

Each day, I create images that tell a story, of a person or

about a place. Marburn planted the seed of confidence in

me to pursue my dream; not only that, Marburn nurtured

that seed to help it grow and then thrive. I will be forever

grateful to Marburn Academy for looking past what

I wasn't and seeing what I could be.

Images courtesy of Kate Morrison Photography
---
NOVEMBER 2015

JANUARY 2016

FEBRUARY 2016

MARCH 2016

JUNE 2016
---
JUNE 2016

MARBURN ACADEMY

NEW ALBANY CAMPUS

CAPITAL CAMPAIGN DONORS TO DATE 409

SQUARE FOOTAGE 64,000

LAND ACREAGE

17 ACRES

CLASSROOMS 27

STUDENT CAPACITY 350

MONEY RAISED $6,493,780.87

The building is now under roof! Daimler is completing the brickwork. Windows were

installed in July. Inside, drywall is going up. The interior is starting to take shape.

WE'RE ON TARGET TO FINISH CONSTRUCTION IN NOVEMBER

AND WILL BE MOVING OVER WINTER BREAK IN DECEMBER.
---
GALA HIGHLIGHTS 2016

NET AMOUNT RAISED:

MORE THAN $240,000

Thanks to your support and enthusiasm for Marburn's

mission, the Gala this year was a runaway success.

The Gift of Learning Fund achieved its highest year ever.

We raised a total of $107,320, all of which goes directly

to our students. Because more than 50% of Marburn

families rely on tuition assistance, this scholarship

program is critical.

People couldn't stop talking about the moving speeches

by alumna Kate Morrison and Class of 2017 Marburn

student, Hannah Hess. These stories of resilience and

courage remind us why we do what we do, and how

important it is. There is nothing quite like the moment

when a student feels understood, when their individual

learning style is recognized, honored, and nurtured.

"I AM CONTINUALLY FILLED WITH RESPECT AND APPRECIATION

FOR THOSE WHO SUPPORT MARBURN'S GALA. THIS YEAR PROVED

NO EXCEPTION, AS WE SURPASSED ALL PREVIOUS RECORDS IN

ATTENDANCE AND FUNDRAISING. WE COULDN'T DO IT WITHOUT THE

GENEROUS SUPPORT OF THOSE IN THE CENTRAL OHIO COMMUNITY."

SHARON WOLFE, GALA COMMITTEE CHAIR
---
"IT WAS SO MOVING TO HEAR STUDENTS SHARE THEIR

STORIES ABOUT WHAT MARBURN MEANS TO THEM!"

ARCHANA RAMANUJAM, MARBURN STAFF
---
THE TRIP TO

COSTA RICA

WAS LIFE CHANGING.
---
I went into the trip not overly excited, thinking that I

was just going to be with my friends. But I was so

wrong on every level. The friendliness from every

person that we walked past was unbelievable. Everyone

smiled and waved! Our guides made the whole trip.

They knew every corner of Costa Rica and could identify

any animal or plant. They could always answer questions

our group had.

Along with seeing incredible parts of nature, we

experienced lots of different activities, like whitewater

rafting, ziplining over a rain forest, and trying out a Tarzan

swing. A small village—the people didn't even know us—

let us into their homes, fed us, and gave us a place to

sleep. There is no doubt in my mind that the Costa Rica

trip changed my life. For anyone who isn't sure about

taking school trips like these, whether you're afraid or

just think you don't want to go, take the chance. Because

that was me, but I don't regret going, not for an instant.

Eddie Wolfe, Marburn Class of 2017
---
MARBURN ACADEMY'S

NEW LOOK!

While construction on the new building continues,

Marburn Academy's brand has undergone an extensive

renovation. The previous circle logo has been replaced

with a custom design utilizing a modern block with an M,

accompanied by Marburn Academy in a contemporary

font. The school's website, the hub for Central Ohio

residents and current families, has been completely

redesigned to provide a strong resource for the

community. It's responsive, which guarantees a pleasant

experience on any device. It also includes features that

our families specifically requested, such as easy access

to the full Google Parent Calendar and photos and bios

for Marburn's entire staff.

BOARD OF TRUSTEES

Craig Morrison, President

Brian Hicks, Vice President

Sharon Wolfe, Secretary

Rick Milenthal, Treasurer

Rhonda Anglim

Les Bostic, Ph.D.

Steven Guy, Ph.D.

Brian Hummell

Amelia McCarty, J.D.

Mike McGovern

Michael Parkes

Terry Sanders

Dan Sierzputowski

Tom Souder

Kerry Thompson, CFP

Tony White

Yvette McGee Brown

Jamie Williamson

Marjorie Garek, Trustee emerita
---
FACULTY AND STAFF

Maggie Alexeeff

Scholarship Liaison

Erin Barr

Director of Marketing

and Communications

Angela Bell

Faculty (2016)

George Brown

Faculty (until 2016)

Stephen Biehn

Faculty

Gina Bishop

Faculty

Dana Brennan

Faculty

Leslie Buford

Language Specialist

and Head of Specials

Scott Burton

Associate Head of School

Ben Burwinkel

Faculty

Jana Cook

Development and Alumni

Relations Specialist (2016)

Kyle Cook

Faculty (2016)

Lorien Dana

Faculty

Susan Dapo

Payroll/ Accounts

Receivable Manager

Jenny Davidson

Faculty

Brian Davis

Faculty

Robyn Delfino

Faculty

Leslie Dilley

Faculty

Kelly Dunlevy

Faculty

Erika Feigles

Faculty

Nicolle Fischer

Faculty

Kevin Fish

Faculty

Jen Fitzer

Faculty

Vickie Fomich

Faculty

Chris Geisler

Faculty

Kathleen Halligan

Math Curriculum Supervisor

Donna Hawkins

Faculty

Leigh Hill

Executive Administrator (2016)

Steve Hiltner

Faculty

Laura Hirsch

Institutional Advancement

Division Assistant

Robyn Hoffman

Director of Institutional

Advancement (until 2016)

Kristen Huenemann

Head of Middle Division

Liesl Huenemann

Faculty

Kelly Hunter-Rice

School Counselor

Kris Kling

Director of Technology

(until 2016)

Austin Kochs

Information Technology

Support Specialist

Ben Lehman

Faculty

Michqua Levi

Faculty

Michelle Lewis

Faculty (2016)

Lexi Limbert

Faculty (2016)

Aaron Loskota

Scholarship Liaison (2016)

Stacie Loskota

Faculty

Jennifer Martin-Gledhill

Academic Dean

Karen Megahan

Executive Administrator

(until 2016)

Sarah Meier

Faculty (2016)

Megan Menker

Faculty

Anne Miller

Director of Annual Giving

and Major Gifts (until 2016)

Maureen Moore

Faculty

Lisa Neuhoff

Language Remediation

Supervisor

Christie Prue

Director of Human Resources

Archana Ramanujam

Speech Language Pathologist

(2016)

Stephanie Royal

Outreach Director (2016)

Ruth Rubin

Head of High School

Devin Russell

Accounting Manager

Sally Sayre

Faculty

Miriam Skapik

Head of Lower Division

Rebecca Skinner

Faculty

Shane Spicer

Director of Technology (2016)

Samantha Smith

Faculty

Ryan Stander

Faculty

Jessica Stefanacci

Faculty

Celeste Stevenson

Director of Admission

and Auxiliary Programs

Diane Sumen

Secretary

Michael Taylor

Faculty

Jessica Templin

Faculty (until 2016)

Patricia Wallendjack

Director of Institutional

Advancement (2016)

Beth Weakley

Director of Finance

Linda Welch

Administrative Assistant

Nicole Whitaker

Faculty

Jamie Williamson

Head of School

Shari Wolfe

Admission Associate

Jacquelyn Yohman

Faculty (2016)

TUTORS:

Beth Abramovitz

Megan Daughters

Linda Freeman Walker

Beth Hawks

Sue Kear

Sarah Latta

Kristi Perry

Glynda Rice

Maddie Rivera

Gabriella Shaffer

LUNCH PROGRAM

COORDINATOR:

Mangala Krishnaswamy

(2016)

Judy Kochs

(until 2016)
---
Institutional Advancement Staff

Patricia Wallendjack

Director of Institutional Advancement

Erin Barr

Director of Marketing and Communications

Jana Cook

Development and Alumni Relations Specialist

Laura Hirsch

Institutional Advancement Division Assistant

Graphic Design

Kelly Keirn

MARBURN ACADEMY

1860 Walden Drive

Columbus, OH 43229

614.433.0822

www.marburnacademy.org