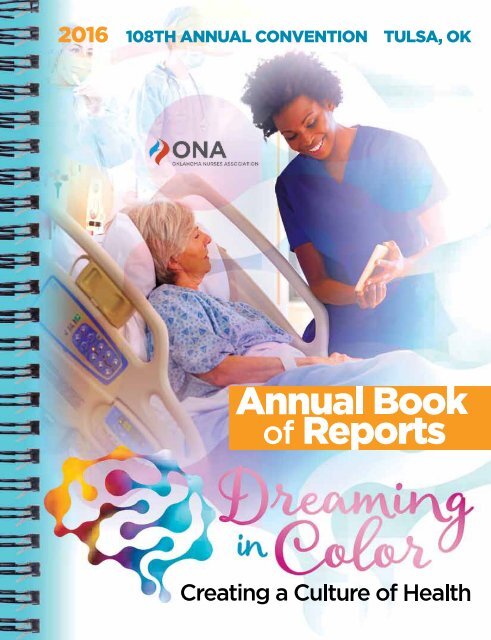 2016 Oklahoma Annual Book of Reports
You also want an ePaper? Increase the reach of your titles
YUMPU automatically turns print PDFs into web optimized ePapers that Google loves.
2016 Oklahoma Nurses Association

2016 Table of Contents

Convention Program

2016 ONA Convention Quick View. ................................................................ 3

Harnessing Nurses' Political Power. .............................................................. 11

ONA Issues Forum. ........................................................................... 13

Official Call to the HOD ........................................................................ 15

Agenda. .................................................................................... 17

Standing Rules. .............................................................................. 19

Seating Diagram. ............................................................................. 21

Poster Abstract Presentations. .................................................................. 43

Concurrent Breakout Sessions .................................................................. 46

2016 Exhibitors. .............................................................................. 54

ONA Strategic Plan. .............................................................................. 55

ANA Strategic Goals. ............................................................................. 56

Bylaws - Complete. .............................................................................. 60

Board of Directors & Regional Presidents. ............................................................ 64

2016 Annual Reports

President. ................................................................................... 66

CEO Report ................................................................................. 68

Vice-President ............................................................................... 69

Board of Directors Activity. ..................................................................... 70

Oklahoma Nursing Student Association Report ..................................................... 75

Legislative Report. ............................................................................ 76

Medical Advisory Committee Report. ............................................................. 89

Community Relations Board of the Federal Transfer Center Report. ..................................... 90

Region Reports .............................................................................. 91

The Children's Health Group Report .............................................................. 94

Oklahoma Immunization Advisory Committee. ...................................................... 97

Oklahoma Association of Clinical Nurse Specialists. ................................................. 98

Oklahoma Medical Reserve Corps Nurses ......................................................... 99

Faith Community Nurses Association of Oklahoma ................................................. 100

Association of Women's Health, Obstetrics and Neonatal Nurses (AWHONN). ............................ 102

Code of Ethics. ................................................................................. 104

www.oklahomanurses.org

Published by:

Arthur L. Davis

Publishing Agency, Inc.

Printed and Published for the

Oklahoma Nurses Association by:

Arthur L. Davis Publishing Agency, Inc.

517 Washington St., P.O. Box 216,

Cedar Falls, Iowa 50613

(319) 277-2414

Oklahoma Nurses Association 1111 N. Lee, Ste. 243 Oklahoma City, OK 73103

www.OklahomaNurses.org | 405-840-3476 | ona@oklahomanurses.org

1
---
2016 Oklahoma Nurses Association

Be a Part of the OU Medical System Team

Med Surg • ICU • ED • NICU • Pediatrics • PACU

Labor & Delivery • Nurse Practitioners

As an experienced RN, you deserve all the opportunities, advantages and conveniences that make for

a satisfying career and that's exactly what you'll find at our OU Medical Systems. One of the largest

healthcare networks with multiple facilities, we offer clinical variety and educational resources that will

make your nursing career truly rewarding.

Discover the career opportunities that are available for our experienced nurses!

Opportunities also available for New Graduate Nurses. Our Residency Programs are designed to

help New Graduate Nurses transition as they grow in their career.

OU Medical Center • OU Medical Center Edmond • 405-271-6035

http://hcanorthtexas.com/careers/locations/ou-medical.dot

ANOTHER LEVEL OF MEDICINE OU Medical Center OU Physicians The Children's Hospital OU College of Medicine

OU MEDICAL CENTER is an EEO Employer

HCA Health Services of Oklahoma, Inc. (d.b.a. OU MEDICAL CENTER) is not part of, nor operated by, the University of Oklahoma.

2
---
2016 Oklahoma Nurses Association

2016 ONA Convention Quick View

Dreaming in Color: Creating a Culture of Health

Wednesday, October 19

7:30 a.m. Registration Opens

9 - 10:45 a.m. Harnessing Nurses' Political

Power! Janet Haebler, MSN, RN Senior Associate

Director, State Government Affairs, American Nurses

Association

Room: Promenade C-D

11 a.m. - 12 p.m. Issues Forum

2 - 30 minute sessions

Room: Promenade C-D

11 a.m. - 1 p.m. Nurse Planner Session

Patti Muller Smith, RN

Room: Promenade B

12:00 - 1:00 p.m. Luncheon

Room: Promenade C-D

1:30 - 4:00 p.m. House of Delegates

Room: Promenade C-D

4:30 p.m. Networking Reception & Dine-Around

Join us for a casual gathering with the ONA Board

of Directors. This is a great opportunity to network

with nurses from across the state. Light refreshments

provided. Sign up to join a group of nurses to dine at

a local restaurant.

Room: 2nd Floor Foyer

Thursday, October 20

7:30 a.m. Registration Opens

Exhibits – Available all day

Poster Session – Available all day

8:00 - 9:30 a.m. Oklahoma's Culture of Health:

Perspectives (panel discussion)

Room: Promenade C-D

9:30 - 10 a.m. Visit Posters & Exhibitors

10 - 11a.m. Breakout I

See pages 46-47

11:15 a.m. - 12:15 p.m. Awards Luncheon

Room: Promenade C-D

12:30 - 1:30 p.m. Breakout II

See pages 48-49

1:45 - 2:45 p.m. Breakout III

See pages 50-51

3 - 4 p.m. Breakout lV

See pages 52-53

4 - 4:30 Meet the Presenters

Room: Promenade C-D

Oklahoma League for Nursing

Reception – 4:30 - 5:30 PM

3
---
2016 Oklahoma Nurses Association

4
---
2016 Oklahoma Nurses Association

Welcome to the Annual Convention of the

Oklahoma Nurses Association!

Thank you for joining us for this year's Convention, Dreaming in Color: Creating a Culture of Health. Similar

to last year, we are featuring the Convention Program as part of the ONA Annual Book of Reports. You will

find detailed information about Convention and the House of Delegates packet in the front section of the

book, followed by the 2016 Book of Reports. We hope you take time to review the reports and see what

ONA Committees, Regions and Affiliate Organizations are doing to advance the profession of nursing in

Oklahoma.

As you scan the sessions listed in the program, you will see we have a variety of practice settings

represented, a number of nursing roles, as well as the art and care of nursing to you—the care providers!

Please take time to visit a "time-out" session on Thursday with Healing Touch, Tai Chi and the Creative

Corner and experience some self-care. YOU DESERVE IT!

As part of the Creative Corner (yes, coloring and such), please create some art and leave a message on our

Gratitude Wall. Remember someone who has mentored you, done a favor (remember when there was a trade

and someone worked in your place), picked up the slack, or nurses who have passed on? There is a nurse

(or ten) that holds a special place in your life. Once you've done your post, take a selfie and send out your

message of gratitude by email, twitter, IM—whatever media you prefer; love notes are best when shared!!

Thank you, ONA Members, for allowing us to serve as your president and vice president. We are looking

forward to 2016 and the exciting agenda of the nursing profession. Your willingness to share your ideas and

opinions is valued. We truly believe people support what they help to create! Thanks for your involvement in

ONA! Special thanks to the 2016 Convention Committee and the ONA staff for their work in organizing this

year's Convention!

Joe Catalano, ONA President, 2014-2016 Elizabeth Diener, ONA Vice-President, 2016-2018

Oklahoma Nurses Association 1111 N. Lee, Ste. 243 Oklahoma City, OK 73103

www.OklahomaNurses.org | 405-840-3476 | ona@oklahomanurses.org

5
---
2016 Oklahoma Nurses Association

H I L L C R E S T

H E a L T H C a R E S y S T E m

our nurses are

changing lives

everyday.

Change isn't just a part of life –

it's an important part of our vision

to continually improve the health

of the communities we serve.

For a current list of opportunities,

visit Hillcrest.jobs

Our new logo is a symbol of change. It represents life and growth,

and is a constant reminder of the exciting changes at Hillcrest.

Call us or go online for more information.

Hillcrest.jobs | 918.585.8000

Hillcrest Hospital

Cushing

Hillcrest

Medical

Center

Bailey

Medical

Center

Hillcrest

Hospital South

Hillcrest Hospital

Henryetta

Hillcrest

Hospital

Claremore

From South Tulsa to the heart of the city, from Cushing and Henryetta to Claremore

and Owasso, more than 5,000 dedicated Hillcrest employees working in our 6 hospitals

and 49 healthcare clinics are doing more than improving health. We're changing lives.

We are Hillcrest.

Hillcrest Medical Center

Hillcrest Hospital South

(Formerly SouthCrest Hospital)

Hillcrest Hospital Claremore

(Formerly Claremore Regional Hospital)

Oklahoma Heart Institute

Hillcrest Hospital Cushing

(Formerly Cushing Regional Hospital)

Hillcrest Hospital Henryetta

(Formerly Henryetta Medical Center)

Bailey Medical Center

Utica Park Clinic

6
---
2016 Oklahoma Nurses Association

Continuing Education Statement

It is the practice of the Oklahoma Nurses Association to ensure balance, independence, objectivity and

scientific rigor in all continuing nursing education activities. This educational session was developed without

interference or involvement from any commercial interest.

2016 Convention: Educational Purpose Statement

The purpose of this educational activity is to enhance professional knowledge of Oklahoma Registered

Nurses in all practice settings by examining innovative and evidence based practices focused on a culture of

health and implementing these practices into individualized professional care environments, as evidenced by

self-reported planned practice changes.

Notice of Requirements for Successful Completion:

In your packet you have a Certificate of Successful Completion and a Convention Evaluation. When you have

attended all of the sessions that you are planning to attend; please complete the information on both of these

forms and indicate the sessions that you attended. Turn in the forms at the ONA Registration desk. Keep the

white tear-off copy of the Certificate of Successful Completion for your records. Concurrent sessions will

have evaluations in each room. Please complete the evaluations and turn them in to the ONA representative.

Conflicts of Interest:

The planning committee wishes to note that the integrity of the educational activities will not be

compromised.

Commercial Support:

This seminar received unrestricted educational grants from our Convention Sponsors. Please see the

sponsor listing elsewhere in this program.

Non-endorsement of Products:

The Oklahoma Nurses Association, the Texas Nurses Association and the ANCC COA do not endorse any

product displayed at this seminar.

Off-Label Use:

There is no off-label product use endorsed in conjunction with this seminar.

Approved Provider: #14-285890 B

Oklahoma Nurses Association is an approved joint provider of continuing nursing education by the Texas

Nurses Association, an accredited approver by the American Nurses Credentialing Center's Commission on

Accreditation.

The Mission of the Oklahoma Nurses Association is to empower

nurses to improve health care in all specialties and practice settings by

working as a community of professional nurses.

7
---
20% Off • 20% Off • COUPON • 20% Off • 20% Off • 20% Off • 20% Off • 20% Off •

20% Off • 20% Off • 20% Off • COUPON • 20% Off • 20% Off • 20% Off • 20% Off • COUPON • 20% Off • 20% Off • 20% Off • 20% Off • 20% Off • 20% Off • 20% Off • 20% Off • 20% Off • COUPON • 20% Off •

Nurse Candidate Program (NCP)

2016 Oklahoma Nurses Association

$10,000

Accession

Bonus

Eligibility:

q Be enrolled full-time or accepted into an accredited Nursing

Program that confers a Baccalaureate Degree

q Attend a school that does not have a Navy Reserve Officer's

Training Corps (NROTC) Program

q Completed the second year of Baccalaureate Program in Nursing

and have more than six months of academic work before

graduation

q Be physically qualified

q 18-38 years of age at commissioning

q Have a cumulative grade point average of 3.0 on a 4.0 scale

Earn $1000 a month up to 24 months until graduation

Navy Medical Officer Programs

• (800) 492-4841 • Jobs_Dallas@navy.mil

Explore career

opportunities at

www.parksideinc.org

Please contact HR at

918-586-4228 for more

information.

Earn Your BS or MS

Degree in Nursing

at the University of

Central Oklahoma

PROGRAMS AVAILABLE

• Bachelor of Science, Nursing

· Traditional

· Career Advancement, RN to BS

• Master of Science, Nursing

· Education or Specialty Focus

• Associates to Masters of Science -

Starting Fall 2016

PERSONAL & FLEXIBLE

• Small classes

• Personalized Degree

Completion Programs

AFFORDABLE

• Competitive Tuition

• Financial Aid and Scholarships available

QUALITY

• Ranked in the Top 50 Nursing

Programs in the Nation by College Atlas

Visit

our locations

at:

Got scrubs?

We do! The Uniform

Shoppe carries

many styles,

prints, and solids

produced by all the

industry leaders

such as Landau,

Med Couture,

Wonder Wink,

Grey's Anatomy and

Cherokee.

Oklahoma City

Tulsa

10503 N. May 6221E. 61st

(405) 755-6600 (918) 494-7682

1-866-755-6600 1-888-494-7682

Or shop online at:

www.theuniformshoppe.com

8
---
2016 Oklahoma Nurses Association

9
---
2016 Oklahoma Nurses Association

Faith Community Nursing.

Dreaming in ALL Faiths and Colors.

Courage • Compassion • Commitment

The purpose of FCNA OK is to preserve, support and advance the

professional practice of faith community nursing in Oklahoma.

Interested registered nurses and health ministers come together

to pray, witness, support, learn and share in the context of faith

and health. A faith community nurse is a registered nurse who

provides wholistic nursing care to faith community members

of all ages, reclaiming the healing ministry of the congregation.

The practice of faith community nursing is a specialty practice

recognized by the American Nurses Association.

For more information about FCNAOK contact Glenda Bronson

405-936-5226 or glenda.bronson@mercy.net

Visit FCNAOK.org

Like us on

@AspireHC

careers@aspirehc.com

855-527-7473

www.aspirehc.com

10
---
2016 Oklahoma Nurses Association

"Harnessing Nurses' Political Power"

Janet Haebler, MSN, RN

Wednesday 9-10:45 a.m.

Room: Promenade C-D

As Senior Associate Director for State Government Affairs with the American Nurses

Association (ANA), Janet serves as a resource to the state nurses associations in

their efforts to advance their legislative and regulatory agendas.

Throughout her forty-five years' experience, Janet has held numerous leadership

positions in a variety of settings: acute and long-term care, managed care, and

academia.

During the past 15 years, she has been dedicated to the policy and advocacy arena;

first at the state level before joining ANA. While with the New York State Nurses'

Association, she was responsible for the Practice & Government Affairs program;

during which time, Janet and her team celebrated such legislative successes as title "nurse" protection and

safe patient handling & mobility. Seven years ago, Janet launched the American Nurses Advocacy Institute, a

year-long mentored program designed to develop nurse's political competence.

Janet completed her undergraduate degree in nursing at Russell Sage College in New York and master's

degree in nursing with a concentration in administration at Seton Hall University in New Jersey.

About the presentation:

Nurses not only have the ability to be an incredible force by sheer numbers, but policy makers rely upon

nurses' expertise. Come learn about the realities behind legislation and how to effectively exercise your

individual and collective power on behalf of the profession and patients.

Learning Outcomes: At the conclusion of this presentation the participant will be able to:

1. Identify the importance of being engaged with policy makers.

2. Describe at least 2 ways in which they can influence state / federal legislators.

11
---
2016 Oklahoma Nurses Association

Cherokee Nation, headquartered in beautiful Tahlequah,

Oklahoma, seeks Nurses to work at various Health

Centers & Hospital operated by Cherokee

Nation located throughout Northeastern Oklahoma.

RNs & LPNs –

Regular FT & PRNs

Benefits:

• Competitive pay

• Profitable 401k plan

• Affordable health insurance

• Eleven paid holidays

• Paid continuing education and

enrichment programs

• Fitness program

• Employee assistance program

Health Centers & Hospital:

Wilma P. Mankiller Health Center - Stilwell

AMO Salina Health Center - Salina

Sam Hider Health Center - Jay

Three Rivers Health Center - Muskogee

Redbird Smith Health Center - Sallisaw

Will Rogers Health Center - Nowata

Cooweescoowee Health Center - Ochelata

Vinita Health Center - Vinita

WW Hastings Hospital - Tahlequah

Interested Applicants Please Apply

Online at: www.cherokee.org

Cherokee Nation

Human Resources Department

P.O. Box 948

Tahlequah, OK 74465

(918) 453-5292 or (918) 453-5050

Employment with Cherokee Nation is contingent

upon drug test results. Indian preference is considered.

Cherokee Nation is an Equal Opportunity Employer (EOE).

© 2010 Cherokee Nation. All Rights Reserved.

www.cherokee.org

12
---
2016 Oklahoma Nurses Association

ONA Issues Forum

Wednesday 11:00 a.m. – 12:00 p.m.

Room: Promenade C-D

Our focus at this year's Issue Forum will be on nursing practice issues. We will conduct environmental

scanning on Nursing Practice issues including Staying Safe: Fatigue, Shifts, Staffing and Nurse Burnout as

well as discuss the reference proposal on Full Practice Authority for APRNs

Learning Outcomes: At the conclusion of this presentation the participant will be able to:

1. Identify nursing practice issues facing Oklahoma Nurses

2. Share trends related to Staying Safe – Fatigue, Shifts and Nurse Burnout

3. Discuss the resolution on Full Practice Authority for APRNs.

Nurse Planner Session

Wednesday 11:00 a.m. – 1:00 p.m.

Room: Promenade B

ONA's Lead Nurse Planner, Patti Muller-Smith, will lead this workshop. The focus of the workshop will include

changes to documentation requirements along with other changes being implemented by TNA and ANCC.

As an Approved Provider of continuing education of the Texas Nurses Association we must abide by these

changes. We hope you will join us and learn about these upcoming changes as well in the greater focus

being placed on the 'learner' and outcomes. *Lunch included.

Learning Outcomes:

Nurse planners for continuing nursing education activities will know the standards and guidelines of ANCC

and TNA they must meet to successfully achieve credit for activities provided for registered nurses in

Oklahoma.

13
---
2016 Oklahoma Nurses Association

Now Hiring

Sign-on bonus may be available!

• Step Down Unit

• Med/Surg

• ICU

• ER

At MRHC, our nursing staff is small enough to feel

like family, yet large enough to challenge your skills.

Our administration is extremely "nurse friendly"

and has instituted the Shared Governance Model,

which allows nurses to express and manage their

practices with a greater level of autonomy.

Our nursing staff also enjoys:

• Self scheduling.

• Provide comprehensive orientation upon hire

then placed with a unit based preceptor.

• Extern program and the clinical site for

several area schools of nursing.

• Low nurse/patient ratio.

• Competitive salary/benefit package.

• Individual Care "community – you

care for friends and family."

• Clinical and hospital educators are available

to provide for your education needs.

Contact Tiffany Roberts at 918-421-6941

Or email resume to mrhcrecruiter@mrhcok.com

Visit www.mrhcok.com for more information

1 Clark Bass Blvd. • McAlester, OK 74501 • (918) 426-1800

14
---
2016 Oklahoma Nurses Association

1111 N. Lee, Suite 243

Oklahoma City, OK 73103

405/840-3476

www.oklahomanurses.org

Official Call to the Delegates

To Attend a Meeting of the ONA House of Delegates

Hyatt Regency Hotel, Tulsa, Oklahoma

Wednesday, October 19, 2016, 1:30 – 4pm.

From— Kim Williams, RN, ONA Secretary/Treasurer

This notice constitutes the official call to meeting of the Meeting of the ONA House of Delegates. The

House session will be held Wednesday, October 19, 2016. The House of Delegates will convene at 1:30 p.m.

adjourning at 4pm. Credentialing closes at 1:15 pm so that we may start promptly at 1:30 p.m.

The representation of each Regional Nurses Association established for the 2016 House is as follows:

Region #01...............................28

Region #02.............................. 22

Region #03...............................28

Region #04................................7

Region #05...............................15

Region #06.............................. 30

ONA Board of Directors ....................15

ONA Affiliates.............................11

Past ONA Presidents

The ONA House of Delegates is composed of member nurses duly elected through secret ballot by

constituent regional members. The House of Delegates also provides a courtesy seat to Past ONA

Presidents and one registered nurse participant from each organizational affiliate.

Each delegate must study the issues thoroughly and is encouraged to participate in Region sponsored

meetings prior to the ONA Annual Convention and the Issues Forum held prior to the House on October 19

so that they may engage in open-minded debate, practice active listening and use the extensive resources

and collective knowledge made available throughout these meetings to assist them in making informed

decisions. Prior to the House we will have a session focused on advocacy by Janet Haebler, MSN, RN,

Associate Director, ANA State Government Affairs. During the Issue Forum, we will discuss issues related to

the work of the association. A registration fee will be assessed for this day, as lunch will also be included.

Members of the ONA House of Delegates are elected through a regional election process and have

a crucial role in providing direction and support for the work of the state organization. They come to the

House to work towards the growth and improvement of ONA and its constituencies. This requires a

professional commitment to the preservation and creative growth of the professional society at all levels of

the organization. Such a commitment will benefit the individual delegate, the Association and the nursing

profession

15
---
2016 Oklahoma Nurses Association

Be In Demand

NEW! DNP – Doctor of Nursing Practice

Take your BSN to DNP in our three year program

○ Affordable Tuition

○ Online courses with summer residency

○ Enrolling soon for Fall 2017

Online RN-BSN Program

Ranked No. 4 in the nation for Affordable

RN to BSN Online Degree Programs by greatvaluecolleges.net.

A program that ENABLES you to be WHO you want to be,

WHERE you want to be, and HOW you want to learn!

○ No campus visits required for any courses.

○ High quality, convenient and affordable.

○ Enter Fall, Spring or Summer Semester.

○ Accredited by the Accreditation Commission for Education

in Nursing, Inc. (ACEN).

www.nwosu.edu/nursing

scwells@nwosu.edu (580) 327-8489

16
---
2016 Oklahoma Nurses Association

2016 ONA House of Delegates

Tentative Order of Business

1. Call to Order

2. Pledge of Allegiance

3. Report of the Credentials Task Force

4. Establishment of Quorum

5. Adoption of House of Delegates Standing Rules

6. Adoption of Agenda

7. Introductions

8. Appointment of Committee to Approve the 2016 House of Delegates Minutes

9. Appointment of Timekeeper

10. Address of the President 2014 – 2016

11. Treasurer's Report and FY 2016 Financial Report

12. Chief Executive Officer's Report

13. Adoption by General Consent of the 2015-16 Annual Reports

14. ANA Healthy Nurse, Healthy Nation and ONA Role

15. ONA Membership Development

16. Report and Discussion on Nursing Workforce in Oklahoma

17. New Business

A. Consider Resolution on Full Practice Authority for Nurses

B. Other

18. 2016 Election Report

19. Installation of 2016 – 2017 Board of Directors

20. Recognition of 2014 – 2016 President

21. Address of the President 2016 – 2018

22. Nightingale Tribute

23. Seating of the Delegates for the 2017 House of Delegates

24. Announcements

25. Adjournment

17
---
2016 Oklahoma Nurses Association

Oklahoma's #1 *

Hospital

F i v e - S t a r R a t e d

* Ranking based on cumulative scores for Oklahoma

hospitals receiving 5-star ratings from the Centers for

Medicare and Medicaid Services Hospital Compare.

PROUD TO BE 5-STAR RATED

Community Hospital is proud to be ranked as Oklahoma's number one hospital by the

Centers for Medicare & Medicaid Services (CMS) Overall Hospital Quality five-star rating.

Only 102 hospitals nationwide have received a 5-star rating and Community Hospital is

proud to be among the top hospitals in the country for patient satisfaction and quality.

Our dedication to providing world-class care with a community spirit is evident in every

interaction with our patients and guests and we value the opportunity to provide the best

experience possible.

For opportunities, please visit www.communityhospitalokc.com

COMMUNITY HOSPITAL SOUTH CAMPUS

3100 S.W. 89th Street

Oklahoma City, OK 73159

405.602.8100

COMMUNITY HOSPITAL NORTH CAMPUS

9800 Broadway Extension

Oklahoma City, OK 73114

405.419.2980

18
---
2016 Oklahoma Nurses Association

House of Delegates Meeting

Proposed Standing Rules

1. Name badge and delegate ribbon shall be worn at all times by the credentialed delegate. The registration

badge is not transferable.

2. A delegate may speak only two (2) times to the same question on the same day. Speaking time is limited

to three (3) minutes per delegate however the delegate may be granted permission to speak longer by a

two-thirds vote of the delegation. A delegate may not speak a second time to a question until all other

delegates who wish to speak have done so a first time.

3. Non-delegate ONA members may speak one (1) time to a question for a maximum of two (2) minutes.

Non-delegate members must identify themselves as a non-delegate; provide their names and the regions

they represent.

4. All main motions and amendments from the floor shall be in writing signed by the maker and seconder,

and sent to the chair immediately after being proposed. Only credentialed delegates may propose or

vote on motions.

5. Resolutions and business items listed on the agenda shall be approved by a majority (>50%) of the

delegates present at the time of the vote.

6. All resolutions that are substantive, of a non-emergency nature and which have NOT been forwarded to

the ONA office nor listed on the agenda prior to the House of Delegate meeting must receive a threefourths

(3/4) vote for consideration and a two-thirds (2/3) vote for adoption by the House of Delegates.

7. Any subject that was not known prior to October 1 may be introduced as a main motion when the New

Business section is reached on the Agenda. Such motion shall be subject to the Standing Rules.

8. The total time allowed for debate for each proposed amendment to the Bylaws shall be limited to 15

minutes. Time may be extended with a two-thirds (2/3) vote.

9. The total time allowed for debate on each proposed resolution shall be limited to 20 minutes. Time may

be extended with a two-thirds (2/3) vote.

10. The total time allowed for debate on each proposed amendment to the rule and/or regulation shall be

limited to 20 minutes. Time may be extended with a two-thirds (2/3) vote.

11. House of Delegate business interrupted by a recess of the meeting shall be resumed at the point of

interruption.

19
---
2016 Oklahoma Nurses Association

20
---
2016 Oklahoma Nurses Association

21
---
2016 Oklahoma Nurses Association

22
---
2016 Oklahoma Nurses Association

23
---
2016 Oklahoma Nurses Association

24
---
2016 Oklahoma Nurses Association

25
---
2016 Oklahoma Nurses Association

26
---
2016 Oklahoma Nurses Association

27
---
2016 Oklahoma Nurses Association

28
---
2016 Oklahoma Nurses Association

Oklahoma Nurses Association

2016 House of Delegates

Resolution

SUBJECT: Full Practice Authority for Advanced Practice Registered Nurse (APRN)

INTRODUCED BY: ONA Board of Directors and the Committee on Professional Practice in the Workplace

Summary: Full practice authority is generally defined as the APRNs' ability to practice nursing at

the full extent of their knowledge, skills, and clinical judgment based on their education and training.

Twenty-one states currently grant full practice authority to one or more APRN roles upon licensure and/

or certification. This makes Oklahoma one of twenty-nine states with barriers to APRNs to practice

at the full extent of their education and training. Current Oklahoma State Statue requires APRNs to

have supervision of prescriptive authority as well as limits their ability of prescriptive rights to legend

drugs and Schedule III to V. Other barriers include insurance companies and facility regulations. The

Oklahoma Nurse Practice Act follows the national Consensus Model for APRN Regulation defining the

four APRN roles as: certified nurse practitioner (CNP), certified registered nurse anesthetist (CRNA),

certified nurse-midwife (CNM), and clinical nurse specialist (CNS). ONA and ANA's strategic goals have

always included advocacy for a health care system where RNs and APRNs can practice to the full

extent of their knowledge and professional scope of practice.

WHEREAS, APRNs are prepared at the graduate level and are deemed competent clinicians upon

graduation and passage of national certification, and

WHEREAS, Each APRN is personally accountable for his or her practice, to the patients, the respective

licensing board, the nursing profession, and society, and

WHEREAS, It is within an APRN's professional judgment and responsibility to assess and treat patients

within the bounds of his or her legally authorized scope of practice, and

WHEREAS, ONA and ANA have endorsed the Consensus Model for APRN Regulation and fully support the

definition of APRNs as licensed independent practitioners who are expected to practice within standards

established or recognized by a licensing body, and

WHEREAS, the Oklahoma Board of Nursing has incorporated the recommendations of the Consensus

Model for APRN Regulation into the Nurse Practice Act, and

WHEREAS, Decades of research have established the safety and effectiveness of care by APRNs, and that

body of evidence has led institutions and organizations from the IOM to the NGA to AARP to call for the

lifting of barriers to APRN practice, and

WHEREAS, ONA and ANA endorse the Nurse Practitioner Roundtable's white paper, "Nurse Practitioner

Perspective on Education and Post-Graduate Training," and believes the principles espoused in that

document apply to all APRN roles, and

WHEREAS, Research conducted by the Council on Accreditation of Nurse Anesthesia Educational

Programs (COA), (Cook, 2013) reports recent graduates of accredited certified registered nurse anesthetist

29
---
2016 Oklahoma Nurses Association

We thank Oklahoma Nurses

for their service.

Five Generations ~ One Family ~ Resident Centered

Oklahoma City, OK 73116

405.767.6500 | www.bellevueokc.com

Helping you save lives in style!

Clothing • Shoes • Accessories

Enid, OK - 580-237-3100

Stillwater, OK - 405-624-0625

www.uniformstop.us Like us on

UNITUS

SEXUAL

HEALTH

Painless office laser therapy

Vaginal Health: It's OK to talk

about it! Women have called this

laser procedure "life changing".

• Vaginal dryness

• Itching & burning

• Painful urination

• Painful intercourse

• 5 minute painless procedure

Cornerstone Hospital of Shawnee is

currently accepting applications for

the following positions:

• Clinical Liaison – Must have RN/LVN/RRT. Customer Relations within a

Sales and Marketing arena preferred.

• House Supervisor – PRN/Nights. Must have supervision or charge nurse

experience. Acute care hospital experience preferred.

• Charge Nurse – Full-Time/Days. Must have supervision experience. Acute

care hospital experience preferred.

• RN – Full-Time/PRN/Days/Nights. Acute care hospital experience preferred.

Cornerstone Healthcare Group is a leading long term acute care hospital

group committed to improving the health and well-being of patients. We offer

competitive compensation and benefits.

Apply online at www.chghospitals.com or in person at

Cornerstone Hospital of Shawnee, 1900 Gordon Cooper Drive, Shawnee, OK 74801

Joseph D. Parkhurst, MD FACS

Board Certified Urologic Surgeon

Sexual Medicine Specialist

Specializing in the medical evaluation & treatment

of men & women with sexual problems.

2353 N Thompkins,

Bethany, OK 73008

(405) 314-5604

(405) 590-0605

parco@USHOK.com

www.USHOK.com

Seeking experienced nurses in the following areas:

Med Surg, Cardiology, Adult Critical Care,

Behavioral Health and Emergency.

Increased RN pay rate

To apply, please visit: www.nwtexashealthcare.com

CHOCTAW NATION

NURSING SERVICES

One Choctaw Way –

Talihina, OK 74571

careers.choctawnation.com

918-567-7000

Opening a Durant Super Clinic

January, 2017

CHIEF GARY BATTON – ASST. CHIEF JACK AUSTIN, JR.

30
---
2016 Oklahoma Nurses Association

(CRNA) programs are prepared and perform competencies for entry into practice upon certification and

licensure, and

WHEREAS, In the Joint Statement of Practice Relations between Obstetrician-Gynecologists and Certified

Nurse-Midwives/Certified Midwives, the American College of Nurse-Midwives and the American College of

Obstetricians and Gynecologists affirm that graduates of accredited certified nurse-midwife (CNM)/certified

midwife (CM) educational programs who hold professional certification are licensed independent providers,

and

WHEREAS, In the document A Vision of the Future for Clinical Nurse Specialists, prepared by the National

Association of Clinical Nurse Specialists (NACNS), NACNS espouses "An earned graduate degree in nursing

from a nationally accredited program that prepares Clinical Nurse Specialists represents attainment of core

knowledge of advanced practice nursing and knowledge specific to CNS practice" (Goudreau, et al., p. 32),

and

WHEREAS, The FTC and the Bay Area Council Economic Institute (Weinberg & Kellerman, 2014) have noted

that unsubstantiated supervision increases health care costs and may exacerbate existing and projected

health care workforce shortages, and

WHEREAS, Individual accountability extends to legal liability; It is inappropriate to expect physicians, or any

other providers, to accept responsibility or liability for care in which they have not been directly involved, and

WHEREAS, APRNs have been leaders in the development of innovative models of care delivery and are fully

prepared to serve as primary care providers in patient-centered primary care or medical homes, and

WHEREAS, The notion that physicians should supervise care provided by APRNs or that written

collaborative agreements are needed is outdated, and

WHEREAS, Costly and unnecessary legislative and regulatory requirements for physician supervision are at

odds with efforts to build interdisciplinary teams and create a more effective health care system, and

WHEREAS, many states also allow APRNs to write Schedule II in addition to Schedule III - IV, and

WHEREAS, The American Nurses Association's (ANA's) Principles for APRN Full Practice Authority provide

policymakers, advanced practice registered nurses (APRNs), and stakeholders with evidence-based

guidance when considering changes in statute or regulation for APRNs, and

WHEREAS, Full practice authority is generally agreed to be defined as APRNs' ability to utilize knowledge,

skills, and judgment to practice to the full extent of their education and training;

THEREFORE BE IT RESOLVED, that the Oklahoma Nurses Association supports full practice authority for

Advance Practice Registered Nurses in Oklahoma;

BE IT FURTHERED RESOLVED, that the ONA and its members will advocate state legislation to provide full

practice authority for Advance Practice Registered Nurses in Oklahoma;

BE IT FURTHERED RESOLVED, that the ONA and its members will advocate state legislation to allow

APRNs with prescriptive authority to a write Schedule II – IV drugs in accordance with their role's scope of

practice;

AND BE IT FURTHERED RESOLVED, that ONA supports credentialing of Advance Practice Registered

Nurses by insurance companies and facilities.

31
---
2016 Oklahoma Nurses Association

32
---
2016 Oklahoma Nurses Association

Background

With the implementation of the Patient Protection and Affordable Care Act of 2010 (ACA), now more than ever

there is a growing sense of urgency for states to increase the number of health care providers, particularly

primary care providers. Supported by a growing body of evidence on the safe and cost-effective provision of

care by APRNs, there is a national call to remove all barriers to full practice authority from organizations such

as the Institute of Medicine (IOM), the National Governors Association (NGA), the Federal Trade Commission

(FTC), the Bipartisan Policy Center, and the Veteran's Health Administration, among others.

ANA strongly supports full practice authority for all APRN roles. "Full practice authority" is generally

defined as an APRN's ability to utilize knowledge, skills, and judgment to practice to the full extent of his or

her education and training. The American Association of Nurse Practitioners has offered a definition of full

practice authority as "the collection of state practice and licensure laws that allow for nurse practitioners to

evaluate patients, diagnose, order and interpret diagnostic tests, initiate and manage treatments—including

prescribe medications—under the exclusive licensure authority of the state board of nursing" (Issues At-A-

Glance: Full Practice Authority, 2014).

As of June 2016, Twenty-one states and the District of Columbia currently grant full practice authority to one

or more APRN roles upon licensure and/or certification. Several of these states have passed full practice

authority legislation or made similar regulatory changes since passage of the ACA in 2010. The National

Council of State Boards of Nursing (NCSBN) maintains the APRN map project, which provides an overview

of each state's implementation of the Consensus Model for APRN Regulation, including independent

practice (defined as "no requirement for a written collaborative agreement, no supervision, no conditions for

practice.")

While many are working to obtain full practice authority for APRNs through legislative and regulatory efforts,

analysis has revealed a disturbing trend in state legislation requiring a supervised post-licensure practice

or transition period, often referred to as "transition to practice" requirements, further delaying APRN full

practice authority. In several states (see table below), legislation has been enacted with the intention

of moving closer to full practice authority for one or more APRN roles, yet the legislation includes new

requirements for a supervised practice period following licensure and/or certification. These legislative

restrictions are modeled in concept after the state of Maine's 1995/2007 legislation, a supervised practice

provision of 24 months. Discussion with stakeholders reveals that these changes have not been based on

evidence but are the result of political compromise. As demonstrated in the table, states have unique time

periods and standards for this "transition to practice," none of which are supported by the evidence or

research.

As states begin to implement these requirements, there is a growing realization of the potential impact on

the workforce and access to care. In a report published in November 2014, the Nurse Physician Advisory

Taskforce for Colorado Healthcare (NPATCH) described how it evaluated perceived barriers created by the

legislation passed in that state: employers are reticent to hire new graduates because they are unable to

prescribe independently, supervision requirements create an unnecessary burden for preceptors and

mentors, and APRNs are often unable to be empaneled and bill for services independently. The Taskforce

generally found the barriers to be real and made recommendations to streamline the process for APRNs to

obtain prescriptive authority, including reducing the transition requirement to six months' full-time or 1,000

practice hours.

National APRN organizations have provided information and guidance for their memberships on this issue

through position statements and briefs, which are referenced in this document. Continued and increasing

variability in state practice requirements for APRN full practice authority does not bring the nation toward

consensus, but institutes additional layers of unnecessary regulatory constraint and costs.

33
---
2016 Oklahoma Nurses Association

34
---
2016 Oklahoma Nurses Association

ANA and our constituent and state nurses associations (C/SNAs) are committed to working with other

national nursing organizations and key stakeholders to remove barriers to APRN practice in order to ensure

patients have access to safe and effective care from the providers of their choice.

States with "Transition to Practice" Barriers

State

Year

Legislation

Passed

Transition

Requirement

APRN

Role

Affected

Oversight Requirement/Comments

Maine 1995/2007 24 Months CNP Physician or CNP

Colorado

Vermont 2011

Nevada 2013

2009 3,600 Hours

2015 1,000 Hours

24 Months

and 2,400

Hours

2 Years or

2,000 Hours

CNP, CNS,

CNM,

CRNA

CNP, CNS,

CNM,

CRNA

CNP, CNS,

CNM,

CRNA

CNP, CNS,

CNM

Minnesota 2014 2,080 Hours CNP, CNS

Connecticut 2014

3 Years and

2,000-Hours

Minimum

CNP, CNS

New York 2014 3,600 Hours CNP

Nebraska 2015 2,000 Hours CNP

Maryland 2015 18 Months CNP

Delaware 2015

West

Virginia

2 Years and

4,000 Fulltime

Hours

Minimum

2016 2 Years

CNP, CNS,

CNM,

CRNA

CNP, CNS,

CNM,

CRNA

Required when seeking independent

prescriptive authority; physician or physician

and APRN

Hours reduced for prescribing mentorship

with a physician or APRN required when

seeking autonomous prescriptive authority

Collaborative Agreement with an APRN or

physician

Required when seeking independent CS

II prescriptive authority; collaborating

physician-approved protocols for CS II

prescribing

Collaborative Agreement with an APRN or

physician

Collaborative Agreement with a physician

Collaborative Agreement with a physician;

attestation of collaboration requirement

Transition-to-Practice Agreement with a

supervising provider (MD, DO, or NP)

An applicant who has never been certified by

Maryland or another state shall consult and

collaborate with a physician or CNP mentor

(who has at least 3 years' experience)

Collaborative Agreement with a hospital

or integrated clinical setting ("Independent

Practice")

Collaborative Relationship and Agreement

with a qualified collaborating health care

professional (physician or APRN) when

seeking full autonomous prescriptive

authority

35
---
2016 Oklahoma Nurses Association

Be a part of Changing Lives

for the better, together at

Hillcrest

Medical Center

We welcome applications for all

nursing positions, specifically:

Med/Surg • Med/Surg ICU •

Cardiac • Surgery

Our nurses enjoy competitive benefits

& pay, terrific sign-on bonuses,

continuing education, a friendly work

environment and more!

Learn more and apply online at

www.hillcrest.jobs or call

918.579.7645.

JCMH NURSING

Licensed RN Opportunities

• Sign on Bonus

• Shift and Weekend Differentials

• Staff Involvement on all nursing committees

• Tuition Assistance

• Competitive Benefits compensation

• 401K Savings and Investment Plan

Achieving clinical excellence one nurse at a time.

Contact Brandi Ward, Nurse Recruiter at

(580) 379-5883 or brandiward@jcmh.com.

Altus, Oklahoma

Visit www.jcmh.com for current opportunities.

Helping new nurse graduates transition into their

first professional nursing role by offering

evidence-based learning with work experiences that

promote confidence, critical thinking skills,

and excellent patient care.

Criteria

• New nurse graduate with less than 1 year clinical experience

• Graduate from an accredited school of nursing

• Complete all program requirements

• A willingness to strive for clinical excellence to foster personal

growth and development

• NCLEX must be taken within 4 months post-graduation

For the Residency Program, contact

Blaine Jumper, RN, BSN at (580) 379-5667.

1120 S. Utica Avenue

Tulsa, OK 74104

36
---
2016 Oklahoma Nurses Association

Sources

American Nurses Associaton. (2016). ANA Principles for Advance Practice Registered Nurses (APRN) Full Practice

Authority. Retrieved from http://www.nursingworld.org/MainMenuCategories/ThePracticeofProfessionalNursing/

NursingStandards/ANAPrinciples/Principles-for-APRN-Full-Practice-Authority.pdf.

American Association of Nurse Practitioners. (2014). Issues At-A-Glance: Full Practice Authority. In Current Issues:

Analysis and Briefs. Retrieved from http://www.aanp.org/images/documents/policy-toolbox/fullpracticeauthority.

pdf.

American College of Nurse Midwives. (2014). Issues Brief: Understanding Transition to Practice Language in

State Legislation. Retrieved from http://www.midwife.org/acnm/files/ccLibraryFiles/Filename/000000004597/

TTPFinalIssueBrief.pdf.

American College of Obstetricians and Gynecologists and American College of Nurse-Midwives. (2011). Joint

Statement of Practice Relations between Obstetrician-Gynecologists and Certified Nurse-Midwives/Certified

Midwives. In College Statement of Policy. Retrieved from http://www.midwife.org/ACNM/files/ACNMLibraryData/

UPLOADFILENAME/000000000224/ACNM.ACOG%20Joint%20Statement%203.30.11.pdf.

APRN Joint Dialogue Group. (2008). Consensus Model for APRN Regulation: Licensure, Accreditation, Certification &

Education. Retrieved from https://www.ncsbn.org/Consensus_Model_for_APRN_Regulation_July_2008.pdf.

Basu, S. (2014). Possible VA Change in Advanced Nursing Roles Sparks Heated Debate. U.S. Medicine, 1. Retrieved

from http://www.usmedicine.com/agencies/department-of-veterans-affairs/possible-va-change-in-advancednursing-roles-sparks-heated-debate/.

Colorado Department of Regulatory Agencies. (2014). Final Report and Recommendations on the Requirements

for Advanced Practice Registered Nurses Seeking Prescriptive Authority. Retrieved from http://www.

coloradonursingcenter.org/documents/misc/NPATCH_final_11102014.pdf.

Cook, K. A., Marienau, M., Wildgust, B., Gerbasi, F., & Watkins, J. (2013). Assessment of Recent Graduates'

Preparedness for Entry into Practice. AANA Journal, 81(5), 341-345. Retrieved from http://web.a.ebscohost.com/

ehost/pdfviewer/pdfviewer?sid=4e7157d8-e7e4-46c5-bcf7-6637db184dcd%40sessionmgr4002&vid=3&hid=4106.

Federal Trade Commission. (2014). Policy Perspectives: Competition and the Regulation of Advanced Practice Nurses.

Washington, DC: Authors. Retrieved from http://www.ftc.gov/system/files/documents/reports/policy-perspectivescompetition-regulation-advanced-practice-nurses/140307aprnpolicypaper.pdf.

Goudreau, K. A., Baldwin, K., Clark, A., Fulton, J., Lyon, B., Murray, T., et al. (2007). A Vision of the Future for Clinical

Nurse Specialists. Harrisburg, PA: Authors. Retrieved from http://www.nacns.org/docs/AVisionCNS.pdf.

Institute of Medicine. (2010). The Future of Nursing: Leading Change, Advancing Health. Retrieved from http://www.

nap.edu/openbook.php?record_id=12956.

National Council of State Boards of Nursing. (2014). Illustration of overview of each state's consensus model

implementation status. NCSBN's APRN Campaign for Consensus: State Progress toward Uniformity. Retrieved

from https://www.ncsbn.org/5397.htm.

National Governors Association Center for Best Practices. (2012). The Role of Nurse Practitioners in Meeting Increasing

Demand for Primary Care. Washington, DC: Authors. Retrieved from http://www.nga.org/files/live/sites/NGA/files/

pdf/1212NursePractitionersPaper.pdf.

Nurse Practitioner Roundtable. (2014). Nurse Practitioner Perspective on Education and Post-Graduate

Training. Washington, DC: Authors. Retrieved from http://www.aanp.org/images/documents/policy-toolbox/

nproundtablestatementmay6th.pdf.

Weinberg, M. & Kellerman, P. (2014). Full Practice Authority for Nurse Practitioners Increases Access and Controls

Cost. San Francisco, CA: Authors. Retrieved from http://www.bayareaeconomy.org/project/scope-of-practice/

37
---
2016 Oklahoma Nurses Association

38
---
2016 Oklahoma Nurses Association

Oklahoma Nurses Association

Position Statement on Care Coordination and

Registered Nurses

The IOM Future of Nursing Report establishes the role of Care Coordinator, which is also known as Nurse

Navigator, Case Manager and Health Coach, as a priority for Registered Nurses. "Coordinating care is one of

the essential competencies of the nursing profession across the entire patient care population." (IOM, 2010,

p. 2-13)

Care Coordination unites a team of health care professionals to meet individual patient needs, improve

health care access and outcomes, and synchronize care with a multitude of long-term services with the goal

of cost effective mobilization and utilization of health care resources (ARHQ ,2010). The care coordinator

works closely with the patient, family, caregiver, primary care provider, and other health care professionals to

enhance communication, resulting in improved patient well-being and outcomes.

Therefore, it is the position of the Oklahoma Nurses Association that care coordination is a component

of professional nursing practice, and only Registered Nurses should utilize the title of Care Coordinator.

Licensed and unlicensed non-RN health care workers who lack the skill set to address the needs of patients

with complicated health issues should not describe their jobs as care coordinators nor use the title Care

Coordinator.

Background:

It is well known that the American health care system is already incredibly complex and will continue to

increase in complexity due to advances in technology and the passage of the Affordable Care Act (ACA)

which emphasizes high quality care, greater access to care, and improved outcomes at all points in

the healthcare system. Effective coordination of care, in the management of chronic health conditions,

have been shown to prevent deterioration and acute exacerbations that result in emergency room visits,

hospitalizations, physical and emotional complications, and a marked decline in health status.

Care coordination programs with positive, rigorously evaluated and broadly replicable results require an initial

comprehensive physical and psychosocial assessment and the development of a comprehensive patient

centered evidence-based care management plan with services such as clinical decision making, patient

self-care education, and coordination with a health care team that includes community-based services.

Registered Nurses are essential to implementing chronic care models within a person-centered health care

team (Bodenheimer & MacGregor, 2005); The Registered Nurse coordinator acts as the pivot point that

connects providers, the health care team, the family and the patient so that everyone is actively engaged in

the care process.

The Registered Nurse Care Coordinator provides patients with a single individual to contact who is

accountable for their recovery. Although some health care facilities have recently placed non-Registered

Nurses in positions of care coordinators, Registered Nurses are uniquely qualified for the role of care

coordinator because of their broad based health care education, understanding of complex disease

processes and leadership/management training.

39
---
2016 Oklahoma Nurses Association

40
---
2016 Oklahoma Nurses Association

The practice of registered nurses is central to coordinating the patient's health care experiences with the

goal of improving health care quality, increasing access to care, and enhancing patient care and value

perceptions of care (IOM, 2010). The Institute of Medicine (IOM) has concluded, "nurses…need to adopt

reconceptualized roles as care coordinators, health coaches, navigators, and system innovators."

The American Nurses Association recognizes and promotes the integral role of registered nurses in the care

coordination process to improve patient care quality and outcomes, and to decrease costs across patient

populations and health care settings (ANA, 2012).

References

Agency for Healthcare Research and Quality (AHRQ),.(January 2011c). Care coordination measures atlas. Publication

No. 11-0023-EF.

ANA. (2012). Position statement on care coordination and nurses' essential roles. Retrieved on 8/18/2016 from http://

nursingworld.org/MainMenuCategories/Policy-Advocacy/Positions-and-Resolutions/ANAPositionStatements/Position-

Statements-Alphabetically/Care-Coordination-and-Registered-Nurses-Essential-Role.html

ANA. (2012). The value of nursing care coordination: A white paper of the American Nurses Association. Retrieved on

9/12/2013 from http://www.nursingworld.org/carecoordinationwhitepaper

Bentley, N. (2013). Mercy Health nurses form first national organization supporting nurse care coordinators. Retrieved

8/18/2016 from http://local.cincinnati.com/share/story/206904

Bodenheimer, T., & MacGregor, K. (2005). Nurses as leaders in chronic care. British Medical Journal, 330, 612-3.

Centers for Disease Control, Chronic Disease and Health Promotion. Retrieved on 1/28/11 from http://www.cdc.gov/

chronicdisease/overview/index.htm

Chapman, S.; Chan, M.; & Bates, T. (2010). Medical assistants in community clinics: Perspectives on innovation in role

development. Research Briefs, Center for the Health Professions at the University of California at San Francisco.

Institutes of Medicine (2010). The Future of Nursing: Leading Change, Advancing Health. National Academies Press,

Washington, D. C.

Robinson, L., & Brown, M. (2011). Don't be fooled by care coordinator imposters. Health Care Journal of Baton Rouge.

41
---
2016 Oklahoma Nurses Association

Networking Reception & Dine-Around

Wednesday 4:30 p.m.

2nd Floor Foyer

Join us for a casual gathering with the ONA Board of Directors. This is a great opportunity to network with

nurses from across the state. Light refreshments provided. Sign up to join a group of nurses to dine at a local

restaurant.

Let Your Voice Be Heard!

Mark your calendar:

Legislative Day: Nurses Day at the Capitol

February 28, 2017

Legislative Day for Nurses at the Capitol provides you with the opportunity to get involved and make a

difference in issues facing nursing and healthcare in Oklahoma.

ONA encourages all Nurses and Nursing Students to get involved in the legislative process and to

attend the Nurses Day at the Capitol.

Nurse of the Day in 2017

Legislative Session: February – May

42
---
2016 Oklahoma Nurses Association

2016 Poster Abstract Presentations

Wednesday & Thursday 8 a.m. – 4:00 p.m.

Room: Promenade A

Thursday - Meet the Presenter/Poster Discussion 9:30 – 10:00 a.m.

*Listed in alphabetical order by presenting author

Understanding Leadership Through the Follower's Lens

Saleem Al-rjoub, BSN, MSN

Making Movies for Educational Purposes: How a Nurse Faculty Became a Movie Producer!

Sheryl Buckner, PhD, RN, ANEF

Minimizing Aspergillosis Infection in Oncology Patients through the use of HEPA Filtration

Sheryl Buckner, PhD, RN, ANEF; Emily Bowlby, Jessica Vest, Angela Peters, Landon Rodriguez,

Christine Mueller (University of Oklahoma College of Nursing senior students)

Using Technology in the Classroom Setting: A Help or Hindrance to Students' Academic

Performance

Sheryl Buckner, PhD, RN, ANEF

Increasing Use of Active Learning Strategies of Nursing Students during Clinical Experiences

Lynn B. Clutter, PhD, APRN-CNS, CNE; Elizabeth B. Mansfield, TU SN

The Peanut Ball: A Useful Tool for Labor & Delivery Support

Lynn B. Clutter, PhD, APRN-CNS, CNE

The Effect of the Crew Intervention on Faculty-to-Faculty Incivility in Nursing Education:

A Quality Improvement Project

Leslie Collins, DNP, MS, RN

Agape Nursing Model

Nancy Eckerd, MS, RN

Social Services Providers' Perspectives of American Indian Women's Experiences of

Postpartum Depression

Jennifer L. Heck, MS, RNC-NIC, CNE; Janet Sullivan Wilson, PhD, RN

The Effects of Caretaker Training on the Emotional and Physical Needs of Institutionalized Orphans

Rebecca Hope Le, PhD, RN, IBCLC

Cultural Competence and Cultural Congruence: Moving from Definitions to Action

Teressa Hunter, PhD, RN

Mindfulness in Children: A Concept Analysis

Megan Jester, MS, RN

Identifying and Reducing Compassion Fatigue and Burnout in a Critical Care Step-down Unit

Jessica L. Johnson, MSN, RN

43
---
2016 Oklahoma Nurses Association

The Voice of the Nurse: Nurse in Washington Internship

Sheila Kennedy-Stewart, MSN, BSN, ADN

Care Considerations for Caregivers to Individuals with Alzheimer's Disease

Dr. Tracy Langley, DNP, APRN-CNP

Therapeutic Babywearing

Robyn Reynolds Miller, BSN, RN, CCRN

Best Practices for Competency Assessment in Nurse Residency Programs

Brenda Nance, DNP, RN, CNE

Health Needs Assessment and Indian Church Community

Lee Anne Nichols, PhD, RN

Describing the Mechanisms of Older Adult's Falls Recorded in Video by the Microsoft Kinect Sensor

Jennifer O'Connor, MS, RN

Leisure Time Physical Inactivity, Obesity and Diabetes - Rates in the Southern United States

Jennifer O'Connor, MS, RN

Addressing Health Literacy in Primary Care

Karen D. Rackley, DNP, RN

Caring for, Caring about: Support for Nursing Students' who struggle Academically

Amy M. Richards, MSN RN; Elizabeth Diener, PhD, RN, PNP, CNE;

Debra Barnett, MSN, RN; Ronak Barwari, PhD(c), MSN; Marlene Lockridge, MSN, RN; Vicky Reith, MSN

Mind-Body Interventions Improve Fatigue and Related Symptoms in Persons with

Metastatic Breast Cancer: A Review of Literature

Carol Rogers, PhD, MS, BSN

Effects of Yoga, Meditation and Tai-Chi on Fatigue and Quality of Life in Persons with Breast Cancer

Carol Rogers, PhD, MS, BSN; Lauren Brown, BS; Brittany Clark, BS; Ryan Etherton, BS; Bert Snider, BS;

Jane Toungtong, BS

Seminal Nursing Documents 20th Century Historical Influences on Nursing Education

Past and Present

Francella Smoker, BSN, MSN

You Take Care of Others...Why Not Care for Yourself? A Perspective on Wellness

Pamela Stokes, MHCA, MSN, RN

Taking Simulation to New Territories

Jerod Waters, RN, BS

The Young Professor: The Lived Experience of Millennial Nurse Educators

Vanessa Wright, PhD(c), MSN, RN

44
---
2016 Oklahoma Nurses Association

Oklahoma's Culture of Health: Perspectives

Panel Discussion

Thursday 8:00-9:30 a.m.

Room: Promenade C-D

Hear from Oklahoma health care leaders regarding the current state of health care and what is being done

to create a culture of health in Oklahoma. Panelist will discuss issues facing health care in Oklahoma from

the perspective of the organizations and/or populations they represent. Each one of these leaders is involved

with work that is creating a culture of health in Oklahoma.

Invited panelists include:

Secretary of Health Terry Cline, PhD

Connie Davis, MSN, RN, Executive Director of Health Services, Cherokee Nation

Jerod Waters, RN, Executive Officer of Nursing at Chickasaw Nation

Craig Jones, FACHE, President of the Oklahoma Hospital Association

Gina Crawford, DNP, MS, APRN-CNP Facilitator

Learning Outcomes:

1. Identify critical issues facing health care in Oklahoma

2. Learn how organizations are working together to serve the health care needs of Oklahomans

3. Discuss ways Oklahoma is creating a culture of health

4. Discover what role nurses can play in creating a culture of health

45
---
Thursday 10:00 – 11:00 a.m.

2016 Oklahoma Nurses Association

Concurrent Sessions Breakout Session I

Healing Touch – An Energetic Modality to Empower Health and Well-Being

Presented by: Carol Hjersted-Smith, RN, CHTP/I; Raine Benham, RN, CHTP/I

Room: Promenade C

Healing Touch is a relaxing, nurturing energy therapy that uses gentle touch and compassionate intentionality

to assist in balancing physical, mental, emotional, and spiritual healing and well-being. Healing Touch works

with your energy field to support your natural ability to heal, it is safe for all ages and works in harmony with

standard or allopathic medical care. This presentation will cover the basic principals of Healing Touch as

related to the care of the individual patient/client, supporting them to live the healthiest life they can. We will

also discuss Healing Touch as a self-care practice, supporting the practitioner. Participants will be given the

opportunity to experience a Healing Touch technique.

Learning Outcomes:

1. Define Healing Touch

2. List 3 potential benefits of Healing Touch for the patients, family and self.

3. Identify 3 current trends in research in Healing Touch

4. Experience a Healing Touch technique

Special Thanks to the Following Sponsors

Gold Sponsors

Arthur L. Davis Publishing Agency, Inc.

Factor 110

Nursing Times

Networking Break Sponsor

Grand Canyon University

ONE Main...Lending Made Personal

Convention Scholarship Sponsor

Dominion Medical

46
---
Thursday 10:00 – 11:00 a.m.

2016 Oklahoma Nurses Association

Concurrent Sessions Breakout Session I

The Incivility Solution: Tools to Foster Self-Transcendence for Nurse Educators

Presented by: Cynthia Keeton Brown, MSN, BSN, RN, HCA

Room: Promenade B

The significance of the problem of incivility in nursing education is well researched and documented in

nursing scholarly literature (Clark, 2013). Evidence from an extensive review of recent literature proposes that

nursing faculty are uniquely situated to stem the rising incidence of incivility in nursing education. Emerging

from evidence-based research, multiple resources for self-care activities are presented. Adopting a daily

practice of self-care is suggested for the nurse and a focus on mindful awareness during interactions with

colleagues, students and community. Role-modeling civility by nurse educators is recommended as the first

step to addressing incivility in nursing.

Learning Outcomes:

1. Summarize the phenomena of incivility in nursing education.

2. Integrate best practices to promote civility in nursing education.

3. Apply mindful awareness and selected daily practices to create an environment of civility in nursing

education.

47
---
Thursday 12:30 – 1:30 p.m.

2016 Oklahoma Nurses Association

Concurrent Sessions Breakout Session II

Community Diabetes Education and Primary Care Quality Improvement –

A New Model for Care

Presented by: Michelle Bero, RN, BSN; Allison Seigars, MS; Becky Zook, BA

Room: Promenade C-D

The Community Diabetes Education Outreach Program (CDEOP) is a two-pronged approach to provide

best practices information to primary care clinicians and diabetes self-management education (DSME) to

the communities in Alfalfa, Garfield, and Grant counties in rural northwest Oklahoma. The purpose of the

CDEOP is to implement a community-based diabetes education program, combined with clinical quality

improvement support for rural primary care practices to improve diabetes self-management and clinical

outcomes. This presentation will provide information about how the CDEOP staff, with guidance from the

Tri-CHIO (County Health Improvement Organization), and through a partnership with TMF, the state's Quality

Improvement Organization, is providing free DSME program to patients at places and times convenient to

them. The presentation will include information about providing academic detailing and practice facilitation

in primary care offices to improve outcomes for patients with diabetes. Presenters will discuss how the

program is funded, the DSME program being used, and a brief history of academic detailing and practice

facilitation as well as how it is being utilized in this project. Nurses are often the first contact for patients

who are newly diagnosed with diabetes. In addition, they provide education, care for the diabetic patient in

the hospital, and are often the first person a patient sees during an office visit. This presentation will provide

nurses with information related to DSME referral resources, the national standards of DSME, the role of

DSME, and how evidence-based DSME can help the patient gain control, lead to better outcomes, and result

in decreased health care cost.

Learning Outcomes:

1. Review best practices for diabetes self-management opportunities

2. Learn how diabetes self-management education, combined with primary care quality improvement

can improve clinical outcomes for patients with diabetes

3. Review free DSME opportunities

4. Review national standards for DSME

48
---
Thursday 12:30 – 1:30 p.m.

2016 Oklahoma Nurses Association

Concurrent Sessions Breakout Session II

"Companion" Robots Within Nursing Care of Older People?

Presented by: Dr. Linda Cook

Room: Promenade B

Last year at this convention, the Kramer School of Nursing addressed the emerging phenomenon of using

life-like robots as "companions" in the care of residents of senior living facilities, and we demonstrated two

robots of this kind. Subsequently, our human-robot interaction (HRI) research team investigated human

acceptance of such robotic applications at an Oklahoma facility, digitally A/V recording live sessions

of human-robot interaction, followed by focus group discussions with residents and staff. After reviewing

and analyzing the A/V recordings qualitatively and quantitatively, we have reported our findings in papers

for conferences in Spain and in Japan. We will present an account of our work and invite discussion of it.

Inasmuch as nursing has reached the year 2016, perhaps it should not be surprising that technology which

formerly was just science fiction has begun to find its way into the nursing care of older people. Even so, our

pilot investigation of human responses to the appearance of these battery-operated "companions" in nursing

practice has raised questions and concerns that appear to call for further research, and certainly for some

critical thinking on the part of ONA members as well.

Learning Outcomes:

1. Critically assess use of "companion" robots in the nursing care of older people.

Fall Prevention for Older Adults

Tai Chi: Moving for Better Balance

Presented by: Laura Gamino, RN, MPH, MCHES, CPSTI

**Non-CEU Class

Room: Executive

Falls are the leading cause of fatal and non-fatal injuries in older adults. One in three adults over age 65,

fall each year. Tai Chi: Moving for Better Balance is an evidence-based program to develop strength and

flexibility in older adults, and in turn decrease their falls.

We will review the scope of the problem of geriatric falls and the history of the Tai Chi program's origin and

expansion in Oklahoma. Then we will have a short warm-up and slowly go through the eight forms of the

program.

49
---
Thursday 1:45 – 2:45 p.m.

2016 Oklahoma Nurses Association

Concurrent Sessions Breakout Session III

Socioeconomic Health Gradient in Oklahomans

Presented by: Shelley Triplett, BSN, RN-BC and Darlene Reynolds, BSN, RN

Room: Promenade C-D

Socioeconomic Health Gradient in Oklahomans Problem Statement: The SES (socioeconomic status)

gradient. The richer you are the healthier you are. The poorer you are the sicker you are. Living in poverty

is a risk factor for stress-related illnesses. What are health inequities or inequalities? What is meant by

social gradient? What are the social 'determinants' of health? This presentation will familiarize nurses

to statistics that relate to Oklahomans, including the Income gradient (the rate of morbidity in the poorest

households is 2.6 times that in the richest households); Socio-economic gradient (the rate of morbidity in

the most disadvantaged areas is 1.2 times that in the least disadvantaged areas); Education gradient

(the rate of morbidity in the least educated population is 1.2 times that in the most educated population);

Employment gradient (the rate of morbidity for those out of the labor force is 3.1 times that for those in fulltime

employment).

Learning Outcomes:

1. Nurses will be introduced to statistics that relate to health disparities in Oklahoma.

2. Nurses will become familiar with clinical resources designed to decrease preventable disease in

Oklahomans.

Enhancing Nurse Leader's Moral Courage in an Acute Care Facility

Presented by: Pam Crawford, DNP, MBA, RN, NEA-BC

Room: Promenade B

Nurses, often the patient's strongest advocate, are most likely to assure high quality, safe, and peaceful

healthcare. Nurses and healthcare professionals have to balance the patient's quality care issues with their

personal values and the goals of the healthcare team. This can create moral distress within an individual

that is not easy to experience or manage. If nurse leaders are not cognizant of moral distress and its causes

and effects, it can create unsafe patient care issues and possibly cause nursing turnover in organizations or

nurses leaving the profession.

Moral distress is a significant phenomenon affecting the ethical work environment of nurses in the acute

healthcare environment today. This project focused on educating nurse leaders on the causes, effects, and

management of moral distress by enhancing their ability to be morally courageous in order to transform

their work environment. The aim of this project is to increase morally courageous acts and decrease moral

distress and moral residue in nurse leaders through education, introduction of a moral courage model and

a decision-guided algorithm, and ethical consultation. The results from the pre- and post- education survey

demonstrated strong evidence that the education provided improved individual knowledge of the moral

distress phenomenon, that the evidence-based practice (EBP) intervention improved the nurse leader's

50
---
Thursday 1:45 – 2:45 p.m.

2016 Oklahoma Nurses Association

Concurrent Sessions Breakout Session III

self-perception of their moral courage, and that the pre- and post- moral distress level of the nurse leaders

demonstrated that the EBP.

Learning Outcomes:

1. Discuss the effects of moral distress on nurses, nurse leaders, patients and organizations.

2. Identify the evidenced-based recommendations (education, moral courage models, decision-guided

algorithms, and ethical consultation) to manage, diminish or eliminate moral distress affects and

enhance nurse leader's moral courage.

3. Review the implementation of a quality improvement project to enhance nurse leader's moral courage

and the outcome results.

Healing Touch: A Demonstration

Room: Executive

**Non-CEU Class

Healing Touch is a relaxing, nurturing energy therapy that uses gentle touch and compassionate intentionality

to assist in balancing physical, mental, emotional, and spiritual healing and well-being. Healing Touch works

with your energy field to support your natural ability to heal, it is safe for all ages and works in harmony with

standard or allopathic medical care.

Join Carol Hjersted-Smith, RN, CHTP/I and additional Healing Touch practitioners as they give one on one

demonstrations of Healing Touch.

Mark your calendars now for the

ONA 109th Annual Convention

October 18th & 19th, 2017

Embassy Suites ~ Norman, OK

Follow ONA on Twitter @OKNURSES

"Like" ONA on Facebook OKNURSES

51
---
Thursday 3:00 - 4:00 p.m.

2016 Oklahoma Nurses Association

Concurrent Sessions Breakout Session IV

A Student, a Camel, and God Walk Into Your Hospital…A Journey in Restoring Job

Satisfaction

Presented by: Dean L. Prentice, DHA, Col, USAF, NC, BSN, MA, NE-BC

Room: Promenade C

So, a college student, a camel, and God walk into the hospital…That is the beginning of the discussion

on a journey of empowerment in restoring job satisfaction at work. Today's organizations are dealing with

unprecedented resource constraints, increasing job requirements, and decreasing staff sizes. Add on to

that the laser focus on efficiency, effectiveness, and patient safety and working in a healthcare system is

akin to entering a battlefield. And let's not talk about our bosses, who some make Attila the Hun look like a

Disney Princess. So what can you do to improve your job satisfaction? We are going to discuss three actions

you can take to help improve your job satisfaction…if you are brave enough. Listen to the wise words and

actions of a college student, a camel, and God to find out what you can do to take charge and move forward.

Honestly, what do you have to lose…but misery and distress?

Learning Outcomes: At the conclusion of this presentation the participant will be able to:

1. Discuss current research regarding job satisfaction within the nursing profession.

2. Engage in discussion on how to empower yourself in job satisfaction in 3 areas

3. Outline steps to take control of job satisfaction for your work and its impact on clinical outcomes and

job performance

Culture, Language, Disease States, and the Lifestyles of the Not so Rich and Famous

Presented by: Heather Fenton, EdD, MSN, RN, CNE

Room: Promenade B

Culture, Language, Disease States, and the Lifestyles of the Not so Rich and Famous More than 40% of

Hispanics in the US are foreign-born, many who are recent immigrants who retain their cultural beliefs

and behaviors regarding health and health care. In Oklahoma, Hispanic populations of 218 Oklahoma

communities have more than doubled over the last decade, and makes up 9% of the overall population in

Oklahoma. The Hispanics and Latinos face higher risks of cardiovascular disease because of high blood

pressure, obesity, and diabetes—and unfortunately suffer strokes at an earlier age that other ethnicities. If

they access healthcare, we will see them in our clinics, ER, ICU, medical floors, and inpatient and outpatient

rehabilitation facilities. In addition to communication issues, cultural beliefs and behaviors regarding dress,

touch, eye contact, and speech are examples of beliefs that if ignored can hinder the ability to provide safe

care. This session will address the complex issues associated with culture, language, disease states, and

lifestyles of the Hispanic population and identify best practices in communication and assessment.

52
---
Thursday 3:00 - 4:00 p.m.

2016 Oklahoma Nurses Association

Concurrent Sessions Breakout Session IV

Learning Outcomes: At the conclusion of this presentation the participant will be able to:

1. Describe the complex issues associated with culture, language, lifestyles and disease states.

2. Use best practices for communication and health assessments with clients from diverse

backgrounds.

Room: Executive

We invite you to lose yourselves for a bit! Enjoy a relaxing time by

yourself or with a friend as you create and unwind in the Creative

Corner! Colored pencils and paper provided.

Meet the Presenters

Thursday 4:00- 4:30 p.m.

Room: Promenade C-D

Do you have a question or a comment for one of today's presenters? This session offers a chance to meet

with the presenters one on one.

53
---
2016 Oklahoma Nurses Association

2016 Exhibitors

Aging Services

AWHONN

Dominion Medical

Faith Community Nurses Association

Gideon International Auxiliary

Grand Canyon University

Life Share Oklahoma

Northeastern State University

Northwestern Oklahoma State University

Nursing Times

Oklahoma Association of Clinical Nurse Specialists

Oklahoma Baptist University College of Graduate and Professional Studies

Select Specialty Hospital

The University of Oklahoma Health Sciences Center Fran and Earl Ziegler College of Nursing

University of St. Augustine for Health Sciences

Your Patient Boards

54
---
2016 Oklahoma Nurses Association

55
---
2016 Oklahoma Nurses Association

56
---
2016 Oklahoma Nurses Association

57
---
2016 Oklahoma Nurses Association

58
---
2016 Oklahoma Nurses Association

59
---
2016 Oklahoma Nurses Association

Oklahoma Nurses Association Bylaws

Approved by the ONA House of Delegates, October 21, 2015

60
---
2016 Oklahoma Nurses Association

61
---
2016 Oklahoma Nurses Association

the

62
---
2016 Oklahoma Nurses Association

63
---
2016 Oklahoma Nurses Association

2016 Board of Directors & Region Presidents

Elected Officers

President – 2014 - 2016

Joseph Catalano, RN, PhD

VICE PRESIDENT – 2016 - 2018

Elizabeth Diener, PhD, BSN, MSN

PRESIDENT-ELECT – 2014 - 2016

Joyce Van Nostrand, PhD, RN

SECRETARY/TREASURER – 2014 - 2016

Kim Williams, RN

DISASTER PREPAREDNESS & RESPONSE

DIRECTOR

Polly Shoemake, RN

EDUCATION DIRECTOR

Karen Cotter, PhD, RN

EMERGING NURSE DIRECTOR

Nathan Gomez, RN

POLITICAL ACTIVITIES DIRECTOR

Martha Hernandez, DNP, APRN, PMHCNS/NP-BC

Region Reps/Presidents

REGION 1 President/Rep

Teressa Hunter, PhD, RN

REGION 2 President

Lisa Gerow, PhD, RN

REGION 2 Rep

Shelly Wells, PhD, MBA, MS, APRN-CNS

REGION 3 President

Angela Martindale, PhD(c), MS, RN

REGION 6 President/Rep

Viki Saidleman, RN

REGION 4, 5 and 7 VACANT

EXOFFICIO MEMBERS

ONA Consultant to ONSA

Dean Prentice, DHA, Col, USAF, NC, BSN, MA,

NE-BC

PRACTICE DIRECTOR

ShyRhonda Roy, MS, RN

64
---
2016 Oklahoma Nurses Association

ONA Committees

Elizabeth Diener, Chair

Joe Catalano

Eileen Grubbs

Emma Kientz

Stephanie Kramer

Convention Committee

Better Kupperschmidt

Cathy Maffry

Brenda Nance

Dean Prentice

Lucas Richardson

Pam Spanbauer

Joyce Van Nostrand

Francene Weatherby

Nancy Eckerd, Chair 2016

Jerod Waters, Chair 2017

Nominating Committee

Amy Estes

Teressa Hunter

LeAnne McWhirt

Polly Shoemake

Martha Hernandez, Chair

Aletha C. Bigham

Lana J. Bolhouse

Melissa Ann Craft

Patricia Darnel

Christine Diltz

Susan Dresser

Deborah Ellen

Melissa Franco

Kim Glazier

Teressa Hunter

Melissa Kelly

Government Activities Committee

Trip Kuper

Katie Lamar

Victor Long

Leah Melton

Dianne Miller-Boyle

Gina Newby

Erin Ogee

Toni Pratt Reid

Amy Richards

Marla Smith

Rosemary Spring

Karen Taylor

Mindy Thompson

Joyce Van Nostrand

Jackye Ward

Shannon Ware

Francene Weatherby

Lindsey West

Mary Tate Westman

Larcile White

Vickie White Rankin

Kim Williams

Deborah Wipf

ShyRhonda Roy, Chair

Kay Lee Barnes

Cindy L. Barnhill

Karen D. Cotter

Clare E. Delaney

Linda T. Fanning

Rebecca G. Frender

RuthAnn Fritz

Ragina L. Holiman-James

Practice Committee

Angie Kamermayer

LaTonya Mason-Wilson

Leah Melton

Kim M. Lynch

Kim Pointer

Lisa M .Rother

Teri R. Round

Lynn Sandoval

Margaret Selby

Gina Stafford

Jackye L. Ward

Shannon D. Ware

Mary Tate Westman

Larcile White

Jamesha R. Williams

Kimberly A. Williams

65
---
2016 Oklahoma Nurses Association

President's Report

It's hard to believe that it's already been two years since I stood on the stage of the

2014 Convention and took the oath of office as President of ONA. As Alice Walker

observed in The Color Purple: "Time moves slowly, but passes quickly." Maybe age

has something to do with that phenomenon?

The progress made by the Oklahoma Nurses Association over the past two years

truly has been amazing. As you remember, at the 2014 Board Retreat, the Board

worked very hard outlining and setting up a framework to revamp ONA, make

it more membership oriented, in line with The Standards of Excellence and place

the financial status of the organization on firm footing. The Board also developed

a Vision Statement, a Brand Promise and revised the Core Values statement to be

more reflective of what we actually do as an organization of registered nurses. Then the hard work began –

redesigning and implementing the goals and changes proposed during the first Board meeting.

For the past two years, the majority of the efforts of the ONA Board and staff have been focused on making

these changes a reality. All of the manuals have been revised so they are now congruent with The Standards

of Excellence to the point where they apply to small not-for-profit organizations. As you'll remember from

the 2015 Convention, we made a number of major changes in the Bylaws that updated what we were doing

as a professional organization. Don't give too big of a sigh of relief yet, we still have more changes to make

in the Bylaws as we enter into the second year of the pilot program with ANA. This project has been highly

productive and very advantageous for ANA. Because of the pilot program, we have and continue to save a

significant amount of money in the day-to-day operations of the office. We are also now eligible for a new

pricing policy offered by ANA to increase membership.

Based on recommendations by an ANA panel that made a complete review and analysis of ONA with an

onsite visit, the old office building complex was sold for a very good price. The old building really was not

meeting our needs to the point where if all the Board members every attended a board meeting, we wouldn't

have any place to put them all! While the new office space itself is a little smaller than the old office, we now

have access to two rooms for meetings. One is large enough to accommodate the entire board and a smaller

one for small committee meetings. The Board also voted to put a large portion of the sale price into a reserve

account that will earn interest and cannot be accessed without approval of the Board. The establishment of

the reserve fund was one of my top goals. The rent for the new building is just slightly more than the monthly

fees and upkeep for the old building which is pretty much offset by ANA's contributions to office activities

such as bookkeeping.

A few of my goals were not fully implemented. I had really wanted to have the ONA as a CE Provider

Approver by the time I left office. I guess I really wasn't aware of how involved this process is or how long it

takes. As that great philosopher, Murphy would say: "Everything takes longer than you think it will!" We have

got a good start on the CE project and I plan on becoming more involved after October. If you might think

that you are even a little interested in this project, please contact the office. We sure can use you! I believe

that it will become a major source of non-membership income after it is initiated.

Significantly increasing ONA membership was the other major goal that fell short of my expectations. Even

with ANAs substantive investment in membership advertisement, we only increased our membership by

about 10%. Of course, we were acting as one of the "control groups" where ANA compare the push for

heavy advertisement with the new pricing policy. I fully expect our membership to increase markedly over the

next two years.

66
---
2016 Oklahoma Nurses Association

Overall, I enjoyed my time as president of ONA and hope my efforts have produced some significant

and lasting changes. Of course, no one person can do much without the support and help of a group of

dedicated and intelligent people working with him or her. I have truly been blessed by two Boards that have

the drive and foresight to help guide ONA into the future. The efforts of Jane and Candice to keep the train

on the tracks and headed in the right direction has been invaluable!

For a long time, I have believed in the power of positive thought. Neuroscience has shown us that you

can actually rewire your brain by thinking positive and avoiding negative thoughts, people and even

conversations. When you really start paying attention and really listening to what people say, it seems a lot

of these people only see the negative and live in some kind of depressing world where nothing is ever right

or good. I reject that outright! Of course things could always be better, but they already are pretty good.

Negative people believe that realism equals negativity and positive equals the unrealistic. As health care

providers, we see a lot of bad things in our day to day practices, yet I believe (as does Patricia Neal) from

what I've seen over the years that a strong positive mental attitude will create more cures than any wonder

drug or expensive machine.

Thank you for your support and please remain active in ONA,

Joseph T. Catalano, PhD, RN

President, ONA

67
---
2016 Oklahoma Nurses Association

CEO Report

Jane Nelson

Over the last year, we have implemented a lot of changes. These are changes

members adopted at the 2015 House of Delegates, changes the Board of Directors

embraced and implemented. These changes are evident in the Oklahoma Nurse

and the ONA website; we have worked to communicate them to each member.

The 2016 House of Delegates is bigger this year because of those changes and the

2016 – 2017 Board of Directors will also look different with just one representative

from each Region and the New Membership Development Director.

Last year I shared a quote by French author and winner of the Nobel Prize in Literature in 1947 Andre Gide,

"Man cannot discover new oceans unless he has the courage to lose sight of the shore." We are at the point

where we can see the shore! It is now time to start building the Regions that are not functioning, as well as

create Chapter development. The Membership Development Fund Committee also has work to do.

This year we have worked to build our membership benefits. We have joined with ANA's Personal Benefits

program that provides ONA/ANA member rates or discounts on Professional Liability Insurance, Auto

Insurance, Life Insurance, Long-Term Care Insurance and Financial Planning. In addition to these programs,

ONA has also signed agreements with First Bank Card for a new ONA Credit Card, One Main Financial for

a financial loan program and LendKey, a company working to refinance and consolidate student loans with

lower rates. These programs benefit ONA with non-dues revenue and offer ONA Members better interest

rates.

The ONA Board is committed to strengthening benefits to you, the member, in any number of ways beyond

these kinds of personal benefits programs. We are also working to create professional development and

leadership opportunities.

Another change we have embraced is updating our logo. This change allowed ONA to align with ANA's

rebranding. As you can see from this book, the flame graphic has a more modern feel but reflects that, like

nursing practice, ANA has also changed. ANA's rebranding was a result of not only a desire to modernize

its look, but a structural change creating the ANA Enterprise. The ANA Enterprise leverages the combined

strength of ANA, ANF and ANCC to drive excellence in practice and ensure the voice and vision of nurses

everywhere are recognized. You are still members of ANA, which is one part of the ANA Enterprise.

Several years ago I started Barre3 workouts. Every barre3 class works strategically to build strength and

flexibility for optimal body balance and improved posture.

During class, instructors talk about finding your "shakes and quakes" a sign that your body is becoming

stronger. ONA is working to find its "shakes and quakes" to continue to build membership, develop its

communities and grow stronger financially.

Empowering nurses to improve healthcare, be the Leading Voice for the nursing profession and Connecting

Nurses to make a difference.

68
---
2016 Oklahoma Nurses Association

Vice President's Report

Liz Diener, PhD, RN, PNP, CNE

How has your year been? My first year as ONA vice-president has been exciting and eye-opening! As a longtime

member of the nursing profession I've always know we have the "can do" spirit, but working with the

nurses of Oklahoma and hearing your tales of service and dedication has brought me to a new level of awe

and appreciation.

It is that gratitude for your dedication to the health and well-being of Oklahomans that sparked the

imaginations of the Convention Planning Committee in choosing this year's focus: Dreaming in Color-

Creating a Culture of Health. We wanted to bring you topics and speakers that reflected your requests from

last year's evaluation, to focus attention on the status of health in Oklahoma, and to emphasize that you are a

member of the community needing care and attention!

Let me end by sharing a special opportunity I had at the State Capitol this year. I've never served as Nurse of

the Day before and I was determined to take advantage of that opportunity this year. I applied for the honor

of serving on April 19th, the day honoring Rebecca Anderson, LPN, the only nurse to be mortally injured in

the aftermath of the Murrah building bombing. I read as much as I could find about her, because to stand in

honor for a fellow nurse meant I represented her and I wanted to do her proud. I felt prepared for my day at

the Capitol, but could never have anticipated the wonderful, welcoming response I received. Introduced in

both the House and Senate, my representatives were as excited as I was—no one from my district (Luther)

had ever served before! I've got pictures and certificates commemorating the day. I addition to being treated

like a star just for being a nurse, I was fortunate to be accompanied by a student nurse from our University

that attended school with Rebecca's daughters. It made for an extra-special day. I hope I made her proud.

To all of you, my fellow nurses, you make me proud! Thank you for allowing me to be your vice-president. I

hope each and every one of you will find some sort of gift in this year's Convention as my thank you.

69
---
2016 Oklahoma Nurses Association

ONA Board of Directors Activity Report

The ONA Board of Directors Meetings:

• Board Retreat, November 2014

• Bi-monthly board meetings: January 23, April 2, June 18, and September 23, either in face to face or

via conference call.

ONA Accomplishments:

Conducted strategic organizational planning incorporating the Bylaws changes enacted by the ONA House

of Delegates. Outcomes included:

• Review and update of ONA Strategic Plan

• Adopted geographic boundaries to the ONA regions and developed a solution that would meet the

needs of some Regions to remain separate entities.

• Approved timeline and communications plan for implementation of Region changes and other related

bylaws changes

• Continued support for the ANA/ONA State Pilot. This agreement with ANA is to provide back office

support in the areas of membership, finance, operations, and technology.

ú Value Pricing Pilot

ú New Branding from ANA

• Reviewed ONA convention evaluations, schedule and provided feedback and recommendations for

2016 convention changes.

• Collaboration among Region Presidents and Representative of best practices that work on

membership recruitment and involvement as well as ensuring fiscal stability.

• Continued as the co-lead for The Future of Nursing: Oklahoma Network Action Coalition.

• Continued to develop financial targets for all projects to ensure revenue generating initiatives; the

ultimate goal is to increase membership and sponsors.

• Increased ONA/ANA membership by 4.1% since January 2015. However our growth from June 2014

to June 2015 has been 9.1%. Several BOD members have attended student nurses and nurses' day

events. These activities continue to spike interest in ONA/ANA memberships.

• Continued work updating of Employment Policies to meet the Standards of Excellence and current

state and federal laws.

• Updated Operating Policies based on the Bylaws amendments that were considered and passed by

the 2015 ONA House of Delegates.

ú Region and Chapter guidelines

ú Region dues and structure for use of funds by each region

ú Membership Development Fund guidelines

• Continued as an Approved Provider of the Texas Nurses Association, Patti Muller-Smith is our

Primary Nurse Planner. ONA has worked with several entities to Joint-Provide continuing education

activities for Registered Nurses. To Joint-Provide an educational offering, an ONA Nurse Planner

must be involved with the planning of the event.

• "Dashboard" updates reviewed at each board meeting tracking ONA BOD Strategic Plan progress on

initiatives.

• ONA involved in recommending nurse appointments to Oklahoma Board of Nursing (1 ARNP and

1 RN) and the Governor related to Health Care, i.e., Domestic Fatality Review Board, Physician

Manpower and Training Commission, and the Oklahoma Board of Nursing.

• Organizational Partner of the Oklahoma Women's Coalition.

• Following legislative issues and regulatory rule changes pertinent to nursing practice, patient

advocacy and health of Oklahomans.

70
---
2016 Oklahoma Nurses Association

• Continued having each region treasurer complete a financial inventory as required by ONA Policies

and Procedures. This provides the ONA BOD information on each region's financial status, financial

institution used and records necessary for IRS purposes.

• Updates provided by the ONA President, Joe Catalano and ONA President-Elect, Joyce Van

Nostrand regarding ANA changes related to organizational structure.

• Finalization of investment strategy and policies for building sale proceeds. Monies invested with

Merrill Lynch.

ONA Board topics in discussion process:

• Encouraging ONA members to serve in region, state, and national positions.

• Continued assessment of impact for ONA with ANA Race for Relevance (R4R) re-structuring;

resulting in ANA board and HOD structure changes.

• Membership Engagement and Connectivity

• Considering process to become an Accredited Approver with the American Nurses Credentialing

Center

Implementation of House of Delegates Directives:

• Operating Policies updated to reflect Transformational bylaws changes

• Guidelines for Regions and Chapters finalized

• Communications Plan for executing changes and sharing with the membership

• Changes made to reflect Region changes in the database

Submitted by

Kimberly Williams, MHA, RN

ONA Secretary-Treasurer 2014-2016

71
---
2016 Oklahoma Nurses Association

72
---
2016 Oklahoma Nurses Association

Oklahoma Nurses Association

Statement of Activities

Current Year

Year Ending

June Current Year Annual

30, 2016

Budget

Revenue

AFFILIATES $ 3,500.00 $ 5,000.00

CONVENTION INCOME 27,788.50 37,500.00

DUES 145,427.86 144,164.07

PAYMENTS TO DISTRICTS (11,412.47) -

INTEREST INCOME 10.67 -

LEGISLATIVE DAY 21,075.00 21,500.00

ORGANIZATIONAL SPONSORSHIP 20,500.00 32,500.00

OTHER INCOME 3,010.61 5,875.00

PROGRAM INCOME - NON GRANT 925.00 1,500.00

ROYALTY INCOME 18,458.94 25,000.00

Total Revenue

229,284.11 $ 273,039.07

Expense

ASSOCIATION COURTESY FUND - $

200.00

BANK CHARGES 3,178.72 2,700.00

LEASE (BUILDING EXPENSES & UTIL) 8,727.83 11,846.00

DEPRECIATION 1,242.44 1,714.29

CONVENTION EXPENSES 35,403.95 31,600.00

COPIER 4,557.27 5,068.00

DUES & SUBSCRIPTIONS 2,540.00 690.00

EQUIPMENT 680.12 1,300.00

INSURANCE 3,748.00 3,000.00

LEGISLATIVE 37,884.73 39,050.00

MARKETING 3,845.29 5,950.00

MEETINGS 6,061.67 2,950.00

PAYROLL EXPENSES 120,538.63 131,640.00

POSTAGE 213.03 339.00

PRINTING 1,342.46 1,500.00

PROFESSIONAL FEES 3,875.00 3,000.00

PROGRAM EXPENSES - NON GRANT 888.50 900.00

STAFF DEVELOPMENT 1,545.00 1,500.00

SUPPLIES 2,312.67 1,000.00

TELEPHONE 5,654.33 5,240.00

TRAVEL 4,517.61 6,150.00

WORKPLACE ADVOCACY PROGRAM - 900.00

Total Expense

248,757.25 $ 258,237.29

Operating Surplus (Deficit) $ (19,473.14) $ 14,801.78

Investment Gains 2,734.58 0.00

Gain on Sale of Condo 126,293.47 0.00

Net Income

$ 109,554.91 $ 14,801.78

73
---
2016 Oklahoma Nurses Association

74
---
2016 Oklahoma Nurses Association

Oklahoma Nursing Student Association Report

The past 2 years have been exciting in the Oklahoma Nursing Student Association (ONSA). The organization

continues to grow nursing expertise, enhancing clinical knowledge, and developing leaders for the future of

nursing. In the time we have with a complete new executive board every year, it is a constant challenge to

keep momentum on advancing the mission of ONSA. With the assistance of 4 consultants, this impressive

board continues to make improvement to represent Oklahoma nurses in training.

ONSA continues to work to reach out to more SNA at all universities, colleges, and schools of nursing.

Through personal connections, engagements with educators at schools of nursing, and connecting at SNA

functions, the board of ONSA has done remarkable job or connecting with more student nurses. One change

this past year was in the leadership conference which is held annually. This year, we moved our conference

to the spring and relaunched it as the Leadership Summit. We had a phenomenal response in attendance

and powerful feedback on how to take this to the next level. This conference was to reach out to all SNA and

provide an educational opportunity on clinical training and to highlight ONSA as a voice for the SNAs.

The ONSA board has for the past 2 years taken on the opportunity to provide support as a service

organization as well. Volunteering with homeless, running in a heart run, and to donating funds at our

conference to a selected charity has become a great outreach of the ONSA. This board continues to support

the ONA's Legislative Day event as well!

A portion of the ONSA board attends the Annual National Student Nurses Association convention. This

impressive conference offers multiple training sessions on clinical instruction, different specialty areas of

nursing, and a working opportunity of being involved in a professional board for annual House of Delegates.

National nursing leaders also attend and share their view point on many topics related to nursing, the nursing

profession, and nurses impact in future healthcare. This time is also mixed with networking with other leaders

of state SNA and looking for best practices on how they operate. What is highlighted each conference is the

ONSA puts on one of the best annual state run SNA conventions in the nation. Many states reach out to our

leadership team for ideas to grow their convention.

Finally, the ONSA will hold their annual convention; this year titled "Hope in the Heartland" and promises to

be another stellar event for ONSA. The conference will be held at the NCED Conference Center in Norman

Oklahoma on October 28th. This high energy, well attended conference and educational opportunity allows

nursing students from around the state to come together for a day to improve their professionalism, learn

new skills and to build relationships with future colleagues in healthcare.

It is an honor to work with this group of nursing leaders!

Dr. Dean L. Prentice

ONA Consultant

75
---
2016 Oklahoma Nurses Association

Legislative Report

The 2016 Legislative session began February 1, 2016 and adjourned on Friday, May 27th, however, the ONA

Political Activities Committee (PAC) actively works before, during, and after the legislative session. Before the

Legislative session began, the PAC committee met and efficiently reviewed and set the priorities for the 2016

session, and formed a sub committee that identified ways to enhance participation in Nurse of the Day and

Nurse's Day at the Capital.

Jane presented at the Deans and Directors meeting and encouraged increased participation with the Nurse

of the Day and Nurse's Day at the Capital. The ONA web site was adjusted to make the process easier to find

information and sign up for Nurse of the Day. A generous donation from an ONA member was made so that

caps with the ONA logo could be purchased and worn by ONA members, which made it easier for student

nurses and others to identify ONA presence at the capital.

The Nurse of the Day continues to be an under utilized opportunity for Oklahoma nurses. This activity

informs legislators that nurses are actively involved with health issues and formally identifies our presence at

the capital. We are looking forward to increased participation from all Oklahoma nurses in the next session.

Nurses Day at the Capital continues to be an excellent opportunity for student nurses to learn and become

involved with legislative activities and to ensure all nurses have a voice in the health care decisions of

Oklahoma. This year Vickie White-Rankin led students in a legislative exercise that informed students of the

legislative processes as well as demonstrating the results of active participation.

Other efforts to enhance a meaningful political year included work with the Oklahoma Network: Future of

Nursing Action Coalition. The Oklahoma Network: Future of Nursing Action Coalition, APRN Practice Group

works with the AONP association, CNS association, NAPNAP and the OCRNA association. Efforts with this

group provided a review of the APRN legislation, the development of a calling tree that can be utilized to

activate members when critical issues are imminent and members need quick notification and action. ONA

stays active at the table to ensure all groups of nursing are represented in legislature and works toward

increasing Nursing Presence at the Capital.

A big thank you for the tireless efforts of Jane Nelson and Vickie White Rankin during the session. The

weekly phone updates related to current activities in the session provide timely opportunities for ONA

members to make meaningful calls and emails to their legislatures concerning relevant bills.

Thank you for the opportunity to serve as Political Activities Director in 2016.

Martha Hernandez, DNP, APRN, PMHCNS/NP-BC

76
---
2016 Oklahoma Nurses Association

2016 Legislative Session Report

END OF SESSION REPORT

VICKIE WHITE RANKIN

VICKIE WHITE RANKIN POLITICAL CONSULTING

INTRODUCTION

The 2016 Legislative Session will likely go down in history as one of

our state's most challenging and contentious. As the opening gavel

fell, we faced an unprecedented $1.3 billion dollar shortfall in general

revenue funds, the largest shortfall in our state's history.

As if this problem was not overwhelming enough, our legislature and

governor no longer had some of the requisite tools at their disposable

to solve such problems. Decades ago, the legislature would have

had the authority to pass a needed tax increase with a simple

majority vote, filling part, if not all, of the cavernous shortfall with new

revenue. With the passage of State Question 640 in 1992, the voters, through initiative petition and the resulting

constitutional amendment, effectively tied the legislature's hands, preventing them from passing most revenue

raising measures without an almost impossible ¾ majority vote. Our legislature has not passed a single tax on its

own since that time. In the intervening years, subsequent legislatures have been hesitant to send tax proposals to

a vote of the people, and initiative petitions for tax increases are nearly non-existent. Only one tax has passed in

our state's anti-tax environment since 1992. It was a tobacco tax passed by a vote of the people in 2004 via State

Question 613.

Other means of mitigating recent revenue shortfalls were of limited availability to policy makers this year. In 2010,

our state used millions in federal stimulus money, revenue that the federal government no longer makes available.

In recent years, our legislature has built budgets for recurring needs cobbling together a variety of available

resources, many of which have been one-time sources of revenue. Our state is much like a poor household

struggling from paycheck to paycheck. While there may be some criticism for starving the state's services of

needed funding, voters have effectively held the legislature back in most efforts to right the ship. Perhaps we are

at a crossroads, as many core services have reached a point of crisis. This year's budget shortfall threatened

the loss of large numbers of health and mental health care providers, and the closure of hospitals and nursing

homes across the state, as a likely 25% rate cut loomed on the horizon. This had the potential of devastating our

workforce of nurses. Schools, colleges and universities, all of which impact nursing and nursing education, faced

serious threats. Behavioral health funding dropped from 46th in the nation to 49th. Consolidation of a variety of

state entities was seriously threatened, and in some cases was accomplished.

From the opening gavel, it seemed that this was one of the most contentious legislative sessions of modern times.

As the gavel fell signaling sine die, it was clear. Attempts to reach an agreement on the budget seemed futile, as

warring factions appeared no closer to resolution than they did on opening day. Filing for elections came early

this year, impacting a wide array of critical decisions in the final weeks of session, as legislators constantly looked

over their shoulders at their opponents knocking doors at home. Pressure to win elections loomed larger than

life for some under the Capitol dome. Hopes for a tobacco tax and billions in federal matching funds to relieve

pressure on our state budget fell by the wayside, as blocks of legislators seemingly put partisan campaign politics

before people. Negotiations continued, but the ¾ majority vote needed was an impossible vote to attain, as it is

for legislatures in most states.

77
---
2016 Oklahoma Nurses Association

As constituents demanded that our legislature fund services, add revenue, reduce spending and eliminate waste

and inefficiencies, the legislature ultimately passed a number of measures that addressed these concerns with

bills that did not require a ¾ majority vote. They passed a wide array of measures modernizing (and in some

cases increasing) fee structures, enhancing tax compliance, reducing tax credits, and addressing cash

management practices with an eye to balancing the budget without being forced to lose any attempts to pass

bills with a ¾ majority vote.

Miraculously, the 2017 Budget minimized cuts for most critical core services, and significantly protected

healthcare and Medicaid rates, including those for advanced practice nurses.

HEALTH CARE FUNDING

Medicaid funding is critical to the health care infrastructure of Oklahoma, to the nursing profession, and to the

health and survival of the people of this state. As oil and gas prices plummeted, and the state revenue shortfall

climbed to $1.3 million, a 25% rate cut for all Medicaid providers seemed a certainty. This potential cut posed

a significant threat to all nurses, from those employed by agencies that would sustain such deep cuts to those

advanced practice nurses that are receiving direct Medicaid reimbursement for services.

OVERVIEW OF HEALTHCARE IN THE 2016 LEGISLATIVE SESSION

The topic of healthcare dominated the thoughts and conversations of most legislators throughout the 2016

legislative session, as the precipitous drop in oil and gas prices and additional loss of state general revenue and

a decline in FMAP threatened unsustainable cuts to Medicaid. As the potential for hospital and nursing home

closings crept ever closer to reality, the legislative leadership and Governor worked with OHCA CEO Nico Gomez

who developed a long-term plan to protect and enhance Medicaid by leveraging billions in federal dollars.

Officially labeled the Medicaid Rebalancing Act, (unofficially and more casually referred to as the Nico plan), the

proposal sought to raise an initial 5% state match in order to leverage federal dollars that would be earmarked

specifically for Medicaid, and other health and mental health programs and services administered by ODMHSAS

and DHS. These funds would have guaranteed insurance coverage for uninsured Oklahomans up to 133% of

the federal poverty level, relieving all Oklahomans who currently bear the costly burden of uncompensated care

through higher hospital, medical and insurance rates. These funds would have covered the shortfall in Medicaid,

covering children and the vulnerable elderly, ensuring that hospitals and nursing homes remained open.

ONA joined forces with other health and behavioral health provider organizations in actively advocating for a

solution that would generate millions in new revenue. We supported the proposal for the Medicaid Rebalancing

Act and an increase in the tobacco tax.

HB2803 (By Derby And Griffin), The Medicaid Rebalancing Act would have covered between 175,000 and

233,000 currently uninsured Oklahomans by creating a new individual Insure Oklahoma commercial insurance

plan for adults from ages 19 to 64, whose incomes were below133% of the federal poverty level. The plan would

have operated on a sliding scale, and would have been suspended if the federal matching rate for the plan ever

dipped below 90% funding. Upon initiation, Oklahoma would be responsible for a mere 5% match, increasing to a

maximum of 10% over time. This measure sought to limit Medicaid coverage to 133 percent of the federal poverty

level for nondisabled children and pregnant women when the current maintenance-of-effort expires in 2019. In

addition, HB2020:

• Sought to restore provider rates to at least 86 percent of Medicare fee schedule as soon as possible,

preventing rate cuts that would cause the closure of hospitals, nursing homes, and loss of nurses and

providers.

• Sought to protect access to quality health care.

• Would have added 350,000 new lives to the private health insurance market.

• Would have insured 175,000 uninsured Oklahomans, reducing the uninsured rate by 35%.

• Would have preserved the SoonerCare provider network

78
---
2016 Oklahoma Nurses Association

• Would have reduced SoonerCare enrollment by 17 percent.

• Would have supported drug courts and mental health courts, and would have provided protection for

behavioral health crisis centers, strengthening Oklahoma's behavioral health and substance abuse

systems.

Ultimately, HB2803, supported by the Governor and leadership, did not receive enough bi-partisan votes for

passage.

The Cigarette Tax - HB3210 by Sears and Jolley sought to raise the excise tax on a pack of cigarettes by

$1.50. HB 3210 would have dedicated revenue generated from the tobacco tax for healthcare purposes by

creating the "Healthcare Revolving Fund." The bill provided that the Legislature would appropriate revenue from

this fund to agencies for programs and services that are eligible for federal matching funds through Medicaid. The

Oklahoma Health Care Authority could have allocated some generated revenue to provide the state match for the

federal funds necessary to implement "The Medicaid Rebalancing Act of 2020." Eligible agencies include, but are

not limited to:

• Oklahoma Health Care Authority;

• Department of Mental Health and Substance Abuse Services;

• Department of Human Services;

• State Department of Health;

• JD McCarty Center for Children;

• Oklahoma University Health Sciences Center;

• Oklahoma State University Center for Health Sciences; and

• University Hospital Authority.

The Healthcare Revolving Fund created by the act may carry a balance, which may then be appropriated in the

following year.

The Oklahoma Tax Commission conservatively projected that the new tax would increase our state's annual

revenue by $182-184 million. Considering, however, that the proposed tax measure would fall under the provisions

of the Oklahoma Constitution as amended by SQ 640 in1991, requiring that all tax measures must go into effect

no sooner than 90 days after the Governor's signature, the earliest possible effective date would have been

September 1, 2016, lowering the first year's projected revenue to $158.4 million. The Oklahoma Tax Commission

anticipated generation of $190.1 million for FY2018.

According to an April 2016 Oklahoma poll, an impressive 74 percent of Oklahoma voters support increasing

the tobacco tax to fund health care, the highest percentage of support for any tax proposal. Most Oklahomans

view a tobacco tax as a tax of choice, taxing an item that is not considered a necessity. Each Oklahoma family

spends an average of over $900 per year subsidizing the cost of health care for those who smoke. It is clear, that

increasing the cost of cigarettes reduces consumption over time, eventually reducing the enormous cost burden

on our taxpayers and state. It has been estimated that increasing the cost of a pack of cigarettes by $1.50 per

pack would prevent 31,800 kids today from becoming adult smokers. It would also generate long-term health care

savings of $125 billion. The Oklahoma Nurses Association saw this as a win-win. We could simultaneously reduce

the cost burden for the state, improve public health, and increase funding for children, adults and seniors needing

health and behavioral health care.

The attempt to pass this measure is long and storied. The measure did not receive a single Democratic vote

of support in the House. As a tax measure, HB3210 was required to attain a ¾ majority vote on the floor of

each house. However, it needed only a simple majority to pass committee. HB 3210 passed in the Senate Joint

Committee on Appropriations & Budget by a vote of 25 ayes, 16 nays and seven absent or abstaining. On the

House floor, the bill was held open for six hours, in which there was considerable debate, negotiating, lobbying,

and massive grassroots efforts to provide education on the measure. At its best moment, aye votes reached a

pinnacle of 49 (all Republicans), but unable to acquire additional aye votes after several hours, the leadership

79
---
2016 Oklahoma Nurses Association

had to close the rolls, watching the bill fail by a vote of 40 to 59. Ultimately, HB 3210 simply failed to receive the

required supermajority of 76 votes to pass.

ADDITIONAL MEDICAID AND FUNDING ISSUES

Nursing Home Upper Payment Limit Program

The Oklahoma Health Care Authority has been working on the creation of a new Medicaid supplemental payment

program for hospitals and nursing homes. Under the proposal, both participating hospitals and nursing homes

benefit. The plan involves an intra-governmental transfer of the state's share of the cost of the supplemental

payments, making this program solely available to non-state government-owned (NSGO) nursing homes. This

plan includes nursing homes owned or leased by NSGO hospitals such as municipal, county, and public trust

hospitals.

Additional Medicaid dollars will be provided to participating nursing facilities to bring the facilities to the same

approximate level of funding provided by Medicare, or to the upper payment limit (UPL) of available federal

Medicaid funds. The program was submitted to CMS for approval in June, and advocates expect it to be

operational before December 2016.

Nursing Home Care Act /Innovation Waiver and Change of Owner /IGT– HB2549 by Cox and Quinn

provides for the manner in which the Nursing Home Upper Payment Limit Program Transfer may occur. This

measure amends the definition of "owner" in the Nursing Home Care Act, adding that any non-state governmental

entity that obtains and owns (or leases) a facility, and that has entered into an agreement with the Oklahoma

Health Care Authority to participate in the nursing facility supplemental payment program, shall be deemed the

owner of such facility, and shall be authorized to obtain management services from a management services

provider. It further allows such "owner" to delegate, allocate and assign as between the UPL owner and UPL

manager, compensation, profits, losses, liabilities, decision-making authority and responsibilities, including

responsibility for the employment, direction, supervision and control of the facility's administrator and staff. This

bill became effective on July 1, 2016.

Nursing Home UPL/ IGT – SB1149 – By Griffin and Cox refines existing law addressing the location of services

provided by public trust hospitals, county hospitals, and municipal hospitals to allow participation in the Upper

Payment Limit Program, or federal program for enhanced Medicaid nursing facility payments up to the level paid

by Medicare for the same services. This measure goes into effect August 25, 2016.

Medicaid Fraud SB1091 by Standridge and Kannady creates a statute of limitations of five years from the

commission of a crime for Medicaid fraud. Any individual making false claims for benefits and attempting to

receive such benefits from the Oklahoma Medicaid Program shall be guilty of Medicaid fraud, pursuant to Title 56

of the Oklahoma statutes. This measure becomes effective on November 1, 2016.

State Innovation Waiver – SB1386 by David and Mulready permits the creation and submission of a State

Innovation Waiver with the stated goal of generating new Oklahoma health insurance products intended to

encourage prevention and improve health. This measure mandates consistency with the innovation design plan

developed through the Oklahoma Health Improvement Plan. This bill becomes effective on November 1, 2016.

Oklahoma Medicaid False Claims Act SB1515 by Standridge and Kannaday amends and deletes definitions

relating to penalties, civil actions, procedure and jurisdiction for the Oklahoma Medicaid False Claims Act. This

bill amends requirements for liability while increasing penalties. It modifies civil actions for relief by employees,

contractors and agents pursuing claims under the Medicaid False Claims Act. This measure goes into effect on

November 1, 2016.

Extension Of SHOPP – HB2267 by Cox And Justice extends the sunset date for the Supplemental Hospital

Offset Payment Program (SHOPP) for three more years, from Dec. 31, 2017, to Dec. 31, 2020. The original

SHOPP Act was enacted 5 years ago to allow hospitals to increase Medicaid funding. Essentially, it allowed

80
---
2016 Oklahoma Nurses Association

access to significant additional federal matching funds for Medicaid to nearly the federal upper payment limit.

(Federal upper payment limit is what Medicare pays for the same patient service. Prior to 2011, Oklahoma

hospitals received a Medicaid reimbursement rate Medicaid of only 67 percent of Medicare rates for the same

service to patients). HB2267 establishes timelines as well as the requirements for the review and determination of

assessments by the Oklahoma Health Care Authority, assuring continuing compliance with federal law.

BUDGET BILLS

In order to address the $1.3 billion hole in the budget for FY17, the Legislature had to find creative solutions for

generating revenue without triggering the ¾ majority vote clause required by the constitutional provisions of

SQ640. Eventually, they were able to garner enough support to pass a variety of measures to enhance revenue

for the upcoming fiscal year. Some of the bills that passed decreased or eliminated particular tax incentives and

expenditures, while others sought to improve the budgeting or revenue collections process.

Federal Funds – HB1581 by Park and Treat directs state agencies to report the amount of federal funds the

agency has received to OMES (the Office of Management and Enterprise Services). The agency must also

report the source of those funds, a description of all actions the agency is required to take, and actions that are

prohibited. This measure further requires that tis Information must be made available on a state website. This

measure goes into effect on September 1, 2016.

Cash Flow Reserve Fund – HB3206 By Sears and Jolley directs the Office of Management and Enterprise

Services to evaluate the amount of funds remaining in the Cash Flow Reserve Fund that is not necessary for

current FY cash flow needs and is available for legislative appropriation. It further compels OMES to submit a

report of such to the State Board of Equalization. This bill goes into effect on September 1, 2016.

DHS Spending Limits – SB694 by Griffin and Wright requires the Department of Human Services to allocate

$119,832,053 to phases one through four of the Pinnacle Plan. In addition, the measure states legislative intent

regarding Developmental Disabilities Services, the Advantage Waiver Program, Community-based Waiver

Program, Money Follows the Person, Homeward Bound Waiver, In-home Supports and Adult Day Services. The

measure also directs the Department of Human Services to fund the Child Abuse Multidisciplinary Account. This

legislation protects these programs from cuts this fiscal year, based upon the current budget.

The bill also provides legislative intent with regard to maintaining FY 2016 funding levels of salaries for Child

Welfare Services Division and foster and adoptive home rates. The measure also provides for the transfer for

federal monies, appropriations and cash to the DHS for FY 2017. This bill becomes effective on July 1, 2016 so

that it will apply to FY17.

Revenue & Expenditure Projection Act – SB1030 by Mazzei and Brumbaugh directs state agencies to

submit information to OMES (Office of Management and Enterprise Services) for purposes of preparing a budget.

Compels agencies to report the estimated collections, itemized budget needs and capital expenditures for the

ensuing fiscal year and 2 subsequent fiscal years. Requires that the comprehensive economic report prepared by

the Oklahoma Tax Commission (OTC) and a multi-year trend analysis of the state's budget outlook prepared by

OMES include this new 3-year projected estimate.

This measure further requires that OMES and OTC each submit copies of their reports and analysis to the

Speaker, Pro tempore and to members of both appropriations committees in the House and Senate.

This bill compels each subcommittee of the House and Senate Appropriations and Budget Committee to create

budget performance measurements for each spending agency under its jurisdiction. All spending agencies,

whether or not they are recipients of state appropriations, will be required to submit analysis reports to allow the

Legislature and the Governor to obtain measurable data to determine if the agency is performing its duties in the

most cost-effective manner. This bill becomes effective on May 16, 2016, allowing it to apply to FY17.

81
---
2016 Oklahoma Nurses Association

Taxpayer Transparency Act – SB1342 by Treat and Newell requires OMES (Office of Management and

Enterprise Services) to modify the website required by the Taxpayer Transparency Act to allow the public to track

federal expenditures by Oklahoma state agencies. This measure goes into effect on January 1, 2017.

NURSING PROFESSION

Nurse Licensure Compact - HB2482 by Ownbey and Simpson provides that nurses who reside in Oklahoma

may obtain a multistate license. This will improve the nurse workforce in our state, increasing standards and

giving our nurses greater flexibility. This measure establishes fees and requirements for the multi-state license that

will be implemented upon initiation of the compact by the Oklahoma Board of Nursing. It provides that the initial

application for a multistate license will be $150 with a biennial renewal fee of $125. The bill further allows for the

OBN to reduce the biennial renewal fees on a pro rata basis for registered nurses and licensed practical nurses.

Multistate licensure for nurses will go into effect when at least 26 states have adopted the compact; that date is

anticipated to be until Dec. 31, 2018. Oklahoma is the seventh state to date to adopt the multistate compact. The

effective date of this bill is November 1, 2016.

Full Practice Authority - HB2841 by Rep. Echols sought to amend the nurse practice act. The bill provided that

the scope of an APRN may include, but not be limited to performing acts of assessment, diagnosing, prescribing,

and ordering non-pharmological interventions, including but not limited to durable medical equipment, medical

devices, nutrition, blood and blood products, and supportive services, including but not limited to home health

care, hospice and physical and occupational therapy. This measure further sought to allow for APRNs to serve

as primary care providers of record. HB2841 provided that APRNs would be expected to practice as licensed

practitioners under standards recognized and established by the OBN, with each APRN complying with the

requirements of the OBN and the Nurse Practice Act, and for consulting with and referring patients to other health

care providers as appropriate. Despite support from the nursing community, the House committee chair declined

to hear the measure before the deadline. The bill would have faced tremendous opposition in the Senate, even

if it had been given a hearing in the House committee. This measure will need not only grassroots support from

the nursing community, but vocal, visible and active support from local communities, hospitals, residents and the

press, in order to ultimately achieve passage.

HEALTH CARE ISSUES

Informed Medical Consent for Minors - HB 2518 – By Grau and Dahm stipulates specific exceptions for

required medical consent for minors. Exceptions are provided in the event of an emergency, if surgery is required,

and an effort has been made to reach a parent or authorized adult authorized with legal consent on behalf of said

minor. This measure goes into effect on November 1, 2016.

Legalized Marihuana Oil for Adults with Certain Medical Conditions - HB 2835 – by Echols and Yen

modifies the previous law (HB 2154, 2015) permitting the usage of marihuana oil solely for children with specific

medical conditions, by deleting the age limitation for "marijuana" and amending the term "qualifying patient" when

relating to cannabidiol (CBD) oil trials. HB 2835 now includes usage by individuals with spasticity due to multiple

sclerosis or paraplegia, intractable nausea and vomiting, or appetite stimulation with chronic wasting diseases to

be prescribed CBD oil by a clinician. This measure becomes effective on November 1, 2016.

Mammography Requirements - HB 2601 by Ritz and Brown mandates that all health care facilities performing

mammograms include information in the summary of the mammography report that identifies the patient's

individual breast density classification based on the Breast Imaging Reporting and Data System established by

the American College of Radiology. The bill further compels a specific notice if the provider determines that a

patient has extremely dense breast tissue. This measure goes into effect on November 1, 2016.

Organ Procurement - SB 1360 by Treat and Ownbey allows a hospital to adopt guidelines for the interaction

between organ procurement organizations and hospital staff. It states that nothing in the Oklahoma Uniform

Anatomical Gift Act may be construed to authorize an organ procurement organization to use coercion or

82
---
2016 Oklahoma Nurses Association

emotional abuse of patients, families of patients, physicians or hospital staff in any aspect of the organ donation

process, including but not limited to the testing and screening of potential donors and the procurement of organs.

This measure goes into effect on November 1, 2016.

Parental Rights Immunization Act – HB3016 - by Grau and Dahm Sought to require health care providers

administering vaccines listed in the Vaccine Injury Table to obtain informed consent from the legal representative

of any child or other legal guardian on behalf of a minor. It would have required that all health care providers give

all relevant information regarding benefits and risks of any vaccine they were to administer. The Governor vetoed

the measure, citing a number of reasons, including the drop in Oklahoma's current vaccination rate to a low of 90

percent. This decline from 94.1 percent in 2006, places Oklahoma a full 4 percent below the national average rate.

Vetoed.

Oklahoma Pharmacy Act - SB1150 By Yen and Cox forbids the sale or wholesale of dangerous drugs,

medicines, medical gases, chemical or poisons without first procuring a valid license from the State Board of

Pharmacy. This measure strictly prohibits any person, firm, provider or business from offering their services to the

public as a "pick-up station" or intermediary for the purpose of having prescriptions filled or delivered, whether for

profit or gratuitously. This bill goes into effect on November1, 2016.

MENTAL HEALTH AND SUBSTANCE USE DISORDERS ISSUES

Labor Commissioner Mark Costello Act - HB 1697 by Denney and Griffin creates an assisted outpatient

treatment program named the Labor Commissioner Mark Costello Act in honor of the commissioner who was

killed by his son. HB1697 defines the terms "assisted outpatient" and "assisted outpatient treatment," requiring

petitions to be filed determining whether an individual should be ordered to assisted outpatient treatment. The

bill also modifies the definition of the term "licensed mental health professional" to include a psychiatrist who is a

diplomate of the American Osteopathic Board of Neurology and Psychiatry. This measure establishes criteria by

which the court may order an individual to assisted outpatient treatment. The bill goes into effect on November 1,

2016.

Exemption for Transport of Mental Health Patients by Law Enforcement - SB 1070 by Sharp and Biggs

protects law enforcement agencies from liability for the actions of a peace officer commissioned by the agency,

when the officer of said law enforcement agency is providing services as a third party transporting mental health

patients outside his or her primary employment as a peace officer. Measure goes into effect on November 1,

2016.

Inpatient Treatment of Minors for Mental Health and Substance Use Disorders - SB 1217 by Sharp and

Grau broadens the definition of the Inpatient Mental Health and Substance Abuse Treatment of Minors Act,

including both physician assistants licensed alcohol and drug counselors (LADC/MH) as defined in the Licensed

Alcohol and Drug Counselors Act. This measure goes into effect on November 1, 2016.

Opioids - SB 1499 by Standridge and Cox mandates that the College of Pharmacy at Southwestern Oklahoma

State University analyze the effectiveness of the anti-abuse properties of anti-abuse formulated opioids. It further

directs the College of Pharmacy to analyze the discrepancies between insurance coverage for the anti-abuse

formulated prescription opioids and coverage for prescription opioids without abuse deterrent properties. This

measure goes into effect on November 1, 2016.

Medicaid Psychiatric Inpatient Admissions - SR 71 by Standridge refines Oklahoma inpatient psychiatric

Medicaid policy, stating that consistent with federal Medicaid law, all Medicaid-covered psychiatric services

provided to persons under the age of 21 who are admitted as inpatients in a hospital in Oklahoma are acute,

inpatient hospital services, regardless of the level of state Medicaid reimbursement provided for such services.

Resolution was ordered to be distributed to the Oklahoma Health Care Authority Board. Secretary of State

accepted this measure before the close of the 2016 session, on May 17, 2016.

83
---
INSURANCE ISSUES

2016 Oklahoma Nurses Association

AUTISM – MANDATE FOR COVERAGE BILL- HB2962 BY NELSON AND GRIFFIN requires a health benefit

plan to provide coverage for the evaluation, diagnosis and treatment of autism spectrum disorder. However,

this measure has its limitations. The mandated coverage applies only to children under nine years of age, or if

an individual is not diagnosed or treated until after three years of age, and requires the coverage be provided

for at least six years, provided that the individual continually and consistently shows sufficient progress and

improvement as determined by the health care provider. This bill further exempts any health benefit plan from the

requirement if they experience a greater than 1 percent increase in premium costs as a result of providing applied

behavior analysis for treatment of autism spectrum disorders.

HB2962 sets forth the requirement that the Oklahoma Health Care Authority work in conjunction with the

Department of Mental Health and Substance Abuse Services, the State Department of Health and the State

Department of Education to examine the feasibility of a state plan amendment to the Oklahoma Medicaid

Program for applied behavior analysis treatment of autism spectrum disorders. This measure goes into effect on

November 1, 2016.

Insurance Payments for Dental Services - SB 1377 by Griffin and Cox forbids any contractor from selling,

assigning or otherwise granting access to the dental services of a participating provider under any health care

contract unless it has been specifically authorized by the health care contract. This measure goes into effect on

November 1, 2016.

HMO Contracts - HB 2097 by Mulready and Brown adds language to the law related to health maintenance

organization contracts by permitting a member to request a printed copy of the contract. This measure becomes

effective on November 1, 2016.

Confidentiality of Insurance Records - HB 2761 by Kirby and Brown stipulates than no waiver of any

applicable privilege or claim of confidentiality in the documents, materials or information provided to the insurance

commissioner shall occur as a result of disclosure to the commissioner or as a result of sharing as authorized by

HB2761. This measure goes into effect on November 1, 2016.

Stop Loss Insurance Expansion - HB 2996 by Moore and Brown was a bill request by Gallagher. The

measure will result in an expansion of stop loss coverage in Oklahoma. Stop Loss policies are exempt from

sate insurance mandates past and present, and therefore do not afford subscribers with the same health care

coverage and health protections of many other policies. This measure provides that any stop-loss insurance

coverage issued by an insurer must provide an aggregate retention of no less than 110 percent of the expected

claims. It mandates the insurance commissioner to develop a uniform disclosure form to be utilized by insurers

issuing stop-loss insurance coverage for small employers. It also requires that minimum disclosure standards and

forms be promulgated by rule in accordance with the Administrative Procedures Act. This bill becomes effective

on November 1, 2016.

Insurance Mandates for State Employees - HB 3071 by Mulready and Quinn requires that any mandated

health insurance coverage signed into law after November 1, 2016, be applied to the Oklahoma Employees Health

Insurance Plan. Such mandated coverage may be for specific health services, benefits, diseases, copay structure,

formulary structure or for certain providers of health care services. While this may appear to be of great benefit

to state employees, it in fact is likely to be of no benefit, when we look more closely. The Oklahoma Employees

Health Insurance is a stop loss plan, exempt from all previous state mandates, unless specifically enumerated. By

making the bill effective on November 1, 2016, any mandates passed this session, including autism, will not apply.

Any future mandates up for consideration will now be much less likely to pass, as a cost analysis to the state will

be presented as reason not to pass the measure. This bill goes into effect on November 1, 2016.

84
---
LONG TERM CARE

2016 Oklahoma Nurses Association

LTCFAB CLASSIFICATIONS– HB2280 by Murphey and Standridge orders the State Health Department, in

consultation with the Long-Term Care Facility Advisory Board, to develop a classification system for violations of

the Continuum of Care and Assisted Living Act. Such system must be appropriate to the severity of the violation.

The bill further prescribes graduated penalties based on the level of harm to the resident. HB2280 mandates that

the facility submit a plan of correction prescribing its own detailed plan for correction of the violation and for

prevention of future similar negative events. This measure will go into effect on November 1, 2016.

Administrators Testing – HB2282 by Murphey and Standridge provides that the Oklahoma State Board

of Examiners for Long- Term Care Administrators must promulgate rules, on or before July 1, 2017, allowing

applicants to take the state standards test, using procedures approved by the National Association of Long-Term

Care Administrators, at a testing facility. This bill goes into effect on November 1, 2016.

Dispute Resolution – HB2667 by Cox and Yen allows any residential care home that seeks to dispute any

statement of deficiency to make a written request to the State Department of Health within 30 calendar days

after the receipt of a statement of deficiencies from the Department. This applies to either an informal dispute or

an alternative informal dispute resolution process. HB2667 sets forth specific membership requirements for an

impartial decision-making panel for the alternative informal dispute resolution process. This measure goes into

effect on November 1, 2016.

Protective Services for Vulnerable Adults by SB1127 by Crain and Munson amends the definition of

"vulnerable adult" by specifically including persons with Alzheimer's disease or other dementias as persons

who may need the intervention of DHS protective services. The definition of "vulnerable adult" now means an

individual who is an incapacitated person or who, because of physical or mental disability, including persons with

Alzheimer's disease or other dementias, incapacity, or other disability, is substantially impaired in the ability to

provide adequately for the care or custody of himself or herself, or is unable to manage his or her property and

financial affairs effectively, or to meet essential requirements for mental or physical health or safety, or to protect

himself or herself from abuse, verbal abuse, neglect, or exploitation without assistance from others. This bill

becomes effective on November 1, 2016.

Vulnerable Adults – SB 1287 by Griffin and Jordan prohibits anyone from sharing or forwarding unproven

findings, as well as findings of self-neglect on vulnerable adults to the office of the district attorney. SB1287

also repeals duplicated statutory language related to the reporting of abuse due. This bill goes into effect on

November 1, 2016.

Nonconsensual Images – SB1257 by Holt and Jordan prohibits the use or dissemination of nonconsensual

images. This measure applies to cameras in nursing facilities as well as to cell phones and other means of

electronic transmission. Provides for penalties; the first act is a misdemeanor with any subsequent act a felony.

Minimum penalties include at least a year confinement with up to $25,000 in fines. This measure goes into effect

on November 1, 2016.

Long Term Care Insurance – SB1374 by Treat and Denney provides a definition of "not-for-profit life care

community" in the Long Term Care Insurance Act. It stipulates that any endowed prepayment, license or entry

fee of $50,000 or more must be independently, actuarially determined before opening the community, then each

year thereafter, to ensure that sufficient payments are collected to meet the future needs of "not for profit life care

community" residents. This measure will become effective on November 1, 2016.

Informal Dispute Resolution (IDR) – SB1506 by David and Cox permits a residential care home to participate

in an informal dispute resolution panel or an alternate dispute resolution panel. In order to participate in such

an informal resolution panel, the residential care home must make a written request to the State Department of

Health within 30 days of the receipt of a Statement of Deficiencies from the Department. This measure goes into

effect on November 1, 2016.

85
---
END OF LIFE CARE ISSUES

2016 Oklahoma Nurses Association

Hydration And Nutrition Act Modification – HB2602 By Ritze and Newberry amends statutory references

in the Medical Treatment Laws Information Act by adding the requirement for licensees of the State Board of

Osteopathic Examiners to watch a State Board of Medical Licensure and Supervision online video concerning

the Hydration and Nutrition for Incompetent Patients Act, the Nondiscrimination in Treatment Act, the Oklahoma

Advance Directive Act, the Oklahoma Do-Not-Resuscitate Act, and the Assisted Suicide Prevention Act. NOTE:

The bill was amended to remove the requirement that members of the boards of directors watch the video. This

measure went into effect on April 20, 2016.

Life-Sustaining Treatment Act (POLST) – HB3017 by Calvey and Sykes mandates that the Oklahoma Attorney

General establish a standard form for physician orders for life-sustaining treatments. The measure prescribes the

specific directions and wording for such form. The bill further establishes conditions of compliance to protect

a physician or health care provider from civil or criminal liability or discipline for unprofessional conduct. It also

establishes conditions in which a physician or other health care provider will be subject to civil damages up to

$200,000 plus attorney's fees. HB2602 creates a cause of action for the establishment of temporary orders to

preserve the life of the patient. The health care provider, facility or the patient, or other person designated by the

patient may petition for such cause of action. This measure amends existing law related to Durable Powers of

Attorney, excluding the execution of a POLST form. This bill will become effective on August 25, 2016.

Death Certificate – HB2586 by Perryman and Jech mandates that no later than July 1, 2017, the medical

certificate portion of a death certificate must be entered into the prescribed electronic system provided by the

State Registrar of Vital Statistics, and the information must be submitted to the State Registrar of Vital Statistics.

This measure permits the medical certification to be signed by a hospice's medical director. It mandates that

physicians sign and file death certificates using the required electronic system by no later than July 1, 2017. This

measure becomes effective on November 1, 2016.

Death Certificate – SB1147 by Crain and Faught mandates that the medical certificate portion of all death

certificate data be entered into an approved electronic system developed by the State Registrar of Vital Statistics.

The deadline for compliance is July 1, 2017. This measure goes into effect on November 1, 2016.

EMPLOYMENT ISSUES

Unemployment Benefits for Seasonal Employees - HB 3164 by Hickman and Newberry mandates that

unemployment benefits based on services by a seasonal worker performed in seasonal employment be limited

to and payable only for the weeks of unemployment occurring during the seasonal work period. The measure

creates a specific procedure to be followed for seasonal workers.

The bill limits benefits to certain periods for seasonal workers, and requires employers to apply for specific

designation as a seasonal employer. HB3164 further requires notice of provisions of seasonal employment to

seasonal employers within a designated time frame. This measure goes into effect on November 1, 2016.

Oklahoma Employment Security Commission Bill - HB2253 by McDaniel, R. and Newberry eliminates

outdated language referring to the definition of "wage" and "taxable wages." HB2253 defines the terms "assigned

tax rate" and "earned tax rate." This measure mandates that any individual failing to adequately attend training

sessions approved by the OESC be disqualified from receiving benefits for each week the individual is scheduled

to attend training. This bill further requires the unemployment tax rate computed for an employer be reduced

by 2 percent from Jan.1, 2017 through Dec. 31, 2026, with enumerated exceptions. This measure provides that

the employer transferring its trade or business will be the predecessor employer, while the entity acquiring the

transferred trade or business will be the successor employer. This bill goes into effect November 1, 2016.

86
---
2016 Oklahoma Nurses Association

OSHA – SB1198 by Justice and Jordan permits the Commissioner of Labor to develop rules creating a

schedule of administrative penalties and fines for violations of the Oklahoma Occupational Health and Safety

Standards Act. This bill goes into effect on November 1, 2016.

Boards, Shareholders, Officers & Directors - HB2844 by Echols and Smalley establishes that any claim or

lawsuit against an officer, director or shareholder of any corporation can only be brought for conduct, acts or

contractual obligations outside their scope as an officer, director or shareholder. This bill will become effective on

November1, 2016.

STATE BUDGET AND THE FUTURE

At the close of the 2015 Legislative Session, most state agencies' FY 2016 appropriations were reduced by 0.75

percent to as much as 7.25 percent, while some agencies were held flat and others received small increases.

Ultimately, the Legislature balanced the budget by taking more than $500 million from a wide array of sources,

including the Rainy Day fund. This contributed in part to the deficit for FY17, as some one-time revenues were

employed to meet ongoing expenses.

Total Appropriations for FY 2017 are $6.778 billion. This reflects a 5% reduction from the initial FY2016 budget

(or $360 million). More importantly, however, it is 1.7% less than the final FY 2016 budget after mid-year budget

cuts and supplemental appropriations. This is quite remarkable since we began the session with a 1.3 billion

dollar shortfall, the deficit did not shrink, and the legislature did not raise new taxes to reduce the deficit. The

manner in which the shortfall was funded is detailed in the body of this report, and will be a critical factor affecting

future legislative sessions.

Agencies Affected

An enormous 81%, or 59 of the 73, agencies that receive state appropriations will see additional reductions to

their aid in FY 2017. These cuts will be made in addition to the reductions these agencies sustained in FY 2016 as

a result of the mid-year revenue failures.

Of 73 appropriated state agencies, a mere 4 agencies will see an increase in FY17. They are: the Oklahoma

Health Care Authority, The Oklahoma Tax Commission, The Elections Board and The Legislative Services

Bureau. There was great demand to protect health care, nursing homes, hospitals, and our states infrastructure

of long term care and health care providers. Strong coordinated lobbying, a powerful grassroots presence,

persuasive polling results, outstanding media coverage, and positive pleasant interactions and relationships

with legislators and key decision makers made a tremendous difference in the ultimate outcome of the most

challenging budget process our state has ever faced.

There were only 4 agency budgets held flat compared to their initial 2016 appropriations. Those agencies include

The Corporation Commission, the Commissioners of the Land Office, the Court of Criminal Appeals and the

Department of Corrections.

There were only 5 agencies that the Legislature held flat compared to their final FY 2016 funding (after the cuts or

adjustments were made for the revenue failures). Those agencies include Human Services, the Indigent Defense

System, Juvenile Affairs, Mental Health and Substance Abuse Services, and the Pardon and Parole Board.

Common Education was also held flat after the cuts for the FY16 revenue failure. However, they received additional

revenue through an FY 2016 supplemental to address a shortfall in the Ad Valorem Reimbursement Fund.

Higher Education received the deepest cut in FY 17 at 15.9% from its initial FY 2016 appropriation.

It is important to note that in the first few weeks following the close of the 2016 Legislative session, state finance

officials discovered that the spending reductions they had implemented had resulted in greater savings than

anticipated, resulting in a one-time general revenue fund surplus of close to $166 million, after all was said and done.

Despite the Governor's proposal for a special session to dedicate the revenue to common education, legislative

87
---
2016 Oklahoma Nurses Association

leaders and others ultimately agreed that this one-time revenue should be apportioned to state agencies, many of

which had sustained deep cuts. That apportionment will slightly alter the numbers reported herein.

The sources of funding the FY17 budget solved many of our state's greatest immediate needs for the upcoming

fiscal year. However, the tremendous reliance upon one-time revenue to fund ongoing needs, as detailed below,

will create another significant budget hole that must be addressed as we begin preparing the FY18 budget during

the 2017 legislative session.

The legislature and Governor were able to agree upon enough new revenue, that the FY17 budget includes almost

$1 billion in additional revenue beyond the certified estimate, filling all but 3 million of the original shortfall. Our

state legislature ultimately produced an additional $996 million to create the FY 2017 budget.

They accomplished this by cobbling together transfers from a variety of funds ($391 million), abolishing or

reducing numerous tax breaks ($237 million), approving transportation bonds ($200 million), and utilizing some

revenue from the Rainy Day Fund ($66 million).

Of the $996 million in additional revenues, over half, or a breathtaking $560 – $690 million is comprised of onetime

revenues, which creates a deficit of the same amount as we approach the FY 2018 budget. Several elected

officials have stated that even if the economy stabilizes, we will begin next session in February 2017 with nearly a

$700 million shortfall.

The legislative leadership discussed, but was unable to gain sufficient bi-partisan support, to implement a variety

of ongoing revenue raising measures. Revenue producing plans that were considered but ultimately rejected

for lack of sufficient support included: raising the cigarette tax or fuel tax, broadening the tax base to services,

and rolling back the income tax cut that took effect in January 2016. As we approach the 2016 Interim and 2017

session, we can rest assured that at least some of these revenue raising ideas will resurface if we continue to face

a revenue shortage.

INTERIM STUDIES

Every year, between the end of the legislative session on the last Friday in May, and the start of the next

Legislative Session on the first Monday in February, the Legislature considers a considerable variety of legislative

issues through interim studies. These are, as the name implies, simply studies. No votes on bills may be taken.

Such studies provide the legislature with an opportunity to examine an issue in greater depth than they might

during a rushed regular session. It might also give a legislator the opportunity to bring press attention to an issue

during slow legislative months. Not all approved interim studies are actually heard in committee, just as not all

bills filed are actually brought up for a hearing. If a bill author is strongly interested in having his or her issue

heard, however, he or she is likely to be granted an interim study hearing by the committee chair once leadership

approves the study request. Even so, a hearing during the interim does not guarantee that a bill will be heard or

that it will move forward during session. It can, however, gain forward momentum from exposure, if the bill author

is successful in increasing exposure during an interim study. This year, the list of approved House Interim Studies

range from funding and revenue to education, to insurance issues to long-term care and health care issues. It will

be another busy interim for your ONA lobbyist!

CONCLUSION

ONA members will continue to face challenges in the near future as we seek to protect both funding and access

to health and behavioral health services for the citizens of Oklahoma, while working to protect and enhance

the profession of nursing. While the 2016 Legislative Session was a great success, more than one third of the

Legislature is expected to turn over in November, affecting not only the membership of both Chambers of the

Legislature, but key leadership positions in both houses as well. We encourage members to stay informed and

engaged as we navigate the ever-changing waters at the State Capitol. ONA members can make a tremendous

difference! Thank you for your commitment and involvement in all we do!

88
---
2016 Oklahoma Nurses Association

Medical Advisory Committee

Medical Advisory Committee of the Oklahoma Health Care Authority Report

The primary goal of the Medical Advisory Committee (MAC) is to offer recommendations to the full Board of

the Oklahoma Health Care Authority on health care related issues, which in turn makes recommendations to

the Oklahoma Legislature. The MAC has meetings every other month, usually on Wednesday afternoon and

is composed of representatives from almost all the areas of health care, including but not limited to nursing,

physical therapy, advanced practice providers, respiratory therapy, radiology, mental health, and medicine.

The meetings start by allowing the public to speak to any issue they feel is important for the committee to

hear about. They are allowed two minutes each to talk to their topic.

At the first meeting I attended, over 60 individuals talked with the main topic being the proposed reductions

in Mental Health spending, particularly spending for private contract therapist. According to the proposed

reduction in spending, these independent therapists were to be completely eliminated, although most of the

money would remain for state institutional therapists. Most of the speakers were parents who had children in

therapy who would lose their therapists. They were pretty irate!

The next part of the meeting reviewed the proposed changes in the laws and regulations that the Health

Care Authority deals with. These can range in number from a few to several dozen. The MAC votes to either

approve the changes or not. Generally these changes are in the wording and language for the myriad of

legislative regulations that govern the Health Care Authority and are presented by the MAC staff.

This year was particularly busy because of the budget shortfall. We saw some of the changes two and three

times as the Legislature kept changing how they were going to allocate what little money they had. We also

discussed at length the proposal by Nico Gomez, along with the tobacco tax increase, and sent that on

approved to the OHCA. Unfortunately the Legislature killed it, the only piece of legislation this year that

was designed to increase revenue. They also took away most of the money for mental health including the

contract therapists.

Respectfully Submitted,

Joseph T. Catalano, PhD, RN

89
---
2016 Oklahoma Nurses Association

Federal Transfer Center

Community Relations Board of the Federal Transfer Center, Oklahoma City, Report

The Federal Transfer Center (FTC) is located near the airport in OKC and holds prisoners who are going to

be transferred from local jails to federal prisons. Generally the prisoners spend anywhere from a few hours to

weeks at the transfer center until they are moved on. They move approximately 3,000 prisoners through the

center every year. The FTC also maintains a small resident population of prisoners who may be incarcerated

for short periods of time instead of being sent to a large federal prison.

As a federal prison, the FTC must meet multiple regulations and standards for accreditation by several

agencies both local and national. One of the requirements for accreditation is to have and meet with a

varied group of individuals from the public who have an interest in the welfare of the inmates at the facility.

In response to this requirement, the FTC has established the Community Relations Board which has a

number of individuals from health care, including a nurse (me), mental health and a physician. There are also

members from local law enforcement and the FTC. We meet every other month.

The meeting format consists of a presentation by an individual from one of the departments of the prison

followed by a question and answer period from the members of the committee who are attending. The

presentations are always interesting and informative. I particularly enjoyed the presentation from the FTC's

resident psychiatrist. He explained the issues that made these prisoners at particularly high risk for suicide,

including anxiety about the future, depression and hopelessness. He also described the rather extensive

measures they used in monitoring the prisoners (everyone is checked on at least every 15 minutes around

the clock) and have to attend mandatory counseling sessions. There is also special training for the guards in

relation to the mental health issues of the inmates.

The community members are asked if they have any comments or observations that may improve the care

provided by the staff. They are also asked to present a short report on their activities and if they have any

questions.

Respectfully submitted,

Joseph T. Catalano, PhD, RN

90
---
2016 Oklahoma Nurses Association

2016 Region 1 Report

Teressa Hunter. PhD, RN

2015-2016 Region 1 officers are:

President: Teressa Hunter, PhD, RN

President-elect: Lucas Richardson-Walker, RN

1st Vice-President: Jeana Wilcox, PhD, RN, CNS, CNE

2nd Vice-President, Jessica Cochran, RN

Secretary: Dawn Farris, RN

Treasurer: Lindsey West, RN

Lucas Richardson-Walker was elected to the position of President Elect for Region 1 via email ballot to all of

Region 1.

The following meeting were held:

October 1st 2015 – at Hefner Grill. Tools for Implementing Multimodal Analgesia by Tammy Hogue RN, MS,

CCNS, APRN was presented.

February 18th 2016 – Region 1 Board of Directors call. Discussed the T-Shirt purchase, Volunteering at the

OKC Memorial Marathon.

March 8th 2016 – Nurses day at the Capitol was attended by Region 1 Nurses.

March 24th 2016 – Region 1 Meeting. T-Shirts were discussed and approved for purchase. Members were

encouraged to volunteer for the OKC Memorial Marathon.

July 22nd – Region 1 Board of Directors call. The BOD will report back possible service projects at its next

meeting. Announcements for ONA convention were made.

2016 Region 2 Report

This has been a busy year for Region 2. The General Membership held four education programs this year

including presentations on Workplace Violence, the 2015 ANA Code of Ethics Revision, The Emerging Role

of Clinical Research Nursing, and a Panel Presentation on Transition to Practice. The December Holiday

Luncheon was transformed this year to honor the Region's December Nursing Graduates and the annual

donation drive benefitted the Tulsa Center for Behavioral Health. The April Annual Luncheon was well

attended by members and area May Nursing Graduates. Dr. Shelly Wells was presented with the Region

2 Nightingale Award of Excellence in recognition for her work in advancing nursing education in the state.

At the June 2016 Board Transition meeting, we saw the departure of Lisa Gerow (President), Beckie Yagar

(Chair – Education), and Deborah Wipf (Director at Large) from our Region Board. We are grateful for their

dedication and hard work for the Region and ONA. We also welcomed our new Region 2 Board members

including: Brenda Nance (President), Brandy Payton (President Elect), Janet Jackson (director at Large) Marla

Smith (Director at Large) and Micki McKinney (Chair of the Committee on Nursing Advancement). Educational

offerings for the 2016-2017 year will include presentations on Health Literacy (September 2016), Caring for the

LGBTQ patient (November 2016), Wholeness of Character (December 2016), and Caring for Veterans (February

2017). Region 2 holds its programs on the third Tuesday of the month at the OU-Tulsa Schusterman Center.

91
---
2016 Oklahoma Nurses Association

2016 Region 3 Report

Angela Martindale PhD(c), MSN, RN

First, I want to say it has been an honor to serve Region 3 as the President this year. The Region 3 members

have been my support group and influence as I have worked on my PhD. I had thoughts of quitting

school and when I mentioned it to my region they all spoke up and gave me advice, support, words of

encouragement, and the courage and strength to keep going. I am now in the dissertation phase and as I

reflect on this past year I am reminded of how amazing all of you are and how grateful I am to know each of

you. I love you all and thank you for an amazing year, I could not havea done any of it without you! It really

does take a village to raise a nurse and I'm glad you are my village J.

Region 3 had a great year with excellent, informative speakers and member support to our community.

In September, Angela Martindale spoke about presenting research at the International Congress of

Qualitative Inquiry (ICQI). The scholarship provided through ONA Region 3 was for support of a presentation

held in Champaign, Illinois.

In October, Lydia Snyder RN Infection Control Coordinator from the Jack C Montgomery VA Medical Center

presented on Infection Control and Superbugs. Excellent presentation with fun prizes.

In November, Rich Schaus from the Muskogee Gospel Rescue Mission came to our region meeting and

presented about the future of the Muskogee community and how the Gospel Rescue Mission is planning to

be a force of assistance for the community.

In December, we held our annual Christmas party where we hold an ornament exchange and collect items

for a local organization. This year, we collected and donated items for the Gospel Rescue Mission and

Women In Safe Homes (WISH), a local shelter. We had a great time and a car load of items was collected

and delivered to the WISH house. Items included socks, sweats, underwear, shampoo, deodorant, sheets

and toothpaste.

In January, we heard from Pat Wagstaff regarding human trafficking and what she does to help those who

have been rescued from the environment through the Day Spring Villa. A donation was made to help support

the Day Spring Villa.

In February, we heard from one of our own nurse entrepreneurs, Heather Fenton. She spoke about her nurse

cruise company and the future cruises scheduled for the next few years.

In March, Carol Scull presented at our region meeting. She is the education coordinator for the Alzheimer's

Association. This was an informative presentation providing excellent resources for patients and families who

are dealing Alzheimer's.

In April, Region 3 sponsored a table for the Muskogee Area 7th Grade Girls' Tea. This is a program that

allows young girls to be exposed to proper behaviors around the opposite sex and how to behave as a

respected young lady. This annual event is organized by the Pregnancy Resource Center.

We had a speaker discuss smart meters & implications for healthcare. The speaker was Joe Esposito and he

offered free in-home analysis of the amount of radiation in your home from the smart meters.

92
---
2016 Oklahoma Nurses Association

Region 3 also donated an ad in the Delta Sigma Theta Sorority debutante ball booklet.

In May, Region 3 held our annual end of the year potluck. Jane Nelson came and spoke about ONA state

progress and future expectations. She was assisted by our very own Joyce Van Nostrand, ONA Presidentelect.

There were 2 educational stipends awarded to area nursing students. Jamekah Rios and Emily Luethje are

both 2016 graduates of Indian Capital Technology Center, Stilwell campus. They took NCLEX in June to

become licensed practical nurses. These students applied for the academic stipend award, met the criteria

and were selected to receive a check for $300 each that will help defray costs to take the state exam or in

some way further their educational pursuit.

Our new board members for 2016-2017 year were updated:

President – Jody Monks

Secretary – Stephanie Wisdom

Treasurer – Catherine White

ONA Region 3 Representative to ONA Board – Lynette Gunn

ONA Region 3 Delegates to ONA Board – Claudia McElvania, Diana Mashburn, Carol O'Hara, Janet Bahr,

Tabetha Meech. ONA Region 3 Alternate Delegates: Karen Scott, Hyacinth Rogers, Angela Martindale

93
---
2016 Oklahoma Nurses Association

The Children's Health Group

The Children's Health Group functions as an advisory body to the OHCA and the OSDH on child health

issues and provides oversight of state activities to reach the 2020 objectives for perinatal, infant, child and

adolescent health in Oklahoma under Healthy Oklahoma 2020 - the new Oklahoma Health Improvement Plan

(OHIP). The meetings occur on a quarterly basis with Dr. Mary Anne McCaffree, MD, serving as Chair with Dr.

Marny Dunlap, MD and Dr. Edd Rhoades, MD, MPH as Co-Chairs.

The quarterly meetings consist of important updates and presentations regarding child health issues in the

state of Oklahoma. Some of the highlights of this year's meetings are set forth below:

UPDATES:

• OHCA-The Oklahoma Health Care Authority was able to get an additional $18 million on top of their

base budget. In order to reach a balanced budget, the agency still had to make cuts in the amount of

$34.6 million, including administrative, travel, and programmatic cuts.

• OSDH-The Oklahoma State Department of Health received an appropriation amount of $60.6 million,

which is the same as last year. For FY 2016, twelve state agencies received the same appropriation

as their previous year, eight state agency budgets were increased, and forty-nine state agency

budgets were cut. There is a 900 million short fall for SFY 17.

• OSDH- Budget is $56 million for state appropriated funds and $330 million (federal funds, local

millage, etc.) totaling $386 million. 90% of funds support direct services to public however, agency

has had a 25% reduction of state funds since 2009. Outlook for FY 2017 is 15-19% reduction.

• OSDH- Changes that may be made; Contracts with OK Child Abuse Prevention providers. not filing

open positions and Closing County Health Departments that have more than one site in a county.

• Smoking & Tobacco Tax- Encouraged support and contact representatives to get $1.50 tobacco tax

approved for revenue to assist with Medicaid Program. Tobacco is #1 preventable cause of death

in our state/88,000 OK kids between 0-17 years of age will die prematurely due to smoking related

illnesses. Tobacco tax will prevent 31,800 kids today from becoming adult smokers. 62% of OK

voters favor tobacco tax of $1.50 (Democrat and Republican).

• OHCA Budget and Medicaid Rebalancing Act of 2020. House, Senate, and Governor trying to have

a budget agreement on revenue. Half a billion dollars already cut out of the program past 2 years;

perinatal dental, CPAP, future cuts children's dental and optometric. Federal matching funds have

been lost.

PRESENTATIONS:

• OSDH - Collaborative Improvement & Innovation Network (CoIIN) on Infant Mortality Update,

Oklahoma was chosen to participate in 4 of 6 national quality improvement areas: preterm and early

term birth, pre-conception/interconception care, sleep-related infant deaths and social determinants

of health. Efforts to reduce sleep-related infant deaths focus on introducing safer sleep practices with

assistance of hospitals participating in safe sleep programs.

• New Oklahoma Adverse Childhood Experiences (ACEs) Initiative, OSDH - Information was

shared about the development of an Interim State of the State's Health Report on Adverse Childhood

(ACE) experiences to describe the current state of ACE in Oklahoma utilizing a multi-agency

planning group. The Behavioral Risk Factor Surveillance System (BRFSS) will serve as the source of

information on the prevalence of ACEs experienced by the adult population in Oklahoma and their

correlation with chronic diseases. Additional information will be included on the current state of ACEs

in the child population from other sources such as marriage/divorce rates, the Domestic Violence

Review Board, national surveys on drug use and health, and child abuse data. Targeted release date

for the report was early 2016.

94
---
2016 Oklahoma Nurses Association

• Bullying Prevention in Oklahoma Schools Overview-Joy Hermansen, Oklahoma State Department

of Education (OSDE) In Oklahoma, 20.4% of high school students reported being bullied on school

property. Bullying includes making threats, spreading rumors, physical altercations, and excluding

them from a group. Negative outcomes include impacts on mental health, substance use, suicide

and climate not suitable for learning. Some key strategies have been addressed in reducing bullying

in the schools which include: focus on environment of school, encourage staff and parent support,

coordinate and integrate prevention efforts, provide training in bullying prevention to school staff,

establish and enforce school rules and policies, increase adult supervision in hot spots and intervene

consistently and appropriately. An objective for OHIP is to reduce the number of high school

youth grades 9-12 who report they were bullied from 18.6 to 18% by 2020. Steps to help reach

this goal include: partnerships with Oklahoma Suicide Prevention, Oklahoma Bureau of Narcotics,

Oklahoma Office of Homeland Security, OSDH, ABLE Commission, Heartline, Substance Abuse

Services and many others. The OSDE has updated their website with over 60 current and evidencebased

resources for parents, student, and community members. They have a resource library for

disseminating free bullying prevention materials to schools and can provide resources, toolkits, and

lesson plans during National Bullying Prevention month in October.

• Child Abuse and Neglect and Its Impact on Children's Health in Oklahoma – From the

Perspective of the Chief Child Abuse Examiner Dr. Sarah Passmore, Board of Child Abuse

Examiners, Oklahoma Commission on Children and Youth-spoke to the group about the impact of

abuse and neglect on children. According to the DHS 2014 annual report, 138,080 reports of child

abuse/neglect were made with 14,172 of those cases being confirmed. Nationally there are 47.1 per

1000 cases of abuse/neglect reported and during that same time Oklahoma reported 63.1 per 1000.

The types of abuse reported showed neglect ranked 1st with 79.5%, physical abuse at 18%, sexual

abuse 9%, psychological 8.7%, medical neglect 2.3% and other types at 10%. For the State Fiscal

Year ending in June, 2014, 375 infants were born testing positive for drugs, an increase from 322

infants reported for SFY 2013.

• Dr. Passmore explained the Adverse Childhood Experiences (ACE) score and how the higher number

you receive the more adverse complications you could have as an adult. Compared to persons with

an ACE score of 0, those with ACE score of 4 or more were twice as likely to be smokers, 12 times

more likely to have attempted suicide, 7 times more likely to be alcoholic and 10 times more likely

to have injected street drugs. The higher your ACE score the more it could affect social, emotional

and cognitive impairment; you could be at greater risk of disease, disability and social problems and

could even lead to an early death.

• Impact of Domestic Violence on Children and Families. Dr. MaryAnne McCaffree, OUHSC - Dr.

McCaffree additionally addressed ACE scores and the effects that they could potentially have later in

life. The higher your ACE score the higher your risk for other adverse issues in life such as, smoking,

organic disease, adult alcoholism, depression, STDs, rape, hallucinations, domestic violence,

addictions, dying early, and job problems/lost time from work. In addition, the risk of being the victim

of domestic violence increases significantly with an ACE score of 5 or higher in both women and

men. As it relates specifically to children, the maltreatment in a developing brain shows accelerated

loss of neurons, delays in myelination, delays in neuronal pruning and inhibition of neurogenesis. Dr.

McCaffree explained that there are 700 new synapses every second in a developing brain. These

synapses are delayed or begin to erode when child abuse and neglect take place. Children with

physical abuse caused more erosion but a combination of physical abuse, exposure to domestic

violence, or bullying caused the most erosion. Studies also show these children will have decreased

life span as adults and earlier onset of chronic diseases.

• OSDH Safe Sleep/Social Determinants of Health CoIIN Update – Joyce Marshall/Angela Dickson,

MCH Service. Funding available from Association of Maternal & Child Health Program and Robert

Wood Johnson Foundation for Pilot program which started in three different Oklahoma sites. Pilot

program educates caregivers on safe sleep best practices. Plan is to distribute over 300 portable

95
---
2016 Oklahoma Nurses Association

cribs, sleep sacks, and tested sleep materials to qualified clients. Follow up with caregiver safe sleep

survey.

• Unintentional Childhood Injuries in Oklahoma – Sheryll Brown/Laswanique Gray, Injury Prevention

Service, OSDH. - 89% of infant deaths reviewed were due to unsafe sleep environments. In

Oklahoma, unintentional deaths are the 4th leading cause of death for all of the population. 2,400

deaths annually and cost is $2.6 billion per year. In 2015, Oklahoma improved the child passenger

safety law--All children under 8 yrs. of age and less than 4'9" in height must be in a booster or car

seat.

• IPS Child Passenger Safety Program Includes:

1. Car seat distribution for WIC eligible families or enrolled in Sooner Care.

2. Certified technician fit the child for car seat, educate the parent/client on adjustment/installation,

and on proper car seat usage.

3. Free car seat checks are available for families that already have car seat.

4. Basic child passenger training available to parents and other agency employees who transport

children.

5. Graduated Driver Licensing Program (GDL); Gradual process for teens to get license

• Safety for Children – Awareness of Pedestrian and bicycle safety

ATV Ride Safe Oklahoma is a collaborative of Children's Center Rehabilitation Hospital, OSU

Cooperative Extension Service, 4-H Youth Development, and OU Trauma-One Injury Prevention at

OU Medical provides for safety events for children, training, partner with dealers to get right size of

ATV to families.

• Sports Concussions – In 2010 the OK Legislature passed a law called Return to Learn which

required all school districts to remove a head injured child from play and that child must be examined

by a licensed medical professional before returning. This law provides for education and penalties

for coaches and officials that return a child player before being medically cleared by medical

professional. In 2014, a survey of 800 High School Athletes – 69% said they played with possible

concussion symptoms. The Challenge is Strengthening the law for sports safety.

Respectfully submitted,

Donna M. De Simone, APRN-CNS, MS, JD

96
---
2016 Oklahoma Nurses Association

Oklahoma Immunization Advisory Committee

The Oklahoma Immunization Advisory Committee is comprised of representatives from 14 professional

organizations, including the Oklahoma Nurses Association. Loren Stein is currently the ONA representative

to this advisory committee. The purpose of the committee, which was originally formed in 2007, is to advise

the Commissioner of Health on matters related to the practice and policy for adult and child immunizations.

Membership is appointed by the Commissioner of Health and includes representatives from the medical

profession and institutions or agencies impacted by immunization policy.

The purpose of the committee is to advise the Commissioner of Health on the following general items:

1) New rules or rule changes for vaccines necessary for attendance in Oklahoma schools, child care

facilities and colleges;

2) New rules or rule changes for vaccination of health care workers;

3) Strategies for improving immunization coverage rates among state children and adults; and

4) Other immunization matters and activities as directed by the Commissioner of Health or the

Commissioner's designee.

This year discussion included:

• Oklahoma's Kindergarten Survey

• Feedback on Exemptions from Parents & Schools

• OSIIS Update

• Influenza

I am proud to represent the Oklahoma Nurses Association on this vital state committee.

Loren Stein, MSN, RNC-NIC

97
---
2016 Oklahoma Nurses Association

Oklahoma Association of Clinical Nurse Specialists

Mission Statement (New in 2015)

• To enhance and promote the unique and multifaceted

contribution of the Clinical Nurse Specialist to population

health from wellness to acute care;

• to advance the practice of nursing;

• and to improve the effectiveness of healthcare systems.

Our Goal

• to address topics impacting the advance practice of the CNS

• to increase visibility of CNSs through participation on appropriate state and local committees

• to act as a resource group and provide continuing education programs for the CNS

• to support the coalition of advanced practice groups, such as CNSs, CNPs, CRNAs and CNMs.

2016 Current Officers:

President: Ruth Ann Fritz, APRN-CNS

President-Elect: Lori Ormsby, APRN-CNS

Immediate Past President: Tamara Meier, APRN-CNS

Secretary: Stephanie Moore, APRN-CNS

Treasurer: Debra Perdue, APRN-CNS, MS, ACNS-BC

Membership: Current Members – 114

Activities:

• OACNS held an Advanced Pharmacology Conference in April 2016 with approximately 135 attendees

from Oklahoma, Texas and Kansas.

• OACNS added a Pre-Conference to address Oklahoma Legislation and Pharmacology Updates and

was a big hit with great reviews.

• OACNS sent two officers to the National CNS Conference in March 2016.

• OACNS holds 4 Membership Educational meetings a year for members to fellowship and learn about

new products on the market. Average attendance is 30.

• OACNS has a new Facebook Page and it is monitored by Samantha Kuplicki.

• Stephanie Moore is on the affiliate committee for National CNS Association.

• Susan Dresser is a member of the Legislative-Regulatory Committee of NACNS

• Tamara Meier is on a statewide APRN coalition group.

• Melissa Craft and several others participate in the "On Fire" teams that lobby for APRN legislative

issues at the state capitol

• OACNS has representation on the Oklahoma Board of Nursing in the following positions:

ú Elaine Haxton, Carol Stewart and Tracey Walker on the Advanced Practice Advisory Committee.

ú Susie Jones and Mandy Nelson are on The Board of Nursing.

For more information see our website at www.oacns.org or email info@oacns.org.

Submitted by Ruth Ann Fritz, 2016 OACNS President

98
---
2016 Oklahoma Nurses Association

Oklahoma Medical Reserve Corps Nurses

The Oklahoma Nurses Association is one of the first

Medical Reserve Corps Units in Oklahoma and one

of the first in the United States to be based within a

professional organization with a state-wide approach.

Nurses represent the largest group of health care

professionals in the state and within the OKMRC. The

OKMRC Nurses Unit works with other county units to

assist in the recruitment, training, and engagement of

nurse volunteers.

In the winter of 2015, I successfully applied on

behalf of the Oklahoma Medical Reserve Corps

Nurses for a $15,000.00 Challenge Award from the

National Association of County and City Health

Officials to expand the Nursing Student OKMRC

Summer Externship Pilot to other nursing programs in Oklahoma. Nursing programs at University of

Central Oklahoma, Southwestern Oklahoma State University, and the University of Oklahoma participated

in the student externship. Twelve students and six faculty members participated in the externship. There

has been national interest in this nursing student externship. I presented a poster at the 2016 Public Health

Preparedness Summit in Dallas on the Nursing Student Summer Externship Pilot and will present at the

Disaster Health Education Symposium in Bethesda, MD on the Nursing Student Summer Externship. The

2016 OKMRC Nursing Student Externship had the following Objectives & strategies.

Externship Objectives

• Explore the role of public health in emergency preparedness, response, and recovery

• Explore the role of disaster behavioral health in disaster response and recovery

• Discuss the National Health Security Strategy and Implementation Plan and describe the document's

relevance for nursing

• Describe potential impacts of volunteering as an OKMRC nursing student on future professional

choices and development

Externship Strategies

• Participate in planning and implementation of the 2016 Volunteer Training Workshop, held in August in

Oklahoma City

• Participate in MRC volunteer training as opportunities, including first aid protocols, disaster

vaccination, and Psychological First Aid

• Develop a presentation for students within their nursing program on disaster preparedness, response

& recovery to be presented during the school year.

• Interact with high school students interested in healthcare professions

• Write an article for the ONA newsletter, The Oklahoma Nurse

• Develop strategies based on their community and interests

• Teach community members and MRC volunteers personal preparedness and/or disaster response.

Submitted by Loren Stein, MSN, RNC-NIC

MRC Education Coordinator

OKMRC Nurses member

99
---
2016 Oklahoma Nurses Association

Faith Community Nurses Association of Oklahoma

Faith community nurses are licensed, registered nurses who practice

wholistic health for self, individuals and the community using nursing

knowledge combined with spiritual care. They function in paid and unpaid

positions as members of the pastoral team in a variety of religious faiths,

cultures, and countries. The focus of their work is on the intentional care of

the spirit, assisting the members of the faith community to maintain and/or

regain wholeness in body, mind, and spirit.

Their practice is governed by:

• the nurse practice act of their state

• Nursing: Scope and Standards of Practice

• Faith Community Nursing: Scope and Standards

• Code of Ethics with Interpretive Statements (for nurses) i

Mission Statement FCNA OK

Preserve, support and advance the professional practice of faith community nursing in Oklahoma.

Vision Statement

• FCNA-OK will be recognized so that faith community nursing will be accessible to the people of

Oklahoma.

• Therefore, the association will serve as a model for other states.

Goals for FCNA OK include:

• Promote the standards for foundation training and ongoing education and spiritual formation.

• Develop and support statewide Faith Community Nursing to advocate health issues, collaborate with

other health professionals and establish regional networks of faith community nurses.

FCNA OK meets quarterly on the second Tuesday of January, April, July, and October from 10:00 a.m. to

3:00 p.m. Two hours of CE are offered at each membership meeting on pertinent Faith Community Nursing

topics. The Annual Conference is held on first Friday of March.

FCNA OK has members from many different Christian denominations and represents all faith traditions.

The membership has grown to 84 members in 2016. For more information see, www.fcnaok.org or

www.churchhealthcenter.org.

2016 Accomplishments

• FCNAOK Annual Conference – March 4, 2016 "Transition to the Beyond; Being a Sacred Presence

during End of Life Care," attended by nurses from Oklahoma and Kansas.

• Continuing Education programs at FCNAOK quarterly general meetings

ú January 2016 – "The Benefits of Vaccines and How to Promote a Healthier Community."

ú April 2016 - "Utilizing Health Literacy to Improve Health Outcomes" presented by Marshan

Marick, MPH, CHES

ú July 2016 – "Becoming a Certified Healthy Oklahoma Congregation", presented by Kay

Creighton-Hays, M.Ed.

100
---
2016 Oklahoma Nurses Association

• Faith Community Nursing Foundations Course at Oklahoma City University,

October 26th 28th and November 9th -11th 2016.

Scholarships for the course are available for qualified applicants.

2016 Officers

Lana Bolhouse, President

Angie Tomlinson, Vice President

Glenda Bronson, Treasurer

Carolyn Smith, Secretary

Valerie McCartney, Spiritual Director

Membership fees are $50/year.

Respectfully submitted,

Carolyn Smith, Secretary FCNAOK

(Endnotes)

I

http://www.churchhealthcenter.org/whatisfaithcommunitynursing

101
---
2016 Oklahoma Nurses Association

The Association of Women's Health, Obstetrics and Neonatal Nurses

Mission: The mission of AWHONN is to improve and promote the health of women and newborns and to

strengthen the nursing profession through delivery of superior advocacy, research, education and other

professional and clinical resources to nurses and other health care professionals.

AWHONN's Core Ideology

Core Purpose: AWHONN is an organization of nurses committed to the health of women and newborns.

Core Values (as expressed in the acronym "CARING")

• Commitment to professional and social responsibility

• Accountability for personal and professional contributions

• Respect for diversity of and among colleagues and clients

• Integrity in exemplifying the highest standards in personal and professional behavior

• Nursing Excellence for quality outcomes in practice, education, research, advocacy and management

• Generation of Knowledge to enhance the science and practice of nursing to improve the health of

women and newborns

Become an AWHONN member!

• AWHONN membership is representative of over 25,000 nurses in the US and Canada. Oklahoma

AWHONN includes over 400 members.

• AWHONN's many nursing resources include patient education, continuing nursing education, staff

development, perinatal quality measures, annual nursing convention, and evidence-based practice

guidelines such as Women's Health and Perinatal Nursing Care, Perinatal Staffing, Fetal Monitoring,

and Neonatal Skin Care.

• AWHONN produces Healthy Mom & Baby journal for patients and two nursing journals, Nursing for

Women's Health and Journal of Obstetric, Gynecologic & Neonatal Nursing (JOGNN). Both nursing

journals are included with AWHONN membership.

• AWHONN membership entitles you to many resources from the National organization, reduced

registration to the AWHONN Convention each June and Oklahoma

Section Conference each April, free continuing education webinars

and meetings at Oklahoma AWHONN Chapter events, and the

opportunity to be a voice in the care of women's health, obstetric and

neonatal patients in Oklahoma.

AWHONN Oklahoma holds an annual nursing conference typically in

OKC, Tulsa, or Norman. Over 150 Oklahoma nurses meet each April at the

conference to learn, network and reenergize every year.

For updates and more information, see our Oklahoma AWHONN website at

www.awhonnok.org.

102
---
2016 Oklahoma Nurses Association

ONA Organizational Affiliates

Association of Oklahoma Nurse Practitioners

Association of Women's Health, Obstetrics & NeoNatal Nurses

Oklahoma Association of Clinical Nurse Specialists

Oklahoma Association of Nurses Anesthetists

Oklahoma Case Management Association

Oklahoma Emergency Room Nurses

Oklahoma Faith Community Nurses

Oklahoma League of Nurses

Oklahoma State Affiliate of American College of Nurse Midwives

Oklahoma State Council of Perioperative Nurses

Organizational Sponsors

Marie Mink Partners

Cherokee Nation

INTEGRIS Health Systems

Mercy Health Center

St. John Medical Center

Mary McDaniel Partners

Stillwater Medical Center

103
---
2016 Oklahoma Nurses Association

104
---
"Work for a company that fits"

Schedules that FIT • Assignments that FIT

First Call, Your Staffing Source, has needs for RNs, LPNs, CNAs and

CHHAs for both part-time and full-time assignments paying up to:

RNs ...................$42.00/hr

LPNs ..................$30.00/hr

CNAs .................$18.00//hr

CHHAs ................$15.00/hr

First Call requires recent work experience

and good references.

Benefits Include:

• Flexibility • Top Wages • Daily Pay

• Weekly Pay • Pay Cards

• Vacation • AFLAC • Direct Deposit

For more information call today:

Tulsa, OK: (918) 665-1011

Oklahoma City, OK: (405) 842-7775

Springfield, MO (417) 886-1001

Dallas, TX (214) 631-9200

Apply online at

www.My-FirstCall.com

Drug Testing required.

Some restrictions apply.
---
Best Wishes to

Joyce A. Van Nostrand,

Ph.D., R.N., C.N.E,

ONA's newly elected president.

Northeastern State University and

ONA Region 3 are proud of you.