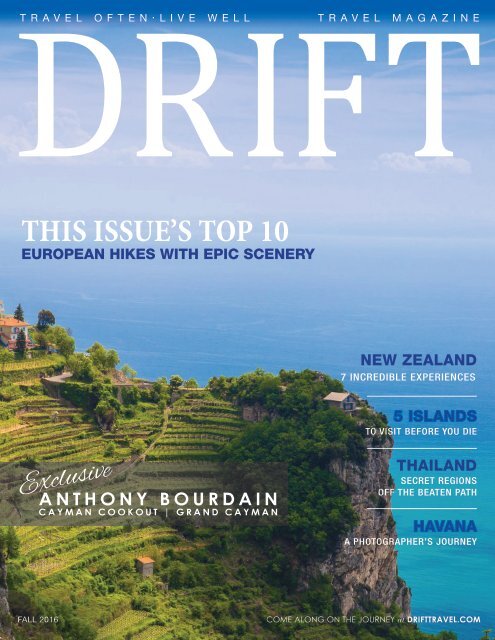 DRIFT Travel Fall 2016
Fabulous locations, must-do adventures and travel exclusives - inside this issue of DRIFT. Come along on the journey.
Fabulous locations, must-do adventures and travel exclusives - inside this issue of DRIFT. Come along on the journey.
SHOW MORE
SHOW LESS
Create successful ePaper yourself
Turn your PDF publications into a flip-book with our unique Google optimized e-Paper software.
TRAVEL OFTEN . LIVE WELL

TRAVEL MAGAZINE

THIS ISSUE'S TOP 10

EUROPEAN HIKES WITH EPIC SCENERY

NEW ZEALAND

7 INCREDIBLE EXPERIENCES

5 ISLANDS

TO VISIT BEFORE YOU DIE

Exclusive

ANTHONY BOURDAIN

CAYMAN COOKOUT | GRAND CAYMAN

THAILAND

SECRET REGIONS

OFF THE BEATEN PATH

HAVANA

A PHOTOGRAPHER'S JOURNEY

FALL 2016

COME ALONG ON THE JOURNEY at DRIFTTRAVEL.COM
---
Win a trip for 2 to

Puerto Vallarta

Courtesy DRIFT Travel Magazine &

Puerto Vallarta Tourism

PRIZE PACKAGE INCLUDES:

• ROUND TRIP AIRFARE FOR 2 TO PUERTO VALLARTA, MEXICO FROM

ANYWHERE IN THE CONTINENTAL USA OR CANADA

• FOUR NIGHTS ACCOMMODATION (DOUBLE OCCUPANCY) IN A 4-STAR HOTEL

• DAILY BREAKFAST FOR 2

CLICK HERE TO ENTER

2 . DRIFTTRAVEL.COM
---
HOW TO ENTER:

1. Complete the entry form on the DRIFT

magazine website: DRIFTtravel.com/PV

2. Follow @DRIFTtravel on Instagram

3. Follow @visitpuertovallarta on Instagram

DRIFT travel magazine and Puerto Vallarta

Tourism have partnered to celebrate the

magazine's premier issue - creating a

Puerto Vallarta Getaway reader contest.

One randomly chosen winner will receive

two round-trip tickets to Puerto Vallarta

from anywhere in the Continental USA or

Canada, plus four nights accommodation

in a 4-star hotel in Puerto Vallarta, with

breakfast daily. Trip must be booked on or

before November 15, 2016. Blackout travel

dates November 15, 2016 to January 15,

2017. Full contest details and entry form

online at DRIFTtravel.com/PV.

WINNER RANDOMLY SELECTED

FRIDAY OCTOBER 7, 2016

9:00 PM EST | 6:00 PM PST

TRAVEL OFTEN . LIVE WELL

TRAVEL MAGAZINE

Puerto Vallarta is a world class destination,

named "Friendliest City" by Conde Nast,

"Best Place in the World to Retire" by AARP,

"Best Vacation Destination in Mexico" by

USNews.com, "Most Romantic Place in

Mexico" and "Favorite Beach Destination in

Mexico" by About.com, and listed in "Top

10 Destinations in Mexico" by TripAdvisor.

#PuertoVallarta | #WeVisitVallarta

CLICK HERE TO ENTER

TRAVEL OFTEN . LIVE WELL . 3
---
FALL 2016

JOURNEY WITH US at DRIFTtravel.com

INSIDE this issue

8 GRAND CAYMAN

Exclusive with Anthony Bourdain.

18 ISSUE'S TOP 10

European hikes with epic scenery.

TRAVELLING EDITOR

30 Balinese magic at Mandapa.

36 LIFE + STYLE

Eric Himel's expert packing tips.

40 TAKING FLIGHT

Cathay Pacific's premium economy.

44 AT A GLANCE

Okinawa Islands, Japan.

46 HAVANA

A Cuban photographic journey.

OFF THE BEATEN PATH

60 Three secret regions of Thailand.

76 BEFORE YOU DIE

Five stunning bucket list islands.

82 LONDON LOO TOUR

Historical tour that hinges on bizarre.

TRAVEL OFTEN . LIVE WELL

TRAVEL MAGAZINE

66 TRAVEL GEAR

Must have airport survival products.

82 CANARY ISLANDS

Charm meets the beach in Tenerife.

THIS ISSUE'S TOP 10

EUROPEAN HIKES WITH EPIC SCENERY

68 NEW ZEALAND

Seven amazing must-see locations.

90 #WHERETONEXT

Riomaggiore in Italy's Cinque Terre.

NEW ZEALAND

7 INCREDIBLE EXPERIENCES

74 NEW YORK CITY

NYC small scale culinary giants.

Exclusive

ANTHONY BOURDAIN

CAYMAN COOKOUT | GRAND CAYMAN

5 ISLANDS

TO VISIT BEFORE YOU DIE

THAILAND

SECRET REGIONS

OFF THE BEATEN PATH

HAVANA

A PHOTOGRAPHER'S JOURNEY

FALL 2016

Fabulous locations,

must-do adventures and

travel exclusives - inside

this issue of DRIFT.

Come along on the

journey.

2 . DRIFTTRAVEL.COM
---
Cathay Pacific Airways Limited

Travelling well

means rest assured.

Explore other travellers' #lifewelltravelled experiences

and share your own memorable moments.

cathaypacific.com/lifewelltravelled
---
4 . DRIFTTRAVEL.COM
---
a travel note from the

EDITOR

I love to travel the world and as an

editor equally passionate about my

work, it has always been my dream

to have a publication dedicated to

exceptional destinations and unique

cultural experiences; a magazine that

celebrates the diversity of this planet

and the countless wonders of our world.

I often ask the question 'When is the last

time you saw something for the very first time?' DRIFT travel magazine was

created with that question in mind - filled with stunning photography to

jump start the imagination and smart, thought-provoking travel and lifestyle

editorial that will have you itching to pack a suitcase and get lost.

30

8

Oh, the places I've been!

8

DRIFT EXCLUSIVE INTERVIEW

WITH ANTHONY BOURDAIN

At the Grand Cayman Cookout, I

sat down with outspoken chef and

TV personality Anthony Bourdain

to talk food, kids and life after 50.

30

BALINESE MAGIC AT

MANDAPA

I want to introduce you to a very

special place in Ubud, Bali where

time seems to stand still and there

is a very real path to clarity.

Travel is in our souls; whether we road-trip across our own country or

adventure around the globe, people love to travel. DRIFT travel magazine is a

beautifully curated, artistically crafted magazine that celebrates our collective

desire to see the world. Come along on the journey!

40

FLYING VANCOUVER TO HONG

KONG WITH CATHAY PACIFIC

Aboard a long haul 13-hour flight, I

took Cathay Pacific's new Premium

Economy service for a test drive, and

I'm sharing my in-flight experience.

Travel often and live well,

Tracey Drake

Editor-In-Chief & Creative Director

editor@DRIFTtravel.com

Twitter & Instagram: @TheTravellingEditor

TRAVEL OFTEN . LIVE WELL . 5
---
every single day, more than

EIGHT MILLION PEOPLE

get on an airplane & travel

Those who love to travel crave information on new

countries to visit, exciting sights to see and once-ina-lifetime

adventures to experience. DRIFT covers all

the travel bases for our readers; from hotels, airlines

and cruises to city guides, culinary destinations, secret

beaches and must-have accessories.

Published six times a year, DRIFT is an exciting magazine

that is a pleasure to read and an inspirational resource for travel

lovers. Working with many of the best travel experts in the

industry, each issue of DRIFT offers up articles on exotic

destinations, city secrets, adventure meccas, resort

reports, global hot-spots, grab-n-go technology and travel

gear. Using our publication mantra "travel often, live well"

as a launching point, DRIFT is filled with exclusive editorial

on where to go, how to get there and what to do once you arrive;

stories punctuated with meaningful, useful, expertly written travel

guides and awe-inspiring travel photography.

advertise in DRIFT magazine

ADVERTISING, ADVERTORIAL & PRODUCT PLACEMENT: sales@DRIFTtravel.com or +1-250-595-7870

TOURISM PR & PARTNERSHIPS: editor@DRIFTtravel.com

TRAVEL WRITER & PHOTO JOURNALIST SUBMISSIONS: [email only please] submissions@DRIFTtravel.com

PUBLISHER

GLOSSY MEDIA

EDITOR-IN-CHIEF | CREATIVE DIRECTOR

TRACEY DRAKE

PRODUCTION/EDITORIAL TEAM

LAURIE ATTIS

CHRISTOPHER CLAYTON

JANE CROSS

ELIZABETH DEAN

ERIC HIMEL

ANDREA KIRKBY

JOHN LEE

RYAN LOGAN

RONAN MAHONY

PETER MANDEL

JOSIE SALDAT

CREATIVE | PHOTOGRAPHY

ADOBE STOCK

DUNCAN ANDISON

CATHAY PACIFIC AIRWAYS

CAYMAN ISLAND TOURISM

CHASE CLAUSEN

CNN

HENNER DAMKE

STEVE DRAKE

ERIC R. ELMS

BOBBY FISHER

OLGA KHOROSHUNOVA

MANDAPA, A RITZ-CARLTON RESERVE

RITZ-CARLTON GRAND CAYMAN

CLAUDIA SPINNER

RALPH STEADMAN

SHUTTERSTOCK

SALES & CIRCULATION DIRECTOR

STEVE DRAKE

ADVERTISING & PUBLISHING RIGHTS INQUIRIES

sales@DRIFTtravel.com | www.DRIFTtravel.com

Published by: Glossy Media

All rights reserved. No part of DRIFT magazine may be copied or

reproduced without permission.

DRIFT magazine is proudly produced in Canada

Canada Post Publication Agreement #42520516

© COPYRIGHT DRIFT MAGAZINE | GLOSSY MEDIA 2015-2016

6 . DRIFTTRAVEL.COM
---
TRAVEL OFTEN . LIVE WELL . 7
---
8 . DRIFTTRAVEL.COM

Photograph by Bobby Fisher for the back cover of Anthony

Bourdain's new book Appetites: A Cookbook
---
IN CONVERSATION WITH

ANTHONY BOURDAIN

I

have always dreamed of living in Italy; perhaps a

charming, slightly crumbling Italian villa set in a

quaint seaside village, carved into the steep Amalfi

Coast; Maiori and Atrani always instantly come

to mind. Postcard perfect, right? I thought so. Then,

in 2011, after watching possibly my favorite episode of

The Layover, Anthony Bourdain opened my eyes to a

whole other Italy; a modern Rome. A delicious maze of

a city that was pulsing with history, iconic landmarks,

passionate Romans and mind-blowing food. And his

narrative spoke to me too, "Ideally you visit Rome slowly.

You sit, you stroll, you take it as it comes. You don't

go see stuff, you let it slip up on you – one piazza, one

fountain, one amazing structure at a time." In that single

by: Tracey Drake

life, it permeated every part of our conversation. And

you know what? I learned a lot. A lot about Anthony,

food, and why being at the Cayman Cookout is so

important to him, and symbolic of where he is at this

juncture in his life.

True story. Anthony Bourdain has never traveled the

easy street (or taken the high road) to anywhere. Long

and publicly regarded as the black sheep of the culinary

world, I personally think he is one of the reasons chefs

have become such rock stars. He puts it all on the table,

literally and figuratively, and doesn't care if you like it

or not. He has taught us about strange foods, faraway

cultures, and how to eat – really eat.

PARENTING, JIU JITSU, CAYMAN COOKOUT

& HIS LIFE AFTER 50

episode, I simultaneously fell in love with porchetta,

Italian Hawaiian pizza, a classic 1970 Fiat Cinquecento

and modern Rome.

Now five years later, sitting by the pool of the Ritz-

Carlton Grand Cayman with Anthony Bourdain at the

Cayman Cookout, I really didn't want to talk about

food. After watching him for two days on the Cayman

Cookout stage and two decades on television, I felt like I

understood his food philosophies. I am happily drawn

to his edgy wit, unapologetic sarcasm and palpable

love for foreign lands and authentic people. I wanted to

talk about that. And so we did, and yet, because food is

inextricably woven into the fabric of Anthony Bourdain's

However, in the last decade, his life took a sharp right

turn into parts unknown – and it wasn't a TV show but

a life-changing reality. In 2007, at the age of 51, Anthony

became a husband and a father and started to take a hard

look at his life, in earnest.

"At no point before the age of fifty was I able, prepared or

up to the job of being a father. Any parent would agree.

Once you have a child, you are no longer the star of your

own picture. After five decades, to finally realize that on

a truly cellular level, you are no longer the center of the

universe was a huge relief for me."

TRAVEL OFTEN . LIVE WELL . 9
---
2016 Cayman Cookout

One of the most watched culinary celebrities in history,

today Bourdain has a very carefully calibrated life; and

although he still travels a lot, Anthony is home much

more than he used to be, so that he can spend time with

his wife and daughter. Instead, he takes great pleasure in

possibly nurturing the next generation, but only if she's

into it. Eight-year-old Ariane Bourdain loves to cook,

and especially with her dad, when she can get her hands

squishy and dirty. "Look, my daughter grew up Italian,

basically with her mom, but also grew up with a lot of

unusual foods on the table. So, she eats raw oysters and

likes octopus, and understands the bunny is cute, but it

also tastes good."

I asked Anthony whether or not all the responsibilities

that come with being a parent keep him up at night. He

laughed out loud. "I am a little weirdly, over enthusiastic

about expressing love through food, I think. Cycle

menu is a little weird for an eight-year-old. And I plan.

I have prep lists for the summer. What the f--k? I am

feeding a child. But I get over organized and I invest a

lot in passing along these powerful food memories that

I enjoyed as a kid. But I have had to learn to not get

offended if she doesn't like something that I make her."

The laughter faded, he paused for a few moments, and

then offered up something tender and serious. "Look,

I say that all I can do as a parent is to let my daughter

"I AM A LITTLE WEIRDLY,

OVER ENTHUSIASTIC

ABOUT EXPRESSING LOVE

THROUGH FOOD."

10 . DRIFTTRAVEL.COM
---
know that she is always loved. That she will have high

self-esteem and high regard. Also, she has been training

Jiu Jitsu for four years, so she'll be able to take care of

herself. So yes I am a doting dad. I'm a very happy dad."

Anthony's Italian wife, Ottavia Busia doesn't cook at

all. It might have something to do with the fact that

she is very health conscious, and doesn't eat starches

or carbohydrates. She is a competitive athlete, coach

and trainer in the sport of Jiu Jitsu. Anthony credits the

sport, and his wife who coaxed (or tricked) him into the

introductory Jiu Jitsu lesson, with changing his life. "I

was a chain smoker, thirty pounds' overweight and never

been to a gym, like ever in my whole life."

I asked him about that first Jiu Jitsu class. Was it bad?

"Yeah, it was f--king awful, but I survived it. And I was

proud of myself for surviving it. It was hard with a steep

learning curve. An endless learning curve and that is

attractive to me.

Anthony got healthy over the course of learning and

practicing Jiu Jitsu, dropping those thirty pounds and

changing other aspects of his lifestyle. But as he sees

it, it was never really about getting healthy – that was

just a happy side effect. For Bourdain, it was all about

the curve. "I am a big believer in the Japanese notion of

Shosin, which means Beginner's Mind." In a nutshell,

Shosin is the Buddhist practice of always learning, from

a beginner state of mind. "For me, Jiu Jitsu is like being

the worse cook in the kitchen, all over again. You are

faced with a steep hill of things you must learn everyday,

and I don't know why, but that makes me happy."

2016 Cayman Cookout

Bourdain travels for a living. One might argue

that the travel aspects of his television shows, No

Reservations, The Layover and Parts Unknown, are more

appealing to viewers than the food he eats along the way.

He admits that he still travels about 200 days a year and

has rules and rituals in how he travels, and with whom.

Air travel for Bourdain is always the same. "My brain

and body and nervous system, they see a plane ride, a

long plane trip, as an opportunity to sleep with nothing

coming in, nothing to do. I just go offline the minute I'm

on the plane."

I asked him if he even has the capability to travel for

pleasure, or is it always business, even when its not. "I

don't f—king know anymore. But it is worth noting

2016 Cayman Cookout

TRAVEL OFTEN . LIVE WELL . 11
---
Photo courtesy of CNN

that for business, I only go places I want to go. I choose

the places I go." So, where does the business end and

pleasure begin? "I am in the enviable position of saying I

like to go to Vietnam, jump out of a plane, and then eat

some noodles and shoot it in the style of Wang Kar-wai.

That's a pretty awesome thing."

Currently, with one show in production on CNN,

Anthony Bourdain: Parts Unknown is an award winning

series that sees him travel to lesser known parts of the

world, exploring unique regions and cultural cuisine.

Anthony recently took long time friend, Chef Eric

Ripert to the Chengdu region of China. "Whenever I can

make television all the way out there, in a strange land

where I don't speak the language, with a good friend, I

am happy." Is Barack Obama a good friend? I didn't ask

but in a Season 8 episode of Parts Unknown, which airs

September 25th, Bourdain shares a $6 dinner with the

President at Bún chả Hương Liên in Hanoi, Vietnam.

Personal time off comes in an all-American version

these days. "When it comes to family vacation, I take an

indecent pleasure in feigning normalcy. Meaning, I load

up the car with the luggage, we drive to Long Island to

the Hamptons, where I rent a house for August every

year. I barbecue in the backyard, and I do whatever my

daughter wants to do. She makes all the decisions for the

entire month."

12 . DRIFTTRAVEL.COM
---
TRAVEL OFTEN . LIVE WELL . 13
---
Seven Mile Beach, Grand Cayman

14 . DRIFTTRAVEL.COM
---
Does Anthony Bourdain have daddy brain? When

he told me that this new book, Appetites: A Cookbook

is a family cookbook, I honestly thought I had heard

him wrong, and asked again. "It is all stuff that I cook

at home but hey, we are a very wacky family. The cover

design is by Ralph Steadman (Fear and Loathing in Las

Vegas) and with photography by Bobby Fisher, it is game

changingly strange."

This new book, which hits bookstores this October, is

filled with Anthony's recipes, and those of long-time

assistant/collaborator Laurie Woolever. It is an honest

reflection of how he lives, day-to-day, and the food he

feeds his family with love.

And speaking of food, family and friends… we

talked for awhile about Grand Cayman Island and the

Cayman Cookout. For Anthony Bordain, this event is an

important part of his year – in fact, a necessary part of

his life, for both personal and professional reasons. The

event is an annual 4-day food affair that is the brainchild

of Chef Eric Ripert, organized each year with his friends,

Chef José Andrés and Anthony Bourdain.

In 2001, Anthony Bourdain's book Kitchen Confidential:

Adventures in the Culinary Underbelly, might have

bruised a few egos and made a few enemies in the

industry, but Bourdain had nice things to say about Chef

Ripert and his restaurant, Le Bernardin. Ripert called

Bourdain to say thank you, and invite him to lunch. The

two have been great friends ever since, and sharing the

CaymanKIND experience together since 2008.

Cayman Cookout is a stellar signature event that takes

place each January at the Ritz-Carlton Grand Cayman,

directly on famous Seven Mile Beach. Cayman Cookout

brings together top chefs from all over the world to

celebrate the best in food and wine. Set in such natural

Caribbean beauty, in one of the most beautiful hotels on

Grand Cayman Island, the event is at once elegant and

relaxed – two words you don't often see together when

discussing famous chefs and high-end food.

Over the course of four days, guests are treated to

demonstrations and intimate events with famous chefs,

tours and tastings of stellar brands, and unprecedented

access to the world's most famous chefs. In addition to

Ripert, Andrés and Bourdain, world class culinary giants

Hubert Keller, Cindy Hutson, Ludo Lefebvre, Dean Max,

Michael Mina, Florian Bellanger and Tom Colicchio

were part of the 2016 all-star lineup.

"FOOD IS EVERYTHING WE ARE.

IT'S AN EXTENSION OF NATIONALIST FEELING, ETHNIC FEELING, YOUR

PERSONAL HISTORY, YOUR PROVINCE, YOUR REGION,

YOUR TRIBE, YOUR GRANDMA.

IT'S INSEPARABLE FROM THOSE FROM THE GET-GO."

TRAVEL OFTEN . LIVE WELL . 15
---
Every year, Anthony brings his family with him to

Grand Cayman, and his daughter spends time with

Chef Jose Andrés three daughters and Chef Eric Ripert's

son. The three amigos, and their families, stay on site

at the Ritz-Carlton Grand Cayman Hotel. Cayman

Cookout is not penciled into the Bourdain calendar –

it's inked in. "For Cookout, my daughter misses two or

three days of school. That's a big deal. But necessary.

Here, the kids can run barefoot in the sand after dark,

get up to kid mischief as they should, and I don't ever

have to worry about my daughter's safety here, unlike in

the city."

I asked Anthony what he would like to see done

differently at Cayman Cookout next year. "It works

place on the formal lawns of the Ritz-Carlton and I

followed Anthony around while he visited each local

booth – watching him taste each dish and listening

to him reflect on the local Caribbean flavors. Which

booths left a lasting impression on Anthony? "Any time

you put a pig on a spit, that's pretty awesome." Local

restaurant Anchor & Den served up Cordo al Asador

at their booth – local pig that was roasted at the event.

Bourdain swooned over it.

One of my personal favorites of the day was the pepper

jelly from the Cayman Pepper Patch booth. Not only

did I love the product, but the owner/producer Carol

Hay was really lovely as well. I asked Anthony what he

thought of the local jelly. "I don't usually care about

Ritz-Carlton Grand Cayman

great just as it is. The caliber of chefs, old guys and new

kids on the block, that come every year is astounding to

me, so I enjoy that side too." Spending quality time with

his Chef Mafia.

This year, Anthony was part of several signature

Cayman Cookout events. The first that I attended

was "The Adventures of Tony and Eric", where the

two old friends climbed up on stage, made cocktails,

cooked a little fish, light-heartedly shared each other's

shortcomings and took questions from the packed

house, which happened to be a very chic open-air tent

right on Seven Mile Beach.

Another event, "The Rundown with Anthony

Bourdain", was so interesting and a lot of fun. It took

those things – jams, preserves, but that pepper jelly was

really good and the cheeses she was pairing them with

speak to a really refined palette." This signature event

showed off the island's finest and demonstrated clearly

why Grand Cayman is considered the culinary capital

of the Caribbean.

Clearly, Anthony Bourdain comes to Grand Cayman

each year for the event, Cayman Cookout. He comes

to be with and support his friends. He comes to take a

deep breath and spend time with his family. He comes

to do the things he loves best – to cook, eat and meet

new people. He comes for all of the same reasons that

he is so passionate about food and traveling the world

in search of the perfect cultural bite.

16 . DRIFTTRAVEL.COM
---
Ritz-Carlton Grand Cayman

2017

CAYMAN

COOKOUT

JANUARY 12-15, 2017

RITZ-CARLTON GRAND CAYMAN

Join Chef Eric Ripert at The Ritz-Carlton for an

incomparable roster of world famous chefs, wine experts

and spirits blenders with tastings, demonstrations, tours

and dinners that celebrate the barefoot elegance that

only the Cayman Islands can deliver.

2017 Headliner Chefs: Eric Ripert, Jose Andres,

Anthony Bourdain, Terrance Brennan, Dean Max,

Daniel Humm, Emeril Lagasse, Tim Love, Roland

Passot and Christina Tosi.

2016 Cayman Cookout

Ritz-Carlton Grand Cayman

#CAYMANCOOKOUT

EVENT & GRAND CAYMAN TOURISM

INFO: www.caymanislands.ky

2016 Cayman Cookout

TRAVEL OFTEN . LIVE WELL . 17
---
Tidal bore rafting.

There's nothing quite like that moment when the river shifts

directions and goes from serene to exhilarating. And just think,

rafting the most extreme tides in the world is only one of the

things in Nova Scotia that will make your heart skip a beat.

A real-life

discovery

channel.

Explore all there is to do at NovaScotia.com
---
DRIFTTRAVEL

DRIFT travel magazine

+ FOLLOW

When is the last time you saw something for the very

fi rst time? DRIFT travels to unforgettable places.

Come along on the journey. Travel Often. Live Well.

www.DRIFTtravel.com

Come along

on the journey

click to follow us on

@DRIFTtravel

also on

Share your travels with DRIFT readers

Each issue is distributed to 6.5 million digital magazine subscribers

DRIFT is currently accepting submissions for:

*Fascinating travel stories

*Exceptional travel photography

Send your article ideas & photo essays to submissions@DRIFTtravel.com

TRAVEL OFTEN . LIVE WELL . 19
---
10TOP

EUROPEAN

HIKES

by: ANDREA KIRKBY

Europe is full of great landscapes, and there's no

better way to experience its variety of natural

attractions than to hike some of the long distance

paths that stitch the continent together. Hikers

will always debate which are the greatest hikes, of course,

but these ten routes are classics and ideal for fall weather

trekking.

1ENGLAND/SCOTLAND

Pennine Way starts just outside the busy

industrial city of Sheffield, but within a few

miles it's crossing bleak wild peat moors and

striding gritstone cliffs. The route follows

the watershed up the backbone of England, finally

crossing Hadrian's wall and the border into Scotland and

the Cheviot hills.

267 miles (430km)

20 . DRIFTTRAVEL.COM
---
Pennine Way: Hopping over Hadrian's wall from England into Scotland

TRAVEL OFTEN . LIVE WELL . 21
---
2FRANCE/SPAIN

Camino de Santiago, also known as GR

65 or Chemin de Saint-Jacques follows the

medieval pilgrimage path from Le Puy in the

center of France to Santiago de Compostela

at the western edge of Spain, though many hikers only

walk the Spanish stretch. The full route takes a couple of

months. This hike is fascinating as it has both cultural and

natural attractions; the cathedrals of Le Puy, Pamplona,

Burgos, Leon and Astorga are all visited en route, while

there are many ancient pilgrim hospices and monasteries,

and even Roman bridges to be crossed.

Way of St. James: 500 miles (804km)

3FRANCE/ITALY

Via Francigena is another medieval route,

but it's less well known than the Camino de

Santiago. It was the route pilgrims took from

northern France to Rome, and the stretch from

Lucca to Rome runs through remote Tuscan hill towns, past

Romanesque churches, Etruscan monuments, and bubbling

hot springs. Most of the route is fairly gentle, running through

vineyards and farmland until it reaches the suburbs of Rome.

270 miles (780km)

THE MOUNTAINS

are calling and I must go.

JOHN MUIR

AUTHOR & NATURALIST

22 . DRIFTTRAVEL.COM
---
Camino de Santiago collage: The many sights along the way

TRAVEL OFTEN . LIVE WELL . 23
---
Path of the Gods: Walking over blue waters

4ITALY

Path of the Gods is an Amalfi Coast

walk along the Mediterranean, and between

small towns and villages. There are tiny

beaches and coves below, monasteries and

rough forested peaks above, with some stiff and sweaty

ascents, but it's worth it when you come across a fragrant

lemon grove suspended vertiginously above the sea.

Hikers can take time off to visit some of the fine palaces

and ancient cathedrals along the route, or drink Amalfi's

famous limoncello liqueur and enjoy a plate of seafood.

25 miles (40km)

24 . DRIFTTRAVEL.COM
---
From our cover: Lemon tree fields, Italian skies and

Mediterranean waters along the Amalfi Coast

TRAVEL OFTEN . LIVE WELL . 25
---
Malerweg: Exploring narrow, moss covered gorges
---
5SWEDEN

Kungsleden or 'King's Way' in the far

north of Sweden is a true wilderness trek,

taking a month or more to complete. The

landscape encompasses tundra, birch

forests, heathland, glaciers, and Sweden's highest

mountain, and wild camping is permitted everywhere

along the route - indeed, it's so remote that hikers need

to carry a tent and food for some portions of the route.

270 miles (440km)

7ICELAND

Laugavegur is a big tough four-day hike

(six if you carry on from Thorsmork to the

coast) covering some of Iceland's wickedest

terrain. There are high ice fields, brightly

colored volcanic rocks, amazing views of gorges gouged

out by glacial floods, and mud geysers that spit sulfurous

fumes as you pass. Best of all, at both ends of the trail,

there are hot springs to bathe in after a hard day's hiking.

49 miles (79km)

6GERMANY

The Malerweg or 'Painters' Way' in the

sandstone hills of Saxony is one of the most

romantic hikes in the world. Its picturesque

scenery of limestone carved by wind and

water includes narrow mossy gorges and splendid spires of

rock; it's worth getting up early for sunrise, when the rock

glows pale yellow and pink and mist rises from the valleys.

69 miles (112km)

8GERMANY

Saar Hunsrueck Steig, near Trier, is

a pretty and highly adaptable trail. It was

designed with a number of loops that can

be added to the hike or made into day hikes.

The landscape is always changing; there are castles, forests,

megalithic sites, small towns, lakes, and open heath, and

best of all there's an iconic view of the Saarschleife, where

the river Saar makes a tight u-bend between forested hills.

254 miles (410km)

Kungsleden: Waking up in the vastness of Sweden

TRAVEL OFTEN . LIVE WELL . 27
---
9CORSICA

GR 20, Corsica's high route, makes

hikers earn their rewards; it's formidably

tough in sections, including one via

ferrata where chains are attached to

the rock to enable walkers to scramble upwards. In

return for hard work, it offers tremendous views

over the island and out to sea, as well as mountain

lakes that gleam turquoise in the Mediterranean sun.

112 miles (180km)

10

ITALY

Alta Via 1 is a high route through

the Dolomites, offering the hiker

a chance to see some of the most

spectacular limestone scenery

in Europe, together with alpine lakes and meadows.

There are soaring dark limestone spikes, long sharp

ridges, and gentle, fertile valleys, and best of all there are

numerous mountain huts and refuges to spend the night.

75 miles (120km)

Corsica: Climbing nature's mountain staircase

While many travelers are primarily interested in the cultural highlights of Europe found in the densely

populated cities and quaint historic towns, hiking offers a completely different way to appreciate Europe's

vast landscapes and different cultures. Many tour operators now offer packages for hikers which include bed

and breakfast and packed meals as well as luggage transfers - search "Hiking Tours Europe" to research tour

operator options. Or for the more experienced (or adventurous) hiker, ready your backpack, turn up at the

start of your chosen hiking route and hit the trails!

28 . DRIFTTRAVEL.COM
---
Alta Via 1: Lac di Sorapis in the Dolomites
---
the

editor

when was the last time you saw

something for the first time?

by: TRACEY DRAKE

BALINESE MAGIC AT MANDAPA

I had been looking forward to my trip to Bali

for months; my mind creating all kinds of

daydream scenarios that involved spectacular

places and unforgettable experiences. Of

course, those all came true (if you have been

to Bali, you know exactly what I mean), but

what I didn't expect was that one of the most

memorable would be a hotel. I should qualify

that statement by saying this is no ordinary

hotel - this is Mandapa, a Ritz-Carlton

Reserve in Ubud.

Traveling with my husband, we booked an

Uber car in Denpasar, and headed north to

Ubud. It is an interesting drive through the

bustling streets of Denpasar with hundreds

of motorized scooters going every which way.

On the highway, we passed many small towns

that were well into their daily routines. About

an hour later, we arrived at the outskirts of

Ubud, and I watched out my window in

fascination as a busy intersection and a sharp

left turn quickly became a serene residential

lane-way that led us to the gates of Mandapa.

I had arrived in paradise.

Mandapas (meaning temples) have been a

foundation of Balinese culture for thousands

of years. In Ubud and all over Bali, these

temples offer a restful place for devotees to

restore mind, body and soul. So, it seems very

fitting to me that Ritz-Carlton would choose

the name Mandapa for this magical oasis.

My first visual introduction to Mandapa

literally left me speechless. Perched high on

a hill, the hotel's open air terraced reception

area offers 270 degree views of lush rolling

jungle landscape, rice paddies and the Ayung

River. Less than one year old, I was impressed

to see that instead of simply building a

modern resort, the hotel was built around

the magnificent rice fields, ancient trees

and Balinese jungle. In fact, from the lobby,

you can immediately see how the sprawling

property wraps around the beautiful nature

that is uniquely Bali.

Henry, our personal butler, introduced

himself and ushered us to a golf cart that

was the mode of transportation here, due to

the very steep inclines from the villas to the

hotel's main buildings.

FOLLOW

@TraceyDrakeEditor

on Instagram & Twitter

or search hashtag #TheTravellingEditor

32 . DRIFTTRAVEL.COM
---
TRAVEL OFTEN . LIVE WELL . 33
---
THE FINER POINTS

• Driver: The charming village of Ubud is just ten minutes away, and there

are so many wonderful places to visit in the immediate area. The hotel staff

will be happy to arrange a Mandapa driver to take you to and from town.

• Sun and Shade: A lovely locally made market tote and sun hat are

provided for you, as well as quality sunblock and skin refresher spray. Take

my advice - use them when you go into town or head out on a walking

adventure.

• Personal Butler: Day and night, there is a Patih at your service, a

dedicated certified butler who can tend to your every need. Available by

email, text or by calling the concierge desk.

FOR FURTHER INFORMATION:

RITZCARLTON.COM/EN/HOTELS/INDONESIA/MANDAPA

34 . DRIFTTRAVEL.COM
---
Our private villa, just one of sixty at this

intimate property, was luxurious and

authentically Balinese. The outdoor space

featured a bubbling fountain, mature trees

and the most peaceful swimming pool, that

reflected nature in its still waters, like an

ever changing work of art.

Showcasing regional architecture and

craftsmanship, the elegant living space was

in a separate riverfront building and the

massive sleeping quarters had a poolside

terrace. I felt like I was in Bali, with furniture

made from local woods, and artwork that

represented Balinese history. As you would

expect from any Ritz-Carlton hotel, the

amenities were exceptional; quality linens,

towels, robes, and toiletries. The soaker

bathtub with garden views and the indoor/

outdoor shower did not go unnoticed.

The lush green rice paddies at and around

Mandapa, a Ritz-Carlton Reserve are so

much more than just lovely scenery. I tried

my hand at rice farming for a day, learning

why rice is an important foundation in

Balinese culture, and coming away with

a sincere appreciation of how hard rice

farmers work each day.

Dining at Mandapa was a pleasure and

options were plentiful. We enjoyed healthy

juiceology at the Pool Bar. Each morning,

we ordered a hearty breakfast at Sawah

Terrace Restaurant, overlooking the rice

paddies. On our first night, we experienced

a Mediterranean-European fusion menu

at Kubu, dining inside a private bamboo

cocoon. On our final night, which also

happened to be our wedding anniversary,

the staff at Mandapa treated us to Dining

Beyond, an unforgettable "BerDua at

Mandapa Rice Field" dinner for two, with a

lovely table set among the rice paddies.

I would be remiss if I did not mention the

restorative afternoon I spent in the Mandapa

Spa. The wide open spa looks out over the

Ayung River and is such a special place to

TRAVEL OFTEN . LIVE WELL . 35
---
clear your mind and rid your body aches.

I opted for an authentic Balinese Massage.

If you've ever had one by a skilled massage

therapist, you know it is not overly relaxing.

As the expert hands of my therapist found

every kink and knot in my stressed body,

I felt it. However, the session ended with a

gentle head and face massage, and with the

soothing sounds of the rushing Ayung River

outside the window, I soon forget about the

sore bits. In fact, by the next day, my body

was feeling so free and de-stressed, I wanted

to go back for another. Mandapa Spa truly

is focused on traditional healing therapies.

Mandapa, a Ritz-Carlton Reserve is located

in a region of Bali famous for creative arts,

stunning temples and natural beauty. This

is a place where one can easily get lost in

the serenity, and then find yourself again,

but in a much better place - mentally and

physically. I cannot wait until the day I can

return to the magic at Mandapa.

36 . DRIFTTRAVEL.COM
---
The Case for Better Travel.

www.raden.com
---
Eric Himel's

LIFE+STYLE

by: ERIC HIMEL

Vacations are always a time to look forward to,

but the logistics of packing can be a nightmare!

Whether your destination is a winter wonderland

or fun in the sun, you always want to make sure

you pack smartly: pack light, chic and be prepared for any

vacation occasion!

Here's my tips for packing with a plan - taking the guess

work out of predicting what you will need!

FUN IN THE SUN

Pick a theme - create a look. You can't pack everything so

choose what your vibe or color palette is going to be. Do you

look good in white? Pastels? Nautical? Or animal prints? Pick

one, and build out from there. Also decide if your jewelry is

going to be silver or gold but don't pack both. Lightweight

scarves are always great for a chic style element to add to a basic

outfit as well as being able to wrap it around your shoulders

or neck at night if it happens to turn cool. Pick one that can

double as a light shawl. Linen is great for warm weather

ERIC'S CHIC GUIDE TO PACKING LIGHT FOR YOUR MOST STYLISH VACATION EVER!

ERIC HIMEL (erichimel.com)

is a widely known celebrity stylist, fashion expert and media personality. Himel

attended Parson's School of Design and trained under Project Runway's Tim Gunn.

Now based in Los Angeles, Himel's roster of celebrity clientele has included Jenny

McCarthy, Giuliana Rancic, Pete Wentz, Gabby Douglas and more,. Eric is best known

for his signature Closet Purge and now offers Virtual Styling Sessions.

38 . DRIFTTRAVEL.COM
---
vacations just don't get OCD about it if it gets wrinkly - just

go with the flow. Fabrics that have a synthetic component to

them pack better and eliminate wrinkles. Since shoes take up

so much room, pack a flat sandal, a wedge and a heel for night

and if you're going to exercise on your trip your last pair

should be a workout shoe - this will cover all of your bases.

You can recycle the same outfit by bringing extra accessories

such as scarves and jewelry to make the looks different

from one day to the next. This will save on packing space.

COLD WEATHER CHIC

Just like packing for warm weather vacations, pick a color

or theme as the central look for your vacation wardrobe.

As a base color, go with blacks or browns, but not both. If

you choose black, some accent colors that work great would

be grays and burgundies. If a warm color work better on

you, choose chocolate brown and accents with beige, cream

and dark green or rust. Layering is key so bring tops and

sweaters that work together. Infuse velvet or chunky knits

to give some textural interest. Swap out a skinny jean with

a skinny cord to mix up a casual look. And don't forget

fun gloves, scarves and hats that can take a blah outfit to a

totally chic one in a very inexpensive way and won't take up

a lot of extra room in your luggage.

ERIC'S TRAVEL MUST-HAVES:

• Airplanes Can Be Cold: Large cashmere shawl or

pashmina to keep in your carry-on for cold flights.

• Get The Most Out of Your 2nd Carry-On Bag: A

chic, durable tote bag will double as your purse and 2nd

carry-on for maximum storage. Keep your good jewelry,

small makeup bag and one change of clothes in tote (if

checking bags) in case airline loses it!

LONGCHAMP TOTE

Le Pliage Expandable Travel Duffel

• Keep Hydrated & Protected: Don't forget a good

moisturizer with sunscreen (less than 100ml for airport

travel).

• Skin Is In: Pack a good body scrub to exfoliate your patchy

skin from either dry, cold weather or after hours of laying in

the sun!

TRAVEL OFTEN . LIVE WELL . 39
---
Spain's Canary Islands are among the most

sought after holiday destinations in the world

with people from all over the globe visiting every

year. Tenerife is the most popular of the islands,

with impressive hotels situated all over the island,

hundreds of bars creating fantastic nightlife, and

world class beaches. However, there are plenty of

other things to do on the island; attractions that

will leave you with memorable moments on your

next trip to Tenerife.

Golf Del Sur is popular with the older generation,

and snowbirds often come here to settle in their

retirement. It's a peaceful location with stunning

views and hotels as well as a spectacular golf

course that is perfectly situated and surrounded

by breathtaking landscape. Designed by Pepe

Gancedo, who is considered the "Picasso" of his

field, it's one of the most peaceful golf courses

you will ever play on!

42 . DRIFTTRAVEL.COM
---
TAKING FLIGHT

PREMIUM ECONOMY

VANCOUVER TO HONG KONG

CATHAY PACIFIC AIRWAYS

by: TRACEY DRAKE

My travel budget doesn't usually allow for

business class travel on long-haul flights.

However, I use flying time as an opportunity

to get a lot of work done so I am free to

experience my final destination immediately upon arrival.

So, I need elbow room and space for my MacBook and

notepads. I also have quite long legs, which are a curse on

any flight, but more so on a 13.5 hour flight from Western

Canada to Hong Kong.

With business class out of my financial reach,

and economy out of my comfort zone, I went in

search of middle ground and found a new option -

Premium Economy with Cathay Pacific Airways.

This is a new level of service for Vancouver to Hong

Kong flights. For the dates I was traveling (April/

May 2016), premium economy was just $710 more

than economy, but $3,530 less than business class.

From the moment I arrived at the airport, I knew

the experience was going to be markedly different.

There was a premium economy priority line at

the Cathay Pacific counter (just like business and

first class) and baggage allowance was 25kg/55lbs,

compared to just 20kg/44lbs for economy passengers.

Translation? More shopping for me in Asia!

At the gate, there was a designated line and priority

boarding for premium economy passengers. Aboard

the airplane, there was a separate cabin of the

aircraft for premium economy, with in-flight crew.

We were offered a hot towel, welcome beverage

and a newspaper while we prepared for take-off.

TRAVEL OFTEN . LIVE WELL . 43
---
LONG HAUL COMFORT

There were less than thirty seats in the premium

economy cabin, which was modern, clean and

spacious. There was ample room between my seat

and the passenger beside me. My seat featured

eight inches of recline and a four-way headrest

for body support and comfortable sleeping. I

reserved a front row seat, which included a legrest

and lots of stretching space for my long limbs.

The larger tray table was perfect for working or

dining, and there was a secondary drinks table

for extra tabletop space. Meal service (served

twice on my flight) included elegant entrées -

Asian or Western options. Wine, cocktails, bottled

water and yummy snacks were always available.

I must mention how much I appreciated

the noise cancelling headphones, and the

stylish amenity kit with travel socks, eye

shade, earplugs, toothbrush and toothpaste.

Its limited edition felted wool pouch, designed

for Cathay Pacific by G.O.D - Goods of Desire,

has become the chic new home for my passport!

44 . DRIFTTRAVEL.COM
---
TAKING FLIGHT

Cathay Pacific currently offers

two flights daily from Vancouver

International Airport to Hong Kong.

You can choose to depart YVR in the

afternoon (2:25pm PST) or in the early

morning (2:05am PST). I chose the

latter because it offered the most sleep

time, allowing me to arrive 13.5 hours

later in Hong Kong, at the beginning of

a new day, feeling refreshed and ready

to start exploring. Premium economy

class is available to and from many

different cities and countries. More info

at CathayPacific.com

TRAVEL OFTEN . LIVE WELL . 45
---
AT A GLANCE:

Okinawa Islands

by: ELIZABETH DEAN

There is a place between Taiwan and Japan where

speckles of land skip across the surface of the ocean.

Forty nine of these small islands are inhabited and one

hundred and eleven belong to the tropical wild. These

are the Okinawa Islands. Where the lands are flooded with lush

overgrown jungle, the sands are white as snow, and the waters are

clearer than a glass of cool water. The islands are rich in history

with fascinating legends of the Ryukyu culture. Once its own

temperate kingdom, Okinawa now belongs to Japan and divides

the Pacific Ocean and the East China Sea.

46 . DRIFTTRAVEL.COM
---
ROPE IN

THE OPEN SEA

WHAT'S IN A NAME?

The stretch of tropical islands wind

across the open blue, perched

precariously on the steadily

moving waters of the easterly sea.

Just as they appear from above, the

name Okinawa translates to "rope

in the open sea".

WHAT TO BRING

SNEAKERS Skechers Burst are

light, ventilated walking shoes for men

and women.

skechers.com

SUNGLASSES

Ray-Ban Aviator sunglasses with

polarized green flash lenses.

ray-ban.com

WORLD ADAPTER

Skross compact 3-pole travel plug with a dual USB

charger for travelers from over 220 countries.

skross.com

WHAT TO DO

Be sure to indulge in at least one traditional

Okinawan dish, the local cuisine is famous for its

part in good health. The locals have the longest life

expectancy in the world; their mantra is "nuchi

gusui", meaning, food is medicine. There are plenty

of spots to go snorkeling or diving and experience

the exotic marine life and impressive coral reef.

While the sea will lure and tempt you, don't neglect

the magnificent land. Explore a mangrove jungle

by canoe, or hike through the mountains. Iriomote

Island, called 'the last unexplored region of Japan',

and Onna Village, are magical places to see rare

animals and plants. There is also a lot to be learned

about the culture and history – stroll through the

historical sites and interact with the locals.

TRAVEL OFTEN . LIVE WELL . 47
---
HAVANA

a photographic journey

Featured Photographer: Alex R. Elms

Alex R. Elms is a filmmaker

and photographer, who

has traveled the world

looking for unique

shots and perspectives.

Selected for the NME

photography awards, and

short-listed at Cannes

in the Young Lion film

category, Alex sees unlimited potential through

the lens. Photographing fashion, live music, travel

and events, Alex has a current/past client list

that includes Nike, BBC, M&C Saatchi, Bestival,

Gigwise, Virtual Festivals, Consequence of Sound,

British Red Cross, Bath In Fashion, and Alter Art.

CAMERA EQUIPMENT:

Canon 5D MK III

Canon 24-70 F2.8 II

Canon 50mm F1.4

Canon 17-40 F4

FOLLOW ALEX ONLINE:

Website: alexrelms.com

Instagram: @alexrelms

48 . DRIFTTRAVEL.COM
---
In Havana, homes naturally spill out onto the street, making for strong communities.

TRAVEL OFTEN . LIVE WELL . 49
---
50 . DRIFTTRAVEL.COM
---
Every street in Havana offers its own character, hidden bars & classic cars.

TRAVEL OFTEN . LIVE WELL . 51
---
Fishing off the seawall is a favorite pastime of many Cubans.

Evenings on the Malecón are a sight to see.

52 . DRIFTTRAVEL.COM
---
TRAVEL OFTEN . LIVE WELL . 53
---
Taking to the streets to find their next adventure.

54 . DRIFTTRAVEL.COM
---
Colorful homes make for colorful characters.

TRAVEL OFTEN . LIVE WELL . 55
---
56 . DRIFTTRAVEL.COM
---
The charm of 1950's cars is still very much alive in Havana.

TRAVEL OFTEN . LIVE WELL . 57
---
58 . DRIFTTRAVEL.COM
---
Havana city center is forever on the move.

Hidden away amongst rows of houses, street markets sell all the fresh

produce you could ever want.

Fruit sellers wander the streets, working long into the night until their

stock is sold.

TRAVEL OFTEN . LIVE WELL . 59
---
HAVANA, THE CAPITAL OF CUBA

is the largest city in the Caribbean

with 2.1 million inhabitants, and

one of the most culturally rich

urban centers in the world. Cuba's

love of music flows from the city's

clubs and cabarets every night,

and dance spills out onto Havana's

sidewalks with impromptu streetside

salsas. Its pride and appreciation

for its glorious colonial past is

reflected in Havana's many castles,

cathedrals, museums and mansions.

The historic neighborhood of Vieja

Habana (Old Havana) is a UNESCO

World Heritage site, with more than

900 landmarks. Havana's stunning

Malecón and captivating coastline

offers nearly 15 km of excellent

beaches and unspoiled coral reefs.

60 . DRIFTTRAVEL.COM
---
With a love of new places, new faces and new subjects to shoot, I'd travel

anywhere for a photograph. Specializing in performance and events, I've been

lucky enough to travel the world for my work. I'm still desperate to see more.

ALEX R. ELMS

Color co-ordination is not required to get on the school bus.

TRAVEL OFTEN . LIVE WELL . 61
---
off the beaten path

THAILAND'S

by: RONAN MAHONY

SECRET REGIONS

Thailand is one of the most frequently visited countries

in the world - and with good reason. Each year, over 25

million people flock to the Land of Smiles in search of

exotic cuisine, idyllic beaches, and unique culture.

This influx of visitors also means that it can be difficult

to find somewhere authentic to visit that hasn't been

taken over by tourism. Luckily, there are still lesser

known, quieter locations for those who want to see the

real Thailand.

Here are the details on three less-touristy destinations

you can visit while in Thailand.

62 . DRIFTTRAVEL.COM
---
Phraya Nakhon Cave

TRAVEL OFTEN . LIVE WELL . 63
---
Prachuap Khiri Khan

This gorgeous seaside town is the capital of the province of

the same name. Thousands of tourists make their way to

this province each year, but most of them go to Hua Hin,

a popular beach resort. Little do they know that the sleepy,

laid-back town of Prachuap is located just one hour down

the road and is filled with the magic that is Thailand.

If you are searching for an authentic experience where

you can immerse yourself in local culture, Prachuap has it

in spades. It retains a sense of the real charm of Thailand

with bustling night markets full of amazing Thai food. The

weekend market is one of the best in the country, giving

visitors the opportunity to dine on cheap, scrumptious

seafood right beside the water.

There is also a glorious beach known as Ao Manao (meaning

Lime Bay) nearby, just a 10-minute bike ride from town.

This serene bay is unique in that it is situated inside Wing 5

of the Royal Thai Air Force base.

Accommodation is cheap in this region of Thailand, and

there is so much to do and see, without the tourist crowds.

Prachuap Khiri Khan is located in the northern part of the Malay Peninsula, 240 kilometers south of Bangkok.

Ao Manoa (Lime Bay)

64 . DRIFTTRAVEL.COM
---
TRAVEL OFTEN . LIVE WELL . 65
---
Loei

Loei is located in the Isaan region of Thailand, which is the

least-visited region of the country - all the more reason to

go! Loei is a beautiful, quiet area located on the banks of the

mighty Mekong River. A real nature lovers' paradise, Loei is

surrounded by many beautiful mountains.

In the daytime, you can visit one of the mountains or

national parks in the vicinity. When you've had enough

exercise, head back to town and soak up the relaxed

atmosphere with a cold beer on the banks of the Mekong.

Loei is the perfect place to chill out for a few days and

escape, relax and recharge for the next leg of your journey.

Buriram

Also situated in the Isaan province, the city of Buriram has

been hailed as the next major tourist spot in Thailand. For

the moment it has retained its sense of charm, but with

more and more hotels popping up around the city, you

should aim to get there as soon as possible if you want an

authentic Thai experience.

Buriram is a history buffs' paradise, with an abundance of

majestic Khmer ruins, similar to those found at the Angkor

Wat complex in Cambodia. It's also an animal lovers' dream,

with a bird park that has more than 100 different species.

Fans of soccer will enjoy this city, as it's the home of one

of Thailand's most well-known teams, Buriram United. If

you're lucky enough to be there when a match is scheduled,

buy a ticket and experience the unique atmosphere. The

people of Thailand are extremely passionate about the

beautiful game. Situated just five hours from Bangkok,

Buriram is easy to get to and well worth a visit.

These are three exceptional destinations in Thailand that

are off the beaten path. Whether you are visiting the Land

of Smiles in search of a true Thai experience, or you just

want to escape the busier cities, include Prachuap, Loei and

Buriram in your travel plans.

66 . DRIFTTRAVEL.COM
---
Mekong River

TRAVEL OFTEN . LIVE WELL . 67
---
TRAVEL GEAR

MUST HAVES FOR THE SAVVY TRAVELER

68 . DRIFTTRAVEL.COM
---
Getting in and out of an airport these days can be an ordeal

- an experience that quite often includes noise, crowds, and

time consuming security lines.

KENSINGTON RETRACTABLE LAPTOP LOCK

A laptop is stolen every 53 seconds! Protect yours from

theft and save space in your travel bag. The Kensington

MicroSaver® Keyed Retractable Laptop Lock retracts in

seconds and features a 1200mm/4ft retractable steel cable,

built-in lock defence system that guards against tampering,

and two keys. This lock keeps your laptop safe no matter

where in the world you are. kensington.com

ECBC WHEELED CARRY-ON WITH FASTPASS

Calling all techies! The ecbc carry-on combines durability

& organization with impeccable style. The first wheeled

luggage of its kind, this bag features the FastPass®

System allowing you to unzip the specialized electronics

compartment, lay it flat on the security conveyor and go

through TSA without unpacking your laptop. Keep clothes

wrinkle free and organized in the garment section with

unique hanger clasp. The best part? It also comes with a

5500mAh Power Pack, allowing a quick charge for your

electronic devices at the airport! ec-bc.com

BOSE QUIETCOMFORT ACOUSTIC NOISE

CANCELLING TRAVEL HEADPHONES

In your own little world! Engineered for sound,

comfort and portability. Lightweight aroundear

fit, stowable carrying case and designed

with significant noise reduction for travel. No

matter how noisy the airport is, it's just you and

your music—or simply peace and quiet. Apple,

Samsung and Android models available. bose.com

OUR TOP 3 PICKS:

GUARANTEED TO MAKE

YOUR NEXT AIRPORT

EXPERIENCE SAFER,

QUICKER & MORE

CIVILIZED.

TRAVEL OFTEN . LIVE WELL . 69
---
One place that I looked at a lot from space and

which looks alluring is New Zealand, especially

the North Island. It's a big broad valley with a

river flowing through it, and you can see the

wine-making dryness of the land.

CHRIS HADFIELD

ASTRONAUT & WORLD TRAVELER

70 . DRIFTTRAVEL.COM
---
7 INCREDIBLE THINGS TO SEE IN

NEW ZEALAND

by: CHRISTOPHER CLAYTON

A

gorgeous country with friendly people and lots

of things to do, New Zealand has become a top

destination over the past few years. Like Australia,

European settlers made homes in New Zealand in the 1800s

and learned to live alongside the indigenous people.

But don't be fooled into thinking these two countries

are similar. They may be neighbors, but New Zealand

and Australia are very different countries with their

own unique identities. If the two countries were human,

Australia would be the fun, active party type, while

New Zealand would be the laid back, smart, and cool.

TRAVEL OFTEN . LIVE WELL . 71
---
72 . DRIFTTRAVEL.COM
---
1The Beauty of New Zealand's South Island

If New Zealand is known for one thing, it's the

incredible natural beauty. The country has everything

from lush rolling hills to majestic, snow-covered peaks,

from fjords and lakes to gorgeous beaches. It doesn't get

more beautiful than the South Island, though, particularly

the West Coast. While you're there you can see the Franz

Josef Glacier and the Fox Glacier, which can be accessed

by helicopter for an unforgettable hike through the ice.

Go during ski season and hit the slopes as well. Don't miss

Milford Sound in the South, where you'll see dramatic

waterfalls and fjords. Hiking, kayaking, and jet-boating are

popular ways to view the beauty there, or relax and take it

all in on a scenic train tour.

2Middle-earth

Peter Jackson arguably put New Zealand on the map,

tourism-wise, after shooting his Lord of the Rings

and Hobbit movies there. The movies took advantage of

the amazing landscapes in this country. They were perfect

for creating the other-worldly feel the movie required.

You can visit many of the film locations and see where it

all happened with your own eyes. The green rolling hills

around the town of Matamata became the setting for the

Shire, where Bilbo Baggins lives. Tour are available for you

to see the sets. The "Hobbiton" sets were built but then

removed after the first films were made, and then the whole

thing was rebuilt for the Hobbit films and is now there to

stay. The majority of the famous filming locations for The

Lord of the Rings movies are located on the South Island -

yet another reason to visit the South Island.

3Māori Culture

Kia ora! Learning about the Maori culture is a must

while in New Zealand. The Maori people, originally

from Eastern Polynesia, predated the European settlers

by more than 500 years and developed their own distinct

cultural practices. You'll no doubt encounter the art,

language, and people on your travels through the country,

but you can also arrange to be part of a tour that focuses on

discovering more about the Maori culture. Learn about the

way their ancestors greeted visitors, the games they played,

and the way they cook food in the ground; find out about

the significance of the face tattoos, the common design

elements in Maori art and architecture, and of course the

haka. Many cities feature these kinds of tours, including

Kaikoura, Rotorua, and Waimarama.

TRAVEL OFTEN . LIVE WELL . 73
---
74 . DRIFTTRAVEL.COM

Visit the blue penguins in

Oamaru (and yes, they really

are blue!)
---
4Get Your Adventure On

Helicopter tours, hiking, kayaking, jet-boating, and

skiing, are just the tip of the iceberg when it comes to

things to do in New Zealand. The country is also a hot spot

for extreme sports and adrenaline-pumping activities like

skydiving, white water rafting, zip lining, and Zorbing. It

was a New Zealander, A. J. Hackett, who started organizing

commercial bungee jumping, in 1986, seven years after it

appeared in the U.K., and it's not difficult to find bungee

operators in New Zealand now.

5The Geothermal Features of Rotorua

Rotorua stinks - literally. This town in the North

Island smells like sulfur (that not-so-delightful

rotten egg smell) because of its intense geothermal activity.

Visit and you'll see bubbling mud pots, steam rising from

the hot pools of water everywhere, and bursting geysers.

These features aren't very common in the world; only

Japan, Russia, Iceland, and the U.S. have areas of similar

geothermal activity. So it's an incredible opportunity to

see one of earth's rare wonders. To really get up close and

personal, consider going to a spa where you can soak in

the health benefits of the mineral waters in hot baths and

mineral pools. While you're at it, get a massage, too - after

all, you're on vacation.

6Glow Worm Caves

Glow worms are insects that glow with

bioluminescence, like fireflies, and they're plentiful

(relatively speaking) in both Australia and New Zealand.

Make the Waitomo Glow Worm Caves part of your

itinerary, and you'll see thousands of these little creatures

light up the cave as you travel through by boat - a truly

wondrous site. Waitomo is located in the North Island, not

too far from Rotorua.

7Whales, Dolphins, Seals, and Penguins

New Zealand is a great place to see an abundance of

wild animals you might otherwise never see in your

lifetime. Head out on a whale-spotting sea tour. Two good

places to try are Auckland, a city in the North Island, and

Kaikoura, in the South Island. You'll likely also encounter

some dolphins on your boat trip. You may see the common

dolphin, the bottle-nosed dolphin, the dusky dolphin, or

even the rare Hector's dolphin, which lives only in the

waters off New Zealand. After whales and dolphins, go

check out some seals. In Kaikoura, you can walk out to see

the seal colony up close and personal - but not too close -

watch out that you don't trip over a seal sunning herself.

TRAVEL OFTEN . LIVE WELL . 75
---
little eateries in the

Crowded streets, towering skyscrapers and packed subway cars

are expected when you visit New York City. However, sometimes

you just want to take a rest from the chaos of The Big Apple

and find a quiet place to refuel. Tiny restaurants to the rescue!

76 . DRIFTTRAVEL.COM

DRIFT has rounded up three of our favorite teeny eateries in

NYC, each with world-class cuisine, imaginative cocktail menus

and a lot of awesome packed into very little square footage. These

are our pint-sized culinary heroes that definitely keep the New

York dining scene fresh, creative and delightfully unpredictable.
---
wallflower | 235 West 12th Street, NYC | wallflowernyc.com

Inspired by French-country cuisine, Wallflower in

the West Village truly proves the old adage, ''good

things come in small packages'. With just 30 seats,

the low-key boîte is known for a truly superlative

cocktail list (crafted by Xavier Herit, a veteran of

Daniel and the Experimental Cocktail Club) as

well as adventurous seasonal tasting and a la carte

menus. Executive chef Derrick Paez modernizes

French classics on his menus.

DRIFT RECOMMENDS:

Main: Jerk Spiced Quail

Dessert: Caramelized Bread Pudding

Drink: New York to Lima

dinnertable | 206 Avenue A, NYC | dinnertable.nyc

Dining at dinnertable feels as intimate as sharing

a meal at your best friend's home. With a tiny

open kitchen, husband-and-wife chef duo Scott

Tacinelli and Angie Rito produce some of the most

impressive food in the city. The speakeasy-style

restaurant is nestled in the East Village and serves

just 19 people at a time. The menu allows diners to

savor funky Italian dishes that pair optimally with

the venue's spot-on drink menu.

DRIFT RECOMMENDS:

Main: The Sixth Guy's Burger

Dessert: Toasted Strudel

Drink: The Willis

the eddy | 342 East 6th Street, NYC | theeddynyc.com

Nestled between sleepy storefronts on quaint East

6th Street, The Eddy features an 11-seat bar area

and 32-seat dining room. Chef/Owner Brendan

McHale rotates his five-course tasting menus

almost daily, updating classic American dishes with

unpredictable preparations, which pair perfectly

with Wine Director/Owner Jason Soloway's

sophisticated wine list and the seasonal cocktails of

head bartender Luis Hernandez.

DRIFT RECOMMENDS:

Main: Grass Fed Strip Steak

Dessert: Cardamom Panna Cotta

Drink: Purple Rain

TRAVEL OFTEN . LIVE WELL . 77
---
Mo'orea

5 islands to visit

BEFORE

YOU DIE

by: LAURIE ATTIS

THERE IS A CERTAIN

SECLUDED CHARM

ABOUT ISLANDS

These small pieces of

paradise are divided from the

continents by vast amounts

of ocean. There are over 700

million islands in the world,

but a few of these stand out

for their unique beauty. These

five islands should be on every

world traveler's bucket list.

MO'OREA

french polynesia

Arthur Frommer once stated that Mo'orea is the most

beautiful island in the world. It's not surprising that it greatly

impressed this seasoned world traveler. Mo'orea, a 10-milewide

island off the western coast of Tahiti, is a secluded

mountain paradise. In order to get on the island, you must

take a small plane from Tahiti. There is only a single road

that goes around the entire island. The sapphire-colored

waters, swaying palms, and cloud-topped mountains are

more than worth the inconvenience of getting to Mo'orea.

Walking around the sandy beaches will reveal hidden

coves where you feel as though you have stumbled on your

78 . DRIFTTRAVEL.COM
---
Cape Breton Island

own private heaven. Because the island is surrounded by

a coral reef, it is an amazing place to dive and snorkel.

CAPE BRETON ISLAND canada

This rugged island is a green jewel set in the North Atlantic

Ocean off the coast of Canada. The wild rocky shores jut

out into the dark blue Atlantic. The lush green land set

against bright blue skies and sloping mountains make this

a treat for the eyes. Visitors to the island will be steeped in

the deeply ingrained Scottish heritage and infamous Celtic

music traditions of Cape Breton. One of the world's most

beautiful scenic highways winds through the island, so you

can take in the majesty of the place in a single day from

the comfort of your vehicle. If you prefer to get handson,

you can also explore the remote beaches and cliffs by

hiking. The oceans around the island are heavily populated

with whales, so you can view the arresting sight of the

far off island while whale watching. If you time your visit

perfectly, you can participate in one of the Scottish festivals

where there is plenty of food, fun, and fiddle music.

TRAVEL OFTEN . LIVE WELL . 79
---
PALAWAN ISLAND philippines

Palawan Island

Expansive white sand beaches, gray rocks rising from

a turquoise ocean, and a range of biodiverse wildlife

make Palawan Island in the Philippines a top bucketlist

item. Unlike many islands, the natives of Palawan

have managed to preserve their culture and are more

than happy to share local customs and traditions with

visitors. The bright, clear oceans make Palawan an ideal

place for swimming, diving, and snorkeling. Those who

are brave enough can try cliff diving from the high rocks

into the ocean. For the traveler that loves food, Palawan

Island has an exquisite range of delicious cuisine. One of

the best pastimes is setting up a hammock and enjoying

the unparalleled natural beauty surrounding you.

MALTA italy

Right off the coast of Italy lies the charming island of

Malta. The amazing weather and rich history of Malta

make it one of the best European islands to visit. Malta's

historical record begins in 5200 BCE when it was settled

by mainland explorers. Beginning at that time it was

successively claimed by many different countries and

empires, who all left their mark in some way. For this

reason, architectural enthusiasts will enjoy exploring the

temples, churches, palaces, and state buildings that date

from hundreds of years ago. Even though the island has

perfect weather, the temperature rarely dipping below 50

degrees Fahrenheit, the area is not overdeveloped. The

small population that lives there is deeply religious. There

are a number of festivals centering around the island's

Roman Catholic religion, including carnival, festivals

dedicated to saints and holy week. The warm, sandy

beaches are a haven for surfers, divers, and swimmers.

The island also features magnificent opportunities for rock

climbing and curvy paved roads for recreational driving.

Malta

THE SMALLEST ISLAND

on the planet is Bishop Rock,

located in the Isles of Scilly, just off

the coast of Cornwall in Britain.

At low tide, Bishop Rock measures

just 150 feet long and 52 feet long.

80 . DRIFTTRAVEL.COM
---
TRAVEL OFTEN . LIVE WELL . 81
---
VANCOUVER ISLAND canada

This large island off the West Coast of Canada has an

abundance of mountains, forests, and water. It inhabits the

beauty of the scenes Jack London captured in his works

on Alaskan landscapes. The shorelines are lined with

large, towering timbers, and the interior is dotted with

picturesque lakes reflecting the imposing snow-capped

mountains in the background. Vancouver Island boasts

one of Canada's warmest climates. It is a beautiful place to

visit at any time of the year. In the warmer months, there

are chances for breathtaking hiking, good fishing, surfing,

and whale watching. In the winter months, visitors to

Vancouver Island can ski on picturesque runs. Victoria

on the island's southern tip is the most populated city

and is as quaint as a postcard. On the rugged west side of

the island, a trip to Tofino is worth the harrowing water's

edge road trip. The fertile nature of the island attracts

wildlife of all kinds. The island's locally produced craft

beers and BC wines are famous throughout Canada.

All five of these islands to "visit before

you die" offer travelers a wide variety

of scenery and culture, but they

share the trait of being too beautiful

to describe with just a handful

of words. Get yourself to these

islands, and prepare to be awestruck.

Vancouver Island

82 . DRIFTTRAVEL.COM
---
Simple made perfect

Delta Hotels by Marriott TM Victoria Ocean Pointe Resort

DeltaVictoriaOPR

DeltaVictoria

DeltaOceanPoint
---
quirky side of travel

LONDON LOO TOURS

by: JOHN LEE

"Don't pay that! Follow me instead" says

Erickson, waving her plunger aloft and

leading us onto the streets outside."

Day one of my trip to London and I'm caught

short at Victoria Station. But rather than pay

30p for turnstile entry to the public washrooms,

I hit the upstairs food court, congratulating

myself on finding a freebie alternative. Except it isn't. The

turnstile here says '50p.'

We soon stop in our tracks as she points to a tiny

'Community Toilet' sign nearby. It indicates a gratis facility

in a local pub, part of a scheme that designates bar and

restaurant loos for public use.

"It's one of the reasons I started this

tour," Rachel Erickson tells me the

next day. The Californian moved

to London to study drama in 2011

and, between classes, she launched

a rent-paying sideline reflecting

her keen interest in finding places

to pee in the city without having to

pay.

And while she recently returned

to her home country for the 2015

launch of San Francisco toilet

tours, her popular London walks

continue with two like-minded

local loo guides. Showcasing

quirky sanitation anecdotes and

a thick slice of history, the 90-120

minute wanders run on several days

throughout the week.

On my visit, Erickson who likes

to be known as the loo lady was

still leading the bowl-tastic tours

herself. Meeting at Waterloo Station

where else? I join a dozen other

participants ready to go. Naturally,

we're gathered outside the station's

ever-busy public facilities (30p).

84 . DRIFTTRAVEL.COM
---
But history, it transpires, is the bottom

line when it comes to London's

fascinating toilet tale. And when we

reach the nearby River Thames and

enter the Jubiloo a slick, privatelyowned

facility that normally charges

50p we learn that early Londoners

would have poo pooed the very idea

of paying.

Ascending a footbridge over the river,

we hear why. "This is London's first

toilet," Erickson announces with a wry

smile. But while communal Roman

lavatories emptied straight into the

fetid waterway, the city's ablution

habits eventually backed-up.

TRAVEL OFTEN . LIVE WELL . 85
---
86 . DRIFTTRAVEL.COM
---
"By the 1850s, the river was a giant

cesspit. But it wasn't until the stench

reached the Houses of Parliament

during a summer nicknamed the

Great Stink by the locals that action

was taken." That meant designing

a gargantuan brick-built sewerage

system, much of which is still in use

today.

On the other side of the bridge, we're

ushered towards a memorial to the

man who brought order to London's

ordure. Civil engineer Joseph

Bazalgette built a system for three

million locals, 10 million short of the

number it services now.

Weaving north from the river, we next

pass some City of Westminster public

toilets charging 50p a visit, Erickson

laments then arrive at a discreet steel

ring embedded in the sidewalk. It's a

pop-up urinal that rises nightly from

the ground to discourage 'late-night

piddlers' from sullying area alleyways.

But it's not the only way to spend a

penny here without handing over

some coin. Near Trafalgar Square, our

guide lists several gratis options in the

area, from Starbucks to the National

Gallery. Making a mental note for

future visits, I turn to my fellow toilet

tourists for their take on the tour.

"We chose it because it's odd and a

little exotic," chuckles Greenville, SC

resident Bill Whiting, visiting London

with his wife Rhonda. She adds that

their son-in-law encouraged them to

take the plunge and she's glad they

did" "we're enjoying seeing parts of

London other tourists don't see."

Crossing Covent Garden's brickcobbled

plaza, we're also hearing

stories few other visitors encounter.

London's 1851 Great Exhibition,

we're told, marked the first time paid

restrooms were tried in the capital and

their success of 827,000 visitors and a

handsome profit triggered a flush of

pay-to-pee facilities.

But London has always been a toileting

innovator. On a side street near the

Strand's grand Savoy Hotel, we gather

around an unassuming street lamp. In

Victorian times, lamps like this lined

the city, powered by excess biogas

from the sewerage system.

When all London's gas lamps, not just

sewerage-fueled ones, were eventually

superseded by electricity, this final

biogas example was saved and

restored as an historical reminder. It's

now, Erickson claims, fueled from the

washrooms of the Savoy.

But this isn't the only change to

London's lavatorial landscape over the

years. Many conveniences have been

converted into housing or businesses

in recent decades including our final

stop.

Descending a darkened stairwell in

a nearby sidewalk, we're told that

'company-seeking' regulars from

Oscar Wilde to Joe Orton notoriously

favored this former gentlemen's public

loo for their nighttime activities.

Closed in the 1980s, it's since become

a jazzy subterranean bar with a nice

line in cocktails. After inspecting its

cubicle toilets the glass doors turn

opaque when locked I wave goodbye

to the group and return to the sidewalk

above. My days of paying to pee in

London, I promise myself, are now

firmly behind me.

London Loo Tours:

The Waterloo Tour

Iconic London from a new

perspective, introducing guests

to the history and surprisingly

dynamic modern politics of the

Public Toilet. You'll never have felt

more British, as you learn about

'spending a penny' at the Great

Exhibition of 1851 and explore

London's most patriotic toilet.

The Bloomsbury Tour

Interesting and thought provoking

walk and talk about toilets,

sanitation, and other fun historical

facts about going to the Loo! The

revamped Bloomsbury Loo Tour

will burst open the lavatorial door

to another side of the toilet saga!

Walking Tours last about two

hours, finishing in a pub or bar.

Walking tour costs £12 for adults

and £10 for students and seniors.

More info online: lootours.com.

TRAVEL DRIFTTRAVEL.COM OFTEN . LIVE WELL . 87
---
y: RYAN LOGAN

Spain's Canary Islands are among the

most sought after holiday destinations

in the world with people from all over

the globe visiting every year. Tenerife is

the most popular of the islands, with impressive

hotels situated all over the island, hundreds of

bars creating fantastic nightlife, and world class

beaches. However, there are plenty of other things

to do on the island; attractions that will leave you

with memorable moments on your next trip to

Tenerife.

Golf Del Sur is popular with the older generation,

and snowbirds often come here to settle in their

retirement. It's a peaceful location with stunning

views and hotels as well as a spectacular golf

course that is perfectly situated and surrounded

by breathtaking landscape. Designed by Pepe

Gancedo, who is considered the "Picasso" of his

field, it's one of the most peaceful golf courses you

will ever play on!

San Juan
---
Canary Islands

TENERIFE

Playa de Tejita

TRAVEL OFTEN . LIVE WELL . 89
---
Teide National Park is the spot to learn about the Tenerife

culture. There are daily tours taking people on a wonderful

day out to see the sights, including the island's historic

volcano. Mount Teide, the

true foundation of Tenerife,

created

beaches.

the "gray sand"

Playa de las Americas is

the heart of Tenerife, and

offers cabaret shows, famous

tributes, comedians, and

hypnotists, all providing you

with a great night out. You

will also find some of the

best shops on the island in Americas, where everything is

completely authentic, as no fake items are allowed in the

center. Adeje also has a selection of night spots, including

some of the best cocktail bars on the island. Many of these

are situated directly on the coast, right next to the beach, so

you can enjoy the view while you have the time of your life.

Siam Park has been rated the best water park in Europe

and one of the ten best in the world. There is an enormous

wave pool that everyone loves to cool down in. Relax by the

wave pool on the man-made beach and then go round the

park seeing all of the different water flumes, including the

famous Lazy River.

Grab a rubber ring

FIVE MILLION

TOURISTS VISIT TENERIFE EACH YEAR.

THE LARGEST OF THE SEVEN CANARY

ISLANDS, TENERIFE MEASURES 785

SQUARE MILES AND HAS MORE THAN

850,000 INHABITANTS.

and float around the

river while soaking

up the sunshine.

If you are feeling

invincible, have a

go on the Tower of

Power, one of the

largest water flumes

in the world with an

almost vertical drop.

Only the bravest have what it takes to slide down it!

Tenerife is truly one of the most spectacular and adventurefilled

islands in the world. If you're looking for a fun,

exciting holiday in the sun, book a flight to Tenerife. Stay

in Playa de las Americas or Costa Adeje to make the most

of your holiday. If you're looking for a cheap and peaceful

holiday, then Puerto de la Cruz might be a better option.

Nonetheless have a good time!

Teide National Park

90 . DRIFTTRAVEL.COM
---
Siam Water Park

TRAVEL OFTEN . LIVE WELL . 91
---
#WHERETONEXT

RIOMAGGIORE, ITALY

Situated right on the Gulf of Genoa, in the province

of La Spezia in the Liguria region of Italy, and one

of the five famous Italian fishing villages known as

Cinque Terre, Riomaggiore is one of the prettiest

villages in the world. Charming by day and

breathtaking by night, the village of Riomaggiore

dates back to the early thirteenth century.

92 . DRIFTTRAVEL.COM
---
TRAVEL OFTEN . LIVE WELL . 93
---
Surviving

looks a lot

like thriving

Breast cancer flipped Katherine's world upside down.

But in the five years since she underwent treatment,

Katherine's been doing some flips of her own.

Thanks to research to discover new treatments,

women like Katherine are having their lives put right

side up after a cancer diagnosis. That's why

Stand Up To Cancer Canada and Canadian Breast

Cancer Foundation have teamed up to accelerate

the pace of research done by collaborative teams of

scientists working to develop new treatments faster.

Giving more women, like Katherine, their lives back.

To learn more about advances in research, clinical trials

testing innovative treatments, and how to get involved,

go to standup2cancer.ca/breastcancer and cbcf.org.

Photography: Andrew Macpherson

94 . DRIFTTRAVEL.COM

Kim Cattrall, Stand Up To Cancer Canada Ambassador

Katherine Chan, Breast Cancer Survivor

Stand Up To Cancer Canada is a program of EIF Canada, a Canadian Registered Charity (Reg. #80550 6730 RR0001).

Stand Up To Cancer Canada brand marks are licensed trademarks of the Entertainment Industry Foundation.