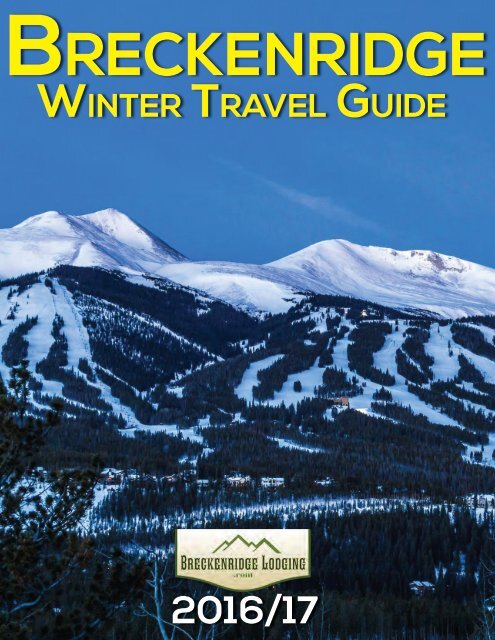 Breckenridge Winter Travel Guide
Start planning your 2016-17 Breckenridge ski trip with our Winter Travel Guide.
Start planning your 2016-17 Breckenridge ski trip with our Winter Travel Guide.
SHOW MORE
SHOW LESS
You also want an ePaper? Increase the reach of your titles
YUMPU automatically turns print PDFs into web optimized ePapers that Google loves.
BRECKENRIDGE

WINTER TRAVEL GUIDE

2016/17
---
Photo Credit: Colorado Tourism Office, Matt Inden/Miles

Breckenridge's rich history will be apparent as soon as you see Main Street. Most of its

buildings are over 100 years old. Throughout the town, there are more than 350 historic

structures, making Breckenridge one of the largest historic districts in the state. All of these

buildings have been beautifully preserved, giving the town an Old West feel that's

simultaneously quaint and quirky.

The town got its start in 1859 during the Pike's Peak Gold Rush. Gold was discovered in the area, which

brought a number of fortune seekers to town. As with many mountain mining towns, Breckenridge

experienced quite a few population busts and booms over the years due to new mining discoveries,

changes in the mining industry, and the effects of wartime economies during the Civil War and both

World Wars. By 1950, Breckenridge's population had declined to fewer than 300 people.

A decade would bring a dramatic change to the area, though. The Breckenridge Ski Resort opened in

1961 and started another boom for the town. In the early 1970s, the Eisenhower Tunnel opened on

I-70, making travel from Denver easier and helping to fuel Breckenridge's growth. Presently, the town

has a population of over 4,500 and it's become a world-renowned destination for both winter and

summer recreational activities.
---
DID YOU KNOW...?

On average, Breckenridge receives 300 inches of snow and has 300 days

of sunshine every year.

Both "National Lampoon's Christmas Vacation" and "Dumb and Dumber"

had scenes filmed in Breckenridge.

Breckenridge was the first major ski resort in Colorado to allow snowboarding.

There are three mountains over 14,000 feet in elevation in Summit

County, all of them visible from Breckenridge.

Every year, the resort sees approximately 1.5 million skiers.

The resort's longest trail is Four O'Clock Run at 3.5 miles.

There are 2,908 skiable acres in the ski resort as

well as 25 acres of terrain parks.

The largest gold nugget ever discovered in Colorado was found outside of

Breckenridge. Known as Tom's Baby, it weighed in at almost 13.5 pounds

and then went missing for about 70 years. When it was re-discovered,

the nugget was about 3 pounds lighter.

The town was originally named "Breckinridge" after then-Vice President

John C. Breckinridge. This was in an attempt to get a Post Office established

in town (which was successful). When the Civil War broke out

in 1861, Breckinridge aligned himself with the Confederates. However,

the town supported the Union Army and soon after, changed the

spelling to what it is now.

The Gold Pan Saloon, located at 103 North Main Street, is the oldest operating bar

in the county and it has one of the oldest liquor licenses west of the Mississippi.
---
APRÈS-SKI DRINKS & DINING

After a long day on the slopes, it's time to kick back and relax. Head to one of these

great establishments for a delectable cocktail or filling meal.

TOP 3 BARS FOR COOL COCKTAILS

QUANDARY GRILLE: Located

close to the base at

Peak 9 (505 South Main

Street), the Quandary

Grille is a local favorite. In

addition to some awesome

views, they offer

après ski Happy Hour

specials daily, which

include deals on beer,

wine, cocktails, and appetizers.

The atmophere is

fun and vivacious with

good music and attentive

service.

APRÈS HANDCRAFTED

LIBATIONS: Located at

140 South Main Street,

Après features a great

selection of unique, handcrafted

cocktails, craft

beer, and whiskey. It's a

small bar but it's inviting,

friendly, and laid back.

They have a variety of

board, card, and other

games available, too, if

you're in the mood for a

bit of friendly competition.

GOLD PAN SALOON: As

the oldest bar in Breckenridge,

the Gold Pan

Saloon is definitely worth

some of your après ski

time. Located at 103

North Main Street, the

saloon features all the

rustic decor and historic

ambience you'd expect in

an Old West-type saloon.

It also boasts amiable

staff and plenty of options

for beer, spirits, and

cocktails.
---
TOP 3 RESTAURANTS FOR HEARTY MEALS

RELISH: Located at 137

South Main Street, Relish

serves flavorful and unique

Colorado-inspired cuisine.

The menu boasts inventive

seafood, meat, and vegetarian

options, with items

like Oriental braised buffalo

osso buco and pan seared

Japanese lantern scallops.

In addition, Relish boasts an

extensive beer cellar, wine

list, and cocktail menu. It's

open nightly with Happy

Hour specials from 4 to 5:30

p.m. every day.

BRIAR ROSE CHOPHOUSE:

If you're a meat-lover, you

won't be disppointed with

Briar Rose. They offer a

variety of steaks as well as

a good selection of wild

game, seafood, and chicken.

Pair your entree with a

family-style side (we suggest

the mac and cheese)

and you won't be left

hungry. Dinner service

starts nightly at 5 p.m.,

with Happy Hour at 4 p.m.

Briar Rose is located at 109

Lincoln Avenue.

MOTHERLOADED TAVERN:

You'll find tons of delicious

comfort food when you

dine at Motherloaded

Tavern, located at 103

South Main Street. They

serve a bunch of different

burgers and sandwiches,

as well as items like steak

loaf and fried chicken. A

number of vegetarian

items are also available.

You can also choose from

19 house made booze

infusions. They're open

daily, starting at 11:30 a.m.
---
WARM UP AT THESE OTHER TOP SPOTS

If you find that the cold's taken hold during your Breck trip, you'll have no

problem finding something to warm you up at these restaurants.

BEST SOUP - SOUPZ ON: A bit off the beaten path,

you'll find Soupz On at 422 North Park Avenue Suite 2B,

just a couple doors down from City Market. Their menu

changes daily but features a variety of hot, fresh soup

options that are perfect for taking the chill off. They also

offer salads and sandwiches, with plenty of vegetarian

and gluten-free options as well.

BEST HOT CHOCOLATE - LA FRANCAISE: There's

nothing quite like enjoying a rich hot chocolate as

the snow falls. At La Francaise, you'll have several

options for decadent hot chocolates. We recommend

the Royal Hot Chocolate, which is made with

milk, cream, and chantilly. It's a wonderfully delicious

way to complement a snowy day. You can

find La Francaise at 411 South Main Street.

BEST CAJUN FOOD - LOST CAJUN: Treat your

tastebuds to some rich and spicy Louisiana fare at Lost

Cajun, located at 411 South Main Street. There, you'll be

able to enjoy a variety of amazing Cajun dishes including

jambalaya, several types of gumbo, seafood plates, lobster

bisque, and of course, beignets and po boys. A word

of warning, though, if you're in the mood for jambalaya,

make sure you get there early - it tends to sell out quite

quickly, especially on cold days.

BEST WINGS - DOWNSTAIRS AT ERIC'S: Turn up

the heat with some spicy chicken wings from Downstairs

at Eric's, located at 111 South Main Street.

Their buffalo baked wings are both crispy and flavorful.

Pair them with one of their 30 beers on tap,

or 50 bottled beers, for a great après-ski snack.
---
5 CAN'T MISS EVENTS

Throughout the winter season, you'll find a variety of fun festivities and events

that are sure to make your Breck vacation that much more memorable. Here are

our 5 favorite events that you can (and should!) attend while you're in town:

WINTER HOLIDAYS: The holiday season is a magical time to visit Breckenridge.

The entire month of December is full of holiday celebrations and other events

perfect for the whole family. Typically, the first weekend of the month features

a handmade holiday market, the Race of the Santas down Main Street, and

the Lighting of Breckenridge Festival in Blue River Plaza. Then, for New Year's,

you can watch the traditional Torch Light Parade down the mountain and the

spectacular fireworks show.

ULLR FEST: Held in mid-January, this festival pays tribute to Ullr, who, in

Norse mythology, is the god of winter. Revellers will enjoy several ski and fat

bike races, a local talent show, the world's longest shotski, a parade, an ice

plunge in Maggie Pond, and much more. Perhaps the most notable event is the

Ullympics where participants compete in unique events, including a ski boot

relay race, group ski racing, and of course, the frying pan toss.

SNOW SCULPTURE CHAMPIONSHIPS: Taking place over two weeks from the

end of January until early February, the International Snow Sculpture Championships

features snow artists from around the globe. Come to watch the

sculptors work tirelessly to create stunning works of art. At the end of the

festival, all finished sculptures will be on display for Viewing Week. Be sure to

check out the Ice Village at Riverwalk Center, too, which features gorgeous,

glowing ice carvings.

MARDI GRAS: Treat yourself to a New Orleans-style celebration with altitude

when you go to Breckenridge for Mardi Gras. Happening in late February, the

celebration includes everything you'd expect from a great Mardi Gras party: a

parade, beads, floats, masks, and more. In addition, there will be plenty of live

music, gumbo, hurricanes, dancing, and merry-making. Celebrate the end of

the Carnival season with one heck of a party!

SPRING FEVER: Spring Fever is a month-long festival that closes out the ski

season. Throughout the month, you'll be treated to free concerts, food and

beer festivals, as well as skiing and snowboarding competitions. There's never

any shortage of events and you'll also get to experience Breck's amazing

spring conditions - fluffy powder and bluebird days!
---
KID-FRIENDLY OPTIONS OFF THE SLOPES

If you're coming to Breckenridge with the family, and you're looking for fun things

to do off the slopes, you won't be disappointed! There are plenty of great activities

to keep everyone entertained for your whole trip.

BRECKENRIDGE RECREATION CENTER: If

you find yourself faced with a bitterly cold

day that's too much for the little ones,

head to the Rec Center, located at 880

Airport Road. It boasts 69,000 square

feet of space with swimming pools, a

sauna, waterslide, gym, an indoor

rock-climbing wall, and basketball, tennis,

and racquetball courts. It's open daily

throughout the winter months and a variety

of clinics and lessons are also available.

SLEDDING AT CARTER PARK: Carter Park

should definitely be on your winter vacation

to-do list. It boasts the sledding hill of

choice in Breckenridge and it's just four

blocks east of Main Street. The hill is of the

walk-up, sled-down variety with just the

right amount of steepness. Sledding at

the hill is free, but it can get busy as the

day goes on, so get there early. While

there aren't sled rentals available at

Carter Park, you'll be able to find affordable

sleds at a number of local stores.

ICE SKATING: Ice skating is a great way to

pass the time when you're not on the

slopes. The Stephen C. West Ice

Arena, located on the southeast side of

town, is open seven days a week with daily

public skating sessions and an indoor and

an outdoor rink. Maggie Pond is located at

the base of Peak 9 and offers picture-perfect

views. The Gold Run Nordic

Center, just north of town, also has a free

outdoor ice rink. Skate rentals are available

at all three locations.

SLEIGH RIDES: Give your children a whimsical

Breckenridge experience when you

take them on a sleigh ride. You'll find several

options for sleigh rides in and close to

town. Choose from scenic rides where

you can enjoy views of the Continental

Divide and the Tenmile Range or, for a fun

night out, take a dinner sleigh ride. You'll

enjoy a ride through the brisk night air, a

hearty homecooked meal, and live entertainment,

too! It's a great choice for families

of all ages and sizes.
---
BRECKENRIDGE NEIGHBORHOODS

You'll have a variety of options when it comes to places to stay in Breckenridge.

We've broken down some of the more popular neighborhoods, so you can get a

better understanding of your choices before your trip.

DOWNTOWN: If you want to be right in the thick of things, downtown Breckenridge is

for you! You'll be within walking distance of all the great shops, bars, and restaurants

on Main Street. Ski access is quite easy from downtown as there are free shuttle

stops throughout the area. Some locations are also just a short walk from the Gondola

or the lifts. In downtown, you'll find a mix of condos, townhomes, and private

homes.

PEAK 7: Those of you who prefer to stay somewhere a bit more private will love

staying in the Peak 7 neighborhood. You'll be surrounded by forest, so you'll have no

problem experiencing Breckenridge's natural beauty. There are a number of large,

luxury homes in this area. Ski access from homes in this area will vary. While some

homes offer ski-in/ski-out access, others are on the shuttle route, and still others

are secluded enough that it's a short drive to get to the slopes.

PEAK 8: If you want to stay in a location that's convenient to both the slopes and

Main Street, Peak 8 makes a great home base. Many vacation rentals offer slopeside

access and Main Street is just a short shuttle or Gondola ride away. In this area,

you'll find a broad mix of property types, from cozy condos to expansive chalets.

PEAK 9: As with Peak 8, Peak 9 offers easy access to the slopes as well as Main

Street. In this area, you'll predominantly find hotels and condos, although there are

some homes available for rent, too. Many of the hotels in this area offer amenities

like pools, hot tubs, and fitness centers, too.

WARRIOR'S MARK: This neighborhood is between Peaks 9 and 10 and it includes a

diverse mix of condos, townhomes, and luxury homes. Most properties are either

within walking distance of the lifts or on the free shuttle route. Main Street is also

easily accessible. This neighborhood is very picturesque, with many properties boasting

lovely mountain views. Wildlife is also prominent in the area thanks to nearby

ponds and streams.

HIGHLANDS AND HIGHLAND GREENS: These neighborhoods are located on the north

end of Breckenridge. The Highlands is located right on the golf course, while the Highland

Greens are across from the golf course. Both of these neighborhoods are quite

beautiful with newer constructions. You'll find gorgeous properties in both areas. The

Highlands includes homes, while Highland Greens has condos, townhomes, and duplexes.

The slopes and Main Street are just a short drive or shuttle ride away.
---
NEED-TO-KNOW INFO

The more information you have on hand prior to your Breckenridge vacation the

better. It'll be much easier to enjoy yourself on your trip when you're armed with

all the facts. Here's the need-to-know info that might help to make your experience

just a little bit smoother.

THE FREE SHUTTLE - You'll find free

shuttle stops all over town. They vary in

style from poles to bus shelters, but

they all show a Free Ride sign. If you get

to a shuttle stop and want to know

when the next bus is coming, you'll find

a unique identifier code at each stop.

Text that code to 41411 and you'll

receive a text back telling you the estimated

time of arrival of the next bus

(any standard message/data fees may

apply). You can also find shuttle schedules/routes

at Breckenridge Station or

online.

THE BRECKCONNECT GONDOLA - The

Gondola station is located at 170 Watson

Avenue. It's open daily during the ski

season. Operating hours vary throughout

the season (as resort hours change), but

they're typically 8:30 a.m. to 4:30 p.m. The

Gondola is free to ride.

The Gondola is easily accessible from any

of the area's free shuttles. The hub for the

shuttles, Breckenridge Station, is located

at the base of the Gondola, so it's a stop

for every bus line in town.

PARKING IN BRECKENRIDGE - You most likely won't have to worry about parking while

you're in town since many properties are just a short walk or shuttle ride from the

slopes. But should you find yourself in need of parking during your stay, you can get

free, all-day skier parking at the Satellite Lot, located at 1790 Airport Road. From

here, you can take the free shuttle to the Gondola. If you're looking for free parking

while you explore the town, there is free three-hour parking on Main Street and several

other streets in and around downtown Breckenridge
---
WILDLIFE - Breckenridge is a haven for wildlife and, during your Breck trip, you're

likely to come across at least some of the area's native species. In addition to

about 50 species of birds, you might also see marmots, porcupines, foxes, deer,

and elk. While most animal encounters will pose little danger, always remember to

respect every animal's space, keep away from their young, and always properly

store/dispose of food.

The most dangerous large mammals you might see in the Breckenridge area are

black bears, mountain lions, and moose. While these animals tend to shy away

from humans, sightings are not uncommon. If you venture into the woods, make

noises as you go so you don't startle any animals. If you come across one of these

animals, keep your distance. Talk to the animal in a soft yet assertive tone, don't

make eye contact, and back away slowly while making yourself look big or spread

out. If a moose feels threatened (by unleashed dogs, for example), it may charge.

Most charges are bluffs, but you should still seek protection from trees or boulders.

ON-MOUNTAIN SAFETY - As you

probably already know, there is some

risk involved with skiing and snowboarding.

When you're on the mountain, make

sure you follow any signs or warnings

and refrain from entering closed areas.

Stay in control and make sure you're

always able to stop or avoid other

people and objects. As you ski/board

down or merge onto other trails, look

uphill first and yield to those coming

down. Also, as you descend, remember

that those in front of you have the right

of way - you must avoid them. If you

want to hit up the backcountry (through

designated gates), do so only if you're

an experienced skier or boarder and

you're well-versed in avalanche safety.

ALTITUDE SICKNESS - If you've never been to

a high elevation before, you may feel some

effects of altitude sickness after you arrive.

Drink plenty of water before your trip and

keep that habit up after your arrive. Dehydration

can make the symptoms of altitude sickness

a lot worse. Focus on eating healthy

foods and not overexerting yourself once in

town. Symptoms of altitude sickness are usually

mild and can include headaches, problems

sleeping, nausea, and a loss of appetite.

In rare cases, altitude sickness can be more

dangerous. Symptoms like fever, confusion,

excessive drowsiness, or coughing up a frothy

saliva could indicate a severe form of altitude

sickness and you should seek medical treatment

immediately.
---
NEARBY WINTER WONDERLANDS

You'll have more than enough to keep you busy while you're in Breckenridge. If,

however, you want to see what other Colorado towns and ski resorts have to

offer, there are several options nearby that are great choices for a fun, winter

afternoon.

FRISCO: Frisco is about 9 miles north of

Breckenridge on Highway 9 and easily accessible

via the Summit Stage bus. It sits on the

shores of Lake Dillon, which, during the winter

months is a prime spot for ice fishing. It's also

home to the Frisco Adventure Park. The Adventure

Park boasts a multi-lane tubing hill, a

ski and ride hill designed for beginners, and

the Nordic Center with miles and miles of

cross-country skiing and snowshoe trails.

COPPER MOUNTAIN: Copper Mountain Resort

receives an average of 305 inches of snow

every year. It has 2,490 skiable acres with 140

marked trails, 61% of which are either intermediate

or advanced. There are also opportunities

for tubing, ice skating, snowmobiling,

sleigh rides, dog sledding, cross-country skiing,

and more. The Summit Stage bus runs regularly

during the winter months between Frisco

and Copper Mountain

KEYSTONE: Keystone is just a short bus ride

from Breckenridge on the Summit Stage bus.

The resort has 3,148 skiable acress with 131

trails and 20 lifts. The majority of its trails

(57%) are rated as the most difficult. Keystone

is well-known for being a family-friendly resort

and for its awesome night skiing. In addition to

skiing and riding, Keystone boasts an incredible

spa, daily activities for kids at Kidtopia, snowcat

tours, sleigh rides, and much more.
---
Thanks to Breckenridge's central location, there are a number of incredible destinations

within a short shuttle ride away. So, get out there and explore. You're

bound to discover something amazing on your adventures!

ARAPAHOE BASIN: Arapahoe Basin has

the highest skiable terrain in North America

with a summit elevation of more than

13,000 feet above sea level. Of its 109

trails, 60% are rated as advanced or

expert. There are 960 skiable acres and

the resort receives an average of 350

inches of snow per year. It's accessible

via the Summit Stage bus and it has the

longest ski and ride season, sometimes

with Closing Day happening in June.

VAIL: If you want to spend some time in

Vail, a number of private shuttles are

available. Vail is the largest ski resort in

Colorado with 5,289 skiable acres. It has

193 trails and it receives an average of

354 inches of snow every year. In addition

to great skiing, Vail is also well-known

for its world-class shopping and dining

options. The base areas are bustling,

beautiful, and full of fun opportunities for

every member of your group.

BEAVER CREEK: Beaver Creek is located

west of Vail and is also accessible via

private shuttle. It has 1,832 skiable acres

and 150 trails, 64% of which are rated as

either intermediate or advanced. The

resort receives an average of 325 inches

of annual snowfall. The base areas features

a number of upscale boutiques and

gourmet restaurants. And, as an added

bonus, the resort serves free chocolate

chip cookies every day at 3 p.m.
---
WE LOOK FORWARD TO SEEING YOU IN BRECKENRIDGE!

For lodging options, give us a call at: 866-213-0547

or check out our site: BreckenridgeLodging.com

PRODUCED BY VACATION RENTAL MARKETERS © 2016

www.vacationrentalmarketers.com