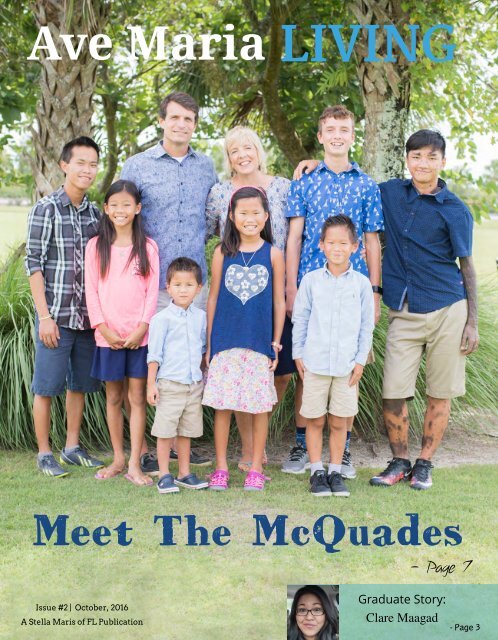 Ave Maria Living Magazine | Issue # 2 | October 2016
Do you know the secret to free website traffic?
Use this trick to increase the number of new potential customers.
Ave Mar i a

LIVING

M eet T h e M cQ u ad es

- Page 7

Issue # 2 | October , 2016

A Stella M ar is of FL Publication

Graduate Story:

Clare Maagad

- Page 3
---
"THEWORKOFLIFESITENEWS

IS AMISSIONTOSERVEALL

THEPRO-LIFEAND

PRO-FAMILYGROUPSAND

LEADERSINTHEWORLD, AND

AMISSION, ABOVEALL, TO

SERVETHEWILLOFGOD. "

- STEVE JALSEVAC,

MANAGING DIRECTOR OF

LIFESITENEWS

WHAT THEY'RE DOING TO M AKE THE WORLD M ORE BEAUTIFUL:

CLARE M AAGAD

"I WORKWITHANDFORSUCH

AMAZINGPEOPLE, WHODO

WHATTHEYCANTOFIGHT

FORWHATISRIGHTAND

WHATISTRUE. I AMSO

HUMBLEDBYTHEIR

DEDICATIONANDTHE

SACRIFICESTHEYMAKEIN

ORDERTOSPREADTHENEWS

OFWHAT'SGOINGONINTHE

WORLD, INAWAYTHATYOU

WOULDNEVERREADIN

MAINSTREAMNEWS

OUTLETS. "

- CLARE MAAGAD

"THAT'SALLVERYWELL, BUTTHEREISATHIRDTHINGYOUMUSTDO. YOUMUST

DOSOMETHINGTOMAKETHEWORLDMOREBEAUTIFUL."

- COONEY,BARBARA. (1982). MISS RUMPHIUS. LONDON: VIKING PRESS.

In the first

edition of Ave

Maria Living, we

featured an Ave

Maria University

graduate, Paul

Rush, who has

dedicated his life

to starting a

Missionary

Formation Center

named

"Guadalupe Gardens" in San Marcos,

Nicaragua.

In this edition, and future editions,

we will continue to feature AMU

graduates to let you know where

they are now and what kind of fruit

their lives are bearing in the world.

This section title comes from a

beloved children's book, "Miss

Rumphius." In the story, little Alice

Rumphius wants to grow up to be

like her grandfather. She too wants

to go to faraway places and come

back to live by the sea. Her

grandfather tells Alice "that's all

very well, but there is a third thing

you must do. You must do

something to make the world more

beautiful."

Meet Clare Maagad, AMU University

graduate this month. In many ways,

Clare reminds me of little Alice

Rumphius. Clare was born and

raised in the Philippines. She moved

to the Florida with her family when

she was 11years old. After her

experiences in college, she left her

home near Florida's sandy beaches

and sun-drenched coastlines to

work in different locations across

the country. After several years of

wonderful life experiences, she is

excited to be moving back to Florida

to be near her family and the sea.

But most importantly, she strives to

make the world a more beautiful

3
---
place through her work with

LifeSiteNews.

Clare graduated from the

University in 2007 with a

bachelor?s degree in Biology.

She has many fond memories

of her time at Ave Maria

University: late night

conversations, random dance

parties, dinner conversations,

and beach trips with her

roommates and friends.

"I also had the great privilege of

spending a semester in Austria.

It was life changing," Maagad

said.

Clare's family home was only

two hours away from AMU. Her

mother wanted her to be close

to home and Clare loved the

idea of being a pioneer? her

first year was the University's

first year in Florida. She said it

was all very exciting, the start

of that first school year.

"I like to think the Blessed

Mother helped me choose Ave

Maria at my mother's urging,"

she said of how she chose to

come to AMU.

After graduation, she took a job

as the Dorm Director and

Special Events Coordinator for

St. Bernard's Catholic School, a

small private school in

northern California. Then she

became the Residence Director

for Benedictine College in

Kansas.

When a friend and fellow AMU

graduate posted a job listing for

LifeSiteNews, she knew she had

to apply. She was given the job

of Office Manager of the United

States office for LifeSite, a

non-profit news website

reporting on stories that affect

life, family and culture.

LifeSiteNews management and

staff writers/researchers are

located in various cities in the

United States, Canada, Mexico,

Italy, Australia, New Zealand

and France. They also employ

three translators who assist

with their Spanish version of

LifeSiteNews.

Daily News reports at LifeSite

are widely circulated reports on

important developments in the

United States, Canada and

around the world. Their

purpose is to provide balance

and more accurate coverage on

culture, life and family matters

than is usually given by other

media outlets.

During the next three and a

half years as the office

manager, she worked to

support her coworkers and

supervisors in all things, and to

keep them organized so that

they could concentrate on

doing their best in producing,

researching and writing the

content for the site.

Her faith in what is good, true

and beautiful fuels her desire

to help share the news and

stories that LifeSite produces

and circulates in any way that

she can.

"I work with, and for, such

amazing people who do what

they can to fight for what is

right and what is true. I am so

humbled by their dedication

and the sacrifices they make in

order to spread the news of

what's going on in the world in

a way that you would never

read in mainstream news

outlets."

She now has a new job with the

company and is taking on much

4

more responsibility. Her current

role allows her to help fund the

work that she is so passionate

about. She is now managing the

advertising department and

working with email marketing.

LifeSiteNews operates on

donations from its readers as

well as with the paid

advertising program, so Clare's

new role is crucial in keeping

the site running.

"I like to think

the Blessed

Mother

helped me

chose Ave

Maria..."

-Clare Maagad,

class of 2007

"I absolutely love the challenge

of learning something new and

acquiring new skills,? Maagad

said.

She plans to continue her work

with LifeSiteNews while she

makes the welcome transition

back to life in Florida.

"I'm moving back to Florida to

be closer to my family, which

I'm really excited about. I

haven't lived near family since

graduating from college. And

I'm really excited to be living so

close to the beach again,? she

said.

Thank you, Clare Maagad, for all

you are doing to help promote

goodness, truth and beauty in

our world!
---
M eet the M cQuades!

___________________________________________________________________________________________

If you drive through Coquina and spot a house with

a single-car garage and ten bicycles in the

driveway, you know you have found the McQuades.

If you venture inside on a typical day, you will find

seven McQuade children scattered throughout the

home playing, reading, or working on their

homeschool lessons. Among them, two young men

from Immokalee homeschool as well.

Another son, Hadyn McQuade, passes through

between classes at Ave Maria University to give a

violin lesson. Two more adult children pop in on

occasion when they take a hiatus from their work

or study to come visit.

If you're really lucky, there may be a litter of

Goldendoodle puppies to play with! The McQuades

breed their family dogs and care for the puppies

until they are ready to be sent to loving homes.

The lifestyle of this family of 12 may seem a bit

overwhelming to some, but the McQuades wouldn?t

have it any other way. Their adventurous and

fun-loving journey began at Ole Miss where Mike

and Jenn McQuade met. The two fell in love and got

married.

The McQuades have moved 19 times as a family. In

the early years of their marriage, Mr. McQuade was

in the United States Air Force. He flew F-16s all over

the world. In fact, they were living in Korea when

their first child came into the world... 16 weeks early!

It was the Fourth of July weekend and the McQuades

were spending time with some military families at

the beach in Korea when Mrs. McQuade suddenly

became ill. She developed a very high fever and had

to be rushed to the hospital while her husband and

friends packed her body with ice. The hospital was

five hours away.

7
---
When she got there, her water

broke. She was only 24 weeks

pregnant. She had an emergency

C-section and a man at the

hospital, who was not even a

doctor, fashioned a mask small

enough for their new baby out of

materials he found in the kitchen.

Thanks to him, baby Rylan was able

to breathe until they could be

transferred to a hospital with a

neonatal ICU. Mrs. McQuade was

unconscious for three days.

Thankfully, the two survived

without any lasting complications.

Now, Rylan, 24, has just begun his

second year of medical school, is

newly engaged to be married, and

aspires to use his gifts and training

on medical missions.

Three brothers followed Rylan into

the world: Curran, 22; Hadyn, 19;

and Eamon, 17. While the young

family was just about to set down

roots in Texas? as the builders

broke ground on their new

home? two airplanes struck the

twin towers on September 11, 2001

and their plans instantly changed.

Mr. McQuade had started working

for American Airlines and was part

of the U.S. Air Force Reserves at

the time and was immediately

called to fly around New York and

Washington D.C., protecting the

area from any potential threats.

The Air Force had planes in the air

24 hours a day for over a year.

The family found a home in New

Jersey that was move-in ready, so

they packed their things and moved

sight unseen.

?People were so gracious and

understanding during the time

after 9/11. We got our money back,?

Mrs. McQuade said of their home in

Texas.

A little over a year later, they

moved back to Texas and Mr.

McQuade continued flying for

American Airlines. But in 2003, the

Continued on page 10

8
---
GuadalupeRoastery

Specialt y Cof fee at it s Finest !

- Locally Roast ed in Ave Maria, FL

- Specialt y Grade Beans = Except ional Flavor

- Each Bag is From a Single Origin

- Sourced From Small Farms - Several Origins t o Chose From

- All Proceeds Fund Mission Work

Order at : guadaluperoast ery.com

Ask for t he Guadalupe Roast ery DARK ROAST at The Bean Of Ave Maria

Article

and Support t he Missions and Local Business!

Updat e from Guadalupe Gardens- A Baby in t he Garden!

By: The Fassbenders

Paul and Lorelei Rush are expecting a baby! Instead of throwing them a baby

shower, we would like to help them install a well at Guadalupe Gardens! This well

will provide fresh water for their family and about 50 other families that live

nearby who have no consistent access to drinking water. Check out our video at

guadalupegardens.com/projects/ to learn more.

If you would like to donate go to our website guadalupegardens.com/donate-2/ or

make a check out to Guadalupe Gardens and mail to: 4359 Kentucky Way, Ave

Maria, FL 34142.

Also, we are happy to announce that Mark and Lora Eckstine and 8 of their 11

children will be moving to Nicaragua and will be staying at Guadalupe Gardens

starting October 17th! The Eckstines spent 6 years with Family Mission Company

as missionaries. Much of their time was spent working with the poor in 3rd

world countries. Connect with Markand Lora Eckstine on Facebook or learn

more about their specific mission by visiting their blog at

rooftopmissions.wordpress.com

Please pray for the Eckstines and Rushes!
---
airline forced Mr. McQuade to

work out of the Saint Louis

airport.

?Rather than commute back and

forth between Texas and Saint

Louis, we decided to put our

camper on the Air Force base in

Saint Louis so we were able to

have the whole family there and

together? 218 square feet was

more than enough for the happy

6 of us!? Mr. McQuade said.

They -Quote lived Author in the camper for eight

months. Living in such close

quarters with four kids did not

lessen their desire to expand

their family. The McQuades had

always hoped for a large family,

but as time wore on and Mrs.

McQuade wasn?t getting pregnant,

they felt that maybe God had

another plan for them. They

began to contemplate adoption.

After yet another move? this time

a transatlantic one to

Germany? the McQuades really

felt that God wanted them to

adopt, but were unclear how to

proceed. One night, Jenn prayed

for a sign. If adoption was what

God wanted for them, she prayed

He would make it clear.

The next day, the family went to

a different church than their

usual one. A woman there, whom

they hadn?t met before,

approached Mrs. McQuade. The

woman had three children with

her. She sat down and said, "I just

want you to know that my

children are adopted. I don't

know why I'm telling you this. I

never tell anyone that my kids

are adopted because they look so

much like me, but I just feel like

God wanted me to tell you that."

That was the sign the McQuades

needed.

Their next adventure would bring

them to China and back home

with a baby girl named Grace,

now 10 years old. At 16 months

old, Grace had many physical and

emotional obstacles to overcome,

but her new family, including her

four big brothers, put all their

effort into helping her get well.

Challenging as it was, it was

more than worth it and they

decided to adopt another baby

girl from China? Hope, now eight

years old. They felt so blessed to

have these beautiful girls in their

family, but they weren?t finished

yet.

They began making preparations

to head back to China, this time to

adopt a baby boy. That boy was

Liam, now six years old. During

the long wait for Liam, they

learned of another boy in an

orphanage there who was about

to turn 14? Keane, now 19. When a

child turns 14 in an orphanage in

China, they are sent out onto the

streets.

?I would read the stories of these

older children who so desperately

wanted a family. It broke my

heart to read their stories and I

advocated for them on the Yahoo

groups and our blog. We prayed

for these children and rejoiced

when they found their forever

families. We cried as we watched

so many lose that chance. God

was changing our hearts as a

"We prayed for

these children and

rejoiced w hen they

found their

forever families.

We cried as w e

w atched so many

lose that chance.

God w as changing

our hearts as a

family."

- Jenn McQuade

family,? Mrs. McQuade wrote.

So, when she received a message

from an adoption agency called

?Gifts to China with Love? about

Keane, she prayed, ?Lord, find

him a family.? Then one day she

asked her family during dinner,

?do you think that this boy is our

son??

Continued on page 12

___________________________________________________________________________________________

10
---
They prayed about adopting him and Mrs. McQuade

recalls, "I got Rylan, Curran, Hadyn, and Eamon

together and told them that this decision would

affect them more than anyone else in the family. I

asked them to bow their heads and close their eyes

and pray about the decision."

Then, she asked them not to look at each other and

to raise their hand if they wanted to adopt the boy.

All four raised their hands. She said, ?our family,

who at the beginning of this adoption journey had

only considered a child under three, was now

begging to bring home a 14-year-old.?

They had only a few short weeks to raise the

additional $17,000 for their second son?s adoption.

Thankfully, they found a great organization that

could help them raise money. It was called "Both

Hands." The organization, named for James 1:27, was

designed to help widows and orphans.

The McQuades found an elderly widow who needed

help with her home. They raised funds and worked

to do a complete remodel of her home with donated

supplies and volunteered labor.

Then, their completed project and their desire to

adopt two boys from China was published on the

organization's website, on their blog

12

(gettingliam.blogspot.com), and sent out in ?support

letters.? People began to donate money. They raised

$14,000.

?As you?d expect from the God we serve, the last

?Our family, w ho at the

beginning of this adoption

journey had only

considered a child under

three, w as now begging

to bring home a

14-year-old.? - Jenn McQuade

$3,000 came in the very day we left for China,? Mr.

McQuade said.

It was clear that Keane was meant for them. They

got both boys the day before Keane's 14th birthday. It

was a bit daunting bringing home a teenager who

spoke no English, especially since the McQuades

spoke no Mandarin, but Keane learned quickly. He fit

into the family perfectly. Continued on page 14
---
~ Residential mortgages for home purchases

~ Construction loans ~ Lot loans

~ Refinancing your existing mortgage can be a sound financial

decision. Benefits may include: lowering your interest rate, lowering

your monthly payment, removing mortgage insurance, or

consolidating debt.

~ And more

NMLS# 903827

Mark Fein - Mortgage Loan Originator 239-784-7236 Mark.Fein@53.com

Being nam ed after Saint John Paul the Great (a town where it?s com m on, and one young

John Paul who attended the canonization)

By: Robb Klucik

On April 27th, 2014, Divine Mercy Sunday, Pope John Paul II officially entered the canon of saints of Christ?s

Church. On that day, m any fam ilies in the town of Ave Maria also planned feast days for their sons ? or their

Sister! It is fitting that a town where one of the streets is nam ed ?Pope John Paul II Boulevard? ? a town

whose founding was inspired by that pope?s ?new evangelization? ? has so m any boys and young m en

nam ed after that extraordinary m an.

His papacy saw a rise in the popularity of the nam e ?John Paul? for newborns

in the USA as shown in this graphic, with spikes in

popularity based on events in his life.

Of course not everyone bearing the nam e received it as a

newborn boy. Sister John Paul, OP, who taeaches in Ave

Maria at Donahue Academ y, received the nam e when she

entered Religious life.

Am ong the estim ated dozen John Paul?s in Ave Maria,

several have provided photographs, below.

One lucky Ave Maria boy bearing the nam e had the trip of a lifetim e with his m other ?

they traveled to Rom e to attend the canonization cerem ony! John Paul Allan?s friends and neighbors were

able to follow his special pilgrim age via Facebook. Mrs. Allan owns a Catholic gift and book and hom e school

supply store called By Way of the Fam ily that she nam ed after a phrase from Saint Pope John Paul's apostolic

exhortation Fam iliaris Consortio: ?The future of hum anity passes by way of the fam ily.?

John Paul Raiger

John Paul Klucik

13

John Paul Tamisiea

John Paul Allan on his

pilgrimage in Rome
---
He was diligent with his

schoolwork, loved to read, and

was happy to help with household

chores.

The family recalls how fun it was

to watch him try new things for

the first time, like swimming,

skating, guitar and jumping on

the trampoline. Liam acclimated

to his new home quickly, too. He

was full of energy and enjoyed

playing with his sisters. Their

family was feeling more complete

with each adoption.

The family decided to adopt one

last time, another baby boy so

that Liam would have a brother

close to his age to grow up with.

But again, this trip would see

them return with two new sons

rather than one. As they

prepared to bring home baby

Brogan, now three years old,

Keane came to his mother and

father and said, "I've been really

praying about it and I think we

need to bring home my

roommate."

He was referring to the boy with

whom he shared a room at the

orphanage? Kai, now 16. The

McQuades were touched by their

son?s love and compassion for his

friend. Keane added, ?I remember

money was a problem for getting

me. If you need more money, I

could give you all of mine.? Of

course, the McQuades could not

refuse. They brought home

Brogan and Kai together, making

them a family of twelve and

making two boys, who were best

friends, brothers!

The McQuades are so thankful for

the beautiful journey their family

has experienced through the

adoption process. It?s been a

life-changing experience for

everyone. Looking back on their

journey, they can see the hand of

God at work, even in the details.

After many years in the

Evangelical faith, they recently

14
---
came back to the Catholic faith in which Mr. and Mrs.

McQuade were both raised. During their reversion to

Catholicism, they started to consider making the move to

Ave Maria and they?re glad they did.

"We finally feel like we're at home,? Mrs. McQuade said.

?We feel at home primarily because of our coming back to

the Catholic Church, but also because this is such a

special community to be a part of,? Mr. McQuade added.

The McQuades have not been in Ave Maria very long but,

in true McQuade fashion, they have already become

active members of the community and in Immokalee as

well.

Mr. McQuade is the small group coordinator for the Ave

Maria Quasi Parish?s ?That Man is You? ministry, Mrs.

McQuade is on the welcoming committee for the parish,

Hadyn and Eamon play violin at Mass, and Grace and

Hope sing in the children?s choir.

Additionally, the four teenage boys volunteered with their

parents at the ?Household of God? program this summer,

?We feel at home primarily

because of our coming

back to the Catholic

Church, but also because

this is such a special

community to be a part of."

- Mike McQuade

15
---
and Keane bags groceries at

Publix and has a knack for fixing

broken cell phones. On the

weekends, the younger McQuade

children can be found splashing

at the water park with their

parents and the teenage boys

love to play soccer and often play

together.

Hadyn aspires to start a youth

orchestra here in Ave Maria. He

writes, "I am happy to announce

that, by the end of October, I'll be

starting an orchestra for strings,

winds, brass, and percussion,

open to children from the whole

community."

Eamon is a very talented soccer

player. He joined the Immokalee

Pit Cobras shortly after his family

moved to Ave Maria. The team

won the United States U-17 Youth

Soccer regional tournament this

summer, advancing them to play

in the President's National Cup

tournament.

"It was so exciting to watch the

little town of Immokalee advance

to nationals," Mrs. McQuade said.

The team?s coach, Manny Touron,

is dedicated to helping the boys

on his team advance, not only in

their athletic abilities, but in all

areas of their lives. He

encourages them academically

and promotes hard work and

integrity. To him, it's not just

about soccer, it's more about

helping the youth be the best

versions of themselves.

That's a mission the McQuades

can get behind. In fact, that is

how they came to meet a young

man called "Chino." Chino plays

on the team also. He is from

Guatemala and does not speak

English, so he was not allowed to

enter the public high school

system. When they heard about

16

his struggles, they asked if he

would like to be homeschooled.

He said yes and has been joining

the McQuade children daily in

their lessons ever since. A friend

of Chino?s has begun

homeschooling with the family as

well. The family is happy to give

these boys the opportunity for a

better life.

The family?s new home in Maple

Ridge Reserve is almost complete,

so they will soon be moving yet

again.. Let?s hope this is the last

move they?ll be making for a very

long time. They are looking

forward to feeling settled in their

new home in this great

community.

Welcome to Ave Maria, McQuade

-Quote Author

family!
---
Why use an Attorney (rather than a title company) for Closing? By: Robb Klucik

In Florida,

both

attorneys

and title

companies

can issue title

insurance.

Premiums for

title insurance are set by the

State of Florida, so title insurance

obtained through an attorney is

priced the same as from a title

company. Closing costs charged

by an attorney acting as a closing

agent are comparable to those

charged by a title company. So,

why use an attorney rather than

a title company for closing?

When using an attorney as the

closing agent, the client has legal

representation throughout the

transaction, from negotiations

through closing. But a title

company cannot provide any

legal advice, input, or guidance.

Often a buyer will need a

contract addendum, a

non-standard document, or a

change to standard documents in

order to address specific issues

that arise with transaction. An

attorney can prepare such

documents, whereas the title

company in many instances

cannot (or should not).

An attorney can assist the realtor

with the contract preparation

(generally at no additional

charge), answering the client?s

legal questions during contract

negotiations and preparing

relevant documents as needed. A

title company cannot do so.

If the title search reveals a

potential issue, the attorney can

provide legal advice as to the best

and fastest way to cure the issue

and prepare the corrective

documents so the parties can

close without a delay. In contrast,

a title company cannot generally

prepare curative documents, and

can never provide legal advice or

guidance when or as an issue

arises ? and would normally have

to consult an attorney and pass

the cost on to the buyer.

When purchasing real estate, one

of the most important decisions

the Buyer has to make is how to

take title to the property. An

attorney can discuss the options

available to the Buyer and the

legal aspects and tax advantages

concerning same. A title company

cannot provide this important

legal advice.

In summary, there is a major

benefit in having an attorney as

your closing agent and on your

closing team.

Attorney Robb Klucik has been an

attorney title agent and real

estate lawyer in Ave Maria,

Florida, since 2009.

17
---
Stella Maris of FL

Ave Maria, FL 34142

PRSRT STD

ECRWSS

U.S. POSTAGE

PAID

EDDM RETAIL

Local

Postal Customer

AveMariaGratiaPlena

Hail Mary Full of Grace Luke 1:28