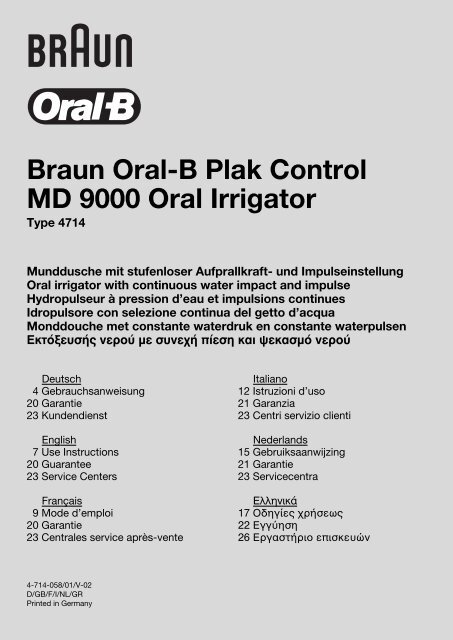 Braun MD9000, OC9025, OC9525, OC9545 - MD9000 Oral Irrigator, PlakControl Manual (DE, UK, FR, IT, NL, GR)
Braun MD9000, OC9025, OC9525, OC9545 - MD9000 Oral Irrigator, PlakControl Manual (DE, UK, FR, IT, NL, GR)
Braun MD9000, OC9025, OC9525, OC9545 - MD9000 Oral Irrigator, PlakControl Manual (DE, UK, FR, IT, NL, GR)
SHOW MORE
SHOW LESS
Create successful ePaper yourself
Turn your PDF publications into a flip-book with our unique Google optimized e-Paper software.
Braun Oral-B Plak Control

MD 9000 Oral Irrigator

Type 4714

Munddusche mit stufenloser Aufprallkraft- und Impulseinstellung

Oral irrigator with continuous water impact and impulse

Hydropulseur à pression d'eau et impulsions continues

Idropulsore con selezione continua del getto d'acqua

Monddouche met constante waterdruk en constante waterpulsen

EÎÙfiÍÂ˘Û‹˜ ÓÂÚÔ‡ ÌÂ Û˘Ó¯‹ apple›ÂÛË Î·È "ÂηÛÌfi ÓÂÚÔ‡

Deutsch

4 Gebrauchsanweisung

20 Garantie

23 Kundendienst

English

7 Use Instructions

20 Guarantee

23 Service Centers

Français

9 Mode d'emploi

20 Garantie

23 Centrales service après-vente

Italiano

12 Istruzioni d'uso

21 Garanzia

23 Centri servizio clienti

Nederlands

15 Gebruiksaanwijzing

21 Garantie

23 Servicecentra

∂ÏÏËÓÈο

17 Οδηγίες χρήσεως

22 Εγγηση

26 Εργαστήριο επισκευών

4-714-058/01/V-02

D/GB/F/I/NL/GR

Printed in Germany
---
Braun Infoline

D

A

CH

Haben Sie Fragen zu diesem Produkt?

Rufen Sie an: (Gebührenfrei)

00 800 27 28 64 63

00 800 BRAUNINFOLINE

08 44 - 88 40 10

I

NL

Servizio consumatori:

(02) 6 67 86 23

Heeft u vragen over dit produkt?

Bel Braun Consumenten-infolijn:

(070) 4 13 16 58
---
2

14

3

4

1 2

11

600ml

400ml

5

6

7

12

200ml

9

8

13

13 10

a

c

600ml

400ml

d

e

b

200ml

2

f
---
Deutsch

Unsere Produkte werden hergestellt,

um höchste Ansprüche an Qualität,

Funktionalität und Design zu erfüllen.

Wir wünschen Ihnen mit Ihrem neuen

Braun Oral-B Gerät viel Freude.

Mit der Braun Oral-B Plak Control

Munddusche können Sie sowohl noch

vorhandene Speisereste zwischen den

Zähnen entfernen als auch Ihr Zahnfleisch

massieren. Deshalb sollte die

Munddusche grundsätzlich nach dem

Zähneputzen verwendet werden.

Bitte lesen Sie die Gebrauchsanweisung

aufmerksam und vollständig, bevor Sie

das Gerät in Betrieb nehmen.

Vorsicht

Prüfen Sie gelegentlich, ob das Netzkabel

Schadstellen aufweist. Sollte dies

der Fall sein, ziehen Sie bitte sofort den

Netzstecker und bringen Sie das Gerät

zum nächsten Braun Kundendienst. Ein

beschädigtes oder defektes Motorteil

darf nicht mehr benutzt werden.

Gerätebeschreibung

1 Wasserbehälter (Inhalt ca. 600 ml)

2 Motorteil

3 Herausnehmbarer Köcher für die

Aufsteckdüsen 4

4 Vier schwenkbare Aufsteckdüsen mit

unterschiedlichen Farbmarkierungen

5 Wasserdruckregler

6 Druckschalter für maximale Leistung

im Ein-/Ausschalter 7

7 Ein-/Ausschalter

8 Griffstück

9 Kabelstaufach

j Anschluss für den Ladeadapter eines

Plaque-Entferners, Braun Oral-B Plak

Control (bei nachträglicher Erweiterung)

k Halteplatte

l 2 Schrauben mit Dübeln

Wandhalterung

Zu Ihrer Braun Oral-B Plak Control Munddusche

wird serienmäßig eine Halteplatte

k für das Motorteil 2 mitgeliefert.

Verwenden Sie zur Montage (a) die beiliegenden

Schrauben mit Dübeln l.

Das Gerät wird mit den beiden Aussparungen

m auf der Rückseite des Motorteils

auf die beiden oberen Nasen n

der Halteplatte gedrückt und herunter

geschoben. Achten Sie darauf, dass das

Netzkabel zwischen der Halteplatte und

dem Motorteil zur Steckdose geführt

wird. Verwenden Sie nur so viel Kabel,

wie Sie bis zur Steckdose benötigen.

Technische Daten

Spannung: 220 – 240 Volt (~),50-60 Hz

Leistungsaufnahme: 20 Watt

(daher auch zum Anschluss an Rasierersteckdosen

geeignet)

Max. Betriebsdauer: 20 Minuten

Abkühlzeit: 2 Stunden

Füllmenge: ca. 600 ml

Impulsstärke: ca. 500 – 1000 Impulse pro

Minute, stufenlos regelbar

Schalter

Mit dem Ein-/Ausschalter 7 am Griffstück

8 schalten Sie die Munddusche

ein und aus: Zum Einschalten schieben

Sie den Schalter nach oben. Um das

Gerät auszuschalten, schieben Sie den

Schalter zurück zur Ausgangsposition.

Mit dem Wasserdruckregler 5 regulieren

Sie die Impulsstärke:

sanft = 2, kräftig = 8.

Die Impulsstärke ist stufenlos einstellbar

und wird elektronisch reguliert. Sie können

den Druckschalter 6 im Ein-/Ausschalter

7 betätigen, um hartnäckige

Speisereste zu entfernen. Das Gerät

arbeitet dann mit vollem Wasserdruck,

unabhängig von der eingestellten

Impulsstärke (2–8).

4
---
Anwendung

Nachdem Sie das Netzkabel an die

Steckdose angeschlossen haben, nehmen

Sie den Wasserbehälter 1 ab und

füllen ihn mit lauwarmem Wasser. Setzen

Sie den Wasserbehälter wieder fest auf

den Sockel des Motorteils (c). Vor dem

Erstgebrauch lassen Sie erst einmal Wasser

durchlaufen. Hierzu nehmen Sie das

Griffstück 8 von der Magnethalterung ab

(b), halten es ins Waschbecken und

schalten das Gerät ein.

Füllen Sie den Wasserbehälter 1 erneut

mit Wasser und ggf. Mundwasser.

Setzen Sie den Wasserbehälter dann

wieder fest auf das Motorteil (c). Stecken

Sie eine Aufsteckdüse 4 auf das Griffstück

8, bis sie einrastet, und drehen Sie

sie in die gewünschte Richtung (d).

Mit dem Wasserdruckreger 5 wählen Sie

stufenlos die gewünschte Impulsstärke,

wobei Sie mit dem sanftesten Druck

beginnen sollten (Reglerstellung 2), besonders

wenn Sie zu Zahnfleischbluten

neigen oder wenn Kinder die Munddusche

benutzen.

Beugen Sie sich etwas über das Waschbecken

und setzen Sie die Aufsteckdüse

an die Zähne. Schalten Sie erst dann das

Gerät mit dem Schalter 7 ein. In wenigen

Sekunden setzen die Sprühimpulse ein.

Halten Sie den Mund leicht geöffnet,

damit das Wasser ins Waschbecken

ablaufen kann.

Ein- und Mehrfachstrahl

Die Aufsteckdüse kann zwischen zwei

unterschiedlichen Funktionen hin- und

hergeschaltet werden:

Einfachstrahl: Düsenspitze ist in Stellung

(e). Zum Reinigen der Zähne und Zahnzwischenräume,

auch um hartnäckige

Speisereste (materia alba) herauszuspülen.

Mehrfachstrahl: Düsenspitze ist in

Stellung (f). Zum Massieren des Zahnfleisches,

um es gesund und kräftig zu

erhalten.

Fangen Sie mit dem Einfachstrahl an.

Richten Sie den Wasserstrahl auf die

Zahnzwischenräume. Massieren Sie

dann Ihr Zahnfleisch mit dem Mehrfachstrahl.

Die Aufsteckdüse lässt sich leicht umschalten.

Schalten Sie die Munddusche

mit dem Schalter 7 ab (um ein Ver-spritzen

des Wassers zu vermeiden) und

drücken Sie die Düsenspitze herein oder

heraus. Schalten Sie dann das Gerät mit

dem Schalter 7 wieder ein.

Nach dem Gebrauch

Schalten Sie das Gerät erst aus, wenn

der Wasserbehälter vollständig entleert

ist. Bei längerer Nichtbenutzung könnte

es sonst zu Bakterienbildung im Restwasser

kommen.

Nach Gebrauch setzen Sie das Griffstück

8 wieder auf die Magnethalterung (b).

Die Aufsteckdüsen können Sie im herausnehmbaren

Köcher 3 unterbringen.

Reinigung

Das Motorteil 2 nur mit einem feuchten

Tuch reinigen. Wischen Sie das Griffstück

8 kurz ab. Den Wasserbehälter 1

und den herausnehmbaren Köcher 3

können Sie in der Spülmaschine reinigen.

Erweiterung zum Dental-Center

Ihre Braun Oral-B Plak Control Munddusche

lässt sich leicht zum kompletten

Dental-Center erweitern. Der Anschluss

j an der Seite des Motorteils 2 dient zur

Aufnahme des Ladeadapters des Braun

Oral-B Plak Control.

Der Braun Oral-B Plak Control und die

Braun Oral-B Munddusche werden dann

5
---
als Dental-Center über das Netzkabel

der Munddusche betrieben. Den Ladeadapter

für den Braun Oral-B Plak Control

(Typ 4723) erhalten Sie bei Ihrem

Fachhändler.

Änderungen vorbehalten.

Dieses Gerät entspricht dem EMV-

Gesetz (EG-Richtlinie 89/336/EWG).

6
---
English

Our products are engineered to meet the

highest standards of quality, functionality

and design. We hope you thoroughly

enjoy your new Braun Oral-B appliance.

The Braun Oral-B Plak Control oral

irrigator removes remaining food particles

from between your teeth, while it

also effectively massages your gums.

For this reason, the oral irrigator should

always be used after brushing your teeth.

Prior to using any Braun Oral-B appliance

we recommend that you carefully read

the following use instructions so that

you and your family know how to best

operate the unit safely.

Caution

Check the cord occasionally for any

damage. Should this be the case, unplug

the motor part 2 immediately and take

the appliance to a Braun Service Centre.

A damaged or non-functioning unit may

no longer be used.

Description

1 Water container

2 Motor part

3 Removable compartment for

attachable jets 4

4 Four attachable jets with different

colour markings

5 Water impact control

6 Press button for maximum water

impact in the on/off switch 7

7 On-/off switch

8 Irrigator handle

9 Cord storage

j Connections for the charging unit of a

plaque remover, Braun Oral-B Plak

Control

k Wall holder

l Two screws with wall plugs

Wall holder

Your oral irrigator comes with a wall

holder k for the motor part 2. Use the

enclosed screws and wall plugs l to

mount (a). The two grooves m on the

back of the motor part 2 are pushed

down onto the hooks n of the wall holder

k. The cord storage compartment 9

offers practical storage of the cord. Only

use as much cord as you need to reach

the socket.

Specifications

Voltage: 220–240 Volt (~) ac, 50–60 Hz

Power intake: 20 Watt (therefore also

suitable for shaver sockets)

Max. operatiog time: 20 minutes

Cooling off time: 2 hours

Water capacity: approx. 600 ml

Number of impulses: approx. 500–1000

impulses per minute, continuously

adjustable

Switch

Turn on the oral irrigator by pushing the

on/off switch 7 up. Turn it off by sliding

the on/off switch back to its initial

position (i.e. below the arrow).

The water impact control 5 regulates the

impulse pressure: gentle = 2, strong = 8.

The water impact is continuously variable

and electronically controlled. You may

press the button 6 in the on/off switch 7

to obtain maximum water impact, independent

of the impact shown (2–8).

By this, even the most resistant food

particles can be removed from between

the teeth.

Getting started

After connecting the unit to a socket,

remove water container 1 and fill with

lukewarm water. Then place the water

container firmly onto the unit (c). Before

using for the first time, allow the water to

run through completely. Take the handle

7
---
8 out of the magnetic holder (b), hold it

over the washbasin and turn the unit on.

Use

Fill the water container 1 with water

again and add mouthwash if desired.

Place it firmly onto the motor part (c).

Attach one of the jets 4 to the handle 8

until it clicks in place (d). Turn the jet to

the direction desired.

Select the water pressure with the water

impact control 5; it is best to start with

the gentlest pressure (setting 2), especially

if your gums tend to bleed or if

children are using the oral irrigator.

To remove resistant food particles, you

may use the press button 6 for maximum

water pressure (corresponding to setting

8 on the water impact control 5).

Bend over the washbasin and guide the

jet to your teeth. Then turn the unit on

with switch 7. The water jet impulses will

start in a few seconds. Keep your mouth

slightly open to allow the water to run into

the washbasin.

Single and multiple jet

The oral irrigator jet removes remaining

food particles from between your teeth

while also massaging your gums. There

are two different jet functions:

Single jet: Point of the jet in position (e) to

clean the teeth and the spaces between

the teeth and to remove resistant food

particles (materia alba).

Multiple jet: Point of the jet in position (f)

to massage the gums and keep them

healthy.

Begin with the single jet. Guide the water

to the teeth and especially to the spaces

between the teeth. Then massage the

gums with the multiple jet.

The jet can easily be switched from one

function to the other. Turn off the oral

irrigator with switch 7 (to avoid uncontrolled

water spraying) and press the

point of the jet in or out. Then turn the

unit on again with switch 7.

After use

Do not turn off the unit unless the water

container is entirely empty. Bacteria

could otherwise collect in the remaining

water if the unit is not used for some time.

After use, return the handle 8 to the

magnetic holder (b). The attachable jets

4 can be stored in the removable compartment

3.

Cleaning

Clean the motor part 2 with a damp

cloth. Wipe the handle 8 dry. The water

container 1 and the removable compartment

for the jets can be washed

in the dishwasher.

Dental centre

Your Braun Oral-B Plak Control oral

irrigator can easily be turned into a

complete dental centre: The connections

j on the side of the motor part 2 allow

you to connect a Braun Oral-B Plak

Control plaque remover. The plaque

remover and the oral irrigator are then

operated as a dental centre using the

cord of the irrigator.

The charging unit for the plaque remover

(type 4723) is available at your dealer.

Subject to change without notice.

This product conforms to the EMC-

Requirements as laid down by the

Countil Directive 89/336/EEC).

8
---
Français

Les technologies de pointe de fabrication

de nous produits réunissent aus plus

haut niveau qualité, fonctionnalité et

design. C'est ainsi que vous pourrez

pleinement apprécier ce nouvel appareil

Braun Oral-B.

L'hydropulseur Braun Oral-B Plak

Control élimine les débris alimentaires

des espaces interdentaires et effectue un

massage efficace des gencives. Pour

cette raison, il doit toujours être utilisé

après le brossage.

Avant d'utiliser tout appareil Braun

Oral-B, nous vous recommandons de lire

attentivement la notice d'utilisation suivante

afin de pouvoir l'utiliser correctement

et en toute sécurité.

Précautions d'usage

Vérifiez le fil électrique régulièrement.

En cas de problème, débranchez immédiatement

le bloc-moteur 2 et portez

l'appareil dans un centre service agréé

Braun. En cas d'endommagement ou de

nonfonctionnement, le bloc-moteur ne

doit plus être utilisé.

Description de l'appareil

1 Réservoir

2 Bloc-moteur

3 Compartiment extractible de

rangement de canules 4

4 Quatre canules adaptables avec

repères de couleur

5 Réglage de la pression d'eau

6 Commande de pression maximale de

l'eau située sur le commutateur 7

7 Commutateur

8 Manche de l'irrigateur

9 Compartiment de rangement du

cordon

j Connexions pour adapter le chargeur

d'une Braun Oral-B Plak Control

k Support mural

l 2 vis avec chevilles

Support mural

Votre hydropulseur est livré avec un

support mural k pour le bloc-moteur 2.

Pour le montage (a), utilisez les vis et les

chevilles l fournies avec l'appareil. Les

deux rainures m au dos du bloc-moteur 2

se glissent dans les ergots n du support

mural k. Le compartiment de rangement

du fil électrique 9 vous permet d'utiliser

seulement la longueur de fil nécessaire

pour atteindre la prise de courant.

Caractéristiques techniques

Alimentation : 220 – 240 Volt (~) ac,

50 – 60 Hz

Consommation : 20 W (peut être branché

sur une prise « rasoirs »)

Temps d'utilisation maximum : 20 minutes

Temps de refroidissement : 2 heures

Contenance : environ 600 ml

Nombre d'impulsions : environ 500 à

1000 impulsions par minute, réglable à

tout moment

Commutateur

Mettez en marche l'hydropulseur en

poussant le commutateur 7 vers le haut.

Arrêtez-le en faisant glisser le commutateur

vers le bas jusqu'à sa position

initiale (c'est-à-dire en dessous de la

flèche).

La force de la pression de l'eau et le

nombre des impulsions sont régulées

électroniquement de façon continue à

l'aide du réglage 5 : 2 = faible ; 8 = fort.

Appuyez sur le bouton 6 du commutateur

7 pour obtenir la pression maximale

indépendamment du réglage choisi

(de 2 à 8). Grâce à cette commande,

les débris alimentaires le plus résistants

pourront être éliminés des espaces

interdentaires.

9
---
Pour commencer

Après avoir branché l'appareil, retirer le

réservoir 1 et remplissez-le avec de l'eau

tiède. Remettre le réservoir fermement

en place (c). Avant de l'utiliser pour la

première fois, laissez l'eau circuler complètement

dans l'appareil.

Détachez le manche 8 du support

magnétique (b), le tenir au-dessus du

lavabo et mettez l'appareil en marche.

Utilisation

Remplissez le réservoir 1 avec de l'eau

en ajoutant un bain de bouche si vous le

désirez. Replacez-le fermement sur le

socle (c). Placez une des canules 4 en

l'enclenchant sur la poignée 8 (d) et

tournez-la dans la direction de votre

choix.

Choisissez la pression et le nombre

d'impulsion désirée 5. Il est préférable

de commencer ar une pression douce

(position 2), surtout si vos gencives ont

tendance à saigner ou si l'hydropulseur

est utilisé par des enfants.

Pour éliminer les débris alimentaires

tenaces, appuyez sur le bouton 6 afin

d'obtenir une pression maximale

(correspondant à la position 8).

Penchez-vous au dessus du lavabo et

dirigez la canule vers vos dents. Mettez

l'appareil en marche en poussant le

commutateur 7 vers le haut. L'eau sous

pression sort en quelques secondes.

Gardez la bouche entrouverte pour

permettre à l'eau de s'écouler dans le

lavabo.

Mono et multi-jets

Le jet de l'hydropulseur a deux positions

possibles, l'une pour éliminer les résidus

alimentaires des espaces interdentaires,

l'autre pour masser les gencives.

Position mono-jet: Mettez la canule en

position (e) afin de nettoyer les dents et

les espaces interdentaires et d'éliminer

les résidus alimentaires.

Position multi-jets: Mettez la canule en

position (f) pour masser les gencives et

les maintenir en bonne santé.

Commencez en position mono-jet.

Dirigez le jet vers les dents et vers les

espaces interdentaires en particulier.

Massez ensuite les gencives en position

multi-jets.

Le changement de position du jet se fait

très facilement en exerçant une pression

sur la tête de la canule. Pour éviter les

éclaboussures, arrêtez l'appareil lorsque

vous voulez changer de position.

Remettez ensuite l'appareil en marche à

l'aide du commutateur 7.

Aprèz utilisation

N'arrêtez l'appareil que lorsque le

réservoir est complètement vide. Des

bactéries pourraient se développer dans

l'eau restante si vous n'utilisiez pas

l'appareil pendant un certain temps.

Après emploi, replacez la poignée 8 sur

le socle magnétique (b). Rangez les

canules adaptables 4 dans le compartiment

extractible 3.

Entretien

Nettoyez le bloc-moteur 2 avec un linge

humide. Essuyez bien la poignée 8. Le

réservoir d'eau 1 et le compartiment

extractible de rangement des canules 3

peuvent être nettoyés en lave-vaisselle.

Complément

Votre hydropulseur Braun Oral-B Plak

Control peut devenir très facilement un

combiné d'hygiène dentaire complet: Les

connexions j situé sur le côté du bloc-

10
---
moteur 2 permet de recevoir la brosse

d'hygiène contre la plaque dentaire

Braun Oral-B Plak Control. Les deux

appareils forment alors un combiné

complet alimenté seulement par le

cordon de l'hydropulseur. Vous trouverez

le chargeur pour la brosse d'hygiène

contre la plaque dentaire (type 4723)

dans tous les points de vente Braun.

Sauf modifications

Cet appareil est conforme aux normes

européennes relatives à la limitation des

perturbations radioélectriques (Directives

Communautaires 89/336).

11
---
Italiano

I nostri prodotti sono stati studiati per

garantire i più elevati standard di qualità,

funuionalità e design. Ci auguriamo che il

vostro nuovo prodotto Braun Oral-B

risponda pienamente alle vostre aspettative.

L'idropulsore Braun Oral-B Plak Control

rimuove le particelle di cibo che possono

rimanere tra i denti e massaggia efficacemente

le vostre gengive. Per questa

ragione l'idropulsore deve essere

sempre usato dopo aver spazzolato i

denti.

Prima di utilizzare qualsiasi apparecchio

Braun Oral-B, vi raccomandiamo di leggere

attentamente le seguenti istruzioni

d'uso, in modo tale che la vostra famiglia

sappia utilizzare al meglio ed in tutta

sicurezza il prodotto.

Attenzione

Controllate di tanto in tanto il cordone per

individuare eventuali danni; nel caso ve

ne fossero, staccate immediatamente

dalla rete l'unità e portatela in un Centro

di Assistenza Braun. Un'unità di ricarica

danneggiata non deve più essere

utilizzata.

Descrizione

1 Serbatoio d'acqua

2 Parte motore

3 Contenitore igienico asportabile per

4 beccucci 4

4 Quattro beccucci intercambiabili

colorati

5 Tasto per la regolazione del getto

d'acqua

6 Tasto per la massima pressione posto

sull'interruttore 7

7 Interruttore

8 Impugnatura dell'idropulsore

9 Alloggiamento per il cavo

j Connessione per l'unità di ricarica del

rimotore di placca, Braun Oral-B Plak

Control

k Supporto da parete

l 2 viti e tasselli per parete

Supporto da parete

Il vostro idropulsore orale è dotato di un

supporto da parete k per la parte motore

2. Utilizzate le viti e tasselli forniti l per

montare (a). I due inserti m sul reto della

parte motore 2 devono essere posti in

basso al di là degli uncini n del suporto

da parete k. L'alloggiamento per il cavo

9 offre un pratico spazio per il cavo.

Utilizzate il cavo solo per la lunghezza

necessaria a raggiungere la presa di

corrente.

Caratteristiche

Voltaggio: 220–240 Volt (~) ac, 50–60 Hz

Potenza: 20 W (adatto anche per le prese

di corrente dei rasoi)

Tempo di funzionamento massimo: 20 minuti

Tempo di raffreddamento: 2 ore

Capacità del serbatoio: 600 ml circa

Numeri di impulsi: da 500 a 1000 impulsi

al minuti circa, regolabili senza interruzioni

del getto

Interruttore

Accendete l'idropulsore spingendo

l'interruttore 7 verso l'alto. Spegnete

l'idropulsore spingendo l'interruttore

verso la posizione iniziale (al di sotto della

freccia).

Con il tasto per la regolazione del getto

d'acqua 5 è possibile controllare la

pressione degli impulsi: 2 = getto delicato;

8 = getto forte.

Il getto d'qcqua può essere continuamente

variato ed è controllato elettronicamente.

Potete premere il tasto

per la massima pressione 6 posto

sull'interruttore 7 per ottenere la massima

potenza del getto d'acqua, indipendentemente

dalla potenza selezionata

(2-8). In questo modo anche le particelle

di cibo più resistenti verranno rimosse

dagli spazi interdentali.

12
---
Prima dell'utilizzo

Dopo aver collegato l'unità di ricarica

ad una presa di corrente, rimuovete il

serbatoio 1 e riempite con acqua tiepida.

Rimettete il serbatoio al suo posto sulla

base (c). Prima di utilizzarlo per la prima

volta, fate scorrere l'acqua completamente.

Prendete l'impugnatura 8 dal

supporto magnetico (b) e tenetela sul

lavandino e azionate l'idropulsore.

Utilizzo

Riempite di nuovo il serbatoio dell'

acqua k aggiungendo, se desiderate,

del collutorio. Risistemate il serbatoio

sull'apparecchio (c). Inserite uno dei

beccucci 4 sull'impugnatura 8 finchè

non è in posizione (d). Girate il beccuccio

nella posizione desiderata.

Selezionate la pressione del getto

d'acqua con il tasto 5; è consigliabile

iniziare con una pressione bassa

(posizione 2), specialmente se le vostre

gengive tendono a sanguinare o se

l'apparecchio è utilizzato da bambini.

Per rimuovere le particelle di cibo più

restistenti, premete il tasto per la

massima pressione 6 (che corrisponde

alla posizione 8). Chinatevi leggermente

sul lavandino ed avvicinate il beccuccio

ai denti, quindi azionate l'apparecchio

con l'interruttore 7. Il getto d'acqua

comincerà dopo pochi secondi. Tenete

la bocca leggermente aperta per permettere

all'acqua di scorrere nel lavandino.

Beccuccio mono-multigetto

Il beccuccio dell'idropulsore rimuove

le particelle di cibo tra dente e dente e

contemporaneamente massaggia le

gengive. É regolabile in due posizioni:

Monogetto: mettete il beccuccio nella

posizione (e) per pulire i denti e gli spazi

interdentali e per rimuovere le particelle

di cibo più resistenti.

Multigetto: mettete il beccuccio sulla

posizione (f) per massaggiare e tonificare

le gengive.

Iniziate con la posizione monogetto.

Dirigete il getto d'acqua sui denti e negli

spazi interdentali. In seguito massaggiate

le gengive con la posizione

multigetto.

Potete passare facilmente da una

posizione all'altra: è sufficiente spegnere

l'idropulsore con l'interruttore 7 (per

evitare eventuali schizzi) e premere la

punta del getto. Riaccendete l'idropulsore

con l'interruttore 7.

Dopo l'utilizzo

Spegnete l'apparecchio solo se il

serbatoio è completamente vuoto. In

caso contrario, se l'apparecchio non

viene utilizzato per lungo tempo, l'acqua

potrebbe essere contaminata da batteri.

Dopo l'uso, rimettete l'impugnatura 8

sul suporto magnetico (b). I beccucci 4

possono essere riposti nell'apposito

contenitore rimovibile 3.

Pulizia

Pulite il corpo motore 2 con un panno

umido. Asciugate l'impugnatura 8. Il

serbatoio dell'acqua 1 e il contenitore

rimovibile per i beccucci 3 sono lavabili

in lavastoviglie.

Set per l'igiene orale

Il Vostro idropulsore Braun Oral-B Plak

Control può essere facilmente trasformato

in un set completo per l'igiene

orale: Il connessione j a lato del parte

motore 2 permette die collegare il

rimotore di placca Braun Oral-B Plak

Control. L'idropulsore ed il rimotore di

13
---
placca costituiranno cosi un completo

set per l'igiene orale funzionando con un

unico cordone.

Potete trovare l'unità di ricarica per il

rimotore di placca (type 4723) dal Vostro

nogoziante.

Salvo cambiamenti.

Questo prodotto è conforme alle

normative EMC come stabilito dalla

direttiva CEE 89/336.

14
---
Nederlands

Onze produkten worden gemaakt om aan

de hoogste kwaliteitseisen, functionaliteit

en design te kunnen voldoen. Wij wensen

u veel plezier met uw nieuwe Braun

Oral-B apparaat.

De Braun Oral-B Plak Control monddouche

verwijdert voedselresten tussen

de tanden en masseert tevens effectief

het tandvlees. Daarom dient u de monddouche

altijd na het tandenpoetsen te

gebruiken.

Voordat u een Braun Oral-B apparaat

gaat gebruiken, raden wij u aan eerst de

gebruiksaanwijzing te lezen, zodat u en

uw familie weten hoe het apparaat het

beste kan worden gebruikt.

Waarschuwing

Kijk het snoer zo nu en dan na op

beschadigingen. Indien u een beschadiging

constateert, dient u het motordeel

2 onmiddellijk los te koppelen en te

brengen bij Braun, bij een Braun service

dealer of bij uw electrohandelar.

Een beschadigt of niet-functionerend

apparaat kan niet meer worden gebruikt.

Beschrijving

1 Waterreservoir

2 Motordeel

3 Uitneembare opbergruimte voor

opzetspuitstukjes 4

4 Vier opzetspuitstukjes met

verschillende kleurringen

5 Waterpulsregelknop

6 Drukknop voor max. waterdruk

bevestigd op de aan/uit-schakelaar 7

7 «Aan/Uit»-schakelaar

8 Handgreep

9 Snoeropbergruimte

j Aansluiting voor adapter/oplader van

de Braun Oral-B Plak Control

k Wandplaatje

l Twee schroeven en wandpluggen

Wandbevestiging

De monddouche wordt geleverd met een

wandplaatje k voor het motordeel 2.

Bevestig deze met de bijgeleverde

schroeven en pluggen l aan de wand (a).

Plaats het motordeel 2 op het wandplaatje

k, zodanig dat de uitsparingen

aan de achterzijde m over de nokjes n

van de wandhouder k vallen. Het snoer

kan in de snoeropbergruimte 9 worden

opgeborgen. Gebruik slechts zoveel

snoer als u nodig heeft om het stopcontact

te bereiken.

Specifikaties

Voltage: 220–240 Volt (~) ac, 50–60 Hz

Stroomverbruik: 20 W (geschikt voor

scheerstopcontacten)

Max. gebruikstijd: 20 minuten

Afkoeltijd: 2 uur

Watercapaciteit: circa 600 ml

Aantal impulsen: circa 500–1000 per

minuut, traploos verstelbaar

Aan/uit-schakelaar

De schakelaar 7 schakelt het apparaat

aan en uit.

Aan: schakelaar naar boven schuiven.

Uit: schakelaar tot onder de pijl naar

beneden schuiven.

De waterpulsregelnkop 5 regelt traploos

de sterkte van de waterstraal: 2 = zacht,

8 = sterk. Druk de knop 6 op de aan/uitschakelaar

7 in om de maximale pulskracht

te krijgen, onafhankelijk van de

stand (2-8) van de waterpulsregelknop.

Op deze manier kunnen zelfs de meest

hardnekkige voedselresten worden

verwijderd.

In werking stellen

Voordat u de monddouche voor het eerst

in gebruik neemt, dient u deze door te

spoelen. Haal het waterreservoir 1 van

het motordeel en vul dit met lauw water.

15
---
Druk het waterreservoir daarna weer

stevig op zijn plaats (c). Neem de handgreep

8 van de magnetische houder (b),

houd deze boven de wastafel en schakel

de monddouche met de schakelaar in.

Gebruik

Vul het waterreservoir 1 opnieuw met

water en voeg desgewenst wat mondwater

toe. Zet het reservoir weer terug op

het motordeel (c). Druk een van de

spuitopzetstukjes 4 op de handgreep 8

tot deze hoorbaar vastklikt (d). Draai het

spuitstukje in de gewenste richting (d).

Stel het aantal waterpulsen in met de

waterpulsregelknop 5. Het is raadzaam

om met de laagste druk (stand 2) te beginnen,

vooral als u last heeft van gevoelig

tandvlees of bij het gebruik door kinderen.

Gebruik voor moeilijk te verwijderen

voedselresten de knop 6 voor maximale

waterdruk (gelijk aan stand 8 op de

waterpulsregelknop 5.

Buig iets over de wastafel en richt het

spuitstukje op uw tanden. Schakel het

apparaat in 7. Binnen een paar seconden

komen de waterpulsen. Houd de mond

een beetje geopend om het water in de

wastafel te laten lopen.

Enkel- en meervoudige straal

De monddouche heeft een multi-jet

systeem. De straal verwijdert voedselresten

tussen uw tanden en masseert

ook uw tandvlees. Er zijn twee verschillende

straalfunkties.

Enkelvoudige straal: Sproeikop in positie

(e). De tanden en de ruimten tussen de

tanden worden gereinigd. Verwijdert ook

hardnekkige voedselresten.

Meervoudige straal: Sproeikop in positie

(f). Effectieve massage van het tandvlees

zodat het gezond blijft.

Begin met de enkelvoudige straal. Richt

het spuitstuk op de tanden en vooral ook

op de ruimten tussen de tanden. Masseer

vervolgens het tandvlees met de meervoudige

straal.

De monddouche kan gemakkelijk van

de ene naar de andere funktie worden

omgeschakeld. Schakel het apparaat uit

met de aan/uit-schakelaar 7 (om spatten

te voorkomen) en druk vervolgens de

sproeiknop in of uit. Schakel dan met de

schakelaar 7 het apparaat weer in.

Na gebruik

Schakel het apparaat niet uit voordat het

waterreservoir helemaal leeg is en er

geen water meer uit de handgreep komt.

Als het apparaat lange tijd niet wordt

gebruikt, kunnen bacteriën het achtergebleven

water verontreinigen.

Plaats na gebruik de handgreep 8 weer

op de mangetische houder (b). De bijgeleverde

spuitopzetstukjes 4 kunt u bewaren

in het uitneembare opbergbakje 3.

Schoonmaken

Reinig het motordeel 2 uitsluitend met

een vochtige doek. Wrijf de handgreep 8

droog. Het waterreservoir 1 en het

opbergbakje voor de spuitstukjes 3 zijn

vaatwasmachine-bestendig.

Mondverzorgingscentrum

De Braun Oral-B Plak Control monddouche

is uit te breiden tot een kompleet

mondverzorgingscentrum: aan de zijkant

2 bevindt zich een aansluiting j voor de

Braun Oral-B Plak Control plakverwijderaar.

Met elkaar verbonden vormen de monddouche

en de plakverwijderaar dan een

kompleet mondverzorgingscentrum met

één lichtnet aansluiting. De adapter/

oplader voor de plakverwijderaar (type

4723) is verkrijgbaar bij uw Braun dealer.

Wijzigingen voorbehouden.

Dit produkt voldoet aan de EMC-normen

volgens de EU-richtlijn 89/336.

16
---
EÏÏËÓÈο

∆a appleÚÔïfivta Ìa˜ Â›Ó·È Î·Ù·Û΢·Ṳ̂ӷ

Ì ÙȘ ˘"ËÏfiÙÂÚ˜ appleÚԉȷÁڷʤ˜

appleÔÈfiÙËÙ·˜, ÏÂÈÙÔ˘ÚÁÈÎfiÙËÙ·˜ Î·È Û¯Â-

‰È·ÛÌÔ‡. ∂Ïapple›˙Ô˘Ì ӷ ÈηÓÔappleÔÈËı¤ÈÙÂ

·applefi ÙË Ó¤· Û·˜ Û˘Û΢‹

Braun.

O ÂÎÙÔÍÂ˘Ù‹˜ ÓÂÚÔ‡ Braun Oral-B Plak

Control ·appleÔÌ·ÎÚ‡ÓÂÈ Ù· ˘appleÔÏÂÈÌÌ·Ù·

ÙÔ˘ Ê·ÁËÙÔ‡ Ù· ÔappleÔ›· apple·Ú·Ì¤ÓÔ˘Ó

·Ó¿ÌÂÛ· ÛÙ· ‰fiÓÙÈ· οÓÔÓÙ·˜, Ù·˘Ùfi-

¯ÚÔÓ·, Ì·ÛÛ¿˙ ÛÙ· Ô˘Ï·. °È'·˘Ùfi ÙÔ

ÏfiÁÔ, ı· appleÚ¤appleÂÈ apple¿ÓÙ· Ó· ¯ÚËÛÈÌÔappleÔÈ›ٷÈ

ÌÂÙ¿ ÙÔ 'Ô‡ÚÙÛÈÛÌ·.

ÚÈÓ ¯ÚËÛÈÌÔappleÔÈ‹ÛÂÙ ÔappleÔÈ·‰‹appleÔÙÂ

Û˘Û΢‹ Braun Oral-B Û·˜ Û˘ÓÈÛÙÔ‡ÌÂ

Ó· ‰È·'¿ÛÂÙ appleÚÔÛÂÎÙÈο ÙȘ ·ÎfiÏÔ˘ı˜

Ô‰ËÁ›Â˜ ¯Ú‹Ûˆ˜, ÒÛÙ ӷ ÁÓˆÚ›˙ÂÙÂ

ÂÛ›˜ Î·È Ë ÔÈÎÔÁ¤ÓÂÈ¿ Û·˜ appleÒ˜ ı· ÙËÓ

¯ÚËÛÈÌÔappleÔÈ‹ÛÂÙÂ ÌÂ ·ÛÊ¿ÏÂÈ·.

ÚÔÛÔ¯‹

∂ϤÁ¯ÂÙ appleÂÚÈÔ‰Èο ÙÔ Î·ÏÒ‰ÈÔ ÁÈ·

Ù˘¯fiÓ ÊıÔÚ¤˜. ∂¿Ó ¤¯ÂÈ Êı·Ú›,

'Á·ÏÙ ·Ì¤Ûˆ˜ ÙÔ ÌÔÙ¤Ú 2 ·applefi ÙËÓ

appleÚ›˙· Î·È appleËÁ·›ÓÂÙ¤ ÙËÓ Û˘Û΢‹ ÛÙÔ

ۤڂȘ Ù˘ Braun. ª›· ηÙÂÛÙÚ·Ì-

̤ÓË ‹ ÌË ÏÂÈÙÔ˘ÚÁÈ΋ Û˘Û΢‹

‰ÂÓ ı· appleÚ¤appleÂÈ Ó· ¯ÚËÛÈÌÔappleÔÈÂÈÙ·È

appleϤÔÓ.

ÂÚÈÁÚ·Ê‹

1 ¢Ô¯Â›Ô ÓÂÚÔ‡

2 ªÔÙ¤Ú

3 ªÂÙ·ÎÈÓÔ‡ÌÂÓË ı‹ÎË ÁÈ· ÙÔ˘˜

ÂÎÙÔÍÂ˘Ù‹Ú˜ 4

4 ∆¤ÛÛÂÚÂȘ ÂÎÙÔÍÂ˘Ù‹Ú˜ ÌÂ

¤Ó‰ÂÈÍË ‰È·ÊÔÚÂÙÈÎÔ‡ ¯ÚÒÌ·ÙÔ˜

5 ƒ˘ıÌÈÛÙ‹˜ ÂÎÙfiÍ¢Û˘ ÓÂÚÔ‡

6 ¢È·ÎfiappleÙ˘ ÁÈ· ÙËÓ Ì¤ÁÈÛÙË

appleÔÛfiÙËÙ· ÓÂÚÔ‡ ÛÙÔÓ ‰È·ÎfiappleÙË

«on/off» 7

7 ¢È·ÎfiappleÙ˘ «on/off»

8 §·'‹

9 £¤ÛË ·appleÔı‹Î¢Û˘ ηψ‰›Ô˘

j ÀappleÔ‰Ô¯¤˜ ÁÈ· ÙË ÌÔÓ¿‰· ÊfiÚÙÈÛ˘

Ù˘ Û˘Û΢‹˜ ·Ê·›ÚÂÛ˘ Ù˘

appleϿη˜ Braun Oral-B Plak Control

k Ù‹ÚÈÁÌ· ÙÔ›¯Ô˘

l 2 '›‰Â˜ Ì ԇapple·Ù

Ù‹ÚÈÁÌ· ÙÔ›¯Ô˘

ÙËÓ Û˘Û΢·Û›· appleÂÚȤ¯ÂÙ·È ¤Ó·

ÛÙ‹ÚÈÁÌ· ÙÔ›¯Ô˘ k ÁÈ· ÙÔ ÌÔÙ¤Ú 2.

ÃÚËÛÈÌÔappleÔÈ‹ÛÙ ÙȘ '›‰Â˜ Î·È Ù· Ô‡apple·Ù

l ÁÈ· Ó· ÙÔ ÛÙËÚ›ÍÂÙ (a). OÈ ‰‡Ô

ÂÁÎÔapple¤˜ m ÛÙÔ apple›Ûˆ ̤ÚÔ˜ ÙÔ˘ ÌÔÙ¤Ú 2

appleȤ˙ÔÓÙ·È appleÚÔ˜ Ù· οو Î·È ÛÙËÚ›˙ÔÓÙ·È

ÛÙ· ‰‡Ô ¿ÁÎÈÛÙÚ· n ÙÔ˘ ÛÙËÚ›ÁÌ·ÙÔ˜ k.

∏ ı¤ÔË ÁÈ· ÙËÓ ·appleÔı‹Î¢ÛË ÙÔ˘

ηψ‰›Ô˘ 9 Â›Ó·È È‰È·›ÙÂÚ· appleÚ·ÎÙÈ΋.

•ÂÙ˘Ï›ÍÙ ÙfiÛÔ Î·ÏÒ‰ÈÔ fiÛÔ ¯ÚÂÈ¿˙ÂÙ·È

ÁÈ· Ó· '¿ÏÂÙ ÙÔ ÊȘ ÛÙËÓ appleÚ›˙·.

∆¯ÓÈο ¯·Ú·ÎÙËÚÈÛÙÈο

µÔÏÙ¿˙: 220 – 240 Volt ac,

50 – 60 Hz

πÛ¯‡˜: 20 W

(ÏÂÈÙÔ˘ÚÁ› Î·È Û appleÚ›˙· ͢ÚÈÛÙÈ΋˜)

ª¤ÁÈÛÙÔ˜ ¯ÚfiÓÔ˜ Û˘Ó¯ԇ˜ ÏÂÈÙÔ˘Ú-

Á›·˜: 20 ÏÂappleÙ¿

ÃÚfiÓÔ˜ ·Ó¿apple·˘Û˘: 2 ÒÚ˜

ÈÚËÙÈÎfiÙËÙ·: appleÂÚ›appleÔ˘ 600 ml ÓÂÚÔ‡

∞ÚÈıÌfi˜ ÂÎÙÔ͇ۈÓ: appleÂÚ›appleÔ˘ 500–

1000 ÂÎÙÔ͇ÛÂȘ ·Ó¿ ÏÂappleÙfi, ÌÂÙ·'·Ï-

ÏfiÌÂÓ˜ Û˘Ó¯Ҙ

¢È·ÎfiappleÙ˘

£¤ÛÙ Û ÏÂÈÙÔ˘ÚÁ›· ÙË Û˘Û΢‹

·Ó'¿˙ÔÓÙ·˜ ÙÔÓ ‰È·ÎfiappleÙË «on/off» 7.

∫Ï›ÛÙ ÙËÓ, ηÙ'¿˙ÔÓÙ·˜ ÙÔÓ ‰È·ÎfiappleÙË

(‰ËÏ. οو ·applefi ÙÔ '¤ÏÔ˜).

O Ú˘ıÌÈÛÙ‹˜ ÂÎÙfiÍ¢Û˘ ÓÂÚÔ‡ 5

ηÓÔÓ›˙ÂÈ ÙËÓ apple›ÂÛË Ù˘ ÂÎÙfiÍ¢Û˘:

·apple·Ï‹ = 2, ‰˘Ó·Ù‹ = 8.

O Ú˘ıÌÈÛÙ‹˜ Â›Ó·È Û˘Ó¯Ҙ ÌÂÙ·'·Ï-

ÏfiÌÂÓÔ˜ Î·È ÂϤÁ¯ÂÙ·È ËÏÂÎÙÚÔÓÈο.

·ÙÒÓÙ·˜ ÙÔ appleÏ‹ÎÙÚÔ 6 appleÔ˘ 'Ú›ÛÎÂÙ·È

̤۷ ÛÙÔÓ ‰È·ÎfiappleÙË «on/off» 7 ÌappleÔÚ›ÙÂ

Ó· ¤¯ÂÙ ÙËÓ Ì¤ÁÈÛÙË ÂÎÙfiÍ¢ÛË ÓÂÚÔ‡.

∂ÙÛÈ, ·ÎfiÌ· Î·È Ù· appleÈÔ «‰‡ÛÎÔÏ·»

˘appleÔÏ›ÌÌ·Ù· Ê·ÁËÙÔ‡, ·Ê·ÈÚÔ‡ÓÙ·È

·Ó¿ÌÂÛ· ·applefi Ù· ‰fiÓÙÈ· Û·˜.

17
---
Ò˜ ı· ÍÂÎÈÓ‹ÛÂÙÂ

∞ÊÔ‡ '¿ÏÂÙ ÙÔ ÊȘ ÛÙËÓ appleÚ›˙·, 'Á¿ÏÙÂ

ÙÔ ‰Ô¯Â›Ô 1 Î·È ÁÂÌ›ÛÙ ÙÔ Ì ¯ÏÈ·Úfi

ÓÂÚfi. •·Ó·'¿ÏÙÂ ÙÔ ÛÙË ı¤ÛË ÙÔ˘ (c).

ÚÈÓ ÙË appleÚÒÙË ¯Ú‹ÛË, ÊÚÔÓÙ›ÛÙ ӷ ¤¯ÂÈ

appleÂÚ¿ÛÂÈ Ì¤Û· ·applefi ÙË Û˘Û΢‹ ¤Ó·

ÔÏfiÎÏËÚÔ ‰Ô¯Â›Ô ÓÂÚÔ‡. ªÂÙ¿, 'Á¿ÏÙÂ

ÙË Ï·'‹ 8 ·applefi ÙË Ì·ÁÓËÙÈ΋ ı¤ÛË (b),

Û·"Ù apple¿Óˆ ·applefi ÙÔÓ ÓÈappleÙ‹Ú· Î·È ı¤ÛÙÂ

Û ÏÂÈÙÔ˘ÚÁ›· ÙË Û˘Û΢‹.

ÃÚ‹ÛË

°ÂÌ›ÛÙÂ Î·È apple¿ÏÈ ÙÔ ‰Ô¯Â›Ô 1 Ì ÓÂÚfi,

appleÚÔÛı¤ÙÔÓÙ·˜ ÛÙÔÌ·ÙÈÎfi ‰È¿Ï˘Ì·, ¿Ó

ÂappleÈı˘Ì›ÙÂ. •·Ó·'¿ÏÙ ÙÔ ÛÙË ı¤ÛË ÙÔ˘

(c). ∆ÔappleÔıÂÙ‹ÛÙ ¤Ó·Ó ÂÎÙÔÍÂ˘Ù‹Ú· 4

ÛÙËÓ ˘appleÔ‰Ô¯‹ Ù˘ Ï·'‹˜ 8, ̤¯ÚÈ Ó·

·ÎÔ˘ÛÙ› ÙÔ ¯·Ú·ÎÙËÚÈÛÙÈÎfi ÎÏÈÎ (d).

°˘Ú›ÛÙ ÙÔÓ ÂÎÙÔÍÂ˘Ù‹Ú· ÛÙËÓ Î·Ù‡-

ı˘ÓÛË appleÔ˘ ÂappleÈı˘Ì›ÙÂ.

∂appleÈϤÍÙ ÙËÓ apple›ÂÛË ÙÔ˘ ÓÂÚÔ‡ ÌÂ

ÙÔÓ Ú˘ıÌÈÛÙ‹ 5. ∂›Ó·È ηχÙÂÚ· Ó·

ÍÂÎÈÓ‹ÛÂÙ Ì ÙËÓ ¯·ÌËÏfiÙÂÚË apple›ÂÛË

(ı¤ÛË 2), ÂȉÈο Â¿Ó Ù· ԇϷ Û·˜ Ù›ÓÔ˘Ó

Ó· Ì·ÙÒÓÔ˘Ó ‹ Â¿Ó Ë Û˘Û΢‹ ¯ÚËÛÈÌÔappleÔÈ›ٷÈ

·applefi apple·È‰È¿.

°È· Ó· ·appleÔÌ·ÎÚ‡ÓÂÙ Âapple›ÌÔÓ· ˘appleÔ-

Ï›ÌÌ·Ù· Ê·ÁËÙÔ‡, ÌappleÔÚ›Ù ӷ

¯ÚËÛÈÌÔappleÔÈ‹ÛÂÙ ÙÔ appleÏ‹ÎÙÚÔ 6 ÁÈ· ÙËÓ

̤ÁÈÛÙË ÂÎÙfiÍ¢ÛË ÓÂÚÔ‡ (·ÓÙÈÛÙÔȯ›

ÛÙËÓ ı¤ÛË 8 ÙÔ˘ Ú˘ıÌÈÛÙ‹ 5).

·"Ù Âapple¿Óˆ ·applefi ÙÔÓ ÓÈappleÙ‹Ú· ηÈ

ÙÔappleÔıÂÙ‹ÛÙ ÙÔÓ ÂÎÙÔÍÂ˘Ù‹Ú· ÛÙ·

‰fiÓÙÈ·. ªÂÙ¿, ı¤ÛÙ Û ÏÂÈÙÔ˘ÚÁ›· ÙË

Û˘Û΢‹ Ì ÙÔÓ ‰È·ÎfiappleÙË 7. OÈ ÂÎÙÔ-

͇ÛÂȘ ı· ·Ú¯›ÛÔ˘Ó Û ÌÂÚÈο ‰Â˘ÙÂ-

ÚfiÏÂappleÙ·. ∫Ú·Ù¿ÙÂ ÙÔ ÛÙfiÌ· Û·˜ ·ÚÎÂÙ¿

·ÓÔȯÙfi, ÒÛÙ ÙÔ ÓÂÚfi Ó· ÙÚ¤¯ÂÈ ÛÙÔ

ÓÈappleÙ‹Ú·.

OÈ ¯Ú‹ÛÂȘ ÙÔ˘ ÂÎÙÔÍÂ˘Ù‹Ú·

∏ Û˘Û΢‹ ·Ê·ÈÚ› Ù· ˘appleÔÏ›ÌÌ·Ù·

ÙÚÔÊÒÓ ·applefi Î·È ·Ó¿ÌÂÛ· ÛÙ· ‰fiÓÙÈ·

Û·˜, ÂÓfiÛˆ οÓÂÈ Ì·ÛÛ¿˙ ÛÙ· ԇϷ.

Àapple¿Ú¯Ô˘Ó ‰‡Ô ‰È·ÊÔÚÂÙÈΤ˜ ÏÂÈÙÔ˘Ú-

Á›Â˜:

∂ÎÙfiÍ¢ÛË: apple·Ù‹ÛÙ ӷ 'ÁÂÈ ¤Íˆ ÙÔ

ÛÙfiÌÈÔ fiappleˆ˜ ÛÙËÓ ÂÈÎfiÓ· (e) ÁÈ· Ó·

ηı·Ú›ÛÂÙ ٷ ‰fiÓÙÈ· Î·È Ù· ÌÂÛԉȷ-

ÛÙ‹Ì·Ù¿ ÙÔ˘˜, ·ÏÏ¿ Î·È ÁÈ· Ó·

·Ê·ÈÚ¤ÛÂÙ Âapple›ÌÔÓ· ˘appleÔÏ›ÌÌ·Ù·

Ê·ÁËÙÔ‡.

¡ÙÔ˘˜: apple·Ù‹ÛÙ ӷ ÌappleÂÈ Ì¤Û· ÙÔ ÛÙfiÌÈÔ

fiappleˆ˜ ÛÙËÓ ÂÈÎfiÓ· (f) ÁÈ· Ó· οÓÂÙÂ

Ì·ÛÛ¿˙ ÛÙ· ԇϷ ‰È·ÙËÚÒÓÙ·˜ Ù· ˘ÁÈ‹.

•ÂÎÈÓ‹ÛÙ Ì ÙËÓ ÂÎÙfiÍ¢ÛË. O‰ËÁ‹ÛÙÂ

ÙÔ ÓÂÚfi Âapple¿Óˆ ÛÙ· ‰fiÓÙÈ·, ·ÏÏ¿ ÂȉÈ-

ÎfiÙÂÚ· ÛÙ· ÌÂÛԉȷÛÙ‹Ì·Ù·. ªÂÙ¿

οÓÙ ÙÔ˘˜ Ì·ÛÛ¿˙.

O ÂÎÙÔÍÂ˘Ù‹Ú·˜ ÌappleÔÚ› ‡ÎÔÏ· Ó·

Á˘Ú›ÛÂÈ ·applefi ÙË Ì›· ÏÂÈÙÔ˘ÚÁ›· ÛÙËÓ

¿ÏÏË. ∫Ï›ÛÙ ÙËÓ Û˘Û΢‹ Ì ÙÔÓ

‰È·ÎfiappleÙË 7 (·appleÔʇÁÔÓÙ·˜ ¿ÛÎÔappleË

ÂÎÙfiÍ¢ÛË ÓÂÚÔ‡) Î·È apple·Ù‹ÛÙ ÙÔ

ÛÙfiÌÈÔ Ì¤Û· ‹ ¤Íˆ. ªÂÙ¿ ·ÓÔ›ÍÙÂ

apple¿ÏÈ ÙË Û˘Û΢‹ Ì ÙÔÓ ‰È·ÎfiappleÙË 7.

ªÂÙ¿ ÙË ¯Ú‹ÛË

ªËÓ ÎÏ›ÛÂÙ ÙË Û˘Û΢‹ Â¿Ó ‰ÂÓ ¤¯ÂÈ

·‰ÂÈ¿ÛÂÈ ÙÂÏ›ˆ˜ ÙÔ ‰Ô¯Â›Ô ‰ÈfiÙÈ ÛÙÔ

ÓÂÚfi appleÔ˘ ·apple¤ÌÂÈÓ ÌappleÔÚ› Ó· Û˘ÛÛˆ-

Ú¢ıÔ‡Ó ÌÈÎÚfi'È·, Â¿Ó Ë Û˘Û΢‹ ‰ÂÓ

¯ÚËÛÈÌÔappleÔÈËı› Û ۇÓÙÔÌÔ ¯ÚÔÓÈÎfi

‰È¿ÛÙËÌ·.

ªÂÙ¿ ÙË ÙÔappleÔıÂÙ‹ÛÙ ÙË Ï·'‹ 8 ÛÙËÓ

Ì·ÁÓËÙÈ΋ ˘appleÔ‰Ô¯‹ (b). OÈ ÂÎÙÔÍ¢-

Ù‹Ú˜ 4 ·appleÔıË·ÔÓÙ·È ÛÙËÓ ÂȉÈ΋

ı‹ÎË 3.

∫·ı·ÚÈÛÌfi˜

∫·ı·Ú›ÛÙÂ ÙÔ ÌÔÙ¤Ú 2 ÌÂ ¤Ó· ÛÙÂÁÓfi

apple·Ó›. ÎÔ˘apple›ÛÙ ηϿ ÙË Ï·'‹ 8 Ó·

ÛÙÂÁÓÒÛÂÈ. ∆Ô ‰Ô¯Â›Ô ÓÂÚÔ‡ 1 Î·È Ë

ı‹ÎË ÙˆÓ ÂÎÙÔÍÂ˘Ù‹ÚˆÓ 3 ÌappleÔÚÔ‡Ó

Ó· appleÏ˘ıÔ‡Ó ÛÙÔ appleÏ˘ÓÙ‹ÚÈÔ appleÈ·ÙˆÓ.

O‰ÔÓÙÈÎfi ΤÓÙÚÔ

∏ Û˘Û΢‹ ÂÎÙfiÍ¢Û˘ ÓÂÚÔ‡ Braun

Oral-B Plak Control ÌappleÔÚ› ‡ÎÔÏ· Ó·

18
---
ÌÂÙ·ÙÚ·apple› Û ¤Ó· appleÚ‹Ú˜ ΤÓÙÚÔ

ÊÚÔÓÙ›‰·˜ ‰ÔÓÙÈÒÓ: Ù· ÛËÌ›· Û‡Ó-

‰ÂÛ˘ j appleÔ˘ 'Ú›ÛÎÔÓÙ·È ÛÙÔ appleÏ¿ï

ÙÔ˘ ÌÔÙ¤Ú 2 Û·˜ ÂappleÈÙÚ¤appleÔ˘Ó Ó·

Û˘Ó‰¤ÛÂÙ ÂΛ ÙËÓ Û˘Û΢‹

·Ê·›ÚÂÛ˘ Ù˘ appleϿη˜ Braun Oral-B

Plak Control.

∂ÙÛÈ Ë Û˘Û΢‹ ·Ê·›ÚÂÛ˘ Ù˘ appleϿη˜

Î·È Ë Û˘Û΢‹ ÂÎÙfiÍ¢Û˘ ÓÂÚÔ‡ ÌappleÔ-

ÚÔ‡Ó Ó· ÏÂÈÙÔ˘ÚÁ‹ÛÔ˘Ó Û·Ó ÔÏÔÎÏË-

ڈ̤ÓË Û˘Û΢‹ ¯ÚËÛÈÌÔappleÔÈÒÓÙ·˜ ÙÔ

ηÏÒ‰ÈÔ ÙÔ˘ ÂÎÙÔÍÂ˘Ù‹Ú·.

∏ ÌÔÓ¿‰· Âapple·Ó·ÊfiÚÙÈÛ˘ Ù˘

Û˘Û΢‹˜ ·Ê·›ÚÂÛ˘ Ù˘ appleϿη˜

(Ù‡appleÔ˜ 4723) ‰È·Ù›ıÂÙ·È ·applefi ÙËÓ

·ÓÙÈappleÚÔÛˆapple›·.

ªÂ ÙËÓ ÂappleÈʇϷÍË ÙÚÔappleÔappleÔÈ‹ÛˆÓ.

∆Ô appleÚÔïfiÓ ·ÓÙ·appleÔÎÚ›ÓÂÙ·È ÛÙȘ

‰È·Ù¿ÍÂȘ Ù˘ E. O. K. appleÂÚ›

apple·ÚÂÌ'ÔÏÒÓ fiappleˆ˜ ·˘Ù¤˜

·Ó·Ê¤ÚÔÓÙ·È ÛÙËÓ ¡ÙÈÚÂÎÙ›'· ÙÔ˘

˘Ì'Ô˘Ï›Ô˘ 89/336/EOK).

19
---
Deutsch

Garantie

Als Hersteller übernehmen wir für dieses

Gerät – nach Wahl des Käufers zusätzlich

zu den gesetzlichen Gewährleistungsansprüchen

gegen den Verkäufer

– eine Garantie von 2 Jahren ab

Kaufdatum. Innerhalb dieser Garantiezeit

beseitigen wir nach unserer Wahl

durch Reparatur oder Austausch des

Gerätes unentgeltlich alle Mängel, die

auf Material- oder Herstellungsfehlern

beruhen.

Die Garantie kann in allen Ländern in

Anspruch genommen werden, in denen

dieses Braun Gerät von uns autorisiert

verkauft wird.

Von der Garantie sind ausgenommen:

Schäden durch unsachgemäßen Gebrauch,

normaler Verschleiß und Verbrauch

sowie Mängel, die den Wert oder

die Gebrauchstauglichkeit des Gerätes

nur unerheblich beeinflussen. Bei Eingriffen

durch nicht von uns autorisierte

Braun Kundendienstpartner sowie bei

Verwendung anderer als Original Braun

Ersatzteile erlischt die Garantie.

Im Garantiefall senden Sie das Gerät mit

Kaufbeleg bitte an einen autorisierten

Braun Kundendienstpartner.

Die Anschrift für Deutschland können

Sie kostenlos unter 00800/27 28 64 63

erfragen.

English

Guarantee

We grant 2 years guarantee on the

product commencing on the date of

purchase. Within the guarantee period

we will eliminate, free of charge, any

defects in the appliance resulting from

faults in materials or workmanship, either

by repairing or replacing the complete

appliance as we may choose.

This guarantee extends to every country

where this appliance is supplied by Braun

or its appointed distributor.

This guarantee does not cover: damage

due to improper use, normal wear or use

as well as defects that have a negligible

effect on the value or operation of the

appliance. The guarantee becomes void

if repairs are undertaken by unauthorised

persons and if original Braun parts are

not used.

To obtain service within the guarantee

period, hand in or send the complete

appliance with your sales receipt to an

authorised Braun Customer Service

Centre.

For UK only:

This guarantee in no way affects your

rights under statutory law.

Français

Garantie

Nous accordons une garantie de 2 ans

sur ce produit, à partir de la date d'achat.

Pendant la durée de la garantie, Braun

prendra gratuitement à sa charge la

réparation des vices de fabrication ou

de matière en se réservant le droit de

décider si certaines pièces doivent être

réparées ou si l'appareil lui-même doit

être échangé.

Cette garantie s'étend à tous les pays où

cet appareil est commercialisé par Braun

ou son distributeur exclusif.

Cette garantie ne couvre pas : les dommages

occasionnés par une utilisation

inadéquate et l'usure normale. Cette

garantie devient caduque si des

20
---
éparations ont été effectuées par des

personnes non agréées par Braun et si

des pièces de rechange ne provenant

pas de Braun ont été utilisées.

Pour toute réclamation intervenant

pendant la période de garantie, retournez

ou rapportez l'appareil ainsi que l'attestation

de garantie à votre revendeur ou à un

Centre Service Agréé Braun.

Appelez au 01.47.48.70.00 pour connaître

le Centre Service Agréé Braun le

plus proche de chez vous.

Clause spéciale pour la France

Outre la garantie contractuelle exposée

ci-dessus, nos clients bénéficient de la

garantie légale des vices cachés prévue

aux articles 1641 et suivants du Code

civil.

Italiano

Garanzia

Braun fornisce una garanzia valevole per

la durata di 2 anni dalla data di acquisto.

Nel periodo di garanzia verranno eliminati,

gratuitamente, i guasti dell'apparecchio

conseguenti a difetti di fabbrica o

di materiali, sia riparando il prodotto sia

sostituendo, se necessario, l'intero

apparecchio.

Tale garanzia non copre: danni derivanti

dall'uso improprio del prodotto, la normale

usura conseguente al funzionamento

dello stesso, i difetti che hanno

un effetto trascurabile sul valore o sul

funzionamento dell'apparecchio.

La garanzia decade se vengono effettuate

riparazioni da soggetti non autorizzati

o con parti non originali Braun.

Per accedere al servizio durante il

periodo di garanzia, è necessario

consegnare o far pervenire il prodotto

integro, insieme allo scontrino di

acquisto, ad un centro di assistenza

autorizzato Braun.

Contattare il numero 02/6678623 per

avere informazioni sul Centro di

assistenza autorizzato Braun più vicino.

Nederlands

Garantie

Op dit produkt verlenen wij een garantie

van 2 jaar geldend vanaf datum van

aankoop. Binnen de garantieperiode

zullen eventuele fabricagefouten en/of

materiaalfouten gratis door ons worden

verholpen, hetzij door reparatie, vervanging

van onderdelen of omruilen van het

apparaat.

Deze garantie is van toepassing in elk

land waar dit apparaat wordt geleverd

door Braun of een officieel aangestelde

vertegenwoordiger van Braun.

Beschadigingen ten gevolge van onoordeelkundig

gebruik, normale slijtage en

gebreken die de werking of waarde van

het apparaat niet noemenswaardig beinvloeden

vallen niet onder de garantie.

De garantie vervalt bij reparatie door niet

door ons erkende service-afdelingen en/

of gebruik van niet originele Braun

onderdelen.

Om gebruik te maken van onze service

binnen de garantieperiode, dient u het

complete apparaat met uw aankoopbewijs

af te geven of op te sturen naar

een geauthoriseerd Braun Customer

Service Centre.

Bel 0800-gillette voor een Braun

Customer Service Centre bij u in de

buurt.

21
---
EÏÏËÓÈο

∂ÁÁ‡ËÛË

·Ú·¯ˆÚԇ̠‰‡Ô ¯ÚfiÓÈ· ÂÁÁ‡ËÛË,

ÛÙÔ appleÚÔ˚fiÓ, ÍÂÎÈÓÒÓÙ·˜ ·applefi ÙËÓ

ËÌÂÚÔÌËÓ›· ·ÁÔÚ¿˜.

ª¤Û· ÛÙËÓ appleÂÚ›Ô‰Ô ÂÁÁ‡ËÛ˘ ηχapple-

ÙÔ˘ÌÂ, ¯ˆÚ›˜ ¯Ú¤ˆÛË, ÔappleÔÈ·‰‹appleÔÙÂ

ÂÏ¿Ùو̷ appleÚÔÂÚ¯fiÌÂÓÔ ·applefi η΋

ηٷÛ΢‹ ‹ η΋˜ appleÔÈfiÙËÙÔ˜ ˘ÏÈÎfi,

›Ù ÂappleÈÛ΢¿˙ÔÓÙ·˜ ›Ù ·ÓÙÈηıÈÛ-

ÙÒÓÙ·˜ ÔÏfiÎÏËÚË ÙË Û˘Û΢‹ Û‡ÌõˆÓ·

ÌÂ ÙËÓ ÎÚ›ÛË Ì·˜.

∞˘Ù‹ Ë ÂÁÁ‡ËÛË ÈÛ¯‡ÂÈ Û fiϘ ÙȘ

¯ÒÚ˜ appleÔ˘ appleˆÏÔ‡ÓÙ·È Ù· appleÚÔ˚fiÓÙ·

Braun.

∏ ÂÁÁ‡ËÛË ‰ÂÓ Î·Ï‡appleÙÂÈ: ηٷÛÙÚÔõ‹

·applefi η΋ ¯Ú‹ÛË, õ˘ÛÈÔÏÔÁÈ΋ õıÔÚ¿ ‹

ÂÏ·ÙÙÒÌ·Ù· ÏfiÁˆ ·Ì¤ÏÂÈ·˜ ÙÔ˘ ¯Ú‹ÛÙË.

∏ ÂÁÁ‡ËÛË ·Î˘ÚÒÓÂÙ·È ·Ó ¤¯Ô˘Ó Á›ÓÂÈ

ÂappleÈÛ΢¤˜ ·applefi ÌË ÂÍÔ˘ÛÈÔ‰ÔÙË̤ӷ

¿ÙÔÌ· ‹ ‰ÂÓ ¤¯Ô˘Ó ¯ÚËÛÈÌÔappleÔÈËı›

ÁÓ‹ÛÈ· ·ÓÙ·ÏÏ·ÎÙÈο Braun.

°È· Ó· ÂappleÈÙ‡¯ÂÙ ۤÚßȘ ̤۷ ÛÙËÓ

appleÂÚ›Ô‰Ô Ù˘ ÂÁÁ‡ËÛ˘, apple·Ú·‰ÒÛÙ ‹

ÛÙ›ÏÙ ÙËÓ Û˘Û΢‹ Ì ÙËÓ ·applefi‰ÂÈÍË

·ÁÔÚ¿˜ Û ¤Ó· ∂ÍÔ˘ÛÈÔ‰ÔÙË̤ÓÔ

∫·Ù¿ÛÙËÌ· ¤ÚßȘ Ù˘ Braun.

∫·Ï¤ÛÙ ÛÙÔ 01–9478700 ÁÈ· Ó·

appleÏËÚÔõÔÚËı›Ù ÁÈ· ÙÔ appleÏËÛȤÛÙÂÚÔ

∂ÍÔ˘ÛÈÔ‰ÔÙË̤ÓÔ ∫·Ù¿ÛÙËÌ· ¤ÚßȘ

Ù˘ Braun.

22
---
Garantiebüros und

Kundendienstzentralen

Guarantee and Service

Centres

Bureaux de garantie et centrales

service après-vente

Uffici e sede centrale del

servizio clienti

Garantiebureaux en

service-centrales

Εγγηση και

Εργαστήριο επισκευών

Deutschland

Braun GmbH, Kundendienst,

Westerbachstr. 23 H,

61476 Kronberg,

" 00 800 / 27 28 64 63

Argentina

Central Reparadora

de Afeitadoras S.A.,

Av. Santa Fe 5270,

1425 Capital Federal,

" 0800 44 44 553

Australia

Gillette Australia Pty. Ltd.,

Private Bag 10, Scoresby,

Melbourne, Victoria 3179,

" 1 800 641 820

Austria

Gillette Gruppe Österreich,

IZ-NÖ Süd, Straße 2,

Objekt M21,

2355 Wiener Neudorf,

" 00800-27 28 64 63

Bahrain

Yaquby Stores,

18 Bab ALBahrain,

P.O. Box 158,

Manama,

" 02-28 88 7

Barbados

Dacosta Mannings Inc.,

P.O. Box 176, Pier Head,

Bridgetown,

" 431-8700

Belarus

Electro Service & Co Ltd.,

Chernyshevskogo str. 10 A,

220015 Minsk,

" 2 85 69 23

Belgium

Gillette Group Belgium N.V.,

J. E. Mommaertslaan 18,

1831 Diegem,

" 02/71 19 211

Bermuda

Stuart's Ltd., Reid Street,

P.O. Box HM 2705,

Hamilton OR,

" 2 95 54 96

Brasil

Picolli Service,

Rua Túlio Teodoro

de Campos, 209,

São Paulo – SP,

" 0800 16 26 27

Bulgaria

Stambouli Ltd.,

12, Hrist Botev Str.,

Sofia, Bulgaria

" + 359 2 528 988

Canada

Gillette Canada Company,

4 Robert Speck Parkway,

Mississauga L4Z 4C5, Ontario,

" (905) 566-5000

âeská Republika

PH SERVIS sro.,

V Mezihori 2,

18000 Praha 8,

" (02) 663 105 74

Chile

Viseelec,

Braun Service Center Chile,

Av. Concha y Toro #4399,

Puente Alto,

Santiago,

" 2 288 25 18

China

Gillette (Shanghai) Sales Co.

Ltd.

550 Sanlin Road, Pudong,

Shanghai 200124,

" 800 820 13 57

Colombia

Gillette de Colombia S.A.,

Calle 100 No. 9A - 39 Piso 3.

Bogotá, D.C.,

" 9800-5-27286

Croatia

Iskra elektronika d.o.o.,

Bozidara Magovca 63,

10020 Zagreb,

" 1- 6 60 17 77

Cyprus

Kyriakos Papavasiliou Trading

70, Kennedy Ave.,

1663 Nicosia,

" 3572 314111

Danmark

Gillette Group Danmark A/S,

Teglholm Allé 15,

2450 Kobenhavn SV,

" 70 15 00 13

Djibouti (Republique de)

Ets. Nouraddine,

Magasin de la Seine,

12 Place du 27 Juin,

B.P. 2500, Djibouti,

" 35 19 91

Egypt

United Sons

International Trading,

25 Makram Ebied Street,

P.O. Box 7607,

Cairo,

" 02-2740652

España

Braun Espanola S.A.,

Braun Service,

Enrique Granados, 46,

08950 Esplugues de Llobregat

(Barcelona),

" 901 11 61 84

Estonia

Servest Ltd.,

Raua 55, 10152 Tallinn,

" 627 87 39

France

Groupe Gillette France -

Division Braun,

9, Place Marie Jeanne Bassot,

92693 Levallois Perret Cédex,

" (1) 4748 70 00,

Minitel 3615 code Braun.

23
---
Great Britain

Gillette Group UK Ltd.,

Braun Consumer Service,

Great West Road,

Isleworth TW7 5NP;

Middlesex,

" 0800 783 70 10

Greece

Berson S.A.,

47, Agamemnonos,

17675 Kallithea Athens,

" 1-9 47 87 00

Guadeloupe

Ets. André Haan S.A.,

Zone Industrielle

B.P. 335,

97161 Pointe-à-Pitre,

" 26 68 48

Hong Kong

Audio Supplies Company,

Room 506,

St. George's Building,

2 ICE House Street,

Hong Kong,

" 25 24-93 77

Hungary

Kisgep KFT,

Pannonia u. 23,

1136 Budapest,

" 13 494 955

Iceland

Verzlunin Pfaff h.f.,

Grensasvegur 13,

Box 714, 121 Reykjavik,

" 5 33 22 22

India

Braun Division,

c/o Gillette Div. Op. Pvt. Ltd.,

34, Okhla Industrial Estate,

New Delhi 110 020,

" 11 68 30 218

Iran

Tehran Bouran Company

Irtuc Building,

No 874 Enghelab Ave.,

P.O. Box 15815-1391,

Tehran 11318,

" 021 67 03 50

Ireland (Republic of)

Gavins Shaver Centre,

83/84, Lower Camden Street,

Dublin 2,

" 1800 509 448

24

Israel

S. Schestowitz Ltd.,

8 Shacham Str.,

Tel-Aviv, 49517,

" 1 800 335 959

Italia

Servizio Consumatori Braun

Gillette Group Italy S.p.A.,

Via G.B. Pirelli, 18,

20124 Milano,

" 02 / 6678623

Jordan

Dajani Group,

Shamaisani/Sherif Jamil Bin

Naser, P.O. Box 926976,

Amman 11110,

" 962-6552 5545

Kenya

Radbone-Clark Kenya Ltd.,

P.O. Box 40833,

Nairobi-Mombasa Road,

Nairobi, " 2 82 36 60

Korea

STC Industries

Corp. Braun Division,

32, Mullae-Dong 3-KA,

Youngdeungpo-Ku,

Seoul 150-090,

" 080 258 25 89

Kuwait

Union Trading Co.,

Braun Service Center,

P.O. Box 28 Safat,

Safat Code 13001, Kuwait,

" 04 83 32 74

Latvia

Latintertehserviss Co.,

72 Bullu Street, House 2,

Riga 1067,

" 2 40 39 11

Lebanon

Magnet SAL - Fattal HLDG,

P.O. Box 110-773,

Beirut, " 1 51 20 02

Libya

Al-Muddy Joint-Stock Co.,

Istanbul Street 6,

P.O. Box 4996, Tripoli,

" 21 333 3421

Lithuania

Elektronas AB,

Kareiviu 6,

2600 Vilnius,

" 277 76 17

Luxembourg

Sogel S.A.,

1 Dernier Sol, BP 1941,

1019 Bonnevoie,

" 4 00 50 51

Malaysia

Gillette Malaysia Sdn. Bhd.,

Braun Customer Service,

11 A Persiaran Selangor,

40200 Shah Alam,

" 3 55 19 23 10

Malta

Kind's,

287, Republic Street,

Valletta VLT04,

" 24 71 18

Maroc

Indimar S.A.,

86, rue de Chaouia

(ex. rue Colbert),

Casablanca, 20 000,

" 2 26 86 31

Martinique

Decius Absalon,

23 Rue du Vieux-Chemin,

97201 Fort-de-France,

" 73 43 15

Mauritius

J. Kalachand & Co. Ltd.,

Bld DBM Industrial Estate,

Stage 11,

Plaine Lauzun,

" 2 12 84 13

Mexico

Gillette Manufactura, S.A. de

C.V./

Gillette Distribuidora, S.A. de

C.V.

Atomo No. 3

Parque Industrial Naucalpan

Naucalpan de Juarez

Estado de México, C.P. 53370

" 01-800-508-58-00

Nederland

Gillette Groep Nederland BV,

Visseringlaan 20-22,

2288 ER Rijswijk,

" 070-4 13 16 58
---
Netherlands Antilles

Boolchand's Ltd,

Heerenstraat 4 B, P.O. Box 36,

Curacao, 00802,

Netherlands Antilles

" 9 61 22 62

New Zealand

Key Service Ltd.,

c/o Gillette NZ,

59-63 Druces Rd.,

Manakau City, Auckland,

" 9-262 58 38

Nippon

Braun Gillette Japan Inc.,

Siber Hegner Bldg., 7th Floor,

89-1 Yamashita-cho, Naka-ku,

P.O. Box 247,

Yokohama 231-0023,

" 045-6817591

Norge

Gillette Group Norge AS,

Nils Hansensvei 4,

P.O. Box 79 Bryn,

0667 Oslo,

" 022-72 88 10

Oman (Sultanate of)

Naranjee Hirjee & Co. LLC.,

10 Ruwi High,

P.O. Box 9, Muscat 113,

" 703 660

Pakistan

Gillette Pakistan Ltd.,

Dr. Ziauddin Ahmend Road,

Karachi 74200,

" 21 56 88 930

Paraguay

Paraguay Trading S.A.,

Avda. Artigas y Cacique

Cara Cara,

Asunción,

" 21203350/48/46

Philippines

Gillette Philippines Inc.,

Braun Service Centre

Villongco Road, Sucat,

Paranaque City,

" 2 8 42 31 54

Poland

Gillette Poland S.A.,

Budynek Orion,

ul. Domaniewska 41,

02-672 Warszawa,

" 22 548 89 74

Portugal

Gillette Portuguesa, Ltd.,

Braun Service,

Rua Tomás da Fonseca,

Torre G-9ºB,

1600-209 Lisboa,

" 808 2 000 33

Qatar

Al Baker Trading Co.,

P.O. Box 9, Doha,

" 04 15 0 57

Réunion

Dindar Confort,

58, rue Maréchal Leclerc,

P.O. Box 12,

97400 St. Denis,

" 40 12 02

Romania

Gillette Romania srl.

Calea Floreasca nr. 133-137

et 1, sect 1,

71401 Bucuresti

" 01-2319656

Russia

RTC Sovinservice,

Rusakovskaya 7,

107140 Moscow,

" (095) 264 96 02

Saudi Arabia

Salem M. Bakhashwain Sons,

P.O. Box 743,

Tabuk Street,

21421 Jeddah,

" 657 31 11

Schweiz/Suisse/Svizzera

Telion AG, Rütistrasse 26,

8952 Schlieren,

" 0844-88 40 10

Singapore (Republic of)

Beste (S) Pte. Ltd.,

6 Tagore Drive,

# 03-04 Tagore Industrial

Building,

Singapore 787623,

" 4 552 24 22

Slovakia

Techno Servis Bratislava spol.

s.r.o.,

Bajzova 11/A,

82108 Bratislava,

" (02) 555 68 161

Slovenia

Coming d.d.,

Slovenceva 024,

1000 Ljubljana,

" 386-01-560-40-00

South Africa (Republic of)

Fixnet After Sales Service,

17B Allandale Park,

P.O. Box 5716,

Cnr Le Roux and Morkels

Close,

Johannesburg 1685,

Midrand, Gauteng,

" 11 315 9260/1

St. Maarten

Ashoka,

P.O. Box 79,

Philipsburg,

Netherlands Antilles,

" 52 29 31

St.Thomas

Boolchand's Ltd.,

31 Main Street,

P.O. Box 5667,

00803 St. Thomas,

US Virgin Islands,

" 340 776 0302

Suomi

Gillette Group Finland Oy/

Braun,

P.O. Box 9,

Niittykatu 8, PL 9,

02200 Espoo,

" 09-45 28 71

Sverige

Gillette Group Sverige AB,

Dept. Sweden, Stockholm

Gillette

Räsundavägen 12,

Box 702,

16927 Solna,

" 020-21 33 21

Syria

c/o Khalil Daoud

Amro Ibn Kalthoum Str.

Unisyria, P.O. Box 35002,

Damascus,

" 11 622 28 81

Taiwan, R.O.C.

Audio & Electr. Supplies Ltd.,

Brothers Bldg., 10th Floor,

85 Chung Shan N Rd., Sec. 1,

Taipei (104),

" 0 80 221 630

25
---
Thailand

Gillette Thailand Limited,

109 Moo 4,

Chalongkrung Rd.,

Lamplatew Ladkrabang,

Bangkok 10520,

" 645-0800 22 16 30

Yugoslavia

BG Elektronik,

Bulevar revolucije 34,

11000 Beograd,

" 11 3240 030

Tunesie

Generale d'Equipement

Industr.,

34 rue du Golfe Arabe,

Tunis, 2000,

" 00216 171 68 80

Turkey

Gillette Sanayi ve Ticaret A.S.,

Polaris Is Merkezi, Ahi Evran

Cad., No:1,

80670 Maslak, Istanbul,

" 0212-473 75 85

United Arab Emirates

The New Store,

P.O. Box 3029,

Al Suog Street No-10,

Dubai,

" 43 53 45 06

Uruguay

Driva S.A.,

Marcelilno Sosa 2064,

11800 Montevideo,

" 2 924 95 76

USA

The Gillette Company - SBMC

Braun Consumer Service,

1, Gillette Park 4k-16,

Boston, MA 02127-1096,

" 1-800-272-8611

Venezuela

Gillette de Venezuela S.A.,

Av. Blandin,

Centro San Ignacio

Torre Copérnico, Piso 5

La Castellana, Caracas

" 0800-4455388

Yemen (Republic of)

Saba Stores for Trading,

26th September Street,

P.O. Box 5278,

Taiz,

" 967 4-25 23 80

26