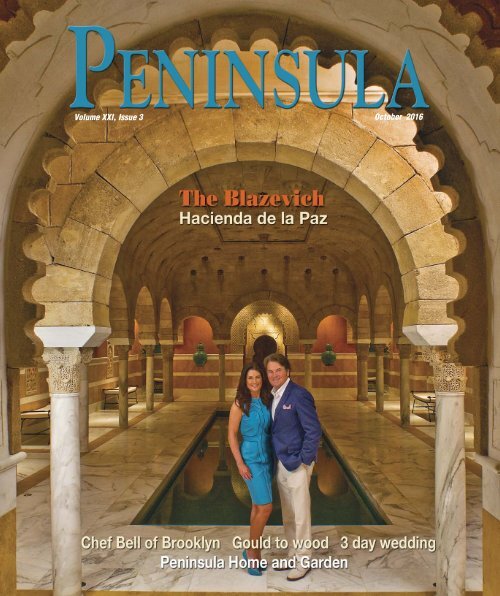 Peninsula People Oct 2016
You also want an ePaper? Increase the reach of your titles
YUMPU automatically turns print PDFs into web optimized ePapers that Google loves.
Volume XXI, Issue 3 October 2016
---
October 2016 • Peninsula 3
---
PENINSULA

Volume XXI, Issue 3

October 2016

P A L O S V E R D E S P E N I N S U L A M O N T H L Y

ON THE COVER

John Z. Blazevich and Alex McLeod in the hamam at

Hacienda de La Paz.

PROFILES

12

24

38

32

An Indian wedding

by Mark McDermott

Sanam Madhav and Neil Chhabria wed in

a three day ceremony informed by four

centuries of Indian tradition.

Gould would wood

by Bondo Wyszpolski

Woodturner Richard Gould makes art of

felled and abandoned trees.

Hacienda de la Paz

by Kevin Cody

John Z. Blazevich wanted to build an

iconic home embracing art, architecture

and engineering spanning a millennium.

Rolling Hills planners had their doubts

about the project, but not any more.

Brooklyn's Bell

by Kevin Cody

Chef Robert Bell recalls a lifetime of

cooking, dating back to Grandma

Terano's Brooklyn kitchen, after whom

he named his Peninsula restaurant.

HIGHLIGHTS

6 Vista for Children golf

18 Gary Johnson at Drew Cary's

24 Jester & Pharley tennis

28 H.E.L.P celebrates 50th anniversary

DEPARTMENTS

29 Peninsula calendar

62 Peninsula Home & Garden Guide

69 Home services

Photo by David Fairchild

STAFF

EDITOR

Mark McDermott

PUBLISHER

Stephanie Cartozian

PUBLISHER EMERITUS

Mary Jane Schoenheider

ASSOCIATE PUBLISHER

Richard Budman

DISPLAY SALES

Adrienne Slaughter,

Tamar Gillotti, Amy Berg,

Shelley Crawford

CLASSIFIEDS

Teri Marin

ADVERTISING

DIRECTOR

Richard Budman

ADVERTISING

COORDINATOR

Teri Marin

GRAPHIC DESIGNER

Tim Teebken

FRONT DESK

Judy Rae

DIRECTOR OF

DIGITAL MEDIA

Daniel Sofer (Hermosawave.net)

CONTACT

MAILING ADDRESS

P.O. Box 745

Hermosa Beach, CA

90254

PHONE

(310) 372-4611

FAX

(424) 212-6780

WEBSITE

www.easyreadernews.com

EDITORIAL

PenPeople@

easyreadernews.com

ADVERTISING

(310) 372-4611

displayads@

easyreadernews.com

Please see the Classified Ad

Section for info.

FICTITIOUS NAME

STATEMENTS (DBA'S)

can be filed at the

office during regular

business hours.

(310) 372-4611

Peninsula People is a supplemental

publication of Easy

Reader, 2200 Pacific Cst. Hwy.

#101., PO Box 745, Hermosa Beach,

CA. 90254-0427.

SUBSCRIPTIONS

Yearly domestic mail subscriptions

to Peninsula People are $80, foreign

$90 payable in advance. The

entire contents of Peninsula People

are copyrighted 2016 by

Peninsula People, Inc.

4 Peninsula • October 2016
---
Shopping, dining and entertainment, we've got it all!

APPAREL & ACCESSORIES

Friar Tux Shop . . . . . . . . . . . . . . . . . . (310) 534-4700

Styles of Hawaii. . . . . . . . . . . . . . . . . (310) 326-2151

Tilly's . . . . . . . . . . . . . . . . . . . . . . . . . (310) 534-1642

BEAUTY

European Wax Center . . . . . . . . . . . . (310) 325-2929

Fancy Nails . . . . . . . . . . . . . . . . . . . . (310) 326-7980

Pia Hair Salon . . . . . . . . . . . . . . . . . (310) 326-0815

Rolling Hills Beauty Bar. . . . . . . . . . (310) 530-3844

Victor Anthony's Hair Studio . . . . . . (310) 326-2338

Vogue Beauty Studio. . . . . . . . . . . . . (310) 530-5900

Waterside Beauty . . . . . . . . . . . . . . . (310) 534-4242

BOOKS/CARDS/GIFTS/

EDUCATIONAL MATERIALS

The Gift Korner. . . . . . . . . . . . . . . . . (310) 539-5011

The Tutoring Center . . . . . . . . . . . . . (310) 530-5377

DRY CLEANING

Beltone Cleaners . . . . . . . . . . . . . . . (310) 325-2511

ENTERTAINMENT

AMC Theater Rolling Hills 20 . . . . . (888) 262-4386

FINANCIAL/BUSINESS SERVICES

Chase Bank . . . . . . . . . . . . . . . . . . . (310) 257-1997

The Postal Mart. . . . . . . . . . . . . . . . . (310) 325-6777

South Bay Credit Union . . . . . . . . . . (310) 374-3436

GROCERY/SPECIALTY FOODS

Baskin Robbins . . . . . . . . . . . . . . . . . (310) 530-6812

BevMo! . . . . . . . . . . . . . . . . . . . . . . . (310) 257-0034

Cups's Frozen Yogurt . . . . . . . . . . . . (310) 534-2625

Nijiya Japanese Market . . . . . . . . . . (310) 534-3000

Omaha Steaks . . . . . . . . . . . . . . . . . (310) 539-3831

Peet's Coffee & Tea . . . . . . . . . . . . . . (310) 626-8008

Starbucks. . . . . . . . . . . . . . . . . . . . . . (310) 534-4835

Trader Joe's . . . . . . . . . . . . . . . . . . . . (310) 326-9520

Treat Tea & Ice. . . . . . . . . . . . . . . . . . (310) 326 9888

Whole Foods Market . . . . . . . . . . . . (310) 257-8700

Yogurt Lounge . . . . . . . . . . . . . . . . . . (310) 230-5505

HEALTH & FITNESS

Arthur Murray Dance Studio . . . . . . (310) 977-0987

Great Earth Vitamins. . . . . . . . . . . . . (310) 534-8494

My Fit Foods . . . . . . . . . . . . . . . . . . . (310) 257-9175

PV Massage . . . . . . . . . . . . . . . . . . . (310) 530-9093

24 Hour Fitness Center . . . . . . . . . . (310) 534-5100

Weight Watchers . . . . . . . . . . . . . . . (800) 651-6000

HOME FURNISHINGS

Bed, Bath & Beyond . . . . . . . . . . . . (310) 325-0432

Hitachiya. . . . . . . . . . . . . . . . . . . . . . (310) 534-3136

INSTRUCTIONAL SERVICES

Budding Artists . . . . . . . . . . . . . . . . . (310) 326-9764

Color Me Mine. . . . . . . . . . . . . . . . . (310) 325-9968

JEWELRY

Modern Jewelry Mart . . . . . . . . . . . . (310) 517-0308

MEDICAL/DENTAL SERVICES

Dr. Mylena Jl, D.D.S, Inc.. . . . . . . . . (310) 326-4691

Dr. M.G. Monzon, D.D.S. . . . . . . . . (310) 891-3303

Dr. Nolan Ng, Optometrist . . . . . . . (310) 326-2881

Olive Chiropractic . . . . . . . . . . . . . . (310) 539-2285

South Bay Pain Docs . . . . . . . . . . . . (310) 626-8037

Torrance Family Urgent

Care Center of South Bay . . . . . . . . . (310) 997-1796

PET & GROOMING

Grooming Wonders . . . . . . . . . . . . . (310) 534-1130

Pet's Plus . . . . . . . . . . . . . . . . . . . . . . (310) 539-5700

Wild Birds Unlimited . . . . . . . . . . . . (310) 326-2473

REAL ESTATE

J A Realty . . . . . . . . . . . . . . . . . . . . . (310) 539-2430

Person Realty . . . . . . . . . . . . . . . . . . (310) 325-8700

RESTAURANTS

Blaze Pizza . . . . . . . . . . . . . . . . . . . . (310) 325-9500

Broth. . . . . . . . . . . . . . . . . . . . . . . . . (310) 541-1227

California Pizza Kitchen. . . . . . . . . . (310) 539-5410

Daphne's Greek Café. . . . . . . . . . . . (310) 257-1861

Fanoos Persian Restaurant . . . . . . . . (310) 530-4316

Fish Bonz Grill . . . . . . . . . . . . . . . . . (310) 325-2669

Hakata Yamaya . . . . . . . . . . . . . . . . . (310) 257-1800

IcCho Japanese Restaurant. . . . . . . . (310) 325-7273

Ichimi An . . . . . . . . . . . . . . . . . . . . . (310) 784-0551

Islands Restaurant. . . . . . . . . . . . . . . (310) 530-5383

Joey's Smokin' B.B.Q . . . . . . . . . . . . (310) 257-1324

Kabab Curry of India . . . . . . . . . . . . (310) 539-0171

Little Sheep Mongolian Hot Pot . . . . (310) 517-9605

Mashawi Lebanese Grill . . . . . . . . . . (310) 325-3545

Nice Cafe . . . . . . . . . . . . . . . . . . . . . (310) 539-0323

Rubio's . . . . . . . . . . . . . . . . . . . . . . . (310) 891-1811

Ryo Zan Paku . . . . . . . . . . . . . . . . . . (310) 530-8720

Sushi Boy . . . . . . . . . . . . . . . . . . . . . (310) 534-4013

Veggie Grill . . . . . . . . . . . . . . . . . . . . (310) 325-6689

Northeast Corner of Crenshaw & Pacific Coast Highway in Torrance

For Information Call (310) 534-0411

A LA CAZE DEVELOPMENT COMPANY PROJECT

October 2016 • Peninsula 5
---
LILY LIANG PRESENTS:
---
PALOS VERDES' FINEST HOMES & ESTATES FOR OVER 30 YEARS!

COMING

SOON

Monte Malaga

Palos Verdes Estates

$2,399,000

Price includes lot with plans only, 13,000+ sq. ft. lot. 5,000 sq. ft.

Interior, Infinity pool, Ocean/Coastline/Redondo to Malibu Views

2 Buggy Whip Dr.

Rolling Hills

$13,500/Mo.

4 Beds, 4 baths, Approx. 8,000 sq. ft.

2-year min. Lease, Pool & Tennis Court

1724 Esplanade #B

Redondo Beach

$10,000/Mo.

3 Beds, 4 Baths, 1,830 sq. ft.

Fully furnished, 1-year Min lease

550 Silver Spur Rd. Suite 240, Rolling Hills Estates, CA 90275
---
S P O T L I G H T O N T H E H I L L

Vistas for Children

Golf Tournament

Nearly 100 golfers participated in Vistas

for Children's annual golf tournament

at the Palos Verdes Golf Club. The tournament

raised $32,000, which will benefit

South Bay children's charities.

1. Current and Past Vistas Presidents

Pam Branam, Nadine Bobit,

Eileen Krock, Karen Odom and

Helaine Lopes.

2. Tournament co-chairs Tricia

Hawkins, Pam Branam and Cindy

Percz.

3. Larry Percz, Mark Herand,

Dave Carpenter, Brad Means and

Paul Stimpfl.

4. Larry and Pam Branam and

guests.

5. Helaine Lopes, Pam Branam,

4th District Supervisorial candidate

Steve Napolitano and Cindy

Percz.

6. Tournament winners Steve

Hunt, Jonathan Hathaway, Matt

Misitich and Dane Lupe.

7. Wells Fargo's Paul and

MaryKay Stimpfl.

8. Rich Severa, Tom Ricci, Mike

Melideo, Steve Cox and Cindy

Percz.

9. Ginger McNary, Paul Stimpfl

and Deirdre Hunt.

10. Tricia Hawkins, Madeline Jordan

and Brenda Beatty.

Page layout by Caterina Hyneman

2

1

3

5

4

7

6

8

9 10

8 Peninsula • October 2016
---
October 2016 • Peninsula 9
---
Vivaha

by Mark McDermott
---
Sanam amd Neil's parents praying for the couple's matrimony. From left to right, Sanam, Malvika, Atul, Philomina, Raju, and Neil. Photo by Lin & Jirsa

Neil and Sanam Chhabria begin a new life toget her by following four centuries of

tradition wit h a t hree day celebration

Sanam and Neil Chhabria were married August

20 in a traditional Hindu wedding, or

Vivaha, that was the culmination of three

days of elaborate rituals. Festivities began Thursday

with an eight-hour ceremony in which the

bride was painted with intricate henna designs at

the groom's family home in Palos Verdes Estates

and ended Saturday with an exuberantly colorful

wedding at the Hyatt Regency Resort in Huntington

Beach.

But the newlywed's love story began, with considerably

less grandeur, on December 18, 2010,

at Big Mike's Philly Steaks & Subs sandwich shop

in Hermosa Beach.

Neil, the son of local real estate icon Raju

Chhabria and his wife Philomina, had invited his

UC San Diego college friend, Diva, to a hip hop

show he was promoting at a nearby Hermosa

nightclub. His brother, Anand, was performing.

His friend brought a few cousins, including

Sanam, the daughter of Atul and Malvika Madhav

of El Segundo. Diva called to meet before the

show, and Neil asked the girls to join him at Big

Mike's, famed for its massive Philly cheesesteak

sandwiches.

Neil was in mid-cheesesteak when they arrived.

He was immediately struck by Sanam.

"I wasn't expecting to really meet anyone, but

Diva was bringing these two cousins and she

called me. 'Okay, cool, whatever — meet me at

Big Mike's so I can walk you into the show and

you don't have to pay cover,'" he recalled. "They

show up at Big Mike's and I'm chowing down on

a sandwich. Then I saw Sanam, and got a chance

to take in her beauty….It's really corny and I feel

weird saying it...They say the eyes are the windows

to the soul, and I looked at her eyes and I

could tell she's a really good person. I don't know

how else to explain it other than I liked what I

saw, and not just physically."

Sanam, a lifelong vegetarian, was less impressed.

"I'm like, 'Ew, what are you eating?'" Sanam remembered.

"I remember him just going at it, and

the sandwich was just so much meat. I was thinking,

'Oh god, this guy is like a serious carnivore.'"

"She was repulsed," Neil remembered.

At the show, Neil kept his distance. "I think he

wanted to see what kind of girl I was, what I was

about," Sanam said.

But he couldn't help but watch Sanam, who

was 20 at the time, a student in radiologic science

at Cal State Northridge. He liked everything

about the way she carried herself.

"I pretty much fell in love that night," he said.

The next morning, Sanam checked her Facebook

to find a friend request from Neil. She accepted,

and they chatted online; he asked for her

phone number and she gave it to him. She realized

from the outset his interest was romantic.

"When someone sends you a smiley face, you

know what it's about," she said.

She thought Neil was a nice guy, but Sanam

was so focused on school that she wasn't even

considering dating. In fact, she'd never dated; her

priority was education and she didn't want distractions.

But Neil sweetly persisted, gently asking

her out again and again over the next few

months.

The couple's mutual love for the Los Angeles

Lakers helped pave the way. He'd asked her out

for Valentine's Day, but she told him she thought

it was a silly holiday. Instead, a few days later that

February, Sanam agreed to go with Neil and a

group of mutual friends to festivities surrounding

the NBA All Star Game, which was at the Staples

Center that year. Over the course of the evening,

she realized how much she really liked Neil.

Vivaha cont. on page 56

October 2016 • Peninsula 13
---
Fine Homes and Luxury Properties

NEW

LISTING

NEW

LISTING

PALO VISTA

RANCHO PALOS VERDES

6 Bedrooms Suites, 10 Bathrooms, 12,841 sq ft Home, 65,413 sq ft Lot

Gated Luxury Mansion with Ocean, Catalina & Trump Golf Course Views

2-Story Master Suite, Indoor Pool & Spa, Many Exquisite Features

OFFERED AT $4,950,000

www.3303PaloVista.com

VALLEY VIEW ROAD

RANCHO PALOS VERDES

4 Bedrooms + Office, 4.25 Bathrooms, 4,578 sq ft Home, 11,866 sq ft Lot

Beautifully Updated Home on Quite Cul De Sac. Great Floorplan

New Wood Flooring, Bedroom Suites, Gourmet Kitchen

OFFERED AT $1,950,000

www.RodYoon.com

BEAUTIFLLY

REMODELED

EXCEPTIONAL

PROPERTY

Via Asturias

PALOS VERDES ESTATES

5 Bedrooms, 4.5 Bathrooms, 5,249 sq ft Home, 15,190 sq ft Lot

Ocean View Estate in Upper Lunada Bay. Beautifully Remodeled in 2004

Huge Master Suite, Top of the Line Kitchen, Many Luxurious Features

OFFERED AT $3,499,000

www.ViaAsturias.com

paseo la cresta

PALOS VERDES estates

7 Bedrooms, 11 Bathrooms, 10,400 sq ft Home, 42,412 sq ft Lot

Magnificent Gated Estate offering a Unique Combination of Luxury and Comfort

Sweeping Ocean, Bay and Treetop views. Exquisite Finishes and Fine Appointments Throughout

OFFERED AT $9,250,000

www.1414PaseoLaCresta.com

#1 Real Estate Team 2010 - 2015, RE/MAX Estate Properties

Stephen Haw/Team Leader

何 精 益

310.503.9886

Skh8828@gmail.com

Kim Hall

Serving the South Bay

310.721.7526

KimHallHomes@gmail.com

Cristina Go

AREAA SB Founding

President

310.971.0404

gocristinago@gmail.com

Lauren Yoon

로렌 윤

310.619.4989

laurenyoon17@gmail.com
---
Fine Homes and Luxury Properties

NEW

LISTING

MAJOR

PRICE

REDUCTION

cedarbluff

RANCHO PALOS VERDES

4 Bedrooms, 2 Bathrooms, 2,192 sq ft Home, 9,968 sq ft Lot

Nicely Remodeled in 2013, Open Floor Plan, High Ceilings

Large Master Suite, Central Location

OFFERED AT $1,250,000

www.28716Cedarbluff.com

via somonte

PALOS VERDES estates

Spectacular Coastline and Queen's Necklace View in Malaga Cove

Bring your Architect/Contractor. Need Major Remodeling or Rebuild

Currently 3 Bedrooms, 2 Bathrooms, 2,365 sq ft Home on 8,102 sq ft Lot

OFFERED AT $1,795,000

www.797ViaSomonte.com

SHOWCASE

PROPERTY

BIG FLAT

LOT

CREST ROAD

RANCHO PALOS VERDES

5 Bedrooms, 6.5 Bathrooms, 8,533 sq ft Home, Guest House

PANORAMIC VIEW of Queen's Necklace & Downtown LA

Architectural Masterpiece, Luxury Features, Beautiful Landscape

OFFERED AT $3,995,000

www.LuxuryPVhome.com

LAUREL DRIVE

RANCHO PALOS VERDES

1.21 Acre Gated Vacant Lot has Large, Flat Building Pad

Panoramic Catalina, Ocean & Endless Sunset Views!

Private & Secluded Location in Lunada Pointe. Rare Find Opportunity

OFFERED AT $3,500,000

Local Experts with International Connections to get YOUR Properties SOLD

Natsuko Fujii

藤 井 奈 都 子

310.941.2468

nfujii10@gmail.com

Alicia Enrique

Real Estate Specialist

310.720.4852

aliciahomes1@gmail.com

Dede Hsu

郝 蒂 蒂

310.722.9222

dedehsu@gmail.com

Rod Yoon

롸드 윤

213.663.8888

RodYoon@gmail.com
---
S P O T L I G H T O N T H E H I L L

Libertarian Johnson

meets with area supporters

Kerry Welsh knew he'd found a presidential

candidate he could support

when Libertarian Party presidential candidate

Gary Johnson stayed at the Rancho

Palos Verdes home of Welsh and his

wife Helen.

Despite RPV's steep hills, the candidate

wanted to go on a bike ride. Johnson

has climbed each of the highest mountains

on the seven continents. "Unfortunately,

I told Gary, my bike has a flat.

'Not a problem. I'll fix it,' he said. I

thought, wow, a presidential candidate

who's not afraid to get his hands dirty,"

Welsh recalled at the candidate's visit to

a fundraiser he co-hosted in July at the

home of comedian Drew Carey.

Nirvana bass player Krist Noselic reminded

Johnson supporters of how the

Seattle grundge band's 1991 hit "Smells

like teen spirit" went "viral" after receiving

play on MTV. He said today's more

powerful social media gives small party

candidates like Johnson an opportunity

to challenge the major party candidates.

R.J. Lyman, a law partner of Johnson's

vice presidential running mate, former

Massachusetts governor William Weld,

told supporters, "Theodore Roosevelt

promised the Square Deal, Franklin Delano

Roosevelt promised the New Deal.

Truman promised the Fair Deal. Trump

is promising the Art of the Deal, and

Clinton is serving up the Same Old

Deal."

Johnson, he said is the Real Deal.

Johnson told of building his handyman

business from one employee (himself) to

1,000 employees before becoming governor

of Texas, where, he said, he vetoed a

record 700 bills.

Johnson described himself as the fiscally

conservative candidate who favors

less government, and more individual

liberties. He proposed replacing military

intervention with free trade diplomacy.

Johnson is hoping to reach the 15 percent

poll threshold that would qualify him for

participation in the presidential debates.

1. Presidential candidate Gary Johnson with Kerry

Welsh, Drew Carey and VEEP co-star Diedrich Bader.

2. Libertarian candidate Gary Johnson with former

Walt Disney COO Gary Wilson.

3. Bob and Buckita Leff of Hermosa Beach.

4. Nirvana bass player Krist Novoselic.

5. R.J. Lyman, a partner of Johnson's vice

presidential running mate William Weld.

1 2

3 4

5 6

6. Co-host Kerry Welsh of Rancho Palos Verdes

introduces Libertarian party presidential nominee

Gary Johnson

7. Nominee Johnson with Matt Kibbe, a political

organizer with the Concerned American Voters, a Rand

Paul SuperPAC.

8. Gary Johnson with Hermosa Beach supporters

Warren Barr DDS, and wife Peggy.

PHOTOS BY KEVIN CODY

7

8

16 Peninsula • October 2016
---
October 2016 • Peninsula 17
---
S P O T L I G H T O N T H E H I L L

4th Annual Jester & Pharley

Tennis tournament benefits

Children with cancer

The rousing round-robin at Alta Vista Park

in Redondo Beach raised funds to provide

copies of David Saltzman's awardwinning

children's book The Jester Has Lost His

Jingle and Jester & Pharley dolls to young cancer

patients at Harbor-UCLA Medical Center in

Torrance.

Janice Bittker and Hans Lavik, both of Redondo

Beach, slammed their way to first place

in Division A in the recent annual Jester &

Pharley Phund Benefit Doubles Tennis Tournament.

Lisa Greiner of Rolling Hills and Wayne

Turner of Hawthorne took first-place honors in

Division B.

"It's always so much fun to play at this event

and raise money to help children with cancer,"

said John Mandich, who, at 91, was the oldest

player. His excitement was seconded by pals

Don Short, 85, and Maurice Kogon, 79.

Players enjoyed lunch and refreshments donated

by Trader Joe's and Starbucks of Riviera

Village and from Subway and Peet's Coffee &

Tea of Redondo Beach.

The South Bay-based Jester & Pharley Phund

takes its inspiration from the N.Y. Times bestselling

children's book written and illustrated

by Chadwick School graduate David Saltzman

as his senior project at Yale University before

his death from cancer in 1990. For additional

information, visit, www.thejester.org or call

310-544-4733.

1

1. Division A winners Janice

Bittaker and Hans Lavik receive

trophies from Chair

Heidi Grimm.

2. Chair Heidi Grimm

presents Division A runnersup

Tammi Giardino and Hugo

Silva with their trophies.

3. Division B Winners

Wayne Turner and Lisa

4 5

Greiner receive trophies from

Heidi Grimm.

4. Division B runners-up

Vince Comon and Karin

Proell beam over their

hard-fought victory.

5. John Mandich won 2 out

of 3 matches.

6. Don Short, left, and

Maurice Kogan.

2 3

6

7. Amy Hastings.

8. Judith Karon.

9. Chuck Atwood, Carmen

Ferradas and Betsy Dobson.

10. Gabe Papp.

11. Tammi Giardino.

12. Duke Hendrickson.

PHOTOS COURTESY OF

THE JESTER & PHARLEY PHUND

7

8

9

10

11 12

20 Peninsula • October 2016
---
Chris Adlam

310.493.7216

www.chrisadlam.com

Here's your chance.....Palos Verdes Estates Bluff Property. Dramatic one level, 5 bedroom home with

unobstructed ocean and cove views. Situated on a huge 21,000 square foot corner lot. $6,250,000
---
Beautiful, classic Spanish, 3 bedroom home in Palos Verdes Estates. Elegant and authentic with a

spacious courtyard and outdoor fireplace. $1,795,000

Chris Adlam

310.493.7216

www.chrisadlam.com

Located in lower Lunada Bay, this one level, 5 bedroom home has over 5100 square feet, a tennis

court, pool, spa, and sauna....all situated on a huge, street-to-street lot. $3,899,000
---
Situated on a large, corner lot in the heart of PVE, this elegant home features 6 bedrooms, over

5400 square feet, a pool, spa and ocean views! $3,299,000

Chris Adlam

310.493.7216

www.chrisadlam.com

Lower Malaga Cove with panoramic Queen's Necklace and ocean views! Charm throughout

including 3 bedrooms and a beautiful veranda and patio. $1,999,000
---
Richard Gould in his workshop. Photo by Bondo Wyszpolski

Former home builder

Richard Gould

turns wood into art

by Bondo Wyszpolski

Richard Gould holds up a chunk of wood, which

gives rise to the inevitable first question, Okay, so

what?

"It's mystery wood," he replies. "And it's also free."

Explain why it's free, and why it's also a mystery.

"It's free because a friend was cutting down a tree, and

it's a mystery because I don't know what it is."

Would someone else be able to identify it?

"I've tried that with this wood. It looks like ficus, but

some people say it's not ficus. A lot of times you'll get a

wood and you won't be able to figure out what it is. I

know a lot of my woods, but this one is a mystery to me.

It's not ash, it's not maple…"

Richard Gould is a woodturner, or maybe woodcrafter,

but not a woodcarver, which is often imagined as an old

guy sitting on a stump with a piece of wood in one hand

and a penknife in the other. Gould is also more than a

woodturner who specializes in bowls.

Bowled

Over

Chips falling where they may

How do you get free wood?

"A lot of people all over the South Bay know that

I'm a woodturner," Gould replies. "A lot of tree cutters

know me, too. So people call me and say, We're

cutting down a tree, can you come get it?" He does,

and sometimes there are surprises, like finding a rare

coin in your pocket change.

"A friend's next door neighbor was taking down

this macadamia tree, and she called me on a Saturday

and said, Richard, they're taking it down right

now, can you get over here? I said, oh my god,

macadamia, that's a little exotic, isn't it?"

He'll also find free wood on Craig's List, and

sometimes will drive a great distance to pick it up.

At this point we're in Gould's garage, a former

three-car garage but now with hardly enough room

to park a bicycle. "I have a whole woodworking shop

here," he says, stating the obvious, and with enough

tools (and of course the knowhow) to make all kinds

of furniture. As if that isn't impressive enough, "I

also have a small metalshop over there," he adds, indicating

another area of the garage. With his metal

lathe and other equipment he can make his own

tools. Meanwhile, the rest of us are keeping Lowe's

and Home Depot in business.

"My dad did woodworking when I was a kid,"

Gould says, "and he allowed me to use his workshop.

That's what kind of got me into this, through

my dad."

"I've been doing this a long, long

time. Woodworking is my hobby; I

don't make money off of it, really."

After another quick look around the

workshop: It looks like a long-term

hobby.

"This is collected over many, many

years," Gould replies. "I've just recently

started turning wood, and I just

recently started doing art shows. But

I've always had a workshop, so my

workshop's been here for a long time.

My lathe-turning is something that's

a little bit newer, like in the last sixseven

years."

But what's the sense of interviewing

a woodturner who doesn't switch

on his wood-lathe and show you how

it's done?

Gould does just that, giving an explanation

and then a demonstration.

"I turn the outside [of the bowl]

first. I plan it, and I plan it trying to

get an interesting rim." And in the

process he introduces the functions of

a spur drive, the tenon and the chuck,

the headstock and tailstock. Chips fly,

and then the outside shape of yet another

bowl begins to emerge. "I turn

the bowl around on the lathe in order

to do the inside," he says, but for now

cutting off the machine.

"I also do mentoring for Boy

Scouts," Gould says, removing his

goggles. "I'm a merit badge counselor

for woodworking and I'm involved in

a lot of Eagle projects.... There's not

really much woodworking in the

schools anymore, so I try to help out

and give back that way."

Man on the move

"I've always lived in the South Bay,"

Gould says. "I went to El Segundo

High School, I've lived in Manhattan,

Hermosa, Redondo, PV, then back to

El Segundo, then back to Redondo,

then back to Manhattan, and back to

Redondo and then PV."

Currently, Gould and his family live

in a large three-story home a bit down

the road from Chadwick in Rolling

Hills Estates.

"I've been in this house about ten

years," he replies, when asked. "I built

this house [although not in his workshop].

We wanted to get my kids into

the PV school district and so we

moved up here. Now that they've

graduated we're thinking about building

another house. This is like my

fifth house I've built for myself."

Well, Geppetto with all of his woodcarving

skills could never have afforded

anything this nice, so Gould

must have been spending a lot of time

away from the wood-lathe. But he did

say that woodworking was just his

hobby, didn't he?

24 Peninsula • October 2016
---
So what do you do as a real job?

"I ran an architectural company for

a development corporation," Gould

replies. "Maybe in the 35 years I was

with that company I designed and

processed and oversaw the plans for

4,000 houses. That's what I did for

the majority of my professional life,

design houses, either custom or tract

houses, and implemented the construction

of them. It's kind of like an

architect, but it's not an architect: I

had architects working for me.

"Later on in my career I got into

real estate development. We developed

properties, so it meant dealing

with planning departments and planning

commissions and city councils."

He's still involved in such endeavors,

but seemingly at a more relaxed

pace. When he states, "I think I'd

rather wear shorts to work" that

about sums it up. And pretty nicely,

don't you agree?

The finishing touch

Although Gould has "only" been a

woodturner for six or seven years,

he's already been recognized for his

work. This past summer he received

the Gwen Sandvick Award for 3D at

the Celebrating PVAC Artists Groups

Show at the Palos Verdes Art Center.

He's also a member of several related

organizations, the American Association

of Woodturners, the El Camino

Woodturners Guild, and the Redondo

Beach Art Group, among others.

We've been looking at one of his

woodpiles, outdoors next to his house.

Gould has lifted the tarp that covers

the blocks of wood and points out

how he seals the ends with wax so

they don't dry out too fast. While he's

pointing to the black acacia that came

from Torrance I'm keeping an eye out

for snakes, having lived on the Hill

myself, back when dinosaurs ruled

the earth.

Inside the workshop once more,

Gould studies the rows of unfinished

bowls. After he's rough-turned them,

they sit for a few months losing

weight and drying out, and in fact

Gould charts the progress of each

bowl rather carefully. "When it stops

losing weight it means it's come to

equilibrium in this climate, and I can

go ahead and finish it safely. In the

first month or two it's very susceptible

to cracking, especially if it's really

hot." Then, if the bowl isn't cracked,

he'll apply a type of furniture varnish

called tung oil. It'll receive between

five and eight coats, while sanding

with 800 grit sandpaper between

coats. If there is a crack, he often fills

it in with turquoise, inlayed and

sanded just like the wood.

Needless to say, the beauty of each

bowl depends on several factors, beginning

with the shape, the rim, the

grain, the contrast of light and dark

or heartwood versus sapwood, knots,

or spalting (a fungus) which adds colored

streaks.

Do you have a favorite wood?

"You know what I love," Gould

replies, "is olive, because when you

turn olive it fills up your shop with

the smell of olive oil. You would

think that wood like eucalyptus

would be similar; they're not. With

eucalyptus, the leaves are the thing

that have the aroma, not the wood.

So olive is very fun, and it's relatively

soft and easy to turn, and it's

easy to finish, easy to sand."

Depending on the venue, Gould

may take 60 pieces when he participates

in an art show, as he has at

Malaga Cove Plaza this year. This

gives potential buyers plenty to

choose from, doesn't it?

"Sometimes, yeah," he says, "but

sometimes I can't make up my mind

which ones to take, and then sometimes

people can't make up their

minds which ones they want to buy."

Of course, there's nothing to prevent

one from picking up two or

three. PEN

This peculiar-looking ash vessel by

Richard Gould won the PV Art

Center Gwen Sandvick Award

last summer

Inside and outside highlighted

together in this carob vessel by

Richard Gould

October 2016 • Peninsula People 25
---
26 Peninsula • October 2016
---
eventcalendar

CALENDAR OF COMMUNITY EVENTS

Compiled by Mary Jane Schoenheider

You can email your event to our address: penpeople@easyreadernews.com

All submissions must be sent by the 10th of each month prior to event taking place.

Saturday, October 1

Young Frankenstein – The Broadway Musical

Palos Verdes Performing Arts' production of the zany, Mel Brooks musical comedy

"Young Frankenstein" continues through October 9 at the Norris Theatre.

The production features a 14-piece orchestra, professional cast and sets and

costumes from the national tour. Performance times are 8 p.m. Fridays and

Saturdays, and 2 p.m. Saturdays and Sundays, plus 2 p.m. matinees on Saturday

October 1 and 8. Ticket prices range from $55-$65, plus a $5 per

ticket facility fee. The production is not recommended for children under 13.

For more information or to purchase tickets, call the box office at 310- 544-

0403 or go to palosverdesperformingarts.com. The Norris Theatre is located

at 27570 Norris Center Drive in Rolling Hills Estates.

PV Library Needs Teen Tech Trainers

Teens, become a Tech Trainer in partnership with PVE Cares, Peninsula Seniors

and PVP Village. The Palos Verdes Library District will offer 3 upcoming Teen

Tech 4 Seniors events for teens who are interested in volunteering at the events

to answer technology questions for our adult community. Prospective volunteers

contact Laura Ishizaka and file a volunteer application with PVLD before October

1. Peninisula Center Library Community Room, 10 a.m. - noon. Questions?

Contact Laura at lishizaka@pvld.org or 310-377-9584 ext. 215.

Saturday, October 8

Palos Verdes Library District

Medicare 101 Understanding Your Medicare Plan Options. Do you have questions

about Part A, B, C, D, enrollment windows, cost sharing or "Extra Help",

the difference between Original Medicare, Medicare Advantage Plans and

Supplement Plans? Join a presentation with Carol Clement (CA License

0H80524) and have all of your questions answered. 3 p.m. in the Peninsula

Center Library Community Room. Sponsored by Palos Verdes Library District,

this seminar is free, open to the public and is for educational purposes only.

Medicare has neither reviewed, nor endorses, this information. Contact Mary

Cohen at mcohen@pvld.org or 310-921-7519.

October 2016 • Peninsula 29
---
South Bay's Premier

Full Service Stationers

"GREAT GIFTS FOR GREAT PEOPLE"

Offering Unparalleled Customer Care

PERSONALIZED & PHOTO

CHRISTMAS/HOLIDAY CARDS

10%

"EARLY BIRD"

Discount

On all Nantucket Crossing, Crane and William Arthur

Through October

Nantucket Crossing

867 Silver Spur Road (next to Bristol Farms), Rolling Hills Estates

310.377.7201

www.nantucketcrossing.com

OPEN

SAT/SUN 1-4

PANORAMIC CITY/MOUNTAIN/HARBOR VIEWS

14 Surrey Lane, Rancho Palos Verdes

This remodeled ranch home is perfect for a large family and entertaining, offering

4 bedrooms, 5 bathrooms and a huge family room in over 4,400 square feet.

Other amenities include private master suite, gourmet kitchen, guest house,

a large circular driveway and a four car garage. Situated on a half acre lot with

fabulous new landscaping, a private pool and spa.

$1,899,000

GORDON TEUBER

310-408-7351

gordonteuber@gmail.com

KERRY LAPINE

310-938-0548

klapine.remax@gmail.com

eventcalendar

Las Amigas de las Lomas Evening with Friends

Las Amigas' annual fundraiser supporting Orthopaedic Institute for Children

promises an elegant evening in the tropics at the Harlyne J Norris Pavilion.

The gala, a tropical luau and live auction, raises funds to benefit the construction

of OIC's Ambulatory Surgery Center (ASC) housing the two largest pediatric

orthopaedic operating rooms in the country. This year's event promises

an evening filled with exciting, one of a kind auction items, live entertainment,

a fine wine pull and dinner compliments of the talented Chef Safer. To info or

tickets, visit: lasamigasdelaslomas.org. or contact: oic.lasamigas@gmail.com.

Monday, October 10

SERENDIPITY exhibition opens at the Promenade

Featuring artist Norma Cuevas White, woodturner Joe Devinny, and printmaker

and painter Mina Tang Kan, continues until November 20 at the Artists'

Studio Gallery in the Promenade on the Peninsula. Opening reception Sunday,

October 16 from 2 to 6 p.m.; closing reception Sunday, November 20 from

2 to 6 p.m. The public is cordially invited to these free events. For further information

call the gallery at 310-265-2592 or log onto www.artists-studiopvac.com.

The Artists' Studio Gallery is affiliated with the Palos Verdes Art

Center/Beverly G. Alpay Center for Art Education, which has been serving

the South Bay community for over 80 years. 550 Deep Valley Drive #159,

Rolling Hills Estates.

Wednesday, October 12

Palos Verdes Woman's Club

The Palos Verdes Woman's Club will meet at noon at the Rolling Hills Country

Club, 27000 Palos Verdes Drive East. A presentation will be made by Pat

Whitehead, representing Guide Dogs for the Blind. Cost of the luncheon is

$32. For reservations and information call Beverly Teresinski, 310-378-1349.

Thursday, October 13

PVP Village

Helen Dennis will discuss "The Upside of Aging" with Paul Irving, chairman

of the Milken Institute's Center for the Future of Aging and distinguished scholar

in residence at USC. At the Palos Verdes Golf Club from 2 to 4 p.m. in celebration

of the PVP Village. RSVP to peninsulavillagepvp@gmail.com.

Friday, October 14

Peninsula Seniors Fundraiser

Fashion show, accessory boutique, raffle baskets and silent auction will raise

funds for Peninsula Seniors at the Hilton DoubleTree Torrance, penthouse. Tickets

are $60. Lunch choices: Salmon, Chicken Marsala, Pasta. Send a check

with meal and tablemate preferences to Peninsula Seniors, 30928 Hawthorne

Blvd. RPV, CA 90275 . Additional contact: Jo Anne Weber 310- 328-7875.

The DoubleTree is located at 21333 Hawthorne Blvd.

Saturday, October 15

Tours at Switchback trails of Trump National

Enjoy a Los Serenos docent-led tour through the switchback trail of Trump National

Golf Course to the beach. Learn about local geology and fall blooming

habitat. Stay to watch the sunset from Founders Park. Hike difficulty is moderate.

Parking available on left side of Clubhouse in public lot at the end of

Trump National Drive. Free, public is welcome! 3 p.m. Hike cancelled if there

is rain. For more information call 310-377-5370 or visit www.losserenos.org.

Sunday, October 16

Artists' Studio opening reception

To celebrate the opening of SERENDIPITY art show, a jazz concert by Venice

30 Peninsula • October 2016
---
$1,498,000
---
eventcalendar

guitarist Vinnie Caggiano begins at 2 p.m. and a woodturning demonstration

by Joe Devinny takes place at 3 p.m. A reception with refreshments follows

until 6 p.m. There will also be a closing reception on Sunday, November 20

from 2 to 6 p.m. Artists' Studio Gallery in the Promenade on the Peninsula,

#159, 550 Deep Valley Drive, Rolling Hills Estates. For further information call

the gallery at 310-265-2592 or log onto www.artists-studio-pvac.com.

PV Democrats' Meeting

The League of Women Voters will explain the propositions on the November

ballot at their monthly meeting. Open to all; handicapped accessible; free admission;

free parking. Seating available at 2 p.m.; meeting 2:30 to 4:30 p.m.

at the Palos Verdes Peninsula Center Library Community Room, 701 Silver

Spur Rd., Rolling Hills Estates.

Fall music fest

Music Director Richard Babcock and the Peninsula Symphonic Winds presents

a Scott Joplin march, an Addams Family overture, a polka depicting a grumbly

old bear, and more! 3 p.m. at Rolling Hills Covenant Church Community Center,

1735 Silver Spur Road, Rolling Hills Estates (enter parking from Deep Valley

Drive). Adults $10. Children under 12 free with adult. Tickets available at

the door or online at www.pswinds.org.

Chamber Orchestra of the South Bay

The COSB season opens with pianist Stephen Lin performing Beethoven's

beautiful Piano Concerto No. 1. Additional concerts are scheduled for Nov.

13, 2016, Jan. 8, March 12, April 8, 2017. Performances are at 8 p.m. with

pre-concert talks by notable musicologists. Subscription seats are available for

the 2016-17 season by calling 310-502-9934 or emailing at

cosb.mail@gmail.com. Subscribe at palosverdes.com/chamberorchestra. Single

tickets will be available through the Norris Theatre Box Office starting October

15 by calling 310-544-0403.

DERMATOLOGY & SKIN SURGERY

BEACH CITIES DERMATOLOGY

M E D I C A L C E N T E R

Say Goodbye to Stubborn Fat....

Buy One, Get One

FREE

William J. Wickwire, M.D.

Certified, American

Board of Dermatology

Neal M. Ammar, M.D.

Certified, American

Board of Dermatology

Two Coolscuplting Devices to Treat Two Areas at Once!

Specialists in Skin Cancer Detection

• Skin Cancer • Mole Removal & Mohs Surgery

• Reconstructive Facial Surgery and Scar Revision

• Acne & Accutane Treatment

• Warts, Rashes and Cysts • Leg Vein Sclerotherapy

• Hair Loss & Propecia • Restylane, Radiesse, Perlane,

Juvederm & Sculptra • Botox and Dysport Injections

• Age Spots & Sun Damage • Laser Surgery

• Microdermabrasion • Glycolic and Chemical Peels

• Ultraviolet B & PUVA • Pediatric Dermatology

310-798-1515

www.beachcitiesderm.com

South Bay's

best equipped

Dermatology

Center!

Redondo Beach —

520 N. Prospect Ave., Suite 302

Palos Verdes —

827 Deep Valley Drive, Suite 101

All PPOs Accepted

Evening & Sat.

Appts. Available

32 Peninsula • October 2016
---
eventcalendar

Monday, Oct.17

Young Life Golf Tourney

Young Life Youth Ministries holds its

annual charity Golf Tournament at

Los Verdes Golf Course at 1 p.m.

Shotgun start, scramble format.

$175 per person. To RSVP or for

more information call Steve Heffernan

at 310-466-3661. 7000 Los

Verdes Dr, Rancho Palos Verdes.

Thursday, Oct. 20

South Coast Rose Society

Monthly meeting on the status of the

bee population in Southern California

and what we can do to promote

bee colony health and sustainability.

Also learn what to plant in your gardens

to keep bees fed all year long.

Open to everyone! For further information,

please see them on Facebook.

7 p.m. at South Coast Botanic

Garden, 26300 Crenshaw Blvd,

Palos Verdes Peninsula.

Friday, October 21

Candalistas Fundraiser

Las Candalistas will kick off its 50th

year of fundraising with the return of

the very popular "Entertaining for the

Holidays" event. This year's theme is

"A Year of Celebration". The event

will feature Table Top Design ideas,

a Speaker Series focusing on culinary,

floral, décor demonstrations

and information, and much more!

All proceeds benefit South Bay charities.

10 a.m. to 3 p.m. at the Norris

Pavilion 501 Indian Peak Rd. Rolling

Hills Estates. For more information

visit www.lascandalistas.org. Tickets

available by reservation or at the

door.

Dennis McNeil Concert

Multi-award winning tenor, Dennis

McNeil has performed for 5 US Presidents,

Heads of State, opera companies,

symphony orchestras and

Fortune 500 companies--both in the

US and around the world. The versatile

McNeil will be performing a

Frank Sinatra tribute. He will be

joined by his music director extraordinaire,

Ed Martel. 7:30 p.m.

Rolling Hills United Methodist

Church, 26438 Crenshaw Blvd.,

RHE. Fee admission, donations appreciated.

For information call 310-

377-6771. PEN

34 Peninsula • October 2016
---
October 2016 • Peninsula 35
---
Southern California's Newest Marina

Guest slips available for the

Red Bull Rally Oct. 8 & 9

310-325-6500

RPV Residents

Marina Amenities

• SLIPS from 28' to 130'

• Dry Storage w/Crane Launching

• New Restrooms w/Showers

• Ice Machines & Laundry

• Pumpout - Public & In-Slip

• Ample FREE Parking

Shortest

Run to

Catalina!

Marina (310) 514-4985 • Dry Storage (310) 521-0200

Cabrillowaymarina@westrec.com • cabrillodb@aol.com

www.westrec.com/marina/cabrillo-way-marina

2293 Miner St., San Pedro, CA 90731

NOW

OPEN!

Do you change your automobile oil and filter? If you do, call EDCO your trash/recycling

hauler and arrange for a free pickup. Then, place your used oil and/or filter in a tightly

sealed container or ziplock bag. EDCO will pick them up and drop off an oil recycling kit

that contains a 15-quart drip pan, empty 1-gallon container, funnel, shop rag, cardboard

floor mat and information on used oil and filter. Call EDCO at 310-540-2977 or go to

www.rpvrecycles.com.

Paper Shredding Event (includes electronic waste collection

and free mulch giveaway)

Saturday, October 29 at RPV Civic Center (RPV Residents only)

30940 Hawthorne Blvd. from 8 am to 11 am

For Household Hazardous Waste (including Sharps disposal)

and Electronic Waste Disposal, go to:

Gaffey SAFE Center

Address: 1400 N Gaffey St, San Pedro, 90731

Phone: 800.988.6942

Open Saturdays and Sundays

from 9am to 3pm

36 Peninsula • October 2016
---
Saturday

October 15 th

at 10:00 am

Thursday

October 6 th

at 6:00 pm
---
Photos by

Steve Brown Sepia Productions Inc.

The Andalusian courtyard and plaza is representative of a 19th century Spanish hacienda.

Home for the millennium

by Kevin Cody

John Z. Blazevich and Alex McLeod in their

hamam spa meditation room.

Photo by David Fairchild

(DavidFairchildStudio.com)

John Z. Blazevich

drew upon 1,000

years of art,

architecture and

engineering to

realize his

vision for a

19th century

California

hacienda

In 1993, John Z. Blazevich began stealing time away from overseeing

Contessa Premium Foods, the pioneering convenience food and seafood

importing company he founded 10 years earlier, at age 28, to oversee

the work of 300 desert nomads in Morocco.

Blazevich was introduced to the nomads by Spanish architect Rafael

Manzano Martos, whom he had commissioned to design Hacienda de la

Paz, a 51,000 square foot home he was building on approximately eight

acres in Rolling Hills.

The nomads were hired to hand carve sandstone blocks, reliefs, archways,

and capitals that were to form the walls and ceilings of his new

home's 10,000 square foot hamam, or Moorish spa. The spa was modeled

after the Medina Azahara Palace their ancestors had built in Córdoba,

which Martos restored for the Spanish government. The palace was built

in the 10th century by a Moorish king.

"I wanted to build a home that would stand the test of time and was reflective

of California's history. I did not want to build another California

ranch style. I did not want a Southwestern, Mexican Colonial or a Mediterranean

villa. I wanted my home to be first generation Spanish and authentic

in every detail," Blazevich said.

A canopy of carob trees is all that remains on the property of the two

parcels he purchased in 1993. The drive beneath the carob trees is now

Portuguese limestone, installed by Portuguese stone cutters.

The winding driveway ends at a motor court for six cars. A tall, white

fountain appears beyond the tower in the center of the Andalusian courtyard.

The Moorish gardens and fountains are the focal point of the plaza.

When the gardens were nearly completed, Blazevich noticed one of the

38 Peninsula • October 2016
---
fountains appeared off-center to the others. The workers disagreed. Blazevich

ordered a rotating laser transit to settle the disagreement. The fountains

were indeed out of alignment by one-eighth of an inch.

The workers corrected it.

"Visual precision is important and I have a gift for it," he said.

A similar incident occurred with an out-of-line wood floor plank at the

end of a long hallway in the main house. Blazevich had the hallway corrected

because "that's the way we do it here," he told the perplexed carpenter.

"I can be a challenge to my workers," he acknowledged

But he was also a benefactor to tradesmen and artisans of ancient and

fast disappearing skills.

The Spanish tiles throughout the 20,000 square-foot main house are from

Andalusia, whose combination of Spanish and Moorish architecture was

the inspiration for Hacienda de la Paz. Blazevich chanced upon the tile

maker while traveling to the Andalusian town where "The Good the Bad

and the Ugly" was filmed. He is a fan of Sergio Leone's spaghetti Western

movies.

"I was out in a remote area, visiting a stone quarry and also to see the

Sergio Leone movie sets when I saw him making tiles. I asked if he could

make a lot of them and ended up ordering six 40-foot containers from him."

Blazevich insisted on auditory as well as visual perfection. The hacienda's

18th century Neoclassical ballroom's 50-foot high ceiling was replaced

several times until the acoustics equaled those of an opera house.

Upon the completion of the ballroom, Blazevich surprised his mother on

her 75th birthday with a performance of "Phantom of the Opera."

Evidence of the 21st century, including the mixing console, sound system,

movie screen and electric cables are hidden behind the walls and in

the ceiling.

One New Year's Eve, he threw a James Bond Theme Party. Johnny Rivers

sang "Secret Agent Man," backed by a 30-piece band. Bond film clips

screened throughout the night.

Blazevich's fiancée Alexandra "Alex" McLeod is an Emmy nominated TV

Hacienda de la Paz cont. on page 40

The Moorish gardens emphasize symmetry and bold colors.
---
The interlocking salon ceiling was designed in the Mudejar style and assembled without nails by Spanish craftsmen.

Hacienda de la Paz cont. from page 39

personality and entertainment news correspondent. She was the original

host of "Trading Spaces" and "Joe Millionaire I." Recently, she has appeared

on NBC's "Open House NYC" and CNBC's "Secret Lifestyles of the Super

Rich."

Their home and her background make the couple highly sought after

hosts for fundraisers and other gatherings, ranging from casual barbecues

to lavish balls. President Jimmy Carter was the guest of honor for a 350

guest, Habitat for Humanity sit-down dinner. Other favorite charities include

UNICEF and GRID Alternatives (a provider of solar power to low income

families.)

When not in use for social gatherings, the grand ballroom is also a tennis

court, built to U.S. Open specs. Trompe l'oeil windows with physical balconies,

brass and wrought iron railings create the illusion that the court is

outdoors.

Peninsula Wimbledon champions Pete Sampras and Tracy Austin and

Croatian Wimbledon champion Goran Ivanisevic have played there.

Blazevich began playing tennis after finding a tennis court on one of the

two lots he bought. "Growing up, I didn't think of tennis as a very physical

game. But after taking lessons, I quickly found I was so wrong. Now I love

it," he said.

Weather permitting, Blazevich, McLeod and their friends play on the outdoor,

clay court, built to French Open specs, except for the composition of

the red clay. "I went to the French Open and talked to the maintenance

crew. They said dust blows off this clay whenever it's windy, and it gets

windy in Rolling Hills. So we modified the clay," Blazevich said.

Blazevich's account of a royal Spanish architect leading him to Moroccan

stonecutters to build a 10th century Moorish bath in the desert, where it

was assembled to make certain the pieces all fit, then disassembled, crated,

shipped 6,000 miles across sea and land to a world 1,000 years removed

and installed beneath a Rolling Hills home called Hacienda de la Paz, evokes

images from a Gabriel García Márquez novel.

The hamam's magical realism is heightened by star shaped lights in the

amber sandstone ceiling that reflect off blue Murano glass at the bottom of

the 40-foot pool. Blazevich picked the blue Venetian glass because he

wanted the water to be the color of the Adriatic Sea, where he frequently

sails.

"Swimming in the hamam pool, you feel as if you are floating through

time. It is a supernatural experience," he said.

Despite its earthen enclosure, the hamam suffers from neither the high

humidity nor the chlorine smell common to indoor pools. Alcoves line either

side of the pool. One has a 15-foot tall, waterfall.

"Showering under it is like having a massage," he said.

Another alcove has adjoining mineral baths enclosed by vaulted, gold

leafed walls. Another resembles the colorful, silk draped tent of a nomadic

chief. "It's like what you might see in 'Lawrence of Arabia'" Blazevich said.

The pool's 90-degree temperature is maintained by the home's geothermal

heating and cooling system. The geothermal system is coupled to

dozens of HVAC units. In 2008, while at Contessa Premium Foods, Blazevich

built a $35 million, green, LEED certified factory in the City of Commerce.

It was the first green LEED certified frozen food factory in the world.

Blazevich grew up in San Pedro, where he attended San Pedro High

School. He majored in marketing at USC, while also indulging in his love

40 Peninsula • October 2016
---
A chapel dedicated to Santa Catalina sits off the poolside loggia.

for history, art and physics.

His father Rudolf was a chef who escaped to the U.S. from Communist

Yugoslavia in 1955.Three years later, his wife Ljubica and son joined him

in San Pedro.

Blazevich contemplated buying a Spanish Colonial Revival home in Beverly

Hills, designed by Wallace Neff.

He was acquainted with the legendary Pickfair architect's son. Though

he decided against the Neff home, Neff's enduring architectural influence

proved instrumental in enabling Blazevich to convince the City of Rolling

Hills to approve his ambitious, new home.

"I wanted to build something iconic, with privacy and panoramic views

when I found these two adjoining parcels in Rolling Hills," he said. The

property offers views of both the Los Angeles basin and the Santa Monica

Bay.

Rolling Hills' rural zoning promised privacy, while still fostering a family

oriented community with amenities for residents, community clubs and

events including Easter, Halloween and Christmas parties for children.

But the building department requirement that all homes be white, single

story and ranch style posed a problem.

"I did not want to live in a barn with marble counter tops," he said. "You

cannot build an iconic home with board and batten siding."

During a careful reading of the Rolling Hills building code, Blazevich discovered

that Cliff May, the architect who popularized California ranch

homes, is not the only architect whose style is allowed. Neff is also mentioned.

Blazevich knew of at least one adobe home in Rolling Hills, though

it is largely hidden from view.

Still, city staff was not happy with his plans for a 51,000 square foot

home, 31,000 of it, including a ballroom and Moorish spa, below ground.

"The city thought I was going to build this huge monstrosity and destroy

the image of the community. I told them I would be using adobe, which

better reflects the rural setting. Fortunately, I was young enough, at 38,

and had enough money and determination to convince them."

When finally completed in 2010, 17 years after conception, Hacienda de

la Paz invited comparison to Hearst Castle in San Simeon. While comfortable

with the comparison, Blazevich points out that Hearst Castle reflects

William Randolph Hearst's' eclectic tastes and as a result, lacks cohesiveness.

Hacienda de La Paz also brings together seemingly disparate elements,

spanning a millennium of architecture, art and engineering.

"The Andalusian architectural style of the estate is 19th century, the Neoclassical

ballroom is 18th century and the hamam is 10th century," he said,

all wired with 21st century HVAC, security, lighting and entertainment electrical

systems.

The challenge, he said was to harmoniously weave together these 1,000

years of influences.

"I called it Hacienda de la Paz because when I came home from a 12-

hour work day, I wanted my senses to be awakened by the aromas and the

colors of the gardens, to listen to the sounds of my fountains and to feel at

peace," he said.

Hacienda de la Paz cont. on page 42

October 2016 • Peninsula 41
---
The 18th Century neoclassical ballroom is also a tennis court built to U.S. Open specs.

Hacienda de la Paz cont. from page 41

After overcoming the city's resistance, Blazevich embarked on executing

his Andalusian vision.

Rafael Manzano Martos was King Juan Carlos' curator and is the world's

foremost expert on Mudejar architecture. The Mudejars were Spanish

Moors. In addition to introducing Blazevich to the Moroccan stone masons,

Martos helped find complementary art.

A painting in the entry hall commemorates the 100th anniversary of the

1615 publication of "Don Quixote." The painting formerly hung in Madrid's

Prado Museum. The entry hall's four life-size, silver and gold busts of bishops

are 400 years old. They come from an Italian library that was undergoing

modernization.

Wrought iron window grates on the main house are from a 15th century

Seville convent.

To coordinate with the city on building codes and contemporary amenities,

Blazevich recruited Peninsula architect Anthony Inferrera.

Also from Madrid, was Nicolas Luca de Tena, who worked for Spain's

royal family as an artist and art restorer. He is the 15th generation grandson

of Hernan Cortes, Spanish explorer who conquered the Aztecs and discovered

Baja California.

Luca de Tena lived at Hacienda de La Paz for 10 years, painting trompe

l'oeil frescos, ceiling murals and original art and applying gold leaf accents.

His painting over the living room fireplace is an interpretation of a Joan

Miro painting. Blazevich liked the original Miro, but not its blue background,

so he asked Luca de Tena to repaint his version with a warmer, yellow

background.

Other contemporary artists' paintings hang alongside Flemish tapestries

and Dutch masters' because, "I don't want the house to be caught in time,"

Blazevich said.

Spanish father and son interior designers Bruno and Manuel Gavira were

responsible for bringing harmony and individuality to the main house's

nine bedrooms and 25 bathrooms, as well as the guest house and Renais-

42 Peninsula • October 2016
---
sance chapel.

"No two rooms have the same design," Blazevich said.

There are surprisingly whimsical touches. The ladies powder room has

a confessional and allows two women to converse in privacy through a

screened confessional window. The men's room has an original Thomas

Crapper.

The interlocking ceiling beams in the living and dining rooms were designed

in the Mudejar style by a Madrid professor of architecture and assembled

without nails by carpenters brought from Madrid.

The artisans responsible for the three-foot-thick adobe walls came from

closer by.

"I hired the workers who restored the California missions," Blazevich

said.

Despite the adobe walls' thickness, they didn't meet California's seismic

safety standards. So they were reinforced with wood and steel posts. Blazevich

then stuccoed the walls white. "When city officials first saw the adobe

walls, they liked them and thought I should keep them exposed in some

areas. I said, 'Wait a minute, the code says houses need to be white.' These

were challenging times with the city. But we came to a compromise and

everyone is happy with the end result. Many haciendas have been built

now behind the gates. I paved the way."

Los Angeles building inspectors, whom Rolling Hills contracts with,

spent so much time on the site, that Blazevich said they worried him.

"I asked, 'Am I doing something wrong? Why are you guys here all the

time?' They said they had never seen a house so over-engineered. They

wanted to know why I was using 8-inch pipe when I could use 6-inch pipe.

I said, the labor and material costs are almost the same and I want this

house to last hundreds of years. The reason housing systems go south and

need to be replaced is because the requirements are so lax," he said.

Blazevich's decision to go subterranean stemmed in part from building

restrictions, but more importantly because, he said, "Even on eight acres,

51,000 square feet on one level would be too much. I wanted amenities,

like an indoor pool during the winter and a tennis court that I could use

after work. The city doesn't allow night lit courts.

"It's a well-intentioned restriction and I agree with it. There are no streetlights

or sidewalks in Rolling Hills. The quiet, coastal views and privacy

suggest the romance of the '30s and '40s."

An essential characteristic of Mudejar architecture is beautiful gardens.

Blazevich planted dozens of fruit and nut trees, including navel, Valencia

and Sanguinello (blood) oranges, avocado, figs, apples, peaches, apricots,

lemons and limes; as well as herbs and vegetables in the summer, winter,

fall and spring gardens that border the entry driveway and are spread elsewhere

across the eight acres.

"My goal was to be able to feed off the fruit and vegetables any time of

year while walking through an aromatic property," he said.

The property has become a sanctuary for Peninsula wildlife and migrating

birds.

"Every March, three days before the swallows return to Capistrano, the

swallows stop here to dip in our pool. They're like a sign from heaven,"

Blazevich said.

In 2013, just three years after completing the final building stage of Hacienda

de la Paz, Blazevich put it up for sale. Hacienda de la Paz is listed

at $48 million. He estimates that building his home today would cost close

to $100 million.

But Blazevich appears in no hurry to move. The home has hosted several

weddings and his may be next. He and McLeod are engaged, after having

lived together on the property for more than a decade.

Blazevich said he decided to sell Hacienda de la Paz because he wants to

move on to his next project. His son Andreas, a student at Art Center College

of Design in Pasadena, prefers to have his own home. Blazevich sold

Contessa Premium Foods in 2011, by which time its aggregate sales had

exceeded $4 billion.

He declined to disclose what his next project is, except to say it might be

in Croatia, where his family owns olive groves and vineyards.

Because olive oil was important to 19th century haciendas, Blazevich

planted over 60 olive trees from the Central Valley on his property. An

olive oil tribute room in the main house features large, ancient, clay vases

and photos of old Spanish olive mills. Salads from the gardens are dressed

with olive oil from his family's olive groves in Croatia. The bottles are labeled

Hacienda de la Paz. PEN

October 2016 • Peninsula 43
---
FEE ONLY FINANCIAL PLANNER

• Are you in or approaching retirement?

• Do you want to stop worrying about your

investment portfolio?

• Do you lose sleep wondering if you may

outlive your nest egg?

• Do you want to know if you are on the

right path financially?

• Do you want to take control of your

finances?

• Do you feel you need a second opinion on

your portfolio?

If you answered "yes" to any or all of the

above questions, you may need to contact

me, to provide you with a personal financial

plan designed to help you take control

of your finances, reduce anxiety and ultimately

achieve your financial goals. There

is no cost or obligation for the initial meeting,

as it is an opportunity for you to learn

more about me, and for me to determine

if I can help you achieve your financial

goals and objectives.

As a fee-only financial planner I will be

compensated solely by my clients, I do not

accept commissions, referral fees, or

compensation from other sources, and I am committed to acting in

your best interest.

Abbas A. Heydari, CFP®

Certified Financial Planner

and Registered Investment Advisor

Providing Financial Services

in Torrance since 1986

21515 Hawthorne Blvd., Suite 1020

Torrance, CA 90503

E-mail: aahfp@Yahoo.com

Web: www.aaheydari.com

Phone: (310)792-2090

October 2016 • Peninsula 45
---
Grandma

Terano's

boy chef

Chef Robert Bell with a chicken meatball salad on the patio at Mama Terano Cafe. Photo by Richard Foss

Brooklyn born Robert Bell traces his love of cooking to dinners at his Grandma Terano's.

He named his new restaurant in her honor.

by Richard Foss

Most chefs have someone in their background

who inspired them to get into

cooking, often a kitchen veteran who

saw promise in a new dishwasher and evolved

from a boss to a mentor. In the case of Robert

Bell, chef and co-owner of Chez Melange, the inspiration

started at home in Brooklyn, where his

Italian grandparents taught him a reverence for

good cooking.

"My grandmother was a fun-loving immigrant

who came to America at the turn of the century

as a child. I lived with them for a few years and

what I remember was how much they laughed.

They were such happy people, and they adored

food. Maybe this was typical of Southern Italian

immigrants, but to my family good food was the

most important thing. Without good food on the

table, they had no status. My mother told me that

on her first year of high school she didn't have

enough money for school supplies because they

were celebrating someone's birthday and they

used the money to buy veal."

"My grandmother was a good cook because she

had to be. In those days you started cooking

when you were little because… that's just what

you did. My grandmother never really taught me

how to cook, but what she and that family did

was enable me to see the importance of dining

and of food being the most important thing you

talked about at dinner. Once in awhile you'd talk

about the Brooklyn Dodgers, the New York Yankees

or Giants, maybe even politics, but the usual

questions were "What kind of salami is this?

Where did you get these pastries, on Avenue U?

What bakery did you go to?"

With a background like that, it's almost surprising

that Robert Bell didn't go straight into the

culinary industry in New York. However, his

mother decided to move to California and he

graduated from Hollywood High in 1963. He considered

starting at the bottom in a restaurant

kitchen, the main industry career path in an era

when there were few cooking schools. Instead,

and despite the fact that he was an indifferent

scholar, he decided to pursue a higher education.

"I took classes at college and changed my major

about four times and never actually graduated. I

got into architecture and city planning. I did that

for 15 years, but I really wanted to cook. In 1975

I got a call from Chuck Lehman, whom I played

poker with in high school. He said, 'I'm opening

a restaurant in Hermosa Beach. Would you be interested

in doing my floor plan to submit to the

health department?'

"We got together and it quickly got a lot deeper

than that. When Café Courtney opened in 1976

(now a Round Table Pizza) I was his sous chef,

and ended up taking over the reins of the kitchen

about two months later. He was a great teacher.

I loved food, cooked for family and my girlfriends

all the time. He taught me how to do it on a bigger

scale, with helpers, and how to delegate. The

amazing thing is that I was able to learn from all

my subordinates without them knowing I didn't

know anything. I'd go up to one of my cooks and

say, 'The last hollandaise I made came out really

thin, how do you make yours? Let me see how

you do it and see if mine comes out better.' I had

never made hollandaise in my life, but I'd watch

him make it and replicate that faithfully. I was a

sponge and I wanted to learn, so I picked it up

really quickly."

Unusual for the time, Robert Bell came out of

the kitchen to interact with diners, a habit he developed

partly because nobody had told him that

chefs didn't do that.

"Maybe the reason I was willing to come out of

the kitchen and talk to people is because I wasn't

really a chef. I was acting as one, but I wasn't

trained not to talk to people."

In 1976, California Cuisine was barely five

years old and was mostly a San Francisco Bay

area phenomenon. Wolfgang Puck had lived in

46 Peninsula • October 2016
---
Los Angeles for less than a year and was beginning

to make waves at Ma Maison and other

chefs were starting to pay attention. But hardly

an echo of this was to be heard in the South Bay.

In that era when diners and steak and seafood

joints dominated the local landscape, Café Courtney's

blend of French and Californian ideas was

like something from another planet.

"I started doing stuff that was completely different

from everyone else. Everybody else was

using frozen fish, frozen vegetables. Everything

we were doing was a little newer, a little more

contemporary, a little fresher than everyone else.

Even simple things like our turkey and avocado

sandwich – we put it on different bread. No one

had a wine program. No one. Most places had a

house red and a house white and that was it. We

had a wine list, wine tastings and we used to do

a wine of the month. The first month we were

open, October of 1976, we featured Franciscan

Zinfandel out of Sonoma. We paid $12 a case for

it and we sold it for $3.95 a bottle."

Café Courtney was an immediate success,

partly because of the chemistry that developed

between Bell and the person Lehman hired to

manage the front of the house. Michael Franks,

who now co-owns Chez Melange with Bell, had

the same dedication to service that Bell had to

food. And they shared a fascination with pushing

culinary boundaries. Their partnership seemed

like such a natural thing that it's surprising to

hear what Bell says about his first impression of

Franks.

"When I first met Michael, I remembered

thinking, I don't want to work with this guy. I'm

from Brooklyn, he's from London. He came from

what I thought was an upscale upbringing, I was

just off the line of being poor. He went through

restaurant school, I barely made it through junior

college. But we were both very driven, very passionate

about what we were doing, and that's the

only reason we got along."

Michael Franks confirmed that the men who

were to forge a partnership that would endure

more than 40 years did not have much in common.

Before coming to the United States, Franks

had worked at elegant but stodgy London hotels

like the Savoy and the Dorchester, which he said

had "fine service with very predictable food." He

then ran a group of French bistros. None of that

had prepared him for a down to earth, straight

talking chef like Bell.

"Obviously we had no similarities at all. Our

family life, our business experiences, everything

was completely different. The only thing we really

had in common was food. That's what connected

us, our love for food. We communicated

perfectly on that level, and that's what has kept

us together all these years. Our social life is different,

but when it comes to restaurants, food,

the business, we're totally on the same page."

Their relationship was tested on road trips that

Michael says gave them multiple revelations

about the expanding culinary world of that era,

and led them to take Café Courtney in a completely

different direction than what had been intended.

"When we were brought in, Chuck expected a

French bistro – he called it an introduction to

French food. Robert and I went to Chez Panisse,

we went to a restaurant called Ports in Hollywood

where they had couscous and a Chinese

chicken salad on the menu. We realized that

starting from where we were, a combination

French Bistro and healthy Californian place, we

could serve Chinese food in a French restaurant.

You could put anything on the menu, as long as

you communicated that to the customer. We decided,

let's do everything."

Café Courtney was extremely successful and

became the flagship for a chain of six restaurants.

In 1981, they even managed to get attention from

the Los Angeles Times for their wine dinners,

though the Times was disdainful of the South Bay

in those days. The future looked bright for the

company, but the two people at the heart of that

success were becoming dissatisfied with running

multiple locations.

Mama Terano in Brooklyn, in 1960. The

photo hangs in the Peninsula restaurant

that grandson Robert Bell named in her

honor.

As Bell remembers it, "In 1982 the owner of the

Plush Horse Inn was looking for a restaurateur

to run the old Plush Pony coffee shop. He ran an

ad in the paper, which Michael and I saw. We

were excited about doing what we were doing on

a one-to-one basis, not a mini-chain with six units.

Ed Wilkinson, who owned the Plush Horse at the

time, was smart enough and nice enough to

cosign a loan for Michael and me to get the place

open. We paid him back in half the time we

promised."

The new restaurant was appropriately called

Chez Melange and had innovations that astonished

the local community. In place of the hotel

coffee shop's lunch counter there was a sushi bar,

a caviar and Champagne bar. The sleek, modern

dining room offered food from all over the world.

Newcomers sometimes stared at the menu and

asked, "What kind of restaurant is this, really?"

They couldn't wrap their head around the idea

that they were in a place where you actually

could get Chinese stir-fry, French seafood, or an

American steak. Even more unusual, the multicultural

and eclectic experience was offered at

breakfast and lunch rather than only at night.

Franks and Bell didn't particularly want to be

open for breakfast but it was required by the

hotel, so they decided that it had to be done with

the same spirit as everything else.

When Bell first worked at Café Courtney he

had commuted from an apartment in Hollywood,

but that got old very quickly. In 1977, he moved

into a duplex in Hermosa and soon after started

dating a wine broker named Michelle who would

later become his wife.

A new passion would inspire him to move to

the Hill.

"I started cooking professionally when I was 30

and took up golf when I was 45. I really enjoyed

the game, and decided I wanted to join the Palos

Verdes Golf Club. You had to live in the Estates

to join, so I decided to move here. The money I

saved up wasn't enough for the down payment

in 1990, so I borrowed money to buy a house.

Then I had to borrow money from Michelle to

join the golf club. It's been a great life here."

The menu at Chez Melange continued to

evolve. As they had at Courtney's Franks and Bell

hosted wine dinners and other culinary events.

"I don't think there's anyone who doesn't work

for a winery that has done more wine dinners

than I have, I must have done hundreds," Bell

said.

Some benefitted worthy causes. In 1985,

Franks and Bell cofounded the For Our Children

Food and Wine festival and they have contributed

their time, energy, and resources to many other

events. Asked whether his childhood in a relatively

poor family might have inspired his charitable

efforts, Bell was reflective.

"I hadn't thought about it before, but probably

yes. Many times I wonder what my life would

have been like if I had made one of many wrong

turns, or what I'd be doing today if I had never

moved to California. I wonder if I'd even be alive.

When I turned 50 my mother called to wish me

a happy birthday. I asked, 'What do you think of

me making it to 50?' She said, 'I never thought

you'd make it to 15.'

"After I moved here the people at St. Francis

Episcopal Church asked me to get involved in a

program called Designs For Dining. I learned

from this experience that as an individual I could

make a big change in someone's life. I raised

$13,000 every year at this one event, and 100 percent

of it goes for college scholarships. I've met

kids who are in college or have graduated thanks

to that program and it's humbling. I hope they

are all better students than I was."

Though Bell continues to be involved in Chez

Melange on a daily basis, he is obviously pleased

by the success of his other restaurant Mama Terano.

That restaurant recently spun off a second

location in the Malaga Cove Plaza. He also works

on other culinary projects, including the menu at

Plates Bistro.

"After 40 years in the industry, I'm still having

ideas and am not ready to quit and sit on a beach

somewhere. I have two new concepts that I am

ready to bring to investors."

Michelle says to me, "You're 70 years old, when

are you going to stop?" You have to understand

that to me a restaurant is like doing a movie, but

it's personal. In a movie you have someone to do

the scenery, someone to do the makeup… In a

restaurant you do it all. You design the menu, set

up the room, pick the chef... right down to the

uniforms and the linens. To do that and then

watch it on opening night, there's nothing like it,"

he said. PEN

October 2016 • Peninsula 47
---
NEW MODERN RANCH ESTATE WITH GORGEOUS VIEWS

ROLLING HILLS

• 5 BEDROOMS AND 5.5 BATHS • 3,068 SF LIVING SPACE • 71,709 SF LOT

$3,399,000 | FOR LEASE $10,960

WWW.5OPENBRAND.COM

FOR MORE INFORMATION ON ROLLING HILLS,

VISIT WWW.ROLLING-HILLS.ORG

NEW

LISTING

PRIDE OF OWNERSHIP! COMPLETELY REMODELED HILLCREST MANOR ESTATE HOME

ROLLING HILLS ESTATES

• COMPLETELY REMODELED IN SUPER MOVE IN CONDITION

• 5 BEDROOMS AND 4.5 BATHS AND A SPACIOUS OFFICE • HIGHEST QUALITY CUSTOM FINISHES

• 4,647 SF LIVING SPACE • LARGE ALL FLAT 19,789 SF LOT • POOL / SPA + POOL HOUSE

• CLOSE TO SHOPS, RIDGECREST MIDDLE SCHOOL, PARKS AND RESTAURANTS

$3,299,000
---
CRYSTAL BED THERAPY

Many people who have had Crystal Bed Sessions report the following:

• Feeling more energized

• Clearer thoughts and better focus

• Feeling of deep relaxation

• Balance of the chakras

• Feeling less stressed

• A deeper spiritual understanding

(310) 379-0852

901 N. Pacific Coast Hwy., Suite 106

Redondo Beach, CA 90277

310.539.6685 310.884.1870

310.326.9528

866.BEYOND.5

310.997.1900

www.cflu.org

©

310.530.5443

310.534.9560

CUT * COLOR * STYLE

310.539.2191

310.326.3354

Suzy Zimmerman, Agent

Insurance Lic#: OF71296

4010 Palos Verdes Dr N, Suite

103

Rolling Hills Estates, CA 90274

Bus: 310-377-9531

www.zimziminsurance.com

That's when you can count on

State Farm®.

I know life doesn't come with a schedule.

That's why at State Farm you can always

count on me for whatever you need –

24/7, 365.

GET TO A BETTER STATE.

CALL ME TODAY.

310.539.2993

310.530.3079

310.530.4888 310.534.0220

310.326.4477

310.517.0324

1101198.1 State Farm, Home Office, Bloomington, IL

310.530.0566

310.517.9366

310.326.8530

V ilicich

Watch & Clock

Established 1947

We Buy

Watches!

310.530.3268

310.891.2237

310.530.8411

310.539.3526

310.539.1808

TORRANCE

TOWNE BEAUTY

CENTER

310.325.2960

WineShoppe

310.539.1055

(310) 833-6891

714 S. Weymouth Avenue

San Pedro, CA 90732

Not affiliated with Rolex USA

Northwest Corner of

Crenshaw Blvd. & Pacific Coast Hwy. in Torrance

~ For Information, Call 310.534.0411

A LA CAZE DEVELOPMENT COMPANY PROJECT

October 2016 • Peninsula 49
---
S P O T L I G H T O N T H E H I L L

Great Gatsby Ball

H.E.L.P. Celebrates 20th Anniversary

Healthcare & Elder Law Programs Corp.

(H.E.L.P.), a South Bay non-profit education

and counseling center for seniors and their families,

celebrated its 20th Anniversary at the Palos Verdes

Golf Club with a Roaring 20's Great Gatsby Ball.

Honorees were Sharon Ryan, Sharon Guthrie, and

Sherry May/PV Village. A Special Tribute was also

given to L.A. County Supervisor, Don Knabe, upon

his impending retirement due to term limits. His

Senior Deputy, Steve Napolitano, served as Award

emcee and auctioneer for the live charity auction.

The Major Sponsors were Ralph and Lorraine

Scriba, Grand Sponsors; Toyota Motor Sales USA,

Platinum Sponsor; Jacky Glass, Emerald and Sapphire

Sponsors; Brad & Jennifer Baker, Evelyn Salinas/Home

Street Bank South Bay manager; and L.A.

County Supervisor Don Knabe. Many Pearl and

Ruby sponsors were also thanked, along with underwriters

and other donors.

1

3 4

2

PHOTOS BY BETTY WAUNG

1. Carol and Jerry Marcil.

2. H.E.L.P. Board Secretary Scott Donnelly,

emcee/auctioneer Steve Napolitano, HanaLise Huff,

M.D., H.E.L.P. Executive Director Britt Huff, H.E.L.P.

Board Chairs Ken Huff M.D. and Tom Paulsen M.D.

5

6

3. Van and Diana Honeycutt, Phyllis and Bill

Glantz.

4. Jennifer Baker and H.E.L.P. Board Vice Chair

Brad Baker Esq.

5. H.E.L.P. Board member Jimi Andersen, Sharon

Ryan, Wendy Howell.

6. Jacky Glass and Kay Wardell.

7. Patricia Kelly, Kathleen Parker, Grant Niman,

H.E.L.P. Board members Honeya and Michael Barth

Esq..

8. H.E.L.P. gala committee from left Yim Hom,

Sally Moton, Linda Cochrane, Hillary Watts, Nancy

Scott, Mardy Maehara, Britt Huff, Ardis Shubin,

and Linda Smith.

7

8

50 Peninsula • October 2016
---
JUST REDUCED

edlerderenzis.com

PRICED TO SELL!

2845 VIA SEGOVIA | PALOS VERDES ESTATES | $3,999,999

3004 PASEO DEL MAR | PALOS VERDES ESTATES

$3,999,000

49 SANTA BARBARA | RANCHO PALOS VERDES

$1,999,000

133 ROCKY POINT RD. | PALOS VERDES ESTATES

$2,495,000

DARIN DERENZIS

DARIN@VISTASIR.COM

310.418.62610

CALBRE#01760239

RICK EDLER

RICK@VISTASIR.COM

310.872.4333

CALBRE#01113145

KITTY EDLER

KITTY@VISTASIR.COM

310.283.8790

CALBRE#00800837

October 2016 • Peninsula 51
---
Experience a new level of excellence in luxury real estate.

• 700 Local Agents • Luxury Residential • Commercial Investment Division

Palos Verdes Estates | Rolling Hills Estates | Rancho Palos Verdes | Torrance

Redondo Beach | Manhattan Beach | Hermosa Beach | El Segundo | San Pedro

Marina Del Rey | Venice | Santa Monica | Beverly Hills | West LA/Westwood

310.378.9494 • RealEstateLosAngeles.com

52 Peninsula • October 2016
---
KITCHEN AND BATH REMODELING

ONE COMPANY DOES IT ALL

"Get the Job Done Right...the First Time"

20-50%

OFF

CABINETS

MSRP

Showroom

Open During

Expansion

Serving the

South Bay for

24 years

Contractors license #783339

• Design • New Cabinets • Cabinet Refacing • Granite & Quartz Countertops • Showers

• Electrical • Tub Installation • Plumbing • Lighting • Construction

SOUTH BAY DESIGN CENTER

HOME REMODELING COMPANY

310-539-6800

2413 Pacific Coast Hwy #207, Lomita, CA 90717

SouthBayDesignCenter.com

Mon-Fri 10am-6pm Sat. 11am-4pm

After hour appointments available.

ATRIUM DESIGN CENTER

C O M I N G S O O N

RETAIL SPACE AVAILABLE FOR REMODELING TRADE COMPANIES

For additional information call 310-539-6800 or visit AtriumDesignCenter.com

October 2016 • Peninsula 53
---
416 Malaga Lane, PVE

LEASE - OFFICE SPACE, INDIVIDUAL $750/PER UNIT, OR $3,750 FOR ALL 6 OFFICES

Take your business to the next level…

Modern individual offices available for lease at Malaga Cove Offices in Palos

Verdes Estates. Recently renovated with all the amenities you need for the

perfect work-space, including Wifi (150 mbps download and 20 mbps upload

speeds), high performance copy machine with free print and scan capabilities,

conference area with Apple TV and monitor, bathroom facilities,

kitchenette/break area, weekly maid service, all operating expenses included.

Come and go as you please!

malagacoveoffices.com

Contact: Neil Chhabria 310-902-7227

Shorewood Realtors | 717 Yarmouth Rd., PVE, CA 90274 | 310-698-4545

54 Peninsula • October 2016
---
"Home is everything."

It's where you come back to after a long day and

can finally relax and be with your family.

Your home is that place you've dreamed of ever

since you were a child.

It's not easy to find that perfect home.

We are here to help make that dream a reality.

Mike Levine

Real Estate & Construction

Rolling Hills Estates

• Resort-style Retreat • 4,885 sf

• 6 Bedrooms & 5 Baths

• Dual Solar Paneling & Water Filtration System

$3,150,000

310.796.9088

Mike@Levine-homes.com

Manhattan Beach

• New Construction

• 5,585 sf

• 6 Bedrooms & 8 Bathrooms

$3,700,000

Rolling Hills Estates

• Zen Paradise • 5,840 sf

• Main House with 4 Bedrooms & 4.5 Baths

• 2 Bedroom & 1 Bath Guest House • Feng Shui Floor Plan

$4,475,000

LEVINE-HOMES.COM

CSLB License # B985034 | BRE License # 01928630
---
Neil and his brother Anand participating in the traditional Graba dance. Photo by Peter Nguyen

56 Peninsula • October 2016
---
Neil proposed to Sanam at the firepit of his

family home in Palos Verdes Estates.

Photo by Dearly Beloved Photography

Sanam's bridal Mehndi. Photo by Peter Nguyen

Vivaha cont. from page 13

Neil and Sanam's first look before the wedding. Photo by Lin & Jirsa

"I think he's a very confident person, which I think is a really attractive

trait," she said. "He's like that just generally in life, very confident, and

that's actually one of my faults. I'm not always confident in myself, and

Neil is, always, and very positive. That's why so many of his friends love

him so much — he's a very hard worker, always working, so he doesn't

have a lot of free time, so when he does come around his friends get very

excited. That's how you can tell he's a good person."

After that night, the couple never looked back. They dated for the next

five years, and it became increasingly clear they'd spend their lives together.

Neil is a self-declared non-romantic. Sanam accepted this, but had

one condition.

"I am notorious for not being romantic," he said. "Her one request was,

'I know you are not romantic, but when you propose to me, you better be

romantic.' I was like, 'Oh, man, I thought I was off the hook with her.'"

Neil's family goes to Hawaii every other year for his mother's birthday.

Sanam had never been able to go, because her parents, being very traditional,

were not comfortable with her staying overnight. But last year, Neil

had already asked Sanam's father for his daughter's hand and won approval.

Her father also agreed to allow her to go to Hawaii, where Neil intended

to propose. But as the trip approached, he realized he wanted to

do it locally, so both families could be near. So Neil planned a pre-trip dinner

out on August 16. His mother had designed a new fire pit at their home

in PVE, and Neil had it fully decked out — everything was covered in rose

petals and candlelit and a photographer was hidden nearby. He said he

wanted to drop by his parents' home before dinner. They arrived, and nobody

was home; pretending to look for his family, Neil led Sanam to the

backyard. As she approached the fire pit, he dropped to one knee.

"I was so blown away about the way he did it," she said. "The amount

Vivaha cont. on page 58
---
Vivaha cont. from page 57

The Hindu deity in a human form but

with the head of an elephant

represents the power of the Supreme

Being that removes obstacles and

ensures success in human endeavors.

A decorative rickshaw was present at

Friday night's Garba Sangeet, a Gujarati

wedding dance. Guests were

photographed in the rickshaw to make

them feel like they were in India, in

keeping with the traditional theme.

Photo by Peter Nguyen

of flowers...I mean, I was just very

stunned. I think the first thing I

said was, 'Oh my God, you are romantic.'

He's like, 'Thank you!'"

A year of planning led up to one

of the grandest weddings the

Peninsula has witnessed. Festivities

began two weeks before the

date with a dance party at A Spice

Affair in Beverly Hills for Neil and

Sanam and their friends.

"It was an opportunity for Sanam

and I to let loose and have a good

time before we had to smarten up

and host 600 people," Neil said.

Official festivities began the

Thursday morning before the wedding,

with special prayer ceremonies

hosted seperately by each

family. That night, the Chhabrias

hosted a traditional gathering,

called a Mehndi, in which an artist

draws designs on the bride-to-be's

skin. Sanam thought this would

take a few hours. As it turned out,

it began at 1:30 p.m. and wasn't

completed until after 8 p.m. But as

she sat, at first impatiently, she

began to see the beauty of the occasion,

and its purpose. She couldn't

move her arms, so everybody,

including her groom, had to wait

58 Peninsula • October 2016
---
on her hand and foot the entire time.

"It was cool to be queen for a day," she said.

"She looked like Jasmine from Aladdin that night," Neil said. "It was one

of the most incredible things you've ever seen."

Friday night a traditional Hindu dance was held at the Norris Pavilion

in Rolling Hills Estates.

"That was a traditional Indian folk dance, and since I'm Gujarati — It's

called a Garba, from Gujarat state, where my people are from," Sanam

said. "It was really fun. A lot of people had a good time."

Sanam and her mother and aunt, in fact, went back to Gujarat last year

on a shopping trip for wedding clothes for themselves and other members

of the wedding party. "We went with four empty suitcases and came back

with them all full," she said.

The wedding occurred Saturday at 1 p.m. and the reception was at 6

p.m. in the ballroom of the Hyatt. The wedding was performed in Sanskrit

by Mahesh Bhatt, a renowned Hindu wedding priest, who took care to explain

much of the ritual in a way that made it understandable to everyone

present.

"Our priest was a hit," Sanam said. "He was so refreshing. He had so

much wisdom."

The ceremony included 15 stages, beginning with Barat Swagat, in which

Neil and his family were welcomed to the ceremony site by Sanam's family,

and ending hours later with Kanya Viday, when the bride and groom

left their "Mandap," the four pillar canopy at center stage (the pillars represent

the four parents). There were nine bridesmaids and nine groomsmen.

The bride's brothers, Sahaj and Shakeel, gave her away.

Neil, months later, is still dazzled by the experience, and by his new wife.

"Number one, she is smart," Neil said. "She's got a good head on her

shoulders and works hard. She handles her business and she's somebody

I can have an intelligent conversation with. I just enjoy being around her.

And besides being smart and capable, she is the most loyal person in my

life."

The future is bright for the young couple. Neil, 29, works with his father

at their newly established Chhabria Real Estate Company, which was

founded this year after the family spent the last two decades with Shorewood

Realtors. Sanam, 26, works for UCLA Health as a radiologic technologist.

She's also obtaining her real estate licence and helps with the

family business on weekends.

"I like my career but we can't predict the future. I'm a part of Neil's family

now," she said. "Of course we'll do what's best for the family."

In fact, an essential underlying theme the couple's wedding rituals emphasized

is that marriage is about more than the union of Neil and Sanam,

but also between their families for generations to come.

Sanam said one day recently her parents, who have felt somewhat bittersweet

emotions since the wedding, stopped by her and her husband's

home in Hermosa Beach.

"They were very happy, of course, but a bit sad," Sanam said. "I'm leaving

home, of course. When they came over the other day, they told me,

'When you have kids, you'll understand.' This is a big accomplishment, as

a parent — to have your kid finish education, earn a degree, get a good career,

then get married. You've accomplished your job as a parent." PEN

Wedding planner: Ajita Chopra

Floral & decor: Sadhna's floral studio

Bridal makeup & hair:

Drea V. Makeup and Roseanna Ortega

Proposal photographer: Dearly Beloved Photography

Pre-wedding event photographer:

Peter Nyguyen Photography

Wedding & reception photographer and videographer:

Lin & Jirsa Photography

DJ and lighting: 3D Sounds

October 2016 • Peninsula 59
---
Preserve your timeless treasure

We live in an age where just about everything is disposable.

Yet centuries ago when the world's finest clockmakers

were hard at work, their aim was to create a

mechanical marvel that operates continuously and last forever.

Imagine a hand made complex mechanism of inter-working

parts designed to keep time accurately. Your clock is a work of

art and your job is to keep this timeless treasure healthy for the

next generation.

Your clock reminds you of its presence every time you wind

it and if its accuracy is not what it used to be, or its chimes are

not as strong rythmic, or maybe it just stops. That means it's

talking to you and telling you that its endless life is in jeopardy.

It is imperative to maintain and service your clock regularly.

Oil gets old and dry forcing the train of gears to work twice as

hard to accomplish their goal. This results in damage that drastically

shortens the life of a fine timepiece.

Michel Medawar has been extending the lives of timepieces

for over fifty years as his father did fifty years before. He is the

inventor of the first talking clock in the world. He is a graduate

from Patek Philippe in Geneva, Switzerland, The Theod Wagner

clock Co. in Wiesbaden, Germany, and the Howard Miller

Clock Co. in Zeeland, Michigan. Call him so that he may come

to your home and offer you a free estimate for servicing your

clock. Or bring your wall or mantel clock to our store to see our

showroom and receive the same complimentary diagnosis.

We are located at 810C Silver Spur Rd., in Rolling Hills Estates, Ca.

90274. Or call us at (310) 544-0052

Open 10:00 am - 6:00 pm Tuesday - Saturday

810C Silver Spur Road • Rolling Hills Estates • CA 90274

Call 310.544.0052

60 Peninsula • October 2016
---
Simply Tiles Design Center

Fine Ceramics, Natural Stone, Hardwoods, Cabinetry, Faucetry.

Kitchen & Bathrooms Specialist.

3968 Pacific Coast Hwy., Torrance • (310) 373-7781 • www.simplytiles.com

License #904876

J. QUINN CONSTRUCTION, INC.

Custom Concrete & Masonry

q

HOME &

GARDEN GUIDE

r

1st Windows low prices, high quality

Find 24/7 convenience shopping at 1stwindows.com or visit the Signal Hill showroom.

1st Windows promises the best prices in the South Bay. - No games, no

commissioned salespeople, no high-pressure sales. A volume, repeat-business

dealer since 1995, 1st Windows is known for its straightforward and efficient

service as well as its quality products, lines and workmanship.

(562) 494-9069. 1858 E. 20th Street, Signal Hill

Catalina Paints lets the color symphony begin

In 2012 Supreme Paints was acquired by Catalina Paints -- a chain of stores in

the Los Angeles area and the largest distributor of Benjamin Moore Paints in California.

Supreme Paints has been a leading paint supplier in the South Bay for almost

50 years. Started by Sam Carl and his son Rick, Supreme Paints has grown

up with the community. The two companies were a perfect match due to their dedication

to the professional painter and providing quality products that can't be

beat. Recently added to the Manhattan Beach location is Farrow & Ball paints, a

favorite among designers. Both Catalina/Supreme Paints have full decorating departments

with the latest trends in wallpaper and Hunter Douglas window coverings.

1002 S. Pacific Coast Hwy, Redondo Beach

708 N. Sepulveda Blvd., Manhattan Beach

(310) 540-4456. supremepaintredondobeach.com

Custom Design & Construction

Love your home again and love the process too. While making a major remodeling

change to your home is exciting and rewarding, it can also seem overwhelming.

That's why Custom Design & Construction has created a unique process to

CONCRETE - For the Drought-Conscious

• Pools, Spas, Fountains

and Waterfeatures

• Firepits and Fireplaces

• Outdoor Cook Centers

• Stone and Tile Patios

• Interlocking Pavers

• Retaining Walls

• Driveways

(310) 325-6790

www.quinnpools.com

License B, C-8, C-53 #775677

] u

t

• Stamping

• Driveways

• Pool Decks

• Arificial Turf

• Patios

• Stonework

• Pavers

• Foundations

LIABILITY INSURED • WORKERS COMPENSATION

Casey Lindahl - Founder & President of Lindahl Concrete Construction, Inc.

310-326-6626

Call for Showroom address

Call for estimate

LindahlConcrete.com

Lic.#531387

62 Peninsula • October 2016
---
q

HOME &

GARDEN GUIDE

r

guide each project from idea to reality. Begin with a Discovery phase where you

explore all options within your budget range. CDC's award-winning design team

will work with you to select finish materials and fine-tune the design plans. Making

all the decisions up-front, allows CDC to present you with an exact final price before

any of the work begins. That's the benefit of working with a single company

that provides both design and construction all under one roof.Be sure to ask about

the easy in-house financing. Call Custom Design & Construction today. License #

524561 .

(310) 815-4815. VisitCustomDesign.com

Freighthouse Design Showroom with Sara Balough

Freighthouse is a design showroom conceived by South Bay designer Sara

Balough as a resource for fellow designers to buy and sell everything they need

for the individual touch their clients require and for clients to trade beautiful things

that may not work in their newly remodeled home for a fresh look. Freighthouse

carries an ever-changing inventory of gently used designer, high end or antique

items. This is Los Angeles's go-to place for high quality art, furniture, and accessories

at way below retail prices.

1260 Cabrillo Avenue, Torrance (next to The Depot restaurant)

(424) 558-3768. freighthouseconsign.com

GTD Image Consulting

Completely Organized and Totally Stylish! GTD Image Consulting (formerly Out

of the Closets) has been servicing the Peninsula and the Beach Cities for over six

years. They specialize in wardrobe/closet makeovers, personal/business image

assessments, and concierge shopping and styling. GTD offers a whole range of

gold-standard services to address personal and home images. Many South Bay

October 2016 • Peninsula 63
---
937 Via del Monte, Palos Verdes Estates

With a prestigious PVE address and a panoramic Queen's Necklace and vast city lights views from most of its rooms, this turn key residence is designed to

pamper you with polished details throughout. Every room has been tastefully remodeled. It boasts a very spacious 3,476 square feet of one-level living;

impressively broad street frontage; gorgeous formal living and dining rooms; a decadently lavish master suite with an elegant spa-like bathroom; a large

family room with wet bar and massive stone fireplace; 3 bedrooms and 3 fully remodeled bathrooms; plus a 2-car attached garage with docking station

and generous storage options. This tranquil retreat with spectacular views will steal your heart.

937ViadelMonte.com

Anna Randall

Re/Max Estate Properties

Chairman's Circle, Top Producer

(310) 413-0838 Cell

63 Malaga Cove Plaza, Palos Verdes Estates, CA 90274

www.AnnaRandall.com annamrandall@gmail.com

BRE#00592793

Sold over 350 properties

and counting

64 Peninsula • October 2016
---
q

HOME & GARDEN GUIDE

Realtors add value to their services by referring GTD to their clients, to design and

seamlessly transition their closets from one home to the next. Mention Peninsula

People Magazine and receive special pricing.

(310) 612-8095. Gayle@GayleTheodoraDrake.com. GayleTheodoraDrake.com

Pools, spas by Horusicky Construction

Beautiful swimming pools, creative spas and artistic masonry work projects of all

sizes, Horusicky Construction makes your ideas of a dream yard into a reality.

Started by Michael Horusicky and now run by son Mike Jr. and daughter Andrea,

the family has been in business for over 45 years and is known for its quality work.

From complete new pool and spa construction and remodels, to hardscape, decking,

outdoor kitchens, brick and stone projects of all sizes as well as the landscaping,

Horusicky Construction is the company that can take care of it all with the

experience and expertise that you can

trust. Log onto horusicky.com to see

their photo gallery and customer comments.

Call or email to schedule a free

estimate.

(310) 544-9384. info@horusicky.com

Kitchen Collection team

creates timeless results

Jackie Balint, CKD, has been designing

in the kitchen and bath industry

since 1981 and is the owner of The

Kitchen Collection in Riviera Village.

Jackie and her daughter Debra offer

years of expertise in practical and personalized

kitchens and baths. They

work with clients and contractors to

create timeless projects, utilizing quality

products and providing personal attention

from concept to completion.

Jackie and Debra have worked on

projects throughout the states and have

had many of their projects published.

The Kitchen Collection is a member of

the National Kitchen & Bath Association

and the Bath & Kitchen Buying

Group. Jackie has served on the

boards of both organizations.

(310) 540-4090. 241 Avenida del

Norte, Redondo Beach.

TheKitchenCollection.com

Lindahl beautifying the

Peninsula since 1983

Lindahl Concrete is the leading concrete

and masonry company in the

South Bay. We value good relationships

with our customers and producing

high quality work. View our work

of driveways, pool decks, patios, sidewalks,

walkways, stairways, barbecues

and more on our website. Set up

an appointment to visit our garden

showroom to see samples of colors

MATTUCCI

Plumbing • Heating • Cooling

D E P E N D A B L E • P R O F E S S I O N A L • A F F O R D A B L E

w w w . m a t t u c c i p l u m b i n g . c o m

Since 1990 • License # 770059, C-36 C-34 C-42 C-20 A

Vote!

SUMMER SPECIALS

$ 9 8 0

Residential Water Heater

40 gal. installed! ($1080 - 50 gal. also available)

Includes hot & cold water supply lines

Expires November 30, 2016

r

and finishes. Workman's Comp & General Liability Insured. Lic. #531387. Call

Casey Lindahl, Founder and President of Lindahl Concrete Construction.

(310) 326-6626. lindahlconcrete@aol.com. lindahlconcrete.com

Pete Fer Plumbing Heating & Air

Pete Fer Plumbing is a complete mechanical contracting company, providing

plumbing, heating and air conditioning for new construction, remodel, service

and repair to commercial and residential customers. They provide 24 hour service,

seven days a week through an automated emergency dispatch paging system.

Mention Peninsula People to one of their service technicians and receive $20 off

your first service call.

$ 7 5

Rooter Service - Main Line

Must have clean-out access. Some restrictions may apply.

Expires November 30, 2016

FULL SERVICE PLUMBING, HEATING AND COOLING

SEWER VIDEO INSPECTION

ROOTER SERVICE

COPPER REPIPES

F R E E

E S T I M A T E S

M e n t i o n t h i s a d w h e n

s e t t i n g u p a p p o i n t m e n t .

3 1 0 . 5 4 3 . 2 0 0 1

(310) 831-0737 PFPlumbing.net

Thank You

For Your

ON CALL

24 HOURS

7 DAYS

Catalina Supreme Paint

Redondo Beach 1002 S. Pacific Coast Hwy 310-540-4456

Manhattan Beach 708 N. Sepulveda Blvd. 310-376-2444

Catalinapaint.com

October 2016 • Peninsula 65

2013
---
A & J Plumbing

St. Lic. #889571 Bonded & Insured

Clogged Drain?

Sewer Backup?

Need a Hydro-Jetter?

Water Heater?

Gas Leak?

Faucet Leak?

• Fully Stocked Truck

• Clean Professional Technicians

• Family Owned & Operated

• Copper Repipes

• Faucet

• Garbage Disposal

• Trenchless Sewer

Replacement

• Tree Root Removal

• Sewer & Drain Cleaning

$

35 off

any service

A & J Plumbing

310.629.1830

Must present coupon. Not valid with other offers or prior services. No Exp.

$

79

any drain, any time

A & J Plumbing

310.629.1830

Must present coupon. Not valid with other offers or prior services. No Exp.

free

sewer camera inspection

with any drain service

A & J Plumbing

310.629.1830

Must present coupon. Not valid with other offers or prior services. No Exp.
---
q

HOME &

GARDEN GUIDE

r

Simply Tiles Design Center brings dreams home

Visit Simply Tiles' showroom to view fine ceramic, natural stone tiles and slabs.

Simply Tiles also offers expert design, fabrication and installation. Enjoy the ease

and comfort of one stop shopping. Visit the new design showroom for all your remodeling

and contracting needs. Specializing in kitchen and bathroom design

and construction from start to finish. Featuring custom cabinets and plumbing fixtures

for every budget. We will offer suggestions and recommendations on flooring to

match. And before you finish, ask about custom backsplash designs from their exclusive

collections. License #904876

3968 Pac Coast Hwy, Torrance. (310) 373-7781. Simplytiles.com.

Vinyl Windows

Replacement and New Construction

BUY ONLINE

AND SAVE BIG $$$

WWW.1STWINDOWS.COM

VINYL, ALUMINUM, WOODCLAD

Lowest Prices Up Front • No Games

Show Room 562-494-9069

CONTRACTOR REFERRAL • Fax 562-494-2069

October 2016 • Peninsula 67
---
q

HOME &

GARDEN GUIDE

r

Mattucci Plumbing

At Mattucci Plumbing, the level of service you receive is a guarantee. For plumbing,

heating and cooling repairs and installations in the South Bay and Greater

Los Angeles, Mattucci's professional technicians are all about making services and

equipment work as great as possible. Customer satisfaction is their #1 priority.

Call today or book an appointment online. Their professional team is available

whenever you need them and a live person will gladly assist you 24 hours a day.

Call today for your free estimate.

310-543-2001 or mattucciplumbing.com

Peveler's Custom Interiors

Peveler's Custom Interiors has been serving the South Bay and beyond for over

37 years. A full service design-build construction company, their scope of work includes

additions, second floors, complete house renovations, new construction,

kitchen and bath remodeling. They manufacture their own custom cabinetry. Fully

insured, licensed and bonded, as are all of their subcontractors, Peveler's is not

going to be the lowest price nor will it be the highest price in town. They will be

the company that provides high value for your investment. Please visit their showroom.

4203 Spencer Street, Torrance. (310) 214-5049. Pevelers.com

a

• Serving the South

Bay for over 35 years

• Full Service Contractor

• Complete Installation

• New Construction

• Remodeling

• Second Floors

• Additions

• Cabinets

Visit Our

Kitchen &

Bath

Showroom

4203 Spencer St., Torrance, CA 90503

(310)214-5049 • www.pevelers.com

Appointment Recommended

Showroom Hours: Monday Thru Friday 10-5

Closed Saturday and Sunday

License #381992

68 Peninsula • October 2016
---
Classifieds Your Local Expert Community 424-269-2830

CONCRETE CONSTRUCTION ELECTRICAL GARDENING PLASTERING ROOFING

QUIXTAR

Concrete & Masonry

Residential & Commercial

310-534-9970

Lic. #935981 C8 C29

CONSTRUCTION

Call us to Discuss the

ENDLESS POSSIBILITES

Extreme

Hillside Specialist

Foundation Repair Experts

Grading & Drainage

Retaining Walls,

Fences & Decks

310-212-1234

www.LambConBuilds.com

Lic. #906371

G

ANNOUNCEMENTS

Reserve

D

Remodeling

Design

Kitchens

Bathrooms

Room Additions

New Construction

CONSTRUCTION

your space in

the next

Call direct 424-269-2830

Pub Date: October 29

Deadline: October 14

s

Your Ad Here

62,000 Readers

424-269-2830

magazine

Charles Clarke

Local Owner/General Contractor

Ph: (310) 791-4150

Cell: (310) 293-9796

Fax (310) 791-0452

"Since 1990" Lic. No. 810499

LYNCH

ELECTRIC &

General

Building

Contractors

• Residential

Troubleshooting

• Remodel Specialist

Scott K. Lynch

P.V. Native

Licensed & Insured

Cell

310-930-9421

Office & Fax

310-325-1292

www.LynchElectric.us

Lic 701001

GARAGE DOORS

classifieds

424-269-2830

PLUMBING

MATTUCCI

FULL SERVICE PLUMBING • COPPER REPIPES

SEWER VIDEO INSPECTION • HEATING

DRAIN & SEWER SERVICE • COOLING

TRENCHLESS SEWER REPLACEMENT

HANDYMAN

Handyman

Services…

Fix It Right the

First Time

We like small jobs

/ Free estimates

What we do…

Plumbing,

Electrical, Drywall,

Painting & more.

Valente Marin

310-748-8249

Unlic.

MUSIC LESSONS

Vocal Technician

Piano Teacher

Vocalist

Jeannine McDaniel

Rancho Palos Verdes

20 year experience

All Ages

310-544-0879

310-292-6341

Jeannine_mcdaniel2001@yahoo.com

PLUMBING • HEATING • COOLING

DEPENDABLE • PROFESSIONAL • AFFORDABLE

ON CALL

24 HOURS

7 DAYS

FREE ESTIMATES

310.543.2001

CALIFORNIA

Lic. #770059

C-36 C-20 A

2013

Patch Master

Plastering

Patch Plastering

Interior • Exterior

• Venetian Plastering

• Ceiling Removal

• Drywall Work

• Acoustic

Ceiling Removal

• Water & Fire Restoration

310-370-5589

Lic. # 687076 • C35-B1

Your Ad Here

62,000 Readers

424-269-2830

PLUMBING

Thank You South Bay for

50 Years of Patronage!

Residential • Commercial • Industrial

Plumbing 24/7 • Heating

Air Conditioning

pfplumbing.net

800-354-2705 • 310-831-0737

TILE

Tile Reroof and

repair specialist

310-847-7663

Family owned

business since 1978

Lic 831351

POOLS & SPAS

POOLS • SPAS

HARDSCAPES

New Construction

& Remodeling

Excellent References

Horusicky Construction

310-544-9384

www.Horusicky.com

Credit cards accepted

Lic #309844, Bonded, Insured

SOLAR ENERGY

Your Ad Here

62,000 Readers

424-269-2830

Simply Tiles Design Center

Fine Ceramics, Natural Stone, Hardwoods, Cabinetry, Faucetry.

Kitchen & Bathrooms Specialist.

3968 Pacific Coast Hwy., Torrance • (310) 373-7781 • www.simplytiles.com

License #904876

October 2016 • Peninsula 69
---
72 Peninsula • October 2016