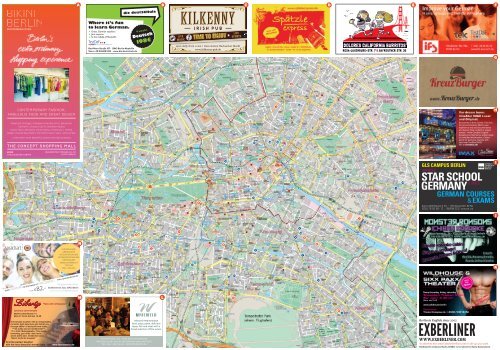 Exberliner City Guide Summer/Autumn 2016
Create successful ePaper yourself
Turn your PDF publications into a flip-book with our unique Google optimized e-Paper software.
en open until 23h)

die

deutSCHule

BIKINIBERLIN.DE

Where it's fun

to learn German.

Great German teachers

Join anytime

• In the middle of Neukölln

Karl-Marx-Straße 107 . 12043

Voice +49 30 6808 5223 . Berlin-Neukölln

www.die-deutschule.de

weeks 4

Deutsch

198€

CONTEMPORARY FASHION,

FABULOUS FOOD AND GREAT DESIGN

American Vintage | Andreas Murkudis/AM+ | Bensimon

Carhartt | Closed | Gant | Gestalten Space

Kusmi Tea | Lakrids by Johan Bülow | Mammut | Mykita

Odeeh | Teufel/Raumfeld | The North Face | Vans | Vitra Artek

... and many more beautiful stores and Pop-Up-Boxes.

THE CONCEPT SHOPPING MALL

Our dream team:

CineStar IMAX Laser

and Original.

Exclusively at Sony Center: Dive into

the ground-breaking IMAX Laser

experience and see documentaries

and feature films on Berlin's largest

screen – while CineStar Original

presents you Germany's widest range

of undubbed blockbusters. Collect

points for exclusive rewards with

your free CineStarCARD!

Info at cinestar.de

H

ZOOLOGISCHER GARTEN

BUDAPESTER STRASSE 42–50

10787 BERLIN

24

Gls camPus BerlIn

AwArded

star school

GermanY 5 times

German courses

& exams

Kastanienallee 82 :: Prenzlauer Berg

(030) 78 00 89 -12 :: www.gls-Berlin.de

I

J

sprachart B E

R

L

I

N

INTENSIVKURSE

ABENDKURSE

WOCHENENDKURSE

KONVERSATIONSKURSE

FIRMENKURSE

EINZELUNTERRICHT

TEST-DaF

DSH / DSH Plus

K

info@sprachartberlin.de

Großbeerenstr. 82a, 10963 Berlin

3 min to U1/U7 Möckernbrücke

learn GERMAN in the heart of KREUZBERG www.sprachartberlin.de

from €82,-

M

L

WINTERFELD

Selected Italian Mediteranean food:

food: pizza, pizza, pasta, pasta, fish and delicious meat

tapas, withfish a broad and meat selection with a

broad selection of fine wines. of fine wines.

Breakfast from Mon to Sun

Sunday brunch for h 9,90

Winterfeldtstr. 58 . 10781 Berlin-Scho¨neberg

Tel.: 030 - 260 755 47 . www.winterfeld-berlin.de

Berlin in English since 2002

WWW.EXBERLINER.COM

To advertise here email ads@exberliner.com or call 030 4737 2966

Published by Iomauna Media GMBH. Cover photo by Maria Runarsdottir

Map_summer-2016.indd 1 24/06/16 17:08
---
RESTAURANTS, BARS & CAFÉS

22 23

S-Bahn arch, the bar is a design and

culinary delight. Business lunch

daily from 12-15. All dishes offered

for the same price on Sundays.

Jeanne-Mammen-Bogen 584,

Charlottenburg Tel 030 3132 282,

Tue-Thurs 17-24, Fri-Sat 12-24,

Sun 16-24 www.sachikosushi.com

no problem that cannot be solved.

Our very personal service will go

on where others fail… And you will

leave us with a smile. Pros are welcome.

Vorbergstr. 2, Schöneberg

Tel 030 6170 0510, Mon-Fri 10-14,

16-19, Sat 12-16, www.deinmac.de,

info@deinmac.de

Find a flat

in Berlin!

Discover our

NEW summer

collection &

SWIMWEAR

(available

cups: A–E)

Berlin in English since 2002

1. ZEROSTRESS PIZZA

All Italian, delicious handmade pizza

to-go or enjoy with the relaxed

and fun crew. One of the best pizzas

in town, made with love for food.

Vegetarians and vegans are also

welcome! Colbestr. 3, Friedrichshain,

Mon-Sat 12-23, Sun 17.30-23,

facebook.com/zerostresspizza

6. PRACHTWERK

15. CHILI & PAPRIKA

18. MATRIX

2. KREMANSKI

Tasty breakfast, high-quality coffee,

lunch, homemade cakes and icecream,

special beers, drinks, good

music and cultural events. Friendly

staff will make you feel welcome,

inspired and relaxed. The perfect

hangout right at Kotti, all day long!

Adalbertstr. 96, Kreuzberg, Mon-

Thu 8.30-23, Fri 8.30-2, Sat 12-2, Sun

12-23, www.kremanski.de

3. RESTAURANT

BRACHVOGEL & MINIGOLF

Enjoy a variety of seasonal delights

right on Landwehrkanal. Join them

for breakfast, Sunday-brunch or

business lunch Monday to Friday.

Relax in the heart of Berlin & enjoy

a round of minigolf. Perfect for your

private or corporate events. Football

European Championship on

the big screen! Carl-Herz-Ufer 34,

Kreuzberg, Tel 030 6930 432, daily

from 9, www.brachvogel-berlin.de

4. SCHWARZES CAFÉ

Since the 1970s, Schwarzes Café

on Savignyplatz has been a cult

favourite among artists, anarchists,

foreigners and Charlottenburgers.

It's open 24/7 and they have English

menus and serve organic meat.

Kantstr. 148, Charlottenburg, Tel

030 3138 038, Mon-Sun all day,

www.schwarzescafe-berlin.de

Different: that's Prachtwerk. A

unique place in Neukölln combining

the finest coffee with a wide cultural

program and fair products. Their

profits are invested in social projects

mainly in Berlin. Delicious light

meals, brunch during the day and intimate

concert venue with full bar at

night. A very welcoming spot to kick

back. Ganghoferstr. 2, Neukölln, Tel

030 4098 5635, Mon-Tue 10-23, Wed

10-24, Thu 10-1, Fri-Sat 10-2, Sun 10-

23, www.prachtwerkberlin.com

7. ANKERKLAUSE

Ankerklause is a Kreuzberg institution.

Eat and drink at super prices:

wine starts at €2,20 a glass! Breakfast,

soups, burgers, and salads, all

with a beautiful view of the canal.

Join us for the first-Thursday-ofthe-month-ball

with DJs and a guaranteed

crowd of movers, shakers

and oddballs. Kottbusser Damm

104, Kreuzberg, Mon from 16, Tue-

Sun from 10, www.ankerklause.de

8. CAFÉ IM LITERATURHAUS

Enjoy an excellent coffee in one of

Berlin's nicest cafés, the elegant

and much-loved Literaturhaus. The

staff is extraordinarily courteous

and the atmosphere pleasant. A

perfect stop on a stroll through the

Ku'damm area and a lovely destination

for afternoon "coffee and

cake". Fasanenstr. 23, Charlottenburg,

Tel 030 8825 414, Mon-Sun

9-24, www.literaturhaus-berlin.de

9. BASTARD

From Bastard with love: whether

it's breakfast, lunch or dinner, this

restaurant is not just for those who

are born out of wedlock. Choose

from the changing seasonal menu

created with love for fresh ingredients

and fine food. Our tip: try

the homemade stone-oven bread!

Reichenberger Str. 122, Kreuzberg,

Tel 030 5482 1866, Mon, Wed-Sun

9-16.30,www.bastard-berlin.de

11. BARETTINO

Barettino means "small bar" and

it is a unique combination of great

food and fine coffee from Italy and

Brandenburg. Everything is fresh

and made with love: The huge

breakfast choice, plates & Italian

dishes, plenty of delicacies, toasted

paninis and homemade cakes … Join

our events! Reuterstr. 59, Neukölln,

Tel 030 2556 3034, Mon-Sun

9-22, www.barettino.com

12. RIO GRANDE

Located directly on the river Spree

- right at water-level – with the best

view of the Oberbaumbrücke, Rio

Grande is the ideal place to take

a break from the busy city. The

kitchen serves breakfast, lunch

and dinner with changing menus

featuring contemporary Austrian

and international food. Check out

their exhibition room and arrive by

boat if you want. May-Ayim-Ufer

9, Kreuzberg, Tel 030 6107 4981,

Mon-Fri 11-24, Sat-Sun from 10,

www.riogrande-berlin.de

13. KARTOFFELKELLER

Every one of your favourite potato

recipes is here for your enjoyment

in their cosy cellar restaurant.

From typical Berlin potato soup

with Wurst and bacon to potato

pancakes, roast, puréed, fried

or baked and many casserole

dishes from around the world.

Albrechtstraße 14b, Mitte, Tel

030 2828 548, Mon-Sun 11-1, www.

kartoffelkeller.com

SHOPPING

O N

A spicy store offering traditional

Mexican specialities and products

from Latin-America with

an impressive selection of hot

sauces, tortillas, beans, habaneros,

chorizo, taco shells, nachos,

chipotles, beer and tequila. The

perfect shop for a culinary night

of Latin flavours! Voigtstr. 39,

Friedrichshain, Tel 0152 2966

8241, open Mon-Sat from 11-20,

www.chili-food-shop-berlin.de

16. PAPIER TIGRE

Designing, manufacturing and

selling a growing range of lovely

items for your desk, your house,

and your written correspondance.

The young brand is all about

colors, basic materials, and new

technologies, and mixing those

into great products. The team

handles everything from the

idea to sales, and pays particular

attention to creativity, materials,

their origins and quality. Explore,

get inspired, and try some of their

delicious coffee too! Mulackstraße

32, Mitte, Tel 030 8321

0271, Tue-Fri 11-19, Sat 11.30-

19.30, www.papiertigre.de

MUSIC &

ENTERTAINMENT

17. COMPUTERSPIELE-

MUSEUM

Where Pac-Man lives on: The

world's first computer gaming

museum opened its gates in 1997.

Since January 2011, the museum

has been presenting its permanent

exhibition in the hip district

of Friedrichshain. The fascinating

architecture of the exhibition

turned the space of the former

east-Berlin Café Warschau into a

pixelated gaming paradise. Karl-

Marx-Allee 93a, Friedrichshain,

Tel 030 6098 8577, daily 10-20,

www.computerspielemuseum.de

The Matrix Club Berlin will always

offer you a varied programme with

special events, the best DJs and live

acts. It's open 7 nights a week from

22:00, 365 nights a year! Check it

out to experience a cracking good

night. Wahrschauer Platz 18,

Friedrichshain, Mon-Sun from 22,

www.matrix-berlin.de

SHOPPING

20. COMPUTER SERVICE

JULIEN KWAN

This elegant Schöneberg based store

offers a wide range of services and

products for your Mac computer.

With 25 years of experience, there is

PICK UP THE

MAGAZINE!

Available at newsagents

and sales points across

Berlin. Check our website

for exact locations.

21. SHIFT FRISÖRE BERLIN

Do you want to "shift" your hairstyle?

Visit the "Shift" flagship store

near Kurfürstendamm and get to

know the English-speaking stylists,

Jack from England and Tomo

from Japan. Winner of the German

Hairdressing Award 2008 for the

category "Avantgarde" and 2013 for

the category "Color". Grolmanstr.

36, Tel 030 3418 545, Tue-Fri 10-20,

Mon/Sat 9-19 www.shift-friseure.de,

verwaltung@shift-friseure.de

Follow us on

Facebook and

join our 33,000+

community:

FACEBOOK.COM/EXBERLINER

*Valid for residents of Germany only. Exberliner subscriptions do not renew automatically.

We're here to help

• friendly service

• 14 years of experience

• furnished and unfurnished

flats across Berlin

Register online today!

www.exberlinerflatrentals.com

Tel: 0049 30 47372964,

Max-Beer-Str. 48, 10119 Berlin

Office hours: 10.00 to 14.00

160202_fst_exberliner_V01_fst_exberliner 02.02.16 15:11 Seite 1

Bike rentals & guided city tours

First class & 2 nd hand bicycles

Sunday service & friendly people

Enjoy the ride

fahrradstation HU Berlin

Friedrichstraße 95

Eingang Dorotheenstraße 30

10117 Berlin

Tel. 030 20 45 45 00

Tel. 030 28 38 48 48

Tel. 0180 510 8000

dorotheen@fahrradstation.de

fahrradstation GmbH

Leipziger Straße 56

10117 Berlin

Tel. 030 666 49 180

Fax 030 93 95 64 88

leipziger@fahrradstation.de

Summer/Autumn 2016

BERLIN

CITY GUIDE

fahrradstation Mitte

Auguststraße 29a

10119 Berlin

Tel. 030 285 99 661

august@fahrradstation.de

fahrradstation Kreuzberg

Bergmannstraße 9

10961 Berlin

Tel. 030 215 15 66

bergmann@fahrradstation.de

fahrradstation am Kollwitzplatz

Kollwitzstraße 77

10405 Berlin

Tel.: 030 939 58 130

kollwitz@fahrradstation.de

fahrradstation Potsdam

Gutenbergstraße 52-53

14467 Potsdam

Tel. 0331 2803816

potsdam@fahrradstation.de

fahrradstation

Brandenburg Hbf.

Am Hauptbahnhof 9

14776 Brandenburg

Tel. 03381 2077990

Tel. 0180 510 8000

brandenburg@fahrradstation.de

fahrradservicestation

Yorckbrücken

Yorckstraße 53

10965 Berlin

Tel. 030 32 52 95 82

Fax 030 32 52 95 83

yorck@fahrradstation.de

24

5. CHEZ MICHEL

Chez Michel is an authentic bistro

offering French cuisine at prices

from €5 to €14. All dishes are cooked

in the open kitchen, including

delicious quiches, steak frites, duck

confit and daily rotating specials.

For dessert the French tartes or

creme brulee are very seductive…

Adalbertstr. 83, Kreuzberg, Tel 030

2084 5507, Mon-Fri 11-23, Sat-Sun 15-

23, www.chezmichel-berlin.de

10. SACHIKO SUSHI

Berlin's original Kaiten sushi bar:

each piece of sushi floats past you

on a wooden boat. Situated in an

14. OTHER NATURE

Other Nature is a feminist, queeroriented,

eco-friendly sex shop in

Kreuzberg. What turns them on:

healthy attitudes about sex and sexuality,

sharing knowledge, quality

products, locally-made kinky crafts,

books... and tea! Not your average

sex shop. Bring your mum. Mehringdamm

79, Kreuzberg, Tel 030

2062 0538, Mon-Tue 12-18, Wed-Sat

12-20, www.other-nature.de

18. KOKA36

Looking for concert tickets in

Berlin without the insane processing

fees? Be it techno, indie

rock or cabaret, local institution

KOKA36 has got you covered. Order

your tickets online or stop by

the friendly Oranienstraße shop.

Oranienstr. 29, Kreuzberg, Tel

030 6110 1313, Mon-Fri 9-19, Sat

10-16, www.koka36.de

fahrradstation

Charlottenburg

direkt Wilmersdorfer Str.

Goethestraße 46

10625 Berlin

Tel. 030 939 52 757

goethe@fahrradstation.de

Fahrradhotline:

0180 510 8000

NEU. Jetzt online

bestellen:

fahrradkaufhaus.de

WANT TO HAVE YOUR BUSINESS HERE? EMAIL ADS@EXBERLINER.COM

Map_summer-2016.indd 2 24/06/16 17:08