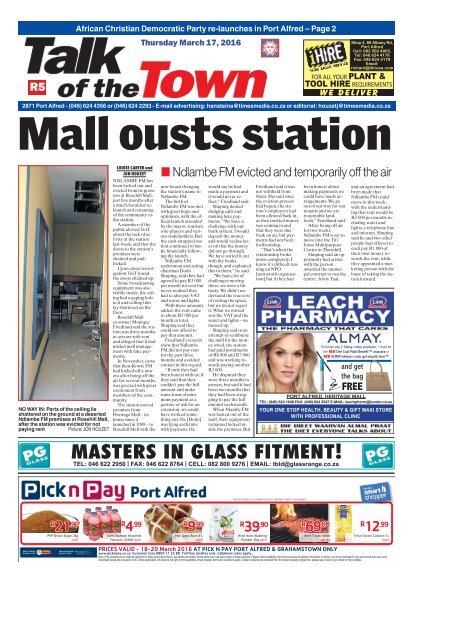 You also want an ePaper? Increase the reach of your titles
YUMPU automatically turns print PDFs into web optimized ePapers that Google loves.
R5

African Christian Democratic Party re-launches in Port Alfred – Page 2

Thursday Mar ch 17, 2016

2871 Port Alfred - (046) 624 4356 or (046) 624 2293 - E-mail advertising: hansteina@timesmedia.co.za or editorial: houzetj@timesmedia.co.za

Mall ousts station

NO WAY IN: Parts of the ceiling lie

shattered on the ground at a deserted

Ndlambe FM premises at Rosehill Mall,

after the station was evicted for not

paying rent

Picture: JON HOUZET

LOUISE CARTER and

JON HOUZET

NDLAMBE FM has

been locked out and

evicted from its premises

at Rosehill Mall,

just five months after

a much-heralded relaunch

and renaming

of the community radio

station.

A member of the

public alerted TotT

about the lack of activity

at the station

last week, and that the

doors to the station's

premises were

chained and padlocked.

Upon closer investigation

TotT found

the doors chained up.

Some broadcasting

equipment was also

visible inside, the ceiling

had a gaping hole

in it and ceiling tiles

lay shattered on the

f l o o r.

Rosehill Mall

co-owner Monique

Friedland said the station

was three months

in arrears with rent

and alleged that it had

misled mall management

with fake paym

e n t s.

In November, news

that then-Kowie FM

had kicked off a new

era after being off the

air for several months,

was greeted with great

excitement from

members of the comm

u n i t y.

The station moved

premises from

Heritage Mall – its

home since it

launched in 2009 – to

Rosehill Mall with the

■ Ndlambe FM evicted and temporarily off the air

new board changing

the station's name to

Ndlambe FM.

The birth of

Ndlambe FM was met

with great hope and

optimism, with the official

launch attended

by the mayor, tourism

role-players and various

stakeholders. But

the cash-strapped station

continued to battle

financially following

the launch.

Ndlambe FM

spokesman and acting

chairman Dodo

Shuping, said they had

agreed to pay R3 000

per month for rent but

never realised they

had to also pay VAT

and water and lights.

With these amounts

added, the rent came

to about R5 000 per

month in total.

Shuping said they

could not afford to

pay that amount.

Fr i e d l a n d 's records

show that Ndlambe

FM did not pay rent

for the past three

months and avoided

contact in this regard.

"If only they had

been honest with us; if

they said that they

couldn't pay the full

amount and make

some form of minimum

payment as a

gesture or ask for an

extension, we could

have worked something

out. He [Dodo]

was lying each time

with payment. He

would say he had

made a payment and

it would never reflect,"

Friedland said.

Shuping denied

dodging calls and

making fake payments.

"We have a

challenge with our

bank system. I would

deposit the money

and would realise later

on that the money

did not go through.

We have sorted it out

with the banks

though, and explained

this to them," he said.

"We had a lot of

challenges moving

there, we were a bit

hasty. We didn't understand

the true cost

of renting the space,

but we do not regret

it. What we missed

was the VAT and the

water and lights – we

messed up."

Shuping said in an

attempt to reimburse

the mall for the money

owed, the station

had paid instalments

of R8 900 and R7 000

and was working towards

paying another

R3 000.

He disputed they

were three months in

arrears, but said it had

been two months that

they had been struggling

to pay the full

amount each month.

When Nlambe FM

was locked out of the

mall, their equipment

remained locked inside

the premises. But

Friedland said it was

not withheld from

them. She said since

the eviction process

had begun, the station's

employees had

been allowed back in,

as they insisted money

was coming in and

that they were due

back on air, but payments

had not been

f o r t h c o m i n g.

"Th a t 's when the

relationship broke

down completely. I

know it's difficult running

an NPO

[non-profit organisation]

but if they had

been honest about

making payments we

could have made arrangements.

We go

out of our way for our

tenants and we are

reasonable landl

o r d s, " Friedland said.

After being off air

for two weeks,

Ndlambe FM is set to

move into the Titi

Jonas Multipurpose

Centre in Thornhill.

Shuping said an opportunity

had arisen

with the person

awarded the municipal

contract to run the

centre, Alroy Taai,

and an agreement had

been made that

Ndlambe FM could

move in this week,

with the understanding

that rent would be

R3 000 per month, including

water and

lights, a telephone line

and internet. Shuping

said he and two other

people had offered to

each pay R1 000 of

their own money towards

the rent, while

they appointed a marketing

person with the

hope of taking the station

forward.

Purchase any 2 Almay colour products, 1 must be

the NEW One Coat Multi-Benefit mascara or

NEW ALMAY intense i-color gel smooth liner

and get

the bag

FREE

PORT ALFRED, HERITAGE MALL

TEL: (046) 624 1648 FAX: (046) 624 3547 E-MAIL: leachpharm@border.co.za

YOUR ONE STOP HEALTH, BEAUTY & GIFT MAXI STORE

WITH PROFESSIONAL CLINIC

R

21 .90 R

4 .99

R

9 .99

Hot Cross Buns 6's

PnP Brown Sugar 2kg

each

Steri Stumpie Assorted

Flavours 350ml each

each

Ariel Auto Washing

Powder 2kg each

R

69 .00

R

39 .90 R 12 .99

Beef Texan Steak

per kg

PRICES VALID - 18-20 March 2016 AT PICK N PAY PORT ALFRED & GRAHAMSTOWN ONLY

www.picknpay.co.za Customer Care 0800 11 22 88. Toll free landline only. Cellphone rates apply.

Pick n Pay endeavours to meet the demand for these promotional items, but stocks are limited. Some store may note stock some of these products. Please check availibility. We strive to ensure all printed information is correct, but will not be liable for any print errors that may occur.

Advertised prices are inclusive of VAT where applicable. We reserve the right to limit quantities. smart shopper terms and conditions apply. Certain products are excluded from the smart shopper programme, please see in store or go online for more details.

First Choice Custard 1L

each
---
2 Talk of the Town ADVERTISING / NEWSDESK: (046) 624 4356 Find us on Facebook

March 17, 2016

ACDP to contest municipal elections

A

JON HOUZET

FTER a

long absence,

the

African

Christian Democratic

Party (ACDP) was

re-launched in Port

Alfred on Monday by

a group of concerned

Christians who want

to see godly govern

a n c e.

Interim committee

chairman Leon

Coetzee welcomed

the small but enthusiastic

group of newly

signed up members to

The Lodge, including

pastor and attorney

Paul Zulu, a former

ANC activist and the

provincial legal representative

for the

National Union of

Metalworkers South

Africa (Numsa).

Zulu said the people

he worked for

would probably be

stunned by the news,

and wonder why he

had not joined a socialist

workers' p a r t y.

But he said he put

God first in his life.

The ACDP's federal

council of provinces

secretary general

Michelle Mann attended

to oversee the

re-launch and election

of office bearers.

"We 're going to

challenge that old

cliche that religion

and politics don't

mix," Coetzee said.

Pastor Lyn

Rudolph of the Port

Alfred Celebration

Centre gave an

overview of godly

g o v e r n a n c e.

"We give God the

glory for the registration

of the ACDP,"

Rudolph said. "This is

a Christian movement

■ Relaunched party wants 'godly governance'

with one voice glorifying

God." She said she

and her husband and

co-pastor Eldin were

involved with the

ACDP when it was

first launched and

contested the democratic

elections in

1994.

She read several

scriptures, including

Job 34:30, Proverbs

29:2 and 28:15-16, all

of which deal with the

despair of being governed

by wicked

r u l e r s.

"Too long has the

church remained

silent. The devil has

deceived people to

think the ungodly

must rule South Africa,"

Rudolph said.

"Too long has the

church been speaking

¿ 29 Miles St, Port Alfred

PO Box 2871, Port Alfred, 6170

046 624 4356 / Fax: 046 624 2293

Mauneen Charter, mcharter@timesmedia.co.za

Sonja Raasch, sonjar@timesmedia.co.za

Anneli Hanstein, hansteina@timesmedia.co.za

Jon Houzet, houzetj@timesmedia.co.za

The Proprietors,Times Media Community Newspapers, 19 Baakens Street, Port Elizabeth.

The copyright of all material in this newspaper, or which is attributed to others, is expressly reserved.

and nobody hears. We

sit in front of the TV

and watch the news

and say, 'Oh, that's so

bad; I can't believe

that's happening in

South Africa; I can't

watch it.' But when it

comes to the elections,

we vote for

them."

She encouraged

Christians to vote

godly people into government.

"The word of God

allows you to be political,

if you want to call

it that," she said. "Th e

ACDP is different, it's

not like the politicians

and the other parties.

"I'm not downing

people who vote for

other parties. There

are wonderful Christians

who vote for

other parties, but I

have discovered they

do not understand.

"I'm so tired of

hearing, 'You can't

waste your vote'. Is it

a waste to vote for

Je s u s ? "

Nemato resident

Welcome Fani, who is

originally from the

Free State, said he

"was in the ANC for a

long time until I realised

what I was doing

was not right.

"Leon convinced

me, why am I voting

for an ungodly party?"

He said since joining

the ACDP he had

received threats from

people who berated

him for supporting a

"white party".

"I say no, man, I'm

standing for what's

right!"

The ACDP's Port

Alfred candidate for

the municipal elections,

Mark Price, said

the party was looking

at critical issues that

affected Ndlambe, including

crime, drugs,

alcohol abuse, abuse

of finances and unemployment,

with a focus

on the youth.

He said he took his

inspiration from the

prophet Daniel, who

first sought God, "so

that when he spoke, it

was not from man but

from God".

"None of us are

perfect, neither is the

ACDP. A Christian

seeks the face of God

continuously because

they are not perfect.

"A man like this

will be able to speak

into situations and

events, like that which

come up in council,"

he said.

"When you look at

the policies of different

parties and the

Bible, you say, 'How

did I ever consider

voting that way?', because

my God doesn't

c o m p r o m i s e. "

He said most of all

they needed believers

to pray.

The ACDP will

launch an Alexandria

branch next week.

George Petzer, who

will stand as a candidate

in that area, said

he had already signed

up 17 members.

CHRISTIAN VALUES:

The office bearers of

the newly established

Port Alfred branch of

the African Christian

Democratic Party are,

back from left, Leon

Coetzee (media

liaison), Tony Bryant

(treasurer), Mark Price

(chairman), Eldin Rudolph

(church liaison)

and, front, Welcome

Fani (prayer

coordinator), Amanda

Mould (secretary), Lyn

Rudolph (prayer

coordinator) and Paul

Zulu (party whip and

legal advisor)

Picture: JON HOUZET

THERE ARE OVER 200 FRESHSTOP

AT CALTEX STORES WHERE YOU CAN

REDEEM YOUR REWARDS POINTS.

Red Globe Punnet 500 g

Only

R11.99

EACH

ANY 2 FOR

R20

THIS

COMBO

R30

Pieman's Classic Pie (Excluding Burger Pie)

& a Refreshhh Energy Drink 440 ml

R20

Mangoes

Any

2 for R15

Only

R14.99

EACH

OPEN 24 HOURS FOR YOUR CONVENIENCE

Specials Valid: Thursday 17 - Sunday 20 March 2016

ACTUAL PRODUCTS ON OFFER MAY DIFFER FROM VISUALS SHOWN, AS THESE ARE SERVING SUGGESTIONS ONLY • HAMILTONS 050116 • NO HAWKERS • NO TRADERS • WE RESERVE THE RIGHT TO LIMIT

Golden Delicious Econopack 1 kg

ANY 2 FOR

R35

Red Bull 355 ml

THIS

COMBO

R20

Pringles 42 g + BOS Sport 500 ml

Clover Krush 100% Juice 500 ml

THIS

COMBO

R15

Pepsi 600 ml + Any TWO Doughnuts

Cadbury Slab 80 g, Nestlé Aero 38 g &

Mister Sweet Speckled Eggs 50 g

Bonaqua Pump is a registered trademark

of The Coca-Cola Company ©2016

THIS

COMBO

R20

Glacéau and Glacéau vitaminwater are

trademarks of Energy brands Inc. ©2016

Bonaqua Pump 750 ml + Glacéau

Vitaminwater 500 ml

Like us on

https://www.facebook.com/freshstop

Follow us on

Twitter: @FreshstopSA

https://twitter.com/FreshstopSA
---
March 17, 2016 ADVERTISING / NEWSDESK: (046) 624 4356 Find us on Facebook

Talk of the Town 3

Murdered woman

found near stream

LOUISE CARTER

THE body of a

20-year-old woman

was found

near a stream in New

Rest, Nemato, on

Sunday morning and

appeared to have sustained

multiple injuri

e s.

A passerby found

the woman's body at

about 8.30am and

alerted authorities.

A 29-year-old man,

the victim's ex-boyfriend,

was arrested

and was due to appear

in the Port Alfred

Magistrate's Court

yesterday on murder

charges after reports

indicated him to be

the last known person

to be seen with her.

According to witnesses,

the deceased

had been walking with

her friends on Saturday

evening when

they came across the

suspect. He allegedly

became aggressive

and forced her to walk

with him after he allegedly

threatened

one of her friends.

Community members

told TotT the victim

had a restraining

order against the suspect

for previous assault

incidents. Police

spokesman

Lieutenant Luvuyo

Mjekula confirmed

the restraining order.

ý A 25-year-old

man who used an

electronic device to

override a vehicle

owner's remote key to

steal valuable items

was on Tuesday sentenced

to 24 months'

imprisonment in the

Port Alfred Magistrate's

Court.

The incident took

place last month as an

off-duty policeman,

Constable Nkosinathi

Booi, left his vehicle

believing he had

locked it, only to

come back and find

his laptop and iPhone

■ Police arrest victim's ex-boyfriend

missing from the car.

The culprit, Yanga

Poswa, 25, who was

out on parole for theft

out of a vehicle, was

arrested shortly thereafter

at the Rosehill

Mall parking lot,

thanks to the speedy

work of Port Alfred

highway patrol members,

Warrant Officer

Moses Bavuma and

Constable Xolile

Mxube and information

from a member

of the public.

Shortly after

Po s w a 's sentencing

today, Port Alfred law

enforcement officers

issued a warning to

vehicle drivers to be

on the lookout for

thieves who use such

devices to override

car doors.

Port Alfred detective

head, Lt-Col

Ncamisa Donkrag,

who investigated the

case against Poswa,

advised members of

the community who

use vehicles to ensure

that they do not rely

only on their remote

device but to test, with

their hands, that all

the car doors are in

fact locked.

Police suspect that

thieves use a jamming

device that looks like

a house alarm remote

to prevent a person

from locking their vehicle.

Drivers leave

their cars convinced

they have locked

them but later discover

the opposite.

ý Meanwhile, another

court success for

the Port Alfred SAPS

cluster saw two men,

one 23 and another

21, sentenced to 24

months and 21

months' imprisonment

respectively for

the robbery of a

21-year-old Pick n Pay

employee. On July 12

last year, the pair,

Siyanda Mgweba and

Ovayo Nkombisa,

robbed Nolusindiso

Tokota of her handbag,

which contained

cash and bank cards.

She was on her way to

work at about 6am,

accompanied by her

young cousin. Four

men had accosted her

in the presence of her

cousin.

Police again warned

members of the community

to ensure they

walk in groups, especially

on dark winter

m o r n i n g s.

Magistrate Xolile

Dlulisa presided over

both cases.

Special for March –

40% discount on Bamboo Blinds

Curtaining Special Less 20%

Until Stock last

Cnr Hill & New Str, GRAHAMSTOWN

Ph: 046 622 3534 / 083 381 4462

Email: lindy@topcarpetsgrahamstown.com

Shop24b, Rosehill mall, PORT ALFRED

Ph: 046 6242093

Email: admin@topcarpetsportalfred.com

The KLEINEMONDE

PROPERTY SPECIALISTS

Tel. (046) 675 1021 - Fax. (046) 675 1126 Cell: 082 923 4973

E-mail: owsley@imaginet.co.za www.kleinemondeproperty.co.za

KLEINEMONDE

Delightful seaviews from this 3 bedroom, 2 bathroom

SOLE MANDATE

duplex townhouse situated on coastal side of main Looking for an ideal lock up and go. Look no further.

road within walking distance of beach. Sold with most This 4 bedroom, 3 bathroom unit with double garage

of the furniture so one can just move right in. Includes has magnificent sea views and is located in an absolute

single garage. Price: R790,000

prime position on the beach. Price R3m.

Trading Hours Superspar: Mon– Sat: 8am – 7pm Sun 8am - 5pm

Valid:18 - 20 March 2016| E&OE | Tel: 046 624 3542 | www.rosehillsuperspar.co.za | While stocks last

WE DELIVER - Place orders telephonically or via email rosehill1@retail.spar.co.za

Trading Hours Nemato Spar: Mon– Sat: 7am – 7pm Sun: 7am - 6pm

Valid: 18 - 20 March 2016 | E&OE | Tel: 086 002 1039 | While stocks last

WE DELIVER - Place orders telephonically or via email nemato1@retail.spar.co.za

Whole and

Half lamb

R89.99 Per kg

Bulk Pork Packs

Rib Burger and

Chips

R39.99 Per kg R19.99 Per combo

Pear Poly Bag

R9.99 Each

Golden Delicious

Apples 1.5kg

R16.99 Each

Fish & Chips

Combo

R16.99 Per combo

Lettuce

R5.99 Each

Banana Loaf

R9.99 Each

Pork or Venison

Pies

R9.99 Each

Chakka Chilli Braai

Wors

R22.99 Per kg

Beacon Easter

Eggs 48s

R64.99 Each

Windhoek Draught

440ml 6 Pack

R59.99 Each
---
4 Talk of the Town ADVERTISING / NEWSDESK: (046) 624 4356 Find us on Facebook

March 17, 2016

Major rebuild on cards for R72

■ Port Alfred to benefit

significantly from project

ROB KNOWLES

ROTARY members

were all ears last

Tuesday evening

when they learned of the

changes planned for the

R72 – the main arterial

road through Port

Alfred, that will begin

s h o r t l y.

Other refurbishments,

include four more traffic

light intersections in

town, additional passing

lanes and a brand new

road infrastructure.

Details of the changes

were explained at a

meeting held at the Port

Alfred Ski-boat Club

with Murray and Roberts

and its main contractor,

Gibb, in attendance.

Resident engineer

with Gibb, Hendrik

Pretorius said the extent

of the planned changes

run from "point 0" at

Main Street, 1.3km toward

Port Elizabeth

(Beavers complex) and

27.5km toward East London

(at the east end of

the Fish River Bridge).

The road will incorporate

cattle creeps, pedestrian

sidewalks, new hydraulic

structures

(drainage) – and more.

The road will be widened

– as will the bridges.

The general speed limit

will be set at 100km/h,

although some stretches

will be sign-posted

120km/h. In Port Alfred,

itself the speed limit will

remain 60km/h.

"This is not a road refurbishment

or a repair,

but a total road rebuild,"

Pretorius said.

Technically, the road

centreline will be moved

7.5m and a new lane and

emergency shoulder will

AGENTS OF CHANGE: Hendrik Pretorius of

Gibb, left, and Bennie Hook explain the

challenges of widening and improving the

R72 from Fish River to Port Alfred

Picture: ROB KNOWLES

be constructed. When

finished, vehicles will use

this as the new road,

while the other half of

the road is completed.

There will be four new

traffic signals along the

road in Port Alfred itself.

The first will be at

Bathurst Road (at the

fire station). The second

will be at Pascoe

Crescent. The existing

lights at Wesley Hill will

remain, and new traffic

lights will be installed at

Gluckman Road/ hospital

intersection.

The fourth new set of

robots will be installed at

Atherstone Road.

As far as intersections

along the R72 are concerned,

Pretorius said

they would be responsible

for constructing a 6m

radius into the side-road

and then up to 20m of

new road into those

streets. However, he was

careful not to extend the

project scope.

"We cannot encroach

on the provincial or municipal

roads as these do

not belong to Sanral

(South African National

Roads Agency Limited,

the client of Murray and

Roberts)," he said.

Pretorius agreed the

issue of accessing Port

Alfred High School

along Albany Road was

in contention and, for

this reason, an independent

consultant has been

appointed.

"It is problematic," he

said. "We cannot have

cars turning right into the

school as vehicles will

UK prof leaves pupils in awe

ROB KNOWLES

TO make the study of

science more interesting,

British professor

Stephen Ashworth of

the University of East

Anglia in the UK has

been visiting schools

in the area to show

and explain some of

the basic concepts.

Last Thursday it

was the turn of Port

Alfred Primêre Skool.

From cubic bubbles

to a pupil-powered

battery, one could tell

from the gasps of

astonishment that everyone,

including

teachers, was amazed

at what could be

achieved with everyday

household items

like soap and water.

Standing outdoors

under a tree, about 60

pupils gathered

around to hear and

watch the UK professor

in action.

Using soapy water

Ashworth was able to

produce bubbles

based on the concept

of water tension.

Ashworth showed

that, by itself, water is

not a very good conductor

of electricity.

However, with the addition

of common salt

(sodium chloride – or

NaCl) the water becomes

highly conduct

i v e.

"This is because the

salt breaks down into

sodium ions with a

positive charge and

chlorine ions with a

negative charge. The

electrons are then

able to transmit

DP ENGINEERING

75 BATHURST STREET, PORT ALFRED

Tel/Fax. (046) 624 4957 Cell: 083 360 6949

WE DO:

Balustrades

Burglar Bars

Diamond Mesh Fencing

Intercom & Remote Control System

Pool Fencing & Gates

Security Gates

Trailer Building & Repairs

Wall Spikes

AGENCIES OF:

Hilladam Sliding Door Gear

Fancy Decorates

Centurion Gate Motors

We also offer a

galvanising and

powder coating service

e l e c t r i c i t y, " Ashworth

explained.

To prove his point

Ashworth took bottled

water and showed

that very little current

flowed through it. He

then dissolved salt into

the water and the

voltage gauge he was

using showed a strong

positive current.

Then, and rather disturbingly,

he used Port

Alfred tap water and,

while not as good as

the salt mixture, it still

passed a significant

current.

"This shows that

there is salt in the domestic

water from the

Showing from Friday 18 Mar - Thursday 24 Mar

t a p s, " he concluded.

He then attempted

to pass an electrical

current through a

small line of pupils, all

holding hands, to

show that we are all

made up of salty water

(Ashworth referred

to humans as

salt water bags).

Among other concepts,

Ashworth

spoke of oxidation,

the reaction of materials

with oxygen. The

air we breathe comprises

around 21%

oxygen, a highly reactive

chemical that reacts

by reducing the

number of electrons

ΈΉΈΉ

After the cataclysmic revelations of Divergent: Insurgent; Tris and Four escape

Chicago in search of a peaceful solution for their conflicted city. Beyond the

walls they are forced to make heroic choices when a battle threatens to engulf

all of humanity. Stars: Shailene Woodley, Theo James, Jeff Daniels

SHOW TIMES: 10:00, 15:50, 19:30

ΈΉ

Continuing his "legendary adventures of awesomeness," Po must face two

hugely epic but different threats; one supernatural and the other a little closer

to home. Stars: Jack Black, Bryan Cranston, Dustin Hoffman

SHOW TIMES: 12:00, 13:50, 15:45

ΈΉ

A good-natured womanizer and a serial cheater form a platonic relationship that

helps reform them in ways, while a mutual attraction sets in.

Stars: Jason Sudeikis, Alison Brie, Jordan Carlos

SHOW TIMES: 14:00, 17:30, 20:00

ΈΉ

Col. Katherine Powell, a military officer in command of an operation to capture

terrorists in Kenya sees her mission escalate when a girl enters the kill zone,

triggering an international dispute over the implications of modern warfare.

Stars: Helen Mirren, Aaron Paul, Alan Rickman

SHOW TIMES: 10:00, 12:00, 18:00

ĚůŚŝůĚĞŶŽŝĞĞĞŽŶ

ĞŶŝŽŶĞĞĐŝĂůĞĚŶĞĚĂ

ŝŵĞĂĞďũĞĐŽĐŚĂŶŐĞĚĞŽĚĞŵĂŶĚ

ŝŬĞŽĂŐĞĂŶĚĂŝŶĨŽŵĞĚŽĨ

ŵĞĂŶĚŚĞůĂĞŶĞ

For further information: Tel: 046 624 1558

in the reducing agent

and gaining them in

the oxidant. He

burned paper to show

that this was oxidisation

at work.

To the horror of

many of his spectators,

Ashworth dipped

a R20 note into

methylated spirits and

set fire to it.

"The note does not

burn because the

methylated spirits are

mixed with water, and

the water keeps the

bank note cool; too

cool to set on fire," he

said.

He then heated a

steel nail, but showed

that this does not

cause the redox (reduction/oxidation)

reaction.

However, he then

set steel wool on fire

and that did cause a

chemical redox reaction.

have to cross the oncoming

lanes [both the lane

and the emergency lane].

There is a major problem

of traffic safety," he said.

There have also been a

number of delays and,

the project completion

date has moved from

August 2018 to January

2019. Following some

technical details of the

road construction, questions

were raised regarding

problems with

Telkom lines, moving signage

– and even people

crossing the R72 during

festivities at the newlydesignated

informal

drinking area at the

Krantz.

"Some subcontracts

have been signed and

Telkom, for example, is

currently moving their

optic fibre cables to accommodate

the new road

design," Pretorius said.

With regard to the

Krantz, Pretorius said

this was not part of the

scope of the project.

Later, Murray and

Roberts infrastructural

contracts manager Bennie

Hook spoke of some

of the qualities involved

with a project of this nature.

For example, he

said there would be 2 000

truckloads of concrete at

a cost of around

R15.5-million used on

the project. The accommodation

for general

workers was currently

running at R160 000 per

month and, if specialist

workers were included,

total accommodation

costs over the project

lifetime would run to

about R6-million.

Sanral has purchased

the Shaw Park Quarry

and will excavate a 3ha

plot to a depth of about

20m for the stone required

on the project.

The trucks used in the excavation,

as well as those

transporting personnel

and materials, will use

about three-million litres

of diesel over the project

lifetime at a cost of about

R36-million.

COOL SCIENCE:Professor Stephen

Ashworth of the University of East

Anglia in the UK took his laboratory to

pupils at Port Alfred Primêre Skool for

a dazzling science demo last Thursday

Picture: ROB KNOWLES
---
March 17, 2016 ADVERTISING / NEWSDESK: (046) 624 4356 Find us on Facebook

Talk of the Town 5

Is six weeks detention fair punishment

for pupils who tested positive for using

dagga at Port Alfred High School?

They were first time offenders.

3 2 2

Marina Magic!

Jetty, sunny, spacious...enjoy the lifestyle!

Asking Price: R3 995 000

Carole Hill 082 083 3092 / Gill Wansell 082 825 3681

Port Alfred

2 2 Parking

Affordable cosy home with open plan living. Secure complex

with communal pool.

Asking Price: R495 000

Carole Hill 082 083 3092 / Gill Wansell 082 825 3681

Ravenswood

STEVE DE

KIEWIT: It's a

good

punishment but

not a cure in the

fight against

drugs.

N O M BU BU Z O

SWAZANA: It is a

fair punishment,

but dagga should

not be used by

children and

especially not in

s ch o o l s .

MARIUS STOLTZ:

My personal

opinion,

immediate

expulsion! It's

unfair to the other

children. If we

look at the

damage done by

drugs, it should

not be allowed.

NAZEEM DOLLY:

It's not really a

h a rs h

punishment. I

don't see

detention as

having an effect.

In fact it's actually

a waste of time.

But for first time

offenders, it's fair.

NOMLINDO

VUSANI: No, I

don't think it's fair

punishment. It's a

problem in

schools and they

shouldn't be

doing it.

VAL BAKER: You

can't just dish

out punishment;

they need

on-going

counselling.

Thugs hit Nemato shop

FOUR armed

robbers pistolwhipped

a

Nemato spaza shop

owner and stole

R1 000 out of a cash

register last Thursday.

MultiSecurity received

a panic signal

from the shop in

Miggo Street at about

10.45am. MultiSecurity

armed response arrived

and were able to

arrest one suspect.

The other three fled.

Police are investigating

the matter.

Police were first on

the scene when

R8 000 was stolen out

of a car parked in Tern

Street early last Saturday

morning. The

thief had smashed a

w i n d o w.

Burglars broke into

the Kowie Bowling

Club in the early

hours of Thursday

morning and stole a

seven-channel amplifier,

CD player and

DVD player.

The suspects broke

a window next to the

front door to gain entry.

They caused damage

to wiring and electronics

inside the

premises, but the

alarm system was not

damaged.

handbag was stolen

but later recovered

with all its contents

still intact.

Three men were

spotted trying to

break into the back of

the Port Alfred Skiboat

Club on

'MultiSecurity were able

to arrest one suspect'

The club asked for a

guard to be posted at

the premises.

A short man in a

blue jacket was identified

as a suspect in a

burglary at Medolino

Caravan Park early on

Monday morning.

The suspect stole a

Dell laptop, black

iPhone, white takkies

and a bag from a tent.

Police are investigating

the matter.

A vehicle parked

outside a restaurant in

Van der Riet Street

was broken into last

Saturday night. A

DO YOU NEED

1. Roman Blinds

2. Curtains

3. Curtain Alterations

4. New Linings/Tape

5. Cushions Re-covered

6. Any soft domestic sewing

PHONE MINTY

046 624 1416

Saturday night.

Members of the

public alerted Multi-

Security, who sent response

officers, but

the suspects had fled.

A MultiSecurity officer

asked for assistance

from the police

when he saw a suspected

drunk driver

nearly cause an accident

at the Caltex petrol

station in Southwell

Road on Sunday

night.

MultiSecurity gave

the vehicle description,

a white BMW, to

the Port Alfred and

Kenton SAPS, but

they said no white

BMW had been seen

coming from Port

Alfred's direction.

A Bathurst resident

was hit twice by burglars

in the space of

five days.

On March 6, suspects

gained entry by

breaking a toilet window

and forcing out

the burglar bars. They

stole a DVD player

and two speakers.

Distinctive

By TIMBER TOWN

Kitchens

Ŗ

Ŗ

Ŗ

Ŗ

Ŗ

Then, last Friday

afternoon, burglars

gained entry to another

building on the

property by breaking

the burglar bars and

w i n d o w.

They stole a hi-fi.

2 2 2

Upmarket Retirement Village home with peaceful surrounds

and well maintained.

Asking Price: R1 350 000 (negotiable)

John Muirhead (Appraiser) 0828006596 john@sirpa.co.za

50 Masonic Street, Port Alfred.

Tel 046 624 5607

Shop 23 (Opp Woolworths), Rosehill Mall

Tel: 046 624 8710

À

À

PHOTOCOPIES

Our copies are clean

& fast. We also do

typing, ring binding,

faxes & emails.

Cnr Campbell & West Street Tel/Fax: 046 624 2373
---
6 Talk of the Town ADVERTISING / NEWSDESK: (046) 624 4356 Find us on Facebook

March 17, 2016

17

18

19

20

21

22

23

24

OPINION

Vot e r s

get more

choices

HAVING more political choices is

healthy for democracy, so it was

good news this week to learn that

another party, the African Christian

Democratic Party (ACDP), will contest

the local government elections.

It is likely the Economic Freedom

Fighters, which has been active locally, will

also contest the municipal elections.

This will give the two main parties, the

DA and ANC, a wake-up call not to assume

they have the automatic support of

their traditional constituencies.

The fact that the ANC has had such a

super-majority for more than 20 years has

never been healthy for democracy. It is

never good when so much power is invested

in one party, and that party appoints a

president with numerous corruption

charges against him, and continues to defend

and protect him despite the damaging

things he has done as president.

Despite rumbles of discontent and feuding

in the ANC, the way the party votes in

lock-step with no dissenting voices allowed,

from Parliament to local councils,

displays its monolithic nature.

Where once it paid more than lip-service

to non-racialism, now more than ever it is a

triumphalist African nationalist party.

Under an ANC government, racism has

increased, from the war against Afrikaans

and other strife on university campuses, to

casual hateful rhetoric on social media.

This is over and above the ANC's strategic

goal of controlling every aspect of society

through its national democratic revolution

– a transformation agenda which

by its nature is racially and politically disc

r i m i n a t o r y.

When the DA rose to be the official opposition,

there was hope – which has often

proved true – that it would restrain the

hand of the ANC, both in the legislature

and through the courts.

But like the ANC, the DA is a big umbrella

party, home to people with competing

worldviews who are allies by an overarching

goal.

To vote for either of the two big parties,

voters have often had to compromise their

personal principles and beliefs.

The argument of both parties has been

to keep them strong, and make them

stronger, and not "waste your vote" on a

smaller party.

The fact there has been a resurgence of

interest in the ACDP locally – by people of

all races – shows this argument no longer

holds sway among people disillusioned

with both the ANC and the DA, and whose

Christian convictions supersede political

e x p e d i e n c e.

After the ACDP faded locally some

years ago, supporters only had the option

of voting for the party in provincial and

national elections.

Now they will have the choice in the upcoming

municipal elections.

– Jon Houzet

TIDE GUIDE

Kind courtesy-SA Navy

HIGH

1137 –

0041 1303

0141 1355

0220 1433

0251 1505

0320 1534

0347 1602

0412 1628

L OW

0527 1817

0705 1927

0755 2008

0830 2040

0859 2107

0926 2134

0952 2159

1019 2226

HAVE YOUR SAY

Letters to PO Box 2871, Port Alfred - or e-mail to houzetj@timesmedia.co.za

This is an open forum for readers to express their opinions. However, the publishers reserve the right to shorten letters. Those printed are not necessarily the views of Talk of the Town.

Although noms de plume may be used, all letters must be signed and have an authentic contactable address and telephone number.

Talk of the Town reserves the right to not publish letters. Please limit letters to 250 words or less.

New drop-off

for recycling

Te l k o m 's call prices have

gone up since February

Jeanne Munro writes:

I RECEIVED a telephone

bill from Telkom,

with a call to my

daughter in Australia

on February 19 priced

at R418.34 for just

20.48 minutes

(R20.426 per minute).

Shocked, I contacted

Telkom and they

said they would take

10 working days to adjust

the figure. Previous

calls to my daughter

had cost just R2.71

per minute (R3.09 including

VAT) as

Emergency numbers

Port Alfred hospital – (046) 604-4000

Police station – (046) 604-2001/2

Multi-Security – (046) 624-2508

Chubb Security – (046) 624-4810

Sky Alarms – (046) 624-2806

NSRI – 082-990-5971

Electricity (a/h) - (046) 624-1111

EMS (Emergency Medical

Services) – 10177

Gardmed –082-759-2134

Netcare 911 – 0 8 0 - 0 8 2 - 9 11

Fire Department –

(046) 624-1111

Jane Foote writes: AT the January

U3A meeting, we learnt

from Kevin of Iwars [Integrated

Waste and Recycling Services],

that the plastic, tins, paper/cardboard

that we'd been putting out

in clear plastic bags for recycling,

are not being separated out at

the rubbish dump as we had

thought and hoped.

He told us that we should take

our recycling to a container at

the taxi rank in Nemato.

I went there and only after

some sleuthing did I find someone

to take my stuff. Apparently

that is no longer being used –

probably so few people knew

about it! The new drop-off point

is opposite FNB in town.

There have been a couple of

articles in Talk of the Town

about the horrendous state of

the rubbish dump. Please spread

the word everyone. It's such a

shame that there is such apathy

about recycling in this country.

The Iwars numbers is

(046) 624-491, in case the

drop-off point changes again!

confirmed by Telkom.

I phoned again on

Monday March 14

and was told the

amount they had

charged was correct,

and that price increases

had been put in

place on February 15

this year.

I called 10903 to

query the amount

charged and asked for

an explanation as to

why the call price had

increased by almost

10 times, after a long

musical interlude, it

was confirmed that

prices had increased

on February 15.

This is just to warn

other readers, particularly

older readers

who do not use the internet,

to be careful as

Te l k o m 's overseas

prices have now increased

to more than

most of us can afford

to pay.

NO REGARD: A Bathurst reader was angry that

contractors appointed by the municipality cut off her

water supply and discarded pipes against her business

signag e

Shoddy work

cuts income

Debbie Gibson writes: ON

March 2 at 2pm, contract workers

[installing] new water pipes

in Bathurst decided to leave for

the day.

After a week of noticing, and

hearing, the six workers, I was

relieved the rest of my work day

would be quiet.

I wouldn't have to hear their

shouting any longer, or notice

only two were ever working at

any time.

After they left I did not have

water and noticed they threw a

hose on my signage, damaging

all my plants.

I called about the lack of

water. I need water for my salon

b u s i n e s s.

Finally, after a few calls, the

municipality arrived on March 4

at 3pm.

At this time I had lost more

than R1 000 in income.

The municipality told me they

could do nothing. Everyone else

had water.

I showed them the pipe above

ground and asked them if it was

my water pipe. No answer.

I demanded they find those

responsible for the work.

At 3.30pm the contract workers

arrived.

The pipe that was cut was my

water supply.

A Mr Monde was helpful and

pleasant. He did not ignore my

concerns and anger. He had staff

move pipes off my signage and

p l a n t s. But the point is, the damage

has already been done.

I then called my clients and

rescheduled appointments.

On Saturday, the municipality

turned all the water off at 2pm.

Really! Then a notice was

posted and given out, stating:

"No water on March 9 and 10.

They are filling new reservoir."

I had to postpone appointments

again, only to have water

on the ninth and 10th, but none

on the 11th.

We ratepayers are paying for

this incompetence. I have heard

nothing but complaints about

the destruction of roads everywhere

these contractors go.

The roads were not maintained

correctly before and now

are almost impossible to travel

on. Municipal workers need to

do their jobs correctly.

We pay them to do just that.
---
March 17, 2016 ADVERTISING / NEWSDESK: (046) 624 4356 Find us on Facebook

Talk of the Town 7

HAVE YOUR SAY

Apologies for

Lions cakes

Lions president Nico Muller writes: LIONS

Clubs throughout South Africa have sold

Christmas cakes as a major fundraiser to assist

them in providing for the less fortunate in their

communities for more than 40 years.

For all these years we experienced minimal

comeback, but unfortunately there have been

instances where patrons found some of the

2015 cakes not up to the normal high quality.

The Port Alfred Lions Club sincerely apologises

to those of our loyal supporters for any

inconvenience caused by the substandard

cakes. Negotiations are already at an advanced

stage with the baker to insure acceptable quality

in the future. We are confident we will have

a product that will restore the public's faith in

the Lions Christmas Cakes and look forward to

your continued support.

Bible teaches us to speak the truth in love

"RECKLESS

words pierce like

a sword, but the

tongue of the

wise brings healing"

(Proverbs

12:18).

We humans

often tend to

speak without

thinking first.

Th i n k i n g

about what we

are saying, why we are

saying it and the possible

consequences of

what is being said.

The Bible teaches

that our conversation

should be "seasoned

with salt" and that we

should always "speak

the truth in love".

Reckless (rash,

I N S P I R AT I O N A L

INSIGHTS

PASTO R

T H EO

SNYMAN

thoughtless, careless)

words can be so damaging

. . . like a sword

that pierces the heart!

The consequences

of words spoken hastily,

or in anger, cannot

easily be mended.

Marriages have

been shipwrecked,

children wounded

Q: Tell us about your job.

A: I view my "job" as a calling

to minister/serve those at Port

Alfred Baptist Church and then

beyond. Ministering to God's

people first and foremost means I

must be ministered to by the

Chief Shepherd himself. That

means I must be disciplined in

spending time with God through

Bible reading and prayer. Other

areas of ministry include preaching,

teaching, vision casting and

implementation, visitation, and

conducting special services such

as funerals and weddings.

Q: What made you get into

that line of work?

A: At the age of 18 I felt God

calling me to full-time ministry. It

is a privilege for me to serve

Christ in this capacity.

Q: Describe the most memorable

experience you have had in

your line of work.

A: If I had to whittle the many

memorable experiences down to

a single experience, I would have

through verbal

abuse and relationships

broken

as a result of

words foolishly

spoken.

The Bible says

"everyone should

be quick to listen,

slow to speak and

slow to anger"

(James 1:19).

Conversely, the

tongue of the righteous

brings healing.

Righteousness

begins with a right

relationship with

God, who then helps

us to do what is right

in His sight.

"The fruit of the

Spirit is love, joy,

peace, patience, kindness,

goodness, faithfulness,

gentleness

and self-control"

(Galatians 5:22, 23).

The fruit of the

Spirit does not only

change our own character,

but it directly

influences our relationship

with others.

Intolerance, criticism

and rash words

are replaced by upbuilding

conversation

. . . which eventually

becomes the norm.

The importance of

words is repeatedly

expressed throughout

the book of Proverbs.

The condition of

our heart determines

the contents of our

speech, for "out of the

FA C E 2 FA C E

... with Josh de Wit

to say the first time I preached as

a 19-year-old. It was an amazing

e x p e r i e n c e.

Q: What do you do to unwind

when you are not working?

A: Spending time with

my family, fishing and

going for a paddle down

the Kowie River.

Q: What is your motto

in life?

A: One word, "eternity".

It keeps my perspective

in check.

Q: What makes you happy?

A: There is nothing more exciting

to me than to see people

grasp the truth of God's word,

apply it and be transformed by it.

Q: What makes you angry?

A: Injustice.

overflow of the heart

the mouth speaks"

(Matthew 12:34).

Our prayer should

be: "May the words of

my mouth and the

meditation of my

heart be pleasing in

your sight, O Lord,

my Rock and my

Redeemer" (Psalm

19:14).

Q: What do you think about

the youth of South Africa? Do

you have any advice for them?

A: This is a subject very close

to my heart. I think

that the youth of

South Africa in general

lack direction.

Youth are to be given

direction by their parents,

but when we look

at the family unit today

we see many dysfunctional

families,

largely due to fathers

not fulfilling their role.

This is the beginning of a

downward spiral. So my challenge

to the youth of today would

be to begin by bringing an end to

this common trend in society by

entering into a relationship with

God through Jesus Christ.

SOLE

MANDATE

God is a father to those who

believe in Him. And what better

father figure to have than God

himself who is perfect in love?

Q: What do you like most

about Port Alfred?

A: The people.

Q: If you could change one

thing about Port Alfred …

A: That we would seek God

with all of our heart.

Q: What is your favourite music

of all time?

A: I really enjoy the David

Crowder Band.

Q: Three wishes for South

Africa?

A: 1) That we would return to

God , 2) that we would return to

God, 3) and that we would return

to God.

Q: Who is your role model?

A: David Wilkerson.

Q: Who would you take on

Amazing Race given the opportunity?

A: My lovely wife.

31 v d Riet Str

Port Alfred

046-624 2901

Pig & Whistle Bldg

Bathurst

046-625 0308

info@ipcportalfred.co.za

www.ipcproperties.co.za

PORT ALFRED R1 045 000

2 2 1

Ravenswood

Retirement Village.

Open plan livingroom,

spacious covered patio.

L/up garage.

Call Rose to view today! Rose Ryan

P24 ref: 103542461 083 258 9777

DEDICATED & DEPENDABLE
---
8 Talk of the Town ADVERTISING / NEWSDESK: (046) 624 4356 Find us on Facebook

March 17, 2016

Vintage cars all revved up

■ Pulses racing ahead of OD Inggs Memorial

EXCITEMENT is building

for vintage car enthusiasts

ahead of the

18th annual OD Inggs

Memorial Run to be held on

Saturday and Sunday.

And to add to the thrill of

the event at the weekend,

there are plenty of "grand old

ladies" like the 1934 Austin 10

– the oldest car in the race –

owned by Ron and Pam Gush

from Kenton, to get excited

about.

Another of the cars lined up

for the race is a 1940 Chevrolet

three-ton truck entered by

Peter Fulton and Trevor

Hoole of Port Elizabeth and

Grahamstown respectively.

Bruce Yendall of Port

Alfred will be accompanied by

Peter Owen-Smith of East

London in Yendall's 1941

Chevrolet coupe. There a few

E-Type Jaguars and Mercedes

Benzes among the other

e n t r i e s.

The run is organised each

year as a tribute to the late

OD Inggs, a well-known Grahamstown

undertaker and

businessman, who was widely

known and respected when it

came to vintage and classic

motor cars.

The run will be held in the

Albany District with competitors

navigating a route comprising

340km on the first day

and 100km on the second.

Organised by the Albany

Vintage and Classic Motor

Club, teams will consist of a

driver and a navigator, who receive

their route schedule 30

minutes before their scheduled

starting time. While the

navigator ponders the route

schedule, the driver will be

putting, hopefully not too

many, final touches to the car.

The first car leaves Rosehill

Mall at 9.30am on Saturday,

and the rest at two- minute

i n t e r v a l s.

The competitors will return

to Port Alfred where the cars

may be viewed at the Port

Alfred

Ski-boat

Club from

about 5pm.

Th e

Sunday

start is also at Rosehill Mall at

9am following a shorter route,

with the cars returning to the

ski-boat club just

after noon.

One point per second early

or a car's late arrival at a control

point is deducted.

The team with

the lowest number

'The organisers wish

to thank their main

sp onsors'

of points at

the completion

of the

two days is

the winner.

"The organisers

wish to thank their

main sponsors, BU C O,

Kenrich Motors and Settler

City Toyota for their support,"

said Mike Newlands on behalf

of the organisers.

New physio at Kieck practice

THE physiotherapy practice of Jacquie Kieck

would like to welcome a new physiotherapist to the

practice, Amy Abel.

Abel hails from Cape Town and studied at

Stellenbosch University. During her studies she

excelled at university receiving a special prize in

¿¿

¿

published in the next few months.

A keen sports woman, Abel has represented

South Africa in athletics and played provincial

netball. She also volunteered as a physiotherapist

working at South African netball championships in

2015 and therefore as a competitive sports woman

she knows what it is like to be a patient and this

gives her added insight when treating her patients.

Abel joins physiotherapists Jacquie Kieck and

Christa Basson as a third physiotherapist at the

practice.

"Our physios strive to treat our patients with

compassion, integrity and professionalism. As one

of only 11 practices accredited by the SASP (South

African Society of Physiotherapy) in the country,

and the only accredited practice in the Eastern

Cape, we aim to uphold a high standard of service,"

said Kieck.

The practice was established in 2007 by Kieck

and thanks to the support from the Port Alfred

community the practice has been able to grow to the

point where the need arose to upgrade the facilities.

The extra space allowed for another physiotherapist

to join the team. Physiotherapists are trained

in assessing, treating and preventing movement

disorders, restoring normal function or minimising

dysfunction and pain in adults and children with

physical impairment, to enable them to achieve the

highest possible level of independence in their lives;

preventing recurring injuries and disability in the

workplace, at home, or during recreational activities

and promoting community health for all age groups.

¿

doctor's referral to see a physiotherapist and our

practice will submit your claim directly to your

medical aid. We are available to treat patients at the

practice rooms, frail care facilities and in hospital.

We hope to continue to serve the Port Alfred community

and would like to thank them, and the local

doctors, for their support over the years," said Kieck.

Pick n Pay helps drought relief

WITH large areas of South Africa in the grip

of drought, Pick n Pay is assisting customers who

want to donate bottled water to communities,

farmers, animals, schools and old age homes that

have run out water.

Pick n Pay is donating half a million rand to

different initiatives to provide relief for communities

in drought stricken areas. The supermarket

chain is matching any customer donations of

Smart Shopper points to the drought relief fund

up to the value of R100 000.

The Ackerman Pick n Pay Foundation has to

¿

staff are collecting water and bringing it to their

¿

water to communities in need.

Several stores are already involved and acting

as water drop off points with 22 000 litres col-

¿

Pick n Pay has partnered with Water Shortage

SA, Operation Hydrate and AgriSA to identify

people and communities in need to which the

water will be transported.

Port Alfred Pick n Pay manager Werner

Pienaar thanked Warren Currie from Oasis and

local drought relief activist Angi Bezuidenhout

for their efforts and contributions, as well as

shoppers who donated water.

¿

in the front of the store for further contributions.

Nomad Africa Adventure Tours

Outstanding Overland Touring in

Southern and Eastern Africa.

5 Highlights covered on Nomad Trips (but many more!)

ŬĂĂŶŐŽĞůĂŽŚĂĂŽŶĂůĂŬ

ŝĐŽŝĂĂůůĂŶŝďĂ

ŽŝůůĂĞŬŬŝŶŐ

ĂĂŝĂĂĞĞŶŐĞ

ŽĂŵďŝĞ

ĂĞĞĐŝĂůŝĐŽŶŽīŚĞŽŝĐĞĨŽ

South African Residents -- Travel 11 March – 15 April 2016

BRING THIS ADVERT FOR 5% DISCOUNT OFF TOUR PRICE

GOTRAVEL.CO.ZA, Causeway Road, Port Alfred, South Africa

Telephone 046 624-4044 Cellular 083 580 2228 Email tony@gotravel.co.za

DYNAMIC TEAM:

Taking care of

your physiotherapy

needs at the

Jacquie Kieck

physiotherapypractice

are, from

left,Jacquie Kieck

(physiotherapist),

Dianne Schenk

ſ

Christa Basson

(physiotherapist)

and Amy Abel

(physiotherapist)

Advertising:

Please contact

one of our sales

executives for

all your

advertising

needs.

T:046 624 4356

CARING COMMUNITY: Water for drought relief has been collected in-store at Port

Alfred Pick n Pay. An initial 1617 litres has been sent to badly hit drought areas. From

left are drought relief project coordinator Angi Bezuidenhout, Pick n Pay assistant manager

Alan Page, Denvor Thomas, Monwabisi Hans and manager Werner Pienaar

Try an adventure tour

Travel Talk

by

Tony King

Senior Travel Advisor

I WOULD like to introduce you to one of my

favourite touring companies in Africa–

Nomad Africa.

It uses those big four-wheel drive type

vehicles that travel throughout Southern and

Eastern Africa.

Some of the offerings are, for example, a

tour from Cape Town to Victoria Falls via

Namibia and the Okavango Delta, or a tour

from Johannesburg to Vilanculos,

Mozambique via Swaziland, or a tour visiting

game reserves in Kenya and Tanzania

¿

Kilimanjaro trek!

The highlight tour must surely be from

example, South Luangwa National Park,

then on to Lake Malawi and Dar Es Salaam,

¿

Nairobi.

These tours are offered on two levels –

camping and accommodated.

There are hundreds of options available so

if this catches your fancy come and get a 95

page full colour brochure with enough holiday

ideas to have your head in in turmoil!

You could also consider Morocco or Egypt.

What makes these tours exceptionally

unique is that you can join and leave where

À

and enjoy the tour over the precise route you

wish to see.

Combine these tours with exceptionally

favourable add-on hotel rates from departure

and arrival points.

You can also do the base tour, but if you

want there is an activity package that can be

added onto all the tours. Pop in and see me

to discuss these tour options. Don't worry

about age – being young-at-heart is all that is

required.
---
March 17, 2016 ADVERTISING / NEWSDESK: (046) 624 4356 Find us on Facebook

Talk of the Town 9

Shop online at www.picknpay.co.za

Also at HYPERMARKET

EVERYDAY

ESSENTIALS

FOR LESS

THIS EASTER

Selected products on this page have been styled for photography

Coca-Cola Regular,

Light, Zero or Tab

6 x 330ml Per Pack

FRESH

BUY

ANY 3

FOR

32 90

Beacon

Milk

Chocolate

Slab

Assorted

80g

R

23

SAVE

PnP Flavoured Carbonated

Soft Drink Assorted 2 Litre Each

9 90

PnP Beef Mince

Per kg R

58

PnP Bulk Tenderised

Steak Per kg

R

79

PnP NO NAME TM

Fresh Chicken

Braaipack

Per kg

SAVE 8.90

R

36

36 90

SAVE 12.20

22 90

8 95

Equates to

49.94 for

6 x 1 Litre

18 90 Nola Mayonnaise

Flora Fat Spread

PnP NO NAME Sasko Premium

PnP Fresh Milk

Assorted

Slices Brown

Assorted 2 Litre

1kg Tub Each

Bread 700g

Each

74 TM

First Choice Long

90

Large Eggs 18s

Life Milk Assorted

6 x 1.5 Litre

Per Pack

R

249

Jameson Irish

Whiskey 750ml

Castle Lite Cans Nescafé Classic

24 x 330ml or

Non-returnable

Bottles 59 90 Huletts White

Danone Ultra Mel

200g Dawn Jar

16 90

Assorted 730-780g

Each

19 90

Flavoured Custard

Assorted 1 Litre Each

27 90

Sugar 2.5kg

24 x 340ml

Per Case

PRICE PER NAPPY

Size 2 66s 1.79

R Size 3 58s 2.04

Size 4 50s 2.36

184

+

Size 4+ 44s 2.68

Size 5 44s 2.68

Huggies Dry

Comfort

BUY

Disposable

BOTH

Get

Nappies Value

FOR

Double

Pack Assorted

Points

Per Pack

Buy Omo Auto Washing SAVE R29

ALL EASTER EGGS CHECKED BY

117 90 Powder 2kg, Liquid

Twinsaver

1.5 Litre or Capsules

2 Ply Toilet

14s and Comfort

Tissue

Fabric Conditioner 59 90

Assorted

Assorted 880ml

9s Per Pack 43 90 BRAND MATCH

Alcohol Not for Sale to Persons Under

SO WHY WOULD YOU SHOP ANYWHERE ELSE?

the Age of 18. Drink Responsibly.

PRICES VALID 17 - 21 MARCH 2016 AT PICK N PAY SUPERMARKETS AND HYPERMARKET IN EASTERN CAPE

Including Plettenberg Bay, Knysna, Groot Brak, Hartenbos and Oudtshoorn. Liquor not for sale on Sundays in George and

Accounts

Mossel Bay. Excluding Pick n Pay Local store. Promotional stocks are limited. Prices include VAT, where applicable.

Smart Shopper terms and conditions apply. No traders. E&OE. Selected products may not be available at all stores.

NOW OPEN

Visit www.picknpay.co.za, or call 0800 11 22 88. Cellphone rates apply.

1503386_38X264
---
10 Talk of the Town ADVERTISING / NEWSDESK: (046) 624 4356 Find us on Facebook

March 1

NEIGHBOURLYNOTES

THIS is your last opportunity to support the

GBS Hospice Stride with Pride fundraiser, a

beach walk from Port Alfred's East Beach to the

Lala Lapa in Kleinemonde. There are the brave

types will want to work up a healthy appetite

and walk the 17km and then help themselves

to delicious burgers and boerie rolls (as well as

a cash bar) but, if you can't get to East Beach

by 8am, you can meet the gang at Riet River at

around 8.30am (but probably a little later than this)

and simply complete the walk to Lala Lapa from

there. Alternatively, some might wish to complete

the walk at Riet River. The cost is just R50 (R30

for pensioners and R20 for scholars), so there's

no excuse for not being there. And, if you really

can't get there, how about meeting everyone for a

breakfast roll or two at the Lala Lapa?

HUMAN Rights Day is celebrated on March 21,

in commemoration of the 1960 Sharpeville riots

where 69 people died and 180 were wounded

ſ

protest against the Pass laws. Today we celebrate

the rights of all to protest, but some take the right

too far and encroach upon the rights of others

to make their point. The date is also the day of

the Ndlambe Heritage Challenge, and this year

promises to be the most exciting yet. It's not

just a treasure hunt as in previous years, but an

"Amazing Race" style event with some great prizes

and whole lot of fun. For more information, please

contact Sue Gordon on 082-456-7437.

ANOTHER year has passed, so it is time to

wish the following folk having a special day in the

week ahead, a very happy and healthy birthday

and fortunate year ahead. Good wishes to David

Lawson, Pat Bailes, Grant Warren, Lynette

Millard, Miemie Golding, Hilda Green, Michael

Schnehage, Colleen Fick, Gillian Bowen and her

daughter Tamlyn, Pene Devenish, Ollie Davis,

Ethan Mahloko, Lana de Aroja, Edna de Villiers,

Fanie van den Berg, Melinda Smit, Sheldon

Elliott, Danielle Cannon, Abi Cheater, Colleen

Elliott, Guy Wessels, Sven Grimbeek, Bradley

Fick, Gwen Milne, Tricia Border, Melissa Spira,

Meagan Alexander, Lauren-Leigh Randall, Anthony

Bowdler, Lyn Charter, Merle Thorp, Adele Steck,

Onika Ranft, Mark Kieck, Lyn Manning, Phumla

Mxuma, Lauren Botha, Jeanette Botha, Mervyn

Kanes, Susan Hunt, Aimee Roesstorff, Rocky

Pang, Belinda Nel, Renata Mouton, Meryl Baker,

Bronwyn Norman, Nadine Vertue, Brendan Samuel,

Sally-Anne Phillips-Page.

SPECIAL birthday greetings and congratulations

to a special lady, Angie Waller, on her 60th

milestone. Enjoy your day and may there be many

more good memory-making years ahead.

GOOD wishes and a happy milestone birthday and

congratulations to Joan Gane on your 60th – may

you enjoy many more happy healthy years ahead.

ON Tuesday, the Supreme Court of Appeal

dismissed the government's attempt to overturn

the North Gauteng High Court's ruling that

Sudanese president, Omar al-Bashir, should have

been arrested when he attended an African Union

summit meeting last year here in South Africa.

The government argued that, as a sitting head

of state, al-Bashir was immune to the ruling of

the International Criminal Court (ICC) who wants

to see him prosecuted for genocide and crimes

against humanity. The court announced that not

arresting al-Bashir and handing him over to the

ICC was an illegal act, and ANC spokesman Zizi

Kodwa said the party has noted the Supreme

Court of Appeal's dismissal and will study the

judgement before taking any further action. Maybe

the ANC should stop wasting tax-payers money

and admit they broke the law, or would they rather

defend a man allegedly responsible for the deaths

of literally millions of Sudanese people. Hypocrisy

1, South Africans nil.

ŌŌ

ſ

Ŏŏ

Ō

ſ

Ō

Ō

Ō

Ō

ŏ

ŏ

ſ

Ŏ

ő

Œ

ŌŌ

ſ

ſ

Ō

FURTHER success and congratulations to all

businesses who are celebrating an anniversary

at this time. Congratulations to Root72 (Beavers

Complex), Decadent at the Postmasters Village,

Hi-Tech Security.

ſPravin Gordhan back from

wooing the international investment community,

there is hope that he may have allayed fears and

delayed the potential downgrading of the SA Rand

ſ

escape the stigma of Junk Status should his plans

not come to fruition, we must hold thumbs that

President Jacob Zuma does nothing more to irritate

the marketplace (such as his appointment of three

ſ

with the Gupta family debacle still to be discussed

in parliament, not everything looks secure. If

downgraded, investors will pull out of the country

and our unemployment rate will soar. Added to

the drought, labour unrest, student protests and

electrical instability, we can do without any more

ŏſ

in brackets for comparison the Rand was trading at

R15.95 (R12.39) to the Dollar, R22.50 to the Pound

(R18.25) and R17.70 to the Euro (R13.14). In the

commodities department, Gold was trading at $1

ſ

trading at $946.80 ($1104.50) with Brent Crude Oil

at of $38.74 ($52.95) per barrel.

MULTIPLE UNITS:

Sunshine Coast blood

donors Steven Harris,

left, and William Scott,

right, were rewarded

for their efforts in

donating multiple

units of the lifesaving

last week. The

occasion was the

annual awards

dinner of the Port

Elizabeth branch of

the SA National Blood

Service (SANBS). In

the middle is SANBS

public relations

practitioner Nina

van Wyk. Harris has

donated 175 units of

blood and Scott 150

SPECIAL thoughts and prayers are with all

those folk who are not well, having or have already

undergone tests, operations and treatments.

"Sterkte" and best wishes to Roy Potter, Andrew

de Vries, Andrew Uys, June Hart, Linda Hulley,

Val Kilian, Marlene van der Vyver, Ben Kember,

Llewellyn Wicks, Myrna Keet, Barry Viviers, Angi

Bezuidenhout, Fanna Vogel and Bevan Edwards.

IT was with a heavy heart that we learned of

the death of Larry Daubermann late on Monday

evening. Our heartfelt condolences to everyone

who knew and loved him, particularly his wife

Ginger.

SINCERE condolences and kind thoughts to

the family and friends of Pat McCrea who passed

away. May you feel the warm embrace of loving

memories and hear happy echoes of all the good

times and many years you shared together.

BEST wishes for many more and

congratulations to all couples celebrating their

wedding anniversaries this week, especially Colin

and Louise Wiggett, Schalk and Nicole Voster,

Carl and Natasha Haller, Quinton and Paula Fick,

Mark and Marizka Burgess, Michael and Cornelia

Cholwich.

PINEAPPLE cricket is almost a religion for

some in the area and, at this year's event, the

112th, the games are heating up along with the

social gatherings at the Port Alfred Country Club

in the evenings. At Monday evening's prize giving

guest speaker Robbie Muzzel from the SA Cricket

Union spoke warmly of Advocate Ngumbela and

the outstanding work he has done in promoting

cricket in the rural areas around Fort Beaufort.

Started just 10 years or so ago, Ngumbela has

managed to make rural cricket as much of a festive

occasion as it is here in Ndlambe. At the end of

the Ngumbela tournament a side will be selected

from the best players in his area, and they will

face a united Pineapple cricket XI selected from

the outstanding players at this year's tournament.

This is what cricket is all about, the camaraderie,

sportsmanship and the development of skills

throughout the region.

THOUGHT for the week: "Aim for success, not

perfection. Never give up your right to be wrong,

because then you will lose the ability to learn new

things and move forward with your life."

BEST regards as always,

The Team

ſ

ŏ

Ō

ő

Œ

ŌŌ

ſ

Ō

Ō

ſ

ſ

ŏŏ

ŏ

ſ

đ

đ

ŏ

Ō

ſ

Ō

ŏő

ŒŌ

ŌŌ

ſ

ŏ

ŏ

Ō

Ō

Ō
---
7, 2016 ADVERTISING / NEWSDESK: (046) 624 4356 Find us on Facebook

Talk of the Town 11

Cheerful settler chef

S et t l e r

C h ro n i c l e s

by Bev Young

BRAM Coetzee is a

chef personified.

Cheerful, at peace

with himself and his

amazing abilities, he

simply lights up when

talking about his

food, his restaurant,

the Wharf Street Pub

and Restaurant, and

his adorable family.

The venue is in an

amazing setting in

one of the oldest

streets in Port Alfred,

dating back to 1830.

The food is excellent,

my particular favourite

being the

beer-battered fresh

fish, with unbelievable

stacked chips.

The service is friendly

and the beer on tap

from the brewery

next door is perfect.

A "nearly" s e t t l e r,

Coetzee was born in

Port Elizabeth, and

the family had a holiday

home in

Kenton-on-Sea. He

IN HIS ELEMENT: Owner and chef

Bram Coetzee at the Wharf Street

Pub and Restaurant

Picture: BEV YOUNG

had me in stitches of

laughter when he related

the circle of life

and cooking.

Oh, and his dad was

a brewer with SAB,

who occasionally

helps with the brewery

next door when

they need assistance.

"I guess you could

say, I learnt to cook

on the hop. I love

food, love to experiment,

and I have

worked for amazing

people on my

t r a v e l s, " he said.

"Three years in

London, with a

French chef, 18

months in the Kruger

Park, and more than

eight years in White

River with my own

restaurant and various

other well-known

eateries and pubs until

the call of this

Eastern Cape attracted

us as a family.

"This business was

on the market and I

grabbed at the chance

of settling down in a

region that we all

love, family nearby

and of course the historical

influence of

this building."

"Where to now?" I

asked. "Keep serving

the best food I can,

marketing, listening to

the trends, and looking

after diners who

share this with me.

"There are quiet

times, seasonal rushes

and I guess for most

of us in the business,

functions are a blessing.

As a family, we

are very happy and as

a business person,

content," he said.

I left this incredible

building, filled with

aged wood and a

magnificent collection

of historical photographs,

which are

gigantic and almost

cover every wall,

feeling that this was a

wonderful period in

the life of the building,

which has seen

195 years of Port

Alfred history.

S c ot 's cricket

legacy intrigues

ROB KNOWLES

OC CA S I O N -

ALLY a

speaker takes

to the podium and

blows the audience

a w a y.

Last Thursday

it was the turn of

Professor Dean

Allen, author of

Empire, War and

Cricket, at a special

meeting of

U3A at Don Powis

Hall, who was certainly

up there with the

best speakers.

His passion for the

subject, left no one in

doubt this story was

important, highlighting

the convoluted

and intrigue-ridden

history of South

Africa a century ago.

Allen began by

telling the packed audience

his talk was not

just about cricket, but

rather about the enigmatic

Scottish railwayman,

James

Logan, who founded

the town of Matjiesfontein

in the Western

Cape, a critically important

staging point

in the development of

the all-important

South African railway

system toward the

turn of the 20th cent

u r y.

Logan said Allen

intended to travel to

Australia when he had

reached his 19th

birthday in order to

make his fortune.

But he stopped off

in the Simonstown

CRICKET CHAT:

Prof Dean Allen at

a U3A talk Picture:

ROB KNOWLES

area to establish himself

in the railway

b u s i n e s s.

Matjiesfontein became

central to the

late Victorians as a

hub of commerce and

the home of the social

elite in the Western

C a p e.

Allen was born and

raised in Somerset, a

rural county in the

southwest of the UK,

but moved to South

Africa and studied at

Stellenbosch, ending

his studies with a PhD

in sport.

During his research

into the history of

cricket in South

Africa, Allen became

fascinated by Logan, a

man whose history

had effectively been

lost or forgotten, and

this spurred him to

take a much closer

look at the man, his

life and times.

The talk showed

Logan to be a singular

character in South

African history, who

treasured power

and influence

above everything,

marrying into an

influential family

and using his

knowledge of

railways to quickly

establish himself,

rising from

porter to stationmaster

in a few short

months after his arrival.

Logan was a passionate

cricket supporter

and organised

an English cricket

team to visit on more

than one occasion;

more to do with political

intrigue than the

sport itself.

Ultimately Logan

picked up the refreshment

facilities along

the railway lines, more

important after the

discovery of diamonds

at Kimberley.

Matjiesfontein was

an important stop

along the tracks, and

Logan made full use

of the fact by purchasing

three farms there

and building the Lord

Milner Hotel, still one

of the main attractions

of that part of

the Karoo. It was said

that Logan's soup was

served so hot that customers

would have to

return it to the pot before

they had time to

drink it and re-board

the trains.

He encouraged

many famous people

to holiday there, and

even caused some to

stay, including famous

cricketers and

other notables including

Cecil John

Rhodes, Rudyard

Kipling, Olive

Schriener and

Randolph Churchill.

During his investigation,

Allen met

hotelier Dave

Rawdon, owner of the

Lord Milner Hotel,

who encouraged

Allen to turn his thesis

into a book.

Before Rawdon

died in 2010, his wish

was that the book be

finished and, true to

his word, Allen recently

published the

book titled E m p i r e,

War and Cricket.

READY TO SERVE: The members of the Port Alfred High School Interact Club

made the afternoon a special one for the residents of Damant Lodge when they

served hot cross buns and sang songs there on Friday afternoon. From left are

Simyalela Ndinisa, Monique Müller, director of projects Alizwa Tuko, Geoff r ey

Calitz, Simamkele Mbolekwa, Interact president Inga Mpepanduku, Adam Nolte ,

treasurer Corne Odendaal, James Kidson, vice president Britney Hawkins and

Tatum Pretorius

Picture: ROB KNOWLES

Interact gives to community

ROB KNOWLES

RESIDENTS of

Damant Lodge were

treated to fresh buttered

hot cross buns

last Friday, that was

supplied by Port

Alfred High School

Interact Club.

Inga Mpepanduku,

president of Interact,

said she and her team

were happy to visit

the residents and

wished them well for

E a s t e r.

"We wanted to help

to make this time of

the year for you a special

one," she said,

promising they would

return again during

the year to see how

everyone was getting

on. The Interacters

then visited the frail

care centre where

they sang Wo u l d n 't it

be Lovely, one of the

songs from My Fair

Lady, which they performed

at the school

r e c e n t l y.

Back in the main

lounge, the Interacters

gave another

performance to loud

applause from an appreciative

audience.

Mike Millard,

Rotary's mentor for

the Interact Club said

he was proud of his

charges and the work

they were doing.

Exclusive

Clean Team

Cleaning of homes, offices, shops

Call us for all your cleaning needs

Owner run and managed

Contact Refer: 073 348 1145

SMS preferable
---
12 Talk of the Town ADVERTISING / NEWSDESK: (046) 624 4356 Find us on Facebook

March 17, 2016

ANGLICAN CHURCH ALBANY

ARCHDEACONRY

ŏ

Sunday Eucharist 8:30.

Wed: Eucharist 8:30am.

Sunday Eucharist 9am.

St John's Bathurst Sunday Eucharist 8.30am

ŏ11am Eucharist

(1st Sunday in the month only).

St James Southwell 11am Eucharist

(3rd Sunday in the month only).

ANGLICAN PARISH OF ALEXANDRIA

St David's Bushman's River Mouth -

Eucharist Sunday 8am, Wednesday 9am.

Christ Church, Alexandria. Eucharist

Sunday 9am.

Mon 21 Mar 09h00 Holy Communion

Tues 22 Mar 09h00 Holy Communion

Wed 23 Mar 09h00 Holy Communion

Thur 24 Mar 18h00 Maundy Thursday

Footwashing & Holy Communion

Frid 25 Mar 12h00 Good Friday Service –

This is a 3 hour Service

Sat 26 Mar 19h00 Service of Light &

Baptismal Promises Renewal

Sun 27 March EASTER DAY

07h00 Holy Communion

09h00 Holy Communion

09h00 Holy Communion at Christ Church,

Alexandria. Enquiries: Rev Mxolisi Somandi

ASSEMBLY ALEXANDRIA

Sundays at 10:00am in the Keeton Fick Hall,

Wednesday Evenings Prayer meetings in

private homes.

AFRIKAANSE PROTESTANTSE KERK

Vir AP Kerkdienste.

BATHURST COMMUNITY CHURCH

Bathurst Agricultural Showgrounds

Services every Sunday at 9am.

BAPTIST CHURCH

Morning services & Children's church

(Ignite) 9:30/Evening services 18:00

Youth: Fridays: Grades R-3 (kick) @

17:00 – 18:00, Grades 4 – 7 (Swat) @ 18:00

– 19:00. Grades 8 –12 (G63) @

19:00 – 21:00 FMI contact Vicky

Dickson on 083-293-4891 or Mark Price on

081-792-3884.

Pastor: Joshua de Wit 073-166-2939/

OFFICE: (046) 624 1335

Visit WWW.PORTALFREDBAPTIST.CO.ZA

OR FIND US ON FACEBOOK

KENTON BAPTIST CHURCH

Sunday morning services at 9am.

All are welcome. Enquiries: Gavin –

Ō

CELEBRATION CENTRE

The Lodge, 7 Albany Road, Port Alfred.

Sunday morning service 9am.

WESTSIDE CHURCH

Comtemporary - Connected - Commited.

"Connecting people tp people - Connecting

people to God." Meetings: Sunday 9:00am

- Wednesday: 6:30pm "Connect Groups".

Directions: Turn left into Van Riebeeck Street

- Last street on main road leaving Port Alfred

for PE (VW Showroom on corner) - 800m turn

ſ

t-junction will see roof of church ahead.

GREAT COMMISSION CHURCH

Previously Bushmanns Family Fellowship

meet in Bushmans Town Hall 9am Sunday

mornings! All welcome! Contact: Ps Charles

CATHOLIC CHURCH

Port Alfred.

Mass Times: Tuesday - 17h00

Wednesday - 16h30 Holy Hour/Benediction

Friday - 08h30. Sunday - 09h00

Station Hill, Port Alfred.

SUDOKU - WIN A ZEST VOUCHER

CHURCHNOTICES

Mass Times: Wednesday - 18h00

Sunday - 10h30

ŏ

Bushman's River Mouth.

Mass Times: Thursday - 09h00

Sunday - 07h30

Mass Times: Thursday - 17h30

Saturday - 17h30 Enquiries: Fr Trymos

Munyaka on 046 624-1509 or

082 676 6573

CHRISTIAN SCIENCE SOCIETY

Sunday 9.30am. Goodwill Centre.

CHRIST AMBASSADOR MINISTRIES

770 Runeli Drive, Nemato.

Sunday Services: 10am-12 pm.

CHRISTIAN HARVEST CHURCH

3013 Shiceka Street, Nemato

Sunday Services: 09:30 - 12pm. Evening 5pm

- 7pm.

CHURCH ON THE WHARF

Sunday 9.00am. Wharf Street, Port Alfred.

Grace Bible College (Free) Mon - Fri 7am.

KING OF KINGS GLOBAL MOVEMENT

Meets at the MyPond Hotel Conference

Centre every Sunday from 10am (intercessory

prayer followed by the service) until 1pm.

LIFE CHRISTIAN CENTRE, ALEXANDRIA

Sunday Morning Service and Club Jesus.

(ages 4 to 12) 9am. (Baby cry room).

Sunday Evening Service. 6.30pm.

(Praise and prayer). Friday evening "GUTS"

(All Teens Welcome) 6 to 8pm.

Free Bible school - Tuesdays 6.30pm.

Enquiries: PS Leon De Smidt

FULL GOSPEL

Sunday Morning Service 9.30am.

Evening Service 6.30pm. Friday Junior Youth

7pm.

Sunday morning 10am.

GEREFORMEERDE

Eredienste drie keer per maand om 9.00vm in

die "Settlers Kerk".

GRACE AND TRUTH CHURCH

"For the law was given through Moses, but

grace and truth came through Jesus Christ."

(John 1:17). Sundays 9.30am, Albany Centre,

90 Albany Road.

METHODIST CHURCH

WESLEY: Every Sunday

(Hards St)

Palm Sunday Service

08h30 - 09h30 Sunday 20 March 2016

Holy Week:

(Mon 21 Mar) 18h00 - 18h30

(Tues 22 Mar) 18h00 - 18h30

(Wed 23 Mar) 18h00 - 18h30

(Thur 24 Mar) 18h00 - 18h45

Good Friday Service 08h30 - 09h30

Easter Sunday Resurrection Service

08h30 - 09h30

ALEXANDRIA Sunday service – 10h00

Bible Study : Wednesday 18h15.

STATION HILL: Every Sunday 11 am

and 4 pm (Windvogel St)

BATHURST: Every Sunday 9 am (York Rd)

CLUMBER: Second Sunday 9am (Shaw Park

Rd from Bathurst then Martindale turn off)

Fourth Sunday 11am

ROKEBY PARK: Second Sunday 11am

(Opp Halfway Store on Grahamstown Rd)

KLEINEMONDE: First, Third and Fifth

Sundays 11am (Nature's Way)

KENTON: Every Sunday at 8.30am.

Holy Week: Monday 21 March - Wednesday

23 March: 7.00 p.m.

Tenebrae: Thursday 24 March: 7.00 p.m.

Easter Sunday Sunrise Service: 6.00 a.m. :

Main Beach Parking Area: bring your chair,

coffee & Hot Cross buns.

Easter Sunday Service: 8.30 a.m.

EVERYONE IS WELCOME!

Call 082-535-2734, Bev Fransis.

Enquiries: Rev Kamogelo

Services cover Bible Studies held on Tuesday

6.15pm in the Vestry and at Cannon Rocks -

for two coffees from Zest in Van der Riet Street.

ſ

ſ

ŏ

Thursday 3.15pm.

You are most welcome to join us.

NEDERDUITSE GEREFORMEERDE KERK

DIAS GEMEENTE KERKKANTOOR:

Broadway 26, Port Alfred, 6170

Kantoorure: Maandag tot Vrydag 08:00 –

12:00. Tel: (046) 624 3534

PORT ALFRED: (Broadway 26) 09:00 elke

Sondag. Kinderkerk & Kategese tydens

erediens.

BOESMANSRIVIERMOND: (Mainstreet) 09:00

elke Sondag

Kinderkerk tydens die erediens & 10:00

Kategese.

KLEINEMONDE: : 11:00 dienste elke 4de

Sondag van die maand.

Leraar: Ds. Wikus Venter Sel: 078 800 3353

ALEXANDRIA: (Mainstreet)

Erediens 09:30 elke Sondag.

Kantoorure: Maandag tot Vrydag 08:00 - 13:00.

Tel: 046 653 0147.

Kontak Ds Willem Schoeman 046 653 0010 of

083 607 8790.

NEDERDUITSCH HERVORMDE KERK

Eredienste: Elke Sondag om 9vm te St Nicolas,

Beachweg, Port Alfred. Kategese na erediens.

NEW APOSTOLIC CHURCH

Port Alfred & Kenton on Sea. For information

on services.

NUWE LEWE VOLLE EVANGELIE KERK

Honeycombsentrum, 88 Albanyweg,

Port Alfred. Sondae: 09:30 and 18:30.

Evening service starts at 18:00.

Friday – young adults 18 – 35 at 19:00

Vir meer inligting kontak: Pastoor Theo en

Almal welkom – All welcome

WORD OF TRUTH MINISTRY, LIVING

WATERS BOOKSHOP,

CHURCH OF THE NATIONS

Across the road from the BP garage

ſ

Sunday : 9.00am Morning Service with

Mother's room and Children's Church.

Evening service is at 6pm. All are welcome.

Youth: 6.30pm on Friday Evening.

PERISOS SONSKYNKUS

Perisos (Oorvloed/Abundance) nooi u

uit na samekomste: Alexandria. Elke Sondag

om 9.30vm te Maria-saal (agter Caltexgarage).

073-586-0201.

PRESBYTERIAN CHURCH

Corner of Southwell and Becker Street.

Sunday worship & Children's Church: 9.00am;

Cell groups: Monday 4pm at the church

and Thursday 7pm at 11 Lambert Road.

SEVENTH DAY ADVENTIST CHURCH

Service Times – Saturdays - 9:30am till 12

noon. Enquiries: Simon Hawkins

SHEKINAH MINISTRIES

Sunday mornings: 10am, Monday and

Wednesday at 7pm and Youth on Friday

evenings 7pm.Enquiries: Dan Hilpert

STUDENT CHURCH

Meets Sunday mornings 9am in Kenton on

Sea Town Hall. The 1st church in South Africa

to be operating on this concept.

Called Student Church as the services are

run by the full time students from Generation

Impact Bible College. Believers of all

ages welcome. Exciting Children's Church

available.A church that equips Saints of all

ages.

THE CHURCH OF JESUS CHRIST OF

LATTERDAY SAINTS

Meets every Sunday for Sacrament

Service at 9am followed by Sunday

School at 10am. Priest hood meeting

at 11am and Relief Society meeting at 11am.

New church location is 25 Biscay Road

across the street from Sky Security

in Port Alfred. Visitors welcome.

Name:.......................................................................................

Tel No:......................................................................................

WIN VOUCHERS FROM FISH RIVER SUN & BEAVERS

SOLUTION TO LAST WEEK'S SUDOKU

Name:.........................................................................................................................

Winners of last

week's crossword:

Fish River Sun

Midweek Breakfast

for Two –

Nella Martin

Beavers Voucher –

Roly Clayton

Winners to please

collect voucher from

ſ

attempting to redeem

prize.

Address:....................................................Tel No:......................................................
---
March 17, 2016 ADVERTISING / NEWSDESK: (046) 624 4356 Find us on Facebook

Talk of the Town 13

Rise and be the

yeast of change,

says minister

LOUISE CARTER

GOD is the reason

that drives

a man like

Justin Ndoro forward

in his work, life and

p a s s i o n s.

Happily married to

his "queen", Reddy

Ndoro, it is his faith in

the Almighty, he believes,

which has led

him to be involved in

and to contribute to

Port Alfred and surrounding

communities.

He has looked to

do this in the ways he

knows best, spreading

light where darkness

resides, changing lives

one soul at a time and

working to transform

people so they live a

Christian life.

Ndoro addressed

the Christian Men's

Association breakfast

last Saturday and

shared his testimony

and his mission in life.

A familiar face at

the Word of Truth

Church, Ndoro has

ministered in Port

Alfred for nearly a

d e c a d e.

He has been active

in several projects

that aim to uplift people

through employment

and education.

Originally hailing

from Zimbabwe,

Ndoro left his homeland

in 2005 with

nothing more than a

suitcase filled

with books and

the clothes on

his back.

"When I look

at what God has

done, I'm humbled,"

he said.

Ndoro said he was

saved in 1999, and

that he had lived in

darkness up until that

point.

"I was surrounded

by ancestral worship,

my mother was an ancestral

healer. No one

told me it was wrong.

"But after I gave

myself to God, I have

never looked back.

We were living in ign

o r a n c e, " he said.

Ndoro said that

while studying an

electrical engineering

SHINING HIS LIGHT: Justin Ndoro from the Word of Truth

Church addressed the Christian Men's Association

breakfast last Saturday, calling for Christians in Port Alfred

and surrounds to become alive in dark times

Picture: LOUISE CARTER

course he changed direction

to biblical

studies, but it was only

when he pursued

transformational

leadership that something

came alive in

him.

"I became an agent

of change. And if you

are a born-again

Christian, God wants

you to be an agent of

'If the church

closed, who would

notice, other than

memb ers?'

c h a n g e, " he said.

Ndoro said he believes

God wants his

people to be relevant

in their communities.

"We need to be like

the yeast of our comm

u n i t i e s.

"If we do what God

intended us to do, we

will change our comm

u n i t i e s, " he said.

"A major problem

with churches is that

they are very inward.

They forget to be alive

in our communities of

d a r k n e s s.

"Imagine if the

church closed, who in

our communities

would notice, other

than its members?

"Can we really say

our churches are making

such a difference

in our communities?

If we took out all the

Christians in Port

Alfred, would anyone

notice? Would life go

on as normal?

"If so, then we

as Christians are

not acting like

God's yeast,"

Ndoro said.

Ndoro believes

that transformation

is important

for us as individuals,

and that people desperately

need God

and need to turn to

him.

"We have kicked

God out of our

schools, our government

and even our

homes. But there are

bridges that we can

cross. You can begin

to make changes in

your street. The time

is now to step outside

of the four walls and

to make a difference."

The challenge is to

shift from "denominational

thinking", he

said.

"You have to be

kingdom enough in

your thinking to not

limit yourself to a

small group of people.

It's about the kingdom

of God."

Once was a train

OUR beloved

Kowie Chu

Chu, which

had a lifespan of four

and a half years, was

the culmination of a

collective dream to

see a train in Port

Alfred.

As an entity it was

superb, but as a business,

sadly, due to the

horrendous costs involved,

and of course

the cancelling of the

railway line usage by

the authorities, the

little train died an ignoble

death.

In the lead up to

the actual train, there

was fun and excitement.

We found an

OFF THE RAILS: The short-lived but

well-loved Kowie Chu Chu

abandoned engine

upcountry, bought

undercarriages from

a lime mine in Cape

Town, and hilariously,

bought old buses

in Port Alfred for the

c a r r i a g e s.

Once painted and

ready to travel, the

little train carried

many delighted

tourists on holiday

here, many

schoolchildren and

often parties of celebratory

passengers,

who hired the train.

In its heyday, there

were guides on the

train, who told tall

tales of history and

flora. The Chu Chu

became a magnet for

travel and tourism

writers, television

and many train

lovers from all over

the world. The train

was an icon, and

although the journey

was to Bathurst and

back, the dream had

been to eventually

travel to Grahamstown.

Not all was lost

however, as in acquiring

the train and

the station, the

derelict building was

refurbished, which is

now a showpiece for

the town.

In the light of tourism

per se generally,

this is a victory as

hundreds of stations

throughout the country

are now trashed,

with all the lines

stolen – a very sad

ending to a triumphant

transport

mode that enabled

this country to survive

and grow.

Strandloping for Hospice this weekend

ROB KNOWLES

THIS Sunday the final event in the

GBS Stride with Pride for Hospice

campaign will see supporters walk

from Port Alfred's East Beach to

Kleinemonde's Lala Lapa in aid of

this worthy cause.

Rugby legend Naas Botha was the guest of

honour at the Belmont Golf Club yesterday for

a special game of golf to raise funds for hospice,

and also attended the Kingswood College

Wyvern steak evening in the evening. He will

also be present at the fundraising walks at

Assegaai Trails this morning to motivate the

walkers who are supporting the event.

The final event on Sunday, the 17km walk to

Lala Lapa, starts at 8am at East Beach.

There are three walks available, starting with

the full distance of 17km. For those who cannot

make it at 8am, they may join the walkers at

Riet River at about 8.30am and walk 7km to

Lala Lapa. Or, walkers can

choose to finish their walk at Riet

River, a distance of 10km.

The price of entry is just R50, or

R30 for pensioners and R20 for

scholars, but those who have already

paid for any of the hospice

walks at Assegaai Trails do not need to pay

again. Pre-booking is essential, so call Karen

Long at Hospice on (046) 624-4107 to organise

your ticket.

"We will be selling salad, egg and bacon and

boerie rolls at R20 and supporters are welcome

to join us at Lala Lapa, even if they can't do the

walk," said Long.

The local weather forecast for Sunday is

22°C and cloudy but with no rain so it could be

the perfect day for a beach walk and a chance

to contribute to Sunshine Coast Hospice.

ŚĞŶĞŵĂŬĞĨŽĂĚĞĐĂŌĞ

ĂŶĚĐĂĞůůĞŝůůďĞĂŚĞ

ĨŽŵĂŵ

ĞĂůůŝŶĂŝĚŽĨůŽĐĂů

ŶŝŝĞĂŶĚĂŽŽůΕ

ŵŽůĞŚŽĞĐŽŵ

ŽĐĂĞĚŽŶŚĞŵ

ĨŽŵŚĞĐĞŶĞŽĨĂŚ

ΎΎΎΎ

ΎΎΎΎ

ΎΎ̃ΎΎ

ΎΎΎ

ΎΎ

ΎΎΎΎΎ

ΎΎΎΎΎΎ

Ύ

ΎƠΎ
---
14 Talk of the Town ADVERTISING / NEWSDESK: (046) 624 4356 Find us on Facebook

March 17, 2016

CLASSIFIED ADVERTISEMENTS

Errors reported before Tuesday will not be charged for. Deadline: Friday 10am

CLASSIFIED INDEX

1. DOMESTIC

ANNOUCEMENTS

1010 Births

1040 Engagements

1050 Marriages

1070 Deaths

1100 In Memoriam

1220 Congrats / Best Wishes

1230 Birthday Greetings

1290 Thanks

2. PERSONAL

2070 Health & Beauty

2110 Lifts

2140 Lost

2142 Found

2240 Personal Services

3. ENTERTAINMENT

3060 Entertainment General

5. SERVICE & SALES GUIDE

5010 Education & Tuition

5090 Plumbing

5100 Electrical Services

5120 Building Services

5122 Home Maintenance

5160 Walls / Fencing

5190 Painting / Decorating

5210 Pools, Spas, Accessories

5260 Computer Services

5330 Photography

5360 Garden Services

5380 Special Services

5451 For Sale

5480 Horses

5510 Kennels and Pets

5550 Misc Wanted

5551 Wanted Known

5570 Removals and Storage

5630 Services Offered

5640 Shuttle Services

6. EMPLOYMENT

6140 Education & Training

6150 Employment Wanted

6151 Employment

6170 Estate Agents

6370 Employment Wanted Domestic

7. ACCOMMODATION

7020 Accomm. Off / Wtd

7060 Flats to Let

7090 Houses to Let

7151 Holiday Accommodation

8. PROPERTY

8010 Flats For Sale

8050 Houses For Sale

8161 Business Premises To Let

8163 Business Premises For Sale

9. MOTORING

9070 Used Car Sales

9440 Motorcycles

2180 NOTICES

DOMESTIC

ANNOUNCEMENTS

Deaths

1

ĚĞĂĞĨŝĞŶĚ

ĞŚĂĞĂĞůůĞĚŽ

ŵĂŶŵŝůĞŽŐĞŚĞ

ŚĂŶŬŽĨŽŽ

ĐŽŶĂŶůŽĞŽ

ĂŶĚĨŝĞŶĚŚŝĞ

ŝŶĞĂĐĞŽŚĂĞ

ĞĂŶĞĚŝŽĞĞ

2

PERSONAL

1070

2070

Health & Beauty

ĐĄĆĬIJīİēİĶĠĥĘēĈ

ēİĶĠĥĬıĥĢįĞĭĶ

ĦīĠĩġĢĞĩĦīĤĴĦıĥĩĦģĢİĠĥĞĩĩĢīĤĢİ

ĪĞĵĦĪĦķĦīĤĭĬıĢīıĦĞĩ

ĆĬīıĞĠı

ĖıĢĴĞįıĕĬĞġēĬįıĄĩģįĢġ

2240

Personal Services

ŽŶŽĮŐĂŶŝĂŽŶ

Finance

2260

Žŵ

ŝŶĂŶĐŝĂůĂĞŵĞŶ

ĂĞŶ

ŽŶŚůĂĐĐŽŶ

Ğůů

ŵĂŝů

ůΛŝŵĂŐŝŶĞĐŽĂ

SERVICES & SALES

GUIDE

Plumbing

5

5090

Plumbing

5090

5120

Building Services

Ž

ŽůĨĞĚ

Ğů

Ă

Ğůů

ŝŶĐĂĞĞůŬŽŵ

ůŝŶĞŝĚŽŶ

ŽŵĞĂŶĚŽŵŵĞĐŝĂů

ĂŶŵĞ

5122

Home Maintenance

ŽŵĞůĞĐŝĐĂů

ůŵďŝŶŐ

ĂŝŶŐĞĐŝ

ĂĞĞ

ĞĂŝůĞĂŶŝŶŐ

ĂŶŬůĞĂŶŝŶŐ

Ğ

Hire & Rent

5350

5360

Garden Services

For Sale

5451

YARD SALE

SATURDAY 19 MARCH

12 ATHERSTONE RD 10am

YARD SALE

& AUCTION

Bring your own items

for sale on the day

Call 081 756 1755

NDLAMBE

BARGAINS

5510

Kennels and Pets

5550

Misc. Wanted

ĞŝĞŽĐŬĨŽŚĞŝ

ĐŚĂŝŚŽĞĂĐĐĞ

ĂŶŚŝŶŐŝŶĐůĚŝŶŐ

ĨŶŝĞĐŽĐŬĞĐůĞ

ŬŝĐŚĞŶĂŶĚĞůĞĐŝĐĂů

ĂůŝĂŶĐĞŐůĂĂĞ

ĂŝŶŶŐŽŶĂŵĞŶ

ůŝŶĞŶĐĂŝŶĐůŽŚĞ

ŽďŽŽŬďŝĐĂďĂĐĞĐ

ĨŽŵŚŚĂ

ŽůĨĞĚŽĂĚŽ

ůĨĞĚĞů

5570

Removals & Storage

NATIONWIDE

046 648 2977

&

Storage

We Buy

Unwanted

Goods!

SECOND

TO NONE

5630

Services Offered

ĂŶĚĂĐůĂĐŚůĂŶ

ĂŶĚΛĐĂĞĨŽĂůĂĞĐŽĂ

ĐĂĞĨŽĂůĂĞĐŽĂ

5630

Services Offered

ŽĂůůŽŚŽ

ĞŵĂĚŵŝŶŝĂĞ

ŶĞĞĚĐŚĂ

ĚĂĂĐĂŝŶŐ

ŽĸĐĞĂŝŐŶŵĞŶ

ŽŽŽĨĞĂĚŝŶŐ

ůĞĂĞĞŵĂŝůŵĞ

ĨŽĂŽĞ

ŚĞůůĞŬĞŵůŽΛ

ŚŽŵĂŝůĐŽŵ

ŶůŵŽďŝůĞĐĂĂŚ

ĞŝĐĞŝŶŽŶ

Ğů

6

EMPLOYMENT

6150

Employment Wtd.

ANGIE

is a hardworking

and reliable female for

domestic work. She

speaks English fluently.

Phone: 071 845 9078

JEANET is a young,

energetic female looking

for full time employment.

Available immediately.

Phone: 083 8796 068

MONICA is a matured

female looking for

domestic employment.

Phone: 078 078 6679

NOMBONISO

is seeking

domestic work. Mondays,

Tuesdays & Wednesdays

only. Phone: 071 845 9078

PRAISE is a young female

looking for housekeeping

work. Part time or a stay in

position. Phone:

061 626 4332

SYLVIA

is seeking

domestic work. Mondays

& Thursdays only.

Reference available.

Phone:078 1022

361

XOLELWA is looking for

full time housekeeping or

child minder work. Phone:

063 020 1705

6151

Employment Offered

6170

Estate Agents

RENTALS PROPERTIES

REQUIRED FOR

QUALIFIED TENANTS!

All Tenants are screened and

Credit checks are done.

We update payment profile

at the national credit Berea.

Contact us for professional

and Experienced property

management.

Contact Arlene Du Plessis

at Remax Kowie

Tel: 046 624 1110

arlene@remaxkowie.co.za

6170

Estate Agents

ďĞĚŽŽŵŚŽĞŝŚ

ĞŶĐůŽĞĚŐĂĚĞŶĂŶĚ

ŝŶŐůĞŐĂĂŐĞŵ

ďĞĚŽŽŵŚŽŵĞ

ŝŚŽĞŶůĂŶůŝŝŶŐ

ĂĞĂŝŶŐůĞŐĂĂŐĞĂŶĚ

ĞŶĐůŽĞĚŐŽŶĚ

ŵ

ďĞĚŽŽŵŚŽŵĞĐůŽĞ

ŽŚĞĐŚŽŽůůĂŐĞ

ĞŶĐůŽĞĚŐŽŶĚĂŶĚ

ŝŶŐůĞŐĂĂŐĞŵ

ŶŝŚĞĚďĞĚŽŽŵ

ŇĂŝŚŐĂĂŐĞ

ŵ

ŝŶĞĞŵŝĞŝŶ

ŝĞŵ

7

ACCOMMODATION

7020

Accomm. Off / Wtd

ŏ

7090

Houses to Let

ŝĐŽůĞ

ŵĐůĚŝŶŐ

ŽĞĞĂĞΘĚĞŽŝ

ŶŝŚĞĚŚŽŶĞ

ŝŐĞů

016+%'5

1'/$0%(

081,&,3$/,7<

3257 $/)5('

$33/,&$7,21725(1(:

/($6( $*5((0(17 3(57$,1,1*

727+(7(11,6&28576$1'

5(&5($7,21$/&/8%+286(

6,78$7('21$3257,212)

(5).52*6&+((3(56

675((7 %2(60$165,9,(5021'

1RWLFH LV KHUHE\ JLYHQ LQ DFFRUGDQFH ZLWK

6HFWLRQDRIWKH0XQLFLSDO6\VWHPV$FW

RI WKDW DQ DSSOLFDWLRQ KDV EHHQ

UHFHLYHG IURP WKH %XVKPDQV 5LYHU 0RXWK

5DWHSD\HUV 2UJDQLVDWLRQ WR UHQHZ WKH

/HDVH $JUHHPHQW SHUWDLQLQJ WR WKH 7HQQLV

&RXUWV DQG 5HFUHDWLRQDO &OXE IRU UHFUHDWLRQDO

SXUSRVHVRQO\

)XUWKHU SDUWLFXODUV DQG VNHWFK SODQ UHJDUG

LQJ WKH DERYHPHQWLRQHG SURSRVDO PD\ EH

REWDLQHG GXULQJ RIILFH KRXUV IURP WKH

',5(&725$7( ,1)5$6758&785$/

'(9(/230(17 &$86(:$< 3257

$/)5(' DQG DQ\ REMHFWLRQ WR WKH SURSRVDO

PXVW EH ORGJHG LQ ZULWLQJ WRJHWKHU ZLWK

UHDVRQV WKHUHRI ZLWK WKH 081,&,3$/

0$1$*(5 32 %2; 3257 $/)5('

RQ RU EHIRUH 021'$< $SULO

127,&( 180%(5

Advertising Deadline:

Friday 10am for the

following week's publication.

5 '80(=:(1,

5HI 081,&,3$/ 0$1$*(5

1'/$0%(

081,&,3$/,7<

3257 $/)5('

&+$1*(2)081,&,3$/

7(/(3+21(180%(5

1RWLFHDUHKHUHE\JLYHQWKDWWKHPXQLFLSDOLW\

DUHPLJUDWLQJIURPWKHROGWRWKHQHZWHOHSKRQH

V\VWHP WKHUHIRUH WKH WHOHSKRQH QXPEHU

KDV FKDQJHG IURP WR

.LQGO\ WDNH QRWH WKH ROG

WHOHSKRQHQXPEHUZLOOEHDFWLYHIRUDIXUWKHU

SHULRGKRZHYHUWKHSXEOLFLVXUJHGWRXVHWKH

QHZWHOHSKRQHQXPEHU

127,&(180%(5

0DUFK5'80(=:(1,

5HI 081,&,3$/0$1$*(5
---
March 17, 2016 ADVERTISING / NEWSDESK: (046) 624 4356 Find us on Facebook

Talk of the Town 15

AUTO REPAIRS & SERVICES

Motor Mate

Tel: 046 624 5508

CAR WASH

Phil's Car Wash

Cell: 082 600 2885

COURIER SERVICES

L&W Couriers

Tel: 046 624 8043, Cell: 072 711 0094

DENTIST

Dr. D. de Vos

Tel: 046 624 5111

Help

Guide

AWNINGS, BLINDS & CARPORTS

The Shade Factor

Murray & Sandy: 082 366 9878

BUILDING & ALTERATIONS

Trimax Construction - Jacques Broodryk

Cell: 082 367 7801 or Cell: 082 565 3205

CARPET & UPHOLSTERY

CLEANING

Sunshine Cleaning / Homecare

Michael: 076 792 4884 or 083 442 8208

Kwikdri Cleaners/Carpets/ Walls etc.

Darryl Holland 071 429 0028

COMPUTER & PRINTER

SERVICES

Com Office

Tel: 046 624 3123 / 3175

CalComp Technologies

Cell: 0793 358 277

Nationwide Port to Port Couriers

Tel: 046 624 1215, Cell: 087 354 0804

Postnet Port Alfred

Tel: 087 350 4169

DSTV

Volcanik

Tel: 046 624 3630

GAS SUPPLIES & SERVICES

Icon Hair

Tel: 046 624 1265

ELECTRICIAN

JD Electrical

John Dacombe 083 276 4627

LP Gaz

Tel: 046 624 8070

Eastern Cape Gas

Amanda: 072 194 0927

GLASS & ALUMINIUM

PG Glass - Grahamstown

Tel: 046 622 2950, Cell: 082 800 9276

HAIR STYLISTS

HOME RENTALS

Sotheby's - Angelique Tzouves

Tel: 046 624 5607 | 060 986 7677

Harcourts - Glynis Mather-Pike

Tel: 046 624 5222, Cell: 082 604 2733

KENNELS & PETS

Stanfield Farm Kennel and Cattery

Joy: 082 972 2279

MARINE & POWER PRODUCTS

Mr. Water Yamaha

Landline: 046 624 4012

Andre: 082 566 7774, Karen: 084 814 1139

OPTOMETRIST

D.M. Radue Optometrists

Tel: 046 624 4558

PROFESSIONAL PICTURE

FRAMING & SIGNAGE

The Frameworks & Sign Co.

Kerry: 046 624 1716, Cell: 082 730 7573

TRAVEL

GoTravel.co.za - Port Alfred

Tony King: 046 624 4044

TYRES

Supa Quick

Tel: 046 624 4190

BestDrive

Tel: 046 624 9034

ŽŽŽŶĚĞĨůĂŶĚĐŽŵĂŝŽŶĂĞĨŝĞŶĚŝŶ

ŽůĨĞĚŚĂŶŬŽĨŽůŽŝŶŐŽŇŽĞ

ĂĞŽĞŚĞĂĞĞŬ

ŚĞŵĞĂŐĞŽĨĐŽŶĚŽůĞŶĐĞĞĐĞŝĞĚĨŽŵŽ

ŵĂŶĞŽůĞĂĐŽŚŝĐĂŝŶŐĐŽŵŵŶŝŚĂĞďĞĞŶ

ůŝŌŝŶŐĂŶĚĐŽŶŽůŝŶŐ

ŽĚĨĂŝůŽĚĞĐŝďĞŚĂĂŶĞĐĞŽŶĂůŚďĂŶĚ

ĨĂŚĞĂŶĚŐĂŶĚĨĂŚĞĞĂĂŶĚĨŽŚĂĞĂĞ

ĞĞŶĂůůŐĂĞĨůŽŽŐĂĐŝŽ

ŚĂŶŬŽŚĞŽĞĨĂŵŝů

¿

¿

LITTLE LAMBS: Hannah, left, and sister Ashlyn Webber greet all the livestock

and eagerly await the sheep shearing demonstration at a previous Bathurst

show

Picture: LOUISE CARTER

The Bathurst Show

is all about family

LOUISE CARTER

TOWN and country are gearing up for the

exciting and one-of-a-kind annual

Bathurst Agricultural Show.

The show will be taking place from April 1-3

at the Bathurst Showgrounds, a three-day

country spectacular that is set to show off the

best of the best in terms of livestock, agricultural

equipment, farm produce, home industries

and fun activities such as the horse show,

the K-9 dog demonstration and much more.

Every year this much-anticipated event

brings people together from all over the region

who come to enjoy the simple life, and celebrate

a longstanding agricultural heritage still

alive in this community.

The Bathurst Show, which has been running

since 1904, is organised and managed by the

ŶŝŚĞĚďĞĚŽŽŵďĂŚŽŽŵŵĂŬĞŽĞŶ

ůĂŶŚŽŵĞŝŚŐĂĂŐĞĂŶĚŝŵŵŝŶŐŽŽů

ĞŵŽŶŚ

ŶĨŶŝŚĞĚďĞĚŽŽŵďĂŚŽŽŵŽŶŐĞ

ĚĚŽďůĞŐĂĂŐĞŝŚůĂŐĞŝŵŵŝŶŐŽŽů

ĞŵŽŶŚ

ŽŚŚĞĞŚŽŵĞĂĞŝĂĞĚŝŶĂĞĐŽĞĂĞŝŚ

ŚŽĞĐŝŝŚĂĐĐĞŽĞŶŶŝĐŽĂŚ

ĐŽĂŶĚĞůŝĂ

ŶĨŶŝŚĞĚĞĚŽŽŵĂŚŽŽŵĂĚŽĞŶ

ůĂŶůŝŝŶŐĂĞĂŝŚĚŽďůĞŐĂĂŐĞĞĂŝĞ

ĞŵŽŶŚ

ĂůŝĮĞĚĞŶĂŶŽŶĂŝŶŐůŝĨŽĂĐĐŽŵŵŽĚĂŽŶ

ůĞĂĞĐŽŶĂĐŝĨŽŽůĚůŝŬĞŽĞŶŽŽŚŽŵĞ

ĚŝĂĐĂůĚŝĂΛĂĚŝĞŽĞĞĐŽĂ

Ğůů

www.humanjobs.co.za

Bathurst Agricultural Society (BAS), a committee

devoted to the traditions of past and

present agricultural successes.

This fusion of past and present comes alive

for three days, where visitors can look forward

to non-stop entertainment and activities for

young and old.

The Bathurst Show is a family-focused affair

and has loads to offer to keep the children smiling,

from a circus-like games area, a paintball

arena, sheep-shearing demonstration, and a

mini-petting zoo with small stock animals, a baby

competition, and the youth show where

youngsters will demonstrate their small stock

handling skills.

As for the home industries section which also

includes the youth exhibition, there is much

to showcase in terms of creativity. From floral

art to wood scrolling, embroidery, knitting,

quilting, art displays, photography and baked

goods, there is something for everyone.

"The Bathurst Show is a fun, family occasion,

and an event we want to see grow," BA S

president Danny Wepener said.

Talk of the Town is the sole media sponsor of

the Bathurst Show so look forward to updates

and more news on this event.

ŝĚĂĂĨŽŵ

ĂďůĞŽĨůĞĂĞŚŽŶĞ

ĂĐĞŽŶŽďŽŽŬ

ĂŶŚĂŶŬĨŽŽŽ

Die Koöperasie, met sy hoofkantoor te Humansdorp is geleë digby

gesogte strandoorde soos Jeffreysbaai en St Francisbaai en slegs 100km

vanaf Port Elizabeth. Ons bedieningsgebied sluit onder andere in die mekka

van melkproduksie, sitrusvrugte en varsprodukte boerderybedrywighede

in Oos-Londen, Bathurst, Qamata, die Visriviervallei, Tsitsikamma- en

Langkloofareas sowel as die Gamtoosriviervallei en Sondagsriviervallei.

Interne Bemarker

(Bathurst Tak)

ĂĞĚĂĂŶĞĞĐĞĚůďĞĂĐĞĨůůŝŶ

ĂĞŽŶŽŶĂĚĂĞďĂ

ĂŐĞĚĞŝĐĞŚĞůĚĂŝĐŚĂĞůĂŚŽůŝĐ

ŚĐŚŽŶĚĞďŽĐŚŽŶĂĐŚĨŽůůŽĞĚď

ĂĂŬĞĂŽĂůĂĞŽůĨůďŚĂŵŝŽŶ

ŽůĨĞůŽĂůĨŝĞŶĚŐĞŶĞŽŽĂĨĂů

ŽďĞŝůůŵŝŽĞŝŶĂŶĚŚŝůĞ

Minimum vereistes:l

Sleutelprestasie-areas:

Die persoon moet baie goed kan inskakel by die waardes en kultuur van die Koöperasie.

Kandidate wat aan die vereistes voldoen word aangemoedig om aansoek te doen deur 'n volledige CV en dekbrief

te stuur aan Menslike Hulpbronne, Posbus 27, Humansdorp 6300 of e-pos aan hr@humkoop.co.za of faks na

086 776 8096. Tel. (042) 295-1082.

Sluitingsdatum: 31 Maart 2016

Indien u nie teen 12 April 2016 gekontak word nie, kan u aanvaar dat u aansoek onsuksesvol was.

Human Communications C125763
---
16 Talk of the Town ADVERTISING / NEWSDESK: (046) 624 4356 Find us on Facebook

March 17, 2016

Angel of death brings no Solace

ROB KNOWLES

Solace with Anthony

Hopkins, Abbie Cornish,

Jeffrey Dean Morgan and

Colin Farrell. Directed by

Alfonso Poyart.

4.5

/5

THE inner thoughts of a

psychic's mind are explored

in Solace, the new

movie by director Alfonso

Po y a r t .

While investigating the

case of a serial killer who

always seems at least one

step ahead of the law, FBI

agent Joe Merriweather

(Jeffrey Dean Morgan) and

his psychoanalyst partner

agent Katherine Cowles

(Abbie Cornish) visit a former

FBI consultant, John

Clancy (Anthony

Hopkins), who is a psychic.

Cowles is sceptical about

C l a n cy 's ability and, at first

Clancy is unwilling to get

involved. He has become a

recluse, cut off from the

outside world and from his

wife, estranged following

the death of his young

daughter due to leukaemia.

However, after consideration

and introspection he

reluctantly agrees to join

Merriweather's team and

help hunt down the killer of

a series of victims.

The team discover all the

victims have been killed

with a painless and instantaneous

blow to the back of

the head and that all but

one were discovered to

have some incurable and

fatal disease at the time of

their deaths.

Clancy wonders if this is

ALL THAT JAZZ: The members of Random Planet, from left,

Rick van Heerden, Stephen Ellis, Lenrick Boesack and

Gareth Walwyn, play their own style of jazz at the Classics

at the Castle

concert on

YOU DO WHAT?: FBI agent Katherine Cowles

(Abbie Cornish) is sceptical about psychic

John Clancy ( Anthony Hopkins)

Sunday Picture: ROB

KNOWLES

the reason they are being

killed.

In the meantime Poyart

takes the audience into

some of Clancy's mind images,

which all seem dark

and ultimately lead to

someone's death.

Finally the FBI discovers

the name of the perpetrator

of the crimes, Charles

Ambrose (Colin Farrell),

yet even this does not help

them capture him.

Ambrose is always one step

Giving jazz a new twist

ROB KNOWLES

THE audience was up

on its feet at the conclusion

of Random

Planet's encore performance

at

Richmond House on

Sunday in appreciation

of a superb afternoon

of jazz music.

"We don't only do

classical music," explained

Classics at the

Castle musical impresario

Sue Gordon.

"We also do jazz."

This was Random

Planet's second visit

to Richmond House,

SHOP TO RENT

WELL POSITIONED

SHOPPING CENTRE

Very visual and opposite parking area

Rental - market related and

on application.

Shop size 80 - 100 sq. metres

Tel: 046 675 1306

MILKWOODS BRIDGE CLUB

ahead of their investigation.

When he tells the

team by way of a fax about

an illness they did not know

of, Clancy wants to give up,

but Merriweather and

Cowles convince him to

c o n t i n u e.

In the meantime,

through his powers, Clancy

has seen the future, and it

does not bode well for either

of his partners on the

c a s e.

The question is whether

they will be able to stop the

serial killer who appears

like an angel of death and

can see events before they

happen, just like Clancy

h i m s e l f.

Farrell only appears in

the last half. The movie is

fast-faced and the suspense

is real.

You get to know the

characters intimately, so

good is the direction.

Some might find the plot

a little too convoluted but

give it a chance and I believe

you will find this is

one of the best movies on

the circuit at the moment.

course, 6 Diamonds is bid and made……An interesting board from all angles.

MBC RESULTS………..10 MARCH 16

1. M.Wesselo & A.Ward 60.4%

2. L.Chalmers & S.Coleman 51.0%

All other scores were below average.

and the packed music

room was a testament

to the band's popularity

among Port

Alfredians, although

several of the audience

members had

come from as far as

Grahamstown to support

the band.

In the world of jazz,

feeling can often supersede

technical performance,

but in the

case of Random

Planet you get the

best of both worlds –

technical excellence

and passion.

On the face of it, North/South have a winning combination of hands and should make

12 tricks for a small slam. So what went wrong for the N/S pairs?

The bidding is more problematical, because after South's opening of 1 Club, and

North's reply of 1 Diamond, East jumps to 4 Spades, causing the maximum amount of

interference in N/S's calling. Now either one of them can call 5 Diamonds, not likely to

try for 6, and East has succeeded in his bid to avert a slam call.

All pairs in Diamonds received the A S lead, and this should be their only loser. The

Spade Queen if covered by the King, can be ruffed in Dummy, making the Jack good.

Careful thinking before starting to play the hand pays off, because North can see that

he has a bit of tidying up to do before clearing his trumps. Back in his own hand with

a top Diamond, North leads the Queen of Clubs. If covered by the King, this means no

more problems that the solid Club suit cannot take care of. If not covered, the King

can later be ruffed out, the Ace of Hearts retained as the entry back to Dummy's Clubs.

Now the outstanding trumps are cleared and the losing Hearts thrown on South's

Clubs. A typical bridge annoyance, that 4 S doubled earns a better score! Unless, of

LOOK WHAT I FOUND: Colin Goliath took his

granddaughter, Lee-Yanna Gaby, shopping last Saturday

Pictures: ROB KNOWLES

The technical skill

of the lead saxophonist

Rick van Heerden

was fully exploited

during the concert, his

top range stretching

the ability of the reed,

and newest member

Lenrick Boesack on

saxophone and piano/keyboard,

undoubtedly

took the

band to a new level of

p e r f o r m a n c e.

Gareth Walwyn,

who took the lead during

the performance,

played trombone and

keyboard, and tied

Ğ

ĂŐŐŝŶŐďĞŚŝŶĚŝŚŽĮŶĂŶĐŝĂůĞĐŽĚ

ĞŶĚŝŶŐŽŽŵĐŚŵĞŽĐĞŝŶŐ

ĞĞĚŝŶŐŵŽĞŵĞŽĨŽĐŽŶŽĐůŝĞŶŽ

ĨĂŵŝů

ŚĞŶĐĂŶŚĞůďŽīĞŝŶŐŽĞĂŽĨ

ŵĞĞŝĞŶĐĞŝŶĂŬŝŶŐĐĂĞŽĨ

ůůŽŶĞĞĚŽŝĂůďĂůĂŶĐĞ

ŶŽŚĞĂĚŵŝŶŝĂŽŶĨŶĐŽŶĐŚĂ

Ž

ĨŽŶĞĞĚŵŚĞůůĞĂĞĐĂůůŽŶ

ĞĨĞĞŶĐĞĂĂŝůĂďůĞŽŶĞĞ

Results for Monday, 14th March 2016

A Section (9 tables)

N-S 1st H Webber & A Osinski 67.4%

2nd N Wood & M Newport 54.6%

E-W 1st K Wong & J Faulkner 58.6%%

2nd E Rodrigues & K Botha 58.3%

B Section (8 tables)

N-S 1st A Paling & R Wicks 64.0%

2nd H Murray & P Wansell 58.6%

E-W 1st E Segers& D Wood 66.1%

2nd A corrans& C Hill 53.9%

Board 16: Dealer W, E – W vul

the concert together

with short quips between

numbers.

But the star of the

show, from this writer's

perspective, was

drummer extraordinaire

Stephen Ellis,

who extracted amazing

sounds from the

drum kit and extended

the range of possibility

with his expert

handling of the instrument.

Starting the afternoon

softly with Herbie

Hancock's Dolphin

Dance, quickly followed

by Miles Davis'

Four, the packed audience

was lulled into a

false sense of security

before beginning a

Random Planet version

of Juan Tizol's

Caravan.

Thereafter the audience

was treated to

a technically challenging

but expertly executed

journey through

the upbeat Cherokee

by Ray Noble.

After a short intermission,

Random

PORT ALFRED BRIDGE CLUB

KIDS' TIME: Who

said that only

older people are

interested in

bowls? On Friday

evening, at the

Kowie Night

B ow l s

tournament,

brother and sister

Juan and Lenisha

Farao had fun

watching dad

b ow l

Planet began the second

half performance

with the ever popular

Paul Desmond piece,

Take Five, but with

some variations not

attempted by lesser

musicians. There was

even a piece written

by Walwyn himself as

part of his master's

degree which went

down very well with

the enthusiastic listene

r s.

Finally, the afternoon

came to an end

with a tribute to

African jazz with an

exciting version of the

African Jazz Pioneers'

H e l l f i r e.

Random Planet

certainly lead the way

in pioneering the development

of jazz,

and the band's expertise

and passion are

evident in everything

they do, leaving their

supporters to look

forward to their next

visit to Port Alfred –

and some more innovative

sounds.

A typical bidding sequence for this deal would be:

ºwith an 8 card heart suit, good distribution, a singleton Ace, a double ton

King and 12 points this hand is too strong for a pre-empt.

¹ with excellent heart support and good distribution bid game directly to

À

N – S.

² with good support in diamonds, a singleton heart and an outside Ace bid 5D in the almost certain

knowledge that 4H will make. (You have 1 potential defensive trick and opposite a pre-empt you will almost

never win four tricks)

³ with extra length in hearts together with your distribution you expect to make 5H.

Because of the favourable vulnerability N - S can afford to go down three tricks (-500) against 5H which will

score 650 assuming that it makes, which is extremely likely from South's viewpoint. If

E - W push on to bid 6H over N – S's 6C then defend it, as you have some expectation of taking two tricks.

Results:

A Section4H+1 (2); 5H=; 5H+1; 6D*-3N; 6D*-2N; 6H-1 (3)

B Section 4H+1 (3); 4H+2; 6H=; 6H-1 (2); 6H*-1

Full results at:www.pabridge.co.za, including details of all the hands.
---
March 17, 2016 ADVERTISING / NEWSDESK: (046) 624 4356 Find us on Facebook

Talk of the Town 17

CONTACT US

Newsdesk: sidp@imaginet.co.za

Cell: 071-969-6330

SI D

P E N N EY

HEART MATTERS OPENS

There were joyous scenes at a nondescript cottage

– the one with the red front door – in

Howse Street last week when Heart Matters

Pregnancy Care Centre opened its doors to the

public. The centre has been a year in the planning

and establishment, and is affiliated to the

national pregnancy care body Africa Cares,

while it is in the process of becoming a

non-profit organisation (NPO) and public benefit

organisation (PBO).

Heart Matters comprises a committee of volunteers

who are passionate about serving the

community, especially young women with unplanned

pregnancies.

Heart Matters spokeswoman Lara Coetzee

said the centre is a Christian ministry.

"We desire to be a reflection of God's love and

compassion to those women we meet, ensuring

we present the truth from a Christian perspect

i v e, " she explained.

The centre's counsellors, all volunteers, have

been engaged in intensive training and have attended

workshops and courses in George, Port

Elizabeth, KwaZulu-Natal and Port Alfred.

Africa Cares provides the Grahamstown centre

with training, materials, information and

the opportunity to connect with people working

in similar centres around South Africa.

The Heart Matters committee of volunteers

comprises Lara Coetzee, Mario Hockley, Judy

Hoefnagels, Kerry Maree, Marion Penney

(chairwoman), Sue Pyle, Heidi Scheepers and

Petro Werth.

For information or an appointment, contact

078-396-2169 or h e a r t m a t t e r s p c c e n t re @ g m a i l . c o m

Meanwhile, four Rhodes University students –

Isabel Micklem, Kayleigh Scheepers, Yenny

Park and Roxi Daniels – will be running the

Two Oceans half-marathon in Cape Town at

the end of this month to raise funds for the

Heart Matters Pregnancy Care Centre.

NO WATER AT PJ

Attending the P J Olivier under-13 rugby and

netball tournaments at the weekend, I learnt

with shock from a group of parents that the

school has not had municipal water since last

year. PJ is situated on the hill to the south of

LOVE AND

U N D E R S TA N D I N G :

Three of the

volunteers at Heart

Matters Pregnancy

Care Centre that

opened in

Grahamstown last

week. From left,

Lara Coetzee,

Marion Penney and

Heidi Scheepers.

See story on this

pag e

town, and it receives its water supply from a

few huge water tanks on the school premises.

RUGBY STARTS FULL BLAST

Nico van der Meulen, convenor of the Pam

Golding Properties/Graeme College rugby day

involving schools' first, U16 and U14 teams last

Saturday, must have been a tad worried on the

Friday when it rained throughout the day.

Then, come Saturday morning, the sky above

Grahamstown was overcast and looked threatening.

But by noon the skies cleared, the sun

was out in full blast, and it was very hot.

Players, parents and supporters converged on

the Graeme campus from all over the Eastern

Cape, and the convenor was his usual smiling

self. The day signalled the start of the 2016

schools' rugby season for the competing teams.

Throughout the day thousands of people entered

the gates, watched the action on the three

fields, and later visited the food stalls.

For the record, the results involving

Grahamstown 1st teams were: Kingswood beat

Queen's 31-17, Graeme lost to Marlow 14-26,

St Andrew's beat Nico Malan 22-12, and

Nathaniel Nyaluza beat Port Alfred High 19-5.

IN THE RAIN AND SUN

For 19 years, Manie Cronje has organised and

coordinated the annual Frans Erasmus U13

rugby and netball tournaments at P J Olivier

High School, and during that time he has faced

many challenges, as do most organisers of

sports events.

The 2016 edition of the event was held last

Friday and Saturday, and the conditions on the

opening day were on the tough side for the

coaches and barefoot rugby players, what with

the incessant rain and drizzle – however, this

did not dampen the enthusiasm of the young

players. But it all changed on the Saturday

when, after a gloomy start, the day turned out

to be sunny and hot.

Teams came from far and wide, and Cronje was

once again smiling as the rugby and netball

players scampered about on fields and courts

in energetic fashion, chasing oval-shaped balls

and round balls. Teams taking part represented

21 schools in Grahamstown, Port Elizabeth,

REACH FOR THE SKY: The Nathaniel Nyaluza High School player goes up high

to gather the ball at a lineout during their match against Port Alfred High at the

Graeme College rugby day on Saturday. Nyaluza won the first-team match 19-5

Picture: SID PENNEY

PROUD HOSTS: P J Olivier hosted the annual Frans Erasmus under-13 rugby

and netball tournaments last weekend. A total of 21 schools from across the

Eastern Cape were represented over the two days. The PJ Olivier U13 rugby

team was captained by Shammah Sampson, front right, while Phillip Ferreira,

front left, was vice-captain. On the left, is the team's coach Riaan Havenga, and

on the right, the organiser of the tournament, Manie Cronje. See story on this

page

Picture: SID PENNEY

East London, Knysna, Graaff-Reinet, Port

Alfred and Somerset East.

The rugby and netball tournaments are held in

memory of former Springbok rugby forward

Frans Erasmus who assisted with the coaching

of the P J Olivier first team before he died in a

motor accident in 1998.

TOURING CAPE PENINSULA ON FOOT

In a little more than a week, 27 000 middle-distance

and long-distance road runners – and in

many cases their families – will be in Cape

Town for the annual tours of the Cape

Peninsula dubbed the Old Mutual Two Oceans

ultra-marathon (56km) and Two Oceans

half-marathon (21km).

With 34 Two Oceans ultra finishes to their

credit, Stephen and Terri-Lynn Penney will be

running their 24th and 12th ultras respectively

on March 26. They will be competing in the

blue and white of Run/Walk for Life Athletics

Club. Others from the same club entering the

ultra are, with the number of Two Oceans already

completed in brackets – Carriot Galela

(1), Malibongwe Mbelu (4), Sally Price-Smith

(3) and James Quin (3). Tessa Deane of Albany

Saints & Sinners Multi-Sport Club has completed

four Two Oceans half-marathons and is

aiming for her first ultra finish.

Six Run/Walk for Life members will be tackling

the Two Oceans half-marathon – Chade Bowles,

Rose-Marie Hurford, Colin Meyer, Karen

Meyer, Colin Price-Smith and Lise Westaway.

Also running the half will be Callie Thomson of

the Rhodes University Athletics Club.

SPANNERS, SPARK PLUGS AND SPARES

There were a good number of new and used

vehicle dealers, petrol stations and motor

workshops in Grahamstown in the '60s and,

over the next couple of weeks we'll take a look

at some of them.

In those years there were no less than four motor-related

businesses within 200m of each other

in the shadows of the Cathedral.

Grand Service Station was situated on the corner

of Hill and Huntley Streets where River of

Life Church is today. The owner was Harold

Dickinson, father of musician sons Lyndsay

and PeeWee – both were drummers in local

bands, if my memory serves me.

Across the road was Coy's Motors, on the corner

of Hill and Dundas Streets, and Ginger

Muddle was the manager. The premises have

changed considerably over the years, and today

the occupier is Grahamstown Electrical

D i s t r i b u t o r s.

Adjacent to GBS Mutual Bank these days is a

parking area for staff members and clients, but

decades ago it was De Villiers Service Station

and later Oliver Tyres.

Directly across the road is the Colcade Centre

housing medical practices. Once upon a time it

was PB Service Station with petrol pumps on

the pavement. The owner was Herman "Collie"

Colyvas, also owner of Parisian Bazaars.

MULTIPLE UNITS REWARDED

Each year in March, the Port Elizabeth branch

of the SA National Blood Service (SANBS)

hosts an awards dinner in Grahamstown at

which local blood donors, as well as those from

the coastal region, are recognised for their efforts,

having attained certain milestones. Representing

SANBS at this year's function last

week were public relations practitioners Elize

Scheepers and Nina van Wyk.

On the receiving end of awards this year were

Phillip McDougall (125 units), Pete Andrew

(100), Alwyn Riddin (100), Marian Jayes (50),

Wayne Jayes (50), Bulani Mziyanda (50),

Gerhard Kemp (50) and Mary Kruiskamp (50).

POTHOLES AND LITTER

Not only is Carlisle Street a rather grubby thoroughfare

– it passes a refuse dumping site,

enough said – it is also pothole-riddled. I'm

wondering just when the municipality is going

to attend to it.

DARK FOLIAGE DUO

Presently on tour in South Africa – Michal

Slawecki (male soprano) and Joanne Wicherek

(piano) – present the Dark Foliage duo recital

in the St Andrew's College Drill Hall from

7.30pm on March 22.

The programme includes pieces composed by

Madetoja, Dowland, Purcell, Debussy,

Copland and Perkowski. Tickets are R50 and

R30, and are available at the door.

ON THE ROAD

With some huge prize money on offer, athletes

came from far and wide to take part in the

Human Rights 30km road race in Uitenhage

earlier this month.

First Grahamstown runner was Rhodian Neo

Mohapi, 75th overall in two hours 24 minutes

50 seconds. Jene Banfield of Run/Walk for Life

was 80th overall (ninth lady and winner of her

age group) in 2:26:30. Stephen and Terri-Lynn

Penney of Run/Walk for Life ran together, finishing

110th and 111th respectively out of 287

finishers – their time was 2:40:07.

Then, a week later, Neo Mahapi and Dylan

Scott of Rhodes took part in the Lake Farm

10km road race outside Port Elizabeth.

Mohapi was 11th overall in 43:11, and Scott

34th in 49:56. There were 319 finishers.
---
18 Talk of the Town ADVERTISING / NEWSDESK: (046) 624 4356 Find us on Facebook

March 17, 2016

First karate

national champs

at Fish River Sun

THE first national championship for the

newly formed United World Karate South

Africa (UWKSA) will be hosted at the

Fish River Sun from March 17 to 19.

"The Fish River Sun has been hosting

regional and national karate championships

since 2007, and is ideally placed because

of its central location and facilities,"

said Gary Grapentin, inaugural championship

organiser, UWKSA president and

head instructor of East Cape Shotokan-

Ryu.

United World Karate (UWK), which is

based in Switzerland, was formed in 2014

while UWKSA was established in March

the following year.

"The 2016 UWKSA National

Championships will be a significant occasion

because it will bring the UWKSA affiliated

federations and dojos together for

the first time.

"The championship will also serve as

trials in order to select a UWKSA Team

for the 2017 UWK World Champions

h i p s, " Grapentin said.

The championship proceedings will kick

off today with an officials' course from

3pm until 5pm where referees and judges

will undergo training conducted by

UWKSA's chief referee.

Ending off the day will be a course for

all team coaches from 5pm.

Tomorrow the competition itself will

start with individual kata and team kata

from 9am.

On Saturday action will start at 8am

with all individual kumite (shobu nihon

and shobu sanbon) and rotational team

kumite categories.

The public is welcome to watch the

championships at the Fish River Sun. The

entrance fee is R30 for adults and R20 for

school children.

Special packages are being offered by

the Fish River Sun to support the championships.

Weekend rates (Friday and

Saturday) for single occupancy is R1 150

per person per night and includes dinner,

bed and breakfast. Double occupancy is

R690 per person, per night and includes

dinner, bed and breakfast.

There is also a family package of R1 655

per room per night. This includes dinner,

bed and breakfast for two adults and two

children under the age of 12.

NIGHT ACTION: The Albany Insurance team, together with friends, at the Kowie Night Bowls on Friday evening were,

from left, Rouxle Hattingh, Keyser and Myrna Murray, friend Lynette Harbrecht, Angelique Hutchinson, event organiser

Mike Tomlinson and Bronwyn Fick

Picture: ROB KNOWLES

Cloudy skies no match

for Pick n Pay Nite Bowls

LAST Friday night, round two

of the Night Bowls Competition

was played in cloudy

weather with all participants raring

to go.

The "performer of the night"

Kenton Bowling Club

THE monthly Dias Insurance

Trips last Wednesday was

won by Rob Croly, Ken Nixon

and Kevin Bates.

Eastern Areas (EA) Ladies'

League played their first four

rounds this year, two each last

Saturday at Albany and Sunday

at Grahamstown. The results

are not known at the time

of going to press.

The men's first and second

league played round three of

the year at Kenton on Sunday.

The preliminary results to date

(to be verified) are: First

League - Port Alfred 18, Albany

15, Grahamstown 13,

Kenton 11, Kowie 3; Second

League - Kenton 22, Kowie

20, Albany 12 and Port Alfred

6.

The finals of the Kenton Business

League were held on

Monday with the two sections,

Bushman's and Kariega (six

teams each) going head to

head, strength against

strength.

The results will be published in

next week's Bowl Banter. This

has been a most successful -

and enjoyable - tournament

and plans are afoot to continue.

Tomorrow will be the March

round of the Personal Trust

Trips. The next round will be

on April 15. Teams from other

EA clubs are reminded that

they are most welcome to participate.

The closing date for

entries is April 13. If you are

not able to get to Kenton to put

your team on the entry list just

e-mail (or phone) your entry to

the Kenton secretary.

The Friday night draw on

March 11 was missed by Don

Armstrong. This week it will be

R600.

Duties for the week March

21 to 27: Tabs cashier - Addie

Wolf, Bar - Dave West and

Terry Bowen.

Special thanks to recent "extraordinary"

bar duty personnel

(during the Business

League and EA League):

Keith Benson, Don Young,

winner again came from the

B section, with Kenny's Sports

Bar taking the honours with a

score of 6 / + 17 for the night.

The sponsored swindle competition

was won by Theresa van

Anthony Copeman, Ivor Rule,

Pippa Swift, Mick Carle, Jo

Lawson, Stoffel Scheepers,

Willie Aab, Kevin Bates, Lee

Slater, Lottie Brink, John and

Carol Crandon, and Stompie

Bellingan. We wouldn't be a

club without your support.

Thought for the week: It is rumoured

the SPCA have invented

a motorised rotating

bowl for tired goldfish. Why not

a motorised bowl for tired

bowlers?

Port Alfred Bowling and

Croquet Club

March is filled with bowls fixtures,

keeping the

clubs busy and the

bowlers fit.

A report back of last

week's games: The

ladies played the

Vroom Cup and won both their

games. The men played the

Timm Cup and ended up winning

two games and losing two

games.

Over last weekend, the EA

ladies' league played four

rounds, with our ladies winning

four and losing two

games. At the same time, the

EA men's league played and

our A team won three and lost

one, nabbing 7 points, putting

them at the top of the log with

18 points. Keep it up guys and

gals.

Unfortunately the Ocean

ůĞŽŽŚΘĂĚŝŽΘŶŝŚ

ĸĐŝĞŶĞůŽŶŵŽŶŝŽŶĚŝŽŶŝŶŐ

Lavieren of Leach Pharmacy, who

took home the bottle of hooligan

juice. The rollover competition

was drawn at the end of the night

and no team actually had the correct

score for the four ends that we

Basket-sponsored competition

had to be postponed due

to rain. A date to play is still to

be decided.

This weekend, the EA ladies'

league will play round 5 at

Kowie Club in the afternoon,

and Sunday will see both the

EA ladies' and men's league

playing all day at Port Alfred

Club.

On Tuesday March 22, round

2 of the ladies' and men's trips

and on Wednesday March 23,

the Doris Ford will be played.

Which brings us to the Easter

weekend. Just a friendly reminder

that the club will be

CROQUET CORNER

THERE was no winner

in our monthly rollover,

so the kitty is carried

over to our next draw

which will be held on

Saturday April 2.

There were no crazy

croqueteers who

would brave the storm

wanted and where to find it.

They were in and out within

four minutes.

If anyone is offered a Waldorf

five-channel amplifier and set

of 100W speakers or a Sharp

DVD it most probably does not

belong to them. Please contact

the SAPS or the club.

On Thursday, we hosted the

Port Alfred BC for the Timm

and Vroom Cup competitions

in delightful weather after the

heat and humidity of the past

weekend. Again it was Port

Alfred's day in the ladies competition,

as our ladies lost both

their games. After two rounds,

BOWLSBANTER

open on Saturday March 26,

and the Radue-sponsored

competition will be played on

that day. Visitors are welcome

to join us.

Duties for the week March

21 to 27: Tabs – Anne Kotze

and Dalys Cowie, Bar duty –

Chris, Phil and

Alison, Ironing – Gordon Goff.

Kowie Bowling Club

The early week's rain resulted

in last Tuesday's bowls being

cancelled – the main problem

being the rain which resulted in

no green preparations being

started even though the weather

cleared later in the day.

This resulted in the

Spar-sponsored competition

being postponed to this Tuesd

a y.

In the early hours of Thursday

morning, we had a visitation

from some uninvited guests

who undertook some affirmative

shopping. It was someone

who knew exactly what they

this gives Port Alfred an

eight-point lead with a healthy

shot profit.

In the men's competition it was

a closer contest with each club

winning two and Kowie with a

1 shot profit on the day. Overall

Port Alfred leads the log by

12 points to 4 with a +17 shot

profit.

Last Saturday morning we had

a storm of note with lightning

and thunder and a little rain.

With threatening weather the

turnout was very small for

bowls. The Courtyard-sponsored

competition was postponed

to a soonest available

date.

This weekend was the start of

the ladies' league on Saturday

at Albany with our teams playing

each other in the first game

and the A team just managing

the win. In the afternoon, the A

team lost to Port Alfred and

our B team went down to the

other PA side.

and wind which we

experienced on Saturd

a y.

Our raffle box in the

clubroom is filling up

slowly, so folks please

raid your kitchen (or

bar) and bring your

contribution for the

had drawn, so it carries over for

another week and the kitty grows

to R180.

The players were in party mode

on Friday and kept the barmen

busy until after 11pm!

On Sunday, the ladies travelled

back to Grahamstown to

play at GBC and in the morning

session the A team beat

GBC by four shots and the

B team had a good win against

Kenton.

The afternoon session was

good to our teams with the A's

defeating Albany and the B's

defeating GBC in a very closely

contested game.

On Sunday, the Men's league

continued at Kenton with our A

section playing against Port

Alfred and our A team losing

on the last end with the B's

winning and overall taking the

bonus point with

a positive shot

profit. In the afternoon,

both our

teams went

down to Port Alfred

in the reversal games. The

B section teams had mixed results

against Kenton, our A

team had a good win with the

B's going down but we still had

the positive shot profit for the

bonus point.

In the afternoon on the reversal

games, it went the other way

with the A team going down

and the B team having a very

close win and allowing Kenton

to pick up the bonus point.

I have not yet received the log

results but in the B section –

after three games – Kenton is at

the top with 22 points + 31 s/p,

followed by Kowie on 20 points

+ 44 s/p, with three rounds of

games to still be played.

Duties for the week March

21-27: Greens – (Roll) Pieter

Stegmann, (Mark) Laurie May

and Allan Sheridan, Tabs –

(Cash) Jean Churchley, (Select)

Peter Ford, Bar – Siggie

and Dot Rohrs.

hamper as the Allan

Wilson Classic is just

around the corner.

The entries for the

Allan Wilson Classic

have now closed, so

thanks to all who have

entered.
---
March 17, 2016 ADVERTISING / NEWSDESK: (046) 624 4356 Find us on Facebook

Talk of the Town 19

Municipality sponsors runner

■ New kit a response to

TotT plea for assistance

JON HOUZET

or appreciate what's going on in

AFTER seeing an article

Ndlambe. The fact that the special

programmes officer, when

about local runner

Carriot Galela in Talk of

he sees something in the newspaper,

can approach the mayor

the Town, Ndlambe Municipality

has responded to his appeal

and municipal manager is good.

for sponsorship for the upcoming

Two Oceans Marathon. far as Cape Town, [Galela] is

"For someone who's going as

The municipality handed putting Ndlambe on the map."

over new kit, including Asics Turning to Galela, she said:

running shoes, a sports bag, running

top and tracksuit pants to but even being there is good for

"We hope you can win the race,

Galela last Friday.

Ndlambe. We need young people

to take after you. You can

Special programmes officer

Mluleki Ncapayi noticed the article

and photograph of Galela cause if young people see what

assist us in fighting crime, be-

in TotT's February 11 edition. you do, they can be motivated

"I read of his intention to run to do it as well."

in the Two Oceans and his request

for assistance and spoke Galela was what Ndlambe "can

She said the kit given to

to the mayor and municipal afford for now".

manager. They agreed to buy Galela said he was very happy

with the sponsorship.

him kit," Ncapayi said.

He said they supported local His coach, Michael Mpalala,

business by buying from Sports thanked the municipality and

n All in the Heritage Mall. said wherever they went, he was

Standing in for mayor Sipho sure to mention they came from

Tandani, council speaker Vivian N d l a m b e.

Maphaphu said: "Sometimes He also was confident more

people may think we don't see youth would take up running.

Wednesday March 9:

PSG better ball stableford,

with 70 players.

Results:

1st: Rhodes Tremeer,

Ross Wright - 50

2nd: Colin Howard,

Russell Gardner - 49

3rd: Russell Dales, Terry

Counihan - 46

4th: Dave Hawkins, Peter

Longhurst - 46

Two clubs

6th: G Strydom, B Reid,

R Dowding, T de Wet,

J Stenekamp

8th: G Handley, L Bohnen,

G Strydom, R Dowding,

B Dukas, R Tremeer

11th: T Wagner

Best gross: 71 – To m

Wa g n e r

Best nett: 67 – Neil

Loundar, Charlie Poulton,

Russel Gardner

Nearest the pins:

Debonairs Pizza longest

drive – 6th: Tom Tagg

Dulux – 8th: Rocky Rowe

The Wharf Street Brew

Pub – 11th: Tom Wagner

Trellidor – 13th: Tom

Results

HEAVY rains and inclement

weather in the northern parts

of the country last week did

not deter the walkers, Carol

and Jean Nepgen, from once

again participating in back to

back half marathons in

North-West Province and

Gauteng.

On Saturday March 12 they

completed the Old Mutual Om

Die Dam Half Marathon in

Hartbeespoort, where the

heavy rains of the past week

resulted in a rather challenging

route. Carol

finished the race in a

time of 3:46:27 with

Jean hot on her

heels in 3:46:29.

On Sunday they

participated in the

Sarens Edenvale

Wa g n e r

Wimpy longest drive -

14th: Melvin Mbabela

VW Nearest the pin for two

on the 1st: Tom Wagner

Saturday March 12: Auto

Smart Body Shop better

ball bonus bogey, with 55

players.

Results:

1st: John Bradfield,

George Lake +8

2nd: Gordon Bunting,

Terry Counihan +6

3rd: Stefan Carewicz,

Kobus van Jaarsveld +6

4th: Dave Painting, Paul

Griffiths +5

Two clubs

6th: A Harty

8th: T Tagg, T Counihan,

R Hoar

Nearest the pins:

Mooifontein Quarry – 6th:

Ian Moncur

Auto Smart Body Shop –

8th: Terry Counihan

Lalibela – 11th: Rob Hoar

The Wharf Street Brew

Pub – 13th: Andy Barnes

Royal St Andrews – Nearest

the pin for two on the

KOWIE STRIDERS

Half Marathon in Johannesburg,

where this time Jean

crossed the line in a time of

3:41:48 with Carol finishing in

3:41:50.

Time Trials: Tuesday March

8

5km Run

Chris Pike 26:01

Imran Kamedien 26:17

Vanessa Barkhuizen 27:11

Rob Joiner 28:28

Signet Howlett 30:32

Monica Strydom 31:17

Wendy Sweetenham 31:58

Elmi Jones 32:11

5km Walk

Annemarie Hockly

(walk/run) 38:49

Stella Kamedien

47:26

Pauline Weed 47:26

Billy Futter 47:26

1st: John Bradfield

1820s Golf

Monday March 7: 26

players in a strong weste

r l y.

Winners on 39: Graham

Turner, Peter Rinaldi, Dale

Wisener, Dennis

McElwee.

Moosehead on 48: Louis

van der Walt, Ted Baines,

Ram Piers.

Good Scores: 49 - Noel

Heale, Dudley Kieser,

Barry Scarterfield, Juan

Southey, 47 - Dale

Wisener, 45 - Nic van der

We s t h u i z e n .

Two Clubs: 11th Dale

Wisener, Noel Heale, 13th

Nic van der Merwe.

Thursday March 10: 27

players in ideal conditions.

8km Run

Sizakele Dayimani 30:32

Richard Legg 36:20

Rick Betts 36:20

Noel Maddocks 36:50

Sticks Stiglingh 38:17

SPRING IN HIS STEP: Local runner Carriot Galela, left, accepts new shoes and other kit sponsored by

Ndlambe Municipality from council speaker Vivian Maphaphu last Friday

Picture: JON HOUZET

GOLF WEEKLY

R E S U LT S

Winners on 40: Chris Day,

Graham Turner, Guy

Hilton-Barber, Dudley

K i e s e r.

Moosehead on 46: Ian

Colclough, Don Howarth,

Juan Southey, Lawton

Amos.

Good Scores: 49 - Derick

van Harmelen, Dudley

Kieser, 46 - Graham

Tu r n e r.

Two Clubs: 6th Lionel

Timm, Lawton Amos,

Graham Turner, 8th Tim de

Wet, 13th Ian Colclough,

Graham Turner.

Forthcoming events:

Friday March 18: Shaw

Park Primary school

fundraising golf day

Saturday March 19: Douglas

Green

Mark Evans 38:41

Alex Weed 40:00

Kevin Lee 42:36

Chris Roberts 43:34

Scott Harvey 45:18

Mariaan Stiglingh 47:17

ĞĐŝĂůŝŝŶŐŝŶůĂ

Wednesday March 23: Inso

Saturday March 26: Pennypinchers

Monday March 28: SA

Legions

Wednesday March 30:

Lalibela/Arabella Wine

Thursday March 31: EP

Seniors

Friday April 1: EP Seniors

KGB RESULTS

Tuesday March 8: Tw e n -

ty-three players kicked off

in a two-to-count stableford

alliance but a torrential

downpour sent all scurrying

back to the clubhouse

without the competition

being completed.

Friday March 11: A day of

contrasting weather conditions

starting chilly in the

early morning to hot and

humid by lunchtime saw

34 players in three and

four balls play the usual

two-to-count stableford alliance.

Wilton Adcock, Chris

Niebieszczanski, Brian

Hayward and Eric Segers

carded 94 points to win the

competition. Dave Curran,

Bruce Tucker, Tom Tagg

and Cliff Roberts' 93

points earned them the

runners-up position.

Tommy Meyer, Gerald

Churchley, Paul Fryer and

visitor from the USA Digby

Wirtz had a tougher round

carding only 80 points and

ending up sharing their

19th hole table with the infamous

Hamer en Sukkel.

Dale Wisener (sixth) and

Cecil Grobler (13th) both

made birdies on the par

three indicated. Good nett

rounds were made by

John Abbot, Bruce Tucker

Ǧ

(67), Cliff Roberts, Gaby

Hausman-Tarpani, Bryan

Robinson, Len Bohnen,

Chris Niebieszczanski

(68), Graham Findlay.

Ladies' Golf

March 8: After a morning

of heavy rain, only 11 women

remained in the afternoon's

competition

which ironically was

played in ideal conditions.

An individual stableford

sponsored by Viv Jordan

was the competition for the

afternoon as well as the final

round of the Easter

Shield eclectic results.

Helen Lockyear (40

points) easily won the afternoon's

proceedings followed

by Pogs Smith (34

points) and Ingrid Griffiths

(33 points). The Easter

Shield was also won by

Helen with a 68.5 net

score.

Helen and Sandy Fryer

won the longest drive competitions

held on the third

fairway in the lower and

higher handicap sections

respectively and Helen

completed her very successful

afternoon by holing

the only two-club of the

day (sixth). Nobody hit the

greens on the sixth and

11th, but Jude Lello was

closest to the pin on

Harcourts' eighth. Helen

was "closest for two" on

River Spa's 13th.

The competition to be held

on March 22 will be a

medal stableford.

ŽŽĂŐŽ

ŽŽĂŽŽůůĂĞŐĞ

ŽŽĂŽŽůůĂĞŐĞ

ŽŶĞĂŶĂů

ŽůŽĚŝ

ŽŽůůĂĞŽ

ŽŽĂĂŝĞĚĂŶ

ŽůŽ

ĞĂď

ŝůĂď

ŝůĂďŝ

ŝůĂď

ŝůĂď

ŝďŝŚŝŝŽŶŝĚůďĂď
---
Avusa Media Ltd

Contact us with any sports news: (046) 624-4356 (Jon Houzet)

Sp ort

Thursday M a rch 17, 2016

STOUT DEFENCE:

Archie Chirinda of

Sidbury firsts

plays to the

leg-side during a

match against

Rhodes firsts at

the Port Alfred

Country Club.

Sidbury won the

match by nine

wickets Picture:

ROB KNOWLES

Pineapple Week set

for an exciting end

■ Centuries, wickets aplenty ahead of finals

I

ROB KNOWLES

T'S been a great

week of cricket in

the Port Alfred

area so far, and

things are heating up

as the last few

matches will establish

who wins the 112th

Pineapple Cricket

To u r n a m e n t .

The tournament finals

take place on

S a t u r d a y.

CONTACT DES OR DONNY

TEL/FAX: (046) 653 0189

KABA ROAD, ALEXANDRIA

With a total of 45

games played (including

the finals) over

the week, 20 league

teams and 10 invitation

sides, there is a

lot of cricket still to be

played.

Games take place

at six venues, namely

the Port Alfred Country

Club (PACC), the

two pitches at Port

Alfred High School

(SA and SB), Hilpert

field (Hil), 43 Air

School (AS), and

Bushman's River

Mouth (BRM).

Following a late

start to all matches

last Saturday, the weather

has held up so far

and enabled some big

hitters to prove their

mettle on the slowpaced

outfield by

blasting sixes to all areas

of the park.

The tournament

has seen some big hitting

and some excellent

bowling and, at

the halfway point, the

competition was still

wide open.

At Saturday's game

at the Air School, Port

Alfred seconds scored

an incredible 525 runs

at an average of 10.5

runs per over (with

Hannes Lourens scoring

118 not out), and

bowled Early Birds

out for just 185 runs.

On Tuesday at the

School B pitch

Cuylerville seconds

reached a massive total

of 325 with Greg

Clayton scoring a century

(106). After a

heroic run-chase,

Kenton fell short, but

still managed to post

299 for 8 wickets in

the allotted 50 overs.

On the School A

pitch on the same day,

the Grahamstown

Invitational side also

managed to score

over six an over, posting

314, with T Loutz

scoring a massive 111

not out. In reply,

Rhodes Rhodents

could only manage

160 all out, with F

Grafton scoring a very

respectable 101.

There have also

been a number of very

closely-contested

matches. On Sunday

at Hilpert, Cuylerville

seconds played Salem

À

seconds, with Salem

posting a reasonable

score of 187 and

Cuylerville pipping

them at the finish with

a score of 189 with just

one wicket remaining.

As far as bowling

figures are concerned,

Manley Flats' M

Herselman managed a

five wicket-haul for

just 22 runs at the Port

Alfred Country Club

when his side beat

Sidbury by 60 runs on

Tuesday. Other

five-wicket hauls oc -

curred at the Air

School on Monday

when P Lister took

5/31 for Shrews when

his side trounced Early

Birds by eight wickets.

Also on Monday,

this time at Hilpert,

J Nel took 5/39 when

his side Sidbury

seconds took the

spoils in their 15-run

victory over Port

Alfred seconds.

Each evening at the

Port Alfred Country

Club prizes are

awarded for outstanding

performances on

the day.

On Monday there

was the traditional

over-60s evening,

where guest speakers

were invited to share

their experiences in

the world of cricket

and motivate and inspire

the players to

new heights.

The older, now retired,

members who

have played Pineapple

Cricket in the past

are also all present,

and the atmosphere is

very festive, with

plenty of good-natured

leg-pulling from

the players.

This year the guest

speaker was SA

FAST ARM: Jason

Sharrock bowled

well for Kenton

against Cuylerville

seconds at Port

Alfred High School

on Tuesday.

Cuylerville scored

325 and won by 26

runs. Cuylerville's

'Ram' Rod Fisher,

right, scored

nu m e ro u s

boundaries for the

winning team

Picture: LOUISE

C A RT E R

Cricket Union member

Robbie Muzzell,

who shared his love of

the game and explained

how integration

in the sport was

an on-going process.

"I do not believe in

quota systems," said

Muzzell, explaining

that there were plenty

of great up-and-coming

black cricketers

who did not need to

be regarded as part of

a "quota system" as

they deserved their

place in the side. He

specifically mentioned

the incredible

performances of

still-rookie Proteas

bowler Kagiso Rabada.

"South Africa

have a lot of depth in

their World Cup T20

s i d e, " he said.

"I believe we will

be the team to watch

in the tournament,

and that we'll win."

Other results:

Saturday

PACC – Sidbury 1

beat Rhodes Rhodents

by 9 wickets.

SA - Grahamstown

Invitational beat

Manley Flats 1 by 2

w i c k e t s.

SB – Cuylerville 1

beat Salem 1 by 7

w i c k e t s.

Hil – Southwell 2

beat Manley Flats 2

by 45 runs.

BRM – Rhodes

Shrews beat Sidbury 2

by 35 runs.

Sunday

PACC – Southwell

1 beat Port Alfred 1

by three wickets.

SA- Sidbury 1 beat

Grahamstown Invitational

by 97 runs.

SB- Manley Flats

beat Rhodes Rhodents

by three wickets.

AS – Tiger Titans

beat Station Hill by 66

r u n s.

BRM – Ke n t o n

beat Port Alfred High

School by 190 runs.

Monday

PACC – East

Legends beat West

Legends by 31 runs.

SA – Southwell 1

beat Salem 1 by 37

r u n s.

SB – Cuylerville 1

beat Port Alfred 1 by

8 wickets.

BRM – Station Hill

beat Southwell 2 by 49

r u n s.

Tu e s d a y

Hil – Tiger Titans

beat Manley Flats 2

by 2 wickets.