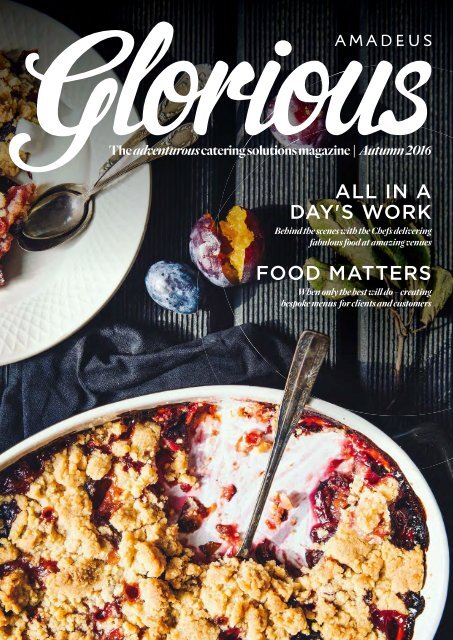 Amadeus Glorious Magazine Issue 01
EP produces Glorious Magazine on behalf of leading foodservice company Amadeus. The magazine is a showcase of adventurous catering solutions and includes the wealth of services the company provides.
EP produces Glorious Magazine on behalf of leading foodservice company Amadeus. The magazine is a showcase of adventurous catering solutions and includes the wealth of services the company provides.
SHOW MORE
SHOW LESS
You also want an ePaper? Increase the reach of your titles
YUMPU automatically turns print PDFs into web optimized ePapers that Google loves.
The adventurous catering solutions magazine Autumn 2016

ALL IN A

DAY'S WORK

Behind the scenes with the Chefs delivering

fabulous food at amazing venues

FOOD MATTERS

When only the best will do – creating

bespoke menus for clients and customers
---
Welcome

Welcome to the first edition of Glorious, a magazine

from Amadeus celebrating everything that

is great about food and service

If ever there was a time to be proud of

what is happening in our industry it is

now. With innovation in food and

technology, what we eat and how we

order it is changing. The focus on the

customer and providing the best service

has never been more relevant and

the team at Amadeus has

embraced this fully and is

constantly looking for ways

we can improve what we

deliver to our venue clients

and ultimately their visitors.

In an ever-changing industry,

having an eye on the future

both for trends and for

talent is something you

ignore at your peril.

I hope you will enjoy

reading about some

of the talent I am

fortunate to have

in our business.

The passion and

enthusiasm Chefs

like Simon Hellier,

Aaron Johnson and

Darren Proud

bring to their teams is immeasurable and at

Amadeus it is the people that drive change.

Our business is simple – it's about food and

people. What is not simple is getting those things

right. Being able to sell well, understand the

customer needs and fulfil them is a skill and in

the last year we have focussed on changing our

culture from one of serving to selling.

Find out more about this on page 28.

Autumn is a great time in the food

industry, gearing up for Christmas

hospitality and for us swapping from

our summer events season at visitor

destinations to venue retail and

hospitality. I am looking forward to

launching our new project,

The Edge, at the

NEC and hope

you enjoy reading about

how we developed the

concepts on page 16.

KEVIN WATSON,

MANAGING

DIRECTOR,

AMADEUS

Emma Thorn

Head of Marketing

Jenna Hadley

PR & Communications Manager

info@amadeusfood.co.uk

0121 767 3329

amadeusfood.co.uk

Follow us...

@amadeusfood

This magazine has been produced in

conjunction with EP and Newhall Publishing Ltd

EP

14a Ganton Street, London W1F 7QT

020 7025 1862

epmagazine.co.uk

Newhall Publishing Ltd

New Hall Lane, Hoylake, Wirral CH47 4BQ

0844 545 8102

hello@newhallpublishing.com

newhallpublishing.com

Managing Editor

Ben Butler

Production Editor

Anita Comerford

Art Editor

Gareth Evans

Senior Designer

Owen Moran

Picture Editor

Robyn Barr

Account Director

Richard Woolliams

Advertising

Simon Jones

and Dean Brown

01603 821021

Print

Buxton Press

Cover photograph

Stockfood/Karolina Kosowicz

WWW.MARUSSIABEVERAGES.CO.UK

AMADEUSFOOD.CO.UK 3
---
IN THIS ISSUE READ ALL ABOUT IT

READ ALL ABOUT IT IN THIS ISSUE

Contents

Issue 01

Autumn 2016

Hot

topic!

22 33

The adventurous catering solutions magazine Autumn 2016

ALL IN A

DAY'S WORK

Behind the scenes with the Chefs delivering

fabulous food at amazing venues

FOOD MATTERS

When only the best will do – creating

bespoke menus for clients and customers

14

01_OK_0072AMM_COVER_REPRO.indd 1 06/09/2016 09:56

REGULARS

06

43

Changing the way we eat

The latest news from Amadeus and why

they're at the forefront of innovation

Calendar of events

The definitive guide to what's going

on over the autumn and winter seasons

FEATURES

10

16

The perfect double act

Simon Hellier and Aaron Johnson

talk inspiration and seasonal favourites

Taking you to The Edge

Introducing the innovative food

concepts at The Edge within the NEC

10

22

Feeding time at the zoo

Amadeus reinvigorates the food on

offer at Dudley Zoological Gardens

– and it's not for the animals!

28

33

50

Satisfaction guaranteed

Always pushing for a better customer

experience is key to Service that Sells

How was it for you

Glorious talks to Sam Bates and Darren

Proud about what it took to host

the Ricoh Women's British Open

Amadeus made my day

Apprentice of the Year, Tyrel Richards,

reveals how his apprenticeship opened

up a world of new opportunities

4 GLORIOUS

AMADEUSFOOD.CO.UK 5
---
NEWS FOOD INNOVATIONS

FOOD INNOVATIONS NEWS

UNDERSTANDING

THE CUSTOMER

Changing

the way we eat

For 40 years Amadeus has been recognised for its

culinary expertise and commercial development that

is designed to improve the customer experience.

Here are just some of their latest innovations...

MADE FOR YOU

One of the most important elements scratch. At the International Convention

of the Amadeus catering business Centre (ICC) Birmingham, this is

is the 'MADE for you' initiative, which business as usual and has seen the Chef

means it is a bespoke offering – so up to team – headed up by Executive Chef,

85 per cent of food delivered is exactly Simon Hellier – create some of the

what the client wants. This means most imaginative and operationally

Amadeus creates an experience from challenging events ever seen.

"Food should be

part of the event

experience and

we want to get

even closer to the

customer"

Simon Hellier Executive Chef ICC

EXPERIENCING FOOD

UP CLOSE AND PERSONAL

In January 2016, Simon and his team

introduced the 'Chef 's Table', an

experience that gives guests a real

insight into the food served at the ICC.

This has been created to support the

sales teams as it enables them to bring

clients on to the site to sample the

food and showcase it as a unique selling

point for the venue. Simon cooks in

front of the guests while talking them

through recipes, food provenance

and wine pairings.

Record

breaking

A ground-breaking event from the

team at the ICC saw Amadeus break

its own catering record. The gala

dinner for the World Small Animal

Veterinary Association Congress

(WSAVA), allowed 950 guests to

choose their starter, main and desert

from a full choice menu. The restaurantstyle

service for such a large event was

a first for the catering group, and a rare

occurrence for any venue.

"Delivering a restaurant-style service,

where each guest has a menu of

options to choose from is relatively

unheard of, particularly on such a

scale," said Craig Hancox, Amadeus

General Manager at the ICC. "Each

table's order was taken by

our front of house waiting

staff and then fed into the

kitchen where Simon Hellier and

his team got to work to deliver the

courses as ordered.

"We have delivered this service

before but not for so many. It

presents its challenges, primarily

from a service and ordering point

of view, but we have a very talented

team who are always looking to

raise the bar and I feel we've

certainly achieved this here."

TO FIND OUT MORE ABOUT

HOLDING AN EVENT

AT THE ICC OR ANY OF

THE AMADEUS VENUES

CONTACT 0121 767 3329

Providing customers with innovative

solutions continues when it comes to the

environments run by Amadeus. Within

the NEC, Amadeus had the opportunity to

conduct some in-depth customer research

to understand what would improve the

experience of a visit to the NEC food

and beverage areas.

In 2015, Emma Thorn, Head of Marketing

for Amadeus, teamed up with Know Research

and conducted one of the largest and most

in-depth customer research programmes ever

at the NEC site to understand the consumer

decision-making process at all stages of the

customer journey. This included a number

of research channels including accompanied

shops, app-based research prior, during and

post visit, incept interviews and observations.

The research produced insight into when

customers start thinking about food and

beverage, what impacts purchasing behaviour,

their mind states during the day and pre and

post perceptions of the food and beverage

offerings. From the research, some of the key

actions included refurbishment of some of the

NEC food and beverage areas called PODs.

As part of the redevelopment, the Amadeus

project team investigated eating trends,

multiple food service options and food

trends to influence the concept choices.

Working with the NEC Group's central

Insight and Marketing Services departments,

which includes a full in-house marketing

agency, the concepts for 'The Edge' were

developed. The project is being launched

at the Autumn Fair and will include increased

speed of service and covers and four brand

concepts – see page 16 for details.

6 GLORIOUS

AMADEUSFOOD.CO.UK 7
---
NEWS FOOD INNOVATIONS

FOOD INNOVATIONS NEWS

BUILDING THE

RIGHT TEAM

In order to foster innovation, Amadeus has

to ensure the right people are part of their

culture, understand it and live and breathe

the values of 'MADE a difference'.

In 2015, the HR team at Amadeus looked

to innovate and reinvent how they recruited

and trained over 1,000 staff including 90

Chefs. Tony Baldock, Operations Director

for Amadeus, looked at overhauling the

recruitment and training based on his belief

that a change was needed to take Amadeus

from being a serving culture to a selling one.

The process started with recruitment and

scrapping the traditional interview for an

audition, one in which the applicant had

to demonstrate they can sell and have

a passion and flair for food and service.

Tony then introduced a Service that Sells

programme to the Amadeus business, which

focusses on customer service – turn to page

28 to find out more about how it is working

for the staff and the customers.

As a brand, Amadeus prides itself in living

by a personality that is progressive, creative,

passionate, supportive and inventive.

It's a culture that is delivering real results,

both now and in the future and one that

ensures the team will and can respond to

any challenge they are given.

TO FIND OUT ABOUT

CAREER OPPORTUNITIES

WITH AMADEUS GO TO

NECGROUP.CO.UK/WORKING-FOR-US

THEATRE ON A PLATE

The Amadeus team's most recent

innovation has been introducing

a theatrical dining multi-sensory

experience where the food is

prepared and cooked in front the

guests, creating an additional air

of anticipation and excitement.

"Food should be part of the event

experience and we want

to get closer to

the customer,"

explains Simon

Hellier. "Not

only does it

showcase to the

guests the quality

and freshness of

the ingredients

and talent of the

chef's brigade, but

it reiterates everything we say we

do – that we can serve fine dining

in large numbers."

The theatrical dining experience

was premiered at the Vox launch

in February 2016. Emma Channon,

a journalist from Meetings and

Incentive Travel Magazine, said of

the event, "You don't generally

associate conference venues with

Michelin-quality food – this has

officially set the bar."

One of the standout dishes was a

lemongrass mist that engulfed the

table to give a citrus twist to the dish.

This technique, and other theatrical

dining elements, is an area Simon is

truly passionate about. He believes

multi-sensory experiences add

another dimension and overall the

whole meal is enhanced.

"It goes beyond just the experience

of eating the dish, it adds a bit of fun

into it too. The dish feels more alive,

more fresh. The lemon mist is a real

crowd pleaser. We use flavoured dry

ice, which reacts when warm stock is

poured over. As it evaporates vapour

is released and the mist travels across

the table and starts to roll in front

of the guests sat at the table. They

get this intense lemongrass smell

which

adds another

sensory level to

the dish. You are

creating a mystical

element and with the

right ambiance and lighting it can really

make the course stand out. We serve

this course at the beginning of the

dining experience so we really have to

make sure we follow through with four

or five other really impressive courses.

If you start with a great course and

don't follow it up, the whole meal can

fall apart. We like to keep anticipation

levels high and really carry on with

the theatrical elements."

Simon continues, "I wouldn't say

I look at any particular ingredient

and think, 'How can I use this in the

room?' It's more, 'How can I add theatre

to this, how can I impress the guest?'

I'm always looking at dishes and

aspects that can be completed in the

room with the guests involved rather

than away in the kitchen. I believe

Crêpes Suzette may make

a comeback and will

be created in front

of the guest."

Food and drink

at the click of a button

Under the brand initiative, 'MADE life

easier', Amadeus is also committed to

delivering innovation that improves

how customers order food and

drink at events and improving the

speed of delivering service. The first

major technical innovation that saw

Amadeus shortlisted for a prestigious

Catey award in 2016 was Qjacker

– an online ordering service to

cope with the demands of feeding

thousands of visitors at the Insomina56

Gaming Festival hosted at the

NEC Birmingham.

One of the most critical components

for the Insomnia event – an impressive

new event for the NEC venue – was

having a service for the BYOC (bring

your own computer) community

who are engaged in live games and

competitions round the clock on a

global scale throughout the event, to

be able to order refreshments from

8am-2am each day without causing

disruption to their play. Amadeus used

the convenient web and smartphone

app Qjacker, which allows users to

order food and drink to be delivered

directly to their gaming stations – all

other live sites now operating the

app use collection points. Working

closely with NEC Group IT and Qjacker,

Amadeus developed the application to

suit the needs of the event – including

design, build and testing – within just

eight weeks. With record numbers

processed and delivered to happy

gamers with an average time from

order confirmation to personal delivery

of just eight minutes it transformed the

way food and drink was delivered.

Operations Director, Tony Baldock,

explains the importance of introducing

the ground-breaking service, "The level

of detail required to get the finished

solution just right was challenging but

the planning and teamwork including

IT, marketing, our service partners and

suppliers helped make this venture

a success. The event was only

won in September

so a three-month

turnaround

for a brand new technological concept

is phenomenal. Allowing customers

to order instantly rather than preordering

gave a different dimension to

the event and was important for the

visitor experience. The team offered

exceptional service by following a predetermined

seating plan meaning we

were able to find customers quickly."

Tony added, "We also worked

closely the Insomina56 organisers

to determine the demands of the

community with the most important

factors being portion size, quality of

food and value for money. Normal

operations were also in effect with our

service partners extending

their hours to support us so

if we did have any issues they

were resolved promptly as

to not affect food service

or customer experience."

Qjacker has now been

tested in Starbucks and

the NEC Group's two

arenas – Genting and

Barclaycard Arena – with

positive results. The service

is due to be implemented

across all NEC Group sites

by the end of 2016.

8 GLORIOUS

AMADEUSFOOD.CO.UK 9
---
DEVELOPING TALENT MEET OUR CHEFS

The perfect

double act

Executive Chef Simon Hellier and Head Chef Aaron Johnson know

what it takes to deliver exceptional food. They work with their teams

to provide restaurant-quality food on a grand scale. We caught up

with them to find out their favourite seasonal ingredients

Simon Hellier (pictured right) has been

working for Amadeus based at the

ICC Birmingham since 1991 and has

worked his way up through the ranks

to become Executive Chef in 2011.

He is renowned for his ability to deliver

restaurant-quality food in a large scale

environment – creating drama and impact

for guests at events and banquets and

creating menus for anything from two

to 8,000 guests.

So what inspires him? "For me

I always resort back to the

fundamental rules of

cooking, without this

you are unable to

be innovative. My

inspiration comes from

art, the weather, what

I see, what I feel,

music or a smell.

All these can

help innovate

to create new

dishes, but you

have to start

with the basics."

His most recent

innovation has been

introducing a theatrical dining experience.

This includes a multi-sensory experience where

the food is prepared and cooked in front the

guests. "Food should be part of the event

experience and we want to get closer to the

customer," explains Simon. "Not only does it

showcase to the guests the quality, freshness

and talent of the chef 's brigade, but it reiterates

everything we say we do – that we can serve

fine dining in large numbers.

"At the moment we are working on the

autumnal menu, which for me is all about

comfort food and slow cooking. We choose

selections of meat that take a long time to

cook but deliver the maximum flavour

– something like blade of beef (see

page 15 for Simon's recipe) served with

British root vegetables works very well

during the autumn season. With

braised cuts we make our own

sauce using the meat juices

as it gives an intense and

natural flavour. So you're left

with quality meat, good

vegetables and a delicious

highly flavoured sauce.

"It's also really important

to use seasonal vegetables –

they taste best when you are using

locally grown produce in season. It's the same

with fruit – there's no comparison between

the flavour of strawberries grown in season and

forced – they're like two different products.

Using seasonal vegetables is also important as

it means we can support local farmers.

We work closely with our procurement

department who are close to all our suppliers.

We also talk directly to our local suppliers and

encourage them to send us information on what

they're producing and to tell us about what they

have coming on. Weather really can make the

difference between a good crop or early crop or

late crop so we have to keep up to date with

what supplies we may have coming in. There

are also product trends and growth trends

Dishes clockwise from top left: lobster tail and claw, ham hock

with a Scotch quail egg, tiramisu and venison parfait

"My inspiration comes from art, the weather,

what I see, what I feel, music or a smell. All

these can help innovate to create new dishes"

Simon Hellier, Executive Chef ICC Birmingham

10 GLORIOUS

AMADEUSFOOD.CO.UK 11
---
DEVELOPING TALENT MEET OUR CHEFS

Gressingham duck breast

with baby broad beans

that we may not be aware of, so the relationship

between us and the growers is really important

and the success of that good communication

is reflected in the food we produce."

To find out what goes into producing

award-winning food on such a huge scale we also

caught up with Aaron Johnson, Head Chef at

the Vox conference centre (pictured right).

He has worked his way up through the ranks at

Amadeus and was mentored by Simon at the

ICC. "My passion for food was originally honed

by my parents. They owned restaurants so I was

exposed to preparing food for paying customers

from an early age. My parents worked hard and

had a real passion for their work and I think that

rubbed off on me – seeing their enthusiasm and

hard work shaped my career choices.

"Before I came to Amadeus I worked for

Gordon Ramsay and Jason Atherton at the

Michelin-starred Maze restaurant in Mayfair.

The work was relentless but really rewarding.

It really taught me all about presentation – food

has to look beautiful, you have to want to eat it.

That's what I love about what I do now – it's a

real challenge to produce restaurant-quality

food with fabulous presentation on this scale.

We regularly produce banquets for 800 guests,

but every plate of food is served straight from

the kitchen to their table. We don't reheat dishes

and then serve – this is restaurant dining."

The demands of the job are phenomenal with

preparation starting up to two weeks in advance

for an event. "We have a menu selection for

clients to choose from, but about 85 per cent

of our clients opt for a bespoke menu, so

that's when you can really let your creative side

run wild," says Aaron. "It's great to work with the

client to ensure we can deliver exactly what they

want. Once we've decided on the menu we will

start planning up to two weeks in advance,

ordering the ingredients to put the dishes

together. Obviously we also look at how the

dishes will be presented on the day as when you

have 800 plates leaving the kitchen through up

to 24 delivery points you have to know that

every single one looks perfect.

"We have a core team that work at the

VOX and then we bring in agency staff for our

big events so we have to be able to communicate

well to ensure everyone is clear about what's

expected of them. When I was working in other

kitchens I had head chefs shouting at the staff,

but I just don't think that works. When the

pressure is on with a job of

course we all feel it, but

I would rather people

felt focussed and

motivated rather than

terrified of being shouted

at. I don't think that brings

out the best in people."

Every Chef also has a

passion for their ingredients

– you can't make memorable

dishes without great ingredients,

so what are Aaron's

favourites? "I love

seafood and one

of my

favourite

"You can cook food to

perfection but if you

don't make it look

beautiful then you

won't get the best from

it. A glass of the right

wine also helps!"

Aaron Johnson, Head Chef VOX

0121 748 3377

info@contemporaryeventstructures.co.uk

www.contemporaryeventstructures.co.uk

12 GLORIOUS
---
DEVELOPING TALENT MEET OUR CHEFS

Slow-cooked

feather blade of beef

Enjoy this flavourful cut of British beef, perfect for slow cooking,

along with butterbean potato purée, seasonal roast roots and a

Merlot and red onion compote for a hearty autumnal dish

INGREDIENTS

BUTTERBEAN MASH

ROOT VEGETABLES

RED ONION COMPOTE

dishes to cook is squid ink risotto with a piece

of bream on top and served with a lobster

sauce. It's great to play with different flavour

combinations to see what works. Obviously

there are classics – slow-cooked French dishes

like beef Bourguignon, moules marinière,

bouillabaisse, confit of duck – but I like to

add different twists. I like to experiment with

flavours from Thailand as I spent some time

travelling there, so I like to introduce the classic

spices and flavours of Thai food, so that might

be a Thai broth with the moules or infusing a

confit of duck with Asian herbs and spices.

"We really like getting people to try different

things. Obviously when we're developing a

menu for the VOX we need to be mindful

of producing it on a large scale, but once you

know you can produce something for 50-100

people I know it will work at banqueting level

as then it's just a case on multiplying it up. To

deliver on the day it's all about the organisation

– we normally have about one and half hours to

deliver three courses, so it's demanding but I'm

proud that we manage to do it several times a

week throughout the year. We're building a

reputation here for great food and that's what

I am so proud of."

Aaron clearly loves what he does – it's hard

work but he says the rewards are definitely worth

it. "I just love food – my favourite dinner that

I cook for friends at this time of year is pan-fried

loin of venison, cooked medium rare, squash,

coffee-glazed beets and Parmesan crumb

shallots all served with a red wine jus. For dessert

it has to be a plum and gooseberry crumble with

macadamia nuts and vanilla topping.

"It's great to cook with what's in season as

then you can ring the changes throughout the

year, adjusting your menu to make the most of

what's in the shops and at its best." So what's his

other top tips for the best dinner party food?

"It's all about the presentation – you can cook

food to perfection but if you don't make it

look beautiful on the plate then you won't get

the best from it. A glass of the right wine also

helps! It's worth trying out different wines to

find flavours that complement each other – at

Amadeus we have wine training to learn about

how wine and food can work together – or not!

It's all part of the restaurant experience of dining

at an Amadeus banquet."

TO FIND OUT ABOUT

BANQUETING FACILITIES AT THE

ICC CONTACT THEICC.CO.UK/

CONTACT OR FOR THE

VOX THEVOXCENTRE.CO.UK/

CONTACT-US

Serves 2

2 x 8oz British feather blade of beef

or braising cuts (from any good

quality butcher)

1 x small bunch of fresh thyme

2 x cloves of garlic

500ml x fresh beef stock or 500ml water

with 2 beef stock cubes

50ml x sunflower oil

28g x tomato paste

2 x large parsnips

2 x long carrots

1 x red onion

1 x small bunch of fresh rosemary

28g or a good-sized spoonful of

redcurrant jelly

100ml x Merlot red wine

2 x jacket potatoes

1 x lemon

56g x butterbeans

56g x salted butter

28g x sea salt

Salt and pepper for seasoning

Sprig of fresh parsley

BRAISED BEEF

AND SAUCE

Preheat the over to

200°C/Gas mark 6. Seal

the blades of beef in a

hot pan until golden

brown on both sides,

then place into a

suitably sized braising

dish. Add the beef

stock and tomato

paste to the meat

sealing pan to capture

any beef sediment

for additional flavour. Pour

the braising stock over the

beef blades and add the fresh

rosemary and cloves of garlic.

Fully cover the beef with lid or tin

foil and slow cook in the preheated

oven for around 4 hours or until the

meat is tender. Then remove the excess

cooking liquor from the beef and reduce

down to a sauce consistency.

Bake the jacket potatoes in the oven (about

2½ hours after the beef was placed in the oven)

on a bed of sea salt for around 60-80 minutes

or until the texture is soft. Scoop the filling from

the potato skin and crush with a fork. Add

a squeeze of fresh lemon, coarsely chopped

butterbeans, salted butter, fresh chopped

parsley and plenty of seasoning to taste.

Peel the parsnips and remove the core. Prepare

the carrots, rub with sunflower oil, fresh thyme

and seasoning. Place on a flat roasting tray and

cook in the oven about 30 minutes before beef

is ready until the vegetables become golden

brown and soft to the touch.

Peel and slice finely the red onion into strips

or diced, soften in sunflower oil in a small pan,

add redcurrant jelly and red wine. Reduce the

cooking liquor until the mixture becomes sticky

and thick, then remove from the heat.

BUILDING THE PLATE

Serve a generous portion of butterbean mash

in middle of the plate. Place feather blade of

beef on top. Add the red onion compote on

top of the beef. Build the root vegetable up

and over the beef. Finally pour the rich

beef sauce over the dish.

14 GLORIOUS
---
FROM VENUE TO MENU PROJECT POD

PROJECT POD FROM VENUE TO MENU

Taking you to

THE EDGE

Now guests can enjoy Italian, British, a handcrafted deli cafe

and a man vs food meat concept within @the Edge in halls at

the NEC. Executive Chef Neil Ashton talks through the process

Above: Sustainably caught, hand beer-battered

cod with hand-mashed minted and chilli peas

There are mouth-watering changes

taking place at the NEC with new

food and drink offers being created

to ensure visitors have a really great

experience. Amadeus has taken a

new approach following in-depth

research and has created four new

concepts for in-hall dining: Italian,

British, handcrafted deli cafe and a

man vs food offer with fresh food

cooked to order and lots of healthy

options. The changes are part of a £1.4

million investment named Project Pod

and the new in-hall services will also

have faster service, more seating and

'grab and go' options. Calm and cool,

NEC Executive Chef Neil Ashton has

been working for Amadeus for nearly

30 years and leading the charge – his

experience has been indispensable and

here he talks all about the new offers.

"Previously the food areas in the halls at

the NEC were designed to last around ten

or 15 years. Once they were created, the idea

was that they wouldn't need much changing.

However, with customer desires this is

simply no longer possible. Each hall at the

NEC had at least one restaurant before this

project but now, with the customer in mind,

we have invested heavily to offer one

restaurant with four concepts. Our hope is

that visitors will enjoy the new range and find

something that works for them for whatever

reason they are there. This project includes

the new EvViva (Italian restaurant) and

Butcher and Grill (the meat and grill option)

as well as the Oak Kitchen, which serves

British food. This on-trend concept launched

in 2012 and the menu proved so popular that

each year we only tweak the dishes slightly"

The customer experience is at the centre

of all events at the NEC, and this extends

to the food and drink offering. The

refurbishment of the first three in-hall

food restaurants is part of a venue-wide

improvement programme, and following

extensive research carried out in 2015, a

radical re-styling of the look and feel began.

Logistical issues have also been looked

into to ensure visitors receive their food

quicker and have more choice of good value

and great quality food.

"We have evolved the traditional offer of

self-service to enhance the experience for

the customer," Neil continues. "This still

works but now the customer has a greater

choice. We looked at the high-street options

and then decided to take these ideas further

to improve the guests' experience. The NEC

Group research team, Insight, provided us

with market trends and information on the

up-and-coming experiences such as 'grab and

go'. The research process started over a year

ago and the team began by looking at 'mega

trends' in food and basically with a blank

sheet of paper with regard to the overhaul of

the 250-seat food restaurants at the NEC.

"The main areas looked at, alongside the

food offering, were the times people want to

eat and people's craving for longer dwell

16 GLORIOUS

AMADEUSFOOD.CO.UK 17
---
FROM VENUE TO MENU PROJECT POD

PROJECT POD FROM VENUE TO MENU

Above: Try burgers from the meat and grill selection

Main: The "Brummie" Balti will also be available

Customers are looking for fresher,

tastier food cooked quickly to order to

suit their personal tastes

times. Food trend information and eating

out trends have been essential for identifying

high performing, large appeal potential food

concept ideas around food types. The project

team were split into research teams to go out

and look at similar concepts, style of service,

menu and restaurant design and report back on

findings and recommendations. We discovered

that customers are looking for fresher, tastier

food cooked quickly to order to suit their

personal tastes, whether it's adding extra shots

in their coffee or choosing the filling and type of

bread for their sandwich.

"We also noticed that alcohol and especially

beer sales are in decline, so we reduced the size

of the bar area and added an Italian themed

restaurant in the previous bar area. By changing

our offer to match the customer demand and tie

into key new trends, we are able to provide the

very best visitor experience."

Studying customer behaviour has been vital

to the project and from these results, the growth

of healthy options – as part of the decisionmaking

factor – has increased. "This is especially

true in the morning but also as the day or week

goes on they have something more of a treat,"

Neil explains. "We have to make sure there are

options available for whatever the customer

is looking for."

Designing how the concepts work and how

they would sit within the areas to maximise

customer flow, speed and wayfinding was

also completed at the same time as this research.

For the customer, they should hopefully see

some great food options. While behind

the scenes the whole customer journey has

been thought through and designed to ensure

they can easily find exactly what they want.

"We were handed back the areas from the

designers in the summer and have spent time

making sure it was all ready for food tours.

We hold these for key internal, NEC Group

stakeholders, because it is important we have all

the teams involved. These food tours are great

for this and our teams really enjoy experiencing

the food themselves – they have to explain it to

our customers after all. Following this stage

we'll open up the dining space for the staff to try

and hold training days around this time too. VIP

tours for show organisers and key people will

then take place just before we go live this month

– just in time for the very popular Autumn Fair!

"Working on the new menu offers was great

fun. We investigated a range of products and

18 GLORIOUS

AMADEUSFOOD.CO.UK 19
---
FROM VENUE TO MENU PROJECT POD

rattled the choices down to the best of the best.

Designing new menus can be challenging but

it does have its advantages, like getting to try

numerous delicious options. If you take

our burger, we tried ten patties, ten brioche

buns and ten more of everything else. The initial

cook-off allowed us to pick the best relish and

garnish too. Then all the chefs went away and

created different versions. After whittling it

down we were left with the best choice.

"When I think of hot plates I think of

motorway services, ones where customers have

to come to the counter with a tray and someone

places food on to the plate in front of them. This

wasn't too far removed from what we offered in

some areas and so we have completely rethought

this to improve it for the customer. Now dishes

are prepared and plated in the kitchen after

orders come in via electronic screens from the

front of house teams. We can spend more

time on presentation before the customer

sees the finished article.

"Before these changes we had a library of

dishes that we switched for shows depending on

what they were. This ranged from the type of

show like a trade show, to the gender of the

audience and we believed we had covered all

requirements and everyone had a fair offer.

However, we have rethought this process and

work across all shows at the NEC to keep it

consistent. It's an exciting change to make and

I know it's going to work, but I have to admit

that I am a bit nervous – but more excited.

"Our main hope is that we have created some

defined areas for people to enjoy. It didn't make

20 GLORIOUS

Above: A rack of low 'n' slow ribs is a traditional grill favourite

THE EDGE CONCEPT CAN BE FOUND IN HALLS

1, 3 AND 4 AT THE NEC BIRMINGHAM AND WILL BE

LAUNCHED AT THE AUTUMN FAIR IN SEPTEMBER.

sense for the visitors to queue for their hot food,

queue for their drink and then maybe queue

for their dessert. Now they can select their

complete meal in one movement and go away

and enjoy it. None of us like being delayed,

especially when it comes to a meal! The new

areas will now feature an increased number

of tills so visitors can be served more

quickly. And seating has been increased

by 30 per cent after customer feedback

that they want more areas to sit down

and enjoy a coffee.

"With our exciting customer-driven

concepts we feel equipped and ready to

provide a great visitor experience at the

NEC. We're continually looking at ways to

improve and hope the investment and the

food and beverage offerings reflect the customer

needs. We've really enjoyed trying something

totally different, the excitement, and the fear of

something new. It's been around eight

months in the making. It's been a

challenge for me and the Chefs

but one we have embraced

with open arms. We now have

four key concepts – meat/

grill, a grab and go deli cafe,

an English concept and an

Italian concept. Every

factor has been considered

from speed of service,

freshness and

preparation, to

equipment and

service style."

With our exciting

customer-driven

concepts we feel

equipped and ready

to provide a great

visitor experience

BARS

THE

BARS

BARS

B

19 &20 OCTOBER

The UK's original and most

comprehensive exhibition of . . .

products, services andentertainment

for the outdoor event industry . . .

The Outdoor Event Services Exhibition

Newbury Showground

Berkshire RG18 9QZ

BARS

SHOWMAN'S SHOW 2016

For exhibitor & visitor information contact:

Lance Show & Publications Limited, Courtyard Office,

The Courtyard, Parsons Pool, Shaftesbury, Dorset SP7 8AP

Tel: 01747 854099 Fax: 01747 854634

Email: info@showmans-directory.co.uk

www.showmans-directory.co.uk
---
OUT AND ABOUT DUDLEY ZOO

DUDLEY ZOO OUT AND ABOUT

Feeding time

AT THE ZOO

Amadeus began working with Dudley Zoological

Gardens in 2014 and since then the relationship

has flourished. The zoo is full of exciting sights and

sounds and Amadeus match the fun activities with a

quality food offering that adds to the overall experience

"We believe

visitors want

to understand

the provenance

and animal

welfare of the

food offering

Dudley Zoo is set around an 11th century

castle on 40 acres of land. Thousands of

visitors travel each year to the unusual

surroundings of the castle in a zoo. The

wooden fortification on the site was built

not long after the Norman Conquest of

1066 and was recorded in the Domesday

Book of 1086. The first stone castle was

built on the site a while after this – this

was destroyed by order of King Henry VII

and another castle was erected. Over

the years the castle was beseiged and

survived several attacks but eventually

became uninhabitable after a fire in the

late 18th century.

The zoo opened in 1937 and is now home to

hundreds of animals. Much of the collection

is linked to international conservation and

breeding programmes. Endangered species

include Asiatic lions, Sumatran tigers, Tibetan

red pandas and Madagascan lemurs.

The food offering available is very much

an extension of Dudley Zoological Gardens

rather than a separate entity and is now

an important element of the overall zoo

experience. Many visitors take a ride on the

chairlift connecting the zoo's upper (where

the castle stands) and lower

levels – they mostly take it up

rather than down and this could be

to avoid the steep walk up Castle

Hill! The chairlift was the first

passenger-carrying aerial ropeway to be

installed in England when it opened in 1958.

Back then passengers paid sixpence for their

journey, but today it's free and offers panoramic

views across Sandwell to Birmingham. While

travelling on the quirky ride, visitors can look

over the flamingos and Gelada

baboons. Amadeus has food

options dotted nearby the lift so

after the two-minute ride visitors

can grab a bite. If you're visiting the

zoo you can relax knowing the food

offering provides a great selection and includes

a few classic favourites. A wide range of British

dishes should tempt most visitors, especially

the sustainable fish and chips, the famous

Brummie balti and the award-winning sausage

DUDLEY ZOO 01384 215313

OPEN FROM 10AM EVERY DAY

DUDLEYZOO.ORG.UK

CLOSE ENCOUNTERS

Dudley Zoo offers a Close Encounter experience,

which makes a vital contribution to their

conservation work. Popular as birthday and

anniversary gifts, the 30-minute experience goes

towards special animal treats, toys, bedding, health

checks, food bills, heating and more. Visitors can

enjoy a unique experience with packages including

the choice of feeding the lemurs, spider monkeys,

giraffes, a big cat, the bats and the sea lions.

Visitors can also choose to meet the orangutans,

the chimps or even opt to explore for a reptile

encounter. Other activities include grooming and

behind the scenes access and each participant

receives a Close Encounter certificate, detailed

animal fact sheet, gift card and zoo entry ticket.

GHOST HUNTING

Looking for something different to do for

Halloween this year? Look no further than

Haunted Happenings at Dudley Zoo with Ghost

Hunt and Suppers. An experienced team of

investigators guide visitors safely through the

ghost hunt in what is thought to be one of

the most haunted locations in the

Midlands. Working in small teams

throughout the night, guests are

able to carry out séances and

vigils in the castle and use

forms of communication

including ouija boards

and table tipping!

LORIKEETS LAND!

The first Australian rainbow lorikeets

arrived at Dudley Zoo in the

summer to take up a residence

in the new Lorikeet Lookout.

The £40,000 new home is one

of many new enclosures to be

developed and open at the

zoo this year. Flamingo Falls

has already been a popular

hit having opened in March

to excellent feedback

from visitors. With its

running waterfall

and a bigger

den for the birds

as well as a new internal pool,

visitors can see the birds even when they're inside.

MATCHES MADE IN HEAVEN

You can make a trip to Dudley Zoo even more

memorable by popping the question to your

loved one. The Zoo proudly supports those who

choose to propose there and can enable you to do

so surrounded by some of the rarest animals in

the world before celebrating with

a glass of fizz. From Humboldt

penguins to Rothschild's

giraffes, the zoo then puts

together a meet and

greet with some

animal magic.

and mash. Overall visitors to the

zoo have increased since Amadeus

started providing the food offering

and their hearty, simple food made

from the best quality ingredients

is a hit with the outlets

consistently beating revenue budgets.

There are many choices for dining,

including The Queen Mary restaurant,

which can hold 200 people, The Grey Lady

Tavern, which can fit 20 and there is also

a marquee for events. The food has a clear

identity but is also sympathetic to the zoo.

A good example is The Oak Kitchen in The

Queen Mary Restaurant on the zoo's upper

level opposite the sea lion moat pools.

This area was the base for creating a new

and exciting dining experience on shared

22 GLORIOUS

AMADEUSFOOD.CO.UK 23
---
OUT AND ABOUT DUDLEY ZOO

ZOO KEEPER FOR A DAY

Amadeus has added

a mobile food kiosk

and ice cream unit for

those warm summer

days, and for those

feeling adventurous

on a colder day

tables, which – as the name suggests – serves

a wide range of traditional and iconic British

dishes prepared by hand.

Marc Frankl, Food and Beverage Director at

Amadeus, is proud of the menus the restaurant

serves and has ensured that the right suppliers

have been sourced, "We believe visitors want to

understand the provenance and animal welfare

of the food offering, so we are committed to

various sustainability initiatives."

Following the success of the zoo's main

eaterie, the Oak Kitchen housed in the Queen

Mary Restaurant, a new and unique mobile food

kiosk with the Amadeus MADE coffee brand

was also installed. Amadeus has also added a

mobile food kiosk and an ice cream mobile unit

for those warm summer days, and for those

Above The medieval castle really sets the scene

Below Dudley Zoo's newly created Oak Kitchen

feeling adventurous on a colder day. Running

the zoo's catering has not been without its

challenges, however. The Queen Mary

restaurant is located in a Grade II-listed

building so there was always going to be a

limit on what changes could be made in the

main building. Amadeus is proven at

not only improving the ambiance and

environment for the customers, but also

the back of house facilities, which needed

extensive work including new extraction,

flooring and equipment. It's always good

to make sure the Chefs have the right

environment to create their delicious dishes!

In the restaurant some internal walls were

removed to allow visitors better views of

the tree canopy outside.

Working alongside one of the expert zoo

keepers and across all animal sections at Dudley

Zoo, you can get up close and personal with some

of the rarest animals in the world. With purchases

supporting conservation programmes and animal

care at the zoo, you will enjoy a hands-on

experience feeding and having educational play

with the animals. Priced from £195 for the Adult

Zoo Keeper experience (aged 14-plus) and from

£80 for the Little Zoo Keeper experience (aged

8-13), entry for one guest, lunch vouchers and

a special souvenir gift are also included in

the package.

TWILIGHT TRAIL

Dudley Zoo is one of the country's busiest

attractions during the day. Guests can enjoy

a very different zoo experience by taking part in

one of the Twilight Trails, following the keepers

going about their evening duties after the zoo

closes to look behind the scenes and get up close

to some very exotic species. Learning about the

vital conservation work carried out and seeing

the animals settle for the night, after the tour

guests enjoy a BBQ Supper in the Castle

Courtyard. Priced at £45 per adult and £35

per child (aged 8-15).

ARACHNOPHOBIA WORKSHOP

Dudley Zoo offers a hands-on approach to facing

your fear of spiders. The Arachno

Workshops are run by spider experts

who take groups through relaxed

discussions and education

sessions and have been a

huge success over the last

five years. Through

encouraging a better

understanding of

spiders, those with a

phobia will even gain the

confidence to touch

the arachnids by the

end of the session.

Photo Experiences and Creative Events

Photo booth / Selfiebox / Polabox / Photography / Live Events

www.flashmat.co.uk | contact@flashmat.co.uk

24 GLORIOUS
---
Supporting

Great Festivals

Temporary Structures, Tiered Seating, Total Overlay

and the Freedom to be Truly Creative.

Bringing People Together for over 150 years.

GL events UK | Station Road | Castle Donington | DE74 2NL

01332 850 000 | info@glevents.co.uk

www.glevents.co.uk
---
SERVICE THAT SELLS CUSTOMER FOCUS

CUSTOMER FOCUS SERVICE THAT SELLS

Satisfaction

GUARANTEED

Last year Amadeus introduced a customer service programme

that created a positive impact on both employees and customers.

'Service that Sells' has led to team champions, healthy competition

for prizes and overall greater customer experiences

Service that Sells encourages employees

to find out what a customer wants and

make appropriate recommendations.

Introduced by Operations Director Tony

Baldock, it has already proved to be

effective for customers as it reduces

the effort and time of decision making

needed, so customers get exactly what

they want and in less time so have

an enhanced and positive customer

experience. The programme has been

running successfully in many venues

including the NEC, the ICC, the VOX,

Barclayard Arena, Genting Arena, the

Library of Birmingham, Cadbury World

and Dudley Zoological Gardens.

When customers visit these venues they

engage with teams who are full of energy and this

is due to the training programme. Behind the

scenes the teams have been working hard to set

up the programme in a fun and successful way.

This has included one team turning themselves

into themed hero squads to ensure everyone

gets involved. The programme primarily has

commercial aims – which is to be expected in as

part of a business – but the employees have also

been having fun and enjoying the experience.

Employees are trained in the programme in

various ways, all of which are made as interactive

as possible with an element of fun included.

From flipcharts to game cards and ten-minute

focus sessions to button badges. Tony explains

how this has boosted team morale and staff

motivation, "The training pack really is a super

tool. Alongside the flipchart the team leaders

can use regularly, we have games that help

explain to staff how their sales generate profit

and the impact they can have on business."

Tony is immensely passionate about the

initiative and believes it has been effective

for both employees and customers. "We really

are living and breathing a retail and sales culture

for the future and it has been an exciting journey

that will long continue." The programme also

includes mystery shoppers who keep an eye

out for staff members who have the right

attitude and always give the customer a great

customer experience.

Amadeus presents many of the team with

Love2shop vouchers. The rewards are given

as incentives where a number of business areas

reach or exceed their targets. "It's wonderful to

see the staff getting excited," Tony says, "It's

a great motivation for them to get instant

recognition. It shows others that you are

rewarded for doing a good job and encourages

them to immerse themselves into the culture,

which can only be good for our customers."

As well as the vouchers, employees receive

other forms of instant recognition, such as a

28 GLORIOUS

AMADEUSFOOD.CO.UK 29
---
SERVICE THAT SELLS CUSTOMER FOCUS

THE DRIVING FORCE

HIRE

THE

BEST

'pot of money' for teams who achieve a certain

growth target. All of the winners of the instant

vouchers are also added to a prize draw each

quarter to win a big prize. Trophies are also

awarded to teams who have achieved the biggest

percentages of growth per quarter. This healthy

competition really does push the team and

is a great incentive. "Moving forward the

programme is also going to include training in a

realistic environment. It's important to ensure

employees understand and feel part of the

bigger vision of the caterer and so loyalty cards

are being introduced to help them understand

the impact. This will be visible to the customers

who feel they are dealing with someone who

cares about their role within the company."

Visitors to the various venues may also spot

a number of the team wearing badges. Support

pin badges are worn to remind all of the vision

and values of the company. With an overall

focus enabling the teams to implement the

programme in a fun and engaging way,

Amadeus has achieved great success. Customers

can see and appreciate the employees going the

extra mile, and for the teams they are rewarded

for their hard work and made to feel part

of the wider organisation. Correct resources,

can-do-attitude, clear training and team

momentum have led to this programme making

a positive impact, especially for those

receiving a satisfying customer experience.

Some of the well-deserving team

members since the programme started:

Ian Hunt at Dudley Zoological Gardens

Ian has achieved mystery shopper scores above

90% . He has also supported the training and

set up of Herbert Art Gallery and Museum

(HAGM) during mobilisation, the customers

loved him there as well as the team!

Matthew Harborne, Cadbury World

Matthew received several Love2shop vouchers

as he showed consistent high performance. He

has had written compliments regarding the

service he has given during peak times.

Romana Higgins, NEC

Romana was nominated for her tireless work in

training, developing and leading the team as

illustrated by the great customer service and

upselling on display for a recent show. Romana

has recently joined the team as a Deputy

Catering Manager and her positivity in

embracing the programme has cascaded

throughout the teams that she manages.

Davina Allington, Barclaycard Arena

Davina was nominated by a customer during

an event over the summer months. The

customer feedback on the night to her manager

read… "Her customer service and attention

to detail was exceptional – nothing was too

much trouble."

Operations Director Tony Baldock joined

Amadeus in 2014 and brought with

him a wealth of experience from over

35 years in the foodservice industry.

Tony has made a huge impact on the

business, both commercially and

culturally, through his passion for

delivering exceptional customer service

and implementing a selling, not serving

retail culture that has driven top-line

sales. His campaign started in Canada

where he developed a Service that Sells

training programme that added 10%

growth to a business with a billion-pound

turnover. From this, Tony's new training

method was rolled out globally. He has

now brought his passion and experience

to Amadeus in the UK.

Tony explains, "Service that Sells is

about moving from a service culture to a

sales culture to help drive the business to

where it should be. In the UK selling has

a bad reputation, Service that Sells shows

it's giving the customer what they want.

We encourage our teams to find out

what the customer wants and to make

appropriate recommendations to reduce

the effort and time of decision making

for the customer and it teaches staff not

be afraid to offer a sales-led service.

This results in customers receiving faster

service and ensures they get exactly

what they want."

Service that Sells

is about moving to a

sales culture to help

drive the business to

where it should be

Our portfolio of clients

includes 5* hotels,

catering companies, global

brands, PR agencies,

event production companies,

sports stadiums and

corporations. Every day we

give our staff hundreds of

opportunities to work for

amazing companies.

Like yours. This is why the best

staff come to work for LOLA.

FIND OUT HOW WE CAN HELP

YOU PROVIDE FIVE STAR

SERVICE TO YOUR GUESTS.

VISIT WWW.LOLASTAFFING.CO.UK

OR CALL US ON 0207 0430 652

30 GLORIOUS
---
RICOH BRITISH WOMEN'S OPEN HOW WAS IT FOR YOU?

Airstream Facilities

www.airstreamfacilities.com

The event from

every angle

An insight into the team behind the Ricoh Women's British Open

We are Europe's leading Airstream hire company, our ever increasing

fleet ranges from the 16 foot 'Bambi', up to the 34 foot 'Slide' in all

styles from the 1950s to the present day.

With years of experience, we supply a wide range of industries,

including corporate events, TV and film, weddings and private hire.

Get your brand on our

Airstreams, the smooth

curves and sleek lines of

our trailers provide the

perfect canvas for your

brand and campaigns.

All our Airstreams are fully

equipped for a luxurious stay,

from central heating and

air-con to fluffy towels and

a cold fridge.

We also supply state of

the art Poleadion marquee

structures, perfect for any

event or production.

The Ricoh Women's British Open

celebrated its 40th anniversary this year

at Woburn Golf Club in Buckinghamshire.

It's the tenth time the championship has

been held at the course, with the last one

played here in 1999. This is just one of

the exceptional summer outdoor events

Amadeus caters for, and Woburn is

always a special location, especially with

the golf being played on the Marquess

course, the club's 'jewel in the crown'.

The championship was established in 1976 by

the Ladies' Golf Union (LGU) and has become

one of golf 's truly iconic events. The quality

field of top players are from the Rolex

Women's World Golf Rankings plus

other players who have qualified

through competition. The

exciting championship is full

of thrilling action from

the hugely talented

sportswomen, and

the hospitality provided has to match these

great heights. The Amadeus team behind the

event are known for their dedication, hard

work and ability to set up shop in a greenfield

at numerous locations throughout the year.

Carrying the baton are Samantha Bates,

General Manager of external events, and Darren

Proud, Executive Chef, who together make sure

everything runs smoothly and that visitors are

provided with the very best hospitality and food

during the four-day event. From the top players

all the way through to the marshals, Amadeus

makes sure everyone is catered for, going the

extra mile to ensure

the event is a success

on all fronts. It's no

easy feat, but it's

essential for

the historic

and passionate

Ricoh Women's

British Open.

A BRIEF HISTORY

In the first three years of the event, from its

inception in 1976 to 1978, English players

prevailed with Jenny Lee Smith, Vivien

Saunders and Janet Melville taking the trophy.

Then the international players began to take

part, tempted by the chance of a British Open

title. Although Laura Davies (1986), Alison

Nicholas (1987) and Penny Grice-Whittaker

(1991) would furnish three more home triumphs,

there would be a 13-year gap before Karen

Stupples won at Sunningdale, Berkshire, in

2004. It was then a further five years before

Catriona Matthew became the first Scottish

woman to win the title, and did it just 11 weeks

after giving birth to her second child.

The event was afforded 'major' status in 2001,

and to date players from nine different countries

have won the trophy – South Korea lead the way

with five wins, followed by America with three

and Taiwan with two. The championship has

grown in popularity and now 50,000-60,000

spectators attend each year at some of the

greatest golfing venues across the UK – and

Amadeus is part of that growth, ensuring the

event catering matches the thrilling action.

info@airstreamfacilities.com

www.airstreamfacilities.com

or call us on 01885 400223

Airstream Facilities

@AirstreamUK

@AirstreamFacilities

AMADEUSFOOD.CO.UK 33
---
Tel: 0845 222 0069

Email: info@crewtec.co.uk

RICOH WOMEN'S BRITISH OPEN HOW WAS IT FOR YOU?

Event Support Services

Delivering the highest standard of event support available in the uk

How was it for you

Samantha Bates?

Samantha Bates is the General Manager of External Events and plays

a pivotal role at Amadeus. Celebrating 22 years at Amadeus the

knowledgeable and hugely experienced events expert is praised by

clients and colleagues but puts her success down to those around

her and says you're only as strong as the team you work with

Since it's formation 3 years ago, Crewtec has

evolved to alleviate the increasing pressures put

upon the Events Industry. In 2013, the majority of

Crewtec's workload was supplying professional

support crew to push flight cases and load vans,

but today our clients need much more from us. The

skill set within our crew is diverse, from certified

plant operators to technicans and multi - skilled

event crew.

Crewtec operate throughout the UK and have been

sending strong crew oversees to work on global

events for our clients. Crewtec are able to identify

common challenges from a global perspective.

Supporting our clients anyway possible and at any

time of the day or night is the mantra at Crewtec

and we uphold this by investing in our services.

CORPORATE CREW SITE CREW PLANT OPERATORS TECHNICIANS

/Crewtec /Crewteccrew crewtec.co.uk

CREWTEC EVENT SERVICES LIMITED

UNIT 6, 38 HEPBURN ROAD

HILLINGTON PARK, GLASGOW

2016 CREWTEC EVENT SERVICES LTD

G52 4RT

ALL RIGHTS RESERVED.

Samantha and Amadeus recently received

a top award at the annual FSM Awards.

They won the prestigious 'Event Caterer'

accolade, which recognises those who

excel within the events sector of the

contract catering industry.

Samantha oversees events run by

Amadeus from inception to delivery and

breakdown. These range from greenfield

events where everything has to be set

up from scratch – all delivered by the

Amadeus team – or at external venues.

Running Amadeus's external events is

no easy feat and recently Samantha

played an essential role for the

Ricoh Women's British Open

2016. Each event must

match the client's brief

and she ensures the

guests leave with a

smile on their faces.

How did you get into

event catering?

I grew up on the Isles of Scilly,

which really is a tourism-based environment.

It followed from working summer jobs in hotels

and restaurants – you could say I fell into it!

How much has the industry changed?

I've been working for Amadeus for just over 22

years now, having started after leaving college

in Cardiff. I studied a Hotel and Catering

Management course and my first role was

a Banqueting Coordinator. I've held a few

different positions within the company which

Sam receiving

the FSM award

for Caterer of

the Year 2015

"I'm lucky to be able to take a step back

and look over my experienced team"

a "I'm step lucky back and to be look able over

to tak

experienced team and ma

sure they are happy and

has over

time turned

into a very

client-facing job. One thing I have noticed

that has changed greatly over the years is the

knowledge everyone has now on food. This is

both a positive and a negative because most

people now have an opinion. Food and drink is

hugely popular, and many now cook as a hobby.

However, because of this they begin to think of

themselves as an expert, which is lovely to see,

but sometimes you are given some very difficult

challenges that simply aren't possible for

a caterer to achieve! Our role is to make sure we

explore every option for better ways of doing

things, and we strive to ensure all our clients and

customers receive the very best of our abilities.

What is your favourite part of your role?

It's hard to say because the job itself is so varied!

No day is ever the same. We could be looking at

different quotes in Scotland, Germany or just

down the road from the office. It's certainly not

the easiest job – you have to love it to stay in it

– and I have a great team around me.

As a GM I'm lucky to be able to take a step back

and look over my experienced team and make

sure they are happy and on the right path, plus

push them to do better year on year. We are

always looking to find better and more efficient

AMADEUSFOOD.CO.UK 35
---
when start o

t! We we're work at

on what

uld do differently the next

HOW WAS IT FOR YOU? RICOH WOMEN'S BRITISH OPEN

and know our planning team have everything in

place. I make sure the client is happy and that

everything is delivered to the best of our ability.

Liz Mallinson plays a vital role as Logistics and

Planning Manager and has 15 years working with

us – her huge amount of experience helps me

and makes my life much easier. It's great to have

others around who we have grown up with,

including some clients. At this event all the

catering is our responsibility – we feed the

public, we manage the hospitality suites, we

feed the players, the media and also look after

the marshals. So in other words, nearly everyone!

"Watching the team come together

to pull that off and deliver the very

best event was extraordinary and

has given me some great memories"

ways to support the client. Sometimes I do get

involved in the thick of it, which is good now and

then and is what I used to do. A fresh pair of eyes

and lots of questions can really help sometimes.

Which events from the past stand out

the most and why?

So many! We have major events such as the golf,

tennis and other greenfield sporting events, as

well as weddings at Stoneleigh Abbey stately

home and corporate and business events for

clients such as JCB, John Lewis, Selfridges and

Bentley Lamborghini. I remember a few years

ago I came into an event just two weeks before.

That was challenging! It was for a flower show

and I came on board due to an unfortunate

colleague illness. I went in fairly blind as it

was about to be built and it needed to be

ready for 8,000 guests in six days.

Watching the team come together to

pull that off and deliver the very

best event was extraordinary

and has given me some

great memories.

Another

that stands

out was the

Anniversary

Games, which was

under very different

circumstances from the games the year

before. It was a great experience and is a lasting

memory. We even got to watch Usain Bolt do his

100m. We are lucky to work on international

events and a recent one was in Munich. This job

does offer opportunities to travel and while in

Munich we were able to see the city – it's little

perks like that which can make the difference.

What do you personally most look

forward to during external events?

Seeing what we do as a team being delivered,

and feeling proud in the circumstances. It's

important to remember that everything we do is

temporary and nothing is fixed down.

Whether this is the kitchen, structure

or space – it's always new to everyone

and we must always

maintain our

high standards.

What do

Amadeus do at the

Ricoh Women's

British Open?

I always feel so

lucky to be able to

turn up at this event

How far in advance do

you start preparing for

an event like this?

We start organising the next

year at the current event! We

work on what we could do

differently. The course

changes each year and this time it

was over two sites. It is demanding

for the team as it takes longer to get

around but we are experienced and

can work in one area or two if needed.

We can work on events all year round,

even when they are held annually. With this

ongoing cycle we tend to start the confirmation

stage and site visits in February and March. This

gives us plenty of time to make sure everything is

set-up and ready for a successful event.

What is the 'takeaway' you want guests

to have after receiving hospitality?

A great day out! Sometimes the events we cater

for are almost white-label under our clients,

but we always make sure the catering is a great

standard. We are part of a package – we bring

the food and service and the client brings the

ambiance and look. A perfect partnership for a

brilliant event. So for an event like this we know

PGA always provide beautiful events and

ultimately we both want to make sure everyone

leaves happy with great vibes. We have received

great feedback from the client and the visitors

so this is always great to have.

With our experience we do truly know how

to provide a great event. We are a small team

but our commitment is clear whether it's for

a wedding or a golf tournament. It's important

to make sure we look after everyone from the

hospitality suites to the marshal rest areas.

Everyone's there for a reason and we always have

to make sure we provide the best experience.

36 GLORIOUS
---
HOW WAS IT FOR YOU? RICOH WOMEN'S BRITISH OPEN

RICOH WOMEN'S BRITISH OPEN HOW WAS IT FOR YOU?

How was it for you

Darren Proud?

Executive Chef Darren Proud is in charge of making sure all external

Amadeus events have the very best catering in any location. From

a historic abbey to fields in the middle of Scotland, Darren is leading

the brigades to ensure a successful event. However, his job doesn't

start in the kitchen – it can start months, even a year, before the

event takes place and is at the concept stage

"As a chef, the limits are

job only and what whatever you put you into put the

in,

OVER THE FOUR-DAY EVENT…

Amadeus fed over 170 managers and staff

Provided 1,000 media lunches

1,200 hospitality packages

(breakfast, lunch and afternoon tea)

1,750 players' meals

15,000-plus beverages

and 4,500 public hot meals

"As a Chef, the limits are only what you put into the

job and whatever you put in, you will get back"

Having worked at Amadeus for more than

10 years, he is one of many long-serving

team members who constantly pushes

boundaries and thrives under pressure.

How did joining Amadeus come about?

I celebrated 11 years working here on 1 August

this year. Before that I worked four or five-star

hotels and two-rosette-awarded restaurants.

I was working as Head Chef at a golf club hotel

and had been awarded a rosette in the first year,

but I decided I needed something new. Hotels

and foodservice are like chalk and cheese.

I applied to work for Amadeus at the NEC,

which I only knew as the venue for the

Motorcycle Live show – I didn't realise it hosted

more than 700 events each year! I took part in

a 'cook off ' and, to be honest, I thought I hadn't

done very well, but I was called back for a third

interview and was given the job.

The way of working here was completely

different – I mean every aspect was different.

In a hotel, as a Head Chef you have to do

everything yourself, but in foodservice you have

great teams around you. There are hygiene

experts taking that workload from you, you have

purchasing people who help with suppliers.

I felt Amadeus was very posh when I was first

shown around. I've enjoyed every second since

that first day – no day is the same. I can be

working on a wedding, organising the food for

a golf event, arranging menus for a 300-person

function in a field – it's so diverse and you really

do have to think outside the box. I've worked in

old kitchens the size of a broom cupboard, set

up in fields with no electricity and had to get

ovens into spaces that weren't designed for

them! I love that every day here is different.

Coming from the hotel sector, Amadeus was

a world away. I was working 15-hour days and

didn't feel rewarded. Here, I work hard and

feel appreciated. In hotels you can hide

and work can become pedestrian, but

here you have structure and support,

and it's so diverse.

What's the most memorable

Amadeus event?

That has to be working at the

Scottish Open for the first

time. I had worked with

you will get back"

Amadeus for a year and the catering for

this event was now mine to run. There

were about eight kitchens with 40-plus

Chefs and it was manic from the day it

started till the day it ended. I loved every

minute of it – seeing the teams working

for you in the middle of field with heaps

of happy visitors. Every year gets better

and better for me. I'm trying new

things, bouncing ideas off my Chefs.

I stand back and look at some of this year's

events and feel so proud, and we received

great comments, so we know we're

doing something right.

Hitting the client's brief and going

beyond it is always the aim. It can be

different to showcase what we do sometimes

without seeing it first-hand. Hearing comments

such as 'it's the best food they've ever had at an

event' is special to me, and to the team. Honest

feedback from both the team and visitors helps

us grow. Recently, Marc Frankl, our Food and

Beverage Director, said he just couldn't believe

what we do and wished he saw it more often.

I took this as a great compliment, because it can

be difficult for all of the team to come and visit

our sites when we're hundreds of miles away.

What's your favourite dish?

For me it has to be pork belly. I just love cooking

it – it's not praised enough and there's so much

flavour in it. That's what I enjoy the most about

38 GLORIOUS

AMADEUSFOOD.CO.UK 39
---
HOW WAS IT FOR YOU? RICOH WOMEN'S BRITISH OPEN

"No

cooking – getting as much flavour out of

something as possible. I would always go for the

chicken leg rather than the breast for this every

reason. It may not look as nice, but the taste is

superior, in my view. Sometimes the cheaper

cuts of meat may not look as good but

they can taste amazing.

What's been the most popular dish at

the Ricoh Women's British Open?

Poussin with baby vegetables and potatoes has

been a huge hit. We really enjoyed creating this

dish and it's great to see the guests enjoying it.

We relish pushing ourselves to try something

different. This can be as simple as fish and chips

– we will serve 1,000 portions in four days, so

how can we make it better? So we make our own

batter, individually put this on the best fish and

make the finest chips. Receiving

good feedback tells us we're

creating delicious dishes.

What do you find the

most enjoyable and most

difficult during events?

I really enjoy pressure and

work better with it. I thrive

"We relish pushing ourselves to try something

different. This can be as simple as fish and

chips – we will serve 1,000 portions in four

days, so how can we make it better"

"No day is the same for me. I can

be working on a wedding, organising

the food for a golf event, arranging

menus for a 300-person function in

under the not knowing. You can plan everything

but once you're out there, you can't just pop

next door or down the road for something. If

you forget a ladle, you need to find something

that will do the job, so you have to make sure you

have every piece of equipment. It involves a lot

of thinking outside the box, and I mean properly

outside the box. It will take you far beyond your

comfort zone, and I love that.

The most different aspect can be the

suppliers – and I don't mean the people! You

have to plan so much in advance

and make sure you have what

you need so that you, firstly,

don't run out and, secondly,

you don't have any waste. Some

sites are difficult to access and

you don't want to be waiting

around for the key to arrive. Our

experience plays a huge part

here – we've been doing this for so long now we

feel we can deal with most situations.

Any words of wisdom for would-be

chefs out there?

Stick at it. When you first start it isn't great

money. I was a Commis Chef for a few years and

earned very little, but if you work hard it's worth

it. I believe it's the best job you can do. I've

always wanted to be a chef. I see people come

into the job and then leave because they can get

better money doing something else, but they

don't think about the long term. If you work

hard as a chef you can climb the ladder and

eventually earn really good money. Go into some

other jobs, yes you are on good money initially,

but there is no scope for growth. As a Chef, you

can go for Michelin stars, rosettes or awards.

The limits are only what you put into the job

and whatever you put in, you will get back.

Event branding

Bespoke menu design

Live illustration at events and venues

Wall murals for events and venues

Hand painted and decal window designs

Editorial illustrations

www.missmagpiefashionspy.com +44 (0)7730 876017 info@missmagpiefashionspy.com

@miss_magpie_spy

40 GLORIOUS
---
AMADEUS CALENDAR OF EVENTS

CALENDAR OF EVENTS • PUBLIC & TRADE

The comprehensive guide to the upcoming shows and events this season

05•10

Horse of the

Year Show

22•10

Bear Grylls:

Endeavour

19•10

Grand Designs

Live

18•12

BBC Sports

Personality

of the Year

16•02

Jack Whitehall

@TentickleUK

www.tentickle-stretchtents.co.uk

Sutton Coldfield, West Midlands

07826 843099 Tentickle UK

www.thenec.co.uk

www.barclaycardarena.co.uk

www.gentingarena.co.uk

OCT

1-2

Miniatura, NEC

2-5

W Exhibition,

NEC

5-9 OCTOBER

Horse of the Year

Show, Genting Arena

4-6

Clean Energy Live, NEC

5-9

Horse of the Year Show, Genting Arena

7-9

Destination Star Trek Europe, NEC

Filling a 50-acre site with thrills, spills, world-class entertainment and spectacular

horsemanship, the Horse of the Year Show is a veritable equestrian utopia. Whether

you are a competitive rider, horse enthusiast or simply want to enjoy an exciting day out,

this show has something for the whole family.

CALENDAR OF

EVENTS

8

Jean-Michel

Jarre, Barclaycard

Arena

11-12

The Care Show,

2016 NEC

11-13

The Print Show,

NEC

11-16

Motorhome &

Caravan Show, NEC

12

Fifth Harmony,

Barclaycard Arena

14

The Australian

Pink Floyd Show,

Barclaycard Arena

14

Nickelback,

Genting Arena

14-16

The Vaper Expo,

NEC

15

Babbu Maan,

Barclaycard Arena

17-18

Justin Bieber,

Barclaycard Arena

18-20

UK Construction

Week, NEC

19

Steel Panther,

Barclaycard Arena

AMADEUSFOOD.CO.UK 43
---
CALENDAR OF EVENTS AMADEUS

AMADEUS CALENDAR OF EVENTS

CALENDAR OF EVENTS • PUBLIC & TRADE

The comprehensive guide to the upcoming shows and events this season

22 OCTOBER

Bear Grylls: Endeavour presented by Land Rover,

Genting Arena

In his first live tour, adventurer, writer and TV host Bear Grylls hosts a ground-breaking interactive experience that transports the audience to multiple

environments in an action-packed two-hour show. Celebrating some of the greatest feats of courage, endurance and endeavour through the ages, the wonder

of our planet and the important value of mankind's indomitable human spirit will be revealed.

19-20

Best Practice

2016, NEC

19-20

Fleet

Management, NEC

19-20

World of

Learning, NEC

19-23

Grand Designs

Live, NEC

20

Group Leisure &

Travel Show, NEC

21

Bad Company,

Genting Arena

22

Bear Grylls:

Endeavour

presented by

Land Rover,

Genting Arena

22

Supreme Cat

Show, NEC

22-23

DIVE 2016, NEC

24

Justin Bieber,

Genting Arena

19-23 OCTOBER

Grand Designs Live, NEC

Now running for five days, Grand Designs Live (sponsored

by Anglian Home Improvements) offers visitors a unique

opportunity to see the latest trends for the home as well

as many products never seen before. Based on the

Channel 4 TV series, and presented by design guru Kevin

McCloud, the event will be packed with over 500 exhibitors,

across six different sections where you can take away

ideas and inspiration for your very own grand design.

25-30

Disney On Ice

presents Frozen,

Barclaycard Arena

26

Birmingham Post

Business Awards,

The ICC

26

Four Tops &

The Temptations,

Genting Arena

27-30

BRICK LIVE, NEC

29

Maxwell & Mary

J. Blige, Genting

Arena

26 OCTOBER

Birmingham Post Business Awards, The ICC

Prosecco reception from 6:30pm. Aiming to celebrate

success, recognise achievement and highlight the innovative

people and companies in Birmingham putting the region on

the map, the awards will cover 14 categories across a range

of sectors. The Birmingham Post has joined forces with the

leading brand agency and event specialists Champions

(UK) plc to make this the best year yet!

27-30 OCTOBER

BRICK LIVE – Built for LEGO fans, NEC

NOV

2-3

Billy Connolly,

Barclaycard Arena

2-3

Advanced

Engineering UK,

NEC

2-3

Lab Innovations,

NEC

2-3

Saltex, NEC

3-6

Crafts for

Christmas, NEC

BRICK LIVE, the UK's biggest celebration of LEGO, returns to the NEC just in time for the

half-term. See the latest LEGO sets, vintage collectibles, meet builders from all over the world,

special guests and have-a-go themed areas. New for 2016 is MindStorm showcasing fantastic

robotic builds and technical challenges, with more exciting features still to be announced.

4 NOVEMBER

Bring Me The Horizon, Barclaycard Arena

After the success of their genre-splicing album

Sempiternal which reached No. 3 in the charts in 2013,

Bring Me The Horizon are back touring with their fifth

album, That's the Spirit. One of the most ambitious

modern metal bands, they electrify crowds wherever they

go and are a must-see for any fan of metal music

3-6

The Stitching,

Sewing &

Hobbycrafts Show,

NEC

4

Bring Me

The Horizon,

Barclaycard Arena

4-5

Graduate

Recruitment, NEC

4-6

Mind Body Spirit

Wellbeing Festival,

NEC

4-6

Cake

International, NEC

5

Brit Asia TV

World Music

Awards 2016,

Barclaycard Arena

6-7

Trade Days, NEC

8

Bastille,

Barclaycard Arena

8

Nursing in

Practice, NEC

44 GLORIOUS

AMADEUSFOOD.CO.UK 45
---
CALENDAR OF EVENTS AMADEUS

AMADEUS CALENDAR OF EVENTS

CALENDAR OF EVENTS • PUBLIC & TRADE

The comprehensive guide to the upcoming shows and events this season

26-27 NOVEMBER

The 2016 Birmingham International Tattoo,

Barclaycard Arena

Britain's biggest indoor international tattoo will bring together marching bands, exciting

displays and the spectacular Grand Finale with guest vocalists in a spectacle of pomp

and pageantry. In addition to the bands, this three-hour family event will host a range of

spectacular displays including Royal Air Force Cosford Queen's Colour, the tri-services

RNRMC Field Gun Competition, the Flyball Dog Racing teams, the United Kingdom

Disco Display Team and the Parade of Massed Standards.

9

WWE Live,

Genting Arena

9-10

Farm Business

Innovation, NEC

9-10

Holiday Park,

NEC

10-13

Festive Gift Fair,

NEC

11-13

Classic Motor

Show, NEC

30 NOVEMBER

The Catherine Tate Show,

Barclaycard Arena

17-19

The Skills Show,

NEC

18

Jess Glynne,

Genting Arena

18-20

Spanish Riding

School of Vienna,

Barclaycard Arena

19-20

MCM

Birmingham, NEC

19-27

Motorcycle Live,

NEC

20

Simply Red,

Genting Arena

22

Elvis Presley

in concert live

on screen,

Genting Arena

23

The Academies

Show, NEC

23-24

Occupational

Therapy, NEC

23-24

Therapy Expo,

NEC

The critically acclaimed, award-winning comedian and actor performs live in new sketches uniting some of her best-known

characters from the hugely successful BBC series. The cast will include 'Nan' Taylor, Irish nurse Bernie, Geordie Georgie,

Essex girl Sam… and the return of a certain argumentative teenager. Guest starring Mathew Horne.

18 DECEMBER 2016

BBC Sports Personality of the Year 2016

The Genting Arena will play host to the BBC Sports Personality of the Year 2016 ceremony broadcast live around the world. One

of the most eagerly anticipated awards nights on the sporting calendar, once again Gary Lineker, Clare Balding and Gabby Logan

play host to this star-studded event celebrating what has already been an extraordinary year for British sporting achievement.

24-27

BBC Good Food

Show, NEC

25

Mika Singh,

Barclaycard Arena

25-26

National

Engineering &

Construction

Recruitment, NEC

26

Free Radio Live,

Genting Arena

26-27

National Model

Railway Exhibition,

NEC

26-27

The 2016

Birmingham

International

Tattoo, Barclaycard

Arena

27

Alter Bridge,

Genting Arena

30

The Catherine

Tate Show,

Barclaycard Arena

30

Pete Tong

presents,

Ibiza Classics,

Genting Arena

DEC

2-3

Rod Stewart,

Barclaycard Arena

2-6

The Clothes

Show, NEC

2-23

Christmas

Parties, NEC

3-4

UK Drone Show,

NEC

7

Biffy Clyro,

Barclaycard Arena

8

Placebo,

Barclaycard Arena

9

Reeves &

Mortimer,

Barclaycard Arena

10

The Human

League,

Barclaycard Arena

10-11

Red Hot Chili

Peppers, Genting

Arena

10-11

Ladies Kennel

Association, NEC

16

Status Quo,

Barclaycard Arena

17

Madness,

Barclaycard Arena

18

BBC Sports

Personality of the

Year, Genting Arena

21

André Rieu,

Genting Arena

26-30

Marvel Universe

Live!, Barclaycard

Arena

30

Best Ever

Christmas Show,

Genting Arena

46 GLORIOUS

AMADEUSFOOD.CO.UK 47
---
CALENDAR OF EVENTS AMADEUS

JAN 17

12-15

Performance

Car Show, NEC

16 FEBRUARY 2017

Jack Whitehall – At Large

12-15

Autosport

International,

NEC

13

Avenged

Sevenfold, Genting

Arena

13

Comedy Central

Impractical Jokers,

Barclaycard Arena

In what the Evening Standard stated, "May well be the most spectacular arena stand-up show ever!" multi award-winning

comic Jack Whitehall is back on tour with his brand new live show. Following up his fantastic debut arena show and fresh

from hosting the Royal Variety Performance, Jack is back at his dynamic best in what is sure to go down as one of the

comedy shows of the year.

15

Basketball

Cup Finals 2017,

Barclaycard Arena

15-16

Trophex 2017,

NEC

21

The 2017 Monster

Energy Arenacross

Tour, Genting Arena

21-22

Asian Bride Live,

NEC

22-24

Beta

International, NEC

22-25

January Furniture

Show, NEC

23-25

Great Hospitality

Show, NEC

25

A Day to

Remember,

Barclaycard Arena

FEB

2 & 4

Black Sabbath,

Genting Arena

3

Donny Osmond,

Genting Arena

5-9

Spring Fair

International, NEC

15-16

The UK

CONCRETE Show,

NEC

16

Jack Whitehall,

Genting Arena

24

Pet Shop Boys,

Barclaycard Arena

25

Kaiser Chiefs,

Barclaycard Arena

MARCH

1-5

Cirque du Soleil Varekai: Tales of the

Forest, Genting Arena

7-12

Yonex All England Open Badminton

Championships 2017, Barclaycard Arena

17

Russell Howard, Genting Arena

24

Olly Murs, Genting Arena

www.titaniummreworks.com

020 7183 9665

group@titaniummreworks.com

48 GLORIOUS

Private Parties National Events Corporate Weddings
---
TEAM WORK THE APPRENTICESHIP SCHEME

BUILD IT

BEAUTIFUL

made my day

WWW.FURNITUREONTHEMOVE.CO.UK

Tyrel Richards, Solihull College Apprentice of the Year

at the ICC, and Executive Head Chef Simon Hellier talk

to Glorious about Amadeus' apprenticeship scheme

How did you get on to the Amadeus

apprenticeship scheme?

Tyrel: In 2015 I was 34 and unemployed. I'd

never really thought of a career in catering

before but I love learning new things in life, so

I decided to take on a new challenge. It was

actually Simon that interviewed me and

we really got on – he said he liked the way

I presented myself.

Simon: That's the great thing about the

apprenticeship scheme – it is open to anyone

over the age of 18. Sometimes, later on in life,

people realise their passion for something and

schemes like this give them the opportunity to

work in an industry that's exciting and creative.

They get to work alongside professional Chefs

and really learn a trade. As soon as I met Tyrel

I knew he had everything you need to work well

in a kitchen – he understood that he had to

listen, work efficiently and always be on time.

That's key when we've got a long day of food

preparation ahead of us! He is also patient as he

knows that learning some of the processes takes

time – you can't rush in the kitchen as that's

when things can go wrong. It's been great

to watch him grow in confidence – he is not

only maturing as a Chef but as a person.

T: I'm so grateful to have been given this

opportunity. I'm learning new things and feel

such a great sense of achievement.

So how does the scheme work?

T: I go to college once a week. I've now finished

the paperwork side and I'm concentrating on

the practical tasks. We learn different ways of

preparing food and are then assessed in a real

kitchen environment to see if we are practically

applying what we have learnt. I practise at home

too – it doesn't always turn out how I want it,

but that's why I practise!

S: Tyrel does his theoretical work at college and

his practical work here. Students study food

safety, manual handling etc, and then come into

the kitchen and apply it.

T: I prefer when we're hands-on in the kitchen

rather than sitting in a classroom as I feel that's

how you can learn best and understand the

creative part of the process. When I found out

that I'd have to spend a day a week in college –

and that I'd have to do my English and Maths as

well – I almost changed my mind. I knew I had

to get through that stage to get to this part of the

scheme and I passed every exam. It wasn't as

hard as I thought it would be and I get a lot of

support from the college and from Amadeus.

How did it feel to win the Solihull

College Apprentice of the Year award?

T: I was shocked when I received the

nomination in the post, but when I found out

that I'd actually won it, it felt great.

S: Tyrel's award was due to everything he has

achieved in the last year. He is consistent, has

learnt a lot and really embraced the opportunity

of working in a busy kitchen. Tyrel's attitude,

his commitment to his work and his 'I want to

learn more' approach to everything was what

ultimately won him the award. The assessor

could see Tyrel was applying the same attitude

to his practical work as in the kitchen.

What's the best thing about working

for Amadeus?

T: The teamwork and the people. When I first

started, I thought the Chefs would be shouting

and swearing, but meeting Simon for the first

time I realised it wasn't like that. All the Chefs

are so helpful and encourage the more junior

members of staff every step of the way. I am

so happy I joined Amadeus – it really has

changed my life.

IF YOU WOULD LIKE TO FIND OUT

MORE ABOUT OPPORTUNITIES

AT AMADEUS GO TO NECGROUP.

CO.UK/WORKING-FOR-US

Sometimes the difference

between ordinary and

outstanding is simply the

furniture you choose to hire.

Flat rated delivery any

time of day or night

Full installation service

Unique pieces in fantastic condition

New catalogue, showreel and

price list available now

50 GLORIOUS

CALL TODAY FOR MORE DETAILS 0845 459 9875
---
MAKE AN

IMPACT

& ENGAGE

Celebrating 25yrs of supporting

businesses in raising their

brand awareness.

0121 764 3222

hollywoodmonster.co.uk

sales@hollywoodmonster.co.uk

R