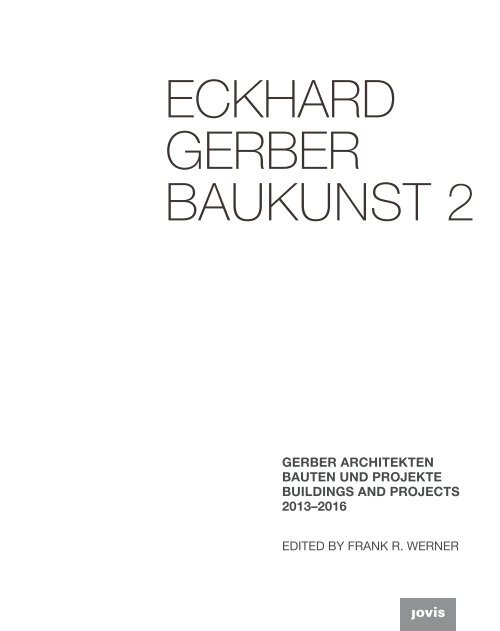 Eckhard Gerber Baukunst 2 – Bauten und Projekte 2013–2015
ISBN 978-3-86859-398-3
ISBN 978-3-86859-398-3
SHOW MORE
SHOW LESS
Create successful ePaper yourself
Turn your PDF publications into a flip-book with our unique Google optimized e-Paper software.
Eckhard

Gerber

Baukunst 2

Gerber Architekten

Bauten und Projekte

Buildings and Projects

2013–2016

Edited by Frank R. Werner
---
Realisierte Projekte 7

Completed projects

Umzug ins Offene –

Werk im Fluss 102

Movement into the open—

work in progress

Statements 155

Wettbewerbe 197

Competitions

Projekte in Realisierung 221

Current projects

Biografien 272

Biographies

Chronologie des Büros 274

The firm's chronology

Werkverzeichnis 280

Catalogue

Bildnachweis 302

Picture credits

Impressum 303

Imprint

5
---
Realisierte Projekte

Completed projects
---
12
---
13
---
28
---
29
---
48
---
49
---
74
---
75
---
Umzug ins Offene –

Werk im Fluss

Frank R. Werner

Schon im ersten Band zu Eckhard Gerbers Baukunst wurde eingangs darauf verwiesen, dass

Architekten, weit über das hinausgehend, was Bauherren und Nutzer gemeinhin im Allgemeinen

von ihnen erwarten, immer auch "Bildproduzenten" sind. Die über Jahrzehnte hinweg herangereifte

Raum- und Bildproduktion Eckhard Gerbers habe ich bereits häufiger als "Umzug

ins Offene" bezeichnet. Die schöne Beschreibung "Umzug ins Offene" habe ich freilich von Tom

Fecht und Dietmar Kamper übernommen, die bereits im Jahre 1988 unter dem gleichnamigen

Titel eine weithin beachtete Anthologie mit "vier Versuchen über den Raum" herausgegeben

haben. Im Prolog zu diesen vier Versuchen kommt Henri Lefebvre zu Wort, der feststellt:

"Raumorientierung ist zuallererst in [unserem] Körper selbst angelegt. Das Andere [also der

Raum] ist [uns] gegenwärtig als Gegenüber des Ich. Ein Körper steht [immer] einem anderen

Körper gegenüber, (…) Objekt sich ausdehnender Kräfte, Aggression oder Begehren."

Der Raum als Bezugsebene derartiger Kräfte und Begierden artikuliert sich seit undenklichen

Zeiten als tektonisches Gefüge. Das Tektonische leitet sich aus dem Griechischen ab, wo das

Wort tekton ein Synonym für Zimmermann oder Erbauer war. Homer verstand unter tekton

generalisierend all das, was mit Baukunst zusammenhing. Die griechische Dichterin Sappho

benutzte hingegen den Terminus auch erstmals im poetischen Kontext. In ihren Schriften übernahm

der tekton, also der Zimmermann, die Rolle des Dichters. Im Lauf der Zeiten führte die

Bestimmung dieses tekton letztendlich zum Berufsbild des architecton, des modernen Baumeisters

also. Tektonik hat in einigen Kulturkreisen unserer Erde epochenübergreifend eine

besonders prägende Bedeutung eingenommen. Wobei nicht nur nur an die traditionelle japanische

Architektur zu denken wäre. Auch auf das europäische Baugeschehen hat die Tektonik

großen Einfluss ausgeübt. So wurde sie spätestens im 19. Jahrhundert, eingedenk großer

Baumeister wie Schinkel, Semper, Viollet-le-Duc und anderer, zum verpflichtenden Wegbegleiter

der prämodernen, modernen und nachmodernen Architektur. Ganz zu schweigen von den

einschlägigen Theorien, die das Baugeschehen dieser Epochen gestützt haben.

Schlägt man aktuelle Lexika auf, dann wird Tektonik denn auch wie folgt umschrieben: "Zusammenfügung

von Teilen zu einem Gebilde der Baukunst in einer Weise, die mit künstlerischen

Mitteln die Funktion eines jeden Teils für das Ganze anschaulich macht; gilt auch für das

architekturgleich Gefügte, also die Tektonik einer Statue, eines Bildes, einer Dichtung." Dass

tektonische Gesetzmäßigkeiten sowohl durch Architekturtheorien als auch ikonische Bauwerke

des späten 20. und beginnenden 21. Jahrhunderts teils kräftig infrage gestellt worden sind,

das verraten derartige Definitionen freilich nicht. So sei in diesem Kontext nur an die sogenannten

Dekonstruktivisten erinnert. Kaum jemand hat sich so intensiv mit dem Begriff der Tektonik

in der Moderne beschäftigt wie Kenneth Frampton. Jenseits aller Stildebatten hat Frampton

dabei die zeitgenössischen curtain walls als eine der vermutlich letzten Grenzlinien zeitgenössischer

Tektonik ausgemacht. "Die Curtain-Wall kann also als eine Wasserscheide betrachtet

werden, die die befreienden Grundsätze der Aufklärung von den Ästhetisierungstendenzen

trennt, die einen großen Teil der Spätmodernen Architektur gekennzeichnet haben. An der

Nahtstelle zwischen der äußeren Grenze der Hülle und der inneren Tiefe des Volumens wird

sich die Zukunft der architektonischen Kultur entscheiden." An der Frage, ob die Architektur

künftig eher parametrisch "verflüssigt" oder eher "tektonisch" ausgerichtet sein wird, scheiden

sich augenblicklich die Geister.

102 Umzug ins Offene – Werk im Fluss
---
Movement into the open—

work in progress

Frank R. Werner

The first volume on Eckhard Gerber's architectural art opened with a discussion of how architects

go far beyond what clients and users expect of them: aside from all other aspects, they

are always also "image producers". In the past, I have frequently described the space and image

production output of Eckhard Gerber, accumulated over decades, as a case of "movement

into the open". Admittedly, this fine phrase is borrowed from Tom Fecht and Dietmar Kamper:

specifically, from the title of their widely respected 1988 anthology of "four experiments concerned

with space". This book incorporated a prologue written by Henri Lefebvre, in which he

states that "spatial orientation is, first and foremost, located within our bodies themselves. The

'other,' that is, space, is ever present for us, in opposition to the ego. A body always exists in

opposition to another body … the object of extended forces, of aggression or desire".

Space as a frame of reference of such forces and desires has been expressed as a tectonic

structure since time immemorial. The expression "tectonic" is Greek in origin. The Greek word

tekton was also a synonym for house carpenter or builder. Homer used the word tekton to

refer to "building arts" of all kinds. It was, however, the Greek poet Sappho who first used this

term in a poetic context—in her writings, the tekton or carpenter takes on the role of the poet.

Over the course of time, the function of the tekton ultimately evolved into the profession of the

architekton, or modern master builder. A large number of cultures throughout the world have

accorded the study of tectonics a special role throughout many epochs of their history. This

does not apply only to the traditional architecture of Japan. Tectonics has also exercised a

considerable significance in European architectural history. By the nineteenth century, thanks

to Schinkel, Semper, Viollet-le-Duc, and other master architects, tectonics had become the

dedicated trailblazer of pre-modern, modern, and post-modern architecture. Not to mention

the respective theories that underpinned the architectural history of each of these epochs.

In current lexicon, "tectonics" is defined as follows: "The bringing together of component parts

to create an architectural construct, using artistic means to make the function of every component

within the whole visible. Also used to refer to anything constructed in a manner similar

to architecture, as in: the tectonic qualities of a statue, a picture, a literary composition". What

these definitions do not tell us is that tectonic principles have been, in some respects, considerably

undermined by the theories and iconic buildings of the outgoing twentieth century

and the incoming twenty-first century. In this context, one only has to think of the so-called

deconstructivists. Kenneth Frampton has made an exhaustive study of the tectonic concept in

modernism, more so than almost any other figure; beyond all stylistic debates, he has pointed

to the contemporary development of "curtain walls" as one of the last frontiers in contemporary

tectonics. "The curtain wall", he says, "can be seen as a watershed, separating the liberating

principles of the Enlightenment from the aestheticising trend that characterises extensive tracts

of late modern architecture. The future of architectonic culture will be decided at the point

where the outer limit of the shell meets the inner depth of the volume". Opinion is currently divided

as to whether the architecture of the future will be parametrically "liquefied" or "tectonic"

in its orientation.

In this context, the concept of "transparency" plays a significant role. However, we are not

speaking here of the conventional understanding of "transparency" as unobstructed vision.

Visually transparent buildings without a "body" are in many respects rather dull and banal

Movement into the open—work in progress

103
---
17

weitläufiger universitärer Gebäudeensembles, die allesamt aus der zweiten Hälfte des 20. Jahrhunderts

stammen und sich infolge unterlassener Modernisierungen häufig in einem sehr beklagenswerten

Zustand befinden. Da im Ruhrgebiet in den siebziger und achtziger Jahren

des 20. Jahrhunderts zahlreiche große Universitätsneugründungen auf der sprichwörtlichen

grünen Wiese entstanden sind, besteht hier nolens volens besonders hoher Sanierungsbedarf.

Rechnet man die zahllosen maroden Schulbauten der Nachkriegszeit hinzu, dann wird sich

der Sanierungsdruck in Zukunft eher noch verstärken als abnehmen. Energetische Ertüchtigungen,

Neu- und Umstrukturierungen von unattraktiven Bestandsbauten bedeuten für Planer

unermesslich viel Arbeit, aber vergleichsweise wenig publizistischen Glamour. Auch wenn die

Öffentlichkeit die leicht ins Unermessliche gehenden Recherchen, Planunterlagen und Kostenberechnungen

für jedes einzelne Konversionsprojekt fast nie zu sehen bekommt, haben die Expertisen

des Büros Gerber auf diesem Sektor inzwischen hohe Anerkennung gefunden. Wenn

versteinerte, dunkel verschachtelte und unansehnliche Lehr- und Forschungsstätten nach der

Gerber'schen Sanierung de facto heiter, offen, transparent und "grün" aussehen, dann dürften

die Sanierungskompetenzen Eckhard Gerbers gänzlich außer Frage stehen.

Dies ist an vielen erfolgreichen Projektabwicklungen abzulesen, wie der Kernsanierung des

IC-Komplexes der Ruhr-Universität Bochum für den Generalunternehmer Hochtief Solutions

AG. Hier wurde der energetisch-ökologische Sanierungsauftrag zu einem nachhaltigen Projekt

weiterentwickelt. Auch in räumlicher Hinsicht konnten im Zuge der Sanierung exzellente

Forschungs- und Studienbedingungen wiederhergestellt und unter Zuhilfenahme zeitgemäßer

Kommunikationsmittel konnte ein intensiver Austausch zwischen Lehre und Forschung befördert

werden. Klare lineare Wegführungen, Eröffnungen neuer Sichtbeziehungen zu attraktiv

umgestalteten Innenhöfen und offene geschossübergreifende Raumverbindungen haben dabei

eine gänzlich neue Raumqualität sowie nutzerfreundliche intuitive Orientierungsmöglichkeiten

in und außerhalb des labyrinthischen Campusareals restituiert.

Aufgrund dieses qualitativen Zugewinns und Mehrwerts erfolgte der Auftrag zur Restrukturierung

eines weiteren Gebäudeabschnitts der Ruhr-Universität Bochum, genauer gesagt zur

Kernsanierung des NA-Komplexes. Zusätzlich zu den beschriebenen Sanierungsstrategien

geht es hierbei aber auch um eine hochkomplexe, binnenräumliche Reorganisation bzw. Umschichtung

und Anpassung vorhandener Nutzungsbereiche. Dazu mussten sehr diffizile Technikkonzepte,

Verkehrswegepläne, Erschließungs-, Umnutzungs- und TGA-Varianten erarbeitet

und gegeneinander abgewogen werden. Gleichsam als Ergänzung dieser Recherchen und

daraus abgeleiteten Maßnahmen erfolgte die Beauftragung, auch den Gebäudeabschnitt IC

sowie die Gebäudekomplexe IA und IB der Ruhr-Universität Bochum einer Kernsanierung zu

unterziehen. Wobei es im Kontext der beiden letztgenannten Gebäudereihen sogar zu einem

Ersatzneubau kommt; einem hellen und freundlichen Neubau also, der sich der bestehenden

Gebäudeabfolge perfekt anpasst und sich nahtlos in diese einfügt.

Ebenso nahtlos fügt sich auch das neue Zentrum für Werkstoffforschung ZGH in die bestehenden

Strukturen des Universitätscampus ein. Mit einer Gesamtnutzfläche von 2889 Quadratmetern

positioniert sich der Neubau als Polygons zwischen den Gebäuden IA und IB auf der

Nordseite des Campus. Ein weiterer flacher Baukörper ist im Erdgeschoss mit dem Neubau

verbunden. Er beherbergt Laboratorien der Mikroskopie und ist schwingungsfrei konzipiert.

Den Geländeversprung nutzend und sich zudem in das Gelände hineinschiebend gewährt

er Raum für einen großzügig begrünten Hofbereich. So entsteht aus dem bisherigen Freihof

zwischen IA und IB ein attraktiver, über zwei Geschosse gestaffelter öffentlich zugänglicher

Innenhof.

Davon profitieren die Räume für rund 80 zusätzliche Wissenschaftlerinnen und Wissenschaftler,

die zusammen mit den angrenzenden Ingenieur- und Naturwissenschaften fachübergreifend

neue Höchstleistungswerkstoffe erforschen.

Ebenfalls in Bochum wird Eckhard Gerber den Neubau für das Lernzentrum EBZ in unmittelbarer

Nachbarschaft der bereits bestehenden EBZ-Bauten errichten. Das Konzept leitet

sich dabei aus den angestrebten Nutzungen ab. So ist ein dreigeschossiger Büro- und

17

18

19

116 Umzug ins Offene – Werk im Fluss
---
17

18

19

20

This is demonstrated by a number of successfully executed projects, such as the structural

renovation of the Ruhr University Bochum IC-complex for the general contractor Hochtief Solutions

AG. A renovation of the building's energy and ecology plans was developed into a sustainability

project. In terms of space, excellent new research and study conditions were created

in the renovation, whilst up-to-date methods of communication were utilised to foster dialogue

between learning and research. Clear linear route systems, the opening up of new lines of sight

to attractively redesigned inner courtyards and open, storey-spanning spatial connections have

achieved an entirely new spatial quality, providing user-friendly intuitive opportunities for orientation

both within and outside the labyrinthine campus area.

This gain in quality and added value led to Gerber receiving a further commission to restructure

a further section of the Ruhr University Bochum buildings. Specifically, he was commissioned

to undertake a structural renovation of the NA-complex. In addition to the renovation strategies

described here, this also involved a highly complex internal reorganisation and reallocation,

plus adaptation of existing use areas. This called for the development and harmonising of very

difficult technological concepts, transit route plans, access, conversion, and building services

design. An addition, as it were, to these researches and the resulting measures was provided

by a commission to undertake structural renovation of the Ruhr University Bochum's IC building

section and IA and IB building complexes. In the case of the last-named rows of buildings,

this actually resulted in a new, bright and friendly replacement building that perfectly matches

the existing sequence of buildings, and fits into it seamlessly.

A new centre for materials science and engineering (ZGH) fits into the existing university

campus structures in an equally seamless way. This new building, which has a total usable

space of 2,889 square metres, is a polygonal structure positioned between the IA and IB

buildings on the north side of the campus. An additional low structure connects with the new

building's ground story; it has a vibration-free design, and houses microscopy laboratories.

The structure takes advantage of the change of height in the terrain whilst also fitting into the

terrain, thus making room for a generous planted courtyard area. Thus, an attractive twostorey

inner courtyard that is open to the public has been created on the former open court

between IA and IB.

This is beneficial to the rooms provided to house around eighty additional scientists, researching

new high-performance materials in an interdisciplinary collaboration with the neighbouring

engineering and natural science departments.

Eckhard Gerber's new building for the Training and Research Centre of EBZ is to be built

close to the already existing EBZ buildings, also in Bochum. The concept is derived from

the building's intended purposes, which include a three-storey office and seminar area, plus

a higher single-storey tract for events and a single-storey middle building for the foyer. The

double-angled shape of the EBZ structure's Z-shaped new building allows for the creation

of a plaza, which works rather like an urban public space. The main access and the existing

entrances are located on this plaza. There is a further access at the rear of the building,

from the car park. If required, the hall and the foyer can also be opened up to the plaza, thus

allowing the plaza space to be utilised for large-scale events. In terms of appearances, the

learning centre's cladded brickwork façades integrate the structure harmoniously into the

existing building ensemble.

Another educational facility is now almost completed: the new Training and Research Centre

for the Institute for Brewing (VLB) in Berlin. The volumes of the new educational centre look

like a sculpture made from bricks.

The central campus plaza that has been created between the new building and the existing

buildings is a pleasant place to linger; its design is significantly influenced by the old "Sudhaus"

(fermentation house) of the brewery that once occupied this site. The Sudhaus is functionally

a part of the new brewing technical college. A wide, graduated ramp leads from the campus

plaza to the elevated entrance level. The basement level below, whose upper edge projects

1.34 metres, contains rooms lit by natural daylight. From the entrance hall, which is as tall

18

19

Movement into the open—work in progress

117
---
á Bundesministerium für Verkehr, Bau und Stadtentwicklung, Berlin (1998)

Federal Ministry of Transport, Building and Urban Development, Berlin (1998)

156
---
Der Architekt

The architect

157
---
ãà

ß

Dortmunder U-Turm – Zentrum

für Kunst und Kreativität (2010)

Dortmund U Tower – Centre for

Art and Creativity (2010)

Berufskollegs am U-Turm,

Dortmund (2015)

Vocational Colleges at U Tower,

Dortmund (2015)

160
---
Ever since my youth, I have had a great love for craftwork. Practical construction

has always fascinated me, and this is what led me to the profession

of architecture.

Additionally, during my childhood, I lived very close to nature in the mountainous

Thuringia forest area, which surely developed and affected my

great affinity to the landscape and the topography. The structure of my

home village in Thuringia, where farmstead buildings provided the transition

from the built-up urban space or village space to the landscape

space, unconsciously inspired me in my projects, later generating many

projects including this formulation, in which our buildings traverse the

boundary between the city and the landscape space. This is probably

also the foundation for the tackling of topographically difficult terrain as

the origin of conceptual approaches. To this day, we are frequently successful

in competitions with assignments of this type. This ultimately led

to the planning of external areas and landscapes, which we have been

carrying out for forty years now, primarily in connection with our buildings.

Over my fifty years of activity, I have always been particularly interested

in new and different conceptual approaches. Many very different projects

have been created in this way, and I look forward to many new projects.

161
---
á Wohnbebauung Dinnendahlstraße, Essen (2007)

Residential Development Dinnendahlstrasse, Essen (2007)

176
---
The development of

the dwelling typology

Die Entwicklung

der Wohnform

177
---
á Wohnen mit Service, Essen (2001)

Assisted Living, Essen (2001)

ä Büro- und Wohngebäude,

Ascona, Schweiz (2010)

Office and Residential Development,

Ascona, Switzerland (2010)

â Terrassenhäuser Lanfertsweg,

Meschede (1974)

Terraced Housing Lanfertsweg,

Meschede (1974)

178
---
Das Einfamilienhaus kann nicht die Wohnform der Zukunft sein, es ist die aufwendigste

und unwirtschaftlichste Wohnform hinsichtlich des Energieverbrauchs, vor allem aber auch

hinsichtlich des Landverbrauchs. Wir werden unweigerlich schon aufgrund der immer weiter

steigenden Bevölkerungszahlen in Milliardenbereichen und wirtschaftlicher Konzentrationen

zum "komprimierten" Wohnen kommen. Solche Modelle wurden schon in den zwanziger

Jahren, aber auch in den fünfziger und sechziger Jahren des vergangenen Jahrhunderts immer

wieder vorgestellt und teilweise realisiert. Durch die wirkliche Ressourcenknappheit des nicht

vermehrbaren Grund und Bodens und der verfügbaren Materialien und Energien, wird das

Einfamilienhaus eine immer unverantwortlichere Wohnform werden. Das verdichtete Wohnen,

wie dies in den früheren Jahrhunderten bekannt war, wird auch die Zukunft des neuen modernen

Wohnens sein.

179
---
á King Fahad Nationalbibliothek, Riad, Saudi-Arabien (2013)

King Fahad National Library, Riyadh, Saudi Arabia (2013)

188
---
Bauen im Ausland

Working outside Germany

189
---
192

We are firmly convinced that our buildings are ambassadors

for a new world, that they engender a

certain state of mind in people, and make people

happy, cheerful, or thoughtful, stimulating them and

energising them.

Due to the globalisation of communication, many

architects today are fortunate enough to be able

to build in other countries as well as their own. Regardless

of which country we are building for, it is

all about the message of our architecture, which

can play a part in changing things: "transformation

through rapprochement". In the course of the planning

process, we begin to understand the nation, its

culture, its people, and to comprehend why many

things are different from home. These conversations

also help us to understand cultural and political factors.

Our completed buildings are ultimately transmitters

for our message, communicating with people

and winning them over. Architecture in another

country therefore offers a great opportunity to use

buildings to help to initiate or introduce processes of

change, particularly in countries whose political systems

differ from our own.
---
á

ã

ß

Prince Salman Science Oasis,

Riad, Saudi-Arabien

Prince Salman Science Oasis,

Riyadh, Saudi Arabia

Büro-, Wohn- und Hotelhochhaus

"Energy Tower"

Office and Residential Buildung

and Hotel "Energy Tower"

Schmetterlingshaus, Riad,

Saudi-Arabien

Butterfly Dome, Riyadh, Saudi

Arabia

193
---
196
---
Wettbewerbe

Competitions

197
---
Wettbewerbe und

nicht gebaute Projekte

Schatzhäuser und Archive architektonischer Imagination

Frank R. Werner

Der Schriftsteller und Kunsthistoriker Josef Ponten (1883–1940) war in den zwanziger Jahren

des vergangenen Jahrhunderts einer der bedeutendsten Architekturbeobachter seiner Zeit.

1925 veröffentlichte er das zweibändige Standardwerk Architektur, die nicht gebaut wurde.

Schon sieben Jahre früher hatte Ponten in seinem Roman Der Babylonische Turm (1918) einen

enttäuschten alten Baumeister zu seinem Sohn und Nachfolger sagen lassen: "Das Beste, was

gebaut wurde, mein Sohn, ist nur auf dem Papier gebaut worden (…) Es gibt auf der Welt kein

wahrhaft großes Bauwerk, das nicht Ruine wäre im einen oder anderen Sinne. Und wenn es

scheinbar auch [noch so perfekt] vollendet wurde, so konnte es [doch] nie [so] vollendet werden,

wie der Baumeister es sich gedacht hatte, tausend Rücksichten [auf dieses oder jenes]

verhinderten das."

Auch wenn es auf Eckhard Gerbers Werk sicher nicht zutrifft, dass sein "Bestes nur auf dem

Papier gebaut" ist, weist auch sein Œuvre neben ausgeführten Bauten eine eindrucksvolle Anzahl

nicht ausgeführter Wettbewerbsprojekte auf. In konventionellen Monografien werden diese

nicht selten in unattraktive Anhänge verbannt, wo sie als briefmarkengroße Bildnachweise

ein kümmerliches tabellarisches Dasein fristen. Dem steht entgegen, dass Günther Behnisch

Wettbewerbspläne und -modelle schon vor vielen Jahren als regelrechte "Steinbrüche" vergeudeter

Ideen bezeichnet hat, aus deren Fundus Architekturbüros immer wieder frische Ideen für

neue Projekte schöpfen könnten.

Nicht ausgeführte Projekte können für das Verständnis einer Epoche manchmal aufschlussreicher

sein als realisierte Bauten. So gibt es in der Baugeschichte immer wieder Architekten, deren

gebautes Werk mangels Masse relativ unbedeutend ist, während uns deren nicht realisierte

Architekturvorstellungen regelrecht ins Schwärmen bringen und uns in visionäre Sphären jenseits

von Zeit und Raum entführen. Das wusste selbst ein moderner Philosoph wie Ernst Bloch,

als er konstatierte: "Immer schon wurde ein eigener Reiz der Pläne und Aufrisse bemerkt. Das

meiste davon geht ins fertige Haus ein, und doch war das Geschöpf auf dem Papier, das zart

ausgezogene, ein anderes."

Nicht realisierte Wettbewerbsprojekte sind unschuldig. Sie sind sozusagen "Architektur pur".

Beinhalten sie doch bauliche Visionen, die sich noch keinem einzigen der berüchtigten Sachzwänge

beugen mussten. Stattdessen reflektieren sie Ideen gleichsam in statu nascendi. Sie

stellen architektonische Projektionen zur Disposition, die noch gänzlich unverfälscht sind. Auch

wenn jeder nicht gewonnene Wettbewerb schmerzt, sind Wettbewerbe insgesamt doch ein

schier unerschöpfliches und unverzichtbares Reservoir architektonischer Imaginationskraft.

So sind auch Eckhard Gerbers Wettbewerbsbeiträge im Lauf der Jahrzehnte zahlenmäßig derartig

angewachsen, dass pauschale Bewertungen ein obsoletes Unterfangen wären. Natürlich

lassen sich aus den nicht realisierten Beiträgen formale, den Zeitläufen geschuldete Aspekte

herauslesen. So weisen beispielsweise viele Projekte aus den sechziger und siebziger Jahren

prägnante polygonale Grundrissstrukturen auf, während andere Entwürfe eindeutig strukturalistischen

Ordnungsmustern verpflichtet sind. Wettbewerbsbeiträge aus späteren Jahren

bevorzugen dann dezidiert rationale Raumkonfigurationen, von Fall zu Fall auch in Kombination

mit organischen Ausformungen. Ähnliche Betrachtungen ließen sich auch hinsichtlich

198

Wettbewerbe und nicht gebaute Projekte
---
Competitions and

unbuilt projects

Treasure houses and archives of the architectonic imagination

Frank R. Werner

The author and art historian Josef Ponten (1883–1940) was one of the most influential architectural

observers of the twenties. In 1925, he published his two-volume standard work Architektur,

die nicht gebaut wurde. Seven years previously, in his novel Der Babylonische Turm (1918),

Ponten had a disappointed old master builder say to his son and successor, "My son, the best

things ever built were only built on paper …. No truly great building has been built anywhere

in the world that has not been turned into a ruin, one way or another. And [however perfect] it

may seem, it has [however] not been built [as] the architect imagined it—a thousand concerns

[of one kind or another] have prevented it."

Although it cannot be said of Eckhard Gerber's work that its best examples "were only built on

paper", his oeuvre does include, alongside the implemented building projects, an impressive

selection of non-implemented competition projects. In conventional monographs, non-implemented

projects are often relegated to unattractive appendices, where they suffer the tabular

ignominy of a postage-stamp-sized reference image. This state of affairs has been protested

by Günther Behnisch, who, many years ago, described plans and models created for competitions

as veritable "stone quarries" of wasted ideas: a fund from which architecture firms can

draw on a wealth of fresh ideas for new projects.

Non-implemented projects can sometimes help us understand an epoch more than its actually

constructed buildings. The history of architecture contains many architects whose constructed

work is relatively negligible owing to a lack of resources, whereas their non-realised architectural

visions send us into transports of delight, taking us to visionary spheres unrestricted by time and

space. Even the modern philosopher Ernst Bloch was moved to comment that "it is frequently

remarked that plans and blueprints have a charm all of their own. Most of this goes into the

completed building, and yet the creation on the paper—so delicately traced—was different."

Non-realised competition projects are unsullied. They might be described as "pure architecture."

After all, they contain within them architectural visions never forced to submit to the

infamous practical constraints. Instead, they reflect ideas that are, as it were, in statu nascendi.

They offer us entirely unadulterated architectonic projections. Not winning a competition is

painful, but competitions, taken as a whole, are an indispensable and almost inexhaustible

reservoir of architectonic imaginative power.

The number of competition entries produced by Eckhard Gerber over the decades makes

blanket evaluations an obsolete endeavour. One can of course see a chronology in these nonrealised

proposals. Many projects from the sixties and seventies, for instance, display striking

polygonal outline structures, while other designs clearly owe something to structuralist patterns

of order. Competition entries from subsequent years show a decided preference for rational

spatial configurations, occasionally combined with organic forms. Similar observations can be

made concerning construction methods and materials specified, and the preferred silhouettes

for the buildings. In terms of insight, however, the value of formal observations of this type is

practically zero.

A typological approach would appear to be more promising. Such an approach immediately

reveals that Eckhard Gerber has consistently found innovative solutions relating to specific

Competitions and unbuilt projects

199
---
Campus IM Olympiapark, München (2. Preis)

Campus In THE Olympiapark, Munich (2 nd prize)

Es sollen keine neuen Gebäude im Park entstehen, sondern vielmehr sollen die Neubauten als topografisch modellierte

Landschaftselemente Teil des Olympiaparks werden. So entwickelten sich aus der terrassierten Topografie zwei nebeneinander

liegende Baukörper für den Campus im Olympiapark, München, als begehbare Landschaftselemente. Die

drei- bis viergeschossigen Baukörper mit begrünten und bespielbaren Dachflächen sind über eine transparente zweigeschossige

Magistrale miteinander verbunden. Das Innere ist aufgegliedert in den Hallentrakt mit Umkleiden und Laborbereichen

sowie Foyer, Hörsaal, Seminar- und Institutsbereich. Galerien, Brücken, Innenhöfe und Kommunikationszonen

sowie Ausblicke in die Landschaft sollen den Räumen eine hohe Aufenthaltsqualität verleihen und den Geist des Sports

spürbar machen.

There would be no new building in the park. Instead, the new buildings were to be topographically modeled landscape

elements that would be part of the Olympiapark. Thus, for the terraced topography, two structures were developed for

the Campus in the Olympiapark, Munich, located side-by-side: landscape elements that one can enter. The three-to-fourstorey

structure and its greened and usable roof surfaces are interconnected via a transparent two-storey main route.

The interior is divided into a wing with cloakrooms and laboratory areas and the foyer, auditorium, seminar building, and

Institute area. Galleries, bridges, inner courtyards and communication zones and views of the landscape are intended to

make the rooms pleasant, and to allow people to feel the sporting spirit.

206 Wettbewerbe und nicht gebaute Projekte
---
Competitions and unbuilt projects

207
---
LKW-Parkhaus und ServiceCenter Yantian, Shenzhen, China (4. Preis)

Yantian Port Trailer Service Centre, Shenzhen, China (4 th prize)

Der Yantian Port in Shenzhen, China, ist der drittgrößte Container-Hafen der Welt. Um seine Umgebung bestmöglich frei

von Lkws zu halten entsteht hier das mehrgeschossige Yantian Port Trailer Service Center mit zentralem Lkw-Parkplatz,

einer Servicestation, Gastronomie und einem Hotel für die Kraftfahrer. Die kontrollierte Zuwegung erfolgt über eine Spindel

auf die erste Parkebene, weitere Rampen führen auf die zweite, darüber liegende. Das Gebäude spannt sich über

eine sechsspurige Autostraße und bindet sich nach Westen in den Hang ein. Das Besondere der Aufgabenstellung war

die Auseinandersetzung mit dem großen Höhen unterschied des Grundstücks in Verbindung mit der komplexen Logistik

des Lkw-Parkhauses. Angeschlossen ist der Komplex an ein effizientes Straßennetz, das die Wohngebiete umgeht.

Das helle, offene, moderne Gebäude mit Glas- und Stahllamellen-Fassade soll sich als Landmarke harmonisch in seine

bergige Umgebung einfügen.

Yantian Port in Shenzhen, China is the third-largest container harbor in the world. The multi-storey Yantian Port Trailer

Service Centre, with its central HGV parking space, a service station, eating facilities, and a hotel for drivers, is to be built

here in order to keep the environs as free from HGVs as possible. Controlled access to the first parking level takes place

via a spindle, followed by ramps leading to the second level above. The building expands over a six-lane motorway, and,

to the west, fits into the slope. The special quality of this assignment was the need to engage with the large height difference

across the site, combined with the complex logistics of the HGV parking structure. The complex is linked to an

efficient route network that surrounds the residential areas. The bright, open, modern building, with its glass and steel

lamellae façades, should fit harmoniously into its mountainous surroundings.

214 Wettbewerbe und nicht gebaute Projekte
---
Competitions and unbuilt projects

215
---
220 
---
Projekte in Realisierung

Current projects

Current projects

221
---
Europäische Firmenzentrale Phicomm, München

Phicomm European Centre, Munich

Im Unterhachinger Gewerbegebiet entsteht ein viergeschossiger Bürokomplex in Kammstruktur aus fünf Gebäudefingern,

die sich mit der angrenzenden Landschaft verzahnen. Das zylinderförmige Rechenzentrum gliedert sich zum Haupteingang

als sichtbare Landmarke an. Die beiden eigenständigen Baukörper verbindet ein weit auskragendes Vordach als

einprägsame einladend-repräsentative Eingangsgeste. Im Hauptgebäude sind in den oberen Geschossen flexibel nutzbare

Büroräume und im Erdgeschoss ein stützenfreies Auditorium, Konferenzbereiche sowie Sport- und Bewirtungsflächen

mit Küche untergebracht. Die Bürofläche in den Gebäudefingern des Hauptgebäudes ermöglicht getrennt nutzbare Bürobereiche.

Eine über die ganze Gebäudelänge vom Eingang sich durchziehende Magistrale ist die Erschließungsachse

des Gebäudes, über die auch die gesonderten Bürobereiche erschlossen werden. Im Erdgeschoss lässt die Magistrale

immer wieder Blickbezüge in die grünen Höfe und die anschließende Landschaft zu. Die Eingangshalle, als Auftakt der

Magistrale, durchzieht alle Geschosse, ermöglicht somit eine gute Orientierung und schafft angemessene Repräsentanz.

In the Unterhaching business park, a four-storey office complex is being built, with a comb structure composed of five

"finger" structures interlocking with the surrounding landscape. The cylinderical data centre connects to the main entrance,

providing a visible landmark. The two independent structures are linked by a widely projecting front roof, which

provides the entrance with a striking, inviting, and imposing flourish. The main building houses flexibly useable office

spaces in its upper storeys, whilst its ground storey contains a free-spanning auditorium, conference areas, sport areas,

and a hospitality area, with a kitchen. The placing of the office areas in each of the main building's "fingers" allows them

to be allocated to separate uses. A main route that starts at the building's entrance and extends through its whole length

acts as the spine of the building, providing access to each office area. At ground level this main route also has a series

of views to the green courtyards and the surrounding landscape. The entrance hall, the prelude to the main route, runs

through all storeys, creating good orientation and making a suitably imposing impression.

240 Projekte in Realisierung
---
Phicomm European, München

1 Auditorium

2 Offices

3 Open-Plan Offices

4 Conference Area

5 Data Centre

3 3

3

3

4 4 4

1

5

2

2

2

2

3 3

3

3

1 st Floor

Bezeichnung 1. Obergeschoss 3,5mm

50m

Current projects

241
---
Schmetterlingshaus, Riad, Saudi-Arabien

Butterfly Dome, Riyadh, Saudi Arabia

Das Schmetterlingshaus im King Abdullah Financial District ist als städtisches Wahrzeichen und Oase der Ruhe inmitten

des hektischen Finanzzentrums konzipiert. Auf der Landbrücke der Thumamah Road situiert, bedarf es einer

extrem leichten Gebäudekonstruktion, die mit den Anforderungen an eine für die Schmetterlinge lebensnotwendige

Atmosphäre verknüpft wird. Dafür ist eine leichte Kugel aus Stahl und Glas als zykloidenerzeugende Oberfläche gestaltet.

Der homogen anmutende Kuppelbau weist durch die Torsion der Struktur eine leichte Ausrichtung auf, wodurch der

Eingang akzentuiert und der Besucher in das Gebäude hineingeführt wird.

The King Abdullah Financial District Butterfly Dome was conceived as an urban icon and oasis of peace amid the hectic

financial centre. Situated on the land bridge over the Thumamah Road highway, the design of the Butterfly Dome is

best suited for the butterflies' comfort and also has the most efficient structure regarding the loads affecting the land

bridge. The sphere is subdivided as a spherical cycloid generating a tessellated surface with quadrilateral shaped units.

The torsion of the structure generates the possibility of creating a slight direction which accentuates the entrance and

leads the visitor into the building.

256 Projekte in Realisierung
---
Current projects

257
---
C03N U-station, Mekka, Saudi-Arabien

C03N Metro Station, Mecca, Saudi Arabia

In Entsprechung zu der Geometrie der Haram Intermodal Station, dem neuen Hauptbahnhof in Mekka, werden die

Eingänge zu den anderen U-Bahnhöfen der Stadt an flachspannenden Kuppelkonfigurationen zu erkennen sein. Diese

Eingänge zum Metronetz positionieren sich deutlich im Stadtraum, sodass eine einfache, intuitive Orientierung gewährleistet

wird. Die Freiraumgestaltung der öffentlichen Plätze trägt außerdem zu einer Aufwertung des öffentlichen

Raumes bei. Ein parametrischer Entwurfsansatz ermöglicht die Anpassung der Bauten an die jeweilige ortsspezifische

Situation. Die C03N U-Station nimmt die Architektursprache der Haram Intermodal Station auf und wird so zur Designgrundlage

für das gesamte neue Metrosystem Mekkas.

In accordance with the geometry of the new main station in Mecca, the Haram Intermodal Station, the entrances of the

other metro stations will be characterised by shallow vaulted dome configurations. These entrances to the metro network

are carefully inserted into the urban space clearly so that a simple and intuitive orientation is assured. The landscape

design of the public spaces also contributes to the upgrading of the area. A parametric design allows buildings to be

adapted to each site-specific situation. The C03N Metro Station takes up the architectural language of the Haram Intermodal

station, thus providing the design template for the whole Mecca Metro System.

268 Projekte in Realisierung
---
Current projects

269
---
Univ.-Prof.

Frank R. Werner

1944 geboren in Worms am Rhein

1972 Architekturdiplom an der Universität Stuttgart

bis 1982 Wissenschaftlicher Assistent am Institut für Baugeschichte

und Bauaufnahme der Universität Stuttgart – anschließend

Dozent

1980–1984 Chefkurator (zusammen mit Werner Oechslin, Marco de

Michelis und Pierluigi Nicolin) der IBA-Ausstellung "Idee

Prozess Ergebnis" im Berliner Martin-Gropius-Bau

1982–1988 Dozent für Architekturgeschichte an der Kunstakademie

Stuttgart

1990 Berufung an den Lehrstuhl für Baugeschichte, Architekturtheorie

und Designgeschichte an der Staatlichen Akademie

der bildenden Künste Stuttgart

1994 Berufung zum Leiter des Instituts für Architekturgeschichte

und Architekturtheorie (AGT) an der Universität Wuppertal

1999–2003 Dekan des Fachbereichs Architektur der Universität

Wuppertal

seit 2003 Assoziiertes Mitglied im PhD-Programm der TU Delft für

Architekturtheorie

2007–2010 Dekan des Fachbereichs Architektur und Design der Universität

Wuppertal

2007–2010 Kurator der Städtebauausstellung "Dynamik + Wandel. Ausstellung

zur Entwicklung der Städte am Rhein 1910–2010+"

2010 Berufung zum Ordentlichen Mitglied der Akademie der Wissenschaften

und der Künste Nordrhein-Westfalen

seit 2016 Senior Professor für europäische Architekturgeschichte in

Shanghai

Gastprofessuren u. a. in Los Angeles, Barcelona, Paris, Wien und Vico

Morcote

Zahlreiche Buch- und Zeitschriftenpublikationen bzw. Forschungsprojekte

zur Theorie und Geschichte der Architektur des 20. und 21. Jahrhunderts

Ehemaliger Leiter des Instituts für Architekturgeschichte und Architekturtheorie

(AGT) der Fakultät für Architektur + Bauingenieurwesen der Bergischen

Universität Wuppertal

1944 born in Worms am Rhein

1972 diploma (architecture) at the University of Stuttgart

until 1982 scientific assistant with the Institute for History of

Architecture and Building Research at the University

of Stuttgart

1980–1984 chief curator (with Werner Oechslin, Marco de Michelis

and Pierluigi Nicolin) of the IBA exhibition "Idee Prozess

Ergebnis" in the Martin Gropius Bau, Berlin

1982–1988 lecturer on Architectural History at the Kunstakademie

Stuttgart

1990 appointed to the chair for Architectural History, Architectural

Theory and Design History at the Staatliche Akademie

der bildenden Künste Stuttgart

1994 Appointed as director of the Institute for Architectural

History and Theory of Architecture, AGT at the University

of Wuppertal

1999–2003 dean of the department of Architecture at the University

of Wuppertal

since 2003 associate member of the TU Delft PhD programme for

Architectural Theory

2007–2010 dean of the department of Architecture and Design at the

University of Wuppertal

2007–2010 curator of the urban planning exhibition "Dynamik + Wandel.

Ausstellung zur Entwicklung der Städte am Rhein

1910–2010+" (Dynamic + Change: Exhibition on the Development

of the Rhine Cites 1910–2010+")

2010 appointed as full member of the North Rhine-Westphalian

Academy of Sciences, Humanities and the Arts

as of 2016 Senior Professor of European Architectural History in

Shanghai

Guest professorships in locations including Los Angeles, Barcelona, Paris,

Vienna, and Vico Morcote

Numerous book and magazine publications and research projects on the

theory and history of architecture in the twentieth and twenty-first century.

Former director of the Institute for Architectural History and Architectural

Theory, AGT of the Faculty of Architecture + Construction Engineering at

the University of Wuppertal

272 Biografien
---
Prof. Dipl.-Ing.

Eckhard Gerber

1938 geboren in Oberhain, Thüringen

1957 Abitur Apolda (DDR)

1958 Abitur West-Berlin

1959–1966 Architekturstudium an der TH Braunschweig, Stipendiat des

Begabtenförderungswerkes der Firma Reemtsma, Hamburg

1966 Diplom an der Technischen Hochschule Braunschweig,

Prof. Dr. Friedrich Wilhelm Krämer

1966 Bürogründung "Werkgemeinschaft 66" aufgrund gewonnener

Wettbewerbe

1973–1975 Korrekturassistent Universität Dortmund, Lehrstuhl Prof.

Deilmann

1975 Förderpreis für junge Künstler des Landes Nordrhein-Westfalen

für das Jahr 1974 auf dem Gebiet Städtebau und

Architektur

1976 Aufbau einer Gruppe Landschaftsplanung

seit 1979 Gerber Architekten in Dortmund-Kley, erfolgreiche Wettbewerbsteilnahmen

im In- und Ausland, zahlreiche Architekturpreise

für realisierte Gebäude

seit 2008 Gerber Architekten Hamburg

seit 2012 Landschaftsplanung Hamburg

seit 2012 Gerber Architekten international GmbH in Berlin, insgesamt

ca. 170 Mitarbeiter

seit 2013 Gerber Architekten international Asia GmbH in Dortmund

1981–1992 Professur an der Universität Essen – GHS – Lehrgebiet

Grundlagen der Gestaltung und angewandte Gestaltungslehre

für Architektur und Landespflege

1990–2004 Professur an der Bergischen Universität Wuppertal, Lehrgebiet

Grundlagen der Gestaltung und Entwerfen für

Architektur

1995–1999 Dekan der Bergischen Universität Wuppertal,

Fachbereich Architektur

2004–2012 Professur für das Lehrgebiet Grundlagen der Gestaltung

und des Entwerfens im Masterstudiengang REM & CPM an

der Bergischen Universität Wuppertal

bis 2009 Gestaltungsbeirat der Stadt Moers

2011–2014 Gestaltungsbeirat der Stadt Bielefeld

1993 –2010 Vorsitzender des Dortmunder Kunstvereins

1938 born in Oberhain, Thuringia

1957 Abitur in Apolda (GDR)

1958 Abitur in West Berlin

1959–1966 studied architecture at Technische Hochschule Braunschweig,

scholarship from "Begabtenförderungswerk

der Firma Reemtsma", Hamburg (organisation supporting

the academically gifted)

1966 diploma at Technische Hochschule Braunschweig,

Professor Dr. Friedrich Wilhelm Krämer

1966 established the firm "Werkgemeinschaft 66" after winningseveral

competitions

1973–1975 correction assistant at Dortmund University in the department

headed by Professor Harald Deilmann

1975 award for young architects of the year 1974 from the State

of North Rhine-Westphalia in the field of urban planning and

architecture

1976 set up a landscape planning group

since 1979 Gerber Architekten operating at Dortmund-Kley, success in

domestic and international competitions and

numerous architectural prizes for implemented buildings

since 2008 Gerber Architekten Hamburg

since 2012 Landschaftsplanung Hamburg

since 2012 Gerber Architekten international in Berlin,

a total of 170 employees

since 2013 Gerber Architekten international Asia GmbH in Dortmund

1981–1992 professorship at University-Polytechnic Essen, teaching

Design Basics and Applied Design in Architecture

1990–2004 professorship at University of Wuppertal, teaching Design

Basics and Drafting/Design for Architecture

1995–1999 dean of the Faculty of Architecture at University of

Wuppertal

2004–2012 professorship at University of Wuppertal in the master

course REM & CPM, teaching Design Basics and Drafting/

Design for Architecture

until 2009 architectural adviser to the City of Moers

2011–2014 architectural adviser to the City of Bielefeld

1993–2010 chairman of Dortmunder Kunstverein

Mitglied im BDA, DWB, regelmäßige Tätigkeit als Juryvorsitzender bei nationalen

und internationalen Wettbewerben, Sprecher auf nationalen und

internationalen Konferenzen

Member of BDA and DWB. Frequently served as jury chairman for architectural

competitions, and has given lectures in Germany and abroad.

Biographies

273
---
Chronologie des Büros

Unter der Bezeichnung "Werkgemeinschaft 66 Eckhard Gerber/

Manfred Lange, Architekten" begann in Meschede 1966 meine selbstständige

Tätigkeit als freischaffender Architekt. Grundlage waren gewonnene

Wettbewerbe, an denen ich schon während des Studiums

arbeitete. Im Jahr 1971 ist Dirk Stelljes zu uns gekommen und wurde

später Partner. Nach dem Austritt von Manfred Lange 1973 wurde die

"Werkgemeinschaft 66" von Dirk Stelljes und mir alleine weitergeführt.

Ende 1978 ist Dirk Stelljes bei einer Fahrt zur Baustelle tragisch ums

Leben gekommen. Nach diesem Einschnitt arbeitete das Büro dann

ab 1979 mit dem neuen Sitz in Dortmund, ab 1981 unter dem Namen

"Professor Gerber und Partner". Von 1975 bis 1982 war Ferenc

Barabas freier Mitarbeiter und hat an den Projekten Stadthalle Hagen

und zweites Bildungszentrum der Bundesfinanzverwaltung in Münster

mitgearbeitet. 1979 sind mit dem Neuanfang in Dortmund Georg

Kolendowicz und Volker Hachenberger in unser Büro gekommen.

Beide haben das weite Bildungszentrum als Projektleiter bearbeitet:

Volker Hachenberger später die Staats- und Universitätsbibliothek

(SUB) Göttingen, Georg Kolendowicz unter anderem die Stadtbahnhaltestelle

Dortmund, die Sporthallen in Wernau und Wolfschlugen und

später das Eingangsgebäude der Firma WILO in Dortmund. 1994 verließ

Volker Hachenberger das Büro. Georg Kolendowicz ist bis heute bei

uns tätig. Über seine Projektarbeit hinaus ist er in den DGNB-Arbeitsgruppen

im Bereich der Entwicklung der Systeme für Forschungsund

Laborbauten sowie Bildungsbauten aktiv.

1983 haben Jürgen Friedemann und Gerhard Tjarks als Mitarbeiter

und Partner mit mir unter anderem an den Entwurfskonzepten für die

Arbeitsämter Leipzig, Magdeburg, Sangerhausen und Dortmund, die

SUB Göttingen und die Fachhochschule Lüneburg wesentlich und

erfolgreich mitgewirkt. Es wurde ein zweites Büro in Braunschweig

eröffnet. Jürgen Friedemann war bis 1992 und Gerhard Tjarks bis

1997 im Büro.

Der Bereich der Vergabe, Bauleitung und Kosten wurde von 1990 bis

1998 von Jutta Kamm geleitet.

Als ganz junger, gerade diplomierter Architekt kam Jens Haake

1992 zu uns ins Büro. Innerhalb kürzester Zeit leitete er bereits verantwortlich

Projekte wie das Kreishaus Gütersloh, das MDR-Landesfunkhaus

in Magdeburg oder das ZDF-Hauptstadtstudio in Berlin.

Nicola Gerber, meine älteste Tochter, war nach ihrem Diplom und

nach einer Unterbrechung für ein Studium an der Columbia Universität

in New York als freie Mitarbeiterin bei uns. Sie hat wesentlich am

Entwurf und an der Planung für die Hochschule für Musik und Theater

"Felix Mendelssohn Bartholdy" in Leipzig mitgewirkt, die Jens

Haake als Projektleiter betreut hat. Nicola Gerber blieb bis 2001 im

Büro und bearbeitete auch die erste Phase für die Nationalbibliothek

in Riad mit.

1995 kam Thomas Helms zu uns und hat vor allem Wettbewerbe mit

mir bearbeitet, wie zum Beispiel die Fachhochschule in Recklinghausen,

das Landesamt für Verbraucherschutz in Saarbrücken oder

auch die Marktkirche in Essen. 1996 kamen Olaf Ballerstedt und 1999

René Koblank dazu; Letzterer studierte bei mir und war Assistent an

meinem Lehrstuhl an der Bergischen Universität Wuppertal. Sie verstärkten

das Wettbewerbsteam in dieser Zeit erfolgreich, wir haben

gemeinsam unter anderem die Neue Messe Karlsruhe, das Chemische

und Veterinäruntersuchungsamt in Münster, die Biologischen

Institute der TU Dresden, aber auch den Vorschlag für den 1. Wettbewerb

für die King Fahad Nationalbibliothek in Riad entworfen. 2003

sind alle drei aus unserem Büro ausgeschieden und haben sich, als

Dreibund Architekten, selbstständig in Bochum niedergelassen.

Schon bei den Projekten Gewerbliche Berufsschulen in Lüdenscheid,

Heinz-Bach-Haus und zum Teil beim zweiten Bildungszentrum in

Münster entwickelten wir die Planungen für die Freianlagen selbst.

Von 1989 bis 1997 leitete Christine Wolf dann maßgeblich die Gruppe

der Landschaftsplaner bei uns. Die Freianlagen für die Landesschule

der Kleingärtner in Lünen, das Verwaltungszentrum in Leipzig, die

Kreishäuser Gütersloh und Vechta, die Fachhochschule Lüneburg

sind so in dieser Zeit entstanden.

Die Freianlagen für die Stadthalle Hagen und die landschaftlichen

Bereiche des zweiten Bildungszentrums Münster (das Forum haben

wir selbst entwickelt) sind von Georg Penker, die Freianlagen für die

SUB Göttingen und das Arbeitsamt Dortmund von Hinnerk Wehberg

mit vorbildlichem Ergebnis entwickelt worden. Bis heute haben

wir bei allen anderen Projekten die Freianlagen immer selbst entwickelt

und geplant, denn die enge Verbindung von Gebäude und

Landschaft war und ist für mich immer ein wichtiges Thema unserer

Arbeit. Seit 2012 leitet Tim C. Kraus unser eifriges Team von

Landschaftsarchitekten, welches nun in unserem Hamburger Büro

angesiedelt ist.

Über die vielen Jahre ist unser Büro, das sich seit 2002 "Gerber

Architekten" nennt, immer weiter gewachsen. Es zählt heute 170 sehr

engagierte und erfahrene Mitarbeiter. Wir arbeiten an interessanten

und schönen Aufgaben im In- und Ausland, sie resultieren nach wie

vor überwiegend aus gewonnenen Wettbewerben.

Neben unserem Hauptsitz in Dortmund besteht seit 2007 ein Büro in

Hamburg und seit 2011 ein Büro in Berlin, darüber hinaus jeweils ein

kleines Büro in Riad und Shanghai.

Eine Reihe, zum Teil schon lange in unserem Büro tätiger Architekten

trägt heute das Gesamtbüro verantwortlich mit. Nur gemeinsam können

die großen und überaus komplexen Aufgaben bewältigt werden.

Jens Haake, Projektdirektor, ist heute für das übergreifende Projektmanagement

zuständig. Durch seine langjährige, kontinuierliche

274 Chronologie des Büros
---
The firm's chronology

My career as a freelance architect began in Meschede in 1966, with

the firm "Werkgemeinschaft 66 Eckhard Gerber/Manfred Lange, Architekten"—based

upon my successful involvement in architecture

competitions as a student. Dirk Stelljes joined in 1971, and later became

a partner in the firm. Following the exit of Manfred Lange in 1973,

"Werkgemeinschaft 66" continued under the direction of Dirk Stelljes

and myself. Tragically, Dirk Stelljes died in late 1978 whilst traveling

to a construction site. Following this turn of events, in 1979, the firm

moved to a new headquarters in Dortmund. In 1981, the firm's name

was changed to "Professor Gerber und Partner". From 1975 to 1982,

Ferenc Barabas worked for the firm on a freelance basis, working on the

Municipal Hall and Hotel Hagen project and the second Training Centre

for the Federal Revenue Administration in Münster. In 1979, Georg

Kolendowicz and Volker Hachenberger joined our firm, simultaneously

with the firm's new beginning in Dortmund. Both worked on

the second training centre project as project leaders: Volker Hachenberger

subsequently worked on the Göttingen State and University

Library project (SUB), whilst Georg Kolendowicz worked on projects

including the urban railway station at Dortmund, the sports halls at

Wernau and Wolfschlugen and the entrance building for the firm

WILO in Dortmund. In 1994, Volker Hachenberger left the firm. Georg

Kolendowicz continues to work for the firm to this day. In addition to

his project work, he is actively involved in the development of systems

for research, laboratory and educational buildings in the context of the

DGNB work group.

In 1983, Jürgen Friedemann and Gerhard Tjarks worked alongside

me as colleagues and partners on various design concepts, including

the employment offices of Leipzig, Magdeburg, Sangerhausen and

Dortmund, the SUB of Göttingen, and the University of Applied Sciences

in Lüneburg, with considerable success. We opened a second

office in Braunschweig. Jürgen Friedemann stayed with the firm until

1992, whilst Gerhard Tjarks stayed until 1997.

Between 1990 and 1992, Jutta Kamm was head of allocations, construction

management, and costs.

Jens Haake—at the time, a young architect who had just completed

his qualifications—joined our firm in 1992. Before long, he was working

with more responsibilities, handling projects such as the Town Hall

Gütersloh, the mdr Regional Radio Saxony-Anhalt in Magdeburg and

the ZDF capital studio in Berlin.

Nicola Gerber, my eldest daughter, worked for the firm on a freelance

basis after completing her qualifications, following an interlude for studies

at the Columbia University in New York. She was significantly involved

in designing and planning the Concert Hall, College of Music

and Theatre "Felix Mendelssohn Bartholdy" in Leipzig, with Jens Haake

as project director. Nicola Gerber remained with the firm until 2001.

Thomas Helms has been with us since 1995, mainly working alongside

myself on competition projects such as the Westphalian University

of Applied Sciences in Recklinghausen, the State Office for

Consumer Protection in Saarbrücken, and the church "Marktkirche"

in Essen. We were joined by Olaf Ballerstedt in 1996, and in 1999 by

René Koblank, who had studied with me and was an assistant in my

department at the University Wuppertal. Together, they strengthened

our competition team, and we worked together on design projects

such as the New Trade Fair Centre in Karlsruhe, the Chemical and

Veterinary Investigation Office in Münster, the Biological Institutes of

the Technical University of Dresden, and the first competition for the

King Fahad National Library in Riyadh. In 2003, all three architects left

our firm to start the firm Dreibund Architekten in Bochum.

In the case of the projects for the Vocational Colleges in Lüdenscheid,

the Heinz-Bach-Haus, and the second training centre in Münster, we

developed the plans for the external elements ourselves. From 1989

to 1997, our landscape planning group was prinicpally headed by

Christine Wolf. The external areas for the School of Horticulture Westfalen

and Lippe in Lünen, the administrative centre in Leipzig, the

Town Hall buildings in Gütersloh and Vechta, and the University of

Applied Sciences in Lüneburg were created during this period.

The external areas for the Municipal Hall and Hotel Hagen and the

landscaped areas of the second Training Centre in Münster were created

by Georg Penker (with the forum developed by ourselves), and

the open-air complexes for the SUB Göttingen and the Employment

Office Dortmund were developed by Hinnerk Wehberg (who produced

excellent results). To this day, I consider close connections between

building and landscape to be a crucial theme in our firm's work, and

we therefore plan and develop the external areas for all projects. Our

committed team of landscape architects for open air and landscape

planning has been headed by Tim C. Kraus since 2012, and is based

at our offices in Hamburg.

Today, many years after its founding, our firm (renamed "Gerber Architekten"

in 2002) goes from strength to strength. It now employs

170 committed and experienced personnel. We work on interesting

assignments and create beautiful structures both at home and

abroad—as in the past, these usually result from a winning competition

entry.

In addition to our main headquarters in Dortmund, we have maintained

an office in Hamburg since 2007, and an office in Berlin since

2011. We also run small offices in Riyadh and Shanghai.

Today, several architects, some of whom have been with the firm for

some years now, share overall responsibility for the firm. The large and

exceedingly complex nature of the assignments that we handle means

that they can only be tackled jointly. Project director Jens Haake is

The firm's chronology

275
---
Werkverzeichnis Catalogue

1966

Residential Building, Arnsberg

Completion 1968

Secondary School, Anröchte

Competition, 3 rd Prize

Middle School, Eversberg

Competition, 2 nd Prize

College of Engineering and Education, Hagen

Competition

Youth Centre, Fröndenberg

Competition, 1 st Prize

1967

Residential Building for Dr Donhuijsen,

Oberdollendorf

Completion 1968

Vocational College, Warburg

Competition

Residential Building and Surgery Dr Beyer, Hutzfeld

Design

Grammar School, Winterberg

Appraisal/Report

Hillside Construction, Hünenburg, Meschede

Design

Primary School and Church Centre, Lippstadt

Competition, 1 st Prize

Completion 1971

Middle School, Bödefeld

Competition, 4 th Prize

Grammar School, Paderborn

Competition

Vocational College, Altenhunden, Lennestadt

Competition 4 th Prize

(with Langenhagen)

Acute-Care Hospital, Göppingen

Competition, Commendation

Town Centre Redevelopment New Building for

Sparkasse Bank, Horn/Lippe

Competition, 4 th Prize

Sports Centre, Ledgen

Competition, 2 nd Prize

1968

Residential Building for Dr Schmidt, Meschede

Completion 1970

Residential Building, Plöner See, Bosau/Eutin

Completion 1973

Vocational College, Meschede

Competition

Open-air Swimming Pool, Fröndenberg-Dellwig

Competition

Hillside Residential Construction, Ramsbeck

Appraisal/Report

Residential Construction, Rosenstrasse, Meschede

Appraisal/Report, 2 nd Prize

School Centre, Finnentrop

Competition, 1 st Prize

Secondary School, Siedlinghausen

Competition, 2 nd Prize

Primary School and Special School, Meschede

Competition, 3 rd Prize

Theatre, Menden

Competition, 3 rd Prize

Zoological Garden, Münster

Competition, Commendation

Local Government Administrative Building, Minden

Competition

Spa Visitor Centre, Fredeburg

Appraisal/Report

1969

Residential Buildings, Leiblweg, Meschede

Completion 1971

Residential and Commercial Buildings,

Bahnhofsstrasse, Meschede

Completion 1970

Residential Building, Walburgastrasse, Meschede

Completion 1971

Office Buildings, Schwarzer Bruch, Meschede

Completion 1970

Terraced Housing Lanfertsweg, residential

group II-V, Meschede

Completion 1974

Administration Building for

Provinzialversicherungs gesellschaft, Münster

Competition

House on a Slope, Oberdollendorf

Concept

College of Mechanical and Electrical Engineering,

Meschede

Competition, 1 st Prize

Spa Visitor Centre, Bad Sassendorf

Competition, 4 th Prize

Auditorium, Aachen

Competition

Auditorium/Theatre, Menden

Competition, 3 rd Prize

Swimming Pool, Fröndenberg

Competition

Diakonie Centre, Soest

Appraisal/Report

Grammar School, Winterberg

Appraisal/Report

280 Werkverzeichnis Catalogue
---
Volksbank Sauerland, Meschede

Appraisal/Report, 1 st Prize

Completion 1970

1970

Surgery and Swimming Pool, Burg auf Fehmarn

Completion 1972

Multipurpose Centre, Meschede

Competition, 3 rd Prize

Housing on Vogelwarte, Lennestadt/Altenhunden

Concept

Ellig Building, Bad Godesberg

Concept

Comprehesive School, Uentrop

Appraisal/Report, 1 st Prize

Completion 1974

Civic and Church Centre, Meschede

Competition, 3 rd Prize

Residential Construction, Nelkenstrasse, Meschede

Appraisal/Report

Rural Savings Bank and Parish Centre, Soest

Competition, 1 st Prize

Completion 1974

1971

Kindergarten for Workers Welfare Association,

Meschede

Completion 1973

Special School Centre, Marler Weg, Gelsenkirchen

Completion 1976

School Centre, Detmold

Competition

Residential Buildings, Dortmund

Concept

School Centre, Schmallenberg

Competition

Special School, Lippstadt

Appraisal/Report

Parish Centre and Kindergarten, Meschede

Competition, 1 st Prize

Completion 1973

Town Centre Redevelopment, Havixbeck

Appraisal/Report

Vocational College, Soest

Competition, 2 nd Prize

Hospital, Bamberg

Competition

Youth Detention Centre, Berlin-Plötzensee

Competition

Milex Administration Building, Alexander von Humboldt

Foundation, Bad Godesberg

Competition, Commendation

School Centre, Brilon

Competition, 5 th Prize

School Centre, Fredeburg

Competition, 2 nd Prize

Spa Visitor Centre, Eslohe

Competition, 1 st Prize

Regional Hospital, Frönspert

Competition, Commendation

Conference Centre, Arnsberg

Appraisal/Report

Comprehensive School, Berlin-Kreuzberg

Competition

District Hospital, Hellersen/Lüdenscheid

Competition

1972

Residential Building and Studio, Hirschberg

Completion 1974

College of Higher Education, Siegen

Completion 1973

Comprehensive School, Duesseldorf

Competition

Town Centre Redevelopment, Körbecke

Competition, 4 th Prize

Vocational College Centre, Meschede

Appraisal/Report 2 nd Prize

Secondary School Bigge-Olsberg, Olsberg

Competition, 1 st Prize

Completion 1974

Leisure Centre, Gevlinghausen

Appraisal/Report

Cemetery Chapel, Niedermarsberg

Concept

Conversion of Sparkasse Bank, Werl

Appraisal/Report

1973

College of Higher Education, Siegen

Completion 1976

(with Prof. Schneider-Wessling and Peter Bussmann,

Cologne; Philipp and Blöcher, Siegen)

Residential Building an der Möhne, Körbecke

Concept

Residential Building, Baden/Weser

Concept

Residential Buildings, Soest

Concept

Town Centre Redevelopment, Nottuln

Appraisal/Report

School Centre, Hilchenbach

Competition, 3 rd Prize

Student Housing, Nuremberg/Oldenburg/Krefeld

Competition

Parish Centre, St. Alexander, Schmallenberg

Completion 1975

Main Branch Sparkasse Bank, Borken

Competition

Comprehensive School, Duisburg

Competition, Commendation

Conference Centre and Theatre, Hamm

Competition, 2 nd Prize

Further Educational Centre and Museum,

Recklinghausen

Competition, 3 rd Prize

Communication Centre for Town Hall, Menden

Competition, 2 nd Prize

1974

* Eckhard Gerber | North Rhine Westphalia Promotion

Prize for Young Artists

Architecture and Urban Planning

High Density Housing on the Vogelwarte, Altenhunden,

Lennestadt

Concept

Office Buildings, Lanfertsweg, Meschede

Concept

Residential and Business Centre, Herne

Competition

Hospital, Berlin-Reinickendorf

Competition

Culture Centre, Lingen

Competition

Regional Sparkasse Bank, Herford

Competition

School Centre, Hüttental

Appraisal/Report, 3 rd Prize

Special School, Borken

Competition

Community Centre, Wulfen

Competition

Town Hall, Rietberg

Competition, 2 nd Prize

District Hall, Meschede

Competition, 3 rd Prize

Culture Centre, Fredeburg

Concept

Sparkasse Bank, Niedermarsberg

Competition, 4 th Prize

Secondary School, Meschede

Competition, 1 st Prize

Completion 1977

281
---
Residential Building "Living at Quartierspark",

Hamburg

Appraisal/Report, 1 st Prize

Completion 2018/2019

Residential Development "Hubland", Würzburg

Appraisal/Report, 1 st Prize

Completion 2018

New Building for Rosa Luxemburg Foundation, Berlin

Competition

Museum of the 20th Century and the Urban Integration,

Berlin

Competition

Metro Station Terekhovo, Moscow, Russia

Competition

New Administrational Head Office, Göppingen

Competition

Restoration of the Library for the Faculty Life Sciences

of the University of Applied Sciences, Hamburg

Appraisal/Report

Campus Albertov—Charles-University, Prague, Czech

Republic

Competition

Helmholtz Institute, Erlangen-Nuremberg

Appraisal/Report, 1 st Prize

Completion 2019/2020

ADAC—Car Centre, Essen Nord

Design

Office Building—Hoher Wall 9–13, Dortmund

Appraisal/Report

City Centre Urban Development, Germering

Competition

Waste-to-Energy Plant "Green Valley",

Shenzen, China

Competition, 3 rd Prize

Metro Dubai 2020 Expansion, Dubai, UAE

Appraisal/Report

Freiherr-vom-Stein Redesign School Centre, Rösrath

Competition, 4 th Prize

Speicherstrasse Mixed Used Buildings and Urban

Integration, Dortmund

Appraisal/Report

New Cafeteria and Auditorium of the College North,

Darmstadt

Competition, 2 nd Prize

Redesign of the Cellar Room of the Applied Sciences,

Würzburg

Appraisal/Report

Jürgenshof—Special Care Home and

Residential Building, Herne

Appraisal/Report

State Library, Cologne

Competition

Research Building for Industrial Engineering WIMAT and

Building for Technical Service, Aschaffenburg

Competition

Redesign Betenhof, Dortmund

Design

Residential Building for Elderly People, Mujiayu, China

Design

District Court, Münster

Appraisal/Report, 1 st Prize

Completion 2018

2016

Faculty of Electrical Engineering and Information

Engineering, Campus Garching, Munich

Competition

Research Building for Physics, Campus Garching,

Munich

Competition

Residential and Commercial Building, Jena-Lobeda

Competition

Financial Harbour, Extension Office Building, Bahrain

Study

Hotel at the U Tower, Dortmund

Design/Study

Reconstruction Tönnishof-Villa, Dortmund

Study

Pergolen Quarter Urban and Residential Development,

Hamburg

Appraisal/Report

Pfaffengrund Terrace, Residential Development,

Heidelberg

Competition

Stadion of Wuppertal Sports Club, Wuppertal

Appraisal/Report

Office Building, Frankfurt/Main

Study

Schumacher Residential Building, Berlin

Competition

School Campus Building and Outdoor Facilities,

Schopfheim

Competition

Urban Development Study Hatzfeld, Wuppertal

Appraisal/Report

Campus Building New Weststadt, Esslingen

Competition

Depot Building, Mannheim

Competition

Luther Memorial, Berlin

Competition

Residential Buildings Cramerstrasse, Schweinfurt

Design

China & ROK-FTA Trade Center, Weihai, China

Competition

Main Customs Office, Dortmund

Appraisal/Report

Research Centre for German Documentation Centre of

Art History, Marburg

Competition

Port Authority of NY & NJ Bus Terminal, New York, USA

Competition

Institute Building for Mechanical Engineering/Power

Engineering and Construction Engineering, Giessen

Competition

Centre for Efficient High-Temperature-Substance

Conversion (ZeHS), Technical University "Bergakademie"

Freiberg

Appraisal/Report

Hotel at Königswall, Dortmund

Appraisal/Report

Rehabilitation Clinic, Dortmund

Study

Yantian Port Trailer Service Centre, Shenzhen, China

Competition

Library and Auditorium, Technical University

"Bergakademie" Freiberg

Appraisal/Report

Faculty of Industrial Engineering, Schweinfurt

Competition

Restoration and Extension of the State Library,

Augsburg

Competition

The Science City, Gizeh, Egypt

Competition

Port Tower, Dortmund

Study

Restoration Forum with Parking of Ruhr University,

Bochum

Appraisal/Report

Residential Buildings at Königsberger Strasse 91,

Duesseldorf

Design

Urban Spaces for Elbbrücken Quarter, Hamburg

Competition

Extension Plasmatreat, Steinhagen

Design

300 Werkverzeichnis Catalogue
---
Residential and Commercial Building

Lavendelkreisel, Ingelheim, Rhine

Appraisal/Report

Seminar Center, Ennest

Competition

Chamber of Crafts, Cottbus

Appraisal/Report

Industry Spaces, Dortmund

Study

Development and Redesign of the Domberg, Freising

Competition

Conversion and Extension of the Townhall, Korbach

Competition

Science Museum, Yichang, China

Competition

New Construction of Townhouses and

Gatehouses, Hamburg

Competition

Boa An Public Culture and Art Centre, Shenzhen,

China

Competition

Boa An 1990 Library, Culture Centre and Concert Hall,

Shenzhen, China

Competition

Olaya Metro Boundary Plaza, Riyadh,

Saudi Arabia

Feasibility Study

Sports Area Circle Stellingen, Hamburg

Appraisal/Report

New East Wing Building for Federal Court, Karlsruhe

Competition

Office Building Friedrichsberger Strasse, Hamburg

Appraisal/Report

Exhibition Building at the University of Applied

Sciences, Würzburg-Schweinfurt

Feasibility Study

Health Residential Development and Clinic at the

Olympic Village, Elstal

Feasibility Study

Nanshan Xili Culture and Sports Centre, Nanshan,

China

Competition

Student Housing Karstadt-Technik

Study

Residential Development Manfredstrasse/

Ursulastrasse, Essen

Appraisal/Report

Extensional Building for Administrative District Office,

Tuttlingen

Competition

Dalian—Urban Design Guidelines

Appraisal/Report

Student Housing at Main Station, Bochum

Study

301