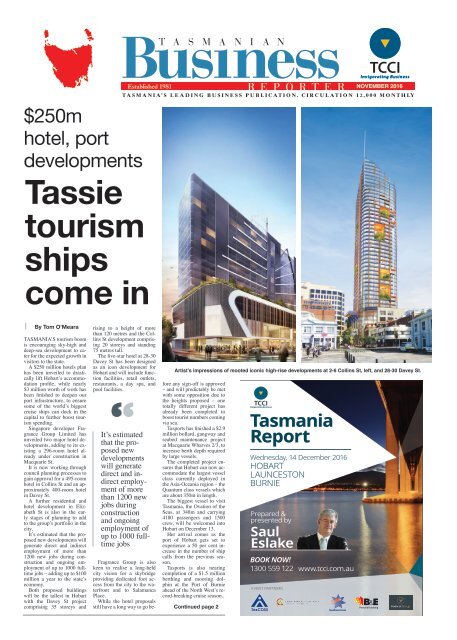 Tasmanian Business Reporter November 2016
Tasmanian business confidence is the second highest in the country and the November Tasmanian Business Reporter is proud to promote all that's positive in the sector. From the $250 million Hobart hotels planned by Fragrance Group and confirmation of the land transfer to facilitate Launceston's UTAS relocation, to innovative new energy projects and a new veggie deal to boost farmer confidence - we've got the stories covered.
Tasmanian business confidence is the second highest in the country and the November Tasmanian Business Reporter is proud to promote all that's positive in the sector.

From the $250 million Hobart hotels planned by Fragrance Group and confirmation of the land transfer to facilitate Launceston's UTAS relocation, to innovative new energy projects and a new veggie deal to boost farmer confidence - we've got the stories covered.

SHOW MORE
SHOW LESS
You also want an ePaper? Increase the reach of your titles
YUMPU automatically turns print PDFs into web optimized ePapers that Google loves.
$250m

hotel, port

developments

Tassie

tourism

ships

come in

NOVEMBER 2016

T A S M A N I A' S L E A D I N G B U S I N E S S P U B L I C A T I O N . C I R C U L A T I O N 1 2 , 0 0 0 M O N T H LY

By Tom O'Meara

TASMANIA'S tourism boom

is encouraging sky-high and

deep-sea development to cater

for the expected growth in

visitors to the state.

A $250 million hotels plan

has been unveiled to drastically

lift Hobart's accommodation

profile, while nearly

$3 million worth of work has

been finished to deepen our

port infrastructure, to ensure

some of the world's biggest

cruise ships can dock in the

capital to further boost tourism

spending.

Singapore developer Fragrance

Group Limited has

unveiled two major hotel developments,

adding to its existing

a 296- room hotel already

under construction in

Macquarie St.

It is now working through

council planning processes to

gain approval for a 495- room

hotel in Collins St and an approximately

400 -room hotel

in Davey St.

A further residential and

hotel development in Elizabeth

St is also in the early

stages of planning to add

to the group's portfolio in the

city.

It's estimated that the proposed

new developments will

generate direct and indirect

employment of more than

1200 new jobs during construction

and ongoing employment

of up to 1000 fulltime

jobs – adding up to $100

million a year to the state's

economy.

Both proposed buildings

will be the tallest in Hobart

with the Davey St project

comprising 35 storeys and

rising to a height of more

than 120 metres and the Collins

St development comprising

20 storeys and standing

75 metres tall.

The five- star hotel at 28- 30

Davey St has been designed

as an icon development for

Hobart and will include function

facilities, retail outlets,

restaurants, a day spa, and

pool facilities.

It's estimated

that the proposed

new

developments

will generate

direct and indirect

employment

of more

than 1200 new

jobs during

construction

and ongoing

employment of

up to 1000 fulltime

jobs

Fragrance Group is also

keen to realise a long- held

city vision for a skybridge

providing dedicated foot access

from the city to the waterfront

and to Salamanca

Place.

While the hotel proposals

still have a long way to go be-

Artist's impressions of mooted iconic high-rise developments at 2-6 Collins St, left, and 28-30 Davey St.

fore any sign-off is approved

– and will predictably be met

with some opposition due to

the heights proposed – one

totally different project has

already been completed to

boost tourist numbers coming

via sea.

Tasports has finished a $2.9

million bollard, gangway and

seabed maintenance project

at Macquarie Wharves 2/3, to

increase berth depth required

by large vessels.

The completed project ensures

that Hobart can now accommodate

the largest vessel

class currently deployed in

the Asia-Oceania region – the

Quantum class vessels which

are about 350m in length.

The biggest vessel to visit

Tasmania, the Ovation of the

Seas, at 348m and carrying

4180 passengers and 1500

crew, will be welcomed into

Hobart on December 13.

Her arrival comes as the

port of Hobart gets set to

experience a 50 per cent increase

in the number of ship

calls from the previous season.

Tasports is also nearing

completion of a $1.5 million

berthing and mooring dolphin

at the Port of Burnie

ahead of the North West's record-breaking

cruise season..

Continued page 2

Tasmania

Report

Wednesday, 14 December 2016

HOBART

LAUNCESTON

BURNIE

Prepared &

presented by

Saul

Eslake

BOOK NOW!

1300 559 122 www.tcci.com.au

EVENT PARTNERS
---
2 Tasmanian Business Reporter - NOVEMBER 2016

NEWS

Forestry Tasmania axed

FORESTRY Tasmania as we know it

will be axed after recording a loss of

$67 million in the last financial year

– and a major overhaul of the state's

forestry sector is planned.

The changes outlined in Parliament

by Forestry Minister Guy Barnett have

been met with criticism from opposition

parties and conservationists.

But Mr Barnett said the decision to

downsize the GBE and rename it Sustainable

Timber Tasmania from July 1,

2017 reflected the need to be leaner,

more efficient and more agile.

Tourism ships come in

From page 1

The new mooring dolphin will allow

cruise ships of up to 315 metres in

length to berth at the port, a significant

increase on the current limit of 280

meters.

Burnie expects 19 cruise ships

carrying over 37,000 passengers and

crew, an increase from 11 ships last

season.

Tourism is also looking up in Launceston.

The sign-off from Launceston City

Council to transfer land to UTas for its

relocation project has already inspired

confidence in the private accommodation

sector.

Aldermen approved the partial sale

of the Cimitiere St car park to facilitate

a multi-million dollar 70-80 room hotel

on the site.

Project manager Sam Tucker, of

Commercial Project Delivery, said ``an

innovative'' Development Application

would be forthcoming within months.

"It will be a different hotel, it's not

going to be a carbon copy of anything

that is already here and it's something

that everyone who has been close to

is very excited about," he told The

Examiner.

"We certainly have looked at many

sites around Launceston and we were

interested in that part of Launceston

well before the university move was

mooted (but) ... that vision has only

been further enhanced by the likely

progression of the University of Tasmania

development."

The Government will absorb superannuation

liabilities of the business,

private foresters will be given more

opportunity to access areas, while

higher log sale charges will be brought

in.

Other changes confirmed included

that FT would exit from direct exports

and up to 35 positions would be cut.

Mr Barnett announced he intended

to table legislation next year to remove

the requirement for legislated wood

supply obligations to be met solely

from the Permanent Timber Production

Zone – opening up just over

357,000 hectares of Future Potential

Production Forest land from July 1,

2018 – two years earlier than initially

envisaged.

There are also concerns that regional

sawmills will not be able to

afford higher prices for timber.

The Greens have flagged more

high-profile action to stop the extension

of the so-called "wood

bank''.

However, the Government argues

appetite for the forestry sector

has changed since the Forestry

Peace Deal brokered during the

Labor-Green accord.

It said exports had more than

doubled in the year to June and –

according to 2015-16 ABS data

– employment in the sector has

grown to more than 3600 from the

low of 2700 reported in 2013.

Executive Chairman of Neville

Smith Forest Products James Neville

Smith welcomed the news, saying it

would get FT back to a more pragmatic

approach and ensure forestry again

became a great Tasmanian primary industry.

The government is trying to ramp

up the sector even further with a Processing

Innovation Program.

Focussing on creating value-added

products from wood and plant residues,

the $1.25m program received

41 applications. Successful applicants

included

Meander Valley Council, Norske

Skog Paper Mills, Stronarch Industries

Group Pty Ltd andDorset Renewable

Industries Pty Ltd.

T A S M A N I A' S L E A D I N G B U S I N E S S P U B L I C A T I O N . C I R C U L A T I O N 1 2 , 0 0 0 M O N T H LY

e dition

Tasmanian Business Reporter can now be delivered directly to your inbox. With our 12,000-strong monthly print

readership, our new up-to-date digital distribution will keep Tasmanians abreast of the all latest in local business

news. From this month we will distribute electronic editions of the Tasmanian Business Reporter as we go to print.

To confirm your copy sign up to our mailing list via

tbreditorial@fontpr.com.au

TASMANIA'S LEADING BUSINESS PUBLICATION. CIRCULATION 17,000 MONTHLY

Tasmania's business newspaper is published

monthly by the Tasmanian Chamber of Commerce

and Industry. It is distributed to businesses in

Tasmania as well as key decision-makers.

Circulation: 12,000

Managing Editor: Tom O'Meara

Ph: 0418 135 822

Editor: Becher Townshend

Ph: 0418 370 661

Advertising: 0401 252 586

www.tasmanianbusinessreporter.com.au

Editorial email:

TBReditorial@fontpr.com.au

Advertising email:

TBRadvertising@fontpr.com.au

Publisher:

Tasmanian Chamber of Commerce

and Industry

309 Liverpool St, Hobart, TAS 7000

Level 1, 26 Elizabeth St, Launceston TAS 7250

Ph: 6236 3600 Fax: 6231 1278

Production:

aldridge.media

aldridge.media@iinet.net.au

Printer: The Mercury

Level 1, 2 Salamanca Square, Hobart, 7000

The re-developed Macquarie

Wharf No 2 centre ready to welcome

cruise ship passengers,

above, and Hobart will be able

to handle ships even larger than

giant Queen Victoria, inset, that

visited last year.

Healthy survey result for St Lukes

ST LUKES Health has

been named by Roy

Morgan Research as

Australia's number one

private health insurer for

customer satisfaction for

an incredible six months

in a row – from March

through to August.

Members have rated

the Tasmanian-based,

not-for-profit organisation

as best in its class,

beating the biggest funds

across the country.

CEO Chris Williams

said it was humbling that

members continued to

rank St Lukes Health so

highly.

"It really reflects the

passion our customer

care team have for taking

care of our members,"

Mr Williams said.

"Being truly focused

on our members means

as soon as they walk

into one of our customer

care centres or

Celebrating are St Lukes staff Brandine Campbell, left, Gwen Espie,

Helen Cowley, Deb Sweeney, Zach Pearce and CEO Chris Williams.

call our team over the

phone, they know their

getting the best advice

from knowledgeable

and experienced staff.

"To stay consistently on

top we continue to innovate

with things such as

Gap Free Preventative

Dental and our Mobile

Claiming App.

"Statewide we're refreshing

our customer

care centres and reinvesting

into the local community.

"The new look customer

care centre approach is

a step away from the old

counter-style method of

service which is really a

closed environment for

interacting with members,"

Mr Williams said.
---
Tasmanian Business Reporter - NOVEMBER 2016 3

MyState, B&E report positive year's performance

NEWS

State players slam 'big bank bias'

TWO Tasmanian banking businesses

have reported positive results for

the financial year.

B&E Personal Banking announced

a strong financial year result

for 2015/2016, underpinned by

a significant increase in demand for

its lending products across the State.

Chairman Stephen Brown announced

an after-tax profit of $3.2M,

stating that the company was in a

strong capital and liquidity position.

"During the financial year, we experienced

a 33 per cent increase in

loan approvals, leading to 7 per cent

loan book growth – well above system

growth of 1 per cent (Tasmania),"

Mr Brown said.

"This led to a positive uplift in

B&E's owner-occupied market share

and was a significant achievement in

a highly competitive and challenging

environment.

"This growth was experienced

right across the year and was partnered

with excellent loan retention,

leading to overall portfolio growth

of $36M, ending the year at $583M.

Total assets increased to $728M,"

said Mr Brown.

Meanwhile, MyState's loan book

surpassed $4 billion for the first

time, marking an important milestone

for the company.

This compares with a loan book of

little over $3 billion two years ago.

"MyState's strategy has enabled

the company to grow without compromising

the quality of its loan

book," managing director and CEO

Melos Sulicich said.

"We place great emphasis on

strong risk management, and our

30-day arrears are substantially less

than regional peers and the benchmark

for the big banks,"

At the MyState AGM, Mr Sulicich

said that Australia needed more

competition in financial services but

small banks remained hamstrung by

competitive inequity.

He urged the federal government

to continue implementing the Murray

report's competition recommendations

and reduce continuing inequity

between small and large banks.

Mr Sulicich said that while regulation

had required large banks to

increase the average mortgage risk

weight from 18 per cent to 25 per

cent, this was the lower limit of the

Murray report's recommendations

and not enough to level the playing

field.

B&E Chairman Stephen Brown

Coles cultivates better farming future

AFTER years of uncertainty with

job cuts and reviews mooting possible

factory closures, finally Simplot

vegetable growers in the state have

had positive news.

Tasmanian farmers will grow millions

of extra vegetables as part of a

new agreement between Coles and

Simplot to supply Aussie-grown

produce for the next eight years.

Under a supply contract which

has been extended until 2024,

Coles has committed to sourcing an

additional six million kilos a year

of Australian-grown vegetables

which was previously sourced from

overseas.

Simplot managing director Terry

O'Brien said the extra volume for

the new contract would be sourced

from Simplot growers across Tasmania,

NSW and Queensland for

the Coles and Birds Eye brands.

"It means growers will need to

plant more crops – and this will

benefit all those who contribute to

the manufacturing of Aussie grown

products including site workers,

truck drivers and regionally-based

service providers," Mr O'Brien

said.

Coles managing director John

Durkan said the Simplot contract

was an important extension of its

Australian-first sourcing policy.

"We know our customers want to

buy Australian-grown food so we're

pleased to be extending our 20-year

partnership with Simplot to source

Women shine at Telstra awards

more vegetables from Tasmania,

NSW and Queensland," he said.

The new contract brings the

volume that Coles sources from

Simplot to 56 million kilos of Australian-grown

frozen vegetables and

potatoes each year.

TASMANIA'S women

business elite have been

celebrated at the Telstra

Business Woman of the

Year Awards.

Bernadette Black,

CEO and founding director

of Brave Foundation,

was announced as the

overall winner.

Mrs Black set up the

Brave Foundation charity

in 2009 to build a community

of support and

acceptance around anyone

facing teenage pregnancy

and parenthood,

ensuring more pregnant

and parent teenagers

are finishing secondary

school and remain in employment.

Alicia Leis from WLF

Accounting & Advisory,

claimed the Women's

Corporate and Private

Award.

In 2013 Ms Leis became

the third female

partner appointed to

WLF, a wholly-owned

Tasmanian chartered accounting

and advisory

firm.

In response to the

growing importance of

risk management and

governance, she built a

new internal audit and

risk service from the

ground up and now leads

the consulting and internal

audit divisions of

WLF.

Since securing her first

contract in 2012, Ms Leis

has established a large

portfolio of clients and

Alicia Leis

secured revenue of more

than $2m in less than

five years.

She is vice chair of the

Institute of Internal Auditors

Tasmanian Chapter

and is currently leading

Farmers Stuart Greenhill, Stewart

McGee and David Addison welcomed

the announcement.

"The extension of the contract to

2024 gives us added confidence to

plant our crops and more security in

our future," Mr Greenhill said.

an initiative to embed a

staff development framework

across the business.

She also delivers governance

and risk training

to not-for-profit organisations

at reduced rates

or pro bono.

Other business women

recognised at the 2016

Telstra Tasmanian Business

Women's Awards

are:

Dr Kirsten Connan

from TasOGS – Tasmanian

Obstetrics & Gynaecology

Specialists,

Entrepreneur Award.

Penny Terry from the

ABC, Public Sector and

Academia Award.

Melody Towns from

Be Hers, Young Business

Woman of the Year.

Vegetable grower Stewart McGee, left, Simplot managing

director Terry O'Brien, Coles managing director

John Durkan and vegetable growers Stuart Greenhill

and David Addison welcome the new Coles-Simplot

deal.
---
4 Tasmanian Business Reporter - NOVEMBER 2016

THOUGHT LEADERSHIP

www.tcci.com.au

TCCI celebrates long history

AS THE end of the year

looms large, I thought it

an apt time to confirm

the statements made in

the TCCI's Annual Report,

released at our

AGM last month.

The TCCI has a long

and proud history of

advocating in the best

interests of Tasmania's

business community,

which in turn provides

a positive flow-on effect

to the community as a

whole.

It is pleasing to see

membership remain

strong and its growth

continues to be a focus

of the organisation.

Through the year we

restructured our membership

platforms to

better diferentiate between

levels and provide

more to our members.

We must continue to

increase our membership

and ensure that all

businesses in our state

Michael

Bailey

TCCI Chief Executive

are supporting the peak

business body. It is not

enough to accept the outcomes

of our advocacy

without supporting the

organisation financially.

One of the recent additions

to the TCCI's large

portfolio of advocacy,

lobbying and support

services is the initiation

of the Tasmania Report

– one of the most significant

non-government

documents in Tasmania's

history.

The 2016 version will

be released on December

14 at a breakfast

in Hobart, a lunch in

Launceston and a dinner

in Burnie – setting the

scene for what we would

like to see in next year's

State Budget and outlining

the need for change.

Researched and prepared

by world-renowned

economist Saul

Eslake the report and

events will discuss the

current condition of the

Tasmanian economy and

document the extent of

progress, or lack thereof,

towards agreed longterm

economic and social

goals.

It will also discuss

Tasmania's performance,

based on annual

data from the ABS State

Accounts, plus similar

gauges for social indicators

such as educational

participation and attainment,

health outcomes

and community safety.

This work has enabled

TCCI to embrace new

partners to further improve

on this great state

and gives us a strong

platform to lobby.

The strength of the research

in the Tasmania

Report has enabled TCCI

to take a fuller view of

the Tasmanian economy

and the factors that affect

it including health and

education.

Another source of

pride comes from our operational

plan, developed

last year.

It has helped our organisation

to stay focused

and I am pleased to

say that we are on target

with our goals set.

Our plan focuses on

"building": building our

voice; our brand; our

business; our professionalism;

the value of

our membership; and

2016 ANNUAL REPORT

our staff. We could not

achieve our goals without

the stewardship of

our terrific board. We

have a dynamic group of

people around the table

who are passionate about

improving our state.

The work that the directors

put in, on a voluntary

basis, is astounding.

Particular thanks go

to Damon Wells (Treasurer)

and Paul Arnold

(Company Secretary)

who put in above and beyond.

And to my terrific

Chair, Susan Parr, thank

you for your accessibility,

mentoring, sounding

board, voice of reason

and friendship.

Thank you also to

Andrew Heap, Richard

Lowrie and Damon Wells

who leave us this year.

I am pleased to announce

that we have

also expanded our office

space in Hobart and

moved locations in Launceston.

At our head office in

Hobart we can now offer

a larger range of training

spaces and access to temporary

offices for members.

In Launceston we are

pleased to now be located

with the Tasmanian

Farmers and Graziers Association.

So come and visit us or

give us a call to see how

we can help your business

grow, and how you,

in turn, will be helping us

achieve a greater Tasmania.

You can see the full

Annual Report on our

website.

Trade mission seeks East Asia business

THE Tasmanian Government's

Department of

State Growth and Office

of the Coordinator-General

are planning a trade

and investment mission

to East Asia in late February,

2017.

The countries under

consideration to visit include

Japan, China, Hong

Kong, Korea and Taiwan.

The final program will

be based on the needs of

participating businesses

and strategic opportunities.

Businesses participating

in the mission will

have the opportunity to

identify and foster international

connections and

partnerships, network

with peers, identify potential

business partners,

secure international customers

or distributors for

Sally

Chandler

Tradestart Adviser

products and services

and explore new markets.

The Department of

State Growth is seeking

expressions of interest

from Tasmanian businesses

to be part of the

mission.

The EOI must be submitted

by Friday November

11, 2016 and

once the department

has assessed all EOIs

they will provide advice

by the end of November

so participants

can progress arrangements

for the mission.

Priority will be given

to companies that are

currently engaged with

the targeted export markets,

currently exporting

but have not yet engaged

with the targeted

export markets, export

capable and requiring

international market

experience in order to

commence trade and

export activities, or, investment-ready

Tasmanian

businesses seeking

partners for inward

investment proposals

or cooperative business

models in the target

markets.

Delegates will be

responsible for organising,

confirming and

paying for their own

international flights and

accommodation as well

as obtaining relevant

visa requirements for

the countries being visited.

The Department of

State Growth is offering

support through their

New Market Expansion

Program which is designed

to assist Tasmanian

enterprises in planning

and implementing

their international (and

national) marketing activities.

For those businesses

selected to participate in

the mission, pre-approval

for financial support

through the program can

be considered, subject to

meeting the eligibility

criteria.

The economies of

East Asia are among the

most dynamic in our region

and are significant

markets for Tasmanian

goods and services, education,

tourism and also

are significant sources of

inward investment.

International Partnerships

manager at the Department

of State Growth

Warwick Clark is the

contact for the mission

and if you are interested

in taking part, please get

in touch with Warwick by

email at warwick.clark@

stategrowth.tas.gov.au .

For international

trade and investment

assistance contact

the TCCI's TradeStart

adviser, Sally Chandler,

at sally.chandler@tcci.com.au

or

phone 1300 559 122.

Health and safety training

By Craig Hortle

THE workplace health

and safety act is very

clear on the duties of a

PCBU (person conducting

a business or undertaking).

One of the duties

a business has is to provide

training for those

employed to ensure that

they can carry out the

tasks they have safely.

This may be accomplished

by:

• In-house training on

the particular task;

• Vendor training on

a particular product or

piece of equipment;

• and, Accredited

training for transferable

skills.

Whatever the type of

training that is required,

it should be recorded

that it has occurred

so that the skills of the

workforce can be monitored.

Having visited a number

of workplaces, it is

interesting to note that

when asked who cares

for Workplace Health

and Safety at a business,

it usually falls to the office

reception. Quite often

the person responsible

has not had any

formal training in WHS

or has carried on a system

that may be years

old.

Part of the solution to

this problem would be

for the PCBU to provide

some accredited training

for that person. It may be

a qualification in WHS

for example a certificate

IV or diploma.

Another solution may

be have the worker responsible

attend a skill

set on WHS.

The TCCI is currently

running two units of

competency out of the diploma

of WHS - Ensure

a safe work place and

Manage effective WHS

consultation and participation

processes.

Both these units provide

a good foundation

for the person responsible

for WHS in a small

business including understanding

legislation, hazard

and risk assessment

and workplace communication

for WHS.

The PCBU also needs

to provide the adequate

supervision for workers.

If you have new workers

in your business, especially

if they are new to

the work environment,

they need adequate supervision.

Statistically,

new workers (direct

from school) are the

most vulnerable and are

quite often injured inside

the first three months.

If you have someone

in your business

who may benefit from

this training contact the

TCCI.
---
Tasmanian Business Reporter - NOVEMBER 2016 5

Demand grows for 'clean, green' dairy products

NEWS

Tassie milk flies high in China

By Roger Jaensch

FOR many Chinese, Tasmania is literally

the land of milk and honey.

Our state's beautiful environment,

rich fertile soils, cleanest air on

earth and gentle, temperate climate

makes Tasmanian produce the envy

of many.

This is particularly true of our

dairy products which are among the

best in the world and sought after by

the growing Asian market.

Tasmania's North West Coast is

home to the best dairy farms in the

world.

Among them are the former Van

Diemen's Land Company farms,

now owned by Moon Lake Investments.

When Moon Lake took over earlier

this year, the company outlined

plans for $100 million in investment

and expansion, creating an additional

95 jobs.

Late last month a significant step

in this expansion took place, a step

that I believe in future years will be

seen as a game-changer for our dairy

industry and trade relations with

China.

Moon Lake's sister company

launched a new milk brand – VAN

Milk.

This premium-priced milk product,

produced from the lush pastures

of the North West will soon be distributed

fresh, direct to China.

A new direct weekly service will see premium fresh milk products flown into and sold in China.

What makes this deal extraordinary

is that VAN will underwrite a

weekly air link between Tasmania

and Ningbo in China and export 10

million litres annually of fresh Tasmanian

milk.

It's important to note that this is

only about 10 per cent of their total

local production, leaving plenty of

milk for us locals.

These flights, the first of their

kind, will carry other high quality

perishable Tasmania food and create

an extraordinary opportunity for

Tasmanian premium exporters into

China.

Conceivably, VAN can become

a key trade bridge partner for other

Tasmanian exporters, taking advantage

of VAN's established distribution

channels, warehousing, cold

chain logistics and significant business

introductions.

The Hodgman Liberal Government

through the Office of the

Coordinator-General has been instrumental

in developing this opportunity.

In the last decade, milk production

in Tasmania has grown by more

than 40 per cent and investment in

irrigation infrastructure around the

State has created opportunities to

expand existing farms and start new

dairy enterprises.VAN predicts the

creation of new jobs in processing

and exporting as well as opportunities

for all Tasmanian producers of

fresh, perishable produce such as

seafood, fruit and vegetables.

It will start with one weekly round

trip early in the new year increasing

in frequency to two or three times

a week a year after it commences.

Another significant step in improving

Tasmanian exports was DP

World's announcement last week it

will proceed with its planning for

an international container terminal

at the Port of Burnie – a further

sign of growing confidence in Tasmania's

economy.

The planned $75 million project

will improve the port's container

capacity and open the port up to

additional international container

shipping lines.

DP World have said about 40

new positions will be created to

operate the terminal, expanding

over time.

As part of the development, exporters

will be able to ship directly

overseas, and DP World has indicated

the cost of exports to key destinations

will be cut by 40 per cent.

Our primary producers and local

agribusinesses will have easier

and more competitive access to the

world's markets, where they will

be able to capitalise on the sale of

their world-renowned products in

the global marketplace.

Both the VAN and DP World developments

are transformational

for our State. Each will help us reverse

the so-called "tyranny of distance"

that has held us back in the

past – turning a disadvantage into

a competitive advantage.

Switching. It's easy.

It's where you end up that's most important.

To get covered

please contact:

Northern Tasmania: Southern Tasmania: North West Tasmania:

Courtney Osborne

0417 563 546

cosborne@stlukes.com.au

Alicia Frankcombe

0417 561 948

afrankcombe@stlukes.com.au

Rebecca Roth

0439 392 453

rroth@stlukes.com.au

Jan Hooper

0459 022 553

jhooper@stlukes.com.au
---
6 Tasmanian Business Reporter - NOVEMBER 2016

THOUGHT LEADERSHIP

Vital scheme lauded

Joan Rylah MHA, left, Senator Eric Abetz, Tasmanian Logistics Committee chairman Brett Charlton, Senator Stephen

Parry and MHA Roger Jaensch at the TFES presentation.

I RECENTLY accepted a

plaque for Tasmanian Industry

for the 40th Anniversary

of the Tasmanian

Freight Equalisation

Scheme (TFES) from the

Federal Government.

I was expecting a ruby

encrusted brass plaque

with a sculpture but I

guess something of that

magnitude is being saved

for the 50th anniversary.

It was a moment that

allowed for some reflection

of the last 40 years,

but for me it was more

so an opportunity to contemplate

the importance

of the scheme to Tasmania

and how it will fit

into the future growth for

our state.

There has been some

question as to the success

of the extension of

the scheme into exports.

Brett

Charlton

Agility Logistics

The TFES was extended

in January 2016,

to provide some relief to

Tasmanian exporters that

need to transship their

cargoes over a mainland

Australian port.

The scheme acknowledges

that the cost of

traversing Bass Strait to

access international departure

points is a burden

on export growth

and that there are a lack

of direct international

shipping services that

call in Tasmania.

As such, exporters can

access assistance to this

burden to the tune of

$700 per TEU. Equate

this to a cost on average

of around $1030 per

TEU.

While we would all

love an equal platform

for trade to our mainland

cousins, we do need to

acknowledge that we live

on an island and there is

a cost for equipment to

be positioned here (even

when direct international

vessels called Tasmania

there was usually a cost

of about $250 per TEU

additional to the Melbourne

base freight cost).

I think that the benefits

of the extension of

the TFES for the export

traders may prove to be a

little difficult to measure

in the traditional sense.

It has been reported

that for the first

nine months, the claim

amount has fallen short

some $30m of expectation.

Judging the scheme

only on the basis of returns

in the first year is

not the right thought process.

One should discuss

with the exporters and

businesses themselves

how the extension to

the scheme has assisted

them.

I know of a number

of examples of exports

being competitive and

exported because of the

scheme – these volumes

can be measured by returns

lodged.

However, what is not

captured at the moment

is how the additional revenue

is allowing companies

to explore new markets,

improve marketing,

buy upgraded plant and

equipment, plan for value

adding and most importantly,

employment

of more Tasmanians.

The TFES is a significant

driver for future

growth opportunities for

the Tasmanian trading

community – let's not

get ourselves distracted

by statistical data that

does not capture all the

benefits..

www.tcci.com.au

Difference in

business sale

Dean

Demeyer

Demeyer Consulting

OVER the years I have

done several real estate

transactions and 100

per cent of the time, the

agent I dealt with added

great value and a return

on investment for their

commission.

However, when it

comes to the sale of an

operating business, and

project managing the

many interested parties

through to settlement,

hiring a professional

business broker is your

best approach.

An active business is

a much more complex

structure than simply

static land and buildings.

The dynamics around establishing

a fair price for

a business are very complex

– at least when it's

done properly.

Buyers of businesses

will always ask many

more questions around

the operations, employees

and free cash flow of

a business. Buyers want

to discuss these things

with someone who can

answer questions with

confidence and knowledge

of business dynamics.

Listing a business for

sale is fine, but well prepared

documentation that

answer all likely questions

from buyers' accountants

and lenders, is

An active business is

a much more complex

structure than simply

static land and buildings

always required for a fast

sale at the highest possible

price.

The larger the business,

the more critical

that documentation becomes.

Remember, selling a

business is in fact selling

a future cash flow

and a families' future

lifestyle, not just selling

inactive real estate.

Matching appropriate

buyers with sellers is a

critical value proposition

for a business broker.

They must meet

both parties' objectives

and financial goals.

Please don't let what

may be the biggest financial

transaction you

will make, be reliant for

success just on an advertisement

in the paper.

This is why you need

to hire an expert business

broker who can

add sufficient value to

give you a return on

investment, not just be

another cost of doing

business.

Dean Demeyer is a

broker at Finn

Business Sales.

Advice is general in

nature. He can be

contacted by email

at dean.demeyer@

finnbusinesssales.

com.au
---
Tasmanian Business Reporter - NOVEMBER 2016 7

THOUGHT LEADERSHIP

Job participation rate concern

Red tape gets chop

THE Hodgman Government

is committed to cutting

red tape – reducing

duplication and heavy

handed regulation – to

make Tasmania the best

place in Australia to do

business.

Since becoming Parliamentary

Secretary,

I have been talking to

businesses and business

groups across the state to

identify red tape issues

that are costing them

money and time.

Red Tape Reduction

Coordinator Stuart Clues

AFTER a very concerning

twelve months of

negative employment

results, there are signs of

positivity for Tasmania's

economy.

I was pleased to see

the latest Australian Bureau

of Statistics update

showed 400 jobs were

created in September.

While full-time employment

was marginally

lower, the latest stats

are an improvement on

where Tasmania found

itself a few months ago.

The state's participation

rate (59.9%) is still

too low and we must all

work towards making

job seekers feel more

confident about the opportunities

that are out

there.

A low participation

rate indicates many people

are overwhelmed by

the jobs market and have

given up looking for employment.

The latest reports

show there are less than

2000 job vacancies at

any one time in Tasmania,

making it an extremely

difficult market

...progress is also being

made on issues raised

by businesses and industries

H O T E L

ENJOY THE WATERFRONT

for those people looking

for work.

The most recent CommSec

State of the States

report also brought with

it some positive signs.

CommSec reports

there's been a lift in the

Tasmanian economy

over the past quarter and

that home-owners are

seeing a general growth

in the value of their

properties.

has briefed me on more

than 70 red tape issues

that have already

been identified so far

by industry, which we

are steadily working

through.

The current list can

be found at www.cg.tas.

gov.au/home/red_tape_

reduction, and the next

progress report will be

released by the end of

the year.

While major reforms

are under way in areas

like planning and building

regulations, progress

is also being made

on very specific issues

raised by the businesses

and industries they

uniquely affect.

In a recent example,

the Duties Act 2001 was

amended to deal with a

situation whereby new

car dealers were exempt

from paying duty on the

initial registration of new

15% off midweek when you mention this offer!

Negotiated corporate rates & group packages available. Conference

and meetings facilities. Wireless/broadband internet. Cafe and catering.

Security parking and lifts. Mini gym & sauna.

6270 1444 / 1300 733 422 15 Hunter Street, Hobart

www.zerodavey.com.au

But unfortunately

there's not one major infrastructure

project in the

pipeline, leading to signs

of an early slow-down in

the construction industry.

Construction of new

homes is now 18.7 per

cent below the decade

average and in the June

quarter, new dwelling

starts were down 28.2

per cent compared to a

year ago.

Economic activity in

Tasmania in the June

quarter was just 10.8 per

Builders will benefit from less red tape.

vehicles used as demonstrators,

but not those

used as courtesy cars.

This meant that dealers

whose franchise arrangements

require them

to provide new vehicles

as courtesy cars were

effectively being taxed

twice – once when they

first registered the car

and again when it was

sold to its first private

owner.

The amended act treats

courtesy cars the same as

demonstrator cars and

eliminates this "double

dipping" on duties – a

cost to business.

This is a small example,

but they all add

up. This one was identified

by the Tasmanian

Automobile Chamber

of Commerce in 2015,

and it has resulted in a

change in legislation that

will benefit several Tasmanian

businesses and

their customers.

What else is out there?

If you know of a red

tape issue that needs

to be addressed,

please contact the

Red Tape Reduction

Coordinator at Stuart.

Clues@cg.tas.gov.au

or phone 6165 5027.

many are overwhelmed

by the jobs

market and give up

cent above the decade

average.

Labor is working hard

on a range of policies

that we'll take to the next

election in order to stimulate

economic growth.

We are also thinking

about the long-term strategic

investments in infrastructure.

Water and sewerage is

an issue Labor will keep

talking about until there's

a commitment from both

the state and federal governments

www.tcci.com.au

Liability cover

saves the day

DIRECTOR,

INSURANCE SOLUTIONS

RUNNING a business

can sometimes feel like

running the gauntlet –

there are more than 190

pieces of legislation that

govern the way we operate

our business, with

some 5000 provisions

that can result in fines or

penalties.

A simple mistake can

be all it takes to bring a

claim against you and

your company, and the

defence costs alone can

be crippling.

Management Liability

Insurance is surprisingly

affordable, despite

a high-level of claims

activity in this arena.

A good policy will

cover directors and

officers not only for

wrongful acts, errors or

omissions but also for

fidelity – such as theft by

employees.

The Fair Work Act

2009 and the Work

Health and Safety Act

2012 are two pieces of

legislation on everyone's

radar.

They govern just about

every decision we make

in business and there is

exposure even when we

cross our T's and dot

our I's.

Take Steve for example.

His secretary

claimed she was subjected

to sexual harassment

by a couple of the guys

she worked with.

She wanted an apology

and compensation for

loss of earning capacity,

emotional distress, depression,

and her medical

and legal expenses.

Luckily, Steve was a

proactive manager and

had management liability

insurance.

The claim was settled

for $28,000 in damages

which, together with the

legal expenses, was paid

by his insurer.

And then there was

Mark, who owns a busy

city cafe. His apprentice

cut his hand on the meat

slicer.

Mark's company was

prosecuted, and although

they successfully defended

the allegations, their

legal fees were in excess

of $20,000 – which were

paid under the management

liability insurance.

Sally Bevis is a director

at Insurance Solutions

Tasmania Pty Ltd (AFSL

315540) - brokers for

the TCCI.Information is

general in nature.

Contact sbevis@inssoltas.

com.au
---
8 Tasmanian Business Reporter - NOVEMBER 2016

FOCUS ON BUSINESS

Superannuation reforms reformed

By Terri Loy, National Manager

Wealth Management

Morgans Financial Limited

DRAFT legislation for

most of the superannuation

reforms announced

at the 2016 Federal Budget

has been released,

including details on

how the $1.6m pension

transfer balance cap is to

work.

The contentious

$500,000 non-concessional

contribution lifetime

cap thankfully has

been scrapped and replaced

with an annual

cap of $100,000 per person.

The rules for the proposed

$100,000 annual

non-concessional contribution

(NCC) cap and

the $1.6 million pension

transfer balance cap include

restrictions on how

they can be used by individuals.

For instance,

if an individual already

has $1.6 million in superannuation

he or she

cannot make any further

non-concessional contributions.

Similarly, an

individual can only hold

$1.6 million in his or her

pension account when

the new rules take effect.

How these two specific

measures will work is

summarised in the following

table at top left.

How do these new

measures apply to small

business owners who are

looking to sell their business?

To recap, there are four

types of small business

CGT concessions available

to eligible business

owners when selling

their business.

• 15-year exemption

(which exempts the entire

capital gains)

• 50 per cent active asset

discount (optional)

• $500,000 small business

retirement exemption

• rollover due to a replacement

asset being

acquired.

Some or all of the sale

proceeds from the business

can be contributed

into super.

The CGT cap for this

financial year is $1.415

million. Importantly,

contributions made under

Super Reform Details Effective from

Non-Concessional

Contribution (NCC) Limits

Pension Transfer Balance

Cap

SMSF Balance @

01.07.17

$550,000

A cap of $100,000pa per person will apply.

If the individual is under age 65 the 3-year

bring forward rule can be utilised, thus

contributing up to $300,000.

If the individual's super balance is $1.6

million or greater then no further nonconcessional

contributions can be made.

This restriction only applies to nonconcessional

contributions.

A $1.6 million transfer balance cap on the

total amount of super that an individual can

transfer into retirement accounts will apply.

Retirees with balances above $1.6m will be

required to reduce their balance to the cap

by 01.07.17 by transferring any excess back

to accumulation or withdrawing from super.

1 July 2017

1 July 2017

NCC 15-yr Concession New SMSF Balance

$250,000

(using 3-yr b/fwd limit)

SMSF Pension $1,600,000

the CGT cap do not count

against non-concessional

contribution limits. This

means a small business

owner who already has

$1.6 million in superannuation

may still be eligible

to contribute some or

all of the sale proceeds of

the business into superannuation.

While the $1.6 million

pension transfer cap

$1,150,000 $1,950,000

SMSF

Accumulation

must be complied with

the owners can retain the

excess amount in the lowtax

super environment.

Example – 15-Year

Concession.

Andrew, age 60, has

owned his business for 17

years. He has $550,000 in

his SMSF and $250,000

in shares held personally

as at 1/7/2017.

Andrew wants to retire

$350,000

in 2017/18 and will sell

the business.

He originally bought

the business for $650,000.

In 2017 the business is

worth $1,150,000, resulting

in a $500,000 capital

gain.

As Andrew is eligible

for the 15-year CGT

concession he can ignore

any tax on this

gain.

Andrew wants to

know how much he

can get into super. The

good news is he is able

to contribute the full

amount of the sale proceeds

into super even

though this will result

in his account exceeding

$1.6 million.

He is also able to contribute

some or all of his

shares into his SMSF as

he has not yet used up

his NCC. Andrew will

contribute the shares

in the first instance so

he is still under the cap

and then make the small

business contribution.

He can commence a

pension utilising $1.6

million of his account

with the balance retained

in accumulation.

By investing in fully

franked shares as part

of his investment strategy,

Andrew can reduce

the 15 per cent tax rate

in the accumulation account.

This document has been

prepared by Morgans Financial

Limited in accordance

with its Australian Financial

Services Licence (AFSL

no. 235410). The views expressed

herein are solely the

views of Morgans Financial

Limited.

The information contained

in this report is provided to

you by Morgans Financial

Limited as general advice

only, and is made without

consideration of an individual's

relevant personal circumstances.

Morgans Financial

Limited ("Morgans") ABN

49 010 669 726, its related

bodies corporate, directors

and officers, employees, authorised

representatives and

agents do not accept any liability

for any loss or damage

arising from or in connection

with any action taken or not

taken on the basis of information

contained in this report,

or for any errors or omissions

contained within. It is recommended

that any persons

who wish to act upon

this report consult with their

Morgans investment adviser

before doing so. Those

acting upon such information

without advice do so

entirely at their own risk.

If you would like to know how the proposed

superannuation reforms may affect you,

please come to our complimentary seminar

advertised below and/or contact Andrew

Inglis at the Morgans Hobart office on

03 6236 9000.

Superannuation Changes and

Investment Opportunities seminar

Morgans Financial Limited invites you to a complimentary

seminar presented by Terri Loy (Morgans National

Manager for Wealth Management) and Tom Sartor

(Morgans Senior Analyst) who will discuss:

• Recent wide-ranging superannuation changes.

• How to adapt your financial planning strategies to the new rules.

• Strategies tailored to business owners.

• Investment strategy, trends and opportunities in Australia and globally.

Date Thursday, 10 November 2016

Time

Venue

6.00pm to 8.30pm

Henry Jones Art Hotel – Jones & Co Room

5 Hunter Street, Hobart

RSVP Thursday, 3 November 2016. Call 03 6236 9000

or email cheryl.sutton@morgans.com.au

Morgans and CIMB – Please visit www.morgans.com.au to understand the products and services within our alliance. Morgans Financial Limited

ABN 49 010 669 726 AFSL 235410 A Participant of ASX Group A Professional Partner of the Financial Planning Association of Australia.

About Morgans Financial Limited

Australia's largest national full-service retail stockbroking and wealth

management network with over 300,000 clients, 500 authorised

representatives and 850 staff operating from 59 offices in all states

and territories.

Terri Loy

National Manager

Wealth Management

Tom Sartor

Senior Analyst

Terri is responsible for the development and

distribution of wealth management services to the

Morgans network.

Terri has worked in the stockbroking and financial

planning industry since 1995, has a Diploma of

Financial Planning, is an SMSF Association Specialist

Adviser and an Associate member of the Financial

Planning Association of Australia.

Tom is a qualified Mining Engineer, spending his early

career in underground mining and civil engineering

roles with BHP, the London Underground and

Heathrow Airport.

For the last 9 years, Tom has specialised as

an Equities Analyst for Morgans and now leads

Morgans Equity Strategy Team, responsible for Asset

Allocation, Portfolio and Tactical investment strategy.
---
T A S M A N I A' S L E A D I N G B U S I N E S S P U B L I C A T I O N . C I R C U L A T I O N 1 2 , 0 0 0 M O N T H LY

Tasmanian Business Reporter - NOVEMBER 2016 9

NEWS

Gold gong to stalwart engineer

LEADING Tasmanian

business figure John Pitt

has been recognised for

his outstanding contribution

to the community,

being awarded the prestigious

2016 Australian

Institute of Company Directors

Gold Medal.

The Tasmanian born

engineer has had a long

and successful career as

the managing director of

one of the state's most

successful businesses,

pitt&sherry, building the

company from a microbusiness

with fewer than

10 employees in 1984, to

one of Australia's top 20

engineering consultancies

with more than 200

employees across seven

offices.

Under Mr Pitt's leadership

the business has

carved a unique path,

balancing development

and the environment.

It now not only consults

on infrastructure

development, but on the

environment, climate

change and energy.

AICD state manager

Cathie Goss said the

Tasmanian Gold Medal

Award recognised and

reward an individual's

contribution to the community

across the business

sector, charitable

and philanthropic works

and employment creation.

"The AICD Tasmanian

Gold Medal is awarded

to a member who upholds

good corporate

governance and high

ethical standards in their

business and public life,"

she said.

"John has made a significant

contribution to

the Tasmanian community

and built a small

company into a major

employer.

"To do that takes vision,

leadership and the

qualities of good governance

that all directors

should aspire to."

Mr Pitt said it was a

privilege to receive such

an award from his peers.

"I aspired to build

something of quality and

to continue on the legacy

established by my father

and his business partner

Clive Sherry. This award

is recognition of that

achievement and I am incredibly

humbled by it,"

he said.

The Gold Medal was

awarded by Tasmanian

Governor Kate Warner..

Governor Kate Warner presents the Institute of Company Directors

Gold Medal to engineer John Pitt in Hobart.

Turbine to turn tide of future energy production

A TIDAL energy turbine has been

installed in the Tamar estuary as

part of a project to investigate and

optimise the device's performance.

Researchers at the Australian

Maritime College will conduct

field experiments with the 2.4

metre-wide prototype in partnership

with Sydney-based developers

MAKO Tidal Turbines.

With Tasmania seen as a location

with huge renewable energy

potential, the site near Reid Rock,

north of the Batman Bridge, was selected

because of the ideal speed of

the current. The turbine is secured

beneath a floating platform and connected

to a mooring on the east side

of the estuary.

AMC project lead Associate Professor

Irene Penesis said tidal energy

was a particularly exciting form

of renewable energy, and completely

predictable compared with solar

and wind power.

"Tidal energy technologies extract

energy from marine currents

and tidal movements. This energy

can then be converted into electrical

power," Associate Professor Penesis

said.

"We want to monitor the effects

of this particular project, but also

understand the processes so we can

apply the findings to other potential

tidal energy sites.

"Tidal power has the capacity

to generate electricity that could

become part of the energy mix for

local industries, small communities,

coastal areas and islands."

Having done extensive tow tank

testing with AMC, MAKO Tidal

Turbines will be doing research into

how full-scale turbines operate in

a real-world environment, and to

confirm their low environmental

impact.

The testing will include the influence

of turbulence and biofouling

(organisms growing on the turbine),

which may impede performance and

affect the longevity of the device.

MAKO Turbine managing director

Douglas Hunt said tidal energy

was set to become a key part of the

energy mix worldwide.

An AMC vessel tows the turbine into position on the Tamar

River, left, an, above, the turbine on its floating platform.

WANTED

Business

movers and

shakers

• Promotions

• Appointments

• Awards

• Celebrating

success

Share the news

with the

Tasmanian

business

community

Send your news

snippets, with a

high quality photo,

to TBReditorial@

fontpr.com.au
---
10 Tasmanian Business Reporter - NOVEMBER 2016

NEWS

APPOINTMENTS

IN BRIEF

Inaugural Chair of

super commission

KERRY Adby has been appointed

as the chair of the inaugural Superannuation

Commission.

The commission has been established

to oversee the administration

of the public sector defined benefit

scheme from March 31, 2017.

Ms Adby is the Managing Director

of Copernican Securities Pty Ltd,

a specialist consultancy providing

capital markets, investment, corporate

and strategic advisory services

in Australia and in Asia for private

and public sector clients. Ms Adby

also serves as a director on the Macquarie

Point Development Corporation

and chairs its Audit and Risk

Committee.

New B&E business

banking manager

David Ponting

DAVID Pointing has joined B&E as

Business Banking Manager, servicing

business and commercial customers

in southern Tasmania.

David brings more than 30 years of

industry knowledge and experience

to the position having held business

banking roles with NAB and most

recently with Bendigo and Adelaide

Bank.

B&E Chief Executive Officer

Paul Ranson said the role would be

a vital part in supporting the company's

growth strategy.

"David is a highly experienced

banking professional who brings a

wealth of knowledge to B&E," he

said.

"His appointment further strengthens

our team as we continue to enhance

our position as the financial

institution of choice in the Tasmanian

market."

Changes to

TCCI Board

AFTER the constitutional exit of

board directors Andrew Heap and

Richard Lowrie at the Annual General

Meeting, the TCCI board has

appointed two new directors to represent

the state's north and south.

Replacing Mr Lowrie in the south

is Dr Tommy Wong, a lecturer in

management and Director of the

MBA program at the Tasmanian

School of Business and Economics.

With extensive international research

and business consultancy experience,

Dr Wong brings a unique

skill set to the new look TCCI board

of directors.

Launceston business leader Jerry

Wylie takes the place of Mr Heap as

TCCI director in Launceston.

Mr Wylie is the Lean Manufacturing

Excellence Leader for the Lion

Group and former Brewery Director

of J Boag & Son.

State's first woman

Chief Magistrate

CATHERINE Rheinberger has been

appointed as Chief Magistrate of the

Magistrates Court of Tasmania.

In what is a historic appointment,

Chief Magistrate Rheinberger will

be Tasmania's first female Chief

Magistrate.

Chief Magistrate Rheinberger

has 25 years' experience in Tasmania's

legal system and more than

six years in the Magistrates Court

of Tasmania, including serving as

a Youth Justice Court Magistrate,

a Court Mandated Drug Diversion

Magistrate, and serving as the President

of the Tasmanian Bar Association

from 2005 to 2008.

Scanlon new

Public Trustee chair

Mark Scanlon

MARK Scanlon has been appointed

as the new Chair of the Public Trustee

for a three-year term.

Mr Scanlon has more than 20

years' experience in financial and

public services including serving as

CEO of Tasmanian Perpetual Trustees

and as a director of the Motor

Accidents Insurance Board.

The Public Trustee was established

in 1912 to provide wills, estates,

and trustee services on behalf

of the Tasmanian public.

Conveneince store survey

finds votes in eCigarettes

THE need to legalise eCigarettes and unlock a range of health, community

and economic benefits is being promoted by the Australasian Association

of Convenience Stores.

New research shows more than half of Australians believe the issue

could influence their vote.

The AACS has been outspoken about the need to develop a framework

to govern the legal sale of eCigarettes to provide more alternatives for

smokers looking to kick the habit.

It says Tasmanian voters agree.

The AACS research showed that 54 per cent of Australians view

the legalisation of eCigarettes as a potential vote-influencing or even

vote-changing issue and 65 per cent of Tasmanian voters want the State

Government to legalise eCigarettes.

In Tasmania, 400 people aged 18 years and over, including 157 current

smokers, were surveyed by independent research company The Sexton

Marketing Group.

Aurora trial for new prepayment

energy app

AURORA Energy is doing a prepayment product trial to prepare for a

next generation solution for its Aurora Pay As You Go customers.

Fifty-one existing APAYG customers from across the state will participate

in the trial after customers suggested a need for greater control,

choice and convenience.

Trial participants will be able to view their electricity usage in real time

through a customised smartphone application, which also enables them to

pay via the app or through Aurora Energy's standard payment options.

Aurora Energy CEO Rebecca Kardos said a next generation prepayment

product was imperative to the electricity retailer meeting customer

expectations.

Fire protection company

state's top exporter

TASMANIAN company CBG Systems Pty Ltd is the 2016 Tasmanian

Exporter of the Year.

Established in 1978, CBG Systems is recognised as a world's best provider

of lightweight passive fire protection systems for the marine sector.

CBG Systems has grown from a small conventional marine insulation

contractor to a world-leading innovator. It exports its products worldwide

with a specially-trained team deployed around the world to fit and maintain

their products.

The 2016 Tasmanian Export Awards is an initiative of the Tasmanian

Government's Department of State Growth, in partnership with Austrade,

AusIndustry, Tasports and the Export Finance and Insurance Corporation.

All category winners progress to the 2016 Australian Export Awards

presentation in Brisbane this month.

Thinking of selling or

buying a business?

Awards continue to grow

Australia's largest specialist

business broker network is

now in Tasmania.

Call Dean Demeyer on

0419 382 359 for a FREE, no

obligation assessment

of your business.

Dieman chair Craig Pearce, left, with happy winners on the awards night.

www.finnbusinesssales.com.au

THE 2016 Diemen Awards announced in October

attracted a record 382 entries across print,

design, digital and television/film categories.

Chairman Craig Pearce said he had focused

on the diversification of the awards and the

industry had embraced the change, with plans

afoot for a ``bigger and better event next year''.

The major award, the Grand Diemen, was

won by Focal Printing, which also claimed four

gold awards.

Flying Colours and Mercury Walch were both

awarded nine gold.

Apprentice of the year was Andrew Moseley,

from Foot and Playsted.
---
T A S M A N I A' S L E A D I N G B U S I N E S S P U B L I C A T I O N . C I R C U L A T I O N 1 2 , 0 0 0 M O N T H LY

Tasmanian Business Reporter - NOVEMBER 2016 11

EVENTS NEWS

EVENT:

2016 REIT Awards

for Excellence

LOCATION:

Launceston

Country Club

Casino

DATE: October 22,

2016.

Communications Award Of The Year: 4one4 Real Estate.

Pictured are Damon Wise, CEO of sponsor, the Mercury and Patrick Berry

of 4one4 Real Estate.

Commercial Agency of the Year: Knight Frank Hobart . Pictured

are Hayden Peck, left, Navi Maharaj, Dani Shields, Robbie Yeoland,

Felicity Purdue from sponsor, Real Estate View, Les Higgins and

Matthew Wright.

Small

Residential

Agency of the

Year: Sims For

Property.

Rachael Briggs,

left, Kristi

Seymour, Anna

Martin, sponsor

Paul Bevan

of Real Estate

View, Jane

Crawford and

David Jackson.

Medium Size Residential Agency of the Year: 4one4 Real Estate .

Paul Bevan from sponsors Real Estate View, left, with Patrick

Berry, Abbey Berry, Chloe Hutt and Paul Berry.

Large

Residential Agency

of the Year: HC Real

Estate incorporating

Harcourts Signature

and Harcourts

Northern Suburbs.

Phil Turner, left,

Melanie Nawrocki,

Simon Lidgerwood,

Nicole Berry, Nathan

Grandin, Janeece

Belgrove, Mel Cannan-Williams

and

Aleena Whitelaw.

Residential Sales Person of the Year: Natalie Downtown of

Downton Property with John Smart from sponsor Real Cover

Insurance.

Commercial Sales Person of the Year: Andy Howell of NAI Harcourts

North with Ben Steedam of Hobart BMW Autohaus

WANTED

Business

movers and

shakers

• Promotions

• Appointments

• Awards

• Celebrating

success

Share the news

with the

Tasmanian

business

community

Send your news

snippets, with a

high quality photo,

to TBReditorial@

fontpr.com.au

SOLUTIONS

IN PRINT

your print specialist for over 89 years

Contact us for a quote today

6391 8481 sales@paperstat.com.au

www.woolstonprinting.com.au

Full Digital

and Off-Set

capabilities

Fulfilment

Binding

Variable data

printing

Warehousing

and distribution

Inventory

management

solution

business cards | letterheads | envelopes | presentation folders | brochures | catalogues
---
Tasmanian Business Reporter - NOVEMBER 2016 12

PROPERTY MATTERS

Data matching the latest buzz in real estate sales

Get ahead of the selling game

Scott Newton

Property Matters with

Knight Frank

Welcome to the first of many columns Knight Frank

will share with you over the coming months. In this

month's article Jim Playsted our Residential Sales

Manager has written a compelling column about

selling your home, how things have changed and

how you can be ahead of the game.

Today's buyers

are very well

educated

through constant

search engine

research,

feed back and

seeking advice

THE more things change – the more

they stay the same. Or do they?

The ever present march of technology

is also changing the marketing

and sale process for residential real

estate. The evolution of powerful

new software to manage and convert

buyers' wish lists into data matching

with new listings as they come to

agencies, is the buzz around the industry

now.

Increasingly, it is possible to create

a match for vendors with a buyer selection,

registered and waiting for an

opportunity. It's suddenly the norm

for buyers to trade email and mobile

phone contacts at open home inspections

in order to receive early alerts

Maximising value requires experience.

for new listings with an agency

promise of 'being the first to know'.

We live in an era when agency

data matching can replace the internet

and print media en-route to

quick results for vendors in an inner-city

Hobart market with way

more buyers than sellers.

But do these trends pass the value

test?

There are two legitimate responses

to that question. Matching data

and selling off-market typically is

easy work for agents - the 'drovers

dog' could do that.

The first choice is for vendors in

need of a quick result. When difficult

circumstances arise from illness,

bereavement or financial stress

and when a critical date looms large,

then cash is king. Should a vendor

instruct 'get me $500,000 and I'll

sell' – provided the home sits within

that value band – the likelihood

is data matching will get that result

within 48 hours. Job done, no signage,

photography or media marketing

investment and we all move on.

The second choice requires both

system and process for vendors

wanting evidence that we have maximised

the value of their home.

Allowing a property to stand in the

market for just 2 weeks and 3 Saturdays

will ensure sufficient inspections

to generate offers and provide

tangible evidence of market value.

Maximising value requires time and

an investment in publicity to bring

interested buyers. Print media, the

internet and Facebook are preeminent.

Maximising value also requires

experience. Today's buyers are very

well educated through constant

search engine research, feed back

and investment advice. Buying is an

art, as indeed is selling, and some

are better at it than others.

Successful agents are the best listeners.

Selling is about listening to

buyers needs and wants, not talking.

No clever software will ever replace

the intuitive interaction of a skilled

agent crafting key attributes and negotiating

competition between interested

buyers for your home.

System plus process, plus skills,

time and an investment in publicity

are the keys to revealing the true

value of your property. The drovers

dog is a choice – but is it best for

you?

We trust you enjoyed our first

article, and should you have

any general property enquires

please contact our team on

6220 6999.

PROPERTY VIEW

NOVEMBER 2016

For sale by expressions of interest

SHIPWRIGHTS ARMS HOTEL

29 Trumpeter Street, Battery Point

• 'Shippies' - a Hobart institution

• Historic freehold opportunity for sale by

expressions of interest

• Fully tenanted, 4 years from 2015 with four

(4), four (4) year options

• Land area over 1,460sqm (approx), fronting

3 streets

• Substantial building over 900sqm (approx)

gross building area

• Net rent of $234,000 pa

For sale by informal tender

TAHUNE AIRWALK

Arve Road, Geeveston

• Tahune Airwalk is one of Australia's leading

tourist attractions

• Features a 600m walkway & canitlever

suspended above the forest canopy

• Operated under management - income

exceeds $2.2 million pa

• Owner wishes to sell the business, but not

the fixed assets or land

• Long lease over the land and improvements

encompassing 120ha (approx) provided

Outline indicative only

Ian Reed: 0419 670 501

View at KnightFrank.com.au/3219495

For sale - offers over $530,000

FOURWAYS FLEXIBILITY

130 Best Street, Devonport

• Highly versatile commercial/retail property

adjacent to the busy Fourways precinct

• Flexible floor plan, suitable for various uses

(STCA)

• Great opportunity for investors and owneroccupiers

• Net lettable area of 439sqm (approx)

• Site area of 657sqm (approx)

• Complemented by 11 on-site car parking bays

• Expected fully leased net return of 10% +

Ian Reed: 0419 670 501

View at KnightFrank.com.au/3190771

For sale by offer

ICONIC RESORT 'EDGE OF THE BAY'

2308 Coles Bay Road, Coles Bay

• 4.11ha of land fronting Crown Reserve with

secluded beaches

• Overlooking Coles Bay towards the Hazards

• The Resort includes a 55 seat restaurant & 8

ocean view suites

• 4 bedroom/3 bathroom owner's dwelling

plus manager's and staff accommodation

• Situated adjoining 'Saffire Resort'

Outline indicative only

Nicholas Bond: 0414 395 007

Rob Dixon: 0408 134 025

View at KnightFrank.com.au/3247298

Rob Dixon: 0408 134 025

View at KnightFrank.com.au/3216003

5 Victoria Street, Hobart P: 03 6220 6999 KnightFrank.com.au 41 York Street, Launceston P: 03 6333 7888