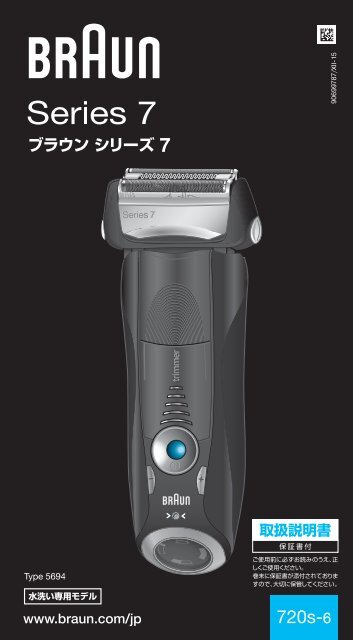 Braun 720s-6, 720s-7, 730, 730s-3, 730s-4, 735s-3, 735cc-4, 750cc, 750cc-3, 750cc-4, 750cc-5, 750cc-6, 750cc-7, 7720s, 7760cc - 720s-6, Series 7 Manual (日本語, UK)
Braun 720s-6, 720s-7, 730, 730s-3, 730s-4, 735s-3, 735cc-4, 750cc, 750cc-3, 750cc-4, 750cc-5, 750cc-6, 750cc-7, 7720s, 7760cc - 720s-6, Series 7 Manual (日本語, UK)
Braun 720s-6, 720s-7, 730, 730s-3, 730s-4, 735s-3, 735cc-4, 750cc, 750cc-3, 750cc-4, 750cc-5, 750cc-6, 750cc-7, 7720s, 7760cc - 720s-6, Series 7 Manual (日本語, UK)
SHOW MORE
SHOW LESS
You also want an ePaper? Increase the reach of your titles
YUMPU automatically turns print PDFs into web optimized ePapers that Google loves.
trimmer

90699787/XII-15

Series 7

Type 5694

www.braun.com/jp

720s-6 1
---
2
---
3
---
4
---
5
---
6
---
7
---
on

Series 7

trimmer

trimmer

off

8
---
Series 7

trimmer trimmer trimmer

STOP

9
---
Series 7

trimmer

STOP

10
---
11
---
t

+

release

90°

12
---
trimmer

lock

1

lock

2

lock

lock

13
---
elease

release

er

trimmer

Series

Series

Series 7

Series 7

trimmer

release

14
---
Series 7

release

Series 7

release

release

15
---
Series 7

release

70S-3z

16
---
17
---
18
---
19
---
1

Series 7

2

3

4

trimmer

trimmer

10

on

off

5

6

7

8

9

12

11

Series 7

STOP

trimmer trimmer trimmer

20
---
English

Our products are designed to meet the highest standards of quality,

functionality and design. We hope you enjoy your new Braun Shaver.

Read these instructions completely, they contain safety information.

Keep them for future reference.

Warning

Your shaver is provided with a special cord set, which has an

integrated Safety Extra Low Voltage power supply. Do not

exchange or tamper with any part of it, otherwise there is risk

of an electric shock. Only use the special cord set provided

with your appliance.

If the appliance is marked

492, you can use it with

any Braun power supply coded 492-XXXX.

Do not shave with a damaged foil or cord.

The shaver head is suitable for cleaning under running

tap water. Detach the shaver from the power supply

before cleaning the shaver head in water.

This appliance can be used by children aged from 8 years and

above and persons with reduced physical, sensory or mental

capabilities or lack of experience and knowledge if they have

been given supervision or instruction concerning the safe use

of the appliance and understand the hazards involved.

Children shall not play with the appliance. Cleaning and user

maintenance shall not be made by children unless they are

older than 8 years and supervised.

Oil bottle (if available)

Keep out of reach of children. Do not swallow. Do not apply to eyes.

Dispose of properly when empty.

Description

1 Foil & Cutter cassette

2 Cassette release button

3 Shaver head «lock» switch

4 Pop-out long hair trimmer

5 On/off switch

6 (–) setting button (sensitive)

7 (+) setting button (intensive)

8 Reset button

9 Shaver display

0 Shaver power socket

q Travel case

w Special cord set (design can differ)

21
---
Charging

Recommended temperature for recharging

is 5 °C to 35 °C. Outside the recommended

temperature range, the battery may not be

fully charged to protect the battery from

being damaged. Do not expose the shaver to

temperatures higher than 50 °C for extended

periods of time.

• Using the special cord set w, connect the

shaver to an electrical outlet with the motor

switched off and charge it for at least one hour.

• A full charge provides up to 50 minutes

of cordless shaving time. This may vary

according to your beard growth.

• If the rechargeable battery has run out of

power (discharged), you may also shave by

connecting the shaver to an electrical outlet via

the special cord set.

Shaver display 9

The shaver display 9 shows the charge status

of the battery. During charging or when using the

shaver, the respective green charge status will

blink. When the battery is fully charged the green

charge status will light up continously, provided

the shaver is connected to an electrical outlet.

Some minutes after completing the charging,

the shaver switches to the stand-by-mode:

The display turns off.

The red low charge indicator flashes when

the battery capacity has dropped below 20%,

provided the shaver is switched on.

The remaining capacity will then be sufficient for

2 to 3 shaves.

22
---
tr

trimmer

Using the shaver

Personalizing your shaver

With the (–) 6 and (+) 7 buttons you can choose

the best setting for shaving different areas of

your face and as per your specific needs. The

personalization feature, controlled by intelligent

software, is designed to give you a smooth skin

even in the most sensitive areas of your face with

less irritation.

The different settings are indicated by the pilot

light incorporated in the on/off switch 5:

• dark blue (powerful shave)

• light blue (normal)

• white (for a thorough comfortable shave in

sensitive areas of your face such as neck)

+ normal

For a thorough and fast shave we recommend

the «intensive» setting.

When switching on next time, the last used

setting will be activated.

How to use

Press the on/off switch 5 to operate the shaver:

• The pivoting shaver head and floating foils

automatically adjust to every contour of your

face.

+

lock

• To shave hard to reach areas (e.g. under the

nose) slide the shaver head «lock» switch 3 to

the back position to lock the pivoting head at

an angle.

1

lock

2

lock

• To trim sideburns, moustache or beard, slide

the pop-out long hair trimmer 4 upwards.

lock

Tips for a perfect dry shave

For best shaving results, Braun recommends you

to follow 3 simple steps:

1. Always shave before washing your face.

2. At all times, hold the shaver at right angles

(90°) to your skin.

3. Stretch your skin and shave against the

direction of your beard growth.

release

23
---
er

Cleaning

trimmer

Regular cleaning ensures better shaving

performance. Rinsing the shaver head under

running water after each shave is an easy and

fast way to keep it clean:

• Switch the shaver on (cordless) and rinse the

shaver head under hot running water until all

residues have been removed. You may use

liquid soap without abrasive substances. Rinse

off all foam and let the shaver run for a few

more seconds.

• Next, switch off the shaver, press the release

button 2 to remove the Foil & Cutter cassette

1 and let it dry.

• If you regularly clean the shaver under water,

apply a drop of the light machine oil, included

with the shaver, onto the shaver foil and

long hair trimmer. This is critical for proper

functioning of the shaver as washing under

water can lead to removal of lubricants from

the shaver's cutting parts leading to higher

friction in the shaver. This may result in the

battery running out faster than normal. Even

if this happens – indicated by low charge

indicator lighting up earlier, your Braun shaver

will run for at least 5 more minutes enabling

you to complete your current shave.

release

Series

Series

oil

release

Series 7

click!

trimmer

release

Series 7

Alternatively, you may clean the shaver with a

brush:

• Switch off the shaver. Remove the Foil & Cutter

cassette 1 and tap it out on a flat surface.

Using the brush, clean the inner area of the

pivoting head. However, do not clean the foil

and cutter cassette with the brush as this may

damage it.

release

Series 7

Series 7

release

release

Keeping your shaver in top shape

Replacing the Foil & Cutter cassette / reset

To maintain 100% shaving performance,

replace the Foil & Cutter cassette 1, when the

replacement symbol lights up on the shaver

display 9 (after about 18 months) or when

cassette is worn

The replacement symbol will remind you during

the next 7 shaves to replace the Foil & Cutter

cassette. Then the shaver will automatically reset

the display.

24
---
elease

Series 7

After you have replaced the Foil & Cutter

cassette, use a ball-pen to push the reset button

8 for at least 3 seconds to reset the counter.

While doing so, the replacement light blinks and

goes off when the reset is complete. The manual

reset can be done at any time.

mer

70S-3

Accessories

Available at your dealer or Braun Service

Centres:

• Foil & Cutter cassette 70S-3

Environmental notice

Product contains batteries and/or

recyclable electric waste. For environment

protection do not dispose of in household

waste, but for recycling take to electric

waste collection points provided in your country.

Subject to change without notice.

For electric specifications, see printing on the

special cord set.

25
---
27