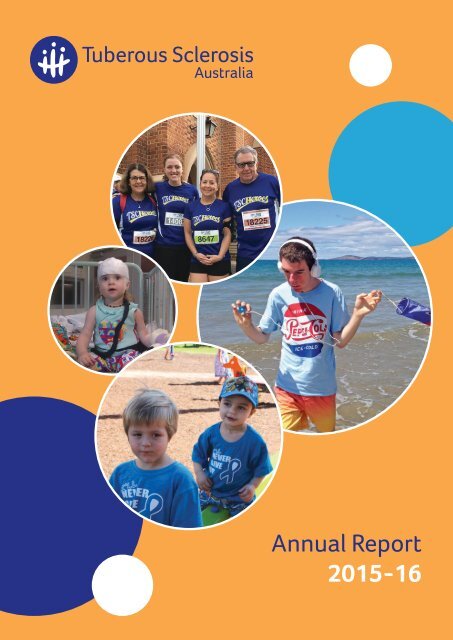 Tuberous Sclerosis Australia Annual Report 2015-16
You also want an ePaper? Increase the reach of your titles
YUMPU automatically turns print PDFs into web optimized ePapers that Google loves.
Tuberous Sclerosis

Australia

Annual Report

2015-16
---
Tuberous Sclerosis Complex (TSC)

affects more than 2000 individuals in Australia and thousands more carers, families and

friends who live with the impact of the disease.

TSC tumours can grow in any organ of the body, commonly affecting the brain, skin, heart,

lungs and kidneys. TSC can cause epilepsy, developmental delay and autism. There is no

known cure for TSC.

Tuberous Sclerosis Australia

works to connect, inform and empower people affected by

tuberous sclerosis complex as we work towards a cure for TSC.

Our Team

Debbie Crosby, President

Patrick Norris, Treasurer

Alison McIvor, Secretary

Adish Chandra, Committee Member

Hayley Hill, Committee Member

Michael Jones, Committee Member

Michelle Purkiss, Committee Member

Georgina Schilg, Committee Member

Clare Stuart, General Manager

Chelli Edri, Fundraising, Communications and Events Manager

Alice O'Donnell, TSC Professionals Network Manager

Regional Contacts

A vital part of our volunteer team, the regional contacts

live throughout Australia and work with local families to

share information and experiences.

NSW: Janiffer Reynolds and Sally Nicholson

WA: Nicole Stone

QLD: Fiona Hiatt, Fiona Crocker and Christie Herbert

VIC: Narelle Kerr

TAS: Georgina Schilg

Medical Advisors

Dr Sean Kennedy, Nephrologist

Dr John Lawson, Paediatric Neurologist

Dr David Mowat, Clinical Geneticist

TSA works with

Photos:

Top: Murray Leikis, Clare

Stuart and David Mowat

at the International TSC

Research Conference in

Windsor, UK.

Above: Debbie Crosby

with her Mum Maria and

her daughter Sophie at

Lizzies's Lunch 2016.

Front cover photos:

Clockwise from top: Our

TSC Heroes team at HBF

Run for a Reason in Perth,

Liam from TAS, Lachlan

and Koby from QLD,

Matilda, VIC.

Tuberous Sclerosis

Australia

2
---
President's Report

Bringing together the

Australian TSC Community

From Debbie Crosby, President, and Clare Stuart,

General Manager

Tuberous Sclerosis Australia's major project this

year was the 2015 Australian TSC Conference. This

event brought together health professionals, people

with TSC and their families to learn more about TSC

and set goals for what our community can achieve

together. Some people met others living with TSC for

the first time ever. Stories were shared and friendships

started.

Photo: Debbie and Clare

When TSA was founded in 1981 most people with

tuberous sclerosis had never met another person

with the condition. Picnic days were expanded to

seminar days and family weekends. Combined events

with health professionals have proven a successful

approach to sharing TSC information and building

relationships. In the coming year we will seek to

improve access to our events by piloting webinarstyle

online education events. Bringing the Australian

TSC community together is still at the core of what

we do.

Our mission is to connect, inform and empower

people affected by tuberous sclerosis complex as

we work towards a cure for TSC. This annual report

describes our achievements and highlights of the past

year and where we are headed in the future.

We'd like to thank our staff team this year. Clare

Stuart, our general manager, has done outstanding

work this year and her commitment and passion for

TSA is always evident. We are excited to welcome

Chelli Edri, our new Fundraising, Communications

and Events Manager. We look forward to working

with Chelli and achieving our fundraising goals.

Our volunteer team is vital to TSA's success. Last year

we had four new management committee members

join us: Michael Jones (NSW), Michelle Purkiss

(NSW), Jodie Conduit (QLD) and Alison McIvor (VIC).

Thank you for bringing a new perspective and fresh

ideas to TSA, and particularly to Alison for taking on

the sizeable role of secretary. I would also like to

acknowledge the wonderful work of our volunteer

regional contacts the very important work they do in

keeping people connected all around Australia and all

3

of the volunteers who support our organisation with

specific projects and administration.

We are grateful to the health professionals who donate

their time: as our medical advisors; by reviewing our

information pages; and speaking at our events. The

volunteer steering committee for our conference

designed a program for the medical stream that

engaged health professionals from multiple disciplines

and provided time for sharing perspectives and

ideas. Dr Elizabeth Thiele and Dr Lisa Henske who

travelled from the USA were fantastic and their talks

provided us with so much information, and their

passion and commitment as TSC specialists was

felt by everyone. Dr Thiele said she felt privileged

to attend the conference, and was impressed by

our small organisation bringing together so many

people affected by TSC and so many interested health

professionals.

Most importantly, thank you to all the fundraisers and

donors who contributed their time and money to TSA.

Without these generous donations TSA would not

be able to do the work it does. We would particularly

like to acknowledge Sue and Ross Pinkerton for

their organisation of Lizzie's Lunch, now in its third

year raising over $16.000 for TSA, and their personal

contribution to the Lizzie Pinkerton Memorial Fund. All

of our fundraisers, and especially the TSC community

inspire and encourage others to support TSA.

We look forward to TSA continuing to bring together

the diverse Australian TSC community and welcome

all feedback and ideas. With your help we know it will

be another exciting year for TSA.

Tu
---
Our 2015-2016 Achievements

Your support enabled us to

1.

Improve health services

for people with TSC

1. We brought together 35 TSC expert health

professionals in the medical stream of the 2015

Australian TSC Conference. They were joined by

overseas TSC experts to share latest research,

treatment approaches and future collaborations.

100% of our medical stream attendees said

they learnt something at the conference that

has changed the care they provide to their

patients with tuberous sclerosis

they would share their new knowledge with

their colleagues

they would recommend the conference

to others

Our next goals

Formally recognise our TSC Clinics in Australia

and continue our work supporting the development

of new multi-disciplinary models of health care for

people with TSC

Further improve access to topical mTOR

inhibitor treatment for all Australians who need it

Fill gaps in the TSC Professionals Network

working towards having full coverage around

Australia, across specialists

Enrich the TSC Professionals Network with email

communications and an online education event

2. Our co-sponsored session at Westmead

Children's Hospital's seminar brought more than

150 paediatricians up to date with best practice in

diagnosing and managing TSC. Dr Elizabeth Thiele

from The Herscot Centre for TSC.

3. Our TSC Professionals Network has grown

to 40 members around Australia and across many

medical specialties.

4. Fifth annual Elizabeth Pinkerton Memorial Award

given to Dr Anne Halbert, dermatologist in Perth,

recognising her pioneering research and advocacy

work with topical mTOR inhibitor treatment for TSC

facial angiofibromas.

Conference sponsors

5. Along with Queensland families, we advocated

for funding of topical mTOR inhibitor medicine by

QLD Health. We look forward to announcing good

news soon.

6. We represented the views of patients with TSC

in consumer consultations on Medicare Benefits

Schedule review

Photo: Dr Anne Halbert with our WA

Regional Contact, Sue Williamson

Tuberous Sclerosis

Australia

4
---
2.

Publish and promote

TSC information

Your 2 day conference was more informative than

living every day with TSC. Doctors only ever told us

the need to know when we needed to know it. We

have a greater understanding about Kidney AML's

and LAM. Dr Lisa and Dr Elizabeth were AMAZING

Thank you for having them there.

- Family stream attendee

1. The 2015 Australian TSC Conference's family

stream was attended by 91 delegates. Over 20

sessions covered various aspects of life with TSC and

provided opportunities for people with TSC and their

family members to ask questions from Australian and

overseas experts.

100% of our family stream attendees said

the meeting improved their understanding

of TSC

they will share something you have learnt

with someone who was not at the meeting

would recommend the conference to others

2. Over seven hours of video recorded sessions

from the conference have been added to our TSC

information resources. The most watched videos by

the TSC community so far are: understanding the

genetics of TSC; the less common signs of TSC;

and future directions in TSC research.

5. A new surveillance guidelines summary makes

these clinical guidelines easier to understand and has

received great reviews by TSC families and health

professionals. We have also distributed hundreds of

TAND checklists to improve screening for various

mental health, learning and behaviour challenges

that people with TSC may experience.

6. We published two issues of our magazine,

Reach Out. These included stories from people

with TSC and their families, research news and

information about upcoming events. Feature articles

provided new information resources on the National

Disability Insurance Scheme and new medicines for

TSC (mTOR inhibitors).

7. We continued to share balanced and accurate

TSC information through social media and our

monthly email newsletter.

Our next goals

Deliver online education events for the first time,

improving access for people in regional areas to high

quality TSC information.

Continue to improve our online and printed TSC

information, responding to the needs of the TSC

community.

3. Our information day in Brisbane with Lady

Cilento Children's Hospital and Epilepsy QLD was

attended by 40 people and included sessions

on epilepsy, development, genetics and kidneys.

4. Our TSC awareness cards provide people

with TSC a simpler way to explain TSC.

Photo: Bridget from ACT.

5

Tu
---
3.

Encourage Research

into TSC

1. The clinical trial investigating a life-changing

treatment for facial angiofibromas, topical mTOR

inhibitors, was completed. This trial was funded for

over $200,000 by TSA. Publication of these results

improve access to this treatment in Australia and

around the world.

2. Sydney University's study into the financial

impact of TSC opened recruitment. This study

specifically examines the out of pocket costs

experienced by families with a child with TSC and is

funded by TSA.

3. The Romios family in Victoria lead a campaign to

fund the DOTS study at Royal Children's Hospital in

Melbourne, exploring links between TSC and Autism

and identifying targeted interventions to improve

developmental outcomes.

4. We promoted and explained TSC research in

our communications. Our Australian community of

TSC researchers continues to grow. By sharing their

research, and key publications from overseas, in plain

English, we help with recruitment to these projects

and understanding of TSC research in the TSC

community.

Our next goals

Continue to support our Australian TSC

researchers.

Develop a long term TSC research strategy for

Australia to guide our research funding and identify

other ways to grow local research.

Photo: Celebrating the completion of the topical mTOR

inhibitor clinical trial in Sydney.

4.

Provide direct support and

facilitate peer support

1. We helped more than 50 families through the

TSC Information Service, facing a diagnosis of TSC

or a time of crisis. The service provides emotional

support, practical advice, tailored TSC information

and connections to resources from TSA and other

organisations. This year we also implemented a new

technology solution, and formalised guidelines and

procedures to improve the availability and quality of

the service.

2. Our TSC Global Awareness Day picnics in eight

locations around Australia fostered face to face

contact among people in the same region. Thank

you to our wonderful volunteer regional contacts for

making these possible.

3. Held formal and informal peer support sessions

as part of the 2015 Conference and Brisbane events.

4. Facebook discussion group continues to be a

positive and informative resource for hundreds of

TSC families in Australia and New Zealand, with

369 posts in the year on topics including celebrating

accomplishments of people with TSC, seizures,

treatment options and accessing health services.

Our next goals

p: 1300 733 435

e: info@tsa.org.au

Continue the TSC Information Service, our

network of regional contacts and our peer support

Facebook group.

Work with young adults with TSC who are

interested in ongoing contact.

6
---
5.

Ensure sustainable

funding

6.

Grow TSA as a reputable,

well-governed organisation

1. Our TSC Heroes team ran, cycled and hiked in

events around Australia and overseas to encourage

their friends and family to support our cause.

2. Lizzie's Lunch held in Sydney raised over $15,000

through the generosity of the Pinkerton family and

friends.

3. Other events included the King and Kinman

families' trivia night in Brisbane and Logan's High Tea

in Victoria achieved fantastic results.

4. Our members and TSC Champions continue

their support through yearly and monthly donations.

5. Secured grants from Novartis and Department

of Social Services for our 2016/17 projects:

online educational events and building our TSC

Professionals Network.

1. Delivered on our people strategy through the

hire of our second staff member, the election of four

new committee members and engaging with new

volunteers in various capacities.

2. Our first governance and human resource

policies were written, approved and implemented.

3. We improved our planning and budgeting

processes to ensure we deliver on our goals.

Our next goals

Continue developing and implementing policies

to guide our work and our team.

Photos:

Top: TSC Hero Dr Jessica Smith from SA.

Bottom: Enjoying Lizzie's Lunch 2016.

6. Welcomed our second staff member, Chelli Edri

into the role of fundraising, communication and

events manager.

Our next goals

Increase and diversify our income to allow us

to continue our information, support and research

activities and to deliver new projects and services.

Complete our 2016 survey to generate

fundraising leads and gather feedback on our

communications and fundraising.

Expand our business partnerships and grant

income.

Grow the TSC Heroes team to raise awareness of

TSC and expand our fundraising reach.

7

Tu
---
Our financial results

Overview

TSA finished the year with a small surplus. This was

a good result considering the major expense of the

conference in November being largely funded from a

grant received in the prior financial year. The balance

sheet remains sound and we have healthy reserves.

Our retained earnings include funds that are

committed to these projects:

$15,000 for online educational events and growth

of the TSC Professionals Network

$2,000 for the in progress Sydney University APSU

Out of Pocket costs study

Our transition to cloud based accounting with our

bookkeeper has supported our distributed staff and

volunteer team. We also implemented the following

initiatives:

1. GST Registration: GST was successfully introduced

from July 1 2015 resulting in a net return of $3,327

in the full year in line with our forecast.

2. Superstream: We comply with the new regulations

concerning Superannuation Guarantee payments

3. Audit: Although not required by law, but

encouraged by state fundraising licensing

authorities, we have obtained a full audit.

4. Budgeting: Our budgeting process has been

improved and integrated with our accounting

platform for improved control and transparency.

Income and Expenditure

Where the funds come from

How funds were used

Categories

Accountability and

administration:

The costs of running the

organisation efficiently, including:

insurance premiums, finance, IT,

office expenses, and reporting to

the TSA management committee.

Research and Advocacy: Time

spent working with policy makers

in health and disability to improve

the care available to people with

TSC. No research grants were

awarded during 2015/16.

Fundraising: The time to support

community fundraisers and

organise TSA-run fundraising

events and campaigns. This

includes promotional and thank

you materials and fundraising team

uniforms.

Tuberous Sclerosis

Australia

8

Education and support: Costs

associated with providing

information to people affected by

TSC and to Health Professionals.

This includes all costs associated

with the 2015 Australian TSC

Conference, writing and updating

our TSC information pages, our

resource directory and publishing

Reach Out.
---
Our financial results

Overview (cont.)

Fundraising Revenue

Our work with

pharmaceutical companies

During this year we have collaborated with

Novartis and other pharmaceutical companies in

a number of ways:

Novartis provided an educational grant of

$45,000 for the combined medical and

family conference being held in Sydney in

November 2015. This funding was received in

the 2014/15 financial year.

Novartis provided grant funding for activities

in 2016/17: online educational events and

growth of the TSC Professionals Network.

Revenue from fundraising activities including direct donations, membership

contributions, fundraising events and community fundraising activities

I think you do an amazing job. Without Tuberous

Sclerosis Australia I would have been very confused

and feeling helpless when things came to a head

this year. I have always thought of my daughter's

condition like living with a time bomb, just ticking

away with no issues and when we least expect

it: boo! Never stop passing on this wonderful

information.

- Mother of a child with TSC

Clare Stuart travelled to the TSC International

(TSCi) meeting and International TSC

Research Conference in Windsor, UK. TSCi

travel funding is provided by Novartis.

TSA met with Pfizer to discuss their plans for

their mTOR inhibitor medicine for TSC and

LAM in Australia.

TSA met with GW Pharmaceuticals to discuss

their research into new treatments for

Epilepsy in TSC.

Clare Stuart volunteered her time as

chair of the steering committee for the

Health Consumer Advocacy workshop.

This group organises networking and skill

building events for small health consumer

organisations and these are sponsored by a

group of six pharmaceutical companies.

Our policy on working with pharmaceutical

companies describes how we maintain our

independence and integrity. This policy is

available on our website or can be provided on

request. We encourage you to contact us for

more information.

9

Photo:

Attendees at the medical stream of the

2015 Australian TSC Conference

Tu
---
Financial statements

Profit and Loss: Year Ended June 2016

INCOME

30 June 2016 30 June 2015

Bronze Membership Fee $113.75 $0.00

Silver Membership Fee $86.45 $0.00

Gold Membership Fee $205.18 $0.00

Contributions from members - Bronze $775.00 $1,190.00

Contributions from members - Silver $880.00 $1,100.00

Contributions from members - Gold $5,200.00 $10,308.55

Donations Received $50,034.10 $66,742.11

Educational Event Fees $11,030.00 $2,106.05

Fundraising Event Fees $11,820.00 $6,490.00

Grants Received $26,150.00 $48,120.10

Income From Raffles $2,411.00 $1,915.00

Interest Income $3,967.72 $5,226.03

Sales of Goods $709.50 $1,076.90

Sitting Fees $0.00 $1,225.60

Total Income $113,382.70 $145,500.34

Gross Profit $113,382.70 $145,500.34

LESS OPERATING EXPENSES

Accounting Fees $2,941.00 $2,673.00

Advertising and Promotion $3,002.38 $638.38

Bank Charges --$7.53 $759.07

Board/Governance Expenses $90.00 $234.94

Credit Card Fees $1,717.58 $1,984.35

Educational Event Expenses $26,006.35 $9,287.69

Fundraising Event Expenses $2,445.00 $4,879.07

Fundraising Expenses $2,367.05 $1,917.84

Information Technology Expenses $2,464.73 $5,643.75

Insurance Expense $2,576.16 $2,184.45

Membership Fees Paid $612.05 $150.00

Postage, Freight and Courier $843.90 $809.97

Printing & Stationery $3,308.92 $2,963.70

Publications and Information Resources $3,713.37 $7,114.25

Rapamycin Extension $0.00 $1,582.20

Research Grants Awarded $0.00 $29,783.17

Salaries and Wages $21,054.31 $16,461.53

Salaries and Wages - Fringe Benefits $15,743.40 $13,468.53

Salaries and Wages - Superannuation $3,423.92 $3,303.79

Sundry expenses $590.15 $626.65

Telephone, Fax and Internet $1,025.24 $440.36

Training & Development (Staff) $1,119.36 $0.00

Travel & Accommodation $18,130.87 $3,688.02

Volunteer Costs $82.00 $762.54

Total Operating Expenses $113,250.21 $111,357.25

Net Profit $132.49 $34,143.09

Tuberous Sclerosis

Australia

10
---
Financial statements

Balance Sheet as at 30 June 2016

ASSETS

Bank

Term Dep-EPinkerton Mat19/5/15 $0.00 $5,110.09

Bank - At Call Cash Accounts

CBA Cash Investment Account $43,356.18 $79,998.23

General Cheque Account $24,104.91 $11,384.90

Macq Cash Management Acc $18,422.43 $19,071.85

Total Bank - At Call Cash Accounts $85,883.52 $110,454.98

Total Bank $85,883.52 $115,565.07

Current Assets

Accounts Receivables $15,000.00 $0.00

Reserved funds (Pinkerton) $10,207.45 $0.00

Total Current Assets $25,207.45 $0.00

Fixed Assets

Macquarie Term Deposit - Maturing 2nd August 2015 $0.00 $125,000.00

Macquarie Term Deposit - Maturing 2nd August 2016 $127,025.68 $0.00

Macquarie Term Deposit - Maturing 5/10/16 $55,649.67 $54,860.73

Total Fixed Assets $182,675.35 $179,860.73

Total Assets $293,766.32 $295,425.80

LIABILITIES

Current Liabilities

GST -$21.48 $0.00

PAYG Withholding Payable $0.00 $963.00

Rounding $0.25 -$0.01

Superannuation Payable $0.00 $831.24

Suspense -$438.24 $0.00

Trade Creditors $335.23 $0.00

Unpaid Expense Claims $126.50 $0.00

Total Current Liabilities $2.26 $1,794.23

Non-Current Liabilities

Sydney University Out of Pocket Expenses Study $2,745.00 $2,745.00

Total Non-Current Liabilities $2,745.00 $2,745.00

Total Liabilities $2,747.26 $4,539.23

Net Assets $291,019.06 $290,886.57

EQUITY

Current Year Earnings $132.49 $34,143.09

Retained Surplus $290,886.57 $256,743.48

Total Equity $291,019.06 $290,886.57

The accounts for 2015/16 were audited by Mark Mortimer (Registered Auditor No. 1942).

A copy of his report is available at https://tsa.org.au/annual-reports/

The accounts of TSA align to the National Standard Chart of Accounts

published by the Australian Charities and Not-for-profits Commission.

11

Tu
---
Phone

Email

Website

Facebook

Mail

1300 733 435 (within Australia)

info@tsa.org.au

www.tsa.org.au

www.facebook.com/AuTSC

Tuberous Sclerosis Australia

18 Central Rd, Beverly Hills

NSW 2209 Australia

ABN 20 681 174 734

Incorporated association in New South Wales, incorporation no. Y 07116-42.

Registered charity with the Australian Charities and Not-for-Profits

Commission from 3 December 2013. Public benevolent institution (PBI) and

endorsed by the Australian Taxation Office as a deductible gift recipient (DGR)

and an income tax exempt charity. We fundraise throughout Australia and are

registered under fundraising legislation as required.

Registered Charity CC25313

CFN 13968

Donations of $2

and over are

tax deductible

We think all families with TSC

should have someone to turn to.

Thank you for helping make

this a reality.

Tuberous Sclerosis

Australia