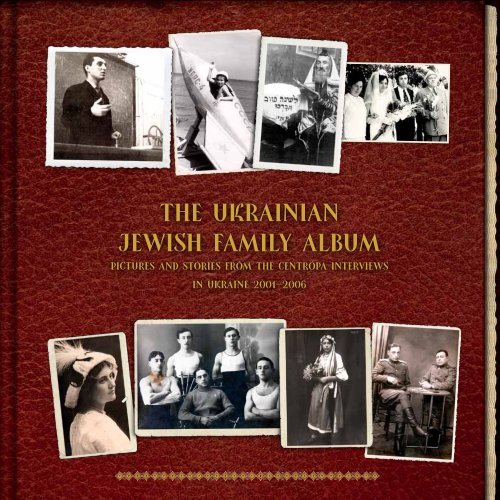 The Ukrainian Jewish Family Album
www.centropa.org preserving Jewish memory bringing history to life
www.centropa.org
preserving Jewish memory
bringing history to life
SHOW MORE
SHOW LESS
You also want an ePaper? Increase the reach of your titles
YUMPU automatically turns print PDFs into web optimized ePapers that Google loves.
The Ukrainian

Jewish Family Album

Pictures and Stories from the centropa interviews

in ukraine 2001–2006
---
www.centropa.org

preserving Jewish memory

bringing history to life

About this exhibition

About this exhibition:This exhibition was designed by

Marie-Christine Gollner-Schmid and Michael Haderer,

Vienna, and printed by Infiitum AG, Kyiv.

Editors: Reghina Dimitrisina, Anna Heffernan, Alysha

Zawaduk, Edward Serotta, Lauren Granite and Fabian Rühle

Translation: Reghina Dimitrisina

Historical Consultants: Nataliia Ivchik, Petro Dolganov,

Maksym Gon

Centropa's educational programs in Ukraine

Centropa's educational programs in Ukraine (which began in

2015) are made possible by the German Foreign Offie,the US

Embassy in Kyiv, and IHRA, and are carried out through the

Trans.History program.

Centropa's partner organization: Mnemonics NGO

Fabian Ruehle is Centropa's European Education Director,

Esther Cotoarba is our Centropa's Education Coordinator
---
Centropa in Ukraine

Oral histories

Education

When Centropa was

founded in Vienna and

Budapest in 2000 we

did not plan to create

a Holocaust-specific

interview project. We

wanted to ask the oldest

living Jews in fifteen

European countries to tell

us stories about the entire

century—as each of them

lived it—and share with

us their family pictures.

Our team in Ukraine

interviewed 285 Jews

living in eight cities and

digitized 3,450 old family

pictures and documents.

Through their pictures and

stories, we have helped

preserve a world. Our

English language website,

where visitors can find

most of these photographs

and interviews, is www.

centropa.org.

Centropa has spent more

than a decade working in

schools in North America,

Europe, and Israel, and since

2015 we have been working

with dozens of schools here

in Ukraine.

In education, we believe

that:

• stories are universal and

stories connect us all

• no one can teach a

teacher better than

another teacher

• •students will learn more

when they create their

own projects with new

technologies

• and students love to

share those projects

with

• students in other

countries through social

media

A Centropa/Trans-History

teachers' seminar in Lviv,

July 2015 for teachers

from Ukraine, Germany,

Poland, and the US.

Centropa's interviews in Ukraine were carried out in 2001-2007

under the auspices of The Institute of Jewish Studies, directed by

Professor Leonid Finberg. Project Coordinator: Marina Karelshtein.

Interviewers: Zhanna Litinskskaya, Ella Orlikova, Natalia Fomina

(Odessa)

Translator: Nina Larichkina, Editor: Andrea Schellner,

Scanner: Andrey Shevchishin

Centropa's interviews in Ukraine were underwritten by The Harry

and Jeanette Weinberg Foundation, The Conference on Jewish

Material Claims Against Germany, The Rosalinde and Arthur Gilbert

Foundation, The Austrian Federal Ministry of Culture, Education and

Science.

Students from a school

in Vinnitsa, first prize

winners in a student

video project, Our Town's

Jewish History, in Rivne,

November 2015.

3
---
at School

Moisey Goihberg

Photo taken in: Kyiv, 1967

Interviewer: Zhanna Litinskaya

My daughter Natalia performing at

an academic concert at the music

school. She tried to enter the Kyiv

Conservatory after finishing music

school. At that time, though, it

was next to impossible for a Jew

to enter a cultural institution,

especially in Ukraine. She had to

go to the Sverdlovsk Conservatory

in Russia instead. Natalia became

a pianist and returned to Kyiv

where she works in a concert

organization.

Sonia Leiderman

Photo taken in: Mohyliv-Podilskyi, 1940

Interviewer: Ella Levitskaya

The school canteen during our celebration of May Day.

I am at the back, sitting at the first table from the left

looking at the camera. I was a sociable girl at school and

it was hard for me to sit still for our 45 minute lessons.

The teacher always had to talk with mama about me

turning around and talking to other children.

Zhenia Kriss

Photo taken in: Kyiv, 1934

Interviewer: Zhanna Litinskaya

My classmates and I in the 7th grade. I am sitting first from right. I went

to a Russian secondary school, but there were children of all nationalities

there and we were all friends. My parents wanted me to go to a Russian

instead of a Jewish school so I wouldn't have language problems later in

Soviet higher education institutions. I was secretary of our Komsomol unit

and took part in district and town Olympiads in chemistry, physics, and

mathematics.

Iyah Dziekovskaya

Photo taken in: Izmail, 1948

Interviewer: Natalia Fomina

Me, first on the right, with two of my school friends.

This photo was taken in Izmail in 1948 while I was

studying at school #2 for girls. We were experimenting

with magnets for our physics lesson.

4
---
at School

Leonid Rozenfeld

Zinaida Leibovich

Photo taken in: Bohuslav, 1910

Interviewer: Zhanna Litinskaya

My mother, Dora Ozerianskaya,

sitting in the center, with her

friends during their last year of

school. After finishing grammar

school, she went to Kyiv to

study at a private dentistry

school and became a licensed

dentist.

Photo taken in: Kamyanets-Podilskyi, 1923

Interviewer: Zhanna Litinskaya

My mother Shprintse Altman in kindergarten. She is in the

back row wearing a white bow in her hair. She was born in

1919 and went to a mixed kindergarten for both Ukrainian

and Jewish children.

Grigoriy Fihtman

Photo taken in: Vinnytsia, 1966

Interviewer: Natalia Fomina

Me, standing in center, with a group of fellow performers at

the regional show of amateur performers. At the time I was

working as a teacher at a school in Komarhorod village in

the Vinnytsia region. Along with colleagues from our school,

I participated in the final concert of the show that year.

Lilya Finberg

Photo taken in: Kyiv, 1932

Interviewer: Tatyana Chayka

Near the center of this photo wearing a cap is my husband,

Kushel Finberg. This photo was taken in the school yard of

school 70, where he was attending seventh grade at the time.

5
---
At Work

Sophia Belotserkovskaya

Photo taken in: Kyiv, 1930s

Interviewer: Zhanna Litinskaya

My father Lev Belotserkovski working at the Ivan Franko Ukrainian

Drama Theater. He was the son of a poor craftsman and fell in love

with the theater when the Tsarist Army Theater visited his hometown of

Oleksandriya, in Kirovohrad oblast. He became friends with Gnat Yura,

who became a famous actor, and helped him found the Ivan Franko

Ukrainian Drama Theater in 1920.

Grigoriy Kagan

Photo taken in: Kyiv, 1974

Interviewer: Ella Levitskaya

After retiring from the army in 1963,

I worked as a hockey and boxing

referee for many years. It was hard

work, because I refereed many

games and matches back-to-back,

but I enjoyed the sports and it paid

well.

Gherda Kagan

Photo taken in: Odessa, 1961

Interviewer: Natalia Rezanova

This is me, sitting in front of the

microscope, with my colleagues Tamara

Simich and Irina Poliak. I graduated from

the Food Industry College and then worked

in the laboratory of the scientific research

institute of the tinned food industry.

Semyon Goldwar

Photo taken in: Odessa, 2002

Interviewer: Natalia Fomina

Me working in the architecture shop of the State Institute

of Town Planning in Odessa. One of the most interesting

projects I was able to take part in was designing the

memorial complex dedicated to the Jews who perished

in Odessa over the course of its history: the victims of

pogroms and the victims of the Holocaust.

6
---
At Work

Mina Smolianskaya

Photo taken in: Chernivtsi, 1984

Interviewer: Ella Levitskaya

Me working at the button factory

where I started working after my

children started school. It was

hard work that created corns

on my palms. I had to make 16

thousand buttons per shift and

earned only 360 rubles per month.

Lazar Gurfinkel

Photo taken in: Khotyn, 1936

Interviewer: Ella LevitskayaУ центрі

In the center is my father, Michael

Gurfinkel, in front of his pharmacy. He

was accepted to the Pharmaceutical

Faculty at Moscow University despite

the Tsarist government's policy of

limiting Jewish students to five

percent, and became the manager of a

pharmacy in his hometown of Khotyn.

When he passed away my older brother

Moisey, on the right, took over the

pharmacy.

Jemma Grinberg

Photo taken in: Kyiv, 1952

Interviewer: Zhanna Litinskaya

My mother Anna Deich, in the center of

the second row, with her kindergarten

class. She had been the director of a

children's home but was fired in 1949

during the antisemitic campaign against

"cosmopolitans," and found a job as a

kindergarten teacher.

Photo taken in: Kyiv, 1980s

Interviewer: Zhanna Litinskaya

This is a photo of me conducting a surgery. After

demobilizing from the army in 1947, I began to practice

urology as a civilian doctor. In early 1953 the Doctors' Plot

made things difficult for Jewish doctors. Several were fired

from our clinic. I was reassigned to work in a village as head

of its health department. Fortunately, after a year, I was

allowed to return to Kyiv and my work as a surgeon.

Moisey Goihberg

7
---
On vacation

Irina Soboleva-Ginsburg

Photo taken in: Sevastopol, 1927

Interviewer: Ella Orlikova

My mother, Judith Begam. She went to the seashore on

her vacation every summer. My mother was a pretty girl

and always had a number of admirers. She had her first

romance when her family was living in Losinustrovskoye.

They had a tenant, a poor student, who fell in love with

her. He proposed to her, but my mother's father said,

"Are you out of your mind? Do you really want to marry

this hobo?" This poor young man happened to be Marc

Chagall. Then they took different roads.

Mikhail Gauzner

Photo taken in: Odessa, 1940

Interviewer: Alexandr Beiderman

Me and my mother, Riva Gauzner, in the dining hall of the recreation

center in Arcadia. My mother is first from the right at the front table,

and I am sitting next to her. This was before the Second World War, in

the summer of 1940, when my mother and I went on vacation to the

Arcadia recreation center in Odessa, but I do not remember much

about it. I was only four years old at the time.

Evgenia Gendler

Photo taken in: Anapa, 1961

Interviewer: Ella Levitskaya

My daughter, Victoria, on the beach in

summer. We went on tours to different

places around the USSR, often traveling

with our children to the Crimea and the

Caucasus Mountains on vacation. Our

children liked swimming in the sea and we

enjoyed our time together. Sometimes

we spent vacations with our friends.

When our children grew up and had other

things to do, my husband and I went to

recreation centers in Subcarpathia.

Abram Bashmet

Photo taken in: Khust, 1959

Interviewer: Zhanna Litinskaya

My wife Maya with our sons Yuriy (left) and

Yevgeniy (right) on vacation. We took our boys

to the seashore every summer. Though they are

different, they have always been close to one

another. They went to pioneer camps together

every summer and played in bands. Music tied

them together. My sons were raised knowing their

Jewish spirit.

8
---
On vacation

Evgeni Chazov

Arnold Fabrikant

Photo taken in: Odessa, 1928

Interviewer: Nathalia Rezanova

This is me with my cousins Nina Patlazhan (née Bogomolskaya),

on the left, and Nina Gorodetskaya, on the right. I remember

very well that our parents took us to be photographed on a

weekend, on a summer day. The girls behaved themselves but I

was naughty, and while the photographer was preparing to take

photographs I was pinching the girls from behind. That is why

they look so annoyed.

Photo taken in: Sochi, 1956

Interviewer: Zhanna Litinskaya

From right to left: my mother

Friena, my father Pyotr, my

sister Ludmila, and myself. This

photo was taken during our

family vacation in Sochi on the

Black Sea. After I finished school

I left Ternopil and entered the

Pedagogical College in Rivne. In

summers I would have training

in Rivne and then I would go

to Ternopil on vacation. As an

exemplary Soviet family, we often

spent vacations together. My father

very often obtained free trips to

the Crimea and Caucasus.

Grigoriy Golod

Photo taken in: Kyiv, 1941

Interviewer: Zhanna Litinskaya

Me and some friends on the bank of the Dnipro River. I am on the

left wearing a dark shirt. My friends and I attended an aviation club

where we made replicas of airplanes that we set off on Trukhaniv

Island on the Dnipro. I was also fond of football and liked to go to

football matches. Sometimes my father bought me a ticket, but

when I had no ticket I joined a bunch of friends and we managed

to get into the stadium without tickets. We would also go to

parades and dance clubs together.

Semyon Ghendler

Photo taken in: Zhytomyr, late 1930s

Interviewer: Zhanna Litinskaya

These are my parents, Zachari and Yelizaveta Ghendler, during

a vacation on the Teteriv River in Zhytomyr. On weekends,

my parents and I would go to the riverbank. My father would

go swimming and my mother watched him from the bank. My

parents met in 1925 and fell in love with one another. My father

was a strong, handsome man. My mother was young and fairhaired.

They made a beautiful match. In 1926 my parents got

married. It was a traditional Jewish wedding.

9
---
Portraits

Emilia Kushnir

Arnold Fabrikant

Photo taken in: Odessa, 1947

Interviewer: Nathalia Rezanova

Me with my fiancée, Nathalia

Yampolskaya. I am wearing my

uniform because I did not have

any civilian clothes. Nathalia is

wearing her only suit and shoes

with wooden soles. We are

standing by the bronze figure

of a lion in the town garden on

Derybasivs'ka Street. In April

1946, I came to Odessa to meet

with Nathalia. We had known

each other since childhood. We

registered our marriage on 1

May 1948.

Photo taken in: Lvov, 1935

Interviewer: Vladimir

Zaidenberg

Me, on the left with my

chin resting in my hand,

with three school friends.

My childhood was a typical

Soviet one—kindergarten,

school, and war. My best

friends were Russians.We

were internationalists and

did not care about people's

nationalities. We still have

very good relationships with

each other. Even though

my friends and I were not

interested in politics, we

certainly knew about Hitler

and "Kristallnacht." There was

information on it in the press.

Ella Lukatskaya

Photo taken in: Kyiv, 1938

Interviewer: Tatyana Chayka

Me with my maternal grandmother

Haya-Ita Smertenko. In the 1930s,

only four of my grandmother's 10

children were still alive. She lived

in Kyiv with two of them: her son

Max and my mother. All of us lived

in one room. My grandmother

helped my mother about the

house. She died before Second

World War. Her death rescued us.

Had she lived longer, we would not

have been able to evacuate during

the war. We would have stayed in

Kyiv and been killed in the Babyn

Yar massacre.

Mark Golub

Photo taken in: Kyiv, 1929

Interviewer: Ella Levitskaya

Me at 18 months old wearing a Georgian costume while our

family was on holiday. I was born in Kyiv on 25th April 1928. I

was given the name of Mordukh at birth and I have this name

written in my documents. I was supposed to go to school in

1935, but I was not admitted because I had not yet reached

the age of 8. The next year I was admitted to the second

grade of a Russian school not far from our house, and it was

free of antisemitism.

10
---
Portraits

Baby Pisetskaya

Photo taken in: Uman, 1925

Interviewer: Ada Goldferb

Chaya Meyerson (nee Pisetskaya),

my father's youngest sister. Chaya

finished a lower secondary school

then married Israel Meyerson, a

Jewish man, in 1936. They had a

Jewish wedding with a chuppah.

There was a big wedding party. All

her brothers and sisters and their

families from Kharkiv, Moscow,

and Kursk came to her wedding in

Odessa. There was even an article

about this wedding in a Jewish

newspaper. There was even a

photo of our family published. Her

husband died on the front in 1943.

Dora Postrelko

Iosif Shubinsky

Photo taken in: Kyiv, 1952

Interviewer: Ella Orlikova

My mother, Etl Shubinskaya, with my

son Boris. For a long time after the

war, I knew nothing about my parents.

Later I learned that my parents

evacuated from Kyiv. They left on their

own without any organization. I knew

they had a difficult time at different

evacuation destinations. I looked for

them for a long time. Only in 1943 was

I informed that my parents were in

Kazakhstan, where my wife had also

gone. My father died there.

Photo taken in: Kyiv, 1947

Interviewer: Zhanna Litinskaya

My father Aron Gehtmann and his

third wife, Lisa, on their wedding

day. My father was a very impulsive

person; when he liked someone,

he poured kisses and gifts onto

that person. The problem was

that he was too full of love. For

that reason he left my mother

for a different woman. He often

wrote to me, but he only visited

from Leningrad two or three

times, always bringing gifts. I could

not afford to go to see him, but

I always wished him well on all

holidays. He died in 1968.

11
---
Portraits

Grigoriy Stel'makh

Photo taken in: Kyiv, 1947

Interviewer: Zhanna Litinskaya

My father Isaac Stel'makh in his office in the

military administration in Berlin. This photo was

taken to send it to the family in Kyiv. My father

was the product of his epoch. He went to cheder

like all Jewish boys and then finished a Jewish

school. Then… I would say he was drawn in with

the 'wheel of history.' He left his home at the

age of 14. He headed to Kamyanets-Podilskyi,

100 km west of his home where he joined the

Komsomol and became a Komsomol activist.

Photo taken in: Berlin, 1956

My father, Isaak Stel'makh, in jail. In 1945

he reached Berlin. After the victory, my

father was assigned to the Soviet Military

Administration of the city. On 20 January

1949, state security officers came to his

office and asked him to follow them. He was

arrested under article 58, item 10: anti-Soviet

agitation and propaganda. He was taken to a

prison in Berlin. For ten months he underwent

interrogation, including torture, before he

was sentenced to 10 years in prison.

Photo taken in: Kyiv, 1962

I took this photograph of my father

Isaac Stel'makh during the Celebration

of Victory Day in Kyiv. There was a big

official celebration of Victory Day in

1962. It was always the best holiday

for my father. On 14 August 1956, the

Military Collegium of the Supreme Court

of the USSR reviewed my father's case

and closed it for absence of corpus

delicti. After spending several years in

prison, my father was rehabilitated.

Photo taken in: Kyiv,1936

Interviewer: Tatyana Chayka

My husband, Kushel Finberg,

when he was 19, at the factory

in Kyiv where he worked. Before

we married in 1947 my mentality

was Soviet with simply no place

for Jewish traditions or faith. The

war and the Holocaust radically

changed my mind. With my

marriage to Kushel, my life began

to fill with Jewish traditions and

religion again.

Lilya Finberg

Photo taken in: Chernivtsi, 1920s

Interviewer: Andreea Laptes

My husband, Carol Ionel Greif, as

a baby with his mother Amalia.

Carol was a Jew from Chernivtsi.

He studied at two universities. He

studied languages and chemistry by

correspondence at a university in

Belgium. I met him in Brasov before I

left for university. He was older than

me and had quite a reputation with

women, but to me he was friendly

and he often took me out to the

theater, behaved like a gentleman,

and joked that when I grew up he

would marry me.

Ruth Greif

12
---
Portraits

Sima Medved

Photo taken in: Ekaterinoslav

(Dnipropetrovsk), 1915

Interviewer: Ella Orlikovaа

My mother's daughter from her

first marriage, Freida Rivkina,

when my father and I went

to visit her. My mother's first

husband's name was Rivkin.

Freida was born in 1893. I do not

know under what extraordinary

circumstances my mother

divorced her husband and why

the rabbi of Ekaterinoslav gave

his approval for the divorce.

She did not want to discuss

this matter. After my mother

died, we lost track of Freida,

but we later found out that she

perished during the war. We

correspond, though, with her

son who lives in Israel.

Dimitri Kamyshan

Photo taken in: Kharkiv, 1916

Interviewer: Ella Orlikova

Victor Zilberberg, my

father's brother. My

grandparents had six

children. Victor was their

second child. He was a very

handsome man and always

dressed very neatly, and

he became an actor. He

lived alone—his wife left

him when he fell ill with

asthma. He loved cats and

dogs. Many of them would

come to his house, and he

would give them food. He

was called 'cat man.' Boys

often teased him about his

love for cats, but he did not

get angry—he just smiled at

them. He was a very kind

man. He was hanged by the

Germans during the war.

Asia Matveyuk

Photo taken in: Mykolaiv, 1915

Interviewer: Zhanna Litinskaya

On the left is my father Shoilik Leikind and next to him

is his friend Solomon Levi. They and their horses were

drafted into the tsarist cavalry in 1915. He returned

from the war a different person. He became fond of

revolutionary ideas, dreaming of a better life and the

construction of a communist society. He stopped going

to the synagogue, joined the Komsomol, and became the

leader of the village poor.

13
---
Jewish Community life

Haya-Lea Detinko

Photo taken in: Lviv, 1935

Interviewer: Unknown

This is a photo of my Hashomer Hazair (Young Watchmen)

group. My friends and I went to the Lviv region to a Pioneer

camp. We rented an attic and lived there, sleeping on hay—

the boys on one side, girls on the other. We wore gray shirts

and dark blue ties as our uniform. The regular Pioneers wore

red ties. We had shirts with pockets, whistles, and all that

stuff. We all dressed this way.

Dora Nisman

Photo taken in: Chernivtsi, 1936

Interviewer: Ella Orlikova

My father, Moshe-Joseph Waisman. He prayed every

morning, facing the wall and always with a band wrapped

around his arm. He had a seat of his own in our village's

synagogue. He paid for it, and nobody else had a right

to sit there. We only spoke Yiddish in the family. Nobody

was allowed to do any work on Saturdays, so all the food

for the Sabbath was cooked on Fridays. We observed all

the holidays. In the fall, after the Jewish new year, we

celebrated Sukkot for the harvest and ate all our meals

outside in a hut.

Leonid Dusman

Photo taken in: Odessa, 1913

Interviewer: Alexandr Beiderman

Members of the Jewish sport club Maccabi, including

my father Moisey Dusman standing second from left.

At 13 my father had his bar mitzvah and got a tallit and

tefillin. However, I never heard of my father going to the

synagogue. At 17 he became a volunteer with the Jewish

self-defense movement. There were many such units in

Odessa in those years, to fight against the street thugs

who were beating up Jews.

14
---
Jewish Community life

Svetlana Benyumova

Vladimir Goldman

Photo taken in: Odessa, 2001

Interviewer: Natalia Fomina

Here I am with my grandson Dennis on the first day

of Chanukkah. In the late 1980s, the revival of Jewish

life in Odessa began and a Jewish cultural association

was founded in 1989. The Jewish community was given

back the ownership of the main synagogue on Richelieu

Street. In 1993 I was offered the position of director of

the Jewish charity center and we got an office in the

Jewish Cultural Center. We started by providing services

to forty people but now we provide services to about

9,000 people in Odessa and the surrounding region.

Photo taken in: Kyiv, 1975

Interviewer: Leonid Aptekar

My daughter Svetlana's wedding. In the late 1980s the revival of

Jewish life in Ukraine began. First, books by Jewish writers that

hadn't been published in decades appeared. Then came theater

productions by Jewish playwrights and concerts of Jewish music.

Jewish newspapers and magazines started to be published, and

various Jewish organizations were established. My grandchildren

are religious and have everything a Jew needs for a prayer. Their

lives are still ahead of them and I hope they will be all right.

Max Shykler

Yakov Honiksman

Photo taken in: Ostrow Lubelski, 1922

Interviewer: Ella Orlikova

Rabbi Moisey Grinberg, my maternal grandfather. I

got this photo when I was in Poland in 1974! One of

the residents of the town, where my grandfather

had been highly respected, had kept this photo. I

guess my grandfather was born in the 1860s. I met

him only once, when I was four years old. He was

a handsome, tall Jewish man with a big half-gray

beard. He died in 1933.

Photo taken in: Chernivtsi, 1936

Interviewer: Ella Levitskaya

Me and my friends during our time as members

of Betar, our Jewish youth group. I am on the

right in the second row. Betar was Zionist and

rather right wing. They said Jews had to live in

Palestine, sing Jewish songs and have military

training. Senior members of Betar wanted to

go to Palestine. Those who wanted to move

had to work for a property owner for about a

year to learn how to farm before they could

obtain a certificate and move to Israel from

the British Embassy.

15
---
In Dark Times 1932–1944

During the twelve years between 1932 and 1944, the territories that now

constitute Ukraine suffered horrors unparalleled in its history. No family

was left unscarred; many vanished entirely.

The collapse of the great empires at

the end of the First World War did not

produce the results many Ukrainians had

hoped for. Unlike its neighbors to the

west the Ukrainian nation was denied the

founding of its own state. Briefly amidst

the turmoil of the imperial collapse did

there exist an independent Ukraine –

the Ukrainian People's Republic -- but

none of the Great Powers sanctioned its

existence. Instead, in the wake of the First

World War, the Russian Revolution and

Civil War, and the Ukrainian-Soviet War,

Ukraine was left fractured and occupied.

By 1921 this status-quo was formalized.

The bulk of Ukraine became part of the

Soviet Union; her western territories were

incorporated into Poland; the Western

powers handed Transcarpathia to the

newly-born state of Czechoslovakia; and

Bukovina was given to Romania.

In the wake of the Paris peace

settlements and the redrawing of the

map of Central and East Europe, most

countries in the region were left nursing

territorial ambitions. Revanchism was the

word of the day; the desire for revenge

simmered until the beginning of the

Second World War encouraged it to boil

over.

1932–1933

From 1932 to 1933, all Soviet Ukrainians suffered through the hell of the

Holodomor (the Great Famine), which was inflicted upon the region under

Stalin's collectivization program. It is estimated that more than 3,300,000

Ukrainians of every ethnicity starved to death. Stalin refused to admit that the

famine was even happening, let alone seek any amelioration.

The international community did not help. Despite ample evidence of mass

starvation and terror in Soviet Ukraine at this time—even without a formal

admission by the Soviet government—American reporting, for instance,

remained willfully ignorant. Walter Duranty, the Moscow Bureau Chief of The

New York Times at the time of the Holodomor, denied that any governmentmade

mass starvation had occurred. Such lack of reporting meant that no

significant relief would come to the people of Soviet Ukraine from foreign

governments.

16
---
In Dark Times 1932–1944

1941–1944

Nazi Germany and its allies invaded the Soviet Union on 22

June 1941. The German Wehrmacht and Waffen SS—with the

cooperation of their Hungarian, Italian and the Romanian

allies—killed millions of Ukrainian civilians over the next

three years and around 2,500,000 Ukrainians were sent to

Germany to work as slave laborers.

501,000 Jews from all over the Soviet Union served in the

Soviet Army during the war; 198,000 fell fighting, or died in

German prison camps.

Of the estimated 2.5 to 2.7 million Jews living in Ukraine at

the beginning of the Second World War, between 1.5 to–1.6

million were murdered between 1941 to 1944.

As in the rest of Nazi-occupied Europe, mass murder on this

scale would have been impossible without the assistance of

local collaborators. In Ukraine, this included those who were

conscripted into or volunteered for service in auxiliary police

units or the German military but also those who volunteered

for independent militia or partisan units.

It should also be remembered that during the darkest days

of the Second World War, thousands of Ukrainians saved

and protected Jewish friends, neighbors and even complete

strangers. Israel's Holocaust Memorial Museum, Yad Vashem,

has given 2,544 Ukrainians Righteous Gentile awards for

their bravery.

17
---
Holodomor

Sima Medved

Photo taken in: Orativ village, Kyiv region, 1934

Interviewer: Ella Orlikova

I'm sitting, third from the left, with the best collective farmers of Orativ

village. There was an unbelievable famine in the village and in all of Ukraine.

Carrots I found in the fields were my main food for a long time. When we

received the order to give everything to the state, including the last stocks

of grain, we hid two kilos of wheat so that nobody could find it. Women

were crying, 'We shall die, we shall all starve to death,' but I tried to cheer

them up and said, 'Hey, we shall live to bake pies.' We all took care of each

other.

Basya Chayka

Photo taken in: Kyiv, 1928

Interviewer: Tatyana Chayka

Me at two years old. From my

preschool years, I have a strong

memory of the famine of 1933,

when in front of my own eyes a

homeless child stole the bread

that my mother had just received

with her bread card. My mother

began to cry, and I felt very

scared.

Mark Derbaremdiker

Photo taken in: Kyiv, 1937

Interviewer: Ella Orlikova

Me as a student of the Institute of

Light Industry. I remember the early

1930s—the period of famine—very well.

Many Jews in Berdychiv were starving.

We had charity lunches at school and it

was a big joy to see a piece of cabbage

in our soup. Many people moved to

bigger towns because they had better

supplies and sent parcels with bread

or crusts from there. When the parcels

were delivered the bread inside was

already covered with mold, but we ate

it with pleasure. My father and older

brother were working and received

bread cards, so we managed somehow.

18
---
Holodomor

Iosif Shubinsky

Anatoliy Shor

Photo taken in: Bershad, 1929

Interviewer: Zhanna Litinskaya

My mother Reizl Shor. I remember how people were

swollen, dying during the famine in Ukraine. Dead

bodies were loaded onto wagons in the morning and

taken to the cemetery where they were buried in

common graves. They were mainly Ukrainians who

came to the town from their villages hoping to get

some food. The Ukrainians from the village where my

father often went to work supported our family. We

also tried to help the needy with whatever we could

give them. We ate mamaliga (polenta) soup with

nettle and herbs.

Photo taken in: Zvenyhorodka, 1932

Interviewer: Ella Orlikova

My father Veniamin Shubinsky. I remember the famine of the 1930s. My

father was swollen up due to starvation. Everybody was starving. We

thought it was easier to live in Kyiv because it was possible to find jobs

there. However, the situation in Kyiv was also very difficult. For instance,

my father got a salary and bought a loaf of bread with this money, but on

his way home this loaf of bread was stolen from him and he came home

with nothing. It was a real tragedy.

Photo taken in: Sharhorod, 1939

Interviewer: Ella Levitskaya

My sister Maria, my mother's brother and me. In 1932–

1933 there was a serious famine in Ukraine. My mother's

golden jewelry, her wedding gift from her father Iosif,

saved us from starving to death. We took it to a Torgsin

store where we could buy food for currency or gold.

Mama left all her jewelry in the Torgsin in exchange for

cereals, flour, or butter. Mama baked our bread herself.

Many people suffered from hunger in the country.

Anna Ivankovitser

19
---
In the Army

Yelizaveta Dubinskaya

Photo taken in: Kuibyshev, Russia 1942

Interviewer: Zhanna Litinskaya

Me, in military uniform, with my sister Manya. I was visiting her

during the redeployment of the front. I volunteered to go to

the front and served as the commander of a medical unit on

the front lines. I carried the wounded out of the fire on my

shoulders, thus ruining my own health.

Lidia Korotina

Photo taken in: Panaveshys, Lithuania 1945

Interviewer: Ella Orlikova

My aunt Serafima Korotina when she was in Panavezhys,

Lithuania, in 1945. She was my father's younger

sister and my grandfather's favorite. She became an

excellent doctor after graduating from the Odessa

Medical University and served as a captain in the army

medical service. She didn't have a family of her own

and took care of my grandmother, who died in 1943 in

evacuation in the village of Tikhoretskaya.

Mirrah Kogan

Photo taken in: Kuibyshev, Russia, 1943

Interviewer: Natalia Fomina

Me, first on the right, with my parents and my friend Zhenia

Lerner. I served as a doctor during the Second World War.

When my company was encircled near Kharkiv, Zhenia and I

escaped captivity by pretending to be civilians. We wandered

for eight months until we reached the front lines. After an

investigation by the military we went to Kuibyshev to see my

parents.

20
---
In the Army

Photo taken in: Moscow, Russia, 1942

Interviewer: Ella Orlikova

Me as a cadet in partisan school,

where I learned Morse code and

became a radio operator. I was

stationed in Moscow and later Kyiv,

where we established communication

with and supported partisan groups

behind enemy lines.

Isaac Gragerov

Photo taken in: Unknown, 1945

Interviewer: Zhanna Litinskaya

My mother, Raissa Gragerova, in her military

uniform. Before the war, she was trained as a

doctor. In 1941 she and my father evacuated to

Sverdlovsk oblast. Her parents died on their way to

evacuation. To distract herself, she started working

at the hospital in Sverdlovsk. In 1944 she was sent

closer to the front. She became an experienced

surgeon, earned the rank of major, and received

many awards.

Susanna Sirota

Photo taken in: Mykolaiv, 1946

Interviewer: Zhanna Litinskaya

Me, sitting on the right in my army uniform, with

my stepbrother, Samuel, on the occasion of his

wedding. When the war broke out I was a student

in the Pharmaceutical College. I was a patriot and

eager to go to the front. I served in a sanitary unit

and was chief of my regiment's pharmacy. In 1943 I

received a medal "For Valor."

Asia Matveyuk

21
---
In the Army

SEMEN Nezhynski

Ida Limonova

Photo taken in: Unknown, 1941

Interviewer: Inna Zlotnik

My husband Natan Shafir, second on

the left, with fellow soldiers in the

Red Army. On 10 May 1942 he sent

a letter from the front to our son

Yuri for his sixth birthday. He wrote,

"My dearest, you have so many nice

things ahead of you. I'm ready to

give everything for you, even my life.

Happy birthday and many kisses." He

was killed in battle one month later.

Photo taken in: left, Leipzig, Germany, 1945; right, Kyiv, on

the 40th anniversary of the victory, 1985

Interviewer: Ella Levitskaya

I served in a mobile combat unit on many fronts, including

the 1st Ukrainian Front. In 1944 we liberated Majdanek

concentration camp. I saw gas chambers, incinerators,

and piles of shoes and hair. It horrified me and aroused

hatred of the fascists. Near Berlin we captured SS troops.

An officer I interrogated wanted to go home to his family.

I told him, "You should have thought of that before. Now

you'll have to cope with some cold." I meant Siberia.

Grigoriy Sirotta

Photo taken in: Kaunas,

Lithuania, 1941

Interviewer: Ella Orlikova

Me, left, at the headquarters

of our regiment in Kaunas in

1941. In 1940 we 'provided

assistance' to the Lithuanian

people by liberating them

from the oppression of world

capitalism. Nobody there was

happy to see us. When the

war broke out in 1941, I was a

communications operator in

the rank of sergeant.

Dora Postrelko

Photo taken in: left, Unknown; right, Kyiv, 1935

Interviewer: Zhanna Litinskaya

My sister Hana Gehtmann, right, and her fiancé Sasha Goldberg,

left. They planned to get married after college, but life had its own

rules. When the war broke out Sasha went into the military. Hana

had tuberculosis, and she died in April 1942. I buried my darling sister

near the forest. I answered letters from Sasha pretending I was her.

I couldn't force myself to tell him the truth. When I finally told him

that my sister had died, he wrote back asking me to send him her

photographs. I did and saw him only once more, by chance in 1960.

22
---
In the Army

SEMEN Tilipman

Photo taken in: Chernyatyn, 1944

Interviewer: Natalia Fomina

Me, first from right, after our troops liberated

Chernivtsi in May-June 1944. In Chernivtsi we took

the spoils of war including food, weapons, fuel, and

alcohol. My friend, Captain Zhuk, behind me in this

picture, took some fuel and failed to report it to the

fuel department, so he was sent to a penal battalion. I

don't know whether he survived.

Arkadiy Redko

Photo taken in: Kyiv, 1999

Interviewer: Ella Levitskaya

Me with fellow members of the Kyiv Association of Jewish

War Veterans at the Jewish Council of Ukraine. I am in the

first row, second from the right. Since my retirement in 1992,

I have been very active in the Kyiv Association of Jewish War

Veterans, the council of the Kyiv Jewish Community, and the

Jewish Council of Ukraine.

Arnold Fabrikant

Photo taken in: top, Piatigorsk, Russia, 1941 bottom, Odessa, 2001

Interviewer: Nathalia Rezanova

I was called to the army in July 1941 and served in an artillery unit. My father

was an army officer. When his unit was encircled by Germans, he and his

fellow officers shot themselves rather than be captured by the fascists. I

fought in Rostov and Donetsk, marched through Belarus and Poland, and

finally Germany itself, where we fought in the streets of Potsdam and Berlin.

Once in my peaceful life after the war, I received many awards for my

participation in the war effort.

23
---
The Ones I Lost (Holocaust)

Dimitri Kamyshan

Photo taken in: Kharkiv,1941

Interviewer: Ella Orlikova

My aunt Ludmila, her husband Arkadiy, and their daughter

Valentina. In 1941 we were all forced into the Kharkiv ghetto.

My mother, who was Russian, begged Arkadiy to leave

Valentina with her, but he refused. When they were marching

us out of the ghetto, a German soldier shot my grandmother

and I escaped under a fence. Later we received a note from

my aunt saying Valentina had been shot, but then so were my

aunt and uncle.

Henrich Zinger

Photo taken in: Velykyi Bereznyi, Zakarpatska oblast, Ukraine,1930s

Interviewer: Ella Levitskaya

My sister Helena, left, and brother Leopold, right. During the war I was

in a forced labor battalion. When I was released and returned home

to Velykyi Bereznyi, neighbors told me that the Germans had taken

my whole family to Auschwitz in 1944. None of them returned. Helena

put these photos under the floorboards of her house before the Nazi

invasion in 1940, and we found them while renovating in 1948.

Dora Nisman

Leonid Averbuch

Photo taken in: Odessa, 1920s

Interviewer: Nicole Tolkachova

My aunt Ida Zaltzberg. She was born in 1901 and studied

music at the Odessa Conservatory. She was a beautiful,

well-dressed, and bright woman. In 1941, when she was

40 years old, Ida was killed alongside her husband and

stepdaughter in the ghetto in Odessa.

Photo taken in: Chernivtsi, 1941

Interviewer: Ella Orlikova

My husband Srul Nisman. We were

married in 1941. Refugees from Poland

and Romania had told us about the

horrible German attitude towards

Jews. Because I was pregnant, we

wanted to evacuate, but it was too

late. After the Germans arrived, one

came to our door. They were ordering

men out of their homes. Srul gave me

our marriage certificate, his ring, and

his pen. He knew that he wouldn't be

coming back.

24
---
The Ones I Lost (Holocaust)

Mina Smolianskaya

Photo taken in: Odessa, 1939

Interviewer: Ella Levitskaya

My sister Rulia's sons, Naum (top) and Efim

(bottom). In 1947 I went to Odessa to find Rulia.

Her neighbor told me Rulia was shot by Germans.

A teacher took the boys in, but someone reported

her for hiding Jews.

Israel Gliazer

Photo taken in: Pidhaitsi, 1930s (then

Poland, now Ukraine)

Interviewer: Zhanna Litinskaya

My sister Sarra, wearing her Purim [a festive

Jewish holiday in the spring] costume.

She and I were members of the Zionist

organization Hashomer Hatzair, where

we took classes and celebrated Jewish

holidays like this. In 1946 I learned that my

family had perished. Sarra and my parents

had moved to Skalat at the beginning of the

occupation and were killed when fascists

liquidated the Skalat ghetto.

Ladislav Roth

Photo taken in: Uzhhorod, 1928

Interviewer: Ella Levitskaya

My mother, Hermina Roth, with

her three children. Standing next

to her is my sister Ella, sitting on

the left is my brother Stepan, and

I am standing below Ella. During

the war I was recruited to a forced

labor battalion, and my parents

and siblings were deported to

camps. Ella survived the war in

Bergen-Belsen, but the rest of my

family was murdered at Auschwitz.

Rosa Vexler

Amalia Laufer

Photo taken in: Zhabiye, 1938

Interviewer: Ella Levitskaya

My sister Mariam and her husband David Shtein. This was my

mother's copy of their wedding portrait. They lived in a small

village called Zhabiye and did not evacuate during the war.

We later found out that when the Germans arrived in Zhabiye,

they shot all the Jews in the village, including my sister, her

husband, and their 11-month old son.

Photo taken in: Serebrinets, 1936

Interviewer: Ella Levitskaya

My grandmother Surah Abramson with

my sisters: Tamara, in her lap, and Sonia,

standing. During the war my grandmother

didn't want to evacuate. She remembered

the Germans from World War I and believed

they would not harm Jews, so she and her

daughter Nehama stayed in Mohyliv-Podilskyi.

Germans shot my grandmother in her yard

in 1942. Nehama survived by hiding in her

Ukrainian neighbors' cellar.

25
---
Babyn Yar

Frida Palanker

Photo taken in: Korostyshiv, Zhytomyr

oblast, Ukraine, 1911

Interviewer: Unknown

My father Nusim Veprinsky. During the

war he was in the reserves, so when

my mother and siblings evacuated, he

stayed. When I returned to in 1945, my

neighbors told me that a German man

living in our house reported my father

to the Germans when they occupied

the city. On September 29 they came

to take him away and killed him at

Babyn Yar.

Klara Dovgalevskaya

Photo taken in: Kyiv, 1936

Interviewer: Vladimir Zaidenberg

A picture of my sister, Sonya

Dovgalevskaya, taken from the yearbook

of the Medical Institute in Kyiv. She was

mobilized into the army as a doctor

before the war and participated in the

defense of Kyiv. When the Germans

occupied the city, one of her former

friends reported her to the Germans.

When we returned from occupation our

neighbors told us that Sonya was taken to

Babyn Yar and shot.

Larisa Khusid

Photo taken in: Odessa, 1922

Interviewer: Zhanna Litinskaya

My uncle, Idel Khusid, was born in 1885. He

had a degree in economics and lived in Kyiv

with his wife Valentina, who was German.

Valentina convinced him that Germans were

a civilized people who would not harm the

Jews, so he did not go into evacuation. Our

relatives told us that Valentina handed him

over to the police and that they saw him

among the Jews being taken through the

streets to Babyn Yar on 29 September 1941.

Deborah Averbukh

Photo taken in: Kyiv, 1939

Interviewer: Ella Orlikova

My mother, Rakhil Averbukh.

My parents didn't evacuate

because my father thought the

Germans were civilized people.

My mother was a very strong

person. I don't remember her

crying when my brother Israel

left for the front or when I

said goodbye before going

into evacuation. In 1944 I got

a postcard from a neighbor in

Kyiv saying that my parents had

been shot in 1941 at Babyn Yar.

Evadiy Rubalskiy

Photo taken in: Kyiv, 1923

Interviewer: Ella Levitskaya

My sister, Shiva Rubalskaya, when

she was two years old. In 1941 I

was serving at the front while my

grandparents, mother, and sister

stayed in Kyiv. My grandfather

thought the Germans would

persecute communists but not

Jews. They stayed and followed

the commandant's order to walk to

Babyn Yar on 29 September 1941.

Shiva had finished her first year at

the Food Industry College when the

war began.

26
---
Babyn Yar

Frieda Rudometova Lubov Ratmanskaya Zhenia Kriss

Photo taken in: Berdychiv, 1916

Interviewer: Zhanna Litinskaya

My mother Revekka Winner. I carried

this photo of her with me in evacuation.

I evacuated Kyiv along with the other

employees of the shipyard. I didn't go to

see my mother—I could not take her with

me and I didn't have time to say goodbye.

We thought we would be back in two

months. When I returned, neighbors told

me my mother had been taken to Babyn

Yar.

Photo taken in: Yelets, Lipetsk oblast,

Russia, 1906

Interviewer: Yulia Smelianskaya

A wedding portrait of my parents, Isay

Ratmansky and Sofia Ratmanskaya. My

mother died in evacuation in Tashkent,

but my father stayed in Kyiv. I wrote him

from Moscow, telling him to leave Kyiv,

but he didn't want to. He remembered

the behavior of the Germans during

World War I, so he stayed. He was killed

at Babyn Yar in 1941.

Photo taken in: Kyiv, 1938

Interviewer: Zhanna Litinskaya

My cousin Anatoliy Yufa. He was blind in one

eye and therefore unfit for the army, but

he participated in the defense of Kyiv with

a group of volunteers from the university.

Almost all of them perished. Anatoliy

survived and returned to the city, where he

hid in the attic of one of his schoolmates.

However, he was reported to the Germans

and taken to Babyn Yar, where he was killed.

Efim Kadanskiy

Photo taken in: Kyiv, 1939

Interviewer: Unknown

My great-aunt, Olia

Shkurovich, the daughter of

my grandmother's sister Leya.

They were a religious family, and

Olia was one of eight children.

Olia was deaf and mute. When

the rest of her family went into

evacuation during the war, Olia

refused to go. She stayed in Kyiv

and was murdered at Babyn Yar.

Maya Pivovar

Photo taken in: Kyiv, 1930s

Interviewer: Oksana Kuntsevskaya

My grandfather, Boruch-

Benicion Freidman. My mother

tried to convince him and my

grandmother to evacuate with us,

but they didn't want to leave. My

grandfather was ill and said he

would rather stay and die in his

bed than die on the way. When

we returned in 1944 our neighbors

told us that my grandparents had

been killed at Babyn Yar.

27
---
In Evacuation

Sophia Abidor

Photo taken in: Begovat, Uzbekistan

Interviewer: Zhanna Litinskaya

My son Mikhail, left, with my sister-in-law Tsylia's

daughters in Begovat. Both of our husbands were at

the front. Tsylia and I worked on a collective farm.

We returned to Kalinindorf after it was liberated in

1944, only to find our house occupied. We only got

half of it back from the village council, but we were

just relieved to have a home.

Photo taken in: Buturlinovka, Voronezh

oblast, Russia – 1941

Interviewer: Ella Levitskaya

A picture of me and my four-monthold

son Iziaslav Abidor, taken to send

to my husband Grigori at the front. We

evacuated Odessa when the Germans

surrounded it. We made our way by

boat and train to Buturlinovka where my

sister-in-law lived. We lived there for

half a year until the Germans attacked

Voronezh, when we evacuated further

east to Tashkent, Uzbekistan. We found

out later that Grigori died when his train

was bombed in Marhanets.

Yelizaveta Zatkovetskaya

Tsylia Aguf

Photo taken in: Kustanay,

Kazakhstan – 1944

Interviewer: Elena Zaslavskaya

Here's a photo of my daughter

Victoria that was taken to send

to her father at the front. My

husband and I were married in

Kazakhstan after we evacuated

from Kyiv, but within a week of

our wedding he was sent to the

front. I was very upset because I

was pregnant at such a difficult

time, but I gave birth to my strong,

healthy daughter in 1942.

Seraphima Gurevich

Photo taken in: Alma-Ata, Kazakhstan – 1943

Interviewer: Ella Levitskaya

My father, Naum Gurevich, at the military hospital in Alma-Ata, Kazakhstan. My

mother and I evacuated there in 1943. On the way we learned that my father had

been injured at the front, had his leg amputated and was headed to Alma-Ata on

a hospital train. The conditions of the hospital were terrible, with shortages of

everything, but my father survived thanks to my mother's care.

28
---
In Evacuation

Simon Gonopolskiy

Marina Shoihet

Photo taken in: Chimkent, Kazakhstan – 1943

Interviewer: Vladimir Zaidenberg

Me, first from the left, with my cousin Mara and my

aunts. Mother's brother Grigoriy and his family took us

in, and eleven of us occupied two rooms. We didn't have

enough food, so we ate flour and water and cooked

some local turtles. Those were hard years, but people

always got together at our place for a cup of tea. We

girls recited poems and sang songs. We returned to Kyiv

in April 1945.

Photo taken in: Kustanay,

Kazakhstan – 1942

Interviewer: Ludmila Grinshpoon

My mother and I in evacuation in

Kustanay, Kazakhstan, in 1942. We

evacuated Odessa in the fall of 1941,

and one of the local residents in

Kustanay took us in. I attended 7th

grade there. Local boys called me

zhyd [kike] so I fought them, and they

never bothered me again. After 7th

grade I went to work and learned the

trade of wood turning. I was able to

steal some supplies from my job that

helped us survive.

Tatiana Tilipman

Photo taken in: Bastandyk,

Kazakhstan – 1954

Interviewer: Ludmila Grinshpoon

My parents, Srul and Hana Krupnik,

sitting with their grandchildren. We

evacuated to Kazakhstan during the

war, and my parents stayed. My son

Yevgeni is the youngest one, crying

because he doesn't want to be

photographed. My father was religious

and very resourceful. During Sukkot he

fashioned our makeshift shower cabin

into a sukkah, and during Chanukah he

fashioned potatoes into lamps and lit

them with cotton oil and wicks.

Gherda Kagan

Photo taken in: Andizhan, Uzbekistan, 1943

Interviewer: Natalia Rezanova

This is me in Andizhan, Uzbekistan, where my parents, my

grandmother and I evacuated during the war. I was 11 years

old, so I went to school there. One of the boys beat me

because I was a Jew. We schoolchildren went to perform

concerts in hospitals, where I saw many severely wounded

and maimed people. Since then, nothing is more frightening

to me than the thought of war.

29
---
THE PATH OF DESCTRUCTION

Львів

Lwiw

JUNE

29 TH

Iwano-Frankiwsk

Тернопіль

Ternobil

Chernivtsi

Рівне

Riwne

Біла Церква

Bila Tserkva

Хмельницький

Chmelnyzkyj Вінниця

Winnyzja

Odessa

Chernihiv

Київ

Kyiv

TH SEPT

Житомир 19 TH

Zhytomyr

Полтава

OCT

JUNE

28

Івано-Франківськ

Чернівці

From the moment the Germans and their Hungarian,

Italian and Romanian allies invaded Ukraine from the west

and south on 22 June 1941, it was clear what lay in store

for the Jewish families that did not flee eastward: death

by starvation, beatings, deportations to death camps in

German-occupied Poland (from western Ukraine), and for

well over a million men, women and children: death by

firing squad. The total: between 1.5 million and 1.6 million.

OCT

16 TH

Одеса

Чернігів

Черкаси

Cherkasy

Миколаїв

Mykolaiv

Kherson

Кременчук

Kremenchuk

Кривий Ріг

Kryvyi Rih

Херсон

Суми

Sumy

Poltava

24 TH

Дніпро

Dnipro

Запоріжжя

Zaporizhia

Харків

Kharkiv

Berdiansk

Donezk

Mariupol

Бердянськ

Донецьк

Маріуполь

Луганськ

Luhansk

The map and chart below show the progress of the

German Army, its allies and the Waffen SS in the early

months of the war. As can be seen, the vast majority of

Jews in the west of the country had no chance to flee;

the farther east they were, the better their chances to

escape.

Севастополь

Sevastopol

Ялта

Yalta

Date 28 June 29 June 25 August 19 Sept. 16 October 24 October

City Rivne Lviv Dnipro. Kyiv Odessa Kharkiv

(*occupied by

Romania, not

Germany)

Nr of Jews,

prewar

25,000 200,000

by 1941

89,000 150,000 200,961

by 1931

130,250

Nr killed

between 41-44

20,540 152,200 17,000 33,771 (by 1941) in Babyn

Yar. By the end of the

year 1943 over 50,000

Jews were killed in

Babyn Yar.

111,000 12,000

Nr fled to east Basically none 10,000 74,000 100,000 80,000–90,000 115,000

% survived 17.9% 23.9% 81% 66.7% 44.8% 90.8%

30