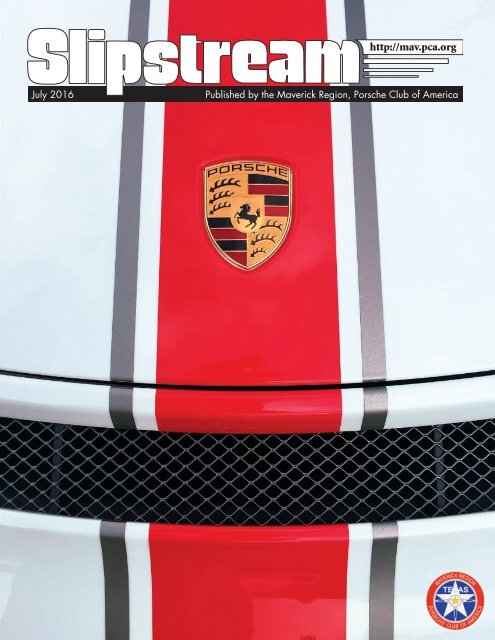 Slipstream - July 2016
The monthly newsletter of the Maverick Region of the Porsche Club of America
The monthly newsletter of the Maverick Region of the Porsche Club of America
SHOW MORE
SHOW LESS
You also want an ePaper? Increase the reach of your titles
YUMPU automatically turns print PDFs into web optimized ePapers that Google loves.
http://mav.pca.org

July 2016

Published by the Maverick Region, Porsche Club of America

Upcoming Events

• Father's Day Picnic

• Sunday Drive

• Rally School

Past Events

• Wild Wildflowers

• May at Mayo's

• Results

June 2007 - Published by the Maverick Region

Porsche Club of America
---
©2016 Porsche Cars North America, Inc. Porsche recommends seat belt usage and observance of all traffic laws at all times. Optional equipment shown is extra.

It doesn't ask to be idolized. Just driven hard.

While certainly deserving of a special place in your heart, all things being equal, it'd rather be whipping down

an ocean-side road. So we made it easy to want to take it out and drive hard. With a glorious new engine

increased to 3.8 liters of displacement, it gives the driver greater torque for instant, usable power. It also

touts a remarkable 500 horsepower. And it does all this while using less fuel. Add in lightning-fast shifts with

the optional Porsche Doppelkupplung (PDK), and your urge to drive it will outweigh your desire to worship it.

Porsche. There is no substitute.

The new 911 Turbo

Discover how efficiency demands performance.

Porsche Plano

5924 W. Plano Parkway

Plano TX 75093

(972) 249-0910

www.plano.porschedealer.com
---
http://mav.pca.org

Volume 54, Issue 7, July 2016

Find event updates at http://mav.pca.org, follow our Twitter feed at https://twitter.com/MaverickPCA

and join our Facebook Group at http://www.facebook.com/groups/mavpca/

Departments

Zone 5 Presidents..........................................1

Shifting Gears (President's Column).............2

Maverick of the Month.................................2

List of Officers and Board Chairs.................4

Maverick Minutes.........................................6

New Mavericks and Anniversaries................9

Unclassifieds...............................................34

Advertiser Index..........................................34

Around the Bend (Editor's Column)...........36

Features

Trivia.............................................................7

Five Speed Chatter....................................... 10

Mary Coney: Remembering a Good Friend.11

Hope Shelter Update...................................12

Autocrossing: Your Porsche Is Prepared.....13

First Porsches: Two That Got Away.............16

Maverick Region Logo: Potential Update...18

Tub Club Adventures..................................22

Maverick Photos of the Month....................31

Upcoming Events

No July Board Meeting.................................7

Maverick Lunch Series...............................10

Autocross Schedule.....................................20

July Monthly Social....................................27

Past Event Recaps

Saturday Drive: Revolver Brewing.............14

Autocross 4.................................................23

May Social: Shuck N Jive...........................26

July

Sun Mon Tue Wed Thu Fri Sat

1 2

3 4 5 6 7 8 9

10 11 12 13 14 15 16

17 18 19 20 21 22 23

24 25 26 27 28 29 30

31

Day July

NO BOARD MEETING THIS MONTH

12 Lewisville Lunch

21 Mav Social: Hard Eight BBQ

24 Autocross 5: LSP

28 Richardson/Southlake Lunches

Day September

4 Autocross 7: LSP

7 Board Meeting

13 Lewisville Lunch

15 Mav Social: Arthur's, Addison

18 Time Trial 2: MSR

22 Richardson/Southlake Lunches

24 Saturday Drive: MSR

24-25 DE: MSR

Driving Event Venues

BHS Burleson High School, Burleson

COTA Circuit of the Americas, Austin

ECR Eagles Canyon Raceway, Slidell

LSP Lone Star Park, Grand Prairie

MSR MotorSport Ranch, Cresson

MW Mineral Wells Airport, Mineral Wells

August

Sun Mon Tue Wed Thu Fri Sat

1 2 3 4 5 6

7 8 9 10 11 12 13

14 15 16 17 18 19 20

21 22 23 24 25 26 27

28 29 30 31

Day August

3 Board Meeting

9 Lewisville Lunch

14 Autocross 6: LSP

18 Mav Social: Embassy Suites, Frisco

25 Richardson/Southlake Lunches

Day October

2 Autocross 8: LSP

5 Board Meeting

11 Lewisville Lunch

15 Saturday Drive: Rancho Sereno

20 Mav Social: Love&War in Texas

22-23 DE: MSR

27 Richardson/Southlake Lunches

29 Halloween Rally: TBD

30 Autocross 9: BHS

On the Cover: The most recent

"wrap" design on the front

trunk lid of the GT3 owned by

Chris and Gabe Sorrells.

Photo by Victor Verissimo

Slipstream (USPS 666-650) is published monthly by the Maverick Region, Porsche Club of America, 155 Jellico

Southlake, TX 76092. Subscription price is $24.00 per year. Periodical postage is paid at Fort Worth, TX.

POSTMASTER: Send address changes to Hiram Saunders, Slipstream, 155 Jellico, Southlake, TX 76092.

Opinions expressed herein are not necessarily endorsed by the Club's membership or officers. Contributions will be

printed on a space available basis. Chartered regions of PCA may reproduce items from this issue provided the author/

artist and Slipstream are credited. Slipstream is printed by Ussery Printing Company in Irving, Texas.

ARK-LA-TEX

Ken Chandler

bad968@bellsouth.net,

COASTAL BEND

Bryan Kerrick

bksailspadre@

sbcglobal.net

2016 PCA Zone 5 Presidents and Zone Representative

LONE STAR

Michael Globe

president@lsrpca.com

MARDI GRAS

Scott Spradley

OZARK

Jim Woolly

jim.carol_NOSPAM@

sbcglobal.net

WHISKEY BAY

Mike Hamza

mikehamza944@

gmail.com

CIMARRON

Rod Nordstrom

rnordstr50@gmail.com

HILL COUNTRY

Tracey Gross

president@hcrpca.org

LONGHORN

Charles Bush

president@longhornpca.org

MAVERICK

Jim Falgout

president@mavpca.org

WAR BONNET

Randal Goodman

WHITE RIVER

Leonard Zechiedrich

whiteriverregionpca@

gmail.com

ZONE 5 REP

Lynn Friedman

zone5rep@pca.org

www.zone5.pca.org

1
---
Shifting Gears: Maverick Region Summer Activities

By Jim Falgout, Region President

irst gear: June was an active month with

F

Autos in the Park, PCA Porsche Parade and

various social activities. Now July comes

and the activities are reduced, due to the

anticipated summer heat and various vacations. We will

not have a board meeting this month.

Second gear: Speaking of board meetings, the June

board meeting included a presentation by member Bill

Orr on some very interesting concepts for promoting

the Maverick Region at dealerships, as well as ideas

for a new logo. We will be soliciting your opinion on

a few alternatives for our logo. My point really is how

fortunate our club is to have a variety of talents to

contribute to the success of the Maverick Region.

Third gear: As I mentioned above, PCA Porsche

Parade was in June. The Maverick Region had a large

contingent attending and representing Zone 5. If you

did not go this year, try planning on going to one in the

future. You will be definitely enjoy it.

Fourth gear: This is a good time to reflect and

reevaluate. What club activities have you enjoyed? What

club activities would you like to participate in but have

not so far? Your club has a lot to offer.

Of course, I will always encourage you to ask yourself

what can you do to help your club provide these kinds

of experiences for others.

YOUR CLUB WANTS YOU . . .

volunteer! You will be glad you did. Just

contact Jim Gallegos at volunteers@

mavpca.org.

Fifth gear: In a previous issue I requested suggestions

for changes to our event in November known as

Founders' Day (name subject to change). We really

want your input because we want it to be an event that

you would like to participate in and enjoy. So please

send any thoughts, no matter how minor, to either

social@mavpca.org or president@mavpca.org.

SAUL FRAIRE, Chef-Proprietor

1235 William D. Tate Ave

Grapevine, TX 76051

817-329-6995

Sixth gear: MAV OF THE MONTH

It is great to have members who will help out where

ever they can. One of the most time consuming jobs is

editor of Slipstream. We have been fortunate to have a

series of excellent editors which has resulted in our

monthly newsletter receiving several awards. We have a

member who was editor of Slipstream, and after handing

over the reins to another volunteer, continues to assist

in the production of the magazine. As was said recently,

he just does not know how to say "no." Your Mav of the

Month this month is Carey Spreen. Thanks Carey for

all that you do.

What can you do to help

your club provide these kinds

of experiences for others?

Mav of the Month Carey Spreen

with his daughter Geneva

2 July
---
Like a Personal Trainer for your Porsche!

• Expert maintenance and repair services • Track day preparation

• Performance and appearance upgrades from GMG, Manthey, FVD and more

• Superior customer service and free loaner cars • PCA discounts

• Show quality detailing services • Comprehensive service from air-cooled to 991

We Also Buy, Sell and Consign Quality Pre-owned Porsches

3236 Skylane Drive, Dallas, Texas 75006

214-269-1570 • www.racperformance.com

PCA Special - Oil Change $199 00

Plus Sales Tax

Oil change with Mobil 1 for 996/986/997/987/991/981. Offer includes complimentary car wash and vacuum.

3
---
2016 Maverick Region Board - Officers and Chairs

President

Jim Falgout

president@mavpca.org

Jim joined Maverick Region in August,

2008. He drives a 2003 996, which is

the third Porsche he has owned. Jim

enjoys attending Maverick Region

social and driving events.

Autocross Chair

Mark Schnoerr

ax@mavpca.org

Club Race Co-Chair

Pat Heptig

214-649-7907

cr@mavpca.org

DE Chair

ChrisTabor

817-371-4888

de@mavpca.org

Vice President

David Robertson

C 617-797-0516

vp@mavpca.org

David fell in love with the Porsche

911 when, as a child, he would have

his parents stop by the old Forest Lane

Porsche in Dallas so he could dream of

someday owning one. He bought his

first Porsche 911 in 2011. He and his

wife Tracy enjoy being active members

in the Maverick Region.

Time Trial Chair,

(AX/TT Rules)

Travis Howard

214-616-6152

tt@mavpca.org

Club Race Co-Chair

Joel Nannis

cr@mavpca.org

DE Chief Driving Instr.

John Sandusky

817-777-0421

cdi@mavpca.org

Secretary

Wendy Shoffit

C 972-977-9821

secretary@mavpca.org

Wendy and husband James joined

Maverick Region in 1997, when

their daughter was only 9 months

old. Jasmine is now 18. They own 3

Porsches including a 1978 911SC as

a dedicated racecar, which she enjoys

autocrossing. Her daily driver is a 2016

Cayman GT4.

TT Registrar, AX/TT

Schools, Swap Meets

Robyn Howard

214-991-0873

drivingschools@mavpca.org

Club Race/DE Registrar

Slipstream Event Ads

Wendy Shoffit

crreg@mavpca.org

deregistrar@mavpca.org

DE Equipment Mgr.

Hunter Allen

deequip@mavpca.org

Treasurer

Richard Solomon

C 903-530-8281

treasurer@mavpca.org

Richard joined Maverick Region in

2012 when he fulfilled a 30+ year

dream to own his first (of many) 911,

a 2009 Silver Carrera! Although fairly

new to the club, he is excited about

being more involved and meeting more

Porsche fanatics!

Charity Chair

Chris Hamilton

hope@mavpca.org

Concours Chair

Andy Kay

817-948-8538

concours@mavpca.org

DE Sponsorship

Daren Kirbo

254-396-2973

desponsorship@mavpca.org

Email List Moderator

James Shoffit

972-786-6246

mrpca-owner@

yahoogroups.com

Email List Moderator

Brian Scudder

mrpca-owner@

yahoogroups.com

Email List Moderator

Matt Platts

mrpca-owner@

yahoogroups.com

Goodie Store

Chris Flaugh

214-288-5300

goodiestore@mavpca.org

Histographer, Tenured

Charlie Davis

historian@mavpca.org

Membership Chair,

Past President

John Hamilton

817-907-7823

membership@mavpca.org

Monthly Social Chair

Stephanie Ho

hh@mavpca.org

Online Calendar

Brendan Eagan

calendar@mavpca.org

Rally Co-Chair

Don Sebert

214-613-6900

rally@mavpca.org

Rally Co-Chair

George Luxbacher

rally@mavpca.org

Safety Chair

Joe McGlohen

safety@mavpca.org

Slipstream Advertising

Cindy Bliss

469-307-2856

ads@mavpca.org

Slipstream Editor

Jim Hirsch

972-740-7377

editor@mavpca.org

Slipstream Article Ed.

Carey Spreen

817-422-3480

editor@mavpca.org

Slipstream Wrangler,

Public Relations

Brenda Dranow

pr@mavpca.org

Slipstream Mailing

Andy Mears

214-394-5857

mailing@mavpca.org

Slipstream Printing

Fran Ussery

972--438-8344 (W)

817-481-8342 (H)

printing@mavpca.org

Social Co-Chair

Tracy Robertson

817-944-5490

social@mavpca.org

Social Co-Chair

Phyllis Gallegos

214-695-3376

social@mavpca.org

Sunday Drive Chair

Tom Martin

tours@mavpca.org

Tech Sessions Chair

Ed Mullenix

972-417-0997

techcorner@mavpca.org

Trivia Chair

Jerry DeFeo

972-240-5800

trivia@mavpca.org

Volunteers Chair

Jim Gallegos

214-697-0792

volunteers@mavpca.org

Web Site Chair

Denny Payne

webmaster@

mavpca.org

Please contact any of these club event chairs with your questions!

4 July
---
WE TOOK

YOUR

OBSESSION

AND GAVE

IT A HOME.

Introducing Garages of Texas, a community of first-class, affordable, completely customizable garage suites.

Here, you don't rent space. You buy it. Giving you complete financial control and the power to make it your own

with unlimited customization options. So, stop fighting for space in your family garage. Upgrade to a garage suite

and move your motorhome, boat or show cars to the showroom they deserve.

Contact our sales team at 214.435.4898 or jgriffin@GaragesOfTexas.com for more information.

www.GaragesofTexas.com • Facebook.com/GaragesofTexas

Located at W. Plano Pkwy. & W. Park Blvd., in Plano, Texas

5
---
Last "Minute" Substitution: June Board Meeting

By Carey Spreen, MRPCA Secretarial Pool June 1, 2016

egion President Jim Falgout

started the meet-

R

ing at 7:00 pm. His first

order of business was to

announce this year's Nominating

Committee: past Presidents John

Hamilton, James Shoffit, and Mike

Brodigan. Jim also reminded us that

the club is looking for ways to revitalize

Founders' Day, the Region's

anniversary celebration. Mark

Schnoerr suggested renaming it the

Holiday Party.

Concours d'Elegance Chair Andy

Kay gave us information about the

Autos in the Park Concours, which

will use four teams of three judges

for scoring, a first for this event.

Slipstream Content Editor Carey

Spreen said that the number of June

issues printed was very close to the

mailing list total, and we'll need to

increase the print count. Carey and

Jim Falgout discussed a proposal

from Region member Dreanna

Belden, Assistant Dean for External

Relations at UNT. She offered

to digitize our entire Slipstream

archive, making it searchable to the

word level. The cost to us would

be no more than $6,645.60. After

discussion, a motion was made and

seconded to accept the proposal,

pending a test run to assess quality

and file size. The vote passed.

Social Co-Chair Phyllis Gallegos

announced that this year's Founders'

Day celebration will be held

Saturday, Nov 5, at the NYLO hotel

in Las Colinas. Bent Tree CC was

unavailable, and NYLO gave us similar

pricing. The Social Committee

has also set a few 2017 dates: the

All Member Party, Jan 28; May at

Mayo's, May 6; and Founders' Day,

Nov 4.

Volunteer Chair Jim "Jimmyg"

Gallegos is looking for volunteers

who are interested in helping put

on various club activities. Contact

him at volunteers@mavpca.org for

more information.

Sunday Drive (aka PCA Tours)

Chair Tom Martin recapped the

May drive to Revolver Brewing in

6 July

Granbury, where 81 cars and 130

people participated, including the

President of the Granbury Chamber

of Commerce, who had recently

purchased a Porsche. Tom noted

that a new member, Mark Pitarresi,

who was present at the meeting, had

expressed interest in volunteering.

Welcome Mark!

Social Co-Chair Tracy Robertson

noted that the Silent Auction, which

is a significant part of Founders' Day

each year, is organized by the Social

Committee, which also organizes

the banquet itself. The Silent Auction

has become so big that it needs

to be managed by its own group.

Vice President David Robertson

reminded us that official Waiver and

Release forms with black and red

lettering must be used for all events

that involve moving cars. David has

several pads of these forms available

for use at these events.

Slipstream Managing Editor Jim

Hirsch thanked Carey for finishing

up the June issue. He also thanked

all of our content contributors for

continuing to get articles and photos

in before the 10th-of-the-month

deadline.

Tech Session Chair Ed Mullenix

is working with Hans Hoffman at

RAC Performance to put together

a tech session there in September.

More information to come in the

August issue.

Time Trial Chair Travis Howard

recapped the PCA Club Race and

Drivers' Education event at Circuit

of the Americas in May. There was

a lighter turnout than in past years,

which made grid management

easier, but reduced revenue for

the event. The Time Trial at Mineral

Wells had 30 drivers attend, half

Porsches, half others, which is typical.

The Truxster had ignition problems

but was repaired and put back

into service. Most of our equipment

is getting old (purchased for the

2004 Parade) and may be due for

replacement. Lastly, he may have a

location in Weatherford to store the

Truxster.

Monthly Social Chair Stephanie

Ho said that we had over 60 attendees

at the Wildwood Grill social.

Turnout at Shuck-n-Jive was low

due to the weather. After discussion

it was determined that each venue

has its own cancellation policy, but

if there is no financial commitment,

canceling due to weather is acceptable.

She has locations booked

through the end of this year.

Calendar Boy Brendan Eagan

confirmed that the on-line and Slipstream

calendars remain in sync.

Remember to send any event date

changes to calendar@mavpca.org.

Rally Co-Chair Don Sebert told us

that the Easter Egg Hunt rally drew

28 cars and was a lot of fun. He and

Co-Chair George Luxbacher are

discussing a rally this summer, and

will definitely be putting on another

Halloween rally in October.

Membership Chair John Hamilton

passed along a note from Drivers'

Education Chair Chris Tabor

that Chris is looking into an "intro

to DE" weekday evening event at

MotorSport Ranch.

Autocross Chair Mark Schoerr

described the Equipe Rapide

Mirror-Cross event held at Mineral

Wells, which was similar to an SCCA

Pro-Solo event. He reminded us that

Equipe Rapide gives cash awards;

Mark, his wife Sigrid, and Fred

Stubbs all received cash payouts.

The next event is at Lone Star Park

on Sunday, July 24.

Goodie Store Chair Chris Flaugh

was able to purchase 1000 Maverick

Region window stickers for $65.

These stickers will be given out at

various region events.

Webmaster Denny Payne is in

discussion with James Shoffit and

Bill Orr about updating the Region

website to make it easier to search,

more mobile-friendly, and to add

the ability for members to post their

own classified ads. Bill noted that

the intent is to make it fit in more

closely with the PCA National website.
---
Safety Chair Joe McGlohen noted the loss of longtime

race controller Mary Coney on May 13, and told

us that there would be a celebration of her life on June

18. Joe noted that his Safety Chair apprentices are

working out well.

Bill Orr had three proposals for the board. First

was the use of internet-enabled digital photo frames to

promote Maverick Region at various locations. These

devices, which cost about $200 each, can show images

of region activities and include a QR code that allows

prospective members to join PCA on the spot. A motion

was made and seconded, and the board voted to

purchase one unit for placement at Autobahn Porsche

on a trial basis.

Bill's second proposal was for a portable flagpole

which can support two 3-ft by 5-ft flags to identify Region

gatherings. The poles extend to about 20 feet and

collapse to 44 inches for transportation, with a cost of

$200 for the stand, pole, and flags. A motion was made

and seconded, and the board voted to purchase it.

The third proposal was to update the Maverick Region

logo. The current logo seems dated, too busy, and

has fine details that do not always reproduce well. He

presented several ideas to the group. The board agreed

that we are ready for a logo change, but need time to

finalize a design. A motion was made and seconded to

update the region logo, and the vote passed.

Jim Falgout announced Carey Spreen as Maverick of

the Month. Meeting adjourned slightly after 9:00 pm.

MAY TRIVIA

It's Easy to Play!

Play here for fun and find the answers below

OR

Play for prizes on the web at http://mav.pca.org, with

the answers and winners to be posted here after each

month's contest has closed. Thanks to Jerry DeFeo for

putting this and the Web Trivia together.

The Winner for this month is,

CYRIL REIF

getting 5 of 5 correct, plus the Tie Breaker.

Cyril, please contact Kirk at Zim's

to claim your $25 Gift Certificate.

Thanks to all for playing!

1. A recent ADVERTISEMENT said that _____________ was for

Fast Cars; and Autocross is for Fast Drivers.

a. Bonneville Salt Flats b. Texas Mile c. Drag Racing d. Indy 500

Source: Slipstream, May 2016, p 20

2. A very special project came about in 1974 with _________

Identical 3.0 Carrera RSs built for the "International Race of

Champions" (IROC) racing series; all of them were exactly

identical in performance and handling, but all a different color.

How many were built?

a. 10 b. 12 c. 15 d. 20

Source: Porsche Museum Book, p 62

3. The IROC Series was the brainchild of _______________?

a. Peter Gregg b. Roger Penske c. Mario Andretti d. John

DeLorean

Source: Porsche Museum Book, p 62

4. At the 2010 Paris Motor Show, Porsche introduced its fourth

version of the legendary Speedster in the 997 Series to be made in

a very limited quantity. How many were made?

a. 356 b. 500 c. 911 d. 997

Source: Porsche Museum Book, p 212

5. While all of the Speedsters had virtually all of Porsche's 911 Series

Options, a very special color was developed exclusively for the

Speedster. What color was it?

a. Pearl Black b. Carrera White c. Ferry Red d. Pure Blue

Source: Porsche Museum Book, p 218

6. Tie Breaker: What color brake calipers did the Speedster have?

a. Red b. Silver c. Green d. Yellow

Source: Porsche Museum Book, photo on pp 213-214

Answers: 1) c 2) c 3) b 4) a 5) d 6) d

7
---
We Buy, Sell & Trade the World's Finest Timepieces

Authorized Dealer for major brands including:

Patek Philippe • Rolex • Bell & Ross • Blancpain • Corum

F.P. Journe • Girard Perregaux • Jaeger LeCoultre • Tudor

Visit deBoulle.com to view our extensive collection of pre-owned timepieces.

MAVERICK PCA RACER

8 July

6821 Preston Rd., Dallas, Texas 75205 214.522.2400 deBoulle.com
---
Welcome Our New Mavericks!

By John Hamilton, Region Membership Chair

Matthew Alexander

Dallas

2016 Cayman GT4

Armando Almeida

Colleyville

2003 911 Turbo

Brandon Baker

Southlake

1999 911 Carrera Cabriolet

Lisa Boyd

Dallas

2008 911 Carrera 4S

Bradley Caldwell

Dallas

2016 911 GT3

Justin Chambers

Dallas

1966 912

Mike Childers

Forney

2007 Cayman S

Cliff Dycus

Plano

2014 911 Carrera

Michael Gallo

Dallas

1995 911 Carrera Cabriolet

Thomas Goolsby

Allen

2005 911 Carrera S

Paul Griffith

Dallas

2015 911 Turbo Cabriolet

Craig Hale

Bedford

2012 911 Carrera S

Brent Howell

Dallas

2012 911 Carrera S

Jonathan Lindsey

Greenville

2001 Boxster S

Jay Lynch

Fort Worth

2013 911 CS Cabriolet

William Perry

Dallas

1988 911 Carrera Targa

Greg Pitoniak

Dallas

2005 Boxster S

Thomas Proell

Southlake

2015 Macan S

Mike Scott

Granbury

2016 Macan S

Chris Smith

Plano

2017 Macan S

Tom Stelter

Frisco

2007 911 Turbo

If you have any changes that

you would like to make to the

MRPCA membership guide,

contact John Hamilton at

membership@mavpca.org

Maverick Membership Totals

Members ~ 1,676

Affiliate Members ~ 876

Total Membership ~ 2,552

James Stewart

Corinth

2002 911 Carrera 4S

Larry Thompson (Kim)

Princeton

2017 911 Carrera 4S

Chris Walker

McKinney

2007 911 Turbo

Frank Waugh

Forney

1984 928S

Stanley Whitney (Su Brude)

Frisco

2008 911 Turbo

Transfers In

None this month

John Christian

Dallas

2010 Cayman S

Clint Locklin

Plano

1999 911 Carrera

Say hello to your fellow

Porsche drivers!

Flashing your high beams at fellow Porsche

drivers is a time-honored tradition . . .

Keep the flash alive!

Anniversaries: July

** 40 Years **

William Dawson (Sharron) Cedar Hill

20 Years

Bryan Henderson (Patricia) Bedford

Phil Migicovsky (Myra)

Dallas

15 Years

Shane Altman (Dana)

Richardson

David Podeschi (Susan)

Prosper

Daniel Veltkamp

Dallas

10 Years

Randy Evans

Plano

Gerald Halyard (Julia)

Fort Worth

Matt Selner

Plano

Brien Smith (Anne)

Dallas

5 Years

Bruce Blount (Kerry)

Kenneth Caldwell (Evelyn)

Ian Donnelly

Jon Drake

David Emmons

Harry Filbey (Sue)

Roger Gates

Tom Golden (Conner)

Bryan Greenup (Lisa)

Mark Jones (Cathy)

Michael Longanecker (Debbie)

Wendell Martens

Jason Taylor (Christie)

Fort Worth

Dallas

Dallas

Carrollton

Dallas

Whitesboro

Fort Worth

Dallas

McKinney

Colleyville

Dallas

Kennedale

Southlake

9
---
Five Speed Chatter: Spoiled Rotten

By Ash Seidl-Staley

Photos Courtesy of the Author

ne of the greatest moments of my life happened

on February 4, 2015. On that day,

O

my wife and I were graciously permitted

to bring our son, Christian Hans, into this

world! From the moment that his eyes first opened, I

knew that he would be spoiled rotten. Man was I right!

In his defense, Christian is luckier than most kids. He

currently has five grandparents and four great grandparents,

all living, and all eager to buy him toys and

clothes. As any parent knows, grandparents are notorious

for spoiling grandchildren. So far, Christian's

grandparents are no different.

One of Christian's "big ticket" Christmas gifts this

past year was a 2015 Porsche 911 GT3 Power Wheel. As

most Mavericks know, my first car was a walker buggy

with a Porsche decal slapped on the front of it. Christian

seems to have had an upgrade. And I would be

lying if I said that I wasn't jealous -- I mean, come on,

look at it! This ginormous power wheel, which we have

yet to name, looks phenomenal, has tons of standard

features, and even comes with its own working FM radio!

This beautiful, but not so little, plastic sports car

lights up and makes racing noises when the steering

wheel is turned. It comes with paddle shifters that

also make noises that mimic the sounds our cars make

upshifting and downshifting. The Porsche also comes

with three modes of driving: Forward Drive, Reverse,

and Sport Mode. Sport Mode is achieved after removing

the governing pin on the gear shift, and placing

the shifter into the "S" position. This change, though

slight, increases the top speed of the Power Wheel to

just over 5 mph! This is exactly double of what the regular

Forward Drive mode will achieve.

Although Christian is too small

for this particular toy right now, it

seems as though many of his other

toys will carry the Porsche brand

as well. When I was a young boy

my Porsche collection was limited

to die cast models, plastic models,

posters, books, and maybe a

remote controlled vehicle. For

Christian and his generation,

there are multiple ways for him to

get his Porsche fix. On top of everything that was available

when I was a kid, Porsche has currently partnered

with numerous video game franchises, cell phone app

developers, the Playmobile Company, Fisher Price toys,

VTECH Go Go vehicle design, and even the all-powerful

Lego! With the very successful racing careers of

the 919 and the Flying Lizards, Porsche has expanded

its market directly into kids' toy boxes, hopefully, with

more designs and partnerships to come.

I can't honestly say who is more excited about

Porsche toys, me or my son. Considering he is only

16 months old, it is most likely myself. But, come on I

can't be the only one, right?

Play on Mavs!

Christian's Autos...I wonder if he likes air cooled engines

10 July
---
Mary Coney: Remembering a Good Friend

By Joe McGlohen, Region Safety Chair

Photo Courtesy of the Author

s a person, Mary Coney had warmth and a

A

sense of humor. She was down to earth and

loved motorsports, as well as the friends she

shared that love with, including Maverick

Region. She was a delight to be around and to work

with. She loved music, especially "oldie" car music. She

once brought a bunch of CDs filled with her "Favorite

Car Music" to an event and shared her favorites with

all the workers (and me). She was also crazy about her

grandkids.

Mary was active as an SCCA corner worker for many

years preceding our Drivers' Education program, and

as our DE program took shape, she started as a corner

worker for us but soon became our "Control."

Many of you may not even recognize her name, but

if you participated in any of our DEs or Club Racing

events from 2002 forward, you would remember her

calm golden voice from the tower on the PA system

keeping things moving, thanking sponsors, and making

sure folks knew where and when they needed to

be. She did all of that, and all the while she was "Control,"

the nerve center of the event, coordinating the

corner workers, rescue, EMTs, and car recovery folks.

This included juggling the schedule when weather, car

breakdown recoveries, or other incidents that played

havoc with our usual timetable. And in the midst of all

of that chaos, she kept the DE staff informed and got

their input when appropriate. After all the dust settled,

she never hesitated to tell us what she needed to make

things better, or to offer a differing opinion about procedures

and policy that might improve our process.

From my perspective as the Safety Chair during several

of those years, I always felt at ease when Mary was

(in) CONTROL at our events. Several times I received

similar feedback from the Club Race National Steward

at our Club Races.

She will be truly missed and long remembered.

11
---
Hope Shelter Update: Hope's Helpers

By Bill Middleton

Photo Courtesy of the Author

ne of the issues that the

O

Hope Shelter, MRPCA's

continuing charity,

deals with regularly is

maintenance and upkeep issues

of the building and its equipment.

While the building itself has done

very well over the years, typical

"wear and tear" items are a constant

issue – and financial drain –

for Hope.

One of the unfortunate issues

that Hope deals with somewhat

frequently is theft by their clients.

While at first one may wonder why

this issue even occurs, when Hope

has provided their clients with a safe

haven from a difficult situation, the

reality is that, in many cases, Hope

is a significantly better physical environment

than the one they have

come from – and as a result, some

clients, out of significant need, will

take things they need with them

when they leave. Items like bedding,

towels, silverware, dishes, and

Bill Middleton installing a hair dryer

so forth have all been subject to

removal. Some items and issues can

be easily resolved; Hope no longer

uses regular dishes and silverware,

it's all disposable paper plates,

plastic cups, and plastic silverware.

Cooking utensils (clients cook for

themselves) are as inexpensive

as possible, as are pots, pans, and

other cookware. Other items have

been replaced either with a type of

item that isn't likely to be removed,

or is inexpensive enough that it's

not a great burden to replace.

One of the more difficult issues

has been hair dryers – they seem to

fly out the door on wings of their

own, according to one of the volunteers!

So, after some investigations

and research, it was decided that

the hair dryer issue would be resolved

by installing hotel-type permanent

wall-mounted units. Several

units were reviewed, discussed

with Hope director Lisa Huffaker,

and a Sunbeam model was selected.

On the last weekend of April, Bill

Middleton and Ron Colbert went

out to Hope Shelter and installed

the new dryers. They were received

with much appreciation by both

the Hope staff and the residents,

as now they were not only theft

proof, but high enough on the wall

that they were out of the reach of

smaller kids.

Also, while there, some other

maintenance items were taken

care of, including replacing a dead

ceiling fan in one of the larger

bedrooms, some fence repairs,

some basic door hardware screw

tightening and aligning on some

doors, and checking the side yard

for drainage.

All in all, a very enjoyable and

successful Saturday!

If you are interested in working

with our continuing charity, or

would like to volunteer to help out,

please contact Chris Hamilton, our

Charitable Activities Chair, at

hope@mavpca.org. She would love

to hear from you!

Ten Years of Hope:

Huffaker-Hughes Hope

House 10th Anniversary

This December, the Hope Shelter

celebrates ten years since the

dedication and opening of their new

home, the Huffaker-Hughes Hope

House.

The Hope House is the end

result of years of planning, dedication,

fund raising, and just plain

hard work by a dedicated group

of Porschephiles in response to the

deteriorating and difficult conditions

that, until that time, had been the

original Hope Shelter.

While the history of its conception,

construction, and completion

is long, the conclusion of the story

is short and sweet. Thanks to the efforts,

contributions, and hard work

of the Maverick Region, what could

have been a tragic ending instead

became a beautiful beginning: a

brand new shelter, built to serve

the needs of those most vulnerable

– battered and abused women and

children – for decades to come.

As we prepare to celebrate this

milestone, it is most important to

acknowledge and remember that

this wonderful place would not have

gone from just a dream on paper to

bricks and mortar without its most

essential component – YOU – all our

fellow Mavericks – who, through

your continuing generosity over the

years at everything from charity laps

at DEs to donations of gift cards at

Christmas, made the building of

Hope House a reality.

Please join all of us this year as

we celebrate this milestone achievement,

and keep your eyes open during

this year for special events and

opportunities to help Hope continue

its mission. If you are new to the

Maverick Region, and would like

to learn more about Hope Shelter,

we welcome your interest with open

arms, and encourage you to contact

any Board member for further information.

12 July
---
Autocrossing: Your Porsche is already prepared!

By Mark Schnoerr, Region Autocross Chair

Photos Courtesy of the Author

odern Porsches take virtually no preparation

for autocross. Locally, the Equipe

M

Rapide/PCA classes P1 to P3 are the same

as the PCA National Small Region Showroom

Stock Classes S1 to S3 (all ten classes are listed

here: http://mav.pca.org/Events/Autocross/ERClassification.asp).

If your car is not listed for some reason,

we can sort that out at the event.) If you own a

normally-maintained Porsche, you are ready to arrive,

empty loose contents, sign up, put on temporary masking

tape numbers and class on the doors, go through a

short tech line, and attend the drivers' meeting. If you

are a novice or unsure of activities, there is always a novice

course walk before the driving starts, where much

knowledge and experience will be shared. Be sure to

arrive by 8 am. If you like "cars and coffee" events, autocross

is like that, but the cars get driven too. You don't

need any special pre-tech, brake pads, or tires. As a

matter of fact, most cars just run on high performance

street tires, like the ones that came on your Porsche.

About 100 cars will be entered in each event. You

must work part of the event in order for your timed

runs to be counted, but this generally means watching

other competitors drive the course and occasionally

picking up cones that they knock down. Depending on

how many drivers are entered, there are either three or

four run sessions, called "heats." In a three-heat event,

you take your timed runs in one heat, work another

heat, and rest in the third, not necessarily in that order.

In a four-heat event, you drive one heat and work one

heat in the morning, then repeat that in the afternoon.

You will get six to eight timed runs, and can request

a coach to help you find the course or take you for a

few rides to show you what it is all about. Many novices

like those rides, because the whole idea of autocross becomes

very clear very

quickly. Times are very

similar to the lap time

at a time trial event.

The biggest difference

is that you will likely

run the entire course

in second gear, rarely

exceeding 65 mph,

but aggressively accelerating,

braking and

steering through the

pylon-marked course

as fast as you can.

Many people are so

focused they have difficulty remembering to breathe,

but almost everyone crosses the finish line with a smile

on their face, ready to go again. So you go back to grid

and have a 10 to 15 minute wait before you're up again.

The event is typically over by about 3:30 pm, the

course is picked up, and the trophy / awards presentation

ends the day. This is when the cash award payouts

also happen.

Review the schedule

on page 20 and pick an

autocross for a low-risk

way to enjoy your Porsche

and some very interesting

people. You will learn excellent

car control skills

that will benefit you in

day-to-day driving, as well

as skills you can count on

if you decide to try Time

Erik Holt's White 993 C4S

Julia Underwood sits low in

Ed Mayo's long hood 911S

Trials or High Speed

Driver Education events.

Many of the club's top

racers and coaches started out in autocross.

See you at an event soon. Next event: July 24 at the

beautiful and shady Lone Star Park Grand Prairie site.

Look for the ER/PCA autocross schedule at mav.pca.

org or autocross.com.

Fred Stubbs' Spyder and Mike Syler's 997S, both with PDKs

13
---
Saturday Drive Recap: B-Double-E-Double-R-U-N

By Mark Pitarresi

Photos by Bill Orr and the Author*

*

t was a beautiful

I

morning on May 14 with

temperatures in the

70s and partly cloudy.

The drive started at the Walmart

Supercenter in Lake Worth. There

were 81 Porsches and 130 people

at the event. It was hard not to

notice the spectators in awe of this

Porsche mass. Our drive would take

us 105 miles through the towns of

Lake Worth, Weatherford, Hudson

Oaks, Rainbow, completing the

drive in Granbury at Revolver

Brewing. As usual there was a good

mix of Porsches, from a 944 to a

Martini-themed 918 supercar! The

excitement could be easily seen on

all our faces.

1974 Ice Green Metallic 911

Tom started the drivers meeting

and stressed the importance of the

rules as well as his safety concerns

on the route. I was pleased to get in

the third group, because it meant

I had some more time to look at a

1974 Ice Green Metallic 911. This

car was AWESOME! The driver

was quick to tell me that it was not

a show car and its purpose was to

be driven often! He had upgraded

the engine to a 3.2 liter. His wife

then told me about their other

911, a 1971, which has a 2.7 liter

engine. She then explained that it

requires a little more fiddling. She

had a smile from ear to ear as she

talked about their other 911. They

were both true Porsche enthusiasts

for sure. The only thing on my

mind was that I wanted to hear that

engine, but it was time to line up.

14 July

While on the drive, there were

a few areas where people gathered

on the side of the road watching all

the Porsches go by. These are not

just drives; they are like rolling car

shows, with spirited driving as the

theme!

Starting at the Lake Worth Walmart

While at the rest stop I heard

an air cooled engine. The sound

ended up being the Ice Green

911 that I wanted to hear earlier.

It pulled out onto the road solo.

The driver growled through the

gears as he reached cruising speed.

Everyone at the rest stop seemed to

pause to take in the sound of the

lone air cooled flat six in perfect

tune. Another 997 S caught my

eye and I decided to take a closer

look. The owners were very excited

about their car and noted that it was

their first Porsche. When leaving

the rest stop I got to open it up a

little (while obeying the traffic laws

of course). The sun was mostly out

The requisite rear view image

Members enjoyed great driving roads

by this time and it made for some

good scenic country driving for the

last part of the drive.

The brewery had live music

(The Jenna Clark Band) and it was

a great atmosphere! I was not

familiar with Revolver and did

enjoy all four of their brews. I ran

The group arrives safely for some

good times at Revolver Brewing

into Tom and told him what a good

time I was having. Tom and I then

talked about how great all the

members are in the PCA club,

volunteering for PCA, his old

Porsches, and some of the drives

that take place in the Hill Country.

Upon departure, I had to take one

last stroll through the parking lot.

It's always a sight to see this many

Porsches in one place!
---
15
---
First Porsches: Two That Got Away

By Bill Bradley

Photos Courtesy of Creative Commons

16 July

356B Coupe

n 1962 I purchased my first Porsche. It

I

would not be the last. This first one was a

356B coupe, blue with red interior. I purchased

the car from a Chevrolet dealer in

Morristown, New Jersey. Morristown is home to the

Seeing Eye, a group that trains guide dogs for the blind.

Almost any time of day you could see people walking

their German Shepherds around the town square.

At the time I was

in between years of

college. Two friends

of mine also bought

Porsches, both late

1950s models. The

three of us searched

out unfinished housing

developments

and raced our cars

around the roads.

We were fortunate

that none of us ever got caught.

Around this same time we discovered Lime Rock

and Watkins Glen. We drove to as many of the racing

events we could. We saw many of the racing luminaries.

The names that stick my memory were Mark Donohue

and Peter Revson. But most of all I remember the übersportsman

Briggs Cunningham orbiting Watkins Glen

in his helicopter, watching his entrant in the race below.

As the year wore on and school time approached,

the three of us went our separate ways. I was working

for a civil engineer and land surveyor. His son Curt and

I had palled around some, and Curt convinced me to

join him in attending college in East Tennessee. That

September we packed our things into the Porsche and

headed south.

Culture shock awaited me. The state was dry. Television

consisted of three channels: wrestling, country

music, and religious programming. I would first see

Dolly Parton on the Porter Wagoner television show.

Porter sported this . . . let's call it . . . Technicolor suit.

I saw Teddy and Doyle, the Wilburn Brothers, who had

their own show. Porter and Dolly were in the major

leagues; Teddy and Doyle were in the minors.

Wrestling, pronounced "wrastlin'," was obviously

highly fake but also highly entertaining. I remember

a guy name Antonio Rocco who bounced around the

ring like a big rubber ball. Most of the other wrastlers

were glandular case hillbilly types in bib overalls.

I pledged a fraternity, Sigma Phi Epsilon. One of my

duties was to procure liquor for our weekend house

parties. This meant driving the 52 miles to Abingdon,

Virginia, to the package stores that the dotted the state

line. Every Friday, after classes, I would head north with

a list of requirements from the full-fledged fraternity

brothers. Most favored pint bottles. A few had flasks

so it was fifths or quarts for them. Never mind if I was

stopped by the cops or the alcoholic beverage control

boys. They could confiscate my car. But I was a lowly

pledge. Do it and like it.

I was never chased. But I still fancied myself as a

Thunder Road bootlegger personified. I had even

been to Ashville, North Carolina to be shown the coal

yard where movie actor Robert Mitchum jumped out of

a window to evade the revenuers.

House parties were always fun. The dance craze was

the Alligator, which involved drunkenly sprawling on

the floor and flailing one's arms in a swimming motion.

The preferred song for the Alligator was Double

Shot of My Baby's Love by the Swinging Medallions,

a not-ready-for-Carnegie-Hall group. For the record, I

became the vice-president of the Gamma Chapter of

Sigma Phi Epsilon and could tell others to go on booze

runs to Virginia.

School progressed. I still had the Porsche. I was entering

my senior year in the Reserve Officers' Training

Corps, or ROTC. I come from a military family so my

goal was to be become a Regular Army officer. This

entailed becoming a Distinguished Military Graduate.

This came true, and after graduation I sold the Porsche

and was off to Viet Nam.

Nobody wants to

hear war stories, so I'll

fast-forward to the end

of my second tour. I

ultimately returned to

Fort Sill, Oklahoma,

and there came another

Porsche. This time it

was a 1971 914-6. (This,

of course, is the second

1971 914-6

car I should have held onto.) I enjoyed the 914. But

this was Oklahoma, hellishly hot, and the Porsche was

un-air-conditioned.

(Flash forward: today

I drive a 2006 911 Cabriolet,

sedate by Porsche

standards, but we are

talking many years and a

waterfall of Stella Artois

over the spillway.)

(Flash back to Oklahoma.) I'm still in the army. I

purchased a Triumph Bonneville motorcycle to com-
---
mute from my apartment to Officer Career Courses at

Fort Sill. Helmets were mandatory, so early each morning

several us arrived dressed in Class A uniforms and

dutifully wearing our helmets.

The Bonneville led me to a group of locals and

Army types who spent their weekends tearing around

Lake Ellsworth on dirt bikes. I went through several before

settling on a 360cc Husqvarna. Its 46 horsepower

proved to be my undoing. I crashed the bike, broke my

left collarbone, and spent the rest of the hot Oklahoma

summer in a body cast.

About the time I got out of the body cast, I met Judy,

who has been my wife for nearly 40 years. I needed

something less dangerous to drive, so I purchased a

new 1972 Corvette. It had the 454 cu. In. engine, but by

this time Chevy had fallen prey to emission standards

so the car only managed a puny 270 horsepower.

Army life was quickly losing its charms, so I resigned

my Captain's commission. Judy and I were off to graduate

school at the University of Oklahoma. We both took

jobs to work our way through school.

Eventually the company I worked for transferred us

to Texas. The years passed. We moved from Keller to

Lewisville to Flower Mound. Last year another Porsche

arrived. We became Mavericks and we continue to enjoy

the friends we've met and roads we've traveled.

Authors and Photographers

Wanted for Slipstream

We welcome submissions

for articles and photographs

from all Mav members. If you

enjoyed the stories and images

of travel, adventure, events,

and collections of Porsche

memorabilia in this and past

issues of Slipstream, please

consider sharing your story

with us. Send your text and

photos to editor@mavpca.org.

Parts or Service, We Deliver Excellence.

Over 300,000 parts in stock.

Expert service and repair.

Parts and Service for: Porsche, Mercedes-Benz, BMW, Mini, and Smart Car.

817-267-4451

Visit us online at:

1-800-356-2964

www.allzim.com

zimips@allzim.com

1804 Reliance Pkwy. Bedford, TX 76021 M-F 8am to 5:30pm

Zims Autotechnik is not affiliated with Porsche AG or PCNA Registered Trademark of Dr. Ing h.c.F. Porsche A.G.

17
---
Maverick Region Logo: Time For An Update?

By Bill Orr

Images by Bill Orr

he Maverick Region was born in November

T

1962 at the Fiesta Best Western Motel in

Arlington, Texas. The official charter from

the national officers of PCA was issued on

December 24th, 1962. On

April 5th, 1963 Geoffery

Hamilton Horsfall submitted

a design for the first

Maverick Region logo, a

design that has now been

in use for over 50 years.

Logos are intended

to be the "face" of a company:

They are graphical

displays of a company's

unique identity, and through colors, fonts and images

they provide essential information about a company

that allows customers to identify with the company's

brand.

Unfortunately, the most unique element of the original

design is overlooked by most because of a change

made years ago. The replica of a Porsche steering

wheel in black and nickel finish was changed by removing

the Porsche crest and replacing it with a gold star.

The problem is that the white star was supposed to represent

the Lone Star State and now there are two stars.

In addition, the original logo was designed before the

newsletter, before the website, and before the Goodie

Store. As a result it is technically problematic. With its

layered elements and fine lines, it does not scale well.

The two places you see this most is in the newsletter

and on Goodie Store items. In the newsletter it does

not scale down very well at all. On embroidered items

from the Goodie Store, the logo has to be sewn unusually

large in order to see all of the detail and fine

lines. Another issue is that the word "Texas" is written

in white, and because it is superimposed over the white

star, the "x" tends to get lost.

Being over 50 years old, the original logo is very dated.

The font used is very plain and lacks style. There is

nothing that visually connects the emblem to Porsche

or to the national Porsche Club. Fifty years ago, Porsche

only sold sports cars. Today they sell sports cars, SUVs,

sedans, and even bicycles. In that time, both Porsche

and the Porsche Club have updated their logos. It's

time for the Maverick Region do so as well, because the

original logo just does not meet the needs of the region

today or in the future. So at the June 1, 2016 Board

meeting, the Maverick Region Board voted to change

the logo upon the approval of a new design.

In designing a new logo our mission was to design

something that reflected the region we serve. With

144 different regions in PCA, having a logo that communicates

where you are from is important at national

events. We also set out with a specific set of objectives:

• It needs to be something the members of the

organization can proudly stand behind.

• It needs to look good at all sizes and on all forms

of media.

• It needs to appeal to people of all ages.

• It needs to appeal to potential members, donators,

and sponsors.

• It needs to be modern, but not rely too heavily

on trends.

• It needs to have a visual connection to both the

national Porsche Club and Porsche logos.

• It needs to be strong enough to stand next to the

national Porsche Club and Porsche logo and not

look out of place.

So we came up with a new PROPOSED design that

kept the original concept of the Texas Flag and the

Lone Star State. It uses a wheel and tire instead of a

steering wheel, but we added the Porsche Horse to tie

it to the Porsche Crest and to the PCA National logo.

The single STAR over a red,

white, and blue background represents

the State of Texas Flag.

Adding the Horse from the

Porsche crest, and the word Texas

ties the logo back to Porsche

as well as the Maverick Region.

When most people think of Maverick

and Texas they think of the

NBA basketball team, the Dallas

Mavericks, whose mascot is a

horse.

The black ring with white text

represents a tire. The star inside

a circle represents a wheel. The

red and blue are like brake calipers

showing through the wheel.

Wheel and tire dimensions have

changed over time, but unlike steering wheels, they are

basically the same as in years past.

18 July
---
The end result is something that not only meets all of our objectives but it is also an evolution of the original

concept.

If you now look at the new PROPOSED Maverick region logo and compare it to the Porsche Crest and the PCA

logo, I think you will agree that the new logo not only stands on its own, but it complements the Porsche Crest and

the PCA logo much better than the old one.

The Maverick Region Board is looking for feedback on the new PROPOSED logo and is accepting any and all

other design ideas. Please submit those to Bill Orr via email at bill@billorr.com.

19
---
20 July
---
The Art of Paint Protection

After Installation

A virtually invisible urethane film

professionally applied to high-impact areas

of your vehicle to protect your paint job from

stone chips, sand, road debris and bug acids.

During Installation

Owner Installed

Highest Quality Guaranteed

2530 Tarpley Road, Suite 100

Carrollton, TX 75006

21
---
Tub Club Adventures: The Tub Club Goes Green

By Barbara Madsen

Photos Courtesy of the Author

en Tub Club members

T

enjoyed an inspiring

and informational tour

of the Native Texas Park

at the Bush Presidential Center in

Dallas in April. Hertha Hughes, a

Tub Club (and Maverick) member

who is a docent at the Bush Library,

initiated and organized the event.

She not only provided the club

with a wealth of information on the

environmentally conscious theme

of the park, but, since Tub Club

members don't have much of a

desire to be pelted by rain and hail

while looking at wildflowers, had to

reschedule the tour repeatedly due

to threatening weather forecasts.

Hertha identifies various wildflowers

for Tub Club members

The 15-acre park is divided up

into three ecosystems: Blackland

Prairie, Post Oak Savannah, and

Cross Timbers Forest. It is unique

among presidential libraries, and

the park's native Texas landscape

played a key role in qualifying the

presidential center as a platinum

Hertha discusses the purpose

of bioswales in the park's water

management system

level LEED (Leadership in Energy

and Environmental Design), the

first presidential library to achieve

this distinction. To reduce the

need for irrigation, the topography

of the site was changed from a flat

area to one that gradually sloped

downward 27 feet. A 252-gallon

cistern is located at the lowest level

of the park, and all water percolating

through the park is eventually

captured there and pumped out to

take care of the needs of the landscape.

The cistern, however, is only part

of the water conservation system

used in the park. You will also find a

stone sweep, which slowly expresses

rainwater, and bioswales, which use

plants to filter storm water runoff.

This water management system was

designed to provide 40% of the water

needed for the landscape, but

in actuality, it has far exceeded the

original goals of the plan.

We strolled on wandering trails,

which snaked their way through

hillsides covered with a kaleidoscope

of color. Many varieties of

wildflowers, grasses, bushes, and

trees were blooming with all the

enthusiasm spring entails. There

are 53 different wildflower species

represented in the park along with

37 types of grasses, 34 shrub species,

and 31 species of native trees.

Although it looked as though we

were walking through pristine areas

untouched by human hands, an

award-winning landscape architect,

Michael Van Valkenburgh, carefully

designed the park, and the result

of his work was breathtaking! The

self-sustaining and environmentally

conscious aspect of his design is a

guide for all of us to follow. It was

an enjoyable and educational day.

Thanks, Hertha!

Linda, Lee, and Bill need a rest

after walking a mile

Tub Club members walking on one of the park's trails

with the Bush library in the background

22 July
---
Autocross 4: Mineral Wells Mirror-Cross

By Mark Schnoerr, Region Autocross Chair

he fourth event of the Equipe Rapide/PCA

T

Autocross season was held at the expansive

Mineral Ring site west of the Metroplex on

Sunday of Memorial Day weekend. This site

is so large it makes it possible to run two courses sideby-side,

in what is known as a Mirror-Cross format. Drivers

lined up for a drag-race style start (complete with

Christmas Tree lights) on the left and right courses

and departed simultaneously on parallel straightaways,

where many cars ran hard in

third gear before they turned

away from each other to run

alone on their own course. After

the finish, the cars traded

sides and lined up again to

run the opposite course. Each

car got six timed runs in the

morning and six more timed

runs in the afternoon. Best

time on each course was all

that mattered.

Mirror-Cross pre-grid

dual driver cars line up

Seventy-four drivers ran

for times, and the side-by-side

competition created some

Photos Courtesy of the Author

fierce contests in classes and for overall honors, including

Performance Index (PAX) cash payouts.

Fred Stubbs and Mike Syler pitted Boxster Spyder

and 997S respectively against each other in class P3.

Fred was also first in the Porsche PAX cash payouts at

this event on one of the courses. Mark Schnoerr won

PAX on the other side. So far there have been four different

winners of the top payout this season.

Class P4 saw the Ed Mayo blue and orange 911S

and the Sigrid Schnoerr Lime Green 914 2.0, both

two-driver cars, and Marissa Moore in her 911T, hard

at work. Mark Schnoerr was quickest in class on both

courses, while Ed and Sigrid split second quickest on

both courses. Overall combined for the day, the order

was Mark, Ed, Sigrid, Julie and Marissa.

Erik Holt and Doug Edney ran uncontested in their

own classes but were also competing for the PAX payouts.

Sue Crimm shared her 924S with Carey Spreen in

class P9. Sue likes the power steering on this car better

than the unassisted steering on Carey's 911SC in the

fast slalom sections.

Next event: Sunday, July 24, at beautiful Lone Star

Park in Grand Prairie.

PCA 3 Course Best Time Total

1T Stubbs, Fred Porsche Boxster Spyder White Right 51.074 102.464

Left 51.390 [-]3.528

2 Syler, Mike Porsche 911 Carrera S Red Right 53.567 105.992

Left 52.425 3.528

PCA 4

1T Schnoerr, Mark Porsche 914 Green Right 49.571 97.719

Left 48.148 [-]2.783

2T Mayo, Edward Porsche 911S Blue/Orange Right 50.242 100.502

Left 50.260 2.783

3 schnoerr, sigrid Porsche 914 Green Right 50.689 100.867

Left 50.178 0.365

4 Underwood, Julia Porsche 911S Blue/Orange Right 58.915 116.839

Left 57.924 15.972

5 Moore, Marissa Porsche 911T Green Right 61.542 121.589

Left 60.047 4.750

PCA 6

1 Holt, Erik Porsche 911 Carrera 4S White Right 51.377 101.503

Left 50.126 -

PCA 7

1T Edney, Douglas Porsche 996 Black Right 52.681 104.758

Left 52.077 -

PCA 9

1T Spreen, Carey Porsche 924S Red Right 52.449 104.694

Left 52.245 [-]9.334

2 Crimm, Sue Porsche 924S Red Right 57.485 114.028

Left 56.543 9.334

23
---
24 July
---
ANNUAL SERVICE SPECIAL

Brake fluid flush $125

includes one liter of Motul RBF600

"Get the most out of your braking system with this essential regular maintenance"

We are the automotive experts who service your car

with personal attentiveness and care.

2520 Tarpley Rd, Suite 100

Carrollton, Texas 75006

972-418-1996

innovativeautosportstx@gmail.com

25
---
Maverick Monthly Social: Shuck N Jive in Richardson

Photos by Stephanie Ho, Region Monthly Social Chair

Great food, lots of prizes, and most importantly enjoying

the excellent company of fellow Porsche friends!

Maverick Monthly Social Chair Stephanie

Ho congratulating Deanne Belden, the

biggest prize winner of the night - a $50

restaurant gift certificate!

Plan to join

us in July!

John Savickas (r) welcoming our new member

Chonarop Jamroendararasame

Ben Connell, one of our lucky

winners of this evening!

Table full of happy winners!

26 July
---
Congrats to Ed Mullenix (r). Look! Mark (l) is posing as a

winner already, not knowing he is about to win!

We always have a blast at our

Maverick Region monthly happy hour!

27
---
esults

THAT MOVE YOU

When all HAIL breaks loose...

Roofing Solutions

By Darren Houk

A+ Rated

(817) 692-8496

MICHAEL PICOLO | 972-365-7370

MichaelPicolo@Ebby.com

www.RoofingSolutionsHOUK.com

www.roofingsolutionshouk.com

817.692.8496

Showroom by Appointment

5500 Meandering Rd

Ft. Worth, 76114

Since 1971

Providing personalized service

on all Porsche automobiles.

• Complete servicing and repairs

on all air or water cooled models

• In-house machine shop

• M96/M97 reconditioning

• Performance and track mods

2530 Tarpley Road • Suite 700

Carrollton, Texas 75006

(972) 417-0997

28 July
---
29
---
NO WORRIES!

So Your Part is NLA!

• Rebuild, Restore or Totally Recreate

to OEM Quality

• We Manufacture Custom Pieces for

Modified or Racecars.

• We Work With Most Materials

• We Specialize in Accurate Replication of Parts

R A N D A L L

RKT

K A R A

T E C H N I Q U E S

901 TERMINAL ROAD • SUITE 400 • FORT WORTH, TEXAS 76106

817-624-1322

Porsche/Ferrari/Exotic

Service/Tuning/Restoration

30 Years of Service

Specializing in all years and models

of Porsche exclusively for more than

30 years.

The only certified installer for the "IMS Solution"

in Texas and surrounding states!

Complete and Meticulous Maintenance and Repair

Tuning and Diagnostics (Carbs, MFI, CIS, OBD I & II)

Custom Engine and Transmission Rebuilds

Competition Car Preparation (Track or Autocross)

1521 Baccarac Ct, Euless, TX 76040

817 540 4939

www.mayoperformance.com

email: mike@mayoperformance.com

30 July
---
Maverick Photos of the Month: Dramatic Backgrounds

Photos by Members as Noted

5 6

3

7

2

4

1

1. John Harvey - B.J. and I have had "miles of

smiles" in Roxanne. Here she is at Boxstoberfest.

2. Jack Griffin - '89 911 Speedster

3. Jack Griffin - with Jerry Seinfeld

4. Jack Griffin - (ex) '55 Speedster in the Rockies

5. Bill Bradley - 2006 Carrera - oldie but goodie

6. Richard Whitman - 1992 968 Cabriolet

7. Jim Hirsch - 2014 Boxster S - May at Mayo's

The August issue of Slipstream will feature Porsche cars participating in PCA and Maverick events.

Send your photo submissions to editor@mavpca.org

31
---
32 July
---
33
---
Unclassifieds

Unclassifieds are available free to Maverick Region members and are $5 for all others (contact editor@mavpca for payment details). Please limit size to no more than 6 lines. Ads will run for 3

issues, after which they will be removed unless you request that they be run for an additional 3 issues. E-mail your ad to classifieds@mavpca.org by the 10th of the month to have your ad run in the

following month's Slipstream. Be sure to include year, make, model, color, mileage, and asking price, as well as a contact name, phone number and/or email address. All parts will be advertised

on our website. Check your ad for accuracy the first time it runs. Contact the editor to have your ad pulled sooner. Due to space constraints, photos may or may not be included. No dealers please!

For Sale: 2011 Porsche 997.2S. White with black

leather interior. Naturally aspirated with direct

injection! 21500 miles, manual transmission,

ventilated seats. 4000 miles since purchase at

Autobahn. Remainder of warranty until 04/17. All

maintenance completed, like new. Stunning car!

Includes window sticker and Porsche COA. Asking

$62,000. Contact Jack Krielen at krielenj@gmail.com

or 817-307-9447. (07)

For Sale: Mercedes-Benz 2013 C250 Coupe.

Palladium silver with ash grey leather interior. 1.8liter

Turbocharged direct injection. 7 speed automatic

transmission. Aluminum trim, sport suspension, AMG

6 Twin spoke wheels. Loaded with options. MSRP

$46,200 when purchased at Park Place, Grapevine

on 10/13. Like new condition. Only used during

vacations. All MB service up to date. Remaining MB

full warranty until 05/17. Asking $23,000. Contact

Jack Krielen at krielenj@gmail.com or 817-307-9447.

(07)

For Sale: 2007 Cayman S. Black/black. Streetable

track car, 6 speed, 36K, 20K on engine, new paint and

clear bra, great interior, all the performance mods,

faster than stock Cayman R. See link for full details...

http://panjo.com/l/286240. Asking $43,000. Wheels

and trailer also available. Contact Leif at leifp@

yahoo.com or 817-681-3038. (07)

For Sale: 1973 Porsche 914 2.0. White with black

interior. Purchased new at Forest Lane Porsche Audi

with extra 2.0 engine and working air-conditioning. I

have the original window sticker and owners manual.

Owned vehicle since 2004. Engine in the vehicle was

built by Dan Cashman of DC racing and the 914 was

serviced regularly at 911 enterprises by Dusty and

Randy. Receipts from 2004 available. Optioned with

factory front and rear sway bars. $12,000. Contact

James at jarclay@swbell.net or 214-538-5407. (07)

For Sale: 2001 Porsche Carrera. Black on Black,

89K miles. New engine with less than 5K miles,

IPD Plenum, new clutch, new front rotors, Cayman

R Brake Pads, GT3 Control Arms, H&R Springs and

Sway Bars, Turbo Twist and OZ Allegeritta Rims, GT3

Seats and Heated Leather Seats. Always serviced at

Porsche of Plano by lead tech only. Always garaged.

Flawless car. $27,500. Contact Kevin Kim at

kevinkim89@me.com or 214-693-5699. (07)

For Sale: 2014 Cayman S. Guards red, black interior,

red belts. 9000 miles, PDK. Never seen rain or snow,

always garaged. Never tracked. Bose Surround, Sports

Seats Plus, Sport Exhaust, 20" Carrera S wheels,

Sirius XM, Bi-Xenon headlights with PDLS, PASM,

Sport Design steering wheel with paddles, and power

folding mirrors. Selling only because I obtained a

GT4 build allocation slot. One of the nicer ones you

will find. Full service history available, still under

factory warranty. $62,000 Contact Tim Orton at 817-

437-6148 or timorton@att.net. (07)

For Sale: 2015 911 Carrera S. Black exterior, Black

interior, 5,700 miles, one owner car. Original MSRP

$114,875, PDK, 20" Carrera S Wheels, Steering wheel

heating, Smoking Package, Bi-Xenon Headlights

including Porsche Dynamic Light System (PDLS),

Sport Chrono Package, Slide/Tilt Sunroof, Power

Sport Seats (14-way), Premium Package Plus, Bose

Audio, Tint, Non-Smoker, Clean Carfax, $89,990.

Love the car, but have a 2017 Targa 4S en route. Email

is the best way to reach me: taylor@insmg.com. Live

in Fort Worth by TCU. (06)

For Sale: Open trailer. 18' steel bed, F & R tie

downs, locking tire rack and fuel jug rack, swing

away fender for driver's door, tool box and ramps.

Dual axle, electric brakes. $1950, with winch $2300.

Contact Lee Wilkins at lwilkins44@yahoo.com or

972-503-8825. (06)

For Sale: 1999 Porsche 996. 153,xxx miles. Freshly

professionally rebuilt engine, 50k on new dealer

installed transmission. Car is very clean despite

mileage, everything works and ac blows very cold.

New Michelin Pilot Super sport tires all around, new

Sachs clutch, LN IMS bearing, new oil separator,

water pump, brake pads, window regulators. Current

Texas state inspection. Factory Aero kit. Please call,

text or email for more info or pictures. Car is located

in Southlake. Contact Chris Amond at amondc@

verizon.net or 817-896-5825. (06)

For Sale: 1989 Porsche 944 Turbo S. SP3/stock F

with log book. Approx. 20 hrs on motor and 10 hrs on

transmission. Looks good and handles great! Exhaust,

brakes, suspension, and multiple performance

upgrades. $9500 OBO. Contact Mike Brodigan at

mikebrodigan@hotmail.com or 817-233-0068. (05)

If you see an item in the PCA

store online that is not in our

Mav store, we can request it.

Send an email with the specifics

to goodiestore@mavpca.org.

Slipstream Advertiser Index

34 July

These advertisers support our Maverick Region – Tell them you saw their ad in Slipstream!

Ascot Diamonds (972) 991-0001 Page 25

Autobahn Motorcar Group (800) 433-5602 B.C.

Competition Motorsport (844) 438-7244 Page 36

deBoulle Diamond & Jewelry (800) 454-4367 Page 8

DFW Garage Design (972) 416-4545 Page 24

Ebby Halliday – Michael Picolo (972) 365-7370 Page 28

Falgout & Associates, P. C. (972) 669-2370 Page 20

Fifth Gear Motorsports (972) 317-4005 Page 21

Garages of Texas (214) 435-4898 Page 5

Innovative Autosports (972) 418-1996 Page 25

Invisibra (214) 704-9299 Page 21

Louden Motorcar Services (972) 241-6326 I.B.C.

Marvelous Home Makeovers (214) 458-1932 Page 32

Mayo Performance (817) 540-4939 Page 30

Mullenix Motorsport (972) 417-0997 Page 28

Mustard Racing (817) 366-1678 Page 35

Advertising rates - 1/4 page: $425; 1/2 page: $850; Full page: $1700

For more information contact Cindy Bliss at ads@mavpca.org

Nine-Eleven Automotive (972) 243-4911 Page 27

OCD'tailers (817) 948-8538 Page 35

Park Place Porsche (800) 553-3196 Pages 15, 29

The Phoenix Insurance (214) 253-0570 Page 20

Porsche Plano (214) 576-1911 I.F.C.

RAC Performance (214) 269-1571 Page 3

RetroAir (972) 960-6899 Page 30

RKT Techniques (817) 624-1322 Page 30

Roofing Solutions by Darren Houk (817) 692-8496 Page 28

Silver Fox (817) 329-6995 Page 2

Stuart's Paint and Body (214) 221-6999 Page 33

The UPS Store (972) 420-1250 Page 35

Ussery Printing (972) 438-8344 Page 35

Victory Motorcars (713) 783-6555 Page 11

Zims Autotechnik (817) 267-4451 Page 17
---
PRINTER OF SLIPSTREAM SINCE 1982

German Car

Service & Maintenance

by Appointment

Specializing in:

817-366-1678

DasZauberwerk@ix.netcom.com

35
---
Around the Bend...

By Jim Hirsch, Managing Editor

ith all of the rainy days in May through early

W

June, I was reminded to re-read one of my

favorite driving stories, The Art of Racing in

the Rain by Garth Stein. If you've not read

this one, or even if this is also a re-read for you, reliving

the story of Enzo and Denny is always uplifting, especially

since Denny hones his driving skills in a Porsche.

This is a heart-wrenching but deeply funny and ultimately

uplifting story of family, love, loyalty, and hope.

The Art of Racing in the Rain is a captivating look at the

wonders and absurdities of human life…as only a dog

could tell it. Now that the weather has dried out a bit,

you may have to wait for the sprinklers to come on to

get you in the right mood!

We recently completed a 17 day road trip in our

Boxster S through the Southwest and up the West

coast. The 2014 Boxster S is now 25 months old and

has 20,000 miles on it. There is no question we feel

we're getting full enjoyment out of our Porsche ownership

investment with each ensuing road trip!

Of course that got me to thinking about what is

commonly referred to as "The Porsche Principle". Attributed

more than 65 years ago to Ferry Porsche, the

quoted principle is "In the beginning, I looked around

and could not find the car I'd been dreaming of: a

small, lightweight sports car that uses energy efficiently.

So I decided to build it myself."

In our visit to the recently renovated Petersen Car

Museum in Los Angeles, that Porsche Principle was

highly visible in their engineering history display area.

Ferry's dream of the perfect sports car has always

driven Porsche – throughout their history

– with every concept, every development and every

model. The underlying principle is to always

get the most out of everything. At Porsche, form

always follows function.

So, as Maverick Region members, we enjoy the

Porsche Principle in many different ways. We have

members who simply enjoy the pure form, design, even

art, of the Porsche that sits most often in their garage.

As collectors of art, viewing their Porsche satisfies an

important need.

Other members like to display their Porsche in

Concours events, putting minimal miles on it to lessen

the odds of the occasional road blemish occurring. Detailing

and paying close attention to the cleanliness of

every surface, inside and out, provides a close connection

with the form and function of their Porsche.

Still others view the ultimate enjoyment of both form

and function of their Porsche in the regular exercise of

it. These members subscribe to the Porsche credo of "A

Porsche is no ordinary sports car, but a sports car for

everyday driving, whatever the weather". Chips, abrasions,

and faded paint begin to form the patina of the

Porsche from the first day of ownership. I imagine that

quite a few of our members are members of this club,

mostly by using their Porsche as a daily driver, but also

perhaps by taking regular road trips like we enjoy in

that Porsche investment.

Wherever you fall in The Porsche Principle continuum,

rest assured that you have many Maverick members

right beside you. That alone is a great reason to be

active in our many club events each month. I hope to

see you soon at one of our upcoming events listed in

our club calendar on page 1.

For the August issue of Slipstream, our Photo of the

Month focus will be Porsche cars participating in

PCA and Maverick events. Send your photo

submissions to editor@mavpca.org, or post them

on our Maverick Region Porsche Club of

America Facebook group page by July 10.

36 July
---
SLIPSTREAM Advertiser Since 1978

WHY YOU SHOULD TRUST YOUR

PORSCHE TO LOUDEN MOTORCARS

• Award winning service for 35+ years

• Rated "Best in Dallas" a record 3 times

• Rated "Best in Texas"

• Rated "Top 10 Shops in U.S."

• Rated "Best in the West" by the Robert Bosch Corporation

• A Better Business Bureau accredited business for 3 decades with an A+ rating

• The first ASE "Blue Seal of Excellence" business in Dallas

• Racing background at Daytona, Sebring, and Riverside

• Master Certified Technicians

• Bosch Authorized Service Center

• Air conditioned shop for technician efficiency and comfort

• We do not sell cars, thus we must survive on our 35+ year service reputation

See what our customers are saying about us at:

LoudenMotorCars.com

Theresa@LoudenMotorcars.com

11454 Reeder Road

Dallas, Texas 75229

(972) 241-6326
---
Hiram Saunders, Slipstream

155 Jellico

Southlake, TX 76092

Periodical Postage

Paid at Fort Worth, TX