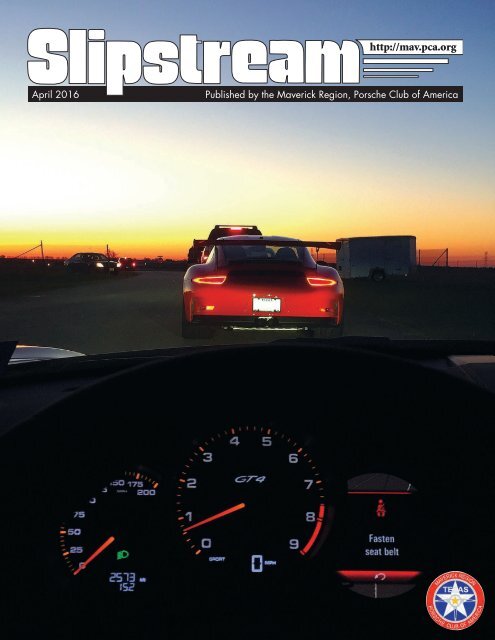 Slipstream - April 2016
The monthly newsletter of the Maverick Region of the Porsche Club of America
The monthly newsletter of the Maverick Region of the Porsche Club of America
SHOW MORE
SHOW LESS
Create successful ePaper yourself
Turn your PDF publications into a flip-book with our unique Google optimized e-Paper software.
http://mav.pca.org

April 2016

Published by the Maverick Region, Porsche Club of America

Upcoming Events

• Father's Day Picnic

• Sunday Drive

• Rally School

Past Events

• Wild Wildflowers

• May at Mayo's

• Results

June 2007 - Published by the Maverick Region

Porsche Club of America
---
©2016 Porsche Cars North America, Inc. Porsche recommends seat belt usage and observance of all traffic laws at all times.

It's clear at first glance -

in this car beats the heart of a pure-bred sprinter.

Muscular, athletic, powerful and challenging. The Cayenne GTS makes a clear statement.

On every straight and in every bend. The car is powered by an all-new 3.6-liter twin-turbo V6

engine with direct fuel injection (DFI). It produces a 0-62mph time of 5.2 thrilling seconds.

An all-rounder that enjoys the short sprint as much as the long distance. For exhilaration and

relaxation. And with a range of standard equipment that is far from ordinary.

The new Cayenne GTS.

Porsche Plano

5924 W. Plano Parkway

Plano TX 75093

(972) 249-0910

www.plano.porschedealer.com
---
http://mav.pca.org

Volume 54, Issue 4, April 2016

Find event updates at http://mav.pca.org, follow our Twitter feed at https://twitter.com/MaverickPCA

and join our Facebook Group at http://www.facebook.com/groups/mavpca/

Departments

Zone 5 Presidents..........................................1

Shifting Gears (President's Column).............2

Maverick of the Month.................................2

List of Officers and Board Chairs.................4

Maverick Minutes.........................................6

New Mavericks and Anniversaries................9

Unclassifieds...............................................34

Advertiser Index..........................................34

Around the Bend (Editor's Column)...........36

Features

Trivia.............................................................7

Destination Restoration............................... 10

Third Coast Rally 2015...............................12

My First Four Porsche Cars........................16

The E-Type, Lime Rock, & Le Chanteclair.18

Maverick Photos of the Month....................31

Upcoming Events

May at Mayo's...............................................7

March Board Meeting...................................7

COTA Club Race and Advanced Solo DE..11

Maverick Lunch Series...............................11

Easter Egg Hunt Road Rally.......................19

Autocross Schedule.....................................20

Time Trial #1: MW.....................................20

Porsches 2 Prescott......................................22

All British & European Car Day.................22

April Sunday Drive: Back to Ben Wheeler.23

April Monthly Social..................................26

Past Event Recaps

Maverick Region Autocross Series.............14

February Monthly Social: Lavendou...........26

April

Sun Mon Tue Wed Thu Fri Sat

1 2

3 4 5 6 7 8 9

10 11 12 13 14 15 16

17 18 19 20 21 22 23

24 25 26 27 28 29 30

Day April

2-3 Driver's Education 2: MSR

3 Autocross 3: LSP

6 Board Meeting

12 Lewisville Lunch

16 April Rally

21 Mav Social: Wildwood Grill

24 Sunday Drive: East Texas Tour

28 Richardson/Southlake Lunches

30 May at Mayo's Dinner & Concours

Day June

1 Board Meeting

5 Autos in the Park

14 Lewisville Lunch

16 Mav Social: TBD

19-26 Porsche Parade 2016

23 Richardson/Southlake Lunches

Driving Event Venues

BHS Burleson High School, Burleson

COTA Circuit of the Americas, Austin

ECR Eagles Canyon Raceway, Slidell

LSP Lone Star Park, Grand Prairie

MSR MotorSport Ranch, Cresson

MW Mineral Wells Airport, Mineral Wells

May

Sun Mon Tue Wed Thu Fri Sat

1 2 3 4 5 6 7

8 9 10 11 12 13 14

15 16 17 18 19 20 21

22 23 24 25 26 27 28

29 30 31

Day May

1 All British and European Car Day

4 Board Meeting

6-8 COTA Club Race & Adv. DE

10 Lewisville Lunch

14 Saturday Drive: Revolver Brewing

19 Mav Social: Shuck N Jive

26 Richardson/Southlake Lunches

28 Time Trial #1: MW

29 Autocross 4: MW

Day July

12 Lewisville Lunch

21 Mav Social: TBD

24 Autocross 5: LSP

28 Richardson/Southlake Lunches

On the Cover: The first club

DE of the season with a GT4

following a GT3 into MSR in

the early morning light.

Photo by Andrew Barber

Slipstream (USPS 666-650) is published monthly by the Maverick Region, Porsche Club of America, 155 Jellico

Southlake, TX 76092. Subscription price is $24.00 per year. Periodical postage is paid at Fort Worth, TX.

POSTMASTER: Send address changes to Hiram Saunders, Slipstream, 155 Jellico, Southlake, TX 76092.

Opinions expressed herein are not necessarily endorsed by the Club's membership or officers. Contributions will be

printed on a space available basis. Chartered regions of PCA may reproduce items from this issue provided the author/

artist and Slipstream are credited. Slipstream is printed by Ussery Printing Company in Irving, Texas.

ARK-LA-TEX

Ken Chandler

bad968@bellsouth.net,

COASTAL BEND

Bryan Kerrick

bksailspadre@

sbcglobal.net

2016 PCA Zone 5 Presidents and Zone Representative

LONE STAR

Michael Globe

president@lsrpca.com

MARDI GRAS

Scott Spradley

OZARK

Jim Woolly

jim.carol_NOSPAM@

sbcglobal.net

WHISKEY BAY

Mike Hamza

mikehamza944@

gmail.com

CIMARRON

Rod Nordstrom

rnordstr50@gmail.com

HILL COUNTRY

Tracey Gross

president@hcrpca.org

LONGHORN

Charles Bush

president@longhornpca.org

MAVERICK

Jim Falgout

president@mavpca.org

WAR BONNET

Randal Goodman

WHITE RIVER

Leonard Zechiedrich

whiteriverregionpca@

gmail.com

ZONE 5 REP

Lynn Friedman

zone5rep@pca.org

www.zone5.pca.org

1
---
Shifting Gears: Of National and Regional Interest

By Jim Falgout, Region President

First gear: Your President recently

attended the Zone 5 Presidents' Meeting. I thought I

would pass on some basic information that probably

many of our newer members, and perhaps some of

the members who joined some time ago, may not be

familiar with. The national organization, Porsche

Club of America, which is the largest club for a single

marque in the world, is composed of an Executive

Committee and a Board. The Executive Committee, as

in your Region, consists of a President, Vice President,

Secretary, and Treasurer. The Board is composed of

the Region Presidents, which includes me, from all

144 Regions. The Regions are grouped into 13 Zones;

Maverick Region is in Zone 5. Each Zone is headed by a

Zone Representative, who keeps the Region Presidents

informed of issues at the national level, among other

responsibilities,

Second gear: Now to the fun stuff. We had a successful

Drivers' Education event in February. We have some

good events coming up in April. There is another

DE April 2-3. If you are reading this after those dates,

hope you attended and enjoyed. Our tour master has

been busy setting up several tours for your enjoyment.

Saturday, April 16 is an Easter Egg Hunt Road Rally,

put on by our Rally team. That really sounds like fun.

Hope you can participate.

We also have some fun non-track events planned

for your enjoyment. May at Mayo's is a dinner and

Concours d'Elegance, scheduled for Saturday, April

30. You may wonder why it is called May at Mayo's when

it is in April. Well, it has always been held in May, but

due to some scheduling conflicts we have to move it to

April this year. Besides, "April at Mayo's" just does not

have the same ring to it.

Third gear: In addition, there are two events

organized by other groups that we are invited to

participate in. One is All British & European Car Day

on Sunday, May 1 at White Rock Lake, which will have

a special section for Porsche. The other is Autos in

the Park at the Cooper Aerobics Center on Preston

Road, south of LBJ, where we will have a Concours

within a Concours on Sunday, June 5. The events at

May at Mayo's and Autos in the Park are not the really

competitive style of Concours, though, so shine up

your baby and bring it out.

Fourth gear: On May 6, 7 and 8, your club, along with

the Houston and Austin regional clubs, is sponsoring a

Club Race and Solo DE at Circuit of the Americas in

Austin. If you are qualified, that is a must-do event. If

you are not qualified, you can always be a spectator at no

SAUL FRAIRE, Chef-Proprietor

1235 William D. Tate Ave

Grapevine, TX 76051

817-329-6995

cost, or even better, you can volunteer. If you want to

volunteer for this event, please contact Chris Alvarado

at calvarado@clubregistration.net

Fifth gear: There was that word again: volunteer.

If you are interested in finding out what kinds of

opportunities are available for you to help make this

a great club, and actually get more enjoyment out of

your membership, contact our Volunteer Chairperson

Jim Gallegos at volunteers@mavpc.org.

YOUR CLUB NEEDS YOU . . .

Mav of the Month

Your club has had some excellent social events recently,

such as Founders' Day and the All Member Party.

The current Co-Chair

(but previously the

Chair) has continued

to do a fantastic job,

even though she experienced

increasing

demands for her time

from a new career position.

Tracy Robertson

is your Mav of the

Month for April.

Thank you, Tracy, for

a job well done.

2 April
---
Like a Personal Trainer for your Porsche!

• Expert maintenance and repair services • Track day preparation

• Performance and appearance upgrades from GMG, Manthey, FVD and more

• Superior customer service and free loaner cars • PCA discounts

• Show quality detailing services • Spec 996 and Spec Boxster Race Cars

We Also Buy, Sell and Consign Quality Pre-owned Porsches

3236 Skylane Drive, Dallas, Texas 75006

214-269-1570 • www.racperformance.com

PCA Special - $50 Off Any Service

Minimum $200 service. Present coupon for discount. One discount per customer. Expires May 31, 2016.

Offer includes complimentary car wash and vacuum.

3
---
2016 Maverick Region Board - Officers and Chairs

President

Jim Falgout

president@mavpca.org

Jim joined Maverick Region in August,

2008. He drives a 2003 996, which is

the third Porsche he has owned. Jim

enjoys attending Maverick Region

social and driving events.

Autocross Chair

Mark Schnoerr

ax@mavpca.org

Club Race Co-Chair

Pat Heptig

214-649-7907

cr@mavpca.org

DE Chair

ChrisTabor

817-371-4888

de@mavpca.org

Vice President

David Robertson

C 617-797-0516

vp@mavpca.org

David fell in love with the Porsche

911 when, as a child, he would have

his parents stop by the old Forest Lane

Porsche in Dallas so he could dream of

someday owning one. He bought his

first Porsche 911 in 2011. He and his

wife Tracy enjoy being active members

in the Maverick Region.

Time Trial Chair,

(AX/TT Rules)

Travis Howard

214-616-6152

tt@mavpca.org

Club Race Co-Chair

Joel Nannis

cr@mavpca.org

DE Chief Driving Instr.

John Sandusky

817-777-0421

cdi@mavpca.org

Secretary

Wendy Shoffit

C 972-977-9821

secretary@mavpca.org

Wendy and husband James joined

Maverick Region in 1997, when

their daughter was only 9 months

old. Jasmine is now 18. They own 3

Porsches including a 1978 911SC as

a dedicated racecar, which she enjoys

autocrossing. Her daily driver is a 2016

Cayman GT4.

TT Registrar, AX/TT

Schools, Swap Meets

Robyn Howard

214-991-0873

drivingschools@mavpca.org

Club Race/DE Registrar

Slipstream Event Ads

Wendy Shoffit

crreg@mavpca.org

deregistrar@mavpca.org

DE Equipment Mgr.

Hunter Allen

deequip@mavpca.org

Treasurer

Richard Solomon

C 903-530-8281

treasurer@mavpca.org

Richard joined Maverick Region in

2012 when he fulfilled a 30+ year

dream to own his first (of many) 911,

a 2009 Silver Carrera! Although fairly

new to the club, he is excited about

being more involved and meeting more

Porsche fanatics!

Charity Chair

Chris Hamilton

hope@mavpca.org

Concours Chair

Andy Kay

817-948-8538

concours@mavpca.org

DE Sponsorship

Daren Kirbo

254-396-2973

desponsorship@mavpca.org

Email List Moderator

James Shoffit

972-786-6246

mrpca-owner@

yahoogroups.com

Email List Moderator

Brian Scudder

mrpca-owner@

yahoogroups.com

Email List Moderator

Matt Platts

mrpca-owner@

yahoogroups.com

Goodie Store

Chris Flaugh

214-288-5300

goodiestore@mavpca.org

Histographer, Tenured

Charlie Davis

historian@mavpca.org

Membership Chair,

Past President

John Hamilton

817-907-7823

membership@mavpca.org

Monthly Social Chair

Stephanie Ho

hh@mavpca.org

Online Calendar

Brendan Eagan

calendar@mavpca.org

Rally Co-Chair

Don Sebert

214-613-6900

rally@mavpca.org

Rally Co-Chair

George Luxbacher

rally@mavpca.org

Safety Chair

Joe McGlohen

safety@mavpca.org

Slipstream Advertising

Cindy Bliss

469-307-2856

ads@mavpca.org

Slipstream Editor

Jim Hirsch

972-740-7377

editor@mavpca.org

Slipstream Article Ed.

Carey Spreen

817-422-3480

editor@mavpca.org

Slipstream Wrangler,

Public Relations

Brenda Dranow

pr@mavpca.org

Slipstream Mailing

Andy Mears

214-394-5857

mailing@mavpca.org

Slipstream Printing

Fran Ussery

972--438-8344 (W)

817-481-8342 (H)

printing@mavpca.org

Social Co-Chair

Tracy Robertson

817-944-5490

social@mavpca.org

Social Co-Chair

Phyllis Gallegos

214-695-3376

social@mavpca.org

Sunday Drive Chair

Tom Martin

tours@mavpca.org

Tech Sessions Chair

Ed Mullenix

972-417-0997

techcorner@mavpca.org

Trivia Chair

Jerry DeFeo

972-240-5800

trivia@mavpca.org

Volunteers Chair

Jim Gallegos

214-697-0792

volunteers@mavpca.org

Web Site Chair

Denny Payne

webmaster@

mavpca.org

Please contact any of these club event chairs with your questions!

4 April
---
WE TOOK

YOUR

OBSESSION

AND GAVE

IT A HOME.

Introducing Garages of Texas, a community of first-class, affordable, completely customizable garage suites.

Here, you don't rent space. You buy it. Giving you complete financial control and the power to make it your own

with unlimited customization options. So, stop fighting for space in your family garage. Upgrade to a garage suite

and move your motorhome, boat or show cars to the showroom they deserve.

Contact our sales team at 214.435.4898 or jgriffin@GaragesOfTexas.com for more information.

www.GaragesofTexas.com • Facebook.com/GaragesofTexas

Located at W. Plano Pkwy. & W. Park Blvd., in Plano, Texas

5
---
Gimme a Minute: March Board Meeting

By Wendy Shoffit, Region Secretary March 2, 2016

President Jim Falgout

began the meeting at 7:01 pm. He

mentioned he attended the Zone

5 meeting in Austin and came

back with some new national tour

guidelines. He also mentioned PCA

Escape is now being called Treffen

North America and there will be

two per year starting in 2017. Spring

2017 will be going to the Hill Country!

Slipstream Editor Jim Hirsch said

the mailings were a little late this

month, probably because it was a

short month. Maverick Region is in

the Panorama "From the Regions"

section and may be again soon. He

submitted his national newsletter

contest entry in plenty of time. He

continues to be able to fill 40 pages

each month and now includes Photos

of the Month with his suggested

topics (interiors, wheels, etc.). He

has about 15 calendars left and we

discussed ideas on how to sell the

remaining ones.

VP David Robertson said he obtained

insurance for every event

coming up. He encouraged event

chairs to keep him informed for future

events.

Volunteer Chair Jimmy Gallegos

wants to approach people to volunteer.

He passed out a Volunteer form

for board members to use. They

would describe how many people

they need and what they're required

to do. He will submit electronically

to board members to help make the

matches.

Co-Editor Carey Spreen went to

the most recent Equip Rapide autocross

and had a great time. The

event was run well with everyone

getting eight runs and they finished

early in the day.

6 April

Rally Chair Don Sebert is planning

an April Easter Egg Hunt rally,

which will be a puzzle sort of gimmick

rally, which should be fun.

Calendar Chair Brendan Eagan

says the calendar is up to date.

Unfortunately, the person who volunteered

to help him do calendar

entries online has moved.

Monthly Dinner Social Chair

Stephanie Ho reported that the

February event at Lavendou was a

huge success. She wants to thank the

owner in a significant way. We will

prepare a plaque to give him. The

March event is at Love and War in

Texas in Grapevine. She is looking

at other locations for future events,

maybe including Arthur's again.

Goodie Store Chair Chris Flaugh

is working to get additional items

available online. He will keep us

posted.

Concours Chair Andy Kay is getting

ready for the May at Mayo's

event on April 30 and Autos in the

Park on June 5. He wants them

added to the calendar and ads for

Slipstream created.

Advertising Chair Cindy Bliss is

looking forward to training to learn

how to do her new job.

Secretary Wendy Shoffit reported

for several others absent from the

meeting. Autocross Chair Mark

Schnoerr also reported that the first

Autocross was a good one. There

were 13 Porsche entries out of 81 total.

There are new Parade classifications

grouping Porsches into more

relevant classes, making for great

competition. Carey Spreen was first

in his class and fastest Porsche. PCA

ladies swept the ladies overall PAX

payouts and seven Mavericks overall

got cash awards. The next event will

be a double event weekend at Mineral

Wells. Richard Diller is helping

out by getting the sweeper back in

action to clean up the course out

there. Also reporting was Sunday

Drive Chair Tom Martin, who said

that everything was on schedule.

Time Trial Chair Travis Howard said

he has scheduled TT#1 for Mineral

Wells for May 28 and TT #2 for

MotorSport Ranch on September

18. JC at MSR has agreed to let us

park the Truxster out there for free.

Membership Chair John Hamilton

reported that we are down seven primary

and seven affiliate members

from last month. Membership is

now at 1634 primary and 883 affiliates

for a total of 2517. Lastly, as DE

registrar, Wendy reported we had

a very full, successful DE with the

lower run groups being nearly full

and a healthy showing in the upper

run groups. We trained three new

driving coaches, as well.

Safety Chair Joe McGlohen emphasized

that it was a great DE event.

He has several volunteers helping

him out now and he spent the weekend

training them. He hopes to

have an article writer for the event

and will keep pursuing.

Treasurer Richard Solomon

reported we have about $142K in

the bank now. The DE event had a

decent surplus, but track expenses

keep going up. We will look for ways

to spend the money wisely.

Lastly, Jim Falgout announced

that Tracy Robertson is this month's

Maverick of the Month for her tremendous

job at the All Member

Party and other social events.

Meeting adjourned at 7:59 pm.

Interested in learning more about how your club operates? Board meetings are

scheduled for the first Wednesday of each month and members are welcome to attend.
---
FEBRUARY TRIVIA

It's Easy to Play!

Play here for fun and find the answers below

OR

Play for prizes on the web at http://mav.pca.org, with

the answers and winners to be posted here after each

month's contest has closed. Thanks to Jerry DeFeo for

putting this and the Web Trivia together.

The Winner this month is a new player,

DAPHANY PREWITT

getting all 5 of 5 correct and winning the tie drawing.

Also getting 5 of 5 correct and Honorable Mentions are

Cyril Reif, Jim Hirsch, and Tom Martin.

Daphany, please contact Kirk at Zim's

to claim your $25 Gift Certificate.

Thanks to all for playing!

1. Porsche's newest SUV is the Macan, considered by many to be

an absolute phenomenon! It was announced in the Spring of

2011, but it was first shown at the ______________ Auto Show.

a. 2013 Detroit b. 2013 Paris c. 2013 Beijing d. 2013 Los Angeles

Source: e-Brake News, Feb 9, 2016

2. The Macan has become so popular that it actually outperformed

the Cayenne sales figure of 1,395 for January 2016. How many

Macans were sold in January?

a. 1,469 b. 1,478 c. 1,535 d. 1,562

Source: e-Brake News, Feb 9, 2016

3. The Macan shares the same platform with the __________, but

the similarities end there. What is its sister platform?

a. VW Tiguan b. Audi Q3 c. Skoda Yeti d. Audi Q5

Source: e-Brake News, Feb 9, 2016

4. There are three different models of Macan: the S, GTS, and

Turbo. What is the MSRP difference from the bottom to the top

of the line for the car with NO options?

a. $21,600 b. $21,950 c. $22,200 d. $22,850

Source: Porsche Macan Website, Feb 2016

5. Which of the three Macan models have the Auto Start-Stop

feature?

a. Turbo b. GTS & Turbo c. All of them d. None of them

Source: Porsche Macan Website, Feb 2016

Answers: 1) d 2) a 3) d 4) a 5) c

7
---
We Buy, Sell & Trade the World's Finest Timepieces

Authorized Dealer for major brands including:

Patek Philippe • Rolex • Bell & Ross • Blancpain • Corum

F.P. Journe • Girard Perregaux • Jaeger LeCoultre • Tudor

Visit deBoulle.com to view our extensive collection of pre-owned timepieces.

MAVERICK PCA RACER

8 April

6821 Preston Rd., Dallas, Texas 75205 214.522.2400 deBoulle.com
---
Welcome Our New Mavericks!

By John Hamilton, Region Membership Chair

Travis Allen

Southlake

2015 Cayman S

Stephen Anderson

Grapevine

2011 911 Turbo

Naira Babaian

Plano

2015 Boxster

Kevin Bagwell

Lewisville

1984 944

Dan Bastian

Dallas

2011 Cayman S

John Cook

Plano

2016 Boxster Spyder

Ron Cox

Fort Worth

2002 911 Carrera

Jeff Dandurand

Carrollton

2014 Cayenne S

Sherri Fair

Dallas

2015 Cayman S

Keith Fredrickson

Wylie

2002 911 Carrera 4S

Phu Huynh

Plano

2013 911 Carrera S

James Langford

Fort Worth

2011 911 Carrera

Jesse Morgan

Ft. Worth

2016 911 Carrera

James Orton

N Richland Hills

2006 Cayman S

John Price

Highland Village

2000 911 Carrera

If you have any changes that

you would like to make to the

MRPCA membership guide,

contact John Hamilton at

membership@mavpca.org

Maverick Membership Totals

Members ~ 1,634

Affiliate Members ~ 883

Total Membership ~ 2,517

Michelle Salazar

Dallas

2001 Boxster

Patrick Talty

Plano

2007 Boxster S

Sean Watts

Parker

2012 911 Carrera S Cabriolet

Craig Bilodeau

Plano

2015 Cayman S

Douglas Cardozo

Allen

1970 914-6

Charles Gaboriau

Coppell

2015 911 Carrera GTS

Tom Hipschman

Dallas

2007 911 Carrera 4S

Robert Quattrochi

Fort Worth

2013 911 Carrera

Jody Roach

Flower Mound

2006 Cayman S

Say hello to your fellow

Porsche drivers!

Flashing your high beams at fellow Porsche

drivers is a time-honored tradition . . .

Keep the flash alive!

Anniversaries: April

** 40 Years **

Jeffrey Hammill (Joyce)

30 Years

Floyd Cox

Robert Marich (Marco)

25 Years

Brian Scudder (Beth)

20 Years

Paul Saunier

John Terminella (Beth)

Colleyville

Fort Worth

Apo, AE

McKinney

Dallas

Waxahachie

15 Years

Jack Labovitz

Douglas Smith

10 Years

James Johnson (Jan)

Kyle Metcalf (Nicole)

R Rea (Cindy)

5 Years

Ravi Badrachalam (Sajani Ravi)

Jonathon Gray

James Lanter (Allison)

Steve Locke (Carol)

Mike Malone (Sharon)

Benjamin Wiseman

Ft Worth

Dallas

Fort Worth

Allen

Dallas

Colleyville

Bedford

Mansfield

Dallas

Van Alstyne

Waco

9
---
Destination Restoration: Waking from Hibernation

By Ash Seidl-Staley

Photo Courtesy of the Author

10 April

Spring is a beautiful

time of year. When referring to

how spring makes me feel, I speak

less of mild temperatures, singing

birds, or blossoming flowers,

but rather about the thousands

of Porsches awaking from their

long winter hibernations. I mean

buzzing bees and chirping birds

are great and all, but what really

excites me about this time of year

is the roaring of a Porsche engine

as its lucky owner speeds through

the streets of North Texas. Winter

is just depressing. Even in Texas the

numbers of roadfaring Porsches

drastically decline in these colder

months, and for good reason! Who

wants to risk icy driving, salty road

conditions, or crazy southern drivers?

Not this guy! Thankfully winter,

which was rather mild this year,

has relinquished its grip on the

weather and we can all go out and

play with our cars.

Due to an intense work load

in Graduate classes last fall, I was

unable to write up two separate

articles describing the methods I

used to stow away both my 914 and

my 944 for the winter. But there is

always this year right? My school

work has not let up at all this spring

semester, but I still managed to

draft the procedures I took to wake

up my 944, not only to get her running

for the 2016 year, but also to

get her inspected and registered by

the end of February.

Since, due to regular maintenance

on my wife's vehicle, I had

planned on using the 944 a couple

times during December and January,

the procedures to get the car

ready for another year were fairly

simple. Unlike the 914, I had not

completely drained the car of gasoline

or of brake fluid. Because of

this my list of tasks was amazingly

short. First, I reconnected the recently

charged battery, pulled my

spark plug wires, and turned over

the engine a few times without a

spark. After I felt like all the pertinent

mechanicals were coated

in some much needed oil, I reattached

my spark plug cables and

fired her up. I could not believe

how quickly the car started or how

gracefully it sat idling. Was this the

same Guards Red 944?

With the remaining hours left

in the day, I hopped in the car

and drove straight to a gas station.

There I topped off the fuel tank

and filled the droopy tires with

compressed air. As the car drove

I took special care to notice if my

dashboard components illuminated

when I initiated the turn signals,

hazards, and headlights, including

the high beams. Similarly, I monitored

my engine's fluctuating temperature,

watching it steadily rise to

the 3/4 mark, waiting for the fans

to kick on, and watching it travel

back down to the appropriate level.

When I had finally made it back to

my apartment I continued to let

the car run for a good twenty minutes

more. I was delighted to find

that my cooling fans did indeed

work, and all my fluid levels were

right within Porsche specifications.

A quick oil change, oil and air filter

replacement, as wells a brake pad

check rounded out my necessary

obligations.

The first hurdle was past me; I

had my 944 back on the road. Now

all that was left was the dreaded state

inspection. For those Mavericks

who have followed my inspection

escapades over the years I am grateful

to report that the 944 passed on

its first try! Most of the credit is due

to my intense pre-inspection procedures,

but some of it is definitely

attributed to luck. While out on my

test drive I had confirmed that the

interior and exterior turn indicators

all worked perfectly fine. With

the assistance of a helper I checked

to make sure that all the brake

lights, tail lights, reverse lights, and

rear signals illuminated when supposed

to. The only hiccup found

was my right rear tail light. For

some reason

the light

would work

at some

moments

and then go

dark for others.

Quirky right tail light

After opening the light housing

and fidgeting with the bulb I came

to the realization that I had mistakenly

misplaced the tail light and

brake light bulbs. Once I made the

switch with new bulbs I again tested

the vehicle, which, as you might

have guessed, passed. A quick jolt

down the road to my neighborhood

inspection station took literally two

minutes, and the inspection itself

was a world record breaking seven

minutes. The humble attendant at

the station took great care with my

precious classic, even asking "are

there any quirks with it I should

know about?" When I answered that

there weren't any to my knowledge,

minus the finicky tail light, he sped

off around the corner with a smile

on his face. By the time I checked

my email the car inspection was

done and paid for. Miraculously,

my time spent in line at the DMV

was even shorter!

Driving home with my new registration

sticker, I felt as though I had

wandered into an alternate universe.

I have never had such a

smooth inspection/registration experience

ever! Let's just hope that

the good luck will continue on into

May when I have to get the 914's

credentials updated. Until that

time and the next article: Wrench

on Mavs!
---
11
---
Third Coast Rally 2015: 928 Owners Club on the Other Coast

By The Patman

Photos courtesy of the Author

When it comes to sunny locations

to display and admire beautiful

cars, it's often the beaches that

come to mind. On the east coast,

there's Ft. Lauderdale. You've got

Monterey on the west coast, and believe

it or not, there's an often overlooked

third coast down in Texas.

It's here that, once a year, the town

of Marble Falls witnesses an influx

of nearly a hundred of Porsche's

classic V8, the 928. Drivers come

from as far away as Canada to be a

part of this event. The name of the

event? The 928 Owners Club just

calls it "Third Coast."

Typically the rally takes place

over a three-day weekend. It "officially"

starts at the Friday night

Meet & Greet in the Hampton Inn

parking lot. This is followed by a

day of "relaxed" country driving on

Saturday, and a "Shine and Show"

event on Sunday. The last day also

includes an outdoor grilled lunch

and the distribution of many highly

desirable prizes offered by the

event sponsors.

This year, I played a tiny part in

the event by sponsoring some prizes

and (foolishly) offering to design

the event logo for the trophy

plaques, shirts, and so on. And in

so doing, soon realized that there's

quite a bit involved in preparing

for, and planning an event like this!

So I say right now: my hat's off to all

the organizers!

Anyway, on Thursday, Carole

and I decided to load up and drive

Before the group arrives on Friday

12 April

down a day early in an effort to beat

the storms due to roll into Dallas

over the weekend. We expected

a nice and easy four-hour drive to

Marble Falls, and would have had

it, were it not for the early arrival of

very storms we had hoped to avoid.

It was the first time the Guards

Red 928 had seen the rain since I

bought it. But, as the weekend progressed,

it wouldn't be the last.

Apparently, the shark drives

well in the water, making the drive

south fairly uneventful. And as we

were a day ahead of the 928 horde,

we needed only check in to the

Hampton, and the following day

would be free for us to cruise the

Texas countryside and enjoy what

would be our last moment of serene

peace!

Friday night Meet & Greet

There were occasional rain showers

most of the weekend, but I must

admit that the Friday night Meet &

Greet in the parking lot can still be

quite entertaining! I think the atmosphere

could be best described

as kinda like those "red plastic cup"

parties you had in high school. At

any rate, by nine that evening the

hotel parking lot was certainly filled

with lots of happy people and 928s

of various models, colors, and states

of tune. One member trailered his

car down from Indiana, which we

were pleased about, as the trailer

was enclosed and provided shelter

from the light showers during the

night. Either way, most folks passed

the hours drinking, ogling each

other's cars, and misrepresenting

The "prefoolishness" dinner group

the power and beauty of their own.

Of course, ya can't have a crowd

like this without the usual mischief

and practical joking that goes with

the red cups.

Now in the past, on Saturday

morning, if you could pull yourself

outta bed after the Friday night

soiree, there would be a breakfast

in the lobby, a drivers meeting, and

a two-group drive: an experienced

group and a more-experienced

group. But this time, Saturday

morning brought with it more rain,

and it became evident that there

would be little room for "spirited"

driving today. Still, breakfast and

the meeting awaited.

The comparative seriousness of

the Driver's meeting really demonstrates

the organizers' commitment

to safety, especially considering the

tomfoolery that goes with the Third

Coast Rally. We ensure that all the

cars have a functional two-way radio,

and the resultant 20 minutes

of "radio checks" can be hilarious.

The ensuing drive, though soggy

and overcast, was pleasant enough,

and seeing the faces of the mortals

Ready to leave on Saturday morning
---
Leaving the Flat Creek Winery

as dozens of 928s drive by was more pleasant still. I really

like being part of this group. Plus, ya gotta admit,

the cars are cool.

The drive took us first to the Flat Creek Winery in

Marble Falls, the proprietors of which demonstrated

great hospitality, and probably restraint, when 100

Porsche fanatics invaded the area at 9:30 am for a wine

tasting (no red cups.) They had a beautiful property,

and Carole and I could've stayed the day, but there

was a schedule to keep. So we all regrouped after some

browsing, and headed out for some more moist weather

driving.

The rain was replaced

with overcast

skies as we left the

vineyards, and so the

next part of the drive

over to the Oasis restaurant

was actually

slightly exhilarating.

No, it wasn't high

speed, but the wet

roads, in kind of a

sick way, afforded a

modicum of excitement

through the

tight curves and

steep hills on the way to our lunch rendezvous. The

Oasis restaurant, truly one of the wonders of the Austin

area, was magnificent. We had a cliff-side private dining

area overlooking Lake Travis that was decorated for

Christmas making it all the nicer.

After some Mexican food, and lies about what great

drivers we all were, we set off once again, this time, towards

the Deep Eddy Vodka distillery in southwest Austin.

Truth is, I had heard of Deep Eddy Vodka, but had

no idea just how many flavors of vodka there could be.

I think Carole tried them all. She's pretty light though,

so I had no problem carrying her to the car.

Later that afternoon, as we arrived back in the hotel

parking lot, the scene was something like a high school

car wash, without the cheerleaders though. I took my

turn at getting my 928 looking pristine again, and was

just drying off the last drop of rinse water when I noticed

another convoy forming up.

"Hey, where ya going this late in the day?" I yelled

(not wanting to be left out of anything of course).

Dash, the leader, told me that he was taking a few

cars out to see a castle.

And sure enough, 45 minutes later, the dozen or so

of us were pulling through the gates of the Falkenstein

castle. The owners of the property, whom Dash had met

earlier in the day, allowed us to file in through the gate

and park the cars for a sunset photoshoot. One of the

The group of 928s at Falkenstein castle

best parts of the trip, to be sure, was strolling through

the castle and surrounding lands.

I could tell ya about the Saturday night festivities,

but it'd be largely the same as Friday: a nice dinner at

a local barbecue joint, then more partying in the hotel

parking lot. And of course, more red plastic cups.

Sunday, the final day of the Third Coast event, was a

beautiful sunny and cool day. A nearby park area was to

be the site of the final event of the weekend, the Shine

and Show, lunch, and prize giveaway. The event sponsors

this year provided a huge amount of prizes to give

away, from car parts to tools. Of course, there were also

event-branded shirts and commemorative wine glasses

for everyone attending.

Andy Kay and The Patman getting their 928s

ready for the Shine and Show

Roger Tyson, from 928sRus, was put on grill duty

cooking burgers and hot dogs for the group, while a

couple of the club elders were out judging the 928s in

their various classes. There were awards given for Sponsor's

Choice, People's Choice, Best Non-928, Best Daily

Driver, and just about anything that could be done to

recognize everyone. Believe me, it was just about impossible

to attend the Third Coast Rally and not have a

good time on some level. If ya couldn't make it, there's

always next year, and the Spring Fling is coming up

soon!

13
---
Maverick Region AX Series: Event 1, Burleson High School

By Mark Schnoerr, Region Autocross Chair

Photos Courtesy of the Author

PCA / Equipe Rapide

Autocross 1 was at the new Burleson

High School lot on Sunday,

February 28. This lot is much like

Pennington Field, where we used

to run events, and also has a terrific

concrete surface. For the first

event at this site, a shorter course

was used but as a result, everyone

got 8 timed runs. See the results accompanying

this article.

There were 13 Porsche entries

out of the 81 total who ran for

times, which is 16% of the entries.

The new Parade "small region"

classifications worked well and put

the Porsches into just three classes.

It was highly competitive in classes

P2 and P4. Fred Stubbs brought

out his Boxster Spyder, and with

support from wife Jean, took his assault

on Class P3 also.

Carey Spreen was first in class

P4 and first quick Porsche. Carey

(911SC), Mark Schnoerr (914 2.0)

14 April

Fred and Jean Stubbs

Carey Spreen had the first quick

Porsche time with co-driver Sue Crimm

and new driver Matt Bugener (Boxster

GTS), qualified for cash awards

(unfortunately Matt did not stay for

awards). The Porsche Ladies swept

the ladies

overall

PAX payouts

with

cash going

to Sigrid

Schnoerr

(914 2.0),

Julia Underwood

(911S), Marissa

Moore

The Schnoerr's 914

(911S), and Sue Crimm (911SC).

Julia Underwood with

Ed Mayo's 1972 911S

Chris Alkier and Greg Dranow

brought their beautiful late-model

911s out to keep the Caymans honest

in class P2. Matthew Cords and

Brian Ogle have also competed

with each other in this 2016 class.

Greg Dranow staging for a run

The next event, which will already

have taken place by the time

you read this (March 19 and 20),

was a double event weekend at

Mineral Wells: an autocross school

on Saturday followed by Autocross

2 on Sunday, a "mirrorcross" with a

full-on Christmas Tree start, where

your best times on each side of the

"mirror" are added together -- lots

of fun. Richard Diller is working on

getting the Zamboni-style sweeper

back in action to make course set

up go quicker at Mineral Wells.

Maybe we can get him to bring out

one of his 911s again. After that,

back to Lone Star Park on Sunday,

April 3.

Come on out -- we have a lot of

fun. There are quite a few interesting

cars and people autocrossing in

North Texas.

Final Results

p2 - 'PCA 2' - Total Entries: 5 Trophies: 2

Car Color Total Diff.

1T p2 33 Matthew Burgener Porsche Boxster GTS Silver 27.159 [-]0.085

2T p2 42 Matthew Cords Porsche Cayman S Black 27.244 0.085

3 p2 178 Chris Alkier Porsche 911 Grey 27.998 0.754

4 p2 77 Brian Ogle Cayman S White 28.114 0.116

5 p2 17 Greg Dranow Porsche 911 Yellow 29.041 0.927

p3 - 'PCA 3' - Total Entries: 1

Car Color Total Diff.

1 p3 23 Fred Stubbs Boxster Spyder White 28.627 -

p4 - 'PCA 4' - Total Entries: 7 Trophies: 3

Car Color Total Diff.

1T p4 590 Carey Spreen Porsche 911sc Red 25.996 [-]0.101

2T p4 954 Mark Schnoerr Porsche 914 Green 26.097 0.101

3T p4 914 Sigrid Schnoerr Porsche 914 Green 26.571 0.474

4 p4 5 Edward Mayo Porsche 911S silver 27.108 0.537

5 p4 6 Marissa Moore Porsche 911 Green 29.234 2.126

6 p4 59 Sue Crimm Porsche 911 SC Guards Red 29.663 0.429

7 p4 9 Julia Underwood Porsche 911S silver 33.558 3.895
---
©2016 Porsche Cars North America, Inc. Porsche recommends seat belt usage and observance of all traffic laws at all times.

Joseph Weaver

Master-Certified Technician

12 years

More of the Porsche services you want from

the Porsche-certified technicians you trust.

Park Place now provides an even wider range of in-house services and options to make your

Porsche its best. You get everything from tint and ClearBra installation for all Porsche models

to headlight restoration and wheel repair, performed by certified Porsche technicians.

You also get the convenience of the only Metroplex dealership with an on-site Porsche-certified

body shop and exceptional amenities—like complimentary Porsche loaner cars and hand car

washes. So supercharge your service at Park Place Porsche today.

Get the comprehensive offerings you need to

keep your Porsche running at peak performance.

Park Place Porsche

6113 Lemmon Avenue

Dallas, TX 75209

214.525.5400

park-place.porschedealer.com

15
---
My First Four Porsche Cars

By Chris Flaugh, Region Goodie Store Chair

Although I am fairly

new to PCA, having joined in August

2015, I am not new to Porsche.

I am currently on my fourth

Porsche; I have enjoyed them all

and continue to look forward to

the next ones.

My first Porsche was a 1969 911

E Targa Sportomatic, silver exterior

with black interior, houndstooth inserts

in the seats (much like those

in Maverick Ricardo Miranda's

beautiful orange 912), and Fuchs

wheels -- a European delivery car.

I bought this car from a neighbor

when I lived in Austin in the mid-

1990's, back when these were just

considered inexpensive used cars

which could be bought for around

$10,000. I was a bit unsure about

the Sportomatic transmission, because

I appreciate a true manual

(and was concerned about future

repair costs when I saw a $5,000+

receipt for rebuilding the transmission

a few years prior), but I bought

it because it was truly a beautiful

car with a paper trail back to day

one, including the original shipping

receipt for the car. And it was

an awesome 30th birthday present

to myself!

Apparently the original owner

was an attorney from Mexico City

who picked up the car at the factory

in Germany and had the car

shipped to Mexico. The car ended

up in Austin with a long-term

owner who eventually lost it in a

divorce settlement; the ex-wife kept

the car for many years and spent a

lot of money on it, including the

$5k transmission rebuild. This was

the story from my neighbor who

bought the car from the ex-wife

and subsequently sold to me. It was

all consistent with the box containing

25 years of receipts and other

documentation.

16 April

Chris' 1969 911E Targa

I thoroughly enjoyed that car

for about a year. Although it was

not my daily driver, I would drive it

to work a couple of times per week,

and often on weekends. One of

my favorite drives near my house

was Spicewood Springs Road, west

of Loop 360. Driving those curves

through the trees and over the

creek with the Targa top off and the

sound of the engine in back . . . it

still brings back positive memories

today. I used to refer to the 911 as

therapy: no matter how bad a day

I was having, taking the 911 for a

brisk drive made everything better.

I think that car had a radio, but I

never used it.

I really didn't want to sell, but

I had happened to mention to a

friend in Michigan that I was thinking

of buying a boat and the 911

might have to go. He expressed

interest, so I mailed him a photo of

the car (this was prior to the popularity

of digital photography) along

with a note that I was going to be

out of town the next week, but to

call me when I got back. Well, when

I returned from my trip and was

waiting for my luggage at the airport,

there was my friend Jim, who

had booked a flight from Detroit to

Austin as soon as he saw the photo

of the car. We went from the airport

directly back to my house, took the

911 for a drive. He wired the full

Photos Courtesy of the Author

asking price to me the next

day and drove the car back

to Michigan. Ironically, the

previous owner had sold

the car to me because he

was buying a boat. I never

ended up buying the boat I

was considering, but I definitely

regret selling this

car. Damn boats!

My second Porsche

was a 2000 Boxster, Forest

Green Metallic exterior

with Savannah tan full

leather interior, black top, 5-speed

manual, sport package. A low mileage,

one-owner car, I bought it used

from Park Place Porsche in 2003. I

enjoyed this car for about two years,

then sold it to a local attorney who

used to do a lot of billboard advertising

here in the Dallas area.

In December 2006, I was missing

my old Boxster and went to look at

a nice 1998 Boxster at Park Place

Lexus (back when they were at

Preston and Park in Plano). I made

an offer on the car, but we were

unable to reach an agreement. On

my way home, I stopped at Boardwalk

Porsche to see what they had

on hand. None of their pre-owned

inventory caught my eye, but I did

end up bringing home my third

Porsche, a new 2006 Cayenne S

titanium edition, black exterior,

two-tone tan/black interior, sport

exhaust.

2006 Cayenne S Titanium Edition
---
My fourth and current Porsche

is a 1987 924S, Guards Red, with

black Porsche script cloth interior,

5-speed manual, base model

with no options. I bought this car

from the original owner last year,

as it was a low mileage, very original,

fully documented car with a

complete paper trail back to the

window sticker and initial purchase

order. The original owner bought

the car in 1986 as a college graduation

present to himself in Little

Rock, Arkansas, He moved to Texas

shortly thereafter, and the car has

lived here in the Dallas/Fort Worth

area ever since. I drove this car

down to Austin back in September

for the Lone Star LeMans and had

the opportunity to drive it on the

COTA track for the parade laps.

I like the 924S a lot, as I think it

offers an unbeatable combination

of fun and practicality for the money.

While parked in the Porsche

Corral at COTA, more than one

Chris' current Porsche is a one-owner 1987 924S

911 owner commented on the

amazing amount of luggage space

in the 924 compared to the 911.

Some people may view the 924 as

strictly a first Porsche, a stepping

stone along the way to moving up

to a 911, and there's nothing wrong

with that. I have taken the opposite

path, starting out with a 911 and

eventually moving to a 924. However,

I'm not finished yet, and I

plan to experience many other flavors

of Porsche in the years to

come. What's next on the menu for

me -- perhaps a 928, or a 968, or a

930? So many choices . . .

Parts or Service, We Deliver Excellence.

Over 300,000 parts in stock.

Expert service and repair.

Parts and Service for: Porsche, Mercedes-Benz, BMW, Mini, and Smart Car.

817-267-4451

Visit us online at:

1-800-356-2964

www.allzim.com

zimips@allzim.com

1804 Reliance Pkwy. Bedford, TX 76021 M-F 8am to 5:30pm

Zims Autotechnik is not affiliated with Porsche AG or PCNA Registered Trademark of Dr. Ing h.c.F. Porsche A.G.

17
---
The E-Type, Lime Rock, and Le Chanteclair

By Tom Martin

Photos Courtesy of the Author

The day is over, everyone

is already in bed for the night. For

a few brief moments you are alone.

You are one within yourself. You

step inside your garage and find

yourself staring at the Porsche sitting

before you. You close your

eyes and think back to a time long

ago, when you first saw, or felt, or

experienced whatever it was that attracted

you to the Porsche, or any

sports car, for that matter.

So what was it exactly that

sparked your interest in sports cars?

Could it have been that first glance

of the classic "Komenda" shape, either

in person or in a magazine article?

Perhaps it was the sound of a

screamin' flat-six at redline. Could

it have been the rumbling roar of

brute American horsepower pumping

through a high displacement

V8? Or maybe it was the "voompah"

sound emanating from a British

inline-four on overrun. And let

us not deny that there's nothing

quite like viewing for the first time

the sensual beauty of an Italian

exotic at rest. Or hearing its V12 at

redline.

Jaguar XKE aka Gina Lollobrigida

18 April

Whatever it was, it's safe to assume

that something appealed to

all our visceral selves. And there is

a lot to be said for something that

can reach way down within oneself

and endear it for a lifetime.

For me, it may have been the

time when a friend of my uncle let

me ride shotgun in his new Series

1 Jaguar XKE. I was just a skinny,

gangly pre-teen at the time. Getting

into the passenger seat was

akin to slinking into a submarine,

or so I thought. The shape of the

E-Type was pure, unadulterated

voluptuousness. I felt like I was taking

Gina Lollobrigida on a country

run. The sound of the Jag's straight

6, coupled with the rush of acceleration,

was indeed exhilarating.

Soon, motor racing became a

passion of mine. I subscribed to

both the American weekly newspaper

Competition Press & Autoweek

and the British newspaper Motoring

News, also a weekly publication. I

read every word of each issue, classifieds

ads and all, striving to gain as

much racing knowledge as a country

schoolboy could at the time.

I received my driver's license

the year after I turned 16 years old.

One of my first ventures into the

world of unfettered freedom was to

journey out to Lime Rock Park in

northwest Connecticut to experience

a motor race first hand -- to actually

see the cars and drivers I had

been reading about all this time.

After I paid my admission at the

gate, I inched my Dad's Mustang

over the dirt road approaching the

bridge over the course. As I crested

the bridge, a Formula B car, driven

at racing speeds, passed underneath

on entrance to the flat-out

last corner. The sound, and the ensuing

feeling, was intoxicating. The

bridge vibrated like a tuning fork.

The hairs at the back of my neck

stood at attention. My ears resonated

from the staccato shriek of

the engine. I was hooked, big time.

From 1968 to 1972, I ventured

out to Lime Rock for all the major

races. That essentially meant the

Trans-Am Series races and the Continental

Championship (Formula

5000) races. I remember the furious

battles in the Trans-Am Series,

with premier drivers such as Dan

Gurney, Parnelli Jones, Mark Donohue,

Peter Revson, George Follmer,

and Swede Savage duking it out on

the tight Lime Rock circuit.

The F5000 Championship was

contested by David Hobbs, Sam

Posey, Tony Adamowicz, John Cannon,

and Dickie Smothers (of the

Smothers Brothers), among other

drivers. Both series had a 5.0-liter

engine displacement limit, and it

was thrilling to hear and see these

beasts being manhandled around

the circuit by the top drivers of the

day.

The golden years of Trans-Am

Around that time, a new racer

could be seen around the paddock.

A local Connecticut resident, he

was a bit older than most of the other

racers; in his late 40s, he already

had another established profession.

His name was Paul Newman,

and word

around the

pits was that

he was very

serious about

racing, and

didn't want to

be distracted

by star-struck

fans. Everyone

respected this.

Paul Newman at

Lime Rock

I spotted Paul twice at Lime

Rock, once while walking through

the paddock with my buddy. I gave

Paul a simple "Hi, Paul" as we

crossed paths, and he shot back

"Hello, fellas." The second time was

when I was utilizing Lime Rock's

primitive lavatory system (basically
---
aiming at a wall), when Paul came in and stood right

next to me. He started "aiming" also. And as a gentleman

in training . . . I didn't look. Neither did Paul.

When I was a senior in high school, our French

language teacher organized a trip to New York City to

visit the Metropolitan Museum of Art to view a display

of French Impressionist paintings. Artists such as Van

Gogh, Monet, Renoir, Cézanne, Gauguin, and Manet

were featured. While the tour lasted only a few hours,

we students were also offered several hours of "free

time" in the big city. Yes, you read that right. A large

class of New England high school students was allowed

to explore the streets and neighborhoods of New York

City unchaperoned. What could possibly go wrong?

Fortunately, nothing did go

wrong, and I had a plan. Three

of my mates and I trotted

downtown, over to Le Chanteclair

restaurant at 18 East 49th

Street in mid-town Manhattan.

Le Chanteclair was owned by

René and Maurice Dreyfus.

René was the Grand Prix driver

won the prestigious Monaco

Grand Prix in 1930, piloting

a privateer Bugatti to victory

around the claustrophobic circuit of the Principality,

beating the factory Bugatti team in the process.

We were all French language students, so we had a

rudimentary knowledge of the language; enough to

read, and maybe converse, some basic French. Trust

me, it only came in handy when we read the menu and

managed NOT to order the proprietor as an entrée.

I distinctly remember that we all ordered boeuf

bourguignon, a classic French peasant dish that has

slowly refined into haute cuisine. Of course, we had a

bottle of wine with our meal; a suitable claret, as I recall,

and the maître d' indulged us by letting me check

the label, smell the expelled cork, and conduct the

required approval tasting. Suffice to say, I thoroughly

enjoyed the experience.

Shortly thereafter, we were all ensconced in the

bus that took us home to our idyllic, safe lives in our

quaint New England towns. This all happened during

the formative years of my adult life, and the "thing that

appealed to my visceral self" has remained ever since.

To this day, I still appreciate the most excellent E-Type,

French impressionist art, fine dining, and especially

motorsport, as competed by gentlemen racers.

So what was the spark that ignited your passion for

sports cars, especially Porsches? And to what journeys

in your life did it lead?

19
---
20 April
---
The Art of Paint Protection

After Installation

A virtually invisible urethane film

professionally applied to high-impact areas

of your vehicle to protect your paint job from

stone chips, sand, road debris and bug acids.

During Installation

Owner Installed

Highest Quality Guaranteed

2530 Tarpley Road, Suite 100

Carrollton, TX 75006

21
---
22 April
---
Back to Ben Wheeler: April Sunday Drive Preview

By Tom Martin, Sunday Drive Chair

This month the Sunday Drive Program

ventures to a quaint village in East Texas. "Back to Ben

Wheeler" – The East Texas Tour brings Mavericks back

to the little town that could.

Ben Wheeler was once on the verge of becoming a

ghost town until Brooks Gremmels resurrected it into

an eclectic hamlet. Craftsmen, artisans, and musicians

have since settled here. Bikers, classic car and sports

car owners now congregate in the center of town. Ben

Wheeler is also the Wild Hog Capital of Texas. And you

know what that means, right? Yessir, every autumn Ben

Wheeler hosts "Hog Fest", a celebration of . . . well,

nothing really. But it's a darn good time to celebrate.

And if that isn't eclectic enough, Ben Wheeler just

hosted the "2016 Motorized Barstool Races" last month.

I reckon us Porsche owners will fit in just fine.

The Drive will be held on Sunday, April 24. Start and

end point is the parking lot of Moore's Store, located at

1535 FM 279 in Ben Wheeler. Start time is 1:00 pm, so

plan to get there a little early to sign up and attend the

Drivers' Briefing.

Kurt Reuland has put together another stimulating

drive, a 73.1-mile excursion through the rolling backroads

of East Texas. If we're lucky, we'll get some bluebonnet

spotting time in, as the Drive occurs at the peak

of the bluebonnet season. Then we'll head on back to

Moore's Store for some comfort food, and some of the

best cobbler around. Ben Wheeler and neighboring

village Edom are known for their homemade pies and

cobbler.

As always, attendees are not required to dine at the

destination; one can always take their cobbler and eat

it at home. Go ahead, be like that.

If you plan to attend, please drop us a RSVP before

the Drive. Just shoot an e-mail to tours@mavpca.org

with a simple "I will be attending (by myself, with my

wife, with a friend, etc.)" and you're in. When you RSVP,

it gives us an accurate count to supply to the proprietor

of the destination, plus three days before the Drive, you

will receive an e-mail with the following attachments:

a Garmin .gdb file of the

route, a route overview, and

turn-by-turn instructions.

Hope to see you and your

Porsche at the Sunday

Drive!

23
---
24 April
---
ANNUAL SERVICE SPECIAL

Brake fluid flush $125

includes one liter of Motul RBF600

"Get the most out of your braking system with this essential regular maintenance"

We are the automotive experts who service your car

with personal attentiveness and care.

2520 Tarpley Rd, Suite 100

Carrollton, Texas 75006

972-418-1996

innovativeautosportstx@gmail.com

25
---
Maverick Monthly Social: A Porsche Valentine

By Stephanie Ho, Monthly Social Chair

Photos by George Luxbacher

Our first Porsche Valentine Event

brought about 130 Mavericks back to Lavendou French

Bistro. The owner, Pascal Cayet, and his staff did a phenomenal

job of taking care of all. The evening started

with complimentary hors d'oeuvres and was followed

by an exceptional meal. Pascal went to great trouble in

providing an open menu for dinner selections, and

ensured that his staff was able to handle all the orders

coming in at the same time. He also graciously extended

a 25% discount on food to all Mavericks. It was a

perfectly wonderful evening, full of fun-loving great

friends, outstanding fine dining, and an array of stunning

Porsche Valentines in the reserved parking lot!

Sincere thanks to Pascal Cayet from the Porsche Club

for his hospitality, generosity, and strong support of the

Mavericks!!

26 April
---
27
---
For hassle free information on

any property in the DFW area,

call 972.365.7370

When all HAIL breaks loose...

Roofing Solutions

By Darren Houk

A+ Rated

(817) 692-8496

Michael Picolo

www.realestatecarguy.com

michaelpicolo@ebby.com

www.RoofingSolutionsHOUK.com

www.roofingsolutionshouk.com

817.692.8496

Showroom by Appointment

5500 Meandering Rd

Ft. Worth, 76114

Since 1971

Providing personalized service

on all Porsche automobiles.

• Complete servicing and repairs

on all air or water cooled models

• In-house machine shop

• M96/M97 reconditioning

• Performance and track mods

2530 Tarpley Road • Suite 700

Carrollton, Texas 75006

(972) 417-0997

28 April
---
©2016 Porsche Cars North America, Inc. Porsche recommends seat belt usage and observance of all traffic laws at all times.

Some artists paint canvases.

Others sculpt marble.

Ours service Porsches.

At Park Place Porsche, we elevate automotive service to an art form. Our Master-Certified

technicians and advisers work exclusively on Porsche vehicles, from the Boxster to the 918,

giving them unmatched focus and passion. We offer an on-site Porsche body shop as well

as one of the only Porsche-Certified body shops in the Dallas–Fort Worth area—Park Place

BodyWerks—providing you with comprehensive service, all in one place. And you'll enjoy

exceptional Park Place amenities, like complimentary Porsche loaner cars and hand car

washes. It's everything you need to keep your automotive masterpiece running flawlessly.

Park Place Porsche

6113 Lemmon Avenue

Dallas, TX 75209

214.525.5400

park-place.porschedealer.com

29
---
NO WORRIES!

So Your Part is NLA!

• Rebuild, Restore or Totally Recreate

to OEM Quality

• We Manufacture Custom Pieces for

Modified or Racecars.

• We Work With Most Materials

• We Specialize in Accurate Replication of Parts

R A N D A L L

RKT

K A R A

T E C H N I Q U E S

901 TERMINAL ROAD • SUITE 400 • FORT WORTH, TEXAS 76106

817-624-1322

Porsche/Ferrari/Exotic

Service/Tuning/Restoration

30 Years of Service

Specializing in all years and models

of Porsche exclusively for more than

30 years.

The only certified installer for the "IMS Solution"

in Texas and surrounding states!

Complete and Meticulous Maintenance and Repair

Tuning and Diagnostics (Carbs, MFI, CIS, OBD I & II)

Custom Engine and Transmission Rebuilds

Competition Car Preparation (Track or Autocross)

1521 Baccarac Ct, Euless, TX 76040

817 540 4939

www.mayoperformance.com

email: mike@mayoperformance.com

30 April
---
Maverick Photos of the Month: Interiors and Upholstery

Photos by Members as Noted

Jack Griffin 1955

356 Pre-A "old

school simplicity"

Chris Flaugh

1987 924S

Umesh Oza

1970 911T

Karmann Coupe

Rick Miranda

1969 912 classic

houndstooth

Jim Lantner

"No Lollygagging"

race interior

Peter Frankl

911-50

houndstooth

Jim Hirsch

2014 Boxster S

Agate/Amber

The May issue of Slipstream will feature engine photographs - send your submissions to editor@mavpca.org

31
---
32 April
---
33
---
Unclassifieds

Unclassifieds are available free to Maverick Region members and are $5 for all others (contact editor@mavpca for payment details). Please limit size to no more than 6 lines. Ads will run for 3

issues, after which they will be removed unless you request that they be run for an additional 3 issues. E-mail your ad to classifieds@mavpca.org by the 10th of the month to have your ad run in the

following month's Slipstream. Be sure to include year, make, model, color, mileage, and asking price, as well as a contact name, phone number and/or email address. All parts will be advertised

on our website. Check your ad for accuracy the first time it runs. Contact the editor to have your ad pulled sooner. Due to space constraints, photos may or may not be included. No dealers please!

For Sale: 2000 Porsche Boxster. Rare Arena

red, black top, grey leather interior. Five-speed,

windstop, crest wheel centers, 17" turbo wheels, great

Michelins, radio upgrade w/CDR 220. Sport touring

package, L&N IMS upgrade by Moorespeed, RMS,

pilot bearing, throwout bearing, Sachs HD clutch,

new motor mount, coolant reservoir, horn contactor

ring, top safety switch, new battery. New spark plug

tubes, seals & water pump @ 44k. Body, interior, &

top excellent. 52,000 miles Always garaged, no DE's,

senior owner. Asking $12,900. Contact Harry Filbey

at 972-768-6839 or hfilbey@aol.com. (04)

For Sale: 1999 911 Carrera. Black/black, 6-speed

manual, 78K miles, excellent mechanical condition

with new belts, hoses, fresh oil and more. Service by

RAC Performance. New rear tires, good front tires,

new battery, mega amp sound system. $21,450 OBO.

Contact Jimmyg at jim.gallegos01@yahoo.com or

214-697-0692 (04)

For Sale: 1981 Euro SC race car. Black. Located at

MSR. $30,000 (serious inquires only). Contact Myron

Krupp at 682-888-3804 or krupp981@icloud.com.

(04)

For Sale: Aluminum Open Tommy Trailer. 6 years

old. Used as a Porsche transporter. $6500. Contact

Myron Krupp at 682-888-3804 or krupp981@icloud.

com. (04)

For Sale: 1995 911 Carerra Cabriolet (993 Model).

Unique Guards red, tan top, champagne interior, 6

speed manual. Garaged TX car since new. Second

owner. VIN WP0CA299XSS341792. Original

window sticker, records, car cover, Porsche battery

tender and wind deflector included. Original paint in

excellent condition. Driver and passenger power seats

and windows. Well maintained, 28,000 true miles.

Never tracked, wrecked, or smoked in. All tools,

spare, compressor, and manuals. Leather, 17" wheels

with crests, premium sound, remote CD changer. Has

shown competitively in full Parade Concours. $58,500.

Contact Hiram Saunders, at hiram1@verizon.net. (03)

For Sale: 2005 Porsche 997S. Rare Yellow Exterior

with Black Interior. One owner, 36k miles, no accident

history, well maintained with no track history. Sport

chrono, 6-speed, sunroof. All items work except Bose

Amp. Need garage space for new 991. Asking 35k.

Contact Steve Nguyen at huyccpm@yahoo.com or

972-740-4380. (02)

For Sale: 1981 911 Euro SC race car. Has track

records at Hallett and Eagles Canyon. 2 sets of 15"

Buckley Wheels, Buckley race headers. Recent

transmission overhaul/major tune up. No wrecks or

rust. Lives at MSR Cresson. $30,500 or best offer.

Contact Myron Krupp 682-888-3804 or gt3krupp@

att.net (02)

For Sale: 2015 Porsche GT3. White, black Alcantara

leather, red stitching. Porsche warranty. Garaged,

excellent condition. NEVER TRACKED. Shield

on hood, front and rear fenders. Bumper mounted

Escort laser radar. Mileage 3255. $162,490.

Transaction processed through local Porsche dealer

"in and out" for sales tax, no additional cost to TX

buyer. Contact Reginald Stewart at 972-733-3304 or

rbstewarthouse@gmail.com (02)

For Sale: 1986 944. White/burgundy all original,

unrestored, telephone dial wheels. Updated clutch,

belts, water pump, radiator and brakes. Second owner

and have all documents. Needs some work. 114,000

miles. $5000 OBO. Contact Taylor Rice at 817-688-

7161 or trice366@aol.com (02)

For Sale: 1973T Porsche 911 Race Car. Green, built

to RS Specs. 2.7 liter aluminum case, 233 hp and 199 ft

/lbs at rear wheels. 8 hours on engine by Jim Buckley.

40 IDA Webers, 915 gearbox. Buckley suspension.

930 Brakes. FuelSafe fuel cell. Full welded roll cage.

Fire system. Removable passengers seat for DE's.

Two sets Fuchs wheels. PCA and Vintage Logbooks.

$38,000. Contact Lee Wilkins (972) 503-8825 or

lwilkins44@yahoo.com (01)

Name tags are available for $10.

Please email us at nametags@

mavpca.org to obtain them.

Include your name, city, and vehicle

(up to 2) as shown below.

Slipstream Advertiser Index

34 April

These advertisers support our Maverick Region – Tell them you saw their ad in Slipstream!

Ascot Diamonds (972) 991-0001 Page 25

Autobahn Motorcar Group (800) 433-5602 B.C.

deBoulle Diamond & Jewelry (800) 454-4367 Page 8

DFW Garage Design (972) 416-4545 Page 24

Ebby Halliday – Michael Picolo (972) 365-7370 Page 28

Falgout & Associates, P. C. (972) 669-2370 Page 22

Fifth Gear Motorsports (972) 317-4005 Page 21

Garages of Texas (214) 435-4898 Page 5

Hoosier Tires Direct .com (515) 203-3503 Page 36

Innovative Autosports (972) 418-1996 Page 25

Invisibra (214) 704-9299 Page 21

Louden Motorcar Services (972) 241-6326 I.B.C.

Marvelous Home Makeovers (214) 458-1932 Page 32

Mayo Performance (817) 540-4939 Page 30

Mullenix Motorsport (972) 417-0997 Page 28

Mustard Racing (817) 366-1678 Page 35

Advertising rates - 1/4 page: $425; 1/2 page: $850; Full page: $1700

For more information contact Cindy Bliss at ads@mavpca.org

Nine-Eleven Automotive (972) 243-4911 Page 27

OCD'tailers (817) 948-8538 Page 35

Park Place Porsche (800) 553-3196 Pages 15, 29

The Phoenix Insurance (214) 253-0570 Page 22

Porsche Plano (214) 576-1911 I.F.C.

RAC Performance (214) 269-1571 Page 3

RetroAir (972) 960-6899 Page 30

RKT Techniques (817) 624-1322 Page 30

Roofing Solutions by Darren Houk (817) 692-8496 Page 28

Silver Fox (817) 329-6995 Page 2

Stuart's Paint and Body (214) 221-6999 Page 33

The UPS Store (972) 420-1250 Page 35

Ussery Printing (972) 438-8344 Page 35

Victory Motorcars (713) 783-6555 Page 11

Zims Autotechnik (817) 267-4451 Page 17
---
PRINTER OF SLIPSTREAM SINCE 1982

2700 B West Pioneer PkWy

(125 feet s. of Pioneer, on the W. side of Corzine st.)

Arlington, texAs 76013

817-366-1678

35
---
Around the Bend...

By Jim Hirsch, Managing Editor

"Live in the moment, capture the moment,

share the moment."

Individuals who practice some form of meditation

or mindfulness in their daily lives have likely held to

the beginning of that idea regularly.

As a Porsche owner and member of the Maverick

Region, I encourage you to practice the entire thought

to the benefit of all of our members.

Driving your Porsche, or even looking at it in your

garage while it is at rest, provides opportunities for a

unique type of mindfulness shared only with fellow

Porschephiles.

As the editor of Slipstream, I look forward to you

sharing those many moments that you experience with

your Porsche for the enjoyment of all of your fellow

Mavericks. This issue is full of those types of moments.

Whether it's a particularly involved drive, an interesting

photo opportunity, or even the sound of your

Porsche starting up, capture that moment in words

and pictures and send it to editor@mavpca.org so I can

"share your moment" with our members.

One of our signature events - May at Mayo's - is actually

in April this year, April 30 to be exact. This

is your chance to shine up and show off your

Porsche, or simply come to enjoy the sights and

vote for your favorites.

Activities include a Peoples Choice Concours

(free entry) along with dinner at $25/person

(kids 12 and under are free). Please get more information,

and make certain to RSVP, and pay in advance on

our web site at mav.pca.org.

This spring has provided great weather for our initial

driving events. One of our recent Drivers' Education

events at MotorSports Ranch in Cresson provided

the dynamic cover photo for this issue.

Chris Tabor, our Region DE Chair, provided this

quote from Mark Schwobel: "I participated in my first DE

event with my son last weekend and I need to share our total

appreciation for the phenomenal opportunity these events afford

members. Every part of the event surpassed my expectations.

The organization, instruction, facility and hospitality

were first-rate. We are so fortunate to be members of the Maverick

Region and have the opportunity to spend such contentrich

time with so many generous, quality people".

If one of your resolutions for this year was to get

your Porsche on a road course, our DE program is the

place for you!

Finally, in our continuing Slipstream initiative - Mav

Photos of the Month - the focus for this month was interiors.

Thanks to our members for submitting these

great photos shown on page 31.

For the April issue, our focus is engines, so

send your photo submissions to editor@mavpca.

org or post them on our Maverick Region

Porsche Club of America Facebook group page

by April 10. Newer model owners may have to

get below those plastic covers!

36 April
---
SLIPSTREAM Advertiser Since 1978

WHY YOU SHOULD TRUST YOUR

PORSCHE TO LOUDEN MOTORCARS

• Award winning service for 35+ years

• Rated "Best in Dallas" a record 3 times

• Rated "Best in Texas"

• Rated "Top 10 Shops in U.S."

• Rated "Best in the West" by the Robert Bosch Corporation

• A Better Business Bureau accredited business for 3 decades with an A+ rating

• The first ASE "Blue Seal of Excellence" business in Dallas

• Racing background at Daytona, Sebring, and Riverside

• Master Certified Technicians

• Bosch Authorized Service Center

• Air conditioned shop for technician efficiency and comfort

• We do not sell cars, thus we must survive on our 35+ year service reputation

See what our customers are saying about us at:

LoudenMotorCars.com

Theresa@LoudenMotorcars.com

11454 Reeder Road

Dallas, Texas 75229

(972) 241-6326
---
Hiram Saunders, Slipstream

155 Jellico

Southlake, TX 76092

Periodical Postage

Paid at Fort Worth, TX