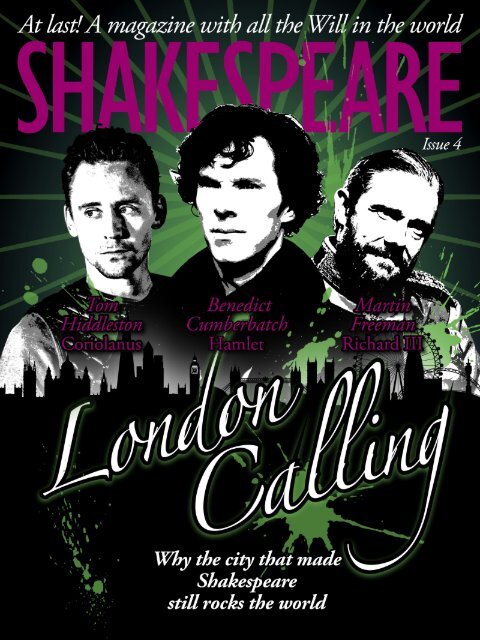 Shakespeare Magazine 04
The fourth issue of Shakespeare Magazine celebrates Shakespeare's London (with guest appearances from Tom Hiddleston, Benedict Cumberbatch, Martin Freeman and Shakespeare in Love). Also this issue: Shakespeare in the mountains of California, New York's Shakespeare rapper and a plethora of Shakespeare Disasters.
The fourth issue of Shakespeare Magazine celebrates Shakespeare's London (with guest appearances from Tom Hiddleston, Benedict Cumberbatch, Martin Freeman and Shakespeare in Love). Also this issue: Shakespeare in the mountains of California, New York's Shakespeare rapper and a plethora of Shakespeare Disasters.
SHOW MORE
SHOW LESS
You also want an ePaper? Increase the reach of your titles
YUMPU automatically turns print PDFs into web optimized ePapers that Google loves.
Welcome

Welcome

to Issue 4 of Shakespeare Magazine

The whole point of this magazine is that William

Shakespeare belongs to the world. London, however,

will always feel like a city with a special claim to

ownership of the Bard.

He wasn't born there, of course – take a bow, Stratford-upon-Avon.

But it's in England's capital city that he first made his name as a bloke

who could "bombast out a blank verse", to quote Robert Greene's

infamous literary put-down. Four centuries later, London is the world's

favourite mega-city and Shakespeare is the world's favourite mega-poet.

"How could it possibly be otherwise?" you'll doubtless be thinking. If

you've ever lived in London, that is.

And so, this issue we're celebrating Shakespeare and London. Our

cover, you'll have noticed, features three present-day Shakespeare stars

who've been known to set the city alight. Tom Hiddleston (who played

Coriolanus earlier this year), Benedict Cumberbatch (whose Hamlet is

next year's hottest ticket) and Martin Freeman (whose Richard III was

the sensation of the summer).

Enjoy your magazine.

Pat Reid, Founder & Editor

Photo: David Hammonds

SHAKESPEARE magazine 3
---
At last! A magazine with all the Will in the world

SHAKESPEAREIssue 4

Contents

Tom

Hiddleston

Coriolanus

Benedict

Cumberbatch

Hamlet

London

Calling

Why the city that made

Shakespeare

still rocks the world

Martin

Freeman

Richard III

London

Calling 6

England's capital is in the throes

of a Shakespeare Revolution. We

report from the frontline.

In the mood

for love 12

Why London's romantics are

swooning over Shakespeare in

Love - The Play.

Shakespeare Magazine

Issue Four

September 2014

Founder & Editor

Pat Reid

Art Editor

Paul McIntyre

Staff Writers

Brooke Thomas (UK)

Mary Finch (US)

Writers

Zoe Bramley

Lauren O'Hara

Tom Phillips

Lis Starke

Emma Wheatley

Rose Wynne

Chief Photographer

Piper Williams

Photographers

Emma Liu

Alison Williams

Illustrator

Hannah Finch

Thank You

Mrs Mary Reid

Web design

David Hammonds

Contact Us

shakespearemag@outlook.com

Facebook

facebook.com/ShakespeareMagazine

Twitter

@UKShakespeare

Website

www.shakespearemagazine.com

London

"Walk with me

about the town" 18

A pictorial guide to some

of London's most walkable

Shakespeare landmarks.

made Shakespeare

still rocks the world...

Calling Why the city that

The Measure

Principle 24

A troupe of London

students turn Shakespeare

into Bierkeller cabaret.

4 SHAKESPEARE magazine
---
Contents

The Day of

the Dauphin 30

An audience with Edward Akrout,

an actor who really made his mark

in The Hollow Crown.

Shakespeare Girl,

Interrupted 36

Our resident Shakespearean master

of disaster recounts her catalogue

of woes.

Beats, Rhymes

and Life 42

Meet The Sonnet Man, a New York

rapper who's bringing Shakespeare

to the people.

Marin County

memories 46

Celebrating 25 years of

outdoor Shakespeare amid

beautiful scenery.

Go

East! 50

The world-spanning Shakespeare

tour that is Globe To Globe Hamlet

touches down in Kosova.

WIN!

One of 5 copies of Shakespeare

For Grown Ups – the rather

brilliant new guide to all things

Shakespeare.

Simply send an email to us at

shakespearemag@outlook.com

with 'Grown Ups' in the subject

line. Don't forget to include

your name,

address and

contact number.

Closing date

is Friday 10

October.

Good luck!

SHAKESPEARE magazine 5
---
Shakespeare in London

Illustrations: Hannah Finch, Photos: Alison Williams

London

Calling

"Sound drums and trumpets, and to London all!"

Words: Brooke Thomas

6 SHAKESPEARE magazine
---
Shakespeare in London

"Josie Rourke's Coriolanus saw

Tom Hiddleston (of Avengers

fame) playing the title role

to rapturous acclaim"

"Hello, is it me you're Loki for?"

Hiddleston's hard-hitting Coriolanus.

hakespeare productions are selling out in

record time, people are queuing around the

block for a chance to see lesser-known history

plays, and bright young theatre companies are

adapting the plays in countless bizarre spaces,

using up-to-the-minute theatrical techniques.

Yes, we're in the middle of a Shakespeare

revolution, and in the year of his 450th

birthday there's no better place to experience

the Bard than London.

White-hot young director Jamie Lloyd

has certainly been savvy with his casting

choices for the Trafalgar Transformed seasons.

Last year, James McAvoy, Shameless star

and X-Men's Charles Xavier, starred in

Lloyd's dystopian Macbeth. This year Martin

Freeman, star of The Hobbit and Watson

in the phenomenally successful BBC drama

Sherlock, takes on Richard III – box office

SHAKESPEARE magazine 7
---
Shakespeare in London

According to The Telegraph, however, Zoe

Wanamaker waded in to applaud Freeman

for drawing people into the theatre for what

might be their first time, and we're on her

side with this one – the more people that get

to experience Shakespeare the better.

Back in London, the colourful headline

"Bigger than Beyonce!" accompanies Benedict

Cumberbatch's beaming face in this month's

news. According to online ticket marketplace

Viagogo there were 200% more searches for

Hamlet tickets than for Beyonce and Jay Z's

On The Run tour.

Cumberbatch has made his name playing

complex, mercurial characters on stage and

screen. Combined with his burgeoning

popularity, this makes it no surprise that

his Hamlet is being lauded as the most inmeltdown

ensued. Controversy raised its

head at the beginning of Freeman's run as

Richard of Gloucester, though. His younger

fans, drawn to the theatre by the popular

actor, have reportedly been clapping and

cheering at inappropriate moments, at odds

with age-old theatre etiquette.

Veteran actress Maureen Lipman

apparently sniped at Freeman's popularity,

commenting that "[the production is] not

so much Richard III as Richard the rock

concert" because of Freeman's enthusiastic

fans. It should be noted that the actors,

director, and many other audience members

have expressed surprise at these negative

reports. Apparently very few people have

noticed these rowdy teenage theatre goers at

all, let alone been disturbed by them.

The stars are fire

Celebrity casting in major Shakespeare

productions has proved a divisive issue in

recent years. This latest furore reminds us of

2008, when seventy-something polymath

Johnathan Miller famously rubbished David

Tennant's casting as Hamlet. Miller allegedly

referred to the actor (an RSC regular since

1996) as "that man from Doctor Who",

expressing concerns that people would go to

see the play because "he is a television star."

Shakespearean

skulduggery:

David Tennant

as Hamlet.

8 SHAKESPEARE magazine
---
Shakespeare in London

Kill list: Martin Freeman's Richard is

a psychopathic military bureaucrat.

"A veteran actress sniped at

Freeman's popularity,

referring to the production

as Richard the rock concert"

demand show of all time. The Sherlock star's

2015 run of Hamlet at the Barbican has sold

out, but as with the Trafalgar Transformed

Richard III and other hot tickets of recent

years, eminently affordable £10 and £15

tickets may be made available at a later date,

thereby encouraging first time theatre goers

even further.

Players well bestow'd

A short stroll from the Barbican, through St

Paul's and across the Millennium Bridge, is

Shakespeare's Globe Theatre, where Lipman's

comments about cheering at the correct time

would surely be laughed at.

This summer's revival of Lucy Bailey's

Titus Andronicus saw droves of fainters,

blood-spattered groundlings and audiences

being ordered to "MOVE" by intimidating

performers. And the Globe isn't an eccentric

exception to stuffy Victorian-style theatre

etiquette. Even if we only look at a fraction

of this year's output, London is bursting

with innovative and immersive Shakespeare

productions.

In Poplar, in London's East End, an

ambitious production of Macbeth by

RIFT spans 12 hours and several floors of a

decaying tower block. Iris Theatre's Richard

SHAKESPEARE magazine 9
---
Shakespeare in London

Handsome Hamlet: Benedict

Cumberbatch is set to play

the melancholy Dane.

III took over The Actors' Church in Covent

Garden with battle cries and hymns.

Another Titus Andronicus is due to take

revenge in a multi-story car park in Peckham.

And Phyllida Lloyd is launching Henry IV

as part of a trilogy of all-female company

productions at the Donmar Warehouse. That

same venue housed Josie Rourke's Coriolanus

early this year, with Tom Hiddleston (of

Marvel Avengers Loki fame, and master

of an even more formidable fanbase than

the Sherlock boys) playing the title role to

rapturous acclaim.

Thrice Ninth's Henry IV, Part 1 sees

Shakespeare meet Shakira, performed over

the bones of the Rose Playhouse at its

Bankside archaeological site. And to top it

all off, the stage adaptation of 1999 romcom

Shakespeare in Love has kicked off in the

West End to rave reviews.

While Stratford-upon-Avon continues

to weave its own magic, London is

unquestionably the centre of Shakespearean

creativity and innovation today. In fact, right

now, it feels like the first, last and only place

to be for fans of the Bard.

The sumptuous Shakespeare in Love

(of which, more anon...)

10 SHAKESPEARE magazine
---
Shakespeare In Love

London

Calling

In the

mood for

love

Words: Emma Wheatley

12 SHAKESPEARE magazine
---
Shakespeare In Love

"Tom Bateman and

Lucy Briggs-Owen

shone as Will

and Viola.

Their chemistry

was fantastic"

Photos: Johan Persson

SHAKESPEARE magazine 13
---
Shakespeare In Love

The

"Whenever a well-loved film is adapted

for the stage, you can't help but be a little

apprehensive about what they will do with

it. Those doubts departed soon after curtain

up, and I began to believe that Shakespeare

in Love was in safe hands with director

Declan Donnellan. The performance I saw

was a preview, however, so changes may well

happen both before and after the 23 July

opening night.

In case you have never seen the 1999

Shakespeare in Love movie, the plot sees

Will Shakespeare (Joseph Fiennes), suffering

from writer's block, falling in love with his

new muse, noblewoman Viola De Lessops

(Gwyneth Paltrow). The story is interwoven

with the writing and performing of Romeo

14 SHAKESPEARE magazine

and Juliet. It also deals with how Elizabethan

society viewed women in many aspects of life

from marriage to careers.

"Yes, but Shakespeare in Love – The Play has

remained fairly faithful to Tom Stoppard's

original screenplay with some great additional

scenes thrown in that add to the story.

Interestingly, Christopher Marlowe's role is

expanded from the film and is given the lines

of minor characters that have been cut during

the transition from screen to stage. This

works pretty well at the beginning. However,

as the play progresses it starts to look as if

Marlowe has just been added in for the sake

play's ravishing

Elizabethan visuals

are likely to please

Shakespeare fans.
---
Shakespeare In Love

When you're young and

in love: Viola (Lucy Briggs-

Owen) is Shakespeare's

inspiration for Juliet.

"Lucy Briggs-Owen played Viola

with a rather more child-like

quality than Gwyneth Paltrow,

which suits the role well"

SHAKESPEARE magazine 15
---
Shakespeare In Love

"Despite the addition

of Marlowe to the

balcony scene,

I found myself

mouthing along to

the lines from Romeo

and Juliet"

16 SHAKESPEARE magazine
---
Shakespeare In Love

of having him on stage. The recreation of the

balcony scene, for instance, which should

be romantic and full of passion, becomes a

bit farcical with the addition of Marlowe.

But I forgave it as, after a couple of lines had

passed, I found myself mouthing the speeches

along with the actors whenever they recited

lines from Romeo and Juliet."

"The cast worked well together and Tom

Bateman and Lucy Briggs-Owen shone as

Will and Viola. Their chemistry was fantastic

for so early on in the run, and as they

perform together more I can see it growing

further. Bateman in particular was superb as

Will, carrying scenes off effortlessly. Briggs-

Owen played Viola with a rather more

childlike quality than Gwyneth Paltrow did

in the movie. Viola's age is never given, but

I always assumed she was supposed to be

young. During the Shakespearean era women

often married at a young age – just look at

Juliet – so personally I felt this performance

suits it well."

"Special mention should go to Colin Ryan,

playing Webster. He was such a great

character who got many laughs during his

scenes as the gore-obsessed youngster."

"Worry not! The music is mostly incidental,

for scene transitions and background music

for scenes set at parties and within the theatre.

The music remains faithful to the Elizabethan

era and is performed impeccably by the band.

The highlight for me came at the end of the

show with the post-performance dance. It was

choreographed perfectly and you could easily

believe that it was once performed at court.

So is Shakespeare in Love – The

"All in all, the play was brilliant. To see the

Shakespearean rehearsal process on stage

intercut with the love story of Will and Viola

was fascinating, especially to those that love

all things Shakespeare. The set, costumes

and music were spot-on, deftly transporting

you back to the Tudor age. Whether you

love Shakespeare's works, the original movie

– or just a classy bit of entertainment –

Shakespeare in Love –The Play is a must-see."

Shakespeare in Love – The Play

at the Noel Coward Theatre, London

For more info: http://shakespeareinlove.com

Will's world: it's just

a stage he's going

through.

SHAKESPEARE magazine 17
---
Shakespeare Walks

This suitably dramatic

statue by the National

Theatre (at Waterloo

Bridge) depicts Laurence

Olivier's Hamlet

confronting his father's

vengeful ghost.

18 SHAKESPEARE magazine
---
London

Calling

"Walk

Shakespeare Walks

with me

about the

town..."

If you've been following our

series of Shakespeare Walks,

we think you'll like this. From

our resident Tour Captain and

our Chief Photographer, here's a

pictorial guide to help

landmarks.

Words: Zoe Bramley

Pictures: Piper Williams

SHAKESPEARE magazine 19
---
Shakespeare Walks

Top and left: The reconstructed Globe which opened

in 1997. Shakespeare's original burned down in 1613

during a performance of his play Henry VIII.

Right: Risen from the ashes of the 1666 Great Fire,

the 'new' St Paul's Cathedral dominates the view

from Bankside.

20 SHAKESPEARE magazine
---
Shakespeare Walks

"Neither a borrower nor a lender be..." The site of the

Bell Tavern. It was from here that Richard Quiney wrote

to Shakespeare in 1598 requesting a loan.

The Cockpit at Blackfriars. The Tudor-era cellars

below the pub are believed to have been part of

Shakespeare's gatehouse.

SHAKESPEARE magazine 21
---
Shakespeare Walks

A

peaceful garden is

all that remains today

of the Blackfriars

Playhouse.

Ancient footings from the pre-

Great Fire church.

Memorial to John Heminge and Henry

Condell, compilers of the First Folio, at

St Mary Aldermanbury.

22 SHAKESPEARE magazine
---
Shakespeare Walks

Southwark Cathedral, where

Shakespeare's brother Edmund was

buried in 1607. William paid for the

'great bell' to be tolled.

A pensive Shakespeare

watches over the

garden at Leicester

Square in the heart of

London's West End.

SHAKESPEARE magazine 23
---
King's Shakespeare Company

London

Calling

The Measure

Principle

King's Shakespeare Company is London's only student

theatre company dedicated to the Bard. We witnessed their

subterranean cabaret take on Measure for Measure one

sweltering night at this summer's Bristol Shakespeare Festival.

Words: Lauren O'Hara Pictures: Emma Liu

24 SHAKESPEARE magazine
---
King's Shakespeare Company

Director Lauren

O'Hara (far left)

writes: "A show

is nothing without

its crew. Yes, our

Producer and Stage

Manager were always

this smiley."

"Eyebrows were

important. Our makeup

artist had every

eyebrow shape stuck

on a wall backstage.

Here, Hannah Elsy

models her Isabella

brows."

SHAKESPEARE magazine 25
---
King's Shakespeare Company

"This

"As director, I felt it was

important for there to be

enough time before each show

for everyone to relax."

was one of our favourite warmup

games – 'Fireball!' It involved lots of

concentrating and shouting (and laughing),

which made sure that everyone was ready

for the performance each night."

26 SHAKESPEARE magazine
---
King's Shakespeare Company

"The set for the show

was very simple.

All we had on stage

were two chairs and

a table, and we made

a window and prison

bars using gobos."

"Brows again.

Shaped and

oversized eyebrows

helped to create

character and

ensured that

expressions could

be seen by all of the

audience."

"Played by Ria Abbott, The

Provost was the most heavily

made-up of the characters.

She was made to look like an

authority."

SHAKESPEARE magazine 27
---
King's Shakespeare Company

"Making

"The show featured

original songs,

written and arranged

by Henry Keynes

Carpenter."

"Every costume was made

up of black, white and red

to symbolise corruption,

virtue and lust."

sure that

everyone was warmedup,

happy and ready to

start the show was the

main goal for me every

evening."

28 SHAKESPEARE magazine
---
Intelligent.

Cultured.

Aspirational.

Shakespeare Magazine has

readers all over the world.

Alison Williams, 23 – Pennsylvania, USA

They love reading, writing,

thinking, talking and sharing.

and healthy living.

And they love to experience

Shakespeare wherever they go.

Shakespeare Magazine is only

three issues old.

But we already know our readers

really are something special.

To advertise in Shakespeare Magazine,

contact shakespearemag@outlook.com

SHAKESPEARE magazine 29
---
Interview: Edward Akrout

The

Day of

the

Dauphin

British-French actor Edward Akrout brought a rare sensitivity to

the role of the villainous Dauphin in The Hollow Crown: Henry V.

Here, he talks about his cultured upbringing, his passion for

Shakespeare, and how acting is like being a musician...

Interview by Lis Starke and Rose Wynne

30 SHAKESPEARE magazine
---
Interview: Edward Akrout

"My grandmother can

read Shakespeare in

perfect English, Molière

in perfect French and

Goethe in perfect

German. She taught me

the joy of words"

SHAKESPEARE magazine 31
---
Interview: Edward Akrout

f you've seen The Hollow Crown: Henry

V then you'll doubtless remember actor

Edward Akrout's portrayal of Louis the

Dauphin. Stage versions rarely allow us to

see inside the heart of Henry V's villain, but

The Hollow Crown was different. As Louis,

Edward conveyed all the scorn and contempt

expected of the role, but also embodied

the heavy weight of impending battle and

the heartbreak of defeat and personal loss.

It was a performance that saw the Frenchborn

actor winning over Shakespeare fans in

England and beyond – one that even made

us feel sympathy for the Dauphin's fate at the

Battle of Agincourt.

Born in Paris to a British-Franco mother

and a Tunisian father, Edward can truly claim

to be a man of the world. He lived in several

different countries while growing up, studied

philosophy at the Sorbonne in Paris and

trained in acting at the London Academy

of Music and Dramatic Art (LAMDA). He

graduated in 2008 and four years later, in the

Cultural Olympiad year of 2012, he joined

the cast of The Hollow Crown.

When did you decide to pursue

acting as a career?

"When I was a child my uncle, who was an

artist, made me discover how to grow up

without ever stopping playing. He made me

discover painting and acting."

How was your experience training

at LAMDA?

"It was wonderful because I was completely

new to London and LAMDA became like

my family. I have made wonderful friends

there and we are still very much in touch.

It was such an immersive introduction to

British culture, history and literature that it

made me British by adoption. The training

itself transforms you, your body and your

mind. You learn a technique that becomes so

deeply ingrained in you that you carry it then

for the rest of your life."

What was the first exposure you

had to Shakespeare? Did you enjoy

his work right away or grow to

enjoy it over time?

"I think my first exposure was Kenneth

Branagh's Henry V. At first, like any boy, I

watched it to see the fight scenes, I wanted to

become a knight then. But then I felt more

goose bumps listening to his pre-battle speech

than by the battle itself. It was like nothing

I ever experienced before, I was thrilled and

moved by language."

What was the first production of

Shakespeare you were in?

"At LAMDA I was very lucky to play Richard

III, directed by Aaron Mullen, one of my

dream parts. It was a real rush. It made me an

addict. It's the closest feeling there is to being a

musician. You learn the part and then you play

it. The language itself tells you what to do."

Did you have any mentors that

helped you appreciate and learn

about Shakespeare's language and

stories?

"Yes, my grandmother. She is a born actress

but never pursued a career. She can read

Shakespeare in perfect English, Molière

in perfect French and Goethe in perfect

German. She taught me the joy one can find

and share with words."

"It's the closest feeling there is to being a musician.

You learn the part and then you play it.

The language itself tells you what to do."

32 SHAKESPEARE magazine
---
Interview: Edward Akrout

Charles (Lambert

Wilson), the

troubled French

by his son the

Dauphin and

Montjoy (Jérémie

Covillault, right).

SHAKESPEARE magazine 33
---
Interview: Edward Akrout

Watch this face:

Edward has hinted at

a big Shakespeare role

coming his way in the

near future.

34 SHAKESPEARE magazine
---
Interview: Edward Akrout

"Tom Hiddleston is a great actor but also a wonderful

company leader. He was very much like Henry V himself."

How did you first hear about

The Hollow Crown? Were you

asked to audition?

"I remember there were a few rounds of

auditions and I eventually met Thea Sharrock.

I was so happy when I got the news. On the

first day we had a reading with the whole cast.

I was trying to hide as much as I could but I

was just in awe of all the actors sitting at that

table. John Hurt, Richard Griffiths, Anton

Lesser, Paterson Joseph, Tom Hiddleston,

Lambert Wilson. I was a big fan of all them

and couldn't actually believe I was sitting at the

same table with them.

How was it working with Thea as

director and Tom as lead actor?

"Thea was wonderful. Very helpful and very

passionate about her work. Richard Griffiths

was so sweet, he used to call her 'Mum' on

set. They were very close and worked many

times together. Tom is a great actor but also a

wonderful company leader. He really fuelled

the entire set with his energy, and inspired

everyone to give their best. He was very much

like Henry V himself."

How did you feel about some of

the Dauphin's great lines being cut

from the final version of Henry V?

"It's always a hard decision to make but you

can't keep everything. Thea has a real love for

the play, the language and all the characters. I

knew straight away that if she cut something

it was always for the benefit of the story."

They say history is written by the

victors of a war. As a Frenchman,

how do you feel about how

the French are portrayed by

Shakespeare in Henry V?

"Originally those parts were very satirical.

They are almost supposed to be funny. Thea

wanted to show the atrocity of war, and made

all the French parts real. That is also why

some lines had to go."

Do you have any humorous stories

from the set of The Hollow Crown?

"Driving to the set in the back of a Land Rover

on a bumpy road with both Stanley Weber and

I crashing into each other in our full armour. It

doesn't get any funnier than that."

You had some fantastic costumes

for Henry V. Do you have any

favourites? How much does the

costume influence how you play a

character or a scene?

"My favourite was the full armour with the

sword, of course. I always dreamt to have one

as a kid. No acting is required then. You don't

need to gild the lily."

What upcoming projects do you

have for our readers to look

forward to?

"I have two films coming out next year

– Sword of Vengeance, where I get to act

with my cousin of Orleans (Stanley Weber)

again, and also The Devil's Harvest. Deadly

Virtues is coming out this August during the

FrightFest in Leicester Square. I also joined

the cast of Mr. Selfridge recently, which will

air in January."

Is there a dream Shakespeare role

you'd like to take on one day?

"My dream part is coming in my direction,

and I will very soon let you know more..."

Find Edward on Twitter: @EdwardAkrout

More from Lis and Rose: @HollowCrownFans

www.hollowcrownfans.com

SHAKESPEARE magazine 35
---
Girl, interrupted

For our US Staff Writer

Mary Finch, writing about

Shakespeare is the easy

bit. Getting through a

Shakespeare performance

without being struck by

some form of disaster is

quite another matter...

C

Illustrations: Hannah Finch, Photos: Alison Williams

36 SHAKESPEARE magazine
---
Girl, interrupted

Bryn Mawr. Or, as we

like to call it, 'Shakespeare

Calamity Town'.

ast your mind back to Issue 2 of Shakespeare

Magazine and the epic challenges that befell

me while attempting to see David Tennant's

Richard II at the Bryn Mawr Film Institute.

The combination of bad weather and the

unfamiliarity of Bryn Mawr led to a perfect

storm of panic and chaos, coupled with the

threat of missing our final exams the next

day. Not to mention the (much worse) threat

of missing our chance to see Richard II.

It all worked out fine in the end, and I

certainly hoped such complications would be

a rare occurrence in my future Shakespearean

adventures. Instead, they seem to have

become a defining characteristic.

However, my bad luck with Shakespeare

goes further back than last winter. The first

Shakespeare performance I ever saw, at the

age of 14, was Hamlet. On an impulse, my

mother and I went to New York City's free

Shakespeare in the Park. Despite most of the

language going over my head, and the story

being rather confusing, I loved it. The tension

when Hamlet started "To be, or not to be" was

tangible, the crowd was reverently hushed…

and then my mother's mobile phone rang.

Our fellow audience members were kind

enough not to chase us from the theatre

with pitchforks, but it seems that this

unpardonable faux pas has tainted my luck

with Shakespeare.

Now, seven years later, even though I have

adopted the habit of silencing my phone,

turning it off and even removing the

battery, the Shakespeare gremlins still find

ingenious ways to delay or derail almost any

production I have the nerve to attend.

You think I'm exaggerating?

Let's examine the evidence. Since

Richard II last December, of

the six Shakespeare productions

I have seen, half of them have

been tragically interrupted through

random bad luck, forces of nature or

human error (generally my own).

A shockingly high failure rate, I

think you'll agree.

"Our fellow audience members were kind enough

not to chase us from the theatre with pitchforks,

but it seems that this faux pas has tainted my

luck with Shakespeare"

SHAKESPEARE magazine 37
---
Girl, interrupted

hours' traffic" of the drive back home. This

time the dreary landscape matched our mood

perfectly.

We did go to the rescheduled showing the

next weekend, but I got lost on the way and

missed the first half-hour. Although I had

just enough luck to arrive right at the start of

the fight between Aufidius and Coriolanus at

Corioli. So to borrow from the Bard, I guess

"All's well that ends well."

Antony & Cleopatra

Coriolanus

Our disaster with the public transit of Bryn

Mawr should have taught us a lesson, but

Alison (my intrepid fellow Shakespeare

enthusiast) and I don't scare easily. So a few

months later we again drove two hours, this

time to see Donmar Warehouse's Coriolanus

featuring Tom Hiddleston. The countryside,

which consists of pleasant Amish farms and

wooded hills, was hidden under several feet

of snow, but anticipation of the production

made the lengthy drive seem inconsequential.

As we walked towards the cinema

through the charming downtown (panic had

obstructed our view last time), the ease of the

trip seemed too good to be true. And indeed

it was. For as we were about to walk inside,

these words stopped us in our Hiddlestonian

tracks: "I'm sorry, but we have lost power and

have to cancel the screening."

After an hour of desperately waiting,

Alison and I got back in the car for the "two-

If all my other Shakespeare adventures

went smoothly, I could easily attribute our

misfortune to 'The Curse of Bryn Mawr'.

But when Alison and I then attempted to see

the Harrisburg Shakespeare production of

Antony & Cleopatra, events took yet another

disastrous turn.

Alison arrived early, reserving a patch of

grass front and centre. I too arrived on time

and without complications, but our good

fortune did not last the night. The problem

this time was not a lack of electricity, but

too much of it. As the actors declaimed their

38 SHAKESPEARE magazine
---
Girl, interrupted

"The storm also

continued to roll in,

adding drama to the

action by illuminating

the sky with lightning

and threatening to

drown out the actors'

voices with thunder"

Alison (left) and

Mary: proving cars

and Shakespeare

don't mix.

opening lines, ominous rolls of thunder

sounded in the distance.

The company continued under the

metallic amphitheatre without hesitation

– the show must go on! The storm also

continued to roll in, adding drama to the

action by illuminating the sky with lightning

and threatening to drown out the actors'

voices with thunder. Eventually, the rain

began lightly and then less lightly. Fifteen

minutes into the second act, as Antony lost

the battle due to Cleopatra's retreat, the

director called "Hold!" and Alison and I

groaned from under our umbrellas.

King Lear

While those mishaps were out of my control,

sometimes I can only blame myself.

This summer, Harrisburg's independent

Midtown Cinema began showing NT

Live screenings, starting with The National

Theatre's King Lear. Alison and I were

especially joyful as this meant no more trips

to Bryn Mawr!

While I still didn't have a car, I found

another way to get to the theatre. Once I

SHAKESPEARE magazine 39
---
Girl, interrupted

arrived at the theatre, I let Alison know what

time to pick me up (she could not join me

this time due to work).

I enjoyed the first half without concern,

until during the intermission I checked the

clock and realized that, as a typical student of

words rather than numbers, I had told Alison

the wrong time to pick me up – about half an

hour early. So, just as Cordelia was reunited

with her father, I found myself sheepishly

sneaking out the door.

Of course, for each of these tales of woe I

have glorious stories of seeing Shakespeare

uninterrupted – 50 percent failure entails

50 percent success, right? In Washington

DC, Alison and I sat within the first three

rows and the actors nearly spit on us for the

entirety of Henry IV, Part 1 (spittle and all

it was magnificent!). We made it back to

Bryn Mawr to see Rory Kinnear as Hamlet

and everything went perfectly. I dragged my

entire family to see a screening of the Royal

Shakespeare Company's Henry IV, Part 1 and

they all stayed awake and enjoyed the entire

experience.

No, I certainly won't let my series of

Shakespeare fiascos deter me. I have learned

to always double check websites to make sure

the venue hasn't lost power, to pack an extra

umbrella even if the weather forecast is clear,

and to have someone else calculate when the

show will be over. And if the Shakespeare

curse still manages to strike, at least I will

have a few good stories to share.

As that great American movie icon

Forrest Gump once said, "Life is like a box

of chocolates – you never know what you're

gonna get". Some days you drive four hours

through snow without any reward. Other

days you end up with the best seat in the

house. That's Shakespeare for you.

The loneliness of

the long-distance

Shakespeare fan.

"I had told Alison

the wrong time to

pick me up. So, just

as Cordelia was

reunited with her

father, I found myself

sheepishly sneaking

out the door"

40 SHAKESPEARE magazine
---
Contributors

Brooke Thomas

Our UK Staff Writer is a

post-graduate student of Shakespeare

in her early twenties. She learnt to

love the Bard during her BA at Royal

Holloway, University of London,

and is currently a researcher at

Shakespeare's Globe. Brooke also

writes fiction and hosts a short story

competition called #SmallTales on

Twitter. Her days off consist of tea,

cake, and Doctor Who. You can find

her at www.literarygeek.co.uk.

Mary Finch Our US Staff Writer is

in her fourth year studying English

at Messiah College in central

Pennsylvania. Will first grabbed her

attention in secondary school and

hasn't let go since – she reads, recites

and watches Shakespeare whenever

possible. Besides going on irrational

adventures to see performances with

her friend Alison, Mary also has a

passion for swing dancing, dabbling

in calligraphy and tending to her

ever-growing window garden of

succulents.

Piper Williams Our Chief

Photographer hails from Portland,

Oregon, now working out of

Surrey. A freelance fashion and

portrait photographer, he spends his

days time-travelling via historical

docudramas, silent films and vintage

radio broadcasts. These adventures

are a catalyst for his imagery and his

wardrobe. His current project, 1928,

is a modern take on the Jazz and War

age aesthetic. Also in the works is a

Steam, Diesel and Cosplay-inspired

series of Shakespearean characters.

Meet thy makers...

Just some of the contributors to this issue of Shakespeare Magazine

Lis Starke and Rose Wynne

jointly run the fan group Hollow

Crown Fans, which celebrates the

BBC series, its cast, and all things

Shakespeare. They are committed

to bringing Shakespeare into the

realm of pop culture. Rose hails

from Gloucestershire in the United

Kingdom and Lis from Chicago in

the United States. They can be found

on Twitter @HollowCrownFans and

www.hollowcrownfans.com is their

new website.

Hannah Finch As a little girl,

Hannah enjoyed taking ballet classes,

playing outdoors, colouring pictures,

and planning parties. Today, she is

still a little girl, standing a proud

5' ¾". Professionally, she is an

event planner, concert dance artist,

and designer. She enjoys exploring

Colorado's Rocky Mountains and

travelling. She loves Shakespeare as a

result of her sister's infectious passion

for his works (and insistence that they

watch productions together).

Lauren O'Hara

is in her final year of

studying English at King's College

London and is President of the

King's Shakespeare Company.

This year she has directed an

all-male Twelfth Night and a cabaret

version of Measure for Measure (for

Bristol Shakespeare Festival). She

wants to pursue directing as a career

and is currently working on two

original scripts.

SHAKESPEARE magazine 41
---
Interview: The Sonnet Man

Beats, Rhymes and Life

Velvet-voiced New York rapper Devon Glover fronts

The Sonnet Man, a Shakespeare show with a fresh and funky

new take on the Bard. With plans to tour the US, Canada

and UK, Devon laid out his iambic manifesto for us...

Interview by Mary Finch

How did you first get into

Shakespeare?

"I became interested in the work of William

Shakespeare after I assisted a high school

teacher understand Othello. While reading

the play aloud, I realised that a lot of his

work could be said in rhythm. Also, a few

lines in his play rhymed. A friend and I

transcribed Shakespeare's words to hip-hop

music in order to give the students a better

understanding of what the Bard was saying."

Besides the rhythm, is there

anything else you think

Shakespeare's poetry and plays

have in common with modern-day

hip-hop and rap?

"The usage of poetic language – metaphors,

similes, alliteration – are very common in

Shakespeare's poetry, and in hip-hop. He

created a lot of words and terms that rappers

use today in their works. He also wrote with a

lot of emotion – left it all out there."

42 SHAKESPEARE magazine

How was the show, The Sonnet

Man, concieved?

"The idea to combine Shakespeare's words

with hip-hop came after meeting playwright

Arje Shaw. I compared Shakespeare's sonnets

of 14 lines to a standard hip-hop verse of

16 lines, which also use the same language

as his plays. We believed The Sonnet Man

would be a cool way to introduce students to

Shakespeare."

Why do you think the show has

resonated with so many people,

especially the young?

"The Sonnet Man bridges the gap with so

many categories. It connects fans of hiphop

to Shakespeare and vice versa. I believe

the beauty of the language speaks for itself.

With hip-hop rising rapidly as one of the

top genres of music to children, this is sort

of like the new version of Schoolhouse Rock.

"My goals are to present Shakespeare in a way

people haven't seen before, to open more people to

Shakespeare, and to inspire students to keep writing

so they can become the next Shakespeare"
---
Interview: The Sonnet Man

In his Sonnet Man

persona, Devon

Glover channels the

spirit of Shakespeare.

SHAKESPEARE magazine 43
---
Interview: The Sonnet Man

Plus, it's done without editing Shakespeare's

words, which is pleasing to Shakespeareans,

and opens them to a world of music some

wouldn't hear in the theatre."

What do you hope to achieve

through your performances?

"My goals when I perform are to present the

work of Shakespeare in a way that people

haven't seen before, to open more people to

the words of Shakespeare, to inspire students

to keep writing so they can become the next

Shakespeare, to tell people of all ages to never

give up on their dreams."

How do people react when you

perform?

"I receive lots of great reactions. People who

come to The Sonnet Man show for the first

time are always skeptical, but leave with a

better understanding of Shakespeare and

hip-hop. The audience is always surprised to

Devon hangs out

with young fans at

New York's Student

Shakespeare Festival.

hear Shakespeare's words being rapped. The

group that is surprised the most are the true

Shakespeareans, who know Shakespeare's

words by heart. They actually rap along.

"I have been surprised by the popularity

of The Sonnet Man. This project was first

made to reach out to students. However,

Shakespeare is beloved by people of all ages,

and it's never too late to be a student of his

work."

Do you have a favourite sonnet?

"Ah, I have a few of them. If I had to choose

one I would pick Sonnet 130. It contains

many elements that I look for in an actual

hip-hop song – metaphor, comedy, rhythm

and rhyme, imagery, plus it's written like a

parody. With all the jokes in the sonnet, it

still has a great meaning – I still love you,

even with all of your flaws. In our time we use

the word 'mistress' in an unappealing way. I

believe Shakespeare was more endearing."

"Shakespeare is beloved by people of all ages, and

it's never too late to be a student of his work"

44 SHAKESPEARE magazine
---
Interview: The Sonnet Man

"The themes of his works are still relatable to the

world today. He's one of the only writers that resonate

with people of all languages and cultures"

Devon is an

ambassador for

both Shakespeare

and hip-hop.

should be seen also, with an activity or two to

go along with his work. Also, the evolution of

language attributes to why students can't seem

to understand them."

Why do you think studying

Shakespeare is still important

today for students?

"I believe Shakespeare is one of the greatest

writers who ever lived, who contributed

so much to the way we speak today. To

understand his work at a younger age will

work wonders for later on in life. Language

is the key to success."

Why do you think Shakespeare

has remained so popular for so

long, and to such a diverse range

of people – from scholars to hiphop

artists to stage actors?

"The impact of his plays is the reason why

they have been reinvented so many times.

Even though they were written in different

times, the themes of his works are still

relatable to the world today. He's one of the

only writers that resonate with people of all

languages and cultures. Also, the story of

Shakespeare has always been intriguing. Even

with all the research, there still feels like there

are a few stones unturned."

A lot of people – especially

children exposed to Shakespeare

through school – think they

don't like Shakespeare or can't

understand him. Why do you

think this is?

"I believe one of the reasons is the way it's

taught. To introduce students to Shakespeare

by handing them a book could be a bit too

much at times. When I was introduced to

Shakespeare, we just read it. I believe his work

Thanks to Devon,

these youngsters

are fully sonnetsavvy.

More from www.thesonnetmannyc.com

SHAKESPEARE magazine 45
---
Diary: Marin County

California's Marin County is known for musicians, movie

stars, hippies and outstanding natural beauty. It also has an

open-air Shakespeare festival, one that's celebrating its silver

Back in 1989, a group of theatre fans

in Northern California's picturesque

Marin County set out to revive the local

Shakespeare festival. They had the perfect

outdoor summer venue in Dominican

College's Forest Meadows Amphitheatre

– now they just needed the right team.

An enterprising theatrical couple named

Robert and Lesley Currier were duly hired.

Relocating to Marin County, the Curriers

quickly threw themselves into a fundraising

campaign. Marin Shakespeare Company's

first production, As You Like It, was

unveiled the following summer. Starring San

Francisco actress Nancy Carlin as Rosalind,

it was a galloping success.

"In 1989 gasoline cost around a dollar

a gallon, a US postage stamp cost 25 cents

and we had never heard of the internet,"

says Lesley. "We had a Mac Plus computer,

a dot matrix printer and a lot of youthful

goodwill and enthusiasm."

Apart from primitive technology, the

Company also had nature to contend with.

Indeed, their debut production was almost

scuppered by an earthquake. "Everyone told

us we should forget trying to do a show in

1990," says Robert who, needless to say,

ignored the advice. This early adversity

instilled an ethos of "the show must go

on" that endures to this day in the face of

blackouts, smoke and ash from grass fires,

bee stings, poison oak and wildly variable

weather. Not to mention on-stage cameos

by various woodland creatures.

The Company's 25th anniversary

celebrations were already underway when,

sensationally, they received an anonymous

donation of one million dollars. "We are

thrilled," says Lesley, who describes the gift

as "transformational". Some of the money

has already been put to good use with the

installation of a new microphone system.

But the Company still has an agreeably old

school approach to its take on Shakespeare.

"There have been tremendous technical

advances," Robert says. "Today everything is

digital. But we still have to build our stage

every year, put up light towers and build the

dressing rooms."

46 SHAKESPEARE magazine
---
Diary: Marin County

Two decades later, little Jackson Currier is now the

strapping young actor pictured here as Mercutio

(left, with Teddy Spencer as Tybalt) in this year's

production of Romeo and Juliet. Jackson also acts

as set designer. Photo: Eric Chazankin

Robert and Lesley Currier

with their young son

Jackson at Forest Meadows

Amphitheatre, 1990.

In 1992, Robert directed The

Comedy of Errors, with Jim McKie's

elaborate set design representing

the Turkish city of Ephesus. The

reported that the comic

escapades had the audience "howling

uncontrollably" with laughter.

A Midsummer Night's Dream was

season in 1994. It featured members

of San Francisco's renowned Pickle

Family Circus, including Diane

Wasnak, seen here as Puck.

SHAKESPEARE magazine 47
---
Diary: Marin County

Marin County's majestic Mount

Tamalpais, viewed from Forest

Meadows Amphitheare, the

Company's outdoor theatre venue.

Photo: Eric Chazankin

Along with Marin Shakespeare's Suraya Keating,

Lesley gives weekly Shakespeare classes at the

infamous San Quentin State Prison, which is also

in Marin County. Apart from giving an annual

performance of a Shakespeare play, San Quentin

students also write and perform autobiographical

pieces inspired by Shakespeare. The picture shows

2012's Hamlet at San Quentin.

A scene from MSC's 2001

production of Hamlet. The

Company staged one summer

years and two for its second

staged three productions from

July to September.

As You Like It, August

2014. Thanks to a

million-dollar gift

from an anonymous

donor, all tickets to

the production were

'Pay As You Like It'

with any amount

accepted at the door.

Photo: Eric Chazankin

A triumphant King John (Scott

Coopwood) and The Bastard (Erik

MacRay) in 2012's production of

King John.

Photo: Eric Chazankin

48 SHAKESPEARE magazine
---
Diary: Marin County

A recent pic

of Robert and

Lesley Currier,

along with the

guy who started

it all, William

Shakespeare.

Photo: Steven

Underwood

The Marin Shakespeare Company

venue at Forest Meadows

Amphitheatre. Built in 1973, it was

designed so that when the moon is

full it rises directly above the actors.

Robert and Lesley's psychedelic adaptation

of Twelfth Night or All You Need is Love.

Opening the Company's 20th Season,

it transported audiences back to the

swinging '60s and the Summer of Love.

Photo: Morgan Cowin

Lesley Currier as Audrey with John Furse

as Touchstone from Marin Shakespeare's

As You Like It in 1990.

Previously Lesley spent three years with the

Ukiah Players in California. She also acted at

Ashland's Oregon Shakespeare Festival.

Lesley applying make-up backstage in 2003. She stepped into

the role of Puck after Diane Wasnak (reprising her criticallyacclaimed

1994 appearance) fell ill. "A few days before our

opening, Diane missed a rehearsal due to a stomach ache," says

However, when Diane had to be admitted to hospital, Lesley

realised she would have to play Puck herself. Beyond learning

the lines, this physically-demanding role involved working with

Diane's circus dog, Bonzer.

workout... a great deal of concentration and willpower. I

ended up performing in eight shows. Diane returned, much to

everyone's delight. But we had proven the show must go on."

Photo: Kim Taylor

More from www.marinshakespeare.org

SHAKESPEARE magazine 49
---
Hamlet in Kosova

Go East!

The Globe are taking Hamlet

to every country in the world –

including this memorable and

Balkan state of Kosova.

Words: Tom Phillips

Photos: Bronwen Sharp

We weren't able to get hold of images from the

actual Kosova performance, but these pictures

by Bronwen do an excellent job in conveying

the production's verve and excitement.

The performance was due to

start at 8pm, but seeing as the

man insisting that we all had

another glass of raki before we

went in was the director of the

National Theatre, it didn't seem to matter

that we were amongst the many people

still milling around outside the venue ten

minutes after the curtain was due to go up.

Across the square, kids were jumping

through the hiccupping fountains, someone

was trying to snap a photo which took in

both the statue of a medieval warrior on

a horse and the towering steel-and-glass

50 SHAKESPEARE magazine
---
Hamlet in Kosova

skyscraper behind while, draped in political

colours, a group of men were sitting outside

a bar yelling 'Rambo! Rambo!' The results of

the general election remained undecided. On

the steps of the National Theatre in Prishtina,

banners announced that The Globe's touring

production of Hamlet was in Kosova as part

of its project to visit every country in the

world. Tickets were five Euro apiece and the

theatre was sold out.

Shakespeare's no stranger in South East

Europe. He may not have been thinking of

the Balkans when he set Twelfth Night in

Illyria, but that was the ancient name of a

Amanda Wilkin

as Osric (left) and

Naeem Hayat as

Hamlet.

nation which – depending on who you talk to

– stretched from the Adriatic coast of Albania

to parts of Macedonia, Greece, Montenegro

and Croatia. And even though his geographical

knowledge may well have been dubious at

best (that famous sea-coast of Bohemia), the

plays themselves continue to exert a fascination

across East and South East Europe.

In communist times, Macbeth proved

singularly popular with renowned Albanian

writer Ismail Kadare. Presumably its forensic

examination of the mechanics of tyranny

offered some hope that Albanian dictator

Enver Hoxha's repressive regime wasn't wholly

SHAKESPEARE magazine 51
---
Hamlet in Kosova

Keith

"When Hamlet flings out the

question 'Am I a coward?'

someone shouts back 'Yes!' in a

distinctly Kosovan accent"

unique and might well, like Macbeth's,

plunge into self-destruction. And it's still

popular now, possibly because, nearly 25

years after the Berlin Wall came down, the

political landscape in parts of SE Europe still

bears more than a passing resemblance to

the cynically despotic regime depicted in the

Scottish play.

At the other extreme, A Midsummer

Night's Dream also seems to be a favourite

– over the last year or so, I've narrowly

missed productions of it in both Tirana

and Dubrovnik – while, in Kosova, recent

productions include the endlessly tangled

Bartlett as

Old Hamlet (left)

and Jennifer Leong

as Ophelia.

Love's Labour's Lost, translated and directed

by Ben Apolloni. "Yes, the language itself was

a bit tricky," he says, laconically, "but people

seemed to enjoy it."

The Globe's Hamlet has attracted

the great and good from both Prishtina's

indigenous elite and the copious ex-pat

community. I tip-toe down a row of people to

find my seat, muttering 'Me fal, me fal', only

to discover that the people I'm apologising

to are all embassy staff and employees of

EULEX, KFOR, OSCE and other mysterious

international bodies.

My Kosovan friends are six or seven

52 SHAKESPEARE magazine
---
Hamlet in Kosova

rows back – a handful of playwrights and

directors spread out amongst bureaucrats and

diplomats. Early on, when Hamlet himself

flings out the question "Am I a coward?" and

someone shouts back "Yes!" in a distinctly

Kosovan accent, it's a shame that this turns

out to be a set-up.

It's a tough call, producing a version of

Hamlet which, despite language difficulties,

might be understood by audiences in every

country of the world. Director Dominic

Dromgoole's done a good job, and while

this is almost certainly the cheeriest version

of Hamlet I've ever seen, the music, the

Laertes (Tom

Lawrence) and Hamlet

(Ladi Emeruwa) test

each other's mettle.

ensemble playing, the clothes-peg, DIY feel

of the whole production transmits a freshness

that clearly goes down well in Kosova. It's

not, perhaps, the deepest investigation of the

play's psychological complexities, but, much

in the style of the BBC's mission statement, it

informs, it educates, it entertains.

Acting-wise, I can't name names because

there isn't a programme, but individual

performances aren't really the point – even

Hamlet's. This is a production which thrives

on its collective energy, on putting across

the passion of the story even if that means

glossing over some of the nuances. It's about

SHAKESPEARE magazine 53
---
Hamlet in Kosova

"While

Xpxppp xpx px ppx

px pxp xpp xp xpxp

pxp xp xpp xxpp xpx

pxpp xppx

this is

the cheeriest

version of

Hamlet I've

ever seen, the

production

transmits a

freshness that

clearly goes

down well in

Kosova"

putting Shakespeare out there and proving

that, as a playwright, one of his greatest

strengths is that his scripts can survive

whatever treatment might be necessary.

Presumably, that's because he wrote them in

the rough-and-tumble, the hurly-burly of

real-life Renaissance theatre.

In Prishtina, the reaction's intriguingly

poised. In the aftermath, we mill around the

foyer, drinking glasses of wine. The British

Ambassador goes through the glad-handing

thing, while the rest of us make the most of

proffered things-on-sticks and the generous

free bar.

John Dougall as

Claudius.

Two Kosovan theatre directors acknowledge

the importance of a British company visiting

their partially recognised country, but have

questions about what they've just seen. What

about the tragedy? What about Ophelia? Is

this what most contemporary productions of

Shakespeare in Britain are like?

Perhaps the most interesting suggestion

is that, had The Globe not been parachuted

in and had instead been given time to work

with local directors, writers and actors,

it might have been possible to explore

connections between Hamlet and traditional

Kosovan and Albanian stories. Maybe that's

54 SHAKESPEARE magazine
---
Hamlet in Kosova

something for the future – rather than

simply turning up and staging Shakespeare,

a more long-term, collaborative approach

might yield impressive results.

On the night, of course, much of this

is relegated to 'items for future discussion'.

Some of us turn in – others choose to ignore

Polonius's unimaginative advice to be sane

and mediocre, and instead hit the town.

According to reports the following day, the

party goes on until four in the morning.

Hamlet has been a hit, but with a proviso.

Theatre-makers in Kosova really appreciate

visiting British companies and the chance to

Ladi Emeruwa (left)

alternates the role of

Hamlet with Naeem

Hayat.

Right: Miranda Foster

as Gertrude.

see new productions, but that's only the start

of the story.

Climbing onto the bus for Montenegro,

I get the feeling that, here, in South East

Europe, there's a whole hinterland of

Shakespeare-related potential which still has

to be properly explored.

Follow Globe to Globe Hamlet

http://globetoglobe.shakespearesglobe.com

SHAKESPEARE magazine 55
---
Next issue

We hope you've enjoyed Issue Four of Shakespeare Magazine.

We'll be back next month with another shedload of Shakespeare

shenanigans, including these...

Which witches?

Madness, music and Macbeth with Filter Theatre.

Don't lose your head

Shakespeare and the Tower of London.

American Shakespeare Center

We take a Bard-themed road trip to Staunton, Virginia.

If walls could talk...

Staging Shakespeare in historical spaces.