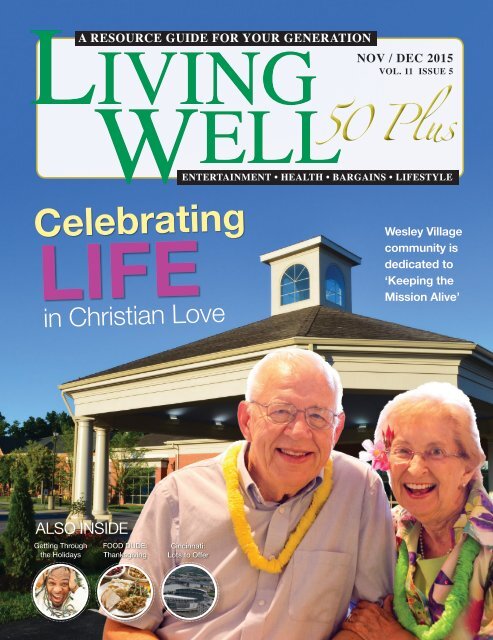 Living Well 60+ November – December 2015
You also want an ePaper? Increase the reach of your titles
YUMPU automatically turns print PDFs into web optimized ePapers that Google loves.
A RESOURCE GUIDE FOR YOUR GENERATION

Living

W ell

NOV / DEC 2015

VOL. 11 ISSUE 5

50 Plus

ENTERTAINMENT • HEALTH • BARGAINS • LIFESTYLE

Celebrating

LIFE

in Christian Love

Wesley Village

community is

dedicated to

'Keeping the

Mission Alive'

ALSO INSIDE

Getting Through

the Holidays

FOOD DUDE:

Thanksgiving

Cincinnati:

Lots to Offer
---
2 NOVEMBER/DECEMBER 2 0 1 5

SPINNING

Just one of many group fitness classes

THE workout facility you've been looking for!

Only $30 a month. No contracts.

HealthwoRx is operated by Baptist Health Lexington, but is NOT a rehab center or a clinic.

It's a full-service fitness center OPEN to the PUBLIC and staffed by exercise physiologists,

certified fitness practitioners, registered dietitians and nurse health educators.

Fun and invigorating group fitness:

Spinning • Total Strength • PiYo • Yoga • Zumba • Kettlebells

Mat Pilates • Cardio & Strength • Pilates for Athletes • Barre Fit

Prenatal Yoga • Boot Camp • Silver Sneakers ® • Qigong • Tai Chi

Happy Baby Yoga • Legion Fitness Classes

Conveniently located at The Mall at Lexington Green

161 Lexington Green Circle, Suite B2

Lexington, KY 40503

859.260.4354

www.facebook.com/HealthwoRx

Stop by

or call

for more

info!
---
NOVEMBER/DECEMBER 2 0 1 5

3

Your new

home is

waiting just

moments

away from

downtown

Richmond,

Kentucky.

St. Andrews

Place

Retirement

Community

offer

quality

residential

homes since

1992.

St. Andrews

Place offers

a friendly,

peaceful,

serene

and secure

neighborhood

for retirees.

300 Stocker Dr

Richmond, KY 40475

(859) 625-1400

www standrewsplace www.standrewsplace.org

There's no place like

Home!

ALLIANCE

Medical Home Care

Personal Care

Respite Care

Light Housekeeping

Errands / Transportation

Medication Reminders

Meal Preparation

Companionship

3716 Willow Ridge Rd. Lexington KY

859-296-9525
---
5

7

8

4 NOVEMBER/DECEMBER 2 0 1 5

Contents

Nov/Dec 2015

Read LivingWell50+ Digital:

Getting Through the Holidays

Clearer, Sharper Vision in Minutes with LASIK

Reaching Out: Advice for helping friends in mourning

A RESOURCE GUIDE FOR YOUR GENERATION

Living

W ell

Celebrating

LIFE

in Christian Love

NOV / DEC 2015

VOL. 11 ISSUE 5

50 Plus

ENTERTAINMENT • HEALTH • BARGAINS • LIFESTYLE

Wesley Village

community is

dedicated to

'Keeping the

Mission Alive'

9

12

14

PRODUCT PLACEMENT

Gatorade

THE FOOD DUDE

What's for Thanksgiving Dinner?

TRAVEL

Family Getaway to Cincinnati

Walker-friendly city has lots to offer

FROM THE

COVER

PAGE

24

15

Landscaping Trends: Edible Landscaping

16

EVENTS CALENDAR

18

SENIOR SERVICES DIRECTORY

WRITERS

STAFF

24

28

30

FROM THE COVER

Celebrating Life in Christian Love

GAR Disability Advocates

ASK DON

Your Questions on Aging Answered

Living Well 50+ is

a proud product of

Don Hoffman

Angela S. Hoover

Jean Jeffers

Jamie Lober

Abby Malik

Dr. Tom Miller

Lisa M. Petsche

Jan Ross

Charles Sebastian

Doris Settles

Martha Evans Sparks

Tanya Tyler

editor/staff writer

John Brokamp

publisher

Janet Roy

director of creative services

Kim Blackburn

sales representative

John Hoffeld

sales representative

McKinsey Allen

sales assistant

FROM THE

EDITOR

Dear Friends,

Here's a fun word for you:

merryatric, which means

a happy older person. Ann

Wilson coined it for an

online make-up-a-word

contest. It's the perfect way

to describe someone who is

Living Well 50 Plus. Everybody else might think

he or she is slowing down and succumbing to the

Tanya Tyler • tanya@samplerpublications.com

usual age-related setbacks. But he or she knows

she's doing great and enjoy life to the fullest!

Here's to all you merryatrics out there, living

and laughing to the max. Keep going strong and

showing everyone how it's done.

Live life like you mean it!

Tanya

merryatric: happy older person
---
NOVEMBER/DECEMBER 2 0 1 5

Getting Through the Holidays

With a little preparation, you can handle

the upcoming stress

by Jamie Lober, Staff Writer

The holidays can be a stressful

time because people have so many

obligations and opportunities

going on, in addition to their usual

workloads.

"There are 10 evidence-based

ways that people can build their

resilience and protect their mental

health during those months,"

said Jill King, associate director of

Mental Health America Northern

Kentucky Southwest Ohio. "At

the holidays there are a lot of extra

expectations, whether it is related to

gift giving, events, activities or the

pressure of finances."

The first thing you should do is

talk with friends and family. "Have

one or two people that you can be

totally honest with and have open,

positive communication with

them," said King.

Next, get moving. "Exercise burns

energy and keeps us healthy. If you

do it for the next two to three days,

your serotonin will increase," said

King. Most people find walking

enjoyable, even if it's for just 20 minutes

in the morning or afternoon.

Getting enough sleep is the third

suggestion. The fourth is to practice

faith, spiritual beliefs, meditation

or positive affirmations, King said.

Staying positive is one of the greatest

things you can do for your mental

health during the holiday season.

"The fifth thing is to do enjoyable,

satisfying things," King said. "Some

people get so tied up in their life that

they do not have things they do on

a regular basis that are enjoyable

and satisfying." What works for one

person may not work for another,

so you have to find what helps you

reduce stress.

Sixth, improve your diet. The

holidays are often filled with parties

or buffets, so stay conscientious and

choose items that are good for you.

"Half the plate should be fruits and

vegetables, a quarter lean meats and

a quarter whole grains," said King.

The seventh way you can handle

holiday hassles is by getting involved

in the community through volunteering.

You could go to the festival

of lights at the zoo and volunteer

there for a night or you could be the

main character in a holiday play. "It

could be as simple as giving a gift to a

child you do not know," said King.

The eighth thing you should do

is change your response to stressful

situations. Cultivate the ability to

2 HAMBURG JOURNAL WWW.HAMBURGJOURNAL.COM

JANUARY 2O12

5

unwind no matter what the setting

may be. "If you are at a party, it is

okay to not be the one in the center

of attention; you might be the one

relaxing on the couch and watching

everybody else," said King.

Ninth, do whatever you choose

to take care of yourself. Last but not

least, maintain a positive attitude.

Try not to be anxious about seeing

people you do not encounter often.

Set aside differences and feel comfortable

saying no if you must.

It is normal for money to be a

stressor at this time of year. "One of

the most stressful things for people

is spending the money and then in

January not knowing how they will

pay their bills," said King. Try to stick

to a budget.

Be realistic. Realize nobody's holiday

is going to be perfect. The season

can be filled with joy, but it can also

be difficult for many people, and that

is okay. Traditions and rituals are

subject to change. You do not want

to feel overwhelmed or forced to

partake in every activity. If you think

you may need professional help to

cope with the holiday season, make

your therapy appointment now.

Senior Retirement Community

Rose Mary C. Brooks Place

Rose Mary C. Brooks Place

We're Retirement not almost Living home. in Your We are Hometown home.

NOW LEASING

1 & 2 bedroom apartments.

Includes assistance with

activities of daily living.

Three meals a day, weekly

housekeeping, concierge

service and much more!

Our rates are competitive

and all inclusive.

Enjoy 24/7 emergency

response by our

well trained staff.

Guardian Life Alert System

is included for all

new residents at no

additional cost.

Daily care is tailored to

meet the unique needs

of individual.

NOW LEASING!

Gracious Independent & Assisted Retirement Living

Conveniently located on the Bypass in

Conveniently located on the Bypass in Winchester.

Winchester. Only minutes from Hamburg with easy access to Interstates 64 and 75.

We invite you

For more information contact Linda or Rick at 859-745-4904

Only minutes from Hamburg

to come

be with a part easy of access to Interstates Average 64 and 75. Daily Caregiver Cost $240

our family!

Average Daily Brooks Place Cost $75

859-745-4904

www.brooksplace.org

Enjoy your independence and let us do the work! We'll

take care of snow removal, mowing, trimming and will

even make sure your air fi lters are changed regularly.

Our fi fth and fi nal cul-de-sac is almost completed. Call

Studio, One and Two Bedroom

apartments available.

2 Bedroom, 2 Bath Independent Cottages
---
B

A MATCH MADE

E.A.S.

IN HEARING

PREMIUM TECHNOLOGY. TOTAL BRAIN SUPPORT.

INTERCEREBRAL F.

INTERCEREBRAL F.

INTERCEREBRAL F.

FROM YOUR LOCAL AUDIGYCERTIFIED PRACTICE.

PRECENTRAL

Hearing happens in the brain. AGX® technology PRECENTRAL works with your brain to recognize, separate, orient, and focus

your hearing on the sounds around you, so you experience the sounds of your life — as nature intended.

Call us today to set up a PARIETAL complimentary G.

hearing consultation!

BRAIN

BRAIN

SUPERFRONTAL

SUPERFRONTAL

PARIETAL G. G.

859.963.2958

E.A.S.

Dr. Robert Manning, Au.D., Doctor of Audiology

Jake Manning, HIS, Hearing Instrument Specialist

Emma Lackey, HIS, Hearing Instrument Specialist

Dr. Dr. Robert Tiffany Manning, Brewer, Au.D., Doctor of Audiology

MEDIFRONTAL G.

E.A.S.

E.A.S.

POSTCENTRAL

PREMIUM

PREMIUM TECHNOLOGY.

TECHNOLOGY. TOTAL

TOTAL BRAIN

BRAIN SUPPORT.

SUPPORT.

FROM

FROM YOUR

YOUR LOCAL

LOCAL AUDIGYCERTIFIED

AUDIGYCERTIFIED PRACTICE.

PRACTICE.

Hearing happens in the brain. AGX® technology works with your brain to recognize, separate, orient, and focus

Hearing happens in in the the brain. AGX® technology works with with your your brain to to recognize, separate, orient, and and focus

your hearing on the sounds around you, so you experience the sounds of your life — as nature intended.

your your hearing on on the the sounds around you, you, so so you you experience the the sounds of of your your life life as as nature intended.

Call us today to set up a complimentary hearing consultation!

Call us us today to to set set up up a complimentary hearing consultation!

859.963.2958

Dr. Robert Manning, Au.D., Doctor of Audiology

Dr. Robert Manning, Au.D., Doctor of Audiology

Jake Manning, HIS, Hearing Instrument Specialist

Jake Jake Manning, HIS, HIS, Hearing Instrument Specialist

Emma Lackey, HIS, Hearing Instrument Specialist

Emma Lackey, HIS, HIS, Hearing Instrument Specialist

Dr. Tiffany Brewer, Au.D., Doctor of Audiology

Dr. Dr. Tiffany Brewer, Au.D., Doctor of of Audiology

MEDIFRONTAL G. G.

POSTCENTRAL

KYHearing.com

KYHearing.com

KYHearing.com

Lexington • 259 Southland Dr

Other convenient locations:

Prestonsburg • 1428 N Lake Dr

Pikeville Other • 5425 convenient N Mayo locations: Trail, Ste 201

Lexington • 259 Southland Dr

Lexington • 259 Southland Dr Dr

Other convenient locations:

Prestonsburg • 1428 N Lake Dr

Prestonsburg • 1428 N Lake Dr Dr

Pikeville • 5425 N Mayo Trail, Ste 201

Pikeville • 5425 N Mayo Trail, Ste Ste 201 201
---
Clearer, Sharper Vision

in Minutes

With LASIK, you can get rid

of the glasses

NOVEMBER/DECEMBER 2 0 1 5

2. A simple, short procedure. It

is also accurate and safe with a fast

recovery.

3. Quality control even years

later. The procedure allows adjustments

to be made later on.

Having an understanding of

what this surgery can and cannot

do is imperative. About 90 percent

of people undergoing LASIK

surgery will have between 20/20

and 20/40 vision. This surgery

allows for most activities to be

done without eyewear, but if

perfect vision is expected, there

may be some letdown. LASIK

may be used for clearer vision for

older adults, usually before age

70, depending upon their health.

There is a small chance, says Web

MD, the patient may not be able

to see as well after surgery as before.

Some people experience side

effects such as blurry vision, eye

dryness and difficulty with light

sensitivity after surgery. The light

sensitivity may include seeing halos,

fluctuating vision or difficulty

with night vision. For some, this is

a temporary process, but the side

7

effects could be permanent. A new

study in the Journal of Ophthalmology

noted that the safety and

efficacy of LASIK procedures has

increased significantly for patients

to 70 years of age. The cost is

modest, starting at $250 per eye

and up.

A person with a history of

diabetes or glaucoma or other eye

problems is generally not a good

candidate for LASIK surgery.

Preparation for the surgery consists

in meeting with a coordinator

and having certain tests and measurements

done. After surgery,

there may be some blurriness for a

day or two. Drops will be used and

the person is asked to rest. Followup

with the surgeon takes place a

few days later.

About the Author

Jean is an RN with an MSN from the

University of Cincinnati. She is a freelance

writer and a staff writer for Living

Well 50 Plus and Health & Wellness

magazines. Currently she can be seen

in Christian Living in the Mature Years

magazine and has been previously published

in such magazines as Diabetic

Health. She resides in Cincinnati.

by Jean Jeffers, Staff Writer

Do you want clearer vision?

Would you like to take off those

glasses and see clearly without

them?

Would you like to minimize

your difficulty with near vision

without using eyewear?

Such dreams are coming true

today, thanks to recent advances in

eye surgery. Many people gain better

vision without glasses through

LASIK – laser eye surgery – or

other refractive surgeries.

LASIK, which stands for laser

in-situ keratomileusis, is a popular

surgery used to correct vision

in people who are nearsighted,

farsighted or have astigmatism. In

most cases, the surgery is pain free

and can be completed in a matter

of 15 minutes or so.

LASIK vision correction

surgery works by reshaping the

cornea, the clear front part of the

eye, so light traveling through it is

properly focused into the retina,

located in the back of the eye,

according to Web MD (www.

webmd.com). With LASIK, an

ophthalmologist creates a thin

flap in the cornea using a laser.

The surgeon folds back the flap,

removing a part of the corneal

tissue, then puts the flap back in

place.

Advantages to LASIK eye surgery

include:

1. Better quality of vision.

Around 96 percent of patients will

gain their desired vision after the

procedure. For those not completely

satisfied on the first try, an

enhancement may further increase

the likelihood of clearer vision.

Bring in this ad for a

VALID FOR FIRST VISIT ONLY

complimentary POWER HOUR

boxing or kickboxing fitness workout for you and a friend.

Each Power Hour starts with warm up exercises, continues with boxing

or kickboxing combinations and finishes with core-focused exercises. All

fitness levels are welcome — beginners to pros. Come ready for a fun

hour of total-body fitness. The Power Hour is unlike anything else—try

your First Shot Free!

171 W. Lowry Lane / Regency Centre

Lexington / KY 40503

859.26.TITLE (268.4853)

TITLEBoxingClub.com
---
8 NOVEMBER/DECEMBER 2 0 1 5

Reaching Out

Advice for helping friends

in mourning

by Lisa M. Petsche , Staff Writer

When someone you know loses

a loved one to death, you want to

reach out to them but may feel unsure

of what to say or do. Perhaps

you haven't lost someone close,

and it's difficult to appreciate what

your friend is going through and

anticipate their needs. Here are

some tips to help you show you

care:

• Don't agonize over what to

say. Keep it simple and heartfelt –

for example, "I'm so sorry" or "My

heart goes out to you" or "I'm here

for you" or perhaps even, "I'm at

a loss for words." Avoid empty

platitudes such as, "It's for the

best" or "You still have a lot to be

thankful for."

• Let your friend do the talking

and listen attentively and nonjudgmentally.

• Refrain from giving advice.

• Accept silence. Sometimes a

bereaved person may not feel like

talking but would appreciate companionship.

Remember, too, that

body language – such as a touch

of your hand or a hug – can also

express support and caring, often

better than words.

• Keep in mind that grief affects

one's body, mind and soul, and

although there may be similarities,

no two people grieve alike.

Not Aging Well?

NEED FLEXIBILITY?

STRENGTH? BALANCE?

Sessions with Pamela Bolin, Aging Specialist

Master of Science, Kinesiology, with years of experience can help!

1 FREE

INTRO SESSION

With this ad. To schedule,

call 859-508-8827 today.

PAMSFITNESS.COM

• Don't underestimate the pain

your friend is experiencing and

don't discourage tears or urge

them to "be strong." Don't try to

withhold your own tears, either;

they're simply a sign that you care.

• Share memories of your

friend's loved

one – kind or

funny things

they did or

words of

wisdom they

shared with

you.

• Find a

favorite photo

of the deceased

person, frame

it and give it to

your friend.

• Encourage

your friend to practice self-care,

get adequate nutrition, exercise

and sleep and schedule regular

medical checkups, as well as avoid

unnecessary stress.

• Offer to help in practical

ways, such as fielding phone calls,

preparing meals, running errands

or walking a dog. Make concrete

offers (for example, "I'm going to

the grocery store; what can I get

you?") or simply go ahead and deliver

a casserole or tend a garden.

• Many newly bereaved people

experience a spiritual crisis, so

Ultimate

Fitness,

Inc.

Pamela Bolin MS

NSCA-CPT

Aging Specialist

don't be alarmed if this happens

with your friend. Listen empathically

to doubts and fears. If they

persist, encourage your friend to

speak with a religious leader.

After the Funeral

• Continue to stay in touch

after the funeral is over. That's

when the reality of the loss, with

all its implications, sets in and

grieving people need support

more than ever.

• Don't avoid the subject of the

deceased person or the mention

of their name. It's comforting to

the bereaved

to know

others still

remember

their loved

one as time

goes by.

No two

people

grieve alike.

• Be

patient. Since

grief saps

energy, take

the initiative

in the

relationship

by calling and

arranging visits.

• Recognize time lines for healing

vary from one person to the

next.

• Don't pressure friends into

doing things they don't feel ready

for, such as sorting through and

disposing of a loved

one's belongings.

• Encourage

friends to

seek professional

help

if they're

not able to

function in day-to-day life (suggestive

of clinical depression) or

if they appear stuck in one phase

of grieving (denial or anger, for

example).

• Remember special occasions

throughout the year that are likely

to be difficult: birthdays, wedding

anniversaries and holidays such as

Thanksgiving and Christmas, as

well as the anniversary of death.

Call or send a card to let friends

know you're thinking about them.

Above all, keep in mind bereaved

people don't expect friends

to provide answers to difficult,

often philosophical questions

such as "Why did this happen?"

or to take away their pain.

What they do want and need is

the comfort of knowing they are

not alone.

About the Author

Lisa M. Petsche is a social worker experienced

in grief counseling. She currently

works in hospice palliative care.

Lexington Branch Now Hiring!

Lexington Branch Now Hiring!

Home health aides

Customized, affordable care

Home 24 hours a

Certified

health day, 7 days aides a week

Nurses aides

or 1 hour a day, 1 day a week

Certified Nurses aides

• Personal Care Competitive & Support pay

• Transportation

Competitive pay

• Homemaking Flexible Flexible hours hours

• Medication Reminders

• 859.543.CARE Respite Care

(2273) (2273

• Colostomy/Incontinence Care

Apply online!

Compassionate, affordable care you can trust

Apply online

We accept long-term care policies, private pay

ResCareHomeCare.com

via check, bank draft or major credit cards. No

additional charge for nights and weekends.

ResCareHomeCare.com

(859) 543-CARE (2273) for a FREE personal consultation

www.rescarehomecare.com • No minimum
---
NOVEMBER/DECEMBER 2 0 1 5

9

And

The Lafayette

opened

Product Placement:

Gatorade its doors.

Sports drink still quenching thirst after

50 years

by Charles Sebastian, Staff Writer

Gatorade has been a household

word in America for many years

now – more than 50, to be exact.

It was developed in 1965 at the

University of Florida. Ray Graves,

head football coach for the Florida

Gators in the 1960s, asked for

a beverage that would help his

players hydrate and recuperate

from sports exertion faster. Thus,

Gatorade was born and tied

inextricably to sports, particularly

football.

Its niche – what sets it apart

from other drinks on the market

– is its fluid, carbohydrate and

electrolyte replacement ability.

This makes Gatorade an excellent

drink for athletes and those pursuing

intense activity.

The original "Gatorade Thirst-

Quencher" could be obtained in

liquid and powder form. Fruit

punch appeared in the early

'80s, and in the late '80s, "Citrus

Cooler" debuted. The latter

achieved tremendous success in

the 1990s, due mainly to Michael

Jordan's endorsement. Intriguing

flavors have joined the Gatorade

lineup since that time: Strawberry

Kiwi, Cherry Rush, Alpine Snow,

Glacier Freeze, Riptide Rush.

Its first five to 10 years on the

market saw Gatorade go through

slight changes in accordance with

what appealed most to athletes

and regular consumers and what

was deemed best in the eyes of the

Food and Drug Administration

And And

The Lafayette The Lafayette

opened opened

its doors. its doors.

FOR 30 YEARS

Join us for

THE LAFAYETTE'S

28TH ANNIVERSARY CELEBRAT

Thursday, May 9th • 4:00-7:00 pm

Join us for

Join us for

Dinner THE 4:30-7:00pm LAFAYETTE'S

THE with LAFAYETTE'S

Violinist Bryce Farrar

28TH Carriage 28TH ANNIVERSARY Rides ANNIVERSARY by Lexington CELEBRATION

Livery 5:00-7:00pm

Thursday, Thursday,

Dixieland

May 9th

Band

May • 4:00-7:00

5:30-7:30pm

9th • 4:00-7:00 pm pm

Dinner 4:30-7:00pm Dinner 4:30-7:00pm – with Since Violinist 1985 with Bryce –

Kindly RSVP to 859-278-9080 by May Violinist Farrar 6th Bryce – Farrar Seating i

Pet

Friendly

Ronald Reagan was the for a 40th very appealing president. drink for

"The Golden Girls" were fast becoming kids friends and adults, on even their though first season it

may not have many nutritional

A gallon of gas cost one dollar and twenty cents.

PART OF THE COMMUNITY

(FDA). Sweeteners were added, Carriage Rides Carriage by Lexington Rides by Livery Lexington 5:00-7:00pm Livery 5:00-7:00pm

replaced and tweaked. The original

lemon-lime and orange flavors

Dixieland Band Dixieland 5:30-7:30pm Band 5:30-7:30pm

were gradually altered, expanded Kindly RSVP Kindly to 859-278-9080 RSVP to 859-278-9080 by May 6th by – May Seating 6th is – Seating limited is lim

and repackaged.

Quaker Oats purchased

Gatorade in 1983 and marketed

it throughout the 1980s. When

low-fat dieting became huge in

the latter part of that decade,

the company decided to release

"Gatorade Light," sweetened with

saccharine instead of fructose.

During this time as well, Gatorade

as Powerade and Vitaminwater

THE

began to

YEAR THE

expand into

YEAR

foreign

WAS

offer

WAS 1985…

Gatorade stiff

1985…

competition,

markets, a trend Ronald that Reagan continues Ronald was the Reagan 40th but was president. Gatorade the 40th keeps president. a steady 75

"The Golden to this day. Girls" "The Touted Golden were fast Girls" "the becoming No. were 1 fast friends becoming percent on their friends of first the season market.

their on first TV. season on TV

sports A drink," gallon Gatorade of gas A gallon cost has, one of as dollar gas of cost and one twenty dollar cents. and twenty cents.

2015, spread into more than 80

690 Mason Headley Road • Lexington, KY 40504

859-278-9080

690 Mason Headley 690 Mason Road • Headley Lexington, Road KY 40504 • Lexington, KY 40504

www.LafayetteLexington.com

859-278-9080 859-278-9080

www.LafayetteLexington.com

©2013 Five www.LafayetteLexington.com

Star Quality Care, Inc.

countries. You can also find the

Gatorade brand on chewing gum,

nutritional supplements, power

bars and shakes.

Gatorade has remained primarily

a drink people buy when

they want a good solid workout,

though many will drink it without

performing any activity. Because

it's sweet, very salty, usually a fun

THE YEAR WAS color and there's 1985…

some discernible

flavor thrown in, it makes

qualities. After a massive quantity

of research showed many people

were allergic to corn syrup – and it

wasn't the best thing for your body

– the additive was changed. Today,

a sucrose-dextrose combination

is used. Gatorade is available with

Stevia and other more "natural"

sweeteners. Other brands such

Pet

Pet

Friendly

Friendly

©2013 Five Star Quality Care, Inc. ©2013 Five Star Quality Care, Inc.

ASK ABOUT OUR ANNIVERSARY MOVE-IN SPECIA

ASK ABOUT ASK OUR ABOUT ANNIVERSARY OUR ANNIVERSARY MOVE-IN SPECIALS!

MOVE-IN SPECIALS!

Offering Independent Living, Personal Care, Skilled Nursing Care
---
1 0 NOVEMBER/DECEMBER 2 0 1 5

Sign up for the FREE

&

M A G A Z I N E

e-Newsletter

Receive article content

delivered directly to

your inbox.

Plus, receive your FREE

Prescription Discount Card

It's easy!

Go to healthandwellnessmagazine.net

and click on the link to sign up in less

than a minute!

Have a story to

share?

We want to hear

from you on

Like our page and post

your article idea:

LivingWell50PlusMagazine
---
NOVEMBER/DECEMBER 2 0 1 5

1 1

DON'T BE CONFUSED BY MEDICARE.

EMBRACE IT.

If you're turning 65, or getting ready to enroll in Medicare for the first time, you may be confused about your

Medicare options. The time to take action is now—and StableView Health is ready to help you embrace your

decision and make the right Medicare plan choice.

$0

$5

$0

$0

$0

Monthly premium including

prescription drug coverage

Primary care office copay

Annual routine physical

Annual routine vision and

hearing exams

Fitness program membership

Also Includes

Preventive dental exam

and two cleanings a year

HAVE QUESTIONS?

CALL US TODAY!

StableView Health is your local health

plan. Call us for clear answers to your

Medicare questions.

1-855-452-6405

TTY/TDD: 711

Visit Us Online At:

www.StableViewHealth.com

StableView Health is an HMO plan with a Medicare contract. Enrollment in StableView Health depends on contract renewal. The benefit

information provided is a brief summary, not a complete description of benefits. For more information, contact the plan. Limitations, copayments,

and restrictions may apply. Benefits, formulary, pharmacy and provider networks, premium and/or copayments/coinsurance may change on

January 1 of each year. You must continue to pay your Medicare Part B premium. StableView Health is open Monday – Friday, 8 a.m to 8 p.m.;

Monday – Sunday 8 a.m. to 8 p.m. October 1st to February 14th.

Y0113_2015_EMRACEPRINT1_All CMS ACCEPTED
---
1 2 NOVEMBER/DECEMBER 2 0 1 5

in case the daring 22 percenters out there

are feeling adventuresome and want to

try smaller fowl for dinner for a small

group.

What's for Thanksgiving Dinner?

THE MAJORITY OF US WILL BE STICKING

TO TRADITION

It will come as no surprise that

finding something different to write

about is a major challenge for food

columnists.

Someone recently suggested to me that

a good Thanksgiving column might be to

figure out what the pilgrims and Native

Americans actually ate during the first

Thanksgiving back in 1621 and update the

recipes so they could be adapted for the

modern Thanksgiving table.

Research on this topic reveals one major

flaw in this seemingly great idea: No matter

what recipes I might include in such an

article, it is highly unlikely any of them

will actually be prepared this or any other

Thanksgiving.

That's because no American holiday menu

is so ingrained in tradition as Thanksgiving.

For Christmas, folks might be open to

trying a pork or beef roast or Rock Cornish

game hens or almost any different kind of

entrée. Easter, ditto.

Not so Thanksgiving.

According to the National Turkey

food

dude

Frank

Kourt

the

Federation, an estimated 88 percent

of Americans will consume turkey on

Thanksgiving. Who can compete with

that?

A little research shows turkey – the

wild version – may have been enjoyed

during the first Thanksgiving, but if it

was, it was not the centerpiece of the

meal we know today.

Other wild waterfowl, such as duck

and goose, may well have been part of

the festivities, as were various fish and

seafood, including clams, lobster and eel.

We know for sure venison was on the

menu, and pumpkin may have been, but

not in the form of pie.

The feast, by the way, lasted for three

days.

So, considering most of you will have

nothing but traditional turkey, stuffing

and cranberries no matter what I say, I've

crafted a traditional menu for all of you in

the 88 percent.

While I'm not about to offer up any eel

recipes, I am including a separate recipe

for glazed Rock Cornish game hens, just

BASIC ROAST

TURKEY

• 1 turkey

• Salt and pepper

• Butter or margarine

• Poultry seasoning

• 1 quart* water, wine, a water-wine

mixture or chicken broth

Pre-heat the oven to 325 degrees.

Remove the giblets and neck from

the turkey. Rinse the turkey inside

and out thoroughly under running

water. Sprinkle the salt and pepper in

the cavities. Stuff the turkey if you're

planning to and use skewers to seal the

cavities. With a paper towel, rub the

butter or margarine all over the bird and

place it, breast side up, in a roasting pan.

Sprinkle the breast with salt, pepper

and poultry seasoning. Loosely tent

some aluminum foil over the turkey

and roast for about 10 to 12 minutes per

pound if unstuffed; 12 to 15 minutes per

pound if stuffed; or until an instant-read

thermometer reads 175 to 180 degrees

when inserted in the thickest part of the

thigh and the stuffing registers at least

160 degrees. About an hour before the

turkey is ready to come out of the oven,

remove the foil, baste with the juices and

allow it to brown uncovered. Add liquid

as needed while cooking. This broth

makes a perfect base for gravy.

*We usually get a 22- to 25-pound

turkey. Decrease the amount of liquid

proportionately if your bird is smaller.

KOURT HOUSE

HOLIDAY STUFFING

• Two lbs. herbed stuffing mix

• 2 lb. ground sausage

• 2 cups chopped onion

• 2 cups chopped green pepper

• 3 cups chopped celery

• 1 lb. sliced mushrooms

• 3 T poultry seasoning

• 1 tsp. thyme

• 1 cup fresh chopped parsley

• 1 tsp. ground pepper

• 4 chicken bullion cubes

• 4 cups cranberries, halved

• 12 T sugar

• 1 tsp. rosemary

• 1 lb. chestnuts, cooked and shelled
---
NOVEMBER/DECEMBER 2 0 1 5

1 3

• 1 tsp. sage

• 1 tsp. marjoram

Halve the cranberries and

combine well with sugar in a bowl.

Sauté the sausage, mushrooms,

peppers, onion and celery in a large

frying pan until tender. Drain off

the fat. Prepare the stuffing in a

large kettle, according to package

directions, adding bullion cubes

to the water that is called for. Add

all other ingredients to the stuffing

and mix very well. Bake in a covered

casserole in a 325-degree oven

for about an hour or until heated

through. Use pan drippings or a

little chicken broth to moisten

occasionally, if needed.

CRANBERRY-

ORANGE RELISH

You may certainly use a blender

or food processor to grind the

berries and the oranges, but we are

tradition-bound, so we use a hand

crank.

• 1 12-oz. package of cranberries

• 2 oranges*

• 3/4 cup sugar

• Dash of cinnamon

• 1/2 cup chopped walnuts

Wash the cranberries and section

and peel and seed the oranges.

Coarsely grind the cranberries

and oranges. Stir in the sugar and

refrigerate for at least an hour,

or preferably overnight. Taste

for sweetness, add more sugar, if

desired. Stir in the walnuts. Serve

chilled.

* If you wish, use one orange and

a peeled and cored apple.

P

ILATES

PLACE

PILATES

PLACE

CRANBERRY-

APPLE PIE

• Pastry for a one- or two-crust

pie*

• 1 1/4 cup sugar

• 3T flour

• 1/2 tsp. cinnamon

• 4 cups peeled, sliced apples

• 2 cups whole cranberries

• 2 T butter or margarine

In a large mixing bowl, stir

everything together. Pour into a pie

shell, dot with butter and bake in

a 425 degree oven for one hour or

until crust turns golden brown.

*You can make an open-faced or

covered pie.

Considering

most of you will

have nothing

but traditional

turkey, stuffing

and cranberries

no matter

what I say,

I've crafted

a traditional

menu for all of

you in the 88

percent.

Pilates is designed

to strengthen the

body's core muscles

through low-impact

fitness techniques.

All sessions taught by

Stott Pilates trained

health professionals.

859-266-3810

365 Duke Rd.

Lexingtotn

studio@pilatesplaceky.com

follow us on:

A Smaller Alternative to Turkey

If you are feeling adventuresome and want to try something

different this year at Thanksgiving, Rock Cornish game

hens might be just the thing.

This might be especially helpful if you're planning a small gathering and

don't want to cook a big turkey. Each guest can have his or her own hen as a

festive entrée.

ORANGE-GLAZED ROCK CORNISH

GAME HENS

• 4 Rock Cornish game hens

• 1 onion, peeled and quartered

• 1 cup orange marmalade

• 4 T honey

• 2 tsp. Gravy Master

Defrost the birds and remove giblets, if any, and wash. Salt and pepper

each cavity and insert one quarter of the onion. Place the birds on a rack in a

roasting pan in a 350-degree oven and roast for 1 hour, basting periodically

with a little melted butter or margarine. Brush on the marmalade mixture

and continue to roast for about 15 minutes or until nicely glazed. (The

internal temperature of the birds should read 180 degrees when an instant

read thermometer is inserted into the thickest part of the thigh.) Serve with

wild rice. Serves four.

ARE YOU DISABLED?

HAVE YOU APPLIED FOR SOCIAL SECURITY DISABILITY?

ARE YOU CAUGHT UP IN RED TAPE?

An experienced Social Security Claims Advocate can help you:

• By assisting you in filing your initial application.

• Filling out and filing your appeals.

• Gather medical and other important information to submit to Social Security.

• Contact your doctors to obtain a report of your medical condition.

• By obtaining documents from your Social Security file and review them.

• By presenting opening and closing statements at your hearing that

will state how you meet the Social Security listing of being disabled.

For a FREE CONSULTATION of your claim call

Patsy R. Hughes, Disability Claims Advocate,

1-859-263-7780.

NO FEE IS PAID UNLESS YOU WIN
---
1 4 NOVEMBER/DECEMBER 2 0 1 5

TRAVEL

FAMILY GETAWAY TO

WALKER-FRIENDLY CITY

HAS LOTS TO OFFER

by Jan Ross,

Staff Writer

The Queen City,

Cincinnati, located

on the banks of the

Ohio River and encompassing the

nearby towns of Covington and

Newport in its metropolitan area,

is a great place for a family getaway,

as our family found out recently.

With a world-class aquarium, zoo,

baseball park and football stadium,

museum, fabulous restaurants and

an abundance of beautiful parks,

your family may never want to leave.

We loved Embassy Suites Cincinnati

Rivercenter because of the

roomy suites, the complimentary

hot breakfast that includes a delicious

omelet bar and the convenient

proximity to just about everything

we wanted to do. Park your car and

forget it. A shuttle will pick you up

right in front of the hotel and take

you anywhere in the area you want

to go for only $1 per person. It's

also very easy to walk everywhere

you want to go; just be sure to allow

plenty of time.

The Newport Aquarium at the

Newport Levee, where you will find

lots of shops and restaurants, should

be your first stop. Every member

of the family will love the myriad

animal life on display here. Venture

out onto its new rope bridge over a

lagoon full of sharks – if you dare.

It was our grandson's favorite thing.

When it's time for lunch, walk a few

steps to Tom and Chee for fresh,

delicious tomato soup and every

variety of grilled cheese sandwich

you can possibly imagine.

In the afternoon, you can again

take the trolley or just walk across

the Purple People Bridge, one of

nine bridges that span the Ohio

River. This one is the most pedestrian

friendly and the only one that

is a former railroad crossing. It's just

a short walk from the aquarium

before you end up on the Cincinnati

side of the river. There you can take

a stroll and enjoy

beautiful Smale Riverfront

Park. There

are gardens, walking

paths, an innovative

playground and

fountains to splash

in. We were surprised to

find a lovely merry-go-round. If

it's baseball season, plan to take in

a game at the Great American Ball

Park, home of the Cincinnati Reds.

Cincinnati is great for walkers, so

just stroll around as we did, enjoying

Fountain Square, the amazing

book sculpture fountain in front of

the public library, and Carew Tower,

where we had a great view of the

city. When it's dinner time, head to

the Moerlin Lager House, which

offers an array of local brews, kids'

menus and a beautiful view of the

river. Everything we ordered was

hot, fresh and delicious.

On your second day in the city,

plan to visit the Cincinnati Zoo

and Botanical Garden. This 75-acre

location offers animal encounters

with over 580 animal species, a ride

on the Safari Train or a spin on the

Conservation Carousel. The zoo

allows food and beverages to be

brought in, so stop in a local market

for the makings of a picnic. Spread

your blanket so you can enjoy the

gorgeous foliage of the Botanical

Garden. For dinner, head to Frisch's

Big Boy Restaurant, which was

founded in Cincinnati and still

offers the best pumpkin pie and hot

fudge cake anywhere.

You will enjoy your time in the

lovely Queen City and immediately

start making plans to return, just as

we did.
---
NOVEMBER/DECEMBER 2 0 1 5

1 5

Edible

landscaping is

popular.

Landscaping Trends

Beautifying your landscape

enhances home's appeal

by Jamie Lober, Staff Writer

The No. 1thing you can do to improve

your property is to beautify

your landscape. Landscaping is a

wonderful way to enhance your

home's appeal.

"Landscaping helps with your

personal satisfaction of your property,"

said Max Phelps, owner of

Rock Castles Landscaping. "It also

helps your place look good for your

neighbors, people that drive by or

your guests. You want them to have

a good impression."

Landscaping affects property

value, too. "If it is done right, it improves

the property, so it is a good

investment that brings back more

in return than what you spend,"

said Phelps.

Edible landscaping is popular.

"That means integration of food

plants within an ornamental

or decorative setting," Phelps

explained. "We are talking about

using plants and other things that

produce fruits that you can eat and

still look like nice landscaping."

Essentially this means having

multi-purpose plants such as apple

trees. "You can concentrate on

your favorites or what you want

to grow," Phelps said. "You may

want to do it as a mini-orchard

or mini-garden out in the back

somewhere. Think in terms of how

it will look and what variety looks

best."

It can take about $1,000 to

spruce up a landscape when you

are looking to market your house

to sell. Everyone's scenario is

different. "I would say the current

trend is low maintenance," said

Phelps.

There are several inexpensive

things you can do to help your

yard's appearance. "I would

suggest if a home does not have

landscaping, it would be smart to

have professional help to get you

started," Phelps said. A professional

can also help if you are buying

a home or have lived somewhere

for 25 years and the landscaping

is no longer working properly or

meeting your needs. The lawn

may be overgrown or you may just

not like it. If you need anything

beyond planting a tree or two,

bring a professional out to get an

opinion.

Dream big. "If you can dream

it, it is probably possible," said

Phelps. "Some people want a small

feature at the front, but others

want more in the back yard where

they can be out on the patio and

grill some burgers."

People also like to have their

own little getaway spot to relax in

after a hectic day. Phelps believes

water elements, which include

low waterfalls and streams with

no pond to take care of, are great

choices. "There is everything from

fountains to full-blown ponds to

koi to pondless water features to

stones that bubble," said Phelps. A

bonus is the calming sounds these

features might add. Some ponds

are easy to install yourself.

"I would encourage getting a kit

where everything comes in a box

or just to do pre-formed features

where you dig a hole and drop the

plastic pond in the ground," said

Phelps. "That is something folks

can do themselves without a lot of

trouble."

Your particular wishes will have

an impact on your landscaping

choices.

"Some folks have a really nice

house and want a nice landscape

to go with it," Phelps said. "You

have all kinds of needs and desires,

so you want to be meeting

your own needs whether you are

going to be there for years or if

you are planning on selling next

year. Think of long and short-term

needs and never do anything that

would complicate a sale."
---
1 6 NOVEMBER/DECEMBER 2 0 1 5

Events

Calendar

NOVEMBER

Sun Mon Tue Wed Thu Fri Sat

Ongoing

Yoga Health & Therapy

Center Classes

Our Yoga Classes feature slow

stretch with gentle breathing,

and relaxation techniques.

Class size is small, to provide

careful instruction. Yoga classes

are offered Mon through Thurs

(daytime and evening), and Sat

mornings. Our Meditation Starter

Course teaches simple ways

to focus and quiet the mind;

5-week sessions are offered on

Sundays at 5:30 pm. A nonprofit

organization operating

since 1981, The Yoga Health &

Therapy Center is located at 322

W. 2nd St. Free private parking

is provided for most classes. For

more information on fees and

scheduled dates and times, call

us at 859-254-9529, or email us

at info@yogahealthcenter.org

DECEMBER

Sun Mon Tue Wed Thu Fri Sat

1 2 3 4 5 6 7 1 2 3 4 5

8 9 10 11 12 13 14 6 7 8 9 10 11 12

15 16 17 18 19 20 21 13 14 15 16 17 18 19

22 23 24 25 26 27 28 20 21 22 23 24 25 26

29 30 27 28 29 30 31

Send us your event listings

List your event for FREE if it's free to the public*.

E-mail your event information to graphics@samplerpublications.com

(*$35 fee for events that are not free to the public)

Reiki Introduction &

Practice

6:30pm- 8:30pm, 4th Tuesday

each month. 1403 E. Breckinridge

Street, Louisville, KY. Free.

Those who do have not Reiki

training—come for an introduction

& to experience it. No experience

required. Those with Reiki come

to practice on others & receive

the Reiki energy. Everyone will

get 15 -20 minute Reiki treatment.

Free reattunement to your last

level of Usui or Karuna Reiki® if

you have your certificate. Contact

JoAnn Utley at 502-777-3865

or jutley5122@bellsouth.net to

register. More info at http://

joannutley.byregion.net

Sit and Get Fit

Mondays and Fridays, 9:30am-

10:30am. FREE! This event is

a seated controlled exercise/

movement class to improve

strength, flexibility, balance

and coordination. It is taught

by Anne Graff, MS, OTR/L,

Occupational Therapist certified

by the American Senior Fitness

Association as a Senior Fitness

Instructor and trained in Body

Recall. Also included are: Fall

Prevention and Recovery, Fun

Movements to Strengthen

Body and Mind, Improve

Posture and Core Conditioning,

Wellness Education, Relaxation

Techniques, and Music.

The Charles Young Center is

located at 540 E. Third Street.

Parking is available on Shropshire

Avenue or Lewis Street,

Lexington, KY. Ages 60 and older.

For more information, please

contact Alexis Edge at 859-246-

0281 or aedge@lexingtonky.gov.

Wellness Wednesday

On the first Wednesday of the

month, all Good Foods Market

and Café customers will receive

5% off all supplements, body

care, and bulk herb & spice

items. Customers can special

order Wellness Wednesday items

ahead of time and pick them up

on Wellness Wednesday. When:

Wednesday, July 3, 8 am – 10

pm. held at Good Foods Market

& Café, 455 Southland Drive.

Ric's Garden, the

public cutting garden at

Ashland Terrace, 475 S.

Ashland Avenue, is open

for business

This year Lexington's oldest

retirement community offers

alstroemeria, iris, ageratum,

gooseneck loosestrife, goldenrod,

purple coneflowers, Joe Pye

weed, lisianthus, snapdragons,

zinnias, salvia, black-eyed susans

and marigolds. The following

varieties of herbs are available:

oregano, nasturtium, rosemary,

lemon grass, sweet marjoram,

lemon thyme, basil, parsley,

fennel, Italian

parsley, sorrel,

garlic chives, mint,

winter savory,

lemon verbena, dill,

French tarragon

and sage. Large blooms are .50,

small blooms are .25. Herbs

are .25 a small bunch. Roses

and vegetables are reserved for

residents only. The donation box

and scissors are located at the

start of the main garden walkway;

water and containers are available

near the shed. Don't miss the

smaller cutting garden behind

the shed. All proceeds are used

to maintain the garden and feed

the critters. Call Kelly or Michelle

at 266-2581 for additional

information.

Swing Lessons

Tuesdays, starting September 30,

2014. From 8pm–10pm at Tates

Creek Recreation Center, 1400

Gainesway Dr. $5 per person per

lesson. Call for more information:

Glenn and Rosalee Kelley 859-

233-9947 or Peter and Robin

Young 859-224-3388.

Personal Shopping

Would you help an elderly lady

if it required no work on your

part? Support Sonja Ortmann,

a dear Lexington lady in need of

funds for medical costs. I provide

personal shopping at reasonable

rates, with at least 50% of your

costs paid to help Sonja! You

pay nothing until I deliver your

merchandise to your door. I can

also run errands for you. Read

more about Sonja at GoFundMe.

com/helpoursonja and contact

me for more information: Brian,

859-206-4565 or 502-906-5019.

Email: isfy.yourps@gmail.com.
---
Nature lovers, hikers, cliff climbers

RENT THIS CABIN

Near Natural Bridge State Park and

Red River Gorge.

Call or visit website for reservations.

Ken & Sheila Brown

www.VRBO.com/361686

(606) 668-2599

(606) 643-6044

ksbrown@mrtc.com

Nov 14–Jan 11

Ice Skating in

Triangle Park

Tis the season for ice skating!

Enjoy 90 minutes on the ice!

Monday-Friday 4 p.m.–9 p.m.

Saturday 10 a.m.–10 p.m.

Sunday 1 p.m.–10 p.m. When

Fayette County Schools are not

in session the Ice Rink will be

open Monday-Friday 10 a.m.–10

p.m. Unified Trust Company Ice

Rink. The rink opens every year in

November and runs through mid-

January. Admission: $10.

November 17

Eat, Move, Lose Weight

Support Group

12 – 1 pm, Lexington-Fayette

Co. Health Department PH Clinic

South, 2433 Regency Road.

Free weight-loss support group

appropriate for anyone wishing

to lose weight or maintain weight

loss. Share struggles and ideas

with others. Held first and third

Tuesdays most months. For more

information or to pre-register, call

288-2446.

Nov 20-Dec 31

22nd Annual

Southern Lights

The 22nd Annual Southern Lights

includes a self-guided four mile

journey through a dreamland of

fabulous light displays including

never-before-seen displays and

traditional favorites. Following

the driving tour, families are

encouraged to park and visit

the holiday craft merchants,

the KHP Gift Shop, seasonal

entertainment and activities for

children, petting zoo, pony and

camel rides and so much more!

5:30pm–10pm at the Kentucky

Horse Park. M-Th $15/car, Fri-

Sun $25/car.

NOVEMBER/DECEMBER 2 0 1 5

November 22

An Afternoon of

Mindfulness, Meditation

and Deep Rest

1:30 - 5:30 PM. The goals of

this afternoon retreat are to:

slow down, relax the body, quiet

the mind and open the heart,

promote resilience and emotional

intelligence, prevent burnout

from work and caretaker stress,

mobilize your inner resources

for healing, learn non-drug

approaches for managing

stress-related chronic conditions,

cultivate your innate happiness,

peacefulness and compassion

Facilitator- John A. Patterson

MD, MSPH, FAAFP. Mind Body

Studio 517A Southland Drive

Lexington KY 859-373-0033

Pre-registration required. Cost-

$20-$40 sliding scale. Full details

at http://www.mindbodystudio.

org/?page_id=1117

November 23

Health Chats about

Diabetes

10 – 11 am, The Refuge Clinic,

2349 Richmond Road Suite

220, Lexington. Free. Join us

to discuss tips to manage and

control diabetes in practical

ways. For more information, call

288-2446. Sponsored by the

Lexington-Fayette Co. Health

Dept.

November 24

Reiki Introduction &

Practice

6:30pm–8:30pm. 2508 Wallace

Avenue, Louisville, KY 40205.

Free. Those who do have not

Reiki training—come for an

introduction & to experience

it. No experience required. Those

with Reiki come to receive the

Reiki energy & practice on others.

Free reattunement to your last

level of Usui or Karuna Reiki®

upon request if you have your

certificate. Contact JoAnn Utley

at 502-777-3865 or jutley5122@

bellsouth.net to register. More

info at http://joannutley.byregion.

net.

November 24

Health Chats about

Diabetes

4-5:15 pm, Nathaniel Mission,

1109 Versailles Rd, Suite

400. Free. Sponsored by the

Lexington-Fayette Co. Health

Dept.. For more information, call

(859) 288-2446.

November 26

Thanksgiving Buffet at

Good Foods Co-op

Prefer to dine out this

Thanksgiving? Join us as we

host a holiday hot buffet from

10am–4pm, featuring Bourbonbrined

Turkey with Confit of leg

& thigh, turkey gravey, tofurkey

(vegan), stuffed acorn squash

(vegan), grilled vegetable

quinoa lasagna (wheat-free &

vegetarian), cranberry orange

relish, steamed green beans,

caramelized brussels sprouts,

good foods corn pudding, local

winter squash gratin, roasted

root vegetables, local maple

whipped sweet potatoes, roasted

garlic mashed potatoes, KY

Proud cornbread dressing and

carrot ginger bisque (vegan).

455 Southland Drive. $9.99/

lb hot buffet and salad bar.

859.278.1813.

November 27

Holiday Market, Holiday

Live! and Tree Lighting

Ceremony

2-7pm (Tree Lighting Ceremony

begins at 6:30pm). Triangle Park.

Visit downtownlex.com for more

information.

November 28

University of Kentucky

Football vs Louisville

The bitter rivalry continues this

year as both teams square

off for the Governor's Cup at

Commonwealth Stadium. Time

TBA. In 27 total meetings,

Kentucky has won 14 times.

December 1

Christmas Parade

Starting at 7pm, the state's

largest holiday parade begins at

Main and Midland and proceeds

along Main Street to Broadway!

Free admission.

December 4

Dailey & Vincent: The

Spirit of Christmas

Starts at 8pm. Helping to kick off

"the most wonderful time of the

year, the Duo, along with their

band, will perform traditional

and contemporary holiday hits

plus the Bluegrass favorites

that their fans know and love!

Norton Center for the Arts, 600

West Walnut Street, Danville, KY.

Admission: $25/$35/$46

1 7

December 4

Antebellum Christmas

6pm–9pm. See what the

holiday season was like on a

Bluegrass plantation. Antebellum

decorations, music, refreshments

and costumed historic presenters

at this year's Christmas

Candlelight tours. Waveland

State Historic Site, 225 Waveland

Museum Lane, Lexington.

859.272.3611. Admission: $7.

December 10

Diabetes: What You

Need to Know

6:00pm – 7:00pm at at Apostles

Anglican Church, 200 Colony

Blvd., Lexington, KY, 40502.

For people with diabetes and

interested family members. This

course is not open to pediatric

patients (under 18) nor is it

appropriate for patients with

gestational diabetes. A monthly

education series with topics

including: Carb Counting and

Reading Nutrition Facts Labels,

Checking Blood Sugar and

Understanding Your Results,

Device Training, Dining Out, Foot

Care, Healthy Coping, Making

a Plan for Physical Activity,

Planning Healthy Meals and

Balancing What, How Much

and When You Eat, Reducing

Risks and Problem Solving and

Taking and Keeping Track of Your

Medicine for Diabetes.

December 22

Reiki Introduction &

Practice

6:30pm- 8:30pm. 2508

Wallace Avenue, Louisville, KY

40205. Free. Those who do

have not Reiki training—come for

an introduction & to experience it.

No experience required. Those

with Reiki come to receive

the Reiki energy & practice on

others. Free reattunement to

your last level of Usui or Karuna

Reiki® upon request if you

have your certificate. Contact

JoAnn Utley at 502-777-3865

or jutley5122@bellsouth.net to

register. More info at http://

joannutley.byregion.net
---
1 8 NOVEMBER/DECEMBER 2 0 1 5

Senior Services

DIRECTORY

About the Directory

Living Well 50+ is striving to make your search for local

senior services a bit easier. We know there are many

companies available to assist seniors in central Kentucky

– so many that beginning a search to fit your need can

seem like a daunting task.

That's why our directory features a collection of local

companies and organizations who have a solid track

record of providing exceptional assistance. We hope it

becomes a useful starting point in your search for quality

senior services.

Category Key

County Offices & Meal Programs

Health Care Systems & Hospitals

Transportation, Personal Shopping, Errands

Does your

business

provide

excellent

senior

services?

call us for a spot

in the directory

859.225.4466

Senior Day Centers, Adult Day Centers &

Respite Care

In Home Care (Non-Medical)

In Home Medical Care

Mental Health, Family & Caregiver Support, Advice

Disability & Rehabilitation

Medical Equipment, Supplies & Monitoring Systems

Finances & Estate Planning, Trusts/Wills,

Reverse Mortgage

Funeral Arrangement & Pre-Planning

Legal Services

Home Repair & Maintenance

Skilled Nursing Facilities, Personal Care Homes,

Long-Term Care

Senior Independent Living & Retirement Housing

(Non-Medical)

Real Estate / Rent- Subsidized Housing For Independent

Living

Moving, Estate Sales, Downsizing Services

Fitness, Healthy Eating & Healthy Living

Healthcare, Medicare Help and Insurance

Vision Care
---
NOVEMBER/DECEMBER 2 0 1 5

1 9

HEALTH CARE SYSTEMS

& HOSPITALS

Lexington Clinic

1221 S. Broadway

Lexington, KY 40504

859-258-4000

IN HOME CARE

(NON-MEDICAL)

Accessible Home

Health Care

366 Waller Ave. Ste. 112

Lexington, KY 40504

859-313-5167

www.accessiblebluegrass.com

Assisting Hands

1795 Alysheba Way, Ste. 7105

Lexington, KY 40509

859-264-0646

www.assistinghands.com/lexington

Senior Helpers of the

Bluegrass

3070 Harrodsburg Rd. Ste. 240

Lexington, KY 40503

859-296-2525

www.seniorhelpers.com

IN HOME

MEDICAL CARE

Medi-Calls

1055 Wellington Way #215

Lexington, KY 40513

859-422-4369

Saint Joseph Home Health

2464 Fortune Dr. Ste. 110

Lexington, KY 40509

859-277-5111

www.saintjosephanchomecare.com

DISABILITY &

REHABILITATION

YMCA of Central Kentucky

239 E. High St.

Lexington, KY 40502

859-254-9622

ymcaofcentralky.org

Drayer Physical Therapy

Institute: Winchester Center

160 Pedro Way

859-745-2152

www.drayerpt.com

Drayer Physical Therapy

Institute: Richmond Center

1054 Center Drive, Ste. 1

859-625-0600

www.drayerpt.com

Drayer Physical Therapy

Institute: Lexington Perimeter

Center

600 Perimeter Drive, Ste. 175

859-268-1201

www.drayerpt.com

Drayer Physical Therapy

Institute: Lexington Beaumont

Center

1010 Monarch Street, Ste. 150

859-219-0211

www.drayerpt.com

MEDICAL EQUIPMENT,

SUPPLIES &

MONITORING SYSTEMS

Central Baptist Lifeline

859-260-6217

www.centralbap.com

FINANCES & ESTATE

PLANNING, TRUSTS/

WILLS, REVERSE

MORTGAGE

Attorney Walter C. Cox, Jr

& Assoc. LLC

2333 Alexandria Dr.

859-514-6033

www.waltercoxlaw.com

info@waltercoxlaw.com

LEGAL SERVICES

Bluegrass Elder Law

120 North Mill Street, Ste 300

859-281-0048

www.bgelderlaw.com

HOME REPAIR &

MAINTENANCE

Mountain Waterfalls

Award-Winning Water Features

859-684-0642

www.mountainwaterfalls.net

SENIOR INDEPENDENT

LIVING & RETIREMENT

HOUSING (NON-MEDICAL)

Mayfair Village

3310 Tates Creek Rd.

Lexington, KY 40502

859-266-2129

www.mayfairseniors.com

Windsor Gardens of

Georgetown Assisted Living

100 Windsor Path

Georgetown, KY 40324

502-570-0540

marsha@goodworksunlimited.com

Rose Mary C. Brooks Place

200 Rose Mary Dr.

Winchester, KY 40391

859-745-4904

www.brooksplace.org

The Lafayette

690 Mason Headley Rd.

859-278-9080

www.lafayettelexington.com

Ashland Terrace

475 S. Ashland Ave.

Lexington, KY 40502

859-266-2581

www.ashlandterrace.org

Hometown Manor Assisted

Living Community

Georgetown, Lawrenceburg,

Shelbyville

859-229-5914

www.hometownmanor.com

St Andrews Retirement

Community

300 Stocker Dr.

859-625-1400

www.standrewsplace.org

Hometown Manor Assisted

Living Communities

2141 Executive Drive, Lexington

(859) 317-8439

www.hometownmanor.com

Bluegrass

ElderlawPLLC

Take control of your future

Carolyn L. Kenton

Amy E. Dougherty

120 N. Mill St., Ste. 300

Lexington, KY 40507

Phone: 859.281.0048

www.bgelderlaw.com

Wealth Preservation

Powers of Attorney

Guardianship

Medicaid Planning

Probate

MORE

LISTINGS ON

NEXT PAGE
---
2 0 NOVEMBER/DECEMBER 2 0 1 5

SERVICE DIRECTORY, CONTINUED

REAL ESTATE /

RENT-SUBSIDIZED HOUSING

FOR INDEPENDENT LIVING

Turf Town Properties, Inc.

124 Kentucky Ave.

Lexington, KY 40502

859-268-4663

www.turftown.com

Briarwood Apartments

1349 Centre Parkway

Lexington, KY 40517

859-272-3421

glickco.com

MOVING, ESTATE SALES,

DOWNSIZING SERVICES

Caring Transitions

1411 Delaware Ave.

859-543-9848

www.CTLex.net

Lexington Life Services

859-797-8157

lexingtonlifeservices.com

Hall's Moving Service, Inc.

SENIORS SAVE 5%

258 E. 2nd Street, Lexington

859-231-0428

FITNESS, HEALTHY

EATING & HEALTHY

LIVING

Yoga Health & Therapy Center

322 West Second Street

Lexington, KY 40507

859-254-9529

www.yogahealthcenter.org

Well Fed Meals

1301 Winchester Rd. #17

Lexington, KY 40505

859-539-5863

www.wellfedmeals.com

HEALTHCARE,

MEDICARE HELP &

INSURANCE

Bluegrass Insurance

Solutions

859-312-9646

www.PeteAlberti.com

VISION CARE

Medical Vision

3288 Eagle View Ln. Ste. 300

Lexington, KY

859-278-9486

www.medicalvision.com

TRANSPORTATION, PERSON-

AL SHOPPING, ERRANDS

Superior Van & Mobility

4734 Rockford Plaza

Louisville, KY 40216

1-800-458-8267

www.superiorvan.com

ENCORE! ENCORE!

Wesley Village is Kentucky's First CCRC (Continuing Care

Retirement Community), offering all levels of independent

living, licensed health care and memory care in a wide variety

of attractive home and apartment settings.

The Encore Centre will feature:

• Independent Living Apartments

• Garden Terrace Suites

• Indoor Warm Salt Water Exercise Pool

• Café

• Movie Theatre

• Beauty Salon and Spa

1125 Lexington Road, Wilmore, KY 40390

www.wvillage.org facebook.com/wvinfo

Susan Blankenship, Marketing Dir. 859-858-3865 ext. 227
---
NOVEMBER/DECEMBER 2 0 1 5

2 1

Living Well 50+

Digital is just a Click Away

Read the current issue on your smart phone,

tablet & computer.

Scan here to view the current issue
---
2 2 NOVEMBER/DECEMBER 2 0 1 5

Adult

Day

Center

Aging With Grace

Aging In Place

The Health Club For Seniors

Adult Day Healthcare with a Country Club Atmosphere!

Our caring and medically-licensed staff will see to it that your

loved one not only enjoys the club atmosphere, but is also in a

safe and health promoting environment.

Just some of our offerings:

Spa Treatments | Group Exercise Classes | Transportation

Interactive Club Meetings | Wonderful Breakfasts & Lunches

GIVE US A TRY AT NO CHARGE

ONE

FREE

DAY

Bring in this ad for 1 FREE DAY

Call today to make your reservation

859-523-7337

Limited time offer. Must present this ad.

Downtown Dentistry is the place to get an Amazing Smile

Anna E Newman DMD

Saturday & Evening hours available

Emergencies & Walk-ins Welcome

Childcare

859.987.5550

436 Main Street Paris, KY 40361

www.downtowndentistryparis.com

Diabetes?

Reversing Diabetes

& Neuropathy...

Drug Free!

During NOV: Be my guest to a

Complementary Consultation

"We offer proven,

individualized care

to reverse Diabetes

and Neuropathy."

– Dr. Mark Miller

Peggy. Diabetic Neuropathy.

"I suffered from Diabetic Neuropathy for years, I

could barely walk. After a couple of months, I have

no pain at all in my feet. I highly recommend

Dr. Miller."

Gerald. Diabetes.

"After just 16 days with Dr. Miller, my MD took me off

diabetes pills I was on for 15 years!"

As seen on ABC, NBC and CBS News

For Over 35 Years,

Restoring Health — Drug Free

(859) 223-2233

www.TrueHealthSolutionsForYou.com

You have the right to rescind within 72 hours any agreement to invest in services that are

performed the same day in addition to advertised free services.
---
NOVEMBER/DECEMBER 2 0 1 5

2 3

Home Again.

Independent Again.

Our Home Again rehabilitation program

combines innovative therapy approaches with

expert therapists and hotel-like amenities.

Our goal is to get you back home and back

to maximum independence as quickly as

possible. But, once you experience our

homelike environment, chef-prepared meals

and beautiful private suites, you may just want

to stay! For more information or to schedule a

private tour, please call or stop by today!

HEALTH CAMPUS

SERVICES:

Personal Care

Short-Term Rehab

Long-Term Care

Memory Care

Skilled Nursing

Outpatient Therapy

Respite Care

Follow us on your favorite social networks

AT CITATION

& H AMBURG

The Willows at Citation

859-277-0320 willowsatcitation.com

1376 Silver Springs Drive • Lexington, KY

The Willows at Hamburg

859-543-0337 • willowsathamburg.com

2531 Old Rosebud • Lexington, KY
---
2 4 NOVEMBER/DECEMBER 2 0 1 5

Celebrating Life in Christian Love

Wesley Village community is dedicated to 'Keeping the Mission Alive'

by Martha Evans

Sparks, Staff Writer

Wesley Village

Senior Living

Community in

Wilmore, KY, celebrated its 20th

anniversary on June 20, 2015. The

Village Board of Directors broke

ground on June 22, 1994, and the

first "pioneer" resident moved in

June 22, 1995.

From its well-appointed dining

room to its indoor warm saltwater

swimming pool, Wesley Village

(WV) has little in common with

the "old folks' homes" so prevalent

during most of the 20th century.

Located on the north edge of

Wilmore, about 10 miles from

Lexington, the 32-acre campus is

now home to about 200 residents.

They live in 77 patio homes and

28 Encore Centre apartments

(both fully independent living)

or in 40 Hahn and Hager Manor

apartments and 10 private rooms

in Holloway Cottage. Hahn and

Hager provide fully licensed

personal care (similar to assisted

living) or full nursing home care.

Holloway, Kentucky's first "small

home" for memory care, is a

breakthrough approach to improving

long-term care for those

suffering from Alzheimer's and

other dementias. Kentucky Governor

Steve Beshear was among

the dignitaries who gathered for

its opening ceremonies in September

2011.

In April 2000, WV was named

Kentucky's first continuing care

retirement community (CCRC).

If mental or physical health

declines, residents do not have to

leave friends or familiar surroundings

to receive increased care on

the same campus. In a number

of instances, one spouse lives in

a patio home at WV while the

other receives appropriate care

in the WV nursing home facility,

located within walking distance of

the patio homes, or at Thomson-

Hood Veterans Center, less than a

mile away.

WV is affiliated with the Kentucky

Annual Conference of the

United Methodist Church. Twothirds

of the board members must

be approved by the conference.

Because of the affiliation, Kentucky

United Methodist churches

Yellow/ Wildcat Cab

Now offering

wheelchair accessible vans

Since 1934 Yellow/Wildcat Cab has been growing with the community

As always we are looking forward to serving you
---
NOVEMBER/DECEMBER 2 0 1 5

2 5

Photos courtesy of Wesley Village Staff Photographer, Christopher Ponce

provide benevolent care funds that aid

residents who outlive their own financial

resources. No church affiliation is necessary

to be eligible to live at WV.

A place like WV was first conceived in

the hearts and minds of Kentucky Methodist

Church leaders in the 1960s. It did not

gain traction until a Methodist layman,

Ray Wesley of Somerset, KY, made a gift

of $253,000 in the late 1980s. Wesley had

moved to a retirement community in Ohio

because he could not find one in Kentucky

at the time. A close friend of WV founding

board member Dr. C.R. Hager of Nicholasville,

Ray generously gave the first large

CALL 231-TAXI and ask for a wheelchair van

App: Text GOLEXCAB to 31996 • Text: (859) 449-7330 • Web: golexcab.com

D.B.A. Yellow Cab Company of Lexington, 799 Enterprise Drive • Lexington, KY 40510 • 859-233-4890
---
2 6 NOVEMBER/DECEMBER 2 0 1 5

gift to get the ball rolling in Kentucky. Was

the retirement community named for Ray

Wesley or for John Wesley, 18th-century

founder of the Methodist church? WV officials

say, "Take your pick!"

With these funds and the cooperation

of the UMC Annual Conference, Asbury

Theological Seminary and Otterbein

Homes of Ohio, land was secured, building

began and premarketing of the patio

homes went forward. Alan Beuscher, now

Vice President for Community Relations,

and Tim Layton, now Vice President for

Development, both trained at Otterbein,

long considered a "flagship" among churchrelated

retirement communities in this

country.

Glenda Creech, now in her 14th year

as President and CEO of WV, said, "I am

reminded [by our 20th anniversary] that

it is a calling and a privilege to serve the

'Greatest Generation' in this season of

their lives." Creech, a registered nurse, has

worked in senior long-term health care for

almost 35 years and has spent much of her

professional life as a health care administrator.

"I've learned from well-seasoned folks

and hopefully brought a bit of sunshine, joy,

acceptance and a gentle touch to their lives,"

she said. "Seniors deserve the very best we

can provide."

Activities Coordinator Rebecca Bruner

and her staff keep a constant flow of

lectures, musical performances, exercise

classes and other events scheduled on the

WV campus. Various pastors conduct a

Christian worship service each Sunday

afternoon. Off-campus plays, concerts and

other group occasions are regularly on the

calendar, accessed by transportation WV

provides.

The next goal for WV, Beuscher says, is to

buy more land and build at least four more

Small Homes for long-term health and

memory care. Like many who work professionally

with seniors, Beuscher believes the

traditional large-scale nursing home will

be a thing of the past within 10 to 15 years.

"No one favors them now and everyone,

given a choice, prefers to stay in a home,"

he said.

Beuscher says the staff of WV remains

committed to live out its mission with

residents of "celebrating life in Christian

love." The WV Board of Directors, he says,

has a vision of setting new standards on innovation,

excellence and compassion in the

provision of a comprehensive continuing

care retirement community.

For more information about WV, call

(859) 858-3865 or visit www.wvillage.org.

Wesley Village Milestones

1995

1996

1998

2000

2000

2002

2004

2009

2010

2011

2013

2015

Broke ground for first group of patio homes for independent living.

First resident moved into a patio home.

Broke ground for Hahn Manor, Central Kentucky's first private residential-style

apartments for licensed personal care.

Broke ground for Hager Manor, providing both licensed personal care and

nursing home care.

Kentucky House Bill 452 named Wesley Village Kentucky's first CCRC

(Continuing Care Retirement Community).

Lexington Herald Leader newspaper names Wesley Village "a new model of care"

for Kentucky.

Broke ground for the Wilmore Senior Community Center, Kentucky's first such

center to be built with a unique combination of public and private funds.

Wesley Village named "Outstanding Business of the Year" by Jessamine County

Chamber of Commerce.

President/CEO Glenda Creech wins Bell Award for outstanding leadership of a

Kentucky health care community from the Kentucky Association of Homes and

Services for the Aging (now Leading Age Kentucky).

Opened Holloway Cottage, Kentucky's first Small Home for Memory Care.

Broke ground for the Encore Center, which includes 28 independent living

apartments, movie theater, café, beauty salon, massage therapy spa, and indoor

warm salt-water exercise pool.

Encore Center dedicated and opened for occupancy.

Seniors deserve the very best we can provide."

—Glenda Creech,

President and CEO of Wesley Village
---
Revolutionary

Same Day

Tooth

Replacement

Now Dr. Morgan can give

you the smile you deserve

in one easy visit...

Using a non-cutting mini dental implant technique,

it is now possible to replace anything from a single

tooth to a full mouth restoration in 1 or 2 short

visits with minimal discomfort, without destroying

tooth enamel, and without the long healing times

or high cost typically associated with conventional

dental implants.

Dr. Ballard Morgan, DMD

General Dentistry

859-233-7700

www.ballardmorgandmd.com

1510 Newtown Pike, Ste 201, Lexington (Griffin Gate Plaza)

You'll

love

your

new

smile.
---
2 8 NOVEMBER/DECEMBER 2 0 1 5

GAR Disability Advocates

Partnership delivers superior

service

GAR Disability Advocates

is a specialized advocacy

firm devoted to helping

individuals obtain longterm

disability benefits

from the Social Security

Administration. GAR

is excited to partner

with Pamela Hofer in

order to deliver superior

service locally in

Kentucky.

Pam and her staff

have 55 years of combined

experience in

representing clients at all

stages of the disability

process. We accept cases

at all levels including initial

application. We can even

apply for you and be there to

help you at every step along the

way. You may ask, "why do I need

help applying for disability?"

Consider the following:

• We offer a free consultation

and evaluation of your case

• Filing a disability claim for

Social Security Disability

(SSD) or Supplemental

Security Income (SSI) isn't

easy and we can answer all of

your questions.

• Our service is risk-free: we

only get paid if you win your

case.

• Statistics for the state of

Kentucky show that 70% of

all claims are denied at the

initial level. Many of these

claims are not appealed

because the client just gives

up without a representative

to help them. If they

appealed to the reconsideration

level, statistics show

93% of cases are denied.

• Our goal is to

provide our clients

with the highest level

of representation;

to treat all clients

with respect and

dignity; to provide

our clients with

information and

keep them up to

date on the progress

of their case.

• Our disability team is committed

to learning. We keep

abreast of new developments

in Social Security Law by

attending trainings and

we are always striving for

improvement so as to better

serve our clients.

If you are unable to work due to

a disability and have been or expect

to be out of work for 12 months or

more, you need to call us for a free

evaluation of your case. If you have

already applied, have appealed, and

are waiting for a hearing, you especially

need our help. Statistics show

the approval rating at the hearing

level is only 41% in Kentucky.

It has been statistically proven that

claimants have a higher probability

of obtaining a favorable decision on

claims for disability benefits when

they are represented by an advocate

than if they did not have representation.

The process of applying for and

receiving Social Security Disability

Insurance (SSDI), Supplemental

Security Income (SSI) or Childhood

SSI Benefits is difficult and frustrating.

Our team is ready to begin

working for you to help you get the

benefits you deserve.

Call us toll free today at 1 (800)

360-8895.

Are you disabled?

Pamela Hofer

Midwest Regional Manager

conveniently located in

Morehead, KY

www.disabilityhc.com
---
1775 Alysheba Way, Suite 201

859-278-5007

www.FPALex.com

DAYS

EVENINGS

WEEKENDS

FOR YOUR HEALTH

Family Practice Associates has flexible

day, weekend and evening hours that you

can count on to accomodate your family's

busy schedule. Contact us today to

schedule your appointment.

WHAT WE DO ?

Quality patient focused healthcare for your entire

family in a friendly environment.

Comprehensive primary care services for children and

adults of all ages, including acute and preventive

medicine.

Large modern office with highly trained staff and

on-site laboratory.

Secure online patient portal for easy access to your test

results, medical information and communication with

your provider.

OUR SERVICES

OUR PROVIDERS

FPA has 9 Board Certified physicians with

specialties in Family Practice, Pediatrics and Internal

Medicine. We also have 3 certified Nurse

Practitioners with experience in family medicine.

HOURS

FPA offers flexible office hours Mon – Fri 8:00AM –

4:30 with Evening hours on most days. Saturday

morning appointments are available for sick

patients.

For over 30 years, the mission of Family Practice Associates

has been to provide preventive, diagnostic, and therapeutic

health services with attention to individual need. We are

dedicated to giving family-centered care from birth to later

years in an affordable, high quality manner.

LOCATION

FPA is located in the Hamburg area with easy

access from I-75 and Man O' War Blvd.
---
3 0 NOVEMBER/DECEMBER 2 0 1 5

Ask Don!

Your Questions on Aging

Answered

by Don Hoffman, Staff Writer

Donald Hoffman, a former

director of the University of

Kentucky's Council on Aging and

Donovan Scholars Program and a

nationally recognized author and

authority on aging, answers your

questions about aging. Submit

your questions directly to him at:

livingwellquest@aol.com.

Living in the Past

Peter B. asks: I seem to be

living in the past and get the feeling

that I am boring my family and

friends with stories of my past. Is

this normal?

Don answers: The longer

we live, the more memories we

collect. Reminiscing is common to

all people. Sometimes situations

we encounter in the present jog a

past memory that seems pertinent

to the present. They motivate us to

talk about them with others. While

some memories are unpleasant,

most provide the fodder for constructive

reminiscence. Memories

held by elders were traditionally

an unwritten oral history. Fire

making, the creation of tools and

weapons, cooking skills, clothing

construction, religious beliefs and

government were all part of the

memories passed from generation

to generation. Today, there are many

other ways to record history, so

the present purpose of our memories

becomes somewhat clouded.

Obviously, memories serve to

guide us through our lives, but

some carry important messages and

have historic significance. It is not

that the people we talk to devalue

our memories, but their attention

spans have shrunk amazingly to an

all-time low. We live in a fast-moving

world accelerated by the advent of

cell phones, tablets and video. The

younger generations have lost the

art of conversation and sometimes

it seems it is only older folks like us

who remember and cherish the art

of conversation.

My advice to you would be to

treat your memories as an important

record of your life. We have

lived through extraordinary times.

Think of it: WW II, the Space Age,

good times and bad times, and how

we related to these historic happenings

created a record of memories

– your place in history and that of

your family. Write them down or

even record them as an oral history

or video record.

If writing seems to be a daunting

task, search out classes and

workshops offered within the community.

The Carnegie Center, the

Osher Lifelong Learning Institute

program at the University of Kentucky

and adult education programs

through the school system offer

classes and opportunities to sharpen

Treat your memories as an important record of your life.

your writing skills. Instructors will

assist as you begin filtering through

and structuring your memories. The

technology for recording an oral

history or video record of your life

is also readily available, and learning

to record is a simple process. Here

again, turn to the programs listed

above, your local library or computer

club for assistance.

Remember, life is a learning

experience. No matter how trivial

our lives appear, it is a true historic

marker of our time, so write it down.

You, after all, are closer to it than

anyone.

Selecting a Security

System

Sara asks: How do you

choose a personal security system?

Don answers: Checking

online or the Yellow Pages of your

telephone book will completely

confuse you, for there are a large

number and many types of security

companies and systems to choose

from. Some of these companies

have been around for many years,

and others are startups with a short

business history. So you are bound

to be overwhelmed just by the number

and variety of possibilities and

HAIR

INSTITUTE, INC.

Kentucky's Leading Hair Replacement Facility

• Genetic Hair Loss • Chemotherapy • Alopecia • Cosmetic Hair Replacement

1795 Alysheba Way

Suite 7101

Lexington, Ky 40509

- Laser Light Hair Therapy

- Surgical and Non-Surgical Hair

Restoration Options

- Full Cranial Vacuum Prostheses

- Enhancements and Integrations

HAIR REPLACEMENT • HAIR RESTORATION • HAIR EXTENSIONS

Professional • Confidential • Meticulous

AMERICAN

HAIR LOSS

COUNCIL

www.hairinstitutelexington.com

859.263.9811

®
---
the marketing claims you read or see

on television. Security systems can

be lifesaving tools, but only if you

truly need the service.

Most medical security systems attach

to the body in some way, most

commonly as a bracelet or necklace.

They are battery operated and work

by sending a signal to a wall- or

table-mounted transmitter, then

to an outside system. A company

representative monitors the call,

immediately contacts you and, if

necessary, calls emergency personnel.

They usually stay on the line

with you until help arrives. Personal

security systems are sometimes

NOVEMBER/DECEMBER 2 0 1 5

combined with whole-house security

systems. The monthly charges

can become a financial burden. Personal

security systems without any

extra charges usually range between

$19-$30 a month and can be much

higher if combined with a wholehouse

security system. Companies

vary greatly in quality, expense and

operating procedure.

I'd check with the Better Business

Bureau before signing a contract

with any firm to see the number,

type and frequency of registered

complaints. Ask each company you

are considering to send materials in

writing, including complete installation

costs, your responsibilities with

the equipment you are provided

(replacing batteries, for example)

and the cost of a service call. Be sure

to ask each company for a list of references

you can call – and be sure to

call them. If you have a friend who

uses a personal security system, ask

them for their opinion of the system

they use.

A word of caution: Some

companies will stand behind their

products and performance; others

will not. Carefully review the contract

language. You will be checking

for unnecessary add-on fees and

services, warranties and unrealistic

claims of service along with a contract

that offers you favorable terms

and charges.

Confused About

Medical Testing?

Cecelia R. asks: How do I

know which medical tests are really

necessary?

Don answers: Confusion

reigns, especially when medical tests

are discussed. The common person

cannot possibly know which tests

are important or vital to wellbeing

and which are not. It takes a medical

professional (and then some) to

filter through

the hundreds of

available tests and

the new ones that

pop up all the

time. The tests

important to you

will be different

than for others,

since everyone's

medical condition

is unique.

One formula

does not fit all

cases.

The confusion

rises from the huge numbers

of medical advertisements seen on

television and in the print media

detailing obscure illnesses, talking

about MRIs and medical treatments.

Confusion also arises from

a segmented medical profession,

where specialists all seem to be

Your physician

will recommend

the tests you

may need.

Ask your doctor directly

why he or she wants you

to have that test and

what is its purpose.

3 1

working on one portion of your

body and recommend tests for that

purpose only. You begin to wonder

whether these tests are needed

and if specialists work for you or

themselves. I do not blame you for

questioning the usefulness and need

for the tests recommended to you,

but questioning the motives of a

doctor for recommending certain

tests smacks of mistrust. If you do

not trust your doctor, I suggest

you search for one you can trust.

Doctors are working

for you, after all,

and everything they

propose should be

for your welfare.

Remember, some

tests are for diagnostic

purposes and are

based on symptoms

discovered during an

office visit. Others

are used as a preventive

measure to

check for conditions

that may lead to

future serious illness.

Your physician will

recommend the tests you may need.

Ask your doctor directly why he or

she wants you to have that test and

what is its purpose. Listen carefully

to the explanation and base your

decision on that information.

Personal security

systems are

sometimes combined

with whole-house

security systems. The

monthly charges can

become a financial

burden.
---
Reconnect with your family

& friends with Audibel A2

The Audibel A2 is the carefree way to connect

to your world. The A2 is designed to make

listening easy and enjoyable again. With advanced

features engineered to:

• Reduce listening effort in noisy environments

• Improve listening to music and TV

• Enhance phone calls

• Virtually eliminate whistling and buzzing

• Fit Comfortably - customized for your ear

When it comes to wanting the world's smallest

most comfortable and BEST sounding hearing aids,

people everywhere turn to Audibel, an American-owned

and American-operated manufacturer

of advanced hearing solutions.

Combined with our Surflink accessories you

can stream TV wirelessly directly to your hearing

aids. You can listen at the volume you

want, while everyone else in the room can

listen at the volume they want.

Not Sure if you have Hearing Loss?

Take the online Hearing Screening at

Audibel.com

Ask about the

made-for-iPhone

hearing aids

Try Audibel A2 Style Hearing Aids FREE for 30 Days *

Audibel hearing aid center will perform comprehensive hearing evaluations

FREE of charge to all callers. If your evaluation shows hearing loss, we will fit you with the

latest in hearing aid technology for you to try for 30 days. After your evaluation simply

return the hearing aids or keep them at a substantial discount just for trying them.

CALL NOW!

*A small fully refundable security deposit is required.

Lexington / 120 Cherrybark Dr. / 859.278.9568

Frankfort / 1410 Versailles Rd. / 502.695.3600

Richmond / 103 Alycia Dr., Suite1 / 859.626.1155

Morehead / 206 W. Main St. / 606.780.0871

Winchester / 1414 W. Lexington Ave. / 859.737.9727

Somerset / 3311 S. HWY 27 / 606.451.0874

0 %

FINANCING

WITH APPROVED CREDIT

www.CentralKyAudibel.com

37588053