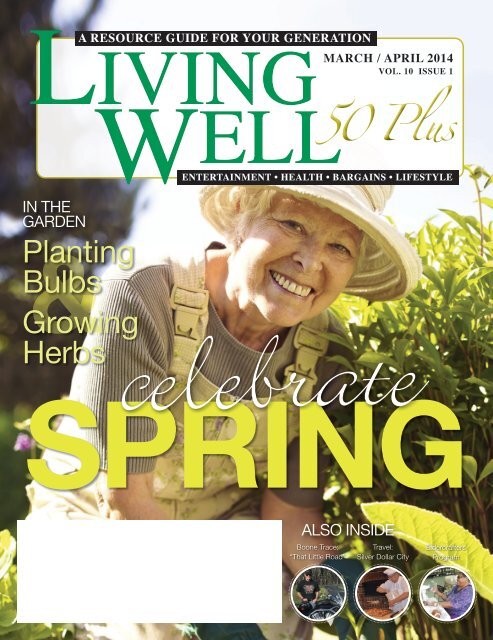 Living Well 60+ March-April 2014
Create successful ePaper yourself
Turn your PDF publications into a flip-book with our unique Google optimized e-Paper software.
A RESOURCE GUIDE FOR YOUR GENERATION

Living

W ell

IN THE

GARDEN

&

Planting

Bulbs

Growing

Herbs

MARCH / APRIL 2014

VOL. 10 ISSUE 1

50 Plus

ENTERTAINMENT • HEALTH • BARGAINS • LIFESTYLE

celebrate

SPRING

ALSO INSIDE

Boone Trace:

"That Little Road"

Travel:

Silver Dollar City

Eldercrafters

Program
---
®

2 MARCH/APRIL 2 0 1 4

NOW

$30/month

OPEN in Lexington Green Mall

HealthwoRx Fitness & Wellness Center provides a highly personalized approach to health

and wellness with individual fitness assessments, personalized exercise programming and

guided exercise designed to help people of all ages and levels of health.

Affordable rates! No contract or hidden fees!

Hours of Operation:

Monday - Thursday, 5:30 am – 9 pm • Friday, 5:30 am – 8 pm

Saturday, 8 am- 5 pm • Sunday, 12 NooN - 5 pm

To learn more, call 859-260-4354

NOW ACCEPTING

New Patients!

12/16/09 9:41:17 AM

NO contract!

A highly personalized approach to health and

wellness. Fun NOW and invigorating ACCEPTING

group fitness for

ALL fitness levels!

CLASSES INCLUDE:

Spinning • Zumba • Pilates

Yoga • PiYo • Boot Camp

We offer a variety of specialty

programs for seniors!

www.facebook.com/HealthwoRx

Conveniently located at the Lexington Green Mall

Stop by or call 859-260-4354 for more information

NOW ACCEPTING

New Patients!

Beautiful Smiles

FULL SERVICE DENTISTRY

NOW ACCEPTING

New Patients!

New Patients!

Beautiful Smiles

Beautiful Smiles

. . .so close to home.

WHITENING SPECIAL:

Beautiful Smiles Convenient Location

$

199 Limited Time Offer – Call Today!

Convenient Location

Convenient Location

859.263.5755

859.263.5755

121 Prosperous Place Suite 3

Lexington, KY 40509

Lexington,

Patient Satisfaction

KY 40509

Convenient Location

FULL SERVICE DENTISTRY

Visit us on the web at

Visit us on the web at

. . .so close to home.

www.wilkinsdental.com

Hours Kimberly by F. appointment Wilkins DMD, PLLC

859.263.5755

121 Prosperous Place, Suite 3

Patient Satisfaction

Patient Satisfaction

Kimberly F. Wilkins DMD,

PLLC

121 Prosperous Place, Suite 3

www.wilkinsdental.com

Mon - Thurs, 8:00-5:30, Fri 9:30-2:00, Sat. by
---
MARCH/APRIL 2 0 1 4

3

300 Stocker Dr

Richmond, KY 40475

(859) 625-1400

www standrewsplace www.standrewsplace.org

When you need the best in Urologic care, isn't

it nice to know you don't need to leave home?

Lexington • DanviLLe • FrankFort • Mount SterLing • richMonD • SoMerSet • WincheSter

With convenient locations throughout

Central Kentucky, Commonwealth

Urology offers patients a full range of

urologic services:

• Adult and Pediatric Urology

• Vasectomy and Vasectomy Reversal

• Male and Female Sexual Dysfunction

• Incontinence

• Prostate Cancer

• Kidney Stones - Lithotripsy

For more information, visit LexingtonClinic.com/urology

A Part of Lexington Clinic
---
05

07

08

09

10

11

12

13

14

15

16

18

21

22

23

24

25

26

28

29

30

4 MARCH/APRIL 2 0 1 4

Contents

March/April 2014

"That Little Road" Opened the Way West

There's More to Casinos Than Just Gambling

Second Chances Abound at New Opportunity School

50 YEARS AGO…

First Ford Mustang Rolls Off Assembly Line

FOOD DUDE

Go With the Grains

Growing Herbs

TRAVEL: Surprising Silver Dollar City

GARDENING

Glorious Gladiolas, Delightful Dahlias, Luscious Lilies

Annual GAP Conference Set for March 20

FINANCIAL: Comparing Credit Unions and Banks

CALENDAR

LivingWell50+ is now DIGITAL:

SENIOR SERVICES DIRECTORY

How to Have a Strategy for Better

Communication in the Second Half of Life

Golf Gets You Going

PERSON OF INTEREST

Late Life Success: Laura Ingalls Wilder

Best Friends Move to Bridgepointe

Eldercrafters Program Promotes Socializations

Regular Recreation Benefits Seniors

Are You Ready? Disaster preparedness essential

50 YEARS AGO… Unmanned Gemini 1 Launched

THE MORE THINGS CHANGE: Let There Be Light

Living Well 50+ is

a proud product of

A RESOURCE GUIDE FOR YOUR GENERATION

Living

W ell

WRITERS

STAFF WRITERS:

Angela S. Hoover

Jean Jeffers

Frank Kourt

Jamie Lober

Abby Malik

Lisa M. Petsche

Sandra W. Plant

Jan Ross

CJ Sebastian

Doris Settles

Martha Evans Sparks

MARCH / APRIL 2014

VOL. 10 ISSUE 1

50 Plus

ENTERTAINMENT • HEALTH • BARGAINS • LIFESTYLE

celebrate

SPRING

STAFF

Tanya Tyler

editor/staff writer

John Brokamp

publisher

Janet Roy

director of creative services

Brian Lord

sales manager

Kim Blackburn

sales representative

John Hoffeld

sales representative

FROM THE

EDITOR

Dear Friends,

If you watch any TV these

days, you're sure to learn some

new and interesting words.

Polar vortex. Twitter. Selfie.

Twerking.

Each generation has its own slang and each

generation creates new things that need new names.

Tanya Tyler • tanya@samplerpublications.com

It's intriguing to study the evolution of language and

to see how words change over time. For instance,

"awful," derived from the words "awe" and "full," used

to mean something that was amazing. Now it means

something that's not very pleasant.

One of the best ways to stay Living Well 50 Plus

is to study new things, such as a language or an

instrument. Hop on the Internet and research

different topics or start discovering your genealogy.

See what you can find out about the slang of ages.

Never stop learning!

But do stop twerking.

Tanya
---
"That Little Road" Opened

the Way West

MARCH/APRIL 2 0 1 4

Trail created by Daniel Boone has great

historical significance

5

by Abby Malik, Staff Writer

West of the Mississippi River,

you'll find the Oregon Trail and

New Mexico's Santa Fe Trail. East

of the Mississippi, Dr. John M. Fox

hopes Boone Trace will someday

be as legendary and appreciated as

those trails.

Boone Trace was created by

Daniel Boone and 30 other men

during a two-month period in

1775. It opened the wilderness for

settlers to travel through the Cumberland

Gap to Boonesborough,

Ky. No other road, Fox said, is of

greater historical significance to

Kentucky's founding in 1792 and

to the opening of the West.

"It must be remembered that at

that time, there were no actual

roads into Kentucky or west of the

Alleghenies," he said. "No towns,

no roads – nothing."

Since 2008, Fox, a surgeon with

Colorectal Surgical & Gastroenterology

Associates in Lexington,

has dedicated most of his free time

to preserving Boone Trace. The

71-year-old travels the 194-mile

trail – affectionately called "That

Little Road" – primarily on his

motorcycle. Fox feels a strong

connection to Boone, a man he

says "is in Kentucky's DNA."

"The trail feels like hallowed

ground," he said. "It may sound a

little crazy, but I often sense the

presence of Daniel Boone going

down the trail."

While Boone Trace actually

begins in Kingsport, Tenn., Fox's

preservation efforts start in

Martin's Station, Va., about eight

miles from the Kentucky border,

and stretch north through five

Kentucky counties, ending at

Fort Boonesborough in Madison

County.

But, Fox said, the trail is "slipping

away, right before our eyes." He

has two primary concerns about

Boone Trace's future: Original

markers are disappearing and the

actual path is being threatened

by commercial and residential

growth.

Fox has worked to research the

precise location of Boone's path,

looking for long-forgotten sites

and markers. In 1915, a chapter

of the Kentucky Daughters of

the American Revolution (DAR)

placed 14 markers along Boone

Trace. Fox has uncovered and

documented nine of them.

In 2012, Fox and two others

incorporated Friends of Boone

Trace, a historic preservation, education

and research organization.

Friends of Boone Trace works

to find allies for its preservation

efforts, including the Kentucky

Historical Society (KHS), the

DAR and more. Besides advocacy

activities, the Friends of Boone

Trace travels the trail by car and

motorcycle, and for the past three

years, members of the Lexington

Harley Owner Group (HOGS)

have organized motorcycle rides.

Last October, the Friends of

Boone Trace hosted a dedication

ceremony for a new KHS Hazel

Patch Historical Marker at Levi

Jackson Wilderness Road State

Park in Laurel County. The marker

documents a location important

to Boone Trace's history: It is at

Hazel Patch that Boone's trail

forked. Boone Trace went north

to Boonesborough and Wilderness

Road stretched west toward

Louisville. The group's efforts also

include going high tech, and soon

Dr. John Fox often rides his Harley V-Rod on Boone Trace. He says he

can feel Daniel Boone's spirit there.

KHS's "Explore Kentucky" smartphone

app will feature Boone

Trace pictures and mapped points

of interest.

In addition, Fox's work with a

group of history-minded Madison

County citizens recently resulted

in the donation of the Twetty's

Fort site to the Boonesborough

chapter of the DAR. A deadly

skirmish occurred at Twetty's Fort

just before the start of the Revolutionary

War.

Anyone interested in Friends

BOONE Continued on Page 31

2 HAMBURG JOURNAL WWW.HAMBURGJOURNAL.COM

JANUARY 2O12

NOW LEASING

1 & 2 bedroom apartments.

Includes assistance with

activities of daily living.

Three meals a day, weekly

housekeeping, concierge

service and much more!

Our rates are competitive

and all inclusive.

Enjoy 24/7 emergency

response by our

well trained staff.

Guardian Life Alert System

is included for all

new residents at no

additional cost.

Daily care is tailored to

meet the unique needs

of individual.

We invite you

to come

be a part of

our family!

Senior Retirement Community

Rose Mary C. C. Brooks Place Place

We're not Not almost Almost home. Home. We We are are home. Home.

NOW LEASING!

Assisted Living

Now Renting Gracious Independent Studio and& Assisted Retirement Living

One Bedroom Apartments

Conveniently located on the Bypass The in Winchester. Cottages

Only minutes from Hamburg with easy access to Interstates 64 75.

Buy now and choose

For more information contact Linda or Rick at 859-745-4904

your options!

Enjoy your independence and let us do the work! We'll

take care of snow removal, mowing, trimming and will

even make sure your air fi lters are changed regularly.

Our fifth and final cul-de-sac is almost completed. Call

today for floor plan and available options.

No Maintenance Fees. No Association Fees.

24/7 Emergency Response System

Prices starting at $155,000

Average Daily Caregiver Cost $240

Average Daily Brooks Place Cost $75

Gracious Independent & Assisted Retirement Living

Conveniently located on the Bypass in Winchester.

Only minutes from Hamburg with easy access to

Interstates 64 and 75.

For more information contact

Linda Winburn at 859-737-6406

www.brooksplace.org

Schedule Your Free

Tour Today!
---
Helping Others

Hear Better

Come see why our patients love us! We are proud to provide

the Central and Eastern Kentucky communities with

outstanding hearing health care service.

AudigyCertified Providers

We have been recognized within the private-practice audiology community

for offering the highest-quality hearing care available anywhere.

HEARING

PATIENTS

FOR

AGX Hearing

Only the most up-to-date technology is offered with AGX

hearing aids. All models are custom fit and specifically

selected to suit your listening habits and lifestyle.

Patients for Life®

Our highly acclaimed patient relationship program was created

to help hearing care professionals establish a consistent, friendly,

and exemplary approach with every one of their patients.

AGX Protection Plan

Our hearing technology is backed by the strongest warranty protection in

the business: 75-day risk-free trial, 3-year warranty, 3 years free batteries.

Dr. Robert Manning,

Doctor of Audiology

Dr. Brooke Dinsmore, Au.D.,

Doctor of Audiology

Call today to learn how Audiology

Associates can help you hear better!

859.963.2958

Lexington, KY • 259 Southland Dr

Prestonsburg, KY • 1428 N Lake Dr

Pikeville, KY • 5425 N Mayo Trail, Ste 201

www.kyhearing.com
---
There's More

to Casinos

Than Just

Gambling

It's elegance, luxury

and fun all rolled into

one

by Jamie Lober, Staff Writer

Many seniors enjoying going to

casinos, but there's more to casinos

than just gambling. Owners are

working diligently to meet the

increased demands visitors are placing

on casinos.

"I think seniors would definitely be

interested in the games, restaurants

and hotel rooms," said Reginald

Dotson, regional public relations

manager for Pinnacle Entertainment,

Inc.

Belterra Casino Resort & Spa is

one nearby gambling destination

that is always hopping. "Belterra

is a destination created by desire,"

said Dotson. "The casino resort

is a magnificent place that rolls

elegance, luxury and fun into one."

A $37 million expansion project in

2004 doubled the number of rooms

at Belterra and added meeting and

conference space. "It expanded our

appeal as a destination casino resort

and made it the largest casino resort

hotel in Indiana," said Dotson.

P

ILATES

Seniors enjoy the slot and video

PLACE

PILATES

PLACE

MARCH/APRIL 2 0 1 4

poker machines, but there are

plenty of other games to choose

from. "We offer all of your favorite

table games, including the newest

sensations such as Pai-Gow Poker,

Three-Card Poker, Caribbean, Ultimate

Texas Hold'em Bonus, Crazy

4 Poker and 21+3," said Dotson.

Those who frequent the casino

are rewarded with incentives. "A

Mychoice card allows you to earn

Choice Comps, equivalent to cash,

while playing slots and tables,"

said Dotson. These comps can be

redeemed for room nights, shows,

meals, spa treatments and more.

There are also special event and

promotional invites available.

People who may not be so fond of

gambling can enjoy spas, salons and

other amenities on the campus of

the casinos. "We offer a pampering,

soothing and relaxing experience

with a complete menu of individual

massage therapies as well as hand

and body treatments administered

by our highly trained staff," said

Dotson. These treatments include

body wraps and polishes, hydrotherapy

and baths, manicures and

pedicures, a cardiovascular fitness

center, a sauna, whirlpools and

more.

The casino's entertainment offerings

appeal to both men and

women. "Our state-of-the-art

CenterStage Showroom has been

designed to hold up to 1,500 seats,"

Dotson said. "We book big-name

acts ranging from country-western

stars and household-name classic

rock bands to tribute acts and

superstar impersonators." The

venue also hosts live boxing and

Pilates is designed

to strengthen the

body's core muscles

through low-impact

fitness techniques.

GAMBLING IN KENTUCKY

A Hot Topic

Supporters of casinos in Kentucky are campaigning

in favor of expanded gambling, believing it can

serve as a lucrative revenue source during difficult

economic times. A proposed Constitutional

amendment will be on the ballot in Kentucky in

Fall 2014 if approved by the General Assembly. The

proposal is to allow up to seven casinos statewide

and to designate 10 percent of gambling revenue

to assist the state's horse industry. The hope is this

will entice owners to enter their horses in Kentucky

races. Other casino revenues would go toward

human services, local governments, education,

public safety and a one-time bonus for military

veterans who served in Operation Desert Storm and

the wars in Iraq and Afghanistan.

Casinos are good for the economy because they

help create jobs. "Currently, approximately 1,000

people, primarily from nearby Indiana and Kentucky

counties, are employed [at our casino] and enjoy

on-site dining facilities, a friendly, team-oriented

atmosphere and competitive wages and benefits,"

said Reginald Dotson, regional public relations

manager for Pinnacle Entertainment, Inc.

theatrical productions. A state-ofthe-art

sound system enhances the

experience.

7

Seniors may also be surprised to

discover casinos have great food.

You can find just about anything

you want, including fresh grilled

chicken and steaks, freshly rolled

sushi and made-to-order hearthbaked

pizzas. Fresh salad and fruit

bars are also available, as well as enticing

crab legs, Mediterranean-inspired

pasta meals and house-made

gelatos and pastries. "We serve succulent

seafood and a never-ending

array of dishes, including savory

meats and American-inspired

dishes," said Dotson.

If you're Living Well 50 Plus and

haven't been to a casino, perhaps

you should add a visit to your

future weekend plans.

All sessions taught by

Stott Pilates trained

health professionals.

859-266-3810

365 Duke Rd.

Lexingtotn

studio@pilatesplaceky.com

follow us on:

Eastland Shopping Center 1020 Industry Rd. Ste 10 Lexington, KY 40505

859-253-0012 Mon 9-7, Tues-Sat 9-6
---
8 MARCH/APRIL 2 0 1 4

Participants pose proudly after

completing job skills classes.

areas they work on are self-esteem,

career exploration and readiness,

leadership skills and civic engagement."

Second Chances Abound at New Opportunity School

Program reaches out to women of Appalachia

by Sandra W. Plant, Staff Writer

Born poor in the mountains of

North Carolina and married at age

17, George Ann Lakes was like so

many women in Appalachia who

feel they have no hope for a bright

future. All that changed for Lakes

after her graduation in 1992 from

the New Opportunity School for

Women (NOSW) in Berea.

This 71-year-old has come a long

way from the days when she had

no self-esteem and very little

education. "I worked long hours

as a waitress, bartender or clerk

to support my husband and five

children," she said. "My husband

was a dreamer, so I had to work to

support us."

Lakes credits Jane Stephenson, the

visionary who founded NOSW in

1982, with "seeing something in

me that I couldn't see for myself."

Stephenson's vision was to create

a program that gives a second

chance to mountain women who

are held back because of poverty,

lack of education or limiting family

circumstances. In the 32 years

since its beginning, NOSW has

graduated hundreds of mountain

women. They are living proof that

a second chance is all they needed

to make a better life for themselves

and their families.

NOSW participants are housed

on the campus of Berea College

during two three-week sessions

offered each year, one in February

and the other in June. The curriculum

includes sessions that provide

women with educational, personal

and career-oriented resources.

NOSW provides residential sessions

at no cost to participants.

Some funds for travel to and from

Berea and for childcare in the

woman's home community are

also available.

Lakes learned about NOSW from

Joyce Gash, her GED instructor,

who saw her potential and helped

her write a letter to the school.

Following her graduation from

NOSW, Lakes began a journey

that eventually led to earning a

master's degree in social work

from the University of Kentucky

in 2004 at age 61. After working

at UK for several years, she now

works for NOSW. She does outreach

to encourage other mountain

women such as herself to

seek the second chance available

through this amazing program.

"So many people helped me get

where I am today and I am grateful,"

Lakes said.

The most recent group of 14

graduates hailed from Madison,

Lee, Rockcastle, Perry and Rowan

counties. Most have family incomes

of less than $10,000 a year.

Their Feb. 22 graduation was an

occasion to celebrate all they had

learned. Each graduate attended

classes every morning and spent

the afternoon in an internship

on Berea College's campus or in

the community. Their instructors

included faculty members from

Berea College, the University of

Kentucky, community professionals

and NOSW staff members.

One of the February graduates

said, "There is never a dull

moment when you attend New

Opportunity School. We went

to Frankfort one day to see how

our state government works. We

attended concerts, saw different

kinds of art and had some fun field

trips, too. "

Lori Sliwa, executive director of

NOSW, said this group of graduates

was very special. "One of the

things that stood out from the

beginning was how quickly they

bonded," she said. "We could

see how much they understood,

supported and encouraged each

other that first evening. By the

end of the first week, they had

already named their class 'Sisters

of Fortitude.'"

Sliwa explained that the expectations

of NOSW are simply that

each woman take what she has

learned during her three weeks

and begin working on her career

and/or educational goals. "We

really encourage the women to

focus on themselves while they

are here so they can identify what

their specific challenges are and

how those challenges prevent

them from moving forward," she

said. "They can then develop

new skills and identify resources

to help them begin the changes

needed to move forward. The key

Each participant's health is also an

important part of the curriculum.

Many of the women cannot afford

preventive health care, so sessions

with health-care specialists are a

real bonus. Participants are offered

mammograms, Pap smears, dental

exams and other health screenings.

"I couldn't afford any of

that," said a recent graduate, "so I

really appreciated the medical and

dental help."

Getting ready for the "new opportunities"

includes having a

personal makeover. obtaining an

interview suit and professional

clothing from the NOSW Clothes

Closet, having a new hairstyle

and receiving lessons on applying

makeup for the business world.

To learn more about NOSW, call

(859) 985-7200. The Web site is

www. nosw.org. Women who wish

to apply for the program should

call the office to request an application

or send an email to info@

nosw.org. The mailing address

is New Opportunity School for

Women, 204 Chestnut St., Berea,

KY 40403.

If your group would like to have

a speaker from the program, call

the office to make arrangements.

Financial contributions are always

welcome, as are donations of good

used professional clothing and

accessories.

The curriculum

includes sessions

that provide women

with educational,

personal and

career-oriented

resources.
---
MARCH/APRIL 2 0 1 4

9

steering, a power convertible top,

padded visors, a tinted windshield,

a push-button AM radio with

antenna, rocker panel moldings,

deluxe wheel covers with spinners,

whitewall tires, dual outside

mirrors and two-speed electric

wipers.

by Jamie Lober, Staff Writer

March 9, 1964 was a pivotal day

in automobile history. It was the

first day of production of the Ford

Motor Company's Mustang coupe

and convertible.

More than 22,000 vehicles sold

on the very first day, and within

a two-year time period more

than a million sold. People of all

ages were eager to check out the

car and pay the starting price of

$2,368.

The Mustang is still considered

one of the most iconic cars of all

time. It created such hype that it

was able to make its first public

THE appearance YEAR on a racetrack WAS as 1985…

a

pace car Ronald for Reagan the 1964 was the Indianapolis

40th president.

500

A

a

gallon

little

of

over

gas cost

a

one

month

dollar and

after

twenty

its

cents.

introduction.

And

50 Years Ago...

First Ford Mustang

Rolls Off Assembly

Line

Iconic car still making an

impact down the road

It used parts that could be found

on other Ford vehicles, including

the suspension and chassis, which

simplified things immensely for

assembly and repair workers. They

didn't have to waste time learning

new procedures to successfully

support the new car line.

The first Mustang ever sold to the

The Lafayette

The Mustang has been commonly public was a Wimbledon White

referred to as a "pony car" because convertible. It had Wimbledon

opened

THE of YEAR its long WAS hood THE and 1985… YEAR short trunk. WAS 1985… White paint, a 260ci 2V V8 engine,

Cruise-O-Matic automatic

Ronald Reagan was the 40th president. Ronald Reagan was the 40th president.

Over time, car has evolved and

"The its Golden doors.

Girls" were fast becoming "The friends Golden on their Girls" first were season fast becoming on TV. friends on their first season on TV.

A gallon of gas cost one dollar and twenty A gallon cents. of gas cost one dollar and twenty cents.

become larger, longer and heavier. transmission, power brakes and

And And

These New Year's The Resolutions Lafayette Are The Easy Lafayette to Keep!

opened opened Join us for

its doors.

Senior

THE its

living

LAFAYETTE'S

doors.

at The Lafayette makes

it easy to keep your resolutions.

28TH ANNIVERSARY With Five Star dining, a full CELEBRATION

calendar

of activities and social events, a

Thursday, May 9th • 4:00-7:00 pm

1. Enjoy carefree retirement

living every day

2. Find more time for the

things you love to do –

leave the cooking and

cleaning to us!

3. Nurture your health –

mind, body and spirit

4. Enjoy the peace-of-mind

and security 24 hour

staffing, security systems

and people who care

about you

5. ENJOY FIVE STAR SENIOR

LIVING TODAY!

community

Join us for

of friends to share

Join us

the

for

THE Dinner day LAFAYETTE'S

4:30-7:00pm with, and support with THE Violinist and LAFAYETTE'S

care Bryce Farrar

Carriage available Rides 28TH by when Lexington needed,

ANNIVERSARY Livery you'll 5:00-7:00pm feel

28TH ANNIVERSARY CELEBRATION CELEBRATION

like every

Dixieland

day

Thursday,

Band

is a holiday!

Thursday, May 9th • 4:00-7:00

5:30-7:30pm

May pm 9th • 4:00-7:00 pm

Kindly RSVP Dinner 4:30-7:00pm to 859-278-9080 Call today with Violinist to Dinner Bryce schedule by Farrar 4:30-7:00pm May a tour. 6th with Violinist – Seating Bryce Farrar is limited

Carriage Rides by Lexington Livery Carriage 5:00-7:00pm Rides by Lexington Livery 5:00-7:00pm

Dixieland Band 5:30-7:30pm Dixieland Band 5:30-7:30pm

Kindly RSVP to 859-278-9080 Kindly by May RSVP 6th to 859-278-9080 – Seating is limited by May 6th – Seating is limited

Pet

Friendly

Pet

Friendly

"The Golden Girls" were fast becoming friends on their first season on TV.

690 Mason Headley Road • Lexington, KY 40504

690 Mason Headley Road • Lexington, 859-278-9080

KY 690 40504 Mason Headley Road • Lexington, KY 40504

859-278-9080 www.LafayetteLexington.com 859-278-9080

www.LafayetteLexington.com ©2013 Five Star Quality Care, www.LafayetteLexington.com

Inc.

Pet

©2013 Friendly Five Star Quality Care, Inc.

©2013 Five Star Quality Care, Inc.

ASK ASK ABOUT ABOUT OUR ANNIVERSARY OUR ASK ANNIVERSARY ABOUT MOVE-IN OUR SPECIALS! ANNIVERSARY MOVE-IN MOVE-IN SPECIALS! SPECIALS!

INDEPENDENT LIVING

Originally recognized for its speed

and power, the Mustang met the

demand of consumers by coming

out with some more luxurious

designs. Each generation of the

Mustang is different than the previous

one. The second generation,

which began in 1974, was reduced

in size so it could compete against

imported sports coupes. The car

was sold in both coupe and hatchback

versions, including a luxury

model designed by Ghia of Italy.

Today the fifth-generation Mustang,

with a style mimicking the

models from the late 1960s, stirs

up the same excitement as the

ones that came before it. Ford's

senior vice president of design,

J Mays, describes it as "retro

futurism." The sixth generation

Mustang, featuring an independent

rear suspension system, will

be out in 2015. With its history

of success, it's safe to assume the

Mustang will be cruising the

highways and byways for 50 more

years.

The Mustang is still

considered one

of the most iconic

cars of all time.

Suffering from Chronic Pain?

Trouble Sleeping? Stressed?

Stop suffering. Let us help.

17 years experience with proven results.

Learn how to relieve pain at home.

Robert Fueston,

Master Acupuncturist and Reiki Instructor

Lexington Center for Acupuncture, Massage & Reiki

Call 859-595-2164 or email info@acupunctureky.com

www.robertfueston.com
---
1 0 MARCH/APRIL 2 0 1 4

Go With the Grains

Versatile and delicious, grains are good for you

If there's one thing we hear about

grains these days, it's that they're

good for you.

What hardly anybody seems to mention

is that in addition to being nutritious and

healthy, grains are delicious and can be

flavorful and hearty in their own right.

One of the great things about grains is their

ability to absorb liquid and, therefore, the

flavor of the ingredients that are included

with them.

Take barley, for instance. If you're like me,

your earliest (and perhaps only) memory

of barley is of those little white grains in

the Campbell's vegetable soup that your

mom used to heat up for winter lunches.

Barley was, and probably still is, about the

only thing in the soup that had any texture

left after the merciless processing of the

ingredients.

It was this memory, along with the modest

price, that induced me to buy a bag of the

grain a couple of years ago. My thought was

to add it to my own homemade vegetable

beef soup for thickness and flavor.

As I tend to do with unfamiliar food,

however, I became intrigued with other

possible uses of barley. After consulting

several cookbooks, I found a few recipes

for a basic barley casserole. Combining the

food

dude

Frank

Kourt

the

best of these and adding other ingredients

here and there, I perfected my own version.

The resulting casserole makes a terrific

companion to almost any entree from roast

chicken to leg of lamb to standing rib roast.

The wonderful thing about this magnificent

grain is its uncanny similarity, in both

texture and nut-like flavor, to the more

expensive wild rice. So if you like wild rice,

try the barley casserole recipe included in

this article and get all the flavor at a fraction

of the cost.

Rice is another misunderstood grain. If your

chief exposure to it came in the form of that

awful concoction known as "instant" rice, as

mine was, you have probably avoided it. The

good news is that real rice is nothing like

the tasteless "instant" kind, which, in my

opinion, is to be avoided at all costs.

There are several different kinds of rice,

ranging from long grain to Arborio (an

imported Italian version) to wild rice (not a

rice at all, but a wild grain that may or may

not be mixed with the long-grain variety).

Try them all, for each has its own special

place as a culinary delight.

Arborio is a completely different experience

and a virtually different grain from regular

rice. It's expensive, so use it sparingly. But be

sure to use it when a recipe calls for Italian

risotto. It's worth the cost.

Barley Casserole

• 5 T margarine or butter

• 2 cloves garlic, chopped

• 1 large onion, chopped

• 1/2 lb. sliced mushrooms

• 1 cup pearl barley

• 2 cups chicken broth or bullion

In a large frying pan, melt butter or

margarine and add garlic, onion and

mushrooms. Sauté until soft, but not

brown. Add barley and brown lightly,

then pour into a casserole. Add the

first cup of broth. Cover and bake in a

350-degree oven for 30 minutes. Add

the second cup of broth, uncover and

continue to bake for another 30 minutes

or until the second cup of broth is

absorbed.

Basic Rice Pilaf

• 2 T olive oil

• 1 cup long grain rice

• 1 small onion, minced

• 2 cloves garlic, minced

• 1/2 tsp. salt

• 2 T fresh chopped parsley

• 2 cups chicken or beef stock

• 1/2 tsp. fresh ground black pepper

In a large frying pan, sauté the rice,

onion and garlic in olive oil, stirring

constantly until the rice is lightly

browned. Add salt, parsley and chicken

stock. Bring to a boil, reduce heat to low

and continue to simmer until the rice

has absorbed the liquid and is tender,

about 25-30 minutes. Add more stock if

needed.

One of the great

things about

grains is their

ability to absorb

liquid.
---
Growing Herbs

by Doris Settles, Staff Writer

Dress up your gardening space, indoors

or out, with the workhorses

of the plant world – herbs. Herbs

have been prized since ancient

times as medicine; for cooking and

deodorizing; as insect repellants;

and more. Herbs were so valued in

Biblical times they were often used

to pay taxes, preserve food and to

make ointments for every imaginable

ailment. Everyone from monk

to kings to the poor grew and used

herbs every day.

Today, every big-box store, every

nursery, every seed catalog has

herbs for sale. But before you

spend your hard-earned cash,

check with your friends and see

MARCH/APRIL 2 0 1 4

if they have any plants to share.

Perennial herbs need frequent division

to stay healthy and productive;

annual herbs, such as such as basil

and cilantro, can become troublesome

by reseeding themselves.

Gardeners are only too happy to

give away what they were going to

dig up anyway.

According to the American Herb

Society, these 10 herbs are at the

top of the list for home gardeners

and cooks:

• Sweet basil

(Ocimum basilicum)

• Common thyme

(Thymus vulgaris)

• Bay

(Laurus nobilis)

• Common sage

(Salvia officinalis)

• Greek oregano

(Origanum vulgare)

• Chives

(Alliums schoenoprasum)

• Dill

(Anethum graveolens)

• Parsley

(Petroselinum crispum)

• Rosemary

(Rosmarinus officinalis)

• Lavender

(Lavandula spp.)

Herbs tuck easily in among your

more ornamental plants and have

few pest or disease problems.

When they are planted as companions

to your vegetables, they

may actually increase your harvest.

Thyme and German chamomile

make wonderful ground covers,

replacing lawn turf to reduce mowing,

maintenance and watering.

Basil, cilantro, fennel and rosemary

add flavor and scent to cooking,

potpourri and floral arrangements.

Herbs grow well in pots, and a

sunny windowsill is the perfect

spot for basil, thyme and oregano.

1 1

Provide good drainage, water frequently

(but don't let them stand

in water), use good-quality potting

mix and add a slow-release fertilizer

once a month.

To grow herbs successfully in the

ground, amend your clay soil with

compost and cover with one or two

inches of organic mulch to reduce

weed growth and retain moisture

in warmer weather. Raised beds are

much easier to create optimal soils

but they will require more water.

Herbs can help you reduce fat,

sugar and salt in your diet if used

regularly. Recipes using herbs

abound on the Internet. Be creative

and sprinkle some into a favorite

recipe. Savory or sweet, you can't

beat the economy and taste of

home-grown herbs.

Savory or sweet, you

can't beat the economy

and taste of homegrown

herbs.

L

IBERTYR

Senior Living Community

IDGE

A Non-Profit Faith-Based Community

WE OFFER:

• Independent Garden Homes

• Assisted Living Apartments

• Memory Care Neighborhood Apartments

Final Phase of Garden Homes

currently under construction.

CALL TODAY TO SCHEDULE A COMPLIMENTARY

LUNCH AND TOUR. LOCATED IN LEXINGTON NEAR HAMBURG PLACE

859.543.9449

www.libertyridge.com

701 Liberty Ridge Lane Lexington Ky 40509
---
1 2 MARCH/APRIL 2 0 1 4

TRAVEL

Surprising Silver

Dollar City

Missouri town in Ozark Mountains

welcomes good sports

The pace of life at

the park is slow,

and everyone is

there to have a

good time.

by Jan Ross,

Staff Writer

Our expectations

for Silver Dollar

City, tucked away

in the beautiful Ozark Mountains

of Missouri right outside Branson,

were extremely low. Since

we are not fans of amusement

parks, if we had the choice we

would have taken Silver Dollar

City off our list completely. But

we were on a press trip, it was on

the schedule and we are nothing

if not good sports.

Lucky for us.

Silver Dollar City was absolutely

nothing like we expected, so it

turned out to be the highlight of

our entire visit. Although technically

an amusement park, it is a

unique and wonderful location.

First, it looks nothing like a typical

amusement park. It has meandering

paths, hundreds of trees

and lush foliage. Yes, there are

rides – in fact, Silver Dollar City

has a new $10 million wooden

roller coaster called Outlaw Run

that was voted the Best New Ride

of 2013 by Amusement Today.

There are plenty of other rides if

that is your cup of tea. However,

it is not ours.

But speaking of cups of tea, Silver

Dollar City is a veritable cornucopia

of culinary delights. Situated

throughout the lovely rolling

hills of the park are shops, restaurants

and outdoor vendors, all of

which provide the most amazing,

tantalizing and delicious food

you have ever tasted. From bakeries

with fresh homemade pastries

to vendors dipping from huge

frying pans full of succotash, each

dish is more wonderful than the

last. There is even a professional

culinary school that offers a variety

of classes.

If you hear music, it's probably

from one of the 40 live daily

shows, all of which are included

in your ticket price. Bluegrass,

country, western, gospel – you

will find it all here. The wonderful

performers are very professional.

In between catching

shows and stuffing that delectable

food in your mouth, you can

wander around the park and

marvel at all the local craftsmen

who have booths set up to display

their wares and demonstrate

their art. From glass blowing to

pottery to leather work and even

a blacksmith, you can spend the

day learning about these talented

artisans who are delighted to talk

about their Ozark crafts. None of

them are in a hurry. The pace of

life at the park is slow, and everyone

is there to have a good time.

When you're ready for a bit of

adventure, take a tour of Marvel

Cave, located right in the park.

Silver Dollar City owes its existence

to this natural cave, which

was opened as a tourist attraction

in 1894. The park was literally

built around the entrance to the

cave. The founders realized their

shops and restaurants, actually

designed to keep visitors who

were waiting to get into the cave,

were becoming very popular, and

so Silver Dollar city was born.

If you want a completely nontraditional

amusement park

experience, check out Silver Dollar

City. You will enjoy it just as

much as we did.
---
MARCH/APRIL 2 0 1 4

1 3

Gardening

Glorious Gladiolas, Delightful

Dahlias, Luscious Lilies

Plant summer-looming bulbs now

by Frank Kourt, Staff Writer

If you're looking to have colorful

displays in the sunny or even shady

spots in your garden this summer,

consider planting some bulbs this

spring.

You can put glorious gladiolas,

delightful dahlias and luscious lilies

in your sunny spots and elegant

elephant ears and colorful caladiums

in your shadier areas. These are

just a few of the summer-blooming

bulbs that are already available at

local gardening centers and homeimprovement

stores.

In general, you'll need to wait until

all chance of frost has passed before

putting in your summer-blooming

bulbs. Around these parts, that's the

end of April.

Before you plant, consider carefully

just where those bulbs are going.

Take a close look at your deciduous

trees and shrubs and imagine them

leafed out so you don't plant sun

lovers like glads and dahlias in what

will be shade.

Likewise, figure on planting shadeloving

plants such as caladiums and

elephant ears in places that will be

pretty much fully in shade during

the summer.

As with all plantings, you should

find a spot with well-drained soil

that has sufficiently dried so that it's

not muddy or overly wet. You may

want to consider conditioning the

soil by mixing in some peat moss

to make it more hospitable for your

plants.

When you buy your bulbs, be sure

to pay close attention to the instructions

that come with them, which

detail such things as the depth at

which they are to be planted and

sun and shade conditions that are

most favorable to the particular

bulb.

The rule of

thumb with

bulbs is

to plant

them

about

three times

as deep as

their diameter.

When

you plant,

make certain

the root portion

of the bulb is

facing down in the hole. Keep your

bulbs well watered while allowing

them to dry out between waterings,

and make sure you keep the area

well weeded.

When planting a cluster of bulbs,

such as gladiolas, it's a good idea not

to plant them in rows but in clusters

for a more natural look.

For shade lovers, such as caladium

and elephant ears, beware of slugs,

especially if conditions are wet or if

you have mulched the area. Regular

sprinklings of bait will help control

the slug and snail population.

Whether your bulbs will be perennial

or annual is a bit of a crapshoot

in our area. Over the past several

years, my gladiolas have come back

year after year, but as cold as this

winter has been, I'm not sure what

will happen this year. Likewise, I

have found that the dahlias I've

planted near the house have made

it from one year to the next. Not so

with those planted farther out, and

my caladium definitely don't winter

over.

You can store bulbs over the winter

by carefully digging them up after

the foliage has died back, usually

after the first light frost. You can

then allow them to "cure" by keeping

them in a warm, dry place out

of direct sun for about a week. You

can then keep them in a dry place in

above-freezing temperatures. Check

the Internet for specific recommendations

for storing individual

bulbs, since different bulbs require

different methods of storage.

I used to store dahlia toes and glad

bulbs over the winter, but in my old

age, I find it's too much of a hassle.

I'd just as soon buy new in the

spring, but it's up to you.

Take a tour and join us for lunch, on us!

Make your reservation today for our

complimentary lunch and tour.

ARE YOU DISABLED?

HAVE YOU APPLIED FOR SOCIAL SECURITY DISABILITY?

ARE YOU CAUGHT UP IN RED TAPE?

An experienced Social Security Claims Advocate can help you:

• By assisting you in filing your initial application.

• Filling out and filing your appeals.

• Gather medical and other important information to submit to Social Security.

• Contact your doctors to obtain a report of your medical condition.

• By obtaining documents from your Social Security file and review them.

• By presenting opening and closing statements at your hearing that

will state how you meet the Social Security listing of being disabled.

1001 Crossfield Drive

Versailles, KY 40383

daisyhillseniorliving.com and

859.753.2000

us on Facebook

For a FREE CONSULTATION of your claim call

Patsy R. Hughes, Disability Claims Advocate,

1-859-263-7780.

NO FEE IS PAID UNLESS YOU WIN
---
1 4 MARCH/APRIL 2 0 1 4

Annual GAP Conference

Set for March 20

Grandparents raising grandkids

invited

by Martha Evans Sparks,

Staff Writer

The 12th annual Grandparents As

Parents (GAP) conference will be

held Thursday, March 20, 2014 at

the Clarion Hotel, 1950 Newtown

Pike in Lexington. Although the

conference is open to everyone,

it is especially planned to help

grandparents or other relatives and

caregivers who have full parental

responsibility for children not their

own. Registration for the conference

begins at 8 a.m. The event

ends at 3:30 p.m.

Thirteen workshops will cover

issues that often confront relative

caregivers, including the legal

process in seeking custody of

children in your care; how to discipline

the traumatized child who

has been abused or comes from a

substance-abusing home; how to

achieve a healthy balance between

your needs as

a caregiver and

the needs of the

child; and others.

As in previous

years, individual

free consultations

with a volunteer

attorney will be

available. Time

slots are limited

and will be filled on a first-come,

first-served basis. To request a consultation,

you will need to fill out

the Legal Consultation Request

Thirteen

workshops will

cover issues

that often

confront relative

caregivers.

form printed on the back of the

registration form and send it in

with your registration.

New this year will be benefits

consultations. Representatives

from several agencies, including

Social Security and the Kentucky

Department of Community Based

Services, will be available to meet

individually about benefits, family

support and adoption. Conference

attendees interested in a consult

should indicate it on the registration

form. You can sign up for a

time when you

arrive for the

conference.

Dr. Malcolm

Smith, an extension

professor

in the University

of New

Hampshire's

Department

of Education,

will give the keynote address at

8:30 a.m. In 2011, Smith founded

the Courage to Care Program that

teaches empathy and kindness to

thousands of middle school children

across America. His keynote

is titled "The Meanest Generation

– How Things Have Changed and

What to Do about It." In addition,

Smith will present two workshops,

"Realistic Grandparenting," which

will explore how parenting has

changed in this generation, and

"Understanding Bullying."

A resource fair will be available all

day during registration, between

sessions and during lunch. It will

feature various services and publications

helpful to those raising children

that are not their own. Continuing

education units (CEUs) in

social work and continuing legal

education units (CLEs) are available

for professional who attend.

Registration is $5 for grandparents,

caregivers, relatives and any other

interested person. For professionals

and exhibitors at the resource fair,

the registration fee is $50, which

includes lunch. For more information

or to get registration forms,

call (859) 257-5582 or go to www.

gapofky.org.

• Auto Accident Injuries

• Motorcycle Accidents

Are You Injured? Are You Disabled?

WE CAN HELP

• Nursing Home Neglect/Abuse

• Social Security Disability

• Long-Term Disability

Insurance Claims

Hablamos

Español

SPENCER

LS

G

LAW GROUP

• Work Related Injuries/

Workers' Compensation

• Tractor & Trailer Accidents

• All Wrongful Death Cases

• All Personal Injury Cases

• Immigration

FREE

CONSULTATION

Fee Deducted From Settlement

Kelly P. Spencer & Associates

252-HELP (4357) • 1.800.980.0207

535 Wellington Way / 3rd Floor • www.kellyspencerlaw.com
---
FINANCIAL

Comparing Credit Unions

and Banks

Structure, management differ for these

institutions

by Angela S. Hoover, Staff Writer

Credit unions and banks offer

mostly the same services: checking

and savings accounts; financial

products such as CDs; and loans

and mortgages. But this is where

the similarities end. The basic structures

and management of the two

institutes are strikingly different.

BANKS

Banks are for-profit corporations

that use depositors' money to create

profits by investing it or loaning it

out to other customers. When you

make a deposit or buy a savings

product, you're essentially loaning

money to the bank. In exchange,

the bank pays you back in interest

for that loan, but rates can vary

widely among banks.

As with any for-profit business,

banks answer to their investors.

Therefore, all the activities a bank

engages in are expected to show

a profit. The key expenditures of

banks are advertising, lobbying and

risk assessment. Advertising creates

the belief that one particular bank

is better than others so people will

place their money in that bank.

Lobbying ensures government

regulations don't harm banks' profit

margins and executive salaries.

Risk assessment determines what

investments will yield a return and

improve the bank's bottom line.

CREDIT UNIONS

Credit unions are not-for-profit

financial cooperatives, which

removes many of the fiscal concerns

banks must mitigate. Any profits

a credit union makes are used to

offer better rates on loans and savings

and other advantages such as

discounts on local products and services

or tickets to events. At the end

of the year, any further revenues are

distributed to the members through

dividends. When you deposit

money into a credit union, you are

actually buying shares. This means

you are part owner. This is why

credit union checking accounts are

called share drafts and the customers

are called members.

Credit union memberships are

restricted to a certain group –

members of an industry, a region or

other category. There is no board

of directors or corporate interest

controlling the credit union's

choices because members agree on

everything. Executives and directors

are volunteers who are elected

by vote.

Although credit unions offer checking

accounts, they concentrate on

savings and offer higher rates of

return on savings accounts and

saving products such as money

markets and CDs. The disadvantage

of credit unions can be limited venues

to access your money. However,

most credit unions these days have

formed coalitions to share branches

and ATMs, as well as offering online

banking and bill paying.

HOW TO CHOOSE

Both types of institutions offer a

service, but your needs come first.

Deciding between a bank or a credit

union will boil down to what is

available to you, what is offered and

its convenience to your lifestyle

and needs. Often you can link bank

and credit union accounts to enjoy

the convenience and benefits both

institutions offer. Once you know

which credit unions are available for

you to join, consider convenience

of branches and ATMs, ATM fees,

interest rates on deposits, credit and

loans and ease of online banking.

Side-by-Side Comparison:

Banks

Depositors called customers.

Customers have no ownership in

the institution. Banks owned by

investors who may or may not be

depositors.

Owned and controlled by

stockholders, whose number of

votes depend upon the number

of shares owned. Customers

have no voting rights, cannot be

elected to the board and have no

say in how the bank is operated.

Directors are selected by current

directors or by large-block stock

acquisition.

Banks' board members are paid

and do not necessarily reflect the

diversity of their customer base.

Banks are open to the general

public.

Banks are for-profit corporations

with declared earnings paid to

stockholders only.

Banks focus on commercial loans

and accounts and services that

generate significant income.

Competition between banks

prohibits the sharing of resources.

Taxpayer funds have been used

twice (1980s and 2008) for bank

bail outs.

Bank deposit accounts are

insured up to $250,000 by the

Federal Deposit Insurance

Corporation (FDIC).

Credit Unions

Depositors are called members.

Each member is an owner of the

credit union.

Each member, regardless of

how much money they have on

deposit, has one vote in electing

board members. Members can

also run for election to the board.

Credit unions' boards are

comprised of volunteers who

reflect the diversity of the

membership

Credit unions are local and

organized to serve the interests of

its membership.

Credit unions are not-for-profit

financial cooperatives whose

earnings are paid back to

members in the form of higher

savings rates and lower loan

rates.

Credit unions focus on consumer

loans and member savings, as

well as services needed by the

membership.

Credit unions cooperate with

other credit unions and share

resources to bring convenience

and savings to members. This

can include co-op ATM networks

shared among different credit

unions and no ATM fees for nonbranch

use.

Taxpayer funds have never been

used to bail out a credit union.

Credit union deposits are

federally insured up to $250,000

by the National Credit Union

Administration (NCUA).
---
1 6 MARCH/APRIL 2 0 1 4

Events

Calendar

MARCH 2014 APRIL 2014

Sun Mon Tue Wed Thu Fri Sat

1 1 2 3 4 5

2 3 4 5 6 7 8 6 7 8 9 10 11 12

9 10 11 12 13 14 15 13 14 15 16 17 18 19

16 17 18 19 20 21 22 20 21 22 23 24 25 26

23 24 25 26 27 28 29 27 28 29 30

30 31

Ongoing

Yoga Health & Therapy

Center Classes

Our Yoga Classes feature slow

stretch with gentle breathing,

and relaxation techniques.

Class size is small, to provide

careful instruction. Yoga classes

are offered Mon through Thurs

(daytime and evening), and Sat

mornings. Our Meditation Starter

Course teaches simple ways

to focus and quiet the mind;

5-week sessions are offered on

Sundays at 5:30 pm. A nonprofit

organization operating

since 1981, The Yoga Health &

Therapy Center is located at 322

W. 2nd St. Free private parking

is provided for most classes. For

more information on fees and

scheduled dates and times, call

us at 859-254-9529, or email us

at info@yogahealthcenter.org

Sun Mon Tue Wed Thu Fri Sat

Send us your event listings

List your event for FREE if it's free to the public*.

E-mail your event information to graphics@samplerpublications.com

(*$35 fee for events that are not free to the public)

Reiki Introduction &

Practice

6:30pm- 8:30pm, 4th Tuesday

each month. 1403 E. Breckinridge

Street, Louisville, KY. Free.

Those who do have not Reiki

training—come for an introduction

& to experience it. No experience

required. Those with Reiki come

to practice on others & receive

the Reiki energy. Everyone will

get 15 -20 minute Reiki treatment.

Free reattunement to your last

level of Usui or Karuna Reiki® if

you have your certificate. Contact

JoAnn Utley at 502-777-3865

or jutley5122@bellsouth.net to

register. More info at http://

joannutley.byregion.net

Sit and Get Fit

Mondays and Fridays, 9:30am-

10:30am. FREE! This event is

a seated controlled exercise/

movement class to improve

strength, flexibility, balance

and coordination. It is taught

by Anne Graff, MS, OTR/L,

Occupational Therapist certified

by the American Senior Fitness

Association as a Senior Fitness

Instructor and trained in Body

Recall. Also included are: Fall

Prevention and Recovery, Fun

Movements to Strengthen

Body and Mind, Improve

Posture and Core Conditioning,

Wellness Education, Relaxation

Techniques, and Music.

The Charles Young Center is

located at 540 E. Third Street.

Parking is available on Shropshire

Avenue or Lewis Street,

Lexington, KY. Ages 60 and older.

For more information, please

contact Alexis Edge at 859-246-

0281 or aedge@lexingtonky.gov.

Wellness Wednesday

On the first Wednesday of the

month, all Good Foods Market

and Café customers will receive

5% off all supplements, body

care, and bulk herb & spice

items. Customers can special

order Wellness Wednesday items

ahead of time and pick them up

on Wellness Wednesday. When:

Wednesday, July 3, 8 am – 10

pm. held at Good Foods Market

& Café, 455 Southland Drive.

March 14

Intro to Tai Chi

Together with Sin Thé Karate

School. Explore the graceful and

meaningful movements of Tai Chi.

All levels are welcome.

Please register at our front

desk or say you are attending

on our FB event. Joseph-Beth

Booksellers, 161 Lexington

Green Circle, Lexington, KY

40503. 859.273.2911. Visit www.

josephbeth.com.

March 15

The Mindful Way to

Stress Reduction – An

introduction to MBSR

Everyday life is full of stressful

events. Mindfulness is a way to

cope with stress. This age old

practice of cultivating awareness

through meditation and gentle

movement is about being present

in the fullness of our lives with

balance and joy. Learn about

powerful ways mindfulness

can enhance your physical and

emotional health by reducing

stress. Experience the benefits

of a mindful practice with MBSR

instructor Toni Reiss. Toni will

teach a free class on the world

acclaimed 8-week Mindfulness-

Based Stress Reduction (MBSR)

program on March 16 from

3:00 – 4:00 p.m. This class is

recommended for those who

plan to enroll in the 8-week

MBSR class starting March

23. All classes will be held at

Lexington Healing Arts Academy,

272 Southland Drive, Lexington.)

Register for this free class by

calling 859-252-5656 or email

mindfulnessmatters2us@gmail.

com

March 15

Keen and Laura

Babbage

Discuss/Sign Life

Lessons from Cancer

Book

Life Lessons from Cancer

(ISBN 9780989884815, RRP

International, $29.99). The good,

the bad and the ugly. Life Lessons

from Cancer is an extraordinary

book about two extraordinary

people. It's not just a book about

cancer. It's about the courage of

a man in a life and death struggle

and a world class caregiver who
---
MARCH/APRIL 2 0 1 4

1 7

documented the battle as it

was taking place. This book is a

superb reference for both cancer

patient and cancer caregiver. Life

Lessons from Cancer inspires us,

but most of all it teaches us. It is

a terrific book. Don McNay Best-

Selling Author and Huffington

Post Contributor. Joseph-Beth

Booksellers, 161 Lexington

Green Circle, Lexington, KY

40503. 859.273.2911. Visit

www.josephbeth.com.

March 18

Eat, Move, Lose

Weight

Support Group

12 – 1 pm, Lexington-Fayette

Co. Health Department PH Clinic

South, 2433 Regency Road.

Free weight-loss support group

appropriate for anyone wishing

to lose weight or maintain weight

loss. Share struggles and ideas

with others. Held first and third

Tuesdays most months. For more

information or to pre-register, call

288-2446.

March 18

Health Chats about

Diabetes

5-6 pm, Nathaniel Mission Free

clinic, 616 DeRoode Street. Free.

Sponsored by the Lexington-

Fayette Co. Health Dept. and UK

Healthcare. For more information,

call (859) 288-2446.

March 19

Pre-Diabetes Class

6:30-7:30, Lexington Public

Library Village Branch, 2185

Versailles Rd., Lexington. Learn

the basics about how to prevent

diabetes. For more information

or to pre-register, call 288-2446.

Sponsored by the Lexington-

Fayette Co. Health Dept.

March 22

Journey in Faith and

Wellness Seminar

The Episcopal Church Women

of the Church of the Holy

Trinity are presenting their third

annual Journey in Faith and

Wellness seminar on Saturday,

March 22, 2014. The event will

take place in the parish hall on

Clinton Avenue from 1:00 to

5:00 p.m. Local practitioners

will provide interactive programs

on topics such as nutrition, tai

chi, acupuncture, meditation,

hypnosis, and reiki. All of the

speakers practice in Georgetown

or the central Kentucky area.

Tickets for the event cost $5.00

and may be purchased from a

member of the church or call

for reservations at 863-0505.

Proceeds from the seminar will

go to support local charities.

Last year the Episcopal Church

Women (ECW) gave funds to the

Amen House, St. Agnes House,

the Community Medical Mission

and the Gathering Place. They

have also supported Reading

Camp, the Rape Crisis Center

and the Georgetown Child

Development Center. The event

is co-sponsored by the Diocese

of Lexington Episcopal Church

Women. For more information

about Journey in Faith and

Wellness, contact Donna Whorley

at the church office, 502-863-

0505 or e-mail her at office@

holytrinitydiolex.org.

March 25

Reiki Introduction &

Practice

6:30pm- 8:30pm. 2508

Wallace Avenue, Louisville, KY

40205. Free. Those who do

have not Reiki training—come for

an introduction & to experience it.

No experience required. Those

with Reiki come to receive

the Reiki energy & practice on

others. Free reattunement to

your last level of Usui or Karuna

Reiki® upon request if you

have your certificate. Contact

JoAnn Utley at 502-777-3865

or jutley5122@bellsouth.net to

register. More info at http://

joannutley.byregion.net

March 29

A Day of Mindfulness

for Body, Mind and

Spirit

Mind Body Studio, Saturday

March 29 from 9AM-4PM.

This mini-retreat will help you:

Mobilize your inner resources

for healing; Practice self-care

approaches for promoting

health; Learn mind-body skills

for managing stress-related

chronic conditions; Relax your

body, quiet your mind and open

your heart; Cultivate your innate

happiness, peacefulness and

compassion. You will learn:

Skilled relaxation; Body scan;

Guided imagery; Journaling; Self

massage; Mindfulness meditation

Mindful gentle yoga. Sliding

scale $25-95. Pre-registration

required. www.mindbodystudio.

org. Call 859-373-0033. John A.

Patterson MD, MSPH, FAAFP,

Board certified- Family Practice

and Integrative Holistic Medicine.

Faculty member- UK College

of Medicine, U of L School

of Medicine, and Saybrook

Graduate School of Mind Body

Medicine.

April 1

Pat Benatar with Neil

Giraldo

High Bridge Spring Water

sponsors the Troubador Concert

Series with Pat Benatar and Neil

Giraldo. Time: 7:30 p.m. Price:

$94.70 Opera House. (859)233-

3535 or lexingtoncenter.com for

tickets. 401 West Short Street,

Lexington, KY.

April 2

Dublin Guitar Quartet

The Dublin Guitar Quartet

is a one-of-a-kind classical

guitar ensemble that occupies

a unique space in the wider

chamber music world. Their

concerts include a mix of new

works and modern classics

by internationally acclaimed

composers. Time: 7:30pm.

Admission: $30. 600 West

Walnut Street, Danville,

Kentucky. (877)448-7469. www.

nortoncenter.com. Location:

Norton Center/Club Weisiger.

April 22

Reiki Introduction &

Practice

6:30pm- 8:30pm. 2508

Wallace Avenue, Louisville, KY

40205. Free. Those who do

have not Reiki training—come for

an introduction & to experience it.

No experience required. Those

with Reiki come to receive

the Reiki energy & practice on

others. Free reattunement to

your last level of Usui or Karuna

Reiki® upon request if you

have your certificate. Contact

JoAnn Utley at 502-777-3865

or jutley5122@bellsouth.net to

register. More info at http://

joannutley.byregion.net

May 17-18

Bike MS: Bluegrass,

Bikes & Bourbon

Takes you through the heart of

Bourbon Country. Hundreds of

riders will enjoy breathtaking

views on this scenic ride. There

are 36-100 mile route options.

To make your ride a safe and

memorable one, the Bike MS:

Bluegrass, Bikes & Bourbon

is fully supported with SAG

vehicles, bike mechanics and rest

stops. After the ride, we invite

all of our registered cyclists to

celebrate and enjoy great food

and festivities at the Finish Line

Celebration on both Saturday

and Sunday afternoon. Email

jerika.amos@nmss.org for details

and to register ($35 through Feb

17, $45 from Feb 18-May 10,

and $55 week of ride registration

fee). Each cyclist must raise a

minimum of $300 in addition

to their registration fee before

check-in to participate in Bike

MS – no exceptions.

May 31

Walk MS Lexington

2014

Walk MS connects people

living with MS and those

who care about them. It is an

experience unlike any other

- a day to come together, to

celebrate the progress we've

made and to show the power

of our connections. When you

participate in Walk MS, the funds

you raise give hope to the more

than 5000 people living with MS

in our community. The dollars

raised support life-changing

programs and cutting-edge

research. Every connection

counts. Register now, connect

with others and start fundraising

today. Address: 101 RJ Corman

Drive Nicholasville, KY 40356

Site Opens: Registration opens

at 9am; Walk begins at 10am.

Route Length: 1 and 3 mile

option available. Event Contact

Name: Mary Carabella. Event

Contact Email: mary.carabella@

nmss.org. Event Contact Phone:

502-526-5303. http://walkkyw.

nationalmssociety.org/site/TR?fr_

id=23497&pg=entry.

Nature lovers, hikers, cliff climbers

RENT THIS CABIN

Near Natural Bridge State Park and

Red River Gorge.

Call or visit website for reservations.

Ken & Sheila Brown

www.VRBO.com/361686

(606) 668-2599

(606) 643-6044

ksbrown@mrtc.com
---
1 8 MARCH/APRIL 2 0 1 4

Senior Services

DIRECTORY

About the Directory

Living Well 50+ is striving to make your search for local

senior services a bit easier. We know there are many

companies available to assist seniors in central Kentucky

– so many that beginning a search to fit your need can

seem like a daunting task.

That's why our directory features a collection of local

companies and organizations who have a solid track

record of providing exceptional assistance. We hope it

becomes a useful starting point in your search for quality

senior services.

Category Key

County Offices & Meal Programs

Health Care Systems & Hospitals

Transportation, Personal Shopping, Errands

Does your

business

provide

excellent

senior

services?

call us for a spot

in the directory

859.225.4466

Senior Day Centers, Adult Day Centers &

Respite Care

In Home Care (Non-Medical)

In Home Medical Care

Mental Health, Family & Caregiver Support, Advice

Disability & Rehabilitation

Medical Equipment, Supplies & Monitoring Systems

Finances & Estate Planning, Trusts/Wills,

Reverse Mortgage

Funeral Arrangement & Pre-Planning

Legal Services

Home Repair & Maintenance

Skilled Nursing Facilities, Personal Care Homes,

Long-Term Care

Senior Independent Living & Retirement Housing

(Non-Medical)

Real Estate / Rent- Subsidized Housing For Independent

Living

Moving, Estate Sales, Downsizing Services

Fitness, Healthy Eating & Healthy Living

Healthcare, Medicare Help and Insurance

Vision Care
---
MARCH/APRIL 2 0 1 4

1 9

HEALTH CARE SYSTEMS

& HOSPITALS

Lexington Clinic

1221 S. Broadway

Lexington, KY 40504

859-258-4000

IN HOME CARE

(NON-MEDICAL)

Accessible Home

Health Care

366 Waller Ave. Ste. 112

Lexington, KY 40504

859-313-5167

www.accessiblebluegrass.com

Assisting Hands

1795 Alysheba Way, Ste. 7105

Lexington, KY 40509

859-264-0646

www.assistinghands.com/lexington

Senior Helpers of the

Bluegrass

3070 Harrodsburg Rd. Ste. 240

Lexington, KY 40503

859-296-2525

www.seniorhelpers.com

IN HOME

MEDICAL CARE

Medi-Calls

1055 Wellington Way #215

Lexington, KY 40513

859-422-4369

Saint Joseph Home Health

2464 Fortune Dr. Ste. 110

Lexington, KY 40509

859-277-5111

www.saintjosephanchomecare.com

DISABILITY &

REHABILITATION

YMCA of Central Kentucky

239 E. High St.

Lexington, KY 40502

859-254-9622

ymcaofcentralky.org

Drayer Physical Therapy

Institute: Winchester Center

160 Pedro Way

859-745-2152

www.drayerpt.com

Drayer Physical Therapy

Institute: Richmond Center

1054 Center Drive, Ste. 1

859-625-0600

www.drayerpt.com

Drayer Physical Therapy

Institute: Lexington Perimeter

Center

600 Perimeter Drive, Ste. 175

859-268-1201

www.drayerpt.com

Drayer Physical Therapy

Institute: Lexington Beaumont

Center

1010 Monarch Street, Ste. 150

859-219-0211

www.drayerpt.com

MEDICAL EQUIPMENT,

SUPPLIES &

MONITORING SYSTEMS

Central Baptist Lifeline

859-260-6217

www.centralbap.com

FINANCES & ESTATE

PLANNING, TRUSTS/

WILLS, REVERSE

MORTGAGE

Attorney Walter C. Cox, Jr

& Assoc. LLC

2333 Alexandria Dr.

859-514-6033

www.waltercoxlaw.com

info@waltercoxlaw.com

LEGAL SERVICES

Bluegrass Elder Law

120 North Mill Street, Ste 300

859-281-0048

www.bgelderlaw.com

HOME REPAIR &

MAINTENANCE

Mountain Waterfalls

Award-Winning Water Features

859-684-0642

www.mountainwaterfalls.net

SENIOR INDEPENDENT

LIVING & RETIREMENT

HOUSING (NON-MEDICAL)

Mayfair Village

3310 Tates Creek Rd.

Lexington, KY 40502

859-266-2129

www.mayfairseniors.com

Windsor Gardens of

Georgetown Assisted Living

100 Windsor Path

Georgetown, KY 40324

502-570-0540

marsha@goodworksunlimited.com

Rose Mary C. Brooks Place

200 Rose Mary Dr.

Winchester, KY 40391

859-745-4904

www.brooksplace.org

The Lafayette

690 Mason Headley Rd.

859-278-9080

www.lafayettelexington.com

Ashland Terrace

475 S. Ashland Ave.

Lexington, KY 40502

859-266-2581

www.ashlandterrace.org

Hometown Manor Assisted

Living Community

Georgetown, Lawrenceburg,

Shelbyville

859-229-5914

www.hometownmanor.com

St Andrews Retirement

Community

300 Stocker Dr.

859-625-1400

www.standrewsplace.org

MORE

LISTINGS

ON NEXT

PAGE

Bluegrass

www.bgelderlaw.com

ElderlawPLLC

Take control of your future

Carolyn L. Kenton

Amy E. Dougherty

120 N. Mill St., Ste. 300

Lexington, KY 40507

Phone: 859.281.0048

Wealth Preservation

Powers of Attorney

Guardianship

Medicaid Planning

Probate
---
2 0 MARCH/APRIL 2 0 1 4

We have what no other

homecare company has...

Our People

The quality of life you enjoy depends on the

quality of care your receive. Our caregivers

go beyond caring for patients to

...caring about them.

●

RNs & LPNs

●

Home Health Aides

●

Homemakers

●

Therapists

(Physical, Speech

& Occupational)

Medicare/Medicaid/Commercial Insurance/Private Pay

Joint Commission accredited

No matter when you call you will speak

with an experienced associate who can

help you with all your home care needs.

For more information call:

SERVICE DIRECTORY, CONTINUED

REAL ESTATE /

RENT-SUBSIDIZED

HOUSING FOR

INDEPENDENT LIVING

Turf Town Properties, Inc.

124 Kentucky Ave.

Lexington, KY 40502

859-268-4663

www.turftown.com

Briarwood Apartments

1349 Centre Parkway

Lexington, KY 40517

859-272-3421

glickco.com

MOVING, ESTATE SALES,

DOWNSIZING SERVICES

Caring Transitions

1411 Delaware Ave.

859-543-9848

www.CTLex.net

Lexington Life Services

859-797-8157

lexingtonlifeservices.com

FITNESS, HEALTHY

EATING & HEALTHY

LIVING

Yoga Health & Therapy

Center

322 West Second Street

Lexington, KY 40507

859-254-9529

www.yogahealthcenter.org

Well Fed Meals

1301 Winchester Rd. #17

Lexington, KY 40505

859-539-5863

www.wellfedmeals.com

HEALTHCARE,

MEDICARE HELP &

INSURANCE

Bluegrass Insurance

Solutions

859-312-9646

www.PeteAlberti.com

VISION CARE

Medical Vision

3288 Eagle View Ln. Ste. 300

Lexington, KY

859-278-9486

www.medicalvision.com

TRANSPORTATION,

PERSONAL SHOPPING,

ERRANDS

Superior Van & Mobility

4734 Rockford Plaza

Louisville, KY 40216

1-800-458-8267

www.superiorvan.com

Saint Joseph-ANC

Home Care

859-277-5111

2464 fortune drive,suite 110

lexington, ky 40509

www.saintjosephanchomecare.com

Proudly serving Central Kentucky since 1985
---
MARCH/APRIL 2 0 1 4

2 1

THIS IS AN ADVERTISEMENT.

Have you appointed a trusted person

to manage your affairs?

We can help you designate powers of attorney,

healthcare surrogacy, and guardianship.

Do you want to be confident

about your asset transfers

to the next generation?

Let us help you with wills, testamentary trusts,

special needs trusts, and estate settlements.

Have you planned for later life care?

We can help you protect your assets for

Medicaid eligibility, handle your crisis

planning and VA pension planning.

Providing personal legal advice to the Central Kentucky region.

Carolyn L. Kenton

Amy E. Dougherty

BLUEGRASS ELDERLAW

120 North Mill Street, Suite 300

Lexington, KY 40507

859.281.0048

www.bgelderlaw.com

How to Have a Strategy for

Better Communication in the

Second Half of Life

Personality type tests could help your

relationships

by Sandra W. Plant, Staff Writer

Communication issues can become

more stressful as we age, especially

when a spouse retires or when a

long-awaited trip with a long-time

friend becomes a source of disagreement

rather than fun.

Instead of feeling doomed to having

your "golden years" turn sour

because of irritating differences, you

might want to consider spending an

hour taking the Myers-Briggs Type

Indicator (MBTI). This 54-year-old

personality assessment tool can be

a huge help in understanding that

your spouse or friend might simply

experience the world in a different

way than you do.

When you consider that the MBTI

divides people into 16 different

types, it might be helpful to know

your type and how you interact with

other types. Are you most likely

an extrovert or introvert? Are you

a sensing type or does intuition

characterize your type? Are you a

thinking or a feeling type? Are you

a judging or perceiving type? The

MBTI will discern your type.

Applying what you learn at home,

you may see your spouse organizes

his or her life by making extensive

lists and operating on a fairly structured

schedule. You, on the other

hand, prefer a more casual approach

to getting through the day. The fact

is, neither of you is wrong. You are

simply different types who will be

able to communicate better just by

understanding your differences.

Adele Tyler of Nashville, Tenn., is

certified to administer the MBTI.

She explained the test is based on

the theories of psychiatrist Carl

Jung as described in his 1923 book,

Psychological Types.

"The MBTI is an assessment done

by questionnaire to measure inborn

psychological preferences as to how

people experience the world," Tyler

said. "It can help us understand how

we prefer to take in information,

make decisions, organize our lives

and where we get our energy."

She emphasizes the MBTI measures

some preferences or characteristics,

but not all. There is no need to be

intimidated at the thought of taking

the assessment, she added. It is a

useful tool for understanding one's

self and others. It is not an intelligence

test or a mental-health evaluation,

she said.

Tyler is convinced the MBTI

can be especially beneficial in the

second half of life because it helps

those interested in personal and

spiritual growth to come to know

their authentic selves. It helps with

relationship issues and the transitions

of aging and retirement. This

is a time when couples are spending

more time together or when retirees

are looking for new hobbies or parttime

careers.

Sometimes the adjustments necessary

for living alone after a death or

divorce are difficult to face. Tyler

says many people in this situation

gain new insights by taking

the MBTI. "Armed with a better

understanding of themselves, they

are better able to create a new life

and find new friends and interests,"

she said.

Tyler administers the MBTI for

both individuals and couples. She

can be contacted at adeletyler@

comcast.net. Her charge is $100 for

an individual or $150 for couples.

TEST Continued on Page 31
---
2 2 MARCH/APRIL 2 0 1 4

Golf Gets You

Going

Favorite American

pastime is also

good exercise

by Jean Jeffers, Staff Writer

As fitness-conscious people, many

individuals look at golf not only

as a game but also as a form of

exercise.

Researchers in Sweden did a study

on the physical demands made on

middle-aged golfers walking their

course. They discovered the golfers'

exercise intensity was from 40

percent to 70 percent of maximum

aerobic power, even though

short walking distances were

involved. The total distance for a

game of golf could be anywhere

from four to seven miles, making

it a formidable exercise program.

According to Golf Science International

researcher Gi Magnusson,

four hours of playing golf is

similar to the exercise obtained

in a 45-minute fitness class. "Golf

is unique in the way it motivates

middle-aged and elderly individuals

to walk a fairly long distance on

a regular basis," Magnusson said.

Getting out on a golf course has

proven health benefits. These

include:

Walking

Cardiovascular activity is usually

thought of as exercise that is

aerobic, elevates the heart rate and

improves the activity of the heart.

Very often biking, swimming and

jogging are recommended, as is

walking. Golf may be called "a

good walk spoiled" but it's still

highly beneficial.

Strength training

Walking the hills and valleys of

the typical golf course can exert a

positive effect on quadriceps and

hamstring muscles, thus strengthening

the lower body. Upper body

strength is improved through lifting

and carrying around that golf

bag and swinging your clubs.

Balance

One of the best types of exercise

you can obtain from golf is

increasing your ability to balance.

It creates a very strong core and

helps prevent falls.

Concentration

We have learned that exercise of

the mind is a great way to provide

for a healthy brain. What better

way to use your brain than on

something you enjoy and benefit

from at the same time? Golfing

forces you to remember numbers,

images and specific tips and

techniques.

Henry, age 90, is a golfer who has

played for many years. "I think

golf is a wonderful sport," he said.

"It is a fantastic way to get exercise

and to relax at the same time. It

is energy, it is exercise and it is

social."

Joel Bange, director of golf at

Aston Oaks Golf Club in Cincinnati,

Ohio, says players can learn

a lot from golf. "I believe golf is

a teacher of life lessons," he said.

"Golf teaches that attitude is

important. And learning to respect

other players is a must. Safety

and courtesy on the fairways are

practiced."

Bange offers some safety tips for

players of all ages:

• Be courteous when coming

around corners.

• Maintain quiet when others are

swinging.

• Signal for every ball in the air.

I think golf is a

wonderful sport. It is

a fantastic way to get

exercise and to relax

at the same time."

–Henry, 90-year-old golfer
---
Person of Interest

Late Life Success:

Laura Ingalls Wilder

Author of The Little House Series

didn't publish until age 65

by Angela S. Hoover, Staff Writer

"There's no great loss without

some small gain."

These words passage from Chapter

9: Blackbirds in the sixth book

of the Little House series, Beyond

Little House: Little Town on the

Prairie, summarizes Laura Ingalls

Wilder's life.

Wilder experienced through

extraordinary loss in her life. But

she received and gave more than

a small gain when she published

the first Little House book at the

age of 65.

The Little House series of novels

chronicles Wilder's family's life

as a memoir for the family and

historical posterity. However,

there are differences between the

accounts in the books and her

actual history. Most notably, she

increased her age to 8 or 9 in the

novels for certain events because

her publisher was concerned

readers would be skeptical of a

6-year-old possessing such vivid

memories.

Laura Ingalls was born in Pepin,

Wisc., on Feb. 7, 1867, the second

of five children. She was a descendant

of the Delano family, relatives

of Franklin Delano Roosevelt,

the 32nd president of the United

States.

Two months before her 16th,

birthday she took her first teaching

position near the South

Dakota town of De Smet. Wilder

did not particularly enjoy teaching,

but she wanted to help her

family and wage-earning opportunities

for women were limited

in those days. From 1883 to1885,

she taught three terms of school,

MARCH/APRIL 2 0 1 4

worked for a dressmaker and

attended high school, although

she did not graduate. She stopped

working and studying when she

married Almanzo Wilder, whom

she called Manly, on Aug. 25,

1885 when she was 18 years old

(he was 28).

They suffered many misfortunes

during their lives together. Almanzo

got diphtheria

and

was partially

paralyzed for

a while. A

newborn son

died. Their

barn, filled

with hay and

grain, was

destroyed in

a fire. Their

home was

a total loss

after a fire

accidentally

set by their

daughter,

Rose. Several

years of severe

drought that left them in debt,

physically ill and unable to earn a

living.

They moved to Mansfield, Mo.,

in 1894 and slowly began to find

success on their Rocky Ridge

Farm. They eventually created

a relatively prosperous poultry,

dairy and fruit farm with a 10-

room farmhouse. Wilder became

active in various clubs and was an

advocate for several regional farm

associations. She was recognized

as an authority in poultry farming

and rural living, which led to invitations

to speak to groups around

the region.

The original

title of the first

of the "Little

House" books

was "When

Grandma Was A

Little Girl."

In 1911 she received an invitation

to submit an article to the

Missouri Ruralist, which led to a

position as a columnist and editor,

a job she held until the mid-1920s.

Her Ruralist column, titled "As

a Farm Woman Thinks," had a

loyal following of rural residents

in the Ozarks. Her topics ranged

from home and family to WWI

and other world events; her

daughter's world travels; and her

own thoughts on the increasing

options offered to women during

that era. She also took a paid position

with the Farm Loan Association,

dispensing small loans to

local farmers.

The farming operation and

Wilder's income from writing

and working for the Farm Loan

Association provided a stable

living. But

the Wilders

were never

wealthy until

the "Little

House" series

of books began

to achieve

popularity.

In 1924, Rose

Wilder Lane

encouraged

her mother

to take her

writing to the

next level.

Rose was a

successful

writer herself,

and her parents began relying

on her annual income subsidies.

The Stock Market Crash of 1929

wiped out the Wilders' and Rose's

investments. The Wilders still

owned the farm, now 200 acres,

but they had invested most of

their savings with Rose's broker.

The Great Depression, Wilder's

mother's death in 1924 and her

sister's death in 1928 prompted

Wilder to preserve her memories

in a story called Pioneer Girl. The

original title of the first of the

"Little House" books was "When

Grandma Was A Little Girl." On

the advice of Rose's publisher,

Wilder greatly expanded the story.

Thanks to Rose's connections, the

2 3

was published by Harper & Brothers

in 1932 as Little House in the

Big Woods.

Allegations have been made,

including some by Rose's biographer

William Holtz, that Rose was

more than her mother's editor –

she was actually her ghostwriter.

Still, the nine-volume Little House

book series, written for elementary-school

age children, became an

enduring record of early pioneering

life on the American frontier

of the 19th century. The First Four

Years, about the Wilders' early

days of marriage, was discovered,

completely unedited by Rose, after

Rose's death, and was published

in 1971.

Since the initial book's publication

in 1932, the series has been

continuously in print and the

books have been translated into

40 other languages. Wilder's first

royalty check from Harper in

1932 was for $500. By the mid-

1930s the royalties from the Little

House books brought a steady and

increasingly substantial income

to the Wilders for the first time in

their 50 years of marriage. Laura

Ingalls Wilder died in 1957 at the

age of 90.

Wilder was a five-time runner-up

for the annual Newbery Medal,

the premier American Library

Association (ALA) award for children's

literature. In 1954 the ALA

inaugurated a lifetime achievement

award for children's writers

and illustrators in Wilder's name

and gave the first one award to her.

The site where Wilder's life

formed the basis for her first book

is commemorated by a replica log

cabin called Little House Wayside.

There are Laura Ingalls Wilder

museums in Mansfield, Mo.;

De Smet, SD; Burr Oak, Iowa;

Walnut Grove, Minn.; Independence,

KS; and her birth place in

Wisconsin. The popular TV series

"Little House on the Prairie" ran

from 1974-1984, starring Melissa

Gilbert as Wilder.
---
2 4 MARCH/APRIL 2 0 1 4

Best Friends Moves to

Bridgepointe

Adult Day Center's new facility has more

space for participants

by Martha Evans Sparks,

Staff Writer

In January, Best Friends Adult Day

Center moved from its long-time

home at Second Presbyterian

Church on East Main Street in

Lexington to much larger quarters

in Bridgepointe, a new senior care

facility in Brannon Crossing in Jessamine

County.

According to Mary Lynn Spalding,

Vice President of Innovation and

Growth for Christian Care Communities

(CCC), of which Bridgepointe

is a part, the center's new

4,000-square-foot space is about

three times larger than the previous

center at Second Presbyterian.

Spalding says it can accommodate

about 30 participants at one time,

plus staff and volunteers.

"We are so grateful to Second

Presbyterian," said Spalding.

"Without them, we would not have

this program. We hated to leave, but

it had gotten to the point that we

had between 15 and 20 people on a

waiting list because of lack of space."

Spalding is also excited about the

center's brand-new bus. "It is wheelchair

accessible. Families who have

trouble getting their loved one out

are so helped," she said, adding that

the bus drivers are accustomed to

dealing with people who are infirm

or have dementia.

Sherri Harkless, director of the center,

said transportation needs vary.

Some attendees ride with family or

friends one direction and use the

bus for the other. Others ride the

bus both ways. Some people come

for only one day a week, a few days

a week or a half day. The center is

open from 7:30 a.m. until 5:30 p.m.

Monday through Friday.

Spalding says the center offers additional

services. Since the entire

Bridgepointe building is licensed

for a level of medical care called

personal care, the center has its own

licensed practical nurse on duty

who can administer needed medicines

to participants during the day.

Participants can receive breakfast if

they want it. All are served a hearty

lunch. There is a wide range of structured

activities throughout the day.

The center uses the Best Friends

Approach to Alzheimer's disease

and other dementias. A staff member

or volunteer is assigned to one

participant or care receiver. This

person learns the participant's life

story and is thus able to relate to the

person and talk to him or her about

his or her life. The "best friend" can

draw out the memories that are still

there. The elderly person, especially

one suffering from dementia, no

longer feels there is no one who

knows or cares about him or her.

About Bridgepointe

Harkless said in addition to the center,

there are 72 senior apartments at

Bridgepointe. Some have one bedroom;

others are studio apartments.

The building includes a rehabilitation

gym and many common areas,

as well as dining facilities.

CCC, established in 1884, describes

itself as "Kentucky's largest

faith-inspired, non-profit provider

of senior living communities and

long-term care for older adults." It is

a ministry of the Christian Church

(Disciples of Christ), the Christian

Church and the Church of Christ.

CCC cares for about 3,000 seniors

annually in Kentucky.

Suellen Brill, CCC's public relations

director, said, "We have deep roots,

but we also are a very progressive

company, so we are bringing to the

future some of the most progressive

ideas. We are on the cutting edge.

We are looking for the best in care."

The name Bridgepointe is intentional.

"We believe it is a bridge between

what we knew as old, traditional

care and a newer model," said Brill.

Bridgepointe at Ashgrove Woods is

located at 5220 Grey Oak Lane in

Nicholasville. Call (859) 885-3000

for more information. The Web site

is www.bridgepointeassistedcare.

com.

Yellow/ Wildcat Cab

Now offering

wheelchair accessible vans

Since 1934 Yellow/Wildcat Cab has been growing with the community

As always we are looking forward to serving you
---
MARCH/APRIL 2 0 1 4

2 5

Eldercrafters Program

Promotes Socializations

Group gathers for many kinds of

'crafty' activities

by Martha Evans Sparks,

Staff Writer

Eldercrafters is a program for

people 60 years of age and older,

designed to promote socialization

among those who might not have

the opportunity to experience

healthy interaction with others

because of age or other reasons.

If you think that sounds dull, you

haven't experienced the genial,

warm atmosphere that permeates

Eldercrafters' meeting rooms at

the Black & Williams Neighborhood

Center on Georgetown

Street in Lexington.

Eldercrafters gather four days a

week for many kinds of "crafty"

activities. A quilt hangs on a wall

in one of their rooms, each square

made by a different member.

Another room is filled with

ceramics provided by funds from

the Division of Social Services

of the Lexington-Fayette Urban

County Government. Members

paint, decorate, sand and finish

these articles and fire them in the

group's own two kilns. They are

free to keep their creations for

their own use.

Eldercrafters also make all sorts

of things to give away, using

either donated materials or items

purchased with members' own

donations. One unique project involved

cutting thousands of plastic

grocery bags into long strips and

crocheting them into sturdy but

soft and puffy sleeping mats. They

gave the mats to The Hope Center,

which provides emergency shelter

and other services for the homeless.

In addition, Eldercrafters

have turned pillowcases into attractive

sleeveless dresses for girls

in Haiti and Africa. They made

and sent 250 sets of girls' underwear

to Kenya.

The group has grown very close. If

someone known to the group is in

the hospital or confined to home

by sickness, they send cards or

some other remembrance. Sometimes

they select a nursing home

in the area and make a gift for each

patient. It may be a pillow or a lap

throw, an afghan, socks or bags

to hang on wheel chairs to carry

things. They have crocheted hats

for the infant patients at Shriners

Hospital.

Ann Greene, president of the

group for many years, said there

are about 40 names on the membership

list. Although the group

Eldercrafters gather four days a week for many kinds of "crafty"

activities.

is open to both men and women,

only women are currently members.

The rooms are open Monday

through Thursday from 9:30 a.m.

to 2 p.m. Greene said they have a

planning session on the last Thursday

of each month to plot strategy

for the next month.

"If somebody comes in who

knows how to do some kind of

project, we can do it if we want to,"

said Linda Leavell, a member and

office manager of the group for 16

years.

Activities are not limited to the

Black & Williams Center. Once

a month those members who

are able go bowling. The group

has also traveled to Dayton and

Cincinnati, Ohio, to tour local

attractions, as well as the National

Underground Railroad Museum

in Maysville and the Muhammad

Ali Center in Louisville, among

other places.

Eldercrafters was one of the programs

that grew from the Housing

and Community Development

Act of 1974. After a series of

neighborhood meetings, the Urban

County Council voted to use

part of the grant money it received

to purchase four school buildings

from the Fayette County Board

of Education and renovate them.

One of them, the old Booker T.

Washington School, became the

Black & Williams Neighborhood

Center. Now the center houses

several organizations and agencies

besides Eldercrafters, including

Legal Aid of the Bluegrass and

a local office of the National Association

for the Advancement of

Colored People (NAACP).

For more information about

Eldercrafters, call (859) 252-1288.

CALL 231-TAXI and ask for a wheelchair van

D.B.A. Yellow Cab Company of Lexington, 799 Enterprise Drive • Lexington, KY 40510 • 859-233-4890
---
2 6 MARCH/APRIL 2 0 1 4

Regular Recreation

Benefits Seniors

Engaging in meaningful activity can

generate positive feelings

by Lisa M. Petsche, Staff Writer

When we think about recreational

activities, such as playing card

games and bowling, we tend

to consider their contribution to

our well-being primarily in terms

of their enjoyment value. While

having fun should not be underrated,

the potential benefits of

recreation programming extend

much further.

Emotional Benefits

The opportunity to engage in

meaningful activity can generate

positive feelings not only during

the activity but also during

the time leading up to it. Such

experiences help reduce stress that

may arise from health or other

concerns or from looking after a

frail relative.

Regardless of the degree of

physical or mental disability a

person may have, many recreation

activities can be adapted to enable

participation (for example, seated

bowling). When people who have

experienced a disability or health

setback are able to participate

in activities they enjoyed previously,

their sense of identity is

reinforced and positive memories

are stimulated. Successfully

engaging in activities – especially

when they require some degree of

skill or creativity – also fosters a

sense of competence, enhancing

self-esteem.

Organized activities typically

are communal and the resulting

contact with other people,

whether it's through cooperation,

competition or working individually

in the company of others, is

validating and enriching. Being

in group settings can also help

maintain or enhance social skills.

Sharing experiences also creates

a common bond among participants

that decreases feelings of

loneliness and isolation. In some

cases, special relationships may

develop and extend beyond the

recreational setting.

Cognitive Benefits

Recreational activities that involve

creativity (sculpting, for example),

strategic thinking (playing cards

or board games, for instance) or

learning new information or skills

provide mental stimulation to

participants. These mental exercises

can help ward off cognitive

impairment.

For those with some degree of

impairment, targeted recreation

activities can help improve selfexpression,

sensory awareness,

attention span, memory and

decision-making abilities.

Physical Benefits

Not all activities need to have a

fitness focus in order to benefit

seniors physically. Depending on

the particular activity, physical

benefits may include maintenance

or enhancement of one's physical

endurance and energy level; range

of motion of joints; eye-hand coordination;

fine and gross motor

skills; and flexibility and strength.

An increase in activity may help

improve appetite, sleep and mood

and, in the case of people with dementia,

decrease agitation, anxiety

and other behaviors considered

challenging (noise making and

wandering, for example).

In long-term-care settings, the

desire to participate in activities

may motivate some residents to

get out of bed on a regular basis.

This can lead to an increase in

REC Continued on Page 31

Living here has its advantages.

"Thanks to The Willows at Hamburg, my son, Lowell, and I are able to

remain under one roof. I can maintain an independent lifestyle, while

my son receives the care he needs. This is the nicest place we have

ever lived in. It has been a joy, and I have not one negative thing to

say. Only loving, caring people are found here. I prayed and prayed

for Lowell and I to find a place where we could both live together, and

the good Lord brought us here."

Liz and Lowell Pennington

Residents of The Willows at Hamburg

Come and see how good life can be at The Willows at Hamburg

– stop by or call to schedule a personal tour.

Assisted Living • Memory Care • Long-Term Care • Skilled Nursing

Short-Term Rehab • Outpatient Therapy • Transitional Care • Respite Care

859-543-0337 • 2531 Old Rosebud • Lexington, KY 40509 • willowsathamburg.com
---
MARCH/APRIL 2 0 1 4

Do You Have...

LOOSE DENTURES or

MISSING TEETH?

2 7

If you answered "YES" to the question above, then we have

the solution for you! The Intra-Lock Mini Implant is a

revolutionary new type of implant which makes it possible

to replace anything from a single tooth to a full mouth

restoration in only a few short visits. These Mini Implants

are also great for stabilizing and supporting loose dentures.

Made from titanium, Mini Implants are strong, durable and

Stabilize YOUR EXISTING UPPER DENTURE

with Six (6) MDI Implants

Stabilize YOUR EXISTING LOWER DENTURE

with Four (4) MDI Implants

Replace a SINGLE MISSING TOOTH with

One (1) MDI Implant and MDI Implant Supported Crowns

Replace MULTIPLE MISSING TEETH with several MDI

Implants and MDI Implant Supported Crowns

Holiday Savin

Dr. Morgan offers FREE CONSULTATIONS

CALL TODAY for YOUR APPOINTMENT!

for smile make

long-lasting. Plus, they require minimal bone density,

which makes them perfect for denture wearers. And when

compared to traditional types of implants, Intra-Lock Mini

Implants are significantly more affordable, less invasive and

have minimal recovery time.

Join Us On Our Lumiday

November 19 9:00am-5:00pm

Dr. Ballard Morgan, DMD

General Dentistry

859-233-7700

800-467-7535 toll free

1510 Newtown Pike, Suite 201

Lexington (GRIFFIN GATE PLAZA)

www.ballardmorgandmd.com

bmorgandmd@gmail.com

Give Yourself a Gift of a Lifetime!

Lumineers Smile $6,399

(Includes 8 Lumineers Reg. Price $7,999)

Snap-On Smile $1,500 (Reg. Price $2,400)

Dr. Ballard Morgan, DMD

Join us for our Holiday event and

For a limited time. Bring your coupon to the office to redeem.

Cannot be combined with another coupon. Expires 4/30/14

Date an
---
2 8 MARCH/APRIL 2 0 1 4

Are You Ready?

Disaster preparedness

essential for all seasons

best strategy is always avoidance.

Supplies are the second priority.

If a thunderstorm is approaching,

do not use corded phones, touch

electrical equipment or wiring,

take a shower or wash your hands.

In the event of a tornado, thunderstorm,

snowstorm or flood, limit

or avoid driving completely as the

majority of weather casualties occur

on the road. If caught outside,

stay away from tall trees or fences

and get indoors as quickly as possible.

by Angela S. Hoover, Staff Writer

Despite our national obsession

with the unlikely event of a zombie

apocalypse, natural disasters

are more likely threats to your

safety and that of your family, pets

and property. High winds, hail,

thunderstorms, lightning, floods

and flash flooding are all concerns

in Kentucky during this time of

year. There is a far greater risk

of becoming a weather fatality if

you live in a mobile home or are

outdoors during an event, but do

not underestimate the danger of

"riding out" a disaster indoors

without proper preparedness. The

Similar rules apply to tornado

safety, with more of a focus on

avoiding flying objects. As quickly

as possible, make your way to an

underground shelter, basement or

safe room. If none are available,

a small interior room with no

windows on the first floor should

be sufficient. Do not attempt to

drive through or walk in any rising

or freestanding water. Moving

water is more dangerous; as little

as 6 inches can have enough force

READY Continued on Page 31
---
50 Years Ago...

Unmanned Gemini 1

Launched

New chapter in U.S. space program

begins

MARCH/APRIL 2 0 1 4

2 9

by Frank Kourt and CJ Sebastian,

Staff Writers

On April 8, 1964, at 11:01 a.m., the

sky over Cape Kennedy, Fla., lit up

with the exhaust of a Titan 2 rocket

as a new phase in the U.S. space

program began.

The Gemini program was the

successor to the highly successful

Mercury program, which made

Alan Shepard the first American

to achieve sub-orbital flight. The

Mercury program achieved orbital

flight when John Glenn orbited the

earth three times during a five-hour

mission in 1962.

Gemini 1 was an experimental

mission, launching an unmanned

spacecraft into orbit for testing purposes.

Not only was the spacecraft

itself tested, but so was the Titan

2 launch vehicle. The event also

marked the beginning of the "space

race" between the United States

and the Soviet Union. The "Gemini"

name was chosen because it

would carry two men, reminiscent

of the twins of the astrological

constellation.

The launch gave scientists an opportunity

to check the functions

of various tracking equipment and

procedures and heating conditions,

a malfunction-detection system

and other components in order to

ensure the safety and efficiency of

the craft and the launch vehicle for

future manned missions.

Gemini 1 was launched from Complex

19 at the Cape Kennedy Space

Center. Within six minutes, the

capsule and the second stage of the

booster rocket achieved earth orbit.

Because the mission was a test

and there were no plans to recover

any of the components, there was

no separation of the capsule from

the second stage of the booster

planned.

Mission Control carefully monitored

the spacecraft during the

flight. On April 12, on its 64th

orbital pass, it re-entered the earth's

atmosphere and disintegrated over

the southern Atlantic as planned.

An additional 10 manned Gemini

missions, lasting up to two weeks,

followed during 1965 and 1966.

These missions tested the spacecraft's

maneuverability, rendezvousing

and docking. Experiments were

conducted outside the spacecraft,

and re-entry control, orbital navigation

and other tasks that would

prove crucial for putting a human

on the moon were evaluated. While

the first two Gemini launches were

unmanned, the third through the

twelfth all carried pilots. The flights

would test human endurance while

in space. They continued until November

1966 and were estimated

to cost $1.3 billion in 1967 dollars.

However, the leap into the future

and the degree of achievement was

inestimable.

The event also

marked the

beginning of the

"space race"

between the

United States

and the Soviet

Union.

Kentucky's Leading

Hair Replacement

Facility

• Genetic Hair Loss

• Chemotherapy

• Alopecia

• Cosmetic Hair Replacement

Hair Institute offers several surgical and non-surgical hair

restoration options, including Virtual Reality®, full and partial

prostheses, hand-knotted wigs, and human hair extensions.

- Laser Light Hair Therapy

- Surgical Hair Restoration Options

1795 Alysheba Way Suite 7101

Lexington, Kentucky 40509

- Full Cranial Vacuum Prostheses

- Enhancements and Integrations

HAIR REPLACEMENT • HAIR RESTORATION • HAIR EXTENSIONS

Professional • Confidential • Meticulous

®

www.hairinstitutelexington.com

AMERICAN

HAIR LOSS

COUNCIL

859.263.9811
---
3 0 MARCH/APRIL 2 0 1 4

The More Things

Change

Let There Be Light

Incandescent light bulb has evolved

over time

by CJ Sebastian, Staff Writer

When Thomas Edison invented

the incandescent light bulb more

than 100 years ago, the danger of

burning down homes with candles

and torches greatly diminished.

Another plus is that light bulbs

don't have to be relit. This was

such a major, revolutionary step,

incalculable in terms of growth and

development. Most of us grew up

with the same style light bulbs that

Edison first developed, knowing

that they had a certain lifespan

and were fragile. And we knew to

shake them a little when they didn't

work, to see if the filament inside

had broken.

The last 10 years have brought

about further revolution in the

light-bulb world in the form of

light-emitting diodes (LED) and

the compact fluorescent light

(CFL). LEDs are those spiral bulbs

you see at stores that fit into any

standard light socket and don't

get quite as hot as their ancestors.

While their initial cost is a bit

higher, the long-term benefits usually

add up to more savings. They

are longer lasting (usually five to

10 times as long as a regular bulb);

they are more durable; they have

no filament; they stay cooler, using

roughly 3.4 BTUs, as opposed to

an average of 85 BTUs for a normal

bulb; they are mercury-free; they

use one third the wattage; and they

can be run more easily in off-thegrid

areas, given their low energy

usage.

There has been concern about

both of these new types of bulbs

causing cancer and other ailments

developing from ultraviolet light

exposure. While this debate goes

back and forth, Terry Mc-

Gowan, director of engineering

and technology for the American

Lighting Association said,

"There is no UV component

to LEDs, as far as I know."

LEDs come in a range of

colors: red, green, blue, white

and amber. You can also get

LEDs with specific color rendering

and in different degrees

of luminosity. While most of us

are used to buying bulbs of various

wattages, depending on how bright

we want the light, starting in 2012,

bulbs began to be rated in lumens,

a more accurate measure of how

brightly they shine. The Correlated

Color Temperature (CCT)

describes the relative color appearance

of the white light source from

the bulb. LEDs have a wide range

of these as well.

Running a close second to LEDs

are CFLs, whose benefits include

being four times more efficient and

lasting up to 10 times longer than

their older counterparts. CFLs

use one third the electricity, so the

savings over time is greater than

the initially greater cost. They cut

down on pollutants normally put

out by regular bulbs. Even though

they are simply a smaller, more

compact fluorescent, they have

a much warmer feeling than the

cold, clinical cylindrical fluorescents

we're used to seeing in

hospitals and they don't flicker and

hum. They can be used anywhere

and can be put on a dimmer

switch.

Moving forward into this century,

saving energy will be a big concern,

and the revolutions made to the

common household bulb are lighting

the way.

The last 10 years have brought about

further revolution in the light-bulb world.
---
BOONE continued from Page 5

of Boone Trace can join online

at www.boonetrace1775.com.

Membership is open with no

cost or obligation. The founders

simply ask that those who join

have the same desire to promote

and preserve the history of Boone

Trace, something they believe has

been ignored.

t"We are looking for both older,

possibly retired folks who may

have time to get involved, as well

as young people to carry the message

forward in the future," Fox

said. "The first step in saving the

trace is to identify it, then make

the sites along the way meaningful

so that visitors will want to come.

When visitors come, see the sites

and learn their history, they will

connect with the road and its

historical significance."

TEST continued from Page 21

Resources for the MBTI are available

one-on-one or on the Internet.

You can also contact the career

counseling center at the University

of Kentucky or Eastern Kentucky

University to learn more. To find a

certified MBTI practitioner in Central

Kentucky, go to www.mbti.com.

To take the MBTI online, log on to

www.mbticomplete.com. The cost

is $49.95 and comes with limited

feedback. Another online resource

is www.capt.org, the Web site of the

Center for Applications of Psychological

Type. Here you can obtain

a questionnaire and a feedback

session. The cost is $150.

MARCH/APRIL 2 0 1 4

REC continued from Page 26

their sitting tolerance and a decrease

in their risk of developing

skin-pressure areas (bedsores).

Therapeutic Recreation

Recreational activities are so vital

to quality of life that trained

therapeutic recreationists are an

integral part of health-care teams

for seniors in rehabilitation, mental

health, day care and long-termcare

settings.

Therapeutic recreation staff help

individuals find ways to re-engage

in former activities or find new

activities that match their needs,

interests and strengths. Interventions

may take place on an

individual basis or in small or

large groups. Settings vary from a

patient's room to a lounge or specialized

activity room to a location

in the community.

Activities are designed as a form

of treatment rather than mere

diversion. Some examples of the

variety of recreation activities that

may be offered in an outpatient or

inpatient setting include sensory

stimulation, relaxation exercises,

bocce, horticulture, music (such

as sing-alongs and drumming),

movies, pet therapy and intergenerational

events.

READY continued from Page 28

to sweep you off your feet.

The Red Cross advises creating

an emergency supply kit for the

home and car. Plan for two weeks'

worth of supplies at home and a

three-day supply for the car. Here

are items everyone should have

on hand in advance for disaster

preparedness.

• Water – Count on needing 1 gallon

per person per day.

• Food – Have a three-day supply

of non-perishable food in the car

for evacuation and a two-week

supply at home.

• Radio – Battery-powered radios

with extra batteries can keep you

informed about the situation. Do

not rely on electronics or regular

non-emergency radio or satellite

broadcasts to keep working during

an emergency or disaster.

• Special Needs – Keep specific

items such as daily medications

and infant or pet supplies packed

and ready to go in one place at

home. This will help ensure you

are able to take them on the road

should you need to evacuate.

• Basic Tools and Accessories –

These include flashlights, a manual

can opener, eating utensils, a

utility knife, lighters and matches,

extra batteries and so on.

• First-Aid Kit – At home, having

certain basics on hand in an easyto-find

place is helpful. It's also

good to have a travel first-aid kit in

your vehicle. Items to include are

band aids and gauze, antiseptic,

aspirin or ibuprofen and thread

and needle.

3 1

Almost any other item needed

during a disaster will be on hand

at home. The following are things

you may want to keep in your vehicle

in case disaster strikes when

you're on the road.

• Clothing and Warmth – One

set of seasonal clothes and shoes,

outer rain gear and one blanket or

sleeping bag per person.

• Personal Hygiene Items – A roll

of toilet paper, hand sanitizer,

toothbrush and toothpaste, deodorant,

comb or brush, etc.

• Miscellaneous Items – These

are the extras that will be good

to have on hand if your vehicle

has the room: a medium-sized

plastic bucket with a lid, bleach

for disinfecting water, dish soap, a

mess kit, heavy-duty garbage bags,

resealable plastic bags, aluminum

foil, sugar, salt, paper and pencil

and things to pass the time such

as games, crossword puzzles and

books.

For more information visit:

http://kyem.ky.gov/currentdisasters/Pages/default.aspx

www.weather.gov/safety.php

www.ready.gov

www.redcross.org

Do your

ears ring?

Have you been told

there is nothing you

can do? There is!

Call for more info

(859) 554-5384

Dr. Ann Rhoten, Audiologist

1517 Nicholasville Rd. #202

Lexington, KY 40503

www.kytinnitustreatment.com

Lexington Center for

Acupuncture,

Massage & Reiki

Acupuncture, Reiki

Treatments & Classes

CALL

859.595.2164

3175 Custer Dr. Suite 303

Lexington, KY. 40517

www.acupunctureky.com
---
Living Life

We haven't opened yet, but you can

already start enjoying some of the benefits.

The Willows at Citation believes in living life with

no boundaries or limitations! Experience life to

its fullest at our campus filled with friendly smiles

and a dedicated staff. We offer a variety of assisted

living , skilled nursing and short-term rehab options.

We provide our residents with activities, a funfilled

environment, comforts of home, community

involvement and personalized service.

Begin Living Life Today!

Give us a Call to Schedule a Tour!

859-277-0320

The Willows at Citation

859-277-0320

willowsatcitation.com

The Willows at Hamburg

2531 Old Rosebud

Lexington, KY 40509