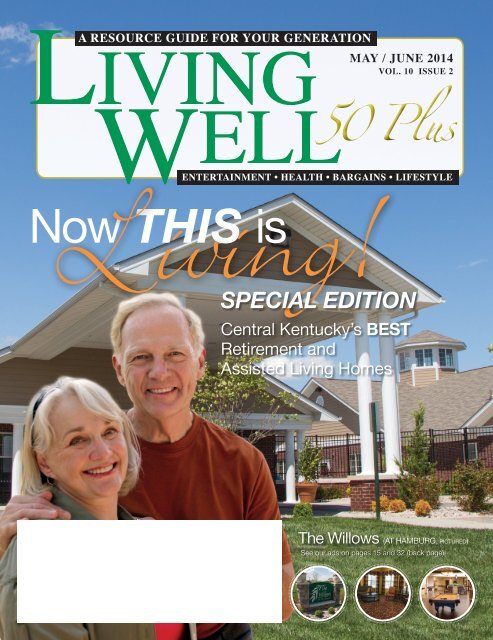 Living Well 60+ May-June 2014
Create successful ePaper yourself
Turn your PDF publications into a flip-book with our unique Google optimized e-Paper software.
A RESOURCE GUIDE FOR YOUR GENERATION

Living

W ell

Living!

Now THIS is

MAY / JUNE 2014

VOL. 10 ISSUE 2

50 Plus

ENTERTAINMENT • HEALTH • BARGAINS • LIFESTYLE

SPECIAL EDITION

Central Kentucky's BEST

Retirement and

Assisted Living Homes

The Willows (AT HAMBURG, PICTURED)

See our ads on pages 15 and 32 (back page)
---
®

2 MAY/JUNE 2 0 1 4

NOW

$30/month

OPEN in Lexington Green Mall

HealthwoRx Fitness & Wellness Center provides a highly personalized approach to health

and wellness with individual fitness assessments, personalized exercise programming and

guided exercise designed to help people of all ages and levels of health.

Affordable rates! No contract or hidden fees!

Hours of Operation:

Monday - Thursday, 5:30 am – 9 pm • Friday, 5:30 am – 8 pm

Saturday, 8 am- 5 pm • Sunday, 12 NooN - 5 pm

To learn more, call 859-260-4354

NOW ACCEPTING

New Patients!

12/16/09 9:41:17 AM

NO contract!

A highly personalized approach to health and

wellness. Fun NOW and invigorating ACCEPTING

group fitness for

ALL fitness levels!

CLASSES INCLUDE:

Spinning • Zumba • Pilates

Yoga • PiYo • Boot Camp

We offer a variety of specialty

programs for seniors!

www.facebook.com/HealthwoRx

Conveniently located at the Lexington Green Mall

Stop by or call 859-260-4354 for more information

NOW ACCEPTING

New Patients!

Beautiful Smiles

FULL SERVICE DENTISTRY

NOW ACCEPTING

New Patients!

New Patients!

Beautiful Smiles

Beautiful Smiles

. . .so close to home.

WHITENING SPECIAL:

Beautiful Smiles Convenient Location

$

199 Limited Time Offer – Call Today!

Convenient Location

Convenient Location

859.263.5755

859.263.5755

121 Prosperous Place Suite 3

Lexington, KY 40509

Lexington,

Patient Satisfaction

KY 40509

Convenient Location

FULL SERVICE DENTISTRY

Visit us on the web at

Visit us on the web at

. . .so close to home.

www.wilkinsdental.com

Hours Kimberly by F. appointment Wilkins DMD, PLLC

859.263.5755

121 Prosperous Place, Suite 3

Patient Satisfaction

Patient Satisfaction

Kimberly F. Wilkins DMD,

PLLC

121 Prosperous Place, Suite 3

www.wilkinsdental.com

Mon - Thurs, 8:00-5:30, Fri 9:30-2:00, Sat. by
---
MAY/JUNE 2 0 1 4

3

300 Stocker Dr

Richmond, KY 40475

(859) 625-1400

www standrewsplace www.standrewsplace.org

When you need the best in Urologic care, isn't

it nice to know you don't need to leave home?

Lexington • DanviLLe • FrankFort • Mount SterLing • richMonD • SoMerSet • WincheSter

With convenient locations throughout

Central Kentucky, Commonwealth

Urology offers patients a full range of

urologic services:

• Adult and Pediatric Urology

• Vasectomy and Vasectomy Reversal

• Male and Female Sexual Dysfunction

• Incontinence

• Prostate Cancer

• Kidney Stones - Lithotripsy

For more information, visit LexingtonClinic.com/urology

A Part of Lexington Clinic
---
4 MAY/JUNE 2 0 1 4

05

07

08

09

10

11

12

13

14

15

16

18

21

22

23

24

25

26

28

29

30

31

Contents

May/June 2014

Hats, Horses Go Hand in Hand at Derby

Bowling Beneficial for Health

I Love My New Orchid, But What Do I Do With It Now?

PERSON OF INTEREST: Isabel Yates

FOOD DUDE: Cool Down with Salads This Summer

Recycle 'Useless' Items Into Useful Planters

THE MORE THINGS CHANGE: Computers

50 YEARS AGO:

Nelson Mandela sentenced to life in prison;

The 88th Congress recognizes bourbon whiskey as a "distinctive

product of the United States"

LATE-LIFE SUCCESS: Nelson Mandela

Renovating The Kentucky

CALENDAR

FROM THE

LivingWell50+ is now DIGITAL:

SENIOR SERVICES DIRECTORY

Questions to Ask About Assisted Living

Beyond Pack Rat: Understanding Hoarding Disorder

Kentucky Blood Center is a Lifesaver

Man Jongg: China's Unintended Export

Knee Replacement Surgery

When a Stroke Hits a Family

Being in the Moment Through Tai Chi

Celebrating Life

Wesley Village redefines continuing-care concept

TRAVEL: Wild Dunes Resort

Taking Care of YOU

EDITOR

Dear Friends,

Drumroll, please!

And now for my next adventure

… Dubai!

An opportunity came up for

me to take a trip to Dubai with

the Lexington chamber of commerce. I attended a

presentation about the trip and was mesmerized by

the beauty of the country and the thought of going to

this bustling, cosmopolitan place halfway around the

world. It would mean I have been to four of the seven

continents. I didn't have to think twice. I filled in the

form and sent my deposit in the next day.

Living Well 50+ is

a proud product of

WRITERS

STAFF WRITERS:

Donald Hoffman

Angela S. Hoover

Jean Jeffers

Frank Kourt

Jamie Lober

Abby Malik

Linda C. Morgan

Lisa M. Petsche

Sandra W. Plant

Jan Ross

CJ Sebastian

Doris Settles

Martha Evans Sparks

I'm planning to use money from my so-called

retirement account to finance the trip. This is what

I figured: I don't know if I'll ever retire. And I don't

know if I'll get hit by a truck tomorrow and all that

money goes unused. I read about a man recently who

retired at age 68, planning to work in his garden and

travel, and what happened? He had lung cancer and

died before he could do any of the things he wanted to

do with his free time.

I thought, "I'm not gonna let that happen to me."

So in October I will spend about a week in Dubai,

soaking in the culture and the sun and gleefully

spending my retirement money with no regrets. Who

knows? Maybe I'll meet a handsome sheikh who will

A RESOURCE GUIDE FOR YOUR GENERATION

Living

W ell

Living!

Now THIS is

ENTERTAINMENT • HEALTH • BARGAINS • LIFESTYLE

STAFF

Tanya Tyler

editor/staff writer

John Brokamp

publisher

Janet Roy

director of creative services

Kim Blackburn

sales representative

John Hoffeld

sales representative

Dea Baker

sales representative

Tanya Tyler • tanya@samplerpublications.com

sweep me off my feet and take me away to our own

private oasis. I'm pretty excited about the trip and I'll

be sure to share photos and stories with you in a future

issue of Living Well 50 Plus – and I can go on this trip

because I am. I hope you are, too!

Live life like you mean it!

Tanya

MAY / JUNE 2014

VOL. 10 ISSUE 2

50 Plus

SPECIAL EDITION

Central Kentucky's BEST

Retirement and

Assisted Living Homes

Note: There were some errors in the column "The More Things

Change" in last month's issue of Living Well 50 Plus.

• The spiral bulbs are CFLs, a fluorescent bulb with mercury. It

is not true spiral bulbs are mercury free. Only LEDs are free of

mercury.

• CFLs cannot be dimmed, but LEDs can.

• Disposing of a broken CFL is not a simple process.
---
Hats, Horses

Go Hand in

Hand at Derby

Tradition is

important part of

great Churchill race

by Tanya J. Tyler, Editor

When you think of the Kentucky

Derby, you probably picture not

just sleek, swift Thoroughbreds

running for the roses on the

first Saturday in May; not just

Churchill Down's famous twinspired

grandstand; not just the

inevitable infield madness.

You think hats.

"I can hardly believe they'd let

women in Churchill Downs on

Derby Day without a hat on. It

just seems like it's almost sacrilegious,"

said Sherrie Goebel, owner

of Nitro of Frankfort, a women's

MAY/JUNE 2 0 1 4

clothing store that hosts an annual

Derby hat trunk show. The first

lady of Kentucky always kicks off

the event by choosing her Derby

hat, which the store then puts on

display.

What is the connection between

the Kentucky Derby – "the greatest

two minutes in sports" – and

hats?

"It's tradition," Goebel said. "The

big thing is you have to have a

comfortable hat – one that's not

too heavy because once you put

it on your head, it doesn't come

off. It has to be comfortable when

you're going to put it on in the

morning and then have it on for

10 or more hours." Some people

go the Governor's Breakfast in

Frankfort on Derby morning and

then head to Louisville for the

races. Since the big race usually

goes off around 6 p.m., it can indeed

make for a very long day.

A few years ago, fascinators were

all the rage at the Derby after

people saw guests wearing them

at the wedding of Prince William

and Kate Middleton.

"We still have versions of that,"

Goebel said. "Some of the gals

like them because they're fun

and they're sometimes a little

outrageous. We had some in this

year that are a little smaller than

what a typical fascinator would

be; they're like a little hair clip.

They're really cute."

Goebel said her clients either

match their hat to a dress they've

already chosen or buy the hat first

and then coordinate their outfit.

"Sometimes they just fall in love

with a hat and work backward

from there," she said.

Hat prices can range from about

$60 to $200. "If you want to add

some feathers or flowers or that

type of thing, it might be $20 to

$40 in additions," Goebel said.

Some people wait till late in Derby

Week to choose their headwear.

"Typically as we get closer to Derby,

it gets wilder because people

2 HAMBURG JOURNAL WWW.HAMBURGJOURNAL.COM

JANUARY 2O12

5

know what the weather is going

to be by then," Goebel said. The

weather determines how elaborate

people get with their hats. "If it's

going to rain, they're going to be

a little lower key and not put that

much more money into it because

it might get ruined by the end of

the day," Goebel said.

Goebel said many of the hats

Nitro carries are made of sinamay,

a type of woven material. Nylon

and polyester are popular too,

and some people prefer silk hats.

Goebel likes the traditional Derby

hat sporting a 10- to 12-inch brim

with flowers and perhaps some

feathers on it.

"A good Derby hat is classic and

conservative and yet has a flair,"

she said. "For a lot of people, it's

a once-in-a-lifetime thing to go

to the Derby. We're here to help

them look their best and be comfortable

on Derby Day."

Senior Retirement Community

Rose Mary C. Brooks Place

Rose Mary C. Brooks Place

We're not Not almost Almost home. Home. We We are are home. Home.

NOW LEASING

Celebrating Mother's Day with

brunch and great friends

1 & 2 bedroom apartments.

Includes assistance with

activities of daily living.

Three meals a day, weekly

housekeeping, concierge

service and much more!

Our rates are competitive

and all inclusive.

Enjoying the view from the patio. The Cottages (below)

offer more independent retirement living.

Enjoy 24/7 emergency

response by our

well trained staff.

Guardian Life Alert System

is included for all

new residents at no

additional cost.

Daily care is tailored to

meet the unique needs

of individual.

NOW LEASING!

Gracious Independent & Assisted Retirement Living

Conveniently located on the Bypass in Winchester.

Only minutes from Hamburg with easy access to Interstates 64 and 75.

We invite you Only minutes For more from information Hamburg contact Linda or Rick at 859-745-4904

to come

with easy access to Interstates 64 and 75.

be a part of

Average Daily Caregiver Cost $240

our family!

Average Daily Brooks Place Cost $75

Enjoy your independence and let us do the work! We'll

take care of snow removal, mowing, trimming and will

even make sure your air fi lters are changed regularly.

Our fi fth and fi nal cul-de-sac is almost completed. Call

Assisted Living (above) available in

Studio and One-Bedroom Apartments

Conveniently located on the Bypass in Winchester.

859-737-6406

www.brooksplace.org
---
Alone, I'm just a hearing aid.

But in the hands of an expert,

I'm the key to a better way of life.

AUDIOLOGY ASSOCIATES PROVIDES:

• Precise and comprehensive hearing and balance testing

by a doctor of audiology

• Cutting-edge hearing devices tailored to fit your lifestyle

and budget

• Painless earwax removal

• Tinnitus treatment

• Invisible and near-invisible hearing instruments

May is

BETTER

HEARING

MONTH

Lexington • 259 Southland Dr

Other convenient locations:

Prestonsburg • 1428 N Lake Dr

Pikeville • 5425 N Mayo Trail, Ste 201

859.963.2958

www.kyhearing.com

Dr. Brooke

Dinsmore, Au.D.

Doctor of Audiology

Dr. Robert

Manning, Au.D.

Doctor of Audiology

Jake Manning, HIS

Hearing Instrument

Specialist

Emma Lackey, HIS

Hearing Instrument

Specialist

Dedicated to making you a patient for life.

Call today to hear what you've been missing.
---
y Abby Malik, Staff Writer

In bowling, there are many things

to consider: What size ball should

I use? How do I perfect a spin?

Should I buy my own shoes? And

why aren't those pins falling down?

One thing you might not have

considered is how beneficial bowling

is to your health, both physically

and emotionally. Studies have

shown that older adults who have

active social lives are happier and

healthier, and a more active life can

be found at the bowling alley.

Danny Collins, president of Collins

Bowling Centers in Lexington, says

older adults are interested in bowling

for many of the same reasons

MAY/JUNE 2 0 1 4

Bowling Beneficial for Health

Knock down some pins and strike up friendships

other people are. In particular,

people are attracted to the social

interaction opportunities found

through bowling.

"People like the social aspects of

bowling, being with friends and enjoying

friendly competition," Collins

said. "Also, the health aspect of

getting out of the house and doing

something is very appealing."

The sport can serve as a fun escape

from stressful daily activities. It

encourages healthy competition

and boosts self-esteem. Bowling

also gives your body the physical

exercise it needs to stay healthy and

strong. In addition to burning calories

through consistent movement,

bowlers can also build muscle and

increase their flexibility. Bowling

has a low risk of injury compared

to other activities.

People who enjoy bowling might

consider joining a league. Collins

says joining a league provides

a great meeting place and an

opportunity to be with friends

in a welcoming environment. In

addition to the actual bowling,

birthdays and anniversaries are

celebrated during league play, along

with holiday potlucks and parties.

This can provide individuals with a

much-needed sense of community

and family.

Collins Bowling Centers has two

locations, one in Southland at 205

Southland Drive and the other

in Eastland at 750 E. New Circle

Road. Both offer senior bowling

leagues during the summer and fall.

"All these leagues welcome new

members into their groups because

it's exciting to meet new people and

share fun times together," Collins

said. Anyone who's interested in

becoming part of a league can join

to make new friends, or a current

group of friends can join a league

together.

The summer senior bowling league

at Eastland began in late April and

runs for eight to 10 weeks. The fall

league begins Aug. 22 and runs for

32 weeks.

At Southland Bowling Center, the

summer senior league begins May

15. Fall leagues begin in August

and run for about 30 weeks.

7

More information about leagues

at Collins Bowling Centers can be

found online at www.collinsbowling.com

or by calling Eastland at

(859) 252-3429 or Southland at

(859) 277-5746. You can also sign

up for Collins Bowling Centers'

newsletter on the Web site to stay

up to date with events, news and

league information.

Having a Ball

If you're interested in joining

a league or bowling

on your own, you might

consider purchasing your

own ball. Owning your

bowling ball can help provide

a sense of ownership

and pride in your game. It

also allows you to create

a ball that specifically fits

your finger and hand size

and weight preference.

Bluegrass Bowling and

Golf Supply, LLC, is a pro

shop located inside both

Eastland and Southland

bowling centers that sells

bowling balls, bags and

shoes.

Special Discount Package Deals!

Includes your RENTALS, FOOD and DRINKS – and FREE GAMES of BOWLING!

With this special offer, "open pay games" could average out to just $1.50 per game!

This is an awesome deal for family get-togethers, company parties or college date

nights. Just purchase a special voucher on your mobile cell phone or device and

redeem the voucher at the front desk! Already in a bowl

league? Use the free games as practice, or let family and

friends use them! This generous offer could dissapear at

any time – if you love bowling, get in on it now!

SOUTHLAND LANES

205 Southland Drive

EASTLAND LANES

750 E. New Circle Rd.

Go to

bowlingsale.com

for the

complete offer
---
8 MAY/JUNE 2 0 1 4

The only places

orchids don't

grow are the

North and South

poles.

"I Love My New Orchid,

But What Do I Do With It Now?"

Kentucky Orchid Society promotes stunning blooms

by Doris Settles, Staff Writer

Orchids are hot right now.

Phalaenopsis, Dendrobium and

Cymbidium abound almost everywhere

you shop. When in bloom,

orchards are stunning, dangling

from arched stems with subdued

or electric colors. But they require

special care to keep them healthy

and get them to rebloom. If that

Mother's Day orchid has sparked

an interest in learning more about

these beautiful flowers, or you just

want to keep the one you have

alive and see that lovely bloom

again, you might want to learn

more about the Kentucky Orchid

Society (KOS).

Since the mid-1950s, the KOS has

brought people who love orchids

together. Many of the 70-plus

members have spent years propagating

orchids on windowsills or

specially designed greenhouses.

"There are over 30,000 orchid

species that live all over the globe,"

said KOS president Sal Locascio.

"The only places orchids don't

grow are the North and South

poles."

A teaching non-profit organization,

KOS holds meetings at Immanuel

United Church of Christ,

2300 Taylorsville Road in Louisville,

on the second Wednesday of

each month. A favorite program is

"Orchids 101: I Have an Orchid,

Now What Do I Do?" A "Show &

Tell" table at the meetings invites

members to bring their orchid

successes for informal judging in

Advanced, Amateur and Miniature

Grower categories. Winners

receive points, which are added

up at the end of the year. A plant

raffle with tickets selling for $1

each gives participants the opportunity

to expand their collection

and also serves as a fundraising

effort for KOS.

KOS hosts an annual orchid show

each September. This year's event,

Sept. 27-28 at St. Mathews Episcopal

Church on Hubbards Lane

in Louisville, will be the 27th

consecutive show. Orchids will be

judged by the American Orchid

Society and there will be a large

sale as well.

"You'll never get a better deal on

live, healthy blooming orchids

than at our show," said Locascio.

Locascio would love to see new

perspective members at the next

KOS meeting. Find out more at

the organization's Website, www.

kyorchidsociety.com.
---
Person of Interest

Isabel Yates

by Linda G. Morgan

I remember the first time I saw

Isabel Yates. She was walking

briskly with her husband, Wilson,

in the first Alzheimer's Walk at the

just-opened Arboretum. My father

had recently died from Alzheimer's

and I was on the walk committee.

Isabel had just finished serving as

chair of the University of Kentucky's

Sanders-Brown Research Center,

where so many facing Alzheimer's

go for information. My father had

been one of its patients.

That was the beginning of our 25-

year friendship. Isabel is a diminutive

dynamo making things happen

and encouraging women around

her to make a difference in their

community. A native of South Carolina,

Isabel received her graduate

degree from the University of South

Carolina and her master's degree

from Ohio State University. She is a

long-time advocate for the education

of women and demonstrated

this by becoming the chair of the

Development Council at Midway

College for Women.

I was excited when I was asked to

write this piece on my friend. But

something happened when I got

into all the things she has accomplished.

How do I begin to explain

the spirit of Isabel Yates?

First, whether it is your project

or hers, she is always positive and

enthusiastic. She is interested in everyone

she meets and makes them

feel special. Isabel is always busy,

whether it is a new project or one of

her old favorites, such as Friends of

McConnell Springs. She raised the

money, restored the historical space,

carted away trash and made it into

the educational and environmental

learning center it is today. When the

first Friends of McConnell Springs

MAY/JUNE 2 0 1 4

Diminutive dynamo stays busy with

numerous projects

Summer Supper took place at Jonabell

farm, Isabel attended dressed as

Ms. McConnell, wearing an 18thcentury

gown and powdered wig.

Isabel always has fun.

Isabel has been co-owner of two

different businesses, Merit Tours And And

and Track Two, a retail business

that was in Midway. The She was Lafayette

attracted

to politics and in 1991 she

The Lafayette

decided to run for the 4th opened

District opened

Join us for

council. She and Wilson walked the

entire district, knocking its on doors. THE its doors. LAFAYETTE'S

and listening to the people to learn

what was needed in the district and

Lexington. Isabel won the seat with

more than 70 percent of the vote.

Join us for

Join us for

She won two more council seats,

but during that time her husband, Dinner THE 4:30-7:00pm LAFAYETTE'S THE with Violinist LAFAYETTE'S Bryce Farrar

Wilson, had been diagnosed 28TH with ANNIVERSARY Carriage Rides by Lexington CELEBRATION

Livery 5:00-7:00pm

Alzheimer's. After his death, Isabel

decided she would run for council

Thursday, May Dixieland 9th • 4:00-7:00 Band 5:30-7:30pm

at large.

Dinner 4:30-7:00pm with Violinist Bryce Farrar

On a cold night in November,

Dixieland Band 5:30-7:30pm Dixieland Band 5:30-7:30pm Chef-prepared

standing in her living room filled

dining,

Kindly RSVP to 859-278-9080 Kindly RSVP by to May 859-278-9080 6th – Seating by is May limited 6th – Seating is limited

worry-free

with friends, the television anchor

housekeeping,

announced that Isabel was the

limo service,

new vice mayor of Lexington. She

scheduled

690 Mason Headley Road • Lexington, KY 40504

activities,

danced a jig, and a new phase of 690 Mason Headley Road • Lexington, 690 Mason KY 40504 Headley Road • Lexington, KY 40504

859-278-9080

cocktail lounge,

her life began. Isabel did not run

859-278-9080

www.LafayetteLexington.com

www.LafayetteLexington.com

859-278-9080

library and

Pet

www.LafayetteLexington.com

Pet

again in 2002, but with her usual

Friendly

Pet

Friendly

Friendly

©2013 Five Star Quality Care, ©2013 Inc. Five Star Quality Care, ©2013 Inc.

more!

Five Star Quality Care, Inc.

curiosity and energy, she ASK entered

ABOUT OUR OUR ANNIVERSARY ASK ANNIVERSARY ABOUT OUR MOVE-IN ANNIVERSARY SPECIALS! MOVE-IN MOVE-IN SPECIALS!

her eighth decade celebrating with

Offering Independent Living, Personal Care, Skilled Nursing Care

9

the state parks. She visited every

state park while chair and helped

the State Park Foundation get off

to a good start. In 2012, Mayor Jim

Gray asked her to chair the Kentucky

Theatre renovation project.

Again with great enthusiasm and a

tremendous group of committed

volunteers, Isabel has led in raising

over $1 million to renovate and

update the theater. The Kentucky

will celebrate with a gala opening in

May 2014.

Isabel has won many awards and

served in prestigious positions, but

her most important role is that of

Second, her work ethic is unbelievable

and does not change. No THE meet-

her three-day-a-week, YEAR 6 a.m. WAS workmother,

1985…

sister and friend.

mother, grandmother, great grandings

just for the sake of a meeting. out

She expects you to keep to your

Ronald

class at the

Reagan

downtown

was

YMCA.

the 40th

Isabel has always played tennis and She

president.

is a remarkable woman, dedicated

on their to preservation first season of the on past TV. and

agenda, be punctual and "The get things Golden Girls"

continues

were

to enjoy

fast becoming

that – and also

friends

done in a timely fashion. Her style is A a gallon good game of gas of bridge cost with one her dollar and continued twenty development cents. for the

to be honest and upfront with questions,

to keep her word and always

will do next as she heads into her

friends.

future … and who knows what she

send a handwritten thank-you And

note. In 2006, Isabel was asked to be the ninth decade.

She applies these rules to her current

project, the Kentucky Theatre tucky State Parks Foundation. She Oh, Isabel just called! She wants me

first chair of the newly formed Ken-

The Lafayette

renovation, and has surprised took this task on with her trademark to meet her at A.P. Suggin's in 15

committee members that have energy and put together a wonderful

active board of friends from all talk about!

minutes. She has a new project to

never worked with her how opened

tight a THE YEAR THE WAS YEAR 1985… WAS 1985…

meeting she runs and what a smart Ronald Reagan was the 40th Ronald president. Reagan was the 40th president.

businessperson she is.

its doors.

5 STAR QUALITY FOR OVER 29 YEARS!

"The Golden Girls" were fast "The becoming Golden friends Girls" were on their fast first becoming season on friends TV. on their first season on TV.

A gallon of gas cost one dollar A gallon and of twenty gas cost cents. one dollar and twenty cents.

Enjoy CARE-FREE

Retirement Living

28TH ANNIVERSARY CELEBRATION

Thursday, May 9th • 4:00-7:00 EVERY DAY! pm

28TH ANNIVERSARY CELEBRATION

Thursday, May 9th • 4:00-7:00 pm

Kindly RSVP to 859-278-9080 by May 6th – Seating is limited

Dinner 4:30-7:00pm with Violinist Bryce Farrar

Carriage Rides by Lexington Carriage Livery Rides 5:00-7:00pm by Lexington Livery 5:00-7:00pm
---
1 0 MAY/JUNE 2 0 1 4

Cool Down With Salads This Summer

Recipes make it easier to deal with the heat

Summer is finally on the way, and

we all know those 90-degree days

are coming.

You know what those "dog days of summer"

are like. If you have to stray too far from

the air conditioning, you not only perspire,

but you become enervated – almost totally

without ambition to do anything except curl

up in the coolest spot you can find and sleep

the heat away.

Along with your energy, your appetite

seems to go, too The same person who

could put away a full rack of barbecued ribs

from the grill just weeks ago can now barely

stand the thought of eating.

But one kind of food always seem to hold a

special appeal on even the hottest days, and

that's a nice cool salad.

Be it a bowl of fresh, crisp greens bathed

in a light vinaigrette, a creamy macaroni or

food

dude

potato offering or even a light, cool dessert

concoction, salad is something most people

look forward to as either a side dish or a

whole meal during the summer. Whether

you make your own dressing or make do

with bottled, whether your taste runs to

vinegar tartness or a sweet gelatin mold,

summer is undoubtedly time for salad.

Following are recipes for a few of the

standard salads we serve in our summertime

home. We make a tasty macaroni salad that

can be enriched further by adding a can of

salad shrimp, tuna or crab meat; a lusciously

cool tomato-onion-basil dish; and a

different take on the old Jell-O mold salad

your mom used to bring to every potluck

or barbecue in the neighborhood, (Don't

worry, this one's really tasty!)

Break out the salad forks and cool down this

summer. Salad's the way!

One kind of food always seem to hold a

special appeal on even the hottest days,

and that's a nice cool salad.

Frank

Kourt

the

Best-Ever

Macaroni Salad

• 1 lb. elbow or shell macaroni

• 1 green pepper, chopped

• 1 onion, finely chopped

• 3 stalks celery, finely chopped

• 4 carrots, grated

• 1 cucumber, peeled and finely

chopped

• 1 tsp. celery seed

• 1 or more cups Miracle Whip

salad dressing

Cook macaroni until al dente. Mix

macaroni and all vegetables together in

a large bowl. Stir in the cup of Miracle

Whip. You can add more if it seems

too dry for your taste, making the salad

as creamy as you like. Salt and pepper

to taste or sprinkle the top with sweet

paprika. Chill and serve cold. You can

also top with slices of hard boiled eggs, if

you desire.

Tomato-Onion-Basil

Delight

• 5 large tomatoes, sliced thin

• 3 medium red or Vidalia onions,

sliced thin

• 1/2 cup red wine vinegar

• 1/3 cup olive oil

• 1/2 cup fresh minced basil (5 tsp.

dried)

• 1/4 cup fresh minced oregano

(1/2 tsp. dried)

• 4 tsp. sugar

• 1/4 tsp. salt

• 1/2 tsp. freshly ground pepper

In a long dish or casserole, layer the

onion and tomato slices, alternating

them. Combine all the other ingredients

and blend well, then pour over the

tomato and onion slices. Cover and

marinate in the refrigerator for at least

two hours. If you choose, you can pour

the marinade over your favorite greens

or simply serve the tomatoes and onion

on their own.

Tasty Jell-O Mold

• 1 package Jell-O

• 1 small container Cool Whip

• 1 can Mandarin oranges or the fruit

of your choice

Prepare your favorite flavor of Jell-O in

a large bowl. Refrigerate until it starts to

set up. Beat the Jell-O until frothy, then

add Cool Whip and fruit. Pour into a

mold until it sets up.
---
MAY/JUNE 2 0 1 4

Recycle 'Useless' Items Into

Useful Planters

Numerous possibilities abound for container planting

by Frank Kourt, Staff Writer

Last spring, I decided I'd had it

with my old wheelbarrow. It had

served me faithfully for more years

than I care to say, but I was tired of

having to pump the wheel up with

air almost every time I used it. One

of the wooden handles was cracked,

and the metal body was becoming

rusted.

I hinted strongly that a new wheelbarrow

with a new fangled "flat-free"

wheel was my fondest birthday

wish. Ann took heed, and I was so

gifted.

Now I had this old wheelbarrow to

get rid of …

I really wasn't sure what to do with

the thing. My trash service takes

a lot of stuff, but would they take

a heavy old wheelbarrow? I don't

have a truck, so hauling it someplace

would be a major project. Then

Ann came up with the brilliant idea

of making "lemonade" with the

"lemons" provided by the wheelbarrow:

We'd turn it into an attractive

summertime planter.

We started our project by drilling

several holes into the metal part of

the barrow for drainage. We then

positioned it to face the road, securing

it with a couple of rebar posts

pounded into the ground on each

side so it wouldn't shift. We lined

the bottom of the barrow with pea

gravel and filled it up with potting

soil.

Our next stop was a home and

garden store, where we secured

different colored wave petunias for

planting. We chose wave petunias

because they are easy to maintain,

are colorful, bloom all season and

tend to cascade out of their container,

an effect we felt was desirable

for the project.

To care for our creation, we made

sure it was adequately watered

because plants in a container need

more frequent watering than those

in the ground. I also took care to periodically

fertilize the petunias with

systemic fertilizer dispensed from a

hose attachment.

Our creation was not only an attractive

addition to our front lawn all

summer, but this spring Ann said

removing the dried-up remains of

the old wave petunias was one of the

easiest gardening tasks she'd ever

undertaken. The soil in the barrow

has been fertilized and another crop

of wave petunias has been planted in

anticipation of another colorful year.

Wheelbarrows are not the only

seemingly "useless" objects that

can be turned into useful, colorful

planters.

1 1

This year for my birthday, my

old-fashioned, rather rusted-out

charcoal smoker that somewhat

resembles R2D2 was replaced by an

electric version. Rather than throw

it away, Ann set it on the lawn, filled

it with potting soil and planted a variety

of seeds saved from last year's

blooms in it to see what looks best.

We have also had good luck over

the years using whiskey half-barrels

for planters all along our property

to grow a wide variety of colorful

plants, ranging from irises to marigolds.

We use big plastic tubs (toy

totes) for our container vegetable

garden, growing tomatoes, peppers

and herbs.

When working with containers,

remember to drill holes in the

bottom and along the lower side

to promote drainage, then add

some gravel or crushed stone to

the bottom before filling with soil

and planting. Remember to water

frequently and fertilize periodically

to keep your containers producing

beautiful blooms or tasty veggies all

season long.

L

IBERTYR

Senior Living Community

IDGE

A Non-Profit Faith-Based Community

WE OFFER:

• Independent Garden Homes

• Assisted Living Apartments

• Memory Care Neighborhood Apartments

Final Phase of Garden Homes

currently under construction.

CALL TODAY TO SCHEDULE A COMPLIMENTARY

LUNCH AND TOUR. LOCATED IN LEXINGTON NEAR HAMBURG PLACE

859.543.9449

www.libertyridge.com

701 Liberty Ridge Lane Lexington Ky 40509
---
1 2 MAY/JUNE 2 0 1 4

The More Things

Change:

We've come a long way from

the huge computers of old

by Charles Sebastian, Staff Writer

"I think it's fair to say that personal

computers have become the most

empowering tool we've ever created.

They're tools of communication,

they're tools of creativity and

they can be shaped by their user."

– Bill Gates

In 1946, the Electronic Numerical

Integrator and Computer

(ENIAC) was launched to

calculate PILATES

artillery firing tables for

PLACE

PILATES

PLACE

the U.S. Army's Ballistics Research

Laboratory. The ENIAC,

which was conceived by a team

at the University of Pennsylvania

and brought to life at the Moore

School of Electrical Engineering,

took up an entire room.

Today, an IPhone has more

memory and capabilities than the

ENIAC and can be carried in a

pocket.

The ENIAC started a revolution

Pilates is designed

to strengthen the

body's core muscles

through low-impact

fitness techniques.

All sessions taught by

Stott Pilates trained

health professionals.

based on vacuum-tube technology,

which quickly became transistor-based

as transistors evolved.

This allowed for more compact

models. Then integrated circuits

started, which made smaller even

more possible. Then there came

microprocessors, which is where

we are today. We have 100 times

the storage on our iPods and laptops

now than we did on personal

computers in the 1980s. More and

more applications arrive each day

as computers never seem to find

their threshold but keep developing

new usages.

While computers improve and

change, just like almost anything

else, what's amazing is the exponential

rate at which they improve

and change. The ENIAC was

designed for the same purposes as

many golden-age computers: to

run calculations and test probabilities.

No one could have predicted

computers would be used for gaming

in what today is a billion-dollar

industry. The computer gaming

revolution started in the 1970s

with games such as Combat,

Pong and Space Invaders. Basic as

they may seem today, these early

attempts at computer gaming

provided millions of

users with endless

fun. The Atari 2600,

Commodore 64

and Sega were some

of the first gaming

systems with massmarket

sales and

appeal.

As impressive as

the ever-advancing

electronics in computers may be,

what is equally impressive is the

ever-widening array of applications.

While Apple and Microsoft

remain the two biggest kids on the

block, much of their success and

dominance lie in their ability to

create applications that keep proving

highly useful.

Cellular phones, ATMs, the Internet,

microwaves – the list of how

computers have made life easier

goes on and on. The concept of

email, today a common element in

life, was challenging for people to

use when it was first introduced.

With the apparent ease computers

create for us, it's typical to suspect

they might somehow corrupt us.

This was especially true as the

personal computer developed in

the 1980s because this is when

computers scaled down to an

individual level. The late Isaac

Asimov said, "I do not fear computers.

I fear the lack of them."

While Asimov's statement was not

shared by the populace 25 years

ago, today it would certainly ring

true. Computers, like any tool, are

as good or bad, as right or wrong,

as their users.

859-266-3810

365 Duke Rd.

Lexingtotn

studio@pilatesplaceky.com

follow us on:

Eastland Shopping Center 1020 Industry Rd. Ste 10 Lexington, KY 40505

859-253-0012 Mon 9-7, Tues-Sat 9-6
---
MAY/JUNE 2 0 1 4

50 Years Ago…

Nelson Mandela

sentenced to life in prison

by Angela Hoover,

Staff Writer

After more than a

decade of peaceful

protest and

legal harassment, in 1955 Nelson

Mandela concluded the African

National Congress (ANC) "had

no alternative to armed and

violent resistance." In 1961, he cofounded

a militant group called

the "Spear of the Nation" (MK),

inspired by Fidel Castro's 26th

of July Movement in the Cuban

Revolution. Operating through a

cell structure, MK committed acts

of sabotage to exert maximum

pressure on the government with

minimal casualties. It bombed

military installations, power

plants, telephone lines and transport

links at night when civilians

were not present. These crimes

culminated in Mandela's 1962 arrest,

and in 1964 he was sentenced

to life in prison.

He spent the first 18 years of his

imprisonment at the notoriously

brutal Robben Island Prison, a

former leper colony off the coast

of Cape Town. There he was

confined to a small, 7-square-foot

cell without a bed or plumbing

– just a slop bucket – and forced

to do hard labor in a lime quarry.

As a black political prisoner, he

received smaller rations and fewer

privileges than other inmates.

Robben Island prisoners were

routinely subjected to inhumane

punishments for the slightest

offenses. There were reports of

guards burying inmates in the

ground up to their necks and then

urinating on them.

Despite these hardships, Mandela

managed to earn a bachelor of

law degree from the University of

London and served as a mentor

to his fellow prisoners, encouraging

them to seek better treatment

through nonviolent resistance.

Mandela was often locked up in

solitary confinement as punishment

for his protests. "I found

solitary confinement the most forbidding

aspect of prison life," he

wrote in his autobiography. "There

was no end and no beginning;

there is only one's own mind,

which can begin to play tricks."

While imprisoned, Mandela

remained the symbolic leader of

the anti-apartheid movement. The

"Free Nelson Mandela" campaign

was launched in 1980. With international

outcries against South

Africa's racist regime mounting,

the government offered Mandela

his freedom in exchange for political

compromises. Mandela and 20

other political prisoners categorically

rejected these compromises.

In 1982, Mandela was moved to

Pollsmoor Prison on the mainland,

and in 1988 he was placed

under house arrest on the grounds

of a minimum-security correctional

facility. Finally, on Feb. 11,

1990, Mandela was released from

prison. "I went for a long holiday

for 27 years," he said of his years

in prison.

1 3

50 Years Ago…

May 4, 1964

The 88th Congress recognizes

bourbon whiskey

as a "distinctive product

of the United States."

by Tanya J. Tyler, Editor

As you get ready for the Kentucky

Derby by preparing the signature

drink – the mint julep – pause a

moment to raise a glass to Congress

for singling out bourbon as a

"distinctive product of the United

States." Bourbon, also known as

"America's Native Spirit," may be

produced anywhere in the United

States where it is legal to distill spirits,

but most brands are produced

in Kentucky.

According to the official Jim Beam

Web site (www.jimbeam.com), by

law, bourbon must be produced

in the United States; be made of

a grain mix of at least 51 percent

corn; be distilled at less than 160

proof; contain no additives (except

water to reduce proof where necessary);

and be aged in new, charred

white oak barrels. To be called

"straight" bourbon, it must be aged

for a minimum of two years.

The Kentucky Bourbon Trail

celebrates the legendary heritage of

Kentucky's iconic libation. Learn

more about distilleries you can visit

and the importance of the bourbon

industry to Kentucky's economy at

http://kybourbontrail.com.

Take a tour and join us for lunch, on us!

Make your reservation today for our

complimentary lunch and tour.

ARE YOU DISABLED?

HAVE YOU APPLIED FOR SOCIAL SECURITY DISABILITY?

ARE YOU CAUGHT UP IN RED TAPE?

An experienced Social Security Claims Advocate can help you:

• By assisting you in filing your initial application.

• Filling out and filing your appeals.

• Gather medical and other important information to submit to Social Security.

• Contact your doctors to obtain a report of your medical condition.

• By obtaining documents from your Social Security file and review them.

• By presenting opening and closing statements at your hearing that

will state how you meet the Social Security listing of being disabled.

1001 Crossfield Drive

Versailles, KY 40383

daisyhillseniorliving.com and

859.753.2000

us on Facebook

For a FREE CONSULTATION of your claim call

Patsy R. Hughes, Disability Claims Advocate,

1-859-263-7780.

NO FEE IS PAID UNLESS YOU WIN
---
1 4 MAY/JUNE 2 0 1 4

Late-Life Success: Nelson Mandela

South Africa's first black president help create "Rainbow Nation"

by Angela S. Hoover, Staff Writer

"I have fought against white domination,

and I have fought against

black domination. I have cherished

the ideal of a democratic and free

society in which all persons live together

in harmony and with equal

opportunities. It is an ideal which I

hope to live for and to achieve. But

if needs be, it is an ideal for which I

am prepared to die."

Nelson Mandela spoke these words

in court on April 20, 1964, when

he was facing the death penalty.

Thirty years later at the age of 75,

Mandela became the first black

president of South Africa. At the

cost of 27 years of imprisonment,

Mandela lived to see the end of

apartheid.

Born in 1918, Mandela was a

leader of both peaceful protests

and armed resistance against the

white minority's oppressive regime

in a racially divided South Africa

during the 1940s. By the time of his

death, he was known as the father

of the nation and the liberator and

savior of South Africa. Seen as a

secular saint, his presidency was

widely thought of as "a golden age

of hope and harmony," according

to his biographer, Anthony

Sampson.

When Mandela became president,

South Africa had a huge disparity

in wealth and services between its

white and black communities. Of

the 40 million citizens, 23 million

had no electricity or adequate

sanitation; 12 million lacked clean

water; 2 million children were not

in school; one third of the population

was illiterate; nearly half the

population lived below the poverty

line; and the unemployment rate

was 33 percent. Despite this great

gulf in resources resulting from

apartheid policies, Mandela was

committed to a peaceful reconciliation

with the white minority during

the transition to a multicultural

democracy. He reassured South

Africa's white population that they

were both protected and represented

in "the Rainbow Nation."

Throughout Mandela's five-year

presidency, welfare spending

increased and the government

created community grants for

children, the disabled and the elderly,

as well as other legislation to

protect equal rights in all aspects of

society. Water access was extended

to 3 million people; 2 million

people were connected to the electricity

grid; 3 million people were

connected with telephone lines;

more children were brought into

the education system; 500 clinics

were upgraded or constructed;

and 3 million people were housed

with the construction of 750,000

houses.

Mandela stepped down as president

in 1999. He later returned

to an active public life, meeting

with world leaders and celebrities

and starting the Nelson Mandela

Foundation, which focuses on rural

development, school construction

and combating HIV/AIDS.

In 2002, Mandela inaugurated the

Nelson Mandela Annual Lecture,

and the Mandela Rhodes Foundation

was created at Rhodes House,

University of Oxford to provide

postgraduate scholarships to

African students in 2003. He also

instituted the Nelson Mandela

Centre of Memory and the 46664

campaign against HIV/AIDS

(46664 was Mandela's number

when he was imprisoned).

Mandela retreated from the world

stage at the age of 85 due to failing

health. He declined invitations to

appear at public events and most

interview requests. He remained

somewhat involved in international

affairs, founding the Nelson Mandela

Legacy Trust in 2005, visiting

the United States to give speeches

and meet with then-President

George W. Bush and senators Hillary

Clinton and Barack Obama.

On his 89th birthday, Mandela

announced the formation of The

Elders, a group of world leaders

who contribute their wisdom and

independent leadership to some of

the world's toughest problems.

Mandela received more than 250

honors during his lifetime, including

the 1993 Nobel Peace Prize, the

U.S. Presidential Medal of Freedom

and the Soviet Order of Lenin. He

died on Dec. 5, 2013 at age 95.

I have cherished the ideal of a democratic

and free society in which all persons

live together in harmony and with equal

opportunities."

– Nelson Mandela
---
Renovating The Kentucky

by Charles Sebastian, Staff Writer

As a native Lexingtonian, the

Kentucky Theatre has been part of

my mythology and history since

childhood. For so many people in

Lexington, the Kentucky's presence

was and is a beacon of intellectual

hope – an oasis in what can often

feel like a cultural desert. I can

remember as a kid seeing Gone with

the Wind and the dazzling spectacle

Blade Runner in the Kentucky's ornate,

cavernous auditorium. I'm sure

many of you have similar, poignant

and nostalgic stories.

The Kentucky has been at its Main

Street location since 1922, outdistancing

its early rivals, The Strand

and The Ben Ali. Fred Mills, the

general manager of the Kentucky,

has been affiliated with this landmark

since 1963. A massive renovation

is happening at the theater.

MAY/JUNE 2 0 1 4

Iconic Lexington theater gets a makeover

"It's been needed for awhile," he

said. "When people are bringing

their own cushions, it's time to

renovate."

The Lexington-Fayette Urban

County Government has owned the

Kentucky's building since 1992, so

an appeal was made to the LFUCG

for the money required for the

renovation. The Friends of the Kentucky

Theatre was formed to raise

the funds, initially projected at $1

million. The committee consisted

of chairperson Isabel Yates; co-chair

Steve Grossman; Bill Fortune, who

managed the finances; and project

manager Harold Tate. The Grand

Reopening will be Wednesday, May

21.

Though The Kentucky has two

auditoriums, the main auditorium

is getting the lion's share of the

overhaul. "We're going green," Mills

said. "We have a completely new

lighting system. The iconic dome

in the ceiling has been refurbished,

the chandeliers revamped and the

highly recognizable marquee is being

updated as well."

Perhaps the most important renovation,

however, is rigging both auditoriums

for digital projection. Being

able to make the leap to digital has

been a make-or-break situation for

many theaters in the last five years,

Mills said.

"We're also installing the newest

technology, called the Hearing

Loop, which is a sound system

embedded in the floor," Mills said.

"This greatly enhances the sound,

which is optimum for those hearingimpaired

patrons." Touches like

these ensure the longevity of the

Kentucky and its ability to provide

high-quality cinema.

"The Kentucky Theatre is such a

large part of our lives here," Mills

said. "We get stories all the time

of first dates and childhood movie

memories. One man told me he

1 5

was in the theater at the outbreak

of World War II. When he walked

outside there were newsboys hawking

papers that declared the start of

the war."

Donations for the renovation can

be made to The Friends of the Kentucky

Theatre, 499 East High Street,

Lexington, KY 40507, or by calling

Mills at (859) 231-7924. More

information can be found at www.

kentuckytheater.com, and questions

can be directed to fredkentucky@

alltel.net.

The Kentucky

Theatre is

such a large

part of our

lives here."

– Fred Mills,

general manager

Living here has its advantages.

"Thanks to The Willows at Hamburg, my son, Lowell, and I are able to

remain under one roof. I can maintain an independent lifestyle, while

my son receives the care he needs. This is the nicest place we have

ever lived in. It has been a joy, and I have not one negative thing to

say. Only loving, caring people are found here. I prayed and prayed

for Lowell and I to find a place where we could both live together, and

the good Lord brought us here."

Liz and Lowell Pennington

Residents of The Willows at Hamburg

Come and see how good life can be at The Willows at Hamburg

– stop by or call to schedule a personal tour.

Assisted Living • Memory Care • Long-Term Care • Skilled Nursing

Short-Term Rehab • Outpatient Therapy • Transitional Care • Respite Care

859-543-0337 • 2531 Old Rosebud • Lexington, KY 40509 • willowsathamburg.com
---
1 6 MAY/JUNE 2 0 1 4

Events

Calendar

MAY 2014 JUNE 2014

Sun Mon Tue Wed Thu Fri Sat

1 2 3 1 2 3 4 5 6 7

4 5 6 7 8 9 10 8 9 10 11 12 13 14

11 12 13 14 15 16 17 15 16 17 18 19 20 21

18 19 20 21 22 23 24 22 23 24 25 26 27 28

25 26 27 28 29 30 31 29 30

Ongoing

Yoga Health & Therapy

Center Classes

Our Yoga Classes feature slow

stretch with gentle breathing,

and relaxation techniques.

Class size is small, to provide

careful instruction. Yoga classes

are offered Mon through Thurs

(daytime and evening), and Sat

mornings. Our Meditation Starter

Course teaches simple ways

to focus and quiet the mind;

5-week sessions are offered on

Sundays at 5:30 pm. A nonprofit

organization operating

since 1981, The Yoga Health &

Therapy Center is located at 322

W. 2nd St. Free private parking

is provided for most classes. For

more information on fees and

scheduled dates and times, call

us at 859-254-9529, or email us

at info@yogahealthcenter.org

Sun Mon Tue Wed Thu Fri Sat

Send us your event listings

List your event for FREE if it's free to the public*.

E-mail your event information to graphics@samplerpublications.com

(*$35 fee for events that are not free to the public)

Reiki Introduction &

Practice

6:30pm- 8:30pm, 4th Tuesday

each month. 1403 E. Breckinridge

Street, Louisville, KY. Free.

Those who do have not Reiki

training—come for an introduction

& to experience it. No experience

required. Those with Reiki come

to practice on others & receive

the Reiki energy. Everyone will

get 15 -20 minute Reiki treatment.

Free reattunement to your last

level of Usui or Karuna Reiki® if

you have your certificate. Contact

JoAnn Utley at 502-777-3865

or jutley5122@bellsouth.net to

register. More info at http://

joannutley.byregion.net

Sit and Get Fit

Mondays and Fridays, 9:30am-

10:30am. FREE! This event is

a seated controlled exercise/

movement class to improve

strength, flexibility, balance

and coordination. It is taught

by Anne Graff, MS, OTR/L,

Occupational Therapist certified

by the American Senior Fitness

Association as a Senior Fitness

Instructor and trained in Body

Recall. Also included are: Fall

Prevention and Recovery, Fun

Movements to Strengthen

Body and Mind, Improve

Posture and Core Conditioning,

Wellness Education, Relaxation

Techniques, and Music.

The Charles Young Center is

located at 540 E. Third Street.

Parking is available on Shropshire

Avenue or Lewis Street,

Lexington, KY. Ages 60 and older.

For more information, please

contact Alexis Edge at 859-246-

0281 or aedge@lexingtonky.gov.

Wellness Wednesday

On the first Wednesday of the

month, all Good Foods Market

and Café customers will receive

5% off all supplements, body

care, and bulk herb & spice

items. Customers can special

order Wellness Wednesday items

ahead of time and pick them up

on Wellness Wednesday. When:

Wednesday, July 3, 8 am – 10

pm. held at Good Foods Market

& Café, 455 Southland Drive.

May 11

Down to Earth Garden

Club Community

Fundraiser Plant Sale

Every May, the Down to Earth

Garden Club, a non-profit group,

holds its annual plant sale

fundraiser. The plants are from the

members' own gardens, so they

are knowledgeable about their

characteristics and landscape

potential. This event will be rain or

shine, offering plants for shade or

sun, Natives, Herbs, Vegetables,

Perennials, Wildflowers, Grasses,

Hostas, and Irises. Money

raised will be donated to local

projects that promote gardening,

education, preservation,

conservation and environmental

stewardship. The 2013 sale is

on Saturday, May 11th, from

8 a.m. to 2 p.m. at Woodland

Christian Church, 530 E. High

St. in Lexington , KY. Please visit

our website for more information

and see descriptions & pictures

of some of the plants we will be

selling: www.downtoearthky.com/

PlantSale.html

May 12

Diabetes Support

Group

Diabetes Support Group, 10-11

am, Senior Citizens Center,

1530 Nicholasville Road, Free.

Sponsored by the Lexington-

Fayette Co. Health Dept. For

more information, call (859) 288-

2446.

May 13

Health Chats about

Diabetes

6:15-7:30, UK Polk Dalton

Clinic, 217 Elm Tree Lane, Free.

Sponsored by the Lexington-

Fayette Co. Health Dept. and UK

Healthcare. For more information,

call (859) 288-2446.

May 14

Ladies' Health Day

9am-5:30pm, Franklin Co. Health

Department, 100 Glenns Creek

Rd, Frankfort, KY. Breast and

cervical cancer screening, by

appointment only, targeting the

rarely and never screened women

of Franklin County. Phone 502-

564-7647 for an appointment.

Sponsored by the Franklin

County Health Department.
---
MAY/JUNE 2 0 1 4

1 7

May 17

A Day of Mindfulness

for Body, Mind and

Spirit

Mind Body Studio, Saturday May

17 from 9AM-4PM. This miniretreat

will help you: mobilize

your inner resources for healing.

Practice self-care approaches

for promoting health. Learn

mind-body skills for managing

stress-related chronic conditions.

Relax your body, quiet your

mind and open your heart.

Cultivate your innate happiness,

peacefulness and compassion.

You will learn: Skilled relaxation,

body scan, guided imagery,

journaling, self massage,

mindfulness meditation, and

mindful gentle yoga. John A.

Patterson MD, MSPH, FAAFP,

Board certified- Family Practice

and Integrative Holistic Medicine,

Faculty member- UK College

of Medicine, U of L School of

Medicine, Saybrook Graduate

School of Mind Body Medicine.

Sliding scale $45-95. Preregistration

required: www.

mindbodystudio.org. 859-373-

0033.

May 17-18

Bike MS: Bluegrass,

Bikes & Bourbon

Takes you through the heart of

Bourbon Country. Hundreds of

riders will enjoy breathtaking

views on this scenic ride. There

are 36-100 mile route options.

To make your ride a safe and

memorable one, the Bike MS:

Bluegrass, Bikes & Bourbon

is fully supported with SAG

vehicles, bike mechanics and rest

stops. After the ride, we invite

all of our registered cyclists to

celebrate and enjoy great food

and festivities at the Finish Line

Celebration on both Saturday

and Sunday afternoon. Email

jerika.amos@nmss.org for details

and to register ($35 through Feb

17, $45 from Feb 18-May 10,

and $55 week of ride registration

fee). Each cyclist must raise a

minimum of $300 in addition

to their registration fee before

check-in to participate in Bike

MS – no exceptions.

May 20

Eat, Move, Lose

Weight

Support Group

12 – 1 pm, Lexington-Fayette

Co. Health Department PH Clinic

South, 2433 Regency Road.

Free weight-loss support group

appropriate for anyone wishing

to lose weight or maintain weight

loss. Share struggles and ideas

with others. Held first and third

Tuesdays most months. For more

information or to pre-register, call

288-2446.

May 20

Health Chats about

Diabetes

5-6 pm, Nathaniel Mission Free

clinic, 616 DeRoode Street. Free.

Sponsored by the Lexington-

Fayette Co. Health Dept. and UK

Healthcare. For more information,

call (859) 288-2446.

May 22

Living Well with

Diabetes

5:00 – 7:30 pm, (weekly thru

June 12), Lexington Public

Library Tates Creek Branch, 3628

Walden Dr., Lexington. Free class

series to help you understand

and manage diabetes. Call 288-

2446 to pre-register.

May 27

Reiki Introduction &

Practice

6:30pm- 8:30pm. 2508

Wallace Avenue, Louisville, KY

40205. Free. Those who do

have not Reiki training—come for

an introduction & to experience it.

No experience required. Those

with Reiki come to receive

the Reiki energy & practice on

others. Free reattunement to

your last level of Usui or Karuna

Reiki® upon request if you

have your certificate. Contact

JoAnn Utley at 502-777-3865

or jutley5122@bellsouth.net to

register. More info at http://

joannutley.byregion.net

May 31

Walk MS Lexington

2014

Walk MS connects people

living with MS and those

who care about them. It is an

experience unlike any other

- a day to come together, to

celebrate the progress we've

made and to show the power

of our connections. When you

participate in Walk MS, the funds

you raise give hope to the more

than 5000 people living with MS

in our community. The dollars

raised support life-changing

programs and cutting-edge

research. Every connection

counts. Register now, connect

with others and start fundraising

today. Address: 101 RJ Corman

Drive Nicholasville, KY 40356

Site Opens: Registration opens

at 9am; Walk begins at 10am.

Route Length: 1 and 3 mile

option available. Event Contact

Name: Mary Carabella. Event

Contact Email: mary.carabella@

nmss.org. Event Contact Phone:

502-526-5303. http://walkkyw.

nationalmssociety.org/site/TR?fr_

id=23497&pg=entry.

June 1

Lexington Legends vs.

Augusta Greenjackets

The Lexington Legends are a

proud Single A Affiliate of the

Kansas City Royals. Box seats

$9 in advance; $10 day of;

Field Box $11 in advance; $12

day of; Bleachers $6. Time:

6:05 p.m. Whitaker Bank Ball

Park. (859)422-7867. www.

lexingtonlegends.com. Location:

207 Legend Lane.

June 5

Thursday Night Live

Featuring The Trendells. Come to

downtown Cheapside Park from

4:30 p.m. - 9 p.m. for beverages,

food from local restaurants

and great music by live bands

(Bands play from 5:30 - 8 p.m.)

Admission is free. Sponsored

by Central Bank (859)425-

2590. www.downtownlex.com.

Location: Cheapside Park.

June 5

Great American Brass

Band Festival

World-class bands come

together in what has been called

"the most prominent and unusual

music festival in the country."

Centre College Campus, Danville,

Kentucky. (859)319-8426. www.

gabbf.org. Location: Danville,

Kentucky.

June 12–15

41st Annual Festival of

the Bluegrass

Annual jamboree featuring

the best Bluegrass bands in

Kentucky and top national

performers. Tickets: If

purchased before May 20,

$100–4 day ticket; After May

20–4 day ticket $105; Thursday

$25; Friday $40; Saturday $45;

Sunday $10. 4089 Ironworks

Pike. (859)846-4995. www.

festivalofthebluegrass.com

Location: Kentucky Horse Park

June 13–15

It's a Grand Night for

Singing

Presented by UK Opera Theatre.

This musical extravaganza is

hailed as the official start to

the summer music season

in Lexington. Time: Friday &

Saturday 7:30pm, Sunday 2pm.

Tickets: $15-$45. Rose Street &

Euclid Ave. (859)257-4929

www.ukoperatheatre.org.

Location: UK Opera Theatre

June 20

LexArts' Gallery Hop

LexArts' Hop is a self-guided tour

of the visual arts in downtown.

Patrons begin at any location

and visit as many or as few

participating venues as you

would like. Each site presents

an exciting new exhibit for

each Hop and thanks to the

generosity of many, admission is

always free. Time: 5pm to 8pm.

Lextran provides free Trolley

transportation downtown during

Hop hours. (859)255-2951

www.galleryhoplex.com.

June 21-22

Shaker Village

Antiques Show & Sale

More than 50 of the nation's top

dealers will travel from across

the U.S. to exhibit a diverse

range of antiques surrounded

by the pristine Shaker Village

restoration. Among items

available will be period Shaker

artifacts, museum quality

American furniture, vintage

decorative arts and furniture,

silver, jewelry, quilts and much

more. Time: Saturday 10 a.m.

- 5 p.m.; Sunday 10 a.m. - 4:30

p.m. Cost: $10-13 and above;

$5-6-12, Free 5 and under.

3501. (800)734-5611. www.

shakervillageky.org.

Nature lovers, hikers, cliff climbers

RENT THIS CABIN

Near Natural Bridge State Park and

Red River Gorge.

Call or visit website for reservations.

Ken & Sheila Brown

www.VRBO.com/361686

(606) 668-2599

(606) 643-6044

ksbrown@mrtc.com
---
1 8 MAY/JUNE 2 0 1 4

Senior Services

DIRECTORY

About the Directory

Living Well 50+ is striving to make your search for local

senior services a bit easier. We know there are many

companies available to assist seniors in central Kentucky

– so many that beginning a search to fit your need can

seem like a daunting task.

That's why our directory features a collection of local

companies and organizations who have a solid track

record of providing exceptional assistance. We hope it

becomes a useful starting point in your search for quality

senior services.

Category Key

County Offices & Meal Programs

Health Care Systems & Hospitals

Transportation, Personal Shopping, Errands

Does your

business

provide

excellent

senior

services?

call us for a spot

in the directory

859.225.4466

Senior Day Centers, Adult Day Centers &

Respite Care

In Home Care (Non-Medical)

In Home Medical Care

Mental Health, Family & Caregiver Support, Advice

Disability & Rehabilitation

Medical Equipment, Supplies & Monitoring Systems

Finances & Estate Planning, Trusts/Wills,

Reverse Mortgage

Funeral Arrangement & Pre-Planning

Legal Services

Home Repair & Maintenance

Skilled Nursing Facilities, Personal Care Homes,

Long-Term Care

Senior Independent Living & Retirement Housing

(Non-Medical)

Real Estate / Rent- Subsidized Housing For Independent

Living

Moving, Estate Sales, Downsizing Services

Fitness, Healthy Eating & Healthy Living

Healthcare, Medicare Help and Insurance

Vision Care
---
MAY/JUNE 2 0 1 4

1 9

HEALTH CARE SYSTEMS

& HOSPITALS

Lexington Clinic

1221 S. Broadway

Lexington, KY 40504

859-258-4000

IN HOME CARE

(NON-MEDICAL)

Accessible Home

Health Care

366 Waller Ave. Ste. 112

Lexington, KY 40504

859-313-5167

www.accessiblebluegrass.com

Assisting Hands

1795 Alysheba Way, Ste. 7105

Lexington, KY 40509

859-264-0646

www.assistinghands.com/lexington

Senior Helpers of the

Bluegrass

3070 Harrodsburg Rd. Ste. 240

Lexington, KY 40503

859-296-2525

www.seniorhelpers.com

IN HOME

MEDICAL CARE

Medi-Calls

1055 Wellington Way #215

Lexington, KY 40513

859-422-4369

Saint Joseph Home Health

2464 Fortune Dr. Ste. 110

Lexington, KY 40509

859-277-5111

www.saintjosephanchomecare.com

DISABILITY &

REHABILITATION

YMCA of Central Kentucky

239 E. High St.

Lexington, KY 40502

859-254-9622

ymcaofcentralky.org

Drayer Physical Therapy

Institute: Winchester Center

160 Pedro Way

859-745-2152

www.drayerpt.com

Drayer Physical Therapy

Institute: Richmond Center

1054 Center Drive, Ste. 1

859-625-0600

www.drayerpt.com

Drayer Physical Therapy

Institute: Lexington Perimeter

Center

600 Perimeter Drive, Ste. 175

859-268-1201

www.drayerpt.com

Drayer Physical Therapy

Institute: Lexington Beaumont

Center

1010 Monarch Street, Ste. 150

859-219-0211

www.drayerpt.com

MEDICAL EQUIPMENT,

SUPPLIES &

MONITORING SYSTEMS

Central Baptist Lifeline

859-260-6217

www.centralbap.com

FINANCES & ESTATE

PLANNING, TRUSTS/

WILLS, REVERSE

MORTGAGE

Attorney Walter C. Cox, Jr

& Assoc. LLC

2333 Alexandria Dr.

859-514-6033

www.waltercoxlaw.com

info@waltercoxlaw.com

LEGAL SERVICES

Bluegrass Elder Law

120 North Mill Street, Ste 300

859-281-0048

www.bgelderlaw.com

HOME REPAIR &

MAINTENANCE

Mountain Waterfalls

Award-Winning Water Features

859-684-0642

www.mountainwaterfalls.net

SENIOR INDEPENDENT

LIVING & RETIREMENT

HOUSING (NON-MEDICAL)

Mayfair Village

3310 Tates Creek Rd.

Lexington, KY 40502

859-266-2129

www.mayfairseniors.com

Windsor Gardens of

Georgetown Assisted Living

100 Windsor Path

Georgetown, KY 40324

502-570-0540

marsha@goodworksunlimited.com

Rose Mary C. Brooks Place

200 Rose Mary Dr.

Winchester, KY 40391

859-745-4904

www.brooksplace.org

The Lafayette

690 Mason Headley Rd.

859-278-9080

www.lafayettelexington.com

Ashland Terrace

475 S. Ashland Ave.

Lexington, KY 40502

859-266-2581

www.ashlandterrace.org

Hometown Manor Assisted

Living Community

Georgetown, Lawrenceburg,

Shelbyville

859-229-5914

www.hometownmanor.com

St Andrews Retirement

Community

300 Stocker Dr.

859-625-1400

www.standrewsplace.org

MORE

LISTINGS

ON NEXT

PAGE

Bluegrass

www.bgelderlaw.com

ElderlawPLLC

Take control of your future

Carolyn L. Kenton

Amy E. Dougherty

120 N. Mill St., Ste. 300

Lexington, KY 40507

Phone: 859.281.0048

Wealth Preservation

Powers of Attorney

Guardianship

Medicaid Planning

Probate
---
2 0 MAY/JUNE 2 0 1 4

We have what no other

homecare company has...

Our People

The quality of life you enjoy depends on the

quality of care your receive. Our caregivers

go beyond caring for patients to

...caring about them.

●

RNs & LPNs

●

Home Health Aides

●

Homemakers

●

Therapists

(Physical, Speech

& Occupational)

Medicare/Medicaid/Commercial Insurance/Private Pay

Joint Commission accredited

No matter when you call you will speak

with an experienced associate who can

help you with all your home care needs.

For more information call:

SERVICE DIRECTORY, CONTINUED

REAL ESTATE /

RENT-SUBSIDIZED

HOUSING FOR

INDEPENDENT LIVING

Turf Town Properties, Inc.

124 Kentucky Ave.

Lexington, KY 40502

859-268-4663

www.turftown.com

Briarwood Apartments

1349 Centre Parkway

Lexington, KY 40517

859-272-3421

glickco.com

MOVING, ESTATE SALES,

DOWNSIZING SERVICES

Caring Transitions

1411 Delaware Ave.

859-543-9848

www.CTLex.net

Lexington Life Services

859-797-8157

lexingtonlifeservices.com

FITNESS, HEALTHY

EATING & HEALTHY

LIVING

Yoga Health & Therapy

Center

322 West Second Street

Lexington, KY 40507

859-254-9529

www.yogahealthcenter.org

Well Fed Meals

1301 Winchester Rd. #17

Lexington, KY 40505

859-539-5863

www.wellfedmeals.com

HEALTHCARE,

MEDICARE HELP &

INSURANCE

Bluegrass Insurance

Solutions

859-312-9646

www.PeteAlberti.com

VISION CARE

Medical Vision

3288 Eagle View Ln. Ste. 300

Lexington, KY

859-278-9486

www.medicalvision.com

TRANSPORTATION,

PERSONAL SHOPPING,

ERRANDS

Superior Van & Mobility

4734 Rockford Plaza

Louisville, KY 40216

1-800-458-8267

www.superiorvan.com

Saint Joseph-ANC

Home Care

859-277-5111

2464 fortune drive,suite 110

lexington, ky 40509

www.saintjosephanchomecare.com

Proudly serving Central Kentucky since 1985
---
MAY/JUNE 2 0 1 4

Have you appointed a trusted person

to manage your affairs?

We can help you designate powers of attorney,

healthcare surrogacy, and guardianship.

Do you want to be confident

about your asset transfers

to the next generation?

Let us help you with wills, testamentary trusts,

special needs trusts, and estate settlements.

Have you planned for later life care?

We can help you protect your assets for

Medicaid eligibility, handle your crisis

planning and VA pension planning.

Providing personal legal advice to the Central Kentucky region.

Carolyn L. Kenton

Amy E. Dougherty

THIS IS AN ADVERTISEMENT.

BLUEGRASS ELDERLAW

120 North Mill Street, Suite 300

Lexington, KY 40507

859.281.0048

www.bgelderlaw.com

Questions to

Ask About

Assisted Living

It's never too early to

examine your options

by Donald Hoffman

"Assisted living? ME? Sure, I've

thought about it – not seriously,

though. After all, I'm not ready for

it – yet!"

Sound familiar? Of course it does!

Almost all of us wait until the last

possible minute to examine options

such as assisted living. Familiarizing

yourself now with issues that might

arise will save you a great deal of

grief and stress down the road. Here

are some questions and thoughts to

help you plan for the future.

COSTS:

• What is included in the basic cost

of a facility? Which services cost

extra?

• Are any move-in incentives offered?

Does the facility help with

moving costs?

• Are cost-of-living raises automatically

applied or are increases

based on current need?

• What penalties are applied if I am

late with a payment?

• What happens to me if my money

runs out?

INDIVIDUAL MEDICAL

NEEDS

• Does the facility perform a medical

assessment before admission?

• Does the facility prepare a care

plan for residents?

• Is coordinated care with my

physician(s) possible?

• Will my special needs such as

dietician-planned meals and

medications be continued?

• Is transfer or discharge necessary

if my condition deteriorates?

LIVING QUARTERS

• Are floor plans for apartments

available?

• Are they handicapped accessible?

• Are emergency call buttons placed

throughout the apartment and in

2 1

the bathroom?

• Can I control my own heating and

cooling?

• How often is the apartment

cleaned?

• Are there enough windows to

allow natural light?

• Are electrical outlets strategically

placed?

• Is there a patio where I can enjoy

the outdoors?

• Do the apartments have kitchens?

Are the appliances full size? Is

there a stove, refrigerator, microwave,

dishwasher, cabinet storage

and adequate counter space?

ACTIVITIES

• Is there a full-time, qualified

activities director?

• What activities are offered and is

there a fee to participate?

• Is there an activities committee to

suggest and assist with programs?

Can I start a program on my own?

• Do you offer transportation to

volunteer activities within the

community, to community events

and performances?

• What does the residence do to

ensure my independence and selfdetermination?

STAFF AND STAFF

TRAINING

• Is there an RN on duty 24/7?

• How are aides trained?

• Are medical and security background

checks and random drug

tests regularly performed on all

staff members?

• Does staff know how to use

equipment, handle emergencies

and work with mild dementia and

other special situations?

• Are volunteers trained to interact

with residents?

ABOUT THE

RESIDENCE

• Is there a library, exercise area,

heated pool, walking paths and

indoor and outdoor sitting areas?

• Are sitting areas comfortable,

numerous and conducive to

conversation?

• Are common areas clean and

wheelchair accessible?

QUESTIONS Continued on Page 31
---
2 2 MAY/JUNE 2 0 1 4

Beyond Pack Rat:

Understanding Hoarding

Disorder

Risks to health and family relationships

are possible

by Angela S. Hoover, Staff Writer

Hoarding is a normal behavior

seen in humans and animals as an

adaptive trait in times of scarcity.

One example in the animal world

is squirrels collecting and saving

nuts for winter. Examples for

humans, other than in times of

scarcity, are psychological rewards

and delayed gratification learned

in school with grades and as an integral

component of game theory

via the accumulation of points,

experience, gems or weapons.

This inherent hoarding nature can

become maladaptive to the point

of impairing basic functioning

and becoming a danger to health.

This is compulsive hoarding, or

hoarding disorder. This behavior

is associated with health risks,

economic burden and adverse effects

on friends and family.

Compulsive hoarding is characterized

by the excessive acquisition

of objects and an inability

or unwillingness to discard large

quantities them. Collectors look

for specific items and organize

or display them, but people with

hoarding disorder often save

random items and store them

haphazardly, according to the

American Psychiatric Association

(APA). The random items hoarders

save are usually things they feel

they may need in the future; feel

irrationally bad about throwing

away; and believe are or will be

valuable. They feel safer surrounded

by these things.

Compulsive hoarding can impair

social, occupational and health

areas in the hoarder's life. Health

and safety concerns include

fire and tripping hazards and

health-code violations. Hoarding

behavior can cause conflicts and

family strain and lead to loneliness

and isolation and the inability to

perform daily tasks such as cooking

and bathing.

The APA estimates 3 percent to

5 percent of adults are hoarders.

Most hoarders do not recognize

their hoarding as a problem. This

insight is crucial for effective

behavioral therapy and successful

treatment.

Symptoms of hoarding usually

begin during the teen years. In a

study of 751 people self-reporting

their hoarding behavior, most

reported their hoarding symptoms

began between the ages of 11

and 20 years old, with 70 percent

reporting the behaviors before

the age of 21. Onset of hoarding

is earlier in women, but it is

more frequent in men. Hoarding

disorder tends to be chronic,

often becoming more severe over

decades as more and more clutter

accumulates, causing more and

more dysfunction.

Experts believe hoarders may

exhibit impaired sensitivity to

their own and others' emotions,

and conversely, relate to the world

around them by forming attachments

to possessions rather than

to people. Other personality or

character traits of hoarders are

low motivation; poor compliance

levels; indecisiveness; and

procrastination. Treatment should

address the underlying mechanisms

of cognitive impairment

demonstrated by individuals with

hoarding symptoms.

Hoarding seems to be more common

in people with psychological

disorders such as depression, anxiety

and attention-deficit hyperactivity

disorder. Other factors can

include alcohol dependence as

well as paranoid, schizotypal and

avoidant traits.

Genetic research has begun to

identify gene variants that may

convey risk for hoarding. Brain

injuries have also been found

to cause secondary or acquired

hoarding symptoms in some patients.

Hoarding disorder is associated

with certain abnormalities of

brain function and neuropsychological

performance. A stressful

life event, such as the death of

a loved one, can also trigger or

worsen hoarding symptoms.

For many years, hoarding has

been listed as a symptom or a

subtype of obsessive-compulsive

disorder in the Diagnostic Statistical

Manual (DSM). The DSM5

defined hoarding disorder as its

own distinct mental disorder in

2013. Compulsive hoarding does

not seem to involve the same

neurological mechanisms as more

familiar forms of OCD and does

not respond to the same drugs,

which target serotonin. More importantly,

statistics indicate there

is a prevalence of hoarding in 18

percent to 40 percent of patients

with OCD, yet only 5 percent of

compulsive hoarders experience

symptoms of OCD.

Therapeutic intervention is done

through cognitive behavioral

therapy (CBT) to help the patient

discover why he or she is so

compelled to hoard and to learn

to organize the possessions in

order to decide what to discard.

The patient also receives help

developing decision-making skills

and de-cluttering the home from a

therapist or professional organizer.

The therapist will perform

periodic consultations to help the

patient keep a healthy lifestyle.

Therapy usually involves exposure

and response prevention to

situations that cause anxiety and

cognitive restructuring of beliefs

related to hoarding.

For more

information:

International OCD

Foundation:

www.ocfoundation.org/

hoarding/

Anxiety and

Depression

Association of

America:

www.adaa.org/

understanding-anxiety/

obsessive-compulsivedisorder-ocd/hoardingbasics/stagingintervention

Local

Professionals:

Edwin Lewis Bunch, MD

(859) 255-8422

Larry Coy, LCSW

BTI Graduate

(859) 271-7788

Dr. Jeff Romer

(502) 899-5991

Rebecca L. Brewster,

MA

(502) 896-1850

Cleaning

Companies

AAA Cleaning and

Janitorial

(800) 409-3440

Stera Clean

Severe Clutter Experts,

serving Northern

Kentucky

(812) 583-2567

ABRS East

Covers all of Kentucky

(877) 401-1276
---
y Martha Evans

Sparks, Staff Writer

Kentucky Blood

Center (KBC) has

a unique reason for

finding this year's unusually harsh

cold weather challenging. More

than 40 blood-drive cancellations

this winter, mostly because of the

weather, has left KBC more than

1,300 donors short.

In spite of all this, KBC has managed

to keep those who count on

them supplied with blood. Working

from four centers, plus vans

and bloodmobiles, KBC serves

more than 60 Kentucky counties,

supplying blood for 70 hospitals

and clinics. Two of the centers are

in Lexington; Pikeville and Somerset

are the other two sites. The

service area extends north to the

state line across from Cincinnati,

south to Tennessee, east to West

Virginia and west toward Marion

County. All the blood collected

in KBC's service area is processed

and stored in a laboratory at the

KBC's Beaumont Center. Processing

means separating the donated

whole blood into red cells, platelets

and plasma. If a hospital or

clinic needs blood, it calls KBC.

"The Blood Center has couriers

moving blood from where it is to

where somebody needs it," said

Denise Fields, KBC's marketing

and communications manager.

Hospitals pay KBC for collecting

and processing the blood.

Who needs blood? "Blood is used

in everything," said Fields. Victims

of accidents and other trauma

are obvious candidates for blood

transfusions. Fields catalogs less

well-known needs: Sometimes a

premature baby needs a transfusion.

Any organ transplant requires

blood transfusions. Doctors

MAY/JUNE 2 0 1 4

Kentucky Blood Center is

a Lifesaver

Drop-in donors always welcome

routinely determine a mother's

blood type and make sure blood is

available before doing a Caesarian

section. Cancer patients who

have had chemotherapy may need

help building back their platelets,

the part of blood that makes it

clot. People with bleeding ulcers

and sickle cell patients both need

transfusions. The list goes on.

Who gives blood? "[Donating]

hits all ages, all income brackets,"

Fields said. Men and women

donate blood in about equal

numbers. People 15 years of age

and under can not donate, but

16-year-olds can if they have written

permission from a parent. At

age 17, you can donate without

parental permission.

"High school kids are real good

supporters," said Fields. "Collegeage

kids donate and are pleased

with getting a snack and a T-shirt."

KBC has lots of blood drives on

the University of Kentucky campus,

she added.

Fields says there is no top age

for donors. "We don't see people

from college to mid-30s. Then

they begin to come back to us,"

she said. She knows of a couple of

90-year-olds who donate.

Drop-ins are always welcome at

the blood centers or bloodmobile

drives. You can also make an appointment

to donate. A traditional

whole-blood donation takes about

12 minutes. Everyone gets a "mini

physical" beforehand. Attendants

at the centers or the bloodmobiles

take each prospective donor's

pulse, blood pressure and temperature

and do a simple finger stick

to determine blood-iron level. Potential

donors are asked to fill out

a health questionnaire. You can

safely donate blood every 56 days

and you can donate platelets every

two weeks. Platelet donations are

done only by appointment and

take about an hour. The blood is

good for 42 days.

KBC and other blood banks use

friendly competitions to attract

donors. The Big Blue Crush, a

competition between Kentucky

and Tennessee to see who can give

the most blood, has taken place

the week before Thanksgiving for

26 years and counting. The sixth

Big Blue Slam – Kentucky vs.

Florida – was held the last week of

January this year.

Many different places sponsor

blood drives. High schools, colleges,

libraries, community centers,

gyms, churches, retirement

centers and campgrounds such as

the Kentucky Horse Park have all

hosted blood drives. Families host

blood drives in memory or honor

of someone. Fields estimates KBC

receives about 85,000 blood donations

annually. The biggest donor

in the area is Toyota, which hosts

three blood drives a year. Hosting

Quaint Sophistication...

Retirement Living

at its Finest!

3310 Tates Creek Rd.,

Lexington, KY 40502

(Across from Lansdowne Shoppes)

2 3

a blood drive is simple, Fields said.

"The Blood Center brings all the

equipment. You just furnish the

place."

For more information, call (859)

276-2534 or visit www.kybloodcenter.org.

Kentucky Blood

Center serves

more than

60 Kentucky

counties,

supplying blood

for 70 hospitals

and clinics.

• INDEPENDENT LIVING AND LICENSED PERSONAL CARE

APARTMENT HOMES

• SUPERIOR SERVICES AND AMENTITIES

• MADE FROM SCRATCH KENTUCKY PROUD DINING

• DAILY TRANSPORTATION SERVICES

• BRIMMING SOCIAL CALENDAR

• SAFETY, SECURITY, AND PEACE OF MIND

Come Explore The Next Chapter in Your Life!

(859) 266-2129

www.mayfairseniors.com
---
2 4 MAY/JUNE 2 0 1 4

Mah Jongg: China's

Unintended Export

Complex game has local players

by Martha Evans Sparks,

Staff Writer

Mah jongg is back.

No one is quite certain how old

the game is or how it originated.

One theory says some Chinese

army officers created it to pass the

time. Another says two brothers

produced it around 1850. When

the Communists took over China

in 1949, they banned the game

in an effort to suppress gambling.

The prohibition was lifted in 1985

after the Cultural Revolution.

The name "mah jongg" is derived

from the Chinese characters

translated "sparrow." The game is

very complex. It is played with a

set of 144 tiles. (This number may

vary.) The tiles are divided into

three categories: suits, honor and

flowers. There are three different

suits, each numbered from 1 to 9.

There are four identical copies of

each suit for a total of 108 simple

tiles.

Winds and dragons are the two

honor suits. There are four winds

– east, south, west and north.

There are three dragons, Red,

Green and White. There are four

identical tiles of each wind and of

each dragon, adding another 28

tiles to the total.

Eight bonus tiles complete the

set: four flowers (plum, orchid,

chrysanthemum and bamboo)

and four seasons (spring, summer,

autumn and winter). The eight

bonus tiles do not have matching

pieces.

Mah jongg arrived in the United

States in 1920, courtesy of retailer

Abercrombie & Fitch. The store

wound up selling 12,000 sets, a

huge number by the standards of

the day. The rules were almost as

local as the weather until the National

Mah Jongg League (NMJL)

formed in 1937 and standardized

them. The mah jongg fad raged

through most of the next two

decades, gradually fading from the

scene.

Jean Burrows of Wilmore opens the brass-fitted

wooden case holding the hand-painted ivory set of

mah jongg tiles she inherited from her father, the late

E. H. Graves. It is one of Burrows' prized possessions.

She recalls when her father, bought the set in

the 1930s in San Francisco, where she lived as child.

Burrows plans to pass it on to one of her children.

But now mah jongg is enjoying a

resurgence. Lexington has about

20 groups of players, according

to Angela West, a devotee whose

group plays twice a month from

11 a.m. to 3 p.m. The Tates Creek

Road Branch of the Lexington

Public Library has a group that

plays at 1 p.m. on the second and

fourth Mondays of the month.

Heather Prichard, Adult Program

Coordinator at the library,

coordinates the group. She can be

reached at (859) 231-5500. The

Laurel County Public Library in

London has a group that plays

once a month. Call (606) 864-

5759. Kenton County Public

Library's William E. Durr Branch

in Independence has a mah jongg

group that plays about three times

a month. Call (859) 962-4030.

Learn more about the game and

its rules by visiting the Web site of

the National Mah Jongg League at

www.nationalmahjonggleague.org.

The name

"mah jongg" is

derived from

the Chinese

characters

translated

"sparrow."

Yellow/ Wildcat Cab

Now offering

wheelchair accessible vans

Since 1934 Yellow/Wildcat Cab has been growing with the community

As always we are looking forward to serving you
---
MAY/JUNE 2 0 1 4

Knee Replacement Surgery

Worn-out knees get new, longer life

by Jamie Lober, Staff Writer

If your knee is damaged from

arthritis or injury and you have a

hard time performing daily functions

such as climbing stairs, and

non-surgical treatments such as

medications or walking supports

are not helping, knee replacement

surgery might be in your future.

"Total knee replacement refers

to surgery to replace the wornout

parts of the knee," said Dr.

Stephen Duncan, an orthopedic

surgeon specializing in knee and

hip preservation and replacement

with UK Healthcare. The procedure

involves removing the cartilage

from the end of the femur or

thigh bone, the tibia or shin bone

and sometimes the undersurface

of the kneecap. "The femur and

tibia are then capped with metal

and a high-grade plastic spacer is

placed between the two surfaces,"

Duncan said. "That allows for

improved motion of the knee

and a better quality of life for the

patient."

According to the Agency for

Healthcare Research and Quality,

more than 600,000 knee replacements

are performed annually

in the United States. Most often

they are done for patients with

osteoarthritis. Knee replacement

surgery has advanced significantly

since the first surgery of this kind

was performed in 1968.

"Knee replacements were originally

designed to last 10 to 15 years

and as such, individuals over the

age of 65 were the ideal candidates

for the surgery," said Duncan.

But now the age group of patients

is broader than it used to be. Seniors

aren't the only ones receiving

knee replacements.

"With more advances in the materials

used to replace the knee, knee

replacements are lasting longer

and the age of the patient who is

a candidate is getting younger as a

result," said Duncan.

Obesity has contributed to the development

of arthritis in younger

people. The knee feels more stress

from the increased weight placed

on it. "Weight loss, coupled with

a strengthening program for the

thigh muscles, can help relieve this

stress and improve the function of

the knee," said Duncan.

If you are not sure the procedure

could benefit you, a good first step

is to find out whether you have

arthritis and then see a specialist

to learn more about knee replacement.

2 5

"The orthopedist will then determine

if the patient is an appropriate

candidate for a knee replacement

if the [health] history,

physical examination and X-rays

demonstrate loss of most of the

cartilage of the knee," said Duncan.

You should discuss with your

physician the risks and benefits of

the procedure.

There are other ways to know

if you should consider surgery.

"When individuals develop pain

in the knee that interferes with

their normal daily activities, then

it might be time to talk with a

joint replacement specialist,"

Duncan said.

Laboratory data shows new knees

should last almost 30 years. Each

patient recovers from the surgery

at a different rate. "Full recovery

from a knee replacement is around

three months but may vary from

patient to patient," said Duncan.

Once you have had a knee replacement,

you must do your best to

protect it. The American Academy

of Orthopaedic Surgeons suggests

participating in regular light

exercise programs after surgery

to maintain proper strength and

mobility of your new knee. Take

special precautions to avoid falls

and injuries. It is also recommended

that you see your orthopedic

surgeon for a routine follow-up

examination and X-rays, usually

once a year.

With improved knee replacement

designs, outcomes are very good.

"Almost 80 percent of patients are

happy with their replaced knee,"

said Duncan. "We are hoping that

number continues to improve so

patients are able to get back to

doing more of the activities they

enjoy doing – or just getting a full

night of sleep."

CALL 231-TAXI and ask for a wheelchair van

D.B.A. Yellow Cab Company of Lexington, 799 Enterprise Drive • Lexington, KY 40510 • 859-233-4890
---
2 6 MAY/JUNE 2 0 1 4

• Include your relative in conversations,

even if their ability to

participate is limited. If communication

is difficult, ask the hospital

speech-language pathologist for

suggestions.

• Attend some therapy sessions

with your relative to show support

and learn what they are and

aren't able to do.

• Focus on progress made, however

small the steps, and encourage

your relative to do the same.

• Continue to involve your relative

in family activities and community

events. If they're using a

wheelchair, register them with the

accessible transportation service in

your area.

When Stroke Hits a Family

Tips for managing the stress of a life-altering experience

by Lisa M. Petsche, Staff Writer

Strokes are the leading cause of

long-term adult disability in this

country. Approximately 600,000

Americans experience one each

year.

Twenty-five percent of them are

left with minor impairments,

while 50 percent experience

moderate to severe disability.

Stroke can result in not only

physical impairment but mental

deficits as well. Paralysis or weakness

on one side of the body is

the most obvious sign of damage,

but mobility, personal care, communication,

mood, memory and

problem-solving ability can also

be affected.

Without a doubt, stroke is a lifealtering

experience – not only

for survivors but also for their

relatives.

Like the stroke survivor, family

members initially experience

a wide range of feelings. These

may include shock, relief, denial,

fear, anxiety, anger, sadness and

frustration. It is a time of grieving

losses, for life may never return to

the way it used to be.

In the midst of such upheaval, relationships

within a family often

become strained.

Impaired speech or language

comprehension can make it difficult

for the survivor to successfully

communicate with relatives.

Chemical changes in the brain

can cause sudden, uncontrollable

crying.

In addition, some people undergo

a personality change following

a stroke. Depression is also common,

manifested by irritability or

indifference and withdrawal.

Such changes can lead family

members to feel they no longer

know their relative. They often

feel no one else understands what

they and their family are going

through. It can be a lonely time.

Uncertainty about the future –

for example, how much function

their relative will recover and

whether he or she will be able to

return home – also contributes to

stress.

Spouses or adult children may

be overwhelmed by the number

and type of decisions that need

to be made, such as rehabilitation

options, equipment purchases,

home modifications and other

discharge planning considerations.

The caregivers may have to take

over practical tasks such as managing

finances, preparing meals and

housekeeping. In addition, they

may be expected to assume the role

of hands-on caregiver, assisting

with dressing, grooming, bathing

and toileting. Feelings of doubt and

resentment may surface, closely followed

by guilt.

Here are some survival tips for

keeping stress manageable after a

loved one suffers a stroke:

• Learn as much as possible about

stroke and educate family and

friends.

• Take things one day at a time so

you don't get overwhelmed.

• Find at least one person you can

talk to openly, who will listen and

empathize. Consider joining a

support group for families of stroke

survivors.

• Look after your own physical and

mental health; the latter includes

staying connected to friends and

outside activities.

• Schedule a regular break from

visiting in the hospital or caregiving

at home.

• Ask other family members to

help out.

• If your relative will be returning

home or is already home with you,

find out about community support

services and use them.

• Be patient. Allow plenty of

time to adjust to changes in your

lifestyle.

• Look for ways to include laughter

and joy in each day. This will enhance

your relationship with your

relative and help foster a positive

outlook.
---
MAY/JUNE 2 0 1 4

Do You Have...

LOOSE DENTURES or

MISSING TEETH?

2 7

If you answered "YES" to the question above, then we have

the solution for you! The Intra-Lock Mini Implant is a

revolutionary new type of implant which makes it possible

to replace anything from a single tooth to a full mouth

restoration in only a few short visits. These Mini Implants

are also great for stabilizing and supporting loose dentures.

Made from titanium, Mini Implants are strong, durable and

Stabilize YOUR EXISTING UPPER DENTURE

with Six (6) MDI Implants

Stabilize YOUR EXISTING LOWER DENTURE

with Four (4) MDI Implants

Replace a SINGLE MISSING TOOTH with

One (1) MDI Implant and MDI Implant Supported Crowns

Replace MULTIPLE MISSING TEETH with several MDI

Implants and MDI Implant Supported Crowns

Holiday Savin

Dr. Morgan offers FREE CONSULTATIONS

CALL TODAY for YOUR APPOINTMENT!

for smile make

long-lasting. Plus, they require minimal bone density,

which makes them perfect for denture wearers. And when

compared to traditional types of implants, Intra-Lock Mini

Implants are significantly more affordable, less invasive and

have minimal recovery time.

Join Us On Our Lumiday

November 19 9:00am-5:00pm

Dr. Ballard Morgan, DMD

General Dentistry

859-233-7700

800-467-7535 toll free

1510 Newtown Pike, Suite 201

Lexington (GRIFFIN GATE PLAZA)

www.ballardmorgandmd.com

bmorgandmd@gmail.com

Give Yourself a Gift of a Lifetime!

Lumineers Smile $6,399

(Includes 8 Lumineers Reg. Price $7,999)

Snap-On Smile $1,500 (Reg. Price $2,400)

Dr. Ballard Morgan, DMD

Join us for our Holiday event and

For a limited time. Bring your coupon to the office to redeem.

Cannot be combined with another coupon. Expires 6/30/14

Date an
---
2 8 MAY/JUNE 2 0 1 4

Being in the Moment

Through Tai Chi

Self-defense art helps students

increase range of motion

by Abby Malik, Staff Writer

Within Chinese culture, there

exists the idea of yin and yang,

the opposing forces in our bodies.

It's said that practicing the selfdefense

art of Tai Chi balances

these forces to promote health

and wellbeing.

Tom Griswold, 67, is a martial arts

instructor who has been teaching

self-defense techniques at

Griswold Self Defense in Lexington

for the past 25 years. One of

his specialties is Tai Chi, which

combines balance and strength

exercises with comprehensive selfdefense

movements.

Tai Chi students practice particular

movements, such as outer

circles and pushes, and then learn

the purpose of those movements

for self-defense in the form

of blocks, strikes, throws and

counter-joints.

In addition to providing self-defense

techniques that can be used

in real-life situations of danger,

Tai Chi's gentle exercises focus on

slow, repetitive movements, and

those alone are very beneficial.

"I've found over the years that just

an hour [of Tai Chi] a week helps,

and the ultimate goal is to do 20

minutes a day," Griswold said.

Tai Chi techniques especially help

individuals increase their range of

motion.

"As we age, people don't use

things, then they lose things,"

Griswold said. "Range of motion

is a big deal in both self-defense

and everyday life."

Mental preparation is an important

part of Tai Chi. Griswold said

finding focus during practice is the

hardest part for many students. Instead

of focusing on their current

move, they look two or three steps

ahead. However, it's crucial to be

in the moment when practicing

Tai Chi. In an actual situation

where self-defense

using Tai

Chi is necessary,

good focus

is essential for

effectiveness.

"The only way

to get that good

focus is to practice,"

Griswold

said.

Tai Chi is attractive

to older

adults because

it isn't vigorous

and individuals

with little or no

knowledge of

the art of selfdefense

are welcome.

A range

of students can

practice, including

those who

use walkers,

have sight or

weight issues

and even those

with more severe

conditions

such as cerebral

palsy or multiple sclerosis. Some

Tai Chi instructors teach in senior

citizen retirement communities

where all the practitioners are in

wheelchairs.

Much the same as with yoga, Tai

Chi students are encouraged to

practice at their own pace and not

push the limits of their ability.

"People who are not careful when

they train can get hurt, and it's

counterproductive to be injured,"

Griswold said. "When you come

away bruised or sore, something's

not right."

Even though Tai Chi is a simple

form of movement, Griswold said

it isn't as easy as it looks, and it

also isn't something to learn from

a DVD or YouTube.

"It takes practice, it takes instruction

and it takes an instructor," he

said.
---
y Tanya J. Tyler, Editor

Opened in 1995, Wesley Village, an

independent senior living community

in Wilmore, is an appealing

alternative to the long-held notion

of what a long-term care community

should be.

In 2000, Wesley Village was named

Kentucky's first Continuing Care

Retirement Community, providing

residents with a continuum

of health care that utilizes both

licensed personal and skilled-care

nursing services. The village offers

77 attractive patio homes with one,

MAY/JUNE 2 0 1 4

Celebrating Life

Wesley Village redefines

continuing-care concept

two or three bedrooms, attached

garages and plenty of yard space.

Residents here can receive support

services specifically designed to help

those with special concerns remain

independent in their homes for longer

periods of time. These services,

which can be provided on either

a long-term or short-term basis,

include assistance with bathing and

light housekeeping, medication reminders

and delivery of noon meals.

Wesley Village also has Kentucky's

first small home for residents who

have memory issues. In the "small

home" on the campus, a family-like

atmosphere is created with meals

shared at a common table and a

common living area room and

kitchen around which are situated

10 private bedrooms with baths.

The Holloway Cottage opened last

September.

The Village's residents range in age

from late 60s to 100. The community

prides itself on having a homelike

setting rather than an impersonal

medical-institutional model. Glenda

Creech, the Village's president and

CEO, said, "I've never seen anything

that so completely transforms the

way we provide care than the smallhome

concept. We truly are joining

a revolution in long-term care that is

beginning to sweep the nation, and

it's about time. Wesley Village is the

future of long-term health care and a

model for others to follow."

Doris Victor knew about Wesley

Village and all it had to offer long

before she moved there. She was

serving as Marketing Director at the

campus at the time.

"My husband and I decided we

would move out here and I wouldn't

2 9

have to commute," Victor said.

"Unfortunately, he had a medical

emergency a week before the move

and didn't make it. He was looking

forward to enjoying all the things

here."

Victor moved in as planned. She

thoroughly enjoys her home and the

community.

"It's not a nursing home," she said.

"It's a retirement community where

we emphasize living. You can be as

active as you wish here. There are

always things going on. It's a great

place to live."

Victor is glad she made the decision

to move to Wesley Village before her

health became an issue.

"People don't realize they should

make this type of move while

they're still active and interested in

things," she said. "I chose where I

was going to live. I chose where my

extended care will be if and when

I needed it. It's a gift you give your

WESLEY Continued on Page 31

ENCORE! ENCORE!

Wesley Village is Kentucky's First CCRC (Continuing Care

Retirement Community), offering all levels of independent

living, licensed health care and memory care in a wide variety

of attractive home and apartment settings.

The Encore Centre will feature:

• Independent Living Apartments

• Garden Terrace Suites

• Indoor Warm Salt Water Exercise Pool

• Café

• Movie Theatre

• Beauty Salon and Spa

1125 Lexington Road, Wilmore, KY 40390

www.wvillage.org facebook.com/wvinfo

Susan Blankenship, Marketing Dir. 859-858-3865 ext. 227
---
3 0 MAY/JUNE 2 0 1 4

TRAVEL

Wild Dunes Resort

South Carolina destination has the

best of both worlds

by Jan Ross, Staff

Writer

It's no wonder I had

never heard of Isle

of Palms before our

visit. A tiny barrier island of only

about 6 square miles, it is tucked

neatly against the South Carolina

coast, separated from the mainland

by the Intracoastal Waterway.

Technically considered part of the

Charleston metropolitan area and

only a short 30-minute drive away

from it, this lovely little gem hosts

about 4,000 inhabitants, shops, restaurants

and an array of gorgeous

homes for both full-time residents

and vacationers who have kept this

beautiful place a secret for years.

But what makes this island destination

the perfect place for a getaway

is the expansive and wonderful

Wild Dunes Resort.

Long considered Charleston's

island resort, much as Tybee Island

is considered Savannah's beach,

Wild Dunes Resort is a great

place to stay if you want to visit

Charleston but also have access to

a beautiful beach area – the best

of both worlds! The perfect resort

is one that offers an assortment of

accommodations because there are

so many different types of travelers

and getaways, and this resort offers

rooms and suites, condos and

beach house rentals. You can stay

poolside, beachside, courtside or

courseside; just take your pick.

You can easily have a luxury hotel

experience at The Village at Wild

Dunes and the Boardwalk Inn,

which also offer plenty of restaurants,

shops, the spa and pools.

And the beach is just a short stroll

away. Hudson's Market is a small

grocery store where you can buy

snacks, sandwiches, drinks, baked

goods and fresh fruits and veggies,

along with handy items such as

laundry detergent. Delicious meals

are available at The Sea Island

Grill and Lounge in the Inn, a

casual yet upscale restaurant. The

Sand Bar restaurant, located in the

Links Clubhouse, offers traditional

Southern favorites such as shrimp

and grits, and the Grand Pavilion

Café and Bar is a great place to get

a quick sandwich or snack to eat by

the beachside pool. It's very easy

to get to the beach and take a stroll

because there is a wooden boardwalk

out to the sand.

The beach at Isle of Palms is absolutely

gorgeous – smooth and flat

for bike riding but with plenty of

tidal pools at low tide for kids and

space for adults to lounge in beach

chairs. The fitness center offers a

variety of classes including yoga,

fitness training, sports training

and golf and tennis instruction.

Another way to stay active is to

rent bikes at the tennis center for

an hour, a day or even a week. The

resort is perfect for bike riding with

plenty of shaded lanes. Golf is also

very popular at the resort. The golf

courses, designed by Tom Fazio,

appeal to golfers of all skill levels.

A beautiful beach, great accommodations,

wonderful food, relaxing

spa experiences and proximity to

Charleston for some historic tours

or shopping adventures – the Wild

Dunes Resort at Isle of Palms is the

perfect getaway location.
---
Lexington Center for

Acupuncture,

Massage & Reiki

Acupuncture, Reiki

Treatments & Classes

CALL

859.595.2164

3175 Custer Dr. Suite 303

Lexington, KY. 40517

www.acupunctureky.com

MAY/JUNE 2 0 1 4

Kentucky's Leading

Hair Replacement

Facility

• Genetic Hair Loss

• Chemotherapy

• Alopecia

• Cosmetic Hair Replacement

Hair Institute offers several surgical and non-surgical hair

restoration options, including Virtual Reality®, full and partial

prostheses, hand-knotted wigs, and human hair extensions.

- Laser Light Hair Therapy

- Surgical Hair Restoration Options

1795 Alysheba Way Suite 7101

Lexington, Kentucky 40509

HAIR REPLACEMENT • HAIR RESTORATION • HAIR EXTENSIONS

Professional • Confidential • Meticulous

®

www.hairinstitutelexington.com

AMERICAN

HAIR LOSS

COUNCIL

WESLEY continued from Page 29

859.263.9811

- Full Cranial Vacuum Prostheses

- Enhancements and Integrations

children. My children thanked me for making this move."

The next phase for Wesley Village will be the Encore Center, which

will have 28 apartments, an indoor warm-water pool and other features

that will promote independent living.

"Encore celebrates life on center stage," said Susan Blankenship,

Director of Marketing for Wesley Village. "That's what we're doing

here. We're celebrating life."

Wesley Village is an independent not-for-profit 501(c)(3) charitable

ministry affiliated with the Kentucky Annual Conference of the

United Methodist Church. Residents need not be Methodist. For

more information, call (859) 858-3865 or visit www.wvillage.org.

QUESTIONS continued from p. 21

• Are elevators safe? Are the inspection

certificates up to date?

• Is the dining room clean and

orderly?

There are many more questions

to ask and other areas to examine

at any facility you are considering.

Save those for a second visit. First,

ask the questions listed above.

You'll be glad you did.

Taking Care

of YOU

by Kendra Barnes

Women and men alike are feeling

the strain of balancing work, family

and social responsibilities with no

time left for themselves. Not only can

ignoring yourself be exhausting, it

can also be very detrimental to your

health.

Slow Down. Make time for

yourself and get to the doctor at least

once per year. "Significant changes

in weight, blood pressure, kidney or

liver function can often go unnoticed,

but may be an indicator of serious

health risk," said Daniel Beiting, MD,

Bluegrass Internal Medicine Group.

"Regular visits allow your doctor to

catch early warning signs of health

problems and set up a plan to lower

your risk."

Dig Deep. Explore family medical

history to determine potential

concerns. "Family members share

genes, behaviors and lifestyles which

may affect their risk of developing

health problems," Beiting explained.

"Family health history can help doctors

choose screening tests, such as an

early colonoscopy for someone with

a family history of colon cancer."

Men should be aware of major threats

like heart disease, stroke, lung and

prostate cancer, diabetes, depression

and accidental injury. Lowered levels

of testosterone are also a concern for

older men. Researchers see definite

connections between the medical

conditions listed above and testosterone.

While women are susceptible to

many of the same health threats,

in October, one issue stands apart.

About one in eight women who

reach age 80, almost 12 percent of

all women in the United States, will

develop breast cancer.

An individual's risk for breast cancer

is affected by family history, reproductive

history, lifestyle and some

environmental factors. Fortunately,

some risk factors including weight,

diet and exercise are completely

controllable. "Both increased body

3 1

weight and weight gain as an adult

are linked with a higher risk of breast

cancer after menopause," Beiting

explained. "Regular physical activity

and diets rich in vegetables, fruit, lean

meats and low-fat dairy products

have been linked with a lower risk for

breast cancer."

Stay Informed. Be aware of what

is going on with your health and take

an active role in managing your care.

In many cases, from breast cancer to

heart disease, early detection is a lifesaver

and knowing what is "normal"

for your body is crucial. Preventive

measures such as monthly personal

breast exams or regular blood pressure

monitoring are essential and can

often help to reveal underlying health

issues.

Get Going. Start or maintain

a healthy lifestyle to help reduce

your risk for many of the previously

mentioned conditions. This includes

getting enough rest, managing stress,

exercising daily, stopping tobacco and

excessive alcohol use and maintaining

a healthy weight and diet. Dr.

Beiting upholds the American Heart

Association's recommendation of at

least 30 minutes of moderate physical

activity at least five days per week.

"One of the simplest positive changes

you can make… is to start walking,"

Beiting said.

So, whether it's making that longoverdue

doctor's appointment,

digging into your family history or

starting toward a healthier you, make

the commitment today to start making

yourself and your health a priority.

Bluegrass Internal Medicine

Group has offered personalized,

comprehensive care to central Kentucky

residents since 2007. Boardcertified

physicians, Daniel J. Beiting,

MD and Natalia A. Shrestha, MD,

joined Lexington Clinic's Associate

Physician Network in June 2013, and

provide services in internal medicine,

women's health, geriatric care and

comprehensive clinical preventive

services.

To schedule an appointment

with Bluegrass Internal Medicine

Group, call (859) 277-1570

or visit LexingtonClinic.com.
---
Living Life

We haven't opened yet, but you can

already start enjoying some of the benefits.

The Willows at Citation believes in living life with

no boundaries or limitations! Experience life to

its fullest at our campus filled with friendly smiles

and a dedicated staff. We offer a variety of assisted

living , skilled nursing and short-term rehab options.

We provide our residents with activities, a funfilled

environment, comforts of home, community

involvement and personalized service.

Begin Living Life Today!

Give us a Call to Schedule a Tour!

859-277-0320

The Willows at Citation

859-277-0320

willowsatcitation.com

The Willows at Hamburg

2531 Old Rosebud

Lexington, KY 40509