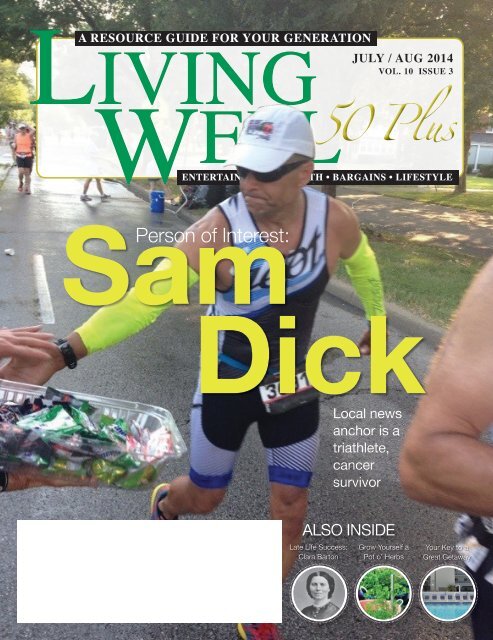 Living Well 60+ July-August 2014
Create successful ePaper yourself
Turn your PDF publications into a flip-book with our unique Google optimized e-Paper software.
A RESOURCE GUIDE FOR YOUR GENERATION

Living

W ell

Sam

Person of Interest:

JULY / AUG 2014

VOL. 10 ISSUE 3

50 Plus

ENTERTAINMENT • HEALTH • BARGAINS • LIFESTYLE

Dick

Local news

anchor is a

triathlete,

cancer

survivor

ALSO INSIDE

Late Life Success:

Clara Barton

Grow Yourself a

Pot o' Herbs

Your Key to a

Great Getaway
---
2 JULY/AUG 2 0 1 4

SPINNING

Just one of many group fitness classes

THE workout facility you've been looking for!

Only $30 a month. No contracts.

HealthwoRx is operated by Baptist Health Lexington, but is NOT a rehab center or a clinic.

It's a full-service fitness center OPEN to the PUBLIC and staffed by exercise physiologists,

certified fitness practitioners, registered dietitians and nurse health educators.

Fun and invigorating group fitness:

Spinning • Total Strength • PiYo • Yoga • Zumba • Kettlebells

Mat Pilates • Cardio & Strength • Pilates for Athletes • Barre Fit

Prenatal Yoga • Boot Camp • Silver Sneakers ® • Qigong • Tai Chi

Happy Baby Yoga • Legion Fitness Classes

Conveniently located at The Mall at Lexington Green

161 Lexington Green Circle, Suite B2

Lexington, KY 40503

859.260.4354

www.facebook.com/HealthwoRx

Stop by

or call

for more

info!
---
JULY/AUG 2 0 1 4

3

300 Stocker Dr

Richmond, KY 40475

(859) 625-1400

www standrewsplace www.standrewsplace.org

When you need the best in Urologic care, isn't

it nice to know you don't need to leave home?

Lexington • DanviLLe • FrankFort • Mount SterLing • richMonD • SoMerSet • WincheSter

With convenient locations throughout

Central Kentucky, Commonwealth

Urology offers patients a full range of

urologic services:

• Adult and Pediatric Urology

• Vasectomy and Vasectomy Reversal

• Male and Female Sexual Dysfunction

• Incontinence

• Prostate Cancer

• Kidney Stones - Lithotripsy

For more information, visit LexingtonClinic.com/urology

A Part of Lexington Clinic
---
05

07

09

10

11

12

13

14

15

16

18

21

22

23

24

25

26

27

28

29

30

31

4 JULY/AUG 2 0 1 4

Contents

July/Aug 2014

Historic Clay's Ferry Bridge Still in Use

LATE LIFE SUCCESS:

Clara Barton: Founder of the American Red Cross

Should You Give Your Adult Children Money?

GARDENING:

Grow Yourself a Pot o' Herbs

Who You Gonna Call?

KASS has many resources

End-of-Life Directives Give Families Peace of Mind

Misconceptions About Caregiving Add Stress

TRAVEL: Here's Your Key to a Great Getaway

50 YEARS AGO:

Jacques Anquetil Wins his Fifth Tour de France

Gulf of Tonkin Incident Expands Vietnam War

CALENDAR

SENIOR SERVICES DIRECTORY

Baldness Breakthrough

Scientists learning to generate new hair follicles

Glaucoma Can Lead to Blindness

England's Lake District

HALT Emotional Spending

'I Always Was Lucky'

Willows at Citation resident looks back on his long life

THE MORE THINGS CHANGE

The Bicycle

Biking for Fitness

LivingWell50+ is now DIGITAL:

Travel Clinic Gets You Ready to Go Abroad

Thanks for the Memories

TRAVEL: How to Take the Perfect Trip with Your Grandchild

How to Keep Aging Hair Healthy

FROM THE

COVER

PAGE 08

Living Well 50+ is

a proud product of

A RESOURCE GUIDE FOR YOUR GENERATION

Living

W ell

Sam

Person of Interest:

WRITERS

STAFF WRITERS:

Donald Hoffman

Angela S. Hoover

Jean Jeffers

Frank Kourt

Jamie Lober

Abby Malik

Linda C. Morgan

Lisa M. Petsche

Sandra W. Plant

Jan Ross

CJ Sebastian

Doris Settles

Martha Evans Sparks

JULY / AUG 2014

VOL. 10 ISSUE 3

50 Plus

ENTERTAINMENT • HEALTH • BARGAINS • LIFESTYLE

Dick

Local news

anchor is a

triathlete, cancer

survivor

STAFF

Tanya Tyler

editor/staff writer

John Brokamp

publisher

Janet Roy

director of creative services

Kim Blackburn

sales representative

John Hoffeld

sales representative

Dea Baker

sales representative

FROM THE

EDITOR

Dear Friends,

Oops – I almost said it.

That fretful phrase I've vowed

never to say.

My friend and I were having

lunch and talking about different things we'd done over

the past year. She usually goes skiing each winter, so I

asked her about that, and then I almost said it.

Tanya Tyler • tanya@samplerpublications.com

"I'd like to try to ski, but I'm too – "

I caught myself just in time, just before those dreaded

words popped out. "I'm too old!" That self-defeating,

self-deprecating phrase that can become a convenient

excuse not to try something new. It really does get you

off the hook for some things. If you claim you're "too

old" to do something, nobody blames you for not

trying. Why, you might hurt yourself – not worth the

risk. People understand.

But I remembered I am Living Well 50 Plus. I'm not

too old for some things. I can still give skiing a try. I

realize I won't be able to bust the moves like Jean-

Claude Killy, but I can probably tackle the bunny

slopes without hurting myself. So this winter I'll give

skiing a try. What have you not allowed yourself to do?

When have you caught yourself saying you're too old

to do something?

Live life like you mean it!

Tanya
---
Historic Clay's

Ferry Bridge

Still in Use

Some drivers like

to take the scenic

route

by Sandra W. Plant, Staff Writer

Before 1946, when U.S. 25 was

a major north-south highway,

travelers had no choice but to

cross the Kentucky River between

Fayette and Madison counties on

the old Clay's Ferry Bridge.

All that changed when the

first section of the bridge on I-75

opened to traffic. The new Clay's

Ferry Bridge, at 200 feet above the

river, dwarfs the classic structure

of the former Clay's Ferry Bridge

far below.

The old Clay's Ferry Bridge is

still regularly inspected by the

state and is open to local traffic

and sightseers who enjoy the

JULY/AUG 2 0 1 4

scenic beauty of the old highway

as it makes its way down the

incline on the river's north side.

The descent offers a fine view of

the river and palisades. The climb

back up on the south side includes

more spectacular views plus a harrowing

horseshoe curve that must

have been a thrilling experience

in a pre-1946 auto or a horse and

buggy.

Construction of the old bridge

began in 1868 and continued until

the one-lane span opened to traffic

in 1870. The total length of the

steel truss bridge is 442.8 feet with

a vertical clearance above the deck

of 16.4 feet. The builder, William

Gunn of North Carolina, erected

a masterpiece that has served well

for 144 years, although several

renovations have been made over

time.

As the bridge's name implies, a

ferry existed at the site as early as

1792. A thriving community with

a shipyard, warehouses and mills

had been catering to river traffic

for several years before the ferry

began operations.

The community and the bridge

are named after the prominent

Clay family that owned much of

the land in the area. Green Clay,

father of abolitionist Cassius Clay,

bought the ferry in 1798 from its

first owner, Valentine Stone.

Elizabeth (Tish) Carr, who has

lived near Clay's Ferry since 1954,

has hiked with family to the site

of one of the old grist mills at a

place called the "wattle hole" on

Callaway Creek on the Madison

County side of the river. When

her children were young, she

invited their school classes to visit

the site of an old pioneer cabin

at Callaway Creek on the family

property.

Her sister-in-law, Betsy Ann

Carr Smith, has lived near Clay's

Ferry for most of her life. She

recalls hearing her grandfather,

Bernard Madison Igoe, tell about

crossing the river on the old ferry.

"When I was growing up, we

thoroughly enjoyed the river,"

Smith said. "It was nice and clean

back then. I used to swim the

river. And we'd swing out over the

river on a grapevine and drop in."

At age 13 or 14, Smith and

2 HAMBURG JOURNAL WWW.HAMBURGJOURNAL.COM

JANUARY 2O12

5

two friends jumped off the Clay's

Ferry Bridge. When she told her

grandfather, he said, "That was a

courageous thing to do. But it's

a good thing you didn't hit a log

under there." Smith decided she'd

never jump off the bridge again.

But it wasn't her last risky encounter

with the bridge.

During the flood of 1938, Smith

and her friends made their way

onto the deck of the bridge. "We

could lie down on the bridge and

touch the water," she said. "It was

a stupid thing to do because the

water was way over the road."

Nancy Ross of Richmond

remembers when the replacement

bridge was built. "When they built

the new bridge on the interstate, it

was so high some people said they

didn't know if they were going to

go over it," she said. "There was

also a rumor going around that

the bridge had a crack in it and it

would fail."

The good news is that both

the old and the new Clay's Ferry

bridges are safe, still standing and

serving the traveling public very

well.

Senior Retirement Community

Rose Mary C. Brooks Place

Rose Mary C. Brooks Place

We're not Not almost Almost home. Home. We We are are home. Home.

NOW LEASING

Celebrating Mother's Day with

brunch and great friends

1 & 2 bedroom apartments.

Includes assistance with

activities of daily living.

Three meals a day, weekly

housekeeping, concierge

service and much more!

Our rates are competitive

and all inclusive.

Enjoying the view from the patio. The Cottages (below)

offer more independent retirement living.

Enjoy 24/7 emergency

response by our

well trained staff.

Guardian Life Alert System

is included for all

new residents at no

additional cost.

Daily care is tailored to

meet the unique needs

of individual.

NOW LEASING!

Gracious Independent & Assisted Retirement Living

Conveniently located on the Bypass in Winchester.

Only minutes from Hamburg with easy access to Interstates 64 and 75.

We invite you Only minutes For more from information Hamburg contact Linda or Rick at 859-745-4904

to come

with easy access to Interstates 64 and 75.

be a part of

Average Daily Caregiver Cost $240

our family!

Average Daily Brooks Place Cost $75

Enjoy your independence and let us do the work! We'll

take care of snow removal, mowing, trimming and will

even make sure your air fi lters are changed regularly.

Our fi fth and fi nal cul-de-sac is almost completed. Call

Assisted Living (above) available in

Studio and One-Bedroom Apartments

Conveniently located on the Bypass in Winchester.

859-737-6406

www.brooksplace.org
---
Alone, I'm just a hearing aid.

But in the hands of an expert,

I'm the key to a better way of life.

AUDIOLOGY ASSOCIATES PROVIDES:

• Precise and comprehensive hearing and balance testing by a doctor of audiology

• Cutting-edge hearing devices tailored to fit your lifestyle and budget

• Painless earwax removal

• Tinnitus treatment

• Invisible and near-invisible hearing instruments

Lexington • 259 Southland Dr

Pikeville • 5425 N Mayo Trail, Ste 201

Prestonsburg • 1428 N Lake Dr

859.963.2958

www.kyhearing.com

Dr. Brooke

Dinsmore, Au.D.

Doctor of Audiology

Dr. Robert

Manning, Au.D.

Doctor of Audiology

Jake Manning, HIS

Hearing Instrument

Specialist

Emma Lackey, HIS

Hearing Instrument

Specialist

Dedicated to making you a patient for life.

Call today to hear what you've been missing.
---
Late Life Success:

Clara Barton

JULY/AUG 2 0 1 4

Founder of the American Red Cross

by Angela S. Hoover,

Staff Writer

Clara (Clarissa)

Barton was born on

Christmas Day in

1821 in Oxford, Mass. A shy child,

at a very young age she cared for

her older brother, David, who had

suffered an accident. This early

experience gave her the skills and

affinity for nursing she would use

later in her life.

Barton became a teacher at the

age of 15 and opened a free public

school in Bordentown, N.J., in

1854. Local authorities were so

impressed by the rapid enrollment

that they provided $4,000

to build a larger school. When the

new schoolhouse opened, Barton

was replaced by a man who was

paid double her salary. She moved

to Washington, D.C., to work in

the patent office – one of the first

women to work for the U.S. government

in any capacity at a salary

equal to a man. This inspired her

to champion for civil rights for the

rest of her life.

During the Civil War, Barton

helped wounding soldiers who

came into the capital. At first, she

collected and distributed supplies

for the Union Army. When she

saw there was a need for supplies

at the front lines, she used her own

money to obtain them. She showed

up after midnight at the Battle of

Cedar Mountain with a wagon

loaded with supplies. She did this

at both small and large battles.

Barton soon switched from

delivering supplies to working as

a nurse. She first saw combat in

Fredericksburg, Va., in 1862. This

is when she earned the nickname

"Angel of the Battlefield." Union

leaders were impressed with her

organizational skills and scientific

approach to nursing. By 1864, she

was running Union hospitals in

Virginia and North Carolina. She

often worked under fire. Once,

while tending to a wounded man, a

bullet shot through her sleeve and

killed a soldier standing next to her.

After the Civil War ended in

1865, Barton appealed directly to

President Abraham Lincoln for assistance

in finding missing soldiers.

From 1865-1868, she operated the

War Department's Missing Soldiers

Office, helping reunite soldiers

and their families. She also gave

speeches and lectures about her

war experiences.

Barton traveled to Europe under

7

doctor's orders to rest. She met

members of the newly organized

International Red Cross who had

heard of her work. She served as a

volunteer in the Franco-Prussian

War from 1870-1871 and was

honored by both sides for helping

the wounded.

When she returned home, she

decided America needed an organization

like the International Red

Cross. At age 60, Barton founded

the American Red Cross in 1881

and served as its first president.

The original intention of the

International Red Cross was to

serve as a neutral aid provider

during armed conflicts. However,

Barton believed the American

Red Cross should provide aid to

natural-disaster victims as well. In

1884, at the Third International

Red Cross Conference in Geneva,

Switzerland, the American Red

Cross suggested an amendment to

the Geneva Treaty that would provide

aid to natural-disaster victims.

This amendment was accepted and

named the American Amendment.

As president of the American

Red Cross, Barton oversaw the

assistance and relief work for the

victims of the 1889 Johnstown

flood and the 1900 Galveston

flood. Today, there are about half

a million Red Cross volunteers

working in 500 chapters across the

nation.

Barton retired in 1904 as head of

the American Red Cross at age 83.

She continued to pursue humanitarian

efforts, working for women's

suffrage and prison reform and

with religious minorities. She died

at her home in Glen Echo, Md., on

April 12, 1912.

Special Discount Package Deals!

Includes your RENTALS, FOOD and DRINKS – and FREE GAMES of BOWLING!

With this special offer, "open pay games" could average out to just $1.50 per game!

This is an awesome deal for family get-togethers, company parties or college date

nights. Just purchase a special voucher on your mobile cell phone or device and

redeem the voucher at the front desk! Already in a bowl

league? Use the free games as practice, or let family and

friends use them! This generous offer could dissapear at

any time – if you love bowling, get in on it now!

SOUTHLAND LANES

205 Southland Drive

EASTLAND LANES

750 E. New Circle Rd.

Go to

bowlingsale.com

for the

complete offer
---
8 JULY/AUG 2 0 1 4

Person of Interest:

Sam Dick

Local news anchor is a triathlete,

cancer survivor

by Tanya J. Tyler,

Editor

Sam Dick could

very well be the

poster person for

what it's like to be Living Well 50

Plus.

He's a award-winning news anchor

for WKYT-Channel 27. He's

an enthusiastic triathlete. And he's

a cancer survivor.

A native Kentuckian, Dick also

spent some of his growing years in

Washington, D.C., where his father,

noted CBS news correspondent

David Dick, worked. Dick attended

the University of Georgia. At first,

he didn't plan on going into broadcast

journalism like his father.

"Certainly I was interested in

what he was doing and thought it

was pretty neat stuff when I was

little, but I didn't really consider

following in his footsteps until

probably the age of 21," Dick said.

"I was finishing up my sophomore

year and had to declare a major. I

thought, 'How about journalism?'

My favorite subjects were English

and history and I enjoyed reading

a lot."

His career in broadcast journalism

began when he got an internship

at the CBS station in Miami.

"I had written to about 50 stations,

saying I just wanted to come there

during the summer and help however

I could in the newsroom for

free, and Miami was one of the few

places that said, 'Yeah, come on,'"

Dick said. He spent three months

there, learning the ins and outs of

working in a television newsroom,

going out on stories with the news

crews and learning about shooting

and editing.

"I got a chance to air a couple

of my stories, which was pretty

incredible because I was an intern,"

he said. "I took advantage of opportunities

and it worked out really

well."

When he returned to school

for his junior year, he got a job

as weekend editor at a television

station in Atlanta – his first paying

job in broadcast journalism. He

was later promoted to part-time

reporter. His first full-time newsreporting

job was at WKYT.

"I came to WKYT as a news

reporter at the age of 23 and within

a couple of months this new show

called PM Magazine came up,"

Dick said. "They asked if I was

interested in it. They said, 'This

isn't news, this is entertainment; it's

information.'"

Dick co-anchored this show for

three years. "That was a lot of fun,"

he said. "I got to travel around the

country and do longer stories."

He next got a chance to work in

news in New York City. He stayed

there a year and a half before going

to a station in Orlando, where he

was a consumer reporter and also

did investigative reporting for four

years. While there, he got a phone

call.

"It was Ralph Gabbard at

WKYT," Dick said. "[News anchor]

John Lindgren was leaving to go to

a station in Nashville. So my first

anchor job is the one I've got now.

I started in 1987." During his time

at WKYT, he has won four regional

Emmy awards and two regional

Edward R. Murrow awards.

Outside of his work at the station,

Dick has become a dedicated

triathlete. He and his wife, Noelle,

own Swim Bike Run Kentucky,

where aspiring triathletes can train.

Last August, despite taking a tough

spill from his bike that resulted in a

separated shoulder, Dick competed

in his first Ironman Triathlon in

Louisville – a challenge that included

a 2.4-mile swim in the Ohio

River, a 112-mile bike ride and a

full marathon (26.2 miles).

"I had a fantastic, awesome experience,"

he said. "Doing triathlons

has changed my life. I love it. It's a

lot of fun and you meet a lot of neat

people, and it makes you feel really

good when you hit the finish line."

But Dick has faced an even

bigger challenge in his life – prostate

cancer. His father fought the

disease for 17 years. Because of this

family history, Dick knew he had to

be checked earlier than the recommended

age of 50 years.

"I did fine for a few years," he

said. "When my father passed away,

then it was time for me to go back

and look at what we were dealing

with." He had a biopsy that showed

he had prostate cancer. He had a

prostatectomy and is still taking

radiation treatments. He remains

optimistic about his prognosis.

"I'm 58 years old and I feel like

I'm in really good shape for the

most part, but there are side effects

of having your prostate removed

that you have to deal with," he said.

After sharing his story publicly,

Dick has become an ambassador of

sorts for other men facing prostate

cancer.

"Once every few weeks, once a

month, I'll hear from a man who's

just found out he has prostate

cancer and wants to know what I

did," he said. "I generally tell them

everybody's on their own journey

in this. There's not one single way

to treat it; everybody's a little bit

different. It depends on your age,

your family history, your PSA level,

a lot of different factors. I am very

open with them. I tell them how

I went through it and answer any

questions I can. I had lots of people

help me when I was going through

it so I try to pass that on."

His best advice is to know your

family history and take care of

business. "I had no symptoms

whatsoever," he said. "My warning

sign was the doubling of my

PSA number. Which didn't mean

I had cancer, but it was a sign that

there may be a problem. When the

biopsy came back, we had a decision

to make. And we decided to be

pretty aggressive about it."

Dick plans to enjoy continue

enjoying his life without regrets or

worry.

"I try to keep a positive outlook

on life," he said. "Family is really

important. I've had tremendous

support from my wife and the rest

of my family. I would not want to

be alone on this journey, so if you

have family support, I think that's a

big part of living longer and being

healthy."

I took advantage of

opportunities and

it worked out really

well." – Sam Dick

Sam Dick (right) is a news anchor at WKYT-TV Channel 27. He joined his coworkers

Amber Philpott and Chris Bailey for a turn at bell ringing for the Salvation Army

at Christmas.
---
Should You Give Your

Adult Children Money?

by Angela S. Hoover,

Staff Writer

A 2012 study by

the National Center

for Policy Analysis

found that 59 percent of Baby

Boomer parents were providing

financial support to their adult

children, including living expenses,

medical bills and loan payoffs. The

economy hasn't improved these

past two years, which means Baby

Boomer parents are probably still

spending more than half their

resources financially assisting their

adult children. Whether parents

should give their adult children

money depends on the specific

circumstances.

There is a stark difference

between today's work model and

the world in general for young and

middle-aged adults. Previously,

whether a young person went to

college or not, he or she started

working for a company and stayed

with it until retiring with a pension.

There were white collar and blue

collar jobs. None of this holds true

in today's world and job market.

Nowadays there aren't enough jobs

for eligible workers. The available

jobs are often only part time and

in the service industry. The labor

force is now a disposable commodity;

it's a "fast-food workforce."

Even more startling is wage

stagnation. Wages have remained

flat for 30 years. Typically, the

next generation enjoyed easier

economic conditions and life

circumstances than the previous

generation. It was part of the

American Dream: working to

ensure your children had a better

life than you. Generation X (those

born between 1965-1979 or 1984,

depending on source) was the first

generation that had less lifetime

earnings than their parents, according

to The Atlantic magazine.

This trend has trickled down to the

JULY/AUG 2 0 1 4

Individual answers to the question

depend on specific circumstances

Millennials or Generation Y (those

born between the early 1980s

and 2000s). There is a counter

voice highlighting the wealth gap

as a primary culprit rather than

insisting Xers are slackers or Ys

are lazy and entitled. The average

net worth of both generations has

decreased 21 percent since 1983, THE YEAR WAS 1985…

while the average net worth for

those aged 74 and older increased Ronald Reagan was the 40th president.

149 percent during this "The same Golden time Girls" were fast becoming friends on their first season on TV.

A gallon of gas cost one dollar and twenty cents.

period, according to a 2013 study

titled Lost Generations? Wealth

Building Among Young Americans

by Washington, D.C., think tank

And

The Lafayette

opened

its doors.

Urban Institute. These and other

findings make official the 1990s

predictions that these two generations

are the only group in the

country currently worse off than

their parents were three decades

ago. The study concludes if current

trends for younger generations are

not reversed, within a few decades

they may become more dependent

than older Americans today, especially

in retirement, relying upon

safety-net programs less capable of

providing basic support. Furthermore,

Baby Boomers are not retiring;

they are the only employed

group earning more money than at

any other time in their lives.

Determining whether to financially

assist adult children will

require some serious, possibly uncomfortable

soul-searching. What

are the character and motivations

of the adult child? What was their

upbringing like? If the adult child

is from Generation X, were they

left to teach themselves life skills

with no guidance? Were Millennial

adults "helicopter parented," coddled

and awarded prizes for simply

existing? These two extremes in

childhood and development can

surprisingly bear the same fruits. It

is very likely both generations will

And And

The Lafayette The Lafayette

opened opened

its doors. its doors.

Pet

Pet

Friendly Friendly

earn less than their parents did at

the same age

Is there any way you can address

the underlying issues? Can

you function as a life coach and

nurture underdeveloped life skills

in a loving, non-patronizing or

critical way? Can you help ease

the adult child into independence,

perhaps with a time limit of financial

assistance with clear goals they

must work toward? Older parents

often wrestle with determining

when help is beneficial and when

it is enabling. Considering the

changed face of the world and the

work model along with your child's

upbringing can help when weighing

the consequences of helping

or not.

Determining whether to

financially assist adult

children will require some serious,

possibly uncomfortable soul-searching.

THE YEAR THE WAS YEAR 1985… WAS 1985…

Ronald Reagan was the 40th Ronald president. Reagan was the 40th president.

"The Golden Girls" were fast "The becoming Golden friends Girls" were on their fast first becoming season on friends TV. on their first season on TV.

5 STAR QUALITY FOR OVER 29 YEARS!

A gallon of gas cost one dollar A gallon and of twenty gas cost cents. one dollar and twenty cents.

Join us for

THE LAFAYETTE'S

Enjoy CARE-FREE

28TH ANNIVERSARY CELEBRATION

Thursday, May Join us for 9th • 4:00-7:00 EVERY DAY!

Join us for pm

Dinner THE 4:30-7:00pm LAFAYETTE'S THE with Violinist LAFAYETTE'S Bryce Farrar

28TH ANNIVERSARY Carriage 28TH Rides by ANNIVERSARY Lexington CELEBRATION

Livery 5:00-7:00pm CELEBRATION

Thursday, May Dixieland Thursday, 9th • 4:00-7:00 Band May 5:30-7:30pm 9th • 4:00-7:00 pm

Kindly RSVP to 859-278-9080 by May 6th – Seating is limited

690 Mason Headley Road • Lexington, KY 40504

activities,

690 Mason Headley Road • Lexington, 690 Mason KY 40504 Headley Road • Lexington, KY 40504

859-278-9080

Offering Independent Living, Personal Care, Skilled Nursing Care

9

Retirement Living

Dinner 4:30-7:00pm with Dinner Violinist 4:30-7:00pm Bryce Farrarwith Violinist Bryce Farrar

Carriage Rides by Lexington Carriage Livery Rides 5:00-7:00pm by Lexington Livery 5:00-7:00pm

Dixieland Band 5:30-7:30pm Dixieland Band 5:30-7:30pm Chef-prepared

dining,

Kindly RSVP to 859-278-9080 Kindly RSVP by to May 859-278-9080 6th – Seating by is May limited 6th – Seating is limited

worry-free

housekeeping,

limo service,

scheduled

cocktail lounge,

859-278-9080

www.LafayetteLexington.com

www.LafayetteLexington.com

859-278-9080

library and

www.LafayetteLexington.com

Pet

Friendly

©2013 Five Star Quality Care, ©2013 Inc. Five Star Quality Care, ©2013 Inc.

more!

Five Star Quality Care, Inc.

ASK ABOUT OUR OUR ANNIVERSARY ASK ANNIVERSARY ABOUT OUR MOVE-IN ANNIVERSARY SPECIALS! MOVE-IN MOVE-IN SPECIALS!
---
1 0 JULY/AUG 2 0 1 4

Don't be shy

about snipping

off the leaves

of your favorite

fresh herbs for

cooking.

Gardening:

Grow Yourself a Pot o' Herbs

Eliminate weeding with container

gardening

by Frank Kourt,

Staff Writer

The older I get,

the more wisdom

I find in growing

things in pots on or near my

patio.

For one thing, container gardening

virtually eliminates weeding.

The few weeds that grow in

my containers are easily spotted

and plucked, saving a lot of bending,

not to mention mulching and

battling unwanted flora such as

the ubiquitous Virginia creeper,

whose toxic oxalic acid gives me

contact dermatitis (translation:

an itchy rash on my arms).

Container gardening is not the

answer to growing all veggies,

however. We tend to use containers

for such things as tomatoes

and peppers, whose plants behave

themselves and don't wander

all over Kingdom Come, unlike

squash, pumpkins or cucumbers.

(Yes, I still plant my cucumbers

in the ground, among the everinvading

Virginia creeper.)

We've found another great use

for container gardens: growing

herbs.

As I may have stated in a previous

column, I find herbs almost

thrive on neglect. Just give them

some good soil, a nice sunny area

and water when they need it and

they're good to go. They don't

require a lot of fertilizing, and

they seem to naturally repel bugs.

About the only attention they

need, once they're planted, is for

you to go by and nip off any flowering

that may start to encourage

leafing, which is what you want

herbs to do. Don't be shy about

snipping off the leaves of your

favorite fresh herbs for cooking.

After all, that's what they're for,

and the plant should grow back

bigger and bushier than ever after

some snipping.

We don't use fancy containers

for our herbs; we just pick up

inexpensive colorful plastic tubs

with white rope handles that run

from about $6 to $10 at Wal-Mart

and most other big stores. We

drill holes on the bottom and in

the sides around the bottom, fill

them with potting soil and stick

in the herbs of choice.

These containers don't last forever.

After three or so years they

get brittle, crack and need to be

replaced, but they're so cheap in

the first place, you don't mind.

One thing to keep in mind

about container gardening is

the need for frequent watering

because, unlike plants in the

ground, those in containers need

water probably every two or three

days, depending on the rainfall.

This year, I have one pot each

of Italian parsley, sage, oregano,

basil, cilantro, rosemary and

thyme and they're all doing

fantastically. The thyme is the

only one that made it through

last year's rough winter, so it's

a crapshoot whether you'll see

the return of some of your herbs

next summer. But that shouldn't

be a problem, since you can buy

new plants next year or start from

seed.

Even better than growing them,

you'll be able to use your herbs to

make food taste fresher and better

than if you used the dried variety.

In general, you should use a 3-to-

1 ratio of fresh to dried herbs,

since the dried ones are more

concentrated. That means that if

your recipe calls for one teaspoon

of dried basil, you should use one

tablespoon of chopped fresh basil

(three teaspoons are equal to one

tablespoon).
---
Who You Gonna Call?

Kentucky Association of Senior

Services has many resources

by Jamie Lober, Staff Writer

The Kentucky Association

of Senior Services (KASS) is a

wonderful organization, but many

people don't realize it exists.

"There are a lot of people that

do not know about the Association

simply because they have not

dealt with a loved one or parent

aging and do not know where to

start," said Autumn Dominski,

director of marketing for The

Lafayette, a senior living community

in Lexington. "Basically, the

Association is a group of professionals

that provides information

or services to help seniors."

The mission of KASS is to distill

accurate and truthful information

about a wide variety of services

important to those aged 50 years

JULY/AUG 2 0 1 4

and over. The person reaching out

to KASS could be an adult child or

the senior him/herself. Whoever

calls will find a diverse listing

of experts willing to share their

knowledge.

"We have an elder law attorney,

someone to help you navigate

when you want to place a loved

one into a community or if you

need home-care resources,"

said Dominski. "We have someone

that can walk you through

each step. There is a home-care

agency involved in the Association

as well, so it is a team that can

provide information to anybody

looking for senior services."

It is natural to be unsure where

to start because there is so much

to discover. "There are things to

learn about living wills, trusts and

powers of attorney; about what

to do with your home when you

are ready to move to a community;

and what levels of care are

out there," said Dominski. "We

have someone that can help with

downsizing and decluttering for

seniors."

Sometimes as people try to

make these big decisions, disputes

arise. "We have a mediator in

our group, so if families start to

disagree on what to do with Mom

or Dad, someone can step in and

handle family dynamics," said

Dominski. "Families are relieved

that there are resources out there

that can make planning for their

parents' future easier."

You can build a relationship

Families are relieved that there are

resources out there that can make

planning for their parents' future

easier." – Autumn Dominski, director of

marketing for The Lafayette

1 1

with the people at KASS or you

may just have a few quick issues to

address. KASS is prepared to help

in either situation. "We provide

people with a wealth of information,

so it is a one-stop-shop in

that sense," said Dominski.

Seniors who turn to KASS love

that things are simplified for them.

"Instead of searching online for a

million different services or trying

to read all the information about a

benefit, we can get them the information

quickly," Dominski said.

"It is rewarding to do what I do

day to day to help families fill the

rest of their lives with enrichment,

safety and fun things to do. I also

like meeting the families."

L

IBERTYR

Senior Living Community

IDGE

A Non-Profit Faith-Based Community

WE OFFER:

• Independent Garden Homes

• Assisted Living Apartments

• Memory Care Neighborhood Apartments

859.543.9449

www.libertyridge.com

Final Phase of Garden Homes

currently under construction.

CALL TODAY TO SCHEDULE A COMPLIMENTARY

LUNCH AND TOUR. LOCATED IN LEXINGTON NEAR HAMBURG PLACE

701 Liberty Ridge Lane Lexington Ky 40509
---
1 2 JULY/AUG 2 0 1 4

End-of-Life

Directives

Give Families

Peace of Mind

State your wishes

before an illness

takes away your

ability to decide

by Donald Hoffman

We write songs about it, we

perform plays about it and we are

constantly preoccupied with how

unexpectedly it can happen. Death

indeed is a common subject. Yet

our own personal death is possibly

the most difficult aspect of life we

confront.

Problems arise when death

comes quickly. Not for the

deceased, certainly, but for the

family left behind. However,

sometimes death does not come

quickly. Sometimes it arrives after

a long, lingering illnesses caused

by cancer, dementia or similar

disabling conditions.

End-of-life directives, sometimes

called living wills or

advanced directives, are usually

prepared in consultation with

family members, your chosen

surrogate or power of attorney

(POA) and your physician. It is

important to have your end-oflife

directives in place before an

illness reaches a terminal stage or

you are no longer

PILATES

able to make

decisions on your own. Without

PLACE

PILATES

PLACE

Pilates is designed

to strengthen the

body's core muscles

through low-impact

fitness techniques.

these directives, how you will be

treated, medicated, kept alive and

fed during your last days, as well as

your funeral arrangements, are out

of your hands. Family members,

your brothers and sisters or your

children and wife or husband will

be forced to make decisions that

should be yours to make. Directives

are your opportunity to

notify family members, doctors,

health-care workers and morticians

of your wishes.

Directives, much like a will,

are legal documents. There are

numerous Internet sites providing

information and many available

formats to choose, but seeking

the assistance of an elder attorney,

Hospice or senior service

organization in making one is not

uncommon. End-of-life directives,

advanced directives and living

wills are state sensitive, differing

in form from state to state. If you

spend a great deal of time in different

states, you should complete

directives on each state's approved

form.

Each document must be witnessed

by two individuals who

are not related by blood, are not

employed as health-care workers

or have not already been appointed

POA or surrogate. The content

of each end-of-life directive will

vary depending upon its purpose.

Appointing a surrogate or POA

is often the initial task. Either can

handle your financial affairs, make

medical decisions about your

treatment, look after your welfare

and make end-of-life decisions

if you designate them to do so.

Advanced directives or living wills

specify the types of medical care

you wish to have during your last

days and can also dictate how

you wish to die. You can provide

details and wishes such as being

artificially tube fed when you are

no longer able to eat; stopping

It is important to have

your end-of-life directives

in place before an illness reaches a

terminal stage or you are no longer

able to make decisions on your own.

specific medical treatments when

you are close to death; passing

peacefully without pain; being

kept comfortable and sedated;

donating organs after death; or

being artificially kept alive. Other

aspects, such as funeral directions,

disposal of remains and what you

want your family to know can also

be included.

Emergency room treatment

differs from hospital to hospital;

however, ER doctors are required

to resuscitate and keep patients

alive. A Do Not Resuscitate order,

a separate document or advanced

directive, must be signed by you,

your POA or surrogate and your

doctor. Each of these documents

needs wide distribution. Once

they are prepared and witnessed,

they should be copied and

given to family members, doctors,

health-care and social workers,

morticians and others concerned

with your care. They should be

placed in your file and be readily

available. Only then will you be

respected, your wishes followed

and your treatment humane.

All sessions taught by

Stott Pilates trained

health professionals.

859-266-3810

365 Duke Rd.

Lexingtotn

studio@pilatesplaceky.com

follow us on:

Eastland Shopping Center 1020 Industry Rd. Ste 10 Lexington, KY 40505

859-253-0012 Mon 9-7, Tues-Sat 9-6
---
Misconceptions About

Caregiving Add Stress

JULY/AUG 2 0 1 4

Demands can be physical, emotional,

psychological

by Lisa M. Petsche, Staff Writer

Caring for a chronically ill or

medically frail relative can offer

many rewards, but it also involves

physical, psychological and emotional

demands. It can be particularly

challenging when the care

receiver has heavy hands-on needs,

a difficult personality or mental

impairment.

Stress can be further compounded

by certain thoughts and belief

systems. Here are some common

misconceptions among caregivers

and the unhealthy behaviors that

typically result from them.

Faulty Thinking.

The caregiver believes:

• He or she can and should

provide all the care.

• No one else can take good care

of the care receiver.

• Medical professionals are

wrong about the care receiver's

diagnosis, prognosis or healthcare

needs.

Maladaptive Behavior.

The caregiver:

• Devotes all his or her time and

energy to caregiving.

• Declines assistance.

• Promises the care receiver he

or she will never have to live in

a long-term-care residence.

• Withholds from other family

members information about

the care receiver's condition

and needs.

Healthy Coping

These are some adaptive coping

strategies caregivers can use to

prevent falling into destructive

behavior patterns.

Acceptance

• An important first step is to

accept the reality of your care

receiver's illness. Allow yourself

to experience all the emotions

that surface. Make a conscious

decision to let go of any bitterness

resulting from unrealized

plans and dreams so you can

move forward and channel

your energy in constructive

ways.

• Accept that the way your care

receiver feels and what they can

do may fluctuate, and be flexible

about plans.

Information

• Ask a friend to research your

care receiver's health condition.

Share the information among

family members. Knowledge

is power.

• Be open to learning practical

skills, such as proper transferring

and bathing techniques.

Mastering these tasks will help

make caregiving safer and less

stressful. The local office on

aging is a good resource.

• Be patient and keep communication

lines open as you and

your care receiver adjust to the

illness.

• Ensure the family is kept current

about changes in your care

receiver's status and include

them in decision-making.

Preparation

• Find a medical specialist whom

you and your care receiver

respect and trust. Ask what to

expect during the course of the

illness.

• Help your care receiver get his

or her affairs in order, including

completing advance directives,

powers of attorney and a will.

• Talk with your care receiver

about his or her wishes.

Discuss living arrangements,

outside help, surrogate decision-making,

end-of-life-care

and funeral arrangements. Be

careful not to make promises

you may not be able to keep.

Simplification

• Eliminate sources of stress in

your life wherever possible.

Set priorities, streamline tasks

and learn to settle for less than

perfection. Hire help with personal

care or household chores

if finances permit.

Self-Preservation

• Look after your own health. Eat

nutritious meals, get adequate

rest, exercise and see your

primary physician regularly.

1 3

• Set aside quiet time to nurture

your spirituality and keep

yourself grounded.

• Do something that provides

you with meaning and purpose

outside the caregiving role,

such as researching your family

tree.

• Find something relaxing you

can do to give yourself a daily

break – perhaps reading or

listening to music. In addition,

schedule regular time away

from caregiving duties. By

being kind to yourself this way,

you'll also be more effective

when you resume caregiving.

Connection

• Make an effort to stay connected

to your friends. Find someone

you can talk with openly,

who will listen and empathize.

It's important to express your

thoughts and feelings.

• Seek out other caregivers.

They understand the best what

you're going through. Join a

support group in your community

or on the Internet.

Assistance

• Accept offers of help. Ask

other family members to share

the load and be specific about

the help you need. If you don't

have family nearby or they're

unwilling or unable to assist,

make use of community respite

services.

Lisa M. Petsche is a social worker

and freelance writer specializing

in boomer and senior health matters.

She has personal and professional

experience with elder care.

Take a tour and join us for lunch, on us!

Make your reservation today for our

complimentary lunch and tour.

ARE YOU DISABLED?

HAVE YOU APPLIED FOR SOCIAL SECURITY DISABILITY?

ARE YOU CAUGHT UP IN RED TAPE?

An experienced Social Security Claims Advocate can help you:

• By assisting you in filing your initial application.

• Filling out and filing your appeals.

• Gather medical and other important information to submit to Social Security.

• Contact your doctors to obtain a report of your medical condition.

• By obtaining documents from your Social Security file and review them.

• By presenting opening and closing statements at your hearing that

will state how you meet the Social Security listing of being disabled.

1001 Crossfield Drive

Versailles, KY 40383

daisyhillseniorliving.com and

859.753.2000

us on Facebook

For a FREE CONSULTATION of your claim call

Patsy R. Hughes, Disability Claims Advocate,

1-859-263-7780.

NO FEE IS PAID UNLESS YOU WIN
---
1 4 JULY/AUG 2 0 1 4

TRAVEL

Here's Your Key to a

Great Getaway

Florida's Sarasota area has lots to offer

by Jan Ross,

Staff Writer

The Sarasota area

of Florida has a lot

to offer travelers,

including the fact that it is below

the frost line, so it has lovely, warm

weather in the winter.

But it's the sand that is most

appealing. Although every beach

in Florida has sand, it's not like

the sand here. Formed of crushed

quartz, Sarasota sand is always cool

even on the hottest days and has a

soft, baby-powderlike texture that

you won't find on any other beach.

Because a beach house or condo

is always a nice option on a trip, the

Crescent Royal Condos on Siesta

Key make a great choice for your

Sarasota getaway. Condo No. 7a is

one of the best choices in the entire

complex. With more 2,000 square

feet, including four bedrooms – two

of which are master bedrooms – a

huge, fully equipped kitchen, a large

living room and an amazing glassedin

porch with a view of the Gulf

of Mexico, it's a perfect location.

There are also one-, two-, three- or

four-bedroom units in the complex,

all with a view of the Gulf and

all with a porch, the perfect place

to watch the spectacular Florida

sunsets.

Cross the bridge from Sarasota

to the beach area of Siesta Key and

you enter a charming area with local

shops, wonderful restaurants and

plenty of beach houses, cottages and

condos. The public beach has a nice

playground, picnic areas and tennis

and beach volleyball courts. Watersports

abound in this sanctuary from

winter with scuba diving, boating,

parasailing, jet skiing and sailing

all available. However, just relaxing

on the beach is always a good

choice. Spend a day at the beach,

then check out all the little shops in

the Village and have a scrumptious

Italian dinner at

Café Gabbiano.

Be sure to try the

lobster ravioli – it is

amazing!

On another day during your stay,

pack your swim suits and a picnic

lunch and spend some time at the

beautiful beach on Lido Key. The

public beach area is pristine and

beautiful with changing rooms and

even a small public pool for a dip if

you tire of swimming in the ocean.

In the late afternoon,

head to St. Armands

Circle in Sarasota,

where there are many

upscale shops and restaurants.

Plan on having

dinner at the Tommy

Bahama restaurant for

a wonderful dining

experience. Try to sit

in the second-story

dining room, which has

a pretty view of the area

through

the large windows. The

crab bisque, coconut shrimp and

Parmesan-crusted Sanibel chicken

add up to the perfect meal. You will

be too full for dessert, but be sure

to order the restaurant's famous

Pina Colada cake to go. You won't

be sorry!
---
JULY/AUG 2 0 1 4

1 5

50 Years Ago:

Jacques

Anquetil Wins

His Fifth Tour de

France

by Charles Sebastian, Staff Writer

In 1957, the winner of the 44th Tour

de France was Jacques Anquetil (pronounced

"ank-teel"). Anquetil would

win the race four more times, from

1961-64, making him the first cyclist to

win it five times.

Anquetil was born Jan. 8, 1934, in

Mont-Saint-Aignan, Seine-Maritime,

France. He became a pro cyclist at age 17

in 1950. Anquetil had exceptional ability

at riding solo against the clock without

pacing with the pack, a skill that earned

him the moniker "Monsieur Chrono."

After Anquetil rode in the 1954 Summer

Olympics in Helsinki, Francis Pelissier,

a former Tour de France rider, contacted

him about riding for the team. Anquetil

accepted and began training immediately.

Anquetil had many rivals throughout

his illustrious career, particularly

Raymond Poulidor. Poulidor never beat

Anquetil but pushed him to his limits.

Poulidor was a favorite in the public eye.

Anquetil was concerned about his public

image and the way the crowds incessantly

compared him to Poulidor.

Doping – the downfall of another eminent

cyclist, Lance Armstrong – was a

much less devastating issue in Anquetil's

day. It was certainly not something that

would end a career. When asked about

doping, Anquetil said: "Leave me in

peace; everybody takes dope." Even

then-French President Charles De-

Gaulle, when asked about Anquetil and

the ethics of doping, dodged the question:

"Doping? What doping? Did he or

did he not make them play the Marseillaise

[the French national anthem]

abroad?"

Anquetil retired from racing in 1969

and died in 1987 after suffering stomach

cancer. He is buried at Quincampoix,

France, where a stadium was erected in

his honor in 1983.

The Tour de France was the brainchild

of sports journalist Geo Lefevre, who

started the race in 1903 with the backing

of Henri Desgrange, his editor at L'Auto

newspaper. The race gained popularity

during its early years and it became a

custom for people to populate the streets

and cheer on their favorite cyclists. The

Tour has altered its route a number of

times through the years as well, which

gives competitors a constant change of

scenery and challenge.

Gulf of Tonkin

Incident

Expands

Vietnam War

by Frank Kourt, Staff Writer

Although the United States had

been involved in Vietnam since 1956,

when it sent military "advisors" to train

South Vietnamese servicemen to battle

insurgents from the north following the

French withdrawal from the country, a

key turning point was the Gulf of Tonkin

incident in 1964.

On Aug. 2 of that year, a report said

North Vietnamese craft fired torpedoes

at the U.S. destroyer Maddox, which was

purportedly on routine patrol. Another

report on Aug. 4 said North Vietnamese

craft fired upon both the Maddox and

the USS Turner Joy.

Significant doubts about the alleged

attacks persist to this day, but at the time

they were enough to prompt then-president

Lyndon B. Johnson to order the

first American bombing of North Vietnamese

targets in retaliation, destroying

a North Vietnamese oil storage facility

and about 30 North Vietnamese naval

vessels.

On Aug. 7, at Johnson's request,

Congress overwhelmingly passed what

is termed the Tonkin Gulf Resolution,

providing Johnson a virtually openended

authorization to employ military

force against the North Vietnamese.

The de facto effect of the resolution

empowered Johnson to wage war on the

Hanoi regime without needing a formal

declaration of war. The resolution passed

unanimously in the House; it passed in

the Senate by a vote of 82-2.

This opened the way for major

American involvement in an undeclared

war that would last another 11 years.

It caused more than 58,000 American

military casualties and created a massive

political and ideological rift within

the United States. The last U.S. troops

were withdrawn from Vietnam in March

1973.
---
1 6 JULY/AUG 2 0 1 4

Events

Calendar

JULY 2014 AUG. 2014

Sun Mon Tue Wed Thu Fri Sat

1 2 3 4 5 1 2

6 7 8 9 10 11 12 3 4 5 6 7 8 9

13 14 15 16 17 18 19 10 11 12 13 14 15 16

20 21 22 23 24 25 26 17 18 19 20 21 22 23

27 28 29 30 31 24 25 26 27 28 29 30

31

Send us your event listings

List your event for FREE if it's free to the public*.

E-mail your event information to graphics@samplerpublications.com

(*$35 fee for events that are not free to the public)

Ongoing

Yoga Health & Therapy

Center Classes

Our Yoga Classes feature slow

stretch with gentle breathing,

and relaxation techniques.

Class size is small, to provide

careful instruction. Yoga classes

are offered Mon through Thurs

(daytime and evening), and Sat

mornings. Our Meditation Starter

Course teaches simple ways

to focus and quiet the mind;

5-week sessions are offered on

Sundays at 5:30 pm. A nonprofit

organization operating

since 1981, The Yoga Health &

Therapy Center is located at 322

W. 2nd St. Free private parking

is provided for most classes. For

more information on fees and

scheduled dates and times, call

us at 859-254-9529, or email us

at info@yogahealthcenter.org

Sun Mon Tue Wed Thu Fri Sat

Reiki Introduction &

Practice

6:30pm- 8:30pm, 4th Tuesday

each month. 1403 E. Breckinridge

Street, Louisville, KY. Free.

Those who do have not Reiki

training—come for an introduction

& to experience it. No experience

required. Those with Reiki come

to practice on others & receive

the Reiki energy. Everyone will

get 15 -20 minute Reiki treatment.

Free reattunement to your last

level of Usui or Karuna Reiki® if

you have your certificate. Contact

JoAnn Utley at 502-777-3865

or jutley5122@bellsouth.net to

register. More info at http://

joannutley.byregion.net

Sit and Get Fit

Mondays and Fridays, 9:30am-

10:30am. FREE! This event is

a seated controlled exercise/

movement class to improve

strength, flexibility, balance

and coordination. It is taught

by Anne Graff, MS, OTR/L,

Occupational Therapist certified

by the American Senior Fitness

Association as a Senior Fitness

Instructor and trained in Body

Recall. Also included are: Fall

Prevention and Recovery, Fun

Movements to Strengthen

Body and Mind, Improve

Posture and Core Conditioning,

Wellness Education, Relaxation

Techniques, and Music.

The Charles Young Center is

located at 540 E. Third Street.

Parking is available on Shropshire

Avenue or Lewis Street,

Lexington, KY. Ages 60 and older.

For more information, please

contact Alexis Edge at 859-246-

0281 or aedge@lexingtonky.gov.

Wellness Wednesday

On the first Wednesday of the

month, all Good Foods Market

and Café customers will receive

5% off all supplements, body

care, and bulk herb & spice

items. Customers can special

order Wellness Wednesday items

ahead of time and pick them up

on Wellness Wednesday. When:

Wednesday, July 3, 8 am – 10

pm. held at Good Foods Market

& Café, 455 Southland Drive.

Ric's Garden, the

public cutting garden

at Ashland Terrace,

475 S. Ashland

Avenue, is open for

business

This year Lexington's oldest

retirement community offers

alstroemeria, iris, ageratum,

gooseneck loosestrife, goldenrod,

purple coneflowers, Joe Pye

weed, lisianthus, snapdragons,

zinnias, salvia, black-eyed susans

and marigolds. The following

varieties of herbs are available:

oregano, nasturtium, rosemary,

lemon grass,

sweet marjoram,

lemon thyme, basil,

parsley, fennel,

Italian parsley,

sorrel, garlic

chives, mint, winter savory, lemon

verbena, dill, French tarragon

and sage. Large blooms are .50,

small blooms are .25. Herbs

are .25 a small bunch. Roses

and vegetables are reserved for

residents only. The donation box

and scissors are located at the

start of the main garden walkway;

water and containers are available

near the shed. Don't miss the

smaller cutting garden behind

the shed. All proceeds are used

to maintain the garden and feed

the critters. Call Kelly or Michelle

at 266-2581 for additional

information.

July 14

Diabetes Support

Group

10-11 am, Senior Citizens Center,

1530 Nicholasville Road, Free.

Sponsored by the Lexington-

Fayette Co. Health Dept. For

more information, call (859) 288-

2446.

July 15

Eat, Move, Lose

Weight

Support Group

2 – 1 pm, Lexington-Fayette Co.

Health Department PH Clinic

South, 2433 Regency Road.

Free weight-loss support group

appropriate for anyone wishing

to lose weight or maintain weight

loss. Share struggles and ideas

with others. Held first and third

Tuesdays most months. For more

information or to pre-register, call

288-2446.
---
July 15

Health Chats about

Diabetes

Nathaniel Mission Free clinic,

616 DeRoode Street. Free.

Sponsored by the Lexington-

Fayette Co. Health Dept. and UK

Healthcare. For more information,

call (859) 288-2446.

July 22

Reiki Introduction &

Practice

6:30pm- 8:30pm. 2508

Wallace Avenue, Louisville, KY

40205. Free. Those who do

have not Reiki training—come for

an introduction & to experience it.

No experience required. Those

with Reiki come to receive

the Reiki energy & practice on

others. Free reattunement to

your last level of Usui or Karuna

Reiki® upon request if you

have your certificate. Contact

JoAnn Utley at 502-777-3865

or jutley5122@bellsouth.net to

register. More info at http://

joannutley.byregion.net

July 26 and

August 23

A Day of Mindfulness

for Body, Mind and

Spirit

This mini-retreat will help you:

Mobilize your inner resources

for healing, practice self-care

approaches for promoting

health, learn mind-body skills for

managing stress-related chronic

conditions, relax your body,

JULY/AUG 2 0 1 4

quiet your mind and open your

heart and cultivate your innate

happiness, peacefulness and

compassion. You will learn -

• Skilled relaxation

• Body scan

• Guided imagery

• Journaling

• Self massage

• Mindfulness meditation

• Mindful gentle yoga

John A. Patterson MD, MSPH,

FAAFP

Board certified – Family Practice

and Integrative Holistic Medicine.

Faculty member – UK College

of Medicine, U of L School of

Medicine, Saybrook Graduate

School of Mind Body Medicine.

Sliding scale $45-95, preregistration

required. 9am–4pm at

Mind Body Studio 517 Southland

Drive Lexington KY 40503. www.

mindbodystudio.org. 859-373-

0033.

July 31

The Basics: Memory

Loss, Dementia and

Alzheimer's Disease

If you have a loved one who

is newly diagnosed, or if you

just want to learn more about

Alzheimer's disease, this

program is for you. This twohour

presentation will explore

what everyone should know

about memory loss issues

and what they mean for all

of us. The program will take

place at the Lexington Public

Library, Beaumont Branch

Saturdays

Lexington Farmer's Market

Sundays

Lexington Farmer's Market

Every Sunday at Southland Drive visit

the Lexington Farmers' Market! You

can purchase herbs and spices, honey,

beeswax, candles, body care products,

organic products, eggs, meats and fresh,

seasonal produce. 10am–2pm.

1 7

located at 3080 Fieldstone Way

on Thursday, July 31st from

2pm-4pm. To register for this

program, please call 1-800-272-

3900 or e-mail infoky-in@alz.org.

Registration is required.

August 26

Reiki Introduction &

Practice

6:30pm- 8:30pm. 2508

Wallace Avenue, Louisville, KY

40205. Free. Those who do

have not Reiki training—come for

an introduction & to experience it.

No experience required. Those

with Reiki come to receive

the Reiki energy & practice on

others. Free reattunement to

your last level of Usui or Karuna

Reiki® upon request if you

have your certificate. Contact

JoAnn Utley at 502-777-3865

or jutley5122@bellsouth.net to

register. More info at http://

joannutley.byregion.net

Every Saturday at Cheapside Park visit

the Lexington Farmers' Market! You

can purchase herbs and spices, honey,

beeswax, candles, body care products,

organic products, eggs, meats and fresh,

seasonal produce. 7am-2pm.

Nature lovers, hikers, cliff climbers

RENT THIS CABIN

Near Natural Bridge State Park and

Red River Gorge.

Call or visit website for reservations.

Ken & Sheila Brown

www.VRBO.com/361686

(606) 668-2599

(606) 643-6044

ksbrown@mrtc.com
---
1 8 JULY/AUG 2 0 1 4

Senior Services

DIRECTORY

About the Directory

Living Well 50+ is striving to make your search for local

senior services a bit easier. We know there are many

companies available to assist seniors in central Kentucky

– so many that beginning a search to fit your need can

seem like a daunting task.

That's why our directory features a collection of local

companies and organizations who have a solid track

record of providing exceptional assistance. We hope it

becomes a useful starting point in your search for quality

senior services.

Category Key

County Offices & Meal Programs

Health Care Systems & Hospitals

Transportation, Personal Shopping, Errands

Does your

business

provide

excellent

senior

services?

call us for a spot

in the directory

859.225.4466

Senior Day Centers, Adult Day Centers &

Respite Care

In Home Care (Non-Medical)

In Home Medical Care

Mental Health, Family & Caregiver Support, Advice

Disability & Rehabilitation

Medical Equipment, Supplies & Monitoring Systems

Finances & Estate Planning, Trusts/Wills,

Reverse Mortgage

Funeral Arrangement & Pre-Planning

Legal Services

Home Repair & Maintenance

Skilled Nursing Facilities, Personal Care Homes,

Long-Term Care

Senior Independent Living & Retirement Housing

(Non-Medical)

Real Estate / Rent- Subsidized Housing For Independent

Living

Moving, Estate Sales, Downsizing Services

Fitness, Healthy Eating & Healthy Living

Healthcare, Medicare Help and Insurance

Vision Care
---
JULY/AUG 2 0 1 4

1 9

HEALTH CARE SYSTEMS

& HOSPITALS

Lexington Clinic

1221 S. Broadway

Lexington, KY 40504

859-258-4000

IN HOME CARE

(NON-MEDICAL)

Accessible Home

Health Care

366 Waller Ave. Ste. 112

Lexington, KY 40504

859-313-5167

www.accessiblebluegrass.com

Assisting Hands

1795 Alysheba Way, Ste. 7105

Lexington, KY 40509

859-264-0646

www.assistinghands.com/lexington

Senior Helpers of the

Bluegrass

3070 Harrodsburg Rd. Ste. 240

Lexington, KY 40503

859-296-2525

www.seniorhelpers.com

IN HOME

MEDICAL CARE

Medi-Calls

1055 Wellington Way #215

Lexington, KY 40513

859-422-4369

Saint Joseph Home Health

2464 Fortune Dr. Ste. 110

Lexington, KY 40509

859-277-5111

www.saintjosephanchomecare.com

DISABILITY &

REHABILITATION

YMCA of Central Kentucky

239 E. High St.

Lexington, KY 40502

859-254-9622

ymcaofcentralky.org

Drayer Physical Therapy

Institute: Winchester Center

160 Pedro Way

859-745-2152

www.drayerpt.com

Drayer Physical Therapy

Institute: Richmond Center

1054 Center Drive, Ste. 1

859-625-0600

www.drayerpt.com

Drayer Physical Therapy

Institute: Lexington Perimeter

Center

600 Perimeter Drive, Ste. 175

859-268-1201

www.drayerpt.com

Drayer Physical Therapy

Institute: Lexington Beaumont

Center

1010 Monarch Street, Ste. 150

859-219-0211

www.drayerpt.com

MEDICAL EQUIPMENT,

SUPPLIES &

MONITORING SYSTEMS

Central Baptist Lifeline

859-260-6217

www.centralbap.com

FINANCES & ESTATE

PLANNING, TRUSTS/

WILLS, REVERSE

MORTGAGE

Attorney Walter C. Cox, Jr

& Assoc. LLC

2333 Alexandria Dr.

859-514-6033

www.waltercoxlaw.com

info@waltercoxlaw.com

LEGAL SERVICES

Bluegrass Elder Law

120 North Mill Street, Ste 300

859-281-0048

www.bgelderlaw.com

HOME REPAIR &

MAINTENANCE

Mountain Waterfalls

Award-Winning Water Features

859-684-0642

www.mountainwaterfalls.net

SENIOR INDEPENDENT

LIVING & RETIREMENT

HOUSING (NON-MEDICAL)

Mayfair Village

3310 Tates Creek Rd.

Lexington, KY 40502

859-266-2129

www.mayfairseniors.com

Windsor Gardens of

Georgetown Assisted Living

100 Windsor Path

Georgetown, KY 40324

502-570-0540

marsha@goodworksunlimited.com

Rose Mary C. Brooks Place

200 Rose Mary Dr.

Winchester, KY 40391

859-745-4904

www.brooksplace.org

The Lafayette

690 Mason Headley Rd.

859-278-9080

www.lafayettelexington.com

Ashland Terrace

475 S. Ashland Ave.

Lexington, KY 40502

859-266-2581

www.ashlandterrace.org

Hometown Manor Assisted

Living Community

Georgetown, Lawrenceburg,

Shelbyville

859-229-5914

www.hometownmanor.com

St Andrews Retirement

Community

300 Stocker Dr.

859-625-1400

www.standrewsplace.org

MORE

LISTINGS

ON NEXT

PAGE

Bluegrass

www.bgelderlaw.com

ElderlawPLLC

Take control of your future

Carolyn L. Kenton

Amy E. Dougherty

120 N. Mill St., Ste. 300

Lexington, KY 40507

Phone: 859.281.0048

Wealth Preservation

Powers of Attorney

Guardianship

Medicaid Planning

Probate
---
2 0 JULY/AUG 2 0 1 4

We have what no other

homecare company has...

Our People

The quality of life you enjoy depends on the

quality of care your receive. Our caregivers

go beyond caring for patients to

...caring about them.

●

RNs & LPNs

●

Home Health Aides

●

Homemakers

●

Therapists

(Physical, Speech

& Occupational)

Medicare/Medicaid/Commercial Insurance/Private Pay

Joint Commission accredited

No matter when you call you will speak

with an experienced associate who can

help you with all your home care needs.

For more information call:

SERVICE DIRECTORY, CONTINUED

REAL ESTATE /

RENT-SUBSIDIZED

HOUSING FOR

INDEPENDENT LIVING

Turf Town Properties, Inc.

124 Kentucky Ave.

Lexington, KY 40502

859-268-4663

www.turftown.com

Briarwood Apartments

1349 Centre Parkway

Lexington, KY 40517

859-272-3421

glickco.com

MOVING, ESTATE SALES,

DOWNSIZING SERVICES

Caring Transitions

1411 Delaware Ave.

859-543-9848

www.CTLex.net

Lexington Life Services

859-797-8157

lexingtonlifeservices.com

FITNESS, HEALTHY

EATING & HEALTHY

LIVING

Yoga Health & Therapy

Center

322 West Second Street

Lexington, KY 40507

859-254-9529

www.yogahealthcenter.org

Well Fed Meals

1301 Winchester Rd. #17

Lexington, KY 40505

859-539-5863

www.wellfedmeals.com

HEALTHCARE,

MEDICARE HELP &

INSURANCE

Bluegrass Insurance

Solutions

859-312-9646

www.PeteAlberti.com

VISION CARE

Medical Vision

3288 Eagle View Ln. Ste. 300

Lexington, KY

859-278-9486

www.medicalvision.com

TRANSPORTATION,

PERSONAL SHOPPING,

ERRANDS

Superior Van & Mobility

4734 Rockford Plaza

Louisville, KY 40216

1-800-458-8267

www.superiorvan.com

Saint Joseph-ANC

Home Care

859-277-5111

2464 fortune drive,suite 110

lexington, ky 40509

www.saintjosephanchomecare.com

Proudly serving Central Kentucky since 1985
---
JULY/AUG 2 0 1 4

Have you appointed a trusted person

to manage your affairs?

We can help you designate powers of attorney,

healthcare surrogacy, and guardianship.

Do you want to be confident

about your asset transfers

to the next generation?

Let us help you with wills, testamentary trusts,

special needs trusts, and estate settlements.

Have you planned for later life care?

We can help you protect your assets for

Medicaid eligibility, handle your crisis

planning and VA pension planning.

Providing personal legal advice to the Central Kentucky region.

Carolyn L. Kenton

Amy E. Dougherty

THIS IS AN ADVERTISEMENT.

BLUEGRASS ELDERLAW

120 North Mill Street, Suite 300

Lexington, KY 40507

859.281.0048

www.bgelderlaw.com

Baldness

Breakthrough

Scientists learning

to generate new hair

follicles

by Angela S. Hoover, Staff Writer

2 1

Although balding affects both

men and women, men are hit the

hardest by male-pattern baldness,

or androgenetic alopecia. It strikes

genetically predisposed individuals

when a byproduct of testosterone

called dihydrotestosterone

(DHT) causes hair follicles on the

scalp to shrink, producing everthinning

hairs until the follicles

eventually lose the capacity to

produce hair that protrudes above

the surface of the skin.

Presently, there are only two

FDA-approved treatments for

male-pattern baldness: minoxidil

(Rogaine), a vasodilator believed

to prevent or slow follicle miniaturization

by increasing nutrient

supply, and finasteride (Propecia),

which works by blocking the

conversion of testosterone into

DHT. Research has shown both

can prevent or slow hair loss and

sometimes induce regrowth by

rescuing follicles that have begun

to miniaturize. But neither can

revive totally shrunken follicles.

The only solution for this has been

relocating healthy follicles to barren

patches via invasive, expensive

hair-transplant procedures.

In the fall of 2013, researchers

successfully identified molecular

pathways that can be manipulated

to generate new hair follicles.

First considered possible in the

1950s when researchers observed

new hair follicles forming during

wound healing in rabbits

and mice, the work

was discredited

until 2007,

when

dermatolo-

gist George Cotsarelis from the

University of Pennsylvania's

Perelman School of Medicine spotted

hairs growing in the middle

of small cuts made into the skin

of adult mice. Cotsarelis and his

colleagues determined these were

de novo hair follicles formed in a

process that looked a lot like embryogenesis.

The wound-healing

process causes skin cells to dedifferentiate,

providing a limited time

window during which those cells

can be persuaded to form new hair

follicles.

In addition, inhibiting Wnt signaling

during this window reduced

follicle neogenesis, while overexpressing

Wnt molecules in the skin

increased the number of new follicles,

according to a 2007 report in

the journal Nature. (Wnt are signal

transduction pathways that regulate

cell-to-cell interactions during

embryogenesis). Cotsarelis and

his colleagues had discovered a

potential way to generate new hair

follicles. He formed a company

called Follica in 2006 to develop

new combination therapies to

induce follicle neogenesis.

Follica has patented a minimally

invasive "skin perturbation" device

that removes the top layers of skin,

causing the underlying skin cells

to revert to a stem-like state, after

which a molecule is applied topically

to direct the formation of new

hair follicles. Preclinical and clinical

trials have all resulted in new

hair follicles in mice and humans.

But Cotsarelis' group has also

learned that a protein called fibroblast

growth factor 9 (Fgf9), which

is secreted by gamma delta T cells

in the dermis, plays a key role in

the formation of new follicles during

wound healing in adult mice.

Fgf9 still needs to be tested on

human skin in xenograft models

and then in the clinic. There's still

a long way to go, but now there is

real hope for banishing

baldness.
---
®

2 2 JULY/AUG 2 0 1 4

NOW ACCEPTING

New Patients!

Beautiful Smiles

OW ACCEPTING

New Patients!

Beautiful Smiles

FULL SERVICE DENTISTRY

EPTING

tients!

Beautiful Smiles

Beautiful Smiles

. . .so close to home.

WHITENING SPECIAL:

Beautiful Smiles Convenient Location

$

199 Limited Time Offer – Call Today!

Convenient Location

Convenient Location

859.263.5755

859.263.5755

121 Prosperous Place Suite 3

Lexington, KY 40509

Lexington,

Patient Satisfaction

KY 40509

Convenient Location

ULL SERVICE DENTISTRY

Visit us on the web at

Visit us on the web at

. . .so close to home.

www.wilkinsdental.com

Hours Kimberly by F. appointment Wilkins DMD, PLLC

859.263.5755

121 Prosperous Place, Suite 3

Patient Satisfaction

Patient Satisfaction

Kimberly F. Wilkins DMD,

PLLC

121 Prosperous Place, Suite 3

www.wilkinsdental.com

Mon - Thurs, 8:00-5:30, Fri 9:30-2:00, Sat. by

Glaucoma

Can Lead to

Blindness

Convenient Location

Be sure to get

screened regularly

by Jamie Lober, Staff Writer

The National Institutes of Health

defines glaucoma as a group of

diseases that damage the optic nerve

and can Patient result in Satisfaction

vision loss and

blindness.

"Glaucoma is the third leading

cause of blindness in America with

somewhere Kimberly between F. Wilkins 5 and 10 million

people suffering from it, so it is

DMD, PLLC

a common 859.263.5755

disease," said Dr. Daniel

Moore 121 with Prosperous the University Place, Suite of Kentucky.

"It is mostly a disease of our

3

Lexington, KY 40509

aging population, but we [also] see

people as young as one or two days

Visit us on the web at

old with it."

www.wilkinsdental.com

As Mon with - Thurs, any 8:00-5:30, condition, Fri 9:30-2:00, some Sat. by

people are more susceptible to

glaucoma than others. "The biggest

risk factor other than advancing age

is family history," Moore said. "If

someone in your family has glaucoma,

you should be aware of the

need to get an eye exam more often

than the average population."

Know the warning signs of glaucoma.

"For run-of-the-mill glaucoma,

there are no particular symptoms,

but there are certain types that

may present with red eyes, sudden

eye pain or sudden decrease in

vision," said Moore. "Some patients

may just have a slight headache or

halos around their vision or see

slight blurs or shadows, but the vast

majority [of people] are unaware

[they have glaucoma]. It is largely

asymptomatic until it is advanced."

Since glaucoma is a disease of

the optic nerve that controls vision,

there are characteristic changes in

the appearance of the nerve as it gets

worse. Moore said the eye doctor

looks at the back of the eye to see if

it has signs of glaucoma, and if there

are any concerning signs, he or she

may order specific tests, such as one

that looks closer at peripheral vision.

The treatment for glaucoma,

especially early on, is with eye drops

and sometimes lasers. Be sure to

weigh the pros and cons of each

treatment with your eye doctor to

determine which is right for you. If

the disease advances despite using

these treatments, surgery might be

an option.

With early detection, people can

protect themselves from vision

loss, but this is not always possible

with some cases of glaucoma. Since

people often cannot tell they are

going blind until it is too late in the

disease's progress, they need to act

more defensively. Based on age and

your diagnosis, it is recommended

you see your eye doctor either annually

or at least once every few years.

Being proactive can make a huge

difference.

"There are multiple studies that

have suggested that the patients that

go blind are the ones that present

with more rapid or advanced

disease," Moore said. "If it is caught

in infancy, we can prevent glaucoma

from becoming a functional

problem."

Advances in glaucoma treatment

are ongoing. "There is always hope

for the future, and as the healthcare

industry moves forward, there will

be more preventative efforts in all

kinds of medicine and disease," said

Moore. "There is reason for hope for

more surgeries that are less invasive

in the future as well."
---
JULY/AUG 2 0 1 4

2 3

Western Coast north of Penrith

to Wallsend on the Eastern Coast.

You can hike the wall, stopping at

tea rooms or pubs as you wish, or

drive from one excavated site to

the next to learn more about how

people there lived 1,600 years ago.

While the weather is notoriously

unpredictable (locals will tell

you that it's not unusual to experience

all four seasons in a single

day), showers and racing clouds

only emphasize the grandeur of

the scenery. Late fall is supposedly

the wettest season, but our week

in early November sparkled with

sunshine and cool breezes on all

but one day. The Faeries hidden in

those fells must have been with us.

England's Lake District

Charming destination has literary

connections, lovely scenery

The Lake District has numerous

artistic and literary connections,

most famously William

Wordsworth, who was born in

Cockermouth in 1770 and drew

much of his poetic inspiration

from the surrounding landscape.

Other poets, writers and painters

also lived and worked in the

area, including John Ruskin,

Beatrix Potter, Arthur Ransome

and Alfred Wainwright, author of

the classic Pictorial Guides to the

Lakeland Fells.

My sister and I recently spent a

week near Penrith in the northern

Lake District with our niece, her

husband and two small children.

Even though the scenery called us

out, day-long walks or bike rides

with an infant and a 3-year-old

weren't on our agenda. Fortunately,

we had two natives to ferry

us around, driving on the "wrong"

side of the road.

We headed one sunny afternoon

to the old Scotland-Britain

border, which is marked with

what remains of Hadrian's Wall.

The Romans colonized Britain

and the military, under the

command of Emperor Hadrian,

built a large wall to keep out the

"barbarian" Scots. An English

Heritage site, Hadrian's Wall runs

from Bowness-on-Solway on the

The Lake District

has numerous

artistic and literary

connections.

by Doris Settles, Staff Writer

Tucked into the hillsides of interior

England is one of the most

charming vacation destinations

anywhere. Encompassing a total

area of just over 885 square miles,

a picturesque patchwork of lakes,

valleys, woodlands and fells make

England's Lake District one of the

best places in Britain to get out

and experience the great outdoors,

whether it's on a leisurely

bike ride down country lanes or a

day-long hike across the hills. It's

no wonder the Lake District is the

go-to vacation spot for locals and

internationals alike.

With houses, apartments and

cottages with service-in arrangements

(a full kitchen), the accommodations

in the Lake District

are well-suited for a relaxing week

with short side trips to a large

selection of things to do. The Lake

District has wonderful food and

a plethora of tearooms to sample.

Make sure to try the customary

British fare and the famous area

ciders.

Quaint Sophistication...

Retirement Living

at its Finest!

3310 Tates Creek Rd.,

Lexington, KY 40502

(Across from Lansdowne Shoppes)

• INDEPENDENT LIVING AND LICENSED PERSONAL CARE

APARTMENT HOMES

• SUPERIOR SERVICES AND AMENTITIES

• MADE FROM SCRATCH KENTUCKY PROUD DINING

• DAILY TRANSPORTATION SERVICES

• BRIMMING SOCIAL CALENDAR

• SAFETY, SECURITY, AND PEACE OF MIND

Come Explore The Next Chapter in Your Life!

(859) 266-2129

www.mayfairseniors.com
---
2 4 JULY/AUG 2 0 1 4

HALT Emotional Spending

Are you feeling hungry, angry, lonely

or tired? Watch your wallet!

by Doris Settles

Americans love their stuff. But

all that stuff comes at a cost – frequently

a high cost.

Everyone knows spending

less than you make is the path to

financial security. But is that even

possible in today's high-mortgage,

easy-credit, bigger-is-better world?

It is, but first you need to understand

the "whys" of your overspending

habit.

Today we have access to our

credit and bank accounts 24/7.

When we had to rely on cash on

hand, we balanced our checkbooks

and planned most purchases. Now

we have more available credit

than we have cash. We just have to

swipe our credit card and funds are

electronically whisked from our

accounts. Then the bill arrives and

we can't pay it off. No problem. Just

pay the minimum and we're good.

But letting account balances travel

forward means the debt just gets

higher and higher, and soon we're

in so deep, with such high interest

rates, that we don't see any chance

of getting out.

A friend or co-worker suggests a

fun activity. We should enjoy life,

but it's important to know when

to decline. You can pay for the

evening with your credit card, but

if you don't pay it off in full each

month, you'll pay for that evening

for a long time. If you know you

can't afford an activity, don't cave

in. Instead, invite your friends over

for dinner, a game night or other

activity where you can still enjoy

time together without breaking

your budget.

Buying yourself something feels

good. Whether it's a new pair of

shoes, the hottest video game or

a good book, we all enjoy getting

something new. And you've had a

hard day or got some good news

and want to celebrate. Do it. Just

don't go overboard. Set aside some

"fun money" in your budget. You'll

feel good about your purchase, but

you'll feel even better if you don't

have to spend the next two years

trying to pay it off with 20-percent

interest.

If you feel you're getting in over

your head, Syble Solomon, executive

coach and creator of Money

Habitudes, a set of cards that helps

start conversations about money,

has an ingenious idea. Solomon

has an acronym for situations that

make us extra vulnerable: HALT,

which stands for hungry, angry,

lonely and tired. "If you're feeling

any of those, recognize you're

prone to poor decision-making,"

she said.

The trick is heading off temptation

at the pass. "Before you head

out the door, ask yourself how

you're feeling and consciously rate

your vulnerability on a scale of one

to 10," Solomon said. "When you

know you're vulnerable, you can

use that opportunity to take more

control."

If you know you

can't afford an

activity, don't

cave in.

Yellow/ Wildcat Cab

Now offering

wheelchair accessible vans

Since 1934 Yellow/Wildcat Cab has been growing with the community

As always we are looking forward to serving you
---
'I Always Was

Lucky'

Willows At Citation

resident looks back

on his long life

by Tanya J. Tyler, Editor

At almost 94 years old, Gerhard

Kindler has a lot of life to reflect on.

"I always was lucky," said the

German-born Kindler, who immigrated

to the United States in 1960.

His adventure-filled sojourn tested

his luck and ultimately proved his

ability to survive harrowing situations.

Born in Stuttgart on Sept. 20,

1920, Kindler remembers growing

up in the aftermath of World War

I. "It was a miserable time because

Germany had to pay a lot of money

to the guys who won the war,"

he said. "It was a big recession.

Beggars were coming every day,

begging for food."

Gerhard says he was a late

bloomer. "I was a sleepy guy and I

didn't listen in school," he said. But

he later "woke up" and made good

grades. He went to school for eight

years, starting at age 7, and then

learned tool making.

Kindler was a young man when

Adolf Hitler came into power and

things changed in Germany.

"Hitler was a tremendous speaker,"

he said. "Hitler knew if he had

the young people, the older people

would go along. So if you were

young and you had any intention

to do any type of sports, of money

JULY/AUG 2 0 1 4

earning, he made it possible."

While he worked as a tool maker,

Kindler joined a flying club. The

members built and flew their own

glider.

"Instead of sleeping long like we

really wanted to, we went there on

that mountain," Kindler said. "We

put our plane together and all day

we went up and down with that

plane."

These experiences enabled him

to join the German Air Force when

World War II began. He wanted

to be a fighter pilot, but the planes

had a tight cockpit and Kindler's

legs were too long.

"You have a stick for flying so I

had no room," he said. "But since I

was a mechanic, they made me an

airplane mechanic and that's what I

did for almost the whole war."

During the last part of the war,

he became a foot solider. He went

to Berlin to fight for a losing cause.

"The Allies wanted us to give up

but Hitler did not," Kindler said.

"The war was already hopelessly

lost but Hitler would not give in."

To make matters worse, the

German soldiers were not well

equipped.

"My gun was from 1896, and

I got six bullets – and we were

supposed to hold the Russians,"

Kindler said.

Eventually he was taken captive

by the Russians and put in a prison

camp in Poland. He remembers

sleeping on the ground and enduring

a lack of water. The food was

also inadequate. "We called it

kasha," Kindler said. "Sometimes

you didn't know what was in there.

If you were lucky you found a little

potato."

Gerhard and Irmgard "Candy" Kindler have been married for 64 years.

Fortunately, he wasn't held

prisoner very long – about two

months, he estimated. But returning

home was a challenge. He had

some problems with his leg and no

shoes, so walking was difficult. He

started out with a schoolmate he

met while in prison, but soon he

urged his friend to go on without

him because he didn't want to hold

him back. He told his friend, "I will

make it somehow." And he did.

He walked, sticking to wet ditches

where the dampness was easier on

his feet. He rode on top of trains

and sometimes inside. He got a

ride in a truck. Finally he made it

back home after about 10 or 12

days of travel. His friend that he

had sent on ahead arrived home

three weeks later.

Life settled down somewhat

as the war ended. Kindler began

working again. He met a girl named

Irmgard, whom he called Candy.

2 5

She was working for Gerhard's

mother, helping people find clothing.

"I used to walk every day,"

Kindler said. "This was a must. I

usually walked three miles. [One

day] my mother said, 'Why don't

you take Candy along?'" That was

the start of a loving relationship

that has lasted 64 years.

"Candy was strong where I am

weak and that was a good thing,"

Kindler said. "She always has good

ideas. Candy is my angel; she's my

everything. She is still my good

star."

Kindler's brother-in-law helped

the couple come to the United

States. A paperwork glitch landed

them in Georgetown, Ky., instead

of Cleveland, Ohio, as they'd

intended. Kindler worked two jobs,

riding a motor scooter back and

LUCKY Continued on Page 31

CALL 231-TAXI and ask for a wheelchair van

D.B.A. Yellow Cab Company of Lexington, 799 Enterprise Drive • Lexington, KY 40510 • 859-233-4890
---
2 6 JULY/AUG 2 0 1 4

The More Things

Change...

The Bicycle

Popular alternative mode of

transportation has come a long way

by Charles Sebastian, Staff Writer

The bicycle is perhaps one of

the most amazing inventions of

the past 200 years. It has served

as a means of transportation for

millions of people. The idea of

balancing on two wheels has

been taken to the level of longdistance

biking (the Tour de

France), mountain bike racing,

bicycle acrobatics and more.

While the variations on the bike

all have good stories, the origin

of the bicycle is of even greater

interest.

Our two-wheeled friend was

dubbed "bicycle" in France in

the 1860s. There are many early

bike models still to be seen in

museums and collections. The

Draisienne, the ancestor of the

modern bike, was first developed

in Germany around 1817.

A wooden slat placed atop two

bulky wheels pretty much sums

it up. Though there are claims to

bicycle-like inventions prior to

the Draisienne, none are verifiable.

One claim suggests one of

Leonardo da Vinci's students,

Gian Giacomo Caprotti, came up

with the idea.

After the mid-1800s, the Michaux

bike was popular in Europe,

as was the "velocipede," aka

"Bone-shaker." The latter name

says it all. The1870s brought

about the penny-farthing, which

is what most people envision

when they think of old bikes. This

is the one with the huge front

wheel and smaller rear wheel. The

ratio of front to back could be

compared to a penny (larger) and

a farthing (smaller), hence the

name. The front wheels were developed

to increase the bicycle's

speed, which made the contraption

ideal for law enforcement.

These bikes became immensely

popular in England as well as

America, despite the obvious

dangers. There are many stories

of people going head first over

the front wheel or falling over

sideways and breaking bones.

Today penny-farthings would

probably be outlawed for safety

violations.

The Safety Bicycle was developed

from a desire for fewer

injuries. Up to this time, the

bike's foot pedals came off the

main wheel and they just moved

that wheel. This was part of the

danger of balancing as well as

stopping. When a drive chain going

from the pedals between the

two wheels and back to the rear

wheel was introduced, a great

moment in bicycle history was

born. Indeed, this same design is

what bikes use today.

Since this addition, bikes have

become more efficient, utilizing

more elaborate gear systems and

developing hand brakes, backward

pedal brakes and sturdier,

lighter frames.

Bikes continue to be a good

means of getting around, and

more and more cities are becoming

cognizant of including bike

lanes on roads and bike paths

for ardent cyclists. Bicycling

gives you a great workout. If you

don't feel comfortable riding a

bike around town for health, try

stationary cycling. The bicycle

continues to evolve from its

humble beginnings, offering us

options for our travel, health and

adventure.

Ask About

SAME DAY

CROWNS

and our FREE

Whitening for

LIFE Program!
---
JULY/AUG 2 0 1 4

The Right Whitening Choice for

2 7

Biking for Fitness

Safety is of primary importance for

cyclists

A gorgeous, permanent white smile

backed by a limited lifetime warranty

Before

Whitening In:

Two Dental Appointments

by Jean Jeffers, Staff Writer

Safety is of primary importance

in biking. Here are the basics of • • • • • • • • • • • • • • • • • • • • • • • •

They say once you learn to bike safety:

ride a bike, you never FREE forget LUMISMILE how. • Be ® Digital sure to check Makeover with your by LUMINEERS ®

Perhaps you were an avid bicyclist doctor before beginning this

when you were a LUMISMILE youngster. But is a digital or smile any exercise. makeover that takes about 30 minutes

now that you're Living and will Well give 50 you a preview • Wear a of good-fitting how beautiful helmet. your smile could be. Join

Plus, it might be us a good for our time Holiday to event • Use and a comfortable receive a LUMISMILE bike, fitted

to your physique. Make A Hollywood first Smile starting out. Ease into cy-

Cyclists Whitening die at a In: rate far beyond

FREE go of too charge. far too fast when you're Before careful when you're After on the road.

dust off your two-wheeler and

start cycling again.

sure the bike distributes your at an affordable cling price and make slow progress. Two their Dental numbers. Appointments In 2002, road accidents

involving bikes and riders

Regular exercise in the form

weight evenly over your back, • Drink plenty of fluids when

of biking reduces stress, say Roy butt, shoulders, arms and

• • • • • • • • you're • • • • on a long ride. Be sure were • • • responsible • • • • • • • for • • 662 deaths.

Wallach and Bill Katovsky, authors hands. Get a saddle that fits

to eat a good breakfast and On the road, make your bike

of Bike for Life: How to Ride to 100. you well; this will cut down on have a pre-ride snack. Be sure "look like a car" by riding a little

Cycling also relieves depression chaffing and pain from sitting. to drink enough after finishing to the left rather than hugging the

and anxiety. It is great for getting • Be sure to warm up before you the ride.

curb. Ride in less trafficked areas

gital ERS fit ® because , Makeover the state-of-the-art it is a low-impact by LUMINEERS in veneer activity

guaranteed that doesn't for put a lifetime. strain on Now your you as possible. Cool down after-

® ride and stretch • Whiten to be stained as limber teeth

• Always carry with you

if possible. Observe and use all

• Reshape misaligned/awkward/crooked teeth

gy

e makeover that takes about 30 minutes

identification and emergency

• Even out uneven teeth or lengthen short ones

Before

hand signals. Have lights

After

on your

confi body. dently Cycling and improves smile out health; loud with

wards and stretch again.

of • Close spaces one appointment contacts.

bike Whitening and wear-light In: colored and/

, beautiful

how

is especially

beautiful

LUMINEERS. good

your

for

smile

people

could

who

be. Join

• Wear clothes that absorb moisture;

dress in • Fix layers. chipped teeth

and a few select tools.

after dark.

• Revitalize old crowns and one bridgework beautiful • Take along smile an extra inner tube

receive a LUMISMILE FREE of charge.

Two or Dental reflective Appointments

clothing if you ride

need to lose weight and who have

arthritis or lung problems.

• Don't overreach. • Limited Don't Lifetime try Warranty to Most essential of all is to be

• • • • • • • • • • • • • • • • • • • • • • • •

After

• Whiten stained teeth

• Reshape misaligned/awkward/crooked teeth

Smile

• Even ® is

out

an

uneven

affordable,

teeth or

non-invasive

lengthen short

and

ones

ly reversible • Close spaces cosmetic removable arch that

ly and • Revitalize painlessly old give crowns you and a bridgework beautiful smile.

. No drilling. Just 2 visits. Get started now!

• Fix chipped teeth

• Limited Lifetime Warranty

A white smile for only 3 minutes a day.

• Ideal for gaps, crooked, stained or missing teeth

• A Hollywood smile without the expense and

discomfort of complex and invasive

dental procedures.

Before

Beautiful Smiles Begin Here

*Based on Approved Credit.

• Beautiful and comfortable alternative to old-

fashioned ©2011 Den-Mat removable

Missing teeth loose dentures?

® Holdings, partial LLC. World dentures Rights Reserved. and fl ippers.

• Option for patients who are not candidates for

bridges or implants.

Dr. Morgan offers not only 50 years of service, but state-of-the-art technology to

provide effective, more efficient in-office dental care.

Whitening In:

3 minutes a day

After

• Ideal for gaps, crooked, stained or missing teeth

One-hour • A Hollywood Permanent smile without Veneers the expense are not and only

discomfort of complex and invasive

le, they're convenient, minimally invasive and

dental procedures.

. You

•

don't

Beautiful

have

and

to

comfortable

put off the

alternative

smile makeover

to oldreams

any longer because of expense and

t time. • Option for patients who are not candidates for

fashioned removable partial dentures and fl ippers.

bridges or implants.

oldings, LLC. World Rights Reserved. 805369600 10/11MO

With the Conebeam 3D imaging system he can pinpoint with accuracy the precise

tooth position within the jawbone, view nerve canal and sinus walls to ensure

proper placement and restoration of implants.

• Whiten stained teeth

• Reshape misaligned/awkward/crooked teeth

• Even out uneven teeth or lengthen short ones

• Revitalize old crowns and bridgework

• Fix chipped teeth

• Limited Lifetime Warranty

Free Consultation

Call today to schedule!

Dr. Ballard Morgan, DMD

General Dentistry

You'll love your new smile this season.

859-233-7700 www.ballardmorgandmd.com

1510 Newtown Pike, Ste 201, Lexington (Griffin Gate Plaza)

You'll

love

your

new

smile.

• Whiten stained teeth
---
2 8 JULY/AUG 2 0 1 4

Travel Clinic Gets You

Ready to Go Abroad

Prepare yourself for your trip with

vaccines, medication

by Abby Malik, Staff Writer

It's hard to beat the feelings

of exhilaration that come from

traveling abroad. Beautiful places,

unique cuisines, new cultures – it

can be full of wonders. Traveling

abroad also takes a lot of preparation,

and one of the most important

things to consider is taking

care of your health before, during

and after your big trip.

UKHealthCare's Travel Clinic in

Lexington is a full-service facility

that offers personalized consultations

for people traveling abroad.

Dr. Susan Spengler, a physician at

the clinic, has several important

considerations specifically for

older adults. One of those considerations

is vaccines.

"The actual vaccines recommended

for a trip are specific

to the individual's itinerary, the

person's assessed risk of those diseases,

past immunization history

and more," Spengler said. "These

are all things we assess during a

personalized consultation at our

travel clinic."

Vaccines also have specific age

ranges, including some that are

not appropriate for seniors, and

not all clinics carry age-relevant

vaccines. In addition, some vaccines

require a series of doses, so

the clinic recommends scheduling

a travel consultation three to six

months before your trip.

Because medication use is

higher among older adults, the

clinic also recommends checking

for potential interactions with

vaccines and travel-specific medications,

such as antibiotics for selftreatment

of traveler's diarrhea.

Another consideration for older

adults is the potential risks of a

vaccine. Spengler suggests travelers

and doctors have a careful dialogue

and evaluation of a vaccine's

costs and benefits. With older

adults, there is a higher incidence

of potential serious side effects

with some vaccines.

"A final decision can include

recommending a vaccine, writing a

waiver if the vaccine is required by

the [destination] country but the

risk from the vaccine outweighs

benefits, up to and including

recommending cancellation of the

trip," Spengler said.

Older adults, who in general

may be in a higher risk category

for major medical occurrences,

should look into evacuation

insurance, especially if they are

planning a trip to a developing

country.

"Figuring out how to arrange

and pay for an evacuation in the

face of medical emergency that

can't be handled locally can be life

threatening," Spengler said.

Older adults are at a higher risk

for traveler's thrombosis – the

development of blood clots in

the legs – which can be brought

on by a combination of inactivity,

dehydration and decreased cabin

pressure during a flight. Ways to

minimize the risk might include

doing small movement activities

during a flight, wearing compression

stockings or taking aspirin or

prescription anti-clotting drugs.

The UK Travel Clinic is located

in the offices of Kentucky Clinic

South, 2400 Greatstone Point. Appointments

are available by calling

(859) 257-5150.

Medication Check List

Here are some recommendations about

traveling from Dr. Susan Spengler, a physician at

UKHealthCare's Travel Clinic.

• Leave your medication in original bottles. If possible,

pack one full set in your carry-on and one in your checked

bags. You never know when your checked bags will take a

different trip.

• Get a "medical necessity" letter from your doctor if you're

traveling with a lot of medications, unusual medical

supplies or syringes.

• Carry a list of your medications and their dosages as well

as any allergies you have. Leave a copy of the list with

someone at home.

• Carry an extra pair of prescription glasses or at least a copy

of your prescription.

• When you're in the sun and heat, stay hydrated and avoid

overheating. Wear light-colored and breathable clothing.

• To help avoid or lessen the chances of contacting traveler's

diarrhea, eat pasteurized yogurt with live acidophilus

cultures prior to and during trip. Take probiotic capsules

during the trip and carry Pepto-Bismol and Imodium for

mild-to-moderate diarrhea, or bring a doctor-prescribed

antibiotic for severe cases.

Get a "medical necessity" letter from your doctor if

you're traveling with a lot of medications, unusual

medical supplies or syringes.
---
JULY/AUG 2 0 1 4

2 9

Thanks for the

Memories

Senior writers share

stories and life

experiences

by Mary Hackworth

Are you thinking of writing your

memoir but are not sure where to

start? You may want to consider

the Seniors Writing Group, which

meets at the Lexington Senior Citizens

Center most Fridays throughout

the year.

A joint offering of the Carnegie

Center for Literacy and Learning

and the Senior Citizens Center, the

Writing Group offers participants

not only a forum for giving and

receiving feedback on their work

but – just as important – a place of

fellowship with other like-minded

seniors.

Instructor Sarah Combs says

the group is sometimes billed as a

"family stories" class but it is by no

means limited to that. Class members

frequently focus on memoirs,

but they also often experiment

with fiction, poetry and other types

of writing. In addition to life stories,

nature and the passage of time

often appear as themes.

"Their life experiences are so

rich," Combs said. "Their perspective

on things is a gold mine."

All levels of writers are welcome

in the class – newcomers and

longtime members, beginners and

experts. The group has been sharing

stories and mutual support for

nearly 20 years, having been led by

former Carnegie Center director

Jan Isenhour before Combs took

over last year. While the group is

open to up to 25 people, Combs

said about 15 members generally

attend, bringing their writing and a

readiness to respond to the work of

their fellow writers.

"The class from the beginning

has been very successful," said

Isenhour. She says the group's longevity

has generated trust that frees

its members to explore personal

themes in depth. Since participants

often write about sensitive family

matters – babies given up for adoption

and World War II experiences,

to name a few – trust creates the

openness necessary for exploring

difficult material meaningfully.

The class is structured as a

workshop in the round. Members

may ask for specific advice on the

craft of their writing, and Combs

offers what she calls "prompts"

that members are free to follow

or not. In a recent class, she asked

the group to write about their

memories of the day President

John F. Kennedy was assassinated;

other times, she suggests a word

or two to use as a starting point.

Participants usually have plenty of

their own ideas and often choose to

write about something else entirely.

Isenhour said class members are

also willing to do the hard work of

revising and shaping their material.

"They've always been an amazing

group," she said.

Combs said some people join

the class with the goal of writing

their memoirs for their grandchildren.

Others have simply been

looking for an opportunity to write.

The group is enriched by cross

culturalism; members who grew up

in other parts of the country or for

whom English is a second language

bring their own perspectives into a

lively mix of experiences.

Combs said senior writers have

some advantages when it comes

to self-expression. "They have

allowed themselves a wonderful

sense of freedom," she said. "Rules

aren't things they're worried about.

They're past worrying about what

other people think of them."

At its last 2013meeting, the

members assembled their annual

chapbook, Silver Threads, composed

entirely of their own writing.

Combs and Isenhour encourage

any senior interested in writing in

a supportive atmosphere to join

them.

"It's a place of encouragement,"

Combs said. "It doesn't carry any

intimidation."

For more information about the

Seniors Writing Group, contact the

Carnegie Center at (859) 254-

4175 or ccll1@carnegiecenterlex.

org. The Senior Citizens Center

can be reached at (859) 278-6072.

ENCORE! ENCORE!

Wesley Village is Kentucky's First CCRC (Continuing Care

Retirement Community), offering all levels of independent

living, licensed health care and memory care in a wide variety

of attractive home and apartment settings.

The Encore Centre will feature:

• Independent Living Apartments

• Garden Terrace Suites

• Indoor Warm Salt Water Exercise Pool

• Café

• Movie Theatre

• Beauty Salon and Spa

1125 Lexington Road, Wilmore, KY 40390

www.wvillage.org facebook.com/wvinfo

Susan Blankenship, Marketing Dir. 859-858-3865 ext. 227
---
3 0 JULY/AUG 2 0 1 4

TRAVEL

How to Take the Perfect

Trip with Your Grandchild

Patience and planning make traveling with

youngsters easier

by Jan Ross, Staff Writer

My 8-year-old grandson is, by

far, my favorite person to travel

with. He's easy to please as long

as some of our meals include

a milkshake from Chick-fil-A

or some fried shrimp. He can

travel for hours in the car without

complaint as long as he has some

form of electronic entertainment

or some books. He allows me to

kiss and cuddle him to my heart's

content, although just recently

these displays of affection have to

be done only when none of his

friends are around. And he is the

only one who truly appreciates the

time spent to create a sand castle

complete with shell decorations

and an elaborate moat.

Traveling with grandchildren

can be a complete joy, providing

memories for years to come.

These trips just require a little patience

and a lot of planning. Here's

how to undertake the perfect trip

with your grandchild.

• Involve the child's parents.

Even if the trip is just you and

your grandchild, the parents

will still want to be involved

from the beginning in planning.

Make sure the dates

you are thinking about will

work for them. Ask them for

suggestions about things such

as bedtime rituals and special

toys the child might need, and

check to see if there are certain

foods, etc. the parents don't

want the child to have.

• Plan a trip that everyone will

enjoy. The things you like

might not necessarily be the

things your grandchild will

want to do. Some kids may

absolutely adore art museums

and historic cathedrals, while

others will be rolling their

eyes and begging to head to

the local waterpark. Talk to

the children about where they

would like to go and what they

would like to do. They may

not always have any idea about

what they would like to do, so

be imaginative.

• Keep boredom at bay. When

kids are bored, they get whiny,

and when the kids are whiny,

the adults are not happy. If

you know you're going to be in

the car for hours, have plenty

of games, movies, books, art

supplies and whatever else you

need to keep the children content.

Buy a few little surprises

that you can take out when

boredom inevitably happens.

• Keep everyone fed. Nobody is

happy when they are hungry,

and young kids may not even

know why they are so unhappy

and irritable. Keep healthy

snacks available and plan

regular meal (and bathroom)

breaks.

• Stay in touch. Even if your

grandchild and you are very

close, they still might miss

their parents. This is the time

when you buy ice cream! Just

kidding – this is the time to let

them call home or even do a

video chat with their parents.

Don't let time slip away without

spending some special travel time

with your grandchild. Before you

know it, they will be old enough

that traveling with you is just not

cool anymore. Plan a trip now!

Don't let time slip away

without spending some

special travel time with your

grandchild.
---
JULY/AUG 2 0 1 4

3 1

How to Keep Aging Hair

Healthy

"Mature hair" needs extra care

by Jean Jeffers, Staff Writer

As we age, so does our hair.

Have you ever wondered how to

care for your "mature" hair?

"Mature hair is not a lot

different to care for than other

hair," said Judy McQueen, hairstylist

with Kenwood Dillard

Salon and Spa in Cincinnati. "It

tends to be a little dryer, and

using a moisturizing shampoo

and conditioner will counteract

that."

It is helpful, McQueen added,

if you can use an exfoliating

shampoo occasionally. Exfoliating

shampoos are a recent

development in hair care. They

remove dead skin cells that may

clog pores in the scalp. They

also condition the hair.

Here are some tips to protect

aging hair:

• Be careful when using hot

tools on your hair. When

drying, use a warm setting,

not the hot setting.

• Use a gentle shampoo and

shampoo less often.

• Avoid ponytails, tight buns

and braids or rollers.

• Get a good haircut. Go to

a stylist who knows how to

work with mature hair.

• Choose the right color.

Gray hair is often hard

to color. Be careful when

applying chemicals to the

hair, especially when adding

color at home.

• Cover your hair when you

go out in the sun.

• Get a trim regularly.

• Use conditioners to add

moisture.

• Eat well, get enough

exercise and get plenty of

rest. This is an ideal way to

promote healthy hair.

McQueen said nutrients in

the diet can aid hair. Vitamins

A, C and E, as well as zinc and

selenium, are often promoted.

She said there are different

reasons for hair loss. "You can't

stop it but you can help it," she

said. "This is where exfoliating

shampoos come in. If you

are on medications, there is

nothing else you can do. If [hair

loss] is the result of a bad perm,

you have a little recourse. You

can do something about your

hair to get it back in shape."

Thinning hair is another

problem, McQueen said.

"There are products practically

every manufacturer makes to

thicken hair," she said. "But it

doesn't thicken the hair, it just

makes the hair look thicker."

Eat well, get

enough exercise

and get plenty

of rest. This is

the best way to

promote healthy

hair.

Lexington Center for

Acupuncture,

Massage & Reiki

Acupuncture, Reiki

Treatments & Classes

CALL

859.595.2164

3175 Custer Dr. Suite 303

Lexington, KY. 40517

www.acupunctureky.com

LUCKY continued from Page 25

forth to work, while Candy stayed home with their children. He eventually

got a job at IBM and worked there until his retirement.

Kindler and his wife were some of the first residents to move into The

Willows at Citation, a Trilogy Health Services senior living health campus.

Their comfortable room holds many pieces of memorabilia from

their days together, including photos and a model of the glider Kindler

used to fly. The Kindlers enjoy living at The Willows.

"People are nice here and the food is good," Kindler said. "I have had a

beautiful life and still have a beautiful life."

He is indeed one lucky guy – lucky to have survived all he did; lucky

to have found his soul mate in Candy; and lucky to live in a caring place

like The Willows at Citation.

EXERCISE TO

RELIEVE PAIN

Are you 50 or older, struggling with Parkinsons, MS,

Osteoporosis, Stroke Heart Disease?

Sessions with Pamela Bolin, Aging Specialist

Master of Science, Kinesiology, with years of experience can help!

1 FREE

INTRO SESSION

With this ad. To schedule,

call 859-508-8827 today.

PAMSFITNESS.COM

Ultimate

Fitness,

Inc.

Pamela Bolin MS

NSCA-CPT

Aging Specialist

Kentucky's Leading

Hair Replacement

Facility

• Genetic Hair Loss

• Chemotherapy

• Alopecia

• Cosmetic Hair Replacement

Hair Institute offers several surgical and non-surgical hair

restoration options, including Virtual Reality®, full and partial

prostheses, hand-knotted wigs, and human hair extensions.

- Laser Light Hair Therapy

- Surgical Hair Restoration Options

1795 Alysheba Way Suite 7101

Lexington, Kentucky 40509

- Full Cranial Vacuum Prostheses

- Enhancements and Integrations

HAIR REPLACEMENT • HAIR RESTORATION • HAIR EXTENSIONS

Professional • Confidential • Meticulous

®

www.hairinstitutelexington.com

AMERICAN

HAIR LOSS

COUNCIL

859.263.9811
---
Assisted living.

Emphasis on living.

See how big a difference a little help

can make. We help all the Residents at

our campus stay active while enjoying

a gracious living experience. For those

needing daily assistance, we provide

four levels of care – from moderate to

comprehensive. We also offer personal

care, short-term rehab, long-term care,

skilled nursing and respite care. To learn

more, stop by or call to schedule a personal

tour today!

Now Accepting

Medicare!

Assisted Living

Personal Care

Short-Term Rehab

Long-Term Care

Skilled Nursing

Respite Care

A Trilogy Health

Services Community

859-277-0320

1376 Silver Springs Drive

Lexington, KY 40511

willowsatcitation.com