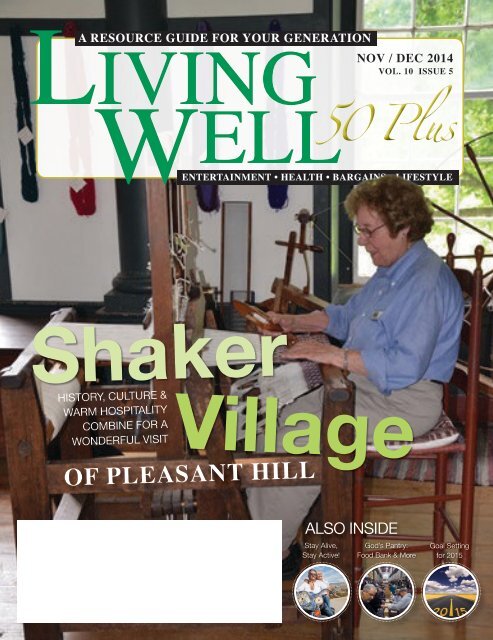 Living Well 60+ November – December 2014
You also want an ePaper? Increase the reach of your titles
YUMPU automatically turns print PDFs into web optimized ePapers that Google loves.
A RESOURCE GUIDE FOR YOUR GENERATION

Living

W ell

NOV / DEC 2014

VOL. 10 ISSUE 5

50 Plus

ENTERTAINMENT • HEALTH • BARGAINS • LIFESTYLE

Shaker

HISTORY, CULTURE &

WARM HOSPITALITY

COMBINE FOR A

WONDERFUL VISIT

Village

OF PLEASANT HILL

ALSO INSIDE

Stay Alive,

Stay Active!

God's Pantry:

Food Bank & More

Goal Setting

for 2015
---
2 NOV/DEC 2 0 1 4

SPINNING

Just one of many group fitness classes

THE workout facility you've been looking for!

Only $30 a month. No contracts.

HealthwoRx is operated by Baptist Health Lexington, but is NOT a rehab center or a clinic.

It's a full-service fitness center OPEN to the PUBLIC and staffed by exercise physiologists,

certified fitness practitioners, registered dietitians and nurse health educators.

Fun and invigorating group fitness:

Spinning • Total Strength • PiYo • Yoga • Zumba • Kettlebells

Mat Pilates • Cardio & Strength • Pilates for Athletes • Barre Fit

Prenatal Yoga • Boot Camp • Silver Sneakers ® • Qigong • Tai Chi

Happy Baby Yoga • Legion Fitness Classes

Conveniently located at The Mall at Lexington Green

161 Lexington Green Circle, Suite B2

Lexington, KY 40503

859.260.4354

www.facebook.com/HealthwoRx

Stop by

or call

for more

info!
---
NOV/DEC 2 0 1 4

3

Your new

home is

waiting just

moments

away from

downtown

Richmond,

Kentucky.

St. Andrews

Place

Retirement

Community

offer

quality

residential

homes since

1992.

St. Andrews

Place offers

a friendly,

peaceful,

serene

and secure

neighborhood

for retirees.

300 Stocker Dr

Richmond, KY 40475

(859) 625-1400

www standrewsplace www.standrewsplace.org
---
05

4 NOV/DEC 2 0 1 4

Contents

Nov/Dec 2014

Read LivingWell50+ Digital:

Bringing Art to the Public

A RESOURCE GUIDE FOR YOUR GENERATION

Living

W ell

NOV / DEC 2014

VOL. 10 ISSUE 5

50 Plus

ENTERTAINMENT • HEALTH • BARGAINS • LIFESTYLE

07

08

09

10

11

12

13

14

15

16

18

21

22

25

26

28

29

30

Acupuncture Makes a Good Point

Stay Active – Stay Alive!

Do you need a Caregiver Agreement?

God's Pantry: More than a Food Bank

Write Now – Right Now! National Novel Writing Month

Saving Your Pennies for Someday

THE MORE THINGS CHANGE

Grocery Stores

TRAVEL

Wisconsin's Hidden Treasure: Blue Harbor Resort

Goal Setting

EVENTS CALENDAR

SENIOR SERVICES DIRECTORY

Enjoy Your Back Yard in Cool Weather

Kitchen Safety Requires Attentiveness

How to Help an Alzheimer's Caregiver

FOOD DUDE

A Holiday Dinner for Just the Two of You

The Grim Fraternity

Medication Management

Managing Your Way Through the Medicare Maze

FROM THE

COVER

PAGE 24

Living Well 50+ is

a proud product of

Shaker

HISTORY, CULTURE &

WARM HOSPITALITY

COMBINE FOR A

WONDERFUL VISIT

WRITERS

STAFF WRITERS:

Donald Hoffman

Jean Jeffers

Frank Kourt

Jamie Lober

Abby Malik

Dr. Tom Miller

Lisa M. Petsche

Jan Ross

Charles Sebastian

Doris Settles

Martha Evans Sparks

GUEST WRITERS:

Max Phelps, Yards to Paradise

StableView Health

Village

OF PLEASANT HILL

STAFF

Tanya Tyler

editor/staff writer

John Brokamp

publisher

Janet Roy

director of creative services

Kim Blackburn

sales representative

John Hoffeld

sales representative

Dea Baker

sales representative

FROM THE

EDITOR

Dear Friends,

Ellen Degeneres has

something astute and funny to

say about the phrase "over the

hill" – a phrase I am sure many

of us who are Living Well 50

Plus have heard or even used.

Tanya Tyler • tanya@samplerpublications.com

"Why do they say we're over the hill?" Degeneres

asks. "I don't even know what that means and why it's

a bad thing. When I go hiking and I get over the hill,

that means I'm past the hard part and there's a snack

in my future."

Isn't it true? We're past the hard part – finding

our purpose, raising our children, seeking our

security – and now we're able to take things a little

easier. The "snacks" in our futures take myriad forms:

grandchildren, new love, opportunities to travel and

pursue hobbies and other ventures we may have put

off, including going back to school.

As we roll into the new year, be thankful that

you're over the hill, and make sure you snatch up

some snacks on the way down!

Live life like you mean it!

Tanya
---
NOV/DEC 2 0 1 4

Bringing Art to the Public

The Lexington Art League supports

artists and their work

by Charles Sebastian

There are so many gold nuggets

to be found in the Bluegrass, it is

sometimes astounding. Of great

interest to the arts community is

the Lexington Art League, which

was initially founded by a group

of local artists in 1957. While the

Art League was at first a place for

artists to go and explore craft, it

has since transformed into a group

that brings art to the public and

supports local artists in many

different ways. The group met at

different places in Lexington for

many years before it settled at the

Loudon House in historic Castlewood

Park in the 1980s. The Art

League has since maintained a

well-known presence there.

Art League Communications

Director Candace Cheney described

the organization's present

function and incarnation. "We've

kept annual membership at $50,

with special deals for families and

seniors," she said. There are many

benefits to membership. "We have

curated shows. We have experts

come in and judge pieces, and we

bring in artists from out of town to

have residences. The Giant Moon

over Triangle Park recently, that

was us; we have set up public art at

many locations over the years."

Some programs, such as Community

Supported Art, which

recently financed nine artistic

groups, help the community become

more aware of the art being

made and sold in the Bluegrass.

These groups were given income

and connections to potential collectors,

as well as the network of

other artists and patrons through

the Art League. Such actions are

essential for the survival of artists

in any community.

"We also have a partnership

with Common Good, which provides

art education for kids. This

is another program that has seen a

lot of growth and is beloved by the

community," Chaney said.

Operating partially on grants

from the Kentucky Arts Council,

LexArts and other groups, the

Art League is entrenched in the

community to keep an artistic

standard in Lexington.

"We do a lot of things to create

cash flow in the interest of the

struggling artists we represent,"

Chaney said. "We're having

our annual Black Friday Sale at

Loudon House, where all item

are $50 or less, on Dec. 5th and

6th. People love this sale because

they know they can come in and

gets steals on quality art, pottery,

and so on. We have some terrific

pieces for sale this year."

Many people may not realize

the Art League runs the

Woodland Art Fair with Parks

and Recreation. The fair, which

2 HAMBURG JOURNAL WWW.HAMBURGJOURNAL.COM

JANUARY 2O12

5

is held every summer in historic

Woodland Park, draws artists and

consumers by the thousands. "We

do booth rentals and have fun

activities going on with the vast

array of arts and goods for sale,"

Chaney said. "Lexington loves

it, which is why we've had such

longevity." Next year will mark the

fair's 40th anniversary.

More information about the

Art League and events upcoming

can be found at its Web site, www.

lexingtonartleague.org. Or you

can contact Candace Chaney or

director Stephanie Harris at (859)

254-7024.

We have set up

public art at many

locations over the

years."

—Lexington Art League

Communications Director

Candace Cheney

Senior Retirement Community

Rose Mary C. Brooks Place

Rose Mary C. Brooks Place

We're not Not almost Almost home. Home. We We are are home. Home.

NOW LEASING

Celebrating Mother's Day with

brunch and great friends

1 & 2 bedroom apartments.

Includes assistance with

activities of daily living.

Three meals a day, weekly

housekeeping, concierge

service and much more!

Our rates are competitive

and all inclusive.

Enjoying the view from the patio. The Cottages (below)

offer more independent retirement living.

Enjoy 24/7 emergency

response by our

well trained staff.

Guardian Life Alert System

is included for all

new residents at no

additional cost.

Daily care is tailored to

meet the unique needs

of individual.

NOW LEASING!

Gracious Independent & Assisted Retirement Living

Conveniently located on the Bypass in Winchester.

Only minutes from Hamburg with easy access to Interstates 64 and 75.

We invite you Only minutes For more from information Hamburg contact Linda or Rick at 859-745-4904

to come

with easy access to Interstates 64 and 75.

be a part of

Average Daily Caregiver Cost $240

our family!

Average Daily Brooks Place Cost $75

Enjoy your independence and let us do the work! We'll

take care of snow removal, mowing, trimming and will

even make sure your air fi lters are changed regularly.

Our fi fth and fi nal cul-de-sac is almost completed. Call

Assisted Living (above) available in

Studio and One-Bedroom Apartments

Conveniently located on the Bypass in Winchester.

859-737-6406

www.brooksplace.org
---
Alone I'm just a hearing aid.

But in the hands of an expert,

I'm the key to a better way of life.

AUDIOLOGY ASSOCIATES PROVIDES:

• Precise and comprehensive hearing and balance testing by a doctor of audiology

• Cutting-edge hearing devices tailored to fit your lifestyle and budget

• Painless earwax removal

• Tinnitus treatment

• Invisible and near-invisible hearing instruments

Lexington • 259 Southland Dr

Other convenient locations:

Prestonsburg • 1428 N Lake Dr

Pikeville • 5425 N Mayo Trail, Ste 201

859.963.2958

www.kyhearing.com

Dr. Robert Manning, Au.D.

Doctor of Audiology

Jake Manning, HIS

Hearing Instrument Specialist

Emma Lackey, HIS

Hearing Instrument Specialist

Dedicated to making you a patient for life.

Call today to hear what you've been missing.
---
Acupuncture Makes a

Good Point

by Abby Malik, Staff Writer

Have you ever considered trying

acupuncture to treat your sickness,

pain or stress? Perhaps instead of

reaching for an over-the-counter

remedy the next time you feel a

new or familiar ache, pain or other

problem, you might first consider

exploring acupuncture's benefits.

Kris McClanahan, M.Ac., L.Ac.,

is a licensed acupuncturist at

Artemesia, a community acupuncture

and wellness center in Lexington.

Working with colleague Kathleen

Fluhart, RN, M.Ac., L.Ac.,

McClanahan has used acupuncture

to treat an array of issues, including

insomnia, arthritis, menopause,

allergies, hypertension, cholesterol,

diabetes and more.

"My job is to really look at the

heart of what's going on," Mc-

Clanahan said. "I see people who

come here just wanting to relieve

pain."

Within the first five to 10 minutes

of an acupuncture session, a

patient can begin to feel a sense of

relaxation, and then, bit by bit, a

gradual alleviation of discomfort.

Once patients experience relief,

they want to know how acupuncture

is achieving that relief.

"The needles restore balance,"

McClanahan said. "In the body,

whenever there is pain, there's

blockage, and acupuncture releases

that blockage."

The body has roughly 425 "acupoints."

Placing fine, sterile needles

at these points activates the body's

"Qi" (pronounced "chee"). While

achieving perfect balance is impossible,

McClanahan said, acupuncture

helps individuals achieve what

she calls "relative balance."

At Artemesia, an initial visit lasts

two hours and includes talking

about the patient's health history,

current issues and concerns

and lifestyle factors, including

NOV/DEC 2 0 1 4

Ancient art reputedly cures a variety

of sicknesses

diet, sleep, exercise and potential

stressors. Another issue addressed

is the patient's potential fear of the

acupuncture needles, which are the

width of a hair.

"Acupuncture is a much more

pleasant experience than most

people think," McClanahan said.

During treatments, patients can

choose to lay on a bed or sit in a

zero-gravity chair with the option

of snuggling up with a blanket.

McClanahan plays soft, soothing

music that encourages relaxation.

For new patients, McClanahan

usually suggests a treatment plan of

several consecutive weekly visits,

and then she will plan a phase two,

if appropriate.

"We begin to work on a deeper

level of what's causing pain,"

McClanahan said. "Someone's

progress is different depending

on whatever their situation is.

This could have to do with other

chronic illnesses they have or other

medications they might be on."

Many older adults have doctors

they are comfortable with and

who are familiar with their health

and wellness history. McClanahan

works alongside doctors people are

already using.

"I like to incorporate the acupuncture

momentum to assist in

the healing process," she said.

Although acupuncture has

existed for around 3,000 years, the

Chinese medicine is just beginning

to be utilized on a wider basis.

"I think the reason it's taking so

long is that Chinese medicine is

very different from the Western approach,"

McClanahan said. "Western

medicine treats the symptoms,

while acupuncture looks at how

someone's entire environment –

including home, seasons, emotions,

diet and mentality – might

be affecting them."

A particularly timely situation

as winter looms is how the change

in seasons can affect

immune systems. Mc-

Clanahan said doing

acupuncture at certain

points on the body

can help people deal

with these seasonal

changes.

McClanahan said

acupuncture can help

relieve the stressful life

transitions that can

occur among older

adults, including caring

for family members,

new illnesses,

kids heading off to

college and career

stresses.

"I work a lot with

individuals in these

kinds of situations,"

she said. "Our ability

to recover from stressful

situations changes

depending on what kinds of stress

we're experiencing."

For McClanahan and Fluhart,

acupuncture is a lifelong pursuit.

McClanahan said she never stops

Bring in this ad for a

7

learning about the dynamic field of

medicine.

"Once you decide to do this

work, you realize that you're called

to do it," she said.

VALID FOR FIRST VISIT ONLY

complimentary POWER HOUR

boxing or kickboxing fitness workout for you and a friend.

Eight high-intensity rounds, three days a week, is all it takes to kick your workout

up a notch; to throw your life into overdrive; to take your self-esteem to new

heights. Break free of the going-nowhere workout routines and rise to a new challenge.

That's how you earn your TITLE.

171 W. Lowry Lane / Regency Centre

Lexington / KY 40503

859.26.TITLE (268.4852)

Kris McClanahan, M.Ac., L.Ac.

Photo by Thomas Miller.

TITLEBoxingClub.com
---
8 NOV/DEC 2 0 1 4

Stay Active – Stay Alive!

Get up and get out to find all the

opportunities available to you

by Donald Hoffman

For retirees, activity means life!

Once retired, we have huge blocks

of time to fill. A new stage of life is

ready to begin. What will you do?

The many hours spent working

are gone. Most likely your kids

(like mine) have moved from your

home and are busy starting their

own lives, leaving behind many

more additional empty hours. It is

how we fill our time, the design we

invent for our lives, that ultimately

Not Aging Well?

NEED FLEXIBILITY?

STRENGTH? BALANCE?

Sessions with Pamela Bolin, Aging Specialist

Master of Science, Kinesiology, with years of experience can help!

1 FREE

INTRO SESSION

With this ad. To schedule,

call 859-508-8827 today.

PAMSFITNESS.COM

defines the success or failure of

our retirement.

Perhaps you've dreamed for

years about retirement, what you

would like to do and how you will

do it. Great! You've planned your

retirement and are ready to go.

Many others, however, have no

such plan and no idea what they

will do during the 20-plus years or

more they may spend in retirement.

That is precisely why you

MUST stay active to stay vital and

alive.

Ultimate

Fitness,

Inc.

Pamela Bolin MS

NSCA-CPT

Aging Specialist

Many people pursue hobbies

and other interests around the

house and in the yard. While there

is a lot you can do around the

house to keep your mind and spirit

active and involved, it is better

to first focus on activities outside

the home. Perhaps the worst thing

you can let happen is to allow

yourself to become homebound

and isolated from friends and the

community as a whole.

Get up and get out of the

house. Join clubs, attend senior

center functions, get to know

people any way you can (in a

safe, clean and orderly way, of

course). Reacquaint yourself with

church groups and civic clubs and

educational functions. Most of all,

meet new friends. Become aware

of what is going on in the world

around you and get involved. The

more you mix with people, the

greater the benefits will be.

Vary your activities. Trying

new activities keeps your curiosity

involved and in turn increases

brain activity, decision making

and creativity. Keeping busy is

a goal in itself, but life must still

have meaning. Begin by carefully

choosing areas you have always

wanted to explore.

For example, let's say you're

interested in quilting and actively

quilt at home. Why not contact

your local county extension or

homemaker agent to find a quilting

club to join? If they don't

know of an active club, they will

tell you who to call. Men, if you

are into model trains or cars, there

is sure to be an active club for

you to join. Want to draw paint or

try sculpture? Look to your local

Arts League (see the story about

the Lexington Art League in this

issue). The Art League is likely

able to open doorways for you to

explore. Want to sing or learn to

act? There are bound to be local

theatre groups or choruses for you

to join.

And let's not forget exercise.

Classes designed specifically for

seniors, such as Silver Sneakers,

are readily available for you to

explore. The connections are there

– all you need to do is explore the

opportunities available within

your community.

Don't forget the extraordinary

satisfaction you can receive from

the simple act of volunteering.

Opportunities abound to work

with children and adults in need

and with community organizations

to help them reach their

goal. Keeping up with medical

advances by taking local classes at

a local hospital or through adult

education, a recreation program or

senior center, college or university

will broaden your experiences and

help you meet people with similar

interests.

There is an important spiritual

side to cultivate as well, since

many studies show people of

advancing age have shown a need

to become reinvolved with the religion

of their choice as they draw

closer to the end of life.

No one can do this for you. It

is up to you to motivate yourself.

Believe me, self-motivation is

difficult to generate but once it's

initiated, it's well worth the effort.
---
y Martha Evans Sparks,

Staff Writer

As we age, it is all but inevitable

we will eventually need help with

daily tasks of living. We may even

need to hire a caregiver to assist us.

Lexington lawyer Carolyn L. Kenton,

who specializes in elder law,

believes a formal, legal caregiver

agreement is a good idea for almost

everybody, whether you are alone

or have numerous family members

willing to help you when you can

no longer care for yourself.

You might already have a will and

a power of attorney giving a trusted

person power to act for you if you

become incapacitated. You might

have a living will outlining the kind

of end-of-life care you prefer. So

why do you need another piece of

paper? What is a caregiver agreement?

A caregiver agreement is in effect

a contract. It sets forth definite duties

for a named caregiver, including

things such as arranging doctor

appointments and taking the care

receiver to them; paying bills; and

managing the checkbook. In case

the care receiver must be admitted

to a nursing home, the caregiver

might make frequent – often daily –

visits to be sure there are no signs of

abuse and the care receiver's clothes

and laundry are properly cared for.

The caregiver agreement spells out

specifically how much the caregiver

will be paid for performing each

service.

Kenton, whose law firm is Bluegrass

Elderlaw, says as the population

ages, lawyers are drawing up

more and more of these documents.

A formal caregiver agreement

between an elderly disabled

patient and a child, a grandchild,

other relative or a trusted friend if

the elderly person has no family

not only assures the elderly person

of needed personal care. Such a

NOV/DEC 2 0 1 4

Do You Need a Caregiver

Agreement?

Planning ahead can make health-care

decisions easier

document is most necessary if the

care receiver should outlive his or

her money and find it necessary to

apply to Medicaid for support. Under

current law, Medicaid requires

family members to return money

Lexington lawyer Carolyn L. Kenton

informally paid to them and use the

money to pay a nursing home. Only

THE

cern now

YEAR

is transfers at death.

WAS

The

Grandma has one foot in the nursing

home and the other foot on the

when that money is gone will Medicaid

kick in. But if the payments

1985…

death tax does not begin until $5

million Ronald at federal Reagan level. was Each the state 40th banana president. peel."

were made under a written, arm's-

"The Golden Girls" has a different were fast law. becoming In Kentucky,

She has a six-word mantra that

friends on their first season on TV.

A if gallon you are of leaving gas cost assets one to your

summarizes the reason caregiver

dollar and twenty cents.

length employment agreement

prepared by a lawyer (sometimes

called a personal-care contract),

you have a much better chance the

And Kenton said.

The Lafayette

opened

its doors.

law will allow it. To help you deal

with Medicaid, the contract must

spell out services very carefully.

"If you wash Mom's clothes, you

have to assign a value to that in

order for you to [have] a contract

that holds up with Medicaid.

They want to be sure they protect

the public purse. They do that by

letting it be known that they are

not particularly generous," said

Kenton.

The pay rate should be in line

with pay rates in your area. Medicaid

officials do not look kindly

on using a caregiver agreement as

a way to transfer a large amount of

money to another person in an attempt

to lower the size of an estate.

A formal caregiver agreement

might minimize family fights. If

the care receiver informally pays

a family caregiver for his or her

time, other family members may

object. Siblings may demand their

parents leave all the children equal

shares of any inheritance. A legal

agreement compensating a family

member for hours of unpaid work

may help other family members

realize caregiving is real work. It's

not just visiting Grandma for a

few minutes now and then at your

convenience.

Pet

However, Kenton Pet

Friendly says, the

Friendly

overriding necessity of a formal

caregiver agreement is that it

provides documentation for future

applications with Medicaid. She

says the most important thing is to

seek the advice of people who are

knowledgeable. "The earlier you

seek professional advice about the

rules and regulations that control

nursing homes and financial needs

of end of life, the better off you are,"

she said. "Medicaid is not going

to give people advice on how to

arrange their needs. If [someone]

wants to wisely organize the family

finances, they ought to talk to a

knowledgeable professional."

This is not necessarily the

accountant or the lawyer. The con-

children, there is no inheritance

tax, no matter the size of the estate,

Kenton says just because you do

not have $5 million does not mean

you should not plan. "The need [is]

knowledge, information," she said.

"Most people don't think of it until

THE YEAR THE WAS YEAR 1985… WAS 1985…

Ronald Reagan was the 40th Ronald president. Reagan was the 40th president.

"The Golden Girls" were fast "The becoming Golden friends Girls" were on their fast first becoming season on friends TV. on their first season on TV.

5 STAR QUALITY FOR OVER 29 YEARS!

A gallon of gas cost one dollar A gallon and of twenty gas cost cents. one dollar and twenty cents.

And And

The Lafayette The Lafayette

opened opened

its doors. its doors.

Join us for

THE LAFAYETTE'S

Enjoy CARE-FREE

28TH ANNIVERSARY CELEBRATION

Thursday, May Join us for 9th • 4:00-7:00 EVERY DAY!

Join us for pm

Dinner THE 4:30-7:00pm LAFAYETTE'S THE with Violinist LAFAYETTE'S Bryce Farrar

28TH ANNIVERSARY Carriage 28TH Rides by ANNIVERSARY Lexington CELEBRATION

Livery 5:00-7:00pm CELEBRATION

Thursday, May Dixieland Thursday, 9th • 4:00-7:00 Band May 5:30-7:30pm 9th • 4:00-7:00 pm

Kindly RSVP to 859-278-9080 by May 6th – Seating is limited

690 Mason Headley Road • Lexington, KY 40504

activities,

690 Mason Headley Road • Lexington, 690 Mason KY 40504 Headley Road • Lexington, KY 40504

859-278-9080

Offering Independent Living, Personal Care, Skilled Nursing Care

9

agreements are a good idea: "Prior

proper planning prevents poor

performance."

Kenton is available to speak to

your club or other group about

these issues. She may be reached

at her office, 120 North Mill St,

Lexington, KY 40507 or call her at

(859) 281-0048.

Retirement Living

Dinner 4:30-7:00pm with Dinner Violinist 4:30-7:00pm Bryce Farrarwith Violinist Bryce Farrar

Carriage Rides by Lexington Carriage Livery Rides 5:00-7:00pm by Lexington Livery 5:00-7:00pm

Dixieland Band 5:30-7:30pm Dixieland Band 5:30-7:30pm Chef-prepared

dining,

Kindly RSVP to 859-278-9080 Kindly RSVP by to May 859-278-9080 6th – Seating by is May limited 6th – Seating is limited

worry-free

housekeeping,

limo service,

scheduled

cocktail lounge,

859-278-9080

www.LafayetteLexington.com

www.LafayetteLexington.com

859-278-9080

library and

www.LafayetteLexington.com

Pet

Friendly

©2013 Five Star Quality Care, ©2013 Inc. Five Star Quality Care, ©2013 Inc.

more!

Five Star Quality Care, Inc.

ASK ABOUT OUR OUR ANNIVERSARY ASK ANNIVERSARY ABOUT OUR MOVE-IN ANNIVERSARY SPECIALS! MOVE-IN MOVE-IN SPECIALS!
---
1 0 NOV/DEC 2 0 1 4

God's Pantry:

More Than a Food Bank

Organization also supplies food to

member agencies

by Martha Evans

Sparks, Staff

Writer

God's Pantry

Food Bank is a link

between the people who have food

and organizations that are actually

feeding hungry people. In a recent

year, God's Pantry Food Bank

distributed 26 million pounds of

food in its 50-county Central and

Eastern Kentucky service area. Last

year 16,000 volunteers donated

almost 50,000 hours to make it

happen.

God's Pantry Food Bank distributes

food directly from four

locations in Lexington each week

and serves about 2,000 families a

month. It has food storage warehouses

in Lexington, Winchester,

London, and Prestonsburg. Current

plans are to open a Morehead

warehouse early in 2015. By far its

biggest service is supplying food to

its 400 nonprofit food bank member

agencies. These are the soup

kitchens, senior centers, daycare

facilities, shelters for low-income

youth and other agencies to which

the hungry turn for help.

Marian F. Guinn, God's Pantry

Food Bank CEO, says the Thanksgiving

program is the largest in

Fayette County. God's Pantry

Food Bank expects to distribute

the makings for a Thanksgiving

meal to 450 to 500 households in

2014. "Each gift includes a turkey

and some fresh produce, along

with a box of grocery items like

fruit gelatin, gravy, and everything

needed to create a Thanksgiving

meal." Guinn said. "Our feeling is

this truly American holiday meal

should be celebrated in your own

home with people you care about.

Our intention is to provide all the

grocery items people need to create

that meal."

For $40, you can sponsor one

Thanksgiving celebration for a

family. God's Pantry Food Bank

donors get "a big bang for their

buck," Guinn says. "A $10 donation

turns into $100 worth of

food because of the way we source

food," she said. "The vast majority

[of our food] comes from growers

and producers. One-third is fresh

produce. One-third comes from

the U.S. government and the other

third comes from food producers

like ConAgra, Kraft, and others.

Kroger is an important partner."

God's Pantry Food Bank also

gets food from drives sponsored by

churches, schools and other organizations.

Guinn says

successful food drives

are those located

at grocery stores.

Presumably this is

because people see

the food drive box

and donate food

where they have

purchased it. "It

is a never-ending

task. We are

constantly working

to source more food," she

said.

God's Pantry Food Bank's

annual budget is $5.3 million

this year. The recent

downturn in the economy

had a surprising effect on the

organization. "During the recession,

people were perhaps

even more vividly aware of

need," Guinn said. "Certainly

we had donors who were

impacted. We continued to

see funds donated to our

organization increase, which

was wonderful because the

need increased."

God's Pantry Food Bank

the most

Mim Hunt

began in 1955 when a concerned

Lexingtonian, Mim Hunt, began

distributing food out of the basement

of her home and the trunk

of her car. It now serves more than

195,000 individuals annually in

its service area, impacting about

75 percent of the people in need.

Guinn says some 252,000 persons

are "food insecure," noting that

senior citizens and children are disproportionately

affected by hunger.

"We are working hard to bridge

the gap and meet the needs of the

other 25 percent," she said.

Volunteer opportunities at God's

Pantry Food Bank's Lexington

warehouse are available on Tuesday

and Thursday evenings and all

day on Saturday, but you do need

to register for a shift by going to

the Website, www.godspantryfoodbank.org.

To donate, make checks payable

to God's Pantry Food Bank. The

main office is at 1685 Jaggie Fox

Way, Lexington, KY 40511. For

more information, call (859) 255-

6592.

In a recent year, God's

Pantry Food Bank

distributed 26

million pounds

of food in its

50-county Central

and Eastern

Kentucky service

area.

Marian F. Guinn, God's Pantry Food

Bank CEO
---
Write Now – Right Now!

National Novel Writing Month

challenges aspiring writers

by Abby Malik, Staff Writer

This November marks the 15th

anniversary of National Novel

Writing Month (NaNoWriMo).

Since 1999, more than 250

NaNoWriMo novels have gone

on to be published. Last year,

310,000 individuals completed a

novel.

The goal is to begin and complete

a 50,000-word novel in 30

days. In addition to online support

groups and tools to help writers

on their month-long journeys, arguably

the most important aspects

of NaNoWriMo are the local inperson

writing groups and events.

The Lexington-area group, led by

Jessica Bailey, has an active online

and in-person presence.

"If you've ever thought about

NOV/DEC 2 0 1 4

writing a novel 'someday,' this

November would be a great time

to do it," Bailey said.

The benefits of participating in

the Lexington group are numerous.

"The reason we get together

during the month of November

is to act as a support system for

each other," Bailey said. "We've

all taken on a pretty crazy goal,

which is to write a novel in 30

days. Participants often find that

the motivation and support coming

from other people in the same

boat is invaluable."

Bailey says for a lot of people,

NaNoWriMo is their Mount Everest.

"You wouldn't climb Everest

alone, right? You need some

people who've seen the view from

the top, who know the shortcuts

and how to pack their equipment,"

Bailey said.

One of the best parts about

NaNoWriMo is the inclusive

nature of its participants, Bailey

says. In the Lexington group, writers

include whole families, college

students, professionals, retirees,

high school students and more.

"We have people of all experience

levels, all ages, rich and notso-rich

and writers of all genres,"

Bailey said. "I urge people to come

to an event. Everyone is welcome,

and everyone finds writing buddies."

While every writer's goal is to

"cross the finish line" by penning

50,000 words in 30 days, Bailey

says those who don't get to 50,000

words have still accomplished

something amazing.

"They've decided their ideas

and their words are important.

They've set aside time for a

creative pursuit. They've made

something that didn't exist before.

That's amazing," Bailey said.

"Every writer is cheered for in

Lexington. That's the beauty of

1 1

this community, and the reason I

come back year after year."

Some individuals who are

involved in NaNoWriMo use the

month to add 50,000 words to

a project they've already begun.

NaNoWriMo calls this being a

"NaNo rebel."

"In Lexington, we consider any

writing done during November

a win," Bailey said. "So work on

what makes you happy."

The Lexington group has many

writing events planned throughout

November. The group's Web

page, which contains a calendar

of events, is available at www.

nanowrimo.org/regions/usakentucky-lexington.

While Bailey

encourages writers to come to any

and all scheduled write-ins, she

especially recommends this year's

events at Morris Book Shop and

West Sixth Brewery.

"These are new events for us, so

it will be an adventure for everyone,"

she said.

Another benefit of joining the

WRITE Continued on Page 31

L

IBERTYR

Senior Living Community

IDGE

A Non-Profit Faith-Based Community

WE OFFER:

• Assisted Living Apartments

• Memory Care Apartments

• Independent Living Garden Homes

859.543.9449

www.libertyridge.com

Come stay with us for the winter!

CALL TODAY TO SCHEDULE

A COMPLIMENTARY LUNCH AND TOUR.

LOCATED IN LEXINGTON NEAR HAMBURG PLACE | 701 Liberty Ridge Lane Lexington Ky 40509
---
1 2 NOV/DEC 2 0 1 4

Saving Your Pennies for

Someday

Wealth management helps your nest

egg enhance your life

by Doris Settles, Staff Writer

According to Investopedia.

com, the accurate definition of

wealth management is "a strategy

that encompasses all parts of an

individual's financial life: financial

planning, investment strategy, tax

strategy and legal/estate planning

strategy."

In other words, the goal is to

use your nest egg to enhance

your life. "A wealth management

advisor should identify seven life

priorities: health, family, home,

work, giving, leisure and finances,"

said Mollie Brennan, vice

president and wealth manager at

Merrill Lynch in Lexington. She

wraps a "goals-based" wealthmanagement

process around

these priorities in a way that

allows you to accomplish things

in your life that mean the most to

you.

"True wealth is about much

more than money. It's about

achieving life," said Brennan.

Savvy investors make it a point

to construct intricate structural

changes that ensure their assets

are spread across different sectors.

They calibrate various means

and techniques to multiply their

assets by cashing in on specific

True wealth is about

much more than

money. It's about

achieving life."

new investment opportunities,

something that actually

defines wealth management

division.

Here are five basic tips for

managing your wealth at

any age:

• Be Your Own Pension.

We've

moved

from defined

benefit

plans,

where you

didn't have

to think

about

creating an

income for

yourself

past your

working

years, to

creating

your own financial income security.

It's not about the account

balance; it's about assets, liabilities

and growth.

• Get Paid What You're Worth

and Spend Less Than You Make.

Getting paid even $1,000 a year

has a cumulative effect. But no

matter what you're paid, you'll

never get ahead if you spend

more than you earn. Often it's

easier

to spend

less than

to earn

more, so a

little costcutting

in a

number of

areas can

result in big

savings.

• Be

Prepared

to Change.

As the markets change, as your

goals change, as you age, your

asset allocations will also need

to change. In order to stay up

with tax management, asset

management, estate transfer and

investment strategy, talk to a

good wealth manager, not just an

investment planner.

• Make Your Investments Pay.

It is important to have an income

—Mollie Brennan, vice president

and wealth manager at Merrill

Lynch, Lexington

once

you retire while preserving

your principal. Your investment

strategy should create an income

that you can live on.

• Get Your Estate Documents

In Order. Without a will, how

are you going to transfer wealth?

Who's going to take care of your

kids? Who's going to make sure

everything is done according

to your wishes? Do you have a

health-care proxy? These are all

wealth management issues, not

investment issues. But they have

huge ramifications for whatever

money you amass during your

lifetime.

To put it simply: The goal of

wealth management is to have

your money outlive you as you

continue to enjoy your life in the

way you want.
---
The More Things

Change

Grocery Stores

Service is still the No. 1 priority

NOV/DEC 2 0 1 4

1 3

by Charles Sebastian, Staff Writer

To compare service in stores

today to service 50 years ago

may be unfair. People remember

things differently and unconscious

embellishments are made on

memories upon recall. There are

many industries and businesses

today that still see service as their

No. 1 priority, and these entities

have a greater chance of surviving

in a world that continues to

grow economically tougher daily.

Grocery stores are a fine example

of how service can affect sales and

bottom line.

In Lexington in the 1970s, there

were only a handful of grocery

stores: Kroger, Randall's, CSC,

Foodtown and a few others. They

were always heavily competitive

and the checkout lanes numbered

in the single digits. The stores

were small enough that if you

needed to find a clerk or manager

for help, you could whisper and

they would come running. There

was always a live person at the

checkout, which was nice; after a

long day of work or dealing with

kids while you were shopping, you

didn't feel like checking yourself

out. Of course, in those days selfcheckout

lanes had not even been

invented.

Service was key and it was

personal service, the kind where

people talked to each other, asked

about Aunt Mabel, and you had a

nice warm feeling after the interaction.

Then many of the stores went

out of business. Kroger for a time

was a lone survivor, but Wal-

Mart added foodstuff to its menu

and Meijer became a presence.

The German company, Aldi, has

recently come to Lexington.

Fifty years ago, even if the

technology had availed itself, it's

doubtful a grocery-store manager

would make patrons check themselves

out. This is tantamount to a

restaurant having every customer

run to the kitchen and to grab

their own food. The good news is

we are living in a city where there

are a lot of stores from which

to choose. If service is poor in

one store, we will quickly go to

another where the service is quick

and easy, just the way most shoppers

like it.

Grocery stores are

a fine example of

how service can

affect sales and

bottom line.

P

ILATES

PLACE

PILATES

PLACE

Pilates is designed

to strengthen the

body's core muscles

through low-impact

fitness techniques.

All sessions taught by

Stott Pilates trained

health professionals.

859-266-3810

365 Duke Rd.

Lexingtotn

studio@pilatesplaceky.com

follow us on:

ARE YOU DISABLED?

HAVE YOU APPLIED FOR SOCIAL SECURITY DISABILITY?

ARE YOU CAUGHT UP IN RED TAPE?

An experienced Social Security Claims Advocate can help you:

• By assisting you in filing your initial application.

• Filling out and filing your appeals.

• Gather medical and other important information to submit to Social Security.

• Contact your doctors to obtain a report of your medical condition.

• By obtaining documents from your Social Security file and review them.

• By presenting opening and closing statements at your hearing that

will state how you meet the Social Security listing of being disabled.

Eastland Shopping Center 1020 Industry Rd. Ste 10 Lexington, KY 40505

859-253-0012 Mon 9-7, Tues-Sat 9-6

For a FREE CONSULTATION of your claim call

Patsy R. Hughes, Disability Claims Advocate,

1-859-263-7780.

NO FEE IS PAID UNLESS YOU WIN
---
1 4 NOV/DEC 2 0 1 4

TRAVEL

Wisconsin's Hidden

Treasure

Swim, eat, relax at

Blue Harbor Resort

by Jan Ross,

Staff Writer

Imagine taking an

astonishingly beautiful

and large New

England inn, plunking it down in

the most unlikely place on the planet

– Sheboygan, Wisconsin – and

adding in the fact that it is it right on

the shores of Lake Michigan. If you

can, you have just imagined the Blue

Harbor Resort, which is not at all

imaginary and is actually a wonderful

place to visit.

Probably the most fabulous amenity

at the resort for families and

the one that our grandson enjoyed

the most is the 43,000-square-foot

indoor, year-round Breaker Bay

Water Park. Four stories tall, filled

with water slides and a lazy river,

it's the perfect place for kids of all

ages. In addition, there is a very nice

outdoor pool when you feel like

enjoying the warm sun and lake

view. The park has private cabanas

equipped with comfy furniture, a

stocked fridge – and a TV.

But the amenity the adults in your

family would enjoy most (I certainly

did) would probably be the small

boutique Reflections Spa. The

resort is expanding the spa into a

new, full-service experience that will

open in November 2014. A relaxing

massage is wonderful after enjoying

the water park, but the spa also offers

other body treatments as well as

manicures, pedicures, and facials.

With several choices for dining,

you won't go hungry at the Blue

Harbor Resort. We had a wonderful

dinner at Latitude 43, which specializes

in a variety of fresh seafood.

The amazing view of the lake might

make you forget to take that next

bite. Beacon offers more casual dining

on an elevated patio, which also

has a beautiful view of the lake.

The activities, relaxation and food

at Blue Harbor Resort are wonderful,

but where

you lay your head

at night is equally

important on a

getaway. The resort offers a dizzying

array of choices with 182 guest

suites and 64 fully equipped condos

that include two- and four-bedroom

villas with full kitchens – perfect

for families. We really enjoyed our

Loft Fireplace Lake View suite,

which had a living room, bedroom

and full bath on the first level and

a bedroom and half bath in the loft

area. The view of the lake from the

balcony may tempt you to stay in

your suite for your entire visit.

But force yourself to leave your

suite because the resort has a lot to

offer. In addition to everything already

mentioned, strolling along the

lakefront is something you should

definitely build into your itinerary.

Lake Michigan is awe inspiring, and

it's hard to believe this enormous

body of water stretching beyond the

horizon

is just a lake. We experienced gorgeous

sunny days on our summer

visit as well as some cool, foggy

mornings. We enjoyed both right

on the shore of one of the most

magnificent lakes in the world.

Blue Harbor Resort is

not at all imaginary and

is actually a wonderful

place to visit.
---
NOV/DEC 2 0 1 4

1 5

You will miss 100 percent of

the shots you never take."

—Wayne Gretsky

Goal Setting

Start thinking of what you want to

accomplish in 2015

more steady manner.

Don't stress if you don't achieve

your goals by the date you set.

This is another a reason people

avoid goals: having to deal with

the disappointed feeling of not

making a deadline. The flexible

mind knows you reset the deadline

and go on, thereby keeping

your achievements moving forward.

Missing a deadline is not a

reason to get stuck or discouraged.

Finally, realize if you do not

reach out to goals, they will come

to you. A ship at sea without

a compass, without charts is

drifting. Sooner or later, the ship

will probably happen into some

destination (if it doesn't capsize

first), and it may or may not be a

destination the ship's crew wanted.

Goals allow us to keep the ship on

course, to know where we are and

where we're going at all times and

to achieve the original intent of

getting there.

by Charles Sebastian, Staff Writer

"You will miss 100 percent of

the shots you never take," says

Wayne Gretsky, perhaps the bestknown

hockey player in history.

During his 20-season career,

Gretsky broke 61 records, and he

still holds the one for the most

points scored. Gretsky dreamed

from a young age about conquering

the National Hockey League

and becoming a star player. Then

he went about doing everything

necessary to accomplish that goal

– and to make a lot of goals.

While setting clear goals can at

times be daunting, the alternative

is to drift. If you do so, you will

not experience growth and you

will not have a standard by which

to gauge progress toward your

goals.

Some goals are simple: I want

to lose 20 pounds. I want a red

Mustang. I want to graduate from

college. While goals such as these

obviously require some modicum

of work and planning, others goals

are more elusive. For instance,

many students enter college with

the express purpose of getting

a degree because someone told

them they needed to, but then

they discover they're not really

interested in the subject they've

chosen for their major. Longer

years and larger dollars are spent

on these indecisive moments.

Sometimes you finally reach the

half-hearted goal and realize it was

not what you wanted. Then you

have to start all over again.

Working from Aristotle's observation

that "Purpose can cause

action," Edwin A. Locke applied

scientific study to goals in the

1960s. Locke showed the causal

link between goal-setting and

increased performance. Today,

major corporations have goal-setting

sessions with their employees.

Group goals are set for teams all

over the world, and goals are made

individually daily.

Writing down goals is a common

way to commit to them.

Once something is written, it

sinks in more deeply; the subconscious

chews on its content in a

Quaint Sophistication...

Retirement Living

at its Finest!

3310 Tates Creek Rd.,

Lexington, KY 40502

(Across from Lansdowne Shoppes)

• INDEPENDENT LIVING AND LICENSED PERSONAL CARE

APARTMENT HOMES

• SUPERIOR SERVICES AND AMENTITIES

• MADE FROM SCRATCH KENTUCKY PROUD DINING

• DAILY TRANSPORTATION SERVICES

• BRIMMING SOCIAL CALENDAR

• SAFETY, SECURITY, AND PEACE OF MIND

Come Explore The Next Chapter in Your Life!

(859) 266-2129

www.mayfairseniors.com
---
1 6 NOV/DEC 2 0 1 4

Events

Calendar

NOV. 2014 DEC. 2014

Sun Mon Tue Wed Thu Fri Sat

1 1 2 3 4 5 6

2 3 4 5 6 7 8 7 8 9 10 11 12 13

9 10 11 12 13 14 15 14 15 16 17 18 19 20

16 17 18 19 20 21 22 21 22 23 24 25 26 27

23 24 25 26 27 28 29 28 29 30 31

30

Send us your event listings

List your event for FREE if it's free to the public*.

E-mail your event information to graphics@samplerpublications.com

(*$35 fee for events that are not free to the public)

Ongoing

Yoga Health & Therapy

Center Classes

Our Yoga Classes feature slow

stretch with gentle breathing,

and relaxation techniques.

Class size is small, to provide

careful instruction. Yoga classes

are offered Mon through Thurs

(daytime and evening), and Sat

mornings. Our Meditation Starter

Course teaches simple ways

to focus and quiet the mind;

5-week sessions are offered on

Sundays at 5:30 pm. A nonprofit

organization operating

since 1981, The Yoga Health &

Therapy Center is located at 322

W. 2nd St. Free private parking

is provided for most classes. For

more information on fees and

scheduled dates and times, call

us at 859-254-9529, or email us

at info@yogahealthcenter.org

Sun Mon Tue Wed Thu Fri Sat

Reiki Introduction &

Practice

6:30pm- 8:30pm, 4th Tuesday

each month. 1403 E. Breckinridge

Street, Louisville, KY. Free.

Those who do have not Reiki

training—come for an introduction

& to experience it. No experience

required. Those with Reiki come

to practice on others & receive

the Reiki energy. Everyone will

get 15 -20 minute Reiki treatment.

Free reattunement to your last

level of Usui or Karuna Reiki® if

you have your certificate. Contact

JoAnn Utley at 502-777-3865

or jutley5122@bellsouth.net to

register. More info at http://

joannutley.byregion.net

Sit and Get Fit

Mondays and Fridays, 9:30am-

10:30am. FREE! This event is

a seated controlled exercise/

movement class to improve

strength, flexibility, balance

and coordination. It is taught

by Anne Graff, MS, OTR/L,

Occupational Therapist certified

by the American Senior Fitness

Association as a Senior Fitness

Instructor and trained in Body

Recall. Also included are: Fall

Prevention and Recovery, Fun

Movements to Strengthen

Body and Mind, Improve

Posture and Core Conditioning,

Wellness Education, Relaxation

Techniques, and Music.

The Charles Young Center is

located at 540 E. Third Street.

Parking is available on Shropshire

Avenue or Lewis Street,

Lexington, KY. Ages 60 and older.

For more information, please

contact Alexis Edge at 859-246-

0281 or aedge@lexingtonky.gov.

Wellness Wednesday

On the first Wednesday of the

month, all Good Foods Market

and Café customers will receive

5% off all supplements, body

care, and bulk herb & spice

items. Customers can special

order Wellness Wednesday items

ahead of time and pick them up

on Wellness Wednesday. When:

Wednesday, July 3, 8 am – 10

pm. held at Good Foods Market

& Café, 455 Southland Drive.

Ric's Garden, the

public cutting garden

at Ashland Terrace,

475 S. Ashland

Avenue, is open for

business

This year Lexington's oldest

retirement community offers

alstroemeria, iris, ageratum,

gooseneck loosestrife, goldenrod,

purple coneflowers, Joe Pye

weed, lisianthus, snapdragons,

zinnias, salvia, black-eyed susans

and marigolds. The following

varieties of herbs are available:

oregano, nasturtium, rosemary,

lemon grass,

sweet marjoram,

lemon thyme, basil,

parsley, fennel,

Italian parsley,

sorrel, garlic

chives, mint, winter savory, lemon

verbena, dill, French tarragon

and sage. Large blooms are .50,

small blooms are .25. Herbs

are .25 a small bunch. Roses

and vegetables are reserved for

residents only. The donation box

and scissors are located at the

start of the main garden walkway;

water and containers are available

near the shed. Don't miss the

smaller cutting garden behind

the shed. All proceeds are used

to maintain the garden and feed

the critters. Call Kelly or Michelle

at 266-2581 for additional

information.

Swing Lessons

Tuesdays, starting September 30,

2014. From 8pm–10pm at Tates

Creek Recreation Center, 1400

Gainesway Dr. $5 per person per

lesson. Call for more information:

Glenn and Rosalee Kelley 859-

233-9947 or Peter and Robin

Young 859-224-3388.

November 18

Eat, Move, Lose

Weight

Support Group

12 – 1 pm, Lexington-Fayette

Co. Health Department PH Clinic

South, 2433 Regency Road.

Free weight-loss support group

appropriate for anyone wishing

to lose weight or maintain weight

loss. Share struggles and ideas

with others. Held first and third

Tuesdays most months. For more

information or to pre-register, call

288-2446.
---
Nature lovers, hikers, cliff climbers

RENT THIS CABIN

Near Natural Bridge State Park and

Red River Gorge.

Call or visit website for reservations.

Ken & Sheila Brown

www.VRBO.com/361686

(606) 668-2599

(606) 643-6044

ksbrown@mrtc.com

November 18

Health Chats about

Diabetes

5-6 pm, Nathaniel Mission, 1009

Versailles Rd, Suite 400. Free.

Sponsored by the Lexington-

Fayette Co. Health Dept.. For

more information, call (859) 288-

2446.

November 20

Southern Lights

Stroll/5K Run

The night before the Southern

Lights at the Kentucky Horse

Park opens to the public,

participants will run, walk or stroll

three miles along light displays.

Back at the Visitor Center, awards

and door prizes await. Call (859)

255-5727 or (859) 259-4280 for

information.

Nov 21–Dec 31

Southern Lights

Enjoy Kentucky's largest lights

festival! The Kentucky Horse Park

is home to tens of thousands of

shimmering lights on a fourmile

route. Drive through to

take part in this time honored

tradition among Lexington locals.

Nightly from 5:30pm–10:00pm.

CLASSES OFFERED:

• Yoga for Golfres, TM

• Beginners and Basic Yoga

• Yin and Restorative Yoga

• Gentle Yoga and Restorative Yoga

for Cancer

• Chair Yoga for Recovery

• Heated (80-85) Degree Slow Flow Yoga

Class Schedule at

agelessyogastudio.com

NOV/DEC 2 0 1 4

Admission is $15 per car ($20 on

Fridays and Saturdays), $30 per

extended van, $50 per mini-bus,

$75 per school bus and $125 per

motorcoach. (859) 255-5727.

November 24

Health Chats about

Diabetes

10 – 11 am, The Refuge Clinic,

525 Corral Street, Lexington.

Free. Join us to discuss tips to

manage and control diabetes

in practical ways. For more

information, call 288-2446.

Sponsored by the Lexington-

Fayette Co. Health Dept.

November 24

StableView Health

"ABC + D of Medicare"

So you're turning 65 and it's

time to enroll in Medicare. A

new and potentially confusing

form of health coverage you

may know nothing about. Sound

overwhelming? It doesn't have

to be. You just need the right

partner. StableView Health is a

not-for-profit, locally based health

plan for Medicare beneficiaries

with an emphasis on the

physician-patient relationship,

access and personal customer

service. 10am or 2pm at The

Thoroughbred Center, 3380 Paris

Pike, Lexington, KY 40511. Call

859-293-1853 for details.

November 25

Reiki Introduction &

Practice

6:30pm- 8:30pm. 2508

Wallace Avenue, Louisville, KY

40205. Free. Those who do

have not Reiki training—come for

an introduction & to experience it.

No experience required. Those

with Reiki come to receive

the Reiki energy & practice on

others. Free reattunement to

your last level of Usui or Karuna

• Private 1-on-1 Yoga Sessions

• Reiki Sessions

New Student Introductory Offer:

30 days for $30

UNLIMITED yoga

(Offer good only if you have not been to

Ageless Yoga before)

FREE CLASS*

When you sign up a friend!

611 Winchester Rd, Suite 200

Lexington, KY 40505

859-303-6225

info@agelessyogastudio.com

agelessyogastudio.com

*on your next package deal

Reiki® upon request if you

have your certificate. Contact

JoAnn Utley at 502-777-3865

or jutley5122@bellsouth.net to

register. More info at http://

joannutley.byregion.net

November 28

Luminate Lexington

Festival

Lexington officially kicks off the

holiday season with the lighting

of the city tree - a local tradition

that dates to 1913. This year

the activities will take place

during the annual Luminate

Lexington Festival on November

28 at Triangle Park. Festivities

begin at 2:00 p.m. and continue

through the afternoon with food

vendors, live music, arts and

crafts vendors, and more setting

the mood for a delightful day

downtown. The traditional tree

lighting takes place at 6:30 p.m.

Santa Claus will flip the switch.

(859) 425-2592.

December 6

Free Taster Classes

Pole fitness, group fitness, aerial

arts and fitness: 1:00–4:00pm,

Saturday, December 6 at Bella

Forza Fitness. 829 National Ave.,

Lexington, KY 40502. www.

bellaforzalexington.com. 859-

309-2361.

December 7

Christmas on the

Estate

This year the Henry Clay Estate

will open its doors for two

Holiday Candlelight Tours on

Sunday, December 7 from 5:30

p.m.to 8:00 p.m. and December

26 from 5:30 p.m. to 7:30 p.m.

with the last admission at 7:00

p.m. Enjoy live music on selfguided

tours of the mansion and

refreshments in the Keeper's

Cottage. This year's theme is

"A Currier and Ives Christmas

at Ashland." Mistletoe from the

Ashland Estate will be on sale.

Reservations are not required.

$15 for adults, $7 for young

adults 17 and under and a family

rate of $40. Also on December

7, a live 100 foot, 100 year old

Norway Spruce will be lit for the

holiday season on the lawn of the

Estate. The ceremony begins at

5:30 p.m. and is free and open to

the public. (859) 266-8581.

December 13

Before the Marvel of

This Night

Annual Christmas concert will

1 7

include a sing-along and be

followed by a reception with

delicious treats and a raffle. In

addition to fresh arrangements

of familiar carols from around

the world, the Chorale will sing

selections from Messiah. Share

the Chorale's traditions and join

us for this holiday celebration.

7:30 p.m., Second Presbyterian

Church, 460 E. Main St. (enter

on Ransom Ave.), Lexington,

KY 40507-1572. Tickets

at the door and at www.

lexingtonchamberchorale.org.

Adult/Senior $20, Student $10,

Group $15, Guest of season

ticket subscriber $15

December 10

Book Signing

Author Walter Clay Cox, Jr. will

sign his book "I love my Angel:

Front Line War II Infantryman 2nd

Louie" from 11am–3pm at the

Law Offices of Walter Cox, 2333

Alexandria Drive in Lexington.

"Being an infantryman facing the

enemy in War II in France and

Germany is indelibly imprinted

on your brain. My guardian angel

worked overtime keeping me

alive and wound-free."

Dec 12-14 &

Dec 19-21

The Nutcracker Ballet

The Lexington Ballet performs

the holiday classic: The

Nutcracker at the Opera House.

For ticket information call (859)

233-3535.
---
1 8 NOV/DEC 2 0 1 4

Senior Services

DIRECTORY

About the Directory

Living Well 50+ is striving to make your search for local

senior services a bit easier. We know there are many

companies available to assist seniors in central Kentucky

– so many that beginning a search to fit your need can

seem like a daunting task.

That's why our directory features a collection of local

companies and organizations who have a solid track

record of providing exceptional assistance. We hope it

becomes a useful starting point in your search for quality

senior services.

Category Key

County Offices & Meal Programs

Health Care Systems & Hospitals

Transportation, Personal Shopping, Errands

Does your

business

provide

excellent

senior

services?

call us for a spot

in the directory

859.225.4466

Senior Day Centers, Adult Day Centers &

Respite Care

In Home Care (Non-Medical)

In Home Medical Care

Mental Health, Family & Caregiver Support, Advice

Disability & Rehabilitation

Medical Equipment, Supplies & Monitoring Systems

Finances & Estate Planning, Trusts/Wills,

Reverse Mortgage

Funeral Arrangement & Pre-Planning

Legal Services

Home Repair & Maintenance

Skilled Nursing Facilities, Personal Care Homes,

Long-Term Care

Senior Independent Living & Retirement Housing

(Non-Medical)

Real Estate / Rent- Subsidized Housing For Independent

Living

Moving, Estate Sales, Downsizing Services

Fitness, Healthy Eating & Healthy Living

Healthcare, Medicare Help and Insurance

Vision Care
---
NOV/DEC 2 0 1 4

1 9

HEALTH CARE SYSTEMS

& HOSPITALS

Lexington Clinic

1221 S. Broadway

Lexington, KY 40504

859-258-4000

IN HOME CARE

(NON-MEDICAL)

Accessible Home

Health Care

366 Waller Ave. Ste. 112

Lexington, KY 40504

859-313-5167

www.accessiblebluegrass.com

Assisting Hands

1795 Alysheba Way, Ste. 7105

Lexington, KY 40509

859-264-0646

www.assistinghands.com/lexington

Senior Helpers of the

Bluegrass

3070 Harrodsburg Rd. Ste. 240

Lexington, KY 40503

859-296-2525

www.seniorhelpers.com

IN HOME

MEDICAL CARE

Medi-Calls

1055 Wellington Way #215

Lexington, KY 40513

859-422-4369

Saint Joseph Home Health

2464 Fortune Dr. Ste. 110

Lexington, KY 40509

859-277-5111

www.saintjosephanchomecare.com

DISABILITY &

REHABILITATION

YMCA of Central Kentucky

239 E. High St.

Lexington, KY 40502

859-254-9622

ymcaofcentralky.org

Drayer Physical Therapy

Institute: Winchester Center

160 Pedro Way

859-745-2152

www.drayerpt.com

Drayer Physical Therapy

Institute: Richmond Center

1054 Center Drive, Ste. 1

859-625-0600

www.drayerpt.com

Drayer Physical Therapy

Institute: Lexington Perimeter

Center

600 Perimeter Drive, Ste. 175

859-268-1201

www.drayerpt.com

Drayer Physical Therapy

Institute: Lexington Beaumont

Center

1010 Monarch Street, Ste. 150

859-219-0211

www.drayerpt.com

MEDICAL EQUIPMENT,

SUPPLIES &

MONITORING SYSTEMS

Central Baptist Lifeline

859-260-6217

www.centralbap.com

FINANCES & ESTATE

PLANNING, TRUSTS/

WILLS, REVERSE

MORTGAGE

Attorney Walter C. Cox, Jr

& Assoc. LLC

2333 Alexandria Dr.

859-514-6033

www.waltercoxlaw.com

info@waltercoxlaw.com

LEGAL SERVICES

Bluegrass Elder Law

120 North Mill Street, Ste 300

859-281-0048

www.bgelderlaw.com

HOME REPAIR &

MAINTENANCE

Mountain Waterfalls

Award-Winning Water Features

859-684-0642

www.mountainwaterfalls.net

SENIOR INDEPENDENT

LIVING & RETIREMENT

HOUSING (NON-MEDICAL)

Mayfair Village

3310 Tates Creek Rd.

Lexington, KY 40502

859-266-2129

www.mayfairseniors.com

Windsor Gardens of

Georgetown Assisted Living

100 Windsor Path

Georgetown, KY 40324

502-570-0540

marsha@goodworksunlimited.com

Rose Mary C. Brooks Place

200 Rose Mary Dr.

Winchester, KY 40391

859-745-4904

www.brooksplace.org

The Lafayette

690 Mason Headley Rd.

859-278-9080

www.lafayettelexington.com

Ashland Terrace

475 S. Ashland Ave.

Lexington, KY 40502

859-266-2581

www.ashlandterrace.org

Hometown Manor Assisted

Living Community

Georgetown, Lawrenceburg,

Shelbyville

859-229-5914

www.hometownmanor.com

St Andrews Retirement

Community

300 Stocker Dr.

859-625-1400

www.standrewsplace.org

Hometown Manor Assisted

Living Communities

2141 Executive Drive, Lexington

(859) 317-8439

www.hometownmanor.com

MORE

LISTINGS ON

NEXT PAGE

Bluegrass

www.bgelderlaw.com

ElderlawPLLC

Take control of your future

Carolyn L. Kenton

Amy E. Dougherty

120 N. Mill St., Ste. 300

Lexington, KY 40507

Phone: 859.281.0048

Wealth Preservation

Powers of Attorney

Guardianship

Medicaid Planning

Probate
---
2 0 NOV/DEC 2 0 1 4

THIS IS AN ADVERTISEMENT.

Have you appointed a trusted person

to manage your affairs?

We can help you designate powers of attorney,

healthcare surrogacy, and guardianship.

Do you want to be confident

about your asset transfers

to the next generation?

Let us help you with wills, testamentary trusts,

special needs trusts, and estate settlements.

Have you planned for later life care?

We can help you protect your assets for

Medicaid eligibility, handle your crisis

planning and VA pension planning.

Providing personal legal advice to the Central Kentucky region.

SERVICE DIRECTORY, CONTINUED

REAL ESTATE /

RENT-SUBSIDIZED

HOUSING FOR

INDEPENDENT LIVING

Turf Town Properties, Inc.

124 Kentucky Ave.

Lexington, KY 40502

859-268-4663

www.turftown.com

Briarwood Apartments

1349 Centre Parkway

Lexington, KY 40517

859-272-3421

glickco.com

MOVING, ESTATE SALES,

DOWNSIZING SERVICES

Caring Transitions

1411 Delaware Ave.

859-543-9848

www.CTLex.net

Lexington Life Services

859-797-8157

lexingtonlifeservices.com

FITNESS, HEALTHY

EATING & HEALTHY

LIVING

Yoga Health & Therapy

Center

322 West Second Street

Lexington, KY 40507

859-254-9529

www.yogahealthcenter.org

Well Fed Meals

1301 Winchester Rd. #17

Lexington, KY 40505

859-539-5863

www.wellfedmeals.com

HEALTHCARE,

MEDICARE HELP &

INSURANCE

Bluegrass Insurance

Solutions

859-312-9646

www.PeteAlberti.com

VISION CARE

Medical Vision

3288 Eagle View Ln. Ste. 300

Lexington, KY

859-278-9486

www.medicalvision.com

TRANSPORTATION,

PERSONAL SHOPPING,

ERRANDS

Superior Van & Mobility

4734 Rockford Plaza

Louisville, KY 40216

1-800-458-8267

www.superiorvan.com

Carolyn L. Kenton

Amy E. Dougherty

BLUEGRASS ELDERLAW

120 North Mill Street, Suite 300

Lexington, KY 40507

859.281.0048

www.bgelderlaw.com
---
®

NOV/DEC 2 0 1 4

2 1

NOW ACCEPTING

New Patients!

Beautiful Smiles

Enjoy Convenient Location Your Back Yard in

Cool Weather

Firepits extend your time outside

OW ACCEPTING

New Patients!

Beautiful Smiles

FULL SERVICE DENTISTRY

EPTING

tients!

Beautiful Smiles

Beautiful Smiles

. . .so close to home.

WHITENING SPECIAL:

$

199 Limited Time Offer – Call Today!

Beautiful Smiles Convenient Location

Convenient Location

Convenient Location

859.263.5755

859.263.5755

121 Prosperous Place Suite 3

Lexington, KY 40509

Lexington,

Patient Satisfaction

KY 40509

Convenient Location

ULL SERVICE DENTISTRY

Visit us on the web at

Visit us on the web at

. . .so close to home.

www.wilkinsdental.com

Hours Kimberly by F. appointment Wilkins DMD, PLLC

859.263.5755

121 Prosperous Place, Suite 3

Patient Satisfaction

Patient Satisfaction

Kimberly F. Wilkins DMD,

PLLC

121 Prosperous Place, Suite 3

www.wilkinsdental.com

Mon - Thurs, 8:00-5:30, Fri 9:30-2:00, Sat. by

by Max Phelps, Yards to Paradise

Patient Satisfaction

Begin now so you can cozy up

to a cheery, warm fire in your back

yard when darkness comes early

and the night air is chilly. Firepits,

fireplaces and bonfires (unless

Kimberly F. Wilkins DMD,

you live where they aren't allowed

PLLC

anymore) can extend the use of

your back

859.263.5755

yard well into the colder

121 Prosperous Place, Suite 3

part of the year. A chimenea might

Lexington, KY 40509

work also.

What will it cost? That is a logical

question. The answer is: from very

Visit us on the web at

little to thousands of dollars. Figure

www.wilkinsdental.com

out Mon what - Thurs, you 8:00-5:30, can or Fri desire 9:30-2:00, to Sat. spend by

on your firepit or other heat source,

then have fun shopping for a unit

or discussing your dream with a

contractor. Focus on design and

function as well as creativity and

aesthetics.

A small portable unit from a farm

supply or home improvement store

would burn wood or kerosene and

could be moved as desired. A stone

or brick fireplace or firepit would

be more permanent. Burning wood

would probably be cheaper than

using kerosene. It's hard to beat the

crackle of a wood fire and the smell

of wood smoke. Paying for the

installation of gas hookups would

raise pricing on a unit and prevent

portability. Propane might be as

economical as using wood. But

trying to warm the great outdoors

with electricity definitely would not

be a brilliant choice.

These heaters have many features

to consider. Would you prefer a

large fire unit that is itself a lovely

landscape feature even when it's

not burning, such as a fireplace or

a stone pizza or bread oven? How

about a council ring with seating

around the fire? Or maybe you'd

prefer one of those fire-and-water

combinations. Let your imagination

loose here.

Additionally, consider if you

want a grate over the fire for grilling

or a spit for roasting. Would you sit

on folding chairs or patio seating

or would you want custom-made

wooden benches or a stone seating

nook? Figuring out all the possibilities

for your backyard fire enhancement

should be fun for the whole

family.

Max Phelps is a landscaper. His

Web site is www.rockcastles.net.

It's hard to beat

the crackle of a

wood fire and

the smell of

wood smoke.
---
2 2 NOV/DEC 2 0 1 4

Being conscientious about your

surroundings can make a difference.

"Whether it is an electric or a

gas stove, it is a heat source, so you

should make sure there is nothing

around that heat source that

could burn, whether it is a towel,

potholder or newspaper," said

Berard-Reed.

Educate family members about

kitchen safety because the issue

affects everyone. "It is about developing

healthy habits early on that

will carry you into your older years

so you can live at home as independently

and safely as possible," said

Berard-Reed. "If people slow down

and remember to get into the safe

habits, follow through and try not

to rush, cooking can still be a safe

activity for folks even if they are

older.

Kitchen Safety Requires

Attentiveness

Keeping the home fires burning safely

by Jamie Lober, Staff Writer

When it comes to maintaining a

safe home, the kitchen can be one

of the biggest areas of concern. It

doesn't take a lot of time to brew

up trouble in the kitchen.

"Kitchen fires are the leading

cause of home fires, and older

adults have a disproportionate

amount of [these] fires," said

Karen Berard-Reed, senior project

manager in public education for

high-risk outreach at the National

Fire Protection Association.

Berard-Reed said unattended

cooking is the No. 1 cause of

kitchen fires. Stay in the kitchen

when you are cooking, especially if

you are frying. If you have to leave

the room, take some precautions.

"We suggest you use a timer or

bring a wooden spoon or cooking

net with you [when you leave] to

remind you that you have something

on the stove," said Berard-

Reed. "A physical reminder in your

hand is a really good idea to stay

conscious to the idea that your

stove is on and you have something

cooking."

Be alert when you're cooking.

"Older adults may cook while

drowsy or when they're on medication

that makes them sleepy or

even while drinking alcohol," said

Berard-Reed. "All of those things

can interfere with safe cooking."

Make sure you can handle your

cookware. "If your pans are heavy

and you have lost some of your

strength, [lifting them] could be a

challenge," said Berard-Reed.

Also, be conscious of what you

are wearing in the kitchen. "You

would be surprised how many

people start up the stove and the

sash of their bathrobe is hanging

down with droopy sleeves," said

Berard-Reed. It's better to wear

short, rolled-up or tight-fitting

sleeves.

Preparedness is the key. "Always

have a lid nearby so if a fire were to

occur, you could put the lid over

it to extinguish the flame," said

Berard-Reed. "If it is a larger fire

that gets out of control, quickly

leave your home and call 911 from

outside the home, whether from a

neighbor's house or a cell phone.

We do not suggest folks try to

fight the fires themselves because

even fire extinguishers take some

training to be used correctly." If you

have a fire extinguisher, take the

time to learn how it works. In addition,

smoke alarms are a necessity.

"Working smoke alarms save

lives," said Berard-Reed. Test yours

every month and make sure the

batteries are still active.

Unattended cooking is the No.

1 cause of kitchen fires.
---
NOV/DEC 2 0 1 4

2 3

chef

Today I discovered I am a .

At The Willows at Citation &

Hamburg, it's never too late to try

something new!

HEALTH CAMPUS

SERVICES:

Personal Care

At The Willows, we offer a variety of onsite

Short-Term Rehab

resident activity programs tailored to our residents'

Long-Term Care

interests and abilities, ranging from cooking classes

Skilled Nursing

to painting workshops and more. Our residents'

Outpatient Therapy

beautifully designed private suites are only steps

Respite Care

away from our array of five-star amenities. Our

programs and services are designed with one thing

in mind: exceeding the expectations of our guests

and their families. Call or stop by today to schedule a

personal tour!

A Trilogy Health

Services Community

AT CITATION

& H AMBURG

The Willows at Citation

859-277-0320 willowsatcitation.com

1376 Silver Springs Drive • Lexington, KY

The Willows at Hamburg

859-543-0337 • willowsathamburg.com

2531 Old Rosebud • Lexington, KY
---
2 4 NOV/DEC 2 0 1 4

storage. The Shaker sisters also

had the benefits of machinery for

doing laundry by horse power.

What the Shaker community

brought to worship remains a

key part of reenactments today.

The Shakers were members of

The United Society of Believers

in Christ's Second Appearance.

Shakers today are mostly known

for their cultural contributions

(especially their style of music

and furniture), celibate and communal

lifestyle and their model of

equality of the sexes, which

Shaker Village of Pleasant

Hill

History, culture and warm hospitality

combine for a wonderful visit

by Dr. Tom Miller,

Staff Writer

A treasure trove

of history and an

ideal venue for

understanding the simplicity of

earlier life in Kentucky awaits

visitors to Shaker Village near

Harrodsburg, the former home of

the Pleasant Hill Shakers.

The Kentucky Shakers were

a modest group of farmers who

sought religious freedom and a

simple life in the rolling hills of

Central Kentucky. The Pleasant

Hill community was known for

its excellent livestock. They once

kept about 500 head of wellfed

cattle and bred them with

imported cows to improve their

herd's milk production.

The Shakers' use of selective

breeding and scientific agriculture

made them unique to Kentucky.

Among their livestock were sheep

from the

Saxony

region

of England.

From

these sheep, the women of the

community culled wool, which

they spun and wove into cloth,

garments and simple household

furnishings.

The Shaker men had engineering

skills that provided the community

with a municipal water

system that preceded similar

systems for the regional towns

and cities. This system provided

pumps in the kitchens for the

sisters' convenience in cooking,

baking and food preservation.

These early engineers also developed

power utilizing a mill that

had an elevator for moving grain

to the upper levels of the barn for

they institutionalized in their society

in the 1780s.

Pleasant Hill, which had once

had almost 500 members, slowly

dwindled away. The Pleasant Hill

Shaker community was extinct

by 1810. But the village lives on.

Shaker Village offers visitors an

opportunity to "Learn & Grow"

by discovering unique tips about

the garden or the land that they

can use in their own backyard

gardens. Visitors can also visit

the farm where modern organic

SHAKER Continued on Page 31

Yellow/ Wildcat Cab

Now offering

wheelchair accessible vans

Since 1934 Yellow/Wildcat Cab has been growing with the community

As always we are looking forward to serving you
---
How to Help an

Alzheimer's Caregiver

You can show your support in a

number of ways

by Lisa M. Petsche, Staff Writer

One in 10 Americans over age

65 years and almost half of those

over age 85 years have Alzheimer's

disease or a related type of dementia

(loss of intellectual functioning).

Alzheimer's disease, the most

common form of dementia, involves

a gradual breakdown of nerve cells

in the brain. Affected persons lose

NOV/DEC 2 0 1 4

the ability to interpret information

and to send messages to their

bodies to behave in certain ways.

Over time, they experience mental,

emotional, behavioral and physical

changes, necessitating increasing

amounts of supervision and, eventually,

hands-on help with activities of

daily living.

Spouses and children provide

most – if not all – of that help. These

caregivers are at increased risk for

depression and other health problems

due to the emotional strain

and physical toll of caregiving.

Here are some things that you, as

a friend or relative, can do to help

prevent an Alzheimer's caregiver

you know from wearing down:

Keep in touch. Recognize that

you may have to make most of the

effort in maintaining the relationship.

Become informed. Educate

yourself about Alzheimer's to help

you understand the kinds of challenges

caregivers often face. Share

information with family and friends,

as well as the caregiver.

Lend an ear. Listen nonjudgmentally

and demonstrate compassion

to the caregiver when he or she

wants to share. Don't give unsolicited

advice.

Promote self-care. Encourage

the caregiver to eat nutritiously,

exercise and get sufficient rest in

order to maintain good health. Do

whatever you can to help make this

happen. For example, bring over a

meal or offer to sit with the care recipient

while the caregiver goes for a

walk or take a nap. Also, encourage

the caregiver to get regular medical

checkups and offer to stay with the

care recipient while they attend appointments.

Provide practical help. Determine

what kind of assistance the

caregiver could use most. Perhaps

it's picking up groceries, running

errands or doing laundry or yard

work. If your assistance is declined,

continue to express your desire to

help. Meanwhile, take it upon yourself

to deliver a casserole or baked

2 5

goods or, if you're a neighbor, sweep

both walks or bring in both sets of

trash cans.

Surprise the caregiver with a

treat. Ideas include a favorite magazine,

a rented movie, fresh flowers

or a plant or a gift certificate to a

restaurant that has delivery service.

Give the caregiver a break. Offer

to sit with the care recipient for

an hour while the caregiver goes to

a hair appointment or church, or for

a longer stretch so they can attend a

social event.

Locate resources. Offer to obtain

information about community

support services such as home care,

adult day care and residential respite

programs.

Join the local chapter of the

Alzheimer's Association. Your

support will help provide aid not

only to your friend or relative but

also to other AD caregivers. Typical

chapter programs and services

include a telephone hotline, support

groups, a Safe Return program for

those who wander, training for

family and professional caregivers,

a newsletter and a resource library.

Membership also makes a thoughtful

gift for the caregiver, connecting

them to a key resource.

Watch for signs of trouble.

Encourage the caregiver to seek help

from his or her primary physician

or a mental health worker if he or

she feels overwhelmed or hopeless

(possible signs of depression) or if

he or she starts to fear for his or her

safety or that of the care recipient.

Stand by the caregiver. Be an

ongoing source of encouragement.

Support him or her if he or she must

CARE Continued on Page 31

CALL 231-TAXI and ask for a wheelchair van

App: Text GOLEXCAB to 31996 • Text: (859) 449-7330 • Web: golexcab.com

D.B.A. Yellow Cab Company of Lexington, 799 Enterprise Drive • Lexington, KY 40510 • 859-233-4890
---
2 6 NOV/DEC 2 0 1 4

A Holiday Dinner for Just the Two of You

Schedule some time away from the seasonal hustle and bustle

The holiday season is supposed

to be made for large gatherings –

for tons of family getting together

to devour prodigious amounts of

turkey, drink gallons of eggnog and

engage in noisy revelry.

This is great for most people and if you

have large numbers of family members

with whom you are on speaking terms, it's

probably the way to go.

But what of the recently relocated? The

newlyweds who just want to be alone for

either Christmas Eve or New Year's Eve? The

"empty nesters" whose family is scattered

across the map? Or the couple who wants

to take a break from the whirl of the holiday

season and spend a romantic interlude with

"just the two of us"?

There are times when, through

circumstances or choice, you simply cannot

be surrounded by a lot of other people. If

that's the case for you, you're going to want

to take advantage of the opportunity to close

ranks and have just as good a holiday as ever.

Here are a few easy but elegant

suggestions for your "just us" holiday menus.

We go from a tasty cream of squash soup

to a festive rock Cornish hen entrée to a

wonderful dessert that brings together the

traditional holiday ingredients of apples,

nuts and raisins in a no-crust delight.

Even if you're knee-deep in family and

friends for the holidays, take one evening

in the frantic rush of the season, light a fire

in the fireplace, put Bing Crosby's "White

Christmas" on the stereo, set the candles

aglow, lock the doors and enjoy a bit of

peace on earth for two.

food

dude

Frank

Kourt

the

CREAM OF SQUASH

SOUP

• 2 cups of cooked, mashed squash or

one 16 oz. can of pumpkin

• 2 cups chicken stock or canned

chicken broth

• 1 cup half and half

• 1/4 tsp. nutmeg

• 1/4 tsp. cinnamon

• Pinch of ground cloves

• 1 tsp. salt

• Pepper to taste

Place all ingredients in a pan and whisk

well. Heat through and serve with crusty

bread sticks or rye crisp crackers. If you'd

like a touch of sweetness, add a dollop

of honey to the soup during the cooking

process.

ROCK CORNISH

HENS WITH

RASPBERRY GLAZE

• 2 rock Cornish hens

• 2 T butter, melted and combined

with 1 T lemon juice

• 1/4 cup raspberry preserves

• 1/4 cup honey

• 1 tsp. lemon juice

Remove the neck and giblets from the

hens. Rinse the hens well and sprinkle

cavities with salt and pepper. Place the

hens breast side up in a roasting pan

and brush on the butter and lemon mix.

Roast the hens in a 350-degree over for

45 minutes. Combine the raspberry

preserves, honey and lemon juice for

your glaze and spread it onto the hens.

Turn the heat up to 425 degrees and

return the hens to the oven for 10-15

minutes. This dish is great served on a

bed of wild rice and accompanied by a

full-bodied dry white wine or a festive

champagne.

NO-CRUST HOLIDAY

APPLE PIE

• 3/4 cup sugar

• 1/2 cup flour

• 2 eggs

• 1 tsp. baking powder

• 1/2 tsp. vanilla

• 1/4 tsp. salt

• 1/2 cup chopped nuts

• 1 tsp. cinnamon

• 1/2 tsp. nutmeg

• 3 cups diced apples

• 1/2 cup raisins (optional)

Mix sugar, flour and eggs in a large

bowl. Add baking powder, vanilla and

salt and mix well. Stir in nuts, cinnamon,

nutmeg, apples and raisins, if desired.

Pour into a well-buttered 9-inch pie

pan. Bake in a 350-degree oven for

30-40 minutes. Test for doneness with a

toothpick, as with cake. Serve warm or

cold with a dollop of whipped cream.

Take advantage

of the

opportunity to

close ranks and

have just as

good a holiday

as ever.
---
LET'S COMPARE

A Simple,

Cost Effective

Alternative to

All-On-4*

All-on-4

Fixed Detachable Solution to

Replace Loose Dentures

Minimally Invasive Procedure

Short Healing Time

Lab Components Included

Immediate Final Restoration

# of Implants Used

6-8 Shatkin F.I.R.S.T.

Mini Dental Implants

X

X

X

X

(4-6 Months)

Final Restoration

in 4-6 Months)

4-6 Large Diameter

Implants

Total Patient Costs

$12,500 $35,000–$50,000

Dr. Ballard Morgan, DMD

General Dentistry

859-233-7700 www.ballardmorgandmd.com

1510 Newtown Pike, Ste 201, Lexington (Griffin Gate Plaza)

You'll

love

your

new

smile.
---
2 8 NOV/DEC 2 0 1 4

The Grim Fraternity

Help is available for those suffering

from grief

by Frank Kourt, Staff Writer

"Ah, woe is me!

Winter is come and gone

But grief returns with the

revolving year." – Percy Bysshe

Shelley

If you have lost a loved one, be

it a child, parent, spouse or friend,

you know what it's like to be a

member of the grim fraternity of

those who grieve.

Despite what you may have

heard or what well-meaning

friends may tell you, there is no

"one size fits all" as far as grief

is concerned. Everyone experiences

grief in his or her unique

way. There is no timetable to "get

over it," no magic pill to banish it.

Grief can manifest itself in myriad

psychological, emotional, spiritual

and even physical ways. Grief is

especially prevalent during the

holiday season, when memories

tend to be overwhelming and the

pressure to be jolly is enormous.

There are a number of resources

available to those who wish to

proactively come to grips with

their own grief challenges.

Hospice of the Bluegrass,

centered in Lexington, serves 32

Kentucky counties, including Fayette

and Jessamine, and is a good

resource for finding help through

support groups and individual

counseling.

If you have Internet access, you

can go to www.hospicebg.org and

click on "Grief " to educate yourself

about grief and find support

groups in your area. If you do not

have Internet access, or you feel

one-on-one counseling would be

more helpful for your particular

needs, you can call the counseling

department at (859) 277-2700 or

(800) 876-6005 to find a group or

arrange for individual counseling.

These resources are offered free

of charge, although donations

are accepted, said Kim Livesay,

Hospice of the Bluegrass' director

of annual giving and public relations.

Livesay said these services

are open not only to those who

have had friends or relatives in

the hospice program but to the

general community.

Depending on personal need, a

support group, individual counseling

or even a combination of both

may be required to help some

people cope with the burden of

grief, said Martha Clay, LCSW, a

grief counselor with Hospice of

the Bluegrass.

"Depending upon many factors,

On a Personal Note

'I never thought I had

that many tears in me'

by Frank Kourt, Staff Writer

Having lost my wife of 33 years 12 years

ago, I have some experience with grief.

I was, of course, devastated. We had been

married since the age of 20 and basically

were each others' whole lives.

Fortunately, I was blessed with two

grown children who were extremely

supportive, a caring church group and a

network of friends and relatives both near

and far away on whom I could count.

Nevertheless, I needed additional support,

and I found it with a private counselor,

a licensed clinical social worker. The

$120 cost per session was made affordable

by my health insurance (I was working

at the time), so I only had to pay $15 per

session.

I also joined a grief support group,

sponsored by a local hospital, but it didn't

work for me. After about three sessions, I

continued exclusively with the one-on-one

counseling. I realize just because a group

situation didn't meet my needs doesn't

mean it won't work for somebody else.

I suffered from anxiety, loss of appetite,

Everyone

experiences

grief in his or

her unique way.

including the individual experiencing

the grief, the nature of the

loss and the relationship to the

person one has lost, these losses

can be life

altering," Clay

said. "Some

people are very

resilient, some

are not." There

are also those

who have a

strong support

system of family

and friends,

and others

who are not so

fortunate.

Clay noted that support groups

are as different as individuals who

attend them. The group approach

may not be for everyone, although

she recommended anyone considering

a group attend at least two

meetings before making up their

mind.

If your county is not served by

Hospice of the

Bluegrass, you

may be able to

find bereavement

services through a

different hospice

in your area, or

you may find such

support through

local churches,

hospitals or even

funeral homes.

For example,

Hospice Care Plus, which serves

Madison, Estill, Jackson, Owsley,

Lee and Rockcastle counties,

offers bereavement services and

GRIM Continued on Page 31

sleeplessness, depression, forgetfulness,

lack of concentration and myriad other

problems that often come with the territory

of grieving. I recall telling my counselor

at the time that I never thought I had that

many tears in me.

I went to my doctor for a full checkup,

and he prescribed some antidepressants,

which I took for a limited time, along with

sleep and anxiety medications.

I also sought to actively educate myself

about grief so I could better understand

what I was going through, haunting the

Internet, the library and the local bookstore

for information.

I learned no two cases of grief are alike.

There's no time limit on grieving. We all

grieve in different ways; we all react to loss

differently. I learned that for some of us,

the grief never really goes away, but it gets

better with time.

Long story short, I learned how to deal

with my grief. I met a lovely woman who

was also widowed. We moved from Illinois

to her native Kentucky. We were recently

married and are very much in love.

While grief can be debilitating, it can be

managed, and I urge anyone going

through it who feels they need help

to reach out and see what's

available.
---
NOV/DEC 2 0 1 4

2 9

Medication Management

Tips and tricks help you take your

medicines safely

by Jean Jeffers

As seniors age, many are prescribed

medications for various

health issues. With each new

prescription, medication management

becomes increasingly important.

It is also important if you are

a caregiver assisting seniors with

taking their meds. Here are some

general principles for safety with

medications:

1. All medications should be

taken as prescribed. If you need

large-print directions, ask for

them. When your doctor talks

about your meds at an appointment,

take notes or bring someone

along who can.

2. Do not skip or double up on

medications. Take them the same

time each day. Link it up with

some other habit, such as brushing

your teeth.

3. Use aids such as pill organizers.

Some are computerized or

have alarms to remind you when

to take your medicine.

4. Use only one pharmacy to

dispense your medications. Make

sure your pharmacy has an up-todate

list of all your meds as well.

Talk to the pharmacist and ask

questions about your medications.

5. Bring an up-to-date list of

meds to each doctor's appointment.

This includes supplements

and over-the-counter medications.

When you receive a new prescription,

ask questions such as,

"How long will I have to take this

medicine? What effects should I

expect from it? What is it intended

to do?"

6. Store your meds in a safe

place. Most medications need

to remain at room temperature;

however, a few must be refrigerated.

Do not subject your meds to

temperatures that are too hot or

too cold.

7. Follow directions on the

medication bottle. Dispense only

the right amount at the right time.

8. Check to see what foods are

incompatible with your meds.

For example, grapefruit juice is

contraindicated with statins and

some other meds.

9. Closely monitor medication

compliance in the cognitively impaired.

About 200,000 elderly persons

are admitted to the hospital

each year with problems related to

meds or medication reactions.

Why are some medications

a problem? According to one

source, today's meds are not

the simple medications of past

generations. Earlier medications

were based on active ingredients

from plants and the body usually

handled these drugs without

incident. Today this is not the

case. Some medications are more

potent. Some meds present a complex

picture. And the total number

of drugs taken may complicate

the picture. According to a 2010

report, 44 percent of men and 57

percent of women older than age

65 take five or more medications

per week; about 12 percent take

more than 10 meds per week.

Also, the effects of aging cause

older adults' bodies to process and

respond to medicines differently

than younger people. Age-related

changes in the liver, kidneys,

central nervous system and heart

contribute to the elderly becoming

more vulnerable to overdose

and side effects.

If you experience side effects

from your medications, call your

doctor or pharmacist. It is possible

the med may need to be reduced

in strength, or you may do better

on a different medication. Read

the information package that

comes with your medication,

know the active ingredients and

get a picture of what side effects

may occur.

If you cannot afford your

medications and you meet certain

guidelines, there is help available.

Today's meds are not the simple

medications of past generations.

There's no place like

Home!

ALLIANCE

Medical Home Care

Personal Care

Respite Care

Light Housekeeping

Errands / Transportation

Medication Reminders

Meal Preparation

Companionship

3716 Willow Ridge Rd. Lexington KY

859-296-9525
---
3 0 NOV/DEC 2 0 1 4

Managing Your Way

Through the Medicare

Maze

Provided by StableView Health

What is a Medicare

Advantage Plan

Medicare Advantage plans

combine Part A and Part B of

Original Medicare into one plan.

Medicare Advantage plans may

also include vision, hearing, fitness

programs and prescription

drug coverage. Medicare Advantage

plans contract with the

Federal Government to provide

all Medicare benefits. Medicare

benefits are provided by private

insurance companies.

Advantage Plans

vs. Original

Medicare

So how do you decide between

choosing a Medicare Advantage

plan or going with Original

Medicare? It all depends on your

own personal health care needs,

preferences and budget. A good

place to start is to ask yourself the

following questions:

• How important is it to you

to choose your own doctor

versus an in-network doctor?

• Can you manage the varying

copays and deductibles you

may encounter, or do you

want more controlled and

consistent health care costs?

• Do you just want the nutsand-bolts

coverage offered by

Original Medicare, or could

you utilize the additional

benefits offered by Medicare

Advantage plans, which may

include wellness and preventive

programs, plus optional

dental, vision and hearing aid

coverage?

• Can you afford supplementary

insurance to cover the gaps in

your Original Medicare plan?

• Can you afford supplementary

insurance to cover the gaps in

your Original Medicare plan?

What is Medicare

Supplement

Insurance (Medigap

Policy)?

A Medigap policy is an insurance

plan that is supplemental to

Medicare. It is not an insurance

plan by itself – it works to supplement

your Original Medicare

benefits. Medigap covers some

or all of your coinsurances

depending on your plan choice.

It does not include prescription

drug coverage.

Similarities

Between Medicare

Advantage Plans

and Supplement

Insurance/

Medigap:

• Offered by private insurance

companies

• Will lower out-of-pocket

costs for hospital and medical

benefits compared to Original

Medicare

• Monthly premium in addition

to your Part B premium

• There is a variety of plan

choices and costs which vary

by company and plan chosen

• Spouses can have an individual

plan

How and When to

Enroll?

Your initial enrollment period

(IEP) for either Original Medicare

or Medicare Advantage

begins any time after you are

64 years and 9 months old, or

otherwise become eligible for

Medicare.

The Medicare Annual Enrollment

Period (AEP) runs October

15 and ends December 7. During

AEP, all Medicare beneficiaries

can make changes to their plan

coverage. Changes made during

AEP will become effective on

January 1, 2015.

Kentucky's Leading

Hair Replacement

Facility

• Genetic Hair Loss

• Chemotherapy

• Alopecia

• Cosmetic Hair Replacement

Hair Institute offers several surgical and non-surgical hair

restoration options, including Virtual Reality®, full and partial

prostheses, hand-knotted wigs, and human hair extensions.

- Laser Light Hair Therapy

- Surgical Hair Restoration Options

1795 Alysheba Way Suite 7101

Lexington, Kentucky 40509

- Full Cranial Vacuum Prostheses

- Enhancements and Integrations

HAIR REPLACEMENT • HAIR RESTORATION • HAIR EXTENSIONS

Professional • Confidential • Meticulous

®

www.hairinstitutelexington.com

AMERICAN

HAIR LOSS

COUNCIL

Prescription

Drug

Coverage

Additional

Benefits

Medicare

Parts A & B

Did you know

there is a new,

local Medicare

Advantage plan?

StableView Health offers a

fresh approach to Medicare

Advantage where doctors, members

and the health plan work

together to optimize member

health with costs that are affordable

and predictable. For more

information, call 1-866-792-0180

(TTY/TDD: 711) or visit www.

StableViewHealth.com.

Now is the time to make some

important Medicare choices.

StableView Health is here to help.

We look forward to serving you!

859.263.9811
---
WRITE continued from Page 11

Lexington NaNoWriMo group is

that the relationships that writers

build with each other don't end

when the month of November

is over.

"I found the love of my life

through NaNo. I found my best

friends through NaNo," Bailey

said. "We have off-season events

and see the larger group several

times during the year. Many of us

just love to be together so much

that we can't go too long without

spending time together. We

welcome new friends every year

who become integral parts of our

network."

SHAKER continued from Page 24

practices are used to continue the

Shaker tradition of growing abundant,

fresh produce. The Shakers

raised broom corn and made flat

brooms so well that they sold for

more than "ordinary" brooms of

the times. They also raised fruit

and sold it dried or as preserves;

they were well known for their

NOV/DEC 2 0 1 4

garden seeds.

Amid the large stone and brick

dwellings and shops, grassy lawns

and stone sidewalks at the restored

village near Harrodsburg, you can

learn about Shaker worship practices,

delight in Shaker hospitality

and enjoy a wonderful simple

Shaker meal.

For more information visit www.

shakervillageky.org or call (800)

734-561.

CARE continued from Page 25

make the difficult decision to pursue

placement in a long-term care

facility, and do what you can to help

them and the care recipient with the

transition.

GRIM continued from Page 28

outreach, including one-on-one

support and grief support groups.

Go to www.hospicecp.org and

click on bereavement services or

call (859) 986-1500.

Many private therapists offer

grief counseling. If you decide

to pursue that route, it pays to

check with your medical insurance

carrier. Or, if you have one, your

company's employee assistance

program may provide financial

assistance that makes such help

affordable.

The bottom line is, you don't

have to go through it alone.

Have a story to

share?

We want to hear

from you on

Like our page and post

your article idea:

LivingWell50PlusMagazine

Read LivingWell50+ Digital:

3 1

ENCORE! ENCORE!

Wesley Village is Kentucky's First CCRC (Continuing Care

Retirement Community), offering all levels of independent

living, licensed health care and memory care in a wide variety

of attractive home and apartment settings.

The Encore Centre will feature:

• Independent Living Apartments

• Garden Terrace Suites

• Indoor Warm Salt Water Exercise Pool

• Café

• Movie Theatre

• Beauty Salon and Spa

1125 Lexington Road, Wilmore, KY 40390

www.wvillage.org facebook.com/wvinfo

Susan Blankenship, Marketing Dir. 859-858-3865 ext. 227
---
Simple. Affordable. Personal.

Your Local Health Plan

Partnering with:

$ 0MONTHLY PREMIUM + DRUG COVERAGE

How's that for an introduction?

We may be new in town, but StableView Health knows what's important in a health

plan. That's why we offer benefi ts with real value, plus a personalized approach that

only your hometown Medicare Advantage plan can offer.

11/3, 11/24 & 12/01 • 10 AM & 2 PM

$0 Monthly premium + drug coverage

The Thoroughbred Center

3380 Paris Pike

$5 Primary care offi ce copay

Lexington

$0 Annual routine vision and hearing exams

11/05, 11/12 & 11/ 19 • 2:00 PM

Call us today to RSVP for a meeting near you and

get ready for a fresh new health care experience.

1-855-452-6402 • TTY/TDD: 711

8:00 am - 8:00 pm, 7 days a week

www.StableViewHealth.com

Saint Joseph Jessamine

Community Room

1250 Keene Road

Nicholasville

11/07, 11/14 & 12/05 • 2:00 PM

Saint Joseph Office Park

Building D, 4th Floor, Chase Room

1451 Harrodsburg Road

Lexington

StableView Health is an HMO plan with a Medicare contract. Enrollment in StableView Health depends on contract renewal. The benefit information provided

is a brief summary, not a complete description of benefits. For more information, contact the plan. Limitations, copayments, and restrictions may apply.

Benefits, formulary, pharmacy network, provider network, premium and/or copayments/coinsurance may change on January 1 of each year. You must

continue to pay your Medicare Part B premium. Other Providers are available in our network. A sales person will be present with information and applications.

For accommodation of persons with special needs at sales meetings call 1-855-452-6402 (TTY/TDD users should call 711). H9492_AEPMTGS2015

Accepted