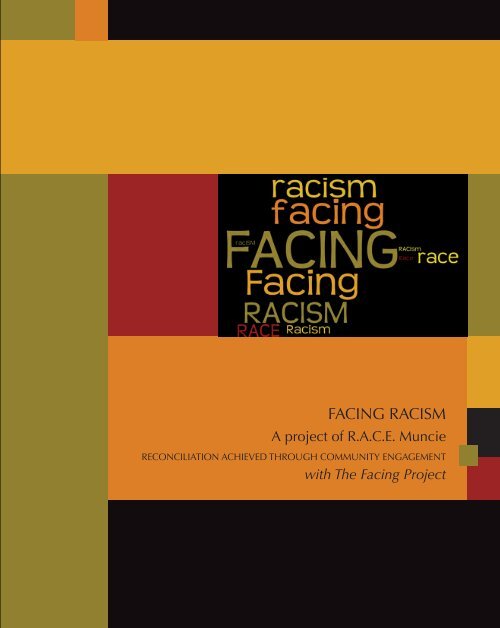 Create successful ePaper yourself
Turn your PDF publications into a flip-book with our unique Google optimized e-Paper software.
FACING RACISM

A project of R.A.C.E. Muncie

RECONCILIATION ACHIEVED THROUGH COMMUNITY ENGAGEMENT

with The Facing Project
---
The Facing Project is a 501(c)(3) nonprofit organization

that connects people through stories to strengthen communities.

Founded in Muncie, Indiana,

by J.R. Jamison and Kelsey Timmerman,

the organization has connected

writers, storytellers, artists, educators, and community leaders

in over 100 communities across the country.

Hailed by The Huffington Post, Harlem World Magazine, and Soul Train

as one of three oral history projects to watch,

The Facing Project provides a model, tools, and a platform

for communities to arm themselves with stories

to begin crucial conversations on social justice issues—

neighbor to neighbor, community to community—

by discussing solutions

and exploring healing

through their own narratives.

www.facingproject.com
---
FACING RACISM

A project of R.A.C.E. Muncie

RECONCILIATION ACHIEVED THROUGH COMMUNITY ENGAGEMENT

with The Facing Project

http://racemuncie.facingproject.com

Follow us on Facebook at Facing Racism

Jay S. Zimmerman | Coordinator at facingracism@gmail.com
---
FACING RACISM PROJECT SPONSORS

design group

Mayor Dennis Tyler and Family

Multicultural Center, Ball State University

Annemarie Voss

Kimberly Hamilton
---
Preface & Acknowledgments

Facing Racism began at a series of meetings at the Muncie Public Library (MPL) where a

diverse group of people from the community came together at the invitation of the Director,

Ginny Nilles, to discuss a community read. A book is chosen to be read and discussed

throughout the community. All the books discussed would deal with issues of race and racism.

Those of us on the committee from the group R.A.C.E. (Reconciliation Achieved through

Community Engagement) suggested that, instead, we create a Facing Project focused on

issues of race and racism in Delaware County. After talking with the founders of the Facing

Project, Facing Racism was born as a project of R.A.C.E. Muncie. We are extremely grateful

to the following: Ginny Nilles, MPL, and Yvonne Thompson, Director of the Muncie Human

Rights Commission for providing the initial funding to the Facing Project that launched

Facing Racism; to Mayor Dennis Tyler for his early personal financial support and to the

Muncie Action Plan for their willingness to be the fiscal agent for the project.

Following the model established by J.R. Jamison and Kelsey Timmerman for the Facing

Project, Facing Racism tells the first-person stories of individual experiences with racism and

perceptions of race. The Facing Project is a model for developing community awareness and

integration through first-person narratives and "connects people through stories to strengthen

communities" (www.facingproject.com/about). The project brings together writers and

storytellers, those with stories about a particular issue, and culminates in a book and a

community event(s) to bring the stories to the public. Hopefully, it would enhance awareness,

create dialogue and impact change. We are also very indebted to Kelsey and J.R. for taking a

special interest in this project, giving unsparingly of their time to consult with us and initially

editing all the stories. They also provided help proofreading the final copy of the book that

emerged. Their commitment and depth of involvement have been phenomenal

This project could not happen without people willing to tell their stories, to share their pain

and suffering, anguish, fear, and tears, as well as for some, their personal struggles with their

own racism. There are also stories of great triumph, enlightenment, overcoming of challenges

and coming to terms with the impact of race and racism. These storytellers were open and

brave, revealing themselves so that others might grow from their experiences. We cannot thank

them enough. And then there are the writers who built relationships with storytellers and used

their talents to take on the voice and persona of their subjects. By writing in the first person

they brought to life a variety of unheard voices while keeping the anonymity of their subjects

unless the storytellers gave permission to be identified. We thank you, too.

The stories will also be presented in a theatrical format. We are so appreciative of Muncie Civic

Theater for producing the first public enactment of the stories and especially to Michael Daehn,

faculty member in the Department of Theatre and Dance at Ball State University for coming on

board and writing the script and working with Laura Williamson, Executive Director of Civic

Theatre to recruit actors and co-direct and produce the opening performance. We knew we

were in excellent hands when these two talents signed onto this project. Thank you.

There are many people who have worked diligently to make this project a success. The

Steering Committee who worked on Facing Racism provided their knowledge, expertise,

guidance and support, inspiration and hard work. Special thanks goes to Renae Mayes who

took on the job of Chief Editor and worked with writers and other editors to get the stories in

perfect form for inclusion in the book. Thanks also to Tania Said who took on the initial task of

recruiting and pairing of writers and storytellers. Michelle Kinsey has handled the publicity for

the project, set up our Facebook page and twitter feed and provided her guidance on the best

ways to advertise the project. Thanks to WIPB and IPR for whom she works for partnering

with us in this endeavor. Other members of the Steering Committee include Jason Donati who

manages our web page, Ruby Cain, Yvonne Thompson, Daniel and Lynne Stallings, Laura

Williamson, Maude Jennings, Joshua Holowell, Kimberly Hamilton, Kevin Nolan and Kelby

Stallings. Thanks also to Emilie Carpenter for volunteering her photographic skills.

3
---
No project of this magnitude can be successful without the financial support of the

community. In addition to the support mentioned earlier we are deeply appreciative of the

Community Foundation of Muncie and Delaware County and the Champions for a Safe

Community who provided the major funding for Facing Racism and saw its benefit for our

community. We are also grateful for Whitely Community Council, The YWCA, Muncie Black

Expo, the NAACP and Motivate Our Minds for being our sponsors as well as the Islamic

Center of Muncie, The Boys and Girls Club of Muncie, Stallings Wealth Management and It is

Well with MySoul. Thanks also go to the Multicultural Center at Ball State University as well

as individuals including Annemarie Voss and Kimberly Hamilton.

A lot of hands working together with a strong commitment make positive things happen. It

is our hope that these stories affect lives, open minds, produce constructive dialogue, educate,

inform and ultimately lead to change. Stories are powerful. They can change lives by bringing

home the personal experiences of people's "neighbors," people in our community who we

may see and pass by daily but do so unaware. The exposure to these personal stories has been

deeply moving for all of us working on the project who have read them. We hope they do the

same for you. Through understanding that we are our brothers' and sisters' keepers we can

move forward to create significant change in our community.

Jay S. Zimmerman

Project Coordinator

Facing Racism

4
---
C O N T E N T S

FACING RACISM

Preface & Acknowledgements Jay S. Zimmerman 3

Introduction to Facing Racism, 2016 Dr. Maude Jennings 6

Maria Williams-Hawkins: The Question Mark Lizz Alezetes 9

Cornelius Dollison: Facing the Fight: Systemic Racism in Muncie Lauren Bishop-Weidner 11

Lonna Jordan: Lonna's Poem Michael Brockley 13

Michael Timothy Duerson:

Transcending Racism with Culture and Pride Dr. Ruby Cain 15

Emily: The Dreams of the Hopeful Youth Maggie West 17

Daniel (anonymous): When the Unrest Came to Middletown Melinda Messineo 18

Mary Dollison: Fighting Racism with Love Lauren Bishop-Weidner 20

Jayla Scaife: In the Punch Line Travis Graves 22

Sam Abram: Facing Racism with Help Lauren Bishop-Weidner 24

Anonymous: On Not Feeling Safe Resa Matlock 26

Legend (anonymous): You Don't Know What God Look Like,

So How You Gonna Be Racist? Stephanie Winn 27

Ella McNeary: A Battle to Fight Lenore Allen 28

Tom Carey: Cutting Up. Getting Along. Working Together J.R. Jamison 30

Christine Satory's Story: A Person Without a Story,

A Person Without a Name Michael Brockley 32

Yvonne Thompson: The human right to be seen,

the responsibility to see Kelsey Timmerman 33

D.P. (anonymous): "We're all messed up,

but we all came out of somewhere, you know?" Deborah Mix 35

Jason Donati: Uprooting Racism Josh Holowell 36

Daniel Stallings: Sunrise, Sundown Jackson Efflin 38

Anonymous: Enemies Out of Allies Ari Hurwitz 40

Karen Dowling: A Cultural Racial Identity Struggle Annemarie Voss 43

Miles and His Father's story (anonymous)

Father wants justice after son arrested Christine Rhine 45

Fred Long: I See Things More Clearly Now Beth Messner 47

Matt Bailey: Another Kind of Racism Barbara Miller 49

Tonikia Steans: Good Anna Groover 51

Renae Mayes: Who's on Your Team? Taylor Wicker 53

Heather Gilvary-Hamad: The Need to Belong:

The Life of a Muslim in America Angela Jackson-Brown 55

Charles Payne: A Long Road Travelled Steve Knote 57

Muriel Weeden: I Prefer to Be Called Muriel Levi Todd 59

Dr. Ruby Cain: Sink or Swim; in Code Aimee Robertson-Fant 60

Vivian Morrison: Time Warp Sherri Beaty 62

Richard McKinney: The Anger is Mine Tom Steiner 63

Mina Saaman: Hospitality Josh Holowell 65

Lynn (anonymous): Living in My Neighborhood Chris Bavender 67

June Payne: Ok I'll do it Travis Graves 69

WaTasha Barnes Griffin: It Shouldn't Matter Seth Carrier-Ladd 71

Mia Johnson: The New Racism Andrea Wolfe 73

Rashid Shabazz: I Was Mad, Real Mad River Lin 75

Shalia Gupta: Learning From Our Children Clarissa Bowers 77

Deanna (anonymous): What's on the Menu? WaTasha Barnes Griffin 79

About Our Writers & Storytellers… 81
---
FACING RACISM: 2016

An Introduction

by Dr. Maude Jennings

6

On 30 May, 2016, Roots (revisited) was shown on national television. As a black woman I have

some strong reactions about this program, especially in the light of this current project. You see,

forty years ago a version of life for Africans arriving in America was a story that many Americans—

black or white, had never considered dramatic before. This was due, in part, to the fact that the

history of Africans in this country was not a pressing problem; the story was not essential to the

America being celebrated at the time—not to the nation's dreams or its aspirations then. There

was the pride in achieving 200 years of a dream and little attention could be paid to anything

that besmirched that dream. Slavery was such a distraction—except that it was and it held a nation's

attention for one week. Except that it remained on a "back burner"; every once in a while it echoed

or irritated the national conscience.

And then there were the "other" others—the Native Americans, currently the Muslims

and all "other" others yearning to breathe free. Native Americans have been decimated.

Apparently, not tractable enough to be made slaves, so relegate them to "reservations" where

defeat, degeneration and despair reign as "wards" of the nation. What would such treatment be

called in a Fascist state? Oh, yes. Concentration Camps where the residents are concentrated

so they can concentrate on living lives less than their conquerors.

And then there are the Muslims, who dare to call their "God" by another name, who dare to

have different styles of dress, and different times and even positions of worship…and to make

matters even worse, beside the Muslims, what about those people whose life-callings are not

part of the "gingerbread" mold of the nation's norm?

The history of these United States is filled with its public assertions of its democratic intent

as it marches toward the future. Things do take time, but it appears to these unhappy few

that the time to become the ideal that was initiated in the 18th century needs to be more

fully realized now in the 21st century. Time has passed and now a project like Facing Racism

surfaces in a Midwestern state that once supported the Ku Klux Klan. What has happened?

How comes such communal support for Facing Racism? Surely there have been changes in the

nation since 1976. Why now?

Well, consider some of these things. No denying there have been changes. Voting rights, other

civil rights, equal opportunity, end of school segregation, and the list could go on, except each

step forward has appeared to cause ten steps back. The water fountains don't specify who can drink,

but the schools do (Cleveland, Mississippi, as of 2016, has been ordered to integrate its school

system); voter registration is taking hits (gerrymandering); environmental discrimination (Flint,

Michigan water problems); and a presidential candidate in 2016 whose rhetoric has been hateful and

incendiary. But why Facing Racism now? Because the stories of the aftermaths of abduction must

be told. Because the psychological scars and the mental and physical degradation must be exposed.

Because the stories of survival despite barriers must be revealed to the public. Because these life

stories must be told to encourage the march toward a universal awareness of all

humanity. Because what was once conceived as the greatest goal humans could aspire

to by a few privileged men must now become a goal achievable for women and men

regardless of color or religion or country of origin or sexual orientation or gender

identity. Why? Because to do otherwise is to continue to lie to the world.

In 1925, Langston Hughes wrote the poem, "I, Too." He addressed the problems of

being black in his time little realizing how his poem would remain meaningful nearly a

century later…
---
I, Too

I, too, sing America.

I am the darker brother.

They send me to eat in the kitchen

When company comes,

But I laugh,

And eat well,

And grow strong.

Tomorrow,

I'll be at the table

When company comes.

Nobody'll dare

Say to me,

"Eat in the kitchen,"

Then.

Besides,

They'll see how beautiful I am

And be ashamed—

Still, the stories reveal strength, resilience, and beauty—the beauty the poet spoke of. Although,

as with everything this project reveals, there is another side. Recently, an extremely talented black actress

was—even though commended for her performance—criticized because she was not a "classical beauty."

Was the inference that she wasn't in the Hellenistic mode and that was the only accepted style of

beauty? Explanations did not follow once the questions were raised. Was this yet another example of

the way efforts by black women could be diminished? How was this to be interpreted? The Facing

Racism project presents quandaries like that to ponder. And there are other instances which reveal how

lives often had to be "re-directed."

Just recently, scientists have discovered that traumatic events (e.g. slavery, name-calling, discrimination,

economic deprivation, academic disparities, poverty, etc.) affect the genetic structure of individuals. Imagine

that. And if we add religion to the mix, could the changes bring recollections of a "krystallnacht"

experience—and all that followed—only for a different religion? Who would have thought that

somethings as simple as name changing (from Kunte Kinte to Toby, for example) would affect someone

so deeply that his genome would be affected and that the change would be passed on to his progeny?

And while this project may not explore in any great depth the alterations in the genetic structure of its

contributors, it may very well open eyes to the pains experienced by those storytellers needing to be

told of their poetic "beauty."

But time, inexorably, passes and other thoughts about life in these times surface. As if presenting

a counter argument to the wistful hopefulness of Hughes, comes an article by Michael Henry Adams in

a Sunday New York Times article about "The End of Black Harlem." Perhaps this article is necessary

to our assessments about the current state of affairs and why Facing Racism is needed. How did we get

here? What has the journey caused us? And what has been the cost?

7
---
8

I include this assessment because Harlem is where I was born and lived until I was

seventeen. It touches on some of the current unspoken or unappreciated issues affecting

problems today. However, many of the "solutions" offered to erase the age-old problems of

environment, economic and academic racism (n.b. Separate does not mean equal) frequently

lead to displacement, discouragement and disillusion. Harlem has been viewed as one of the

leading enclaves (i.e. "ghettoes") for black people in the world. Harlem was ugly and beautiful

at once. There were the dilapidated apartments, but there was also "Striver's Row." There

were the store-front churches, but there was also Abysinnia Baptist Church. There was Father

Divine, but there was Adam Clayton Powell and Malcolm X. There was the Schomberg library

that saved me; the public schools and the Hearst Milk fund and Harlem Hospital which gave

me my first job when I was eleven (I lied about my age) where I met Bessie Bearden, a New

York councilwoman and mother to Romare Bearden, the painter, who was so kind to me as

she urged me to stay in school. And Augusta Savage and the exposure to art, and Hughes at

the library...and now it is all becoming gentrified. Which means change. It means removal and

eventual disappearance. It means loss of its special identity. It won't be the Harlem of music

and art and musicians and writers or poets, or strivers and students or other transplants. It will

be another New York address filled with big city "wannabes" or what Adams calls "urban

pioneers." And with an eyebrow raised, I ask, "But what were the black people who came

first?" Weren't they pioneers? Or is this yet another example of denying the black presence?"

Must dirges be sung? If one bemoans the fact that an historic part of the nation's history is

about to fade into the mist, then yes. If one regrets the loss of places where "refugees" from

intolerance and injustice is about to be eradicated in the name of progress, then weep.

The new streets have deleted the memories. Even now, I would not recognize the

streets I walked as a child. All is gone—and will, eventually be forgotten. The voices

of all cry out for awareness!" We are here. We only want to be what you claim to offer.

And to understand us, we tell you about what we have lived and felt and survived."

Which brings me back to the project. Some of us have awakened to the fact that the

American Dream has been a cruel nightmare for others. And some of us in an effort,

possibly to remind many of us of the potential that still exists to make that dream a

reality. It is with this intent that the stories about our lives, our experiences, our work,

our children, our dreams and our recognition of the essential humanity of all, that this

effort is made.
---
The Question Mark

Maria Williams-Hawkin's story by Lizz Alezetes

Maria is 63 years old.

Question marks fill the space between us.

What separates us: Black…White…Yellow…Brown?

Are you for me? Are you against me?

When I was young, I asked to understand:

"Daddy, why do White men have to stay on the front porch when they come by?"

"Daughter, why do Black men have to enter through the back doors of White houses?"

Question marks separate us.

"Daddy, why do they want you to call White men Mister?"

"Daughter, for the same reason White men call me Boy."

The question marks, indeed, separate us.

When Daddy explained that the world is Black and White, I saw the question mark

as a Shepherd's crook, keeping me safe.

In high school a White college girl offered to help me research my homework.

When she came to pick me up, the question mark hooked my jacket, pulling me back.

"Where do I sit?

In the front, like her friend?

In the back, like her maid?"

The question mark became the hook upon which I hung all interactions.

In college I walked home alone after my night class.

A White boy said it was dangerous for me to walk alone and offered to walk me home.

The question mark appeared.

"Am I safer with him or alone against what lurks in the dark?

Isn't he what lurks in the dark?"

The darkness seemed a safer option. Daddy's Shepherd's crook continued to

guide me, to separate us:

Black. White. Yellow. Brown.

9
---
Sometimes the question mark of racism is pulled taut,

forming a line as straight as a mouth full of contempt.

The exclamation points form rows,

The rows form columns,

The columns form a wall:

"You don't belong!"

It's easier, safer to let that hook hold onto us.

After time, our skin just grows over it,

The question mark becomes part of us—

It's in our doubtful looks, raised eyebrows, lowered voices.

Ripping that hook out—it's painful, risky.

In college I ran for a short-term student government office.

The first quarter I lost by eight votes—

and I met ten Black students who didn't vote.

They didn't see the question mark; they knew the answer.

"Can a Black student win?"

Of course not.

The next quarter I ran for a full term office.

A Black guy asked,

"Why waste your time?"

But I wouldn't let the hook catch me again;

I became the first Black elected Student Government officer.

Time passed. My Daddy passed. Laws passed.

But the question mark lingered.

That barbed hook must be pulled out, tossed aside,

So that we have the freedom to step forward and connect.

10
---
Facing the Fight: Systemic Racism in Muncie

Cornelius Dollison's story by Lauren Bishop-Weidner.

Cornelius is 74 years old.

My parents came to Muncie from Mississippi, after my dad realized that no matter

how good a farmer he was, he would never succeed in the corrupt sharecropping system.

Bad year, good year, it was all the same with the white landowners keeping the books.

My father got a job in a foundry, and he encouraged his brothers and sisters to come

north. I am an only child, but I sure didn't grow up as one—our house was crawling with

cousins. One family at a time, relatives would move in with us until they got a check

or two ahead and could get a place of their own. Even when they moved out, we all

lived close by each other in the Industry neighborhood, not far from where Millennium

Place is now. When I was about 12, we moved to Whitely. We continued to host people

coming up from the South—my dad always helped the community.

With the move, I transferred from Blaine School to McKinley. At Blaine, I had been

enrolled in Algebra, but the principal at McKinley discouraged all black kids from any

college preparatory classes. "Oh, you don't want to do that," he told me, "I'll just put

you in General Math."

Looking back you see the racism, all that potential wasted. It's really sad, how the

school system kept black students out of challenging classes, just because of the color

of their skin. Algebra or not, I finished school. And my jobs all required me to use the

higher math skills he didn't think I could learn.

God granted me favor in my jobs by directing me to people willing to take a chance

on a black man. I hired on at Westinghouse as an assembler, and then became the

first African-American in Production Control. When I put in for that position, the

supervisor told me no. I stood there fighting tears, and he decided to give me a chance to

prove I could do the work. This was a management position, a real opportunity for me

to develop and grow in a job usually reserved for white men. Eventually I transferred to

Quality Control, where I did engineering-type testing, calibration, and inspection.

My next job was in the Station Department of Indiana & Michigan Power, overseeing

maintenance and new construction. The work was challenging both technically and

intellectually. I've always felt very fortunate that they saw my potential as an employee.

My last job before retirement was at the GM plant in Anderson. Anderson had the best

Process Engineering department of any General Motors plant in the country at that

time, with a lot of innovative new directions. I even got to work on developing the first

computer for use in a car.

When I graduated from high school in 1960, African-Americans in Muncie were

expected to take menial jobs. We didn't even have black teachers, let alone black bankers

or managers. But during the 1960s, things started to change. As far as I'm concerned,

Rev. A.J. Oliver of Shaffer Chapel A.M.E. gets the credit for opening up employment

opportunities for Muncie's black community. Rev. Oliver operated a lot like Dr. King,

gently but firmly guiding civil rights work in Muncie. We did some picketing of local

utility companies and downtown businesses. Rev. Oliver would ask the managers,

"Why can't we have some of our girls working as clerks and tellers?" or "You take our

money but you won't hire us to work for you?"

Most of the businesses started to hire blacks—they didn't like that negative publicity—

but the manager at Pepsi just wouldn't budge. Rev. Oliver tried all the usual tactics, and

during one visit to the manager's office, Rev. Oliver asked if he could use the phone.

As he picked up the receiver, he casually asked who the manager reported to, and then

called the guy's boss—the president of Pepsi Cola! Pretty soon Pepsi was hiring us, too.

11
---
12

Muncie joined the nationwide sit-in to desegregate Woolworth lunch counters. The store

was downtown on Walnut. Three or four of us sat down to order, and the girls behind the

counter didn't quite know what to do. They glanced back at the manager, who shook his

head, so they said, "We can't serve you here." We just sat there. One whole business day we

occupied that counter—and this was going on at all the Woolworth stores across the country!

Woolworth's finally relented, and other businesses followed suit. What sense does it make to

turn down somebody who wants to spend some money for food?

In those days, the downtown YMCA was for whites, and black kids hung out at the Madison

Street Y. It was a wooden building with an outdoor basketball court on one side and a baseball

diamond on the other. Inside we had pool tables and ping pong. I remember when I was little

we had a swimming pool. It seemed so big, all that blue water. But when it developed a leak,

they had to close it, and we didn't have a pool until Tuhey was desegregated.

Segregation is less obvious today, but it's still there. We had college students just last

semester who were warned not to go east of Martin Luther King Boulevard. They felt silly

after they got to know the Whitely neighborhood—folks here would help anybody! Law

enforcement has a long way to go, too. It's a work in progress, for sure. But one person can

make a difference. Rev. Oliver proved that.
---
Lonna's Poem

Lonna Jordan's story by Michael Brockley

Lonna is 53 years old.

Do You Hear What I Hear?

During the Christmas season, my friends and I gathered in the sanctuary at

Trinity United Methodist Church where we recited Bible verses about the birth of

Christ. The Grimes children turned somersaults and backflips. I tap danced with my

brothers and sister to "The Stars and Stripes Forever." At the end of the celebration,

the congregation summoned Santa Claus with "Jingle Bells" and "Here Comes Santa

Claus" as we circled the pulpit, anticipating the arrival of the jolly old saint. The

women wore glorious hats, some with veils across their eyes, and others with orchids

attached to bright ribbons. I wore a red, hand-me down dress my sister wore the year

before. My friends giggled as we sang "Santa Claus comes tonight." As the song drew

to its close, Reverend J. C. Williams stepped into the doorway at the top of the stairs

from the basement, bellowing "Ho Ho Ho. Merry Christmas." He leaned forward

with a red sack as large as a Nativity camel heavy upon his back. We sang of Jack Frost

nipping at your nose, until our pastor sat in the worship chair to tell us the story about

angels and shepherds and about the Three Wise Men and the star. The youngest babies

rocked in the Reverend Williams' arms as the deacons gave us the gift of Christmas

books. "The Night Before Christmas." "The Little Drummer Boy." "Earth Angel,"

a book Reverend Williams wrote himself. My first Santa Claus was a black man who

welcomed a rainbow of black and brown and tan and white. And all the colors in

between. This is my memory of peace.

What a Friend We Have in Jesus

When I asked him why God made me white and guided me to his church, Reverend

Williams answered that everyone brings a gift to the table. That everyone has a time

and a place and a purpose. As I combed the hair of my Trinity girlfriends, I questioned

my blonde hair and fair skin. On television, policemen sprayed men and women who

looked like my pastor with a fire hose. My pastor, who wrote poetry and ran for

mayor. Whose father was lynched by people who looked like me. We drank lemonade

in the kitchen in the basement of the church. I trusted the wisdom of this man who

stood waist deep in the baptism river and lowered me into salvation. He said, "Those

are not your sins." And prayed I would not be silent in the presence of evil. Said my

time to stand for justice would come.

Through It All

In the year Gloria Gaynor charted with "I Will Survive," my dad co-signed a loan

for me to buy a 1975 Chevrolet Malibu Classic. Silver with a black vinyl roof and black

bucket seats that swiveled. $85.00 a month. I played Earth, Wind and Fire on my eighttrack.

Stevie Wonder and Bob Seger. I christened my car "Silver Bullet." I worked as a

crew member at the Tillotson McDonald's to make money for my payments. Ran the

cash register. Cooked fries. Took drive-through orders for milkshakes. And I played

touch football in the streets. Lettered in basketball, volleyball, tennis and gymnastics.

I became one of the first females to be awarded a Bearcat varsity letterman's jacket. I

drove Silver Bullet to practices, to school, to work and to worship. Whenever I saw

the lady, who taught me how to make fried chicken, waiting for a bus or walking to

church, I always gave her a ride. Once a friend dared me to push Silver Bullet's 350

13
---
engine to 100 mph but, driving west on Kilgore by Warner Gear, I chickened out at 95. On

Halloween morning, someone soaped and egged my car. Insulted my friends, the people I

loved, with what they wrote on the car windows. The most hateful words I know. My dad

reminded me people learn to hate because they have never been taught the way my mother and

he had taught me. The way Reverend Williams and the Trinity ladies taught me about love. My

dad helped me clean the car. We used warm, soapy water to soak and wash away the yolk and

shells before they ruined the finish. I drove Silver Bullet to a Halloween party at church that

night. Singing "Shining Star" with the windows rolled down to the forgiveness in my heart.

Oh Happy Day!

I came to God white, and through the grace of gospel and soul was baptized black. The

Trinity Senior Choir, a procession of blue robes with red stoles, walking in step to gospel

hymns. Lifting me up with "Take My Hand, Precious Lord" Summoning me to be someone

better than I am by opening with "Amazing Grace, how sweet the sound that saved a wretch

like me." At every service, I hoped the Senior Choir would bless my life with "Just a Closer

Walk with Thee." All God's music filled me with His Spirit. My father bought my first albums.

Diana Ross and the Supremes. Otis Redding sitting on the dock of the bay. I sang "Stop in

the Name of Love" with my sister, choreographed with turns and hand signals. Even today, I

thrill to the sound of Jackie Wilson reaching for a love that lifts me higher. Dena, my sister and

I brought heavenly kisses to weddings and worship services where we sang "Stand By Me"

and "How Great Is Our God." The ringer on my cell phone plays "Let's Stay Together." I still

sing Earth, Wind and Fire with the windows rolled down. I hear "I've Got Christmas in My

Soul." I hope those righteous men and women will bear me to Trinity's sanctuary to teach me

one last glorious lesson to the chorus of "Just a Closer Walk with Thee."

14
---
Transcending Racism with Culture and Pride

Michael Timothy Duerson's story by Dr. Ruby Cain

Michael is 58 years old.

The integration effort in Muncie was for all grades, K-12, starting when I was in

eighth grade, in 1971-72. Much of the South had integration before Indiana got on

the wagon train. I always say the new South is more Northern, in that we live here

in Indiana, in the old South. I transferred from Kuhner Junior High school to Storer

Junior High school.

The first year was challenging from an academic standpoint. I went from being ranked

1 st in my old school in seventh grade to 25 th in eighth grade. Competition was much

greater. I readily saw that subjects white students were proficient with were never taught

at my seventh grade class. I had to work hard to learn the subject matter. All grading

was based on the curve. That was interesting. It made it more difficult for us, because

someone would set the bar high. I did not like being 25 th out of about 450 students in

the eighth grade, not when I was used to being first in Math, Science, and even English.

In my 1 st year at Storer, they took 100 kids from my neighborhood and blended in

with 1,100 or so white students. We were each paired with a white student to be our

guide. They teamed us up according to our curriculum, grade level, and our GPA. My

guide was Dwayne Adrian who now is my doctor and godfather to my first child. We

developed a friendship that lasted, even until today. We were in all classes together.

We competed and ran track together. He was team trainer for our basketball team. We

would go out to Pizza King as a group. Dwayne was a drummer in a band and I played

piano by ear. We formed a band for school variety shows. In the middle of the song, he

and I would sometimes exchange instruments.

We were conscious of the racial divide. Dwayne offered to be my campaign manager

when I ran for president of the seventh and eighth grades. My opponent, Phil Isenbarger,

was very popular. We had a debate before the entire school. I felt I won the debate. With

Dwayne's help and guidance, I was elected. It was exhilarating.

This elected position was hard work – dealing with issues from the school parties and

extracurricular activities to being called to be a speaker on civil rights at the Chamber of

Commerce. At this event, I sat next to the person who would become my future boss

and mentor, Van P. Smith, Owner of Ontario Corporation, an aerospace company.

We did not have any race riots at school, like on the south side of town during school

integration. There were only 100 of us. We weren't stupid. Being six or seven miles from

home, we couldn't pick a fight and run home. The odds were 11 to one against us.

I seemed to be able to mix with the white students okay. It was probably, because I

was competitive, academically. That demanded some respect. I was a starter in every

sport. In high school, I won state in choir and sang solos. I was also a member of the

City/County-Wide barber shop quartet. My mother's cousin, we called her Aunt Doris,

was a teacher in high school. I had her for music, four years in high school. I was in the

swing choir, doing singing and choreography. There were maybe two Black teachers at

high school and one at middle school. Mr. Damon Moore taught science. He became

head of the Teachers Union in Muncie.

High School basketball coach was a tremendous bigot. He did not want me to get in

the scorers box with the highest scores. I led in rebounds and assists. He could not stop

me there. I played varsity as a sophomore in High School.

In my Junior and Senior year, the coach made sure I never received recruiting

letters from colleges. The way I was recruited was that a guy from an all-white town,

Greenville, saw me play. He contacted a coach at IUPUI who then reached out to me,

directly. Taylor University also reached out to me. I wanted a Purdue degree so I went

to IUPUI.

I graduated on a Saturday and was a supervisor at Ontario Corporation on Monday.

I was part of the company's Co-Op program while attending IUPUI. I worked

there for eight years. Smith, the owner, is still in Muncie and highly regarded in the

Republican Party.

15
---
16

I drove Van P. Smith's Winnebago for him and his colleagues to many events. I met Senator

Lugar, Dan Quayle and other highly regarded Republicans. Van always introduced me to

everyone. I met a lot of politicians that way.

My college professor asked if I would like to test out of all English courses. I had written

a paper for my senior year in high school, titled Sexuality of Racism. The white middle-aged

high school teacher had given me a D on the paper. It included research on how white men

held white women on a pedestal of purity and would go out back to have their way with Black

women. I had done a lot of research to substantiate the paper. This was the same paper I used

to test out of all required English courses at the university and got an A. I was only in the

English class for four weeks.

At IUPUI, I moved to Indy and continued to work for Ontario, located in Muncie. I worked

as supervisor in the co-op program that allowed me to apply my learning in the workplace. I

developed curriculum for managing engineers.

As a benefit of being on the basketball team, I got a job in the union, at Detroit Diesel Allison

at General Motors. By the time I was 21 and graduated from IUPUI, I was Vice President at

Borg Warner Corporation.

I was the first Black to be selected for the Board of Regents of Indiana University (probably,

1979 and 1980). I was the first Black to be in management training program at Ontario

Corporation. I was the first Black to graduate from School of Engineering with a B.S. degree in

Industrial Management and Supervision at Purdue and a certificate in Industrial Engineering.

The degree blended Engineering with Management, providing comprehensive skills for rapid

promotion in my field. I completed the 5-Year program in three years and a semester.

This may sound strange. Even though I am married to a white woman I am, now, more in

tuned with blackness than when I was in school.

I believe that I control racial transactions. My conclusion is drawn upon modern day "Jim

Crow" functional choices: A function of character. I choose to rise above stereotypes of

institutional blackness and thrive spiritually by practicing love.
---
The Dreams of the Hopeful Youth

Emily's story by Maggie West

Emily is 12 years old.

My parents taught me that I should never judge people. Everyone is equal and

everyone is a person.

My dad is the reason why I have a strong interest in these issues. He is a student and

is studying Social Work. I love to go with him to talks and meetings about dealing with

race and religion issues. It teaches me how to be open-minded and I feel that it makes a

good impact on me.

It all started before I was born. My aunt told my mom that she was ruining my life.

I am mixed. I'm Mexican and American. My aunt believed that I wouldn't be accepted

by my Mexican or my American sides. The only reason she came to see me after I was

born was because I looked white; not mixed.

My parents are Muslim. My aunt doesn't like that, because she is a Christian. She

posted on Facebook: "All I need to know about Islam and Muslims is the first five

minutes of 9/11."

As I've gotten older, I think she has changed her views. She doesn't see me as anything

other than a person. Even though we don't talk as much, I hope to eventually have a

conversation with her about these things. But if not, I still love her even if she made

those bad decisions and choices. I will always love her; she is still my aunt.

My friends at school accept me. A lot of my friends are of mixed race. When we

talk about racial or religious issues at school, we like to educate each other instead of

fighting each other about it. We learn that it's better to learn the right things about each

other instead of believing the wrong things.

When I reflect on certain issues, I like to think about Dr. Martin Luther King Jr.

because he wanted everyone to be treated as a human being regardless of their skin

color. One thing I believe could help ease racial and religious tension is jus t everyone

having a civilized meeting about issues going on around the world. I want them to be

able to talk about everything without violence and hatred.

When I grow up I think I want to be an animator—drawing for video games. I think

through my drawings and games I could set an example on being open about different

cultures and ethnicities.

I want to teach people that they shouldn't judge others. I want to show people

it's okay to be themselves.

17
---
When the Unrest Came to Middletown

Daniel's story by Melinda Messineo.

Daniel is a pseudonym and he is 73 years old.

Things were so tense at that point in the 1960s. We opened the fire station doors and there

was this group of black men there blocking the exit. They were keeping us from going out

on the call and I'll tell you, we were scared. They weren't angry at us in particular. They were

just really angry and wanted to let whatever it was on fire just go on and burn. Another time

there was this false alarm where as soon as the firemen were inside the building, a crowd of

75-100 people surrounded the place. The firefighters at the truck radioed for help. It wasn't

until officers with a dog came that the crowd was dispersed. There were deliberate fires set,

too. There was this one time when we were called out to a small structure fire. It was an

outbuilding that was burning, but as soon as we got there, the house on the property just

exploded. It burned in a way that houses do when the fire is intentionally set. It was timed to

go off when we pulled up. We saw this other house where buckets of gasoline were strung up

on hooks with fishing line. Only a small fire would be set but once that line would melt, it was

bad news.

And here I was this naïve young white guy, not really understanding what was going on.

Who knows who set the fires. It doesn't really matter. Looking back I see it differently. I

know better now why people were upset, President Kennedy was gone, Martin Luther King

was gone, and Bobby Kennedy, too. We were part of the authority as some people saw it. The

unrest from what was happening in the big cities was making its way here and it was bad.

You see, it wasn't always like this here when we were growing up. We didn't see any

animosity in the neighborhood. I grew up in the working class part of town. It was integrated.

In fact, we played baseball together. We never had issues. We were friendly. My dad took us

to the dentist on the corner and I never thought about it until later that he was a black dentist.

He was just who we went to…never even thought about it.

As we got older things changed. Going to the high school you started to see differences.

People were acting differently and treating people differently. Different groups would even

use different doors. You could feel the tension; see it in people's eyes.

I remember one day some friends and I, we went to the carnival down the road. It was one

of those mobile ones that would go from town to town. We lost track of time and weren't

paying attention to the fact that as white teens, we should have left already. People were

nervous that we were there, anxious, upset, deciding what we were doing there still, if they

should do something. Things were tense; we knew we shouldn't have been there that late

because it made things complicated for everyone. We just got ourselves out of there as quick

as we could and didn't look back.

We all were just expected to stay in our own place. I remember there would be these dances

in high school where the white kids would have their record hops which were nice and all, but

the dances you really wanted to go to were the live music shows in the armory that the black

community put on. I was lucky because my folks were involved at the armory, so I got to see

all the great acts. Otis Redding, Mary Wells, The Drifters, Jackie Wilson, who was the best

singer there was—this was before Michael Jackson—and I got to see him, to see all of them.

Everyone should have been able to see them but it wasn't that way back then. Things needed

to change and they did change, but it was rough.

There wasn't a particular incident that I can point to as the start of it all. We had been

isolated, protected from the unrest for a while and I think I know why. What we had then was

jobs, and work, and people making a good living, a way to provide for their families. Maybe

that's why it took a while for the unrest to come. But I will tell you, I have seen ugliness, an

ugliness that only comes from people when they are really afraid. You see, ignorance leads to

fear which creates anger which makes hatred. And people, they become sick in a way, unwell,

their mental health declines and they become overwhelmed by it all and get so angry. Though

18
---
I have wondered, and nobody can answer this for me yet, I have wondered, is it the mental illness that causes

the hatred or the hatred that causes the illness? Hatred can make you crazy, I have seen it…I have seen it destroy

people. And it doesn't have to be that way.

You know, you aren't born even knowing what race is…it has to be taught to you…someone has to tell you

people are different and that difference means something. It don't mean something unless someone says it means

something, and even then it doesn't really mean anything.

People use it as a reason and as we get older, we need to be careful with our words because the kids are

listening, that's how they learn it. We need to work as a community to teach them. It takes all of us together

to make a change. And what people don't want to hear is that it is expensive to do it right. It takes time and

money and people working together. We are all just too busy. When I was a kid, the police, they had time to

mentor to get to know the kids in the neighborhood. Neighbors knew each other. We would help each other

out. Now, we don't invest, we don't take the time. I worry now because I see it starting again…the unrest is

coming back. It worries me. The Islamaphobia is starting here, it's like 1967 all over again. People want to hide

and not talk about it, but we have to talk about it, you know? We have to keep talking to each other and build

relationships and learn from each other and not be ignorant about who we all are because we can't afford to have

that ignorance turn into hatred. It can't happen that way again.

We can't let the unrest come again.

19
---
Fighting Racism with Love

Mary Dollison's story by Lauren Bishop-Weidner

Mary is almost 74 years old.

Although I was born in Tangipahoa, Louisiana, my memories of the open racism of

the segregated South are vague. My mother was very light, but her mother was extremely

dark. We used to wonder why our mother was so fair, and her hair was so pretty, and she

looked so different from her own family. Well, as we found out much later, her daddy

was white. This was Louisiana in the early 1900s, and my grandmother was a domestic

worker. She was married, but that didn't matter to her abusive employer. He never did

admit my mother or her sister. My mother could have sued her biological father and

gotten some of his money, but she didn't want anything to do with that man. She just

wanted to get away from the whole situation.

We moved to Muncie when I was 12. My mother worked at Green Hills Country

Club, where she met Joel and Inez Reese, both of whom cooked in the dining room

there. In addition to that job, Reverend Reese pastored the Kirby Avenue Church of

God. Their adopted son, Vernon, was about my age, and even though we were just

kids, Reverend Reese trusted us to lead the youth, a role we continued throughout high

school. We made some mistakes—bossiness, tattling—but we learned valuable lessons

about leadership, discipline, and flexibility. When Cornelius and I married, he joined me

in leadership, and we are still working with the kids of Kirby Avenue Church of God

all these years later. As a timid young girl with no confidence, working with children

helped me to see a little of God's plan, a plan that unfolded gradually.

Around 1956, I started doing domestic work after school and weekends for a wealthy

white family who lived near Ball State campus. Despite the racial stereotypes associated

with domestic work, that job showed me a future I never could have imagined. I

learned to cook a broad array of dishes, to set a formal dinner table, to make small

talk with strangers. My vocabulary and my world grew larger from reading their travel

magazines, studying the family's fine art pieces, and reading their seemingly endless

supply of books. Observing from behind the scenes, I saw what education can do, and I

wanted to be a part of that world. With God's help and Cornelius' support, I completed

a teaching degree in 1964.

It wasn't easy for a black teacher to find work in Muncie Community Schools at this

time. Most African-American students were served by either Longfellow or Garfield,

and these were the only Muncie schools with African-American teachers. I was given

a first grade class at Longfellow that year, along with three other brand new teachers.

I loved working with those women. We shared our lives and our passion for teaching,

collaborating in innovative ways to give our students a solid educational foundation.

Many of those first graders went on to complete college.

In December 1965, my son Larry was born. When I returned to teaching two years

later, Dr. Sam Abram was a rising star in Muncie Community Schools and the only

African-American administrator. Although both Longfellow and Garfield had openings,

he strongly encouraged me to request placement in a school serving white students.

Three weeks into the school year, I was finally hired at Morrison-Mock. You could

say the Dollison family integrated Morrison-Mock – I was their first African-American

teacher, and my children were the first black students to enroll in regular education

classes.

When my children faced racism, and they did, I would talk to their teachers. I didn't

want special treatment, but I wanted what was right. Each situation was different, and I

approached each one as a separate incident rather than as a pattern. At Morrison-Mock,

especially in the early years, I sometimes surprised parents: "I didn't know you were

black!" they'd tell me. But children don't see race as adults do. It's our responsibility

20
---
to demonstrate love and hope and opportunity to ALL children. My great-granddaughter recently asked her

mother, "Why are you black, MeeMee's white, and I'm brown?" She's seeing colors, not race.

In my family, we knew about hard work. We knew you needed to have a garden. We knew you needed to

save money. These are good traits to have, but they are not enough. Children need nurturing and encouraging

and empowering. Black people understand hard knocks, and sometimes the obstacles we face can make us hard

people. If we look at individuals, and treat others as we want to be treated, we can fight racism with love. As

my grandmother always told us—I can hear her in my head right now—"You reap what you sow."

Throughout my teaching career, I made a practice of inviting my students to share a meal with my family,

a few at a time until everyone in class had a chance to participate each year. As we worked together to

prepare the meal and clean up after, we learned about one another, getting to know each other outside of the

classroom. The time together offered many teachable moments. We talked about hygiene—handwashing,

proper dishwashing. We discussed nutrition: What makes a healthy meal? The children learned new words,

such as "condiments."I got to know parents, too, since they had to pick up their children. These individual

relationships helped us to trust one another, regardless of race. If we look at the person first and the skin color

second, racism doesn't stand a chance.

I'm not a stranger to the ways race can be used against us. But I believe in fighting with love, starting with

the children.

21
---
In the Punch Line

Jayla Scaife's story by Travis Graves

Jayla is 18 years old.

They always make jokes about Whitely, where I live,

and how it's the ghetto, broken down, and the worst

place in Muncie, which it's not. They don't care what

they say, they'll say whatever. No matter who's around,

they'll make jokes in class.

Our teachers say they don't know how to discipline

them 'cause the jokes aren't that bad. Every time race is

talked about in class it gets turned into jokes. We were

watching some video in our government class about how

we shouldn't label people based on their skin color, and

thirty seconds after the video was over they were making

jokes about the black person in the video. I hated the

Black Lives Matter movement because it just turned into

jokes and they would say "all lives matter," "all lives

matter."

Really, I'm not amused by any attention brought to

race and racism because it always gets turned into some

joke that isn't true and isn't funny and doesn't help.

Most recently during Black History Month our teacher

was planning on taking us on a field trip to the Capitol

building in Indy for some Black History Month event.

A few weeks before the field trip, one student counted

the black kids in class. It was just me and another mixed

boy. He started telling the teacher for everyone to hear

we shouldn't have to go because there were only two

black kids. Because of this I really didn't even want to

go on the field trip knowing I would be made a target for

mocking. One of the main guy's that makes these jokes

is a youth leader in a popular student Christian group at

the schoo—a group that I'm also a part of. He's actually

gone on a mission trip to Africa and came back saying

"we should help them," but then also makes jokes about

how dark they were. I don't know what point he's trying

to make with his jokes, but they weren't funny, and then

he tried to apologize for it but his apology was more like

he was sorry that I didn't have a sense of humor.

I've always gone to schools that don't have that many

black people, so I've been used to not having students

around who were like me. There are quite a few black

students at Central High School, but not in the advanced

placement classes that I'm in.

I never really caught on to the jokes that were made

when I was younger, 'cause they kinda went over my

head, but as I got older I've caught on to the jokes people

were making and took offense to them and have taken

them personally, and I'm not expecting it to be better

next year when I'm at college.

22
---
In the Punch Line by Travis Graves

Your words

like flying fists

lay hard against me

and everyday I remain

waiting to receive

the dagger

in my gut, on my chest.

Cautious I move

I sit and slowly eat

so not to insight a thing

as you begin to speak

my throat seizes and I must think

to swallow so I won't choke

when you strike

and I lose my human dignity.

Every day I can see it coming

and tomorrow will be the same

an oppressive reminder

I'm not your equal

my place you find me fit

Is in the punch line.

23
---
Facing Racism with Help

Sam Abram's story by Lauren Bishop-Weidner

Sam is 78 years old.

My father, Lonnie Abram, was the most efficient picker on the Money, Mississippi,

cotton plantation where he sharecropped, a distinction that earned him $1.00 each week

as well as permission to travel to Greenwood and to cut hair on weekends. In 1940s

Mississippi, a person of color still needed permission from a plantation owner just to

be on the roads. My father was valuable enough to the landowner that he was given the

privilege to travel as well as to earn a little extra money barbering. A car accident left

him with an injured right hand, poorly cared for in an outbuilding behind the hospital.

As a result of the injury, he couldn't pick cotton or use the barber chair on the street

outside a business owned by a relative of the landowner.

We moved to Muncie in 1944, staying with relatives until he got a job and could buy

a house. Although my mother stayed in Mississippi, my father never let us lose touch

with her. My father drove the nearly 1400 mile round trip in a weekend, making sure we

got to Memphis by 6:00 a.m. in order to buy gas—any later, and we might not be served.

Once we hit the Mississippi line, his caution increased greatly—remember, Emmett Till

was murdered in Money, Mississippi. We'd head back to Muncie in time for my father

to be ready for work at 6:00 a.m. Monday. From a very early age, I saw the sacrifices my

father made for his family.

Leroy Ash, a neighbor several years older than I, was like a big brother. He helped

with homework and encouraged me to try new things. Kids from Mississippi didn't just

automatically fit in. We looked different, we sounded different. Some of the local boys

took advantage, but Mr. Ash helped me to gain the confidence I needed. He worked at

the Branch YMCA on Madison Street, and I'd go there after school. When I was new to

softball, I wasn't a very good hitter. After two strikes, someone would usually beg for

my last strike. Seeing this, Mr. Ash asked me:

"How many strikes do you get?"

"Three," I answered.

"And how many are you taking?"

"Two."

"Sam, you can't give away the opportunities you're given."

That advice stayed with me all my life.

I used to follow Mr. Ash around the Y, helping out wherever I could. When I was a

little older, I applied for a job there. Mr. Roy Buley, Director of the Branch YMCA,

hired me because he'd seen me helping out and he trusted Mr. Ash's recommendation.

In the mid-1950s, the city planned a new building for the Madison Street YMCA, but

it was to remain a segregated facility. Many in the neighborhood were overjoyed, but

not Mr. Buley. Well known and highly respected, he'd walk through the community

talking with people. He included me in these conversations, as he explained that we

needed to desegregate the downtown Y if we were going to have equal access to facilities

and programs. Mr. Buley's logic escaped most, and plans for the new building came to

pass. History proved Mr. Buley to be right. I was privileged to learn from his example

of courage, dignity, and leadership.

24
---
My first dream was to be an Air Force pilot, the result of stories I heard from one of my elementary

teachers, Mr. Dygert, who had been a fighter pilot and a real hero. I enrolled in Ball State's ROTC program,

majoring in Social Studies, Driver's Education, and Business. Halfway through my junior year, I passed

everything I needed to in order to continue—except for the eye exam. I needed a new goal. With my major,

high school teaching would have been a logical path. Unfortunately, Muncie was not hiring high school

teachers who were Black, and I didn't want to leave Muncie. At that time, Muncie had five Black teachers,

all at one or the other of the two Longfellow Elementary buildings. After petitioning to take a double

overload in order to complete the necessary credit hours for an Elementary Education license, I graduated

on time.

I was deeply committed to learning as much as I could during my student teaching at West Longfellow.

I typed my lesson plans and organized my materials carefully, hoping my efforts would lead to a job offer

for the following school year. I knew if I wasn't hired at Longfellow, I wouldn't have a teaching job—no

other school in Muncie would have even considered my application. Mr. Burl Clark was principal, and we

met twice that spring. The second time, he told me that he wasn't going to recommend me because he was

pushing for schools other than Longfellow to open up for teachers of color. Thanks to Mr. Clark, Doris

Faulkner transferred from Longfellow to become the first African-American teacher in Blaine School, and

I began that fall of 1960 teaching fifth grade at East Longfellow.

While teaching, I continued my education and in 1966 became principal at Longfellow, a job I cherished

for four years. When I wanted to transfer to a larger school, I was told I would not be transferred, and

not to ask again. The excuse given was that I was the youngest elementary principal. The truth was that

I was Black. I looked for a new job. I accepted an excellent upper administration position with Marion

Community Schools and tendered my resignation.

Then I got a phone call on a Sunday evening from Dr. Robert Freeman, who had been hired that weekend

as Superintendent of Muncie Community Schools. I was abrupt with him, telling him I already had a

job. He was patient with me, explaining that he wouldn't have called me if he hadn't already spoken with

the Marion Superintendent. I accepted the position he offered as his Administrative Assistant, and he

continued to mentor me, modeling and teaching necessary skills. After three years, I took a leave of absence

to complete my doctorate, and in 1989 I became Superintendent of Muncie Community Schools.

God has blessed me with many mentors, and my path grew clear as I learned from every one of them. My

father, Mr. Ash, Mr. Buley, Mr. Dygert, Mr. Clark, Dr. Freeman, and so many others, Black and White—

without their leadership and guidance, I would not have become the man God intended me to be. I pray

that God has used me in the same way, to help shape the lives of others.

25
---
On Not Feeling Safe

An Anonymous story by Resa Matlock

Storyteller is 44 years old.

26

It was our destiny.

I lived in Iraq. My husband bounced between Iraq and Indiana. His mother was from Indiana

and his father from Iraq. They met at IU. Our families knew each other. My sister married his

brother. We met and talked, and we, and our families, agreed to our marriage.

God meant for us to be together.

When I moved to the U.S., I spoke very little English. I started to learn at the Muncie Career

Center and was treated well. All over Muncie, even after 9/11 and the wars, I didn't see any difficulty

with people accepting me. I took CNA classes, became a nurse's assistant and worked for four years

until our second child was born. The hardest thing was to be away from my family in Iraq with new

babies. I worked to adjust to my new life because I had no choice. This is my life. I can deal with it.

My husband has problems and his problems are my problems.

Racism is not just about black and white. Racism is not just about individuals. Racism is about

families too.

I came to the U.S. having the idea that this is a free country with rules, rights, and obligations.

I still have that in mind, but year after year I find more discrimination. When I was working,

some people would ask why do you wear that, because I wear the hijab in public. I worked with

women from Mexico, Poland, and Sierra Leone, and we sometimes felt like the other nurses

treated us differently.

I tell my children we are different. We will stay different. Different is not a negative thing. People

will know from our names, our color, our accent, our behavior. We are different.

My children are white, and don't have accents, but they have Arabic names.

When I came here I became a U.S. citizen and believed that if you work hard, you would be okay.

There is unfairness everywhere, but not like this unfairness that my husband has faced at his work.

He doesn't want to tell because he does not want to lose his job.

You see, my husband is a U.S. citizen. He was born here. But his boss treats him like an outsider.

His boss is more than just rude. His boss is racist. His boss constantly puts him down, calls him

names, cusses at him, and says terrible things about our religion. What makes it worse is that my

husband never gets a break. He's not allowed to take vacation. He works overtime and is always

called in on "time off", both of which are unpaid. No one else in the company works as much as

he does.

When I say that racism impacts families this is what I mean. My husband is treated unfairly. Of

course this comes home. Of course this impacts us. We believe that family time is important. And

what little time we have together gets interrupted. Interrupted by these so called emergencies that

I'm certain someone else can solve. Vacation days? No. He can't use those either because it would

be too chaotic at work without him. If he's able to get a vacation days it's never more than two days

and at that, he usually has to work overtime the day before so make up for that time off.

I also worry about what this teaches our children. I want our children to know that how their

father is treated isn't ok. That they shouldn't expect that and they should speak up. I've tried to

help my husband stand up, but he doesn't. He doesn't realize that he has rights as an employee. So

instead he just takes it because he's lucky to have a job. And our children see this. Do they know

that this isn't right? Is this what they think will happen to them when they start working? Will they

just accept that this is normal and they will be lucky to have a job? I hope not.

Our children come to me with their concerns or questions about school, the community, or

things they see in the news. They come to me because they believe their father won't stand up for

them. They think this because he won't stand up to his boss. So I have to take this on all by myself.

I do my best to learn about whatever it is, to stand up for them when is necessary, and to teach them

to do the same.

I love my husband but I'm worried about him. I'm worried about us. I'm worried about our

family. He is so consumed with work things that I worry about our family. Because I handle most

things with our children, I worry about what will happen if something happens to me. Will he be

able to stand up and protect our kids if I can't? Will he stand up and protect me if I can't do so? Will

it always be like this?
---
You Don't Know What God Look Like,

So How You Gonna Be Racist?

Legend's story by Stephanie Winn | Legend is a pseudonym and she is 36 years old.

When I first got here from Liberia, the change in school was like going straight from the

second grade to seventh grade. My accent was real thick so I hated talking in class. I still get

anxiety today to read in front of a big crowd. And you know, it was opposite of what you

would think for me. Because it was the black kids that bullied me. They would call me names

and make fun of me. They will ask the most crazy questions. They used to say, do you guys

wear clothes in Africa? Do you guys have moms and dads? Like we're not human. We just

fall outta the sky and here we are. But, the white kids, they'd be real nice and interested in me.

They'd ask me where I was from and think it was cool to hear about it.

My dad bought a house in a white neighborhood and we didn't know it at the time, but the

head of the Ku Klux Klan lived two doors down from us. In the beginning, it was bad because

they thought we was straight up African American. And then one day, we was standing outside

speaking our language cause our step mom, she didn't know how to speak English, so we was

speaking our language towards her and one of the guys came out. He was like, "Where you

guys from? We said, "We are from Africa. We're African." They was like, "Well you guys are

different from the black Americans." And we was like, "What's the difference?"

But, after that it wasn't bad for us anymore. And that's how I started to know about racism

towards black Americans.

Back at school, it was Black History Month. They showed one movie about slavery and

that's how I found out what was goin' on between black and white people. I didn't know about

Martin Luther King Jr., Malcolm X, anybody before this. I would get upset at the white people

for what they did and what they continue to do to the black people. But then I would get upset

at the black people for not putting a foot down and changing their lives around. I heard people

say, "Well, the white man holds us back." That might be true, but there's always a way around.

I started doing my own research about what is going on. You know, I had to wonder, why is

there just one month in a whole year to learn about our own history?

That's what I learned in those books, and I learned a lot that first year just by the way I

was treated. You see rumor has it, that, as an African, the Americans like us more than they

like black Americans. I think that's why the black kids at school didn't like me. White people

always seemed to like me better than them. Well, you know how high school is. Guys won't

date you 'cause you're dark skinned. They'd like the light skinned girls 'cause that might be

who is in the rap videos and on TV. And even grown people would stand there and say, "Oh, I

don't date black guys or Asian guys," or whatever. I could never understand how adults could

say this because what God may plan he didn't say, oh you gonna be with this white person, he

didn't say that. And now, as an adult, I'm so thankful I didn't accept what they said as truth.

Because if I was racist, two of my sweet children wouldn't even be here. I believe one way God

shows the beauty of races coming together is through biracial people.

Yes, I am part of a beautiful biracial family, African American, Black American, biracial,

and white. And you know, it's still hurtful and confusing because people assume we're not

together. At the grocery store, even though we'd be holding hands and talking, the cashier will

be like, scan, scan, scan, "Your total's $14.88." Then look at me, "Can I help you?" Like she

don't know we're together.

People need to ask God to help them start seeing things different. People who are straight

up racist, they have no respect for God. Because we were made in the image of God and you

don't know what God look like, so how you gonna be racist?

27
---
A Battle to Fight

Ella McNeary's story by Lenore Allen

Ella is 72 years old.

I came to Muncie in 1965 from Dayton, Ohio, after a 12-month internship. That's

when I got the job at Ball Memorial Hospital. I was the second black dietician that they

ever had. The first one, Mrs. Gaylord, worked there a few months. Her husband was

completing his degree as a veterinarian. Then, they left.

I was at Ball Memorial Hospital for a year and a half as a clinical dietician. Then, I

went to Ball State. I was hired easily at both jobs. To talk about the racism in Muncie is

a touchy subject. I worked at Ball State for 28 years and retired at 51. I'm 72 now.

At Ball State after Betty Tipton left to work for Muncie Public Schools, I was the only

registered dietician on the staff at Ball State dining service. The first department head,

Ms. Ellen Nicholson, was a great head of the department. She was like a mother. She

was a sweet lady. You could go to her with your problems. She kept things confidential.

Information wasn't written on your evaluation or job description. She was very honest,

trustworthy, and decent with high moral standards. I presume she was very spiritual. I

had a Bachelor's Degree and a Master's Degree, so I had more education than anyone

else in the department including my past and present boss at the time.

After working 24 years, there were two positions that were open in the department. I

was a Manager, an M-4 or the fourth level of management. I was competing for the job

with assistant managers, M-2s or people who were on the second level of management.

The snack bar managers were M-3s, or the third level of management. This position

of Assistant Director of Dining service was the second position of the same name.

We already had one Assistant Director. This position was created by the boss. It was

posted supposedly in all of the national journals, so anyone in the United States could

have applied for this position. You had to have a minimum of a Master's degree in

management or food service in order to apply.

I had Food Nutrition and Institutional Management. I was the only one who had

that background. I had a Master's degree in Dietetics and Health Science. I was mighty

knowledgeable for the position. I had worked at Studebaker dining service at Ball

State for over 28 years. I had plenty of experience under my belt, especially with the

maintenance budget. There always seemed to be maintenance issues and I was steady

making requests to have things repaired. A few things would get done, but not the

major requests, which meant that each year that there was money left that went into

a sinking fund at Ball State. Over the years, I saved the University at least $8,400,000

which helped to build new dormitories that they probably didn't need. Surely that

should have been enough experience.

I applied for the position knowing that my present Department Head probably

would not appreciate it. I felt that she didn't want to work with me because I was black.

I was right because an M-2 received the position. It was someone that I had previously

supervised. Almost all of the M-2s and M-1s had worked under my supervision at some

point in time. A few of my co-workers egged me on to ask the Director about the

position. "Ella, what are you gonna do about it?"

They knew I was the best person for the position. This was in the summer time. Ed,

my son and I were in Canada. I was just getting over a cold so I wasn't thinking about

anything, but my illness. It was so unfair knowing that I was the only one who was

qualified for the position. Anyone else would have to take Bachelor's degree classes as

well as Master's in order to gain the knowledge and credentials required for the position.

28
---
I didn't corner anyone to talk to them about any of this. I went straight to the Muncie Human Rights

Commission. I told them that I was there for an age discrimination lawsuit. I decided to use a law firm from

Indianapolis. I was in my 40s and I noticed there were not people in management in that age range. Only

the young women were hired, but women my age…we were dependable. Most women my age didn't have

children. I wanted to file against the department head, but the university wouldn't allow me, so I had to sue

Ball State University. I had no other choice. I believe I was the first black single woman to file a lawsuit against

Ball State.

I went to the EEOC which was a waste of my time and theirs as well. The Ball Family owned most things

in Muncie. I felt like little David going against Goliath. Then I felt like Lot and those friends of his. I got

frightened about it, but it seems like God would open windows for me at times. And I would say, "O God,

you've done it again!"

I remember before the depositions things would be placed in my hands. I had to thank God. When I reviewed

them, I had 73 exhibits. My department head only had 9 exhibits which was mostly untrue. Every now and

then I would hear that our department head said that she could not discuss this or that because of the lawsuit. It

made me feel uncomfortable. People were walking on eggshells and the grapevine was very long. Immediately

someone would know what you had said. There were accusations from the department head that I kept my

employees in an uproar all the time. I know this came from my department head because I saw it on paper.

These allegations were not true. As time went on we settled. It was not a big settlement. Not nearly what people

thought I received. You know the black community would make comments like, "Girl, I know you got about

$500,000!" No, I did not.

My husband and I had always been frugal. We didn't always spend our money. I was a saver. The one thing

that we did was pay off the house. I stayed at Ball State until I was 50. I could retire because I had more than

15 years of service. My son was going to college and he would receive 75 percent off of his tuition if I did so. I

stayed there until 1995 and he graduated in 1998. It was a long journey and very stressful. This began in 1991

and it ended in 1995. I lost $45,000 because I retired at 50 instead of 66 years old. I couldn't take it anymore.

I didn't make $45,000 when I left because Ball State did not pay me well. And they treated me worse. I went

to the library and discovered the Board of Trustees minutes. I would look at raises they had given people.

Different people had gotten raises from 8% to 11%. I have had evaluations that I felt were incorrect and I felt

discriminated against.

It was written into one of my evaluations that I did not appear to have read the engineer or architect's report

for that day. At one point they were going to renovate Studebaker dining service. I still don't recall that I had

never read their notes, but that was put in the evaluation. This was not in my job description. Using the term,

"it appeared" was very misleading.

But life after retirement has been fulfilling and rewarding. Volunteering has been my motivation and passion.

I have stayed involved in helping others and the community through the NAACP, the YWCA, and Trinity

United Methodist Church where I am involved in the ministry. I try to reflect God in all I do because I know

that I would have never made it in life without God and my faith. I know that I would have never made it in

life without God and my faith.

29
---
Cutting Up. Getting Along. Working Together

Tom Carey's story written by J.R. Jamison

Tom is 75 years old.

What you want? You wanna hear some stories?

Well, it was always cleaning the bathrooms, mopping the halls.

"Man, you got the best hands I've ever seen," is what one supervisor would always say.

And I was just cleaning the bathroom. I was like, "What you talking about? They're

just hands!"

We got real tight. He said, "If you stick with me, you'll take my job when I leave."

This other supervisor was prejudiced. He didn't care for nobody. He was a little guy,

5'6", and boy he'd give us a hard time. A group leader position came open under him,

and my boss went and told this guy that if he wanted the best man to hire he should hire

me. I told my boss, "Man, I don't 'stand that joker and he don't like me. I can't work

with that dude."

He told me just to try it for 90 days, so I did and ended up staying.

At the time, there were no women custodians and very few blacks. I trained the first

women custodians at Ball State, two white and one black. This was in the 70s.

One white woman was named Nellie, the black woman, Julia, and the other white

woman was Donna from Eaton. Donna would tell on everybody. She kissed the

supervisor's butt. Everybody knew she was a snitch. Just stuff that went on, you know.

So we all were sitting at the table having our staff Christmas dinner, and Julia said:

"Earl, what you gonna do now that we all know Donna is your snitch?"

He turned red and just grinned. Shocked everybody. These types of things went on all

the time. Just cutting up and getting along.

Then they brought a guy in from Yorktown to work under me. He and the supervisor

went to school together, and this guy wouldn't let me train him. He was one of those

people who thinks nobody could train him. He was rotten, too.

So this other supervisor job in our area eventually came up, and we both put in for it

and they hired him over me. I wrote a letter to the Equal Employment Opportunity

Commission and they tried to get me to claim discrimination and told me to go black

against white, but that's not how it was. He was hired because they were friends. Or

that's what I thought.

But two weeks later because of the letter, they called and had us come in to talk about

it. They brought out our evaluation papers to show how we stacked up, side-by-side.

Where I had an "A" he had an "A." Where I had a "B" he had a "B."

I think they made those papers up.

30
---
They said why he was hired over me was because he had management experience running a few

restaurants in town. I said, "If that's the case, I've managed a barber shop in town for years on top of

this job and have more overall experience."

It didn't matter. So I eventually let it go.

But guess what? One man ended up dying and they gave me his job as a supervisor. Finally, a supervisor.

The first two years, I had to go through some things. But everybody started to accept me.

When I first went into supervision, whites thought I favored them. Blacks thought I favored them. I

just tried to get people to bond as people. Not because we're black or white, or even green for that

matter. We've just got to work together. I mean, we are all working people, we have to work together.

One day, though, my group leader, Barry—me and him was real tight—he told me one of our guys used

the N-word when I wasn't around. I was shocked.

I was like, "No!"

"Carey!" He said with his hands up and head down.

"Barry?!"

So I called them all in, "Has anyone heard Mark use the N-word? Has anyone heard Mark use the

N-word?"

So finally this girl spoke up, "I have. When no blacks are around, he uses it consistently."

Man, I gave him a talking. "Let me tell you something. If I ever hear you use that again, it will be your

job." He started crying! But that's all it took, and we got it settled and was cool after that.

When I retired, I had more seniority than any supervisor even though I was the youngest.

You know, they were my people. I mean, everybody is completely different. Black, white, green, or

purple. We all have different personalities. But we got to learn how to deal with each other. And that's

what I was good at.

They'd always say, "Why y'all following behind Carey?"

'Cause I've got their backs.

It was always cleaning the bathrooms, mopping the halls. I'd tell them, "You stick with me. You'll take

my job when I leave."

31
---
A Person Without a Story, A Person Without a Name

Christine Satory's Story by Michael Brockley

Christine is 58 years old.

Call me NoName Changeling. I was born in the year the Lumbee stood down the

Klan in the Battle of Maxton Field. The government placed mixed-blood babies with

white adoptive families. The children with blond or red hair. With blue or green eyes.

America's forgotten children. My hair was as red as wild strawberries. My eyes, the

color of luna moths. Even then, my skin was light. In Canada, I carry papers that say I

am Métis but, in my country, I have no tribe.

In my country, I have no tribe. I am a split-feather. One of the lost birds set apart

from the legends of Nanabozho. I never sat in a circle while the grandfathers spoke of

how Nanabozho dwells among the seraphim of the Northern lights on a great island of

floating ice. I am neither Potawatomi nor Ojibwa. Neither Menominee nor Kickapoo.

I am the daughter who dreams of feeding her grand-daughters pemmican.

I am the daughter who feeds her grand-daughters pemmican made from a recipe

printed in a book. I read Roget's Thesaurus in search of synonyms for the language

I cannot speak. I rescue abandoned words and shield them from harm's way. Quid

nunc. Gobsmacked. Hear me when I tell you, the songs my ancestors bequeathed me

remain unsung. I do not resemble the silver screen image of Sacagawea, but I joined

the caravan to Pine Ridge to restore what was stolen. Each day I thank the spirit leader

whose gift to me was her trust. And the elders who told me to follow my spirit.

The elders told me to follow my spirit. My first husband sought his heritage among

his Choctaw roots. My husband, like a Hollywood Indian from Thunderheart or

Dances with Wolves. Black hair, brown eyes and copper skin. Stoic until his final

devastation. Our sons danced in midwestern powwows. Grew their blond hair long to

hold their mysteries and prayers. Were taunted in the high school halls. Others at the

powwows complained of wannabes to the BIA. They stripped the feathers from my

sons' regalia. One son was a drummer. The other a firekeeper. I taught my sons to live

with honor, and they honor their mother. My sons walked away. I cut my hair. Still I

walk in a spirit way.

I walk in a spirit way. I host a feast for dancers who travel with wolves. I serve

squash, maize and beans. The Three Sisters. We sing for The Child of Many Colors.

Practice trills. I wear long skirts. One summer, fifty people from a Bible camp stood

in my lawn to ask if I had been saved. I ordered a statue of Pan for the front yard.

They never returned. I teach college freshmen to celebrate mistakes in their paintings.

To see beyond the limits of oil and water. For my fiftieth birthday, I had a phoenix

tattooed the length of my arm. I dyed my short hair teal. To remind myself how to live

as a mixed-blood in Indiana. How to live in this age without my ancestor songs. I live

without a name and without a people. I walk alone in a spirit way.

32
---
The human right to be seen, the responsibility to see

Yvonne Thompson's story by Kelsey Timmerman

Yvonne is 58 years old.

I had a two-parent home. I got to be a cheerleader. I got to be in the band. I got to do

all those unusual things.

A lot of times I was the only black person in the organizations in school. I thought

they treated me the same, but when I look back, they didn't. There are things I can see

now that I see as racist. I remember being called mammy.

If I knew what I know now as the Executive Director of the Muncie Human Rights

Commission, I would have been scared. I never thought racism was in everything. Now

I see it. I see racism in particular police behavior. I see it in the school system. I see it in

housing. Oh God, housing is bad. It's just horrible.

I was shielded by my family and church.

When I wasn't at home or at school, I was at church. Church influenced my belief

in God, but also, too, my belief in people. I think for a time I thought everybody was

good. I was naive. This job has been a rude awakening for me.

The things I have seen people say and do…Why in the world would you say or do

that to another human being?

When kids are young they don't really understand what racism is.

I had a friend who was my best friend in the world. She's white. She showed me a lot

about not being racist. I could go and stay overnight with her and her family. I would

go to her church; she would go to mine. She showed me that things can be different.

Not, "You can only play with your black friends or white friends." She has had a big

influence on my life.

Both my parents were very hard working people. My mom worked outside of the

home. My dad owned a filling station here in Muncie. He was an African-American

business owner. I had a good upbringing. I look back at it now, grateful and thankful.

Two of my uncles owned businesses. One uncle on my mom's side owned a filling

station. All the businesses were on Broadway. I look at them today and see my family

in those places.

They each had the chance to be people of substance.

Mom wanted me to learn how to arrange flowers. Honestly, I thought my goal in life

was to work at the Muncie Mall. That was it for me. I was like, "Yeah, that's big time!"

My family thought I would stay in Muncie, thought I'd work at GM. My brother and

sister tried their darndest to get me to work there. I applied and didn't get the job. My

mind was never towards working in a factory.

My parents were very upset with me in wanting to leave. They came up here to

Muncie to find work from the South. They knew racism. They left their parents to

come up here, but they couldn't imagine me leaving them.

I wanted to see something different. I always thought my calling was to go to Oral

Roberts University. I went out to Oklahoma on a campus visit by myself. I was dating

the man who would become my husband, and when I got back I prayed, "Lord, if you

want me to go to ORU, you're gonna have to work on Aaron's heart."

When I think about my marriage to Aaron, I think that is what I was really looking

for—someone to get me out of Muncie. We had a daughter in Muncie, two sons born in

Michigan City, we lived in Paducah, Kentucky, and eventually we moved out to Ada,

Tulsa, Oklahoma, to Oral Roberts University.

God must have misheard me because at first it wasn't me who attended class at Oral

Roberts, it was Aaron. I held down jobs, took care of the kids. But fifteen years later, I

did graduate from Oral Roberts.

33
---
34

My education in social work opened my eyes to the pain of people, what people go through,

the expectations people have for their lives. The desire to always want to be something.

Everything was more appealing than Muncie. I think it was just nice to be somewhere

different. To learn different things, to see different people.

So it might surprise you that where I live right now is the house I grew up in.

When I came back to Muncie after getting my degree and a divorce, I was here to take care

of my mom. When my mom passed, I knew I needed to make the decision about Muncie. My

kids were grown; I didn't have any reason to stay in Oklahoma.

It's crazy. I came back to Muncie and was like, "This really is a nice place." I started to go

into parts of Muncie I had never been—parts of Ball State, Minnetrista.

As an adult, I had never been part of a community other than a church community, until

moving back to Muncie. Muncie Black Expo was my first experience volunteering. I also got

involved in Whitely Community Council, Motivate Our Minds, Habitat for Humanity. Dr.

Maria Hawkins, Mary Dollison, Miss Foster, those women taught me to give back, to invest

in this place.

I grew up in Whitely, Muncie Central, and the church. That was my sphere of living; that

was it.

Everyone in Muncie has an opinion about Whitely even if they've never been there. That's

shocking to me. I don't want to live anywhere else, and I could. I love Whitely. Everybody

waves to each other. If you want a tour, I'll give you a tour.

I used to wonder when I was growing up why people would stop me and tell me their

stories. And I would think, "Why in the world would they tell me everything. I don't know

them, never met them."

I feel what people are going through. Now, that's my job.

At the Human Rights Commission, we protect people. Protect their emotions, jobs,

livelihoods, and their being. When a person feels discriminated against, it hits them hard.

"They just said I'm not worthy; I'm not a person." It's something to see a person shaken to

the core. We've seen it numerous times. We help that person gain worth and value again. It

means a lot to see that.

Usually someone comes in and explains how they have been treated differently. We then

determine if it against the law and if it is a civil rights violation.

I've wept and cried about the injustices I've seen. It's hard to believe that there are systems

in place thathold people back. People that gave their all, tried their best, people who wanted

to pull up their boot straps, but something pushed them back.

I think I've grown up in that respect. Growing up isn't easy, but I had to. We all have to.

Kids don't even know what racism is. You know something is pure and beautiful when there

are no labels for it. I've told students that if I could shield them from racism I would. But you

gotta deal with it.

Right before I took this job, I read about hate crimes and thought, "Why would people do

that to other people?" I just never grasped that magnitude of hate and inequality. I wish I

could work myself out of this, but it ain't gonna happen.

As a naive little girl growing up in Muncie, I thought everybody was good. As a woman, I

don't see it like that. Everyone isn't good, but I believe that there is good in everyone.

People just want someone to notice them, to see them. I try to be that person.

Lord let me see people. See them in their pain and joy, in their hurt and in their shine.
---
"We're all messed up,

but we all came out of somewhere, you know?"

D.P.'s story by Deborah Mix | D.P. is a pseudonym and he is 23 years old.

The first thing you should know is that my parents aren't racists. They tried to talk to

me about it. But I listened to my granddad—his dad was the head of a white supremacist

organization in Kentucky. He told me that black skin was the mark of Cain, so it was a sign

of evil. When he died I was in fourth grade, and I thought I could honor him by keeping

his values.

My school was all white, and my best friend was also racist, so it was easy to keep to the

thinking that African Americans were different. It was rooted in me. It didn't mean anything

to me to use slurs, like the N-word. Now I know I was depressed and confused. I was drinking

and just talking big.

Then in November 2014, I was in an accident driving to work. My truck slid into a ditch and

when I got out to see what happened, I got hit by a passing car, which hit another car before

sliding off the road. After being hit, I was somehow able to help that driver and the other

person he hit before the ambulance came. But it turned out my pelvis was fractured. At the

hospital, I had a black nurse. She was so loving and compassionate, and she didn't even know

me! But once they gave me painkillers, I started saying all kinds of things, calling her names,

the N-word. I don't even know her name, but I wish I could apologize to her now.

I was in the hospital for five weeks, in and out of consciousness, and when I got home, I was

completely dependent on other people. I hated it. I reached for a beer, like I always did when I

was unhappy, but for some reason it just tasted awful, just literally sickening.

Then I remembered a family friend who visited when I was in the hospital. He prayed over

me, and he invited me and my wife to visit his church. We took him up on the offer, and the

first time we walked in I couldn't believe how diverse it was. It was insane! I mean, I've been

thinking difference is wrong, and here are all these people talking to me and welcoming us.

Everything in the past I've done and said—I'm thinking about it and feeling guilty, but I'm still

kind of numb.

I get involved in the choir—music has always been really important to me—and I get asked

to lead a song. So I lead the congregation in "Something About the Name Jesus," by Kirk

Franklin. I'm singing and looking out at the congregation, and it's just like a stained-glass

picture. All these people have come together to praise the same God. Something in my spirit

tells me that this is what is should be like. We're supposed to be together, not segregated.

After the service, I'm eating lunch and I hear this man say, "When I heard them say your

name, I wasn't picturing a white kid. But you brought it. You sang that song!" I realize the

person talking to me is the associate pastor, a black man. Before I know it, we're friends, like

real friends. I'm telling him about my marriage, about my life. He makes time for me, calling

me his brother, and he's like my family now. We talk every day.

When I think about how I used to think, what I used to say then. . . I couldn't understand

how my words affected others. I was hurting, angry. I always tell people you have to respond

with love because you don't know what that angry person is going through, what they've dealt

with that makes them act that way.

I think God is asking me to tell my story. Where I was isn't all that uncommon here in

Muncie. I just want to see people love people. I keep coming back to what the Bible says,

"Greater love has no one than this: to lay down one's life for one's friends." I know now that's

how I want to live, and I'm trying to be that man every day of my life.

It's not easy to change. It hurts. Everything I thought is being obliterated. I spent time not

knowing what to believe. But God is showing me love through other people. We're all messed

up, but we all came out of somewhere, you know? I want to help other people see they can

change. I'll tell my story to anyone who will listen.

35
---
Uprooting Racism

Jason Donati's story by Josh Holowell.

Jason is 36 years old.

"What did you just say?"

Anger overtook me as I stood with the young men I was working with by the

dirt pile.

It was one of my many opportunities to interact with the youth of our

community, educating them on our environment. One of them had just used a

nasty racial slur to describe the black students working in another part of the

field. I challenged him. He stood firm by his comment and began to explain how

he saw the world. How everyone in his neighborhood knew what "black people"

were really like.

The others joined in. I let them continue to spit out words of hate, words which

fell heavy upon my heart, each like a dagger against my family. And here I had a

choice to make. I was brought here to teach about the environment, but today's

lesson was going to be about racism. Who else was going to have this conversation

with these kids if not me?

I began to tell the boys about my biracial family. That racial slur was not at some

unknown "them," but against the love of my life and our wonderful children. I

told the boys of the pain this causes. I told them that this is not just the way the

world is, but that racism is evil. I also told them that this hate aimed at others

would eat away at them too, slowly killing their compassion. There was a better

way forward. But to do so, they would have to go outside their comfort zone.

They would need to put themselves into places that challenged their privilege as

white males in America.

As I felt rage against their racism, I couldn't help but reflect on my own life's

journey. I couldn't help but see that these boys were a product of their neighborhood

as much as I was, growing up a privileged white male in Muncie, Indiana. While I

was always taught better, I held biases myself and tolerated the blatant racism that

surrounded me. I may not have always joined in, but I stood alongside, allowing

such hate to infect the ground I walked upon. And just as weeds overtake a

beautiful garden that is neglected, the weeds of racism had crept in and overtaken

my community and even myself.

This all changed for me when I had the chance to leave Muncie and serve inner

city communities throughout the East Coast in AmeriCorps. I lived and worked

in some of the roughest communities in our nation. There I saw the brokenness

and the beauty of people. There I developed relationships with those who were

very different from me.

And there I saw the realities of systemic racism in our nation. Where

communities of color were talked about and not talked with. Where decisions

were made for these communities and not with them. Where young men had to

hustle their way into money because the jobs I could provide for them wouldn't

pay enough. Where I saw young men turn to violence against one another because

no one cared enough to care about them.

And where everything I had learned and absorbed was challenged.

It changed me. The people I worked alongside, and for, changed me.

36
---
And so, when I returned to Muncie, this time with my biracial family, I was committed to making a difference.

Committed to changing the narrative.

Committed to stepping into uncomfortable spaces and places.

Committed to not allowing the status quo of racism to continue unchallenged.

Committed to helping others abandon their racism and to pursue a better way.

To this way I have given my life. The way of love and reconciliation. To step up in the moment so that the

boys spitting hate could learn to speak peace instead. So that this community would not be overtaken by the

weeds of racism. That all of us would embrace our role as stewards and gardeners pulling up racism at its roots.

It may be painful at first, but it will result in a beautiful garden full of flowers of every color living in harmony

and peace together.

Step out of your comfort zone and join me.

37
---
Sunrise, Sundown

Daniel Stallings' story by Jackson Eflin

Daniel is 49 years old.

Heavy fog was just lifting when we started to make out the silhouettes of officers

with rifles looking down on us from every overpass. It was an early, cold February

morning in 1987. We were four tired college students – definitely not used to that early

hour – making a sleep-deprived drive north from Atlanta to Forsythe County, Georgia.

Despite everything we'd watched about what was happening there on the news, the

nation's eyes glued to a nowhere town, we were not prepared for what we were about to

see that morning.

As the miles passed, we noticed more vehicles heading in the same direction; the

south-bound lanes on the interstate were still very quiet. We were thinking out loud,

trying to figure out which cars were going to join us as we got closer to the gathering

site for the march. It was exciting to know that there were other like-minded folks, and

we would nod as we made eye contact with the other drivers and passengers. With every

mile I gained confidence that there were others who would be marching in solidarity

in the little town of Cumming, Georgia. Forsythe County, I learned, was known as a

"White" county. I knew little of these things, having grown up in California, but my

friends, who grew up in the South, were not so naïve. They knew that Cumming was a

Sundown Town – a place where the black workers, for fear of their lives, would not want

to be caught after sundown.

It was just sunrise when we exited the highway and followed the traffic, slowly crawling

towards a large gravel parking area, as directed by the army of law enforcement present.

With all of the activity and anticipation, it was almost like arriving at an amusement

park. We stretched out of the car and felt the chill. We chattered excitedly about all of the

people who were there to support the same cause; we were there to show our support

for the events that had occurred at the first MLK, Jr Day march, which had taken place a

few weeks earlier, and which was then counter-protested by local members of the KKK

and citizen militia groups. This was the third weekend of back and forth protest and

counter-protests, and we were excited by the turnout. As we reached into our trunk to

grab our coats for the march, the passengers in the car next to us also reached into their

trunk to pull out their gear for the march – white robes!

We suddenly hushed our voices. Quick nods at each other and anxious glances at

them. I watched with disbelief as more and more white robes appeared, fluttering in the

cold dawn light.

Close to a thousand people had appeared that morning – as we approached the staging

area, the armed officers started to sort the protestors, often using our apparel to funnel

us into different chutes, like cattle. The police, the Georgie Bureau of Investigation, the

Georgia State Patrol and other lawmen had come in force, and they stood shoulder to

shoulder along the march route. MLK supporters to the left, and counter-protestors

(white robes joined by camouflage jackets and pants) to the right. On the left, we started

the march toward the town center; we joined in the chorus of traditional civil rights

march songs, feeling the excitement of solidarity. On the right, the counter-protestors

were gaining in size and strength, as well.

I can't say if it was intentional, or if someone had made a split-second decision,

someone who didn't know the road, didn't think of the consequences. But about half

a mile down the road, an embankment rose to the right of the road, and the haters

had the higher ground. Now, I've never been in war, but I know that the high ground

is the stronger position. I looked up and all I could see were white robes, camo, and

confederate flags. We felt increasingly vulnerable as the crowd grew on the hill, and

we became the targets of their hate-filled shouts and racial epithets (regardless of our

skin color).

38
---
We kept our heads high and raised our voices up toward the embankment with choruses of civil rights songs

to the sporadic drumbeats of rocks clattering down around us. When I'd seen the robes, I'd braced for violence.

That was part of the story, this idea of people marching for peace and being attacked. Of course, I had this naïve

optimism that it was simply a part of our past history, and that it could not still happen today. But there I was,

looking up, thinking "Hate still lives here today." There I was, looking up at not just men, not just men and their

wives, but at their children. And the children shouted things no child should ever shout or even know. These

young children were not born with this hate.

Then, I understood. This is how hate survives. This is how hatred is learned and taught. This was part of their

learning experience, their indoctrination.

From where I marched, I didn't see everything that happened that morning. I didn't see Jesse Jackson, or

Coretta Scott King, or Hosea Williams or many other Civil Rights leaders. I also didn't see David Duke, once

Grand Wizard of the KKK. But they were all there that morning. It was even covered by a new talk show host

that we watched when we got home – Oprah Winfrey!

Eventually, the protests died down. MLK Day became a national holiday. But 30 years later, as I travel back to

Atlanta and reflect on this landmark event, it seems we may never stop working to root out racism and hatred.

For me, it was a single day, but I gained a lasting impression of how, for others, the sense of vulnerability and

fear of those on the high ground is daily life.

39
---
Enemies Out of Allies

An Anonymous Story by Ari Hurwitz

40

I would say some things are better in the country. There has been some improvement, but it

seems like everything wants to take a step backwards now. When I was in my 20s, I had got a

job at US Steel, working basically as a laborer, but I was going to school for electrical, to be an

electrician, you know. US Steel is as big as the city of Muncie. So I'm all the way on the other

side of the mill one day and this electrical foreman walked up on me as I was sweeping out a

tunnel. He was white. We got talking about electricity and he said, "How the hell you know

that stuff and you sweepin' the damn tunnel?" He got my name and badge number.

It was a couple or so months later, my foreman tells me this electrical foreman wants to see

me and I was like, "WHAT?" So I went over there and he said, "I'm gonna start you out as a

janitor over here, but there's postings that come up and when one come up, you sign it." At

the time, there was only one other black electrician who I knew of that worked at US Steel,

and that's a big plant.

So I was the janitor, time goes on and a posting comes up and I signed the damn thing, along

with other people. They didn't know I was going to school, see, it's an all-white department.

They all laughed, "Look at this dumb-ass janitor signing." Nobody could pass the test for the

job though. Well, I passed the test. It was a major uproar, "Oh no, this can't be!" I was still in

my 20s. These people, they in their 40s-50s. . .and I'm black. They said, "You gotta retest."

When they set up this retest they set up a motor controller and you got to this one part

where this DC motor would accelerate, and all of a sudden you hear a explosion and the

motor would try to reverse itself. Nobody had seen nothing like that before. So I sit down

and I'm basically going through wire per wire. It was like a compound motor and they had

reversed it by accident, even they had no idea, total freak of nature. I caught it and fixed it and

I started it up. Everybody said, "What the hell, this black guy, the damn janitor?"

So they sent me up to the Headquarters. That first electrical foreman apologized to me. He

said, "These guys are so upset, they even got the union in, they making me send you up to be

re-tested again." At Headquarters, the guy couldn't find nothing wrong. It was racism that

motivated that, any other guy they would have said, "Fine, fine."

But I got the job. I guess by me bein' young and me bein' black, they did not like that and

every day was like a test. I did learn. We had what we called electricians' helpers and they all

older than me. I said to myself, "Fuck, I ain't telling them what to do, them guys white and in

they 40s and 50s."

So they tolerated me, a couple guys accepted it. There was always the bunch to stay away

from, you know, don't hang around over there 'cause they'll do something to ya. The biggest

plus that I had there—it was by luck—I enjoyed playing chess. Gary, Indiana had a chess club

at that time. I went down to play chess, all white guys. One guy there, he also worked at US

Steel and he also was in the electrical part of it and he knew me. We kinda made friends and he

had balls, didn't nobody mess with him. So when we kinda buddied up, they kinda like, "Well,

that's so and so friend, don't mess with him." He kinda had my back, was my bodyguard.

So lucky for me I played chess. He knew the places that I needed to be and where not to be.

In fact, a lot of times I would let him lead the way even though I was the electrician and he

was the helper. He was older. I say, "Who cares, fuck, people think he the electrician and I'm

following him."

So everything, it worked good like that and I didn't mind it. He would lead the way because

he knew the attitude of some of those other folks. He'd play the role. You have some good

relationships like that and nowadays, yeah, you still do.

The police though, this is the main problem. The police are killing the good for blacks and

whites, makin' all that counterproductive. Earlier in my life, I had this experience with the

police, too, back then. Actually, it was a white guy who wanted to kill me and a white guy

who saved my ass. I had a girlfriend and we were driving down the highway, heading toward

Michigan City and, all of a sudden, it seemed like my car went airborne. A guy had hit us from

the back, white guy.
---
He was an older man, or seemed so at that time to me. He had a truck. He didn't have his head lights on and

he was so drunk he couldn't even stand up. Man totaled my car, and the police, three squad cars, they came.

First, the guy that caused the accident, they carried him home. They got him home quick. Then they began to

search my car. I'm standing there and they was going all through my car and whatever and my girlfriend, she

hadn't got out the car. But they were forcing her out and she started screaming. This one police in particular

gets my girlfriend and he just slamming her all everywhere. I'm like, "What the hell's going on, man, what you

all doing?"

And then I took a step.

I told you I worked at US Steel and there was a fella that used to work at US Steel and he had quit. So now,

as I begin to take a step toward the police, something grabbed me and it was like a vice, another policeman. This

guy says, "That guy'll kill you!" And I'm like, "Wha . . .?"

He whispered to me that he used to work with me at US Steel. It turned out to be the guy who had quit. He

restrained me. This other guy was wanting to kill me; he roughed up my girlfriend. But this other cop, from US

Steel, was telling me that's enough for that guy to shoot you, so he was holding me back. Nowadays, with what

goes on, I believe it too. You know what I been seeing, he'd a shot me dead.

They took me and her to jail, but they didn't put us in the same car. This guy, the dangerous one, he puts the

handcuffs on me and he puts them on so tight, it just cuts off my circulation. Police station is way up in the

woods and I just said, "Oh fuck, I'm dead."

For me, that was it. They drove us to the police station. Both cars got there around the same time and I heard

my girlfriend screaming. To this day this hurts me too. They decided she needed to be strip searched, you know

how they finger you, cavity searched I guess they call it. That just broke her heart.

Luckily, I had enough money to bail us out and then we had to go to court. I hired a lawyer and he knew

folks in high places and all this kind of shit. And my girlfriend worked in Crown Point at the Justice Center,

as a secretary. Her bosses was all judges and lawyers and shit, so they told the police to leave us the fuck alone.

That's how she got out. She had to write some apology letter for hollering and screaming and raising hell. Later

on, our friends told us the cops knew they was wrong but what they was trying to do was try to find probable

cause for what they had done. And the man who caused the accident, never heard or seen him since. The guy

that saved me, he was a white guy and he definitely saved me, so I'm not a complete extremist because I know

he saved me. I seen the good and bad in both races, but this bad stuff really pisses me off cause it ain't necessary.

Nowadays, I'm witnessin' all these murders on TV. I'm hearing about all these police that shootin' people

down that's unarmed basically for no reason and they mostly black. The cops actually tried to murder my son

over in Anderson, 2-3 years ago. My son, he wasn't a perfect American citizen. He had these tendencies to get

hisself in trouble, but he's non-violent. He's never been in a fight in his life; violence is not in his nature, as a

rule. Well, he had warrants out for his arrest; he got his ass in trouble for check fraud. I don't know if he went

to make a turn or didn't put his signals on or if he just looked suspicious. It was at night and him and his wife

was in the car. Whatever it was, police stopped him. According to him, everything was going along pretty good

until this one policeman showed up. And then all of a sudden everything changed. They demanded his wife get

out the car. She was having an asthma attack and he was trying to comfort her, but they snatched her out the

car. They told my son to get out the car but he couldn't, he had his seatbelt on. One officer started spraying

him in the face with that mace while he was still in the car and the other one, the one that caused all the trouble,

tased him. I guess it all happened real fast and before he could get the seatbelt off, one of them started gassin'

him and the other one, when he was openin' the door, put the taser on him. So they had him in a situation

where he couldn't breathe cause he was gassin' to death and they electrocutin' him all at the same time and they

wonderin' why he ain't responding, see. He had passed out and his wife said they was still taserin' him, even

though he had already fainted. She started screamin', "what are y'all tryin' to do, kill my husband?" People

started comin' out they houses and stuff, so they carryin' him to the hospital. He said when he came to, they

had him strapped. He heard the nurse saying something like, "you tasered him 5 times?" So they tried to kill

my own son. As you can imagine, with my experience, plus all this stuff goin' on now, that really pissed me

off. I don't understand why police are not obligated to police other policeman. If I got a partner riding with me

and I see he's got craziness in him, I should have the right to say, "hey, I got a buddy and I think he needs to be

evaluated or whatever."

41
---
42

I had an experience with the police here like five years ago that made me mad enough that

I wanted to do something to them but I couldn't. My son had a warrant out for his arrest

and one morning I was getting ready to go to work; this is like seven in the morning. They

hittin' the door like, 'BOOM, BOOM, BOOM.' I'm like, 'what the fuck?' Then you know,

"POLICE, POLICE, OPEN UP!" Like fuck, I'm getting ready to go to work. I opened

the door and they shoved me aside, knocked me down. This one guy says, "SHUT UP, SIT

DOWN, DON'T MOVE!" And I'm like, "what the fuck's going on? You're in my house, I

let you in." He just tell me again, "SIT DOWN, SHUT UP, DON'T MOVE!" They runnin'

all through in the bedroom, under the couch and I'm like, 'what the fuck's going on?' "Don't

you say nothing!" they say. Then he had this picture and he said, "this ain't you, is it?" I said,

"no, this ain't me." I swear it seemed like that could a been handled better. He dared me to

move in my own fuckin house. They should a treated me, they should treat people accordin'

to the situation. For instance, if my son was a mass murderer or some kinda well known

terrorist, then I could see why they tough. All he did was wrote a damn check, they call it

fraud, not violent at all, so why all this drama and force and waking up all the damn people in

the apartment and commandin' me. For what? To me, that was just too much for too little. If

I'd had a weapon, they mighta killed me. That kinda stuff just angers me to death and for this

country it's a big mistake cause what they doin' is makin' enemies out of allies.
---
A Cultural Racial Identity Struggle

Karen Dowling's story by Annemarie Voss

Karen is 41 years old.

I was born in Baltimore, Maryland, to Ashok Inamdar, who had immigrated from

India as a thirty-year-old man to pursue an engineering degree, and Kathleen, who was

of Czechoslovakian descent. My parents had met in a hospital in Youngstown, Ohio,

where my father was working in a blood lab, while attending engineering school, and

my mother as a registered nurse. Getting married in 1974 was complicated because my

mother was Roman Catholic and my father was a Hindu. The Roman Catholic Church

in which she had grown up refused to marry them until they had proof from India that

my father had no other wives. Therefore, they first got married in front of Justice of

Peace and later in the Catholic Church.

Neither of my parents impressed their cultural identity upon me or my brother. In

his great desire to become a true American and to pursue the American Dream, my

father did not want to teach me his language or his culture or tell many stories about his

upbringing or his Indian family. Except for having a few Indian friends and liking Indian

foods, he suppressed his Indian identity. When we got together with Indian friends and

a few family members, I was excluded because I could not understand that language.

My mother also did not stress her national heritage much, other than special foods for

holidays and special occasions and the Roman Catholic religion.

My cultural identity crisis began already when I was yet a small child. People would

stare at me with my dark hair, dark skin, and dark eyes, wondering how I could possibly

be my blue-eyed, light-skinned mother's child, noting that my six-year-younger brother

had inherited her features. Some would even ask me whether I belonged to my mom.

The issue of my cultural identity continued to be problematical during my school

time. My father's job as chemical engineer, required us to move frequently, each move

necessitating a new integration into a school, where others attempted to classify me. In

one place with a large Hispanic and African-American population, I was more accepted

but assumed to be either of Hispanic origin or half black. When others would discover

that my outer appearance features were from my Indian background, they would

classify me as a model minority, assuming I was of superior intelligence and the child of

a medical doctor. To be a faux Indian or a faux Czech was not satisfactory.

My sense of unease with my identity continued into my years as a college student,

studying Spanish and Japanese. One evening in 1996, when my father drove me back

to my apartment we talked about my dreams to get a Masters and a Ph.D., a love for

education that I shared with him. I had always admired his love for learning that had led

him to leave his family in hope of better opportunities in the United States. We talked

about my desire to go to Spain to get an authentic language experience. That evening we

had a very special moment, I call it "God's timing," in which he came to understand my

yearning to come to terms with who I was. We made plans to travel to India to visit his

family, a trip he had only taken once since he had left.

This promise and my hopes were dashed when I learned two days later that my father

had suddenly died of a heart attack. That might have been the end of my journey of selfdiscovery

if it had not been for three fortuitous events that converged in 2013.

The first was a contact from a cousin in India, the son of my father's only sister, who

contacted me on Facebook and welcomed me to the family and invited me to visit. The

second was my new friendship with an Indian mother of a little boy. I felt a certain

kinship with her, and she invited me to be her companion on a trip to India for her

sister's wedding. The final opportunity was through my job as a director of education

at Indiana Wesleyan. The University had a relationship with two Indian schools in

Pune, both—though unofficially—Christian. The schools had requested training for the

teachers and administrators. My all-American husband immediately understood that

this was an opportunity I could not refuse.

43
---
44

This trip to India was going to confirm my racial and cultural identity for me.

Everywhere I went I was not seen as an outsider. I was family at my friend's sister's wedding

in Punjab before I even met my own family. The highlight of my stay was with my father's

family in his home in Ahmedabad, Gujarat, home also to Gandhi. One male cousin and one

female cousin became my interpreters and my guides to my Indian family, their way of life and

especially to recreating a memory of my father as a child and young man, from his birth as a

conjoined twin, whose sibling died shortly after birth, to his being considered the wisest and

most handsome of all of his childhood friends.

I met my father's brother who had been offered the opportunity to go to the United

States first, but who recognized the superior intelligence of my father and insisted that

my father go in his stead because he would have wasted his life if he had stayed in India

working in insurance.

I learned that my father's only sister, now deceased, was, like me, a teacher and lover of

world languages who taught English and Hindi in a Gujarati school.

I learned that my great-aunt gave my father a nickname for his red cheeks, the same trait I

am known for having.

When I was offered to try a new Indian dish, I found out I asked for his favorite dish. I

smelled the fragrant Indian roses my father had tried to tell me about. I saw photo albums with

a picture of my father on his last day in India at the wedding of his brother. I saw faces and

heard voices that reminded me of my father.

I was a sister, a daughter, and an aunt, not a first or second cousin.

Since my return from India, I know who I am and to whom I belong. I am no longer restless

in search of my cultural identity. My mother who had known of my struggle is pleased for me

as well. My husband who has been very supportive of my journey is also very happy with my

new sense of myself.

It does not matter that I do not speak any of the Indian languages and that I am not an expert

Indian cook. I am in touch with my family in India and have joined S.A.M.A., The South Asia

Muncie Association, where I have found another home I belong to. I have embraced that I

have different traits from my mother, my brother or my own children. I have come to know

my cultural identity and that it is from within, originating in heart connections, and it can be

further developed, rather than static and focused on outer appearances and differences.
---
Father wants justice after son arrested

Miles and His Father's story by Christine Rhine

Miles is a pseudonym and Miles is 18 years old. His father is 52 years old.

Miles' Story

Dad drops us off at this restaurant and we eat some beignets, and about 15 minutes later

we're walking out. There's an intersection where there's a bar, and everybody else in our

group was like, "We're just going to walk through." And I'm like, "I'll just meet you on the

other side."

I understand. I'm sure the other side is just straight across, so I'm walking along on Bourbon

Street, looking for the other students. I don't see them, so I walk back and I'm waiting. They're

eventually going to walk by. My dad called, but I couldn't hear him, so I said, "I'm going to

walk down a quieter street."

Then three cops came. I didn't know they were cops. I didn't see them. I thought it was

strippers because I was watching a cop and a stripper, and I thought: Whoa, I'm pretty sure

they can't grab people.

The cops came up behind me and grabbed my hands and immediately put on handcuffs

and somebody grabbed my phone. They did all that immediately. I didn't think they were

real. I tried to push them off. Then I saw they were actually cops and I thought: Whoa,

better calm down.

They said they were taking me to jail. They walked me to the precinct, and then they drove

me to the jail. They said I assaulted a police officer because I tried to get away at first. I didn't

know they were cops.

I remember seeing my dad walk into the police station. I was just sitting there, really mad. I

thought I would get out.

What happened next? I don't remember. I have to look at the notes we wrote down. I

can't remember.

The prison was dirty and cold. I don't remember everything.

I think I just want to move on, not talk about it anymore.

Miles' Father's Story

I've taken Ball State architecture students to New Orleans 17 or 18 times since Hurricane

Katrina. My son Miles has come along three times. He is a senior in high school.

On this trip, I dropped the students off at Café du Monde, and I told them to walk through

the French Quarter, that I would meet them after I checked into the hotel. I told them, "when

you all get to Bourbon Street and St. Peter's, I want you to cut through a locally famous

restaurant/bar establishment, so you can see the courtyard there." Miles is underage, so I said,

"Miles, while the students are passing through the bar, I want you to walk around the corner

to the other side and meet them there."

I've thought about that so many times since. What if I'd been more explicit?

Miles walked to the opposite side of the block. He didn't understand that I meant just one

quarter of the way around. He couldn't find the group, so he walked up and down the street

looking. Then the students called me, and the faculty member accompanying the students

texted me to say they'd lost Miles. So, I called Miles, and he said, "Oh, I'm right here on the

corner of Saint —" and then he yelled.

I wanted to think someone had bumped into him or that he'd dropped the phone. I called

back three times, and each time someone answered the phone and hung up. I called my mobile

phone provider to see if someone had been using the phone or if the phone could be located.

The provider indicated that there had been no outgoing calls and that location services were

turned off; thus, they were not able to assist in locating the phone.

I called the police and said, "I think my son was mugged." They responded by asking if

I wanted to file a missing person's report. They then transferred me to the French Quarter

precinct, and they informed me they had my son. I was so happy, and I rushed down there.

Upon arriving, I found Miles sitting behind the main desk, in handcuffs, on a bench just

staring ahead. I'd never seen him look like that. He looked through me.

45
---
46

I asked, "Why is my son in handcuffs?" And the officer replied, "Your son assaulted a police

officer." I said, "No, that's not possible."

Miles is an unusually sweet kid. I've never even heard him raise his voice.

The policeman said, "we have reason to believe your son was involved in a drug deal," and

I said, "that's not possible. We've been in New Orleans for 20 minutes. He's a high school

student from Indiana, and we are here with students from Ball State University on a field trip.

They just got out of the car a few minutes ago."

They said they had a description and that Miles had been following undercover officers

involved in a drug bust for an extended period of time. I said again, "that's not possible. We

just got here."

I asked to speak to someone in charge, and while I was talking to him they took Miles away

in a van. Miles is 18. He is considered an adult. I asked where they took him, and they gave me

an address to the notorious Orleans Parish Prison. I drove for nearly two hours trying to find

the jail. They'd given me the wrong address. Finally I found it, and I was there until midnight.

They told me there would be a hearing the next day at three o'clock, and there was no way I

could see my son before then.

We were delayed in arriving at the municipal court, because the Orleans Parish Prison staff had

provided me with an incorrect location for the hearing. When we arrived, Miles had already been

seated in the courtroom. His feet and hands had been chained like those of a hardened criminal, and

he was chained to someone who was charged with attempted murder. Miles later indicated that it

was because they had a shortage of handcuffs. The students all witnessed this mockery of justice.

They'd become pretty close to Miles and were deeply affected . . .deeply affected.

During the hearing, I was able to approach the bench, and I explained how we'd just arrived

in New Orleans on a field study and college visit. I pleaded to the judge to release Miles and

not to allow the New Orleans Criminal Justice system to ruin the life of yet another black

male. The judge said this was just to set bail, and then he lectured the students about not

partying and getting into trouble. It was awful.

The prosecutor proposed a $25,000 bail. The public defender proposed reducing the bail to

$10,000. The judged issued a $2,500 bail; however, upon realizing that Miles was a high school

student, he reduced the bail to $1,000, so we paid $100 cash bond. After the hearing, they took

Miles back to the prison. It took another 12 hours before they ultimately released him.

While I sat there waiting for hours, I reflected on people like Sandra Bland whose family

couldn't scrape together $500 to get her out. And I'm thinking about all the others in the

Orleans Parish Prison, waiting for a trial date because they couldn't come up with money for

bail. I'm thinking about the police officers' smugness. I thought about the time I had a gun

put to my head by a policeman when I was the same age as Miles. I also thought about other

run-ins I had with the police. I've been pulled over and screamed at by officers on the Fallen

Heroes Memorial Bridge – a memorial I had volunteered to design on their behalf. I recalled

having my luggage dumped out of the car, having my baby daughter pulled out of her car seat,

so they could search for drugs I didn't have. I was thinking about all the times we came down

here to volunteer to help the people of New Orleans rebuild. I was thinking how fortunate I

was that Miles wasn't tased or shot.

And I thought about how this otherwise wonderful field trip was destroyed by ignorance,

stupidity, hatred, and racial profiling.

Am I coming back to New Orleans? No time soon. Not New Orleans.

But I tell the students, it could have happened anywhere in these United States. This is not

law enforcement. It's apartheid.

My son wants to forget what happened. I've seen that trying to forget doesn't change anything.

I've seen that in my own life. I want justice. I want an apology.

Defense attorneys were successful in getting the case against Miles dismissed. The family is

now seeking to have the record expunged.
---
I See Things More Clearly Now

Fred Long's story by Beth Messner

Fred is 55 years old.

My family moved here in the 1950s from Mississippi looking for jobs. I was born here

and lived in Muncie almost all my life. I went to Muncie Central High School and played

on the basketball team. When I finished school in 1979, I worked a couple of jobs—one

in meatpacking and one at Ball Hospital. Then I got a good job at BorgWarner that

lasted over 23 years. Me and my wife, Glenda, we have four kids between us. All four

were raised here.

When I was in school, I knew about racism. But I didn't take it as seriously as now. Me

and my friends were just kids. We were into girls and sports. We weren't really into the

race stuff. We did know that you didn't date outside your race. But, if people called us

names, we just didn't pay it no attention. Even one of the biggest things that happened

to us, me and my friends just laughed off…

We was playing a basketball game at Blackford. We were a good team, really good.

Over half of us was African-American. We were beating Blackford pretty bad. One of

our guys laid up the ball and scored. When he turned to come back down the court,

someone in the bleachers behind the basket grabbed him and threw him into the crowd.

All we saw was fists flying and him trying to cover himself up. Coach Harrell jumped

up and made us all go to the shower room. We didn't know what was happening with

our teammate. He finally came into the showers and was laughing. He had knots all over

him. When they finally let us come back out, they had police all around the court. Coach

Harrell said we were never coming back there again. Now, as I look back on it, I realize

how serious it was, how bad our teammate could have been hurt. But, back then, with

us being young, we was just laughing.

Now, as an adult, I look around and see things differently. Like the situation with jobs.

What I see on a day-to-day basis, sometimes I don't think it represents Muncie.

I worked for BorgWarner for 23 ½ years. That was a real good job. Good pay and

benefits. A pretty diverse company too. I only had a few run-ins with racists. Mostly

name-calling and stuff like that. That job really took care of me and my family. Planned

to retire from there with a good pension. But they closed down.

When I had to get back in the job market, that's when I seen it . . . the discrimination.

I was looking for jobs that were similar and paid similar. I would apply, then not get it.

I had over 20 years of experience. Then I would see who was hired, people who had less

years in than me, people who was a different color than me. I may be wrong, but I'm just

going from what I see.

I tried for a job at Ball State. They were hiring for lawn care positions. So I talked to

a guy there, pitched my qualifications, told him how I had a landscape business. I didn't

get a call. They hired someone else. Then it happened again and again at the same place

with the same kind of job. Finally, I got someone to help me and I got an interview. The

guy said, "So you know how to drive a mower?"

They set up a course and I drove the course.

He said, "Okay, you been on a mower."

Didn't even check my resume! I did get a job offer, but it was for a part-time,

temporary job. Me with over 20 years of experience and my own landscape business! It

was just something.

Then I started looking around town. I didn't see too many other African-Americans

getting hired either. In particular, I noticed the people working for the utility companies.

Their employees are out and around a lot. I could see them digging up a road for a water

leak, or setting up service at a house, or up on a ladder beside a utility pole. I only saw

one African-American guy. All the rest I was seeing was white men. I thought: Wow!

You're in the community, and you're serving the community, but you're not representing

the community. Is nobody Black qualified?

47
---
48

I emailed a lady from a utility company. I told her what I saw in the Muncie area and asked if

they were making any attempt to hire African-Americans. The lady said, "I'll get back to you

on that." She never did.

For places like that, I'm pretty sure their hiring practices have been like that for quite some

time. But what happens when they got the discrimination exposed? What are they going to do

about it? They would probably say, "Well, we'll make an effort to do something."

I don't understand this. My thinking is that since you know you been doing wrong, then

you not only need to fix it for now and the future, but you need to make up for all the times

you done wrong in the past. Maybe the next ten people you hire should be African-American

or Hispanic. I'm sure someone will say, "Oh no, you can't do that!" But you can't just brush

aside the past! Maybe I don't get it. Maybe I'm wrong, but that's just the way I see it. And I

think I'm seeing things more clearly now.
---
Another Kind of Racism

Matt Bailey's story as told to Barbara Miller

49
---
50
---
Good

Tonikia Steans' story by Anna Groover

Tonikia is 41 years old.

I was born and raised here in Muncie, Indiana, and it has been my foundation for

most of my life.

I'm a licensed insurance agent and a certified life coach.

The way I was raised wasn't black or white, it was individuality. Racism was

never really a topic of discussion growing up because we have all nationalities in

our family. I'm a black American.

My grandparents felt that white people were superior to black people. My

grandfather would always tell me, "You always are going to have to work for the

white man. You always have to work for someone white." I was just like, why do

you always say that? Because I always wanted to run my own business. And he

always said, "You will never run your own business. You will always work for

somebody white." That always rubbed me the wrong way, because it's just not true.

I had a job when I got out of high school at a chair factory. There were people

there who didn't take too kindly to black people, I remember. I can walk into a

room and get along with anybody, but that was the first time I was faced with

someone who didn't like me because of my skin color. I moved up to supervisor,

and some of the girls didn't like that too well because they didn't move up. I never

thought it was because of anything other than my work ethic that got me moved

up. I don't remember any words, it was so long ago, but I just know the treatment

and the shortness and how they acted toward me.

For me, racism is subtle things that you realize but can overlook, like being passed

up for certain positions or told that you're not ready for a position when you have

way more qualifications than someone else who gets the job. Or being told amongst

white counterparts that I'm the whitest black person they know because of the way

I talk and act—as if being intelligent is only a white thing. Truthfully, I've never

used race as a reason to say that I've been hurt or shunned. I've never looked at it

like that, because I've always tried to see the bigger picture. If there's something I

want to do, I'm capable of it and I have just as much right to do it as anyone else.

Sometimes, people tell me to "calm down." I am calm. Do you want me to

whisper? You know, like black women have attitudes or they're going to get all

snippity-snappity. I'm the only black person at my job, and I think that makes a

big difference. At work, for instance, there's a white girl there who is really out of

control. She yells at people, she confronts people, the whole nine.She gets away

with murder, and I don't even think they realize it. But if I say something back, I

need to be talked to. Not only that, but I had to have HR come in and talk to me

and ask me if I felt like I had self-control.

I did have a lady one time who called in because her daughter, my client, was

stuck on the highway. Her daughter and I had a really good customer-service agent

relationship. Anyway, her mom called me, so I said, "Okay, let me see what I can do

to help," and she just started yelling at me for no reason and even used racial slurs

against me. At that point, I was just like, "Okay, ma'am, I was trying to help you

here." I still tried to help her. Later, I got to talk to her daughter. I told her what had

happened, and she said, "I cannot believe she talked to you like that because my

child is black." She has a black grandchild, and for her to say something like that…

it's devastating. It shook me up a little bit, because there's no reason for that.

51
---
52

I have a step-son, and he's 20. He's a very good kid, but he has braids in his hair. I'll never

forget the neighbor that lived across the street from us when he was younger. She would treat

him like he was a little thug. He was very respectful, but because he had braids in his hair,

she was looking at him like he was something that he's not. I didn't appreciate that, because

she didn't know this young man. She didn't know his character, what he is really built of, but

because of an outward appearance, she automatically assumed that he was bad. Why does it

have to be that someone's skin color defines how they're going to act?

My daughter is light skinned and she has long hair. She goes to school, and she comes

home and she's like, "Mom, am I mixed? Am I Mexican? People ask me every day what color

I am or why my hair is long." And I say, "Your grandmother is five shades darker than you

and her hair is just as long as yours. I mean, that's just the type of hair you have. You got it

from your dad's side of the family." Why does this have to be an issue? I don't agree with

that. It's disheartening.

I tell my daughter, regardless of what anybody says, you have to love yourself. And nobody

in this world is better than you are. She loves everybody, and we try not to live in a world of

"white people are bad" or anything like that because I don't necessarily think that's true. I

don't think that white people are bad. I don't think that black people are bad. I think that there

are people who do things that are bad, and there are people who do things that are good.
---
Who's on Your Team?

Renae Mayes' story by Taylor Wicker

Renae is 30 years old.

I played basketball all through junior high. Like most people's middle school

experiences, there was a group of girls on my team who were at the top of the social

hierarchy, the girls who, for some unknown reason, had all the power, and for some

reason (also unknown) they did not like me.

It's easy to separate the reasons why someone might be targeted in the way I was: did

these girls not like me for what I was, or for what I wasn't? Did they not like me because

I didn't look like them or because I didn't look like anyone in our community?

The truth is that those two things go hand in hand. Growing up in a predominantly

white community, I know it was because I was different. I am black, and I can only

assume their negative feelings towards me were, in part, because of the color of my

skin and that it didn't happen match their own. But it wasn't just that they didn't

like me, it's that they made those feelings known by actively excluding me. The

normal camaraderie one feels from being part of a team was taken from me by these

girls, and both me and my close friend felt the sting of that rejection. Inside jokes,

team activities, the social dynamic of playing a sport together for multiple seasons

was something my friend and I were, for some reason, not allowed to experience.

Every game day, it was one person's job to bring snacks. I can't remember who

we played that one particular game, but I can remember whose turn it was to bring

the food. This girl, whose mom was a dermatologist, brought something extra to the

game: a small bag with each player's name on it. It was a sweet gesture, from the

outside. Here, my name written right on the side of the bag, was an opportunity for

this girl to be kind to me for once. Here, she had a chance to treat me the same way

she treated our other teammates.

But when I opened the bag, I found that the contents were not as kind as I would've

hoped they'd be. Makeup, specifically foundation, made for a white woman's pale skin,

rested at the bottom. What was I supposed to do with these? Did she realize the message

she was sending with this "gift?"

You're different, the make up said. And you don't fit in.

Later, after the season ended, during a post-season scrimmage, the same girl tackled

me so hard I tore a ligament in my ankle. Moving for months with crutches beneath my

arms, I was done playing basketball.

We first moved from New Mexico to Oklahoma, where my teammates gave me a taste

of what battles lie ahead, when I was in sixth grade. In school, despite being "gifted,"

for all intents and purposes, I was put in the normal class. The distinction of excelling

academically, as well as being involved in sports, only bolstered how "different" my

classmates viewed me. I was new, I was intelligent, I was athletic, I was black, and I was

living in a predominantly white community again, and that combination of things put

me in a vulnerable place.

When I say that I grew up in a predominantly white community, I mean that my parents

and brothers and sister were one of only two black families in my school. Because of

that, when we moved in, it somehow became clear that our family and the other black

family were now, for some reason, directly linked in our community's minds. I was not

my own person. I was not offered a fresh slate. Because of the community's naivety, or

perhaps their learned racism, I immediately inherited all of thafamily's history. Despite

being complete strangers, the two black families in the community were casually thrown

together without even a second thought.

53
---
I come from a first generation middle class family, so moving to the Oklahoma suburbs

wasn't just a new experience for me, but for my parents, too. When we moved from New

Mexico, it was instilled in us that anything my brothers, sister, and I needed we could find at

home. Despite being a typical kid and feeling those rebellious tendencies, my family became

my safe haven. They were my team. The outside community became territory that didn't

offer what I needed. "They will fail you," my parents said, who were learning the dynamics of

being a minority at the same time we were. "We will not." It was through my family that I first

learned the importance of always having a community of my own.

I went to University of Missouri to study Math Education and I loved it. I loved what I

was learning, I loved learning all the different ways to teach, the different types of pedagogy.

But despite enjoying my time there, I noticed that there wasn't a space to teach diversity

in education, and based on my experiences, I knew that it mattered. I knew, from personal

experience, that being a student of color and having that identity swept under the rug, it was so

very, very important, so very vital, to a student's education that we do have those conversations.

But we never talked about it.

That propelled me to seek out new experiences where those conversations were happening,

and that's part of why I ended up in the D.C. area. I was pursuing a master's degree in a program

that was focused on social justice and urban school counseling. Before then, I wouldn't call

myself a person in urban ed, but getting thrown into a school with more people of color, and

very critically aware white people, was an amazing experience. When I think about my time in

D.C., I became a different kind of black. There, I wasn't "the black student," and I didn't feel

the need to be a spokesperson, but rather I added to lots of different kinds of narratives about

what it means to be a person of color. I met people from all different backgrounds with all

different kinds of stories to tell, and through them I learned more and more about who I was.

— • —

Once I realized how messed up some people really are, it became easier to distance myself

from the racism that is still very much a part of today's culture. Once I realized that the racist

remarks people made were more about them and what's going on in their heads than it was

about me, everything became a little easier to deal with. Being a part of any group that can be

marginalized or oppressed, you have to learn how to do that, how to distance yourself. If you

spend your time addressing all the things people do or say or believe, all the things that are so

incredibly wrong, you will never live a happy life.

There's this theory called critical race theory, and part of it is this idea that racism or

oppression in any form will always exist. It's about power and control, and it's our job to keep

fighting that. I choose the venue I will fight in. I fight it in schools. I fight it there because that's

where I needed it the most when I was a student. I fight it there because that would've made

all the difference in my life, in my youth, in growing up and learning my identity and being

proud of who I was. I talk to my students about it. I help them have a critical consciousness

that they take with them to the classroom. I focus on giving them the skill set they need in

order to continue fighting that. That's where the battlefield is for me: in schools. And it's in

schools, and in the classroom, where I will continue to fight.

54
---
The Need to Belong: The Life of a Muslim in America

Heather Gilvary-Hamad's story by Angela Jackson-Brown

Heather is 46 years old.

There are certain topics, as a Muslim…as a Muslim woman…that I am tired of addressing.

Conversations about hijab. Exhausting. Conversations about whether or not Muslims

should apologize for the actions of terrorists who claim to be Muslims. Unfair and

exhausting. Conversations about whether or not Muslim women are downtrodden and

under the thumbs of their husbands. Absolutely wrong and emotionally draining that

continually Muslim women have to explain that not only are we not downtrodden, we

are revered and highly respected by our husbands and families.

At the same time, although I am tired of talking about the same issues over and over,

I understand the conversations still need to occur [be had], particularly now when

potential political leaders say things like, "We need databases for Muslims," or "We

should exclude Muslims from specific activities."

So, we sometimes roll our eyes when it is just "us" together, but at the end of the day

we know that we have to continue the dialogue because, in some cases, our lives depend

on it.

Yes, talking about hijab can be frustrating. I personally don't wear hijab on a regular

basis, because we, as Muslims, know that it is not accepted by many non-Muslims. If I

put on hijab, I worry that maybe I risk violent attitudes or negative responses from total

strangers in the grocery store or the mall. Some people feel it is their right to comment

on our attire, which is amazing to me. They don't get that it is rude. It is the equivalent

of me asking a Christian, "Why are you wearing that cross?"

That is just not something I or any Muslim would do. Until I wore hijab and felt the

eyes on me, I didn't understand what other Muslim women meant when they would

say, "They are staring at me in public when I wear hijab." Before I wore hijab, I would

think, well, maybe you misinterpreted the stares, or maybe they really aren't staring,

or maybe it is more curiosity than animosity. But once I became that one person in the

room who was doing something different like wearing hijab, I felt the fear that other

Muslim women speak about.

And I come to find that fear is a constant in the lives of Muslims. Whether it is the way

we dress or just the ordeal of traveling. . .we can't get away from fear. The last time my

family and I crossed the border, we were visiting my husband's brother in Canada. We

drove across the border on the day we stopped fasting for Ramadan. We had breakfast,

prayers, and then we packed up. However, when we got to the border, preparing to

cross over into Detroit, we were stopped for no less than four to five hours. Our car was

searched, and my husband was taken to the back room. Before going to the back room,

the officer put a glove on his hand, and instantly I knew what was about to happen.

My husband did not see the officer put the glove on his hand. My children didn't

understand what was happening. My husband went into the room with the officer, and

I felt sick to my stomach. When he came out, my husband was almost deathly pale from

the humiliation he had just endured. My son instantly started questioning, "Baba what

happened to you? What did they do to you?" And I was like, "Hush. Baba doesn't want

to talk about what just happened to him in there."

I knew it would be too humiliating. And then to have the officer, after hours of

detaining us, say, "Well, there was a misunderstanding. You can go ahead and go."

We hadn't eaten during this whole ordeal. This was the first day of the month during

daylight hours that we could eat during the day, and so we were sitting there for all of

those hours with our kids, after having told them earlier that day that, "Oh, today is a

holiday, a celebration," yet we were allowed no food, no drinks, and no bathroom visits

without permission.

55
---
56

We had told the kids that once we crossed the border we would get lunch in Detroit. But

there we were, four or five hours later, very hungry, very tired, and the last thing we wanted to

do was to stop. We wanted to get as far away from the border as we could. So the kids were in

the back, saying, "We want to eat. We want to eat." We were like, "Sorry guys. We need to get

out of here." We wanted to get the experience as far away from us as we physically could.

Since then, my husband has tried to make sure he was clear to fly with airports and Customs

before he attempted to fly to make sure this doesn't happen again, but, of course, we were

told there is no guarantee, so we don't fly anywhere together as a family. If we want to go on

vacation it has to be somewhere we can all get into the car and drive to because there is no

more crossing the border for us. So it limits our ability to visit with his family. It's tragic,

but, sadly, it is the new normal for Muslim families.

I want my children to live in a place where they can interact with diverse populations of

people, whether they be Muslims or someone else…maybe Jewish, maybe Hindu, maybe

Atheist, maybe gay, maybe Black, maybe Hispanic. My children need to be out there interacting

with all of different types of people because that is the world they are going to work and live

in in the future.

So, I say to non-Muslims…we are just like you. We want the same things for ourselves and

our families that you want for yours, and that is the freedom to love and live in peace.
---
A Long Road Travelled

Charles Payne's story by Steve Knote

Charles is 74 years old.

Education is the key to escape the bonds of racism. Both society and individuals must

be educated to overcome the destruction of racism.

My parents' skin color was extremely light and they were college graduates so I did

not experience racism to the same degree as many of my friends. But since we were

still "Negroes or colored," terms used back then, we experienced racism every day of

our lives-in terms of what schools we went to and the quality and conditions of those

schools. We were confined to certain neighborhoods, limited to the same menial jobs

and had to follow the same Jim Crow laws.

One of the many unwritten rules we had to follow was to never touch a white person

under any circumstances, so when meeting a group of whites on the sidewalk, especially

females or young white males determined to make contact and cause problems, it was

easier and less threatening to walk in the street to avoid even incidental contact. And

when we paid for goods at a store, we would have to lay the money on the counter. If

there was change, the clerk would place it on the counter or throw it back. This was true

for adults as well as children.

Living conditions in the Jim Crow South meant growing up in white-owned housing.

There was no government housing and many blacks lived in rental homes (shacks)

that belonged to whites. The community was divided into quarters, and each quarter

was named after the white man who owned the houses. However, my parents were

teachers and we owned our home, along with a few other families, in the much smaller

Independence Quarter.

In the segregated black schools there were never enough books or materials, including

text books. All of our text books were second hand books from the white school. Our

books were always 5-7 years or longer behind the white students. It was against the law

to teach black history. One of our teachers would slip and teach us some black history.

Whenever he did this, we couldn't take notes in order that no record would exist. All

books had a space to write the race of the student to whom it was issued. The book cards

for black students were in the back of the book. In the space for race we were supposed

to write "nigger." However, we had been instructed to write a capital N, for Negro.

However, the white superintendent had been tipped off to this avoidance of writing the

N word, and one day the superintendent visited to inspect our books. "What is this 'N'

here?" He asked the black principal. "What does this 'N' stand for?" He then stated,

"Give them a pen; I want every one of you to write what that is. I want you to write

'nigger' in the back of that book."

I have never forgotten the look of humiliation on our principal's face.

Segregation was slow to change. Television helped it along because everyone could

now see what black leaders were saying about the brutal conditions in the South.

Television was to the civil rights movement what body cams today are to police abuse.

I was on a Trailways bus on the Sunday evening James Meredith entered Ole Miss. I was

returning to my home town, Philadelphia MS from Holly Springs, MS, a town about 30

miles from Oxford, where Ole Miss is located, Meredith's entry was being broadcasted

on radio and television, As such many whites were demonstrating throughout all of the

little towns in the vicinity, parading in their cars with very large rebel flags waving and

horn blowing and supposedly looking for blacks. The bus stopped in New Albany and

the driver got out of the bus and locked the door. I didn't know if I was being "locked

in," or if the angry whites were being locked out. A couple of the fellows approached

the driver and said something to him, and I saw him shake his head saying no. I assumed

they had asked him if there were any blacks on the bus. I witnessed the driver stating

that there was no one on the bus. The driver may have very well saved my life that day.

I also realized that he had also put his own life in jeopardy if they had found out he had

lied to them.

57
---
58

In 1968 I left Mississippi Valley State College (an Historically Black College) as a chemistry

instructor to enter a graduate program in chemistry at a predominantly white university in

the south. I was recruited by a white fellow who had just become department chair of the

chemistry department. What I didn't know when I went there was that he was viewed as a

Yankee by the faculty in the department, and he was also not a popular choice. One of his goals

was to integrate the department, so I became his guinea pig.

In one class we were told to choose lab partners. While all of the white students immediately

distanced themselves from me, one fellow, a white undergraduate honor student, agreed to

work with me. We completed multiple labs to only get a grade of "C" on each report. When

my partner inquired, the professor stated, "You ought to watch your partner as he might

be messing up your stuff." My partner stated, "Charles has not done anything wrong, he is

probably helping me." When my partner expressed concern about the effect this would have

on his graduate school aspirations, I told him he had shown me who he was as a person. I told

him not to sacrifice himself that the professor was out to get me, so partner with some other

guys. His first lab report without me and with a white partner, received an "A."

When I came to Ball State during my first year, when I would leave my class, two of my

white colleagues always seemed to be watching me every day. I became suspicious that they

were somehow trying to evaluate me. One day two of the white males in the class told me

that these two colleagues met them on campus and asked them about me. "Does he appear to

know what he is talking about? Is he prepared for class, and does he treat you all fairly? "So

the next day I went to class and I intentionally left the door open. About half way through

class I walked over to the door and looked out. There they were listening to me teach. So I

waved to them, and I said to myself, if they want to hear good teaching continue standing out

there. Five years later one of those colleagues admitted to me what he was doing then. So, I

asked him what finally convinced him that I was competent. He said it took him five years

of listening to me to be convinced I was competent. I thought to myself five years is an awful

long time to wait on someone to make a mistake. In that same conversation, he confirmed that

he and the other colleague appointed themselves to "observe" me for five years to make sure I

was competent. That's a long time for somebody to be under the microscope.

These days I am very careful before I assign racism to something unfavorable that happens to

me. For example, I have two attributes that can also cause people to react to me in disrespectful

ways. Those my age, 74, and I walk with a cane. This is important to me because I can deal

with the first two in a rational way, but once I think someone has done something to me

because of race, if I am not careful, I can become too emotional and irrational. In my opinion

too much emotion can become counterproductive.

I think things are getting better, although it appears to be regressing at times. I think the

short view is that we have not improved, but from the long view, we have improved quite a

bit. It is difficult for one African-American to answer for all other African-Americans. There

were many African-American experiences. Those having become middle class probably get

along very well, as life is typically better than those still trapped in levels of poverty. It's crucial

that those who make it into the middle class don't forget where we came from. As black

professionals leave the community, they are less available to help lift and inspire those without

academic aspirations and social sensitivities.

When one asks these days if "we" are better off, it definitely makes a difference which

African American is being asked.
---
I Prefer to Be Called Muriel

Muriel Weeden's story by Levi Todd

Muriel is 75 years old.

I grew up in Muncie in the 1940s, which was very segregated when I was a girl.

Discrimination in public was the norm. Black people weren't allowed to eat at lunch

counters downtown. We knew we were allowed at the skating rink only at certain times,

the times when less white folks were there. In middle school I wasn't allowed a role in the

Christmas play because my teacher said there weren't any black people in the Nativity.

They did let me act in the Easter play in the role of a woman that I later realized was a

prostitute. Everyone knew that Muncie was a hotbed for the KKK. The mayor, lawyers,

public officials—you knew they were in positions of power around the town. You just dealt

with them.

When I graduated high school, I enrolled in the Indiana Business College in downtown

Muncie. The program guaranteed a job after graduation. I was one of only two black

women in the program. The other woman was placed in a doctor's office, but they told me

that no other offices were hiring black people in Muncie. They said there was a position in

Indianapolis, but I told them, "I don't live there. I live in Muncie." I wanted to stay where

my home was.

Eventually a friend told me about a position working in housekeeping at the local hospital. She

told me to go to the supervisor and tell her that I wanted to save up to go back to school—which

I did, years later—and I was hired. I worked weekends cleaning bathrooms and patients' rooms,

usually by myself since my partner was always slacking off.

At that time the Muncie NAACP was negotiating with the local phone company to

hire their first person of color to work in their office. The phone company argued that

black people only wanted to work for their housekeeping staff, and none were applying

for positions in the office anyway. They also said that no person of color had passed the

test necessary for applications, leaving out the fact that they didn't even offer to test them.

Eventually, through negotiations with the NAACP, they said that if a black person could

pass the test, they would open up office positions to them. I was referred by a friend to the

President of the Muncie NAACP, and he encouraged me to take the test. I passed with high

marks and was the first black woman hired in Muncie to be a long-distance operator.

When I came to my first day of training, I was told to sit at the end of the board where the

lines were set up. Back then if you wanted to make a long-distance call, you had to have an

operator connect it to wherever you were calling. It wasn't easily automated like it is now.

There were wires everywhere and phones ringing constantly. There was a row of stools

down the aisle. No partitions or cubicles for privacy. My supervisor kept making comments

during my training like "We just weren't ready for you" or "We just don't quite know what

to do with you." She never explained how they had to get ready for me, or what different

circumstances had to be changed to accommodate me.

When I finally passed training and was able to take an open seat at the board, the white

women seemed unsettled by my presence. It was clear that I was the first black person they

had actually spoken to and interacted with. I learned quickly that if I so much as coughed

or sneezed, they'd go complain to our supervisor that I was making too much noise or that

they were worried they would catch something from me. Although it annoyed me, I was

never too bothered by their comments.

My parents raised me with a strong sense of pride and knowledge about black history. I

actually thought that as a person of color, I had an advantage. I was forced to adapt to white

people's culture and learned how to interact with them. My coworkers were never put in

circumstances where they were the only white person in a room, and they never had to

learn about my culture the way I had to learn about theirs. I was comfortable around white

people and knew how to manage myself, and I saw that as an advantage.

The white women were always nervous about asking me, "What do we call you? Do

you prefer 'colored' or 'negro'?" They didn't even know how to speak around me. I

always answered, "I prefer to be called 'Muriel'." I think what people don't realize is that

underneath it all, we're basically all the same, with the same hopes and desires and dreams.

But in order to realize that, we have to get together and talk to one another. And call each

other by our names.

59
---
Sink or Swim; in Code

Ruby Cain's story by Aimee Robertson-Fant

Ruby is 64 years old.

I didn't know what to do.

My sister and I were walking home from school and saw the police swarming around

my father in our driveway. They were there to arrest him.

Looking into my father's face, I understood that something unjust was happening to

him, right in front of our eyes, but I was too young to understand just what that was; I

was only 9, my sister, 8. What could we do? With as much dignity as he could gather, he

unlocked the door, told us to go into the house and call our mom at work.

I called. Through confusion, tears and hysteria, I tried to relay to her the police were

taking our father away. I could barely find my words.

He didn't argue with them. He was stoic and calm, for us, but inside he must have

been broken and humiliated.

They took him to jail, under false arrest.

My father was a city bus driver, a law-abiding citizen, and never even received a traffic

ticket. We later learned the bank robber looked nothing like my father in height, build,

nor complexion; the only common and distinguishing characteristic between my father

and this bank robber was their race; they were both black men.

I lived in Detroit during the riots of 1967 and 68, through all the curfews, violence, the

"blind pig" raid headlines, and property destruction. As a young girl, I read all about it

in the paper. My parents and others talked about the 20 black men found at the bottom

of the Detroit River.

I read about and listened to others talk about a black man walking from home to the

bus station to work third shift. He did not know the city was under curfew. The police

told him to stop, but he was deaf and could not hear the command. They riddled him

with bullets, in his back. He presented no threat. He was just a black man who was deaf,

going to work.

While our family was stopped at a red light, we saw in the adjacent alley, 3 police

officers beating a black, possibly, homeless man who was begging them to stop. Who do

you call when there is a disturbance, a violent attack? You call the police. But what if the

attackers are the police?

These experiences with police were in stark contrast to the other experiences in my

childhood of a predominantly segregated and nurturing family, neighborhood, church,

and school. We knew all police officers were not hostile, but we did not know if an

encounter would be position or negative. Decades later, as I reflect back, no one could

or would even be willing to report this dark side of blue culture, not like today.

As an African American girl (living in Detroit) blue code was among the first codes I

would learn and as one of the first female African American leaders in the Information

Technology field, I would learn many codes.

Moving to the North from the South was disorienting. It was easier to live among the

overt South vs. the covert North. In the South many decades ago, you knew exactly

what you were dealing with; whites who didn't care for blacks wouldstay away and

not try to pretend. When my family moved to Detroit, where there was neighborhood

and subdivision de Facto segregation and red-lining; we felt more like immigrants than

Americans, having lived in Camden, Arkansas, where everyone knows everyone on

your block, there was sense of community and we knew who our friends were and who

they were not.

60
---
Fast forward. As a young African American woman, college graduate, I decided to enter the

Information Technology field. I unknowingly blazed a new trail, but not before I was left to sink

or swim, with no mentor and no guidance; left to my own devices-my own mathematical mind

and my own two hands and feet; there are barriers placed in your way – you learn how find a

way around them quickly or have the doors close the doors in your face.

Of course, everyone has help along the way. My help, nurture, and guidance, came from

family, church, and friends, mostly, outside of the workplace. They believed in me. They

encouraged me all the way through my doctoral studies.

I came to Indiana at the beginning of my evolving IT career for an interview conducted by 3 white

men. Although I interviewed well and answered many irrelevant questions I was not offered the job

because they said I was "overqualified." Interestingly enough, a number of years later this company

faced a lawsuit for discrimination and ended up moving from the state.

What I found along the way in my IT positions is that no one actively tried to sabotage me.

Instead, they gave me nearly impossible assignments that I had to figure out on my own while

providing a roadmap and guidance to my Caucasian counterparts. I was first to arrive to work

and last to leave, many days.

I was tested over and over. I just made myself irreplaceable and developed skills no one else

had. This is how I swam. I could write my own ticket and won several regional and national

awards through the course of my career. I was named the most successful data processing

information project manager in both Arkansas and California.

Today, I am in Indiana and have followed my drive to be an educator. I have taught at Ball

State and in Fort Wayne, and today, I have focused my energy on healing internalized and

institutional racism through shared understanding. There is still a sense of unearned privilege,

if not by class, but by the fact that most institutions are run by whites, but not built by them.

It will take time for this to be right-sided and our due diligence is to have patience with equal

parts persistence.

We can't just put things into nice, neat boxes, and construct a "things not to say" list or

worse, say that we are colorblind. If you are colorblind, you don't see me. I am not allowed to

forget I am a person of color, nor will I ever want to.

We have to stop censoring ourselves when we speak to one another. It's okay to make

mistakes. I have learned that you must ask questions to grow. You must stop believing someone

doesn't like me because they aren't "like" me. We must understand "the why"; always make

sure you understand why we are different and why we are the same. So often we are afraid

of saying the wrong things when speaking to and trying to crack the code of our differences,

particularly surrounding race relations.

Speak up. Ask the questions.

You do not have to be the savior to make a difference - just be one of the foot soldiers.

For me, I just learn the codes and keep swimming.

61
---
Time Warp

Vivian Morrison's story by Sherri Beaty

Vivian is 60 years old.

I'm black, so I live in a time warp. I live in the same year, the same decade, the same

century as everyone else, but I also live in this strange and terrifying universe where one

false step, one wrong word, can send you sliding down uncontrollably into that time

warp where Jim Crow still runs the show.

In that place, no one sees who you are in your community. They don't see you

volunteering, or teaching, or helping your neighbors and your family. They don't see the

years you spent pursuing your education or supporting a local church. They don't see you

loving your children and doing your best to be a good mother. They only see that you are

black, and suddenly, for you, it looks like 2013, but it feels and sounds like 1930.

I had no idea it would turn out the way it did. Maybe I never would have made that

phone call in the first place if I had known. But I knew this person; we had met before.

She knew my family and I trusted her.

I didn't call 911. It wasn't an emergency. It was just a family dispute and because I

knew this officer, and she had met both me and Toni (my adult daughter), I knew she

could talk to Toni in a way that maybe she could hear. Cops do that all the time, right?

Toni wanted to use my car to go visit some people I didn't know and they didn't look

like nice people to me. I couldn't stop her from going, but she was NOT taking my car.

Since Toni wasn't listening, I called dispatch and asked for this police officer by name.

When she first showed up, I was relieved. Then I saw the four black and whites trailing

in behind her. My heart was in my throat and my stomach at the same time. Why were

there four additional cars? This was not a domestic violence call. No one was being

threatened. I hadn't called 911.

The first officer got out of her car and said to the other officers, "It's OK, I don't need

you." But they didn't leave. They were already walking toward us as they began putting

their gloves on. I knew what that meant. Somebody was going to jail today.

They grabbed Toni first, and she struggled, she is a big girl and she didn't want to go to

jail, but she had not done anything for them to take her, so of course she was asking why

were they trying to arrest her?

Well, I'm a mother, and that is my daughter, and they just walked up and put their

hands on her, so I did move over to them to try to keep them from taking her, but I was

trying to talk to them too. I just wanted them to talk to us, but it was like they already

knew before they got there that they were taking us to jail. So the one officer grabbed

my arm and twisted it behind my back, and because I had a mastectomy, that was really

painful. He slammed me into my neighbor's truck, and he threw me so hard it actually

did damage to the truck. He said in his police report that I caused injury to his arm.

Shoot. I didn't hurt him.

They charged me with three counts: Battery Resulting in Bodily Injury; Resisting

Law Enforcement; and Disorderly Conduct. I had a bench trial, and I was found NOT

GUILTY on all three counts.

That judge knew what it was. Thank God he is a good man, and cares about doing

what is right. But what if he wasn't?

62
---
The Anger is Mine

Richard McKinney's story by Tom Steiner.

Richard is 48 years old.

I didn't start out hating Islam. I grew into it. It was an anger that lived and fed off of itself

throughout my life. As my life unfolded, my anger flourished and dominated my life.

Anger got me an early discharge from the Marines. Anger garnered me a diagnoses

of PTSD that ended my military career. Ager led me to a failed attempt at professional

fighting. Anger fueled many confrontations and ended a career as guard at a local

prison. Anger was three wives and lots of trouble with the law. Anger was the seed of

my hatred.

As anger evolved into hatred it became as vital an organ as my heart. I was afraid to let

it go for fear it was the only thing keeping me alive. It is what got me up in the morning.

Hatred dictated my every thought. Anger slowly eroded every other emotion until

hatred was all I had left.

Hatred led me to a 55 gallon drum half filled with gas, half filled with oil, and two

burner phones for detonation. I had it all planned out. I was going to place it behind the

back stairs of the Islamic Center and set it off on a Friday during the Jumu'ah when the

place would be full. I would be parked across the street watching it all happen.

Nobody knew anything about my plans. This was going to be my statement and my

statement only. I knew I would be caught and that did not bother me. The bombing just

seemed that easy to do. I had learned a long time ago that it is easier to take a life when

you have no feelings for that person except anger and hatred.

The news probably would have blamed PTSD for my actions. However, those who

know, PTSD is triggered. PTSD is usually a spontaneous reaction. Bombing the center

was not just a thought on Monday and put into action on Friday. It was a plan that I had

been working on for several months. I put a lot of thought into it because I wanted to

do it right.

So, what stopped me?

My daughter was in grade school. She came home one day and told me about a

schoolmate of hers whose mother came to pick him up. She was wearing a burka and

hijab. I went off. I did not want my daughter around "those people." She just looked at

me like I was crazy. She could not understand why I was so upset. And the light bulb

went off.

Hey, listen, you are screwing this girl's life up. This is how prejudice gets passed on.

It was a moment of lucidity that I had not experienced before. But I had no idea what

to do next.

Like most Americans, everything I knew about Islam was based on the news, TV, and

the military. And then I did something I never thought I would do.

On a Friday, I walked into the Islamic Center and asked them to teach me what they

think and feel Islam is. I was given some brochures and sat in the back reading them.

Still in the grips of hatred, my first impression was that these brochures were nothing

but propaganda.

I did not want to believe what I was reading. I wanted it to be lies. I wanted to see that

these people condoned murder and torture. I needed to see the uncaring of humanity.

At one point in the evening, I realized that all this had nothing to do with racism. It was

xenophobia. I was in a room full of Arabs and my only thoughts were of a picture of

me on CNN with a sword through my throat. How stupid was that? This is Midwest

America. Nothing like that happens here.

73
---
64

But the real change came when I was handed a Quran and told to read it. Open my mind

and just read it. That same night, a member sat at my feet professing his love of Islam. Maybe

there is something to this was all I could think of. Within a month and a half of planning to

blow up the Mosque, I was ready to convert. And I did. This was it, I needed to be a Muslim.

It suddenly felt like I could breath. It all made sense to me.

What compels me the most about my journey is all the hatred and anger that had been

festering in my body for so long has been replaced by twice as much love.

My life is changed. My family now stands beside me as Muslims and I have made it my life's

work to help change the world I live in. My conversion has propelled me into a life of activism.

My future is to teach and try to change hatred and not just for Islam. There is hatred for so

much and there is no real reason for such hatred. In my opinion, hate stems from ignorance.

Everyone at the Mosque now knows about my plans to bomb the Islamic Center. Muslims

in this community feel safe here and the shock of thinking something like that could happen

in Muncie was hard to believe. Though it took several months for me to tell them, I wanted

them to know what Islam has done for me. I want people to know they can change. No matter

how much hatred you have in your soul, you can change. It happened to me.
---
Hospitality

Mina Samaan's story by Josh Holowell

Mina is 28 years old.

Everything was quiet. Everything. And this is not how it is in Egypt. Egypt is crowded

and loud. But on that day, as I walked home from school, something was different.

I entered my house and my whole family was gathered around the television. My mom

turned to me and said, "America has been hit." Then she turned back to the television

as my whole family watched the news of airplanes being flown into buildings. My heart

dropped. The place I had dreamed of going to for so long had been attacked and my

heart hurt deeply for the world and for America.

I eventually made it to America, and I have to relive the events of 9/11 over and over again.

As a person who is from the Middle East, I have experienced discrimination. I have

been assumed to be a terrorist. I have been treated as though I am already guilty and I

have been told to go back where I came from. People assume I have malice in my heart

toward them and that I am some sort of ticking time bomb waiting to attack them.

I even had a co-worker invite me to go with him to a shooting range, yet he felt the

need to ask me on our way there if I was going to shoot him.

You know, people often say they are nervous seeing Middle Eastern people in the

airport or on their flight. I can guarantee you that the most nervous people in an airport

are Middle Eastern people. Every time a "random" security check happens, I am forced

to stand in front of everyone to be patted down while my stuff is strewn all over the

floor. I have to answer extra questions. I have to explain what my camera is and what my

cell phone is. Did I pay any less than the other customers? Am I somehow less human?

It strips away my dignity.

But I'm told that it's ok to racially profile people from the Middle East.

"You just don't understand. If you knew what we experienced on 9/11, you would

understand. We have to be careful now."

What?

Am I not human?

Was I not affected by that dreadful day?

The place I had longed to go to—and now call home—was attacked on that day. I

felt pain in light of the suffering. For the lives lost, I felt pain. For the freedom that was

attacked, I felt pain. And yet now I am forced to relive that pain, simply because I am

from the Middle East.

It is ironic, but the very reason I am here in the US is the hope for a place that is free

from unfair discrimination. I fled Egypt because I faced persecution and discrimination

as a Christian. I could not worship freely and feared for my life daily. I was hated for

simply being a Christian. And because of that I fled to a place where I could openly

practice my religion—America. What I was shocked to find was that, although I no

longer faced religious discrimination, I now faced racial discrimination.

So why do I stay here? I can remember the exact moment down to the minute I landed

in America. It was one of the greatest days of my life. I came to have a better life. To

worship without the fear of death. And though there is this struggle with racism, I stay

because of the people who have embraced me.

When I first landed in New Jersey I had no one. I had to struggle to make a living

and work extra hard to make it in a tough place. But then I met a college student named

John. John changed everything about my life in America. John was living in New Jersey

for the summer as part of a mission trip with a college group. I met John in July and he

left after just a few weeks, but he showed me such hospitality.

65
---
66

In January of the following year, John called me and let me know that he was coming back

for another summer in New Jersey. But after that summer he wanted me to come back with

him to Muncie, Indiana. He had asked his roommates if I could come and live with them.

What?

Still to this day I am shocked by John's hospitality. This white man from Indiana inviting a

Middle Eastern man he hardly knew not just to come visit but to come and live with him and

be a part of his community and church. How? He was motivated by Jesus' love for him and

showed that love to me. The world desperately needs a lot more of the Jesus that I saw in John.

Many people in Muncie and my church community have embraced me and loved me. And

even though John is gone I have decided to stay here. It has become my home because of those

who have loved me. Those who have embraced me with the hospitality that John did.

We need more of the hospitality of Jesus in our world.
---
Living in My Neighborhood

Lynn's story by Chris Bavender

Lynn is a pseudonym and she is 29 years old.

My story isn't one of overt racism, but more about racial relationships and what I've learned

being the minority in my own little neighborhood. I am white and live in a predominantly

African American neighborhood in Muncie called Industry.

I have learned one thing living here – children are a great means to "safely" voice racial issues.

My husband, Patrick, and I have seen this come up time and time again. When we first moved

here and began to meet our neighbors, Joan was 9-months-old. She was a shy baby and really

only liked for Patrick or I to hold her.

When our African American friends held her she would cry and reach for me – the same

thing she did when close family members tried to hold her. The response was always the same

– "She is afraid of black people." Or, "She doesn't like black people."

People typically laugh when they say this or even tell me they are just joking. I would have

accepted it as a joke, however, if it had happened once or twice. But it's happened over and

over and over again.

When Joan was a little older, around 2 ½, it happened again. We were at a park and ran

into some teenagers we are friends with through our church who were there with their little

cousins. Joan continues to be a shy child and when the little girls asked if she wanted to play,

she said "No." So this teenager who has been friends with us for a few years said, "She doesn't

like black people." But, as always, followed up with, "I'm just kidding."

It just makes me wonder that if it isn't anything more than just jabbing and joking, what is

it? A baby can't respond back so maybe it's just the ability for people to speak aloud doubts

and fears without worry of repercussions. Or maybe a way to voice something offensive to

someone who can't be offended.

But, just like any comment someone makes about your child, you feel it reflects back on

you. It's like hearing an adult say, "Wow, that kid is really bratty." You know what it implies –

you don't discipline well, or aren't home enough, or just in general are not a very good parent.

So hearing this comment about my child not liking someone because of the color of their

skin makes me wonder if it's actually a question of our acceptance of black people. A question

of whether we have taught our daughter, through our own actions, to be comfortable and

loving toward people of all races, or only those who look like us?

I hope I'm teaching my children – Joan, who is now 4, and Lynnae – that all people are made

in the image of God and should be treated as such. I hope to teach them the difference between

races and culture are something to be appreciated and not feared or looked down upon. I want

them to see with their own eyes that racism still exists today, so they can be part of the solution.

Living in my neighborhood has also opened my eyes to other things, including what I

consider police brutality.

I still remember last summer when a house just a few down from us was raided. If you haven't

ever seen a raid, here's what happens: the police in all their SWAT gear, including masks

covering their faces and huge automatic weapons drawn, fly up, jump out of their vehicle and

throw a flash bomb.

Patrick was home when this happened and he dropped to the floor, hands over his head and

called 911 – that's how powerful a flash bomb is!

We're good friends with the family who lives next door to the house that was raided and

they were outside when it happened. Although they had nothing to do with it, they were

treated like criminals. When the police threw the flash bomb their 4-year-old took off running.

When his mother and brother tried to go after him, they were screamed at by police to "shut

up" and told not to move – and had the automatic weapons pointed at them.

When describing what happened, the older brother said, "They had their red dot on me. I

think they actually would have killed me."

67
---
68

His sisters, who are in elementary school, were yelled at to lay on the ground with their hands

behind their heads. The teenage daughter was told the same thing but she said she must not have

moved fast enough because he shoved her onto the sidewalk with his knee in her back.

She was forced to lay there next to the men who were being arrested.

What made it even worse - none of the officers followed the 4-year-old. So he crossed several

streets by himself and was eventually brought home by a couple who didn't even know him.

This family was so shaken up. When the mother reported all of this to the police department,

she was told "protocol" was followed.

I'm sorry but if a drug bust was happening in a rich, white neighborhood, I guarantee this is

NOT how they would've treated innocent neighbors.

There was another time that same summer I was outside with my kids and a different

neighbor's kids were over playing on the swing set. All of a sudden police cars flew up and

men with guns drawn ran up to the neighbor's house. They put the father on the floor with

guns to his head. One of the sons who was in our back yard took off running yelling at them

to leave his father alone.

I picked them up and carried them into my house. The older boy was kicking and screaming.

The younger boy was crying and asking what they were doing to his dad. Maybe five minutes

later, the police were gone.

Their mother came over and said there'd been a report the father had a gun. He didn't so

the police left. Those poor kids were traumatized for no reason. They saw their father in this

position for no reason. There was no apology or talking to the kids to ease their fear.

Nothing.

I think the biggest lesson this has taught me is that racism is still alive and well today. People

still experience life differently, are still treated differently based on the color of their skin.

There are the black schools and the white schools. The black churches and the white

churches. Black neighborhoods and white neighborhoods.

I think racism and segregation were implemented very purposefully and it will take

purposeful actions to end these things. Purposefully moving into a neighborhood where you

are a minority. Purposefully enrolling your children in a school where not everyone looks the

same as them. Educating yourself on the issues such as present day systemic racism and mass

incarceration, etc.

I have to say I could never go back to living in an all-white neighborhood because now I know

what I was missing out on. I am part of a very diverse church family and have cross-cultural

friendships. Just coming to love and be loved across race lines has impacted my life greatly.
---
Ok I'll do it

June Payne's story by Travis O. Graves

June is 68 years old.

There were black people and there were white people. As a child I didn't really have a

thought either way about race or racism. Looking back, I've only been able to speculate

why; why the white family my father worked for sent Christmas presents to us, why

I had to stay in the kitchen when I came along to help my parents cater white people's

parties, why my brother the valedictorian of his class had to take second place to the

white student in a speech and debate competition he had won, why I had to be one of

the first black students to integrate the Charlottesville High School, why my skin color

mattered, why my skin color was the "bad" skin color?

I was the youngest of four. My oldest siblings went to all black schools. By the time I

came around, the Supreme Courts decision to enforce school integration meant that in

Charlottesville, Virginia, whites would passively comply by sending a few guinea pigs

into the white high school. The top ten black elementary students were asked to go to

the white school. Two families opted out thinking the added pressure would negatively

effect their children. My father left the decision in my hands with a simple, "I think

you'll get a better education." So I said, "Ok, I'll do it".

He believed that white schools would prepare me better, and in many ways he was

right. The white schools had better facilities and better books. Single exposed light bulbs

had dimly lit the halls of my elementary school where we used hand-me-down books

that were tattered and outdated. Separate but equal was anything but equal. But I didn't

know just how much courage I was going to have to come up with. For my dad, fear

was not an option. That stoicism that he had, that's what I tried to portray. Though I

didn't feel it all the time, I thought: "I can be strong, I can handle this, and I can handle

it especially if you say I can handle it."

I didn't realize just how hard it would be, and, the truth is, my first year of high

school was the hardest thing I've ever done.

The fall of 1961 was the start of my mission so to speak. I kind of felt like this is

what I have to do in life, and that is, in some way, try to make a difference in how I'm

perceived. Not only me but all black people. That we're not dumb like you think we are,

we're not dirty like you think we are. That became the cross I had to bear. I had to hoist

that thing up on my back and carry it with little or no emotion. For five years, grade 8

through 12, that's the cross I was carrying.

That first day of school, I'll never forget. My uncle Roy dropped me off about a

quarter-mile away from the school. I would have to walk the rest of the way. Getting

out of the car that day it hit me: I was alone. Where were the other black students I

went to elementary school with? Where were my friends? Where is my best buddy

Kenneth? I took an unusually long walk to the high school that day, making the largest

loop around downtown until finally coming to the school. But when I got there another

realization hit me. I didn't know what to do or where to go. Unlike the white students

who got their schedules months before school started, the black students were given

nothing, somebody just found us and said "Oh you need to go there." I didn't even

know what door to go in.

Finally I found an open side door which I slipped in and made my way down the hall

where I first encountered a daunting group of boy's who, on spotting me, shouted out,

"I smell a gar, I smell a gar!" In my innocence, I thought they had picked up the smell

of my Uncle Roy's cigar and I was horrified. All I could think was, "Oh no, I smell

69
---
70

like cigar smoke and it's on my clothes, I can't get that cigar smell off me, that's what they're

smelling." They kept howling, "I smell a gar, I smell a gar." "What a Ci-Gar?" one of the boys

asked, "No, a, Ni….gar!" another replied bringing the joke to it's triumphant end amid cheers

and laughter. That was the first time I can ever recall hearing that word. And how did I handle

that? I said under my breath. "Oh thank God, they don't smell uncle Roy's cigar." I was so

thankful they didn't smell that smelly cigar smoke. I knew they were talking about me, but

that word had no significant impact on me.

I soon came to find out, that I would be segregated in another way. That first year I had no

classes with other black students, and my lunch period was different from theirs as well. I was

in a totally different place, and that first year I had to face my hardships alone. I felt invisible

and I wanted to be invisible. No white students ever once spoke to me, unless it was to bark in

my face, "What are you looking at!" or to harass me with the N-word.

Whereas in my last year at my all black elementary school, I was learning algebra, at my

new school I was treated completely ignorant and was put back in classes being taught how

to add and subtract with some of the dumbest people you ever want to meet. Eventually the

gym teacher (who taught the remedial students math) told someone that I didn't belong there,

and I was moved up to a more appropriate level. I had an English teacher who had me get up

in front of the class and speak so the white students could hear the difference between the way

black and white people talk. And when white students would throw our books out the third

story windows, we had to go get them. The white students were never, at least not in public,

reprimanded for any mistreatment or abuse of black students.

When Richard walked right through me in the hallway, knocking me flat on my back and

cracking my head against the floor, nobody helped me up or said anything. I got turned away

by the principals secretary with: "He doesn't have time to see every student, he's busy." But it

was the lunch period that was the worst part of the day. I hated it when they served peas. The

boys would spit them through their straws at me. Every day I sat invisible and ate my lunch

across from a girl who would try to find my shins and kick the hell out of me, to the point

I would have bruises. I was too afraid to do anything about it. I didn't want to start a fight

surrounded by white people. If I did that, I knew I'd be dead.

Walking home always included outrunning and maneuvering Richard Meeks who would

chase the black kids with his car. I'm convinced to this day if we had not run he would have

hit us, and it would have somehow been our fault. And then when the school bus passed full

of white students, they would throw all their nickels at us from the bus windows.

I had to fight back so many tears. "Don't cry, don't cry, don't cry" became a mantra of sorts.

I didn't want anyone to know how much pain I was in, how scared and sad I was.

Under the weight of my father's honor, and the weight of the discrimination facing all black

people, I had to keep moving forward through school instead of retreating like I wanted to

back to the all black high school. That was my cross to bear and I chose to bear it. That pain

I endured helped bring about integration of schools. I know there are still prejudices and

injustices in this world. There are still crosses to bear and people are saying, like I did to my

father, "Ok, I'll do it."
---
It Shouldn't Matter

WaTasha Barnes Griffin's story by Seth Carrier-Ladd

Tasha is 41 years old.

"Madeline, what 'choo doin?" That was the moment everything changed.

Madeline was my best friend. We'd known each other since we met in kindergarten,

delighted when we figured out that we lived across the street from each other. We

noticed, of course, that our skin was a different color – Madeline's white, mine black

– but that didn't matter to me, and it didn't matter to her. I mean we noticed, right?

After we became friends, we asked, "Can I touch your skin and see if it feels different?"

Which it didn't really. And of course, "Can I touch your hair?" Which did actually feel

different. But outside of those natural curiosities that any kid of that age has, we pretty

much just played.

Now I didn't play with Madeline all of the time. Our street was the dividing line. So

I always had to choose – out the front door to the white neighborhood, or out the back

door to the black. Two doors in one house, in my house, each door leading to a totally

different kind of place. I liked both – safe and at home with my black friends out back,

different and interesting white friends out front.

My black friends didn't understand. "Why you wanna' hang out with the white

kids?" they would ask. "Madeline's my friend," I would respond, and leave it at that. My

grandmother, she'd have white friends over for dinner every so often, and our pastor, he

talked all the time at church about how important it was to have friends of every color.

And we went to the same school as all these white kids. So their questions didn't even

make sense to me. Of course I wanted to hang out with Madeline. She was my friend. I

didn't get it.

Truthfully, the difference I noticed more between me and Madeline was about class.

Madeline's folks were poor as could be, despite living on the white side of the street.

And while we weren't "well off" at my grandmother's house, we always had enough, we

always had everything we needed, and we certainly had more than enough love.

You could see the difference just looking at our two houses. Plunked down between

two more well-kept houses, a green one on one side, and a yellow one on the other,

Madeline's dark gray-colored house looked worn. It had a light gray picket fence

around its front yard, with the paint flaking and chipped off in places, and the yard was

all dirt. No grass in Madeline's front yard, just dirt. Dirt, and two green metal chairs,

that rocked a bit when you sat in them. And the front porch – can't forget that porch.

Covered in junk, end-to-end, from who knows where.

Our house on the other hand, was proud. Two-stories of brick, with a well-kept front

yard, nice pine shrubs on either side of front steps, pillars on the front porch, and of

course a few pieces of nice patio furniture. The class difference showed in other ways

too. The way we dressed, for example – my clothes were usually in better shape. Now,

we didn't care, we played in Madeline's dirt front yard with the green chairs just as often

if not more than we played on the nice front porch at my grandmother's house, and we

didn't talk about clothes. But we noticed, or at least I did.

Sometimes I would ask my mama, "Mom, you know those shoes that I don't wear

anymore? Can I give them to Madeline… she really needs some shoes." It only made

sense, Madeline was my friend, and she needed stuff, and I had stuff that I wasn't using.

And so we continued merrily on our way. It wasn't perfect. No friendship ever is. We

had our little fights and disagreements, but never about the color of our skin. And we

always worked it out. Kindergarten through fourth grade was pretty great. And then

one day everything changed.

71
---
72

It was a nice sunny day. We were sitting out in Madeline's dirt front yard, near those green

metal chairs, that peeling gray picket fence. We were sitting there playing with dolls – white baby

dolls. Two little girls playing, not a care in the world, and then some white man I didn't know, a

friend of the neighbors in the yellow house, he shouted out,"Madeline, what 'choo doin?"

"Just playin'."

"Why you playin' with a nigger?"

"This isn't a nigger, this is Tasha."

Looking back, I'm glad that white man didn't push it any further. He just walked away, and

Madeline asked, "What's a nigger?"

"He's talking about black people."

And we left it at that.

Now I don't know if Madeline talked to her parents, but I talked to my mom as soon as I

got home, and told her what happened. "It made me feel bad mom. It hurt my feelings."

"Oh honey. Some people are just like that. Some people see color instead of seeing people for

who they really are. In our family, we treat people they we want to be treated – with kindness,

love and respect. You're beautiful. You're smart. You're intelligent. You're my Tasha."

"But sometimes other black people call each other nigger… why do they do that?"

"They shouldn't do it honey. No one should ever call each other by that name."

What she didn't say to me then was as important as what she did. She didn't tell me "No

more going back over there to play with Madeline." She never said, "You stay away from the

white side of the street." She just explained and supported. And so the next day, back I went,

to play dolls again with my best friend.

I've never forgotten though. Before, I knew about black and white. After, black and white

meant BLACK and WHITE.

The thing is – I've never really changed. I've experienced my fair share of racism, so much

so in fact that I usually just tune out the consistent, regular, repetitive low-level stuff. But the

color of a person's skin still doesn't matter to me. I see it, I know it makes a difference, I talk

to my two black children about how America treats them differently as a black person because

I have to…but when I meet people, skin color is one of the last things I notice. Just like with

Madeline, I see people, I see human beings, I see my friends.

Skin color shouldn't matter. That's the way it should be. We have to keep putting in the

work to make it so.
---
The New Racism

Mia Johnson's story by Andrea Wolfe

Mia is 36 years old.

About a year and a half ago, a colleague of mine at Ivy Tech Community College and

I were working remotely with an Ivy Tech employee from another region. We were to

meet this other woman at a conference for community college honors students that we

planned to attend together. My colleague—an older, white woman—was struggling to

remember how to pronounce this other employee's name. She must have assumed that it

was a "black name," as she approached me for help at the conference a few hours before

our meeting with the woman we had been working with. Students swarming around us,

my colleague asked, "How do you say her name again?"

"Chavonne," I answered.

My colleague grimaced and sighed. "You girls and your names," she remarked as she

continued walking through the convention center corridor to our next session.

I stopped moving. My eyes widened and my mouth dropped open a little bit. There

were so many things wrong with what she had just said; I wasn't even sure where to

begin. First of all, I recognized that I had just been held responsible for the naming

practices of the entire black American population, notwithstanding the fact that I was

actually named after the white actress, Mia Farrow. Moreover, hearkening back to a

long history of white people referring to black adults as children in order to position

themselves as superior, my colleague's comment revealed that she categorized me, then

a 34-year-old college professor, as well as every other black woman in the world, as a

"girl." She had also insinuated that the names that some black parents chose for their

children were singularly designed to complicate the lives of white people with "normal"

names. How was it possible that this educated woman could so determinedly miss

the point that non-European names might represent resistance to centuries of white

imperialism, oppression, and violence?

I wanted to tell my colleague all about herself, but I knew that I couldn't get upset.

I didn't want to cause an argument in front of the students and colleagues around us.

Also, I recalled past instances of being accused of yelling when only speaking clearly

about issues I was passionate about. I knew that I couldn't be too loud or too insistent

on being heard. So, I didn't say a thing. I didn't want to be "the angry black woman."

Another time, my colleague was talking about finding out that her daughter was going

to marry a black man. She tried to joke with me, "I guess now I'll have to start listening

to your kind of music."

Like last time, I felt struck by her comment. Again, she was suggesting that I,

personally, was answerable for or somehow innately loyal to that which she perceived

as an inherent aspect of African American life—in this case, "black music." Never

mind that I may like country music! I don't, but I certainly could. Her comment also

demonstrated her assumption that black Americans produce only one kind of music

and insinuated that this kind of music was abnormal and just a nuisance in the lives of

white people. Furthermore, she failed to understand the social function of rap and hiphop,

the important role that these types of music have played in black artistic expression

and articulation of systemic forms of oppression in black people's lives.

But, again, I held myself back from saying what I wanted to say. I began to realize,

though, that my sense of personal responsibility for disproving the stereotype of "the

angry black woman"—as well as the additional stereotypes that I perceive others as

using to judge me in other areas of my life, such as "the black thief" when I was shopping

at Target and "the single black mother on welfare" when I am alone with my children

73
---
74

in public—was beginning to feel very heavy. I know that I don't face the kinds of overt racism

that people in the past faced. The racism that I experience takes the form of microaggressions.

This is the new racism. It is sneakier and, because it propagated by people who pretend to be

my friends, it is sometimes harder to directly contend with.

After the two incidents with my colleague, I talked to a friend about what had happened.

He actually helped me to see racism a little differently than I had before, mentioning that there

are multiple levels of racism and that one level of racism is simple ignorance. The colleague

who had insulted me on these occasions, he suggested, perhaps might not have known that

she was using stereotypes or that her sentiments about naming practices and rap and hip-hip

were offensive. He proposed that an honest conversation with my colleague might allow me to

express how she had hurt me and ultimately even help her to develop more appropriate ways

of discussing race.

Maybe I should take the initiative to educate my colleague, but I haven't done this. I don't

like the idea that it is my responsibility to correct her wrongs. I now just try to avoid her. I

simply don't have anything to say to her. I might be willing to forgive one faux pas, but two is

too many.
---
I Was Mad, Real Mad

Rashid Shabazz's story by River Lin

Rashid is 73 years old.

Mad. Real mad. That's how I feel about racism.

I've been facing racism since the day I was born. Since I was a baby, every day, racism

was just a part of life. Bad, unfair things happen to you over and over again and it makes

you mad. Real mad.

One time I was at the fair trying to win a Teddy Bear for a little baby. Down to my

last quarter and the man in the booth told me, "You get the best 2 out of 3 and you can

have any Teddy Bear you want." I said, "OK, I can do that." I got the first one, missed

the second one, and then I got the third one.

That man said no. He said I had to get the first 2 out of 3."

I was mad. Real mad.

We argued. Klansmen came around the corner. Crowbars, chains, sledgehammers. All

this over a Teddy Bear. Can you believe that? I was thinking how to jump them all: One

foot on this guy, another foot on that guy, one hand here, my other hand there.

Then 10 black men from the community came. One of them said to me, "What's happenin'

Lil' Ticket?" Yeah, he called me "Lil' Ticket." Then he said to the clansmen, "What you

gonna do with them toys you got?" I liked it that he called them weapons "toys."

But I was mad. Real mad.

Another time, the Klan set up a table to recruit for new members. Teaching hate.

Recruiting so they can do more harm to us.

I was mad. Real mad.

We had a confrontation, and one of those guys had a gun. You can't bring no gun to

the fair! And there were all these little kids standing around! Everyone started yelling,

"He got a gun! He got a gun!" The police, sheriff, all them came running. That man

started shaking, just shaking. I thought he might shoot himself in the leg the way he was

shaking.

I was mad. Real mad.

I was one of the greatest basketball players in the country. In the world, really. But

racism dogged me so much. By the time I got to high school, I didn't want it no more.

I was just mad. Real mad.

But I was a good player, so they wanted me to be a Bear Cat. I said no, but they got

me. See, we had a race riot in the high school and I was right there in the middle of it.

Then they gave me an ultimatum: play ball or get kicked out of school.

Oh, no, no. I couldn't face my mother if I got kicked out of school. So I signed up.

But I was mad. Real mad.

In practice I could out-run, out-jump and out-shoot those guys, but in the games,

they got all the playtime.

I was mad. Real mad.

Then tournament time came. When we got to the sectionals, we had to play two

games in one day, and those white guys, they weren't up to it, so they had to put me in

the game.

And I got down!

75
---
But you know what? After that, they had to be careful with me because they didn't want a black

hero. No, they'd rather lose with a white hero than to win with a black hero.

I was mad. Real mad.

And another thing: they only like you when you on the court. During the season, they treat

you real good, but after that, they dog you. I went from a thousand people calling out my

name and cheering me, to can't even go across the street and have a Coca-Cola or an ice cream

cone with them.

I was mad. Real mad.

When I was a senior, the team was on the road, and you know, like teams do, there was some

hazing. I didn't do no hazing, but I know who did it. And nothing happened to those white

players who did it. But all four of us black players got kicked off the team for hazing. It was

my last year and I was nominated to be Mr. Basketball. That was the real threat; they didn't

want me to be Mr. Basketball.

We didn't do no hazing, but we got kicked off the team. I know they just couldn't have a

black Mr. Basketball from Muncie. No title. No scholarships.

I was mad. Real mad.

My anger took me down.

Anger raging inside, my heart was looking for something better.

Religion gave me a white Jesus.

Elijah Mohammed established the Nation of Islam. He preached that the white man was the

devil. Seeing how the white man acted, I heard him. I was ready to listen.

My wife had cancer and she passed. The doctors said my baby had it too, and that he needed

surgery. I didn't trust them. I read a book by Elijah Mohammed: How to Eat to Live, and it

gave me an alternative.

I believed.

I was playing professional basketball by then, but I gave that up so I could care for my son.

I got remarried and my wife and I read the Quran to my son every day. Every day. He never

had the surgery. He's a grown man now. Healthy. Smart. I'm proud of him.

I believed.

Elijah Mohammed made black people look at ourselves. He prepared us for Islam. After he

died, his son, Imam W. Deen Mohammad, took over as the leader of the Nation of Islam. He

preached from the Quran. He preached that there is no superiority among humans, not white

over black, and not black over white; not Arab over non-Arab, nor non-Arab over Arab. I

became a Muslim.

I believed.

Racism is still here. It looks different from how it used to look, but inside, it's still racism.

And sometimes, I'm still mad. Real mad.

But today, I'm different because I believe. Oh yes, I believe.

76
---
Learning From Our Children

Shalia Gupta's story by Clarissa Bowers

Shalia is 80 years old.

When I was a child growing up in India, I was taught that when an adult came to your

door, you welcomed them in and offered them a seat. It was a sign of respect.

At age seven, a man came to the door and I welcomed him in just as I had been taught.

When my father entered the room, the man immediately rose to his feet to greet my

father. As I watched from the corner of the room, I couldn't help but wonder why the

man kept standing until my father asked him to be seated.

In that moment, I had this twinge, this uncomfortable feeling deep inside me. I had

asked someone from another walk of life, someone that I should have known was

"different" in the eyes of my culture, to sit down in my family's home. All at once, I felt

the embarrassment that comes from the unknown. I didn't know why it was wrong but

I felt a deep rooted acknowledgment that there was a difference between the two of us,

yet it was so undefined

As I reflect on this and the way bias was formed in such an innocent mind; I realize that

all biases whether it be social, class, cast, or race are learned behavior. Most importantly,

I have realized that what is learned can be unlearned. We, as humans, are not as strong

or complete as we would like to think, and by stopping our vulnerabilities from being

shown, we let fear become a cancer that grows from within.

One of my fondest childhood memories was learning to knit from our kind and

loving neighbor, a Muslim woman.. As I was Hindu, I was not allowed to partake in

their family meals but that did not stop her from welcoming me into her home. You

see, India was and is a land of gentle and gracious people but in the late 1940's partition

tore through our country, Hindu-Muslim migration created dividing lines that were

fueled by rage and hate. Helpless men became devils and blood saturated both India and

Pakistan; but even throughout these trials, the bonds of friendship survived.

When I was just 10 years old, I awoke one morning to see our neighbors gone. Despite

the risks it posed to my family, I later came to know that my father had helped them to

escape to safety when the risk became too great for them to stay in our neighborhood. In

the darkest hours, people still helped each other because we were people, not because we

were one religion or another. If in that moment we were able to erase bias, why should

it be any different now, living in a country with hundreds of different nationalities and

religions all poured into one? Somehow and somewhere racism finds and takes root

here, but why?

For me, I believe that racism or any discrimination grows because we are ignorant

and we cocoon ourselves out of fear when we should instead be asking and educating.

It is difficult for us as adults to break away from these cocoons but luckily we have the

ultimate resource available to help us overcome. Children are the ultimate resource in

combatting this ignorance.

I have come to find that if I am at a grocery store, curiosity will always win over in

an interaction with a child. If there is a toddler or a child standing with their mother or

sitting on their lap, they will look at bindi—a decorative mark worn in the middle of

the forehead by Indian women, and say "Do you have an ouchie?" or they will reach

out to touch it. Children want to know. They want to learn, and I want to share. But,

the embarrassments from parents who are conditioned to fear cultural embarrassment

quickly stifle their child's curiosity. In those moments, they are telling the child not to

touch and not to ask and suddenly the child learns that for some reason, I am different.

Years ago I discovered a beautiful quote that spoke to our need to grow outside of

77
---
78

our own comfort, it said, "A ship is safe in harbor, but that's not what ships are for." Sure, life

is safe in your own little cocoon, never questioning your bias or getting out so you may be

exposed to the world's biases. But, that is not what this life is for. Life is meant to be lived, to

be experienced, and to be shaped by it. As you grow, of course there are challenges. There will

be rocks and hidden cliffs in your ship's path, but you will learn to navigate and you will grow

stronger because of it.

When I first came to the United States, I was faced with one of the most curious experiences

I had ever had with a child. While out in the common area of our university housing, a young

girl asked me if I was a witch. I, of course, responded that I was not. She thought for a moment

and then asked if I was a Queen. Again, I smiled and said no. Her final line of questioning

asked if I was a fairy. As I said no for the final time, the child looked at me and ran away. It was

as though she couldn't see the similarities between her and I, so she assumed they did not exist.
---
What's on the Menu?

Deanna's story by WaTasha Barnes Griffin

Deanna is a pseudonym and she is in 7th grade.

I live in a vibrant house full of color, compassion, tolerance, and acceptance. Many people

in the community know that my parents are of different races, and that my siblings each have

DNA's that are blended with love. You want to know the race of my parents, don't you?

Okay, okay, my dad is Italian American and my mom is African. To some of you, that might

seem strange, but to us it is nothing out of the ordinary.

My mom and dad teach me to treat each and every one that I meet with kindness, even when

I don't think they deserve it. I have also been taught that not everyone will extend that same

respect and kindness to me.

One fall morning, I was sitting in my science class with my stomach growling louder than the

teacher's voice-signaling to me and all those within earshot, that lunchtime is on its way. Mind

you that this is the last class prior to my lunch period. Although I am attentively listening to

our teacher go on and on about ancient Rome, my mind is already thinking of what is on the

lunch menu.

Finally, the 11:20 a.m. bell rings to dismiss us from class and now it's lunchtime! Time to

quiet this beastly belly growl that I have going on, time to unwind and let down my hair, and

yep, it is time to kick it and socialize with my friends!

I get to the cafeteria and race through the hordes of kids to get to the tray line. I look at the

menu and make my food selections. As I make my way back through the cafeteria, waving

and saying "Hello" as I go, attempting to balance my lunch tray all at the same time, I notice

that several of my friends have already beat me to "our" claimed lunch table. I join them

and, before long, Allie, Mackenzie, Marie, and I are eating from a diverse group of foods

and chatting away. Someone has hot Cheetos, snack cakes, and milk, another has a salad, one

has Subway that was carried in by her mother, and I have the standard cafeteria selections,

hooray!…Not. All four of our racial profiles are just as unique as our food choices, and yet we

are the best of friends.

My friend Allie, who is Caucasian, begins to talk about her relationship with her boyfriend,

David, who is black. She says that her mother knows she is dating a black guy, but her dad does

not. She states that if her dad knew that she was dating a black guy, he would be very upset

with her, have a conniption fit, or disown her. So to avoid a big ol' misunderstanding, she and

her mother have decided to keep this little secret, named David, to themselves. Mackenzie,

who is also Caucasian, shakes her head from side to side and says, "Really Allie? Now that you

are mentioning it, I never understood how you could date David. I will never date a black guy

because my religion states that the black and white races should not mix. The Bible says that

whites are to date whites and blacks should only date blacks—we all should just date within

our own color."

My mouth drops open in shock; luckily no flies are swarming around, gross right? I am

flabbergasted by what I am hearing sitting at this lunch table in the school cafeteria. This

conversation was definitely not on the lunch menu! I mean, really? My dear friend Mackenzie

really thinks this way? Is she a racist? I am black, so is she only pretending to like me?

There are so many thoughts running through my mind, disbelief being the main one. So I ask

Mackenzie what her religion is and she replies, "I am of the Christian faith." I respond by

saying, "Mackenzie, I am of the Christian faith, too. Where in the Bible did you find scripture

that's says that blacks and whites should not date?" "Oh, I cannot remember exactly. My

mother tells us that 'God didn't intend for the black and white races to mix,' all of the time.

Heck, we can just Google it and see," Mackenzie says with a giggle.

I feel my fury begin to rise up inside of me, but I keep my cool on the surface. I think to

myself, "Wow, all of those times I have spent hanging out with the Jones family, and I never

knew Mrs. Jones was racist? What about Mackenzie's dad? Wait, are they really racist?"

78
---
80

Of course I would never say any of this out loud. My parents and the R.A.C.E. Group that

we attend have taught me, through dialogues and activities, to remain calm and not retaliate

from a place of hate—but to think things through and then answer from a positive place. But

right at this very minute, I cannot think of one politically correct thing to say. So I just sit there

stunned, and say nothing. In fact several of us do.

It feels like an eternity before someone speaks, but in all actuality, it is only about five

seconds. The person who speaks up is hot-headed Marie, and she is not happy. You see, Marie

has a black father and a white mother.

"What the heck do you mean, Mackenzie? Are you telling us that I do not deserve to be born

because you and your parents believe that my parents should not have fallen in love because their

skin doesn't match? What kind of religion would cause others to judge who belongs with who

based on color? You can take your racist comments and get far away from me! I have known you

for a very long time and I would never imagine that you would think this way! Better yet, I cannot

believe that you let that stupidity come out of your mouth with a black chick, and a bi-racial chick

sitting right here with you! Whites are not superior to other races, you know! Get for real! As a

matter of fact, you stay your racist butt right here! I will leave!"

And with that she stands up quickly and begins to gather her belongings. Allie and Mackenzie

look at each other, and then at me, in horror.

I try to think of a response I can offer to help defuse the situation, and I calmly say, "Okay

guys, let's all take a deep breath here. I know that this conversation is hard to handle, but we

have been friends way too long to walk out of this lunch room without at least trying to work

through what has just happened. It is okay for us to have our opinions but we need to do it in

a respectful way."

Marie looks at Allie, Mackenzie, and then at me and says: "You all can do what you want,

but I am just going to walk away."

And she did. But she didn't just walk away, she raced out of the cafeteria, and she ran away

from the conversation. She never got to hear what could have been one of the most enlightening

conversations about teenagers and racism. She never got to hear Mackenzie say she was sorry

for being offensive. She never got to hear Allie say that she will be honest with her father about

her boyfriend, Dave, and she never got to hear me say that when I was little girl hearing the

word "race" always made me think of a group of competitive people running really fast trying

to beat each other, to claim the title of "winner."

She never got to hear me say, "And I guess until all races, young and old, are willing to come

to the table to have the tough conversations about race, diversity, and stereotypes, and until

we are willing to hear, learn and understand each other's voices, "Race" will continue to be a

competition. It will just keep being various groups of people trying to out run each other in an

effort to claim the title that declares them or their race as "the winner." We have come so far,

yet we still have a ways to go. Why don't all of us just run the race together?

Let's add that to the menu.
---
ABOUT OUR

WRITERS & STORYTELLERS

81
---
Our Writers…

PAGE 83

Lizz Alezetes

Lenore Allen

WaTasha Barnes Griffin

Chris Bavender

Sherri Beaty

Lauren Bishop-Weidner

Clarissa Bowers

PAGE 84

Michael Brockley

Dr. Ruby Cain

Rev. Seth Carrier-Ladd

Jackson Eflin

Travis Oliver Graves

Anna Groover

Josh Holowell

PAGE 85

Ari Hurwitz

Angela Jackson-Brown

J.R. Jamison

Steve Knote

River Lin

Resa Matlock

Beth Messner

PAGE 86

Melnda Messineo

Barbara Miller

Deborah Mix

Andrea Powell Wolfe

Christine Rhine

Aimee Robertson-Fant

Tom Steiner

PAGE 87

Kelsey Timmerman

Levi Todd

Maggie West

Taylor Wicker

Stephanie Winn

Annemarie Voss

Our Storytellers…

PAGE 88

Sam Abram

Matt Bailey

WaTasha Barnes Griffin

Dr. Ruby Cain

Tom Carey

Cornelius Dollison

PAGE 89

Mary Dollison

Jason Donati

Dr. Karen A. Dowling

Michael Timothy Duerson

Heather Gilvary-Hamad

Shalia Gupta

Mia D. Johnson, PhD

PAGE 90

Lonna Jordan

Fred Long

Dr. Renae Mayes

Richard McKinney

Ella McNeary

Vivian Morrison

Dr. Charles R. Payne

Dr. June Payne

PAGE 91

Jayla Scaife

Mina Samaan

Christine Satory

Rashid Shabazz

Daniel Stallings

Tonikia Steans

Muriel Weeden

Maria Williams-Hawkins, PhD

82
---
About Our Writers…

Lizz Alezetes…teaches English to speakers of other languages in the Intensive English

Institute at Ball State University. She spent five years teaching English in Saudi Arabia, which

is where she met her husband and gave birth to her first child. She is now the proud mother of

two children, Yusef and Yasmeen.

LenoreIAllen…a newcomer to the Muncie community, has been a Christian blog

writer for 4 years. She has taught for 8 years as a special education teacher as well as a

substitute teacher in Georgia. She also has experience working in state government in the

DUI Intervention program for six years. Her passions include ministry, nonprofit, business,

substance abuse prevention and recovery, education, advocacy, literacy, writing and music. She

is a mother of one daughter and grandmother of two boys.

WaTashaIBarnesIGriffin…President of the Muncie Chapter of the Indiana

Black Expo, Inc. and the Director of Residential Services at the YWCA. She grew up on the

Southside of Muncie and remains a life-long resident, committed to serving those in need in our

community. WaTasha is married to Minister Shoka J. Griffin. They have two children, Shoka II and

Sa'Niya. She is grateful for the opportunity to participate in the Facing Racism project.

Chris Bavender…is an Indianapolis-based writer. A Muncie native, she is a proud

Ball State alum. Follow her on Twitter at @crbavender and Instagram @chris_bavender

Sherri Beaty…a writer, music lover, and nature enthusiast who lives in East Central

Indiana with her husband Paul, and their Jack Russel (Jack). She is employed at Ball State

University Teachers College. She consumes her spare time by ditching the dirty dishes and

laundry to read books and hang out with her 18-month-old granddaughter.

LaurenIBishop-Weidner…an essayist who taught university English courses

for many years. A long-time volunteer in local public schools, she loves reading to children

and working individually with struggling readers. She also loves to quilt, stitching memories

into warmth while savoring the stories and history of each pattern. She writes family stories,

Facebook posts, and occasional opinion pieces, particularly on issues affecting public education.

ClarissaIBowers…a 26 year old Communication Masters student living on the

NE side of Indianapolis. This is her third time working with The Facing Project and she is

thrilled to be able to help shed some light on the immense power that can be found through

embracing diversity. When she is not researching communication theory or writing for The

Facing Project, Clarissa performs with her band Second Story and plays roller derby for the

Columbus Terrorz.

83
---
Michael Brockley…works as a school psychologist in rural northeast Indiana. He

published poems in other Facing Project publications as well as in Flying Island, Gyroscope Review,

Zingara Poetry Picks, Panoplyzine, and I am not a silent poet.

Dr.IRubyICain…Assistant Director of Adult and Community Education and Director of

M.A. degree programs and graduate certificates in Adult and Community Education and Executive

Development for Public Service in the Department of Educational Studies at Ball State University.

She also serves as the Director for It Is Well With My Soul (regional community program focused

on racial healing and equity via family and cultural historical research, presentation, and publication)

and is Leadership Council Member for Within our Lifetime (national network on racial healing and

equity). Her research agenda encompasses transformative and collaborative learning, racial equity,

social justice, and community mobilization. She has presented and published her research findings

locally, regionally, and internationally.

Rev.ISethICarrier-Ladd…senior minister at the Unitarian Universalist Church of

Muncie. He has lived in Muncie, with his wife Elizabeth, and children Mira and Theo, for almost

three years, and is grateful for the opportunity to participate in the Facing Racism project.

Jackson Eflin… a mercurial fey creature who absconded with an English degree from Ball

State and hasn't stopped running since. He has been published in The Digital Literature Review, The

Broken Plate, and No Horns on These Helmets! He spends his nights trying to coax novels down out

of the ether.

Travis Oliver Graves…from Missoula, Montana and has lived and worked in New York

City and Vientiane, Laos, but now calls Muncie home. He's worked as a fashion assistant, event

planner, interior painter, florist, and spent two years teaching English in Southeast Asia. Writing has

mostly been to him a place of refuge to process his experiences, but as his passion for writing has

increased, he's sought opportunity to use writing to serve the furtherance of love, thoughtfulness, and

generosity to his friends, community, and world.

AnnaIGroover… a freshman English and political science major who hopes to become

a writer or civil rights lawyer. She believes that words and stories are essential to breaking down

prejudice and hatred.

Josh Holowell…a 29-year-old Pastor who lives in Muncie with his wife Whitney and their

three children. Josh is a 2009 Ball State University graduate from the College of Architecture and

Planning and is in the process of starting a new church in downtown Muncie.

84
---
Ari Hurwitz…a graduate of Beloit College with a masters degree from Marian University, has

worked in education for most of his adult life bringing intentional focus on human rights, equality, and

justice to his students. Last year, as 6th grade teacher at Inspire Academy, he developed a semesterlong

expedition entitled, "The Other: Bringing Empathy to History and the Now." Through this he

was re-invigorated to the pursuit of bringing stories of rights and justice from all communities and

to all communities.

Angela Jackson-Brown…an award winning writer, poet and playwright who teaches

Creative Writing and English at Ball State University in Muncie, Indiana. She is a graduate of the Spalding

low-residency MFA program in Creative Writing program. She is the author of the novel Drinking

From A Bitter Cup and has published in numerous literary journals. Recently Angela's play, Anna's

Wings, was selected to be a part of the IndyFringe 2016 and this fall, her play Flossie Bailey Takes a

Stand will be part of the Indiana Bicentennial Celebration at the Indiana Repertory Theatre. Currently,

Angela is collaborating with musicians on a musical she wrote called Underneath the Chinaberry

Tree and her next play, It Is Well, will go on the road this fall.

J.R.IJamison…the Co-Founder of The Facing Project, where he also serves as the Chief

Storytelling Officer. In addition to The Facing Project, J.R. is the Executive Director of the Indiana

Campus Compact, a coalition of 40 colleges and universities that have dedicated their institutions to

campus and community partnerships for the public good. He has been featured in The Huffington

Post, Harlem World Magazine, and on NPR. He calls Muncie home.

SteveIKnote…a sixty-one year-old Hoosier with precious little interaction with other races

until attending college. At IU-Bloomington and later at Ball State, Steve began to cultivate a more

"worldly outlook." After a thirty-three-year career with General Motors, Steve now is an associate

instructor with Ivy Tech. Steve is an advocate for life-long learning and reports learning a great deal

from Dr. Charles Payne.

River Lin…a life-long learner who loves to travel. Her career in ESL offers opportunities to teach

abroad; she spent 10 years in Japan and her next venture is to the Middle East (UAE). A native of Muncie,

Indiana, River Lin currently teaches ESL in the Intensive English Institute at Ball State University.

Resa Matlock…born and raised in the USA, has more family in Costa Rica. At a young age,

Resa became aware of the strange and complicated ways in which humans view each other. Stories can

help build bridges between people and their different points of view.

Beth Messner…an associate professor of Communication Studies at Ball State University.

She teaches courses related to persuasion and rhetoric. She also studies the discourse of people whose

voices are traditionally silenced.

85
---
Melinda Messineo… teaches sociology at Ball State University and studies the portrayal of

race, class, and gender in media. She is passionate about connecting people to the many transformative

not-for-profits in Muncie, Indiana – AKA Middletown.

Barbara Miller…a veteran English teacher who has taught in three very different high schools

in East Central Indiana. In each of her classrooms, she has seen racism. Often that racism has been

directed toward local people of color but at other times it has been directed toward anyone who simply

is different. One of Barb's goals as an educator is to provide her students with authentic experiences

that foster relationships between students of varied backgrounds. Barb has created many opportunities

for students to interact with people who are different, including working with teachers in Japan, India

and Peru. Through that work, she has seen that when personal experiences are shared, prejudices

often dissolve. Barb looks forward this summer to participating in a National Endowment for the

Humanities summer teacher workshop learning about the ancestral Pueblo people and their modern

Hopi descendants.

Deborah Mix…an associate professor of English at Ball State University.

AndreaIPowellIWolfe…teaches English and Honors courses and works as a Writing

Consultant in the Office of National and International Scholarships at Ball State University. She lives

in Muncie with her husband and two children, who attend Muncie Community Schools and participate

in various extracurricular activities in the Muncie community. Andrea is also a member of the Unitarian

Universalist Church of Muncie.

Christine Rhine…a Muncie-based freelance writer and editor.

Aimee Robertson-Fant…serves as Coordinator and Community Organizer for Muncie

Action Plan, Executive Director of Cancer Services of East Central Indiana-Little Red Door, and is

Co-Founder of Muncie Matters. She is a writer and photojournalist and has participated in five Facing

Projects: Facing Autism, Facing Disabilities, Facing Cancer, Facing Racism and Facing Addiction.

Aimee studied Psychology at Ball State University and is the mother of 3 children; Laurelen, 18, Audra,

9, and Owen, 5.

Tom Steiner… lives in Muncie with his wife and 18-year-old daughter. When not working as a

business advisor for the ISBDC, rehabbing his house in the Historic Emily Kimbrough Neighborhood,

or in his woodshop working on the lathe, Tom is always looking for new and interesting challenges.

86
---
Kelsey Timmerman…a co-founder of the The Facing Project.

Levi Todd… a junior English major at Ball State University. He is the Founder and Executive

Director of Reacting Out Loud, an independent organization devoted to uplifting poetry and

affirming community in Muncie, Indiana. He is grateful to the Facing Project for the opportunity

to engage with the Muncie community and learn more about the problems it faces and the ways in

which it overcomes them.

Maggie West…from Chicago, Illinois and attends ball State University. She is a junior,

double majoring in journalism and telecommunications with a minor in political science. Writing has

been a passion of hers and becoming a story teller is one of many life goals.

Taylor Wicker…a creative writing major at Ball State, and has been involved in community

work in both Muncie and Indianapolis during her studies and beyond. She hopes to continue working

with projects related to diversity and identity in the future.

Stephanie Winn…a 29-year-old wife and mother of two little girls. She works as a speech

language pathologist in a skilled nursing facility. Stephanie loves the Lord and enjoys spending her days

with friends and family!

Annemarie Voss…retired Professor of English from Ball State University, grandmother of

two grandchildren whose other grandfather is of Indian origin from Trinidad.

87
---
About Our Storytellers…

Sam Abram…From a scrap iron business with three employees (he was ten at

the time) to Superintendent of Muncie Community Schools, Dr. Sam Abram's leadership

qualities have been apparent. His quiet courage, humble attitude, and compassion enable

him to communicate effectively with people of every background. He was the sixth African-

American teacher hired in Muncie Community Schools; he became the second person of

color to be principal, and the first to be Superintendent. His wife and partner of 59 years,

Millie O'Neal Abram, is also a Muncie native who attended Ball State. Her financial,

intellectual, psychological, and emotional support are integral to his success.

MattIBailey…as a third grader, Matt Bailey attended school on a New Mexico Navajo

reservation where his father was hired to develop curriculum. As a result of his family's move,

Matt felt the isolation of being an English-speaking, "blond-haired little white kid." Later,

as a college student, Matt reached out to others of different backgrounds; in fact, his best

friend's family was from India. After college, Matt donned a Kevlar vest to work at an inner

city Florida middle school as a truant officer where he later taught social studies. He saw the

effects of racism and poverty first hand, as one of the few professional whites in his school

and neighborhood. As a father, Matt was eager to introduce his own sons to a multi-cultured

world and moved his family to London. When they returned to Indiana, Matt took a position

working in local government and felt the impact of racism once again, as residents made

assumptions about his policies based on his skin color and not on his background and beliefs.

Currently, Matt Bailey continues his work in bringing people of diversity together at Ball State

University where he connects faculty and students with community service opportunities that

are mutually enriching.

WaTashaIBarnesIGriffin…Director of Residential Services at the YWCA. She

grew up on the Southside of Muncie and remains a life-long resident, committed to helping

those in need in our community.

Dr.IRubyICain…Assistant Director of Adult and Community Education and Director

of MA degree programs and graduate certificates in Adult and Community Education and

Executive Development for Public Service in the Department of Educational Studies at Ball State

University. She also serves as the Director for It Is Well With My Soul (regional community

program focused on racial healing and equity via family and cultural historical research,

presentation, and publication) and is Leadership Council Member for Within our Lifetime

(national network on racial healing and equity). Her research agenda encompasses transformative

and collaborative learning, racial equity, social justice, and community mobilization. She has

presented and published her research findings locally, regionally, and internationally.

Tom Carey…a life-long resident of Muncie and a fixture on Willard Street where he has

operated Carey's Superior Barber Shop for more than four decades. He is a retiree of Ball State

University where he served on the maintenance, custodial, and paint shop teams in a career

that spanned thirty years.

Cornelius Dollison…Gentle and soft-spoken, with a keen intellect and talented

hands (this man can weld paper!), Cornelius Dollison knows how to build bridges both literally

and figuratively. He and his wife Mary continue to reach out across boundaries of race, class, and

background to build sustainable cross-cultural relationships that make a difference in Muncie.

88
---
MaryIDollison…Lifelong children's advocate Mary Dollison taught 35 years in the Muncie

Community Schools. In 1987, with a friend, she co-founded Motivate Our Minds, a widely emulated

educational enrichment program with proven results in the form of highly successful alumni-including

physicians, nurses, teachers, parents, skilled and unskilled laborers, and business owners. She has been

characterized as "a bulldog in a chihuahua's body" by fellow community activists. She and her husband

Cornelius married in 1962.

Jason Donati…an environmental educator for the Muncie Sanitary District and father

of four, who grew up in Delaware County and currently lives in Downtown Muncie. Jason left

Muncie in 2000 to serve in AmeriCorps NCCC which took him many places throughout the east

coast eventually settling in Buffalo, New York. Jason returned to Muncie in 2008 and serves on the

board of directors of the Cardinal Greenway, the White River Alliance, The Roy C. Buley Center,

past president of Muncie-Delaware Clean and Beautiful, and the current president of the Muncie

Urban Forestry Committee. Jason and his family helped to start R.A.C.E. (Reconciliation Achieved

through Community Engagement) Muncie in the winter of 2014, which meets monthly with citizens

and community leaders to drive dialogue and action.

Dr.IKarenIA.IDowling…has taught in Indiana public K-12 education as a secondary

Spanish and Japanese teacher and has also served as a faculty member and administrator at the

university level. She and her husband, Trent have two sons, Jared and Joel. She is passionate about her

faith and family, serving the community, multicultural education/cultural competence, and connecting

with diverse people.

Michael Timothy Duerson…In 2006 Michael Timothy Duerson was inducted into the

Museum of Science and Industry in Chicago as one of Top 10 African American Engineers in the United

States. He is the Founder of The Dave Duerson Athletic Safety Fund, Inc. The organization advocates

for stronger concussion regulations, educates students on concussion awareness and detection, and

provides pre and post neurocognitive testing for all male and female student athletes in all sports,

5th–12th grade. For more information, visit http://www.ddfund.org/. Michael and his brother, Dave

suffered the harsh effects of sports-related concussions. Michael's story is one of meeting adversity

head on and emerging victorious time after time.

HeatherIGilvary-Hamad…and her Palestinian husband are raising two children.

Heather was raised Catholic in a large family in Indiana. She converted to Islam after 11 years of

marriage. She works in the field of higher education in the area of international education. She holds a

Master's in Liberal Studies from IUSB where her thesis project was on cross cultural marriages between

American women and Middle Eastern men. She lectures on cross-cultural relationships/international

education at a variety of venues.

Shalia Gupta…born In Simla, India, and moved to Cedar Falls, Iowa, 23 years after marrying

her husband in 1936. Shalia and her husband have three daughters. Shalia is a graduate of Lady

Irwin College in New Delhi and holds two Master's Degrees in Child Development and Secondary

Principalship from Iowa. Shalia is a currently retired, but was a teacher and business owner.

Mia D. Johnson, PhD…the program chair for Human Services in the East Central Region

at Ivy Tech Community College, and also teaches psychology, sociology and leadership courses at

Indiana Tech and Anderson University. She lives in Muncie with her husband and two children, who

will attend Del Com Schools in the fall.

89
---
Lonna Jordan… Delaware County Probation Officer who spent her formative years attending

Trinity United Methodist Church in Muncie, Indiana. She graduated from Muncie Central High School

and Ball State University. Mrs. Jordan is a wife and the mother of two children.

Fred Long…born in 1961 to parents Eddie Long and Ada (Funches) Long. Fred and his wife

Glenda have been married 26 years and have 4 children. Fred works as Nestle USA in Anderson and

attends Word of Life Christian Church and Halal Kingdom Ministries.

Dr. Renae Mayes…an Assistant Professor at Ball State University where she trains masters

level students to be counselors and change agents in PreK-12 schools and community settings. Dr. Mayes

focuses on diversity and social justice in her teaching and research. Additionally, Dr. Mayes is engaged

in community efforts addressing inequities in the greater Muncie community.

Richard McKinney…served 25 years in the military, both in the Marine Corps and the

Army. In reflecting on his military journey, he realized that it was hate that got him through. However,

later experiences in life have lead to great a awakening, allowing Richard to come to terms with his hate

and find compassion and empathy for himself and the diverse community he lives in.

EllaIMcNeary…a mother and a grandmother who has been married to Edward McNeary

for 48 years. She has been recognized as the Valiant Woman and Young Christian Woman for Church

Women United. In addition to being heavily involved in the church community, she has served on the

Board for the Delaware County Prevention Council as well as served in many leadership roles in the

Muncie chapter of the NAACP.

Vivian Morrison…born and raised in Muncie Indiana and deeply involved in Trinity United

Methodist Church during the Civil Rights Movement in the late sixties and early seventies. The fight

for civil rights made a major difference in her life and the lives of many others. Mrs. Vivian Conley and

Reverend J. C. Williams and many other spiritual leaders stressed the fact that education and street sense

were the only way to survive in this world. Being a first-generation college graduate in her immediate

family and a freedom fighter and singer in the Muncie black coalition choir made such a major impact

on her that, to this very day, she is very passionate about advocating for the disadvantaged of different

numerous walks of life.

Dr.ICharlesIR.IPayne…in 1962, began teaching in segregated schools in Neshoba

County, Mississippi. In 1972 he became an assistant professor of secondary education, but his specific

responsibility was to start and develop a multi-cultural education program for secondary teachers.

The first of such a program in the country. In 2013 he retired as Assistant Provost for Diversity,

Emeritus; Director of the Office of Institutional Diversity, Emeritus; and, Professor of Secondary

Education, Emeritus.

Dr. June Payne…a native of Charlottesville VA where in 1961, she was one of the first

students in the public school system to participate in the start of integration. After high school

graduation, she earned a BS degree in Sociology from Virginia State University, and MA and PhD

degrees in Counseling Psychology from Ball State University. She worked in the Muncie, Indiana,

community for over 35 years as a psychologist and university administrator. She served as Director

of Counseling and Health Services at Ball State for 12 years before her retirement in 2015.

90
---
JaylaIScaife…daughter of Robert and Wilisha Scaife and a proud member of the Whitely

Community. Jayla graduated from Muncie community schools this year, and participated in the gifted

and talented program, National Honor Society, Society of High School Scholars, and Best Buddies

in addition to being recognized as an outstanding math student. Jayla is also active in youth ministry

through her church and activities in school. She will be attending the University of Dayton in the fall

on a full ride scholarship to play basketball and pursue a bachelors degree in Kinesiology.

Mina Samaan…grew up in Egypt and moved to the states in June 2010. He's a senior in

Indiana University East studying nursing. After graduation, Mina is planning to do medical missions

all over the world especially Africa.

Christine Satory…is a mixed-blood American Indian who was forcibly taken, at birth, from

her mother and adopted by white parents through the U.S. Government's Indian Adoption Project

(1950s/1960s). She is one of the thousands of transracial "Split-feathers" that live with the consequences

of forced assimilation.

Rashid Shabaaz…a native of Muncie, Indiana, played professional basketball for Cincinnati

Royals, Boston Celtics and Milwaukee Bucks. He became a Muslim in 1971 and was the owner of

Rasheed's Fish-n-Chips in Muncie until it closed. He currently owns Graffix, a printing company,

resides in Muncie and is a member of the Islamic Center of Muncie.

Daniel Stallings…President of Stallings Wealth Management; he spent his early childhood

in Spain, and his school years in southern California. He went to college in Atlanta, Georgia, at

Emory University, and his master's degree at Azusa Pacific University, and was a higher education

professional at the University of Southern California, Cal State Fullerton and Ball State University.

He and his family have lived in Indiana for over 17 years, and are engaged in youth, education and

diversity initiatives.

Tonikia Steans…a wife and mother who loves giving back to her community through

volunteering and mentoring. She believes that beauty reflects what's within.

Muriel Weeden…retired educator, having served in the Marion and Muncie Community

Schools for 27 years. She has received her Bachelor of Science Degree in Elementary Education

and Master of Arts in Counseling Psychology from Ball State University. Muriel is also a playwright

and songwriter, and is the founder of MLK Gospel Choir and Holy Angels School Gospel Choir. She

currently resides in Muncie, Indiana.

Maria Williams-Hawkins, PhD…a graduate of The Ohio State University (1994)

and Associate Professor of Telecommunications at Ball State University. Research foci include:

media criticism, ethnic, gender, age and ability representations, international media, religion and

women in prison issues; often engaged in health related, multidisciplinary projects that are focused

on marginalized groups using technology to advance or improve upon a need. She is minister, wife,

mother and grandmother.

91
---
R.A.C.E. was created to initiate thoughtful conversation

and promote activities that focus intentional efforts

towards reconciliation, equality, and respect

for all races and cultures.

Through public community dialogue

we believe we can strengthen relationships

in our city and focus on prevention.

We strive to eradicate racism and

promote reconciliation in Muncie Indiana.