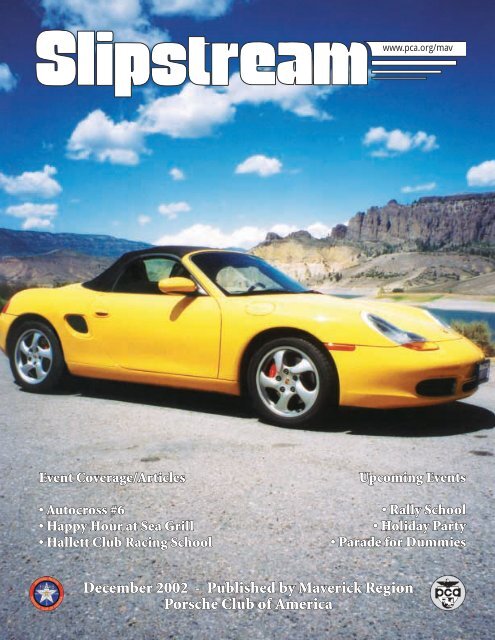 Slipstream - December 2002
The monthly newsletter of the Maverick Region of the Porsche Club of America
The monthly newsletter of the Maverick Region of the Porsche Club of America
SHOW MORE
SHOW LESS
You also want an ePaper? Increase the reach of your titles
YUMPU automatically turns print PDFs into web optimized ePapers that Google loves.
www.pca.org/mav
---
"

THE PORSCHE OF PORSCHE DEALERSHIPS "

~ Porsche Cars North America

DID YOU HEAR WHAT PORSCHE CARS OF NORTH AMERICA CALLED US — PERFECT.

ALL OF US AT BOARDWALK PORSCHE ARE PROUD TO EARN THIS YEAR'S PORSCHE PERFECT SERVICE AWARD.

Visit us at 5930 W. Plano Parkway, just East of the North Dallas Tollway.

Phone 214.576.1911 www.boardwalk-porsche.com
---
www.pca.org/mav

Volume 40, December 2002, Issue 12

Departments

Zone 5 Presidents ..........................................................1

List of Officers/Board Chairs .......................................4

Prez Says..........................................................................5

Because I Said So (Editor's)..........................................8

Maverick Minutes..........................................................8

New Wheels..................................................................27

Anniversaries................................................................27

Unclassifieds.................................................................28

Advertiser Index...........................................................28

Upcoming Events

Calendar of Events..........................................................1

Happy Hour at Nuevo Leon .........................................2

Board Meeting ................................................................2

Stocking Stuffing.............................................................2

Rally School & Short Rally ............................................2

Holiday Party ..................................................................3

Parade for Dummies......................................................5

Porsche Lunches .............................................................5

Driving Rules Meeting...................................................8

DE at MSR Application ...............................................13

Past Event Recaps

Happy Hour at Sea Grill................................................9

Park Place Tech Session-993 C4S 30K Inspection ...11

Leadfoot Reunion TT #5 and #6................................14

Hallett Club Racing School.........................................18

Autocross #6..................................................................21

MUSR #4 .......................................................................22

The REAL Boxster Boulevard.....................................24

Miscellaneous

Trivia Contest..................................................................7

Day December - Events

7 Rules Committee Meeting (p. 8)

7 Holiday Party (p. 3)

11 Board Meeting (p. 2)

17 Plano & Bedford Lunches (p. 5)

19 Happy Hour (p. 2)

31 Addison Lunch (p. 5)

Day January - Events

12 Parade for Dummies (p. 5)

14 Board Meeting

16 Happy Hour

18 New Member Party

21 Plano & Bedford Lunches

25 Rally (p. 2)

28 Addison Lunch

Day February - Events

1 Time Trial 104

11 Board Meeting

Photography

Kevin Hardison, Kay Leibel,

Dennis Chamberlain,

Doug Molny, Lanean Hughes, Bob

Bianconi, Charlie Davis, Linda Bambina,

& Wendy Shoffit

Cover Photo

Fran Ussery's Boxster on its way to the Boise

Parade this summer.

Photo by one of the "Trio Grande."

Day February - Events (cont.)

7-9 Lone Star DE @ TWS

15 Ladies Only AX School (Penn.)

16 AX 101 School (Penn.)

18 Plano & Bedford Lunch

20 Happy Hour

22-23 DE at Motorsport Ranch

25 Addison Lunch

Day March - Events

1 Dinner Social

8-9 Autocross 102 & Time Trial 103 (MW)

11 Board Meeting

18 Plano & Bedford Lunches

20 Happy Hour

21-23 Lone Star Club Race @ TWS

25 Plano Lunch

29-30 Time Trial #1 & Autocross #1 (MW)

*Dates subject to change*

Slipstream (USPS 666-650) is published monthly by the Maverick Region Porsche Club of America, 2973 Timbercreek Trail, Ft.

Worth, TX 76118. Subscription price is $24.00 per year. Periodical postage is paid at Ft. Worth, Texas.

Postmaster: Send address changes to Jan Mayo, Slipstream, 2973 Timbercreek Trail, Ft. Worth, Texas 76118.

Opinions expressed herein are not necessarily endorsed by the Club's membership or officers. Contributions will be printed on a

space available basis. Chartered regions of PCA may reproduce items from this issue provided the author/artist and Slipstream

are credited. Slipstream is printed by Ussery Printing Company in Irving, Texas.

2002 Porsche Club Zone 5 Presidents

ARK-LA-TEX

Bob Kelley (Shirley)

h- 318-635-2617

bkelley968@aol.com

COASTAL BEND

Peter Kendig (Cindy)

h-361-853-5350

peter@carczar.nu

LONE STAR

Stan Wenger (Janelle)

h- 713-467-0453

Stan.R.Wenger@conoco.com

MARDI GRAS

Brad Bradford (Sandra)

h- 504-835-7874

sandrahh@pipeline.com

OZARK

Bud Thurman (Phyllis)

h- 501-666-7486

arsailor@aristotle.net

WAR BONNET

Steele Ford (Genie)

h- 405-954-5203

blusteele@yahoo.com

ZONE 5 REP

Jan Mayo (Ed)

h- 817-595-4651

jlmayo@celanese.com

CIMARRON

John McDermott (Erin)

h- 918-747-6840

johnanderin2@home.com

HILL COUNTRY

Dan Germain

h- 512-426-8695

dang@mip.com

LONGHORN

Ron McAtee (Phyllis)

h- 210-654-6639

roncarrera88@aol.com

MAVERICK

James Shoffit (Wendy)

h-972-506-7449

james@shoffit.com

OZARK MOUNTAIN

Leslie Morse (Margee)

h- 501-530-1537

therainmeister@netscape.net

WHISKEY BAY

Ray Quick

mercuray1@yahoo.com

1
---
December 19

Nuevo Leon

3211 Oak Lawn, Dallas 75219

214-522-3331

2
---
3
---
2002 Maverick Region - Board, Officers & Chairs

Maverick Region President

James Shoffit

W - (972) 506-7449

H - (972) 506-7449

president@mavpca.org

1112 Santa Fe Trail

Irving, TX 75063

A member since 1997, James has also been

co-editor of Slipstream and the Timing &

Scoring chair of AX. 2001 PCA Family of

the Year. He owns a '90 911 C4 Cab and a '78

911 SC.

Vice-President

Eric Erz

H - (972) 396-2900

vicepresident@mavpca.org

122 Estelle Lane

Lucas, TX 75002

Eric has been a member since 1997. He is

active in many types of events. He currently

owns a '72 911E targa, and a '87 Turbo Look

targa.

Secretary

Andy Mears

W - (214) 360-9221

H - (940) 321-8683

secretary@mavpca.org

1512 Shadow Crest Dr.

Corinth, TX 76210

Andy has been heavily involved with the

mailing and distribution of Slipstream for

several years. He now hopes to attend more

driving events since he has completed his

911 Coupe project.

Treasurer

Bob Knight

W - (214) 461-1426

H - (214) 349-1108

treasurer@mavpca.org

9047 Oakpath

Dallas, TX 75243

A member since 1986, Bob has previously

held the offices of President and Vice

President, edited Slipstream, and has won

the Selcer Memorial award. He owns a 2000

Boxster S.

Driving Events - Chair

Keith Olcha

W - (817) 706-7678

H - (817) 251-6865

OLCHA@aol.com

711 Manchester Court

Southlake, TX 76092

Keith has been a regular at all driving events

and has recently been heavily involved in our

Driver's Education program.

Logistics & Support - Chair

Joe McGlohen

W - (817) 366-1678

H - (817) 861-2792

retread@ix.netcom.com

704 Bowen Court

Arlington, TX 76012

Joe has been involved in virtually every type of

event that the Maverick Region holds.

Joe was the 2001 Selcer Memorial award winner.

He owns a 912 and a 914 2.0 liter.

Communication - Chair

Wendy Shoffit

H - (972) 506-7449

wendy@shoffit.com

1112 Santa Fe Trail

Irving, TX 75063

A member since 1997, Wendy is the editor

of Slipstream and has won the Selcer

Memorial Award. 2001 Porsche Club Family

of the Year. She owns a '90 911 C4 Cab and

a '78 911 SC.

Activities - Chair

Teri Davis

H - (940) 682-4719

chuxter@rennlist.com

P.O. Box 213

Weatherford, TX 76086

Teri is a past Slipstream Editor and the

current Rally Chair. She has also been a

major force behind Round Up and the

recent Rally Schools.

Autocross

Cody Sears

W - (214) 357-7000.

H - (817) 540-1076

ax@mavpca.org

Safety

Joe McGlohen

W - (817) 366-1678

H - (817) 861-2792

retread@ix.netcom.com

Managing Newsletter Editor

Wendy Shoffit

H - (972) 506-7449

editor@mavpca.org

Goodie Store

Dee & John Lersch

W - (214) 697-3291

DeeLersch@compuserve.com

Time Trials

Bill Dugan

H - (817) 265-0704 (
---
Prez Says

by James Shoffit, Maverick Region President

Founders' Day is finally over, and most of the

trophies and awards were presented. If you

weren't there to receive your of the driving

award, contact Cody Sears or Bill Dugan to find out

how you can get your award. SouthFork Ranch was

a great place to have our annual event, and the staff

and food were wonderful. Tricia Guenther arranged

for us to have entertainment while eating – we were

treated to a fabulous dance program by Jazz Express!

Thanks to everyone who made that event possible, and so much fun!

Earlier that same day we had a Charity Autocross with one of the

. . . don't think Ed wants me to remind

anyone of the results . . .

Autocross, and even more from the silent auction and "Angel Tree" at

our Founders' Day event.

Since this is my last President's article, I just wanted to take the

time to thank you all for allowing me the privilege of being President.

It really meant a lot to me, and I truly enjoyed it. So, THANKS!

The annual Holiday Party will be hosted by Alan and Kay Leibel

this year, who have graciously offered up their home for the club! This

will be on December 7th; see page 3 for all the details. Come on out,

and join the fun

best turnouts of the year. We even had a loaned Boxster from

Boardwalk Porsche for our own IROC series, where four of our newer

pilots each took turns with the same car to see who could take home

the bragging rights. None other than Bill Miller – who normally

drives a 911 – beat out the other Boxster owners by a nice margin!

Bill just recently recovered from a broken wrist, so it was impressive

to see him do so well. Last time I saw someone recover so well from a

broken wrist was when Jan Mayo went to Parade and drove for the

first time this year, and well … I don't think Ed wants me to remind

anyone of the results there!

We raised a tidy sum for the Hope Shelter from the Charity

Photo by Linda Bambina

James and Wendy enjoying Founders' Day.

5
---
What would you do with

1000 hours of your time?

We trained our technicians.

www.parkplacetexas.com

AOL Keyword: Park Place

©2002 Park Place Porsche

6
---
Email: mayos@imagin.net or

FAX at (817) 267-4939

• ENGINE AND TRANSMISSION SERVICE

• SUSPENSION AND ALIGNMENT SPECIALISTS

• TIRE SPECIALISTS –

O.E.M.

DOT COMPETITION

RACING SLICKS

• SPECIALISTS IN EARLY PORSCHE FUEL

INJECTION SYSTEMS

7
---
Because I Said So

by Wendy Shoffit, Editor

So here it is, my final article (again). James

said that his last one was the easiest to

write. Unfortunately, mine doesn't seem to

be flowing as naturally as his did.

I want to thank all the people who have

taken their valuable time to write articles for me

during my tenure as editor. I understand the

sacrifices that it takes to fulfill commitments and

truly appreciate every one that has been made to make this

newsletter as great as it is. It has been a lot of work, but very

rewarding. I know that you all appreciate receiving it every month,

even if it *is* "late" sometimes.

I have no doubt that many of you will not shy away from

helping Matt Platts as he takes on the editorship next month.

He has a lot of great ideas that he will be steadily working to

implement as the year progresses.

As Matt gets accustomed to the process of doing the

newsletter, I would like for you all to be a little patient. Most of you

don't know what sort of timing is involved in putting this

publication together. Unfortunately, the date that the editor

finishes her/his work (assuming that all the articles, ads, etc. are in

on time) is NOT the same as when it gets mailed to you. It takes

between 1-2 weeks AFTER we send it to the print shop to get it

ready for press, printed, stapled, labeled, and mailed. Then, once it

gets mailed...it's up to the United States Postal Service to deliver

the goods. We have no control over that timing. So, the next time

it is "late" getting to your mailbox, think about this entire process

before you automatically think that it's the editor's fault. Like I

said... it's a process.

That being said, I'm sure you all have become accustomed to

my rantings and ravings by now. I'm not certain what happened

to me this year to make me so opinionated. Oh...wait...I guess I

was born and raised that way (thanks, Mom!). I think maybe it

just came out a little more in print this year. I apologize if I have

offended anyone or rubbed you the wrong way (a.k.a. the way I

did not originally intend). My mother was a very strong minded

and opinionated woman and taught me to be the same. I would

do her and myself an injustice if I were to behave in any other way.

So, I guess now the only way for you to hear my opinion on

something is to hear me rant and rave in person! While James and

I will be taking a small step back from the daily activities of the

club, we are certainly not going anywhere. In between my helping

Matt in the beginning as editor, being registrar for the Club Race,

Autocrosses, and Time Trials, and helping organize the Fort Worth

Parade in 2004, I'm hoping to rest a little here and there.

I am definitely looking forward to a year of "resting" and

attending events like Tinker says, "as a member at large." I look

forward to seeing you all at an event soon. Maybe it'll even be at

the "Parade for Dummies" event in January. See you soon!

Maverick Minutes

by Andy Mears, Secretary

Maverick Region's monthly board

meeting was held on November 6 in

Irving, TX at the home of James and

Wendy Shoffit. The meeting was called to order

at 7:00 PM.

Charlie Davis wanted everyone to carefully

consider each of the items on the PCA national

by-laws changes ballot. Many of the items are

intended to clarify the terms and words that describe and

define PCA.

Dennis Chamberlain gave an update on the last Happy

Hour at Sea Grill and the great turnout and, to remind

everyone of the upcoming Happy Hour locations; look for ad

in Slipstream.

Bill Dugan announced that Mark Steele has agreed to be

TimeTrial Chair next year.

Lanean Hughes wanted to let everyone know that this

year's "Angel Tree" donations for Hope Shelter will include

time/work donations to help work at the Hope Shelter. An

example of a work donation includes basic building repairs.

She also updated the board on the status for next year's DE

sponsors. And she mentioned that she got Boardwalk Porsche

to loan a car for the Charity Autocross.

Eric Erz reported that the expected attendance for Founders

Day would be 95 with room for a few more.

Cody Sears reported on the results of AX #6.

December's board meeting will be on the 11th. Meeting

was closed at 8: PM

8
---
Happy Hour at Sea Grill

by John Hamilton, First Time Happy Hour Attendee

If you missed our October 17th

happy hour at the Sea Grill in

Dallas, you missed a terrific

get-together! Over sixty people

showed up with their Porsches to

share stories, make plans, and meet

friends: old and new.

Happy Hour Crew: Dennis Chamberlain,

Dee Lersch, and Mark Gluck

Since everyone gets a nametag,

it's easy to get into conversation

with some interesting people who you may not have met

before. Of course, much of the conversation revolved around

Photo by Dennis Chamberlain

Photo by Dennis Chamberlain

Chris & John Hamilton in their 993.

Frank and Bobbie Briggs

our Porsches and our experiences with them: road-trips,

rallies, autocrosses, and the story of how you acquired your

current "baby." And every once in a while, we even strayed

from the topic of cars (but avoided the topic of work like the

plague)!

...avoided the topic ofwork like the

plague . . .

The conversation was so interesting that over 40 of us

stayed to enjoy the great seafood at the restaurant. And the

restaurant was so very accommodating: they blocked off their

front row of parking so we could have all our Porsche's lined

up in a row! Dennis Chamberlain caught some great photos of

the great selection of Porsches: old, new, Boxsters, 968's, 911's

and at least one Turbo, that lined the parking lot.

So if you missed this one, you missed one good time. But

here's the good news: more events are coming in the near

future. So check out our calendar of events; watch your

e-mails, and even if it's a last-minute decision, plan on making

our next happy hour. A great time is a sure thing!

Photo by Dennis Chamberlain

Marie & Frank Bray

9
---
10
---
Park Place Tech Session -993 C4S 30K Inspection

by Kay Leibel

Since this was the August Tech Session, I delivered my car,

a/k/a Big Boy, to Park Place Porsche the day before so they could

get it prepped for the Saturday session. The intent was to show

some of the highlights of the inspection and wrap it up by

noon, when it really started to heat up in the work bay.

We started the morning with a continental breakfast and

then Jimmy Hays got our attention and the session began. With

about 18 in attendance at various stages during the morning –

including one of our Ft. Worth members, there was lots of discussion

about various aspects of the car, including tires, spark

plugs and the wonderful placement of that last one, seals, headlights

– after seeing that it is one big unit, now I know why they

are so expensive, as well as minor things like fuses. In addition

to my car, they had three other C4's in varying stages up on lifts,

so we had the chance to go from car to car looking at different

points for comparison.

"...feeling confident about the 30k inspection

and knowing more about my car..."

the fender scrap repaired and it looks as good as new.

Since Park Place was going to have the car well into the

following week for the warranty work, they loaned me a Boxster

to drive. It was a fun week, needless to say, tooling around town

in the Boxster. I picked up Big Boy at the end of the week

and went on my way, feeling confident about the 30K inspection

and knowing more about my car. I want to thank Park Place

Porsche for hosting the event and making us more knowledgeable

about our cars.

In addition to the inspection, the technician found a couple

of items needing repair, which ended up being covered by my

extended warranty. Thank goodness for extended warranties!

While it was spending the week at Park Place Porsche, I also had

Photo by Kay Leibel

A good turnout, even one member from Fort Worth!

Photo by Kay Leibel

"one big unit"

• Increased Horsepower

• Lower Temperatures

• Superior Protection

• Longer Oil Life

• API Certified

Photo by Kay Leibel

Jimmy shows us how to get to all of the spark plugs

the performance oil that outperforms

Top racers and performance shops know that Royal

Purple Motor Oil will give them a performance

advantage-and now you can enjoy the same benefits!

Royal Purple allows your engine to run with less

friction, producing more horsepower and offering

superior protection. Royal Purple is the choice of

champions; try it today and Feel the Performance!

Military Distribution:

North Texas Lubricants

1-800-364-3025

www.royalpurple.com

11
---
Specializing in

mechanical

repair, Maintenance,

4-wheel alignment,

and complete

German automobile

body repair.

A.S.E. certified

Master

A.S.A.

Glasurit certified

1118 S. Airport Circle, #120

Euless, Texas 76040

Metro (817) 540-0712

Member Automobile Service Association

12
---
Driver Education At MotorSport Ranch

February 22-23, 2003

Sponsored by:

Postmark Date: January 9, 2003

Maverick Region invites you to our PCA Driver

Education event at MotorSport Ranch,

(http://www.motorsportranch.com) located in

Cresson, Texas on Highway 377, 16 miles southwest of

Fort Worth. Novices are encouraged and will be provided

comprehensive instruction. All cars must be

inspected for track worthiness (tech) prior to the event.

Tech locations, dates, and forms, along with further

information will be sent with your acceptance package

but also look for DE information on the Maverick

Region web site (http://www.pca.org/mav/DE).

Acceptance priority will be: Maverick Region

members and all instructors, other PCA members,

other Porsche drivers, and other cars, in that order, all

based upon postmark date within assigned run group.

Expect to have a response (In/Out/Waiting List)

approximately three weeks before the event date. Event

Cost: $195 per driver

registration will open with Jan 9th postmark dates.No

postage meters, please. The cost is $195 each driver,

payable to Maverick Region PCA. Applications without

payment cannot be processed. Sorry, due to limited

availability we are unable to issue refunds once you are

accepted. Please use a separate application/check per

individual entrant, even if sharing a car! Fill out the

form completely – missing data means you are placed

at the bottom of the priority list.

** Saturday Evening – McGlohen's Barbeque - Join

us for a cookout Saturday evening back at the track

after the event at 7:00pm. If the weather's agreeable,

we'll be outside; otherwise, we will be inside the upstairs

clubhouse. There will be beer and soft drinks included

as well. Please let us know below if you'll join us

Saturday, and the additional $10.00 per person covers

everything.

Mail Application with check to:

Bill Dawson, Registrar

1041 Nottingham Drive

Cedar Hill, TX. 75104

972-291-8817 before 9:30 pm

billdawson@worldnet.att.net

General Information:

John Sandusky

817-777-0421

John.C.Sandusky@LMCO.com

Instructor Information:

Bryan Henderson

2416 BedfordCircle

Bedford, TX 76022

817-354-6045

BDHender@Home.com

Tech Information:

Ray Luedecke

972-342-7412

rluedecke@sbglobal.net

Entrant:

Sharing Car With:

Address: City: St: Zip:

Phone: Day ( ) Eve. ( ) e-mail:

Do You Prefer Contact By: US MAIL / E-MAIL Driver's Lic #: State:

PCA Region: PCA # Helmet type: M95 / SA95 / M00 / SA00

Year Make Model Color Cabriolet Yes No

If pre-996/986 cab must meet

new reqmts - see web site)

List last DE event - each category

below:

Track Run Group at end of last event Car #

--Maverick Region (list date) MSR / TMS Green / Blue / Blue-solo / Yellow / White

CAR

--Other (list club and date)

If NONE, explain any driving experience and rate yourself below: (use BACK of sheet as necessary)

Total Beginner / Novice / Intermediate / Advanced /Team Williams F1 Test-Driver /Licensed NYC Taxi Driver

Instructor Assigned to Team # ( ) If over booked, do you want on the waiting list? YES NO

Car#( ) Second Choice( ) Third ( )** Signed:

** Attend Friday evening Barbeque? No Yes

If Yes, please add $10.00 per person incl entrant

13
---
Leadfoot Reunion Time Trial #5 and #6

By Embittered Outgoing Editor

We had our final Time Trials #5 & #6 on October 5-6. It was

also our Leadfoot Reunion weekend. We all had a great

time. This article would be longer, but the person who

agreed at the event to write it…didn't. So, all you get are photos and

results. Enjoy!

. . . had a great time . . .

Oh, and hopefully the next time you say you'll do

something, please do it or everyone else might have to suffer the

consequences.

Photo by Wendy Shoffit

Richard Diller and David Baker (in newly acquired "White Lady")

Eric Erz, James, Shoffit, and George Edwards chillin out.

Photo by Kevin Hardison

Photo by Wendy Shoffit

Photo by Wendy Shoffit

Pit crewman Kyle Edwards meticulously taping his dad's headlights.

Gurol Suel locking up his tires trying to slow down for the chicane.

Rick Randall cornering hard.

Photo by Kevin Hardison

Photo by Wendy Shoffit

Photo by Kevin Hardison

Noby Takahashi squeezing through the chicane.

Lanean Hughes and Lisa Steele helping the always-increasing

GROUP of guys assisting Alex Cobb with his frozen rotors.

14
---
Time Trial #5 Results

Class Car # Name Car Time Plc Pts.

Class 2

1 Sears, Cody Red 914 86.863 1 9

111 Hardison, Kevin Red 914 87.302 2 7

Class 3

31 Lockas, Mike White 944 88.423 1 9

Class 4

102 Erz, Eric Brown 911E 89.459 1 9

332 Baker, David White 911 T no time 2 7

Class 5

64 Shoffit, James Black 911 SC 84.977 1 9

Class 5L

11 Shoffit, Wendy Black 911 SC 87.042 1 9

Class 6

311 Machala, Chuck Silver Boxster 84.067 1 9

158 Gage, Dan Red 944 Turbo 89.067 2 7

161 Randall, Rick Black 911 Carerra 90.297 3 5

62 Boone, Rick Maroon 944 Turbo92.652 4 4

750 Graidage, Colin Red 911 Targa 93.594 5 3

Class S6

76 Miller, Bill Black 911 Coupe 88.024 1 9

Class S6L

401 Hughes, Lanean Red 944 Turbo 101.778 1 9

Class 7

257 Takahashi, Noby Silver Boxster S 84.009 1 9

Class S7

222 Edwards, George Black 911 C4 93.805 1 9

Class 8

99 Steele, Mark Red 993 85.166 1 9

Class S8

19 Georgas, Bill White 911 90.164 1 9

Class 8L

9 Steele, Lisa Red 993 90.236 1 9

Class 16

550 Diller, Richard Red 911S 84.481 1 9

Class OA

61 Bridges, Mike Blue Corvette 86.796 1

47 Yetzer, Matt Black Trans Am 88.110 2

92 Boldt, Steven Blue Camaro 91.662 3

26 Ishmael, Nizam Black Mustang 96.680 4

Class OG

67 Garcia, John Yellow Atlantic 75.216 1

6 Nannis, Joel Yellow Atlantic 78.300 2

999 Name Withheld Red 328is 91.039 3

Class OJ

94 Bottorff, Damon Blue RX-7 85.257 1

95 Altschul, Jonathan Green Supra Turbo86.202 2

74 Garner, Gabby White WRX 87.606 3

186 Williams, Mitch Red Miata 89.412 4

23 Moriyasu, Yusuke Sapphire 240SX 93.925 5

97 Leverington, Justin Black 3000GT 99.522 6

Class DD

141 Boss, Brian Blue 911 94.661

125 Solorzano, Mike Green Boxster 96.517

Top Time Of Day Men : Garcia, John Class OG Time 75.216

Top Time Of Day Ladies : Shoffit, Wendy Class 5L Time 87.042

1 Garcia, John 75.216

2 Nannis, Joel 78.300

3 Takahashi, Noby 84.009

4 Machala, Chuck 84.067

5 Diller, Richard 84.481

Top 10 Times of the Day

6 Shoffit, James 84.977

7 Steele, Mark 85.166

8 Bottorff, Damon 85.257

9 Altschul, Jonathan 86.202

10 Bridges, Mike 86.796

Time Trial #6 Results

Class Car # Name Car Time Plc Pts.

Class 2

1 Sears, Cody Red 914 78.731 1 9

111 Hardison, Kevin Red 914 79.641 2 7

2 McGlohen, Joe Yellow 914 85.471 3 5

Class 3

31 Lockas, Mike White 944 82.309 1 9

Class 4

102 Erz, Eric Brown 911E 81.911 1 9

Class 5

64 Shoffit, James Black 911 SC 77.548 1 9

Class 5L

11 Shoffit, Wendy Black 911 SC 79.431 1 9

Class 6

311 Machala, Chuck Silver Boxster 77.272 1 9

158 Gage, Dan Red 944 Turbo 80.110 2 7

161 Randall, Rick Black 911 Carerra 82.135 3 5

750 Graidage, Colin Red 911 Targa 82.829 4 4

Class S6

76 Miller, Bill Black 911 Coupe 81.432 1 9

Class 6L

401 Hughes, Lanean Red 944 Turbo 92.671 1 9

Class 7

257 Takahashi, Noby Silver Boxster S 77.201 1 9

Class S7

222 Edwards, George Black 911 C4 82.967 1 9

Class 8

80 Abdalla, George Black 993 C2 76.093 1 9

99 Steele, Mark Red 993 79.584 2 7

Class S8

19 Georgas, Bill White 911 81.589 1 9

Class 8L

9 Steele, Lisa Red 993 83.072 1 9

Class 16

550 Diller, Richard Red 911S 75.420 1 9

41 Baker, David White/Maroon 91476.830 2 7

Class OG

67 Garcia, John Yellow Atlantic 67.550 1

6 Nannis, Joel Yellow Atlantic 71.342 2

Class OJ

74 Garner, Gabby White WRX 79.784 1

97 Leverington, Justin Black 3000GT 85.056 2

156 Suel, Gurol Yellow Protégé 87.501 3

56 Mishra, Shan Green Protégé 91.392 4

Class DD

999 Name Withheld Red 328is 82.710

8 Jehl, Ila Black 993 C2 84.551

141 Boss, Brian Blue 911 86.550

Top Time Of Day Men : Garcia, John Class OG Time 67.550

Top Time Of Day Ladies : Shoffit, Wendy Class 5L Time 79.431

1 Garcia, John 67.55

2 Nannis, Joel 71.342

3 Diller, Richard 75.42

4 Abdalla, George 76.093

5 Baker, David 76.83

Top 10 Times of the Day

6 Takahashi, Noby 77.201

7 Machala, Chuck 77.272

8 Shoffit, James 77.548

9 Sears, Cody 78.731

10 Shoffit, Wendy 79.431

15
---
View Your Pictures Online!

Jay Walker

Mean Green Travel

PRINTER OF SLIPSTREAM SINCE 1982

Motorsport Ranch

Maverick Region Driver's Education

Go to www.graymousergraphics.com

High resolution 8" x 10" digital photos start at $15.00.

Email kevin@graymousergraphics.com for more info.

Gray

Mouser

Graphics

Layout • Design • Hats • Shirts

Banners • Posters • Calendars

Track Photography • Car Numbers

Digital Photo Editing

Kevin Hardison

Irving, Texas • (214) 957-8193

USSERY PRINTING

3402 CENTURY CIRCLE IRVING, TEXAS 75062

972-438-8344

FAX 972-721-1847

16
---
1033 N. Henderson St.

Fort Worth, TX

(817) 877–1772

Forgeline • Brembo • Eibach • Sparco • Borla • Hoosier • MOMO • Red Line • OMP • Teamtech • Fuel Safe

German Engineering With Southern Hospitality.

Personal Service.

At Nine-Eleven, we've built a reputation for understanding our customers' needs —

quality service, convenient location, state-of-the-art diagnostics, and personalized service

that is unmatched in the Metroplex. When you trust your car to us, you will have the

peace of mind that it will be serviced correctly the first time. Every time.

Access.

We strongly believe in access to those who will actually work on your car. Our

technicians are available in person, by phone, and even by pager if you have questions

or need timely information about your car.

Facility.

Our clean shop, well-stocked parts department, and comfortable waiting room ensure

that you and your car will get the kind of service you deserve. Maintained tools and

equipment. Clean cars. We are meticulous about details.

Parts.

Our parts department is also second to none. Our knowledgeable staff will assist you in

finding that necessary part or after-market option you require. We are an authorized dealer

for high-performance Recaro seating, Yokohama Tires, Bilstein Shocks, Bosch, and many

others. This ensures that whether you are a casual driver or an enthusiast who needs race

prep assistance, Nine-Eleven has the experience and knowledge to keep your car running

at peak performance.

Newkirk

Crown Rd.

Cindy Lane

IXXI

Royal Lane

Joe Field Rd.

Emerald

I-35

Nine-Eleven Enterprises, Inc.

Service, Accessories & Parts for BMW,

Mercedes & Porsche

2120 Cindy Lane, Dallas, Texas 75229

972-241-2002 www.nine-eleven.com

Convenience.

We are conveniently located near the intersection of Stemmons and LBJ Freeways

in Dallas. We offer emergency towing service 24 hours a day and have arranged

for special rental car rates with area rental agencies. Come by for a visit between

7:30 a.m. and 5:00 p.m. Monday-Friday, or call for a service appointment.

17
---
Hallett Club Racing School

By Doug Molny

Photo by Doug Molny

Day 1

Filled with anticipation and excitement we headed for the club

race in Oklahoma October 10. The four of us, all neophytes,

caravanned together. The ride from Dallas to Hallett was

longer than expected due to many construction delays...we

conversed via walkie talkie to pass the time, Noby Takahashi, Rocky

Johnson, Jorge Vargas and myself. We'd read about and researched

the track as this was to be our initiation into Club Racing.

We arrived at the track late Thursday afternoon around 4:30.

Promptly found our race port and pulled in. Hallett is a 1.8 mile

10 turn asphalt road racing track with 80' elevation changes.

Immediately after unloading, the race school participants were

told to check in and attend a 2-hour race school orientation

...the occasional turtle on the track . . .

meeting at the control tower. We were given a long list of subjects

to be covered in the 3-days, and we each received the newest copy

of Skip Barber's book on racing. Our instructor, John Bolcha,

started with a video presentation of the best line at speed around

the track and then broke down each corner. I counted about 35

people in the classroom, we were each assigned an instructor

strictly for advice and pointers, as the instructors were not

allowed in the car at anytime.

Spectacular site on track...is that "The Bitch?"

We discussed the topics to be covered including, turn-in,

track out points, flag stations, pit entry, exit, proper gearing,

different track surfaces, tire grip, passing lines inside and outside

of the school line, and the occasional turtle on the track. The

average times for Hallett are in the mid-1:30's running counterclockwise

with the fastest Porsches around 1:21. We talked about

escape routes, run-off areas, double apex, driving off line and the

art of passing anywhere you can get by safely, co-existing with

other drivers and who owns the corner. We were told how to drive

effectively, staying away from driving on the "ragged edge" which

I should have interpreted as "how to finish the race without

Photo by Doug Molny

breaking your car!" I will be quoting from some of the material

we were provided with the credits at the end of this article and

book recommendations.

Doug's car was happy in its covered carport.

Day 2

Began at 8:00 AM in the classroom. We opened with one of

racing's most important issues the "concept of predictability"!

Then onto the race track, the 11 race students started out on the

grid with a dozen laps of "lead follow" around the track. Since

instructors may not be a passenger in the car this was the next

best way to learn the "ideal line" as most of us were unfamiliar

with this track. As we followed John around the track, the car

directly behind John would drop to the rear as we finished 1 full

lap so that each of us had a run in the front. We returned to the

classroom and talked about how important is was to keep the

RPM's up during the race and shifting at red-line.

An important rule in Club Racing is learning to be "assertive

not aggressive" as we progressed into talking about draft passing,

trail and threshold braking. Many factors come into play when

coming into a corner, making a conscious effort to ease off the

brakes while turning, and then being smooth back onto the

gas. Tire slip, the traction circle and line recovery made for an

excellent topic as getting back onto the ideal line which is very

important after a pass. During a PCA Club Race "blocking" is not

permitted although you are not expected to give up your position

easily. We concluded the morning class by setting up a well

formed grid and practiced side by side starts. This was fun! We

gained a great deal of knowledge, the right gear to start in, which

in my car is 2nd and when to shift and how to position yourself

for the first turn and find the most advantageous line while in a

battle for position into turn one.

After lunch we talked about "PCA style" racing, the main

thrust on how to pass and how to be passed. John Bolcha and

Bryan Henderson discussed 4-types of passes, 1. Under braking,

2. horsepower pass 3. draft pass 4. passing due to another's racer's

mistake. Racing is a mental activity and learning to plan your pass

makes for good sense racing. It was suggested that we practice

passing during the rest of the practice sessions. We were all so

interested in this information that the time seemed to really go by

18
---
Photo by Doug Molny

Photo by Lanean Hughes

quickly, so many light bulbs went off in our brains we felt

like neon signs. Most importantly we learned that it is the

responsibility of the overtaking car to make a clean pass. The car

ahead at the turn-in point has the corner! This is where you cannot

make a mistake going into a corner side by side. We then were let

loose on the track with the approval to pass anywhere during the

rest of our practice session. This was an excellent adventure: Club

Racing was quickly becoming my newest passion. They would

have to chain me to the grandstands to keep me away!

The students were eager to learn from the pros.

Day 3

We worked all morning on finding the best line, passing

in corners, draft passing, and working towards the upcoming

qualifying laps for the enduro. I stopped by the scales prior to

qualifying and found that I was about 80 pounds under weight so

I rushed back to the race-port and asked for help. Keith, Bryan,

Jorge jabbered in along with Joe and added a 50 pound weight at

the sub-bolt hole for the seat belt at the passenger side and I

borrowed Bryan's spare tire and mounted it under the hood.

Filled the gas tank to the brim and made sure we were as close to

the necessary weight as possible. We were given about 2-laps to

warm-up and then approximately 4-laps to qualify, the best of

which counted towards our starting position in the enduro. The

rookies were started in the back of the pack. For qualifying our

instructors have told us to be smooth, use our brains, find our

turn in points, apex and track out marks use a 360 degree view

at all times. Drive the line when possible and find clear air, if

necessary pull over and let traffic go by so that we can get a clean

qualifying run.

Mavericks were there in force.

Photo by Lanean Hughes

I had decided to ask Keith Olcha to co-drive with me since he

had a broken rotor and was not able to find a replacement before

the start of the races. I felt comfortable during qualifying and felt

like I had run some good laps, I believe that both Keith and I were

close as far as our times were concerned. But when Keith drove

into the hot pits he was pulled over into the scales for weighing.

Thanks goodness we were 6 pounds over. I was really sweating it.

At least we did not start at the very back of the pack qualifying

35th out of 41 cars. After the sprint races we prepared our pit

strategy and went back to the race-port for pre-race preparation

and dinner in the registration tent. Steaks and chicken were

cooked out on a large grill with lot's of extras, Halloween candy,

and free beer. The Cimmaron Region had a raffle and a grand

time was had by all.

Day 4

We lined up with the rookies in the very back and I must

admit my heart was pumping enough blood for 3-people. I could

not believe that we were to have a rolling start with 41 cars at the

same time! We did and it was very cool, I was really having the

time of my life. I got off ok and passed a couple of cars, around

the 5th lap I passed 2-F class cars and the smile on my face

was huge. The 6th lap I was passed by the GT cars blowing by

everyone and they squeezed by me in turn 10. As I was heading

into the straight I missed a shift and went from 2nd to 5th, as I

was being passed because I had no power I was rooting around

for a gear and trying to stay up with the 2 cars I just had passed,

I ended up in 4th and mis-shifted again trying to get 3rd for turn

one and unfortunately I believe that 1st was the gear I found

Hey...how did Eric Erz get the pole position?

and the transmission literally blew up! That being the end of the

weekend for me I watched the rest of the race from the other side

of the tire wall between turn 2 and 3, this turned out to be the best

seat in the house. That was certainly a different perspective!

Anyway after the race was completed I accomplished another

first which was being towed back to the race port.

As I reflect on the whole experience there was not a minute

I would take back, except for the transmission, as it was the best

time yet in the 2 years as a member of PCA. The race school

was a success and if you get the chance to attend the next one I

highly recommend it. The book we used was "Going Faster" by

Skip Barber and the recommended reading list was "Winning"

A Race Drivers Handbook by George Anderson and 2 books by

Robert Bently "Drive to Win" and "The Technique of Motor

Racing".

19
---
Complete Collision Repair

Featuring the latest Shark & Hunter Equipment.

We work closely with your insurance company on all repairs.

• Track Alignments and Suspension Setups

• Your convenient Drivers Education

inspection location for

North Dallas

20

Steve Watkins in the Streetwerks 944 S2 at Motorsport Ranch.

5401 I-35 • Corinth, Texas 76205 • 940-270-8000 • Fax 940-270-8001 • www.streetwerks.com
---
Autocross #6

by Lisa Steele

Considering this was the last official autocross of the season

and we just bought new tires, I wasn't going to miss this one.

However, I guess this was not the mindset of others because

we only had 13 people show up to the "you never know what

the weather will be like" Mineral Ring. I'm not sure if lack of

attendance was due to weather or people forgetting that we were

actually having an Autocross on a Saturday.

When Mark and I drove up, I quickly realized that I was

going to be the only lady driver not to mention that I was the

ONLY female of the group. Before I could even get out of the car,

I was told, "This is a Chick Free Zone." Well, this "chick" did not

crumble because I had two things going my way. First, I knew I

would have Top Time of Day - Ladies (I know this is not much of

Photo by Matt Platts

So this is it...the entire group?

Photo by Lisa Steele

Photo by Matt Platts

Cody Sears demonstrating (im?)proper flagging

techniques at the driver's meeting

a challenge but I'll take what I can get). Second, I knew I would

be assigning worker positions very quickly and with only six to

seven people in a run group, some people would have "multiple

positions" to cover.

The course was well planned by Cody. He designed a very

open, not too technical, and rain friendly (just in case) course. He

also held a very unique Driver's Meeting in the back of his truck

while driving (not walking) the course. Who needs a map when

you have a truck?!? The people in the back reminded him that it

The Top Time of Day "Team Steele"

would be a good idea not to take the course at speed. My job

of assigning worker positions was actually very simple…. one

person to each of the three corners, one person timing, and one

person running grid. I believe the comment was made that this

was the smallest group for an Autocross in Maverick history. We

had a Blast!! We did two sets of five runs, about thirty minutes of

...a Chick Free Zone ...

fun runs, picked up all pylons, and loaded up our cars and were

finished by approximately 11:30am. What a fine day of racing!

And NO rain to top it all off! Okay, I can't end this article

without mentioning that Mark "the Man of Steele" and Lisa's

husband had his First Top Time of Day. Therefore, it was a Steele

TTD Autocross. What a way to end the season.

Autocross #6 Results

Class Car # Name Car Time Plc Pts.

Class 2

1 Sears, Cody Red 914 48.072 1 9

37 Davis, Charlie Green 914 51.313 2 7

48 Dugan, Bill Red 914 51.555 3 5

26 Bailey, Ron Blue 914 53.837 4 4

Class 3

87 Platts, Matt Red 924S 52.711 1 9

Class 6

311

161

Machala, Chuck

Randall, Rick

Silver Boxster 50.530

Black 911 Carerra 51.147

1

2

9

7

Class S6

76 Miller, Bill Black 911 Coupe 51.689 1 9

Class 7

64 Shoffit, James White C4 Cabriolet 50.641 1 9

Class S7

619 Johnson, Rocky Silver Boxster S 51.754 1 9

Class 8

99 Steele, Mark Red 993 47.555 1 9

Class 8L

9 Steele, Lisa Red 993 50.014 1 9

Class OG

187 Name Withheld Black 325is 53.528 1

Top Time Of Day Men : Steele, Mark Class 8 Time 47.555

Top Time Of Day Ladies : Steele, Lisa Class 8L Time 50.014

21
---
Photo by Wendy Shoffit

MUSR #4 (Mid US Ramble)

By Charlie Davis

Iknow that MUSR #4 was not strictly a Maverick Region event, nor

was it sponsored by MR. But several MR members attended it, so I

guess it's relevant. We renamed it the Mid US RainRamble

(MUSRR), because of light rain for 4 days. The nice weather we

ordered showed up Sunday afternoon and really came out in force on

Monday...lasted all week. Darn!

This year, we met in beautiful SE Oklahoma. This part of the

state has some of the bets Porsche roads anywhere. For example State

routes 1 and 2. We explored both of them. We stayed at the Kerr

Mansion south of Poteau for 2 days, then rambled over to the Belle

Starr Lodge at Robbers Cave. Both were wonderful locations! I'm

thinking about organizing a MR tour next year and using these

venues. Ted? You listening?

The cars wait as we explore the Robbers Cave.

party. About half came in uniform. No tricks...just treats. We may do

this again, in spite of the interesting costume worn by Joe Yoder. He

wore part of his costume all weekend. I think he was trying for the

Dave Darling look—pony tail and all!

A couple of entrants went back and actually found the

Runestones the next morning. The effect would have been better on

Halloween night in the dark!

The seminars were WONDERFUL!!! Jon Lowe's session about

the "Evolution of the 914" was superb. He presented a few pictures

nobody had ever seen before, plus we learned a lot about how and

why the 914 came to be. Most importantly, we learned how lucky we

are that some of the proposed designs never made it to production!

Dave Darling's talk about "Suspension 101" was equally well

attended and generated lots of good discussion, including arguments

about the best setup. But the panel discussion about "Why would

you ever want to become a CW"...well, it was actually called, "How

and Why to Prepare Your Car for Concours, was the best of all. The

climax of this seminar was when Jean Yoder (a retired physician and

1st time MUSR attendee) stood up (everybody else just asked

questions sitting down) and announced that she had found a new

career. She now understands Joe better and knows that we are all

terribly sick. Even has a clue what is wrong with us and thinks she

can help us. Next year, after going back for a psych refresher, she will

conduct group therapy. She doesn't understand that we are in denial

and don't WANT to be cured...

Photo by Bill Dugan and Wendy Shoffit

While the weather didn't cause anything to be canceled,

it did encourage us to spend more time indoors and talk. We

bonded a lot...

We had 55+ people and 25+ cars this year, down somewhat

from previous years. We have a little bit of money left, which will be

used next year. That's the way we planned it.

Can you believe that my navigator didn't see the sign to the

Runestones and we drove around for hours in the dark, leading a

P-train? Everyone else saw the sign but didn't say diddly. Later in the

event, they gave me a WONDERFUL "Crimson Shaft" award that

Lawrence "Rusty" Bonkoski made, for devotion to duty beyond all

reason or the biggest screw up or something. Oh joy...

After the futile search for the Runestones, we had a Halloween

Who would have thought you could find this scenery in Oklahoma?

Photo by Bill Dugan and Wendy Shoffit

Smiles all around at the Cave.

Everyone agreed that Jean is a saint to put up with Joe and his

obsession with old German sports cars. This weekend, she saw that

Joe is not alone in his obsession. She liked MUSR 4 and plans to

return...plus, she has work to do. Actually, I think she liked us and

starting to get an obsession?

The Winding Stair Mountains were fogged in. Bummer! The

fox didn't like the fog either. Neither of us saw the other until too late.

Oh, yes...Al Swanson collected the "Deerslayer" award this year, but

not in the fog on the Mountain. It's been 2 years since the last one

was awarded. The car was drivable. The deer wasn't.

We had the Concours in the rain. Went like this: Each car was

driven under the portico in front of the Kerr Mansion and the

peanut gallery inside the lobby (where it was warm and dry) would

clap and assign a score. Teri would write them down. Then the next

22
---
car would drive up. Actually, we did it the old fashioned way, but if

there had been a portico...

John Swanson ended Rich Johnson's monopoly and took home

the "Peoples Choice" award, the Hildreth Trophy. The new this year

"Elegance" award went to Charles Stephens from New Ulm, MN. He

also was awarded the Long Distance Award...about 750 miles each

way.

The rain ruined a diode in Betty Perrine's alternator, so Clay and

Dave Darling made a quick trip to the local AutoZone looking for a

914 alternator. No such luck. Instead, they picked up a couple of

spare batteries, a charger, and hurried to re-join the tour over to the

Belle Starr Lodge.

Before dinner on Saturday, we took Clay Perrine's tech quiz. It

was quite fiendish, with some questions on real minutiae. And some

very good ones—the 914-6 relay board question was very tricky!

This year marked the demise of Ed Mayo's long reign as Ramble Tech

Master. Jon Lowe won, with Dave Darling 2 nd . Ed was 3 rd . But there

was one point separating each of them!

...the demise ofEd Mayo's long reign . . .

The banquet on Saturday evening was fun, especially

considering the thousands of $$$ of door prizes that Rich Johnson

collected. Everyone got something, thanks to our generous sponsors,

who are listed at:

http://vista.pca.org/914/SIGsiteEventsMUSR4Sponsors.html

The box that Rusty made for storing my "Shaft" was nice, but it

didn't fit in a fully packed 914 very well. It will be good to have

though, as it completely hides the "Shaft" from view. We did get it in.

After packing the car, we drove across the highway to pay for the

last 2 meals and Darlene (the food lady at the Belle Starr) mentioned

that we didn't drink enough! She had several cases of beer and half

of the wine left...since she doesn't drink the stuff, she wanted us to

buy it and haul it away! We explained that we didn't have much

room...little green car...4 days of clothes, spare parts, tools, leftover

T-shirts, cameras, etc. But we felt sorry for her, so we hauled her

cooler out to the car and stuffed 63 cans of beer in all the little nooks

and crannies in the car, then found a place for two 5-liter boxes of

California's finest box wine (we couldn't afford the jug stuff) in the

car. This devotion to duty is especially notable if you realize that

the beer is OK beer...3.2% stuff! There is an old urban legend that

Dr. Pepper is the drink of choice to clean out the oil passages in

crankshafts... I may pour it into the cute box Rusty made and see if

3.2% beer will dissolve the entire "shaft"?

Oh, yes: the drink statistics:

We had 3 wines on Saturday evening...Merlot, White Zin, and

Chablis. We drank all the Merlot, half the Zin, and none of the

Chablis. But it would have been different if 911 owners had been

there and if we had cheese (which we didn't). I didn't get a count of

the beer, but since it was all 3.2% it probably doesn't matter.

In contrast to the beer and wine on Saturday evening, we

drained the coffee pot on Sunday morning. This was mostly a result

of the contingent that was up until 5 AM Sunday, drinking some sort

of hard stuff. They mostly didn't make the morning tour over to the

Cave, the subsequent exercise, and the group pictures. Even the sick

and lame survived the hike up to the Cave...but not the hung over

contingent. You can look and see who is missing from the pictures

and figure all this out...

But the 5 AM group was so mellow (or inebriated?) that they

took up a collection for us and coerced Ron Mott to give it to us (he

may have been the only one of the group able to stand?)...suggesting

that we treat ourselves to a fancy breakfast on the way home. Much

appreciated, guys, but look as we did, there was no place in OK to

spend that much on breakfast! Had we not collected 6-months

worth of beer and wine, the donation could have been used for

beverages. I guess we'll have to use it more creatively, like doing

something nice for Jean, who has some pending education costs...

We had a some special guests this year. John Straub, who is the

Special Interest Group Coordinator and his wife Monique, flew in

from San Diego to see what all the excitement is about. John, BTW,

has a 914-6 race car. Gudmund Olsson and his cute girlfriend, Rikke

Hallengren, flew over to the US to pick up a car and timed the trip

to attend the Ramble. We enjoyed and appreciated these guests. They

all seemed to have fun.

MUSR 4 was hosted by Cimarron Region. Thank you John

McDermott for all your help! The other helpers were:

Lawrence Bonkoski, who designed and fabricated wonderful

trophies and who also organized the Car Show/Concours; Clay

Perrine, who wrote the Tech Quiz; the Davises who constructed the

Rallye/Tours, handled registration, and did the T-shirts and caps;

Diane Johnson for her cute goodie bags and name badges; Rich

Johnson for the door prizes; and finally Dave Darling, Jon Lowe,

John Straub, and Ed and Jan Mayo, who contributed their expertise

and advice in the various seminars. Thanks guys!

23
---
The REAL "Boxster Boulevard"

By Bob Bianconi

Photo by Bob Bianconi

They came from Texas, New Mexico, Michigan and

Arizona, forty-one Boxsters in all and over 80 Porsche

people. They were there to participate in Boxstoberfest

2002, the forth such Boxster gathering in Fredericksburg, Texas

on the weekend of November 1-3. Fredericksburg was selected as

host city because of its rich German heritage and because it sits

on the doorstep to some of the most Porsche-friendly roads in

Texas. Of course, there was always the added incentive of

Fredericksburg's great German beer, but that's another story.

The three-day event was sponsored by Hill Country Region

with assistance from Maverick Region. Fourteen Boxsters drove

down from the Dallas-Ft.Worth area including Maverick members

Paul and Stephanie Seiler, Mike and Melissa Solorzano, David

Photo by Bob Bianconi

A beautiful sight at the Hilltop Cafe on a not-so-beautiful day

including one from Roger Beasley Porsche in Austin that had

made the trip that morning especially for the show.

By late morning it was off to the famous Hilltop Café, an

unassuming little restaurant on the outskirts of Fredericksburg.

While there, we were treated to a gourmet-style lunch and some

words of encouragement for a great weekend from Hill Country

Region President, Dan Germain.

"...do hereby proclaim Fredricksburg's

Main Street as 'Boxster Boulevard.'"

41 Boxsters participate in a soggy car show...

Mize, Scott and Robyn Olson, Arli and Kyle Wilkes, Brandon

Wulz, David Sumners and a host of new members.

Like the Boxstoberfests of the past, this latest gathering was

inspired by the camaraderie established through Porsche Pete's

Boxster Board; this website site has established itself as 'the'

place for Boxster discussions and contributed greatly to the

success of this and previous Boxstoberfests.

Boxstoberfest weekend kicked off with a Friday night

hospitality and welcome party at the Auslander Restaurant on

Main Street. Oops, I meant to say: "Boxster Boulevard", the official

name of Main Street as proclaimed by Fredericksburg Mayor,

Tim Crenwelge. The Mayor graciously issued a city proclamation

re-naming Fredericksburg's main thoroughfare after the Boxster.

The proclamation provides a hearty "Willkommen" and an

invitation to make Fredericksburg the Boxstoberfest annual

headquarters. What a great suggestion! Welcome packets provided

notes on the weekend events, maps of things to do in

Fredericksburg and a free Klammer. If you're not a Boxster

owner, you'll just have to ask one what a Klammer is.

Saturday morning the 41 Boxsters lined up along

Fredericksburg's Nimitz Parkway for a rain-shorten car show.

Despite the rain, spirits remained high and everyone loved the

display including the local constabulary who seemed to be

admiring the show. There were Boxsters in just about every

imaginable configuration and color, and from the debut year of

'97 though the newest '03. There were in fact, two '03's present

Photo by Bob Bianconi

With belly's full, the Boxsters were off to a four-hour tour of

the best roads Hill Country has to offer. Hills, twists, curves and

some spirited driving greeted the line of cars that seemed to

stretch forever across Routes 336 and 337. It was top up for all

but the lead car that –in the spirit of open-top driving – spent

most of the rainy tour with an open cockpit. Lead car, Mike

Rentner from HCR, had to keep a keen eye out for deer, several

of which were seen at the edge of the road. It was, after all, the

beginning of deer season and I guess the P-cars didn't look as

threatening as the camouflaged pickup trucks covered in mud

seen throughout the weekend.

With some time to rest after the tour, the Boxstoberfest-ers

met at the Plateau Café to talk about the day's drive, eat fajitas

and if lucky enough, win a door prize. Several locals provided

Melissa & Mike Solorzano with David Mize (center).

24
---
door prizes including Boardwalk Porsche and Zims Autotechnik;

just over half of the participants managed to snag a door prize

including several Mavericks. After dinner, crack photographer,

Gottfried Hogh from Michigan, treated folks to a slide presentation

of the day's events. Gottfried always seems to capture the essence

of Porsche ownership, whether it's washing a car in the rain or

holding a mug of German beer.

Sunday was time to sample Fredericksburg's shops, restaurants

and wineries, say farewell to the Boxstoberfest crew and urge

for a return next year. And yes, I suppose there will be a

Boxstoberfest 2003…

Search Porsche Pete's Boxster Board for "Boxstoberfest" for

additional pictures.

The letter from the Mayor of Fredericksburg

officially declaring Main Street "Boxster Boulevard"

25
---
214-965-6102 or 1-800-527-5746

100 Crescent Court, Suite 600, Dallas, TX 75201.

26
---
New Wheels

If you have any changes that you would like to make to the

MRPCA membership guide, call Joel Nannis at (972) 722-2735

by Joel Nannis, Membership Chair

Alexander, David (Lori)

5030 Airline Road

Dallas, TX 75205

2001 996 Turbo

Christensen, Steven (Trish)

5321 Timberwilde Circle

Fort Worth, TX 76112

1984 944

Dayton, Robert

2508 Morning Glory Drive

Richardson, TX 75082

2002 996 Carrera

Gomez, Mark (Tracy)

2916 Fountain Head Drive

Plano, TX 75023

1990 911 Carrera 4

Gutierrez, Joseph ( Steve Jaime)

2201 Wolf Street #5204

Dallas, TX 75201

2000 986

Hescock, Brad (Laura)

7018 Lattimore Drive

Dallas, TX 75252

1983 911 SC

Holmes, David

925 Highwoods Trail

Fort Worth, TX 76112

2002 986

Marzloff, Steve

4301 Hanover Street

Dallas, TX 75225

1983 911 SC

Moehlenhof, Chad

2600 Ventura Drive #922

Plano, TX 75093

2002 986

Powley, Bob

809 Elk Hollow Court

Crowley, TX 76036

1999 996

Steen, Erick

3713 Lands End Street

Fort Worth, TX 76109

1982 928

Tichenor, William (Meredith)

3625 Potomac Avenue

Dallas, TX 75205

2002 996 Cab

Wilson, Mark

119 E Erwin Street #D

Tyler, TX 75702

1988 911

Johnson, Lee (Mary)

4701 Preston Park Blvd #724

Plano, TX 75093

1996 993

Transferred From Oregon

Kendall, Raymond

2648 Legacy Point Drive

Arlington, TX 76006

1979 911 SC

Transferred From Costal Bend

Smith, Kevin (Betsy Woods)

3201 Cherry Lane

Austin, TX 78703

1979 993

Transferred From Hill Country

Welcome,

New

Members!

Anniversaries

5 Years

Gregory & Peggy Harrison ...............................Ennis

Daniel Koffman .........................................Grapevine

Arthur Nisle .............................................Fort Worth

James & Wendy Shoffit.....................................Irving

J. Royston & Nancy Brown ...............................Plano

Lee A. Morgan & Tamara Hopkins.........Fort Worth

Randall & Brenda Grubbs ................................Plano

20 Years

Edward M. Petrushka ..............................Fort Worth

Happy y Anniversar

ersary!

27
---
Unclassifieds

Unclassifieds are available free to Maverick Region Members and are $5 to all others (Payment to MR-PCA must accompany ad). Please limit size to no more than 6 lines.Ads

will run for 3 issues. Call 817-919-1253 or e-mail ad to unclassifieds@mavpca.org by the 10th to have your ad run the following month. Be certain to include a contact name and

phone number. Check your ad for accuracy the first time it runs. Contact the editor to have your ad pulled sooner. Photo inclusion based on space constraints.

1986 911 Carrera Coupe White/Black leather, whale tail, power windows,

power locks, power sport seats, power mirrors, cruise control, air conditioning,

sun roof, Alpine 3-CD in-dash stereo, 2 piece bra, cover, Dunlop Sport 8000

tires, white spoke/polished rim wheels, short throw shift; less than 7000 miles

on new clutch and synchros; new battery; as of 7/02 - new AC blower motor,

new alternator; garaged, 91,700 miles, Reduced to $19,000. Bruce Roberts

(972) 527-6910, (972) 205-7515, or robertsbk@attbi.com. (1)

1995 GMC Suburban SLT, Teal with Grey leather, Power Locks, Power

Steering, Power Windows, Power Driver seat, Driver air bag, Remote Keyless

Entry System, front and rear A/C, AM/FM/Cassette/CD, fully seats 8, front

bucket seats, tinted glass, roof luggage rack, invisible bra professionally

installed on front and full lower sides when new, 4 wheel drive, 5.7L engine,

towing package, new alternator and front end alignment, extra clean, 78,000

miles. Great vehicle, orig. owner. Asking $12,500. Call Bruce Roberts at

972-527-6910 or email at robertsbk@attbi.com (1)

911 Wheels Nice set of ABS wheels (two 16x7 and two 16x8), recently finished

and verified true and straight, and full set of lug nuts. Look real sharp with

gold centers and deep offsets. Off my 911 Targa. Price $799.00 Contact:

Gabriel at 972/233-9468 or gga2porsche@yahoo.com. (1)

1984 944 Light blue, black leather interior, 5 speed, sunroof, runs great, cold

A/C, Koni shocks, stainless steel brake lines, Michelin Pilot tires, approximately

180K miles (broken odometer), complete maintenance records. Garaged in

Plano. See hometown.aol.com/MarkJson/Porsche4Sale.html for pictures.

Asking $5000. Mark Johnson, 972-284-3536 or email MarkJson@aol.com. (1)

1990 C-2 Cab, guards red, tan, tip, 30.5Kmiles perfect, new blk top, $28.5K,

Robert Hill @972-618-3139 (hm) 972-455-1653 (wk) or rkjzhillgang@worldnet.att.net.

(1)

WANTED 1974 914 o.e. jack in good condition, dash with no cracks, and fog

lamp in good condition. Please contact either Luis or Rowdy Pajares at

Pajfive@aol.com. (1)

1988 Carrera 911 Coupe. Pristine condition inside and out! Silver with

Silver/Grey and Black interior (same silver a 89 Speedster color). Leather,

Power seats, Sunroof, Front and Rear Spoilers, Borbet C2 17" rims w/ Porsche

centers and Bridgestone S-02 Pole Position tires, Cover, Bra. Always garaged

and covered with only 58,000 miles a steal at $22,000. Bob at 469-223-9376. (1)

1982 911 SC sunroof coupe. White with brown leather, 104K miles(11K

since 1993), 16's, new clutch, Carrera chain tensioners, A/C, new Blaupunkt

am/fm/cd, pop off valve, H4's, very good condition with most records, 3rd

owner. $11,000 or best offer. Contact John, 972-938-0491 or

jonbethkat@aol.com. Also available: Blaupunkt Reno-$50.00, driver side

airbag for 95 993--$250.00, fan for A/C condenser (993)--$70.00 (1)

1978 911SC. White, new paint, body excellent, original interior with sport

seats; excellent condition, sunroof, recent top end rebuilt, new clutch and

cable, new radio/cd. Overall good daily driver. $17,500. (1)

Slipstream Advertiser Index

1995 993 C2, black w/tan leather, stick shift, 18" Speedlines, second owner,

books kept up, good condition, 81k miles, $37,000 obo. Brant 817-498-8609

nights and weekends. (2)

The Cockroach. Semi infamous autocross 914. Competitive PCR class M3 car.

Won class twice at Parade and several [ed. twice] ladies Parade top time. 2.5L,

4 cylinder, bored/stroked, long Carrillo rods, counter weighted crank. 11-1/4

to 1 compression ratio. Big valve professionally ported heads, lightened

rockers. Case is shuffle pinned with 1/2" thru bolts. Gearbox has shorter 3rd,

4th and 5th gears with Quaiffe Limited Slip Diff. Rear suspension ears

reinforced into roll cage. 8 gal fuel cell. Two sets 7" wheels. 1600 lbs. $10,000

Ed Mayo, W 817-540-4939, h 817-595-4651 (2)

1991 45' Silver Eagle Motor Coach. Fully loaded. Has more gadgets and

amentities than your own home! New everything! Satellite, DVD, TV's, leather,

tapestries, 10" roof raise, 8 new tires and chrome wheels, custom power

awning, bbq pit, queen bed, security safe, art work, carpeted, plenty of storage,

fullsize tub/shower, fullsize frig, stone and slate tile in bathroom, custom

armoire/desk, leather recliners, a/c, generator, camera wireless system, cruise,

Bose speakers & more! For more information about this beautiful one-of-aking

bus, visit: http://www.themotorcoach.com/. $399,500 obo. Any questions

concerning the bus, call Donald Bond at 800-709-0963. (2)

2002 Mercedes Benz 230 SLK Kompressor: White ext, tan leather int., wood

accents, loaded, 8,500 miles. original owner. Needing something bigger. Perfect

condition, garaged. $42,500. MB located in Rockwall, Texas. Also have '97

Cadillac Deville, white ext, taupe int, fully loaded, leather, cd changer,

Northstar, 97,xxx miles. Michelins, excellent condition. Always serviced by

David Taylor Cadillac in Houston. $11,500. Caddy located in Liberty, Texas

outside Houston. Also '90 Chevy Surburban, blue/blue, high miles, $4,500.

'70 Cutlass SX Convertible, 455-V8, blue/white, rare, needs finishing $10K,

1969 Porsche 911E Coupe, black/black, beautiful, not stock, email for

more info: $20K. Call Donald Bond at 800-709-0963 or email

dbondpca@worldgraphics.net. (2)

2000 911 Carrera 9,300 miles, 6-speed, one owner, always garaged with tender

loving care, Guards Red, full black leather interior, 18" turbo alloy wheels, CD

player, hi-fi sound system, Porsche stability management and tuned

suspension. Richard Voreis @ 214-361-1919 or rdvoreis@mindspring.com (3)

Wheel/tires 4 technology (twin turbo) (17x7.5 & 17x9) aftermarket

silver wheels with Comp TA tires (205-50ZR17 & 255-40ZR17) with 1/4 tread

remaining- one rear definitely requires replacement at this time. Wheels

are in excellent condition and were removed from a 1986 911. $750 for all.

Jim Williamson, 817-431-2425 or email res0zvle@verizon.net. (3)

2001 Carrera Coupe C2, speed yellow with black interior, 6 speed, 18" wheels,

Xenon lights, PSM, factory carbon shifter and brake handle, premium stereo,

6 disc CD, no rain, no racing, never smoked in, dealer maintained, 7,600 miles,

$67,500 817-896-6210 (3)

These advertisers support the Maverick Region . . . the Mavericks support these advertisers!

Autoscope (972) 867-7467 Page 10

Boardwalk Porsche (214) 576-1911 I.F.C.

Bobby Archer's Motorsports (817) 877-1772 Page 17

Dallas Auto Sports (214) 320-2228 Page 25

European Parts Network (866) 799-3984 Page 20

German Technologies (817) 540-0712 Page 12

Glen Gatlin, Jr. (214) 965-6102 Page 26

Gray Mouser Graphics (214) 957-8193 Page 16

Louden Motorcar (214) 241-6326 I.B.C.

Jerry DeFeo Designs (972) 240-5800 Page 12

The Man's Shop (817) 265-1116 B.C.

Mayo Performance (817) 540-4939 Page 7

Mean Green Travel (940) 565-8111 Page 9

Metro Volkswagen (972) 659-9999 Page 16

911 Enterprises (972) 241-2002 Page 17

Park Place Porsche (214) 559-4222 Page 8

PartsHeaven (800) 767-7250 Page 12

Pithy Productions (512) 914-3826 Page 20

Royal Purple (800) 364-3025 Page 11

Soundwerk (817) 281-9381 Page 23

Ussery Printing (972) 438-8344 Page 16

Watkins Streetwerks (940) 270-8000 Page 20

Zim's Autotechnik (817) 267-4451 B.C.

For ad rates and for more information contact Mike Brodigan at (817) 488-8520

28
---
Slipstream Advertiser

for 25 years!

Louden Motorcar Services has been

servicing fine European motorcars in

Dallas since 1977. From the moment you

drive in, it is apparent that quality is our

number one priority. From the comfortable

waiting room to the well-kept workshop,

Louden Motorcars exhibits professionalism.

We've been winning awards for the

quality of our service for years. Louden

has been rated "Best in Dallas" twice by

D Magazine, "Best in Texas," "Top Ten in

the U.S." and "Best in the West" by the

Robert Bosch Corporation (worldwide

leader in fuel injection and electronics).

And we'd like the opportunity to show

you why.

11454 Reeder Road

Dallas, Texas 75229

(972) 241-6326

www.loudenmotorcars.com
---
Jan Mayo, Slipstream

2973 Timbercreek Trail

Ft. Worth, TX 76118

Periodical Postage

Paid at Ft.Worth, TX

Fine Men s Clothing From:

Hickey-Freeman

Tommy Bahama

Zanella

Bobby Jones

St. Croix

Your Personal Clothier In

Downtown Arlington

2002 Maverick Member

100 S. West & Main

Downtown Arlington

Convenient Private Parking

Telephone: 817-265-1116

Mon - Sat 9-6 • Thursday till 7:30

www.themansshop.com